New Age Islam News Bureau
31 Jul 2014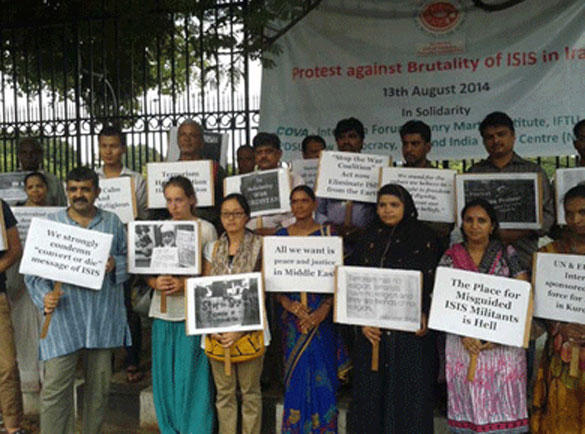 Why A Photo Showing Tamil Muslims In Support Of ISIS Is More Troubling Than Any IB Report
----------
Africa
• Libya: Al-Qaeda-linked Militants Declare Benghazi an 'Islamic Emirate'
• Cameroon sacks army officers after suspected Islamist attacks
• Nigeria fights back against Boko Haram's radical Islam through the power of learning
India
• Why A Photo Showing Tamil Muslims In Support Of ISIS Is More Troubling Than Any IB Report
• ISIS Flag in Kashmir Puts Cops on Alert
• In Eid ul Fitr Sermon Clerics move government to help Palestinians
• US brackets UP with Syria, Iraq
Arab World
• Extremists Ruling Mosul Destroyed the Shrine of Jonah (Hazrat Yunus (as) Who Feature In the Traditions of Islam, Christianity and Judaism
• Syria Kurdish-jihadist battle kills 49: NGO
• Scores of Key ISIL Leaders Killed in Shurqat
• Iraqi militias execute, hang 15 people
• 116 killed by Syrian regime forces during Eid
• Kurdish security service takes aim at ISIS oil smuggling
• Isis Occupied or Destroyed All Christian Institutions in Mosul
• Islamic State video wages psychological war on Iraqi soldiers
• UNWTO lauds Saudi law to protect heritage
Europe
• London Tunnel Blockaded By Isis Flag-Waving Jihadi Protesters
• Bolivia Declares Israel a Terrorist State, 42 Years of Visa Free Travel Called Off
• HSBC closes bank accounts belonging to Muslim clients in the UK
• UN accuses Israel of possible war crime after shelling of Gaza schools kills 19
• HRW says Syria govt air strikes defy UN resolution
Mideast
E• xtremist Israelis chant: 'There are no children left in Gaza! Oleh!'
• Israel will destroy tunnels with or without ceasefire: PM Netanyahu
• Gaza toll soars to 1360 as Israel 'days' from completing tunnel hunt
• Turkish deputy PM calls Gaza 'genocide'
• Iran: Egypt 'dragging its feet' on allowing aid to Gaza
• Israel mobilises extra troops as US tops up army's ammo
North America
• Religious intolerance rising in M'sia - US report
• US Teen Petitions Obama for Kurdish Independence
• Kerry decries persecution of Christians by Boko Haram, Islamic State
• US suicide bomber in Syria came home before attack: New York Times
• U.S. unveils $378 million in new humanitarian aid for Syria
• Five Latin American Countries Withdraw Envoys from Israel
• Killing of Gaza Children on Playground Tragic: Us State Dept
vU.S.: Israeli criticism of Kerry 'offensive, absurd'
Southeast Asia
• Deputy home minister says 'impossible' Hamas fighters trained in Malaysia
• Malaysian Muslims facing fascist indoctrination, former minister says
• Minority groups demand sedition charge against curry powder preacher
vMalaysia offers 'Halal treatments' for Muslim medical tourists
South Asia
• China's Uighur Muslims Are Trapped in a Cycle of Violence
• Afghanistan presidential vote audit to resume on Saturday
Pakistan
• Nawaz Sharif sceptical of Imran's long march agenda
• Shahbaz promises 2,000 homes for IDPs in North Waziristan
• Germany announces €1m aid for NW IDPs
• FO registers protest over clash on Pak-Afghan border
Compiled by New Age Islam News Bureau
URL: https://www.newageislam.com/islamic-world-news/new-age-islam-news-bureau/libya--al-qaeda-linked-militants-declare-benghazi-an--islamic-emirate-/d/98362
-----------
Africa
Libya: Al-Qaeda-linked Militants Declare Benghazi an 'Islamic Emirate'
31 July 2014
Libya's Islamist militant group Ansar al-Sharia has said that it seized complete control of Benghazi late on Wednesday, declaring the city an "Islamic emirate," the group's representative said.
Ansar al-Sharia is blacklisted by the United States over its alleged role in an attack on the U.S. consulate in Benghazi, eastern Libya.
An official representative for the armed group told a local radio channel that Benghazi is now under its control.
"Benghazi has now become an Islamic emirate," said Mohammed al-Zahawi, the spokesman, to Radio Tawhid.
However, Khalifa Haftar, a retired, renegade former army general who earlier this year launched a self-declared campaign to clear the city of Islamist militants, denied the group's claims.
"The national Libyan army is in control of Benghazi and only withdrew from certain positions for tactical reasons," Haftar told Al Arabiya News Channel.
"The claim that Benghazi is under the control of militias is a lie," he said.
Ansar al-Sharia's declaration comes following two days of fighting in which Islamist fighters and allied militiamen overran an army base in the city.
Al Arabiya's correspondent in Libya reported that Islamist groups had seized the headquarters of the Libyan army's Special Forces in Benghazi late on Tuesday following heavy fighting.
Turkey's Anadolu news agency quoted Talal bin Harir, a Benghazi Shura Council member, as saying that the Islamists were in control of the army base.
Three years after the fall of Muammar Qaddafi, the OPEC nation has failed to control former rebel militias who refuse to disband and threaten the unity of the country.
The extent of recent hostilities has increased Western worries that Libya is sliding toward becoming a failed state and may once again go to war.
Several foreign states have withdrawn their citizens and diplomats from the state.
http://english.alarabiya.net/en/News/middle-east/2014/07/31/Libya-s-Ansar-al-Sharia-declares-Islamic-state-in-Benghazi.html
-----------
Cameroon sacks army officers after suspected Islamist attacks
Jul 31, 2014
Yaoundé (AFP) - Cameroon's president has dismissed two senior army officers deployed in the country's restive north after at least 15 people died in attacks blamed on Nigeria's Islamist Boko Haram movement, state radio reported Wednesday.
Paul Biya on Tuesday sacked Lieutenant-Colonel Tchanuo Ngongang, commander of the 34th motorised infantry battalion based at Kousseri, in a region where the armed Islamist group has carried out a series of attacks against Cameroonian civilians and the military.
A presidential decree read by the radio station said Colonel Gedeon Youssa, a gendarmerie commander in the north, was also fired.
The two officers had no responsibilities in the town were Sunday's attacks took place.
No reason was given for Biya's decision which came after at least 15 people were killed in the two attacks blamed on Boko Haram in Cameroon's north which borders Nigeria.
The wife of the country's deputy prime minister was among a dozen people reportedly kidnapped, a security source had said Monday.
The attacks targeted the palace of the Sultan Kolofata, and the nearby home of one of the country's most senior politicians, deputy premier Amadou Ali.
The sultan, Seiny Boukar Lamine, his wife and their five children were among the hostages.
Around 200 militants were involved in the raids, Cameroon's minister of communications, Issa Tchiroma Bakary, had told local TV on Sunday.
The attacks came after Cameroon stepped up its fight against Boko Haram in the wake of the international outcry over the kidnapping of more than 200 Nigerian schoolgirls on April 14.
Boko Haram has long considered the northern Kolofata region, close to the Nigerian border, as a haven for its activities, and as a route for smuggling weapons.
The dramatic raids follow the deaths of several Cameroonian soldiers and gendarmes killed in two attacks blamed on the militants.
http://news.yahoo.com/cameroon-sacks-army-officers-suspected-islamist-attacks-233913275.html
----------
Nigeria fights back against Boko Haram's radical Islam through the power of learning
Jul 31, 2014
In classrooms facing a sandy courtyard in the northern Nigerian city of Kaduna, Maska Road Islamic School teaches a creed that condemns the violent ideology of groups such as Boko Haram. But not everyone has got its message.
Umar Farouk Abdulmutallab, known as the "underwear bomber", spent his youth in the school and ended up trying unsuccessfully to blow up a US airliner on Christmas Day 2009 with explosives hidden in his underwear.
The school is steadfast in preaching tolerance to its pupils, and the Nigerian government is about to adopt this message in a new strategy for containing Boko Haram, which has killed thousands in a five-year campaign for an Islamic state.
"We teach them that what they are doing is a total misunderstanding of the Islamic religion, that Prophet Mohamed was compassionate, he even lived together with the non-Muslims in Medina," said the headteacher Sulaiman Saiki. "We teach them tolerance."
Abdulmutallab was radicalised in an al-Qa'ida camp in Yemen, but his case shows that even youths given a relatively liberal Muslim education can be seduced by radical Islam. This is something the new government programme is aiming to combat.
Koranic schools such as Maska Road will be a pillar of the strategy being launched in September to counter Boko Haram's ideology. The aim is to win over the "hearts and minds" of young Nigerians.
They will also challenge Boko Haram's claim that secular teaching is "un-Islamic" – Boko Haram means "Western education is sinful" in Hausa, the dominant language in Nigeria's mainly Muslim north. Maska Road teaches only Koranic verses and other tenets of Muslim faith, and encourages its 300 students to take classes such as science and literature outside its walls.
"We want them to get a Western education and combine it with... religious learning," Mr Saiki says. Fatah Abdul, who studies at Maska Road, scoffs at the idea of violence in the name of Islam.
"Our religion doesn't entertain killing. Boko Haram is absolutely different from what our religion advocates," she said. "And it's not true what they say that we need an Islamic state. The leadership doesn't have to be Islamic."
Mr Saiki was a neighbour of Abdulmutallab. He says Abdulmutallab did not learn to hate the West there but "was deceived afterwards".
Abdulmutallab, a loner from a well-to-do northern family, showed how easily youths can be radicalised. Add poverty into the mix, as in Nigeria's troubled north-eastern Borno state, and it is not hard to see how Boko Haram finds recruits.
Boko Haram is suspected of being behind suicide bombings that killed 82 people in Kaduna last week, including one against a Muslim cleric about to lead a public prayer.
Kaduna, the capital of the north in colonial times, is richer than anywhere in the north-eastern region where Boko Haram is based. But it shares many of its problems – such as high youth unemployment, attested by the many children begging and hawking phone credit on its rubbish-filled streets.
President Goodluck Jonathan's administration has been pilloried for its apparent powerlessness to crush the rebels or protect civilians, including more than 200 school girls kidnapped in April and who remain in captivity. But he has also faced censure for neglecting the insurgency's underlying causes.
So when Mr Jonathan's national security adviser, Sambo Dasuki, announced a new "soft approach to terrorism" in March, many instantly dismissed it as lacking in substance. But officials say Imams in mosques and traditional elders will be co-opted to preach tolerance, while measures will be taken to ensure Koranic schools teach "correct" interpretations of sacred texts.
The drive will also include educational programmes, especially increased sports and music in northern schools, plus reform programmes for convicted Boko Haram detainees.
"A lot them don't have much Islamic knowledge, so they tend to believe what the mullahs say," Fatima Akilu, director of behavioural analysis in the office of Mr Dasuki, said.
"We want to teach what the Koran actually says in a language they understand." A parallel economic programme will address the chronic poverty seen as a major driver of the insurgency.
It may be too late to bring back hundreds of youths already fighting for Boko Haram, but the idea is to prevent more from joining. Northern Nigeria has much lower levels of education than the south, a legacy of British colonialism, which protected the caliphates of the north from the activity of Christian missionaries who set up many schools in the south. "The aspects of education Boko Haram don't like are the ones that allow you to think," Ms Akilu said. "Keep people in the dark and you can control them with a singular narrative."
Undoing this partly involves showing how "Western" ideas, such as mathematics and some physics and astronomy, are rooted in mediaeval Islamic thought, which was making strides while Christians in Europe were busy burning witches.
At the Sultan Bello Mosque in Kaduna's busy market area, the local Imam Ahmed Gumi takes an unusual step to illustrate his openness to the non-Islamic world: he invites journalists in to see, film and photograph his sermon.
He introduces the team to his congregation of about 350 packed into a main hall, and after a chorus of "welcome" he offers a live interview about his views on Boko Haram in front of the faithful. "It's not right to call what those boys are doing Islamic," he later said. "They hide behind Islam."
Mr Gumi, one of northern Nigeria's most popular clerics, sees the idea of an Islamic state dear to extremists as a throwback. "They want to bring back the golden age of Islamic triumph in this modern time," he says. "For a state to survive you need a strong civilisation, education, money, lawyers, doctors. You don't create a civilisation with AK-47s in the bush."
He knows his outspoken views carry a risk he will be targeted by Boko Haram. His mosque, a towering structure spread between four sand-coloured turrets with turquoise-green domes, is guarded by scores of unarmed volunteers checking cars and bags. Boko Haram fighters have killed dozens of clerics. One of the targets of the Kaduna bombs was a Sheikh, Dahiru Bauchi, an Imam whose mystical Sufism is a far cry from the austere al-Qa'ida-style type of Islam. Bauchi survived.
Taking issue with Boko Haram's ideology will work only if the government can draw disaffected youths away from guns. The government's economic programme aims to do this, starting with 2 billion naira (£7.3m), but with a further 60 billion that can be made available for projects.
They include mobile medical trucks, cash for the orphans and widows of Boko Haram's victims, and a programme employing 150,000 youths to fix roads and rebuild police stations. Parts of Nigeria that are completely besieged by the insurgents are off-limits, but there are other vulnerable areas where the programme can be rolled out.
Down a dirt track with crater-like potholes on the outskirts of Kaduna, lies the Focus 1,2,3 International School. Twelve classrooms packed with desks take 25 children each. Secular education is between 7.30am and midday. After lunch, Islamic schooling is between 1pm and 5.30pm.
Muhammad Saleh, who runs the school, believes strongly in science, although he has doubts about evolutionary theory – as do many conservative Christians in the West.
Even so, his school teaches it. "I teach them evolution myself, and the parents never complain," he says. "It's education. Once children have an education they can decide for themselves what to think."
http://www.independent.co.uk/news/world/africa/nigeria-fights-back-against-boko-harams-radical-islam-through-the-power-of-learning-9638690.html
-----------
India
Why A Photo Showing Tamil Muslims In Support Of ISIS Is More Troubling Than Any IB Report
31 July, 2014
Prayaag Akbar
In the late 1990s, about a decade after terrorism first bespattered the Kashmir valley, champions of secularism in India would point out that Muslims from the rest of the country had never felt the need to join cause with the violence being perpetrated in the name of Islam in the northern state. Though the call for a holy war had drawn young Muslim men from Pakistan, Afghanistan and even Central Asia, not one of the Indian security forces that operated in Kashmir had captured a Muslim terrorist from West Bengal, say, or Bihar. This to many was sure-fire indication that the Indian polity was healthy and secular – a sign of the successful assimilation of a previously troubled minority.
Yet even then the argument seemed conceptually weak. The call to holy war in Kashmir could be ignored because the Bhojpuri or Malayali Muslim was as much of an outsider to Kashmir as a Hindu from Bhopal. The non-participation of Muslims in the violence in Kashmir was perhaps better read as an indication of the distance of that struggle from their daily lives – there was no emotive plank in the Kashmiri's appeal to holy war. A generalised call to protect your religion or to fight with your religious cohorts is not sufficient to draw a peaceful person to violence. It needs sharper focus. And not just for Muslims: this is the reason LK Advani was ignored in the early 1980s but became a tidal political force later in the decade, radicalising hundreds of thousands across India when he fixed upon the Ram Janmabhoomi issue.
The first instance of Indian Muslim terror – in the definition that we have come to know it, causing wanton civilian death, targeting symbols of the state – were the 1993 bombings orchestrated by the Mumbai mobster Dawood Ibrahim, which he said was a response to the Hindutva attack on the Babri Masjid. There is no doubt that the destruction of that mosque devastated the Indian Muslim community, who had suffered through numerous riots, and caused their own. But until then they had felt the state would protect places of worship important to the community. The numerous terrorist acts that have followed indicate the alienation many young Indian Muslims feel.
Yet, it is more pertinent today to address the insidious radicalisation of Indian Muslims taking place from within. All over the nation, Muslims are preaching and being taught ever more codified versions of Islam. It is important to disassociate this radicalisation with terrorism – beards and Burqas are a fair barometer of violence only in the imagination of some Western media. But it is also important to see these acts of terrorism as the sharp tip of a broader push within the community towards radicalised Islam. The surge in popularity of a Saudi-promoted brand of orthodox Wahhabism – a branch that has a venerable history in India, growing as a reaction to the saint veneration and shrine visitation that Islam in South Asia borrowed from Hinduism – has not been adequately documented.
Muslims in both Pakistan and India are turning away from the less doctrinaire interpretations of Islam that once typified the religion on the subcontinent. While everyone should of course be free to choose their own degree or investment in faith, it is also essential to note that fundamentalists of every religion teach fear and disapproval of the out-group, and are thus harmful to democratic society and convivial living.
This push has been visible for more than a decade now, perhaps more for closer observers. And it could well be a response to the popular projection, within Muslim communities, of a Western war against Islamic beliefs. But even anti-Americanism among Muslims does not answer one question: why is it that fewer Indian Muslims were drawn to the jihad call of Al-Qaeda, the Taliban and Kashmir, than it seems are already being pulled towards ISIS?
A photograph has been doing the rounds of the Internet of a large group of young Tamil Muslims clad in black ISIS t-shirts. On the Internet it is being brandished by Hindu nationalists as justification for their narrow parochialism, but it should worry every citizen of India. Tamils have nothing to do with Iraq or Syria. Then why this adherence to ISIS over Al-Qaeda, indeed over the jihad in Kashmir?
The answer lies in ISIS' rallying call. The politically savvy and militarily capable self-named Caliph of the Islamic State of Iraq and Levant, Abu Bakr al-Baghdadi, has astutely positioned his struggle as one against not the West but against Shia overreach. While many have characterised his ideology as pan-Islamist, it is in fact pan-Sunni. He seeks to create a Sunni state stretching across West Asia and the subcontinent. Needless to say, Shias will have at best subsidiary part in it.
The violence against Shias that has destroyed any claims Pakistan had left to secularism is an expression of an age-old animosity that goes to the very heart of the Islamic faith. It has been a source of conflict in every Muslim country. It is also the fault-line of the current battle in Iraq.
Sunnis are about 85% of India's Muslim population. The ISIS t-shirts being worn by those young men in Tamil Nadu are not a reaction to Hindutva fundamentalism or Western political aggressions. They are a means of asserting Sunni pride. The photograph does not suggest to me that these men will join the jihad in West Asia. But it does suggest to me that the Sunni-Shia divide will continue to excite violence long after Western nations have ceased to be a perceived enemy of Muslims.
http://scroll.in/article/672341/Why-a-photo-showing-Tamil-Muslims-in-support-of-ISIS-is-more-troubling-than-any-IB-report
------
ISIS flag in Kashmir puts cops on alert
Jul 31, 2014
Security forces in Jammu and Kashmir have been alarmed over the appearance of masked men waving flags and banners of ISIS (Islamic State of Syria and Iraq) and Al Qaeda on the streets of Srinagar on July 29.
In a fresh trouble for the insurgencdy-hit state, the flags of the masked men reportedly displayed inscriptions of Kalima, the preaching of Islam. Some men used the flags to cover their faces while others guarded the lanes and bylanes, intensifying tensions in the region.
According to reports, the supporters of ISIS chief Abu Bakr al-Baghdadi were protesting against Israel assault on the Gaza Strip.
Full report at:
http://indiatoday.intoday.in/story/isis-flag-in-kashmir-puts-cops-on-alert/1/374831.html
-----------
In Eid ul Fitr Sermon Clerics move government to help Palestinians
TNN | Jul 31, 2014
LUCKNOW: The Eid-ul-Fitr Namaz offered an occasion to the clerics who led the prayers to condemn violence in Iraq and Gaza. They urged Indian government and international community to initiate steps to control the situation. Imam of Eidgah Maulana Khalid Rasheed Farangi Mahali said "India and Palestine have always been friends; therefore, it is India's duty to stand up for the people in Palestine in this crisis."
A group of young Muslims was spotted offering namaz with black bands on their arms in protest of the violence. Imam of Teeley Wali Masjid Maulana Syed Shah Fazlurrehman Waizi Nadwi said innocents were being killed in Iraq and Gaza . "The killings are extremely unfortunate and every man on this earth should condemn it," the maulana said urging Indian government to intervene in the matter.
Full report at:
http://timesofindia.indiatimes.com/india/Clerics-move-government-to-help-Palestinians/articleshow/39326579.cms
-----------
US brackets UP with Syria, Iraq
Swati Mathur,TNN | Jul 31, 2014
LUCKNOW: A United States report on the status of religious freedom in countries across the globe has slammed the Uttar Pradesh government for choosing "not to combat discrimination on the basis of religion and intolerance."
Released by the US department of state, the 2013 International Religious Freedom Report is in its 16th year, and chronicles where and when the universal right to religious freedom was neglected and protected, upheld or abused.
Congressionally mandated and comprising almost 200 distinct reports on countries and territories, this report reflects, it says, "the US' commitment to, and advancement of, the right of every person to freedom of religion or belief."
Bracketing the territory of UP with countries like Syria, Bangladesh, Sri Lanka and Iraq, among others, the report says the government's failure to combat discrimination on the basis of religion "breeds an environment in which intolerant and violent groups are emboldened, even to the point of physically attacking individuals on the basis of their religious beliefs." The report also says that the government "failed to protect vulnerable communities and many religious minority communities were disproportionately affected, resulting in a large number of refugees and internally displaced persons."
Full report at:
http://timesofindia.indiatimes.com/india/US-brackets-UP-with-Syria-Iraq/articleshow/39332423.cms
-----------
Arab World
Extremists Ruling Mosul Destroyed the Shrine Of Jonah (Hazrat Yunus (as) Who Feature In The Traditions Of Islam, Christianity And Judaism
Tears, and Anger, as Militants Destroy Iraq City's Relics
Jul 31, 2014
BAGHDAD — When the Sunni extremists ruling Mosul destroyed the shrine of a prophet whose story features in the traditions of Islam, Christianity and Judaism — the most important of nearly two dozen marked for destruction by the Islamic State in Iraq and Syria in the first seven weeks of its reign — small groups of residents gathered to mourn.
"We were crying when they detonated it," said Abdulmalik Mustafa, a 32-year-old unemployed man who lives near the site, believed to be the tomb of the biblical prophet Jonah, which was razed last week. "We couldn't believe that the history of Mosul has disappeared. I wanted to die."
Then rumours swirled that the next goal of the ISIS militants would be toppling the city's ancient leaning minaret, which is older than the Leaning Tower of Pisa in Italy and is pictured on Iraq's 10,000-dinar bank note. Residents gathered at the minaret and, according to witnesses, confronted the group's fighters.
Full report at:
http://www.nytimes.com/2014/07/31/world/middleeast/iraqi-anger-rises-as-militants-attack-mosuls-cultural-history.html?_r=0
-----------
Syria Kurdish-jihadist battle kills 49: NGO
Jul 31, 2014
A fierce battle between Syrian Kurds and Islamic State jihadists has killed nearly 50 fighters from both sides as the Kurds seized several IS positions, a monitoring group said Thursday.
The Syrian Observatory for Human Rights also reported fighting in eastern Syria between a Sunni tribe and the IS, with members of the tribe tweeting about an "uprising".
Wednesday's fighting in Ain al-Arab (Kobane in Kurdish) killed 14 members of the Kurdish People's Protection Units (YPG) and 35 jihadists.
Dozens of fighters were wounded, said the Observatory.
The Britain-based monitor said it was now "calm" after the fighting in the Ain al-Arab area in the restive northern province of Aleppo on the border with Turkey.
In the battle, Kurdish fighters took several hills which IS jihadists had seized and set up positions.
Full report at:
http://english.ahram.org.eg/NewsContent/2/8/107417/World/Region/Syria-Kurdishjihadist-battle-kills--NGO.aspx
---------
Scores of Key ISIL Leaders Killed in Shurqat
Jul 31, 2014
Some key leaders of the ISIL were killed in Shurqat district of northern Tikrit.
"The Iraqi Air Force, based on intelligent information, bombarded the building of Shurqat Mayoralty of northern Tikrit and killed many of the ISIL leaders there," security forces said.
http://english.farsnews.com/newstext.aspx?nn=13930509000065
-----------
Iraqi militias execute, hang 15 people
Jul 31, 2014
Shi'ite militia forces executed 15 Sunni Muslims and then hung them by electricity poles in a public square in a town northeast of Baghdad on Wednesday, police said.
A police officer at the scene in Baquba, a mixed Sunni and Shi'ite town 65 km (40 miles) from Baghdad, said he believed the action was designed to keep Sunnis from supporting the Islamic State, an al-Qaeda offshoot which seized swathes of land in an advance through northern Iraq last month.
The victims, who were kidnapped over the last week, were shot in their heads and chests and then hung up by cables.
"The militia forces are preventing the medical crew from bringing down the bodies hanging from the electricity poles," he told Reuters.
"They are following a new tactic of keeping bodies hanging for a longer time to deter the Sunni population from backing the Islamic State. We asked them to let us evacuate the bodies but they refused."
Full report at:
http://english.alarabiya.net/en/News/middle-east/2014/07/30/Iraqi-militias-execute-hang-15-people-police.html
-----------
116 killed by Syrian regime forces during Eid
World Bulletin / News Desk
Jul 31, 2014
At least 116 people were killed by government forces in fighting across Syria during the Muslim holiday of Eid al-Fitr, opposition activists have said.
The deaths included 21 children and 16 women, according to the London-based Syrian Network for Human Rights.
According to a statement from the group, the three-day festivities to mark the end of Ramadan saw attacks in Aleppo, Deraa and Idlib.
At least 17 people were killed in a missile attack launched by Syrian government forces on the outskirts of the capital Damascus, the Syrian Network for Human Rights said on Wednesday, when a market in Douma was targeted.
Full report at:
http://www.worldbulletin.net/todays-news/141646/116-killed-by-syrian-regime-forces-during-eid
-----------
Kurdish security service takes aim at ISIS oil smuggling
Jul 31, 2014
Erbil and Beirut, Asharq Al-Awsat—Kurdish security forces in northern Iraq claim to have made major inroads into shutting down oil smuggling by militants from the Islamic State of Iraq and Syria (ISIS).
Major Farouk Ahmed, an officer in the Kurdistan Regional Government's security service, the Asayis, said on Tuesday that the force had cracked down on smuggling operations in Iraq's Salah El-Din governorate.
He told Asharq Al-Awsat: "In the last few weeks, we have imposed full control on all roads in Tuz Khurmato that were used by Kurdish smugglers to transport illegally purchased crude oil in the Al-Adhim and Hamrin areas of the region."
"Our information showed that ISIS continued to extract oil in areas between Bayji and the Hamrin mountains after damaging oil pipes and loading dozens of oil tanker trucks," he said. "We have taken control of main roads and dealers cannot smuggle oil through Tuz Khurmato; however, we have information that smugglers use other routes to smuggle the oil at night."
Major Ahmed claimed that as a result of Asayis efforts, the number of tankers carrying smuggled oil "has been reduced from 60 to 10 per day."
Full report at:
http://www.aawsat.net/2014/07/article55334872
-----------
Isis Occupied or Destroyed All Christian Institutions in Mosul
Jul 31, 2014
For over 2,000 years, Christians and Muslims lived in peace in Mosul, Iraq, the country's second largest city. That all changed on June 10, 2014 when the Islamic State, formerly known as ISIS, invaded the city and evicted its Christian population. With the Christians gone, ISIS has begun to destroy or occupy every Christian landmark in the city.
The Assyrian International News Agency released a full list of the 45 institutions the Islamic State destroyed or occupied. Here are a few examples:
Syrian Catholic Diocese
Church of Our Lady of the Annunciation
Archbishop's Palace Chapel
Syrian Orthodox Archdiocese
Church of the Immaculate
Diocese of the Assyrian Church of the East
Chaldean Diocese
Church of the Holy Spirit
Armenian Church
Evangelical Presbyterian Church
Latin Church and Monastery of the Dominican Fathers and Convent of Katrina Siena Nuns
Christian Cemetery in the Ekab Valley
On July 19, the Islamic State gave Christians 12 hours to convert to Islam, pay a protection tax, or die. The majority chose to flee the city. The terrorists marked Christian homes and businesses with the letter N for Nazarene and imposed a radical version of Sharia law. They told women to wear full-face veils and not leave the house without a male relative. Full report at:
http://www.breitbart.com/Big-Peace/2014/07/30/ISIS-Occupied-or-Destroyed-All-Christian-Institutions-in-Mosul
-----------
Islamic State video wages psychological war on Iraqi soldiers
Jul 31, 2014
BAGHDAD (Reuters) - Islamic State, the al Qaeda spin-off that seized wide swathes of Iraq almost unopposed last month, has released a video warning Iraqi soldiers who may still have some fight in them that they risk being rounded up en masse and executed.
Iraq's army unraveled when the Sunni insurgents staged a lightning advance through northern towns and cities, building on territory their comrades captured earlier in the west of the country, a major OPEC oil producer.
Thousands of soldiers fled, prompting Iraq's top cleric to call on compatriots to take up arms against the radical faction that has declared a mediaeval-style caliphate in parts of Iraq and Syria and aims to march on the capital Baghdad.
Full report at:
http://news.yahoo.com/islamic-state-video-wages-psychological-war-iraqi-soldiers-112033918.html
-----------
UNWTO lauds Saudi law to protect heritage
Jul 31, 2014
he United Nation's World Tourism Organization (UNWTO) has applauded Saudi Arabia's new monuments system, a legislation aimed at protecting national heritage and antiquities.
The Kingdom recently joined the selected league of countries to set up a system for the monuments and became one of the first Arab countries to set up a monuments system.
Welcoming the Kingdom's new legislation to protect antiquities and heritage as well as to give the Saudi Commission for Tourism and Antiquities (SCTA) the mandate to ensure its preservation, UNWTO in a statement said: "Heritage conservation is fundamental to safeguard cultural legacy and promote and preserve key tourism assets, which are central to differentiating destinations all around the world."
Full report at:
http://www.arabnews.com/news/travel/609851
----------
Europe
London Tunnel Blockaded By Isis Flag-Waving Jihadi Protesters
Jul 31, 2014
A group of activists have been captured on camera waving Palestinian and ISIS flags while blocking one of the largest tunnels in the UK. The protesters chanted "Free Palestine" and honked their car horns as they blocked the Blackwall Tunnel.
The move will seem like an odd gesture coming at a time when the Israeli Defence Force says it will not reduce pressure on Hamas until they agree to close the network of terror tunnels they have built.
The Blackwall Tunnel connects the Muslim-dominated borough of Tower Hamlets in East London, with Greenwich south of the River Thames. It was closed by a number of cars when activists got out of their vehicles and began chanting "free, free, Palestine". Some of them also appeared to have spray painted their cars, while others waved the jihadist ISIS flag.
The protest is one of a series of dubious events staged to support Gaza, that seem to do nothing other than bolster the egos of those involved. It comes after Breitbart London reported on the 'crass' super-car protest, in which members of the super-rich drove their Lamborghinis past Harrods to show their "support" for Palestine.
Full report at:
http://www.breitbart.com/Breitbart-London/2014/07/30/Pro-Palestinian-Protestors-Block-Tunnel-In-Support-Of-Hamas
-----------
Bolivia Declares Israel a Terrorist State, 42 Years of Visa Free Travel Called Off
Jul 31, 2014
LA PAZ – Bolivia on Wednesday renounced a visa exemption agreement with Israel in protest over its offensive in Gaza, and declared it a terrorist state.
President Evo Morales announced the move during a talk with a group of educators in the city of Cochabamba. It "means, in other words, we are declaring (Israel) a terrorist state," he said.
The treaty has allowed Israelis to travel freely to Bolivia without a visa since 1972. Morales said the Gaza offensive shows "that Israel is not a guarantor of the principles of respect for life and the elementary precepts of rights that govern the peaceful and harmonious coexistence of our international community."
More than two weeks of fighting in Gaza have left 1,300 dead and 6,000 wounded amid an intense Israeli air and ground campaign in response to missile attacks by the Islamist militant group Hamas.
Full report at:
http://english.ahram.org.eg/NewsContent/2/8/107400/World/Region/Bolivia-declares-Israel-a-terrorist-state.aspx
-----------
HSBC closes bank accounts belonging to Muslim clients in the UK
Jul 31, 2014
HSBC has closed a number of bank accounts belonging to Muslim clients, including one of London's largest mosques, because they fall outside the bank's "risk appetite".
Some of the organisations affected by the bank's decision include a London-based Islamic think tank and Finsbury Park Mosque, where Abu Hamza, who was recently convicted of 11 charges of terrorism in a New York court, served as an imam.
Khalid Oumar, one of the trustees of the mosque in north London, told the BBC they received a letter from HSBC last week notifying the treasurer that the account would be terminated because it falls "outside our risk appetite".
Full report at:
http://www.independent.co.uk/news/business/news/hsbc-closes-bank-accounts-belonging-to-muslim-clients-in-the-uk-9636939.html
-----------
UN accuses Israel of possible war crime after shelling of Gaza schools kills 19
Jul 31, 2014
Faiza Al-Tanboura had not spoken for 21 days since a missile strike destroyed her home. In the early hours of this morning she found her voice: "The children. Don't let them kill the children," she shouted as she ran out into the playground of a UN school under Israeli tank fire.
Today's attack on the Jabaliya Elementary Girls School has been described as a possible war crime by the UN. The Israeli authorities, it said, had been told no less than 17 times that it was full of refugees, the last warning message delivered on 8.50 on Tuesday evening.
But, seven and half hours later, a series of shells smashed into the building, destroying two of the classrooms, killing 19 and injuring more than a hundred others. Pierre Krahenbuhl, the commissioner for UN agency for Palestinian refugees, described the killings as "a source of universal shame". Investigations clearly showed, he maintained, that Israeli fire was to blame, condemning "in the strongest possible terms this serious violation of international law by Israeli forces."
Full report at:
http://www.independent.co.uk/news/world/middle-east/israelgaza-conflict-un-accuses-israel-of-possible-war-crime-after-shelling-of-one-of-its-schools-kills-19-9638765.html
--------
HRW says Syria govt air strikes defy UN resolution
Jul 31, 2014
Human Rights Watch sharply criticised the Syrian air force on Wednesday for intensifying strikes on Aleppo, despite a UN Security Council resolution ordering all sides in the conflict to stop indiscriminate attacks.
The New York-based rights group also rapped the Security Council for inaction over the violence in Syria in a statement issued ahead of a meeting of the UN body.
"The Syrian government is raining high explosive barrel bombs on civilians in defiance of a unanimous United Nations Security Council resolution," HRW said, referring to resolution 2139 from February.
The resolution banned the indiscriminate use of barrel bombs -- widely used by Syrian government forces on rebel-held towns and cities -- and all other weapons in populated areas.
"Month after month, the Security Council has sat idly by as the government defied its demands with new barrel bomb attacks on Syrian civilians," HRW's Sarah Leah Whitson said.
The group also urged two key backers of President Bashar al-Assad, Russia and China, to allow the Security Council to implement the resolution.
Full report at:
http://english.ahram.org.eg/NewsContent/2/8/107384/World/Region/HRW-says-Syria-govt-air-strikes-defy-UN-resolution.aspx
-----------
Mideast
Extremist Israelis chant: 'There are no children left in Gaza! Oleh!'
Jul 31, 2014
A video was posted on YouTube this week showing extremist Israelis demonstrating in Tel Aviv's Rabin Square and chanting: "There's no school tomorrow, there's no children left in Gaza! Oleh!"
The poster wrote that the demonstration "was held across the square from a much bigger pro-peace demonstration that took place at the same time."
http://english.alarabiya.net/en/webtv/reports/2014/07/30/Extremist-Israelis-chant-There-are-no-children-left-in-Gaza-Oleh-.html
-----------
Israel will destroy tunnels with or without ceasefire: PM Netenyahu
Jul 31, 2014
The army will continue working to destroy tunnels used by Gaza militants for cross-border attacks with or without a ceasefire, Israeli Prime Minister Benjamin Netanyahu said on July 31.
"Until now, we have destroyed dozens of terror tunnels and we are determined to finish this mission - with or without a ceasefire," he said in a live address at the start of a cabinet meeting. "So I will not accept any (truce) proposal that does not allow the IDF (army) to complete this work for the security of Israel's citizens."
Israel began its military offensive in Gaza on July 8 with the aim of stamping out persistent militant rocket fire on southern Israel, but expanded the operation by sending in ground troops on July 17 to destroy a sophisticated network of tunnels used by militants.
"This is only the first stage in the demilitarisation of Gaza," he said, indicating that Israel's position on the need to destroy the tunnels had been accepted by Washington, Brussels and other key diplomatic players.
Full report at:
http://www.hurriyetdailynews.com/israel-will-destroy-tunnels-with-or-without-ceasefire-pm-netenyahu.aspx?pageID=238&nID=69808&NewsCatID=352
--------
Gaza toll soars to 1360 as Israel 'days' from completing tunnel hunt
Reuters | Gaza/jerusalem | July 31, 2014
Israel pressed ahead with its Gaza offensive saying it was days from achieving its core goal of destroying all Islamist guerrilla cross-border attack tunnels, but a soaring Palestinian civilian toll has triggered international alarm.
Prime Minister Benjamin Netanyahu's security cabinet on Wednesday approved continuing the assault launched on July 8 in response to a surge of rocket attacks by Gaza's dominant Hamas Islamists. Israel also sent a delegation to Egypt, which has been trying, with Washington's blessing, to broker a ceasefire.
A military source said some 16,000 reservists were being called up at short notice in the coming hours to relieve a similar number who would be stood down.
Full report at:
http://indianexpress.com/article/world/middle-east-africa/gaza-toll-soars-to-1360-as-israel-days-from-completing-tunnel-hunt/
--------
Turkish deputy PM calls Gaza 'genocide'
World Bulletin / News Desk
Jul 31, 2014
Turkey's Deputy Prime Minister Bulent Arinc has commented on the tragedy in Gaza, describing Israel's actions as "genocide."
Speaking on Wednesday, he said: "The latest incidents in Gaza are tragic – killing children; bombing arbitrarily; demolishing a city; targeting schools belonging to the United Nations, ambulances and hospitals. All these deeds are atrocities and brutal."
Arinc added: "It is state terror, a massacre. I know they [Israelis] do not love the word genocide, but there is no other word to describe Israel's deeds in Gaza."
Since July 7, at least 1,285 Palestinians, mostly civilians, have been killed while 53 Israeli soldiers and three civilians have died.
Full report at:
http://www.worldbulletin.net/todays-news/141645/turkish-deputy-pm-calls-gaza-genocide
-----------
Iran: Egypt 'dragging its feet' on allowing aid to Gaza
World Bulletin / News Desk
Jul 31, 2014
Iran criticised Egypt on Wednesday for delays in issuing permits to bring in aid to Gaza and to transport wounded women and children out of the area for medical treatment.
Egypt's government, at odds with the Gaza's Hamas gopvernment, has added its own border closure to an Israeli blockade of the narrow strip of territory, in effect cutting off all routes to residents who have spent three weeks under Israeli bombardment. It rejected the allegations of unnecessary delay.
To get aid into Gaza, Iran has to fly it to Egypt and then take it across the Rafah border crossing. The only other option would be to go through Israel, unthinkable for Iran.
Iranian Deputy Foreign Minister Hossein Amir Abdollahian said 100 tonnes of humanitarian aid had been waiting for days for Egypt's approval to be taken into Gaza.
Full report at:
http://www.worldbulletin.net/todays-news/141662/iran-egypt-dragging-its-feet-on-allowing-aid-to-gaza
-----------
Israel mobilises extra troops as US tops up army's ammo
Jul 31, 2014
Gaza City (Palestinian Territories) (AFP) - Israel mobilised 16,000 additional reservists Thursday to bolster forces fighting in Gaza as Washington gave its ally the go-ahead to raid stocks of emergency US weapons stored on Israeli soil.
The call-up, which raised the total number of Israeli reservists to 86,000, came shortly after Washington said it had agreed to restock Israel's dwindling supplies of ammunition, despite rising concern over the death toll in Gaza, where more than 1,360 people have been killed.
It also came after the UN and the US sharply condemned the shelling of a UN school in Gaza, which killed 16 people and wounded scores, in an attack blamed on Israel.
Despite rising international calls for a halt to the bloodshed, the Israeli security cabinet decided Wednesday to press on with the operation in Gaza just hours after troops had made a significant advance into the narrow enclave.
Full report at:
http://news.yahoo.com/israeli-shelling-north-gaza-un-school-kills-20-033934635.html
-----------
North America
Religious intolerance rising in M'sia - US report
Jul 31, 2014
The United States has expressed concern over growing religious intolerance in Malaysia as Islamic sects are being persecuted in public and in secret, along with abstruse laws aimed at blocking those wishing to leave Islam.
In the recently released 'International Religious Freedom Report 2013' the US noted that observers continued to express concern that "the secular civil and criminal court system had ceded jurisdictional control to syariah courts, particularly in areas of family law involving disputes between Muslims and non-Muslims."
The report also raised alarm that the Department of Islamic Development (Jakim), under the prime minister's purview, now had full power to determine what was proper Islamic teaching and hammer away at those who did not agree.
Full report at:
http://www.malaysia-chronicle.com/index.php?option=com_k2&view=item&id=330752:no-thanks-to-umno-bn-govt-religious-intolerance-rising-in-msia-us-report&Itemid=2#ixzz392GbtXH4
-----------
US Teen Petitions Obama for Kurdish Independence
Jul 31, 2014
NEW YORK – An American high school student is petitioning US President Barack Obama to recognize a free Kurdish state.
Jonathan Schwoerer hopes to get 100,000 signatures on the White House petition website and oblige the US Government to make an official comment.
"I've always been interested in Middle East politics and this Kurdish issue just resonates with me," said Schwoerer, 16, from Poughkeepsie in upstate New York.
"I have a great respect for a people who have been betrayed and denied a state and are now fighting for their inherent right to self-determination."
Schwoerer says he is an "ordinary high school student". His Facebook page is decorated with a photo of the Kurdish flag and another of himself holding Twinkie cake snacks.
The petition has already garnered more than 38,000 signatures and has until August 22 to reach its target.
Full report at:
http://rudaw.net/english/world/290720141
-----------
Kerry decries persecution of Christians by Boko Haram, Islamic State
Jul 31, 2014
The US State Department issued its annual International Religious Freedom Report and named Turkmenistan its 9th "country of particular concern" because of egregious governmental repression of religious liberty.
"North Korea again stood out for its absolute prohibition of religious organizations and harsh punishments for any unauthorized religious activities," the report stated. "Countries such as Saudi Arabia, Iran, and Sudan put severe restrictions on members of religious groups that did not conform to the state-approved religion(s) while in China, Cuba, Tajikistan, Turkmenistan, and Uzbekistan, religious activity was only lawful if explicitly authorized by the state."
In his remarks introducing the report, Secretary of State John Kerry decried religious persecution around the world and noted colonial America's own checkered history.
Full report at:
http://www.catholicculture.org/news/headlines/index.cfm?storyid=22164
-----------
US suicide bomber in Syria came home before attack: New York Times
Jul 31, 2014
The US suicide bomber who blew himself up at an army post in northwest Syria spent several months back home after training as a militant, the New York Times reported Wednesday.
The report highlights a concern from Western powers, that Syria is becoming a training ground for citizens who could then return as battle-hardened veterans, ready to carry out attacks at home and abroad.
Moner Mohammad Abu Salha, alias Abu Hurayra al-Amriki, was believed to be the first American national to carry out such an attack in Syria's more than three-year-old war.
The American jihadist on May 25 drove a truck bomb attack onto an army base in Jabal al-Arbaeen area of northwest Syria's Idlib province.
Full report at:
http://english.ahram.org.eg/NewsContent/2/8/107411/World/Region/US-suicide-bomber-in-Syria-came-home-before-attack.aspx
-----------
U.S. unveils $378 million in new humanitarian aid for Syria
Jul 31, 2014
The United States on Wednesday unveiled $378 million in new humanitarian aid for the Syrian people, denouncing "appalling 'starve or surrender' tactics" by the regime of President Bashar al-Assad.
"The regime is asphyxiating half a million Syrians in Aleppo by obstructing deliveries of food, water, and medicine," Secretary of State John Kerry said in a statement.
"Syrians all over the country are being butchered at the hands of a ruthless tyrant," Kerry said, strongly condemning "the brutally indefensible and illegitimate Assad regime."
The regime was "dropping dozens of barrel bombs a day on the city and surrounding suburbs," he said.
Full report at:
http://english.alarabiya.net/en/News/middle-east/2014/07/30/U-S-unveils-378-million-in-new-humanitarian-aid-for-Syria.html
-----------
Five Latin American Countries Withdraw Envoys from Israel
Jul 31, 2014
JERUSALEM – El Salvador on Wednesday became the fifth Latin American country to withdraw its ambassador from Israel in protest at Israel's military offensive in Gaza.
Brazil, Chile, Ecuador and Peru have already recalled their ambassadors.
Israeli Foreign Ministry Spokesman Yigal Palmor said that the move encourages Hamas; "this decision encourages Hamas which has been recognized as a terrorist organization by several countries. The countries standing against terror must act responsibly and should not reward them. While Hamas has been responsible for hindering a ceasfire, El Salvador, Peru and Chile were expected to support international attitude for peace and demilitarization of Gaza", the statement said.
Full report at:
http://www.dailysabah.com/americas/2014/07/30/five-latin-american-countries-withdraw-envoys-from-israel
-----------
Killing of Gaza Children on Playground Tragic: Us State Dept
Jul 31, 2014
WASHINGTON, D.C. – The U.S. State Department spokeswoman Jen Psaki said that the reports of the children killed while playing on a playground in Gaza was devastating and tragic.
At least ten Palestinian children were killed and 45 others injured on Monday by Israeli shelling of the western Gaza City Al-Shati Refugee Camp public park, according to Palestinian officials.
"We certainly urge all parties to respect the civilian nature of schools and medical facilities. These facilities which serve as shelters for many of those fleeing the conflict must be treated as inviolable and off limits for military use and targeting by all sides," Psaki said at press briefing.
Full report at:
http://www.dailysabah.com/americas/2014/07/30/killing-of-gaza-children-on-playground-tragic-us-state-dept
-----------
U.S.: Israeli criticism of Kerry 'offensive, absurd'
Jul 31, 2014
Israeli attacks against U.S. Secretary of State John Kerry accusing him being of a supporter of Hamas are "offensive and absurd," a senior U.S. diplomat said Wednesday.
In a sharp exchange with reporters, deputy State Department spokeswoman Marie Harf hit out against a torrent of abuse from "respected voices in Israel talking about the secretary of state, claiming that he supports Hamas, which is offensive and absurd."
The United States had been giving Israel "a level of support which has been quite frankly unprecedented in our history, even when we stood alone," she added.
After last week's failed bid to mediate a ceasefire in the Gaza Strip, Kerry has been pilloried in the Israeli press for submitting a plan on Friday to the Israeli government, which the security cabinet unanimously rejected.
Full report at:
http://english.alarabiya.net/en/News/2014/07/30/U-S-says-Israeli-criticism-of-Kerry-offensive-absurd-.html
---------
Southeast Asia
Deputy home minister says 'impossible' Hamas fighters trained in Malaysia
JULY 31, 2014
KUALA LUMPUR, July 31 — Putrajaya denied today an Israeli report claiming Hamas fighters had used Malaysia as a training ground ahead of its latest strikes in the Gaza Strip.
The Malaysian government would not have allowed any kind of foreign militant training on its soil "including the good fight against Israel", Deputy Home Minister Datuk Wan Junaidi Tuanku Jaafar told local broadcaster Astro Awani.
"It is impossible that such training is done in this country, the fighter's statement is not true, in fact, it didn't happen in this country," the lawmaker was quoted saying further.
In a report earlier today, Jerusalem Post cited Israeli authorities as saying a Hamas cell commander its defence forces had caught earlier this month had revealed he and several of his Palestinian colleagues had been sent to Malaysia for training on how to carry out cross-border strikes and using powered parachutes.
Full report at:
http://www.themalaymailonline.com/malaysia/article/deputy-home-minister-says-impossible-hamas-fighters-trained-in-malaysia#sthash.nXF6bqwF.dpuf
-----------
Malaysian Muslims facing fascist indoctrination, former minister says
JULY 31, 2014
KUALA LUMPUR, July 31 — Datuk Zaid Ibrahim has hit out at religious authorities and right-wing groups for subjecting Muslims to propaganda to the point of expecting the faithful to read no books, but to simply obey preachers even when they talk "absolute nonsense".
The former de facto law minister cited as example the Hari Raya sermon by the Malaysian Islamic Development Department (Jakim), where Muslims were told to reject liberalism, capitalism, pluralism, secularism, materialism and modernity.
"If we Muslims have any knowledge of these 'isms', then our faith will be affected and our lives will go astray," Zaid wrote in a blog post, ridiculing the notion.
"So what do Muslims have to do instead? Must we reject life, pursue no knowledge, read no books and just listen to preachers who want to rule Muslims by indoctrination and propaganda?
Full report at:
http://www.themalaymailonline.com/malaysia/article/malaysian-muslims-facing-fascist-indoctrination-former-minister-says#sthash.74SouuZM.dpuf
-----------
Minority groups demand sedition charge against curry powder preacher
BY BOO SU-LYN
JULY 31, 2014
KUALA LUMPUR, July 31 — MIC, MCA and some Indian groups rejected today Islamic preacher Shahul Hamid's apology for his wanton insult of Hinduism and called for the PAS member to be charged with sedition.
MIC vice-president Datuk M. Saravanan said action must be taken against Shahul to discourage people from insulting other religious beliefs in future.
"Don't ever touch religion," Saravanan told Malay Mail Online when contacted today.
"If you forgive and just let go, you're going to open the floodgates for someone else to condemn religions, like Islam and Christianity, and to simply apologise," added the leader in the Barisan Nasional (BN) Indian component party.
Shahul issued a public apology earlier today after controversy erupted when a video clip of his speech made several years ago, in which he told Muslims not to buy curry powder from "Hindu companies" like Alagappa's and Baba's, was uploaded on social media sites recently.
"If you go to the Alagappa's factory near Permatang Pauh, you will a statue at the entrance, and the tongue is out. Why is the tongue out? Because the goddess must taste all the curry powder before they sell it," the Indian-Muslim man was heard saying in the video.
Full report at:
http://www.themalaymailonline.com/malaysia/article/minority-groups-demand-sedition-charge-against-curry-powder-preacher#sthash.9P9f39Qh.dpuf
-----------
Malaysia offers 'halal treatments' for Muslim medical tourists
Jul 31, 2014
Muslim tourists have long chosen Malaysia, its beaches and its malls as a holiday destination thanks to cultural affinity.
Now the Southeast Asian country, where Muslims make up about 60 percent of the population, wants to parlay its visitor dividend into a bid to overtake its neighbours for the world's medical tourism crown.
It seeks to appeal to less affluent patients with reasonably priced treatments. But figures show it has some ground to make up on Thailand and Singapore in boosting its share of an industry that generates $38 billion to $55 billion annually.
Malaysia is a new player in the market, competing with experienced, branded names. But it is quickly attracting the attention of patients, earning third place for "best and most affordable healthcare" by International Living, a lifestyle magazine.
Full report at:
http://english.alarabiya.net/en/life-style/travel-and-tourism/2014/07/30/Malaysia-tries-to-parlay-appeal-to-Muslim-visitors-into-medical-tourism-push.html
-----------
South Asia
China's Uighur Muslims Are Trapped in a Cycle of Violence
Jul 31, 2014
As the Islamic holy month of Ramadan ended, lethal violence flared up in China's Xinjiang province – the latest grim entry in the saga of terrorism and repression that surrounds the region's Uighur Muslim minority.
Every year during Ramadan, China's religious policies in Xinjiang come under international scrutiny – particularly with regard to the Chinese Communist Party's (CCP) repeated bans stopping Uighur CCP members, government civil servants, teachers and students from fasting during Ramadan.
This year was no exception. The atheist CCP's official regulation on religious practice forbids its party members and youths under 18 from following any religion. This technically applies to the whole country, although its actual enforcement varies significantly across different ethnic groups and different regions.
Full report at:
http://www.theepochtimes.com/n3/827430-chinas-uighur-muslims-are-trapped-in-a-cycle-of-violence/
-----------
Afghanistan presidential vote audit to resume on Saturday
Jul 31, 2014
The Independent Election Commission of Afghanistan (IEC) said Wednesday that the vote audit for the presidential election will resume on Saturday.
A statement released by IEC said the audit will be resumed following a break for the Eid al-Fitr national holiday.
The statement further added that the Independent Election Commission (IEC) has formally adopted criteria for the recount and invalidation of ballots, as part of its 100% audit of the run-off round of voting for the Presidential election.
"The adoption of the criteria is consistent with the laws of Afghanistan and the mandate of the IEC. The criteria are based on a proposal of the United Nations, finalized after extensive consultations with the campaign teams of both presidential candidates, Dr. Abdullah Abdullah and Dr. Ashraf Ghani Ahmadzai," the statement said.
Full report at:
http://www.khaama.com/afghanistan-presidential-vote-audit-to-resume-on-saturday-6499
-----------
Pakistan
Nawaz Sharif sceptical of Imran's long march agenda
July 31, 2014
LAHORE: Prime Minister Nawaz Sharif is skeptical of Imran Khan's agenda of long march and urged the Pakistan Tehreek-i-Insaaf chairman to announce his intentions clearly.
Sharif who spent 10 days in Saudi Arabia has plenty of challenges at home to cope with, including issues of calling in army in Islamabad invoking article 245 of the constution and the PTI long march.
On his arrival Sharif told media : "What is the agenda of long march, what do they want, even they don't discuss it clearly. He said Imran Khan had announced to accept the results of the election despite reservations about its credibility but precisely after a year he had started raising questions.
Full report at:
http://www.thenews.com.pk/article-155454-Nawaz-Sharif-skeptical-of-Imrans-long-march-agenda
-----------
Shahbaz promises 2,000 homes for IDPs in North Waziristan
Jul 31, 2014
BANNU: Punjab Chief Minister Shahbaz Sharif on Wednesday said his government would build 2,000 homes for those displaced in the North Waziristan operation.
He said terrorists were trying to cause irreparable damage to Pakistan, adding that there was still time to take measures to improve conditions in the country.
The chief minister made these remarks while addressing those displaced as a result of the military operation under way in North Waziristan at the camp of the internally displaced persons (IDPs) in Baka Khel.
Accompanied by Khyber Pakhtunkhwa Governor Mehtab Abbasi, Shahbaz had arrived at the camp which is located in a vast open field a good half-hour drive from Bannu city to meet with the IDPs and distributed gifts among them.
Full report at:
http://www.dawn.com/news/1122364/shahbaz-promises-2000-homes-for-idps-in-north-waziristan
-----------
Germany announces €1m aid for NW IDPs
By Mateen Haider
Jul 31, 2014
ISLAMABAD: The German government has announced one million Euro in immediate assistance to support the relief activities of the World Food Programme (WFP) in the north-west of Pakistan through a project 'Enhancing Food and Nutrition Security and Rebuilding Social Cohesion for Internally Displaced Persons (IDPs) of North Waziristan tribal agency.
"The ongoing military operations have displaced significant parts of the population in that area; a fact which is exhibited in the recent exodus from Federally Administered Tribal Areas (Fata)'s North Waziristan Agency," a spokesperson for German embassy in Islamabad said.
"The assistance would ensure the food security and nutrition of IDP in the north-west, support their return and facilitate recovery and would restore and stabilise the nutritional status of vulnerable populations in Pakistan's most food-insecure areas," the spokesperson said.
Meanwhile, sources in the World Health Organization (WHO) said that the organisation has provided medicines worth USD 250,000 for internally displaced persons (IDPs) from North Waziristan tribal region.
Full report at:
http://www.dawn.com/news/1122393/germany-announces-eur1m-aid-for-nw-idps
-----------
FO registers protest over clash on Pak-Afghan border
Jul 31, 2014
ISLAMBAD: Pakistan summoned a senior Afghan diplomat on Wednesday and registered a protest over a skirmish during which Pakistani security forces foiled a militant attack on a checkpost on the Pak-Afghan border.
Military sources were quoted as saying that six attackers were killed and nine wounded during a cross-border militant assault on a checkpost on the Pak-Afghan border in Lower Dir region which was repulsed by Pakistan's security forces late on Tuesday.
The officials, who requested anonymity, also said security along the Pakistan-Afghan border was beefed up to foil such attacks from Afghan territory.
Pakistan's Foreign Office in Islamabad summoned the Afghan charge d' affaires and lodged a strong protest with Afghanistan over the cross-border attack.
Full report at:
http://www.dawn.com/news/1122360/fo-registers-protest-over-clash-on-pak-afghan-border
----------
URL: https://www.newageislam.com/islamic-world-news/new-age-islam-news-bureau/libya--al-qaeda-linked-militants-declare-benghazi-an--islamic-emirate-/d/98362