New Age Islam News Bureau
29 Dec 2014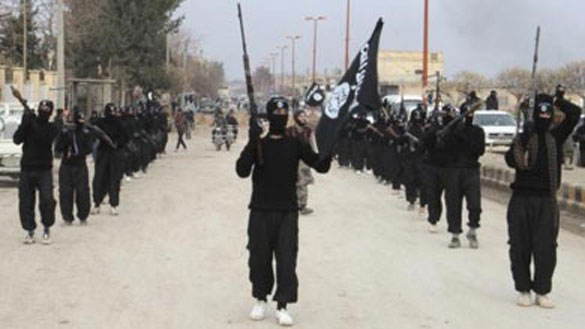 ISIS had selected Saudis as military leaders for the skirmishes with the Kurds, a source said. (File photo: Reuters)
-----------
Arab World
• Lessons in Beheading: Inside Islamic State 'Schools'
• ISIS Executes More Doctors in Mosul
• Dozens of Saudis Who Join IS 'Die At Kurdish Hands'
• Children among the dead in Syria bombing
• Jordan to present amended Palestinian statehood resolution to UN
• Iraqi Forces Foil ISIL Attack on Haditha District
• Takfiri Militants Lose Ground in Idlib, Hama
• UAE announces holiday on January 3 to mark Prophet Muhammad's birthday
• Families of jihadists evacuate Mosul as Baghdad prepares for major offensive
Pakistan
• Taliban Says Pakistan Army Fooled Youth for Blood Game in Kashmir
• Social Media Latest Weapon of Attack against Lal Masjid Activist
• Pre-Emptive Measure: Govt Likely To Ban More Outfits Including IS
• PM vows to eradicate terrorism once for all at whatever the cost
• Security forces apprehend 14 suspected militants in Quetta
• Musharraf conspiring to destabilise Sindh govt: Zardari
• Boxer Amir Khan visits Army Public School, says 'terrorism must stop'
• Investigations in Balochistan: 80% of terror suspects acquitted in 3 years
Africa
• 100 Boko Haram Fighters Killed, 200 Arrested By Cameroon Army
• South Sudan: 40 Dead in Lakes State Inter-Clan Battle
• Ghana's Boko Haram: Imam Says Its Disciplinary Measure
• Militants' camp in Traghen attacked: report
• Nigeria: PDP Did a Good Job Falsely Branding Buhari an Islamic Extremist
• South-West Muslim has no allegiance to Buhari or Jonathan
South Asia
• 59 Insurgents Killed In Police Operations
• Taliban Commander among 4 Killed In Nuristan Drone Strike
• Taliban leader Mullah Omar hiding in Pak: Afghan spy chief
• No Season of Goodwill As China Puts More Pressure on Underground Christians
• Taliban claim NATO 'defeated' as Afghan war ends
• Make special law to try perps of communal violence
• 42 Hindus killed in a single day: War crimes witness from Bagerhat tells tribunal
Mideast
• Houthis, Tribesmen Clashes in Sanaa Kill 12
• Palestinians Encouraging Iran to Escalate Anti-Israel Terror: Netanyahu
• Hamas bars Gaza children from Israel trip
• Yemen: Al-Qaeda 'in a war of attrition'
• Jewish extremist group poses legal, political dilemma for Israel
Europe
• IS Planning Attack on Queen's Guards: Report
• Churchill Found Islam Tempting, Letter Shows
• German-Turkish group warns against 'dialogue' with far-right
• Parents of UK Jihadis: Losing Children, Then Their Community
North America
• In Battle to Defang ISIS, US Targets it's Psychology
• Muslim Group Suing Navy over Alleged Beard Discrimination
• Islamic State's tyranny strikes all religions
• Americans feel Afghan war not worth the effort: survey
• US man indicted in plot to blow up Muslim holy sites in Jerusalem
• Obama: End of US combat mission in Afghanistan a "milestone"
India
• Bengaluru Bomb Blast Definitely a Terror Attack, NIA to Assist in Probe: Centre
• Love Jihad, Conversion Hogged Limelight In UP
• Left Behind By Muslims, following the 1989 riots in Bhagalpur, a Tomb Now Has Hindu Caretakers
• Bangalore Blast May Be Retaliation For Pro-IS Tweeter Mehdi Arrest: Karnataka CM
• In Jodhpur, Pakistan Migrants Cobble up Shoes, And a New Future
• Govt summons Pakistan high commissioner after Lakhvi's detention order suspended
Southeast Asia
• 'Time of Tolerance' May Be Coming to End in Indonesia
• AirAsia Plane Likely 'At Bottom of Sea': Indonesia Search Chief
Compiled by New Age Islam News Bureau
URL: https://newageislam.com/islamic-world-news/new-age-islam-news-bureau/lessons-in-beheading--inside-islamic-state-'schools'/d/100747
------------
Arab World
Lessons in Beheading: Inside Islamic State 'Schools'
29 Dec, 2014
JOMAH, a 17-year-old Syrian who joined Islamic State last year, sat in a circle of trainees for a lesson in beheading, a course taught to boys as young as eight.
Teachers brought in three frightened Syrian soldiers, who were jeered and forced to their knees. "It was like learning to chop an onion," Jomah said. "You grab him by the forehead and then slowly slice across the neck."
A teacher asked for volunteers and said, "Those who behead the infidels will receive gifts from God", recalled Jomah, who didn't want his full name revealed.
The youngest boys shot up their hands and several were ­chosen to participate. Afterwards, the teachers ­ordered the students to pass around the severed heads.
"I'd become desensitised by that time," said Jomah, who has since defected to Turkey with his family. "The beheading videos they'd shown us helped."
The enrolment of hundreds of boys in such militant training camps is another tragic facet of Syria's nearly four-year-long civil war — and its impact could trouble the Middle East for years.
Parents worry their boys will be forever lost to the indoctrination of Islamic State.
The militant group, which has seized large swaths of Syria and Iraq, has remade the secular education system in the territory under its control, leaving families to choose between a radical Islamist education or nothing.
Islamic State religious schools in the Syrian provinces of Aleppo and Deir Ezzour — where, for ­example, chemistry has been ­replaced by religious studies — have become a conduit for recruiting boys to the fighting ranks, five ­former child soldiers and several adult militants told The Wall Street Journal in Turkey, where they are refugees.
One of them, 17-year-old ­Ismail, said he was ordered by his Islamic State superiors to help ­behead every male aged 14 to 45 from an enemy Syrian tribe in Deir Ezzour. The teenager said he baulked, but his 10-year-old brother took on the job with zeal
. Activists said hundreds were killed.
Ismail, who was wounded on the first day of battle, said he ­defected in August and fled to Turkey without telling his ­bro­ther. He worried that his brother — who joined Islamic State at nine — would tell. Deserters were killed, Ismail said.
"You're an apostate. If you don't come back, we will punish you by God's law," the boy told his brother when they finally spoke by mobile phone.
Ismail said he felt guilty for having encouraged the boy to join the militants.
Jomah, who quit Islamic State after five months, said he had joined partly for the money and partly out of boredom. He said he had too much idle time after his school in Minbij, a small town in northern Syria's Aleppo province, was closed.
Most of the boys interviewed by the Journal said they suffered from nightmares of fighting on the frontlines and a few suffered memory loss. They all recalled their first killing, but some became agitated when pressed for details.
Their accounts are supported by videos released by Islamic State that show children holding severed heads or mocking people about to be executed.
Islamic State's media arm in Deir Ezzour released a video this month showing a regime soldier under interrogation. It later shows his decapitated body hanging from a fence as eight young children play with the head and yell ­insults at the corpse. "This is an apostate, an infidel," yelled one child, smiling.
"God curse your father who gave birth to you, you dog," ­another child said. "Bring us another one, a live one."
In Syria, some desperate families send their sons to training camps in exchange for $US150 ($185) a month, hoping to retrieve them once the fighting ends.
Other children are influenced by town-square events where ­Islamic State militants give away juice and sweets while showing propaganda videos that include killing. The public events substitute for entertainment in places under fundamentalist Islamic State rule, attracting many children whose secular schools have been closed.
Human Rights Watch in a June report condemned the Western-backed Free Syrian Army and ­Islamic State for recruiting Syrian children under the "guise of ­education".
The practice echoes the schooling of Afghan children by the Mujaheddin and Taliban during the civil war of the 1980s and 1990s, a campaign that moulded many of today's Taliban fighters.
For Ismail's family, the motive to sign up their children for war was the defeat of Syrian President Bashar al-Assad. The more secular Free Syrian Army, or FSA, had swept their town of Deir Ezzour in 2011. Ismail, who was 14 at the time, and his younger brother, who was seven, both joined the FSA.
In early 2012, Nusra Front, a branch of al-Qa'ida, sank roots in town and the boys switched ­allegiance. By the northern summer of last year, they had joined ­Islamic State.
"I feel guilty," Ismail said. "But in that period, I was only thinking of how to defeat the regime."
Ismail keeps a mobile phone photo of his younger brother with an AK-47, wearing a camouflage uniform and a black balaclava with white Islamic script. The boy holds up a finger to proclaim his faith.
"Before the revolution, children of age seven entered school, it was law," Ismail said. "Now, it's like a new law that the children of seven must fight."
When Ismail and his brother joined Islamic State, they underwent a 45-day course in Sharia, or Islamic law, followed by 15 days of specialised military and explosives training in Deir Ezzour.
Their days started about 4am with prayers, followed by three hours of Sharia study. Breakfast was at 7am, and then an hour of sports, Ismail said. From 8am until 4pm, the boys did weapons training with guns and mortars.
The day ended with three hours of Sharia study until night prayers and bedtime around 9pm.
After their 45-day training, an Islamic State emir, or prince, presided over a graduation ceremony, where the boys were divided into groups for specialised training. For 15 days, they prepared for either joining the battlefield, guarding military installations, serving as bodyguards for prominent commanders, or becoming suicide bombers.
"The stupid ones were always chosen for suicide bombers," said one 14-year-old former soldier, also from Deir Ezzour and now in Turkey.
As Syrian schools fell under the control of Islamic State, radical ­Islamic preachers replaced certified teachers. History and philosophy were taken out of the curriculum. In Islamic State strongholds of Raqqa and Deir ­Ezzour provinces, schools are ­either seized or closed, depending on whether they have enough of their own teachers to staff classes.
In Aleppo, Syria's most populous province, the militants ­focused on taking over military ­installations, then schools, activists said.
The takeover of Syria's secular schools began when Nusra, the ­al-Qa'ida-linked group, consolidated power last year across pockets of Syria, according to teachers.
Reem Sheikh, a 34-year-old Syrian school administrator now in Turkey, recalled hearing a commotion in June last year outside her former office in Deir Ezzour. Nusra militants had surrounded the building, holding guns and large plastic bags.
The bags were filled with conservative, Islamic clothing for ­female students. The militants ­demanded girls wear conservative dress and be taught separately from boys, Sheikh said. They were ordered to scrap secular subjects. "I tried to convince them, tell them it's necessary to teach science," Sheikh said.
For a time, Sheikh said, they got away with disobeying Nusra. That changed when Islamic State swept through the town a year later. Sheikh said that in August this year her school was surrounded once more by militants. Teachers were marched to the nearby mosque. Women were segregated on the second floor from male teachers and the militants on the first.
"Don't open the schools this year and wait for our conditions," she recalled one militant saying. The men berated educators for their liberal teachings. One ­science teacher who tried to argue was beaten and arrested, Sheikh said.
Deir Ezzour 's schools remain closed. Children are allowed to ­attend mosques and learn from Islamic State-approved preachers. "They don't intend to reopen the schools because they don't want to deal with learned people," Sheikh said. "Their ideology is all about submitting." An Egyptian emir is the head of education for Islamic State in Deir Ezzour province. "When I spoke to him, he sounded young," Sheikh said. "And his Arabic didn't sound like he was ­educated."
Islamic State has used children in other ways. In May, a convoy of school buses carrying about 250 Kurdish students through Aleppo was seized by Islamic State. The children were returning from government exams to their homes in Kobani. Militants released the girls but held more than 150 boys, aged 14 to 16.
The children were used as ­bargaining chips for a prisoner ­exchange. Islamic State, which is battling the Kurds for control of Kobani, demanded the release of their imprisoned fighters in exchange for the Kurdish students.
Some of the young Kurds were beaten and tortured, said four boys who were held and released. The captives underwent Sharia training similar to the study ­described by Ismail and ­others.
Murad, who didn't want to give his full name, said he spent his first few days listening to the screams of others. The 15-year-old boy watched classmates emerge from the basement, a makeshift torture chamber.
The students were released to their families in stages, with the last group held five months before returning home in late October.
Murad was released after about a month, but the fundamentalist influence of his captors lingered. He yelled at his mother for baring her arms at home and demanded she keep her face veiled. He commanded his father to abide by ­religious custom and pray five times a day.
What scared his father most, he said, was hearing Murad sing Islamic State propaganda songs when he was alone. The captives had been forced to sing the songs after morning prayers.
The Wall Street Journal
http://www.theaustralian.com.au/business/wall-street-journal/lessons-in-beheading-inside-islamic-state-schools/story-fnay3ubk-1227168824799
------------
ISIS executes more doctors in Mosul
29 Dec, 2014
ERBIL, Kurdistan Region – Islamic State (ISIS) authorities executed two more doctors in the city of Mosul, the latest in a campaign against physicians who refuse to join field hospitals or treat wounded fighters, a top health official said.
"Elements of the organization (ISIS) executed physicians Tareq Jassim and Adil Ayham, working in the Department of Surgery of the Republican General Hospital in Mosul," said Dr. Firas al-Hamdani, head of the hospital's emergency section.
"The bodies of the doctors arrived at the hospital morgue this evening after being executed by ISIS firing squad," he added.
ISIS arrested doctors at the hospital in September, after capturing the city in June.
The jihadi group has issued threats recently to punish doctors and nurses who refuse to treat its wounded fighters.
According to staff members of the Mosul Health Department ISIS has ordered all doctors to work round the clock.
In recent fighting with Kurdish Peshmerga forces, ISIS has suffered heavy losses and scores of wounded militants are believed to have been taken by the group to Mosul hospitals.
http://rudaw.net/english/middleeast/iraq/28122014
------------
Dozens of Saudis who join IS 'die at Kurdish hands'
29 Dec, 2014
DAMMAM — Scores of Saudi citizens who joined the self-proclaimed Islamic State have been killed in fights with Kurdish forces, Al-Hayat daily reported.
IS had selected Saudis as military leaders for the skirmishes with the Kurds, a source said. The majority of people killed in the fights were Saudi but there were Iraqis and Syrians among the dead.
A Syrian human rights activist, who preferred anonymity, said the western Syrian city of Ayn Al-Arab is controlled by Saudis who are members of IS.
He added all military leaders of most cities and towns are Saudis selected by the militant group.
The source noted that Saudis speak standard Arabic in order not to give away their accent and identity.
However, most Syrians can recognize the Saudi accent, the source said. He believed the majority of people who carried out these attacks were young Saudis who were not even 18.
Al-Hayat published a report earlier about young Saudis who blew themselves up in different places in Syria. All terrorists who join IS use nicknames.
However, it is obvious that IS relies on Iraqi leaders in matters related to security and on Saudis in matters related to battle and religious issues, the source said.
The reason behind this is that the Saudis gained experience in fighting when they were members of Al-Qaeda.
The source said Saudi members are also responsible for everything related to media and information.
It is Saudis who speak for IS and recruit new members for the organization, according to the source.
http://www.saudigazette.com.sa/index.cfm?method=home.regcon&contentid=20141229228804
------------
Children among the dead in Syria bombing
29 December 2014
A car bombing killed six people including two children in a Kurdish area of Syria's northern province of Aleppo on Sunday, a monitoring group said.
The Syrian Observatory for Human Rights said the attack targeted a checkpoint in a town controlled manned by Kurdish forces in the Qitna area.
Four Kurdish fighters at the checkpoint were killed, as were two children, it said. More children were among 10 people wounded.
Kurdish fighters in the area are battling jihadist fighters from the Islamic State group.
The war in Syria began in March 2011 with peaceful protests against President Bashar al-Assad's government, but quickly escalated into an armed rebellion after a brutal regime crackdown.
According to the Britain-based Observatory, which relies on a broad network of activists and medics for its information, more than 200,000 people have been killed in the conflict.
http://english.alarabiya.net/en/News/middle-east/2014/12/29/Children-among-the-dead-in-Syria-bombing-.html
------------
Jordan to present amended Palestinian statehood resolution to UN
29 Dec, 2014
The Palestinian resolution calling for an Israeli withdrawal to the pre-1967 lines will be presented to the United Nations Security Council on Monday, according to Chief PLO Negotiator Saeb Erekat.
Erekat said on Sunday eight amendments have been introduced to the original draft resolution, adding that the Security Council would vote on it Tuesday or Wednesday. He pointed out that Jordan would present the amended resolution on behalf of the Palestinians and Arab countries.
Palestinian efforts to win support for the resolution would continue "until the last minute," Erekat said, repeating earlier threats that the Palestinians would join international organizations and treaties if the US chooses to veto the resolution, which calls for setting a timeline for Israel's withdrawal to the pre-1967 lines.
Full report at:
http://www.jpost.com/Arab-Israeli-Conflict/Jordan-to-present-UN-amended-Palestinian-resolution-on-Israeli-withdrawal-Monday-386019
------------
Iraqi Forces Foil ISIL Attack on Haditha District
29 Dec, 2014
The Iraqi security forces foiled an attack by the Islamic State of Iraq and the Levant (ISIL) terrorists on Haditha district in Anbar province.
''The security forces set an ambush for the terrorists and killed many of them when they attempted to sneak into the district," Mayor of Haditha District Abdul Hakim al-Jaghephy said on Sunday.
''The terrorists fled to the areas, which are still under their control, after suffering huge material losses and human casualties,'' the statement concluded.
http://english.farsnews.com/newstext.aspx?nn=13931008000281
------------
Takfiri Militants Lose Ground in Idlib, Hama
29 Dec, 2014
The Syrian Army launched several deadly attacks on targets of armed groups in nearby areas of Idlib and Hama provinces, claiming the lives of scores of Takfiri militants.
The army soldiers stormed the hideouts of the rebels in the areas of al-Hbeit, Abu al-Duhour, Saraqeb, Taftanaz, al-Bara, Shahranaz, Maaret Harmeh and Hzano in the countryside of Idlib, leaving a large number of them dead and injured.
Also, the militants suffered heavy toll in the areas of Qleib al-Thour, Jurouh, Eqeirbat, al-Khdeira, Kafarzita and al-Latamneh, as the army gained ground in Hama province.
The Syrian Army and government have defended their country against insurgents since 2011 when a huge number of foreign terrorists flocked to the Middle-Eastern country.
In spite of certain western states' military and financial supports for militants, the Syrian troops have been able to push them back from many areas across the country, and based on military observers the fall of militancy in Syria is not far.
http://english.farsnews.com/newstext.aspx?nn=13931007001092
------------
UAE announces holiday on January 3 to mark Prophet Muhammad's birthday
WAM / 29 December 2014
A circular on the Mawlid Al Nabi holiday was issued by Hussain bin Ibrahim Al Hammadi, Minister of Education and Chairman of the Federal Authority for Government Human Resources.
Ministries and Federal departments, as well as private sector establishments and corporations, will be closed on January 3 to mark the birthday of the Prophet Muhammad (PBUH).
A circular announcing the public sector holiday was issued by Hussain bin Ibrahim Al Hammadi, Minister of Education and Chairman of the Federal Authority for Government Human Resources, while the circular for the private sector was issued by Saqr bin Ghobash Saeed Ghobash, Minister of Labour.
Full report at:
http://www.khaleejtimes.com/kt-article-display-1.asp?xfile=data/nationgeneral/2014/December/nationgeneral_December232.xml&section=nationgeneral
------------
Families of jihadists evacuate Mosul as Baghdad prepares for major offensive
29 Dec, 2014
ERBIL, Kurdistan Region — Families of the Islamic State (ISIS) militants have evacuated Mosul city, Kurdish sources inside Mosul reveal. The Iraqi army, assisted by the US-led coalition air power are gearing up to regain control of Mosul, the stronghold of ISIS.
"According to our sources at least eight buses carrying the families of the militants departed from Mosul towards the Syrian border," Saeid Mamozini, a Kurdish media spokesperson told Rudaw.
The ground operation to recapture Mosul will take place in late January next year, Iraqi military sources have said. Kurdistan Region President Massoud Barzani has not ruled out Peshmerga forces assisting in the fight to recapture the city, which has an estimated 500,000 Kurdish inhabitants.
"If the Iraqi government and the people of Mosul have a plan, we will study it and see how to assist the Iraqi army in recapturing the city," Barzani said last week in response to a question by Rudaw.
Mamozini also said the militants had enforced strict public regulations in the city, which "practically banned women to drive or travel alone in the city."
http://rudaw.net/english/middleeast/iraq/271220141
-------
Pakistan
Taliban says Pakistan Army fooled youth for blood game in Kashmir
29 Dec, 2014
The Tehreek-e-Taliban Pakistan (TTP) has released a new video accusing the Pakistani Army of attacking the 'Mujahideens' even after using them for "blood game" and "proxy war" in Jammu and Kashmir in the name of "so-called freedom" and in Afghanistan.
The video purportedly of its senior Commander Adnan Rashid, a former Pakistan Air Force official who was involved in an attack on ex-dictator Gen Pervez Musharraf, calls upon the soldiers of Pakistani Army to join the TTP listing the atrocities committed by the force including "killing of millions" and "raping of own sisters" during the Bangladesh Liberation War in 1971.
In his little over 15-minute long video released before Christmas, Rashid accuses Pakistan Army officers, the "Brahmins" of the force, of treating their juniors as "Shudras".
Rashid, in what appears to be British-accented English, says in the video released by TTP's media wing 'Umar Media' that, "you may remember when people from tribal areas fought for you the war of 1948 and liberated for you the Azad Jammu and Kashmir".
Full report at:
http://www.hindustantimes.com/world-news/pak-taliban-says-army-fooled-youth-for-blood-game-in-kashmir/article1-1301163.aspx#sthash.v6v2PRbI.dpuf
------------
Social media latest weapon of attack against Lal Masjid activist
29 Dec, 2014
ISLAMABAD: The standoff between civil society and Lal Masjid cleric Abdul Aziz has taken another alarming turn. Following threats from militant groups, organisers of the protests are now being targeted by a social media campaign that could endanger their lives.
Mohammad Jibran Nasir, the Karachi-based lawyer and rights activist who has been at the forefront of the movement that aims to 'reclaim Lal Masjid', is being called a non-Muslim and an Ahmadi. Posts on social networking sites such as Twitter and Facebook featuring photos of Jibran participating in Holi celebrations are being used as 'proof' of his anti-Muslim allegiances.
However, the defiant Mr Nasir stands firm. In a message sent from his Twitter account, he responded to the allegations, saying, "I own my allegiance to human rights. Sunni, Shia, Ahmadi, [Christian], Hindu, Parsi… whoever, I will continue to advocate human rights for all. (sic)"
Full report at:
http://www.dawn.com/news/1153808/social-media-latest-weapon-of-attack-against-lal-masjid-activist
------------
Preemptive measure: Govt likely to ban more outfits including IS
29 Dec, 2014
ISLAMABAD: Top security agencies are drawing up a list of militant organisations that will be banned as part of the new anti-terror strategy approved recently by the civil-military leadership in the wake of the December 16 attack on a school in Peshawar.
According to the list, the Islamic State (IS), known as Daish in Arabic – a militant outfit that has made significant strides in parts of Syria and Iraq – is likely to be proscribed in Pakistan, The Express Tribune has learnt. Despite denials from the federal government, the Islamic State is believed to be engaged in a recruitment drive in Pakistan. One intelligence report suggested that the militant organisation is trying to establish its network in Balochistan, which is already in turmoil due to insurgency.
Although there is no clear evidence of the IS's presence in the country, wall-chalking supporting the militant outfit has recently appeared in several major cities, including Karachi, Lahore and Peshawar. Earlier this month, the foreign ministry said the police had arrested some people linked to the IS graffiti in various cities. Also some members of the religious right, including Lal Masjid chief cleric Maulana Abdul Aziz, have publicly supported the IS agenda.
Full report at:
http://tribune.com.pk/story/813799/preemptive-measure-govt-likely-to-ban-more-outfits-including-is/
------------
PM vows to eradicate terrorism once for all at whatever the cost
29 Dec, 2014
LAHORE - Prime Minister Nawaz Sharif has said that the government has taken a firm decision to eradicate the menace of terrorism from Pakistan once for all and would go to any extent for this purpose.
The prime minister was talking to Punjab Chief Minister Shahbaz Sharif, who called on him at his Raiwind residence here on Sunday. Nawaz said that Pakistan has suffered a lot in all respect due to terrorism. He said that thousands of people lost their lives due to terrorist activities and the economic losses were beyond the absorbing capacity of Pakistan. He regretted that the problem was not tackled at the beginning during the dictatorial rule.
He highly lauded the role of Pakistan Army and air force which were targeting terrorists and successfully eliminating them. He was confident that with the cooperation from Afghanistan, Pakistan would be successful in completely rooting out terrorists from its side of the border. During the meeting the counter terrorism strategy and its implementation in Punjab province was also discussed in detail. The chief minister briefed the prime minister about the decisions taken by the apex committee headed by him and comprising Corps Commander Lahore, Inspector General Police, home secretary and others to operationalise the National Action Plan.
http://www.dailytimes.com.pk/national/28-Dec-2014/pm-vows-to-eradicate-terrorism-once-for-all-at-whatever-the-cost
------------
Security forces apprehend 14 suspected militants in Quetta
29 Dec, 2014
QUETTA: Security forces on Monday apprehended fourteen suspected militants, including a key commander, from the Eastern Bypass area of Quetta, the capital of Balochistan province.
An intelligence officer told Dawn that security forces conducted a raid in Quetta's Eastern Bypass area and apprehended fourteen militants — including a key commander.
"Forces acted on an intelligence tip-off," the intelligence officer added.
The militants were moved to an undisclosed location for interrogation, he said, adding that they belong to a banned militant outfit.
The officer also claimed that the mastermind of the Nov 26 attack on polio workers in Quetta was among the militants apprehended during the operation.
On Nov 26, gunmen on motorcycles had killed four polio workers in Eastern Bypass. The proscribed militant group Jundullah had claimed responsibility for the attack.
Security forces also recovered arms and ammunition from the possession of the militants.
Security forces have launched a crackdown against militants in Quetta and other parts of Balochistan in the aftermath of the Peshawar school carnage.
http://www.dawn.com/news/1153836/security-forces-apprehend-14-suspected-militants-in-quetta
------------
Musharraf conspiring to destabilise Sindh govt: Zardari
29 Dec, 2014
ISLAMABAD: Pakistan Peoples Party (PPP) Co-Chairman and former president Asif Ali Zardari on Sunday said his party had reasons to believe that former dictator General (retd) Pervez Musharraf was meeting with certain elements seeking to destabilise the Sindh government.
In a statement, Zardari asked democratic political parties to take notice of the alleged conspiracy to destabilise the Sindh govt by some elements.
The former president also warned that the PPP would never permit any such attempt to succeed.
Zardari also said that the party was a united political force and those seeking to topple the provincial govt through horse trading would not succeed in their designs. He also rejected reports of frictions within the party.
Earlier on Saturday, while speaking at the Bhutto mausoleum in Garhi Khuda Bakhsh to mark Benazir Bhutto's death anniversary, the former president dismissed reports of differences with his son Bilawal Bhutto-Zardari.
The PPP Co-Chairman said that the rumors were being circulated by competitors.
http://www.dawn.com/news/1153654/musharraf-conspiring-to-destabilise-sindh-govt-zardari
------------
Boxer Amir Khan visits Army Public School, says 'terrorism must stop'
29 Dec, 2014
PESHAWAR: Amir Khan, a British boxing champion of Pakistani origin, paid a visit to terror-hit Army Public School in Peshawar on Monday and said that his heart went out to the families and parents whose children had died in a brutal Taliban attack on Dec 16.
"The main reason I came to Pakistan was to visit Peshawar and see the parents of the victims," Khan said.
"Children must be scared to go back to school and the onus is on us to instil confidence in them, and also help to improve the country's security situation," the star boxer said.
Khan expressed hope that the joint efforts of the armed forces and the citizens of Pakistan would help in ending terrorism.
Full report at:
http://www.dawn.com/news/1153835/boxer-amir-khan-visits-army-public-school-says-terrorism-must-stop
------------
Investigations in Balochistan: 80% of terror suspects acquitted in 3 years
December 29, 2014
QUETTA: Loopholes in the criminal justice system, coupled with the absence of modern facilities, continue to obstruct investigations into terrorism incidents in Balochistan.
According to police officials, a large number of suspected criminals hauled in terrorism-related cases are set free as law enforcement agencies fail to substantiate evidence against them before the court. "Merely 20 per cent of terror suspects have been convicted during the last three years in Balochistan," a senior police officer told The Express Tribune. In all, 308 criminals had been arrested but 80 per cent of them were acquitted, he added.
Despite an unprecedented upsurge in cases of targeted killings, bombings, suicide attacks and other militant violence that have virtually crippled the province for over a decade, Balochistan is still struggling to acquire a functional forensic laboratory – an essential facility required to examine evidence.
Full report at:
http://tribune.com.pk/story/813810/investigations-in-balochistan-80-of-terror-suspects-acquitted-in-3-years/
--------
Africa
100 Boko Haram Fighters Killed, 200 Arrested By Cameroon Army
29 Dec, 2014
Cameroon military forces have defeated Boko Haram fighters, in another encounter, north of the country, the Chinese news agency, Xinhua has reported.
More than 100 suspected Nigerian Boko Haram militants were killed and over 200 arrested during an operation conducted by Cameroonian army on Friday night in Far-North town of Doble, an army source told Xinhua over phone Saturday.
It was the second major routing of the Boko Haram fighters by Cameroon forces in less than two weeks.
On 17 December, in clashes in the border trading town of Amchide, Cameroon forces also killed about 180 fighters of Boko Haram.
Xinhua which also reported it said about 3,000 Boko Haram fighters were involved in the attack against Cameroon, but they were subdued after losing 180 men, with three Cameroon soldiers also killed.
Full report at:
http://thenewsnigeria.com.ng/2014/12/28/100-boko-haram-fighters-killed-200-arrested-by-cameroon-army/
------------
South Sudan: 40 Dead in Lakes State Inter-Clan Battle
29 Dec, 2014
Rumbek — At least 44 people were killed and 31 others wounded in fresh inter-clan clashes in Lakes state, authorities said.
Saturday's incident reportedly occurred in Rumbek East county.
Separate clashes, a police officer said, occurred between Kok-Awac and Kok-Keer in Panawac village, resulting into five deaths.
"Five SPLA [South Sudan army] soldiers were attacked and killed by armed youth when the army attempted to separate them," said the officer, who preferred anonymity.
Meanwhile, more lives were reportedly lost in separate clashes between the Gony and Thuyic clans in Panbarkou. The two clans have have been locked into cycle of revenge since a paramount chief was murdered by a Thuyic clan member in August.
Full report at:
http://allafrica.com/stories/201412280025.html
------------
Ghana's Boko Haram: Imam Says Its Disciplinary Measure
29 Dec, 2014
The imam of Akyem Ofoase in the Eastern region has dismissed reports in sections of the media that the extremist Islamic group, Boko Haram headquartered in Nigeria has been formed in that region.
The reports of the group forming in Ghana became public after a video of some young men flogging a female in the presence of an elderly man went viral. In the video, a lady is stretched in a bench and surrounded by some men who were lashing her.
There was an elderly man who looked on without reacting while the lady was being lashed. The video was believed to have been shared by Boko Haram as a warning to other Moslem women who transact business with Christians.
Full report at:
http://www.spyghana.com/ghanas-boko-haram-imam-says-its-disciplinary-measure/
------------
Militants' camp in Traghen attacked: report
29 December 2014
A camp used by jihadists near Traghen, south of Sebha, is reported to have been attacked this morning, but it is unclear by whom. There were said to have been huge explosions at ammunition store at the camp. One report speaks of a helicopter being involved in the attack and a number of militants captured. The incident apparently happened at 03:00 local time.
The camp is thought to be that being used by militants linked to Mokhtar Belmokhtar the Algerian former commander of Al-Qaeda in the Maghreb (AQIM) and now heading the group Al-Murabitoun. The camp has been the focus of intense US and French military interest.
One report claimed that French forces were involved. However, a French military specialist focusing on the area said it was extremely unlikely that French forces would be operating so far from the border with Niger and Chad.If there had been an attack he said, it was more likely to have involved US drones.
Full report at:
http://www.libyaherald.com/2014/12/28/militants-camp-in-traghen-attacked-report/#axzz3NKfpYFYm
-----------
Nigeria: PDP Did a Good Job Falsely Branding Buhari an Islamic Extremist
29 Dec, 2014
The Vice Presidential candidate of the All Progressives Congress, APC, Yemi Osinbajo, Wednesday said the Islamic extremist tag hung on Muhammadu Buhari does not reflect his character.
At an interaction with young people, volunteers, and social media influencers in Lagos, Mr. Osinbajo blamed the Peoples Democratic Party [PDP] for stamping that false identity on Mr. Buhari.
"The PDP did a good job in branding General Buhari as an Islamic extremist," said Mr. Osinbajo, a professor of Law, noting that Mr. Buhari joined the Nigerian army at a time the military was filled with detribalized officers.
"During his time as a Head of State, he had more Christians in his cabinet than he had Muslims. He even gave his daughter in marriage to a Christian. Which Islamic extremist would even tolerate that.
Full report at:
http://allafrica.com/stories/201412290334.html
------------
South-West Muslim has no allegiance to Buhari nor Jonathan
29 Dec, 2014
Muslim council in South-West has debunked insinuations that Yoruba Muslims are to vote for Buhari, describing such reports as "pure lie."
The Secretary-General of the Muslim council, Mallam Hakeem Adelani, told Sunday Tribune that
"Yoruba Muslims are very objective people who do not vote on religious sentiments. We are not goats or rams that you just march and sell in political market.
"Why should we vote Buhari? Why should we vote for Jonathan? What have both men done for Yoruba people? For us, we have seen Lagos –Ibadan express road.
If the man can complete that road alone, he has our support.
"Jonathan has done for Yoruba, what our son, Olusegun Obasanjo, failed to do for us. Our main airport in Ibadan is having a new look. Many power plants are in Yorubaland. Our railway is working. Jonathan has done well for the Yoruba," he said.
"And let me tell you another reason Yoruba Muslims will back Jonathan. His deputy is a Muslim who grew up in Yorubaland and understands us so much.Buhari has picked a Christian from South-
West as his deputy. He has snubbed the 55 per cent Muslims in Yorubaland," he said.
Adelani disclosed that the council would soon commence a mosque to mosque campaign on why Jonathan is better than Buhari.
http://www.spyghana.com/south-west-muslim-allegiance-buhari-nor-jonathan/
--------
South Asia
59 insurgents killed in police operations
29 Dec, 2014
Interior ministry of Afghanistan says to have killed 59 insurgents during clearance operations across the country.
A statement issued by the ministry states that 22 insurgents sustained injuries in confrontation with Afghan National Security Forces.
The statement issued Monday morning adds that the operations were conducted in past 24 hours in Kunar, Laghman, Parwan, Kunduz, Sar-e-Pul, Jowzjan, Balkh, Kandahar, Uruzgan, Maidan Wardak and Khost provinces.
Afghan National Police (ANP) was also assisted by Afghan National Army (ANA) and National Directorate of Security (NDS) personnel in these operations, the statement says.
According to the statement security forces also seized different types of weapons and ammunitions and defused 55 IEDs in Kandahar, Ghazni, Uruzgan and Jowzjan provinces.
Improvised Explosive Device or IED is considered one of the biggest threats not only to government forces but also to the civilians.
Yesterday in eastern Laghman province an IED explosion inside a house killed two people.
http://www.khaama.com/59-insurgents-killed-in-police-operations-2619
------------
Taliban commander among 4 killed in Nuristan drone strike
Dec 29 2014
At least four Taliban militants including the group's local commander were killed following a drone strike in eastern Nuristan province.
According to the local government officials, the airstrike was carried out by the coalition security forces in Wanat Wigal district.
Acting provincial governor Hafiz Abdul Qayum said the airstrike was carried out late on Sunday evening in Mandish village.
Qayum further added that the Taliban commander was identified as Syed Izam who was killed along with his three companions.
He said the local residents did not suffer any casualties following the air raid.
Nuristan is among the volatile provinces in eastern Afghanistan where anti-government armed militant groups are actively operating.
http://www.khaama.com/taliban-commander-among-4-killed-in-nuristan-drone-strike-9186
------------
Taliban leader Mullah Omar hiding in Pak: Afghan spy chief
PTI | Dec 29, 2014
NEW YORK: Taliban's reclusive leader Mullah Muhammad Omar is alive and hiding in the Pakistani city of Karachi, a top Afghan intelligence official has said, echoing a similar assessment by Western intelligence officials.
"There is a lot of doubt whether he is alive or not. But we are more confident that he is in Karachi," acting Afghan intelligence chief Rahmatullah Nabil was quoted as saying in the New York Times regarding Omar's whereabouts.
An European official, speaking on the condition of anonymity, said in the NYT report that there is a "consensus among all three branches of the Afghan security forces that Mullah Omar is alive".
"Not only do they think he's alive, they say they have a good understanding of where exactly he is in Karachi," the Pakistani metropolis where some say Mullah Omar is hiding.
The report said that Mullah Omar has always functioned more as the spiritual and ideological leader of the movement than as an operational commander.
Full report at:
http://timesofindia.indiatimes.com/world/pakistan/Taliban-leader-Mullah-Omar-hiding-in-Pak-Afghan-spy-chief/articleshow/45675485.cms
-----------
No season of goodwill as China puts more pressure on underground Christians
29 Dec, 2014
BEIJING, Dec 29 — A group of Christians gathered in an apartment above a Beijing dental surgery, the atmosphere jubilant as a choir belted out carols on Christmas Eve — but the curtains stayed tightly closed.
Unofficial Christian groups have long been subject to crackdowns, but the atmosphere appears to be worsening as their numbers increase, and the ruling Communist party takes a more nationalist tone under its leader Xi Jinping.
Members of Shouwang, a Beijing Christian group who held the Christmas Eve service, have faced more trouble than most.
Several pastors from the group — which at its height boasted around 1,000 mainly middle-class members — have been under house arrest since they tried to arrange Easter services in a public square in 2011.
Full report at:
http://www.themalaymailonline.com/features/article/no-season-of-goodwill-as-china-puts-more-pressure-on-underground-christians#sthash.C4hwxUW5.dpuf
------------
Taliban claim NATO 'defeated' as Afghan war ends
29 Dec, 2014
KABUL, Dec 29 — The Taliban responded scornfully today to the formal end of NATO's war in Afghanistan, describing the US-led mission as a "fire of barbarism and cruelty" that had drowned the country "in a pool of blood".
The insurgent group issued the statement in English a day after NATO marked the closure of its combat mission with a low-key ceremony in Kabul, arranged in secret due to the threat of Taliban attack.
"We consider this step a clear indication of their defeat and disappointment," the Taliban said.
"America, its invading allies... along with all international arrogant organisations have been handed a clear-cut defeat in this lopsided war."
Full report at:
http://www.themalaymailonline.com/world/article/taliban-claim-nato-defeated-as-afghan-war-ends#sthash.Tbzsn1RY.dpuf
------------
Make special law to try perps of communal violence
29 Dec, 2014
Special laws should be enacted and used for cases of communal violence to ensure protection of the victims and witnesses, activists of the Forum for Secular Bangladesh and Trial of War Criminals of 1971 demanded at a programme yesterday.
Addressing the programme as special guest, State Minister for Home Affairs Asaduzzaman Khan Kamal urged everyone to be aware of what was being taught in madrasas, saying that 80 percent of the syllabus includes ideology that incites terrorism and communalism.
The government is also strictly monitoring funds for terrorism and communalism being deposited in Islami Bank Bangladesh Limited from different countries and is taking steps to stop the flow, he said.
Eminent journalist, writer and filmmaker Shahriar Kabir, acting president of the forum popularly known as Ekatturer Ghatak Dalal Nirmul Committee, pointed out that the Hindu-majority villages attacked last year and early this year were mostly surrounded by Jamaat-e-Islami supporters.
Full report at:
http://www.thedailystar.net/city/make-special-law-to-try-perps-of-communal-violence-57525
------------
42 Hindus killed in a single day: War crimes witness from Bagerhat tells tribunal
29 Dec, 2014
A prosecution witness yesterday told the International Crimes Tribunal-1 that Razakars had shot dead 42 Hindus at Shakharikathi Bazar in Bagerhat on November 5 during the Liberation War.
Abdul Aziz, 81, ninth prosecution witness in the case against Sheikh Sirajul Islam, Khan Akram Hossain and Abdul Latif Talukder, said he had seen the war crimes accused along with other Razakars before the killings.
Aziz said he along with Hashem Jomadar and Kalu Munshi had gone to Shakharikathi Bazar around 4:00pm that day and seen a group of around 40-50 Razakars.
"Those Razakars tied around 40-45 Hindus, including four from our village, in pairs and forced them to make a queue from north to south at the west of the market place," he said.
The witness added that they had requested two Razakars -- Afsar and Harun -- to release the poor innocent Hindus.
Full report at:
http://www.thedailystar.net/42-hindus-killed-in-a-single-day-57496
--------
Mideast
Houthis, tribesmen clashes in Sanaa kill 12
29 December 2014
Twelve people have been killed in clashes between tribesmen and Shiite rebels north of the capital Sanaa, the Associated Press reported Yemeni security officials and tribal leaders as saying on Sunday.
They say Shiite Houthi rebels went to the Arhab district late Saturday to search the home of a tribal chief whom the rebels suspected of being allied with the Sunni Islamist al-Islah party, with which the rebels are at war.
Clashes erupted when locals resisted the search, leaving nine rebels and three tribesmen dead.
The officials and tribal leaders say the rebels later destroyed the house, which was believed to be empty. They spoke on condition of anonymity because they were not authorized to brief reporters.
The Houthis swept down from their northern stronghold and captured the capital Sanaa in September.
On Saturday, the Houthis vowed to press ahead with an offensive it launched in September to consolidate its grip across Yemen, despite fierce resistance from Sunni tribes and Al-Qaeda.
The Arabian Peninsula country has been rocked by instability since the Houthis seized control of Sanaa in September.
Full report at:
http://english.alarabiya.net/en/News/middle-east/2014/12/29/Houthis-tribesmen-clashes-in-Sanaa-kill-12.html
------------
Palestinians encouraging Iran to escalate anti-Israel terror: Netanyahu
29 Dec, 2014
The Palestinian Authority is inviting greater Iranian involvement in anti-Israel terrorism in the West Bank while the United Nations remains silent, Prime Minister Benjamin Netanyahu told the weekly cabinet session in Jerusalem on Sunday.
Netanyahu quoted Ramallah's ambassador to Tehran, who reportedly said that "the Zionist regime is an aggressive, cancerous growth that must be eliminated sooner or later."
"In recent weeks, we are seeing a more vigorous Iranian effort to deepen terrorist activity in Judea and Samaria," the premier said. "I'd like to emphasize that it wasn't a Hamas official who said that, but the ambassador of the Palestinian Authority in Tehran."
"What does the UN do in response?" the premier said. "Instead of dealing with this incitement, it is giving it a place of honor. This is the same incitement that eventually leads to terrorist acts that we have witnessed of late."
http://www.jpost.com/Breaking-News/Palestinians-encouraging-Iran-to-escalate-anti-Israel-terror-Netanyahu-charges-385938
------------
Hamas bars Gaza children from Israel trip
29 Dec, 2014
Gaza's Hamas rulers prevented a group of children from entering Israel for a postwar conciliatory trip meant to foster peace, Hamas and organizers said.
The 37 children, most of whom have lost a parent in fighting between Hamas and Israel, were to enter Israel on Sunday and spend a week visiting Jewish and Arab communities, a zoo, and travel to the West Bank for a meeting with the Palestinian president.
But a bus carrying the children and their adult chaperones was turned back when it reached the main crossing between Israel and Gaza.
Full report at:
http://english.alarabiya.net/en/News/middle-east/2014/12/28/Hamas-bars-Gaza-children-from-Israel-trip.html
------------
Yemen: Al-Qaeda 'in a war of attrition'
Saeed Al Batati
28 Dec 2014
Yemen - As fighting between Yemen's warring groups intensified, the recent clashes between Houthi fighters and al-Qaeda in the Arabian Peninsula (AQAP) could turn into a wider sectarian conflict, according to analysts.
On Saturday night clashes erupted between Houthi fighters and tribesmen in Arhab, a tribal area located 35km northeast of Sanaa and a bastion of Islah party supporters. Tribal sources said many Houthi fighters were killed in this confrontation, but there was no confirmation of the exact number of the dead.
Earlier this month, AQAP and tribal fighters attacked positions held by the Houthi rebels in the Yakla mountains in Radaa district of al-Bayda which left 14 Houthi fighters dead.
On Thursday, hundreds of mourners buried the civilian victims of the latest round of violence in al-Bayda province, when, on December 16, a car bomb exploded near a checkpoint in Radaa manned by Houthi rebels, killing 16 girls, nine of whom were from al-Bayda. Another car bomb exploded on the same day, near the house of Abdallah Idriss, a senior Houthi leader, killing 10 people.
Full report at:
http://www.aljazeera.com/news/middleeast/2014/12/yemen-al-qaeda-war-attrition-2014122863330683250.html
------------
Jewish extremist group poses legal, political dilemma for Israel
World Bulletin/News Desk
29 Dec, 2014
A far-right Israeli group that agitates against Arabs in the name of religion and national security is forcing the Jewish state into a legal and political balancing act as it tries to contain sectarian violence.
Among their activities, Lehava activists yelling "Death to the Arabs" picketed the wedding in August of a Muslim to a Jewish woman who converted to Islam. Now three members have been charged with an arson attack on a cross-faith school in Jerusalem last month.
Communal tension has been rising following last summer's Gaza war, in which more than 2,000 Palestinians died, and feuding over access to Jerusalem's holiest site. This has spilled over into Palestinian street attacks on Jews, including the killing of four rabbis and a Druze policeman at a synagogue.
http://www.worldbulletin.net/headlines/151767/jewish-extremist-group-poses-legal-political-dilemma-for-israel
------------
Europe
IS planning attack on Queen's guards: Report
29 Dec, 2014
Soldiers guarding key Royal palaces in the UK are on high alert following reports of a planned attack on the Queen's guards by Islamic State (IS) militants.
The Queen's Guard have been warned about the threat to kidnap and murder one of their member by IS terrorists, according to a report in The Mirror.
"Intelligence picked up (internet) chatter which is being taken seriously. IS know it would be very difficult to attack a member of the Royal family, but one of the Queen's Guard would be a huge target for them," the report said quoting a source as saying.
"Action has been taken accordingly. The threat is so acute some guards have already been moved."
Troops will stay out in the open on Horse Guards Parade as the defiant Queen insists on maintaining tradition.
Full report at:
http://www.hindustantimes.com/world-news/is-planning-attack-on-queen-s-guards-report/article1-1301248.aspx#sthash.NR9TJZTz.dpuf
------------
Churchill found Islam tempting, letter shows
29 Dec, 2014
A recently discovered letter showed famed British wartime leader Winston Churchill not only desired to be an Ottoman-style pasha, but was fascinated by Islamic culture, prompting one of his relatives to be concerned and begged him not to convert to Islam, The Independent reported Sunday.
Churchill's soon to be sister-in-law urged him in a letter - dated August 1907 - not to convert to Islam.
"Please don't become converted to Islam; I have noticed in your disposition a tendency to orientalize, Pasha-like tendencies, I really have," wrote Lady Gwendoline Bertie, who married Churchill's brother Jack, in a letter that was discovered by a history research fellow at Cambridge University, Warren Dockter.
Bertie added: "If you come into contact with Islam your conversion might be effected with greater ease than you might have supposed, call of the blood, don't you know what I mean, do fight against it."
Full report at:
http://english.alarabiya.net/en/variety/2014/12/28/Winston-Churchill-found-Islam-tempting-letter-shows.html
------------
German-Turkish group warns against 'dialogue' with far-right
29 Dec, 2014
A Turkish community leader in Germany warned Sunday against proposals by mainstream politicians for "dialogue" with a far-right populist movement that has drawn thousands to anti-Islamic street protests.
Several ministers and lawmakers have argued the government must listen to the fears about immigration voiced by the so-called "Patriotic Europeans Against the Islamisation of the Occident" or PEGIDA.
The chairman of the Turkish Community in Germany, Safter Cinar, warned that seeking to understand PEGIDA was dangerous and that xenophobia and racism must remain taboo, the newspaper Tagesspiegel reported.
Full report at:
http://english.ahram.org.eg/NewsContent/2/8/119017/World/Region/GermanTurkish-group-warns-against-dialogue-with-fa.aspx
----------
Parents of UK Jihadis: Losing Children, Then Their Community
29 Dec, 2014
MANCHESTER: Everyone at the Alfurqan Islamic Center knows of the parents who tried to rescue their twin daughters after the girls ran off to join the Islamic State.
They know how Ibrahim Halane and his wife, Khadra Jama, who are immigrants from Somalia, followed their daughters to Turkey. How Jama, who ventured into Syria after them, was arrested by the militants and detained for more than five weeks. How the parents came back empty-handed, their 17-year-old daughters, Salma and Zahra, already married off to jihadis.
They know the story, and they sympathize. But they keep their distance.
"We know he's upset, and everyone feels sorry for him," Haji Saab, chairman of the mosque, said of Halane. But "we leave him alone."
It has been very difficult for the community as well, Saab said. It has "shut itself up."
"People are traumatized," he said.
Full report at:
http://www.ndtv.com/article/world/double-blow-for-parents-of-jihadis-losing-children-then-their-community-640752
------------
North America
In battle to defang ISIS, US targets its psychology
Eric Schmitt, NYT News Service | Dec 29, 2014
WASHINGTON: Maj Gen Michael K Nagata, commander of US Special Operations forces in the Middle East, sought help this summer in solving an urgent problem for the US military: What makes the Islamic State so dangerous?
Trying to decipher this complex enemy - a hybrid terrorist organization and a conventional army - is such a conundrum that Nagata assembled an unofficial brain trust outside the traditional realms of expertise within the Pentagon, State Department and intelligence agencies, in search of fresh ideas and inspiration. Business professors, for example, are examining the Islamic State's marketing and branding strategies.
"We do not understand the movement and until we do, we are not going to defeat it," he said, according to the confidential minutes of a conference call he held with the experts. "We have not defeated the idea. We do not even understand the idea."
Full report at:
http://timesofindia.indiatimes.com/world/us/In-battle-to-defang-ISIS-US-targets-its-psychology/articleshow/45674304.cms
----------
Muslim Group Suing Navy Over Alleged Beard Discrimination
29 Dec, 2014
A Muslim group is suing the Navy on behalf of a man who says he was discriminated against because of his beard.
The former Navy enlisted man alleges that he requested to keep his beard for religious reasons and was later made fun of because of it. He also claims he was rejected for a promotion due to his beard.
The Navy has not commented on the lawsuit.
Read more below from SFGate.com:
Jonathan Berts of Fairfield applied to wear a beard in January 2011, but Defense Department policy did not allow religious exemptions from grooming requirements. The Pentagon relaxed its policy in January, allowing accommodations for an individual's religious beliefs, but it came too late to help Berts, said his lawyers at the Council on American-Islamic Relations.
After his request for a religious accommodation was turned down, Berts, an African American Muslim who had enlisted in 2002, was denied a previously recommended promotion and was subjected to "a barrage of derogatory terms, anti-Islamic slurs, and inappropriate lines of questions about his religious beliefs and loyalty to the United States," said the lawsuit, filed this week in U.S. District Court in Sacramento.
Full report at:
http://insider.foxnews.com/2014/12/28/muslim-group-suing-navy-over-alleged-beard-discrimination
------------
Islamic State's tyranny strikes all religions
29 Dec, 2014
Canada should bring in refugees of all religions from Syria and Iraq, not just the ones from religious minorities.
Iraq and Syria are perhaps the most ethnically and religiously diverse countries in the modern Middle East. And while they were never models for coexistence and romanticizing the past — that would be imprudent — for both Iraq and Syria, tolerance at the societal level had been the norm. People lived in mixed communities, celebrated each others' festivals and ate at the same table.
Today, the rise of Islamic State, extremist narratives and government discrimination are pitting neighbour against neighbour, with levels of animosity heightened to a point that is making both these countries increasingly unrecognizable to their own people.
Full report at:
http://www.thestar.com/opinion/commentary/2014/12/27/canada_can_help_iraq_and_syria_by_bringing_in_more_refugees.html
----------
Americans feel Afghan war not worth the effort: survey
29 Dec, 2014
WASHINGTON: Sixty-five per cent Americans wonder whether the US and Nato Combat mission in Afghanistan was worth the effort.
The war mission which ended on Sunday, lasted 13 years, two months, and 21 days was America's longest foreign war.
An NBC News/Wall Street Journal Poll shows that 65 per cent Americans believe the Afghan war was not worth the effort and the sacrifices the United States made in that country. Only 27pc say the war was worth the effort. About six per cent are unsure and two per cent are willing to give it conditional support.
Another survey by the Quinnipiac University shows that 46pc Americans believe now is the time to withdrawn troops from Afghanistan. But 26pc believe the president is withdrawing US combat troops from Afghanistan "too quickly."
Full report at:
http://www.dawn.com/news/1153746/americans-feel-afghan-war-not-worth-the-effort-survey
------------
US man indicted in plot to blow up Muslim holy sites in Jerusalem
29 Dec, 2014
An Israeli court has ordered an Illinois man charged with plotting anti-Muslim violence detained until the end of court proceedings against him.
Everett Adam Livvix was arrested in November and charged with weapons possession.
The indictment accused Livvix of planning to blow up Muslim holy sites in Jerusalem. Israeli police said Livvix, posing as a former US Navy SEAL, also turned down an offer from a Palestinian to assassinate US President Barack Obama during his visit in 2013.
Livvix has denied the charges, according to his lawyer, Gal Wolf.
The court in the city of Petah Tikva made the decision Sunday.
Livvix, 30, went by Adam in Israel and back home in Robinson, Illinois, where he had an arrest record for alleged offenses including marijuana possession and theft.
Associated Press in Jerusalem
----------
Obama: End of US combat mission in Afghanistan a "milestone"
Dec 29 2014
The US President Barack Obama has called the conclusion of the US combat mission in Afghanistan a "milestone" for the country and thanked the American forces and other for their "extraordinary sacrifice".
Over 2,300 US troops have died in Afghanistan since the beginning of the US mission in 2001.
The US and NATO formally concluded the combat mission in Afghanistan after 13 years, during an event on Sunday in Kabul, which was also organized for the transition to the new non-combat – NATO-led Resolute Support mission.
Obama said "On this day we give thanks. We are safer, and our nation is more secure because of their service."
Full report at:
http://www.khaama.com/obama-end-o-us-combat-mission-in-afghanistan-a-milestone-9187
------------
India
Bengaluru bomb blast definitely a terror attack, NIA to assist in probe: Centre
TNN | Dec 29, 2014
NEW DELHI: Home minister Rajnath Singh on Monday appealed to the Karnataka government to install CCTVs in all key places in Bengaluru.
Rajnath also said, if necessary, probe into the Bengaluru blast would be handed over to the National Investigation Team (NIA), which would in the mean time assist in the probe.
A high-level meeting was held by chief minister Siddaramaiah this morning to take stock of the security situation in the wake of a blast. It was attended by home minister K J George, DGP L Pachau, city police commissioner M N Reddi and others, as investigators continued to gather evidence on the blast triggered by an Improvised Explosive Device (IED), PTI reported.
George said the NIA would assist the city police in investigation, adding, "...we have to see what is the cause who is behind it".
Footages from the CCTVs installed in buildings around the blast site located in the heart of the city were being examined, police officials said.
Probe teams had been sent to Pune and Chennai, where blasts had occurred earlier, DCP (Central) Sandeep Patil said.
Investigation was being done "from all angles", Patil said.
Earlier, the minister of state for home affairs on Monday confirmed that the IED explosion on Church Street in Bengaluru was a terror attack.
"Security and alertness needs to be enhanced. This was definitely a terror attack," Kiren Rijju said while speaking to mediapersons.
On whether the Students Islamic Movement of India (SIMI) was behind the attack, he said: "We have to see the link, if it's the same module which is working there... Possibility is there but unless it is established completely in that direction, we cannot move or make any statement. But, there is a possibility."
Full report at:
http://timesofindia.indiatimes.com/city/bengaluru/Bengaluru-bomb-blast-definitely-a-terror-attack-NIA-to-assist-in-probe-Centre/articleshow/45673606.cms
------------
Love jihad, conversion hogged limelight in UP
Sanjay Pandey
29 Dec, 2014
An eventful 2014, which witnessed the decimation of regional satraps like Mulayam Singh Yadav and Mayawati in the Lok Sabha elections midway through the year, ended with the raging conversion controversy in Uttar Pradesh, after "love jihad" hogged the limelight in the later part of the year.
The conversion controversy pitted the ruling Samajwadi Party (SP) against the BJP, as they traded charges while saffron activists were arrested in different parts of the state.
The row, which began with the alleged mass conversion of about 250 Muslims to Hinduism at Agra, saw Muslim clerics and Islamic seminaries calling for action against saffron outfits. The All India Muslim Personal Law Board, an influential organisation for Muslims in the country, as well as prestigious Islamic seminary Darul Uloom Deoband made it clear that they would take "all possible constitutional and legal measures" to ensure that illegal and forced conversions did not take place.
Full report at:
http://www.deccanherald.com/content/450346/love-jihad-conversion-hogged-limelight.html
--------
Left Behind By Muslims, following the 1989 riots in Bhagalpur, a Tomb Now Has Hindu Caretakers
29 Dec, 2014
Unaware of the "Ghar Wapsi" row raging across the country — and in their own backyard — a Hindu family living along Bhagalpur-Kahalgaon road has been taking care of a Mazar (tomb) since 1989. Girija Devi and her family, residents of Amapur village on the outskirts of Bhagalpur town, took up the task after Muslims were forced to flee the Hindu-dominated Pakkisarai village following the 1989 riots.
It was Girija's husband Suresh Bhagat, who first decided to take care of the Mazar of Baba Hazrat Wajid Ali Shah Rahmatullahe Allaih after a dozen Muslim families left following Hindu-Muslim riots which claimed more than 1,000 lives. The Mazar is located barely 20 km from Kahalgaon, where five members of a family belonging to an extremely backward caste converted to Christianity and then reconverted to Hinduism earlier this month.
The mazaar, which remained unattended for some time after the riots, eventually got the attention of Bhagat, who raised a bamboo platform near the shrine to take care of it. Though initially hesitant, Bhagat's family and villagers later supported the idea of taking care of the tomb. In fact, they devoted such time and energy in looking after it that devotees — both Hindu and Muslim — started thronging the place again.
Full report at:
http://indianexpress.com/article/india/india-others/left-behind-by-muslims-a-tomb-now-has-hindu-caretakers/#sthash.YVmIASTN.dpuf
------------
Bangalore blast may be retaliation for pro-IS tweeter Mehdi arrest: Karnataka CM
29 Dec, 2014
Karnataka chief minister Siddaramaiah has said the blast outside the Bengaluru restaurant which killed one woman was likely a retaliation for the arrest of pro-Islamic State tweeter Mehdi Masroor Biswas.
While visiting the blast site late on Sunday night, Siddaramaiah told reporters that the blast happened despite the police being on high alert.
The state government will hold a high-level meeting to decide on a probe into the IED blast which killed one woman and injured three others in the central business district of Bengaluru.
Police commissioner MN Reddi described the incident as a "low intensity IED blast" which occurred between 8:30 and 9pm on Church Street, 50 meters from the Hindustan Times office, on a footpath outside a popular restaurant Coconut Grove.
38-year-old Bhavani Devi, a resident of Mount Road in Chennai, died in the blast. She had come to Bengaluru four days ago to celebrate Christmas with her family and was with her two daughters and eight other family members when the blast occurred.
Full report at:
http://www.hindustantimes.com/india-news/bengaluru-blast-likely-retaliation-for-pro-is-tweeter-mehdi-arrest-cm/article1-1301277.aspx
------------
In Jodhpur, Pakistan migrants cobble up shoes, and a new future
29 Dec, 2014
Inside the narrow bylanes of Indra Colony in Jodhpur's Pratap Nagar, hundreds of artisans sit inside cramped rooms, busily working on leather jootis or embroidering chiffon sarees.
Sixty-year-old Ram Chand, a traditional leather shoemaker, sits hunched over a bunch of leather strips, carefully piecing them together with a bowl of home-made glue. His wife Ganga Devi swiftly draws out an accurate oblong shape and hands them over to their son Jetha Nand, who cuts out the shape and passes it to his father.
For the past 20 months, this family of eight has spent most of their days doing just this. Traditional shoemakers, Ram Chand and his family migrated from Hyderabad in Sindh last year to escape persecution and find a new life in Rajasthan.
Amid worsening law and order, the family decided to move out and, over a period of five years, saved enough to pay for the passage. More than 1.2 lakh such migrants, who have crossed over since 1965, have been granted citizenship while another 15,000 applications are in the pipeline — numbers that give Ram Chand much hope.
Full report at:
http://indianexpress.com/article/india/india-others/in-jodhpur-pakistan-migrants-cobble-up-shoes-and-a-new-future/99/
------------
Govt summons Pakistan high commissioner after Lakhvi's detention order suspended
TNN | Dec 29, 2014
ISLAMABAD/NEW DELHI: The ministry of external affairs on Monday summoned Pakistan high commissioner Abdul Basit, hours after it became evident that the 26/11 Mumbai attacks accused Zakiur Rehman Lakhvi may walk free after a court order.
Coming out of MEA, Abdul Basit refused to comment on the meeting.
"Ask the ministry officials who called for the meeting," Basit told the waiting reporters.
Earlier today, Islamabad high court suspended Pak government's detention order of ZakiurRehmanLakhvi paving the way for his freedom from jail.
Islamabad anti-terrorism court judge Kausar Abbas Zaidi had on December 18 granted bail to Lakhvi citing lack of evidence against him in the Mumbai attacks case.
Full report at:
http://timesofindia.indiatimes.com/india/Govt-summons-Pakistan-high-commissioner-after-26/11-accused-Lakhvis-detention-order-suspended/articleshow/45676603.cms
------------
Southeast Asia
'Time of Tolerance' May Be Coming to End in Indonesia
29 Dec, 2014
Jakarta. The absence of major cases of violence stemming from religious intolerance in Indonesia this year by no means indicates that the issue has been resolved. Observers noted that political euphoria during Indonesia's election year has diverted many sentiments of intolerance to the political arena, while poor law enforcement is still considered a main culprit behind lingering, if not growing intolerance.
Islamic scholar Azyumardi Azra said the condition of religious tolerance in Indonesia this year was better than last year in that there were no major cases as had been recorded in previous years.
"Overall, this year is much better than last year. Public tolerance has improved. There's no big case we should be alarmed of," Azyumardi told the Jakarta Globe last week.
The history professor from Syarif Hidayatullah State Islamic University, however, scrutinized the intense use of religious sentiment during the elections, for both the legislative elections on April 9 and the presidential race on July 9.
Full report at:
http://thejakartaglobe.beritasatu.com/news/time-tolerance-may-coming-end-indonesia/
------------
AirAsia Plane Likely 'At Bottom of Sea': Indonesia Search Chief
29 Dec, 2014
Jakarta. The Indonesia AirAsia plane which went missing with 162 people on board en route for Singapore is likely at the bottom of the sea, Indonesia's National Search and Rescue Agency chief said Monday.
"Based on the coordinates given to us and evaluation that the estimated crash position is in the sea, the hypothesis is the plane is at the bottom of the sea," Bambang Soelistyo told a press conference.
"That's the preliminary suspicion and it can develop based on the evaluation of the result of our search."
Bambang said Indonesia did not have "the tools", such as submersible vehicles, required to retrieve the plane from the seabed, but that it is reaching out to other countries for help if necessary.
"Due to the lack of technology that we have, I have coordinated with our foreign minister so we will borrow from other countries which have offered. They are the UK, France and US," he said.
Flight QZ85501, an Airbus A320-200, disappeared Sunday en route from Surabaya in Indonesia's east Java to Singapore after the crew requested a change of flight plan due to stormy weather, in the third crisis for a Malaysian carrier this year.
Singapore, Malaysia and Australia have dispatched aircraft and ships to assist Indonesia in the search, which is centred on the Java Sea. The US has also said it was ready to assist.
http://thejakartaglobe.beritasatu.com/news/airasia-plane-likely-bottom-sea-indonesia-search-chief/
------------
URL: https://newageislam.com/islamic-world-news/new-age-islam-news-bureau/lessons-in-beheading--inside-islamic-state-'schools'/d/100747