New Age Islam News Bureau
16 March 2015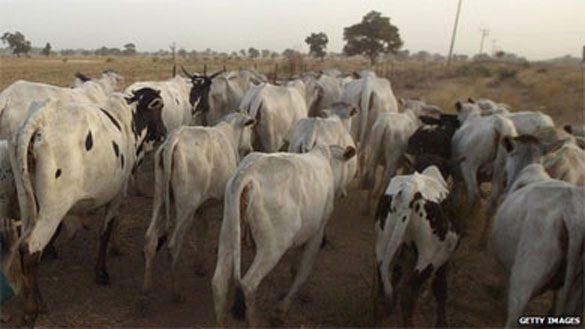 Disputes over grazing rights in Nigeria have often ended in violence
-------------
Arab World
• Lecture in Abu Dhabi Stresses Awareness about True Islam
• Former ISIS Hostage Describes Traumatic Mock Executions
• Iraq Says Busted ISIS Baghdad Bombing Network
• Mass grave with 27 bodies unearthed in northern Iraq
• Iraq arrests dozens of ISIL members in Baghdad
• ISIS claims Tripoli attack, car bomb in Misrata
• Saddam Hussein's tomb destroyed in Tikrit battle
• Barclays promotes entrepreneurship in UAE
• Sisi says won't cling to power if Egyptians call for change
• Lebanon army strikes militant positions near Syria
-----------
Africa
• Suspected Herdsmen Kill 45 People, Including Women and Children in Nigeria: Official
• Boko Haram militants torch homes in Nigeria's Bama
-----------
Pakistan
• Political Unity Essential to Eradicate Terrorism: Acting President
• Rwadari Festival in Sukkur Urges Religious Tolerance and Social Harmony
• Church attack: A community mourns the dear departed
• JUI-F wants allocation of funds for Balochistan proportional to its area
• PML-N, PPP responsible for MQM's 'crime': JI
• Pakistan largest importer of Chinese arms: study
• Govt stops action on prisoners' swap treaties with countries
• View from the courtroom: Increasing tendency of violence among children
• Christians protest bombing of churches
• PM orders inquiry into Lahore blasts
• Terror incidents decline in first 3 months of 2015
-----------
North America
• South Carolina Again Tries To Ban Islamic Law, Fearing It May Enter Courtroom
• N-Deal with Iran May Ease Curbs, Benefit Gas Project: US
• US reconsidering withdrawal plan, Obama tells Ghani
• US will have to negotiate with Assad, says Kerry
• Nashville Christians, Muslims find common ground
• Sheikh Mohammed awards American teacher 'Nobel prize for teaching'
• Canadians Protest Against Anti-terror Laws
------------
Europe
• Three British Teens Trying To Join IS Detained In Istanbul
• Blair 'Poised To Step Back' From Mideast Role
• View of Islam skewed by actions of extremists: expert
• France plays hawk role in nuclear talks with Iran
• Pope calls for an end to persecution of Pakistani Christians
-----------
Australia
• Australian Criminal Group Sending Militants for ISIL in Syria
• Australian Muslims feel targeted by anti-terror laws: Poll
-----------
Mideast
• Iran Urges Cooperation with Turkey to Counter Islamophobia
• Turkey-Detained 'Spy' Admits ISIL, Canada Links
• Son of ex-Iranian president gets 15 years jail
• Israel detains 4 Palestinian girls at al-Aqsa Mosque
• Israel FM's visit to Ibrahimi Mosque prompts outrage
• Turkey eyes Islamic world's trade surplus
• Hallucinations of UN special human rights rapporteur on Iran
• Zarif, Kerry open sensitive nuclear talks in Swiss city of Lausanne
-----------
Southeast Asia
• Malaysia, Turkey to Work On Reversing Negative Perception of Islam, Says DPM – Bernama
• Rouhani Says Iran, Indonesia Can Introduce 'True and Moderate' Islam
• Most Muslims want Kelantan to focus on flood recovery, not Hudud, survey finds
• Malaysia, Turkey to work on reversing negative perception of Islam, says DPM – Bernama
• Rise of Turkish Islamic banks chimes with Erdogan's ideals
• National Police confirm illegal crossing into Malaysia's Sabah
-----------
South Asia
• King Salman, Ghani explore Saudi-Afghan cooperation avenues
• Molla Masud held in West Bengal
• Bangladesh's poor suffer most as unrest hits economy
Compiled by New Age Islam News Bureau
URL: https://www.newageislam.com/islamic-world-news/new-age-islam-news-bureau/lecture-in-abu-dhabi-stresses-awareness-about-true-islam/d/101972
-----------
Arab World
Lecture in Abu Dhabi Stresses Awareness about True Islam
Caline Malek
March 14, 2015
ABU DHABI // Greater awareness of Islam and its true meaning must be raised, religious and academic experts have said.
In the Islamic world, Muslims must protect minorities by law but that has proven challenging as terrorist groups have persecuted them in the name of God.
"We need to create awareness and a bridge between Islamic scholastics and Islamic knowledge and the modern context that we see," said Sheikh Habib Ali Al Jifri, founder of the Tabah Foundation in Abu Dhabi. "We have to face those people who have corrupted understandings and who left the majoritarian Islam."
He was speaking in the capital during a lecture on peaceful co-existence: the Covenants of Prophet Mohammed and the Christians of the World.
"We are at a historical turning point," Sheikh Al Jifri said. "In the history of Muslims, blood has been shed and there have been wars, but what is new today is that what is happening is taking place in the name of God himself, and trying to connect an atrocity to God and his Prophet."
He said religious leaders must stand with political leaders, media, intellectuals, opinion-makers, businessmen and academia on a single front to tackle the challenge.
"It is a painful reality," he said. "What we need is an attempt to join the authentic religion, intellectuals and scholastics of religion, and the reality of the world that we are seeing. We do not need a reformist movement of Islam, we need a renewal in the way Muslims understand the religion."
He said there was legal understanding that minorities should be protected.
"The Prophet Mohammed said he would be the enemy of anyone who harms a person from a minority community, on the Day of Judgment," he added. "This understanding helps ensure that society begins to honour a law that exists."
Dr John Andrew Morrow, a professor at Ivy Tech Community College in Indiana, US, and director of the Covenants Foundation, said the covenants of the Prophet Mohammed were many, including those with the monks of Mount Sinai, the Christians and the Jews.
"The covenants have been transmitted from the seventh to the 21st century in an unbroken chain," he said. "They are as solid as diamonds and, with the Christians, they contain fundamental principles."
These include granting Christians the freedom of belief and practice and obligation of Muslims to protect them, he said.
Dr Morrow said Muslims must take Christians under the wing of their mercy and treat them with kindness while protecting them from those who oppress them, to ensure that they are treated justly and fairly.
"We do not need to go to the West in search of human rights. Muslims have within their own religion the solutions to problems they face today. When fake Muslims take up arms in the name of Islam, not only do millions of Christians flee, but so do millions of Muslims, so we must return to Islam and revive it."
cmalek@thenational.ae
http://www.thenational.ae/uae/heritage/lecture-in-abu-dhabi-stresses-awareness-about-true-islam
-----------
Former ISIS hostage describes traumatic mock executions
March 15, 2015
A former hostage who had been held in Syria by Islamic State extremists has described mock executions and other forms of traumatic psychological torture.
Spanish journalist Javier Espinosa wrote in the Sunday Times that militant Mohammed Emwazi alias Jihadi John played a lead role in the mock executions.
Emwazi is the Londoner nicknamed Jihadi John who has played a central role in a series of beheading videos made in Syria.
Espinosa describes how the militants took pleasure in telling their hostages daily that they would be beheaded.
He said Jihadi John used an antique sword for the mock executions and followed up by placing a Glock pistol against his head and pulling the trigger three times. Other hostages faced similar tactics.
Espinosa was released last March after being held hostage for more than six months.
http://indianexpress.com/article/world/europe/former-isis-hostage-describes-traumatic-mock-executions/
-----------
Iraq says busted ISIS Baghdad bombing network
15 March 2015
Iraqi intelligence said Sunday it had arrested 31 members of the Islamic State of Iraq and Syria (ISIS) who were responsible for planning and carrying out 52 attacks in Baghdad.
It said in a statement that the operation was conducted in coordination with the security forces and the judiciary.
It "resulted in the dismantling of terrorist groups linked to what is known as Wilayat Baghdad (Baghdad province), a part of the terrorist group Daesh," the statement said, using an Arabic acronym for IS.
The intelligence service said the 31 people arrested are IS members from all parts of Baghdad, as well as areas south and north of the capital.
"They confessed to 52 terrorist acts in different areas of our beloved Baghdad in 2014 and early 2015," the statement said.
It said "large quantities of arms, (explosive) belts, silencers, rigged cars and motorcycles, statements, videos of their cowardly operations" were seized.
The statement does not say exactly when the arrests were made but the spokesman for the intelligence service suggested they were last month.
"The reason for the decrease in attacks in Baghdad over the past three weeks is the arrest of this network," Fahim al-Atraqchi told AFP.
The number of attacks in Baghdad, which at one point last year used to be rocked by car bombs almost every day, has dropped this year.
In October, Iraqi federal and allied forces expelled IS fighters from the Jurf al-Sakhr area, which lies only 50 kilometres (30 miles) to the south of the capital.
Early this year, they took back all of Diyala province, which lies to the northeast, allowing Baghdad to breathe more comfortably.
The years-old nightly curfew on Baghdad was lifted last month.
http://english.alarabiya.net/en/News/middle-east/2015/03/15/Iraq-says-busted-ISIS-Baghdad-bombing-network-.html
-----------
Mass grave with 27 bodies unearthed in northern Iraq
Mar 16, 2015
A mass grave containing the bodies of about 27 people has been discovered in Iraq's northern province of Kirkuk as ISIL terrorists continue their atrocities in the crisis-hit country.
According to Iraq's Ministry of Human Rights, the bodies were found near the mainly Shia Turkmen town of Basheer on Saturday.
The victims are believed to have been killed by the ISIL terrorists when they rolled into the town last June.
Some reports put the number of corpses at 50.
Experts have begun collecting DNA samples from the families of nearly 1,600 Iraqi air forces killed by the ISIL Takfiris in Camp Speicher in the conflict-ridden city of Tikrit in northern Salahuddin Province, the ministry added.
Last week, Iraqi forces unearthed at least two mass graves near Albu Ajeel village, east of Tikrit. According to officials, the corpses belonged to soldiers who were massacred after the strategic airbase fell to the ISIL in June 2014.
Earlier on February 7, a mass grave containing the remains of about two dozen members of the Izadi community was discovered in northern Iraq.
On February 2, Kurdish fighters found another mass grave containing the remains of 25 Izadi men, women and children. According to Kurdish Peshmerga fighters, the grave was found near the town of Sinune, located west of the northern Iraqi city of Mosul, during a search for explosives that the ISIL often leaves behind.
ISIL started its campaign of terror in Iraq in early June 2014. The heavily-armed militants took control of Mosul before sweeping through parts of the country's Sunni Arab heartland.
The terrorists have been carrying out horrific acts of violence, including public decapitations, against all Iraqi communities such as Shias, Sunnis, Kurds, Christians and Izadis.
http://www.presstv.in/Detail/2015/03/16/402051/Mass-grave-unearthed-in-northern-Iraq
-----------
Iraq arrests dozens of ISIL members in Baghdad
Mar 15, 2015
Iraqi officials say they have arrested dozens of ISIL Takfiri militants in the capital Baghdad as the country is gaining major advances against the terrorist group elsewhere in its territory.
Iraqi intelligence issued a statement Sunday saying that 31 ISIL members who have been behind tens of bombings in Baghdad over the past months are now under arrest.
The arrests were made in coordination with Iraqi security officials and the judiciary, the statement said, adding that the suspects have carried out a total of 52 terrorist attacks in the city.
"They confessed to 52 terrorist acts in different areas of our beloved Baghdad in 2014 and early 2015," the statement said. It also said the operation "resulted in the dismantling of terrorist groups linked to what is known as Wilayat Baghdad", an entity believed to be ISIL's provincial arm operating in the area.
Large quantities of arms and explosive belts were seized during the operation along with "silencers, rigged cars and motorcycles, statements, (and) videos of their cowardly operations."
The arrests were made in various parts of Baghdad, including the north and south. However, no exact date has been provided by the officials, although other accounts suggest they were carried out last month.
Baghdad, a city rocked by explosions almost every day last year, has seen fewer such cases recently.
Iraqi government forces supported by Shia and Sunni volunteer fighters keep advancing against the ISIL militants in the northern city of Tikrit with most parts of the former dictator Saddam Hussein's hometown now liberated.
http://www.presstv.in/Detail/2015/03/15/402012/ISIL-terrorists-in-custody-in-Baghdad
-----------
ISIS claims Tripoli attack, car bomb in Misrata
16 March 2015
Militants loyal to Islamic State of Iraq and Syria (ISIS) group claimed a bomb attack on a police checkpoint in the Libyan capital on Sunday, the latest in a series of attacks in Tripoli.
A car bomb also exploded in the western city of Misrata. No one claimed responsibility immediately but the bomb targeted a force tasked with fighting ISIS militants.
Militants loyal to ISIS, the group that controls much of Syria and Iraq, have been exploiting chaos in Libya where two governments allied to armed factions are vying for power four years after the overthrow of Muammar Qaddafi.
A bag of explosives went off at a checkpoint next to a Janzour security building, a Tripoli suburb, wounding five policemen, said Essam Nas, a security spokesman.
ISIS militants published on social media a picture of what they said was the site of the explosion.
Full report at:
http://english.alarabiya.net/en/News/middle-east/2015/03/16/Pro-ISIS-militants-claim-Tripoli-attack-car-bomb-in-Misrata.html
-----------
Saddam Hussein's tomb destroyed in Tikrit battle
16 March 2015
The grave of Iraq's former president Saddam Hussein was destroyed during heavy clashes on Sunday between Islamic State of Iraq and Syria (ISIS) and Iraqi forces in the late dictator's hometown of Tikrit, the Associated Press reported.
Nothing but columns which held up the roof of a once-lavish tomb were seen in AP footage taken from the village of Ouja, just south of Tikrit.
Fighting escalated in the north and south of the city as Iraqi security forces, with militias, vowed to reach the center of Tikrit within 38 hours.
Iraqi soldiers stand next to the demolished tomb of former Iraqi president, Saddam Hussein, in Tikrit, 130 kilometers north of Baghdad, Iraq, Sunday, March 15, 2015. (AP)
Shiite militia flags and photographs of militia leaders now line the predominantly Sunni village as poster-sized pictures of Hussein – which once covered the mausoleum – were nowhere to be seen.
"This is one of the areas where IS [ISIS] militants massed the most because Saddam's grave is here," said Captain Yasser Nu'ma, an official with the Shiite militias, formerly known as the Popular Mobilization Forces. "The IS [ISIS] militants' set an ambush for us by planting bombs around" the tomb.
ISIS took control of Tikrit in June following a lightning offensive that saw Iraq's second-largest city, Mosul, come under their control.
The militant group was helped in its conquest of northern Iraq by Saddam loyalists, including military veterans, who appealed to Sunnis who felt victimized by Baghdad's Shiite-dominated government.
Full report at:
http://english.alarabiya.net/en/News/middle-east/2015/03/16/Saddam-Hussein-s-tomb-destroyed-in-ISIS-battle.html
-----------
Barclays promotes entrepreneurship in UAE
15, March 2015
by Robin Amlôt
Barclays continues to support YBI with accreditations and running quality assurance schemes to ensure that the members selected are of superior quality. The association has expanded with Barclays providing resources, mentoring opportunities and unlocking enterprise to build a culture and economy driven by entrepreneurship.
Andrew Mortimer, Managing Director, Chief Operating Officer and Country Manager, Middle East Barclays Plc, said, "Entrepreneurs have a vital role in shaping the future of the economy. Their contribution is a key component of a successful and sustainable economy. At Barclays we are committed to enable the next generation of young entrepreneurs to fulfil their potential and transform their ideas into successful well-established businesses; therefore, we believe that supporting the young generation with enterprise, employability and financial skills trainings will help aspiring entrepreneurs take their businesses to the next level and achieve their ambitions."
Andrew Devenport, Chief Executive of Youth Business International said, "Barclays' support for our entrepreneur roadshow in the United Arab Emirates gave us the platform to develop a long-term partnership with the Dubai Chamber around its youth entrepreneurship programme, Tejar Dubai."
"Since 2010, the support that Barclays has provided for our Young Entrepreneur Awards has enabled us to recognise the achievements of around 40 successful start-ups from countries such as China, India, Saudi Arabia and Kenya, helping them become role models in their own communities."
Full report at:
http://www.cpifinancial.net/news/post/30498/barclays-promotes-entrepreneurship-in-uae
-----------
Sisi says won't cling to power if Egyptians call for change
15 March 2015
Egyptian President Abdel Fatah al Sisi said Sunday he would not wait around if Egyptians demanded new change in leadership in the country.
"Egyptians are able to make changes … If the Egyptian people wanted to change [their leader] again they will but I will not wait for that moment," Sisi said during the closing ceremony of "Egypt: The Future," an economic summit dedicated to Egypt's redevelopment that was held in Sharm el-Sheikh.
In his speech, Sisi said Egypt needed between $200 billion to $300 billion for economic development.
Full report at:
http://english.alarabiya.net/en/News/middle-east/2015/03/15/Sisi-says-will-not-cling-to-power-if-Egyptians-call-for-change-.html
-----------
Lebanon army strikes militant positions near Syria
Mar 15, 2015
The Lebanese army has pounded militant hideouts along the border with crisis-stricken Syria after being tipped off about suspicious movements by al-Qaeda-affiliated terrorists in the area.
On Sunday, Lebanese troops fired several artillery rounds at militant positions on the outskirts of the village of Ras Baalbek, located 124 kilometers (77 miles) northeast of the capital, Beirut.
Lebanon's army recaptured the two hilltop positions overlooking the village last month after driving Takfiri militants out of the area. Shortly afterwards, an officer and four troops were lightly to moderately wounded when a rocket fired by militants struck near their vehicle.
The al-Qaeda-linked al-Nusra Front and the Takfiri ISIL militants overran the town of Arsal, situated 124 kilometers (77 miles) northeast of Beirut, in August, killing and capturing more than three dozen soldiers and security forces. They have executed at least three of the hostages.
Full report at:
http://www.presstv.in/Detail/2015/03/15/401996/Leb-army-hits-militants-near-Syria
-----------
Africa
Suspected Herdsmen Kill 45 People, Including Women and Children in Nigeria: Official
Mar 15, 2015
At least 45 villagers have been killed during an early morning raid by suspected herdsmen in Nigeria's eastern-central Benue state, an official says.
"I confirm that 45 people, including women and children, were killed this morning in an attack on Egba village... of Benue state by suspected herdsmen," state police spokesman, Austin Ezeani, said of the Sunday attack.
"Several others were injured in the gun and machete attack," he added.
No group has yet claimed responsibility for the assault but experts oftentimes say the prime suspects of such attacks in the region are gangs from the Fulani herdsman (pictured below).
"These insurgents, who disguise as herders, confiscate everything belonging to our people; and if nothing urgently is done, it therefore means that Benue State, and by implication, Nigeria, is sitting on a keg of gunpowder due to our strategic location," said Paramount Ruler of Gwer West Local Government Area of Benue State Chief Daniel Abomtse.
The Fulani's semi-nomadic, cattle-herding way of life has led to decades of conflict with farming communities across central and northern Nigeria.
Full report at:
http://www.presstv.in/Detail/2015/03/15/401980/Suspected-herdsmen-kill-45-in-Nigeria
-----------
Boko Haram militants torch homes in Nigeria's Bama
Mar 15, 2015
Boko Haram Takfiri militants have torched homes in Nigeria's north-eastern town of Baga, forcing residents to flee, witnesses say.
"They came into the town around 12:00 pm (1100 GMT) warning that anyone who wanted to leave should leave the town and soon after they began torching homes," AFP quoted resident Umar Kaka as saying on Sunday.
The fires forced large numbers of the residents to flee to the Borno state capital Maiduguri.
On Saturday, the militants told residents of the city, which is in control of Boko Haram, to leave before they set fire to their homes ahead of the arrival of Nigerian troops attempting to retake the city.
"Not all residents could leave because some are too sick or old to leave and we are afraid they were burnt in the homes," Kaka added.
"We learnt soldiers were coming. They advanced on Bama on two fronts and met some resistance at Boboshe and Yale but succeeded in crushing the Boko Haram gunmen," said Ibrahim Kyari, another Bama resident.
Bama has been in control of the militants since early September when it was seized along with several towns and villages in north-eastern Borno, Adamawa and Yobe states on the border with Chad, Cameroon and Niger.
Full report at:
http://www.presstv.in/Detail/2015/03/15/402005/Boko-Haram-torches-Nigerian-town
-----------
Pakistan
Political Unity Essential to Eradicate Terrorism: Acting President
March 16, 2015
KARACHI - Acting President and newly elected Senate Chairman Mian Raza Rabbani on Sunday called for unity among the political parties across the country in order to eliminate terrorism from the country.
Talking to the media after offering prayers and laying a wreath at the mausoleum of Quaid-i-Azam Muhammad Ali Jinnah along with Senator Saeed Ghani, and other senior leaders of PPP - Karachi, Rabbani said that visit to Quaid's mausoleum was not only his official duty instead he has other reasons for it to as his father was an ATDC of the founder of Pakistan.
Rabbani said that the country was passing through a critical situation that threatens stability of the state.
"This situation demands all politicians, political parties and even political groups to set aside their differences and join hands to counter this menace," he said adding that operations against criminals across the country should be carried out within the orbit of law and in accordance with constitutional rules and regulations. He said that political parties and state institutions should be on the same page to rout out terrorism adding that the parliament and other political parties stand behind the armed forces in their action against militancy.
"Stability can only return to the country if all political forces will pursue the initiative taken by the army to eliminate terrorism and if this menace is not routed out today than our next generations will not forgive us," he said. Responding to a query, he said that democracy was still facing threats from different sides; however, only show of unity from all political parties could end this threat.
Full report at:
http://nation.com.pk/karachi/16-Mar-2015/political-unity-essential-to-eradicate-terrorism
-----------
Rwadari Festival in Sukkur urges religious tolerance and social harmony
March 15, 2015
Hundreds of people of different faiths and walks of life pledged for religious tolerance to make Pakistan peaceful at the Rwadari Festival held at Sukkur Public School jointly by the Centre for Human Rights Education (CHRE) and PAHEL Pakistan in collaboration with 40 civil society organisations and community based groups.
The festival was especially participated by members of Rwadari Caravan Sindh, Punjab, KP, FATA and Balochistan and was addressed by Opposition Leader in National Assembly Syed Khursheed Shah, CPCS Director Jami Chandio, CSSP Director Noor Muhammad Bajeer, human rights activist Abrash Pasha, Saaien Faqeer, women's rights activist Bushra Araien, SPO Hyderabad Director Mustafa Baloch, CHRE Director Samson Salamat, Rwadari Caravan chief organizer and PAHEL Pakistan CEO Deedar Ahmed Mirani and Mr. Wilson Lee of NED.
The speakers while addressing the participants of the Rwadari Festival urged upon the government and all stakeholders to take concrete and practical measures to ensure the safety and security of all citizens without any discrimination of caste, colour or creed. The implementation of the National Action Plan was emphasised by the speakers and participants of the festival.
The speakers also appealed to the citizens of Pakistan to contribute to promote religious tolerance and social harmony and reject all those who are spreading hatred and biases on the basis of religion and sect.
Syed Khurshid Shah highly appreciated CHRE and PEHAL Pakistan for organising the Rwadari Festival and said, "It is not only the duty of the civil society but also of political parties and the government to spread religious tolerance and respect of all human beings according to the teachings of Islam and other religions."
Jami Chandio said that Pakistani society didn't convert into a violent society at once, rather multiple factors led to this terrible situation. "Now, it is the main responsibility of the state to spend its energies for the protection and promotion of its citizens without any discrimination," he said. He added that syllabus needs to be changed and it should be based on true history and teachings of Sufis.
Full report at:
http://www.dailytimes.com.pk/national/15-Mar-2015/rwadari-festival-in-sukkur-urges-religious-tolerance-and-social-harmony
-----------
Church attack: A community mourns the dear departed
XARI JALIL
March 16, 2015
LAHORE: The lanes of Youhanabad are always busy but this Sunday, the traffic is not of the usual kind. Bewilderment, fear and anger mark the faces of its residents, and although it seems everyone is outside their homes, in one of the houses, Zaid Yousuf alias Goga, president of the local traders' association, is being mourned.
The screams of his widow and two daughters echo within the walls, and his brother relates how it happened.
"When the terrorists came to the Roman Catholic Church, three boys asked them to identify themselves," says Riaz Fazal, his eyes red rimmed, and his face swollen from crying. "They shot two of the boys point blank. But Goga intercepted them, and pushed them back, and in that time, a terrorist blew himself up."
Know more: 15 killed in Taliban attack on Lahore churches
Goga was martyred, he says, defending the lives of 1,000 people inside the church who were having their last prayers of Sunday Mass.
Youhanabad is a major locality of the Christian population and there are several churches big and small, but its residents complain that not enough security has been provided to them especially on Sundays when they gather for Mass.
People say that after attacking the Roman Catholic Church, two of the terrorists attempted to abscond but the mob caught them and beat them to death before burning them. Till late afternoon, their bodies lay burning on the main road, and the public was taking videos and photographs of the gruesome scene.
Also explore: Tears, anger and agony as Lahore bleeds
"At one point before being beaten the police had caught them," relates a local woman. "But they kept cursing us saying, 'you Christians ought to be killed in blasts everyday'. It was almost as if they were inviting the mob."
Others especially those outside the church complain that there were only three policemen for security measures but even two of them were in a nearby shop watching the cricket match.
Ayub Sardar, a security volunteer for this church, says the police personnel are never enough for them and they always have to take security measures themselves. "It is easy to identify outsiders because we know our community," he says.
The blue gate of the church has been blown off and now community volunteers have formed a human chain, and propped up ladders and rods in order to stop the crowd from coming in. Yet people are still coming to pay homage to their place of worship.
The other church that was attacked a few moments before this one faced slightly less damage.
Full report at:
http://www.dawn.com/pakistan/sindh
-----------
JUI-F wants allocation of funds for Balochistan proportional to its area
AMANULLAH KASI
March 16, 2015
QUETTA: The Deputy Chairman of Senate and JUI-F's Secretary General Maulana Abdul Ghafoor Haideri has urged the federal government to recognise the rights of people of Balochistan on resources of the province and provide development funds to the province according to area of the province.
Speaking at a Press conference here on Sunday, Maulana Haideri said that the issue of Balochistan was a bit complicated and the federal government should take the matter seriously to meet aspirations of the people of the province on priority basis.
Also read: Support for JUI-F's Ghafoor Haideri worries majority in PPP
The JUI-F leader said that Balochistan needed massive development funds to initiate developmental activities to bring about positive changes in society.
He said that his party had reservations over change of route of the Kashgar-Gwadar economic corridor and expressed the hope that the federal government would implement the original plan.
Full report at:
http://www.dawn.com/news/1169858/jui-f-wants-allocation-of-funds-for-balochistan-proportional-to-its-area
-----------
PML-N, PPP responsible for MQM's 'crime': JI
March 16, 2015
LAHORE - Jamaat-e-Islami chief Senator Sirajul Haq on Sunday held equally responsible the PPP and the PML-N for MQM's 'crime', saying the both parties had been taking the "fascist group" as an ally in their governments time and again.
Addressing the concluding session of the JI workshop at Mansoora, he said the both parties must explain to the masses where they had been when the MQM was butchering and burning alive the innocent citizens of Karachi.
He demanded that MQM leader Altaf Hussain be brought to the country through Interpol. Besides, he added, it must also be determined in the light of the 21st amendment whether MQM was a terrorist group or not. He said those patronizing the MQM had proved through their action that they wanted to promote terrorism instead of bringing it to an end. The MQM had always been an ally of the government of the PPP, the PML-N and also during the rule of the generals, he added.
Stressing that justice must be done to all, the JI chief said it was an irony that those targeting religion, mosques and madaris, detaining the ulema and curbing the voice of Azan were themselves giving honour to the killers of thousands of innocent citizens. He said that for the last 30 years, the economic life line of the country had been in the grip of the workers of CIA, RAW and MOSAD.
Full report at:
http://nation.com.pk/lahore/16-Mar-2015/pml-n-ppp-responsible-for-mqm-s-crime-ji
-----------
Pakistan largest importer of Chinese arms: study
March 16, 2015
STOCKHOLM: China has eased ahead of Germany and France to become the world's number three arms exporter after the United States and Russia, a Stockholm-based think-tank said Monday.
The volume of the multi-billion dollar world arms trade rose 16 per cent during the period 2010 to 2014 over the previous five years, the Stockholm International Peace Research Institute added in its annual report.
The figures show that "the United States has taken a firm lead" with 31 per cent of global exports of conventional weapons, SIPRI said, adding that Russia is second with 27 per cent.
The next three arms exporters are far behind with about five per cent each, and China is only slightly ahead of fourth-ranked Germany and fifth-ranked France.
Three Asian countries accounted for more than two-thirds of Chinese exports, with Pakistan buying 41 per cent of the total, followed by Bangladesh and Myanmar. Beijing also had 18 client nations in Africa during the period.
Russia's top client was India — the world's leading arms importer — with 70 per cent of its purchases coming from Russia.
The United States had the most diverse clientele. South Korea, its top client, accounted for only nine per cent of total US business.
Among the top suppliers, China's sales were 143 per cent the figure from the previous five years. Ukraine and Russia also saw surges in exports, while German and French exports declined.
Full report at:
http://www.dawn.com/news/1169906/pakistan-largest-importer-of-chinese-arms-study
-----------
Govt stops action on prisoners' swap treaties with countries
AMIR WASIM
March 16, 2015
ISLAMABAD: In a significant development, Pakistan stopped on Sunday implementation of agreements on swapping convicted prisoners with various countries.
"Interior Minister Chaudhry Nisar Ali Khan has stopped the ministries of interior and foreign affairs as well as the Federal Investigation Agency (FIA) from making any progress in cases under any such agreement till the formulation of a new and transparent policy," says a brief announcement by the interior ministry.
The country is reported to have entered into prisoners' swap treaties with several countries, including the UK, UAE, Sri Lanka, Thailand and Spain.
The decision has been taken after reports that a number of convicted persons, who had been brought to Pakistan from jails in some foreign countries, managed to get themselves freed with the help of government officials without completing their sentence in the country, which was mandatory under the treaties.
"Investigations carried out on the directives of the interior minister reveal that a number of Pakistanis, who had been convicted of committing heinous crimes in other countries and brought back to Pakistan under extradition treaties, were illegally released from jails in connivance with officials of the interior ministry and provincial governments," says the announcement.
Full report at:
http://www.dawn.com/news/1169895/govt-stops-action-on-prisoners-swap-treaties-with-countries
-----------
View from the courtroom: Increasing tendency of violence among children
WASEEM AHMAD SHAH
March 16, 2015
Around 272 under-trial juveniles have been imprisoned in different prisons of Khyber Pakhtunkhwa with 102 of them arrested on murder charges, showing increasing tendency of violence among children. Also, 23 of the juvenile convicts are kept in three prisons, with eight of them facing life imprisonment in murder cases.
Experts believe that a child offender should be kept behind the bars as a last resort, but in Pakistan this objective could not be achieved despite the promulgation of the Juvenile Justice System Ordinance (JJSO) around 15 years ago. Children continue to languish in prisons even in petty offences like theft.
One of the prisoners, Hasan Khan, is aged around 10 and he has been arrested on theft charges. The case was registered at Swabi police station on Dec 8, 2004 and his trial is pending with the senior civil judge there.
The data compiled by the prison department around a month ago revealed that 89 of the under-trial juvenile offenders, which is the largest number in the province, are imprisoned in the juvenile section of Peshawar Central Prison. Number of juvenile suspects/accused in other prisons are: Haripur Central Prison eight, DI Khan Central Prison 23, Bannu Central Prison five, Mardan district jail 21, Kohat district jail 22, Timergara district jail eight, Karak district jail two, Lakki Marwat district jail 10, Mansehra district jail 20, Daggar district jail 13, Chitral district jail two, Swabi judicial lock-up 22, Malakand judicial lock-up four and Nowshera judicial lock-up 12.
There are eight juvenile convicts in Peshawar, 13 in Haripur and two in Bannu.
Of the under-trial juveniles facing charges of murder, 20 are in the Peshawar prison, 19 in Mansehra, 10 each in Mardan, Swabi and Kohat, eight in Daggar (Buner), five in Haripur, four each in DI Khan, Lakki Marwat and Timergara, three in Malakand, and two each in Nowshera and Chitral.
Full report at:
http://www.dawn.com/news/1169888/view-from-the-courtroom-increasing-tendency-of-violence-among-children
-----------
Christians protest bombing of churches
March 16, 2015
HYDERABAD/MIRPUR­KHAS: Members of the Christian community in Hyderabad and Mirpur­khas took to the streets and raised slogans against bombing of two churches in Lahore on Sunday.
The protesters also pelted vehicles and shops with stones and blocked roads with burning tyres.
In Hyderabad, groups of men, women and children came out of their several colonies located in Latifabad to form a procession.
Know more: 15 killed in Taliban attack on Lahore churches
The participants marched up to the local press club, where they held a noisy demonstration raising slogans against terrorists and police.
They blocked Miran Mohammed Shah Road near Radio Pakistan and some other thoroughfares demanding protection for Christians across the country and action against terrorists.
Synod Church of Pakistan secretary general Imran Joseph, Bishop of Hyderabad Diocese Church of Pakistan Kaleem John, Catholic Bishop Samson Shukardin and former Bishop Rafiq Masih spoke to the protesters and condemned the bombings. They supported their religious leaders' call for a closure of all missionary schools on Monday.
Full report at:
http://www.dawn.com/news/1169784/christians-protest-bombing-of-churches
-----------
PM orders inquiry into Lahore blasts
March 16, 2015
ISLAMABAD - Strongly condemning the bomb blasts in Lahore, Prime Minister Muhammad Nawaz Sharif directed for immediate inquiry into the incident as well as provision of free medial treatment to the injured.
Terming the emotions of anger and grief shown by the Chirstian community in the aftermath of this tragic incident were natural and expressed his resolve to work with Christian community to find answers to their questions and would also take appropriate measures for the security and safety of minorities.
The prime minister assured them the government considers this unfortunate incident as an attack on the state of Pakistan.
"Our Christian community has rendered invaluable services to the motherland particularly in the social sector and we consider them as our honour and pride," he.
He reiterated the resolve of the government to eradicate terrorism and extremism from the country. He asked all provincial governments to beef up security and take all possible measures to safeguard life and property of the people.
The prime minister sought report into the incident and extended condolences to the families of those who lost their lives. He directed for provision of best medical facilities to the injured.
President Mamnoon Hussain also strongly condemned the twin blasts in Lahore's Youhanabad area and expressed deep grief and sorrow over the loss of innocent lives.
In his condolence message, the President said that the government has committed itself to eradicate terrorism and extremism in all its forms and manifestations, adding that such coward attacks cannot deter the resolve of our nation. The President stated that government and nation are determined to wipe out the menace of terrorism. The President said that terrorists have no religion and perpetrators of Youhanabad blasts would be brought to book. The President also offered his condolences to the bereaved families and directed the authorities concerned to ensure the best medical treatment to the injured.
Meanwhile former President Asif Ali Zardari has strongly condemned terror attack on Churches in Lahore resulting in loss of precious lives and injuring dozens.
Full report at:
http://nation.com.pk/national/16-Mar-2015/pm-orders-inquiry-into-lahore-blasts
-----------
Terror incidents decline in first 3 months of 2015
March 16, 2015
PESHAWAR - In the wake of repeated search operations against Afghan nationals and other miscreants after the Army Public School's attack, the ratio of terrorist incidents declined in the first three months of 2015 and so far 27 persons have been killed and 50 others injured in terrorist incidents.
After the APS's attack, police and security forces took number of preventive measures to foil subversive activities in Peshawar and number of criminals, including those living in the garb of Afghan nationals, were arrested. As per the available data of Peshawar police line, the first three months of 2015 were comparatively peaceful as compare to the previous year of 2014. Large number of criminals and terrorists involved in deferent incidents of terrorism were arrested.
On January 05, police claimed to have arrested three suspects, including two women, from Badbher area of Peshawar, who were smuggling arms and ammunition from Khyber Pakhtunkhwa to Punjab.
Soon after this incident, Peshawar police detained 150 suspected criminals during a search operation carried out in the areas around the university campus. At that time, police and security forces conducted a joint search operation in the adjoining areas of Regi Lalma, Malagori and university campus and sealed these areas.
On January 22, two bullet-riddled bodies were found from Gulshan Rehman Colony on Kohat Road in Peshawar, the provincial capital of Khyber Pakhtunkhwa. The killed persons belonged to Badhaber and Qamar Din Gharri area. On February 5, the Bomb Disposal Squad defused a mortar shell found in fields in Pishtakhara area of Peshawar.
Likewise on February 11 the CTD arrested two alleged terrorists from the Ring Road-Kohat Road bridge of Peshawar. The officials said the held militants were affiliated to the TTP Tariq Group, who were tasked by Commander Hazrat Ali to collect funds for the group through extortion.
Full report at:
http://nation.com.pk/national/16-Mar-2015/terror-incidents-decline-in-first-3-months-of-2015
-----------
North America
South Carolina Again Tries To Ban Islamic Law, Fearing It May Enter Courtroom
March 15, 2015
COLUMBIA — South Carolina lawmakers are worried Islamic law could creep into the state's courtrooms.
It's not clear whether Sharia law ever affected Muslim girls in South Carolina, but a bill moving through the Legislature could send a statement to the court system and potentially the U.S. Congress, according to the sponsor of bill aimed at making sure foreign law doesn't enter the American justice system.
Charleston Republican Rep. Chip Limehouse has introduced H. 3521, which says a court can't use Sharia law or any other foreign law to violate someone's constitutional rights — whether the United States Constitution or the South Carolina Constitution.
Limehouse cited figures from the Washington-based Centre for Security Policy that counted 146 cases from 32 states in which Sharia law was brought up in proceedings.
In an interview Monday, he was uncertain as to whether South Carolina was among them or whether Sharia law was applied in a way that weakened the sentence of an offender in an "honour-killing" by a family member.
"I think more than likely the lawyer said, 'your honour, my client comes from fill-in-the-blank, Iran, or whatever, and by the law of his land, what he did to his daughter is an accepted practice, therefore we're asking for leniency from the court,'" offered Limehouse.
He said Congress should be taking up such measures, but in the meantime: "It should be done as a federal law. But hopefully South Carolina will send a message."
Critics of the movement to ban Sharia law in American courtrooms, a trend that has gathered in recent years, argue that it stokes fear of Muslim culture and props up a non-existent domestic menace.
Nevertheless, last week an S.C. House subcommittee gave Limehouse's bill its approval, sending it to the full committee, although some members questioned whether the proposal was necessary.
"Isn't it already illegal to violate somebody's constitutional rights?" wondered Rep. Kirkman Finlay, R-Columbia.
Full report at:
http://www.blufftontoday.com/bluffton-news/2015-03-15/sc-again-tries-ban-islamic-law-fearing-it-may-enter-courtroom#.VQZ069KUd5s
-----------
N-deal with Iran may ease curbs, benefit gas project: US
March 16 2015
WASHINGTON: The United States has said it can further relax restrictions on Iran's oil products if it signs a nuclear deal with Tehran.
Pakistan can also benefit from this relaxation, as it could allow Islamabad to complete the Iran-Pakistan pipeline project.
The US-led restrictions on Iranian oil products have adversely affected the $7.5 billion project. Work on the Iranian side of the project is almost complete but Pakistan complains that the US and EU sanctions have prevented it from completing its side of the pipeline.
Also read: 'Pakistan won't rush to join anti-Iran alliance'
"Obviously, there's not a deal yet, so if there's an agreement we can certainly speak to that," said State Department Spokesperson Jen Psaki when asked if an agreement with Iran would also relax restrictions on Iran's oil products.
Ms Psaki said the United States reviews those restrictions every year and puts out annual reports and would do so after signing a nuclear deal as well.
The United States and five other nations — Britain, China, France, Germany and Russia — are currently negotiating a deal with Iran and hope to finalise it by the end of this month.
The agreement would persuade Iran to cap its nuclear programme in return for ending US-led sanctions against the Islamic Republic.
Full report at:
http://www.dawn.com/news/1169816/n-deal-with-iran-may-ease-curbs-benefit-gas-project-us
-----------
US reconsidering withdrawal plan, Obama tells Ghani
March 16 2015
WASHINGTON: US President Barack Obama has accepted his Afghan counterpart's request to delay the withdrawal of American troops from Afghanistan, the US media reported on Sunday.
Mr Obama spoke with Afghan President Ashraf Ghani earlier this week and discussed the US plan for reducing American forces in Afghanistan to 5,500 by the end of this year.
Mr Ghani urged the US leader to reconsider his plan as the security situation in Afghanistan did not allow such a rapid withdrawal, from more than 100,000 in the recent past to a little over 5000 this year.
After the conversation, a senior White House official told CNN that President Obama was considering whether he could "scrap his drawdown plan" for this year. But the official also said that no final decisions had been made yet.
"Presidents Obama and Ghani have had regular discussions on the security transition and peace and reconciliation processes in Afghanistan," the official said. They also reviewed the "planning for President Ghani's upcoming visit to Washington," he added. President Ghani requested "some flexibility in the troop drawdown timeline and base closure sequencing over the next two years, and we are actively considering that request," the official said.
During his first trip to Afghanistan last month, new US Defence Secretary Ash Carter said he might advise President Obama to consider slowing the drawdown of US forces from Afghanistan — partly because of better relations with the new Afghan government. Any review would be based on the reality on the ground, he added.
Gen. John Campbell, the top US commander in Afghanistan, has argued that reducing the force to 5,500 by the end of the year would disrupt efforts to train and advise the Afghan military.
Full report at:
http://www.dawn.com/news/1169807/us-reconsidering-withdrawal-plan-obama-tells-ghani
-----------
US will have to negotiate with Assad, says Kerry
March 16 2015
WASHINGTON: With the devastating war in Syria entering its fifth year, the US has said it will have to negotiate with Syrian President Bashar al-Assad as it aims to "reignite" new peace talks.
More than 215,000 people have been killed and half of the country's population displaced, prompting human rights groups to accuse the international community of "failing Syria".
Amid the dragging stalemate on the ground, the country has been carved up between government forces, militant groups, Kurdish fighters and the remaining non-jihadist rebels.
'Washington, other parties trying to reignite talks'
Diplomacy remains stalled, with two rounds of peace talks achieving no progress and even a proposal for a local ceasefire in the second city Aleppo fizzling out.
Take a look: Assad lures Obama into his web
After years of insisting Mr Assad's days were numbered, US Secretary of State John Kerry conceded Washington would have to negotiate with him to end the war.
"Well, we have to negotiate in the end. We've always been willing to negotiate in the context of the Geneva I process," Mr Kerry said in an interview with CBS television, telecast on Sunday.
Full report at:
http://www.dawn.com/news/1169811/us-will-have-to-negotiate-with-assad-says-kerry
-----------
Nashville Christians, Muslims find common ground
March 14, 2015
Christians and Muslims share common ground today, just like the Rev. Dr. Martin Luther King Jr. and Malcolm X saw some things the same more than 50 years ago.
That was the theme of an open house Saturday hosted by the Islamic Center of Nashville that brought about 50 people of different backgrounds to the center on 12th Avenue South. They listened to Muslim and Christian perspectives on two civil rights leaders who famously disagreed on the philosophy of nonviolence but agreed on the struggle.
"People from different faiths can work together in dealing with problems with society, human rights issues and civil rights issues," said Rashed Fakhruddin, president of the center. "When we work together, there's a lot we can accomplish."
Headlining the event were talks from two civil rights scholars from Nashville: Lewis Baldwin, retired professor of religious studies at Vanderbilt University and an ordained Baptist minister, and Amiri Al-Hadid, a retired professor from Tennessee State University, where he chaired the African studies department.
The two have co-written a new book — "Between Cross and Crescent: Christian and Muslim Perspectives on Malcolm and Martin" — that explores both the interconnections and tension between King and Malcolm X.
Differences between the religions often are highlighted, but the scholars Saturday pointed to similarities.
Full report at:
http://www.tennessean.com/story/news/2015/03/14/christians-muslims-find-common-ground/24771125/
-----------
Sheikh Mohammed awards American teacher 'Nobel prize for teaching'
Nadeem Hanif and Roberta Pennington
March 16, 2015
DUBAI // An American teacher who founded a small non-profit school with a mandate for innovation became a millionaire on Sunday when she won a global teaching prize.
Nancie Atwell, 63, an English teacher and founder of the Centre of Teaching and Learning in Maine, was presented with the US$1 million (Dh3.67mn) prize at the Global Education and Skills Forum in Dubai.
"It was a total surprise," said Mrs Atwell, who founded the school in 1990.
"I will direct all of it to my school. It will support tuition assistance and it will enable us to buy the books that make our programme so special, because many, many teachers across the US look to our kids to recommend books for their children, so we'll be able to stay current. We'll be able to provide that guidance and advice to the rest of the young readers in the nation."
The money will also be used to replace the school's 25-year-old heating boiler and to keep the operation going for at least another decade, said Mrs Atwell.
The Centre of Teaching and Learning is a demonstration school that accepts no more than 80 pupils each year. Teachers from around the world are invited to spend a week at the school to study its methods.
"The mandate for teachers at our school is to innovate so people are continuously developing new methods; strong methods that change children's lives," said Mrs Atwell.
"We'll continue to be a laboratory, a seedbed of innovation and good ideas for other teachers, who will continue to have an impact on lots and lots of children."
Mrs Atwell received the Varkey Foundation Global Teacher Prize from Sheikh Mohammed bin Rashid, Vice President and Ruler of Dubai; former United States president Bill Clinton, honorary chairman of the Varkey Foundation; and Sunny Varkey, its founder.
Referred to as the Nobel Prize for teaching, it is the largest of its kind and was set up to recognise one exceptional teacher who has made an outstanding contribution to the profession.
Full report at:
http://www.thenational.ae/uae/education/sheikh-mohammed-awards-american-teacher-nobel-prize-for-teaching
-----------
Canadians Protest Against Anti-terror Laws
15 March 2015
By Muneeb Nasir
TORONTO - Thousands of Canadians gathered in public squares across the country to protest against the Conservative's government proposed anti-terrorism legislation that would expand the powers of police and Canada's spy agency.
"This bill is reckless dangerous and ineffective", said protestor Maya Bhullar, a civil liberty activist.
"People from the Muslim community, environmentalists, concerned citizens, people who care about our civil liberties….we're very nervous about expanding police powers with very little oversight."
In Toronto, an estimated crowd of 2,000 people came out to Nathan Phillips Square to join the countrywide protests billed as the 'National Day of Action' to stop Bill C-51.
Protesters then marched to Canadian Security Intelligence Service office in downtown Toronto.
The proposed bill would give the Canadian Security Intelligence Service, CSIS, the ability to actively disrupt terror plots, expand no-fly list powers and allow police to have greater control in limiting the movement of a suspect.
Critics of Bill C-51 say it would greatly expand the powers of CSIS, to the point where it will create a "secret police force" and that it lacks appropriate oversight.
The government introduced Bill C-51 in January and it is currently before House public safety committee.
According to StopC51.ca, "Canadians have spoken out in over 70 communities across the country."
"This bill disproportionately targets indigenous communities, environmental activists, dissidents, and Muslims, many of whom are already subjected to questionable and overreaching powers by security officials," states the StopC51.ca website.
"This bill will make it easier and ostensibly lawful for government to continue infringing upon the rights of peaceful people."
Criticism
Prominent Canadians voiced their concern over the bill at the Toronto rally.
Human rights lawyer Paul Copeland called C-51 the "most dangerous act" since the War Measures Act of 1970.
Full report at:
http://www.onislam.net/english/news/americas/483991-canadians-protest-anti-terror-legislation.html
------------
Europe
Three British teens trying to join IS detained in Istanbul
16 March 2015
ANKARA: Three British teenagers who were planning to join Islamic State militants in Syria were detained in the Turkish city of Istanbul, Turkish officials said on Sunday.
The three, who have not been named, were detained on Friday, Turkish sources told Reuters. They said arrangements were being made with British authorities to deport them this week.
Police in London said they had been made aware that two 17-year-old boys had gone missing and were thought to be traveling to Syria. Further inquiries revealed they had traveled with a 19-year-old male.
Full report at:
http://www.arabnews.com/middle-east/news/718816
-----------
Blair 'poised to step back' from Mideast role
16 March 2015
Tony Blair is poised to step back from his role with the diplomatic Middle East Quartet, the Financial Times reported Sunday, citing several people familiar with the situation.
The former British prime minister has discussed his position with U.S. Secretary of State John Kerry and EU foreign policy Chief Federica Mogherini, the business daily said, adding that news on his amended role could come later this week.
"His move comes amid deep unease in parts of Washington and Brussels over his poor relations with senior Palestinian Authority figures and sprawling business interests" including with regional governments, the FT said.
Blair was appointed to the unpaid position in 2007 by the informal Quartet comprising United Nations, United States, European Union and Russia, to lead efforts to support the Palestinian economy and institutions in preparation for eventual statehood.
Full report at:c
http://english.alarabiya.net/en/News/middle-east/2015/03/16/Blair-poised-to-step-back-from-Mideast-role.html
-----------
View of Islam skewed by actions of extremists: expert
By Steph Crosier
March 15, 2015
The popular view of Islam has been skewed by the actions of minority extremists, according to world-renowned academics.
Dr. Abdolkarim Soroush, a post-revolutionary Iranian philosopher, author and intellectual, and Dr. Asef Bayat, the Catherine & Bruce Bastian Professor of Global and Transnational Studies at the University of Illinois, Urbana-Champaign, were keynote speakers at the Queen's University Islamism and post-Islamism conference on the weekend.
With recent events, acts of terrorism and the continuous rise of ISIS, Sorough said society has become less tolerant of religious freedoms.
"Secularism, especially in France and Turkey, has become a militant secularism," Soroush said. "Which means that it has lost its tolerance for religion."
In February, Prime Minister Stephen Harper called wearing a niqab during a citizen ceremony offensive. On March 10, he said most Canadians oppose people wearing face coverings during the ceremony.
"It is very easy to understand why we do not allow people to cover their faces during citizenship ceremonies," Harper said. "Why would Canadians, contrary to our own values, embrace a practice at that time that is not transparent, that is not open, and frankly is rooted in a culture that is anti-women? That is unacceptable to Canadians and unacceptable to Canadian women."
Soroush said Canada is a free country and anyone can wear what they'd like. A niqab may be offensive to some, but so can wearing very little clothing.
"This is a free country, and so long as they are good citizens, I mean they obey and they abide by law, and they pay their taxes, they are not criminals, so they have every right to present themselves as they wish," Soroush said. "In this society, you have every right to wear what you like "¦ Of course we have to respect each other. We have to be careful not to offend each other. This is a principle in every society.
"According to the modern conception of an man or a woman, all the society wants you to do, all the government wants you to be, is to be a good citizen. That's it. Your personal morality is yours."
Full report at:
http://www.thewhig.com/2015/03/15/view-of-islam-skewed-by-actions-of-extremists-expert
-----------
France plays hawk role in nuclear talks with Iran
March 16 2015
PARIS: As the drive to reach an accord with Iran on its nuclear programme heads towards a March 31 deadline, France is digging into its role as chief hawk — a position inclined to annoy US allies, but not likely to scuttle an eventual accord, diplomats say.
The French hard line among its US, British, Chinese, Russian and German partners to hammer out a nuclear agreement with Tehran is rooted in ideological, historical, and even personal concerns that tend to stiffen as Paris recognises Washington's increasing pragmatism in seeking to conclude a deal swiftly.
"France has taken the opposite path to that of the United States, which changed strategies with the arrival of Barack Obama," said Bernard Hourcade, an Iran specialist at the National Centre of Scientific Research, who says France's current Socialist-led government adopted and defends the wary, intransigent stance towards Iran set down by previous conservative president Nicolas Sarkozy.
Also read: Implications of Iran's N-deal
"Paris has clearly made the choice of going with Gulf oil monarchies and with a conservative stability" in the region, and frontally opposing Iranian interests and influences that Paris blames for violence and turmoil in Syria, Lebanon and Iraq, Hourcade said.
'Matter of degrees'
It was that scepticism vis-a-vis Tehran that led France to initially block the November 2013 accord between Iranian and US diplomats — one that French officials rejected at the 11th hour for granting Iran too many concessions in the zeal to come away with an interim agreement sooner.
Though a tightened deal was signed 15 days later, US officials are now closely watching their French partners for signs Paris might again veto an agreement hammered out as the March 31 deadline for a framework treaty looms.
"The French won't take the risk of ruining negotiations. The global powers are all in agreement on the main issues," said Francois Nicoullaud, a former diplomat posted to Tehran in the 2000s, and specialist on non-proliferation.
"Beyond that, it's a matter of degrees, which Paris will be seeking to push as far as possible," he added.
Full report at:
http://www.dawn.com/news/1169739/france-plays-hawk-role-in-nuclear-talks-with-iran
-----------
Pope calls for an end to persecution of Pakistani Christians
March 16 2015
VATICAN CITY: Pope Francis told the faithful in St. Peter's Square that he was pained by the news of two terror attacks against churches in Pakistan and called for an end of persecution against Christians.
The pontiff said during his traditional Sunday prayer that the numerous dead and injured were persecuted "only because they are Christians".
Pope Francis said he felt great pain over bomb attacks outside two churches in Pakistan, departing from scripted remarks in his customary address to decry "persecution" of Christians.
Full report at:
http://www.dawn.com/news/1169717/pope-calls-for-an-end-to-persecution-of-pakistani-christians
-----------
Australia
Australian Criminal Group Sending Militants for ISIL In Syria
Mar 15, 2015
A criminal group has been covertly sending would-be militants from Australia to join the ISIL Takfiri militants in Syria, local media reports.
A community member, a lawyer, an accountant and a "travel agent" were indicated in the report for alleged involvement in the secret operations, RT cited the Sydney Morning Herald as reporting on Sunday.
Also another person fabricated "fake international passports" for future militants, the report added.
The report, which was collected in accordance to freedom of information laws, contains personal information such as names, phone numbers, and the workplace of some of those involved in the case.
A police investigation revealed that one of the persons involved in the smuggling ring had previously attempted to leave the country with a large amount of money and another person had successfully managed to transfer money out of Australia through family members.
"The [Australia Federal Police] continues to investigate a number of people suspected of facilitating the travel of people to Syria, who are intending on engaging in the conflict," said a police spokesman.
The report came amid Australia's desperate attempts to find out how its young citizens are being recruited by Takfiri terrorists in Iraq and Syria.
Full report at:
http://www.presstv.in/Detail/2015/03/15/402001/Aussie-criminals-supplying-ISIL-in-Syria
-----------
Australian Muslims feel targeted by anti-terror laws: Poll
Mar 16, 2015
The results of an opinion poll have revealed that the majority of Muslims in Australia believe counter-terrorism laws in the country have been unjustly aimed at them.
The study, which was conducted before the largest counter-terrorism raids in Australia in September 2014, involved 800 Muslims from both genders that varied in age and backgrounds, including Pakistanis, Syrians, Indonesians and South Africans, The Guardian reported on Monday.
Full report at:
http://www.presstv.in/Detail/2015/03/16/402032/Antiterror-laws-target-Aussie-Muslims
-----------
Mideast
Iran urges cooperation with Turkey to counter Islamophobia
Mar 15, 2015
Iran's first vice president says cooperation between Iran and Turkey could effectively foil the Zionists' plots aimed at promoting Islamophobia in the world as the two nations play a major role in resolving current disputes of the Muslim world.
Es'haq Jahangiri said Sunday that Tehran and Ankara should expand their collaboration in order to neutralize plots hatched by the Zionists to promote Islamophobia in the world.
At a meeting with the visiting Turkish Minister of Development Cevdet Yılmaz, Jahangiri highlighted numerous cases of cultural commonalities between the two countries, saying Tehran sees no limits for expansion of its ties with Ankara.
$30 billion trade volume achievable
He said the current level of trade exchanges between the two counties is lower than the existing capacities, adding that reaching a USD 30 billion trade volume would not be difficult if the two sides try to remove some existing obstacles and pave the ground for a more active involvement of the private sector.
Iran and Turkey are set to bring the volume of their bilateral trade to a target of USD 30 billion by 2015. Trade between the countries stood at $22bn in 2012, before dipping to $20bn in 2013.
Full report at:
http://www.presstv.in/Detail/2015/03/15/402004/iran-turkey-ties-deter-Islamophobia
-----------
Turkey-detained 'spy' admits ISIL, Canada links
Mar 16, 2015
Leaked statements from a Syrian man arrested by Turkish authorities and accused of helping three British girls join Takfiri ISIL terrorists in Syria from Turkey confirms his role as an intelligence operative for Canada as well as a money courier for the Takfiri group.
In leaked statements made to police by the alleged spy, Mohammed al-Rashed, he has identified his Canadian handlers at Ottawa's embassy in Jordan by their aliases and admitted that he also operated as a courier of funds transferred from overseas to ISIL terrorists in Syria via a Turkish jeweler at a border town, Turkish media reports said Monday.
Rashed was taken into custody by security officers on February 28. Among numerous documents found at his possession and the information discovered in his laptop was a video footage showing him assisting three missing British girls, Shamima Begum, 15, Amira Abase, 15, and Kadiza Sultana, 16.
This is while Turkey is widely regarded as a staunch supporter of the ISIL terrorist group and has so far facilitated the transfer of manpower and logistic support for the terrorists fighting the Syrian and Iraqi governments.
Rashed's leaked statements also reveal that he first came into contact with Canadian authorities in 2013 when he sought political asylum in Canada at its embassy in Jordan (pictured below), where Canadian authorities demanded information from Rashed on ISIL's operations in exchange for Canadian citizenship, Daily Sabah reported.
According to the report, Rashed identified his handler at the Canadian embassy as "Matt," who in turn handed over his information to his superior, "Claude."
"While I was working in a hospital in Raqqa, I was collecting information from the wounded regarding ISIS (ISIL) operations. I was handing this information to Canadian Embassy in Jordan. In order to do this, I was going to Jordan via Istanbul and giving the information to Canadian Embassy officials recorded in my laptop," Rashed said in his statement to police as cited in the report.
Full report at:
http://www.presstv.in/Detail/2015/03/16/402043/Turkeycaught-spy-admits-Canada-ties
-----------
Son of ex-Iranian president gets 15 years jail
15 March 2015
The son of Iran's former president Akbar Hashemi Rafsanjani has been sentenced to 15 years in jail after being tried for security offences and financial crimes, state media said Sunday.
Full report at:
http://english.alarabiya.net/en/News/middle-east/2015/03/15/Son-of-ex-Iran-president-Rafsanjani-gets-15-years-jail.html
-----------
Israel detains 4 Palestinian girls at al-Aqsa Mosque
Mar 16, 2015
Israeli forces have arrested four Palestinian girls inside the al-Aqsa Mosque compound in the occupied West Bank as the regime continues to restrict Palestinians' access to the religious site.
Witnesses said that Ayah Abu Nab, 16, was detained at the al-Aqsa compound's Chain Gate as she was trying to enter the site, while 12-year-old Ayah al-Zaghal and Anhar al-Ajlouni as well as Randas Abu Sneina, whose age is unclear, were arrested as they were leaving by the same gate on Sunday, according to Palestinian news agency Ma'an.
The four girls were taken to a nearby police station.
In a separate incident, Hadil al-Rajabi, a 10-year-old Palestinian girl, was physically assaulted by Israeli police inside the al-Aqsa compound on the same day.
Sources inside the Palestinian Ministry of Endowment's al-Quds (Jerusalem) office, which is based inside the compound, said that Israeli forces also attacked a Palestinian security guard, Abd al-Rahman al-Sharif, who intervened to defend the girl.
Israel continues to restrict the movement of Palestinian worshippers to the al-Aqsa Mosque. The invasion has led to many conflicts between Palestinian worshippers and Israelis.
Nearly 90 percent of Palestinians believe that Israel is going to destroy the al-Aqsa Mosque and replace it with a temple, a recent poll conducted by the Palestinian Center for Policy and Survey Research shows.
Full report at:
http://www.presstv.in/Detail/2015/03/16/402034/Israel-arrests-four-Palestinian-girls
-----------
Israel FM's visit to Ibrahimi Mosque prompts outrage
Mar 15, 2015
A visit by hardline Israeli Foreign Minister Avigdor Lieberman to a mosque in the occupied West Bank has stirred outage among the Palestinian community.
On Sunday, Lieberman entered the Ibrahimi Mosque, also known as the Cave of the Patriarchs, in the southern West Bank city of al-Khalil (Hebron), located 30 kilometers (18 miles) south of al-Quds (Jerusalem) amid tight security measures.
"The incursion was limited to the side of the mosque that is under Israeli control and lasted for about a half hour," Ismael Halaweh, the head of al-Khalil's religious endowment office, said.
"During the incursion, the gates separating the mosque from the Palestinian market of the Old City were sealed, amid strong presence from Israeli security forces. Lieberman is trying to use al-Ibrahimi Mosque incursion as a campaign ploy," Halaweh added.
The visit by the 56-year-old leader of Yisrael Beiteinu (Israel is Our Home) right-wing party comes just two days before general elections in Israel, and followed an earlier one on Thursday night.
Full report at:
http://www.presstv.in/Detail/2015/03/15/401974/Israeli-FM-mosque-visit-stirs-outrage
-----------
Turkey eyes Islamic world's trade surplus
Mar 16, 2015
Development Minister Cevdet Yılmaz said that the Islamic world had a foreign trade deficit of $250 billion last year, adding: "The majority of this money flows to the financial centers of developed countries. We need to attract it more. It is of great importance to have the participation of banking and innovative financial instruments in different regions of the world. We are determined to realize it." Concerning the activities of the Development Ministry, Yılmaz told Anadolu Agency of the final situation for the Istanbul Finance Center project, which is being run by the ministry. Yılmaz said that with the project at the first stage they aim to turn Istanbul into a regional finance center by developing new financial instruments and to turn it into a global finance center in the long run. Yılmaz further said that they want to make Istanbul a center in the fields of services, education, traffic, culture and arts. Referring to the fact that the world pays attention to such topics, Yılmaz said that there are people who come from London and obtain information about the finance center. We expect to take Istanbul, which is in close relation with other finance centers of the world, to a very different position, the minister said. According to Yılmaz, the project will boost the added value of Istanbul on one hand, and will effectively satisfy Turkey's need for capital on the other. As a developing country, Turkey has to attract more foreign capital and turn it into productive investments, Yılmaz said, adding that the project will need considerable contributions to achieve it. He said that they prepared new action plans by developing three additional projects - the Eastern Black Sea Project Regional Development Administration (DOKAP), the Eastern Anatolia Project Regional Development Administration (DAP) and the Konya Plain Project Regional Development Administration (KOP) - to the Southeastern Anatolia Project (GAP). Saying that Prime Minister Ahmet Davutoğlu will announce the particulars of DAP and KOP in the upcoming days, Yılmaz said that for the first time they put forth an integrated regional strategy with DOKAP, which also includes a project similar to the Green Path Project.
Full report at:
http://www.dailysabah.com/money/2015/03/15/turkey-eyes-islamic-worlds-trade-surplus
-----------
Hallucinations of UN special human rights rapporteur on Iran
Mar 16, 2015
In his report, he has referred to executions and detentions in Iran. In an act of interference in Iran's judicial system, and in the absence of any awareness of the punitive laws in Iran, Ahmed Shaheed has claimed that this situation violates international and even Iran's rules and regulations.
In his report, he has also alleged that last year at least 753 people have been hanged in Iran, out of which half of hangings has been related to drug-related crimes.
Ahmed Shaheed in this report, which has been based on the remarks of members of hostile groups in Germany, Norway, and Denmark, has called for an end to execution of drug traffickers, operatives of terrorist outfits, and kidnappers.
Full report at:
http://www.islam14.com/english/?p=9630
-----------
Zarif, Kerry open sensitive nuclear talks in Swiss city of Lausanne
Mar 16, 2015
Iran's Foreign Minister Mohammad Javad Zarif and US Secretary of State John Kerry have begun a fresh round of talks over Tehran's nuclear program in an attempt to bridge their differences on the outstanding issues surrounding Tehran's nuclear program.
Zarif and Kerry opened the negotiations in the Swiss city of Lausanne on Monday.
The meeting was also attended by head of the Atomic Energy Organization of Iran (AEOI), Ali Akbar Salehi, Zarif's deputies Abbas Araqchi and Majid Takht-e Ravanchi, special assistant to Iran's president, Hossein Fereidoun, US Energy Secretary Ernest Moniz and US Under Secretary of State for Political Affairs Wendy Sherman together with EU's Deputy Foreign Policy Chief Helga Schmid.
Full report at:
http://www.presstv.in/Detail/2015/03/16/401968/Iran-US-FMs-start-key-talks
-----------
Southeast Asia
Malaysia, Turkey to work on reversing negative perception of Islam, says DPM – Bernama
15 March 2015
Malaysia and Turkey will collaborate to rectify the global misperceptions about Islam, said Deputy Prime Minister Tan Sri Muhyiddin Yassin.
The issue was one of several topics discussed by Muhyiddin with his Turkish counterpart, Numan Kurtulmus when they attended the United Nations' Third World Conference on Disaster Reduction in Sendai, Japan.
Muhyiddin said the Turkish deputy prime mnister raised an important issue which was a global problem – the issue of terrorism, Islamophobia and the Islamic State (Isis) militant group – which had become a global security threat.
"How Malaysia and Turkey can play a role in correcting the perceptions of people on these issues... how Islam is a religion of peace, development and progress, and how Islam did not call on its people to commit murder and slayings like those conducted by Isis and terrorist groups.
"Collaborations between Muslim countries, like Malaysia and Turkey, in creating better understanding of what Islam truly is and countering violence is very important. We agreed to collaborate in this matter," he told Malaysian journalists in Sendai today. Muhyiddin said his meeting with Kurtulmus also discussed bilateral ties especially trade and investment targets.
"The previous meeting between Prime Minister (Datuk Seri Najib Razak) and Turkish president (Recep Tayyip Erdogan) which set a new target of US$5 billion in bilateral trade value must be achieved in the coming four, five years.
"Besides efforts by government agencies and ministries, there is also the private sector. How they can play a role in making more efforts so that there is more two-way trade and investment.
Full report at:
http://www.themalaysianinsider.com/malaysia/article/malaysia-turkey-to-work-on-reversing-negative-perception-of-islam-says-dpm
-----------
Rouhani says Iran, Indonesia can introduce 'true and moderate' Islam
15 March 2015
TEHRAN – President Hassan Rouhani has said that Iran and Indonesia can present a "true and moderate" Islam which stands against violence and terrorism.
He made the remarks during a meeting with Alwi Shahab, the Indonesian president's special envoy, in Tehran on Sunday.
The president also said, "Iran and Indonesia have paid a high cost in fighting against terrorism and extremism."
Full report at:
http://www.tehrantimes.com/politics/122591-rouhani-says-iran-indonesia-can-introduce-true-and-moderate-islam
-----------
Most Muslims want Kelantan to focus on flood recovery, not hudud, survey finds
March 16, 2015
KUALA LUMPUR, March 16 — The majority of Muslim voters across the peninsula think the Kelantan government should prioritise post-flood reconstruction instead of focusing on its proposal to implement hudud in the state, a survey has revealed.
The survey by independent pollster Merdeka Center found that 81 per cent of the Malay-Muslim respondents polled between January 21 and 30 this year shared the same view.
Merdeka Center said the findings indicated that the Kelantan PAS government's hudud bid would not likely improve the party's standing among the Kelantanese, or among the national Muslim electorate in general.
The pollster added that the findings were similar to its previous survey in April 2014, which had revealed that 58 per cent of Malays throughout the country felt they were not ready for hudud.
"This move recalls the party's disastrous 2004 general election outing under the 'Islamic State' manifesto, which led to the fall of the PAS Terengganu state government and near loss in Kelantan," Merdeka Center said in a press release today.
According to the survey, only 11 per cent of its Malay-Muslim respondents said Kelantan should prioritise its push for hudud, the controversial Islamic penal code that the state legislative assembly is expected to debate this Wednesday when the PAS-led government tables amendments to a state Islamic enactment.
Eight per cent said, however, that they were unsure.
Across all races, the survey also found that 84 per cent of Malaysian voters in the peninsula said Kelantan should focus on flood recovery efforts instead of on implementing the controversial Islamic penal code.
Only seven per cent said the state should proceed with its hudud implementation, while eight per cent said they were unsure and one per cent refused to respond.
The survey polled a total of 1,008 registered voters here via telephone, including 60 per cent Malay, 30 per cent Chinese and 10 per cent Indian voters.
Respondents were selected on the basis of random stratified sampling along ethnicity, gender and state of residence. The interviews were carried out in the preferred language of the respondents.
Full report at:
http://www.themalaymailonline.com/malaysia/article/most-muslims-want-kelantan-to-focus-on-flood-recovery-not-hudud-survey-find
-----------
Malaysia, Turkey to work on reversing negative perception of Islam, says DPM – Bernama
15 March 2015
Malaysia and Turkey will collaborate to rectify the global misperceptions about Islam, said Deputy Prime Minister Tan Sri Muhyiddin Yassin.
The issue was one of several topics discussed by Muhyiddin with his Turkish counterpart, Numan Kurtulmus when they attended the United Nations' Third World Conference on Disaster Reduction in Sendai, Japan.
Muhyiddin said the Turkish deputy prime mnister raised an important issue which was a global problem – the issue of terrorism, Islamophobia and the Islamic State (Isis) militant group – which had become a global security threat.
"How Malaysia and Turkey can play a role in correcting the perceptions of people on these issues... how Islam is a religion of peace, development and progress, and how Islam did not call on its people to commit murder and slayings like those conducted by Isis and terrorist groups.
"Collaborations between Muslim countries, like Malaysia and Turkey, in creating better understanding of what Islam truly is and countering violence is very important. We agreed to collaborate in this matter," he told Malaysian journalists in Sendai today.
Muhyiddin said his meeting with Kurtulmus also discussed bilateral ties especially trade and investment targets.
"The previous meeting between Prime Minister (Datuk Seri Najib Razak) and Turkish president (Recep Tayyip Erdogan) which set a new target of US$5 billion in bilateral trade value must be achieved in the coming four, five years.
"Besides efforts by government agencies and ministries, there is also the private sector. How they can play a role in making more efforts so that there is more two-way trade and investment.
Full report at:
http://www.themalaysianinsider.com/malaysia/article/malaysia-turkey-to-work-on-reversing-negative-perception-of-islam-says-dpm
-----------
Rise of Turkish Islamic banks chimes with Erdogan's ideals
March 16, 2015
ISTANBUL: Selling fruit from a cart in a working-class neighborhood of Istanbul hasn't made Mehmet rich, but he's adamant his modest savings won't ever see the inside of a bank.
"Getting paid interest is a sin," he said, piling bunches of grapes onto a rusty set of scales in the conservative Fatih district.
"I keep my money partly in gold and under the pillow," the 67-year-old said, declining to give his surname.
Like Mehmet, at least 8 percent of Turkish adults do not have a bank account for religious reasons, according to a 2014 World Bank report, because of the prohibition in Islam against paying interest.
Under President Tayyip Erdogan, an authoritarian leader with roots in Islamist politics and an aversion to usury, Turkey is hoping it can turn disdain for traditional banks among the pious into a boom in Islamic finance, where, instead of interest, banks charge service fees and depositors share in bank profits.
Two state-run banks – Halkbank and Ziraat Bank – are pushing ahead with plans to launch Islamic units this year, joining four existing private Islamic lenders.
Ziraat, Turkey's largest unlisted lender, is due to launch its Islamic business in May, while Halkbank has said it expects to have its business ready by the end of this year.
Turkey's banking regulator also this month approved the establishment of an Islamic lender indirectly related to state-run bank Vakifbank, the third new entrant.
Financial hub
The government, which issued a debut $1.5 billion Islamic bond three years ago and last year presented a legislative framework for publicly owned Islamic banks, wants the industry's assets to double to $100 billion by 2023.
Full report at:
http://www.freemalaysiatoday.com/category/business/2015/03/16/rise-of-turkish-islamic-banks-chimes-with-erdogans-ideals/
-----------
National Police confirm illegal crossing into Malaysia's Sabah
March 16 2015
The National Police confirmed Sunday that a group of 17 Indonesians, consisting of civilians, police and military officers had been detained for illegally crossing into Malaysia on Sebatik Island.
"Where there are foreign force personnel crossing the border without permits, it of course draws attention," said police spokesman Insp. Gen. Ronny F. Sompie.
He said that the group was there to pick up a suspected criminal and admitted that there had been a breach in procedure as such proceedings should take place at border stations.
"The case has been settled through coordination with the East Kalimantan Police," he said.
The Malaysian police arrested 17 Indonesians, 14 of whom were military and police personnel not in uniform, after they attacked a police station to get a suspected killer on Sebatik Island.
Malaysian Police deputy inspector general Datuk Seri Noor Rashid Ibrahim said they were investigated for entering Malaysia illegally, saying the men who entered the country were acting on their own and not in any official capacity from the Indonesian authorities.
"These men were all of lower ranks and were there of their own accord. They were not instructed to bring the suspect back by any superior," he said.
The men invaded the Wallace Bay Police station in Sebatik, a shared island off the coast of Sabah's southwestern Tawau district, on Friday, demanding the murder suspect be identified so they could take him back.
Noor Rashid said the men — 10 policemen, four soldiers and three civilians — who were arrested would be investigated under Section 6(3) of the 1963 Immigration Act for entering the country illegally and also Section 8 of the 1960 Arms Act for the possession of firearms without permits.
Full report at:
http://www.thejakartapost.com/news/2015/03/16/national-police-confirm-illegal-crossing-malaysia-s-sabah.html
-----------
South Asia
King Salman, Ghani explore Saudi-Afghan cooperation avenues
16 March 2015
Prospects for future Saudi-Afghan cooperation with special reference to the possible peace negotiations with the Taleban were discussed by Custodian of the Two Holy Mosques King Salman and Afghan President Ashraf Ghani on Sunday.
"The peace process was one of the key issues discussed by the two leaders," said Afghan Ambassador Sayed Ahmad Omarkhil.
He told Arab News that King Salman and Ghani "reviewed a number of bilateral and regional issues of common concern" during their talks. "The summit talks dealt with bilateral relations between the two brotherly countries as well as the latest developments in the Islamic and international arenas," said a report published by Saudi Press Agency (SPA).
In fact, the trip of Afghan president to Saudi Arabia comes at a time when Afghan government and the Taleban are reportedly preparing to hold peace talks soon. The Afghan envoy noted that "Saudi Arabia and the Jeddah-based Organization of Islamic Cooperation (OIC) can play a good role in bringing peace to Afghanistan."
The wide-ranging consultations between King Salman and Afghan president have wider significance in view of Ghani's forthcoming visit to the US.
"The Afghan president would travel to the US within a few days," said Omarkhil.
According to reports, the US is abandoning plans to cut the number of its forces in Afghanistan to 5,500 by the end of the year, bowing to military officials, who want to keep more troops there.
Full report at:
http://www.arabnews.com/saudi-arabia/news/718931
-----------
Molla Masud held in West Bengal
March 16, 2015
West Bengal police have arrested Molla Masud, a top criminal in Bangladesh who police want in several cases of murder, extortion and other crimes.
A statement released on Sunday said Interpol's Delhi office informed Bangladesh police about the arrest.
It said Criminal Investigation Department of West Bengal police have arrested Masud and charged him with illegal trespass.
Masud was arrested in connection with a case under Section 14 of the Foreigners Act filed with Barrackpore Police Station in West Bengal on Feb 8 this year.
He had been hiding in that area north of Kolkata.
Masud had a 'red corner notice' from Interpol hanging over him.
The statement said police in Bangladesh were trying to bring the listed criminal back for trial in several cases.
Detectives in Bangladesh had earlier said that Masud, wanted in at least 10 murder cases, was hiding in India.
His name was in a list of top criminals Bangladesh handed over to India.
Dhaka city police Joint Commissioner Monirul Islam said Masud had many cases including 10-12 murder cases against him.
He went to India when the government announced reward for catching 23 top criminals, including Masud.
Full report at:
http://bdnews24.com/bangladesh/2015/03/15/molla-masud-held-in-west-bengal
-----------
Bangladesh's poor suffer most as unrest hits economy
March 16, 2015
Shafiqul ALAM - For weeks, Bangladeshi farmer Dibakar Ghosh has been pouring his milk into the river, unable to get it to buyers because of a months-long transport blockade that has crippled the impoverished nation.
As his losses mount, the 30-year-old can no longer afford to feed his cows and fears he may have to sell them for slaughter, destroying his business.
"My losses in the last two months add up to 60,000 taka (about $800)," Gosh told AFP from his village in the northwestern cattle-farming region. "There are 150 milk farmers in my village cooperative and all of them have had to pour away hundreds of litres of milk in the last two months."
Ghosh is among the millions of small business-owners hit by the nationwide shutdown that opposition leader Khaleda Zia launched over two months ago to try to force fresh elections in Bangladesh.
At least 110 people have been killed, many in petrol bomb attacks on vehicles by opposition supporters. The government says the protests have cost businesses an estimated 1.2 trillion taka, but rules out holding fresh elections or talks with the opposition.
With no end to the crisis in sight, wealthy garment traders, bankers and transport owners have staged sit-ins on the streets of major cities to protest the blockade. But experts say it is the poor and small business-owners who have taken the biggest hit as the blockade - now in its third month - deters investment and stops them getting their goods to market.
In the western village of Gatkhali, hundreds of farmers had to watch flowers grown for the peak Valentine's Day period rot because they could not be transported to cities.
Poor worst hit
"No new garment factories have opened, and farmers are not getting fair prices for their crops," economist Ahsan H Mansur told AFP. "The poor are the worst hit as they don't have savings to ride out bad times."
The enmity between Prime Minister Sheikh Hasina and Zia stretches back decades and Bangladesh is no stranger to political unrest. But experts fear the current stand-off could turn into a prolonged conflict, jeopardising the economic strides forward that the country has taken in recent decades.
Full report at:
http://nation.com.pk/international/16-Mar-2015/bangladesh-s-poor-suffer-most-as-unrest-hits-economy
-----------
URL: https://www.newageislam.com/islamic-world-news/new-age-islam-news-bureau/lecture-in-abu-dhabi-stresses-awareness-about-true-islam/d/101972