New Age Islam News Bureau
17 February 2021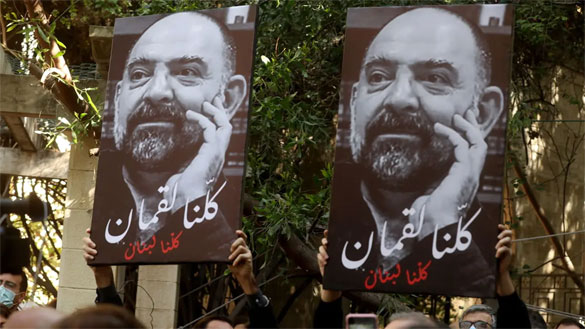 Pictures of Lokman Slim, a publisher and activist, are seen during a memorial service to pay tribute to him, one week after he was found dead in his car, in Beirut, Lebanon February 11, 2021. (Reuters)
-----
• Israeli Bulldozers Raze Palestinian Homes, Displace Family in Occupied East Jerusalem Al-Quds
• All Foreign Forces, Mercenaries Must Leave Libya: UN's Guterres
• Muttahida Ulema Board United Against Misuse of Blasphemy Laws in Pakistan
• Rights Groups to Boycott UK Anti-Extremism Program Review
• SC To Hear Case against Love Jihad Laws of 4 States, Himachal, Madhya Pradesh Added As Parties
• Taliban Called On United States to Pull-Out Troops in Open Letter
• Muslim Teachers Group Wins Nod to Revive Suit against Vernacular Schools in Malaysia
• 'Path to Diplomacy Is Open Right Now,' Top US Diplomat Tells Iran
Arab World
• Lebanon's Hezbollah Leader Hassan Nasrallah Plays Innocent, Denies Hezbollah's Role In Lokman Slim's Assassination
• Saudi Arabia condemns 'terrorist' attack targeting Iraq's Erbil: SPA
• Turkey detains six, identifies Russian ISIS suspect at Syria border
• Turkey's opposition presses government for answers over killing of 13 Turks in Iraq
• Refugees prepared for strongest snowstorm in years affecting the Levant: UNHCR
• Rocket Attack in Iraq Kills a U.S. Military Contractor
--------
Mideast
• Israeli Bulldozers Raze Palestinian Homes, Displace Family in Occupied East Jerusalem Al-Quds
• Iran not seeking nukes but has right to access peaceful nuclear tech: Rouhani
• KRG: Iraqi Kurdistan Region Waiting for Baghdad's Expulsion of US Forces
• Iran Rejects Role in Rocket Attacks against US in Erbil
• Death Sentence Upheld for Juvenile Offender in Isfahan, Iran
• Mehrdad Taleshi, a Kurdish 21 Year Old "Killed in Police Custody," Say Family
• Iranian Christian convert starts hunger strike protesting continued rights violation
• Houthi offensive on Yemen's Marib threatens mass displacement, UN warns
• Yemen 'Welcomes Political Process But After End To Saudi War, Siege'
--------
Africa
• All Foreign Forces, Mercenaries Must Leave Libya: UN's Guterres
• Chad reinforces troops against militants in Sahel as France mulls changes
• 5,000 Nigerians Displaced by Boko Haram Ready to Return, Cameroon Says
• Egypt to reopen embassy in Libya's capital after seven-year closure
• Thousands Protest In Algeria, Hoping To Rekindle 2019 Hirak Movement
• Gunmen kidnap 'hundreds' of schoolboys in Nigeria: security, official sources
--------
Pakistan
• Muttahida Ulema Board United Against Misuse of Blasphemy Laws in Pakistan
• Pak Hindus Deprived Of Legal Marital Rights to Register Their Marriages, Divorces and Remarriages
• Maryam Hopes Judiciary's Credibility Won't Be Risked to Save Govt's 'Sinking Ship'
• Pakistan, France Relations Still 'Poisoned' Over Prophet Muhammad Caricature Controversy: Report
• FM Qureshi encourages Egyptian businessmen to invest in Pakistan
• Pakistan says India posing 'immediate threat' to regional peace
--------
Europe
• Rights Groups to Boycott UK Anti-Extremism Program Review
• France keeps troops in Sahel to 'decapitate' Al-Qaeda groups
• Russia detains 19 extremist militants who were planning attacks
• Terror suspect who sparked manhunt pleads guilty
• MI5 knew terrorist was plotting attack before deadly London stabbings
• Germany: 5 Tajiks Charged With Membership in ISIS Group
--------
India
• SC To Hear Case against Love Jihad Laws of 4 States, Himachal, Madhya Pradesh Added As Parties
• Rohingya Refugees Face New Crackdown in India
• Rinku Sharma Murder: At Meeting with Murder Victim's Family, Kapil Mishra Talks Jihad, Terror
• Muslim Outfits, And Political Parties, Stage Protest against BJP In Madurai
• First ever 'Chadar' sent by Afghan President to Ajmer Dargah
• SAARC virtual meet: India invites Pak to Covid-19 workshop
• NIA court sends alleged terror operative to police remand in Jammu IED case
• India hopes to blunt Pakistan's campaign on J&K with envoy visit
--------
South Asia
• Taliban Called On United States to Pull-Out Troops in Open Letter
• Bomb-making class turns into blast site, 30 Taliban terrorists killed
• 80 Taliban 'killed in MoD operations' across Afghanistan
• 4 killed, 2 injured in separate attacks in Afghanistan's Nangarhar
• New Zealand to pull remaining troops out of Afghanistan
--------
Southeast Asia
• Muslim Teachers Group Wins Nod to Revive Suit Against Vernacular Schools In Malaysia
• Despite coup, Malaysia to deport 1,200 Myanmar migrants next week
• Malaysia could become hub for halal vaccines, says Khairy
--------
North America
• 'Path to Diplomacy Is Open Right Now,' Top US Diplomat Tells Iran
• Pentagon will offer US President Biden several options to respond to Iraq attack
• US using channels 'very aggressively' to communicate with Yemen's Houthis: Official
• US urges Iran-backed Houthis to halt 'assault' on Yemen's Marib
Compiled by New Age Islam News Bureau
URL: https://www.newageislam.com/islamic-world-news/lebanons-hezbollah-leader-hassan-nasrallah/d/124328
--------
Lebanon's Hezbollah Leader Hassan Nasrallah Plays Innocent, Denies Hezbollah's Role In Lokman Slim's Assassination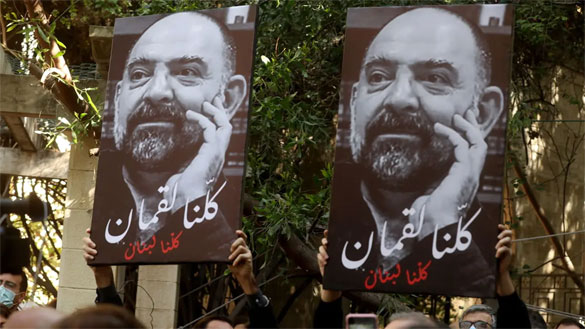 Pictures of Lokman Slim, a publisher and activist, are seen during a memorial service to pay tribute to him, one week after he was found dead in his car, in Beirut, Lebanon February 11, 2021. (Reuters)
-----
17 February,2021
Lebanon's Hezbollah leader Hassan Nasrallah on Tuesday dismissed accusations of any links between the group and the killing of researcher and activist Lokman Slim.
"Any incident that happens in your area then you are accused until the opposite is proven? Is this something that is practiced in the whole wide world? Where else is this logic present?" Nasrallah said in a televised speech.
Activist Lokman Slim was shot and found dead in his car in south Lebanon earlier in February, marking the first killing of a high-profile activist in years.
He was a critic of the Iran-backed Hezbollah group. His sister has suggested he was murdered because of those views.
Hezbollah has previously condemned the killing.
A filmmaker and publisher, Slim had spoken out against what he called Hezbollah's intimidation tactics and attempts to monopolize Lebanese politics.
Nasrallah was also critical on Tuesday about blame pointed at the group for involvement in the Aug. 4 Beirut blast that killed 200 people.
"Hezbollah is guilty until proven otherwise - what kind of a rule is that? ...Beirut port - you, Hezbollah, blew up Beirut port until the truth about the explosion is revealed," he said.
The judicial investigation into the blast is still under way in Lebanon with judge Fadi Sawan having charged caretaker Prime Minister Hassan Diab, whose cabinet quit after the blast, and three former ministers with negligence.
Sawan is due to interrogate one of the three former ministers, Youssef Finianos, a Hezbollah ally sanctioned by the US for his links to the group that Washington considers a terrorist organization.
"Our information says that the technical investigation ended and the army sent it to the judge...we asked that day the army and internal security to reveal the results of that investigation ....we are repeating our call for this and we insist on it."
The explosion, one of the biggest non-nuclear blasts in history, added further strains to a country struggling with its worst crisis since the 1975-1990 civil war.
It was caused by a massive quantity of ammonium nitrate stored unsafely for years.
https://english.alarabiya.net/News/middle-east/2021/02/17/Nasrallah-plays-innocent-denies-Hezbollah-s-role-in-Lokman-Slim-s-assassination
--------
Israeli Bulldozers Raze Palestinian Homes, Displace Family In Occupied East Jerusalem Al-Quds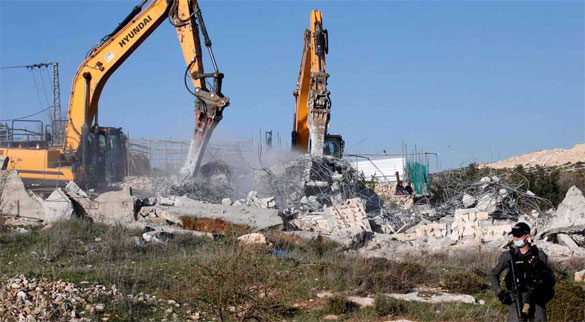 OCHA: Israel demolishes 178 Palestinian buildings in West Bank since beginning of 2021
-----
16 February 2021
A Palestinian family has been displaced after Israeli bulldozers demolish their makeshift homes in a neighborhood in occupied East Jerusalem al-Quds.
Bulldozers from the Israeli municipality razed houses belonging to the family of Abu Rumouz in Ras al-Amud neighborhood of Silwan, rendering their residents homeless, the Palestinian Information Center reported, citing local sources.
The Israeli regime said the homes had been built with no permits.
Throughout the years, Israel has frequently demolished Palestinian homes, while at the same time expanding its settlements for Israelis in occupied Palestinian territories, which are all illegal under international law.
The Israeli rights group B'Tselem said last month that the regime had demolished 729 Palestinian buildings in 2020 on the pretext of lacking construction permits.
Sometimes, the Tel Aviv even orders the Palestinian owners to tear down their own homes or pay the demolition costs to the municipality.
Recent days have seen an escalation of similar atrocious acts committed by Israel against Palestinians as the regime works to consolidate its occupation of East Jerusalem al-Quds and other occupied lands.
On Monday, Israeli authorities forced two Palestinian families in Jerusalem al-Quds to demolish their homes and another family to demolish their cattle sheds. On Saturday, they forced a Palestinian man to demolish his family's residential tent in Khirbet al-Tha`la hamlet, east of Yatta, south of al-Khalil.
Israel's house demolitions have been met with strong criticism from the United Nations, leading human rights groups, and even the regime's own allies such as the European Union.
Last week, the European Union called on Israel to stop its demolition of Palestinian homes, which it described as a "regrettable trend of confiscations and demolitions seen throughout last year."
https://www.presstv.com/Detail/2021/02/16/645402/Israeli-bulldozers-raze-Palestinian-homes-in-East-Jerusalem-al-Quds
--------
All Foreign Forces, Mercenaries Must Leave Libya: UN's Guterres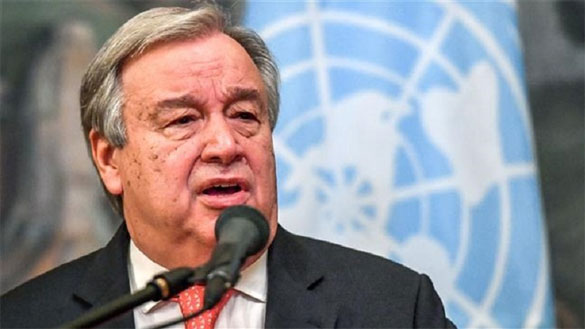 Secretary-General of the United Nations (UN) Antonio Guterres
-----
17 February 2021
Secretary-General of the United Nations (UN) Antonio Guterres has called for the withdrawal of all foreign forces and mercenaries from Libya, which is moving toward the formation of a unity government ten years after its revolution.
Speaking with Libya's newly-appointed Prime Minister Abdul Hamid Dbeibah on Tuesday, Guterres "stressed the UN's support to Libya's elections, the monitoring of the ceasefire and the need for withdrawal of foreign forces," said his spokesman Stephane Dujarric.
"I have not gotten to hear any updates on foreign troops leaving. We want that to happen, obviously as soon as possible," Dujarric added.
Libyan delegates at UN-facilitated talks in Switzerland on Friday selected an interim executive body to lead Libya until December 20201 elections.
Dbeibah, a businessman from the western city of Misrata, has been appointed as the oil-rich country's new prime minister.
They also elected a three-member presidential council at the end of five days of talks.
Guterres also talked to the president-designate of the Presidency Council, Mohammad Younes Menfi.
Libya has been grappling with unchecked violence since the overthrow of former dictator Muammar Gaddafi in an uprising in 2011.
After 2014, two rival seats of power emerged in Libya, and government forces constantly fought rebel militia aiming to overtake territory.
Foreign countries also dispatched troops and mercenaries to the country. The UN said in December last year that there were about 20,000 foreign troops and mercenaries helping the opposing sides in Libya.
Under a UN-backed ceasefire signed in October last year, foreign troops and mercenaries were to pull out of Libya within three months.
Turkey, which backs the GNA, has a military base in al-Watiya on the border with Tunisia under a 2019 military accord. Ankara extended its authorization for its troop deployment in Libya by 18 months, in December.
President Recep Tayyip Erdogan, however, said last week that his country will discuss withdrawing its troops, if other foreign troops are withdrawn first.
Erdogan said that Turkish forces were deployed in Libya solely to train units loyal to the GNA.
In a separate statement, Erdogan's spokesman Ibrahim Kalin said on Thursday that Turkish troops will remain there as long as a bilateral military agreement between Ankara and Tripoli is active and Libya's government requests it.
He also said that Ankara would provide support to the newly elected interim government of Libya.
Egypt plans to reopen Libya embassy
Meanwhile, Egypt has announced plans to reopen its embassy in Libya's capital for the first time in six years.
The plan was discussed by an Egyptian delegation in Tripoli on Monday and Tuesday, in a second visit by an Egyptian delegation to Tripoli since 2014.
Cairo is one of the most prominent backers of rebel commander Khalifa Haftar.
The United Arab Emirates (UAE) and France and also back Haftar forces.
https://www.presstv.com/Detail/2021/02/17/645446/All-foreign-forces,-mercenaries-must-leave-Libya--UN%E2%80%99s-Guterres
--------
Muttahida Ulema Board United Against Misuse Of Blasphemy Laws in Pakistan
February 16, 2021
LAHORE: The Muttahida Ulema Board has termed terrorism, extremism and sectarian violence and killing of innocent people in the name of religion anti-Islam, stating Islamic law and the Constitution have already determined the rights of Muslims and non-Muslims in Pakistan.
Addressing a Press Conference here on Monday, Pakistan Ulema Council, Muthahida Ulema Board chairman and Special Representative to Prime Minister on Interreligious Harmony and Middle East Hafiz Tahir Ashrafi said the Shariah and Constitution protected the rights of all the minorities. "If any group, individual or organisation violates the law, legal action should be taken against it. No one should be allowed to take the law into their own hands and no Muslim or non-Muslim should be extra-judicially executed, and if anyone does so, all religious schools of thought, clerics and religious organizations have announced unanimously their disassociation."
He also called on human rights organizations and NGOs to come forward and cooperate in ensuring the rights of minorities. He stated that people of all religions and religious schools of thought had freedom in Pakistan to live their lives according to the rights as enshrined in the Constitution of Pakistan.
"There should be a complete ban on offensive and anarchist contents, publication of hateful pamphlets, writings, distribution and publications of such content, cassettes based on provocative and hateful material and internet websites with such content should be checked and banned."
Solidarity should be expressed by holding joint meetings at public level to promote Inter-religious harmony, he said, adding it is responsibility of the government and Muslim population to ensure protection of worship places of non-Muslims and take care of their lives and properties.
"It is also responsibility of the government to also deal severely with those who cause any loss to the worship places of non-Muslims and their lives and properties. The government should ensure implementation of the National Action Plan without any discrimination."
Hafiz Ashrafi invited all NGOs, media representatives if they have any evidence of misuse of the blasphemy laws, they should come forward. In response to a question, he said that the new examination boards of the seminaries would strengthen the education system in Madaris. He said that representatives of old examination boards of Madaris should welcome the new boards. He said that no decision was taken yet on the registration of the Wafaqul Masajid-o-Madaris of Pakistan.
https://www.thenews.com.pk/print/790785-ulema-united-against-misuse-of-blasphemy-laws-ashrafi
--------
Rights groups to boycott UK anti-extremism program review
February 16, 2021
LONDON: Human rights groups have committed to boycotting a UK government review into the anti-extremist Prevent program to protest the appointment of William Shawcross as its chair.
Last month Shawcross, who chaired the Charity Commission between 2012 and 2018, was made head of the program. The decision was criticized because of previous comments he had made about Islam.
In a joint statement, a coalition of 17 human rights and community groups, including Liberty, Amnesty International and the Runnymede Trust, said his appointment means that the review exists to "simply rubber-stamp" the controversial program.
Critics have long demanded an independent inquiry into Prevent. They argue that the program encourages discrimination against Muslims and stifles free expression.
It introduces a requirement for schools, prisons and authorities to report concerns about people who are at risk of extremism.
This has led to cases of teachers reporting schoolchildren to police for having toy guns and discussing video games.
Each year thousands of referrals are made, but only 11 percent of cases are seen as legitimate after analysis, recent figures have shown.
The review into the program was announced in January 2019. But it has faced delays, and it took 13 months to appoint Shawcross as chair after Lord Carlile, the first choice to lead the program, stepped down in 2019 following a legal challenge by a human rights group.
Explaining the boycott, the human rights coalition said: "The appointments of both Shawcross and Lord Carlile have made clear, beyond doubt, that the UK government has no interest in conducting an objective and impartial review of the strategy, nor in engaging meaningfully with communities affected by it. We … cannot be complicit in a process that serves only to rubber-stamp a fundamentally flawed strategy."
Rather than take part in the review, the coalition said it will stage its own inquiry to "properly consider the harms of Prevent."
Shawcross, as director of the conservative Henry Jackson Society, said in 2012: "Islam is one of the greatest, most terrifying problems of our future. I think all European countries have vastly, very quickly growing Islamic populations."
Muslim groups have also revealed comments by him supporting torture and the controversial US detention camp at Guantanamo Bay in his book "Justice and the Enemy."
Under Shawcross, the Charity Commission for England and Wales was accused of institutional bias against Muslims.
Liberty's policy and campaigns manager Rosalind Comyn said: "This exercise could have been a chance to properly scrutinize the premise and impacts of the Prevent strategy, which stifles speech, spreads fear and distrust, and encourages discrimination.
"But Liberty will no longer engage in the farce it has become. We need interventions that respect the rights of the people directly affected and that bring communities together. Both Prevent and its review are very far removed from that ideal."
https://www.arabnews.com/node/1810521/world
--------
SC to hear case against love jihad laws of 4 states, Himachal, Madhya Pradesh added as parties
February 17, 2021
The Supreme Court has allowed a petitioner to club Himachal Pradesh and Madhya Pradesh as parties in case challenging the controversial religious conversion laws or so-called 'love jihad' laws brought in by UP and Uttarakhand governments.
The Supreme Court on Wednesday has permitted an NGO to make Himachal Pradesh and Madhya Pradesh parties to the pending petition against the state laws that seek to check incidents of 'love jihad' and religious conversions in interfaith marriages.
The Supreme Court bench headed by Chief Justice SA Bobde also allowed Muslim organisation Jamiat Ulama-I-Hind to become a party to the petition on the grounds that a large number of Muslims are being harassed under these 'love jihad' laws across the country.
The Supreme Court had on January 6 agreed to examine the controversial 'love jihad' laws of Uttar Pradesh and Uttarakhand regulating religious conversions after interfaith marriages.
The bench, also comprising Justices AS Bopanna and V Ramasubramanian, however refused to stay the controversial provisions of the laws and issued notices to the UP and Uttarakhand governments on two different petitions.
The pleas, filed by advocate Vishal Thakre and others and an NGO 'Citizen for Justice and Peace', have challenged the Constitutional validity of the Uttar Pradesh Prohibition of Unlawful Religious Conversion Ordinance, 2020 and the Uttarakhand Freedom of Religion Act, 2018 which regulate religious conversions of interfaith marriages.
https://www.indiatoday.in/india/story/supreme-court-on-love-jihad-laws-petition-1770092-2021-02-17
--------
Taliban called on United States to pull-out troops in open letter
16 Feb 2021
Taliban leader, Mullah Abdul Ghani Baradar, in an open letter on Tuesday, urged the United States to abide by its commitment to withdraw its troops from Afghanistan, and that military conflict is not a suitable solution for peace.
He said the past 19 years have proved that afghan issues cannot be resolved through the use of force or by military strategies, he added that now that a year has passed "we urge America to stay committed to full implementation" of the Doha agreement.
In the letter he indicated that Afghanistan is forced into war, adding that, Taliban are confident that enduring peace, security, and an Islamic government can be achieved by Afghans themselves through Intra-Afghan talks.Baradar iterated in the letter, saying the Islamic Emirates is committed to political solutions to end the war, therefore the Taliban opened a political office in Qatar.
Baradar in the letter guaranteed, all rights of women will be given to them according to Islamic law and assured the international community in this regard.
The Taliban leader in the letter said, it is in the interest of all to bring an end to this war and it is the responsibility of all the involved parties.
"Before going to Islamabad, they were looking a bit serious, their colleagues who have not traveled to Pakistan had raised optimism in their talks with our colleagues, but their gesture changed after returning from Islamabad," Mateen Bek, a member of the Afghan Republic's team told TOLOnews.
This comes as reports circulate the media that both Taliban and the Afghan government are preparing for battles of the spring, and despite the efforts for peace violence has not ended in Afghanistan.
The international community including US military officials, NATO, and the Afghan government repeatedly blamed the Taliban for escalation of violence and for not cutting ties with Al-Qaeda.
https://www.khaama.com/taliban-urged-united-states-to-pull-out-troops-in-open-letter-4545454/
--------
Muslim Teachers Group Wins Nod To Revive Suit Against Vernacular Schools In Malaysia
17 Feb 2021
BY DANIAL DZULKIFLY
KUALA LUMPUR, Feb 17 — The High Court in Kota Baru has allowed Ikatan Guru Guru Muslim Malaysia's (IGuru) application to reinstate its lawsuit to declare vernacular schools as unconstitutional in Malaysia.
The application was filed by IGuru president Mohd Azizee Hasan who was represented by Datuk Shaharudin Ali while federal counsel Nik Nur Adila Mat Zaidan from the Attorney General Chambers (AGC) appeared for the government and the Education Ministry.
High Court judge Wan Ahmad Farid made his decision this morning after the originating summons was previously struck off on January 25 as no lawyer was present to appear for Azizee at the time.
The court then set February 28 for case management for an application by the AGC to transfer the case to the Kuala Lumpur High Court.
Shaharudin in a statement today said his client will challenge this application as they deemed the High Court in Kota Baru the appropriate venue for the matter.
"The intention of the application was to consolidate all vernacular cases to a specified Kuala Lumpur High Court.
"The Plaintiff will be opposing such application by the Attorney General's Chambers because we take the position that the High Court of Kota Baru has the jurisdiction and is competent to determine the constitutional issues posed to the Court,'' said Shahrudin.
Last year, two similar challenges were mounted by different groups to seek clarity on Article 152 of the Federal Constitution in relation to the use of the national language as the main medium of instructions in schools and to determine if Sections 17 and 28 of the Education Act violated the constitution.
In 2019, Putra vice-president Mohd Khairul Azam filed a similar lawsuit in his second attempt to have vernacular schools declared unconstitutional, after his first failed in November of that year.
In his lawsuit against the education minister and Malaysian government, Mohd Khairul Azam claimed Sections 28 and 17 of the Education Act are invalid due to alleged inconsistencies with Act 152 of the Federal Constitution.
In February of last year, the High Court had also allowed 14 organisations, including political parties such as MCA, MIC, Gerakan and education and language groups, to become part of Mohd Khairul Azam 's constitutional challenge.
Mohd Khairul was also represented by Shaharudin at the time.
https://www.malaymail.com/news/malaysia/2021/02/17/muslim-teachers-group-wins-nod-to-revive-suit-against-vernacular-schools/1950460
--------
'Path to diplomacy is open right now,' top US diplomat tells Iran
Joseph Haboush
16 February ,2021
The top US diplomat Tuesday extended an olive branch to Tehran on Tuesday, telling Iran that "the path to diplomacy is open right now."
"The path to diplomacy is open right now. Iran is still a ways away from being in compliance. So we'll have to see what it does," Secretary of State Antony Blinken said during an interview with National Public Radio (NPR).
For all the latest headlines, follow our Google News channel online or via the app.
Blinken said the US policy was still that Iran must not be allowed to get a nuclear weapon.
When asked how the US could stop Iran from getting such a weapon, Blinken brought up the Joint Comprehensive Plan of Action (JCPOA) and said that it was "very effective" in preventing Iran from producing the materials needed.
Although Blinken said it was "very unfortunate" that former President Donald Trump's administration pulled out of the 2015 deal brokered by Barack Obama, the secretary of state admitted other issues needed to be included in a new deal.
Asked why Iran should trust America's word and sign another deal with Washington, Blinken said Iran needed to return to compliance with the JCPOA first. "We need to work on an agreement that's longer and stronger than the original one. And we also need to engage other issues that were not part of the original negotiation that are deeply problematic for us and for other countries around the world: Iran's ballistic missile program, its destabilizing actions in country after country," he said.
Blinken was asked if there were any moves underway to reopen direct diplomacy with Iran, to which he issued an ambiguous response: "At present, the president's been very clear publicly, repeatedly, about where we stand. And we'll see what, if any, reaction Iran has to that."
He did not rule out direct diplomacy with Iran in the future.
"Well, at some point, presumably, if there's going to be any engagement on this, that would have to require diplomacy. That's what we're in the business of."
https://english.alarabiya.net/News/middle-east/2021/02/17/Iran-nuclear-deal-Path-to-diplomacy-is-open-right-now-top-US-diplomat-tells-Iran
--------
Arab World
Saudi Arabia condemns 'terrorist' attack targeting Iraq's Erbil: SPA
16 February ,2021
Reem Krimly
Saudi Arabia on Tuesday condemned the "terrorist attack" that targeted Erbil International Airport in Iraq, the Saudi Press Agency reported, citing the Kingdom's Ministry of Foreign Affairs.
A civilian contractor was killed and six others, including a US service member, were injured on Monday night when multiple rockets hit Erbil and its surrounding area at 9:30 p.m. local time.
The Saudi foreign ministry strongly condemned the "cowardly attacks that threaten the security and stability of Iraq and the region," SPA said.
SPA added that the Kingdom affirmed that it stands in solidarity with Iraq and its people, and supports "all the steps and measures it takes to preserve its security."
The United Arab Emirates also strongly condemned the terrorist attack that targeted several locations in the city of Erbil and its suburbs in the Kurdistan region of Iraq, Emirates News Agency (WAM) reported.
The UAE's Ministry of Foreign Affairs and International Cooperation said in a statement that the "UAE strongly condemns these criminal acts and rejects of all forms of violence and terrorism aimed at destabilizing security and stability."
The United Nations deplores the deadly rocket attacks on Iraq's northern Kurdistan region that left one person dead and several others injured, UN Special Envoy to Iraq Jeanine Hennis said on Tuesday.
The United States said it was "outraged" by the attacks that left one dead and injured several members of the US Coalition on the Kurdistan region in northern Iraq, Secretary of State Antony Blinken said early on Tuesday.
https://english.alarabiya.net/News/gulf/2021/02/16/Terrorism-Saudi-Arabia-condemns-terrorist-attack-targeting-Iraq-s-Erbil-SPA
--------
Turkey detains six, identifies Russian ISIS suspect at Syria border
17 February ,2021
Turkish border guards have detained five Russians, including a woman suspected of being a member the ISIS group, and a Libyan who were attempting to cross from Syria, officials said Wednesday.
It was not immediately clear whether all six were suspected of being members of the extremist group.
"Our border guards stationed in Hatay's Narlica district (in southern Turkey) caught six people including one Libyan and five Russian nationals who were attempting to illegally cross into Turkey from Syria," the ministry tweeted in English.
"One of the Russian nationals was a woman identified as a wanted Daesh member," it said, using an Arabic acronym for the extremist group.
In a separate incident, Turkish authorities this week also arrested a 26-year-old woman with her two children near the Syrian border, accused of links to the ISIS group.
The woman, who held both New Zealand and Australian passports until Canberra revoked her Australian citizenship last year, sparked a row between the two countries.
New Zealand's Prime Minister Jacinda Ardern on Tuesday accused Australia of shirking its responsibilities and said it was "wrong" to expect New Zealand to accept the woman.
Turkey has stepped up the fight against ISIS extremists who carried out deadly attacks on its soil, including a mass shooting at an upscale Istanbul nightclub just minutes into the New Year of 2017.
The attack killed 39 people, including 27 foreigners.
https://english.alarabiya.net/News/middle-east/2021/02/17/Turkey-detains-six-identifies-Russian-ISIS-suspect-at-Syria-border
--------
Turkey's opposition presses government for answers over killing of 13 Turks in Iraq
16 February ,2021
Turkish opposition parties pressed President Tayyip Erdogan's government on Tuesday for answers over what they called a failed cross-border mission to rescue 13 captive Turks who were killed by PKK militants in northern Iraq.
In a fierce parliamentary debate two days after Ankara broke news of the killings in a cave in Iraq's Gara region, Interior Minister Suleyman Soylu rejected opposition criticism and said Turkey "did everything we could to bring our martyrs back alive."
The captives, including police and military personnel, were mostly seized by outlawed Kurdistan Workers Party (PKK) militants in 2015 and 2016. Ankara said they were executed during an offensive against the PKK in the area that Erdogan later indicated also aimed to rescue them.
On Wednesday, the day the offensive was launched, Erdogan promised he would soon announce some unspecified "good news."
Kemal Kilicdaroglu, leader of the main opposition Republican People's Party (CHP), demanded the government declare who should take responsibility "for the failure of the operation launched to rescue our 13 citizens," and he criticized Erdogan for undermining the secrecy of the offensive.
"The blood of our 13 brothers is on the ground. They could have been brought back to Turkey," he said. The military "carried out an offensive with drums and trumpets. Tayyip Erdogan is responsible for our 13 martyrs," Kilicdaroglu added.
Relying mostly on air and drone strikes, Turkey has in recent years carried out several operations in northern Iraq against the PKK, designated a terrorist group by Turkey, the United States and European Union.
Aytun Ciray, a lawmaker from the opposition Iyi Party, asked Defense Minister Hulusi Akar on Tuesday why the rescue mission was treated like other offensives, saying airstrikes would have alerted militants.
Briefing parliament on the operation, Akar said no ground support was available due to the mountainous terrain, insisting that secrecy was preserved in advance of the operation.
He said the captives were killed at the time Ankara launched airstrikes in the region, which he said the military had been scouting for months. Akar added that the 13 captives were found dead when forces entered the cave where they were being held.
The pro-Kurdish Peoples Democratic Party (HDP), under fire from the government and its nationalist ally who accuse it of links to the PKK, accused the government of failing to act in time. The HDP denies having any militant ties.
https://english.alarabiya.net/News/middle-east/2021/02/16/Turkey-s-opposition-presses-government-for-answers-over-killing-of-13-Turks-in-Iraq
--------
Refugees prepared for strongest snowstorm in years affecting the Levant: UNHCR
16 February ,2021
The UNHCR has distributed "winter cash assistance" to displaced Syrian refugees for them to be prepared for the winter's cold including the snowstorm that will be affecting the Levant as of Wednesday, said UNHCR spokesperson Lisa Abou Khaled.
"In terms of preparations, we start very early on in preparing for the winter season way before it starts. We start giving what we call 'winter cash assistance' to all refugees. Over 90 percent of refugees have been targeted by this cash assistance. Refugees use this cash assistance to get fuel, food, and medicine," Abou Khaled added.
Abou Khaled added that most refugees bought fuel with this assistance in order to battle the winter's cold.
Al Arabiya English reached out to meteorologist Wael Hakim at the Jordan-based Arabia Weather network who said it is noteworthy that the Levant has not witnessed significant snowstorms during the winter season since 2015.
Jordan and Lebanon primarily are home to over 3 million displaced Syrian refugees who mostly live in camps with no proper protection from the harsh weather conditions.
"The air depression expected to affect the eastern basin of the Mediterranean is considered a fourth-degree winter storm according to the Arab weather classification for the severity of the snowstorm, with the fifth-degree being the highest on the scale," Hakim added.
UNHCR spokesperson Abou Khaled added that the UNHCR also prepared informal settlements by installing thermal isolation through wood and plastic.
"This in many cases is not enough unfortunately and every year we see damage in terms of broken tents from the intense wind or snow," she added.
UNHCR teams will be deployed during the storm to assess and fix damaged shelters in the Beqaa valley, North, and other regions.
"Before every storm we have a contingency plan in place, we coordinate with partner NGOs and local authorities, we communicate with messages to refugees, we inform them with details on weather updates and we send them instructions on how to protect themselves," she added.
Arabia Weather's Hakim added that the effects of the storm will be in the form of snowfall in Jordan at an altitude of 800 meters, and perhaps less, and therefore the capital, Amman, will be among the areas that will witness important snow accumulations that may impede public life in the city.
Lebanon-based meteorologist Elias Saadeh added that the last storm of such intensity occurred 6 years ago in February of 2015.
"Most of Lebanon's mountainous areas will be covered with snow, as snow is expected to reach an altitude of 600 meters in Lebanon, this storm is considered a medium-power snowstorm since it considerably short, 36 hours only, and since the snow will not reach an altitude below 400 meters," Saadeh added.
https://english.alarabiya.net/News/middle-east/2021/02/16/Refugees-prepared-for-strongest-snowstorm-in-years-affecting-the-Levant-UNHCR
--------
Rocket Attack in Iraq Kills a U.S. Military Contractor
By Sangar Khaleel and Jane Arraf
Feb. 15, 2021
ERBIL, Iraq — A rocket attack on the airport in the northern Iraqi city of Erbil on Monday killed a civilian contractor with the American-led military coalition and wounded six others, including a U.S. service member, according to a coalition spokesman.
Several other rockets landed in residential areas of the city, the capital of the Kurdistan Region of Iraq, including one close to the Chinese Consulate.
The attack, rare in the normally peaceful Kurdish city, raised tensions already heightened by threats of Iran-backed militias on American targets in Iraq. It was not clear who carried it out, but previous attacks have been attributed to militias funded and directed by Iran.
Iran has made clear that it intends to retaliate further for the American drone strike in Baghdad in January 2020 that killed a top Iranian general, Qassim Suleimani, and a senior Iraqi security official. Days after that strike, the Iranian government launched missile attacks against U.S. forces at the Ain al Assad air base in Iraq's Anbar Province, wounding more than 100 troops.
On Monday, minutes after the rocket attack on Erbil, the Kurdish regional government called on residents to stay indoors and the international airport canceled departing and arriving flights.
The United States military has drawn down the number of its troops in Iraq to under 2,500 and has pulled out of several bases there over the past two years. It says Iraq no longer needs the help it did in the past to fight the Islamic State, though American officials have acknowledged that militia attacks also factored into the decision to move troops to bases more easily defended.
The military side of Erbil's airport is one of three remaining bases with a significant number of U.S. troops. It was not clear whether anti-rocket defense systems installed at the base were activated by Monday's attack.
The coalition did not reveal the nationality of the civilian contractor who was killed. The Kurdish ministry of health said three civilians were wounded in Monday's attack.
Kurdish counterterrorism forces said they had found the vehicle the rockets were launched from but did not say where it was discovered.
A little-known group known as Awliya al Dam (Guardian of the Blood) brigades claimed responsibility for the attack, saying it had launched the rockets in revenge for the deaths of "the martyred leaders." The group claimed responsibility last August for two bombings targeting U.S. contractor convoys carrying military equipment.
In Washington, a White House spokesman said President Biden had been briefed on the attack in Erbil, but offered no other comment or details.
Masrour Barzani, prime minister of the Kurdish Region of Iraq, said he had spoken with Secretary of State Antony J. Blinken about cooperating to find those responsible for the attack. Mr. Blinken later condemned the attack.
"We are outraged by today's rocket attack in the Iraqi Kurdistan Region," he said in a statement Monday evening, adding that in speaking with the Kurdish prime minister, he had pledged U.S. support "for all efforts to investigate and hold accountable those responsible.
Michael Knights, an analyst at the Washington Institute for Near East Policy, said that the size and scope of the rocket attack on Erbil was unusually large, and that it had most likely been intended to maim or kill American contractors or service members, or their Kurdish allies.
"This is a test of the new Biden administration to see what they can get away with," Mr. Knights said in a telephone interview.
Iraqi leaders have traveled to Tehran to try to persuade Iran to call off attacks, saying conflict between Washington and Tehran left Iraq dangerously in the middle. The embassy in Baghdad continues to operate with the ambassador and a small number of key staff.
https://www.nytimes.com/2021/02/15/world/middleeast/iraq-us-contractor-killed.html?utm_source=iterable&utm_medium=email&utm_campaign=2005874_
--------
Mideast
Iran not seeking nukes but has right to access peaceful nuclear tech: Rouhani
17 February 2021
President Hassan Rouhani has reiterated that Iran does not seek to develop nuclear weapons or a secretive nuclear program, but reserves the right to use peaceful nuclear technologies.
Speaking at a cabinet meeting in Tehran on Wednesday, Rouhani said Iran is a member of the Non-Proliferation Treaty (NPT) and has been implementing the Safeguards Agreement with the International Atomic Energy Agency (IAEA).
"As we have repeatedly said, there is no place for weapons of mass destruction (WMDs), including nuclear weapons, in the country's defense program, and this is the definitive view of the Islamic establishment," he added.
The remarks came ahead of Iran's new steps away from the 2015 nuclear deal, officially known as the Joint Comprehensive Plan of Action (JCPOA), in response to the US's withdrawal and the other parties' non-compliance with the accord.
Tehran is expected to cease the voluntary implementation of the Additional Protocol to the NPT Safeguards Agreement, which allows the IAEA to carry out short-notice inspections at non-declared locations.
The measure is required under the Strategic Action Plan to Counter Sanctions, a law passed last December by the Iranian Parliament (Majlis).
The Islamic Republic does not want to have or store nuclear weapons and, above all, it never wants to use nuclear weapons," Rouhani said. "The common view has always been that we will not seek nuclear weapons, but rather seek peaceful nuclear technology, which is our right."
Iran showed to the world the peaceful nature of its nuclear program by signing the JCPOA with six world states — namely the US, Germany, France, Britain, Russia and China — in 2015. The nuclear deal was also ratified in the form of a UN Security Council Resolution 2231.
However, Washington's exit in May 2018 and the subsequent re-imposition of unilateral sanctions against Tehran left the future of the historic agreement in limbo.
Tehran remained fully compliant with the JCPOA for an entire year, waiting for the co-signatories to fulfill their end of the bargain by offsetting the impacts of Washington's bans on the Iranian economy.
As the European parties failed to do so, Tehran moved in May 2019 to suspend its JCPOA commitments under Articles 26 and 36 of the deal covering Tehran's legal rights.
The Iranian chief executive stressed that Iran has never been and will never be seeking to develop a secretive nuclear program.
"Whether the United States, Europe and the United Nations like it or not, if the whole world tells us that it is very good for Iran to have a nuclear weapon, our opinion will not change. Our view is the one announced by Leader [of the Islamic Revolution Ayatollah Seyyed Ali Khamenei] in a fatwa, and it is the same promise we made by signing the NPT and the Safeguards Agreement," he added, referring to Ayatollah Khamenei's religious decree that bans the production, possession and stockpiling of nuclear weapons and other WMDs.
"The Islamic Republic has always shown that if it signs and accepts any treaty and agreement, it will stand by it to the end, and that is the case with the nuclear issue."
https://www.presstv.com/Detail/2021/02/17/645457/Iran-Rouhani-nukes-defense
--------
KRG: Iraqi Kurdistan Region Waiting for Baghdad's Expulsion of US Forces
2021-February-16
"The Kurdistan region is waiting for the central government in Iraq to declare its official decision to expel the US forces," Dabaq said in an interview with the Persian-language ANA news agency on Tuesday.
He added that the Kurdistan region has always supported the Iranians' presence in Erbil, stressing that Erbil will never allow the Iraqi Kurdistan region to be used as a platform for attacks, threats and insecurity against the neighbors, specially Iran.
The Iraqi parliament called on the government in January 2020 to work to end all foreign troop presence as a backlash grew after the killing of the senior Iranian and Iraqi military commanders in the US strike in Baghdad.
Dabaq's remarks came as a rocket attack in the Northern Iraqi city of Erbil on Monday killed a civilian contractor with the US-led military coalition and wounded six others, including a US service member, said a US-led coalition spokesman.
Several other rockets landed in residential areas of the city, the capital of the Kurdistan Region of Iraq, including one close to the Chinese consulate.
A newly-established militant group that calls itself 'Saraya Awliya al-Dam' has claimed responsibility for the rocket attack.
The group claimed that it fired 24 rockets from an area 7 kilometers away from the US-occupied al-Tahrir military base, all of which hit their targets as the coalition air defenses failed to intercept the rockets.
Iran has rejected any role in the attack.
The Iranian foreign ministry dismissed and condemned suspicious rumors about the country's role in the Monday night missile attacks against the US interests in Erbil, and called on the Iraqi government to punish perpetrators of the attack.
"These rumors are strongly rejected, the suspicious attempts to attribute the attack to Iran are also strongly condemned," Foreign Ministry Spokesman Saeed Khatibzadeh said on Tuesday.
"Iran views Iraq's stability and security a key issue for the region and its neighbors, and rejects any action that disturbs peace and order in this country," he added.
Khatibzadeh described as suspicious such attacks in Iraq, calling on the Iraqi government to pursue the case and punish those behind the move.
https://www.farsnews.ir/en/news/13991128000965/KRG-Irai-Krdisan-Regin-Waiing-fr-Baghdad%E2%80%99s-Explsin-f-US-Frces
--------
Iran Rejects Role in Rocket Attacks against US in Erbil
2021-February-16
"These rumors are strongly rejected, the suspicious attempts to attribute the attack to Iran are also strongly condemned," Foreign Ministry Spokesman Saeed Khatibzadeh said on Tuesday.
"Iran views Iraq's stability and security a key issue for the region and its neighbors, and rejects any action that disturbs peace and order in this country," he added.
Khatibzadeh described as suspicious such attacks in Iraq, calling on the Iraqi government to pursue the case and punish those behind the move.
A rocket attack in the Northern Iraqi city of Erbil on Monday killed a civilian contractor with the US-led military coalition and wounded six others, including a US service member, said a US-led coalition spokesman.
Several other rockets landed in residential areas of the city, the capital of the Kurdistan Region of Iraq, including one close to the Chinese consulate.
A newly-established militant group that calls itself 'Saraya Awliya al-Dam' has claimed responsibility for the rocket attack.
The group claimed that it fired 24 rockets from an area 7 kilometers away from the US-occupied al-Tahrir military base, all of which hit their targets as the coalition air defenses failed to intercept the rockets.
https://www.farsnews.ir/en/news/13991128000765/Iran-Rejecs-Rle-in-Rcke-Aacks-agains-US-in-Erbil
--------
Death Sentence Upheld for Juvenile Offender in Isfahan, Iran
10 Feb - Iran Human Rights (IHR); February 9, 2021: The Supreme Court has upheld the death sentence of a juvenile offender, on death row for a murder in the village of Derafshan, Isfahan.
According to Rokna, the death sentence of a juvenile offender has been upheld by the Supreme Court. The prisoner, whose identity and location were not disclosed, was arrested and sentenced to qisas (retribution-in-kind) for the "premeditated murder" of one of his friends, Morteza Rezaii in the village of Derafshan (part of the Pirbakran district of Falavarjan county in Isfahan Province).
The murder took place on 6 November 2018 and according to Rokna, when the defendant had not reached the legal age. The juvenile offender is reported to have confessed during interrogations and cited his motives as personal animosity and jealousy.
The juvenile offender was sentenced to qisas (retribution-in-kind) for the murder which has now been upheld by the Supreme Court. According to victim's mother, the sentence is due to be carried out in early spring.
Iran is one of the few countries in the world that still carries out the death penalty for juvenile offenders. The International Covenant on Civil and Political Rights which the Islamic Republic is a signatory to, prohibits the issuance and implementation of the death penalty for crimes committed by an individual below 18 years of age.
The Convention on the Rights of the Child, which the Islamic Republic is also a signatory to, explicitly states that "Neither capital punishment nor life imprisonment without possibility of release shall be imposed for offences committed by persons below eighteen years of age."
Yet, according to data collected by IHR and international human rights organisations, the Islamic Republic is responsible for more than 70% of all executions of juvenile offenders in the last 30 years. IHR's statistics also show that at least 63 juvenile offenders have been executed in Iran over the past 10 years, with at least six being executed in 2018 and four in 2019.
Given the security state and repression of civil society activists and the limited contact with prisoners, it is likely that the number of juvenile executions is much higher than recorded.
https://iranhr.net/en/articles/4618/
--------
Mehrdad Taleshi, a Kurdish 21 Year Old "Killed in Police Custody," Say Family
Iran Human Rights (IHR); February 9, 2021: Mehrdad Taleshi, a 21-year-old Divandareh native who was arrested on 1 February 2021, has died in police custody. Relatives say the young Kurdish man was killed as a result of "torture by police officers."
According to Iran Human Rights, Mehrdad Taleshi, a 21-year-old Divandareh native in the Kurdistan region, has died while in the custody of the Shapour criminal investigation department police station.
His relatives have told IHR: "On Wednesday (3 February) at 6:30 in the morning, they transferred his corpse to the Baharloo Hospital in a Shapour police ambulance. There were torture marks around his neck and severe marks of injury on his head. It is clear that they had struck him hard on the head."
Mehrdad Taleshi, son of Khosrow, was a 21-year-old Divandareh native who was arrested at 5pm on 1 February 2021 along with another male by the Tehran 13th District's police patrol. Half an hour later, he was taken to 115 police station and transferred from there to the Shapour police station at 9:30pm. Eight days following his arrest, he was died while in the custody of the Shapour criminal investigation department police station. The identity of the male arrested with Mehrdad has not been established at the time of writing.
Mehrdad Taleshi was denied the right to contact his family throughout his detention.
Officials at the police station told Mehrdad's family that the reason for his arrest was "being in possession of seven grams of marijuana." This is while according to his family: "Mehrdad was an athlete and didn't even smoke cigarettes. As his family, we still don't know why they killed him and what the reason for killing him was."
Hospital officials initially wanted to return Mehrdad's body to his family without an autopsy, but was sent for an autopsy after being met with his family's protests. Following the autopsy, the body of the young Kurdish man was returned to his family on Saturday, February 6 and was laid to rest amidst heavy security presence the next day.
The informed source told IHR: "The outcome of the forensic exam has not yet been determined and the complaint lodged by the Taleshi family to the Criminal Court has yet to be acknowledged."
It should be noted that the Shapour criminal investigation department police station is notorious for the routine torture of prisoners which has been covered in countless reports over the years.
https://iranhr.net/en/articles/4617/
--------
Iranian Christian convert starts hunger strike protesting continued rights violation
February 14, 2021, Iranian Christian convert Ebrahim Firoozi has gone on hunger strike since Feb. 13, demanding a 'complete acquittal' of what he calls the 'false allegations' made by the Ministry of Intelligence against him.
He had previously announced that he would go on a hunger strike to protest continued confiscation of his mobile phone and laptop by the Ministry of Intelligence.
The 34-year-old Christian convert, who has already spent 15 months in exile was arrested and taken to Chabahar Prison on February 8, after being summoned to answer new charges of "propaganda against the Islamic Republic in favour of hostile groups".
The allegations came after some videos of him were shared on social media in which he complained about the continued rights violations against him.
Ebrahim Firoozi was initially arrested in January 2010 for converting from Islam to Christianity and allegedly organizing Christian religious meetings.
During his first arrest he was told he would be freed if he declared himself a Muslim, a source told the Campaign. After Firoozi refused, the Revolutionary Court in Karaj convicted him of "propaganda against the state" for his religious conversion and alleged missionary activities and sentenced him to five months in prison with an additional five-month suspended prison sentence. He was freed on June 8, 2011.
Firoozi was arrested a second time on March 8, 2012 for allegedly "attempting to create a website teaching about Christianity" (in order to convert people) and again charged with "propaganda against the state" for which he was sentenced to one year in prison and two years in exile by Judge Hassan Babaee of the Revolutionary Court in Robat Karim. The Appeals Court upheld the decision.
The Christian convert was arrested a third time on September 16, 2013 and held in Ward 240, which is under the control of the Intelligence Ministry, in Evin Prison in Tehran where he was "insulted for his beliefs" and pressured to give false confessions, the source told the Campaign.
In April 2015 Judge Mohammad Moghisseh of Branch 28 of the Revolutionary Court sentenced Firoozi to five years in prison for allegedly "creating a group with the intention of disturbing national security."
He was released in October 2019 after serving nearly six years in prison for his religious activities. Later in November 2019 he was sent to exile in remote Sistan and Baluchestan province.
https://iran-hrm.com/index.php/2021/02/14/iranian-christian-convert-ebrahim-firoozi-starts-hunger-strike/
--------
Houthi offensive on Yemen's Marib threatens mass displacement, UN warns
17 February ,2021
An offensive by Yemen's Houthi militia group to take Marib city threatens to displace hundreds of thousands and complicate a renewed diplomatic push to end the war, UN officials say.
The gas-rich region of Marib has been a refuge for hundreds of thousands of people fleeing violence during Yemen's six-year-old war, expanding its main city rapidly.
A frontline is now roughly 30 kilometer away to the city's west, a government official told Reuters, and humanitarian concerns are growing.
"An assault on the city would put two million civilians at risk, with hundreds of thousands potentially forced to flee - with unimaginable humanitarian consequences," UN aid chief Mark Lowcock said on Tuesday, urging de-escalation.
The recent push towards Marib by Houthi militants, who control Yemen's most populous areas, comes alongside intensified drone attacks into Saudi Arabia by the Iran-aligned terror group. Riyadh, which is involved in the Arab Coalition fighting the Houthis, said one attack started a fire in a civilian aircraft at an airport in southern Saudi Arabia on Wednesday.
These escalations have coincided with a fresh push by the UN and the US to end the war, which the United Nations says has created the world's largest humanitarian crisis. This push includes Washington revoking a terrorist designation of the Houthis introduced by former President Donald Trump's administration in January.
UN Special Envoy to Yemen Martin Griffiths has said the resumption of Houthi hostilities near Marib was extremely concerning at a time of renewed diplomatic momentum.
The US State Department on Tuesday urged the Houthis to stop their advance on Marib and turn to negotiations.
Explosions
Houthi offensives in recent days have hit camps for internally displaced persons (IDPs), causing people to flee, Yemen's information minister said.
Najeeb Al-Saadi, director of the government's IDP camp management unit, told Reuters Houthi militants on Monday hit four camps to Marib city's east. Two locations were totally evacuated, he said.
Residents in Marib city, which lies to the east of the Houthi-controlled capital Sanaa, told Reuters on Tuesday they have heard the sound of explosions this week, more strongly at night, and that planes belonging to the Arab Coalition are a constant sight overhead.
Yemen is divided between the internationally recognized government based in the south - supported by the Arab Coalition - and the Houthi militia group headquartered in the north. The Houthis ousted the government from power in the capital Sanaa in late 2014.
Yemen's frontlines have largely been in stalemate for years but a major Houthi gain in Marib would leave the group in control of what historically was known as North Yemen. Marib city is also the last line of defense before Yemen's biggest gas and oil fields, which are in government hands.
The UN's International organization for Migration (IOM) says 106,449 people have been displaced by fighting which has been bubbling along the Marib frontlines for a year.
It warned an additional 385,000 people could be displaced with a major frontline shift. There are 125 displacement sites around Marib, IOM says.
https://english.alarabiya.net/News/gulf/2021/02/17/Houthi-offensive-on-Yemen-s-Marib-threatens-mass-displacement-UN-warns
--------
Yemen 'welcomes political process but after end to Saudi war, siege'
16 February 2021
Yemen's Ansarullah movement says the country would positively receive any attempt to end the Saudi-led war only after the coalition attacking Yemen stops its aggression and blockade against the impoverished Arab country.
Mohammed Abdul-Salam, the movement's spokesman, who is also the head of the Yemeni National Salvation Government's negotiating team, made the remarks in a tweet on Tuesday, after the US administration called on the Yemeni forces and allied fighters from Popular Committees to stop their push to take control of the northern city of Ma'rib.
Turning a blind eye to the continuation of the Saudi-led aggression and the brutal siege on the Yemeni people that has been going on for nearly six years, the US State Department said the army and popular defense forces must stop all military operations and return to the negotiating table.
"We are the ones calling for constructive and successful political action after a comprehensive cessation of aggression and an end to the siege," Abdul-Salam wrote in his tweet. "Based on past experiences, no political process will ever succeed under conditions of fire and siege. The aggressor must end his hostility and attacks and lift the siege of Yemen, and we are ready to deal with this issue with a positive approach."
Earlier this month, the Yemeni army soldiers and their allied fighters resumed an offensive to take control of oil-rich Ma'rib, the last urban stronghold of militiamen loyal to pro-Saudi former president Abd Rabbuh Mansur Hadi, in northern Yemen, which is some 120 kilometers east of the capital, Sana'a.
Media reports said at least 16 pro-Hadi militiamen were killed and 21 others wounded in clashes with the Yemeni forces near Ma'rib on Sunday.
The US State Department's statement came hours after the administration of new US President Joe Biden officially removed Yemen's popular Ansarullah movement from the US list of "foreign terrorist organizations."
Former US President Donald Trump had blacklisted the movement on his last full day in office despite warnings by other governments, aid groups, and the United Nations (UN) that potential US sanctions could push Yemen into a major famine and would bring more pain to millions of starving people in the war-ravaged country.
Saudi Arabia and a number of its regional allies launched the war on Yemen in March 2015, with the goal of bringing Hadi's government back to power and eliminating the popular Ansarullah movement.
According to the UN, 80 percent of Yemen's 30 million people need some form of aid or protection. About 13.5 million Yemenis currently face acute food insecurity, UN data shows.
https://www.presstv.com/Detail/2021/02/16/645433/Yemen--welcomes-political-process-but-after-end-to-Saudi-war,-siege-
--------
Africa
Chad reinforces troops against militants in Sahel as France mulls changes
FEBRUARY 12, 2021
N'DJAMENA (Reuters) - Chad will deploy some 1,000 troops to the tri-border region of Niger, Burkina Faso and Mali to reinforce national armies that, backed by French and European allies, are battling Islamist insurgents, according to French and Chadian sources.
The deployment will be announced during a summit on Feb. 15-16 in the Chadian capital N'Djamena held to tackle the situation in the Sahel, a French presidency official and a senior Chadian security official said.
It comes as France, which sent troops to the region in 2013 to help repel jihadists who had occupied northern Mali, considers adjusting its military presence. This could entail France pulling some of the 5,100 soldiers that are involved in counter-terrorism operations in the Sahel.
Although France has claimed military successes against Islamist insurgents over the past year, it is searching for an exit strategy. The grinding operation has cost billions of euros and left 55 French soldiers dead, yet violence is persisting with signs it is spreading to coastal West Africa.
The French official, speaking on condition of anonymity, said President Emmanuel Macron could decide to hold off for a few weeks before adjusting his forces as he continues to consult with Sahel and European partners on the way forward.
"We now have very encouraging signals of an imminent deployment of the Chadian battalion," the official told reporters in a briefing ahead of the summit. Financing from partner countries and equipment from France had been secured.
Chadian troops were last year mostly engaged in fighting insurgents from Boko Haram and the Islamic State in West Africa in the Lake Chad region.
Chad's armed forces are among the most respected and battle hardened in West Africa, a reputation forged during decades of regional wars and rebellions, and honed in the 2013 campaign in the deserts of northern Mali.
Their deployment to the tri-border theatre would enable French and other forces to re-orient their military mission to central Mali and to target Islamist leaders linked to al Qaeda.
The Chadian security source said the troops were already en route to the tri-border region, known as Liptako-Gourma, a region slightly larger than Germany, where the allies are trying to wrest back control of terrain from the insurgents.
Niger's ruling party presidential candidate Mohamed Bazoum told a campaign rally in the Tillabery region, situated in Liptako-Gourma, that Chadian troops will be based there.
TALKS WITH JIHADISTS?
The N'Djamena summit will aim to shift the focus of attention to jihadists in central Mali and to economic development and better governance to help reassert state control in areas once dominated by militants, officials said.
"They are slowly coming round to the idea that the military option has shown its limits and something else needs to be done, but it's a slow process and is not the official line," said a person familiar with French thinking.
Niagale Bagayoko, chair of the African Security Sector Network think tank, said that one of the main issues at stake in discussions would be whether to negotiate with the jihadists.
Mali and Burkina Faso have said they are open to such talks, an option opposed by France.
"The actors that are the closest to the ground say that without seeing the political dimension of the conflict, we won't go anywhere," Bagayoko said.
Mentioning the two paramount al Qaeda-linked leaders in the region, she said, "I think France wants to record a victory by eliminating Iyad al Ghali or Amadou Koufa and then say that it's possible at a local level to negotiate with unit chiefs who were affiliated but are less politically dangerous."
https://www.reuters.com/article/us-sahel-security/chad-reinforces-troops-against-militants-in-sahel-as-france-mulls-changes-idUSKBN2AC12V?utm_source=iterable&utm_medium=email&utm_campaign=2005874_
--------
5,000 Nigerians Displaced by Boko Haram Ready to Return, Cameroon Says
By Moki Edwin Kindzeka
February 12, 2021
MAROUA, CAMEROON - Cameroon says 5,000 of the 103,000 Nigerians, mostly women and children, who fled across the border from Boko Haram terrorists have agreed to return to Nigeria.
Government officials from the two countries, meeting in the northern Cameroonian town of Maroua, agreed Nigeria would reintegrate the displaced people and provide security.
Cameroon announced Friday that the departure date is set for February 27.
Most of those displaced volunteered to return to Borno state when Nigeria assured them Boko Haram is no longer a major danger, according to Benjamin Ojioko, spokesperson for the Nigerians in Cameroon's Far North region, which shares a border with Nigeria's Borno state, a former Boko Haram epicenter.
"It is not that they are not feeling fine here, but we usually say that home is the best place," Ojioko said. "We thank the Nigerian government and Cameroon for what they are doing so that our brothers can go back to Nigeria. We have been here for long."
Both Cameroon and Nigeria say 5,096 refugees agreed to return to Nigeria during the first phase of the voluntary repatriation exercise. Of that group, 285 are over 60 years old and more than 1,100 are between a month and 4 years old. About 2,700 are women.
A declaration read in Maroua said Nigeria and Cameroon promised in a commission meeting to ensure that those returning are safe from Boko Haram and COVID-19.
"The commission agreed to facilitate the safe and dignified return movement using buses for individuals with social distancing and trucks for luggage by road with security and medical escorts," according to the declaration. "The voluntary repatriation will be done in adherence to the agreed COVID-19 protocols in both countries."
Paul Atanga Nji, Cameroon's territorial administration minister, represented his country at the meeting. He says negotiations are continuing, to assure the 98,000 Nigerians who are still reluctant to return that peace is finally returning to their country.
"[Cameroonian] President Paul Biya and [Nigerian] President Muhammadu Buhari have insisted that we have to respect the international convention which recommends the voluntary, voluntary return of the citizens who are here," Nji said. "As we are going back, there is hope and there is joy as for the 5,000 who will be [leaving] in the first place. But it is an ongoing process."
Among the displaced Nigerians who say they have yet to decide whether they will go back is 49-year-old Ousman Sani. Sani said he has been earning a living in Cameroon since 2013 as a cattle rancher, and does not know if he will find a job and peace in his town of Bama, in northern Nigeria. He says he does not know if his destroyed home will be rebuilt by his government.
"We are in good relationship with the host community. It is just that at first, we don't [didn't] understand their language and they too, they do not understand our language. It is a problem of a language barrier but now we are living in peace," Sani said.
Cameroon says of the 103,000 displaced Nigerians in the central African state, about 68,000 are at the Minawao refugee camp and 35,000 live with host communities. Ninety-five percent of the displaced Nigerians are from Borno state. Very often, they are given humanitarian assistance by the United Nations, nongovernmental organizations and Cameroon.
Babagan Umara Zulum, the governor of Nigeria's Borno state and head of the Nigerian delegation to Maroua, said he is grateful for the assistance given to the refugees.
"I wish to sincerely convey our deep appreciation to the government of Cameroon and the distinguished leadership of President Paul Biya for the enormous support he has been rendering towards uplifting the standards of living of the displaced communities of Borno state taking refuge in the Minawao [refugee] camp. We remain eternally grateful," he said.
Zulum said Nigeria will socially and economically reintegrate the refugees as soon as they return. He also assured them of safety when they return to Maiduguri and their towns and villages in the areas of Ngala, Bama and Gwoza.
According to the U.N., 11 years of Boko Haram violence has displaced more than 2.7 million people, including some 210,000 Nigerians, into neighboring countries. Nearly 30,000 people have died during the Islamic extremist group's 11-year-old uprising.
https://www.voanews.com/africa/5000-nigerians-displaced-boko-haram-ready-return-cameroon-says?utm_source=iterable&utm_medium=email&utm_campaign=2005874_
--------
Egypt to reopen embassy in Libya's capital after seven-year closure
16 February ,2021
Egypt is planning to reopen its embassy in Libya's capital for the first time in six years, according to Egyptian sources and Libyan officials, marking a shift to a more conciliatory approach to western Libya-based factions.
The planned reopening, which a visiting Egyptian delegation discussed in Tripoli on Monday and Tuesday, coincides with a new interim government set to be formed in the latest UN-brokered effort to unite rival camps in east and west Libya.
Egypt has been one of the most prominent backers of eastern-based military commander Khalifa Haftar, whose Libyan National Army (LNA) waged a campaign to take control of Tripoli that crumbled in June last year.
Egypt saw Haftar as the best option for securing its border with Libya. Along with the United Arab Emirates, it also supported his stated goal of opposing Islamist-leaning groups and Muslim Brotherhood influence in Libya.
During its visit to Tripoli the Egyptian delegation met the foreign and interior ministers of the outgoing government, which is aligned with military factions that fought Haftar, according to posts from the Libyan ministries.
The visit discussed logistical arrangements for reestablishing Egypt's diplomatic presence in the coming period through its embassy in Tripoli and its consulate in the eastern city of Benghazi, an Egyptian diplomatic source said.
The move was a first step towards enhanced political, economic and security cooperation with authorities in Tripoli, two Egyptian intelligence sources said.
Outreach to Tripoli also represents a recalibration of Egypt's Libya policy after the failure of Haftar's Tripoli campaign, according to Egyptian intelligence sources and Western diplomats.
Egypt closed its Tripoli embassy in 2014, the year when many foreign missions in the capital shut down during an intensifying conflict that saw rival governments set up in Tripoli and in the east of Libya.
Turkey, a regional rival of Egypt and military backer of west Libyan factions, reopened its embassy in the Libyan capital in 2017.
https://english.alarabiya.net/News/north-africa/2021/02/17/Egypt-to-reopen-embassy-in-Libya-s-capital-after-seven-year-closure
--------
Thousands protest in Algeria, hoping to rekindle 2019 Hirak movement
16 February ,2021
Thousands of people demonstrated on Tuesday in the Algerian town of Kherrata to voice support for the Hirak protest movement that ousted Algeria's veteran president in 2019 before the COVID-19 crisis forced it off the streets last year.
More than 5,000 protesters chanted: "A civilian state, not a military state" and "The gang must go" as they waved Algerian flags.
Tuesday's protest was held to mark the second anniversary of the start of demonstrations in 2019, which began in Kherrata, east of the capital Algiers, before spreading across the country.
For all the latest headlines, follow our Google News channel online or via the app.
"We came to revive the Hirak that was stopped for health reasons. They didn't stop us. We stopped because we care for our people. Today coronavirus is over and we will get the Hirak back," said Nassima, a protester.
The Hirak movement demanded a complete removal of Algeria's entrenched political elite and continued to mobilize tens of thousands of protesters every week even after Abdelaziz Bouteflika stepped down from the presidency.
His successor, Abdelmadjid Tebboube, elected in December 2019 in a vote that Hirak supporters dismissed as a charade, has publicly praised the movement while seeking to move past it with limited concessions including tweaks to the constitution.
The weekly mass protests stopped a year ago when the COVID-19 pandemic brought a lockdown to Algeria.
While the protest movement has no clear leadership, its supporters have repeatedly discussed online how to rekindle its presence on the streets as an active force to press for change.
"It is a revolutionary process for a very precise goal, which is the departure of the regime, the whole regime with all its components," said Hamid, a protester.
https://english.alarabiya.net/News/north-africa/2021/02/16/Protests-Thousands-protest-in-Algeria-hoping-to-rekindle-Hirak-protest-movement
--------
Gunmen kidnap 'hundreds' of schoolboys in Nigeria: security, official sources
17 February ,2021
Gunmen believed to belong to a criminal gang have kidnapped hundreds of schoolboys from their hostels along with some of teachers in central Nigeria, an official and a security source told AFP Wednesday.
The attackers wearing military uniforms stormed the Government Science College in "huge numbers" in the town of Kagara in Niger state late on Tuesday, herding the students into a nearby forest, the sources said.
One student was dead during the kidnapping, the official said.
Northwest and central Nigeria have increasingly been targeted by criminal gangs known locally as "bandits" who kidnap for ransom, rape and pillage across the region.
"Bandits went into GSC Kagara last night and kidnapped hundreds of students and their teachers," said an official who asked not to be identified due to the sensitivity of the issue.
"One of the kidnapped staff and some students managed to escape. The staff confirmed a student was shot dead during the kidnap operation," the official said.
The school has around 1,000 students and it was not immediately clear how many were taken.
The security source confirmed the details of the attack and said a headcount was under way.
Troops with aerial support were tracking the bandits for possible rescue, the security source said.
The Niger kidnapping came two months after hundreds of schoolboys were abducted in northwestern Katsina state then released days later following negotiations with the government.
The gangs who are driven by financial motives have no ideological leanings but security officials fear they are being infiltrated by jihadists from Nigeria's northeast where the army is battling a decade-long Islamist insurgency.
https://english.alarabiya.net/News/world/2021/02/17/Gunmen-kidnap-hundreds-of-schoolboys-in-Nigeria-security-official-sources-
--------
Pakistan
Pak Hindus Deprived Of Legal Marital Rights To Register Their Marriages, Divorces And Remarriages
Feb 17, 2021
ISLAMABAD: Despite the enactment of Hindu Marriage Act in 2017, all Pakistani's provinces excluding Sindh have so far failed to give the country's minority Hindu community a right to officially register their marriages, divorces and remarriages.
The implementation of the law has been one of the major demands of the Hindu community and rights groups. In order to give them the right, the provincial governments, except Sindh, have yet to draft rules for the implementation of the Act.
In 2016, the Sindh province, where majority of the country's around eight million Hindus live, had framed the law enabling Hindu men and women above 18 years of age to register their marriages. Later, it was amended to add divorce and remarriage rights for couples and financial security for the wife and children after divorce.
The Sindh government's move had prompted the federal government in 2017 to extend the same right to Hindus living in other provinces and the federal capital territory of Islamabad. While the law was implemented in Islamabad, the provinces of Baluchistan, Punjab and Khyber Pakhtunkhwa were required to draft the rules of business for this Act.
One of the key objectives of the Hindu Marriage Act was to provide a formal registration process of marriages for Hindus in the province given that they had to face many problems due to deprivation of the community members from their basic rights.
The act enshrines the conditions for a valid marriage and provides for official documentation that can be used to verify marital status in all government departments and other areas like travelling outside Pakistan.
Due to non-implementation of the law, the Hindus have been deprived of their due right. Neither Hindu men nor women in provinces where the law has not been in place, can register their marriage or divorce in official documents.
Speaking to TOI, Haroon Sarbdiyal, a focal person for national lobbying delegation for minority rights, said the Hindu community in most parts of Pakistan have no rights to the process of registrations of their marriages, legal divorce procedure, adoption and issues related to inheritance.
According to official data, there are hundreds of cases pending in the civil courts across the country due to non-availability of rules for implementation of the Act.
As the divorce rate has generally increased across Pakistan, the divorce-related incidents are frequently reported among the Hindus as well.
Sarbdiyal said that at present, none of the members of his community can prove the legitimacy of their relationship with their family members.
https://timesofindia.indiatimes.com/world/pakistan/pak-hindus-deprived-of-legal-marital-rights/articleshow/81012720.cms
--------
Maryam hopes judiciary's credibility won't be risked to save govt's 'sinking ship'
February 17, 2021
LAHORE: In response to Tuesday's proceedings in the Supreme Court in the Senate elections case, Pakistan Muslim League-Nawaz (PML-N) vice president Ms Maryam Nawaz Sharif has expressed hopes that the credibility of the institution of the judiciary will not be risked to, what she says, save the sinking ship of the government.
"It's prayed and hoped that at the wish of one person to give relief to a party and support the sinking ship of the government, the credibility of the institution of the judiciary will not be put at stake," she said in a tweet on Tuesday.
"Resurrecting the 'ideology of necessity' notwithstanding [a] clear clause of the Constitution will be a great tragedy for the country, nation and the judiciary itself," she said in reference to the apex court's demand that the Election Commission of Pakistan (ECP) should ensure that the ballots in the Senate elections due on March 3 should be identifi able/traceable through the existing laws.
A Supreme Court bench headed by Chief Justice Gulzar Ahmed had summoned the chief election commissioner in person in the Senate polls case. When the CEC explained to the court that identifi - cation of ballots could not be done without a constitutional amendment, it gave the ECP 24 hours to rethink in this regard.
"How can ECP 'rethink' something that's enshrined in the Constitution?" Maryam questioned through another tweet. "If it requires constitutional amendment, there's no other way it can be done. SC is requested to exercise extra caution & not do anything that will be conceived as defacing the Constitution at the behest of someone," she maintained. The PML-N vice president argued that the "ECP like all institutions is bound by Article 226 of the Constitution.
It has categorically opined that open ballot cannot be the course for Senate elections since such [voting mode] would need a constitutional amendment, it would be wrong to use ECP's shoulder & lay it open to public wrath." The Pakistan Tehreek-i-Insaf (PTI) government has moved the apex court against secret balloting in the Senate polls, pleading the system leads to selling of votes by members of the national and provincial assemblies that form the electoral college for electing members of the upper house of the parliament.
The opposition parties, including the PML-N and the PPP, are now opposing the move, demanding reforms in the whole electoral system, instead of picking just "what suits the government".
https://www.dawn.com/news/1607787/maryam-hopes-judiciarys-credibility-wont-be-risked-to-save-govts-sinking-ship
--------
Pakistan, France Relations Still 'Poisoned' Over Prophet Muhammad Caricature Controversy: Report
16 February, 2021
Paris [France], February 16 (ANI): Ties between Pakistan and France continue to remain "poisoned" even four months after the controversy over caricatures of the Prophet, which led to thousands of anti-French protestors rallying the streets of Pakistan against President Emmanuel Macron, reported Paris-based the Le Figaro daily.
Many of the protests in Pakistan were organised by far-right party Tehreek-i-Labbaik Pakistan (TLP). It demanded the "expelling the French ambassador, severing ties with France and boycotting French products".
Recently, Pakistan Prime Minister Imran Khan has said his government would take the matter of TLP, which had been threatening to stage a sit-in in Islamabad against the government's failure to meet its demand, to parliament before April 20.
According to a source in Elysees, the move by Pakistan government to take the matter to Parliament is "very badly perceived".
"There were insulting remarks against the president (Macron) and it was taken in a personal capacity. And now the Pakistani government is considering putting the question of the ambassador's expulsion to parliamentarians. It is very badly perceived," Le Figaro quoted one source as saying.
In November 2020, a "slanderous tweet" against France from Shireen Mazari, the Pakistani minister of human rights, had already blurred relations, the newspaper said.
Mazari had deleted the objectionable tweet, where she said that French President Emmanuel Macron was treating Muslims like Nazis treated Jews in World War II, after France demanded that she withdraw her remarks.
In a tweet linking to an online article, Mazari on had said: "Macron is doing to Muslims what the Nazis did to the Jews -- Muslim children will get ID numbers (other children won't) just as Jews were forced to wear the yellow star on their clothing for identification."
Last year after a gruesome killing of a French teacher near Paris, French President Macron defended the right of French magazine Charlie Hebdo to publish caricatures of the prophet.
Protests erupted in many Muslims countries including Pakistan. Thousands of people rallied against France's position on publishing cartoons depicting the Prophet Muhammad.
Activists from the far-right TLP party took to the streets, calling for the Pakistani government to sever diplomatic and trade ties with France.
In October, the Pakistan National Assembly unanimously passed a resolution condemning the publication of blasphemous caricatures in France and the "resurgence of Islamophobic acts" in some countries after a noisy session that witnessed the government and opposition delivering fiery speeches against each other.
Macron's remarks did not go well with Pakistan Prime Minister Imran Khan who slammed the French President, saying that he has "chosen to deliberately provoke Muslims".
Taking to Twitter, Khan had said, "Hallmark of a leader is he unites human beings, as Mandela did, rather than dividing them. This is a time when Pres Macron could have put healing touch and denied space to extremists rather than creating further polarisation and marginalisation that inevitably leads to radicalisation." (ANI)
http://www.businessworld.in/article/Pakistan-France-relations-still-poisoned-over-Prophet-Muhammad-caricature-controversy-Report-/16-02-2021-378359/
--------
FM Qureshi encourages Egyptian businessmen to invest in Pakistan
February 17, 2021
Foreign Minister Shah Mahmood Qureshi urged Egyptian businessmen to invest in Pakistan by highlighting the incentives the government is offering to foreign investors in various sectors including housing, energy and health, Radio Pakistan reported on Wednesday.
During a meeting with a delegation of the Egyptian business community in Cairo, the foreign minister said improvement in Pakistan's ranking for ease of doing business reflected the confidence of investors and businessmen in the incumbent government's policies.
Qureshi stressed that the "brotherly relations" between Pakistan and Egypt could further improve through an increase in bilateral trade and economic partnership. He also assured the Egyptian business community that the government would take all necessary steps to assist them if they chose to invest in Pakistan.
According to Radio Pak, Egyptian business community expressed interest in investing in Pakistan. The chief executive officer of Elsewedy Electric company also met Qureshi and expressed an interest in investing in Pakistan.
During their meeting, the foreign minister said businesspersons from across the world were interested in investing in Pakistan as it was an emerging market and also because of the incumbent government's "prudent economic policies".
The foreign minister is on a two-day official visit to Egypt on the invitation of Egyptian FM Sameh Hassan Shoukry.
https://www.dawn.com/news/1607859/fm-qureshi-encourages-egyptian-businessmen-to-invest-in-pakistan
--------
Pakistan says India posing 'immediate threat' to regional peace
16 February 2021
Pakistan's Foreign Minister Shah Mahmood Qureshi has voiced concern about India's acquisition of advanced naval weapons technology and accused New Delhi of adopting "aggressive policies" toward Islamabad.
In comments made to the International Maritime Conference in the Pakistani port city of Karachi on Monday, the top Pakistani diplomat said the Hindu nationalist government of Prime Minister Narendra Modi was raising the risk of a potential conflict by deploying indigenously developed and foreign-made weapon in the strategic Indian Ocean.
"India's belligerent and aggressive policies — currently driven by an extremist Hindutva ideology — pose an immediate and pervasive threat to international and regional peace and security," he said.
"Pakistan will continue to take all necessary measures to ensure its security and to maintain credible minimum deterrence," Qureshi added.
In 2016, the New Delhi government changed the balance of naval power in the region by announcing that it had formally commissioned a nuclear-powered ballistic missile submarine.
India also operates a second nuclear submarine, the INS Chakra II, which is a Russian Akula-class submarine acquired on a 10-year lease in 2012. A third nuclear submarine, the INS Arighat, is currently under construction.
India has in recent months also bought a total of 36 French Rafale fighters in a deal estimated to be worth USD 9.4 billion. They are all scheduled to be delivered by the end of 2021.
Relations between India and China have been tense recently over the frontier territory of Ladakh, where a skirmish between the soldiers of the two countries left 20 Indians dead in June last year.
India and Pakistan have fought three full-scale wars and several minor conflicts since they gained independence from Britain in 1947.
India regularly accuses Pakistan of arming and training militants and allowing them to cross the restive frontier with disputed Kashmir valley. Pakistan strongly denies the allegation.
https://www.presstv.com/Detail/2021/02/16/645432/Pakistan-says-India-posing-%E2%80%98immediate-threat%E2%80%99-to-regional-peace
--------
Europe
France keeps troops in Sahel to 'decapitate' Al-Qaeda groups
February 17, 2021
PARIS: President Emmanuel Macron pledged on Tuesday to keep French troops in the Sahel region of western Africa, to help to "decapitate" Al-Qaeda-linked insurgent groups that local governments are struggling to hold back.
But while Macron said there would be no "immediate" drawdown of the 5,100-member Barkhane force, he made clear that France expected to have a far lighter presence over time.
"Changes that are likely to be significant will be made to our military deployment in the Sahel when the time comes, but they will not be made immediately," Macron told reporters after a video summit with the leaders of Burkina Faso, Chad, Mali, Mauritania and Niger.
The so-called G5 countries were urged to step up their anti-terror fight and work on restoring government control in areas where Islamist fighters have closed schools and driven millions from their homes.
Just hours before the summit opened, Malian sources said two soldiers had been killed by a roadside bomb in central Mali.
"We are re-engaging our forces in order to decapitate these organisations," Macron said after the two-day meeting in Chad's capital N'Djamena.
The aim is to strengthen actions against terrorism while delivering a "political jolt" to give the people something to hope for, he said.
He confirmed efforts would now focus on combatting the Group to Support Islam and Muslims (GSIM) and in particular one of its main armed groups, Katiba Macina, linked to Al-Qaeda.
That marks a shift from several months ago, when the Islamic State in the Greater Sahara was seen as the primary threat to stability in the desert region, where more than two million people have been displaced over the past eight years.
Concrete results
France first sent troops into Mali in early 2013 to fight Islamist insurgents who had seized control of the country's northern half, with the Barkhane operation formally starting in August 2014.
However, despite some successes including last year's killing of Al-Qaeda in the Islamic Maghreb (Aqim) leader Abdelmalek Droukdel, insurgents have continued to carry out deadly attacks.
The effort has cost the lives of 50 French soldiers, prompting calls in France for a review of Barkhane's mission and speculation Macron was ready to bring some troops home.
"A French withdrawal, a massive withdrawal of men, which is a possibility I have considered, would be a mistake," Macron said.
"It would be paradoxical to weaken our deployment at a time when we have a political and military alignment that enables us to reach our goals."
He also said G5 leaders agreed there would be no negotiations with insurgents such as Iyad Ag Ghaly, the GSIM leader, or Amadou Koufa of Katiba Macina – something Mali's government had considered last year.
The two men "are enemies, in no way whatsoever are they discussion partners" for ending the insurgency, Macron said.
He indicated he would reassess the situation after the summer, saying there should be an "evolution" of the French contingent into a lighter presence.
"In the coming months, we will not change our presence. We hope that we will have concrete results in terms of security in the coming months, for me this means between now and the summer," Macron said.
"Beyond summer, I want to work with our partners for an evolution of our presence to consolidate our military victory in the region."
Chad commits troops
Without giving a timescale, Macron indicated that the French-led Takuba multinational task force should take over responsibility.
He said the aim was to have a 2,000-member Takuba force, with a French contingent of 500 soldiers at its core, in close cooperation with the national armies of the region.
The fledgeling Takuba force has already seen Czech, Swedish and Estonian troops deployed in the region, though Macron has so far been unable to obtain significant support from France's larger EU partners.
"We are not going to do this immediately but this is what envisage over time," Macron said.
Macron also welcomed a new commitment by Chad to send 1,200 troops to the flashpoint "three border" zone between Niger, Mali and Burkina Faso, fulfilling a pledge made a year ago.
https://www.freemalaysiatoday.com/category/world/2021/02/17/france-keeps-troops-in-sahel-to-decapitate-al-qaeda-groups/
--------
Russia detains 19 extremist militants who were planning attacks
17 February ,2021
Russia's Federal Security Service (FSB) said on Wednesday it had detained 19 suspected extremist militants planning attacks in the North Caucasus.
The FSB said it had seized a suicide belt, homemade bombs and automatic weapons from the suspects this month.
The 19 detainees, suspected members of the Takfir wal-Hijra group, were spread across the Rostov, Krasnodar and Karachay-Cherkessia regions, as well as Crimea, the peninsula Moscow annexed from Ukraine in 2014.
Footage from the detentions published by Russian news agency RIA showed FSB operatives scaling an apartment building and entering through a window to detain a suspect.
Russia has repeatedly been targeted by extremist militant groups, including in an attack on a train carriage in a St Petersburg metro tunnel in 2017.
In recent years, some parts of the North Caucasus have been plagued with militant attacks on security officials.
https://english.alarabiya.net/News/world/2021/02/17/Terrorism-Russia-detains-19-extremist-militants-who-were-planning-attacks-
--------
Terror suspect who sparked manhunt pleads guilty
A terror suspect who cut off an electronic monitoring tag and fled his home has pleaded guilty to breaching counter terror rules.
The man, who cannot be named for legal reasons, is a senior member of the banned terrorist group al-Muhajiroun.
He caused a security alert and triggered a manhunt when he absconded in September.
His actions resulted in increased checks at UK ports, causing delays for travellers.
Appearing at the Old Bailey by video link from prison, he admitted six breaches of his Terrorism Prevention and Investigation Measures (TPIM).
TPIM notices allow the authorities to monitor and control people considered to be terrorists - but who are not facing criminal charges.
On 15 September last year, the man - known as LF - cut off his tag, obtained an unauthorised mobile phone, ordered a taxi to London, and left his home in the middle of the night.
He was arrested within 24 hours.
Prosecutor Kate Wilkinson said it is "not safe to assume he was not motivated by terrorist related activity".
Judge Anthony Leonard QC said it was a "serious matter" and that he would pass sentence on 22 February.
Last week LF was one of two men who lost an appeal against the measures placed on them.
The pair were the first people to be made the subject of a TPIM for the second time.
LF is a leading radicaliser in al-Muhajiroun (ALM), an outlawed organisation that has been linked to multiple attacks and plots, including at Fishmongers' Hall in 2019, Westminster Bridge in 2017, and the murder of Fusilier Lee Rigby in 2013.
He was an associate of Khuram Butt, the ringleader of the London Bridge attackers who murdered eight people in June 2017.
In 2019 LF was convicted of breaching his first TPIM, but was handed a suspended sentence by a judge at Kingston Crown Court.
Following this, he continued to engage with other ALM members and was subsequently placed under the new measures in November that year after he was found to be involved in fresh "terrorist related activity".
In the years after TPIMs were first introduced in 2011, two subjects absconded and fled abroad.
https://www.bbc.com/news/uk-56071766?utm_source=iterable&utm_medium=email&utm_campaign=2005874_
--------
MI5 knew terrorist was plotting attack before deadly London stabbings
February 13, 2021
LONDON: British intelligence agency MI5 knew that Usman Khan — the convicted terrorist who murdered two people in a London attack in 2019 — was plotting an attack before he was released from jail, a court was told yesterday.
Khan was labeled as being at "high risk of carrying out an attack" following his release from prison after serving an eight-year sentence for his part in a London Stock Exchange bomb plot.
He stabbed Jack Merritt and Saskia Jones, two graduate students who were attending a prisoner rehabilitation conference in London in November 2019.
A pre-inquest hearing found that police and probation officers had eased Khan's release restrictions, allowing him to travel to the conference at London's Fishmongers' Hall — less than a mile from his original target.
The findings raise alarm over the growing risks posed by Islamist extremists released from prison. Just three months after the attack, Sudesh Amman, another convicted terrorist, was shot dead by police after carrying out a spree of stabbings in South London after his release from prison.
Khan, 28, wore a fake explosive vest during the 2019 attack. He was brought to the ground by members of the public before being shot dead by police.
He was given permission to join the conference despite playing a role in prison radicalization, taking senior roles in terror groups and encouraging violence, a court was told. He was classed by authorities as a "most dangerous prisoner" until shortly before his 2018 release.
Nick Armstrong, a lawyer representing the family of Merritt, said: "MI5 had intelligence shortly before Khan's release that he was planning a post-release attack, and upgraded his priority rating."
Following Khan's release, MI5 officers feared that he "might have manipulated" his restrictions.
Armstrong said that there was a lack of communication between MI5 and the probation officers responsible for monitoring Khan. "Even a hint that he posed a risk may have made a difference," he added.
Philip Rule, representing Jones' family, said both families want MI5 officers who were involved in monitoring Khan to give evidence at the inquest and explain the decisions taken in the lead-up to the attack.
However, the intelligence agency has said it will ask UK Home Secretary Priti Patel to impose a secrecy order on some documents considered relevant in the investigation.
MI5 wants a single senior officer to give evidence of the agency's dealings with Khan before and after his prison release.
The inquests are expected to begin in April this year.
https://www.arabnews.com/node/1808611/world
--------
Germany: 5 Tajiks Charged With Membership in ISIS Group
15 February, 2021
German prosecutors said Monday they have charged five Tajik men with being members of the ISIS group, accusing them of participating in a cell of the extremist organization in Germany.
Federal prosecutors filed the indictment at the Duesseldorf state court, where an alleged associate of the five was convicted last month of membership in ISIS for co-founding the German cell and supporting two planned attacks. He was sentenced to seven years in prison.
The suspects now charged were identified only as Farhodshoh K., Muhammadali G., Azizjon B., Sunatullokh K., and Komron B., in keeping with German privacy rules.
Prosecutors say that Azizjon B. administered propaganda channels and helped collect money for a Russian- and Tajik-language ISIS online network. They say he also personally recruited ISIS members, leading to the founding of a cell in western Germany in early 2019 that aimed to carry out attacks in Germany.
The rest of the accused - along with Ravsan B., the man convicted last month - are alleged to have belonged to that cell.
Prosecutors say that they trained their military skills in paintball games, and that participants in those included "other people from the extremist scene" who were in contact with the gunman who killed four people in an attack in Vienna in November. They also allegedly acquired components for an "unconventional" bomb.
Farhodshoh K. and Ravsan B. are accused of traveling to Albania in 2019 to carry out a contract killing that was intended to finance ISIS to the tune of $40,000. That killing was called off because doubts arose over the intended victim´s identity.
The indictment alleges that Ravsan B. then gave Sunatullokh K. the semi-automatic pistol intended for that killing to shoot a man in Germany who had made critical comments about Islam - an attack that was foiled by authorities.
It says that the cell then changed its strategy, concentrating on radicalizing and recruiting young Muslims in Germany and raising money for ISIS.
https://english.aawsat.com/home/article/2806576/germany-5-tajiks-charged-membership-isis-group?utm_source=iterable&utm_medium=email&utm_campaign=2005874_
--------
India
Rohingya Refugees Face New Crackdown in India
By Shaikh Azizur Rahman
February 16, 2021
Rohingya refugees are fleeing India or going underground amid fears that the government will arrest them for unauthorized entry into the country.
In the past month, security forces have intercepted scores of Rohingya across India and sent them to jail, triggering a panic among the country's Muslim refugee community who fled violence in Myanmar and took refuge in India.
"Some hundreds of Rohingya were living in West Bengal for few years. Almost all of them have disappeared in the past month after some Rohingya were arrested in the state. Many have gone in hiding in other Indian states. Others have entered Bangladesh," said Rohingya refugee Nizam Uddin, who crossed to Bangladesh with his mother, wife and three children last month after living in a village in eastern Indian state of West Bengal for three years.
"If my family got arrested, Indian authorities would have sent us to jail, before finally pushing us back to Myanmar. Myanmar is still very unsafe for the Rohingya. We do not want to return to that hell. I got terribly scared of being arrested. So, I chose to flee India," he told VOA.
An official at the Indian home ministry desk that handles issues related to refugees declined to comment on the claim of a crackdown on Rohingya refugees.
Few options for stateless Rohingya
To escape discrimination and violence in Myanmar, minority Rohingya Muslims have for decades fled from the Buddhist-majority country to neighboring Bangladesh and other countries, including India. A year ago, it was estimated that 40,000 Rohingya refugees lived in India, scattered across different states.
Being stateless in their home country of Myanmar, the Rohingya are unable to travel to another country legally. India, which did not sign the 1951 UN Refugee Convention, treats all Rohingya entering the country as illegal immigrants. An estimated 300 to 500 Rohingya are currently being held in Indian jails on charges of illegal entry.
Jan Mohammad, a Rohingya refugee who until the first week of January lived in a village near the eastern Indian city of Kolkata, said his uncle and two other Rohingya were arrested while traveling by train in India last month.
"Indian police asked my uncle and his two relatives to produce Myanmar passport with Indian visa. Like other Rohingyas, they did not have passports from Myanmar, they said to the police. Police said, they were illegal immigrants, and they arrested them immediately. They are in jail now," Mohammad told VOA from an undisclosed location in south India.
Hussain Ahmad, a Rohingya rights activist based on Cox's Bazar, Bangladesh, said the Rohingya refugees are being unfairly harassed by the Indian authorities.
Ahmad, who also monitors the movement of Rohingya refugees in south Asia, cited a 1982 law in Myanmar that left most Rohingya effectively stateless, even though their families had lived in the country for generations. In 2017, the military in Myanmar responded to a series of attacks on police stations with a brutal campaign of killing and rape that drove close to 1 million people into neighboring countries and has been widely condemned as genocide.
Now, Ahmad said, "Indian police are asking for travel documents from these refugees who are on the run, scared of their lives. How will the stateless Rohingya refugees be able to produce Burmese passports or Indian visas?"
Anti-Rohingya sentiment surges
Anti-Rohingya sentiment has been growing in India since the Hindu nationalist Bharatiya Janata Party (BJP) swept to power with an overwhelming election victory in 2014. In recent years, the BJP and other Hindu organizations have begun a campaign demanding the expulsion of all Rohingya refugees from India.
Many Rohingya believe the latest crackdown on the refugees in India is linked to a state election in West Bengal, which is expected within the next few months.
"They began harassing Rohingya refugees in India just before the national election in 2019. Now they have begun the crackdown on the Rohingya before the election in Bengal," Hussain Ahmad said.
Meenakshi Ganguly, South Asia director of Human Rights Watch, agreed that the Rohingya refugees are being targeted largely for political reasons.
"India knows well that the Rohingya are one of the most persecuted communities in the world. Nearly a million are refugees in Bangladesh. A few that have arrived in India need to be protected and not persecuted again. This is a responsibility of the Indian authorities under the refugees convention as well," she said in an interview.
"For political reasons we find that the Rohingya are being targeted largely because the Hindu nationalist government … tends to persecute all Muslims, including Rohingya refugees."
State-level leaders of the BJP in West Bengal contacted by VOA declined to comment on the Human Rights Watch allegations.
Bangladeshi human rights campaigner Pinaki Bhattacharya noted that the Rohingya in Myanmar have been described by the United Nations as "the most persecuted minority in the world" and called for India to do more to help them.
"In 2019, India amended its Citizenship Act offering to grant citizenship to the 'persecuted' non-Muslim minorities from its neighboring countries. India shares its border with Myanmar. Yet India did not offer to shelter or grant citizenship to the minority Rohingya who fled Myanmar after facing a genocidal level of persecution there," Bhattacharya said.
"India is witnessing an upsurge of right-wing Hindu force that aims to turn India a Hindu Rashtra or Hindu Nation. Rohingyas are being hounded in India indeed because they are Muslim."
https://www.voanews.com/south-central-asia/rohingya-refugees-face-new-crackdown-india
--------
Rinku Sharma murder: At meeting with murder victim's family, Kapil Mishra talks jihad, terror
By Abhinav Rajput
February 17, 2021
Visiting the family of 25-year-old Rinku Sharma, who was stabbed to death in Mangolpuri last week, Delhi BJP leader Kapil Mishra called the murder "jihad" and an organised conspiracy to target those collecting funds for the Ram Mandir.
Bhopal MP Pragya Thakur also visited the family later in the day and assured them that the government is with them.
While police have so far maintained the murder was the fallout of an old business rivalry, the Vishva Hindu Parishad and Delhi BJP leaders claim Sharma was killed for being part of the temple donation drive.
"This is Jihad… he was targeted, picked and killed as he worked with enthusiasm for religion. They entered his house and killed him and were not satisfied with it, so they again went to the hospital to beat him. This is not just any other crime; this needs to be understood how a terror incident is understood," Mishra claimed.
Mishra's claim of the accused targeting Sharma at the hospital has not been corroborated by the police.
"Those who have murdered him must be hanged but also the masterminds behind the incident should be found — those who brainwashed that if people come to demand (Ram Temple) donations, they should be killed," he claimed, adding that he has started the process of transferring Rs 1 crore to the family's account.
Mishra and vice-president of the Delhi BJP youth wing, Vaishali Poddar, have started a crowd-funding exercise to collect the amount.
With the families of the accused saying they fear retribution, police have increased deployment in the area, where the VHP had been holding protests. The families, though, have left saying they fear for their safety.
The victim's younger brother, 19-year-old Mannu, who is with the VHP's youth wing, said at the meeting with Mishra: "The Hindu family is united."
As Mishra left the house and headed to his car, a man arrived with a sword in his hand, but was stopped by police and his sword was taken away.
The man claimed he was one Dinesh Thakur, founder and president of 'Bharat Mata Wahini'.
"I had a sword to save our dharma, just like Maa Bhagwati kept. If the victim would have kept a sword, he would not have been killed. I demand that Hindus be allowed to keep swords," he said.
He later went away driving a gypsy. Additional DCP (Outer) Sudhanshu Dhama said, "Our team removed the man from the locality. We are looking into the matter and will take legal action."
https://indianexpress.com/article/cities/delhi/at-meeting-with-murder-victims-family-kapil-mishra-talks-jihad-terror-7191701/
--------
Muslim Outfits, And Political Parties, Stage Protest Against BJP In Madurai
Feb 16, 2021
MADURAI: Members of Muslim outfits and political parties, along with Thirupalai Jamaat members, staged a protest at the Madurai collector office demanding action against BJP cadre who tried to create unrest in Thirupalai last month by instigating the Muslim community.
A few hundred people from various parts of the city took part. They also submitted a petition to district collector T Anbalagan.
Protest organizer Mujibur Rahman said BJP conducted an event called 'Thamarai Pongal' on January 10 during which the saffron party members tied their party flags in the windows of the Thirupalai mosque. They also carried out a rally and raised slogans instigating members of the Muslim community, while welcoming the party's state president L Murugan.
The jamaat members filed an oral complaint at the Tallakulam police station on the same day and a written complaint the following day. Though the police had acknowledged the complaint, no action had been taken thus far, he added.
He sought action against BJP members - Thirupalai Selvam, Arumugam, Karthik, Gokulam Muthumarai, and state president L Murugan.
https://timesofindia.indiatimes.com/city/madurai/muslim-outfits-parties-stage-protest-against-bjp-in-madurai/articleshow/80992609.cms
--------
First ever 'Chadar' sent by Afghan President to Ajmer Dargah
Feb 17, 2021
NEW DELHI/AJMER: Signalling the further strengthening of diplomatic and cultural relations with India, Afghanistan President has sent a 'Chadar' to the world famous Ajmer Sharif Dargah through its diplomatic mission in New Delhi.
The Annual 809th 'Urs Mubarak' of Khawaja Gharib Nawaz is ongoing in Ajmer.
This is the first ever sacred 'Chadar mubarak' sent to Ajmer Dargah Sharif by any President of Afghanistan, and first outside of a South Asian nation," Haji Syed Salman Chishty told IANS. He is the present 'Gaddi Nashin' and 27th direct descendant of Hazrata Khawaja Moinuddeen Hasan Chishty, (1142-1236 AD).
"May the message of Khawaja Gharib Nawaz(ra) be heard and understood across the World" was the message sent by President Ashraf Ghani, which also said: "On behalf of Islamic Republic of Afghanistan and Afghan people sends a sacred 'Ghilaf Mubarakan' with a humble message of respect and reverence towards Khawaja Moinuddin Chishty(RA) of Ajmer Sharif in India to mark the 809th year Urs Mubarak Celebrations'."
"It's a major boost in the bilateral relationship between India and Afghanistan as well as strong message to the extremist radicals in Afghanistan who have destroyed many Sufi Shrines and centers of Unity," said Syed Salman Chishty, who's also the Sajjadanashin of the Ajmer Sharif Dargah.
The President of Afghanistan Mohammed Ashraf Ghani in the message said, "It is a singular honour to be offering the chadar at the urs of Khawaja Moinuddin Chisty, as an Afghan and student of Sufi order for 50 years, I have been fascinated with character impact and reach of Khawaja Garib Nawaz RA, his life and deeds are example of how the 'awliya' of Allah are entrusted with building bridges between seemingly incompatible individual and groups.
"Despite a thousand years there is much to study and learn from the way Chisty order spread from Herat to becoming a moral force in the continent," he said.
Afghanistan has a large population of Muslims and Chist is a town in Herat province of the country, he said.
"On behalf of the people and government of Afghanistan 99.9 per cent of whom are Muslims, I issue the most auspicious urs, may message of Khawaja Garib Nawaz be heard and understood across the world," he said.
In 2015, for the 803rd Urs Mubarak, history was created when the then US President Barack Obama presented a 'Chadar' to Ajmer Sharif Dargah -- the first ever by any western leader.
Prime Minister Narendra Modi and Congress leader Rahul Gandhi have also offered 'chadar' to the sacred Sufi shrine.
https://timesofindia.indiatimes.com/india/first-ever-chadar-sent-by-afghan-prez-to-ajmer-dargah/articleshow/81044581.cms
--------
SAARC virtual meet: India invites Pak to Covid-19 workshop
Feb 17, 2021
NEW DELHI: India will host a health secretary-level meet virtually with other South Asian Association for Regional Cooperation countries on Thursday to discuss the ongoing COVID-19 crisis. Pakistan has also been invited to attend the workshop.
It is a virtual workshop on management of Covid-19, response to the pandemic and exchange of best practices amid the pandemic.
On March 15, 2020, during a video conference of the SAARC Heads of State, Prime Minister Narendra Modi had proposed a Coronavirus Emergency Fund for the region.
This emergency fund was set up in response to the global coronavirus pandemic. The initiative seeks to mitigate the risks associated with the coronavirus pandemic in the South Asian region with India contributing USD10 million to it.
Other members of the SAARC expressed their support of Prime Minister Narendra Modi and his proposal for the coronavirus emergency fund.
India is at the forefront in the fight against the coronavirus pandemic and has gifted covid vaccines to countries including Bangladesh with 20 lakhs doses, Myanmar with 17 lakhs doses, Nepal with 10 lakhs, Bhutan with 1.5 lakhs, the Maldives with 1 lakh, Mauritius with 1 lakh, Seychelles with 50000, Sri Lanka with 5 lakhs and Afghanistan with 5 lakhs among others.
SAARC groups together Afghanistan, Bangladesh, Bhutan, Maldives, Nepal, Pakistan and Sri Lanka.
November 2014, when Nepal hosted a SAARC leaders' summit, was the last time that leaders of these nations had shared a platform.
https://timesofindia.indiatimes.com/india/saarc-virtual-meet-india-invites-pak-to-covid-19-workshop/articleshow/81044404.cms
--------
NIA court sends alleged terror operative to police remand in Jammu IED case
By Ravi Krishnan Khajuria
FEB 16, 2021
A special NIA court on Monday sent an alleged operative of the al-Badr terror group to 14 days in police custody for his involvement in the case of the seizure of an improvised explosive device from another member of the group last week.
The accused, Qazi Waseem, is the son of Abdul Rashid Qazi of Shupdani in Pulwama.
"He was brought from Chandigarh on Monday and produced before the Special Judge of the NIA Court Suneet Gupta by sub divisional police officer (SDPO) City North Satish Sharma. The Court remanded him to 14 days police custody," said a senior Jampolice officer.
After hearing SDPO in person and going through the application, the Special Judge NIA Sunit Gupta observed, "Since the matter is heinous in nature and some important aspects are required to be ascertained in the instant case for which police remand of the accused is required for the purpose of further investigation," he said.
Accordingly, Waseem was remanded in police custody for 14 days with effect from February 15 and he shall be produced before the court on February 28.
On Saturday, al-Badr militant Suhail Bashir (21), a resident of Newa in Pulwama, was arrested from the Jammu bus stand area here with a 7 kg IED.
He had been given the task by his handlers in Pakistan to plant the powerful IED in any of the three to four places in Jammu to cause mass destruction.
Apart from Qazi Waseem and main accused Suhail Bashir, who was a student of B Sc Nursing at Desh Bhagat Nursing College in Chandigarh, two other operatives of al-Badr - Abid Nabi and Athar Shakeel Khan have also been arrested from Kashmir.
https://www.hindustantimes.com/india-news/nia-court-sends-alleged-terror-operative-to-police-remand-in-jammu-ied-case-101613464845190.html
--------
India hopes to blunt Pakistan's campaign on J&K with envoy visit
Feb 16, 2021
NEW DELHI: Ahead of the visit to Jammu and Kashmir by foreign envoys, while India refrained from responding officially to Pakistan's statement that the Indian government was trying to mislead the international community by organising the visit, government sources reiterated Pakistan had no locus standi on issues related to the union territory.
According to senior officials who spoke on the condition of anonymity, one of the main purposes of the visit is to counter Pakistan's claims about alleged human rights violations and unrest in the Valley.
Government officials are expected to familiarise the envoys, several of them from EU countries, with development work said to be underway currently in the union territory and also to highlight the turnout in recent DDC elections during the visit as a sign of people's faith in the democratic process. The 20-member delegation will include EU ambassador to India Ugo Astuto and also French ambassador Emmanuel Lenain.
Pakistan foreign minister Shah Mahmood Qureshi had only last month briefed European envoys about the situation in J&K and sought their held in ending Indian "brutalities". He had followed it up with a letter to the UN on "Kashmir Solidarity Day" alleging the same. In a statement on the envoy visit, the Pakistan foreign ministry said Monday that such "guided tours" are a smokescreen intended to divert international attention from India's "egregious human rights violations". ToI had first reported on February 14 that India had organised a visit by foreign envoys to Jammu and Kashmir.
In the middle of statements recently by both Pakistan PM Imran Khan and army chief Qamar Bajwa purporting to show a desire to improve ties with India, Islamabad has continued with its, according to Indian authorities, frivolous attempts to corner India on international fora for its alleged "terror and subversive" campaign against Pakistan.
Official sources say Pakistan's campaign is meant to deflect attention from its continued support to cross-border terrorism in complete disregard for sentiments expressed by the international community. India has so far also been cold to the peace overtures from Pakistan saying that Islamabad first has to create the right conditions by acting against terror groups looking to target India from its soil.
This will also be the third such visit by foreign envoys to Jammu and Kashmir since India revoked the special status of the erstwhile state and will follow the recent restoration of 4G mobile internet services there.
An agency report Tuesday quoted local officials as saying strengthening of democratic institutions at the grass-roots level would be highlighted before the envoys and that during a presentation the envoys would be shown how panchayats have been empowered by giving them financial powers.
https://timesofindia.indiatimes.com/world/pakistan/india-hopes-to-blunt-pakistans-campaign-on-jk-with-envoy-visit/articleshow/81000119.cms
--------
South Asia
Bomb-making class turns into blast site, 30 Taliban terrorists killed
Feb 16, 2021
Thirty Taliban terrorists were killed when a bomb exploded during a bomb-making class at a mosque in Afghanistan's Balkh province.
The 209th Shaheen Corps - part of the Afghan National Army - said in a statement that 30 fighters including six foreign nationals who were expert mine makers, had been killed in an explosion on Saturday morning.
The blast happened at a mosque in the village of Qultaq in the Dowlatabad district of Balkh province.
The bodies of the six foreigners could not be identified because of the extent of the damage caused by the explosion, the army statement revealed.
The terrorists had gathered to learn techniques for making bombs and improvised explosive devices IEDs from the six foreigners, who were reportedly considered experts in the subject.
Violence has surged across Afghanistan even as the Taliban and government engage in peace talks that began in September. The discussions have so far failed to make any breakthrough.
The new Biden administration in the United States has accused the Taliban of not reducing violence despite signing a deal with Washington last year that stipulated the group do so.
https://www.wionews.com/south-asia/bomb-making-class-turns-into-blast-site-30-taliban-terrorists-killed-364060
--------
80 Taliban 'killed in MoD operations' across Afghanistan
15 Feb 2021
The Ministry of Defense says 80 Taliban fighters have been killed across the country in the past 24 hours.
The Ministry of Defenses said in a statement on Monday, that 80 insurgents were killed, 36 wounded and a large number of weapons and ammunition were destroyed during the clashes and operations conducted by the Afghan defense forces.
According to MOD, the Taliban fighters were killed and wounded in Kandahar, Nangarhar, Badghis, Ghor, Takhar, Baghlan, and Helmand provinces.
During the security operations, 123 Taliban planted and placed mines in different parts of the country were discovered and neutralized Afghan national defense and security forces.
The Afghan defense ministry also added that Afghan special forces targeted Taliban strongholds in the Angur Bagh area of Kunduz province on Sunday night.
Three Taliban strongholds were reportedly destroyed and wrecked, besides two anti-vehicle mines and some weapons and ammunition of the group were seized by the Afghan special forces unit of commandos.
https://www.khaama.com/80-taliban-killed-in-mod-operations-across-afghanistan-1223322/
--------
4 killed, 2 injured in separate attacks in Afghanistan's Nangarhar
Feb 16, 2021
NANGARHAR/ AFGHANISTAN: Four people, including a police force member, were killed in two separate attacks by unidentified gunmen in the city of Jalalabad city, the center of Nangarhar province, on Tuesday morning, TOLO News reported citing security sources.
According to the sources, the first incident took place at around 07:40 am (local time) in Jalalabad's PD3 after gunmen opened fire on a police vehicle in which one policeman was killed and two others were injured.
However, the gunmen escaped from the area, said the sources.
The second incident took place 20 minutes later after unidentified gunmen attacked a vehicle in Jalalabad's PD4 in which three people were killed, TOLO News reported citing the sources.
Two policemen and a doctor were the victims of the second attack, said a source in Jalalabad hospital.
No one has yet claimed the responsibility for the attack including the Taliban.
https://timesofindia.indiatimes.com/world/south-asia/4-killed-2-injured-in-separate-attacks-in-afghanistans-nangarhar/articleshow/80985742.cms
--------
New Zealand to pull remaining troops out of Afghanistan
17 Feb 2021
New Zealand announced to withdraw its troops and conclude its military mission in Afghanistan by May 2021.
Janidra Ardern, New Zealand's Prime Minister, Foreign Minister Nanaia Mahuta, and Defense Minister Peeni Henare announced that the country will withdraw its troops and end the military missions in Afghanistan.
"After 20 years of an NZDF presence in Afghanistan, it is now time to conclude our deployment," Prime Minister, Jacinda Ardern s said.
"The deployments to Afghanistan have been one of the longest-running in our history, and I wish to acknowledge the 10 New Zealanders who lost their lives in the line of duty, and the more than 3,500 NZDF and other agency personnel, whose commitment to replace conflict with peace will always be remembered," she added.
New Zealand Foreign Affairs Minister Nanaia Mahuta stated that although the environment remains complex, the intra-Afghan peace process affords Afghanistan the best prospect of an enduring political solution.
Nanaia Mahuta, New Zealander Foreign Minister indicated that despite the environment being complex, the best prospect of enduring political solution is in intra-Afghan talks.
"New Zealand's decision to conclude its deployment to Afghanistan in 2021 has been discussed with our key partners, with whom we have cooperated closely over the last twenty years," Nanaia said
"New Zealand will continue to be supportive of the Afghan Government and its people in the years to come, including as they work through the intra-Afghan peace process in an effort to resolve the decades-long conflict," she added.
According to Defense Minister Peeni Henare, New Zealand Defense forces have six personnel remaining in the country, three are stationed in Afghanistan National Army Officer Academy and three others are deployed to NATO resolute support headquarters.
"Together with our partners, New Zealand helped to establish the conditions for the current intra-Afghan peace process. We've supported regional security, and helped to improve the lives of the people of Afghanistan, particularly in Bamyan Province.
"Another important element of New Zealand's support for Afghanistan has been our contribution to training and mentoring a new generation of Officers in the Afghanistan Army. The success of the mentoring program being conducted with the Afghanistan National Army Officer Academy means it is now self-sufficient enough for New Zealand's contribution there to conclude," Henare said.
https://www.khaama.com/new-zealand-to-pull-remaining-troops-out-of-afghanistan-5668866/
--------
Southeast Asia
Despite coup, Malaysia to deport 1,200 Myanmar migrants next week
Feb 16, 2021
Malaysia's government will repatriate 1,200 Myanmar migrants next week despite a military coup in their home country, but has assured that they will not include minority Muslim Rohingya refugees or those registered with the UN refugee agency.
But the UN High Commissioner for Refugees voiced concern on Tuesday that there may be vulnerable women and children among the group. Myanmar's leader, Aung San Suu Kyi, was detained as the military seized power on February 1, sparking protests in the country.
Malaysia's immigration chief, Khairul Dzaimee Daud, said in a statement late on Monday that the detainees will be deported February 23 on Myanmar navy ships.
He said the 1,200 were held for offenses including not having valid travel documents, overstaying and violating their social visit passes.
"There are no UNHCR cardholders or ethnic Rohingya involved in the repatriation. It is just part of a usual programme to deport immigrants in our detention depots," Khairul Dzaimee said.
The department said Malaysia repatriated 37,038 migrants last year, including 3,322 from Myanmar. This was down from 59,114 in 2019, as many countries shut their borders due to the Covid-19 pandemic, it added.
Also Read: Myanmar cops file new charge against Suu Kyi to extend detention indefinitely
The UNHCR said it has been barred from accessing Malaysia's immigration detention centers since August 2019 and was unable to verify who needs protection.
We are concerned that there remains in detention in Malaysia a number of people, including vulnerable women and children, who may be in need of international protection but whose claims have not been verified and thus do not have the requisite UNHCR documentation," the UNHCR said.
If found to be in need of international protection, these individuals should not be deported to a situation where their lives or freedoms may be at risk," it said.
Malaysia is home to some 180,000 UN refugees and asylum seekers including more than 100,000 Rohingya and other Myanmar ethnic groups.
More than 700,000 Rohingya have fled from Myanmar since August 2017, when the military launched a clearance operation in response to attacks by a rebel group. The security forces have been accused of mass rapes, killings and the burning of thousands of homes.
https://www.wionews.com/south-asia/despite-coup-malaysia-to-deport-1200-myanmar-migrants-next-week-364090
--------
Malaysia could become hub for halal vaccines, says Khairy
17 Feb 2021
BY RADZI RAZAK
KUALA LUMPUR, Feb 17 — Malaysia could capitalise on its Covid-19 vaccination efforts by becoming a regional hub for halal vaccines catering to Muslim countries, said Science, Technology and Innovation Minister Khairy Jamaluddin.
Khairy said Malaysia was approached by vaccine producers about using the country as a regional hub due to its internationally recognised halal certification system.
"Many vaccine producers have approach us in wanting to position Malaysia as a hub for Southeast Asia and other Muslim markets around the world because of our well-regulated and stringent halal certifications, this seemed to be a value-add for the vaccine manufacturers," he said in a press conference today.
Khairy said among those that have expressed such an interest were Russian sovereign wealth funds, investors from India as well as companies related to vaccine producers in China.
He said investments in that area would boost Malaysia's pharmaceutical and biotechnology industry.
However, Khairy added that any company looking to invest and set up a base in the country would first need to get approval from the National Pharmaceutical Regulatory Agency (NPRA).
"As long as they get necessary regulatory approval, seems to be safe and adhere to good practices, then Malaysia seems to be capable of being the hub for South-east Asia and other Muslim countries," he said.
Khairy also announced that CITF will ensure support given to the Ministry of Health in ensuring the success of the Covid-19 national immunisation program.
He announced that Deputy Director General Of Health (Public Health) Datuk Dr Chong Chee Keong and Deputy Chief of Army Lt-Gen Datuk Mohammad Ab Rahman will lead the CITF management team.
Yesterday, Khairy announced the first shipment of Covid-19 vaccines from Pfizer-BioNTech, totalling 312,390 doses, will be flown in on February 21, to be disbursed on February 26.
https://www.malaymail.com/news/malaysia/2021/02/17/malaysia-could-become-hub-for-halal-vaccines-says-khairy/1950522
--------
North America
Pentagon will offer US President Biden several options to respond to Iraq attack
Joseph Haboush & Pierre Ghanem
16 February ,2021
The Pentagon will provide US President Joe Biden and his administration several options to respond to the rocket attack on a US military base in Iraq's Erbil, a Pentagon official said Tuesday.
According to the US-led coalition, a barrage of 14 rockets was fired at the US base. Three hit the base, killing one civilian contractor and nine others were injured, the coalition said.
The civilian contractor was not a US citizen, something which the Pentagon was quick to note.
"It's necessary to take into account that the person who was killed was not a US citizen and the previous formula that an American killed would require a response," was not the case in Monday's attack, the official told Al Arabiya.
But the US is in close contact with Iraqi officials who are investigating what happened. "The Pentagon is giving the Iraqi government time to investigate what occurred and who is responsible for the attack," the official said.
Based on the investigation results, the US would then offer Biden "various" options and ways to respond.
"There will be a US stance based on the results of the investigations. The US seeks to protect its troops and civilians in Iraq … which has invited Americans to be on its land," the official said.
Defense Secretary Lloyd Austin spoke to his Iraqi counterpart Jumaah Saadoon where they condemned the attack.
"The Iraqi people deserve a secure and stable Iraq, and the United States remains committed to supporting our Iraqi partners in their efforts to defend Iraq's sovereignty. Both leaders reaffirmed commitment to the strategic partnership between the United States and Iraq," a statement from Austin's office said.
Separately Tuesday, France condemned the attack and called for finding out who was behind the attack.
https://english.alarabiya.net/News/middle-east/2021/02/16/US-foreign-policy-Pentagon-will-offer-US-President-Biden-several-options-to-respond-to-Iraq-attack
--------
US using channels 'very aggressively' to communicate with Yemen's Houthis: Official
16 February ,2021
Joseph Haboush
Washington has ways of getting messages to the Iran-backed Houthis, a senior US official said Tuesday, adding that the war in Yemen must stop.
"We do have ways of getting messages to the Houthis and we are using those channels very aggressively," US Special Envoy to Yemen Tim Lenderking told reporters during a briefing at the State Department.
"Ending this war through a lasting political solution is the only solution is the only means to end the humanitarian crisis that is devastating," he said.
Lenderking shied away from directly answering what alternative paths the US could pursue if the Houthis refuse to halt their attacks.
The US official, who recently returned from a trip to the region, added that the Houthis must stop attacking Saudi Arabia and using it as "target practice."
On Tuesday, the Biden administration's decision to revoke the terrorist designation against the Houthis and its leaders came into effect.
Meanwhile, State Department Spokesperson Ned Price called on Yemen's Houthis to stop their offensive on Marib. Marib is one of the final government strongholds in the north of the country.
"Marib is controlled by the legitimate government of Yemen. This assault will only increase the number of internally
displaced persons and exacerbate the humanitarian crisis in Yemen," he said in a statement.
"The Houthis' assault on Marib is the action of a group not committed to peace or to ending the war afflicting the people of
Yemen," Price said.
https://english.alarabiya.net/News/gulf/2021/02/16/US-foreign-policy-US-will-work-to-end-conflict-in-Yemen-Official
--------
US urges Iran-backed Houthis to halt 'assault' on Yemen's Marib
Joseph Haboush
16 February ,2021
The United States Tuesday called on the Iran-backed Houthi militia to halt its "assault" on Yemen's Marib.
"The Houthis' assault on Marib is the action of a group not committed to peace or to ending the war afflicting the people of Yemen," State Department Spokesperson Ned Price said in a statement.
Price's statement comes on the same day that Washington officially revoked the terrorist designation of the Houthis.
Marib is one of the Yemeni government's last strongholds in the north and Washington said Tuesday that the Houthi assault would "only increase the number of internally displaced persons and exacerbate the humanitarian crisis."
"The United States urges the Houthis to halt their advance on Marib and cease all military operations and turn to negotiations," Price said.
Despite the US move to remove the Houthis and their leaders from the terror list, the group has continued to attack Saudi Arabia and government-held areas in Yemen. Last week, the Houthis claimed a rocket attack that struck a civilian airplane at Saudi Arabia's Abha airport.
The Biden administration believes that its move to revoke the terror designation will facilitate Yemen's peace process. Analysts and former US officials dealing with Yemen over the last four years are skeptical.
On Tuesday, Price said: "If the Houthis are serious about a negotiated political solution, they must cease all military advances and refrain from other destabilizing and potentially lethal actions, including cross-border attacks on Saudi Arabia."
A senior UN official warned Tuesday that around two million civilians were at risk due to the Houthi offensive. UN Under-Secretary-General and Emergency Relief Coordinator Mark Lowcock said that "hundreds of thousands potentially" would be forced to flee "with unimaginable humanitarian consequences."
https://english.alarabiya.net/News/gulf/2021/02/16/Terrorism-US-calls-on-Iran-backed-Houthis-to-halt-assault-on-Yemen-s-Marib
--------
URL: https://www.newageislam.com/islamic-world-news/lebanons-hezbollah-leader-hassan-nasrallah/d/124328
New Age Islam, Islam Online, Islamic Website, African Muslim News, Arab World News, South Asia News, Indian Muslim News, World Muslim News, Women in Islam, Islamic Feminism, Arab Women, Women In Arab, Islamophobia in America, Muslim Women in West, Islam Women and Feminism