New Age Islam News Bureau
12 Sept 2013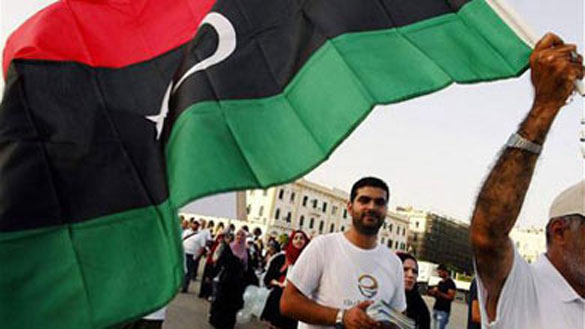 Supporters of the Justice and Construction Party, celebrate the end of the election campaign in Tripoli on July 5, 2012. (Reuters)
----------
Arab World
• Lebanon as 'Theatre of Surprise' In Syria War
• Iraq mosque suicide bomb, attacks kill 39
• Syria: 11 killed in regime air strike on field hospital
• Ancient Egyptian artefacts looted from Mit Rahina
• Syria agrees to sign Chemical Weapons Convention
• Muslim Brotherhood calls for further civil disobedience
• Free Syrian Army rebels reject Russian chemical arms plan
• Iraq vows to reinstate relations with Turkey
• Iraqi Sheikh Faces Divisions within Sunni Community
• Pakistani jailed for spying in UAE
North America
• US Pastor Terry Jones arrested after threats to burn Holy Quran
• Obama: 'Our hearts still ache' for Sept.11 victims
• CIA begins giving weapons to Syrian rebels: report
• NSA shares raw intelligence including Americans' data with Israel
• Largest U.S. Muslim group shuns controversial 9/11 March
• Kerry set to test Russia on the issue of Syria's chemical weapons
• White House: Russian prestige on the line in Syria
• US urges Syria to unveil chemical weapons stockpile
Pakistan
• Pakistani police nab 8 members of Al-Qaeda 'suicide squad'
• Balochistan unrest: 592 mutilated bodies found in last three years
• Pakistan talking to Afghan, US over release of Taliban detainees
• Jamaat-i-Islami backs talks to resolve Balochistan issue
• Enforced disappearance: Masood Janjua killed in Waziristan, SC told
• Pakistan to raise drone attacks issue at the UN, says FO
• Karachi law and order: 34 people arrested, weapons seized
• Three migrant labourers gunned down in Gwadar
• Prisoners swapped in Waziristan
India
• Deoband for CBI probe into Muzaffarnagar riots
• Muzaffarnagar violence: Over 10,000 displaced; 10,000 arrested
• Kashmir group to release music album as 'tribute' to Afzal Guru
• 26/11: India tells Pak to delay panel visit till Sept 19
• Indian trainee Jihadi faces trial in France
Europe
• Netherlands Apologizes for Indonesian Colonial Killings
• UK loses bid to extradite Indian-origin terror suspect to US
• Indians less happy than Pakistanis, Bangladeshis: UN report
• Russia offers four step plan for Syria arms handover: Report
Mideast
• Palestinians Frustrated As Israel Stalls Peace Talks
• Conference on Islamophobia to be held in Istanbul
• Tamarod's Gaza Campaign Denounced by Fellow Activists
• Thousands of Palestinians Perform Friday Prayers at Al-Aqusa Mosque
• Iran sanctions eased to allow cultural exchanges
• West Bank and Gaza divided 20 years later
• Turkish government mulls Kurdish plan amid PKK calls
• Yemen parties agree on federalism
Africa
• Libya Muslim Brotherhood mulls Cabinet withdrawal
• British militant 'killed by al-Shabaab in Somalia'
• Tuareg rebels clash with Mali army
• Laughing Salafist: Tunisian creates magazine to show Islamists can smile
Southeast Asia
• Indonesia: Islamic Parties Losing Popularity, Electability
• 'Tolerance Is Alive and Well in Indonesia'
• After 50 years, time to think as Malaysians first, says Nazri
• Philippine Muslim rebels attack second town
• One Killed in East Java Clash between Rival Islamic Groups
South Asia
• Many Madrasas in Nepal Still Reluctant To Adopt Modern Education
• Nasheed "will not be allowed to assume power" even if he wins election: PPM
• Freed prisoners in Pakistan not home yet, says Afghan Taliban
• Hefazat, Jamaat and terrorism in Bangladesh
• BNP-Jamaat behind London assault: Inu
Compiled by New Age Islam News Bureau
URL: https://www.newageislam.com/islamic-world-news/new-age-islam-news-bureau/lebanon-as--theatre-of-surprise--in-syria-war/d/13472
---------
Arab World
Lebanon as 'Theatre of Surprise' In Syria War
By: Sami Nader
Sep 12, 2013
The world today is waiting and worrying. The UN Security Council is waiting for the French draft resolution, which builds on the Russian offer to put Syrian chemical weapons under international control. US President Barack Obama is waiting anxiously, too. He wants to know whether this offer is more than a political manoeuvre and could be a reliable mechanism to avoid the tough test of Congress — which may weigh heavily on his legacy — and avoid a war he never wanted. And Lebanon, the tiny country, is waiting for its destiny and worrying about it also.
Despite the clarity of the international stance toward the Assad regime and the use of chemical weapons, despite the international and Arab support for the strike that US Secretary of State John Kerry has managed to cobble together in the past few days, and despite the fact that the US military is in standby mode to strike Syria without a UN umbrella — whether in terms of legitimate reasons, especially those related to using chemical weapons, or other reasons associated with the United States' credibility and its role in the Middle East — it remains uncertain whether Congress will endorse the president's decision to punish Syria.
The reason for the uncertainty is that the US electorate is against war. The other reason is ideological. Both the far-right Tea Party and the far-left are against the United States getting involved in the world's affairs. This is the new US isolationism.
Congress' mood will not change without pressure from Middle East lobbies, especially the pro-Israel lobby American Israel Public Affairs Committee (AIPAC). Will pressure groups be able to make the undecided Congress take a decisive decision, as happened in 1991, when, despite the hesitancy of some congressmen, Congress voted to punish the Iraqi regime for possessing weapons of mass destruction?
The statement issued by AIPAC on Sept. 3 was remarkable. The statement's tone was harsh and it contained a lot of details. That was peculiar because since the beginning of the Syrian crisis, Israel has been behaving like a bystander toward Syria. The Israelis did not have a unified assessment toward the ongoing events in Syria. Some, such as Israeli President Shimon Peres, criticized the brutality of the Assad regime, while others considered the Alawite regime a guarantee for Israel's security.
When Israel last bombed Syrian targets in May 2013, Netanyahu said, "The strike was directed against Hezbollah, not the Syrian regime." That statement accurately reflected Israel's concerns and its policy of remaining neutral toward the warring parties in Syria. At the same time, Israel was keen to control the rules of the game and keep the conflict within a framework set by Israel — one that does not harm Israeli security or interests. Also, Israel rejects being dragged into others' wars, or in accordance with conditions set by other parties.
Israel is mostly worried about Iran and its nuclear and nonnuclear capabilities more than anything else. In fact, the Israeli minister of technology and space said on Sept. 9 during the World Summit on Counter-Terrorism in Herzliya: "Iran, not Syria, is the biggest threat." He accused Iran of turning Syria into a platform for terrorist and ideological activities and into an Iranian base that threatens Israel's security.
As everyone knows, the confrontation in Syria is primarily against Iran because of the latter's military readiness. The confrontation with Russia doesn't go beyond the diplomatic framework, and Moscow quickly said that it wouldn't intervene in a military strike on Syria.
Although punishing the use of chemical weapons and maintaining the international order established following World War I are the legal bases for the planned strike, the strike's military and political dimensions — which have started becoming clear during the discussions of Congress and the statements by lobbies — is the confrontation with Iran.
Because of that, Lebanon finds itself in the eye of the storm. Lebanon, and not Syria, is the traditional battleground between Iran and Israel since after the Madrid Conference, whose sponsors excluded Iran from the negotiating table. That exclusion was the reason behind the Iran-backed "resistance" policy.
Since then, there have been bombings, indirect wars between Iran and Israel and wars between Hezbollah and Israel, the first of which was the 1996 Grapes of Wrath Operation and the second of which was the July 2006 war.
Assad said on Sept. 9 to the US CBS network that non-state actors — meaning Hezbollah — would respond if Syria is attacked. This shows who the true players are in that conflict and those responsible for responding to any "aggression."
Even though Syria will be the theatre of military operations this time if Congress approves a strike, the confrontation theatre may yet expand and turn Lebanon into a theater of surprises. Lebanon, in addition to being a breeding ground for security operations in various forms because of its weak central government and army, also remains Hezbollah's headquarters and the launching point for war with Israel.
Perhaps the first indicators of the fragility of the security situation were the US State Department's decision to reduce its Beirut staff and the French Embassy's request that its nationals exercise utmost caution. In that same context, Turkey decided to withdraw its United Nations Interim Force in Lebanon (UNIFIL) soldiers in charge of implementing UN Resolution 1701, issued in the wake of the war in July 2006.
Will Lebanon, the US-friendly country — as Kerry pointed out when speaking in the Senate a few days ago — and the entity which was established in 1920 with French support, participate in a coalition of the willing to punish a regime allied with Iran? Lebanon is a small country built on delicate demographic balances that regional storms can obliterate at any minute.
Those concerns were indirectly expressed by Druze leader Walid Jumblatt, who fears that a military strike on Syria may turn Lebanon into a launching pad to repel the US aggression, especially since Lebanon is the weakest link and that Congress's mandate doesn't allow for military action inside Lebanon. So the Lebanese arena remains the weak underbelly of the coalition forces — unless another party that is not shackled by congressional authorization gets involved.
Sami Nader is an economist, Middle Eastern affairs analyst and communications expert with extensive expertise in corporate strategy and risk management. He currently directs the Levant Institute for Strategic Affairs, focusing on economics and geopolitics of the Levant, and is a professor for USJ University in Beirut. On Twitter: @saminader
http://www.al-monitor.com/pulse/originals/2013/09/syria-lebanon-theater-surpsi.html#ixzz2efakTg6m
---------
Iraq mosque suicide bomb, attacks kill 39
2013-09-12
BAGHDAD: A suicide bombing against a Shia mosque as worshippers streamed out was the deadliest of attacks across Iraq that left at least 39 people dead on Wednesday, officials said.
Dozens were wounded in the bloodshed, and locals exacted a grim revenge on one man suspected of being a second attacker in the mosque bombing, which comes amid Iraq's worst bloodshed since 2008.
Authorities have sought to tackle the unrest with a string of measures ranging from massive security operations to implementing tight traffic restrictions in the capital in a bid to stem the number of car bombs.
But attacks have continued to hit much of the country, with more than 4,000 people killed in violence already this year.
The worst of Wednesday's violence struck the confessionally mixed north Baghdad neighbourhood of Waziriyah, where a suicide bomber blew himself up at a mosque at around 6:40 pm (1540 GMT) as worshippers were exiting following evening prayers.
At least 30 people were killed and 55 others wounded, security and hospital sources said, speaking on condition of anonymity.
Several nearby shopfronts were also badly damaged by the blast.
Immediately after the bombing, locals spotted a man they suspected was about to blow himself up as well, and gunned him down before setting his corpse ablaze, the sources said.
No group immediately claimed responsibility for the attack against the Tamimi mosque, a Shia place of worship, but Sunni militants linked to Al-Qaeda frequently set off attacks against Iraq's Shia majority.
Violence elsewhere in the country killed nine people, including four in the restive northern province of Nineveh.
In three separate attacks in the province, which remains one of Iraq's least stable, gunmen killed three people, among them a school principal who was shot dead at his house.
And in provincial capital Mosul, a magnetic "sticky bomb" attached to a car killed another person.
Two attacks in and around the ethnically-mixed city of Kirkuk left two dead, including a senior security official.
A sticky bomb killed one person in south Baghdad, and another died in a roadside bombing in a town on the capital's southern outskirts, while a gunman on a motorcycle killed a Sunni imam near the southern port city of Basra.
The surge in bloodshed has sparked concerns that Iraq is slipping back into the all-out sectarian war that plagued it in 2006 and 2007 leaving tens of thousands dead.
Officials have vowed to press on with a campaign targeting militants they say has led to the capture of hundreds of fighters and the killing of dozens more, as well as the dismantling of militant training camps and bomb-making sites.
But the government has faced criticism for not doing more to defuse anger in the Sunni Arab community over alleged ill-treatment at the hands of the Shia-led authorities, which analysts and diplomats say militant groups exploit on the ground to recruit and carry out attacks.
This month, an al-Qaeda front group claimed responsibility for a spate of car bombs in Baghdad that targeted Shiite areas and left 50 dead.
It has explicitly said attacks have been carried out in retribution for operations targeting Sunnis and the executions of convicted militants.
http://www.dawn.com/news/1042163/iraq-mosque-suicide-bomb-attacks-kill-39
---------
Syria: 11 killed in regime air strike on field hospital
Sep 12, 2013
A Syrian regime air strike on a field hospital in the northern province of Aleppo killed at least 11 people on Wednesday, the Syrian Observatory for Human Rights said.
"At least 11 people, including a doctor... were killed in an air strike on a field hospital in Al-Bab," the Britain-based monitoring group said.
On Monday, regime air strikes hit a school in the town, in northeast Aleppo province, which was being used as a base by the Islamic State of Iraq and the Levant -- an Al-Qaeda affiliate.
Elsewhere, jihadists killed at least 20 civilians in the central province of Homs on Tuesday, with members of the Qaeda-linked Al-Nusra Front among the assailants, said the Observatory.
Fighters from Al-Nusra and another rebel group attacked three Alawite villages near the city of Homs, said the group which gets its information from a network of activists, lawyers and medics.
"Fierce clashes broke out between rebels and army troops," Observatory director Rami Abdel Rahman told AFP.
The rebels entered the village of Maksar al-Hissan and killed 16 members of the Alawite sect, the religious community to which President Bashar al-Assad belongs.
They also killed four Bedouin residents of the village, the Observatory said.
Troops retook the village on Tuesday night, after clashes in which they lost two men and killed several members of Al-Nusra.
The region, which is mostly home to Alawites and Bedouin communities, has been largely free of fighting during the past year.
Government forces control most of the central province of Homs, parts of which have suffered some of the fiercest fighting and destruction in Syria's 30-month war.
http://english.alarabiya.net/en/News/middle-east/2013/09/11/Syria-11-killed-in-regime-air-strike-on-field-hospital-.html
---------
Ancient Egyptian artefacts looted from Mit Rahina
Sep 12, 2013
An investigation is underway into the looting of Ancient Egyptian artefacts from Mit-Rahina (once known as Memphis).
Antiquities Minister Mohamed Ibrahim has asked the prosecutor-general to question representatives from the Ancient Egyptian department at the antiquities ministry, the director of Mit Rahina archaeological site, and local guards and security personnel about the incident.
The story began last week when inspectors at Mit Rahina found the ceilings of two galleries at the site had been broken.
Full report at:
http://english.ahram.org.eg/NewsContent/9/40/81408/Heritage/Ancient-Egypt/Ancient-Egyptian-artefacts-looted-from-Mit-Rahina-.aspx
---------
Syria agrees to sign Chemical Weapons Convention
ATUL ANEJA
Sep 12, 2013
Russia wants assurance against any use of force; France wants provision to attack Syria
Syria has pledged to eliminate its chemical weapon stockpile under international supervision — a move that is likely to encourage diplomacy, which has now been backed by the United States following Russia's bold intervention to end the crisis.
Syria's Foreign Minister Walid Muallem had declared on Tuesday that his country was ready to take all steps leading to elimination of its chemical weapons arsenal — an initiative that would culminate in Damascus signing the Chemical Weapons Convention (CWC).
Full report at:
http://www.thehindu.com/news/international/world/syria-agrees-to-sign-chemical-weapons-convention/article5117670.ece
---------
Muslim Brotherhood calls for further civil disobedience
Mounir Adib
Sep 12, 2013
Egypt's Muslim Brotherhood has called for further civil disobedience after a similar announced two weeks ago largely failed when political groups and civilians did not respond.
In a statement by the National Alliance in Support of Legitimacy on Wednesday, Brotherhood-affiliated campaigners called on "revolutionaries" across Egypt to resume activism against the "military coup" through a sustained wave of civil disobedience.
Full report at:
http://www.egyptindependent.com/news/muslim-brotherhood-calls-further-civil-disobedience
---------
Free Syrian Army rebels reject Russian chemical arms plan
Sep 12, 2013
The rebel Free Syrian Army categorically rejected Thursday a Russian proposal for placing Syria's chemical arms under international control, and called for regime officials to be brought to justice.
The Syrian National Coalition opposition group also rejected the initiative, saying it is a "political manoeuvre aimed at buying time" for the regime of President Bashar al-Assad.
Full report at:
http://www.hurriyetdailynews.com/free-syrian-army-rebels-reject-russian-chemical-arms-plan.aspx?pageID=238&nID=54314&NewsCatID=352
---------
Iraq vows to reinstate relations with Turkey
Sep 12, 2013
Turkey and Iraq have reached an agreement to reinstate bilateral ties, Iraqi Parliament Speaker Osama al-Nujaifi stated in a meeting with his Turkish counterpart, Cemil Çiçek.
"In a meeting we had today with Prime Minister [Recep Tayyip] Erdogan, we reached an agreement to put the relationship between the two countries back on track, back to its normal flow," al-Nujaifi said yesterday.
Full report at:
http://www.hurriyetdailynews.com/iraq-vows-to-reinstate-relations-with-turkey.aspx?pageID=238&nID=54287&NewsCatID=352
---------
Iraqi Sheikh Faces Divisions Within Sunni Community
By: Mushreq Abbas
Sep 12, 2013
It is difficult to talk about establishing a religious authority for Iraq's Sunnis, despite the numerous attempts made in this regard since 2003. The most recent attempt came following the outbreak of protests in major Sunni cities at the end of last year, where Sheikh Abdul Malik al-Saadi emerged as an authority for the Sunni protesters.
Yet, months later, some of these protesters refused to obey him given that he is opposed to the establishment of a Sunni federal region in Iraq.
Full report at:
http://www.al-monitor.com/pulse/originals/2013/09/iraqi-sunnis-struggle-to-find-authority.html#ixzz2efaMdKi7
---------
Pakistani jailed for spying in UAE
Sep 12, 2013
ABU DHABI: A top Emirati court on Wednesday jailed a Pakistani man for three years for spying for a foreign country, the official WAM news agency said.
The Federal Supreme Court ruled that the Pakistani, who worked as a "driver at a sensitive government department," had been recruited by an intelligence officer at a foreign embassy in the United Arab Emirates.
The man had supplied photographs of meetings in the Gulf country between UAE officials and foreign delegates, WAM reported.
The Pakistani had confessed to having received 30,000 dirhams (more than $8,000) from the officer whom he met several times at the embassy headquarters and at the Iranian hospital in Dubai, said WAM.
Full report at:
http://www.dawn.com/news/1042155/pakistani-jailed-for-spying-in-uae
--------
North America
US Pastor Terry Jones arrested after threats to burn Holy Quran
September 12, 2013
MIAMI: A controversial Florida pastor was arrested Wednesday before he planned to burn almost 3,000 copies of the Holy Quran on the anniversary of the 9/11 attacks, US media reported.
Terry Jones, 61, was detained in the town of Mulberry, near Tampa, and faces charges of transporting fuel illegally and openly carrying a firearm, the Orlando Sentinel said.
Deputies said Jones was riding in a pickup truck that was towing a trailer carrying a large barbecue like grill filled with kerosene soaked copies of the Holy Quran. He also had extra bottles of the fuel inside the truck bed, the Sentinel reported.
Full report at:
http://tribune.com.pk/story/603326/us-pastor-terry-jones-arrested-after-threats-to-burn-holy-quran/
---------
Obama: 'Our hearts still ache' for Sept.11 victims
Sep 12, 2013
U.S. President Barack Obama on Wednesday mourned the lives lost 12 years ago in the September 11, 2001 attacks, saying "our hearts still ache" for the nearly 3,000 people killed.
Against the backdrop of possible US military action against Syria, Obama marked the 12th anniversary of the Sept.11attacks first at the White House, and then at a solemn Pentagon ceremony attended by families of Sept.11victims and senior officers.
"We pray for the memory of all those taken from us -- nearly 3,000 innocent souls," Obama said.
"Our hearts still ache for the futures snatched away, the lives that might have been," he said.
"They left this Earth. They slipped from our grasp."
Quoting the Bible, Obama spoke of "the miracle of restoration," paying tribute to the resilient spirit of victims' families, saying he was "amazed at the will that you've summoned in your lives to lift yourselves up and to carry on."
Full report at:
http://english.alarabiya.net/en/News/world/2013/09/11/Obama-Our-hearts-still-ache-for-Sept-11-victims.html
---------
CIA begins giving weapons to Syrian rebels: report
September 12, 2013
The United States has begun funneling weapons and technical equipment to rebel fighters in Syria, the Washington Post reported late on Wednesday.
Citing US and Syrian sources, the US daily wrote that the CIA had begun delivering shipments of lethal aid in the past fortnight.
The newspaper reported on its website that the US State Department has sent separate shipments of vehicles and other materials, including new types of non-lethal gear, sophisticated communications equipment and advanced combat medical kits.
Full report at:
http://www.hindustantimes.com/world-news/Americas/CIA-begins-giving-weapons-to-Syrian-rebels-report/Article1-1120984.aspx
---------
NSA shares raw intelligence including Americans' data with Israel
Glenn Greenwald, Laura Poitras and Ewen MacAskill
Sep 12, 2013
The National Security Agency routinely shares raw intelligence data with Israel without first sifting it to remove information about US citizens, a top-secret document provided to the Guardian by whistleblower Edward Snowden reveals.
Details of the intelligence-sharing agreement are laid out in a memorandum of understanding between the NSA and its Israeli counterpart that shows the US government handed over intercepted communications likely to contain phone calls and emails of American citizens. Full report at:
http://www.theguardian.com/world/2013/sep/11/nsa-americans-personal-data-israel-documents
---------
Largest U.S. Muslim group shuns controversial 9/11 march
Sep 12, 2013
The Council on American-Islamic Relations, the largest Muslim civil rights and advocacy organization in the United States, has said it will not participate in or endorse the "Million American March Against Fear" on the anniversary of the Sept. 11 attacks.
"We're concerned that the event has aligned itself with so-called 9/11 truthers," Ibrahim Hooper, CAIR's communications director, told Al Arabiya.
Full report at:
http://english.alarabiya.net/en/News/world/2013/09/11/Largest-U-S-Muslim-group-shuns-controversial-9-11-march.html
---------
Kerry set to test Russia on the issue of Syria's chemical weapons
AP | Sep 12, 2013
WASHINGTON: US secretary of state John Kerry is seeking to ensure that a Russian proposal to secure Syria's chemical weapons will be intrusive and enforceable enough to bolster a new diplomatic initiative to hold Syria to account for using the banned arms.
The hastily arranged trip comes as the White House tries to pin the success or failure of the diplomatic track on Russia's willingness to take a tough line with its ally Syria. Syrian rebels, however, are disappointed at best in President Barack Obama's decision to forgo a military strike in favour of an agreement to take access to chemical weapons away from President Bashar Assad.
Full report at:
http://timesofindia.indiatimes.com/world/us/Kerry-set-to-test-Russia-on-the-issue-of-Syrias-chemical-weapons/articleshow/22510219.cms
---------
White House: Russian prestige on the line in Syria
AP | Sep 12, 2013
WASHINGTON: The White House tried on Wednesday to pin the success or failure of a diplomatic option to secure Syria's chemical weapons on Russia rather than the United States as secretary of state John Kerry headed for Geneva to work on a Russian proposal for international inspectors to seize and destroy the deadly stockpile.
With the public focus on diplomacy rather than military might, Vice President Joe Biden and senior White House officials summoned House Democrats and Republicans for classified briefings as a follow-up to President Barack Obama's nationally televised address in which he kept the threat of US airstrikes on the table and said it was too early to say whether the Russian offer would succeed.
Full report at:
http://timesofindia.indiatimes.com/world/us/White-House-Russian-prestige-on-the-line-in-Syria/articleshow/22497997.cms
-------
US urges Syria to unveil chemical weapons stockpile
September 12, 2013
Washington called Thursday on the Syrian regime to quickly declare the scope and size of its chemical weapons stockpile as secretary of state John Kerry arrived in Geneva for high-stakes talks.
Backed by a large team of US experts, Kerry was to hold talks later in the day with his
Russian counterpart Sergei Lavrov on Moscow's proposal to secure and destroy Syria's chemical weapons.
Full report at:
http://www.hindustantimes.com/world-news/americas/US-urges-Syria-to-unveil-chemical-weapons-stockpile/Article1-1121147.aspx
---------
Pakistan
Pakistani police nab 8 members of Al-Qaeda 'suicide squad'
Sep 12, 2013
Eight members of an Al-Qaeda suicide squad, including their local handler, have been arrested by Pakistani security agencies in past week, officials said on Wednesday.
The arrested men, who claimed to be students, included an Arab national who was picked from Punjab University hostel last week.
While investigators earlier suspected that they were part of the Pakistani Taliban, sleuths said their connections to Al-Qaeda have been established.
The arrested men had completed special jihadi training in North Waziristan tribal region and are said to be experts in information technology, communications and making improvised explosive devices (IEDs).
Full report at:
http://www.thehindu.com/news/international/south-asia/pakistani-police-nab-8-members-of-alqaeda-suicide-squad/article5116752.ece
---------
Balochistan unrest: 592 mutilated bodies found in last three years
2013-09-12
QUETTA: The home and tribal affairs department of Balochistan Wednesday revealed that 592 mutilated dead bodies have been found in the last three years from different parts of the militancy-hit province of Pakistan.
According to documents obtained by Dawn.com, police and other law enforcers have found 592 bullet-riddled bodies since 2010 to September 2013.
The documents indicate an increase in recovery of mutilated bodies during the current year in different volatile parts of Balochistan province, the least developed of the country.
Full report at:
http://www.dawn.com/news/1042164/balochistan-unrest-592-mutilated-bodies-found-in-last-three-years
---------
Pakistan talking to Afghan, US over release of Taliban detainees
PTI | Sep 12, 2013
ISLAMABAD: Pakistan on Thursday said it is in consultation with Afghan and US authorities over the release of Taliban detainees to help the reconciliation process in the war-torn neighbouring country.
Pakistan has already released about 33 detainees since last year and has decided "in principle" to release prominent Afghan Taliban leader Mullah Baradar at an "appropriate time".
Asked if the government was in contact with the Afghan government and the US over the release of the detainees, foreign office spokesperson Aizaz Ahmad Chaudhry said," Pakistan government, Afghan authorities and the US are in consultations on the release of these detainees".
Full report at:
http://timesofindia.indiatimes.com/world/pakistan/Pakistan-talking-to-Afghan-US-over-release-of-Taliban-detainees/articleshow/22514798.cms
---------
Jamaat-i-Islami backs talks to resolve Balochistan issue
AMANULLAH KASI
Sep 12, 2013
QUETTA: Jamaat-i-Islami has demanded of the government to solve the Balochistan problem by halting military operation because this will pave the way for negotiations.
Speaking at a press conference on Wednesday, Liaquat Baloch, the secretary general of the Jamaat-i-Islami, said a framework should be formulated before convening an all-party conference on Balochistan issue in Quetta.
Full report at:
http://www.dawn.com/news/1042313/ji-backs-talks-to-resolve-balochistan-issue
---------
Enforced disappearance: Masood Janjua killed in Waziristan, SC told
September 12, 2013
ISLAMABAD: The Supreme Court was informed on Wednesday that according to the statement of an Inter Services Intelligence (ISI) officer, Masood Janjua and Faisal Faraz had been killed in South Waziristan Agency.
However, the court has directed the applicant Amna Masood Janjua to submit the list of witnesses today regarding the alleged abduction of her husband by spy agencies.
According to her petitions, Dr Imran Munir, in his statement to JIT on December 5, 2009, claimed that he had seen her husband in the custody of ISI Brigadier Mansoor Saeed Sheikh between July 28, 2006 and the second week of March 2007 in a cell in Westridge area in Rawalpindi.
Full report at:
http://tribune.com.pk/story/603291/enforced-disappearance-masood-janjua-killed-in-waziristan-sc-told/
---------
Pakistan to raise drone attacks issue at the UN, says FO
September 12, 2013
ISLAMABAD: Foreign Office spokesperson Aizaz Ahmed Chaudhry said on Thursday that the issue of drone strikes will be brought up at the United Nations, Express News reported.
In a briefing in Islamabad, Chaudhry said that drone attacks violate the sovereignty of Pakistan. He confirmed that Pakistan had released 33 Afghan Taliban prisoners in an attempt to aid reconciliation in Afghanistan
The whereabouts of some of these prisoners is now unknown.
No action should be taken against Syria without the permission of the United Nations, he added further.
Full report at:
http://tribune.com.pk/story/603350/pakistan-to-raise-drone-attacks-issue-at-the-un-says-fo/
---------
Karachi law and order: 34 people arrested, weapons seized
September 12, 2013
KARACHI: Targeted operations in many parts of the city led to the arrests of 34 people since yesterday, weapons were also seized, Express News reported Thursday.
Alleged target killer Asif and four others were arrested during raids in Garden, Fawara Chowk and Ram Swami this morning. They were taken to an unknown location for further investigation.
Full report at:
http://tribune.com.pk/story/603334/karachi-law-and-order-34-people-arrested-weapons-seized/
---------
Three migrant labourers gunned down in Gwadar
2013-09-12
GWADAR: The bodies of three migrant labourers who were abducted the previous night from near Balochistan's port city of Gwadar were found dumped in the nearby hills on Thursday, officials said.
The victims had been picked up by unknown gunmen the previous night from a stone-crushing plant at Sansar, around 70 kilometres north of the Gwadar port.
Levies officers told DawnNews that all three bodies bore bullet wounds. The whereabouts of a fourth kidnapped man, the owner of the plant, were still unknown.
Full report at:
http://www.dawn.com/news/1042385/three-migrant-labourers-gunned-down-in-gwadar
---------
Prisoners swapped in Waziristan
2013-09-12
LADHA, Sept 11: Security forces and the banned Tehreek-i-Taliban Pakistan (TTP) swapped prisoners in South Waziristan on Wednesday in what has been described as a confidence-building measure ahead of formal peace negotiations.
According to sources, six Taliban prisoners were handed over in exchange for two security personnel in Shoyee Khel area of Shawal subdistrict.
However, the ISPR denied the report. An official said no swap of prisoners had taken place and the report in this regard was just a rumour.
Full report at:
http://www.dawn.com/news/1042302/prisoners-swapped-in-waziristan
-------
India
Deoband for CBI probe into Muzaffarnagar riots
Sep 12, 2013
Darul-uloom Deoband (DUD) rejecting the state government's decision to hold judicial probe into communal violence in Muzaffarnagar and adjoining districts, has demanded CBI probe in the case.
The DUD vice chancellor Maulana Mufti Abdul Qasim Noamani said that the judicial inquiry ordered by the UP government would not serve the purpose. He said only CBI would be able to hold impartial probe in the violence. The judicial probe is not acceptable to the community, he said and added that the government had failed to protect the human lives and properties in the violence.
Full report at:
http://www.hindustantimes.com/India-news/lucknow/Deoband-for-CBI-probe-into-Muzaffarnagar-riots/Article1-1120790.aspx
---------
Muzaffarnagar violence: Over 10,000 displaced; 10,000 arrested
TNN | Sep 12, 2013
LUCKNOW: Five days after communal violence broke out in Muzaffarnagar, the western UP district and the adjoining areas remained on the edge. Although no fresh violence was reported on Wednesday, more than 10,000 people have been displaced after the violence that claimed 38 lives since Saturday. Based on feedback received from the local administrations, however, the administration lifted curfew in the riot-affected areas from 12 noon to 5 pm on Wednesday.
Full report at:
http://timesofindia.indiatimes.com/india/Muzaffarnagar-violence-Over-10000-displaced-10000-arrested/articleshow/22499187.cms
---------
Kashmir group to release music album as 'tribute' to Afzal Guru
Sep 12 2013
Four days after the Sher-e-Kashmir park near Lal Chowk in Srinagar resonated with songs protesting a performance by Zubin Mehta and Bavarian State Orchestra, Jammu and Kashmir Coalition of Civil Society and organisers of the counter-concert titled Haqeeqat-e-Kashmir announced Wednesday an album "tribute" to Parliament attack convict Afzal Guru.
Guru was hanged in Tihar Jail earlier this year.
Full report at:
http://www.indianexpress.com/news/kashmir-group-to-release-music-album-as--tribute--to-afzal-guru/1168042/
---------
26/11: India tells Pak to delay panel visit till Sept 19
Sep 12 2013
New Delhi : India has proposed another date to host a Pakistani judicial commission, which will cross-examine key witnesses in the Mumbai 26/11 terror attacks case. Home Minister Sushil Kumar Shinde Wednesday said due to the ongoing 'Ganesh Chaturthi', India has requested Pakistan to postpone the visit of the panel till September 19.
Initially, India and Pakistan had agreed for the second visit of the Pakistani commission on September 7. But later Pakistan put off the visit and proposed September 11 as the fresh date. However, New Delhi declined to entertain the request citing 'Ganesh Chaturthi' in Maharashtra.
http://www.indianexpress.com/news/2611-india-tells-pak-to-delay-panel-visit-till-sept-19/1167907/
---------
Indian trainee jihadi faces trial in France
Sep 12, 2013
Mohammad Niaz Abdul Rasheed, an Indian national, who was arrested at the Paris Charles de Gaulle airport in 2011 on the suspicion of running terror recruitment cells in France, was produced in the Paris criminal court on Tuesday. Seven other men were also arrested for being part of the group that French authorities claim were planning terror attacks. Niaz is supposed to have been the "mastermind" and leader of the group and had been scouting for young people to send to Pakistan for terror training.
Full report at:
http://www.hindustantimes.com/world-news/Europe/Indian-trainee-jihadi-faces-trial-in-France/Article1-1120881.aspx
---------
Europe
Netherlands Apologizes for Indonesian Colonial Killings
Sep 12, 2013
Almost 67 years after thousands of Indonesian men were summarily executed in South Sulawesi as part of a ruthless campaign to crush a rebellion against Dutch colonial rule, the Netherlands on Thursday officially apologized and announced a proposal to compensate victims of similar "excesses."
Dutch Ambassador to Indonesia Tjeerd de Zwaan spoke at the Dutch embassy compound in South Jakarta on Thursday morning, addressing an assembled crowd of reporters and relatives of those killed in the aftermath of Indonesia's declaration of independence on Aug. 17, 1945.
"The… violence claimed many innocent victims on both sides and resulted in suffering that is still felt today in both Indonesia and the Netherlands," he said.
Full report at:
http://www.thejakartaglobe.com/news/jakarta/netherlands-apologizes-for-indonesian-colonial-killings/
---------
UK loses bid to extradite Indian-origin terror suspect to US
Sep 12, 2013
The UK government on Wednesday failed to overturn a European Court ruling blocking the extradition to the US of a British Indian terror suspect accused of conspiring with radical Islamic cleric Abu Hamza.
Sending Haroon Aswat — a British citizen of Gujarati origin — to the US could lead to a deterioration in his mental health, breaching his human rights, the European Court of Human Rights had ruled in April.
Full report at:
http://www.thehindu.com/news/international/world/uk-loses-bid-to-extradite-indianorigin-terror-suspect-to-us/article5116898.ece
---------
Indians less happy than Pakistanis, Bangladeshis: UN report
Indrani Bagchi, TNN | Sep 11, 2013
NEW DELHI: The gloomy state of the economy bothering you? Or is it the soaring price of onions? Or maybe the pervasive corruption in public life? Take your pick. Indians rank 111th in the UN's just published Happiness Report, registering what we knew already: the declining quality of life in India. The US (at 17th position), for instance is less happy than Mexico, while India is less happy than both Pakistan (at 81) and Bangladesh (108). South Asia has by and large shown a greater dip in the happiness quotient. Between 2005-07 and 2010-12 Indians showed a decrease in happiness.
Full report at:
http://timesofindia.indiatimes.com/india/Indians-less-happy-than-Pakistanis-Bangladeshis-UN-report/articleshow/22492120.cms
---------
Russia offers four step plan for Syria arms handover: Report
Sep 12, 2013
Russia has handed the United States a plan for the Syrian regime to hand over its chemical weapons in four stages, starting with Damascus becoming a member of the Organisation for the Prohibition of Chemical Weapons, a report said Thursday.
The plan, first announced by Moscow this week, aims to avert threatened US military action in retribution for a chemical weapons attack outside Damascus that the West says was perpetrated by the Syrian regime.
Full report at:
http://www.hurriyetdailynews.com/russia-offers-four-step-plan-for-syria-arms-handover-report.aspx?pageID=238&nID=54312&NewsCatID=359
--------
Mideast
Palestinians Frustrated As Israel Stalls Peace Talks
By: Daoud Kuttab
Sep 12, 2013
A quick roundup of statements by Palestinian leaders to the press and details of discussions with Western officials reveal an increase in the level of frustration in the peace talks with Israel. Regardless, it is clear that the Palestinians have no interest in scuttling the nine-month time frame of the negotiations, possibly due to the staggered dates for releasing long-term Palestinian prisoners.
Of interest, none of the statements credited to Palestinian leaders include President Mahmoud Abbas or the chief negotiators, Saeb Erekat and Mohammad Shtayyeh. Palestinian and Israeli leaders have made a commitment to US Secretary of State John Kerry to keep the talks secret, with only the United States being authorized to make statements regarding the peace process.
Full report at:
http://www.al-monitor.com/pulse/originals/2013/09/palestinian-israel-talks-stalled.html#ixzz2efbFeCtf
---------
Conference on Islamophobia to be held in Istanbul
Sep 12, 2013
A conference on Islamophobia focusing on the topics of law and media will be held on Sept. 12 and 13 in Istanbul.
The conference, titled "International Conference on Islamophobia: Law & Media," which is organized by the Directorate General of Press and Information (BYEGM) and the Organization of Islamic Cooperation (OIC), will gather Turkish and international contributors to talk about the fear of Islam.
Full report at:
http://www.hurriyetdailynews.com/conference-on-islamophobia-to-be-held-in-istanbul.aspx?pageID=238&nID=54296&NewsCatID=341
---------
Tamarod's Gaza Campaign Denounced by Fellow Activists
Sep 12, 2013
RAMALLAH, West Bank — Following the ouster of Egyptian President Mohammed Morsi in early July, much confusion has arisen regarding the Tamarod campaign in Palestine. Multiple groups in Gaza and the West Bank carrying the same name have emerged in recent months.
The name originally belonged to the Egyptian movement, which claimed that it had gathered more than 22 million signatures supporting the overthrow of Morsi and organized a day of mass protests on June 30. Yet, the unverifiable and hyperbolic statistics of more than 30 million Egyptians protesting in the streets, as well as the unseating of Morsi by the army a few days later, has led many to question the grass-roots nature of Tamarod, and whether it was connected to the greater scheme of a military coup.
Full report at:
http://www.al-monitor.com/pulse/originals/2013/09/tamarod-palestine-qawem-westbank.html#ixzz2efbpCRdy
---------
Thousands of Palestinians Perform Friday Prayers at Al-Aqsa Mosque
Palestine News Network
Sep 12, 2013
Thousands of Palestinian worshipers from the West Bank and Jerusalem headed since the early hours of the morning to Al-Aqsa Mosque in Jerusalem to pray in the first Friday of the holy month of Ramadan.
Palestinian official news network WAFA reported that hundreds of Palestinians lined up at the Israeli checkpoints to enter Jerusalem.
Full report at:
http://english.pnn.ps/index.php/national/5168-thousands-of-palestinians-perform-friday-prayers-at-al-aqsa-mosque
---------
Iran sanctions eased to allow cultural exchanges
RICK GLADSTONE
Sep 12, 2013
The Obama administration on Tuesday eased longstanding restraints on humanitarian and good-will activities between Iran and the United States, including athletic exchanges. It was at least the second U.S. government relaxation of Iranian sanctions this year and came as Iran's new President, Hassan Rouhani, has signalled his desire to improve relations.
The Treasury Department's Office of Foreign Assets Control, which oversees the sanctions on Iran, said in a statement that it had cut the bureaucracy for obtaining exemptions in order to expedite the provision of health services; disaster relief, wildlife conservation; and human rights projects in the country. Also authorised are "activities related to sports matches and events, the sponsorship of sports players, coaching, refereeing and training, in addition to other activities".
Full report at:
http://www.thehindu.com/news/international/world/iran-sanctions-eased-to-allow-cultural-exchanges/article5117904.ece
---------
West Bank and Gaza divided 20 years later
Jillian Kestle
12 Sep 2013
Ramallah, Occupied West Bank - Andaleeb Shehadeh has not entered a West Bank classroom in more than a decade.
"[My] studies are not available in Gaza, or in any other country in the region," Shehadeh told Al Jazeera over the phone from the Gaza Strip. "I can have a permit for two days, three days, one week in the West Bank. Two weeks ago, I was in the West Bank for five days. But to study, it's another issue."
Full report at:
http://www.aljazeera.com/indepth/features/2013/09/2013911104915200109.html
---------
Turkish government mulls Kurdish plan amid PKK calls
Sep 12, 2013
Turkish officials held an emergency meeting yesterday to finalize a long-expected democracy package that would meet some of the demands of Kurdish political groups amid a new promise by outlawed Kurdish militants to support "democratic protests" to force the government to take action on the issue.
"We will continue our deliberations on the content of the democracy package on Friday. It's a very comprehensive package and aims to meet the needs of different segments of our society. We are hoping to conclude our assessments on Friday," Deputy Prime Minister Besir Atalay told reporters after the three-hour long meeting.
Full report at:
http://www.hurriyetdailynews.com/turkish-government-mulls-kurdish-plan-amid-pkk-calls.aspx?pageID=238&nID=54299&NewsCatID=338
---------
Yemen parties agree on federalism
Sep 12, 2013
Participants in Yemen's national reconciliation talks have agreed on the principle of changing the Arab republic into a federal state, Foreign Minister Abu Bakr al-Kurbi said on Wednesday.
"There is an agreement on the principle of federalism," Kurbi told AFP on the sidelines of a conference in Dubai.
But differences remain on the number of regions proposed by each party, he said.
Southern delegates to the national dialogue are demanding a federal state consisting of north and south Yemen, while northerners are proposing more than two entities, according to sources close to the talks.
Full report at:
http://english.alarabiya.net/en/News/middle-east/2013/09/11/Yemen-parties-agree-on-federalism-minister-.html
---------
Africa
Libya Muslim Brotherhood mulls Cabinet withdrawal
12 September 2013
Libya's Muslim Brotherhood is threatening to quit the cabinet of Prime Minister Ali Zeidan, angry over a visit to Cairo they claim served to legitimize the coup in neighboring Egypt.
The threat further adds to tensions in a country already suffering from a blockade of oil terminals by disgruntled employees that has slashed vital exports and ongoing unrest, accentuated by a car bomb Wednesday in the restive eastern city of Benghazi.
Zeidan travelled to Egypt last week and met interim president Adly Mansour, as well as General Abdel Fattah al-Sisi, who led the July 3 popularly-backed coup that ousted President Mohamed Mursi, who hails from Egyptian branch of the Brotherhood.
Full report at:
http://english.alarabiya.net/en/News/middle-east/2013/09/12/Libya-Muslim-Brotherhood-mulls-Cabinet-withdrawal-.html
---------
British militant 'killed by al-Shabaab in Somalia'
Sep 12, 2013
Two Islamist militants – one British and one American – have been killed in Somalia after falling out with the al-Shabaab terror group, according to reports.
A British citizen of Pakistani origin going by the name Osama al-Britani, was killed in an early morning attack in a village near the capital Mogadishu, according to the BBC. Other reports however said he may have been Egyptian.
Full report at:
http://www.telegraph.co.uk/news/worldnews/africaandindianocean/somalia/10304160/British-militant-killed-by-al-Shabaab-in-Somalia.html
---------
Tuareg rebels clash with Mali army
12 Sep 2013
Three Malian soldiers have been wounded in the first clashes with Tuareg rebels since the two sides signed a ceasefire deal in June, the army has said,
A Malian capitain warned the clash could endanger the truce.
The fighting took place near the western town of Lere and comes a week after President Ibrahim Boubacar Keita was sworn in, highlighting simmering tensions as he seeks to secure an end to cycles of uprisings by northern rebels.
Full report at:
http://www.aljazeera.com/news/africa/2013/09/20139124595414296.html
--------
Jihadists put missile target to vote
CHRIS STEPHEN
2013-09-12
TRIPOLI: Libya is tense for the anniversary of the killing of the US ambassador Chris Stevens on Wednesday after a jihadist group posted an online picture of a missile and asked respondents to its Facebook page to "vote" for one of three targets to fire it at.
The previously unknown group, Islamic Emirate of Libya, asks respondents to help choose the target, listing Libya's general national congress, "embassies" and the Thunderbolt special forces brigade in Benghazi with a caption: "Where would you like us to put this missile?"
It added: "With the approach of the global day of horror for the infidels and the Apostates, Sept 11, there will be a bombing."
Full report at:
http://www.dawn.com/news/1042249/jihadists-put-missile-target-to-vote
---------
Southeast Asia
Indonesia: Islamic Parties Losing Popularity, Electability
Sep 12, 2013
Anew survey on the popularity and electability of political parties in the country showed that more and more people were losing faith in Islamic parties.
Out of five Islam-based political parties in a survey by the Alvara Research Centre conducted in July and August, none made it to the top five parties in the country in terms of popularity and electability.
"They are in the bottom of the list. Islamic parties are very weak and they continue to weaken," said Hasanuddin Ali, founder and president director of Alvara, in a press conference on Wednesday.
Full report at:
http://www.thejakartaglobe.com/news/islamic-parties-losing-popularity-electability/
---------
'Tolerance Is Alive and Well in Indonesia'
Sep 12, 2013
For many foreigners, Indonesia is often seen as a country where intolerance is on the rise, but for others who have been working deep in the archipelago, such statements have no bearing.
"Sometimes people in the Western world think that there is intolerance, but actually it is exactly the opposite here. You feel embraced, and I think Indonesia is a hidden gem," Gen. Andre Cox, the international leader of the Salvation Army said on Wednesday.
Speaking on the sidelines of a lunch with partners and friends of the Salvation Army, Cox said he had traveled to many isolated parts of the country, including areas not frequented by Westerners, and never experienced reticence from the locals.
Full report at:
http://www.thejakartaglobe.com/news/tolerance-is-alive-and-well-in-indonesia/
---------
After 50 years, time to think as Malaysians first, says Nazri
BY SHERIDAN MAHAVERA
SEPTEMBER 12, 2013
Datuk Seri Mohamed Nazri Abdul Aziz believes that his contributions to Malaysia pale in comparison to that of Datuk Nicol David or Datuk Lee Chong Wei, who both wield racquets in the country's name.
"I am nothing compared to Nicol's contributions. She has done so much for Malaysia on the world stage," the Umno veteran and Tourism and Culture Minister tells The Malaysian Insider.
Yet the pride that he expresses towards the world squash champion and badminton ace is tempered with pain when he thinks of how some Malay-Muslims feel towards people like Nicol and Lim.
Full report at:
http://www.themalaysianinsider.com/malaysia/article/after-50-years-time-to-think-as-malaysians-first-says-nazri
---------
Philippine Muslim rebels attack second town
12 Sep 2013
Muslim rebels have attacked a second town in the Philippines while they continue to hold scores of hostages in a standoff with government forces in a nearby city.
Roderick Furigay, the vice-mayor of Lamitan in Basilan province, told the Associated Press news agency that rebels attacked the town early on Thursday. He claimed five people were missing and two had been wounded in the fighting.
Full report at:
http://www.aljazeera.com/news/asia-pacific/2013/09/201391221531251298.html
--------
One Killed in East Java Clash Between Rival Islamic Groups
Sep 12, 2013
A long-delayed parade celebrating Indonesia's Independence Day was marred by violence on Wednesday as tensions between rival Islamic leaders boiled over in the latest instance of sectarian-tinged bloodshed to stain East Java.
The parade re-ignited a long-standing feud in Jembar, East Java, between Muhdor al-Hamid, an Islamic leader from Tanggul subdistrict, and Ali al-Habsyi, a popular leader from the neighboring Puger subdistrict. The two men — and their followers — have been embroiled in a dispute spanning nearly a decade that has become steeped in allegations of jealousy and religion baiting.
Full report at:
http://www.thejakartaglobe.com/news/one-killed-in-east-java-clash-between-rival-islamic-groups/
---------
South Asia
Many Madrasas in Nepal Still Reluctant To Adopt Modern Education
Sep 12, 2013
KATHMANDU, Sept 12: Clad in white kameez-suruwal, Pir Mohmmad Miya, 26, was solving a math problem on a board with a red marker on a recent afternoon. His students were attentive to what Miyan was telling them while writing on the board.
The classroom where Miyan was teaching looks like just any other classroom. The only difference is: The boys were wearing white Topis and the girls were in Hijab, a black scarf that covers their heads.
"We believe in modern education," says Miyan, who looks like a typical Muslim youth with his long beard. "But, we have not renounced conventional education, either."
Miyan, who works at Madrasa Islamiya School, which is adjacent to Nepali Jama Masjid, one of Nepal´s oldest mosques, says a combination of modern and conventional education is what Muslim children need now.
Full report at:
http://www.myrepublica.com/portal/index.php?action=news_details&news_id=61274
---------
Nasheed "will not be allowed to assume power" even if he wins election: PPM
By Mohamed Naahee | September 11th, 2013
Running mate of the Progressive Party of Maldives (PPM)'s Presidential Candidate Abdulla Yameen, Dr Mohamed Jameel, has declared that opposition Maldivian Democratic Party (MDP)'s Presidential Candidate and former President Mohamed Nasheed "will not be allowed to assume power", even should he emerge as the clear winner in the run-off election scheduled to take place on September 28.
The provisional results of last Saturday's presidential election showed the MDP finishing the race on top with 45.45 percent of the popular vote or 95,224 votes. The PPM came second with 53,099 votes – 42,125 votes less than the MDP – while the Jumhooree Coalition led by resort tycoon Gasim Ibrahim came third with 50,422 votes and incumbent President Mohamed Waheed Hassan finishing the race at the bottom with just 10,750 votes – 5.13 percent.
Full report at:
http://newageislam.com/islamic-world-news/new-age-islam-news-bureau/eighty-nine-percent-pakistanis-say-suicide-bombing-is--never-justified---pew-report/d/13461
---------
Freed prisoners in Pakistan not home yet, says Afghan Taliban
September 12, 2013
ISLAMABAD: None of the Afghan Taliban prisoners freed by the Pakistani government have reached their homes yet, said a Taliban source on Wednesday.
Moreover, neither have the freed militants been handed over to the Afghanistan Embassy in Islamabad nor to the country's diplomatic missions in Pakistani provincial capitals.
Pakistan released a group of seven Afghan Taliban prisoners on Saturday to "further facilitate the Afghan reconciliation process," as described by a foreign ministry statement.
Full report at:
http://tribune.com.pk/story/603240/the-waiting-game-freed-prisoners-in-pakistan-not-home-yet-says-afghan-taliban/
---------
Hefazat, Jamaat and terrorism in Bangladesh
Sep 12, 2013
No, no, no! I am not supposed to have any sympathy for the Hefazat folks. They are backward looking, superstitious and always undermining women: our mothers, sisters, daughters and wives. Their 13-point demands are a reflection of yesteryears where most Bangladeshis do not want to go back to.
Yet many teachers and students of madrasas and orphanages represented by Hefazat are now being branded as terrorists and face the threat of being strangulated financially. A large number of otherwise ordinary people, often stereotyped by the metropolitan types as our "distant rural cousins," would face loss of support if their madrasas and orphanages were closed down.
Full report at:
http://www.dhakatribune.com/op-ed/2013/sep/11/hefazat-jamaat-and-terrorism-bangladesh
---------
BNP-Jamaat behind London assault: Inu
Sep 12, 2013
Information Minister Hasanul Haq Inu on Thursday said main opposition party BNP and its key ally Jamaat-e-Islami were behind the assault on him during London visit.
The minister made the accusation while talking to journalists at the Shahjalal International Airport on his return from London around 8:40am.
Claiming that BNP and Jamaat instigated the assault, Inu said: "The reason behind the assault was not personal enmity; rather it was political."
On Monday, unidentified miscreants assaulted the minister at the London studio of private satellite television channel ATN Bangla. He went there to take part in a live talk show.
Full report at:
http://www.dhakatribune.com/politics/2013/sep/12/bnp-jamaat-behind-london-assault-inu
---------
URL: https://www.newageislam.com/islamic-world-news/new-age-islam-news-bureau/lebanon-as--theatre-of-surprise--in-syria-war/d/13472