New Age Islam News Bureau
15 Jun 2012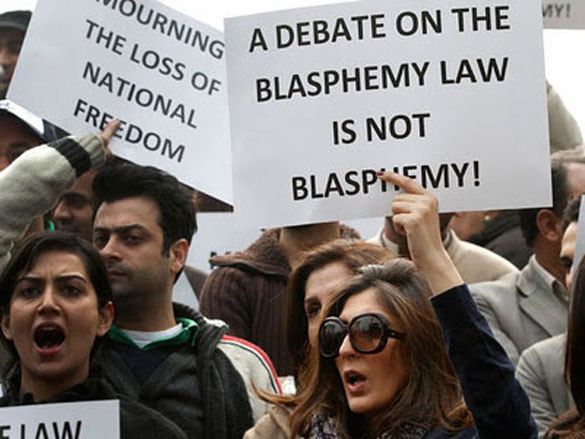 India
• Lashkar-e-Taiba resumes online jihad
• Support Congress, extract Muslim reservation: Shahi Imam of Delhi
• 'Militant still using Pakistan for a "hate India campaign": Indian FM
• India's presence in Afghan trilateral may send Pak into tizzy
• Kashmiri Pandits to move court over killings
• LeT car-bomber module busted in Srinagar
• Jinnah's 1947 speech not with us: AIR
Pakistan
• Pakistani judges pressured to convict people accused under blasphemy law: UN
• Christian-Muslim leaders promoting national solidarity in Pakistan
• Pakistan's most revered social worker 'under Taliban threat'
• At least 15 militants killed in Dir, Orakzai
• Pak media caught on wrong foot on real estate tycoon's scandal
• AWAM serving Christian-Muslim handicapped persons in Pakistan
• Pakistani Christian demand repeal of blasphemy law; PCP poll
• Four killed in Karachi violence
• Take strict action against CJ's son, tycoon: Pak apex court
South Asia
• Bangladeshi prostitution ring busted in Male'
• Afghan neighbours try to tackle issues together
• Karzai calls on Pakistan to help end Afghan war
• Afghan meet emphasises regional solutions
• Rising ethnic clashes could tarnish Myanmar's 'Asia's next big frontier market' image
Southeast Asia
• Publishing company burns books 'defaming' Prophet
• 'Pornographic Novels' Found in Bandung Elementary Schools in Bandung, Indonesia
• Amnesty Calls for Release of Jailed Indonesian Atheist
• Activist Killing Sparks Riot in Indonesia's Papua
Mideast Asia
• Jihad: Rabbis teach racism to Israeli kids
• Iran arrests suspects over nuclear scientists' murders
• Yemeni army advances on third rebel-held town; 40 militants killed near Shaqra
• Yemeni Army Claims Major Advance in Campaign Against Al Qaeda
Arab World
• Syrian Forces Use Sexual Violence against Men, Women, Children: HRW
• Syrian government warns of possible suicide bombings at mosques
• Syria violence kills 52 as uprising enters month 16
• Syria: Christians fleeing to government areas from Sunni Islamic terrorist networks
• 'Stench of dead bodies' in Syria's Haffe: UN
• Brotherhood defiant as Court dissolves Parliament
• Egypt's Muslim Brotherhood warn of 'dangerous' days
• Syrian Liberators, Bearing Toy Guns
North America
• 'US in talks on arms handover to CAsia'
• Muslim and Jewish students debate Islamophobia and anti-Semitism
• 9/11 kingpin seeks army attire for Gitmo trial
• Obama Speaks With Saudi King amid Syria, Iran Concerns
• America persuades India to expand Afghan footprint
Africa
• In the new Libya, lots of guns and calls for Shariah
• Libya Refuses to Release Hague Court Workers
• Tunisia bans rival protests set for Friday
• Pleads guilty to seeking Somalia terror training for jihad
• Islamist militants taking advantage of chaos in Mali
• Libya revokes Muammar Gaddafi praise law
• Militants Defecting to Somali Side after Losses
Europe
• Russia 'not supplying' attack helicopters to Syria: ministry
• 10 British-Pakistani drug dealers jailed for over 48 years
• Myanmar refugees adrift, turned back by Bangladesh: UN
• France's Afghanistan pullout starts within weeks: Hollande
• Time running out for Kofi Annan's Syria peace plan: Britain
Compiled by New Age Islam News Bureau
Photo: Pakistani judges pressured to convict people accused under blasphemy law: UN
URL: https://www.newageislam.com/islamic-world-news/new-age-islam-news-bureau/lashkar-e-taiba-resumes-online-jihad/d/7631
----------
India
Lashkar-e-Taiba resumes online jihad
PRAVEEN SWAMI
Jun 15, 2012
Four years after it was forced to shut down its website in the wake of the 26/11 Mumbai attacks, the Lashkar-e-Taiba's parent organisation has re-established its presence in cyberspace.
In a video address posted online when the website went online on Wednesday, Jama'at-ud-Dawa chief Hafiz Muhammad Saeed explained the decision. "The media is a two-edged sword," said Mr Saeed, the alleged architect of the 26/11 attacks, in the 5.53 minute video. "Rather than being overwhelmed by the media, we wish to use it in a positive way and, god willing, use it to spread our message of proselytisation and jihad."
Mr. Saeed's message is studied in its moderation. The website says the Jamaat-ud-Dawa "nullifies [sic., throughout] all kinds of violent ideologies that resort to use of force against innocents souls anywhere in the world." Instead, it says, the organisation "struggles for the restoration of Pakistan's true Ideology of Islam that should stand as an example for Muslim world."
Interestingly, it makes no mention of terrorism-related charges that recently led the United States to announce a $1 million reward for information leading to Mr. Saeed's arrest. Instead, it notes that Mr. Saeed toured the United States in 1994, lecturing on "Islamic Perspectives of Raising Children."
The internet registry service www.who.is does not hold ownership details for the Jama'at website, but records it is hosted by the Karachi-based internet service Magsnet. Magsnet's website says it is a marketing and web development firm whose clients include Nokia, Telenor, Standard Chartered and Barclays.
Experts said the moderate language did not necessarily reflect a change in Jama'at thinking. "The content itself is not significant," said Steven Tankel, a scholar who has written extensively on the group, "because the 1.0 version of Jama'at website was similarly measured when it came to anything linked to militancy." However, he said, it was "significant that Pakistan's security establishment has allowed the group to re-launch its website."
Prior to its proscription after the 2001-2002 India-Pakistan crisis, the internet had enabled the Markaz Dawa wal'Irshad — an earlier name for the Jama'at —to emerge as a magnet for western jihadists. Though several jihadists simply showed up at the Markaz offices for training, Dr. Tankel has written, "for those looking to plan a bit more in advance, web site provided contact information."
Following the United States' invasion of Iraq, the website called fighters to join the jihad there. "The Americans are dishonouring our mothers and sisters," it stated. "Therefore, jihad against America has now become mandatory."
The website was shut down in 2002 — but soon resumed operations, under the new name.
Earlier this year, as first reported by The Hindu, the Jama'at launched a Facebook page which contained considerable violent propaganda. In a poster for a March 23, 2010 rally, slogans were superimposed over an image of burning Taj Mahal Hotel in Mumbai: "free Kashmir, Pakistan's lifeline, from the enemy"; "freedom of the Muslims of Gujarat, Hyderabad, Ahmedabad and the rest of India"; "save Pakistan's parched rivers."
Jama'at leaders have used similar language in several recent public rallies. Middle-East Media Research Institute analyst Tufail Ahmad has recorded, for example, that Mr. Saeed called in one speech last year for a war "against the Hindu so that the greatness of the jihad can be evident."
http://www.thehindu.com/news/national/article3529067.ece
----------
Support Congress, extract Muslim reservation: Shahi Imam of Delhi
Jun 15 2012
Lucknow: Shahi Imam of Delhi's Jama Masjid Syed Ahmed Bukhari has asked Samajwadi Party president Mulayam Singh Yadav to give conditional support to the Congress nominee for the President's post, provided the Congress agrees for a constitutional amendment to provide for reservation for Muslims. "Mulayam had promised reservation to Muslims in the light of Sachar Committee recommendations by declaring all Muslims as backward. He should exert pressure on the Congress for a constitutional amendment for reservation for Muslims," he said in a statement.
http://www.indianexpress.com/story-print/962262/
----------
'Militant still using Pakistan for a "hate India campaign": Indian FM
15 JUNE 2012
India's foreign minister has said the mastermind behind the 2008 Mumbai attacks is still using Pakistan for a "hate India campaign."
External Affairs Minister SM Krishna said that the peace process between the South Asian rival nations would continue but that Pakistan has to help "checkmate" terrorist groups for relations to be normalised.
Krishna will visit Pakistan next month. He said India only has to look on Pakistani television to see that militant leader Hafiz Mohammad Saeed remains free.
"Assurances have been given to India by the leadership of Pakistan that Pakistan territory is not going to be used for anti-India activities," Krishna said after attending high-level US-India talks in Washington.
"But we know for a fact and have evidence and we can see it on Pakistani TV that the brains behind the Mumbai attack, led by Hafiz Saeed, goes scot-free in Pakistan, still carrying on a hate India campaign," he said.
"This does not connect very well with a nation's intention if it was to extend the hand of friendship to normalize relations," Krishna said.
Foreign secretaries of India and Pakistan will meet in New Delhi next month to review the bilateral dialogue process and this will be followed by a meeting of the foreign ministers in Islamabad, the Foreign Office announced in Islamabad.
http://www.dailypioneer.com/world/73143-militant-still-waging-hate-war-from-pak.html
----------
India's presence in Afghan trilateral may send Pak into tizzy
Jun 14, 2012
India and the United States on Wednesday pledged to hold a regular trilateral dialogue with Afghanistan, signaling a long-term commitment to stability in the war-ravaged country in the face of Pakistan's depredations.
As India and US formally launch a trilateral dialogue with Afghanistan, red flags would be popping up all over Pakistan. As a sign of the degree of worsening of ties between the US and Pakistan, the announcement of the new trilateral during the US-India strategic dialogue in Washington is also a pointer to some of deft diplomatic moves that New Delhi will have to undertake in the coming years.
"Today we agreed to move forward with a formal trilateral consultation among our three nations (India, US and Afghanistan," announced US secretary of state, Hillary Clinton. It comes at a time when US defence secretary Leon Panetta has recommended to the US Congress that they should put conditions on the release of the $3.5 billion aid to Pakistan, basing them on "what we expect them to do".
Full report at:
http://timesofindia.indiatimes.com/india/Indias-presence-in-Afghan-trilateral-may-send-Pak-into-tizzy/articleshow/14132415.cms
----------
Kashmiri Pandits to move court over killings since 1990
Naseer Ganai/ Srinagar
Jun 15, 2012
THE Kashmiri Pandit Sangharsh Samiti (KPSS) on Thursday said it would approach the Jammu and Kashmir High Court to seek prosecution of those responsible for killing 209 Pandits since 1990.
"We dispute the figure (209) presented by the government.
Nevertheless, we will approach the high court and seek prosecution of the murderers," KPSS president Sanjay Kumar Tickoo said.
Chargesheets have been presented in 12 cases. " But no one has been convicted.
All other cases have been shown as untraced," he said.
"For the past two decades, the government has failed to bring even a single accused to justice. Instead of following each case meticulously, the Jammu and Kashmir Police described the Pandits as untraced. We will seek reopening of all the cases and action against all those police officers who ordered closure of the cases," Tickoo added.
Mail Today
----------
LeT car-bomber module busted in Srinagar
Jun 14, 2012
SRINAGAR: A Lashkar-e-Taiba (LeT) car-bomber module planning to carry out explosions in the city was busted and five of its operatives were arrested, the Jammu and Kashmir Police said Thursday.
Addressing a media conference here, Deputy Inspector General of Police (central Kashmir) Afadul Mujtaba said: "We have busted an LeT module planning to carry out car bomb explosions in the city... Five operatives of the module belonging to south Kashmir areas of Pulwama and Tral have been arrested."
On May 17, a car heavily laden with explosives was seized and the explosives defused on the city's outskirts.
"An LeT explosive expert who is a foreigner had devised the car bomb which was detected in time and defused through a controlled explosion in Nowgam area of the city on May 17 by us.
"The explosive material used to prepare the bomb was locally procured by the militants. It comprised of gelatin sticks used locally for rock blasting," he said.
Police arrested the LeT operatives during the course of the probe in the case.
"With the arrest of five operatives of the module, we have successfully averted the possibility of the militants carrying out car bomb explosions in the city," the officer said.
http://timesofindia.indiatimes.com/india/LeT-car-bomber-module-busted-in-Srinagar/articleshow/14134618.cms
----------
Jinnah's 1947 speech not with us: AIR
Jun 15, 2012
NEW DELHI: India does not have a recording of M A Jinnah's 1947 ``secular speech'' according to state-run All India Radio. The hunt for the elusive speech in which Pakistan's founder expressed his support for a secular state ended in disappointment.
The Pakistan Broadcasting Corporation (PBC) had written to AIR asking for a copy of Jinnah's speech to the Constituent Assembly on August 11, 1947.
A senior official said, ``We have looked for the speech but have not found it. There are two other recordings we have of Jinnah's speeches — both made in 1947— but they do not include any reference to a secular state as mentioned by PBC.''
Full report at:
http://timesofindia.indiatimes.com/india/Jinnahs-1947-speech-not-with-us-AIR/articleshow/14141016.cms
----------
Pakistan
Pakistani judges pressured to convict people accused under blasphemy law: UN
May 30, 2012
Islamabad: May 30, 2012. (RTT News) A United Nations human rights expert has urged the Pakistani government to address several remaining challenges to ensure the independence of the country's judicial system.
"The independence of the judicial system in Pakistan should be reinforced as a matter of priority so as not to lose the gains from the democratic transition," U.N. Special Rapporteur on the independence of judges and lawyers, Gabriela Knaul, said in a statement on Tuesday after completing a 11-day mission to the country.
Working in an unpaid capacity, independent experts, or special rapporteurs, were appointed by the Geneva-based U.N. Human Rights Council (UNHRC) to examine and report back on a country situation or a specific human rights theme. Knaul's mission was the first one in 13 years to Pakistan by an independent expert of the Council.
While in Pakistan, the Special Rapporteur met the country's Chief Justice as well as senior government officials, judges, lawyers, academics, members of professional organizations, and representatives of civil society, the U.N. and international organizations.
Existence of two superior courts in the Constitution of Pakistan is "problematic and leaves space for interpretations which might be contradicting," the expert noted, referring to the country's Supreme Court and the Federal Shariat Court.
She also voiced concern about the number and nature of reported cases of serious threats and attacks of judges and lawyers, noting that physical security is an essential condition for all actors in the judicial system to be able to carry out their duties without hindrance or interference.
"The judiciary must be properly equipped and resourced," Knaul stressed. "Judges, prosecutors and lawyers lack adequate facilities, such as electricity, water and sanitation, offices, waiting rooms, libraries, and support staff, especially at the level of lower courts," she noted.
Mrs. Gabriela Knaul took her functions as Special Rapporteur on the Independence of Judges and Lawyers on 1 August 2009. She has more than 10 years of experience as a judge in Brazil and is an expert in criminal justice, particularly on issues of due process, sentencing and execution of sentences, as well as the administration of judicial systems.
She has worked with prison directors as a judicial supervisor to ensure the respect and protection of the human rights of prisoners and detainees in a variety of detention environments, including high-security prisons. Prior to being appointed as a Special Rapporteur, Mrs. Knaul worked with the National Judicial Council of Brazil on a project to enhance the functioning of the Judiciary, in particular the independence and impartiality of judges, but also the effectiveness of the judicial system.
As Special Rapporteur, she visited Bulgaria, Colombia, Mexico, Mozambique and Romania on official missions and has participated in several academic and professional events of judges, magistrates and lawyers in Amsterdam and The Hague (the Netherlands), Dakar (Senegal), Geneva (Switzerland), Istanbul (Turkey), Kiev (the Ukraine), Male (Maldives), Mar del Plata (Argentina), Montevideo (Uruguay), Praia City (Cape Verde), Seoul (Republic of Korea), and Tegucigalpa (Honduras).
http://www.pakistanchristianpost.com/viewnews.php?newsid=1817
----------
Christian-Muslim leaders promoting national solidarity in Pakistan
May 27, 2012
Sargodha: May 27, 2012. (PCP) "We need the social harmony in the country more than before". These were the words of Syed Qurban Shah Guest of honour from Sargodha
During the thought provoking gathering conducted under the banner of National Council for inter-faith Dialogue (NCIFD) held on May 23, 2012. He said that the seminars should go beyond just speeches. He told the 58 participants of the conference that he invites the other sects and the Christian as well and in is mosque he has dedicated a special place for Christians to pray whenever they wish to do so.
He lamented that in such programs all the religious leaders claim to be the heralds of peace but as soon they go to their respective places their words are different and are not helpful for peace and solidarity. He urged the leaders and the participants," As you have shown your concern to come together to talk about the national solidarity, you need not be serious to be the promoter of this cause." He ended by saying that the heart and tongue should go together.
After the recitation of the Holy Bible and the Holy Quran, Mr. Busharat Masih told an event in Mianwali that their group had organized providing water on the 10th Muharam when the Shaia community remembrances the Karbala massacre. He said that the Shia community was very happy for the concern of the Christians. As a consequence, he continued the civil society of Mianalwali conducted sasta (cheap) bazaar for the Christians on the New Year day. They wished to the Christians and the whole atmosphere of the city was fraternal and it had positive effects on the minds and hearts of all communities.
He ended by saying that the religious leaders can bring revolution if they opt to promote peace and harmony through their preaching.
Fr. Sohail Patrick; the parish priest of Mariakhel said that the religion is an experience of the love of the creator. The experience of God is a very personal thing and each human being has to promote this peace through word and especially actions. He said that God is love and this love has not reached to all the people on this planet.
Fr. Samson Dilawar; the chief guest and parish priest of Samanabad Lahore said that once fire broke out and people all around were trying to stop the fire for further destruction. One sparrow was bringing water in her beak and throwing on fire. She was asked what benefit her small quality of water would do. She said when history will be written then her name will be remembered among the ones who tried to quench fire. He said that each person has to work to promote peace and national solidarity in Pakistan.
Fr. Inayat Bernard; the director of NCIFD and parish priest of Anarakali, Lahore said in his introduction and inaugural speech that the council tries to conduct seminars. Conferences, press conferences, workshops for women, youth, workers and celebrate national and international days among all the religions. He continued that the council always tries to highlight and bring the soft image of Pakistan in and around the world. He urged that all means of print and electronic media should be used to promote understanding and tolerance among religions. He suggested some practical points to teach the kids at the school level to live and let live. He prayed that all participants of both the religions may become heralds of Solidarity and ambassadors of peace.
Fr. Francis Nadeem; National Coordinator and parish priest of St. Joseph Church, Lahore Cantt, said in his presidential speech, "We like to make our country a peaceful place to live". He said that the harmony has to be created in our preaching and action in life. He said we need to come close to each other by attending such programs where our vision is broadened. The dialogue, he continued, promotes closeness and lessens distances. He stressed to put all these values into practice which will definitely bring fruit and we can live in a peaceful society.
At the end before cutting his 63rd birthday cake , the host Fr. Mukhatar Alam red out his poem about tolerance and asked the participants to work for human rights and struggle together to be recognized in the country as the Christian community. He said that the blood of an animal was put in the foundation of the building but in the human family the generosity is to be cherished and love of human beings is to be promoted.
http://www.pakistanchristianpost.com/viewnews.php?newsid=1816
----------
Pakistan's most revered social worker 'under Taliban threat'
Jun 15, 2012
KARACHI: Pakistan's most revered social worker has been given round-the-clock protection against an alleged Taliban threat, officials said Friday.
Abdul Sattar Edhi, 85, runs the country's largest charity, which operates hundreds of ambulances and shelters for women, children and the destitute.
Described as a "living saint" for his modest lifestyle and charitable crusade, Edhi has won international peace awards and is one of Pakistan's most popular figures.
But for the first time he now has round-the-clock police protection in Karachi, Pakistan's largest city of 18 million where he is based.
"There is a threat to him by Tehreek-e-Taliban Pakistan (TTP), which wants to kidnap him and use him to get their detained militants released in exchange," a Pakistani security official told AFP on condition of anonymity.
Two armed policemen, who each work a 12-hour shift, have been going everywhere with Edhi since June 5, the official said.
Aslam Khan, a senior police official, said "a letter containing a hit-list has been intercepted, which includes Edhi and two police officials, including me," he said.
Khan and Rao Anwar, the other police official on the alleged hit list, have both narrowly escaped bomb attacks in Karachi claimed by the TTP.
Khan's house was flattened by a powerful bomb on September 19, 2011, while he was sleeping. He escaped unhurt but eight people were killed.
Anwar was in an armoured personnel carrier on April 5 when it was rammed by a motorcyclist laden with explosives, killing four people.
Edhi said he was carrying on regardless. "I have accepted the guards, but that won't deter me from doing my job to serve my people," he told AFP.
But Edhi's son and deputy, Faisal, told AFP that the Taliban had visited his father's office on June 6 to assure him that he was not a target.
"They told my father that they respect him and admire whatever he does, and won't target him ever," Faisal told AFP.
http://dawn.com/2012/06/15/abdul-sattar-edhi-under-taliban-threat/
----------
At least 15 militants killed in Dir, Orakzai
Jun 15 2012
ORAKZAI: At least six militants were killed by Pakistani forces, in an act of retaliation, at the Pak-Afghan border on Thursday, DawnNews reported.
Pakistani forces opened their fire after they were attacked by the militants from the other side of the border.
The incident took place in the mountain region of upper Dir area.
Meanwhile in Orakzai agency's Mamuzai area, jet-bombing of the Pakistani forces killed at least nine militants and their hideouts were also demolished.
According to the sub-collector Hameed Khan, "Jet-bombing of the Pakistani security forces on suspected militant hideouts, at least nine militants were killed and six hideouts were destroyed in Mamuzai area of Orakzai."
"Ninety two percent of Orakzai area is not under the control of the militants, " security sources said.
http://dawn.com/2012/06/15/at-least-15-militants-killed-in-dir-orakzai/
----------
Pak media caught on wrong foot on real estate tycoon's scandal
Jun 15 2012
Islamabad: Pakistan's rambunctious electronic media was today embroiled in a fresh controversy after the emergence of videos that showed two top TV anchors discussing questions and coaching Malik Riaz Hussain, a real estate tycoon, on answers during an interview.
The two videos of behind the scenes footage, posted on YouTube and other social media sites, showed anchors Mubashir Lucman and Meher Bukhari discussing questions and rehearsing answers during the interview with Malik Riaz Hussain, a tycoon who has acknowledged paying Rs 342.5 million to the Chief Justice's son to influence cases in the Supreme Court.
The footage appeared to have been shot during advertisement breaks in a two-hour interview of Hussain that was aired live by Dunya TV channel late on Wednesday night.
At one point, Lucman is shown purportedly receiving a phone call from Prime Minister Yousuf Raza Gilani's son Abdul Qadeer, who also speaks to the tycoon.
Full report at:
http://www.indianexpress.com/story-print/962389/
----------
AWAM serving Christian-Muslim handicapped persons in Pakistan
June 10, 2012
Lahore: June 10, 2012. (PCP) Association of Women for Awareness and Motivation (AWAM) organized a two-day training workshop entitled "Empowering the Activists to Advocate for the Rights of Persons with Disabilities", aimed at enhancing the understanding of participants about human rights and disability concepts and framework, sensitizing them for their vital role towards advocacy for human rights of people with disabilities, and capacitating them with working tools and skills to address a wide range of disability issues. Naseem Anthony (Executive Secretary-AWAM), Muhammad Jawwad Afzal (Deputy Director-DGSE), Shazia George (Coordinator-AWAM), Dr. Khalid Jamil and Nazia Sardar (Director-AWAM) were among the facilitators of the training workshop held on May 27-28, 2012 at Dar-ul-Kalam in Lahore, and joined by 28 Muslim and Christian participants including people with disabilities, lawyers, journalists, teachers and representatives of civil society organizations from Lahore, Faisalabad, Toba Tek Singh, Jhang and Okara.
Full report at:
http://www.pakistanchristianpost.com/headlinenewsd.php?hnewsid=3572
----------
Pakistani Christian demand repeal of blasphemy law; PCP poll
June 9, 2012
Islamabad: June 9, 2012. (PCP) 85% voted in favor to repeal blasphemy law in Pakistan while 11% rejected any amendment or repeal and 4% reserved their right in poll conducted by Pakistan Christian Post PCP.
The controversial Blasphemy laws in Pakistan have targeted Christians, Hindus, Ahamdi and some Muslim sects on business rivalry and to settle scores by Sunni Muslims who are in majority.
The Blasphemy law was introduced in sub-continent of India by British Colonial rulers through 1935 India Act to maintain religious harmony among different religious communities and to prevent hate speeches which carried 3 month jail and fine.
The blasphemy laws maintained as part of constitution of Pakistan after independence of Pakistan in 1947 and same were legislated in constitution of 1973 of Islamic Republic of Pakistan with section 298 A and B punishable up to three to six months or fine.
Military ruler General Zia-Ul-Haq in a bid to Islamization in Pakistan added Section 295 A and B in Pakistan Penal Code in blasphemy law punishable to life in prison instead of six months sentence in 1986
Full report at:
http://www.pakistanchristianpost.com/viewnews.php?newsid=1820
----------
Four killed in Karachi violence
Jun 15 2012
KARACHI: Four people were killed in latest incidents of violence in Karachi, DawnNews reported on Friday.
One person was shot dead in the city's North Karachi area and another was killed in an incident of firing in the Garden area.
In an incident of firing on Jahangir Road, one person was killed and two others were wounded. The area became tense in the aftermath of the firing.
Moreover, in the city's SITE area, a policeman was shot dead and another was wounded.
Four 'target killers' arrested
Four 'target killers' were arrested in an operation carried out by police personnel in Karachi's Garden and Kharadar areas, SSP South said.
The four, Saeed Pathan, Iqbal alias Arif Gul, Shahid and Mohammad alias Baba, are also alleged to have associations with political parties.
The police recovered four hand grenades, four 7-MM guns and four TT pistols from the suspects' possession.
The four are alleged to be involved in over 30 incidents of targeted killings.
http://dawn.com/2012/06/15/four-killed-in-karachi-violence-2/
----------
Take strict action against CJ's son, tycoon: Pak apex court
Jun 15 2012
Islamabad : Noting that one who gives and accepts bribe goes to hell, Pakistan's Supreme Court on Thursday wrapped up its suo motu case involving Chief Justice's son Arsalan Iftikhar and real estate tycoon Malik Riaz Hussain and asked government's top attorney to take strict legal action.
The case involved alleged payment of Rs 342.5 million by Hussain to Chief Justice Iftikhar Chaudhry's son. A two-judge bench comprising Justices Jawwad Khawaja and Khilji Arif Hussain ordered Attorney General Irfan Qadir to proceed according to the law and take action against Hussain, his London-based son-in-law Salman Khan and Arsalan.
The bench disposed of the case after issuing a short order, which said that the three men had the right to a transparent trial. The apex court ruled that Hussain, the founder of the real estate firm Bahria Town, had acknowledged that he had tried to buy justice by giving bribes but had shown no regret for his actions.
Full report at:
http://www.indianexpress.com/story-print/962093/
--------
South Asia
Bangladeshi prostitution ring busted in Male'
By Ahmed Nazeer | June 12th, 2012
Police have arrested five Bangladeshi men and three Bangladeshi women in a crackdown on a Bangladeshi prostitution ring.
The five were arrested last night after raiding Mahchangolhi Rauha house, a place allegedly used for prostitution.
Police conducted a special operation on Monday night and entered the house with a court warrant. There were four rooms in the house and police saw illegal sexual activities carried out in three of the four rooms when they attended the scene, police said.
According to police, officers discovered items used for sexual activities and lots of foreign and Maldivian currency.
Police said the investigation into the case had revealed that the money was obtained through prostitution.
Furthermore, police advised landlords to find out who the tenants were before renting out their houses.
In April this year, police arrested seven Bangladeshi nationals over alleged involvement in a prostitution ring on premises suspected of operating as brothels.
The suspects – four female and three male – were apprehended during raids by police officers inside Ranfaunu house, based in the Mahchangolhi ward of Male' on 9 April.
Last October, a prostitution ring that had trafficked Sri Lankan girls to Maldivian resorts via Male' for the past six years was busted by Sri Lankan police, and is now being investigated by local authorities.
Last Saturday police arrested four Thai women and one Maldivian man for involvement in illegal sexual activities inside a beauty salon in Male'.
In May, two people were arrested at the "New Age" beauty salon for sexual misconduct.
In April police arrested two Thai women and two local men on prostitution charges after raiding a Male'-based business called 'Maldivian Care'.
In March police arrested five Thai nationals and three male Maldivians inside 'Herbal Beauty Salon', located on the second floor of Maafannu Sherrif.
Lots of beauty salons in Male' have been closed on prostitution charges after the new government came to power.
http://minivannews.com/society/bangladeshi-prostitution-ring-busted-in-male-38915
----------
Afghan neighbours try to tackle issues together
Jun 15 2012
KABUL: Afghanistan's neighbors and regional heavyweights met in Kabul on Thursday to do something they rarely do – try to tackle common threats and problems together.
With NATO's combat mission ending in 2014, the region's countries are being called on to help stabilize Afghanistan by joining forces to resolve regional problems such as extremism, drug-trafficking, poor coordination on economic issues and, most importantly, terrorism. Any cooperation, however, is bound to share the stage with longtime neighborhood rivalries, the ongoing war in Afghanistan and a fragile effort to reach a peace accord with the Taliban.
In opening the one-day conference, Afghan President Hamid Karzai said the head of the government-appointed peace council will travel soon to Saudi Arabia and Pakistan to seek the two nation's continued help in talking peace with the Taliban in hopes of ending decades of war.
Full report at:
http://dawn.com/2012/06/14/afghan-neighbors-try-to-tackle-issues-together/
----------
Karzai calls on Pakistan to help end Afghan war
Jun 15 2012
KABUL: Afghan President Hamid Karzai called Thursday for greater international cooperation to stabilise his war-torn country and defeat militants, during the latest round of talks on the future of Afghanistan.
Representatives from 29 countries gathered in Kabul for the day-long conference, just weeks after Nato agreed at a summit in Chicago to stick to plans to withdraw the bulk of 130,000 foreign combat troops from Afghanistan by the end of 2014.
The Taliban have begun this year's annual fighting season with a series of attacks which saw US Defense Secretary Leon Panetta admit last week that violence was rising.
Karzai said the help of neighbouring countries and international powers was vital to economic growth and peace in his impoverished country.
He called on Pakistan directly to support nascent efforts to end the 10-year war in Afghanistan.
"Support from these global powers and our neighbours is very important to Afghanistan and to the continued progress of Afghanistan towards stability and economic development," Karzai told delegates.
Full report at:
http://dawn.com/2012/06/14/karzai-calls-on-pakistan-to-help-end-afghan-war/
----------
Afghan meet emphasises regional solutions
VLADIMIR RADYUHIN
Jun 15 2012
In the context NATO-led forces pullout in 2014
Russia, China and other participants in a key international conference in Kabul emphasised regional solutions for Afghanistan in the context of the coming pullout of the NATO-led forces in 2014.
Addressing the 29-nation ministerial-level conference on Thursday, Russia's Foreign Minister Sergei Lavrov praised its decision to establish working groups for fighting terrorism and drug trafficking. The groups will interact with the Shanghai Cooperation Organisation and the Russia-led Collective Security Treaty Organisation.
"The regional dimension is acquiring added relevance in the light of the coming withdrawal of the coalition forces, which creates serious security risks for the region," Mr. Lavrov told the Heart of Asia Conference on Afghanistan.
"I am confident that more streamlined and coordinated regional efforts and the honouring of commitments assumed by members of the international community will promote a stable development of long-suffering Afghan land and the wellbeing of its people; will help resurrect an independent, peaceful and neutral Afghanistan, free from terrorism and drug-related crime."
Full report at:
http://www.thehindu.com/news/international/article3528877.ece
--------
Rising ethnic clashes could tarnish Myanmar's 'Asia's next big frontier market' image
Jun 15, 2012
Rangoon: Increasing violence between the decades-old ethnic divisions in remote areas of Myanmar could tarnish the country's new image as Asia's next big frontier market, according to a report.
Nearly 29 people were killed in clashes between local Buddhists and stateless Rohingya Muslims since June 8 in Rakhine State.
President Thein Sein declared a state of emergency in the area on Sunday and warned the country that further bloodshed could set back its continuing transformation.
According to some analysts, that military leaders will put the brakes on further overhauls, even as democracy icon Aung San Suu Kyi tours Europe and Western investors study whether it is time to invest in Myanmar, The Wall Street Journal reports.
Some analysts warned that the more open political climate that has evolved in Myanmar over the past year has allowed people to use new freedoms to reopen old wounds.
Full report at:
http://timesofindia.indiatimes.com/world/south-asia/Rising-ethnic-clashes-could-tarnish-
--------
Southeast Asia
Publishing company burns books 'defaming' Prophet
06/14/2012
In an act condemned by critics as "superfluous", publishing company PT Gramedia Pustaka Utama (GPU) on Wednesday symbolically burned around 200 copies of a book said to have defamed Prophet Muhammad.
The book burning took place in the front yard of Bentara Budaya, a non-profit cultural centre linked to the publisher, only two days after the Islam Defenders Front (FPI) reported it to the police and demanded it destroy all copies of the book.
The Indonesian translation of US theologian Douglas Wilson's Five Cities that Ruled the World: How Jerusalem, Athens, Rome, London and New York Shaped Global History (5 Kota Paling Berpengaruh di Dunia) had drawn the ire of several Muslim groups for describing the Islamic prophet as a thief and pirate.
Nana Subianto of Kompas Gramedia community relations said the book burning, watched over by members of the Indonesian Ulema Council (MUI), was a symbolic action to show Muslims that it was committed to eradicating the controversial book. "Other 2,500 copies were destroyed yesterday and today in storage," she said.
Nana said that the company had recalled the books from its bookstores immediately after a reader's letter in newspaper Republika on Friday. "However, the company took this step so there would be no bigger problems in the future."
But some critics say that what Gramedia did went too far.
A lecturer from Driyarkara School of Philosophy, B. Herry-Priyono, said the publisher should have scrutinized the translation of the book before publishing it but its decision to burn the books was excessive.
Recalling the book should have been enough but the publisher chose to bow to the FPI's demands, Herry said. "The FPI is no more than a group of tribal thugs that use any means to have its demands met and the police usually do nothing," he said, adding that if this continued to happen, the radical group would be more demanding.
Besides filing a report to the Jakarta Police, the FPI had also intended to visit GPU's office, said Nana, but the plan was canceled.
http://www.thejakartapost.com/news/2012/06/14/gramedia-burns-books-defaming-prophet.html
----------
'Pornographic Novels' Found in Bandung Elementary Schools in Bandung, Indonesia
Yuli Krisna | June 12, 2012
Bandung. The Independent Teachers Federation of West Java (FGII) announced on Monday that they had found four novels containing pornographic materials distributed to elementary school libraries in Bandung.
The title of the novels are "Tambelo Kembalinya si Burung Camar" (The Seagull Returns to Tambelo) by Redith T. Kurniawan, "Festival Syahadah" (Syahadah Festival), "Ada Duka di Wibeng" (There's Sorrow in Wibeng) by Azimah Al Muhyi, and "Tidak Hilang Sebuah Nama" (Not Losing a Name) by Galang Lutfianto. These novels were published by Era Adicitra Intermedia, an Islamic publisher.
In the book titled "Tambelo Kembalinya si Burung Camar," one of the characters said, "I'll say this, I did serious things with Roni in the jungle. We have made love and I got Roni's child in my womb and he should be responsible [for the child]."
In the book titled "Ada Duka di Wibeng," there was a dialogue about premarital sex.
"You should do it [sex] with tricks. Don't get pregnant," read secretary general of the FGII, Iwan Hermawan, quoting dialogue from the book. "Do it voluntarily with love, safety, don't get infected with diseases and don't get pregnant."
Full report at:
http://www.thejakartaglobe.com/education/pornographic-novels-found-in-bandung-
----------
Amnesty Calls for Release of Jailed Indonesian Atheist
Jakarta Globe | June 15, 2012
Amnesty International has called for the immediate and unconditional release of an Indonesian man detained for professing atheism, calling his imprisonment a serious setback for freedom of expression in Indonesia.
"Amnesty International believes the charges and sentence are in contravention of Indonesia's obligation under the International Covenant on Civil and Political Rights [ICCPR], particularly Article 18, which protects an individual's right to freedom of thought, conscience and religion and Article 19, which guarantees the right to freedom of opinion and expression," the rights group said in a statement on Friday.
A court in the Muaro district of West Sumatra on Thursday sentenced 30-year-old Alexander Aan, a civil servant from Pulau Punjung subdistrict, to 30 months in jail and a fine of Rp 100 million ($10,600) for violating the Electronic Information and Transaction Law. He was charged with "disseminating information aimed at inciting religious hatred or hostility" under that law and also of religious blasphemy under the Criminal Code.
Alexander was reportedly an active member of the Minang atheist Facebook group. He allegedly posted statements and pictures that some construed as insulting to Islam and the Prophet Muhammad.
Full report at:
http://www.thejakartaglobe.com/home/amnesty-calls-for-release-of-jailed-indonesian-atheist/524453
----------
Activist Killing Sparks Riot in Indonesia's Papua
Jun 15 2012
JAYAPURA, Indonesia (AP) — Rioters angry over the killing of an independence activist by police set fires and killed one person in Indonesia's restive Papua province before hundreds of security forces restored order, the police chief said Friday.
Mobs stabbed an onlooker to death, injured four other people and burned five shops, four cars and more than 20 motorbikes Thursday, hours after they learned police had shot and killed Mako Tabuni, the deputy chairman of the National Committee for West Papua.
Shops were closed Friday, and many people were afraid to leave their homes.
"It is safe and quiet now. There are many troops on the streets," said Papua police chief Maj. Gen. Bigman Lumban Tobing. He said police detained three people and seized several handmade bombs, machetes, arrows, separatist flags and documents during a raid in a student dormitory in Jayapura.
Full report at:
http://www.nytimes.com/aponline/2012/06/14/world/asia/ap-as-indonesia-papua-violence.html?ref=global-home
---------
Mideast Asia
Jihad: Rabbis teach racism to Israeli kids
Top Islamic Jihad operative accuses rabbis of treating Palestinians like 'snakes, bugs,' says Palestinians have right to teach about 'thieving Israeli enemy'
Elior Levy
06.14.12,
A top Islamic Jihad operative on Wednesday accused Israeli rabbis of teaching hatred and racist values to children, a statement made in response to a recent report that Gaza kindergartens indoctrinate students into becoming terrorists.
"(Rabbis) treat Palestinian children and women as if they were snakes and bugs," Khader Habib, a leader of the Gaza group told Ynet. "They don't see them as normal people."
Photographs released earlier this week showed a graduation ceremony celebrated at a Gaza preschool, during which the children donned army uniforms, carried rifles and staged scenes of torture purportedly inflicted on Palestinian prisoners by Israeli troops.
According to the report, during the ceremony some of the kids vowed to become terrorists and martyrs who kill Zionists.
The kindergarten's director said that it is the school's obligation to teach children to "love the resistance" and to recognize the enemy.
The Foreign Ministry is looking into the possibility of sending the photographs out to several embassies worldwide, to be used for advocacy purposes. Meanwhile, the Israeli embassy in London has already decided to display the photos during a British Parliament session.
Habib dismissed the criticism of the unsavory education practices witnessed at the school.
"The Palestinian people have the right to teach its children that the Israeli enemy is stealing Palestinian land," he said.
Habib further claimed that the "enemy is trying to distort the facts by using its media outlets across the globe," and urged the Arab and Palestinian press to come out against the "enemy's criminal propaganda machine."
http://www.ynetnews.com/articles/0,7340,L-4242297,00.html
----------
Iran arrests suspects over nuclear scientists' murders
Jun 15, 2012
Tehran: Iran's intelligence ministry has announced the capture of a number of prime suspects in the killings of two of the country's nuclear scientists.
The ministry said the suspects were linked to Israel, RIA Novosti reported citing the IRNA news agency.
"The main elements behind the killings were arrested and moved to detention following an investigation of at least 18 months involving surveillance in Iran and abroad," said a ministry statement.
The detainees are believed to be involved in the murders of Majid Shahriari, a key member of Iran's Atomic Energy Organization, and of Mostafa Ahmadi Roshan, a deputy director of Iran's largest uranium enrichment plant Natanz.
On Nov 29, 2010, Shahriari was killed and another nuclear scientist, Fereydoun Abbasi, was seriously wounded in Tehran.
These were copycat operations, timed for rush hour - 7:30 a.m. - in different parts of the city. Motorcycle riders stuck bombs to the windows of the scientists' cars and managed a quick getaway seconds before the blasts.
Roshan and his bodyguard died in a car bomb explosion in Tehran Jan 11, 2012. Police said a motorcyclist attached a magnetic mine to the car the scientist was riding in.
Iran blamed these and two other murders of Iranian scientists on Israeli and US intelligence.
http://timesofindia.indiatimes.com/world/middle-east/Iran-arrests-suspects-over-nuclear-scientists-murders/articleshow/14142680.cms
----------
Yemeni army advances on third rebel-held town; 40 militants killed near Shaqra
June 14, 2012
ADEN, Yemen (Reuters) - Yemeni soldiers killed 40 Islamist militants and captured one of their outposts in heavy fighting in southern Yemen on Thursday, local Defense Ministry officials said.
The Interior Ministry warned in a statement it had put security forces on alert following warnings al Qaeda-linked militants might try to launch attacks against civilian and government targets following their defeat in southern Yemen.
The Yemeni army is pushing ahead with a U.S.-backed offensive against the last stronghold held by the al Qaeda-linked Ansar al-Sharia (Partisans of Islamic Law) in Abyan province after they were driven out from the cities of Jaar and Zinjibar on Tuesday.
A local Yemeni official said heavy fighting had taken place during the capture of the outpost at Wadi Salam, some 20 kilometers (16 miles) west of Shaqra. An estimated 300 Islamist militants were besieged by the army after the outpost fell.
The report could not be independently verified.
Full report at:
http://www.chicagotribune.com/news/sns-rt-us-yemen-violencebre85d1j6-20120614,0,4140234.story
----------
Yemeni Army Claims Major Advance in Campaign Against Al Qaeda
Jun 15 2012
ADEN (Reuters) - Yemen's army recaptured the last al Qaeda stronghold in Abyan province on Friday, officials and residents said, and victory appeared close for their offensive to drive Islamist militants from towns they seized more than a year ago.
The rout of the Islamists from the port town of Shaqra puts an end to their short reign in Abyan, during which they governed large swathes of the province according to strict Islamic sharia rules.
At least 17 militants were killed on Friday during clashes to retake Shaqra. Government troops continued fighting in the adjacent province of Shabwa in their bid to recapture al Qaeda's last bastion, Azzan.
The Islamist militants had captured three towns in the southern Abyan province, including strategically important Zinjibar, amid a power vacuum last year as popular protests weakened former President Ali Abdullah Saleh's grip on power.
Full report at:
http://www.nytimes.com/reuters/2012/06/15/world/middleeast/15reuters-yemen-violence.html?ref=middleeast
---------
Arab World
Syrian Forces Use Sexual Violence Against Men, Women, Children: HRW
Jun 15 2012
BEIRUT (Reuters) - Government forces have used rape and other sexual violence against men, women and children during the Syrian uprising, Human Rights Watch said on Friday.
The U.S.-based group said it had recorded 20 incidents from interviews inside and outside Syria with eight victims, including four women, and more than 25 other people with knowledge of sexual abuse - including medical workers, former detainees, army defectors, and women's rights activists.
"Sexual violence in detention is one of many horrific weapons in the Syrian government's torture arsenal and Syrian security forces regularly use it to humiliate and degrade detainees with complete impunity," said Sarah Leah Whitson, Middle East director at HRW.
"The assaults are not limited to detention facilities - government forces and pro-government shabiha militia members have also sexually assaulted women and girls during home raids and residential sweeps."
Cases were reported all around Syria, but most of all in Homs province, an epicenter of the revolt.
HRW quoted a man who said he had been held in the Political Security branch in Latakia in a cell with over 70 other people. He said young boys were treated worse than adults, brought back to the cell raped and with their fingernails pulled out.
"One boy came into the cell bleeding from behind. He couldn't walk. It was something they just did to the boys. We would cry for them," the man said.
HRW said many of the assaults were in circumstances in which commanding officers knew or should have known the crimes, such as electric shocks to genitalia, were taking place.
In another face-to-face interview a woman from the Karm al-Zeitoun neighborhood of Homs city which was overrun by Assad's troops said she heard security forces and shabiha militia rape her neighbors while she hid in her apartment in March.
"I could hear one girl fighting with one of (the men)... She pushed him and he shot her in the head," HRW quoted the woman as saying. She said three girls, the youngest aged 12, were then raped. After the men left the woman went next door.
"The scene on the inside was unreal. The 12-year-old was lying on the ground, blood to her knees... More than one person had raped the 12-year-old... She was torn the length of a forefinger. I will never go back there. It comes to me. I see it in my dreams and I just cry."
Some interviewees told HRW that victims did not want their families to know about the assault because of fear or shame. In one case, HRW said a female rape victim was willing to be interviewed but her husband forbade it.
"Even when they may wish to seek help, Syrian survivors of sexual assault have limited access to medical or psychological treatment and other services," HRW said.
"It is critical that survivors of sexual assault have access to emergency medical services, legal assistance, and social support to address injuries caused by the assault; prevent pregnancy, HIV, and other sexually transmitted infections; and to collect evidence to support prosecution of perpetrators."
(Reporting by Oliver Holmes; Editing by Andrew Roche)
http://www.nytimes.com/reuters/2012/06/15/world/middleeast/15reuters-syria-crisis-detention.html?ref=world
---------
Syrian government warns of possible suicide bombings at mosques
By the CNN Wire Staff
June 15, 2012
Another day of ferment engulfed Syria on Friday as shells rained down on flashpoint towns and protesters took to the streets.
Heavy shelling was reported in and around Homs, including hard-hit Baba Amr, according to the Local Coordination Committees of Syria, an opposition group. Shelling was also reported in Andan in the province of Aleppo.
At least four people were killed in violence early Friday across Syria, including one person in Homs, the LCC said.
The Syrian government warned of possible suicide bomb attacks against mosques in Damascus after the arrest of a man with ties to the Al Nusra Front, a group the government says has ties to al Qaeda.
The state-run Syrian Arab News Agency reported the arrest of Mohammad Houssam al-Sadaki, who it said confessed to plans to blow himself up at a central Damascus mosque.
IEDs: Syria's weapon of choice U.S., Russia battle over Syria Images from Syrian carnage Activists angry with Columbia University
"The terrorist confessed that supposedly there will be other terrorists who will carry out suicide attacks in a number of mosques in central Damascus during the Friday prayer," SANA reported.
Full report at:
http://edition.cnn.com/2012/06/15/world/meast/syria-unrest/
----------
Syria violence kills 52 as uprising enters month 16
Jun 15 2012
DAMASCUS: At least 52 people died in clashes and bombings across Syria on Thursday, with activists calling for another day of protests as the uprising against President Bashar al-Assad enters its 16th month.
Fourteen people were also wounded when a suicide bomber blew up a vehicle near an important Shia shrine in the capital.
Another car bomb in the northwestern city of Idlib killed and wounded a number of soldiers, the Syrian Observatory for Human Rights said.
Secretary of State Hillary Clinton said meanwhile that the United States had held "constructive" talks with Russia but urged more action after days of feuding over the bloodshed in Syria.
Clinton, who on Tuesday accused Russia of fueling the violence by sending attack helicopters to Syria, said that Deputy Secretary of State Bill Burns met Russia's foreign minister on the sidelines of a conference in Afghanistan.
"My deputy Bill Burns had a constructive meeting in Kabul with Russian Foreign Minister (Sergei) Lavrov. We don't see eye to eye on all of the issues, but our discussions continue," Clinton told a news conference.
Full report at:
http://dawn.com/2012/06/15/syria-violence-kills-52-as-uprising-enters-month-16/
----------
Syria: Christians fleeing to government areas from Sunni Islamic terrorist networks.
By Lee Jay Walke, Murad Makhmudov and Jibril Khoury
Jun 15 2012
The American led invasion of Iraq led to the demise of all non-Muslim minorities because the brutal reality of Sunni Islamic terrorism meant that they were easy targets. Similarly, Muslims also fled their homes and homeland in vast numbers in order to escape radical Sunni Islamic terrorist movements. Many of these refugees fled to different parts of Iraq and to other nations. Syria figured prominently for many refugees fleeing the "political vacuum" in Iraq which led to sectarianism, terrorism, chaos, and a complete breakdown of society.
In Syria the dual forces of important conservative Sunni Islamic dominated nations and leading Western powers, are conspiring together in order to further their respective agendas. Therefore, both forces have unleashed terrorism and sectarianism against the central government of Syria once a "political vacuum" emerged throughout the region. This combined Western and Sunni Islamic force is manipulating events in order to further their respective geopolitical objectives.
Full report at:
http://www.pakistanchristianpost.com/headlinenewsd.php?hnewsid=3576
----------
'Stench of dead bodies' in Syria's Haffe: UN
Jun 14, 2012
SYRIA: United Nations observers on Thursday visited the Syrian town of Al-Haffe and reported finding it all but deserted with a strong stench of dead bodies and most state buildings burned to the ground.
"Most government institutions, including the post office, were set on fire from inside," the UN Supervisory Mission in Syria (UNSMIS) said in a statement.
"Archives were burnt, stores were looted and set on fire, residential homes appeared rummaged and the doors were open."
It added that "a strong stench of dead bodies was in the air and there appeared to be pockets in the town were fighting is still ongoing."
The observers since June 7 had been trying to reach the mainly Sunni Muslim town in northwest Latakia province to check on reports of a possible massacre there by regime forces.
Rebels seeking the ouster of President Bashar al-Assad withdrew from the town on Thursday, allowing regime troops to enter it and take control.
The eight-member UN team that visited the town on Thursday reported that the ruling Baath party headquarters was shelled and appeared to be the site of heavy fighting.
Remnant of heavy weapons and a range of calibre arms were found in the town," UNSMIS added. "Cars, both civilian and security, were also set on fire and damaged."
It said the number of casualties was still unclear.
Full report at:
http://timesofindia.indiatimes.com/world/middle-east/Stench-of-dead-bodies-in-Syrias-Haffe-UN/articleshow/14134494.cms
----------
Brotherhood defiant as Court dissolves Parliament
ATUL ANEJA
Jun 15 2012
Egypt's highest court has ordered the dissolution of Parliament, dominated by Islamists, saying that conduct of the elections held around six months ago was unconstitutional. The Supreme Constitutional Court (SCC) observed on Thursday that election to one-third of the people's Assembly was illegal, which meant that "the makeup of the entire chamber is illegal and, consequently, it does not legally stand". With this, the People's Assembly, the Lower House of the legislature, stands dissolved.
Farouk Sultan, head of the Presidential Elections Commission (PEC), however said the Shura Council, the Upper House, would not be dissolved. Also, all decisions made by the People's Assembly would remain valid.
The ruling comes as a big blow to the Muslim Brotherhood, whose Freedom and Justice Party (FJP) dominates Parliament. Analysts say the judgment, which cannot be appealed, could be part of a "balancing act," that may have been undertaken by the interim establishment. With the Muslim Brotherhood widely perceived of having the edge during the weekend run-off for the presidency, the dissolution of Parliament could be a move to prevent the Muslim Brothers from monopolising power.
Full report at:
http://www.thehindu.com/news/international/article3528528.ece
----------
Egypt's Muslim Brotherhood warn of 'dangerous' days
Jun 15 2012
The Muslim Brotherhood has warned that Egypt's fragile democratic gains are under threat, after a surprise court ruling overturned last year's parliamentary elections.
Egypt could see "dangerous" days ahead if power is returned to those linked to the previous regime, it said.
The group's candidate, Mohammed Mursi, faces ex-PM Ahmed Shafiq in a runoff presidential election this weekend.
The decision by the Supreme Court on Thursday plunged Egypt into turmoil.
The court said last year's parliamentary vote - the first free and fair poll in decades - was unconstitutional, and called for fresh elections.
The decision effectively puts legislative power into the hands of the ruling Supreme Council of Armed Forces (Scaf), who were tasked with overseeing Egypt's transition after the toppling of President Hosni Mubarak in February 2011.
The court also upheld the right of Mr Shafiq to run for president.
'Wiped out'
Full report at:
http://www.bbc.co.uk/news/world-middle-east-18453721
----------
Syrian Liberators, Bearing Toy Guns
By C. J. CHIVERS
Jun 15 2012
If deception has always been part of war, it has not often been as bungled as in the video announcement by Syrian opposition fighters of the formation of a special forces brigade joining the battle against President Bashar al-Assad.
The video, posted on YouTube, contained staples of underground fighters' messages in the Internet age: 11 men dressed in black, each with his face hidden behind ski masks or cloth, posing with what appeared to be modified MP-5 submachine guns, a weapon often in service with counterterrorism teams.
One man in the group read a statement declaring the fight "in the service of God" against Mr. Assad's "criminal regime." Banners of the Free Syrian Army, the loose confederation of anti-Assad fighters, hung in the room.
Everything was set to project menace and resolve. There was only one problem: The weapons were not weapons at all. They were nonfiring plastic children's toys.
According to an analysis by a curator at a British arms museum, the 11 men were each holding a TD-2007, a Chinese-made toy replica of the MP-5 submachine gun, marketed as appropriate for children above the age of 5. To each, the men had affixed an extension — perhaps a painted dowel or a section of pipe — masquerading as a long barrel.
Full report at:
http://www.nytimes.com/2012/06/15/world/middleeast/video-shows-syrian-opposition-fighters-with-toy-guns.html?ref=world
----------
North America
'US in talks on arms handover to CAsia'
15 June, 2012
MOSCOW: The US military is in talks with several Central Asian countries to transfer some of their military hardware to them after they pull out of Afghanistan, a Russian newspaper reported Friday.
The report, in Kommersant newspaper, provoked an angry response from one Russian official.
The military of Kyrgyzstan, Uzbekistan, and Tajikistan were in "closed talks" with the Pentagon about receiving armoured vehicles, tank trailers, and other specialised equipment, Kommersant reported.
Some of it would be handed over for free while other items would be for safe storage, the report said, citing sources close to, or inside the various respective armies.
A source in Kyrgyzstan's military confirmed that the issue had first been raised in March when the US and Kyrgyz defence ministers met.
But a Russian diplomatic source told the paper that holding such talks behind Moscow's back was "absolutely unacceptable".
The source cited the countries' commitments to the Collective Security Treaty Organisation, which stipulates a security alliance with Russia.
Kyrgyzstan, Uzbekistan and Tajikistan are former Soviet states and Russia's allies in Central Asia.
Tajikistan and Uzbekistan share a border with Afghanistan, and Kyrgyzstan is home to a US military facility that has been a contentious issue for Russia's conservatives.
The US and NATO have agreed to pull military forces out of Afghanistan in 2014.
Russia's Central Asian partners have played an increasing role in their efforts to get equipment into Afghanistan after Pakistan closed supply routes from the south.
But the northern routes are much longer and more expensive than the roads through Pakistan.
http://www.thenews.com.pk/article-54452-US-in-talks-on-arms-handover-to-CAsia
----------
Muslim and Jewish students debate Islamophobia and anti-Semitism
Habeeb Alli | 14 June 2012
Toronto, Canada – When I told people that I wanted to organise a speech competition for youth on anti-Semitism and Islamophobia, the most common reaction I received was, "That would be hard." However in late April 2012, 16 students from Muslim and Jewish schools, as well as public schools, in Toronto came together at the North American Muslim Foundation to participate in the 10th occasion of this annual event.
Despite some initial discouragement, I felt the connections between anti-Semitism and Islamophobia were important. These two issues are often dealt with separately by Muslim and Jewish communities in Canada, but both groups have a great deal to offer each other as they work to overcome prejudice.
As such, my colleagues at the North American Muslim Foundation and I brought together a group of interested young people to address the question: do Jews and Muslims face the same challenges and do these challenges present opportunities for joint solutions?
Many of the participating students talked about personal experiences, such as their synagogues being vandalised with graffiti, or facing increased scrutiny at airports in the post-9/11 era.
Full report at:
http://bikyamasr.com/69807/muslim-and-jewish-students-debate-islamophobia-and-anti-semitism/
----------
9/11 kingpin seeks army attire for Gitmo trial
Jun 15, 2012
SAN JUAN ( PUERTO RICO): The man who has called himself the mastermind of the September 11 attacks is seeking to wear military-style clothing at his upcoming war crimes trial in Guantanamo, one of his attorneys said on Wednesday.
Khalid Sheikh Mohammed has asked to wear a camouflage field jacket and camouflage turban with traditional Pakistani clothing as he goes on trial with four other men at the US base in Cuba on charges that include murder and terrorism.
Mohammed wanted to wear the items at his May 5 arraignment but prison officials refused to allow it. They also rejected some clothing requested by other defendants as inappropriate for the military tribunal.
But his defence team is asking the judge to overrule that decision, arguing that Mohammed is seeking to wear items customarily worn by members of a militia and that it violates his right to a fair trial and historical precedent by forbidding him to do so.
The defence also argues that denying him the right to wear the clothing of his choice is attempt to break him down psychologically.
http://timesofindia.indiatimes.com/india/Cannabis-farming-in-full-bloom-in-Kullu-valley/articleshow/14141211.cms
-------
Obama Speaks With Saudi King Amid Syria, Iran Concerns
Jun 15 2012
WASHINGTON (Reuters) - U.S. President Barack Obama spoke with Saudi Arabia's King Abdullah on Thursday amid concerns about escalating violence in Syria and plans to widen sanctions on Iran.
The White House gave no details of the conversation, but the telephone discussion came as the Organization of the Petroleum Exporting Countries agreed to hold production limits - despite an initial Saudi suggestion that OPEC may need to hike output later this year.
Washington is watching the oil markets closely and is also concerned about escalating violence in Syria, where Saudi Arabia has been an outspoken supporter of the opposition, which is fighting the government of Syrian President Bashar al-Assad.
The call also came two weeks before tough new U.S. sanctions on oil transactions with Iran come into force and before the 27-country EU plans to ban shipments from Iran, which the West believes is trying to build nuclear weapons.
"The two leaders reaffirmed the strong and enduring bilateral relationship between the United States and Saudi Arabia, and discussed a range of issues of mutual interest as part of their ongoing consultations," the White House said in a short statement, which officials declined to expand upon.
Full report at:
http://www.nytimes.com/reuters/2012/06/14/world/middleeast/14reuters-usa-saudi-obama.html?ref=global-home
----------
America persuades India to expand Afghan footprint
Jun 14, 2012
WASHINGTON: India and the United States on Wednesday pledged to hold a regular trilateral dialogue with Afghanistan, signaling a long-term commitment to stability in the war-ravaged country in the face of Pakistan's depredations. The forceful pledge, buried deep in a 13-page joint U.S-India statement of some 4200 words, signals an expanded Indian footprint amid a diminishing American military intervention in Afghanistan, and outflanks Pakistan, which is seen as a spoiler in the region.
The broadening Indian involvement includes training greater number of Afghan military personnel, but no major induction of Indian troops in Afghanistan. India External Affairs Minister S.M.Krishna told journalists at a press conference at the conclusion of the U.S-India Strategic dialogue that the trilateral confabulations would cover a "whole gamut of issues hovering around Afghanistan" including security matters and "building up capacity"to ensure Afghanistan's peace and security.
Full report at:
http://timesofindia.indiatimes.com/world/us/America-persuades-India-to-expand-Afghan-footprint/articleshow/14131322.cms
----------
Africa
In the new Libya, lots of guns and calls for Shariah
By Steve Inskeep
Jun 13, 2012
NPR Morning Edition host Steve Inskeep is taking a Revolutionary Road Trip across North Africa to see how the countries that staged revolutions last year are remaking themselves. Steve and his team are traveling some 2,000 miles from Tunisia's ancient city of Carthage, across the deserts of Libya and on to Egypt's megacity of Cairo. In the Libyan towns of Benghazi and Derna, he talks to Islamists about their desire to see a new Libya ruled by Shariah law.
The other day in Benghazi, Libya, we found our vehicle surrounded by truckloads of men with machine guns.
They were waving black flags, which are associated here with radical Islam, and they were shouting "Allahu Akbar," or "God is great."
At the time, we were driving to see a protest — but it seemed the protest had found us.
These gunmen were the protesters, so we continued on, surrounded by scores of honking pickup trucks with anti-aircraft guns welded to the beds.
The rebel fighters from Libya's revolution had brought their weapons along while demanding that their country impose Shariah, or Islamic law.
The protesters came from several cities in eastern Libya.
Some drove 180 miles from Derna, a Libyan city known for producing radicals.
When several trucks pulled over, we did, too, and chatted with a gunman. He told us he was marching to demand Shariah and "to kill the infidels."
He walked away before we could get his name, a youth with a Kalashnikov rifle strapped over his shoulder and a black flag on a stick attached to his back.
It's worth keeping this rhetoric in perspective: The young man did not take the opportunity to kill the non-Muslim right in front of him.
Yearning For Rule By Peace, Not Gun
Still, some Libyans were stunned to see so large an arsenal at a political demonstration.
As we drove along, a man on the street recognized our Libyan interpreter.
He came running to catch up with us and leaped in the front seat, ranting about the armed Islamists.
Full report at:
http://www.scpr.org/news/2012/06/13/32795/in-the-new-libya-lots-of-guns-and-calls-for-sharia/
----------
Libya Refuses to Release Hague Court Workers
By MARLISE SIMONS
Jun 15 2012
PARIS — Despite pressure from international courts, NATO and rights groups, the Libyan authorities who are detaining a lawyer from the International Criminal Court and three members of the court's staff say they will not be released until the lawyer answers questions about her dealings with Seif al-Islam el-Qaddafi, a son of the former dictator, a Libyan official in Tripoli said.
The lawyer, Melinda Taylor, and her three associates have been held under house arrest since last Thursday in the town of Zintan, where Col. Muammar el-Qaddafi's son is held captive by militia fighters operating largely independently of the Libyan central government. The militia captured the son in the desert last November and has been holding him since then, awaiting an agreement on where he will be tried on a host of charges.
The four, who were sent by the International Criminal Court to visit Mr. Qaddafi by arrangement with his captors, are accused by the militia of bringing along suspicious documents and a camera disguised as a pen.
Full report at:
http://www.nytimes.com/2012/06/15/world/africa/libya-refuses-to-release-hague-staff-in-custody.html?ref=world
--------
Tunisia bans rival protests set for Friday
Jun 15 2012
The Tunisian government has banned a series of marches planned for this Friday by hardline Islamists and rival groups citing concerns of possible violence in the country, which is grappling with rising religious tension as it struggles to emerge from years of secular dictatorship.
The announcement Thursday by the Interior Ministry comes as Tunisians are still reeling from clashes earlier this week between police and religious youth in the capital and other cities after protests erupted over an upscale art exhibit that hardline Islamists alleged was blasphemous.
Tunisians overthrew secular dictator Zine El Abidine Ben Ali last year in a popular uprising that sparked similar pro-democracy movements around the region. The old regime savagely repressed any manifestations of political Islam, and in its absence there has been an upsurge of new religious groups.
The growing tensions in Tunisian society now are not just between the religious-minded and secularists, however, but also between moderate Muslims and ultraconservative Islamists.
Two organizations of ultraconservative Muslims Hizb ut-Tahrir and Ansar al-Shariah called for renewed protests over the now-closed art exhibit following Friday prayers.
Full report at:
http://timesleader.com/stories/Tunisia-bans-rival-protests-set-for-
----------
Pleads guilty to seeking Somalia terror training for jihad
Eritrean Mohamed Ibrahim Ahmed was busted by Nigerian authorities and brought to NYC in 2010
BY REBERT GEARTY
June 14, 2012,
AN ERITREAN national who told the FBI he left his home in Sweden in 2009 to go to Somalia to "make jihad" pleaded guilty Wednesday to receiving military training from an al Qaeda-linked terror organization.
Mohamed Ibrahim Ahmed, 38, was supposed to go to trial in July on those and other charges. He has been held without bail since he was flown to New York from Nigeria in March 2010.
He had been arrested by Nigerian authorities four months earlier for his ties to the group al-Shabab.
Ahmed pleaded guilty in Manhattan Federal Court and — through an Arabic interpreter — said he knew when he was in Somalia that the U.S. considered al-Shabab a terrorist organization.
"Mohamed Ibrahim Ahmed traveled a long way from his home in Sweden to Somalia, where he took up the cause of al-Shabab, a deadly terrorist organization and sworn enemy of the United States and its people," said Manhattan U.S. Attorney Preet Bharara.
As part of a plea deal, Ahmed agreed to a 10-year prison sentence — the maximum. His sentencing will be Nov. 2.
http://www.nydailynews.com/news/world/pleads-guilty-seeking-somalia-terror-training-
----------
Islamist militants taking advantage of chaos in Mali
By Derek Henry Flood, For CNN
June 13, 2012
The town of Niafunke, on the banks of the River Niger, was made famous by the legendary Ali Farka Toure, one of a legion of great guitarists to emerge from Mali.
But nowadays, Niafunke is known as a battleground as Mali disintegrates and a mix of hard-line Salafi Islamists and ethnic Tuareg rebels tighten their grip on the northern two-thirds of the country.
Malik, an English teacher from the town, knows just how hard-line the new arrivals are. He said a friend was brutally beaten on a Niafunke street after Salafists caught him with a flask of alcohol in his pocket. Malik also enjoys beer, a cigarette and music -- all "vices" abhorred by the Salafists of a movement known as Ansar Dine -- so he fled.
His story is all too typical. Mali, traditionally a tolerant society, has become bitterly divided in the wake of a rebellion by the Tuareg, a nomadic people who inhabit the north of this country as well as areas of Niger, Libya, Burkina Faso and Algeria.
Full report at:
http://edition.cnn.com/2012/06/13/world/africa/mali-chaos/index.html
----------
Libya revokes Muammar Gaddafi praise law
Jun 15 2012
Libya's supreme court has overturned a law that criminalised the glorification of former leader Muammar Gaddafi, his regime, his ideas or his sons.
The court ruled that the law, known as Law 37, was unconstitutional.
Law 37 was originally passed in May by the National Transitional Council's Legal Committee.
Libya's Human Rights Council and civil society groups appealed against the law, which was also condemned by international human rights watchdogs.
Under the original law praising or glorifying Muammar Gaddafi was punishable with a prison sentence.
Full report at:
http://www.bbc.co.uk/news/world-africa-18446110
----------
Militants Defecting to Somali Side After Losses
Jun 15 2012
ELASHA BIYAHA, Somalia (AP) — Evil laughter pealed out of the mobile phone. Abshir Ali Mohamed, an al-Shabab defector now wearing a Somali military uniform, had asked his former commander to join him. The commander, an al-Shabab judge known for ordering amputations, said he would instead kill Mohamed.
Somali military and government leaders say Mohamed's defection is an example of a trend growing in their favor, with the East African country's most notorious militant group losing manpower and ground. The 24-year-old former insurgent left al-Shabab less than two weeks ago and now wears a bright blue patch with a white star — the Somali flag — on the shoulder of his government uniform.
"Al-Shabab is no longer. It's going to end soon," Mohamed said last week at freshly dug Ugandan-Somali military base on the outskirts of Mogadishu. The base was set up after African Union troops kicked militants out of the towns of Elasha Biyaha and Afgoye.
"Al-Shabab is changing sides because of heavy losses. Those who still fight with them are running away in small groups. They've lost weapons. They've lost personnel," he continued. More are looking to flee, he said.
Full report at:
http://www.nytimes.com/aponline/2012/06/15/world/africa/ap-af-somalia-defecting-militants.html?ref=africa
----------
Europe
Russia 'not supplying' attack helicopters to Syria: ministry
Jun 15 2012
MOSCOW: Russia said Friday it is not making any new deliveries of attack helicopters to Syria and has only carried out repairs of helicopters sent there many years ago.
"There are no new supplies of Russian-made attack helicopters to Syria," the foreign ministry said in a statement, adding that "planned repairs were carried out earlier on helicopters supplied to Syria many years ago."
The ministry statement reasserted Russia's position that "all our military and technical cooperation with Syria is limited to the supply of defensive weapons."
Foreign Minister Sergei Lavrov on Wednesday insisted that Russia only supplied anti-air defence systems to Syria, not "things used to fight peaceful civilians."
United States Secretary of State Hillary Clinton on Tuesday accused Russia of fuelling the violence by sending attack helicopters to Syria, which she said were "on the way" and would "escalate the conflict quite dramatically."
Her spokeswoman Victoria Nuland said Thursday that Russia was sending back "freshly refurbished" helicopters that had been under repairs for six months or more.
"The concern remains that they will be used for the exact same purpose that the current helicopters in Syria are being used and that is to kill civilians," Nuland said.
US President Barack Obama is to meet Russian President Vladimir Putin at next week's Group of 20 summit in Los Cabos, Mexico.
Russian Deputy Foreign minister Sergei Ryabkov told journalists Friday that the talks would "discuss the situation in the Middle East with an emphasis on Syria," cited by the ITAR-TASS news agency.
http://dawn.com/2012/06/15/russia-not-supplying-attack-helicopters-to-syria-ministry/
----------
10 British-Pakistani drug dealers jailed for over 48 years
By Asif Mehmood
Jun 15 2012
LONDON: Ten British Pakistani members of a huge drugs ring which had a "stranglehold" on parts of Britain's second biggest city of Birmingham have been jailed for a combined term of more than 48 years.
The British police in its operation "No Deal" arrested them in a series of dawn raids in March this year. They were brought to justice, and are starting jail sentences of up to seven years after being convicted of Class-A drug offences. More than 20 others are still to be dealt with. Detective Chief Inspector Nick Walton, who headed the operation that led to the jail terms, told Daily Times, "This is not the end of our operation. Residents have told us they want change, and together we can continue to make it happen. Lots of our investigations are covert and it may appear to communities that we are not acting on information they provide to us. But I want our communities to be confident we are taking action based on information provided to us... These sentences are a significant success for both us and the communities of Birmingham who have been affected by the criminal activities of these individuals. Members of the public have helped us to put these dealers behind bars."
The longest sentence of seven years was handed down to "significant player" Alam Zeb Khan. The 36-year-old, of Bordesley Green Road, Bordesley Green, was jailed in April after pleading guilty to a charge of conspiracy to supply cocaine. Two men were jailed on Friday, and another on May 18. Yesterday, another eight men were imprisoned for between two and five years.
http://www.dailytimes.com.pk/default.asp?page=2012\06\15\story_15-6-2012_pg7_14
----------
Myanmar refugees adrift, turned back by Bangladesh: UN
June 15, 2012
An unknown number of people fleeing violence in Myanmar's troubled Rakhine region are adrift in boats on the Naf River and some have been turned back by Bangladesh authorities, the United Nations refugee agency said on Friday. "The UN refugee agency has first-hand, credible accounts of
boats from Myanmar not being enabled to access Bangladeshi territory. These reports indicate women, children and some wounded are onboard," the Geneva-based agency said in a statement.
U.N. officials who reached Rakhine this week saw a number of "smouldering villages", it said.
Tens of thousands of displaced Muslim Rohingyas and ethnic Rakhine Buddhists were in need of food, water and shelter in northwestern Myanmar on Thursday after fleeing the country's worst sectarian clashes in years.
http://www.hindustantimes.com/world-news/Europe/Myanmar-refugees-adrift-turned-back-
----------
France's Afghanistan pullout starts within weeks: Hollande
14 JUNE 2012
French President Francois Hollande said on Thursday the withdrawal of the country's troops from Afghanistan would begin within weeks, as he paid tribute to four soldiers killed at the weekend.
"Our combat troops will begin leaving Afghanistan soil in the next few weeks," Hollande said, adding that the withdrawal would take place "in order and security". Before his election in May, Hollande promised to speed up France's withdrawal from Afghanistan so it would be completed by the end of 2012 — a year earlier than Paris initially planned and two years before a NATO deadline.
In a ceremony also attended by former president Nicolas Sarkozy, the four soldiers were given a military funeral in the courtyard of the Les Invalides military monument. The four French soldiers were killed on Saturday in an attack by a Taliban suicide bomber in Kapisa province in eastern Afghanistan and were France's first casualties in Afghanistan since Hollande took office.
A total of 87 French soldiers have died in Afghanistan since the start of NATO-led operations against the Taliban in the country in 2001, including nine since the start of 2012.
http://www.dailypioneer.com/world/73127-frances-afghanistan-pullout-starts-within-weeks-hollande.html
----------
Time running out for Kofi Annan's Syria peace plan: Britain
Jun 15, 2012
UNITED NATIONS: Britain's UN envoy said o n Thursday time was running out for international mediator Kofi Annan's plan to bring peace to Syria and that the UN Security Council needs to take "much tougher action" to enforce the six-point strategy.
Violence has surged in recent weeks after an April 12 ceasefire negotiated by Annan failed to take hold. Annan's plan calls for an end to all violence by government and rebel forces, aid access, and dialogue between the government and opposition aimed at starting a political transition for the country.
"We're very focused on the moment on imposing, making live, the Kofi Annan six-point plan," Britain's U.N. ambassador, Mark Lyall Grant, told reporters. "We are calling on the Syrian regime to begin to implement the commitments ... So far it has not done so; instead it is brutally killing its people."
"We're seeing a series of massacres day after day right across Syria," he said. "So time is clearly running out for the Kofi Annan plan but all our energies at the moment are focused on making that plan work."
Full report at:
http://timesofindia.indiatimes.com/world/us/Time-running-out-for-Kofi-Annans-Syria-peace-
----------
URL: https://www.newageislam.com/islamic-world-news/new-age-islam-news-bureau/lashkar-e-taiba-resumes-online-jihad/d/7631