New Age Islam News Bureau
24 Apr 2014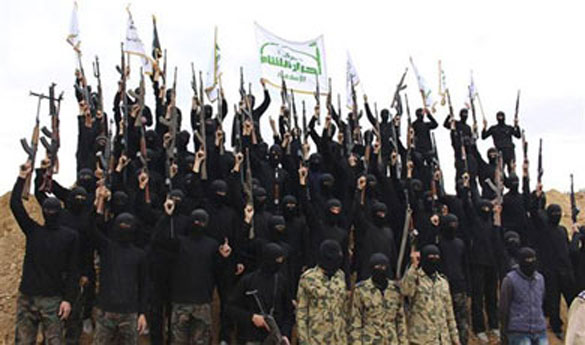 European countries start to tackle 'citizen jihadists', REUTERS Photo
--------
Pakistan
• Lal Masjid Cleric 'Very Dangerous': Had Issued Decree against Army and the Government
• Seminaries received Rs258m in funding from abroad, Senate told
• At least 24 suspected militants killed in Khyber
• Police official, 3 others killed in Karachi bombing
• Violence against Pakistan minorities rising alarmingly: Rights group
• Government, Army to build Pakistan together: PM
• Tribesmen complain of being left out of peace process
• Ban on Geo News will be a big mistake, says JUI-F Chief Maulana Fazl
• Pak journalist hurls shoe at Punjab CM to protest attack on TV anchor Hamid Mir
North America
• Jewish scholar lectures on 'How Islam Saved the Jews,' at UAB on April 24
• Turkish rock singing imam hits the stage in New York
• Hook-handed preacher accused of terrorism gloats over 9/11 attacks
• 'US views Nawaz govt as reliable partner'
• US: Bangladesh made progress with labour rights
• US to reassess aid to Palestinians if unity government deal reached
• US envoy issues Libya extremist warning during visit
Africa
• Nigerian rapist to be stoned to death in Kano
• Moroccan Jew asks to join ruling Islamist party
• Sudan seeks probe into killing of nationals in S. Sudan
• Gunmen kill 17 in Nigeria village raid: Police
• 4 dead in car bomb blast at Nairobi police station
Arab World
• Nearly 7 Hundred French Jihadists Directly, Indirectly Involved in Syria War
• Air raid kills 21 at Syria market: Monitor
• Suicide attack in Iraq kills at least 11 people
• Syrian Army Foils Infiltration Attempts, Chases Terrorists in Rural Aleppo, Homs
• Egyptian children - so young yet locked-up as 'terrorists'
• Muslim scholars slam arbitrary arrests and torture in Egypt
• Clashes erupt in Upper Egypt over arrests of Islamists
• Qatar says dispute with Gulf neighbours 'over'
• Saudi prince says Gulf States must balance threat from Iran
• Bahrain expels envoy of Shia Ayatollah Sistani
• Morsi trial hears Hamas, Hezbollah raided Egypt jails
Europe
• European countries start to tackle 'citizen jihadists'
• All parties in Syria blocking aid say Ban Ki-moon
• NYT publishes fake photos of "Russian militant" in Ukraine amid warnings from world media
• Moscow against delaying next round of inter-Syrian talks - Russian FM Lavrov
Mideast
• Abbas: Unity with Hamas does not contradict peace talks with Israel
• 200 Palestinian Prisoners in Occupied Territories Go on Hunger Strike
• Turkey's Syriacs demand gov't support for schools
• Liberman: Abbas will never sign an agreement with Israel
• One Prisoner Hanged in Northwestern Iran- Three to be Hanged in Baluchestan
• 7 Sunni prisoners awaiting execution in Iran transferred to Rajai Shahr prison
Southeast Asia
• Ahmadis Unequivocal in Response to Ban by MUI
• Don't forget Pakatan's common agenda, DAP reminds PAS as Hudud row escalates
• Hudud will never be PAS's trump card in elections, says DAP
• Malaysians more concerned about education than ethnic and religious issues
• New Documentary Chronicling the Idiosyncrasies of Indonesian Politics
• Indonesia: With Fatwa, PPP's Fractious in-Fighting Comes to an End
South Asia
• Three Americans killed in Kabul hospital attack
• Abdullah Abdullah leads Afghanistan poll count
• Nasheed criticises indirect taxation following amendments to import duties
• Bangladesh elected UNICEF executive board member
• Teesta to affect Indo-Bangla relations
India
• Jamaat-e-Islami Hind issues list of preferred candidates to check 'communal forces'
• Hizb declares war against polls in Kashmir
Compiled by New Age Islam News Bureau
URL: https://www.newageislam.com/islamic-world-news/new-age-islam-news-bureau/lal-masjid-cleric-'very-dangerous'--had-issued-decree-against-army-and-the-government/d/76728
-----------
Pakistan
Lal Masjid Cleric 'Very Dangerous': Had Issued Decree against Army and the Government
April 24, 2014
ISLAMABAD - Chief Commissioner Islamabad on Wednesday submitted his reply in a petition of Maulana Abdul Aziz who had prayed the court to delete his name from the fourth schedule.
The chief commissioner submitted the reply before a division bench (DB) comprising Justice Riaz Ahmad and Justice Noor-ul-Haq N Qureshi.
Talking to The Nation, Wajihullah Advocate, counsel for Abdul Aziz, said that the chief commissioner in the reply had declared Aziz as a very dangerous person who had issued decree against Pakistan Army and the government led by Pervez Musharraf in 2004.
The capital administration also attached the copy of that decree with the reply submitted before the bench. "For this very Fatwa (decree), then chief commissioner of Islamabad removed him (Aziz) from services of Auqaf department," Wajih informed quoting the reply.
The reply further added that Aziz condemned army operation in South Waziristan Agency and termed it contrary to Islamic jurisprudence. He informed that the administration had alleged that Aziz misused the platform of Lal Masjid and some 44 cases were registered against him with various police stations of Islamabad.
In the reply, the administration stated that in 2004, the situation deteriorated in the federal capital to such a level where civil government failed to control it. As a result, military was called in and army operation was launched. Therefore, the administration requested the court not to delete Aziz's name from the fourth schedule.
According to constitution of Pakistan, the fourth schedule list is about the suspicious accused who need to mark their attendance with the local police station with regular intervals.
According to details, the chief commissioner of Islamabad had issued a notification, putting name of Maulana Abdul Aziz on fourth schedule on August 03, 2005. Wajihullah Advocate informed that it was on August 12, 2013 when SSP (Operation) Islamabad, SHO Aabpara and other police officials raided Jamia Hafsa at 10:30pm asking for Maulana Abdul Aziz.
Wajihullah said that before the raid of August 12, 2013 no one ever intimated Aziz about placing of his name on fourth schedule and no one ever asked him to mark his attendance at the police station.
http://www.nation.com.pk/islamabad/24-Apr-2014/lal-masjd-cleric-very-dangerous
-----------
Seminaries received Rs258m in funding from abroad, Senate told
April 24, 2014
ISLAMABAD: Around 15 Pakistani seminaries received Rs 258 million from other Islamic countries during the last one year, the Senate was informed on Wednesday.
Responding to a question, Minister of state for interior, Muhammad Balighur Rehman told the Upper House that countries, which included Qatar, Saudi Arabia, UAE, Bahrain and Kuwait, were providing financial support to these seminaries through the donations and Zakat.
He said that the seminaries including Madressah Rehmania Tehfeez ul Quran, Jamiatul Ulum Al Asria, Jammiatul Uloom Islamiyah, Jamiat Ahle Hadith Balochistan, Darul Uloom Jamia Anwar Mustafa, Idara Minhaj Ul Quran, Jammiatul Manahil Al Kheriya, Madina Masjid, Madressah Darul Uloom Baltistan, Masjid e Gulzar Ghoi, Jammiatul Islam Khushab, Jamia Khairul Madaris, Jamiat Al Huda Al Kharia Welfare Society, Islam Trust and Dawat-e-Islami had received money through different banks of Pakistan.
It is pertinent to mention here that out of these 15 seminaries, 11 seminaries are operating without NOC from the interior ministry.
The Minister said that there is no check and balance on the religious seminaries across the country as yet while the government had prepared a mechanism through national security policy to regularise the seminaries in this regard.
http://www.dawn.com/news/1102036/seminaries-received-rs258m-in-funding-from-abroad-senate-told
-----------
At least 24 suspected militants killed in Khyber
April 24, 2014
PESHAWAR: At least 24 suspected militants were reported killed and 20 others were injured when security forces launched a massive assault on Thursday in parts of Khyber tribal region's Bara and Jamrud tehsils.
The suspected militants were killed as jet fighters carried out airstrikes along with a search operation in the tribal region.
The airstrikes in Akakhel area of Bara were aimed at the outlawed Lahskar-i-Islam and Tehreek-i-Taliban Pakistan (TTP).
The attack was carried out on insurgent hideouts in the areas Tor Dara, Wache Yone Dawa Toi, Spera Dam, Merokhel, Tirrah valley's Kokhikhel area and the surrounding areas of Akakhel, the sources claimed.
Intelligence intercepts suggest that scores of militants were killed in the airstrikes, including those suspected of involvement in recent attacks in Badbher, Charsadda, at the vegetable market in Islamabad and in Chaman, sources said.
Jet fighters are still carrying out assaults but media personnel do not have free access to the area which is why the information could not be confirmed from independent sources.
http://www.dawn.com/news/1102027/at-least-24-suspected-militants-killed-in-khyber
-----------
Police official, 3 others killed in Karachi bombing
Apr 24, 2014
A senior Pakistani police officer, who had survived several attacks for his anti-militant campaigns, and three others were killed in a suicide bombing in Karachi on Thursday.
Over 10 people were injured in the explosion that took place at a shop located next to police official Shafiq Tanoli's residence near the wholesale vegetable market.
A local senior police official confirmed that it was suicide attack. "The bomber came walking in the shop and blew himself up," he added.
Police official Imran Shaukat said there were at least five persons in the shop at the time of the blast, which targeted Mr. Tanoli.
Another police official Pir Mohammad Shah said Mr. Tanoli, who survived several attempts on his life in the past, was targeted for his active campaigning against terrorists.
Few months back, unidentified assailants had detonated a car bomb near Mr. Tanoli's residence but he survived the attack.
Although Mr. Shaukat said Mr. Tanoli was on the hit list of militant outfits due to his operations against terrorists, other sources said Mr. Tanoli was suspended and demoted a few days back for an illegal raid.
"There were several cases and complaints pending against him even though he was on duty," one source said.
Mr. Tanoli's brother Rasheed told Geo News that the other casualties included his uncle and a cousin in the blast.
Nobody has so far claimed responsibility for the attack.
http://www.thehindu.com/news/international/south-asia/police-official-3-others-killed-in-karachi-bombing/article5943660.ece
------------
Violence against Pakistan minorities rising alarmingly: Rights group
AFP | Apr 24, 2014
ISLAMABAD: Sectarian killings rose by more than a fifth in Pakistan last year, a leading rights group said on Thursday, warning of an alarming increase in violence against religious minorities.
The independent Human Rights Commission of Pakistan (HRCP) said 687 people were killed in more than 200 sectarian attacks last year, a rise of 22 per cent on 2012.
The group warned that ongoing peace talks between the government of Prime Minister Nawaz Sharif and the hardline militant Islamists of the Pakistani Taliban could make minorities even more vulnerable.
Around 97 per cent of Pakistan's 180 million population is Muslim, the vast majority Sunnis.
Violence against Shia Muslims, who make up around 20 per cent, has been growing in recent years, much of it led by extremist sectarian groups such as Lashkar-e-Jhangvi.
The country's small Christian, Hindu and Ahmadi communities also suffer discrimination and occasional outbursts of violence.
Full report at:
http://timesofindia.indiatimes.com/world/pakistan/Violence-against-Pakistan-minorities-rising-alarmingly-Rights-group/articleshow/34163950.cms
-------------
Government, Army to build Pakistan together: PM
April 24, 2014
GWADAR- Prime Minister Nawaz Sharif has said government and all its institutions including the armed forces would build Pakistan together.
Speaking at a briefing in Gwadar today afternoon, he said his visit and meetings in Gwadar are aimed at developing the area on fast track. He said that Gwadar had all the ingredients to become a free port like Dubai, Hong Kong and Singapore. The Prime Minister said the political and the military leadership are on the same page as far as development of Pakistan is concerned. It is their joint resolve to take Pakistan forward and turn it into a developed country.
Full report at:
http://www.nation.com.pk/national/24-Apr-2014/government-army-to-build-pakistan-together-pm
-----------
Tribesmen complain of being left out of peace process
April 24, 2014
PESHAWAR: Participants of a tribal jirga in the provincial capital on Wednesday supported peace talks between the government and banned Tehreek-i-Taliban Pakistan but expressed serious reservations about the composition of the official committee comprising senior bureaucrats.
During the event, which took place at the main hall of the Governor's House, Senators, MNAs, political agents and elders from seven tribal agencies and six frontier regions were unanimous in demanding restoration of peace, rehabilitation of displaced persons and revival of the customary administrative structure, including maliks and political agents.
Full report at:
http://www.dawn.com/news/1101987/tribesmen-complain-of-being-left-out-of-peace-process
-----------
Ban on Geo News will be a big mistake, says JUI-F Chief Maulana Fazl
April 24, 2014
LONDON: JUI-F Chief Maulana Fazl ur Rehman has said that ban on popular channel 'Geo News' would be a big mistake.
Talking to Geo News here, Maulana Fazl ur Rehman said Geo News is popular among the masses and ban on it will be a big mistake.
Commenting on attack on Geo News anchorperson Hamid Mir, Maulana Fazl said judicial commission should be trusted in this regard.
http://www.thenews.com.pk/article-145564-Ban-on-Geo-News-will-be-a-big-mistake,-says-Fazl
-----------
Pak journalist hurls shoe at Punjab CM to protest attack on TV anchor Hamid Mir
PTI | Apr 24, 2014
LAHORE: A Pakistani journalist on Thursday hurled a shoe at Punjab chief minister Shahbaz Sharif to protest the attempt on the life of prominent TV anchor Hamid Mir.
Security officials overpowered the journalist and removed him from the hall of Pearl Continental hotel here where Sharif was addressing a South Asia Labour Conference attended by representatives of SAARC countries.
The journalist, Imdad Sadheer, belongs to Awaz Web TV, a Sindhi publication.
"Your government has done nothing to arrest the attackers of Hamid Mir," Sadheer shouted and threw his shoe at Sharif.
Full report at:
http://timesofindia.indiatimes.com/world/pakistan/Pak-journalist-hurls-shoe-at-Punjab-CM-to-protest-attack-on-TV-anchor-Hamid-Mir/articleshow/34160661.cms
---------
North America
Jewish scholar lectures on 'How Islam Saved the Jews,' at UAB on April 24
April 24, 2014
David J. Wasserstein, a professor of Jewish History at Vanderbilt University, will lecture on "How Islam Saved the Jews" at 7 p.m. on Thursday, April 24, at the University of Alabama in Birmingham.
The free, public lecture will take place at UAB's Volker Hall, Lecture Room A, 1670 University Blvd. The event is co-sponsored by the UAB Department of History and the Birmingham Islamic Society.
"It's a chance for Jews and Muslims who are now often at odds politically to reflect on our glorious historical past and for a moment forget about our political differences, and work on future peace," said Ashfaq Taufique, president of the Birmingham Islamic Society.
Wasserstein will discuss how the spread of Islam after Muslims conquered Mecca in 630 A.D. led to a thriving Muslim culture that also allowed a thriving Jewish subculture, until about 1300 A.D.
Full report at:
http://www.al.com/living/index.ssf/2014/04/jewish_scholar_lectures_on_how.html
http://www.topix.com/forum/religion/islam/TOCHGV4RP3039GRP2
-----------
Turkish rock singing imam hits the stage in New York
April 24, 2014
Turkey's most famous imam (thanks to his rock music career), Ahmet Muhsin Tüzer, took the stage in New York on April 23 as a part of the Ultima Festival.
Tüzer shared the stage with composer Catherine Christer Hennix and her group "Choros(s)san Time-Court Mirage."
He sang with the group and recited the call to prayer along with Quranic verses, accompanied by drone music.
Amir el-Saffar, Robin Hayward, Paul Schwingenschlögl, Hilary Jeffery, Elena Margarita Kakaliagou and Stefan Tiedje performed in the group for Tüzer's performance.
Hennix thanked Tüzer for accepting their invitation to perform together, describing the concert as "amazing."
Full report at:
http://www.hurriyetdailynews.com/turkish-rock-singing-imam-hits-the-stage-in-new-york.aspx?pageID=238&nID=65498&NewsCatID=383
-----------
Hook-handed preacher accused of terrorism gloats over 9/11 attacks
April 24, 2014
A New York jury heard accused terrorist Abu Hamza al-Masri gloat Monday over the 9/11 attacks and the 2000 bombing of a U.S. Navy ship.
"Everybody was happy when the planes hit the World Trade Center," the hook-handed preacher told a television reporter in a videotaped interview that prosecutors played in Manhattan Federal Court.
When asked whether he approved of the suicide attack on the U.S.S. Cole, Abu Hamza responded, "Of course. I agree with it." Prosecutors screened the clips while questioning witness George Corey, a federal investigator and former NYPD detective.
Abu Hamza, 56, is charged with supporting Al Qaeda and the Taliban. The feds claim he aided a deadly kidnapping of tourists in Yemen in 1998 and plotted to establish a terrorist training camp in Oregon in 1999.
Full report at:
http://www.nydailynews.com/news/national/accused-terrorists-cheers-9-11-attacks-article-1.1764372#ixzz2zmdCnQ2M
-----------
'US views Nawaz govt as reliable partner'
April 24, 2014
ISLAMABAD – US Special Representative for Pakistan and Afghanistan James Dobbins on Thursday called on Interior Affairs Minister Chaudhry Nisar Ali and eulogized the role of Pakistan both as an ally and as a major player in the region for peace and stability.
Overall regional situation came under discussion during the meeting, which was also attended by US Ambassador to Pakistan Richard G Olson. Dobbins assured the minister that US views Nawaz Sharif government as a reliable partner in pursuit of peace and was committed to a multi-faceted and long-term relationship with Pakistan.
Full report at:
http://www.dailytimes.com.pk/national/24-Apr-2014/us-views-nawaz-govt-as-reliable-partner
-----------
US: Bangladesh made progress with labour rights
April 24, 2014
Washington has acknowledged that Bangladesh made progress with important labour rights issues last year, but added that much work was still to be done.
The observation was made in a joint statement by the US Department of State, the Office of the US Trade Representative, the USAID, and the Department of Labour.
The statement read that Bangladesh made progress in allowing over 140 unions to register, permitting re-registration of a leading labour rights NGO, agreeing to an ambitious plan for safety inspections and factory-level monitoring and remediation across the garment sector in collaboration with the ILO, beginning the hiring of new labour inspectors, and conducting preliminary safety inspections.
Full report at:
http://www.dhakatribune.com/labour/2014/apr/24/us-bangladesh-made-progress-labour-rights#sthash.PDg1GbSk.dpuf
-----------
US to reassess aid to Palestinians if unity government deal reached
By REUTERS
April 24, 2014
The United States would have to reconsider its assistance to the Palestinians if Islamist group Hamas and the Palestinian Liberation Organization form a government together, a senior US administration official said on Thursday.
"Any Palestinian government must unambiguously and explicitly commit to nonviolence, recognition of the state of Israel, and acceptance of previous agreements and obligations between the parties," the official said, speaking to Reuters on condition of anonymity.
"If a new Palestinian government is formed, we will assess it based on its adherence to the stipulations above, its policies and actions, and will determine any implications for our assistance based on US law," the official said.
Full report at:
http://www.jpost.com/Diplomacy-and-Politics/US-to-reassess-aid-to-Palestinians-if-unity-government-deal-reached-350282
-----------
US envoy issues Libya extremist warning during visit
April 24, 2014
The second-ranking US diplomat warned on Thursday during a visit to Libya that the threat of extremism is an "enormous challenge" for the North African country and the international community.
William Burns is the most senior American official to travel to Libya since an assault on the US consulate in the eastern city of Benghazi killed four Americans, including ambassador Chris Stevens, in 2012.
"Rising violent extremism... and terrorism is an enormous challenge first for Libya but also for Libya's international partners as well," the deputy secretary of state told a news conference.
Burns said the US stood ready to help improve the security situation in Libya, which has been plagued by violence since the 2011 uprising that toppled dictator Muammar Gaddafi.
"We discussed ongoing international support for Libya's efforts to reform the security sector, improve border security, control the proliferation of conventional weapons, and enhance the rule of law," he said.
Full report at:
http://english.ahram.org.eg/NewsContent/2/8/99731/World/Region/US-envoy-issues-Libya-extremist-warning-during-vis.aspx
---------
Africa
Nigerian rapist to be stoned to death in Kano
Apr 24, 2014
An Islamic court in northern Nigeria has sentenced a man of 63 to death by stoning for raping a girl of 10 and infecting her with HIV.
Ubale Sa'idu Dotsa admitted raping the girl but said he had incited by the Devil, reports the AP news agency.
His two wives have reportedly died from Aids-related diseases.
Several people have been sentenced to death by stoning in northern Nigeria's Islamic courts but none have been carried out.
Kano state's commissioner of justice Maliki Kuliya told the BBC Hausa service that Mr Dotsa has the right to appeal up to the federal Supreme Court, which could take years.
http://www.bbc.com/news/world-africa-27138939
----------
Moroccan Jew asks to join ruling Islamist party
Apr 24, 2014
A Jewish lawyer in Morocco is challenging the country's political establishment by asking to join an Islamist party, it is reported.
Isaac Charia says in a letter to Prime Minister Abdelilah Benkirane's Justice and Development Party (PJD) that he wants to know if Jews are welcome to join, adding that he hopes his request will not be seen as "a cynical act".
"The Islamic world has witnessed many fights in the name of religion in which many people were killed," Mr Charia tells Akhbar Al-Yaoum newspaper. "It's the time to stop mixing religion and politics, and struggle for real development."
He adds: "This is who I am. Will you accept me?" Mr Charia says he hasn't had any response so far, according to the Morocco World News website. There are an estimated 6,000 Jews in Morocco, a country of some 32.6 million.
The PJD took power in 2011 for the first time and is the first Islamist party to run Morocco, the Arab world's oldest monarchy. Mr Benkirane's coalition governs alongside conservative monarchists, liberals, socialists and former communists.
http://www.bbc.com/news/blogs-news-from-elsewhere-27125326
----------
Sudan seeks probe into killing of nationals in S. Sudan
April 24, 2014
Sudan called on Thursday for an investigation into the "assassination" of its nationals in a South Sudan oil town, where the UN has accused rebels of killing hundreds of civilians.
"The foreign ministry condemns assassination of the Sudanese nationals in Bentiu and calls for urgent investigation", the official SUNA news agency said in an SMS alert.
The United Nations Mission in South Sudan (UNMISS) said on Monday that both South Sudanese and Sudanese -- some from Sudan's Darfur region -- were killed in "targeted killings" after rebels took Bentiu, the capital of South Sudan's oil-rich Unity state, from government forces last week.
Full report at:
http://english.ahram.org.eg/NewsContent/2/8/99712/World/Region/Sudan-seeks-probe-into-killing-of-nationals-in-SSu.aspx
-----------
Gunmen kill 17 in Nigeria village raid: Police
April 24, 2014
Gunmen killed at least 17 people in an attack on a village in eastern Nigeria where scores of people have died in ethnic violence in recent weeks, police said Wednesday.
Residents of the predominantly Christian village in Taraba state put the death toll from Tuesday's attack at 35 and said another 15 were still missing.
Religiously-divided Taraba has suffered a wave of ethnic and sectarian violence pitting the mostly Christian ethnic Jukun against their Muslim Hausa and Fulani neighbours as they jostle for political control of the state.
Full report at:
http://english.ahram.org.eg/NewsContent/2/9/99693/World/International/Gunmen-kill--in-Nigeria-village-raid-Police.aspx
-----------
4 dead in car bomb blast at Nairobi police station
AP | Apr 24, 2014
NAIROBI: Police in Nairobi say four people have died after a car bomb blast just outside a police station in central Nairobi.
David Kimaiya, the inspector general of police, said two police officers were among those killed in the explosion late Tuesday.
An Associated Press reporter at the scene said it appeared that the blast ripped apart the back end of a sedan. The explosion happened near a police station's main gate.
Terror warnings have been a constant in Kenya in recent months, particularly after September's attack on Westgate Mall killed at least 67 people.
Full report at:
http://timesofindia.indiatimes.com/world/rest-of-world/4-dead-in-car-bomb-blast-at-Nairobi-police-station/articleshow/34126170.cms
-----------
Arab World
Nearly 7 Hundred French Jihadists Directly, Indirectly Involved in Syria War
April 24, 2014
TEHRAN (FNA)- Now that Syria War is closing to it's end, the French government has announced its intention to enhance surveillance of radical Islamist websites that recruit fighters and to block assets of people behind them. Paris will also push its European partners to close down extremist sites.
http://english.farsnews.com/player.aspx?nn=13930204000200
---------
Air raid kills 21 at Syria market: Monitor
April 24, 2014
An air strike on a market on Thursday killed at least 21 people, including three children, in a village of the north Syrian province of Aleppo, a monitoring group said.
The deadly raid comes amid a massive aerial offensive targeting opposition-held areas across Aleppo city and province that began in December 15.
The Syrian Observatory for Human Rights said the bombing campaign has killed hundreds, mostly civilians, and forced thousands of families to flee their homes.
"The number of people killed in an air strike this morning against the market area of Atareb village has risen to 21, including three children," said the Observatory, adding the toll was likely to rise.
Activists distributed video showing scenes of chaos, with bodies lying amid mounds of grey rubble in what was clearly a market.
The amateur footage shows a woman in a white headscarf screaming as she leaned over the body of a loved one.
Full report at:
http://english.ahram.org.eg/NewsContent/2/8/99724/World/Region/Air-raid-kills--at-Syria-market-Monitor.aspx
-----------
Suicide attack in Iraq kills at least 11 people
Associated Press | Baghdad | April 24, 2014
A suicide bomber rammed his explosives-laden car into a police checkpoint south of Baghdad on Thursday morning, killing at least 11 people, officials said, the latest episode in an uptick in violence in the run-up to next week's parliamentary elections in Iraq.
The attack struck during the morning rush hour, when the checkpoint at one of the entrances to the city of Hillah, about 95 kilometres south of Baghdad, was crowded with commuters.
Among the 11 killed were seven civilians and four policemen while 27 people were wounded in the bombing, a police officer said. The blast also damaged about 15 cars nearby.
A medical official confirmed the casualty figures. Both officials spoke on condition of anonymity because they were not authorized to speak to the media.
The Shiite-dominated city of Hillah has seen sporadic violence recently. Last month, a suicide car bomber hit another checkpoint in same area, killing 36 people.
Full report at:
http://indianexpress.com/article/world/world-others/suicide-attack-in-iraq-kills-at-least-11-people/
-------------
Syrian Army Foils Infiltration Attempts, Chases Terrorists in Rural Aleppo, Homs
April 24, 2014
Syrian army on Thursday thwarted a terrorist group's infiltration attempt from Bait Berri town to the safe areas in Aleppo, leaving a number of its members killed or injured, state-run SANA news agency reported.
In Daraa, other units foiled an attempt by armed groups to infiltrate from the national forest in Tsseil towards Nawa leaving the groups' members killed and wounded.
The national military foiled on Wednesday other infiltration attempts into Ghabagib and Khirbet Ghazaleh in Daraa, killing and injuring a number of them.
A source told SANA that army units inflicted heavy losses upon terrorists in the area surrounding Bilal al-Habashi Mosque, the Shoes Factory, al-Sibeh neighborhood and to the north west of al-Karek neighborhood in Daraa al-Balad, eliminating a number of terrorists.
Army also targeted the armed groups in al-Yadodeh village, Allajat area, to the west of Etman town, Tafas, Salmin, to the north of Tebneh, Nawa, Tsil and the national forest in Daraa countryside. a number of terrorists were killed , their weapons were destroyed.
Full report at:
http://www.almanar.com.lb/english/adetails.php?eid=147926&cid=23&fromval=1&frid=23&seccatid=20&s1=1
-----------
Egyptian children - so young yet locked-up as 'terrorists'
24 April 2014
Very young children have been put in prison in Egypt; their rights granted by international conventions have been lost since the coup last year. You can see the marks of torture on their bodies, while the mental scars are embedded deep in their psyche, like the books they used to read about freedom and a positive future.
Kareem's story is told by his mother from Alzohoor Prosecution Centre in Port Said governorate; she was there to attend the 14 year-old's hearing: "At exactly two and a half hours after midnight, a huge force of masked policemen attacked the house and destroyed all our belongings," she told Alarabi Aljadid. "I was surprised to see that they were asking about my child, Kareem, and they interrogated him for an entire hour at the house regarding events and demonstrations with which he had no link. He said that he had no information about such things so they abducted him and took him to the police station."
When she went to the police station later that night, Kareem's mother saw torture marks on his body including, she claims, those inflicted by electric shocks. She cried when she recounted the details of her son's treatment at the hands of the Egyptian authorities.
"I asked the prosecutor to let him go because the end of year exams were in two weeks. Kareem is taking part in an American University scholarship, and if he is absent he'll be expelled, but the prosecutor did not care about any of that at all."
Full report at:
https://www.middleeastmonitor.com/articles/middle-east/11074-egyptian-children-so-young-yet-locked-up-as-terrorists
---------
Muslim scholars slam arbitrary arrests and torture in Egypt
24 April 2014
The International Union of Muslim Scholars condemned the indiscriminate arrests and torture in Egyptian prisons especially those against women, scholars, journalists and youth.
In a statement, the Union called on human rights advocates to support the Egyptian people in their distress and on the Egyptian authorities to immediately release all the detainees especially after many of them announced their intention to go on hunger strike.
The statement mentioned Abdullah Al-Shami, a journalist who has been detained for nearly 250 days and went on hunger strike 84 days ago, and Mohammed Salah Sultan who has been detained for eight months and went on hunger strike 60 days ago. Sultan is said to have suffered from serious health conditions and weighs 40 kilogrammes. The Union called on the Egyptian people to unite and continue peaceful resistance until the fall of the coup and the return of legitimacy.
Full report at:
https://www.middleeastmonitor.com/news/africa/11051-muslim-scholars-slam-arbitrary-arrests-and-torture-in-egypt
---------
Clashes erupt in Upper Egypt over arrests of Islamists
April 24, 2014
Clashes erupted Thursday morning between security forces and supporters of deposed president Mohamed Morsi in Beni Suef governorate, south of Cairo, as police raided homes to arrest Islamists.
Fights broke out in Al-Maymoun village after alleged members of Morsi's Muslim Brotherhood group blocked railway tracks and set tyres on fire to protest the arrest of several group members in the northern village, Al-Ahram Arabic news website reported. Train movements from and to the country's southern governorates was been brought to a halt as a result.
Police fired intense rounds of teargas to scatter the protesting crowds. Back and forth fighting was continuing as of time of publishing as forces blocked off roads in and out of the village, according to Al-Ahram.
Full report at:
http://english.ahram.org.eg/NewsContent/1/64/99717/Egypt/Politics-/Clashes-erupt-in-Upper-Egypt-over-arrests-of-Islam.aspx
-----------
Qatar says dispute with Gulf neighbours 'over'
April 24, 2014
Qatar's dispute with three fellow Gulf states, which withdrew their envoys from Doha last month, is "over", the Qatari foreign minister said Wednesday, while insisting his country had made no concessions.
"The statement issued in Riyadh on April 17 was clear ... For the brothers in the Gulf Cooperation Council (GCC) the dispute is over," Khaled Al-Attiyah told a press conference in Kuwait after a meeting with his Kuwaiti counterpart Sheikh Sabah Khaled Al-Sabah.
GCC foreign ministers met last week and announced an end to months of unprecedented tensions between Qatar and Saudi Arabia, the United Arab Emirates and Bahrain.
The three countries recalled their ambassadors from Doha after accusing Qatar of meddling in their internal affairs and supporting the banned Muslim Brotherhood.
Attiyah's statement was the first Qatari comment on the special ministerial meeting held in Saudi Arabia.
Full report at:
http://english.ahram.org.eg/NewsContent/2/8/99675/World/Region/Qatar-says-dispute-with-Gulf-neighbours-over.aspx
-----------
Saudi prince says Gulf states must balance threat from Iran
April 24, 2014
A senior member of Saudi Arabia's royal family said that Gulf states should work on acquiring nuclear know-how to balance any threat from Iran.
Prince Turki al-Faisal, a former intelligence chief, also told a security conference in the Bahraini capital Manama, that the Gulf states should be prepared for any possible outcome from Iran's nuclear talks with world powers.
"We do not hold any hostility to Iran and do not wish any harm to it or to its people, who are Muslim neighbours," he said in a speech.
"But preserving our regional security requires that we, as a Gulf grouping, work to create a real balance of forces with it, including in nuclear know-how, and to be ready for any possibility in relation to the Iranian nuclear file. Any violation of this balance will allow the Iranian leadership to exploit all holes to do harm to us."
The United States, France, Germany, Britain, China and Russia have agreed a July 20 deadline with Iran to clinch a long-term deal that would allow a gradual lifting of all nuclear-related sanctions imposed on Iran over its atomic programme.
Full report at:
http://english.ahram.org.eg/NewsContent/2/8/99688/World/Region/Saudi-prince-says-Gulf-states-must-balance-threat-.aspx
-----------
Bahrain expels envoy of Shia Ayatollah Sistani
April 24, 2014
Authorities in Sunni-ruled Bahrain on Wednesday expelled the representative of Grand Ayatollah Ali al-Sistani, in the latest manifestation of tension with the kingdom's Shia majority.
Sheikh Hussein al-Najati was among 31 Bahrainis who had their citizenship revoked in November 2012 over accusations that they had undermined state security, more than a year after authorities crushed a Shia uprising in March 2011.
Najati "practised unclear activities, without coordinating with authorities which discovered afterwards that he was Sistani's representative," the interior ministry said.
"Working as an official representative of any party necessitates a letter of accreditation that specifies responsibilities and planned activities," it said.
Full report at:
http://english.ahram.org.eg/NewsContent/2/8/99680/World/Region/Bahrain-expels-envoy-of-Shia-Ayatollah-Sistani.aspx
-----------
Morsi trial hears Hamas, Hezbollah raided Egypt jails
April 24, 2014
CAIRO — Prosecution witnesses in the jailbreak trial of Egypt's ousted president Mohamed Morsi on Wednesday accused members of Palestinian Islamist movement Hamas and Lebanon's Hezbollah of attacking Egyptian prisons during the 2011 uprising.
The trial, one of three against Morsi, is part of a government crackdown that has targeted him and his Muslim Brotherhood movement since his ouster by the army in July. In the jailbreak case, Morsi and 130 other defendants including Palestinian and Lebanese militants are charged with organizing attempts to spring prisoners from jails and attacking police stations during the uprising that ousted longtime dictator Hosni Mubarak.
The prosecution presented three witnesses in Wednesday's hearing, two of whom described how jails were attacked during the uprising, before the trial was postponed until April 30.
Morsi, dressed in white prison uniform, appeared in a caged dock as his co-defendants sat with their backs to the judges in a separate enclosure, an AFP journalist said.
Full report at:
http://www.saudigazette.com.sa/index.cfm?method=home.regcon&contentid=20140424202969
-----------
Europe
European countries start to tackle 'citizen jihadists'
April 24, 2014
The phenomenon of "citizen jihadists" travelling to Syria has prompted European countries to take preventive measures as they try to stop them joining the civil war, aiming to prevent young Muslims becoming radicalized and posing a threat to their home country.
British police have started to reach out to Muslim women in an attempt to prevent young people going to fight in Syria, while France has unveiled a plan to stop youths joining jihad. Meanwhile, the Netherlands has warned that militants returning from Syria posed a security threat to Europe.
British counter-terrorism officials yesterday launched a national campaign to raise awareness of the risks of travelling to Syria, especially for those who just want to offer humanitarian aid. The campaign was prompted by an increase in the number of Britons caught travelling or returning from Syria, from 25 arrests last year to 40 in the first three months of 2014. Several of those arrested were subsequently charged with terrorism-related offences.
"We are increasingly concerned about the numbers of young people who have or are intending to travel to Syria to join the conflict," said Helen Ball, senior national coordinator for counter-terrorism. "We want to ensure that people, particularly women, who are concerned about their loved ones are given enough information about what they can do to prevent this from happening."
Full report at:
http://www.hurriyetdailynews.com/european-countries-start-to-tackle-citizen-jihadists--.aspx?pageID=238&nID=65506&NewsCatID=351
-----------
All parties in Syria blocking aid, say Ban Ki-moon
Apr 24, 2014
The UN Secretary General has accused all parties in Syria's civil war of "flagrant violations" of international law over the delivery of aid.
Ban Ki-moon urged the Security Council to act to implement a resolution passed in February demanding greater access.
In his second report to the council on the resolution, Mr Ban said almost 3.5m civilians were being denied vital aid, including medicine and medical care.
Activists say about 150,000 people have died in Syria's three-year civil war.
Millions of people have fled their homes as fighting shows no sign of easing.
No deal in sight
In report described by the BBC's Nick Bryant at the UN as a strong rebuke, Mr Ban wrote: "The Security Council must take action to deal with these flagrant violations of the basic principles of international law."
Full report at:
http://www.bbc.com/news/world-middle-east-27137263
------------
NYT publishes fake photos of "Russian militant" in Ukraine amid warnings from world media
Apr 24, 2014
The New York Times released fake photos of a so-called Russian militant in Ukraine amid warning from world media and the US government just watched on the sidelines in silence. This is just one of the ways the US propaganda machine is trying to contort the truth to favour its own money-hungry agenda. However, just a day after the report surfaced of its allegations against Russian Special Forces supposedly protesting in east Ukraine entitled "Photos Link Masked Men in East Ukraine to Russia," has been labelled for what it really is, an outright fairy tale.
Low-resolution pictures were distributed of the fighters by the NY Times. The men in the photos were said to be wearing Russian insignia while they were on Georgia's soil and then later on as protestors in east Ukraine. The American newspaper claimed that these were the same men, which seemed to be proof enough for the media outlet that Russian intervention was happening in the Eastern European country.
Full report at:
http://voiceofrussia.com/2014_04_24/photo-NY-Times-published-fake-photos-of-so-called-Russian-militant-in-Ukraine-amid-warnings-from-world-media-US-govt-keeps-silent-9951/
-------------
Moscow against delaying next round of inter-Syrian talks - Russian FM Lavrov
Apr 24, 2014
The third round of negotiations between Syria's government and opposition should be held as soon as possible, Russian Foreign Minister Sergei Lavrov said. "We agree that a political and diplomatic settlement of the Syrian crisis on the basis of the Geneva communique has no alternatives. We support the resumption of the inter-Syrian talks with this aim, given the fact that their third round should take place as soon as possible. We would like to avoid any delays in this matter," he said at a press conference after negotiations with Lebanese Foreign Minister Gebran Bassil.
Full report at:
http://voiceofrussia.com/news/2014_04_24/Moscow-against-delaying-next-round-of-inter-Syrian-talks-Russian-FM-Lavrov-5231/
------------
Mideast
Abbas: Unity with Hamas does not contradict peace talks with Israel
April 24, 2014
Palestinian President Mahmoud Abbas said on Wednesday a unity pact he reached with the militant group Hamas earlier in the day did not contradict peace talks he is pursuing with Israel.
Israel called off a session of talks in response to the deal with the Gaza-based Islamist group, which is sworn to its destruction. But Abbas said in a statement that an independent state living peacefully alongside Israel remained his goal.
http://english.ahram.org.eg/NewsContent/2/8/99696/World/Region/Abbas-Unity-with-Hamas-does-not-contradict-peace-t.aspx
-----------
200 Palestinian Prisoners in Occupied Territories Go on Hunger Strike
April 24, 2014
Two hundred Palestinian prisoners started on Thursday an indefinite hunger strike to protest the Zionist administrative detention policy, a rights lawyer said.
"Detainees refused food on Thursday and declared a hunger strike," Jawab Boules, a lawyer with the Ramallah-based Palestinian Prisoners Club, told media outlets.
"Some administrative prisoners have been in jail for years without trial," Boules said. "Prisons have become like their homes."
Administrative detention is a Zionist policy under which Palestinians are held without trial, usually for security reasons.
An administrative detention order ranges from one to 6 months and can be extended till up to five years by a Zionist military court.
Full report at:
http://www.almanar.com.lb/english/adetails.php?fromval=1&cid=23&frid=23&eid=147882
-----------
Turkey's Syriacs demand gov't support for schools
April 24, 2014
The head of the Turkey Syriac Associations Federation, Evgil Türker, has told Hürriyet Daily News that efforts are being taken to open a Syriac elementary school, the first ever in the history of the republic.
However, having difficulty to undertake the financial burden of opening school in Mardin's Midyat district, the community will appeal to the Ministry of Education for support.
The Syriacs are also lacking certificated Syriac speaking teaching staff and will also ask the ministry to allow Syriac teachers from Syria, Iraq and Europe to provide training in Turkey, Türker added.
Full report at:
http://www.hurriyetdailynews.com/turkeys-syriacs-demand-govt-support-for-schools.aspx?pageID=238&nID=65471&NewsCatID=339
-----------
Liberman: Abbas will never sign an agreement with Israel
April 24, 2014
Foreign Minister Avigdor Liberman told Israel Radio on Thursday that he believes that Palestinian Authority President Mahmoud Abbas will never sign a peace agreement with Israel.
"Abbas wont sign any deal. He likes the current situation- no war and no peace. His strategy is to exhaust the enemy," he said.
Liberman continued and stressed that the peace talks between the Palestinians and Israel cannot continue due to the unity agreement between Fatah and Hamas, signed on Wednesday evening.
"As long as there is an agreement between Fatah and Hamas, an agreement with Israel is not possible."
Full report at:
http://www.jpost.com/Diplomacy-and-Politics/Liberman-Abbas-will-never-sign-an-agreement-with-Israel-350278
---------
One Prisoner Hanged in Northwestern Iran- Three to be Hanged in Baluchestan
April 24, 2014
After a break in the executions on the occasion of the Iranian new year, the executions have resumed in Iran. One prisoner was hanged in Ardebil today and three other prisoners are scheduled to be hanged in the Baluchestan province in the near future.
Iran Human Rights, April 8, 2014: One prisoner was hanged in the prison of Ardebil (Northwestern Iran) early Tuesday morning April 8, reported the Iranian state media.Image-Rasht-ex
According to the official website of the Iranian Judiciary in Ardebil, the prisoner who was not identified by name, was convicted of possession of 964 grams of heroin.
Full report at:
http://iranhr.net/2014/04/one-prisoner-hanged-in-northwestern-iran-three-to-be-hanged-in-baluchestan/
-----------
7 Sunni prisoners awaiting execution in Iran transferred to Rajai Shahr prison
April 24, 2014
HRANA News Agency – Seven Sunni prisoners of conscience awaiting execution in Iran have been transferred to Rajai Shahr prison in Karaj.
According to the report of Human Rights Activists News Agency (HRANA), Kaveh Vaisi, Kaveh Sharifi, Arash Sharifi, Mokhtar Rahimi, Shahram Ahmadi, Behrouz Shah Nazari and Taleb Malaki were transferred today after being removed from Ward 350 of Evin prison in Tehran.
Shahram Ahmadi, who had been taken to hospital yesterday after suffering from excessive kidney bleeding, was later returned to Evin prison, and then transferred to Rajai Shahr prison along with the other six prisoners.
Human rights activists have warned that the men are at an increased risk of execution, after a number of documentaries about the prisoners containing forced 'confessions' were broadcast in recent weeks by Iranian state-run media.
https://hra-news.org/en/7-sunni-prisoners-awaiting-execution-transferred-rajai-shahr-prison
-----------
Southeast Asia
Ahmadis Unequivocal in Response to Ban by MUI
April 24, 2014
Jakarta. An Ahmadiyah community in West Java has lashed out at a call for a ban on its activities by the country's highest clerical council, which only days earlier backed a declaration of jihad, or holy war, against another maligned minority group.
In an open letter sent on Thursday to the Indonesian Council of Ulema, or MUI, the Ahmadiyah congregation in Ciamis, West Java, questioned the clerics' authority to forbid them from practicing their faith.
"If the Ciamis chapter of the MUI or any residents' group has any objections with the Ahmadiyah, please address them according to the proper procedures, and don't take the law into your own hands," the letter said.
It noted that there was nothing in the law that permitted the MUI or any other group from trying to force a ban on Ahmadiyah activities, and that doing so would be a direct violation of the constitutionally guaranteed right to freedom of worship.
The letter was in response to a letter issued by the local MUI chapter on Wednesday demanding a halt to all activities by the Ahmadiyah congregation at Nur Khilafat Mosque in Ciamis.
Full report at:
http://www.thejakartaglobe.com/news/ahmadis-unequivocal-response-ban-mui/
-----------
Don't forget Pakatan's common agenda, DAP reminds PAS as hudud row escalates
April 24, 2014
DAP will not bow to threats and will continue to resist the implementation of hudud as it is clearly unconstitutional, a party lawmaker said today.
Puchong MP Gobind Singh Deo (pic) said the party's stand on the Islamic penal law would not waver, especially as it was against the Pakatan Rakyat agenda.
Gobind's father, the late Bukit Gelugor MP Karpal Singh, was a firm opponent of hudud and the establishment of an Islamic state.
"If PAS insists on tabling the bill to implement hudud in Kelantan, the party should be prepared to face firm and open resistance from DAP," Gobind said in a statement.
He pointed out that PAS had formed an alliance with PKR and DAP after they accepted PR's common agenda which did not include the implementation of hudud.
"PAS rode on the combined strength of PR in the 13th general election last year," Gobind reminded the Islamic party.
Full report at:
http://www.themalaysianinsider.com/malaysia/article/dont-forget-pakatans-common-agenda-dap-reminds-pas-as-hudud-row-escalates
-----------
Hudud will never be PAS's trump card in elections, says DAP
April 24, 2014
The implementation of hudud could have cost Pakatan Rakyat dearly in last year's 13th general election, including losing Selangor, DAP adviser Lim Kit Siang said today.
He said that if the issue of hudud had been raised during last year's polls, Barisan Nasional might have regained its two-thirds majority.
"In fact, both Kedah and Johor would have reverted back to being invincible Barisan Nasional 'fixed deposit' states," Lim said in a statement.
The Gelang Patah MP said when PAS Terengganu included the hudud issue in its 2008 state election manifesto, it did not result in additional support for PR.
"PAS only won one parliamentary seat and improved on the number of state assembly seats from four to eight," Lim said.
"BN's support decreased by 11% nationwide between 2004 and 2008. But in Terengganu, it only fell by 0.5%."
Full report at:
http://www.themalaysianinsider.com/malaysia/article/hudud-will-never-be-pass-trump-card-in-elections-says-dap
-----------
Malaysians more concerned about education than ethnic and religious issues
April 24, 2014
A majority of Malaysians are more preoccupied with the quality of education and the infrastructure in their communities rather than ethnic and religious issues, such as the tussle over the word Allah, the National Unity Consultative Council (NUCC) discovered through feedback from its dialogue with the people.
Ethnic issues are intentionally played up by political parties to gain support, said senior officials of the NUCC secretariat, who have organised 20 dialogues throughout the country in the past two months.
Feedback from the unity dialogues or "dialog perpaduan" also showed that Malaysians want politicians from Pakatan Rakyat and Barisan Nasional to work together to solve national problems.
Full report at:
http://www.themalaysianinsider.com/malaysia/article/malaysians-more-concerned-about-education-than-ethnic-and-religious-issues
--------
New Documentary Chronicling the Idiosyncrasies of Indonesian Politics
April 24, 2014
The presidential candidates stepped up their rhetoric and smiling images across Indonesia, intensifying their efforts as the elections shifted from the legislative to the presidential primaries.
Reaching out to their party faithfuls at Jakarta's Gelora Bung Karno stadium, contenders like Gerindra (Great Indonesia Movement) Party presidential hopeful Prabowo Subianto and Indonesian Democratic Party of Struggle, or PDI-P, stalwart Megawati Soekarnoputri trawled for votes by appealing to the electorates' nationalist and religious sentiments, as well as enticing promises of welfare and financial incentives. Lowbrow tactics are also the name of the game.
Full report at:
http://www.thejakartaglobe.com/features/chronicling-idiosyncrasies-indonesian-politics/
-----------
Indonesia: With Fatwa, PPP's Fractious in-Fighting Comes to an End
April 24, 2014
Bogor. Two rival factions of Indonesia's oldest Islamic party agreed on Wednesday to reconcile, following a bitter split that had threatened to bar it from backing a candidate for the presidential election.
The closed door meeting of the United Development Party, or PPP, in Bogor agreed that Suryadharma Ali would be reinstated as the party chairman, after a faction led by secretary general M. Romahurmuzy declared him fired over the weekend.
In return, the party agreed not to form a coalition with the Great Indonesia Movement Party, or Gerindra, whose presidential candidate, Prabowo Subianto, was previously unilaterally endorsed by Suryadharma, to the chagrin of Romahurmuzy and other PPP officials.
Wednesday's reconciliation meeting was facilitated by senior cleric Maimun Zubair, the head of the Islamic party's Shariah assembly.
Full report at:
http://www.thejakartaglobe.com/news/fatwa-ppps-fractious-fighting-comes-end/
-----------
South Asia
Abdullah Abdullah leads Afghanistan poll count
Apr 24, 2014
Afghan presidential candidate Abdullah Abdullah remains the frontrunner with 80% of votes counted, officials say.
Dr Abdullah has 43.8% of ballots cast, followed by Ashraf Ghani with 32.9%, according to the Independent Election Commission (IEC).
The IEC said the preliminary results suggested it was unlikely there would be an outright winner and that a run-off vote would be held on 28 May.
About seven million people voted across the 34 provinces in the 5 April poll.
The next president will face several challenging issues, including the expected withdrawal of foreign combat troops from Afghanistan later this year and ongoing attacks by the Taliban.
The Independent Election Commission said the preliminary results were based on nearly 82.6% of the vote from the 34 provinces.
Full report at:
http://www.bbc.com/news/world-asia-27145842
-----------
Three Americans killed in Kabul hospital attack
Kabul | April 24, 2014
Three Americans were killed on Thursday when a security guard opened fire at a Kabul hospital funded by a U.S. Christian charity, in the latest of a spate of attacks on foreign civilians in Afghanistan.
Attacks on security forces, Afghan civilians and Westerners have been on the rise since the beginning of the year, as Western forces prepare to leave the country and Afghans choose a new president.
"We can confirm three Americans were killed," said a U.S. embassy official, without providing further details. A fourth American was wounded, the Afghan Health Ministry said.
The attacker, a policeman employed as a security guard at the Cure Hospital, was captured, the ministry said. The Taliban have claimed responsibility for similar attacks this year, but made no comment about Thursday's shooting. Those killed included a doctor, and a father and son visiting the hospital, Health Minister Suriya Dalil said.
Full report at:
http://indianexpress.com/article/world/asia/three-americans-killed-in-kabul-hospital-attack/
---------
Nasheed criticises indirect taxation following amendments to import duties
By Daniel Bosley | April 23rd, 2014
Former President Mohamed Nasheed has criticised the recent amendments to customs duties, arguing that a strong economy cannot be built upon regressive taxes.
"We have noticed that indirect taxes such as import duty have a very bad impact on the economy," the acting president of the Maldivian Democratic Party (MDP) told local newspaper Haveeru.
"The tax that is being derived from the poorest man's toothpaste is equal with the tax levied on the richest man's toothpaste. We do not believe that this is a smart way of generating state income," he said.
Nasheed's comments followed the approval of amendments to the Import-Export Act which increased import duties on a range of goods as part of the current administration's revenue raising measures.
Full report at:
http://minivannews.com/politics/nasheed-criticises-indirect-taxation-following-amendments-to-import-duties-83357
-----------
Bangladesh elected Unicef executive board member
April 24, 2014
Bangladesh has been elected member in the executive board of United Nations International Children's Emergency Fund (Unicef) for the next three years.
After a vote among the country members held at United Nation's headquarters, the membership of Bangladesh was announced yesterday, according to a foreign ministry press release.
Expressing his gratitude to the UN country members, AK Abdul Momen, ambassador and permanent representative of Bangladesh to the UN, said Bangladesh has achieved the recognition through its development in women and children sectors during the Awami League-led government.
Apart from this, Bangladesh is also member of more than 40 committees of the UN.
http://www.thedailystar.net/bangladesh-elected-unicef-executive-board-member-21409
-----------
Teesta to affect Indo-Bangla relations
April 24, 2014
BNP, the country's largest opposition party that is not in parliament, yesterday said relations with India would improve if it gave Bangladesh the due shares of water of all common rivers including the Teesta.
"Otherwise, our relation will grow sour," said BNP acting secretary general Fakhrul Islam Alamgir, addressing the concluding rally of its long march near the Teesta barrage in Nilphamari.
BNP standing committee member Nazrul Islam Khan echoed him.
Fakhrul said Bangladesh needed around 10,000 cusecs of water in the Teesta river from India to fulfil the demand of the northern region.
In a scathing attack, he said as the government was formed without people's votes, it could not protect people's rights.
The BNP spokesperson also said, "The government will not displease India, as it wants to remain in power with its blessings."
Full report at:
http://www.thedailystar.net/city/teesta-to-affect-indo-bangla-relations-21336
-----------
India
Jamaat-e-Islami Hind issues list of preferred candidates to check 'communal forces'
Rakhi Chakrabarty,TNN | Apr 24, 2014
NEW DELHI: Jamaat-e-Islami Hind has put out a list of candidates in order to ensure consolidation of Muslims in favour of those who are in the best position to defeat "communal and fascist forces".
The candidates recommended by the Islamic outfit belong to Congress and other non-NDA parties including AAP, SP, BSP, RJD, Trinamool Congress, Left Front, JD(U) and NCP.
Although Jamaat did not mention BJP, the reference to "communal and fascist" forces is seen as meant for the Narendra Modi-led party.
In one case, in Amravati constituency in Maharashtra, Jamaat has asked its supporters to exercise the "NOTA" option since it found no candidates to be suitable.
The list may interest political circles and observers also because it brings out the estimate of Jamaat — an outfit with a countrywide network — about which of the non-BJP party in a given constituency is likely to get more Hindu votes and, therefore, is best equipped to defeat saffron nominees. Going by the estimate, SP fits the bill in UP while Mamata Banerjee remains far ahead of Left Front in West Bengal. In Bihar, Nitish Kumar, who broke with BJP over Modi's projection as PM, is trailing far behind his secular rival, the Congress-RJD combine.
Full report at:
http://timesofindia.indiatimes.com/home/lok-sabha-elections-2014/news/Jamaat-e-Islami-Hind-issues-list-of-preferred-candidates-to-check-communal-forces/articleshow/34127876.cms?
-----------
Hizb declares war against polls in Kashmir
AHMED ALI FAYYAZ
April 24, 2014
"Going from defensive to offensive and hitting the participants in polling has become our compulsion — not passion — as the forthcoming parliamentary and Assembly elections are emerging as a major challenge to our freedom struggle," read one of the hundreds of Urdu-typeset and laser-printed posters pasted on walls in Tral and other towns in Pulwama district on Saturday on behalf of the Hizbul Mujahideen.
"This is our final warning to the unscrupulous people attending the election rallies and polling and imposing the ill-fated Indian agents of the NC, PDP and Congress that their refusal to desist from this activity would mean their death. We have declared the war."
In the first enforcement of the diktat to subvert the April 24 polling, village headman Anwar Sheikh was gunned down at Amlar and Sarpanch Ghulam Nabi Mir with son Firdaus at Batagund on Monday. The next evening witnessed considerable decrease in the number of regular mosque-goers — around 40 per cent according to college teacher Jauhar Qudusi. A retired Police officer described the wave of fear as "unprecedented".
Full report at:
http://www.thehindu.com/elections/loksabha2014/north/hizb-declares-war-against-polls-in-kashmir/article5941047.ece
-----------
URL: https://www.newageislam.com/islamic-world-news/new-age-islam-news-bureau/lal-masjid-cleric-'very-dangerous'--had-issued-decree-against-army-and-the-government/d/76728