New Age Islam News Bureau
5 Nov 2009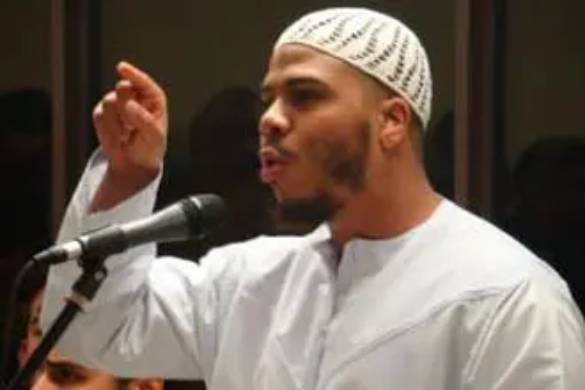 Mutah Beale launches TV show to present real Islam
---------------
• US rapper to expose "media lies" about Islam
• Bringing Aceh back in: Is Islamic Sharia really needed?
• Students rally against ex-Muslim speaker
• Islamic Sharia law only allows investment in tangible assets
• Corruption cases against Pak President to reopen
• Militants kill two female teachers in Pakistan
• 'Fully covered' woman presenters on Saudi TV
• Slackistan generates great deal of buzz in Pakistan
• 'Why can't Muslim women also lead the community.'
• Saudi jets 'attack Yemen rebels'
• Afghan strife makes UN relocate
• Pak Army, Taliban locked in street fighting
• Swiss Referendum Stirs a Debate About Islam
• Another Go at India-Pakistan Dialogue
• Afghan cop kills 5 British soldiers
• Kabul: Abdullah slams Karzai re-election
• Now, another inter-faith marriage raises passions in J&K
• Four SIMI activists held in Jabalpur
• Muslim Law Board member supports Backward Hindu view on women's reservation
• Tehran: Mousavi supporters clash with police
• Pak an unnecessary third party in J&K: PC
• India has let terrorists get away: Army Chief
• Former Muslim chaplain at Gitmo slams US policy
• Muslim world needs its own Peace Prize winner
• Abbas 'not to seek re-election'
• David Shenk speaks on Islamic Iranian Revolution
• NC Muslims want police to investigate continued vandalism against Durham mosque as hate crime
• Salah convicted of assaulting policeman
• 'Invaluable contribution of Muslim soldiers'
• Pak frontline state in war against terrorism: Pak Defence Minister
Compiled by New Age Islam News Bureau
URL of this Page: https://newageislam.com/islamic-world-news/lakhs-attend-barelvi-ijtema-mumbai/d/2058
-----
Lakhs attend Barelvi Ijtema in Mumbai
4 November 2009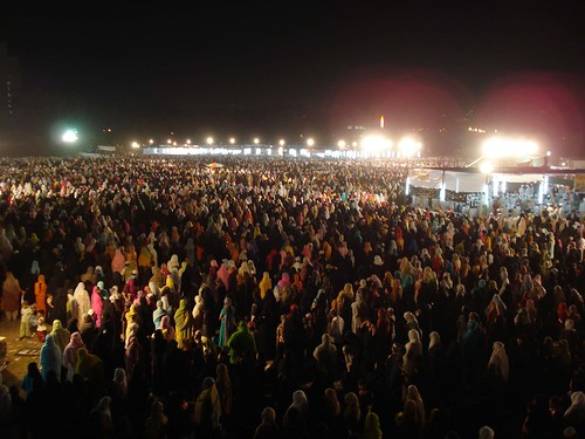 Barelvi Ijtema in Mumbai
Mumbai: Lakhs of men and women attend the 19th Annula International Sunni Ijtema organized by Sunni Dawate Islami in Mumbai's Azad Maidan on Oct 30th to Nov. 1st.
The first day of the three day event was reserved for women which saw about one lakh women from Mumbai and suburbs participate in the proceedings. The lectures on the first day was geared towards women- importance of acquiring Islamic knowledge; understand their responsibilities as a Muslim women, prepare themselves in accordance to the Islamic law for the creation of a moral society.
Next two days saw, according to the organizers, about two lakhs men from all over India who came to attend the ijtema. Program every day begin with tahajjud prayers and ended with isha prayers. In between prayers various speakers spoke on the need to get Islamic knowledge, on Islamic ideology, prayer methodology, Islamic principles that should guide the life of a Muslim.
Islamic Scholars Mufti Nizamuddin (UP), Maulana Khalid Raza(U.K.) Sayed Moin Ashraf (Mumbai), Maulana Faiyaz (Rajasthan), Mufti Qudratullah (UP), Mufti Anwar Ahmed (MP) and others spoke on the occasion.
Highlight of the ijtema was by the head of Sunni Dawate Islami, Maulana Mohammed Shakir Ali Noorie. His hour long lecture was about the creation of the earth and the purpose of it. He said that earth and whatever in is for humans but they are advised to use the resources correctly. Troubles that we see in the world are because people are abusing the resources. He criticized Western world for attacking other countries for their selfish reasons and exploiting the land that belongs to God.
He encouraged Muslims to increase good deeds and establish namaz on the earth to tilt the balance towards good. He took pledges from the audience that they will not harm fellow human beings and do anything against the interest of the nation.
The Ijtema ended on Sunday at 10pm with mass prayer for peace and prosperity for the whole humanity.
Sunni Dawate Islami was founded in 1991 by the leadership of Maulana Mohammed Shakir Ali Noorie. Its branches exist in India, UK, USA, Canada, South Africa, Portugal and Saudi Arabia.
http://twocircles.net/2009nov04/lakhs_attend_barelvi_ijtema_mumbai.html
--------
US rapper to expose "media lies" about Islam
04 November 2009
Mutah Beale launches TV show to present "true Islam"
Islam is backward, breeds terrorists and suppresses women, are just some of the lies the media promotes about Islam, says American rapper and convert to Islam Mutah Beale, who is set to launch a TV show next month to counter the negative stereotypes about Muslims.
Beale, who shot to fame as a member of the "Outlawz" formed by hip hop legend Tupac Shakur, is set to launch Napoleon TV on Dec. 1 to introduce people to the "true" Islam and counter what he terms "media lies about Islam."
"It seems like here in America the media is attacking Islam in every way possible, so I decided to use the media to give people an understanding about the true religion of Islam, which is whole and peaceful" Beale told Al Arabiya.
" It seems like here in America the media is attacking Islam in every way possible, so I decided to use the media to give people an understanding about the true religion of Islam, which is whole and peaceful "
Mutah Beale
Napoleon TV, named after Beale's rap alias, will be launched in Britain on cable network Sky's Up & Coming channel where Beale will present his audience an eclectic mix of segments from introducing top celebrities to Islam to explaining verses of the Quran.
The show, which will reach people in Europe and North Africa, will also give Muslims in the West unprecedented access to scholars in the Middle East with a segment on fatwas, or religious edicts, where people can call in and seek advice from accredited scholars in English, a feature Beale says will help Western Muslims in need of guidance on religious matters.
Beale will also use the channel, which brands itself as a "platform for up and coming TV channels, to air his documentary, "Life of an Outlaw," which is currently in the works and will be produced by Hollywood actor and comedian Mike Epps.
Audiences will also be treated to an inside look in to the daily life of the rapper, who left hip for Islam, with a segment called "Napoleon--The Real Me," a reality show that will follow Beale, who is now a motivational speaker, around
When asked what makes his life so interesting, Beale answered:"I want people to see that being a Muslim is a part of everyday life, which could be me taking my sons to a soccer game or me in a business meeting."
"People will get to see me going about my business while always striving to get closer to Allah."
Source: http://www.alarabiya.net/articles/2009/11/04/90244.html#000
--------
Bringing Aceh back in: Is Islamic sharia really needed?
Bachtiar Effendy
November 5, 2009
It seems almost natural that the Aceh legislature has passed a bill on adultery based on Islamic sharia - which derives from the Koran and Sunnah (traditions of Prophet Muhammad). According to the Koran, adultery is punishable by 100 strokes of the cane. A married person committing adultery has to be stoned to death.
This should come as no surprise to us given the central government's commitment to honor the political arrangements of 2001 that gave Aceh semi-autonomy and the unique position of being administered by Islamic sharia. Interestingly, the bill on adultery which was passed in early October this year by Aceh's regional parliament is still being put on hold. Aceh governor, the sole executor of any policies designed for the province, is reportedly still not willing to sign it into law.
The bill's fate is still not clear. But, if such thing - the passing of the bill by the regional parliament on one hand, and the unwillingness of the executive to sign it on the other - persists, it will not only create a political debacle in the region, but also raise questions regarding the whole idea of sharia as the governing mechanism of the province. Why bother having Islamic law if it is not going to be put into practice?
While the impasse between legislative and executive bodies may generate concern, especially with regard to the seriousness of some of the elites to implement sharia, it provides opportunities to once again discuss the position of sharia in Aceh. In this case, one simple question that has never actually been presented to the Acehnese in general is whether or not they really need their justice system to be based on sharia.
More than any other region in the country, Islam occupies a very special position in Aceh, to the extent that Aceh is symbolized by the nickname "Veranda of Mecca". Due to this socio-cultural trait, Aceh has never been historically treated as a secular region. At the same time, the government never authorized Aceh to be administered by Islamic principles.
Source: http://www.thejakartapost.com/news/2009/11/05/bringing-aceh-back-is-sharia-really-needed.html
--------
Students rally against ex-Muslim speaker
By Katie Farden
November 4, 2009
Members of Seattle University's Muslim community have been gathering signatures on a petition since Monday to voice their resentment over the university hosting author Nonie Darwish last week.
Darwish, a former Muslim who renounced Islam for Christianity and tours the nation speaking out against radical Islam and Sharia law, spoke at Seattle University Thursday.
Event organizers maintain they brought Darwish to campus to foster discussion about human rights issues and conflict in the Middle East.
"The idea of a university is to exchange ideas," said Gracie Cohen, a sophomore pre-major who publicized Darwish's talk.
Some students, however—who said Darwish spreads falsehoods and undue fear about Islam—demonstrated at the event Members of Seattle U's Muslim Student Association plan to bring their grievances to President Stephen Sundborg, S.J.
"We believe hosting a person like Nonie on the SU campus is contrary to all of the values upon which this institution is founded," said Ahmed Alnafie, former president of, MSA.
Darwish is the author of three books: "Now They Call Me Infidel; Why I Renounced Jihad for America, Israel and the War on Terror," "Cruel and Usual Punishment: The Terrifying Global Implications of Islamic Law" and "Obsession: Radical Islam's War against the West."
"The message she carries is a message of hatred and defamation to Islam," Alnafie said.
Committee for Accuracy in Middle East Reporting in America—a nonpartisan media-monitoring organization formed in 1982 that focuses on decreasing anti-Israel bias in mainstream news—sponsored the event. Cohen, a CAMERA intern, publicized Darwish's appearance at Seattle U through e mails and flyers.
Darwish—whose father was an Egyptian lieutenant general killed by Israeli Defense Forces when she was 8 years old—has appeared on CNN, MSNBC, BBC and Fox News. She has spoken at universities including Harvard, Brown and Georgetown.
Some of the students who attended the talk Thursday said they questioned Darwish's credentials.
"If she had used the Quran to support any of her claims, she would have had some substance," said Nabiha Pirbhai, junior international business major and MSA President.
Instead, Pirbhai said, Darwish based much of her lecture on "Reliance of a Traveler," a manual of Islamic law.
Source: http://www.su-spectator.com/news/students-rally-against-ex-muslim-speaker-1.860114
------
Islamic Sharia law only allows investment in tangible assets
By Thomas Molloy
November 05 2009
ISLAMIC banking is conducted under Sharia law, which is taken from the Koran and holds that money has no intrinsic value, while also banning the charging and paying of interest.
This is not as crazy as it might first seem to those used to the less spiritual viewpoints common in Western banks. These beliefs have helped to insulate many Islamic banks from the subprime crisis that has engulfed many rivals in the West.
Sharia only allows investment or trade in tangible and visible assets. While Sharia can permit certain futures and options structures, such as the salaam (sale contract with a deferred delivery) and arboun (sale contract with a non-refundable deposit), it prohibits convoluted derivative products.
In the modern world, that translates into a belief that money cannot just sit and generate more money. To grow, it must be invested in productive enterprises.
"In Islamic finance you cannot make money out of thin air," says Amr al-Faisal, a board member of Dar al-Mal al-Islami, a holding company that owns several Islamic banks and financial institutions. "Our dealings have to be tied to actual economic activity, like an asset or a service. You cannot make money off of money. You have to have a building that was actually purchased, a service actually rendered, or a good that was actually sold," he told the 'Washington Post' recently.
"The beauty of Islamic banking and the reason it can be used as a replacement for the current market is that you only promise what you own. Islamic banks are not protected if the economy goes down, they suffer, but you don't lose your shirt," said Majed al-Refaie, who heads Bahrain-based Unicorn Investment Bank.
Another side to Sharia-compliant institutions is that they don't invest in alcohol, pornography, weapons, gambling, tobacco or pork.
While Islamic banks protected themselves from derivatives and sub-prime mortgages, they have still been hurt by the slump in property and share prices.The Dow Jones Islamic US Index for example, which tracks Sharia-compliant stocks in the US, fell 9pc in the three years to May compared with a 13pc drop in the SP 500 index.
Source: http://www.independent.ie/business/irish/sharia-law-only-allows-investment--in-tangible-assets-1934551.html
------
Corruption cases against Pak President to reopen
Nov. 4: Several corruption cases will reopen against Pakistan President Asif Ali Zardari on November 28 as the National Reconciliation Ordinance (NRO) will lapse on that date, informed sources said.
"At least five cases closed down against President Zardari after February 28, 2008, will reopen if the NRO is not passed by Parliament," a legal expert told this newspaper.
Former military ruler Pervez Musharraf had promulgated the NRO is 2007 to withdraw political cases against several politicians, including Mr Zardari.
Also, an assertive Pakistan Premier Yousaf Raza Gilani has asked a panel framing recommendations on clipping presidential powers to "fast-track" its work, close on the heels of Asif Ali Zardari shelving plans to ask Parliament to ratify a controversial law that gave him amnesty in graft cases.
Mr Gilani has asked a parliamentary committee to speed up finalisation of recommendations for important constitutional amendments, including the scrapping of provisions that empower President to dismiss Prime Minister and dissolve Parliament.
Amidst reports of growing differences between Mr Zardari and Mr Gilani, the Premier told the National Assembly or Lower House of Parliament on Tuesday that his party is committed to implementing the Charter of Democracy (CoD) signed by the PPP and PML-N in 2006.
Pakistan's former President Pervez Musharraf had assumed several powers of the Prime Minister, including authority to dissolve Parliament and appoint the armed forces' chiefs. The CoD envisages stripping the President of his sweeping powers and Mr Gilani said he had asked a Parliamentary panel framing recommendations in this regard to put its work on the "fast track."
Source:http://www.asianage.com/presentation/leftnavigation/news/international/corruption-cases-against-pak-president-to-reopen.aspx
------
Militants kill two female teachers in Pak
November 05 2009
Khar, Pakistan: A group of militants ambushed a van on Wednesday as it travelled near Khar, the main town in the Bajur tribal region, killing two women teachers and wounding two other passengers.
Approximately 10 militants hid on both sides of a rural road and sprayed the van with automatic weapons as it went past, said local official Adalat Khan. The fighters then fled on motorcycles. Pakistan's Taliban fighters are deeply opposed to modern education, particularly for girls, and have blown up schools and attacked teachers across the country.
"This is an alarming sign," said Fazal Rabi, a senior official with Bajur's tribal police force. Despite a spate of recent attacks, the government insists Bajur has been free of militants. —AP
http://www.asianage.com/presentation/leftnavigation/news/international/militants-kill-two-female-teachers-in-pak.aspx
------
'Fully covered' woman presenters on Saudi TV
November 04 2009
A television channel in Saudi Arabia has become the first of its kind in the country to allow women presenters on its shows but only if they are covered with a "hijab" (veil) from head to toe.
Awtan TV, a religious channel, has come up with a show that discusses issues concerning teenage girls and female university students, with its presenters dressed in black.
The show — Asrar Al-Banat or The Secrets of Girls — has 26-year-old media graduate Sawsan Salah Al-Deen, her sister, Sarah, a specialist in blood diseases, and psychologist Nawal Dawood as its presenters, Arab News said in a report.
Directed by Sa'ad Al-Obaid, the show also receives live phone calls from the public.
Commenting on how she looks on TV, Sawsan said, "The channel is an Islamic one and has a rule that I appear in full hijab."
Appearing on television for the first time, Sawsan said she was initially quite anxious. —PTI
http://www.asianage.com/presentation/leftnavigation/news/international/abdullah-slams-karzai-reelection.aspx
------
Slackistan generates great deal of buzz in Pakistan
November 04 2009
The shenanigans of a group of youths in Pakistan's sleepy capital, cocooned from the turbulence buffeting their country, is the subject of a low-budget, independent film that is already generating a great deal of buzz ahead of its release next year.
Slackistan is part of a trend of cheaply made movies being produced by young filmmakers that look at different aspects of life in a country that is often described by the global media as the "world's most dangerous country".
Buoyed by the success of Made in Pakistan, a documentary that follows the lives of a lawyer, a journalist, an aspiring politician and a public relations manager to break with the oft-negative depictions of Pakistanis, UK-based Hammad Khan began work on Slackistan.
Shot in Islamabad, described by many people as one of the world's most boring capital cities, the film zeroes in on the lives of the young and restless who haven't quite been affected by the turbulence in Pakistan.
Like people their age in any other part of the world, they date, drink and party and speed around on their superbikes and imported cars on weekends.
The Pakistan Army is currently battling the Taliban in South Waziristan who have been blamed for a wave of deadly suicide attacks and bombings that has killed hundreds across the country.
Khan describes Slackistan as a countercultural film that rejects the stereotypical Western view of Pakistan. In his film, due for release next year, the fashionably dressed youths only worry about what to wear and where to party next.
http://www.asianage.com/presentation/leftnavigation/news/international/slackistan-generates-great-deal-of-buzz-in-pakistan.aspx
------
'Why can't Muslim women also lead the community.'
Yoginder Sikand
November 05, 2009
New Delhi-based Zakia Nizami Soman is one of the founder members of the Bharatiya Muslim Mahila Andolan, a movement of Muslim women across India struggling for their citizenship rights. She tells Yoginder Sikand about the BMMA's work and reflects on the daunting challenges facing Muslim women in India today.
How did the BMMA start? What made you and your colleagues feel the need for a separate Muslim women's movement?
The BMMA was inaugurated in Delhi [ Images ] in January 2007, but before that we -- numerous Muslim women -- were working in our individual capacities on issues related to Muslims, particularly Muslim women, in different parts of India.
I was working in Gujarat, my home state, before that, with Action Aid, in the wake of the state-sponsored genocidal attacks on Muslims in 2002. In a sense, it was the Gujarat genocide that brought us Muslim women, scattered across India, together. We met at numerous conventions, rallies and public hearings after the riots.
We were all deeply concerned with the plight of the Muslims, including and especially women, and the enormous danger of Hindutva fascism, and were trying, in our own ways, to intervene. That was when we decided to form a loose collective of our own. We felt that the issues of Muslim women were somehow being sidelined in a climate of heightened Muslim insecurity.
We urgently felt the need for Muslim women to speak out, not just against patriarchy within the community and unjust personal laws, but also against growing anti-Muslim discrimination, against Muslims being treated as second-class citizens in this country and against neglect, indeed, discrimination by the state and other forces. We felt the desperate need for a Muslim women's voice at the national level.
We began our work in 2005 by organising meetings in various cities of India of like-minded Muslim women in Delhi, Mumbai [ Images ], Ahmedabad [ Images ], Jaipur [ Images ], Lucknow [ Images ] and so on. In the beginning, we did not have any clear agenda. These meetings served as a means for us to get to know each other and to clarify our thinking on issues related to Muslim women, the Indian Muslims as a whole, as well as the larger society and the struggles of other marginalised groups for justice and equality.
After considerable discussion and deliberation about what our ideology and form of our collective, finally we announced the formation of the BMMA at our first national convention in 2007. Some 500 women attended the convention. Thereafter, our numbers rapidly grew, and now we have almost 20,000 members, with chapters in 15 states. Most of them are volunteers, who take up Muslim community, particularly Muslim women's, issues at the local level.
Our name expresses our mission. We are 'Bharatiya', or Indian. We refuse to let the advocates of Hindutva monopolise the term. We are Muslim and not at all apologetic about it. We are 'mahilas', or women. And, finally, we are an 'andolan' or movement, not an institutionalised NGO, that seeks to mobilise and work with not just Muslim women, but also the whole secular and democratic movement in India, for the problems we all face are so deep-rooted that large scale people's mobilisation is the only way out.
Source: http://news.rediff.com/interview/2009/nov/05/interview-why-cant-muslim-women-also-lead-the-community.htm
------
Saudi jets 'attack Yemen rebels'
5 November 2009
The Saudi air force has attacked rebels in northern Yemen following Wednesday's killing of a Saudi security officer in a border area, reports have said.
Saudi aircraft had targeted strongholds of the Houthi rebels on the Yemeni side of border, spokesmen for the group and Arab media said.
A Saudi official told Reuters they had hit rebels occupying its territory.
The attacks came after a Saudi officer was killed and 11 were wounded in a raid by the rebels on the Jizan region.
The Houthis said on Wednesday that they had taken "full control" of a mountainous section of the border region of Jabal al-Dukhan.
'Successive air strikes'
In a statement on its website on Wednesday, the group said Saudi warplanes and helicopters had dropped phosphorus bombs on its fighters in the areas of al-Malahaid, Jabal al-Mamdud, al-Husama and al-Mujdaa.
After what happened yesterday, it is clear they have lost track of reality and it has got to a point where there is no other way. They have got to be finished
On Thursday, rebel spokesman Mohammed Abdul Salam said the bombs had hit "crowded areas including local market in the northern province of Saada".
"They claim they are targeting Houthis, but regrettably they are killing civilians like the government does," he told the Associated Press. "The attacks were followed by hundreds of shells from the border."
A Saudi government adviser said the air force had targeted rebels who had seized Saudi parts of Jabal al-Dukhan, which they said had now been recaptured by troops.
The official said at least 40 rebels had been killed in the fighting.
"As of yesterday late afternoon, Saudi air strikes began on their positions in northern Yemen," the unnamed adviser told Reuters.
"There have been successive air strikes, very heavy bombardment of their positions, not just on the border, but on their main positions around Saada," he added.
The London-based Arabic newspaper Elaph meanwhile reported that Saudi ground forces were also moving towards the Yemeni border.
Saudi troops near the Yemeni border
Saudi Arabia has deployed troops along the border with Yemen
The deployment was later confirmed by Arab diplomats, who told the Associated Press that army units and special forces were amassing in the area, and that several nearby Saudi towns and villages had been evacuated.
Saudi reconnaissance teams believed there were between 4,000 and 5,000 Houthis based in the mountainous border region, Elaph said.
The Saudi government adviser said no decision had yet been taken to send troops across the border, but made it clear that Riyadh was no longer prepared to tolerate the Yemeni rebels, Reuters reported.
Source: http://news.bbc.co.uk/2/hi/middle_east/8344394.stm
------
Afghan strife makes UN relocate
5 Nov 2009
The UN says it will temporarily relocate 600 of its international foreign staff based in Afghanistan.
The personnel would return to work once security had been boosted at unsecured accommodation used by the UN, it said.
The transfer would not affect work such as aid delivery, as this was done by local Afghan staff, the UN added.
The move follows a dawn raid by the Taliban last week on a hostel in the capital, Kabul, which left five UN workers and three Afghans dead.
The attack on the private Bekhtar guesthouse in the Shar-i-Naw district last Wednesday was the deadliest on the UN in Afghanistan since the fall of the Taliban regime in 2001.
On Monday, also citing security concerns, the UN halted long-term development work in north-western Pakistan, a region bordering Afghanistan viewed as a haven for Taliban and al-Qaeda militants.
In a Kabul news conference on Thursday, Kai Eide, the head of the UN's Afghan mission, said some of the staff - mostly "non-frontline" personnel - would be moved within the country, others outside.
"We are not talking about pulling out and we are not talking about evacuation," the Norwegian diplomat said.
The temporary relocation of staff was likely to take three to four weeks, the UN said.
The UN has up to 1,300 international staff - out of a workforce of about 5,600 - based in Afghanistan.
The personnel to be moved come from all UN agencies and different Afghan cities.
Mr Eide told the BBC later: "It's quite clear that the security situation for our staff has become much more complex over the last year."
But he said the Taliban would not succeed in driving the UN out of Afghanistan, in the same way it was forced from Iraq six years ago after a suicide truck bombing on a UN compound killed a top envoy and more than 20 others.
"We will certainly continue our work, but we are taking the measures in order to do so and we are enhancing our security," said Mr Eide.
Meanwhile, British forces are continuing to hunt the Afghan policeman who shot dead five UK soldiers on Tuesday in Helmand.
They are investigating whether the gunman - who opened fire in a compound where the UK troops had been mentoring Afghan police - is linked to the Taliban.
In the guesthouse raid last week, UN employees tried to flee as three heavily armed Taliban militants hiding explosive vests under police uniforms attacked.
The three gunmen were shot dead.
The hostel - which had been used by the UN and other international organisations - was gutted by fire.
Source: http://news.bbc.co.uk/2/hi/south_asia/8343716.stm
------
Pak Army, Taliban locked in street fighting
Shafqat Ali
November 04 2009
The Pakistan Army on Wednesday killed 30 militants as it advanced in Ladha, the stronghold of the Taliban militants in South Waziristan, officials said.
"Security forces have killed 30 militants amidst heavy clashes and street to street fighting, as the military forces advance into the terrorists' stronghold Ladha," a military statement issued here said.
According to the Army, 8 soldiers including 2 officers and 1 junior commissioned officer were injured in the fresh fight.
"In Jandola-Sararogha Axis, security forces have cleared major part of Sararogaha. During engagements 16 terrorists have been killed. While 7 soldiers, including 2 officers and 1 junior
commissioned officer, got injured," the statement said.
"Security forces also secured Prato Narai and Point 16242 west of Sararogha," it added.
"Security forces are also securing surrounding ridges and heights. During search operation at Mingora Sar, security forces recovered 6 drums magazines filled, 16 magazines all types, 3 grenades, 6 IEDs, 1 blasting machine, 1 pistol with ammunition, swords and knives," it said.
"Huge cache of arms and ammunition discovered from different compounds and a number of IEDs have been neutralised. During engagements 4 terrorists have been killed and one soldier got injured," it said.
Meanwhile, Pakistan President Asif Ali Zardari on Wednesday said the militants were on a "retreat" following the massive military operation in South Waziristan to rid the area of extremists and terrorists.
Talking to special envoy of the UN Secretary-General for humanitarian assistance to Pakistan Jean-Maurice Ripert here, the President said the fight against militancy has been given political ownership and described it as "a great plus" in the ongoing fight. President Zardari reiterated that the government is determined to eliminate the scourge of extremism and militancy and to bring peace and stability to the country.
http://www.asianage.com/presentation/leftnavigation/news/international/pak-army,-taliban-locked-in-street-fighting.aspx
------
Swiss Referendum Stirs a Debate About Islam
NOVEMBER 5, 2009
Business Is Worried as Rightist Party's Move to Ban the Construction of Minarets on Mosques Will Be Voted on Nov. 29
By DEBORAH BALL and ANITA GREIL
ZURICH -- An emotional debate over the role of Islam in Switzerland is heating up as a referendum approaches that would ban the construction of minarets on mosques.
On Nov. 29, the Swiss will vote on a referendum to ban the construction of minarets, an initiative promoted by the right-wing Swiss People's Party, who argue that a minaret is a symbol of Islamic intolerance. Minarets are tower-like structures capped with crowns; while the structure has no special religious significance, it is often used for the call to prayer for Muslims.
The debate comes in a country that has prided itself on integrating its large immigrant population and that largely avoided the clashes over the rights of Muslim minorities seen elsewhere in Europe. Business and political interests are especially worried about a possible backlash from the Muslim world.
For example, Swiss watchmaker Swatch Group Ltd. is worried that its relations with Muslim countries -- an important destination for its goods -- will be imperiled if the initiative passes. "The brand 'Swiss' must continue to represent values such as openness, pluralism and freedom of religion," said Hanspeter Rentsch, member of the executive group management board at Swatch. "Under no circumstances must it be brought in connection with hatred, animosity towards foreigners and narrow-mindedness."
The Swiss People's Party gathered twice the required signatures needed to call a vote. Its campaign used posters depicting a woman in a burqa in front of a row of minarets shaped like missiles. Some cities, such as Basel, have banned the posters, while Zurich and others have allowed them in the name of free speech.
The party, the country's largest political group and a fierce critic of immigration, drew international criticism for a campaign poster two years ago showing a white sheep kicking a black sheep out of Switzerland.
A national poll by state-owned media group SRG shows that 53% of voters oppose the ban and 34% support it. Muslim leaders, who have taken a low-key approach to the controversy, are nonetheless worried.
Source: http://online.wsj.com/article/SB125738800597529989.html
-----
Another Go at India-Pakistan Dialogue
5 Nov 2009
By Harsh V Pant
While the Indian prime minister is under pressure to reach out to Pakistan and has indicated a desire to resume peace talks, expectations are not great as Pakistan faces multiple crises, Harsh V Pant comments for ISN Security Watch
As US Secretary of State Hillary Clinton was visiting Pakistan to assuage growing concerns about the state of US-Pakistan ties, Indian Prime Minister Manmohan Singh was in the Indian state of Jammu and Kashmir declaring that if Pakistan showed "sincerity and good faith," India "will not be found wanting in its response.
"The hand of friendship that we have extended should be carried forward. This is in the interest of people of India and Pakistan," he said, underlining that terrorists "want permanent enmity to prevail between the two countries," though he avoided mentioning the November 2008 Mumbai attacks or Kashmir.
At a later press conference, Singh clarified that New Delhi's demand that Islamabad put terror groups under "effective control" was "not a pre-condition" for the resumption of India-Pakistan talks, rather a "practical" way forward because "we are a democracy and if day in and day out terrorist attacks continue to take the precious lives of our citizens, we cannot create a mahaul [atmosphere] for meaningful negotiations."
And now, speculation is building that India-Pakistan dialogue is about to be rejuvenated. After the Mumbai terror attacks last year, India suspended dialogue with Pakistan, asking it to first dismantle the terrorist infrastructure in its territory directed at India.
Though India still remains dissatisfied with Pakistan's efforts to bring to justice all the perpetrators of last year's assault on Mumbai, there is growing pressure on New Delhi to re-start the dialogue.
The US has asked India to talk with Pakistan. When Clinton visited Pakistan recently, she found a nuclear-armed state consumed by doubts about the value of its alliance with Washington and resentful of ever-rising American demands to do more.
The US is also struggling to address Pakistan's concerns over the conditions imposed on a new American aid package of $7.5 billion over five years that the Pakistani military denounced as designed to interfere in the country's internal affairs.
The perception in Islamabad is that the US values its ties with India more and so is reluctant to push India to address Pakistan's concerns.
Meanwhile, there are growing voices within India itself calling for a dialogue with Pakistan, especially as it is not clear if the Indian policy of 'no talks' is working. After India decided to put diplomatic pressure on Pakistan after the Mumbai incident, Pakistan was forced to concede that the perpetrators of the atrocity had come from its territory and agreed, in principle, to prosecute them. The US has also continued to pressure Pakistan by demanding that it should bring to justice all those involved in the attacks.
Source: http://www.isn.ethz.ch/isn/Current-Affairs/Security-Watch/Detail/?ots591=4888CAA0-B3DB-1461-98B9-E20E7B9C13D4&lng=en&id=109228
-------
Afghan cop kills 5 British soldiers
November 04 2009
An Afghan policeman has shot dead five British soldiers at a checkpoint in southern Afghanistan, the defence ministry in London said on Wednesday. The men, three from the Grenadier Guards and two from the Royal Military Police, were killed at a police checkpoint at a military compound in Helmand province on Tuesday.
"An Afghan national policeman from the checkpoint started firing without warning before anyone could really respond," a defence ministry spokesman said. "Every effort is being put into hunting him down." A British military spokesman in Kabul said the gunman may have been working with another man and the British Royal Military Police and the Afghan National Directorate of Security were investigating. —Reuters
http://www.asianage.com/presentation/leftnavigation/news/international/pak-army,-taliban-locked-in-street-fighting.aspx
-----
Kabul: Abdullah slams Karzai reelection
November 04 2009
Former foreign minister Abdullah Abdullah, who quit Afghanistan's troubled presidential election race this week, charged on Wednesday that his rival Hamid Karzai's re-election had "no legal basis".
Mr Abdullah, who pulled out of a run-off poll scheduled after more than a million votes cast in the August 20 election were deemed fraudulent, said Mr Karzai lacked legitimacy after being re-appointed by electoral commissioners.
"This decision does not have a legal basis," he told reporters in his first public appearance since Mr Karzai was declared President for another five years.
Mr Abdullah took a swipe at his rival's pledge to eradicate corruption and build national unity following US pressure to clean up widespread graft.
"Such a government which lacks legitimacy cannot fight corruption," he said.
"A government which comes to power without the people's support cannot fight phenomena of terrorism threats, unemployment, poverty and hundreds of other problems."
Mr Karzai was handed a second term after the Independent Election Commission (IEC), whose chief he appointed, cancelled a run-off ballot following Mr Abdullah's withdrawal on Sunday. Under pressure from US President Barack Obama to wipe out corruption after a turbulent election process, Mr Karzai used his first appearance since being declared President to pledge a cleaner rule. But Mr Abdullah, who ran a vigorous election campaign for change and alleged massive state-engineered fraud during the poll, said the IEC made the decision outside the legal parameters of its mission.
"I think any government that is formed on that basis and then claims to believe in rule of law for this country and promote the interests of the people of Afghanistan, provide services, bring security to the country, bring peace to the country... will not be able to deliver," he said. —AFP
http://www.asianage.com/presentation/leftnavigation/news/international/abdullah-slams-karzai-reelection.aspx
------
Now, another inter-faith marriage raises passions in J&K
Khursheed Wani
Nov 05, 2009
Kin of Sikh girl allege she was forcibly converted to Islam
The marriage of a Sikh girl with a Muslim boy in Srinagar has raised passions in the miniscule minority community in Kashmir while a protest demonstration was held in Jammu against the alleged conversion of the girl. A four-member delegation, comprising representatives of Hindu and Sikh organisations, met the visiting Home Minister in the winter capital and sought his intervention in the issue.
The 19-year-old girl, Amitpaul Kaur, currently in custody at Rambagh women's police station under High Court orders, recorded her statement before the Registrar (judicial) Abdur Rashid Malik. The High Court decision on the status of the marriage is likely to be announced on Thursday.
Amitpaul, a physiotherapy pass-out of Khalsa Women's College, Jalandhar, allegedly eloped with her Muslim neighbour Irfan Dagga, a driver, from Bemina locality of Srinagar last month. Her engineer father Mahinderpaul Singh registered a report in the local police station accusing Dagga of kidnapping his daughter.
The girl later appeared in the court and claimed that she was an adult and married Dagga without any coercion. Her "husband" sought protection from police alleging that her father and kin were threatening him. The court told police to take Amitpaul in "protective custody".
Meanwhile, the Sikh elders in Srinagar formed a 10-member delegation and met senior Hurriyat leader Syed Ali Geelani to intervene. In a Press conference, the Sikh leaders alleged that the girl was kidnapped and forcibly converted to Islam. They appealed to Muslim community to denounce the marriage in the interest of age-old relations between the two communities.
Deputy Inspector General of Police Hemant Kumar Lohia told The Pioneer that the girl was in police custody under court directions. "We are awaiting court directions to proceed in the case," he said, adding that the boy (Dagga) has not been arrested.
Meanwhile, even as the girl was ferried from court to police station here, activists of the Shiromani Akali Dal (SAD), BJP, National Sikh Youth Front, Shiv Sena, Dogra Liberation Front and RSS held a demonstration in Jammu protesting against the alleged conversion. Alleging that the Sikh girl was kidnapped and forcibly converted to Islam, the protesters raised slogans against the Government and police, and demanded that she should be returned to her parents.
Later, a four-member delegation comprising of Mohinder Singh of Akali Dal (Badal), Charanjeet Khalsa (BJP), Prabhat Singh (Sangarsh Samiti) and Rajesh Gupta (BJP) met Home Minister P Chidambaram and sought his intervention in the case. The delegation impressed upon the Home Minister to shift the case from Srinagar to Jammu. They alleged that the girl was being harassed and disallowed to record statement of her will.
President of Shiromini Akali Dal (Kashmir) Joginder Singh Shan told The Pioneer that the incident of Amitpaul's "conversion" was unfortunate.
"This is against the age-old traditions of Kashmir that has allowed us to live in brotherhood even in the most difficult times."
Shan, who witnessed the trial on Wednesday, said the Muslim counsel, Abdul Majid Dar, who appeared on behalf of girl's father, contested the nikahnama. The counsel sought "release" of the girl and asked the court to hand her over to her parents.
This is second inter-caste marriage that has raised eye-brows in past two months. Last month, a Muslim girl Aamina Yousuf converted to Hinduism and married a Jammu-based businessman Rajneesh Kumar. The marriage took an ugly turn when Rajneesh mysteriously died in Ram Munshibagh police station. While his relatives allege that he was killed in custody, police maintains that he committed suicide. A middle-rung civilian officer is investigating the case.
Interestingly, both the inter-religious marriages have not evoked public interest in the Kashmir Valley.
http://www.dailypioneer.com/213647/Now-another-inter-faith-marriage-raises-passions-in-JK.html
------
Four SIMI activists held in Jabalpur
Nov 05, 2009
Bhopal/Jaipur : Four activists of the banned Students Islamic Movement of India (SIMI) were arrested on Tuesday after they were picked up from near a graveyard in Jabalpur's Madra Tekri locality by officials of the Madhya Pradesh anti-terrorist squad and local police.
One of the four, Inamur Rehman, was wanted by the Rajasthan ATS since 2008. "Inamul has been charged under Sections of the Unlawful Activities Prevention Act (UAPA) and is a suspected of being a member of banned organisations, in this case the Indian Mujahideen," Rajasthan IGP ATS Alok Tripathi.
A resident of Gulshan Nagar in Khandwa, Inamur was also wanted by the Madhya Pradesh Police. He was once arrested for anti-national activity, but went underground after he was released on bail in 2006. The general secretary of SIMI's MP unit, he was actively working to rebuild the proscribed organisation's network even in Rajasthan, Gujarat and Chhattisgarh.
An arrest warrant had also been issued against Amjad Ramzan, a resident of Mission Compound in Khandwa. The other two, Azad alias Azam Nazir and Shaikh Afroz Shaikh Nizamuddin, are residents of Gohalpur in Jabalpur.
ATS chief Pavan Shrivastava said Inamur Rehman was a prize catch for the Rajasthan Police, while Inamur and Amjad are considered close to SIMI's former treasurer Mohammed Ali and Indian Mujahideen's Kayamuddin Kapadia.
http://www.indianexpress.com/news/Four-SIMI-activists-held-in-Jabalpur/537444
------
Muslim Law Board member supports Backward Hindu view on women's reservation
Quota for backward classes necessary in women's reservation: AIMPLB member Dr Haseena Hashiya
5 November 2009
Kochi: Dalit and Muslim backward classes should be allowed special quota in women's reservation for their uplift, said Dr Haseena Hashiya, member of the All India Muslim Personal Law Board. She demanded that necessary changes should be made to that effect when the Bill is presented in the Parliament. Ms Hashiya was inaugurating the seminar on 'Women's reservation: scopes and challenges' organised by the women's wing of the Jamat e Islami Hind. The seminar was organised prior to the state women's conference to be held on January 24 at Kuttippuram in Malappuram.
Ms Hashiya said that population-wise representation in legislative assemblies and local self-government institutions was necessary for the success of democracy. Women who make up about half of the population face disparity always in political, social and economic fields. Women who amount to 48.6% of the population have only a very meagre representation in the 16th Lok Sabha. The lack of opportunities is the reason for women not coming up to the forefront. The Sachar Committee has made it clear that Muslims were even behind the Scheduled Castes. The condition of Muslim women is more pathetic than this. So there should be opportunities to present their social problems. The progress and empowerment of the marginalised sections including Muslim women are necessary for the country. Reservation of 50% and reservation inside reservation only can uplift women to the forefront, she added.
It is sad that the Parliament is only discussing about one-third reservation even six decades after the attainment of independence, said Adv Satheedevi, former Member of Parliament. Women have right for 50% reservation. She added that speaking of quota for backward classes when demanding women's reservation is actually to delay the reservation.
Reservation is the basic right of women and not anybody's charity, said CK Janu, convenor of the Adivasi Gothra Sabha. Quota inside reservation is necessary for the upliftment of the backward women, said Adv KP Mariyumma, Malappuram district president of Vanitha League, women's wing of the Muslim League.
Source:http://twocircles.net/2009nov05/quota_backward_classes_necessary_women_s_reservation_aimplb_member_dr_haseena_hashiya.html
------
Tehran: Mousavi supporters clash with police
November 04 2009
The police clashed with supporters of Iran's Opposition leader Mir Hossein Mousavi in Tehran on Wednesday when a rally marking the 30th anniversary of the storming of the US embassy turned violent, witnesses said.
Reformist website Mowjc-amp said the police opened fire on protesters at Haft-e Tir square, but there was no independent confirmation.
"Some people were injur-ed," Mowjcamp said, reporting protests elsewhere such as the central city of Shiraz.
Iran's Revolutionary Guar-ds and their allied Basij mi-litia had warned the opposition to avoid using anti-US rallies to revive protests against the clerical establishment after June's disputed presidential election.
"The police clashed with hundreds of protesters. They were chanting: 'Death to dictators'. The police used batons to disperse them," a witness said. People traditionally chant, "Death to America" to mark the anniversary.
President Mahmoud Ahmadinejad, locked in a row with the West over Iran's nuclear programme, won a second term. Washington says Iran seeks a nuclear weapon, a charge Tehran denies, and has threatened more sanctions through the United Nations.
The turmoil after the June vote was the worst in Iran since protests which led to the ouster of the US-backed Shah three decades ago.
Authorities deny vote-rigging and portrayed the unrest as a foreign-backed bid to undermine the Islamic state. Thousands of Iranian security forces assembled on the streets of Tehran on Wednesday to prevent Opposition rallies and rein in political dissent.
Opposition leaders Mr Mousavi and Mehdi Karoubi, who both ran against Mr Ahmadinejad, had urged their supporters to take to the streets to protest against his government despite warnings from the Iranian police about "illegal gatherings".
Mowjcamp said Mr Karoubi joined the protest on Wednesday. "He is walking towards the former American embassy," the site said. Another witness said the police fired teargas at the crowd and arrested at least five protesters.
Source:http://www.asianage.com/presentation/leftnavigation/news/international/mousavi-supporters-clash-with-police.aspx
------
Pak an unnecessary third party in J&K: PC
Ishfaq Naseem
Nov 05, 2009
Union Home Minister P Chidambaram on Wednesday termed Pakistan as an "unnecessary third party" in the J&K problem, which thinks it has a role to play in resolving the issue.
Addressing Congress workers at the party headquarters here, he said: "We can't wish away the political issue. Indiraji and Rajivji tried to find a solution to the Kashmir problem. Initiation was also made by Vajpayee, but we have also Pakistan which is an unnecessary third party that feels it has a role to play."
Chidambaram said the government would be talking to all political parties in the state to find a durable solution to the issue. "We will talk to the PDP, NC and even to the state unit of the Congress and even the smaller parties. We need to talk to the people of all shades of political opinion including those at the sub-regional level, with the people in Ladakh and Jammu as well," he said.
He said the ongoing militancy does not worry India and added that militant violence is already witnessing a drop, with this year reporting the lowest number of casualties of civilians and security forces in the state.
The Home Minister stressed on holding dialogues at the internal level, saying that the central government was assessing the "aspirations, doubts and feelings of the people".
While he maintained that a political solution to the Kashmir problem was must, he said that the state government should show progress on governance front.
"We are for a durable solution of the Jammu and Kashmir problem, but we can't even blame each other for lack of governance. The NC, Congress and PDP have all ruled in Jammu and Kashmir," he said.
Referring to the delay in spending of funds under the Prime Minister's reconstruction plan in the state, Chidambaram said the central government would constantly monitor it. "The PM's reconstruction package is not only about the rehabilitation of Kashmiri pandits. It has been given for construction of railway and even power and road projects. We will continuously follow it up. I have asked the Cabinet Secretary and he will again come to the state in February to review its implementation," he said.
Source: http://www.indianexpress.com/news/Pak-an-unnecessary-third-party-in-J-K--PC/537471
------
India has let terrorists get away: Army Chief
Nov 05, 2009
New Delhi : In a strongly worded statement, Army chief General Deepak Kapoor has said that India repeatedly allows perpetrators of terror attacks to get away and that the country should adopt a zero-tolerance policy.
"The US has not allowed a second 9/11 to happen. Indonesia has not allowed a second Bali bombing to happen. India has allowed people to get away after the Parliament attack, the Delhi blasts and, finally, 26/11. It's time for all of us to say no more," the Army chief said at a function organised by CII. This comes a day after he warned that there is a possibility of an attack similar to the one that occurred in Mumbai last November.
On Wednesday, Kapoor had underlined that India cannot afford a repeat of 26/11 and emphasised the need for better intelligence sharing. "There has to be speedy flow of intelligence and updated data for a speedy decision based on the geographical location and a swift action by the nearest security agencies," Kapoor said.
Minister of State for Defence M M Pallam Raju said it was necessary to appoint a intelligence coordinator to handle sharing of state and national-level intelligence inputs.
"There is a requirement to institute a mechanism to centrally feed in and coordinate the intelligence inputs, analyse the same and disseminate them in real time to the end user. This set up could be instituted at the state level and replicated at the national level. The time has come to create a post of a national intelligence coordinator," he said.
http://www.indianexpress.com/news/India-has-let-terrorists-get-away--Army-Chief/537459
------
Former Muslim chaplain at Gitmo slams US policy
Nov 05, 2009
Mumbai : The US Army used religion as a weapon against detainees at Guantanamo Bay, according to a former army captain who shared his experience as a Muslim chaplain at the detention centre with participants in the International Islamic Conference on Wednesday.
James Yusuf Yee is on his first visit to India to participate in the 10-day conference organised by the Islamic Research Foundation. He is one of the many speakers and Islamic scholars who invited to the conference initiated by Muslim scholar Dr Zakir Naik to clear misconceptions about Islam.
Yee, a 41-year-old American citizen of Chinese origin who worked for the US Army for 14 years, was among the first Muslim chaplains educating US military about Islam following the 9/11 attacks.
In December 2002, he was sent to the controversial Guantanamo Bay to cater to the religious needs of its 700 Muslim detainees. "I also had to build a better understanding of Islam within the military soldiers dealing with the inmates. But I realised that the US Army was using religion as a weapon against the detainees, all of whom were Muslims. Human rights of the Muslim inmates were blatantly being violated and went against the Geneva Convention on human rights," Yee said.
His claimed that he opposed the cruel treatment meted out to the inmates and advised camp commanders to change their attitude. His opposition was met with much dissent from the US Army and in September 2003 he was secretly arrested on charges of spying, espionage and aiding the Taliban and al-Qaeda, Yee said. He was put in solitary confinement for 76 days at a naval prison where he was subjected to the same treatment as that imposed on Guantanamo detainees. The US government later dropped all charges against him and he was reinstated to full duty. Yee, however, resigned in January 2005.
He later documented his experiences in a book, For God and Country: Faith and Patriotism under Fire. "After retirement, I have been fighting for the closure of the Guantanamo Bay and reinstatement of the fundamental rights of the inmates," Yee said.
Source:http://www.indianexpress.com/news/former-muslim-chaplain-at-gitmo-slams-us-policy/537445/0
------
Muslim world needs its own Peace Prize winner
November 5, 2009
Instead of railing against America, Israel and the West, Islamist firebrands the world over ought to be quoting for the edification of their volatile audiences the words of the late cartoon character, Pogo, peace be upon his soul. Back in his heydays as the title critter in a leading comic strip, Pogo famously declared: "We have met the enemy, and he is us."
For sanctified heft, the words of Pogo, of course, will never measure up among Muslims to the words of the Qu'ron and hadiths. Still, Pogo's words in a contemporary context highlight a conspicuous and important truth — a conspicuous and important truth that many, not only in the Muslim world but the West, are eager to ignore. What ails the Muslim world most is the Muslim world itself.
No "infidel" force — not the "Crusaders" and not the "Zionists" combined — has come close to afflicting death and mayhem on Muslims on a scale that Muslims have inflicted, and continue to inflict, on themselves. The point is rendered no less true by the stipulation that the death and mayhem is attributable to a minority of militant religious zealots and/or political extremists.
In Iraq, Pakistan, Afghanistan and elsewhere throughout the Islamic world, hothead zealots seem all too inclined to settle Sunni-vs.-Shiite theological differences with roadside bombs and other such ordinance.
These incidents have become ho-hum staples of the news, so routine is their occurrence. In many of the incidents, children are among the innocents randomly killed or maimed — Muslim children. Yet among the fire-and-brimstone-preaching imams and other Islamic voices of influence, such slaughter elicits hardly a tsk-tsk.
Pressed to justify the Nobel Peace Prize for President Obama, Thorbjoern Jagland, who chaired the awards committee, insisted that Obama deserved the accolade especially for reaching out to the Muslim world. This makes it sound as if the United States lies at the root of the Muslim world's troubles.
Source:http://www.registercitizen.com/articles/2009/11/05/opinion/doc4af2588572350667319007.txt
------
Abbas 'not to seek re-election'
November 05, 2009
Abbas has ordered presidential and parliamentary polls on January 24 [EPA]
Mahmoud Abbas, the Palestinian president, has said he will not seek re-election when elections are held in January, Palestinian officials said.
"The president insists on not running in the upcoming election," an official from the Palestine Liberation Organisation (PLO) executive committee said on Thursday.
Another PLO official said Abbas will give a speech later on Thursday explaining his decision not to run.
Abbas recenty issued a decree announcing that presidential and parliamentary polls would take place on January 24.
But the Hamas-run interior ministry in the Gaza Strip ordered Palestinians in the territory not to take part in elections.
The interior ministry said in a statement the elections had been called "by figures who do not have the right to declare it".
Ehab Al-Ghsain, a Hamas interior ministry spokesman, said that Gazan officials had been instructed not to co-operate with Abbas's efforts to stage the vote.
http://english.aljazeera.net/news/2009/11/200911514136555635.html
------
David Shenk speaks on Islamic Iranian Revolution
November 5, 2009
By Joe Moore
David Shenk spoke to a crowded room about the Islamic Iranian Revolution and his work with trying to create peace among religions.
David's mother had graduated from Millersville as a teacher around 1930 and moved to East Africa where Shenk was born and taught by her for 10 years.
As an author, Shenk has written several books on religion and specifically the relationship between the Christian and Muslim faiths. His latest book is titled "A Muslim and a Christian in Dialogue," in which he has a conversation with a Muslim leader across seven topics.
The majority of his talk was centered around his visits to Iran and meetings with Shiite clerics about the relationship between Christians in America and Muslims in Iran.
He has been a speaker at four conference-like meetings among leaders in each religion, where hot topics in differences between the religions and issues of the world have been addressed. Shenk said these talks were of "high academic caliber" and agreed with a Muslim organizer of a speech that described them as "a profound encounter."
Shenk also said, "I was of the greatest admiration for the Shiite clerics who had invited me to speak."
As a Christian, Shenk was an outsider at many of these Muslim talks, yet he was greatly welcomed by the Shiite clerics. Following one of his discussions, he heard comments from many clerics who were stunned to hear that an American Christian was such a person of peace. The Muslim clerics were surprised to hear this because in their eyes, these two things did not mix which is something Shenk found troubling.
Other than these talks, he has also been witness to events such as an exchange program, where the women scholars of each faith were guests at the other's University in order to gain a more worldly view of their faith, and to give students of the opposite religious study a chance to interact deeply with someone of different faith.
Source: http://thesnapper.com/2009/11/05/david-shenk-speaks-on-islamic-iranian-revolution/
------
NC Muslims want police to investigate continued vandalism against Durham mosque as hate crime
November 5, 2009
DURHAM, N.C. (AP) — North Carolina and national Muslim leaders want police to investigate if continuing vandalism to a Durham mosque is a possible hate crime.
The News & Observer of Raleigh reported Thursday that Durham's Ar-Rahman mosque was attacked again this weekend, when windows and doors were smashed and computer monitors stolen.
Someone smashed some of the same windows and doors this summer. Last spring, two men opened the doors during a prayer service and began throwing rocks while shouting obscenities.
Officials with the mosque near the North Carolina Central University campus said the accused ringleader of an alleged terrorist group occasionally attended prayers at the mosque. Prosecutors said he cut ties with local mosques because of ideological differences.
http://www.wtkr.com/news/sns-ap-nc--mosquedamaged,0,3992020.story
------
Salah convicted of assaulting policeman
Ronen Medzini
November 5, 2009
Leader of Islamic Movement's northern faction spits in Border Guard officer's face during riots over excavations carried out near Temple Mount. His sentence to be delivered next month
The Jerusalem Magistrate's Court on Thursday convicted Sheikh Raed Salah, leader of the Islamic Movement's northern faction, of taking part in riots and in assaulting a policeman in order to disrupt his work. His sentence will be delivered on
The incident took place on February 2007, near Jerusalem's Dung Gate. Salah, together with four other Israeli Arabs, was accused of rioting in protest of excavations conducted near Mugrabi Gate. At a certain stage he spit in the face of a Border Guard officer stationed in the area, saying, "You are racists and murderers, you have no respect."
Salah and his friends also tried to enter the excavation area while cursing, shouting and pushing their way in.
According to the indictment, "The police stood in a row in order to prevent a break-in. The defendant approached one of the policemen, assaulted him in the middle of his work, spat in his face and shouted, 'You are racists, murderers, you have no respect.'"
Judge Yitzhak Shimoni said that he had found "reliable testimonies from the police testifying to what happened, which match images taken by a security camera in the area, as well as images of the event received from police cameras regularly installed on the Temple Mount."
Defense counsel: Court has no authority
The judge added, "There is no doubt that the policeman felt the warm and ugly spit in his face." He said that Salah had taken advantage of the stage given to him in the courtroom in order to express his political opinions.
"The defendant stated that an Israeli crime was taking place on the Temple Mount, and his representatives claimed that the crime being done was the works at the al-Aqsa Mosque and that the Israeli court had no authority on the matter."
The judge noted that the excavation works in the area were ordered by the city engineer for security reasons.
Source: http://www.ynetnews.com/articles/0,7340,L-3800886,00.html
------
'Invaluable contribution of Muslim soldiers'
5th November 2009
By Asian Image letters »
Emel Magazine is calling for the sacrifices of Muslims in the world wars to be remembered.
The UK Lifestyle magazine for Muslims highlights this contribution in its latest issue and believes these efforts are largely forgotten by the British public.
Editor Sarah Joseph OBE said, "It is important to recognise the invaluable contribution made by these Muslims soldiers; they fought for us to enjoy the freedoms that we have,"
"At a time when those on the Far-Right express such hostility towards British Muslims, whilst appropriating war imagery for their own use, it is all the more necessary to inform the public of the significant role Muslims played in keeping Britain free."
The November issue of the magazine includes interviews with two British Muslim war veterans, Abdul Salam aged 84 and Mushtaq Ahmed aged 83.
The Prime Minister, Gordon Brown, acknowledges the debt owed to such Muslims, "Their service and sacrifice will never be forgotten. Their heroism, just like the contribution of British Muslims today, has helped to keep our country prosperous, strong and free."
In the feature The Head of the Army, General Sir David Richards, states, "Our forebears, as well as the people of this country, owe an enormous debt of gratitude to the Muslim soldiers who gave so much on our behalf." David Cameron and Nick Clegg express similar sentiments, along with the Bishop of London.
Source:http://www.asianimage.co.uk/news/4723142._Invaluable_contribution_of_Muslim_soldiers_/
------
Pak frontline state in war against terrorism: Mukhtar
5 Nov 2009
RAWALPINDI : Federal Minister for Defense Chaudhry Ahmed Mukhtar on Wednesday underlined that Pakistan is a frontline state in war against terrorism urging undoubtedly we have suffered immense losses.
He was talking to Minister of Defence Netherlands, E Van Middelkoop at the Defense Ministry.
Sources say that both discussed issues to strengthen defence needs, Pak-Holland defence ties and others in depth.
Federal Minister for Defence Chaudhry Ahmed Mukhtar told his counterpart that International Community must support Pakistan as it needs financial and economic support.
Minister of Defence Netherlands, E Van Middelkoop expressed his assurance that Dutch government highly acclaims the efforts of Pakistan government and will keep on supporting Pakistan in crunch circumstances.
Later Minister of Defence Netherlands, E Van Middelkoop visited General Headquarters Wednesday and called on Chief of Army Staff General Ashfaq Parvez Kayani.
The visiting dignitary remained with him for some time and discussed the matters of mutual interest.
Sources say that during the meeting both leaders stressed to strengthen Pak-Holland defence and Army relations.
Sources added that Pakistan will attain latest equipment and Communication system from Holland thus assurance was made during the course of the meeting.
http://www.onlinenews.com.pk/details.php?id=154875
URL of this Page: https://newageislam.com/islamic-world-news/lakhs-attend-barelvi-ijtema-mumbai/d/2058