New Age Islam News Bureau
28 March 2016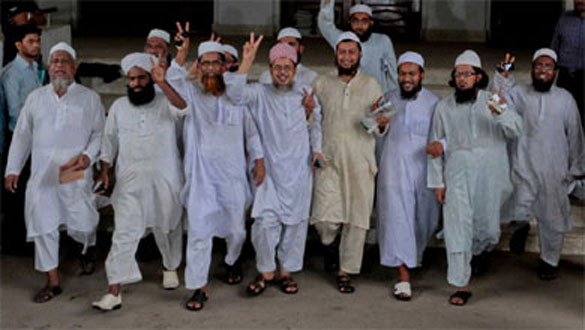 Leaders of a Bangladeshi Islamic group show victory sign after Bangladesh's top court rejected a 28-year-old petition Monday to remove Islam as the official religion of the Muslim-majority South Asian nation in Dhaka, Bangladesh, Monday, March 28, 2016
------------
Pakistan
• Lahore Blasts: Christian Community Felt There Could Be Backlash after Qadri's Execution
• Pakistan Army Called In To Quell Blasphemy Law Protest
• Security agencies conduct raids, arrest suspected terrorists: ISPR
-----
South Asia
• Bangladesh Court Rejects Removing Islam as State Religion
• Afghan Air Force Kills Eight Insurgents in Nooristan
• Coordinated suicide attack foiled in Helmand, 3 bikes packed with explosives seized
• Rockets land on parliament building in Kabul
• Taliban shadow district governor killed in northern Baghlan province
• Afghan parliament speaker Ibrahimi lost 4 relatives in Kunduz traffic incident
----
Southeast Asia
• Muslim Man Allowed By A Malaysian High Court To Convert Back Into Christianity
------
India
• Supreme Court Asks Centre To File Committee Report On Personal Law
• Pathankot Terror Attack: NIA Briefs Pakistan Probe Team
------
Arab World
• Heavy Infighting Rages among Terrorists in Damascus Countryside
• Syrian Army's General Command Issues Statement on Liberation of Palmyra
• UNESCO Welcomes Liberation of Palmyra
• Eastern Homs: Syrian Army Preparing to Attack Terrorists' Positions in Quaryatayn
• Rouhani: Iran, Saudi Arabia Could Settle Disputes through Talks
• Russian Exhibition Honors Qeshm Free Zone Organization
• Coordination vital to crush terrorism
-----
Mideast
• ISIS Uses Palestine as Rallying Cry in Molenbeek, Residents Say
• Two Soldiers Killed, Five Wounded in PKK Attack in Turkey's Southeast
• Turkey 'strongly condemns' Taliban's Lahore attack targeting Christians
• Turkey under the influence of hot international winds and cold domestic winds
• Israel urges citizens to leave Turkey, cites ISIL threat
• Palestinians ask UN to investigate Israel killings
----
Africa
• Lawyers of Islamic Movement in Nigeria declare terms of JCI hypocritical as they pull out
• Who is Afraid of Sheikh Zakzaky?
------
Europe
• Brussels Attack: Belgium Terror Suspect Held in Italy Refuses To Speak
• What Safraz Ahmed did has nothing to do with Islam
------
North America
• Canadian Cops Arrest an Ontario Student for Allegedly Trying to Join a Terrorist Group
• He Threatened to Kill Muslims—and Got Just 90 Days in Jail
-----
Compiled by New Age Islam News Bureau
URL: https://www.newageislam.com/islamic-world-news/new-age-islam-news-bureau/lahore-blasts--christian-community-felt-there-could-be-backlash-after-qadri-s-execution/d/106789
------
Lahore Blasts: Christian Community Felt There Could Be Backlash after Qadri's Execution
Mar 28, 2016
Lahore: The worst fears of Pakistan's Christians came true with the carnage in Lahore on Easter Sunday, said activists who had braced for a backlash since thousands took to the streets over the execution of a murderer feted as an Islamist hero.
Taliban militants said they were targeting Christians with the suicide bombing which killed at least 72 people, nearly half of them children, in a crowded park in Lahore as thousands marked Easter on a warm spring evening.
Christian leaders said they had been filled with foreboding ever since the government executed Mumtaz Qadri, who murdered a liberal governor calling for reform of the country's blasphemy laws.
Police officers and rescue workers gather at the site of the bomb explosion. APPolice officers and rescue workers gather at the site of the bomb explosion. AP
Their fears grew when Islamists announced on Friday that they would hold prayers for Qadri over the Easter weekend, four weeks after his hanging.
"The Christian community had the feeling that there would be backlash from Qadri's execution, especially on festivals like Easter," said Shamoon Gill, a Christian activist and spokesman for the All Pakistan Minorities Alliance.
"We feared that something might happen."
The Taliban did not mention Qadri in their claim of responsibility.
But the attack came as thousands of his supporters clashed with police in Islamabad, several hundred kilometres away, with activists attacking the government's apparent tolerance of the demonstrators.
"People are calling for an assassin to be declared a hero and the government is giving them space," said Cecil Shane Chaudhry, executive director of the National Commission for Justice and Peace, a Christian NGO.
Persecution
Sunday's blast was the latest in the "long history of persecution of Christians in the country", leading human rights activist Hussain Naqi told AFP Monday.
In Rome, Pope Francis appealed to Pakistani authorities to step up security for religious minorities after the "abhorrent" suicide bombing.
Christians are frequently the target of militant attacks, including a double suicide bombing that killed 82 people at a church service in Pakistan's northwestern city of Peshawar in 2013.
They also often face discrimination at work and routinely fall victim to the blasphemy laws, which rights groups say are often used to wage personal vendettas.
Blasphemy can carry the death penalty in Pakistan and is a hugely sensitive issue in the Muslim nation of around 200 million.
Even unproven allegations can stir mob violence. Christians, who make up 1.6 percent of the population, are often the target.
"We are teaching our kids a distorted, rather false history where the mullah is pious and the minorities are evil, and this is a very dangerous trend," Naqi said.
"It's not only with Christians, we are doing the same with Hindus and Ahmadis and that's why they take every possible step -- either legal or illegal -- to leave the country."
Chaudhry agreed.
"There is a growing sense of insecurity among minorities in Pakistan, and whoever is not a Muslim is not safe in this country," he said.
Activists pointed to officials who appeared to dismiss the militants' statement they were targeting Christians, accusing them of downplaying the threat.
"The target was not the Christian community in particular," senior police official Haider Ashraf told AFP Monday despite the Taliban statement, adding that Muslims were among the dead.
Naqi branded the statement a "cover-up" and said the government was in denial, "trying to downplay the incident to hide its own failure at protecting Christians and minorities".
On Monday around 3,000 of Qadri's supporters were still holding a sit-in near main government buildings in Islamabad.
Their demands include the execution of Asia Bibi, a Christian mother-of-five who has been on death row since she was convicted of blasphemy in 2010.
They are also calling for Qadri to be officially declared a martyr and want the immediate imposition of Sharia Islamic law.
"Didn't the government know what their demands would be? Why did the government not stop them?" asked Chaudhry.
http://www.firstpost.com/world/lahore-blasts-christian-community-felt-there-could-be-backlash-after-qadris-execution-2699818.html
-----
Bangladesh Court Rejects Removing Islam as State Religion
JULHAS ALAM, ASSOCIATED PRESS March 28, 2016
DHAKA, Bangladesh (AP) — Bangladesh's top court rejected a 28-year-old petition Monday to remove Islam as the official religion of the Muslim-majority South Asian nation.
The decision by the three-judge High Court panel had been widely expected. The court said the 15-member group that filed the petition in 1988 has no legitimacy because it was never registered with authorities.
Government lawyers said the court's rejection means that Islam will remain Bangladesh's official religion, and that equal rights for minority religions guaranteed by the constitution will not be affected.
The government's lead lawyer for the case, Murad Reza, who had opposed the petition, praised the court's decision.
Islam was declared Bangladesh's state religion in 1988 by military dictator H.M. Ershad in a bid to win popular support while major political parties campaigned to oust him from power. He resigned amid mass protests in 1990.
The country's current leader, Prime Minister Sheikh Hasina, reintroduced secularism as the political standard in a 2011 constitutional amendment, but continued to support Islam as the state religion.
Leaders of the local Islamist group Hefazat-e-Islam said they were happy with Monday's court decision. Members of the group who had gathered outside the court held two fingers up in a V sign for victory.
"We thank the court on behalf of the nation for rejecting the petition," said Fazlul Karim Kashemy, a Hefajat-e-Islam leader. "Muslims and non-Muslims in our society have been maintaining good relationship for long."
Bangladesh's largest Islamist political party, Jamaat-e-Islami, had called for a nationwide general strike on Monday to demand the petition's rejection, but few heeded the call to strike.
http://www.sfchronicle.com/news/world/article/Bangladesh-court-rejects-removing-Islam-as-state-7210569.php
------
Pakistan
Pakistan army called in to quell blasphemy law protest
Thousands protest in Islamabad against execution of Mumtaz Qadri, who murdered governor critical of blasphemy law.
28 Mar 2016
Correction, March 28: An earlier headline on this story described the protesters as pro-blasphemy. This was wrong. They were demonstrating in support of Mumtaz Qadri, who was executed for the murder of Punjab governor Salman Taseer. The governor had voiced opposition to Pakistan's law on blasphemy.
Thousands of protesters have clashed with police near parliament in the Pakistani capital, Islamabad, against the execution of a man charged with murdering a governor for his criticism of blasphemy laws.
Inside Story - Should Pakistan's blasphemy laws change?
Police fired tear gas to stop an estimated 25,000 protesters, some of whom tried to forcibly enter the security zone of the capital, dubbed the red zone.
Al Jazeera's Kamal Hyder, reporting from Islamabad, said that the military was called in to take over security in the red zone.
"Their main task will be to secure the zone that includes parliament, Pakistan Television, the Foreign Office, the Supreme Court and diplomatic enclave," he said.
Protesters marched from the garrison town of Rawalpindi to Islamabad in solidarity with Mumtaz Qadri, who was charged and executed for the murder of Punjab province governor Salman Taseer.
"The crowd is massive and the police used blockades and tear gas on protesters as they were getting out of control," Sami Yousafzai, who was present at the protest site told Al Jazeera.
"They want the blasphemy law to be active and anyone who says anything blasphemous about Prophet Muhammad should be executed."
Peace and tolerance
Taseer was shot 28 times by Qadri, his bodyguard, in January 2011 for defending a Christian woman jailed on blasphemy charges.
The protest leaders said they would hold a sit-in until their demands were met, but did not specify what their demands were.
If our people don't understand the Sharia properly, our community will never be educated. They will always go for violence instead of peace and tolerance.
Dr Mufti Akeel Ur Rehman Pirzada, Chairman of the Pakistan's Ulama Aman committee
According to Dr Mufti Akeel Ur Rehman Pirzada, chairman of the Pakistan's Ulama Aman committee - a body of Islamic scholars to promote peace - the protest is aimed to press the government for certain demands and "cause unrest".
"Their first demand is to punish people convicted of blasphemy, for example Asia Bibi who was charged with allegedly desecrating the Quran," he told Al Jazeera.
"If our people don't understand the Sharia [Islamic law] properly, our community will never be educated. They will always go for violence instead of peace and tolerance."
About 100,000 people attended Mumtaz Qadri's funeral and he has been labelled as a hero, highlighting the support for such people in the society.
The protest was blacked out by the Pakistani media after the government banned it fearing unrest.
Singer-turned preacher attacked
Meanwhile, Junaid Jamshed, a pop star-turned preacher, was attacked when he was leaving Islamabad airport on Saturday night.
He has been mostly living abroad since 2014 when he made a comment that was said to be an insult to one of the wives of the prophet.
After the attack, Jamshed tweetted: "I wish I wasn't travelling alone. A little distressed with what happened."
"Its about time [we] as a nation decide that [we] will not let these religious fanatics prevail amongst us."
More than 100 people are charged with blasphemy each year in Pakistan, a predominantly Muslim nation of 180 million, many of them Christians or people from other minorities.
Conviction of blasphemy carries a death sentence in Pakistan, but no one has yet been hanged.
http://www.aljazeera.com/news/2016/03/pro-blasphemy-protesters-clash-police-pakistan-160327142503305.html
----
Security agencies conduct raids, arrest suspected terrorists: ISPR
DAWN.COM
Mar 28, 2016
LAHORE: Intelligence agencies along with Army and Rangers personnel carried out a series of operations to nab suspected terrorists in the aftermath of yesterday's deadly explosion at a park here, the military's media wing said on Monday.
A number of "suspected terrorists and facilitators" were arrested during the five raids which were conducted in Lahore, Faisalabad and Multan after the Lahore explosion, said DG Inter-Services Public Relations (ISPR) Asim Bajwa,
He added that a "huge cache of arms and ammunition" were also recovered by security officials.
Chief of Army Staff Gen Raheel Sharif chaired a high-level security meeting at the General Headquarters (GHQ) to review progress of operation in Punjab to apprehend terrorists in wake of the explosion.
At least 72 people were killed in a suicide blast that took place in Lahore's crowded Gulshan-i-Iqbal park on Sunday evening, police confirmed on Monday. At least 300 others were injured.
In the wake of the attack, the Punjab government declared an emergency in Lahore and announced three days of mourning. Schools and markets were closed in the provincial capital on Monday.
Prime Minister Nawaz Sharif, Punjab Chief Minister Shahbaz Sharif and Federal Interior Minister Chaudhry Nisar on Monday paid a visit to the injured admitted to Jinnah Hospital for treatment.
PM Nawaz also chaired a meeting at Prime Minister House to review the security situation in Lahore. The prime minister was briefed on the attack by his security advisers, a PM Office statement said, adding: "Key decisions to respond to the situation were taken and directions were issued."
A First-Information Report was lodged by the Counter-Terrorism Department Lahore against four suspects under Section 7 of the Anti-Terrorism Act and various sections of the Pakistan Penal Code.
The FIR claims four suspicious individuals were stopped at the gate of the park, one of whom got into the park and blew himself up. The other three, taking advantage of the rush at the scene, were able to slip away, it says.
The powerful blast ripped through a massively crowded area of the park adjacent to Gate 1 which houses swings, train and some other attractions for children.
Witnesses said the crowd included a large number of Christian families celebrating Easter, Dawn Newspaper reported.
Witnesses said the blast was so massive and fatal that there were pools of blood and scattered body parts in the park. The injured were seen crying for help and women running to find their children.
The incident raised a big question mark over the 'security measures' especially in the wake of terror threats.
Lahore CCPO retired Capt Amin Wains, quoting initial police inquiries, said the park was pathetically managed by the Parks and Horticulture Authority (PHA) and its boundary walls – only four to five feet in height – were easily scalable.
He said the PHA management was responsible for frisking the visitors and 40 private guards were manning the recreational facility spanning over 2.5 km area for security.
He ruled out a security lapse on the part of police and said two mobile squads had been stationed at the main gate of the park.
Police investigate blast
DIG Operations Haider Ashraf said that at least 15 to 20 kg explosive material had been used by the suicide bomber. He said that police found the 'skull' of the suspect from the blast site and sent it for forensic analysis.
To a question about the motive behind the terrorism, he said it would be premature to say anything at this stage. "However, the terrorist hit a very soft target of women and children," he said.
An identity card police found from the site of the blast may be of the alleged suicide bomber.
The DIG Operations said that according to initial inquiry, Yousuf, a young man from Muzaffargarh, might be the bomber.
He said four friends of Yousuf had been detained by Muzaffargarh police from Basti Sohrani for questioning.
A witness, who was running a stall near the blast site, told reporters that a suspect aged between 20 and 30 was seen roaming in the park. He said one of the security guards of the Park had questioned him for his presence and then left him unattended.
Sunday's attack was claimed by the Tehreek-i-Taliban Pakistan Jamaatul Ahrar, who also claimed last year's twin suicide bombings at churches in Lahore's Youhanabad area, which killed at least 15 people and sparked violent protests across the city.
http://www.dawn.com/news/1248435/security-agencies-conduct-raids-arrest-suspected-terrorists-ispr
----
South Asia
Afghan Air Force Kills Eight Insurgents in Nooristan
Mon Mar 28 2016
Afghan Air Force has targeted a hideout of insurgents in Dwab district of eastern Nooristan province, 201st Military Corps said in a statement on Monday.
According to the statement, eight Taliban were killed and 12 others wounded in the air strikes yesterday.
Those killed include Janat Gul and Abdul Sattar, two commanders of Taliban, the statement adds.
However, Taliban have not yet commented on the report.
The air strikes come a day after six insurgents were killed in a clash with security forces in Kamdish district of Nooristan province.
An official said the militants had just crossed the border into Afghanistan from across the Durand Line.
Nooristan which is on the border with Pakistan is one of the comparatively restive areas of Afghanistan where Taliban are actively operating.
http://www.khaama.com/afghan-air-force-kills-eight-taliban-in-nooristan-4768
-----
Coordinated suicide attack foiled in Helmand, 3 bikes packed with explosives seized
Mon Mar 28 2016
A coordinated deadly suicide attack plot was foiled in the restive Helmand province located in south of Afghanistan with the discovery of 3 bikes packed with explosives.
The Afghan Intelligence, National Directorate of Security (NDS), said the bikes were discovered and seized from Nad-e-Ali and Lashkargah city of Helmand.
A statement by NDS said the anti-government armed militant groups had prepared the explosives-laden motorbikes to carry out coordinated attack in this province.
In a separate incident in Nad-e-Ali district, at least four militants were killed and 2 Ak-47 rifles were seized along with a motorcycle and some explosives, NDS added.
The anti-government armed militant groups including the Taliban group have not commented regarding the reports so far.
NDS also added that a thief was arrested in a separate operation in this province who has been identified as Abdul Hakim son of Akhtar Mohammad.
According to NDS, the suspect was involved in the murder case of two brothers who were shot dead with a pistol.
Helmand is among the volatile provinces in southern Afghanistan where anti-government armed militant groups are actively operating and frequently carry out insurgency activities.
http://www.khaama.com/coordinated-suicide-attack-foiled-in-helmand-3-bikes-packed-with-explosives-seized-0462
------
Rockets land on parliament building in Kabul
Mon Mar 28 2016
rocket attack on Afghan parliament buildingA rocket has landed on the new parliament building in the west of capital Kabul earlier today.
The incident took place as the senior security officials were on the way towards the building to brief the lawmakers on the current situation of the country.
Eyewitnesses in the area are saying four rockets were fired on the parliament building and only one of them impacted the building and two others landed in the surrounding areas while one of them landed in an army base.
There are no reports regarding the casualties as the security officials have not commented regarding the incident so far. However, a lawmaker said no casualties were incurred to the MPs or other people after three rockets landed impacted the parliament building.
Today's incident comes days after a heavy blast rocked capital Kabul after bike packed with explosives went off in 3rd Macroryan area of the city.
http://www.khaama.com/rocket-lands-near-parliament-building-in-kabul-0461
----
Taliban shadow district governor killed in northern Baghlan province
Mon Mar 28 2016
Taliban fighters arrestedThe shadow district govern of the Taliban group for Tala Barfak district of Baghlan province was killed during an operation conducted by the Afghan security forces.
Provincial police spokesman Jawed Basharat said the operation was jointly conducted by the Afghan police, army and intelligence operatives in Khenjan district.
He said the slain Taliban shadow district governor has been identified as Mullah Jan Mohammad who was killed with his bodyguard.
In the meantime, another security official said at least five Taliban militants were also arrested durign the operation.
The official further added that one of the Taliban militant had disuised himself in the women's dress and was looking to escape but was identified and arrested by the security forces.
The Taliban militants group has not commented regarding the report so far.
The security situation in northern Baghlan province has sharply deteriorated during the recent months which resulted to heavy clashes in Dand-e-Ghori district earlier this year.
The Taliban militants also destroyed several electricity pylons after the Afghan forces launched a major offensive in Dand-e-Ghori district which resulted to power cut in capital Kabul.
http://www.khaama.com/taliban-shadow-district-governor-killed-in-northern-baghlan-province-0459
---
Afghan parliament speaker Ibrahimi lost 4 relatives in Kunduz traffic incident
Mon Mar 28 2016
The speaker of the Lower House of Parliament, Wolesi Jirga, Abdul Rauf Ibrahimi has lost 4 family members in a traffic incident in northern Kunduz province of Afghanistan.
According to the local government officials in Kunduz, the incident took place late on Sunday afternoon in Dasht-e-Abadan area of Kunduz.
Provincial police chief Mohammad Qasim Jangalbagh confirmed the incident and said four other relatives of Mr. Ibrahimi sustained injuries in the incident.
He said a woman, two kids and a boy were among those killed in the incident and four others who sustained injuries have been shifted to the hospital for treatment.
Pictures emerging from the site of incident purportedly show the incident has taken place due to a head on collision with a truck.
The main reason behind the incident has not been ascertained so far but the traffic incidents in the country are mostly taking place due to reckless driving.
The bad conditions of the road also contribute to the majority of the road accidents in the country.
http://www.khaama.com/afghan-parliament-speaker-ibrahimi-lost-4-relatives-in-kunduz-traffic-incident-0463
-----
Southeast Asia
Muslim Man Allowed By a Malaysian High Court to Convert Back Into Christianity
KUALA LUMPUR: Roneey Anak Rebit was allowed by a Malaysian Court to officially convert back into Christianity and be legally identified as a Christian.Rebit, now a middle-aged man, was born a Christian but was forced to convert to Islam by his parents when he was a child. He then was re-baptized as a Christian in 1999.Justice Datuk Yew Jen Kie of the Kuching High Court in Sarawak made the decision to allow Rebit to revert to Christianity, on the grounds that Rebit converted when he was a minor, thus, he should not be deemed as an individual who is practicing as a Muslim. The judge cited Article 11 of the Malaysian Federal Constitution, which is a provision for freedom of religion."It is within his constitutional rights to exercise freedom of religion," the ruling from Judge Yew Jen Kie stated, as reported.This ruling came after a request by Rebit, who hails from the Malaysian state of Sarawak, to have the Islamic classification removed from his government-issued identity card, MyKad, and from all his records in the National Registry Department. Rebit's MyKad card also contains his Muslim name, Azmi Azam Shah, which he would like to have removed as well.This ruling by the Kuching High Court is considered to be a landmark decision in the Southeast Asian country. Conversion and formal apostasy in Malaysia, which has a predominantly Muslim population, is a rather sensitive matter. Furthermore, these cases become more difficult when they involve unilateral child conversions.
The Association of Churches in Sarawak (ACS) praised the decision made by the High Court as it demonstrates that the fundamental right to freedom of religion is protected."We are thankful to the Kuching High Court for coming to a fair and just decision in accordance with the law. We call upon the Federal Government to honor and give effect to the guarantee of religious freedom as provided in the Malaysia Agreement and uphold the constitutional rights and fundamental liberties accorded by the Federal Constitution to all citizens of Malaysia," ACS said in a press statement.--Christian Daily
http://www.heraldmalaysia.com/news/muslim-man-allowed-by-a-malaysian-high-court-to-convert-back-into-christianity-in-landmark-ruling/28505/1
----
India
Supreme Court Asks Centre to File Committee Report On Muslim Personal Law Within Six Weeks
March 28, 2016
The Supreme Court on Monday asked the Centre to file before it the report of a committee which was constituted earlier to look into the aspects of personal laws relating to marriage, divorce and custody prevalent in various religious minorities, including Muslims.
A bench comprising Chief justice T S Thakur and Justice U U Lalit asked Additional Solicitor General Tushar Mehta, appearing for the Centre, to submit the report within six weeks in the court.
The bench also asked the Ministry of Minority Affairs to file its response to the petition filed by one Shayara Bano challenging the constitutionality of Muslim practices of polygamy, triple talaq (talaq-e-bidat) and nikah halala.
Talaq-e–bidat is a Muslim man divorcing his wife by pronouncing more than one talaq in a single tuhr (the period between two menstruations), or in a tuhr after coitus, or pronouncing an irrevocable instantaneous divorce at one go (unilateral triple-talaq).
Meanwhile, the bench directed the apex court registry to make available within six weeks the copy of judicial records of a petition on the issue which was taken note of as a separate petition by it.
The Supreme Court had earlier this month sought response of the Centre on Bano's plea challenging constitutionality of Section 2 of the Muslim Personal Law (Shariat) Application Act, 1937 in so far as it seeks to recognise and validate polygamy, triple talaq and nikah halala, and had tagged the matter with a similar suo motu petition.
- See more at: http://indianexpress.com/article/india/india-news-india/supreme-court-asks-centre-to-file-committee-report-on-personal-laws
----
Pathankot Terror Attack: NIA Briefs Pakistan Probe Team
Mar 28, 2016
NEW DELHI: India and Pakistan on Monday began formal discussions on investigations into the terror attack at the Pathankot IAF base, making it the first-ever visit of a joint investigation team (JIT) from the neighbouring country that included an ISI official.
The five-member Pakistani JIT is headed by chief of Punjab's counter-terrorism department (CTD) Muhammad Tahir Rai and comprises Lahore's deputy director general, Intelligence Bureau, Mohammad Azim Arshad, Inter-Services Intelligence (ISI) official Lt Col Tanvir Ahmed, military intelligence official Lt Col Irfan Mirza and Gujaranwala CTD investigating officer, Shahid Tanveer.
The team was received at the headquarters of National Investigation Agency by inspector general Sanjiv Kumar Singh.
They are being given a detailed presentation on the probe done by Indian agencies so far and evidences that show that the attack was planned in Pakistan, official sources said.
The team, which arrived on Monday, will on Tuesday visit Pathankot for the probe into the attack carried out by Pakistan-based Jaish-e-Mohammed (JeM) terror group on January 2, which left seven security personnel dead.
In the post-lunch session, the Pakistani team would be raising questions to clear their doubts, if any, before they fly to Pathankot in a special plane on Tuesday morning, the sources said.
The IAF base will be visually barricaded by NIA to prevent any view of critical areas.
The NIA team would show some of the areas where the Jaish-e-Mohammed terrorists were engaged in an 80-hour-long gun battle with security personnel.
India plans to provide the Pakistani team access to all witnesses in the case, but not to the security personnel from National Security Guard or BSF.
The witnesses include Punjab Police superintendent of police Salwinder Singh, his jeweller friend Rajesh Verma, cook Madan Gopal and 17 injured persons.
The sources said that cooperation to the Pakistani team would be based on the principle of reciprocity hoping that an Indian team would be allowed to travel to Pakistan at a later date.
In the 26/11 Mumbai attack case, Pakistan had sent a judicial commission to cross-examine some of the witnesses in the case.
http://timesofindia.indiatimes.com/india/Pathankot-terror-attack-NIA-briefs-Pakistan-probe-team/articleshow/51582204.cms
----
Arab World
Heavy Infighting Rages among Terrorists in Damascus Countryside
Mar 27, 2016
TEHRAN (FNA)- Field sources in Damascus province revealed intense infighting between the al-Nusra Front and ISIL terrorists in al-Qalamoun region which resulted in fatalities on both sides, including a senior ISIL commander.
Abu Azam, an ISIL field commander, and his men were killed in Jaroud al-Jarajir area in Al-Qalamoun.
The al-Nusra Front captured several ISIL-controlled military positions in these clashes.
Almost the entire range of extremist and terrorist groups are supported by Saudi Arabia and Turkey, with their key commanders and leaders being Saudi nationals. ISIL, Al-Nusra and other extremist groups pursue the same line of ideology exercised and promoted by Saudi Arabia, Wahhabism. Hundreds of Saudi clerics are among the ranks of ISIL and Al-Nusra to mentor the militants.
Wahhabism is now the only source of the textbooks taught at schools in the self-declared capital of the ISIL terrorist group, Raqqa, in Northeastern Syria resembling the texts and lessons taught to schoolgoers in Saudi Arabia. The Wahhabi ideology, an extremist version of Sunni Islam that is promoted almost only in Saudi Arabia, sees all other faiths - from other interpretations of Sunni Islam to Shiism, Christianity and Judaism - as blasphemy, meaning that their followers should be decapitated as nonbelievers.
-----
Syrian Army's General Command Issues Statement on Liberation of Palmyra
Mar 27, 2016
TEHRAN (FNA)- The General Command of the Syrian Army and Armed Forces confirmed on Sunday that the ancient city of Palmyra and the mountains and hills overlooking it have now come under the army's full control.
"Security and stability has been restored to Palmyra following a series of precise and effective military operations that were carried out by the army units with the help of the popular defense groups, being backed by the Syrian and Russian Air Forces," the Army Command said in a statement.
The ISIL terrorist organization has been dealt quite a heavy blow with army's capture of Palmyra, said the Army Command, adding that the achievement has severely damaged the terrorists' morale and pressed the start button for the organization's collapse and defeat.
"This achievement proves that our brave army, aided by the friends, is the only effective force capable of fighting terrorism and eradicating it," the statement said.
The Army Command clarified that the importance of today's achievement stems from the significant strategic location of Palmyra city being a major link connecting the Central, Southern, Eastern and Northern areas, and from the historical and tourist status of the city as it stands witness to one of the most ancient human civilizations ever.
With Palmyra city under control, military operations against ISIL will expand starting from this springboard towards various axes and directions, on top being Deir Ezzur and Raqqa, especially that this victory helps in further tightening the noose around ISIL terrorists and cutting off their supply routes in areas under their control until having these areas fully freed, the statement explained.
The statement made it clear that the army, together with the popular defense groups and the Russian and Syrian Air Forces, will go ahead with military operations against ISIL and al-Nusra Front and other terrorist organizations.
http://en.farsnews.com/newstext.aspx?nn=13950108000508
----
UNESCO Welcomes Liberation of Palmyra
Mar 27, 2016
TEHRAN (FNA)- UN Educational, Scientific and Cultural Organization (UNESCO) hailed the Syrian army for seizing back the ancient city of Palmyra (Tadmur) from the ISIL.
"To take away Palmyra from the ISIL…to take it away from their control would certainly be a good thing considering what they have done to the city and to the people," the Russia Today news channel quoted Giovanni Boccardi, UNESCO Emergency and Response Chief of Unit as saying on Sunday.
Given the current state of affairs, it remains difficult to estimate which historical sites can be salvaged, he said, adding that a detailed assessment is required to understand what can be done to repair the city.
In a relevant development on Friday, UNESCO Director General Irina Bokova hailed the operation carried out by the Syrian army, to cleanse the ancient city of Palmyra of ISIL Takfiri terrorists.
"I welcome the liberation of the Palmyra archeological site, martyr city inscribed on the UNESCO world heritage list, which carries the memory of the Syrian people, and the values of cultural diversity, tolerance and openness that have made this region a cradle of civilization," Bokova said on Thursday.
The UNESCO chief added that "For one year, Palmyra has been a symbol of the cultural cleansing plaguing the Middle East."
Elsewhere in her remarks, Bokova said, "As soon as security conditions allow, UNESCO is ready to go to Palmyra with those responsible for Syrian antiquities on a mission to evaluate damage and protect the priceless heritage of the city."
"The deliberate destruction of heritage is a war crime," she stressed.
The army, in cooperation with the popular defense groups, has been pushing further into Palmyra city after retaking several hills around the city and a number of areas and sites in its close vicinity in the past days, eliminating all gatherings of ISIL Takfiri terrorists there.
ISIL took over Palmyra city and the archeological site of Palmyra last May, killing hundreds of the locals and putting in jeopardy a most treasured part of Syria's archeological heritage.
Over the past period ISIL has destroyed several ancient sites in Palmyra, including the Temple of Baalshamin.
In early July, ISIL destroyed the 1,900-year-old "Lion of Al-Lat" statue in Palmyra, and in August it destroyed large parts of the ancient Temple of Bel, dating back to 32 AD.
It also beheaded a senior archeologist of Palmyra, Khaled al-Asaad, on August 19.
http://en.farsnews.com/newstext.aspx?nn=13950108000497
----
Eastern Homs: Syrian Army Preparing to Attack Terrorists' Positions in Quaryatayn
Mar 27, 2016
TEHRAN (FNA)- The Syrian army and the Lebanese Hezbollah resistance movement are preparing to attack the terrorists' military positions in the town of Quaryatayn in Homs province which overlooks al-Qalamoun area in Damascus countryside.
The army units are now ready to attack the terrorists' positions in Quaryatayn as the Syrian army and popular forces have cut the terrorists' supply routes to the ancient city of Palmyra which is also located in Eastern Homs.
Meantime, the Syrian army's artillery units heavily pounded the terrorists' positions in Quaryatayn.
On March 23, battlefield sources announced that the Syrian Army's 11th Division and 3rd Division had secured all hills around al-Quaraytayn city.
In a relevant development on Saturday, the Syrian army and popular forces managed to take full control of a major supply line to the West and Southwest of Palmyra city.
The army units took full control of ISIL's Quaryatayn-Palmyra supply route in a bid to prevent flow of supplies to the ISIL terrorists in the Western and Southwestern parts of Palmyra.
The ISIL's logistic and supply routes from the West and Southwestern parts of Palmyra are disconnected now.
The Syrian army also managed to disconnect Quaryatayn and Palmyra from each other by taking full control over the Quaryatayn-Palmyra highway.
The Syrian army's special troops known as Tiger Forces are engaged in heavy fighting with the ISIL Takfiri terrorists in the streets of the ancient city of Palmyra (Tadmur) in the Eastern part of Homs province.
The ISIL terrorists are trying hard to prevent the Syrian army from making further advances in Palmyra city as the street battle between the two sides is intensifying.
The ISIL militants have sustained heavy casualties and losses in fierce clashes with the Syrian army in recent days.
The Syrian army has made considerable advances in the areas near Palmyra city and taken full control of a strategic ancient castle near the Palmyra city.
On Friday, the Syrian government forces and Desert Falcons fighters gained control over a strategically important height near Palmyra.
The Syrian Army and Desert Falcons on Friday won another battle in Eastern Homs after hours of fierce clashes with the ISIL Takfiri terrorists.
The Syrian soldiers and their allies have pushed back the Takfiri terrorists in the region near the ancient city of Palmyra, and captured the Qalaat Fakhr ad-Din al-Maani Castle, known as the "Palmyra Castle".
The Syrian army soldiers and their allies have kept on marching on militant-held regions in Eastern Homs province in recent days to capture the strategic city of Palmyra which has been under the control of the ISIL since May 2015.
http://en.farsnews.com/newstext.aspx?nn=13950108000474
----
Rouhani: Iran, Saudi Arabia Could Settle Disputes through Talks
Mar 27, 2016
TEHRAN (FNA)- President Hassan Rouhani said the existing issues between Iran and Saudi Arabia should be resolved through dialog and diplomacy.
In a Saturday presser in Islamabad and on the last day of his visit, President Rouhani said Tehran welcomes dialog to resovle resolve its disputes with Riyadh.
About Iran's role in Syria's peace talks and the existing tensions with Saudi Arabia, President Rouhani said, "Certain steps have been taken to address the issue of terrorism in Syria. Meanwhile, talks between the Syrian government and the opposition groups should continue. We hope that these talks will lead to a solution for determining Syria's future."
Rouhani went on to add, "The existing difference in opinions must be resolved through dialog. In the past, too, there had been disputes between Iran and Saudi Arabia in regard to ISIL and other terrorist groups."
"We do not wish for the tensions to escalate between Iran and Saudi Arabia. Iran is a major country in the Muslim world and Saudi Arabia, too, holds an important position. If there is any issue between these two countries, it must be settled."
The President then called for a stop to the purchase of oil from ISIL as well as the extraction of oil from Syrian fields by the terror group, saying, "All must participate in establishing peace and holding elections in Syria after the cease-fire."
http://en.farsnews.com/newstext.aspx?nn=13950108000467
------
Russian Exhibition Honours Qeshm Free Zone Organization
Mar 27, 2016
TEHRAN (FNA)- Economic and Investment Deputy of Qeshm Free Zone Organization Farzin Haqdel said the Third Moscow International Travel & Tourism Exhibition awarded the organization with World Plaque of Honor.
Farzin Haqdel said on Sunday that Qheshm Free Zone is also responsible for holding China International Travel Mart (CITM) and Italy Borsa internazionale del turismo (BIT) as Iran's representative of cultural heritage handicrafts and tourism organization.
He said Iran's Stall in the Moscow exhibition was warmly welcomed, adding that many people want to travel to Iran, while several foreign investors have expressed interest in investing in Iran's tourism infrastructures.
According to the official, Qeshm Free Zone and Guangdong Free-Trade Zone signed cooperation MoU during the exhibition. Also Iran and Italy signed a deal to promote Italian investment in energy, tourism and infrastructural fields.
The Moscow International Exhibition Travel & Tourism is a 4-day event being held on 23-26 March each year at the Expocenter Krasnaya Presnya in Moscow, Russia. This event showcases products from Travel & Tourism industry.
http://en.farsnews.com/newstext.aspx?nn=13950108000445
------
Coordination vital to crush terrorism
Monday 28 March 2016
RIYADH: Military chiefs from Muslim nations have pledged to dry up terrorists' resources, a Saudi military spokesman said on Sunday.
Brig. Gen. Ahmad Al-Assiri said the representatives of the newly-formed Islamic Military Counter Terrorism Coalition — made up of 34 Muslim countries — discussed "ideological, media, financial and military" aspects to combat terrorism during their first meeting in Riyadh on Sunday.
He also said the attendance of 39 Muslim nations, not all of which were members of the coalition, "sends a strong message on the importance and nature of the alliance," adding that such force is needed in the face of "Daesh recreating Muslims and Arabs to put them in confrontation with the world."
Al-Assiri said the officials met to discuss a "unified" strategy to degrade terrorism, and it is based on "proposed initiatives."
"Today's meeting is to lay the foundation stone for the coalition," he said, adding that the meeting "is about proposed initiatives. Today we did not discuss any individual cases."
He, however, said: "Saudi Arabia has presented a paper to follow the resources of terrorism funding."
The spokesman emphasized that the coalition will work according to "international law and standards," dismissing that any country "would take a unilateral decision."
"Sovereignty is respected," he reiterated.
"States that want a military intervention in their countries would lead the mission."
While many of the Muslim states in the meeting — including Saudi Arabia, Turkey and the UAE — are also part of the US-led coalition against Daesh, the Islamic Alliance would not only target the extremist group but "other terrorist groups in a wider sense."
The meeting, considered the first of its kind, aims to coordinate efforts among the 34 Muslim countries involved in the alliance.
The coalition was announced in December by Deputy Crown Prince Mohammed bin Salman in a bid to establish a unified Muslim body to fight terrorism.
The deputy crown prince met separately on Sunday with the chiefs of staff of the countries participating in the military alliance.
During the talks, he emphasized the importance of coordinating the strategic efforts among the Islamic countries in confronting and countering terrorism.
The coalition started through the establishment of a joint operations center in Riyadh.
http://www.arabnews.com/featured/news/901986
----
Mideast
ISIS Uses Palestine as Rallying Cry in Molenbeek, Residents Say
Esti Judah and Davide Lerner Mar 28, 2016
In the immediate aftermath of Tuesday's deadly terror attacks the streets of Brussels fell eerily quiet. While businesses and transportation services closed, media and police attention focused on Molenbeek. Brussels' most infamous neighbourhood was headline news just days before when Salah Abdeslam, believed to be the mastermind of the November Paris attacks, was arrested there. After a four-month-long manhunt, Abdeslam was found hiding in a basement of Rue Quatres Vents, one of the area's main streets.
"Time in Molenbeek has been divided into before the Paris attacks and after," states the deputy mayor of the municipality, Ahmed El Khannouss, himself of Moroccan descent. Françoise Schelpmans, mayor of Molenbeek, echoes his words: "This media frenzy and shunning of Molenbeek on behalf of the rest of society is partly justified."
Molenbeek is geographically separated by a canal from the city center of Brussels, but the division is more visible in terms of the ethnic composition and wealth of its population. "Molenbeek is one of the poorer neighborhoods of Brussels, afflicted by unemployment but also as an area overwhelmingly composed of a majority Muslim population," says Schlepmans.
Demir Murat Seyrek of the European Foundation for Democracy, a Brussels-based think-tank focusing on radicalization in Europe, says the neighborhood was an easy target for radical Islamic movements. The Islamists "took advantage of the weak social structure of the Moroccan community here, making the push factors towards radicalization beyond social factors such as unemployment easier," he explains. "In Molenbeek, people don't feel 100 percent Belgian, which made it easier for these groups to propose an alternative identity. There is a clear cultural explanation for this radicalization."
Divided ethnically from Belgian society, these largely Salafist groups created an alternative rhetoric of Muslim unity as their rallying call. "The question of Palestine was the decisive element in convincing my son Anis, aged 18, to leave Belgium to fight with ISIS in the battlefields of Syria," says Geraldine, a mother of a terrorist from Molenbeek. "With the heavy police presence in the area, young people often compare the constant identity checks they conduct to living under occupation in Palestine," confirms the deputy mayor. Karim Amezian, a manager of an independent association aiming to deradicalize youth in the area, says that there is nothing like Israeli checkpoints when it comes to upsetting young people in disadvantaged areas of Brussels and Belgium as a whole.
"My son, like many others, remained unemployed, afflicted by an implicit rejection from society by being unable to enter the labor market," explains Geraldine. The same story is repeated by other mothers of jihadi fighters from Belgium, who know these men and their journey to radicalization best. Annalisa Gadaleta, a local official working in education for the municipality, adds how "the youth here in Molenbeek are frustrated in both identity and socio-economic terms."
The identity limbo facing the second generation of North African immigrants here has proven to have tragic consequences. Whereas the older generation self-identifies as migrants, their children are left marginalized by Belgian society in multiple terms. "ISIS and other radical organizations provide an identity safe-harbor," says Fabio Merone, an expert on jihadism. He elaborates, "Molenbeek is a poor neighborhood with 30,000 people below 25 years old, of which 50 percent are unemployed." Ann Gilles-Goris, another Molenbeek local government official, explains how the once Italian quarter has changed over the years: "When all the Italians came there was plenty of jobs and the Italians worked largely in the booming mining industry. However, in the 1970s and 1980s the Italians left for more gentrified areas, leaving way for people coming from Arab countries, but this coincided with the closing of the mines."
Raids have taken place beyond the confines of Molenbeek, in the Forest and Schaerbeek municipalities, yet they have remained by and large linked to the North African community. The lack of integration of Molenbeek's residents — both economically and culturally — and the specificity of this area is only highlighted when compared to the large Sunni Muslim Turkish population of Brussels that has been largely unaffected by radicalization. While the Turkish community has a "strong and constant affiliation to Turkey seen as the overarching motherland," explains Seyrek, in comparison Molenbeek is the orphan child lacking a unifying Belgian identity. The second generation of children of North African descent that felt part of their identity was missing and is economically ostracized by society has been adopted by Salafist groups. Both elements are likely to be aggravated in the aftermath of the attacks.
http://www.haaretz.com/world-news/.premium-1.711009
----
Two soldiers killed, five wounded in PKK attack in Turkey's southeast
Mar 28, 2016
Two soldiers were killed and five others were wounded on late March 27 in an outlawed Kurdistan Workers' Party (PKK) attack in the Nusaybin district of the southeastern province of Mardin.
An explosive placed by PKK militants detonated inside an abandoned building, trapping and wounding seven soldiers caught under the resulting debris. Gendarmerie Cpt. Halil Özdemir and Gendarmerie Specialized Sgt. İbrahim Etöz later succumbed to their injuries at the Nusaybin State Hospital, despite all efforts from the medical staff.
Meanwhile, the other five wounded soldiers were receiving treatment at the same hospital.
http://www.hurriyetdailynews.com/two-soldiers-killed-five-wounded-in-pkk-attack-in-turkeys-southeast.aspx?pageID=238&nID=96983&NewsCatID=341
---
Turkey 'strongly condemns' Taliban's Lahore attack targeting Christians
ANKARA / LAHORE
Mar 28, 2016
Turkey's president and prime minister have condemned the Lahore blast claimed by the Pakistani Taliban that killed at least 72, while extending their condolences to the Pakistani government and stressing their support in the country's fight against terror.
President Recep Tayyip Erdoğan called Pakistani authorities to express his support and released a letter of condolence, Turkey's state-run Anadolu Agency reported.
"I offer my condolences to Mamnoon Hussain, my friend and the president of Pakistan, to Nawaz Sharif, my brother and the prime minister of Pakistan, and to Shehbaz Sharif, the chief minister of Punjab, as well as the people of Pakistan," Erdoğan said in his statement.
The president stated the attack would serve as a test for all the world's countries to demonstrate their honest positions in the face of terror.
"Turkey, as always, stands with Pakistan in this day of sorrow. I wish for all countries to adopt such an open approach towards Pakistan," he said.
Turkish Prime Minister Ahmet Davutoğlu also sent a message of condolences to Nawaz Sharif and Shehbaz Sharif, vowing that Turkey's support and cooperation with Pakistan in the fight against terror would continue with determination.
A Taliban suicide bomber who attacked a Pakistani park filled with families was targeting Christians, the group said March 28, as the death toll rose to 72, with children making up nearly half of the dead.
More than 200 people were hurt when explosives packed with ball bearings ripped through crowds near a children's play area in the park in Lahore, where many had gathered to celebrate Easter.
"We carried out the Lahore attack as Christians are our target," Ehansullah Ehsan, spokesman for the hardline Jamaat-ul-Ahrar faction of the Tehreek-e-Taliban Pakistan (TTP), told AFP by telephone from an undisclosed location.
He said the group would carry out more such attacks, vowing to target schools and colleges alongside government and military interests.
The attack was the worst so far this year in a country well-used to large-scale atrocities, and will further undermine already-fractious community ties in the huge Muslim-majority nation.
Witnesses described children screaming as people carried the injured in their arms, while frantic relatives searched for loved ones.
"We had gone to the park to enjoy the Easter holiday. There was a blast suddenly, I saw a huge ball of fire and four to six people of my family are injured. Two of them critical," 53-year-old Arif Gill told AFP.
Rescue spokeswoman Deeba Shahbaz said the toll had risen to 72 on March 28, with 29 children among the dead. Senior police official Haider Ashraf confirmed the number killed, adding the majority of the dead were Muslims.
"Everybody goes to this park," he said.
Many wounded children were taken to Lahore's Jinnah Hospital, some clearly in pain as doctors examined injuries to their legs, arms and faces March 28.
Doctors had described frenzied scenes at hospitals in the immediate aftermath of the attack, with staff treating casualties on floors and in corridors, as officials tweeted calls for blood donations.
Lahore's top administration official Muhammad Usman said 233 were wounded. Late on March 27 rescue officials had put the number of injured at more than 300.
Earlier, Usman said the bomber "blew himself up near the kids' playing area where kids were on the swings."
Javed Ali, a 35-year-old who lives opposite the park near the center of the city, said the force of the March 27 blast shattered the windows of his home.
"After 10 minutes I went outside. There was human flesh on the walls of our house. People were crying, I could hear ambulances," he said.
Schools and other government institutions were open, but three days of mourning have been announced in Punjab province, of which Lahore is the capital, said commissioner Abdullah Sumbal.
Facebook activated its safety check system after the blast, so people could tell friends and relatives they were safe, but a glitch meant notifications were sent to people all over the world.
The company later apologised, but some users said the error meant news of the attack spread more quickly than it might otherwise have done.
Pakistan's Prime Minister Nawaz Sharif expressed his "grief and sorrow over the sad demise of innocent lives."
His Indian counterpart Narendra Modi telephoned to say "the people of India stand with their Pakistani brethren in this hour of grief," state media reported.
Powerful military chief General Raheel Sharif vowed to bring those responsible to justice and said he "will never allow these savage inhumans to over run our life and liberty," according to a military spokesman.
The U.S. labelled the incident "cowardly", while Pakistan's Nobel Peace Prize winner Malala Yousafzai tweeted: "Pakistan and the world must unite. Every life is precious and must be respected and protected."
The Vatican condemned the attack, calling it "fanatical violence against Christian minorities," and UN Secretary General Ban Ki-moon called for Islamabad to protect religious minorities.
Christians make up an estimated 1.6 percent of the Pakistan's 200 million people, the vast majority of which are Muslim, and have long faced discrimination.
Twin suicide attacks against churches in Lahore killed 17 people in March last year, sparking two days of rioting by thousands of Christians.
Attacks targeting children have a special resonance in Pakistan, still scarred by a Taliban assault in Peshawar in 2014 that killed 150 people, mostly children.
A military operation targeting insurgents was stepped up in response, and last year the death toll from militant attacks fell to its lowest since the Pakistani Taliban were formed in 2007.
http://www.hurriyetdailynews.com/turkey-strongly-condemns-talibans-lahore-attack-targeting-christians.aspx?pageID=238&nID=96982&NewsCatID=356
---
Turkey under the influence of hot international winds and cold domestic winds
Mustafa Sönmez - mustafasnmz@hotmail.com
Mar 28, 2016
However, cold winds are blowing in the domestic climates of emerging countries, primarily Turkey. This situation decreases the effect of the hot wind. Nevertheless, those emerging countries with a warmer domestic climate have an opportunity to breathe, even if it is for only a couple of months.
What about Turkey? What do Turkey's tense political climate, increasing terror barometer and associated non-decreasing risks cause the country to lose? Everybody is curious and debating.
Hot winds
As 2015 was ending, the fear of a repetition of the 2008 shock and the global crisis recurring was widespread. Global markets starting from December 2015 had entered the sales period. Sales intensified in January. In such an environment, even though the U.S. Central Bank (Fed) had made its first rate hike in 2015, it started giving signals that it would hit the brakes. It skipped the hoped for rate hikes in March.
At the end of January the Japanese Central Bank decided on negative interest rates. The European Central Bank announced on Jan. 21 that it would increase monetary expansion. It started this practice in March. Jan. 21 at the same time remained the trough of market deteriorations. Oil prices fell to $27.10.
The policy changes and the verbal guidance of the EU, Japanese and U.S. central banks stopped the downward course. Recovery started in the second half of February.
It became clearer that the U.S., at least for a while, would not hike rates in order to not disrupt the markets. The EU, Japan and China would continue monetary expansion and the negative interest rate practice would go in on. It may be expected that the global risk appetite that was domineering during the month of March together with the warm spring winds of the EU anchor will continue until the start of summer.
The Fed's gesture
It is as if the Fed, by postponing the rate hike, made the biggest gesture to emerging countries… The possibility of the Fed increasing rates has been a nightmare for developing countries for a long time. It is known that as a result of rate hikes, the capital inflow toward these countries rapidly slows down. Such a development causes a shrinkage of resources, increase of rates and devaluation of local currencies, resulting in a loss of growth momentum.
The negativity caused by the Fed is not limited to only this. All these developments, especially the changes in the foreign exchange rates, cause volatility to increase in these countries. For this reason, almost all emerging countries await Fed meetings with a fearful tenseness. After any meeting when rates do not change, these countries are greatly relieved. When the Fed's decisions are viewed from this simple framework, then any Fed meeting where rates are not increased is like a gesture to emerging countries.
It is possible to define the method that the global system has discovered and the structure it has formed after the 2008 global crisis against one if its major turbulences as "artificial, temporary and instable."
However, there is not much of a game plan either. This environment that forms with the steps the Fed takes will continue as long as it operates. There is no prediction about the next move.
Everybody is now focusing on living through this spring without knowing what the summer will bring…
Spring in emerging countries
Following the moderate steps in the center, the global risk appetite rose again. Emerging countries are regarded as temporary parking lots. Capital has started flowing to emerging countries, where rates have been kept high since the 2008 crisis. It looks as if emerging countries will continue to be parking lots, at least through the first half of the year.
Because the Fed did not increase rates, the dollar lost value and as a result of this the euro and currencies of emerging countries and gold gained value. The one day loss of the dollar index reached 1.6 percent. The euro on the other hand increased 2.6 percent. The exchange rates of emerging countries according to the JP Morgan Index increased 2.1 percent. Gold prices went up from $1.226 to $1.272 in one day, increasing 3.7 percent.
It was observed the risk premiums of emerging countries went down in February and March. The Credit Default Swap (CDS) of Brazil, which has the highest risk, fell 14 percent in mid-March compared to the February average. In risk listing, South Africa is second and Russia is third.
Spring in Turkey
Turkey's economy also took its share of the international hot winds. The dollar went down to 2.84 against the Turkish Lira around mid-March. Also, 10-year bond rates went down 25 base points to 10.25 percent.
The bourse went above 80,000 points. Turkey's risk premium, its CDS, was 295 in January and it had an average of 299 in February because of the political and geopolitical tension experienced. It went down to 268 in mid-March. With the effect of these, an early spring began.
From the second half of February until mid-March, when free of exchange rate effects and market price effects, a net portfolio inflow near $2 billion was experienced. With the effect of this inflow, exchange rates relaxed and the price of the dollar, which had peaked on Jan. 22 at 3.05 liras, relaxed in February and March. There were days around mid-March when it went below 2.85 liras.
Cold winds
However, Turkey also has cold domestic winds which immediately chill these blowing, hot winds. They have to be taken into consideration as well. There is the Russian embargo on one hand and on the other domestic terror and the Syrian effect. They are all pressuring the economy from all directions. This effect decreases exports, tourism and contracting services.
The concerns about domestic terror and security have reached dimensions where they restrict domestic tourism, consumption, trade and economic activities. Bombs that went off in Istanbul's Sultanahmet Square and Ankara's Kızılay Square, as well as Istanbul's İstiklal Avenue, have caused the thinning of city centers and crowded venues in big cities, primarily in Istanbul, and has spread fear in citizens who are reluctant to go out on the street. There is a serious stagnation in tourism. It is also observed that people refraining from using mass transportation are jamming traffic.
The effects of all these developments are less consumption, more fear, less production and less generation of services. The potential growth is being restricted. Moreover, payment chains, check payments and loan repayments are disrupted.
Suicide bombs have caused tourism reservations for this year to remain low. Especially congress tourism and Istanbul reservations have suffered huge blows. International meetings and cruise tourism no longer exist.
Business and touristic trips to southeastern and eastern provinces are almost nonexistent and even big cities are affected. The southern resort province of Antalya is affected the most from the Russian effect.
The warm international winds, even though they may be blowing for only a couple of months, should be used as ammunition for future tough times, but this depends on the moderation of the domestic cold winds. The path to this passes through the establishment of a peaceful and democratic climate domestically and regionally. Otherwise, the economy may be vulnerable to the harsh waves that will strike in the second half of the year.
http://www.hurriyetdailynews.com/turkey-under-the-influence-of-hot-international-winds-and-cold-domestic-winds-.aspx?pageID=238&nID=96965&NewsCatID=344
---
Israel urges citizens to leave Turkey, cites ISIL threat
JERUSALEM - Reuters
Mon Mar 28 2016
Israel urged its citizens in Turkey on March 28 to leave "as soon as possible" in an upgraded travel advisory predicting possible follow-up attacks to the March 19 suicide bombing in Istanbul by the Islamic State of Iraq and the Levant (ISIL).
Three Israeli tourists and an Iranian were killed in the Istanbul attack, which prompted the counter-terrorism bureau in Prime Minister Benjamin Netanyahu's office to issue a generalized "level 3" warning against travel to Turkey.
A statement by the bureau raised this to "level 2" on March 28, signifying what it called a "high concrete threat" that ISIL or similar groups would attack Turkish tourist attractions. It did not elaborate on what prompted the alert.
The statement said Israelis should avoid going to Turkey and, if already there, "depart as soon as possible."
If a "level 1" alert were by issued by Israel, that would urge citizens to leave the country "forthwith."
http://www.hurriyetdailynews.com/israel-urges-citizens-to-leave-turkey-cites-isil-threat.aspx?pageID=238&nID=96988&NewsCatID=352
------
Palestinians ask UN to investigate Israel killings
Mon, March 28 2016
Palestinian mourners take the last look at the body of Eyad Sajadiyeh, 22, who was killed during an Israeli army raid, during his funeral in the West Bank refugee camp of Qalandia, at the outskirts of Ramallah on March 1, 2016. Israeli troops raided a Palestinian refugee camp north of Jerusalem to rescue a pair of soldiers who had lost their way and came under attack in the area, the military said. Palestinian health officials said Sajadiyeh was killed and four others were wounded in the ensuing clashes. (AP/Nasser Nasser)
The Palestinian government has asked the United Nations to launch an investigation into alleged extrajudicial killings by Israel.
Monday's request follows the deadly shooting last week by an Israeli soldier of a wounded Palestinian assailant as he lay on the ground. The military has detained the soldier while it investigates.
Palestinian official Saeb Erekat said that past Israeli investigations have failed to "serve justice" and instead, he claims Israel has been "rewarded with impunity."
The shooting came amid a six-month wave of Palestinian attacks that have killed 28 Israelis and two Americans.
Over the same time, at least 188 Palestinians have died by Israeli fire. Israel says most of those were attackers while the rest died in clashes with Israeli forces.
The Palestinians say the killings amount to extrajudicial slayings.
http://www.thejakartapost.com/news/2016/03/28/palestinians-ask-un-investigate-israel-killings.html
-----
Africa
Lawyers Of Islamic Movement In Nigeria Declare Terms Of JCI Hypocritical As They Pull Out
March 26, 2016
Government has been cautioned by the team of lawyers representing the Islamic Movement in Nigeria IMN at the Judicial Commission of Inquiry JCI investigating the said Army/Shi'ites clash against what is seen as a hypocritical plan to ban the Islamic Movement using terms that do not relate to the Zaria pogrom.
AhlulBayt News Agency - Government has been cautioned by the team of lawyers representing the Islamic Movement in Nigeria IMN at the Judicial Commission of Inquiry JCI investigating the said Army/Shi'ites clash against what is seen as a hypocritical plan to ban the Islamic Movement using terms that do not relate to the Zaria pogrom.
This was stated by the head of the IMN legal team Barrister Festus Okoye while briefing newsmen today in Kaduna on the recent stance of the team.
He said, "The determination of the evolution of the Islamic Movement in Nigeria, its legal status, organization, structure, membership, growth, assets, resources, culture and practices have nothing to do with the events that took place in Zaria between the 12th and 14th of December 2016"
He added that if the government had to determine the evolution and growth of the IMN, it also has to do the same for the Army "The Kaduna State Government should also go ahead to determine the legal status and evolution of the Nigerian military."
He reminded the government of the constitutional rights of the IMN to commune and congregate "Those that set up the Commission are aware that the Constitution of the Federal Republic of Nigeria, 1999(as amended) guarantees freedom of association and no government is permitted to abridge the said rights."
The team of lawyers also expressed concern over government's plan to ban the Islamic movement using the commission as a means, "We believe that the said clause was inserted in a desperate move to find justification for the banning of the Islamic Movement in Nigeria" he said.
He added, "The Legal Team of the Islamic Movement in Nigeria will not be used and will not allow itself to be used to legitimize a pre-determined position and agenda against the Leader of the Islamic Movement in Nigeria and the Islamic Movement in Nigeria."
The team of lawyers representing the Movement has therefore withdrawn its participation and representation before the commission.
Barrister Okoye explained that the team took the stance after tireless but unsuccessful efforts to meet and confer with the leader of the Movement Sheikh Ibrheem Zakzaky who they are representing at the Commission that has been in detention since the incident.
He explained how the efforts of the team to meet the leader of the movement have not yielded any positive results "From the inception of the Commission, we made it clear that we appeared out of respect to the Commission. We also made it clear that Sheikh Ibraheem Zakzaky is the leader of the Islamic Movement in Nigeria as well as its spokesperson and custodian of its properties. We therefore consider it out of place for the Commission to turn around and claim that it is satisfied that the team of lawyers has been properly briefed by the Islamic Movement in Nigeria. What the Commission has done and seeks to do is to graft the team of lawyers to a brief in which they are yet to have any form of briefing from the leader of the Islamic Movement and his wife that have been in the custody of the security agencies since the 14thn day of December 2105 " he said.
Barrister Okoye further declared as unethical for the team of lawyers to continue representing a client it has never gotten any briefs from or to present a written memo on his behalf without his consent. "We believe it is unethical and professionally wrong to pretend to be representing a client and the wife that have been held by the government and have not been seen in public" he said.
He added, "We cannot in good conscience continue to pretend to represent a client that we are not sure of his state of health considering the fact that he was shot severally by the Nigerian Military before he was taken away. We cannot in good conscience continue to represent a client that we are not aware whether he is alive or dead".
Also in attendance at the briefing was Suhaila Ibraheem Zakzaky the daughter of the leader of the movement who briefly explained how her father was abducted and how the Army shot at them and killed those present at the house including three of her brothers.
She also said that her father was shot at severally as well as her mother adding that several people were burnt alive as the house was set ablaze by the Army. They were all taken away by the Army and she was released after spending four days in detention
http://en.abna24.com/service/africa/archive/2016/03/26/743185/story.html
----
Who is Afraid of Sheikh Zakzaky?
March 26, 2016
AhlulBayt News Agency - It is about 100 days since the Zaria massacre by the Nigerian Army where hundreds of innocent lives have been lost to the bullets of the government that is supposed to protect its citizens.
The shallow minded military intelligence that planned and carried out the genocide surprisingly failed to cook up a palpablereason for theassault. The claim that members of the Islamic Movement in Nigeria (IMN) under the leadership of Sheikh Ibraheem Zakzaky wanted to assassinate the chief of Army staff lieutenant General Tukur Buratai has since been dismissed as untenable by simplest means of reasoning. How could armless civilians attempt to murder the whole chief of Army staff moving in a convoy of military arsenal? At what point in the history of the IMN has it attempted to murder any one talkless of an Army General? How does the claim tally with the orderly manner in which IMN has been known to conduct its affairs and in what way could it have helped the members of IMN achieve their objective of conducting their lives according to the tenets of Islam? Surely who ever fabricated that allegation must be either dull or sick in the head or both.
Now on the killings, one wonders what could have justifiedthe merciless actions of the military. Suppose it is true that the members of IMN "attempted" to murder the Army chief, what is supposed to be the punishment for attempted murder and what are the procedures set by the Nigerian constitution in dealing with case of attempted murder? What brought about the hundreds of armed military with all sort of warfare weapons? The simplest and most gullible mind will know that it was a premediated attack conceived and carried out on IMN.
After the killings at Husainiyya, the blood thirsty military proceeded to the residence of Sheikh Ibraheem at Gellesu to accomplish their mission of killing him. Hundreds of sincere and devoted disciples stood by their master until all have been killed or taken by the Army. What followed next was the unconceivable destruction of all the landed properties of IMN including grave yards.
The Kaduna State Governor Nasir El-Rufai went ahead to address the state on the Zaria massacre. El-Rufai in his speech accused and prosecuted Sheikh Zakzaky for what he termed "running a parallel government" and promised to set up a panel of inquiry to investigate the Zaria attack.
The thirteen man commission was inaugurated and swung in to action. The IMN has right from inception of the committee expressed its reservation on the membership, especially on three of the members who are known to be sincere enemies of Shiism and IMN and the deliberate exclusion of any member of IMN to serve in the panel of inquiry despite the fact that the Nigerian Military that carried out the crimes is visibly represented.
It is about five weeks since the commission has had its first sitting and has been characterized by shifting "to enable counsel to IMN have access to their client". It is obvious that the commission has no power to order the state apparatus to allow the lawyers of IMN have access to Sheikh despite its command for four or five consecutive times.
Now, let us ask this question "who is afraid of Zakzaky". A fair play will demand the presence of Sheikh Zakzaky at the tribunal to tell the world his stories of how he was attacked and short severally, how his three children were killed in cold blood before him. The Sheikh should be there to tell the world what degrees of injuries he sustained. It will be equally interesting to hear from him the colossal loss of properties he was made to bear. The historic library with rare collection of books, some of which he inherited from his grandparents that have been destroyed and the ruminants sold out by the Army deserves the audience of the world.
The mission of the IMN will best be understood from the spiritual leader and guide. The various allegations of running a state within a state or running a parallel government or "harassing" his neighbors will best be addressed by the revered Sheikh. So why is the government preventing him from making appearance to defend his case or at least have access to his lawyers. Even in the stories of animal kingdoms courts are run and fair hearing is granted, so why should Nigeria, a democratic nation for that matter fail to grant audience to Sheikh Zakzaky?
When the episodes of Prophet Moses (as) and Pharaoh were mentioned in the Quran, it was reported that when Pharaoh felt challenged by Prophet Moses (as), he did not only ask him (Prophet Moses) to select a day that people will gather around so that he (Pharaoh) and Prophet Moses (as) will bare their proofs to the public to decide who is telling the truth against the lair but Prophet Moses (as) should also select a convenient time. Prophet Moses (as) chose the day of grand festival of their community and selected day time shortly before noon for the public debate.
If a dictator such as Pharaoh can be so democratic to allow open contest with his opponents what is the big deal in a country with democratic government in allowing Sheikh Zakzaky present this case to the public like Prophet Moses did. Indeed before the assembly day selected by Prophet Moses, Pharaoh sent in to different parts of his country as at then to select and gather the most assorted magicians of the time, because he considered Prophet Moses (as) a magician. If the government of Nigeria is to be asked where are your assorted scholars and professors that hold various degrees in Islamic studies, law, philosophy, logic and semantics? Can't you put up a team of these professionals and bring before them the severely wounded Sheikh so that they can cross examine him on Shiism and why he has been calling on Muslims to live as Muslims and implement Islam in their entire lives? They may also query him for shunning oppression and oppressors and abhorring injustice. Similarly he could be made to explain why he does not compromise his principles and why he has never been seen in the corridors of government houses for worldly materials? They may as well ask him what makes him so firm and consistent on his call that has earned him over nine years in different jails of the past governments in addition to losing his six children to the Nigerian government's bullets. I for one and believe many Nigerians and beyond will look forward to the day Sheikh Ibraheem Zakzaky will be made to answer these questions.
http://en.abna24.com/service/africa/archive/2016/03/26/743188/story.html
----
Europe
Brussels attack: Belgium terror suspect held in Italy refuses to speak
Mon, 28 Mar 2016
An Algerian held in Italy as part of a probe into fake ID documents used by the Paris and Brussels attackers was interrogated but refused to answer questions, a judicial source said.
The suspect, named as Djamal Eddine Ouali, 40, was detained under a European arrest warrant near the southern city of Salerno on Saturday, and questioned yesterday in prison by prosecutors, the judge in charge of the preliminary enquiry said.
Salerno police chief Alfredo Anzalone said he was confident Ouali's extradition to Belgium would be approved. A hearing on the matter is scheduled for Friday.
Ouali was held on Saturday evening at a bus stop in a joint swoop involving anti-terrorism officers and a police special operations unit in the town of Bellizzi, an area with a large population of transient seasonal workers, many from North Africa.
Belgium had issued a European arrest warrant for Ouali, suspected of being part of a criminal network that produced fake documents for illegal immigration.
Brussels prosecutors said the network is thought to have supplied fake ID documents to some of the Islamic State attackers behind the November terror assaults in Paris that killed 130 people.
The false papers were "probably" also used by Salah Abdeslam, the sole surviving Paris attacks suspect, they said.
The probe was still determining whether the same network also produced documents for those behind the March 22 attacks in Brussels that killed 31.
Suspicions were raised after Italian immigration officials checked Ouali's residency permit. Police had been searching for a man with the same name linked to the suspected network since January 6.
Hundreds of digital photographs were then seized from a counterfeiter's workshop, including three of those who planned the attacks in Paris.
One of those photographed was Najim Laachraoui, a suicide bomber at Brussels airport, reports quoted police as saying.
http://www.dnaindia.com/world/report-brussels-attack-belgium-terror-suspect-held-in-italy-refuses-to-speak-2194904
-----
What Safraz Ahmed did has nothing to do with Islam
Lachlan Thompson
28th Mar 2016
SAFRAZ Ahmed - the 34 year-old London man who kept his wife as a slave - was a Muslim.
Many Islamic nations lag behind the western world in terms of gender equality and it is possible, although not proven, that there was at least some cultural element to Ahmed's crime.
However, if you look at the comments this story has received, not just here in Australia but also in the UK where it originated, you'll see it has quickly become yet another symbol in the debate surrounding Islamic immigration into western democracies.
It has also fanned the fires of the ongoing debate on whether or not the key Islamic text - the Quran - condones and therefore causes men in Islamic societies to mistreat women.
For example on Independent.co.uk one user cited the following passage from the Quran and said while this was an extreme case, Muslim men had "scriptural authority to beat their wives."
"Men are in charge of women, because Allah hath made the one of them to excel the other, and because they spend of their property (for the support of women). So good women are the obedient, guarding in secret that which Allah hath guarded. As for those from whom ye fear rebellion, admonish them and banish them to beds apart, and scourge them. Then if they obey you, seek not a way against them." - Quran 4:34.
On the surface of things this looks like a compelling argument.
The reported facts suggest this couple were deeply religious, the enslaved woman undertook a masters degree in Islamic studies and if one subscribes to a worldview which is set out in a sacred text, then that book clearly becomes a very good reference point for trying to establish a person's motives and beliefs.
However, for those among you who are reading this column and thinking Islam is the core problem I'd urge you to read the following passages.
"Let the woman learn in silence with all subjection. But I suffer not a woman to teach, nor to usurp authority over the man, but to be in silence." 1 Timothy 2: 11-12.
Or: "The women should keep silent in the churches. For they are not permitted to speak, but should be in submission, as the Law also says. If there is anything they desire to learn, let them ask their husbands at home." 1 Corinthians 14: 34-35.
Those who know their Bible would see these are two passages from the New Testament.
However, read deeper and you'll also find quotes like this: "Never will I allow to be lost the work of [any] worker among you, whether male or female; you are of one another." - Quran 3:195.
Or Galatians 3:28 "There is neither Jew nor Gentile, neither slave nor free, nor is there male and female, for you are all one in Christ Jesus."
And therein lies the truth, the gender equality issues people in western democracies see when they look at cultures in some Islamic nations, have nothing to do with religion.
Gender equality in my view, is linked more closely to economic and social inequality and this is why we see most of the worst examples of it occurring in the developing world.
Religion is for the most part an agent of good in societies all around the world.
And finally, the West's present battle is with an evil and opportunistic interpretation of Islam, not Islam itself.
http://www.southburnetttimes.com.au/news/opinion-what-safraz-ahmed-did-has-nothing-do-islam/2978064/
----
North America
Canadian Cops Arrest an Ontario Student for Allegedly Trying to Join a Terrorist Group
By Justin Ling
March 27, 2016
The Royal Canadian Mounted Police arrested a 23-year-old in Waterloo, Ontario on Friday, charging him with a terrorism-related offense and with carrying a concealed weapon.
Kevin Mohamed appeared before a court in Brampton to face five different charges. There, officers with the RCMP's terrorism unit testified that they believe he intended to travel abroad to participate in terrorist activity.
"While there was no indication of any plans for a domestic attack, we must remain committed to preventing individuals from travelling abroad to gain training and expertise that could be used in the planning and implementation of future attacks on Canadian soil," said Superintendent Lise Crouch in a press release about the arrest.
While he was known as Kevin Mohamed in Waterloo, the small university town just west of Toronto, one researcher familiar with Mohamed said he was known online as Abu Jayyid — the generally pro-Islamic State activist who, on Thursday, tweeted "Where can I get the Brussels airport MOD on Call of Duty?"
It's not clear which terror group Mohamed allegedly tried to join. His Twitter account appears sympathetic to al-Qaeda in the Arab Peninsula, Jabhat al-Nusra, and the Islamic State.
Amarnath Amarasingam, a postdoctoral fellow who specializes on homegrown extremism and radicalization in Canada, wrote that Mohamed — who also went by his middle name of Omar — was socially awkward and felt out of place, according to friends Amarasingam spoke to, and "fluctuated between being pro-ISIS to being anti-ISIS."
Abu Jayyid's previous Twitter profile picture.
A document attached to Mohamed's Twitter profile reads that "I do not support any group or share its propaganda for purposes of praising."
While VICE News can't independently verify that Abu Jayyid is the man who was arrested by the RCMP on Friday — although the account, which tweets consistently, suddenly stopped on Friday afternoon — Amarasingam says he's confident that it's Mohamed.
The National Post reported that Mohamed was being held on a terrorism peace bond — which allows the courts to more actively control his movements and actions. Anser Farooq, Mohamed's lawyer, told the paper that his client was "okay, a little confused," and confirmed that he was a University of Waterloo student.
A Facebook page belonging to a Kevin Mohamed of a similar age who studied at the University of Waterloo also bears connections to Syrian activists and contains anti-Islamic State posts, but it is not clear if it is the same man Mohamed who was arrested in Tuesday. Police say they can't confirm any additional details about the man.
The arrest, which occurred just days after the airport and subway attacks in Brussels — although, police stress, there is no direct connection — is another in a long string of arrests of Canadians who have tried to travel abroad to join the Islamic State and other groups. But while cops may have stopped many, more than a hundred others have managed to make it out of the country and link up with those organizations in Syria and elsewhere.
https://news.vice.com/article/canadian-cops-arrest-an-ontario-student-for-allegedly-trying-to-join-a-terrorist-group
----
He Threatened to Kill Muslims—and Got Just 90 Days in Jail
William Celli was clearly planning to commit mass murder. But is 90 days—of which he'll probably serve 46—really commensurate to the crime?
What do you think the prison sentence should be for a Muslim American man who stood outside of a Christian church on Sunday during mass and yelled at worshippers, "I'm going to kill you all!" Before you answer, let me add some more facts. Assume this same Muslim man, a short time before going to that church, had posted horribly anti-Christian statements on his Facebook profile and called for Christians to be eliminated from America. He even posted photos of a homemade bomb on his Facebook page.
Oh yeah, one more fact. The police went to that Muslim man's house and found a device that police described as looking like "a possible homemade explosive device," which they detonated.
So what would be the appropriate prison sentence to ensure that this man doesn't actually carry out his threatened terrorist attack, as well as sending a clear message to others thinking of terrorizing Christian Americans?
Would you be okay with 90 days in jail? I doubt it. In fact, I bet many would be outraged. There would likely be headlines about this horrific injustice, and people like Donald Trump and Ted Cruz would be using this incident to further scare Christians about Muslims. The hashtag #ChristianLivesMatter would fill social media.
Yet those exact facts happened in California, except that the man involved was not a Muslim. Rather it was William Celli, a Christian who days after the San Bernardino terror attack stood outside a mosque in Richmond, California and yelled at worshippers leaving Friday prayer services, "I'm going to kill you all!"
Celli's Facebook page was littered with hate-filled comments about Muslims. In one he demanded that all Muslims be sent "back to their country of origin whether or not they were born here." Celli also posted a warning about Muslims to his fellow Christians, "Kiss your Christian asses good bye. And all other non-believers of the Koran." You get it. Celli despised Muslims.
Even more alarming is that Celli posted only a few weeks before a photo of a pipe bomb on Facebook that he claimed to have constructed.
The threats of Celli, a self-proclaimed Trump supporter whose Facebook page reads like a Trump speech filled with anti-Muslim, anti-Latino, and anti-immigrant statements, truly terrorized the Muslims at this mosque. As Richmond police Capt. Mark Gagan stated at the time of the arrest, Celli "was threatening violence on them, and they were very shaken by it."
The mosque's Imam, Hamza Mehter, explained to me that many in the community were very alarmed by the incident. Mehter noted that numerous people called him expressing great concern for their families. And Mehter noted that many parents wouldn't let their kids come to the mosque's after school and Sunday school classes because they feared for the safety of their children after Celli's threats.
Celli was later arrested, although it wasn't until about two weeks after the incident. A subsequent search of Celli's apartment uncovered, per the police, "a possible homemade explosive device," which was the device that they detonated. Later the police noted the device was not a functioning bomb because it was missing the "explosive elements."
At this point the police, the district attorney and the judge all viewed Celli as a very dangerous man. He was charged with a felony count of making terroristic threats with a hate crime enhancement that carried up to seven-year prison sentence.
The prosecutor assigned to the case, Derek Butts, shortly after Celli's arrest told the judge that "Mr. Celli has essentially threatened people's lives… of the Muslim faith." And at his arraignment, the judge imposed a bail far above $47,500 called for by the bail schedule for this charge. Instead she raised it over $500,000 noting that, "this is a hate crime."
It would appear that Celli was going to be facing at least a few years in prison.
But then something happened. Members of the local Muslim community who didn't want to go on record noted that the DA's office appeared to not be that interested in prosecuting the case as time went on (although they all praised the police.) Next thing they heard were rumors was that Celli was about to be offered a plea deal of only 90 days in jail and three years probation. The leaders of the Muslim community targeted by Celli weren't even consulted in advance of that deal being formulated. Thereafter, Muslim community members did have meetings with the DA's office, but they were told that the evidence wouldn't support anything more than this deal.
Last week Celli pled guilty and in accordance with the plea deal was only sentenced to 90 days in jail. While many in the community are understandably unhappy with this very short prison sentence, they are also deeply disappointed with how the media has all but ignored this story. Over and over I heard: "How much more media coverage would it be if it were a Muslim man threatening Christians at a church?"
They are absolutely correct. Scary Muslims get ratings and are used as props by politicians to score points. But when Muslims are the victims, we garner little media coverage. We even hear Republicans claim that anti-Muslim hate crimes and bigotry are exaggerated. You get a sense that to many, Muslim lives simply don't matter.
Mehter noted that a silver lining to this incident was that the mayor and council publicly declared that they stood with the Muslims and even attended a Muslim community event to show their solidarity. That's great.
The downside is that Celli will likely only have to serve 46 days of the 90-day sentence. That means that in about six weeks, a man who traveled to a mosque to threaten to kill Muslims, who had posted hateful comments abut Muslims as well as an image of a bomb will be back on the street. Let's just hope that the sentence given to Celli is enough to deter him and anyone else who may want to terrorize American Muslims from acting on their violent impulses. If not, the next articles we will sadly see will be about Muslim Americans being injured or even killed by the Cellis of this country.
http://www.thedailybeast.com/articles/2016/03/28/he-wanted-to-kill-many-muslims-and-he-got-90-days.html
----
URL: https://www.newageislam.com/islamic-world-news/new-age-islam-news-bureau/lahore-blasts--christian-community-felt-there-could-be-backlash-after-qadri-s-execution/d/106789