New Age Islam News Bureau
26 May 2017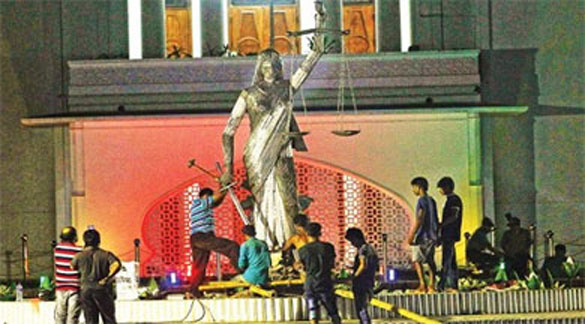 The statue of Lady Justice installed last year on Bangladesh's Supreme Court premises has been removed in the face of protests by radical Islamists
-----
• Lady Justice Statute Removed From Bangladesh Apex Court In The Face Of Protests by Radical Islamists
• 'No Sect Will Be Called Kafir Anymore': Pakistan Religious Scholars and Politicians
• For First Time, Bin Laden's Wife Amal Tells the Story of the Night He Was Killed
• 'Hindus and Muslims Are the Two Arms of India and Only By Being Together Can We Develop This Nation': Noida Villages Set the Bar for Bonding
• Indonesian President Threatens To 'Clobber' Those Who Threaten Pluralism
South Asia
• Lady Justice Statute Removed From Bangladesh Apex Court In The Face Of Protests by Radical Islamists
• Build Non-Communal Bangladesh with Nazrul's Ideals: President
• Training local forces one of best weapons in fight against terrorism: NATO SG
• ISIS suffer heavy casualties in Afghan forces operations in Chaparhar
• Bangladesh jails high profile Islamist leader
• UNAMA receives petition for the trial of crimes committed by Hekmatyar
• China vows more support to Afghan forces and peace process
--------
Pakistan
• 'No Sect Will Be Called Kafir Anymore': Pakistan Religious Scholars and Politicians
• Unity Needed To Defeat Extremist Mindset, Says NA Opposition Leader
• Peshawar High Court stays execution of Taliban leader
• Pakistan's 'war on terror' cost down 40pc to $3.9bn
• Saudi king apologises to Nawaz for snub at US-Arab-Islamic Summit
• WCR moot vows to protect all religions
--------
North America
• For First Time, Bin Laden's Wife Amal Tells the Story of the Night He Was Killed
• Canadians Less Concerned About Islamic Extremism than Europeans, Americans
• Trump: King Salman is a wise man who wants 'rapid' improvements
• Far-right campaign against Canadian Muslims takes a dangerous turn
• US: Student sues college; alleges professor failed her for being Muslim
• US probe finds more than 100 civilians killed in Mosul air strike
• US appeals court maintains block on Trump travel ban
• Trump: NATO must do more on terror, immigration, Russia
--------
India
• 'Hindus and Muslims Are the Two Arms of India and Only By Being Together Can We Develop This Nation': Noida Villages Set the Bar for Bonding
• How a Sikh Engineer from Gujarat Developed a Ramadan App That Crossed Half-A-Million Downloads
• Not aware of any Pak request for Modi-Sharif meet at SCO: MEA
• Three Pakistani nationals arrested in Bengaluru for living under false identities
• World needs to act against harbourers of terror: Indian envoy
--------
Southeast Asia
• Indonesian President Threatens To 'Clobber' Those Who Threaten Pluralism
• Philippine Troops Bomb Islamist Militants in City
• Philippines Says Foreign Fighters Part of Islamic State 'Invasion'
• Indonesian Police Launch Raid as Jakarta Attacks Linked To Islamic State
• Amid Rising Islamist Politics, Indonesia Prepares for More Stringent Ramadan
• Humanitarian Islam movement begins in East Java
--------
Europe
• Father of Manchester Bomb Suspect 'Was In Militant Group
• Russia Arrests Four Daesh-Linked Suspects For Terror Plot
• Greek MPs approve bill on Athens' first official mosque
• This Israeli ex-Salafist is one of Europe's most outspoken critics of radical Islam
• Post Manchester attack: UK Muslims targeted in hate crime; told to 'stop bombing'
• German parliamentary group cancels Turkey visit
--------
Arab World
• Aleppo: Heavy Infighting in Al-Bab Leaves Hundreds of Terrorists Dead, Injured
• US-Led Coalition Airstrikes Kill 18 Civilians in Western Raqqa Again
• Monitor: Air strikes kill 35 civilians in ISIS-held Syria town
• Several Families of al-Wa'er Militants Return from Northern Aleppo to Homs
• Four Egyptian security forces killed in Sinai attacks
• New Villages Liberated in Eastern Aleppo
• Aleppo: Syrian Army Inches Closer to Strategic Town of Maskanah
• ISIL Fully Evacuates Several Districts in Raqqa
• ISIL Retreats from Vast Areas of Eastern Homs
• Syrian Army Suppresses ISIL Moves in Deir Ezzur
--------
Mideast
• Abbas Calls On US to Mediate Hunger Strike in Palestinian Jails
• Hamas Executes Three over Assassination of Top Commander
• Kurdish-Led SDF Repels Turkish-Led Terrorists' Offensive in Northern Aleppo
• Iran builds third underground missile factory
• US Senate panel advances bill to impose new sanctions on Iran
• Iranian militant leader speaks of a conspiracy against Saudi Arabia
• Only Iran, Syria helped Lebanon when it was occupied by Israel
--------
Africa
• 5 Kenyan Police Officers Killed In Fresh Attack by Al-Shabab
• Haftar forces seize rival airbase in south Libya
• Nigeria: Fuel Sales Resume in Ekiti after Fayose Threat
Compiled by New Age Islam News Bureau
URL: https://www.newageislam.com/islamic-world-news/lady-justice-statute-removed-bangladesh/d/111299
--------
Lady Justice Statute Removed From Bangladesh Apex Court In The Face Of Protests by Radical Islamists
May 26th, 2017
Dhaka – The statue of Lady Justice installed last year on Bangladesh's Supreme Court premises has been removed in the face of protests by radical Islamists who say such "idols" are prohibited in Islam.
A group of workers hammered on the base of the statue at the dead of night to remove the artwork when all gates of the Supreme Court premises were locked.
Nearly five hours of frantic efforts, the statue was craned into a pick up van at around 5 am to take it to the annex building of the Supreme Court under the supervision of the sculptor, Mrinal Haque.
Haque, who crafted a number of artworks installed at different places in the capital Dhaka, told reporters that he was forced to remove the sculpture, but did not mention who forced him to do so.
"I made it, now I have been forced to remove it. I've come to ensure that the sculpture is not damaged during its removal," said Haque.
Radical Islamist groups have been asking the government to remove the statue ever-since the artwork of a blindfolded woman in a sari holding scales and a sword in her hands was installed at the Supreme Court premises in December last year.
The statue represents the Roman goddess Iustitia or the Greek goddess Themis.
The controversy intensified when Prime Minister Sheikh Hasina came up with criticism of the statue saying why not it should be removed since it lost Greek character.
The Prime Minister's comments came at a meeting she was holding with the chief of Hefazat e Islami Bangladesh, a hardliner Islamic group, Shah Ahmed Shafi, who campaign for blasphemy law, on April 11, 2017.
Hasina assured the Islamist group for measured to remove the statue.
Attorney General Mahbubey Alam told local media on Friday that the sculpture was removed based on opinions from the senior jurists to avert "untoward situation".
It may be relocated to a museum nearby the Supreme Court, he said.
The radical Islamist groups organized a number of protests in the past months demanding removal of all such artworks from the pre-dominantly Muslim country.
The setting up of "idols" is prohibited in Islam, they said.
More than 90 per cent of Bangladesh's 160 million inhabitants identify as Muslim.
The country is governed by a secular constitution based on British common law, but radical Islamic groups have long been campaigning for the introduction of strict Islamic law, or sharia. State religion in Bangladesh is Islam on the other hand.
Student organizations and civic groups campaign for progress against fundamentalism protested the removal of the statue. More than 100 activists rushed to the Supreme Court premises as news broke that the artwork was being removed.
They chanted slogans asking not to remove the statue. They also tried to get into the court premises.
http://newsnextbd.com/?p=4203
--------
'No Sect Will Be Called Kafir Anymore': Pakistan Religious Scholars and Politicians
BY SAMIULLAH RANDHAWA
May 26, 2017
Religious scholars and politicians have agreed to bar all citizens from declaring followers of any sect as Kafir (nonbelievers). They also agreed to grant fundamental human rights to the followers of any religion or sect. This agreement comes in as a new push for sectarian harmony in Pakistan.
The World Council of Religions (WCR) organised a Provincial Interfaith Peace Conference in Lahore on Thursday, to promote harmony and brotherhood among different religions and Muslim sects.
The event was attended by parliamentarians from all political parties, religious scholars, intellectuals, and others who unanimously agreed upon a course of action to promote harmony in the country. They emphasised that it was the prime duty of all religious scholars to work diligently for creating harmony in the country.
Pakistan Muslim League-Nawaz's MNA Dr Ramesh Kumar Vankwani said, "We stand by the WCR in its struggle to promote sectarian harmony." He urged all sects to struggle for developing an environment of love and tolerance, adding that the role of scholars is imperative for attaining harmony.
Calling for the death sentence over the misuse of blasphemy law, the MNA said that an effective legislation is needed to avoid incidents like that of Mashal Khan's lynching, in future.
MPA Uzma Bukhari, on the occasion, said that the conference is of importance because it intends to inspire unity in the country. Extending government support to WCR, she said that such conferences should be held all over the country.
WCR Executive Director Hafiz Muhammad Nauman Hamid, while highlighting the working of the organisation, said that the council was playing a key role in promoting peace and love.
Hafiz Muhammad Noman, Abdul Khabeer Azad, Liaqat Baloch, Pir Mehfooz Shah Mashadi, Hafiz Kazim Raza Naqvi, Sarfraz Awan, Dr Shahida Parveen, Shabnam Nagi, Pir Shafat Rasool, Syed Mufti Ashiq Hussain, Muhammad Khan Laghari, Allama Syed Ziaullah Shah Bukhari, Dr Abdul Ghafoor Arshad, Asim Makhdoom, Syed Touqeer Abbas Naqvi, Allama Muhammad Hussain, Parliamentary Secretary Chaudhary Amjad Ali Javed, and others addressed the conference as well.
https://www.pakistantoday.com.pk/2017/05/25/no-sect-will-be-called-kafir-anymore/
--------
For first time, bin Laden's wife Amal tells the story of the night he was killed
May 26, 2017
The story of the night of May 1, 2011, when US forces killed Osama bin Laden, has been told and retold many times. The US government, US Navy Seals and intelligence analysts have given varying accounts of how it unfolded.
Now, for the first time, we see the events of that night through the eyes of his fourth and youngest wife, Amal, who has spoken to Cathy Scott-Clark and Adrian Levy for their book The Exile: The Flight of Osama bin Laden about the last few minutes of the 9/11 mastermind's life.
In an excerpt published in The Sunday Times UK titled Watching Daddy Die, Amal recalls the sickening screech with which a US military Black Hawk helicopter landed in the compound in Abbottabad, Pakistan, that the family was hiding out in for six years, and the fear on the face of her husband when he was woken up by it.
As the Seals moved towards the house, bin Laden's family – three of his four wives and their children – gathered in his upstairs bedroom and prayed, she says. He then told his wives to go downstairs with their children: "They want me, not you."
Amal, however, insisted on staying by his side with their son Hussein.
In the tense moments in which they waited as the Navy Seal team crept upwards towards their room, killing one of Osama's sons Khalid and clashing with his daughters Sumaiya and Miriam on the way, Amal realised someone in their inner circle had given away the location of their "safe house": "It was clear, she thought. Their safe house was a death trap and someone had betrayed them."
Her account suggests bin Laden had no contingency plan in place for such an assault, as she recalls realising "with cold dread" that there was no emergency procedure to follow "aside from some euros sewn into her husband's underwear along with emergency numbers for his deputies in Waziristan".
When the Navy team entered the room, she tried to rush them, but was shot in the leg and passed out. When she came to, bin laden was already dead. A trembling Hussein, who had witnessed the killing of his father, sat by her side.
Amal recalls how she stayed motionless and "played dead", listening to the Seals hold the terrified Sumaiya and Miriam and bin Laden's distraught second wife Khairiah next to his body to confirm his identity.
They took bin Laden's body and the family downstairs and Amal realized, she says, that "the end they had never dared to discuss had come and gone in minutes".
http://www.hindustantimes.com/world-news/for-first-time-bin-laden-s-wife-amal-tells-the-story-of-the-night-he-was-killed/story-vTb6dr0LQwfhc9IhxGdWUP.html
--------
'Hindus and Muslims Are the Two Arms of India and Only By Being Together Can We Develop This Nation': Noida Villages Set the Bar for Bonding
26 May 2017
If Mayawati was surprised by the recent Uttar Pradesh election results where BJP candidates won Muslim-dominated seats, she must not have heard of the Bhatis.
Jewar MLA Thakur Dhirendra Singh, for example, claims at least 10,000 Muslims must have voted for him in a constituency where the citizens recall fondness with their common ancestral roots - they were and are Gurjars - that didn't get severed even at the height of Partition-era hostility between Hindus and Muslims.
As late as in 2015, the lynching of Akhlaq in Dadri Bisada, allegedly for possessing beef, could not break the ties even as the opposition milked the issue to affect the minds of voters in Bihar that was about to face its Assembly election around the time.
Dadri MLA Tejpal Nagar said, 'One sad incident has tried to malign the image of our region, but the facts on the ground are very different. India is a secular country and we all should help in maintaining harmony of the country.'
The two villages of this region - Til Begumpur in Bulandshahr and Ghodi Bacchheda in Gautam Budh Nagar - one Muslim dominated and the other Hindu dominated are live examples of religious tolerance.
'No Muslim family left Bhatner to go to Pakistan because the elders convinced them of peaceful co-existence,' said Balbir Singh Arya, social activist and Manager of Janta Inter College, Tilpata.
Dhirendra Singh added, 'Hindus and Muslims are two arms of this country and only by being together can they develop this nation.'
Naseem Khan Bhati, resident of Til Begumpur said, 'All villages of Bhatner respect Til Begumpur as its big brother. There is no place of hatred between Hindus and Muslims despite incidents like Bisada.'
'It was portrayed in the media that as if Hindus and Muslims are baying for the blood of one another.
'When both communities live together, it is obvious that sometimes they will fight with each other.
'People should visit the area to understand the relationship between people of Ghodi Bacchheda and Til Begumpur,' said Arya.
http://www.dailymail.co.uk/indiahome/indianews/article-4543244/Greater-Noida-villages-set-bar-Hindu-Muslim-bonds.html
--------
Indonesian president threatens to 'clobber' those who threaten pluralism
By Ed Davies
May 26, 2017
JAKARTA (Reuters) President Joko Widodo has said that authorities would "clobber" any group threatening to destroy Indonesia's tradition of pluralism and moderate Islam, and he called for unity ahead of presidential elections in 2019.
Religious and political tensions have spiraled in the last six months with Islamist-led rallies against Jakarta's former governor, Basuki Tjahaja Purnama, an ethnic Chinese Christian who was charged with insulting the Koran and put on trial.
Hardline Islamist groups, banned under the authoritarian regime of president Suharto, which ended in 1998, have gained ground in recent years, though they are usually small and on the fringes of society.
In an interview with Metro TV, Widodo said Wednesday (May 24) there were no words other than "clobber" or "kick" to describe how to deal with groups that threatened the stability of the state.
"Because it is very fundamental: Pancasila, a united Republic of Indonesia, the 1945 constitution, 'Unity in Diversity'. If anybody tries to change these, shift these, there are no other words."
Indonesia is the world's biggest Muslim-majority country, but its state ideology, Pancasila, includes national unity, social justice and democracy alongside belief in God, and enshrines religious diversity in an officially secular system of government.
Widodo declined to single out any groups but this month officials said that Hizb ut-Tahrir Indonesia (HTI), an Islamist group that calls for a state based on sharia law, would be disbanded because it wanted to undermine the secular system.
HTI has urged the government not to disband it, saying every citizen has a right to organize and deliver Islamic teaching.
Another such group, the Islamic Defenders' Forum (FPI), rose to prominence during the recent Jakarta elections. The group was instrumental in mobilizing hundreds of thousands of Muslims to rally against Purnama, who is an ally of Widodo.
Purnama was sentenced this month to two years in jail, far longer than the penalty asked for by the prosecution. The sentence was condemned by critics as unfair and politically motivated.
He denied the blasphemy charges but his trial affected his popularity and he was ousted as Jakarta governor in a run-off against a Muslim rival in April.
The election was widely seen as a proxy battle for the presidential election in 2019, and Widodo said that, while it was normal for the political temperature to rise, the contest should not divide society.
"We must stay in the existing corridor and, once again, don't take society into a social rift, which makes us disharmonious, or makes us become disunited," he said.
http://religionnews.com/2017/05/25/indonesian-president-threatens-to-clobber-those-who-threaten-pluralism/
--------
South Asia
Build non-communal Bangladesh with Nazrul's ideals: President
May 25, 2017
President M Abdul Hamid has urged all to forget differences and work together to build an exploitation-free and non-communal "Sonar Bangla" being imbued with the spirit and ideals of National Poet Kazi Nazrul Islam.
"Nazrul was not merely a humanitarian poet . . . He was strongly vocal against imperialism, colonialism, feudalism, capitalism, fanaticism, communalism, conservatism, regionalism, localism, dogmatism, exploitation and repression," the President said while addressing a discussion marking Nazrul's 118th birth anniversary.
Paying rich tribute to the memories of national poet Nazrul, President Hamid said Nazrul was the only litterateur who had realized that communalism was the greatest problem in this sub-continent and he fought his whole life against it.
Nazrul was a great humanitarian poet who tried to break the man-made artificial wall of differences through his poems and songs, the President described, adding that the poet also explored the themes of love, romance and devotion uniting the people of all religions including Hindu, Muslim, Buddhist and Christian, different castes and professions across the globe.
Abdul Hamid said as a poet of equity and humanity, Nazrul's literary works including poems, songs, stories and novels created instances of secular nationalism in the society.
Calling Nazrul a poet of inspiration for the Bengali nation, the President said Father of the Nation Bangabandhu Sheikh Mujibur Rahman regarded Nazrul as the pioneer of the history of Bengal and took "Joy Bangla" slogan from his (poet) inspiration that subsequently became the prime slogan during the 1971 Liberation War of Bangladesh.
"The memories and relations of Nazrul are very closely related to the soil, people, nature, history and heritages of the country and Bangabandhu took him along with his family members to the soil of Bangladesh showing due respect to him in 1972," he mentioned.
President Hamid categorically said the thoughts of Nazrul can promote us in all spheres of our life, giving pathways to build a prosperous Bangladesh, which would be free from communalism, militancy and terrorism.
He said it has become our responsibility to reach the lifestyle, literary works, thoughts and spirit of Nazrul to the new generation.
The President hoped that one day Nazrul's dream of establishing a repression-free, happy and prosperous society will be materialized.
Cultural affairs minister Asaduzzaman Noor presided over the programme followed by a cultural function.
The authorities concerned also presented a volume of Nazrul's complete literary works to the President.
Cultural Affairs Secretary Md Ibraheem Hosein Khan and Nazrul Institute Trustee Board Chairman Professor Emeritus Rafiqul Islam, Prof Soumitra Shekhor and poet's granddaughter hilkhil Kazi also spoke.
http://www.thedailystar.net/country/build-non-communal-bangladesh-nazruls-ideals-president-1410832
--------
Training local forces one of best weapons in fight against terrorism: NATO SG
May 25 2017
The NATO Secretary General Jens Stoltenberg emphasized on the importance of training the local forces as the NATO leaders gather for a summit in Brussels to hold talks on some key issues, including fight against terrorism.
In his doorstep statement ahead of the meeting, Stoltenberg said "Our largest military operation ever was launched in Afghanistan in a direct response to the 9/11 terrorist attacks on the United States."
Stoltenberg further added that "13,000 NATO troops continue to train Afghan forces. We will assess our level of support and the future of the mission."
"Training local forces is one of the best weapons in the fight against terrorism. We are already training Iraqi forces," he added.
In response to a question regarding the situation in Afghanistan considering the alliance's contribution, Stoltenberg said " There are many challenges in Afghanistan and no one said that the situation in Afghanistan was going to be easy when NATO ended its combat operation back at the end of 2014."
Full report at:
http://www.khaama.com/training-local-forces-one-of-best-weapons-in-fight-against-terrorism-nato-sg-02831
--------
ISIS suffer heavy casualties in Afghan forces operations in Chaparhar
May 25 2017
The loyalists of the Islamic State of Iraq and Syria (ISIS) terrorist group in Afghanistan have suffered heavy casualties during the Afghan forces joint operations in eastern Nangarhar province of Afghanistan.
The 201st Silab Corps of the Afghan National Army (ANA) forces in East of Afghanistan said at least 14 ISIS affiliates were killed during the operations.
The source further added that 19 militants of the terror group were also wounded during the operations.
The operations were jointly conducted by the Afghan army, Afghan police, border police, and public order police forces in Chaparhar district, the 201st Silab Corps added.
The provincial government in a statement also confirmed the casualties toll of the ISIS terrorists during the operations.
The statement further added that the local residents and security personnel did not suffer any casualties during the operations.
Nangarhar is among the relatively calm provinces in eastern Afghanistan but the anti-government armed militant groups have recently increased their insurgency activities in some parts of the province during the recent years.
This comes as an anti-ISIS operation is underway in Nangarhar to eliminate the presence of ISIS affiliates in this province.
Full report at:
http://www.khaama.com/isis-suffer-heavy-casualties-in-afghan-forces-operations-in-chaparhar-02829
--------
Bangladesh jails high profile Islamist leader
May 26, 2017
DHAKA - A Bangladesh court Thursday jailed a senior militant for more than seven years for leading an extremist group blamed for a series of high-profile attacks, including one that left 18 foreigners dead.
A special court handed down a seven-year sentence against Maolana Saidur Rahman, described by police as the ringleader of Jamayetul Mujahideen Bangladesh (JMB), amid heavy security in the capital Dhaka.
"He was sentenced to seven years in jail for abusing the Holy Quran, and misinterpreting its text to incite them (followers) against the country," prosecutor Jahangir Hossain told AFP.
He was also handed an additional six-month term for a related offence.
Two of Saidur Rahman's associates were also given seven years in absentia on the same charges, Hossain said.
Saidur Rahman was arrested in Dhaka in 2010 in possession of bomb-making materials, firearms and jihadist literature.
Prosecutors told the court Saidur Rahman took over leadership of JMB after its previous leader, Shaikh Abdur Rahman, was executed in 2007.
Full report at:
http://nation.com.pk/international/26-May-2017/bangladesh-jails-high-profile-islamist-leader
--------
UNAMA receives petition for the trial of crimes committed by Hekmatyar
May 25 2017
The United Nations Assistance Mission in Afghanistan (UNAMA) said Thursday that the mission has received a petition for the trial of Hezb-e-Islami leader for the alleged crimes he has committed in Afghanistan.
"On Thursday afternoon, the UN Assistance Mission in Afghanistan (UNAMA) received a petition requesting justice for the victims of crimes allegedly committed by Gulbuddin Hekmatyar," the UN mission said in a statement.
The statement further added "UNAMA has welcomed agreements that contribute to a reduction of violence in Afghanistan towards allowing Afghans to live in peace with each other, and remains encouraged by the progress in the implementation of the agreement between the Government of Afghanistan and Hezb-i-Islami Gulbuddin."
"In this context, the United Nations maintains that attention to human rights is of critical importance, and that the promotion and protection of human rights is a key component of genuine and lasting peace," the statement said, adding that "The United Nations views transitional justice and reconciliation as fundamental."
"Afghan citizens and others who have been victims of atrocities must not be deprived of their right to judicial redress," said Tadamichi Yamamoto, the UN Secretary-General's Special Representative for Afghanistan and head of UNAMA. "The United Nations will continue to support Afghans in their efforts to seek peace, justice and security."
Full report at:
http://www.khaama.com/unama-receives-petition-for-the-trial-of-crimes-committed-by-hekmatyar-02832
--------
China vows more support to Afghan forces and peace process
May 25 2017
The Chinese officials have pledged more support by Beijing to the Afghan National Defense and Security Forces (ANDSF) and the Afghan peace process.
The Office of the National Security Council (ONSC) in a statement said the latest commitment was made during a meeting between the Afghan and the Chinese national security advisers in Moscow.
The statement further added that the national security adviser Mohammad Hanif Atmar met with his Chinese counterpart on the sidelines of the Moscow summit.
The two sides had in depth discussions regarding the bilateral cooperation between Kabul and Beijing, the statement said.
China's national security adviser pledged more support to equip the Afghan security forces as they confront the terrorist groups for the safety and stability of the region.
Full report at:
http://www.khaama.com/china-vows-more-support-to-afghan-forces-and-peace-process-02830
--------
Pakistan
Unity Needed To Defeat Extremist Mindset, Says NA Opposition Leader
May 26, 2017
ISLAMABAD - Opposition Leader in the National Assembly Khurshid Shah Thursday said the whole nation needed to get united against the extremist mindset.
Addressing a round table conference on 'Culture of Tolerance: Reviving the Indigenous Narrative' organised by the National Institute of Cultural Studies here, Shah said media has to play a proactive role to defeat the menace of terrorism. "We all have to work together to end intolerance from the society and promotion of tolerance," he said.
He said the extremist mindset had to be eliminated for a peaceful society. He said racism was another evil which had promoted intolerance in the society. He said before 1977 Pakistan used to be a tolerant society where all lived in harmony.
Shah urged the media to discuss real national issues like economy, environment and water scarcity in the prime time shows. "We have to work for tolerance in politics," he added.
The Pakistan People's Party leader said the dictatorial rules had given rise to the intolerance. He said smooth sailing of democracy was a must to defeat the terrorist mindset.
Addressing the conference, former lawmaker Bushra Gohar said the murder of Mishal Khan in Mardan University had exposed how the nation was falling into narrow mindedness.
She said some elements were trying to malign Nobel laureate Malala Yousufzai for their own reasons.
Member National Assembly Aasia Nasir said Pakistan was a peaceful society but due to certain reasons it was radicalised and incidents like Kot Radha Kishen, Gojra and Mardan University had become common.
She said Quaid-e-Azam Muhammad Ali Jinnah's speech in the constituent assembly on August 11, 1947 and his 14 points were the real national narrative.
She called for revolutionary changes in the educational curriculum which was responsible for radicalisation of the society.
Pakistan Muslim League (Quaid-e-Azam) leader Saeed Mandokhail said media could help develop a tolerant society.
Chairperson of National Institute of Cultural Studies Rubina Khalid said all stakeholders should come forward and promote the real national narrative.
In her address on the occasion, Minister of State for Information, Broadcasting and National Heritage Marriyum Aurangzeb said that the narratives which enjoyed national consensus invariably proved successful.
She said that the national narrative reflected the aspirations of the people while the legislators represented the will of the people and whenever they were distanced from the national narrative, the country had to suffer.
She said that political parties, political leaders and workers had given great sacrifices for strengthening the democratic culture in the country. She said that the government in consultation with all the stakeholders was striving to revive the indigenous national narrative which was pushed back by the upsurge of terrorism and extremism in the 1980s, for which undemocratic rules in the country were also responsible to a great extent.
Marriyum recalled that in the 1950s to 1970s Pakistan used to be a peaceful society and the indigenous narrative that prevailed during that period immensely contributed to national unity and integration.
The minister appreciated the role and sacrifices rendered by the armed forces, law enforcement agencies and the general public in the war against terrorism. She said Pakistanis were a resilient nation which had fought and almost defeated terrorism with great courage.
She said that the operation Raddul Fasaad would help in changing the prevailing mindset, noting that various operations launched in different parts of the country to improve security situation had paid dividends.
http://nation.com.pk/national/26-May-2017/unity-needed-to-defeat-extremist-mindset-says-shah
--------
Peshawar High Court stays execution of Taliban leader
WASEEM AHMAD SHAH
May 26, 2017
PESHAWAR: The Peshawar High Court (PHC) on Thursday stayed the execution of former spokesman for the Tehreek-i-Taliban Pakistan's Swat chapter, Muslim Khan, who was sentenced to death last year by a military court on multiple charges of terrorism.
The PHC bench comprising Chief Justice Yahya Afridi and Justice Ijaz Anwer issued the order after a preliminary hearing of a petition filed by Nida Bibi, wife of Khan, challenging the conviction of her husband by the military court.
The bench issued notices to the ministries of defence and interior directing them to submit the record of the case and fixed June 1 for the next hearing.
Advocate Tariq Asad, representing the petitioner, put forward different objections to the trial of Khan under the Army Act.
He said that Khan was taken into custody by security forces in Sept 2009 after which nothing was known about him. Finally, his family came to know about his conviction through newspapers in Dec 2016.
The counsel said that the family had not been provided record of the trial proceedings and it was not known under what charges Khan had been convicted. They submitted an application to the military court of appeal seeking details of the trial proceedings, but no reply was given to them.
He said that Khan was not provided a counsel of his own choice and was denied fair trial as provided under article 10-A of the Constitution.
The counsel said that the convict had remained in custody of security forces for seven years and it was not known under what conditions he had been kept.
Apparently the proceedings of the military court were one-sided, he argued.
The Inter-Services Public relations (ISPR), the media wing of the army, had on Dec 28, 2016 announced the conviction of Khan by a military court. The ISPR had claimed that he was involved in the killing of innocent civilians and attacks on armed forces and law enforcement agencies, which had resulted in death of 31 people, including Inspector Sher Ali, and injuries to 69 others.
Full report at:
https://www.dawn.com/news/1335479/peshawar-high-court-stays-execution-of-taliban-leader
--------
Pakistan's 'war on terror' cost down 40pc to $3.9bn
NASIR JAMAL
May 26, 2017
ISLAMABAD: Pakistan has cut direct and indirect losses to its economy on account of terrorism by slightly above 40 per cent to $3.88 billion (Rs407.21bn) in the first nine months of this fiscal year.
Economic Survey 2016-17 attributes this to an improving security condition in the wake of ongoing military-led counterterrorism operations in the nation's tribal regions and elsewhere.
The latest survey, which has recorded the losses to the national economy under the chapter 'Impact of War in Afghanistan and Ensuing Terrorism on Pakistan's Economy', shows that the losses to the economy are steadily decreasing since FY12 when they hit a peak of $23.77bn the year before. Last year, the economic losses due to deterioration in the security conditions on account of terrorism went down by about 30pc to $6.49bn from $9.24bn a year earlier.
The cumulative losses to the economy on account of terrorism in the country since it joined the global 'war on terror' in the aftermath of terrorist attacks on the American soil in September 2001 have been estimated by the government at $123.13bn.
The reduction in the losses to the economy, the survey contends, reflects the effectiveness of the government's efforts to "eliminate terrorism and extremism from the country".
"Despite the conflict and continuing instability in Afghanistan that has been an impediment to regional peace and development, Pakistan has achieved progressive and significant improvement in the country's overall security landscape in the recent years," the survey said. "This has been accomplished largely due to successful counterterrorism efforts of the government under the framework of the comprehensive National Action Plan backed by an extensive and highly effective counterterrorism operation Zarb-i-Azb by the armed forces and actions by other security and law-enforcement agencies and intelligence-based operations across the country."
It added that "after successful completion of Zarb-i-Azb, a country-wide operation Radd-ul-Fassad has been launched for eliminating any residual or latent threats."
These losses were incurred in the shape of lost exports, compensation to victims of terrorist attacks, rehabilitation of the people displaced because of terrorism, destruction of economic and social infrastructure, decline in foreign direct investment, reduction in industrial output, lower tax collection and cost of uncertainty.
Pakistan blames the war in Afghanistan for the spread of militancy and terrorism in the country. The conflict and instability in Afghanistan in the aftermath of the fateful events of 9/11 and their regional implications had immense negative consequences for Pakistan.
The survey said: "There was a sudden rise in the number and scale of terrorist attacks in the country. The cumulative impact of these developments adversely impacted the overall growth rate in all major sectors. … From hosting millions of refugees to being a major victim of terrorism, the cumulative impact has been enormous, with adverse overall growth rate in all major sectors of the economy.
"Normal economic and trading activities were disrupted, resulting in higher costs of doing business including the cost of insurance and significant delays in meeting the export orders around the globe. As a result, Pakistani products gradually lost their market share to their competitors. Economic growth could not pick up as planned during the last decade."
Pakistan continued to be a target of terrorism, including foreign-sponsored terrorism from its immediate neighbourhood, the survey added.
Full report at:
https://www.dawn.com/news/1335394/pakistans-war-on-terror-cost-down-40pc-to-39bn
--------
Saudi king apologises to Nawaz for snub at US-Arab-Islamic Summit
NAVEED SIDDIQUI
May 26, 2017
The monarch of Kingdom of Saudi Arabia, King Salman, has apologised to Prime Minister Nawaz Sharif and other leaders of Muslim countries for not presenting them with a chance to address the US-Arab-Islamic Summit, said the Foreign Office (FO).
The leaders of the Muslim world could not address the summit due to the shortage of time, said FO Spokesperson Nafees Zakaria at the weekly briefing.
"Due to the shortage of time, leaders of 30 countries could not address the summit and King Salman has apologised to all the attendees for it," said Zakaria.
Referring to the recent award given to an Indian army officer, who used a Kashmiri youth as a human shield, the FO said it is "a crime and an insult to humanity".
"This is not the first time that the Indian occupation forces have displayed such cowardice and inhumanity," said the spokesperson.
The prime minister had attended the first-ever Arab-Islamic-American Summit in Riyadh on Sunday, where he interacted with Saudi King Salman Bin Abdulaziz, US President Donald Trump and other leaders from Arab and Islamic countries.
Nawaz visited Saudi Arabia on May 21 to participate in the summit and was received by Governor of Riaydh Prince Faisal Bin Bandar Bin Abdul Aziz Al Saud and senior officials.
Full report at:
https://www.dawn.com/news/1335351/saudi-king-apologises-to-nawaz-for-snub-at-us-arab-islamic-summit
--------
WCR moot vows to protect all religions
May 26, 2017
LAHORE (PR): Leading scholars and religious figures, united under the World Council of Religions (WCR), have agreed on protecting the rights of all religions and sects, in a new push for sectarian harmony in Pakistan.
At the WCR's Provincial Interfaith Peace Conference on Thursday, aimed to promote harmony and brotherhood among different religions and Muslim sects, hundreds of scholars, intellectuals, and other participants unanimously passed a course of action to promote harmony in the country.
Hafiz Muhammad Noman, Abdul Khabeer Azad, Liaqat Baloch, Pir Mehfooz Shah Mashadi, Hafiz Kazim Raza Naqvi, Sarfraz Awan, Dr Shahida Parveen, Shabnam Nagi, Pir Shafat Rasool, Syed Mufti Ashiq Hussain, Muhammad Khan Laghari, Allama Syed Ziaullah Shah Bukhari, Dr Abdul Ghafoor Arshad, Asim Makhdoom, Syed Touqeer Abbas Naqvi, Allama Muhammad Hussain, Parliamentary Secretary Chaudhary Amjad Ali Javed, and others addressed the conference. TV anchor Ajmal Jami hosted the conference.
According to WCR course of action, rights of all Pakistanis are equal and must be respected. "No sect will be called Kafir except those are declared in Constitution of Pakistan whereas extra judicial killing of any Muslim and non-Muslim will not be allowed," the participants of the conference stated.
Loudspeakers will only be used for Azaan and Arabic sermon, and other violation will be made; no violation of rules regarding loudspeaker will be made except Azaan and Arabic sermons.
Moreover, they stressed, complete ban should be announced on the posting of provoking material on social media websites and violators should be arrested.
They also urged resolving sectarian issues through mutual understanding and serious debates.
Punjab government spokesperson Uzma Bukhari, on the occasion, extended full support to WCR, saying that such conferences should be held all over the country.
WCR Executive Director Hafiz Muhammad Nauman Hamid, while highlighting the working of the organisation, said that the Council was playing a key role in promoting peace and love through Inter religion harmony and dialogues.
Full report at:
http://nation.com.pk/lahore/26-May-2017/wcr-moot-vows-to-protect-all-religions
--------
North America
Canadians less concerned about Islamic extremism than Europeans, Americans
By Monique Scotti
May 26, 2017
A slight majority of Canadians say they are concerned about extremism in the name of Islam, a new study has found, but the numbers here at home pale in comparison to those in European nations or the United States.
Overall, the study from the American-based Pew Research Center found that 56 per cent of Canadians are somewhat (31 per cent) or very (25 per cent) concerned about Islamic extremism in their country. Meanwhile, 11 per cent of respondents said they weren't worried at all.
In the U.S., the proportion of people expressing concern is much higher, at 72 per cent. And across the Atlantic, the median result across 10 European nations including Italy, Germany, Greece, Spain and the Netherlands was higher still, at 79 per cent.
Only residents of Sweden had a lower level of expressed concern than Canada (55 per cent).
The study was conducted between February and April, before a major terror attack in Manchester earlier this week that killed 22 people. The perpetrator, identified as Salman Abedi, died at the scene.
Still, people living in the United Kingdom were already expressing concern before the most recent bombing. On March 22, British citizen Khalid Masood drove a vehicle into pedestrians outside the U.K. Parliament buildings, then armed himself with a knife, injuring more than 50 people and killing five. He also died at the scene.
The Pew study results for the U.K. (gathered between March 6 and April 3) show nearly eight in 10 Britons (79 per cent) were somewhat or very concerned about Islamic extremism on their soil.
Europe as a whole has seen a series of deadly terrorist attacks over the last two years in cities like Paris, Brussels, Berlin and now Manchester, all claimed by the so-called Islamic State.
Canada has seen two attacks linked to extremism in the name of Islam in recent years, on Parliament Hill and in Saint-Jean-sur-Richelieu. Both were carried out by homegrown extremists who had been radicalized.
A third radicalized man, Aaron Driver, was stopped last year before he could carry out an attack. Muslim groups across Canada have strongly denounced all of these attacks.
The Pew Research Center results in each country were also broken down by age group. In Canada, as in all other nations polled, older people tended to express much deeper concern about Islamic extremism than their younger counterparts. Political views also mattered.
Sixty-six per cent of Canadian respondents who considered themselves more right-leaning said they were concerned about extremism in the name of Islam. Among those placing themselves in the centre of the political spectrum it was 58 per cent, and among more left-leaning Canadians, it was 30 per cent (the lowest result for any sub-group across all 12 countries).
The results released this week were part of the Pew Research Center's broader Spring 2017 Global Attitudes Survey. In Canada, the survey was conducted by phone between Feb. 16 and March 3, 2017 with a sample size of 1,022 respondents. The margin of error is listed as +/- 3.6 percentage points.
http://globalnews.ca/news/3477827/canadians-less-concerned-about-islamic-extremism-than-europeans-americans/
--------
Trump: King Salman is a wise man who wants 'rapid' improvements
25 May 2017
US President Donald Trump said that Saudi Arabia's King Salman is a "wise man" during both his visits to Jerusalem and Brussels, adding that the Saudi King wants to see "things get much better rapidly."
Trump highlighted the need to fight terrorism in order to stop attacks similar to what took place in Manchester during a news conference at NATO Summit in Brussels on Thursday.
"The recent attack on Manchester and the United Kingdom demonstrates the depths of the evil we face with terrorism," Trump said.
"Terrorism must be stopped in its tracks or the horror you saw in Manchester and so many other places will continue forever. We must be tough, we must be strong and we must be vigilant."
He asserted that the US will never back down from its determination to defeat terrorism and achieve security, prosperity and lasting peace.
Asked by European Commission President Jean-Claude Juncker as they began talks in front of a battery of cameras if he was tired, Trump said he had "covered a lot of countries, lot of leaders, some great leaders."
Full report at:
https://english.alarabiya.net/en/News/gulf/2017/05/25/Trump-King-Salman-is-a-wise-man-who-seeks-achievements-.html
--------
Far-right campaign against Canadian Muslims takes a dangerous turn
May 26, 2017
TORONTO, Canada — A photo sent to a local imam showing five men hanging by their necks: "Islamic wind chimes," the email read.
Then a $1,000 "bounty" offered to anyone who records evidence of "Muslim hate speech" at a high school Friday prayer service.
They're not exactly everyday occurrences in Canada. So when these incidents, along with racist graffiti scrawled on a mailbox near a high school, took place within three weeks in March and April – and all within the diverse regional municipality of Peel, just west of Toronto – Muslim residents, police and educators alike were alarmed.
The catalyst was the decision last September by the Peel District School Board to reverse a long-standing practice of allowing Muslim students to recite their own sermons, or khutbas, during their Friday prayer service, or Jumah, in public schools. Students participating in the prayers at their schools were restricted to the use of six pre-approved sermons. Previously, the students were able to write their own, provided they had been approved by an administrator.
But after pushback last October from a coalition comprised of local Muslim high school students, school board trustees, imams, lawyers and community members, the board decided to temporarily suspend the ruling and allow Muslim students to write their own sermons again.
In January, that temporary change became a permanent guideline in the board's Religious Accommodation Operating Procedure – sparking angry protests from critics and triggering a wave of anti-Muslim rhetoric and incidents across the region.
"It's hit really close to home in multiple ways," says Nora Hindy, a public school teacher in Peel. "Especially because my brother [the imam who was sent the threatening photo] was getting death threats as well."
It's been a trying time for Hindy. Dozens of angry critics began attending the biweekly Peel District School Board meetings – which are typically open to the public but generally not attended by anyone except educators and parents.
The debate in Peel over the sermons, and the wider issue of accommodating religious practices in schools, made international headlines in March, when an English copy of the Quran was torn up by a protester during one such meeting. Video footage, which was later dispersed by police, showed people yelling comments such as "Islam is not a religion!" and "Protect our children!"
Subsequent meetings in April have seen dozens of protesters amass in front of the school board building, demanding a "religion-free environment" in secular public schools.
Since then, police and security officers have began heavily guarding the building entrance during board meetings and prohibiting potential disruptors from entering. The Peel District Education Board (PDSB), also responded swiftly, sending messages the next day to leaders in the Muslim community, expressing their horror at the Quran-tearing incident.
Despite the backing of the board and increased police presence, Hindy, who is Canadian-born of Egyptian origin, says she felt terrified going into the school board meeting in April.
"I could see that they were a sizeable crowd and they had a huge Canadian flag they were waving in the midst of the rally," she said afterwards. "The flag made me really sad to see. It gave me a sense of exclusion."
Hindy attended the meeting with her teenage daughter at the request of police officers, who advised her and other hijab-wearing women not to enter alone. While religious accommodation was not on the agenda (the board declared in March that students could continue writing their own religious sermons, releasing a factsheet clearing up what it called "deliberate misinformation" around issues relating to religion accommodation and saying it was no longer open for debate) she said she chose to attend it nonetheless, to defy what felt like deep hostility from the critics.
"I thought – this is my education board. This is my home. I go to it for interviews, to meet with various educators, for celebrations and programmes – and then to have seen it being taken over and knowing I can't go in there alone in safety…" Her voice trailed off.
Popular destination for immigrants
Situated along the shores of Lake Ontario just west of Toronto, Peel is one of most multicultural suburbs in Canada. Census figures indicate that more than 60 percent of Peel's population identify themselves as a member of a minority group – double the percentage for Ontario and Canada. South Asians, including Sikhs, Hindus and Muslims, make up the highest proportion of visible minorities. Less represented are the black (eight percent) and Chinese communities (five percent).
New immigrants to Canada tend to flock to Peel, which houses the cities of Mississauga and Brampton and the town of Caledon.
"The composition of Peel is interesting," observed Shan Abbasi, a long-time resident who works in the nonprofit sector. "You've got quite a bit of diversity, but also pockets where there's not as much diversity."
"But the dynamic has been somewhat forward-thinking," he added, noting that the mayors of Mississauga and Brampton have publicly supported the right for students to pray in high schools. "So people in politics have taken a position on this as opposed to being silent, which riles up some people. It helps [the critics'] narrative that the establishment is all pro-Islam and that it's only 'us crusaders' who speak the truth."
Reem Berns-McGown, an academic who is currently developing an initiative to tackle systemic racism in the private sector, attributes the religious accommodation debate in Peel to external factors.
"There are many things coming together in this perfect storm that have allowed what's happening in Peel to occur. We're seeing this because mainstream politicians and some mainstream organisations have been using Islamophobic language either directly or by dog-whistling."
The most notable Canadian politician to be accused of pandering to anti-Muslim sentiment in recent months is the conservative politician Kellie Leitch. Soon after US President Donald Trump won the election last November, Leitch declared that Trump's win "was an exciting message for Canadians" and placed campaign ads on US alt-right website Breitbart advocating for mandatory "values tests" for screening Canadian immigrants
"Our history is littered with times when Jews or Japanese Canadians were viewed as aliens who had dual-loyalties," Berns-McGown said. "Canada has had to apologise for this [discriminatory treatment] over and over again."
"So when you have mainstream politicians of a major political party doing that to Muslims and not being called out by the current leadership of the party, you have a tacit approval for this behaviour. It's a very dangerous game. Islamophobes and racists have been painting Muslims and Islam as somehow un-Canadian," Berns-McGown added.
"All we're asking for is equality"
Meanwhile, those protesting religious accommodation in Peel deny they are only targeting Muslims. "How is it hate when all we are asking for is equality?" asked Paul Menezes, from a group called Concerned Parents of Canada (CPC). "We are asking for all religious practices to stop – not just one community."
"School is for maths, science, sports, education, and arts – not for religious practices," he said. "We do not promote hate or violence of any form. We are simply concerned parents, concerned about our children and the value system we are promoting for them."
But for others, the notion of giving students time to reflect in prayer is something to be encouraged.
Full report at:
http://www.trtworld.com/magazine/far-right-campaign-against-canadian-muslims-takes-a-dangerous-turn-364381
--------
US: Student sues college; alleges professor failed her for being Muslim
May 26, 2017
Cranford (US): A student is suing a New Jersey college, claiming her professor gave her an F in a course because she is Muslim.
NJ.com reports Sahna ElBanna alleges she endured two semesters of Toby Grodner making derogatory comments toward Muslims at Union County College.
ElBanna asked Grodner to stop after the professor made comments during a 2016 marketing class. ElBanna's lawyer says she received an F for that class, even though she received two A's on assignments worth 60 percent of her grade.
A spokesman for the college says they are investigating a complaint ElBanna filed against the professor. He declined to comment on the lawsuit.
Full report at:
http://www.asianage.com/world/americas/260517/us-student-sues-college-alleges-professor-failed-her-for-being-muslim.html
--------
US probe finds more than 100 civilians killed in Mosul air strike
May 26, 2017
Washington (AFP) - A Pentagon investigation has concluded that at least 105 civilians died in an anti-IS strike in the Iraqi city of Mosul in March, officials said Thursday, but they blamed the toll on a secondary explosion of jihadist munitions.
A US aircraft delivered a single precision-guided bomb into a building in west Mosul on March 17, with the aim of killing a pair of snipers on the second story of the structure in the al-Jadida neighborhood, which at the time was under Islamic State control.
But the bomb also caused a large cache of IS explosives to detonate, leading to the catastrophic collapse of the building that had civilians sheltering downstairs, officials said.
"The secondary explosion triggered a rapid failure of the structure which killed the two ISIS snipers, 101 civilians sheltered in the bottom floors of the structure and four civilians in the neighboring structure to the west," said US Air Force Brigadier General Matt Isler, the lead investigator.
Isler said another 36 civilians who are "believed to be connected" to the building remained unaccounted for, but they had likely fled the area shortly before the strike. He said he was "very confident" in the final toll.
It was the single deadliest incident for civilians stemming from a coalition strike since anti-IS operations in Iraq and Syria began nearly three years ago.
The United States had previously only acknowledged that it "probably" had a role in the civilian deaths.
The investigation comes amid broader claims that US forces under President Donald Trump are killing more civilians as the military fulfills a plan to "annihilate" the Islamic State group.
The Pentagon denies this and says its rules of engagement remain unchanged and insists its precision-targeting abilities are the best in the world.
- 'Defeat ISIS' -
Officials say the US takes every precaution to avoid hitting civilians, including by aborting missile strikes at the last moment if a civilian unexpectedly wanders into the target zone.
"Our condolences go out to all those that were affected," said Major General Joe Martin.
"The coalition takes every feasible measure to protect civilians from harm. The best way to protect civilians is to defeat ISIS."
No condolence payments have been made, Isler said, though such a move has not been ruled out.
According to Isler, Iraqi counterterrorism service (CTS) troops had been moving into the al-Jadida neighborhood in west Mosul when they came under fire from the IS snipers.
Mosul was a former IS bastion but the jihadists now only control about 10 percent of the city.
Bad weather had kept surveillance drones from gathering video of the area for two days, and CTS and coalition forces -- not knowing civilians were in the building -- ultimately called in a strike, Isler said.
The precision-guided bomb selected -- a GBU-38 carrying 192 pounds of explosives -- was rigged to cause only localized damage to the building, but it ignited a large amount of ordnance which, unbeknownst to the coalition, IS fighters had previously placed inside.
"Post-blast analysis detected residues common to explosives used by ISIS, but not consistent with the explosive content of a GBU-38 munition," Central Command said in a statement.
"Engineering and weapons analysis indicates that the GBU-38 should have resulted in no more than 16-20 percent damage to the structure, localized to the front of the second floor."
Officials said IS may have deliberately rigged the building to explode and then used the snipers to intentionally provoke an air strike.
As of the most recent Centcom official tally, a total of 396 civilians had been killed since the beginning of the bombing campaign against the Islamic State group in Iraq and Syria nearly three years ago.
Full report at:
http://nation.com.pk/international/26-May-2017/us-probe-finds-more-than-100-civilians-killed-in-mosul-air-strike
--------
US appeals court maintains block on Trump travel ban
May 26, 2017
WASHINGTON - A US federal appeals court on Thursday dealt a fresh setback to President Donald Trump's controversial travel ban, upholding a lower court's decision to block the measure targeting travelers from six Muslim majority countries.
The decision - the latest in a series of stinging judicial defeats for the Republican billionaire, who took office in January - means the case is likely to end up in the Supreme Court.
At issue was the intent behind the measure - whether or not it deliberately singled out Muslims by targeting nationals from Iran, Libya, Somalia, Sudan, Syria and Yemen. Religious discrimination is forbidden by the US Constitution.
The Fourth Circuit Court of Appeals said it "remained unconvinced" that the part of the measure naming the specific countries had "more to do with national security than it does with effectuating the president's promised Muslim ban."
The court - based in Richmond, Virginia - further said it could not find that the government's security concerns outweighed the plaintiffs' concerns about discrimination.
"Congress granted the president broad power to deny entry to aliens, but that power is not absolute," Chief Judge Roger Gregory said in the 10-3 ruling.
"It cannot go unchecked when, as here, the president wields it through an executive edict that stands to cause irreparable harm to individuals across this nation."
Gregory said the order "speaks with vague words of national security, but in context drips with religious intolerance, animus, and discrimination."
Trump issued his initial travel ban by executive order in January, but that measure - which banned entry to nationals from seven countries for 90 days and suspended the nation's refugee program for 120 days - was quickly halted by the courts.
A revised executive order, meant to address the issues raised by the federal judges, deleted Iraq from the list and removed an indefinite ban on Syrian refugees.
But a district court judge in Maryland issued a nationwide block on the ban's core provision concerning travel from the short list of countries, sending the issue to the Fourth Circuit.
In a May 8 hearing, acting solicitor general Jeffrey Wall, representing the government, insisted that Trump "never intended for that to discriminate on the basis of any particular religion."
Full report at:
http://nation.com.pk/international/26-May-2017/us-appeals-court-maintains-block-on-trump-travel-ban
--------
Trump: NATO must do more on terror, immigration, Russia
25 May 2017
US President Donald Trump used his first NATO summit on Thursday to urge the alliance to do more to tackle terrorism and immigration as well as Russia.
"The NATO of the future must include a great focus on terrorism and immigration as well as threats from Russia and NATO's eastern and southern borders," Trump said as he unveiled a 9/11 memorial at the alliance's new headquarters in Brussels.
Meanwhile, NATO has agreed that each of its 28-member will be committed to 2 percent of their country's GDP to pay for organization's defense budget following Trump's request, the White House Press Secretary Sean Spicer told reporters on Thursday.
In a related story, a senior White House official said on Thursday, after Trump made no mention of NATO's Article V in a speech that the US president stands united with other NATO countries in defending all members of the Western military alliance,
"It's the core of the alliance," the official said after Trump gave a speech to fellow NATO leaders in Brussels.
NATO's founding treaty states that an attack on one ally is an attack on all, but Trump questioned that in his election campaign and has not publicly backed the defense commitment set out in Article V.
Ahead of a summit with Trump, NATO will join the US-led coalition fighting ISIS militants, alliance chief Jens Stoltenberg said Thursday.
"This will send a strong political message of NATO's commitment to the fight against terrorism," Stoltenberg said.
He stressed this did not involve NATO taking on a combat role in the fight against IS and other Islamist terror groups in Syria and Iraq.
Trump came to Brussels on his first foreign trip as president to push NATO allies to take on a more active role, having dubbed the Cold War-era alliance "obsolete" for failing to focus on the threat from Islamist terrorism.
Arriving in the city Wednesday, Trump said Monday's deadly bomb attack in Manchester only showed how dangerous the threat was and that the fight against terror had to be won.
All 28 allies have individually joined the anti-ISIS coalition of more than 60 countries, but NATO as an institution has not followed suit until now despite intense pressure from Washington.
Full report at:
https://english.alarabiya.net/en/News/world/2017/05/25/Stoltenberg-says-NATO-to-join-anti-ISIS-coalition-at-Trump-summit.html
--------
India
How a Sikh engineer from Gujarat developed a Ramadan app that crossed half-a-million downloads
PRATEEKSHA NAYAK
May 26, 2017
At a time when the world is bleeding, and people seem more divided than ever, there are a few who are dedicating their lives to bringing them together. Kuldeep Singh Saini, a mechatronics engineer turned app developer's story is a prime example. His app, Ramadan 2016, helps keep a track of the direction of prayer, iftar (meal after sunset), sehri (pre-dawn meal), prayer timings, and has been downloaded more than 500,000 times!
From mechanical engineering to app development
Born and brought up in Ahmedabad, Gujarat, Kuldeep studied Mechatronics Engineering at Ganpat University. After completing his graduation, he was keen to study design at the National Institute Of Design (NID), but despite reaching the last round of admissions twice, he could not get through. He then tried his luck with various core mechanical companies, but they too were not very keen on recruiting him as he was a newcomer. Around the same time, Kuldeep was drawn to app development. He had never coded before and was more interested in the design aspect of apps. He learnt how to code from his brother, who runs an app development company called App Aspect in Ahmedabad. He started by developing basic utility apps for Android and iOS.
Kuldeep, 27, was always intrigued by how the workers at his father's garage diligently observed the various religious customs during the Holy Month of Ramadan, and had always wanted to make it easier for them to do the same. Armed with basic coding knowledge and a fair experience in app development, he started working on a Ramadan App in 2015. He started by researching religious practices by talking to the workers in his father's garage. It took him two months to finish work on the UI and UX, while the actual coding took him another two months. The app was launched on the Google Playstore on May 10 , 2015, and got 53,000 downloads on the first day of the fast.
What the app does
Kuldeep's Ramadan 2016 App has crossed 750,000 downloads and contains the 2016 Ramadan Calendar, namaz prayer times, Qibla Compass, Asma-Al-Husna (99 names of Allah), hijri (Islamic Calendar), hijri date convertor, Ramadan duas and each day's sehri and iftar timing.
The features include:
Ramadan time and calendar: Shows the daily sehri/iftar time to start and end fasting, set alarms, shows the whole month's suhoor and iftar timetable, auto identifies user location, and auto adjusts according to the Ramadan calendar, and also lets the user add a location manually from a database of 250+ countries.
Salat (prayer) times: Shows the five Muslim prayer times (fajr (dawn), dhuhr (noon), asr (dusk), maghrib (West Sun prayer) and isha (night-time prayer), lets the user set waktu solat (daily five-time prayer) alarm with azan (prayer call), set a ringtone for namaz, and view the previous day's waktu solat.
Al Quran: The app has the complete Quran in eight different languages with an Arabic audio of the Holy Book.
Qibla (direction of the Kaaba) compass: The app lets the user find the direction of Mecca from any part of the world, shows the Islamic Compass Degree change in live view, and checks the distance to Mecca from any particular location. All these features can also be accessed offline.
While Kuldeep was inspired by the workers in his father's garage to build the app, he updated it with features that could help young Muslims around the world. The app also shows five Muslim prayer times, helps the user with the pronunciations of duas and gives the English meaning of all the duas.
Other apps helping Muslims keep a track of their religious activities during the Holy Month include Muslim Pro, an app that not only tells the user prayer timings, but also locates the nearest mosque. If there is no mosque nearby, it shows the user the direction in which they should offer prayers. Some apps also feature essays by Islamic scholars on various social, political, economic, and personal issues. Some of them also have animated stories of prominent Islamic figures.
Mixed Responses
"Users from all over the world write to me about how this app has simplified their lives and that inspires me to think of more updates to add year after year" says Kuldeep. However, the initial response was not very encouraging.
"I remember how a guy had commented saying the app was unreliable and inaccurate as it had been developed by a non-Muslim. There were several comments of the sort. My father's friends also ridiculed me for developing an app for the people of a religion I didn't belong to. But I was undeterred," he says.
His efforts have paid off as the app now boasts 96,000 active users and the positive reviews just won't stop pouring in!
"I recently received a message from a user who used the app to name his niece," he exclaims.
While the revenue aspect is taken care of by native advertising, there is also an ad-free PRO version of the app, which costs Rs 99.
Kuldeep is currently working on a QR Code scanner, a heart-rate monitor, and a few other basic utility apps. Along with building his own app development company, Kuldeep also dreams of a more inclusive world, but can technology help unite this strife-ridden world?
"Technology can only create awareness. It is up to the user; you can use it for what you want to. While people like me are trying to bridge gaps, a terrorist somewhere is using technology to claim responsibility for an attack that has killed thousands." he laments.
Women entrepreneurs in Mumbai! Even great ideas need the right mentors to grow. Register now for Facebook's SheLeadsTech meetup! Attend the YourStory Meetup on Facebook's SheLeadsTech and learn how you can address some of these challenges and build your startup. Limited seats available. Book now! Use promo code Early50 to avail a discount.
https://yourstory.com/2016/07/ramadan-2016-app/
--------
Not aware of any Pak request for Modi-Sharif meet at SCO: MEA
May 25, 2017
NEW DELHI: The Ministry of External Affairs on Thursday said it was not aware of any request from Pakistan for a meeting between Prime Minister Narendra Modi and his Pakistani counterpart Nawaz Sharif on the sidelines of the SCO multilateral summit in Kazakhstan next month.
Both Modi and Sharif are expected to attend the Shanghai Cooperation Organisation (SCO) meet to be held in Kazakhstan's capital Astana on June 8-9.
Full report at:
http://timesofindia.indiatimes.com/india/not-aware-of-any-pak-request-for-modi-sharif-meet-at-sco-mea/articleshow/58845621.cms
--------
Three Pakistani nationals arrested in Bengaluru for living under false identities
May 25, 2017
BENGALURU: An Indian and three Pakistani nationals were arrested in Bengaluru, for allegedly staying in India under fake identities. They were living in South Bengaluru's Kumaraswamy Layout for the past nine months. Besides their Pakistani passports, the trio was found to be in possession of Indian voter identity and Aadhar cards.
Following the arrest, central intelligence agencies are in Bengaluru, assisting city cops to investigate if they were conspiring anything against India. However, when interrogated, the suspects said they were here for love.
The suspects in custody are Kirhon Ghulam Ali, 26, Khasif Shamshuddin, 30 and Samira Abdul Rehman, 25, natives of Karachi, Pakistan. The fourth individual who was apprehended, Muhammad Shihab, is an Indian hailing from Kerala. Shihab is married to Samira and Khasif married to Kirhon.
During the interrogation, Shihab told cops he met Samira in Muscat, Oman while he was employed there over a year ago. They fell in love and wanted to marry. However Samira's family in Karachi was opposed the marriage.
Interestingly, Samira's cousin Kirhon was in a relationship with Khasif. It was opposition to their marriage from their respective families that drove the two away from Pakistan, the duo told cops.
Sometime last year, they decided to come to India. The couples flew from Muscat to Katmandu in September 2016. They subsequently crossed the Indian border in Bihat by road, and travelled to Patna, before arriving in Bengaluru.
Before going to Muscat, Shihab was working in Bengaluru and had been residing at Kumaraswamy Layout. Expecting resistance to his marriage from his family, Shihab came to Bengaluru, and rented a house at Kumaraswamy Layout.
In the rental agreement, the women had changed their names -- Kirhon to Kiran and Samira to Najma. They used these altered names for their Indian identification documents.
Senior cops were mum on the details of what led to the arrest. "CCB got a tipoff regarding them while investigating another case," police said.
Full report at:
http://timesofindia.indiatimes.com/india/three-pakistani-nationals-arrested-in-bengaluru-for-living-under-false-identities/articleshow/58841540.cms
--------
World needs to act against harbourers of terror: Indian envoy
May 25, 2017
India on Thursday called on the world to act against not only terrorists but also harbourers of terrorism, days after the suicide bombing at a concert arena in Manchester killed 22 people. "The world needs to act not only against terrorists but also supporters, harbourers and apologists for terrorism," Indian High Commissioner to the UK Yashvardhan Kumar Sinha said after Indian mission staff and hundreds of community leaders and schoolchildren joined in the UK-wide one-minute silence in memory of the victims of Monday night's terror attack in Manchester.
The suicide bombing in the Arena killed 22 people and injured 119. Sixty four injured still remain hospitalised.
The Indian envoy was addressing an event titled 'The Unremembered: The Indian Story' in the city of Leicester to mark the centenary of the Labour Corp and bring a special focus on the courage and contribution of the Indian Labour Corps during World War I. A simultaneous event was held at the India Gate in New Delhi, where the names of the 1,174 Indian labourers in the war have been engraved.
"The architect of the India Gate – India's memorial to 13,281 dead of World War One – was designed by Edwin Lutyens. It is little known beyond Leicester that Lutyens built an almost identical monument as a local war memorial to 12,000 Leicestershire men who died in World War I using an almost identical design," an official statement said.
The memorial, which is called the Arch of Remembrance, is in Leicester's Victoria Park. The monument was used to evoke the memory of the Indians commemorated at the India Gate, with the high commissioner laying a wreath of marigolds.
"Thousands of workers supported the war effort from around the world. Many faced racism and discrimination. They served with courage but they have been almost completely forgotten. They are 'The Unremembered'," said the UK's Department for Communities and Local Government backed project team.
Full report at:
http://indianexpress.com/article/india/world-needs-to-act-against-harbourers-of-terror-indian-envoy/
--------
Southeast Asia
Philippine troops bomb Islamist militants in city
May 26, 2017
Philippine security forces bombed residential areas in a southern city on Thursday as they battled Islamist militants who were holding hostages and reported to have murdered at least 11 civilians.
An initial rampage by gunmen, who have pledged allegiance to the Islamic State group, through the mainly Muslim city of Marawi on Tuesday prompted President Rodrigo Duterte to impose martial law across the southern third of the Philippines.
Authorities said ending the crisis was proving extremely hard because, although there were only 30 to 40 remaining gunmen, the militants were moving nimbly through homes, had planted bombs in the streets and were holding hostages.
Intense gunfighting could be heard constantly throughout the day, according to an AFP reporter in the city, and the military said it had dropped bombs on residential neighbourhoods.
"We are using surgical airstrikes," local military spokesman Lieutenant Colonel Jo-Ar Herrera told reporters in Marawi shortly before big clouds of black smoke rose from a bombed area near the provincial government building.
Most of Marawi's 200,000 residents had fled the city, which is about 800 kilometres (500 miles) south of Manila, but Herrera said those who remained had been warned to get out of the areas where there was bombing and fighting.
"We are requesting our people in Marawi to go to safe places... and to stay indoors," he said.
Five soldiers, two policemen and 26 militants have died in the three days of fighting, according to authorities. Thirty-nine soldiers have been wounded, the military said.
Herrera said two civilians had also been killed inside a hospital that the gunmen had occupied on Tuesday, and the military was investigating reports that nine people had been murdered at a checkpoint the militants had set up.
Local GMA television network showed images of nine bullet-riddled bodies lying in a field with their hands tied together.
Duterte said on Wednesday that one of the policemen killed was similarly caught at a checkpoint set up by the militants, then beheaded.
The militants are also holding between 12 and 15 Catholic hostages abducted from a church, according to the local bishop, Edwin Dela Pena.
Failed raid
The fighting erupted on Tuesday after security forces raided a house where they believed Isnilon Hapilon, a leader of the infamous Abu Sayyaf kidnap-for-ransom gang and Philippine head of IS, was hiding.
The United States regards Hapilon as one of the world's most dangerous terrorists, offering a bounty of $5 million for his capture.
The raid went spectacularly wrong as dozens of gunmen emerged to repel the security forces, then went on a rampage across the city while flying black IS flags.
The gunmen belonged to the Maute group, which along with Hapilon's faction of the Abu Sayyaf, had pledged allegiance to IS, authorities said.
The militants raided two jails, leading to the escape of more than 100 inmates, according to Mujiv Hataman, the governor of a Muslim self-rule area that includes Marawi.
They also set fire to many buildings, including a church and a university.
An enraged Duterte, who was in Moscow to meet Russian President Vladimir Putin, declared martial law shortly after the fighting erupted and cut short his trip to fly home and deal with the crisis.
"It is brutality, cruelty," Duterte said on Wednesday after flying back to Manila.
Rise of IS
Duterte said martial law was required throughout the southern region of Mindanao, home to 20 million people, to stop the rising threat of hardline militants aligned to IS.
Muslim rebels have been fighting since the 1970s for an independent or autonomous homeland in Mindanao, with the conflict claiming more than 120,000 lives.
The main Muslim rebel groups are now involved in peace talks with the government.
But the Abu Sayyaf, Maute and other hardline groups want to set up an Islamic caliphate in the south for IS, according to Duterte and security analysts.
Duterte said Wednesday he may impose martial law throughout the rest of the country if he believed the terrorism threat was spreading.
The president, who has waged a controversial war on drugs that has claimed thousands of lives, warned martial law would be "harsh" and similar to military rule imposed by dictator Ferdinand Marcos a generation ago.
http://nation.com.pk/international/25-May-2017/philippine-troops-bomb-islamist-militants-in-city
--------
Philippines Says Foreign Fighters Part of Islamic State 'Invasion'
May 25, 2017
MARAWI CITY/DAVAO, Philippines (Reuters) - Indonesians and Malaysians were among foreign Jihadists battling the military after laying siege to a southern Philippine city, the government said on Friday, in a rare admission of what it said was an Islamic State "invasion".
The army has deployed attack helicopters and special forces to drive rebels of the Islamic State-linked Maute group out of Marawi City and Malaysians and Indonesians and other foreigners were among six guerrillas killed on Thursday.
The announcement elevates the threat of what experts and the military say are moves by Islamic State to exploit the poverty and lawlessness of predominantly Muslim Mindanao island to establish a base for extremists from Southeast Asia and beyond.
"What's happening in Mindanao is no longer a rebellion of Filipino citizens," Solicitor General Jose Calida told a news conference.
"It has transmogrified into invasion by foreign terrorists, who heeded the call of the ISIS to go to the Philippines if they find difficulty in going to Iraq and Syria," he said, using the acronym for Islamic State.
President Rodrigo Duterte has delivered on his threat to impose martial law on Mindanao, the country's second-largest island, to stop the spread of radical Islam. He has been pleading with Mindanao governors and religious leaders to work with the government to keep extremists at bay.
Duterte recently warned that Islamic State fighters driven from Iraq and Syria would end up in the southern Philippines and his country was at risk of "contamination".
The Maute, which has pledged allegiance to Islamic State, held its positions on bridges and buildings on Friday as ground troops launched early morning offensives to flush out the remaining gunmen after unrest that has killed 11 soldiers and 31 militants. The White House on Thursday said it backed the Philippines in its fight against "cowardly terrorists". [nL4N1IR20Y]
Few of Marawi's 200,000 inhabitants remained after militants ran amok, seizing and torching schools, a college and a hospital. They freed more than 100 prisoners and took a priest and churchgoers hostage at the city's cathedral.
'NOT REAL MUSLIMS'
Convoys of vehicles packed with evacuees and protected by heavily armed soldiers streamed into nearby Iligan City. One Christian resident, Mark Angelou Siega, described how students fled amid fears rebels would take over their university campus.
"We were preparing for exams and we could hear the gunfire and bombs," he told Reuters.
"We were so scared and so were our Muslim brothers and sisters. We were sure they would get to us.
"These terrorists are not real Muslims."
Solicitor general Calida said the Maute group and Islamic State had a dream to create their own "ISIS province" in Mindanao and the government was not the only target of their aggression.
"People they consider as infidels, whether Christians or Muslims, are also targets," he said. "What it worrisome is that the ISIS has radicalized a number of Filipino Muslim youth."
Duterte has dealt with separatist unrest during his 22 years as mayor of Davao, Mindanao's biggest city, but the rise of the Maute and signs that it has ties to another network, the Abu Sayyaf, present one of the biggest challenges of a presidency won on promises to restore law and order.
Full report at:
https://www.usnews.com/news/world/articles/2017-05-25/foreigners-among-militants-fighting-philippine-army-in-mindanao-solicitor-general
--------
Indonesian police launch raid as Jakarta attacks linked to Islamic State
May 25, 2017
Indonesia's anti-terrorism unit raided the home of a suspected suicide bomber on Thursday as authorities linked attacks that killed three police officers at a Jakarta bus station a day earlier to the Islamic State militant group.
Six police officers and six civilians were also wounded in the twin blasts set off five minutes apart by two attackers in the Kampung Melayu area of the Indonesian capital late on Wednesday, police said.
The attack was the deadliest in Indonesia since January 2016, when eight people were killed, four of them attackers, after suicide bombers and gunmen attacked the capital.
"We must continue to keep calm (and) keep cool. Because ... we Muslims are preparing to enter the month of Ramadan for fasting," President Joko Widodo said in a statement.
Authorities in the world's biggest Muslim-majority nation are increasingly worried about a surge in radicalism, driven in part by a new generation of militants inspired by Islamic State.
"It's highly likely it was done by pro-ISIS people," Jakarta-based security expert Sidney Jones told media, referring to Islamic State, adding that several groups in Indonesia may have carried out Wednesday's attack.
National Police spokesman Awi Setyono said there was a link to Islamic State, but added, "We're still studying whether it's an international network."
Earlier, he told reporters that police were investigating whether the attackers had direct orders from Syria or elsewhere.
A law enforcement source, who spoke on condition of anonymity, said they may have been linked to Jemaah Ansharut Daulah, an umbrella organization on a U.S. State Department "terrorist" list that is estimated to have drawn hundreds of Islamic State sympathizers in Indonesia.
Indonesia has suffered a series of mostly low-level attacks by Islamic State sympathizers in the past 17 months.
BLOOD STAINS
Residents helped clean up debris on Thursday at the East Jakarta bus terminal, littered with bloodstains and broken glass after the attacks.
"After what happened in Manchester, in Marawi in the Philippines, maybe the cells here were triggered by the bombs and that lifted their passion to start bombing again," Setyono told television station TVOne.
He was referring to a suicide bombing this week that killed 22 people in a crowded concert hall in the British city of Manchester.
In the southern Philippines, thousands of civilians have fled their homes after Islamist militants took over large parts of Marawi city, leading to a declaration of martial law.
While most recent attacks in Indonesia have been poorly organized, authorities believe about 400 Indonesians have joined Islamic State in Syria and could pose a more lethal threat if they come home.
Police said Wednesday's attack had targeted officers, using pressure cookers packed with explosives.
Police have now become the "primary target" of militants in Indonesia, said Stanis Riyanta, a Jakarta-based security analyst.
Police found books of Islamic teachings and bayonets in a raid on the Bandung city home of a 30-year-old seller of herbal medicines who is suspected of carrying out Wednesday's attack.
Full report at:
http://www.reuters.com/article/us-indonesia-blast-idUSKBN18K25E
--------
Amid Rising Islamist Politics, Indonesia Prepares for More Stringent Ramadan
May 25, 2017
JAKARTA, INDONESIA —
Ramadan, the Muslim holy month of fasting that starts Friday, has typically been a relaxed affair in the world's most populous Muslim country, Indonesia. But in the last few years there has been rising intolerance against activities like selling food during daylight hours. This year, after a divisive election cycle that marked the first true emergence of Islamist politics in modern Indonesia, many are preparing for the most austere Ramadan in recent memory.
There has also been a spate of disturbing crackdowns on gay Indonesians and a suicide bombing attack Wednesday in an East Jakarta train station. Experts have speculated that at least one factor behind the former is a desire for high-profile value signaling before the holy month.
Moral police
For at least the last five years, hard-line groups like the Islamic Defenders' Front (FPI) have staged unofficial sweeps of restaurants, bars and clubs they claim disrespect Ramadan, during which Muslims abstain from eating, drinking, alcohol and sex from dawn to dusk.
Last year, a 53-year-old food stall proprietor in West Java was attacked by local officials for preparing food in daytime during Ramadan and forced to go into hiding. Jakarta's Chinese-Christian governor Ahok tried to stem these groups, which operate outside official legal channels. But Ahok was unseated last month after an election during which his opponent actively allied with Islamist groups like FPI and heavily promoted his Muslim identity. As such, the country's secular facade is dropping.
The emergence of Islamic majoritarianism means this year's Ramadan will be more strict on a societal level, said Alissa Wahid, national coordinator of the GUSDURian Network for social activism.
"Even though the police has repeatedly stated that sweeping won't be allowed… in the past they generally actually took a soft stand [with them], either helping or escorting the sweepings," Wahid said.
Although Indonesia is an officially secular country that recognizes and protects six religions, Sharia-inspired bylaws have been on the rise in recent years — numbering about 440 in 2015, according to one researcher's estimate.
Moral signaling
Both the police and the FPI habitually raid red-light districts and other sites of the sex trade before and during Ramadan. In 2011, FPI illicitly raided bars in Surabaya, East Java. That can be seen as a precedent for the last Sunday's bust of a popular gay sauna in Jakarta, where 141 men were arrested at a "sex party." Earlier in May, 14 gay men in Surabaya were arrested at a similar party and forced to have HIV tests. This week, West Java police announced a task force to target gay Indonesians.
The fact that all of these occurred in close succession is typical of the "virtue" based crackdowns before Ramadan, said Dede Oetomo, a prominent gay rights activist.
"There's very little social cost to it because few people vocally defend LGBT rights in Indonesia," he said.
Although it had been on the books for two months, Indonesia's first caning of a gay couple for homosexuality, in the conservative, Sharia-ruled province of Aceh, happened Tuesday, adding grim context to the other raids.
Another twist to this turbulent month came in the form of a suicide bombing in an East Jakarta bus station Wednesday that killed three policemen and one of the bombers. Details are still emerging on the motivation behind the attack, but it adds to the chaotic feel of Indonesian current events.
Terrorist attacks frequently spike during Ramadan as extremist groups interpret the holy month's imperative for heightened good conduct as a call to jihad.
The whole story
How the next month unfolds in Indonesia will be of interest. Bad news tends to monopolize headlines, and can distort the reality of most Indonesians' Muslim life. Islam has been in the archipelago for at least eight centuries and been absorbed into hundreds of local cultures. Indonesians have historically debated even the starting date for Ramadan — it hinges on a point about sighting the full moon — which points to the plurality of traditions that can be good-naturedly accommodated in the region.
Full report at:
https://www.voanews.com/a/indonesia-ramadan-rising-islamic-politics/3870543.html
--------
Humanitarian Islam movement begins in East Java
May 25, 2017
A movement to address the contextualization of Islamic teaching, dubbed Humanitarian Islam, has been inaugurated in Jombang, East Java.
GP Ansor, the youth wing of Nahdlatul Ulama, Indonesia's largest Islamic organization, inaugurated the movement during an event attended by over 300 worldwide religious scholars.
"Muslims should be able to identify problems within Islamic orthodox teaching," GP Ansor chairman Yaqut Qoumas said in a press release made available on Monday.
Included in a road map of the movement was a call for "a serious, long-term socio-cultural, political, religious and educational campaign to transform Muslims' understanding of their religious obligations, and the very nature of Islamic orthodox."
The Humanitarian Islam movement was declared as having officially begun during an international gathering of ulemas held from May 21 to 22 attended by scholars from South Asia, Southeast Asia, Europe, North America and the Middle East.
The event focused on discussing problematic elements in Islamic orthodox teachings that often prevents Muslims from adapting to modern civilization. The scholars addressed crises Muslims were facing and the role of Islamic orthodox teachings.
Full report at:
http://www.thejakartapost.com/news/2017/05/25/humanitarian-islam-movement-begins-in-east-java.html
--------
Europe
Father of Manchester bomb suspect 'was in militant group
25 May 2017
The father of suspected Manchester suicide bomber Salman Abedi was once part of a Libyan militant group with alleged ties to Al-Qaeda, a Libyan security source said Thursday.
Abedi's father Ramadan "was a member of the Libyan Islamic Fighting Group (LIFG)," said Ahmed bin Salem, spokesman for Libya's Deterrence Force, which acts as the police for Libya's unity government.
The Tripoli-based force arrested Abedi's father and brother after Monday's attack at a pop concert which killed 22 people and was claimed by the ISIS group.
Ramadan Abedi was hunted by the regime of Moamer Kadhafi for his ties to the group, finding refuge in Britain before returning to Libya in 2011 to join the NATO-backed uprising that finally overthrew the dictator, British media have reported.
The now-disbanded LIFG was founded in 1995 by Libyans who had fought Soviet forces in Afghanistan and stayed on after their withdrawal. The group's sole aim was to topple Kadhafi.
After thwarting an attempt to assassinate the Libyan strongman, Kadhafi's security services launched a merciless pursuit of the group's members, most of whom had fled the country.
After the dictator's ouster and death, Abedi served in the Tripoli police department, Bin Salem said, without providing further information.
"The investigation is ongoing and he is still being questioned by the relevant services. I cannot give more details," Bin Salem said.
LIFG members have allegedly maintained murky links with Al-Qaeda.
Some of its members joined the international jihadist network.
https://english.alarabiya.net/en/News/middle-east/2017/05/25/Father-of-Manchester-bomb-suspect-was-in-militant-group-.html
--------
Russia arrests four Daesh-linked suspects for terror plot
May 25, 2017
Russian security forces have detained four members of a terrorist network linked to the Daesh Takfiri group who were preparing to attack the public transport system in Moscow.
"The Russian Federal Security Service (FSB) detained four members of a terrorist group that consists of citizens of Russia and countries of the Central Asian region on May 25, 2017 in Moscow. They were preparing terrorist attacks on Moscow transport infrastructure using improvised explosive devices," the FSB said in a statement.
The group was part of Daesh and was organized from Syria, the statement added.
The Russian security forces also found an explosives production laboratory during their search at the suspects' houses.
"An explosives production laboratory, a ready-to-use improvised explosive device with shrapnel and components for its production have been found during searches," the FSB said.
The FSB said it also found "automatic firearms, ammunition, grenades, as well as literature and videos of extremist and terrorist orientation."
According to the statement, the terrorists planned to go to Syria and fight alongside Daesh militants after conducting the attacks in Moscow.
In April, the FSB arrested several people for their alleged role in a bomb attack at the St. Petersburg Metro on April 3 which killed 16 people and injured dozens of others.
On May 11, Russian prosecutors charged three of the suspects with involvement in a "terrorist act."
Russia's Investigative Committee added that seven other suspects will be charged in the near future.
A group suspected of links to al-Qaeda claimed responsibility for the attack, saying the bombing was a response to Russia's involvement in the war against militants, apparently making a reference to Moscow's campaign against terrorists in Syria.
Russia started a bombing campaign in Syria in September 2015 at the official request of the government in Damascus.
The airstrikes against Daesh and al-Qaeda-lined terrorist groups greatly boosted Syria's position in the war as the Syrian military and its allies managed to purge militants from the key city of Aleppo late last year.
Thousands of Russian nationals are estimated to have joined the militant groups in Syria since the war began six years ago.
Full report at:
http://www.presstv.ir/Detail/2017/05/25/523214/Russia-Daesh-arrest-terror-attack-Moscow
--------
Greek MPs approve bill on Athens' first official mosque
26 May 2017
The Greek parliament late Thursday approved a bill that allows the construction of Athens' first official mosque to resume.
Only far-right party Golden Dawn and Independent Greeks (ANEL) -- a part of the coalition government -- voted against the legislation, which specifies funding resources for the mosque and the structure of its administrative board.
A low-rise mosque sans a minaret -- with a capacity to hold 350 people -- is under construction in the downtown neighborhood of Votanikos in the Greek capital.
Once finished, it will be the first official mosque in Athens and the first with a license to operate issued by the Greek state since the 19th century. The construction is expected to end in July.
Deputy Minister of Foreign Affairs Ioannis Amanatidis praised the vote in a statement.
"By voting in favor of the article, we strengthen the international presence and scope of the country with respect to the human rights," Amanatidis said.
The parliament gave the go-ahead for the construction in August 2016.
Full report at:
http://www.worldbulletin.net/europe/190042/italy-rescues-2300-refugees-in-mediterranean
--------
This Israeli ex-Salafist is one of Europe's most outspoken critics of radical Islam
BY MARC NEUGROSCHEL
May 26, 2017
BERLIN — Once a fundamentalist Salafist, Ahmad Mansour has turned into one of Europe's most outspoken critics of radical Islam.
Born and raised in the Israeli-Arab village of Tira (northeast of Kfar Saba), Mansour studied psychology at Tel Aviv University before moving to Berlin. In the German capital, he made it his mission to fight the radicalization of young Muslims in Germany. "One of the reasons why the redemption offered by the Islamists is so attractive to people with a Muslim cultural background is that it rests on religious ideas and cultural motives they are familiar with," Mansour told The Times of Israel in a recent Berlin interview.
"So the challenge to German society is not only to respond to the problems of these young people before the Salafists and Islamists catch them, but also to educate them in a Western attitude that will make them immune to Islamist incitement," he said.
A frequent guest on German television talk shows and a regular newspaper contributor, Mansour argues that Europeans should not be overly tolerant of the outdated values prevalent in Muslim subcultures throughout the Continent. To do so, he says, would come at the expense of Western democratic ideals.
Mansour warns that these ghetto societies are breeding grounds from which jihadist organizations recruit terrorists that execute assaults inside and outside of Europe.
Indeed, many of the recent terror attacks on European targets were committed by locals — citizens of Great Britain, Belgium, France, and Germany — including the November 2015 Paris attacks, the March 2016 Brussels bombings, the April 2016 stabbing of a German police officer in Hannover, and this week, Manchester.
British-born Salman Abedi was identified as the suicide bomber who killed 22 people, including several children, on Monday at a concert by US pop star Ariana Grande at the Manchester Arena in Manchester, northwest England.
What's more, a significant number of Europeans travel to the Middle East to fight alongside IS, Al Qaeda and other Islamist militias in countries like Afghanistan, Syria or Pakistan. Therefore, Mansour insists, jihadism is not only a foreign policy problem but a domestic one as well, given the amount of European homegrown terrorism.
As a program director, counselor and educator, Mansour educates young people growing up in insular Muslim communities and tries to immunize them against inciters seeking to recruit them for jihadism.
He works with organizations such as the European Foundation for Democracy, HAYAT, which offers counseling to those at risk of influence by violent radicals, and the HEROES educational initiative for immigrants.
He also counsels families and peers of mostly young radical Muslims with the goal of helping them influence their loved ones for the better.
His recent book "Generation Allah," which is a bestseller in Germany, has been celebrated as a wake-up call to German society and a courageous critique — not only of radical Islam, but also of German attitudes towards it.
Mansour is the recipient of a number of awards, but he is also the target of hostility by radical Muslims and actors on the political left who accuse him of Islamophobia. He requires heavy protection by police and personal bodyguards when appearing in public, but remains undeterred in spreading his message. He expounds on this in the following interview with The Times of Israel.
In your book "Generation Allah" you describe how you fell for Salafism and how you eventually left this radical ideology behind. You grew up in the Arab-Israeli village of Tira. Are the reasons for the radicalization of Muslims in Israel different from reasons why young Muslims in Germany become Islamists?
Essentially, no. The pattern is always the same. Young people experience an upbringing that combines family problems with an authoritarian education. This, along with exposure from a young age to certain forms of Islam, causes fear and insecurities that make people susceptible to the redemption-promises of Salafist and Islamist preachers if they experience some kind of emotional, moral, psychological or social crisis.
I think that similar to what is happening in Germany, Israeli society is also increasingly ignoring radicalization among Muslim Israelis and isn't doing anything about it. Israel is focused on the conflict with Hamas, with Gaza and with the Palestinians, and forgets about the problems of Muslim civil society in Israel. Also, Israeli society has to understand that Islamism cannot only be fought on the battlefield.
You write that your high school graduation marked a crossroad in your life at which you began to turn your back on radical Islam. Does this mean that something can be done by Israel's education system to fight radicalization?
What was decisive for me was not so much the Bagrut [Israeli high school diploma], but rather the experience that I created during that time and afterwards. I moved to Tel Aviv, I met new people, I encountered new ideas. I studied psychology at Tel Aviv University and widened my horizon. All this encouraged me to question my old convictions and to change them eventually.
In particular you write that the interaction with Jews was helpful to overcome anti-Semitic stereotypes.
This is certainly true.
So could it be a good idea to promote more Jewish-Arab coeducation in Israeli high schools in order to fight Muslim radicalization among Israeli Arabs?
Well… I haven't lived in Israel for 10 years and my expertise is more on German society… but possibly this might be a promising approach.
How many Europeans are currently fighting for Islamist militias in the Middle East?
Intelligence services registered 1,960 Islamist fighters, but suggest that the true estimate is likely two or three times that. Given the number of inquiries I get from desperate peers and parents who call me when they suspect that their friends or children have disappeared to some Middle Eastern war zone, I wouldn't be surprised if the number were even much higher than that.
However, those who leave Europe are just the tip of the iceberg. The much bigger problem is that there is a whole subculture of Salafists and of Muslims who are not radical yet, but who are highly susceptible to Islamist incitements and who could potentially be recruited for jihadist activities. I think that we are a looking at tens of thousands of people in Germany alone. This is what I call the "generation Allah." And these are the people who should be the focus of political attention and educational initiatives.
What caused this Islamist ideology to become so influential in Europe?
I don't think that we are talking about a particularly European problem here. Islamism and jihadism are global phenomena that have finally reached Europe as well. But while Europe didn't do anything in particular to create the problem, it is exacerbating it by its inaction.
What exactly do you mean?
Islamism cannot be explained solely as a reaction to racism or discrimination against Muslim minorities, which certainly exists here in Germany, as it does elsewhere. Yet a lack of effort to integrate migrants and the children of migrant families who have lived in Germany for two or three generations means that we are missing the opportunity to spread Western values to people who were been born in this country but that we leave their socialization to Muslim subcultures, where they are often educated in a spirit contrary to German democratic ideals. That alone does not necessarily turn them into radicals. But it makes them more susceptible to Islamist propaganda once they experience a personal crisis.
You write that Salafists are better social workers?
People who subscribe to Islamism don't explicitly look for a religious ideology from the beginning. Instead, they seek redemption from all kinds of social and psychological problems. The Salafists and Islamists approach these people, they listen to them, they invite them to their mosques and integrate them into communities, where they experience a sense of solidarity and belonging that they are desperate for. They also give them the feeling that they are part of an elite that understands a divine revelation others are ignorant of. In doing so, they give them a sense of superiority that compensates for experiences of marginality often encountered by members of the Muslim minority in Western societies.
German society needs to integrate these young people and provide them a sense of identity based on Western values, rather than one based on an anti-Western counter-culture and patriarchal, archaic values that, regrettably, are often tolerated by Germans in the name of multiculturalism.
We just saw in the recent referendum on Turkey's constitution, in which Turkish expats in Germany were allowed to vote, that 450,000 Turkish people living in Germany voted for the establishment of a dictatorship. Is that a sign of failed integration?
Most certainly. These voters displayed their disregard for the democratic values of the German constitution. Moreover, they were also attracted by Erdogan's Islamist rhetoric that presents the West as an enemy of the Muslim world. This proves their susceptibility for Islamist world views.
What can be done to improve the integration of Muslims into German society?
First of all, the job starts with the Muslim community itself. Muslims have to accept the values of the society in which they chose to live. And that is what I am dedicating my all my efforts to. However, such endeavors are often undermined by the German government and by the dominant forces in Germany society who sideline liberal Muslims and cooperate with Islamists instead.
How so?
I'll give you two examples: At the commemoration service for the victims of last December's Berlin Christmas market terror attack, Islamist imam Ferid Heider preached, surrounded by German chancellor Angela Merkel, former German president Joachim Gauk, and other high ranking officials from the German government and Church.
Heider disseminates anti-Western and anti-Semitic conspiracy theories. On his Facebook page he recommends a book by the Egyptian-Qatari theologian Yusuf al-Qaradawi, who is one of the leading voices of Islamism worldwide and who condones Palestinian suicide bombing. Not only is this a slap in the face of the victims of the terror attack, it lends legitimacy to an Islamist who preaches anti-Western values. Think about what must be going on in the head of a young Muslim in Germany who sees on TV that this Islamist preacher is promoted by the German chancellor and the German president.
In another incident in 2015, today's German Foreign Minister and Vice Chancellor Sigmar Gabriel, who back then served as the German government's minister for economy, was joined by Aiman Mayzyek, the chairman of the Central Council of Muslims in Germany, on his trip to the Gulf states. Mayzyek's association, like the other established Islamic organizations in Germany, promotes Islamism. Sadly, the German government prefers to speak with them rather than with representatives of Germany's liberal Muslim community.
But how come that Salafists and Islamists in Germany are organized so well, while liberal Muslims aren't?
First of all, liberal Muslims don't have such a desire to congregate, because for them religion is a private matter and they don't pursue a political agenda as the Islamists do. Second, we liberal Muslims lack funds, since we don't get any money from Saudi Arabia or Turkey, who sponsor the established Muslim organizations in Germany to influence German policy and to promote their Islamist agenda.
Full report at:
http://www.timesofisrael.com/this-israeli-ex-salafist-is-one-of-europes-most-outspoken-critics-of-radical-islam/
--------
Post Manchester attack: UK Muslims targeted in hate crime; told to 'stop bombing'
May 25, 2017
A number of anti-Muslim incidents have been reported in the UK after the Manchester bombing with a Muslim woman spat on while a teenaged Muslim girl taunted by a passer-by who said, "when are you going to stop bombing people".
A 14-year-old pupil at Manchester Islamic High School for girls was taunted while on her way to school by a passer- by.
Mona Mohamed, head teacher at the school, told Radio 4's Today programme that the teenager had been "upset and hurt" by the comment, "when are you going to stop bombing people", but had not responded.
Mohamed was quoted by The Telegraph as saying that she advised her pupils to keep quiet if they are subjected to Islamophobic abuse. "What's the point of reacting?" she said. "That's not the way we're going to tackle terrorism."
A few hours after the Manchester concert attack an unidentified figure was caught on CCTV attempting to set fire to the door of a mosque in Oldham.
On Tuesday, a Muslim woman was spat on by a stranger on Manchester's Oxford Road, the Tab reported.
The stranger approached the student and spat on her. She told the daily that she was "upset and shook up".
The student, who asked to remain anonymous, said she took a taxi straight home.
"These kind of attacks aim to disrupt and divide our society. An incident that attempts to divide us will only make us stronger," the University of Manchester said in a statement.
"We have faith in the strength and resilience of the people of Manchester, and implore students and the wider community to come together at this difficult time," it said.
"With over 200,000 pounds raised and the hundreds that have queued at the blood banks show that no matter what -- #WeStandTogether," it added.
The racially-motivated incidents occurred in the wake of Monday's suicide bombing at the Manchester Arena claimed by the Islamic State, in which 22 people were killed and dozens more injured shortly after the end of a pop concert by Ariana Grande.
The bombing was carried out by 22-year-old Salman Abedi, a British Muslim man of Libyan heritage.
Full report at:
http://www.hindustantimes.com/world-news/post-manchester-attack-uk-muslims-targeted-in-hate-crime-told-to-stop-bombing/story-gjxtvVw3p6cghVsIo4PN2L.html
--------
German parliamentary group cancels Turkey visit
May 24, 2017
A parliamentary group from Germany, which was scheduled to visit Turkey, has canceled the trip when it was informed that the lawmakers could not hold talks with officials in the Turkish government and parliament.
German Foreign Ministry spokesman Martin Schaefer said on Wednesday that Ankara had informed Berlin that the trip by four German lawmakers could not go ahead as planned. According to Schaefer, Turkey had indicated that the cancelation was because of "a domestic political situation in Turkey that wasn't conducive" to the trip.
The group of four, which included lawmakers from three parties, had been planned to visit Turkey between May 25 and 28 on a trip that would take them to Ankara, Diyarbakir and Istanbul. The lawmakers were scheduled to hold talks with government officials, opposition lawmakers and non-government groups.
Germany's ambassador to Turkey said it was inconceivable how Turkey "so rudely and bluntly" rejected "such a friendly and dialogue-oriented visit."
Claudia Roth, a deputy speaker of the German parliament and a member of the opposition Greens who was to head the German delegation to Turkey, said the incident was a "political provocation," apparently making a reference to an earlier spat between Germany and Turkey over Ankara's refusal to allow another group of lawmakers to visit German troops stationed in southern Turkey.
Relations between Turkey and Germany began to deteriorate after a failed coup in Turkey last year.
Germany has repeatedly criticized Ankara's crackdown, saying the Turkish government has acted beyond the rule of law.
Turkey defends the crackdown and insists that European governments have failed to properly condemn the coup.
Ankara also accuses Berlin of giving sanctuary to outlawed Kurdish militants and allowing their sympathizers to stage anti-Turkey rallies across Germany.
Full report at:
http://www.presstv.ir/Detail/2017/05/24/523068/Germany-Turkey-lawmakers-trip
--------
Arab World
Aleppo: Heavy Infighting in Al-Bab Leaves Hundreds of Terrorists Dead, Injured
May 25, 2017
Hawar news quoted the sources from the town of al-Rae'i in al-Bab as saying that after one of the commanders of al-Hamazat terrorist group was detained by members of the 'Security Institute', heavy clashes erupted between the two sides, resulting in the injury of 10 militants.
Meantime, members of the Turkish-affiliated 'al-Bab Military Council' engaged in clashes with the so-called Free Syrian Army (FSA) which is directly trained by the Turkish army.
The sources said that during the clashes a number of terrorists from both sides were killed and wounded and they looted each other's properties.
Other sources also said that during the recent infightings among the terrorists in Jarablus and Azaz regions, 100 militants were killed and 200 others were wounded.
Relevant reports said last Thursday that unknown assailants' attack against the positions of Tahrir al-Sham Hay'at (the Levant Liberation Board) in Idlib extended the range of clashes among the terrorist groups in the region.
Dissident media activists reported that after heavy clashes between Ahrar al-Sham and 'Fastaqem Kama Omert' militants in Idlib, infighting erupted between unknown assailants and members of Tahrir al-Sham Hay'at in the Eastern town of Sanjar, adding that the former won control of several positions of Tahrir al-Sham temporarily.
Meantime, some members of Tahrir al-Sham said that the attack was launched by Jeish al-Fatehin militants - affiliated to Ahrar al-Sham - at the order of the group's commander Hessam Salamah.
Tahrir al-Sham members were put on the alert against Jeish al-Fatehin for several hours after the attack.
http://en.farsnews.com/newstext.aspx?nn=13960304000601
--------
US-Led Coalition Airstrikes Kill 18 Civilians in Western Raqqa Again
May 25, 2017
The US warplanes launched airstrikes on the village of al-Baroudeh, 15km of West of Raqqa city, inflicting 16 losses on civilians, among them 5 children.
Also, the US airstrikes against the village of Dabsi Afnan in Western Raqqa left 2 civilians dead.
Field sources in Northeastern Syria had reported on Monday that almost 30 civilians were killed and wounded in a drone attack launched by the US-led coalition in Raqqa.
The sources said that a coalition combat drone targeted several vehicles carrying female workers in the farms near the terrorist-held Raqqa city, killing 22 women and wounding nine more.
In relevant developments in the province on Sunday, A sum of 12 civilians were killed and several more were wounded in the US-led collation air raids on two regions in Raqqa and Deir Ezzur provinces.
Sources said that the US-led coalition fighter jets bombed heavily several regions in areas surrounding Raqqa city in Northeastern Syria, killing 7 member of a family.
Full report at:
http://en.farsnews.com/newstext.aspx?nn=13960304000361
--------
Monitor: Air strikes kill 35 civilians in ISIS-held Syria town
26 May 2017
US-led coalition air strikes on Thursday killed at least 35 civilians in an eastern Syrian town held by the ISIS militants, a monitor said. The Syrian Observatory for Human Rights said the strikes hit a series of residential buildings in Mayadeen, a town in Syria's oil-rich eastern province of Deir Ezzor.
"Among the dead are at least 26 relatives of ISIS fighters, many of them women and children, including Syrians and Moroccans," said Observatory head Rami Abdel Rahman. "The other nine are Syrian civilians and include five children," Abdel Rahman told AFP. Thursday's toll brought the known deaths from two days of coalition bombing raids on Mayadeen to 50, the Observatory said, after 15 people were killed in US-led strikes on the town on Wednesday. The Britain-based monitor this week reported the highest monthly civilian death toll for the coalition since it began bombing Syria on September 23, 2014.
Between April 23 and May 23 of this year, coalition strikes killed a total of 225 civilians in Syria, the Observatory said. The international alliance is providing air cover for twin offensives on IS's remaining bastion cities: Raqa in northern Syria and Mosul in neighboring Iraq.
Killed 'unintentionally'
On Thursday, a Pentagon investigation concluded that at least 105 civilians died in an anti-militant air strike on an ISIS weapons cache in Mosul in March. Prior to the new revelation, the US military had said coalition airstrikes in Iraq and Syria had "unintentionally" killed a total of 352 civilians since 2014.
Airwars, a London-based collective of journalists and researchers that tracks non-combatant deaths in Iraq and Syria, estimated earlier this week that as many as 366 civilians were killed in Iraq and Syria in April alone.
It said it had seen civilian fatalities surge since US President Donald Trump came to power and gave greater leeway to battlefield commanders. Airwars' figure and its claim that fatalities had risen under Trump were denied by Lieutenant General Jeffrey Harrigian, who heads US Air Forces Central Command.
Full report at:
https://english.alarabiya.net/en/News/middle-east/2017/05/26/Monitor-Air-strikes-kill-35-civilians-in-east-Syria.html
--------
Several Families of al-Wa'er Militants Return from Northern Aleppo to Homs
May 25, 2017
Six families who had been relocated to Jarablus city in Northern Aleppo returned to Homs city due to the inhumane behavior of the Turkish-affiliated terrorists.
Members of these families said that all families who have been transferred to Jarablus are facing difficult situation and a large number of them want to return to Homs again.
Meantime, the Turkish-affiliated terrorists in Northern Aleppo are attempting to intimidate and threaten people to prevent their return.
Local officials confirmed on Wednesday that the Syrian government granted amnesty to over 150 militants that had laid down their weapons and applied for pardoning in Northern Homs.
The officials said that in line with reinvigorating the peace plan in Northern Homs, 155 militants that had handed over their arms to the Syrian Army received government amnesty in the towns of Talbiseh, al-Rastan, al-Houleh and some districts of Homs city.
On Monday, a prominent Syrian political analyst referred to the terrorists' evacuation of al-Wa'er and the importance of Homs city's security, and stressed that the militants in Homs would also be forced to accept the peace plan.
"Homs city is a central region in Syria which links the Northern and Southern parts of the country and there is no doubt that the recent achievements in the city will help the government to implement the peace plan in the outskirts of Homs too," Abdol Majid Abdol Latif said.
Full report at:
http://en.farsnews.com/newstext.aspx?nn=13960304000293
--------
Four Egyptian security forces killed in Sinai attacks
May 25, 2017
Four security forces have been killed in two separate attacks by militants in Egypt's restive Sinai Peninsula.
Security and medical sources said on Thursday that three soldiers had been killed in a bombing of an armored vehicle by militants in Sinai.
The sources added that the soldiers were conducting a patrol in the North Sinai town of Rafah, which borders the Gaza Strip.
In a separate attack, a policeman was killed by gunmen while he was shopping in Arish, the provincial capital and the largest city of North Sinai.
The gunmen managed to flee and the body was taken to a military hospital.
The attacks are the latest in an area, where security forces have been battling Daesh Takfiri terrorists, which authorities say have killed hundreds of members of security forces.
The militants have also extended their campaign to other parts of Egypt, most recently attacking churches in Cairo and other cities with the loss of dozens of lives.
Full report at:
http://www.presstv.ir/Detail/2017/05/25/523190/Egypt-Daesh-Sinai-Peninsula
--------
New Villages Liberated in Eastern Aleppo
May 25, 2017
The army soldiers engaged in clashes with the ISIL terrorists, and regained control of the villages of Bu Ajouz, Kharab Bu Ajouz, Kharab al-Khazraf and Fourth Farm in Eastern Aleppo.
A number of terrorists were killed and wounded during the operations and their weapons and equipment were blown up by the army.
In a relevant development on Wednesday, the Syrian army troops continued to hit ISIL's defense lines in Eastern Aleppo and took back control over 10 more villages in several hours of non-stop clashes.
The army soldiers engaged in tough battle with ISIL and drove them out of the villages of al-Bilouneh, Bani Zeid, Daroubiyeh, al-Sameriyeh, Latheh, al-Naseriyeh, al-Naseriyeh train station, Mohseneh al-Khafseh, Rasm al-Kaywan and al-Masoudiyeh.
The ISIL lost tens of fighters in the attacks.
Informed sources disclosed on Wednesday that ISIL has sent hundreds of terrorists and a large volume of military equipment to Eastern Aleppo to face the Syrian Army troops' devastating advances in the region.
Full report at:
http://en.farsnews.com/newstext.aspx?nn=13960304000680
--------
Aleppo: Syrian Army Inches Closer to Strategic Town of Maskanah
May 25, 2017
The army forces could capture the fifth station of cattle farms near Maskaneh after clashes with the ISIL near the last bastion of the terrorist group in Eastern Aleppo.
Meantime, the Russian and Syrian fighter jets pounded the ISIL positions in Maskanah.
A military source said that the ISIL defense lines have all been shattered after their senior military commanders, including their war minister, were killed, adding that the Syrian army is now stationed 5km away from the strategic town of Maskanah.
The Syrian state news agency reported on Wednesday that over 3,000 ISIL terrorists have been killed or wounded in the Syrian Army troops' operations in Eastern Aleppo that have resulted in the liberation of 32 key regions, including Jarah airbase.
SANA reported that 3,000 ISIL terrorists have been killed or wounded in the fresh round of the army operation in Aleppo, adding that 19 tanks, five BMP vehicles, 11 bomb-laden vehicles, six cannons, nine arms and ammunition depots, two communication and operation rooms and 61 field command posts of the ISIL were also destroyed in the operations.
Full report at:
http://en.farsnews.com/newstext.aspx?nn=13960304000549
--------
ISIL Fully Evacuates Several Districts in Raqqa
May 25, 2017
The Arabic website of Sputnik news agency quoted the sources as saying that the ISIL has evacuated the districts of al-Dari'eyeh, Mafraq al-Jazra, al-Hasiweh and al-Hawayej as well as Bain al-Jisrin region.
They added that the Central parts of Raqqa city have also become empty of ISIL members and their families.
According to the sources, the ISIL has not declared the reason for this measure.
In a relevant development in the Western parts of the same province on Wednesday, the predominately Kurdish Syrian Democratic Forces (SDF) continued the fourth phase of the anti-ISIL Euphrates Rage Operation and were on the verge of completing siege of al-Ba'ath (al-Horiyeh) dam.
The SDF fighters engaged in a tough battle with ISIL and took control over the villages of al-Khatouniyeh, Kar Ali, Balaneh, al-Forqan and al-Yamameh five kilometers Northwest of al-Ba'ath dam," the sources said, adding that with the new advances, the Kurdish fighters are now sealing the entire paths to the ISIL-held dam.
Full report at:
http://en.farsnews.com/newstext.aspx?nn=13960304000426
--------
ISIL Retreats from Vast Areas of Eastern Homs
May 25, 2017
The army units continued advance in Eastern Homs after stabilizing their positions in al-Bardah region in the Eastern parts of al-Quaryatayn and regained control of the village of al-Bardah.
They also liberated Zaqaqiyeh Khalil mountain, 6km of Eastern al-Bardah, after heavy clashes with the ISIL terrorists.
Meantime, the Syrian soldiers retook military control of al-Basiri village, 8km of al-Bardah.
They killed tens of ISIL militants during the operations and clashes.
In a relevant development on Wednesday, the Syrian army troops engaged in several clashes with ISIL and fended off their offensives on the pro-government forces' positions in Eastern Homs, killing almost 30 terrorists and wounding tens of others.
The army men engaged in fierce clashes with ISIL that tried hard in several attacks from the village of Um Sahrij to prevail over the pro-government forces' defense lines in al-Hawa hill in Eastern Homs, warding off the attacks.
Also, the army positions along the road between Abu Alayah, Khattab, Jubb al-Jarrah and Al-Barqouthyah came under heavy fire of the Takfiri terrorists.
The army units killed almost 30 terrorists and destroyed over five of their military vehicles in almost 10 hours of defense.
Full report at:
http://en.farsnews.com/newstext.aspx?nn=13960304000480
--------
Syrian Army Suppresses ISIL Moves in Deir Ezzur
May 25, 2017
The Syrian missile and artillery units targeted ISIL bases and supply routes in the Eastern parts of Deir Ezzur airbase and West of Tal al-Sanouf as well as the two districts of the old airport and al-Arafi and areas near al-Maqaber region, Panorama bridge and the village of al-Baqiliyeh.
The operations left several ISIL members dead and wounded and destroyed a large number of their weapons and ammunition.
Meantime, other army units launched strikes on ISIL positions in Tal Barouk near al-Raqqa bridge and the village of Ayash and Huwaiqeh, al-Sana'ah and al-Hamidiyeh districts in Deir Ezzur city, killing and wounding several terrorists and smashing their military vehicles.
In a relevant development on Wednesday, the Syrian army troops and air force targeted heavily ISIL's movements and concentration centers in the Southern and Southwestern outskirts of Deir Ezzur city, inflicting major losses on the terrorists.
The army's artillery and missile units pounded ISIL's positions in al-Roshdiyeh neighborhood, al-Maqaber (cemetery) region, surrounding areas of regiment 137 base, Panorama base and al-Thardah mountain, killing a number of militants and destroying their positions.
Full report at:
http://en.farsnews.com/newstext.aspx?nn=13960304000339
--------
Mideast
Abbas calls on US to mediate hunger strike in Palestinian jails
26 May 2017
Palestinian president Mahmoud Abbas said Thursday that he had asked the United States to help end a weeks-long hunger strike by Palestinians held in Israeli jails, as the Red Cross warned the strikers were entering a "critical phase". Hundreds of the prisoners have been refusing food since April 17 over conditions for about 6,500 Palestinian inmates.
Speaking to senior members of his Fatah party in Ramallah after meeting President Donald Trump's special representative Jason Greenblatt, Abbas said he had spelt out his position to the envoy who would convey it to the Israelis.
Also read: Burden of mental health in Palestine highest in the region
"We have explained in detail to American envoy Jason Greenblatt the issue of the prisoner strike and we have called for American intervention to ensure that the rights of prisoners are protected and their humanitarian demands are granted," he said.
'Shall be in touch'
"We shall be in touch with him to give us the answer of the Israeli side," he said, adding he hoped to announce a response "in the evening or tomorrow". Greenblatt is in Israel and the Palestinian territories to follow up on Trump's visit earlier in the week and to build on his plans for a new Israeli-Palestinian peace initiative, according to Israeli media.
The hunger strike is being led by prominent Fatah figure Marwan Barghouti, who is serving five life sentences for murders committed during the second Palestinian intifada, or uprising. Among the strikers' demands are access to telephones, more family visits, improved medical care and an end to punitive solitary confinement.
The International Committee of the Red Cross said Thursday that its doctors who have been visiting the prisoners were concerned about "potential irreversible health consequences". "From a medical standpoint, we are entering a critical phase," it added, urging the authorities on both sides to find a solution to the standoff.
https://english.alarabiya.net/en/News/middle-east/2017/05/26/Abbas-calls-on-US-to-mediate-hunger-strike-in-Palestinian-jails.html
--------
Hamas executes three over assassination of top commander
May 25, 2017
The Palestinian resistance movement Hamas has executed three men convicted of assassinating one of its high-ranking military commanders in the Gaza Strip earlier this year.
Two men were hanged in Gaza City on Thursday for killing 38-year-old military commander Mazen Fuqahaa in March, while a third was executed by a firing squad.
The executions came after a tribunal on Sunday found Ashraf Abu Leila, the prime suspect in the assassination of Fuqahaa, guilty of premeditated murder, treason and conspiracy with hostile foreign parties, and sentenced him to death by hanging.
The others were identified as Hisham al-Aloul, 44, who was also sentenced to death by hanging, and Abdallah al-Nashar, who was to face the firing squad. They were all convicted of collaborating with the Israeli regime.
Aloul was convicted of conspiracy and treason as well as involvement in the killing of the senior Hamas commander.
Nashar was found guilty of treason and conspiracy, and leaking information about Fuqahaa's movements and his hangouts.
Judicial sources had earlier said that Sunday's verdicts were final and could not be appealed according to the rules of the Military Field Tribunal.
Fuqahaa was shot in the head four times at the entrance to a residence in the Tal al-Hawa neighborhood of Gaza City on March 24. The assassination was carried out with a gun equipped with a silencer.
Palestinian security forces in the besieged enclave had detained Fuqahaa's assassin in early May.
Speaking at a press conference in Gaza City on May 11, the new chief of Hamas political bureau Ismail Haniyeh stated that a fair and appropriate punishment would be handed out on the basis of the movement's judicial principles, and in honor of Fuqahaa, all Palestinian martyrs as well as all prisoners in Israeli jails.
The Hamas chief stressed that the Israeli regime was behind the criminal act.
"The Israeli occupation is the entity that gave orders regarding Fuqahaa's assassination. The killer has confessed to the crime and spelled the assassination out in details," Haniyeh pointed out.
Full report at:
http://www.presstv.ir/Detail/2017/05/25/523203/Palestine-Gaza-Hamas-Mazen-Fuqahaa-Israel
--------
Kurdish-Led SDF Repels Turkish-Led Terrorists' Offensive in Northern Aleppo
25, 2017
The Turkish army-affiliated militants stationed in the two towns of Mare'e and Tousin launched massive attacks on the town of Tal Rafat and the two villages of Sheikh Issa and Tal Madhiq.
The attacks were repulsed by the SDF forces by targeting the militants' positions and killing two of them.
Also reports said that during the artillery attacks of the Kurdish forces, one of the terrorists' bases in Mare'e was smashed.
In a relevant development last Sunday, at least nine militants, supported by the Turkish army, were killed or wounded in a fresh round of clashes with the Kurdish People's Protection Units (YPG) in Northern Aleppo.
Informed sources confirmed that the Ankara-backed militants stormed the defense lines of the YPG in the village of Iska near the town of Afrin from two Southern directions, starting heavy exchange of fire.
The sources further said that three Turkey-backed militants were killed and six more were wounded, while a large volume of weapons and ammunition were seized by the YPG fighters.
Full report at:
http://en.farsnews.com/newstext.aspx?nn=13960304000695
--------
Iran builds third underground missile factory
May 26, 2017
TEHRAN - Iran has built a third underground plant to manufacture ballistic missiles, the head of its Revolutionary Guards aerospace division General Amir-Ali Hadjizadeh said on Thursday.
The announcement as US President Donald Trump makes a maiden foreign tour in which Saudi and Israeli concerns about Iran have loomed large is likely to stoke new tensions with Washington. "Step by step, we are developing our defensive capability and I announce today that in recent years we have built a third underground factory for the manufacture of missiles," Iran's Fars news agency quoted Hadjizadeh as saying.
"We are going to develop our ballistic power. It's normal that our enemies, that is to say the United States and Israel, are angry when we show off our underground missile bases because they want the Iranian people to be in a position of weakness," he added.
In October 2015, state television aired footage for the first time of a base that Hadjizadeh said was 500 metres (1,600 feet) underground and stocked with a range of different missiles.
Armed forces spokesman General Masoud Jazayeri said earlier this month that Iran had a number of such underground silos which were an "important deterrent factor against the sworn enemies of the Islamic Republic of Iran." The United States says Iran's missile programme is a breach of international law because the missiles could carry nuclear warheads in the future.
Iran denies ever seeking nuclear weapons and says the missiles are designed to carry conventional warheads only and are a legitimate part of it defensive capabilities.
The Trump administration imposed fresh sanctions on Iran following a missile test in late January.
It added more last week at the same time as it renewed a waiver of sanctions related to Iran's nuclear programme.
In Saudi Arabia on Saturday, US Secretary of State Rex Tillerson urged newly re-elected Iranian President Hassan Rouhani to end ballistic missile testing.
On Monday, Rouhani retorted that Iran did not need US permission to conduct missile tests and that they would continue "if technically necessary".
Full report at:
http://nation.com.pk/international/26-May-2017/iran-builds-third-underground-missile-factory
--------
US Senate panel advances bill to impose new sanctions on Iran
26 May 2017
The United States would impose new sanctions on Iran over its ballistic missile development, arms transfers, support for Islamist militant groups and human rights violations under legislation approved by a US Senate committee on Thursday.
By an 18-3 vote, the Senate Foreign Relations Committee paved the way for full Senate consideration, despite objections from former Secretary of State John Kerry and others who served in Democratic President Barack Obama's administration that it might threaten the 2015 international nuclear deal with Iran.
"We know that this in no way touches the nuclear deal," Senator Bob Corker, the committee's Republican chairman, told reporters.
If approved by the Senate, the bill would also have to pass the House of Representatives before being sent to President Donald Trump for it to be signed into law.
Republicans and Democrats have been clamoring for a response to Iran's missile program and other activities. The bill the committee passed on Thursday is co-sponsored by 48 of the 100 senators.
Some members had also sought to link the Iran bill with an effort to impose new sanctions on Russia, but the panel reached an agreement to delay the Russia measures.
The measure would impose mandatory sanctions on anyone involved with Iran's ballistic missile program, and those who do business with them. It would also apply sanctions to the Islamic Revolutionary Guard Corps (IRGC), Iran's most powerful security force, which also is a major force in its economy.
The Trump administration has been considering whether to formally designate the IRGC as a terrorist organization.
The bill seeks to tighten an international arms embargo on Tehran by requiring Trump to block the property of any person or entity involved in activities related to the supply, sale or transfer of prohibited weapons to or from Iran.
The committee passed it on a day when the semi-official Fars news agency quoted a senior commander of the elite Revolutionary Guard saying that Iran has built a third underground ballistic missile production factory and will keep developing its missile program.
The bill was introduced in March, but the Foreign Relations Committee waited to take it up until after Iran's election on Friday, when President Hassan Rouhani was re-elected with 57 percent of the vote.
Rouhani broke the taboo of holding direct talks with the United States and reached the deal to curb Iran's nuclear program in return for relief from economic sanctions.
Trump, who succeeded Obama on Jan. 20, has criticized the nuclear deal, which was opposed by every Republican in Congress and several Democrats. But he has so far not moved to tear up the agreement.
Instead, his administration has said it would police Iran's compliance with the bill and review it, with an eye toward possibly modifying it to make it stronger.
Full report at:
https://english.alarabiya.net/en/News/middle-east/2017/05/26/US-Senate-panel-advances-bill-to-impose-new-sanctions-on-Iran.html
--------
Iranian militant leader speaks of a conspiracy against Saudi Arabia
25 May 2017
A video of an Iranian militant leader uncovered the hidden agenda concerning the Iranian dream of military expansion in Saudi Arabia.
The former leader spoke about launching an attack with a million soldiers on Saudi Arabia, in a video shared Thursday by alarabiya.net.
He spoke of a plan to advance through the mountains and valleys of Najran, Jizan and Asir and about taking control of Saudi military bases, stealing weapons and medical assets and then withdrawing quickly.
He advises a withdrawal for ten days to two weeks to evade Apache attacks and to be able to seize the new military and medical aid supplies at the bases.
The leaked video also shows plans to hit the Saudi air forces with artillery and missiles when advancing towards Riyadh and Jeddah across 400 kilometers of flat sand deserts.
Former leader of the Amariyun militia in Iran, Mehdi Taib's speech gave new purpose for the coalition to restore legitimacy in Yemen.
The video comes as proof that the battle is broader than Yemen, it is also essential for the protection of Saudi Arabia.
Full report at:
https://english.alarabiya.net/en/News/gulf/2017/05/25/Iranian-militant-leader-speaks-of-a-conspiracy-against-Saudi-Arabia.html
--------
Only Iran, Syria helped Lebanon when it was occupied by Israel
May 25, 2017
Secretary General of the Lebanese Hezbollah resistance movement, Sayyed Hassan Nasrallah, says when southern Lebanon was occupied by Israel, no country in the world except Iran and Syria helped the country to end occupation.
Nasrallah made the remarks while delivering a speech in commemoration of the 17th anniversary of the liberation of the southern Lebanon from the Israeli occupation.
Addressing nation from the southern city of Hermel, Nasrallah said resistance has got strong enough not to wait for support from the rest of the world or from inside the country or outside.
Lambasting the world's indifference toward the occupation of Lebanon by Israel, he said when Lebanon was occupied no country in the world, neither the Organization of Islamic Cooperation, nor the Arab League, nor the United Nations or America helped Lebanon.
"Only the Islamic Republic of Iran and Syria helped Lebanon against Israeli occupation," the Hezbollah chief added.
He noted that the only time that resistance was helped against Israel was under former president, Émile Lahoud, parliament speaker, Nabih Berri, and former prime minister, Selim al-Hoss.
Sayyed Hassan Nasrallah described the close cooperation between Lebanese army troops and Hezbollah fighters as the main reason behind the 2000 victory over the Israeli regime's aggression and winning back the occupied lands of southern Lebanon.
He stressed that during the occupation, Western countries stood by Tel Aviv throughout the 15 years in which the Lebanese territories were occupied by Israel's military forces.
He also praised the steadfastness of the Lebanese nation in face of Israel and foreign-sponsored Takfiri militant groups.
Riyadh meeting aimed to threaten Iran, resistance
Referring to a recent meeting among leaders of several Muslim countries in the Saudi capital, Riyadh, which was also attended by US President Donald Trump, the Hezbollah chief said anything that was said and decided during the Riyadh meeting would have no effect on the situation in Lebanon, because since new president has come to office, good consensus has been reached inside country over a host of issues.
Pointing to participation of an official Lebanese delegation in the Riyadh meeting and that al-Mustaqbal party had hailed the final statement of the Riyadh summit, he said, "We have reached an understanding in Lebanon to differ over political matters, but follow the same line on economic and security matters."
He added that the final statement of the Riyadh summit was not acceptable for the resistance movement and it would have no effect on the situation in Lebanon.
Nasrallah also noted that Muslim leaders attending the Riyadh summit had not information whatsoever about the meeting's final statement, and had emphasized that they will not take heed of the statement.
The Riyadh summit was simply organized in order to glorify US President Donald Trump, the Hezbollah chief said, adding that the meeting sought to threaten the Islamic Republic of Iran as well as the resistance in Iraq and neighboring Syria.
'Saudi Arabia is the center of world terrorism'
Taking Saudi rulers to task for inviting Trump to Riyadh summit, Nasrallah described Trump as the US president, who has disrespected Islam as well as Arab nations the most during his presidential campaigning.
He added that Saudi Arabia simply invited Trump to get his support in the face of rising global criticism of Riyadh's role in fostering terrorism.
"The entire world knows that Saudi Arabia is behind the spread of terrorist Takfiri ideology," said adding that the Saudi-backed terrorists were wreaking havoc across the world and their damage was not limited to a single country or the Islamic world, but had spread to the Western countries as well.
"Saudi Arabia is the center of world terrorism. It is responsible for the creation and supplying arms and munitions to al-Qaeda, Taliban and Daesh terrorist groups. The kingdom's Wahhabi ideology is fanning the flames of sectarianism and sedition in the Muslim world," he said.
Nasrallah slams Bahrain's "heinous assault" on peaceful protesters
Elsewhere in his remarks, the secretary general of Hezbollah censured Bahrain's Al Khalifah regime for brutal crackdown on peaceful pro-democracy protests in the tiny Persian Gulf kingdom.
He termed the assaults against supporters of the country's prominent Shia cleric, Sheikh Isa Qassim in the northwestern village of Diraz as "heinous," calling for the immediate release of the 77-year-old cleric, who is the spiritual leader of the country's dissolved opposition bloc, the al-Wefaq National Islamic Society.
Riyadh trying to isolate Tehran due to is support for resistance
Turning to Saudi Arabia's military onslaught against Yemen, Nasrallah hailed the Yemeni nation's steadfastness, emphasizing that the Riyadh regime is perpetrating crimes against humanity in the impoverished country through starving and slaughtering ordinary people.
The Hezbollah leader underlined that Saudi Arabia was haplessly seeking to isolate Iran, because of its support for anti-Israel resistance movement, including in Yemen.
He added that Saudi officials had paid billions of dollars to US statesmen in this regard forgetting all about the plights of poor Muslims.
Full report at:
http://www.presstv.ir/Detail/2017/05/25/523181/Hezbollah-chief-Sayyed-Hassan-Nasrallah-speech-Liberation-Day-Israel-occupation
--------
Africa
5 Kenyan police officers killed in fresh attack by al-Shabab
May 25, 2017
Five Kenyan police officers have been killed in a fresh attack by the al-Shabab Takfiri militant group near the border with Somalia.
Mohamud Ali Saleh, a military official coordinating an operation against the Somalia-based militants in northeast Kenya, said Thursday that the officers were targeted while they were traveling in a town on the border with Somalia as part of a larger deployment in the restive region.
"The five police officers killed in the attack were headed to boost the ongoing operation in Liboi," said Saleh.
Other sources said the vehicle of the officers was targeted by an improvised explosive device (IED).
The Kenya Red Cross said the blast flipped over the green police pickup and tore its rear end off, adding that the incident occurred between Malelei and Kulan in Garissa county.
The attack comes just a day after eight police officers lost their lives in two similar blasts. Al-Shabab has claimed responsibility for the three attacks.
The Somali-based group has carried out numerous attacks in Kenya over the past years, allegedly in retaliation against Kenya's involvement in a regional push to purge Somalia from militants.
The Kenyan police issued a statement on Tuesday, saying militants had increased their activities along the border with Somalia and that they specifically use IEDs to target security forces. Police chief George Kinoti said that al-Shabab had decided to split into various groups as a result of increased pressure in Somalia, adding that some of those small groups "are heading towards our border with the intention of staging attacks."
He said the militants used a tactic to lay IEDs along the "routes used by our security patrols."
http://www.presstv.ir/Detail/2017/05/25/523175/Somalia-Shabab-Kenya-attack
--------
Haftar forces seize rival airbase in south Libya
25 May 2017
Forces led by Libyan military strongman Khalifa Haftar on Thursday seized control of the Tamenhant airbase in the south of the country from rival forces, a spokesman said.
"Our forces... took full control of Tamenhant airbase in the south of Libya," said Khalifa al-Obeidi, spokesman of Haftar's self-proclaimed Libyan National Army.
An LNA officer, who declined to be named, said Haftar's forces had pounded the airbase on previous days and surrounded fighters from the Third Force militia.
Haftar's forces persuaded the fighters to evacuate the airbase, which they did, allowing the LNA to take over the facility without any resistance, said the officer.
The Third Force is loyal to the UN-backed Government of National Accord not recognised by the LNA.
The attack was condemned by the United Nations, the European Union and the GNA.
The United Nations and Human Rights Watch said summary executions may have taken place at Brak al-Shati.
The unity government, the rival administration in eastern Libya and their respective backers are battling for influence in the North African country, which has been wracked by chaos since the fall of dictator Moamer Kadhafi in 2011.
Full report at:
http://www.worldbulletin.net/africa/190027/turkey-donates-medical-equipment-to-kenyan-hospital
--------
Nigeria: Fuel Sales Resume in Ekiti After Fayose Threat
25 MAY 2017
By Josiah Oluwole
There seems to be a crack in the ranks of the Independent Petroleum Marketers Association of Nigeria, IPMAN, Ekiti State, following threats by the state governor, Ayodele Fayose, to revoke their filling stations certificates of occupancy if they fail to reopen their stations.
The marketers embarked on an indefinite strike over their faceoff with Mr. Fayose, regarding the siting of filling stations by some of their members.
As the ultimatum rolls to its expiration on Thursday, a few filling started selling the products in Ado-Ekiti.
A similar threat was issued by the National Union of Road Transport Workers (NURTW) and Road Transport Employers' Association of Nigeria (RTEAN), warning the marketers to call off the strike or face dire consequences.
The threats came after angry youth on Monday stormed some of the fuel stations and destroyed machines and buildings.
But a member of IPMAN who said he would not want to be named for fear of victimization, said they were united on the cause to get the government to accede to their demands.
"We are not in any way polarized, we only told our members to be selling occasionally to people to ease their sufferings," he said.
"Last week, some sold the product to the people and was it the government's threat that did the magic? We are still on strike and nothing will stop us."
Meanwhile, the Muslim Rights Congress (MURIC), has called on the Inspector General of Police, Ibrahim Idris, to stop "government-sponsored hoodlums" from carrying out further attacks on homes and business premises of Muslims and other law-abiding residents of Ekiti State.
MURIC Director, Ishaq Akintola, in a press statement on Thursday, described the attacks on filling stations of a prominent businessman, Sulaiman Akinbami, and other marketers as "flagrant abuse of power to threaten law-abiding and peaceful citizens."
He said every Nigerian citizen had the right to domicile in any part of the country urging the IGP to "act immediately before an innocent man and most probably many others along with him are viciously crushed by a marauding and lawless governor."
"Governor Fayose is victimizing Alhaji Akinbami for being a practicing and committed Muslim. Akinbami is not really Fayose's target, it is Islam. Fayose has demonstrated his hatred for Muslims in several ways before," the group claimed.
"The governor was alleged to have threatened to deal with Alhaji Akinbami during his media chat on Monday and complained that he could not tolerate Alhaji Akinbami's business ventures because the latter is from Osun State.
"It will be recalled that the governor had threatened to bulldoze the businessman's petrol stations few weeks ago because there are mosques inside the complex."
Full report at:
http://allafrica.com/stories/201705260073.html
--------
URL: https://www.newageislam.com/islamic-world-news/lady-justice-statute-removed-bangladesh/d/111299
New Age Islam, Islam Online, Islamic Website, African Muslim News, Arab World News, South Asia News, Indian Muslim News, World Muslim News, Women in Islam, Islamic Feminism, Arab Women, Women In Arab, Islamophobia in America, Muslim Women in West, Islam Women and Feminism