New Age Islam News Bureau
5 Aug 2018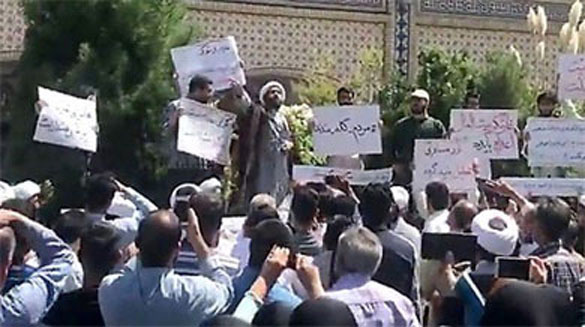 In this video grab made from a video by Nasim News Agency, a cleric speaks to a crowd of protesters demonstrating in Mashhad, in the Khorasan Razavi province, on August 3, 2018. PHOTO: AFP
-------
• Kolkata: Locals Back Doctors Who Were Asked To Move Out For Being Muslim
• Imran Ready to Negotiate Iran-Saudi Arabia Peace
• Iran Protesters Attack Religious School in Province near Tehran
• 115 Students Injured In Clashes as Bangladesh Teen Protests Turn Violent
India
• Kolkata: Locals Back Doctors Who Were Asked To Move Out For Being Muslim
• BJP Leader Says Equal Number of Hindus and Muslims Left Out Of NRC List
• J-K shutdown over Article 35A kicks in today, govt suspends Amarnath Yatra
• J-K: Relatives of man shot dead at Farooq Abdullah's Jammu house stage protests
-------
Pakistan
• Imran Ready to Negotiate Iran-Saudi Arabia Peace
• Imran Khan May Take Oath as Pakistan PM on August 14
• Fazl reluctant to try his luck in Bannu by-poll
• $150m sanctioned by US is for Pak-Afghan border security
• PTI's Punjab CM choice may take a few more days
• PML-N finds it hard to win PPP support for forming Punjab govt
• Khursheed Shah named opposition's candidate for NA speaker
• PTI-MQM-P deal on federal coalition termed impracticable
• Suspect behind torching of Diamer schools killed in search operation: police
• LHC orders to halt Imran's NA-131 victory notification
--------
Mideast
• Iran Protesters Attack Religious School in Province near Tehran
• Israel Keeps 300 Palestinian Minors in Hard Conditions in Prison
• 50 Houthis killed in battles in Yemen's province of Al-Jouf
• Israeli Druze rally against Jewish Nation Law in Tel Aviv
• Erdogan sanctions US officials in tit-for-tat row over pastor
• Yemen rebels say willing to attend UN talks
• Turkey's Erdogan to freeze assets of US justice, interior ministers
• Iran plans to open interests section in Saudi Arabia
--------
South Asia
• 115 Students Injured In Clashes As Bangladesh Teen Protests Turn Violent
• Taliban's Shadow Military Chief, 2 Suicide Bombers Killed in Helmand
• Top Taliban leaders among 57 killed, wounded in Kunar operations
• Afghan forces, Taliban suffer casualties in Uruzgan clashes
• Death toll rises to 34 in Gardez city mosque bombing
• Fawzia Koofi reacts at likely removal of her name from candidates list
• Taliban militants suffer heavy casualties in Takhar clashes
--------
Arab World
• Saudi Hackathon Seeks High-Tech Fixes to Haj Calamities
• Egyptian Troops Kill 52 Militants in Sinai
• ISIS kills 19-year-old Druze hostage from Syria's Sweida
• Ansarullah Attacks Saudi Airport in Assir
• Kurds: Manbij Agreement Disrupted by US-Turkey Tensions
• Turkish Army Suffers More Casualties in Kurdish Attack in Northern Syria
• Terrorists Fail to Prevail over Syrian Army Positions in Hama Province
• Russia confirms it sent Syria rebuilding proposal to US
--------
Southeast Asia
• The Fundamental Need in Malaysian Education Reform
• Ban Child Marriages Totally, G25 Urges Mais
• Indonesia to hand over Jho Low's yacht to Malaysia
• Umno's 'Christians taking over' claim undermines king, says Mujahid
• Duterte Says May Deploy Warship to Save Filipino Captives in Libya
• Philippines Nabs Cleric over Bomb Claimed by Islamic State
--------
Africa
• Being Non-Muslim Won't Hurt My Job, Ogego Says
• Kenya, Tanzania Mark Bombings Which Introduced Al- Qaeda
• Boko Haram attack leaves 5 dead in Nigerian village
--------
North America
• Trump's Muslim Ban Is Forcing Some Americans to Move to War-Torn Countries to Reunite With Their Families
• US warns Europe: End business with Iran or face harsh sanctions
• US can't pressure China to pursue its policy of sanctions on Iran: Analyst
• US accusing Iran of terror plots to make Europe cut ties with Tehran: Report
--------
Europe
• UK's Youngest ISIS Female Terrorist Plotter Jailed For Life
• Corbyn Rejects Criticism Of Anti-Semitism Code, Says It Will Stay
• For exiled novelist, Turkey 'like 1930s Germany'
Compiled by New Age Islam News Bureau
URL: https://www.newageislam.com/islamic-world-news/kolkata-locals-back-doctors-were/d/116041
--------
Kolkata: Locals Back Doctors Who Were Asked To Move Out For Being Muslim
Aug 5, 2018
KOLKATA: The four city doctors, who were asked to vacate a rented flat at Kudghat because of their religious identity, will continue to stay there.
Sanghati Abhijan — the volunteer group which came forward to help Aftab Alam and his friends — has sorted the issue by talking to locals, their landlord and the family members of the neighbour who opposed their stay.
When TOI spoke to the neighbour, he said it was a "small" matter and those young doctors, being immature, made a big issue
out of it. "I didn't make any communal statement, nor did I intend to hurt anyone's religious sentiment. It was only for the security of the apartment that I wanted their ID cards." However, he added that he was against the stay of four bachelors in and
the same would be discussed at the evening meeting so that further misunderstandings do not occur. Since Thursday, TOI has been flooded with calls from people, who want to help resolve the issue.
Alam said, "We will stay as other neighbours have stood by us. Also, our landlord did not have any problem so we have decided not to shift.
https://timesofindia.indiatimes.com/india/locals-back-doctors-who-were-asked-to-move-out-for-being-muslim/articleshow/65275807.cms
--------
Imran ready to negotiate Iran-Saudi Arabia peace
AUGUST 5, 2018
Pakistan is ready to play a constructive role for resolution of differences between Iran and Saudi Arabia, Pakistan Tehreek-i-Insaf Chairman and prime minister-in-waiting Imran Khan told Iranian Ambassador Mehdi Honardoost on Saturday.
The Iranian envoy, who called on PTI chairman at his Bani Gala residence to congratulate him on his party's victory in the 2018 general elections, also conveyed to Imran Khan a congratulatory message from Iran's President Hassan Rouhani, a press release issued by the party said.
Sunni powerhouse Saudi Arabia and predominant Shia power Iran have a long history of rivalry based as much in geostrategic interests as religious differences. The two energy-rich powers have for decades stood on opposing sides of conflicts in the Middle East.
While observing that the situation in the region is highly sensitive, Honardoost said, "Iran will welcome Pakistan's suggestions to ensure peace in the region." Iran is ready to cooperate with Pakistan in regional development and is also keen to expand trade with Pakistan, he told Khan.
The Iranian envoy expressed his country's desire to negotiate with Pakistan the Iran-Pakistan gas pipeline project, adding that the pipeline could change the future of Pakistan, according to the PTI statement.
Imran Khan thanked the Iranian envoy for the wishes conveyed by his government, and reiterated Pakistan's desire to build strong relations with all regional countries including Iran, the press release said. "Iranian government's role in protecting their country's integrity is commendable," he said.
Imran Khan told the envoy that he wished to visit Iran and see the historical sites there. PTI leaders Shah Mehmood Qureshi, Shireen Mazari and Naeemul Haq were also present at the meeting.
https://dailytimes.com.pk/278417/imran-ready-to-negotiate-iran-saudi-arabia-peace/
--------
Iran Protesters Attack Religious School In Province Near Tehran
4 August 2018
Iran protesters have attacked a religious school in Karaj province near Tehran, the conservative Fars news agency reported on Saturday.
"At 9 pm (1530 GMT on Friday) they attacked the school and tried to break the doors down and burn things," Fars quoted the head of the school in the town of Ishtehad, Hojatoleslam Hindiani, as saying.
It gave only his clerical rank -- Hojatoleslam -- not his given name.
"They were about 500 people and they chanted against the system but they were dispersed by the riot police and some have been arrested," Hindiani said.
Iranian authorities have barely mentioned days of protests in the cities of Isfahan, Shiraz, Mashhad and Tehran, driven by concerns over the economy as well as wider anger at the political system.
During past unrest, conservative outlets have focused on attacks against sensitive symbols such as religious buildings as a way of tarnishing the protests.
Videos on social media in recent days have shown people chanting "Death to the dictator."
Describing the attack on Friday evening, Hindiani said: "These people came with rocks and broke the sign and all the windows of the prayer house and they were chanting against the system."
Foreign media are barred from observing or filming "unauthorized" protests.
The videos on social media suggest protests in recent days are far from the scale of the unrest seen in December and January, when at least 25 people were killed in demonstrations that spread to dozens of towns and cities.
The Iranian rial has dropped to a record low amid growing concerns about renewed American sanctions, due to kick in on Monday.
https://english.alarabiya.net/en/News/middle-east/2018/08/04/Iran-protesters-attack-religious-school.html
--------
115 students injured in clashes as Bangladesh teen protests turn violent
August 04, 2018
DHAKA: More than 100 people were injured in Bangladesh Saturday after police fired rubber bullets at students protesters, a doctor and witnesses said, a major escalation in a stand-off between the government and demonstrators.
For the last week students have brought parts of the capital Dhaka to a standstill with a protest against poor road safety after two teenagers were killed by a speeding bus.
Bangladesh's transport sector is widely seen as corrupt, unregulated and dangerous, and as news of the teenagers´ deaths spread rapidly on social media they became a catalyst for an outpouring of anger against the government.
On Saturday the protests took a violent turn in Dhaka´s Jigatala neighborhood.
Witnesses said police fired rubber bullets and tear gas at demonstrators and that alleged pro-government activists attacked youngsters, including some of those rushing to nearby hospitals for treatment.
Police denied they fired rubber bullets or tear gas at the protesters.
"It's not true. Nothing happened at Jigatola," Dhaka police spokesman Masudur Rahman told AFP.
However hospital staff said dozens of people had been injured, some seriously.
"We have treated more than 115 injured students so far since the afternoon," emergency ward doctor Abdus Shabbir told AFP, adding some sported injuries consistent with rubber bullets.
"A few of them were in very bad condition," he added.
A protester said students were holding protests peacefully on the road when they were attacked.
"We all are feeling threatened here. We wanted a peaceful protest. We don´t want any trouble occurring around here. Yet rubber bullets were shot at our brothers," Sabbir Hossain, a student, said.
Road transport minister Obaidul Quader rejected allegations that party cadres from the ruling Awami League party had attacked the students.
He said the party office which was close to Jigatala was vandalised by some unidentified youths, dressed in school uniforms, moments before the clashes erupted.
An AFP photographer at the scene of one the clashes saw students and unidentified young adult men fighting with sticks and rocks, leaving several wounded.
Growing discontent
The government of Prime Minister Sheikh Hasina has ruled Bangladesh since 2009, but in recent months it has been shaken by mass protests demanding an end to a decades-old system of discriminatory civil service recruitment.
Several powerful ministers have pleaded with students to return to their classes, amid worries the unprecedented teen outrage could turn into widespread anti-government protests ahead of general elections due later this year.
But their pleas have had little effect.
Earlier on Saturday thousands of students wearing school uniforms defied rain to block major intersections in the capital for the seventh consecutive day.
Teens as young as 13 were seen on Dhaka´s notoriously clogged roadways checking whether cars and buses had valid licenses and were in a roadworthy condition.
"We won't leave the roads until our demands are met. We want safe roads and safe drivers," said protester Al Miran.
An insensitive comment by Shajahan Khan, a government minister with ties to powerful transport unions, only poured oil onto the fire earlier in the week.
Khan questioned why there was such an uproar over the two Dhaka children but no reaction when 33 people were killed in an Indian bus crash the day before.
There have been widespread social media demands for the minister´s resignation despite his subsequent apology.
The education ministry shut down high schools on Thursday in an effort to quell unrest, promising students their demands for road safety reforms would be considered.
Dhaka suffers from daily gridlock but congestion has been exacerbated by blockades set up across the city since Sunday.
The embassies of the US and Australia warned of significant delays and disruptions as a result of the protests across Dhaka and elsewhere in the country.
https://nation.com.pk/04-Aug-2018/115-students-injured-in-clashes-as-bangladesh-teen-protests-turn-violent
--------
India
BJP leader says equal number of Hindus and Muslims left out of NRC list
Aug 05, 2018
A senior BJP leader in Assam has claimed that an equal number of Muslims and Hindus may have been left out of the draft of National Register of Citizens published on July 30. The draft excluded 40,07,707 people.
"It is my idea that an equal number of Hindus and Muslims have been left out," said Kabindra Purkayastha, the former Union minister of state said on Saturday. "It is propaganda that there are more Muslims or more Hindus."
Purkayastha gave no explanation for his 50-50 theory. There has been no official break up of religious affiliations of those left out of the NRC with Prateek Hajela, the state coordinator of NRC going on record to say that the secretariat does not have a religious data of applicants. "We did not ask for it," Hajela said.
Assam has 61.4 percent Hindus and 34.2 percent Muslims according to the 2011 census.
Purkayastha is confident that a majority of the 40 lakh people not named in the NRC will eventually make it to the list.
"Even in these 40 lakh, at least 25 lakh will get in during the claims and objections exercise," said the three-time former MP from Silchar who is credited with laying the foundations of the BJP in Assam.
He said there are clear directions from the BJP to its workers to ensure that all those people who have been left out of the draft are provided assistance.
Purkayastha said while several documents have been accepted by NRC officials in some places, they were ejected at others.
"Refugee certificates were accepted in some places while rejected in many," he said adding how further consideration is needed. Bengali-speaking Barak Valley in Assam has a sizeable population of Hindus, a section of which has been traditional supporters of the BJP even before the party found its feet in other parts of the state.
Asked if BJP president Amit Shah was right when he said all those who are not part of the draft are illegal immigrants, Purkayastha said, "It is a misunderstanding since Shah also said it is not a final list."
https://www.hindustantimes.com/india-news/bjp-leader-says-equal-number-of-hindus-and-muslims-left-out-of-nrc-list/story-komuH1DtoKA9hRFVpaxVaK.html
--------
J-K shutdown over Article 35A kicks in today, govt suspends Amarnath Yatra
Aug 05, 2018
The ongoing Amarnath Yatra from Jammu to the cave shrine in the Kashmir Valley is being temporarily suspended as Kashmir readies for a two-day separatist-called shutdown ahead of the Supreme Court hearing a bunch of petitions challenging the validity of Article 35 A of the Constitution.
The protest shutdown was called to support Article 35A that gives special powers to the state legislature.
Separatist leaders Syed Ali Geelani, Mirwaiz Umar Farooq and Yasin Malik under the banner of Joint Resistance Leadership (JRL) had given the call for a shutdown on Sunday and Monday across the state. The strike call is being supported by organisations across the spectrum, which have threatened to launch a mass agitation if the article is removed by the court.
Authorities said the pilgrimage is being suspended on Sunday and Monday. According to the police, no pilgrim was allowed to move from the Bhagwati Nagar Yatri Niwas in Jammu.
Further, special check posts have been set up in Udhampur and Ramban to ensure that the movement of pilgrims does not take place on the Jammu-Srinagar highway which passes through these two districts.
However, pilgrims camped at the Baltal and Pahalgam base camps in the Valley will continue to perform the yatra, officials said. Over 2.71 lakh pilgrims have performed the pilgrimage this year since it opened on June 28.
Article 35A of the Constitution gives special rights to Jammu and Kashmir's permanent residents. It disallows people from outside the state from buying or owning immovable property there, settle permanently, or avail themselves of state-sponsored scholarship schemes. It also forbids the J&K government from hiring people who are non-permanent residents.
Four petitions — three clubbed with the main one filed by NGO We The Citizens — have challenged Article 35A's legality on the grounds that it was never presented before Parliament and was implemented on the President's orders in 1954. Under the Constitution (Application to Jammu and Kashmir) Order 1954, the provision appears as an "appendix" in the Constitution and not an amendment.
The Jammu and Kashmir Bar Association has already filed an intervention application in the Supreme Court to defend the constitutional provision that allows the state legislature to define 'permanent residents' and confers special rights on them. The bar's team is already in New Delhi.
Full report at:
https://www.hindustantimes.com/india-news/j-k-shutdown-over-article-35a-kicks-in-today-govt-suspends-amarnath-yatra/story-unt5yZqaZ2fjnmPRUqc51J.html
--------
J-K: Relatives of man shot dead at Farooq Abdullah's Jammu house stage protests
August 4, 2018
Dozens of relatives of the youth, who was shot dead by security forces after he forcibly drove into the residence of former chief ministers Farooq Abdullah and his son Omar today, staged protests demanding an inquiry into the incident, officials said.
Syeed Murfad Shah (25), a resident of Chinore locality in the outskirts of Jammu, was killed when he drove his XUV into the heavily fortified residence of the former chief minister at Bhatindi this morning before being shot dead by security forces, according to witnesses.
On hearing about the incident, Shah's father and other family members reached the spot and demanded a probe into the incident, officials added.
After the body was taken to the Government Medical College hospital for postmortem, about 200 acquaintances of the deceased, originally hailing from Mendhar tehsil of Poonch district, assembled there.
They prevented doctors from performing an autopsy for several hours and asked why an "innocent unarmed person" was killed, officials said. While the postmortem of the deceased was underway at the hospital, another large group of protesters blocked the main road at Chinore, they said.
Senior police and civil officials were at the spot and efforts were on to persuade the protesters to lift the blockade on the Jammu-Bantalab road. The agitated protesters burnt tyres and raised slogans against security forces and the national media for "misleading reporting", the officials said.
"An intruder gate-crashed into the house of Abdullah, had a scuffle with security personnel and attempted to snatch a rifle from an officer (before he was killed)," Inspector General of Police (Jammu) S D Singh Jamwal told reporters.
Full report at:
https://indianexpress.com/article/india/j-k-relatives-of-man-shot-dead-at-farooq-abdullahs-jammu-house-stage-protests-5291843/
--------
Pakistan
Imran Khan may take oath as Pakistan PM on August 14
Aug 4, 2018
ISLAMABAD: Imran Khan, who is set to become Pakistan's new Prime Minister, may take oath of the office on the country's Independence Day on August 14, a media report said today.
Khan's Pakistan Tehreek-i-Insaf (PTI) emerged as the single largest party in the July 25 elections, winning 116 National Assembly seats out of the contested 270 parliamentary constituencies.
Earlier on July 30, Khan, 65, had expressed his desire to take the oath of Prime Minister on August 11, as his party announced that it had acquired enough seats in the lower house through coalition talks to form a majority government.
"It is my and caretaker prime minister retired Justice Nasirul Mulk's desire that the oath-taking of the new prime minister should take place on August 14," caretaker law minister Ali Zafar told Dawn yesterday.
Unveiling a tentative schedule of the National Assembly formation, the minister said the Election Commission of Pakistan (ECP) was already on board as it was engaged in making necessary arrangements required to hold the prime minister's election on the desired date.
Zafar said a fresh session of the assembly could be called on August on 11 or 12.
"If it is held on August 11, the election of the prime minister can take place on Augst 14 and on the same day President Mamnoon Hussain can administer the oath to the new prime minister," he added.
Zafar elaborated that if the National Assembly (NA) session was held on August 11, the same day the new members would be administered the oath.
He said that after printing of ballot papers for the elections of the NA speaker and deputy speaker, their elections could take place on August 13 and the next day the election of the prime minister could be held.
However, if the National Assembly session was called on August 12, the election of the prime minister would be held on August 15, he added.
"We wanted that the new prime minister should take his oath on Independence Day so that the new government can start its functioning with full national fervour and commitment to bring progress to the country," he said.
Meanwhile, successful candidates of the July 25 general elections will have to submit returns of their election expenses todaythe deadline fixed by the ECP for filing of returns- and a notification will be issued the following day.
Three days will be given to independent candidates if they want to join any party. Similarly, three days will be spent on seats reserved for women and minorities.
The caretaker law minister told the media that as per the Constitution, the first session of the National Assembly would have to be summoned within 21 days after the general election. He said it was necessary to fulfil this obligation by August 15.
After election, the newly-elected prime minister would take the oath and the job of the caretaker Prime Minister and his cabinet would be over and power would be transferred to the new government under constitutional provisions.
The minister said the ECP was completing legal formalities, including consolidation of elections results, and collection of returns of election expenditures from the wining candidates.
The ECP after giving time to independent candidates to join a political party or stay independent would issue parties position in the assembly, Zafar said, adding that after that the comisssion would issue a list of winning candidates on reserved seat for women and minorities.
https://timesofindia.indiatimes.com/world/pakistan/imran-khan-may-take-oath-as-pakistan-pm-on-august-14/articleshow/65271050.cms
--------
Fazl reluctant to try his luck in Bannu by-poll
BY HAMID KHAN WAZIR
August 5, 2018
ISLAMABAD: Muttahida Majlis-e-Amal (MMA) President Maulana Fazlur Rehman is reportedly reluctant over trying his luck in Bannu by-poll again as a defeat in the election again would be a major embarrassment for Fazl and MMA and may threaten his political career.
The 2018 general elections had proved a nightmare for Maulana Fazlur Rehman as he failed to land in the National Assembly after suffering a crushing defeat on both of his home constituencies at the hands of Pakistan Tehreek-e-Insaf (PTI) opponents.
Known as a smart and shrewd politician, Fazl remained part of almost every government, however, this time around, the situation changed for him altogether after the PTI emerged as a leading party in the country to form government in the center, Punjab and Khyber-Pakhtunkhwa (KP), besides a coalition government in Balochistan.
Though all political parties voiced concerns over the election results, Fazlur Rehman, who is also the chief of Jamiat Ulema-e-Islam Fazl (JUI-F), was the first leader to declare the election 'rigged' and summoned an All Parties Conference (APC) instantly.
Fazl, who remained a minister for Kashmir Affairs for over a decade and enjoyed enormous perks and privileges but did nothing for the public interest, has a chance to try his luck again to reach the the parliament by contesting in the by-poll from NA-35 Bannu. The seat will be open to contest after PTI will vacate it since he has decided to keep his Mianwali seat.
However, some people are suggesting that if he loses again, it would bring further embarrassment to the party and to him.
Rehmat Mehsud, a senior journalist, told Pakistan Today that Fazlur Rehman revived the MMA and got a leading role in the religious parties' alliance, however, his dream to secure considerable seats could not materialise mainly because of his self-centered approach.
He said that the MMA president fielded his family, two brothers and a son, on various constituencies in Dera Ismail Khan (DIK) and Tank, which proved counter-productive. Besides that, he did nothing despite being part of many governments as the people in Tank don't have clean drinking water in their area.
To a question, he said that the MMA president can contest the by-election from NA-35 only after getting full assurance of his success. Otherwise, he will not be up for contesting again because if he faces defeat again, it would bury his politics and badly damage his narrative of rigging.
Sources told Pakistan Today that Akram Khan Durrani offered the JUI-F chief to contest election from NA-35 but the party is still hesitant to field him from there because a defeat could end his political career.
They said that in the APC's charter of demands, it was also included that all the parties would support a runner-up candidate and no other party in the alliance would field their candidate in by-polls.
Sources also said that Fazlur Rehman played an important role in inclusion of this demand as on a number of seats, his party remained a runner-up, which could benefit MMA.
Full report at:
https://www.pakistantoday.com.pk/2018/08/04/fazl-reluctant-to-try-his-luck-in-bannu-by-poll/
--------
$150m sanctioned by US is for Pak-Afghan border security
BY AADIL AAMIR
August 5, 2018
LAHORE: The $150 million in the United States (US) Department of Defence (DOD) funding authorised for the financial year 2019 is dedicated to Pakistan's border security operations, a US embassy spokesperson said on Saturday.
"The $150 million in DOD funding is meant for Pakistan's border security operations," the spokesman told Pakistan Today.
Earlier on Thursday, the US Congress had approved a $716.3 billion Defence Authorisation Bill (DAB) but only $150 million was meant for Islamabad.
This marks a sharp decline in security aid as it had originally varied from $750 million to $1 billion per year.
Financial assistance conditions pertaining to the Haqqani Network and the Lashkar-e-Taiba (LeT) were also relaxed by the US.
The spokesperson also said, "The funding is a clear sign of our commitment to improved security for both Pakistan and Afghanistan and we hope that Pakistan takes the necessary steps to enable the disbursement of this assistance."
"We consistently engage with both civilian and military Pakistani officials at the highest levels in an effort to place our relationship with Pakistan on more solid and sustainable footing to advance our mutual interests," the US embassy spokesperson explained.
"Pakistan and the US have a shared commitment to defeat all terrorist groups that threaten regional stability and to work together toward a peaceful future for Afghanistan," the spokesperson added.
Responding to a question regarding the easing of conditions associated with LeT and Hafiz Saeed is a move to get Pakistan to aid in the Afghan peace process, the spokesperson said, "No as no country has more to gain from a peaceful Afghanistan than Pakistan."
"We continue to call on Pakistan to arrest, expel, or bring the Taliban leadership to the negotiating table," the spokesperson explained.
On a question regarding whether the US is moving closer to accepting that Saeed is not a terrorist, the spokesperson asserted, "The Administration's position is unchanged and we continue to press Pakistan to target all terrorist groups without discrimination, including the Taliban, Haqqani Network and LeT."
"We stand ready to work with Pakistan to combat terrorist groups without distinction," the spokesperson further said.
This comes at a time when US Secretary of State Mike Pompeo on July 31 warned the International Monetary Fund (IMF) against aiding Pakistan.
Full report at:
https://www.pakistantoday.com.pk/2018/08/04/150m-sanctioned-by-us-is-for-pak-afghan-border-security/
--------
PTI's Punjab CM choice may take a few more days
August 05, 2018
LAHORE: Amid anxious moments for potential candidates for the Punjab chief minister and ministers, the Pakistan Tehreek-i-Insaf (PTI) has given yet another deadline – now ranging from one week to 10 days.
For the past one week, the candidates and their supporters have been lobbying for the coveted slots. The party leaders had earlier announced that the chief minister would be announced within 48 hours but now they say it may take more time as Imran Khan is busy in forming the federal government.
Party's central information secretary Fawad Chaudhry said the Punjab chief minister and cabinet members would be announced till Aug 11 or a maximum of 10 days from now onward. He also told the media persons that the party had got the support of 26 independent candidates and was in a strong position to form its government even after the party candidates relinquish the Punjab Assembly seats to retain the National Assembly seats.
Besides potential candidates' anxiety, the Punjab bureaucracy is also eagerly looking towards the PTI about its decision of appointing the chief minister in Punjab.
Full report at:
https://www.dawn.com/news/1424964/ptis-punjab-cm-choice-may-take-a-few-more-days
--------
PML-N finds it hard to win PPP support for forming Punjab govt
Zulqernain Tahir
August 05, 2018
LAHORE: The PML-N which has taken PPP on board for fielding joint candidates for the slots of prime minister, speaker and deputy speaker in the Centre (the National Assembly) is finding it hard to cut the same arrangement with the party in Punjab.
"We are in talks with the PML-N, but we have decided in principle to sit in the opposition in the Punjab Assembly," former prime minister Yousuf Raza Gilani of the PPP told Dawn on Saturday.
Mr Gilani is heading a six-member PPP committee formed to contact the other parties for formation of governments in the Centre and Punjab.
He said the PPP succeeded in persuading other parties to join to the parliament as its prime objective was to strengthen democracy. "We are not keen to form the government. Despite concerns over the transparency of the polls, we do not want to let democracy weaken. During talks with other parties like the PML-N we did not demand anything. In the Punjab Assembly, where the PPP has six seats, we did not prefer to go in some kind of arrangement with any party and decided to sit in the opposition," the former premier said.
Interestingly in the Centre, the PPP, the PML-N, the MMA, the ANP and other parties have decided to field candidates jointly for the slots of prime minister, speaker and deputy speaker of the National Assembly. According to the decision unanimously taken by these parties, the candidate for prime minister office will be from the PML-N, speaker from the PPP and deputy speaker from the MMA.
The PML-N, which is facing disappointment in wooing the independent MPAs-elect in Punjab, with no support of the PPP, has virtually bleak chances to compete with the Pakistan Tehreek-i-Insaf backed candidates for top slots of chief minister, speaker and deputy speaker. The PTI claims to have achieved the required number to form the government in Punjab.
Shahbaz Sharif, who over a week ago had called on the PPP's senior leader and former governor Makhdoom Ahmad Mahmood to seek his party's support in formation of government in Punjab, seems to have quit efforts in this regard. So far not a single independent MPA-elect out of 28 announced joining the PML-N, showing its complete failure in this respect.
Even the PML-N could not woo MPA-elect Jugnu Mohsin, wife of the Pakistan Cricket Board chairman Mr Najam Sethi, who was considered close to the Sharifs. In spite of Shahbaz Sharif holding a meeting with her last week to convince her to join his oarty, Ms Mohsin has preferred to stay independent.
The PML-Q on the other hand claims it is in contact with both the PPP and PML-N MPAs-elect to get vote for speaker and other slots. Chaudhry Pervaiz Elahi will be a joint PTI-PML-Q candidate for the slot of speaker in Punjab Assembly after Imran Khan asked him to stay in the province to handle the PML-N-led opposition.
"We will seek vote from both the PPP and the PML-N members for our speaker and other candidates. We are getting good response from them," PML-Q central information secretary Kamil Ali Agha told Dawn.
The PML-N also fears that Pervaiz Elahi may cause fissures in the party. Apparently in this backdrop Shahbaz had recently taken pledge from the PML-N MPAs-elect to stay united.
The PML-N still insists that it is not out of the race for Punjab. "We are in contact with many independents and the PPP members and have got good response from them. Our efforts are on to form government in Punjab," PML-N MPA-elect and former Punjab government spokesman, Malik Muhammad Ahmad said.
Full report at:
https://www.dawn.com/news/1424996/pml-n-finds-it-hard-to-win-ppp-support-for-forming-punjab-govt
--------
Khursheed Shah named opposition's candidate for NA speaker
Iftikhar A. Khan
August 05, 2018
ISLAMABAD: The Pakistan Peoples Party (PPP) on Saturday named Syed Khursheed Shah for the slot of National Assembly speaker. He will be the joint candidate of all the opposition parties.
PPP leader Mustafa Nawaz Khokhar said that party chairman Bilawal Bhutto-Zardari had approved Mr Shah's candidature.
Khursheed Shah served as leader of the opposition in the outgoing National Assembly.
The grand opposition alliance had decided at a multi-party conference (MPC) on Thursday to field joint candidates for the offices of prime minister, NA speaker and deputy speaker against the Pakistan Tehreek-i-Insaf (PTI) nominees Briefing reporters about the decisions taken by the MPC, PPP leader Sherry Rehman said that her party would nominate its candidate for the office of speaker, the Muttahida Majlis-i-Amal (MMA) for deputy speaker and the Pakistan Muslim League (PML-N) would contest for the office of prime minister.
Full report at:
https://www.dawn.com/news/1425065/khursheed-shah-named-oppositions-candidate-for-na-speaker
--------
PTI-MQM-P deal on federal coalition termed impracticable
August 05, 2018
KARACHI: The Pakis­tan Peoples Party (PPP) on Saturday reacted strongly over Muttahida Qaumi Movement-Pakistan's decision to support Pakis­tan Tehreek-i-Insaf (PTI) in forming its government at the Centre.
In a statement issued here on Saturday, senior PPP leader Taj Haider described the intended relationship as "imprac­tical", arguing that most of the nine points of the MQM-P's agreement with the PTI fell in the ambit of the provincial (Sindh) govern­ment. It cited the relevant provisions of the 18th constitutional amendment to substantiate its claim.
Former PPP senator Taj Haider wondered what made MQM-P leaders go for joining hands with a party which they believed had stolen its mandate in Karachi in the recent general elections.
He was of the view that the agreement between the two sides was prepared and signed in haste and raised key questions about its practic­ability and im­plementa­tion.
"Setting up universities, water supply for Karachi citizens and other points do not fall within the domain of the federal government," said Mr Haider, adding: "If they [MQM-P] are serious in the implementation of these points, then they have to talk to the PPP government in Sindh".
The PPP leader said it was interesting to note that one signatory of the agreement on establishing universities in Sindh cities had deprived youngsters of books and armed them with guns while the other one failed to set up any reputable educational institu­tion during its five-year term in Khyber Pakhtunkhwa.
Questioning the deal — which says that recom­mendations of the Council of Common Interests (CCI) on Karachi's population census would be implemen­ted while the PTI would also favour a petition filed in the Supreme Court with regard to local bodies system in Sindh — Mr Haider said that it was not Karachi alone which was deprived of its due rights through census, pointing out that there were other cities of the province as well which had suffered due to the census results.
Full report at:
https://www.dawn.com/news/1424920/pti-mqm-p-deal-on-federal-coalition-termed-impracticable
--------
Suspect behind torching of Diamer schools killed in search operation: police
August 05, 2018
The prime suspect believed responsible for the torching of 14 girls' schools over a period of two days in Gilgit-Baltistan's (GB) Diamer district was killed during a search operation in the Tanger area on Sunday, Diamer Police Spokesperson Muhammad Wakeel told Dawn.
Shafiq ─ who has no known association with any organised militant or terrorist outfits, but is referred to as a 'militant' and 'militant commander' by police officials ─ was the prime suspect behind the brazen arson attacks targeting girls' schools in the Chilas, Darel and Tanger tehsils of Diamer district.
Police began conducted raids in various parts of Diamer last night to track down those responsible for the arson attacks. GB Spokesperson Faizullah Faraq said that 10-12 police parties were involved in the operations.
A police constable was killed and another wounded in a gun battle with armed suspects during a late night raid on Saturday in Tanger. Faraq on Sunday said that 30 people had been arrested during search operations so far.
Police sources said that locals were also taking part in the search operations, and that most 'militants' in the area are locals.
Muhammad Wakeel said that the 'militants' in Tanger were attempting to flee the area but locals surrounded them.
Police sources added that a civilian was injured in an exchange of fire between police and the 'militants'. At least three to four others were also injured during the operations.
Meanwhile, Deputy Inspector General (DIG) Gohar Nafees said that a suicide jacket, grenades and an array of arms were recovered from a suspected terrorist's house in Chilas.
DIG Nafees said a heavy contingent of security forces had been deployed in Darel, and that the search operation would continue in Diamer until "terrorism was eliminated".
During a meeting on Saturday of GB ministers from Diamer, the home secretary, IG Police, government spokesman, district administration, intelligence and law enforcement agencies officials and elders of the district in Chilas, it was decided that the search operation would be extended, and that locals had assured the administration of their cooperation with police.
Sources privy to the meeting had said that the names of 20 suspects had been given to the local jirga with the demand for their immediate surrender.
The police later submitted to the chief minister an initial report linking the latest episodes of school torchings with past attacks on girls' schools in the area.
The report stated the incident was the continuation of the past incidents in which girls' schools had been attacked with an objective to bar them from getting education.
In 2004, half a dozen girls' schools had been torched in one go. Girls' schools were also targeted by extremist forces in 2011 and 2015.
Some traditions and extremism are main reasons for local resistance to female education in the district, which has the lowest literacy rate in Gilgit-Baltistan.
According to Alif Ailaan's Pakistan District Education Rankings 2017, GB received a score of 63.18, getting fourth position in the list of eight Pakistan territories with respect to quality of education.
However, Diamer is the lowest-ranking district in terms of quality of education, with a score of 36.37, and among the 10 lowest-ranking districts in Pakistan.
There are 244 government schools in the district, about 83 per cent of which are primary level, 10.6pc middle schools and 6pc high schools. There are no higher secondary schools in the district. Of the government schools, 156 are for boys and 88 are for girls, according to Alif Ailaan.
Full report at:
https://www.dawn.com/news/1425091/suspect-behind-torching-of-diamer-schools-killed-in-search-operation-police
--------
LHC orders to halt Imran's NA-131 victory notification
August 5, 2018
LAHORE: The Lahore High Court (LHC) on Saturday ordered a recount of votes in NA-131, the seat won by Pakistan Tehreek-e-Insaf (PTI) Chairman Imran Khan, while halting the Election Commission of Pakistan (ECP) from notifying the victory through a notification.
Justice Mamoonur Rasheed announced the verdict on a petition filed by Pakistan Muslim League-Nawaz (PML-N) leader Khawaja Saad Rafique who claimed the recently held polls were "selection not election".
Saad, a former railways minister, also criticised Imran's statements over vote recount, saying the latter would support the idea only publicly but not in the court.
The PML-N leader had challenged his opponent's victory in the closely contested NA-131 Lahore 9 constituency. He maintained that the presiding officer deliberately rejected hundreds of votes.
Full report at:
https://www.pakistantoday.com.pk/2018/08/04/lhc-orders-to-halt-imrans-na-131-victory-notification/
--------
Mideast
Israel Keeps 300 Palestinian Minors in Hard Conditions in Prison
Aug 04, 2018
The Arabic-language al-Quds al-Arabi newspaper wrote that boys are kept in Awfar jail in Western Ramallah and Majdou prison North of the occupied territories and girls are being imprisoned in Hasharoun jail North of the occupied territories.
Israel has detained 651 children in the first half of 2018, most of them freed after temporary arrests.
Israel has issued heavy judicial sentences against 20 Palestinian children in the past 3 years, including Ahmed al-Manaserah who was sentenced to 9.5 years in prison.
Israeli treatment of Palestinians in military detention has become a major area of concern for the international community. More than 200 Palestinians have lost their lives in Israeli prisons since 1967 as a result of torture, lack of medical care and gunshot wounds, Palestinian human rights organizations announced in late February, as seven were shot, 72 were tortured to death and 59 lost their lives due to lack of medical care.
The statement highlighted that Palestinians in Israeli prisons were being subjected to inhumane treatment, including physical and psychological torture. Some 60 percent of the prisoners have suffered "brutal physical assaults."
The statement also urged U.N. Secretary-General Antonio Guterres to launch a special committee to probe Palestinian deaths in Israeli prisons. According to Palestinian statistics, some 6,400 Palestinians are currently being held in Israeli prisons, including roughly 500 in administrative detention.
http://en.farsnews.com/newstext.aspx?nn=13970513000945
--------
50 Houthis killed in battles in Yemen's province of Al-Jouf
5 August 2018
In the past two days, the Yemeni army has managed to liberate a number of important sites in the areas of Sada and Malhan in the Directorate of Al-Musloub in Al-Jouf governorate, after heavy fighting in which Houthi militias suffered heavy losses in lives and equipment, according to Al Arabiya.net.
According to a Yemeni military source, more than 50 Houthis were killed in these battles, in addition to dozens of wounded and prisoners, in addition to losses in combat equipment, including the destruction of three crews and armored vehicles.
Fighting continued on several fronts in Al-Jouf province amid a major collapse in the ranks of the militias and mass exodus, leaving dozens dead and wounded, the source said.
https://english.alarabiya.net/en/News/gulf/2018/08/05/50-Houthis-killed-in-battles-in-Yemen-s-province-of-Al-Jouf.html
--------
Israeli Druze rally against Jewish Nation Law in Tel Aviv
4 August 2018
Tens of thousands of Israeli Druze and their supporters rallied in central Tel Aviv Saturday to protest a new law they say makes them second-class citizens, an AFP reporter said.
The law, which passed last month and is part of Israel's so-called basic laws, a de facto constitution, proclaims the country the nation state of the Jewish people.
It makes no mention of equality or democracy, implying the country's Jewish character takes precedence, and speaks of Israel as the historic homeland of the Jews, who have a "unique" right to self-determination within its borders.
Arabs have strongly criticized the legislation, particularly those from Israel's 130,000-strong Druze community.
Druze, unlike other Arabs who may volunteer, are subject to compulsory service in the military or police alongside Jewish Israelis.
Holding colorful Druze flags, protestors at Saturday's demonstration chanted "equality".
"Despite our unlimited loyalty to the state, the state doesn't consider us equals," Israeli Druze spiritual leader Sheikh Muafak Tarif said in a speech.
Prime Minister Benjamin Netanyahu had conducted a series of meetings with the Israel's Druze leadership, telling them there was "nothing in this law that infringes on your rights as equal citizens of the state of Israel".
Full report at:
https://english.alarabiya.net/en/News/middle-east/2018/08/04/Israeli-Druze-rally-against-Jewish-Nation-Law-in-Tel-Aviv.html
--------
Erdogan sanctions US officials in tit-for-tat row over pastor
AUGUST 4, 2018
President Recep Tayyip Erdogan on Saturday said Turkey would impose sanctions on two US officials as retaliation for a similar move by Washington, hitting back in an unprecedented row between the NATO allies.
Turkey's holding of pastor Andrew Brunson on terror-related charges for almost two years has sparked one of the most intense crises between Washington and Ankara since the Turkish invasion of Cyprus in 1974.
But in his first comments on the dispute since Washington imposed the sanctions on Wednesday, Erdogan also appeared keen to ward off any further escalation by saying that neither side had an interest in a "lose-lose" scenario.
"Today I will give our friends instructions to freeze the assets in Turkey of the American justice and interior ministers, if they have any (such assets)," Erdogan said in a televised speech.
He did not specify to which members of the US administration he was referring.
The US attorney general is Jeff Sessions and while the United States does not have an interior ministry similar to Turkey, the Secretary of the Interior is Ryan Zinke and Secretary of the Department of Homeland Security is Kirstjen Nielsen.
– 'Intense diplomacy' –
Erdogan's announcement was a response to Washington's decision to impose sanctions on Turkish Interior Minister Suleyman Soylu and Justice Minister Abdulhamit Gul over Brunson's detention.
The sanctions freeze any property or assets on US soil held by the two ministers, and bar US citizens from doing business with them.
Turkish ministers have denied having any assets in the US and it is highly unlikely the American officials would have assets in Turkey. But analysts say the sanctions are still of critical importance.
"Although it is unlikely the sanctions will have much practical effect in either case, it is significant and unprecedented that two NATO allies have sanctioned members of each other's government," Amanda Sloat, a former State Department official and now a senior fellow at the Brookings Institution, told AFP.
The Turkish lira, which has plunged in value this year, has already reached the five to the dollar mark for the first time in history over the sanctions.
"There is a risk of more sanctions to come… which could hit more directly at the heart of Turkish government interests and which have the potential to cause a run on the lira," Anthony Skinner, director of Middle East and North Africa at risk management consultants Verisk Maplecroft, told AFP.
He said the "Achilles' heel" of Turkey's fragile economy was its exposure to foreign portfolio investments and credit.
And Erdogan appeared to indicate that he did not want the crisis to escalate further to full-scale economic sanctions.
"We don't want to be a party to lose-lose games. Moving political and judicial disputes into an economic dimension will be harmful for both sides," Erdogan said.
US Secretary of State Mike Pompeo, who discussed the issue with Turkish counterpart Mevlut Cavusoglu on Friday, said he was "hopeful" of progress in the "days and weeks to come".
Erdogan said diplomatic channels were working "very intensely" and added he thought "a significant part of the issues of discord can soon be left behind".
– 'High economic stakes' –
Brunson was moved to house arrest last week following nearly two years in jail on terror-related charges but the change only increased tensions.
President Donald Trump and his Vice President Mike Pence, who shares Brunson's evangelical Christian faith, have made his release and return back to his family in the United States a priority.
The US Treasury implemented the sanctions against the Turkish ministers under the 2016 Global Magnitsky Act named after Russian lawyer Sergei Magnitsky, who died in a Moscow jail, and which allows the US to sanction foreign officials implicated in rights abuses.
The dispute is just one of a long list of problems in relations between Ankara and Washington, including Turkey's cosy ties with Russia and the failure of the US to extradite the alleged mastermind of the 2016 failed coup Fethullah Gulen.
Two Turkish employees of US consulates in Turkey are also currently in jail on terror charges and another is under house arrest.
"Given the high economic stakes for Turkey, some kind of agreement is more likely than not," said Skinner. "Erdogan has an unrivalled track-record of playing with fire, but he too knows when he has tracked too far across the coals."
Full report at:
https://dailytimes.com.pk/278078/erdogan-sanctions-us-officials-in-tit-for-tat-row-over-pastor/
--------
Yemen rebels say willing to attend UN talks
August 05, 2018
SANAA : A member of the political wing of Yemen's Huthi rebels said Saturday the insurgents were willing to attend UN-brokered talks, although they had low expectations of a positive outcome.
Salim Meghles said the Ansarullah (Supporters of God) political wing is "not opposed to such consultations" which are aimed at "reaching a general framework for negotiations".
"We are not opposed to travelling to any neutral country to take part in such consultations," he told AFP.
The UN envoy to Yemen, Martin Griffiths, on Thursday told the Security Council that the United Nations will invite Yemen's warring sides for talks in Geneva on September 6 to discuss a framework for peace negotiations.
Meghles cast doubt over the expected meeting saying he did not sense "any serious or real stance by the aggressors towards reaching a political solution".
He was referring to the Saudi-led coalition that has intervened in Yemen since 2015 to restore the internationally recognised government to power, which has been driven out of the capital Sanaa by the rebels. A government official on Friday said the Saudi-backed government was ready to attend the Geneva talks.
The war in the impoverished country has left nearly 10,000 people dead and unleashed what the United Nations describes as the world's worst humanitarian crisis.
Full report at:
https://nation.com.pk/05-Aug-2018/yemen-rebels-say-willing-to-attend-un-talks
--------
Turkey's Erdogan to freeze assets of US justice, interior ministers
4 August 2018
President Recep Tayyip Erdogan on Saturday said he was asking Turkish authorities to freeze the assets in Turkey of the US ministers of "justice and interior", in response to Washington's sanctions on the detention of an American pastor.
"Today I will give our friends instructions to freeze the assets in Turkey of the American justice and interior ministers, if they have any (such assets)," Erdogan said in a televised speech, without specifying to which members of the administration he was referring.
https://english.alarabiya.net/en/News/middle-east/2018/08/04/Erdogan-asks-Turkish-authorities-to-freeze-assets-of-US-justice-interior-ministers.html
--------
Iran plans to open interests section in Saudi Arabia
Aug 5, 2018
Iran plans to open an interests section in Saudi Arabia, two years after the kingdom unilaterally broke off its diplomatic ties with the Islamic Republic.
"There have been advances made in the past two weeks, and I believe there are signs that the interests section will open and become operational," said Foreign Ministry spokesman Bahram Qassemi on Saturday.
Saudi Arabia cut its ties with Iran in early 2016 following angry rallies held in front of its diplomatic missions in the capital Tehran and the holy city of Mashhad against the kingdom's execution of senior Shia cleric Sheikh Nimr al-Nimr.
Switzerland has been representing Iranian interests in Saudi Arabia under an agreement reached with Bern eight months ago, Qassemi said, adding the interests section office would be located in the Swiss Embassy in Riyadh.
The office will deal with the issue of Iranian Hajj pilgrims, which has been the point of much contention between the two countries for years.
Iran held Saudi Arabia responsible for the death of thousands of Muslims during a stampede in 2015. Saudi Arabia claims nearly 770 people were killed in the incident, but Iranian officials say about 4,700 people, including more than 460 Iranians, lost their lives in the tragedy.
The incident came shortly after a huge construction crane collapsed into Mecca's Grand Mosque, killing more than 100 pilgrims, including some Iranians.
Iran did not send pilgrims for Hajj the next year on the grounds that Saudi Arabia had fallen short of ensuring guarantees for the safety of pilgrims.
Asked about possible rapprochement between Tehran and Riyadh, Qassemi said, "We have announced time and again that we are ready for negotiations with regional countries, even Saudi Arabia."
The official said the Islamic Republic has never rejected offers by third countries to mediate between Tehran and Riyadh.
Ever since breaking its ties with Iran, the kingdom has ramped up its negative rhetoric against the Islamic Republic over its role in the region.
Qassemi said, "We are not the ones to blame for what has or has not transpired in the region."
Full report at:
https://www.presstv.com/Detail/2018/08/05/570228/Iran-Saudi-Arabia-interests-section-Qassemi
--------
South Asia
Taliban's shadow military chief, 2 suicide bombers killed in Helmand
Aug 05 2018
The shadow district military commission chief of the Taliban and two suicide bombers were killed during an airstrike in southern Helmand province of Afghanistan.
According to the local officials, the top Taliban leader and two suicide bombers were killed in the vicinity of Greshk district.
A statement by the provincial government confirmed that an airstrike was carried out at around 2am local time on Saturday, leaving the Taliban leader and two suicide bombers dead.
The statement further added that the airstrike was carried out in Shoraki area of the district and the group's shadow military commission chief killed during the raid has been identified as Mullah Shafiullah.
According to the provincial government, at least nine other militants were also killed during the airstrike.
Another airstrike was also carried out in Bandi Barq area of the district leaving at least six militants dead, the provincial government added.
Uruzgan is among the relatively volatile provinces in South of Afghanistan where the anti-government armed militants are actively operating in its various districts and often carry out terrorist related activities.
https://www.khaama.com/talibans-shadow-military-chief-2-suicide-bombers-killed-in-helmand-05711/
--------
Top Taliban leaders among 57 killed, wounded in Kunar operations
Aug 04 2018
At least 57 Taliban militants including some of their top leaders were killed or wounded during the ongoing operations in eastern Kunar province of Afghanistan.
The 201st Silab Corps of the Afghan Military in the East said the militants were killed or wounded during the ongoing operations in Asmar and Ghaziabad districts
A statement by Silab Corps said the sixth phase of Qahr Silab-2 operations kicked off on Friday night and are being conducted with the help of the artillery and close air support.
The statement further added that 51 Taliban militants including three of their key leaders were killed and at least six others sustained critical injuries.
According to Silab, the senior Taliban leaders killed during the operations have been identified as Sultan Mohammad the shadow district military chief of the group for Asmar, the group's shadow district chief for Asmar Mawlavi Hazrat Ali, and the group's shadow district chief for Ghaziabad Mawlavi Imran Ghazi.
Full report at:
https://www.khaama.com/top-taliban-leaders-among-57-killed-wounded-in-kunar-operations-05704/
--------
Afghan forces, Taliban suffer casualties in Uruzgan clashes
Aug 04 2018
The Afghan forces and Taliban militants suffered casualties during the clashes in southern Uruzgan province of Afghanistan, the local security officials said Saturday.
Provincial police chief Mohammad Maruf Ahmadzai said a large number of Taliban militants launched a coordinated attack on security posts in Chinarto district late on Friday night.
He said the attack sparked heavy clashes and as a result at least eleven Taliban militants were killed.
Ahmadzai further added that three Afghan soldiers also lost their lives during the clashes and at least four others sustained injuries.
According to Ahmadzai, the majority of the Taliban militants were killed after coming under airstrikes which were called in amid heavy clashes.
The police chief of Uruzgan also added that the foreign forces based in Afghanistan provided close air support to the Afghan forces during the clashes.
The anti-government armed militant groups including Taliban militants have not commented regarding the report so far.
Full report at:
https://www.khaama.com/afghan-forces-taliban-suffer-casualties-in-uruzgan-clashes-05710/
--------
Death toll rises to 34 in Gardez city mosque bombing
Aug 04 2018
The death toll as a result of a coordinated suicide attack on a mosque in Gardez city has reached to at least 34 people, the local security officials said Saturday.
A spokesman for the provincial security commandment of Paktia Sardar Wali Tabasum confirmed the death toll and said a number of children are also among those killed or wounded.
Tabasum further added that the attack has left at least 76 people wounded including a number of children.
The provincial government had earlier said the death toll as a result of a coordinated suicide attack by the Burqa-clad suicide bombers has reached to at least 29 people.
According to statement released by the provincial government's media office, at least 81 people also sustained injuries in the attack.
The statement further added that the attack was carried out on Khwaja Hasan located in the 2nd police district of the city.
Full report at:
https://www.khaama.com/death-toll-rises-to-34-in-gardez-city-mosque-bombing-05709/
--------
Fawzia Koofi reacts at likely removal of her name from candidates list
Aug 05 2018
The Afghan lawmaker in the Lower House of the Parliament, Wolesi Jirga, Fawzia Koofi, reacted at the likely removal of her name from the list of the candidates for the upcoming parliamentary elections.
This comes as reports have emerged suggesting that a special committee in the Independent Election Commission has removed the names of at least 25 candidates, mainly having connections with the irresponsible armed individuals and involvements in other criminal activities.
Although the Independent Election Commission has not formally confirmed the removal of the names of 25 candidates from the list so far but Koofi says the step by the special committee has no legal basis.
She also added that the committee has made selective approach towards the removal of her from the list of the candidates.
According to the reports, Fawzia Koofi, Mujeeb Ur Rehman Samkanai, Shah Wazir Tara Khel, Sher Wali Ahmadzai, Bashir Qanat, and Gul Murad are among the candidates who names have been removed from the list.
Full report at:
https://www.khaama.com/fawzia-koofi-reacts-at-likely-removal-of-her-name-from-candidates-list-05712/
--------
Taliban militants suffer heavy casualties in Takhar clashes
Aug 04 2018
At least twenty one Taliban militants were killed or wounded during separate clashes with the Afghan National Defense and Security Forces in northeastern Takhar province of Afghanistan.
The 209th Shaheen Corps of the Afghan Military in the North said the latest clashes took place in the vicinity of Baharak district.
According to a statement released by Shaheen Corps, at least three Taliban militants were killed and at least five others sustained injuries during the clashes.
The statement further added that the clashes took place in Jat Gul Qeshlaq, Pika Tapa, and Pul Mohammad Alam areas of Baharak district.
In the meantime, 20th Pamir Division in a statement said at least six militants have been killed and seven others have sustained injuries during the operations and airstrike in Khwajah Ghar district.
No further details were given regarding the casualties of the National Defense and Security Forces during the clashes.
Takhar has been among the relatively calm provinces in northeastern parts of Afghanistan since the fall of the Taliban regime.
Full report at:
https://www.khaama.com/taliban-militants-suffer-heavy-casualties-in-takhar-clashes-05708/
--------
Arab World
Saudi hackathon seeks high-tech fixes to haj calamities
Aug 5, 2018
JEDDAH, Saudi Arabia: Fuelled by caffeine, pizza and adrenaline, sleepdeprived programmers in a marathon Saudi contest this week explored high-tech solutions to prevent a repeat of past calamities in the annual hajj pilgrimage.
In a cavernous hall in the Red Sea city of Jeddah, thousands of software professionals and students competed in the kingdom's first-ever hackathon, a coding festival ahead of the world's largest pilgrimage later this month.
The hajj, expected to draw more than two million pilgrims to Mecca this year, represents a key rite of passage for Muslims and a massive logistical challenge for Saudi authorities, with colossal crowds cramming into relatively small holy sites.
Launching headlong into 36 hours of software development, the participants from across the globe battled sleep deprivation to crowd source answers to a key question that has long vexed hajj organisers — how to avert future deadly disasters.
A group of five Saudi, Yemeni and Eritrean women, all in their 20s and covered head-to-toe in the Islamic niqab, hunched over their laptops to design an app for paramedics to speedily reach people in need of medical attention using geo-tracking technology.
If multiple emergencies arise at once, the women hoped their app would help prioritise the most pressing cases.
Two Pakistani professionals paired up with two East Asian students to develop a "virtual leash" application to locate relatives lost in the sea of humanity by using bluetooth wristbands.
Four Saudi men sought to design sensors for garbage bins that would alert cleaners when they are full to avert any hygiene scare.
And another group of Saudi women scrawled algorithms and programming codes on a whiteboard to design an app to help non-Arabic speakers translate instructions into multiple languages without an internet connection.
With nearly 3,000 programmers — who ate and slept at the venue — organisers said Saudi Arabia had broken the Guinness World Record for the largest number of participants at a hackathon.
While their solutions are still untested, the event, which ended on Friday and offered cash prizes of around two million riyals ($533,000), was billed as an invention marathon by organisers.
"We aim to upgrade the experience of hajj for all pilgrims from all over the world," said Nouf al-Rakan, chief executive of the Saudi Federation for Cyber Security and Programming, which organised the event.
"This (hackathon) will enrich that experience, will give us plenty of solutions and ideas that we can actually adapt and invest in," she told AFP.
https://timesofindia.indiatimes.com/world/middle-east/saudi-hackathon-seeks-high-tech-fixes-to-hajj-calamities/articleshow/65278125.cms
--------
Egyptian troops kill 52 militants in Sinai
August 05, 2018
CAIRO: Egypt says its security forces have killed at least 52 suspected militants in recent days in the restive northern Sinai Peninsula.
The military said in a statement Sunday that another 49 suspected militants have been arrested. It says it destroyed 26 hideouts and weapons depots, and dismantled 64 explosive devices.
The military says airstrikes destroyed 32 vehicles containing weapons and ammunition in the Western Desert and in the south.
It wasn't possible to independently confirm the claims as access to the northern Sinai is heavily restricted.
Full report at:
http://www.arabnews.com/node/1351431/middle-east
--------
ISIS kills 19-year-old Druze hostage from Syria's Sweida
5 August 2018
ISIS has executed one of dozens of Druze hostages abducted from Syria's southern province of Sweida last month, a Syrian news outlet and a monitor said Sunday.
The terrorist group killed the 19-year-old male student on Thursday after kidnapping more than 30 people, mostly women and children, from a village in Sweida during a deadly rampage on July 25, the head of the Sweida24 news website Nour Radwan said.
The Syrian Observatory for Human Rights, a Britain-based war monitor, said it was the first execution since the kidnappings.
https://english.alarabiya.net/en/News/middle-east/2018/08/05/ISIS-has-killed-a-hostage-from-Syria-s-Sweida-local-media-reports.html
--------
Ansarullah Attacks Saudi Airport in Assir
Aug 04, 2018
The Arabic-language website of Sputnik news agency quoted a Yemeni military source as saying that the country's air force has targeted the airport with a drone of Qassif 1 type.
Reports said the drone has bombed the airport, but did not reveal any further details on damage to the airport or any possible casualties.
In a relevant development in March, Yemen's military had also targeted King Khalid international airport in Riyadh and as well as Abha, Najran and Jizan regional airports with ballistic missiles.
Saudi Arabia has been striking Yemen since March 2015 to restore power to fugitive president Mansour Hadi, a close ally of Riyadh. The Saudi-led aggression has so far killed at least 17,000 Yemenis, including hundreds of women and children.
Despite Riyadh's claims that it is bombing the positions of the Ansarullah fighters, Saudi bombers are flattening residential areas and civilian infrastructures.
According to several reports, the Saudi-led air campaign against Yemen has driven the impoverished country towards humanitarian disaster, as Saudi Arabia's deadly campaign prevented the patients from travelling abroad for treatment and blocked the entry of medicine into the war-torn country.
Yemen is the world's largest humanitarian crisis with more than 22 million people in need and is seeing a spike in needs, fueled by ongoing conflict, a collapsing economy and diminished social services and livelihoods.
Full report at:
http://en.farsnews.com/newstext.aspx?nn=13970513000990
--------
Kurds: Manbij Agreement Disrupted by US-Turkey Tensions
Aug 04, 2018
Syria's al-Watan news website quoted a commander of Manbij Military Council as reporting that differences between the US and Turkey and sanctions imposed by Washington on Ankara officials have left negative impacts on the implementation of an agreement between the Kurds and the Americans over the town of Manbij.
Al-Watan further said that the regular joint patrols of the US and Turkish forces near Sajour river (a branch of the Euphrates River) have halted since US imposed sanctions on the Turkish Justice and Interior Ministers.
The joint patrols came to a halt by the Turkish side to show their anger over the US decision on imposing sanctions on Ankara officials, it added.
In the meantime, al-Manar TV reported that a convoy of the US military vehicles has been forwarded to the village of al-Sa'eidiyeh West of Manbij from regions on the Eastern Bank of the Euphrates River.
On Tuesday, the US Forces set up a monitoring checkpoint near the town of Manbij as American and Turkish troops continue occupying Northeastern Aleppo.
The US-led coalition forces set up a monitoring checkpoint near the village of al-Sayadah West of the town of Manbij.
Full report at:
http://en.farsnews.com/newstext.aspx?nn=13970513000936
--------
Turkish Army Suffers More Casualties in Kurdish Attack in Northern Syria
Aug 04, 2018
The Kurdish-language Hawar news quoted the Kurdish People's Protection Units (YPG) as reporting that a bomb, planted by the YPG went off on a road connecting Fafertin to Borj Heidar in Shirawa region, killing a number of Ankara-backed militants.
In the meantime, the YPG fighters detonated another bomb near a position of the Turkish soldiers in the village of Basoutala in Shirava region, killing a soldier and four militants of Firqa al-Hamza and injuring a Turkish army soldier and three more militants.
Also, the YPG carried out an ambush operation in the village of Kimar in Shirava, killing a Turkish soldier and three militants and wounding two others.
On Wednesday, Hawar quoted the YPG as reporting that a notorious field commander of Faylaq al-Sham, affiliated to the Turkish army was killed after a YPG sniper opened fire at him along a road to Jandaris region.
Hawar news further said that one of the bases of Ankara-backed Sultan Morad militants in Shera region came under the YPG fighters' attack that left two militants dead and another one injured.
Full report at:
http://en.farsnews.com/newstext.aspx?nn=13970513000694
--------
Terrorists Fail to Prevail over Syrian Army Positions in Hama Province
Aug 04, 2018
Tahrir al-Sham terrorists, deployed in the villages of al-Ziyara and al-Qarqour, launched an offensive on the army in al-Mashari'a North of al-Ghaab Plain in Western Hama, but their offensive was repelled by the army soldiers.
Terrorists suffered heavy casualties in the failed attacks.
In the meantime, the army's artillery and missile units shelled heavily terrorists' positions and movements in al-Ankavi and al-Qastoun regions in al-Ghaab Plain, in the village of al-Zaiyara and in the town of Jisr al-Shughour.
The artillery and missile fire also cut off the movements between terrorists' positions in al-Latamina, al-Araba'ein and Kafr Zita in Northern Hama and in Jisr al-Shughour and Badama in Western Idlib.
On Thursday, the army troops launched heavy artillery and missile attacks against the positions and moves of the terrorist groups in the towns of al-Latamineh and Kafr Zita and the adjacent areas as well as the villages of Hasraya, al-Zakat, Ma'arkabeh, al-Sayad, Tal al-Sakhar and al-Janaberah in Northern and Northwestern Hama in response to Jeish al-Izzah terrorists' missile strikes against Zalin military base in Northwestern Hama.
During the operations, several positions of the terrorists were destroyed and a large number of militants were killed and wounded.
Meantime, the Syrian army forces intensified missile and artillery attacks against Tahrir al-Sham and other terrorist groups' positions in Tal Wasit, al-Qarqour, al-Zayareh, al-Mashik and al-Sarmaniyeh in Western Idlib as well as the triangle of Western Jisr al-Shaqour-Northeastern Lattakia-Sahl al-Iqab.
Full report at:
http://en.farsnews.com/newstext.aspx?nn=13970513000622
--------
Russia confirms it sent Syria rebuilding proposal to US
Aug 4, 2018
Russia's Defense Ministry has confirmed it sent a letter to Chairman of the US Joint Chiefs of Staff Joseph Dunford last month with a proposal to cooperate on reconstructing Syria and repatriating refugees to the war-torn country.
The Russian army's chief of staff General Valery Gerasimov sent the letter to Dunford on July 19, saying Moscow was willing to cooperate with Washington in demining the Arab country and helping refugees return to their homes.
Reuters reported the letter on Friday, citing a US government memo.
"It is disappointing that the American side is unable to comply with the agreement on publicizing the content of contact only after both sides agree," Russia's Defense Ministry said in a statement on Saturday.
In the letter, Gerasimov said Moscow was ready to "work with the Syrian authorities to provide security guarantees to refugees in the Rukban camp in the US-controlled Al-Tanf area and to create conditions for their return to their homes."
Rukban situated within a 55 kilometers so-called de-confliction zone set up by the United States to ensure the safety of its military base close to the Iraqi-Syrian border.
"A proposal was also made to coordinate humanitarian de-mining, including in Raqqa, and other priority humanitarian issues," the Russian ministry said.
Addressing the UN Security Council last week, Russian Deputy Ambassador Dmitry Polyansky urged world powers to help Syria's economic recovery and the return of refugees as Damascus nears final victory over terrorist groups.
Polyansky said the "revival of the Syrian economy" was a "critical challenge," with Syria facing an acute shortage of construction material, heavy equipment and fuel to rebuild areas destroyed by war.
In July, Moscow also sent a proposal to Washington to jointly organize the return home of Syrian refugees from Jordan, Turkey, Lebanon and Egypt that would involve international financial support.
Full report at:
https://www.presstv.com/Detail/2018/08/04/570189/Russia-Syria-reconstruction
--------
Southeast Asia
The fundamental need in Malaysian education reform
5 Aug 2018
THE Science and Technology Human Capital Report and Science Outlook 2015 by Akademi Science Malaysia show that we may soon have a serious shortage in science-related fields.
It seems more students are opting out of STEM (Science, Technology, Engineering and Mathematics) fields at secondary and tertiary levels.
Deputy Women, Family and Community Development Minister, Hannah Yeoh – quoting the National Council of Science, Research and Development which stated that the country needed about 500,000 scientists and engineers by 2030 – pointed out that we have only 70,000 registered engineers, seven times lower than the number required.
Meanwhile, the Education Ministry proposed black shoes, special number plates and a manual for noble and religious values to be read out at assemblies.
What is going on here? Why is there this serious disconnect between what the nation needs and what the so-called custodian and driver of the nation's education machinery?
I think it's time to talk about the fundamental elephant in the room that no one wants to talk about when it comes to education reform in Malaysia – the number of hours dedicated to religion (including its related subjects) and the influence of religion in Malaysian schools.
With 60% of our population being Malay-Muslims, what and how their children are educated from young is a concern to all Malaysians.
They are the backbone of the nation's future. Even a cursory look at the hours spent by these children in religious classes should alarm everyone, what more in the government's Sekolah Agama (religious schools).
Equally of concern, in Sekolah Kebangsaan (national schools), non-Muslim children would be attending alternative subjects that may not enhance their educational value, especially in Science, at the times Malay children attend their religious classes.
Educating children is a zero-sum game. There are only so many hours in a day. Children cannot be going to classes all day long.
They also need time for games and sports and other extracurricular activities that have nothing to do with classroom learning but more to do with expanding their experience of life, physical exertion and just relaxing.
Therefore, their "classroom time" is finite and each subject accommodated means another will have less of it.
A typical Malay-Muslim child in Year One at national school undergoes approximately four hours per week of religious studies (including related subjects such as Tasmik or Quran reading).
Another hour and a half per week go to Bahasa Arab.
Science, on the other hand, is only accorded an hour and a half per week. A Year Six pupil gets about four hours of religion and related subjects, with one hour of Arabic per week. Science gets two hours per week.
Let's be honest.
The only reason for Arabic being taught is due to its affiliation to the religion, otherwise the next language a Malay child should be learning is either Chinese, Tamil or even Spanish, the next most spoken language after English.
So basically from Year 1 to Year 6, the ratio is approximately on average two hours of Science versus five hours of religion per week.
That is the formative years of our children. What are we doing to our children? This is appalling.
We are basically indoctrinating our children in religion and neglecting basic sciences that will make them critical thinkers and progressive individual with real foundation.
In the same instance, our non-Malay children also are disadvantaged because they are not taught those sciences at the time Malay children are in their religious classes.
Let's get it clear.
The function of education is learning to think critically.
The function of religious studies is indoctrination to be obedient followers. We are regressing our Malay children and failing our Malaysian children overall.
Again, let us be honest. Our national education system today, save the vernacular schools, both from an administrative and teaching standpoints are overwhelmingly Malay.
And the Malay-centric system is overwhelmingly religious.
Our children are taught overtly and subliminally that being the "correct" Muslims is the only option.
The authoritative teacher and peer pressure brought upon the Muslim child today is overwhelming at school.
It is a norm to find daughters coming home in tears being bullied as a result of their or their parents' outward appearance, especially mothers, that do not conform to religious dogma.
The bullies in most circumstances are the Malay teachers themselves. As such, both parents and children conform to avoid the oppressive peer and teaching pressure.
In such an environment, the dichotomy between Muslim and non-Muslim children becomes pronounced.
Is it any wonder that our society right from school to their adulthood has become divided and suspicious, and in a significant portion, easily inflamed with hatred?
Today, race is not the main driver of such divisiveness, it is the religious influence over society starting from the schools.
We need to confront this issue head-on and not be cowed by the label of "sensitivity".
It is the sensitivity of not talking and confronting these issues that has made the bad become even worse. One cannot solve a problem if one cannot acknowledge and confront their existence in an honest manner.
We need honest conversations and political will from the Education Ministry to overcome this seemingly intractable virus that has infected our whole education system and administrative body.
In this aspect, I have not even touched about the watered-down content or substance of the school subjects, especially Science and History, as a result of the religious influence within our education system.
That will be for another day.
What we have is an almost unique Malaysian national education problem found nowhere else in a functioning democracy.
The result of at least 30 years of Barisan Nasional and PAS politics of using religion to buy the votes of the Malay electorate.
We require a head-on examination of the philosophy of Malaysian education which is today religious-centric instead of education-centric and STEM-centric as would be required by a 21st century modern nation that wants to be developed.
It also requires a total re-education of our teaching human resources – from one that has been religiously indoctrinated to one that will be accepting of all religious and non-religious peoples and societies as being equally good.
One where the teachers are focused on STEM education and ensuring critical thinking rather than being obsessed with religious pre-occupation of any sorts when they are in the national schools educating our children.
One where rational critical thought is the inspiration for good values rather than one that derives on religious books and doctrines as the minister has instead suggested.
We need to demand this of our Government, from our educators and our education system.
If these two fundamental aspects of our basic primary education cannot be rectified – a major increase in teaching/learning time for the sciences and a significant reduction in religious indoctrination and influence in national education – no amount of other esoteric and sophisticated policies and plans would be of any worth.
https://www.thestar.com.my/opinion/columnists/siti-kasim-thots/2018/08/05/the-fundamental-need-in-malaysian-education-reform-we-need-a-headon-examination-of-our-education-phi/
--------
Ban child marriages totally, G25 urges Mais
05 August 2018
KUALA LUMPUR, Aug 5 — G25 today urged the Selangor Islamic Religious Council (Mais) to close any loopholes that would give Shariah Courts the power to allow conditional child marriages.
In a statement, G25 commended Mais for their decision to raise the marriageable age to 18, but at the same time said that it still fell short of what civil society has been demanding, which is a total ban on child marriages.
"In this regard we are disappointed that the statement by Mais falls short of what we G25 and civil society, as well as the many voices around the world, aspires to, which is a total ban on child marriage," said the group of retired senior civil servants. "We take note with deep concern that the contents in the third paragraph of the statement seem to suggest that if the conditions are right, permission may be given for marriage below the age of 18," it added.
G25 said that it is "unacceptable" to have any condition where child marriage can be considered as right and legal.
"Whatever the rationale for this ancient practice or its religious origin, it cannot remain as legal," it added.
It stressed that marriage before the age of 18 is a fundamental human rights violation and "impacts every aspect of the child's life."
Mais said recently it would propose an amendment to the Islamic Family Law (Selangor) Enactment 2003 in the state legislative assembly as soon as possible to raise the minimum marriage age for Muslim women to 18 from the previous 16, making it uniform for both genders.
Mais did not mention about amending the requirement that would allow Shariah judges to give the green light to child marriages under certain circumstances, under Section 8 of the Enactment.
Full report at:
https://www.malaymail.com/s/1659271/ban-child-marriages-totally-g25-urges-mais
--------
Indonesia to hand over Jho Low's yacht to Malaysia
04 August 2018
KUALA LUMPUR, Aug 4 — Indonesia has agreed to hand over to Malaysia a US$250 million (RM1.02 billion) luxury yacht it impounded in Bali earlier this year in connection with a corruption scandal at a Malaysian state fund, Indonesian authorities said today. The Cayman Islands-flagged Equanimity was seized in February at the request of US authorities as part of a multi-billion dollar corruption investigation launched by the Department of Justice (DOJ) related to 1Malaysia Development Berhad (1MDB).
An Indonesian court ruling in April declared that the yacht was wrongfully impounded and should be released to its owners, but Indonesian police seized the boat again in July following a formal request for legal assistance from the United States.
Indonesian police said they would hand the yacht over to Malaysia but did not specify when.
"The yacht will be handed over at the border between Indonesia and Malaysia's waters," Daniel Silitonga, deputy director for economic and special crimes at the Indonesian national police force's Criminal Investigation Agency, told Reuters by text message. "We have to maintain the good relations between the two countries," he said, adding that the yacht is currently in waters close to the border of Singapore and the Indonesian island of Batam.
A spokesman for Malaysian Prime Minister Tun Dr Mahathir Mohamad's office said "some arrangements" were being made with Indonesian authorities regarding the yacht and that an announcement would be made when the details were finalised.
A source familiar with the negotiations told Reuters yesterday that Indonesia had agreed to hand the yacht to Malaysia following a personal request by Mahathir.
Mahathir, who previously served as prime minister from 1981-2003 and is now 93, visited Indonesia in June on his first official visit in the region since returning to power in May in a surprise election win over Datuk Seri Najib Razak.
1MDB, founded by Najib, is at the centre of money-laundering probes in at least six countries, including the United States, Switzerland and Singapore. A total of US$4.5 billion was misappropriated from 1MDB by high-level officials of the fund and their associates, according to US civil lawsuits filed by the DOJ. Najib has denied wrongdoing.
Malaysian financier Low Taek Jho is described in the lawsuits as a central figure in the scandal. The DOJ says Low used proceeds diverted from 1MDB to procure Equanimity, a 300-ft (91-m) yacht registered in the Cayman Islands.
The US$250 million vessel is said to have an interior clad in marble and gold leaf, a spa and sauna, a 20-meter swimming pool on deck, a movie theater, a lift and a helipad.
In an emailed statement, a spokesman for Low's legal team said the handing over of Equanimity to Malaysia was illegal and that it was politically motivated.
Full report at:
https://www.malaymail.com/s/1659176/indonesia-to-hand-over-jho-lows-yacht-to-malaysia
--------
Umno's 'Christians taking over' claim undermines king, says Mujahid
4 Aug 2018
UMNO'S Pasir Salak MP Tajuddin Abdul Rahman has undermined the Yang Di-Pertuan Agong with election campaign remarks that Christians have taken over Putrajaya, the minister in charge of religion said today.
Minister in the Prime Minister Mujahid Yusof Rawa said Tajuddin should remember that the king is the ruler of Malaysia and protector of Islam according to the Federal Constitution.
https://www.themalaysianinsight.com/s/84745
--------
Duterte Says May Deploy Warship to Save Filipino Captives in Libya
August 05, 2018
Manila. Philippine President Rodrigo Duterte said on Friday (03/08) that he might send the navy's most modern frigate to waters off Libya in a bid to save three Filipinos and a South Korean kidnapped last month from a water plant in the north African country.
South Korea has redirected a vessel taking part in anti-piracy operations in the Gulf of Aden to help in the release of the four men taken almost a month ago, according to news agency Yonhap.
Duterte said he might do the same and would raise the issue next week at a regular meeting of his top military and police commanders.
"If they start hurting those three Filipinos, I will bring a frigate there, I am not kidding," he said in a speech.
The men were taken near Ishwirif by an unknown armed group.
Video footage appeared on social media this week of the four men confirming their names and nationalities and appealing to their presidents for help.
Full report at:
http://jakartaglobe.id/international/duterte-says-may-deploy-warship-save-filipino-captives-libya/
--------
Philippines Nabs Cleric Over Bomb Claimed by Islamic State
August 04, 2018
Manila. The Philippine military said on Thursday (02/08) that it has arrested a Muslim cleric who knew in advance about a bomb that killed 11 people on Basilan Island in an attack earlier this week that raised fears of Islamic State involvement.
Acting on a tip off, scout rangers raided the home of Indalin Jainul, alias Ustadz Abdulgani, 12 hours after Tuesday's bombing in Lamitan town.
Informants told the army that the cleric, 58, knew the bomb would go off and had been helping foreign operatives reach Basilan from Malaysia, according to army spokesman Gerry Besana. A grenade was found at his home.
Jainul is charged with multiple murder and illegal possession of explosives. His family protested what they said were trumped-up charges. Islamic State claimed responsibility for the attack, which killed five militias, a soldier and four civilians, including a child, calling it a "martyrdom operation."
The driver of a van carrying the device also died. He was believed to have detonated the device when questioned at the checkpoint. Defense and military officials dismissed the Islamic State claim as propaganda, with Defense Secretary Delfin Lorenzana describing the claim as "just speculation." Basilan is a stronghold of the Abu Sayyaf, a group better known for its banditry and kidnapping, though it has pledged loyalty to Islamic State.
The attack came days after Philippine President Rodrigo Duterte made peace overtures towards the Abu Sayyaf, following his approval for an autonomy plan sought for decades by leaders of the region's Muslim minority.
Vehicle bombings are rare in the Philippines, despite decades of separatist and Islamist violence that have destabilized the southern Mindanao region.
Security experts say that although Islamic State has no known affiliate in the southern Philippines, it has ties with local extremists who have given refuge to foreign radicals, particularly from Malaysia and Indonesia.
Full report at:
http://jakartaglobe.id/international/philippines-nabs-cleric-bomb-claimed-islamic-state/
--------
Africa
Being non-Muslim won't hurt my job, Ogego says
Aug. 04, 2018
Saudi Arabia ambassador nominee Oginga Ogego was yesterday asked how he will carry on his diplomatic mission given he is not Muslim. Some cities in Saudi Arabia are a no-go zone for non-Muslims.
Queries over nepotism and failure to create jobs when he served as the Canadian ambassador popped up yesterday when he faced the National Assembly Defence and Foreign Relations Committee.
Ogego, 61, has a net-worth that stands at Sh145 million. In his latest posting, he has been Deputy Commandant-Civil at the National Defence College. Other than serving as an ambassador to Canada accredited to Cuba he has served in Washington accredited to Mexico. He has also been a South Sudan special envoy.
On being locked out of some Saudi Arabia cities, Ogego, a first non-Muslim to represent Kenya, acknowledged the religious complexities ahead of him . He said he has no personal opinion.
"Diplomatic relations are governed by the Vienna conventions which recognises different cultures and constitutional differences which include religious belief, providing a framework for easy interaction," Ogego said. He explained that his key role will be to promote Kenya's interest.
"Kenya won't be discriminated against. If I was to speak Arabic and a Muslim, it would have been an added advantage. But I am not." On nepotism and tribalism at the embassy, he said he had no control over the matter as most of the staff he found at the Kenyan embassy in Canada were there before his posting.
https://www.the-star.co.ke/news/2018/08/04/being-non-muslim-wont-hurt-my-job-ogego-says_c1797285
--------
Kenya, Tanzania mark bombings which introduced Al- Qaeda
AUGUST 5, 2018
Kenya and Tanzania on Tuesday mark 20 years since the devastating US embassy bombings that thrust Al-Qaeda onto the global stage and went on to shape how a generation thinks about personal security.
It was mid-morning on August 7, 1998, when the first massive blast hit the US embassy in downtown Nairobi, followed minutes later by an explosion in Dar es Salaam, killing a total of 224 people and injuring around 5,000 — almost all of them Africans.
With two monster bombs loaded onto the back of trucks and a trail of carnage in east Africa, the world was introduced to Osama bin Laden three years before the September 11 attacks in New York would make him a household name.
"It wasn't the first time Al-Qaeda had carried out an attack, but in terms of the spectacular, catastrophic nature of the incident, they really announced their entry onto the world stage," said Martin Kimani, head of Kenya's National Counter Terrorism Centre.
"When 9/11 happened it was shocking and surprising, but a precedent had been set here in east Africa."
According to "The Looming Tower", a Pulitzer Prize-winning book on the rise of Al-Qaeda, bin Laden gave various reasons for targeting the embassies, such as the deployment of American troops to Somalia and a US plan to partition Sudan, where he had lived for five years until being expelled in 1996.
However, author Lawrence Wright concluded that the main goal was to "lure the United States into Afghanistan".
– Boosting Al-Qaeda's image –
This aim was achieved, in the aftermath of the attacks, with the US launching strikes on Sudan and Afghanistan that were "largely seen as ineffective", said Daniel Byman, a counterterrorism expert at the Brookings Institution.
The strikes led the Taliban in Afghanistan to "embrace the group more closely", he said, and also boosted the image of a group seen as standing up to the United States in the Muslim world.
Byman said the attack was the first to show that Al-Qaeda "had tremendous reach and it can do sophisticated operations".
"It showed Al-Qaeda that international terrorism could generate tremendous attention, and not just attention from its adversaries… it was a form of advertising in a way."
The years since 9/11 have been shaped by the so-called "war on terror" and the proliferation of American military operations — notably in Afghanistan, Iraq and Pakistan.
At the same time, Al-Qaeda went on to inspire affiliates around the globe, carrying out attacks across the Middle East as well as from Bali to Madrid, London and Paris.
Islamist insurgencies have wreaked havoc in the Sahel, Nigeria and Somalia, and — on several bloody occasions since the 1998 bombings — Kenya.
"Kenya itself was not primarily the target but of course we ended up with the majority of fatalities and consequences of that attack," said Kimani.
"We continue to be on the frontlines of this struggle."
– 'Dealing with terrorism' –
Two years after Kenya sent troops across the border into Somalia to fight the Al-Qaeda-linked Al-Shabaab — which had been carrying out attacks on its soil — the group killed 67 people in an attack on the Westgate shopping centre in Nairobi in 2013.
However, Kimani said counterterrorism efforts by Kenya had proved successful, confining Shabaab attacks to remote areas in recent years as a result of new anti-terror legislation and improved co-ordination between different security forces.
He said efforts to build trust with communities where jihadists hide out, and understanding how recruitment happens to nip it in the bud has also been key.
"The threat is still there, believe me, but 20 years later we have become much better at dealing with terrorism than we used to be," he said.
"Globally terrorism has left a deep, deep social imprint. It has changed the way people think about security. Here in Kenya there are guards at malls and hotels and that is replicated in many parts of the world."
Kimani said governments need to focus on improving livelihoods and providing basic services to erase the "pockets of desperation" that prove so fruitful for recruitment.
In recent years, attention has swung away from Al-Qaeda to its rival Islamic State (IS) group which formed in 2013, captured swathes of territory and inspired numerous so-called "lone wolf" attacks from afar.
However, experts warn that while IS has since lost its territory and reach, Al-Qaeda has been quietly rebuilding.
Full report at:
https://dailytimes.com.pk/278611/kenya-tanzania-mark-bombings-which-introduced-al-qaeda/
--------
Boko Haram attack leaves 5 dead in Nigerian village
Aug 4, 2018
At least five people have been killed and a village razed in an attack by Boko Haram extremists in the northern Nigerian Borno state.
Arriving in 10 trucks, Boko Haram militants stormed the village of Gasarwa near the garrison town of Monguno late Friday, setting homes on fire.
"Five people were killed in the arson, they included two elderly men and three children," Babakura Kolo, a militia leader in the Borno state capital Maiduguri said.
Militia defending the village said they were outnumbered and outgunned.
Militia member Ibrahim Liman said the attackers watched food supplies and livestock burn in the fire but made no attempt to loot.
Boko Haram has intensified its militancy in recent weeks, especially against military targets in which dozens of troops were believed to have been killed or gone missing.
At the end of July, a group of extremists in five trucks sacked a military post in nearby Bunari village, with a military source claiming 11 troops were killed.
Full report at:
https://www.presstv.com/Detail/2018/08/04/570200/Nigeria-Boko-Haram-Attack
--------
North America
Trump's Muslim Ban Is Forcing Some Americans To Move To War-Torn Countries To Reunite With Their Families
04/08/2018
NEW YORK CITY ― Mayar opened her eyes slowly, trying to adjust to the light before closing them again. The 2-week-old girl was swaddled in a pink and white polka dot blanket. She crinkled her nose, yawned and within seconds fell back asleep.
Mayar, so small and so quiet, was born barely over 5 pounds. Since her birth, she has been surrounded by a contingent of women repeatedly peeking into her white bassinet to make sure she's OK.
"She has this thing where she keeps gagging out her milk. Because she's just so tiny, it doesn't fully digest well for her," said 25-year-old Sondos al-Silwi, Mayar's mother. "So we always have to constantly check up on her."
But one person unable to check up on her is her father.
Sondos al-Silwi's husband, Abdullah al-Silwi, lives in Sanaa, the capital of Yemen, which has been ravaged by civil war since 2015. He is unable to travel to the United States to meet his newborn daughter because of President Donald Trump's ban on immigration and travel from several predominantly Muslim countries, Yemen among them. At the end of June, the Supreme Court upheld the ban.
Now Sondos al-Silwi — a New York City charter school teacher who was born in Pennsylvania, was raised in the Bronx in New York and married Abdullah al-Silwi on a trip to Yemen in 2016 — is planning the unthinkable. She and Mayar will move to Yemen to be with him when their daughter is 4 months old. (Sondos al-Silwi petitioned for her husband to join her in the U.S. when they married, but the process was halted by the Muslim ban.)
She has no other choice, she said.
"It's not an ideal place. It's not where I imagined myself for my family," she told HuffPost, sitting in the living room of a three-bedroom apartment in the Bronx that she shares with her sisters, as Mayar snuggled in her arms. "But now I'm forced to go back because God knows when this ban is going to end. It's just wrong to deny my daughter her father."
Americans In Exile
The Silwis aren't the only one caught in an extraordinarily difficult bind because of the Trump administration's travel ban.
Ismail Alghazali is a 25-year-old U.S. citizen who lived in New York before meeting a 26-year-old Yemeni citizen. Like the Silwis, the couple fell in love and married in Yemen, in 2013. A year after the wedding, Alghazali returned to New York and filed immigration paperwork to sponsor his wife, Hend Alghazali, to join him in the United States. (The process is usually a lengthy one, taking up to several years and requiring multiple interviews with immigration officials.)
Before the Muslim ban, Hend Alghazali received initial approval for a visa; the couple was confident that soon she would be able to immigrate to the U.S. In 2015 the U.S. closed its embassy in Yemen because of security concerns, and the Alghazalis traveled to neighboring Djibouti. After the administration issued its travel ban, officials denied her visa request.
She was no longer allowed to move to the U.S. to be with her American husband. She was eight months pregnant at the time and has since given birth to a boy.
"I can't believe that this is the United States," Ismail Alghazali told HuffPost in a phone call from Djibouti. "This is not the United States that I know."
He continues his fight to bring his wife and son to the States. When he recently reached out to the U.S. Embassy in Djibouti, he was told he was welcome to return to America anytime — but not with his wife.
He is among 36 plaintiffs in a lawsuit filed this week by the legal advocacy group Muslim Advocates and other organizations, claiming that visa applications are being wrongfully denied or stalled by the federal government.
The lawsuit, Emami v. Nielsen, filed in the Northern District of California, is the first to challenge the ban since the Supreme Court decision.
"[The Alghazlis] should be a shoo-in to be allowed to come to the United States, but they haven't been granted a waiver, and now they are in this limbo position where they just don't know what to do," said Sirine Shebaya, a senior staffer at Muslim Advocates. "It highlights the complete lack of transparency in this process and that people are not being genuinely considered."
Ismail Alghazli's life is in New York, where the rest of his family members live and work. He said he has no choice but to stay in Djibouti, despite what immigration officials told him: Leaving behind his wife is not an option.
"I'm living in darkness," he said. "I feel like a bird without wings."
No To Family Separation
In their Bronx apartment, Mayar was fast asleep in her bassinet. Sondos al-Silwi sat nearby, glanced over to check on her baby and smiled.
"I still have hope that everything will work out," she said.
Her family feels otherwise. Her sisters said that they don't want her to leave and that they tried to reason with her. They told her to visit Yemen to see her husband and leave the baby with them.
But al-Silwi has made up her mind. She refuses to be kept apart from her husband.
For now, she talked about Mayar, like any other woman excited about her baby. The new parents picked out Mayar's name together.
"It means 'a magnitude for goodness,'" al-Silwi said — a hopeful name for an uncertain future.
https://www.huffingtonpost.in/entry/muslim-ban-separating-americans-from-family_us_5b636791e4b0de86f49f4f96
--------
US warns Europe: End business with Iran or face harsh sanctions
4 August 2018
The United States Congress and the Trump administration, issued stern new warning to European partners, if they do not end all business ties with the Iranian regime.
This stance was reported by US website Freebacon, quoting a number of senior US officials that Washington and many in Congress have been working in tandem to pressure European partners over their ongoing financial ties to Iran ahead of efforts by the United States to fully reinstate harsh sanctions on Iran, including on its lucrative oil sector and banking systems.
Key European partners have expressed opposition to the new US sanctions in recent months and have held a series of meetings with senior Iranian officials to discuss tactics for evading the new American sanctions, which follow on the heels of President Donald Trump's decision to abandon the landmark nuclear deal.
Trump administration and its allies in Congress are continuing work to further "choke the Iranian economy" while Iranian protesters continue to demonstrate against the hardline regime for its spending on foreign interventionism in hotspots such as Syria and its continued support for international terror groups.
Tension in the region with the imminent of reinstating of the harsh US sanctions on Iran, now heightened with the Iranian threat to close the Strait of Hormuz and threaten maritime traffic in the Arabian Gulf.
Senior US officials leading the efforts to pressure European partners over their business ties with Iran told the Free Beacon that the Trump administration will not hesitate to sanction those who violate the new sanctions, warning that international banking institutions and even top US banks could be hit with sanctions for not complying.
"The Iranian regime has and continues to use terrorism as a weapon in Europe," Richard Grenell, the US ambassador to Germany, told the Free Beacon. "We must be vigilant in finding out about their plans and stopping them before they succeed."
Grenell and other top US diplomats "are urging our partners to help stop the flow of money to the Iranian regime because it is used to fund malign activities," the ambassador said.
Ten US Senators who opposed the Nuclear Deal with Iran in 2015, recently wrote to the EU3 (Britain, Germany, and France) warning them to comply with all the new US sanctions.
As these European countries work to preserve the nuclear deal and keep business with Iran open, the Senators served notice to these countries that they will not be kept ummune from new US sanctions.
A full range of US sanctions on Iran are expected to be reinstated by for most sectors on August 6 for most sectors, and the energy sector on November 4.
Full report at:
https://english.alarabiya.net/en/News/2018/08/04/US-warns-Europe-End-business-with-Iran-or-face-harsh-sanctions.html
--------
US can't pressure China to pursue its policy of sanctions on Iran: Analyst
Aug 4, 2018
The United States cannot pressure a great power like China to pursue the controversial American policy of sanctions on Iran, according to Myles Hoenig, an American political analyst and activist.
China on Friday rejected a US demand to cut Iranian oil imports despite Washington's attempts to bring down the Islamic Republic's oil sales to zero, according to Bloomberg.
Bloomberg quoted informed officials as saying that the US had been unable to persuade China to cut Iranian oil imports and that Beijing's purchases from Tehran last month remained unchanged.
This is a blow to US President Donald Trump's efforts to isolate Iran after his withdrawal from a 2015 nuclear deal with the country, officially known as the Joint Comprehensive Plan of Action (JCPOA), they said.
Beijing, however, agreed not to increase purchases of Iranian crude, said the officials who spoke on condition of anonymity.
"One wonders if a Democratic administration would be so stupid as to think it could expect China to honor a request to change its trade policy with Iran regarding oil exports," Hoenig, a former Green Party candidate for Congress, told Press TV on Friday.
"How the US conducts its foreign policy may pull a lot of countries into its orbit, but China is a power on its own. China is exerting aggressive behavior through military expansion in the Pacific and does not abide by US demands on how it engages in trade with the US. It is a superpower that rivals that of the US," he said.
"The Trump and Obama administrations share a similar philosophy of American exceptionalism. Obama didn't mince words when gloating about America's grandiose position in the world. Trump simply renames and re-packages it as 'Make America Great Again,'" he stated.
"Capitalism and imperialism is the guiding force behind US foreign policy but has yet to recognize that others simply won't bow down to it. With the arrival of Donald Trump, the rival capitalist country of China is surpassing the US on the world stage. As Trump isolates the US world-wide, it is becoming easier for more and more countries to distance themselves from the US. China is in a class on its own, a serious rival to Wall Street," he noted.
"Both the Democratic and Republican administrations are equal in their desire for regime change in Iran. They both supported the overthrow of the democratically elected [Mohammad] Mossadegh, the installation of the Shah, and equally abhor the theocracy that exists today," the analyst said.
Full report at:
https://www.presstv.com/Detail/2018/08/04/570105/US-cant-pressure-China-to-pursue-its-policy-of-sanctions-on-Iran
--------
US accusing Iran of terror plots to make Europe cut ties with Tehran: Report
Aug 4, 2018
The United States is accusing Iran of alleged terror plots in a bid to persuade European countries into suspending their relations with Tehran, according to a report by the Wall Street Journal.
The scheme was also meant to make Britain, France and Germany - the European signatories to a 2015 nuclear deal with Iran - to follow in Washington's footsteps and pull out of the deal, it said on Friday.
The US was even pressuring European countries to ban "Iranian officers" from their territories under the pretext that the Islamic Republic was "hunting its enemies in Europe."
According to the Journal, US efforts to convince the European countries to undertake a tougher line on Iran had been unsuccessful.
Last month, Belgian authorities said they had arrested an Iranian diplomat along with two people suspected of plotting a bomb attack on a gathering of the terrorist MKO in Paris as President Hassan Rouhani began a visit to Europe.
A joint statement by the Belgian prosecutor and the intelligence services said the Vienna-based Iranian diplomat had been detained in Germany on suspicion of being in contact with the arrested Belgian pair.
The Belgian police was also reported to have allegedly found 500 grams of the homemade explosive TATP and a detonation device in the car of the arrested pair.
Days later, Germany charged the Iranian diplomat with "activity as a foreign agent and conspiracy to commit murder".
"Europe isn't immune to Iran-backed terrorism," US Secretary of State Mike Pompeo tweeted later, claiming that while the Iranian government "is trying to convince Europe to stay in the #IranDeal, it's plotting terrorist attacks in Europe."
Iran's Foreign Minister Mohammad Javad Zarif denied any Iranian involvement in any plot to blow up the MKO gathering and said the arrests constituted a "sinister false flag ploy".
Iran's Foreign Ministry summoned French and Belgian ambassadors as well as Germany's chargé d'affaires to protest the arrest of the Iranian diplomat.
Iranian Foreign Ministry spokesman Bahram Qassemi said at the time that the arrested Belgian pair were MKO members. He said the MKO had used the pair to implement a new scenario against the Islamic Republic after it "failed to win political support for its anti-human and anti-Iran goals during its annual gathering in Paris".
Iranian Deputy Foreign Minister Abbas Araqchi stressed that the diplomat's detention was a plot in line with US and Israeli goals to damage Iran-EU ties, especially at a time when Rouhani was visiting Europe and foreign ministers of Iran, Germany, the UK, France, Russia and China were also meeting to discuss how to keep the Iran nuclear deal alive after the US exit.
The European parties to the nuclear deal, known as the Joint Comprehensive Plan of Action (JCPOA), have already lamented the US decision to leave the accord and emphasized that they would maintain their business ties with Iran.
"As long as Iran continues to implement its nuclear related commitments, as it has been doing so far and has been confirmed by the International Atomic Energy Agency in 10 consecutive reports, the EU will remain committed to the continued full and effective implementation of the nuclear deal," the European Union said in a statement.
In May, US President Donald Trump unilaterally withdrew Washington from the JCPOA despite objections from Europe as well as Russia and China — the other signatories to the agreement.
Full report at:
https://www.presstv.com/Detail/2018/08/04/570142/Iran-Europe-MKO
--------
Europe
UK's youngest ISIS female terrorist plotter jailed for life
Aug 4, 2018
LONDON: Britain's youngest known Islamic State female terrorist plotter who had been convicted of planning a terror attack in the UK earlier this year has been jailed for life.
Moroccan-origin Safaa Boular, 18, was convicted of preparing terrorist acts on British landmarks after failing to travel to Syria to join ISIS militants.
She will serve a minimum of 13 years behind bars before being considered for parole.
Boular appeared in court on Friday wearing a short skirt and western clothing, claiming that she had rejected Islam and her extremist views. But the judge ignored her claims to have turned over a new leaf during the sentencing hearing at the Old Bailey court in London.
"In my view there's insufficient evidence to say at this stage this defendant is a truly transformed individual. Her views were deeply entrenched," Judge Dennis said.
"However much she may have been influenced and drawn into extremism, it appeared she knew what she was doing and acted with open eyes. She was old enough to make her own decisions and her own choices," he said.
The teenager was preparing for her school exams when she was seduced by ISIS fighter Naweed Hussain, originally from Coventry in England and more than 15 years her senior. She hid her ISIS-inspired plans to attack crowds at the British Museum in coded conversations about preparations for an innocent Mad Hatter's tea party.
She had been trying to reach Syria to marry Hussain in an online ceremony, but her attempt was foiled by police. Hussain was later killed in a drone strike.
Boular turned to plot a suicide bomb and gun attack on the British Museum with her older sister and mother instead. All three women have now been convicted for their part in the UK's first all-female terrorist attack plot.
Boular's sister, 22-year-old Rizlaine Boular, has been jailed for life and their mother Mina Dich was handed six years and nine months for assisting her daughters in the plot in June.
Their plans were uncovered by online undercover MI5 intelligence officers after the Boular family home in Vauxhall, south London, was bugged.
Boular handed the charge of plotting a terror attack on her older sister when she was in custody for trying to travel to Syria in 2016. In coded telephone calls, they discussed a traditional English tea party with an Alice In Wonderland theme.
At the sentencing hearing for Boular this week, the judge warned she posed an ongoing threat to the public.
He said, "Based on the nature and circumstances of this offending, including the extent of her radicalisation and the depth of commitment to the Islamic State cause... I am satisfied there remains a significant risk to members of the public. The defendant has yet to undertake deradicalisation measures which might undo completely her previous mindset."
Boular's defence team urged the judge to take into account what they described as her deeply troubling background, including the influence of her "very radicalised sister" and "neglectful mother".
https://timesofindia.indiatimes.com/world/uk/uks-youngest-isis-female-terrorist-plotter-jailed-for-life/articleshow/65271863.cms
--------
Corbyn rejects criticism of anti-Semitism code, says it will stay
Aug 4, 2018
UK Labour Party leader Jeremy Corbyn has broken his silence over an anti-Semitism row affecting his party, saying he would not accept changing the party's new code on anti-Semitism as it would violate the right of many Jews who are critical of Zionism and loath the Israeli regime.
Corbyn wrote in a Friday article for the Guardian that Labour would stick to its code of conduct on anti-Semitism as it respected the rights of non-Zionist Jews.
"[T]here are also many non- or anti-Zionist Jews who should not be branded as anti-Semites simply because they are not part of the Zionist tradition," Corbyn said in the article, adding that the pressure on the party over the code came from people who want to "restrict criticism of Israel."
Corby said that it was wrong to brand anti-Zionists as anti-Semites, adding that it was much like the "Zionism is racism" argument that surfaced in the Left in the 1970s.
He said many Jews and non-Jews in Britain were increasingly concerned with actions and policies of the Israeli regime, saying those concerns "should not be a source of dispute".
"This has been a difficult year in the Middle East, with the killing of many unarmed Palestinian protesters in Gaza, and Israel's new nation-state law relegating Palestinian citizens of Israel to second-class status," said Corbyn, known himself as a veteran campaigner for Palestinian rights and a critic of Israel.
The Labour leader admitted that he should have done more to tackle anti-Semitism in his party over the past years, saying he would do his best "root out" any form of racism, including anti-Semitism in Labour.
"Driving anti-Semitism out of the party for good, and rebuilding that trust, are our priorities," said Corbyn.
Labour no threat to Jews
Pressure has increased on Corbyn and Labour over the party's new code on anti-Semitism. Critics have urged the party to adopt a multi-national code on the issue, a move Corbyn and allies in Labour say would stifle any criticism of Israel.
The pressure reached a boiling point last week when three Jewish newspapers wrote a joint front-page editorial, calling Corbyn and Labour an existential threat to the Jews in Britain.
Corbyn said in his article that the argument made by the three Jewish newspapers was an "overheated rhetoric".
Full report at:
https://www.presstv.com/Detail/2018/08/04/570177/Labour-article-Corbyn-anti-Semitism-row
--------
For exiled novelist, Turkey 'like 1930s Germany'
August 05, 2018
FRANKFURT AM MAIN: Turkish novelist Asli Erdogan, living in exile in Germany as she risks a life sentence on terror charges at home, thinks the writing is on the wall: her country is sliding into fascism.
The award-winning author, still traumatized by the four months she spent in an Istanbul prison, warns that Turkey's institutions are "in a state of total collapse."
In President Recep Tayyip Erdogan — no relation — she sees a man tightening control over everyday Turkish life, emboldened by an outright victory in June elections, sweeping new powers and a crackdown on opponents.
"The extent of things in Turkey is like Nazi Germany," the flame-haired 51-year-old told AFP in an interview in Frankfurt, her temporary home as she awaits the outcome of her court case in absentia.
"I think it is a fascist regime. It is not yet 1940s Germany, but 1930s," said Asli.
"A crucial factor is the lack of a judicial system," she added, describing a country of overcrowded prisons and pro-Erdogan judges in their twenties rushed in to replace ousted peers.
Asli herself was among the more than 70,000 people caught up in a wave of arrests under a state of emergency imposed after a failed 2016 coup against Erdogan.
She was held for 136 days over her links to a pro-Kurdish newspaper before being unexpectedly freed on bail.
The detention of the author of such novels as "The City in Crimson Cloak" and "The Stone Building and Other Places," famed for their unflinching explorations of loss and trauma, drew international condemnation.
Turkey's Nobel literature laureate Orhan Pamuk has called her "an exceptionally perceptive and sensitive writer."
Turkey's post-coup purge targeted not just alleged backers of preacher Fethullah Gulen, blamed by Ankara for the attempted putsch, but also opposition media and people accused of ties to Kurdish militants.
Turkish authorities reject accusations of widescale rights violations after the coup, and the state of emergency was lifted last month, after Erdogan was re-elected under a new executive-style presidency giving him direct control of ministries and public institutions.
"Erdogan is almost omnipotent," Asli said.
"He decides on the price of medicine, on the future of classical ballet, his family members are in charge of the economy... Opera, which he hates, is also directly tied to him," she added, chuckling.
"That's the nice thing about fascism, it's also pathetically funny sometimes."
Turkish lawmakers have also approved new legislation giving authorities greater powers in detaining suspects and imposing public order, which officials say is necessary to combat multiple terror risks.
"It's an emergency state made permanent," said Asli.
As for herself, Asli has given up hope of being acquitted and returning to Turkey anytime soon.
"They are not bluffing," she said she realized after several journalists were sentenced to life terms.
She faces charges of spreading "terror propaganda" for her work as a literary adviser to the newspaper Ozgur Gundem.
The paper itself was shut down, accused by Turkish authorities of being a mouthpiece for the outlawed Kurdistan Workers Party (PKK), considered a terror group by Ankara and its Western allies.
The next hearings in Asli's case are scheduled for October and March.
The diminutive former physicist said the wait for the verdict was "almost unbearable."
"One of the biggest tortures you can do to a human being is to keep his fate unknown."
Released from prison in late December 2016, it took Asli until last September to get her passport back from Turkish authorities.
She immediately left for Germany, following other Turkish artists and intellectuals into exile.
She now lives in Frankfurt, the recipient of a flat and a monthly stipend as part of the international Cities of Refuge project.
The scheme aims to provide persecuted writers with a safe haven from where they can continue working.
But Asli, who has written eight books translated into 20 languages, hasn't been able to pick up a pen yet.
Struggling with insomnia, depression and health problems, it has been easier to "play the professional writer" in past months, traveling abroad for literary events and talks.
But slowly her nightmares about prison are becoming less frequent, she said, while a painful neck hernia has done her the unexpected favor of forcing her to slow down.
Asli said she was getting "more in the mood" to write, but her immediate focus remained on raising the plight of those still locked up in Turkey.
"I have been pushed into a political role, which I try to carry with grace."
But when she is ready, she will put her own experiences of prison to paper, in what Asli predicts will be "a very heavy confrontation."
Full report at:
http://www.arabnews.com/node/1351396/middle-east
--------
URL: https://www.newageislam.com/islamic-world-news/kolkata-locals-back-doctors-were/d/116041
New Age Islam, Islam Online, Islamic Website, African Muslim News, Arab World News, South Asia News, Indian Muslim News, World Muslim News, Women in Islam, Islamic Feminism, Arab Women, Women In Arab, Islamophobia in America, Muslim Women in West, Islam Women and Feminism