Should U.S. worry about anti-Muslim backlash?
U.S. and Israel must respond, speakers urge
The alleged 9/11 mastermind will be transferred from Guantanamo to New York for a trial in which the death penalty will be sought, the US has confirmed.
Khalid Sheikh Mohammed and four others would be tried at a court near Ground Zero, the US attorney general said.
Five other Guantanamo detainees would face military trials, Eric Holder said.
The move is part of US President Barack Obama's efforts to close Guantanamo, but some relatives of 9/11 victims say they oppose a federal court trial.
"Today I am announcing that the Department of Justice will pursue prosecution in federal court of the five individuals accused of conspiring to commit the 9/11 attacks," Mr Holder told a news conference.
"I fully expect to direct prosecutors to seek the death penalty against each of the alleged 9/11 conspirators."
Four men - the two Yemenis, a Saudi and a Pakistani-born Kuwaiti - will face trial alongside Khalid Sheikh Mohammed, accused of helping finance and plan the attacks of 11 September 2001 in which nearly 3,000 people were killed.
Responsibility for the case will go to the Southern District of New York, with proceedings taking place at a court not far from where the Twin Towers of the World Trade Center fell.
No date was given for a trial, but US media reports say Congress needs at least 45 days' notice before the detainees can be transferred to the US.
The five men had until now been facing prosecution at US military commissions in Guantanamo. The government had faced a 16 November deadline to decide how to proceed in their cases.
Mr Holder said he was confident that the defendants would get a fair trial that was "open to the public and open to the world".
Of the five detainees referred for military commission trials, one is Abd al-Rahim al-Nashiri, accused in connection with the 2000 bombing of the USS Cole in Yemen.
Speaking in Tokyo ahead of Mr Holder's announcement, Mr Obama said Khalid Sheikh Mohammed would face "most exacting demands of justice".
Mr Mohammed has been described by US investigators as "one of history's most infamous terrorists". They say he has admitted being responsible "from A to Z" for the 9/11 attacks.
Believed to be the number three al-Qaeda leader, he was captured in Pakistan in March 2003. He told a pre-trial hearing at Guantanamo in December 2008 that he wanted to plead guilty to all charges against him.
But intelligence memos released earlier this year revealed he had been subjected to harsh interrogation techniques including water-boarding on multiple occasions since his capture - potentially rendering some evidence inadmissible.
The decision to hold the trial in New York faces opposition from some lawmakers and relatives of those who died.
Congressmen Howard McKeon, the senior Republican on the House Armed Services Committee, said the decision would introduce "unnecessary risk to the citizens of New York".
But Democratic Senator Patrick Leahy, who chairs the Judiciary Committee, said the decision demonstrates "to the world that the most powerful nation on earth also trusts its judicial system".
The move is part of a White House bid to close Guantanamo by 22 January 2010.
Mr Obama's administration says it will try some detainees in US courts and repatriate or resettle others who are not perceived as a threat.
However, questions remain over the fate of those assessed as dangerous but who for legal reasons could not be prosecuted in a US court - prompting suggestions that the deadline will slip.
Fort Hood suspect Maj Nidal Malik 'is paralysed'
Maj Nidal Malik Hasan's paralysis could be permanent, his lawyer says
The US Army psychiatrist accused of murdering 13 people at Fort Hood is paralysed, his lawyer says.
Maj Nidal Malik Hasan, 39, was shot by police during the incident at the Texas military base on 5 November.
Lawyer John Galligan told reporters his client had no feeling in his legs and doctors had told him the condition may be permanent.
Maj Hasan could face the death penalty after being charged with 13 counts of premeditated murder.
New information
On Thursday, the military revised the number of people injured in the attack, revealing that a total of 43 people were wounded.
Of those, 34 people received gunshot wounds, military investigators said.
It had been reported previously that 29 people and Maj Hasan had been injured, but more had come to light during the course of the investigation.
Police shot Maj Hasan four times, ending the gunman's rampage through the base after an hour and a half. It was reported at first that he had been killed.
'Extreme pain'
This was the first time Mr Galligan had been able to speak to his client, who is still in hospital in San Antonio.
"He understands who I am. We can talk," he said.
Police Sgt Kimberly Munley had been praised for shooting the gunman
"But I was only there for an hour and towards the end of the one-hour session, I could tell I was kind of pushing him in terms of my ability to keep him fresh and alert in a discussion with me."
Mr Galligan added that Maj Hasan was suffering "extreme pain" in his hands.
Meanwhile, doubts have emerged over who exactly fired the shots that brought down Maj Hasan.
Earlier this week Police Sgt Kimberly Munley, 34, appeared on the Oprah Winfrey show from her hospital bed where she was recovering from being wounded by Maj Hasan.
She said she had fired at the gunman.
But now Sgt Mark Todd says he was the one who "neutralised" Maj Hasan.
"I drew his attention toward me, and then he opened fire and then I neutralised him and secured him," Sgt Todd told CBS's Early Show.
They were the first shots Sgt Todd had fired at a human being in his 25-year career, he said.
'In the dark'
Mr Galligan said he was not pleased that his client had been charged by military authorities while he was in hospital, without his lawyers present.
"What I find disturbing is that my client is in ICU [Intensive Care Unit], and he's 150 miles south of his defence counsel, and he's being served with the charges," Mr Galligan told the Associated Press news agency.
"I'm in the dark and that shouldn't be the case. I am mad."
The civilian lawyer, appointed by Maj Hasan's family, told reporters he did not yet know if the military prosecutors would seek the death penalty in Maj Hasan's case.
He will ask the military court to appoint an additional military lawyer and a civilian investigator to work with him, he said.
The military have not ruled out filing further charges against Maj Hasan, prosecutors said.
A soldier killed in the attack was pregnant and charges could be brought over the unborn baby's death, it was reported on Friday.
http://news.bbc.co.uk/2/hi/americas/8359316.stm
---
Arab pride to blame: Algeria footballers hurt in Cairo
Algerian footballers hit by stones
Four members of the Algerian football squad were injured when their team bus came under attack from stone throwers as it arrived in Cairo.
Algeria and Egypt, who are bitter football rivals, play a World Cup qualifying match in Cairo on Saturday.
Egyptian police have denied that anyone was injured in the incident, and the press accuses the Algerians of fabricating the whole thing.
But a Fifa official has said three players might have to miss the match.
A reporter for Algerian radio said that about 200 young people appeared just as the team arrived at a Cairo hotel and launched a hail of stones at the bus. Algerian radio has been reporting that three players were injured.
'Blood on the floor'
The Algerian sports minister, Hachemi Djiar, is reported to have described the incident as "very regrettable".
These weren't superficial injuries. With the stitches needed, we will have to see if these players can play.
An official from Fifa, international football's governing body, told the AFP news agency that Algerian players were injured.
"We saw that three players had been injured - Khaled Lemmouchia on the head, Rafik Halliche above the eye and Rafik Saifi on the arm," Walter Gagg said.
"These weren't superficial injuries. With the stitches needed, we will have to see if these players can play. The team doctor has still to make a decision on that," he added.
Mr Gagg also said that Algeria's goalkeeping coach had suffered concussion, and described the bus itself as in a "very bad way with broken windows and traces of blood on the floor".
Riots
"The players were afraid. They were terrified," he said.
AFP also reported a Fifa spokesman as saying: "We have reiterated to the Egyptian association our request that all security measures be taken so that the match can go ahead."
Egyptian and Algerian officials have been trying to calm tension ahead of the match.
The teams have an intense rivalry that goes back decades. The last time they met in a major tournament in 1989, the match was followed by riots.
The Egyptian team has to win by a three-goal margin to qualify for the World Cup finals next year in South Africa.
http://news.bbc.co.uk/2/hi/middle_east/8358365.stm
---
Push to Build Mosques Is Met With Resistance
By JOHN TAGLIABUE
November 12, 2009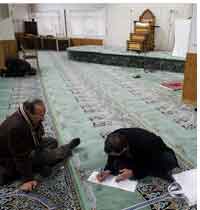 COPENHAGEN — Paris has its grand mosque, along the Seine. So does Rome, the city of the pope. Yet despite a sizable Muslim population, this Danish city has nothing but the occasional tiny storefront Muslim place of worship.

The city, Denmark's capital, is now inching toward construction of not one, but two grand mosques. In August, the city council approved the construction of a Shiite Muslim mosque, replete with two 104-foot-tall minarets, in an industrial quarter on the site of a former factory. Plans are also afoot for a Sunni mosque. But it has been a long and complicated process, tangled up in local politics and the publication four years ago of cartoons mocking Islam.

The difficulties reflect the tortuous path Denmark has taken in dealing with its immigrants, most of whom are Muslim. Copenhagen in particular has been racked by gang wars, with shootouts and killings in recent months between groups of Hells Angels and immigrant bands.

The turmoil has fed the popularity of an anti-immigrant conservative party, the Danish People's Party. In city elections scheduled for Nov. 17, the People's Party, by some estimates, could double the roughly 6 percent of the vote it took in the last municipal election.

Denmark is not alone in grappling with the question. In Italy, the rightist Northern League opposes mosques in Italian cities; in Switzerland, voters will go to the polls on Nov. 29 in a referendum to decide whether to ban the construction of minarets.

In Denmark, it was the cartoons, one of which depicted Muhammad with a bomb in his turban, that gave the initial impetus to a movement for a mosque.

"I wrote a front-page story saying we somehow had to reconnect to the Muslims, to collect money to build a mosque as a sign of solidarity," said Herbert Pundik, 82, the former editor of the Danish daily Politiken. Mr. Pundik, speaking by phone from Tel Aviv, where he now lives, said that within 24 hours there had been more than 1,000 positive responses. But then the Muslim reaction to the cartoons turned violent, with attacks on Danish embassies in several cities, including Beirut and Damascus.

"The steam went out of the project," Mr. Pundik said.

Yet it did not die. Bijan Eskandani, the architect of the Shiite mosque, said he found inspiration for his design in the "Persian element in Islamic art," which he said consisted of a "special lyric, poetic attitude." The Shiite community, he said in written answers to questions, lacked the financial means to acquire a suitable site for a mosque. "The building lot they have is situated in an ugly, unattractive, inharmonious gray factory area," he said, adding that, "a sparkling mosque there may make a difference."

The very word Persian sends chills down Martin Henriksen's spine. "We are against the mosque," said Mr. Henriksen, 29, one of the People's Party's five-member directorate, in an interview in Copenhagen's Parliament building. "It's obvious to everyone that the Iranian regime has something to do with it," he said. "The Iranian regime is based on a fascist identity that we don't want to set foot in Denmark."

Since becoming party to the national government coalition in 2001, the People's Party has helped enact legislation to stem the flow of immigrants and raise the bar for obtaining citizenship. Immigrants, Mr. Henriksen insists, "need to show an ability and a will to become Danes." He cites past Jewish immigration as an example. "Many Jews have come to Denmark since the 16th century," he said. "We don't have discussions about whether to build synagogues." There are at least four synagogues in the city.

Abdul Wahid Pedersen, whose parents are Scandinavian, converted to Islam years ago. "I was 28, a child of the 60s," he said. Now 55, he is chairman of a 15-member committee promoting construction of a grand mosque for Copenhagen's Sunni Muslims.

He concedes that of the estimated 250,000 Muslims in a Danish population of 5.5 million, only about 35,000 are Sunnis. Yet he defends the need for a grand mosque and says that while the Sunni community is not soliciting financing from Saudi Arabia, as the People's Party contends, he has no problem accepting a donation. "If someone wants to chip in, that is O.K.," he said, in the shop in a working-class neighborhood where he sells Islamic literature, prayer rugs and other religious objects. "But they will have no influence on running the place." Mr. Pedersen said his committee was even considering installing wind turbines atop the minarets and covering the mosque's dome with one large solar panel.

The city's deputy mayor, Klaus Bondam, 45, defends the right of Muslims to their mosques. The minarets, he said, would be "quite slim towers, we're not going to be Damascus or Cairo." The city had also made clear there would be no calling to prayers from the mosques' minarets. As to the charge of foreign underwriting, Mr. Bondam said it did not concern him as long as the sources were listed openly.

But he said he feared that the debate over the mosques could help the People's Party double its share of the vote in this month's local elections to as much as 12 percent. "It's the little discomfit of people of other religion or background," he said. "Why can't they be like me?"

For Toger Seidenfaden, 52, the present editor of Politiken, the People's Party is "democratic and parliamentary — they are not brownshirts." But he said they were a "very Danish, nationalist party — they'd like Denmark before globalization."

On the broad avenue called Njalsgade, where the Sunni mosque is to be built on a vacant lot, Preben Anderson, 61, a bricklayer, said he had nothing against a mosque, though he pointedly said that he could not speak for his neighbors. "We have churches," he said. "We have to have mosques." He stood across the street from where weeds and junk now cover the lot where the Sunni mosque could one day stand. One neighborhood resident, asked if he could point out the site where the mosque would be built, professed not to know.

Yet, Per Nielsen, 56, a retired history teacher, said the economic slowdown and the gang wars in nearby neighborhoods were feeding the popularity of the People's Party. As for the mosque, he said, "There's very strong pressure — people living here don't want it."

Photo: Shiite Muslims recently collected money after Friday Prayer for the construction of a grand mosque in Copenhagen.

http://www.nytimes.com/2009/11/12/world/europe/12copenhagen.html

-----

Woman denies 'love jihad', court lets her to go with Muslim husband

November 13th, 2009

Bangalore, Nov 13 (IANS) The Karnataka High Court Friday allowed a woman to go with her Muslim husband as the state police sought more time to complete their probe into reports of non-Muslim women being lured by Muslim youth with the intention to convert them to Islam.

"There is no 'love jihad' and I had gone with my boyfriend on my own," Siljaraj told reporters as she left the court premises with her lover whom she married. Earlier on Oct 21, the court had sent Siljaraj to her parents' custody for three weeks.

Siljaraj's father, C. Selvaraj of Chamarajnagar district, about 180 km from here, had moved a habeas corpus petition before the high court, saying his daughter was missing since August last year and he had come to know she had eloped with a Muslim youth to Kerala.

He filed the petition after posters had come up in Kerala warning of 'love jihad', referring to attempts to lure non-Muslim girls with the promise of marriage and then convert them to Islam.

The Karnataka police had traced Siljaraj with the help of the Kerala police and brought her before Justice K. Sreedhar Rao and Justice Ravi Malimath of the Karnataka High Court Oct 21.

Siljaraj had told the judges that she had married Aksar of Kannur in Kerala on her own and was undergoing religious training after getting converted to Islam.

Rao and Malimath had directed her to stay with her parents till the police complete the investigations. They had also said that since she was an adult, if it was found to be a bonafide love marriage, she could go back to Aksar.

http://www.thaindian.com/newsportal/uncategorized/woman-denies-love-jihad-court-lets-her-to-go-with-lover_100274297.html

-----

Pakistan Rock Rails Against the West, Not the Taliban

By ADAM B. ELLICK

November 11, 2009

While Pakistani journalists, playwrights and even moderate Islamic clerics have boldly condemned the Taliban, the nation's pop music stars have yet to sing out against the group, which continues to claim responsibility for daily bombings.

The violence has no shortage of victims in addition to the dead: more than three million people have become refugees, and more than 200 schools for girls have been destroyed. And the musicians I spoke to have suffered as well, which makes it all the more surprising that they are reluctant to criticize the militants.

Pakistani pop musicians once had two main ways to make money: live concerts and corporate sponsorships. But because of deteriorating security in the last two years, the concert scene — and the revenue that comes with it — has all but vanished.

Musicians are now relegated to televised performances. But in a nation where the West is often the villain, television stations and big businesses have little economic or political incentive to put their name on a musician with an anti-Taliban platform.

The result is a surge of bubble-gum stars who have become increasingly politicized. Some are churning out ambiguous, cheery lyrics urging their young fans to act against the nation's woes. Others simply vilify the United States.

This video shows how many young Pakistanis have a different perspective on the problems in their homeland.

In a post on The Lede blog in September Robert Mackey took a look at Pakistan's rock scene and the growing trend of musicians addressing political issues in their music.

http://atwar.blogs.nytimes.com/2009/11/11/tuning-out-the-taliban-in-pakistan-pop/

-----

President Nicolas Sarkozy reaffirms ban on burkas

November 13, 2009

French President Nicolas Sarkozy repeated on Thursday that France has "no place for burkas", which covers women's whole body, during his speech on national identity.

France has "no place for bondage for women... and no place for spiritual and secular confusion," Sarkozy said during his visit in Drome department, Southeast France, local media reported.

In Sarkozy's view, the Muslim rule to veil women face and body is "in certain circumstances" chains for women.

The high key president has spoken out against burka in France in a major policy speech in June.

France now lives the largest Muslim community in Europe, but as early as in 2004, Islamic headscarves or other conspicuous religious symbols had been banned in state schools.

National identity is a key campaign slogan in Sarkozy's run for president in 2007. French Immigration Minister Eric Bess on on Nov. 2 launched a countrywide debate on national identity to make out what are unifiable symbols for French people and what immigration contributes to the national identity.

http://english.people.com.cn/90001/90777/90853/6812091.html

------

Book says, Islamic feminism, based on firm conviction about fundamental equality

Thursday, November 12, 2009

Countless volumes have been written on the issue of Islam and women, by Muslims as well as others. Indeed, the 'Muslim woman' question has, for long, occupied a central place in discourses about Islam. Interestingly, the vast majority of works on this furiously-debated question have been penned by men. For many male Muslim writers, the notion of normative Muslim womanhood is key to their understanding of Islamic authenticity. For non-Muslim scholars of Islam, it is a central trope in their critique of the religion. Caught between the two, the diverse voices of Muslim women themselves have received but scant attention in the scholarly literature.

Margot Badran is one of the foremost chroniclers of Muslim women's struggles for gender justice. This latest book of hers explores broadly two types of women's struggles for equality waged in different parts of the 'Muslim world'. The first, which she traces to the colonial period, is what she labels as 'Muslim secular feminism', through which Muslim women (and some men) in different countries sought to assert their rights to education, employment and political participation. The arguments they put forward were, typically, secular, presented as a means for the empowerment and advancement of the 'nation' and the 'community'.

At the same time, these women were cautious to present their demands as being in accordance with their understanding of Islam. The second form of feminism is what Badran terms as 'Islamic feminism', which really emerged in a major way just a few decades ago. Much of the book is devoted to a detailed discussion of the forms, arguments and practical achievements of 'Islamic feminism'.

Far from being the oxymoron that many might think it is, 'Islamic feminism', Badran writes, is an even more radical and forceful form of feminism than was Muslim secular feminism at one time. 'Islamic feminism', she states, is based on the firm conviction about the fundamental equality of men and women as creatures of God, as stated in the Quran. On the basis of this belief and their re-reading of the Islamic tradition, 'Islamic feminists' argue that Islam itself demands the fundamental equality of women and men in all spheres of life, both in the personal as well as pubic domains.

This demand for equality, Badran says, extends even to the religious sphere, for instance as regards religious professions and mosque rituals. Badran backs her case by citing certain Muslim women scholars—Aminah Wadud, Asma Barlas, Riffat Hasan being only the better-known among them—who seem to argue on somewhat these lines.

Full report at: http://www.ummid.com/news/November/12.11.2009/islam_and_feminism.htm

------

Peshawar blasts kill at least 17

Suicide bombers have struck at two headquarters run by Pakistan's security forces, killing at least 17 people.

The first blast happened in the North-Western Pakistani city of Peshawar when a car packed with explosives went up in flames. An office of Pakistan's military intelligence agency was completely destroyed.

The second car bombing happened outside a police station in the North-Western town of Bannu.

http://news.bbc.co.uk/2/hi/south_asia/8358584.stm

------

A blast rocks ISAF forces headquarter in Afghanistan

November 13, 2009

In Afghanistan, a bombing rocked a base for the ISAF forces in Camp Phoenix in the Afghani capital Kabul early Friday. The base is one of the essential bases used by western forces in Kabul. A source in the Afghani police said that the bombing was the result of a suicide attack.

13 people were killed in Afghanistan and more than 40 other civilians wounded in a harsh attack that aimed the intelligence headquarters in Peshawar northwest Pakistan. To that 3 policemen were killed in another attack northwest Pakistan.

http://www.alsumaria.tv/en/World-News/2-40418-A-blast-rocks-ISAF-forces-headquarter-in-Afghanistan.html

-------

Fort Hood: Questions, Not Alarms, Met Exchanges With Cleric

By SCOTT SHANE and DAVID JOHNSTON

November 12, 2009

WASHINGTON — Last December, the vast electronic net of American intelligence captured queries that Maj. Nidal Malik Hasan of the Army was sending by e-mail to a radical cleric in Yemen who has long been a target of American surveillance.

Trained in the connect-the-dots mantra since rival agencies failed to prevent the 2001 terrorist attacks, analysts recognized that the contacts were significant. The dozen or so messages to the cleric, Anwar al-Awlaki, were largely questions about Islam, not expressions of militancy or hints of a plot, government officials familiar with the messages said. Mr. Awlaki sent a handful of answers to Major Hasan that were cautious and said nothing to indicate that the two men knew each other, the officials said.

Still, the messages were quickly passed to a Joint Terrorism Task Force in Washington, where a Defense Department investigator pulled the personnel files of Major Hasan, the Army psychiatrist who was charged last week with killing 13 people and injuring dozens more in a shooting spree at Fort Hood, Tex.

Those files, however, did not reflect the concerns of some colleagues at Walter Reed Army Medical Center about Major Hasan's outspoken opposition to the wars in Iraq and Afghanistan and his strong feeling that Muslims should not be sent to fight other Muslims.

The defense investigator also did not interview any of the psychiatrist's superiors and co-workers. After studying the messages, which were sent between December and the early months of this year, the investigator wrote a report last spring concluding that the e-mail contacts were not a sign of a terrorist threat. The report was not shared with the Pentagon, or with anyone outside the task force.

Now, Congress is looking for someone to blame for the shootings at Fort Hood. The Defense Department, the Federal Bureau of Investigation and other agencies are reviewing whether they missed significant clues — or whether Walter Reed ignored signs of serious trouble — that might have averted the shootings. Already, the military and F.B.I. officials have begun an inevitable round of finger-pointing.

But a striking fact is that the system set up after Sept. 11, 2001, to make sure clues of a coming attack were not missed actually worked as intended — and still failed to stop the deadly episode. The question for investigators is whether the very fact that Major Hasan sent the e-mail messages to an imam with mysterious connections to the Sept. 11 hijackers and a Web site encouraging extremist violence should have set off greater alarms.

Full report at: http://www.nytimes.com/2009/11/12/us/12inquire.html

-------

Northern Va. Mosque of Alleged Fort Hood Shooter Connected to Jihadists and Islamic Terrorist Groups

November 13, 2009

By Christopher Neefus

(CNSNews.com) – Dar-al-Hijrah Islamic Center, the mosque in Falls Church, Va., where accused Fort Hood attacker Nidal Malik Hasan worshipped in 2001 when he lived in the Washington, D.C., area, is perhaps best known as the same mosque that three 9/11 hijackers attended prior to flying a plane into the Pentagon.

But according to federal documents, records and terrorism investigators, the mosque also has a history of attendees and members who have had ties to al-Qaeda, Hamas and other radical Islamic groups – including some convicted of terrorism-related crimes.

Hasan, who was charged Thursday with 13 counts of premeditated murder under Article 188 of the Uniform Code of Military Justice in connection with last week's fatal shootings at Fort Hood, had been in contact with the mosque's radical former imam (spiritual leader), Anwar al-Awlaki, before the shootings, according to investigators.

Al-Awlaki, who is the author of "44 Ways to Support Jihad," allegedly praised Hasan's actions from a Web site he runs out of Yemen.

According to the 9/11 Commission report, in 2001, while leader of Dar-al-Hijrah, then-Imam al-Awlaki introduced 9/11 hijackers Nawaf al-Hazmi and Hani Hanjour to another worshipper at the mosque, Eyad al-Rababah, who helped them secure an apartment in Alexandria, Va.

Al-Hazmi and Hanjour, who started attending the mosque in May of that year, joined with a third man who also attended the mosque, a Saudi named Khalid al-Mihdhar to become three of the five hijackers onboard American Airlines Flight 77, which took off from Dulles and was flown into the Pentagon on Sept. 11.

Rababah was later deported to Jordan after being convicted in "a fraudulent drivers' license scheme," according to a 2002 joint House-Senate Select Committee on Intelligence 9/11 report.

Full report at: http://www.cnsnews.com/news/article/57087

------

Should U.S. worry about anti-Muslim backlash?

November 13, 2009

Muslims shouldn't let rogue gunman silence efforts to educate Americans about their faith

When Maj. Nidal Malik Hasan took innocent lives in Fort Hood, Texas, last week, Muslim Americans, like most Americans, felt shock, hurt and outrage. But for most Muslims, there is an added dimension of pain. Muslims face the fear of backlash, embarrassment and the constant question of how to prevent future attacks.

Muslim-American leadership must go through a ritual of condemning these acts of violence while speaking out in defense of their faith.

In the wake of last week's tragic events, many Americans, including our president, had an understandable reaction. They didn't want the tragedy to become a pretext for anti-Muslim hostility.

Muslim-Americans like me received reassurance and support. Michael Hovey, an adviser for ecumenical and interfaith affairs at the Catholic Archdiocese of Detroit, wrote: "Please know that I am with you in every sense, and please let me know if there is anything I could do that could be helpful ... Salam, my friend."

My Jewish partner, Brenda Rosenberg, executive producer of "Reuniting the Children of Abraham," said: "Victor, as we mourn with our country for this senseless loss of innocent lives, we must work even harder to create understanding by combating harsh stereotypes and collective demonizing to prevent all hostility. Shalom, Salam, Peace."

Bob Bruttell, chair of the Interfaith Partners of the Michigan Round Table, sent an e-mail with the subject line "Let me know how I can help."

He added: "Sorry that this lone gunman has connection to your faith -- they will forget the lone gunmen from Virginia Tech to Columbine are an American phenomenon. My thoughts and prayers are with you as you deal with the fallout."

The Muslim community appreciates those sentiments.

Full report at: http://www.detnews.com/article/20091113/OPINION03/911130344/1031

------

Why Obama is never going to say Fort Hood was a terrorist attack

November 12 2009

During his campaign, Obama stated that he was a Christian, yet his first address as President was to the Muslim world whereby he announced that America was not a Christian Nation. Despite the democratic spin on Obama's birth father, Barrack Hussein Obama, Sr. was a Muslim. On the Organizing for America website, Obama recounts growing up in Indonesia and making faces during Koran study. However, the school Obama attended had children of all faiths and those who were not Muslim received religious study according to their religion.

In a 2007 New York Times interview, Obama was reported as being able to recite, in perfect Arabic, the call to prayer, after thirty-five years, and considered that call as "one of the prettiest sounds on Earth…." These comments were made to announce his true inclination to the Muslim world, as he recognized that it would be political suicide to openly embrace the Muslim faith during his campaign, especially after 9/11.

Obama's book title, "The Audacity of Hope: Thoughts on Reclaiming The American Dream", changed when released in Indonesia. The translation became "Assault Hope: From Jakarta to the White House". Direct translation of the beginning words "menerjang harapan" makes no literal sense in Indonesian, but provides the native with an "…imagery of a 'hopeful assault', a 'struggle for victory' or to put it more bluntly, a '…Jihad for the White House….'"

Rev. Jeremiah Wright, to whom Obama refers to when questioned about his Christianity, and to whom he listened for over twenty years, preaches in definite Muslim undertones. In April 2008, American Urban Radio, confirmed that "…Wright's security was provided by bodyguards from Farrakhan's Nation of Islam."

According to the Discover Islam, "To become Muslim, all one has to do is to pronounce the Testimony of Faith 'Shahada', with sincere faith" and say in, Arabic, that Allah is the only god who deserves to be worshipped and that Muhammed is the messenger of god. Islam recognizes Jesus as a prophet but not the Son of God. This proclamation does not have to be done in public.

Since the 7th century, Islam has provided for and condones deception in 'Taqiyya' which has been explained by ex-Muslims as follows:

Full report at:

http://www.examiner.com/x-27109-Galveston-County-Conservative-

------

Muslim social service group offers a warm mosaic

November 12, 2009

WATERLOO REGION — Samjida Begum looks around the table at the women sitting beside her and she knows she's in good company. That's because the women are just like her.

They are refugee women who were forced to leave their homeland and live elsewhere, some in dingy refugee camps before coming to Canada.

Together, they have been sad when talking about their homelands and the families and friends they left behind, while others have shared their experiences of frustration when sending their young children to school, but unable to communicate with the teachers.

For Begum, the Welcome to Canada program held weekly at Mosaic Counselling and Family Services in Kitchener is a chance to share experiences and hear similar stories.

"I'm so happy to come here," Begum said through an interpreter.

Begum, a native of Myanmar, formerly known as Burma, lived in a refugee camp in Bangladesh for 17 years before coming to Canada two years ago. Begum is part of the Rohingya ethnic group, a persecuted Muslim minority in Myanmar.

Her two older daughters also join here at Mosaic with a children's group run by Fran Pappert-Shannon, former Miss Fran from the famed CTV series Romper Room and Friends. The children range from five to seven years.

Pappert-Shannon reads to the children, sings songs with them and entertains them with creative crafts.

Full report at: http://news.therecord.com/News/Local/article/628753

------

U.S. and Israel must respond, speakers urge

By Nina Polien Light

November 13, 2009

Islamic fundamentalist groups here and abroad want to convert the world to Islam – by force, if necessary – and Iran's nuclear arms program must be stopped now. That was the warning a local couple told nearly 100 people at a Nov. 8 Men's Club dinner at Congregation B'nai Jeshurun.

Beverly and Michael Goldstein, members of the National Association of Intelligence Officers (NAIO), spoke on "What American Experts Have Taught Me About Islam" and "The Iranian Threat to U.S. and Israeli Security," respectively.

Islamic fundamentalists have committed more than 14,000 deadly terror attacks since Sept. 11, 2001, says Beverly, an audiologist who organizes national security and intelligence symposia for high-school students and is a recipient of the FBI Director's Community Leadership Award. Moreover, Muslims have killed 270 million people throughout time and intend to "Islamicize" 59 countries.

Fundamentalists cite jihad passages in the Koran that compel Muslims to behead or cut off the limbs of non-believers while granting the perpetrators dispensation for the act. "Allah did it," Beverly says of the thought process. "You were just sort of helping out."

Beverly, whose mother survived Auschwitz including three weeks in Josef Mengele's Block 10, points out that the Nazis "borrowed heavily from historical Islam." These teachings informed the actions of the Muslim Brotherhood, the forerunner to Hamas that has spurred more than 70 offshoot organizations worldwide. When Adolf Hitler's Mein Kampf was translated into Arabic in 2003, it became the sixth all-time bestseller among Arabs. Today, at least 18 YouTube videos connect Nazis and modern-day Islamists, Beverly notes.

The Muslim Student Association, begun at the University of Illinois in 1963, seeks to convert students to Islam. With branches at 600 campuses, the group is anti-Semitic, anti-Israel and anti-American. Members regularly hold protests outside of Israeli consulates. Hillel, the Jewish student organization, is not adequately teaching students how to counter Islamist groups, Beverly contends.

Her husband says Americans and Israelis must keep a watchful eye on Iran and prepare an appropriate response.

"Iran's nuclear program is upon us, and we have to do something now," says Michael, an attorney and NAIO president. Iran's weapon delivery system can currently reach Eastern Europe and is expected to extend as far as Great Britain within 5-6 years, he warns.

Full report at: http://www.clevelandjewishnews.com/articles/2009/11/13/news/local/doc4afc52338a23b518668940.txt

------

Catholics deepen their faith by partaking in the "Spiritual Exercises" of St. Ignatius of Loyola

Nov 12, 2009

By George P. Matysek Jr.

For centuries, Catholics around the world have deepened their faith by partaking in the "Spiritual Exercises" of St. Ignatius of Loyola – a month-long series of prayerful meditations focused heavily on the life of Christ.

But in a fast-paced era when people are busy with jobs, family life and other activities, it can be difficult to set aside time for the retreat.

Creighton University, a Jesuit institution in Nebraska, is making the Spiritual Exercises more accessible to the modern world through an online version of the retreat on its Web site. Visitors can follow links that guide them through the program at their own pace. The site offers spiritual reflections, Bible readings and prayers that can be read online or printed for later use. Photos are posted for spiritual reflection and may be downloaded to be used as wallpaper on a personal computer. Users can even download "audio retreats" led by Jesuits that can be saved on MP3 players or burned to a CD. Participants also have the option to share their own spiritual observations with others going through the program.

The Creighton staff recommends that online retreat participants stick with the program and share their experiences with family and friends. The retreats may be made individually, in families or small groups.

"Just like with physical exercise, we don't want to overdo it at first and then slough off after a brief attempt," an online guide notes. "Good physical exercise is cumulative – we don't feel stronger or have great endurance immediately. But if we persist at regular exercise, we soon find that there are real changes in our physical health and strength."

St. Ignatius wrote the Spiritual Exercises in the 16th century, saying his purpose was to help each person who undertakes them to "conquer one's self and regulate one's life so that decisions will not be influenced by any inordinate attachment."

The free online service is a ministry of Creighton's Collaborative Ministry Office.

Visit http://onlineministries.creighton.edu/CollaborativeMinistry/cmo-retreat.html for more information.

http://www.catholicreview.org/subpages/PaperSpecSection.aspx?action=7170

------

Muslim director shares experiences in lecture

By Alexandra Pedrini

November 13, 2009

As a gay man in a society where homosexuality is considered a sin, Parvez Sharma speaks for the rights of gay and lesbian Muslims.

Sharma, a writer and director from India, visited Tech for a screening and discussion of his documentary, "Jihad for Love."

"We invited him to campus because we believe that this will be a very eye-opening, cultural experience for students and the community," said Aspen Teague, TAB nightlife coordinator and junior restaurant, hotel and institutional management major from Keller. "I hope students gain a new perspective on a culture, as well as on homosexuality."

Robert Basom, a sophomore public relations major from Katy, said Sharma's film exposes the challenges and somewhat haunting stories gay Muslims face from their religion and society and examines the coexistence of Islam and homosexuality.

"This film is about looking at Islam in a very different way, post September 11, so you don't have Osama Bin Laden talking about Islam, but you have gay and lesbian Muslims talking about Islam," Sharma said. "Especially now with the Fort Hood incident, Muslims are getting a very bad reputation, all because of one individual. A film like this is very timely, critical and necessary to bring into debate what is going on around us."

Filming took more than six years to complete due to the production's multiple locations in 12 countries. Sharma's movie features people he found while making this documentary. He follows the first gay Imam, a religious leader in a Muslim community, who came out about his sexuality in this film, an Egyptian man who spent a year and a half in prison because he is gay, and four men who were forced to leave their homes in Iran.

"I filmed some very remarkable gay and lesbians from around the world," Sharma said. "The biggest challenge was convincing people to talk, in any circumstance, a religious person, including Christians have exactly the same problems with gays and lesbians that Muslims have in the mosques. It was a dilemma because no one wants to share that with the camera."

Full report at: http://www.dailytoreador.com/la-vida/muslim-director-shares-experiences-in-lecture-1.2065072

------

Pak wants long-term relations with US based on mutual respect: Naek

November 13, 2009

ISLAMABAD, Nov 13 (APP): Chairman Senate Farooq H Naek on Friday said that Pakistan wanted to build a long-term relationship with the United States based on mutual respect and shared goals looking beyond narrow paradigms of security and war of terror.He was talking to a US Congressional Delegation headed by Chairman of the House Democracy Partnership Commission David Price, which called on him at the Parliament House Friday and discussed a host of issues pertaining to Pak-US relations.

Chairman Senate underscored the importance of longstanding strategic relations between the two countries, which must be based on common goals and objectives, said a press release issued here.

"Pakistan is a vibrant democracy and a responsible state committed to peace regionally and globally", he observed.

He also lauded the American policy of support for democracy in Pakistan adding that it would help build and strengthen democratic institutions in the country.

"Today we have a functioning Parliament, powerful Opposition, independent media and judiciary .... all ingredients necessary for a working democracy," he added.

He also emphasized the need of promoting collaboration in health and education sectors by providing more scholarships to Pakistani deserving students in US institutions.

He also remarked about the concerns of the parliamentarians about the certain clauses of Kerry-Lugar Bill and drone attacks.

The Chairman Senate emphatically declared that Pakistan is opposed to terrorism in all forms and manifestations by any state, group or individual and reminded the delegation that Pakistan was the worst victim of terrorism and even had lost her great leader Benazir Bhutto Shaheed.

Full report at: http://www.app.com.pk/en_/index.php?option=com_content&task=view&id=89748&Itemid=1

------

HOUSTON: Mosque tenants: We're not the owners

By Christine Dobbyn

November 13, 2009

HOUSTON (KTRK) -- The feds are eyeing a mosque in Houston, saying the Iranian government secretly controls the owners' purse strings. But the Houstonians who rent the property from that non-profit Muslim organization say they haven't done a thing wrong

Even so, the feds want that non-profit to forfeit half a billion dollars.

The non-profit Alavi Foundation owns five interests, including four mosques, one of which is in Houston. Prosecutors say the foundation illegally funnels money back to a bank controlled by the Iranian government, a bank accused of sending money to the country's nuclear weapons program. Now, U.S. prosecutors are beginning the long process to seize the properties.

The Houston mosque that is part of the investigation is on Voss near Westheimer. Local Muslims arrived there for afternoon prayer Thursday to find media outside their mosque

"My son goes here. We have a school here established for 14 years," said Inam, who attends the mosque. "So that's why I'm very interested."

The Voss Road location that houses the Islamic Education Center is one of the buildings included in federal prosecutors filing against the Alavi Foundation which seeks to seize its properties. The government claims the foundation is secretly controlled by the Iranian government.

The chairman of the board here at the Islamic Education Center says the building and their local group are two different entities.

"We are leasing this building from the Alavi foundation," said Faheem Kazemi with the Islamic Education Center of Houston. "We are an independent organization, have no affiliations with any of the other locations. It's a local non-profit organization."

Full report at: http://abclocal.go.com/ktrk/story?section=news/national_world&id=7116304

-----

Nawaz & Musharraf handed over Pakistan citizens to US

13 November 2009

Lahore (UNN) Nawaz and Musharraf handed over Pakistan Citizens to US, The petition have been filed against the chief of Pakistan Muslim League-Nawaz and former prime minister, Mian Nawaz Sharif, and former president, Pervez Musharraf, for handing over two Pakistani citizens to US authorities Friday.

The application has been filed by a local lawyer of Lahore, Barristar Javed Iqbal Jaffery, in Lahore High Court.

Former president handed over Dr Aafia Siddiqui to US and the government has not done anything for her recovery.

Aimal Kansi was handed over to US during Nawaz Sharif tenure whos FIR was lodged in Dera Ghazi Khan. The applicant alleged that Kansis FIR was not addressed due to the pressure of the government./UNN

http://www.unnindia.com/english/story.php?Id=5593

----

In Egypt, Debate Grows over a Successor to Mubarak

By Abigail Hauslohner

Nov. 13, 2009

Hosni Mubarak has ruled Egypt for 28 of his 81 years, but he's not likely to run for re-election in 2011. And growing public debate over the identity of his successor is fueled in no small part by the fact that Egyptians are not fond of a President who is widely believed to be grooming his 45-year-old son, Gamal Mubarak, to take the reins. (Neither man acknowledges such a plan.) But while such a familial handoff would hardly be atypical in the Middle East, it's far from a done deal in Egypt.

The younger Mubarak was given a starring role in this month's annual conference of the ruling National Democratic Party, in what many see as an effort to position him to run in 2011 — and that would make his accession to the presidency largely a formality, since Egypt's regime does not tolerate a genuinely competitive democracy, and controls the political process to prevent it challenging the status quo. The most popular opposition group, the Muslim Brotherhood, remains banned, although its members running as independents have garnered a substantial minority of parliamentary seats. (See pictures of women in Cairo.)

Elections have never played a deciding role in choosing Egypt's President: Mubarak, and before him, Anwar Sadat and Gamal Abdel Nasser, all became head of state by virtue of their position in the military, and some warn that the military may not welcome the presidency being handed to an outsider. But while Gamal's lack of a military background poses a question mark over his prospects, analysts believe that a smooth familial transfer of power could be accomplished if the son was eased into position while his father remains in charge.

"Of course the army is important," says Mohamed Kadry Said, a retired general and the head of military studies at the government-funded al-Ahram Center for Strategic Studies. "But I don't think that they could prevent something [like Gamal's succession] from happening." That's because as President, Mubarak has absolute power to appoint and fire the country's military commanders.

Still, the prospect of a pharaonic succession in the modern Arab state riles many Egyptians, and economic pressures are stirring social unrest. "Since 2004, Egypt has witnessed more political and economic protests in any period since the 1919 revolution," says Georgetown University political scientist Samer Shehata. "That potentially poses a big problem for the regime. Those are things that could get out of control."

Full report at: http://www.time.com/time/world/article/0,8599,1938697,00.html?xid=rss-topstories

------

Islamic groups warn US of backlash for seizing Iran-linked Shia mosques

13 Nov 2009

Washington, Nov. 13 (ANI): Islamic groups have warned the Obama administration that it would face backlash if the Shia'ite mosques, schools and building in New York City, Maryland, California and Houston, are seized.

"Whatever the details of the government's case against the owners of the mosques, as a civil rights organization we are concerned that the seizure of American houses of worship could have a chilling effect on the religious freedom of citizens of all faiths and may send a negative message to Muslims worldwide," said Ibrahim Hooper, spokesman for the Council on American-Islamic Relations.

The chilling statement came as federal prosecutors moved to confiscate assets of Shia-dominant Alavi Foundation, which runs many Islamic institutions.

On Thursday, federal investigators filed a civil complaint to seize 500 million dollars assets of the foundation over their alleged financial aid to Iran.

It is extremely rare for US law enforcement authorities to seize a house of worship, a step fraught with questions about the constitutional right to freedom of religion.

Alavi Foundation's lawyer John D. Winter said the foundation intends to litigate the case and prevail. "Obviously the foundation is disappointed that the government has decided to bring this action," The Jerusalem Post quoted Winter, as saying.

The US has long suspected the foundation was an arm of the Iranian government, with involvement in foundation business by several top Iranian officials, including the deputy prime minister and ambassadors to the United Nations. (ANI)

http://www.newstrackindia.com/newsdetails/133073

------

'Kashmir was incomplete without Jammu': Mirwaiz Umar Farooq

13 November 2009

Srinagar: Hurriyat Conference led by Mirwaiz Umar Farooq Friday accused New Delhi of attempting to defame 'ongoing struggle' with terrorism, Taliban and Al-Qaeda, insisting that the resistance was peaceful.

"India is trying its best to link Kashmir struggle with terrorism, Taliban and Al-Qaeda but for last several years, we have shown to the world that our resistance movement is peaceful and it was government who is unleashing worst terrorism in Jammu and Kashmir," Mirwaiz said addressing a gathering in Kishtawar district in Jammu division.

"People of Jammu and Kashmir have not given exemplified sacrifices for monetary relief, benefits or subsidy but for basic, right to self-determination and freedom," a spokesman of amalgam quoting him said in a statement to Press Bureau of India.

He said that detention, house arrests or atrocities were no solution to Kashmir.

"Jailing Syed Ali Geelani (Hurriyat Conference (G) chairman) or Mirwaiz Umar Farooq wouldn't resolve the Kashmir issue for this is not about a single person or party but it's a people's movement," he added.

Mirwaiz reiterated readiness of the amalgam with India, stating that it was ready to move two steps if New Delhi moves one step ahead.

"Hurriyat Conference is ready for dialogue with India for we believe that our issue is based on principle and can discuss it on any plate form," he said, adding, "Kashmir issue is not about transfer of governance and is not any economic issue or about packages and it needs to be resolved politically," he added.

He rejected bilateral talks as solution to the imbroglio but asserted that triangular dialogue could prove consequential for trilateral talks.

Full report at: http://www.kashmirwatch.com/showexclusives.php?subaction=showfull&id=1258134242

-------

U.K. PM sees 5,000 more NATO Afghan troops

Nov. 13, 2009

Brown affirms commitment to mission as Obama mulls strategy options

LONDON - Britain's prime minister said Friday he could secure commitments for 5,000 more NATO forces in Afghanistan, offering key backing to the United States as it weighs increasing troop levels.

Gordon Brown robustly defended Britain's mission in Afghanistan, but he acknowledged in an interview with the British Broadcasting Corp. that Britain needed to "adjust our approach" amid rising casualties. He insisted that Washington and London need the 43 other nations involved in the International Security Assistance Force to step up to help share the burden.

"I think we can probably get another 5,000 forces into Afghanistan," he said.

http://www.msnbc.msn.com/id/33904178/ns/world_news-south_and_central_asia/

-------

SNP candidate praised radical Muslim as 'preacher of peace'

November 12, 2009

Sean O'Neill, Crime and Security Editor and Richard Kerbaj A radical Muslim cleric alleged to have inspired the Fort Hood gunman has been praised in the past as "a preacher of peace" by a prominent SNP candidate with close links to Alex Salmond.

The FBI is investigating communications between Major Nidal Hasan, who killed 13 people at the US Army base in Texas, and Imam Anwar al-Awlaki, a US-born Muslim cleric now based in Yemen. Mr Awlaki has a large following in Britain and counts prominent mainstream Muslims among his supporters.

In 2006 Osama Saeed, who has been selected as the SNP candidate for Glasgow Central for the next general election, wrote that Mr Awlaki "preached nothing but peace".

Last night Mr Saeed, who was researcher to Mr Salmond before he became the Scottish First Minister, distanced himself from Mr Awlaki, saying that he now felt "cheated" by the cleric.

Mr Saeed said: "I completely disagree with what he has said about Fort Hood, and a host of other matters which he has more recently written and spoken about."

Mr Awlaki, 38, who on his blog described Major Hasan as "a hero", has been a regular visitor to Britain and delivers frequent lectures to audiences here by video or via the internet.

Counter-terrorism sources said last night that Mr Awlaki was barred from entering Britain on security grounds, while the anti-extremist Quilliam Foundation said that he was "perhaps the most influential pro-jihadist ideologue preaching in English today".

Full report at: http://www.timesonline.co.uk/tol/news/uk/scotland/article6913234.ece

-------

Obama: Decision Soon on Troops for Afghanistan

By THE ASSOCIATED PRESS

November 13, 2009

TOKYO (AP) -- President Barack Obama, facing withering criticism for a prolonged decision-making process on Afghanistan, asserted Friday he's doesn't want the next move to be seen as an ''open-ended commitment.''

In a joint news conference with Japanese Prime Minister Yukio Hatoyama, Obama also said he was bent on ''getting this right.'' He denied that his administration has been dithering and said that whatever policy change he announces must be aimed at protecting America from terrorist networks.

Opening a weeklong trip to Asia, Obama said the United States and Japan must ''find ways to renew and refresh the alliance for the 21st century.''

Hatoyama said the two leaders had agreed to spend the next year refining the nearly 50-year-old treaty that defines relations between the two World War II adversaries.

''Both Yukio and I were elected on the promise of change,'' Obama said. ''But there should be no doubt that as we lead our nations in a new direction, our alliance will endure and our efforts will be focused so that it will be even stronger in meeting the challenges of the 21st century.''

With Obama weighing a new strategy for Afghanistan, Hatoyama said Japan would end a refueling mission for the U.S. military. But he promised $5 billion in aid for Afghan civilian needs such as schools, agriculture and police.

The new Japanese leader also vowed to cooperate with the United States on combatting climate change and nuclear proliferation.

The trip came as the Obama administration was preparing to announce later Friday that the alleged mastermind of the Sept. 11 terrorist attacks, Khalid Sheikh Mohammed, would be moved from the Guantanamo Bay, Cuba, prison to New York for a civilian trial. Without confirming the details, Obama said Mohammed ''will be subject to the most exacting demands of justice.''

On Afghanistan, Obama said he was not waiting for any new information. Rather, he said, he wants to be sure he strikes the right balance before committing more U.S. troops and billions of dollars to the 8-year-old conflict.

Full report at: http://www.nytimes.com/aponline/2009/11/13/world/AP-Obama.html

-------

'NY trial' for key 9/11 suspects

November 13, 2009

Alleged 9/11 mastermind Khalid Sheikh Mohammed will be sent from Guantanamo Bay to New York for trial in a civilian court, reports say.

Citing unnamed government officials, the reports said he would be transferred from the US prison camp in Cuba with four other suspects.

US Attorney General Eric Holder is expected to announce the decision later, the officials say.

Mr Mohammed has admitted planning the 9/11 attacks, the US military says.

The five men have until now been facing prosecution at US military commissions in Guantanamo. The government had faced a 16 November deadline to decide how to proceed in their cases.

US President Barack Obama has made closing the detention camp a top priority.

Asked about the reports during a visit to Tokyo, he declined to pre-empt Mr Holder's announcement, but said that Khalid Sheikh Mohammed would face "most exacting demands of justice".

According to the reports, Mr Holder will also announce that a suspect in the 2000 bombing of the USS Cole in Yemen will be tried at a military tribunal.

Deadline looming

Khalid Sheikh Mohammed has been described by US investigators as "one of history's most infamous terrorists".

They say he has admitted being responsible "from A to Z" for the 9/11 attacks.

Believed to be the number three al-Qaeda leader, he was captured in Pakistan in March 2003.

He told a pre-trial hearing at Guantanamo in December 2008 that he wanted to plead guilty to all charges against him.

Full report at: http://news.bbc.co.uk/2/hi/americas/8358773.stm

-------

Bloomberg Linked to Terrorist

By Roy Edroso

Nov. 12 2009

You see it all the time in papers or on the web: "Islamic charities in US linked to terrorist funding," "Kerry campaign accepted funds from activist linked to terrorist group," "Barack Obama linked to terrorist Yasser Arafat," etc. Now Michael Bloomberg joins their illustrious company. His office invited Siraj Wahhaj, "linked to the 1993 World Trade Center bombing," to meet at City Hall to discuss ways to keep the lid on anti-Muslim violence after Fort Hood. Thus, Bloomberg is Linked to Terrorist, or at least to someone Linked to Terrorism, which as history shows is close enough for journalism...

In addition to being the imam of the Masjid al Taqwa mosque in Bed-Stuy, in which capacity he was invited to City Hall yesterday, Wahhaj was an "unindicted co-conspirator"in the '93 job, which means they never pinned it on him but wanted their suspicions to get around. He also pals around with terrorists like the blind sheik, etc., and is a member of CAIR, the Council on American-Islamic Relations, which is simultaneously a well-regarded Muslim outreach group and a bete noir of the right wing.

Oddly, there is no mention of terrorism in the New York Post's headline, perhaps because Bloomberg is not a Democrat, or even in the article except in Wahhaj's mouth. The Post also reveals Wahhaj "said he hopes all Americans eventually become Muslim," which puts him in the same class of dangerous extremist as Christian missionaries.

Grilled by the Post reporter, Bloomberg first denied Wahhaj's presence, then said "We have to talk to everybody." The Daily News says "The mayor's office admits it goofed," though the closest they get to such an admission is an unnamed aide's statement that "If we were aware of his full background, it would have been done differently."

http://blogs.villagevoice.com/runninscared/archives/2009/11/bloomberg_linke.php

URL of this page: http://www.newageislam.com/islamic-world-news/khalid-sheikh-mohammed,-other-9-11-suspects-face-civilian-trial-in-new-york/d/2090