New Age Islam News Bureau
23 Oct 2018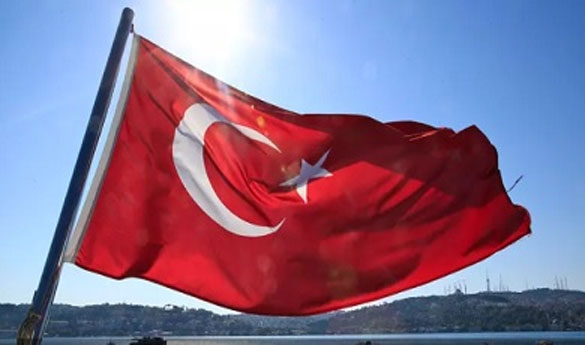 Photo: Erdogan spokesman Ibrahim Kalin said Saudi Arabia is for us an important country, a brotherly and friendly country. (File photo: AP)
-------
• Turkey says does not want Saudi relations hurt by Khashoggi case
• 'Muslim Brotherhood' is a global threat: US Expert
• Pakistan PM Imran Khan calls for dialogue over Kashmir issue
Mideast
• Turkey says does not want Saudi relations hurt by Khashoggi case
• 20 Palestinians wounded in Israeli attack on Gaza naval march
• Erdoğan named world's most influential Muslim by Jordan-based center
• Palestinian who stabbed Israeli soldier is shot dead
• Chaotic scenes in Sanaa as Houthi factions fight each other
• Jaish al-Adl militias claim responsibility for Iran troops' abduction
• Silence on Yemen carnage shows US, Europe hypocrisy: Hezbollah official
--------
India
• Kerala Muslims find Islamic State most attractive in India says a Pakistan study
• Shia Waqf Board demands legislation for Ram Temple; calls himself Vibhishan for the cause
• India responds to Imran Khan's tweet on Kashmir with a stinging takedown
• Those expressing solidarity with Ahmadis can go to India or Israel: Pak extremist cleric
• Forming a Muslim party in the country is infeasible: Qari Mohammed Osman Mansoorpuri
• India lodges strong protest with Pakistan over killing of 3 soldiers along LoC
• India, China ink security pact, Delhi raises Masood Azhar issue
• Hizbul Mujahideen militant calls for arms from Pakistan
--------
North America
• 'Muslim Brotherhood' is a global threat: US Expert
• Anti-Muslim campaigning in the US is a 'losing strategy': report
• Kushner breaks silence on Khashoggi case, talks of 'US interests'
• Canada ready to halt $13bn arms deal with Saudi Arabia: PM
• Trump: 'No reason' for month delay in Khashoggi probe
--------
Pakistan
• Pakistan PM Imran Khan calls for dialogue over Kashmir issue
• Govt's inapt stance on Khashoggi affair regrettable: HRCP
• Imran Khan leaves for Saudi conference saying Pakistan "desperate" for loans
• 'Pakistan is now given importance in Muslim world due to Imran Khan'
• 'Democratic forces' need to devise joint strategy: Zardari
• Iranian terrorist group claims responsibility for troops' abduction near Pakistan border
• Army hands over administrative control of Swat to civilian authorities
• Judiciary, military should stop oppressive policies against oppressed in Pakistan: Altaf Hussain
--------
South Asia
• At least six Buddhists killed in rising Rakhine violence
• Stowe School sends pupils to see Rohingya refugee camps in Bangladesh to 'open their eyes'
• 'Saudi tour to have far-reaching impacts'
• Taliban's shadow district chief killed in coalition airstrike in Nangarhar
• Pentagon: US general shot in last week's Taliban attack
--------
Southeast Asia
• Malaysia's PM bans child marriage
• C. Java Governor Ganjar tells 'santri' to launch 'jihad' against hoaxes
• Indonesian Children Recite Quran in Int`l Recital Event in Moscow
• Indonesia calls for "transparent and thorough" probe of Khashoggi killing
• Islamic school haven for transgender Indonesians
--------
Arab World
• Saudi Arabia gets away with murder, terror and sex crimes
• How the man behind Jamal Khashoggi murder ran the killing via Skype
• Saudi FM reaffirms commitment to full investigation into Khashoggi killing
• Colonel Hamdan.: US behind Terrorists' Violation of Idlib Agreement
• Terrorists Continue Reinvigorating Positions in Northern Syria Regardless of Sochi Agreement
• Turkey Gives Last Warning to Terrorists to Leave Demilitarized Zone in Northern Syria
• Syrian Air Force Bombs Heavily ISIL's Movements in Homs
• Israel says Hezbollah set up Lebanon post under NGO guise
• US President Trump speaks with Saudi Crown Prince
• German Daesh 'shoemaker' pleads to come home from Syria
--------
Africa
• Algeria detains 17 for providing information to al-Qaeda cell
• Nigeria: Govt Must Stop Lying About Boko Haram - ICC
• Muslim pilgrims allege theft of funds, demand to meet Sonko
• South Africa: Govt to Appeal Decision On Muslim Marriages
• N. Eastern leaders pledge to flush out Al-Shabaab
--------
Europe
• US general demands UK trial for ISIS fighters
• Islam scholar Ramadan claims sex was consensual in French rape case
• Protesters demand Iran's intelligence ministry be placed on EU terror black list
• Saudi investigation on Khashoggi entails hypotheses: UK
• How Turkey Is Spreading Its Radical Islamist Agenda to Europe
• Russia curbs Israeli flights near Syrian skies: Paper
• Germany calls Khashoggi's murder 'monstrosity'
• UK mobile unit to confront dirty bomb threat
Compiled by New Age Islam News Bureau
URL: https://www.newageislam.com/islamic-world-news/kerala-muslims-find-islamic-state/d/116696
--------
Kerala Muslims find Islamic State most attractive in India says a Pakistan study
October 22, 2018
New Delhi, Oct 22: In an already crowded terror market, India has another headache to deal with. The outfit that is threatening the country this time is the Wilayat-e-Hind (WeH).
The WeH is an offshoot of the Islamic State and is currently active in South Asia. The outfit over the past couple of weeks has attracted several educated Muslim youth in India, Bangladesh and Pakistan.
The Intelligence agencies say that this outfit has not only been radicalising the youth in India, but has also moved several of its fighters from Syria and Iraq to Afghanistan. The ISIS has been facing heavy losses in Syria and Iraq and hence decided to make it Afghanistan, India, Pakistan and Bangladesh wing stronger.
The motive:
In the many recruitment drives that the WeI has conducted, a similar modus operandi that the other groups have relied upon has been used. The outfit speaks about the governments of India and Bangladesh and how an un-islamic rule is in place.
Further it accuses the government of carrying out state-sponsored terrorism against the Muslim community.
A study in this regard titled 'Prospects of Daesh's Expansion in South Asia," says that an unorganised presence of WeH terrorists has been identified in parts of India, Bangladesh and Pakistan. It operates as an Indian chapter of the Islamic State which was formally announced in 2016.
The new research was conducted by Abdullah Khan, the managing director of the Pakistan Institute for Conflict and Security Studies. The study also says that WeH is the new chapter of the Daesh which is quickly attracting educated youth in India, Bangladesh and Pakistan.
An interesting highlight of the study relates to Kerala. It says the Indian citizens, especially from Kerala find the Islamic State more attractive than another group. This observation comes in the wake of 54 people from Kerala joining the ISIS in the past three years.
Further it states that those who have joined the Wilayat are educated and most of them are engineers, doctors and MBA holders. Most of them are joining the group's Khorasan chapter (Afghanistan) than the core group in Syria or Iraq.
https://www.oneindia.com/india/kerala-muslims-find-islamic-state-most-attractive-in-india-says-a-pakistan-study-2796546.html
--------
Turkey says does not want Saudi relations hurt by Khashoggi case
22 October 2018
Turkey on Friday vowed said it did not want relations with Saudi Arabia to be damaged in the case of the killing of Saudi journalist Jamal Khashoggi in Istanbul.
"From the start, the line of our President (Recep Tayyip Erdogan) has been clear. Nothing will remain secret in this case," presidential spokesman Ibrahim Kalin told reporters in Ankara.
He added: "Saudi Arabia is for us an important country, a brotherly and friendly country. We have many partnerships and we would not want these to be damaged. Consequently, there is a great responsibility on the Saudi authorities to shed light on the case."
https://english.alarabiya.net/en/News/middle-east/2018/10/22/Turkey-says-does-not-want-Saudi-relations-hurt-by-Khashoggi-case.html
--------
'Muslim Brotherhood' is a global threat: US Expert
By Dalia Aqidi
22 October 2018
Efforts continue in Washington D.C. to designate the Muslim Brotherhood as a terrorist organization due to its global activities.
Hillel Fradkin, Director of the Center on Islam, Democracy and the Future of the Muslim World at the Hudson Institute emphasized to Al Arabiya English that the Muslim Brotherhood is a global threat, "It is true that it operates on a global basis or as global as it can be. It has branches in various Muslim countries, especially Arab countries, but also other regional countries, and it has organizations that were founded by and directed by its members in other places like France, England, US, and so forth," he said.
The US expert highlighted that the Brotherhood founder, Egyptian, Hassan al Banna, was aiming to establish his organization outside Egypt as well, not for his personal ambitions, but to implement the agenda of the Brotherhood's project.
Fradkin who testified before the United States' House of Representatives Committee on Oversight and Government Reform, last July, to consider the proposition that Washington should declare the Brotherhood a terrorist organization.
He argued against the suggestions that if the U.S. takes this step, it would negatively affect Washington's foreign relations with several Arab and Muslim countries, "If you take the case of Egypt, we were understood to be favorably disposed towards the Brotherhood, especially with former U.S. President Barak Obama's Cairo speech and his embrace of the group through it.
But, afterward, there was a general understanding on the part of some part of the Egyptian public that we were siding with the Brotherhood. Unfortunately, a lot of Egyptians were hostile to the U.S. They weren't favorable to us." the US expert told Al Arabiya English.
Muslim Brotherhood's experiment
"President Obama basically said let's try an experiment. Let's see if we engage with them, if we show some accommodation to the Muslim Brotherhood, let's see if we get something positive out of that" Fradkin pointed out, adding that while the whole world was going through that experiment, the Egyptians were the ones who had to live with it. "Once the Brotherhood was in power, it showed us that they weren't moderate," he said.
The United States' laws when it comes to designating a person or a group as terrorists have a specific definition of what that means and require specifically violent acts, according to the US expert who pointed out that; "One could say that there are certainly branches of the Brotherhood, which have committed violent acts and terrorist acts. The Egyptian Brotherhood, before it fell from power, or at the time it was falling from power, certainly committed violence acts. So too did the Syrian Brotherhood in its day, and so too does Hamas on a regular basis, which is a branch of the Brotherhood."
Islamic State
During his testimony, Fradkin explained to the committee that the Banna's Brotherhood's project was to apply to all Muslims and the forms of government under which they lived, rejecting the nation-state as a legitimate form of Muslim governments.
Banna's ultimate goal was to form a new Muslim state which would embrace all Muslims and would restore the authentic Muslim way of life as well as restore Muslim political powered, military power, and Muslim prestige. To use a term that has recently become familiar it was to be an Islamic and not a national state, or rather The Islamic State.
Fradkin emphasized to Al Arabiya English that the larger issue that was not captured was the degree to which the Brotherhood contributes through its ideology and through its attempts to impart that ideology to the people, to create a basic understanding, which as often as not does wind up in violent acts, "It is very hard to part that in a very clear way as such that it comes under the American laws which was the complication in the hearing," he said.
He noted that recently Ayman al-Zawahiri, the present leader of Al Qaeda, reached out to the Brotherhood expressing nostalgic appreciation for the fact that Al Qaeda had been born out of the Brotherhood project and welcomed its members to join his own.
"Most of the groups that gain attention in our American politics, and elsewhere, are brotherhood groups. I mean Isis and Al Qaeda cannot come out into the open, but the brotherhood can and does in the form of organizations. The Council on American-Islamic Relations "CARE" in the United States is an example which the majority of the moderate Muslims argue that those people don't represent us," Fradkin stated.
What should be done?
"The US administration should not treat these organizations and their leaders as representatives of the Muslim community of the United States. That's the beginning point," the Hudson's expert emphasized.
He stressed that the Washington should be firm in dealing with the Brotherhood and the countries that support, finance, harbor, or provide a platform for the group to freely promote its ideology, The thing is countries like Saudi Arabia, UAE, and Egypt had banned the Muslim brotherhood movements, they considered it or they listed it as a terror group. While some of the US allies did not, and still work with the group, such as Qatar," Fradkin concluded.
https://english.alarabiya.net/en/features/2018/10/22/Muslim-Brotherhood-is-a-global-threat-US-Expert.html
--------
Pakistan PM Imran Khan calls for dialogue over Kashmir issue
Oct 22, 2018
Imtiaz Ahmad
Pakistan Prime Minister Imran Khan on Monday condemned what he described as a "new cycle of killings" in Kashmir and said the solution to the "Kashmir dispute" lay in dialogue.
Khan's ruling Pakistan Tehreek-e-Insaf party is keen to make progress in relations with India and other neighbours, but, in India's case, wants to do this without altering its rigid stance on Kashmir, say analysts. The lack of dialogue between the two countries comes at a time when Pakistan is facing diplomatic isolation from neighbours and a cold shoulder from allies such as Saudi Arabia, who have turned down requests to help Islamabad tide over its economic problems.
In a tweet, Khan criticised what he called the "new cycle of killings of innocent Kashmiris" and repeated his stance that the solution to the issue lay in dialogue. "It is time India realised [that] it must move to resolve the Kashmir dispute through dialogue in accordance with the UNSC resolutions and the wishes of the Kashmiri people."
The Indian ministry of external affairs said Khan's comments were "deeply regrettable".
"Instead of making comments on India's internal affairs, Pakistan leadership should look inwards and address its own issues. Pakistan would serve the interest of the people of the region by taking credible action against all kind of support to terrorism and terror infrastructure from all territories under its control... Pakistan's deceitful stand on dialogue, while supporting terror and violence, stands exposed to the whole world," said spokesperson Raveesh Kumar.
Foreign policy analysts said the Pakistan premier is trying again to reach out to India for some sort of dialogue. "He is under pressure from a number of quarters and he wants to show some achievement," commented analyst Aga Hilali.
Hilali said there were high expectations from the Imran Khan government on the foreign policy front. "Instead there has been disappointment."
In September, India called off a meeting scheduled between Pakistan foreign minister Shah Mahmood Qureshi and India's external affairs minister Sushma Swaraj that was to take place in New York on the sidelines of the UN General Assembly session.
The Indian foreign ministry said the talks were called off after the "latest brutal killings of our security personnel by Pakistan-based entities and the recent release of a series of twenty postage stamps by Pakistan glorifying a terrorist and terrorism".
In a statement released on Monday, Qureshi's office said "the international community needs to take swift action against human rights violations" in Kashmir.
Khan is set to travel to Saudi Arabia to take part in the Future Investment Initiative in Riyadh. This forum is being widely boycotted by international leaders following the murder of the Saudi journalist, Jamal Khashoggi inside the Saudi Arabian consulate in Istanbul.
In a meeting with the foreign media on Monday, Khan said, "What happened in Turkey is just shocking, what can I say? It's shocked all of us.
"But that aside, the reason I have to take this opportunity is because we are country of 210 million people and we have the worst debt crisis in our history."
Khan told foreign journalists: "We are desperate for money. Unless we get loans from friendly countries or IMF, we actually won't have foreign exchange to either service our debts or to pay for our imports. Unless we get loans, or investment from abroad, we'll have real, real problems."
https://www.hindustantimes.com/india-news/pakistan-pm-imran-khan-calls-for-dialogue-over-kashmir-issue/story-bb1fBbTowxuw5fJgQLUXxN.html
--------
Mideast
20 Palestinians wounded in Israeli attack on Gaza naval march
Oct 22, 2018
Israeli soldiers have wounded at least 20 Palestinians in an attack on demonstrators that had gathered along Gaza's territorial waters to stage a new protest against Israel's occupation.
The injuries occurred after Israeli forces attacked hundreds of peaceful Palestinian protesters with live ammunition during a naval march in the town of Beit Lahiya in the northern Gaza Strip on Monday.
The Palestinian Ma'an News Agency said Israeli forces opened fire at protesters approaching the fence separating Gaza from the occupied territories and hurled teargas bombs that caused many to suffer from respiratory problems.
The Gaza Health Ministry said at least 20 people were wounded in the raid near the maritime border with the occupied territories, adding that the injured were transferred to hospitals for medical treatment.
The Palestinian protesters, in response, moved dozens of boats toward an Israeli navy vessel in an attempt to break the 12-year-long siege on Gaza.
The demonstration on Monday was the 13th naval march against the crippling blockade of the enclave.
The Gaza Strip has been under an inhumane Israeli siege since 2007 and witnessed three wars since 2008. The blockade has caused a decline in living standards as well as unprecedented levels of unemployment and poverty.
Tensions have been running high near the fence since March 30, which marked the start of a series of protests dubbed "The Great March of Return." Palestinian protesters demand the right to return for those driven out of their homeland.
The deadly clashes in Gaza reached their peak on May 14, the eve of the 70th anniversary of Nakba Day, or Day of Catastrophe, which coincided this year with Washington's relocation of the US embassy from Tel Aviv to occupied Jerusalem al-Quds.
More than 200 Palestinians have so far been killed and over 20,000 others wounded in the renewed Gaza clashes, according to the latest figures released by the Gaza Health Ministry.
https://www.presstv.com/Detail/2018/10/22/577805/Palestinian-protesters-Beit-Lahiya-Gaza-Strip
--------
Erdoğan named world's most influential Muslim by Jordan-based center
October 23, 2018
President Recep Tayyip Erdoğan ranked first place in the 2019 edition of the World's 500 Most Influential Muslims.
Prepared annually by the Jordan-based Royal Islamic Strategic Studies Centre, the book notes that Erdoğan became Turkey's first popularly-elected president in August 2014 and then secured a second term in the 2018 election with 52.5 percent of the vote.
During Erdoğan's terms, Turkey has undergone "constitutional reform and a re-emergence as a major global power," the publication said.
The report said that under Erdoğan's leadership, Turkey has focused on building stronger relations with all of its seven land-contiguous neighbors, especially Greece, and also all of those countries bordering the Black Sea -- an important trading hub and a geopolitically significant area.
"In Africa, it has opened up over 20 new embassies and consulates, and when Somalia suffered from a crippling famine and drought in 2011, Erdoğan not only gave aid, but also became the first leader from outside Africa to visit Somalia in nearly two decades," it said.
In the book's editions belonging to previous years, Erdoğan was ranked 8th in 2016 and 2017, and 5th in 2018.
In the 2019 ranking, Saudi King Salman bin Abdul-Aziz Al-Saud was ranked second in being the most influential Muslim, while Jordanian King Abdullah II Ibn Al-Hussein was ranked third.
The book has been published annually by The Royal Islamic Strategic Studies Centre in Jordan's capital Amman since 2009, and its 10th edition for the year 2019 was published this month.
It sets out to ascertain the influence some Muslims have on the Ummah (worldwide Muslim community), or on behalf of the Ummah, according to the book.
Full report at:
https://www.dailysabah.com/politics/2018/10/22/erdogan-named-worlds-most-influential-muslim-by-jordan-based-center
--------
Palestinian who stabbed Israeli soldier is shot dead
22 October 2018
A Palestinian stabbed an Israeli soldier and was shot dead by the wounded man and other troops in the Israeli-occupied West Bank on Monday, the military said.
In a statement, the military said the incident occurred near the biblical Cave of the Patriarchs, revered by Muslims as the Ibrahimi mosque, in the city of Hebron.
The soldier was slightly wounded in the attack and opened fire, along with other soldiers, at the assailant, killing him, according to the military.
Palestinians began a wave of knife and car-ramming attacks in the West Bank and in Israel in 2015, after peace talks with Israel collapsed. Such incidents have become more sporadic.
Full report at:
https://english.alarabiya.net/en/News/middle-east/2018/10/22/Ennahda-assigns-Ghannouchi-to-hold-consultations-with-Essebsi-Chahed.html
--------
Chaotic scenes in Sanaa as Houthi factions fight each other
22 October 2018
Renewed fightingbroke out among Houthi militias in Sanaa leading to many casualties amid security chaos in the Yemeni capital and growing cases of assassinations among them.
Sources also reported the spread of looting of shops and banks under the pretext of financing military operations. The chaotic security situation comes at the heels of the assassination of the son of security director of a directorate in the capital.
Renewed clashes among Houthi militants resulted in deaths in their ranks while sources pointed out that the assistant Secretary-General of the Supreme Council for Tribal Affairs of the Houthi, Safwan al-Habri, narrowlly escaped an armed ambush in a neighborhood south of Sanaa.
Other members of the coup militias have also been assassinated due to feuds related to money and the refusal of the Houthi militias to pay the salaries of its employees.
Full report at:
https://english.alarabiya.net/en/News/gulf/2018/10/22/Chaotic-security-scene-in-Sanaa-with-renewed-fighting-among-Houthis-.html
--------
Jaish al-Adl militias claim responsibility for Iran troops' abduction
22 October 2018
An extremist militant group has claimed responsibility for the abduction of 12 Iranian security personnel near the border with Pakistan, Iran's semi-official news agency ISNA reported Monday.
"The terrorist group Jaish al-Adl (Army of Justice in Arabic) has posted two photos... claiming that those in it are the forces abducted" on October 16, ISNA said.
Jaish al-Adl, formed in 2012, is a successor to the Sunni extremist group Jundallah (Soldiers of God) which has carried out a spate of attacks on Iranian security forces in recent years in the southeastern province of Sistan-Baluchistan.
The photos show seven members of the elite Revolutionary Guards force and five police commandos, all in combat gear, according to state news agency IRNA.
The Iranians, including intelligence offices, were abducted near Lulakdan, a village 150 kilometres (90 miles) southeast of Zahedan, capital of Sistan-Baluchistan.
They were "made unconscious" by a "single infiltrator" and then kidnapped and taken to bases inside Pakistan, said Guards commander Major General Mohammad Ali Jafari, quoted by IRNA.
The photos also show a haul of automatic weapons and sniper rifles, rocket launchers, machine-guns, grenades and ammunition, apparently seized from the Iranian forces.
Sistan-Baluchistan has long been a flashpoint, with Pakistan-based Baluchi separatists and extremists carrying out regular cross-border raids against Iran.
The province has a large, mainly Sunni Muslim ethnic Baluchi community which straddles the border.
A delegation led by the Guards' ground forces commander Mohammad Pakpour visited Pakistan on Monday to follow up on efforts to free the Iranians, the force said on its website.
Pakistan said last Wednesday that it has launched "active" efforts to locate the missing men.
Full report at:
https://english.alarabiya.net/en/News/world/2018/10/22/Jaish-al-Adl-militias-claim-responsibility-for-Iran-troops-abduction-.html
--------
Silence on Yemen carnage shows US, Europe hypocrisy: Hezbollah official
Oct 22, 2018
A top official of the Lebanese Hezbollah resistance movement says the awkward silence of the United States and Europe on the ongoing Saudi-led massacres in Yemen definitively proves their hypocrisy, stating that Washington is being paid huge sums of money by the Riyadh regime to cover up its crimes.
"Saudi Arabia can buy US President Donald Trump, the US Congress, the Security Council and major powers with its petrodollars, but cannot win the support of defenseless and honorable Yemeni nation or Hezbollah's silence. That is why they tend to punish the Lebanese resistance movement through placing it on terrorist lists and adopting economic sanctions against it," Sheikh Nabil Qaouk, deputy chief of Hezbollah's executive council, said on Sunday.
Saudi Arabia and a number of its regional allies launched a devastating military campaign against Yemen in March 2015, with the aim of bringing the government of resigned president, Abd Rabbuh Mansur Hadi, back to power and crushing the country's popular Houthi Ansarullah movement.
The Legal Center for Rights and Developments in Yemen, in a statement released on October 15, announced that the ongoing Saudi-led military campaign against the impoverished and conflict-plagued Arab country has resulted in the death of 15,185 civilians, including 3,527 children and 2,277 women.
A total of 23,822 civilians, among them 3,526 children and 2,587 women, have also sustained injuries, and are currently suffering from the lack of medicine, medical supplies and poor treatment due to the crippling Saudi siege.
Elsewhere in his remarks, Qaouk said, "Political developments as well as changes on the ground in Syria, Iraq, Yemen and the Middle East region confirm the victory of the anti-Israel resistance front. In Syria, all efforts to topple the incumbent government have failed. Syria is still a solid fortress at the core of the resistance front. Its victory will boost the strength of the resistance front against Israel's acts of aggression."
"Hezbollah resistance movement scored another victory when it managed to beef up its advanced missile capabilities – a move that worried Israel and filled its officials with terror. Therefore, Israelis no longer trust (Prime Minister Benjamin) Netanyahu's assurances, because they have discovered that such comments are sheer lies," he noted.
Full report at:
https://www.presstv.com/Detail/2018/10/22/577771/Silence-on-ongoing-Yemen-carnages-attest-US-Europe-hypocrisy-Senior-Hezbollah-official
--------
India
Shia Waqf Board demands legislation for Ram Temple; calls himself Vibhishan for the cause
22 October 2018
New Delhi, Oct 22: Amid Hindu seers, saints and right wing organisations including Rashtriya Swayamsevak Sangh (RSS), Vishwa Hindu Parishad (VHP), Bajrang Dal and even the Bharatiya Janata Party (BJP) pitching for the construction of Ram temple in Ayodhya, Uttar Pradesh Shia Waqf Board too demanded legislation for construction of Ram Temple.
Living the Dussera moment, Shia Waqf Board chief Syed Waseem Rizvi called Babur a Ravan and himself a Vibhishan to help building Ram temple built in Ayodhya. Rizvi said, "As per Islam, it is sinful to offer prayer on the land occupied forcefully and on the religious places of other faith." He said, "Actually there is lack of humanism among radical Muslims. The fight of Ram temple is with Babri Rawan and Shia Waqf Bard and me is going to play the role of Vibhishan to end Rawan. Because in the year 2019, we will built the Ram temple by making constitutional provisions for the construction of Ram Temple."
Organisations like All India Muslim Personal Law Board and Babri Masjid Action Committee are demanding reconstruction of Babri mosque there where it stood but Uttar Pradesh Shia Waqf Board president Rizvi said, "During the time of second Caliph converting churches into mosque started from Spain. The similar modus operandi was adopted by Mughals and Monghols in India when they destroyed temples in India to replace them with mosque."
Rizvi said that there were no dearth of land in India and separate places of worship could have been built. Babur and other Mughals have very frequently demolished temple while none of theh non-Muslim ruler did the same by destroying mosque of any other shrine. However, political analyst say that such thing will continue as the elections are round the corner.
https://in.news.yahoo.com/shia-waqf-board-demands-legislation-105437803.html
--------
India responds to Imran Khan's tweet on Kashmir with a stinging takedown
Oct 22, 2018
Pakistan's leadership should look inwards and fix its own issues rather than support and glorify terrorists against India, the foreign ministry said on Monday, hitting out at Pakistan Prime Minister Imran Khan for his condemnation of what he had described as a "new cycle of killings of innocent Kashmiris" by security forces.
Imran Khan's tweet was a reference to the death of six civilians in a blast at a house in south Kashmir on Sunday. Police say the people had gone too close to the house where an encounter between security forces and terrorists had just ended. Kashmiri separatists had called for a shutdown in the region over the civilian casualties.
The cricketer-turned-politician's tweet that drew a sharp reaction from New Delhi also came just a day after a border action team of Pakistan army crossed the Line of Control in Jammu and Kashmir and killed three Indian soldiers in an ambush.
Khan had repeated his stance that the solution to the issue lay in dialogue. "It is time India realised [that] it must move to resolve the Kashmir dispute through dialogue in accordance with the UNSC resolutions and the wishes of the Kashmiri people," he had said.
The foreign affairs ministry dissed Imran Khan for his country's "deceitful stand on dialogue"
"Pakistan's deceitful stand on dialogue, while supporting terror and violence, stands exposed to the whole world," the foreign ministry said in reaction to Khan's tweet.
The ministry said Pakistan would serve the interest of the people of the region by taking credible action against all kind of support to terrorism and terror infrastructure from all territories under its control rather than supporting and glorifying terrorists and terror activities against India and its other neighbours.
"Instead of making comments on India's internal affairs, Pakistan leadership should look inwards and address its own issues," ministry spokesperson Raveesh Kumar said.
In September, India called off a meeting scheduled between Pakistan foreign minister Shah Mahmood Qureshi and India's external affairs minister Sushma Swaraj that was to take place in New York on the sidelines of the UN General Assembly session.
Full report at:
https://www.hindustantimes.com/india-news/india-responds-to-imran-khan-s-tweet-on-kashmir-with-a-stinging-takedown/story-DlIjHSBHIb0e2xqqEqvczK.html
--------
Those expressing solidarity with Ahmadis can go to India or Israel: Pak extremist cleric
October 22, 2018
Controversial Pakistani extremist cleric Khadim Rizvi lashed out at the students of Lahore University of Management Sciences (LUMS) for meeting with the members of the Ahmadiyya community, saying those who wanted to express solidarity with them can leave the country and instead live in India or Israel.
Earlier this month, the students had met the Ahmadis in Rabwah, as part of a project to promote peace, tolerance and acceptance of minorities in Pakistan.
Reacting to the visit, Rizvi said, "Principal of a Lahore college took students to the centre for 'Qadiyanis', saying they want to promote brotherhood with the minorities. The government is not taking cognisance of this. I don't understand which direction they want to take Pakistan to. You are taking students to those people who are blasphemous to our Prophet. What do you want to tell and show to the world?"
He added, "You (the principal) better realise what your condition will be. Behave like humans! We have told you several times that non-believer gets to a non-believer, a Jew to Jews and Christians gravitate towards Christians. Those who feel for these people can go to India or Israel," he added.
Rabwah is one of the few places in Pakistan which has the highest concentration of Ahmadis in the country.
The Ahmadiyya or the Ahmadiyya Muslim Jama'at is an Islamic religious movement founded in Punjab, in then British India, near the end of the 19th century. However, Pakistan's Constitution has declared the community as "non-Muslims."
Its penal code subjects Ahmadis to severe legal restrictions and officially-sanctioned discrimination, making it criminal for the people of the community to call themselves Muslims, preach, propagate or disseminate materials on their faith, or refer to their houses of worship as mosques. The Pakistan government applies the anti-terrorism law as an unwarranted pretext to arrest members of the Ahmadiyya community.
Full report at:
https://www.business-standard.com/article/news-ani/those-expressing-solidarity-with-ahmadis-can-go-to-india-or-israel-pak-extremist-cleric-118102200778_1.html
--------
Forming a Muslim party in the country is infeasible: Qari Mohammed Osman Mansoorpuri
Oct 22, 2018
Kanpur: Forming a Muslim party in India is infeasible. Babri Masjid issue is being raked up ahead of elections. Discrimination has increased in the country, said president Jamiat Ulama-e-Hind Maulana Qari Syed Mohammed Osman Qasmi Mansoorpuri while speaking to newspersons. He had attended Tahaffuz Khatm-e-Nabuwat and Tahaffuz Hadeeth conference as chief guest.
Qari Mohammed Osman Mansoorpuri said all the religions and sects had jointly struggled for freedom from Britishers. The ideology of Communal harmony is the best for the country for maintaining peace in the country. It will ensure speedy growth. Hence forming a political party which has only Muslims' role is uncalled for and infeasible. He said Jamiat Ulama believes in joining everyone together. Unity is the need of the hour, he said.
Maulana said Jamiat Ulama-e-Hind doesn't appeal for a particular party. On the question of Babri Masjid, Maulana said the issue is raise keeping in view 2019 elections.
https://www.siasat.com/news/forming-muslim-party-country-infeasible-qari-mohammed-osman-mansoorpuri-1423018/
--------
India lodges strong protest with Pakistan over killing of 3 soldiers along LoC
October 23, 2018
India summoned a senior official of the Pakistan High Commission here Tuesday and lodged a strong protest over the loss of lives of three of its soldiers during an infiltration bid by Pakistani terrorists in the Sunderbani sector of Jammu and Kashmir two days ago.
The Ministry of External Affairs (MEA), in a statement, said it also condemned in the strongest terms such a provocative action by Pakistan, which revealed the neighbouring country's complicity in aiding and abetting terrorism and exposed the hollowness of its deceitful claims of promoting a constructive engagement with India and desire for peace.
The Pakistan High Commission official was summoned to the MEA and a demarche was made, lodging a strong protest over the loss of lives of Indian soldiers during the cross-border infiltration bid by Pakistani terrorists in the Sunderbani sector on October 21, the statement said.
"It was informed that two Pakistani armed intruders have been killed by the Indian security forces during the ensuing firefight and the government of Pakistan should take custody of the dead bodies of its nationals," the MEA said.
Two heavily-armed Pakistani intruders and three Indian soldiers were killed in a gunfight Sunday after the Army foiled the infiltration bid along the Line of Control (LoC) in the Sunderbani sector.
The Army had also warned Pakistan Monday to restrain the terrorists operating from its soil.
India also conveyed to the Pakistani side Tuesday its grave concern over the continuing incidents of unprovoked ceasefire violations by the Pakistani forces along the LoC and the International Border (IB).
"Despite repeated calls for restraint and adherence to the ceasefire understanding of 2003 for maintaining peace and tranquillity, Pakistan forces have carried out 1,591 incidents of unprovoked ceasefire violations along the LoC and IB in 2018 so far," the MEA said.
Full report at:
https://indianexpress.com/article/india/india-lodges-strong-protest-with-pak-over-killing-of-3-soldiers-along-loc-5414081/
--------
India, China ink security pact, Delhi raises Masood Azhar issue
October 23, 2018
As India and China signed the first comprehensive security cooperation agreement Monday, New Delhi raised the issue of China blocking designation of Jaish-e-Mohammad (JeM) chief Maulana Masood Azhar as a terrorist before a United Nations sanctions committee with the Chinese delegation, officials said.
Union Home Minister Rajnath Singh signed an agreement on security cooperation with Zhao Kezhi, minister of Public Security of People's Republic of China. Kezhi also met National Security Advisor Ajit Doval where the issue of Azhar, alleged mastermind of terror attacks on Pathankot airbase and an Army camp in Uri, on the UN's sanctions list was taken up, sources said. China has twice blocked India's efforts to include Azhar into the UN list.
Kezhi is on a bilateral visit to India from October 21 to 25, during which he will also travel to Mumbai. "During the meeting, the two sides discussed issues of mutual interest, including bilateral counter-terrorism cooperation, and welcomed increased cooperation between India and China in the area of security cooperation. An Agreement on Security Cooperation between the Ministry of Home Affairs of India and the Ministry of Public Security of China was also signed by the two Ministers," said a statement released by the Home Ministry.
According to officials, China raised the unrest in Xinjiang province and asked India for cooperation on the movement of Uighur militants.
India's NIA and NCB will have agency to agency cooperation to strengthen high-level agreement and cooperation, said officials.
Full report at:
https://indianexpress.com/article/india/china-ink-security-pact-delhi-raises-masood-azhar-issue-5413567/
--------
Hizbul Mujahideen militant calls for arms from Pakistan
by Bashaarat Masood
October 23, 2018
In an audio message, Hizbul Mujahideen's operations chief Riyaz Naikoo has called for arms from Pakistan.
Expressing disappointment over the Pakistan-based militant leadership, Naikoo says, "My aim is not to criticise you or to doubt your intentions. I want to put before you some things that need to watch out for."
In the 15-minute audio message, released on social media on Monday, Naikoo, who goes by militant name Muhammad Bin Qasim, appeals to Pakistan for weapons. "Our biggest problem is the supply of weapons. In 1990s mujahideen had AK 47, we still have that AK 47. They used to have 5-6 magazine, our mujahideen have only 2 or 3 magazines with them. Instead of increasing, our weapons are decreasing. You should think about your responsibility," he says.
https://indianexpress.com/article/india/hizbul-mujahideen-militant-calls-for-arms-from-pakistan-5413540/
--------
North America
Anti-Muslim campaigning in the US is a 'losing strategy': report
by Patrick Strickland
October 23, 2018
Washington, DC - Republican candidates claiming that Islam is a political ideology rather than a religion. Super PACs broadcasting a slew of television ads linking Democratic candidates to "terrorism". Anti-Muslim campaign fliers sent out in areas across the country.
With the US midterm elections slated to take place on November 6, a new pre-election report blasted these types of anti-Muslim campaigning tactics as a "losing strategy".
Published on Monday by the Muslim Advocates civil rights group, "Running on Hate" describes a swell of anti-Muslim campaign rhetoric throughout the era of US President Donald Trump.
It documented 80 instances of "clear anti-Muslim rhetoric" employed by political candidates in 2017 and 2018, adding that 64 percent of the candidates held office before or enjoyed a presidential endorsement.
Scott Simpson, the public advocacy director of Muslim Advocates, explained that anti-Muslim candidates have vied for "every level of government" office in "every region" of the country in the past two years.
"Behind the world view pushed by these candidates is something very troubling: Muslims and non-Muslim allies are conspiring to take over the government to replace the constitution with Sharia law," he told Al Jazeera.
Republicans comprised all but two of the 73 cases in which the report identified party affiliation, and more than a third of the candidates listed alleged that Muslims are innately violent or pose a physical threat.
"These conspiracy theories have had a constituency within the Republican Party for years," Simpson said, adding: "Trump is an important part of this, but he didn't originate it."
Backfiring?
But with only 11 to 14 percent of the candidates listed in the report forecast to win, Simpson argued that targeting Muslims has proven to be an ineffective electoral strategy.
"The vast majority of them are losing or are projected to lose in November," he said. "What we saw in this report, and what we see every day, is counter to the conventional wisdom about this: The assumption that most Americans don't like Muslims is incorrect."
In California's 50th district, embattled Republican House incumbent Duncan Hunter accused his Democratic opponent, Ammar Campa-Najjar, of attempting to "infiltrate" Congress as part of a Muslim Brotherhood plot. Campa-Najjar, a 29-year-old Palestinian-Mexican-American, is a Christian.
Mike Harrison, Hunter's spokesperson, previously told Al Jazeera that "the national security concerns" surrounding Campa-Najjar are unrelated to his Palestinian heritage.
"It has absolutely everything to do with the fact that Ammar Campa-Najar has current, existing relationships with the [Palestine Liberation Organization] and [the Council on American Islamic Relations]," he said, the latter referring to the Muslim civil rights group.
Earlier this year, failed South Dakota congressional candidate Neal Tapio, who lost in the Republican primary vote, claimed the founder of a Sioux Falls mosque was potentially linked to the Palestinian organisation Hamas.
The evidence? Tapio's ad said the mosque founder's scarf looked like one worn by Hamas members. The video concluded: "Should we be concerned?"
During the 2016 presidential race, Trump promised to ban Muslims from entering the US and suggested a database to keep track of Muslim Americans.
The following year hate crimes targeting Muslims spiked by 15 percent, according to a Council on American Islamic Relations (CAIR) report.
Yet as anti-Muslim rhetoric balloons and hate crimes grow, a record number of Muslim Americans have entered political races across the US.
Once in office, Trump implemented a travel ban, restricting travel to the US for nationals of six Muslim-majority countries.
Prompted to run, in part, by Trump's anti-Muslim policies and comments, around 90 Muslims ran for office on the local, state and national levels in 2018, according to a Jetpac report published earlier this year.
Alia Salem, a North Texas-based Muslim American and social justice activist, explained that civic and political organising among Muslims were already on the rise during former President Barack Obama's time in the White House, during which the number of anti-Muslim hate groups grew massively.
"With respect to the growing tension that Muslims from every different part of our community - conservative, liberal and beyond - feel, a switch was flipped, especially since Trump's election," she told Al Jazeera.
"It's not just about voting any more," she said. "We need to actually write policy and be on the front lines of supporting people who advocate for our community."
https://www.aljazeera.com/news/2018/10/anti-muslim-campaigning-losing-strategy-report-181022182211655.html
--------
Kushner breaks silence on Khashoggi case, talks of 'US interests'
Oct 22, 2018
US President Donald Trump's son-in-law is speaking of "America's interests" in the case of Jamal Khashoggi, asserting that Washington is still in the "fact-finding phase."
"With regards to the situation in Saudi Arabia, I'd say that right now as an administration we're more in the fact-finding phase and we're obviously getting as many facts as we can from the different places and then we'll determine which facts are credible," Jared Kushner told CNN on Monday.
Saudi operatives tortured, murdered, and dismembered Khashoggi at the monarchy's consulate in Istanbul earlier this month, according to Turkish authorities.
The White House adviser, who has a close relationship with Saudi Arabian Crown Prince Mohammed bin Salman, added that he urged the country's de facto leader to "be transparent."
"This is a very serious accusation, a very serious situation," Kushner said. "I'd say our strategy in the Middle East relies on ... America's interests… And how do we utilize all the things that are available to us to try to push things forward?"
Intelligence intercepts reportedly show that Khashoggi, who was last seen entering the Saudi mission in Istanbul on October 2, was murdered on bin Salman's direct order.
Kushner denied reports that he had advised Trump to wait out the international criticism of Khashoggi's likely assassination by reminding him that the monarchy has preciously faced similar situations.
Full report at:
https://www.presstv.com/Detail/2018/10/22/577808/Kushner-breaks-silence-on-Khashoggi-case-by-talking-of-US-interests-
--------
Canada ready to halt $13bn arms deal with Saudi Arabia: PM
Oct 22, 2018
Canadian Prime Minister Justin Trudeau says Ottawa is ready to halt a $13 billion arms deal with Riyadh if it concludes the weapons have been misused.
"We strongly demand and expect that Canadian exports are used in a way that fully respects human rights," Trudeau said in the Parliament on Monday.
"We have frozen export permits before when we had concerns about their potential misuse and we will not hesitate to do so again," he added.
Canada has been exporting arms to Saudi Arabia based on a 2014 contract, which is worth up to $13 billion. The contact, won by the Canadian unit of US weapons maker General Dynamics Corp, allows Canada to supply Saudis with light-armored vehicles.
Trudeau's comments on halting the huge arms deal came amid increasing pressure to punish Riyadh for the killing of dissident journalist Jamal Khashoggi in the Saudi consulate in Istanbul.
The Canadian PM condemned the journalist's death and said Foreign Minister Chrystia Freeland had been talking to allies to discuss the next steps.
Back on Saturday, Freeland had noted that the Saudi explanations on the death of Khashoggi at its consulate in Istanbul lacked credibility and consistency.
"There are very important questions about the entire relationship with Saudi Arabia that need to be asked," she told reporters on Monday.
The Khashoggi case has fanned the flames of a dispute between Saudi Arabia and Canada, which escalated to new levels after Riyadh abruptly cut ties with Ottawa over its criticism of the Saudi crackdown on dissent.
The dispute broke out in August after the Canadian Embassy in Riyadh tweeted that it was "gravely concerned" over a spike in the arrests of human rights campaigners in the kingdom, including gender rights activist Samar Badawi, and called on "Saudi authorities to immediately release them and all other peaceful #humanrights activists."
Full report at:
https://www.presstv.com/Detail/2018/10/22/577811/Canada-Saudi-arms-deal
--------
Trump: 'No reason' for month delay in Khashoggi probe
22.10.2018
WASHINGTON
U.S. President Donald Trump said Monday there is "no reason" for a one-month delay into Saudi Arabia's investigation into the killing of Washington Post columnist Jamal Khashoggi.
Trump added he is "not satisfied" with Saudi Arabia's explanation for Khashoggi just days after calling it a "great first step."
After denying knowledge of Khashoggi's whereabouts for two weeks, Saudi Arabia on Saturday admitted Khashoggi was killed during a fight inside its Istanbul consulate.
His body has not been recovered, nor has Saudi Arabia explained its shifting narrative on Khashoggi's case.
Full report at:
https://www.aa.com.tr/en/americas/trump-no-reason-for-month-delay-in-khashoggi-probe/1289825
--------
Pakistan
Govt's inapt stance on Khashoggi affair regrettable: HRCP
October 23, 2018
LAHORE: The Human Rights Commission of Pakistan (HRCP) in the wake of the details released concerning the brutal murder of journalist Jamal Khashoggi, allegedly at the Saudi consulate in Istanbul, has regretted the failure of the Pakistani government to take an appropriate stand on the incident.
In a statement issued here on Monday, HRCP Chairperson Dr Mehdi Hasan said that the commission also has "serious reservations about the prime minister's decision to attend the Future Investment Initiative Conference in Riyadh tomorrow."
He said that this decision ignores the sentiments of a large number of people. "Even apart from the international outcry that has followed Mr Khashoggi's murder, there is a moral principle at stake here: the value accorded to the right to dissent and to freedom of expression should not be undermined this easily by business interests," the statement said.
"Given that the Pakistani media itself has become increasingly vulnerable to undeclared curbs on press freedom, HRCP feels that the government should have taken a clearer stand on the Khashoggi affair," Dr Hasan added.
The HRCP chairperson said that to merely say that it is "appropriate to await the outcome of the investigation according to the response issued by the Foreign Office, underscores a worrying lack of concern not only for the constitutional principle of freedom of expression but also for the security of journalists."
https://www.pakistantoday.com.pk/2018/10/22/govts-inapt-stance-on-khashoggi-affair-regrettable-hrcp/
--------
Imran Khan leaves for Saudi conference saying Pakistan "desperate" for loans
Oct 22, 2018
ISLAMABAD: Pakistan Prime Minister Imran Khan left for Saudi Arabia to attend an investment conference boycotted by other leaders over the death of journalist Jamal Khashoggi at the Saudi consulate in Istanbul, Turkey.
Khan told an interviewer before leaving he was concerned at Khashoggi's death but could not skip the conference because "we're desperate" for possible Saudi loans to shore up Pakistan's economy.
It is Khan's second visit to Saudi Arabia in just over a month, but he has not succeeded in securing significant financial assistance to stave off a looming balance of payment crisis.
Khan told the Middle East Eye in an interview published on Monday that he could not pass up the invitation to meet Saudi leaders again.
"The reason I feel I have to avail myself of this opportunity is because in a country of 210 million people right now we have the worst debt crisis in our history," he was quoted as saying.
"Unless we get loans from friendly countries or the IMF (International Monetary Fund), we actually won't have in another two or three months enough foreign exchange to service our debts or to pay for our imports. So we're desperate at the moment."
Finance minister Asad Umar and commerce minister Abdul Razak Dawood are accompanying Khan, a statement from Khan's office said on Monday, adding it "will give a chance to connect with those people who are interested in investing in Pakistan".
Islamabad has already asked the IMF to open negotiations for the country's second potential bailout in five years.
Khan, who took office in July, still has been seeking alternatives to the tough conditions the IMF is likely to impose for loans, limiting his vision of an Islamic welfare state.
The central bank's foreign reserves dropped this month to $8.1 billion, a four-year low and barely enough to cover sovereign debt payments due through the end of the year. The current account deficit has swelled to about $18 billion.
Khan has blamed the previous government's policies for the ballooning current account deficit.
He told the Middle East Eye that he was concerned over the "shocking" death of Khashoggi, a US resident and Washington Post columnist, after he entered the Saudi consulate in Istanbul.
Full report at:
https://timesofindia.indiatimes.com/world/pakistan/imran-khan-leaves-for-saudi-conference-saying-pakistan-desperate-for-loans/articleshow/66319168.cms
--------
'Pakistan is now given importance in Muslim world due to Imran Khan'
October 23, 2018
RIYADH: The respect and honour Prime Minister Imran Khan is given in Saudi Arabia showed the importance Pakistan has assumed in Muslim world due to Imran Khan, said the Information Minster Ch Fawad Hussain.
The minister, who is visiting the Kingdom along with the prime minister, added that the delegation could only sleep a few hours and a busy ahead in Riyadh.
PM Imran Khan on Tuesday arrived in Saudi capital on the second leg of his two-day official visit to attend the Future Investment Initiative Conference (FIIC) and meet the Saudi leadership.
He was received at the airport by Governor Riyadh Prince Faisal bin Bandar bin Abdulaziz and Ambassador of Pakistan to Saudi Arabia Khan Hisham bin Siddique and senior officials.
Earlier, the PM landed in Madina Munawara where the Pakistani premier was given warm welcome by the Saudi authorities.
Full report at:
https://www.thenews.com.pk/latest/384561-pakistan-is-now-given-importance-in-muslim-world-due-to-imran-khan
--------
'Democratic forces' need to devise joint strategy: Zardari
Amir Wasim
October 23, 2018
ISLAMABAD: The Jamiat Ulema-i-Islam (JUI-F) is planning to hold another multiparty conference with representation of all opposition parties in parliament to discuss the prevailing political situation in the country and to devise a joint strategy against the government.
This was disclosed by JUI-F chief Maulana Fazlur Rehman while briefly talking to reporters outside his residence after meeting Pakistan Peoples Party (PPP) leader and former president Asif Zardari who had called on him on Monday evening.
The Maulana said they would invite all the opposition parties in parliament next week to attend the multiparty conference so that they could "devise a joint strategy" against the government that he said had been ruling the country with a "fake mandate".
Speaking on the occasion, Mr Zardari said that during the past 10 years, they had made every attempt to ensure continuity of the democratic forces in the country, "but now democratic forces seem to be getting weaker". He said the present government was unable to run the country and the democratic forces needed to devise a joint "strategy".
Replying to a question about any possibility of moving a no-confidence motion against Prime Minister Imran Khan in the National Assembly, the former president said they first required to assess their parliamentary strength. He added that their main purpose was not to dislodge the government, but to put it on the democratic track. And for this purpose, a discussion could be held among "friends", he said.
He said presently their [the government's] actions could not be called democratic.
Responding to a question if he would also invite the Pakistan Muslim League-Nawaz (PML-N) leadership, he simply responded that they were in contact with Maulana Sahab.
The JUI-F chief said that he had met PML-N's supreme leader Nawaz Sharif in Lahore and later on Sunday he met Leader of the Opposition in the Senate Raja Zafarul Haq. He claimed that there was complete understanding and an agreement among the opposition parties that they should adopt a "joint strategy".
When a journalist asked as to why the opposition remained disunited at the time of the elections of the president and the prime minister, the Maulana said: "Why are you digging up the past?"
Mr Zardari met the JUI-F chief only a day after calling upon all the political parties to unite on one platform to declare that the Pakistan Tehreek-i-Insaf (PTI) government could not run the country.
He told a news conference after attending a lawyers' convention on Sunday that a possibility of his meeting with Nawaz Sharif could not be ruled out.
The JUI-F had organised the first multiparty conference having representation of the opposition parties in Islamabad soon after the July 25 general elections. In the multiparty conference, Maulana Fazlur Rehman had suggested that the opposition members should not take oath of the assembly in order to lodge a strong protest against the alleged rigging in the elections.
However, both the PPP and the PML-N did not support the idea and convinced the Maulana that they should use the platform of the parliament to give a tough time to the government.
The JUI-F again hosted a multiparty conference in the first week of August in which the opposition parties agreed on a formula for jointly contesting the elections of the speaker, deputy speaker and the prime minister. However, the formula could not be implemented after the PPP refused to vote for Shahbaz Sharif in the election of the prime minister against Imran Khan after expressing its reservations over his nomination by the PML-N.
Full report at:
https://www.dawn.com/news/1440754/democratic-forces-need-to-devise-joint-strategy-zardari
--------
Iranian terrorist group claims responsibility for troops' abduction near Pakistan border
October 23, 2018
TEHRAN: A terrorist group has claimed responsibility for the abduction of 12 Iranian security personnel near the border with Pakistan, Iran's semi-official news agency ISNA reported on Monday.
"The terrorist group Jaish al Adl [Army of Justice in Arabic] has posted two photos… claiming that those in it are the forces abducted" on October 16, ISNA said.
Jaish al Adl, formed in 2012, is a successor to the extremist group Jundallah (Soldiers of God) which has carried out a spate of attacks on Iranian security forces in recent years in the southeastern province of Sistan-Balochistan.
The photos show seven members of the elite Revolutionary Guards force and five police commandos, all in combat gear, according to state news agency IRNA.
The Iranians, including intelligence offices, were abducted near Lulakdan, a village 150km southeast of Zahedan, capital of Sistan-Balochistan.
They were "made unconscious" by a "single infiltrator" and then kidnapped and taken to bases inside Pakistan, said Guards commander Maj Gen Mohammad Ali Jafari, quoted by IRNA.
The pictures also show a haul of automatic weapons and sniper rifles, rocket launchers, machine-guns, grenades and ammunition, apparently seized from the Iranian forces.
On October 15, a delegation led by the Guards' ground forces commander Mohammad Pakpour visited Pakistan to follow up on efforts to free the Iranians, the force said on its website.
Islamabad said last Wednesday that it has launched "active" efforts to locate the missing men.
Full report at:
https://www.pakistantoday.com.pk/2018/10/22/iranian-terrorist-group-claims-responsibility-for-troops-abduction-near-pakistan-border/
--------
Army hands over administrative control of Swat to civilian authorities
October 23, 2018
PESHAWAR: The Pakistan Army on Monday handed administrative powers of the Swat region to the civilian authorities, ending a decade-long military operation to flush out Taliban militants led by Mullah Fazlullah from the region.
In a ceremony held at the Saidu Sharif airport, Brigadier Naseem Anwar handed over the civilian powers to Commissioner of Malakand Division, Zaheer-ul-Islam.
"The security powers are now the responsibility of Saidu Sharif police range officer," he stated.
Addressing the gathering, General Office Commanding Major-General Khalid Saeed added: "The people of Swat stood shoulder to shoulder with the military to defeat terrorists. After the restoration of peace, the army took an active part in rehabilitation works."
The ceremony was also attended by Khyber Pakhtunkhwa (KP) Chief Minister Mehmood Khan, Peshawar Corps Commander Lt-Gen Nazeer Butt.
Lt Gen But commented that peace has returned to Swat, and the law enforcement agencies and civil administration will be responsible for security in the region from now on.
The corps commander lauded the armed forces for vigilance in the face of threats, claiming that militant forces were still trying to launch attacks, hence the border was being "fortified with fencing".
Because of the deteriorating law and order situation in 2009, 3.5 million people fled their homes, forcing the then-Pakistan Peoples Party (PPP) government to order a major military operation in Swat with the name Rah-e-Nijat.
Full report at:
https://www.pakistantoday.com.pk/2018/10/22/army-hands-over-administrative-control-of-swat-to-civil-forces/
--------
Judiciary, military should stop oppressive policies against oppressed in Pakistan: Altaf Hussain
October 22, 2018
Muttahida Qaumi Movement's (MQM) founder leader Altaf Hussain has said that Pakistan's judiciary and military establishment should treat all citizens especially the oppressed alike and should discard the policy of crushing and eliminating them.
Hussain also remarked that, unfortunately, there are courts in the country sans spirit of justice and hence the courts without the spirit of dispensing justice should be removed as these have no meanings or purpose of existence.
He made these remarks in his weekly address that was spread to the corners of the globe through the social media means and was watched and heard live by millions of his followers.
He said that the new generation in Pakistan is unaware of their heritage particularly their ancestors who played a pivotal role in conceiving the country.
"The new generation hardly knows now about their legends such as Sir Syed Ahmed khan, Maulana Hasrat Mohani, Maulana Mohammad Ali Jauhar, Maulana Shaukat Ali Jauhar, Nizam of Hyderabad, Raja Sahab Mahmoudabad, Abul Hassan Esphahani, Sir Adamji and Sir Ziauddin, etc" he said.
He emphasised that these were the people who actively participated in the struggle for Pakistan and offered tremendous funds for the newly founded state so that it could run and live and forgetting them would be tantamount to deleting the real history of Pakistan. These are being removed from the curricula because they all hailed from Shiite sect of Islam.
He continued and said that there are factories established in Pakistan at the behest of foreign master which engineered and promoted a specific thought of declaring the Shiites Muslim as infidel forgetting that the founder of Pakistan Muhammad Ali Jinnah and his sister Madre-e Millat (mother of the nation) Fatima Jinnah also belonged to Shiite sect of Islam. In Pakistan, Shiite scholars, engineers, doctors and lawyers were all butchered mercilessly. It is high time that all the Shiite scholars should set aside all the compromises and call a spade a spade. They should protest on discrimination with our legends and ancestors.
He said that in Pakistan, Mohajirs are readily handcuffed and chained in the garb of an act of breach of law but at the other hand Punjabi culprits are treated with respect despite their involvement in heinous criminal acts.
Hussain also remarked that the ex-Senator Syed Faisal Raza Abidi has been chained and jailed because he dared to speak the truth but the same the Chief Justice ignored Maulana Khadim Hussain Rizvi who called names to him and the judiciary. Likewise, the CJ took immediate notice of handcuffing Punjabi academicians but has not yet taken any notice of cold-blooded custodial murder of a Mohajir academician, Prof. Dr Hassan Zafar Arif.
In his address he further said that conversely, the CJ became very active on water scarcity issue but he avoided seeing at the sealed residence of his, Nine-Zero, extrajudicial executions of thousands of innocent Mohajir youth and MQM affiliates, enforced disappearances of thousands of Mohajirs and he ignored the call for speedy justice to the affected Mohajir families. The CJ claims to be the custodian of the constitution but he is predominantly engaged in works that are beyond his constitutional limits and though he has failed to ensure the dispensation of justice he is more interested in the construction of dams, which is not his job.
Hussain further said that Pakistan has a judicial system but does not have justice system. The judiciary in Pakistan is lame and rather paralysed and hence such a limping and paralysed judiciary should be removed.
He said that the army chief General Qamar Jawed Bajwah had promised to help Naqeeb Ullah Mehsood's family get justice but he has not fulfilled his promise and the killer cop Rao Anwar is still not brought to justice box. On the other hand, he visited Mehsood's but did not visit Prof. Arif's because he was a victim Mohajir. The COAS and the CJ have never remedied the wounds of Mohajirs and Balochs.
General Bajwah has not yet questioned his predecessor General Rahil Sharif who immediately after his retirement joined the Saudi-led military coalition for money while there was a constitutional binding on him to have waited for two years after retirement.
"It is very unfortunate that in every developmental plan and project, Punjab's interests are held above all."
He said that since there are premonitions that Sindh and Balochistan would sooner or later become separate and independent states then Punjab would become a landlocked territory and hence they are very keen on the construction of dams for Punjab.
Hussain also cast light on the role of Pakistan's armed forces in detail. He said that Pakistan's army had always fought with the people of the country, Mohajirs and Balouchs and Pashtoons. Punjabi army butchered them mercilessly and the acts of genocide are still rampant.
He said that the army has a predefined job to do and it is to protect the country's boundaries but the ghoulish army of Pakistan is running like a commercial institution and its span of variety of commercial enterprises include banks, property business, gas filling stations, meat and poultry farmhouses, marriage halls and fruits and veggies businesses.
MQM founder Hussain said that "Pakistan's ghoulish and coward army had waged war on India for five times but was defeated in all five wars." Late air vice martial Asghar Khan's statement on Pakistan army's defeat is on record, he quoted.
He said that the army is emotionally exploiting the countrymen on Kashmir since past seven decades but does not have the courage to enter a combat with the Indian army on Kashmir.
"At the contrary, Pakistan's army under the command of Dictator Zia had butchered 20, 000 innocent Palestinians in 1970 in Jordan and the Palestinians remember that massacre as "Black September'." Dictator Zia was at that time a Brigadier and was promoted to the rank of Lieutenant General. Likewise, ex-COAS of Pakistan army General Rahil Sharif is butchering the innocent people of Yemen at the behest of Saudi Arabia and as a result, people of Yemen are facing acute starvation.
Hussain said that the first Pak-India war was started on October 22, 1947, and it was Pakistan that waged that war against India. Pakistan army did not use its regular troops but used people of tribal zones of Pakistan, instead. Tribesmen had reached inside Kashmir, which was then a Princely state under the rule of Maharaja Hari Sindh. British rule had approved of choice for him about whether to join Pakistan or India or keep an independent status of the region. Maharaja Hari Singh had on Oct 26, 1947, chosen to join India. The war that Pakistan had waged lasted until Jan 5, 1947.
Similarly, Pakistani troopers in plain clothes along with tribesmen invaded the Indian Territory again in 1965. Pakistan violated the Line of Control. In reaction, Indian forces repelled Pakistani troops and entered into Pakistan from Western Border and then reached Lahore. Pakistan then approached the United States of America for a cease-fire and the later did it.
Hussain further talked about erstwhile two parts of Pakistan and said, in 1971, Pakistan had two parts, Eastern and Western Pakistan with 56% and 44% of the population respectively. However, East Pakistan was deliberately deprived of its due shares. Bengalis were denied of their due rights and thus they had joined Sheikh Mujeeb Ur Rehman and won the elections with a majority in 1970. However, General Yahya Khan and Zulfikar Ali Bhutto had launched a genocidal military crackdown against Bengalis in which millions of Bengalis were killed and millions of Bengali women were gang-raped by the Pakistani troops. India then came forward and helped Bengalis rid of Pakistani troops' tyranny and then Pakistani troops had surrendered shamelessly. Lastly, Pakistan was cut into two pieces as two separate states.
Hussain said that Pakistan People's Party fraudulently makes tall claims of being country's largest Democratic Party but the facts are that PPP's founder Bhutto was reared and groomed in the laps of General Iskandar Mirza and General Ayub Khan. Bhutto used to call General Ayub as his Daddy. Bhutto conspired against Pakistan in 1971 in connivance with General Yahya and he was the co-planner of the creation of East Pakistan as independent Bangladesh. Mohajirs had sided with Pakistani troops in 1971 but Pakistani troopers who had surrendered had returned to Pakistan after two years but those Mohajirs are still in camps of Red Cross in Bangladesh. Military Dictator Ziaul Haque had called those Pakistanis as Beggars.
He said that Pakistan army's wrong policies had led Pakistan to get cut into two separate states, Pakistan and Bangladesh in 1971. Unfortunately, same policies are still at work and the army is crushing the innocent Mohajirs, Pashtoons, Balouchs, Seraikis, Hazarwals and other oppressed communities.
Full report at:
https://www.business-standard.com/article/news-ani/judiciary-military-should-stop-oppressive-policies-against-oppressed-in-pakistan-altaf-hussain-118102201406_1.html
--------
South Asia
At least six Buddhists killed in rising Rakhine violence
October 22, 2018
YANGON — Suspected insurgents killed at least six members of a Buddhist ethnic minority in western Myanmar on Thursday, the government and regional sources said, amid spiralling violence in troubled Rakhine state.
Security forces discovered the bodies of three men and three women bearing machete and gunshot wounds in the Mayu mountain range near the town of Maungdaw, the office of Myanmar's de facto leader, Aung San Suu Kyi, said.
In a statement, it said "extremists" were responsible for killing the six members of the Mro minority from the village of Kaigyi whom residents believe to have stumbled upon a camp for Rohingya Muslim militants.
Muslim-majority Northern Rakhine was plunged into violence last October when Rohingya insurgents killed nine police in coordinated attacks on border guard posts.
In the ensuing military operation, security forces allegedly shot villagers at random, raped Rohingya women and burned down houses. United Nations investigators who interviewed some of the nearly 75,000 people who fled to neighbouring Bangladesh said troops probably committed crimes against humanity.
Ms Suu Kyi is refusing to cooperate with a UN fact-finding mission set up to look into abuses in Rakhine and elsewhere.
The government accuses the militants of running training camps in the mountains and killing alleged informants in the Muslim community.
Security forces had begun an "intensive clearance operation" to hunt the killers on Thursday, a military officer in Rakhine said.
Two women aged 21 and 34 were still missing from the group that ventured into the hills to tend to farms, said the officer, who sought anonymity as he was not authorised to speak to the media.
Aung Kyaw Min, a Buddhist resident of Kaigyi, said villagers believed the two women had also been killed because some of their bloody clothing was recovered.
"We are all suffering from this killing," he said. "All the villagers are in panic and nobody wants to live there. They all want to move to a safe place arranged by the government."
Non-Muslim ethic groups recognised as Myanmar citizens are the minority in northern Rakhine. About 1.1 million Rohingya live in the state, but are denied citizenship. Many in Myanmar consider them illegal immigrants from Bangladesh.
Tension among the communities has been running high in recent weeks, say aid workers and UN officials there.
In the town of Rathedaung, south of Maungdaw, troops launched a separate hunt for alleged militants, said the military officer and a human rights monitor with regional sources.
Security forces on Friday opened fire on villagers armed with sticks around the hamlet of Auk Nan Yar, the monitor and a resident said.
Four non-Muslim villagers went missing in the area last week and the mutilated bodies of three Muslims were discovered on Monday.
https://lakelandobserver.com/at-least-six-buddhists-killed-in-rising-rakhine-violence/216701/
--------
Stowe School sends pupils to see Rohingya refugee camps in Bangladesh to 'open their eyes'
22 OCTOBER 2018
The elite Stowe School has taken a group of sixth-form students to visit Rohingya refugee camps in Bangladesh on a trip it hopes will make them more aware of their privilege.
"We wanted to take the children outside of their comfort zones," says Jan de Gale, the teacher from Stowe behind the trip, "to open their eyes and develop their sense of social conscience."
Twelve pupils from the school, all aged between 15 and 17, spent two days with children's charity UNICEF, visiting learning centres and child-friendly spaces.
"The point was not to make them feel guilty but to offer perspective," said Dr Fitz Smith, an English teacher, also leading the trip, "and to look at the privileges we have, not just as people from a first world country, but also a public school."
Situated in in southern Bangladesh, the camps are home to 700,000 Rohingya, a Muslim minority who have fled persecution from Rakhine state in neighbouring Burma.
Around half of the population of the underfunded and overcrowded camps are children, with around 50 per cent having been left orphaned by the conflict.
The majority have no access to education, as both Burma and Bangladesh have refused permission for their curriculum to be used in the camps, with Dhaka wary of lending any sense of permanence to the refugee population.
Learning centres run by UNICEF and other aid organisations fill the gap as much as possible. In bamboo structures dotted throughout the camps, volunteers teach basic lessons.
Their experience couldn't be further from life at Stowe, one of the UK's most prestigious public schools, where pupils pay up to £12,200 a term to receive an elite education in an 18th century mansion. Most expect to go on to study in top universities.
Visiting the camps "made me feel very lucky," said 17-year old Hermione, who said she was was particularly moved by meeting teenage Rohingya girls just a few years younger than herself.
Young women and girls in the camps are particularly vulnerable to physical and sexual abuse, with widespread reports of early marriage and human trafficking. Many are left to support younger siblings - "something I don't have to do," noted Hermione.
"As girls we can walk around by ourselves. We don't have just one room or space to go to get away and feel safe. Wherever we are at Stowe is a child-friendly space."
Mrs de Gale described the camp's "child friendly spaces" as a "haven."
"The spaces were so colourful and airy," she said. "We were expecting doom and gloom and were surprised by how happy and positive the children were: they were inspirational."
Full report at:
https://www.telegraph.co.uk/news/2018/10/22/stowe-school-sends-pupils-see-rohingya-refugee-camps-bangladesh/
--------
'Saudi tour to have far-reaching impacts'
October 23rd, 2018
The Saudi king put emphasis on maintaining the ongoing trend of the bilateral communication and cooperation between the two countries to further expand the relation
Prime Minister Sheikh Hasina has said her recent visit to Saudi Arabia will play a far-reaching role in strengthening ties between the two countries, particularly protecting Bangladesh's interests.
"My firm belief is that my visit will play a far-reaching role in strengthening bilateral ties between the two countries, particularly protecting Bangladesh's interest," she said on Monday.
The prime minister said this in her written speech at a press conference held at her official residence Ganabhaban, arranged to highlight the activities on her recent visit to Saudi Arabia.
Hasina said constructive discussions were held with Saudi King Salman bin Abdulaziz Al Saud and Crown Prince Mohammad Bin Salman during the tour, particularly on establishing effective partnership by protecting common interests, strengthening activities on cooperation on establishing peace and stability in the Muslim world as well as defence and security issues.
At the meeting, she said, King Salman expressed satisfaction at the existing level of ties saying it had gained unprecedented momentum in the last couple of years.
The Saudi king put emphasis on maintaining the ongoing trend of the bilateral communication and cooperation between the two countries to further expand the relation.
In this regard, King Salman particularly stressed the need for utilizing opportunities of enhancing cooperation in commerce, investment, culture, defence and security sectors, Hasina said.
"The Saudi king highly praised Bangladesh's stunning successes in socioeconomic front and put emphasis on continuation of the government in the future to maintain the country's stability and pace of development for a long term," she said.
Referring to her meeting with a Saudi delegation led by the crown prince and deputy prime minister, Sheikh Hasina said she requested for more Saudi investment in Bangladesh's various sectors.
In response, the Saudi deputy prime minister wanted to be a party to Bangladesh's development and expressed his keenness to invest more in Bangladesh.
They will send a high-profile business delegation and an expert team to Bangladesh in this regard, Hasina said.
She said both sides vowed to work together on various international issues, particularly establishing peace in the Islamic worldas well as the development of Muslim countries.
During her talks with the Saudi king and crown prince, Hasina said she separately invited them to visit Bangladesh and both of them accepted her invitation.
Hasina said she also attended a meeting with the leaders of the Council of Saudi Chamber and the Riyadh Chamber of Commerce.
Following the meeting, five memorandums of understanding on establishing Saudi-Bangladesh Special economic zone, setting up a cement factory, a Di-Amonium Phosphate factory, a solar power plant and electrician equipment-manufacturing factory were signed between Dhaka and Riyadh.
"These will open up a new era in creating Saudi investment in Bangladesh," she added.
The prime minister said she inaugurated the Bangladesh chancery building at the diplomatic quarters in Riyadh and laid the foundation stone of the chancery building of Bangladesh Consulate General in Jeddah.
During her visit to Saudi Arabia, Sheikh Hasina performed Umrah in Makkah and offered ziarat at Rowza of Prophet Muhammad (PBUH) at Masjid Al-Nabawi in Madinah.
Full report at:
https://www.dhakatribune.com/bangladesh/foreign-affairs/2018/10/23/saudi-tour-to-have-far-reaching-impacts
--------
Taliban's shadow district chief killed in coalition airstrike in Nangarhar
Oct 21 2018
The shadow district administrative chief of the Taliban group for Hesarak district of eastern Nangarhar province was killed in an airstrike of the U.S.-led coalition forces.
The provincial government media office in a statement said Taliban's shadow district chief for Hesarak Abdul Jabar was killed in a drone strike on Saturday night.
The statement further added that the airstrike was carried out in the vicinity of Jokan area of Hesarak district and as a result Taliban's shadow district governor was killed along with his six accomplices.
Jabar was travelling in a 4×4 vehicle with his accomplices when he came under the airstrike, the provincial government added in its statement.
According to Nangarhar governor's office, the local residents have not suffered any casualty during the air raid.
Nangarhar is among the relatively calm provinces in East of Afghanistan but the Taliban militants and ISIS loyalists have been attempting to expand their foothold and activities in this province.
Full report at:
https://www.khaama.com/talibans-shadow-district-chief-killed-in-coalition-airstrike-in-nangarhar-06202/
--------
Pentagon: US general shot in last week's Taliban attack
22 October 2018
The Pentagon has confirmed that US Army Brig. Gen. Jeffrey Smiley was shot in a Taliban attack that killed two Afghan leaders in Kandahar province last week.
US military spokesman Cmdr. Grant W. Neeley provided no other details. The Washington Post reported earlier Sunday that Smiley was recovering after suffering at least one gunshot wound while he was inside the Kandahar governor's compound.
The Taliban assassinated two top provincial officials Thursday in an attack on a security conference attended by the top US military commander in the country, Gen. Scott Miller. He escaped injury. Read more
Full report at:
https://english.alarabiya.net/en/News/world/2018/10/22/Pentagon-US-general-shot-in-last-week-s-Taliban-attack.html
--------
Southeast Asia
Malaysia's PM bans child marriage
October 22, 2018
Child marriage, a recurring phenomenon in Malaysia that permits parents to marry off their offspring with the consent of authorities, is no longer to be allowed under any circumstances, the government has ruled.
Prime Minister Mahathir Mohamad has issued a directive to all state authorities that the legal minimum marriage age is now set at 18 for Muslims and non-Muslims alike.
It comes after a national outcry following the exposure of a marriage between a 41-year-old Malaysian Muslim man and an 11-year-old Thai girl in June.
Until now, the minimum legal marriage age for Muslims was 18 for men and 16 for women. For non-Muslims, it was 18 for both men and women.
While Muslims and non-Muslims in the multicultural country are governed by different marriage laws, child marriage had been permitted under special circumstances under both civil and Islamic laws. As Muslim marriages are governed by Islamic laws enacted to fit social norms in each state, different versions of the law were practiced around the country.
Child marriage required the approval of a Sharia court judge for Muslims or the chief minister of the state for non-Muslims. Marriage of non-Muslims below 16 years was banned but Muslims were exempt until now.
According to studies, child marriage is not a fringe issue in Malaysia. Government statistics revealed that nearly 15,000 marriages involving underage children were reported from 2007 to 2017, consisting of 10,000 cases involving Muslims and 4,999 cases involving non-Muslims, according to Hannah Yeoh, a deputy minister.
The government figures, though not comprehensive, revealed that of the child marriages that occurred between 2013 and 2017, Sarawak recorded the highest number at 918, followed by Sabah and Kelantan at 793.
The outcry over the 11-year-old's marriage led Sultan Sharafuddin Idris Shah, the head of Islam in Selangor, one of Malaysia's most developed states, to decree that the marriageable age for Muslim males and females in the state would be raised from 16 to 18.
While it is the prerogative of each of Malaysia's 13 state governments to process the directive, the decree of the sultan, one of the guardians of Islam, is influential.
The swift move by the government to address the issue follows a visit last month by Maud de Boer-Buquicchio, U.N. special rapporteur on the sale and sexual exploitation of children, when she urged the authorities to protect the rights of minors, particularly young girls.
Married underage girls were at higher risk of domestic violence and were often denied the chance to pursue an education, she told reporters.
"By marrying them, you are denying these girls their basic human rights," de Boer-Buquicchio said.
The lack of protection for children in Malaysia is also seen in the number of sex abuse cases, deputy minister Yeoh said when advocating for transparency in data and statistics.
"We are dealing with a generation of cases swept under the carpet," she said while warning that victims could be desensitized to crimes without counseling and intervention.
She said the government is holding discussions with stakeholders including doctors and childcare operators to draft standard guidelines and regulations on offenses against children and also to build a registry of offenders.
Some conservative Islamic leaders have argued that early marriage provides an answer to social ills like premarital sex and pregnancies out of wedlock.
https://www.ucanews.com/news/malaysias-pm-bans-child-marriage/83689
--------
C. Java Governor Ganjar tells 'santri' to launch 'jihad' against hoaxes
October 22, 2018
Central Java Governor Ganjar Pranowo has urged santri (Islamic boarding school students) to fight against terrorism, radicalism, stupidity, porn and hoaxes as parts of "today's jihad revolution".
Speaking on Monday in front of thousands of santri attending the 2018 National Santri Day celebration in Simpang Lima Square in Semarang, Central Java, Ganjar said the students could serve as pioneers of peace.
"Be there to fight against hoaxes, hate speech and those who undermine this nation. Let's fight against them. This is a form of jihad," Ganjar said.
Ganjar is a politician from the ruling Indonesian Democratic Party of Struggle (PDI-P). His message was in line with the President Joko "Jokowi" Widodo administration's efforts to combat hoaxes, many of which have targeted the President himself.
He also reminded students of their role in defending and developing Indonesia, urging them to continue the mission of ulema and clerics of the past to build a better country.
Reading out remarks from Religious Affairs Lukman Hakim, he called on santri to strengthen Islam and the nation by contributing to the country in any way they can.
Full report at:
http://www.thejakartapost.com/news/2018/10/22/c-java-governor-ganjar-tells-santri-to-launch-jihad-against-hoaxes.html
--------
Indonesian Children Recite Quran in Int`l Recital Event in Moscow
October 23, 2018
TEMPO.CO, Jakarta - Two Indonesian children, Muhammad Ghozali Akbar (10) and Kamil Ramadhan (11), recited Quran on Sunday, Oct 21, in the 19th Moscow International Quran Reciting Competition for the category of Hafiz or memorization in Crocus City Hall, Moscow.
Both young huffaz (Quran memorizer) attended the event as the special guests of the Russian Mufti Council, a religious group that represents the Muslim community in Russia.
"We come from Indonesia to Moscow, Russia to share valuable things, which are our love and the recital of holy verses of Quran," said Ike Muttaqin, Chair of Foundation of Wakaf De Muttaqin Pesantren Yatim Tahfizil, while on stage accompanying Ahmad and Kamil.
Ahmad was the first winner, and Kamil won third place in the 2017 Indonesian Hafiz competition. In the 2018 International Hafiz competition in Jeddah, Ahmad won third place while Kamil ranked sixth.
Ike Muttaqin expressed his gratitude for the participation of two Indonesian kids in the international event in Moscow. He pinned hopes people could be inspired and motivated to love the Quran, read it more, memorize it, and practice the teachings.
The Russian Mufti Council organized the 19th Moscow International Quran Reciting Competition on October 18-21, 2018. A total of 33 participants from 33 countries presented, among them were Russia, Turkey, Egypt, Saudi Arabia, United Arab Emirates, Palestine, Brunei Darussalam, and Malaysia. Indonesia was represented by Muhammad Abdul Faqih from Central Java.
The Indonesia Ambassador to the Russian Federation and the Republic of Belarus, M. Wahid Supriyadi, delivered his high appreciation to the Indonesian team, both participants, two young Hafiz, assistants, and jury representatives. According to Ambassador Wahid, the country's participation brought closer, not only ties between Indonesian people and Russia but also among fellow Muslim communities in the world.
"For the first time, the committee invites two young Hafiz from Indonesia. This is an extraordinary recognition to Indonesia," said Wahid remarked.
Full report at:
https://en.tempo.co/read/news/2018/10/23/114922773/Indonesian-Children-Recite-Quran-in-Intl-Recital-Event-in-Moscow
--------
Indonesia calls for "transparent and thorough" probe of Khashoggi killing
October 22, 2018
BOGOR: Indonesian President Joko Widodo called for a "transparent and thorough" investigation of the death of journalist Jamal Khashoggi at a meeting on Monday with Saudi Arabia's foreign minister, the foreign minister of the Asian nation said.
Indonesia, the world's largest Muslim-majority country, maintains close ties with Saudi Arabia and has "expressed concern" over the killing at the Saudi consulate in Istanbul, which the kingdom initially denied for weeks.
Khashoggi's killing has drawn international criticism, prompting the kingdom on Sunday to describe it as a "huge and grave mistake", while adding that crown prince Mohammed bin Salman had not been aware of the case.
"Indonesia hopes the investigation being carried out is transparent and thorough," Foreign Minister Retno Marsudi told reporters after Widodo's meeting with Saudi Foreign Minister Adel al-Jubeir, which she attended.
The two met at the presidential palace on the outskirts of Jakarta, the capital, to discuss several subjects, including the Khashoggi case.
Marsudi said al-Jubeir had conveyed a "statement and explanation" to Widodo about the case, but she declined to elaborate. She is scheduled to hold talks with al-Jubeir in Jakarta on Tuesday.
Full report at:
https://www.freemalaysiatoday.com/category/world/2018/10/22/indonesia-calls-for-transparent-and-thorough-probe-of-khashoggi-killing/
--------
Islamic school haven for transgender Indonesians
October 23, 2018
YOGYAKARTA, Indonesia (Reuters) — Shinta Ratri, the matron of an Indonesian Islamic boarding school, corrects the pronunciation of a group of fellow Muslims as they chant the phrase "only one God" in Arabic and prepare to pray together.
Nothing unusual in that, except that these worshippers, gathered in a cramped residential neighborhood of the city of Yogyakarta, are all transgender women in the world's largest Muslim-majority country where hostility against them has surged, forcing many underground.
Rights activists say hardline Islamist groups are fast eroding the country's long-standing reputation for tolerance of minorities like the "waria" — a portmanteau of the Indonesian words for "woman" and "man" — as the trans community is locally known.
Ratri, 56, and her students and friends witnessed this intimidation first hand in 2016, when vigilante Islamists mobbed the Pesantren Waria Al-Fatah school and forced it to shut down.
Yuni Shara, 51, described how a group of "aggressive" men in white robes and skull caps descended on the school after Friday prayers.
"I felt angry that my freedom, especially my freedom of religion, was being violated," said Shara, who lives at the school. "... Even the state can't fully guarantee our safety from these groups," she added as she took off her wig and make-up before joining the others in prayer.
Pockets of opposition
The school, set up in 2008, was empty for months after the raid, but people have gradually begun to return to what is now widely considered a safe space for the waria community.
But while the school is accepted by its immediate neighbors, opposition remains.
"We believe it is our duty as Muslims to prevent this kind of LGBT behavior and forbid it," said Umar Said, a senior cleric with the hardline Islamic People's Forum (FUI), which forcibly shut down the school two years ago.
While FUI does not "go looking for" waria, the group remains committed to preventing them from promoting their rights. Being transgender is a disease that can be cured through prayer, he said.
Historically, waria and other gender-fluid communities have been an accepted part of Indonesian society. The Bugis ethnic group on Sulawesi island, for instance, traditionally recognizes five genders, including one that is said to "transcend," or combine, the female and male.
Homosexuality is not regulated by law in Indonesia, except in the ultra-conservative province of Aceh where same-sex relations are banned. But parliament is considering revamping the national criminal code to impose restrictions on consensual sex outside marriage — a move that activists say could be used to target the lesbian, gay, bisexual, transgender (LGBT) community.
Even without legal barriers, many in the LGBT community face ostracism from their families and communities, discrimination in looking for work and, in some cases, violence and humiliation.
Many waria, banished from their homes, end up as sex workers, including some who have slowly started to gather again at Ratri's boarding school to pray.
For Ustad Arif Nuh Safri, a preacher at the Yogyakarta boarding school, embracing the waria is part of his duty.
During a Koran study session, Safri encourages his congregation to ask candid questions about their sexuality and how it affects their relationship with God.
"As long as we can connect with each other on a human level, we can accept each other the way we are," Safri said, adding he believes most Indonesians are as "open-minded" as him.
Full report at:
http://www.the-japan-news.com/news/article/0004908353
--------
Arab World
Saudi Arabia gets away with murder, terror and sex crimes
Saba Naqvi
Oct 22, 2018
On October 2, Jamal Khashoggi, a well-known Saudi journalist, once a supporter of the monarchy, then a critic who lived in fear of his home country, walked into the Saudi consulate in Istanbul to complete some paper-work involving his divorce so that he could remarry. He disappeared and the world has been horrified ever since. Turkish authorities claim he was murdered by a Saudi assassination squad that flew in from Riyadh with a chainsaw that dismembered his body. The Saudis first said he walked out hale and hearty; two weeks down the line they say he was strangled after a fist-fight in the consulate. Nobody as yet.
The world has been forced yet again to take note of Saudi depravations and the sense of impunity with which they operate across the world thanks to their petrodollars. Although the US President Donald Trump has made statements against Saudi Arabia, after the Khashoggi affair, it's a matter of time before Saudi donations to US institutions and their purchase of American arms, silence the world's most powerful democracy.
On October 17, 15 days after Khashoggi's disappearance, the US state department received $100 million that the Saudis had pledged apparently to help US efforts to stabilise Syria. The same Donald Trump who spoke of "severe punishment" subsequently also floated a theory about "rogue killers".
Saudi Arabia is also expected to "help" Turkey through financial arrangements that could boost its ailing economy. It's from Turkish police, intelligence and media sources that the most horrific accounts of the murder are emerging. The Turkish media has reported about an audio recording of the torture and murder including conversations between the assassins and the Saudi diplomats inside the consulate. It would be interesting to see how the probe can be managed. The Saudis have never shied away from bribing their way across the globe. It's mostly worked for them.
The Saudis are, in the view of this columnist, the greatest force for evil in the world, with the promotion of their toxic form of Islam that's inspired almost all the significant terror groups in the world. Simultaneously they have got the US to look away or support their strategic interests the Middle East, be it the cruel war against Yemen or the dismemberment of both Iraq and Syria, two nations that were not strategic allies of Saudi Arabia. Fifteen of the 19 hijackers who crashed planes in the US on 9/11 were Saudi nationals, so sometimes, the monster comes to bite the hand that feeds it.
The Saudi money is at the heart of the greatest strategic flaw in America's exertions around the world with the stated aim of fighting terror. They end up helping terror, not fighting it when they continue to empower all that Saudi Arabia stands for and promotes.
Abd al Wahhab, the founder of the Wahhabi doctrine that Saudi Arabia promotes with such puritanical single-mindedness, had denounced all Muslims who honoured saints and Sufis and performed pilgrimages to their shrines. "They should be killed, their wives and daughters violated, their possessions violated," he had written. Scholars now say that there is a clear ideological-theological continuity between Wahhabism and the doctrine that the ISIS now propagates. Earlier, the Taliban too was produced on the Afghanistan-Pakistan border where the Saudis funded the project to manufacture a jehad in thousands of madarsas; it's worth remembering today that the word Talib means student.
After the devastation of Afghanistan and Iraq, the next stop was Syria. There is in fact little doubt that Saudi Arabia funded some of the Sunni extremists groups in Syria because they saw Bashar al Assad's Baathist regime as an ally of Iran, the nation they see as their great strategic rival (but one that's managed it while also standing against the US).
Three years ago, in September 2015, we in India too faced an embarrassing Saudi perversion, when a diplomat from that country based in Delhi was found to be keeping two Nepali women, a mother and a daughter, as "sex slaves" for over a period of four months. There was a minor furore and then it passed. But thankfully the women were rescued. But one may point out that the interpretations of Wahabbi Islam are so perverse that it's possible that inside Saudi Arabia the women (foreign nationals) would be flogged for getting raped without marriage.
It's a brutal, repressive regime but it is different from other brutal repressive regimes in the world because it is constantly engaged in using its wealth to promote its interpretation of Islam across the globe.
A country that has been manufacturing terrorists, holy fighters and sending assassins across borders would have imagined that killing off Khashoggi would be just a small matter. It has created a storm but money does make the world go round and in the case of Saudi Arabia, look the other way.
https://www.timesnownews.com/international/article/maldivian-president-elect-ibrahim-mohamed-solih-calls-for-smooth-power-transfer-post-yameens-defeat/302944
--------
How the man behind Jamal Khashoggi murder ran the killing via Skype
Oct 23, 2018
He ran social media for Saudi Arabia's crown prince. He masterminded the arrest of hundreds of his country's elite. He detained a Lebanese prime minister. And, according to two intelligence sources, he ran journalist Jamal Khashoggi's brutal killing at the Saudi consulate in Istanbul by giving orders over Skype.
Saud al-Qahtani, a top aide for Saudi Crown Prince Mohammed bin Salman, is one of the fall guys as Riyadh tries to stem international outrage at Khashoggi's death. On Saturday, Saudi state media said King Salman had sacked Qahtani and four other officials over the killing carried out by a 15-man hit team.
But Qahtani's influence in the crown prince's entourage has been so vast over the past three years - his own rise tracking that of his boss - that it will be hard for Saudi officials to paint Qahtani as the mastermind of the murder without also raising questions about the involvement of Prince Mohammed, according to several sources with links to the royal court.
"This episode won't topple MbS, but it has hit his image which will take a long time to be repaired if it ever does. The king is protecting him," one of the sources with ties to the royal court said.
Qahtani himself once said he would never do anything without his boss' approval.
"Do you think I make decisions without guidance? I am an employee and a faithful executor of the orders of my lord the king and my lord the faithful crown prince," Qahtani tweeted last summer.
Qahtani did not respond to questions from Reuters. His biography on Twitter changed in recent days from royal adviser to chairman of the Saudi Federation for Cybersecurity, Programming and Drones, a role he had held before.
Prince Mohammed had no knowledge of the operation that led to Khashoggi's death and "certainly did not order a kidnapping or murder of anybody", a Saudi official said on Saturday. Officials in Riyadh could not be reached for further comment.
As the crisis has grown over the past three weeks, Saudi Arabia has changed its tune on Khashoggi's fate, first denying his death, then saying he died during a brawl at the consulate, and now attributing the death to a chokehold.
A senior Saudi official told Reuters that the killers had tried to cover up what happened, contending that the truth was only now emerging. The Turks reject that version of the story, saying they have audio recordings of what happened.
The kingdom has survived other crises in the past year, including the fallout of the crown prince's short-lived kidnapping of Lebanese prime minister Saad al-Hariri in 2017. Hariri, too, was verbally humiliated and beaten, according to eight Saudi, Arab and Western diplomatic sources. The man leading that interrogation: Saud al-Qahtani.
France intervened to free Hariri, but Western capitals did not take Riyadh to task for detaining a head of government – and Prince Mohammed emerged emboldened, according to these Saudi sources.
This time is different, with some Western capitals increasingly critical of the murder and the Saudi explanation.
Germany has announced it will stop arms sales, while Britain, France and Germany issued a joint statement asking for an "urgent … clarification of exactly what happened Oct 2."
President Donald Trump has swung between saying he is unhappy with the Saudi investigation but also that he does not want to jeopardize U.S. arms sales to the country.
SKYPE CALL
To stem the fallout of the Khashoggi killing, the crown prince, commonly known by his initials MbS, allowed Qahtani to take the fall, according to one source close to the Saudi royal court.
A second senior Saudi official said Qahtani had been detained following his sacking by royal decree, but he continued to tweet afterwards. The sources with links to the royal court said he was not believed to be under arrest.
In the Khashoggi killing, Qahtani was present as he has been in other key moments of MbS's administration. This time, though, his presence was virtual.
Khashoggi, a U.S.-based Saudi journalist often critical of Saudi Arabia and its leadership, walked into the Istanbul consulate at around 1 pm on Oct 2, to pick up some documents that would allow him to marry.
Turkish security sources say he was immediately seized inside the consulate by 15 Saudi intelligence operatives who had flown in on two jets just hours before.
According to one high-ranking Arab source with access to intelligence and links to members of Saudi Arabia's royal court, Qahtani was beamed into a room of the Saudi consulate via Skype.
He began to hurl insults at Khashoggi over the phone. According to the Arab and Turkish sources, Khashoggi answered Qahtani's insults with his own. But he was no match for the squad, which included top security and intelligence operatives, some with direct links to the royal court.
A Turkish intelligence source relayed that at one point Qahtani told his men to dispose of Khashoggi. "Bring me the head of the dog", the Turkish intelligence source says Qahtani instructed.
It is not clear if Qahtani watched the entire proceedings, which the high-ranking Arab source described as a "bungled and botched operation".
The Arab source and the Turkish intelligence source said the audio of the Skype call is now in the possession of Turkish President Tayyip Erdogan. The sources say he is refusing to release it to the Americans.
Erdogan said on Sunday he would release information about the Turkish investigation during a weekly speech on Tuesday.
Three Turkish officials reached by Reuters declined to comment ahead of that speech.
The senior Saudi official who laid out the official version of events – that Khashoggi had got into a fight – said he had not heard about Qahtani appearing via Skype, but that the Saudi investigation was ongoing.
QAHTANI'S RISE
Qahtani, 40, has earned a reputation at home as both a violent enforcer of princely whims and as a strident nationalist. In blogs and on social media, some liberal Saudi journalists and activists dubbed him the Saudi Steve Bannon for his aggressive manipulation of the news media and behind-the-scenes strategizing.
Qahtani wrote odes on Twitter to the royal family under the pen name Dari, which means predator in Arabic. Some of his opponents on social media call him Dalim, a figure in Arabic folklore who rose from being a lowly servant to much greater heights.
According to his biography on his Twitter account, Qahtani studied law and made the rank of captain in the Saudi air force.
After launching a blog, he caught the eye of Khaled al-Tuwaijri, the former head of the royal court, who hired him in the early 2000s to run an electronic media army tasked with protecting Saudi Arabia's image , according to a source with ties to the royal court.
Tuwaijri is under house arrest and could not be reached for comment.
Qahtani rose to further prominence after latching onto Prince Mohammed, who was part of his father Salman's court as Riyadh governor, then crown prince and finally king in 2015
Tasked with countering alleged Qatari influence on social media, Qahtani used Twitter to attack criticism of the kingdom in general and Prince Mohammed in particular. He also ran a WhatsApp group with local newspaper editors and prominent journalists, dictating the royal court's line.
When Riyadh led an economic boycott against Qatar in June 2017, Qahtani ramped up his attacks on the small Gulf state.
Online, he urged Saudis to tweet the names of anyone showing sympathy with Qatar under the Arabic hashtag "The Black List".
The high-ranking Arab official and Saudi sources with ties to the royal court said Qahtani was MbS's "bad cop" late last year when 200 people, including Saudi princes, ministers and business tycoons, were detained and put under house arrest at the Ritz Carlton in an anti-corruption sweep. Qahtani oversaw some of the interrogations, the Arab official said.
A KIDNAPPING
The extent of Qahtani's power is perhaps best illustrated by the kidnapping of Lebanese Prime Minister Saad al-Hariri last year, several of the Saudi and Arab diplomatic sources said.
The Saudis were incensed at the inability of Hariri, a Sunni Muslim and a Saudi client, to stand up to their regional rival Iran and Hezbollah, the Shi'ite paramilitary movement that acts as Tehran's spearhead in the region. Hariri belonged to the same multiparty coalition government as Hezbollah.
The Saudis were particularly dismayed that Hariri had failed to deliver a message to a top adviser to Iranian Supreme Leader Ayatollah Ali Khamenei, to stop interfering in Lebanon and Yemen. Hariri claimed he had delivered the Saudi message, but an informer, planted by Qahtani in Hariri's circle, gave the Saudis the minutes of the meeting which showed that he had not done so.
The Saudis lured Hariri to Riyadh for a meeting with MbS. Upon his arrival on Nov. 3, 2017, there was no line-up of Saudi princes or officials, as would typically greet a prime minister on an official visit. Hariri later received a call that the meeting with the crown prince would take place the next day at a royal compound.
When Hariri arrived, he was ushered into a room where Qahtani was waiting for him with a security team, according to three Arab sources familiar with the incident. The security team beat Hariri; Qahtani cursed at him and then forced him to resign as prime minister in a statement that was broadcast by a Saudi-owned TV channel.
"He (Qahtani) told him you have no choice but to resign and read this statement," said one of the sources. "Qahtani oversaw the interrogation and ill-treatment of Hariri."
Another source said it was the intervention of French President Emmanuel Macron that secured his release following an international outcry.
Macron claimed credit in May for ending the crisis, saying an unscheduled stopover in Riyadh to convince MbS, followed by an invitation to Hariri to come to France, had been the catalyst to resolving it. Lebanese officials confirmed to Reuters that Macron's quick intervention secured Hariri's return.
Saudi officials could not be reached for comment about the sequence of events or Qahtani's involvement. French officials declined to comment when asked about Qahtani's role.
AN OFFER TO RETURN HOME
At least three friends of Khashoggi told Reuters that in the months after the journalist moved to Washington a year ago he received multiple phone calls from MbS's right-hand man urging him to return to Saudi Arabia. Khashoggi had balked, they said, fearing reprisals for his Washington Post columns and outspoken views.
Qahtani had tried to reassure the former newspaper editor that he was still well respected and had offered the journalist a job as a consultant at the royal court, the friends said.
Khashoggi said that while he found Qahtani gentle and polite during those conversations, he did not trust him, one close friend told Reuters. "Jamal told me afterwards, 'he thinks that I will go back so that he can throw me in jail?"
The second senior Saudi official confirmed that Qahtani had spoken to Khashoggi about returning home. The ambush in Istanbul seems to have been another way to get him home.
How much did the crown prince know about his trusted aide's plan to abduct Khashoggi?
Most of the 15 hit-man team identified by Turkish and Saudi authorities worked for the kingdom's security and intelligence services, military, government ministries, royal court security and air force. One of them, General Maher Mutreb, a senior intelligence officer, who is part of the security team of Prince Mohammed, appeared in photographs with him on official visits earlier this year to the United States and Europe.
The high-ranking Arab official and the Turkish intelligence source said it was Mutreb's phone that was used to dial in Qahtani while Khashoggi was being interrogated.
Reuters tried to contact members of 15-man team but their phones were either switched off, on voicemail or no longer in service.
The Saudi official said Deputy Intelligence Chief General Ahmed al-Asiri put together the 15-man squad from the intelligence and security forces. Asiri was one of the five officials dismissed on Saturday.
Another key figure was Dr. Salah al-Tubaigy, a forensic expert specialized in autopsies attached to the Saudi Ministry of Interior.
His presence – equipped with a bone-saw Turkish sources say was used to dismember the journalist – is hard to explain in an operation Saudi officials now say was aimed at persuading Khashoggi to return home.
It is hard to imagine that the crown prince could have not known about such a delicate operation, the Saudi sources with ties to the royal court say.
The Saudi official who spoke on Saturday said an existing standing order provided authorization to "negotiate" with dissidents to return home without requiring approval, but that the team involved with Khashoggi exceeded that authorization.
Another Saudi official close to the investigation said that Qahtani decided on his own to organize Khashoggi's kidnapping and that he asked Asiri to get a team together, but that their plans had gone wrong.
Full report at:
https://timesofindia.indiatimes.com/world/middle-east/how-the-man-behind-jamal-khashoggi-murder-ran-the-killing-via-skype/articleshow/66326151.cms
--------
Saudi FM reaffirms commitment to full investigation into Khashoggi killing
23 October 2018
Saudi Foreign Minister Adel al-Jubeir reaffirmed on Tuesday the kingdom's commitment to a "comprehensive investigation" into the killing of Saudi journalist Jamal Khashoggi in Turkey.
Saudi Arabia had sent a team to Turkey and all those responsible for the journalist's death would be detained, the minister told a news conference in Indonesia.
Jubeir said "necessary measures will be taken to ensure that what happened is not repeated."
https://english.alarabiya.net/en/News/gulf/2018/10/23/Saudi-FM-reaffirms-commitment-to-full-investigation-into-Khashoggi-s-death.html
--------
Colonel Hamdan.: US behind Terrorists' Violation of Idlib Agreement
Oct 22, 2018
The Arabic-language website of Sputnik news agency quoted retired Colonel Mar'ei Hamdan as saying on Monday that the terrorist groups in Idlib have close ties with a number of states which oppose stability in Syria, spearheaded by the US, and they persuade them to violate the ceasefire agreement in the weapons-free zone in the province.
"The US should be blamed for the troubled move of the political process to resolve the crisis in Syria," he added.
Meantime, Head of the Russian Reconciliation Center Vladimir Savchenko said that despite the ceasefire in Idlib, the terrorist groups still target the demilitarized zone in Idlib.
Based on reports, the terrorists have attacked Ra'asheh and Ashq Ba'er in Lattakia province and Makanes al-Duwairi region in Aleppo; they have also targeted the army positions in Tadef region in the town of al-Bab in Eastern Aleppo.
Ankara has so far failed to persuade the terrorist groups to leave the demilitarized zone in Northeastern Lattakia, Southern Idlib, Northeastern Hama and Western Aleppo one week after a deadline mentioned in the Sochi Agreement ended.
The Syrian Observatory for Human Rights (SOHR) reported on Sunday that Turkey had failed to convince terrorist groups to withdraw from the demilitarized zone mentioned in the Sochi Agreements that covers parts of Lattakia, Idlib, Hama and Aleppo provinces a week after the agreement's deadline of October 15.
Meantime, the Syrian army continued its military advances in other parts of Syria over the past 24 hours.
Full report at:
http://en.farsnews.com/newstext.aspx?nn=13970730001028
--------
Terrorists Continue Reinvigorating Positions in Northern Syria Regardless of Sochi Agreement
Oct 22, 2018
Tahrir al-Sham has reinvigorated its strongholds in several regions in Northern Idlib, including Deir Hasaan and Bab al-Hawa at border with Turkey and also it has kept its gunmen in Western Aleppo on alert.
In the meantime, Tahrir al-Sham members on board several military vehicles stormed the position of rival groups in the small town of Batbo in Western Aleppo and pulled down the flags of the groups.
Also, Tahrir al-Sham has arrested tens of people in the villages and region in Southern and Western Idlib after the Sochi Agreement endorsed by Turkey and Russia to create a demilitarized zone in Northern and Northwestern Syria.
Tahrir al-Sham, meanwhile, attacked an ISIL base near the town of Saraqib in Southeastern Idlib and seized their weapons.
The Syrian Observatory for Human Rights (SOHR) reported on Sunday that Turkey failed to convince terrorist groups to withdraw from the demilitarized zone mentioned in the Sochi Agreements that covers parts of Lattakia, Idlib, Hama and Aleppo provinces a week after the agreement's deadline of October 15.
In the meantime, al-Watan pointed to the failure of Turkey in expelling terrorists from the demilitarized zone, and said that the Syrian Army's artillery units pounded the movements of Tahrir al-Sham Hay'at terrorists that tried to prevail over the army's positions in al-Latamina region in Northeastern Hama and in the village of al-Zarzour in Southeastern Idlib.
A number of Tahrir al-Sham terrorists were killed or wounded in the army's artillery attack.
Full report at:
http://en.farsnews.com/newstext.aspx?nn=13970730000860
--------
Turkey Gives Last Warning to Terrorists to Leave Demilitarized Zone in Northern Syria
Oct 22, 2018
Syria's state-run al-Watan daily reported that Ankara has warned its allied terrorist groups in the demilitarized zone in Idlib, Hama, Aleppo and Lattakia provinces that they will definitely suffer heavy defeat if the Syrian Army launched its large-scale in the region.
The paper further quoted a source in Syria Liberation Front affiliated to Turkey-backed National Liberation Front as disclosing that Ankara has been sending continued warnings to the terrorist groups, declaring Ankara's concern about the failure of Sochi Agreement.
It went on to say that Turkey, in its last message, has warned the terrorists that have refused to leave demilitarized zone that if the Sochi Agreement collapses, the Syrian army and the Russian Air Force will force the terrorists to leave their last strongholds in the Northern and Northwestern Syria.
The Syrian Observatory for Human Rights (SOHR) reported on Monday that the terrorists are still in the demilitarized zone.
SOHR reported on Sunday that Turkey failed to convince terrorist groups to withdraw from the demilitarized zone mentioned in the Sochi Agreements that covers parts of Lattakia, Idlib, Hama and Aleppo provinces a week after the agreement's deadline of October 15.
In the meantime, al-Watan pointed to the failure of Turkey in expelling terrorists from the demilitarized zone, and said that the Syrian Army's artillery units pounded the movements of Tahrir al-Sham Hay'at (the Levant Liberation Board or the Al-Nusra Front) terrorists that tried to prevail over the army's positions in al-Latamina region in Northeastern Hama and in the village of al-Zarzour in Southeastern Idlib.
A number of Tahrir al-Sham terrorists were killed or wounded in the army's artillery attack.
Full report at:
http://en.farsnews.com/newstext.aspx?nn=13970730000650
--------
Syrian Air Force Bombs Heavily ISIL's Movements in Homs
Oct 22, 2018
The fighter jets pounded ISIL's movements near Aweiraz Dam and also in a region between Deir Ezzur and Homs border in the Eastern desert of Palmyra in Eastern Homs, killing and wounding a large number of terrorists and destroying their military hardware.
In the meantime, a sum of 175 militants that had laid down arms in Homs, received government amnesty and returned to normal life in line with a nationwide peace plan across the country.
In mid-September, the army stormed ISIL's positions in deserts of Homs and Deir Ezzur, taking control over more positions and military points.
The army men killed and wounded a number of terrorists and captured four more, seizing a large volume of arms and ammunition in the operation.
http://en.farsnews.com/newstext.aspx?nn=13970730000311
--------
Israel says Hezbollah set up Lebanon post under NGO guise
22 October 2018
The Israeli army Monday accused the Lebanese militant group Hezbollah of setting up a new observation point in south Lebanon near the border under the guise of an environmental NGO.
A senior military officer charged that the position, near the Shiite village of Aadaysit and the Israeli kibbutz of Misgav Am, was a violation of UN Resolution 1701 prohibiting Hezbollah military activity in the area.
The observation post joins five other exposed last year by Israel, the officer said, all allegedly under the cover of "Green Without Borders".
"This NGO isn't concerned with planting trees, it's a front" for Hezbollah to monitor the Israeli army and civilians nearby, the officer told reporters in a briefing.
Israel has relayed its concerns to UNIFIL, the United Nations peacekeeping mission in Lebanon, and asked them to visit the positions, but according to the officer, "they haven't done so".
The position contains "military equipment and infrastructure, binoculars, high end cameras", the officer said. "This is a breach of 1701."
A month-long war in 2006 between Israel and the Hezbollah movement killed more than 1,200 Lebanese, mostly civilians, and more than 160 Israelis, mostly soldiers.
Resolution 1701 was adopted to end the war, calling for full respect of the "Blue Line", the UN-demarcated frontier between Lebanon and the Jewish state.
Full report at:
https://english.alarabiya.net/en/News/middle-east/2018/10/22/Palestinian-who-stabbed-Israeli-soldier-is-shot-dead-.html
--------
US President Trump speaks with Saudi Crown Prince
23 October 2018
US President Donald Trump announced on Monday that he had spoken by telephone with Saudi Crown Prince Mohammed bin Salman.
Earlier, US National Security Advisor John Bolton confirmed that the talks on Khashoggi's death were continuing with Saudi authorities, referring to Washington's desire to know the full details into the investigations.
For his part, White House adviser Jared Kushner described Saudi Arabia as a vital partner and important ally.
Full report at:
https://english.alarabiya.net/en/News/gulf/2018/10/23/US-President-Trump-speaks-with-Saudi-Crown-Prince.html
--------
German Daesh 'shoemaker' pleads to come home from Syria
October 23, 2018
RMELAN, Syria: From northern Syria, Muslim convert Sufyan is imploring his native Germany to take him back, having been captured years after joining the Daesh group's so-called "caliphate."
His beard neatly buzzed, Sufyan is one of hundreds of foreigners held by the Kurdish People's Protection Units (YPG) in war-torn Syria, accused of fighting for Daesh.
The 36-year-old insists he was not a fighter, but a misguided civilian making orthopaedic shoes and prosthetics in Daesh territory.
"I am not Jihadi John, I am not Abu Bakr Al-Baghdadi, I am not Adnani," said Sufyan, listing Daesh's infamous British executioner, its elusive chief, and its now-dead spokesman.
"I just made limbs," added the pale-skinned Sufyan, who refused to give his real name and said he was from Stuttgart in southwest Germany.
He was selected to speak to AFP by the YPG, who detained him around a year ago and were present during the interview.
They have refused to try accused foreign fighters in their custody, urging Western countries to take them back.
Some foreign governments have agreed to do so, but most are reluctant.
The US-backed Syrian Democratic Forces are holding several alleged German Daesh members, including Mohammad Haydar Zammar, a Syrian-born German national accused of helping plan the September 11 attacks.
Berlin is not known to have repatriated anyone, but Sufyan hopes he, his Syrian wife and their son can start afresh in Germany.
"People make mistakes and I was naive," he said, dressed in a yellow hoody with a side zip, cargo pants, and black beanie.
"I just want to go back to my old life."
Speaking in near-fluent English peppered with Arabic words, Sufyan recounts his winding journey to what he thought would be a pious life under Islamic rule.
In 2014, Daesh declared a "caliphate" across large parts of Syria and neighboring Iraq.
The following year, Sufyan traveled across Europe and Turkey, finally crossing into Syria in March 2015, four years into the Syrian war.
Once inside, he says, Daesh shuffled him among safe houses for weeks alongside Australians, Central Asians, and Russians.
He was given one month of military training and assigned to a battalion, but claims he never fought.
"I didn't fight and I didn't kill anyone," he said.
"I never killed any person in my life."
Instead, Sufyan was hired at a hospital in Daesh's de facto Syrian capital Raqqa, using his 12 years' experience as an orthopaedic shoemaker.
"They teach me over there prosthetics. Until I came to YPG, I was doing this job... making prosthetic and orthopaedic shoes," he said.
In 2016, he married a Syrian woman from northwest Idlib, and they had a son.
They stayed in Raqqa until YPG-led forces surrounded the northern city in 2017, forcing them to flee to the Daesh-held eastern town of Mayadeen.
Sufyan took up the same work there until Mayadeen came under attack, this time by the Russia-backed Syrian regime.
He said he had grown embittered toward Daesh by then and decided to pay a smuggler to bring him and his family to a YPG checkpoint.
"I was not ready to kill someone or to die, so I decided to go out," said Sufyan. "Everyone was running away."
A year later, Sufyan lives separated from his wife and son, who are detained in a Kurdish-run camp. He desperately wants to be reunited with his family.
Kurdish authorities say they have in their custody around 520 male foreign Daesh members, 550 women and around 1,200 children from 44 countries.
According to a European Parliament report in May, Germany estimates there are 290 children with claims to German citizenship in Iraq and Syria.
"If I can come back to Germany and if Germany want to punish me, I will accept this, to stay in prison," Sufyan told AFP.
"I hope it will not be a long sentence, because I miss already my wife and my son," he said.
He hopes to study or open his own business in his homeland, for which he has renewed appreciation since meeting Syrians who "see Germany as something like a paradise on earth."
"I know Germany is a country with a lot of 'rahma' with a lot of people. I expect that Germany will have also 'rahma' with me," he said, using the Arabic word for "mercy."
Sufyan has written to his parents in Germany, who replied and also sent a letter and money to his wife.
Included in his parents' reply was a picture of a bicycle, which has kept Sufyan's hopes of returning home alive.
Full report at:
http://www.arabnews.com/node/1392431/middle-east
--------
Africa
Algeria detains 17 for providing information to al-Qaeda cell
22 October 2018
Algerian authorities detained 17 people in Tissemsilt for their involvement in providing an al-Qaeda terror cell with information about the movement of police, gendarmerie and army.
"Within the context of fighting terrorism, (the authorities) arrested 17 people who support terror groups in Tissemsilt on October 20," the ministry of defense said in a statement.
The daily Elibilad quoted security sources as saying that the arrests were made following investigations for weeks and after the authorities learnt from residents in the area that suspicious people were visiting the houses of some repentant terrorists.
According to sources, the statements of the two detainees helped detain the rest of the cell members. The rest of the cell members are being interrogated to know more about other members and the terrorist scheme that was being planned.
Military operations
Meanwhile, armed forces have launched large-scale military operations in northern and border areas to track terror groups and smuggling barons. Security forces also shelled and destroyed terrorists' strongholds and thwarted smuggling operations in the second, fourth and sixth military regions.
The Algerian air force's fighters and reconnaissance aircrafts have intensified their flights in several areas in eastern areas as well as above mountainous and other strategic passages and border crossings, the sources also said, adding that additional army and gendarmerie forces have been dispatched to the eastern borders.
This comes amid recent reports that top army officials are supervising the monitoring of eastern borders and the execution of a new security plan that aims to prevent the infiltration of Algerian borders by Tunisian or Libyan armed groups, prevent the violation of Algerian airspace and confront smuggling of weapons via the country's borders.
https://english.alarabiya.net/en/News/north-africa/2018/10/22/Algeria-detains-17-for-providing-Qaeda-cell-with-information-about-army-police.html
--------
Nigeria: Govt Must Stop Lying About Boko Haram - ICC
23 OCTOBER 2018
By Sam Eyoboka
Communications Coordinator of International Christian Concern, ICC, Olivia Miller, has urged the Federal Government to stop lying to Nigerians, but to hunt down terrorists and end Boko Haram.
ICC, a non-partisan charitable organisation focused on human rights, religious freedom and assisting the persecuted Christian Church, told Vanguard: "Boko Haram must be destroyed in order to ensure that this doesn't keep happening, but the government must first stop lying by saying that they have already won."
On Boko Haram's vow to keep Alice and Leah Sharibu as slaves for life, Miller said: "This means that they are likely going to keep them permanently. They are saying that they will no longer accept any ransom or rewards for them, but will likely use them for work, force them to convert to Islam, and probably rape and beat them.
"Eventually, they will probably sell them to a rich Muslim man, who will force them to marry and own them. These are all things that Boko Haram is well known for doing to young women.
"My only hope is that they are just using this to try and get more money from the government. This would mean that there is still a chance that they can be saved."
Full report at:
https://allafrica.com/stories/201810230109.html
--------
Muslim pilgrims allege theft of funds, demand to meet Sonko
OCTOBER 22 2018
A group of Muslims who were sponsored by Nairobi Governor Mike Sonko to attend the annual Hajj Pilgrimage in Mecca, Saudi Arabia, in August have accused the event planners of misappropriating funds and causing them to suffer.
They said they have been blocked from seeing the governor by individuals who were at the forefront in planning the event for fear of revealing how they suffered after the funds were reportedly embezzled.
HARDSHIPS
The pilgrims told Nation that an agent and the governor's personal assistant have been threatening them after they complained of the suffering they went through in Saudi Arabia and demanded to know how Sh2 million was used.
"Although it was a once in a lifetime event, we are bitter because we suffered from the onset. We have been trying to see the governor but our efforts have been thwarted by individuals who fear that we will tell him the truth. We are requesting him to have a meeting with us so that we can unmask those who duped him," said the group.
The group said they went three days without food while in Mecca and were forced to beg from other pilgrims. They claimed their agents neither took care of them nor gave them directions to various worshipping centres.
The Muslims further claimed that they were forced to beg for sleeping space in tents of their Muslim brothers and sisters from other countries.
"We survived on water for three days and had to endure verbal attacks from some pilgrims of Somali origin, who were not ready to accommodate us after we begged for sleeping spaces in their tents. If the sponsorship was full, where did the money go, and if it was partial, then we could have been told before we left Kenya," said the faithful.
MISUNDERSTANDING
But the agent, Prof Hassan Kinyua who lectures at the University of Nairobi, accused the group of failing to understand the sponsorship and fighting for Sh2 million that was not reportedly withdrawn by the governor's personal assistant and photographer, Mr Farhan Ibrahim.
"I didn't abandon anyone. I only used the Sh3 million that the governor gave out before we left. Mr Ibrahim told me he never withdrew the Sh2 million that the group is pursuing, and that it was resent to the governor although I can't confirm," Prof Kinyua said.
When contacted, Mr Ibrahim refused to give more information on the allegations, only insisting that the money is with the governor, and that there was no need for the group to book an appointment with him because they had conveyed their appreciation immediately they jetted back.
"Why are they insisting on seeing the governor yet we represented them and conveyed their thank-you message? If they think we misappropriated the Sh2 million, which was resent to the governor, then let them go on with their agenda," said Mr Ibrahim.
Full report at:
https://www.nation.co.ke/counties/nairobi/Muslim-pilgrims-demand-to-meet-Sonko-over-funds/1954174-4817248-nm8c1c/index.html
--------
South Africa: Govt to Appeal Decision On Muslim Marriages
22 OCTOBER 2018
Government has taken a decision to appeal the judgment handed down by the Western Cape High Court on Muslim marriages.
The case was brought by the Women's Legal Centre (WLC) and Ruwayda Esau.
The WLC had argued that by not recognising Muslim marriages under common law, the law ignored the reality that women often lack bargaining power in marriages and were not afforded legal protection.
The judgment, which was handed down on 31 August 2018, ordered the executive and Parliament to pass legislation providing for the recognition and dissolution of marriages concluded in terms of Islamic Law.
In the ruling, the full bench gave government two years within which to enact such legislation.
In the absence of this legislation being passed, the full bench has crafted an order which will then regulate the recognition and dissolution of marriages concluded in terms of Islamic Law.
On Friday, the Justice Department announced that a decision was taken to appeal the judgment following consultation between the President, the Ministry of Justice and other members of the executive.
The decision to appeal was taken for three primary reasons.
"First, Mrs R Esau has lodged an appeal with the Constitutional Court because the full bench did not give her immediate relief in a marriage that has already been dissolved in terms of Islamic Law. The Women's Legal Centre has not lodged a similar appeal," said Department of Justice spokesperson, Mukoni Ratshitanga.
Second, the full bench decision has acknowledged that government is already in the process of researching an omnibus law that will deal with the recognition and dissolution of all religious marriages.
"Despite acknowledging this, the full bench has nevertheless ordered the executive and parliament to enact and pass legislation dealing with marriages under Islamic Law and to do so within a specific period," said Ratshitanga.
The third reason, is the effect that the decision has immediate implications on all other religious marriages which have not been registered as secular marriages in terms of the Marriage Act.
"In short, the judgment impacts beyond the sphere of marriages concluded under Islamic Law. For these primary reasons, the President and the Minister of Justice have taken a decision to appeal the judgment of the full bench.
"They will do so upon the basis that they remain committed to complete the process that they have already commenced, and that is, to pass one law governing all religious marriages," said Ratshitanga.
According to Ratshitanga, an appeal court decision will also bring certainty on certain fundamental constitutional principles, such as:
the separation of powers and the extent to which courts may order government to pass legislation and to do so on a specific issue;
the issue of inequality and discrimination of women generally and particularly those in religious marriages which have not been registered as secular marriages; and
the permissible powers of the executive, and in turn, the legislature, in fulfilling their constitutional role in our democracy by determining how best to address such matters.
Full report at:
https://allafrica.com/stories/201810220670.html
--------
N. Eastern leaders pledge to flush out Al-Shabaab
OCTOBER 23 2018
Leaders of North Eastern counties have agreed to volunteer any information that could help flush out Al-Shabaab terror group.
The leaders said terrorism had led to poor development and they needed to act.
The resolve to flush out the illegal militia using information from the public has been an ongoing process and yesterday was its culmination as Mandera Governor Ali Roba hosted his colleagues during a conference on de-radicalisation and countering violent extremism in the region.
EDUCATION
Those who attended the meeting held in Mandera town include governors Ali Korane (Garissa), Mohamed Kuti (Isiolo), Wajir deputy governor Mohamed Mukhtar, area MPs and County Commissioner Olaka Kutswa.
Mr Kutswa has been critical of the area politicians, saying they are not providing the much-needed goodwill to complement the government's efforts in the war against terrorism.
"When you kill teachers, you are killing the education sector in the region same as the health sector will be affected when you kill the nurses. If the political voice is weak, there is nothing we can do," said Mr Olaka.
INFORMATION
Religious leaders, village elders, the youth and women leaders also pledged to co-operate with the authorities to deal with cases of radicalisation.
It was the first time the leaders were meeting over the issue. Before the meeting, none would talk about it but yesterday they were united.
Leaders urged the public to volunteer information to the police or risk being isolated by the whole country because of the terrorist activities.
INFILTRATED
"Their attacks are worse than colonisation. They have made our schools, hospitals, quarries and all other critical sectors of our economy lack human resource because of fear," said Mr Roba.
He added: "The menace has been compounded further by the inter-clan fighting that has been infiltrated by the terror group. If indeed you care, defend your land by providing the required information to the authorities."
The region, specifically Mandera, has suffered the most heinous acts of terror attacks with thousands killed since October 2010, when the Kenya Defence Forces crossed to Somalia.
BOMBING
In November 2014, suspected Al-Shabaab terrorists killed at least 64 people in Mandera within just 10 days.
During the same month, 28 others were killed and days later, 36 miners had their lives cut short.
The worst of them was in Garissa when 149 students of Garissa University were killed in 2015, forcing the government to explore lasting measures of containing the terrorists including bombing their cells in Somalia.
INSURGENTS
Mr Korane said Al-Shabaab's activities are no longer a national problem but a regional one that the residents must deal with.
"We have contributed to this problem because we have young people who have been recruited to join them, but we do not want to share the information with the government agencies," Mr Korane said and challenged the government to give amnesty to those willing to return from Somalia. "An insurgent is more difficult to deal with than terrorism because you can't fight it using the police or military but the local community. We want normalcy in our borders," he said.
RESPONSIBILITY
Mr Kuti said the militia has made the residents slaves.
MPs Adan Haji (Mandera South), Omar Maalim (Mandera East) and Abdullahi Bashir (Mandera North) also castigated the terrorists.
Full report at:
https://www.nation.co.ke/news/N--Eastern-leaders-pledge-to-flush-out-Al-Shabaab/1056-4817854-rba09fz/index.html
--------
Europe
US general demands UK trial for ISIS fighters
October 22, 2018
Two ISIS suspects accused of being part of a cell that beheaded hostages in Syria should stand trial in the UK, a senior US military commander said on Monday.
Maj Gen Patrick Roberson is the highest-ranking official to have called on the UK to repatriate El Shafee Elsheikh and Alexanda Kotey, two alleged members of the ISIS execution squad that became known as the Beatles because of their British accents.
The pair were captured in January and are among hundreds of former ISIS militants from 40 countries held by the US-backed Syrian Defence Force. The SDF and Syrian officials want them to be repatriated by their home countries, but some western countries want them dealt with where they are held.
The UK has sought to have the two men tried in the United States. But Maj Gen Roberson, the commander of US special operations, told the BBC that the US was "working very hard to make sure that the countries of origin get these foreign terrorist fighters back into their custody".
The British authorities stripped Mr Elsheikh of his citizenship in 2014 before any criminal conviction for crimes linked to ISIS to prevent his return to the UK.
The pair have been linked to the kidnappings of 27 people and the murders of three US and two British citizens, according to court papers. The Briton captured on ISIS beheading videos, Mohamed Emwazi, was killed in a drone strike in 2015.
Britain believes there would be a better chance of conviction if the two men stood trial in the US even though any American prosecution would rely on hundreds of pages of evidence from British police.
The move has proved controversial because the family of Mr Elsheikh claims that Britain has abandoned its long-standing opposition to the death penalty to allow them to be tried in the US.
Mr Elsheikh's mother has challenged the decision to prevent her son being exposed to "inhuman" treatment in the US. Her legal team claims that Britain changed its position because of fears of harming relations with the Trump administration.
https://www.thenational.ae/world/europe/us-general-demands-uk-trial-for-isis-fighters-1.783072
--------
Islam scholar Ramadan claims sex was consensual in French rape case
October 22, 2018
Leading Islamic scholar Tariq Ramadan, charged with raping two women in France, claimed Monday that he had consensual sex with both of them after previously denying any physical contact.
Ramadan, a well-known TV commentator, has strongly denied accusations that he raped the women in hotel rooms as an attempted smear by his opponents.
His lawyer Emmanuel Marsigny said the Swiss academic had changed his account of what happened on the basis of text messages that have emerged between him and his two accusers.
The messages "show that the plaintiffs lied and that the sexual encounters were wanted, consensual and even sought again afterwards", Marsigny said.
The unearthing of these messages "has allowed him to acknowledge that he had sexual relations" with the women, Marsigny said.
Ramadan, accused of raping the women in 2009 and 2012, has been in custody since February 2.
He previously insisted he had no sexual contact with his two accusers, feminist activist Henda Ayari and a disabled woman known in media reports as "Christelle".
Ramadan was a professor at Oxford University until he was forced to take leave when the rape allegations surfaced at the height of the "Me Too" movement late last year.
The married father of four, whose grandfather founded Egypt's Muslim Brotherhood, has repeatedly sought bail arguing that being in prison is making it difficult to treat his multiple sclerosis.
The courts have so far rejected his requests, ruling that he can receive adequate treatment in the prison hospital at Fresnes in the southern Paris suburbs.
Last month a computer expert working on the investigation retrieved 399 text messages between Ramadan and Christelle, whom he is accused of raping in a Lyon hotel room in 2009.
The text messages detailed his violent sexual fantasies ahead of the alleged attack.
Afterwards, the records show that he wrote to her: "I sensed your unease... apologies for my 'violence'."
Ramadan previously claimed he was involved in a "game of seduction" with Christelle, online and on the telephone.
But he said their only face-to-face contact was a drink in the hotel bar, describing her as a "compulsive liar".
Full report at:
http://www.thejakartapost.com/news/2018/10/22/islam-scholar-ramadan-claims-sex-was-consensual-in-french-rape-case.html
--------
Protesters demand Iran's intelligence ministry be placed on EU terror black list
22 October 2018
Brussels - The Iranian community in Brussels protested on Monday calling for Iran's Ministry of Intelligence to be placed on the European Union's terror black list four months after a plot by Tehran to attack an opposition rally in Paris.
"We expect EU today to break the silence. We want EU to be active and to be on the side of Iranian people," said Firouz Mahvi, Member of the National Council of Resistance of Iran (NCRI).
He spoke to Al Arabiya English as more than 50 Iranian refugees gathered on Monday in front of the European Commission in Brussels. The protesters gathered to condemn what they say is the European Union's silence to mass executions, human rights violations and repression of women in Iran.
The protest took place almost four months after the foiled plot that targeted the massive opposition rally led by the NCRI in Paris on June 30. In the beginning of October, French officials stressed that there was "no doubt" that Iranian Ministry of Intelligence was behind the plot to attack the rally.
"I was among the people who were there on June 30" said Paulo Casaca, a former member of the European Parliament. "So I can say that, even personally, I have a case here to the European External Action Service (EEAS) and there has not been a single word from the EEAS on the issue," he added following his statement at the protest in front of the EU Commission.
Full report at:
https://english.alarabiya.net/en/News/world/2018/10/22/Protesters-demand-Iran-s-intelligence-ministry-be-placed-on-EU-terror-black-list.html
--------
Saudi investigation on Khashoggi entails hypotheses: UK
Oct 22, 2018
The British government has called on Saudi Arabia to go beyond pure hypotheses while investigating the mysterious death of a dissident journalist.
A spokesman of British Prime Minister Theresa May said Monday that Saudi Arabia must provide the world with "urgent clarification" on how Jamal Khashoggi was killed in the kingdom's consulate in the Turkish city of Istanbul earlier this month.
"There remains an urgent need for clarification of what happened beyond the hypotheses raised so far in the Saudi investigation," the spokesman told reports on Monday.
May's government has been accused of doing "too little" in dealing with Saudi Arabia since the kingdom admitted last week that Khashoggi had been killed on October 2 in its Turkish diplomatic mission, where he was seeking documents for a forthcoming marriage.
The death of Khashoggi, an exiled journalist who had been living in the United States since last year, has sparked huge international outrage. However, London, a major ally of Riyadh, has acted reservedly while condemning the murder. It has also refused to consider an arms sale ban on Saudi Arabia, saying it would benefit rivals in the international weapons market.
Five major opposition parties wrote a letter to UK foreign minister Jeremy Hunt on Sunday, calling on him to act seriously in dealing with Saudi Arabia and its crimes.
The five parties, which included the Labour, said Riyadh had already crossed boundaries in violating human rights.
The Labour had said earlier this month that Britain needed to show a stronger response to the disappearance of Khashoggi. The party said it would ban the sale of weapons to the Saudis if it was in power.
Full report at:
https://www.presstv.com/Detail/2018/10/22/577806/UK-government-Saudi-probe-Khashoggi
--------
How Turkey Is Spreading Its Radical Islamist Agenda to Europe
by Alon Ben-Meir
OCTOBER 22, 2018
With less than two million people, Kosovo, which declared its independence from Serbia in 2008, is the home of over 800 mosques. Now the Islamic Community of Kosovo is building the "Central Mosque" at an estimated cost of $35 to $40 million. Turkey's Directorate of Religious Affairs (the Diyanet) is financing the project.
The Diyanet also financed the building of a similar mosque on a 10,000-square-meter parcel of land in Tirana, Albania — the largest mosque in the Balkans — along with dozens of other mosques across neighboring countries.
Diyanet is the official Turkish state institution whose role is "to execute the works concerning the beliefs, worship, and ethics of Islam, enlighten the public about their religion, and administer the sacred worshiping places." Diyanet is also responsible for the religious affairs of the Turkish diaspora. In Germany alone, it administers 970 mosques, run by imams trained by the organization.
Austria was the first country to realize that the mosques built with Turkish President Recep Tayyip Erdogan's money are used for political purposes to promote his Islamic agenda. In June 2018, Austrian Chancellor Sebastian Kurz ordered the closing of seven mosques built by Diyanet, and deported 60 imams and their families with ties to Turkey as part of the "fight against political Islam."
In February 2016, German law enforcement agencies revealed that clerics from the organization were involved in espionage against followers of Erdogan's arch-rival Fethullah Gülen's followers. Two years ago, Cumhuriyet, an independent Turkish newspaper, reported that Diyanet was very active in collecting intelligence, specifically on the activities of Gülen sympathizers in 38 countries across Europe, including Germany and the Balkans. Accusations of espionage by the organization have existed since the 1990s, but these revelations pointed to far more extensive operations than were previously thought.
Meanwhile, Diyanet has extended its religious program to countries whose connection to Ottoman history is tenuous. The president of Diyanet, Ali Erbaş, said that it has extremely strong relations with Balkan countries, and stressed that this cooperation will continue in the future, especially in relation to religious education, services, and publications. He emphasized the importance and affinity of Turkey to the Balkans and added, "The Balkans have a special place for us. Our historical ties will continue as they have done in the past."
Ironically, while most of the Balkan countries suffer from unemployment, lack of foreign investments, and rampant poverty, Erdogan's investments are focused on mosques and religious educational institutions at a time when Kosovo's unemployment rate is 30%.
Lulzim Peci, the former Ambassador of Kosovo to Sweden and Executive Director of the Kosovo Institute for Policy Research and Development (KIPRED), is one of the most critical voices in Kosovo against Erdogan's Islamist scheme. He agrees that the mosques built in Kosovo are political establishments meant to promulgate Erdogan's vision. "In the case of Kosovo and Albania, the tens of millions of dollars invested in building mosques has to do with the symbol of Turkish supremacy and influence, not only religious but also political," says Peci.
Erdogan's enormous investments in Ottoman symbolism are designed to influence the mindset of the population in Kosovo and increase the pro-Turkish-Islamist sentiments among the present and future generations. The Islamic ideology that Diyanet promotes caused wide-spread indignation even in Turkey. Diyanet stated that girls can become pregnant and therefore get married at the age of nine years old and boys at the age of 12. Thus, the concerns over Diyanet activities are not limited to building mosques, but its cultural and societal influence based on radical Islam.
"Unfortunately, Albanian mosques thus are confirming the thesis of Swiss Islamist Saida Keller-Messahli in her book Islamic Centrifuge in Switzerland, where Albanian mosques in fact are radical centers serving this kind of Islamic agenda for the radicalization of Albanian Muslims in favor of Erdogan's politics," says Xhemal Ahmeti, a historian and expert on Southeast European issues.
Visar Duriqi, a Kosovo journalist specializing in religious affairs, said that the project for the construction of the mosque with Turkish funds sends a clear political message by Erdogan to the effect that he has control over this region.
Mosques are increasingly being used to spread Islamist ideologies to a point where only limited room is left for actual prayers. In the countries with majority Christian populations in the Balkans, such as Serbia, Macedonia, and Croatia, Turkey is investing in major development projects, while in Albania the investments are geared mainly toward building Islamic religious institutes. "It has been shown that the most powerful and sustainable influence in this region, especially among Albanians, is made precisely through the instrumentalization of the religion," says Neziri.
To be sure, anyone who follows Erdogan's ambitions in the Balkans cannot escape the conclusion that the Turkish leader had a specific, well-articulated Islamic agenda that he is determined to entrench in the psyche of the Balkan people by building mosques and appointing imams that follow his doctrine. It is part and parcel of Erdogan's vision to restore elements of the Ottoman Empire under his leadership.
Full report at:
https://www.algemeiner.com/2018/10/22/how-turkey-is-spreading-its-radical-islamist-agenda-to-europe/
--------
Russia curbs Israeli flights near Syrian skies: Paper
Oct 22, 2018
Israel's leading newspaper Haaretz says Russia has been taking a more forceful stance toward flights by Israeli aircraft near the Syrian border in the north.
Russia's behavior, the paper said, is being interpreted in Israel as a response to the downing of an Ilyushin intelligence-gathering plane on September 17 at the end of an Israeli airstrike near Latakia in northwest Syria.
"There have been several instances in which Russian air defense radars in Syria were activated in connection with Israel's air force activity in the north," Haaretz reported.
The Russians are demanding further clarifications from the Israeli military via the "hotline" that is meant to prevent any aerial clashes between the two parties, it said.
Moscow has blamed the downing of its aircraft on Israel, saying Israeli jets used the landing Russian plane as a "cover" which resulted in the Il-20 being struck by a Syrian air defense missile.
Following the incident, Russia delivered its S-300 surface-to-air missile defense system to Syria, saying it was aimed at ensuring the safety of Russian forces in the Arab country.
Prime minister Benjamin Netanyahu and minister of military affairs Avigdor Lieberman said last week that Israel will continue its aerial incursions into Syria.
Israeli authorities have boasted that F-35 jets supplied by the US can beat S-300 in light of their alleged stealth capabilities, but no incursion has been reported since the deployment of the new missile defense system.
Russia's Izvestia newspaper reported last week that three air defense systems supplied to Syria were of the most advanced model of the S-300 missiles with the highest radar and target-identification capabilities.
According to the paper, the missile batteries will initially be operated by Russian experts and the process of training Syrian soldiers to operate them is expected to take some time.
Through the move, however, Moscow is mainly "signaling to Israel that it intends to limit Israel's freedom to maneuver in the Syrian skies," it said.
Netanyahu plans to meet Russian President Vladimir Putin soon but no date has been announced yet.
A Haaretz report last month said Russia had warned senior Israeli officials before the downing that attacking targets in Syria would harm Moscow's interests.
Full report at:
https://www.presstv.com/Detail/2018/10/22/577744/Russia-restricts-Israeli-moves-Syria
--------
Germany calls Khashoggi's murder 'monstrosity'
22.10.2018
By Ayhan Simsek
BERLIN
German Chancellor Angela Merkel has strongly condemned the killing of journalist Jamal Khashoggi and ruled out any weapons exports to Saudi Arabia until the incident is cleared up.
"What happened in Saudi Arabia's Consulate in Turkey was a monstrosity," Merkel said on Monday, during an election campaign rally in Ortenberg, near Frankfurt.
"This must be cleared up. And until it is cleared up, there will be no arms exports to Saudi Arabia. I am saying this quite explicitly," she said.
Khashoggi, a Washington Post columnist, was last seen on Oct. 2 when he entered the Saudi Consulate in Istanbul.
After days of denying to know his whereabouts, Saudi Arabia last week claimed Khashoggi died during a fight inside the consulate.
On the day of Khashoggi's disappearance, 15 other Saudis, including several officials, arrived in Istanbul on two planes and visited the consulate while he was still inside, according to Turkish police sources. All of the identified individuals have since left Turkey.
Saudi Arabia's foreign minister admitted on Sunday that Khashoggi was killed inside the Saudi Consulate but argued that the Crown Prince Mohammed bin Salman was "not aware" of it.
Foreign Minister Adel al-Jubeir claimed that it was a "rogue operation" by individuals who exceeded their responsibilities and later tried to cover things up.
Full report at:
https://www.aa.com.tr/en/europe/germany-calls-khashoggis-murder-monstrosity-/1289804
--------
UK mobile unit to confront dirty bomb threat
October 22, 2018
Britain is preparing to bolster its defences against a terrorist attack using a radioactive 'dirty' bomb with a rapid-response unit to detect smuggled material.
A £3.4 million government contract will see a fleet of up to ten cars fitted with detection equipment for "various national security and radiological and nuclear counter-terrorism activities", according to a government procurement notice.
The mobile units will complement a border security programme, known as Cyclamen, which is designed to deter, detect and intercept radiological material at major ports and airports across the country.
The UK is seeking to upgrade its "outdated and unreliable" equipment while cutting costs amid renewed concerns that extremists are trying to get hold of radioactive material for a devastating attack on a major metropolis.
Experts have warned for decades about the threat from terrorist groups if they are able to secure deadly material from thousands of often poorly-protected sites such as research facilities, hospitals and construction sites that use radioactive substances for legitimate purposes.
The International Atomic Energy Agency has recorded more than 3,200 cases of suspected trafficked or malicious use of radioactive and nuclear material since 1993.
The authorities have been on guard since the chaotic break-up of the Soviet Union left sensitive military sites unprotected. Concerns were heightened when Osama bin Laden claimed in 1998 that it was his Islamic duty to seek to acquire weapons of mass destruction.
The mobile detection unit contract was "not in response to a specific threat", said the UK's interior ministry in a statement. "The use of radiological or nuclear materials in an attack by terrorists remains significantly less likely than a conventional or chemical attack."
Combined with conventional explosives, a dirty bomb is designed to explode spreading radioactive material across a wide area. US research suggested that a dirty bomb would probably kill more people from the blast than the health impacts from the dispersal of radioactive material. But it could lead to panic and huge financial costs from a clean-up operation.
Former US president Barack Obama said in 2014 that he was more concerned by the "prospect of a nuclear weapon" going off in the Manhattan district of New York than the Russian state as a security threat.
A senior US official said last month that his staff were seeking to disrupt attempts by terrorists to secure radioactive material on marketplaces on the so-called Dark Web, a part of the Internet that cannot be reached by mainstream search engines.
Efforts to disrupt the trade have seen countries seize weapons-usable nuclear material in various quantities on 18 occasions since the 1990s, said Dr Christopher Ford, who runs a non-proliferation unit at the US State Department.
Full report at:
https://www.thenational.ae/world/europe/uk-mobile-unit-to-confront-dirty-bomb-threat-1.783239
--------
URL: https://www.newageislam.com/islamic-world-news/kerala-muslims-find-islamic-state/d/116696
New Age Islam, Islam Online, Islamic Website, African Muslim News, Arab World News, South Asia News, Indian Muslim News, World Muslim News, Women in Islam, Islamic Feminism, Arab Women, Women In Arab, Islamophobia in America, Muslim Women in West, Islam Women and Feminism