New Age Islam News Bureau
6 Jul 2019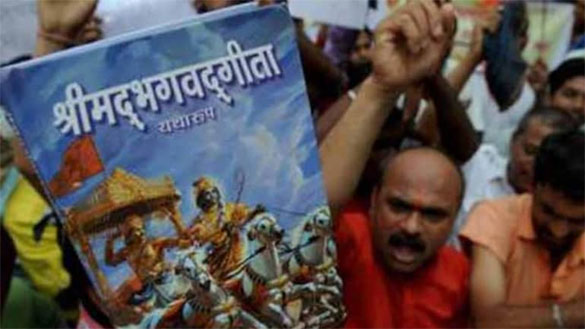 (Image for representation: PTI)
-------
• Kept Ignorant By Ulema of Quranic Instruction to Believe In Previous Scriptures (Quran 4: 162-163), Two Muslim Men Beat Up A Muslim For Regularly 'Reciting Bhagavad Gita' At Home
• Muslim Clerics Question Nusrat Jahan's Religious Identity, Slam Her for Visiting Iskon Temple in Kolkata
• Despite Lynchings and Ban, India Stays as Worlds Top Beef Exporter
• Muftis: Vigilante Moral Policing Is Not Islamic and Authorities Must Act Firmly Against Groups Such As the Badar Squad
• 'Cultural Genocide': China Separating Thousands of Muslim Children From Parents For 'Thought Education'
• 'Under Siege': Fear and Defiance Mark Life for Pakistan's Hazaras
• Islamic Jihad Summer Camp: Young Palestinian Men Graduate from Military-Style Training School in Gaza
• Modernity, Authenticity Are 'Main Pillars' Of Islamic Thought: Muslim World League Conference, Dakar
• Children in Rohingya Camps May Get Radicalized By Violent Militants
• US, Taliban Scramble to Finalize Draft on Troop Withdrawal
• US University Cuts Seats Of Students In Saudi Endowment
India
• Kept Ignorant By Ulema of Quranic Instruction to Believe In Previous Scriptures (Quran 4: 162-163), Two Muslim Men Beat Up A Muslim For Regularly 'Reciting Bhagavad Gita' At Home
• Muslim Clerics Question Nusrat Jahan's Religious Identity, Slam Her for Visiting Iskon Temple in Kolkata
• Despite Lynchings and Ban, India Stays as Worlds Top Beef Exporter
• Khalistan Movement Getting Support from ISI-Backed Muslim Community in UK, Says Expert
• Promise to Provide Scholarship to 1 Cr Muslim Students Not Fulfilled In Union Budget: Asaduddin Owaisi
• Hizbul terrorist killed in Shopian encounter
• Pakistan will not dare attempt Kargil-like infiltration in coming years: Army chief
• Jharkhand mob violence: Internet shut, police deployed in tense Meerut days after lathi-charge
--------
Southeast Asia
• Muftis: Vigilante Moral Policing Is Not Islamic and Authorities Must Act Firmly Against Groups Such As the Badar Squad
• 'Cultural Genocide': China Separating Thousands of Muslim Children From Parents For 'Thought Education'
• Stop persecution of Uighurs, urge Muslim NGOs
• Hadi blames 'socialist' DAP for Putrajaya's mandatory MPs asset declaration Bill
• PAS leader urges Dr M to join PAS-Umno in saving Malays' future
--------
Pakistan
• 'Under Siege': Fear and Defiance Mark Life for Pakistan's Hazaras
• Pakistan Army Accuses India of 'State-Sponsored Terrorism'
• Decision to deploy army men inside polling stations to be challenged in court: Bilawal
• Eight labourers abducted in Balochistan's Kech: Levies
• 10% reward for informers of benami properties: PM
• Pakistan for concrete measures to check smuggling at Iran border
• Opposition's Rehbar Committee agrees to oust Senate chairman
--------
Mideast
• Islamic Jihad Summer Camp: Young Palestinian Men Graduate from Military-Style Training School in Gaza
• Houthis Admit to Pursuing Greater Weapons Capabilities
• Iran Media Celebrates Houthi Drone Attacks on Saudi Arabia
• US calls on Houthis to release Yemeni Bahai leader from detention
• Car explosion in southern Turkey kills three people, say security sources
• Israeli minister voices frustration with Lebanon over sea border talks idea
• 40 injured as Israeli troops attack Palestinian protesters in Gaza
• At Tehran symphony, music lovers seek escape from reality
--------
Africa
• Modernity, Authenticity Are 'Main Pillars' Of Islamic Thought: Muslim World League Conference, Dakar
• 150 former Boko Haram fighters drop arms in Cameroon's Far North region
• Islamic State claims responsibility for attacks on military camp in western Niger
• Mozambique says militants kill 11 in attack near Tanzania border
• Saudi Arabia, EU, UN, and UAE hail Sudan landmark deal
• Turkey's Erdogan pledges support for Libya's GNA to 'ensure peace, stability'
• Sheikh Zakzaky in dire need of treatement: Rights group warns
• UN calls for Libya cease-fire as death toll climbs to 1,000
--------
South Asia
• Children in Rohingya Camps May Get Radicalized By Violent Militants
• US, Taliban Scramble to Finalize Draft on Troop Withdrawal
• Taliban frees 42 security personnel in N. Afghanistan
• Muslims in Sri Lankan highlands to down shutters as hardline Buddhists meet
• Tangail's enormous 201-dome mosque becomes centre of attraction
• 8 Taliban militants killed, wounded in Farah airstrike
• Airstrike kills 6 Taliban fighters in Logar province
• Afghan forces, Taliban militants suffer casualties in Kandahar clash
• Casualties toll from Taliban mortar attack on Faryab market rises to 53
• 4 Taliban militants killed, car bomb, IEDs destroyed in Special Forces raids in Kapisa and Wardak
--------
North America
• US University Cuts Seats Of Students In Saudi Endowment
• Trump Administration Lays Broad Legal Grounds For Military Strike On Iran
• Israel lobby in US pushing for war against Iran: Analyst
• Iran should take tanker issue to international court: Expert
--------
Arab World
• 'Hardcore' Isis Ideologues Held In Syrian Camps Represent Long-Term Risk, Warns US-Led Coalition
• Iraq: ISIS Sleeper Cells Revived on Demand
• 200 corpses found in mass grave in Syria's Raqqa
• ISIS Says Slain Tunis Suspect Was One of its Militants
• Syria's war: People live in fear as assault intensifies in Idlib
• 18 IS militants killed in Iraq in anti-IS operations, airstrikes
• Saudi Arabia intercepts Al Houthi drones fired at Jizan airport
• Report: US Plans Revival of ISIL in Iraq, Syria
• Regime bombardment kills 13 in Syria's Idlib
• Regime bombings kill 14 civilians in northwest Syria
--------
Europe
• Jewish-Muslim Dialogue Group Launched In Berlin
• France Moves To Make Companies Block Hate Speech Online
• Australia Plans to Stop Militant Fighters Returning Home
• Europe Has Turned Its Back on Its ISIS Suspects
• The Kosovan former fighter bringing Isis wives and children back from Syria
• British marines seize tanker suspected of carrying Iranian oil bound for Syria
• Two Bosnians jailed for plotting Islamist attack on state police
• New European Parliament should proscribe all of Hezbollah
• Sydney terror raids: police allege man said he was the commander of Isis in Australia
• Turkey to receive 1st shipment of Russian S-400 defense system Sunday: Report
• Putin blames NATO for destruction of Libya, warns about flow of terrorists from Syria
• Uighur Turks stage anti-China protest in Brussels
• Anti-Islam activist Tommy Robinson found in contempt of court
• Legal action launched against Apple in bid to ban hate app
Compiled by New Age Islam News Bureau
URL: https://www.newageislam.com/islamic-world-news/kept-ignorant-ulema-quranic-instruction/d/119104
--------
Kept Ignorant By Ulema of Quranic Instruction to Believe In Previous Scriptures (Quran 4: 162-163), Two Muslim Men Beat Up A Muslim For Regularly 'Reciting Bhagavad Gita' At Home
July 5, 2019
A Muslim man who has been reading "Ram Charitra Manas" and "Gita" since 1979 was beaten up by Muslim youths here in Uttar Pradesh.
On Thursday, Dilsher, 55, was reading the scriptures in his house when two youths, Zakir and Samir, entered his house and beat him. They broke his harmonium, took away the scriptures and warned him not to read Hindu books or else he would have to face dire consequences.
Dilsher, who works as a security guard, said: "I returned from duty and after taking a bath, I was preparing to read 'Ram Charitra Manas' when these youths came and attacked me."
"Reading the scriptures gives me mental peace. However, I face protests from my own community from time to time," he added.
Dilsher has lodged a complaint at the Delhi Gate police station and a case has been registered against the youths after the intervention of the senior police officials.
https://www.indiatoday.in/india/story/uttar-pradesh-muslim-attacked-reading-hindu-scriptures-1562837-2019-07-05
--------
Muslim Clerics Question Nusrat Jahan's Religious Identity, Slam Her for Visiting Iskon Temple in Kolkata
July 06, 2019
Trinamool Congress MP from Basirhat, Nusrat Jahan, was slammed by Muslim clerics after she paid a visit to the Iskon temple in Kolkata.
Raising questions over the religious identity of Nusrat Jahan, the clerics asked her to clarify whether she had renounced Islam and adopted Hinduism as idol worship and performing religious rituals was prohibited in Islam.
Mufti Arshad Faroquee, head of the online fatwa unit of the seminary in Lucknow said, Muslims were prohibited from performing rituals of any other religion, while Jamait Dawatul Muslimeen patron Maulana Kari Ishak Gora said that under the Shariat law, Muslims could only worship Allah and no other God.
"The (TMC) MP has to clarify whether she is a Hindu or a Muslim. If she admits that she has converted to Hinduism then there is no issue. But if she still follows Islam, then she should abide by Shariat and Quran otherwise she will be termed as 'gunahgar' (sinner)," claimed Majlis-Ethid-e-Millat, UP chief, Mufti Ahmed Gaud.
Nusrat Jahan attended Jagannath Rath Yatra procession in West Bengal's Kolkata on Thursday, where she was accompanied by her husband Nikhil Jain.
The ISKCON's Jagannath Rath Yatra was flagged off by West Bengal Chief Minister Mamata Banerjee in Kolkata.
''Didi (Mamata) comes for Eid and stands with all. There is no politics on this. It is about faith and belief. In West Bengal, we participate in festivals irrespective of caste, creed or religion,'' Jahan said.
Later, commenting on reports of a fatwa issued against her, Nusrat Jahan said, "I don't pay heed to things which are baseless. I know my religion. I have been a Muslim by birth and I am still a Muslim. It's about faith. You have to feel it inside your heart and not in your head."
Kolkata's ISKCON Rath Yatra is considered to be the second largest after Odisha's Puri Rath Yatra. The festivities of Rath Yatra will conclude on July 12.
This is not the first time the TMC MP has been slammed by Muslim clerics. Earlier too, Jahan was attacked for wearing a saree, sindoor and chanting Vande Mataram in Lok Sabha.
The clerics had said that Muslim girls should only marry boys of her religion. The actor-turned-politician got married to businessman Nikhil Jain in Turkey last month.
Jahan has been elected from Bashirhat constituency of West Bengal in the 2019 Lok Sabha polls. She defeated her nearest rival by over 3.5 lakh votes.
https://www.indiatvnews.com/news/india-muslim-clerics-question-religious-identity-of-nusrat-jahan-iskon-temple-kolkata-533032
--------
Despite Lynchings and Ban, India Stays as Worlds Top Beef Exporter
Jul 05, 2019
By Sameer
New Delhi: Not astonishingly, despite lynchings and ban, India continues to stay as world's top beef exporter. India's exports of beef are on the rise even as several states expand their bans on the slaughter of cows and bullocks.
Legislation against cattle slaughter is in place throughout most states of India except Kerala, West Bengal, and states of the North-East.
However, according to a report by the U.S. Department of Agriculture (USDA), India has been the largest exporter of beef in the world since last year, and has further widened its lead over second-ranked Brazil with a projected total of 2.4 million tons exported in 2015 against Brazil's 2 million.
The USDA report, released earlier this month, predicts that global beef exports overall will rise to a record 10.2 million tons, 3% higher than the October 2014 forecast.
Beef has also overtaken basmati rice as India's largest agricultural food export in terms of value, according to data from the country's Agricultural and Processed Food Products' Export Development Authority.
Although the slaughter of cows, sacred for the Hindus that make up India's majority population, has long been banned in several parts of the country, states like Maharashtra — one of its largest — recently expanded the ban to include bulls and bullocks as well. However, since India's exports are composed entirely of water-buffalo meat or carabeef, the bans will not affect the figures cited in the report.
https://www.siasat.com/news/india-stays-worlds-top-beef-exporter-while-muslims-are-being-lynched-cow-militia-1537350/
--------
Muftis: Vigilante Moral Policing Is Not Islamic and Authorities Must Act Firmly Against Groups Such As the Badar Squad
6 Jul 2019
PETALING JAYA: Vigilante moral policing is not Islamic and authorities must act firmly against groups such as the Badar squad before other copycats go around harassing Muslims, say local Islamic leaders.
Penang mufti Datuk Seri Dr Wan Salim Wan Mohd Noor pointed out that the prevention of immorality in the general public spectrum is the responsibility of the government.
"Individuals are only duty-bound to admonish evil within certain limited confines such as among their family members," he said.
Those who do so without authorisation should be charged with "invasion of privacy" and should be sued by the victimised individual or the party, he said.
He said those authorised to take action had to be patient and even delay enforcement until action could be taken without any harm occurring.
Perlis Mufti Datuk Dr Mohd Asri Zainul Abidin said authorities must put a stop to vigilante moral policing or the country could turn into a Taliban-like state.
On Thursday, Deputy Inspector-General of Police Datuk Mazlan Mansor said the Badar squad has been warned by police to stop its vigilante activities.
Badar squad founder Azhar Mohamad was arrested last January and fined RM1,000 for being involved in an illegal organisation, not registered with the Registrar of Societies.
However, just two days ago, Azhar had vowed to register the Badar squad under RoS, claiming there is public demand from Muslims to do so.
The vigilante squad targeted unwed couples in budget hotels in Sungai Petani, Kedah and conducted enforcement activities. The couples caught for khalwat were then given "counselling" at a cemetery.
Asri said that it is important to work within the laws of the country and Islam's rules when one is preventing vice.
"Imagine if everyone does what the squad is doing.
"Everyone will take the law into their own hands. All Muslims must abide by the laws of the government," said Asri.
Sisters In Islam (SIS) executive director Rozana Isa said that vigilante moral policing has become part of the Malaysian Muslim culture with many checking on neighbours in the name of religion.
She said the bigger question is whether those caught by the vigilante moral policing group get justice in court.
"I appreciate the deputy IGP telling them off in the legal sense but there is a bigger picture to this.
"We have allowed our society to think it is the duty of every Muslim to thwart vice even without authority and we have allowed it to go unchecked for a long time -- all under the pretext of religious duty," said Rozana.
She also pointed out that Badar squad was never charged for their vigilante moral policing but more for being an illegal society.
Rozana said one way of stopping vigilante moral policing is to streamline the Syariah Criminal Offences Act in all states and include vigilante moral policing as an offence.
https://www.thestar.com.my/news/nation/2019/07/06/muftis-actions-not-islamic/
--------
'Cultural genocide': China separating thousands of Muslim children from parents for 'thought education'
Adam Withnall
July 6, 2019
Thousands of Muslim children in China's western Xinjiang region are being separated from their parents in what a new study calls a "systematic campaign of social re-engineering and cultural genocide".
The research sheds light on what happens to the children of "double-detained" parents – when both a mother and father have been abducted by the state into what the report calls compulsory "re-education" facilities.
The UN says China has detained more than 1 million minority Muslims, mostly ethnic Uighurs, since a dramatic escalation of the policy in the spring of 2017. Independent and international access to the detention centres has been limited to tightly choreographed official tours.
Writing in the Journal of Political Risk, German researcher Dr Adrian Zenz presents evidence to show that, from the very start of the Uighur "re-education" campaign, the Chinese state has made plans to enrol effectively state-orphaned Muslim children into high-security boarding schools. Obscure but publicly available official documents show the Xinjiang authorities pre-empted the risk that children who had lost both parents to detention centres would be motivated to lash out against the state.
The state government issued directives ordering schools to concentrate on Uighur students' "thought education" – similar to the sort of language used by the state to justify its detention of adults. Schools were ordered to establish "emergency response plans" that include dealing with state-orphaned children, including regular assessments of their state of mind and one-on-one "psychological counselling".
Data presented by Dr Zenz shows enrolment in Xinjiang state nursery schools, for very young children before schooling age, has gone from being far below the national average to the highest rate in the country – since early 2017. Around 90 per cent of the new pupils are from Muslim minority groups.
And satellite images show that, around the same time China started expanding the facilities we now know are used for the detention of Uighurs, attached or independent boarding schools also started receiving dramatically increased dormitory facilities.
Within these schools, public documents show, the use of the traditional Uighur language is banned. Official reports boast that the children receive "improved Chinese language skills" as well as generally better manners and personal hygiene – perpetuating negative stereotypes about Muslim ethnic groups in the majority Han society.
China has, Dr Zenz argues, implemented the "weaponisation of education and social care systems" in order to cut off minority children from their roots. "Boarding schools provide the ideal context for a sustained cultural re-engineering of minority societies," he says.
The report concludes that "increasing degrees of intergenerational separation are very likely a deliberate strategy and crucial element in the state's systematic campaign of social re-engineering and cultural genocide in Xinjiang".
Propaganda pieces issued for internal consumption extol the benefits of this separation, claiming that the "left-behind" children of parents who both "need to study" are "happily growing up under the loving care of the Party and the government".
Yet despite this and all the other evidence presented by Dr Zenz, China has denied the existence of any such state-orphaned minority children.
Xu Guixiang, a senior official with Xinjiang's Propaganda Department, told the BBC that it was not true the state is having to care for large numbers of children left parentless as a result of its policies in the province.
"If all family members have been sent to vocational training then that family must have a severe problem," he said. "I've never seen such a case."
An editorial issued last night in the Global Times, an English-language newspaper run by the Communist Party, denied that efforts were being made to wipe out Uighur culture, or that a million minority Muslims were being detained, saying that the Xinjiang centres only exist "to nip terrorist activities in the bud".
"Despite China's efforts to tell what is really happening in Xinjiang, some western media and politicians insist on making and spreading fake news," it said.
Conducting open interviews with the children or parents involved in China is next to impossible. A team of Associated Press reporters who photographed a "Kindness Kindergarten" in Hotan City was immediately surrounded by armed police and ordered to delete their visual evidence.
But some parents did offer testimony at an event for Uighur exiles in Istanbul, Turkey, where the minority group has close historic ties. Mothers and fathers there said they understood their children back in China had been "taken to an orphanage" or to "child education camps".
Speaking to the BBC, one mother holding a picture of her three young daughters said: "I don't know who is looking after them. There is no contact at all."
https://www.independent.co.uk/news/world/asia/china-muslim-children-uighur-family-separation-thought-education-a8989296.html
--------
'Under siege': Fear and defiance mark life for Pakistan's Hazaras
Jul 06, 2019
High walls around the neighbourhoods of Pakistan's embattled Hazara community in Quetta are designed to protect them from extremist militants, but also serve as a constant reminder of the threat they face.
Soldiers and security checkpoints greet visitors to Hazara Town, one of two large guarded neighbourhoods in the capital of Balochistan, where religious and sectarian groups often target the mostly Shia Hazaras with bombs and guns.
Despite improved security in recent years, partly because most Hazaras have moved into the guarded enclaves, hardline militants keep up attacks, such as a blast in April that killed 24 people, among them eight Hazaras.
"We are living under siege for more than a decade due to sectarian attacks," said Sardar Sahil, a Hazara lawyer and rights activist.
"Though all these checkposts were established for our security, we feel we were ourselves also cut off from other communities."
Sahil carries a pistol whenever he leaves home, and relies on his faith as a second layer of security.
"I kiss my mother's hand and she kisses me too, and says goodbye with her prayers and good wishes," Sahil told Reuters at his home.
Hazaras, said to be descendants of the Mongols who swept out of central Asia to rule the subcontinent for many centuries, are easily distinguishable in Pakistan by their facial features.
That has made them vulnerable to attacks by groups such as Pakistan's banned Lashkar-e-Jhangvi (LeJ), and Sunni militant group Islamic State, which has attacked them in both Pakistan and neighbouring Afghanistan, also home to many Hazaras.
Many community businesses that flourished in Quetta's bustling wholesale markets have shuttered and relocated to Hazara Town or Mari Abad, another Hazara neighbourhood.
But the community is defiant. Some still venture out into Quetta in search of work, while others keep businesses running.
The Quetta community held its first Hazara Culture Day this week to celebrate and showcase its history, music and traditions.
The community strives to keep its protests peaceful, despite unrest stirred up by militants looking to pit people of different sects against each other, said Abdul Khaliq Hazara, chairman of the Hazara Democratic Party (HDP), which has two provincial assembly representatives.
Domestic media often portray the Hazaras as targets of sectarian attacks or holding sit-ins to demand greater protection, but the community is developing and growing, said martial arts specialist Nargis Hazara.
"Every one of us has a dream, a target and aim in our heart, to change the image of Hazaras in the world, and especially in Pakistan," added the 20-year-old who last year became Pakistan's first winner of an Asian Games medal in karate.
Many Hazaras have joined the armed forces in Pakistan, where the community's past and future will stay rooted despite any violence, said another martial arts expert, Mubarak Ali Shan.
"We want to serve Pakistan and despite suffering tragedies and incidents, our love for peace has not diminished," he added.
https://www.pakistantoday.com.pk/2019/07/05/under-siege-fear-and-defiance-mark-life-for-pakistans-hazaras/
--------
Islamic Jihad summer camp: Young Palestinian men graduate from military-style training school in Gaza
5 July 2019
Thousands of young Palestinians showed off their newly-acquired military skills in Gaza City on Thursday as they graduated from a summer camp run by terror group Palestinian Islamic Jihad.
Every year, tens of thousands of youths - from children to teenagers - take part in camps run by the PIJ across Gaza which include activities such as military drills and shooting practice.
The PIJ also provides the youngsters with 'religious education' into the group's extreme Islamist philosophy, which preaches the destruction of Israel and the establishment of an autonomous Palestinian state on the lands it currently occupies.
At the graduation ceremony in Gaza City on Thursday, young men posed with wooden cut-outs of AK-47 rifles, pulled off feats of strength such as building a human tower and judo-style wrestling, and gave one-fingered salutes a reference to the 'oneness of God' and fundamentalist Islamic teachings.
Going to summer camp is a common activity for Palestinian children, and the PIJ is one of the three largest groups running camps, the other two being Hamas and the UN.
A 2013 report by the Israeli Meir Amit Intelligence and Terrorism Information Center found that up to 100,000 youngsters attend the camps each year, ranging from children as young as 12 to young adults.
The PIJ runs two kinds of camps - one purely military and another that encompasses a range of activities - each lasting around two weeks. The organisation encourages media coverage.
A camp counsellor quoted by researchers said the purpose was to train a generation to fight the 'Zionist enemy' and a generation faithful to the Qur'an, in line with the teachings of PIJ founder Fathi Shaqaqi.
Drills at the military camp include how to raid an Israeli military outpost and capture one of its soldiers, and how to use machine-guns and other weapons, according to pro-Israel The Tower Magazine.
Other camps sponsored by PIJ offer cultural activities, entertainment, security lessons, marksmanship, and 'advice on the dangers of social networking sites and drug use', according to the magazine.
https://www.dailymail.co.uk/news/article-7216495/Young-Palestinian-men-military-graduation-ceremony-summer-camp.html
--------
Modernity, Authenticity Are 'Main Pillars' Of Islamic Thought: Muslim World League Conference, Dakar
July 06, 2019
DAKAR: The Muslim World League (MWL) concluded its international conference on "Islamic thought: Approach and message," which took place in the Senegalese capital of Dakar.
The conference was attended by African scientists and intellectuals, who argued the importance of people being guided by faith, the values of civilization, human progress and seeking to live a carefree and dignified life.
They called for building a mind capable of comprehending Islamic sciences and confronting extremist and violent ideas and their negative developments.
Moustapha Niass, president of the National Assembly of Senegal, praised the MWL for launching their programs designed to promote scientific and intellectual communication with different people and cultures.
The secretary-general of the MWL, Dr. Mohammed bin Abdul Karim Al-Issa, underlined the league's keenness to promote the true principles of Islam that call for moderation and confronting hatred and extremism.
He pointed out that Islamic thought has enlightened the world with its mercy, humanity, justice, openness and tolerance, stressing that modernity and authenticity are the main pillars of Islamic thought. Al-Issa underscored the importance of Islamic moderation to fight ideological extremism.
He also called for raising awareness about the importance of understanding religious texts and their significance, saying that Shariah rules and fatwas change with times and circumstances. He invited scholars to support the formation of a good Muslim personality, especially for Muslim youths.
Sheikh Mbaye Niang, minister of religious affairs, noted that Islamic thought is characterized by open and flexible creations and properties guided by Islam.
He said that the conference is held within a global context marked by the escalation of violence in its various forms. "Many scientists and researchers have become more aware that this is the result of an intellectual crisis that has escalated and resulted in extremism and terrorism," he added.
Soham El-Wardini, mayor of Dakar, thanked MWL for organizing the conference, hailing its pivotal role in promoting the values of moderation, especially in the face of extremist ideas. "Islamic thought extends bridges of communication with everyone confidently and capably," she said.
A cooperation agreement was signed between the MWL and the High Authority of Waqf in Senegal covering the activation of endowments to promote and develop charity activities and the culture of philanthropy in Senegal.
http://www.arabnews.com/node/1521276/saudi-arabia
--------
Children in Rohingya camps may get radicalized by violent militants
July 6, 2019
Adbul Noor was a ninth-grade student at Leda High School near Teknaf town in southeastern Bangladesh, but in March he and some other Rohingya refugee children were suddenly expelled.
The only reason given was that as Muslim refugees from neighboring Myanmar, they were not Bangladesh citizens.
Being shut out of school was heartbreaking for 16-year-old Noor, the youngest of five brothers. "I wanted to have an education so that I could have a better life than my brothers who didn't go to school at all," he told ucanews.com.
For weeks, Noor sat idly or filled in time playing at the sprawling Leda refugee camp in Cox's Bazar district. Noor's parents fled to Bangladesh from Myanmar in 1992 and this camp is where Noor was born and raised.
Noor recently started attending a traditional madrasa Islamic school where he studies Islamic texts, notably the Quran. While Noor is disappointed that he cannot also learn secular subjects such as English and mathematics, he has no other options.
Hundreds of Rohingya refugee children like Noor were expelled from schools following a government order on grounds that they had no entitlement to be there. The move effectively reduces the mingling of Rohingya and Bangladeshis, who are also overwhelmingly Muslims.
The ban drew domestic and international criticism, but it continues to be enforced.
Cox's Bazar is housing more than one million Rohingya refugees from Myanmar's Rakhine State who fled deadly persecution by security forces and their local supporters.
According to the Office of the United Nations High Commissioner for Refugees (UNHCR), more than 723,000 Rohingya have crossed the border into Bangladesh since August 2017.
International and local aid agencies operating in 30 refugee camps in Cox's Bazar have set up hundreds of basic education facilities. They cater for about 180,000 Rohingya children but only for the primary level of education, which comprises grades 1-5.
It is estimated that there are nearly half a million refugee children in need of a basic education.
There is a huge gap. And refugees themselves, with support from Bangladeshi Islamist groups, have established a network of madrasas in the camps where children can get a Quran-based religious education.
By ordering expulsions from schools without providing an educational alternative, the government has left Rohingya children open to manipulation and radicalization, according to Abu Morshed Chowdhury, a rights campaigner and social activist in Cox's Bazar.
"Most Rohingya people didn't get any education back home, so they are already a vulnerable community," Chowdhury told ucanews.com.
"If we fail to offer them education, their condition will get worse whether they stay here or get back to Myanmar. Otherwise, they remain vulnerable to be exploited and even get radicalized by opportunist, extremist groups."
Fears of indoctrination
In a recent report, the Brussels-based International Crisis Group warned about the presence of extremist groups in refugee camps, although it didn't accuse madrasas of spreading radicalism or intolerance.
"No evidence has emerged of these madrasas promoting violence or intolerance among children, or of indoctrination or recruitment by local or transnational jihadists. However, a policy of denying young people formal education and leaving them reliant on unregulated madrasas almost certainly increases the risks of such groups gaining a foothold in the camps," the report stated.
Madrasas are not a viable alternative for formal schooling because they lack general education subjects, said James Gomes, regional director of the Catholic charity Caritas, which operates among Rohingya refugees.
"Furthermore, there are risks that Rohingya children might get indoctrinated if the madrasa system is not monitored, which is so far under control," he told ucanews.com.
Gomes said the government needed to collaborate with aid agencies to come up with the best approach to address the education requirements of Rohingya children.
"The government needs to do some research to decide how best Rohingya children can get a basic education in the camps, and what to do about them when they finish primary education," he added.
A government education officer, Anandamoy Bhowmick, agreed that there should be planning in regard to secondary education for Rohingya children.
Rohingya language, culture and religious practices have much in common with those of Bangladeshi Muslims, but here they are often considered to be "unwelcome guests."
Historians have traced the presence of Rohingya in what was the independent Arakan kingdom, now part of Rakhine in Myanmar, to as early as the eighth century.
Yet Rohingya have in more recent times been branded as illegal immigrants from Bangladesh by successive military governments and much of the Buddhist population.
Since the 1970s, in the face of systematic persecution and denial of rights such as citizenship, they have fled Myanmar to other countries, most notably Bangladesh.
Two deadly military crackdowns in Rakhine in 2016 and 2017, following Rohingya militant attacks on Myanmar security forces, triggered one of the largest refugee exoduses in modern times.
Under international pressure, Myanmar signed a repatriation deal with Bangladesh in November 2017 to take back Rohingya from the overcrowded refugee camps. But the plan has been in limbo since then. Not a single Rohingya has been repatriated.
https://www.weeklyblitz.net/counterterrorism/children-in-rohingya-camps-may-get-radicalized-by-violent-militants/
--------
US, Taliban Scramble to Finalize Draft on Troop Withdrawal
July 4, 2019
ISLAMABAD — Taliban and U.S. negotiators are scrambling to finalize a draft agreement that will outline the withdrawal of American and NATO troops from Afghanistan and a verifiable Taliban guarantee to fight terrorism ahead of an all-Afghan peace conference Sunday.
Officials familiar with the talks, but not authorized to speak about them, say negotiations went late into the night on Wednesday and throughout Thursday — the sixth day of direct talks between the insurgents and U.S. envoy Zalmay Khalilzad. They were to resume again on Friday.
Suhail Shaheen, spokesman for the Taliban's political office in Qatar, on Friday told The Associated Press on Friday he wanted to clarify that the draft agreement was being worked upon in an effort to finalize and was not being rewritten.
"By rewriting the draft agreement I meant (only) that we are working on the draft agreement," Suhail said Friday morning. Earlier he said "we have made some progress."
Previously he said agreed-upon clauses were being added to the agreement. On Thursday he also said the two sides had broadened their discussion, without elaborating.
Until now the two sides had been divided on the withdrawal timetable, with the United States seeking more time.
Taliban officials, who spoke on condition of anonymity, earlier said the U.S. was seeking up to 18 months to complete a troop withdrawal even as U.S. President Donald Trump told Fox News earlier this week that a withdrawal had already quietly begun and that troop strength had been cut to 9,000. The president's statement has since been contradicted by a senior U.S. official, who said the force strength is unchanged at about 14,000. An American official familiar with the talks also disputed the 18-month withdrawal timeframe, without saying what the U.S. was proposing.
Still, Trump's statements reinforced the president's often stated desire to leave Afghanistan and end America's 18-year war — the longest in his country's history.
His eagerness to pull out has strengthened the position of the Taliban, who effectively control half the country and won a key concession in the planning of the upcoming peace gathering, which will include no official delegation from the Afghan government.
Germany and Qatar, who are co-sponsoring the dialogue and issuing the invitations, said participants will attend "only in their personal capacity," a condition President Ashraf Ghani has strenuously opposed. He has made no comment on Sunday's meeting.
The Taliban have steadfastly refused to talk to Ghani's government, calling it a U.S. puppet, but have said government officials can attend the conference as private citizens.
In a tweet on Wednesday, Shaheen said 60 people will attend the peace gathering, which Khalilzad called an "essential element" in achieving a peace agreement in Afghanistan.
Atta-ul-Rahman Salim, deputy head of a government-appointed peace council, said the delegation from Kabul will include a cross-section of Afghanistan's civil society, including women's rights activists.
"It is a good first step to hear each other's side," he said.
Former Afghan President Hamid Karzai, who attended two previous meetings with the Taliban in Moscow, told The Associated Press he won't be attending the Doha gathering because he will be in China. But, he added, "I fully support the coming intra-Afghan dialogue in Doha and am in the picture."
https://www.nytimes.com/aponline/2019/07/04/world/asia/ap-as-afghanistan-peace-talks.html?searchResultPosition=5
--------
US university cuts seats of students in Saudi endowment
Umar Farooq
05.07.2019
WASHINGTON
Harvard University has ended an agreement with Saudi Crown Prince Mohammed bin Salman's foundation to allocate seats for its summer school program, according to the university's newspaper.
The agreement was signed back in 2016 between Harvard and Saudi Arabia, and the university promised to allocate 12.5%, or 800 seats, towards students of bin Salman's foundation, MiSK.
University spokesperson Jonathan Swain announced the decision to end the agreement on Wednesday in a press release, according to the school's newspaper, The Harvard Crimson.
Swain, however, did not give a reason for ending the agreement.
Several colleges and universities across the U.S. have come under scrutiny over their ties to the Saudi royal family in the wake of the killing of journalist Jamal Khashoggi, who was murdered last October at the hands of Saudi operatives in Istanbul.
After initially denying a role in the journalist's death, Saudi Arabia changed its story and blamed the killing on a botched rendition operation. The UN rapporteur on human rights and extrajudicial killings, Agnes Callamard, said that the state of Saudi Arabia is responsible for the death, and the CIA reportedly concluded with high confidence that bin Salman ordered the killing.
In February, the Massachusetts Institute of Technology (MIT) issued a statement condemning the murder, but said it would not sever ties with Saudi Arabia.
However, the university said it would establish an advisory committee to review international engagement with other governments. This committee will review future partnerships and also look at ones that are up for renewal.
Last November, Harvard cancelled a lecture by Saudi Prince Turki al-Faisal, saying it was due to the Khashoggi murder.
There are currently several endowed professorships across Harvard that are named after members of the Saudi royal family, including a few in the Islamic Studies division and at Harvard Law School.
https://www.aa.com.tr/en/americas/us-university-cuts-seats-of-students-in-saudi-endowment/1524486
--------
India
Khalistan movement getting support from ISI-backed Muslim community in UK, says expert
July 6, 2019
An Indian Army veteran has claimed that Khalistanis, the secessionists demanding a separate homeland in the sovereign territory of India, are getting support from Pakistani Muslims in Britain and Canada.
He is also of the opinion that some Gurdwaras in these countries are the facilitators of the so-called movement and they have been pumping huge money and material to keep it alive.
"The major inflow of funds is coming from Canada and the United Kingdom. However, the governments of those respective countries are not giving support. In the United Kingdom, a large Muslim community from Pakistan lives and this is a very vociferous community," said Major General (Retd.) Dhruv C. Katoch
"These people are also in touch with the Inter-Services Intelligence (ISI) of Pakistan. They are trying to create a sort of movement within the United Kingdom, so basically the foreign funding or the foreign support comes from the two countries," he added.
Pakistan has for years been working on its agenda of subverting peace and harmony in India and it has been working relentlessly to achieve its aims.
On social media, several videos have gone viral where ISI-funded members of the Sikh community were seen shouting pro-Khalistan slogans along with Pakistanis during the ICC World Cup match in the United Kingdom.
Katoch believes the pro-Khalistan propaganda is a long devious design perpetrated by the Pakistani intelligence agencies to create a dent on India's sovereignty.
"Pakistan continues to put its hands where it should not", he said. "They are playing a very dirty game and this destabilizing effort and I think Pakistan needs to be told categorically that they must remember that when Maharaja Ranjit Singh had a Sikh kingdom, the capital was at Lahore and when they try to create a monster called Khalistan, I think it will lead to the break-up of Pakistan, the way it is currently situated".
The Khalistan separatist movement was completely squashed by the Indian security forces in the 90s as hundreds of innocent people lost their lives due to militancy.
Since then, Pakistan has been making desperate attempts to gain a foothold in India. However, it has failed to gather any traction amongst the masses of Punjab.
The foreign support provided in the form of man and material by Islamabad has proven to be of no benefit as all their diabolic plots have been busted by the vigilant Indian forces.
https://www.business-standard.com/article/news-ani/khalistan-movement-getting-support-from-isi-backed-muslim-community-in-uk-says-expert-119070600123_1.html
--------
Promise to provide scholarship to 1 cr Muslim students not fulfilled in Union Budget: Asaduddin Owaisi
Jul 06, 2019
Hyderabad (Telangana) [India], July 6 (ANI): All India Majlis-e-Ittehadul Muslimeen (AIMIM (/search?query=AIMIM)) lawmaker Asaduddin Owaisi (/search?query=Asaduddin Owaisi) on Friday lashed out at Union Minister of Minority Affairs Mukhtar Abbas Naqvi for not fulfiling the promise of providing scholarship to one crore Muslim students in the Union Budget (/search? query=Union Budget).
Addressing a public gathering here, Owaisi said: "Naqvi had promised to give scholarship to one crore Muslims students every year. Why was the scholarship not provided in the Union budget?"
Owaisi also accused BJP (/search?query=BJP) of creating a rift between Hindus and Muslims in the country, while asserting that his party will not let that happen.
"Muslims are afraid of being lynched. During Modi's tenure, as many as 50 people have been lynched. BJP (/search?query=BJP)'s agenda is to create a rift between Hindus and Muslims, but we will not let this happen," he said at a public meeting at the Teegal Kunta here.
At the meeting, organised to protest the incidents of mob lynching, Owaisi alleged that since May 23, eight people were killed by mob lynching incidents and "It seems that mob lynching will continue in India, it is not going to end."
Owaisi evoked the incident where 24-year-old Tabrez Ansari was allegedly lynched in Jharkhand, and said that Muslims are being targetted and labelled as thieves or terrorists.
"Whoever killed Tabrez, is the enemy of India, an agent of Pakistan, an agent of the ISIS and the son of the devil," Owaisi said.
AIMIM (/search?query=AIMIM) chief further urged the incumbent government to formulate a law to put a halt to mob lynching.
"Justice Mishra and Chandrachud had directed the Centre to make law on the mob lynching. Why has it not been made?" asked Owaisi.
The lawmaker said that even as the Modi government is gearing up to celebrate the 150th anniversary of Mahatma Gandhi but Muslims continue to be killed."
The minister added that everyone has the right to defend themselves when attacked.
"You teach your children the law, make them lawyers, enough of doctors and engineers ... Let there be an advocate from every house," Owaisi said at the public meeting here.
The Parliamentarian alleged that the Prime Minister had expressed displeasure with BJP (/search?query=BJP) legislator Akash Vijayvargiya, who had thrashed a Municipal Corporation officer with a cricket bat but did not raise the issue of mob lynchings with the Jharkhand chief minister even once.
He also referred to the manner in which Parliamentarians chanted "Jai Shri Ram" during the ceremony in Parliament where he took oath.
"What kind of message are you trying to give out to the country?" he asked.
Owaisi also spoke on the recent announcement by Bollywood actor Zaira Wasim to quit acting.
"After the child (Zaira) wrote that she is quitting fims it created quite a furore with people saying that she was scared away by mullahs."
Full report at:
https://www.aninews.in/news/national/politics/promise-to-provide-scholarship-to-1-cr-muslim-students-not-fulfilled-in-union-budget-asaduddin-owaisi20190706040354/
--------
Hizbul terrorist killed in Shopian encounter
Jul 5, 2019
SRINAGAR: A Hizbul Mujahideen (HM) terrorist was Friday killed in an encounter with security forces in Shopian district of Jammu and Kashmir, police said.
Acting on specific information about the presence of terrorists in Batpore-Narwani area of Imam Sahib in Shopian district of south Kashmir, security forces launched a cordon and search operation Friday morning, a police official said.
As the forces were conducting searches of the area, the terrorists fired upon them, he said.
The forces retaliated, ensuing in an encounter in which one terrorist was killed, the official said, adding the body was recovered along with arms and ammunition.
He said the slain militant has been identified as Sameer Seh of Shopian who was affiliated with the proscribed outfit HM.
Full report at:
https://timesofindia.indiatimes.com/india/hizbul-terrorist-killed-in-shopian-encounter/articleshow/70094512.cms
--------
Pakistan will not dare attempt Kargil-like infiltration in coming years: Army chief
Jul 5, 2019
NEW DELHI: Pakistan will not dare to attempt to infiltrate India like it did Kargil in 1999 because it has "seen the consequences", Army chief Gen Bipin Rawat said on Friday and asserted that the armed forces are keeping a tight watch in border areas. He was speaking to reporters on the sidelines of an event to commemorate 20 years of Operation Vijay, India's limited war against Pakistan in Kargil.
"There is no such area that we have left unguarded. Our surveillance team is keeping a tight watch and regularly patrolling the areas," Rawat said in response to a question on whether Pakistan can attempt a Kargil-like infiltration.
"We don't think Pakistan will attempt something like that (as during Kargil) because they have seen the consequences... I can clearly say, in coming days and years, Pakistan will not dare to attempt any infiltration," the Army chief told reporters at the event held at the Manekshaw Centre in Delhi Cantonment.
Full report at:
https://timesofindia.indiatimes.com/india/pakistan-will-not-dare-attempt-kargil-like-infiltration-in-coming-years-army-chief/articleshow/70094990.cms
--------
Jharkhand mob violence: Internet shut, police deployed in tense Meerut days after lathi-charge
by Amil Bhatnagar
July 6, 2019
Internet services were shut on Friday as Meerut remained under heavy police deployment amid tension, days after a police lathi-charge on a group of people assembled at Indira Chowk in the city to protest against the mob violence in Jharkhand last month which led to the victim's death four days later.
More than 50 people have been arrested so far in connection with the protest.
Badar Ali, who allegedly led the protests, was arrested on Thursday from near a mall in Meerut. The police will initiate proceedings under the National Security Act (NSA) against him; his properties will be seized, officers said.
Meerut SSP Ajay Sahni said: "Police patrolling is on since 6 am and the deployment was made as a precautionary measure. Internet services were shut since rumors of a Bharat Bandh were afloat. Members of the community concerned have claimed that they are not supporting the bandh and things have returned to normalcy."
The accused have been booked under IPC Sections 148 (rioting armed with deadly weapon), 352 (assault), 336 (act endangering life personal safety), among others.
Meerut police personnel, along with members of Rapid Action Force and Provincial Armed Constabulary, were deployed in areas around Indira Chowk. A flag march was conducted by senior police officials, including Meerut zone ADG.
Since Sunday, local residents said, fewer people have ventured out of their homes.
Noor Hassan, who runs a welding shop near Indira Chowk, said: "It was supposed to be a peaceful march. Yes, there was no permission, but the police action made it worse. Now that Internet has been shut down and there is heavy police presence, people fear something might happen. Most people are not leaving home."
On Sunday, a group of people led by Badar Ali congregated at Faiz-e-Aam Inter College and were supposed to conduct a 2-km march up to Hapur Adda to protest the death of Tabrez Ansari, who was beaten up by a mob in a Jharkhand village and allegedly asked to chant "Jai Shri Ram" and "Jai Hanuman". He succumbed later.
Full report at:
https://indianexpress.com/article/india/jharkhand-mob-violence-internet-shut-police-deployed-in-tense-meerut-days-after-lathi-charge-5817777/
--------
Southeast Asia
Stop persecution of Uighurs, urge Muslim NGOs
Nicholas Chung
July 5, 2019
KUALA LUMPUR: A coalition of local Muslim NGOs urged Beijing to cease its alleged oppression of the Uighurs in Xinjiang during a protest outside the Chinese embassy here today.
"We ask for all those who have been detained in concentration camps in Xinjiang to be freed immediately," said Mohamad Raimi Abdul Rahim, president of the Muslim Youth Movement of Malaysia (Abim).
Abim secretary Muhammad Faisal Abdul Aziz accused the Chinese government of concealing the plight of the Uighurs by offering NGOs and government agencies free trips and painting a rosy picture of the camps in Xinjiang.
"Stop treating us as if we are uninformed people."
Mohd Azmi Abdul Hamid, chairman of the Malaysian Consultative Council Of Islamic Organisations (Mapim), said the atrocities committed against the Uighurs could not be denied or disguised.
He also urged Putrajaya to not remain silent about this issue just for the sake of economic and trade relations.
When asked to comment on Mujahid Yusof Rawa's use of the term "training centres" in reference to detention camps in Xinjiang, Azmi said: "You go and ask him."
Last week, the minister in the Prime Minister's Department drew criticism for using the term after a visit with his delegation to one of the camps.
During the 30-minute protest, about 30 people chanted "Me too, Uighur" and "Peduli Uighur".
However, the NGO representatives failed to hand over a memorandum to embassy officials as the gates to the embassy stayed closed.
https://www.freemalaysiatoday.com/category/nation/2019/07/05/stop-persecution-of-uighurs-urge-muslim-ngos/
--------
Hadi blames 'socialist' DAP for Putrajaya's mandatory MPs asset declaration Bill
05 July 2019
BY JOHN BUNYAN
IPOH, July 5 — The government's Bill compelling all federal lawmakers at both the Dewan Rakyat and Dewan Negara to declare their assets is due to the DAP's influence, Datuk Seri Abdul Hadi Awang claimed today.
The PAS president asserted that the asset declaration initiative was derived from communist and socialist philosophies — a system he claimed is practised by the DAP.
"The socialists supposedly want to limit the wealth, but the fact is that the leaders who are in the socialist country are the riches," he told the Terengganukita news portal in a video interview aired on his Facebook page.
Hadi then said that while Islam does permit asset declaration, the practice depends on the situation.
"It depends on the situation. If a person has cases or accusations of corruption, money laundering and tax issue, then it is compulsory for the person to declare the assets.
"But if we know that the person doesn't have any case, then it should not be made compulsory for them," he said.
The Marang MP insisted that there is currently no law that empowers the Pakatan Harapan government to force the move on lawmakers.
As such, he demanded the government explain in detail their basis for their initiative.
He added that there were many other issues that should be given precedence compared to asset declarations.
"Actually, there are many other issues than the asset declaration, but since Pakatan Harapan failed to fulfil their promised manifesto so they are doing this to cover it," he said.
Full report at:
https://www.malaymail.com/news/malaysia/2019/07/05/hadi-blames-socialist-dap-for-putrajayas-mandatory-mps-asset-declaration-bi/1768612
--------
PAS leader urges Dr M to join PAS-Umno in saving Malays' future
05 July 2019
BY IDA LIM
KUALA LUMPUR, July 5 — American singer-songwriter Maggie Lindemann's recent arrest is actually due to the mismanagement of the agent handling applications for her professional permit to perform in Malaysia, her show's venue host The Bee said today.
The Bee expressed its "sincerest regret" that the June 21 incident happened at its premises, but went on to explain that both the restaurant and the show's organisers are not to blame.
In clarifying the arrest to Lindemann's fans and media outlets, The Bee cited sources when confirming that she was held overnight by local immigration authorities and that she was released in less than 24 hours.
"We understand that the organisers of the show worked around the clock and did everything in their power to successfully get her and her crew released and placed in a safe and comfortable environment pending the Immigration hearing date, upon which she was returned home to the US," The Bee said in a brief statement today.
The Bee said the arrest followed the visa permit agent's wrongly informing the organisers that local authorities had allegedly approved Lindemann's performance and that the agent has since been brought to court.
"We understand that the incident occurred due to the wrongful actions of the visa permit agent, who has also misinformed the organisers that the show was approved by the relevant authorities, and permitted to go on. The Agent was subsequently charged, found guilty for his negligence and had to pay a fine for his actions," The Bee said.
"For clarity, The Bee, as a venue, was not responsible for the arrest and does not condone any foreign acts to proceed to perform when there are such irregularities," it added.
"We are deeply sorry that this unfortunate incident happened to Maggie and we hope to welcome her to The Bee again," it also said.
The Bee gave its assurance today that it will be taking steps to ensure such an incident does not happen again, promising to be more careful in checking the relevant documents related to future performances.
"As a venue who believes in bringing the best entertainment into the country, we will be more diligent in vetting all documentation before we allow any show to go on," it said.
Lindemann, who has 3.7 million Instagram followers and over 490,000 Twitter followers, yesterday posted a message on the two social media platforms to apologise to her fans who bought tickets for her show in Asia.
In her post yesterday, Lindemann said she was arrested mid-show on June 21 and was confined for the next five days in a "living hell", but offered no explanation for the reasons behind her detention.
Lindemann, 20, reportedly cancelled her South-east Asian tour to Vietnam and Singapore on June 22 and 24 respectively.
Earlier today, Kuala Lumpur Immigration Department director Hamidi Adam was reported by local daily The Star as confirming Lindemann's recent arrest for not having a professional visit pass at the time of the performance.
Hamidi reportedly said Lindemann was detained at the Kuala Lumpur's Immigration Department's office for documentation purposes, and that she was released with bail the next day.
Full report at:
https://www.malaymail.com/news/malaysia/2019/07/05/venue-host-the-bee-clarifies-maggie-lindemanns-arrest-says-permit-agents-fa/1768641
--------
Pakistan
Pakistan Army accuses India of 'state-sponsored terrorism'
4 Jul 2019
At least five Pakistani soldiers have been killed after an explosion near the de facto border with India in the disputed region of Kashmir, Pakistan's military said, terming it "state-sponsored terrorism" by its eastern neighbour.
The blast took place in the Barnala area close to the Line of Control (LoC), which divides Pakistan- and Indian-administered portions of Kashmir, on Wednesday, a Pakistani military statement said.
"The incident is evidence of state sponsored terrorism by India violating bilateral ceasefire agreement and the international rules," the statement said.
India's government and military did not immediately offer a response to the charge. Calls made to India's foreign ministry by Al Jazeera were not answered.
Since gaining independence from British rule in 1947, Pakistan and India have fought two of their three wars over the disputed mountain region of Kashmir, which both claim in full but administer separate portions of, divided by the Line of Control (LoC). Earlier this year, a suicide attack in the Indian-administered Kashmir town of Pulwama that killed more than 40 Indian security forces personnel sparked a military standoff between the two countries.
The nuclear-armed South Asian neighbours reached the brink of war, with Indian aircraft conducting air raids on Pakistani territory and Pakistan launching retaliatory attacks a day later.
At least one Indian fighter jet was shot down by Pakistani forces during the height of hostilities.
Tension between the two countries was defused after Pakistan returned a downed Indian air force fighter pilot.
Since then, firing across the LoC has increased, with civilian and security casualties on either side of the de facto border.
At least 19 civilians have been killed by Indian firing across the LoC into Pakistan-administered Kashmir this year, Pakistani officials say.
https://www.aljazeera.com/news/2019/07/pakistan-army-accuses-india-terrorism-kashmir-190704103513517.html
--------
Decision to deploy army men inside polling stations to be challenged in court: Bilawal
Ali Hazrat Bacha
July 06, 2019
PESHAWAR: Pakistan Peoples Party chairman Bilawal Bhutto-Zardari said on Friday that his party would move the court if the Election Commission of Pakistan (ECP) failed to withdraw its decision of deploying army personnel with magisterial powers inside polling stations in elections for Khyber Pakhtunkhwa Assembly's seats in the erstwhile Fata.
Addressing a meet-the-press programme at the Peshawar Press Club, he said that his party had already requested the ECP through a written application to reconsider its decision about deploying army personnel inside polling stations.
He said a fair, free and impartial election could not be expected in the prevailing situation, adding that polling was scheduled for July 20, but the opposition parties had so far been not allowed to run their campaigns.
He said imposition of Section 144 of the Code of Criminal Procedure (CrPC) in different areas during election days was beyond reason, adding that its only purpose was to harass workers of opposition parties and keep them away from voters.
He said the restriction on the movement of opposition leaders was meant to rig the elections for the candidates of the ruling Pakistan Tehreek-i-Insaf (PTI). He regretted that the government did not allow him to lay a wreath on the monument of police martyrs in the Peshawar Police Lines.
Mr Bhutto-Zardari alleged that the Mohmand tribal district's administration had withdrawn permission for his party's public meeting at the eleventh hour without giving any reason. On the other hand, he added, the PTI candidates were running their campaign under foolproof security which proved mala fide intentions of relevant institutions.
He said despite many incidents during both military regimes and civilian governments in the past, army personnel were not given magisterial powers inside polling stations.
The PPP chairman said his party would resist interference of military personnel in the elections, saying that it would be considered a martial law inside polling stations. He said the government was using different tactics to build pressure on opposition parties, adding that the arrest of opposition leaders, including Pakistan Muslim League-Nawaz leader Rana Sanaullah, was part of this plan. "All these are old tactics of interior minister Ijaz Shah," he added.
He said the PPP would not come under pressure even if his whole leadership was sent to jail. He said the PPP would not compromise on the 18th Amendment, share of federating units in the National Finance Commission (NFC) award and its stance against military courts. "I have launched a mass contact movement to expose the real face of the incompetent rulers," he said. He accused the government of trying to create differences among federating units over the NFC award and 18th Amendment.
He said the PPP government had increased budget for the erstwhile Fata by 500 per cent. He criticised the PTI government for what he called not providing any relief to the people of tribal areas. He urged the government to announce a special financial package for the newly merged tribal districts. The government, he said, should follow the constitution and stop political victimisation.
Mr Bhutto-Zardari said the opposition parties had built consensus for changing the chairman of Senate democratically.
He severely criticised the performance of the PTI government, claiming that Prime Minister Imran Khan did not have the capacity to run the country's affairs. He said the "IMF-budget" did not have a solution for the country's economic problems. The country was facing a worst kind of economic crisis which had led to unprecedented price hike.
Full report at:
https://www.dawn.com/news/1492391/decision-to-deploy-army-men-inside-polling-stations-to-be-challenged-in-court-bilawal
--------
Eight labourers abducted in Balochistan's Kech: Levies
Jul 06, 2019
At least eight labourers have gone missing after they resisted extortion by unknown gunmen in Kech district of Balochistan, said Levis officials on Friday.
According to Levies, the armed men were asking for money; however, when refused, they started shooting and injured a labourer as well.
The identity of the labourers couldn't be ascertained immediately to tell if this was an ethnic attack.
However, this is not the first time labourer come under attack in Balochistan.
At least three labourers belonging to Sindh were killed and another was wounded after unidentified men attacked them in Nasirabad district of Balochistan on May 15.
According to details, the assailants sprayed bullets on the labourers engaged in routine work in Dera Murad Jamali, killing three on the spot and injuring others critically.
Suspected separatist elements in Balochistan often target non-native labourers working on development projects in the province.
On May 4, six Punjabi labourers were killed and one was injured in firing in Kharan.
According to Levies, unknown gunmen targetted labourers in Kharan.
Last year, four labourers from Sindh working on a road project were gunned down in the same area.
Full report at:
https://www.pakistantoday.com.pk/2019/07/06/eight-labourers-abducted-in-balochistans-kech-levies/
--------
Pakistan for concrete measures to check smuggling at Iran border
JULY 6, 2019
Prime Minister Imran Khan on Friday stressed the need for Pakistan and Iran to take concrete measures against smuggling and ensure more business opportunities for the people residing along the border.
Talking to Iranian Minister for Industry, Mines and Trade Reza Rehmani at the PM's Office, Imran reaffirmed Pakistan's commitment to strengthen relations with Iran in diverse fields, including people-to-people exchanges. He said geographical proximity and close brotherly ties rooted in historical, cultural and religious commonalities offered huge potential to enhance mutual trade and economic cooperation for the benefit of the people of two countries. The Iranian minister conveyed greetings from the Iranian leadership to Imran Khan, whose visit to Iran had provided momentum to the efforts aimed at cementing bilateral relations especially trade and economic ties.
He expressed great satisfaction over the progress being made by Pak-Iran Joint Trade Committee in removing obstacles in way to enhancing mutual trade.
Full report at:
https://dailytimes.com.pk/424820/pakistan-for-concrete-measures-to-check-smuggling-at-iran-border/
--------
Opposition's Rehbar Committee agrees to oust Senate chairman
Ijaz Kakakhel
JULY 6, 2019
The opposition parties' Rehbar Committee on Friday decided to remove Senate Chairman Sadiq Sanjrani from his position, and a resolution will be submitted in Senate on July 9 in this regard.
Talking to reporters after the meeting, Jamiat Ulema-e-Islam-Fazl (JUI-F) leader Akram Khan Durrani, who was presiding over the meeting, said the name of the opposition's candidate for the top slot of the Upper House will be decided in the next session on July 11. Durrani said he has been unanimously named as the first head of the committee, adding that a convener of the Rehbar Committee will be nominated from each party for a period of two months. The position will rotate among all member parties, he said.
Durrani also announced that the opposition will observe July 25, the anniversary of the 2018 general election, as a 'black day'. All parties have been asked to have their members resign from the parliamentary committee set up to probe election rigging, he added.
Durrani announced support of the opposition parties for the Pakistan People's Party candidate in Ghotki by-election. He demanded issuance of production orders for two arrested MNA who were elected from the erstwhile FATA.
Commenting the situation, Durrani said that price hike and unemployment rate has increased after the general elections. He said a new 'political order' is being framed in the country, and that the opposition has expressed grave concern over the situation. He claimed that the state institutions are crossing their jurisdiction and interfering in other matters. "We condemn any such order. We also reject the posting of soldiers inside polling stations in [erstwhile] FATA. We condemn the arrest of Rana Sanaullah and demand the production orders of two members of the National Assembly from erstwhile FATA," he added.
To a question about what the 'new political order' is, Shahid Khaqan Abbasi of the PML-N responded saying they are referring to rumours about imposition of presidential system in the country.
Name of opposition's candidate for the slot will be decided on July 11
When a reporter pointed out that the prime minister has publicly opposed the issuance of production orders to under investigation lawmakers, Nayyar Bukhari of the PPP said, "The prime minister has no right to issue or stop production orders. By doing so, he is denying people the right of representation."
The 11-member Rehbar Committee also took an oath of confidentiality and formulated a policy to run the anti-government movement. The participants were not permitted to carry their mobile phone in the meeting room.
Full report at:
https://dailytimes.com.pk/424885/oppositions-rehbar-committee-agrees-to-oust-senate-chairman/
--------
Mideast
Houthis Admit to Pursuing Greater Weapons Capabilities
3 July, 2019
Houthi coup militias in Yemen claimed responsibility for terror attacks that killed dozens in the last two months. Boasting about the militia's missile, rocket and drone capabilities, a senior Houthi spokesman said Iran-armed group can strike targets inside neighboring Saudi territory.
In parallel to Houthi militiamen scaling up attacks that violate a UN-brokered ceasefire deal for the strategic Red Sea port city of Hodeidah, coup leaders are openly debating on how to distribute illegitimately collected levies at docks and whether or not the money should be used to pay salaries to Houthi gunmen.
Houthi spokesman and it's the group's acting foreign minister, Mohamed Abdel Salam Fleeta, touted Houthi weapons capabilities as efficient enough to stage further terrorist attacks against civilian targets inside Saudi Arabia.
In a tweet, Fleeta said that information revealed at another Houthi officer's presser shows the "qualitative development" the pro-Iranian group war tactics have seen.
Houthi officer Yahya Saree had listed the outcome of two months of continuous terrorist attacks waged by Houthi gunmen against civilians in Yemeni governorates such as Taiz, Ad Dali' and Hajjah, or in cross-border offensives striking inside Saudi territory.
Saree acknowledged that the group is responsible for launching more than 347 terrorist attacks within the last 60 days, and admitted to actively pursuing to boost military capabilities.
Nevertheless, the Houthi officer failed to mention great losses incurred by the insurgency group at the hands of qualitative strikes spearheaded by the pro-government national army and adjunct Arab Coalition forces.
As for details on the group's decision to acquire advanced weapons systems, Houthi leadership said its army engineers are close to drafting a new collection of Iran-made drones and ballistic missiles to the insurgency's depots.
According to reports published by the militia's official media outlets, the new arms additions will be put to display at an exclusive exhibition named after the late coup leader, Saleh Ali al-Sammad.
This comes at a time Yemen is suffering the world's worst humanitarian crisis, Houthis' persistent looting of internationally-sent relief aid and raiding of the countries public institutions.
https://aawsat.com/english/home/article/1796071/houthis-admit-pursuing-greater-weapons-capabilities
--------
Iran Media Celebrates Houthi Drone Attacks On Saudi Arabia
By Seth J. Frantzman
JULY 5, 2019
In a growing and increasingly consistent sign that Iran is linked to the Houthi drone attacks on Saudi Arabia, Iranian media plastered their headlines with a story of drone attacks on Jizan airport in southern Saudi Arabia.
The report from Fars News says that the Yemeni armed forces, their term for the Houthi rebels, launched a drone attack Thursday night on Jizan airport and "significant military targets" at the airport. The drones were described as Qasef K2 which were using precision guidance. The Houthis claimed the attack is the latest in a series retaliating for Saudi airstrikes over the last four years since Riyadh intervened in Yemen to stop the Houthis seizing the port of Aden.
The Houthis also said the drone raid was an attempt to show the US what they are capable of.
The Houthis celebrated what they claimed was the end of flights in Jizan due to the drones. Tasnim news also reported the attack.
However some other prominent Iranian websites, such as Press TV, ISNA and Mehr did not yet have reports.
What is interesting is the attention Iranian media tends to put on the drone strikes, sometimes announcing them just after the Houthis claim they happened in the past. This means Iranian media get their reports from the Houthis and closely follow the Houthi attacks.
There is evidence that Houthi drones and rockets are linked to Iranian technology and know-how.
US National Security Advisor John Bolton blamed Iran for Houthi drone attacks in late May.
A study in 2018 presented to the UN concluded that the Qasef-1 drone was assembled from parts shipped from outside Yemen. The report also noted that it was "virtually identical" to an Ababil-T drone made by Iran Aircraft Manufacturing Industries. It can fly around 150km with a 45kg warhead. A survey of recent attacks on Saudi Arabia show that drone attacks have been carried out several times a week since early May. Jizan was targeted at least five times, Abha nine times and Najran at least twice. Qasef K2 drones have been used in many of these attacks.
This means that the Houthis have increased their attacks. Nine people were injured in July 1 attack on Abha. In two other attack in June dozens were injured and one killed. The use of drones by the Houthis is part of a growing use of drones by Iran and its allies.
Full report at:
https://www.jpost.com/Middle-East/Iran-media-celebrates-Houthi-drone-attacks-on-Saudi-Arabia-594691
--------
US calls on Houthis to release Yemeni Bahai leader from detention
Mina Aldroubi
July 4, 2019
A United States religious freedom body urged Yemen's Houthi rebels this week to pardon and release a prominent Bahai leader facing a death sentence, following the postponement of his appeal hearing.
Hamed bin Haydara, 55, was sentenced to death for espionage and apostasy by a Houthi court in the rebel-held capital Sanaa in January last year, charges that were filed against him in 2015.
But Yemen's internationally recognised government and his family say the charges are baseless and are part of broader persecution of the country's tiny Bahai minority by the Houthis.
Mr Haydara was expected to appear in a Houthi court on Sunday but the hearing was postponed until July 9, the US Bahai Office of Public Affairs told The National.
"Mr Haydara's case is an egregious violation of justice based on the Houthis' intolerance of Bahais and other religious minorities in Yemen," said Andy Khawaja, commissioner on the United States Commission on International Religious Freedom (USCIRF), an independent federal body set up by congress to monitor threats to religious freedom abroad.
Mr Khawaja advocates on behalf of Mr Haydara as part of USCIRF's Religious Prisoners of Conscience Project.
Mr Haydara's situation encapsulates the suffering of Yemen's Bahai community.
"He has been deprived of his liberty and dignity simply because he had been seeking to live according to his beliefs," Mr Khawaja said in a statement.
Mr Hayadara is among dozens of Bahai followers who are currently detained in Houthi prisons.
Last year 24 Bahais were accused of apostasy and espionage in a Sanaa court. Five of them are being held in prison and their case is being presided over by the same judge who sentenced Mr Haydara to death, according to the Bahai International Community.
The USCIRF's 2019 annual report suggested designating the Iran-backed rebels as an "entity of particular concern" under the International Religious Freedom Act, based on the group's egregious violations of religious freedom in 2018.
Although the State Department designated the Houthis as an "entity of particular concern" in November 2018, the USCIRF's suggestion solely focuses on the rebels religious violations in Yemen.
The designation enables the imposition of US sanctions.
The Bahai faith calls for unity among religions and equality between men and women.
It was founded in Iran in 1844, and considers itself a universal religion, but is opposed by the regime in Tehran.
Full report at:
https://www.thenational.ae/world/mena/us-calls-on-houthis-to-release-yemeni-bahai-leader-from-detention-1.882733
--------
Car explosion in southern Turkey kills three people, say security sources
5 July 2019
A car exploded in southern Turkey near the border with Syria on Friday, killing three Syrian people, security sources said.
The explosion took place in the town of Reyhanli, and Turkish media quoted the local governor as saying the cause of the explosion was being investigated.
One person was also wounded in the blast, the sources said.
https://english.alarabiya.net/en/News/middle-east/2019/07/05/Gargash-UAE-will-stand-with-Sudan-in-good-times-and-bad-times-.html
--------
Israeli minister voices frustration with Lebanon over sea border talks idea
5 July 2019
Israel's energy minister voiced frustration on Friday with what he called Lebanon's failure to agree to US-mediated talks on setting their maritime border, suggesting Iran-backed Hezbollah was applying pressure on Beirut.
Senior US official David Satterfield has been shuttling between Lebanon and Israel in an effort to launch the talks between the countries, which have remained formally in a state of war since Israel was founded in 1948.
Israel and Lebanon have long disagreed on border demarcations in the eastern Mediterranean, an issue that gained prominence in the past decade when large deposits of natural gas were found there.
Israeli Energy Minister Yuval Steinitz said on June 19 he expected US-mediated talks to start within a month.
On Wednesday, Lebanon insisted any demarcation of its sea boundary with Israel be implemented only as part of a wider package including the land border - something Israel has previously ruled out.
Steinitz sounded less upbeat on Friday.
"(The) Lebanese on the one hand really want to develop their natural resources, and the unresolved dispute with Israel is disruptive for them - for us too, but for them more," Steinitz told Tel Aviv radio station 102 FM.
But Steinetz added Lebanon could also be facing "internal pressure, that they (are) under the sway of fear of Hezbollah," referring to Lebanon's most powerful armed force. Hezbollah is also part of the Lebanese coalition government.
Steinitz said Lebanon had yet to formally refuse the overture for mediation.
Full report at:
https://english.alarabiya.net/en/News/middle-east/2019/07/05/Israeli-minister-voices-frustration-with-Lebanon-over-sea-border-talks-idea.html
--------
40 injured as Israeli troops attack Palestinian protesters in Gaza
Jul 5, 2019
Israeli forces have attacked Palestinians taking part in protests near the border fence separating the besieged Gaza Strip from the occupied territories, leaving scores of people injured.
Ashraf al-Qedra, the spokesman for the Gazan Health Ministry, said 40 Palestinians were injured during the Friday protests, adding that 22 of them were hit by live ammunition.
The rallies have been held every week since March 30 last year. The Palestinians demand the right to return of those driven out of their homeland by Israeli aggression.
Israeli troops have killed at least 305 Palestinians since the beginning of the rallies and wounded more than 17,000 others, according to the Gazan Health Ministry.
In March, a United Nations (UN) fact-finding mission found that Israeli forces committed rights violations during their crackdown against the Palestinian protesters in Gaza that may amount to war crimes.
Gaza has been under Israeli siege since June 2007, which has caused a decline in living standards.
Full report at:
https://www.presstv.com/Detail/2019/07/05/600240/Israel-attacks-Palestinians-protesters
--------
At Tehran symphony, music lovers seek escape from reality
July 06, 2019
TEHRAN: Aficionados of Western classical music have carved out a niche for themselves in Iran, where cultural expression remains tightly controlled by strict rules imposed after the 1979 Islamic revolution. And perhaps surprisingly, musicians in their 20s and 30s perform for overwhelmingly young audiences.
This week, the Tehran Symphony Orchestra, including female musicians in burgundy headscarves on cello, horn and harp, played works by 19th-century Russian composers for an enraptured crowd in the capital's main concert venue, Vahdat Hall.
A major draw is Shahrdad Rohani, 65, the orchestra's charismatic music director. The Iranian-American composer, musician and conductor who has led orchestras in the US and Europe, said he is proud of his homegrown crop of young musicians.
Classical music may not have mass appeal, but Rohani said in a backstage interview that there's potential for growth, citing a large turnout during a stadium concert last year in Abadan, a provincial city in southwestern Iran.
"Classical music is growing, and as you see, the audience, they are really supporting the arts and classical music," he told The Associated Press during the intermission of Wednesday's sold-out concert.
In four decades of conservative rule, the space for artistic expression in Iran has expanded or contracted, depending on whether political hard-liners or moderates prevail.
In the first decade after the Islamic revolution, including the eight-year war with Iraq, pop music disappeared from the public sphere, said Nima Mina of the School of Oriental and African Studies at the University of London.
The Tehran Symphony Orchestra, founded in 1933, continued its work after 1979, he said. Live performances were initially rare, but have increased in number since the 1990s.
Even during periods of eased controls, red lines are enforced.
This includes a ban on female singers performing for mixed audiences, considered "haram," or religiously forbidden. In February, female guitarist Negin Parsa sang a solo during a concert by pop singer Hamid Askari. The authorities cut her microphone, and Askari's permission to perform was briefly suspended.
A music cafe in downtown Tehran complies with the ban on female singers during live shows, but not when playing records. On a recent afternoon, a blues recording featuring a soulful female vocalist played in the background, as customers sipped coffee and smoked cigarettes.
"Authorities rarely challenge the playing of recorded music in the cafe, and mainly argue about the hijab issue," said waitress Nillofar Dailami, 29, referring to the headscarf all Iranian women are required to wear. Dailami also professed a love for classical music as a result of her study of guitar.
These days, the influence of hard-liners appears on the upswing again as moderates find themselves on the defensive because of the seeming collapse of the 2015 nuclear deal they negotiated with world powers.
The US walked away from the deal a year ago, instead embarking on a "maximum pressure" campaign against Iran, including unprecedented economic sanctions.
The sanctions have hurt ordinary Iranians, sending prices for staples and consumer goods soaring and weakening the local currency, while raising the specter of war with the US
For Tehran music lovers, events like Wednesday's concert on the main national stage next to the Russian Embassy offers a momentary escape from reality.
"It is little moments that build up your life in the end," said Shafa Sabeti, a 36-year-old architect whose business has suffered as the result of the economic downturn linked to the US sanctions. "Public spaces have gotten more crowded recently. People are just living the moment — maybe it's some coping mechanism."
Yet tensions and fear of escalation are a "major big black cloud hovering over the country," he said.
Wednesday's concert featured works by Russian composers Alexander Borodin, Sergey Rachmaninov and Nikolai Rimsky-Korsakov.
The audience was entranced.
There was no fidgeting or coughing. A young couple in the balcony held hands. A woman nearby recorded the concert on her iPhone. Rohani, the conductor, was greeted by loud applause and addressed the crowd several times, including announcing details about an upcoming concert.
"I love the work of Rohani," said concert-goer Ali Reza, 26, who was introduced to classical music by learning to play the piano. He said most of his friends prefer other styles of music, including rock and pop.
Some said there's a generational divide, with older people tending to prefer traditional Iranian music.
"There is a lot of interest in Western culture among the young urban middle class population," said Mina, portraying it as pushback against the lifestyle and artistic expression promoted by the authorities.
He said that since the 1940s, Tehran's music conservatory has provided a steady supply of musicians, including those who later join the Tehran Symphony Orchestra.
One of the graduates of the conservatory, violinist Ed Nekoo, spent 10 years in the Los Angeles area but returned home to care for his mother.
Full report at:
http://www.arabnews.com/node/1521361/middle-east
--------
Africa
150 former Boko Haram fighters drop arms in Cameroon's Far North region
2019-07-05
YAOUNDE, July 4 (Xinhua) -- Cameroon's National Committee on Disarmament, Demobilisation and Reintegration (NCDDR) said Thursday its center in Far North region is hosting 150 ex-fighters of terror group Boko Haram who have voluntarily laid down their weapons.
Francis Fai Yengo, national coordinator of NCDDR, told reporters the ex-fighters will benefit from professional training in agriculture, livestock, business and handicraft during their stay in the center.
Yengo visited the center with officials from International Organization for Migration and United Nations Development Programme.
Cameroon is facing serious security challenges in the two Anglophone regions of Northwest and Southwest where separatists want to create an independent nation and in the Far North, where terror group Boko Haram is intensifying attacks on civilians and government forces.
NCDDR was created by President Paul Biya last year "to avoid the use of extreme measures" and supervise and manage the disarmament and reintegration of ex-combatants of Boko Haram and armed separatists in the Anglophone regions.
A total of 56 separatist combatants have already dropped their weapons according officials of NCDDR.
http://www.xinhuanet.com/english/2019-07/05/c_138199757.htm
--------
Islamic State claims responsibility for attacks on military camp in western Niger
JULY 3, 2019
CAIRO (Reuters) - The Islamic State claimed responsibility on Wednesday for attacks on a military camp in western Niger on Monday, the group's Amaq news agency said.
At least 18 soldiers were killed and four others were missing after suspected Islamist militants blew up two cars and fired on a military camp in Niger, the army said on Tuesday.
The Islamist militants took control of the base near the town of Inates, Amaq news agency reported, close to the border with Mali.
Full report at:
https://www.reuters.com/article/us-niger-security-islamic-state/islamic-state-claims-responsibility-for-attacks-on-military-camp-in-western-niger-idUSKCN1TY2BM
--------
Mozambique says militants kill 11 in attack near Tanzania border
JULY 3, 2019
MAPUTO/DAR ES SALAAM (Reuters) - Eleven people were killed in an attack last week by an Islamist militant armed group in northern Mozambique near its border with Tanzania, Mozambican police said on Wednesday.
Several of the attackers from the Ahlu Sunnah Wa-Jama (ASWJ) group were later arrested, police added, referring to a militia operating in the gas-rich northern province of Cabo Delgado province since at least 2014.
Six people were wounded in the raid, said Orlando Mudumane, spokesman for Mozambique Police's General Command, adding that the arrested gunmen included both Mozambicans and foreigners.
"On 26 of June, 2019, a group of bandits perpetrated an attack in the village of Itole, in Palma District, killing 11 civilians; 9 Tanzanians and 2 Mozambicans," he said.
He dismissed reports the that deaths were by beheading, a method of killing used by the group in some previous attacks.
"All of them died of gunshot wounds, no beheadings. The defence forces combed the area and have already detained some elements of the group, foreigners and nationals."
Information about the attack has been scarce, with conflicting accounts from local and international media on the number of deaths and nature of the attack in the Muslim-majority region of the southern African nation.
Last week's ambush was the latest in a spate of execution-style attacks in the area since 2017 that have so far killed more than 100 people, while forcing hundreds to flee into the interior.
Tanzanian security officials on Saturday also confirmed the attack and number of deaths, but were unsure of the identity of the suspects.
"The attack took place on June 26 in Mozambique where the Tanzanians had gone to work in paddy fields," Tanzania's police chief Simon Sirro said at a weekend briefing near the border.
"According to eyewitness accounts, unidentified gunmen raided the paddy farmers and carried out the attack."
Sirro said Tanzanian and Mozambique police had launched a joint investigation into the incident.
Impoverished Cabo Delgado, surrounded by dense forests and isolated villages, houses a growing clutch of multinational companies developing one of the biggest offshore gas finds in a decade - estimated to be worth at least $30 billion.
Whilst the attacks have mostly targeted civilians and government buildings, in February U.S. energy giant Anadarko said one worker was killed and several others injured in two attacks near the construction site for its massive liquefied natural gas (LNG) project in Cabo Delgado.
The attacks by the Ahlu Sunnah Wa-Jama, or "followers of the prophetic tradition", have drawn comparisons to Islamist groups in Tanzania, Somalia, Kenya and the Great Lakes region.
Full report at:
https://af.reuters.com/article/topNews/idAFKCN1TY23E-OZATP
--------
Saudi Arabia, EU, UN, and UAE hail Sudan landmark deal
5 July 2019
Saudi Arabia, the European Union, the United Nations, and the United Arab Emirates have welcomed the landmark deal between protest leaders and Sudan's ruling generals to bring months of unrest to a close.
Saudi Arabia's foreign ministry welcomed the agreement reached in Sudan, according to the Saudi Press Agency, and expressed that the Kingdom is looking forward to the step as a new secure and stable phase in the African country.
A spokesman for the EU foreign policy chief Federica Mogherini said that "the agreement reached by the Transitional Military Council and the Forces for Freedom and Change in Sudan on a three-year civilian-led transition, as announced by the African Union, is a breakthrough."
He also stressed the need for forming a government. "A competent and empowered civilian government that can restore peace, deliver economic prosperity, and protect the human rights of all in Sudan should be formed promptly."
From his side, UN Secretary-General Antonio Guterres said he was encouraged by the power-sharing deal.
Guterres "encourages all stakeholders to ensure the timely, inclusive, and transparent implementation of the agreement and resolve any outstanding issues through dialogue," said a UN statement.
The United Arab Emirates also congratulated Sudan after the deal, with its Minister of State for Foreign Affairs Anwar Gargash saying the Gulf country would stand with Khartoum in "good times and bad times".
"We hope that the next phase will witness the foundation of a constitutional system that will strengthen the role of institutions with broad national and popular support," Gargash added in a Twitter post on Friday.
The agreement was reached in the early hours Friday after two days of talks brokered by Ethiopian and African Union mediators.
It calls for setting up a sovereign council with a rotating military and civilian presidency for a period of three years and three months.
Full report at:
https://english.alarabiya.net/en/News/middle-east/2019/07/05/Saudi-Arabia-EU-UN-and-UAE-hail-Sudan-landmark-deal.html
--------
Turkey's Erdogan pledges support for Libya's GNA to 'ensure peace, stability'
6 July 2019
Turkey's President Recep Tayyip Erdogan called for an end to "unlawful attacks" by Libyan National Army (LNA) commander Khalifa Haftar's forces during a meeting with the Libyan prime minister on Friday, the Turkish presidency said.
"The president renewed his support for the internationally-recognized government and urged an end to unlawful attacks by Haftar's forces," the presidency said in a statement.
Erdogan met with Libyan Prime Minister Fayez al-Sarraj in Istanbul earlier Friday.
This comes after the LNA accused Turkey of being actively involved in battles, and helping the Government of National Accord (GNA) to seize the town of Gharyan, around 100 kilometers (around 60 miles) southwest of Tripoli.
The Turkish leader told Sarraj his Libyan Government of National Accord had Ankara's support in its bid to "ensure Libya's peace and stability," the presidency added.
Haftar's forces, which hold much of eastern and southern Libya, launched an offensive in early April to seize the capital from the government.
Last month Haftar ordered his forces to target Turkish companies and arrest Turkish nationals after he lost a major town to forces backing Sarraj's government.
Six Turkish sailors were briefly held by the strongman's forces but were released earlier this week after Turkey vowed to retaliate if they were not freed.
Libya has been mired in chaos as multiple militias vied for power after a NATO-backed uprising resulted in dictator Muammar Qaddafi's death in 2011.
Full report at:
https://english.alarabiya.net/en/News/north-africa/2019/07/06/Turkey-s-Erdogan-pledges-support-for-Libyan-govt-to-ensure-peace-stability-.html
--------
Sheikh Zakzaky in dire need of treatement: Rights group warns
Jul 5, 2019
A London-based Islamic rights organization has called on Nigeria to immediately release top Shia Muslim cleric Sheikh Ibrahim Zakzaky from prison and send him abroad for urgent medical treatment.
Islamic Human Rights Commission (IHRC) said it has received reports about Zakzaky's health condition that has further deteriorated.
Members of Islamic Movement in Nigeria (IMN) said last week that the cleric was poisoned in prison and requires urgent medical care abroad.
Sheikh Zakzaky, who is in his mid-sixties, lost his left eyesight in a 2015 raid by security forces that left more than 300 of his followers and three of his sons dead. His wife also sustained serious wounds.
The IHRC which sent a medical team to Nigeria in April to examine health condition of Sheikh Zakzaky and his wife has already said the specialist treatment they require can only be fully accessed outside the African country.
'President Buhari responsible' if anything happens to Zakzaky
In the meantime, the IMN issued a statement on Thursday, saying the group's leaders will hold Nigerian President Buhari Muhammadu responsible "if anything should happen to Zakzaky or his wife in detention."
"Their health status is of paramount significance to us all and Buhari must be held responsible should anything untoward happen to either the Sheikh or his wife," the group said in a statement.
"We are once again calling for the immediate release of our leader and his wife, whose health situations appear to be deteriorating very fast, especially in view of the reported poisoning they were subjected to in detention," said the IMN.
Nigeria's House of Representatives also said in a statement on Thursday that it would help to resolve the issue.
It came in response to a letter from a group of protesters, who gathered in front of National Assembly to call for Zakzaky's release.
"tyrant Buhari has poisoned Sheikh Ibraheem Zakzaky (H) and the deafening silence of all those that are detaining Sheikh Zakzaky and his unlawfully is creating high tension," read the letter.
Full report at:
https://www.presstv.com/Detail/2019/07/05/600207/Nigeria-Zakzaky-heath
--------
UN calls for Libya cease-fire as death toll climbs to 1,000
July 05, 2019
TRIPOLI: The UN Security Council called Friday for a cease-fire in Libya as the death toll from a three-month offensive on Tripoli reached 1,000, including scores killed in an air strike that hit a detention center for migrants.
The council condemned the late Tuesday attack on the Tajoura detention camp east of Tripoli and "stressed the need for all parties to urgently de-escalate the situation and to commit to a cease-fire," said a joint statement.
Libyan commander Khalifa Haftar, whose forces hold eastern Libya and much of the country's south, launched an offensive in early April to wrestle the capital from forces loyal to the UN-recognized Government of National Accord (GNA).
Air strikes and ground fighting have since left nearly 1,000 people dead and some 5,000 wounded, the UN's World Health Organization said.
The fighting has forced more than 100,000 people to flee their homes and threatens to plunge Libya into deeper conflict.
Among the dead are 53 migrants killed Tuesday night in an air raid on a detention center in the Tripoli suburb of Tajoura, held by the GNA, which accused Haftar's forces of carrying out the strike.
A Geneva-based spokesman for the International Organization for Migration said six children were among the migrants killed.
Joel Millman said that 350 migrants, including 20 women and four children, were still detained at the center, one of five air hangars hit in the raid.
World powers have been divided over how to respond to Haftar's offensive, with the United States and Russia refusing to condemn the Libyan strongman.
The British-drafted council statement condemned the attack on the migrant camp, called for a return to political talks and for full respect of the arms embargo on Libya.
It followed a closed-door council meeting on Wednesday during which US diplomats said they needed more time to consult with Washington on the proposed text.
The United Nations has called for an independent investigation to determine who was responsible for the strike on the center, which housed some 600 migrants, mainly from African countries.
President Recep Tayyip Erdogan of Turkey — which backs the GNA — called for an end to "unlawful attacks" by Haftar's forces during a meeting with Libyan Prime Minister Fayez Al-Sarraj in Istanbul on Friday, the Turkish presidency said.
UN agencies and humanitarian groups have repeatedly voiced concern over the plight of thousands of migrants and refugees held in detention centers near combat zones in the capital.
Secretary-General Antonio Guterres has expressed outrage over the attack and said the United Nations had shared the coordinates of the detention center with the warring sides to protect the civilians.
The carnage in Tajoura was "a tragedy that should have never happened," said Charlie Yaxley, spokesman for the UN's refugee agency.
Libya has become a major conduit for migrants seeking to reach Europe and remains prey to numerous militias vying for control of the country's oil wealth.
Rights groups say migrants face horrifying abuses in Libya, and their plight has worsened since Haftar launched the offensive against Tripoli.
According to the UN, some 5,700 refugees and migrants are being held in detention centers in Libya, 3,300 of whom are vulnerable to fighting in and around Tripoli.
An initial lightning assault in early April saw Haftar's self-styled Libyan National Army steam toward the capital. But they have since been bogged down on its southern outskirts, where frontlines have been frozen for months.
GNA forces launched a surprise counter-attack late last month, seizing the strategic town of Gharyan, the main supply base for Haftar's offensive.
After the setback, Haftar's forces threatened to intensify strikes against their rivals.
Both sides have launched daily air raids throughout the fighting and each lost several planes.
The rival camps have remained convinced that with the help of their backers, they can win the battle.
Full report at:
http://www.arabnews.com/node/1521191/middle-east
--------
South Asia
Taliban frees 42 security personnel in N. Afghanistan
2019-07-04
KABUL, July 4 (Xinhua) -- Militants loyal to the Taliban group have released 42 army personnel who were arrested during the fall of Qush Tepa district in Afghanistan's northern Jawzjan province days ago, an army spokesman in the northern region said on Thursday.
The released army personnel, according to Abdul Hadi Jamal, arrived in Jawzjan provincial capital Shiberghan city on Wednesday evening.
Following heavy fighting, the Taliban fighters overran Qush Tepa district on Tuesday morning, during which a number of security personnel have gone missing, obviously killed, arrested or escaped.
The Taliban militants who are in control of Qush Tepa district are yet to make comment on the reported release of the army personnel.
Officials in Jawzjan province said preparations were underway to recapture Qush Tepa district.
http://www.xinhuanet.com/english/2019-07/04/c_138199227.htm
--------
Muslims in Sri Lankan highlands to down shutters as hardline Buddhists meet
Jul 5, 2019
COLOMBO: Shops owned by Muslim traders in the Sri Lankan central highlands district of Kandy will remain closed on Sunday as thousands of hardline Buddhist monks gather to decide who to back in the country's upcoming presidential elections.
The gathering, called by Galagoda Aththe Gnanasara, the influential head of Buddhist nationalist group Bodu Bala Sena (BBS), is worrying Muslim traders and residents in Kandy, an ancient capital that was rocked by violence last year as mobs ran amok for three days vandalising mosques, homes and businesses.
There have also been a spate of anti-Muslim riots in the country in recent weeks, blamed in part on Buddhist groups, in apparent reprisal for April bombings claimed by Islamic State that killed more than 250 people.
"All Muslim-owned shops are likely to be closed on Sunday to avoid any possible confrontation, as thousands of monks are expected in the town for the conference," Niyaz Muheeth, president of the Kandy Muslim Traders Association, told Reuters.
Sri Lanka's apex body of Islamic scholars, All Ceylon Jamiyyathul Ulama (ACJU), urged Muslims to avoid visits to the central district that contains Kandy on Sunday.
In response, BBS said in a statement thousands of monks are expected to gather in Kandy to take a crucial decision on behalf of the country.
In a letter to police seen by Reuters, Dilantha Withanage, CEO of BBS, accused Muslim groups including ACJU of trying to sabbotage the Sunday event, by misleading the police with fabricated information and complaints.
Sri Lanka has had a history of ethnic and religious violence and was torn for decades by a civil war between separatists from the mostly Hindu Tamil minority and the Sinhala Buddhist-dominated government. The war ended in 2009.
In recent years, Buddhist hardliners, led by BBS, have stoked hostility against Muslims, saying influences from the Middle East have made Sri Lanka's Muslims more conservative and isolated.
Buddhists make up about 70% of Sri Lanka's 22 million people while Muslims account for 10%.
The Buddhist gathering on Sunday comes ahead of presidential polls scheduled to be held either in November or December in which President Maithripala Sirisena, former defence secretary Gotabaya Rajapaksa, and Prime Minister Ranil Wickremesinghe could be possible candidates.
Gnanasara, a hardline monk who is accused of inciting violence against Muslims and has been leading the campaign against Islamic extremism, has called for as many as 10,000 Buddhist clergy to attend the meet, in an effort to unite Sinhala Buddhists.
The monk, who was released from prison last month after a pardon by Sirisena over contempt of court charges, has also hinted BBS may back a surprise candidate, whose views are more aligned with the group's ideology, to contest the elections.
Full report at:
https://timesofindia.indiatimes.com/world/south-asia/muslims-in-sri-lankan-highlands-to-down-shutters-as-hardline-buddhists-meet/articleshow/70095155.cms
--------
Tangail's enormous 201-dome mosque becomes centre of attraction
July 6th, 2019
It is built on the bank of the Jhinai River in Tangail's Gopalpur upazila, some 140 km from the capital Dhaka
A 201-dome mosque in Bangladesh has become the centre of attraction for people all around the country.
It is built on the bank of the Jhinai River in Tangail's Gopalpur upazila, some 140 km from the capital Dhaka.
The 451-foot minaret of the mosque is the tallest concrete minaret in the world, recognized by Guinness World Records, said Humayun Kabir, caretaker of the project.
The minaret is equivalent to the height of a 55-storey building. The mosque will hold more than 15,000 devotees at a time. Among the 201 domes, the tallest one is in the middle and is 81-feet high. The other 200 domes surrounding it are 17-feet high.
Construction work on the mosque began in January 2013, with an area of 15 Bigha (1 Bigha=33 decimals). Over 80% of the construction work is complete.
The budget for the project was initially determined at Tk15 crore, however, until now over Tk100 crore has been spent.
The project began when Rafiqul Islam, from South Pathalia village, Gopalpur, dreamed of building the mosque at his birthplace. Later, he formed the Rafiqul Islam Trust to look after the construction of the mosque.
Islam has donated some of his ancestral land for the building of the mosque. At the same time, some of the villagers helped make Islam's dream true. Finally, the construction of the mosque started.
Rafiqul Islam told Dhaka Tribune that many people from home and abroad came to witness the beauty of the 201-dome mosque and during every holiday around 10,000 people visit the mosque.
Full report at:
https://www.dhakatribune.com/bangladesh/nation/2019/07/06/tangail-s-enormous-201-dome-mosque-becomes-centre-of-attraction
--------
8 Taliban militants killed, wounded in Farah airstrike
06 Jul 2019
The security forces conducted an airstrike in western Farah province killing or wounding at least 8 Taliban militants.
The military officials said Saturday that the security forces conducted the airstrike in Farah district of the province.
Furthermore, the officials said the airstrike killed 5 Taliban militants and wounded 3 others.
The Taliban group has not commented regarding the airstrike so far.
The security situation in Farah province has deteriorated during the recent years.
Taliban militants are active in some districts of the province and often conduct terrorist related activities.
Meanwhile, the Afghan forces routinely conduct counter-terrorism operations against the anti-government armed groups in this province.
Full report at:
https://www.khaama.com/8-taliban-militants-killed-wounded-in-farah-airstrike-03829/
--------
Airstrike kills 6 Taliban fighters in Logar province
04 Jul 2019
The security forces conducted an airstrike in Logar province killing at least 6 Taliban fighters.
The informed military sources said Thursday that the security forces conducted the airstrike in Pul-e-Alam district of Logar.
The Taliban group has not commented regarding the airstrike so far.
The security situation in Logar province has deteriorated during the recent months.
Taliban militants are active in some districts of the province and often conduct terrorist related activities.
Meanwhile, the Afghan forces routinely conduct counter-terrorism operations against the anti-government armed groups this province.
Full report at:
https://www.khaama.com/airstrike-kills-6-taliban-fighters-in-logar-province-03814/
--------
Afghan forces, Taliban militants suffer casualties in Kandahar clash
06 Jul 2019
The Afghan forces and Taliban militants suffered casualties during a clash in southern Kandahar province on Friday night.
The Police Chief of Kandahar Gen. Tadin Khan Achakzai said in a Twitter post that the clash took place in Maruf district.
Gen. Tadin Khan further added that Taliban militants attacked the district administrative compound late on Friday night.
Furthermore, Gen. Tadin Khan said the attack badly damaged the district compound and claimed the lives of some Afghan soldiers.
However, he did not disclose further information regarding the exact number of soldiers who lost their lives in the attack.
Full report at:
https://www.khaama.com/afghan-forces-taliban-militants-suffer-casualties-in-kandahar-clash-03827/
--------
Casualties toll from Taliban mortar attack on Faryab market rises to 53
06 Jul 2019
The Afghan military has confirmed that the casualties toll from mortar attack on Faryab market has climbed to 53 people.
The 209th Shaheen Corps in a statement said the Taliban militants fired mortars on Khwaja Sabz Posh market early on Friday.
The statement further added that the attack killed 14 civilians and wounded 39 others including several children.
Furthermore, the 209th Shaheen Corps said the Taliban militants launched the attack as dozens of people had gathered in the market to shop in Friday Bazar.
Meanwhile, the 209th Shaheen Corps said the security forces launched an immediate operation to shift the wounded civilians to medical facilities.
Full report at:
https://www.khaama.com/casualties-toll-from-taliban-mortar-attack-on-faryab-market-rises-to-53/
--------
4 Taliban militants killed, car bomb, IEDs destroyed in Special Forces raids in Kapisa and Wardak
06 Jul 2019
The Afghan Special Forces killed four Taliban militants and destroyed a car bomb and several IEDs.
The informed military said Saturday that the Special Forces killed the militants and destroyed the IEDsin Kapisa and Wardak.
The sources further added that the Special Forces killed the 4 militants in Chak-e Wardak district of Wardak province.
Furthermore, the Special Forces detained 1 Taliban fighter and destroyed a building containing several IEDs.
Meanwhile, the Special Forces called in an airstrike after identifying a suspicious vehicle in Kapisa.
The military sources said the airstrike destroyed a vehicle-borne improvised explosive device.
The security situation in Kapisa and Wardak provinces has deteriorated during the recent months.
Taliban militants are active in some districts of the two provinces and often conduct terrorist related activities.
Meanwhile, the Afghan forces routinely conduct counter-terrorism operations against the anti-government armed groups in the two provinces.
Full report at:
https://www.khaama.com/4-taliban-militants-killed-car-bomb-ieds-destroyed-in-special-forces-raids-in-kapisa-and-wardak-03828/
--------
North America
Trump administration lays broad legal grounds for military strike on Iran
By Karen DeYoung and
Missy Ryan
July 3, 2019
As it has contemplated military action against Iran, the Trump administration has opened the door to virtually every legal authority it might use to justify an attack, from tying Iran to al-Qaeda, to President Trump's assertion that it would not involve American ground troops and "wouldn't last very long."
Democrats and some Republicans have tried repeatedly to pin the administration down, including last week's unsuccessful attempt to muster 60 Senate votes for an amendment requiring Trump to ask Congress before launching any military engagement.
When asked directly about legal justification, senior administration officials have offered undetailed assurances that any action would "consistent with our Constitution," as Secretary of State Mike Pompeo said last month, or they deferred to lawyers.
"I'm not a scholar in this area," Brian Hook, Pompeo's special representative for Iran, recently told the House Armed Services Committee under persistent questioning.
Concern about the possibility of U.S. military action against Iran has grown since the administration cited new intelligence that Iran or its proxies were planning to attack U.S. troops or American interests in the Middle East. The United States has also blamed Iran for attacks on oil tankers near the Strait of Hormuz. Most recently, Iran shot down a U.S. drone it said — and the U.S. denied — had crossed into its airspace.
Trump and Iranian leaders have traded insults following the U.S. withdrawal from the 2015 Iran nuclear agreement and subsequent reimposition and escalation of sanctions, and Iran's announcement that it was stepping up its uranium enrichment. Following President Hassan Rouhani's assertion on Wednesday that Iran could enrich to "any amount we want" in the absence of a nuclear deal, Trump warned him to "be careful with the threats . . . They can come back to bite you like nobody has been bitten before."
Although Trump canceled a U.S. strike against Iran following the drone shoot-down, the administration has continued to lay the legal groundwork for a strike.
Pompeo, in public and classified testimony, according to lawmakers, has said there are ties between Iran and al-Qaeda. Such a relationship would seem to provide the foundation for military action against Iran under the 2001 congressional Authorization for Use of Military Force (AUMF) against the perpetrators of the al-Qaeda attacks that year.
Such a determination has doubters even within the administration. Defense officials have taken unusual steps in recent weeks to distance themselves from Pompeo's assertion amid fears that the administration may be driving toward a conflict that most Pentagon officials expect would be long, costly and detrimental to American interests in the region.
In a statement, Cmdr. Rebecca Rebarich, a Pentagon spokeswoman, said the department "does not believe 2001 AUMF can be used against Iran." That position has been affirmed by the Pentagon's top lawyer, Paul Ney Jr., according to officials who spoke on the condition of anonymity to address internal deliberations.
While Pentagon officials do not deny that al-Qaeda has had ties to Tehran, those links are generally seen as limited and nonoperational.
Defense officials say they have not put forward such links as a basis for connecting military action against Iran to the 9/11 attacks and the AUMF that resulted from them.
Mick Mulroy, the Pentagon's top policy official for the Middle East, said in a statement last week that neither he nor Katie Wheelbarger, another senior Pentagon policy official, raised al-Qaeda's links to Iran — or the AUMF — during a classified congressional briefing on Iran last month, as the New York Times reported.
"The historical and ongoing ties between Iran and the Taliban, not al-Qaeda, were raised at the briefing," Mulroy said.
Taking up Hook's suggestion to ask government lawyers about both the 2001 AUMF and a subsequent 2002 congressional resolution authorizing the U.S. invasion of Iraq, Foreign Affairs Committee Chairman Eliot L. Engel (D-N.Y.) wrote last week to Marik String, who became acting State Department legal adviser six weeks ago.
Engel asked for "any and all legal analysis" relating to whether either measure was "applicable to any actions that could be undertaken by the Executive Branch in or against the Islamic Republic of Iran."
A brief reply from the State Department's legislative affairs bureau came three days later. "The administration has not, to date, interpreted either AUMF as authorizing military force against Iran," it said, "except as may be necessary to defend U.S. or partner forces engaged in counterterrorism operations or operations to establish a stable, democratic Iraq."
Democrats have interpreted that response as leaving the door open to administration assertions that such authorization is justified in the future.
"We're very concerned the administration hasn't categorically said Congress hasn't authorized war with Iran," a Democratic congressional aide said, speaking on the condition of anonymity to discuss the concerns of lawmakers. "The AUMF has already been stretched."
Three successive administrations have cited the 2001 AUMF as a basis for fighting an array of militant groups across the Middle East, South and Central Asia, and Africa, as Congress has failed in repeated efforts to pass a new authorization that would apply to military actions that seem far afield from those originally authorized.
Moreover, the legal caveat referring to Iraq, the subject of the 2002 authorization, appears to cast a wide net over interference in U.S. or partner forces' operations in that country.
The State Department did not respond to questions about the scope of its statement.
The other legal authority available to the president, short of Congress's approval under its constitutional authority to declare war, is the president's own constitutional power as commander in chief of the armed forces, in charge of keeping the nation secure. Here, previous presidents and the current Justice Department have laid a broad foundation for action that Congress has done little to constrain.
The only public statement the administration has made interpreting those powers was a May 31, 2018, opinion by the Justice Department's Office of Legal Counsel on authority for the April 2018 U.S. airstrikes against Syrian chemical weapons facilities.
The strikes were legal, the OLC concluded, because "the President reasonably determined that this operation would further important national interests" and that "the anticipated nature, scope and duration of the operations were sufficiently limited that they did not amount to war in the constitutional sense and therefore did not require prior congressional approval."
The Justice Department OLC did not respond to requests for comment.
The 2018 opinion, which drew substantially from an Obama-era justification for the 2011 air operations in Libya, put an attack against Iran squarely in the context of decades of U.S. military operations, including Haiti, Bosnia, Kosovo, Libya and many others, conducted without authorization from Congress.
Citing previous definitions of the "national interest," the Trump OLC opinion cited protection of U.S. people and property, assistance to allies, and the promotion of regional stability — all of which have been mentioned by the administration as U.S. goals regarding Iran.
The second test examined whether U.S. troops would be directly involved in hostilities, noting that the Clinton administration OLC, in judging the Bosnia deployment, concluded that the size and duration of operations, and the deployment of ground troops, were key tests.
In an interview last week with Fox Business host Maria Bartiromo, Trump said that "If something should happen, we're in a very strong position. It wouldn't last very long, I can tell you that. It would not last very long."
"And I'm not talking about boots on the ground, I'm not talking we're going to send a million soldiers. I'm just saying if something would happen, wouldn't last very long."
Correction: An earlier version of this story incorrectly referred to Rep. Eliot L. Engel as the chairman of the House Armed Services Committee. He is chairman of the Foreign Affairs Committee. Also, this story was updated on July 4 to provide additional information.
https://www.washingtonpost.com/world/national-security/trump-administration-lays-broad-legal-grounds-for-military-strike-on-iran/2019/07/03/739c3ef8-9d0d-11e9-b27f-ed2942f73d70_story.html?utm_term=.ed6686fdde37
--------
Israel lobby in US pushing for war against Iran: Analyst
Jul 5, 2019
The Israel lobby in the United States is pushing the administration of President Donald Trump to launch war against Iran because the regime in Tel Aviv does not want to fight Tehran itself, according to E Michael Jones, an American writer and former professor.
A new opinion poll shows that a vast majority of American voters oppose a military conflict with Iran and express support for US President Donald Trump's decision last month not to launch a military strike against the Islamic Republic.
The Harvard CAPS/Harris poll, released to The Hill newspaper on Tuesday, found that 78 percent of voters said they believed Trump's decision to call off the strike on Iran was the right move.
The survey also found that 57 percent of respondents were against military confrontation with Iran if the US was not directly attacked by the country.
"A recent poll taken in the United States says the majority of the people there supported Donald Trump's decision not to attack Iran. This has been obvious to me for years now," Jones told Press TV on Friday.
"The next question is, well if the majority of the people are against it, who is in favor of it? And the answer to that, of course, is the Israel lobby. The Israel lobby controls the Congress. It controls the president to a certain extent, and the extent is precisely what we are beginning to see now, when Trump called back the attack with about ten minutes to go. This happened because he thought 150 people would die and this was not proportionate to Iran's downing of an unmanned drone," he added.
"So the question is now that we know this, how we are going to proceed? Donald Trump has painted himself into a corner in the Middle East because of his support for Israel. Israel wants the United States to fight Iran because Israel does not want to lose any soldiers, or does not want to take the time or effort to fight Iran itself," he stated.
Tensions have been running high between the two countries since Washington's decision in May last year to abandon the 2015 Iran nuclear deal and reimpose sanctions on Tehran as part of a "maximum pressure" campaign aimed at forcing it to renegotiate a new deal that addresses its ballistic missile program and regional influence as well.
The US has also sent warships, bombers and additional troops to the region in the wake of suspicious tanker attacks in the Sea of Oman, which it has blamed on Iran without providing evidence.
Tensions between Washington and Tehran hit a new high after Iran shot down a US surveillance drone on June 20 following its violation of Iranian airspace.
The US president said a day later that he had ordered and then reversed a decision to strike Iran after the drone incident, claiming that he had learned 10 minutes before the US strike that 150 Iranians would die as a result.
Full report at:
https://www.presstv.com/Detail/2019/07/05/600234/Israel-lobby-in-US-pushing-for-war-against-Iran
--------
Iran should take tanker issue to international court: Expert
Jul 5, 2019
A political analyst from New York has advised Iranians to take the tanker issue to an international court.
Ian Williams, a senior analyst at Foreign Policy in Focus from New York, told Press TV in an interview on Friday that the Strait of Gibraltar was an international waterway and vessels from all countries had a right of passage to go through it.
Right of passage in international law gives the country's right for its ships to pass through the territorial seas of foreign states and straits used for international navigation.
"There is no international law forbidding ships to travel to Syria," Williams pointed out.
"In addition to that, the ship is flying the flag of Panama, and both Panama and Britain are signatories to the international convention of the law of the sea which has very definite procedures," he said.
Williams said that Panama was legally responsible for the ship.
"Panama should go straight to the international tribunal of the sea to seek interim measures," he said, adding that the Latin American country should take the issue of the tanker to the international tribunal on the law of the sea and complain this ship has been detained illegally.
Williams said Panama should ask the tribunal to order the UK to release it immediately.
"I suspect the British will be ordered to release the tanker," Williams said.
The senior analyst of foreign policy added that an interesting point about the incident was the outlaw US National Security Adviser John Bolton approving it.
Bolton on Thursday hailed Britain's "illegal" seizure of the Iranian oil tanker.
In contrary to senior Iranian officials, who have called for retaliatory measures against Britain in case London refuses to release the Iranian vessel it had illegally detained in Gibraltar, Williams insisted that court action was the right way to respond to the UK.
Full report at:
https://www.presstv.com/Detail/2019/07/05/600228/US-Iran-Oil-Tanker-Interview-Williams
--------
Arab World
Iraq: ISIS Sleeper Cells Revived on Demand
4 July, 2019
The ISIS terrorist organization doesn't pose a serious threat to Iraq, however, its sleeper cells are dangerous, according to Iraqi officials and security experts.
Iraqi leaders and officials still believe the military institution is capable of inflicting defeats on ISIS cells, despite warnings against the emergence of new ranks of the terrorist organization, according to a US report released this week.
The only thing ISIS is capable of doing now is to occupy the security forces and services, claims security expert Fadel Abu Raghef.
Speaking to Asharq Al-Awsat, the expert indicated that ISIS' activity will not affect official bodies' pursuit of the terrorist organization, questioning the organization's ability to affect the security given that Iraqi intelligence and military performance have developed a lot during the past years, and local community's rejection of these terrorists.
Firefighters have successfully put out a fire at a strategic oil pipeline in northern Iraq that links oil-rich Kirkuk to the Turkish port of Ceyhan, a security source told Reuters on Wednesday, adding that the pipeline is currently not operational.
The source explained that the fire started after six improvised explosive devices went off in succession in the Ain al-Jahsh village of Nineveh province's Shura sub-district, 70 km south of Mosul.
Sinjar mayor Mahma Khalil Agha warned of ISIS sleeper cells in the disputed Sinjar district between Erbil and Baghdad.
Agha said in a statement that every now and then, these cells attack farmers and Yazidi farm workers in Gohbal village, near Jari.
He added that four cars carrying armed fighters attacked farmers and Yazidi workers in the village, and the farmers thwarted the attack without any help from army units, which did not lift a finger.
The mayor called for the replacement of the army forces in the region because of their inability to control security.
He pointed out that the activities of these sleeper terrorist cells can bring back migration among Yazidis, and lead to disruption of all plans devised by the Iraqi government for the return of displaced persons to their areas.
In other news, directorate of Popular Mobilization Forces (PMF) announced the death of two ISIS elements and the destruction of four vehicles, south of Tal Afar to the west of Mosul.
PMF's "Security Media Unit" announced the death of four terrorists in a tunnel in Nineveh. The unit announced that during a pre-emptive operation, a joint force killed four terrorists who were inside a tunnel in the Sheikh Ibrahim mountain range.
https://aawsat.com/english/home/article/1797551/iraq-isis-sleeper-cells-revived-demand
--------
200 corpses found in mass grave in Syria's Raqqa
03/07/2019
Two hundred corpses, including those of people believed to have been executed by the Islamic State(IS) group, were found near the Syrian city of Raqqa, a local official and a war monitor said Wednesday.
The mass grave contained the bodies of five middle-aged men in orange jumpsuits of the kind typically worn by IS group hostages, Yasser al-Khamees and the Britain-based Syrian Observatory for Human Rights said.
"They were shackled and shot in the head," said Khamees, who heads a team of first responders.
They were believed to have been killed more than two years ago, he said, adding that his team was not immediately able to identify them.
The grave also included the bodies of three women who were believed to have been stoned to death, Khamees and the Observatory said.
"Their skulls were severely fractured and displayed signs of stoning," the local official added.
The digger said his team first discovered the mass grave early last month on the southern edges of Raqqa, the IS group's former so-called "capital" in Syria.
As many as 800 people could be buried there in total, he said.
Its discovery could help identify even more of the several thousand people whose fates remain unknown, including foreigners imprisoned by the IS group.
The IS group took full control of the city of Raqqa in early 2014 and made it the de facto Syrian capital of its infamous cross-border so-called "caliphate".
US-backed forces ousted the IS group from the devastated city in October 2017, leaving the Raqqa Civil Council (RCC) to run it.
The RCC has been retrieving bodies from the rubble across Raqqa, left in ruins by the months-long assault to oust the IS group.
In February, an exhumation team uncovered a mass grave holding an estimated 3,500 people in Raqqa's Al-Fukheikha agricultural suburb -- the largest to date.
Full report at:
https://www.france24.com/en/20190703-islamic-state-group-mass-grave-syria-raqqa
--------
ISIS Says Slain Tunis Suspect Was One of its Militants
4 July, 2019
ISIS has claimed responsibility for a suicide bomb blast in the Tunisian capital earlier this week.
A wanted militant wearing an explosives belt blew himself up in Tunis on Tuesday after being surrounded by police, the government said, but there were no other casualties.
It was the third such incident within a week and came a few months ahead of an election and at the peak of a tourist season in which Tunisia is hoping for a record number of visitors.
Two suicide bombers blew themselves up in separate attacks on police in Tunis on June 27. ISIS militants claimed responsibility for both attacks.
A passerby wounded in one of the bombings has died of injuries, bringing the death toll to two.
Interior Ministry spokesman Sofiane Zaag announced the death on Radio Mosaique on Thursday.
Full report at:
https://aawsat.com/english/home/article/1798091/isis-says-slain-tunis-suspect-was-one-its-militants
--------
Syria's war: People live in fear as assault intensifies in Idlib
by Zeina Khodr
3 Jul 2019
The United Nations has condemned the death of hundreds of Syrian civilians living in areas controlled by rebels.
The Syrian government and its Russian allies have been bombing areas in the provinces of Idlib and Hama for more than two months.
Activists say around two children are being killed every day.
Full report at:
https://www.aljazeera.com/news/2019/07/syrias-war-people-live-fear-assault-intensifies-idlib-190703111339643.html
--------
18 IS militants killed in Iraq in anti-IS operations, airstrikes
2019-07-04
BAGHDAD, July 3 (Xinhua) -- A total of 18 Islamic State (IS) militants were killed on Wednesday in operations by Iraqi security forces and airstrikes by international U.S.-led coalition aircraft, the Iraqi military said.
In Iraq's western province of Anbar, four IS militants were killed and their vehicle destroyed when paramilitary tribal fighters raided their hideout in Akashat area in the desert near the border with Syria, the media office of the Joint Operations Command (JOC) said in a statement.
Also in the province, the international aircraft carried out an airstrike on IS hideout in south of Sneislah Lake in east of the borderline with Syria, killing four of the extremist militants, the statement added.
IS militants are still active in the vast Anbar desert which stretches to the border with neighboring countries of Syria, Jordan and Saudi Arabia, as many civilians have been kidnapped or killed by the extremist group recently.
In Iraq's northern province of Nineveh, the Iraqi army carried out an anti-IS operation in Sekheirat area in west of the provincial capital Mosul, killing two IS militants and destroying their vehicle, in addition to destroying a tunnel and killing five more IS militants inside, the JOC said in a separate statement.
Separately, the U.S.-led coalition aircraft, based on intelligence reports, bombed an IS vehicle and killed three extremist militants in west of al-Munayif Mountain in a desert area near the border with Syria, a JOC statement said.
The security situation in Iraq was dramatically improved after Iraqi security forces fully defeated the extremists IS militants across the country late in 2017.
Full report at:
http://www.xinhuanet.com/english/2019-07/04/c_138196640.htm
--------
Saudi Arabia intercepts Al Houthi drones fired at Jizan airport
July 05, 2019
Cairo: Saudi-led military coalition said on Thursday it had intercepted drones launched by Yemen's Al Houthi group that were targeting Jizan airport, a statement on Saudi state media said.
Earlier, the Houthis said they carried out drone attacks on Jizan and Abha Saudi airports.
Iran-aligned Al Houthis, who are fighting in neighbouring Yemen, have repeatedly launched attacks against targets in Saudi Arabia, which is leading a coalition battling them.
https://gulfnews.com/world/gulf/saudi/saudi-arabia-intercepts-al-houthi-drones-fired-at-jizan-airport-1.1562276662555
--------
Report: US Plans Revival of ISIL in Iraq, Syria
Jul 05, 2019
The Arabic-language website of the Russian Sputnik news agency quoted Hessam Sho'aib, a Syrian military expert on terrorist organizations, as saying that a recent report by the US-based Institute for Studies of War (ISW) on rebirth of the ISIL terrorists in Iraq and Syria exposes this reality that the US Central Intelligence Agency (CIA) has created the ISIL and is preparing the grounds for the return of the terrorist groups, specially the ISIL, to the region.
Sho'aib noted that the ISW's report on ISIL's dominance over several regions in Iraq and Syria such as Mosul shows that the US is not looking for establishment of peace in the region and ISIL's retreat from Raqqa has taken place on CIA's order and not a defeat in war against the Syrian Democratic Forces (SDF).
He reiterated that the SDF is also a part of the CIA's plot for Syria, and said, "The US has come to know that it cannot conduct any kind of military operation against Iran, and therefore it has resorted to reviving the terrorist groups to carry out terrorist attacks as a much cheaper scenario for the region.
Sho'aib noted that Washington uses the terrorist groups in the region as a pressure lever, and said that the purpose for reviving the terrorist organizations is preoccupying the regional countries' armies, specially Iraq, Syria and Iran.
In a relevant development in late June, a prominent Iraqi security expert warned of the US plot to transfer the ISIL terrorists to the bordering areas with Syria in collaboration with the two countries' tribes.
The Arabic-language al-Ma'aloumeh news website quoted Hossein al-Kanani as saying that the US attempts to transfer the ISIL terrorists to the bordering areas of Iraq and Syria and build safe shelters for them through coordination with a number of tribal leaders in the region.
He referred to the recent attempts by US Ambassador to Baghdad Matthew Tueller to meet the Iraqi tribal leaders, and said other goals are also pursued by the measure, including targeting the Hashd al-Shaabi (Iraqi popular forces) and Iraqi security forces in these regions and cutting Tehran-Baghdad-Damascus-Beirut connections by taking control over the Iraqi-Syrian borders.
Meantime, a senior official in al-Qiyarah region in the Southern parts of Nineveh province said that the ISIL terrorists have increased their operations in the desert areas in the Western parts of the region under the nose of the US planes and drones that fly over the same regions.
Full report at:
https://en.farsnews.com/newstext.aspx?nn=13980414000429
--------
Regime bombardment kills 13 in Syria's Idlib
6 July 2019
The Syrian regime's bombardment of the province of Idlib killed 13 and wounded dozens, an Al Arabiya correspondent reported on Saturday.
https://english.alarabiya.net/en/News/middle-east/2019/07/06/Regime-bombardment-kills-13-in-Syria-s-Idlib.html
--------
Regime bombings kill 14 civilians in northwest Syria
July 06, 2019
BEIRUT: Syrian regime bombardment has killed 14 civilians including seven children in northwestern Syria, a war monitor said Saturday, in the latest deadly raids on the embattled opposition bastion.
Warplanes and helicopters late Friday carried out air strikes on Mahambel village in Idlib province, killing 13 civilians including the seven children, the Syrian Observatory for Human Rights said.
A woman was also killed early Saturday in regime rocket fire on the outskirts of the town of Khan Sheikhun in the south of the province, the Britain-based war monitor said.
Idlib, a region of some three million people, many of whom fled former rebel-held areas retaken by the government, is the last major bastion of opposition to the Russia-backed Damascus government after eight years of civil war.
The region on Turkey's doorstep is administered by Syria's former Al-Qaeda affiliate Hayat Tahrir Al-Sham, but other extremist and rebel groups are also present.
Idlib is supposed to be protected from a major regime assault by a September deal between Moscow and Ankara, but Damascus and its Russian ally have ramped up their deadly bombardment of the region since late April.
More than 520 civilians have been killed since then, according to the Observatory.
The United Nations says 25 health facilities in the region have been hit, the latest including the second attack in two months on an underground hospital in the town of Kafranbel on Thursday.
"The attacks happened despite the fact that the coordinates of this hospital had previously been shared with the parties to the conflict in a deliberate, carefully planned effort to prevent any attacks on it," an UN official said on Friday.
"I am horrified by the ongoing attacks on civilian areas and civilian infrastructure as the conflict in northwest Syria continues," said Mark Cutts, UN deputy regional humanitarian coordinator for the Syrian crisis.
Full report at:
http://www.arabnews.com/node/1521461/middle-east
--------
Europe
Jewish-Muslim dialogue group launched in Berlin
BY TOBY AXELROD
JULY 3, 2019
(JTA) — Jewish and Muslim entrepreneurs met in Berlin on Wednesday to launch an "an unconventional Jewish-Muslim dialogue."
Dubbed Shalom Aleikum: Jewish-Muslim Dialog, the project of the Central Council of Jews in Germany began with young business leaders having an open exchange on the issue of cultural identity and the job market. TV journalist Shakuntala Banerjee served as the moderator.
Central Council President Josef Schuster said the project aims to break down stereotypes and prevent anti-Semitism and Islamophobia.
Germany has seen a rise in anti-Semitic crimes. Although German officials report that the vast majority of anti-Semitic incidents are carried out by members of the far right, some Jewish leaders worry that anti-Semitic acts by Muslims are more widespread than believed and are being underreported.
It is not too soon to intervene, Schuster suggested.
"People who who speak to each other from the realities of their lives can approach each other without reservations," Schuster said in a media statement.
The nationwide project has the support of Minister of State Annette Widmann-Mauz, who heads Germany's Federal Commission for Migration, Refugees and Integration. The first year's events are funded with 1.2 million euros ($1.35 million), and will encompass various dialogue formats nationwide.
Speaking to a Protestant news service, Widmann-Mauz said the project was designed to break down barriers between Jews and Muslims, as well as prevent anti-Semitism and anti-Muslim sentiments from developing at an early stage.
She said she was appalled at the reported increases in hate crimes related to religion.
"This is not a situation that we want in our country," she said.
Additional Jewish-Muslim dialogue forums are planned for the coming months with teachers, athletes, students, seniors and women's groups, the Central Council's managing director, Daniel Botmann, told the news service.
https://www.jta.org/2019/07/03/global/jewish-muslim-dialogue-group-launched-in-berlin?fbclid=IwAR2UpIZqG30ypw0APufEoZ4ff_HNpNKM5Dylsry5_M6G6z7ybyFsxHwymZk
--------
France moves to make companies block hate speech online
Jul 4, 2019
French lawmakers have approved a measure that is intended to force search engines and social networks to take hate speech off the internet.
The measure adopted Thursday by the lower house of the French parliament would require social networks to remove hate speech within 24 hours of a confirmed violation. Search engines would have to stop referencing the content as well.
The provision, part of a bill on internet regulation, targets videos or messages inciting or glorifying terrorism, hate, violence, or racist or religious abuse. Violators could face hefty fines.
It prompted heated discussion in the National Assembly over how to define hate speech.
Full report at:
https://abcnews.go.com/Technology/wireStory/france-moves-make-companies-block-hate-speech-online-64135582
--------
Australia Plans to Stop Militant Fighters Returning Home
By Phil Mercer
July 4, 2019
SYDNEY - Australia is expected to introduce anti-terror laws to parliament Thursday that would ban foreign fighters from returning home for up to two years. The government has said the measures are necessary to protect Australia from extremism, but critics have insisted they would violate the rights of citizens.
The bill is based on legislation in the United Kingdom, and aims to prevent the return of Australian citizens suspected of fighting with militant groups overseas.
Ministers have said Australia needs new powers to stop them bringing their dangerous ideology home until authorities are ready to deal with them.
Under the proposed new law, they could be excluded for up to two years.
"These people want to do us harm," says Home Affairs Minister Peter Dutton. "For us, we are dealing with people who have now acquired the skill of putting together an IED [improvised explosive device], have worked with ISIL [Islamic State] and have a right to come back to our country, and we need to protect our citizens."
But critics believe the proposed legislation is unconstitutional. The Law Council of Australia said it was a 'dog's breakfast', or a mess. It insisted all citizens have the legal right to return home without permission from officials.
Helen Irving, a professor of law at the University of Sydney, believes the plans to exclude foreign fighters should be scrapped.
"All Australian citizens have a constitutional right to return to Australia without having to obtain a licence, or a clearance, from the executive [the government]. It is in the nature of Australian citizenship," she said.
This week, two men were charged with an alleged terrorist conspiracy to attack targets in Sydney. Investigators say the pair — Radwan Dakkak and Isaak el Matari, who are both in their early 20s — were influenced by Islamic State, and that el Matari had planned to travel to Afghanistan to join the extremist group. They were arrested in coordinated raids in Sydney Tuesday.
Full report at:
https://www.voanews.com/east-asia-pacific/australia-plans-stop-militant-fighters-returning-home
--------
Europe Has Turned Its Back on Its ISIS Suspects
KATHY GILSINAN
JUL 5, 2019
Samir Bougana, a 24-year-old Italian, was one of thousands of western European recruits who traveled to fight alongside the Islamic State after 2014. But he differs from all of them in one key respect: His own government is taking him home to stand trial. Bougana was captured and held for almost a year by Kurdish forces in Syria before Italy took custody of him, in a decision the State Department praised and urged other western European countries to emulate. But so far, none of them has taken one of its citizens back to face a terrorism trial for joining ISIS.
Some 2,000 suspected fighters from dozens of countries, including hundreds from Europe, languish in Kurdish detention in northeastern Syria, and the Trump administration has been pushing its democratic allies to bring them home to face justice. Although Donald Trump himself vowed during his campaign to use the prison at Guantánamo Bay—which remains open but hasn't taken in any new prisoners since 2008—and "load it up with some bad dudes," his administration's actual policy has been far more humane and measured.
Prisoner repatriation is a rare issue wherein the administration's efforts largely align with the recommendations of legal scholars and human-rights groups. Many have argued that, in democracies at least, there is no more legitimate, efficient, and secure way to handle terrorism suspects than to use the domestic criminal-justice system. They have condemned such practices as stripping citizenship, which the U.K. did in the case of the 19-year-old ISIS bride Shamima Begum, or allowing their nationals to stand trial in Iraq, which has a documented history of prisoner abuse and unfair trials, as France has done with several of its citizens.
The irony is that some western European countries, whose representatives were appalled by America's indefinite detention of terrorism suspects at Guantánamo Bay after September 11, are now by default accepting a sprawling Guantánamo in the desert.
"Europeans seem to be fine with letting their own citizens sit there," a senior State Department official, who requested anonymity to discuss the issue, told me. This official said that the U.S. was working to identify its own citizens in the custody of America's local Kurdish allies—the Syrian Democratic Forces, or SDF—and has repatriated four so far for trial. (One dual Saudi American citizen the U.S. had suspected of joining ISIS, but never brought to trial, was freed in Bahrain last year; in another case, the State Department controversially argued that an accused ISIS propagandist, Hoda Muthana, was not actually a citizen despite being born in Alabama.) But thousands of other foreign fighters—not even counting Iraqis and Syrians—are in makeshift prisons northeastern Syria.
Among democratic countries, which arguably have the best means to bring them to justice and hold them securely, there is very little interest in bringing them home to face prosecution—or even in bringing home the wives and children of ISIS fighters, who are being held separately in squalid detention centers.
A further irony is that authoritarian Central Asian countries, such as Kazakhstan, have been leading the way on repatriating their citizens from Iraq and Syria—especially women and children—and casting their efforts in humanitarian terms, Letta Tayler, a senior researcher in terrorism and counterterrorism at Human Rights Watch, told me. "Western Europe is hiding its head in the sand when it should be taking care of its citizens," said Tayler, who recently visited separate camps in northeastern Syria, where the families of suspected ISIS members are being held in conditions she described as squalid and horrifying. "If Kazakhstan can repatriate by the hundreds, surely western Europe, with far greater resources and far fewer suspects and family members … can do the same." (Tayler has written that France, for example, has brought back 17 children—but has left at least 400 people, including children, behind.)
In a rare moment of praise for a post-Soviet dictatorship, Fionnuala Ní Aoláin, the United Nations special rapporteur on the promotion and protection of human rights and fundamental freedoms, said the country was showing "much needed leadership on the critical global issue."
There are, of course, concerns that, public messaging aside, authorities in dictatorships like Kazakhstan may themselves abuse prisoners. Ní Aoláin highlighted the country's use of domestic-counterterrorism laws against religious minorities and political dissenters. Tayler says Human Rights Watch has been pushing for transparency about what happens to prisoners in custody. But the broader significance of policies like Kazakhstan's, she says, is that they expose the weakness of the western European argument that it's too difficult or dangerous to take such suspects back.
So far, Washington's pleas are being mostly ignored. For instance, in May, an Iraqi court tried seven French suspects, and handed them the death penalty after four days of hearings. Though France opposes the death penalty and had told the Iraqis so, French Foreign Minister Jean-Yves Le Drian said recently: "Those French nationals tried in Iraq for belonging to [ISIS] left their country to join the ranks of a terrorist organization which, among other things, has killed and tortured Iraqis. It's logical that they should be tried where they committed their crimes and where justice claims jurisdiction."
A U.K. official, who also requested anonymity to discuss the issue, wrote in an email: "We're continuing to explore justice mechanisms in the region and of course it's up to every country to decide what the best course of action is regarding foreign fighters in line with their national security priorities."
From the administration's perspective, the best course of action is already clear: Unless prisoners would be tortured in their home countries, they should be sent home to face trial. The United Nations Office of the High Commissioner of Human Rights has embraced a similar position, declaring that states have responsibilities toward their own nationals—and that foreign family members in particular should be repatriated unless they are to be prosecuted under international standards.
Trump himself may not have humanitarian concerns in mind when he presses Europe. He has not given the issue anywhere near the public attention that, say, Barack Obama did to closing Guantánamo. That was a much less complicated project involving far fewer people from far fewer countries, plus it enjoyed far more high-level attention from the U.S. Yet that effort remains unfinished a decade after Obama vowed to close the prison—which still holds some 40 people. Trump did, in February, call on Europeans to take their citizens back for trial, warning darkly on Twitter that the U.S. "does not want to watch as these ISIS fighters permeate Europe, which is where they are expected to go." Rather, he pointed to how much the United States had done and spent to fight ISIS, and made clear his preference to leave once the fight was over. This spring, he again accused the Europeans on Twitter of not doing enough to take back their citizens following the reclamation of ISIS territory.
In the meantime, the world's attention is flagging. Summer holidays are approaching in Europe; in northeastern Syria, Tayler points out, the season also means triple-digit temperatures where prisoners—and, at separate camps, their family members—languish in poor conditions. The Islamic State was America's top national-security priority for years; now that the group has lost its territory, it's hard to focus on what's happening in its former lands. Besides, it's always easier to draw attention to a threat than to what looks like a humanitarian problem.
There's also a limit to how much the Trump administration itself is willing to focus on the issue, given its other priorities. "If this was truly a Trump administration priority, then the signals that were coming out didn't demonstrate that to our partners," Elizabeth Dent, a nonresident scholar at the Middle East Institute who previously served as a special assistant to the special presidential envoy to the global coalition to defeat ISIS, told me. And it's difficult to predict the outcome, given the seemingly ever-shifting policy on the U.S. presence in Syria. If Bashar al-Assad's forces attempt to retake the territory held by America's Kurdish partners, for example, "this could go very badly," Dent said—not least because it would stretch the Syrian regime even more thinly to regain control of more than a third of the country and take custody of thousands of detained fighters and their families.
Full report at:
https://www.theatlantic.com/politics/archive/2019/07/trump-administration-pushes-europe-try-isis-suspects/593296/
--------
The Kosovan former fighter bringing Isis wives and children back from Syria
Kim Sengupta
July 6, 2019
Bedri Elezi fought alongside foreign jihadists during the struggle for Kosovar independence. They were fewer in numbers than the large contingent in the Bosnia conflict, but they were experienced, well-armed, and were vowing solidarity with fellow Muslims in the last chapter in the violent break-up of Yugoslavia.
Most of the foreign fighters left after intervention by Nato and the withdrawal of Serbian forces. A new nation was born and Elezi, along with most other members of the resistance, drifted back into civilian life, as the Kosovo Liberation Army (KLA), in which they had served, was disbanded.
Elezi, however, kept in touch in the intervening two decades with some of the Islamists he had got to know and watched as they sought jihad in other lands – Afghanistan, Somalia, Libya, Iraq and Syria. Some are still there, but others, including a prominent Saudi, have been killed.
Elezi began to notice that his compatriots were also journeying to join the international Islamist brigade in increasing numbers. Kosovo, a land which gained its independence with the help of western bombing and a British-led Nato force, was to provide more than 320 recruits for Iraq and Syria, the highest per head of any European nation, with many gravitating to Isis.
The surge in radicalisation followed the arrival of imams from the Middle East and some from Turkey as Elezi and a group of colleagues observed with rising concern. They tracked the movements of the clerics and the converts through their contacts among Islamists, warning the country's security agencies, some of whom were former comrades from the KLA, about what was unfolding with mixed results.
Since then Elezi, a 41-year-old businessman, has been travelling to the Syrian borders to help bring the children and wives of jihadists home. In marked contrast to other European countries, Kosovo has a stated policy of taking back fighters and their families – and has an extensive rehabilitation programme in place.
While there is continuing and acrimonious controversy about the policy of Britain on the issue of returnees – highlighted by the government's decision to ban teenager Shamima Begum from going home and stripping her of her citizenship – Kosovo recently flew back 106 children and women from Syria, the latest in a number of batches.
One of Elezi's latest missions was to track down a young boy, Alvin Berisha, who had been taken to Isis' (supposed) capital, Raqqa, five years ago, at the age of six. He had been brought there by his mother Valbona, from Italy, where the family, of Kosovar Albanian family background, had settled.
Valbona, who had adopted the name Yushra in Syria, was trying to flee the last shrinking territories of Isis with Alvin, whose name had been changed to Yusuf, and a son from a marriage with a jihadi Albanian, when the car they were in was hit in a western air strike. Alvin was seriously injured in the attack, his mother and stepbrother killed.
Elezi was asked by Alvin's father Afrimm Berisha, Valbona's former husband, to find his son. Afrimm had tried to get Alvin out of Syria before, following messages from the boy saying how frightened he was and how he wanted to get away. But all attempts had been blocked by his mother who tried to force her son to join the child fighters of Isis, "Cubs of the Caliphate", instead.
After weeks of searches, Alvin, now aged 11, was found by Elezi at the vast refugee camp at al-Hol, in northeast Syria. He remains in the camp while the process to get him home continues, through liaison with governments and aid organisations.
Elezi and his colleagues say they are prepared to help people, from wherever in the west, get back relatives from Syria and Iraq if they can.
"Each country obviously has its own laws and we don't want to break any laws, but if we can use our contacts to get people out safely then we try to help," he wanted to stress, sitting at a cafe in Kosovo's capital, Pristina.
"The government here in Kosovo has been bringing back families and we think that is the correct approach," he added.
"If you leave the young in these camps for years then you are creating people who get desperate and angry, and they can be exploited by extremists to create another generation of fighters. But as I said, each country makes up its own mind."
"At the same time we need to keep a watch on fighters who are not coming back through the government system but secretly. This is a problem not just for Kosovo but for this region and the rest of Europe.
"We know it is of concern to the UK because we have had officials from London, we think from MI6, who have been here to investigate people with links [to the UK]. This region is well known for smuggling and that is one of the worries for people in northern Europe. We cannot hide the fact that people went from Kosovo to join Isis. So we must manage the situation now."
One example of the continuing problem was illustrated by the arrest last month of a Kosovar national earlier by German police. He had been sending, it is claimed, thousands of euros to Isis members.
The man, named only as Hassan Rejan B under German laws regarding identification of suspects, has been charged with terrorist offences by prosecutors in Hamburg.
One of the more high-profile Isis commanders, Lavdrim Muhaxheri, the self-proclaimed chief of the Balkans Battalion, was from Kosovo. He appeared in a number of videos of killings, including one in which he beheaded a "spy" in Iraq, and another in which he was seen blasting a man with a rocket propelled grenade in Syria and then kicking the body parts.
Muhaxheri, from the town of Kacanik, the first staging post for Nato's British-led Kosovo Force (KFOR) when it entered the country in 1999.
He worked for Nato in Kosovo, at the high-security US base Camp Bondsteel, as a civilian employee. He later joined a training camp of the US-led International Security and Assistance Force (ISAF) in Afghanistan. The jihadi commander was reported to have been killed in an airstrike, although some in Kosovo maintain they cannot be totally sure that was the case.
"We can only be sure when we have definite evidence they are dead or those who have been brought back here with their families," says Elezi.
"Muhaxheri may be dead, but there are others, meant to be dead, who may actually be alive."
A 21-year-old woman who lived with Valbona and Alvin in Raqqa is now back in Kosovo under the rehabilitation scheme. An Isis fighter she married in Syria is in jail in neighbouring Albania.
The woman, who does not want to be named because she fears for her safety, is living with her family in a town outside Pristina under house arrest. Sitting under a tree in the sunny garden of the home, she looked at photographs of Alvin that Elezi has brought back from the Syrian camp.
"I am so glad that he is alive, he never wanted to be there, he was very nervous, upset and wanted to go home. He has had a really bad time and he needs to be taken care of," she says.
The young woman wore a niqab hiding her body and face. None of the other female family members sitting around her were dressed in the same way. The grandmother wore a headscarf just partially covering her hair.
"She is the prettiest of my daughters, but no one can see that of course, because of the way she is dressed," the young woman's father wanted to point out.
Full report at:
https://www.independent.co.uk/news/world/europe/isis-kosovo-syria-camps-al-hol-bedri-elezi-a8988846.html
--------
British marines seize tanker suspected of carrying Iranian oil bound for Syria
By Liz Sly
July 4, 2019
BEIRUT — British Royal Marines in fast boats and helicopters on Thursday seized a supertanker suspected of carrying Iranian oil to Syria near the Mediterranean peninsula of Gibraltar, the first such detention of a ship under the terms of European sanctions targeting supplies to Syria.
The delivery appeared to violate European Union and U.S. sanctions on oil deliveries to the Iran-allied Syrian government. But suspicions that the oil originated in Iran could also aggravate the tensions between Western countries and Tehran that erupted after recent attacks on shipping in the Persian Gulf.
The Grace 1 tanker was seized after Gibraltar received information that offered "reasonable grounds" to conclude that the vessel was likely to be delivering oil to Syria in breach of E.U. sanctions on that country, according to a statement from the government in Gibraltar, which is indirectly ruled by Britain.
The Royal Marines assisted Gibraltar authorities to board the ship in the early hours of Thursday and detained the vessel and its cargo, the statement said. A British Defense Ministry spokeswoman said 30 British marines boarded the ship from boats and a helicopter after a request by Gibraltar, which lies along the coast of Spain at the mouth of the Mediterranean.
Gibraltar did not disclose the origin of the oil. The vessel is registered in Panama and owned by a Singapore-based company.
But Iran is the only nation known to be seeking to supply oil to Syria in defiance of an E.U. embargo as well as strict new U.S. sanctions targeting oil deliveries to Syria that have contributed to severe fuel shortages in government-held areas of the country.
The Reuters news agency said it had reviewed shipping data that suggested the tanker had been loaded with Iranian oil off the coast of Iran. The ship's documents, however, say the oil is from neighboring Iraq, Reuters said.
This is the first time a European country has sought to impound deliveries of fuel to Syria, which has been subjected to E.U. sanctions since the ongoing conflict there erupted in 2011. Iran has regularly supplied fuel to President Bashar al-Assad's regime throughout the war, as part of Tehran's effort to sustain his hold on power.
Gibraltar said the oil was destined for Syria's Baniyas refinery on the Mediterranean coast. As a government-owned entity, it was added to the E.U. sanctions list in 2014. Some European diplomats questioned, however, whether the sanctions could be legally applied to third countries and not just E.U. member states.
The U.S. sanctions imposed in November went further than the E.U. measures, targeting shipping owners and insurers associated with oil deliveries to Syria as well as the suppliers. They prompted a dramatic curtailment of Iranian supplies earlier this year and acute shortages of fuel, which prompted widespread grumbling among Syrians.
The supertanker had apparently made a circuitous journey from Iran around the Cape of Good Hope in Africa to the Mediterranean to avoid traversing the Suez Canal, the route previously taken by tankers sailing between Iran and Syria. Egyptian authorities detained a ship carrying Iranian oil to Syria at the canal earlier this year, and although Egypt has said the seizure was unrelated to the U.S. sanctions, Syria has said it suspects it was.
The Gibraltar incident could trigger new tensions between Britain and Spain over the peninsula's status. Speaking in Madrid on Thursday, Spain's acting foreign minister, Josep Borrell, said Spanish authorities were "looking into how this [operation] affects our sovereignty."
Full report at:
https://www.washingtonpost.com/world/middle_east/british-marines-seize-tanker-suspected-of-carrying-iranian-oil-bound-for-syria/2019/07/04/681458d2-9e65-11e9-83e3-45fded8e8d2e_story.html?utm_term=.bcdd893a4014
--------
Two Bosnians jailed for plotting Islamist attack on state police
JULY 4, 2019
SARAJEVO (Reuters) - Bosnia's state court on Thursday sentenced two radical Islamists to four and 2-1/2 years respectively in prison after convicting them of plotting a terrorist attack on security police.
Maksim Bozic, an Orthodox Serb convert to Islam, and Edin Hastor, a Bosniak Muslim, both members of the ultra-conservative Salafi movement, were found guilty of cooperating with unnamed persons in obtaining weapons and explosive device.
Prosecutors said the pair planned an attack on the headquarters of the State Protection and Investigation Agency in Sarajevo and the interior ministry of the northern canton of Tuzla.
They were arrested in 2018 and police seized grenades, automatic weapons, combat vests and other military equipment.
The great majority of Bosnia's Muslims are moderate but some have adopted radical Salafi Islam under the influence of foreign fighters who came to the country during its 1992-95 war to fight alongside Muslims against Orthodox Serbs and Catholic Croats.
Full report at:
https://www.reuters.com/article/us-bosnia-court-islamists/two-bosnians-jailed-for-plotting-islamist-attack-on-state-police-idUSKCN1TZ16J
--------
New European Parliament should proscribe all of Hezbollah
BY LIAM DUFFY
4 JULY 2019
In recent years Europe has been subject to an unprecedented terror threat which has destabilised our societies and left blood in the streets of towns and cities across the continent. Yet a policy of appeasement towards the world's most capable and potentially dangerous terrorist organization is endangering Europeans across the continent and beyond, orchestrated by a country Europe still seeks to appease, in the form of Iran.
The Sunni Jihadists of al-Qaeda and Islamic State have certainly been responsible for more casualties and have been able to amplify their message in the media most effectively. However, it is the more calculated and insidious long-term threat from the Lebanese Shiite extremists of Hezbollah which Europe must now (re)awaken to.
The European Union currently designates the 'military wing' of Hezbollah as a terrorist group but not the 'political wing'. It is true that Hezbollah is simultaneously one of the largest parties in the Lebanese parliament and an active terrorist and criminal enterprise – but the distinction is a false one which exists only in the imagination of European policymakers.
Although there are functional divisions and councils responsible for different areas of Hezbollah's complex and myriad operations, all wings report directly to the same leadership council under Hassan Nasrallah, Hezbollah's Secretary-General – a structure not unlike any other large-scale operation in business or government.
Even top Hezbollah officials have publicly rejected any separation between the group's activities, with Hezbollah deputy Sheikh Naim Qassem telling a Lebanese newspaper: "Hezbollah's secretary-general is the head of the Shura Council and also the head of the Jihad Council, and this means that we have one leadership, with one administration."
Despite proving a threat since the 80s, fear of complicating relations with Lebanon and provoking Iran, means the EU has avoided designating the entire organisation as a terrorist group. Yet the United States, Canada, the Netherlands and more recently the United Kingdom have shown that it is possible, and entirely legitimate, to adopt this very action. If the EU now refuses to do so, then it must explain why.
In the 1980s Hezbollah attacked a number of European targets, including French military bases and diplomatic targets in the Middle-East, as well as killing civilians at shopping centres and restaurants in mainland France and Spain. They have historically carried out violent acts on European soil that Iran may wish it could have but can't be seen to.
In the Syrian Civil War, Hezbollah has proven one of the most effective and capable fighting forces at the disposal of the brutal Assad regime in Damascus, participating in human rights abuses against Syrian civilians and losing up to 1,500 fighters in the conflict. They have been on the opposing side of Europe in this and other conflicts, supporting a regime the European Commission completely withdrew its support for.
On the continent itself, Hezbollah's terror attacks have declined somewhat since the 1980s but there can be no doubting their strength, particularly with Tehran's backing. German officials have estimated that up to 900 operatives are active in Germany, and earlier this month it was revealed that British security services had uncovered a Hezbollah 'bomb factory' in 2015 on the outskirts of London.
Despite the relative lull in attacks against Europeans, Hezbollah has still not shied away from attacking Israelis in Europe, including the bombing of an Israeli tourist bus in Bulgaria in 2012, killing 5 Israelis and the driver.
The new European Parliament has an opportunity to listen to Hezbollah themselves and end the fantasy that there are distinctive political and military organisations.
Full report at:
https://reaction.life/new-european-parliament-should-proscribe-all-of-hezbollah/
--------
Sydney terror raids: police allege man said he was the commander of Isis in Australia
4 Jul 2019
The self-declared commander of Islamic State in Australia was a teenager when he began telling his followers "we are terrorists", sought out guns and explosives and tried to set up a stronghold in the Blue Mountains, police allege.
Isaac El Matari, now 20, was one of three men arrested in Sydney this week during counter-terrorism raids. He was charged on Wednesday with being an Isis member, planning a terrorist attack and preparing for a hostile incursion into a foreign country.
Matari had declared himself "the general commander of IS in Australia" and told other persons of interest "we are terrorists", court documents state.
Counter-terrorism investigators allege he had "answered the call of war" and spoke of "sacrificing himself" for Isis.
The Greenacre man was allegedly planning on travelling to Khorasan province – an Isis stronghold in Afghanistan. His preparations allegedly included obtaining an Australian passport and visiting the Pakistani consulate to obtain a visa, police allege.
At Penrith's Flight Centre he allegedly purchased a ticket for a flight to Islamabad via China. He would then be smuggled across the border into Khorasan province and, once there, get his hands on a rifle, authorities believe.
But Matari's plots were also focused on Australia, according to court documents.
He was allegedly trying to import guns and TNT explosive and had collected United States army uniforms at an undisclosed location.
He is accused of planning to "create a stronghold in the Blue Mountains" and operate a contingent of Isis fighters, and choosing locations in Sydney to conduct guerrilla-style terrorist attacks.
AFP assistant commissioner Ian McCartney earlier this week said the plot was in the "early stages" of planning and targeted police stations, defence establishments, embassies and consulates, councils, courts and churches in Sydney's CBD.
Matari did not appear at Parramatta local court on Thursday and his lawyer did not apply for bail. Two of his friends turned up but did not speak to media as they hurried from the court.
A day earlier, one of the men also sat in the public gallery of Bankstown local court when Matari's co-accused, Radwan Dakkak, appeared.
Dakkak, 23, was arrested in the same raids and also charged with being a member of a terrorist organisation.
When the prosecutor on Wednesday named that organisation as "Islamic State" the alleged terrorist smiled to supporters and raised his eyebrows. A group of young men smiled back.
Court documents allege Dakkak "knowingly" joined Isis in mid-December.
Detectives say Dakkak, from Toongabbie, is "prominent in the global online extremist community". He did not apply for bail.
Full report at:
https://www.theguardian.com/australia-news/2019/jul/04/sydney-terror-raids-police-allege-man-said-he-was-the-commander-of-isis-in-australia
--------
Turkey to receive 1st shipment of Russian S-400 defense system Sunday: Report
Jul 5, 2019
The first shipment of Russian S-400 air defense systems to Turkey are set to be delivered to the NATO member country next week, Turkish media say.
The initial S-400 delivery will be made on two cargo planes departing from a Russian military air base on Sunday, privately-owned Haberturk TV reported Friday, adding that a Russian technical team tasked with overseeing the system's installation is also due to arrive in Turkey by Monday.
This comes amid Washington's threat that Turkey will be subjected to sanctions when the Russian air defense missile system ordered by Ankara are actually delivered to its NATO ally.
Turkey and the US have been at loggerheads over Ankara's decision to purchase the S-400s, which Washington claims are not compatible with defenses of the NATO military alliance and would also compromise American F-35 fighter jets, which Turkey has purchased and also helps build.
This is while Washington has further begun the process of formally expelling Turkey from the program for developing F-35s, built by Lockheed Martin Corp.
Turkish President Reecep Tayyip Erdogan described US refusal to deliver the F-35 stealth fighters to Ankara as "robbery" in reported remarks he made Wednesday on a visit to China.
"If you have a customer and that customer is making payments like clockwork, how can you not give that customer their goods? The name of that would be robbery," Erdogan was quoted by Turkey's English-language Hurriyet Daily News as saying during a press briefing in China.
He was reportedly reacting to statements by US officials about Washington's intent to impose sanctions on Ankara and remove it from an F-35 development program if Ankara does acquire the S-400 defense system.
The Turkish president further underlined that his country had so far paid 1.4 billion dollars for the F-35s and received four out of 116 jets, with Turkish pilots traveling to the United States for training.
"We have made an agreement to buy 116 F-35s. We are not just a market, we are also joint producers. We produce some of the parts in Turkey," Erdogan added as quoted in the report.
Full report at:
https://www.presstv.com/Detail/2019/07/05/600210/Turkey-Russia-S400-missile-defense-system-US-sanctions-Haberturk-TV
--------
Putin blames NATO for destruction of Libya, warns about flow of terrorists from Syria
Jul 5, 2019
Russian President Vladimir Putin says the US-led NATO military alliance is to blame for the destruction of Libya, warning that the situation there was deteriorating as more and more militants are moving from Syria into the North African country.
Speaking at a joint press conference with Italian Prime Minister Giuseppe Conte in Rome, Putin said it is important to recall how the chaos unfolded in Libya.
"Do you remember who destroyed Libya? It was a NATO decision. It was European aircraft that bombed Libya," he said.
The North African country has plunged into a civil war since longtime ruler Muammar Gaddafi was toppled and killed after an uprising and a NATO military intervention in 2011.
Putin said that "it is necessary to stop the bloodshed as soon as possible. It is necessary to start dialogue as soon as possible."
"I do not think that Russia needs to be the main contributor to a resolution of the conflict. Let's ask those who created the problem," he added.
Putin also expressed concern about the flow of terrorists into Libya from Syria's northwestern province of Idlib, a situation which he described as "very threatening."
Gaddafi's ouster created a huge power vacuum in Libya and led to the emergence of numerous militant outfits, including the Daesh terrorist group.
"We need to work with our EU friends to maintain dialogue with all parties in Libya in order to help the Libyan people restore the functioning of their institutes," said the Russian leader.
Italian Prime Minister Giuseppe Conte also called on the international community to unite and help all the involved parties in Libya come to the negotiating table and reach a ceasefire.
Full report at:
https://www.presstv.com/Detail/2019/07/05/600196/Libya-Russia-chaos-NATO-Syria-Idlib
--------
Uighur Turks stage anti-China protest in Brussels
Dursun Aydemir
05.07.2019
BRUSSELS
Nearly 100 Uighur Turks on Friday gathered in front of the European Parliament in Brussels to protest against China and its East Turkistan policies.
The representatives of Turkish and Azerbaijani NGOs also attended the protest, which was organized by Uighur Human Rights Project.
The protesters chanted slogans against China while unfurling banners: "China stop genocide", "Save Uighurs".
The protest lasted around two hours under intense security measures of the police.
China's Xinjiang region is home to around 10 million Uighurs. The Turkic Muslim group, which makes up around 45% of Xinjiang's population, has long accused China's authorities of cultural, religious and economic discrimination.
Full report at:
https://www.aa.com.tr/en/europe/uighur-turks-stage-anti-china-protest-in-brussels/1524333
--------
Anti-Islam activist Tommy Robinson found in contempt of court
July 5, 2019
Anti-Islam activist Tommy Robinson faces up to two years in jail after being found in contempt of court by the UK High Court. He was found guilty of filming and then sharing online footage of defendants facing sexual exploitation charges arriving in court. He denied the charges.
Robinson, also known at Stephen Yaxley-Lennon, was found to have "aggressively" confronted the defendants and to have breached reporting restrictions.
"In our judgement his conduct amounted to a serious interference with the administration of justice," High Court judges said in their rulings.
Richard Furlong, representing Robinson, said Robinson was facing the charges "because of who he is" and his political opinions.
The Facebook livestream on May 25 2018 lasted 90 minutes and was viewed 250,000 times online. He was originally jailed for 13 months after being found in contempt of court but his sentence was overturning after two months inside by the Court of Appeal in August 2018.
However, the Attorney General said in March proceedings would recommence because it was in the public interest.
A founder of the far-right English Defence League – although he has since left - he has attracted repeated controversy for his outspoken views against Muslims.
Robinson stood as an independent candidate to become a member of the European Parliament for north west England in May but was not elected.
Full report at:
https://www.thenational.ae/world/europe/anti-islam-activist-tommy-robinson-found-in-contempt-of-court-1.883059
--------
Legal action launched against Apple in bid to ban hate app
Nicky Harley
July 5, 2019
A pan-European anti-extremism campaign is launching legal action against Apple over its hosting of a radical hate app linked to the Muslim Brotherhood.
At a special conference in Paris, a group of British and French politicians joined anti-extremism think tanks to call on a blanket ban on the Euro Fatwa App.
The hate app, which was launched in April, was created by the European Council for Fatwa and Research, a Dublin private foundation set up by Yusuf Al Qaradawi, spiritual leader of the Muslim Brotherhood.
Touted as a guide to help Muslims adhere to Islam, critics including Germany's security service say the app is a radicalisation tool.
It contains an introduction by Al Qaradawi, now 93, in which he makes derogatory references to Jews while speaking about historic fatwas.
It also claims European laws do not have to be obeyed if they contradict Islamic rules.
Despite Google immediately pulling the app from its platforms, Apple has continued to allow the free app to be downloaded.
On Friday, Apple faced heavy international criticism to remove it.
Ghanem Nuseibeh, chair of Muslims Against Antisemitism, said: "We really have had enough of turning a blind eye on such incitement.
"So in the public interest we have instructed our legal teams to start legal proceedings against all those hosting the app. We will spare no efforts to ensure the app is no longer legally available. We are calling on the government's in Europe to ban the app.
"Our legal team are looking at all legal options including injunctive relief against those facilitating the app."
French politician Nathalie Goulet has presented a report to France's Interior Minister on the app.
"We want to take political action in our shared desire to ban this," she told the congregation at the Palace du Luxembourg.
"All the governments in the world are saying they want to cut financing of terrorism but not enough is being done.
"Whilst someone like Qaradawi can be banned physically nonetheless he has been able to enter these places digitally."
The consortium are travelling to Dublin, where the legal action will be lodged, to urge for immediate action to be taken.
British MP, Ian Paisley said: "We are travelling to Dublin and speaking to the authorities to highlight how easily these treacherous and terrible things can arise in their jurisdiction and how they need to be more vigilant."
He has written to British banks to block the finances behind the app.
Ms Goulet said they have "absolutely no doubt" that this is being financed by a criminal network and it needs addressing.
Haras Rafiq, former CEO of think tank Quillam, said: "This is an Islamist supremacist app.
"Without groups like this who are affiliated to the Muslim Brotherhood there would be no Al Qaeda, no ISIS and we would not have Islamist terrorism.
"The organisation behind the app even though it is in Dublin, comes from the UK and was set up by Qaradawi. In 2004, 2,500 Muslim academics called him a Sheikh of Death in a letter to the UN.
"There are seven stages of radicalisation. This app takes everybody through the first six stages of behavioural radicalisation.
"If Apple is serious about stopping the next ISIS group they have to get rid of this app."
Apple has been approached for a comment, it previously told the National that while the app was available for download it was not promoting it in its store.
"We are reviewing Euro Fatwa again for possible violations of our guidelines and, if we find content that violates our guidelines and is harmful to users, we will notify the developer and may remove it from the store," an Apple spokesman said.
Al Qaradawi, who lives in Qatar, is banned from the US, UK and France for his extremist views.
The UK government has previously criticised those making the app available for download, saying it will take tough action on social media companies that help to promote hate.
So far no country has banned the app because they are only able to put sanctions in place against social media companies.
Fiyaz Mughal, of Faith Matters, said: "There are a whole range of people here who are saying the values we hold dear in Europe are under attack.
"The kind of values the Euro app has been pushing are the type of poison we have seen with Al Muhajiroun in the uk.
"We know from the UK experience they have produced some of the most violent extremists who have been exported globally. "These groups are now battling for hearts and minds, their version of Islam is a twisted version and we must not allow that to happen." At one point last month, the Euro Fatwa App was ranked 55th in the German App Store.
The specialist report has used evidence from the National's investigations into the Muslim Brotherhood.
The report states: "Although Qaradawi has chosen not to be the supreme chief of the Muslim Brotherhood, he is nonetheless its undisputed leader,taking Qatar as a starting point for controlling minds and coordinating positions among the branches of the organisation in different countries.
"Qaradawi's speeches have always been inflammatory and called for armed jihad."
Mr Paisley has renewed calls for the British government to ban the Muslim Brotherhood.
Full report at:
https://www.thenational.ae/world/europe/legal-action-launched-against-apple-in-bid-to-ban-hate-app-1.883057
--------
URL: https://www.newageislam.com/islamic-world-news/kept-ignorant-ulema-quranic-instruction/d/119104
New Age Islam, Islam Online, Islamic Website, African Muslim News, Arab World News, South Asia News, Indian Muslim News, World Muslim News, Women in Islam, Islamic Feminism, Arab Women, Women In Arab, Islamophobia in America, Muslim Women in West, Islam Women and Feminism