New Age Islam News Bureau
9 Jun 2014
Pakistani troops take position with an armoured vehicle at the Karachi airport terminal after the terrorist attack. (AFP photo)
--------
Pakistan
• Karachi Airport Attack: Well-Trained Taliban Tried To Hijack Passenger Planes, 28 Killed
• Pakistan: 23 Shia Pilgrims Killed, Banned Jaish-Ul-Islam Claims Responsibility
• Pakistani Taliban Network Open To New Alliances
• Rulers' steps to trigger exodus from Fata: Jamaat-e-Islami chief
• Imran Khan playing politics of hatred, provincialism: Pervaiz
• Two alleged target killers killed in Peshawar
• Sharifs running country like personal estate: Imran
• Taliban claim responsibility for attack on Karachi airport
Southeast Asia
• Muslim Dad Irrelevant in Daughter's Bid To Prove Hindu Faith, Say Shariah Lawyers
• Proposed Laws Won't Interfere With Position of Islam, Malays, Says Unity Council
• Non-Muslims should ask right questions about Hudud first, says academic
• Body of Muslim convert taken away during Chinese funeral ceremony
Europe
• Imam Recites Quran for the First Time in the Vatican
• Berlin prayer house unites Jews, Christians, and Muslims
• Rift Deepens in Britain over Claims of School Infiltration Plot by Islamic Extremists
• Geo ban a politically motivated attack on freedom of expression: PJA UK
• Syria becoming another Somalia, warns Brahimi
• HRW: Death of Palestinian Teenagers May Be Israeli War Crime
• French FM's Statements Reflect Collusion with Terrorists
Arab World
• Sisi Says No To Reconciliation with Islamists
• 45 dead in clashes between Syria Jihadists: activists
• Twin bombing near Kurdish party office in north Iraq kills 30
Suicide truck attack kills 14 in northern Iraq: Official
• Honesty, not 'shining' hopes, will form our social contract, says El-Sisi
• Two Saudis among Takfiri Militants Killed in Iraq's Samarra
• Syria's Assad announces 'general amnesty': state TV
• Saudi Crown Prince: kingdom will stay Egypt's 'loyal brother'
South Asia
• Religious extremists kidnapping youth for "irreligious acts," says MDP
• 18 Taliban militants killed, 19 others arrested in Afghan operations
• Presidential election: Ethnic divide comes into play in Afghan runoff
• Qaisar set Pak army on pro-liberation man
Africa
• Nigeria: Military Foils Attack by Female Suicide Bomber - Spokesperson
• Libyan court rules PM's appointment 'illegal'
North America
• Israel no longer a cause that unifies US Jews
• Overseas Baloch group to struggle for rights within federation
• US capable of targeting Qaeda in Pakistan: Kerry
• Guantanamo prisoners set to leave amid exchange furore
• US media accuses Russian secret service for Snowden's leaks, cites mysterious ex-KGB officer
India
• India-Pak verbal duel after Karachi airport siege
• Modi govt to make special efforts for dignified return of Kashmiri Pandits
Mideast
• Abbas, Peres call for peace at Vatican ceremony attended by Pope
• Israel backs law to block Palestinian prisoner releases
• Two Israelis charged over racist, anti-Arab vandalism
Compiled by New Age Islam News Bureau
URL: https://www.newageislam.com/islamic-world-news/new-age-islam-news-bureau/karachi-airport-attack--well-trained-taliban-tried-to-hijack-passenger-planes,-28-killed/d/87433
------------
Pakistan
Karachi airport attack: Well-trained Taliban tried to hijack passenger planes, 28 killed
Reuters | Jun 9, 2014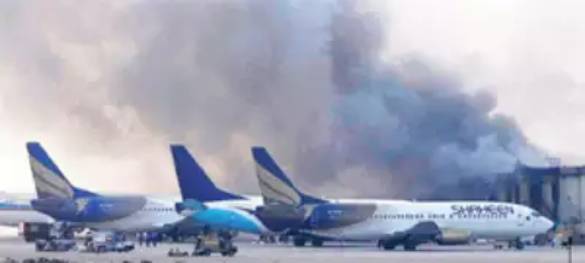 28 dead in Karachi airport assault
-------
ISLAMABAD: Their backpacks stuffed with food and ammunition, a squad of highly trained Taliban fighters attacked Pakistan's biggest airport in what they clearly expected to be a protracted siege.
Seven fighters were shot dead by Pakistani forces after five hours of intense gunfire at Karachi's Jinnah International Airport. Three died after detonating their suicide-bomb belts.
The Pakistani Taliban said they carried out the attack in response to air strikes in their strongholds near the Afghan border and that their mission was to hijack a passenger plane.
"The main goal of this attack was to damage the government, including by hijacking planes and destroying state installations," said Shahidullah Shahid, a Taliban spokesman.
"This was just an example of what we are capable of and there is more to come. The government should be ready for even worse attacks."
At least 28 people, including 10 militants, were killed.
In a similar well-coordinated attack in 2011, militants besieged a naval base in Karachi to avenge the killing of al Qaida leader Osama bin Laden in a secret US special forces operation that year.
The latest assault started just before midnight on Sunday.
Wearing airport security force uniforms and armed with automatic rifles and rocket-propelled grenades, the group shot its way into the airport after arriving at the cargo terminal in two mini-vans.
A senior police officer said that the militants then split into two groups, with one attacking a gate called Fokker to create a diversion and the other storming the cargo terminal.
Another senior police officer, Raja Umar Khattab, told Reuters that the attackers then broke into groups of two and pressed ahead with the assault.
"They operated in pairs. That's why their bodies were found lying in pairs," he said. "It seems there was some ill-planning on their part. They did fire two rockets but they didn't hit their targets."
He added: "They wasted 10 men, but couldn't inflict serious damage on the airport. They didn't wear suicide vests, but instead used suicide belts. This is the reason why their faces and upper bodies were not badly mutilated."
DRIED FRUIT AND WATER
The plan was to make it to the nearby passenger terminal but their advance was disrupted by the unexpectedly strong resistance of security forces including paramilitary Rangers.
A protracted gunbattle followed as the militants took up positions around the cargo terminal. All passengers were quickly whisked away from the airport and flights were diverted as the gunbattle unfolded through the night.
"The militants were not able to achieve their target of hitting the aeroplanes as they were kept engaged by the security forces, as forces responded very quickly," said a security source.
He said the militants were highly trained and carried large backpacks filled with dried fruit and water, suggesting they were in for a long siege.
The official said all the attackers were wearing similar running shoes - a trademark feature for Taliban insurgents. Bearded, gun-toting militants wearing camouflage and simple trainers are a common fixture of Taliban propaganda videos.
"It would have been much more disastrous if the militants had reached the main terminal building and taken hostages. There were hundreds of passengers and staff members present at the main terminal at the time," the official said.
Two international flights, operated by Emirates and Thai Airways, were boarding passengers at the time of the attack.
Parts of the terminal were set ablaze but it was unclear if insurgents had intentionally set it on fire.
Heavy smoke billowed into the sky well into Monday when officials announced the siege was over and that the airport would resume operations at 4pm. (1100 GMT)
http://timesofindia.indiatimes.com/world/pakistan/Karachi-airport-attack-Well-trained-Taliban-tried-to-hijack-passenger-planes-28-killed/articleshow/36303568.cms
-------------
Pakistan: 23 Shia pilgrims killed, banned Jaish-ul-Islam claims responsibility
Quetta | June 9, 2014
At least 23 Shia pilgrims returning from Iran were killed when militants attacked their buses in Pakistan's troubled Balochistan province, officials said.
The attack took place on Sunday when 10 buses carrying the Shia pilgrims stopped at a hotel in Taftan near the Iranian border.
Four of the attackers were killed by Levies forces after heavy exchange of fire, Home Minister Mir Sarfaraz Bugti, told reporters.
"As soon as the pilgrims came out of the buses to go to the hotel first a group of militants first opened indiscriminate fire on them and also threw hand grenades before rushing into the hotel and taking refuge there," Bugti said.
He said 23 pilgrims were killed as a result of the firing and the attackers also blew up the buses.
A banned outfit Jaish-ul-Islam claimed responsibility for the attack, the Express Tribune reported.
A purported spokesman for the group, Azam Tariq, called Quetta-based journalists from an undisclosed location to claim credit for the deadly attack.
The home secretary of the province, Akbar Durrani confirmed to PTI that security forces were able to overpower the attackers after a few hours of heavy exchange of gunfire as the masked militants had come heavily armed and prepared for a siege.
"The bodies of the pilgrims are being shifted to hospitals and the injured are also getting treatment," Durrani said.
"There were explosions after the buses were parked outside the hotels where the pilgrims were going to stay overnight before they commenced their journey back the following day," Durrani said.
Two devastating bombings in Quetta killed nearly 200 Shias last year and were claimed by banned Sunni extremist group Lashkar-e-Jhangvi (LeJ) which has links to al-Qaeda.
While in January, a blast on a bus carrying pilgrims from Iran killed some 22 people in Mastung area of the province.
Leading Shia organisations have announced they would hold countrywide protests and sit-ins against the attack.
http://indianexpress.com/article/world/asia/pakistan-23-shia-pilgrims-killed-banned-jaish-ul-islam-claims-responsibility/
------------
Pakistani Taliban network open to new alliances
World Bulletin / News Desk
Jun 9, 2014
In a bid to overcome divisions within its network, the main Pakistani Taliban group has announced it is prepared to work with former rivals in northwestern North Waziristan province, a spokesperson said on Monday.
Tehrik-e-Taliban Pakistan (TTP) spokesperson Shahidullah Shahid said in a press release that it was willing to co-operate with the Hafiz Gul Bahadur group, who had previously held an alliance with the government since 2007, against a "common enemy."
"The army has been carrying out air strikes not against us but against the innocent civilians of North Waziristan," said Shahid, claiming that the TTP does not have any hideouts or bases in the region.
The Hafiz Gul Bahadur, who reportedly has a trained force of 3,000 militants, abandoned a peace agreement with the security forces in May. They said they were protesting against recent air strikes in North Waziristan which the government says killed 130 militants but locals say mostly killed civilians.
The army has given North Waziristan tribal leaders 15 days to oust "foreign militants" hiding in the region or prepare for further air strikes.
Shahid said the TTP was still ready for peace talks with the government but that attacks on security forces would continue until a permanent ceasefire was agreed.
Shahid has already claimed the TTP was responsible for an attack on Karachi International Airport that killed 30 people, including ten militants, on Sunday night. He said the audacious attack was revenge for the killing of the network's former chief Hakeemullah Mehsud in a U.S. drone strike in November 2013.
"Attack on Karachi airport had been finalized before the ceasefire, however it was deferred as the TTP fully complied with the ceasefire," he said, referring to a 40-day Taliban ceasefire with security forces that ended in April.
The TTP conceded a major blow two weeks ago when the powerful Mehsud group, which led 40 per cent of the network's fighters, parted with the TTP and elected its own chief.
http://www.worldbulletin.net/todays-news/138558/pakistani-taliban-network-open-to-new-alliances
------------
Rulers' steps to trigger exodus from Fata: Jamaat-e-Islami chief
June 09, 2014
PESHAWAR - It will be impossible to bring tribesmen back to the country once they migrate to Afghanistan and the federal government will be fully responsible for it, as certain steps by the rulers in Islamabad will trigger exodus, said Jamaat-e-Islami (JI) Ameer Sirajul Haq on Sunday.
"Instead of pushing tribal people to the wall, let's give them place in heart. Forcing the tribal people to go across the boarder is equal to benefiting anti-Pakistan elements," he warned. All institutions come under the federal government and, thus, it would be responsible if tribesmen migrate to Afghanistan, he added.
Sirajul Haq said this while addressing a congregation of his party's office bearers held here at Almarkazi Islami, the provincial headquarters of the JI.
Premier Nawaz Sharif has been saying time and again that certain elements were creating hurdles in the restoration of peace. "So, I demand of the prime minister to disclose names of the elements which want to sabotage peace talks," the JI Ameer said.
The federal government must announce Rs 100 billion developmental budget for FATA to ensure basic facilities there, besides establishing schools, colleges, universities and roads, he explained.
"We will visit each city soon after Ramazan to contact people and apprise them of their rights. The JI is a global movement. We will get youth united, besides educating women and students about their rights. The divided communities and sects will also be take on board and finally a revolution will be brought in the country through a democratic way," he remarked.
The nation has given chance to all political parties, even military dictators, to rule the government but all of them failed totally. "Today, we have no expectation from the ruling PML-N, as it seems unable to get people's problems resolved," Haq said, adding if the government cannot bring normalcy in Balochistan, how can someone expect from it that it will handle the whole country.
He asked the federal government to pay Rs 375 billion to Khyber Pakhtunkhwa in head of net hydel profit immediately under AGN Qazi formula.
He expressed sorrow that the federal government did not fulfil its own promise to disburse Rs 6 billion annually to the province in head of the net profit, which he termed regrettable.
JI POST-BUDGET SEMINAR ON 11TH
Staff reporter from Lahore adds: The Jamaat-i-Islami is organising a post budget seminar at Mansoora on June 11th.
Eminent economist Dr Salman Shah, former Member, FBR, Sarfraz Ahmed Khan, agriculture expert Ghulam Abbas Jalvi, Engineer Akmal Javed, President Business Forum Punjab Samiullah Butt, Prof Dr Mian Muhammad Akram, and Dr Farid Ahmed Piracha, will address. JI Secretary General, Liaquat Baloch will preside.
Meanwhile,Shabab e Milli, the youth wing of JI is organising a seminar on the World Blood Donors Day on June 14th, in order to create awareness among the people about the need and benefits of blood donation for public health.
Punjab Governor Ch Muhammad Sarwar will chair the seminar at which provincial Adviser for Health Khawaja Salman Rafiq will be the chief guest.
http://www.nation.com.pk/editors-picks/09-Jun-2014/rulers-steps-to-trigger-exodus-from-fata-ji-chief
------------
Imran Khan playing politics of hatred, provincialism: Pervaiz
June 09, 2014
ISLAMABAD: Minister for Information and Broadcasting Pervaiz Rashid on Sunday said Imran Khan is playing the politics of hatred and provincialism.
In a statement, he said Imran's allegations on Punjab for taking major chunk of development projects reflects not only his ignorance of the facts but also lack of basic knowledge about the scheme of allocations of funds to the federating units. He said that more than 52 percent is allocated to provinces in annual federal budget as per 7th NFC formula. He said that the provinces were enjoying autonomy and financial powers since the unanimous passage of 18th amendment by the parliament. "Earlier the funds used to be distributed on the basis of population while now backwardness and lack of development of any federating unit is also taken into consideration," he said.
Full report at:
http://www.dailytimes.com.pk/national/09-Jun-2014/imran-khan-playing-politics-of-hatred-provincialism-pervaiz
------------
Two alleged target killers killed in Peshawar
June 09, 2014
Peshawar- Two alleged target killers were killed in an exchange of fire during a police search operation in the Matni Bazaar area of the city.
Intelligence officials accompanied the police during the search operation. Police said that one of the target killers was from Afghanistan.
Police recovered arms and hand grenades while another target killer was injured during the operation and taken into custody.
http://www.nation.com.pk/national/09-Jun-2014/two-alleged-target-killers-killed-in-peshawar
------------
Sharifs running country like personal estate: Imran
June 09, 2014
ISLAMABAD - PTI chief Imran Khan has accused Sharif brothers of running the country as their personal estate, terming PML-N's one year performance as nil.
"For me, it looks like Sharif family has inherited this country and running it like their family business," the cricket-turned politician told a press conference at his Pakistan Tehreek-i-Insaf's central secretariat in G-6/4 on Sunday.
Flanked by his die-hard comrades, including Shah Mahmood Qureshi, Pervez Khattak and Assad Umar, Khan threw a string of accusations on Prime Minster Nawaz Sharif and his brother Punjab Chief Minister Shahbaz Sharif who remained central focus of his media appearance.
Clad in traditional white Kurrta Shalwar, Imran Khan looked furious and much agitated during press conference as he kept firing shots at Sharif family which he said has concentrated power into their own hands.
Full report at:
http://www.nation.com.pk/national/09-Jun-2014/sharifs-running-country-like-personal-estate-imran
------------
Taliban claim responsibility for attack on Karachi airport
June 09, 2014
MIRANSHAH - Taliban on Monday claimed responsibility for an attack on Karachi airport in revenge for their late leader Hakimullah Mehsud, who was killed in a US drone strike in November.
"We carried out the attack on Karachi airport to avenge the death of Hakimullah Mehsud," Taliban's spokesman Shahidullah Shahid told AFP, while dismissing the Pakistani government's recent offer of peace talks as a "tool of war".
He also promised more attacks in the future. "Pakistan used peace talks as a tool of war, it killed hundreds of innocent tribal women and children. This is our first attack to avenge the death of Hakimullah Mehsud," he said. "We have yet to take revenge for the deaths of hundreds of innocent tribal women and children in Pakistani air strikes.
"It's just the beginning, we have taken revenge for one, we have to take revenge for hundreds," he told AFP. The initial assault at Jinnah International Airport in Pakistan's southern port city began late Sunday and raged until dawn, when the military said that at least 24 people -- including all 10 attackers -- had been killed.
Full report at:
http://www.dailytimes.com.pk/national/09-Jun-2014/taliban-claim-responsibility-for-karachi-attack
------------
Southeast Asia
Muslim Dad Irrelevant in Daughter's Bid To Prove Hindu Faith, Say Shariah Lawyers
Jun 9, 2014
Does a Muslim parent have a say over his or her child's faith, especially if he or she had abandoned the family?
In a case revealed after a contentious raid at a Hindu temple wedding ceremony, Shariah lawyers say security guard Abdul Majid Gulam Kader has no say in his daughter Zarinah's efforts to change her religious status if the woman can prove she has not been practising the Islamic faith.
They said Zarinah, who was held by Selangor Islamic authorities at her traditional Hindu wedding ceremony in a temple a week ago, was not a minor and the Shariah Court would give weight to her statement.
Moreover, Majid had abandoned the family and this reflected badly on him as a Muslim father and head of family, the lawyers said, commenting on media reports quoting Majid as saying he would never consent to his daughter renouncing Islam.
Majid told The Star that Zarinah and her three siblings were Muslims as both he and his wife were Muslims when the children were born.
"They were born to Muslim parents and that makes them Muslim, too," Majid was quoted saying.
Full report at:
http://www.themalaysianinsider.com/malaysia/article/muslim-dad-irrelevant-in-daughters-bid-to-prove-hindu-faith-say-shariah-law#sthash.ygKvMQes.dpuf
------------
Proposed laws won't interfere with position of Islam, Malays, says unity council
Jun 9, 2014
The three draft Harmony Bills will not interfere with the position of Islam or the special position of Malays and natives of Sabah and Sarawak, the National Unity Consultative Council's (NUCC) law and policy working committee said today.
Instead, if adopted, the bills would serve as powerful instruments to minimise and avoid racial and religious conflicts in Malaysia's multi-ethnic society.
NUCC's law and policy working committee chairman Datuk Dr Mujahid Yusof Rawa (pic) and his deputy Lim Chee Wee said the three bills were consistent with the Federal Constitution.
"The bills do not seek to interfere, derogate or question any provision of the Federal Constitution.
Full report at:
http://www.themalaysianinsider.com/malaysia/article/proposed-laws-wont-interfere-with-position-of-islam-malays-says-unity-counc#sthash.VyynIaxa.dpuf
------------
Non-Muslims should ask right questions about hudud first, says academic
Jun 9, 2014
Instead of hitting out at proposals to implement hudud and demanding that their rights be preserved, non-Muslims should start asking proponents of the Islamic law the right questions.
Penang Institute political scientist Dr Wong Chin Huat said non-Muslims should ask if Muslims were willing to amend Article 182 of the Federal Constitution, which states that the Special Court has exclusive jurisdiction to try all offences committed by the Yang di-Pertuan Agong or a state ruler.
"If hudud is to be implemented and all Muslims are to be subjected to it, then will the government amend Article 182 to allow the king and the rulers to also be subjected to hudud?" he asked at Wisma Than Hsiang in Penang last night at the "Contemporary Buddhist forum: the impact of Islamisation on democratic society and non-Islamic religions".
Wong said non-Muslims should also ask how much was a quarter of a dinar worth today to punish a criminal for theft.
Full report at:
http://www.themalaysianinsider.com/malaysia/article/non-muslims-should-ask-right-questions-about-hudud-first-says-academic#sthash.2ZKtAcfy.dpuf
---------
Body of Muslim convert taken away during Chinese funeral ceremony
Jun 9, 2014
The Penang Islamic Department (Jaipp) today caused a stir at a Chinese funeral when they took away the body said to be that of a Muslim convert.
Jaipp officers arrived at Lebuh Macallum, where the funeral was held at about 1.20pm, some 20 minutes after the police reached the scene first to inform the deceased's family to stop the funeral procession.
After negotiating with the family, Jaipp officers took the body away at about 3.50pm in a van, and sent it to the mortuary pending further investigation.
The incident shocked and upset the deceased's family members, who were not aware that waitress, Teoh Cheng Cheng, 38, had become a Muslim.
The Star Online reported that Teoh had converted some 17 years ago and had a Muslim boyfriend. Her Muslim name was Nora Teoh Abdullah.
Full report at:
http://www.themalaysianinsider.com/malaysia/article/body-of-muslim-convert-taken-away-during-chinese-funeral-ceremony#sthash.QQvvfD52.dpuf
------------
Europe
Imam recites Quran for the first time in the Vatican
Jun 9, 2014
For the first time in history, Islamic prayers and readings from the Quran were heard at the Vatican on Sunday, in a move by Pope Francis to usher in peace between Israelis and Palestinians.
http://english.alarabiya.net/en/webtv/2014/06/09/Imam-recites-Quran-for-the-first-time-in-the-Vatican.html
------------
Berlin prayer house unites Jews, Christians, and Muslims
Jun 9, 2014
Christians, Muslims and Jews, all praying under the same roof – that's the groundbreaking project of a pastor, a rabbi and an imam in Berlin.
Still a sand-strewn vacant construction site, St Peter's Square in the centre of the German capital will – God willing – by 2018 host a building that's so unusual it doesn't have an official term.
Not a church, nor a synagogue, or a mosque as such, but a bit of all three, the centre known currently as a "House of Prayer and Learning" will be unlike any other religious venue in the world, its initiators say.
The aim of the 44-million-euro (RM192.92 million) project, whose fundraising kicked off Tuesday but has been several years in the making, is not only to show the importance of multi-faith dialogue but to mirror multi-cultural Berlin.
Full report at:
http://www.themalaysianinsider.com/features/article/berlin-prayer-house-unites-jews-christians-muslims#sthash.c8ZOb2fl.dpuf
------------
Rift Deepens in Britain Over Claims of School Infiltration Plot by Islamic Extremists
Jun 9, 2014
A dispute over how to combat the threat of homegrown Islamic extremism in British schools has provoked a political crisis, prompting the personal intervention of Prime Minister David Cameron, a public apology from one senior minister and the resignation of an adviser to another.
The rift followed allegations that Islamic fundamentalists had plotted to infiltrate and take over schools in Birmingham, home to a significant Muslim population. The claims are as yet unproved, but they have divided ministers on whether they should concentrate on tracking suspects thought most likely to commit acts of terrorism or wage a broader cultural battle at the community level against the spread of fundamentalist theology.
Full report at:
http://www.nytimes.com/2014/06/09/world/europe/rift-deepens-over-claims-of-infiltration-by-islamic-extremists-in-british-schools.html?_r=0
------------
Geo ban a politically motivated attack on freedom of expression: PJA UK
Jun 9, 2014
LONDON: Pakistan Journalists Association UK has strongly condemns the suspension of Geo TV which is the country's largest private broadcaster and termed the move as politically motivated attack on freedom of expression and the media.
In a statement, PJA expressed its sadness on 'this cruel act by PEMRA and thinks the suspension of Geo TV is a serious attack on press freedom in Pakistan.'
"It is the latest act in an organized campaign of harassment and intimidation targeting the network on account of its perceived bias against the agencies," said Wajahat Ali Khan Secretary General Pakistan Journalists Association UK.
PJA demands "The Pakistani authorities must immediately reverse this ban. If there are concerns about the content of Geo TV broadcasts, the authorities should address this in line with international human rights standards – not simply move to silence a critical voice."
http://www.thenews.com.pk/article-150151-Geo-ban-a-politically-motivated-attack-on-freedom-of-expression:-PJA
------------
Syria becoming another Somalia, warns Brahimi
June 09, 2014
BERLIN: Former UN envoy for Syria Lakhdar Brahimi has warned that the war-torn country was heading toward becoming "another Somalia "ruled by warlords, in an interview published in a German weekly this weekend.
He also said that the entire region may "blow up" if a political solution is not found.
Brahimi, the former special representative on Syria for the United Nations and the Arab League, resigned in frustration last month after making little progress towards ending the brutal civil war, now in its fourth year.
When asked what he predicted would ultimately become of Syria, the veteran Algerian diplomat told der Spiegel: "It will become another Somalia. It will not be divided, as many have predicted. It's going to be a failed state, with warlords all over the place. "Brahimi also painted a grim picture for the countries neighbouring Syria."
Full report at:
http://www.dawn.com/news/1111526/syria-becoming-another-somalia-warns-brahimi
------------
HRW: Death of Palestinian Teenagers May Be Israeli War Crime
Jun 9, 2014
Palestinian boy in the Zionist crosshairsThe killing last month of two Palestinian teenagers during a protest in the occupied West Bank might constitute a Zionist war crime, Human Rights Watch said in a report published on Monday.
Palestinian medics said Muhammad Abu Thahr, 16, and Nadim Nuwara, 17, were shot dead by Zionist troops using live ammunition on May 15 as they took part in the demonstration.
The Zionist military says its forces only fired rubber bullets that day and had no immediate reaction to the report from the New York-based human rights group.
Video from security cameras on Palestinian properties close to the scene showed the two teenagers fall to the ground in separate incidents, apparently shot despite posing no immediate threat to Zionist forces.
Full report at:
http://www.almanar.com.lb/english/adetails.php?eid=155450&cid=56&fromval=1&frid=56&seccatid=68&s1=1
------------
French FM's Statements Reflect Collusion with Terrorists
Jun 9, 2014
Information Minister Omran al-Zoubi lashed out at the statements of France's Foreign Minister Laurent Fabuis which, he said "reflect his deep collaboration with the terrorist groups in Syria".
As he issued a blistering criticism against France's FM, al-Zoubi told journalists that his statements "betray his manners and are at odds with the ethics of political discourse", SANA reported Sunday.
The statements "are yet another proof that the colonial scheme has foundered in Syria and the entire region, and that the will of the honest Syrian people has triumphed,'' the minister added.
The French people have to realize that their history and identity are "strikingly at variance" with the policies of their government, which is deeply involved in supporting terrorists.
http://english.farsnews.com/newstext.aspx?nn=13930319000338
------------
Arab World
Sisi says no to reconciliation with Islamists
Jun 9, 2014
Egypt's newly sworn-in President Abdel-Fattah al-Sisi declared himself at a speech on Sunday as a leader for "all Egyptians" but promised that there will not be any reconciliation with anyone who had "committed crimes" or "adopted violence" against the Egyptian people, a thinly veiled reference to the now-banned Muslim Brotherhood and other Islamists.
However, Sisi did not mention the Brotherhood by name or supporters of the ousted former Islamist President Mohammad Mursi, the leader he ousted in July after just one year in office, when addressing a gathering at Cairo's Quba palace late Sunday mere hours after he was sworn in as Egypt's president before the Supreme Constitutional Court.
Sisi said his top focus would be on fighting terrorism in the "coming phase."
"Defeating terrorism and achieving security is the top priority in our coming phase," Reuters quoted Sisi as saying.
Click here to listen to Sisi's entire speech.
While promising to defend rights of the poor and low-income Egyptians, he said social justice will be the basis of Egypt's development.
Sisi also vowed to support investment in Egypt's agricultural and manufacturing sectors and the creation of new jobs.
Full report at:
http://english.alarabiya.net/en/News/middle-east/2014/06/08/Abdel-Fattah-al-Sisi-sworn-in-Egypt-s-president-.html
------------
45 dead in clashes between Syria Jihadists: activists
9 June 2014
Fresh fighting between the jihadist Islamic State of Iraq and a coalition of rebels and an Al-Qaeda affiliate in eastern Syria has left at least 45 fighters dead, a monitoring group said Monday.
ISIL, which grew from a former affiliate of Al-Qaeda in Iraq, has faced a backlash in opposition Syria since early this year and is battling a coalition including Al-Qaeda's Al-Nusra Front and Islamist and moderate rebels.
The Syrian Observatory for Human Rights said the clashes in the town of Khosham in the eastern province of Deir Ezzor left 17 Al-Nusra and Islamist fighters dead, along with 28 ISIL members.
The fighting began on Sunday and raged through the night, the Observatory said.
ISIL was initially welcomed by some in Syria's armed opposition, but its harsh interpretation of Islam and abuses against civilians and rival opposition fighters has sparked a backlash.
Full report at:
http://english.alarabiya.net/en/News/middle-east/2014/06/09/45-dead-in-clashes-between-Syria-Jihadists-activists.html
------------
Twin bombing near Kurdish party office in north Iraq kills 30
World Bulletin/News Desk
Jun 9, 2014
At least 30 people were killed in a double bombing targeting the offices of a Kurdish political party in the northern Iraqi town of Tuz Khurmato on Monday, local officials and medical workers said.
Security sources said a car bomb blew up at a checkpoint near the local headquarters of the Patriotic Union of Kurdistan (PUK) party, before a truck packed with explosives was detonated beside a wall.
The attack is the latest in a show of strength by militants who have been regaining ground in Iraq and on Sunday killed 18 people in twin blasts targeting PUK offices in the town of Jalawla.
The Islamic State in Iraq and the Levant (ISIL) said it was behind that attack and also claimed responsibility for the bombing on Monday, crediting a bomber whose name indicates he was Egyptian.
Full report at:
http://www.worldbulletin.net/headlines/138557/attack-on-second-kurdish-party-hq-in-iraq-kills-24
----------
Suicide truck attack kills 14 in northern Iraq: Official
Jun 9, 2014
A suicide bomber driving a truck packed with explosives attacked a police checkpoint at Tuz Khurmatu in northern Iraq on Monday, killing 14 people and wounding 50, a local official said.
The official, Shallal Abdul, told AFP the attack had caused "great destruction," and that the police checkpoint targeted was near an office of President Jalal Talabani's Patriotic Union of Kurdistan party.
http://english.ahram.org.eg/NewsContent/2/8/103242/World/Region/Suicide-truck-attack-kills--in-northern-Iraq-Offic.aspx
------------
Honesty, not 'shining' hopes, will form our social contract, says El-Sisi
Jun 9, 2014
In an evening ceremony at Cairo's Al-Quba presidential palace, Egypt's President Abdel-Fattah El-Sisi vowed to establish a social contract between the people based on honesty and not "shining hopes".
El-Sisi started his hour-long speech by calling on the attendees to stand for a moment of silence for the country's martyrs from "the army, police and the people."
He then saluted his predecessor, former interim-president Adly Mansour, expressing his gratitude for Mansour's role in the country's transitional period, the year following the 30 June 2013 protests which led to Mohamed Morsi's ouster. At the end of his speech, El-Sisi would present Mansour with the Nile Medal of Honour, Egypt's highest award, for his efforts.
Citing the economic and political challenges that Egypt faced before 30 June, El-Sisi vowed to preserve the interest of all Egyptians "without the exclusion of anyone".
He further stressed the need to preserve the rights of the poor, promising them a better life within four years.
Full report at:
http://english.ahram.org.eg/NewsContent/1/64/103216/Egypt/Politics-/Honesty,-not-shining-hopes,-will-form-our-social-c.aspx
------------
Two Saudis among Takfiri Militants Killed in Iraq's Samarra
Jun 9, 2014
A report said that two Saudi nationals were among Takfiri militants killed in clashes with Iraqi army in the holy city of Samarra.
Sabq online newspaper reported on Sunday that the killed militants were two brothers, Yahya and Ibrahim, 25 and 21.Takfiri militants
On Thursday, heavily armed militants from the so-called Islamic State of Iraq and the Levant (ISIL) entered the holy city from several directions. They used bulldozers to destroy a number of holy shrines there, but faced counterattacks from the Iraqi army.
The father of the two Saudi militants said in an interview with the Saudi newspaper that he received an overseas phone call informing him of the deaths of his sons.
The father noted that their sons went to Syria to fight the Syrian government forces two months ago, before going to Iraq.
Full report at:
http://www.almanar.com.lb/english/adetails.php?eid=155384&frid=23&seccatid=24&cid=23&fromval=1
------------
Syria's Assad announces 'general amnesty': state TV
Jun 9, 2014
Syrian President Bashar al-Assad on Monday announced a "general amnesty" for all crimes committed to date, state television said, without giving further details.
The channel cited Justice Minister Najem al-Ahmad as saying the decree was issued in the context of "social forgiveness, national cohesion calls for coexistence, as the army secures several military victories."
It was not immediately clear who would be included in the amnesty.
Rights groups say the Syrian government is holding tens of thousands of prisoners in jails where torture and other abuses are systematic.
Full report at:
http://english.alarabiya.net/en/News/middle-east/2014/06/09/Syria-s-Assad-announces-general-amnesty-state-TV-.html
------------
Saudi Crown Prince: kingdom will stay Egypt's 'loyal brother'
Jun 9, 2014
Saudi Arabia's Crown Prince Salman bin Abdulaziz al-Saud stressed the kingdom's commitment to supporting Egypt when he took part in the ceremony inaugurating Abdel-Fattah al-Sisi new president in Cairo on Sunday.
"Saudi Arabia as [a] government and nation and under the direction of King Abdullah Abdul Aziz al-Saud will stay as a loyal brother - standing side by side - to our brother Egypt in hard and good times," Saudi state news agency (SPA) quoted Prince Salman as saying.
After arriving in Cairo, he expressed at a press conference his "happiness for this occasion which represents a turning point for Egypt toward security, stability and sustainable development."
Full report at:
http://english.alarabiya.net/en/News/2014/06/09/Saudi-says-it-will-stay-as-Egypt-s-loyal-brother-.html
------------
South Asia
Religious extremists kidnapping youth for "irreligious acts," says MDP
By Zaheena Rasheed | June 9th, 2014
Opposition Maldivian Democratic Party (MDP) has alleged religious extremists have kidnapped and threatened young people for alleged impiety.
"The Maldivian Democratic Party has received information that some religious extremists have kidnapped young people claiming they had committed irreligious acts," said the party.
"The extremists blindfolded the young people, took them to remote locations against their will, threatened them with sharp weapons, threatened them with death, issued sentences in a false trial, and are now implementing these sentences."
The kidnappers then told the hostages they will be killed if any news of the abduction is shared with any other party.
Full report at:
http://minivannews.com/politics/religious-extremists-kidnapping-youth-for-%E2%80%9Cirreligious-acts%E2%80%9D-says-mdp-86667
------------
18 Taliban militants killed, 19 others arrested in Afghan operations
Jun 09 2014
At least 18 Taliban militants were killed following military operations in various provinces of Afghanistan in the past 24 hours.
The Interior Ministry of Afghanistan following a statement said the operations were jointly conducted by Afghan National Police, Afghan National Army and Afghan Intelligence – National Directorate of Security (NDS) operatives.
The statement further added that the operations were conducted in Kunar, Nangarhar, baghlan, Kandahar, Zabul, Maidan Wardak, Logar, Ghazni, Herat and Helmand provinces.
At least 5 Taliban militants were also injured and 19 others were detained during the operation, the statement added.
Full report at:
http://www.khaama.com/18-taliban-militants-killed-19-others-arrested-in-afghan-operations-8242
------------
Presidential election: Ethnic divide comes into play in Afghan runoff
June 9, 2014
ISLAMABAD: Afghanistan has been ethnically polarised. And this polarisation will dominate the June 14 presidential runoff between Dr Abdullah Abdullah and Dr Ashraf Ghani as no candidate could secure the mandatory 50-plus one votes in the first round in April.
Uzbek warlord Abdul Rashid Dostam – the running mate of Dr Ghani for first vice president – has publicly announced that Uzbeks and Turkmens would vote for his team. Dostam has been accused of rampant rights abuses and even Dr Ghani had been critical of him in the past. However, his pick for the vice presidential slot was to win over Uzbek votes.
Juma Khan Hamdard, the governor of eastern Paktiya province and a senior member of Dr Ghani's campaign team, told voters in northern Balkh province that if they didn't support Dr Ghani the country will plunge into further instability. Hamdard specifically called upon two ethnic groups – Pashtuns and Uzbeks – to vote for Dr Ghani's team, according to Tolo TV.
The ethnic divide was also there during the April 5 first round. Dr Abdullah, who is a Tajik from his mother's side, bagged nearly 90% votes in some northern provinces where Pashtuns are in minority. Conversely, Dr Ghani, himself an ethnic Pashtun, received maximum votes in the Pashtun-dominated regions. However, there were pockets of support for both candidates among other ethnic groups.
Full report at:
http://tribune.com.pk/story/719279/presidential-election-ethnic-divide-comes-into-play-in-afghan-runoff/
------------
Qaisar set Pak army on pro-liberation man
Jun 9, 2014
A victim yesterday testified that the Pakistani army tortured him in Brahmanbaria in 1971 when war crimes accused Syed Mohammad Qaisar identified him as a supporter of independence.
Nayeb Ali, the 19th prosecution witness in Qaisar's case, told the International Crimes Tribunal-2 that Qaisar, his associates and the Pakistani army also looted and torched many houses, including theirs, in and around their village, Islampur, in Bijoynagar of Brahmanbaria.
In mid-Baishakh in 1971, he heard gunshots while in his house. "When I went to a nearby street, I saw Qaisar and his force marching north, chanting 'Pakistan Zindabad', 'Naraye Takbir' along with the Pakistani army and local Peace Committee members," recalled the 73-year-old witness.
Full report at:
http://www.thedailystar.net/city/qaisar-set-pak-army-on-pro-liberation-man-27686
-----------
Africa
Nigeria: Military Foils Attack By Female Suicide Bomber - Spokesperson
Jun 9, 2014
The Nigerian military said troops foiled an attack by a female suicide bomber on its base Sunday in Gombe State.
The concealed bomb went off and killed the assailant as she was searched by a soldier at the entrance to the barracks, defence spokesperson, Chris Olukolade, said in a statement.
The explosion killed the soldier who carried out the search, and wounded another, Mr. Olukolade, a Major General, said.
The claim could not be independently verified.
Mr. Olukolade said troops acted on an "intelligence" warning of an attacks on the barracks by a female suicide bombers.
Full report at:
http://allafrica.com/stories/201406090383.html?aa_source=mf-hdlns
------------
Libyan court rules PM's appointment 'illegal'
9 June 2014
Libya's Supreme Constitutional Court ruled on Monday that the controversial appointment of the Muslim Brotherhood backed Prime Minister Ahmed Maiteeq was illegal.
"The ruling decided ... the appointment of Mr Ahmed Maiteeq as premier of the interim government was unconstitutional," state television reported.
The decision is likely to deepen Libya's political crisis at a time when renegade Gen. Khalifa Hafter is waging an offensive against Islamist militias. Hafter has warned he will detain Islamist lawmakers, accusing them of financing militias which he blames for much of Libya's chaos.
Full report at:
http://english.alarabiya.net/en/News/middle-east/2014/06/09/Libyan-court-rules-PM-s-appointment-illegal-.html
------------
North America
Israel no longer a cause that unifies US Jews
Associated Press | New York | June 9, 2014
Once a unifying cause for generations of American Jews, Israel is now bitterly dividing Jewish communities.
Jewish organizations are withdrawing invitations to Jewish speakers or performers considered too critical of Israel, in what opponents have denounced as an ideological litmus test meant to squelch debate. Some Jewish activists have formed watchdog groups, such as Citizens Opposed to Propaganda Masquerading as Art, or COPMA, and JCC Watch, to monitor programming for perceived anti-Israel bias. They argue Jewish groups that take donations for strengthening the community shouldn't be giving a platform to Israel's critics.
American campuses have become ideological battle zones over Israeli policy in the Palestinian territories, with national Jewish groups sometimes caught up on opposing sides of the internal debate among Jewish students. The Open Hillel" movement of Jewish students is challenging speaker guidelines developed by Hillel, the major Jewish campus group, which bars speakers who "delegitimize" or demonize Israel. Open Hillel is planning its first national conference in October.
Full report at:
http://indianexpress.com/article/world/americas/israel-no-longer-a-cause-that-unifies-us-jews/99/
------------
Overseas Baloch group to struggle for rights within federation
June 09, 2014
WASHINGTON: Baloch nationalists in the US have formed a new group with the aim to struggle for Balochistan's rights within the Pakistani federation.
The Baloch Council of North America was formed after dissolving another group called the Baloch Society of North America, which was associated with the Baloch resistance.
Earlier this week, the former group had disassociated itself from the so-called war of independence in Balochistan, saying that this war only benefitted Khans, Nawabs and Sardars. It vowed to work within the Pakistani federation with the elected Balochis­tan government to eliminate discrimination against the Baloch people.
"This body asks all the Baloch and non-Baloch extremist groups to shun militancy and violence and lay down their arms and help Balochistan's government to bring peace and stability in
Balochistan," said a statement issued by the new body.
Full report at:
http://www.dawn.com/news/1111522/overseas-baloch-group-to-struggle-for-rights-within-federation
-----------
US capable of targeting Qaeda in Pakistan: Kerry
June 09, 2014
WASHINGTON: Secretary of State John Kerry said on Sunday the United States has proven its ability to target Qaeda fighters in Pakistan and Afghanistan in the war on terrorism and that nobody should doubt the capacity of Washington to protect Americans.
If the five Taliban inmates released from Guantanamo Bay prison in exchange for a captive American soldier rejoined the fight against the United States, they would do so at great risk, Kerry said in an interview with CNN's 'State of the Union' programme. "I'm not telling you they don't have some ability at some point to go back and get involved. But they also have the ability to get killed doing that."
Full report at:
http://www.dailytimes.com.pk/national/09-Jun-2014/us-capable-of-targeting-qaeda-in-pakistan-kerry
------------
Guantanamo prisoners set to leave amid exchange furore
Jun 9, 2014
GUANTANAMO BAY NAVAL BASE (Cuba): Some of the men held here for more than a decade have been drafting plans for work and marriage on the outside or studying languages, preparing for a not-too-distant future beyond the coiled razor wire that surrounds the US prison perched at the edge of the Caribbean Sea.
Until the past week, they had good reason to believe their ticket out might be imminent, if not home then at least to another country. President Barack Obama and others in the administration say they are committed to closing the Guantanamo detention center and military officials say they can resume transfers at a moment's notice, just as they did with the May 31 swap of five Guantanamo inmates for a captured American soldier.
"All I need is the names and a country and we could do it all very, very efficiently," the commander of US Southern Command, marine Gen John F Kelly, said in an interview Saturday at the start of a visit to the base he oversees.
Full report at:
http://timesofindia.indiatimes.com/world/us/Guantanamo-prisoners-set-to-leave-amid-exchange-furore/articleshow/36259726.cms
------------
US media accuses Russian secret service for Snowden's leaks, cites mysterious ex-KGB officer
Jun 9, 2014
The fact that Edward Snowden still isn't in US prison, living safely in Russia, haunts the mind of American officials and the press. Thus, Business Insider published an interview with ex-KGB Major Boris Kaprichko who told that Russian external intelligence service officers convinced the former NSA employee to fly to Moscow last June.
Despite the fact that it is quite obvious that Edward Snowden had no intention even to fly to Russia and was going to ask for political asylum in Latin America, the newspaper tries to find the KGB trace more than 20 years from its disappearance. It is quite amusing that instead of explaining the unlawful activity of the NSA spying all over the world, the US tries to blame Russia for its own failure.
Taking into account that the US even grounded the Bolivian president's private plane in the summer of 2013 allegedly due to suspicions by US authorities that the aircraft was transporting whistleblower Edward Snowden, American intelligence with the help of an absolutely caddish impunity had all the chances to catch Snowden. It was the US government that blackmailed the leaders of the Latin American countries not to grant Snowden political asylum, so he was literally forced to stay at Sheremetyevo International Airport in Moscow, Russia.
Full report at:
http://voiceofrussia.com/news/2014_06_09/US-media-accuse-Russian-secret-service-for-Snowdens-leaks-cite-mysterious-ex-KGB-officer-1872/
------------
India
India-Pak Verbal Duel after Karachi Airport Siege
Jayanta Deka,TNN | Jun 9, 2014
LUCKNOW: On Sunday night, it was bizarre accusations doing rounds on Twitter with tweeples busy presenting their views on the Karachi airport search and rescue operations even as Pakistani security forces were battling it out to secure the Karachi international airport.
The social networking website suddenly saw "independent reporters" offering inside scoops. Sample this: Breaking News. DG Rangers says Indian made weapons recovered from terrorists | Modi's name was inscribed in Sanskrit!
The first tweet by Geo TV (@geonews_english) — (Breaking News) DG Rangers says Indian made weapons recovered from terrorists #KarachiAirport — drew sharp reactions with both sides staging verbal war. And with the tweet, many chose to add their part of the report. @afsarjan23 countered the tweet with, "@geonews_english they wear Made in China Jackets and Nike shoes too!:/"
@aey shared that it was indeed Indian-made weapons as he tweeted, "Respect for all Indians who are replying & defending, but unfortunately our Rangers officials confirmed that weapons r India made. #KarachiAirport."
Full report at:
http://timesofindia.indiatimes.com/india/India-Pak-verbal-duel-after-Karachi-airport-siege/articleshow/36272567.cms
------------
Modi govt to make special efforts for dignified return of Kashmiri Pandits
June 9, 2014
Perhaps finding a mention in President Pranab Mukherjee's joint address to the Parliament for the first time, it was welcomed by Kashmiri Pandit organisations.
The Narendra Modi Government has flagged the return of Kashmiri Pandits to the Valley with "dignity, security and assured livelihood," an issue on which it will lay special emphasis during its tenure.
Perhaps finding a mention in President Pranab Mukherjee's joint address to Parliament for the first time, it was welcomed by Kashmiri Pandit organisations which have been fighting for the lakhs of people from the community who fled the Valley in 1990 due to ethnic cleansing during militancy.
"Special efforts will be made to ensure that Kashmiri Pandits return to the land of their ancestors with full dignity, security and assured livelihood," the President said while outlining the agenda of Modi government for the next five years.
The BJP had mentioned return and rehabilitation of Kashmiri migrants to the Valley in its manifesto.
Full report at:
http://www.thehindu.com/news/national/modi-govt-to-make-special-efforts-for-dignified-return-of-kashmiri-pandits/article6097572.ece
--------
Mideast
Abbas, Peres call for peace at Vatican ceremony attended by Pope
Jun 9, 2014
Palestinian President Mahmud Abbas and Israeli President Shimon Peres called for peace on June 8 at an unprecedented prayer with Pope Francis and Orthodox Patriarch Bartholomew I.
Peres said peacemaking was a "duty" and a "holy mission" at the spiritual event in the Vatican Gardens, and Abbas called for a "comprehensive and just peace" that could bring stability to the Middle East. Joined by the Orthodox Patriarch Bartholomew I, the three spoke after hearing Christian, Jewish and Muslim prayers and musical interludes in what Peres defined as "an unusual call for peace."
"Two peoples, Israelis and Palestinians, still are aching for peace. The tears of mothers over their children are still etched in our hearts. We must put an end to the cries, to the violence," Peres said. Abbas said: "We want peace for us and our neighbors." The four leaders then symbolically shoveled soil for a newly-planted olive tree and held a closed-door meeting in a Vatican pavilion, following the collapse of peace talks earlier this year.
Full report at:
http://www.hurriyetdailynews.com/abbas-peres-call-for-peace-at-vatican-ceremony-attended-by-pope-francis-and-patriarch-bartholomew.aspx?pageID=238&nID=67560&NewsCatID=359
------------
Israel backs law to block Palestinian prisoner releases
Jun 9, 2014
The Israeli cabinet on Sunday approved changes in a law that could block amnesty for Palestinians imprisoned for murdering Israelis.
The amendment, which needs to be approved by parliament before passing into law, would give the courts power to prevent Israel's president from granting clemency or shortening the jail term of anyone imprisoned for murder.
Ayelet Shaked of the far-right Jewish Home party who initiated the change said it was aimed at preventing the release of Palestinian militants who killed Israelis as well as other murderers.
"The mass release of terrorists through diplomatic deals makes a mockery of the Israeli public as does shortening the prison terms of criminal murderers," she said in a statement.
The latest round of U.S.-led peace talks collapsed in April after Israel refused to release a fourth and last round of 26 long-term prisoners imprisoned for killing Israelis, breaching a commitment made in 2013.
Throughout the talks, Israel released 78 of the promised 104 prisoners, in a move which angered hardliners.
Full report at:
http://english.alarabiya.net/en/News/middle-east/2014/06/08/Israel-backs-law-to-block-Palestinian-prisoner-releases.html
------------
Two Israelis charged over racist, anti-Arab vandalism
Jun 9, 2014
Israeli prosecutors have charged two young Israelis with a racially-inspired attack in 2013 on dozens of Arab-owned vehicles in a village just outside Jerusalem, the justice ministry said on Monday.
During the incident in June last year, the tyres of 34 cars were punctured and racist slogans were scrawled on a wall in Abu Ghosh, an Arab-Israeli village west of Jerusalem.
A statement from ministry said Arye Pearl, a 21-year-old from the extremist settlement of Yitzhar in the northern West Bank, was charged with vandalism of property and cars with a racism motive at Jerusalem District Court on Monday.
The second suspect, whose identity could not be divulged since he was a minor at the time of the attack, was indicted on the same charges on Sunday at Jerusalem juvenile court, the ministry said.
Full report at:
http://english.ahram.org.eg/NewsContent/2/8/103264/World/Region/Two-Israelis-charged-over-racist,-antiArab-vandali.aspx
------------
URL: https://www.newageislam.com/islamic-world-news/new-age-islam-news-bureau/karachi-airport-attack--well-trained-taliban-tried-to-hijack-passenger-planes,-28-killed/d/87433