New Age Islam News Bureau
7 Feb 2020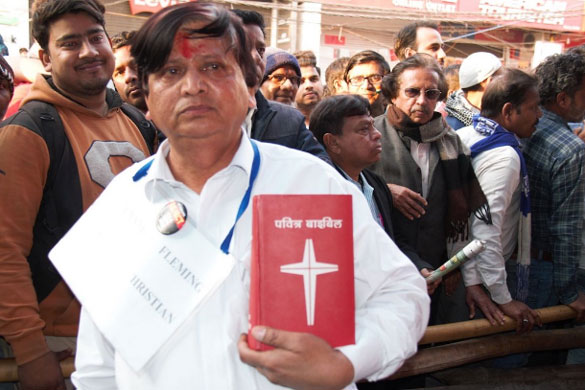 Pastor Alexander Fleming stands in solidarity with Muslim protesters during the multifaith prayer event for peace and unity on Feb. 6 in New Delhi. (Photo: Bijay Kumar Minj/UCA News)
--------
• Multifaith, Hinduism, Islam, Sikhism and Christianity, Prayers for Peace at Protest in Shaheen Bagh over CAA
• Amnesty Terms Saudi Secret Court 'Weapon of Repression'
• Zarif: Iran Will Sue Trump for Economic, Military and Cultural Terrorism
• Pompeo Condemns Violent Extremists Who Target Hindus in Pakistan, Muslims in Myanmar
• Pakistan PM: 'Friends' Told Me Not To Attend Malaysia Summit
• Taliban Fighter Who Shot Malala In 2012 Escapes Pakistan Prison
• Release of the First French Jihadist Who Joined ISIS Raises Security Concerns
India
• Junior Home Minister Told the LS That the Assam Government Had Been Advised To Release All Non-Muslims from Pakistan and Bangladesh from Detention Centres
• Multifaith, Hinduism, Islam, Sikhism and Christianity, Prayers for Peace at Protest in Shaheen Bagh over CAA
• Modi: Indian Muslims Had Nothing to Fear in New Citizenship Law
• Hindu refugees, Muslim immigrants: Modi quotes Nehru to defend Citizenship Amendment Act
• Think Tank to study and propose solutions for Muslim issues
• Kashi Vishwanath Temple: Court Rejects Muslim Side's Adjournment Plea over ASI Survey of Gyanvapi Masjid Site
• Centre Could Have Excluded At Least 4 Acres of Graveyard: All India Muslim Personal Law Board
• Why I Converted To Islam, Buried My Hindu Identity: Dalit Camera Founder
• SC To Hear Pleas Seeking Removal Of Shaheen Bagh Protesters On Monday
• J-K: Detained since August, Omar Abdullah, Mehbooba Mufti hit with stringent PSA
• SC lens on waqf's 'unlisted assets worth lakhs of crores'
• NIA court extends suspended DSP's custody
--------
Arab World
• Amnesty Terms Saudi Secret Court 'Weapon of Repression'
• Amnesty demands immediate release of Saudi rights activists
• Decisions on Lebanon's debt require national consensus: Hezbollah
• EU demands end to Syrian regime bombing on Idlib
• Syrian regime forces withdraw from parts of Saraqib city: Reports
• Qatar-backed Islamic body calls on Muslims to 'use all means' against Trump plan
• Russia says Syrian air defense nearly hit passenger plane near Damascus
--------
Mideast
• Zarif: Iran Will Sue Trump for Economic, Military and Cultural Terrorism
• Israeli Strikes Killed 23 Iran-Backed, Foreign Fighters In Syria
• 2 Palestinians killed by Israeli fire in West Bank clashes: Media
• Israeli forces kill three more Palestinians amid tensions over US deal
• Poll finds 80 percent of Iranians say they will not vote in upcoming elections
• Israeli police kill Palestinian who opened fire in Jerusalem's Old City
• Jerusalem attack is 'response' to Trump peace plan: Hamas
• Several Palestinians killed in occupied territories
• Netanyahu plans to meet with Saudi crown prince before March 2 elections: Report
--------
North America
• Pompeo Condemns Violent Extremists Who Target Hindus in Pakistan, Muslims in Myanmar
• Muslims improperly placed on no-fly list urge US Supreme Court to allow lawsuit
• CAIR-LA calls for hate crime investigation into anti-Muslim remarks at public forum
• Trump confirms killing of Al Qaeda leader in Yemen
• American kidnapped in eastern Afghanistan: Official
• Turkey warns of severe response to Syria regime attacks
• Kushner touts peace plan at top UN body
• Pompeo says Iraqi protesters have right to 'government free of Iran influence'
• Kushner blames Palestinian leader Abbas for recent violence in Israel
• Poll finds 76 percent of Canadians support increasing sanctions against Iran
--------
Pakistan
• Pakistan PM: 'Friends' Told Me Not To Attend Malaysia Summit
• ATC to announce verdicts against JuD chief Hafiz Saeed on Feb 8
• PTI govt to make another attempt to pacify disgruntled allies
• SC to take up implementation of its Karachi law and order verdict today
• Saudi prince permitted to export 50 falcons from Pakistan
• Erdogan to address joint parliamentary session on Feb 14
• Moonis meets PM Imran, hopes of breakthrough on demands
--------
South Asia
• Taliban Fighter Who Shot Malala In 2012 Escapes Pakistan Prison
• Rohingya Boat People to Be Returned to Homes in Myanmar's Rakhine State
• Islami Andolan Bangladesh: Blessed or just filling the void?
• US security contractor kidnapped in Afghanistan
• Italy to donate €1M aid for Rohingya in Bangladesh
• Bangladeshi Hindu in Police Custody after Group Attacked Him over Facebook Posts
• Bangladesh Offers to Pay Part of Somalia's Debt to IMF
• Saving Bangladeshi children from drug addiction
--------
Europe
• Release of the First French Jihadist Who Joined ISIS Raises Security Concerns
• Hate speech probe launched after mass prayer for late Brussels Muslim leader
• How Bosnia's Muslims Helped Build The Ottoman Empire's Hejaz Railway
• Questions after Syrian Salafist allowed to study in France
• UK PM Johnson backs Trump peace plan in call with Netanyahu
• Russia objects to UN draft resolution on Libya
• France urges 'cessation of hostilities' in Idlib, Syria
• 'Islamophobia threatens Turkish citizens in Europe'
--------
Southeast Asia
• Turning Indonesia into Major Halal Holiday Destination
• Enforcement of Malaysia's Smoking Ban Sparks Controversy
• 3 suspected IS jihadists arrested for stabbing Chinese, Australian
• No law to prosecute Nur Sajat for wearing telekung during umrah, say lawyers
• Indonesia looks to boost Saudi trade, investment
• Opposition Grows to Repatriation of Former IS Fighters
• Maldives stabbing: Australian and two Chinese injured in attack claimed by Isis sympathisers
--------
Africa
• Nigerian Muslim Leader Zakzaky, Wife In Critical Health Condition: Lawyer
• UN envoy says push continues toward cease-fire deal in Libya
• Sudan says Al-Burhan made no promises to Israel PM
• Social media exposes Libyan warlord's mercenaries
• US airstrikes cover Somalia military operations against al-Shabaab stronghold
• What Is The Al Qaeda-Linked Al-Shabab Terrorist Group?
Compiled By New Age Islam News Bureau
URL: https://www.newageislam.com/islamic-world-news/junior-home-minister-told-ls/d/121006
--------
Junior Home Minister Told the LS That the Assam Government Had Been Advised To Release All Non-Muslims from Pakistan and Bangladesh from Detention Centres
Feb 7, 2020
GUWAHATI: Junior home minister Nityanand Rai told the LS that the Assam government had been advised to release all non-Muslims from Pakistan and Bangladesh - "who have been forced to seek shelter in the state before December 31, 2014, with expired or without valid documents" - from detention centres.
Rai said under the Citizenship (Amendment) Act, 2019, persons covered under this Act can submit applications for granting of citizenship after appropriate rules are notified by the Centre. He said the name "detention centre" has been changed to "holding centre". He said as per information from Assam government, 761 detainees were released from these centres in the last three years.
Replying to a query by Assam Congress MP Abdul Khaleque whether the government had taken any initiative to release those declared foreigners belonging to Hindu, Sikh, Parsi, Buddhist, Christian and Jain communities residing in detention camps, Rai on Tuesday said, "No specific instruction has been issued by the central government regarding the release of such migrants from detention centres after enacting the CAA."
"However, in January, 2016, the Centre had advised Assam to examine the cases of all persons covered by various court cases filed in Gauhati HC and release them from detention centres if they satisfy the conditions and requirements of the two notifications issued by the central government on September 7, 2015, exempting such persons by or under clause (c) of sub-section (2) of Section 3 of the Passport (Entry into India) Act, 1920 or from the application of the provisions of the Foreigners Act, 1946 or any rule or order made thereunder," Rai added.
Rai said that the apex court had also issued a notification in July last, providing for conditional release of declared foreigners, who have completed more than three years in detention centres.
https://timesofindia.indiatimes.com/india/centre-assam-was-told-to-free-non-muslims-from-camps/articleshow/73996051.cms
--------
Multifaith, Hinduism, Islam, Sikhism and Christianity, Prayers for Peace at Protest in Shaheen Bagh over CAA
February 7, 2020
As a protest against India's new citizenship law completed more than 50 days in the national capital, people from all religions joined protesters to offer prayers for peace and unity.
The multifaith event in Shaheen Bagh, South Delhi District, aimed to end the atmosphere of fear and violence prevailing in the country and to send out a message of communal solidarity.
People from all India's main religions — Hinduism, Islam, Sikhism and Christianity — participated in the prayers on Feb. 6.
"Some communal forces are trying to divide people in the name of religion, but all the religions in this world teach us love and peace. We are here to show our solidarity with the people, especially the Muslim community who have been protesting against the citizenship law," Pastor Alexander Fleming of Gossner Evangelical Lutheran Church in Delhi told UCA News.
"I salute the Muslim women who have been here 24 hours a day for the last 53 days braving the cold for the injustice done to them. This event doesn't belong to any political party. The act introduced by the government is against Muslims.
"No religion teaches hatred and violence. It is time to spread the message of love and stand with them during these difficult times. At least we can pray with them during this crisis."
The ongoing protest in Shaheen Bagh is being led by Muslim women against the Citizenship Amendment Act (CAA), a change to the 1955 citizenship law that has been criticized for being anti-Muslim.
United we stand
Shaheen Bagh, near Jamia Millia Islamia University, has been a protest venue for opponents of the CAA and the National Register of Citizens (NRC) since Dec. 15. Protests have been held across India over the contentious law.
Muslim leader Sultan Sheikh, who was dressed as a Sikh at Shaheen Bagh, said: "Our prime minister talks about recognizing someone from their attire. I want him to recognize which religion I belong to. Don't try to divide our country. We are united and will live together."
Sant Yuvraj, a Hindu religious leader, said the event was held for the unity and solidarity of the country.
"All religions are united here. No one should consider Shaheen Bagh as a demonstration of Muslims," he said.
"Sikh people are chanting gurbani (hymns from Guru Granth Sahib), Christians are reading the Bible, Muslims are reading aayats (verses from the Quran) and I am performing a havan (sacrifice ritual) as a Hindu sant (godman). Even this havan has been organized by all people irrespective of their religion."
The new law aims to grant Indian citizenship to persecuted minorities from Muslim-majority Pakistan, Bangladesh and Afghanistan while blocking naturalization for Muslims.
Muslims see their exclusion from the law, which makes religion the basis of citizenship, as yet another attempt by Prime Minister Narendra Modi's Bharatiya Janeta Party (BJP) government to marginalize them.
Muslims fear the CAA and NRC are intended to strip millions of Indian Muslims of their citizenship. People from other disadvantaged caste and gender groups as well as women are vulnerable to the NRC's rules.
Since Dec. 11 when the law was passed, millions of citizens across India have rallied against the CAA despite prohibitory orders and a brutal police crackdown in which at least 31 people have been killed.
https://www.ucanews.com/news/prayers-for-peace-at-indian-protest-over-caa/87165
--------
Amnesty terms Saudi secret court 'weapon of repression'
February 07, 2020
DUBAI: Amnesty Inter­­national accused Saudi Arabia on Thursday of using a secretive court established to try terrorism cases as "a weapon of repression" to imprison peaceful critics, activists, journalists, clerics and Shias, including some who were sentenced to death and executed.
The London-based rights organisation examined court documents and spoke to activists and lawyers for its 53-page report, which sheds light on the secretive proceedings of the Specialised Criminal Court.
The report found that trials before the court were a mockery of justice and its judges willing accomplices" in suppressing those who dare speak up.
Established in 2008 to try terror-related crimes, the court started trying critics of the government in 2011 under broadly worded counter-terrorism laws that criminalise acts such as insulting King Salman and the crown prince, Mohammed bin Salman.
Amnesty said some of the common charges in proceedings included disobeying the ruler of Saudi Arabia, "questioning the integrity" of officials, seeking to disrupt security and inciting disorder by calling for demonstrations and "disseminating false information to foreign groups crimes that can hinge on speaking to human rights groups or the use of social media".
"Our research gives lie to the shiny new reformist image Saudi Arabia is trying to cultivate," said Heba Morayef, Amnesty's Mideast and North Africa regional director. She said the government has used the special court "to create a false aura of legality around its abuse of the counter-terror law to silence its critics".
Amnesty also said that the government's "rhetoric about reforms under the crown prince" stands in stark contrast to reality in the kingdom where women's rights activists and dozens of perceived critics of the young prince remain imprisoned or face trial on vague charges related to national security. Some, like reformist cleric Salman al-Awda, face the death penalty in trials before the court.
When it was initially established, the special court only tried Al Qaeda suspects, but the shift came in mid-2011 the same year that Arab Spring protests were roiling the region and threatening to upend autocratic rule when 16 reformists from Jeddah were referred to the court.
Amnesty documented the cases of 95 people tried before the special court between 2011 and 2019. Of those, 68 are Shias who were mostly prosecuted for their participation in anti-government protests, while 27 people were prosecuted for their political activism or expression.
"In all cases ... the trials were grossly unfair," Amnesty said.
The watchdog reached out to multiple official Saudi agencies during its investigation. The government's Human Rights Commission was the only one to respond, saying the special court follows the same rules and procedures of other criminal courts and that all hearings before it were public, with defendants, their lawyers and families present.
Like other human rights groups, Amnesty was not permitted to conduct research from inside Saudi Arabia.
https://www.dawn.com/news/1532959/amnesty-terms-saudi-secret-court-weapon-of-repression
--------
Zarif: Iran will sue Trump for economic, military and cultural terrorism
06 February 2020
Iran's Foreign Minister Mohammad Javad Zarif says the Islamic Republic will take legal action against US President Donald Trump on charges of committing economic, military and cultural terrorism against the country.
In an interview with Lebanese al-Mayadeen news network, whose text was published on Thursday, Iran's top diplomat said the assassination of Lt. Gen. Qassem Soleimani on direct order of Trump on January 3 was an act of state terrorism.
"Well, Mr. Trump is currently accused of economic terrorism against the Iranian people, and of sponsoring cultural terrorism. He has threatened to hit our cultural sites and is also accused of state terrorism," Zarif said.
Iran's foreign minister added, "The Islamic Republic of Iran will launch legal proceedings against Trump on these three charges. At the present time, Mr. Trump is recognized to have committed these three big sins and these three crimes before the [world's] public opinion. God willing, we will follow up on this issue with other [international legal] authorities."
On January 3, the United States assassinated General Soleimani, who used to command the Quds Force of Iran's Islamic Revolution Guards Corps (IRGC), among others in a set of airstrikes against Baghdad.
General Soleimani has earned reputation as West Asia's most revered anti-terror commander due to his indispensible contribution to defeating terrorist outfits such as Daesh across the region. The assassination took place while the commander was on an official visit to Iraq.
Trump tweeted a day later that if the Islamic Republic sought to retaliate for the assassination, the US could strike 52 important targets in Iran, including some sites of cultural importance.
Leader of the Islamic Revolution Ayatollah Seyyed Ali Khamenei had, however, warned soon after the assassination that a "harsh revenge" awaited the US. On January 8, the IRGC fired volleys of ballistic missiles in retaliation, hitting the US's Ain al-Assad air base in the western Iraqi Anbar Province, which housed American forces.
Elsewhere in his interview, Zarif further touched on Gen. Soleimani's assassination by terrorist US forces, saying, "No person in their right mind would do such a thing. By doing this, Trump put an end to presence of the United States in the region."
Describing Gen. Soleimani's assassination as a cowardly act by the United States, Zarif said, "A government, which is not courageous enough to fight a commander [on the battlefield] has to martyr him through a cowardly terrorist operation…. Americans and the Zionist regime always act like this."
The Iraqi parliament voted overwhelmingly after the US airstrikes that also killed key Iraqi anti-terror commander Abu Mahdi al-Muhandis in favor of the expulsion of all US-led forces from the Arab country's soil.
US more Zionist than Israel itself
Zarif said both the assassination as well as Trump's unveiling last Tuesday of the outline of his administration's so-called initiative for resolution of the Palestinian-Israeli conflict serve to "further reveal the US's nature in the region."
The US president said the "deal of the century" features Israel's annexation of the apartment blocks that it has propped up across the West Bank since occupying the Palestinian territory during a war in 1967. The deal also envisions the recognition of Jerusalem al-Quds as Israel's "capital" — although Palestinians want the occupied holy city's eastern part as the capital of their future state.
All previous foreign-mediated agreements between Palestinians and Israelis as well as repeated United Nations' resolutions have mandated Tel Aviv to withdraw behind the 1967 borders.
All Palestinian factions have unanimously rejected Trump's plan. Palestine stopped recognizing the US as a mediator in the Middle East process when Trump, in December 2017, recognized occupied Jerusalem al-Quds as Israel's "capital."
The Iranian foreign minister said by outlining the scheme, "the US showed all the Arab countries of our region that it is not the one, who could be trusted with the intermediary role in the conflict between Arabs and the Zionist regime."
"The US is more Zionist than the Zionist regime itself," Zarif said, adding, "The 'deal of the century' proposed by Mr. Trump actually gives the Zionists more concessions than all that they had asked for anytime before."
https://www.presstv.com/Detail/2020/02/06/618047/Iran-sue-Trump-terrorism-economic-military-cultural-Soleimani-sanctions-threats
--------
Pompeo Condemns Violent Extremists Who Target Hindus in Pakistan, Muslims in Myanmar
FEBRUARY 6, 2020
Washington: US Secretary of State Mike Pompeo has condemned terrorists and violent extremists who target religious minorities, including Hindus in Pakistan and Muslims in Myanmar.
Pompeo made the comments on Wednesday while launching a 27-nation International Religious Freedom Alliance, which will try to adopt a collective approach in protecting and preserving religious freedom across the world.
"We condemn terrorists and violent extremists who target religious minorities, whether they are Yezidis in Iraq, Hindus in Pakistan, Christians in northeast Nigeria, or Muslims in Burma," Pompeo said.
"We condemn blasphemy and apostasy laws that criminalize matters of the soul. We condemn the Chinese Communist Party's hostility to all faiths. We know several of you courageously pushed back against Chinese pressure by agreeing to be part of this Alliance, and we thank you for that," he said.
"Finally, our Alliance is off on the right foot as countries do their parts to advance this mission," the top American diplomat said.
Among the prominent countries to join the alliance are Australia, Brazil, the UK, Israel, Ukraine, the Netherlands and Greece. Hindus form the biggest minority community in Pakistan.
According to official estimates, 75 lakh Hindus live in Pakistan. However, according to the community, over 90 lakh Hindus are living in the country.
Majority of Pakistan's Hindu population is settled in Sindh province where they share culture, traditions and language with their Muslim fellows.
There have been several reports of forced conversion of Hindu and Sikh girls who are then married off to Muslims in Pakistan.
The All Pakistan Hindu Council on January 26 said a Hindu girl was abducted from her wedding ceremony, forced to convert to Islam and married off to a Muslim man in Sindh province.
India on January 28 summoned a senior official of the Pakistan High Commission in New Delhi and issued a strong demarche over the abduction of the Hindu girl.
https://www.news18.com/news/world/pompeo-condemns-violent-extremists-who-target-hindus-in-pakistan-muslims-in-myanmar-2490561.html
--------
Pakistan PM: 'Friends' told me not to attend Malaysia summit
February 6, 2020
Pakistan's "friends" felt Prime Minister Imran Khan's attendance of the Kuala Lumpur Summit in December would "divide the Ummah", the officials said during a two-day visit to Malaysia this week.
Khan explained his absence from the Kuala Lumpur Summit and expressed his sadness in not attending, adding that he hopes to attend the next summit.
Addressing a joint press conference with his Malaysian counterpart, Mahathir Mohamad in Putrajaya, Khan said: "Unfortunately, our friends, who are very close to Pakistan as well, felt that somehow the conference was going to divide the ummah. It was clearly a misconception because that was not the purpose of the conference as evident from when the conference took place."
The references appear to be made to Saudi Arabia and, to a lesser extent, the UAE who are accused of pressurising Khan not to attend the "mini-Islamic summit" fearing it would become a rival to the Organisation of Islamic Cooperation (OIC). Khan was a high-profile attendee but pulled out at the eleventh hour. "I was looking forward to attending the conference because I feel that it is important that Muslim countries educate Western and non-Muslim countries about Islam and all these misunderstandings, whether deliberate or due to ignorance," he said.
Although Khan did not name the two countries, he lamented that "The reason is that we have no voice and there is a total division amongst [us]. We can't even come together as a whole on the OIC summit meeting on Kashmir."
Dawn reported that Khan voiced frustration over the OIC's silence on the issue of Kashmir while speaking at a think-tank during his Malaysia trip. Pakistan has been pushing for the foreign ministers' meeting of the 57-member bloc of Muslim countries, which is the second largest intergovernmental body after the UN, since India annexed occupied Kashmir last August by stripping it of its special status under India's constitution.
Riyadh's support is perceived as essential for any move at the OIC, which is dominated by Saudi Arabia and other Gulf Arab states.
Following India's ban last month on Malaysian palm oil imports after Prime Minister Mohamad criticised Indian Prime Minister Narendra Modi's government over its actions in Kashmir and the controversial new citizenship law, Khan suggested that Pakistan was prepared to import more palm oil from Malaysia, "Pakistan will do its best to compensate that loss," he said.
https://www.middleeastmonitor.com/20200206-pakistan-pm-friends-told-me-not-to-attend-malaysia-summit/
--------
Taliban Fighter Who Shot Malala In 2012 Escapes Pakistan Prison
Feb 7, 2020
ISLAMABAD: Ehsanullah Ehsan, the former Pakistan Taliban spokesman who was responsible for the shooting of Malala Yousafzai in 2012 and carrying out the deadly Peshawar Army school terror attack in 2014, has escaped from prison, according to a audio clip released by him. In the audio clip, which surfaced on social media on Thursday, Ehsan said that he escaped the confinement of Pakistani security agencies on January 11, claiming Pakistani forces failed to keep their promises made to him during his surrender in 2017.
"With the help of God, I succeeded to escape on January 11, 2020 from the confinement of the security forces," he is heard saying in the clip. It would be a big blow to Pakistan and its campaign to eradicate the remnants of Taliban if the clip is proved to be authentic. Without revealing his current location, Ehsan said that he would make a detail statement about the days of his confinement in the coming days.
Malala, 22, the youngest Nobel Peace prize winner, was shot by a gunman for campaigning for female education in 2012 in Swat Valley.
https://timesofindia.indiatimes.com/world/pakistan/taliban-fighter-who-shot-malala-in-2012-escapes-pakistan-prison/articleshow/73996456.cms
--------
Release of the First French Jihadist Who Joined ISIS Raises Security Concerns
February 5, 2020
Paris (CNSNews.com) – The recent release from prison of a Frenchman who joined ISIS in Syria in 2012 is raising concern in France, especially after a knife attack in London on Sunday prompted British Prime Minister Boris Johnson to voice support for stopping the early release of convicted terrorists.
The attack in Britain came days after the knifeman, Sudesh Amman, was freed early from prison, after a 2018 conviction for disseminating terrorist material.
Frenchman Flavien Moreau, who was freed in mid-January, joined the Sunni terrorist group to fight against the Assad regime. His release prompted right wing politicians to call for longer detention periods for jihadists and radicalized individuals. Some have even suggested that the most dangerous people should remain incarcerated indefinitely.
Of 550 prisoners, 70 of them women, convicted of acts of terrorism, jihad or related offenses, around 40 are expected to finish their sentences in 2020. Moreau is the first.
In 2021, 107 prisoners serving terror-related sentences are due for release, while 147 are set for release in 2022, Justice Minister Nicole Belloubet said in a television interview last week.
Also of concern for many here is the possible repatriation of French jihadists being held by Kurdish forces in Syria.
Moreau returned from Syria in 2013, was convicted of the "association of criminals for the preparation of an act of terrorism," and sentenced to seven years' imprisonment.
"His past story does not reassure, but he has served his sentence and there is no way to keep him, in one way or another, in jail,", said Jean-Charles Brisard, president of the Center for Analysis of Terrorism.
As Moreau is still considered dangerous, he will be subject to judicial surveillance for just over 11 months. He can be summoned at any time by a judge. He cannot travel outside a designated area of France, or abroad.
His name is now on the national judicial register of perpetrators of terrorist offenses, who continue to be monitored by intelligence services for as long as deemed necessary.
In a radio interview last year, Belloubet said freed jihadists would be subjected to "extremely strict follow-up."
"When we are faced with this kind of detainee, the authorities conduct an assessment of their dangerousness and they are put in a sealed area in jails," she said. "When they leave, there is obviously an extremely strict follow-up by the territorial intelligence services."
Acquittal risk
Under a 2012 law, the French justice systems is empowered to judge terrorist acts committed abroad by French citizens. A public prosecutor may initiate proceedings, but practical problems arise, including the assessment of evidence of acts committed abroad.
Didier Rebut, professor of Criminal Law and Procedure at Sorbonne University, told FranceTVInfo that the main danger remains a risk of acquittal.
"We can condemn them for all the offenses qualified as terrorists by the penal code – attacks, destruction, murders, kidnappings – but we must have proof."
"Because it encompasses many cases, the offense jihadists are often charged with in France is the association of criminals in connection with a terrorist enterprise. This charge is generally accepted because it is the easiest crime to prove," Rebut said.
The offense Moreau was charged with enables a conviction of a person who has expressed support for a group with a terrorist purpose without necessarily having him or herself committed any terrorist act.
It has been widely used against jihadists who returned voluntarily from the ISIS region. The charge makes it possible to secure heavy sentences, in a simpler and quicker trial than would otherwise be the case.
In a common criminal case, a detainee must be brought in front of a judge and formally charged within 24 hours. In a terror-related case, the period may be extended to 72 hours (or even 96 or 144 hours in some cases).
Some critics worry about the fact that when it comes to terrorism cases, standard procedures relating to pre-trial detention, the adjustment of sentences, and other issues, do not apply.
In a newly-published book Marie Dosé, a lawyer who defends people and their relatives who left or tried to leave France for Iraq or Syria to join ISIS's "caliphate," denounced the emergence of what she called an exceptional system of justice, applied in the case of terror suspects since a wave of attacks in France in 2015 and 2016.
By applying that legal regime indiscriminately to all those who wanted to leave, or left the country to join radical groups, France ends up producing the opposite of an effective criminal policy, and in fact "feeds terrorism," Dosé said.
https://www.cnsnews.com/article/international/faycal-benhassain/release-first-french-jihadist-who-joined-isis-raises
--------
India
Modi: Indian Muslims had nothing to fear in new citizenship law
February 06, 2020
Prime Minister Narendra Modi said in Parliament on Thursday that Indian Muslims had nothing to fear from a new citizenship law and accused opposition parties of toeing rival Pakistan's propaganda to create fear.
Modi said the Congress and other opposition parties had incited the nationwide protests against the law, which fast-tracks naturalization for Hindus, Christians and other religious minorities who have fled persecution in India's Muslim-majority neighbors, Pakistan, Bangladesh and Afghanistan.
"Pakistan is trying every trick to mislead the Muslims of India," Modi said during the speech ending a debate during the budget session of Parliament.
Modi recalled that India' first Prime Minister Jawaharlal Nehru, who belonged to the Congress party, expressed concern over the plight of Hindus in Pakistan after British colonialists partitioned the subcontinent into Hindu-majority India and Muslim-majority Pakistan in 1947.
He also said "the new act will not impact the people of India, whether Muslims, Sikhs or Christians," and accused opposition parties of employing "vote politics" to win support from Muslims, who are nearly 14 percent of India's 1.3 billion people.
Rahul Gandhi, a top Congress party leader, accused Modi of sidestepping key economic issues of rising unemployment and falling growth.
Parliament approved the new citizenship law on Dec. 11, and in the nationwide protests that followed, at least 23 people were killed. Critics of the law have called it discriminatory and say it violates India's secular constitution.
Supporters say it is an answer to religious discrimination in other places. Muslim migrants not included in the law still can seek citizenship under a 1955 law.
Pakistan has called India's citizenship law a manifestation of Modi's India taking a Hindu supremacist agenda. Prime Minister Imran Khan criticized Modi and accused India of human rights violations while speaking to a rally Thursday in Pakistan-held Kashmir.
Khan said Modi had converted India's portion of Kashmir into the world's largest prison and he hoped its people will soon get independence. Modi's government last August ended the semi-autonomous status of Indian-controlled Kashmir and imposed a harsh security crackdown that has not been fully eased. The Muslim-majority Himalayan territory is divided between India and Pakistan and claimed by both.
Critics of the Modi government's actions fear the new law and a possible nationwide citizenship registry together could leave millions of people stateless.
A registry in Assam state last year excluded nearly 2 million people, about half Hindu and half Muslim. They must prove their citizenship in quasi-legal tribunals or risk being declared foreign and stripped of rights.
The manifesto of Modi's political party, which won by a landslide last year, promised a national registry. But Modi backed away from it after pressure mounted with the protests against the citizenship law.
https://www.arabnews.com/node/1623956/world
--------
Hindu refugees, Muslim immigrants: Modi quotes Nehru to defend Citizenship Amendment Act
February 6, 2020
Pandit Jawaharlal Nehru made a clear distinction between "Hindu refugees and Muslim immigrants" among those coming to India from Pakistan in the aftermath of Partition, Prime Minister Narendra Modi said in the Lok Sabha on Thursday.
PM Modi said this while putting up a strong defence of the Citizenship Amendment Act (CAA) during his reply to Presidential address in Parliament. PM Modi quoted from a letter that Pandit Nehru, the first prime minister of India, had written to then Chief Minister of Assam Gopinath Bardoloi.
Quoting Nehru, PM Modi said a distinction must be made between Hindu refugees and Muslim immigrants and that the nation would have to shoulder the responsibility of Hindu refugees.
PM Modi referred to Nehru-Liaquat Pact of 1950 that called for the protection of religious minorities in the two countries - India and Pakistan. He shot off a poser to the Congress asking why Nehru talked about only minorities of Pakistan. Was Pandit Nehru communal, PM Modi asked.
He went on to cite examples of Bhupendra Kumar Dutta and Jogendra Nath Mandal, two leaders from the freedom struggle who decided to stay back in Pakistan against the prevalent sentiment of migrating from one side of the boundary to the other side to escape religious persecution.
Bhupendra Kumar Dutta was a member of the Constituent Assembly of Pakistan. PM Modi said Bhupendra Kumar Dutta told the Constituent Assembly of Pakistan that Hindus, a minority community, were being liquidated in Pakistan. He later migrated to India and died here, PM Modi said.
Jogendra Nath Mandal was the first law minister of Pakistan. But He also complained of systemic ethnic cleansing by means of pressure and persecution of Hindus in Pakistan, PM Modi said in the Lok Sabha.
Quoting Nehru further PM Modi said the former prime minister made a statement in the Lok Sabha that minority community people coming from Pakistan should be given Indian citizenship. "There is no doubt that the affected people who have come to settle in India are eligible for citizenship. If there is no appropriate law, then the law should be amended," PM Modi quoted Nehru as saying in Parliament on November 5, 1950.
PM Modi asked why Pandit Nehru, who is considered a great visionary, did not ask for inclusion of all people who come from the other side of the border.
Interestingly, the first citizenship law was enacted in 1955 - the Citizenship Act, which has been amended several times, the last being in December 2019 under the Modi government. The Citizenship Amendment Act sparked off protests at various places across the country which PM Modi said are being supported by the Congress and some other Opposition parties for vote bank politics.
Full report at:
https://www.indiatoday.in/india/story/pm-modi-quotes-nehru-to-defend-caa-1643866-2020-02-06
--------
Think Tank to study and propose solutions for Muslim issues
FEBRUARY 06, 2020
Hyderabad: To support the Muslim communities in the changing political social-economic situation of the country, there is need for a think tank that can address burning questions within the community regarding the effect of social, financial and political policies on the community. An independent think tank named Centre for Development Policy and Practice was announced on Wednesday evening during An event organized by Sahayata Trust and Indian Muslim Relief and Charities (IMRC) in Hyderabad.
Minority Affairs Advisor to Government of Telangana Mr. A.K.Khan, economist and former India head of the Bill and Melinda Gates Foundation Prof. Amirullah Khan, eminent politician Mr. Mohammed Ali Shabbir, noted real estate developers, social activists participated in the program.
Speaking on the occasion, Prof. Amirullah Khan said "the think tank will identify issues and conduct research for solutions to issues such as the impact of new population policy on Indian Muslims, disfranchising of the Muslim community, the effect of delimiting constituencies and national debate on voting rights among others.
The think tank will focus on vulnerable sections of Indian society and the legal framework affecting them.
According to Mr. A K Khan, the future of the community lies in education and employment. As both education and employment are the tools of empowering minorities to leverage them in decision making positions. Emphasizing the need for a think tank, he said 'research is required to identify focus areas by subject matter experts.'
Former President Islamic Society of North America (ISNA) Mr Azhar Aziz stressed on the importance of organized assistance to uplift the socially and financially impoverished sections of the society. CEO of Sahayata Trust Syed Aneesuddin and others were also present on this occasion.
Full report at:
https://www.siasat.com/think-tank-study-and-propose-solutions-muslim-issues-1817791/
--------
Kashi Vishwanath Temple: Court Rejects Muslim Side's Adjournment Plea Over ASI Survey Of Gyanvapi Masjid Site
Feb 06 2020
A fast-track court in Varanasi has rejected the demand of Anjuman Intezamia Masajid and the Sunni Waqf Board to adjourn the proceedings of the case seeking ASI survey of the Gyanvapi Temple-Masjid complex filed on behalf of Swayambhu Bhagwan Vishwanath, reports Dainik Jagaran.
Earlier, the defendants in the case, Anjuman Intezamia Masajid and the Sunni Waqf Board, had appealed to adjourn the proceedings in the case citing the High Court order. Their plea was debated on Tuesday (4 February) by the parties in the court of Civil Judge (Senior Division-Fast Track) Ashutosh Tiwari.
The plaintiff in the case, Swayambhu Bhagwan Vishwanath, had earlier appealed to conduct an archaeological survey of the Gyanvapi-Vishwanath temple complex. The defendant objected this appeal saying that the High Court had stayed the hearing in the said case which is still in effect. In this context, the trial proceedings should be postponed.
Appearing from the plaintiff's side, advocate Vijay Shankar Rastogi argued that the High Court has not ordered the adjournment of the trial. Additionally, this application has been given by the defendant to unduly block the trial.
The court rejected the defendants' pleas after hearing arguments from both the sides.
Full report at:
https://swarajyamag.com/insta/kashi-vishwanath-temple-court-rejects-muslim-sides-adjournment-plea-over-asi-survey-of-gyanvapi-masjid-site
--------
Centre Could Have Excluded At Least 4 Acres of Graveyard: All India Muslim Personal Law Board
FEB 06, 2020
New Delhi: An All India Muslim Personal Law Board (AIMPLB) member has said the Centre could have excluded at least the four acres that the Sunni Waqf Board had earlier claimed was a graveyard.
MR Shamshad, a board member and advocate-on-record from 2011 to 2019, said: "It is obvious that the foundation of the Ram temple will be not only on the land of the mosque where Muslims offered namaz for centuries but also on the graves of Muslims that surrounded the mosque. The centre could have avoided giving this land for the temple."
In 1961, the Sunni Central Board of Waqf filed a case against the "placing of idols" inside the mosque and claimed rights to the mosque and surrounding land that it said was a graveyard.
He added, "After the 1994 judgement of the Supreme court the dispute remained confined to 1480 sq yards which has now been resolved. However the fact remains that the mosque as it stood was surrounded by graveyards from three sides. As per recorded facts around 75 Muslims were killed in the riots that took place in this area in 1855 and they were buried in this area around the mosque. The graveyard land was also part of Waqf board documents."
However VHP general secretary Milind Parande said, "There have been extensive hearings on the case, and the Supreme Court has found no merit in whatever they said. If there was even the slightest truth in what they are saying, the court would have considered it."
Full report at:
https://economictimes.indiatimes.com/news/politics-and-nation/centre-could-have-excluded-at-least-4-acres-of-graveyard-all-india-muslim-personal-law-board/articleshow/73974457.cms
--------
Why I Converted To Islam, Buried My Hindu Identity: Dalit Camera Founder
February 6, 2020
NEW DELHI: I learned one thing in my eight years' experience with the Dalit movement through Dalit Camera assignments, and my research on caste for the last 14 years. Babasaheb Ambedkar was right when he said that leaving Hinduism is the only way to fight caste.
Dalit Camera is a digital platform that documents voices of Dalits, Adivasis, Bahujans, and minorities through a website and a YouTube channel by the same name.
Following his footsteps, I chose to leave Hinduism and embrace Islam on 30 January 2020 in Kodungallur, a historical town in Kerala's Thrissur district. Kodungallur is where the first Indian mosque was built. I am now Raees Mohammed.
The date is significant. It is the day when the first Hindutva terrorist Nathuram assassinated Mohandas Karamchand Gandhi. It is also the day when our beloved brother Rohith Vemula, who fought against caste discrimination in Hinduism, was born.
In my childhood, as a devotee of Lord Ayyappa, I had been to Kodungallur six times. It is also where CPI-ML (undivided) Kerala state secretary Najmal Babu embraced Islam in 2015. Rationalist Thanthai Periyar (father) had said that if one wanted to annihilate caste in 15 minutes and live with self-respect, then Islam is the only solution. Periyar had also suggested to Babasaheb Ambedkar to choose Islam as a religion for emancipation.
Full report at:
https://www.thenews.com.pk/print/609625-why-i-converted-to-islam-buried-my-hindu-identity-dalit-camera-founder
--------
SC To Hear Pleas Seeking Removal Of Shaheen Bagh Protesters On Monday
February 7, 2020
The Supreme Court Friday said it would on February 10 hear pleas seeking the removal of protesters at Shaheen Bagh in Delhi. "We understand there is a problem… we will take it up on Monday… By then we will be in a better position," a Bench of Justices Sanjay kishan Kaul and KM Joseph said.
The petitions were filed by Amit Sahni and BJP leader Nand Kishore Garg.
Full report at:
https://indianexpress.com/article/india/sc-to-hear-pleas-seeking-removal-of-shaheen-bagh-protesters-on-feb-10-6255643/
--------
J-K: Detained since August, Omar Abdullah, Mehbooba Mufti hit with stringent PSA
by Bashaarat Masood
February 7, 2020
Six months after placing them under preventive detention following the abrogation of Article 370 last August, the J&K administration has now invoked the stringent Public Safety Act (PSA) against former chief ministers, Mehbooba Mufti and Omar Abdullah. Omar's father and Parliamentarian Farooq Abdullah is already in detention under the PSA.
The administration has also invoked the PSA against NC general secretary Ali Mohammad Sagar and PDP leader Sartaj Madni. Sources said bureaucrat-turned-politician Shah Faesal is also likely to be detained under PSA.
Speaking to The Indian Express, a senior police officer confirmed that the two ex-CMs, Sagar and Madni "have been booked under the PSA". "But we have not received a warrant against Mufti and Omar since they are under SSG (Special Security Group) cover," the officer said.
Sources said the government decided to book the ex-CMs under PSA since it was becoming "legally untenable" to keep them under preventive detention for longer.
Mufti's daughter Iltija Mufti told The Indian Express that her mother has been booked under the PSA. Later, she posted on Twitter: "Ms Mufti received a PSA order sometime back. Slapping the draconian PSA on 2 ex J&K CMs is expected from an autocratic regime that books 9 year olds for 'seditious remarks'. Question is how much longer will we act as bystanders as they desecrate what this nation stands for?"
The PSA allows the administration to detain a person without trial for three to six months. It was promulgated in 1978 by a government led by Farooq Abdullah's father and then Chief Minister Sheikh Abdullah as an administrative measure aimed at keeping timber smugglers "out of circulation".
However, it has been misused by the successive governments against political opponents and to stifle dissent. Last September, Farooq Abdullah became the first mainstream political leader and sitting Parliamentarian in J&K to be booked under PSA.
However, between November and December, the Jammu & Kashmir High Court quashed orders passed under the PSA in at least five cases, ruling that the government did not communicate the grounds of detention to those detained and hence violated fundamental rights guaranteed under the Constitution.
In a strong indictment, the High Court, delivering its verdict in the Habeas Corpus petitions filed by the relatives of those detained under the PSA, had said the orders violated Article 22(5) of the Constitution which mandates the government to communicate to the detained person grounds on which the order has been made — and afford them the earliest opportunity of making a representation against the order.
On Thursday, the NC and PDP slammed the government's move. "For 70 years, we held the Indian flag in Jammu and Kashmir and this is how the government is rewarding us. The people of Kashmir see us as collaborators and New Delhi sees us as enemies," said a PDP leader.
Full report at:
https://indianexpress.com/article/india/omar-abdullah-mehbooba-mufti-psa-public-safety-act-6255100/
--------
NIA court extends suspended DSP's custody
Feb 6, 2020
SRINAGAR: A special NIA court in Jammu on Thursday extended by 15 days the judicial custody of suspended deputy SP Davinder Singh, who was arrested along with Hizb-ul-Mujahideen terrorists last month.
Singh is accused of ferrying two terrorists and one overground worker of Hijb-ul-Mujahideen in his vehicle. He was taking them out of the Kashmir valley when he was arrested near Qazigund on Jammu-Srinagar highway.
Full report at:
https://timesofindia.indiatimes.com/india/nia-court-extends-suspended-dsps-custody/articleshow/73992547.cms
--------
Arab World
Amnesty demands immediate release of Saudi rights activists
06 February 2020
Amnesty International says Saudi Arabia is using a secretive special court as a weapon to systematically silence dissent, calling for the immediate and unconditional release of all human rights defenders who defy the country's absolute monarchy.
Amnesty spent five years investigating 95 cases heard at the Specialized Criminal court (SCC) in Riyadh, concluding in a report published on Thursday that human rights defenders, writers, economists, journalists, religious clerics, reformists and political activists, including Shia Muslim minority, have suffered grossly unfair trials before the SCC and received harsh sentences, including the death penalty, under vague counter-terror and anti-cybercrime laws.
"The Saudi Arabian government exploits the SCC to create a false aura of legality around its abuse of the counter-terror law to silence its critics," said Heba Morayef, Amnesty International's Middle East and North Africa regional director.
"Every stage of the SCC's judicial process is tainted with human rights abuses, from the denial of access to a lawyer, to incommunicado detention, to convictions based solely on so-called confessions extracted through torture," she said.
The report titled "Muzzling critical voices: Politicized trials before Saudi Arabia's Specialized Criminal Court" comes despite the kingdom's recent attempts to cultivate a reformist image.
"Our research gives lie to the shiny new reformist image Saudi Arabia is trying to cultivate, exposing how the government uses a court like the SCC in the ruthless suppression of those who are courageous enough to voice opposition, defend human rights or call for meaningful reforms," Morayef said.
One of the most disturbing findings shows that the SCC is heavily reliant on torture-tainted "confessions." At least 20 Shia men have been sentenced to death on the basis of such "confessions," 17 of whom have been executed, according to the London-based rights group.
Amnesty further called on Saudi authorities to "immediately and unconditionally release all prisoners of conscience, ensure their convictions and sentences are quashed, and declare an official moratorium on all executions with a view to abolishing the death penalty."
Saudi Arabia has lately stepped up politically-motivated arrests, prosecution and conviction of peaceful dissident writers and human rights campaigners.
Over the past years, Riyadh has also redefined its anti-terrorism laws to target activism.
https://www.presstv.com/Detail/2020/02/06/618006/Amnesty-Saudi-court-right-activists
--------
Decisions on Lebanon's debt require national consensus: Hezbollah
6 February 2020
Iran-backed Hezbollah's parliamentary bloc said on Thursday that decisions on Lebanon's debt obligations require national consensus as the country grapples with a deep financial crisis.
Lebanon's authorities, including the new Hezbollah-backed government, are struggling to decide what to do about a $1.2 billion Eurobond maturing in March.
https://english.alarabiya.net/en/News/middle-east/2020/02/06/Decisions-on-Lebanon-s-debt-require-national-consensus-Hezbollah.html
--------
EU demands end to Syrian regime bombing on Idlib
6 February 2020
The EU on Thursday called for an end to the bombings in northwest Syria and the opening of a humanitarian corridor as Syrian forces push into the last rebel bastion of Idlib.
"Bombings and other attacks on civilians in north-west Syria must stop," the EU's diplomatic chief Josep Borrell said in a joint statement with the EU's humanitarian affairs commissioner Janez Lenarcic.
The top European Union officials demanded an "unimpeded humanitarian access to people in need of assistance" as well the "respect of humanitarian law, including the protection of civilians."
https://english.alarabiya.net/en/News/middle-east/2020/02/06/EU-demands-end-to-Syrian-regime-bombing-on-Idlib.html
--------
Syrian regime forces withdraw from parts of Saraqib city: Reports
6 February 2020
Syrian regime forces withdrew from some neighborhoods in the Syrian city of Saraqib on Thursday after they were bombed by the Turkish observation post in the area, Kurdish Ronahi channel reported.
Pro-Turkish opposition forces then re-entered Saraqib hours after their withdrawal, according to the report.
Regime forces backed by air strikes had on Wednesday encircled and entered Saraqib, 15 km east of Idlib city, the British-based Syrian Observatory for Human Rights had said in a report corroborated by witnesses.
Opposition fighters "managed to push back government forces from most of Saraqib in an attack from the northern part of the town that coincided with Turkish shelling against advancing government forces," the Observatory said.
Russian-backed Syrian regime forces have been bombarding Saraqib, which is held by opposition forces allied to Turkey. Turkey has set up a number of observation posts in the area aimed at protecting the opposition.
Full report at:
https://english.alarabiya.net/en/News/middle-east/2020/02/06/Syrian-regime-forces-withdraw-from-parts-of-Saraqib-city-Reports.html
--------
Qatar-backed Islamic body calls on Muslims to 'use all means' against Trump plan
7 February 2020
The Qatari-funded International Union of Muslim Scholars (IUMS) released a statement following the announcement of US President Donald Trump's Middle East peace plan, describing it as an attempt at an "eradication war" and calling on the Muslim world to "use all means" to fight it.
"The Union is closely following what is happening in the world and the consequent show of force and its exploitation, and is surprised, just as everyone was surprised, by the announcement of US President Trump's alleged peace plan in the Middle East," the IUMS said in an official statement following the announcement of the deal.
"The Union calls on all the free people of the world to oppose this eradication war by all means possible," the statement read.
On the same day that the IUMS released its statement rejecting Trump's deal, it also posted an excerpt from its founder Youssef al-Qaradawi – a Doha-based Egyptian-born cleric considered the spiritual leader of the banned Muslim Brotherhood group – calling on Muslims to "wage jihad and sacrifice their souls in defense of Jerusalem."
The IUMS was established in 2004 and supported financially by Qatar. It was founded by the hardline Islamic scholar al-Qaradawi. Since November 7, 2018, Ahmed Raissouni, a Moroccan Professor of Islamic Jurist, successive al-Qaradawi as president of the IUMS.
Qaradawi is a controversial figure who landed on several Arab countries' terror list for his advocating terrorism over the years. Egypt tried and sentenced him to death in absentia. Qaradawi has also been banned from entry in several countries, including France and the UK since 2012 after he had advocated for suicide bomb attacks against Israelis. He has also been labeled as a terrorist by Saudi Arabia, the UAE, Bahrain, and Egypt since 2017 for his support of the Muslim Brotherhood.
The IUMS has been known for issuing several controversial statements, including its recent opposition to the recent historic high-delegation visit by the Mecca-based Muslim World League (MWL) to the Nazi Auschwitz concentration camp in Poland. The IUMS called the visit "an expression of unacceptable normalization with Israel" and its president Raissouni said "it is a right and an obligation to question the Holocaust."
The peace plan unveiled by Trump and touted by his administration as the "Deal of the Century" prompted reactions from world leaders and governments around the world.
The UAE said it believes that the Palestinians and Israelis can achieve lasting peace and genuine coexistence with the support of the international community, while Egypt called on both sides to carefully consider the plan with a view to resuming negotiations. The European Union's top diplomat said after the announcement of the plan that the bloc remains "firm and united" behind the quest for a negotiated two-state peace deal between Israel and the Palestinians. Bahrain said it supports all efforts to achieve a "just and comprehensive solution" for the Palestinian cause, thanked the US for its work on the plan, and urged the Israeli and Palestinian sides to start direct negotiations under US sponsorship.
Full report at:
https://english.alarabiya.net/en/features/2020/02/07/Qatar-backed-Islamic-body-calls-on-Muslims-to-use-all-means-against-Trump-plan.html
--------
Russia says Syrian air defense nearly hit passenger plane near Damascus
February 07, 2020
MOSCOW: An Airbus A320 with 172 passengers on board made an emergency landing in Russia-controlled Khmeimim air base after Syrian air defense nearly hit it, Russian state news agency RIA said on Friday citing Russian defense ministry spokesman.
The Syrian air defense was trying to repulse an Israeli attack near Damascus, RIA said.
According to the spokesman, after 2 a.m., four Israeli F-16 fighter jets struck eight air-to-ground missiles in the suburbs of Damascus without entering Syrian airspace, RIA reported.
https://www.arabnews.com/node/1624271/middle-east
--------
Mideast
Israeli Strikes Killed 23 Iran-Backed, Foreign Fighters In Syria
6 February 2020
Israeli air strikes near Damascus and in the south of Syria on Thursday killed 23 Syrian and non-Syrian fighters aligned with the regime of President Bashar al-Assad, a Britain-based war monitor said.
The new toll for the pre-dawn strikes included three Iranians and seven Tehran-backed foreign fighters near Kisweh south of the capital, the Syrian Observatory for Human Rights said.
Eight Syrian air defence forces lost their lives west of the capital, while five Syrian members of pro-Iran group were killed in the southern province of Daraa, it said.
A Syrian army source quoted by state news agency SANA said air defenses responded to two waves of Israeli strikes after midnight that targeted the Damascus area and then positions in Daraa and the adjacent province of Quneitra.
The source said the attack wounded eight fighters, without elaborating on their rank or nationality.
An Israeli army spokesman contacted by AFP early Thursday declined to comment on the strikes.
Iran and its allied proxy Hezbollah have sent militants to fight alongside the regime of Bashar al-Assad in the nine-year-old war in Syria, which started by the regime's deadly oppression of peaceful protests.
https://english.alarabiya.net/en/News/middle-east/2020/02/06/Israeli-strikes-kill-12-Iran-backed-fighters-near-Syria-s-Damascus-.html
--------
2 Palestinians killed by Israeli fire in West Bank clashes: Media
6 February 2020
A Palestinian wounded in clashes with Israeli troops in the West Bank town of Jenin has died of his injuries, bringing to two the number killed on Thursday, the Palestinian health ministry said.
Palestinian security sources said the man was a member of the Palestinian security forces, who was hit as he stood outside a police station in the town.
Earier on Thursday, Israeli forces shot dead a 19-year-old whom the Palestinians identified as Yazan Abu Tabikh. He was killed and seven others injured when clashes broke out after Israeli forces entered the city to demolish a house, official media WAFA and a security source said.
On Wednesday, another Palestinian teenager was killed by Israeli fire during clashes in the southern West Bank, the Palestinian health ministry said.
Full report at:
https://english.alarabiya.net/en/News/middle-east/2020/02/06/Palestinian-killed-by-Israeli-fire-in-West-Bank-clashes-Media.html
--------
Israeli forces kill three more Palestinians amid tensions over US deal
06 February 2020
Israeli forces have shot three Palestinians dead in the occupied West Bank, which has witnessed a sharp rise in tensions since the US unveiled a contentious Middle East plan.
Palestinian media reported that the 19-year-old victim, identified as Yazan Munther Abu Tabikh, was shot dead in clashes with Israeli soldiers in the city of Jenin early on Thursday.
The confrontations erupted after the Tel Aviv regime forces demolished a house belonging to a Palestinian accused of involvement in the killing of an Israeli settler.
Meanwhile, a Palestinian officer, who was critically injured by Israeli gunfire during Jenin clashes, succumbed to his wounds..
The Palestinian Health Ministry identified the victim as Tareq Ahmad Badwan, the first lieutenant in the Palestinian police force.
Additionally, Israeli forces shoot to death a Palestinian near Jerusalem al-Quds's Lions' Gate, claiming he had opened fire on Israeli police officers.
Israeli police said an officer had sustained injuries to his arm and taken to the hospital for treatment.
The fatal shootings came only hours after a 17-year-old Palestinian boy, identified as Mohammad Salman al-Haddad, was shot in the heart and killed as Israeli forces attacked Palestinian protesters in the West Bank city of al-Khalil (Hebron).
Elsewhere in central Jerusalem al-Quds, the Israeli military claimed a car-ramming had left 14 people, mostly soldiers, injured, including one in a serious condition.
The incident occurred early on Thursday near Jerusalem al-Quds' First Station, a popular entertainment hub.
The Israeli army said the soldiers targeted were from the Golani Brigade and were making their way to the Buraq Wall — known to the Jews as the Western Wall — in the Old City of Jerusalem al-Quds.
Police said the driver of the vehicle had fled the scene and "a large force of officers were carrying out searches."
"We saw three young people lying down on the sidewalk and around nine others who were also hit were standing," Magen David Adom medic Oz Faulk said. "One person was unconscious. A 20-year-old who suffered from head and body injuries told us a car had come and run them over."
Following the first fatal shooting, the Gaza-based Hamas resistance movement called on the Palestinians to step up confrontations with Israel.
"We call for escalating confrontations with the occupation and its settlers and fighting their assaults against the land and holy sites, especially the blessed Al-Aqsa Mosque," the group said in a statement posted on its website.
The situation is also tense in the Israeli-blockaded Gaza Strip.
Israeli warplanes attacked what they called Hamas targets in the besieged coastal sliver early on Thursday.
The Israeli army claimed that its airstrikes came "in response to mortars and explosive balloons launched from Gaza" into the occupied territories.
Violence has surged in the occupied lands following the release of US President Donald Trump's self-proclaimed "deal of the century," which all Palestinian groups have unanimously rejected.
Trump's Middle East scheme largely meets Israel's demands in the decades-old conflict while creating a Palestinian state with limited control over its own security and borders.
It also enshrines Jerusalem al-Quds as "Israel's undivided capital" and allows the regime to annex settlements in the occupied West Bank and the Jordan Valley.
Full report at:
https://www.presstv.com/Detail/2020/02/06/617997/Israel-Palestine-West-Bank
--------
Poll finds 80 percent of Iranians say they will not vote in upcoming elections
6 February 2020
A poll conducted on Wednesday by a state-run Iranian news network found that over 80 percent of Iranian participants said they will not vote in the upcoming parliamentary elections.
Conducted by the state-run Iran News Network channel (IRINN) through the popular messaging app Telegram, the poll was deleted by IRINN after the results came in.
IRINN claimed the poll was hijacked by "counter-revolutionary" groups. "Counter-revolutionary" or "anti-revolutionary" is a term used by the Iranian regime to refer to its opposition.
The poll options were "[I will vote for] conservatives," "[I will vote for] reformists," "[I will vote for] independent candidates," and "I will not vote."
The last option was selected by 82 percent of the participants.
Screenshot of the IRINN poll with over 100k participants so far, showing the last option of "I will not vote" in the lead. (Screenshot)
IRINN reuploaded a new poll on Thursday, replacing the "[I will vote for] independent candidates" option with "I will cast a blank ballot" and adding a new option that read "I will vote based on the criteria set by the Supreme Leader (Khamenei)."
In the new poll, with over 100,000 votes so far, 70 percent of participants have said that they will not vote in the elections.
Iranian Supreme Leader Ali Khamenei urged Iranians on Wednesday to vote in the elections scheduled for February 21.
"Any person who has an affinity for Iran and its security must take part in the election," Khamenei said in a speech.
"One may not like me personally, but if they love Iran, they must go to the ballot box," he added.
The Islamic Republic fears a low turnout in the upcoming elections given the widespread November protests as well as the protests that broke out following Iran's admission to downing the Ukrainian airliner last month.
Full report at:
https://english.alarabiya.net/en/News/middle-east/2020/02/06/Poll-finds-80-percent-of-Iranians-say-they-will-not-vote-in-upcoming-elections.html
--------
Israeli police kill Palestinian who opened fire in Jerusalem's Old City
6 February 2020
Israeli police said they shot and killed a Palestinian who opened fire at forces in Jerusalem's Old City, lightly wounding an officer.
Israeli military spokesman Lt. Col. Jonathan Conricus said one of the 12 injured soldiers in Jerusalem was seriously hurt, the others were lightly injured.
Israeli police spokesman Micky Rosenfeld said the incident was being treated as a "terror attack," and said Israeli forces were searching for the assailant.
https://english.alarabiya.net/en/News/middle-east/2020/02/06/Israeli-police-kill-gunman-in-Jerusalem-s-Old-City-Spokesman.html
--------
Jerusalem attack is 'response' to Trump peace plan: Hamas
6 February 2020
Palestinian militant group Hamas hailed a car-ramming in Jerusalem that wounded 12 Israeli troops on Thursday as a "practical response" to US President Donald Trump's controversial Middle East peace plan.
In a statement, Hamas spokesman Hazem Qassem said the attack was part of "resistance" operations, including a series of demonstrations in the occupied West Bank, but he stopped short of claiming responsibility.
"The resistance acts throughout the West Bank -- the clashes between our people from the far south of the West Bank to the north, and the resistance operation in the heart of occupied Jerusalem -- are a practical response by our people to Trump's announcement of the liquidation deal," Qassem said.
A 19-year-old Palestinian was shot dead in clashes in Jenin in the northern West Bank Thursday morning, while a teenager was killed in clashes in the flashpoint southern city of Hebron on Wednesday.
Hamas, which controls the Gaza Strip but is blacklisted as a terrorist organization by the European Union and the United States, has fought three wars with Israel since 2008.
Trump's proposals gave Israel the green light to annex settlements and other territory in the occupied West Bank, while also recognizing the disputed city of Jerusalem as Israel's undivided capital.
It demanded that Hamas disarm and that Gaza be handed over to the West Bank-based Palestinian Authority.
Palestinians of all factions rejected Trump's plan, accusing him of bias towards Israel.
Since the plan was announced, rockets and mortar rounds have been fired near daily from Gaza towards Israel, sparking retaliatory air and artillery strikes. No casualties have been reported on either side.
Full report at:
https://english.alarabiya.net/en/News/middle-east/2020/02/06/Jerusalem-attack-is-response-to-Trump-peace-plan-Hamas.html
--------
Several Palestinians killed in occupied territories
06 February 2020
Mona Kandil
Tensions have been running high in the occupied Palestinian territories since the unveiling of the so-called Deal of the Century by US President Donald Trump last week.
In Jerusalem al-Quds, Israeli forces on Thursday shot dead a Palestinian near al-Aqsa Mosque over an alleged shooting attempt.
Two other Palestinians were killed by Israeli soldiers overnight Wednesday during an Israeli operation in the West Bank city of Jenin. The victims included a Palestinian policeman. Six more were wounded.
The clashes erupted when Israeli forces raided the city to demolish the home of Palestinian prisoner Ahmed Qomba'a, who is in jail over his alleged involvement in the killing of a settler in 2018.
On Thursday, Israeli troops launched a large-scale search operation in the south of the occupied West Bank for a Palestinian whom Israel has accused of carrying out a car ramming attack in Jerusalem al-Quds, wounding 15 Israeli soldiers.
Dozens of Palestinians were wounded during the Israeli operation. Clashes also erupted between Israeli forces and Palestinians in the city of Bethlehem.
Palestinians warn that Tel Aviv is heading towards a heavy-handed crackdown against them in the occupied territories.
Full report at:
https://www.presstv.com/Detail/2020/02/06/618050/Palestinians-Occupied-Territories
--------
Netanyahu plans to meet with Saudi crown prince before March 2 elections: Report
06 February 202
Israeli authorities are reportedly working hard to arrange a meeting between Prime Minister Benjamin Netanyahu and Saudi Arabia's Crown Prince Mohammed bin Salman in the kingdom, as the Tel Aviv regime is bringing out in the open its relations with several Arab countries after years of clandestine contacts.
The Hebrew-language Israel Defense magazine, citing sources requesting not to be named, reported on Thursday that efforts are underway for such a meeting to happen in the Saudi capital city of Riyadh before Israeli legislative elections, which are set for March 2.
The report added that the expected meeting falls within the Israeli regime's attempts to normalize relations with Arab states, which commenced in Oman and then spread to Morocco and Sudan. The attempts are apparently backed by the White House.
Israel Defense further highlighted that Washington wants to advance President Donald Trump's so-called deal of the century on the decades-old Israeli-Palestinian conflict, which could greatly help him in the US presidential race.
The magazine went on to say that there is a desire among Israeli officials to promote a round of communications with Arab countries, which may help Netanyahu's election campaign.
The report comes as General Abdel Fattah al-Burhan, the head of Sudan's ruling council, and Netanyahu recently met in Entebbe, Uganda. The meeting had reportedly been arranged by the United Arab Emirates.
It was only made public when the Israeli premier took to Twitter to claim that an agreement had been reached with Sudan to "begin cooperation that will lead to the normalization of relations."
However, the Sovereign Council of Sudan — a joint civilian-military cabinet running state affairs since September 2019 — said the cabinet had not been informed in advance about the meeting and only learned of it through media reports.
Last month, senior Saudi cleric and former justice minister, Sheikh Muhammad bin Abdul Karim bin Abdulaziz al-Issa, paid an official visit to the former Nazi concentration camp, Auschwitz, in Poland. A delegation of American Jewish Committee (AJC) officials was in the company as well.
The CEO of the AJC, David Harris, described Issa's visit to the site as highly significant, claiming that the trip represented "the most senior delegation" of Muslim scholars to visit Auschwitz ever.
Back on July 22, 2019, angry Palestinians jeered and cursed a Saudi blogger known to be a huge fan of establishing formal ties between Israel and Saudi Arabia.
One video clip posted on Twitter at the time showed Mohammed Saud being cursed and jeered as he was visiting the al-Aqsa Mosque compound in the Old City of Jerusalem al-Quds.
He was part of a six-person media delegation from the Arab world, including representatives from Jordan, who were in the occupied Palestinian territories at the invitation of the Israeli foreign ministry.
Palestinians protesting his visit called him a "traitor," "animal" and "Zionist trash," and also told him to "go to a synagogue" instead of praying at a mosque.
Another video clip showed plastic chairs and sticks being thrown at him as he walked in the market in the Old City.
Last May, Lebanese daily Arabic-language newspaper al-Akhbar said the Saudi crown prince had offered Palestinian Authority chief Mahmoud Abbas 10 billion dollars in return for accepting Trump's controversial proposal for peace between the Israelis and Palestinians, dubbed "the deal of the century."
Akhbar noted that Abbas had turned down the offer, saying supporting the deal would be "the end of his political life."
Earlier last year, delegates from Saudi Arabia, the United Arab Emirates and Egypt at a meeting of Arab states reportedly opposed bids condemning the normalization of relations with the Israeli regime.
Full report at:
https://www.presstv.com/Detail/2020/02/06/618042/Netanyahu-plans-to-meet-with-Saudi-crown-prince-before-March-2-elections:-Report
--------
North America
Muslims improperly placed on no-fly list urge US Supreme Court to allow lawsuit
6 February 2020
Four Muslim men who claim the FBI put them on a no-fly list in retaliation for refusing to spy on other Muslims have urged the US Supreme Court to affirm a ruling that they can sue the agents responsible.
According to court papers, Muhammad Tanvir, the lead plaintiff, said FBI agents approached him at his workplace in February 2007 to ask him about an acquaintance.
Tanvir said he knew nothing useful and over the next three years declined repeated requests to serve as an informant during his visits to Pakistan.
Tanvir, who's a permanent resident of the US, would regularly visit Pakistan where his wife and family reside.
The New York resident, who said he's never been charged with a crime, claimed that the agents placed him on a no-fly list in 2010 in an attempt to coerce him.
The no-fly list is a secret roster that allows US authorities to stop people from boarding commercial aircraft because of terrorism concerns.
Tanvir and three other co-plaintiffs said that they refused the request because informing on fellow Muslims and going into mosques under false pretenses would violate their religious beliefs.
"No one should be harassed and forced to spy on their religious community," Tanvir said in a statement late on Wednesday.
"The FBI agents knew I was vulnerable and that I needed to fly to see my family.
"This kind of harassment shouldn't go unaccounted for – I am continuing in this fight because I want to make sure that others don't go through what I went through."
'Trample on Muslim rights'
In a statement, the Center for Constitutional Rights said the Supreme Court was being asked to consider whether the Religious Freedom Restoration Act (RFRA) allows the men to sue FBI agents for damages for the harm they suffered as a result of being on the list.
"Broad protection for religious freedom is part of the founding mythology of this country, and Congress clearly intended to provide that with RFRA," said Center for Constitutional Rights senior managing attorney Shayana Kadidal.
"If the court decides to cut off that last judicial mechanism for accountability, it will send a clear message to the FBI and other agencies that they can trample on the rights of the Muslim community with impunity.
"Under the current administration, it is more crucial than ever that courts provide a check on religiously motivated abuses like these."
A federal appeals court in New York found in 2018 that the men could seek damages under RFRA, a 1993 law that forbids the federal government from imposing "substantial burdens" on religious exercise without a compelling reason.
https://www.middleeasteye.net/news/muslims-improperly-placed-no-fly-list-urge-us-supreme-court-allow-lawsuit
--------
CAIR-LA calls for hate crime investigation into anti-Muslim remarks at public forum
February 6, 2020
Alejandra Molina
LOS ANGELES (RNS) — The Council on American-Islamic Relations in Los Angeles is calling for a hate crime investigation after anti-Muslim remarks disrupted a congressional candidate forum.
The event was held in Palmdale, California, on Saturday (Feb. 1) but lasted only about 30 minutes, at which point coordinators wound up abruptly ending the forum.
In attendance were Democratic candidates Aníbal Valdéz-Ortega, David Rudnick, Getro Elize and Cenk Uygur, who are vying for the 25th Congressional District seat that Katie Hill left vacant amid allegations of inappropriate sexual relationships with staffers.
The disruption began as the candidates discussed the Trump administration's widening of the travel ban.
A video stream of the event shows attendees, some with pro-Trump signs, objecting to Uygur when he said that trying to ban Muslims "is pure bigotry" and that Republicans who agree with Trump "are bigots."
Some people in the crowd told the panel not to refer to the travel restrictions as the "Muslim ban."
"We don't want terrorists in our country," one person said.
At one point, one woman confronted another woman who was wearing a hijab, saying: "This is America. You want to assimilate to America? Take that hijab off and be American."
Another man was overheard saying: "That's what we want, assimilation. Muslims don't assimilate."
The American Islamic Institute of Antelope Valley and CAIR-LA sponsored the forum.
Hussam Ayloush, executive director of CAIR-LA, said the organization is taking the threats against the woman wearing a hijab seriously and asked that the Los Angeles County Sheriff's Department investigate the incident as a possible hate crime.
Full report at:
https://religionnews.com/2020/02/06/cair-calls-for-hate-crime-investigation-for-anti-muslim-remarks-at-public-forum/
--------
Trump confirms killing of Al Qaeda leader in Yemen
February 07, 2020
President Donald Trump confirmed on Thursday that the US had killed the leader of Al Qaeda in the Arabian Peninsula — days after the militant group claimed responsibility for a mass shooting at a US naval base.
The US "conducted a counterterrorism operation in Yemen that successfully eliminated Qassim Al Rimi, a founder and the leader of Al Qaeda in the Arabian Peninsula (AQAP)," Trump said in a White House statement.
AQAP claimed responsibility on Sunday for a December 6 shooting at US Naval Air Station Pensacola in Florida, in which a Saudi Air Force officer killed three American sailors.
The announcement came with Trump touting US resolve following the killings of Islamic State group leader Abu Bakr Al Baghdadi in October last year and top Iranian general Qasem Soleimani three months later.
The militant group has thrived in the chaos of years of civil war between Yemen's Saudi-backed government and rebels who control the capital.
"Under Rimi, AQAP committed unconscionable violence against civilians in Yemen and sought to conduct and inspire numerous attacks against the United States and our forces," Trump said.
"His death further degrades AQAP and the global Al Qaeda movement, and it brings us closer to eliminating the threats these groups pose to our national security."
'Eliminating terrorists'
Trump did not give any details about the circumstances or the timing of the operation.
But it follows the killing of Al Rimi's predecessor Nasir Al Wuhayshi in June 2015, as part of the US's long running drone campaign in Yemen.
The following year top regional AQAP emir Jalal Belaidi, alias Abu Hamza, was also killed in a drone strike in the war torn country.
Belaidi was responsible for multiple provinces in Yemen, the US State Department said after the killing.
It had offered a $5 million reward for information on Belaidi over his alleged involvement in plotting bomb attacks on Western diplomatic officials and facilities in the capital Sanaa in 2013.
"The United States, our interests, and our allies are safer as a result of his death," Trump said of the operation.
"We will continue to protect the American people by tracking down and eliminating terrorists who seek to do us harm."
In AQAP's Pensacola attack, eight people were wounded, including two responding sheriff's deputies, before police shot dead the assailant.
The FBI formally identified the attacker as Mohammed Alshamrani, 21, a second lieutenant in the Royal Saudi Air Force who was training in the US.
Saudis expelled
The SITE monitoring group said he had posted a short manifesto on Twitter prior to the attack that read: "I'm against evil, and America as a whole has turned into a nation of evil."
"I hate you because every day you (are) supporting, funding and committing crimes not only against Muslims but also humanity."
The Twitter account that posted the manifesto also condemned US support for Israel and included a quote from Al Qaeda's deceased leader Osama bin Laden.
Saudi Arabia's King Salman was quick to denounce the shooting as a "heinous crime." Around 850 Saudis are among the 5,000 foreign military personnel being trained in the United States.
Last month, however, the US Justice Department said it would send home 21 Saudi military trainees after an investigation into the attack, with Attorney General Bill Barr calling it an "act of terrorism."
Barr said 21 of Alshamrani's colleagues were being expelled from the base's flight school after the probe found many of them were in possession of extremist material and child pornography.
Full report at:
https://www.dawn.com/news/1533002/trump-confirms-killing-of-al-qaeda-leader-in-yemen
--------
American kidnapped in eastern Afghanistan: Official
6 February 2020
A US security contractor has been kidnapped in eastern Afghanistan, an official confirmed Thursday, the latest instance of a foreigner being taken in the war-torn country where abductions are common.
An Afghan security official with knowledge of the incident told AFP the former US Navy member had been working in Afghanistan as a contractor when he was abducted last week in eastern Khost province, near the Pakistani border.
There was no indication whether a militant group or a criminal organization was behind the kidnapping, while the Taliban told AFP they had "no information" about the matter.
Afghanistan's former intelligence chief Amrullah Saleh was quick to blame the insurgents, saying on Twitter the abduction had been orchestrated by "the Taliban & their Pakistani backers. Kidnapping must end & end without ransom."
Pakistan has long been accused of backing the Taliban but has repeatedly denied supporting the group.
The US State Department said it was aware of reports of the kidnapping but declined to comment further.
The incident comes after the Taliban in November handed two Western hostages over to US forces in southern Afghanistan, three years after they were abducted, in a swap for three high-ranking insurgent prisoners.
The exchange of American Kevin King and Australian Timothy Weeks for the militants -- including Anas Haqqani, brother to the Taliban's deputy leader -- was widely believed to be instrumental in kick-starting stalled talks between the two sides.
The Taliban later described the exchange as "a step forward in good-will and confidence-building measures that can aid the peace process."
Full report at:
https://english.alarabiya.net/en/News/middle-east/2020/02/06/American-kidnapped-in-eastern-Afghanistan-Official-.html
--------
Turkey warns of severe response to Syria regime attacks
Betul Yuruk
07.02.2020
NEW YORK
Turkey's UN Ambassador Feridun Sinirlioglu warned Thursday of a severe punishment against Syrian regime aggression in Idlib.
Addressing the UN Security Council in New York, Sinirlioglu said Bashar al-Assad wanted to draw Turkey into "his dirty war by deliberately targeting" Turkish military forces.
"Any military aggression targeting Turkey's security and Turkish soldiers will be severely punished," said Sinirlioglu. "We will never hesitate to use our right to self-defense. I am not drawing a red line here. This is a warning."
He asserted that Turkey believes in a political solution in the war-torn country and it is working with the UN for a settlement there.
"But Turkey will never tolerate any belligerent act," he added.
On Monday, Syrian regime forces attacked Turkish troops, resulting in the deaths of seven Turkish soldiers and one civilian personnel. In retaliation, the Turkish military targeted more than 50 positions and neutralized more than 70 Syrian regime troops, according to Defense Minister Hulusi Akar.
Meanwhile, Russian-backed Syrian forces advanced through Idlib province Thursday in a brutal ground offensive that was preceded by weeks of intensive aerial bombardment which emptied whole towns of terrified civilians.
Since March 2011, hundreds of thousands of Syrians have been killed by the Syrian regime and millions have been displaced, besieged and denied humanitarian and medical aid.
Turkey is hosting nearly 4 million Syrian refugees.
"This is almost one fifth of the entire population of Syria before the start of the conflict. All this is because the tyrant in Damascus refused to meet the legitimate demands of the Syrian people," said Sinirlioglu.
He said "terror groups established their own states in Syrian territory because the tyrant in Damascus would not allow Syrian people to enjoy their basic rights."
The Turkish envoy said Turkey expects the regime and its supporters to withdraw from their current positions by the end of this month.
Full report at:
https://www.aa.com.tr/en/americas/turkey-warns-of-severe-response-to-syria-regime-attacks/1726954
--------
Kushner touts peace plan at top UN body
James Reinl
07.02.2020
UNITED NATIONS
U.S. President Donald Trump's son-in-law and senior adviser Jared Kushner briefed the UN Security Council on Thursday about his controversial plan for peace between Israelis and Palestinians.
Kushner met with ambassadors from the 15-nation body for a private, hour-long lunchtime conversation at the U.S. mission to the world body across the street from UN headquarters in midtown Manhattan.
After the closed-door talks, Marc Pecsteen, the permanent representative of Belgium to the UN, whose country currently holds the council's rotating monthlong presidency, told reporters he would not "go into details" about the session.
"It was a good exchange of views, questions about the plan, explanations, clarifications. It was a useful meeting," said Pecsteen.
"Our American colleagues told us this would not be the last one. We could have more exchanges like that in the future."
Also speaking Thursday, France's UN ambassador Nicolas de Riviere signaled that Paris was unwilling to drop the long-established principles of Middle East peace-making from which Kushner's plan deviates.
"I think the French position is crystal clear, it remains the same," said de Riviere.
"We support the two-state solution, with Jerusalem as the capital of the two states. We are supporting this position because we strongly believe that this is the only pragmatic way to resolve the issue."
Trump unveiled his long-awaited plan for Middle East peace at the White House on Jan. 28, standing beside Israeli Prime Minister Benjamin Netanyahu but with no Palestinian envoy present.
Palestinians say the plan denies them the long-held goal of establishing their own country, while many Israelis applaud Trump's decision to recognize Israeli sovereignty over West Bank settlements and the Jordan Valley.
Full report at:
https://www.aa.com.tr/en/americas/kushner-touts-peace-plan-at-top-un-body/1726921
--------
Pompeo says Iraqi protesters have right to 'government free of Iran influence'
7 February 2020
US Secretary of State Mike Pompeo has condemned the violence in Najaf where seven people were shot dead and said that Iraqi protesters have a right to "demonstrate for a government free of Iranian influence."
"We strongly condemn the violence in Najaf. Peaceful protesters must be allowed to demonstrate for a government free of Iranian influence without facing death and violence. The government must bring the killers to justice," Pompeo tweeted on Wednesday.
At least seven people were shot dead in Iraq's shrine city of Najaf after supporters of powerful cleric Moqtada al-Sadr raided an anti-government protest camp, according to medics who spoke to AFP.
Full report at:
https://english.alarabiya.net/en/News/middle-east/2020/02/07/Pompeo-says-Iraqi-protesters-have-right-to-government-free-of-Iran-influence.html
--------
Kushner blames Palestinian leader Abbas for recent violence in Israel
7 February 2020
President Donald Trump's son-in-law Jared Kushner, the architect of a new US peace plan for the Middle East, blamed Palestinian President Mahmoud Abbas for recent violence in Israel on Thursday.
"He does have a responsiblity for it," Kushner told reporters after briefing UN Security Council members on the plan that has been rejected by the Palestinians.
"He calls for days of rage in response and he said that even before he saw the plan," Kushner added.
Earlier on Thursday, Palestinian militant group Hamas hailed a car-ramming in Jerusalem that wounded 12 Israeli soldiers as a "practical response" to US President Donald Trump's controversial Middle East peace plan.
Full report at:
https://english.alarabiya.net/en/News/middle-east/2020/02/07/Kushner-blames-Palestinian-leader-Abbas-for-recent-violence-in-Israel.html
--------
Poll finds 76 percent of Canadians support increasing sanctions against Iran
6 February 2020
Canadians are in favor of taking a tougher stance against Iran following the Islamic Republic's downing of a Ukrainian airliner last month, revealed a new Ipsos poll on Wednesday.
According to the poll results, 76 percent of Canadians surveyed support the Canadian government increasing sanctions against Tehran.
The Ipsos poll also showed that 89 percent of Canadians want their government to press the Iranian regime to pay damages to the Canadian families affected by the plane crash.
Iran's Islamic Revolutionary Guard Corps (IRGC) shot down a Ukraine International Airlines jet on January 8, killing all 176 on board, including 57 Canadians.
Full report at:
https://english.alarabiya.net/en/News/middle-east/2020/02/06/Poll-finds-76-percent-of-Canadians-support-increasing-sanctions-against-Iran.html
--------
Pakistan
ATC to announce verdicts against JuD chief Hafiz Saeed on Feb 8
February 7, 2020
LAHORE: An Anti-Terrorism Court (ATC) on Thursday reserved its verdicts in two cases pertaining to terror financing against Hafiz Saeed, chief of the proscribed Jamaatud Dawa (JuD).
ATC judge Arshad Hussain Bhatta will announce the verdicts in both cases on February 8.
The cases were filed by the Counter-Terrorism Department's (CTD) Lahore and Gujranwala chapters. The case filed by CTD's Gujranwala chapter was initially being heard in a Gujranwala ATC but was shifted to Lahore on the directions of the Lahore High Court. During the trial of both cases, the court recorded the statements of 23 witnesses.
The JuD chief was arrested by CTD in July last year, while he was travelling from Lahore to Gujranwala. Prior to his arrest, 23 first information reports had been registered against JuD leaders, including Saeed and JuD Naib Emir Abdul Rehman Makki, at CTD police stations of Lahore, Gujranwala, Multan, Faisalabad and Sargodha in July 2019.
According to the CTD, JuD was financing terrorism from the massive funds collected through non-profit organisations and trusts including Al-Anfaal Trust, Dawatul Irshad Trust, Muaz Bin Jabal Trust, etc. These non-profit organisations were banned in April last year as the CTD, during detailed investigations, found that they had links with the JuD and its top leadership.
Saeed is nominated in about 29 cases pertaining to terror financing, money laundering as well as illegal land grabbing.
In February last year, Paris-based Financial Action Task Force (FATF) had warned Pakistan to deliver on its commitments to curb terror financing and money laundering.
Risks to the global financial system have virtually put the country's entire machinery into an aggressive mode to show tangible progress within two months of the warning.
While the meetings were taking place, the government had announced a ban on JuD and Falah-e-Insanyat Foundation (FIF) to partially address the concerns raised by India that Pakistan supported these and six similar organisations, including Jaish-e-Mohammad (JeM) or at least considered them low-risk entities.
Law enforcement agencies over the next few weeks had intensified their crackdown on JeM, JuD, FIF and other banned outfits, and arrested more than 100 activists. Nearly 200 seminaries besides hundreds of other facilities and assets associated with them across the country were taken over by the government.
https://www.pakistantoday.com.pk/2020/02/06/atc-to-announce-verdicts-against-jud-chief-hafiz-saeed-on-feb-8/
--------
PTI govt to make another attempt to pacify disgruntled allies
Syed Irfan Raza
February 07, 2020
ISLAMABAD: The government has decided to make another attempt to pacify its disgruntled allies by holding a fresh round of talks to remove their reservations over the performance of the government, inflation and non-utilisation of development funds.
The decision was taken at a meeting of the ruling Pakistan Tehreek-i-Insaf's (PTI) top brass. It was chaired by National Assembly Speaker Asad Qaiser in his chamber in the Parliament House on Thursday.
The meeting was attended by Punjab Chief Minister Usman Buzdar and Governor Chuadhry Sarwar, Sindh Governor Imran Ismail, Deputy Speaker Qasim Suri, Defence Minister Pervez Khattak, Minister for Planning and Development Asad Umar and Education Minister Shafqat Mahmood.
Another meeting was also held in the chamber of PTI's chief whip in the National Assembly Amir Dogar in which a strategy was devised to appease the "annoyed" Pakistan Muslim League-Quaid in Punjab. It is expected that PML-Q's demand for including PTI leader Jehangir Tareen in the government's committee for Punjab will be met and he may become a part of the negotiation process.
"Top brass of our party put their heads together and decided to hold a fresh round of talks with the ruling allies to resolve their grievances," said Amir Dogar when contacted by Dawn.
He said three committees already formed by Prime Minister Imran Khan would meet coalition partners and the first meeting would be held in Lahore with the PML-Q leadership. The government committee will comprise CM Buzdar, Pervez Khattak, Asad Umar and Shafqat Mahmood, he said, adding that the possibility of including Jehangir Tareen could not be ruled out. "The prime minister has given another assignment to Mr Tareen but he can join the committee as well," he added.
When asked about main demands of the PML-Q, Mr Dogar said: "Obviously, they [PML-Q leaders] demand a federal ministry and development activities in the districts from where they belong."
The PTI's chief whip in the NA said the prime minister had made him a coordinator on Punjab and, therefore, CM Buzdar and Governor Sarwar met him and got detailed reports of PML-Q's demands and reservations. "I shared with them [the CM and governor] my one-and-a-half years experience and relations with PML-Q in the National Assembly," he added.
The PTI leader said that meetings with the disgruntled Muttahida Qaumi Move­ment, Grand Demo­cratic Alliance, Balochistan National Party and the Balochistan Awami Party would also be held soon.
On the other hand, the PML-Q refused to meet the government unless their demands already accepted by the latter were met.
Full report at:
https://www.dawn.com/news/1532984/pti-govt-to-make-another-attempt-to-pacify-disgruntled-allies
--------
SC to take up implementation of its Karachi law and order verdict today
February 07, 2020
The Supreme Court is set to take up today the implementation of its landmark 2011 judgement handed down in a suo motu case regarding the law and order situation in Karachi.
The apex court bench comprising Chief Justice of Pakistan Gulzar Ahmed, Justice Faisal Arab and Justice Sajjad Ali Shah will take up the case at the Supreme Court's Karachi registry.
The proceedings are based on a suo motu notice taken by the then chief justice Iftikhar Muhammad Chaudhry after the city went through one of its bloodiest summers in 2011. The five-judge bench had passed a detailed judgement in October 2011 which contained various orders and directions on how to control lawlessness in the metropolis.
Read: 'Violence in Karachi a result of turf war'
The chief justice at the time said that if target killings continued in Karachi, it would be difficult for the government to remain in power. The apex court has also formed a committee to monitor the city's law and order situation.
Justice Iftikhar had further said that Rangers told the court that the situation in Karachi was worse than that of Waziristan and that political parties were backing criminal elements operating in the city.
Full report at:
https://www.dawn.com/news/1533004/sc-to-take-up-implementation-of-its-karachi-law-and-order-verdict-today
--------
Saudi prince permitted to export 50 falcons from Pakistan
February 07, 2020
KARACHI: The federal government has issued a special permit to Saudi Arabia's Prince Fahd bin Sultan bin Abdul Aziz Al-Saud to export 50 rare falcons from Pakistan to Saudi Arabia during the 2019-20 season, it is learnt.
According to sources, the falcons of highly rare species — Saker and Peregrine — are used for hunting the internationally protected houbara bustard during winter in the country. Oil-rich Arab hunters keep a large number of falcons to pursue their houbara bustard hunting.
As falcons age with time, hunters need to change their aged falcons with younger ones that could hunt houbara bustard more efficiently. Hence, an export permit was requested by the kingdom and duly issued by Pakistan. The sources said that by issuing falcon export permits the government was promoting and patronising underground black wildlife market as falcons could not be trapped, sold and purchased here legally. The falcons for export would have to be purchased from traders dealing in wildlife illegally. The sources said that Prince Fahd, who is also governor of Tabuk province, had requested for the export permit through the Saudi embassy.
Subsequently, the foreign ministry's deputy chief of protocol Mohammad Adeel Perviaz issued the permit and delivered it to the Islamabad-based Saudi embassy.
Mr Pervaiz, in a letter (DCP – P&I) 2019-20 to the Saudi embassy, says: "The Ministry of Foreign Affairs of the Islamic Republic of Pakistan presents its compliments to the Embassy of Kingdom of Saudi Arabia in Islamabad and with reference to its Note Verbale regarding export of falcons has the honour to inform that the esteemed embassy may export Fifty (50) falcons from Pakistan to Saudi Arabia for personal use of Prince Fahd bin Sultan bin Abdul Aziz, Governor Tabuk of the Kingdom of Saudi Arabia.
"In this regard, the concerned authorities have been requested to accord facilitation for the export of Fifty (50) falcons from Pakistan to Kingdom of Saudi Arabia. The ministry of foreign affairs of Islamic Republic of Pakistan avails itself of this opportunity to renew to the esteemed Mission of the assurances of its highest consideration."
Full report at:
https://www.dawn.com/news/1532983/saudi-prince-permitted-to-export-50-falcons-from-pakistan
--------
Erdogan to address joint parliamentary session on Feb 14
February 7, 2020
ANKARA: Turkish President Recep Tayyip Erdogan will address the joint sitting of parliament on Feb 14, announced National Assembly Speaker Asad Qaiser on Thursday.
This will be the fourth time that Erdogan addresses the Pakistani lawmakers.
The speaker, during the NA session, said that he will hold consultations with all the parliamentary leaders on the matter.
Erdogan is expected to arrive in Pakistan for a two-day visit on Feb 13.
The Turkish president was scheduled to pay an official visit to Pakistan on Oct 23 last year to cement relations between the two countries and to extend full support to Pakistan's stance on the Kashmir issue. The visit, however, was postponed after Turkey's involvement with a military offensive against Kurdish militants in Syria that raised tensions with Washington and other Western nations.
Ahead of the October visit, Prime Minister Imran Khan had said: "The government and the people of Pakistan are looking forward to accord a warm welcome to President Erdogan."
Erodgan last visited Pakistan in 2016, during the PML-N-led government, during which he also addressed the parliament. He was accompanied by his spouse Emine Erdogan and a high-level delegation.
The guests were received at the Nur Khan Airbase in Rawalpindi by then Prime Minister Nawaz Sharif, his cabinet members and senior officials, first lady late Kulsoom Nawaz, his daughter Maryam Nawaz and his younger brother Shahbaz Sharif.
Full report at:
https://www.pakistantoday.com.pk/2020/02/06/erdogan-to-address-joint-parliamentary-session-on-feb-14/
--------
Moonis meets PM Imran, hopes of breakthrough on demands
February 7, 2020
ISLAMABAD: Pakistan Muslim League-Quaid (PML-Q) senior leader and scion of the Chaudhry family of Gujrat, Moonis Elahi, on Wednesday met Prime Minister Imran Khan in a bid to bridge the gulf that has come between the two allied parties in the government.
The meeting comes after Moonis' father, Chaudhry Pervez Elahi, told a representative of the newly-formed government committee tasked with holding talks with the allied parties that they preferred meeting the premier directly instead of negotiating with his representatives.
On Monday, Federal Minister for Education and Professional Training Shafqat Mahmood held a meeting with Punjab Assembly Speaker Elahi but failed to convince him to hold talks with the government committee. The PML-Q leader reportedly told the minister that further dialogues would not be possible until the implementation of the recommendations tabled by the previous dialogue committee comprising Jahangir Tareen and Pervez Khattak.
On Sunday, the PML-Q had demanded the federal government led by Pakistan Tehreek-e-Insaf (PTI) to start implementation on the negotiated matters that include allocation of development funds for PML-Q lawmakers and appointment of bureaucrats of the party's choice in five districts.
Talking to reporters after meeting PM Imran, Moonis said that the first meeting with the latter was good.
"We talked openly and whatever the PM said was clear. After all these happenings, I think things will get right," he said, adding that he had informed Imran about the PML-Q's concerns and had also assured him of their support in resolving the issues amicably.
"It was unfair to set up another committee when a committee was already working on the issue," Moonis said, adding that some people, who had been associated with the PML-Q in the past, had misled Imran Khan.
Moonis rejected reports that his party wanted to topple the government of Chief Minister Usman Buzdar.
"However, some people want to fail Imran Khan. It was our agreement with the PTI that our ministers would be fully empowered, they would be able to do transfers and postings and there would be no interference in our ministries. Matters about three districts were also settled," he said.
Referring to Elahi's meeting with Shafqat Mehmood, Moonis said Mahmood had assured his party that decisions taken by the committee comprising Tareen and Khattak would be implemented. He added that work on transfers and postings was underway, but the issue of release of development funds has yet to be sorted out.
"We want this alliance to work and it is also our desire to contest the next election together," he said, denying that his father Pervez Elahi was eyeing the CM's office.
TAREEN UNHAPPY:
Meanwhile, PTI senior leader Tareen is reportedly unhappy for being ignored in the new dialogue committees formed by PM Imran.
In a meeting with Khattak on Wednesday, Tareen is said to have conveyed his reservations over some party leaders who were giving the impression that he was responsible for the breakdown in the talks process with allied parties.
Full report at:
https://www.pakistantoday.com.pk/2020/02/06/moonis-meets-pm-imran-hopes-of-breakthrough-on-demands/
--------
South Asia
Rohingya Boat People to be Returned to Homes in Myanmar's Rakhine State
2020-02-06
Myanmar authorities have confirmed that more than 130 Rohingya Muslims who were part of a larger group detained in December by the Myanmar Navy in waters off Tanintharyi region while traveling to a third country are residents of Rakhine state, a district official said Thursday.
The 133 were among the more than 170 Rohingya picked up by coastal forces in the Andaman Sea as they attempted to leave Myanmar. All of them were transferred by boat to western Myanmar's Rakhine state in early January, where immigration officials in the regional capital Sittwe have been working to determine whether they were from northern Rakhine state.
"We have conducted an assessment and sent back [home] those who could be confirmed as residents of Myanmar," said Soe Aung, administrator of Rakhine's Muslim-majority Maungdaw district.
"Those who still have homes in their villages are returning to their homes," he said. "Those who don't have homes will live with their relatives."
Win Hlaing Oo, assistant director of a Rohingya refugee reception center in the district's Nga Khu Ya village, said officials could only accept the boat people once they had confirmed proof of their residency in Myanmar
Officials had first been asked to access the identity of the boat people in Kawthaung in Tanintharyi region, where they were taken after they were picked up at sea, he said.
"So we have had to decide if they are genuine residents and work through many procedures," Win Hlaing Oo said.
Officials have not be able to confirm the status of 20 others among the group, and there have been delays with submitting reports to senior authorities, he said.
Authorities have meanwhile determined that one of the detained Rohingya is a citizen of Bangladesh, and they are negotiating with Bangladeshi authorities for that person's repatriation, he added.
Maungdaw district resident Hammad Shari said it will be difficult for the Rohingya boat people to return to their villages of origin, many of which were burned during a military-led crackdown in northern Rakhine in 2017.
Security forces targeted Rohingya communities in a rampage of violence following deadly attacks on police outposts by a Muslim militant group, killing thousands and driving more than 740,000 others to Bangladesh.
"In Maungdaw region, many villages are gone," Hammad Shari said. "I don't know how these people can go back to their homes."
The root causes
Nickey Diamond, an activist with Southeast Asia-based Fortify Rights, said authorities must address the root of the problem as to why Rohingya are fleeing Myanmar.
"In Rakhine, their lives are tough, and so they try to run away," he said. "Those who get caught are given prison sentences. When they are in a condition in which authorities cannot send them to jail, they have been sent back to where they came from. Returning them does not resolve the ongoing problems."
Myanmar views the Rohingya as illegal immigrants from Bangladesh and denies them full citizenship as well as subjecting them to discriminatory policies such as denying them freedom of movement. They also are denied access to jobs, education, and health care.
Though Myanmar and Bangladesh have signed an agreement to repatriate some of the hundreds of thousands of Rohingya who fled northern Rakhine and now live in sprawling refugee camps, none of those approved for return have gone back, citing fear of further violence and ongoing denials of full citizenship and other basic rights.
"I don't see the government trying to address the root causes," Diamond said. "After the Rohingya [boat people] have returned, they may run away again if the conditions are not right for them."
"The government should try to understand why they are running away and what pushed them out, and resolve the root cause of the problem," he said.
https://www.rfa.org/english/news/myanmar/rohingya-boat-people-to-be-returned-02062020165608.html
--------
Islami Andolan Bangladesh: Blessed or just filling the void?
February 07, 2020
Its presence was not strong enough in the run-up to the Dhaka city polls. In terms of campaign, it looked like a party with poor organisational capacity.
Yet, the Islami Andolan Bangladesh secured the third position in Saturday's elections, beating the Jatiya Party, the main opposition in parliament.
The number of votes the IAB bagged was almost double what the party got in the last city elections, held in 2015, demonstrating the strength it has consolidated over the years.
Abdur Rahman, IAB's mayoral candidate for Dhaka South City Corporation, got 26,525 votes, pushing JP's Saifuddin Ahmed Milon to a distant fourth place with 5,593 votes. In the 2015 election, Rahman obtained 14,784 votes.
In Dhaka North, IAB's mayoral hopeful Fazle Bari Masud secured 28,200 votes. Its candidate for the same post got 18,050 votes in 2015. No JP candidate ran for the DNCC mayor office in Saturday's polls.
In terms of votes in local government elections over the last three years, including the latest Dhaka city polls, the party appeared as the third major political party in the country.
But what exactly are the reasons for its rise?
'GO-SOFT APPROACH'
Though IAB claims the policy of "go alone" yielded results, political analysts say it was more to do with the "go-soft" approach from the ruling Awami League that allowed the Islamist party to grow.
They also believe such a rise of an Islamist party is an ominous sign because its ideologies go against the democratic culture and values.
The analysts went as far as to suggest that the AL might be considering IAB as a replacement of the Jamaat-e-Islami, a key ally of its archival BNP.
In the last one year, IAB held several rallies in the capital without any restrictions from the administration. And all the rallies saw huge crowds.
But that was not the case for the BNP as getting permission for a rally was a big challenge for it. Even when it got permission, that came with a number of conditions.
"We want Islami Andolon to appear as an alternative force. We know they will be a factor in politics of vote in the near future," an AL central executive committee member told The Daily Star, wishing anonymity.
He also said IAB could be an alternative to Jamaat-e-Islami and "that would be better for the peace-loving people".
THE RISE
Founded in March 1987 by Fazlul Karim, popularly called "Charmonair Pir", Islami Andolan Bangladesh gave a real demonstration of its organisational abilities in the 2018 national elections.
It contested in 299 out of 300 constituencies -- the highest by a single party -- in the election whereas the AL fielded candidates for 262 seats, the BNP for 258 and the JP for only 45.
The party got a total of 12,54,800 votes in that polls.
It participated in the national election in 1991 and in 1996 under the banner of Islami Oikya Jote, an alliance of seven Islamist parties.
The party also took part in the 2002 national election as an ally of the Jatiya Party and contested in 23 constituencies.
The party individually participated in national elections for the first time in 2008. It contested for 160 seats and secured 7,33,969 votes, which was 1.05 percent of total vote cast.
No political party except the Awami League and the BNP got even one percent of total votes in that polls.
Tarek Shamsur Rahman, a former professor at Jahangirnagar University, said a section of Islam-loving people is giving support to IAB after getting frustrated with Jamaat.
This section is not highly educated and most of them belong to common working class -- rickshaw pullers, CNG drivers, small traders and roadside vendors.
Besides, frustration of the common people over the intolerance of two major political parties -- AL and BNP -- and also the failure of Jatiya Party contributed to the rise of the Islamist force, said the professor.
The way Islami Andolan has gradually been gaining strength and feared they could appear as a major political force in the coming days, he added.
"The rise of Islami Andolan is not good for the country as its ideology and strategy don't support the democratic culture and values," he said.
According to the party's charter, Islami Andolan wants to create a society based on the model of "Islami Caliphate" so that Bangladesh can turn into a welfare state.
The party, however, committed to ensure the religious rights of non-Muslim and minority communities.
It also promised to preach Islam massively and encourage people to perform religious activities.
RESULTS IN OTHER POLLS
In the 2016 union parishad elections, IAB's candidates contested for 1,086 chairman posts. They won in four, and 200 of its candidates got second positions in terms of votes.
In Rangpur city polls in December 2017, its mayor candidate got 23,718 votes while the AL got 62,400 votes and BNP secured 35,136 votes.
In Khulna city polls in May 2018, IAB's mayoral candidate got 14,363 votes to finish third ahead of the JP candidate who bagged only 1,072 votes.
In Gazipur city polls in June 2018, the IAB's mayor candidate got the third highest vote with 26,381.
Full report at:
https://www.thedailystar.net/frontpage/news/islami-andolan-bangladesh-blessed-or-just-filling-the-void-1864492
--------
US security contractor kidnapped in Afghanistan
06 February 2020
A US security contractor has been kidnapped in Afghanistan's eastern Khost province amid a record surge in violent attacks across the war-ravaged Asian country.
An Afghan security official with knowledge of the incident told media outlets on Thursday that the former US Navy member had been working as a contractor when he was abducted last week in the troubled province near the Pakistani border.
The US State Department said it was aware of reports of the kidnapping.
Amrullah Saleh, former spy chief of Afghanistan, was quick to blame the militants, saying on Twitter the abduction had been orchestrated by "the Taliban & their Pakistani backers. Kidnapping must end & end without ransom".
The kidnapping of Afghans and foreigners for ransom is common across Afghanistan where swathes of the country are infested with criminal gangs or militant groups.
The Taliban have also a history of kidnapping Americans their western colleague in Afghanistan.
In November last year, the Taliban handed two Western hostages over to US forces in southern Afghanistan in a swap for three high-ranking insurgent prisoners.
The exchange of American Kevin King and Australian Timothy Weeks for the militants was widely believed to be instrumental in kick-starting stalled talks between the two sides.
The Taliban later described the exchange as "a step forward in good-will and confidence-building measures that can aid the peace process".
Attacks dropped early last year but picked up again after US President Donald Trump called off talks with the Taliban near Washington after an American officer was killed in Afghanistan.
The Taliban and the US had been negotiating the deal for a year and were on the brink of an announcement in September 2019, when Trump abruptly declared the process "dead."
Talks restarted in Qatar later last December, but were suspended again following an attack near the Bagram military base in Afghanistan, which is run by the US.
Violent assaults in Afghanistan have meanwhile been raging, with the number of clashes jumping to record levels in the last quarter of last year.
In addition, Pakistan and Afghanistan also regularly accuse each other of sheltering militants.
Islamabad has helped facilitate the talks between the Afghan Taliban and Washington in Doha. Pakistan was also one of the only three countries to recognize a Taliban regime that was toppled in 2001.
Full report at:
https://www.presstv.com/Detail/2020/02/06/618048/US-Afghanistan-Amrullah-Saleh-Taliban-Pakistan
--------
Italy to donate €1M aid for Rohingya in Bangladesh
Md. Kamruzzaman
06.02.2020
DHAKA, Bangladesh
Italy pledged to provide an additional €1 million ($1.1 million) in aid to Rohingya Muslims living in makeshift camps in Bangladesh's southern district of Cox's Bazar, according to media reports.
Italian Prime Minister Giuseppe Conte announced the commitment in the capital Rome on Wednesday during a bilateral meeting with visiting Bangladeshi Prime Minister Sheikh Hasina.
"In addition to the existing assistance, [Italy] will provide €1 million for the help of the Rohingya citizens through the [UN refugee agency] UNHCR," said Ihsanul Karim, Hasina's press secretary, according to Bangladesh's state-run news agency.
For his part, Conte lauded Bangladesh's "super human endeavors" to host over one million Rohingya fleeing persecution in Myanmar over the last few decades, mostly after a massive crackdown in August 2017.
According to Amnesty International, more than 750,000 Rohingya refugees, mostly women and children, have fled Myanmar and crossed into Bangladesh after Myanmar forces launched a crackdown on the minority Muslim community in August 2017, pushing the number of persecuted people in Bangladesh above 1.2 million.
Since Aug. 25, 2017, nearly 24,000 Rohingya Muslims have been killed by Myanmar's state forces, according to a report by the Ontario International Development Agency (OIDA).
More than 34,000 Rohingya were also thrown into fires, while over 114,000 others were beaten, said the OIDA report, titled, Forced Migration of Rohingya: The Untold Experience.
Some 18,000 Rohingya women and girls were raped by Myanmar's army and police and over 115,000 Rohingya homes were burned down while 113,000 others vandalized, it added.
During the bilateral meeting, Hasina also urged the international community, including Italy, to pressure Myanmar to obey a recent ruling by the International Court of Justice (ICJ) on the country's treatment of its Rohingya minority in Rakhine state, Karim added.
The Hague-based ICJ, the top court of the UN, issued Myanmar an interim judgement last month to take emergency measures to prevent the genocide of the Rohingya.
Full report at:
https://www.aa.com.tr/en/europe/italy-to-donate-1m-aid-for-rohingya-in-bangladesh-/1726559
--------
Bangladeshi Hindu in Police Custody After Group Attacked Him over Facebook Posts
2020-02-06
Bangladeshi police are saying they may have saved a Hindu's life by arresting the man just after a group of Muslims pummeled him for allegedly defaming Islam in Facebook chats, while rights advocates are questioning why none of his attackers were arrested.
Arun Gharami, 23, was still in police custody on Thursday, three days after his arrest in Mathbaria, a southwestern sub-district. His case has raised concerns among human rights activists that authorities are using a controversial Bangladeshi law, which allows police to arrest anyone without specific charges, to violate people's rights.
Gharami was arrested Monday evening after unidentified men beat him up in a local street, according to Abu Zafar Mohamad Masuduzzaman, chief of the sub-district's police station.
The next day, a judge ordered police to keep Gharami in jail pending an investigation of the allegations against him, Masuduzzaman told BenarNews.
"The angry mob beat him up for alleged defamation of Islam through his Facebook posts eight months ago," Masuduzzaman said.
Pirojpur district police chief Hayatul Islam Khan defended the officers' actions in arresting Gharami after they pulled him away from the group of men who attacked him.
"Our aim was to save his life," he said.
"That is why, we arrested him under Section 54 [of the Bangladesh Penal Code] and kept him under our custody," Khan said.
He said the victim could not identify his attackers, "so we could not arrest anyone."
Gharami has not been charged and no cases have been filed against him. Section 54 of the criminal code says police officers may conduct arrests "without an order from a Magistrate and without a warrant" under certain circumstances after receiving a "reasonable complaint."
Violent attacks on Hindus are not unusual in Muslim-majority Bangladesh, where Hindus make up more than 8 percent of the country's 170 million people.
Gharami told investigators that members of a Facebook group chat had accused him eight months ago of defaming Islam through his online comments. But Gharami denied the allegations, Khan said.
"If we do not get any proof of defamation, we will submit a report in 15 days before the court," Khan said.
Gharami's father, Bipul, rejected the allegations and demanded his release.
"My son has not committed any wrong," he told BenarNews. "He is innocent."
Mizanur Rahman, former chairman of the National Human Rights Commission, said it was "highly unfair" that a man who was being attacked would end up getting arrested instead.
"The police should have arrested the people who beat him," Rahman said, referring to Gharami.
"But he was arrested on suspicion under section 54 of the Penal Code. This Section 54 has been a tool of human rights abuse in Bangladesh," Rahman said, adding that rights activists had demanded the provision be removed from the code.
In October last year, at least four people were killed and 43 people were wounded when police fired shots on thousands of Muslims protesting against Facebook messages that allegedly defamed the Prophet Muhammad.
Police claimed self-defense when they opened fire at the demonstrators in Borhanuddin town. Prime Minister Sheikh Hasina called for calm and said that a Muslim man had hacked the Facebook account of the man who was charged with inciting religious tension. In November 2016, crowds of Muslims with long sticks also attacked temples and the homes of more than 100 Hindu families in the eastern town of Nasirnagar over a Facebook post that allegedly mocked one of Islam's holiest sites.
At least 20 people, including a priest, were wounded, raising concerns that authorities were not taking steps to curb inter-religious tensions.
The Facebook post, which the protesters considered offensive, included an image of the Hindu god Shiva appearing at a Muslim holy site in the Saudi city of Mecca.
"In both cases, we later saw the so-called defamatory posts were fake or impersonated by others," Rahman told BenarNews.
Full report at:
https://www.benarnews.org/english/news/bengali/Hindu-arrested-02062020180052.html
--------
Bangladesh Offers to Pay Part of Somalia's Debt to IMF
6 FEBRUARY 2020
Bangladesh has agreed partially pay to the International Monetary Fund (IMF) as debt relief for Somalia under the Heavily Indebted Poor Countries (HIPC) Initiative, as per a letter sent by the finance ministry yesterday to the Washington-based multilateral lender.
Somalia, a majority Muslim nation just like Bangladesh, is among the top ten poorest countries of the world.
"Therefore, Bangladesh's international image would benefit from the grant," said a finance ministry official.
The country's bid to help the war-torn nation comes after IMF Managing Director Kristalina Georgieva wrote to Finance Minister AHM Mustafa Kamal, the IMF governor of Bangladesh, in December last year seeking Special Drawing Right (SDR) 0.70 million, or Tk 8.21 crore.
SDR refers to an international type of monetary reserve currency created by the IMF in 1969 as a supplement to the existing money reserves of member countries.
The IMF uses SDRs for internal accounting purposes. SDRs are allocated by the IMF to its member countries and are backed by the full faith and credit of the member countries' governments.
Bangladesh's share with the IMF amounts to SDR 1,066.60 million.
Following 30 years of civil war and economic disruption, Somalia currently has $5.3 billion in external debt.
Why is Yamamoto under fire?
Somalia reaches two critical agreements with IMF over funding
20 killed in fresh Clan clashes in southern Somalia
On December 18 last year, the IMF's executive board approved a financing package for delivering full debt relief to Somalia under the HIPC.
The plan relied on contributions from each of the 189 IMF member nations to provide funds that would help Somalia rebuild its economy.
Bangladesh, which recently became eligible for graduation from the least-developed country bracket by 2024, decided to support the IMF's debt relief programme for Somalia to help alleviate poverty and assist economic reform in the African nation.
To facilitate members' contributions to the debt relief effort, the IMF will distribute internal resources from its Special Contingent Account and refunds of deferred charges adjustments in an amount of SDR 242 million when Somalia clears in arrears to the IMF.
Members can voluntarily contribute all or part of their shares in this distribution and donors are invited to provide additional cash grants, if possible, to close the financing gap.
The distribution can only take place once the fund has received satisfactory assurances that SDR 242 million will be contributed for the purpose of Somalia's debt relief, said the IMF letter.
Full report at:
https://allafrica.com/stories/202002060202.html
--------
Saving Bangladeshi children from drug addiction
February 7, 2020
A curious and adventurous mind led Mohammad Noor (not his real name) on a path of destruction at an early age, but he lived to tell the tale.
Noor, a Muslim boy of 14 from Gazipur district near Bangladeshi capital Dhaka, was a drug addict until early 2018.
"I was born in a poor family and my parents separated. My mother enrolled me in a school but couldn't afford the expenses, so I dropped out. Instead, I became friends with local boys and we used to play together at Tongi railway station," Noor told UCA News.
Some of his friends were addicted to various drugs — yaba (methamphetamine), marijuana and dandy, the vapor of solutions used in repairing or joining items of leather and rubber. Out of curiosity, Noor started sniffing dandy and then moved on to yaba and marijuana.
One day, Noor boarded a Dhaka-bound train and reached Kamlapur, where the country's largest railway station is located. He collected scraps and sold them for food and drugs every day before he encountered some anti-drug volunteers at the station.
The volunteers were from Addiction Rehabilitation Residence, popularly known as APON, a drug addiction treatment and rehabilitation organization founded by American Catholic missionary Holy Cross Brother Ronald Drahozal in 1994.
The center started in the capital but later shifted to Manikganj district in central Bangladesh. It helps adult and child addicts get back to a normal life free from drug addiction.
"The volunteers took me to the center. There I went through treatment and counseling, and then I started attending school from grade three," Noor said.
As the boy was declared fully cured by the end of 2019, he was sent back to his mother. At home he got admitted to grade five and started going to school regularly.
APON funds his schooling and the staff regularly contact his mother for updates on his progress.
"Now I have a good life. I dream that when I grow up I will set up a facility like APON where children like me will get services," Noor said.
Filling in gaps for child addicts
This young lad is one of dozens of street and floating children served by APON over the past decades.
"Most child addicts inhale easily available dandy glue and cannabis, some take yaba, which has recently become quite scarce due to strict law enforcement. We offer child addicts treatment and counseling and send them to schools when they are better," Asaduzzaman Jewel, head of treatment at APON, told UCA News.
"They can stay here as long as they want. We send them to schools or return them home when they are willing. We keep in touch with them after their release."
Impoverished and unschooled children as well as children from broken families, especially those living in slums in cities, town and suburban areas, are most vulnerable to drug addiction, said Jewel, a former addict.
Bangladesh Rehabilitation Assistance Center for Addicts (BARACA), a special project under Catholic charity Caritas Bangladesh, has been assisting street children including addicts since 2016.
BARACA, founded by Brother Drahozal in 1988, is one of the oldest charitable drug rehabilitation services in Bangladesh. It runs two drop-in centers for street children at Babu Bazar in the old part of Dhaka that offer shelter to 45 boys and 30 girls respectively.
"We offer shelter for the night for orphans and those having no place to reside. There are child addicts who go through counseling, treatment, nutrition and education," BARACA manager John Montu Palma told UCA News.
So far this year, 24 boys and 12 girls, some of them addicts, have started attending school, he said.
The Street Children Service Organization is an agency of volunteers set up in 2007 by Italian Catholic missionary Brother Lucio Beninati from the Pontifical Institute for Foreign Missions (PIME).
The organization has offered education, treatment and entertainment to more than 12,000 street children in Bangladesh including dozens of addicts in the cities of Dhaka, Sylhet and Chittagong in recent years.
Growing number of child addicts
Due to lack of oversight from police, poor government monitoring and facilities, more children in cities and towns nationwide are becoming drug addicts, anti-narcotic campaigners say.
In Dhaka alone, there are about 250,000 street children and at least 30 percent are addicted to drugs, according to Jewel from APON.
Poor children are often used as safe carriers for drug trafficking and they get into a variety of drugs at the end, he said.
"There are state facilities for street children but no state facility for child addicts. There are some private facilities but they are insufficient. We really need to think seriously about the rising number of child addicts," Jewel added.
Rabiul Alam, director of the state-run Department of Narcotics Control (DNC), admitted there is no government facility or service for child addicts.
"We cannot keep child addicts in centers for street children because they might influence other children. We are planning to set up treatment and rehabilitation centers for child addicts in the future. For now, we are prioritizing halting drug abuse so that everyone including children can stay away from drug addiction," Alam told UCA News.
Bangladesh has an estimated 7.5 million drug users, according to the Association for Prevention of Drug Abuse (MANAS), a leading non-profit anti-drug campaign group. Unemployed youth and unschooled children are among the most vulnerable groups, it noted.
Full report at:
https://www.ucanews.com/news/saving-bangladeshi-children-from-drug-addiction/87164
--------
Europe
Hate speech probe launched after mass prayer for late Brussels Muslim leader
06 February 2020
Belgium's anti-discrimination centre is investigating several reports of hate speech addressed to participants of a mass prayer staged in Brussels in honour of a deceased Muslim preacher.
Unia said it was looking into at least seven complaints regarding messages posted online after thousands in Brussels joined in a public mass prayer on Monday.
Some of the messages included calls to run over the prayer-goers with a vehicle, while another one called for grenades to be thrown at them.
The funeral event, organised on Monday in a Molenbeek mosque, was moved outside following a mass turn out to mourn Rachid Haddach, a well-known Muslim preacher, teacher and community leader.
Vlaams Belang
@vlbelang
Hallucinante beelden uit #Molenbeek. Duizenden moslims herdenken salafistische haatprediker Rachid Haddach. De straat wordt zelfs afgezet voor de massa e/h gebed. Onvoorstelbaar. Het #salafisme, een fundamentalistische islamstroming, heeft geen enkele plaats in onze maatschappij!
Embedded video
726
9:30 PM - Feb 3, 2020
Twitter Ads info and privacy
740 people are talking about this
At least 5,000 people showed up to bid farewell to Haddach, with police having to close the street down and divert traffic.
On Twitter, far-right party Vlaams Belang posted images of the prayer, calling the event "hallucinating" and referring to Haddach as a "Salafist hate preacher."
Haddach, dead at 49, was an active preacher who often volunteered at schools and local mosques and earned a "big brother" reputation with many young Muslims in Brussels.
"He taught me to never reply to hate with more hate," Oussama Karan Ziani, one of the people who filed a complaint with Unia, told La Libre.
The preacher was also active as a vlogger on YouTube, where he had grown a following of over 60,000 subscribers, including from across the international Francophone Muslim community.
Haddach has been accused of belonging to the ultra-conservative Salafist movement, a claim which he denied and which was also rejected by a self-proclaimed Salafist leader, who called Haddach an "enemy" of the movement.
A spokesperson with Unia said that the complaints, on grounds of incitement to hatred, violence or discrimination, could see the offenders risk between one month and one-year imprisonment and a fine of up to €1,000.
https://www.brusselstimes.com/all-news/belgium-all-news/93854/marghem-pledges-to-honour-renewable-energy-commitments/
--------
How Bosnia's Muslims helped build the Ottoman Empire's Hejaz Railway
HAMZA KARCIC
February 7, 2020
Bosnian Muslims living outside the Ottoman Empire financially supported Sultan Abdulhamid II's ambitious Hejaz railway project.
On 1 September 1900, the construction of a major railway in the Ottoman Empire commenced. The Hejaz Railway, set to connect Damascus and Medina, was conceived of as a project of both religious and strategic significance.
The new railway was aimed at facilitating convenient and efficient travel for Muslims making the pilgrimage to Medina in present-day Saudi Arabia for Hajj. It would also further strengthen the central government's control over distant territories in the empire.
Though the idea had been around for some time, Sultan Abdulhamid II took a keen interest in bringing the project to fruition. Timed to coincide with the anniversary of his ascension to the throne, the beginning of the railway construction inaugurated one of the last major infrastructure projects in the Ottoman Empire.
The Hejaz railway was to be the embodiment of Abdulhamid II's pan-Islamic outlook. It generated fascination within the Ottoman Empire and beyond.
The sultan's project was also the Caliph's project and the call to Muslims across the globe to contribute financially did not fall on deaf ears.
In addition, to support within the Ottoman Empire, backing for the project came from Muslims in India. In Southeast Europe, Bosnian Muslims too rose to the occasion. They had been living under Austro-Hungarian rule since the Berlin Congress of 1878. However, the spiritual and symbolic links between Bosnian Muslims and Istanbul remained.
Not long after the railway construction began in 1900, Bosnian publications Behar and Bosnjak started featuring news reports about the importance of the project. Both publications hailed the project as necessary not only for the Ottoman Empire but for facilitating a more comfortable journey for Hajj. News reports from that period indicate that Bosnian Muslims had begun donating to the project.
A concerted effort in Bosnia began in November 1905 with the establishment of a committee in Sarajevo to collect donations for the Hejaz railway. The beginning of this committee's work coincided with the holy month of Ramadan.
Behar called for contributions to islamski hajirli posao (Islamic good deed), and Bosnjak similarly urged support for 'po cijeli ehli Islam korisnog poduzeca' (endeavour beneficial for the entire Muslim world).
Donations were collected in Sarajevo's central Begova mosque. From mid-November 1905, Bosnjak regularly published lists of benefactors of the Hejaz railway. The lists provided both a measure of transparency and a call for others to spring into action.
Among the benefactors were prominent historical figures including the mayor of Sarajevo Esad Kulovic and mufti of Bosnia, Mehmed Teufik Azabagic. Most interestingly, the highest sum (500 Krone) was donated by a Bosnian Muslim lady Tahira Tuzlic. The lists feature several other Muslim women benefactors of the railway.
The effort to collect donations in Sarajevo lasted from mid-November 1905 through early March the following year. More than 900 people donated for this cause over four months.
Apart from Sarajevo, committees for the collection of donations were established in other Bosnian towns of Banja Luka, Sanski Most, Trebinje, Tesanj and Visegrad and worked until June 1906. The collection effort was not limited to the capital but was more widespread.
The eight-year construction was completed with a line to Medina in 1908, and the railway was operational until the outbreak of World War I in the Middle East theatre. In the Arab revolt of 1916, the railway was attacked by TE Lawrence and Arab forces. This event was immortalised in the 1962 film, Lawrence of Arabia.
The effort to collect donations from November 1905 to summer 1906 in Bosnia shows that the Hejaz railway project generated interest and support in this part of Europe. That the project was a waqf (endowment) meant to facilitate more accessible travel for Hajj pilgrims was the prime motivation for the support it gathered.
Full report at:
https://www.trtworld.com/opinion/how-bosnia-s-muslims-helped-build-the-ottoman-empire-s-hejaz-railway-33549
--------
Questions after Syrian Salafist allowed to study in France
06/02/2020
PARIS - France last week announced the arrest of a prominent member of the Syrian Islamist group Jaysh al-Islam on charges of war crimes and torture, in an investigation warmly applauded by rights groups.
But how was Majdi Mustafa Nema - better known by his nom-de-guerre of Islam Alloush - allowed to have a visa to enter France, not least as part of the EU's Erasmus student exchange programme, to attend a leading French academic institution?
Rights groups say his story leaves the French authorities with serious questions to answer, as Syrians who took part in their country's civil war could be eyeing a shift to respectability in academia.
Born in 1988, Nema was a captain in the Syrian armed forces before defecting, later becoming a senior official and spokesman for Jaysh al-Islam.
In June 2017, he left Jaysh al-Islam, one of the key groups opposing the rule of President Bashar al-Assad but which also stood accused of carrying out a "reign of terror" in rebel areas it controlled, especially Eastern Ghouta.
"This group controlled the checkpoints through which humanitarian aid passed for Ghouta and it took taxes as it went through," Fabrice Balanche, a geographer specialising in Syria at the University of Lyon, told AFP news agency.
Nema's Facebook account says he attended the ELTE public university in Budapest in 2018 and then obtained a diploma in political science and international relations from the Aydin University in Istanbul.
His aim was to "recycle himself and become an agent of influence with a university background to be more credible," Balanche said.
'No due diligence'
According to judicial sources, Nema has been in France since November 2019.
He was registered as a student at the IREMAM research institute for the Arab and Muslim world at the Aix-Marseille University in southern France, operated in cooperation with France's CNRS national academic research centre.
According to the institute, Nema had a visa issued by the French consulate in Istanbul. The French foreign ministry confirmed during an online briefing that Nema was issued a "short-term visa ... based on a complete file, after questioning by the appropriate ministerial services."
Short-term visas are usually for 90 days and allow access to Europe's Schengen area of 26 countries. It wasn't immediately clear whether Alloush had traveled beyond France, or when he arrived.
Richard Jacquemond, IREMAM's director, said it was common for young Arabs who had been deeply involved in the uprisings against authoritarian regimes to later try to gain a foothold in academia.
He said that he was unaware of Nema's past, adding that because the process of obtaining a French visa is so tough, one could assume "that the consulate services have done their work."
He also said such people often have "very interesting profiles as they can bring us first-hand experience."
But Chris Doyle, director of the Council for Arab-British Understanding (Caabu) in London, said Nema was rejected by a prominent British University and expressed bewilderment at the lack of checks by France.
Chris Doyle
✔
@Doylech
Majdi Nema aka Islam Alloush also applied to be an intern at a major UK University a year ago who rejected him because of his record with Jaysh Al-Islam & involvement in abductions of #Douma4-the university did its due diligence but why did French university of Provence fail?
View image on TwitterView image on Twitter
116
1:02 AM - Feb 2, 2020
Twitter Ads info and privacy
107 people are talking about this
"There was seemingly no due diligence (in France) and I can't see why," Doyle told AFP news agency.
"How many other people like him are trying to do the same sort of thing, trying to get into the EU and trying to start life again as academics, but have a very shady background in terms of what they have done on the battlefield?" he said.
'Surprising'
Jaysh al-Islam was one of the strongest groups based near Damascus until their defeat in 2018 and departure to northern Syria. Its founder, Zahran Alloush, was killed in an airstrike near Damascus in December 2015.
One of the most powerful Syrian rebel factions, the group was headquartered in Douma, the most populated area of eastern Ghouta, outside Damascus.
Nema left the group in 2017, telling The Associated Press at the time that he resigned to work as a researcher under his real name.
Jaysh al-Islam is suspected of involvement in the December 2013 kidnapping of Syrian activist Razan Zaitouneh, her husband Wael Hamada and two colleagues, Samira Khalil and Nazem Hammadi. They are still missing.
Sarah Hunaidi
@SaraHunaidi
Today is the 6th anniversary of the disappearance of Samira al-Khalil, Razan Zeitouneh, Wael Hamada, & Nazim Hammadi. Known as #Douma4.
Our resistance is against forgetting. Our war is a war of memory too. Our memory is our responsibility.
Where are the forcefully disappeared?
View image on Twitter
144
12:25 AM - Dec 10, 2019
Twitter Ads info and privacy
123 people are talking about this
Zaitouneh was one of the most prominent civil society figures in the uprising against Assad, and in 2011 she was awarded the prestigious Sakharov prize for human rights along with other activists.
Jaysh al-Islam, which has taken part in Syria peace talks in Astana and Geneva, has denied any involvement in the kidnapping of the so-called Douma Four.
The International Federation for Human Rights (FIDH) and two other NGOS had filed a criminal complaint in June last year against members of Jaysh al-Islam for alleged crimes.
It was the FIDH that signalled Nema's presence in France to judicial authorities on January 10, after painstaking research into the Jaysh al-Islam hierarchy.
The fact that someone who had a public role at a Salafist group was allowed to obtain a visa "is surprising for us to say the least," FIDH legal coordinator Clemence Bectarte said.
Full report at:
https://middle-east-online.com/en/questions-after-syrian-salafist-allowed-study-france
--------
UK PM Johnson backs Trump peace plan in call with Netanyahu
6 February 2020
British Prime Minister Boris Johnson reiterated his support for a US Middle East peace plan and a two-state solution in a call with Israeli Prime Minister Benjamin Netanyahu, Johnson's spokesman said on Thursday.
Last month, US President Donald Trump proposed the creation of a Palestinian state with a capital in East Jerusalem, dependent on Palestinians taking steps to become self-governing, in an attempt to achieve a peace breakthrough.
Palestinian leaders have rejected the plan.
https://english.alarabiya.net/en/News/middle-east/2020/02/06/UK-PM-Johnson-backs-Trump-peace-plan-in-call-with-Netanyahu.html
--------
Russia objects to UN draft resolution on Libya
06 February 2020
Russia has blocked a United Nations Security Council draft resolution on the Libyan conflict, insisting that any foreign militants in Libya be labeled "foreign terrorist fighters," not just "mercenaries," as the draft text proposed.
Vassily Nebenzia, the Russian ambassador to the UN, raised objection to the British-drafted resolution on Wednesday, saying that, "This resolution does not take into account our concerns, and our vision how it should be. There are a lot of FTFs (foreign terrorist fighters) in Libya."
At the end of a summit in the German capital of Berlin on January 19, key players and foreign powers involved in the Libyan crisis agreed on a 55-point road map to end the long-running conflict in Libya.
The proposed Security Council resolution underlined the resolve of all participants at the Berlin meeting to support a ceasefire, refrain from interfering in Libya's conflict, abide by a UN arms embargo on the African country, and withdraw all "mercenaries" involved in the fighting.
"There are a few sections in the resolution that are of concern," Nebenzia said. "We decided to continue our discussions with others."
The objection raised by Russia cast doubt on whether a Security Council vote on the text would occur by the weekend.
"Talks continue," said Karen Pierce, the British ambassador to the UN. "We would like as far as possible to have unity on the text." Pierce stressed that UN Secretary-General Antonio Guterres has requested a vote on the matter as soon as possible.
The UN chief said on Tuesday that he was deeply frustrated with the escalation in the fighting in Libya.
Since 2014, Libya has been divided between two rival camps, the internationally-recognized government in the capital, Tripoli, and another in the eastern city of Tobruk, which is militarily supported by rebels under the command of a general named Khalifa Haftar.
Haftar's forces have attacked Tripoli to unseat the government but have been bogged down on the capital's outskirts.
The warring sides each receive patronage from several foreign countries, and Haftar has in the past been supported by Moscow.
Meanwhile, Turkey, which supports the Libyan government, has reportedly sent allied anti-government militants to Libya. Syria's official news agency SANA, citing informed sources, said in a recent report that roughly 2,000 members of Turkish-backed militants in Syria had reportedly arrived in Libya.
The sources said that Turkish forces were also recruiting militants in the Kurdish-populated city of Afrin and other areas in northern Syria to send them to Libya.
Full report at:
https://www.presstv.com/Detail/2020/02/06/618010/Russia-Libya-UN-resolution
--------
France urges 'cessation of hostilities' in Idlib, Syria
Cindi Cook
06.02.2020
PARIS
France expressed deep concerns regarding the Assad regime's military offensive in northwestern Syria and attack on Turkish troops stationed in Idlib to monitor a cease-fire.
"We are deeply concerned about the situation in Idlib and the risk of escalation after the strikes by the Syrian regime against positions established in the context of the implementation of the Sochi agreement of September 17, 2018," its Ministry of Europe and Foreign Affairs said Thursday.
Syrian regime shelling Monday left seven Turkish military personnel dead, along with one civilian contractor.
The clash comes after Turkey's recent installment of reinforcement Turkish Armed Forces (TAF) in Idlib.
Turkey retaliated by striking more than 50 targets and killing 76 Syrian regime soldiers.
"We call for an immediate cessation of hostilities in the province of Idlib. Particular responsibility lies in this regard with the allies of the Syrian regime," the French ministry said.
Monday's attack flies in the face of the 2017 Astana peace process and the 2018 Sochi peace process, both involving cooperation of Turkey, Russia, and Iran. The latter two powers are the main allies behind the Assad regime.
Idlib was established through peace processes as one of four de-escalation zones. Continued military attacks by the Assad regime have violated both agreements.
Hundreds of civilians have been killed with more than 500,000 fleeing after weeks of aerial bombardment in the northwest province, home to over four million people. The attacks have occurred primarily in civilian areas and near medical facilities.
The French ministry said indiscriminate bombing by the regime and its supporters violates international humanitarian law.
"The military offensive led by the regime and its allies in the province of Idlib aggravates the humanitarian crisis and jeopardizes the search for a negotiated political settlement to the Syrian crisis in accordance with resolution 2254 of the United Nations Security Council."
Idlib has been a stronghold of opposition and anti-government armed groups since the outbreak of the Syrian civil war in 2011.
Full report at:
https://www.aa.com.tr/en/europe/france-urges-cessation-of-hostilities-in-idlib-syria/1726755
--------
'Islamophobia threatens Turkish citizens in Europe'
Muhammet Emin Avundukluoğlu
06.02.2020
Rising Islamophobia and xenophobia in Western Europe threatens the safety of Turkish citizens living there, the country's deputy foreign minister said.
Yavuz Selim Kiran made the remarks during a session of parliament's Foreign Affairs Committee in Ankara on Thursday.
The minister urged to take the diplomatic route in addressing such concerns. "We should deal with this problem strategically," he said.
Approximately, 5 million Turks live in European countries.
Last December, Germany's integration minister had expressed similar concerns over Islamophobia, warning that it posed a "real danger" to social cohesion.
Presenting the annual government report on the state of integration in the capital Berlin, Annette Widmann-Mauz said: "Right-wing extremism, anti-Semitism, and hostility towards Muslims are a very real danger that we have to combat in a consequent and sustainable manner."
Germany has witnessed growing anti-Muslim hate crimes in recent years sparked by hate propaganda by far-right parties.
In 2018, more than 100 mosques and religious institutions were attacked by far-right extremists.
Full report at:
https://www.aa.com.tr/en/europe/islamophobia-threatens-turkish-citizens-in-europe/1726548
--------
Southeast Asia
Turning Indonesia into Major Halal Holiday Destination
February 7, 2020
Once we get over this coronavirus epidemic – hopefully sooner rather than later – Indonesia still has big potential in tourism given its beautiful natural scenery and rich culture. With a vast population including 220 million Muslims, there is particular potential for halal tourism, according to the Global Muslim Travel Index.
Amid a global Muslim population of some 1.7 billion, Indonesia and Malaysia share the top position, both scoring 78 in the 2019 Index, which was released by Mastercard-Crescent rating early last year. In 2018, Indonesia was placed second behind Malaysia.
This achievement was possible because of the increasing number of Muslim tourists, with arrivals in 2017 reaching 1.95 million, up 15 percent from the previous year. This produced foreign exchange earnings equivalent to Rp 27 trillion, according to Anang Sutono, head of the Tourism Ministry's halal tourism development unit.
The increase in Muslim tourists may offset a decline in foreign tourists in general as a result of growing competition among Southeast Asian countries – as long as tourism management improves. Amid tight business competition, the hospitality sector must closely follow customer needs. Thus, the scope of hospitality today goes beyond the provision of accommodation, food and beverages to encompass a sense of excitement through a vibrant and creative atmosphere.
This "sense of experience" needs to be further explored in attracting tourists to Indonesia. For Muslim tourists, the government and private sector have increased conveniences, such as corners for ablution (mandatory before prayers) near restrooms and ample praying spaces. Mosques and halal food are more easily found now around tourist destinations.
But the effort to chase the government's target of generating $300 billion in revenue from Muslim tourists in 2026 must engage all stakeholders – the government, investors and hospitality managers. Our recommendations in this regard include sharing Indonesia's rich traditions related to Islam through creative events. For instance, visitors could enjoy the traditional eating of eggs from horseshoe crabs or mimi in Central Java and could participate in the ritual of mabbaca-baca (prayer reading with serving of special dishes) in Sulawesi during Ramadan.
Another recommendation is to strengthen Muslim-friendly hospitality standards, including the provision of sharia banking services at ATMs or bank counters in tourist destinations that are proportional to the availability of conventional banking services. Moreover, the quantity of Muslim-friendly accommodation and lodging, travel services, food and beverages needs to be increased in tourist destinations.
Our third recommendation is for strong online promotion to convey positive messages to a national and international audience, especially focusing on Muslim-majority countries that show Indonesia's progress in Muslim-friendly tourism. Such a campaign would need a memorable tag line and video content.
Another suggestion is strong research and development on Muslim-friendly tourism development in Indonesia in cooperation with local universities. Seminars and competition for the best research could attract academics to contribute insight on the subject. By engaging all of those stakeholders by 2026, the government should be able to reach its target.
https://www.thejakartapost.com/academia/2020/02/06/turning-indonesia-into-major-halal-holiday-destination.html
--------
Enforcement of Malaysia's Smoking Ban Sparks Controversy
By Dave Grunebaum
February 06, 2020
KUALA LUMPUR - At a popular Kuala Lumpur open-air food court, Eiswary Thirumalai enjoys a meal with her family. She says in the past, secondhand smoke would sometimes ruin the atmosphere. "Actually, it's really discomfortable for us because while we are eating we smell the smoke," she says. "So it's not healthy for us while we are eating."
A year ago, a new law prohibited smoking at all eateries in Malaysia. Previously, smoking was banned inside all air-conditioned restaurants. But the new law bans smoking within three meters of any table or chair at any indoor or outdoor eatery.
There was a one-year phase-in period in which offenders were given warnings, but since January, violators have faced fines ranging from $35 to $85. During January, more than 5,000 tickets were issued nationwide. "If they come out with this penalty, maybe it will give the person a lesson," says Thirumalai.
Alex Lee runs a wonton stall in the same food court. Lee has been smoking for two decades, but he supports the ban. "People should have clean air while they eat, so I think it's good that they're enforcing this smoking ban," he says.
It's a point of view echoed by health advocates. "Twenty-thousand people die of smoking-related illness each year in Malaysia," says Mandy Thoo of the National Cancer Society of Malaysia, while explaining why the society supports strict enforcement of the law. "Smoking as well as passive smoking, which is secondhand smoke, causes 15 kinds of cancer, heart disease, and it worsens diabetes as well as mental illnesses."
The broadened smoking ban directly impacts the semi-enclosed open-air food courts that are common across Malaysia.Several eatery trade associations say some members have seen a drop in business by almost 20% since the ban started. "We request to have a small smoking zone for the convenience of the smokers," says Chris Lee of the Malaysia Singapore Coffee Shop Proprietors General Association.
Henry Wong doesn't smoke but says he thinks the government is overreaching. "People choose to smoke," he says. "It's their life, it's their health, so I don't really agree with banning people from smoking."
Steven Wong, no relation to Henry Wong, openly smoked at an outdoor table at a food court one afternoon until other customers yelled at him. "A lot of people complain about secondhand smoking," he says. "I have friends, ladies who are in their 80s who've been inhaling secondhand smoke for 50 years, maybe 60 years, and they're still alive."
Full report at:
https://www.voanews.com/east-asia-pacific/enforcement-malaysias-smoking-ban-sparks-controversy
--------
3 suspected IS jihadists arrested for stabbing Chinese, Australian
February 6, 2020
MALE: Maldives police on Thursday arrested three men over the stabbing of two Chinese nationals and an Australian, and were probing their suspected links with Islamic State, officials said.
The three men were stabbed on Tuesday night in Hulhumale, an island 7km north of capital city Male, police said on Twitter.
One of the Chinese nationals was a tourist and the two others worked in the city. They were in stable conditions in hospital, police added.
Chinese and Australian embassy officials were not immediately available to comment.
A Maldivian radical group affiliated with Islamic State had taken responsibility for the attack in a video posted online, local media reported on Wednesday.
One of the three masked men seen in the video accused the Maldivian government of being run by infidels and warned more such attacks were coming.
Police said they were working to confirm the veracity of the video.
Last year, a 35-year-old man identified as a leader for Islamic State in the Maldives by the US authorities was arrested for allegedly leading Islamic State recruitment in the mainly Sunni Muslim nation.
The archipelago in the Indian Ocean derives much of its income from tourism.
Islamic State claimed responsibility for deadly bombings in Sri Lanka in April last year, and has been looking to bolster its presence in the sub-continent after being driven out of its self-styled caliphate in Iraq and Syria.
Full report at:
https://www.freemalaysiatoday.com/category/world/2020/02/06/maldives-police-arrest-3-over-stabbing-of-chinese-australian/
--------
No law to prosecute Nur Sajat for wearing telekung during umrah, say lawyers
Adam Abu Bakar
February 7, 2020
PETALING JAYA: Malaysia has no shariah or civil law to prosecute transgender entrepreneur Nur Sajat for wearing the telekung (female prayer attire) while performing the umrah in Mecca, lawyers said.
Nur Sajat, who runs a successful business selling women's products, reportedly boarded a plane to Mecca last week dressed as a man and donned the telekung after arriving there.
Photos and videos of Nur Sajat wearing the telekung which she posted on social media went viral, and on Tuesday, Minister in the Prime Minister's Department Mujahid Yusof Rawa said he would use the country's laws to act against her so as to defend Islam, Malaysia's reputation and its relationship with Saudi Arabia.
Stating that Nur Sajat's action was controversial and had indirectly marred the image of Islam, Mujahid also said the photos and videos had led to discomfort among Muslims.
Shariah lawyer Nizam Bashir said shariah law fell under the jurisdiction of each state, and there was no basis for action against Nur Sajat for wearing the telekung in Mecca.
"The Federal Constitution states that Islamic law is under the purview of each state, and action can only be taken for crimes that happen within their respective jurisdiction," he told FMT.
"Shariah laws are limited to each state, so taking action on this issue is something beyond their power. I feel there is no basis for action based on the country's shariah laws."
Lawyer Shaharudin Ali said that based on the Constitution, Nur Sajat cannot be prosecuted as the incident occurred in another country and action can only be taken if it went against the laws of Malaysia.
"There are only a few offences that occur outside Malaysia which the country can charge people with, and these offences fall under Chapter 6 and 6A of the Penal Code for 'extra territorial offences' against the state," he said.
"Crimes under Chapter 6 and 6A include terrorism or waging war against the Yang di-Pertuan Agong, which Nur Sajat did not commit," said Shaharudin, adding that she also did not commit any crime under the Official Secrets Act (OSA) 1972, the Sedition Act 1948 or national security.
Shaharudin said charges may be brought against those who went against the OSA and the Sedition Act 1948 – no matter where they were – "if the attorney-general certifies that their crimes are a matter of national security".
Commenting on reports that Nur Sajat will be investigated by the Malaysian Communications and Multimedia Commission (MCMC) under Section 4 of the Communications and Multimedia Act, Shaharudin said a person could only be charged if they were given a licence to provide relevant facilities or services under the Act in a place within Malaysia.
Full report at:
https://www.freemalaysiatoday.com/category/nation/2020/02/07/no-law-to-prosecute-nur-sajat-for-wearing-telekung-during-umrah-say-lawyers/
--------
Indonesia looks to boost Saudi trade, investment
February 06, 2020
JAKARTA: Indonesian Vice President Ma'ruf Amin hailed the long-running relationship of his country with Saudi Arabia during an exclusive interview with Arab News and said he hoped that trade ties could be boosted between the pair.
"Indonesia and Saudi Arabia have very good relations, not just between governments but also between the people . . . even before our independence, our scholars have studied in Saudi Arabia," the vice president said at his office in Jakarta.
According to official data, there were 44 Saudi projects in Indonesia with an overall investment value of $5.4 million, ranking the Kingdom 42nd among the Southeast Asian nation's foreign investors. In 2018, Saudi Arabia ranked 40th, having injected $5.36 million through 43 projects. Overall, between 2014 and 2018, there were 160 Saudi investment projects with a total value of $43 million.
The Kingdom ranks 23rd among Indonesia's export destinations and is among its top 10 import markets, with a total trade value of $4.61 billion between January and November 2019.
Amin said he hoped Saudi Arabia could boost its trade and investment in Indonesia.
"Indonesia is the largest Muslim-majority country. If Saudi invests in Indonesia, it could (help to) develop Indonesia and empower the people, which also means empowering Muslims.," Amin said.
The septuagenarian vice president, who completed his first 100 days in office in late January, also expressed hopes that working conditions for Indonesian migrant workers in the Middle East could improve over time.
Indonesia has imposed a moratorium on sending migrant workers to more than 20 Middle Eastern countries since 2015 because of concerns over their welfare.
Millions of Indonesians, most of whom are women, work in the region as domestic workers.
In October 2018, then-Manpower Minister Hanif Dhakiri and his Saudi counterpart Ahmed Sulaiman Al-Rajhi launched the One Channel System in Jakarta. The initiative is a pilot project which permits only certified workers to be employed in limited professions.
"We need to ensure that our migrant workers ... are well protected, safe and have their rights and dignity respected," Amin said.
Another major issue is Indonesia's Hajj quota. Indonesia has been lobbying Saudi Arabia to set last year's quota of 231,000 as an official count for Indonesia. The official quota provided by the Saudi government is still 221,000 but in 2019 Indonesia had an additional quota of 10,000.
"We are asking for a bigger Hajj quota because we have a very long waiting list. In some regions, the waiting list for someone to get their turn to go on Hajj could stretch to more than 25 years," Amin said.
Full report at:
https://www.arabnews.com/node/1624141/business-economy
--------
Opposition Grows to Repatriation of Former IS Fighters
BY BERITASATU
FEBRUARY 07, 2020
Jakarta. More Indonesian top politicians have voiced opposition to the proposed repatriation of hundreds of former Islamic State fighters now living in foreign countries.
Even chief security minister Mahfud M.D. said he personally opposed the return of the so-called foreign terrorist fighters, or FTFs.
However, Mahfud said on Thursday the final decision would be made by a cabinet meeting led by President Joko "Jokowi" Widodo. Prior to the meeting, a special team led by National Counterterrorism Agency (BNPT) head Suhardi Alius will draft two regulations: first, if the former fighters are allowed to return home; or second, if they aren't.
The two drafts will then be presented to Vice President Ma'ruf Amin, who is in charge of the national campaign against radicalism and terrorism, he said.
"The two drafts will be completed in April. We will present them to the vice president for finalization," Mahfud told reporters at the State Palace in Central Jakarta.
"By May or June, the president will decide on one of the drafts. At the time being, no one is allowed to return," he said.
Mahfud added that according to the government data, there are around 600 former IS fighters from Indonesia.
"They live in Syria, the Philippines, Pakistan, Afghanistan and Turkey," he said.
Earlier on Wednesday, the minister said he personally disagreed with any plan to repatriate the FTFs.
"If you asked me in person, my answer would have been different. I don't agree with their repatriation," he said.
"When they return home, they must undergo the deradicalization program for a limited them. After that, when they blend in with societies, they might become radicalized persons again. Why? Because there's a risk that they will be isolated from the rest," Mahfud said.
Risky Move
Adies Kardi, deputy chairman of House of Representatives' Commission III that oversees legal affairs, shared Mahfud's view.
"It's them who abandoned the country. They want to replace the state ideology of Pancasila with the ISIS ideology," the Golkar Party politician said, using a different acronym of the militant group.
Allowing people willing to kill others for ideological differences to return to Indonesia was a very risky move, he said.
On Wednesday, the president said he would not allow former IS fighters who had burned their Indonesian passports to return home, but the decision should wait a cabinet meeting.
"If you ask me that question, my answer is no," Jokowi said, responding to a journalist who asked if militants who deliberately burned their passports would be allowed to return.
Intelligence analysts Suhendra Hadikuntono said Indonesians who have left the country to join terror network should get their citizenship stripped off.
"When an Indonesian citizen voluntarily gives up his citizenship to become a foreign combatant, or to commit a crime of humanity such as terrorism, he is no longer an Indonesian citizen according to the law," Suhendra said.
"There is no human rights violation if the president denies their return to Indonesia, because by doing so, he protects the rights of the Indonesian people to live in peace and safety," he said.
Debate on FTFs was fueled by remarks from Religious Affairs Minister Fachrul Razie, who said early this month that the government considered repatriating around 600 former IS members for humanitarian reasons.
Great Indonesia Movement Party (Gerindra) deputy chairman Fadli Zon supported the repatriation, saying the FTFs should be given a second chance.
People's Consultative Assembly Speaker Bambang Soesatyo also welcomed the plan and said that there was nothing to worry about the returnees.
However, deputy religious affairs minister Zainut Tauhid denied on Thursday that his office supported the repatriation.
Full report at:
https://jakartaglobe.id/news/opposition-grows-to-repatriation-of-former-is-fighters
--------
Maldives stabbing: Australian and two Chinese injured in attack claimed by Isis sympathisers
6 Feb 2020
Three people including an Australian man have been stabbed in the Maldives in an attack claimed by Islamic State sympathisers.
Police in the South Asian archipelago said the Australian, 44, and two Chinese nationals were stabbed by "suspected extremists" between 7pm and 8pm on Tuesday on Hulhimalé, an island near the capital Male.
Three people had been arrested in relation to the attack on Thursday, police said.
"The Maldives Police Service is working closely with all relevant stakeholders in this matter, and assures the public of our continued efforts to ensure the safety and security of those in Maldives," said in a statement.
A radical group claiming to be affiliated with Isis took responsibility for the attack in a video posted online. It features three masked men accusing the Maldivian government being run by infidels, claiming the attacks are meant to hurt the country's vital tourism industry and warning more attacks were coming. Police said they were working to confirm the veracity of the footage.
One video being shared online shows a man in a blue shirt on a bike riding to hospital with a bloody back.
The ABC reported that man in the video is Australian and his injuries are "not serious."
More people left the Maldives, a nation of about 340,000 Sunni Muslims, to join Isis and other extremist groups than almost any other country per-capita. The official figure of those who left is 173 "but the real number could be anywhere between 200 and 300", said Azim Zahir, an expert in south Asian extremist movements at the University of Western Australia.
The country's commissioner of police, Mohamed Hameed, warned elected officials in December: "There are close to 1,400 Maldivians with us today across the country who have fallen into extremist ideology to the point where they would not hesitate to take the life of the person next to them."
Around 59 Maldivian women suspected of links to Isis and their children are currently detained in north-eastern Syria, he said, including at least 28 women and children, who the authorities were working to return.
Up to 160 Maldivian men are being held as suspected militants in Syrian detention camps, according to the speaker of the country's parliament, Mohamed Nasheed.
At least one man who travelled to Syria was known to have returned to the Maldives and was at large, Zahir said, while police said in December that 432 people had attempted to reach the Syrian war zone but were stopped.
Best known overseas as a honeymoon destination, the country has been struggling to contain extremist elements and launched a crackdown in October, arresting a man alleged to be a key Isis recruiter, Muhammad Ameen.
Several others linked to Ameen, 35, have been detained in past months and their children have been taken into state custody – including the child bride of one of the men. The wave of arrests has led to threats of retaliation.
"Tuesday's attack was very scary because it's a soft yet strategic target – ordinary foreigners or tourists – and required no sophisticated planning or weaponry," Zahir said.
The same network of extremists were implicated in an attack on tourists in 2007.
Full report at:
https://www.theguardian.com/world/2020/feb/06/maldives-stabbing-australian-and-two-chinese-injured-in-attack-claimed-by-isis-sympathisers
--------
Africa
Nigerian Muslim leader Zakzaky, wife in critical health condition: Lawyer
06 February 2020
Nigeria's Muslim cleric Sheikh Ibrahim al-Zakzaky and his wife are in critical health condition, their lawyer has said after their trial was postponed due to their deteriorating health.
According to a report by the London-based Islamic Human Rights Commission, Femi Falana said on Thursday that his clients - jailed Sheikh Zakzaky and his wife Mallimah Zinat – could not appear in the high court in Kaduna, the capital of an eponymous province in northwestern Nigeria, for trial due to their critical health conditions.
He added that prison officials also prevented any physician from out of the prison to see his clients, who are desperately in need of medical attention and care.
Falana, who is also a human rights activist, also noted that the court finally agreed to order the prison officials to allow the top cleric and his wife, who can barely walk with clutches, see a physician.
The lawyer added that his clients' case was also adjourned to February 24 as their extremely poor health condition barred them from being present in the hearing session on Thursday.
Zakzaky, who is in his mid-60s, has been in detention since December 2015 after his residence in the city of Zaria was raided by Nigeria's forces, during which he was beaten and lost vision in his left eye.
During the brutal arrest, three of his sons were also killed, his wife sustained serious wounds, and more than 300 of his followers were killed.
Last July, Sheikh Zakzaky's son, Mohammad, said he was shocked by his father's worsening medical condition after visiting him, stressing that he needed to be immediately hospitalized as "large and dangerous quantities of lead and cadmium have been found in his blood."
A month later, the couple was transferred to India to receive medical care. However, they were forced to leave India after a few days in protest against the Nigerian government's "obstruction" of his medical treatment and after they had "lost all faith" in the prospect of receiving proper treatment there.
Zakzaky, who is the leader of the Islamic Movement in Nigeria (IMN), was charged in April 2018 with murder, culpable homicide, unlawful assembly, the disruption of public peace, and other accusations. He has pleaded not guilty, vehemently rejecting all the accusations brought up against him.
In 2016, Nigeria's federal high court ordered Zakzaky's unconditional release from jail following a trial, but the government has so far refused to set him free.
Protesters demand release of Zakzaky, wife
Separately on Thursday, Nigerian protesters once again took to the streets of the capital, demanding the immediate release of Sheikh Zakzaky and his wife.
Followers of the IMN leader condemned the trial of the top Shia cleric and his wife in the Kaduna high court.
The London-based Islamic Human Rights Commission, a non-profit organization, for its part, denounced the trial as being politically motivated.
https://www.presstv.com/Detail/2020/02/06/618046/Nigeria
--------
UN envoy says push continues toward cease-fire deal in Libya
February 06, 2020
CAIRO: The UN's special representative for Libya said Thursday the country's warring sides are working to turn a provisional cease-fire into a formal agreement as they emerged from four days of talks.
Ghassan Salame, head of the United Nations support mission in Libya, said rival military leaders are negotiating the remaining sticking points in a cease-fire deal. Those include the return of internally displaced people, the disarmament of armed groups and ways to monitor the truce.
"The cease-fire agreement is made of a number of issues, and there have been points of convergence on many points. And there are points of divergence," Salame told reporters in Geneva.
The latest round of fighting in oil-rich Libya erupted last April when eastern-based forces under the command of Khalifa Haftar laid siege to Tripoli in a bid to wrest power from the Government of National Accord (GNA) led by Prime Minister Fayez Al-Sarraj.
Al-Sarraj and Haftar both sent delegations of military officials to represent them at the Geneva talks.
The cease-fire talks come amid intensified diplomacy among world powers seeking to end the conflict that has ravaged Libya for nine years.
Full report at:
https://www.arabnews.com/node/1624056/middle-east
--------
Sudan says Al-Burhan made no promises to Israel PM
February 06, 2020
KHARTOUM: Sudan's cabinet said Thursday that the country's leader General Abdel Fattah Al-Burhan had made no promise to Israel's prime minister of "normalizing ties" between the two countries.
Al-Burhan, who heads Sudan's ruling sovereign council, met Israeli Prime Minister Benjamin Netanyahu for previously unannounced talks in Entebbe on Monday that appeared to signal an end to Sudan's long-standing boycott of the Jewish state.
Soon after their meeting, Netanyahu announced that the two leaders had agreed to cooperate toward normalizing ties.
Sudan's transitional cabinet said Thursday that meeting Netanyahu was Al-Burhan's "personal initiative" and he had made no promises to the Israeli premier.
"The chief of the sovereign council told us ... he did not give any commitment and did not talk of normalizing relations," government spokesman Faisal Mohamed Salih told reporters early Thursday.
"He did not give a promise of normalizing or having diplomatic relations."
Salih said the issue of relations with Israel was something the current transitional government was not mandated to decide.
"This government has a very limited mandate. The issue of relations with Israel is beyond its mandate," he said.
The transitional government headed by Prime Minister Abdalla Hamdok was formed months after the ouster of longtime despot Omar Al-Bashir amid nationwide protests in April last year.
Al-Burhan heads the ruling sovereign council, a joint civilian and military body tasked with overseeing the country's transition to civilian rule.
Sudanese top brass have backed Al-Burhan's initative in holding the meeting, saying it will help boost national security. The cabinet says it was not informed of the meeting in advance.
Sudan has long been part of a decades-old Arab boycott of Israel over its treatment of the Palestinians and its occupation of Arab lands.
After their meeting, Netanyahu's office said the Israeli premier believed that post-Bashir Sudan was headed "in a positive direction."
It said he and Al-Burhan had "agreed to start cooperation leading to normalization of the relationship between the two countries."
The Palestine Liberation Organization called Al-Burhan and Netanyahu's meeting "a stab in the back of the Palestinian people."
On Thursday, veteran Sudanese politician Sadeq Al-Mahdi, who was prime minister when Al-Bashir seized power in a coup in 1989, spoke out against normalizing ties with Israel.
Full report at:
https://www.arabnews.com/node/1624106/middle-east
--------
Social media exposes Libyan warlord's mercenaries
07.02.2020
Foreign mercenaries fighting in Libyan renegade commander Khalifa Haftar's ranks normally remain out of the public eye, but photos and videos they share on social media reveal their true nature.
Haftar launched a military operation in April last year in a bid to capture Libya's capital. Since then, however, he has been unable to achieve a quick and decisive victory.
Lacking the support of Libyans, Haftar brokered agreements with various mercenaries with financial support from his regional allies.
The most prominent foreign fighters in his ranks are Chadian armed rebel groups, Sudanese "Janjaweed" militias and mercenaries from Russia's Wagner Group.
Haftar is trying to hide his foreign mercenaries from the media, but posts on social media reveal their existence.
They include photos and videos of African mercenaries standing next to combat vehicles with pictures of Haftar.
One such video shows African militias in a vehicle bearing the logo of so-called Haftar forces. It attracted attention because it showed them speaking a language other than Arabic.
Sudanese in Libya
UN reports underscore that foreign mercenaries serve Haftar and that most of them are from Sudan and Chad.
In Sudan's capital, Khartoum, protests were held last month against United Arab Emirates-based company Black Shield Security Services, which reportedly tricked Sudanese youngsters with the promise of working as private security guards in the UAE but instead sent them to military camps in Libya and Yemen. The company denied the claim in a written statement.
Mercenaries of Kremlin 'Chef'
Russia's Wagner Group is one of the most controversial groups among the mercenaries. It is believed to be owned by Yevgeny Prigozhin, a businessman with close ties to Russian President Vladimir Putin. He is also known as "Putin's chef" because he serves the Kremlin through his catering company.
According to Bloomberg, the number of mercenaries from the Wagner Group who arrived at a forward base in Libya in the first week of September last year had risen to 1,400 while 25 Russian pilots, trainers and support crew had been deployed and Russian Sukhoi-22 warplanes were seen in Libyan skies. However, no footage of the armed group has surfaced on social media so far.
Mercenaries with field experience in Ukraine are also fighting on the frontlines in Libya, according to Euronews.
Full report at:
https://www.aa.com.tr/en/africa/social-media-exposes-libyan-warlords-mercenaries/1726900
--------
US airstrikes cover Somalia military operations against al-Shabaab stronghold
FEBRUARY 4, 2020
The U.S. conducted a series of airstrikes at the end of January in support of Somali federal government troops fighting suspected al-Shabaab militants in the country's south, AFRICOM said.
"As a result of these operations we currently assess that one al-Shabaab terrorist was killed in the vicinity of Jilib and two al-Shabaab compounds were destroyed; one in Jamaame and one in Jilib," Brigadier General Gregory Hadfield said on Monday, January 3.
"We assess these compounds were used by al-Shabaab militants to organize and plan violent terrorist actions against innocent Somali citizens," Hadfield said.
AFRICOM claimed to have killed one Shabaab figure in an airstrike on Sunday in the vicinity of Jilib, a farming town on the Jubba river around 320 km (200 miles) southwest of the capital, Mogadishu, a stronghold of the al-Qaeda-linked al-Shabaab militant group.
Somali government spokesperson Ismael Mukhtar told The Defense Post that the U.S. carried out airstrikes "inside the al-Shabaab held city of Jilib," adding that one Shabaab member was believed killed and another wounded.
Last Wednesday, Mukhtar said a U.S. airstrike destroyed an al-Shabaab compound inside Jilib, but did not mention any casualties. AFRICOM did not announce that strike.
AFRICOM said last Monday that an airstrike killed one Shabaab figure in the vicinity of Jilib.
"Removal of even one terrorist makes the region and the U.S. safer," Major General William Gayler said in a press release about Sunday's strike. "Continuous pressure on the network is necessary to prevent al-Shabaab from building a safe haven and exporting violence."
The U.S. is training and supporting the Somali National Army's Danab, or "lightning," forces as well as Kenyan troops across the border as part of the African Union's mission against al-Shabaab, known as AMISOM.
Meanwhile, AFRICOM conducts air and drone strikes to kill Shabaab leaders.
"The two major tasks that we're doing is helping to train a specific part of the Somalia National Army … and we're also doing the counterterrorism strikes," AFRICOM's commander, General Stephen Townsend told Congress last week.
"I don't believe it's whack-a-mole," Townsend replied to a senator's question.
The U.S. regularly reports zero civilian casualties from strikes in Somalia, claims which are notoriously hard to independently verify.
Amnesty International has reported civilian casualties from the strikes, which have soared since President Donald Trump declared southern Somalia an "area of active hostilities" in April 2017, according to the rights group.
U.S. military officials have said al-Shabaab coerces the local population to lie about civilian deaths, but have admitted that it is difficult to verify casualty assessments in the rural country.
The Shabaab was routed from Mogadishu in 2011 by the 22,000-strong AMISOM mission, and has had to abandon most of its strongholds, but it still controls significant rural areas and remains the key threat to peace in Somalia and carries out attacks in neighboring Kenya.
Full report at:
https://thedefensepost.com/2020/02/04/somalia-us-airstrikes-shabaab-jubba-jilib-jamaame/
--------
What Is The Al Qaeda-Linked Al-Shabab Terrorist Group?
Feb 5, 2020
Al-Shabab, an Al Qaeda-linked terrorist group centered in Somalia, has come to be the goal of a escalating selection of U.S. airstrikes throughout President Trump's administration.
The militants belonging to the group have fought for several years to impose a strict model of Islam in the Horn of Africa country, while also launching assaults in neighboring international locations like Kenya, wherever they killed a U.S. services member and two American contractors for the Pentagon in January 2020.
"Al-Shabab's continued assaults degrade the Somali government's potential to the two provide stability and ease the dire humanitarian condition in the country, and its affect in Somalia undermines the United States' attempts to avoid the use of Somalia as a refuge for worldwide terrorists," reads a Council on Foreign Relations profile of the group.
Hundreds of recently educated al-Shabab fighters carry out armed service workouts in the vicinity of Mogadishu, in Somalia, in 2011.
Al-Shabab, which usually means "the Youth" in Arabic, is considered to have shaped all-around 2006. The U.S. Condition Division selected the team as a terrorist firm two several years afterwards, and in 2012, they pledged allegiance to Al Qaeda, according to the nonprofit Counter Extremism Project.
As of 2017, al-Shabab was estimated to have up to 9,000 fighters in its ranks – led by Ahmed Umar Abu Ubaidah, a militant in his 40s. The U.S. State Office is currently presenting a reward of up to $6 million for info foremost to his capture.
The team has been lively in recruiting boys as younger as 9 yrs old into its ranks – heading so considerably as to kidnapping children from Somali faculties, the Counter Extremism Job claims.
Ahmed Umar Abu Ubaida, the existing leader of al-Shabab. He took around the role in 2014 following the group's former head was killed in a U.S. airstrike.
(U.S. Point out Department)
They have even drawn customers from the U.S. Additional gentlemen and boys from a Somali-American local community in Minneapolis have joined – or tried to sign up for – a international terrorist corporation in excess of the very last 12 several years than any other jurisdiction in the region.
Amongst individuals People in america is Jehad Serwan Mostafa — a 38-calendar year-outdated previous San Diego resident who has been branded by the U.S. governing administration as the most wished American terrorist in the environment.
"Al-Shabab's reign of terror threatens U.S. nationwide safety, our worldwide allies, and harmless civilians," U.S. Attorney Robert Brewer said in late 2019.
As of 2019, FBI stats show 45 Somalis still left to join the ranks of both al-Shabab or the Iraq- and Syria-based ISIS combined.
Al-Shabab resources alone with a "taxation" procedure that gurus describe as extortion of enterprises and travelers that brings in hundreds of thousands of pounds a yr. In some conditions, its militants have set up roadblocks to pilfer funds the United Nations and assist teams have offered to internally displaced persons dwelling in Somali refugee camps, the Challenge adds.
In spite of getting rid of territory in current a long time, the extremist team continues to carry out fatal attacks in a lot of areas of Somalia, particularly the funds of Mogadishu. A truck bomb there in October 2017 killed much more than 500 people and a further bombing in December 2019 left at minimum 78 lifeless.
Following that assault, U.S. officers say they released a sequence of airstrikes against al-Shabab, killing 4 militants accountable for "terrorist functions in opposition to innocent Somali citizens."
Full report at:
https://abc14news.com/2020/02/05/what-is-the-al-qaeda-linked-al-shabab-terrorist-group/
--------
URL: https://www.newageislam.com/islamic-world-news/junior-home-minister-told-ls/d/121006
New Age Islam, Islam Online, Islamic Website, African Muslim News, Arab World News, South Asia News, Indian Muslim News, World Muslim News, Women in Islam, Islamic Feminism, Arab Women, Women In Arab, Islamophobia in America, Muslim Women in West, Islam Women and Feminism