New Age Islam News Bureau
23 Jun 2014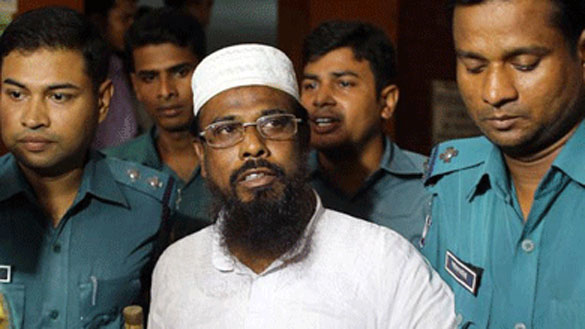 Huji leader Mufti Abdul Hannan was among those sentenced to death in Bangladesh
-------------
Arab World
• Judge Who Sentenced Saddam Hussein to Death 'Is Captured and Executed By ISIS'
• ISIL Extremist Militants Promote Sex Jihad
• In Shiite Heartland of Iraq, Volunteers Get Set for a 'Defensive Jihad'
• 'Hundreds' of Iraq soldiers killed in militant drive: Official
• Syrian rights group: Israeli air raids killed at least 10 Syrian soldiers
• Prisoner exchange 'strengthens hand of Taliban in Doha'
• Children being lured into Syrian civil war, suicide missions
• Once Dreamed Of Becoming UK PM, Now This Jihadi Spouts Hatred
• Jordanians call for Abbas to be stripped of citizenship
• Iraq cleric's call to arms drives up sales of military gear in Baghdad
• Egypt sentences 3 Al Jazeera reporters to 7 years
South Asia
• 8 HuJI militants sentenced to death in Bangladesh for 2001 attack
Official: Taliban frees 33 professors
• The Fallacy of the Coalition Government in the Maldives
Southeast Asia
• Top Malaysian court rules 'Allah' only for Muslims
• Women Cautioned Against World Cup Matches: Malaysian local preacher
• Christian churches insist on right to 'Allah' despite apex court ruling
• 'Allah' ruling upholds sovereignty of Islam, says Isma
• 'Allah' ruling vindicates Mais, Jais in bible tussle, says Perkasa
India
• Duty Consciousness: A Non-Muslim Tenant Hands Over A House Worth One And A Half Crore Back To Waqf Board
• Jamia alumnus discover the role of CCN1 gene in Pancreatic Cancer Development
• Iraq crisis alerts Centre to aftershocks in Afghanistan
• Waziristan developments worry Kashmiris
• 2 LeT militants trapped at Hurriyat leader's home
• Geelani against 'separate cities' for Kashmiri Pandits
Africa
• Kenyan jets hit al-Shabaab bases in Somalia, kill 80
• Nigeria: Boko Haram Kills 40 in Fresh Borno Villages Attack
• South Sudan: Dozens Killed in Fresh Tribal Clashes in North Darfur
• No Sacrifice Is Too Much For Chibok Girls – Baraje
• Tanzania: Clerics Seek Assurance in Next Year's Elections
Europe
• Get Ready For an ISIS Backlash in the UK, Says Anti-Extremist Think Tank
• Islam Compatible with Britishness: British deputy PM
• As Young Welsh Muslim Radicalised By The Internet?
• Islamist controversy on football's rectitude reignites with World Cup
• Teen known as 'Osama Bin Bieber' fights alongside ISIS
• UK to summon Egypt envoy over 'unacceptable' journalist sentences: Foreign Secretary
• Reports claim ISIL to set up base in Cyprus
Pakistan
• Fatwa Declares Zarb-i-Azb A Jihad
• Cleaning up: Police kill four suspected militants in Sohrab Goth
• Nobody will be allowed to march on Capital: Nisar
• MQM Chief Terms Crackdown on PAT Workers State Brutality
• War against Terror: Nation Fully Supports the Army Says Minister
• Clashes erupt after cleric Qadri's flight diverted to Lahore
Mideast
• Threats in Turkey worse than Taliban: Der Spiegel reporter
• Hamas warns of third intifada amid West Bank raids
• Iran's Khamenei opposes US intervention in Iraq
• Ya'alon: Assad regime responsible for missile attack on Israel
• Yemen's army signs ceasefire with Amran's Houthis
• 'Turkey is a big, constructive UN development player,' says head of UN agency
North America
• Obama: U.S. can't play whack-a-mole with ISIS
• Muslim group wants critics to monitor stereotyping on 'Tyrant'
• John Kerry lands in Baghdad to press Iraqi leaders as insurgency spreads
• Pakistan needs to make hard choices now: Hillary
Compiled by New Age Islam News Bureau
URL: https://www.newageislam.com/islamic-world-news/judge-who-sentenced-saddam-hussein-to-death--is-captured-and-executed-by-isis-/d/97690
------------
Arab World
Judge who sentenced Saddam Hussein to death 'is captured and executed by ISIS'
June 23, 2014
The judge who sentenced former Iraqi leader Saddam Hussein to death has been captured and executed by ISIS militants, it is claimed.
Raouf Abdul Rahman, who sentenced the dictator to death by hanging in 2006, was reportedly killed by rebels in retaliation for the execution of the 69-year-old.
His death has not been confirmed by the Iraqi government, but officials had not denied reports of his capture last week.
He is believed to have been arrested on June 16, and died two days later.
Jordanian MP Khalil Attieh wrote on his Facebook page that Judge Rahman, who had headed the Supreme Iraqi Criminal Tribunal during Hussain's trial, had been arrested and sentenced to death.
'Iraqi revolutionaries arrested him and sentenced him to death in retaliation for the death of the martyr Saddam Hussein,' he said, according to Al-Mesyroon.
Attieh also said that Judge Rahman had unsuccessfully attempted to escape from Baghdad disguised in a dancer's costume.
The Facebook page for Izzat Ibrahim al-Douri, Hussein's former deputy who has emerged as a key figure among the Sunni militants, also posted that the rebels had been able to arrest Judge Rahman.
Judge Rahmann, who was born in the Kurdish town of Halabja, took over the trial of Hussein in midway through the trial in January 2006 after previous judge Rizgar Amin was criticised for being too lenient in his dealings with Hussein and his co-defendents.
The father of three had graduated from Baghdad University's law school in 1963 and worked as a lawyer before he was appointed as the chief judge of the Kurdistan Appeals Court in 1996.
He oversaw Hussein's trial for crimes against humanity over the killing of 148 people in the town of Dujail following an assassination attemptin 1982, and sentenced him to death by hanging following the guilty verdict.
Judge Rahman had faced claims that he was biased as his home town had been the subject of a poison gas attack in 1988, allegedly ordered by Hussein.
A number of Judge Rahman's relatives were among the 5,000 people killed in the attack, and during the 1980s he was also reportedly detained and tortured by Hussein's security agents.
The judge later criticised the way the execution was carried out in December 2006, saying in 2008 that it should not have been carried out in public and branding it 'uncivilised and backward'.
The hanging had taken place as Sunni Muslims were celebrating the religious festival Eid al-Adha, and a video of the execution showed the former leader being taunted by members of the Shi'ite group.
In March 2007 it was reported that Judge Rahman had applied for asylum in Britain after travelling to the UK with his family on a tourist visa, claiming he feared for his life.
He never commented on the claims, which were denied by the Iraqi High Criminal Court Tribunal which said he had merely been in the UK for a holiday.
http://www.dailymail.co.uk/news/article-2665360/Judge-sentenced-Saddam-Hussein-death-captured-executed-ISIS.html#ixzz35UazsJAO
------------
ISIL Extremist Militants Promote Sex Jihad
June 23, 2014
In a statement released nearly a week ago, the notorious and well-armed militants have also threatened Iraqis in the northern city, with consequences if they fail to comply with the order.
The idea of offering sex to militants under the pretext of a holy war, referred to in Arabic as "Jihad-ul-Nikah," first surfaced back in 2013.
At the time, a Saudi-based Wahhabi cleric issued a fatwa (religious edict) calling on women to offer themselves to the armed militants fighting against the government of Syrian President Bashar Assad.
Wahhabism is a radical and deviant interpretation of Islam that is violently intolerant of any opposing points of view and issues religious edicts that contradict basic Islamic principles and values.
ISIL (Islamic State of Iraq and the Levant) is an al-Qaeda splinter terrorist group that is fighting the government of Syria and Iraq.
On June 10, the ISIL militants took control of Mosul, the capital of Nineveh Province, which was followed by the fall of Tikrit, located 140 kilometres (87 miles) northwest of the capital Baghdad.
Hundreds of thousands of Iraqi people have been forced out of their homes since the attacks.
Iraqi Prime Minister Nouri al-Maliki has vowed that the country's security forces would confront the foreign-sponsored terrorists, describing the seizure of Mosul as a "conspiracy."
Maliki has also said Saudi Arabia and Qatar are responsible for the security crisis and growing terrorism in his country, denouncing the Al Saud regime as a major supporter of global terrorism.
http://www.abna.ir/english/service/middle-east-west-asia/archive/2014/06/22/617964/story.html
------------
In Shiite Heartland of Iraq, Volunteers Get Set for a 'Defensive Jihad'
June 23, 2014
NAJAF, Iraq — It had been quite the morning for Jamli Umm Saif, a mother of four. After morning prayers on Saturday, she sent off her husband and eldest son to join a military parade by the Mahdi Army, a Shiite militia run by the populist cleric Moktada al-Sadr.
Then she phoned her girlfriends and told them to come watch the parade wearing white shrouds draped over their black chadors, as a sign that they, too, the women of the Mahdi Army, were ready for martyrdom.
"Yes, we are women," said Umm Saif, a nickname meaning "mother of Saif," giggling from behind her black face cover. "But don't be mistaken. We can fight, too. We will all fight."
Here in the Shiite heartland of Iraq, volunteers have revived battalions of the Mahdi Army, one of the dominant groups preparing for battle following the call for a "defensive jihad" June 13 by Grand Ayatollah Ali al-Sistani, one of the highest authorities in the Shiite faith.
From the sidelines of the parade on a main street in Najaf, Umm Saif, 47, and her friends waved green flags, one of the colors of Shiite Islam, as their men marched by the thousands, singing in support of Mr. Sadr.
The cleric himself, who only recently returned from Iran, where he is studying theology, was not present, but his "army," which he disbanded in 2008, seemed to be back in full strength.
The Mahdi Army march was the largest of several taking place on Saturday in Najaf, the oldest center of Shiite learning and home to several key clerics influential with the faithful.
All factions in the city have started mobilizing, preparing, as they call it, "for war." But, almost everybody here says, the war is against the "terrorists" — the jihadists of the Islamic State in Iraq and Syria who have seized broad stretches of northern territory — and not against Sunnis.
This reluctance to lump together the Sunnis of ISIS with the Sunnis of Iraq could suggest that some Shiites, the majority sect in the country, are heeding the call of Ayatollah Sistani and other clerics to embrace a national identity instead of a religious one, despite months of fierce sectarian battles across Iraq that preceded the ISIS invasion two weeks ago. Several ayatollahs have issued fatwas against anyone feeding the fire of sectarianism.
On Friday, a spokesman for Ayatollah Sistani warned that if ISIS was not "fought and expelled from Iraq, everyone will regret it tomorrow, when regret has no meaning."
That day, as the sun was setting, Najaf and the adjacent city of Kufa were bustling with activity to heed that call. In neighborhoods, on soccer pitches and in parades on the main highway that splits the city in half, cheerful Iraqis brandished machine guns, denouncing the "terrorists."
Sheikh Foad al-Torfa, a round-bellied man of God, trained on a dusty field in Kufa in military fatigues, a white turban the only reminder of his life as a Shiite Muslim cleric.
All around him groups of black-clad men marched in formation. "Who are you fighting for?" a self-appointed drill sergeant shouted. "For Iraq, for Iraq," the men thundered in reply.
"When I looked at myself in the mirror, I felt proud, and powerful," said Mr. Torfa, wiping sweat from his forehead. An Iraqi Army belt was strapped around his waist, and every now and then he touched the pistol hanging from it.
Among the long procession of war-hungry men seemingly present everywhere in Najaf on Friday were members of the Shebil tribe, who gathered after lunch on an empty parking lot. Members of the tribe popped up around the corner, dancing and singing with weapons in their hands, joining an ever-growing forest of gun barrels pointing in the air.
"Daesh, where are you? The real men are entering the battlefield," they sang, using the Arabic name for ISIS. A 10-year-old boy nearly tripped over the Kalashnikov machine gun he was struggling to carry. "Tell them you will fight the terrorists," his father said.
The Shebil, whose name translates as "lion cubs," have already gathered 2,000 volunteers, said their leader, Sheikh Riyad al-Shaban. He and other tribal elders sat on a row of plastic chairs overlooking the gathering.
"This is not about Sunnis or Shia," Mr. Shaban said. But when the dust settles, those who cooperated with ISIS must face justice, he said. "The Iraqi people will never forget what those traitors have done."
As his men set out on a procession through town, waving red Shiite flags and escorted by the Iraqi Army, Mr. Shaban said he expected the United States to honor the security agreement it reached with Prime Minister Nuri Kamal al-Maliki.
"Obama has signed it, al-Maliki has signed it, where are the Americans to help us?" he asked.
Around the shrine of the Imam Ali Mosque in Najaf, the tomb of one the most revered saints in Shiism, pilgrims with ice cream cones pushed baby strollers.
But in the offices in the back alleys around the shrine, clerics were receiving frantic phone calls from across the country.
"A new attack on the Baiji oil terminal," said Ali al-Najafi, son of Grand Ayatollah Hossein Bashir al-Najafi.
He was working three phones at the same time and his aides kept slipping him notes with more news. "Welcome to the battlefield," he said, sighing.
Mr. Najafi stressed that Ayatollah Sistani's call for jihad must not be interpreted as sectarian, and explained that despite the fact that Shiites are the majority, all Iraqi groups must have their share of power.
"Many of us here in Najaf have long been criticizing Mr. al-Maliki," he said. "He made many, many mistakes, but now we must first focus on removing the terrorists from Iraq."
At the main entrance to the shrine, fresh victims arrived from the escalating war up north. Just after noon prayers on Saturday, dozens of armed men of the Shiite Asaib Ahl al-Haq militia pulled up at the front entrance, unloaded a coffin and marched toward the mausoleum of Imam Ali.
In the courtyard, a cleric spoke in honor of Asad al-Saeedi, 38, who was killed after entering a booby-trapped room near Falluja, an ISIS-controlled area.
"Our enemies are sneaky and unfair," the cleric said as dozens of fighters sat at his feet. "But do not underestimate them."
After that, a column of cars escorted the body of Mr. Saeedi to an immense cemetery on the outskirts of Najaf, the Wadi al-Salaam.
There, Ali Jassem, 48, a friend of Mr. Saeedi's who was with him on his deadly mission, sat on one of the countless tombstones, smoking a cigarette as undertakers widened the hole dug for the fighter's large body.
"Many more martyrs will follow," said Mr. Jassem. "I wish I will be one of them, too."
http://www.nytimes.com/2014/06/22/world/middleeast/in-the-shiite-heartland-of-iraq-volunteers-gird-for-a-defensive-jihad.html
------------
'Hundreds' of Iraq soldiers killed in militant drive: Official
Jun 23, 2014
Iraqi premier Nuri al-Maliki's security spokesman said Monday that "hundreds" of Iraqi soldiers have been killed by Sunni Arab militants in a major offensive that has overrun vast areas of the country.
The announcement on television by Lieutenant General Qassem Atta is the most specific information provided so far by the government on Iraqi security forces' casualties since the insurgents launched their offensive on June 9.
http://english.ahram.org.eg/NewsContent/2/8/104526/World/Region/Hundreds-of-Iraq-soldiers-killed-in-militant-drive.aspx
------------
Syrian rights group: Israeli air raids killed at least 10 Syrian soldiers
June 23, 2014
A Syrian rights group claimed Monday that Israel's overnight strikes on targets in the country killed "at least ten" Syrian soldiers.
The UK-based Syrian Observatory for Human Rights was quoted as saying that nine missiles were fired by Israeli aircraft and at least two tanks and two batteries of artillery were destroyed.
"At least 10 members of the Syrian army were killed," said Rami Abdurrahman from the Syrian Observatory for Human Rights.
Syrian President Bashar Assad's regime has not responded to the airstrikes which Israel launched early Monday morning in retaliation to a cross-border missile attack which killed a 13-year-old Israeli boy on Sunday.
Full report at:
http://www.jpost.com/Defense/Syrian-rights-group-Israeli-air-raids-killed-at-least-10-Syrian-soldiers-360254
------------
Prisoner exchange 'strengthens hand of Taliban in Doha'
June 23, 2014
DOHA // The transfer of five Taliban prisoners to Qatar in a prisoner exchange with the US has raised questions over the future of Doha as a headquarters for the militants.
Qatar has made stringent efforts to keep the men secure and hidden away after concerns that it would not be able to watch over their activities.
The five ex-Guantanamo Bay prisoners, arrested soon after the fall of the Taliban government in 2001, were handed over this month in return for the last US captive held in Afghanistan.
Their arrival in Qatar came a year after the emirate had its foreign policy wings clipped by an attempt to open a Taliban office in Doha.
The office, which was meant to help carry out peace talks with the Afghan government, was closed after the Taliban raised the flag of the Islamic Emirate of Afghanistan, drawing the ire of outgoing Afghan president Hamid Karzai who said the de facto embassy gave the Taliban undue legitimacy.
Full report at:
http://www.thenational.ae/world/qatar/prisoner-exchange-x2018strengthens-hand-of-taliban-in-dohax2019#page2#ixzz35UpR9wTv
------------
Children being lured into Syrian civil war, suicide missions
By REUTERS
June 23, 2014
BEIRUT - Militant Islamist groups in Syria are recruiting children as young as 15 and sending them into battle after promising them a free education, a Human Rights Watch (HRW) report said on Monday.
The report said the Islamic State in Iraq and Syria (ISIS), which has made rapid territorial gains across the border in Iraq, had given children weapons training in Syria and told them to carry out suicide bombings.
Citing personal accounts, the rights group also found evidence of children being mobilized by the more moderate Western-backed Free Syrian Army, the al-Qaida-affiliated Nusra Front, the Islamic Front coalition and security forces in Kurdish-controlled areas.
"The horrors of Syria's armed conflict are only made worse by throwing children into the front lines," said Priyanka Motaparthy, the author of the report which drew on the accounts of 25 children. It said 14-year-old youths had been used in support roles for the fighting.
Reuters could not independently confirm the accounts. The British-based Syrian Observatory for Human Rights, an anti-Assad monitoring group, said on Sunday that relatives of kidnapped students in Syria fear that ISIS will use the children to carry out car bombs or suicide attacks.
Syria's conflict started with peaceful demonstrations for political change in 2011 but has descended into a civil war, pitting forces loyal to President Bashar al-Assad against a myriad opposition groups.
Full report at:
http://www.jpost.com/Middle-East/Children-being-lured-into-Syrian-civil-war-suicide-missions-360246
------------
Once Dreamed Of Becoming UK PM, Now This Jihadi Spouts Hatred
June 23, 2014
Once he dreamed of becoming the first Asian Prime Minister, but now this British-born Jihadi spouts only hatred as he boasts of his allegiance to the murderous terrorists of ISIS, on their killing spree in Iraq and Syria.
Identified today by The Mail on Sunday, Reyaad Khan, 20, sits with a Kalashnikov assault rifle against his shoulder alongside two other British Islamists in a chilling recruitment video, urging British Muslims to take up arms.
Reyaad, who former school friends in Wales recall as a studious pupil who loved sports, is the second man to be identified in the video. He has joined the estimated 500 Britons who have been radicalised and gone to fight in the Middle East.
The 20-year-old's mother tearfully told Sky News: 'Please come back before it is too late. You are my only one son.
'We can't eat and sleep Reyaad. Please come back before it's too late. I love you so much.'
Yesterday, after seeing his photograph in the media, at least five people on Twitter named him as Reyaad Khan, a former pupil at Cardiff's Cantonian High School.
Full report at:
http://www.dailymail.co.uk/news/article-2664668/A-lethal-new-class-British-jihadi-Second-fanatic-ISIS-recruitment-video-went-Cardiff-school-dreamed-prime-minister-Now-says-Muslims-dont-join-die-painful-death.html#ixzz35UYeDyWp
------------
Jordanians call for Abbas to be stripped of citizenship
June 23, 2014
Jordanian activists have called on their government to revoke the Jordanian citizenship of Palestinian Authority President Mahmoud Abbas on charges he "betrayed the Palestinian cause."
A statement issued in Amman by a group calling itself Tayyar 36 [Trend 36] called on the government to also ban Abbas from entering the kingdom, the daily Rai Al Youm online newspaper reported Monday.
The statement called for similar measures against senior members of the Palestinian Authority.
The group, which consists of intellectuals and retired army officers, condemned Abbas's recent statements in favor of security coordination between the PA and Israel.
Full report at:
http://www.jpost.com/Diplomacy-and-Politics/Jordanians-call-for-Abbas-to-be-stripped-of-citizenship-360234
------------
Iraq cleric's call to arms drives up sales of military gear in Baghdad
June 23, 2014
BAGHDAD // Dozens of men crowd shops in central Baghdad, perusing military equipment including helmets, boots and camouflage uniforms that they will need after volunteering to fight against a major militant offensive.
Some leave with plastic bags of camouflage fatigues, while others buy gear including pocket-laden vests that may or may not actually protect them against bullets, but nonetheless look the part.
Urged on by a call from top Shiite cleric Grand Ayatollah Ali Al Sistani, thousands of Iraqis have volunteered to fight against Sunni Arab militants who have overrun swathes of northern and central Iraq.
Full report at:
http://www.thenational.ae/world/middle-east/iraq-clericx2019s-call-to-arms-drives-up-sales-of-military-gear-in-baghdad#ixzz35UpZGUw2
-----------
Egypt sentences 3 Al Jazeera reporters to 7 years
AP | Jun 23, 2014
CAIRO: An Egyptian court on Monday convicted three journalists from Al Jazeera English and sentenced them to seven years in prison each on terrorism-related charges in a case that has brought an outcry from rights groups.
The sentences were handed down against Australian correspondent Peter Greste, Canadian-Egyptian acting Cairo bureau chief Mohammed Fahmy, and Egyptian producer Baher Mohammed, who also received an extra three years in prison on separate charges.
"I swear they will pay for this," Fahmy shouted angrily from the defendants' cage after the sentences were announced. Greste raised his fists in the air.
"They just ruined a family," said Fahmy's brother Adel, who was attending the session. He said they would appeal the verdict but added that he had little faith in the system. "Everything is corrupt,'' he said.
Full report at:
http://timesofindia.indiatimes.com/world/middle-east/Egypt-sentences-3-Al-Jazeera-reporters-to-7-years/articleshow/37076064.cms
------------
South Asia
8 HuJI militants sentenced to death in Bangladesh for 2001 attack
PTI | Jun 23, 2014
DHAKA: Eight HuJI militants, including its chief, were on Monday sentenced to death by a Bangladeshi court for a 2001 bomb attack targeting Bengali new year celebrations that claimed 10 lives.
"They shall be hanged by the neck till they are dead," additional metropolitan judge Ruhul Amin pronounced in a crowded courtroom as detained Harkat-ul-Jihad al-Islami (HuJI) chief Mufty Abdul Hannan and seven others appeared in the dock under heavy security vigil.
"The attack was carried out to destabilise the country and create panic," Amin said.
The court also handed down life imprisonment to six others, three of them still on the run. Hannan along with seven others faced the trial in person after arrest.
A prison van escorted by several police cars brought the detained militants to the court complex here.
Armed police contingents and security officials in plain clothes kept a sharp vigil, allowing people inside the court only after thorough security checks.
The HuJI operatives carried out the bomb attack in 2001 in Ramna Batmul here as people were celebrating the Bengali New Year 'Pahela Baishakh' which the militants claimed was "anti-Islamic".
Full report at:
http://timesofindia.indiatimes.com/world/south-asia/8-HuJI-militants-sentenced-to-death-in-Bangladesh-for-2001-attack/articleshow/37075044.cms
------------
Official: Taliban frees 33 professors
Jun 23, 2014
An Afghan official said the Taliban have released 33 university professors and students abducted nearly two weeks ago in the country's east.
Mohammad Ali Ahmadi, the deputy governor of Ghazni province, said the hostages were released overnight and early on Monday, following mediation by tribal elders in the region and the staff from the office of the International Committee of the Red Cross in Ghazni.
Mr. Ahmadi said the 33, most of whom are professors at the Kandahar University, were on their way to Kabul, earlier this month when their bus was stopped by the Taliban in the province's Qarabagh district.
The Taliban spokesman, Zabihullah Mujahid, confirmed the release of the 33 in a statement to media.
http://www.thehindu.com/news/international/south-asia/official-taliban-frees-33-professors/article6141043.ece
------------
The Fallacy of the Coalition Government in the Maldives
June 23, 2014
Integrity and ethical behavior has never been a cornerstone of politics in the Maldives throughout its history. In fact, Maldivian political history is littered with examples of treacherous behavior, shifting allegiances, banishments to remote islands and assassinations as the elites of the country jostled to assume, retain, or regain the seat of power.
Not much has changed since the country ditched the sultanate system in favour of a republic in 1968 – a move aimed more at consolidating the power of one man than changing the citizenry's political philosophy. Indeed, it was the continuation of the sultanate by another name, and probably conferred even more power on the newly titled president than the outgoing sultan.
Full report at:
http://minivannews.com/comment-2/comment-the-fallacy-of-the-coalition-government-in-the-maldives-87440
----------
Southeast Asia
Top Malaysian court rules 'Allah' only for Muslims
Associated Press | Kuala Lumpur | June 23, 2014
Malaysia's top court on Monday upheld a government ban forbidding non-Muslims from using "Allah" to refer to God, rejecting an appeal by the Roman Catholic Church that argued that the ban failed to consider the rights of minorities in the mostly Muslim nation.
The Federal Court ruled in a 4-3 decision that the church's newspaper has no grounds to appeal a lower court decision last year that kept it from using "Allah" in its Malay-language weekly publication.
Allah is the Arabic word for God and commonly used in the Malay language to refer to God.
The government says Allah should be reserved exclusively for Muslims – who make up nearly two-thirds of the country's 29 million people because if other religions use it that could confuse Muslims and lead them to convert.
Full report at:
http://indianexpress.com/article/world/asia/top-malaysian-court-rules-allah-only-for-muslims/
------------
Women Cautioned Against World Cup Matches: Malaysian local preacher
June 23, 2014
CAIRO – A Malaysian local preacher has urged Muslim women to take caution when watching World Cup matches, warning that watching players wearing shorts could be haram in Islam as a zina (adultery and fornication) of the eye, an opinion other Muslim scholars disagreed with.
"If a woman watches a football match, they will indirectly see the '`awrah' of the players," Daud Che Ngah told Malay news portal Sinar Harian online, The Malay Mail Online reported.
"Watching the '`awrah' until it causes sexual excitement can be categorized as 'zina' of the eye," the preacher added.
'`Awrah' refers to "intimate body parts" that Muslims must cover with clothing; exposing these is considered sinful.
For Muslim men, their "`awrah" is the area between the navel and the knee.
Modern footballers usually wear shorts that end above the knees.
Islam has taken a firm and decisive stance against Zina (fornication or adultery).
Islam not only prohibits Zina, but also closes all the avenues and means leading to it. This is achieved by prohibiting every step and means leading to stimulating desires.
Full report at:
http://www.onislam.net/english/news/asia-pacific/474095-women-cautioned-against-world-cup-matches.html
------------
Christian churches insist on right to 'Allah' despite apex court ruling
June 23, 2014
KUALA LUMPUR, June 23 — Christians still have the right to refer to God as "Allah" in their bibles and church services as the Federal Court ruling should be limited to the Catholic Church weekly, the Herald, the Christian Federation of Malaysia (CFM) said today.
CFM, an umbrella body representing churches nationwide, said it would hold Attorney-General Tan Sri Abdul Gani Patail and Putrajaya accountable for a statement by the top lawyer on October 20, 2013 that the Court of Appeal's decision to uphold the government ban on the Arabic word "Allah" in the Herald was confined to the weekly.
"Given the refusal to grant the Roman Catholic Church leave to appeal, we will, in proceeding with our actions and activities, therefore treat the decision of the Court of Appeal as being confined to the specific facts of that particular case, and otherwise maintain that the Christian community continues to have the right to use the word 'Allah' in our bibles, church services and Christian gatherings in our ongoing ministry to our Bahasa Malaysia-speaking congregations, as we have done all this while," CFM chairman Rev Dr Eu Hong Seng said in a statement today.
Full report at:
http://www.themalaymailonline.com/malaysia/article/christian-churches-insist-on-right-to-allah-despite-apex-court-ruling#sthash.SMwBHwYY.dpuf
------------
'Allah' ruling upholds sovereignty of Islam, says Isma
June 23, 2014
KUALA LUMPUR, June 23 — The Federal Court decision today to strike out an appeal by the Catholic Church over its use of the word "Allah" bolsters Islam's position as the religion of Malaysia, a Muslim group said today.
Ikatan Muslimin Malaysia (Isma) president Abdullah Zaik Abd Rahman said the majority decision was a welcome solution to long-standing religious tensions that followed the Catholic Church's legal challenge for its right to use the Arabic word.
"Praise be to the Almighty. We are thankful for this decision and hope all parties especially the church will accept it with an open heart," he said as quoted by ISMAweb, the group's website.
Full report at:
http://www.themalaymailonline.com/malaysia/article/allah-ruling-upholds-sovereignty-of-islam-says-isma#sthash.5ypzgn86.dpuf
------------
'Allah' ruling vindicates Mais, Jais in bible tussle, says Perkasa
June 23, 2014
SHAH ALAM, June 23 ? Religious authorities in Selangor have been vindicated by the Federal Court decision not to hear an appeal brought by a Christian publication seeking to overturn a ban on using the word "Allah" to refer to God, according to Malay rights group Perkasa.
Selangor Perkasa chief Abu Bakar Yahya said that the latest developments surrounding the use of the word "Allah" proved that there was need to amend laws to strengthen the roles of the Selangor Islamic Religious Department (Jais) and the Selangor Islamic Religious Council (Mais).
Early this year, the Islamic authorities in Selangor seized Malay and Iban language bibles from a Christian group because the books use the word "Allah" to refer to God. The Islamic authorities have refused to return the books even though the Attorney General decided not to press charges against the Christian group.
Full report at:
http://www.themalaymailonline.com/malaysia/article/allah-ruling-vindicates-mais-jais-in-bible-tussle-says-perkasa#sthash.AAB2MutI.dpuf
-----------
India
Duty Consciousness: A Non-Muslim Tenant Hands Over A House Worth One And A Half Crore Back To Waqf Board
22 Jun 2014
By Saleem Siddiqui
New Delhi (Delhi): At a time when Muslims themselves are involved in the illegal occupations of Waqf properties worth crores of rupees in Delhi and are actively participating in the embezzlement of properties endowed for the welfare of the community, a non-Muslim, by going to the Waqf Board office and handing over the keys of a house worth at least one and half crore, has set a rare example of honesty and moral duty. Delhi Waqf Board's office
According to information Sardar Gayan Singh had been for the last many decades a tenant of a Waqf property (house No 2/218/2), built over an area of about 175 yards, near Jama Masjid in Sadar Market in the Cant area of Delhi. Gayan Singh had no children and had died on 9th of May last. Waqf Board had no information about his death. After Gayan Singh's death some of his relatives made claims over the ownership of the house while some neighbours as well tried to occupy the house. The house worth more than one and half crore of rupees had become the focus of everyone's attraction.
Full report at:
Translated from by Urdu Media Monitor from Rashtriya Sahara 21 June 2014
--------------
Jamia alumnus discover the role of CCN1 gene in Pancreatic Cancer Development
June 23, 2014
Kansas City: The findings of a study on a special protein in pancreatic cancer progression, known to be an angiogenic factor called CCN, co-authored by an alumnus of Jamia Millia Islmia have been published in prestigious The Scientific Reports (Nature publishing group) in May 2014.
Pancreatic cancer is an exceptionally aggressive disease, which is not easily detectable and the five year survival rate for patients is less than 5%. It represents the fourth leading cause of cancer-related deaths in the United States. Although pancreatic cancer is less common in India compared to western countries but now incidences of pancreatic cancer are increasing day by day. The disease affects one in 100,000 Indians.
A former student of the Department of Biosciences of the New Delhi's Jamia Millia Islamia (from 1991 to 2005), Dr. Inamul Haque, a co-author and an assistant professor at the University of Kansas Medical Center told Twocircle.net through email that the aim of the study was to uncover the role of CCN1 during the communication of pancreatic cancer cells and endothelial cells in induction of tumor angiogenesis/aberrant neovascularization.
Full report at:
http://twocircles.net/2014jun22/indian_scientists_jamia_alumnus_discover_role_ccn1_gene_
------------
Iraq crisis alerts Centre to aftershocks in Afghanistan
Sachin Parashar,TNN | Jun 23, 2014
NEW DELHI: With the situation tense in Afghanistan, foreign secretary Sujatha Singh has summoned Indian envoys in the region for a meeting on Monday to take stock of the conditions there. Government sources said the conflict in Iraq added an impetus to Singh's initiative for a meeting on Afghanistan where, like in Iraq, the US has signalled a timeline for the departure of its troops.
Indian envoys in Afghanistan's neighbourhood like Turkmenistan, Uzbekistan and Kazakhstan will also be present in the meeting which will focus on likely implications of withdrawal of US forces from the country and also the outcome of its presidential election.
The initiative is the most significant component of a day-long ambassadors' conclave on Monday, comprising all Indian envoys in India's neighbourhood, which will be chaired by foreign minister Sushma Swaraj.
Full report at:
http://timesofindia.indiatimes.com/india/Iraq-crisis-alerts-Centre-to-aftershocks-in-Afghanistan/articleshow/37040310.cms
------------
Waziristan developments worry Kashmiris
June 23, 2014
Srinagar, June 22 (IANS) Would the Pakistani Army's Zab-e-Azb operations against Islamist militants in North Waziristan impact the security situation in Kashmir? Most locals believe it could, though others say it is far-fetched.
As reports of jehadi fighters getting killed in targeted operations by the Pakistani Army pour in, locals wonder whether such fighters would head for "safer havens" once Pakistan and its tribal areas become "too hot for them".
"There is no armed militant group in Jammu and Kashmir that does not have a dominant component of foreign fighters now. In fact, it is these foreign fighters who call the shots in the militant groups in the state," a top intelligence officer told IANS, adding that not more than 30 such hardened foreign fighters are at present on the radar of the security forces.
"There is no doubt that the Pakistani army can fight the jehadis very well. In fact, they are the ones who created them," a senior military officer told IANS on condition of anonymity.
Apprehensions about jehadis trying to find a foothold in Kashmir gained credence when Guardian.com recently carried a story about the Al Qaeda asking Kashmiris to join the pan-Islamist jehad.
Full report at:
http://www.firstpost.com/fwire/waziristan-developments-worry-kashmiris-1583515.html?utm_source=FP_HP_LATESTNEWS
------------
2 LeT militants trapped at Hurriyat leader's home
Jun 23, 2014
Militants were reportedly hiding in the residence of a separatist leader Abdul Gani Guru at Krankshivan Colony
Two militants of Lashkar-e-Taiba are believed trapped in an encounter with security forces at the house of a separatist leader in Sopore, 55 km from here, in northern Kashmir.
Sources said that the Army launched the cordon-and-search operation on Sunday evening after learning from a tip off about the presence of two LeT militants.
Pakistani militant Mehmood Bhai and a local LeT operative Imtiyaz Kondu were reportedly hiding in the residence of a separatist leader Abdul Gani Guru at Krankshivan Colony.
Officials said that the final assault would be launched to neutralise the militants on Monday morning if they failed to surrender.
http://www.thehindu.com/news/national/2-let-militants-trapped-at-hurriyat-leaders-home/article6139485.ece
------------
Geelani against 'separate cities' for Kashmiri Pandits
Written by Bashaarat Masood | Srinagar | June 23, 2014
At a time when the return of Kashmiri Pandits to the Valley is on top of the agenda of Prime Minister Narendra Modi, Hurriyat chairman Syed Ali Shah Geelani has said the proposal to "set up separate cities" is a dangerous plan and vowed to oppose it.
"Omer Abdullah was recently called to New Delhi and was told to identify 16,800 kanals of land in Kashmir to establish three separate cities for Kashmiri Pandits," Geelani said at a seminar organised by his separatist amalgam.
"This is a grave issue… These cities are to be established in the north, south and central Kashmir and each of them require 5,600 kanals. Nearly 75,000 to 1,00,000 people will be accommodated in each city, which will be provided with every facility," he added.
Geelani asserted that no Kashmiri was against the return of Pandits but said he would oppose any bid to create separate cities for them.
Full report at:
http://indianexpress.com/article/india/india-others/geelani-against-separate-cities-for-kashmiri-pandits/
---------
Africa
Kenyan jets hit al-Shabaab bases in Somalia, kill 80
World Bulletin / News Desk
June 23, 2014
Kenyan fighter jets have attacked two bases belonging to al Shabaab rebels in Somalia and killed at least 80, African Union peacekeepers there said on Monday.
The African Union Mission in Somalia (AMISOM), whose soldiers launched a new offensive against al Shabaab this year, said Kenyan planes carried out the raids on Anole and Kuday in the southern Lower Jubba region. It did not say when they took place.
"The air strikes in Anole left more than 30 al Shabaab fighters dead, three technical vehicles and one Land Cruiser loaded with ammunition destroyed," AMISOM said. More than 50 rebels were killed in the Kuday raid, it added.
Kenya first sent its troops into neighbouring Somalia in 2011 after several attacks inside its territory that it blamed on al Shabaab, and later joined the peacekeeping force.
The rebels have since carried out a string of assaults to punish Kenya for its intervention. Al Shabaab fighters killed at least 67 people in a raid on a Nairobi shopping mall last year.
AMISOM said al Shabaab had lost control of more than 10 major towns in the new push by African troops, including soldiers from Uganda, Djibouti, Ethiopia, Burundi and Sierra Leone.
"AMISOM continues to up the pressure on al Shabaab with a view to liberating more areas in forthcoming operations," the force said.
Full report at:
http://www.worldbulletin.net/todays-news/139411/kenyan-jets-hit-al-shabaab-bases-in-somalia-kill-80
------------
Nigeria: Boko Haram Kills 40 in Fresh Borno Villages Attack
June 23, 2014
MAIDUGURI--No fewer than 40 people, including teenagers, were killed, weekend, when suspected Boko Haram insurgents attacked three villages of Chuha A, Chuha B, and Korongilim in Chibok Local Government Area of Borno State.
The attackers, according to sources, destroyed houses, shops and vehicles after carting away foodstuff and livestock.
A community youth leader in Chibok, Mallam Yakubu Joshua, who confirmed the incident on phone yesterday, said: "Some suspected Boko Haram terrorists invaded Chuha A, Chuha B and Korongilim villages of Chibok council of Borno State and killed over 40 persons.
"The terrorists injured many other villagers, burnt many houses and made away with our foodstuff. The attack, which commenced at 7a.m. yesterday lasted over five hours before military intervened.
Full report at:
http://allafrica.com/stories/201406230755.html?aa_source=mf-hdlns
------------
South Sudan: Dozens Killed in Fresh Tribal Clashes in North Darfur
June 23, 2014
Khartoum — Dozens of people were killed Saturday in fresh clashes between Salamat and Misseriya tribes in North Darfur, over accusation of cattle raiding.
A Salamat tribal leader told Sudan Tribune, that Misseriya gunmen backed by Ta'aisha tribesmen attacked a camp of Salamat cattle keepers in al-Mirdiff, Um Dukhun county, in North Darfur near the border with Chad.
The tribal dignitary who preferred to remain anonymous expressed his frustration over the lack of government troops intervention to stop the fighting despite their presence in the area.
He said that the clashes lasted all the day, but added that tribal efforts from both sides are taking place to prevent its resumption on Sunday.
The clashes between the two Arab tribes in Um Dukhun resumed since last March when the Misseriya had been angered by the arrest and hand over of one of their members to the Chadian police .
Full report at:
http://allafrica.com/stories/201406220012.html?aa_source=acrdn-f0
------------
No Sacrifice Is Too Much For Chibok Girls – Baraje
June 23, 2014
A chieftain of the All Progressives Congress (APC), Alhaji Kawu Baraje, said on Sunday that no sacrifice would be too much to secure the release of the abducted Chibok girls.
Speaking with newsmen at the graduation ceremony of Baraje Centre for Arabic and Islamic Studies, llorin, the chieftain said the country should consider the swap option being canvassed by the insurgents.
"If the United States of America swapped five prisoners to secure the life of an America soldier, it will not be too much for the Federal Government to negotiate and meet the sect's condition for the release of the abducted girls.
"Whatever kind of appeasement that will appease the people that are holding these girls should be done, whether negotiation, whether transition, we saw America do it. Just for one person America released five insurgents,'' he said.
Full report at:
http://leadership.ng/news/375547/sacrifice-much-chibok-girls-baraje
---------
Tanzania: Clerics Seek Assurance in Next Year's Elections
June 23, 2014
RELIGIOUS leaders have raised concern over the practice of engaging school teachers in general elections, insisting that the National Electoral Commission (NEC) should avoid nepotism in the appointment of voters' registration clerks and assign the duty to skilled personnel.
Speaking at a joint meeting between Christian and Muslim clerics and officials from NEC in Dar es Salaam on Friday, the clergy requested that NEC issues proper directives to all registration officers so that they do not harass or intimidate voters as previously experienced, thereby discouraging them from voting.
Full report at:
http://allafrica.com/stories/201406230267.html
------------
Europe
Get Ready For an ISIS Backlash in the UK, Says Anti-Extremist Think Tank
By MAAJID NAWAZ, CHAIRMAN OF QUILLIAM
June 23, 2014
There is a new standard for global jihad. Through skilled publicity – in particular the professional use of social media – unprecedented brutality and conquest on the ground, ISIS has outmanoeuvred just about everyone, especially Ayman al-Zawahiri, Al Qaeda's ageing leader.
When 800 jihadis can defeat 30,000 Iraqi soldiers, there is only one explanation that rings true for potential jihadis everywhere: God is on their side.
It is now likely that malcontents from all over the world will flock to ISIS as the true heirs to Bin Laden's legacy, bringing bloodshed and sectarian savagery on an unprecedented scale – and creating a new nerve centre to export terror to the West.
Full report at:
http://www.dailymail.co.uk/news/article-2664668/A-lethal-new-class-British-jihadi-Second-fanatic-ISIS-recruitment-video-went-Cardiff-school-dreamed-prime-minister-Now-says-Muslims-dont-join-die-painful-death.html#ixzz35UYkuzWt
------------
Islam Compatible with Britishness: British deputy PM
June 23, 2014
LONDON – Amid increasing hostile atmosphere surrounding the British Muslim community, British deputy Prime Minister Nick Clegg has released a statement to the country's largest Islamic group to support patriot Muslims and assure the religion's compatibility with British values.
"I am writing following the recent developments in schools in Birmingham and widespread commentary about the role of Muslims in public life," he began his message, according to the Liberal Democrats' official website.
"I would like to place clearly on the record that there is absolutely no doubt that the overwhelming majority of Muslims in the UK are patriotic citizens who hold values that entirely accord with the traditions and values of our nation, not least through the rejection of all forms of intolerant extremism.
Full report at:
http://www.onislam.net/english/news/europe/474111-islam-compatible-with-britishness-nick-clegg.html
------------
As Young Welsh Muslim Radicalised By The Internet?
June 23, 2014
The young Welsh Muslim in a terror-recruiting video that has stunned his family was radicalised over the internet, a senior figure at his mosque has said.
Muslims in Cardiff were in shock yesterday as former medical student Nasser Muthana, 20, from Cardiff, was revealed to be one of the men in a video posted from Syria by accounts with links to Islamist militant group ISIS.
A second man from Cardiff is also believed to be in the video urging young British Muslims to join the fight in Syria alongside Muthana's younger brother Aseel, 17.
Saleem Kidwai, general secretary of the leading Muslim body, said he believed there were as many as five Welsh muslims already fighting in Syria and Iraq with the now-outlawed terror group Isis.
Full report at:
http://www.dailymail.co.uk/news/article-2664668/A-lethal-new-class-British-jihadi-Second-fanatic-ISIS-recruitment-video-went-Cardiff-school-dreamed-prime-minister-Now-says-Muslims-dont-join-die-painful-death.html#ixzz35UYrPKfQ
------------
Islamist controversy on football's rectitude reignites with World Cup
June 23, 2014
Ultra-conservative Muslim clerics are condemning football as a Jewish and Christian tool to undermine Islamic culture, as millions of Muslims across the globe tune in to watch the World Cup in Brazil.
The condemnations revive a long-standing debate among conservatives as well as militants about the rectitude of the world's most popular sport. They constitute one side of a divide among jihadis and Salafis, arch-conservatives who seek to emulate to the degree possible 7th century Muslim life at the time of the Prophet Muhammad and his immediate successors. On the other side of the divide are some of the world's most prominent jihadist and militant Islamist leaders, including the late Osama Bin Laden, Hamas' Gaza leader Ismail Haniyeh and Hezbollah chief sheikh Hassan Nasrallah, who are avid football fans. The latter often recognize the sport's bonding and recruitment qualities. The Islamic State of Iraq and the Levant (ISIL), the jihadist group currently making advances in Iraq, earlier this year used football as a recruitment tool.
Full report at:
http://www.hurriyetdailynews.com/islamist-controversy-on-footballs-rectitude-reignites-with-world-cup.aspx?pageID=238&nID=68112&NewsCatID=364
------------
Teen known as 'Osama Bin Bieber' fights alongside ISIS
June 23, 2014
A British teenager named Mohammad Hadi, 18, from the city of Coventry in the West Midlands, is believed to have joined the increasingly-powerful Islamic militant group the Islamic State of Iraq and Lebant (ISIS), reported by the Daily Mail on Sunday.
The young man, of Iraqi-Kurdish decent, is nicknamed 'Osama Bin Bieber' after Canadian pop star Justin Bieber due to his young appearance.
Hadi claims that extremist clerics at a religious school in the city had radicalized him and persuaded him to travel to the Middle East, alongside three other men.
There are Instagram pictures, posted by Hadi, that show him holding guns and tweets claiming that he is in Syria with 'Dawla', another name for ISIS.
Full report at:
http://english.alarabiya.net/en/perspective/features/2014/06/23/-Osama-Bin-Bieber-Teenager-fighting-alongside-ISIS-terrorists-in-Iraq-and-Syria-.html
------------
UK to summon Egypt envoy over 'unacceptable' journalist sentences: Foreign Secretary
Jun 23, 2014
The UK says it will summon the Egyptian ambassador to London over Cairo's "appalling and "unacceptable" jailing of several journalists, including an Australian, over allegations of reporting false news and aiding or joining the blacklisted Muslim Brotherhood group.
"I am appalled by the guilty verdicts handed down today against Egyptian and international journalists in Egypt," UK Foreign Minister William Hague said in a statement released after Monday's verdict.
A Cairo court on Monday sentenced three Al Jazeera journalists, including award-winning Australian Peter Greste, to at least seven years in jail on charges of spreading false news," falsely portraying Egypt as being in a state of "civil war," as well as aiding or joining the now-banned Brotherhood.
Full report at:
http://english.ahram.org.eg/NewsContent/1/64/104528/Egypt/Politics-/-UK-to-summon-Egypt-envoy-over-unacceptable-journa.aspx
------------
Reports claim ISIL to set up base in Cyprus
World Bulletin / News Desk
It has been claimed that the self-styled Islamic State of Iraq and the Levant (ISIL), which is fighting in Iraq and Syria against government regimes and other rival rebel groups, is now planning to establish a base in nearby Cyprus.
Greek Cypriot daily Politis claimed that the breakaway Al Qaeda splinter group ISIL was considering establishing an illegal base on the eastern Mediterranean island to counter an alleged training camp set up by Lebanon's Iran-backed Hezbollah.
Quoting Russia's Pravda newspaper, the ISIL is believed to be palnning to establish a number of bases in the Middle-East and the Caucasus, including in Turkey, Azerbaijan and Cyprus. However, the newspaper did not state whether the base would be in the Turkish Republic of Northern Cyprus (TRNC) or the Greek Cypriot-contolled south.
Full report at:
http://www.worldbulletin.net/headlines/139410/reports-claim-isil-to-set-up-base-in-cyprus
------------
Pakistan
Fatwa Declares Zarb-i-Azb A Jihad
June 23, 2014
ISLAMABAD: Over 100 Ulema from various schools of thought declared on Sunday Zarb-i-Azb, the military operation being carried out against terrorists and militants in North Waziristan Agency, as jihad.
The decree [fatwa] was issued after a meeting of religious scholars which was organised by the Sunni Ulema Board here on Sunday.
The decree referred Verse No 33 of Surah Al Maidah, which says: "Crushing of the attempts to disrupt peaceful atmosphere in a Muslim state is jihad."
The decree said that the nation was bound to support the ongoing operation in North Waziristan Agency and according to Shariat the people opposing it were rebellious.
Nation is bound to support the NWA military operation
It said that the state had the right to deal rebels with an iron hand as the militants had murdered hundreds of innocent people and targeted schools, shrines, hospitals, etc. Islam, it added, did not allow individual jihad.
Full report at:
http://www.dawn.com/news/1114565/fatwa-declares-zarb-i-azb-a-jihad
------------
Cleaning up: Police kill four suspected militants in Sohrab Goth
June 23, 2014
KARACHI: Law enforcers claim to have killed four more alleged militants affiliated with the Tehreek-e-Taliban Pakistan (TTP) in the ongoing operation against militants in Karachi. Meanwhile, another suspected criminal was shot dead by the police in Orangi Town on Sunday.
Three of the militants were killed during a search operation conducted by District Malir police in different parts of Sohrab Goth, including Pioneer Homes, Deluxe Town and Afghan Basti. The operation commenced around 11am and was conducted on a tip-off regarding the presence of foreign militants in the area. A large contingent of police officials from District Malir, accompanied by police commandoes, participated in the operation. The law enforcers cordoned off the entire locality and sealed off all the entry and exit points.
Full report at:
http://tribune.com.pk/story/725584/cleaning-up-police-kill-four-suspected-militants-in-sohrab-goth/
---------
Nobody will be allowed to march on Capital: Nisar
June 23, 2014
ISLAMABAD : Interior Minister Chaudhry Nisar Ali Khan has categorically stated that no one will be allowed to march on Islamabad in the guise of holding demonstrations or sit-ins.
In a statement issued here Sunday, he said everyone can arrange political gatherings, but law will come into action against those who claim or intend to remove the government unconstitutionally.
He said it is responsibility of the government to facilitate Tahirul Qadri and his companions to reach Lahore safely.
He said it is not understandable why Qadri is landing in Islamabad when he wants to go to Lahore.
The interior minister also said all the security agencies are presently focusing on the war against terrorism, and it is beyond understanding why Qadri wants to create a hurdle in it.
http://www.nation.com.pk/islamabad/23-Jun-2014/nobody-will-be-allowed-to-march-on-capital-nisar
------------
MQM Chief Terms Crackdown on PAT Workers State Brutality
June 23, 2014
KARACHI - MQM chief Altaf Hussain strongly condemned the police crackdown on Pakistan Awami Tehrik offices and large scale arrests of its workers, terming the Punjab government's action as 'state brutality'.
In a statement, Altaf said, "Instead of arresting and punishing the people responsible for the Model Town tragedy, the government has resorted to arresting the PAT leaders and workers, subjecting them to state brutality. The government's action is highly condemnable, he added.
"At a time when our armed forces have started operation against terrorists and making great sacrifices, the government is busy crushing its political opponents at this critical stage, which is incomprehensible," Altaf deplored.
Full report at:
http://www.nation.com.pk/karachi/23-Jun-2014/altaf-terms-crackdown-on-pat-workers-state-brutality
------------
War against Terror: Nation Fully Supports the Army Says Minister
June 23, 2014
SIALKOT: Federal Science and Technology Minister Zahid Hamid said on Sunday that the nation stood united with the armed forces against terrorism.
He was addressing a press conference in Pasrur on Sunday. The minister said that the Pakistan Muslim League-Nawaz (PML-N) government was aware of the existing internal and external threats facing the country and was making all out efforts to deal with them.
"The government is committed to rooting out terrorism with the support of the people of Pakistan," he said. "The country's armed forces had the capability to eliminate terrorism."
He said the government was strengthening national institutions by promoting democracy. The PML-N had successfully put the country back on the road of progress.
Full report at:
http://tribune.com.pk/story/725636/war-against-terror-nation-fully-supports-the-army-says-zahid-hamid/
------------
Clashes erupt after cleric Qadri's flight diverted to Lahore
Jun 23, 2014
An Islamabad-bound flight carrying Canada-based preacher Tahir-ul-Qadri, who has vowed to lead a "revolution" against the Pakistan government, was on Monday diverted to Lahore for security reasons as clashes erupted between his supporters and police.
Mr. Qadri refused to come out of the plane in Lahore, demanding that the aircraft should be taken to its original destination, Islamabad.
Information Minister Pervaiz Rashid said that the Emirates flight was taken to Lahore as hundreds of Mr. Qadri's supports were present on the roads in Islamabad and there was real risk to his life.
Full report at:
http://www.thehindu.com/news/international/south-asia/clashes-erupt-after-cleric-qadris-flight-diverted-to-lahore/article6141313.ece
------------
Mideast
Threats in Turkey worse than Taliban: Der Spiegel reporter
June 23, 2014
Der Spiegel reporter Hasnain Kazim has said the death threats he has received in Turkey were even "worse than Taliban."
Kazim, who used the headline "Go to hell, [Recep Tayyip] Erdoğan," quoting a mourner in his report on the Soma mine disaster last month, faced a huge backlash from supporters of the prime minister after the piece was published in Der Spiegel. He said he had received more than 10,000 messages, including death threats against him and his family and profane insults, before Der Speigel withdrew him from Turkey out of concerns for his safety.
"I was concerned but I wasn't scared. The main issue for me was to understand how big or real the threat was," Kazim told daily Hürriyet.
"I received many death threats while working in Pakistan. But over four years I had come to know many people from the Taliban and learned how to deal with the threats. Even the threats there were not as intense and heavy as the ones here," he added.
Full report at:
http://www.hurriyetdailynews.com/threats-in-turkey-worse-than-taliban-der-spiegel-reporter.aspx?pageID=238&nID=68133&NewsCatID=510
------------
Hamas warns of third intifada amid West Bank raids
June 23, 2014
Hamas officials said Sunday that Palestinians were headed toward a third intifada against Israel.
Hussam Badran, a Hamas spokesman in the Gaza Strip, said that Palestinians were closer than ever to a "direct confrontation" with Israel.
He said continued construction in the settlements, economic hardships and continued crackdown by the Palestinian Authority on freedoms and Hamas members was bringing the Palestinians closer to a third intifada.
Badran accused the PA security forces of working with the IDF against Hamas members in the West Bank.
Another Hamas official, Mushir al-Masri, said Palestinians were preparing for a new intifada against Israel. He also warned Israel against committing any "stupid act" against Palestinians in the West Bank.
Full report at:
http://www.jpost.com/Middle-East/Hamas-warns-of-third-intifada-360196
------------
Iran's Khamenei opposes US intervention in Iraq
World Bulletin / News Desk
June 23, 2014
Iran's Supreme leader, Ayatollah Ali Khamenei, is opposed to any U.S. intervention in Iraq after the rebel group Islamic State of Iraq and Levant, or ISIL, seized several parts of the country in the last two weeks.
According to the Iranian official news agency IRNA, Khamenei said Iran believed that the Iraqi government and its people had the power to end this crisis with ISIL.
The group has extended its reach into Iraq since June 10, when it seized Iraq's second-largest city Mosul, and soon afterwards took near-complete control of the cities of Tikrit and Tal Afar, where fierce clashes were reported.
Khamenei accused western powers for the conflict and bloodshed in Iraq, especially the U.S., who he accused of abusing "the ignorance and prejudice of a group of willful elements."
"What is taking place in Iraq is not a battle between Sunnis and Shias. The main aim is to topple the Iraqi government and to deteriorate stability, threatening the territorial unity of Iraq," Khamenei revealed.
Full report at:
http://www.worldbulletin.net/headlines/139379/irans-khamenei-opposes-us-intervention-in-iraq
------------
Ya'alon: Assad regime responsible for missile attack on Israel
June 23, 2014
Defense Minister Moshe Ya'alon said the Assad regime is responsible for Sunday's cross-border missile attack, which prompted the IDF to strike nine Syrian army targets early on Monday.
"We see the regime of Bashar Assad and the Syrian military as responsible for what occurs in the territory under their control, and we will respond aggressively and harshly against any provocation and violation of our sovereignty," Ya'alon said in a statement.
Ya'alon warned forces loyal to Syrian President Bashar Assad, Syrian opposition forces and terrorist elements operating in the country alike, against attempts to harm Israeli citizens and IDF forces.
Full report at:
http://www.jpost.com/Defense/Yaalon-Assad-regime-responsible-for-missile-attack-on-Israel-360235
------------
Yemen's army signs ceasefire with Amran's Houthis
World Bulletin / News Desk
June 23, 2014
A presidential mediation committee said Sunday that it hammered out a ceasefire to raging confrontations between the Yemeni army and the Shia Houthi movement in the northern Amran province.
"The ceasefire was signed upon the desire of parties to the conflict and under sponsorship from the president," the official Yemeni news agency quoted a statement by the mediation committee as saying.
This is the second ceasefire to be signed between Houthis and the Yemeni army during this month.
The two sides agreed to stop their animosities earlier in June, but this proved to be very short-lived as they returned to lock horns yet again only a few days later.
Full report at:
http://www.worldbulletin.net/todays-news/139388/yemens-army-signs-ceasefire-with-amrans-houthis
-----------
'Turkey is a big, constructive UN development player,' says head of UN agency
June 23, 2014
Turkey is highly engaged in global development discourse and its experience should be shared, according to United Nations Development Program (UNDP) head Helen Clark.
"I've seen Turkey come out of an authoritarian period into becoming a lively democracy," Clark told the Hürriyet Daily News, adding that Turkey's "huge investment in infrastructure and human development" gave it a very positive story to tell.
"Turkey is a big U.N. player. It is very supportive of the U.N. and of multilateralism," she added, as Turkey prepares for the election of a non-permanent seat in the U.N. Security Council this autumn.
How would you describe UNDP-Turkey relations over the course of the last decade?
The relationship goes back to the 1950s. It was a traditional relationship as a developing country. As we have seen over the last couple of decades, serious developments speeded up. Full report at:
http://www.hurriyetdailynews.com/turkey-is-a-big-constructive-un-development-player-says-head-of-un-agency.aspx?pageID=238&nID=68127&NewsCatID=359
------------
North America
Obama: U.S. can't play whack-a-mole with ISIS
23 June 2014
U.S. President Barack Obama urged Sunday Iraqi leaders to find a political solution to the crisis in their country and said he rejects the idea of sending troops to fight militant organizations "wherever they pop up."
Obama, who believes a global response against terrorism is needed, said his administration would not fall into the trap of 'whack-a-mole' foreign policy during an interview with American television channel CBS.
"I think it's important for us to recognize that ISIS is just one of a number of organizations that we have to stay focused on," Obama said.
"What we can't do is think that we're just going to play whack-a-mole and send U.S. troops occupying various countries wherever these organizations pop up," he said.
"This is going to be a global challenge and one that the United States is going to have to address but we're not going to be able to address it alone," Obama said.
Full report at:
http://english.alarabiya.net/en/News/middle-east/2014/06/23/Obama-U-S-can-t-play-whack-a-mole-with-ISIS-.html
------------
Muslim group wants critics to monitor stereotyping on 'Tyrant'
June 23, 2014
A Muslim advocacy group is asking that critics reviewing FX's upcoming drama "Tyrant" address possible stereotyping of Arab and Muslim culture.
"In the pilot of FX's 'Tyrant,' Arab Muslim culture is devoid of any redeeming qualities and is represented by terrorists, murderous children, rapists, corrupt billionaires and powerless female victims," said CAIR National Communications Director Ibrahim Hooper. "In 'Tyrant,' even the 'good' Arab Muslims are bad."
The group had earlier asked for a meeting with network officials to discuss potential stereotypes in the series.
Full report at:
http://www.latimes.com/entertainment/tv/showtracker/la-et-st-muslim-group-wants-critics-to-monitor-stereotyping-on-tyrant-20140620-story.html
------------
John Kerry lands in Baghdad to press Iraqi leaders as insurgency spreads
Reuters | Jun 23, 2014
BAGHDAD: US secretary of state John Kerry landed in Baghdad on Monday to press Prime Minister Nuri al-Maliki to form a more inclusive government in response to a Sunni insurgency that has swept much of northern and western Iraq.
Kerry's visit came after Sunni militants took strongholds along Iraq's western border at the weekend, strengthening supply routes from Syria where they have exploited a three-year-old rebellion to capture swathes of territory.
Iran's Supreme Leader Ayatollah Ali Khamenei on Sunday accused Washington of trying to regain control of the country it once occupied — a charge Kerry denied, saying the United States was committed to helping Iraq but wanted a more inclusive government.
Kerry would "discuss US actions underway to assist Iraq as it confronts this threat and urge Iraqi leaders to move forward as quickly as possible with its government formation process to forge a government that represents the interests of Iraqis," state department spokeswoman Jen Psaki said.
Full report at:
http://timesofindia.indiatimes.com/world/middle-east/John-Kerry-lands-in-Baghdad-to-press-Iraqi-leaders-as-insurgency-spreads/articleshow/37072081.cms
------------
Pakistan needs to make hard choices now: Hillary
By Anwar Iqbal
Jun 23, 2014
WASHINGTON: Former US secretary of state Hillary Clinton has said that Pakistan's policy of seeking strategic depth in Afghanistan has been proven wrong and the country now needs to focus all its strength on dealing with the militants.
"Their idea, that they have these groups to provide strategic depth, as they like to say, vis-a-vis Afghanistan, or vis-a-vis India, I think if that were ever true, which I doubt, but if that were ever true, it no longer is," she told Indian NDTV channel.
In the interview that focused on her new book, 'Hard Choices', Ms Clinton said that Pakistan also needed to make a hard choice now, disconnecting its ties to various terrorist groups and putting together all state powers to "once and for all go after extremists, shut down their training camps, their safe havens, (and) madressahs that are inculcating suicide bombing behaviour."
Full report at:
http://www.dawn.com/news/1114535/pakistan-needs-to-make-hard-choices-now-hillary
------------
URL: https://www.newageislam.com/islamic-world-news/judge-who-sentenced-saddam-hussein-to-death--is-captured-and-executed-by-isis-/d/97690