New Age Islam News Bureau
5 Apr 2014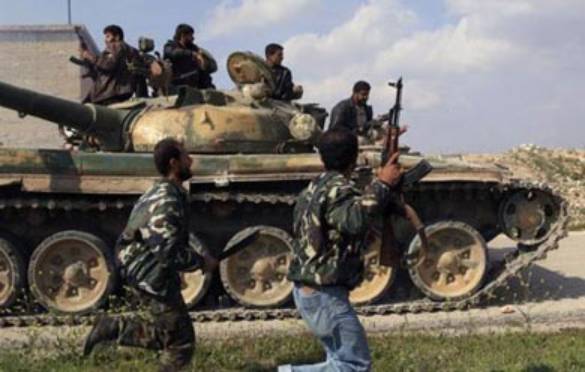 Rebel fighters run alongside other fellow fighters sitting on a tank as they celebrate retaking the town of Babolin April 4, 2014. CREDIT: REUTERS/KHALIL ASHAWI
------
Arab World
• 'Jihadist' Infighting in Syria is 'Sedition': Zawahiri
• 50 Rebels Killed By Residents Of Syrian Town
• 18 Killed In Egypt Clan Fighting
• Syria Vacuum Bombs Kill 20 in Aleppo
• 18 terrorists sentenced to 104 years in jail by a special court in Riyadh
• Syrian Army Besieges Al-Qaeda Commanders in Aleppo Countryside
• Hezbollah sets conditions for Dialogue
• Alawite leader in Lebanon charged for 'terror ties'
South Asia
• Afghan Taliban rejects democratic system and will enforce Islamic system
• 24 Taliban militants killed, 4 others injured in Afghan operations
• BNP: Quit if you fail to bargain with India
• Price of a voter card in Afghan elections? Taliban offer $5
• Refugees allowed to vote in Afghan town
• MDP seeking public opinion over party reform
Africa
• Kenya president vows to step up 'war on terror'
• CAR gov't urged to evacuate Muslims from Bangui
• Armed Libyans detain 150 Egyptian trucks, drivers
• Chad starts pulling forces from C. African Republic
• Kenyan police disperse Muslim protests in Mombasa
Pakistan
• Pakistani Couple Gets Death over 'Blasphemous' Text Message
• Sindh Assembly stands dissolved for opposing CII: Fazl
• Doors cannot be closed to negotiation, whichever government comes in India: Sartaj Aziz
• Cleric murder: Musharraf's plea for permanent exemption rejected
• Govt claim of TTP prisoners release holds no truth: Yousuf Shah
• Govt committee briefed on prisoner release before meeting TTP panel
Southeast Asia
• Non-Muslims have no right to question implementation of Hudud, says NGO
• Indonesia's Islamic parties capitalise on Gus Dur legacy to win votes
• Perkasa tells MCA Youth to back off from Hudud issue
• Non-Muslims can choose to follow Hudud in Kelantan, deputy MB says
• Philippine troops hunt militants behind abductions
Mideast
• 8 Yemeni soldiers killed in 'Qaeda attack': Army
• Turkish PM Erdogan pursues 'parallel state' abroad
• Chief Negotiator Calls to convene the National Council with Hamas and Islamic Jihad
• Israel approves archaeology project, Palestinians worried
• YouTube remains blocked in Turkey after court backtrack
• Ministry: 230 Palestinian Children in Israeli Jails
Europe
• Russia: Assad Resignation before Talks Inadmissible
• Egypt failed to meet US aid conditions: HRW
• Human rights group urges end to arbitrary detention
• Ban in C. Africa to signal determination on UN force
North America
• U.S. finalizing plan to boost support for Syrian rebels – sources
• U.S. Eyes Afghan Vote, Seeking Amenable Ally
• Kerry: It's time for a reality check on peace process
• US judge dismisses Al-Awlaki drone lawsuit
• Kerry encourages Morocco on reforms
• Kerry in danger of losing big bet on Middle East peace
India
• ISI guided 2008 bombing of Indian embassy in Kabul
Compiled by New Age Islam News Bureau
URL: https://newageislam.com/islamic-world-news/'jihadist'-infighting-syria-edition'-zawahiri/d/66426
----------
Arab World
'Jihadist' Infighting in Syria is 'Sedition': Zawahiri
April 5, 2014
Al-Qaeda's leader called on fighters to determine who killed his chief representative in Syria, a man many militant groups believe died at the hands of a rival militia, in a move that highlighted a conflict between rebels that has killed hundreds.
In a thinly veiled criticism of the breakaway Islamic State in Iraq and the Levant organization, Ayman al-Zawahiri called the killing of Abu Khaled al-Suri an act of "sedition" that should be handled in accordance with Islamic law.
"All Muslims should not help anybody who blows up the headquarters of the holy fighters, or who sends them car bombs and human bombs," he said in a recorded message posted on militant websites late Friday, referring to the Islamic State's tactic of attacking rival rebels with bombings.
"Whoever commits such sins, should remember that he is fulfilling for the enemies of Islam what they were unable to achieve on their own."
Al-Suri was killed on Feb. 23, when two suicide bombers blew themselves up inside the militant leader's compound in the northern Syrian city of Aleppo.
While he did not mention the Islamic State by name, it was clear he was accusing the group and staking out a hard stance against it. He also endorsed a previous call for Islamic arbitration over the death of al-Suri, to be overseen by the Nusra Front — the official Al-Qaeda affiliate in Syria.
Al-Suri was the founder of a conservative, powerful Syrian rebel group, Ahrar al-Sham.
The Islamic State, led by man known as Abu Baker al-Baghdadi, was once an al-Qaeda-affiliated group that operated in Iraq, but also branched into Syria.
It was expelled from the militant franchise in part because of brutality that included public beheadings — considered excessive even by the standards of Al-Qaeda's ultraconservative Muslim fighters. Al-Qaeda formalized the expulsion last week.
The shadowy Al-Baghdadi is one of the world's most lethal terrorists, infamous for his relentless bombing campaigns against Iraqi civilians, audacious jailbreaks of fellow militants and for expanding the organization into Syria.
Zawahri's message also suggested that rebels will remain locked in the infighting that has eroded their ranks and cost them territory to government forces supporting President Bashar Assad.
Infighting has killed at least 3,000 rebels since January according to a count by the British-based Syrian Observatory for Human Rights.
Syria's uprising, which began with largely peaceful protests in March 2011, has evolved into a civil war with sectarian overtones. Islamic extremists, including foreign fighters and Syrian rebels who have taken up hard-line Al-Qaeda -style ideologies, have played an increasingly prominent role among fighters, dampening the West's support for the rebellion to overthrow Assad.
http://english.ahram.org.eg/NewsContent/2/8/98329/World/Region/AlQaeda-calls-for-Syria-arbitration-over-killing.aspx
----------
50 rebels killed by residents of Syrian town
IANS | Apr 5, 2014
DAMASCUS: Residents of a central Syrian town confronted radical militant groups, killing and wounding over 50 of them on Saturday, media reported.
Residents of the town of Taibet al-Emam in the countryside of the central province of Hama confronted rebels from the al-Qaida linked Nusra Front who were committing acts of kidnapping and burglary, killing and wounding 50 of them, Xinhua reported citing SANA news agency.
In another incident, rebels fired mortar shells at the town of Muhardeh also in Hama, injuring many people and causing huge property losses.
The incidents in Hama came as part of the broader cycle of violence in Syria.
Rebel mortar shelling continued Saturday, with shells slamming into several districts of the capital Damascus, namely Fahameh, Adawi, Tabbaleh, Jaramana, Malki and the Umayyad Square in central Damascus, where the headquarters of the Syrian state TV, the military command and the opera house are located.
The Syrian military said its troops Saturday thwarted the rebels' attacks on several military posts in the southern province of Qunaitera, killing and injuring an undisclosed number of the attackers.
The military also killed many rebels when troops foiled another attack against military posts in the coastal town of Kasab, where intense fighting is currently going on.
http://timesofindia.indiatimes.com/world/middle-east/50-rebels-killed-by-residents-of-Syrian-town/articleshow/33292438.cms?
-----------
18 killed in Egypt clan fighting
World Bulletin / News Desk
April 5, 2014
Eighteen people were killed in a clan fighting in the Upper Egyptian province of Aswan, a Health Ministry official said on Saturday.
"Some 31 people were also injured in the clashes, which started on Friday," Ehab Emad told Anadolu Agency.
The violence started on the background of a scuffle between school students from two clans in the province, according to eyewitnesses.
Four homes were burned down in the violence.
Policemen fired teargas in an attempt to halt the raging fighting in the province, the witnesses said.
http://www.worldbulletin.net/todays-news/132948/18-killed-in-egypt-clan-fighting
----------
Syria vacuum bombs kill 20 in Aleppo
World Bulletin / News Desk
April 5, 2014
Twenty civilians have been killed and dozens wounded, including women and children, after the Syrian regime used vacuum bombs to attack targets in Aleppo's countryside, according to civil defense groups.
Many houses were destroyed or damaged in Aleppo when the bombs - devices which explode above ground and spray out a cloud of fuel which then ignites to create a second blast wave - detonated on Friday, civil defense groups told the Anadolu Agency.
Rescue workers and residents were continuing to recover dead bodies and attempt to rescue those still alive under debris.
With such air attacks, activists said civilians should try to leave Aleppo.
Syria has been in turmoil since 2011 when a peaceful uprising against President Bashar al-Assad escalated into civil war following a violent regime crackdown.
More than 100,000 people have been killed during the ongoing three-year conflict, which has also internally displaced more than 6.5 million people, according to the UN
http://www.worldbulletin.net/headlines/132901/syria-vacuum-bombs-kill-20-in-aleppo
----------
18 terrorists sentenced to 104 years in jail by a special court in Riyadh
April 5, 2014
A special court in Riyadh has sentenced 18 terrorists to a collective 104 years in jail for various subversive and illegal activities including attempts to smuggle missiles into the Kingdom from Yemen.
They received sentences ranging from two months to 27 years. One of the convicts was jailed for 13 years, local media reported Friday.
A major charge against them was smuggling a woman and her children with forged travel documents on a plane from Riyadh to Jazan without a male guardian. They also helped the woman and her children to cross the border illegally into Yemen, with the aim of sending her to Syria and Iraq, on the orders of an Al-Qaeda member. They did not inform her relatives or the Saudi authorities of her whereabouts.
Full report at:
http://www.arabnews.com/news/550921
----------
Syrian Army Besieges Al-Qaeda Commanders in Aleppo Countryside
April 5, 2014
The Syrian army has surrounded senior commanders of the Al-Nusra Front, an Al-Qaeda offshoot, in Aleppo countryside in Northern Syria, the terrorist group's website announced on Saturday.
Several army units under the command of Colonel Soheil Al-Hassan have surrounded Al-Nusra commanders Abu Mohamed Al-Joulani and Abu Maria Al-Ansari and their troops in Aleppo countryside.
Meantime, the army units regained control of a strategic region and arms depot in Aleppo.
The Syrian army also took control of the strategic and sensitive Al-Sheikh Najjar region in the Eastern parts of Aleppo city.
Full report at:
http://english.farsnews.com/newstext.aspx?nn=13930116000702
--------
Hezbollah sets conditions for Dialogue
April 05, 2014
BEIRUT: Hezbollah's deputy leader Sheikh Naim Qassem said Saturday his party supports the National Dialogue under the right conditions, suggesting that other parties should acknowledge certain basic principles before talks start.
"We were the first to respond to the Dialogue over the defense strategy and we know that the defense strategy talks about the resistance," Qassem said during a party ceremony.
"Do you think that we are afraid of discussing [the defense strategy] because Hezbollah has arms? On the contrary, through dialogue, we can fix the resistance's role in the service and for the liberation of Lebanon, and in cooperating with the Lebanese Army in the right way," he said.
Full report at:
http://www.dailystar.com.lb/News/Lebanon-News/2014/Apr-05/252424-hezbollah-sets-conditions-for-dialogue.ashx#ixzz2y4Zm1zFO
----------
Alawite leader in Lebanon charged for 'terror ties'
April 5, 2014
A senior member of an Alawite party in Lebanon's restive northern city of Tripoli was charged Saturday with being part of an "armed terrorist group," a judicial source said.
Rifaat Eid, the political leader of the Arab Democratic Party, was accused along with 11 others of "belonging to an armed terrorist group with the aim of carrying out terrorist acts," the source told AFP.
They are also suspected of possessing weapons illegally, and "inciting sectarianism".
The charges were filed after the army deployed in Tripoli in an unprecedented operation to quell violence between the Alawite neighbourhood of Jabal Mohsen, where Eid's party holds sway, and the nearby Sunni district of Bab el-Tebbaneh.
Full report at:
http://english.ahram.org.eg/NewsContent/2/8/98324/World/Region/Alawite-leader-in-Lebanon-charged-for-terror-ties.aspx
----------
South Asia
Afghan Taliban rejects democratic system and will enforce Islamic system
April 05, 2014
KABUL- Afghan Taliban say they do not recognize the democratic system and have made many sacrifices for the establishment of an Islamic government and free the country from foreign occupation.
In an interview with BBC, about Afghanistan's presidential and provincial council elections, Taliban spokesman Zabihullah Mujahid rejected them and said that the Taliban have the right to liberate their country and should implement the Islamic system. Mujahid said that those who have attended election rallies do not understand political affairs and cities are living under the umbrella of the enemy. The Taliban spokesman said that the majority of people who are engaged in Jehad day and night by offering their blood, soul and money have the right to decide the actual Islamic principles and select the system for the country. Mujahid said the presence of foreign troops in the polls and vote would mean nothing because the money and the plots have deceived millions of people. He said this does not mean that the Taliban, who in the past 13 years defeated the world's greatest fighting force have lost.
http://www.nation.com.pk/international/05-Apr-2014/afghan-taliban-reject-democratic-system-and-will-enforce-islamic-system
----------
24 Taliban militants killed, 4 others injured in Afghan operations
Apr 05 2014
At least 24 Taliban militants were killed and 4 others were injured during military operations by Afghan national security forces in the past 24 hours.
The operations were conducted by Afghan national police (ANP) forces in cooperation with the Afghan national army (ANA) and Afghan intelligence – National Directorate of Security (NDS) operatives.
The interior ministry of Afghanistan following a statement said the operations were conducted in Baghan, Maidan Wardak, Paktika and Helmand provinces.
Full report at:
http://www.khaama.com/24-taliban-militants-killed-4-others-injured-in-afghan-operations-2960
----------
BNP: Quit if you fail to bargain with India
April 5, 2014
BNP Standing Committee member Nazrul Islam Khan yesterday asked the government to step down if it "does not have the courage" to bargain with India over power supply issue.
"We want to maintain relationship with our neighbouring country on the basis of mutual benefits and respect. India will transmit power through Bangladesh. We are yet to get water from the Teesta River. What will Bangladesh get?" he questioned.
Dhaka has decided to allow India to transmit power from Assam to North Western part of the country using three routs including Boropukuria of Dinajpur or Jamalpur.
Full report at:
http://www.dhakatribune.com/politics/2014/apr/05/bnp-quit-if-you-fail-bargain-india#sthash.2ai8xT2H.dpuf
----------
Price of a voter card in Afghan elections? Taliban offer $5
April 05, 2014
JALALABAD, Afghanistan: The Taliban have launched a violent campaign to disrupt this weekend's presidential election in Afghanistan, but in a restive eastern corner of the country they are paying villagers to surrender voting cards.
Residents in Nangarhar province, which lies on the border with Pakistan, said local Taliban militants have been offering voters 500 Pakistani rupees – the equivalent of just over $5 – to opt out of the election.
"At first we thought the Taliban were trying to trick us and wanted to find out who had voter cards, but later we found out that they were honest and paid money," said Ahmad Shah, a youth in a village just outside the city of Jalalabad.
Full report at:
http://www.dailystar.com.lb/News/International/2014/Apr-05/252360-price-of-a-voter-card-in-afghan-elections-taliban-offer-5.ashx#ixzz2y4aMrmMa
---------
Refugees allowed to vote in Afghan town
2014-04-05
QUETTA: The government of Afghanistan has allowed Afghan refugees living in Chaman and adjacent border areas to cast votes in the presidential election being held on Saturday (today).
The Election Commission of Afghanistan has established a polling station for this purpose in Vesh Mandi, the first Afghan town across the Chaman border.
Sources said though the Pakistan-Afghan border would remain sealed on the polling day, Afghan refugees desiring to cast their votes would be allowed to cross the border through the Friendship Gate near Chaman.
Full report at:
https://www.dawn.com/news/1097876/refugees-allowed-to-vote-in-afghan-town
----------
MDP seeking public opinion over party reform
By Ahmed Naish | April 5th, 2014
The opposition Maldivian Democratic Party (MDP) has invited its members and the general public to submit suggestions and ideas for reforming and restructuring the party in the wake of electoral defeats in the presidential and parliamentary elections.
The party's national council last week voted to form a three-member committee to study a reform paper (Dhivehi) submitted by a group of members and collect opinions and ideas for reform.
At a press conference on Thursday, the committee – comprised of MDP Youth Wing Leader Aminath Shauna along with Ali Niyaz and Ahmed Mujthaba – announced that it would be accepting suggestions for a two-week period.
Full report at:
http://minivannews.com/politics/mdp-seeking-public-opinion-over-party-reform-81795
--------
Africa
Kenya president vows to step up 'war on terror'
World Bulletin / News Desk
April 5, 2014
Kenyan President Uhuru Kenyatta on Friday vowed that his government would step up anti-terrorism efforts, going on to claim that many of those engaged in recent violence were foreign refugees.
"This is the time to oppose our legacy of tolerance against the evil innovation of radicalization, which insinuates that our war against terror is a conflict of religions or a battle of cultures – but it is no such thing," Kenyatta said in Swahili at a police graduation ceremony.
He added: "It is a war against vicious criminals – it is nothing more and nothing less."
He pointed out that, because Kenya hosts more than a million refugees, many innocent Kenyan lives had been lost due to the activities of militants who hide among refugees.
"We cannot take it anymore; people are taking our kindness for granted, while they are bringing death to Kenyans," Kenyatta said.
Full report at:
http://www.worldbulletin.net/headlines/132924/kenya-president-vows-to-step-up-war-on-terror
----------
CAR gov't urged to evacuate Muslims from Bangui
World Bulletin / News Desk
April 5, 2014
Muslims in Bangui, capital of the troubled Central African Republic, should be evacuated in light of fears of fresh violence by Christian militiamen, a local Muslim community spokesman said.
"Muslim internally displaced persons (IDPs) settled in the camp of [Bangui's] Central Mosque," Saoudi Abdurahmane Doudou told Anadolu Agency.
"Those in PK12 [a district on Bangui's northern outskirts] must be evacuated to Bambari [in the center of the country] or other places… until the situation returns to normal," he said.
According to Doudou, some 2000 Muslim refugees in the Central Mosque's yard, along with 2500 others living in makeshift dwellings in the PK12 district, are now awaiting evacuation.
"These people's lives are threatened daily… They have nothing in their homes or elsewhere," he said.
Full report at:
http://www.worldbulletin.net/headlines/132920/car-govt-urged-to-evacuate-muslims-from-bangui
----------
Armed Libyans detain 150 Egyptian trucks, drivers
April 5, 2014
Armed Libyans detained Saturday 150 Egyptian trucks heading from Libya to Egypt, along with their drivers, in protest at Egyptian authorities slamming a life sentence on a Libyan smuggler, Al-Ahram Arabic website reported.
The drivers are being held in Libya's Ajdabiya district, Omran Ambewa, member of Al-Qanashat tribe — a tribe with presence in both Egypt and Libya — told Ahram Arabic website.
Negiotations between the armed Libyans, military intelligence and tribal chieftains are currently underway to release the Egyptian drivers and their trucks.
On Wednesday, Egyptian authorities slammed Libyan Salama Mohamed Salama with 25 years in prison after he was caught smuggling weapons through the Libyan-Egyptian border.
Egyptian authorities have repeatedly warned Egyptians against travelling to Libya. This is not the first mass abduction targeting Egyptians.
Full report at:
http://english.ahram.org.eg/NewsContent/1/64/98305/Egypt/Politics-/Armed-Libyans-detain--Egyptian-trucks,-drivers.aspx
----------
Chad starts pulling forces from C. African Republic
World Bulletin / News Desk
April 5, 2014
Chad began withdrawing its troops from Central African Republic's peacekeeping mission on Friday as a U.N. report accused its soldiers of killing 30 civilians and wounding 300 in an attack on a crowded market last week.
Chad's Foreign Minister Moussa Faki Mahamat denied the allegation, saying the troops had been ambushed by Christian "anti-balaka" militia and had responded.
A series of violent incidents involving Chadian troops has stoked fury in the former French colony, culminating in Chad's decision on Thursday to withdraw its troops from the African Union peacekeeping force, known as MISCA.
Full report at:
http://www.worldbulletin.net/headlines/132933/chad-starts-pulling-forces-from-c-african-republic
----------
Kenyan police disperse Muslim protests in Mombasa
World Bulletin / News Desk
April 5, 2014
Kenyan police fired in the air and unleashed tear gas to disperse scores of Muslim youths angered by the killing of a prominent scholar in the port city of Mombasa this week.
Tensions have been simmering in the tourist hub since Tuesday when unknown attackers shot dead Abubakar Shariff, more commonly known as Makaburi, who was accused of supporting Somali Al-Shabaab fighters who carried out the raid on Nairobi's Westgate shopping mall.
About 100 youths streamed out of the Masjid Shuhadaa mosque in Mombasa's rundown Majengo area, throwing stones and charging a group of journalists outside the house of worship. They scattered when police fired in the air.
Full report at:
http://www.worldbulletin.net/headlines/132859/kenyan-police-disperse-muslim-protests-in-mombasa
---------
Pakistan
Pakistani Couple Gets Death over 'Blasphemous' Text Message
April 5, 2014
LAHORE: A court in eastern Pakistan has sentenced a Christian couple to death for sending a blasphemous text message insulting to Prophet Mohammed (pbuh), their lawyer said Saturday.
Judge Mian Amir Habib handed the death sentence to Shafqat Emmanuel and Shagufta Kausar in a jail in the town of Toba Tek Singh on Friday, defence lawyer Nadeem Hassan told AFP.
Prosecution department officials confirmed the sentence.
The impoverished couple, who are in their forties, have three children and live in the town of Gojra, which has a history of violence against Christians, Hassan said.
Both denied the charges, Hassan said, adding that they would appeal the sentence.
Maulvi Mohammad Hussain, the prayer leader at a local mosque in Gojra, lodged a complaint against couple on July 21 last year for sending him a text message which he said was insulting to Prophet Mohammed (pbuh).
Full report at:
http://tribune.com.pk/story/691720/couple-gets-death-over-blasphemous-text-message/
----------
Sindh Assembly stands dissolved for opposing CII: Fazl
April 05, 2014
DERA ISMAIL KHAN: Jamiat Ulema-e-Islam-Fazl (JUI-F) chief Maulana Fazlur Rehman on Thursday claimed that the Sindh Assembly stood dissolved after it passed a resolution against the Council of Islamic Ideology (CII).
Talking to reporters at the Press Club here, he said that the Sindh Assembly through a resolution demanded scrapping of the CII, arguing that it was negation of the ideology of Pakistan.
The JUI-F leader said the Objectives Resolution had taken the final decision about the Ideology of Pakistan. However, he said the Sindh Assembly questioned the Objectives Resolution by passing a resolution for scrapping the CII and abolishing the resolutions passed by it. "The Sindh Assembly is no more the representative body of the people of Sindh and has lost its constitutional status after adopting the controversial resolutions," the JUI-F chief said.
Full report at:
http://www.thenews.com.pk/Todays-News-2-242232-Sindh-Assembly-stands-dissolved-for-opposing-CII-Fazl
----------
Doors cannot be closed to negotiation, whichever government comes in India: Sartaj Aziz
April 05, 2014
ISLAMABAD/NEW DELHI- Advisor to Prime Minister on foreign affairs Sartaj Aziz has said whichever government comes in India, it can not close doors to talks.
"Whichever government comes in India can neither avert face from talks nor can it shut the doors to the dialogue because people of both the countries want peaceful relations and they also want all the problems to be addressed through dialogue. Therefore, if Narender Modi comes into power he will have to follow footsteps of former Prime Minister Attal Behari Vajpayee and he can not escape from talks", he said this in an interview quoted by Indian media. Breakthrough in terms of bilateral relations was achieved during BJP led government, he said adding result oriented talks on Kashmir issue can be held with new Indian government. It will be premature to make any prediction about Narendar Modi, he remarked. "We are keeping a watchful eye on Indian polls and a definite opinion can be given only when the electoral process is completed", he held. If any accord on revival of peace is reached between two countries then certainly a breakthrough can be achieved, he underlined.
http://www.nation.com.pk/national/05-Apr-2014/doors-cannot-be-closed-to-negotiation-whichever-government-comes-in-india-sartaj-aziz
----------
Cleric murder: Musharraf's plea for permanent exemption rejected
2014-04-05
ISLAMABAD: Hearing the Ghazi Rasheed murder case against former military ruler Pervez Musharraf, an additional district and sessions' judge in Islamabad rejected the retired general's application seeking permanent exemption from appearance during proceedings, DawnNews reported.
Additional district and sessions Judge Wajid Ali was hearing the case against Musharraf.
During the hearing, Musharraf's counsel presented his arguments saying that the former army chief faced death threats, adding that he was targeted in an attack two days earlier as a result of which he could not appear in court.
Full report at:
https://www.dawn.com/news/1097914/cleric-murder-musharrafs-plea-for-permanent-exemption-rejected
----------
Govt claim of TTP prisoners release holds no truth: Yousuf Shah
2014-04-05
PESHAWAR: Coordinator of the Tehreek-i-Taliban Pakistan (TTP) committee Maulana Yousuf Shah on Saturday said the news of the release of 19 non-combatant Taliban from the government side held no truth and not a single name of the released men was on the list given to the government by the Taliban.
Moreover, Shah said the government should refrain from issuing rhetorical statements and take the Taliban committee into confidence regarding the issue of prisoners' release.
He further said that the meeting between the Taliban and government sides would take place today.
Full report at:
https://www.dawn.com/news/1097908/govt-claim-of-ttp-prisoners-release-holds-no-truth-yousuf-shah
----------
Govt committee briefed on prisoner release before meeting TTP panel
April 5, 2014
ISLAMABAD: The government committee met on Saturday just before their meeting with the Tehreek-e-Taliban (TTP) committee to discuss the release of non-combatant TTP prisoners, Express News reported.
Interior Minister Chaudhry Nisar confirmed the release of the TTP prisoners and the government committee appreciated the interior ministry's efforts.
Currently, Professor Ibrahim has reached the Punjab House and the meeting between the TTP and government committees will begin shortly.
The two will discuss the venue, date and agenda of the next meeting with the TTP Shura.
http://tribune.com.pk/story/691730/govt-committee-briefed-on-prisoner-release-before-meeting-ttp-panel/
----------
Southeast Asia
Non-Muslims have no right to question implementation of Hudud, says NGO
April 5, 2014
Non-Muslims have no right to question the right of Muslims to implement Shariah laws in the country, said non-governmental organisation Ikatan Muslimin Malaysia (Isma).
Its president Ustaz Abdullah Zaik Abd Rahman (pic) said Malaysia has been a sovereign land for Islam and the Malay race since ages ago.
"Non-Muslims have their right to politics so they can speak up for the interest of their respective races.
"But there is a limit to that," he said in a statement posted on the Isma website today.
Abdullah was responding to the stand of non-Muslims in Kelantan who are opposing the implementation of hudud in the PAS-governed state.
He said non-Muslims should not be so greedy to the point that they want to interfere with the exclusive rights and interests of the Malays and Bumiputera, who are the original inhabitants of the country.
Full report at:
http://www.themalaysianinsider.com/malaysia/article/non-muslims-have-no-right-to-question-implementation-of-hudud-says-isma
----------
Indonesia's Islamic parties capitalise on Gus Dur legacy to win votes
April 5, 2014
EAST JAVA: Former Indonesian President Abdrurahman Wahid, also known as Gus Dur, may have passed away more than three years ago but his image and legacy still looms large in East Java.
Islamic-based political parties are competing to capitalise on Indonesia's icon of pluralism to win over the electorate.
Gus Dur was ousted from the party which he founded, the National Awakening party (PKB), by his own nephew, Muhaimin Iskandar, who is now the party chairman.
The internal conflict led to the exodus of members known as Gusdurians, who later formed the National Preachers Awakening Party (PKNU).
But that has not stopped the PKB from latching on to the image and legacy of Gus Dur in its bid to win votes.
Full report at:
http://www.channelnewsasia.com/news/asiapacific/indonesia-s-islamic/1058782.html
----------
Perkasa tells MCA Youth to back off from Hudud issue
APRIL 5, 2014
KUALA LUMPUR, April 5 — Malay rights group Perkasa has warned off MCA's youth wing from interfering with Kelantan's plan to implement the Hudud law, telling its leaders not to play with "fire".
According to Utusan Malaysia, Perkasa's Islamic affairs bureau chairman Shamsuddin Moner said in a statement yesterday that by calling Kelantan's plan "unconstitutional", MCA Youth's legal bureau chief was also interfering with the country's Islamic affairs.
Shamsuddin reportedly accused MCA of practising double standards, noting that the party did not object to the Catholic church's move to continue using the word "Allah".
He claimed the Catholic church had challenged Article 11 (4) of the Federal Constitution, which he alleged empowered the federal government and state government to bar non-Muslims from using the Arabic word for God.
Full report at:
http://www.themalaymailonline.com/malaysia/article/perkasa-tells-mca-youth-to-back-off-from-hudud-issue#sthash.ifbIuyKg.dpuf
----------
Non-Muslims can choose to follow hudud in Kelantan, deputy MB says
APRIL 5, 2014
KUALA LUMPUR, April 5 — Kelantan plans to implement an "open" concept of the hudud law in the state, which offers non-Muslims there a choice to live by the controversial Islamic penal code or not to, state deputy mentri besar Datuk Mohd Amar Abdullah said.
Amar told Malay daily Sinar Harian yesterday that the state will not copy the practice of hudud in other countries but will draw up its own concept, which is in accordance with the true principles of Islam.
"The hudud law has two differing views — that it should imposed to include both Muslims and non-Muslims or that it should only be followed by the Muslims.
"Therefore, we will implement this in the open," he was quoted as saying.
He added that the state government is currently preparing two private members bills that it will bring to Parliament soon, hoping to remove all obstacles to its implementation of the hudud law by 2015.
Full report at:
http://www.themalaymailonline.com/malaysia/article/non-muslims-can-choose-to-follow-hudud-in-kelantan-deputy-mb-says#sthash.LMjKnqRz.dpuf
----------
Philippine troops hunt militants behind abductions
April 5, 2014
MANILA: Philippine soldiers have been deployed to a remote southern island where suspected Islamic militants are believed to have taken two female hostages seized from a resort in neighbouring Malaysia, the military said yesterday.
The Abu Sayyaf, a small band of militants infamous for kidnappings for ransom, are the prime suspects in Wednesday's abductions of a Chinese tourist and a Filipina resort worker, armed forces spokesman Lieutenant Colonel Ramon Zagala told AFP.
He said seven gunmen aboard a white speedboat are believed to have taken the women from a diving resort in Malaysia's Sabah state across the maritime border to the remote Tawi-Tawi islands in the southern Philippines.
Full report at:
http://www.theborneopost.com/2014/04/05/philippine-troops-hunt-militants-behind-abductions/#ixzz2y4E4tzsl
---------
Mideast
8 Yemeni soldiers killed in 'Qaeda attack': Army
April 5, 2014
Suspected Al-Qaeda militants riding in a convoy of vehicles attacked an army post in Hadramawt province in southeast Yemen on Friday, killing eight soldiers and wounding 11, a military source said.
"The attackers approached the position on board several vehicles and opened fire on the soldiers with different types of weapons, killing eight and wounding 11 more," the source told AFP.
He said the militants targeted a post known as Hanine in the area of Al-Qatn town in the centre of the vast semi-desert province.
Military reinforcements had been sent to the area, the source added, without elaborating.
Friday's was the second major attack by militants on Yemeni troops army in three days.
On Thursday, Al-Qaeda claimed a brazen assault on an army headquarters in a highly secure area of Aden the previous day.
Full report at:
http://english.ahram.org.eg/NewsContent/2/8/98289/World/Region/-Yemeni-soldiers-killed-in-Qaeda-attack-Army.aspx
----------
Turkish PM Erdogan pursues 'parallel state' abroad
World Bulletin / News Desk
April 5, 2014
Turkish Prime Minister Tayyip Erdogan's battle to root out the "terrorists" he says are embedded in the Turkish state is extending beyond its frontiers to Africa and Asia in a bid to crackdown on what he calls Turkey's 'parallel state'.
Last month, parents of the Yavuz Selim school in Kanifing, Gambia, received a letter announcing its immediate closure. A source at the school, run by the Hizmet organisation of Turkish congregation leader Pennsylvania-based Fethullah Gulen, said the decision had been conveyed to the principal in a one sentence missive.
Gulen's Hizmet movement cites this as an example of Turkish pressure on governments to shut down Gulen schools, a key source of its influence and revenue at home and abroad, and discourage Hizmet-linked commerce from banking to construction.
Full report at:
http://www.worldbulletin.net/headlines/132951/turkish-pm-erdogan-pursues-parallel-state-abroad
----------
Chief Negotiator Calls to convene the National Council with Hamas and Islamic Jihad
April 05, 2014
Chief Palestinian Negotiator, Saeb Erekat, called for the necessity to convene the Palestinian National Council, which is the legislative body of the Palestine Liberation Organization, with the participation of the Hamas and the Islamic Jihad, adding that the election of a new executive committee will be serving as "interim government of the state of Palestine".
Erekat considered in a study he prepared under the tile "How the Palestinians deal with the US Proposals?" that this recommendation adheres to the resolution adopted by the United Nations in November 2012 to recognize the State of Palestin
http://english.pnn.ps/index.php/national/7281-erekat-calls-for-the-convening-of-the-palestinian-national-council-with-the-participation-of-hamas-and-islamic-jihad
-----------
Israel approves archaeology project, Palestinians worried
World Bulletin / News Desk
April 5, 2014
The Israeli authorities have approved a controversial archeology project in the Silwan neighborhood of Al-Quds (occupied East Jerusalem) outside the walls of the Old City.
In a statement, the Wadi Hilweh Committee, which advocates for Palestinian rights in the Silwan area, condemned Israel's approval of the project, which is to be funded and run by the Israeli government, the Jerusalem municipality and the "Elad" settlement association.
According to the committee, the project, which will include a visitors' center, threatens to isolate the area's indigenous population from its natural surroundings and Jerusalem's Old City.
Full report at:
http://www.worldbulletin.net/headlines/132918/israel-approves-archaeology-project-palestinians-worried
----------
YouTube remains blocked in Turkey after court backtrack
April 5, 2014
YouTube will remain blocked in Turkey, despite the end to a similar controversial ban on Twitter, after a court backtracked on an earlier ruling to grant access to the video-sharing site. The court in Ankara on Friday lifted a March 27 government decision blocking access to YouTube, saying the blanket ban violated human rights, and instead restricting 15 videos, but later it reversed the decision, saying the block would remain in place until the audio recordings allegedly showing top-level security talks on Syria are removed, Turkey's Hurriyet newspaper reports.
The change of heart comes after Turkey's government complied with a Constitutional Court ruling on Thursday and scrapped a similar ban on San-Francisco-based Twitter, according to AFP.
Full report at:
http://voiceofrussia.com/news/2014_04_05/YouTube-remains-blocked-in-Turkey-after-court-backtrack-2813/
----------
Ministry: 230 Palestinian Children in Israeli Jails
April 5, 2014
A total of 230 Palestinian children are languishing in Israeli jails, the Gaza's Ministry of Social Affairs said Saturday.
"Children prisoners are subject to psychological and physical torture," the ministry said in a report on the occasion of Palestinian Children's Day, which falls on April 5, Haberler.com reported.
The ministry accused Israel of violating all international conventions on the protection of children, going on to call on human rights groups to intervene to release Palestinian children in Israeli prisons.
Full report at:
http://english.farsnews.com/newstext.aspx?nn=13930116000852
---------
Europe
Russia: Assad Resignation before Talks Inadmissible
April 5, 2014
Russia said suggestions that Syrian President Bashar al-Assad should resign as a precondition for holding a new round of peace talks are "inadmissible".
"Any talk of Assad's resignation being a precondition for the Geneva conference is inadmissible," Russian Foreign Minister Sergei Lavrov said on Friday, adding that fighting against terrorism was a priority for those who wanted to settle the crisis in Syria, press tv reported.
"All UN Security Council resolutions consider terrorism in all its forms unacceptable. It cannot be justified on any grounds," Lavrov stated.
The Russian foreign minister also said that the West could no longer stick to the excuse that the Syrian government benefits from terrorism in the country. He also denounced the West's failure to condemn atrocities committed by foreign-backed militants in Syria.
Full report at:
http://english.farsnews.com/newstext.aspx?nn=13930116000129
--------
Egypt failed to meet US aid conditions: HRW
April 5, 2014
The New York-based NGO, Human Rights Watch (HRW) said in a statement issued on Friday that before resuming certain military aid to Egypt, the US must acknowledge that the country has not made progress within developing basic freedoms or democratic transition.
The letter, delivered on 31 March, to US Secretary of State John Kerry added that since the ouster of Islamist president Mohamed Morsi last July, Egyptian interim authorities "have killed well over 1,000 protesters and locked up more than 16,000 people, many solely on the basis of their peaceful exercise of rights to free expression, association, and peaceful assembly."
"An accurate appraisal of Egypt's record since the military-backed overthrow of president Morsi would conclude that, far from developing basic freedoms, the Egyptian authorities are doing the opposite," said Sarah Leah Whitson Middle East director at HRW.
Full report at:
http://english.ahram.org.eg/NewsContent/1/64/98292/Egypt/Politics-/Egypt-failed-to-meet-US-aid-conditions-HRW.aspx
----------
Human rights group urges end to arbitrary detention
April 05, 2014
BEIRUT: Lebanon's criminal justice system is blighted by arbitrary detention, arbitrary arrest, lengthy pretrial detention and long delays in trial, according to a report issued by a local human rights organization.
"Suspects are deprived of their liberty for weeks and some for years before a verdict is reached in their case and pretrial detainees drift along in an undetermined status, where they are perceived as the perpetrator, but have not been found guilty by a court of law," the Alef report concluded.
"Guilty until Proven Innocent" is the result of a detailed investigation into the problem of arbitrary detention in Lebanon, and will be distributed to the country's politicians, judges and other decision-makers.
Full report at:
http://www.dailystar.com.lb/News/Lebanon-News/2014/Apr-05/252385-human-rights-group-urges-end-to-arbitrary-detention.ashx#ixzz2y4aZTFd8
-----------
Ban in C. Africa to signal determination on UN force
April 5, 2014
Ban Ki-moon arrived in Bangui on Saturday as the United Nations signals its determination to deploy peacekeepers in the strife-torn Central African Republic.
The UN secretary general will meet transitional president Catherine Samba Panza to discuss ways to end the deadly cycle of intercommunal violence that has laid waste to the country for a year and led senior figures in the UN to raise the spectre of genocide.
http://english.ahram.org.eg/NewsContent/2/8/98325/World/Region/Ban-in-C-Africa-to-signal-determination-on-UN-forc.aspx
----------
North America
U.S. finalizing plan to boost support for Syrian rebels - sources
April 5, 2014
(Reuters) - The U.S. government is finalizing a plan to increase training and small-arms shipments for Syrian rebels, two U.S. security sources said on Friday, as Syrian government troops gain momentum following the collapse of U.S.-backed peace talks.
The United States would increase assistance and send the shipments to moderate rebel factions mostly based in Jordan, along Syria's southern border, the officials familiar with the plan told Reuters.
The additional supplies are likely to be modest and will not include surface-to-air missiles, the officials said, raising questions over the impact in a civil war that has killed an estimated 136,000 people, produced nine million refugees and threatens to destabilize the region.
Rebels have urged the Obama administration to provide advanced weapons including surface-to-air missiles and exert greater military pressure on Russia-backed Syrian President Bashar al-Assad, who has intensified bombings of rebel neighborhoods in recent month.
Full report at:
http://in.reuters.com/article/2014/04/05/usa-syria-rebels-idINDEEA3400R20140405
----------
U.S. Eyes Afghan Vote, Seeking Amenable Ally
By ERIC SCHMITT
APRIL 4, 2014
The Obama administration has watched cautiously from the sidelines in the months leading up to Saturday's elections in Afghanistan, focusing instead on new crises in the Middle East and Ukraine, and no longer on the country that was a foreign policy priority when President Obama first entered office.
Current and former administration officials, however, say that ensuring a stable Afghanistan remains important, not just to validate the 1,800 American lives lost and billions of dollars spent over the past 13 years, but to avoid complicating the United States' larger strategic interests in the region: a stable nuclear-armed Pakistan, improved relations between Pakistan and India, and responding to the growing fear among Central Asian nations about an emboldened Russia.
Full report at:
http://www.nytimes.com/2014/04/05/world/us-eyes-afghan-vote-seeking-amenable-ally.htm
--------------
Kerry: It's time for a reality check on peace process
April 5, 2014
US Secretary of State John Kerry said the United States was evaluating whether to continue its role in Middle East peace talks after both Israeli and Palestinian sides had taken steps that were not helpful to the negotiations.
Speaking during a visit to Morocco, Kerry said it was "reality check time" and there was a limit to the time the United States could spend on the peace process if the parties themselves were unwilling to take constructive measures.
"This is not an open-ended effort, it never has been. It is reality check time, and we intend to evaluate precisely what the next steps will be," Kerry said.
The US sponsored peace talks came to a halt earlier this week as both Israel and the Palestinians took actions that angered the other side. First, Palestinian Authority President Mahmoud Abbas applied to join 15 international organizations and treaties, breaking a previous agreement.
Full report at:
http://www.jpost.com/Diplomacy-and-Politics/Kerry-Its-reality-check-time-347546
----------
US judge dismisses Al-Awlaki drone lawsuit
World Bulletin / News Desk
April 5, 2014
A federal judge on Friday dismissed a lawsuit filed against the U.S. government by the families of three American citizens killed by U.S. drones in Yemen, saying senior officials cannot be held personally responsible for money damages for the act of conducting war.
The families of the three - including Anwar al-Awlaki, a New Mexico-born Muslim cleric who had joined al Qaeda's Yemen affiliate, and his teenage son - sued over their 2011 deaths in U.S. drone strikes, arguing that the killings were illegal.
Judge Rosemary Collyer of the U.S. District Court in Washington threw out the case, which had named as defendants former defense secretary and CIA chief Leon Panetta, former senior military commander and CIA chief David Petraeus and two other top military commanders.
"The question presented is whether federal officials can be held personally liable for their roles in drone strikes abroad that target and kill U.S. citizens," Collyer said in her opinion. "The question raises fundamental issues regarding constitutional principles, and it is not easy to answer."
Full report at:
http://www.worldbulletin.net/headlines/132912/us-judge-dismisses-al-awlaki-drone-lawsuit
----------
Kerry encourages Morocco on reforms
World Bulletin / News Desk
April 5, 2014
U.S. Secretary of State John Kerry on Friday encouraged Morocco to push on with political and economic reforms as the United States looks to expand commercial ties with the only African country to enjoy a U.S. free trade deal.
While leaders in Tunisia, Egypt and Libya were toppled by Arab Spring revolts in 2011, Morocco weathered popular unrest by raising social spending, introducing limited constitutional reforms and bringing forward elections.
The North African kingdom has faced criticism over human rights, particularly press freedom, after bringing terrorism charges against a local journalist whose website posted a video by al Qaeda's regional affiliate.
Full report at:
http://www.worldbulletin.net/todays-news/132931/kerry-encourages-morocco-on-reforms
----------
Kerry in danger of losing big bet on Middle East peace
April 5, 2014
John Kerry's high-stakes gamble that he could finally achieve the dream of generations and bring peace to the Middle East seems to be collapsing as easily as a house of cards.
Despite a dozen visits to Israel and the West Bank since he became US secretary of state 14 months ago and many more late-night meetings with his recalcitrant partners in capitals around the world, it appears after all that he may have been trumped.
While there was always a certain hubris to his mission impossible, the political dangers facing wily Israeli Prime Minister Benjamin Netanyahu conspired this week with decades of pent-up anger among Palestinians to throw up the most serious crisis to the fragile peace negotiations since they resumed in July.
Full report at:
http://english.ahram.org.eg/NewsContent/2/8/98315/World/Region/Kerry-in-danger-of-losing-big-bet-on-Middle-East-p.aspx
---------
India
ISI guided 2008 bombing of Indian embassy in Kabul
Indrani Bagchi,TNN | Apr 5, 2014
NEW DELHI: Days after the Indian embassy was attacked by the Taliban on July 8, 2008, then national security advisor M K Narayanan got a phone call from Gen Keith Alexander, head of US' National Security Agency, informing him about tracing the bomber's calls to ISI officials in Peshawar.
Alexander told Narayanan they had intercepted calls from the bomber who was said to have received instructions from the top of the heap of the ISI. It led Narayanan to explode prompting him to say the 'ISI should be destroyed', an approach at odds with the sentiment of the Indian political leadership at that time. It was only by the end of July (almost three weeks later) that a high level CIA official from the US confronted Islamabad with the intelligence.
As Afghanistan transitions from a NATO-dominated security environment to a situation where it has to take care of itself, beginning with Saturday's presidential elections, the dangers of Pak-sponsored terror attacks on Indian interests remains real. India has increased security measures in its embassy and other facilities in recent weeks, but there is apprehension that Full report at:
http://timesofindia.indiatimes.com/india/ISI-guided-2008-bombing-of-Indian-embassy-in-Kabul/articleshow/33256263.cms
---------
URL: https://newageislam.com/islamic-world-news/'jihadist'-infighting-syria-edition'-zawahiri/d/66426