New Age Islam News Bureau
18 Jul 2013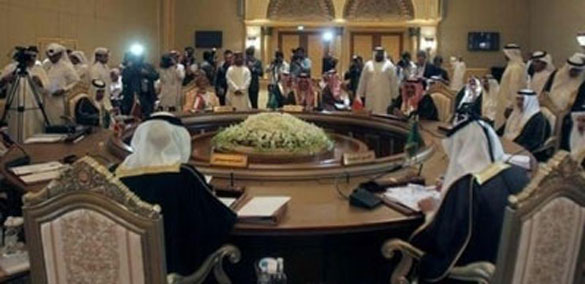 Gulf States were studying "correct measures" on how to officially blacklist Hezbollah. (File photo: AFP)
------------
Pakistan
• Jihad given up due to IMF loans, says Hafiz Muhammad Saeed
• TTP commander wishes Malala attack never happened
• Pak cook poisons 22 people in 'political feud'
• Amnesty extension a Ramadan gift, says Pakistan diplomat
• Al Qaeda Shura council member appears in first message since 2008
• 717 people died in Pakistan in religious violence: USCIRF
• Nawaz meets British FM; Pakistan's role against terror lauded
• Gunmen kill 2 soldiers, injure 4 in Bajaur: Officials
• Pakistan, UK hope Qatar deadlock is temporary
• Maulana Fazl ur Rehman endorses MYC's drive against obscenity
• Moot held to discuss ways to fight religious fundamentalists
Europe
• First Vatican Envoy to Malaysia Sparks Muslim Anger Over 'Allah'
• France calls for inclusive Egypt government
• Will not reveal secrets that harm U.S. 'even under torture', says Snowden
• UK police, not govt, to decide on Altaf Hussain: Hague
• Syrian no-fly zone would lead to war, British army chief says
• Morsi release would aid reconciliation, asserts German ambassador
•
Syria's war children will grow up illiterate: UN
North America
• Hindus, Shias, other minorities worse off in Pakistan: US report
• U.S. Muslim group sues over NSA surveillance
• U.S. shells out millions for bum construction in Afghanistan: Report
• Bolton: Israel Should Attack Iran Now
• U.S. suggests Egyptian military averted civil war
• Obama's U.N. nominee calls inaction on Syria 'disgrace'
Arab World
• NGO: Clashes between Kurds, jihadists kill 29 in Syria
• Egyptian army video shows Islamists blocking roads, attacking vehicles
• Gulf States agree to blacklist Hezbollah as terrorist group
• Iraq violence kills 10, among them three children
• Car bomb explodes outside Sunni Muslim mosque in Bahrain
• Egypt's Jewish community head calls Zionism racism
• Thousands rally for Egypt's Mohammed Morsi: 'Legitimacy or martyrdom'
• Bahrain's King honoured for service to Qur'an
• Former bin Laden doctor reportedly heads al Qaeda in the Sinai Peninsula
• Gunmen kill 3 Egyptian police in north Sinai
• NGO: Kurds expel jihadists from flashpoint Syrian town
• Syrians use Ramadan humour to ease the pain of war
India
• 26/11: Hafiz Saeed quotes Indian official to prove innocence
• Ex-DGP writes to Pranab Mukherjee over 'IB men's intervention' in Ishrat case
• Never claimed Parliament House attack, 26/11 inside job: Ex-MHA official
• Bodh Gaya Bomber wanted to blow up main statue
• 6 killed in BSF firing at Jammu protest over mosque entry
• NIA files first chargesheet against five 'IM' members in Hyderabad blast
• Kashmir's top cardiologist injured, 2 policemen killed in militant attack
• Asian arrested for putting up video of Dubai man beating Indian
South Asia
• Taliban seize villages in eastern Afghanistan
• Taliban kills 8 Afghan workers en route to U.S. base, police say
• Former President Gayoom to receive Maldives' "highest honour"
• Jamaat-e-Islami calls Hartal for Thursday, death penalty awarded to its Secretary
• Nasheed pledges to bridge islands in capital and build 12,000 new housing units
Mideast
• 'Should we remove the ballot box because Hitler can come out of it?' asks Turkish PM
• Iran says to resume nuclear talks after forming new government
• Abbas convenes key Palestinians to moot new talks with Israel
• Israel readying peace gestures to Palestinians: report
• Preserving Islamic cities together with urbanisation
• Government to rebuild 'lost' 150 mosques in Turkey
• Zionists, hegemonic powers main foes of all Muslim nations: Ahmadinejad
Africa
• In Somalia, 'foreign hands' are the sickness and the cure
• Libyan minority groups say will boycott constitution vote
• More than 1,000 sue ex-Chad dictator for war crimes
• Ghana official calls for higher marriage age
Southeast Asia
• Religious Conflict Not a Problem in 'Tolerant' Indonesia: Minister
• 2 Malaysians charged over photo that riled Muslims
Compiled by New Age Islam News Bureau
URL: https://www.newageislam.com/islamic-world-news/new-age-islam-news-bureau/jihad-given-up-due-to-imf-loans,-says-hafiz-muhammad-saeed/d/12658
-----------
Pakistan
Jihad given up due to IMF loans, says Hafiz Muhammad Saeed
Jul 18 2013
JARANWALA: Jamaatud Dawa Ameer Hafiz Muhammad Saeed has said that Muslims should struggle for the glory, respect and domination of Islam.
He was addressing a gathering at the Grain Market after the Fajr prayers here on Tuesday.
He said the Muslims had forgotten the obligation of Jihad. "The Islamic countries are getting loans on interest from the IMF and as a result, they have given up Jihad and become weak," he maintained. He made it clear that Kashmir would not get freedom without Jihad.
He said that India was building dams on Pakistan's share of water. "India is producing power from the stolen water and running its industry and other projects through it. As a result, Pakistan is facing an energy crisis," he added.
He said had India not deprived Pakistan of its share of water, Pakistan would have been providing electricity to other countries today.
http://www.thenews.com.pk/Todays-News-2-190428-Jihad-given-up-due-to-IMF-loans,-says-JuD-chief
-----------
TTP commander wishes Malala attack never happened
Jul 18 2013
PESHAWAR: A senior Pakistani Taliban commander has written to Malala Yousafzai, the teenage education activist shot by militants, accusing her of "smearing" them and of promoting "satanic" values, while urging her to return home.
Gunmen from the Tehrik-i-Taliban Pakistan (TTP) shot Malala, now 16, in the head in her home town in Swat last October after she had campaigned for the right of girls to go to school.
She made a powerful speech to the UN on Friday in her first public appearance since the near-fatal attack, vowing to continue her struggle for education and not be silenced by the militants.
In an open letter released Wednesday, Adnan Rashid, a former air force member turned TTP cadre, said he personally wished the attack had not happened, but accused her of running a "smearing campaign" against the militants.
"When you were attacked it was shocking for me," Rashid wrote in English.
"I wished it would never happened (sic) and I had advised you before."
According to AP, Rashid said the letter expressed his own opinion not that of the TTP.
But he added: "Taliban believe that you were intentionally writing against them and running a smearing campaign to malign their efforts to establish Islamic system in Swat and your writings were provocative.
"... It is amazing that you are shouting for education, you and the UNO (UN) is pretending that you were shot due to education, although this is not the reason... not the education but your propaganda was the issue," he continued.
"What you are doing now, you are using your tongue on the behest of the others."
The letter was sent to reporters in northwest Pakistan and its authenticity confirmed to AFP by a senior Taliban cadre who is a close associate of Rashid.
It is understood Malala has not received the letter herself.
Rashid accused Malala of seeking to promote an education system begun by British colonialists to produce "Asians in blood but English in taste", and said students should study Islam and not the "satanic or secular curriculum".
"I advise you to come back home, adopt the Islamic and Pashtun culture, join any female Islamic madressah near your home town, study and learn the book of Allah, use your pen for Islam and plight of Muslim ummah (community)," Rashid wrote.
Malala was given life-saving treatment in Britain, where she now lives with her family.
Rashid was sentenced to death over a 2003 attack on Pakistan's then military ruler Pervez Musharraf, but escaped from custody in the mass jailbreak in Bannu April last year.
He said he had originally wanted to write to Malala to warn her against criticising the Taliban when she rose to prominence with a blog for the BBC Urdu service chronicling life under the militants' 2007-9 rule in Swat, in northwest Pakistan.
The Taliban have destroyed hundreds of schools across the northwest, an area on the frontline of the country's bloody struggle against militants.
But Rashid said the attacks were necessary because government forces used schools as hideouts and bases.
Gordon Brown, the former British prime minister turned UN special envoy for global education, who has supported Malala since she was shot, issued a caustic response to the Taliban letter.
"Nobody will believe a word the Taliban say about the right of girls like Malala to go to school until they stop burning down schools and stop massacring pupils," he said in a statement.
Last month, militants blew up a bus carrying female students in Pakistan's southwestern city of Quetta, and then stormed a hospital where survivors had been taken for treatment. At least 25 people were killed in the attacks.
Malala's brave fight back from her injuries and speech at the UN have made her a leading contender for the Nobel Peace Prize. But the response to her in Pakistan has been mixed.
Many have hailed her as a national heroine but others have criticised her for promoting a "Western" agenda.
http://dawn.com/news/1029732/ttp-commander-wishes-malala-attack-never-happened
-----------
Pak cook poisons 22 people in 'political feud'
July 18, 2013
Police in Pakistan's Punjab province have arrested a cook on suspicion of murder after 22 members of a powerful landowning clan were poisoned in an alleged political feud with a rival branch of the family. Arsal Khan Khichi, who lost out on a provincial assembly seat to his cousin
Jahanzeb Khan Khichi in the May election, is accused of paying the cook 50,000 rupees ($500) to poison food at his rival's home, causing the deaths. The incident took place on June 9 in the farming town of Mailsi, around 80 kilometres (50 miles) from the Punjab city of Multan.
"At least 22 people were killed after eating poisonous food at the residence of Jahanzeb Khan Khichi," senior police official Sadiq Ali Dogar told AFP. About 30 people including men, women and servants of the family got sick after eating the meal.
Dogar said a court on Thursday remanded cook Mohammad Rafiq for five days into police custody for further investigations. "A murder case has been registered against Arsal Khan Khichi, but he is at large and his father has been taken into custody," Dogar said.
It is common practice in Pakistan for police to arrest the next of kin if a suspect absconds in a case. Police said Arsal was angry about his election defeat and tried to poison the rivals, but Jahanzeb and his brother Aurangzeb were not at home that day and had gone to Lahore.
Jahanzeb contested the seat on the ticket of former cricket hero Imran Khan's Pakistan Tehreek-e-Insaf party, while Arsal stood as an independent. Local police station chief Chaudhry Mohammad Afzal confirmed the account and said that the cook had confessed to poisoning the food.
"Rafiq has confessed his crime and told police that Arsal Khan Khichi gave him 50,000 rupees to mix the poison in the food," Chaudhry told AFP. Provincial Health Secretary Hasan Iqbal told AFP an investigation found that insecticides used to preserve wheat stock were used to poison the victims.
http://www.hindustantimes.com/world-news/Pakistan/Pak-cook-poisons-22-people-in-political-feud/Article1-1094449.aspx
------------
Amnesty extension a Ramadan gift, says Pakistan diplomat
8 July 2013
A Pakistani diplomat said on Tuesday the extension of the amnesty to Nov. 3 was a Ramadan gift from the Saudi leadership to illegal workers.
Deputy Head of the Mission and Minister at the Pakistan Embassy Khayyam Akbar made the remarks during a speech at a community iftar function hosted by Rana Khalid Akram, the newly elected president of the Pakistan Muslim League-Nawaz Group (PML-N) at the Riyadh Palace Hotel on Tuesday.
Akbar said the foreign missions in the Kingdom were grateful to Custodian of the Two Holy Mosques King Abdullah for his magnanimity.
He urged his compatriots to use the amnesty period to ensure workers can sort out their status, even though it is Ramadan. "We understand the severe heat of the summer and the hardships one has to undergo during the fasting period," he said.
Akbar recalled that Pakistan Ambassador Muhammad Naeem Khan was in Jeddah for two meetings with Saudi government officials to get assistance for workers.
"We at the embassy, under the guidance of our ambassador, are working around the clock to relieve workers of their problems. The ambassador has already pledged that he would do his maximum to ensure that no illegal Pakistani worker leaves the Kingdom on a final exit.
But it all depends on the workers who have to play their part with sincerity and diligence to facilitate the process," he said. He said extensive arrangements have been made by the embassy to host the second job fair during Ramadan in Riyadh, Dammam/Alkhobar and Qassim.
"The first job fair will be held on Thursday at the Pakistan International School in Nasiriyah, Riyadh. It will be held at the Pakistan International School at Alkhobar on July 25 and 26."
"These job fairs shall commence after Taraweeh at 10 p.m. and conclude at 2 a.m. before sahoor," he said. He called on the Pakistani community to assist officials at the fair. "This is a trying time for our Pakistani workers and we must all try to do our best to help them resolve their problems," he said. Similar projects have been earmarked for expatriates in Jeddah.
In his welcome address, Akram said officials would be using most of their free time to help workers.
Businessman Muhammad Asghar Qureshi, an executive member of the Overseas Pakistani Foundation, who is the leader of the Pakistan People's Party in Riyadh, congratulated Akram on his new position. "I wish the present government well and trust it will serve the country to the best of its ability."
Abdul Malik Mujahid, managing director of Darussalam publishers, said the new Pakistan government has huge challenges and hoped they would be successfully overcome to restore peace and prosperity in the country.
Hafiz Abdul Waheed of Majlis Pakistan entertained the audience with his Urdu and Punjabi poems.
http://www.arabnews.com/news/458361
-----------
Al Qaeda shura council member appears in first message since 2008
By THOMAS JOSCELYNJ
uly 16, 2013
A member of al Qaeda's Shura Council who hasn't appeared in an as Sahab video since July 2008 has issued a new audio message. Abu Khalil al Madani's message, "A Call for the Pure Nature," was uploaded to jihadist forums on July 14. The message was translated by the SITE Intelligence Group.
Much of Abu Khalil's audio speech is a boilerplate lament, similar to al Qaeda's many messages in the past. He blames the "weakness" of the Muslim Ummah on its supposed lack of faith. Abu Khalil claims that Muslims worship the countries "that exercise power over people today," instead of Allah. On "top" of these countries, in Abu Khalil's view, is America.
In his recounting of history, Abu Khalil relies on the same narrative al Qaeda has consistently proposed. It is one in which conspiratorial forces have moved against Muslims to prevent them from succeeding. Thus, "the enemies foiled ... the war between Israel and Egypt" just as the people had become united in jihad. And after "the fall of the Soviet Union, the conspiracies started being woven to foil the fruit to which the mujahideen reached" in Afghanistan. Fortunately, from al Qaeda's perspective, Allah intervened to install the Taliban.
Abu Khalil praises the Taliban and Mullah Omar, who "sacrificed his state" in late 2001 "due to his certitude that what Allah has for him is better and permanent." He also criticizes the House of Saud for supposedly sacrificing "the Muslim Ummah in order to fulfill the desires of their bellies and private parts," according to SITE's translation.
Al Qaeda videos featuring new faces
Abu Khalil al Madani's reemergence in al Qaeda's propaganda comes just over two weeks after Hossam Abdul Raouf made his first appearance in an as Sahab video. Raouf is the longtime editor of al Qaeda's Vanguards of Khorasan magazine, but had not previously been featured in the group's videos. [See LWJ report, New al Qaeda video features magazine editor, discussion of Arab Spring.]
In 2012, al Qaeda lost key propagandists in drone strikes. In June 2012, Abu Yayha al Libi was killed. After his escape from an Afghan prison in 2005, al Libi had risen through al Qaeda's ranks to become one of the organization's most prolific and influential propagandists.
Several months later, in December 2012, Khalid bin Abdul Rahman al Husainan (a.k.a. Abu Zeid al Kuwaiti) was also killed in a drone strike in Pakistan's tribal areas.
Al Husainan was a former imam in the Kuwaiti Endowments Ministry. SITE noted that he had "appeared in dozens of as Sahab videos since August 2009, some lecturing on jihad and others speaking on Islam in general." Al Husainan was "presented as an al Qaeda religious scholar."
With the loss of propagandists such as al Libi and al Husainan, al Qaeda has begun to feature new leaders in its messaging. Time will tell if al Madani and Raouf can be as effective as their predecessors.
http://www.longwarjournal.org/archives/2013/07/_much_of_abu_khalils.php#ixzz2ZO0Sm9l7
-----------
717 people died in Pakistan in religious violence: USCIRF
Jul 18 2013
Washington : At least 717 people were killed and 1108 injured in 203 targeted violence against religious communities in Pakistan since January last year, a report released by a Congress established independent commission has said.
Among those killed included two Hindus and one Sikh, said the "Pakistan Religious Violence Project" report released by the US Commission for International Religious Freedom, which tracked over the past 18 months publicly-reported attacks against religious communities in Pakistan.
Full report at:
http://www.indianexpress.com/news/717-people-died-in-pakistan-in-religious-violence-uscirf/1143475/
---------
Nawaz meets British FM; Pakistan's role against terror lauded
Jul 18 2013
ISLAMABAD: Prime Minister Nawaz Sharif met with British Foreign Minister William Hague in Islamabad on Thursday and discussed bilateral relations and regional situation, DawnNews reported.
Nawaz Sharif said that "Pakistan is with the international community to bring peace and stability in Afghanistan".
William Hague said that Pakistan's efforts for peace in Afghanistan were commendable and Pakistan has an important role in the fight against terrorism.
Moreover, in the meeting they also exchanged views to enhanced cooperation to fight against terrorism.
http://dawn.com/news/1029943/nawaz-meets-british-fm-pakistans-role-against-terror-lauded
-----------
Gunmen kill 2 soldiers, injure 4 in Bajaur: Officials
July 18, 2013
KHAR: Gunmen ambushed an FC vehicle in Bajaur tribal region on Thursday, killing two soldiers, officials said.
The attack took place in Kamar village, around 40 kilometres northwest of Khar, the main town of Bajaur tribal region where Taliban and al Qaeda linked militants have carved out hideouts.
Full report at:
http://tribune.com.pk/story/578593/gunmen-kill-2-soliders-injure-4-in-bajaur-officials/
-----------
Pakistan, UK hope Qatar deadlock is temporary
July 18, 2013
ISLAMABAD: Pakistan and the United Kingdom have expressed hope that the deadlock in the Afghan peace process is temporary and that the Qatar initiative would resume soon to end the 12-year-old conflict in Afghanistan.
Appearing at a joint news conference with British Foreign Secretary William Hague on Wednesday, Prime Minister's Adviser on National Security and Foreign Affairs Sartaj Aziz reiterated that Pakistan and the UK were committed to peace and stability in Afghanistan.
Hague travelled to Islamabad amid an ongoing impasse over the Qatar process after the Afghan Taliban shut down their 'political office' in the Qatari capital of Doha. The Taliban representatives suspended talks with Washington when Qatar, under pressure from Kabul, disallowed them from hoisting the flag of the 'Islamic Emirate of Afghanistan' atop their office.
Full report at:
http://tribune.com.pk/story/578548/elusive-peace-in-afghanistan-pakistan-uk-hope-qatar-deadlock-is-temporary/
-----------
Maulana Fazl ur Rehman endorses MYC's drive against obscenity
July 18, 2013
ISLAMABAD: In their campaign to get a court verdict against what they term "spread of vulgarity" by local television channels, Milli Yekjehti Council (MYC) managed to attract strong support from Jamiat Ulema-e-Islam-Fazl (JUI-F) chief Maulana Fazl ur Rehman.
The petition in Supreme Court of Pakistan (SCP) against 'obscenity and vulgarity' on TV channels was the initiative of the late Qazi Ahmed who actively pursued it until his death in 2012
"We are on the same page regarding obscenity and vulgarity," Fazl told Asif Luqman Qazi, the Vice President of MYC and Qazi Ahmed's son who met the JUI-F chief here on Tuesday.
He assured that his party would fully support the cause of stopping such channels from displaying 'obscene' material.
http://tribune.com.pk/story/578539/court-petition-fazl-endorses-mycs-drive-against-obscenity/
-----------
Moot held to discuss ways to fight religious fundamentalists
By Kashif Hussain
Jul 18 2013
LAHORE: Under the banner of one of the left-wing political forces in society, the Awami Workers Party (AWP), and the National Students Federation (NSF), a special discussion on 'How to fight against religious fundamentalists' was held at the party's central secretariat on Wednesday.
AWP leaders Farooq Tariq from Punjab, Nasir Mansoor from Sindh and Khalid Baloch from Balochistan, and NSF leader Irfan Chaudhry expressed their progressive views and unanimously urged the state not to hold negotiations with the Taliban or any other extremist group, saying that talks would further strengthen them in the country.
Full report at:
http://www.dailytimes.com.pk/default.asp?page=2013\07\18\story_18-7-2013_pg13_2
---------
Europe
First Vatican Envoy to Malaysia Sparks Muslim Anger Over 'Allah'
18 July 2013
The Vatican's first envoy to Malaysia has opened a storm of controversy by apparently supporting the use of the word "Allah" by Christians, prompting a rebuke from the government and condemnation from nationalist Malay groups in the majority-Muslim country.
The row underlines growing intolerance in the multi-ethnic, multi-religious country following an election in May that deepened the divide between majority Muslim Malays and minority ethnic Chinese, many of whom are Christian.
Archbishop Joseph Marino was summoned to the foreign ministry on Tuesday after his comments last week on the issue.
"Archbishop Marino was advised to be mindful of the religious sensitivities of the host country and that the issue he commented on is still under the Court of Appeal," the foreign ministry said in a statement.
Full report at:
http://english.alarabiya.net/en/variety/2013/07/18/First-Vatican-envoy-to-Malaysia-sparks-Muslim-anger-over-Allah-.html
-----------
France calls for inclusive Egypt government
Jul 18 2013
France on Wednesday called for Egypt's new caretaker cabinet to be more inclusive, saying all the country's political movements were needed for a smooth transition.
"We want the new government to be able to meet the many expectations of the Egyptian people and to make every effort to ensure the fastest-possible transition of power to a democratically elected government," foreign ministry spokesman Philippe Lalliot said.
"This involves including all forces and political movements," he said.
Egypt's first interim government since the military toppled president Mohamed Morsi two weeks ago was sworn in on Tuesday.
The new government, led by interim Prime Minister Hazem El-Beblawi, a liberal economist, was sworn in on Tuesday and is mostly comprised of liberal figures, some of whom belong to the non-Islamist opposition, including El-Beblawi himself.
Full report at:
http://english.ahram.org.eg/NewsContent/2/9/76712/World/International/France-calls-for-inclusive-Egypt-government.aspx
-----------
Will not reveal secrets that harm U.S. 'even under torture', says Snowden
NARAYAN LAKSHMAN
Jul 18 2013
Edward Snowden, the man behind the exposés on mass automated surveillance by the U.S. National Security Agency, has vowed that he would not reveal official secrets that could harm the U.S., "even under torture".
In an unusual exchange of e-mails with a former Republican Party Senator, Gordon Humphrey of New Hampshire, Mr. Snowden said his knowledge of encryption and other forms of data protection meant that "no intelligence service, not even our own" had the capacity to compromise the secrets that he continued to protect.
Full report at:
http://www.thehindu.com/news/international/will-not-reveal-secrets-that-harm-us-even-under-torture-says-snowden/article4924801.ece
----------
UK police, not govt, to decide on Altaf Hussain: Hague
By Farooq Awan
Jul 18 2013
ISLAMABAD: The United Kingdom on Wednesday announced to work in partnership with Pakistan for developing strategies to tackle the 'critical' challenges of terrorism and energy crisis.
British Secretary of State for Foreign and Commonwealth Affairs William Hague told reporters at a press briefing along with Adviser to prime minister Sartaj Aziz at the Foreign Office that his country would extend all-out assistance to boost Pakistan's economy and was ready to play a leading role in supporting Pakistan in its efforts to enhance growth, alleviate poverty and create jobs.
Full report at:
http://www.dailytimes.com.pk/default.asp?page=2013\07\18\story_18-7-2013_pg1_1
-----------
Syrian no-fly zone would lead to war, British army chief says
18 July 2013
Britain's outgoing army chief David Richards has warned that attempts to impose a no-fly zone over Syria would lead to war, in an interview published in Thursday's Daily Telegraph.
Britain is at the forefront of international efforts to topple the regime of President Bashar al-Assad, and has promised to supply rebels with equipment to protect them against chemical weapons attacks.
But in his interview with British newspaper the Telegraph, the 61-year-old general warned of the consequences of a no-fly zone.
"If you wanted to have the material impact on the Syrian regime's calculations that some people seek, a no fly zone per-se is insufficient," he said.
Full report at:
http://english.alarabiya.net/en/News/middle-east/2013/07/18/Syrian-no-fly-zone-would-lead-to-war-British-army-boss.html
-----------
Morsi release would aid reconciliation, asserts German ambassador
Jul 18 2013
German Ambassador to Egypt Michael Bock has clarified his country's position during a small press meeting attended by Ahram Online Wednesday at the German Embassy in Cairo following a contentious statement made by the German foreign ministry calling for the release of deposed president Mohamed Morsi.
The statement was widely condemned among Egyptians amidst ongoing political upheaval between supporters and opponents of Morsi's removal.
"We call for an end to the restrictions on Mr Morsi's whereabouts and suggest a trusted institution be granted access to Morsi," stated a German foreign ministry spokesman Friday, identifying the International Committee of the Red Cross as a credible body for the task.
Full report at:
http://english.ahram.org.eg/NewsContent/1/64/76733/Egypt/Politics-/Morsi-release-would-aid-reconciliation,-asserts-Ge.aspx
----------
Syria's war children will grow up illiterate: UN
AP | Jul 18, 2013
BEIRUT: Syria's devastating civil war will force a generation of children to grow up illiterate and filled with hate, a UN envoy warned on Thursday as fighting raged on around the country.
Leila Zerrougui, the special representative for children and armed conflict, said both sides in the Syrian conflict, now in its third year, continue to commit grave violations against children.
Scores of children have been killed, injured, detained, and forced to witness or to commit atrocities as President Bashar Assad's troops battle opposition fighters trying to oust his regime, she said.
Zerrougui spoke following a three-day visit to Syria, where she met with government officials and rebel commanders. She said she urged both sides to spare the children.
Once the war is over, Zerrougui said she told her counterparts, they "will have to face a generation of children who lost their childhood, have a lot of hate and are illiterate."
The fighting has destroyed thousands of schools across Syria while many of those still standing have been turned into shelters for displaced people, Zerrougui also said, speaking to reporters in Beirut.
Before Syria, the UN envoy also visited Syrian refugees in neighboring countries, including Lebanon, Turkey, Jordan and Iraq.
She said children account for nearly half of the five million Syrians who fled their homes because of the fighting. Of those, half have not gone to school. And nearly 70 percent of those who do go to school drop out because they need to help support their families or for other reasons, Zerrougui added.
During her visit to Syria, Zerrougui also urged opposition forces to stop recruiting children into combat and asked the government to consider children, who were forced to taking up arms, as victims, not as combatants.
Aid groups have warned that some 2 million children in Syria are facing malnutrition, disease, early marriage and severe trauma as a result of the civil war.
The Violations Documentation Center in Syria, a key activist group that keeps track of the war's dead, wounded and missing persons, says 7,132 children under the age of 15 have been killed in the past two and half years, including 4,939 boys and 2,193 girls.
More than 93,000 people have been killed since the Syrian conflict started in March 2011 as largely peaceful protests against Assad's rule. The crisis escalated into civil war after some opposition supporters took up arms to fight a brutal government crackdown on dissent.
Fighting continued unabated in Syria on Thursday, particularly in the north, where activists said Kurdish fighters took control of a major town near the border with Turkey.
The Kurdish forces have battled rebels from radical Islamic groups for control of the town of Ras al-Ain for days, said the Syrian Observatory for Human Rights, a Britain-based group with a network of activists on the ground.
http://timesofindia.indiatimes.com/world/middle-east/Syrias-war-children-will-grow-up-illiterate-UN/articleshow/21145433.cms
-----------
North America
Hindus, Shias, other minorities worse off in Pakistan: US report
IANS | Jul 18, 2013
WASHINGTON: The already poor religious freedom environment for Christians, Ahmadis and Hindus has continued to deteriorate in Pakistan over the last eighteen months, according to a US body that monitors violations of religious freedom abroad.
Releasing the findings of its Pakistan religious violence project on Wednesday, the US Commission on International Religious Freedom (USCIRF) said it had tracked 203 publicly-reported incidents of sectarian violence resulting in more than 1,800 casualties, including over 700 deaths.
The Shia Muslim community has borne the brunt of attacks (77) from militants and terrorist organizations, with some of the deadliest attacks occurring during holy months and pilgrimages, the report said.
Full report at:
http://timesofindia.indiatimes.com/world/pakistan/Hindus-Shias-other-minorities-worse-off-in-Pakistan-US-report/articleshow/21141915.cms
---------
U.S. Muslim group sues over NSA surveillance
By Stephen Dinan - The Washington Times
Jul 18 2013
The Council on American-Islamic Relations (CAIR) said Tuesday it is suing the National Security Agency to try to stop it from collecting and storing Americans' phone records.
Eighteen privacy and civil liberties groups have joined together to file the suit.
Together, the groups argue that collecting phone records is an infringement on Americans' right to free association,
Earlier this year an NSA contractor leaked information on the program, under which the government collects the phone numbers and duration of calls within the U.S., and stores the data to be examined later, should investigators decide there is a reason to suspect terrorist activity.
Full report at:
http://www.washingtontimes.com/blog/inside-politics/2013/jul/16/us-muslim-group-sues-over-nsa-surveillance/
-----------
U.S. shells out millions for bum construction in Afghanistan: Report
Jul 18 2013
A $3 million U.S.-contracted schools project in Afghanistan remains grossly unfinished more than four years after the start of construction because the Army Corps of Engineers did not hold the contractor accountable for the work it has been paid to do, a new report by a U.S. government watchdog says.
"This raises concerns because we have previously reported instances in which [the Corps of Engineers] failed to hold its contractors accountable for accomplishing the work they were paid to perform," says the report by the Special Inspector General of Afghanistan Reconstruction, The IG believes that [the Army Corps of Engineers] must take immediate action to hold contractors accountable when they fail to deliver on their commitments."
The report focuses on the contract to build the Sheberghan Teaching Training Facility in the Jawzjan province in northern Afghanistan.
Full report at:
http://www.washingtontimes.com/news/2013/jul/17/us-shells-out-millions-bum-construction-afghanista/
-----------
Bolton: Israel Should Attack Iran Now
17 Jul 2013
By Melanie Batley
Israel is in "greater danger" of nuclear attack with every day that goes by and it doesn't attack Iran, said John Bolton, former U.S. ambassador to the United Nations.
"Israel should have attacked Iran yesterday. Every day that goes by puts Israel in greater danger, every day Iran makes more progress," Bolton told The Jerusalem Post.
"I can understand why Israel wants us to take action, but the longer Israel waits for something that is not going to happen, the greater the danger Israel is in," said the senior fellow at the American Enterprise Institute.
Full report at:
http://www.newsmax.com/newswidget/bolton-israel-iran-attack/2013/07/17/id/515615?promo_code=125C2-1&utm_source=125C2Washington_Times&utm_medium=nmwidget&utm_campaign=widgetphase1
-----------
U.S. suggests Egyptian military averted civil war
18 July 2013
Egypt avoided a possible civil war this month, U.S. Secretary of State John Kerry said on Wednesday, making it hard for Washington to conclude that the overthrow of Islamist President Mohammed Mursi was a military coup.
The armed forces deposed the elected leader on July 3 after huge street protests against his rule, clearing the way for the installment this week of a new interim cabinet charged with restoring civilian government and reviving the troubled economy.
Thousands of Mursi's supporters demonstrated outside the prime minister's office and marched through Cairo on Wednesday to denounce the military-backed administration and show that they had no intention of bowing to army dictates.
Full report at:
http://english.alarabiya.net/en/News/middle-east/2013/07/18/U-S-suggests-Egyptian-military-averted-civil-war.html
-----------
Obama's U.N. nominee calls inaction on Syria 'disgrace'
Jul 18 2013
Samantha Power, President Barack Obama's nominee to be the U.S. ambassador to the United Nations, promised to push for action on Syria and fight what she termed "unacceptable bias" against Israel at the world body during her Senate confirmation hearing on Wednesday.
"We see the failure of the U.N. Security Council to respond to the slaughter in Syria - a disgrace that history will judge harshly," Power, best known as a human rights advocate, said in testimony to the Senate Foreign Relations Committee.
Full report at:
http://english.ahram.org.eg/NewsContent/2/8/76756/World/Region/Obamas-UN-nominee-calls-inaction-on-Syria-disgrace.aspx
-----------
Arab World
NGO: Clashes between Kurds, jihadists kill 29 in Syria
18 July 2013
At least 29 people have been killed in fighting between Kurdish and jihadist fighters in northern Syria in the past two days, the Syrian Observatory for Human Rights said Thursday.
"At least 19 Al-Nusra Front (jihadist) fighters and 10 Kurds have been killed since the day before yesterday in clashes in the oil region of Hassakeh," the NGO said.
On Wednesday, the group said Syrian Kurdish fighters had pushed members of Al-Nusra and the Al-Qaeda-affiliated Islamic State of Iraq and the Levant out of the town of Ras al-Ain and its nearby border crossing with Turkey.
The clashes between Kurdish fighters and jihadists erupted after Al-Nusra Front militants attacked a convoy of Kurdish women fighters, Observatory director Rami Abdel Rahman said.
Activists in Ras al-Ain said members of the jihadist groups had taken advantage of the Muslim fasting month of Ramadan, which began last week, to try to impose their extreme version of Islam.
In the early days of the Syria conflict, when the opposition was desperate for help from any quarter, jihadist fighters were welcomed but a spate of abuses has fuelled a major backlash.
The Observatory said that jihadist fighters began firing rockets at Ras al-Ain, in western Hassakeh, after their expulsion.
They also attacked several roadblocks manned by Kurdish fighters and clashes were ongoing in the village of Tall Alu and Karhok in eastern Hassakeh, the group added.
Kurdish fighters meanwhile advanced elsewhere in the northeastern province, taking control of part of the Sweidiya area of Hassakeh, which is the only majority Kurdish province in Syria.
Syria's Kurdish minority have walked a sometimes ambiguous line in the country's conflict, which is now in its third year.
Despite occasionally cooperating with rebel fighters, the country's Kurds have largely chosen to remain outside the conflict, and have sought to keep both regime troops and rebels out of their areas.
Their position has earned them the ire of some rebels, who fault them for failing to back the uprising.
And the community's more liberal interpretation of Islam has also made it a target for some extremist rebel groups, including Al-Nusra and the Islamic State of Iraq and the Levant.
http://english.alarabiya.net/en/News/middle-east/2013/07/18/NGO-Clashes-between-Kurds-jihadists-kill-29-in-Syria-.html
--------
Egyptian army video shows Islamists blocking roads, attacking vehicles
Jul 18 2013
The Egyptian army has released video of footage of what it said were supporters of ousted president Mohammad Mursi blocking traffic and attacking private vehicles in central Cairo during a protest last Monday.
The violence took place when thousands of Islamist poured into Cairo's iconic Ramsis Square and blocked the vital central Cairo October 6 bridge after breaking their Ramadan fast.
Police forces intervened and used tear gas to break up the protest, which ended early morning with seven people reportedly killed and dozens were injured.
Full report at:
http://english.alarabiya.net/en/News/middle-east/2013/07/18/Egyptian-army-video-shows-Islamists-blocking-roads-attacking-vehicles.html
-----------
Gulf States agree to blacklist Hezbollah as terrorist group
Jul 18 2013
The Arab Gulf countries have agreed to blacklist Hezbollah as a terrorist group, but they are still studying ways to do that, undersecretary of Bahrain's Ministry of Foreign Affairs Hamad al-Amir told Al Arabiya on Wednesday.
Gulf Cooperation Countries, which include Saudi Arabia, Kuwait, Bahrain, Qatar and Oman were studying "correct measures" on how to officially blacklist Hezbollah, Amir said.
Bahrain blacklisted Hezbollah in April, becoming the first Arab state to do so after accusing the Lebanese group of backing and training radical Shiite groups working against Manama.
Full report at:
http://english.alarabiya.net/en/News/middle-east/2013/07/17/Gulf-states-agree-to-blacklist-Hezbollah-as-terrorist-group.html
-----------
Iraq violence kills 10, among them three children
Jul 18 2013
A bombing killed three children at a popular swimming area in Iraq on Wednesday after a similar attack two days before, while seven people died in other violence, officials said.
The bomb was planted near Al-Shakha river in the Muqdadiyah area northeast of Baghdad.
The explosion came after mortar rounds struck a swimming area on the Tigris river north of the capital on Monday, killing four people, including a child.
In another attack in the Muqdadiyah area on Wednesday, gunmen opened fire on a car carrying tribal leader Sheikh Majid Ali Jumaili, killing his wife and wounding him, his son and his cousin.
Full report at:
http://english.ahram.org.eg/NewsContent/2/8/76736/World/Region/Iraq-violence-kills-,-among-them-three-children.aspx
-----------
Car bomb explodes outside Sunni Muslim mosque in Bahrain
July 18, 2013
ABU DHABI: A car bomb exploded outside a Sunni Muslim mosque as worshippers attended late-night prayers in a district where members of Bahrain's royal family live, the Interior Ministry said on Thursday.
No one was reported hurt in the attack in Riffa south of the capital Manama late on Wednesday, in what government officials said was an attempt to inflame sectarian tensions.
Bahrain, a majority Shi'ite country but ruled by the Sunni al Khalifa family, has been buffeted by political unrest since 2011, with mostly Shi'ite Bahrainis agitating for democratic reforms and more say in government.
Full report at:
http://dailystar.com.lb/News/Middle-East/2013/Jul-18/224123-bahrain-rattled-by-bombing-near-royal-palaces.ashx#ixzz2ZOEElUqp
-----------
Egypt's Jewish community head calls Zionism racism
18 July 2013
"Zionism is a racist movement," the new leader of Egypt's Jewish community declared in a recent interview.
"The failure to draw a distinction between Judaism as a religion and the Israeli state is the result of ignorance," Magda Haroun continued, according to the transcript of the interview published on the Egypt Independent news website.
She also asserted that "just like not every Muslim is a member of al-Qaida, not every Jew is an Israeli."
The Egyptian Jewish Community Council in April unanimously chose Haroun as its new leader, after the passing of the community's former head, Carmen Weinstein.
"Many people do not understand that I belong to my country regardless of my religion. Zionism is a racist movement that discriminates between people on the basis of religion. They do not understand that I am loyal to my country, not Israel. It was our father that nurtured those feelings of fierce loyalty in us," Haroun said in response to a question that first stated that Israelis attacked Haroun's father before asking why they were attacking her.
Full report at:
http://www.jpost.com/Jewish-World/Jewish-News/Egypts-Jewish-community-head-calls-Zionism-racism-320199
--------
Thousands rally for Egypt's Mohammed Morsi: 'Legitimacy or martyrdom'
By Cheryl K. Chumley-The Washington Times
Jul 18 2013
Wednesday was dubbed the "day of steadfastness" by supporters of ousted Egypt President Mohammed Morsi, who rallied by the thousands outside the prime minister's office to protest the formation of a temporary cabinet.
Protesters waved Korans and pictures of Mr. Morsi, Reuters reported. Their demands and chants: "God is greatest!" "Down with military rule!" and "We are all Morsi!"
One said to Reuters that "we have only two goals, legitimacy or martyrdom." And another interrupted and clarified, "peaceful martyrdom," Reuters reported.
The thousands marched through the center of town, targeting the government's seat of power, fighting back riot police as they headed toward Tahrir Square, Reuters said.
http://www.washingtontimes.com/news/2013/jul/17/thousands-rally-egypts-mohammed-morsi-legitimacy-o/#ixzz2ZN8itH8p
-----------
Bahrain's King honoured for service to Qur'an
Jul 18 2013
Bahrain's King Hamad has won this year's prize for the global personality best serving the Qur'an, instituted by the Jeddah-based International Qur'an Memorization Organization (IQMO).
Makkah Gov. Prince Khaled Al-Faisal gave away IQMO prizes to winners during a function here Tuesday night. Sheikh Hamoud bin Abdullah Al-Khalifa, Bahrain's ambassador to Riyadh, received the award on behalf of the king. "The Bahraini government and people consider this award a medal of honor for their country," the ambassador said.
Full report at:
http://www.arabnews.com/news/458373
-----------
Former bin Laden doctor reportedly heads al Qaeda in the Sinai Peninsula
By DAVID BARNETT Jul 18 2013
Egyptian security forces have reportedly arrested a number of jihadists operating in the Sinai Peninsula who are linked to Ramzi Mowafi, a former physician for Osama bin Laden.
Sources have told Egyptian media outlets that Mowafi's group has been responsible for numerous attacks in the Sinai over the past two years. Among those recently arrested are a Yemeni and a Palestinian who were found in the possession of maps and laptops.
In August 2011, Egyptian security officials told CNN that Mowafi, who is also thought to be an explosives expert, was spotted in the Sinai. At the time, Mowafi, born in Egypt in 1952, was said to be providing military training to a number of people in the Sinai.
Full report at:
http://www.longwarjournal.org/archives/2013/07/former_bin_laden_doc.php#ixzz2ZO1MB8Pb
-----------
Gunmen kill 3 Egyptian police in north Sinai
Jul 18 2013
CAIRO, Egypt — Militants killed three Egyptian policemen overnight in separate attacks in north Sinai, medical and security officials said on Thursday, in the latest eruption of violence sweeping the restive peninsula.
Three unknown gunmen attacked a police station in the town of Sheikh Zuweid, wounding three policemen in a gun battle before fleeing in their vehicle, the officials said.
One of the wounded, identified by the MENA state news agency as police officer Mohamed Said Metwali, 34, died at the El-Arish hospital shortly afterwards.
Full report at:
http://www.saudigazette.com.sa/index.cfm?method=home.regcon&contentid=20130718173977
-----------
NGO: Kurds expel jihadists from flashpoint Syrian town
18 July 2013
Kurdish fighters have expelled jihadists from the Syrian flashpoint frontier town of Ras al-Ain and the nearby border crossing with Turkey, a watchdog said on Wednesday.
Elsewhere, a car bomb attack killed at least seven people, among them a child, southwest of Damascus, the Syrian Observatory for Human Rights said.
Kurdish fighters took total control of Ras al-Ain "after 24 hours of fighting. The (jihadist) groups were expelled from the whole of Ras al-Ain, including the border post" with Turkey, said Observatory director Rami Abdel Rahman.
Full report at:
http://english.alarabiya.net/en/News/middle-east/2013/07/18/NGO-Kurds-expel-jihadists-from-flashpoint-Syrian-town-.html
-----------
Syrians use Ramadan humour to ease the pain of war
Jul 18 2013
Damascus : As Syria's Muslims observe the fasting month of Ramadan at a time of war for a third year running, many people are turning to black humour to help them cope. Jokes are a way to weather the difficulties of food shortages, violence and death that mar the sense of community and celebration supposed to accompany the religious month. One popular joke plays off the traditional cannon fire that marks the end of the fasting day and the beginning of the iftar evening meal.
Full report at:
http://www.jpost.com/Jewish-World/Jewish-News/Egypts-Jewish-community-head-calls-Zionism-racism-320199
--------
India
26/11: Hafiz Saeed quotes Indian official to prove innocence
Imtiaz Ahmad, Hindustan Times
July 17, 2013
Hafiz Saeed, Jamaat-Ud-Dawa (JuD) chief, has said the statement by an Indian official that New Delhi orchestrated the attack on Parliament and the 26/11 attacks in Mumbai clears his name and vindicates his stand that his organization had nothing to do with the attacks. Speaking on ARY
Television, a local Pakistani channel, Saeed said the statement by Satish Verma, an Gujarat cadre IPS officer Satish Chandra Verma showed "the real story."
He told his audience that he was more upset with the Pakistan government than the Indian government because it had hounded him despite him being cleared of the charged by the Lahore High Court.
Full report at:
http://www.hindustantimes.com/world-news/pakistan/26-11-Hafiz-Saeed-quotes-Indian-official-to-prove-innocence/Article1-1094125.aspx
-----------
Ex-DGP writes to Pranab Mukherjee over 'IB men's intervention' in Ishrat case
Jul 18 2013
Ahmedabad : Former Gujarat Director General of Police (DGP) R B Sreekumar has written to President Pranab Mukherjee, appealing him to remove lobbyism of the top Central Intelligence Bureau (IB) and retired IB officers in the investigations into Ishrat Jahan and other alleged fake encounters.
Sreekumar wrote the letter on July 15 and has received a letter of receipt from the President's Office and Prime Minister's Office in New Delhi. Sreekumar, in his letter, has opposed the intervention of the former IB director in the Ishrat Jahan encounter case. He has alleged that even the present director endeavours to protect the accused IB officers.
Full report at:
http://www.indianexpress.com/news/exdgp-writes-to-pranab-mukherjee-over-ib-mens-intervention-in-ishrat-case/1143402/
---------
Never claimed Parliament House attack, 26/11 inside job: Ex-MHA official
Jul 18 2013
New Delhi: Former Home Ministry official R V S Mani has denied that he ever said the "Parliament attack and the Mumbai attack were orchestrated by the government in power".
Mani's allegation, made in a letter to secretary, urban development, where he now works, created a storm after it was published by news portal First Post.
It also prompted Hafiz Muhammad Saeed, whom India has accused of masterminding the 26/11 attack, to launch an online campaign, "Mumbai False Flag", seeking to clear his and Pakistan's name in the attack.
Full report at:
http://www.indianexpress.com/news/never-claimed-parliament-house-attack-2611-inside-job-exmha-official/1143268/
-------
Bodh Gaya Bomber wanted to blow up main statue
Deeptiman Tiwary, TNN | Jul 18, 2013
NEW DELHI: Taking a non-conventional Parikrama of the Buddha statue at the Mahabodhi temple gave away one of the bombers in the July 7 blasts at the religious site. The suspect, whose sketches were released by the National Investigation Agency (NIA) on Tuesday, was seen by witnesses taking an anti-clockwise Parikrama of the statue whereas the Parikrama is done clockwise.
The suspect wore a Buddhist religious robe and thus his lack of knowledge of established rituals aroused suspicion among devotees in the small hours of July 7. However, no one questioned him as he seemed to keep to himself.
Full report at:
http://timesofindia.indiatimes.com/india/Bomber-wanted-to-blow-up-main-statue/articleshow/21134893.cms
-----------
6 killed in BSF firing at Jammu protest over mosque entry
AHMED ALI FAYYAZ
Jul 18 2013
J&K Minister of State for Home Sajjad Ahmad Kichloo says BSF opened fire when residents were protesting the entry of some personnel into a mosque with shoes.
Six civilians were killed and at least 10 others injured when Border Security Force opened fire on a group of protesters at Dharam Sharti village in Gool area of Ramban district on Thursday morning.
Jammu and Kashmir Minister of State for Home Sajjad Ahmad Kichloo, who reached the spot alongwith Director General of Police Ashok Prasad, confirmed the death of four persons. He said a number of people have been injured and rushed to different hospitals.
Full report at:
http://www.thehindu.com/news/national/other-states/6-killed-in-bsf-firing-at-jammu-protest-over-mosque-entry/article4927359.ece
-----------
NIA files first chargesheet against five 'IM' members in Hyderabad blast
Jul 18 2013
New Delhi: The National Investigation Agency, probing into the "larger conspiracy" of Indian Mujahideen, has filed its first chargesheet against five arrested IM members on Wednesday.
The agency, however, has not pressed charges against fugitive Yasin Bhatkal, Iqbal Bhatkal, Riyaz Bhatkal and Amir Reza Khan, who were named in last year's FIR.
In its 40-page chargesheet, the agency has traced the IM's origin from 2003 and named five suspected members — Mohammad Danish Ansari, Mohammad Aftab Alam, Imran Khan, Syed Maqbool and Obaid-Ur-Rehman — under various provisions of the Unlawful Activities Prevention Act and the IPC relating to conspiracy to commit offences against the state.
Full report at:
http://www.indianexpress.com/news/nia-files-first-chargesheet-against-five--im--members/1143293/
-------
Kashmir's top cardiologist injured, 2 policemen killed in militant attack
PTI | Jul 18, 2013
SRINAGAR: Kashmir's top cardiologist Dr Sheikh Jalal-ud-din was critically injured on Thursday in a militant attack which left two of his police guards dead in the highway township of Pampore in Pulwama district of south Kashmir.
Jalal (64), former director of Sher-e-Kashmir Institute of Medical Sciences (SKIMS), Soura, and his security guards were targeted by militants near his residence at Namblabal in Pampore, 16 kms from here, on Srinagar-Jammu national highway, police said.
Full report at:
http://timesofindia.indiatimes.com/india/Kashmirs-top-cardiologist-injured-2-policemen-killed-in-militant-attack/articleshow/21143792.cms
------------
Asian arrested for putting up video of Dubai man beating Indian
July 18, 2013
An Asian man has been arrested for filming a video that has gone viral on the Internet showing a UAE citizen beating up an Indian delivery van driver in Dubai, local media reported on Thursday.
The Asian, whose nationality was not known, was arrested for defaming the UAE man
who beat up the Indian driver, the reports said.
"No one has the right to take pictures of someone and publish them without his permission," Dubai police chief, Khamis al-Mazeina, was quoted as saying by the daily Emiratalyoum.
Full report at:
http://www.hindustantimes.com/world-news/restofasia/Asian-arrested-for-putting-up-video-of-Dubai-man-beating-Indian/Article1-1094444.aspx
-------
South Asia
Taliban seize villages in eastern Afghanistan
Jul 18 2013
Local officials in Afghanistan say Taliban militants have captured most villages in Rashidan District in the eastern province of Ghazni,Press TV reports.
http://www.presstv.ir/detail/2013/07/18/314402/taliban-seize-villages-in-east-afghanistan/
---------
Taliban kills 8 Afghan workers en route to U.S. base, police say
18 July 2013
Eight Afghan civilians, who work at a U.S. military base south of Kabul, were shot dead by Taliban gunmen on Thursday, police said.
"Eight Afghan workers who were working in Camp Shank were killed this morning by Taliban," the deputy police chief in Logar province, Rais Khan Sadeq, told AFP. "They were forced out of their car and taken about 200 meters off road to a nearby village [Logar], and shot in the head one by one."
Sadeq said the bodies of the "ordinary civilian workers" were found with their eyes blindfolded.
Full report at:
http://english.alarabiya.net/en/News/middle-east/2013/07/18/Taliban-kills-8-Afghan-workers-en-route-to-U-S-base.html
-----------
Former President Gayoom to receive Maldives' "highest honour"
By Neil Merrett | July 17th, 2013
Former President Gayoom to receive Maldives' "highest honour" thumbnail
The government has announced that former President Maumoon Abdul Gayoom will receive the country's "highest honour" – the Nishaan Ghaazeege Izzaiytheri Veriyaa (NGIV).
President's Office Media Secretary Masood Imad confirmed to Minivan News that the decision to bestow former President Gayoom with the NGIV was approved at a cabinet meeting held yesterday (July 16). He stressed however that the timing of the award was not related to recent political events such as criticism of President Waheed by the Gayoom-led Progressive Party of Maldives (PPM).
Full report at:
http://minivannews.com/politics/former-president-gayoom-to-receive-maldives-highest-honour-61210
----------
Jamaat-e-Islami calls Hartal for Thursday, death penalty awarded to its Secretary
July 18, 2013
Jamaat-e-Islami has called a daylong countrywide Hartal (shutdown) for Thursday protesting the death penalty awarded to its secretary general Ali Ahsan Mohammad Mojaheed for war crimes.
The Hartal call came on Wednesday through a press release signed by its acting secretary general Rafiqul Islam Khan after a tribunal in Dhaka awarded capital punishment to Mojaheed.
Full report at:
http://www.thedailystar.net/beta2/news/jamaat-calls-hartal-for-thursday/
-----------
Nasheed pledges to bridge islands in capital and build 12,000 new housing units
By Mohamed Naahee | July 17th, 2013
Nasheed pledges to bridge islands in capital and build 12,000 new housing units thumbnail
Maldivian Democratic Party (MDP) Presidential Candidate, former President Mohamed Nasheed, has pledged he will connect the islands within the Male City via a bridge and will build additional 12,000 housing units should he be elected president in September's elections.
Nasheed made the remarks during a campaign gathering in the Henveiru ward of Male' on Tuesday evening.
Full report at:
http://minivannews.com/politics/nasheed-pledges-to-bridge-islands-in-capital-and-build-12000-new-housing-units-61181
-----------
Mideast
'Should we remove the ballot box because Hitler can come out of it?' asks Turkish PM
Jul 18 2013
Prime Minister Recep Tayyip Erdoğan has once again slammed the military takeover in Egypt, saying that the argument that Germany's totalitarian dictator Adolf Hitler came to power thanks to elections is "ill-willed," while confirming that he rejected a meeting request from Egypt's newly appointed Vice-President Mohamed ElBaradei.
"The ballot box exists to prevent the minority imposing on the majority. They say that Hitler came out of the ballot box. So what, should we remove the ballot box because Hitler can come out of it?" Erdoğan asked supporters during a fast-breaking dinner organized by the ruling Justice and Development Party (AKP) in Ankara July 17.
"Questioning the ballot box by saying that Hitler can be elected is nothing more than ill-will against democracy," Erdoğan said, adding that the government defended Egypt's toppled President Mohamed Morsi because he was elected and not for any other reason.
Full report at:
http://www.hurriyetdailynews.com/should-we-remove-the-ballot-box-because-hitler-can-come-out-of-it-asks-turkish-pm.aspx?pageID=238&nID=50931&NewsCatID=338
--------
Iran says to resume nuclear talks after forming new government
17 July 2013
Iran said Wednesday it would resume talks with world powers on its controversial nuclear program once president-elect Hassan Rowhani has been sworn in and a new negotiating team formed.
European Union foreign policy chief Catherine Ashton, who is negotiating with Iran on behalf of the so-called P5+1 group, on Tuesday urged Tehran to resume the talks "as soon as possible."
She made the comments after hosting talks in Brussels between political directors from the so-called P5+1 group that has been negotiating with Iran and which is made up of the five permanent U.N. Security Council members Britain, China, France, Russia and the United States plus Germany.
Full report at:
http://english.alarabiya.net/en/News/2013/07/17/Iran-says-to-resume-nuclear-talks-after-forming-new-government-.html
-----------
Abbas convenes key Palestinians to moot new talks with Israel
Jul 18 2013
President Mahmoud Abbas will confer with key Palestinian leaders on Thursday about a possible resumption of peace negotiations with Israel after an almost three-year freeze, officials said.
They gave no details on what Abbas's terms might be, should he announce a breakthrough after meeting in Jordan with U.S. Secretary of State John Kerry, who has pursued six months of intensive and deliberately discreet diplomacy.
Gaps between the sides had "very significantly" narrowed, Kerry said on Wednesday. His proposals to resume negotiations, which were not spelled out, won the endorsement of an Arab League committee, which said they "provide the ground and a suitable environment to start negotiations".
Full report at:
http://english.ahram.org.eg/NewsContent/2/8/76761/World/Region/Abbas-convenes-key-Palestinians-to-moot-new-talks-.aspx
-----------
Israel readying peace gestures to Palestinians: report
Jul 18 2013
JERUSALEM — The Israeli military is preparing to lift some restrictions on Palestinian movement in advance of possible renewed peace talks, army radio said on Thursday.
"It appears that in the next few days the future of negotiations between Israel and the Palestinians will be determined," its reporter for the Palestinian territories reported.
"In the light of security assessments, two roads in the territories are expected shortly to be opened to Palestinian traffic; one north of Ramallah and one close to Beit Haggai," he added, referring to a settlement near the southern West Bank city of Hebron.
Full report at:
http://www.saudigazette.com.sa/index.cfm?method=home.regcon&contentid=20130718173972
-----------
Preserving Islamic cities toghether with urbanization
Jul 18 2013
Tehran has hosted a conference with the participation of Iranian and foreign dignitaries mainly from the Islamic countries, their aim; to cherish Islamic architecture and culture.
The main focus of this meeting was maintaining the Islamic structure of cities together with modernization.
Iranian officials together with foreign ambassadors along with UN representatives took part in this forum.
The forum looked at the increased speed in urbanization together with growing world population in cities. This was noted as one of the causes in the loss of roots and culture of ancient cities some with thousands of years of history.
Full report at:
http://www.presstv.ir/detail/2013/07/17/314286/cherishing-islamic-cities-roots/
---------
Government to rebuild 'lost' 150 mosques in Turkey
Jul 18 2013
The government plans to rebuild some of the 150 mosques around the country that have disappeared, according to Foundations Directorate head Adnan Ertem.
Some 130 of the "lost" mosques are in Istanbul, and some over time have been replaced by buildings and apartments. "About those we cannot do much," Ertem told daily Hürriyet. "But if the plots are still vacant, then we will rebuild them."
Full report at:
http://www.hurriyetdailynews.com/government-to-rebuild-lost-mosques-in-turkey-.aspx?pageID=238&nID=50941&NewsCatID=341
--------
Zionists, hegemonic powers main foes of all Muslim nations: Ahmadinejad
Jul 18 2013
Iran's President Mahmoud Ahmadinejad says the Israeli regime and hegemonic powers are unquestionably the enemies of all Muslim nations.
"Enemies want to our countries in ruins, destroyed, underdeveloped, conflict-stricken and unstable," said Ahmadinejad while addressing the ambassadors and representatives of Muslim countries to Tehran at an Iftar (fast-breaking) meal at the Foreign Ministry Wednesday evening.
Full report at:
http://www.presstv.ir/detail/2013/07/18/314380/israel-main-foe-of-all-muslim-nations/
--------
Africa
In Somalia, 'foreign hands' are the sickness and the cure
AMAN SETHI
Jul 18 2013
At six in the morning on May 15 this year, the self-proclaimed sovereign Republic of Somaliland banned all United Nations flights from landing at this dusty airport overlooking the Gulf of Aden, sparking a little-reported international incident that was defused two months later on Monday.
On Tuesday, Reuters revealed excerpts of a confidential United Nations report warning that western oil companies prospecting along the disputed Somalia-Somaliland border could trigger further conflict in this fraught region. In one instance, Somaliland and the adjacent Puntland autonomous region have awarded overlapping prospective oil blocs to the Norwegian oil company DNO and the Swedish owned Africa Oil Corp – raising prospect of two countries, deeply involved in peace-building in Somalia, competing for resource contracts in one of the most unstable places in the world.
Full report at:
http://www.thehindu.com/news/international/in-somalia-foreign-hands-are-the-sickness-and-the-cure/article4924325.ece
----------
Libyan minority groups say will boycott constitution vote
17 July 2013
Three Libyan ethnic minorities announced on Wednesday they would boycott an election of a committee to draft a new constitution, the first blow to a democratic process supposed to decide what political system the country will adopt.
Members of the Amazigh, Tibu and Tuareg communities denounced a law passed on Tuesday under which 60 people will be elected by popular vote to draft a charter, saying that such a constitutional committee would not be "fully representative."
The constitution will be the first since the 2011 ouster of Muammar Gaddafi, who often played off one tribe or clan against the other during his 42-year iron-fisted rule.
Full report at:
http://english.alarabiya.net/en/News/2013/07/17/Libyan-minority-groups-say-will-boycott-constitution-vote.html
-----------
More than 1,000 sue ex-Chad dictator for war crimes
Jul 18 2013
More than 1,000 alleged victims of former dictator Hissene Habre are suing him in Senegal, where he is being tried for genocide during his eight-year rule of Chad, their lawyers said on Wednesday.
Habre, 70, faces accusations of war crimes, crimes against humanity and torture during his brutal rule between 1982 and 1990, when some 40,000 people were killed, according to rights groups.
Arrested in early July after more than two decades in exile in Senegal, the former dictator was placed on remand in Dakar where he is to stand trial after years of delays by the Senegalese government.
Full report at:
http://english.ahram.org.eg/NewsContent/2/9/76737/World/International/More-than-,-sue-exChad-dictator-for-war-crimes.aspx
-----------
Ghana official calls for higher marriage age
18 July 2013
The legal age for marriage in Ghana should be raised from 18 to 23, chief government statistician Philomena Nyarko has said.
This would make women better prepared, physically and mentally to have children, she said.
It could also slow population growth in Ghana by 15% to 20%, Ms Nyarko added.
Her proposal comes as MPs in Nigeria are debating whether to scrap the 18-year age restriction for marriage so that people can wed earlier.
Some Muslim MPs argue that the restriction violates Islamic law, which allows marriage at the age of puberty.
Nigeria, Africa's most populous country, is roughly divided between Muslims and Christians.
Ms Nyarko said that women who delayed marriage and pregnancy until the age of 23 would have healthier lives, she said.
"It is well known that health outcome for both mother and child improve, if pregnancy is delayed until when the young woman has matured for marriage and childbearing, to help save the lives of both mother and child," Ms Nyarko said.
Most people in Ghana, which has a population of about 25.5 million, are Christian.
http://www.bbc.co.uk/news/world-africa-23351274
-----------
Southeast Asia
Religious Conflict Not a Problem in 'Tolerant' Indonesia: Minister
July 17, 2013
Indonesia's Religious Affairs Minister, in an apparent attempt to downplay the nation's rising tide of religious intolerance, suggested that inter-faith strife is "human nature" before calling the country "the best… in the world" in terms of religious tolerance.
"I can say that it's a normal part of human nature," Religious Affairs Minister Suryadharma Ali told the Indonesian newspaper Kompas. "Humans were created by Allah with traits like anger. But religions have rules on anger that order us to be patient and slow [and] especially not to hurt others."
Full report at:
http://www.thejakartaglobe.com/news/religious-conflicts-not-a-problem-in-tolerant-indonesia-minister/
-----------
2 Malaysians charged over photo that riled Muslims
Jul 18 2013
KUALA LUMPUR, Malaysia — Prosecutors have charged two Malaysians with sedition and inciting religious enmity after they posted a photograph on Facebook considered an insult to the Muslim holy month of fasting.
They face up to eight years in prison if convicted of both charges in the Muslim-majority nation.
Alvin Tan and Vivian Lee, both ethnic Chinese non-Muslims in their 20s, drew criticism when they uploaded a photograph of themselves earlier this month eating pork stew while conveying greetings to Muslims for the current fasting month of Ramadan. Pork is forbidden for Muslims.
Full report at:
http://www.saudigazette.com.sa/index.cfm?method=home.regcon&contentid=20130718173976
-----------
URL: https://www.newageislam.com/islamic-world-news/new-age-islam-news-bureau/jihad-given-up-due-to-imf-loans,-says-hafiz-muhammad-saeed/d/12658