New Age Islam News Bureau
27 Dec 2016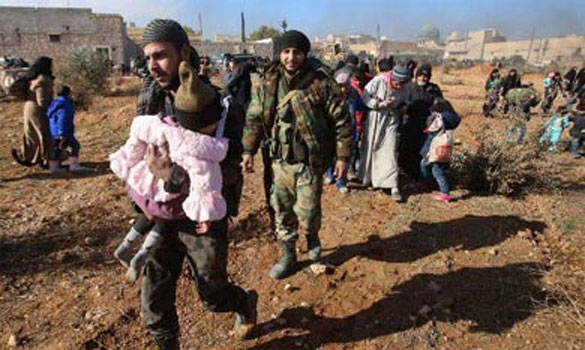 Rebel fighters executed 21 civilians at close range as they quit Aleppo last week (File Photo)
--------
• Jesus Prophet of Us the Muslims Too: Ayatollah Khamenei
• 21 Civilians 'Executed' By Rebels in Aleppo; ISIS Kills 30
• Minorities Should Not Be Scared Of Any Group: Chairman of Pakistan Ulema Council
• Islamic State Arrests Reveal Jihadi Threat near Seat of U.S. Government
Mideast
• Jesus Prophet of Us the Muslims Too: Ayatollah Khamenei
• Trump: UN Is Club for People to 'Have Good Time'
• Muslims Must Unite Behind UN Vote against Israel Settlements: Iran
• Takfirism threat to security of entire world: Iran defense minister
• Israeli reporter offers proof of Mossad killing Tunisian drone expert
• Netanyahu calls in US envoy in fallout over UN vote
• Netanyahu seeks allies in anger at Obama
--------
Arab World
• 21 Civilians 'Executed' By Rebels in Aleppo; ISIS Kills 30
• Syrian Government Forces Kill 25 Daeshis in Homs
• Over 2,000 Saudi militants abroad: ministry
• Saudi Arabia against sectarian troops in Iraq
• Mass graves containing dozens of tortured Syrians uncovered in Aleppo
• Sources: Syrian Army Preparing for Major Assault on Idlib As Next Objective after Aleppo
• Terrorists in Largest City of Northern Dara'a on Verge of Peace Agreement with Gov't
• Syrian Army Repels ISIL's Attack on Gov't Positions near Kuweires Airbase
• Syria: Widening Differences Reported among Terrorists in Western Damascus
• Damascus: Nusra Terrorists Reject Again to Join Peace Agreement with Syrian Gov't
• Syrian army escalates campaign to capture Damascus water supply
• Fresh advance in east Mosul to begin within days: US commander
--------
Pakistan
• Minorities Should Not Be Scared Of Any Group: Chairman of Pakistan Ulema Council
• Pakistan Minister Issues Nuclear Warning to Israel after 'Being Tricked By Fake News Site'
• At least 18 die after consuming toxic liquor on Christmas Eve in Toba Tek Singh
• Asif Ali Zardari likely to announce grand Opposition alliance tomorrow
• Quaid-e-Azam services acknowledged by AJK bigwigs
• Pakistan Army a symbol of national integration: COAS
• Pakistan May Face Isolation if Minorities Bill Repealed, Says Lawmaker
• Doors open for negotiations with angry Baloch: COAS
--------
North America
• Islamic State Arrests Reveal Jihadi Threat near Seat of U.S. Government
• A Rally in Solidarity with New Yorkers Anxious About Trump Policies
• American Muslim Groups Host Turkey Dictator's Daughter, as Her Father Imprisons and Purges Thousands
• Islamic association spends Christmas clearing snow from neighborhood sidewalks
• Muslim cultural center in Canada attacked for fourth time
--------
South Asia
• Afghanistan Voices Displeasure over Being Ignored In Upcoming Trilateral Meeting
• 4 killed in Zabul airstrikes conducted amid ISIS expansion concerns
• Myanmar Says Muslim With Links To Government Murdered In Troubled Rakhine
• Teenage terrorist a Gaibandha native
• Police: Ashkona reveals 7-8 new terrorists
--------
Africa
• DR Congo Christmas Slaughter Leaves 35 Dead
• Despite Neighbours' Anxiety, Controversial Jama'atul Ta'awunil Muslimeen Preaches Tolerance
• East Libyan forces launch air strike against rivals in central desert
• Suicide bomber attacks market in northeast Nigeria's Maiduguri
• Gunmen kill six in northern Nigeria
'FETÖ is a radical group like Daesh, Boko Haram', President's daughter says
--------
Southeast Asia
• Indonesian Militants Planned New Year's Assault with Machetes: Police
• Anxiety besets Muslim groups over new tax on religious bodies
• Indonesia court to proceed with blasphemy trial of Jakarta's governor
• Indonesia marks tsunami 12 years ago with prayers
• OIC special envoy proposes special registration system for Rohingya refugees in Malaysia
• FPI leader reported to police for allegedly committing religious blasphemy
--------
India
• Kolkata RJ Mir's Reply after Being Criticised for Celebrating Christmas, Is a Reminder Why Festivals Are for Togetherness
• Musa planned ISIS-style killing of foreigners in Kolkata: NIA
• Forum, All India Muslim Personal Law Board Seek 5% Reservation for Muslims
• No Pak entry on Day 1 of annual Ahmadiyya congregation
• Notice served on legal counsel of Zakir Naik's NGO
• India taps Saudi Arabia for release of priest abducted in Yemen
--------
Europe
• Twitter Accounts Of Abu Qatada and Other Key Al-Qaida Figures Suspended
• Voters will have to show passports to combat voter fraud in 'vulnerable' areas with large Muslim populations
• UK's first Muslim astronaut aims to put focus on mental health
Compiled by New Age Islam News Bureau
URL: https://www.newageislam.com/islamic-world-news/new-age-islam-news-bureau/jesus-prophet-of-us-the-muslims-too--ayatollah-khamenei/d/109511
--------
Jesus Prophet of Us the Muslims Too: Ayatollah Khamenei
Dec 26, 2016
"Jesus is the prophet of us the Muslims too," Ayatollah Khamenei wrote on his Twitter account on Monday on the occasion of Christmas and the new Christian year.
The Supreme Leader reiterated that there are many verses in the Holy Quran about Jesus Christ (PBUH).
"We recognize him as an arch-prophet," Ayatollah Khamenei added.
In a relevant development on Monday, it was reported that the PDF version of a book titled 'Christ in Night of Glory' which deals with the story of Supreme Leader of the Islamic Revolution Ayatollah Seyed Ali Khamenei's visit to the homes of Christian martyrs, has become available for public use.
The book was translated into English in January 2016, nearly a year after its publication in Persian, during Christmas and New Year and after a recent visit by Ayatollah Khamenei to an Assyrian martyr's home.
The book provides international readers with an account of interesting events in the meetings of Ayatollah Khamenei with the families of Christian martyrs.
Christ in Night of Glory tells the story of visits made by Ayatollah Khamenei since 1984 when he was president at the time until early 2011 to the time of his leadership.
The interesting point about the meetings is the surprising nature of it and the reaction of hosts when they realize that the Leader will go to their homes in few minutes.
Each story begins with a short introduction of the martyr and then comes to the visit and the conversations made between the Leader of the Islamic Revolution and the martyr's family members. This narrative theme actually makes the book more interesting and makes it a must-read.
According to the publisher, the translation into English from the original Persian will be sent to Armenia, Lebanon, Europe and the USA for the further knowledge of Armenians (and Assyrians) who were living in Iran since ancient times.
http://en.farsnews.com/newstext.aspx?nn=13951006001529
--------
21 Civilians 'Executed' By Rebels in Aleppo; ISIS Kills 30
December 27, 2016
DAMASCUS/ISTANBUL - Syrian authorities have accused rebel fighters of executing 21 civilians, including women and children, at close range as they quit second city Aleppo last week, state media reported.
The bodies were found in two neighbourhoods in east Aleppo, state news agency SANA said late Sunday.
The head of Aleppo's forensic unit Zaher Hajjo told SANA that "21 corpses of civilian victims, including five children and four women, killed by terrorist groups" were examined.
"The bodies were found in prisons run by the terrorist groups in Sukkari and al-Kalasseh, and they were found to have been executed by gunshot at very close range," Hajjo was quoted as saying.
Under a landmark deal brokered by regime ally Russia and rebel backer Turkey, 35,000 rebels and civilians left the former opposition stronghold of east Aleppo last week.
Days before the evacuations began, the UN said it had received credible reports of at least 82 civilians, including 11 women and 13 children, being executed by pro-government forces in Aleppo.
On Monday, the Russian defence ministry said "dozens of Syrians" were summarily executed in east Aleppo by rebels. "Mass graves containing dozens of Syrians who were summarily executed and subjected to savage torture have been discovered," spokesman Igor Konachenkov said, according to Russian agencies.
Meanwhile, the Turkish army on Monday accused Islamic State (IS) militants of killing at least 30 civilians seeking to flee the flashpoint Syrian town of Al-Bab which Ankara and its rebel allies have been seeking to capture for weeks.
The army said that the civilians were killed with mines and homemade bombs as they tried to make their way out of Al-Bab, the state-run Anadolu news agency reported, without giving further details.
Turkish forces and allied Syrian rebels have been seeking to take Al-Bab as a key part of un unprecedented four month campaign that began in late August. But they have been facing tough opposition from the militants and suffered the highest casualties of the campaign so far in the fight for the town.
Turkey at the weekend deployed more tanks and artillery to the border and also as sent 500 elite commandos to Al-Bab in readiness for a final fight for the town, reports said. Thirty-six Turkish soldiers have died so far in the operation - dubbed Euphrates Shield - after another wounded soldier lost his life in hospital in Turkey overnight, reports said. Sixteen Turkish soldiers were killed by IS in the battle for the town on Wednesday - Ankara's biggest loss so far since it launched its incursion.
A Britain-based monitoring group has accused Turkey of killing 88 civilians in air strikes on Al-Bab, including 21 children. However the army has unequivocally denied such claims.
President Recep Tayyip Erdogan said at the weekend the battle for Al-Bab is nearly finished, reiterating Turkish forces would then head to Manbij, a former bastion of IS that is now under the control of US-backed, Kurdish-led militia.
Turkey on Monday said it wanted international air support for its army's assault on the militant-held Syrian town of Al Bab where the military is facing tough resistance from Islamic State (IS) extremists.
Turkish forces have for weeks joined pro-Ankara Syrian rebels in fierce fighting for Al Bab, taking increasing casualties as they approach closer to the centre. Turkey is part of the US-led coalition against IS militants in Syria and lets Western war planes use its Incirlik air base as a hub for air raids.
"As for our operations in Al Bab, the international coalition should assume its responsibilities, especially where air support is concerned," presidential spokesman Ibrahim Kalin said in televised comments in Ankara.
"The weather conditions can sometimes entail delays," Kalin acknowledged. "But the absence of air support when there is no valid reason is unacceptable," he added.
The US and its allies have been conducting their own air strikes against IS targets in Syria but there have been no reports of them specifically aiding the Turkish operation.
Turkey at the weekend deployed more tanks and artillery to the border and also has sent 500 elite commandos to Al Bab in readiness for a final fight for the town, reports said.
A Britain-based monitoring group has accused Turkey of killing 88 civilians in air strikes on Al-Bab. However the army has unequivocally denied such claims.
Thirty-six Turkish soldiers have died so far in the operation inside Syria - dubbed Euphrates Shield - since it was launched on August 24.
Islamic State militants last week circulated a video purportedly showing two Turkish soldiers captured by the extremists in Syria being burned alive.
The authenticity of the video cannot be confirmed and Turkey's leadership has made no mention of the images.
Turkey's Defence Minister Fikri Isik has said three Turkish soldiers are being held by IS, without giving further detail. The issue was evoked at Kalin's televised news conference but the spokesman did not give any comment.
Users in Turkey had reported severe problems with social media after the video emerged. However by Monday access to Twitter was fully restored after three days of disruption.
http://nation.com.pk/international/27-Dec-2016/21-civilians-executed-by-rebels-in-aleppo-is-kills-30
--------
Minorities Should Not Be Scared Of Any Group: Chairman of Pakistan Ulema Council
KALBE ALI
Dec 27, 2016
ISLAMABAD: Assuring religious minorities of complete support, a liberal cleric on Monday said non-Muslims living in Pakistan do not need to be scared of any individual or group.
"We will play the frontline role to contain the misuse of the blasphemy law," Hafiz Mohammad Tahir Mehmood Ashrafi, the chairman of Pakistan Ulema Council (PUC), told the media.
He said the council would continue efforts for the promotion of interfaith harmony and intersect coexistence.
"Whether it is the issue of Hindu girls in the interior of Sindh who face forced conversions or clashes between Muslims and non-Muslim communities in different parts of the country, we will stand by the victims to our capacity."
Hafiz Ashrafi said the PUC had formed a national reconciliatory council to play a role in resolving issues by encouraging interfaith dialogues and intersect coexistence.
"Dialogues on interfaith and intersect issues are the need of the hour to resolve religion-based differences," said Hafiz Ashrafi, adding it was the responsibility of all religious leaders to play their key role for the elimination of extremism and terrorism.
He also spoke about the meeting of the PUC with leaders of different faiths, including Christians and Hindus, on Christmas.
The delegates from different religions and Hafiz Ashrafi acknowledged that teachings of Islam stressed honour and respect for all religions. "The PUC has always played a key role in resolving challenges amicably at different fronts relating to interfaith clashes and sectarian differences," added Hafiz Ashrafi.
Pastor Emaneul Khokhar said the situation relating to the interfaith harmony in Pakistan had improved due to the interfaith dialogues.
Published in Dawn December 27th, 2016
http://www.dawn.com/news/1304681/minorities-should-not-be-scared-of-any-group-cleric
--------
Islamic State arrests reveal jihadi threat near seat of U.S. government
December 26, 2016
Law enforcement agencies have arrested nine Northern Virginia residents on charges of aiding the Islamic State since the terrorist group rose to power in Syria and Iraq in 2014 and launched social media propaganda to attract followers, a government message to police states.
The Northern Virginia Regional Intelligence Center issued profiles of the nine in a Dec. 21 report labeled "law enforcement sensitive."
Such reports are designed to help state and federal agents recognize trends in the types of individuals who are influenced by the Islamic State's message and how they communicate across terrorist networks.
A defense attorney in one of the cases accused police of anti-Muslim bias; his client later pleaded guilty.
Somalis living in Minnesota appear to receive the most press attention in the U.S. for wanting to help or join the Islamic State. The FBI arrested six residents of Somali origin in April after they made arrangements to leave Minnesota for Syria. Last December, a 20-year-old man of Somali origin was arrested on accusations of leading a group of ethnic Somalis attempting to fight for the Islamic State.
The Northern Virginia report shows that Muslims seeking to become mass killers live near the seat of American government.
Of the nine Northern Virginians who were arrested, all but one were in their teens and early 20s. They included a police officer, a Starbucks barista, Army soldiers, bankers and a cabdriver. Four of the nine graduated from Northern Virginia high schools, one with honors. Two attended Northern Virginia Community College.
In other words, all of them appeared to have opportunities via public education to become successful Americans but instead were charged with what amounted to a devotion to violent jihad.
They are suspected of conducting terrorism planning through Twitter, Facebook, Skype, WhatsApp and other platforms and apps, as well as on prepaid phones.
"Local police are in a particularly difficult situation," said Robert Maginnis, a retired Army officer and researcher on Islamism who lives in Northern Virginia. "They face a severe challenge by Islamists operating in the shadows of our open society. These mostly young male Muslims become radicalized either by Islamist imams at some of the thousands of mosques across America, at school, or over the ever-present internet sites that spew anti-West, anti-Christian hatred."
These are the nine profiles, according to the intelligence report obtained by The Washington Times:
• Ali Shukir Amin. He pleaded guilty to providing support to the Islamic State (also known as ISIS, ISIL and Daesh) and was sentenced to 136 months in prison. An honors student at Osbourn Park High School, Amin wrote a pro-Islamic State blog, had a Twitter account with 7,000 tweets and instructed people on how to use bitcoin to hide money transfers and on how to travel to Syria.
• Reza Niknejad. Also an Osbourn Park student who was attending Northern Virginia Community College, Niknejad, aided by Amin, traveled to Syria in 2015. He was charged in absentia.
• Heather Coffman. She pleaded guilty to making a false statement concerning involvement in international terrorism and was sentenced to 54 months in prison. She joined the Army but was discharged after four months, and later worked as a sales clerk. She operated multiple Facebook accounts to promote the Islamic State and shared terrorism contacts with possible recruits.
• Joseph Hassan Farrokh. He pleaded guilty this year to attempting to provide material support to the Islamic State and received 102 months in prison. He provided $600 to a friend to travel to Syria and attempted to be a foreign fighter.
• Mahmound Amin Mohamed Elhassan. He pleaded guilty in October to aiding Farrokh and lying about his involvement in international terrorism. He spoke openly of supporting the Islamic State and its violence. He had attended Northern Virginia Community College and worked for Starbucks.
• Mohamad Jamal Khweis. He was arrested in Turkey on charges of conspiring to help the Islamic State. His trial begins in April. He graduated from Edison High School and worked for two banks and Highgate Hotels. He traveled to Syria in 2015 to become a foreign fighter before having second thoughts and escaping.
• Mohammad Bilor Jalloh. He pleaded guilty in October to trying to help the Islamic State. He had served as a combat engineer in the Virginia National Guard and worked for consulting firms. He met with Islamic State members in Africa and tried to buy firearms to carry out a Fort Hood-style massacre.
• Haris Qatar. He also pleaded guilty to charges of helping the Islamic State. He attended Northern Virginia Community College and worked for Wells Fargo. He created 60 Twitter handles for Islamic State propaganda and stalked residences in Northern Virginia that were on the group's "kill lists." He was preparing to make a video encouraging people to carry out "lone wolf" attacks around Washington.
• Nicholas Young. The oldest of the nine at 36, he has been charged with helping the Islamic State but has not faced trial. He graduated from West Potomac High School and worked as a Metro police officer. He is accused of stockpiling weapons at his home. According to authorities, he traveled to Libya and gave advice to Islamic State followers on how to avoid law enforcement monitoring.
Mr. Maginnis, who stays in contact with local police in Virginia, said the wave of social media rhetoric against law enforcement has made their counterterrorism role more difficult.
"Given our open society, detached parents and politically correct schools, local police in Northern Virginia understandably hesitate to rigorously pursue young Islamist wannabes," Mr. Maginnis said.
http://www.washingtontimes.com/news/2016/dec/26/isis-arrests-in-northern-virginia-reveal-jihadi-th/
--------
Mideast
Trump: UN is club for people to 'have good time'
27 December 2016
Days after the United Nations voted to condemn Israeli settlements in the West Bank and east Jerusalem, Donald Trump questioned its effectiveness Monday, saying it's just a club for people to "have a good time."
The president-elect wrote on Twitter that the UN has "such great potential," but it has become "just a club for people to get together, talk and have a good time. So sad!"
On Friday, Trump warned, "As to the UN, things will be different after Jan. 20th," referring to the day he takes office.
The decision by the Obama administration to abstain from Friday's UN vote brushed aside Trump's demands that the US exercise its veto and provided a climax to years of icy relations with Israel's leadership.
Trump told The Associated Press last December that he wanted to be "very neutral" on Israel-Palestinian issues. But his tone became decidedly more pro-Israel as the presidential campaign progressed. He has spoken disparagingly of Palestinians, saying they have been "taken over" by or are condoning militant groups.
Trump's tweet Monday about the UN ignores much of the work that goes on in the 193-member global organization.
This year the UN Security Council has approved over 70 legally binding resolutions, including new sanctions on North Korea and measures tackling conflicts and authorizing the UN's far-flung peacekeeping operations around the world.
The General Assembly has also approved dozens of resolutions on issues, like the role of diamonds in fueling conflicts; condemned human rights abuses in Iran and North Korea; and authorized an investigation of alleged war crimes in Syria.
Trump's criticism of the UN is by no means unique. While the organization does engage in large-scale humanitarian and peacekeeping efforts, its massive bureaucracy has long been a source of controversy. The organization has been accused by some Western governments of being inefficient and frivolous, while developing nations have said it is overly influenced by wealthier nations.
Trump tweeted later Monday, "The world was gloomy before I won - there was no hope. Now the market is up nearly 10 percent and Christmas spending is over a trillion dollars!"
Markets are up since Trump won the general election, although not quite by that much. The Standard & Poor's 500 is up about 6 percent since Election Day, while the Dow has risen more than 8 percent.
As for holiday spending, auditing and accounting firm Deloitte projected in September that total 2016 holiday sales were expected to exceed $1 trillion, representing a 3.6 percent to 4.0 percent increase in holiday sales from November through January.
Finally, Trump took to Twitter again late Monday to complain about media coverage of his charitable foundation. He wrote that of the "millions of dollars" he has contributed to or raised for the Donald J. Trump Foundation, all of it "is given to charity, and media won't report."
Trump said Saturday he will dissolve his charitable foundation before taking office to avoid conflicts of interest. The New York attorney general's office has been investigating the foundation following media reports that foundation spending went to benefit Trump's campaign.
The president-elect is spending the holidays at his Mar-a-Lago resort in Florida. He had no public schedule Monday.
https://english.alarabiya.net/en/News/middle-east/2016/12/27/Trump-UN-is-club-for-people-to-have-good-time-.html
--------
Muslims must unite behind UN vote against Israel settlements: Iran
Dec 26, 2016
An Iranian official has urged all Muslim countries to stand united behind a recently-approved United Nations Security Council resolution that censures Israel for its settlement activities in the occupied Palestinian territories.
"Muslim countries' united support for the Security Council resolution against the Zionist regime's settlements is the least that must be done," said Hossein Amir-Abdollahian, the Iranian parliament speaker's special advisor on international affairs, on Monday.
He added that the Organization of Islamic Cooperation (OIC) and the Arab League must make use of this opportunity and carry out their Islamic and humanitarian duty to support the oppressed Palestinian people.
Amir-Abdollahian, who is also the secretary general of the International Conference in Support of the Palestinian Intifada, added that support for the oppressed Palestinian people would reinforce unity in the Muslim world.
He also stressed the importance of preventing the "illegitimate and terrorist Israeli regime," which supports the Takfiri terrorists in the region, from blustering and political bullying.
The UN Security Council's Resolution 2334 was passed with 14 votes in favor and one abstention - by the US - on Friday. It was the first resolution on Israel and the Palestinians that the 15-member body had passed in about eight years.
The text of the resolution had originally been drafted by Egypt, which decided to withdraw it under "intense pressure."
Israel had asked US President-elect Donald Trump to pressure Cairo to delay voting on the draft resolution. Egyptian President Abdel Fattah el-Sisi is believed to maintain good ties with Trump.
Full report at:
http://www.presstv.ir/Detail/2016/12/26/503567/Iran-Israel-Palestine-Hossein-AmirAbdollahian-settlements-Security-Council
--------
Takfirism threat to security of entire world: Iran defense minister
Dec 26, 2016
Takfiri terrorism poses a threat to the security of all countries across the world, Iranian Defense Minister Brigadier General Hossein Dehqan says.
"The Takfiri current is not limited to Iraq and Syria and threatens the security of the entire world," Dehqan said on Monday.
"Iran regards regional security as its own security and believes that insecurity in the region will endanger the security of the whole world," he added.
He said Iranian President Hassan Rouhani's proposal dubbed World Against Violence and Extremism (WAVE) to the United Nations showed that the Islamic Republic was a "flag-bearer of the fight against a current which has endangered the security of the world."
In 2013, Iran's President Rouhani proposed the contours of an international effort against extremism in a speech at the United Nations General Assembly. That proposal, known as WAVE, was drafted and tabled in the form of a resolution at the General Assembly, which adopted the text in December 2013.
Among other provisions, the resolution "encourages the efforts of leaders to discuss within their communities the causes of violent extremism and discrimination and to evolve strategies to address these causes."
The defense minister further emphasized that if violence is not countered across the world, international security will be jeopardized.
Dehqan said Iran is fighting Takfiri terrorism for humanitarian objectives, stressing that an idialogy which has no qualms about killing human beings is not acceptable to the world and must be countered.
Full report at:
http://www.presstv.ir/Detail/2016/12/26/503552/Iran-Syria-Iraq-US-Hossein-Dehqan-Takfirism
--------
Israeli reporter offers proof of Mossad killing Tunisian drone expert
Dec 26, 2016
An Israeli investigative reporter has offered proof that a Tunisian drone expert who worked for the Palestinian resistance movement Hamas was killed by Mossad.
Following a lengthily investigation, Alon Ben David of Channel 10 TV published an article in the Maariv daily on Monday in which he gave proof that Mohamed Zaouari was baited by an Israeli spy posing as a journalist.
"The bait was a Mossad agent who conducted a series of interviews with him," said David in his report. "When she proved credible, she asked him for what should have been the final interview," he added.
David noted that instead of the reporter two Mossad agents from the Kidon Unit showed up for the meeting. "By the time that they had liquidated him, the bait had already left Tunisia," he added.
He also said that the procedure used to assassinate Zaouari was nothing unusual for Mossad that use interviews as bait to carry out the killings.
Zaouari, a 49-year-old Tunisian national, was shot 20 times outside his house in the country's port city, Sfax, on December 15.
Full report at:
http://www.presstv.ir/Detail/2016/12/26/503613/drone-expert-killed-mossad-tunisia
--------
Netanyahu calls in US envoy in fallout over UN vote
December 26, 2016
JERUSALEM: Israeli Prime Minister Benjamin Netanyahu summoned US Ambassador Daniel Shapiro Sunday two days after Washington abstained in a vote on a UN resolution against Israeli settlements.
Their meeting came after Israel earlier Sunday called in 10 representatives of 14 other states that voted for the resolution.
An official Israeli source confirmed only that Netanyahu and Shapiro had met, without elaborating on the content or outcome of their discussions.
The UN Security Council passed the measure Friday after the United States abstained, enabling the adoption of the first resolution since 1979 to condemn Israel over its settlement policy.
The resolution demands that "Israel immediately and completely cease all settlement activities in the occupied Palestinian territory, including east Jerusalem".
It says settlements have "no legal validity" and are "dangerously imperilling the viability of the two-state solution."
Netanyahu, who also holds the foreign ministry portfolio, had rejected the resolution as a "shameful blow against Israel".
On Sunday, he repeated Israel's claim that US President Barack Obama and Secretary of State John Kerry were behind it.
"We have no doubt that the Obama administration initiated it, stood behind it, coordinated the drafts and demanded to pass it," the premier said at the beginning of the weekly cabinet meeting.
- 'Total contradiction' -
"This is of course in total contradiction to the traditional American policy of not trying to impose conditions of a final resolution," he said, "and of course the explicit committment of President Obama himself in 2011 to avoid such measures."
The Haaretz daily's website said that for Israel to summon an American ambassador was "considered a most unusual step".
"Even more unusual is the fact that unlike the other envoys who were summoned on Sunday to the foreign ministry, Netanyahu will conduct the conversation himself at his office," it said ahead of the meeting.
By deciding not to veto the UN move, Washington took a rare step that deeply angered Israel, which accused Obama of abandoning its closest Middle East ally in the waning days of his administration.
The text was passed with support from all remaining members of the 15-member council, with applause breaking out in the chamber.
The landmark vote came despite intense lobbying efforts by Israel and calls from US President-elect Donald Trump to block the text.
On Sunday evening Netanyahu visited the Wailing Wall in the Old City of annexed east Jerusalem to light a candle marking the Jewish feast of Hanukkah.
"I ask those same countries that wish us a Happy Hanukkah how they could vote for a UN resolution which says that this place, in which we are now celebrating Hanukkah, is occupied territory.
"The Western Wall is not occupied. The Jewish Quarter is not occupied... Therefore, we do not accept, nor can we accept, this resolution. We are certain of our future just as we are certain of our past," he said.
- 'New era' coming -
While Friday's UN resolution contains no sanctions, Israeli officials are concerned that it could widen the possibility of prosecution at the International Criminal Court.
They also worry that it could encourage some countries to impose sanctions against Israeli settlers and goods produced in the settlements.
Netanyahu earlier called the resolution "part of the swan song of the old world that is biased against Israel, but, my friends, we are entering a new era," he said of Trump's imminent presidency.
Trump reacted after the vote by promising change.
"As to the UN, things will be different after Jan. 20th," he tweeted, referring to the date of his inauguration.
Full report at:
http://nation.com.pk/international/26-Dec-2016/netanyahu-calls-in-us-envoy-in-fallout-over-un-vote
--------
Netanyahu seeks allies in anger at Obama
27 December 2016
Benjamin Netanyahu has been unrelenting in his criticism of the Obama administration over what he condemned as its "shameful" decision not to veto a U.N. Security Council resolution calling for a halt to Israeli settlement-building.
But with the clock ticking down on Barack Obama's presidency, a possibly more amenable Republican Donald Trump due to succeed him on Jan. 20 and a $38 billion U.S. military aid package to Israel a done deal, it's all a calculated risk for the four-term, right-wing Israeli prime minister.
Netanyahu, after what critics are calling a stinging defeat on the international stage, is already maneuvering to mine deep-seated feelings among many Israelis that their country and its policies toward the Palestinians are overly criticized in a world where deadlier conflicts rage.
He has tried to rally Israelis around him by portraying the anti-settlement resolution as a challenge to Israel's claimed sovereignty over all of Jerusalem.
That was hammered home with an unscheduled Hanukkah holiday visit to the Western Wall, one of Judaism's holiest sites, which is located in Jerusalem's Old City in the eastern sector captured along with the West Bank in a 1967 war.
That all of Jerusalem is their country's capital is a consensus view among Israelis, including those who otherwise have doubts about the wisdom of Netanyahu's support for settlements on the West Bank.
Palestinians claim eastern Jerusalem as their capital, and Washington has in the past accepted an international view that the city's status must be determined at future peace talks. Trump has promised to reverse decades of U.S. policy by moving the U.S. embassy to Jerusalem from Tel Aviv.
"I did not plan to be here this evening but in light of the U.N. resolution I thought that there was no better place to light the second Hanukkah candle than the Western Wall," Netanyahu said during the event.
"I ask those same countries that wish us a Happy Hanukkah how they could vote for a U.N. resolution which says that this place, in which we are now celebrating Hanukkah, is occupied territory?"
Some 570,000 Israelis live in the West Bank and East Jerusalem, which Palestinians want as part of a future state.
At the weekly cabinet meeting on Sunday, Netanyahu brushed aside a White House denial and again accused the Obama administration of colluding with the Palestinians in the U.N. move against the settlements, which are considered illegal by most countries and described as illegitimate by Washington.
Disputing this, Israel cites biblical, historical and political links to the West Bank and Jerusalem, as well as security concerns.
Also on Sunday, an Israeli official said Netanyahu had ordered that until Trump takes office, cabinet ministers refrain from traveling to or meeting officials of countries that voted in favor of the U.N. resolution.
Speaking on MSNBC on Monday, Israel's ambassador to Washington, Ron Dermer, accused the Obama administration of orchestrating Friday's U.N. vote behind the scenes, despite U.S. denials.
Full report at:
https://english.alarabiya.net/en/News/middle-east/2016/12/27/Netanyahu-seeks-allies-in-anti-Obama-assault-.html
--------
Arab World
Syrian government forces kill 25 Daeshis in Homs
Dec 26, 2016
Syrian government forces have killed over 25 Daesh Takfiri terrorists in Syria's western province of Homs.
According to a source in the Syrian military on Monday, the terrorists were killed during violent clashes with the army which also resulted in the destruction of a large amount of the militant arms and equipment.
The source also said that the military had carried out a precision attack on a gathering of Jabhat al-Nusra terrorist group leaders in the city of al-Rastan in the province's northern countryside, killing and injuring several of the terrorists.
Elsewhere, Syrian forces destroyed a large number of Daesh vehicles in the Aleppo province and blocked several of the terrorist group's supply routes in the city.
Earlier in the day, Syrian forces discovered the bodies of 21 civilians massacred in prisons previously run by Takfiri militants in Aleppo.
The bodies were found amid clean-up operations in the recently-liberated areas of the eastern city. Russian troops also found a number of mass graves that contained remains of bodies with signs of torture and mutilation at the hands of foreign-sponsored Takfiri terrorists.
Members of the Saint Elias Cathedral committee inspect the damage inside east Aleppo's crumbling church, in the Old City, on December 21, 2016.
The military fully liberated Aleppo on December 22 in the final stage of a weeks-long push. The militants had been controlling the city's eastern part since 2012, a year after foreign-backed militancy swept over the country.
As the terrorists were feeling the heat from army advances, they began using civilians as human shields to cripple Syrian troops in their operations.
Syrian government forces stand near destruction in the former militant-held Sukkari district in the northern city of Aleppo on December 23, 2016 after Syrian government forces retook control of the whole embattled city.
Since March 2011, Syria has been gripped by militancy it blames on some Western states and their regional allies.
The Takfiri terrorists operating in the Arab country have suffered major setbacks over the past few months as the army has managed to liberate a number of areas from their grip.
http://www.presstv.ir/Detail/2016/12/26/503615/Syria-homs-Aleppo-gains
--------
Over 2,000 Saudi militants abroad: ministry
Dec 27, 2016
More than 2,000 Saudis are fighting abroad with militant groups, with over 70 per cent of them in Syria, the kingdom's interior ministry was reported as saying on Monday.
"The number of Saudis proven to be in conflict areas is 2,093," interior ministry spokesman General Mansour al-Turki told daily newspaper Al-Hayat.
He said that 1,540 of them were in Syria, where militants have flocked since the militant Islamic State (IS) group seized control of vast areas in mid-2014.
Full report at:
Turki said 73 Saudis had also been detained abroad "on charges related to acts of terrorism."
http://www.dawn.com/news/1304597/over-2000-saudi-militants-abroad-ministry
--------
Saudi Arabia against sectarian troops in Iraq
26 December 2016
Saudi Arabia's Foreign Minister Adel al-Jubeir said on Monday at a press conference with his Jordanian counterpart Nasser Judeh that Saudi opposes any sectarian forces on the ground in Iraq, and are keen on preserving the Arab identity of Iraq.
Jubeir said the Popular Mobilization militias are purely sectarian institutions, stressing that that they are led by Iranian officers.
He also added "we are keen to address any across the Iraqi border terrorist operation."
Jubeir confirmed that the Jordanian Saudi cooperation in the fight against terrorism has existed for years, under the Saudi – Jordanian Coordination Council.
Judeh said that Jordan is keen to consolidate its relations with Saudi Arabia.
Full report at:
https://english.alarabiya.net/en/News/gulf/2016/12/26/Jubeir-We-oppose-any-sectarian-forces-in-Iraq.html
--------
Mass graves containing dozens of tortured Syrians uncovered in Aleppo
Dec 26, 2016
Russian troops have found a number of mass graves in the recently liberated Syrian city of Aleppo, which contained remains of bodies with signs of torture and mutilation at the hands of foreign-sponsored Takfiri terrorists.
"Mass burial sites of many dozens of Syrians, who were subjected to brutal torture and then murdered, have been found. In many cases, body parts are missing. Most victims have been shot in the head. And it seems this is only the beginning," the Russian Defense Ministry spokesman, Major General Igor Konashenkov, said in a statement on Monday.
Konashenkov said that the instances were being recorded as serious war crimes, adding that Moscow would publicize them to let "the European backers of the so-called Syrian opposition well know who their wards actually are."
He added that foreign-sponsored Takfiri militants had mined streets and entrances to premises in the eastern quarters of Aleppo, and rigged toys, cars as well as motorcycles with explosives.
Konashenkov further noted that Russian soldiers had also uncovered seven large munitions depots, enough to arm several infantry battalions, in Aleppo.
Takfiri militants execute nearly two dozen civilians in Aleppo
Separately, Syrian authorities say they have found the bodies of 21 civilians, including women and children, whom militants had executed at close range as they pulled out of Aleppo last week.
This picture shows destruction in the formerly militant-held Sukkari district in the northwestern city of Aleppo on December 23, 2016 after Syrian government forces fully retook control of the whole city. (Photo by AFP)
Doctor Zaher Hajo, the director of the forensics office of Aleppo, told Syria's official news agency, SANA, that the bodies had been found in prisons run by the terrorist groups in al-Sukkari and al-Kalasseh neighborhoods of the city, adding that they bore wounds of gunshots fired at very close range.
There were five children and four women among the discovered corpses.
On December 20, scores of Aleppans, who had arrived at the Syrian army's checkpoints in Jisr al-Haj Bridge, gave accounts of summary executions of civilians by terrorists from Jabhat Fateh al-Sham, formerly known as the al-Nusra Front.
Full report at:
http://www.presstv.ir/Detail/2016/12/26/503557/Russia-mass-graves-Aleppo-Syria-torture-mutilation-Takfiri-militants
--------
Sources: Syrian Army Preparing for Major Assault on Idlib As Next Objective after Aleppo
Dec 26, 2016
The sources said their information shows that the army plans to halt its major offensive on ISIL's de facto capital, Raqqa, in Northeastern Syria until Iraq fully liberates Mosul and imposes full control over the border with Syria.
"Then the Syrian army that has just liberated Aleppo city will get ready to start a large-scale operation in Idlib province that is the main bastion of Fatah al-Sham Front (previously known as the al-Nusra Front)," they added.
The sources cited worrying humanitarian conditions as a major cause of the imminent operations in Idlib city. "In the meantime, deep internal differences among Fatah al-Sham and other terrorist groups in the city will make the military operation easier there."
The sources said that Russian fighter jets are due to carry out over 5,000 combat sorties over militants' positions in Idlib and the Syrian army's missile and artillery units will also launch over 1,500 attacks on Fatah al-Sham's gatherings and concentration centers before the ground assault.
"After a week of heavy missile, artillery and air attacks and complete destruction of Fatah al-Sham's bases, the ground operation will kick off," they added.
A media expert said on Sunday that the army which recently liberated Aleppo from terrorists would focus in 2017 on boosting its positions around the city and then would engage to retake control over Palmyra and, possibly, continue an offensive on Idlib.
It is expected that in 2017, the "Syrian Army will focus its efforts on preventing possible counteroffensives by militants. The military will also protect infrastructure facilities and residential areas which are already controlled by the government. Another important goal is retaking Palmyra," said Igor Korotchenko, chief editor of the Russian magazine National Defense, RIA Novosti reported.
Full report at:
http://en.farsnews.com/newstext.aspx?nn=13951006001144
--------
Terrorists in Largest City of Northern Dara'a on Verge of Peace Agreement with Gov't
Dec 26, 2016
According to Enab news website affiliated to the dissident groups, the development can be a prelude to the implementation of peace plans in all parts of Dara'a city.
The outlet added that the militants who have surrendered their weapons have applied for amnesty by the government.
Syria's news agency reported earlier today that as many as 150 militants had laid down arms in al-Sanamin in order to fall under an amnesty law issued by President Bashar al-Assad, which pardons those ceasing to partake in the armed conflict.
Dara'a Governor Mohammad Khaled al-Hannous then declared al-Sanamin "the first in the province…to be cleared of armed rebels".
Full report at:
http://en.farsnews.com/newstext.aspx?nn=13951006001387
--------
Syrian Army Repels ISIL's Attack on Gov't Positions near Kuweires Airbase
Dec 26, 2016
The army soldiers engaged in fierce clashes with ISIL terrorists that had attacked several positions of the government forces in the village of Showaylikh to access air force academy, killing and wounding tens of them and destroying their vehicles.
The ISIL militants that suffered a heavy death toll in the battle pulled the remaining pockets of their forces back from the Southern side of Kuweires airbase.
In the meantime, Syrian fighter jets bombed ISIL's positions in areas near Showaylikh and the road to Deir Hafer.
Earlier reports said today that the army troops continued to hit ISIL's movements in Eastern Aleppo, inflicting a number of casualties on the terrorists.
Full report at:
http://en.farsnews.com/newstext.aspx?nn=13951006001239
--------
Syria: Widening Differences Reported among Terrorists in Western Damascus
Dec 26, 2016
The Arabic language al-Hadath news website reported that terrorists in the town of Maday intend to ask for government's amnesty and stay in the town, while most of the terrorists in al-Zabadani town want to leave their town for Idlib.
People in Madaya have called for evacuation of terrorists from their town.
National committee and activists of the towns of Madaya, Baqin and al-Zabadani have offered a plan based on which they have called for maintaining ceasefire, halting military operations, restoring security to the region, and signing a peace agreement directly with the army and exit of terrorist groups.
Based on the Aleppo agreement, it was also agreed that 1,500 of the injured and patient civilians in the militant-basieged towns of Fua'a and Kafraya in Idlib leave the towns to government-controlled regions and in return 1,500 militants leave Madaya and al-Zabadani.
Meantime, militant groups in three towns joined nationwide reconciliation plan and pulled their forces back from the towns in Western Ghouta.
The militant groups admitted to join the peace agreement with Damascus and retreated from the towns of Kafr Hour, Beit Tima and Beit Saber, while the Syrian Army's last ultimatum to militants in the town of Beit Jin and its farm adjacent to Quneitra will end this afternoon.
Analysts believe that the terrorist front in Western Damascus collapsed and that's why the reconciliation plan is expanding in more regions, including those regions that were witnessing clashes between army and militants.
Full report at:
http://en.farsnews.com/newstext.aspx?nn=13951006000341
--------
Damascus: Nusra Terrorists Reject Again to Join Peace Agreement with Syrian Gov't
Dec 26, 2016
Fatah al-Sham had previously called for reconciliation with Damascus concurrent with the army's' advances and as the army was about to carry out the second phase of its operation in Wadi al-Bardi, but based on the latest reports the militants have once again rejected to join the peace agreement.
The terrorists meantime threatened to destroy the water reservoir in Ein al-Fijeh region that supplies Damascus and its suburbs with drinking water.
People in Damascus are suffering a shortage of drinking water. The terrorists had contaminated the water reservoirs with Mazut in reaction to the army's advances in Wadi al-Bardi region.
The Syrian state news agency had also reported that terrorists' attack on two main water sources in the regions of Ein al-Fijeh and Wadi al-Bardi have been the cause of the cut of drinking water in Northwestern part of Damascus.
Mohammad al-Shayah, the General Manager of the Water Company said that Damascus has been divided into six regions to make it easier to supply people with enough drinking water.
Reports said on Sunday that the terrorist groups in Western Ghouta called for reconciliation talks after reports disclosed that the Syrian Army was preparing to launch a massive operation in the region.
The Arabic language al-Watan reported that after the terrorists contaminated water sources of Damascus city in Wadi al-Bardi, the army's artillery and missile units shelled their positions in the villages of Basimeh and Ein al-Fijeh.
Full report at:
http://en.farsnews.com/newstext.aspx?nn=13951006000724
--------
Syrian army escalates campaign to capture Damascus water supply
December 27, 2016
The Syrian army escalated aerial bombing of a rebel-held valley northwest of Damascus in an offensive begun last week to recapture the strategic area where a major spring provides most of the capital's water supplies, rebels and residents said on Tuesday. They said the army shelled and bombarded several towns in Wadi Barada valley about 18 km (11 miles) northwest of the capital in a major offensive launched since Friday. The roads leading to the towns in the valley and the mountain cliffs surrounding the area are under the control of elite Republic Guards and the Lebanese Shi'ite Hezbollah group, they said.
Residents said fighting on Monday focused on Baseimeh village at the edge of the valley where the army and its allies are pushing to advance deeper in an enclave where 10 villages are inhabited by an estimated 100,000 people.
The rebels said the army was emboldened by gaining full control of Aleppo city and was seeking to force them to either leave or face all out war.
"They are seeking to push us into a surrender deal to and we will not hand over our land," said Abu al Baraa, a commander in Ahrar al Sham, a rebel group present in the area.
Through a series of so-called settlement agreements and army offensives, the Syrian government, backed by Russian air power and Iran-backed militias, has been steadily suppressing armed opposition around the capital.
Alongside the main spring in Wadi Barada, the area lies on the road from Damascus to the Lebanese border that is used as a supply line for the powerful Iranian-backed Hezbollah group which is heavily involved in fighting alongside Syrian President Bashar al Assad's army.
A resident and rebels said the aerial bombing has put out of commission the main Ein al Fija spring's water pumping station where a underground pipeline normally provides around 65 percent of the water to the capital's neighborhoods.
A picture taken by a rebel and seen by Reuters showed the pumping station's ceiling has collapsed. Several videos uploaded on social media show damage and fires with plumes of smoke near the pumping station. Others show damage to houses.
Rebels and residents said the bombing has also killed 14 civilians and hit a medical clinic and civil defense unit in the area that has been besieged with limited access for food and fuel.
The army said it was targeting "terrorists."
Full report at:
http://nation.com.pk/international/27-Dec-2016/syrian-army-escalates-campaign-to-capture-damascus-water-supply
--------
Fresh advance in east Mosul to begin within days: US commander
December 26, 2016
Iraqi forces will resume their push against Islamic State inside Mosul in the coming days, a US battlefield commander said, in a new phase of the two-month-old operation that will see American troops deployed closer to the front line in the city.
The battle for Mosul, involving 100,000 Iraqi troops, members of the Kurdish security forces and Shi'ite militiamen, is the biggest ground operation in Iraq since the US-led invasion of 2003. The upcoming phase appears likely to give American troops their biggest combat role since they fulfilled President Barack Obama's pledge to withdraw from Iraq in 2011.
Elite Iraqi soldiers have retaken a quarter of Mosul, the jihadists' last major stronghold in Iraq, but their advance has been slow and punishing. They entered a planned "operational refit" this month, the first significant pause of the campaign.
A heavily armoured unit of several thousand federal police was redeployed from the southern outskirts two weeks ago to reinforce the eastern front after army units advised by the Americans suffered heavy losses in an Islamic State counter-attack.
US advisers, part of an international coalition that has conducted thousands of air strikes and trained tens of thousands of Iraqi ground troops, will work directly with those forces and an elite Interior Ministry strike force.
"Right now we're staging really for the next phase of the attack as we start the penetration into the interior of east Mosul," Lieutenant Colonel Stuart James, commander of a combat arms battalion assisting Iraqi security forces on the southeastern front, said in a Reuters interview late on Sunday.
"So right now, positioning forces and positioning men and equipment into the interior of east Mosul... it's going to happen in the next several days."
That will put US troops inside of Mosul proper and at greater risk, though James said the danger level was still characterized as "moderate". Three US servicemen have been killed in northern Iraq in the past 15 months.
James, speaking from an austere outpost east of Mosul where several hundred US troops are stationed, said the pace of the upcoming phase on the eastern side would depend on resistance from Islamic State, also known as ISIS, ISIL or Daesh.
"If we achieve great success on the first day and we gain momentum, then it may go very quickly. If Daesh fights very hard the first day and we run into a roadblock and we have to go back and go OK that was not the correct point of penetration, it may take longer," he said.
INTEGRATION
Further integration with the Iraqi troops - to what commanders described as an unprecedented level for conventional US forces - will help synchronize surveillance, air support and force movement, according to James.
"It increases our situational understanding. The man on the ground knows what's going on best," he said. "It's just better when they're on the ground talking to each other and saying, 'Hey, have you looked at that area over there? That's decisive terrain. Have you thought about putting forces there?'"
Mosul, the largest city held by Islamic State anywhere across its once vast territorial holdings in Iraq and neighboring Syria, has been held by the group since its fighters drove the US-trained army out in June 2014.
Full report at:
http://nation.com.pk/international/26-Dec-2016/fresh-advance-in-east-mosul-to-begin-within-days-us-commander
--------
Pakistan
Pakistan minister issues nuclear warning to Israel after 'being tricked by fake news site'
26 DECEMBER 2016
Pakistan'sdefence minister has threatened to retaliate in kind to any Israeli nuclear strike after apparently being tricked by a fake news site into a confrontation on social media.
Khawaja Asif was responding to an invented story published on the website AWDNews and headlined: "Israeli Defense Minister: If Pakistan send ground troops into Syria on any pretext, we will destroy this country with a nuclear attack."
"Israeli def min threatens nuclear retaliation presuming pak role in Syria against Daesh (Islamic State).Israel forgets Pakistan is a Nuclear state too" the Pakistani minister tweeted on Friday.
His missive prompted a clarification from Israel's Ministry of Defense, which responded to him on Saturday:
"@KhawajaMAsif The statement attributed to fmr Def Min Yaalon re Pakistan was never said," adding: "KhawajaMAsif reports referred to by the Pakistani Def Min are entirely false".
Israel has a policy of ambiguity in relation to its nuclear arsenal, neither confirming nor denying its existence, but is widely believed to be an atomic power.
Pakistan, which conducted its first nuclear test in 1998, is believed by analysts to have around 120 nuclear weapons and the fastest growing stockpile.
Mainly Muslim Pakistan has no diplomatic ties with Israel.
Asif was widely mocked for his blunder.
"Our nuclear program is too serious a business to be left to Twitter-addicted politicians", said prominent television journalist Nusrat Javeed.
There is a rising tide of fake articles being widely shared on social media.
Earlier this month a rifle-wielding man entered a pizza restaurant in Washington, saying he wanted to investigate a fake news story that the establishment was a centre for child abduction linked to failed US presidential candidate Hillary Clinton.
Last week Google said it was working to refine its algorithm to weed out "non-authoritative" information after a British news report showed a Holocaust denial website was the top result when users asked "Did the Holocaust happen?"
http://www.telegraph.co.uk/news/2016/12/26/pakistan-minister-issues-nuclear-warning-israel-tricked-fake/
--------
At least 18 die after consuming toxic liquor on Christmas eve in Toba Tek Singh
SULTAN MEHMOOD | KASHIF HUSSAIN
Dec 27, 2016
At least 18 people died and seven other fell unconscious after consuming toxic liquor in Toba Tek Singh district of Punjab on Monday.
The affected people belonged to Christian community and they had consumed liquor in revelry, enjoying the Christmas eve, DawnNews reported.
Initial reports suggested that a total of 22 people consumed the toxic liquor, out of which 16 affected people were brought to district headquarter hospital where 13 have died so far.
Meanwhile, six patients were transported to Allied Hospital Faisalabad, where five people died later.
Doctors told DawnNews that conditions of the affectees were critical. They termed it premature to comment over their chances of survival.
Full report at:
http://www.dawn.com/news/1304607/at-least-18-die-after-consuming-toxic-liquor-on-christmas-eve-in-toba-tek-singh
--------
Asif Ali Zardari likely to announce grand Opposition alliance tomorrow
December 26, 2016
Pakistan's former President Asif Ali Zardari is expected to announce a grand alliance of opposition parties on Tuesday when he addresses a rally to commemorate the death anniversary of his wife, slain prime minister Benazir Bhutto. Asked about media reports that he was working towards forming a grand alliance against the Nawaz Sharif government, Zardari on Monday told reporters in Karachi that he will reveal his further course of action on December 27.
The former president and Pakistan Peoples Party (PPP) Co-Chairperson, who returned to Pakistan on Friday after 18-months in exile in Dubai and London, met with Pakistan Muslim League-Q President Chaudhry Shujaat Hussain yesterday, setting tongues rolling about a possible alliance against the government.
Zardari indicated that a situation could develop for early elections, with Lahore being the hub of any changes.
PPP Chairman Bilawal Bhutto Zardari has already called on the government to accept four demands of the party or face a grand movement.
Hussain, a former prime minister, said democracy was in danger under Sharif's leadership and a grand alliance of opposition parties was the need of the hour to save democracy.
"We will not let democracy be hijacked," he said.
Sources said Hussain and Zardari have discussed the common points on which opposition parties can unite against the government.
Full report at:
http://indianexpress.com/article/world/asif-ali-zardari-likely-to-announce-grand-opposition-alliance-tomorrow-4446005/
--------
Quaid-e-Azam services acknowledged by AJK bigwigs
December 27, 2016
MIRPUR (AJK)-Top leaders of various political, business and freedom organisations paid rich tributes to Quaid-i-Azam Muhammad Ali Jinnah and described him as a human being enriched with high intellect, vision, moral character and noble personality.
His (Quaid-i-Azam's) services were also acknowledged by the world being a greater leader of the Muslims of the subcontinent for his meritorious single-handed role for the emergence of the separate homeland of the Muslims.
Talking to The Nation on 140th birth anniversary of Quaid-i-Azam Muhammad Ali Jinnah, the Kashmiri leaders emphasised for follow the footsteps and sayings of the founder of Pakistan to make the country a progressive, prosperous and welfare Islamic state and the invincible fort of Islam - where the minorities could also enjoy equal rights at par with the majority Muslim population of the country.
Paying rich tributes to the Quaid, AJK Legislative Assembly Speaker Shah Ghulam Qadir said that the people of Jammu & Kashmir were still admirer and supporter of the two nation theory of Quaid-e-Azam.
Talking to The Nation, Shah Ghulam Qadir, also Secretary General of AJK chapter of the PML-N, added that the people of Kashmir were still giving the supreme sacrifices of their lives for the sake of becoming the permanent part of Pakistan. He underlined that Quaid-i-Azam had the broad vision of the future of the Jammu and Kashmir State a part of Pakistan. It was imperative for the progress and prosperity, security and stability of the country, he added.
"The main reason of getting independence for the Muslims of the sub continent from the clutches of the Indian Colonial rule was the strong inspiration for the freedom of the Muslim population of India including the Kashmiri Muslims of the J & K state," he concluded.
President 'Markazi Anjuman-e-Tajraan' (Ittehad group) Chaudhry Mehmood Ahmed said that the Quaid-i-Azam was primarily of the view to make Pakistan a true Islamic, democratic and prosperous state where the people could pass through their lives in line with the teachings of their respective religions in an environment of justice, patience and moral values on equal ground irrespective of the prejudice of caste, creed and religion. He always thought the protection of the rights of the minorities in the country on equality grounds at par with the majority Muslim community.
Chaudhry Mehmood said father of the nation did not take care of the challenges, he faced at two fronts during the course of emergence of Pakistan simultaneously at the hands of the biased and prejudice Hindu and the prejudicial and cunning British empire. He said that despite all odds and hurdles, the Quaid succeeded in securing Pakistan, the separate Muslim homeland for the Muslims of the subcontinent, by defeating all nefarious moves of the evil forces like the Hindu and then British Empire. "We have to make justice in line with the sayings of the founder of Pakistan to bring the country at the path to speedy progress and prosperity as the democracy was derailed time and again for several times after his demise, during last seven decades.
Full report at:
http://nation.com.pk/national/27-Dec-2016/quaid-e-azam-services-acknowledged-by-ajk-bigwigs
--------
Pakistan Army a symbol of national integration: COAS
Dec 27, 2016
Chief of Army Staff (COAS) General Qamar Javed Bajwa on Monday said Pakistan Army is a symbol of national integration and has representation from all provinces according to their population ratio.
Pakistan Army is extending all-out support for capacity building of police and other law enforcement agencies (LEAs), he said while addressing a passing out ceremony of Balochistan recruits in Quetta.
The ceremony was attended by Ministers and families of the recruits.
The COAS said Pakistan is proud that youth from Balochistan are not less than anyone to safeguard motherland and undoubtedly every citizen of Balochistan is our pride and dignity.
He said improvement in law and order is top most priority of the government, adding that LEAs have full cooperation of other departments and agencies.
General Bajwa said Pakistan Armed Forces, Frontier Constabulary (FC), Rangers, Police and other law enforcement agencies are a sign of national solidarity and protection.
"Keeping in view all this, thousands of youth from province of Balochistan have been inducted as officers and soldiers in army, police and other departments," he said.
He said Balochistan is Pakistan's largest and important province and nature has bestowed it with countless resources and its people possess immense qualities.
He expressed the hope that Balochistan's natural resources would open up new opportunities for its people and they would play a key role in Pakistan's development.
The Chief of Army Staff said that irrespective of their limited resources, the Armed Forces of Pakistan had always tried to play a positive role for educational, social and economic uplift of the province. "We believe in action and you can see what we have done," he added.
He said with the timely completion of China-Pakistan Economic Corridor (CPEC) project, the region would enter into a new era of development and for that Pakistan Army is working round-the-clock.
The COAS said the Baloch of tomorrow would not only play a leading role in Pakistan's uplift but would also be among the regional leadership, adding that our lives and blood would be presented for its protection.
He said, "The profession you have selected is not only a glorious one but it is a pledge. The regard to this pledge would enable you to face coming challenges easily, defend the country and make you successful in maintaining law and order in the province."
"Pakistan is our country, home and tribe and you are the guardian of its respect and integrity from today," he said and added this is a day of happiness and thanks not only for all recruits but also for all Pakistanis.
The COAS said the brave and courageous sons of Balochistan are committed to sacrifice their lives for the country if needed.
He said development of Balochistan is our priority and people of Balochistan have now a firm belief that destination of their prosperity has become a reality.
The CAOS said, "The development of Balochistan is a development of the country and that is why our enemies want to create hurdles in the bright future of the province. I am delighted that people of Balochistan are well aware of this reality and have rejected anti-state elements."
Full report at:
http://www.pakistantoday.com.pk/blog/2016/12/26/pakistan-army-a-symbol-of-national-integration-coas/
--------
Pakistan May Face Isolation if Minorities Bill Repealed, Says Lawmaker
December 26, 2016
Karachi: A minority Hindu lawmaker has said Pakistan might face isolation on international level if Sindh government abrogated the recently-passed Minorities Bill which criminalises forced conversions in the Muslim-majority country.
Dr Ramesh Kumar Vankwani, Patron-in-chief of Pakistan Hindu Council and Member of National Assembly (MNA) from the ruling PML(N) party, has expressed serious concern over reports of Sindh province's move to amend or repeal the Sindh Criminal Law (Protection of Minorities) Bill, 2015.
Vankwani warned if abrogation was done under pressure of "extremist religious parties", this would add to deepen the sense of insecurity among non-Muslims, Dawn newspaper reported on Monday.
He cautioned that "Pakistan might face isolation on international level if the bill was abrogated" as the legislation had addressed growing complaints against increasing incidents of abduction and forced conversion of underage minor Hindu girls, the report said.
Vankwani said in a statement issued yesterday that they were not against the conversion of religion as a result of deep study or preaching but their concerns were linked to forced conversions only.
Terming as "unjustified" the protest of religious parties against the law, the Hindu parliamentarian said, "Why only underage Hindu girls in Sindh are changing religion".
"I am inviting all honourable leaders of religious parliamentary parties to visit Sindh to observe ground facts to see for themselves how the name of a peaceful religion is being exploited by some extremist elements for their personal designs, and due to this, sentiments of non-Muslims are continuously getting hurt," Vankwani said.
He said the situation was causing outrage and trauma among non-Muslim population in Pakistan.
Full report at:
http://www.news18.com/news/world/pakistan-may-face-isolation-if-minorities-bill-repealed-says-lawmaker-1327767.html
--------
Doors open for negotiations with angry Baloch: COAS
27-Dec-16
ISLAMABAD: Chief of Army Staff General Qamar Javed Bajwa has said that consolidation and retention of operation Zarb e Azb is a challenge but promised that Pakistan would do it at all costs. According to an ISPR spokesman, the army chief was addressing the officers of the Southern Command during his day long visit to Quetta. The COAS address focused on professional matters under evolving security environment. He shared thoughts on the security situation and future challenges.
He said the armed forces and nation have sacrificed a lot to bring stability to the country, and that the army had lived up to the expectations of the people of Pakistan. He said Zarb e Azb had brought considerable improvement to the internal security environment, and that the global geo-political and geo-economic environment was evolving.
"Our region is in focus. CPEC has changed the dynamics and is critical to our economic progress and stability. We shall do it at all costs. He said Pakistan's officers had the spirit of sacrifice and valour and were the best in the world. "Pakistan's Armed forces are fully capable and prepared to respond to a full spectrum threat," he said.
Balochistan development: Chief of Army Staff General Qamar Javed Bajwa has said that the development of Balochistan was the top priority of the government.
"Balochistan is the largest province of the country and is bestowed with immense resources and outstanding human talent. These resources will open new vistas of development for progress and prosperity of the province in future," he gushed.
The army chief said that improvement of law and order in Balochistan was also a priority of the Pakistan Army. He said that together with other institutions, the Pakistan Army was extending cooperation for the purpose. He said it was an endeavour of the armed forces and other law enforcing institutions to play a positive role for economic development of the province despite limited resources.
He expressed hope that the completion of the China-Pakistan Economic Corridor project would prove to be beginning of a new era in the development of Balochistan. The army chief said some elements were trying to create hurdles in the way of the bright future of the province. He called these are anti-state elements and claimed the people of Balochistan had rejected them. He expressed confidence that terrorists would face their doom because of the patriotism of the people of Balochistan.
General Bajwa was effusive in his praise of the Pakistan Army as an institution, terming it a symbol of national integration that had representation from all provinces according to their population ratio. "The Pakistan Army is extending all-out support for capacity building of police and other Law Enforcement Agencies (LEAs)," he said.
The COAS said Pakistan was proud that youth from Balochistan were not behind anyone in safeguarding the motherland and undoubtedly every citizen of Balochistan was Pakistan's pride and dignity. He said improvement in law and order was the priority, adding that LEAs had the full cooperation of other departments and agencies.
Full report at:
http://dailytimes.com.pk/pakistan/27-Dec-16/doors-open-for-negotiations-with-angry-baloch-coas
--------
North America
A Rally In Solidarity With New Yorkers Anxious About Trump Policies
Dec 27, 2016
Less than a month before the inauguration of President-elect Donald Trump, New Yorkers, including elected officials, community organizations and civil rights advocacy groups, marched from Dag Hammarskjold Plaza near the United Nations to Trump Tower on the International Migrants Day Dec. 18, to support New York's immigrants and to protect them from the anti-immigrant policies repeatedly spoken about by Trump during his campaign.
Thousands of New Yorkers came out on the streets on the International Migrants Day to attend the "March for Immigrant New York", organized by the New York Immigration Coalition and sponsored by 85 organizations, including Chhaya CDC and Desis Rising Up & Moving, the Interfaith Center of New York, the LGBTQI community and women's rights, and anti-violence groups.
The protesters sought to send the message of resilience and hope directly to the president-elect. As the march made its way up 5th avenue, hundreds of bystanders and passersby joined it, pledging to protect "Immigrant New York."
At a rally before the march, Steven Choi, executive director of New York Immigration Coalition said, the coalition has four simple demands for the president-elect – defend the Deferred Action for Childhood Arrivals (DACA) program, which provides 50,000 New Yorkers work permits and other essential resources; protect immigrant communities from deportation; prevent the creation of a Muslim registry, and support critical refugee resettlement programs. "This is what we are marching for at the "March for Immigrant New York" today and we call on all New Yorkers to join us in our pledge to protect our neighbors, family members, and friends," Choi said.
New York City elected officials, Congresswoman Nydia Velazquez, City Council Speaker Melissa Mark-Viverito, Public Advocate Letitia James, State Senator-elect Marisol Alcantara, Assembly Member Jo Anne Simone, Assembly Member-elect Carmen De La Rosa and Council Members Carlos Menchaca and Ydanis Rodriguez joined the rally, pledging their support for New York's immigrants, many of whom feel tremendous fear and uncertainty.
"New York is and always will be a sanctuary city," said Speaker Mark-Viverito. "On International Migrants Day, I am proud to stand in solidarity with New Yorkers from across the five boroughs to send a clear message that together, we will continue to stand up and fight for our immigrant communities."
Public Advocate James had a similar message. "New York City will always stand behind our immigrants. With the recent spike in acts of hate against immigrant populations, it is more critical than ever to defend the rights of our immigrant brothers and sisters and affirm their vital place in our City. As New Yorkers, we will never waiver on our core values and principles and we will never allow anyone to normalize hate,' James said.
Before marching, DACA recipients, members of the Muslim community, and immigrants at risk of deportation, faith leaders, and allies spoke, sharing their stories, and calling on New Yorkers regardless of immigration status to stand together.
"We refuse to sit silently by as President-elect Trump and his cabinet threatens our families, our neighbors, our friends. This rally and the march is just the first step on a long road to demonstrate to Trump and his new administration that New York immigrant communities are here to stay and that all New Yorkers will united to protect one another," Choi said.
http://www.newsindiatimes.com/a-rally-in-solidarity-with-new-yorkers-anxious-about-trump-policies
--------
American Muslim Groups Host Turkey Dictator's Daughter, as Her Father Imprisons and Purges Thousands
DECEMBER 26, 2016
The Muslim American Society (MAS) and the Islamic Circle of North America (ICNA) are hosting their 16th annual conference this week in Chicago.
The guest of honor for today's events was Sümeyye Erdoğan Bayraktar, daughter of Turkish Islamist dictator Recep Tayyip Erdogan who is currently engaged in a massive purge of politicians, judges, journalists, doctors, teachers, police officers, and the military.
Tens of thousands have been arrested on Erdogan's orders since an aborted coup in July.
The Turkish American National Steering Committee identifies Erdogan as "our President" in its event promotions:
View image on Twitter
Opposition to a close family member of one of the most active dictators in the world at the moment is understandable.
Turkey currently holds the distinction of the "world's top jailer of journalists" -- as it is imprisoning one-third of all jailed journalists worldwide.
Opposition to a close family member of one of the most active dictators in the world at the moment is understandable.
Turkey currently holds the distinction of the "world's top jailer of journalists" -- as it is imprisoning one-third of all jailed journalists worldwide.
Opposition to a close family member of one of the most active dictators in the world at the moment is understandable.
Full report at:
https://pjmedia.com/homeland-security/2016/12/26/american-muslim-groups-host-turkey-dictators-daughter-as-her-father-imprisons-and-purges-thousands/
--------
Islamic association spends Christmas clearing snow from neighborhood sidewalks
Dec 27, 2016
At a time when Muslims and Islam are being associated with terrorism, one Calgary, Canada group spent Christmas day giving back.
According to a CBC report, one woman was overcome with emotion when she returned home to see driveways and sidewalks shoveled. The good samaritans were members of the Islamic Association of Northwest Calgary and they were handing out flowers and chocolates to the neighbors.
"They are just so humble and kind," said Cindy Russell.
Muhammad Abbas, outreach director at the association, explained that the tradition for the last five years has been that younger members of the center come together to give back on Christmas.
"They share the best wishes of the season with our neighbors," Abbas said. "We want to make a positive contribution to our community."
Full report at:
https://www.rawstory.com/2016/12/islamic-association-spends-christmas-clearing-snow-from-neighborhood-sidewalks/
--------
Muslim cultural center in Canada attacked for fourth time
Dec 27, 2016
A fire broke out at a Muslim cultural center in Sept-Îles, located in Canada's Quebec Province, on Friday raising questions of another possible Islamophobic attack.
The Muslim cultural center was being used as a prayer room in the town of Sept- Îles with 25,000 inhabitants before becoming unusable despite efforts of the fire department teams.
Quebec provincial police have opened an investigation into the probable arson.
The Sept- Îles prayer room is expected to stay closed until renovation works are completed, they stated.
"It hurts. We worked really hard to rebuild this place. I don't know what to call it, an act of ignorance, vengeance, hate?" asked Nabil Matrajji, a community member of the Muslim cultural center.
The cultural center was previously targeted in October by an attacker who broke into the building and vandalized the walls and bookshelves.
The centre's president, Ben Rouine, stated that Friday's fire marked the fourth or fifth time the centre has been damaged.
Canada has witnessed two attacks on different Muslim prayer rooms in Calgary in the past three months and anti-Muslim posters were posted across the University of Calgary campus, revealing a growing number of potential anti-Muslim crimes in the country.
Full report at:
http://www.dailysabah.com/americas/2016/12/26/muslim-cultural-center-in-canada-attacked-for-fourth-time
--------
South Asia
Afghanistan voices displeasure over being ignored in upcoming trilateral meeting
Dec 27, 2016
Kabul voiced displeasure over the planned trilateral meeting between China, Russia and Pakistan on Afghanistan in Moscow on Tuesday, Tolo News reported.
Afghan Ministry of Foreign Affairs' (MoFA) spokesman Ahmad Shekib Mustaghni said on Monday that the agenda of the meeting was a matter of concern.
Despite Afghanistan being the focus of their agenda, Kabul was not consulted, he said.
"Talking on Afghanistan without consulting the country raises serious questions for the Afghan people. We are worried that what are the reasons behind the meeting and want the relevant parties to explain," the report quoted Mustaghni as saying.
The parliament members (MPs), meanwhile, said the holding of such a meeting on Afghanistan, without consulting the incumbent government, is an obvious interference in internal issues.
"We are worried about holding such meetings and the security situation next year," said Abdul Raouf Ibrahimi, speaker of the house.
"Our politicians only sit on seats, but others talk about Afghanistan in Moscow. It is shameful," Saleh Mohammad Saleh, an MP said.
The report went on to say that the expansion of insurgents' activities in Afghanistan, however, has always been a key concern for Russia and central Asian countries.
According to statistics from the National Security Council (NSC), nearly 11,000 foreign fighters are believed to be in the country.
"Russia and China think that America wants to settle cross-border terrorist groups in Afghanistan," Abdul Shokor Salangi, international affairs analyst was quoted as saying..
A source from the ministry of defence also said that currently around 40,000 insurgents are active in the country, while Afghan President Ashraf Ghani had said in the past that more than 30 terrorist groups were active in Afghanistan.
http://www.dawn.com/news/1304606/afghanistan-voices-displeasure-over-being-ignored-in-upcoming-trilateral-meeting
--------
4 killed in Zabul airstrikes conducted amid ISIS expansion concerns
Dec 27 2016
At least four militants were killed in airstrikes conducted in southern Zabul province of Afghanistan, the Ministry of Defense (MoD) said Tuesday.
According to MoD, the airstrikes were conducted in Dai Chupan and Mizan districts of Zabul.
The ministry further added that at least four militants were also wounded in the airstrikes but did not elaborate further.
It is yet not clear if the militants killed in the airstrikes belonged to Taliban insurgents group or any other militant group.
This comes as Chief Executive Abdullah Abdullah said Monday that special military operations will kick off soon in southeastern Ghazni and southern Zabul provinces to suppress the loyalists of the Islamic State of Iraq and Syria (ISIS) terrorist group and Taliban insurgents.
He made the remarks during a meeting with the elders of the two provinces which organized amid concerns that the fighters of the two group are attempting to expand foothold in some districts of the two provinces.
Full report at:
http://www.khaama.com/4-killed-in-zabul-airstrikes-conducted-amid-isis-expansion-concerns-02563
--------
Myanmar Says Muslim With Links to Government Murdered in Troubled Rakhine
Dec 27, 2016
Yangon. A man has been found dead with stab wounds in Myanmar's Rakhine State, in what the government said on Monday (26/12) was the second murder in under a week of a Rohingya who cooperated with authorities as they crack down on suspected insurgents.
Coordinated attacks on Oct. 9 killed nine police officers and sparked a military operation in northern Rakhine. The government of predominantly Buddhist Myanmar blamed Muslim Rohingyas supported by foreign militants.
State media has reported at least 86 deaths and the United Nations says 34,000 people have fled to Bangladesh.
The violence poses a challenge to Aung San Suu Kyi's government and has renewed international criticism that the Nobel laureate has done too little to help the Rohingya, who are denied citizenship in Myanmar.
Residents and rights groups say soldiers have raped Rohingya women, burnt homes and killed civilians during the operation near the frontier with Bangladesh.
The government denies the accusations, and has launched a social media campaign in an effort to demonstrate that security forces are acting properly in Rakhine.
An administrator in Yae Twin Kyun village, named as Rawphi, was found dead with knife wounds on Sunday, Lieutenant Colonel Aung San Win of the local border guard police told Reuters.
He said the killing of the 28-year-old Muslim might be "related to terrorism."
Myanmar's state counselor's office said on Monday evening on its Facebook page that the victim had been "cooperating with members of security forces in administration duties."
The case is the second murder in Rakhine where authorities have highlighted the victim's cooperation with the government, appearing to point the finger at Rohingya insurgents.
On Friday, the state counselor's office said a Muslim man was decapitated after he had denied stories of Myanmar military abuse when speaking to reporters.
"He told media that there was no case of arson by the military and police forces, no rape and no unjust arrests," said a Facebook post accompanied by a picture of a headless body with English text that read: "truth teller beheaded."
Neither the police nor the state counselor's office have said who was responsible for the decapitation.
Full report at:
http://jakartaglobe.id/international/myanmar-says-muslim-links-government-murdered-troubled-rakhine/
--------
Teenage terrorist a Gaibandha native
December 26, 2016
Recently killed teenage militant Afif Qadri hailed from Gaibandha. During the British rule, his predecessor migrated to Bengal to preach Islam from the then North West Frontier Province.
Afif Qadri alias Shaheed Qadri alias Ador – the 15-year old militant killed Saturday in a police drive at a militant hideout at Ashkona Purba Para in Dhaka's Dakkhinkhan area – hailed from West Batkamari village under Boali union at Sadar upazila in Gaibandha.
His father Tanvir Qadri, an alleged militant financier, was also killed in an anti-militant drive at Dhaka's Azimpur area on September 10.
Gaibandha Sadar police station's Officer-in-Charge Mehedi Hasan yesterday told the Dhaka Tribune: "Afif's mother Abedatun Fatema Asha and his twin brother Tahrin Qadri Abir were arrested by police for involvement in militant activities, after his father was killed in an anti-militant drive in Dhaka. But Afif continued his militant activities remaining fugitive. We have heard that he had been killed in a police drive in Dhaka."
Afif's family and local sources said Afif's grandfather SM Baten Qadri was a trader of chewing tobacco, and his grandmother was a housewife. Afif and Tahrin Qadri were twin brothers. They were students of class 8 in Milestone School at Uttara in Dhaka.
Locals said Afif's great grandfather late Abdul Wahed hailed from Peshwar, the capital of the Khyber Pakhtunkhwa province of Pakistan.
Approximately in 1910, he came to Gaibandha to preach Islam. He settled permanently at Fulchari area in Gaibandha after marrying a Bangali woman. Later, Afif's grandfather SM Baten Qadri settled at West Batkamari village in Gaibandha Sadar upazila.
During a spot visit at West Batkamari yesterday afternoon, Afif's grandfather Baten told the Dhaka Tribune: "We did not know where Afif lived, but we have heard the news of his death today."
Full report at:
https://www.dhakatribune.com/bangladesh/2016/12/26/teenage-terrorist-gaibandha-native/
--------
Police: Ashkona reveals 7-8 new terrorists
December 27, 2016
Den used as training centre by 'New JMB' fresh recruits
The Purbo Ashkona raid in the city has given investigators information about a number of leaders and members of New JMB who were previously unknown to them.
The militants were trying to regroup themselves in Ashkona and were planning to conduct new attacks, police said.
Jebunnahar and Trisha Moni, two female militants who surrendered early into the raid, told police the flat was used as training centre for new members.
Investigators yesterday said they were in search of at least four to five members who were working at the Ashkona den to plan and carry out attacks.
A case was filed with Dakkhinkhan police station on Sunday night naming eight people and including three to four unnamed people.
According to the case statement the den was often visited by a top leader Moinul Islam alias Abu Musa, 29.
Others were Rashedur Rahman Sumon, 24, Selim, 26, Firoz, 20, and another three or four people unfamiliar to the female militants.
Police have only given out full details of Musa. No other information could be gleaned from Sumon, Selim or Firoz.
According to the case statement, police matched Musa's face with the photo in the tenant form that he had provided to the house owner.
After the surrender of two female militants in the den, the CTTC team that was carrying out the operation there came to learn that a large amount of explosives, arms and a number of suicide vests were stored in the flat.
Besides, Musa's wife Trisha Moni informed the investigators that her husband Musa was staying somewhere near Dhaka and a CTTC team left the spot to arrest him.
During the raid the CTTC team conducted parallel drives at possible dens in Mirpur, Pallabi, Jatrabari, Savar and Ashulia area, the statement read.
A resident of the street, where the den was found, told the Dhaka Tribune that the street was the most silent place in the locality as most of the residents came home within 7pm and the street would become empty after 9pm.
CTTC chief Monirul Islam after the raid on Sunday evening said that pushed by law enforcement operations since the Gulshan attack, the New JMB had fewer safe dens now and they were using the Ashkona den as one of their last hideouts.
Seeking anonymity a CTTC high official said the three guns that were found there were supplied by Hatkata Mahfuz, one of the major leaders of New JMB and currently staying in India and the arms and the money those were burnt at the flat were kept there by Musa himself.
Full report at:
https://www.dhakatribune.com/bangladesh/crime/2016/12/27/police-ashkona-reveals-7-8-new-terrorists/
--------
Africa
DR Congo Christmas slaughter leaves 35 dead
December 27, 2016
GOMA: Attacks in villages and fighting between militias killed at least 35 people over the Christmas weekend in North Kivu, a majority Christian area in eastern Democratic Republic of Congo.
The bloodshed began in Eringeti - a town 55 kilometres (35 miles) north of the regional hub Beni, which for two years has been hit by massacres killing hundreds, many of whom were hacked to death.
Rebels from The Allied Democratic Forces (ADF) - dominated by puritanical Ugandan Muslims - killed 22 people after storming Eringeti on Saturday, regional official Amisi Kalonda told AFP.
The toll climbed to 35 on Monday with the announcement that at least 13 Hutu civilians, mostly women and an eight-year-old girl, were killed on Sunday by a militia from the Nande ethnic group.
"The victims were all Hutu. There was an eight-year-old girl, a father and the rest were women," said local official Alphonse Mahano.
They were killed around the village of Nyanzale, a Hutu majority community.
The Nande and some other ethnic groups regard the Hutus as outsiders because of their attachment to the majority ethnic group in neighbouring Rwanda.
A string of attacks in the past year by both Hutu and Nande militia forces has deepened hatred between the communities.
Hutu farmers have also been forced to abandon land further south because of high property costs and under pressure from major landowners.
Although Congolese officials have blamed the attacks on the ADF, several expert reports have suggested that other groups, including elements within the Congolese army, took part in some killings.
When the Beni massacres began in October 2014, the ADF was quickly branded the culprit by both DR Congo authorities and MONUSCO, the UN mission in DR Congo.
More than two years on, Congolese authorities and the UN have been unable to protect civilians and the ADF remains the only official explanation - with the government insisting on a militant link to the killings.
It comes as relations with the international community have soured over President Joseph Kabila's refusal to step down despite his term ending on December 20.
Separately, the Armed Forces of the DRC (FARDC) announced Monday that its troops had killed 10 soldiers from neighbouring Burundi after they crossed the border last week in pursuit of rebels.
"There were 10 deaths," Major Dieudonne Kajibwami, told AFP, following a previous statement that five bodies had been taken to Uvira, a lakeside town in the eastern South Kivu province.
Kivu is rich in natural, mainly mineral resources, such as gold, coltan and cassiterite, coveted by the telecommunications industry. Both south and north Kivu have rich agricultural and forestry resources.
North Kivu is one of the DRC's most densely populated areas.
Tiny compared to the vast size of the country, the two provinces suffer not only because of fighting over their mineral resources but because of their proximity to an unstable border with Burundi, Rwanda and Uganda, along with Tanzania.
http://nation.com.pk/international/27-Dec-2016/dr-congo-christmas-slaughter-leaves-35-dead
--------
Despite Neighbours' Anxiety, Controversial Jama'atul Ta'awunil Muslimeen Preaches Tolerance
December 27, 2016
As mystery creates fear and anxiety, so is the rising influence of an Islamic sect, Jama'atul Ta'awunil Muslimeen, creating alarm in Osun State, particularly in the minds of residents of Iwo, headquarters of the organisation.
Drawing from the experience of Nigerians who are still grappling with the atrocities of Boko Haram, the people are worried by the way Ta'awunil is propagating in their midst without check by the authorities.
The organisation has existed for about 22 years, having started in 1994 in Iwo. But its recent rapid expansion to other states is raising concerns. The organisation now has 56 branches across the country and a membership of about 7000. img_3007
There is a growing fear in observers of the group that it contains a magma that may soon erupt to wreak another round of sectarian havoc on Nigeria.
Iwo, a sprawling town with a large Muslim population, has many mosques and Islamic centres befitting its status as one of the earliest towns in the South-west to embrace the religion. But there are also many churches and Christian centres in the town, including Bowen University of the Nigerian Baptist Convention.
PREMIUM TIMES gathered that in spite of this mix, the people have enjoyed relative religious harmony.
For Alhaji Abdulrahseed, a resident of Iwo, this harmony must not be toyed with through an unnecessary stress on religious fault lines. Although he could not pinpoint any obnoxious doctrine that contradicts Islamic principles, he is afraid that the staunch anti-Christian and anti-Western posture of the Ta'awunil sect could produce a conflagration in the near future if not checked.
A member of the sect, who would not want to be named, said other Muslims are afraid because of the high level of organisation and articulation of programmes of the sect.
"Ta'awunil is so departmentalised and organised. We have departments for every focus of the movement," he said.
"We have departments for education, orphanage and charity, the media, security, economic development and other areas. This is the reason why some Muslims are afraid because it is more than just the usual praying five times a day and going to the mosque."
Nursery, primary school of Ta'awunil
Nursery, primary school of Ta'awunil
The brotherhood found a haven in an area known to the people of Iwo as Sharia Road. Many members of the sect own houses and lands in the area. Most of Ta'awunil centres are located there. They run an Islamic nursery and primary school as well as a secondary school. They also own a well-built structure for orphanage which they run as part of their charity work. Its Islamic College of Education has just taken off and has commenced admission for students.
The sect operates an online radio and television station, and seeks through its political department to influence government policies and the emergence of political leaders during elections. It has a human rights committee specifically charged with the responsibility of defending the rights of Muslims where they are perceived to be violated.
Sources told PREMIUM TIMES that the organisation has bought much of the lands in the community and was assisting its members to purchase lands and build houses around the Ta'awunil centres.
According to concerned residents, non-members living around the place are no longer comfortable and have been relocating to other places, further creating room for the sect to dominate the area.
One of the residents who spoke to Premium Times on condition of anonymity, because he lives close to the group and fears reprisal, said he was sure the group was up to something untoward because of the kind of training being received by its paramilitary arm.
"The group is training its security force and when you watch them, they are trained in combats and martial arts," he said.
"And during the time of politics, these security men are used by politicians, and that is really dangerous."
He also alleged that the trainer, popularly called "Coach" was brought from Libya to train the members in martial arts and other combat techniques.
A PREMIUM TIMES correspondent observed that members of the security arm of the organisation were kitted in a uniform – black shirts over green khaki trousers with fitting black boots and black beret.
Ameer's residence
Ameer's residence
At the time our correspondent visited the location last week, the organisation was holding its 18th annual conference, which was well attended by members from across South-west states. The security men were also found keeping watch at the residence of the National President of Ta'awunil, the schools, the orphanage and the places where they held their programmes. It was gathered that the men also watched over members during their prayers at the mosque.
All the female members attending the conference were completely veiled so one could barely see their faces and their feet. Most of the males who interacted with our correspondent had long beards.
The national president of the group, Daood Molasan, known as the Ameer, is revered among the adherents as one who leads by example and walks in the footsteps of the prophets and the Quran.
He is believed to have a strong hold on his followers, who would do whatever he bids them under any circumstance. His lifestyle, according to his followers, is worthy of emulation, as he chose to be humble. Although he owns an SUV and lives in a sprawling accommodation in the area, the Ameer often prefers to ride on a motor bike in company with his guards who are also mounted on bikes.
An adherent described the act as humble and exemplary, saying it was one of the reasons he is so loved by members of the group.
In spite of the apprehensions of some residents, the group is influential and closely connected with those in authority. PREMIUM TIMES gathered that the group enjoys the support of the Osum State Governor, Rauf Aregbesola, and the Oluwo of Iwo, Oba Abdulrasheed Adekanbi.
The governor was billed to declare open its 18th annual conference on Sunday with a keynote address. The group also prides in its relationship with the Iwo monarch who often took out time to hold the Friday Jumat services with members at their mosque.
AMEER REACTS
As the Ameer himself disclosed to PREMIUM TIMES, the group is involved in politics because it is interested in who fill positions of leadership in the state and the country.
He said politicians come to seek the group's support, both Christians and Muslims alike, during campaigns, but the group would only support candidates who would remember the poor and deliver good governance to the people irrespective of religion.
Mr. Molasan denies any link with terrorism and terrorist groups, saying those who accused them of terrorism were ignorant.
"They are ignorant about our organisation. Since the beginning of the organisation, there is no form of attack from us against any Christian," he said.
img_2903
Training field for Ta'awunil security
"Even, there are many Christians who are supporting us in our stand in the city. We are against Boko Haram. And we organise press conference on it. Not only press conference, but lectures for our brothers on it. We go on radio and television to explain Islam's stand on terrorism and Boko Haram activities.
"We are calling on all Muslims to let them know that Boko Haram is not representing their interest. They are representing the interest of other people, not Muslims. Because in Islam, you are not allowed to kill others because they are infidels. If someone is a kafir, you will call him. If you kill him, what is the benefit?
"The Prophet did not kill to force people to Islam. The war fought by the Prophet was to defend Islam and not that he started it. They fought against him and he had to defend himself. In the Quran, Allah urged us to live with other kufar (non-Muslims), and not to criticise their worship.
"Those who say we are terrorists should name one example where Ta'awunil attacked any church or any person. So we are not a terrorist group."
On the security outfit, Mr. Molasan explained that the sports and security section in the organisation were not trained to kill or attack people but to protect the congregation of Muslims during their activities, ensure smooth traffic flow on the roads and to help other people, either Muslims or non-Muslims.
"Our security men are well known in any city they are operating in. We are always working together with government," he further explained.
"If Ta'awunil is a terrorist group, it will not sell its services to the people. The Police is well aware of the security of Ta'awunil. As Ta'awunil has security, other churches also have the same. We are not terrorists, and we will never be terrorists.
"There is no difference between our security and churches' security and other security. If we are training them for anything, it is also what others are doing. They are like Sheriff guards, or Man O' War. We are not operating illegally, we are operating in line with the country's constitution."
Full report at:
http://nation.com.pk/international/26-Dec-2016/east-libyan-forces-launch-air-strike-against-rivals-in-central-desert
--------
Suicide bomber attacks market in northeast Nigeria's Maiduguri
December 26, 2016
A suicide bomber attacked a cattle market on Monday in Maiduguri in northeastern Nigeria, the city worst hit in the seven-year insurgency waged by Islamist militant group Boko Haram.
The police said the female bomber, who struck the Kasuwan Shanu market in the central district of Kasuwa, was the only person killed in the blast at about 08:40 am (07:40 GMT).
In a statement, police said a second woman who had a bomb was "lynched by an irate mob in the vicinity". Security forces later detonated her device.
Nobody has claimed responsibility for the attack but it bears the hallmarks of Boko Haram and comes days after President Muhammadu Buhari said the jihadist group's key camp in its last remaining enclave had fallen.
Buhari said the fall of the camp in the group's Sambisa forest base after an offensive by Nigeria's army in the former colonial game reserve marked the "final crushing of Boko Haram".
Despite having been pushed back to the forest by the army in recent months, the group still stages bombings in the northeast and in neighbouring Niger and Cameroon. A suspected Boko Haram suicide bomber killed two people in Cameroon on Sunday.
Full report at:
http://nation.com.pk/international/26-Dec-2016/suicide-bomber-attacks-market-in-northeast-nigeria-s-maiduguri
--------
Gunmen kill six in northern Nigeria
27 December 2016
Six people have been killed in northern Nigeria's Kaduna state, with herdsmen suspected of committing the attack in the restive region, a former lawmaker and an official said Monday.
The violence occurred between Saturday and Sunday in Goska, near Kafanchan, despite a 24-hour curfew following incessant clashes between herdsmen and local farmers, they said.
"We lost six people, including my 17-year-old daughter who was one year to her graduation from secondary school," said Gideon Morik, a former member of the state house of assembly.
"The gunmen we suspect to be Fulani herdsmen attacked the village late Saturday into Sunday," he said, adding that the attackers wounded many people and destroyed houses before fleeing.
Governor Nasir El-Rufai condemned the attack in a statement on Monday, vowing to find the killers.
Full report at:
http://www.worldbulletin.net/world/182273/obama-confident-he-would-beat-trump
--------
'FETÖ is a radical group like Daesh, Boko Haram', President's daughter says
Dec 27, 2016
President Recep Tayyip Erdoğan's daughter, the Vice Chair of the Women and Democracy Association (KADEM) Sümeyye Erdoğan Bayraktar, said on Tuesday that "FETÖ is a radical group like Daesh and Boko Haram." She spoke at a meeting held in Chicago on the sidelines of the 15th Annual MAS-ICNA Convention, the largest Islamic convention in North America, which she attended as the guest of honor.
In the "July 15 and heroes resisting against coup" meeting organized by the Turkish-American National Steering Committee (TASC), Bayraktar warned that the Gülenist Terror Group (FETÖ) is very similar to terrorist organizations and will pose a threat to all Muslims throughout the world if significant steps are not taken against them.
Reminding the past coup attempts had reached their goals and damaged democratic institutions in Turkey, Bayraktar said "In the last coup attempt [July 15], Turkish people showed they would not let another attack, tanks on streets or coup plotters to threaten them with the guns that were bought with public taxes."
She noted "In the last 15 years, Turkish people have been more interested in politics and democracy, and they stand against tutelage", adding that FETÖ is behind the July 15 attempted coup and the terror group has a distorted understanding of Islam.
Bayraktar also spoke about the Western countries' hypocritical stance on the July 15 coup attempt, saying "Although Western leaders express anti-coup discourse and talk about the importance of people's will; they have failed to stand against the perpetrators of the July 15 failed coup attempt.
She continued by saying that Western leaders imply that military intervention in civil politics and attacks against democracy is tolerable and added that Turkish people lost their trust in the West due its double standards.
She noted that the West's approach regarding Turkey is problematic and 'has reached the limit of clinical obsession.'
Full report at:
http://www.dailysabah.com/turkey/2016/12/27/feto-is-a-radical-group-like-daesh-boko-haram-presidents-daughter-says
--------
Southeast Asia
Indonesian militants planned New Year's assault with machetes: police
December 26, 2016
JAKARTA: Indonesian militants supporting Islamic State planned to attack a police post on New Year's eve with machetes and knives, a police spokesman said on Monday.
The plot was broken up after police arrested two of the would-be attackers who led them to their hideout, where police shot dead their two co-conspirators on Sunday after police said they tried to attack officers with machetes.
"The four of them were planning to attack a police post in Purwakarta. They planned to attack on New Year's Eve," Rikwanto, a national police spokesman, told reporters, referring to a district about 100 km (60 miles) east of the capital, Jakarta.
Sunday's raid was the latest in a series over recent weeks that police say have disrupted attacks, raising concern that homegrown militants in the world's largest Muslim-majority nation are getting bolder.
Police said last week that at least 14 people were being interrogated over suicide bomb plots targeting the presidential palace in Jakarta and an another undisclosed location.
Both involved female suicide bombers - a new tactic for Indonesian militants.
Police were still investigating whether the militants involved in the plot disrupted on Sunday had been trying to make bombs.
The suspects were members of Jamaah Ansharut Daulah (JAD), a militant group supporting Islamic State, but it was not yet clear whether they been in direct communication with Bahrun Naim, an Indonesian militant who fled to Syria about two years ago, the spokesman said.
Police say many of the recent plots uncovered have been inspired, if not directed, by Naim.
Police have arrested dozens of suspected militants in recent months, including a group on an island near Singapore who police say were planning to attack the city-state with a rocket.
Indonesia's elite police unit, Special Detachment 88, has foiled at least 15 attacks this year and made more than 150 arrests..
A gun and bomb assault in the heart of Jakarta in January 2016 killed four people and was the first attack in Southeast Asia claimed by Islamic State.
http://nation.com.pk/international/26-Dec-2016/indonesian-militants-planned-new-year-s-assault-with-machetes-police
--------
Anxiety besets Muslim groups over new tax on religious bodies
BY MELATI A. JALIL
December 27, 2016
KUALA LUMPUR, Dec 27 — Several Islamic organisations are fearful that a newly-passed tax on religious bodies will eat into their tiny funds, after churches first raised concern over the issue.
Malaysia Consultative Council of Islamic Organisation (Mapim), an umbrella body representing several Muslim groups, said the new tax is not in favour of civil societies as it will hamper the whole operation of a non-profit organisation.
"Whenever people donate, we will use the money for special charity, and that money should not be used for other things.
"But what about the running of the organisation? We need to have income-generating activities, but if that is taxed, then it will be difficult for civil societies or charitable organisations to function," Mapim president Azmi Hamid told Malay Mail Online when contacted yesterday.
He believed the group will be affected by the amended law as some of its branches generate income by organising courses.
"It will affect [us] because we have branches and they are also trying to raise fund on their own either through donations or even small activities where we charge people for attending some courses we offer.
"So the money is being used to cover the overhead expenses of the organisation," he said, adding that Mapim has not received any official notice from Putrajaya over the matter.
The Income Tax Act's Schedule 6, which lists down income which is exempt from tax, includes under item 13(1)(b) "a religious institution or organisation which is not operated or conducted primarily for profit and which is established in Malaysia exclusively for the purposes of religious worship or the advancement of religion".
However, in the Finance Bill 2016 that was passed in the Dewan Rakyat on November 23 and by the Dewan Negara on December 15, an additional requirement that the income be meant for "charitable purposes" was introduced, starting year of assessment 2017 and onwards.
Tax experts told Malay Mail Online the amended law will start taxing income generated from activities such as rental, interest from fixed deposits, the running of religious classes, religious ceremonies, fees for religious services, seminars.
However, the lack of information regarding the proposal has caused confusion among religious bodies, with the Sabah Council of Churches claiming in its Christmas address that the amendment involves only non-Muslim religious bodies.
Last week, local paper The Borneo Post also reported that mosques and Muslim welfare bodies in Sarawak would purportedly not be affected by the amendment as they fall under state Islamic law, the Majlis Islam Sarawak Ordinance 1984.
The chairman of another umbrella Muslim body, Allied Coordinating Committee of Islamic NGOs (ACCIN), Shahrin Awaludin meanwhile warned that there may be resistance towards enforcement of the new tax.
Full report at:
http://www.themalaymailonline.com/malaysia/article/anxiety-besets-muslim-groups-over-new-tax-on-religious-bodies
--------
Indonesia court to proceed with blasphemy trial of Jakarta's governor
December 27, 2016
A panel of judges rejected a call by lawyers defending Governor Basuki Tjahaja Purnama to strike down the case because it had violated the ethnic Chinese politician's human rights and breached procedures.
"The exception by the defendant will be considered and decided by the court after examination of all evidence. The defendant's exception is not accepted," said Judge Abdul Rosyad.
A tearful Purnama denied at his first hearing on Dec. 13 that he had intended to insult the Koran while he was campaigning ahead of elections in February for the governorship of Jakarta, capital of the world's largest Muslim-majority nation.
Hundreds of white-clad Muslim protesters chanted "Allahu Akbar" (God is greatest) outside the court in north Jakarta on Tuesday and called for the jailing of the governor, known by his nickname Ahok.
A smaller group of his supporters were also present outside the courthouse, which was flanked by lines of police.
The presiding judge on the panel, Dwiyarso Budi Santiarto, said the defence could appeal to a higher court if they did not agree with the decision to proceed with the case.
Purnama, after consulting his lawyers, told the court he would consider doing so.
The governor was named a suspect after hundreds of thousands of people, led by Muslim hardliners, attended rallies in recent months calling for his arrest.
Blasphemy convictions in Indonesia can carry a jail term of up to five years and nearly always result in conviction.
Amnesty International has criticised the law for hurting freedom of expression and for targeting religious minorities.
President Joko Widodo, seen as a Purnama ally, has blamed "political actors" for fuelling the protests, but declined to elaborate.
As governor, Purnama has won credit for cutting red tape and improving the performance of Jakarta's bloated bureaucracy. However, his abrasive language and insistence on clearing city slums has alienated many voters.
Full report at:
http://www.freemalaysiatoday.com/category/world/2016/12/27/indonesia-court-to-proceed-with-blasphemy-trial-of-jakartas-governor/
--------
Indonesia marks tsunami 12 years ago with prayers
December 26, 2016
Thousands of Indonesians prayed for their loved ones at mass graves and mosques Monday to mark a tsunami which devastated Aceh province 12 years ago today, one of the worst natural disasters in human history.
Some 170,000 lives were lost in the country when a 9.1-magnitude "megathrust" quake struck Aceh, a predominantly Muslim province in the northern tip of Sumatra island, bringing about massive waves that also hit coastal areas as far away as Somalia.
It killed about 50,000 people in other countries around the Indian Ocean, bringing the total fatalities to approximately 220,000.
"I came here every year to pray for my children, daughter-in-law, and their three children," Maryam, who goes by one name, told AFP, at the Ulee Lheue mass grave, where 14,800 people were buried.
The bodies of her family were never found but 65-year-old Maryam, who survived by holding on to a tree trunk, was certain her family were buried in the mass grave as they lived in the vicinity at the time of the tsunami.
The commemoration was not meant to open old wounds but served as reminder to be prepared for other disasters in the future, acting Aceh governor Soedarmo told the mosque attendance.
Full report at:
http://nation.com.pk/international/26-Dec-2016/indonesia-marks-tsunami-12-years-ago-with-prayers
--------
OIC special envoy proposes special registration system for Rohingya refugees in Malaysia
27 December 2016
A special envoy of the Organization of Islamic Cooperation (OIC) has proposed Malaysia establish a special registration system to identify and record all Rohingya refugees arriving in the country, the Anadolu Agency reported on 26 December.
OIC Special Envoy to Myanmar Syed Hamid Albar said that the registration system can then be relied on to provide employment and education opportunities for the Muslim minority from Myanmar.
Full report at:
http://www.mizzima.com/news-regional/oic-special-envoy-proposes-special-registration-system-rohingya-refugees-malaysia
--------
FPI leader reported to police for allegedly committing religious blasphemy
December 26, 2016
Islam Defenders Front (FPI) leader Habib Rizieq Shihab was reported to the Jakarta Police on Monday by executives from the Indonesian Catholic Students Association (PMKRI) for allegedly committing religious blasphemy in a speech circulated on the internet.
"Rizieq was one of three people were reported to the police," said PMKRI chairman Angelius Wake Kako at the headquarters of the Jakarta Police on Monday.
The two others are Fauzi Ahmad, who uploaded the video of Rizieq's speech onto an Instagram account and Saya Reya, who uploaded the video onto a Twitter account.
In the 22-second long video, Rizieq is recorded saying: "If God gave birth, then who would be the midwife?"
Angelius said that as a Christian he "felt humiliated and hurt" when he heard the statement.
"All Indonesians should respect diversity by not interfering in the private rooms of other religions," he said. "Only Christians know about the Christian faith. Anyone who doesn't know about it, he better shut up," he went on to say.
Full report at:
http://www.thejakartapost.com/news/2016/12/26/fpi-leader-reported-to-police-for-allegedly-committing-religious-blasphemy.html
--------
India
Kolkata RJ Mir's Reply after Being Criticised for Celebrating Christmas, Is a Reminder Why Festivals Are for Togetherness
December 26, 2016
Sure one of the things we've always learnt in school is that India's biggest asset is 'unity in diversity', but going by the rising number of incidents that showcase more and more intolerance, it's not unnatural to start questioning the veracity of that adage. Be it the ridiculous outrage over the name of Kareena Kapoor Khan and Saif Ali Khan's newborn Taimur, or the lashing from Muslim purists that Indian cricketer Mohammed Shami had to face because he posted a harmless and rather pretty picture of himself and his wife, who was… well, not wearing a hijab!
As if that wasn't enough, popular stand-up comedian and Kolkata RJ Mir Afsar Ali recently posted a picture of his family celebrating Christmas. Through the post, he wished everyone a Merry Christmas as well. And amid the plethora of pleasant messages from fans and followers wishing him the same, it irked a few users how a Muslim could celebrate a Christian festival.
While most celebrities would ignore such comments lost in the pool of over 500 comments, he did not. Instead, he gave a befitting reply as he decided to fight the "worrying trend". Making it clear it is not in retaliation, the RJ wrote, "Believe me.. there are truly no boundaries/borders for religious fanatics… this is a worrying trend all over the world.."
The popular TV presenter and comedian yet again showed his witty side and ended his honest post by saying,"Yeh Christmas jitni 'Merry' hai, utni hi hai 'Teri'.. Par Afsos, tu samjhegaa nahin.."
The RJ posted screenshots of some of the belittling remarks along with his message and the post has gone viral. The photos of comments shared by him are written in Bengali and criticises him for celebrating Christmas and reminds him that he is a Muslim. In less than 24 hours, his post has been shared over 700 times and many people have been lauding their favourite star.
Isn't the main reason why festivals are celebrated so that it spread happiness and joy among people and not promulgate hate? Then why don't we just keep the happiness of festivities closer to our hearts and move aside the dividing line called religion, if not rise above?
http://indianexpress.com/article/trending/trending-in-india/rj-mir-afsar-ali-attacked-for-celebrating-christmas-being-a-muslim-he-gives-a-befitting-reply-4445995/
--------
Musa planned ISIS-style killing of foreigners in Kolkata: NIA
Neeraj Chauhan
Dec 26, 2016
NEW DELHI: In the chargesheet filed against first lone wolf attacker+ of ISIS in India - Mohammad Mosiuddin alias Abu Musa, the National Investigation Agency has claimed that he was watching videos of slain al-Qaida leader Anwar al-Awlaki, who was also the preacher of 9/11 US attacks plane hijackers.
Anwar al-Awlaki, who was also the first US national to have been killed in drone strikes in September 2011, was one of the biggest motivators and a recruiter for al-Qaida for a very long time. His name had also figured in a dozen other bombings including London 2005 attacks, Times Square bombing and others.
A team of Federal Bureau of Investigation+ (FBI) was in India earlier this month to question Musa more about his radicalisation through the videos of Awlaki and also whether ISIS's principal recruiter in India - Shafi Armar, who sent him Awlaki's speeches, was in touch with any other aide of al-Qaida.
The NIA chargesheet also says that Abu Musa was radicalised by Shafi Armar who sent him links of jihadi sites like Jihadology.net, Al-Shabab media and Just-Paste-it links, etc., apart from videos released by the Ansar Ut Tawid (AuT) and the footages of war between the cadres of the ISIS and the Iraqi forces.
Musa, as first reported by Times of India, was also in touch with Jamaat-ul-Mujahideen Bangladesh (JMB) leaders, who were involved in July 1 Holey Artisan bakery terror attack in Dhaka.
He met JMB leader Abu Suleiman, who owed allegiance to ISIS, several times including during latter's trip to India - first in March 2015 and then in May 2016, a month before the Holey Artisan attack. While Shafi Armar remained in touch with Musa for a long time, Abu Suleiman asked him to attack foreigners in India as " lone wolf+ " and also encouraged him to use secured encrypted chat applications, like Telegram, Surespot, Threema, Chatsecure, to communicate with him and with other ISIS operatives.
NIA says, "forensic analysis of the electronic gadgets seized from Musa and the telegram chat contents retrieved during investigation shows that they contain many incriminating facts implicating the accused and reveal his jihadi mindset and his association with members of proscribed terrorist organisations, JMB / ISIS. The chat contents include many pdf files like "How to survive in the West- Mujahideen", "Explosives Handbook" (The Mujahideen Explosives Handbook by Abdel-Aziz) which clearly show the dangerous intent of the accused."
It adds, ".....On the instructions of his handler, Abu Suleiman, Abu Musa went to Srinagar in May, 2016, to carry out lone wolf attack on foreign tourists. He also participated in a Friday congregation at the Jama Masjid and waved the ISIS flag there."
Musa, NIA says, had also planned to attack and kill foreigners near the Mother Teresa House at the Ripon Street in Kolkata.
Full report at:
http://timesofindia.indiatimes.com/india/nia-files-chargesheet-against-suspected-terrorist-abu-musa/articleshow/56187016.cms
--------
Forum, All India Muslim personal law board seek 5% reservation for Muslims
Dec 27, 2016
AURANGABAD: The Maharashtra Muslim Lawyers' Forum and All India Muslim Personal Law Board (AIMPLB) want the state government to implement the recommendations of Justice R M Bapat (retired) Maharashtra State Commission for Backward Classes that 5% reservation be given to Muslims.
The Commission had recommended 5% reservation for 50 Muslim communities listed as Special Backward classes in the schedule of the Ordinance called Maharashtra State (Reservation of seats for admission in educational institutions and for appointment of post in public services under the state) for Special Backward Classes.
The Maharashtra Muslim Lawyers' Forum and All India Muslim Personal Law Board had organised a two-day workshop, when a resolution was passed to make the demand with the government.
The conference that concluded on Sunday evening was presided over by Shakeel Ahmed, senior advocate of Supreme Court. Eminent high court lawyer Satish Talekar was invited to deliver a talk on the subject of reservation for Muslims.
Addressing the lawyers and representatives from the clergy, Talekar referred to the Maratha community seeking caste-based reservation and urged the Muslims to seek at least 5% reservation.
He also mentioned that the Commission had recommended providing 5% reservation for 50 Muslim communities, whereas reservation for Maratha had not been recommended. And yet the State of Maharashtra has enacted a legislation granting reservations for Maratha rather than the Muslim community, which has been challenged in the Bombay high court.
Subsequently, S S Kazi, president of the Maharashtra Muslim Lawyers' Forum moved a resolution that was approved by the participants unanimously. The forum has decided to approach the government through democratic means to press for at least 5% reservation for Muslims, who account for 14% of the state's population.
Full report at:
http://timesofindia.indiatimes.com/city/aurangabad/Forum-AIMPLB-seek-5-reservation-for-Muslims/articleshow/56189706.cms
--------
No Pak entry on Day 1 of annual Ahmadiyya congregation
December 27, 2016
THE ANNUAL Jalsa Salana congregation of the Ahmadiyya community began on Monday in Qadian in the border district of Gurdaspur, but without the customary participation of delegates from Pakistan. Last year, as many as 6,000 Pakistanis took part in the congregation, which brings together members of the community from across the world. This year, according to community representatives in India, visas were issued to over 5,000 Pakistani Ahmadiyyas but not a single person has come.
"I think the internal situation of the Ahmadiyya community in Pakistan may be one of the reasons for community members to stay away from the event. Recently, a raid was conducted at our community headquarters," Tariq Ahmad, spokesperson of Ahmadiyya Muslim Jaamaat India, told The Indian Express.
On December 12, the day of Milad ul Nabi, the Prohpet's birthday, a mob stormed an Ahmadiyya mosque in Chakwal. Also, Counter Terrorism Department in Pakistan's Punjab province raided the community's headquarters in Rabwa, Jhang district, and detained four of its members.
Both incidents have scared the community despite the positive move by Pakistan Prime Minister Nawaz Sharif of naming the Quaid-e-Azam University's National Centre of Physics after the long unrecognised Dr Abdus Salam, Pakistan's first Nobel laureate, an Ahmadi by faith.
Tariq added that there was a "feeling of grief" among the community members there for the recent raid and the members were not feeling secure enough to travel to Qadian. "The Indian government had issued more than 5,000 visas for Pakistan pilgrims. There is no problem in India in welcoming them," he said. "We are disappointed that no one from Pakistan is attending the conference this year. But, we are hopeful that in the coming years, they will attend the conference."
Full report at:
http://indianexpress.com/article/india/no-pak-entry-on-day-1-of-annual-ahmadiyya-congregation-gurdaspur-border-jalsa-4446431/
--------
Notice served on legal counsel of Zakir Naik's NGO
December 26, 2016
Mumbai police on Monday served a notice received from the Unlawful Activities (Prevention) Tribunal, set up to examine the evidence on the basis of which the Centre banned televangelist Zakir Naik's NGO Islamic Research Foundation (IRF) last month, on the organisation's legal counsel in Mumbai. "The notice was received from the registrar of the tribunal and was served on IRF's legal counsel SHA Jamati at the organisation's office here," a police spokesperson said.
The tribunal was set up to adjudicate whether or not there was sufficient cause for declaring IRF an "unlawful association" under the Unlawful Activities (Prevention) Act, 1967.
IRF was declared an unlawful association under section 3(1) of the UAPA, with the gazette notification, dated November 17, stating that the NGO and its members, particularly its founder Naik, had been "encouraging and aiding its followers to promote or attempt to promote disharmony or feelings of enmity, hatred or ill-will between different religious communities and groups".
Full report at:
http://indianexpress.com/article/india/notice-served-on-legal-counsel-of-zakir-naiks-ngo-4446183/
--------
India taps Saudi Arabia for release of priest abducted in Yemen
Dec 26, 2016
NEW DELHI: In the absence of any government in Yemen, India says it is reaching out to other regional countries like Saudi Arabia and local Yemeni authorities to reach Indian Catholic priest Father Tom Uzhunnalil, held captive by Islamists in Yemen since early 2016.
After a new video of Father Tom surfaced, which appealed to the Indian government and the Church for help to secure his release, an MEA spokesperson said India was continuing with efforts to secure his release. "With regard to the safe release of Father Tom who was abducted some months ago, we have been in regular touch with countries in the region, especially Saudi Arabia as also the local Yemeni
But obviously the Indian efforts have fallen short, largely because of the state of instability prevailing in Yemen. The country has been a battleground between the Iran-supported Houthis and the Saudi Arabia supported government of President Abdrabbuh Mansour Hadi, which has claimed over 7000 lives so far.
Father Tom Uzhunnalil, an Indian national was abducted on March 4 when four militants attacked a Missionaries of Charity-run retirement home in Aden, the provincial capital of Yemen, killing 16 people, including four Missionary of Charity nuns. While no one actually knows who is behind the kidnapping, it is believed the captors are either al-Qaida or IS-allied groups. In April, there was an international outcry when reports said Father Tom would be crucified on Good Friday. But that report came to nothing. A few months ago, a delegation of Catholic Bishops met foreign minister Sushma Swaraj to seek help. A statement issued at the time said Father Tom was safe and the Indian government was trying to secure his release. A statement by the bishops said, "The Honourable Minister further said that the details of the negotiations and the technicalities involved with the negotiations cannot be divulged now, as it would endanger the process of release itself."
Full report at:
http://timesofindia.indiatimes.com/india/india-taps-saudi-arabia-for-release-of-priest-abducted-in-yemen/articleshow/56187040.cms
--------
Europe
Twitter accounts of Abu Qatada and other key al-Qaida figures suspended
December 27, 2016
Twitter has suspended the account of Jordanian preacher and al-Qaida spiritual leader Abu Qatada, along with two other influential scholars aligned with the extremist group.
The three accounts, which between them had tens of thousands of followers and were used several times a day, were at the heart of an online network of al-Qaida supporters, said Cole Bunzel, scholar of jihadism at Princeton University. Bunzel tweeted:
"After years tolerating them, twitter finally suspends accounts of 3 leading al-Qaida-aligned scholars, al-Maqdisi, Abu Qatada & al-Siba'i"
The accounts focused mostly on the war in Syria, frequently attacking Islamic State, but also commented on other issues, from law to religious judgments.
"Attacking the west is not a priority in their messaging," Bunzel told the Guardian. He added that Abu Qatada and Abu Muhammad al-Maqdisi's commentary had mostly been limited to the war in Syria.
Twitter has cracked down heavily on Isis supporters, leading them to shift towards alternative messaging services including Telegram, but al-Qaida supporters have not been so heavily targeted.
"Twitter has been a permissive forum for supporters of al-Qaida as compared to supporters of the Islamic State who have been pushed off," Bunzel said. "The focus of these crackdowns has been on the Islamic State."
It was not clear what had prompted the shutdown, or whether the move would cause al-Qaida supporters to embrace other social networks. So far only major figures appear to have been targeted by Twitter, not their supporters, he said. "The people who were retweeting and interacting with these 'big three' online: they are still online, still communicating."
Qatada was deported from the UK to Jordan to face terror charges after a court battle lasting nearly 10 years with a series of British home secretaries. Last summer he was released from custody after being acquitted of all charges. Since his release, he has become an increasingly vocal critic of Isis.
Maqdisi, regarded as the most influential jihadi scholar alive, is counted as a close friend by al-Qaida leader Ayman al-Zawahiri.
Twitter said it could not comment on individual accounts, for privacy and security reasons, but a spokesperson said: "We condemn the use of Twitter to promote terrorism and the Twitter rules make it clear that this type of behaviour, or any violent threat, is not permitted on our service. Since the middle of 2015 alone, we've suspended more than 360,000 accounts for threatening or promoting terrorist acts, primarily related to Isis."
http://nation.com.pk/international/27-Dec-2016/twitter-accounts-of-abu-qatada-and-other-key-al-qaida-figures-suspended
--------
Voters will have to show passports to combat voter fraud in 'vulnerable' areas with large Muslim populations
27 DECEMBER 2016
Voters in towns and cities with large Muslim communities where there are concerns about election fraud will have to show their passports or driving licences before casting their ballot.
The Government has announced that voters should have to produce identification in order to vote to reduce the risk of "endemic corruption" and protect the democratic process.
The voter ID scheme will be trialed in 18 areas which have been identified by police and the Electoral Commission as being "vulnerable" to voting fraud, including Bradford, Birmingham. The pilots will take place in local elections in may 2018 before they are rolled out nationwide.
The Government will also introduce legislation to ban political campaigners from handing in large numbers of completed postal ballots on election day.
It comes after concerns that activists are "harvesting" votes to boost support. Ministers are also prepared to raise the maximum sentence for electoral fraud from two years to 10 to act as a "deterrent", while the Government is also considering checking people's nationality to prevent immigrants who are not entitled to take part in UK elections from voting.
In an article for The Telegraph Chris Skidmore, minister for Constitution, said: "We already ask that people prove who they are in order to rent a car, buy a mortgage or travel abroad - and I believe we should go further by taking the same approach to protect voting rights.
"In many other transactions ID is an essential requirement - voting for a democratically elected government, your MP or your councillor is one of the most important transactions someone can make and it is right that in turn their identity and the security of their vote should be protected."
The electoral commission has selected 18 areas where police have raised concerns about electoral fraud. The at-risk areas include Britain's second city Birmingham, the scene of a notorious ballot-rigging case in 2004 which the presiding judge said would "disgrace a banana republic".
Pilots will also take place in Blackburn with Darwen, Bradford, Bristol, Burnley, Calderdale, Coventry, Derby, Hyndburn, Kirklees, Luton, Oldham, Pendle, Peterborough, Slough, Tower Hamlets, Walsall, and Woking.
It has warned that there is a particular concern at the "vulnerability of some South Asian communities, specifically those with roots in parts of Pakistan or Bangladesh, to electoral fraud".
Full report at:
http://www.telegraph.co.uk/news/2016/12/27/voters-will-have-show-passports-combat-voter-fraud-vulnerable/
--------
UK's first Muslim astronaut aims to put focus on mental health
Haroon Siddique
26 December 2016
For most people who go into space it is a dream come true, but for the man set to be the UK's first Muslim astronaut his priority is making the world a better place.
Hussain Manawer, 25, from Ilford, Essex, is due to blast off in 2018 after seeing off thousands of other entrants from more than 90 countries in a competition.
The poet, charity fundraiser and founder of his own creative agency dedicated his victory to everyone who has suffered mental health problems, and said he had an important mission in life.
"It's never really been an ambition of mine [to go into space], but I felt I wasn't contributing enough to the world," he said. "I got to the point where I thought we are failing the world so much in so many different ways. When I saw the competition I thought: let me go for it, let me see what happens.
"I am using it as a platform to venture into problems, which is how I think it should be. What influenced me is you have to be somebody in order for people to take you seriously, in order to have an impact."
Manawer's pitch for the Kruger Cowne rising star competition was centred on mental health, from his entry video to his final speech featuring a poem about depression and self-harm, in which he lamented: "I wasn't meant for this planet."
He plans to release a mixtape featuring his poetry about mental health, and in March he will attempt to set a world record for the largest mental health lesson, for 1,000 students from 30 schools from all over the country, at Hackney Empire in London.
Manawer is fully behind a campaign for schoolchildren to be taught about mental health, but believes teachers are under enough pressures and so need outside assistance.
Even before winning the space travel competition, Manawer had raised thousands of pounds for charities and given lessons on cyberbullying in 400 schools. He has a successful YouTube channel, Hussain's House, featuring interviews with the comedian Kevin Hart, rapper G-Eazy and radio presenter Charlamagne, and was a torchbearer in the buildup to the London Olympics.
He said he saw the competition to travel beyond the 100km mark in XCOR Aerospace's Lynx spacecraft as a way of taking his campaigning to another level. The contest was run in association with One Young World, a platform for 18- to 30-year-olds, supported by the likes of Kofi Annan.
Full report at:
https://www.theguardian.com/society/2016/dec/26/uks-first-muslim-astronaut-aims-to-put-focus-on-mental-health
--------
URL: https://www.newageislam.com/islamic-world-news/new-age-islam-news-bureau/jesus-prophet-of-us-the-muslims-too--ayatollah-khamenei/d/109511
New Age Islam, Islam Online, Islamic Website, African Muslim News, Arab World News, South Asia News, Indian Muslim News, World Muslim News, Womens in Islam, Islamic Feminism, Arab Women, Womens In Arab, Islamphobia in America, Muslim Women in West, Islam Women and Feminism, Moderate Islam, Moderate Muslims, Progressive Islam, Progressive Muslims, Liberal Islam