New Age Islam News Bureau
24 October 2020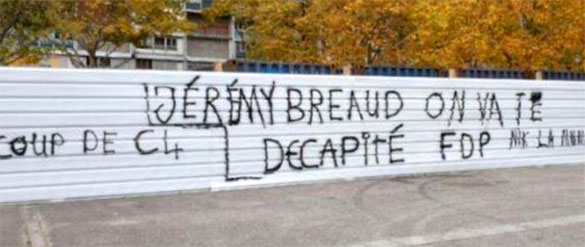 Police are investigating the precise circumstances behind the threats.Photo: Jeremie Breaud/Twitter
-----
• OIC Blasts French Incitement against Muslims and Islam with Terrorism
• Palestinians Sue Britain for 1917 Balfour Declaration That Led To Creation Of Israel
• 'New Stab in Palestine's back': Sudan Agrees to Normalizes with Israel
• Kashmir's So-Called Politicians Sometimes Tend To Be More Dangerous Than Identified Separatists: Union Minister
• FATF Keeps Pakistan off Blacklist for Now, Warns That It Can't Take Forever
• Buddhist Monk Calls On Bangladesh PM to Save Temple and Monastery
• Muslim-Hindu-Christian Religious Leaders of Malaysia: Let's Play Our Part in Fighting Covid-19
Europe
• Jeremy Breaud, We Will Cut Your Head Off - French Mayor Receives Threat of 'Decapitation' Just Week after Paty's Murder
• US intervenes to help mediate solution between Armenia, Azerbaijan
• EU welcomes ceasefire declaration in Libya, urges quick implementation
-------
Arab world
• OIC Blasts French Incitement against Muslims and Islam with Terrorism
• Lebanese Torch French Flag To Condemn Desecration Of Prophet Muhammad
• NATO Says It Will Reinforce Iraq Mission to Help Local Forces
• Syrian minister leads mourners for cleric Afiouni assassinated in Damascus bombing
--------
Mideast
• Palestinians Sue Britain for 1917 Balfour Declaration That Led To Creation Of Israel
• Sudan, Egypt, Jordan, UAE, Bahrain normalization is part of new Sykes-Picot Agreement
• Iran: Israel Not in Position to Comment on Nuclear Non-Proliferation
• Iran: US Unilateralism Jeopardizing Rule of Law in World
• Turkey's Erdogan says Libya ceasefire doesn't seem 'too achievable'
• Israel warplanes strike Hamas targets in Gaza Strip following rocket fire
--------
Africa
• 'New Stab in Palestine's back': Sudan Agrees to Normalizes with Israel
• Sudan to designate Lebanon's Hezbollah as terrorist organization under Israel deal
• Libya rival sides agree to sign permanent ceasefire deal: UN envoy
• Angry Sudanese rally to condemn normalization with Israel
--------
India
• Kashmir's So-Called Politicians Sometimes Tend To Be More Dangerous Than Identified Separatists: Union Minister
• Court Accepts Waqf Board's Petition in Kashi Vishwanath-Gyanvapi Mosque Case, Hearing on November 12
• Kashmir off the table for future talks, India signals to Pakistan
• Scare on Delhi-Goa flight over 'terrorists' on board
• In Biden's outreach to Indian Americans, a clear reference to Chinese aggression and Pak
--------
Pakistan
• FATF Keeps Pakistan off Blacklist for Now, Warns That It Can't Take Forever
• No atmosphere for talks with India, says Pak foreign minister
• PM terms meetings with opposition leaders 'mistake'
• Geo reporter Ali Imran 'goes missing' in Karachi
• Opposition walks out of NA, says proceedings not being run properly
--------
South Asia
• Buddhist Monk Calls On Bangladesh PM to Save Temple and Monastery
• Taliban Attack Claims 22 ANA Members, Take Dozen Hostage in Nimroz
--------
Southeast Asia
• Muslim-Hindu-Christian Religious Leaders of Malaysia: Let's Play Our Part in Fighting Covid-19
• China Not Committed To Curbing Terrorism but Using Pak as Tool against India: Report
• Muslim groups urge governor to overturn loudspeaker ban
• Indonesia Deports 4 Uyghur Terrorism Convicts to China, Experts Say
--------
North America
• US Vows to Starve Hezbollah of Funds, Support On Anniversary of 1983 Beirut Bombing
• US Democratic senators introduce bill to restrict F-35 sales to UAE
• US suspends visa services in Turkey after reports on potential attacks
• Chaos-hit US sanctions three Iranian entities over election meddling claims
Compiled by New Age Islam News Bureau
URL: https://www.newageislam.com/islamic-world-news/jeremy-breaud-cut-head-off/d/123254
--------
Jeremy Breaud, We Will Cut Your Head Off - French Mayor Receives Threat of 'Decapitation' Just Week after Paty's Murder
23 October 2020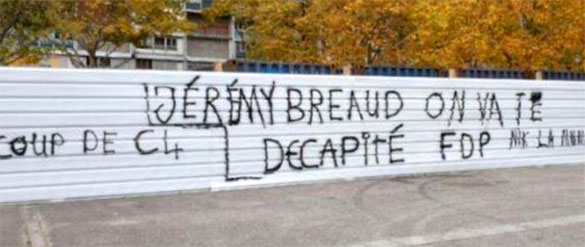 Police are investigating the precise circumstances behind the threats.Photo: Jeremie Breaud/Twitter
-----
A French mayor said on Friday he had received threats of having his head cut off -- just one week after the decapitation of schoolteacher Samuel Paty shocked France.
"These threats must be taken seriously," Jeremie Breaud, the mayor of Bron near the major French city of Lyon, told BFM TV on Friday, adding that he had received offers of police protection.
For all the latest headlines follow our Google News channel online or via the app
French Interior Minister Gerald Darmanin expressed his support for Breaud on Twitter, and also said the mayor would get police protection.
Breaud posted on his Twitter account a photo of graffiti on a wall in the town saying "Jeremy Breaud, we will cut your head Off." Police are investigating the precise circumstances behind the threats.
Paty was murdered on October 16 in broad daylight outside his school in a middle-class Paris suburb by an 18-year-old of Chechen origin. Police shot the attacker dead.
The teenager had sought to avenge his victim's use of caricatures of the Prophet Mohammad in a class on freedom of expression. Muslims believe that any depiction of the Prophet is blasphemous.
https://english.alarabiya.net/en/News/world/2020/10/23/French-mayor-receives-threat-of-decapitation-just-week-after-teacher-Paty-s-murder
--------
OIC Blasts French Incitement against Muslims and Islam with Terrorism
24 October 2020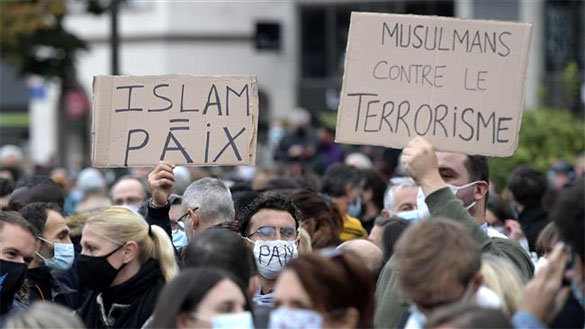 People hold placard reading "Islam = peace" and "Muslims against terrorism" as they gather in Strasbourg, eastern France, on October 18, 2020, in homage to history teacher Samuel Paty two days after he was beheaded by an attacker who was shot dead by policemen. (Photo by AFP)
------
The Organization of Islamic Cooperation (OIC) has censured attempts by French politicians to link Muslims and the noble religion of Islam with terrorism, amid growing anti-Islam sentiment due to hostile policies adopted by the European state.
The General Secretariat of the OIC condemned in a statement on Friday continued attacks and incitement against Muslim sentiment and insults of Prophet Muhammad (PBUH).
The statement criticized the "discourse from certain French politicians, which it deems to be harmful to the Muslim-French relations, hate-mongering and only serving partisan political interests."
The OIC also said it "will always condemn practices of blasphemy and of insulting Prophets of Islam, Christianity and Judaism" as it condemned any crime committed in the name of religion.
The statement also denounced the killing of French teacher Samuel Paty, who was decapitated last Friday in a Paris suburb, and rejected the "incitement against Islam, its symbols and linking Islam and Muslims with terrorism."
The history teacher had raised controversy and provoked anger over showing defamatory cartoons of Islam's Prophet Muhammad to his students. Paty was murdered by an 18-year-old assailant, identified as Chechen Abdullakh Anzorov, who was shot dead by police soon after the killing.
The OIC's condemnation came after France's approval of the publication of blasphemous cartoons of Prophet Muhammad, with the country's President Emmanuel Macron saying his country would not give up the insulting cartoons.
The French president has in recent weeks attacked Islam and the Muslim community, accusing Muslims of "separatism," and claiming that "Islam is a religion in crisis all over the world."
The accusations coincided with a provocative move by Charlie Hebdo, a left-wing French magazine infamous for publishing anti-Islam content, which has drawn widespread anger and outrage across the Muslim world.
More than a dozen staff at Charlie Hebdo were killed in January 2015 by armed gunmen. The murder was blamed on Muslims for what was claimed to be a revenge for sacrilegious cartoons that condemned Islam.
This is while members of the Muslim community in France and elsewhere in the world have consistently denounced such brutal acts, describing them as going against the precepts of their religion.
The French interior ministry said a total of 73 mosques, private schools, and workplaces had been shut down since January "in the fight against radicalization."
Anti-Muslim sentiments have been on the rise across Europe in recent years in the wake of terrorist attacks in the continent. The attacks were carried out by the Daesh sympathizers or the terror group's members who had returned home following their defeat in Iraq and Syria.
Muslim leaders in Europe and around the world have reiterated their unequivocal condemnation of the terrorist attacks.
Moreover, the rise of far-right ideology and the propagation of anti-immigration policies have exacerbated the status of religious minorities in Europe.
https://www.presstv.com/Detail/2020/10/24/637092/France-OIC-French-politicians-Muslims-Islam-terrorism
--------
Palestinians sue Britain for 1917 Balfour Declaration that led to creation of Israel
23 October 2020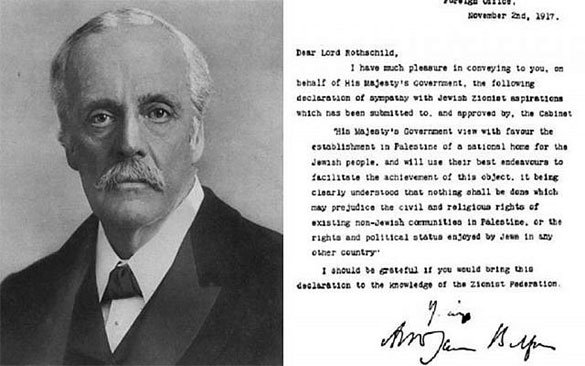 Arthur Balfour, and the Balfour Declaration. (Wikipedia)
------
Palestinian lawyers have lodged a complaint to sue the British government for the 1917 Balfour Declaration, which set out London's aim to establish a national home for the Jewish people in Palestine.
On Thursday, the lawyers took the measure in the occupied northern West Bank city of Nablus, highlighting that "the suffering of the Palestinians" emanated from the UK document.
"The Balfour Declaration is unacceptable. It was not just a declaration, but a birth certificate for a regime with letters of shame and injustice. It was a replacement tactic drawn by Britain in partnership with Zionists, ignoring the rights of more than 93% of Palestinian people, and granting the Jews, who at the time composed only 7% of the population, full rights," Munib al-Masri, head of the Federation of Independent and Democratic Trade Unions, told a news conference in Ramallah.
He added, "The British mandate is at the root of the suffering of the Palestinian people and has paved the way for the violation of their rights and the plunder of their land."
The complaint was filed on behalf of the International Commission to Support Palestinian People's Rights and the Palestinian Journalists' Syndicate in addition to the trade unions group.
The Balfour Declaration came in the form of a letter from Britain's then-foreign secretary, Arthur Balfour, addressed to Lionel Walter Rothschild, a figurehead of the British Jewish community. It was published on November 2, 1917.
The declaration was made during World War I (1914-1918), and was included in the terms of the British Mandate for Palestine after the dissolution of the Ottoman Empire.
It is widely seen as the precursor to the 1948 Palestinian Nakba, when Zionist armed paramilitary groups, who were trained and created to fight side by side with the British in World War II, forcibly expelled more than 750,000 Palestinians from their homeland, captured huge swathes of the Arab land, and proclaimed existence of Israel.
https://www.presstv.com/Detail/2020/10/23/637038/Palestinians-sue-Britain-for-1917-Balfour-Declaration,-ensuing-suffering
--------
'New stab in Palestine's back': Sudan agrees to normalizes with Israel
23 October 2020
Sudan's transitional government has agreed to normalize ties with the regime in Israel after the US removed the African state from its terrorism blacklist and offered it financial aid in exchange.
President Donald Trump of the US sealed the normalization deal in a phone call on Friday with Israeli Prime Minister Benjamin Netanyahu and Sudanese Prime Minister Abdalla Hamdok and Transitional Council Head Abdel Fattah al-Burhan.
A joint statement issued by the trio said the leaders had agreed "to the normalization of relations between Sudan and Israel and to end the state of belligerence" between the two sides.
An official signing ceremony is expected to be held at the White House in the weeks to come.
Following the United Arab Emirates (UAE) and Bahrain, Sudan is the third Arab country to have been pushed by the United States into a normalization deal with Israel since August.
In recent months, Trump, seeking re-election in early November, has been scrambling to hammer out peace treaties between Arab governments and Israel in order to portray them as foreign policy gains.
Both Israeli and US government figures have repeatedly hinted since August — when the UAE announced normalization with Tel Aviv — that other Arab countries would follow suit.
Announcing the deal on Friday, Trump said "at least five more Arab states" wanted similar deals.
The latest development follows an agreement between Sudan and the US, under which Washington agreed to remove Sudan from a list of countries it calls state sponsors of terrorism, unblocking economic aid to and investment in the African country.
US media cited sources as saying in late September that Khartoum had been offered a large sum of cash aid by Washington in exchange for establishing ties with Israel. The US and Sudan had been negotiating the amount during the talks leading up to the deal
Shortly after the joint statement, Israeli Prime Minister Benjamin Netanyahu called the new agreements with Sudan the start of "a new era" in the region.
He thanked Trump for setting the stage for the deal, saying Israeli and Sudanese delegations would meet soon to discuss commercial and agricultural cooperation.
The agreement is likely to spark outrage among the public in Sudan, where pro-Palestine sentiment runs deep. Several street protests had been held in recent weeks amid speculation of Khartoum's imminent normalization with Israel.
'Sudan's interim govt. has no mandate to normalize with Israel'
Earlier on Friday, Sudan's National Umma Party (NUP) rejected any normalization with Israel, warning that it if such a thing happens, the bloc will withdraw its support from the transitional government, which took power last year after longtime leader Omar al-Bashir was overthrown by the army.
The NUP's leader, Sadiq al-Mahdi, said the transitional government — which is to remain in office until elections in 2022 — has no mandate to make decisions on such controversial issues.
"We hope that all the institutions of the transitional government abide by this position. We will withdraw our support for the institutions of the transition if they establish relations with the apartheid and occupation state," he emphasized
'Another stab in Palestine's back'
Later on Friday, different Palestinian factions in the Gaza Strip and the occupied West Bank joined voices to condemn Sudan's decision to follow in the footsteps of the UAE and Bahrain and betray the Palestinian cause against Israeli occupation.
Palestinian President Mahmoud Abbas said the Palestinians reject and condemn Sudan's move, adding.
"No one has the right to speak in the name of the Palestinian people and in the name of the Palestinian cause," said a statement published by Abbas's office.
Speaking in Ramallah, senior Palestine Liberation Organization official Wasel Abu Youssef said "Sudan's joining others who normalized ties with…the Israeli occupation represents a new stab in the back of the Palestinian people and a betrayal of the just Palestinian cause."
He added, however, that Khartoum's treacherous move "will not shake the Palestinians' faith in their cause and in continuing their struggle."
In turn, the Gaza-based Hamas resistance movement said the deal that Sudan struck with Israel is a "political sin" that harms both Palestinians and Sudanese.
The accord "harms our Palestinian people and their just cause, and even harms the Sudanese national interests," the statement said. "It benefits only Netanyahu."
Hamas spokesman Fawzi Barhoum also called decision a step in the "wrong direction."
Meanwhile, the Islamic Jihad resistance movement, also based in Gaza, said in a sparate statement that Sudan had tarnished its reputation by normalizing ties with the Zionist regime.
The deal will pose a threat to Sudan's future and identity, said the group, describing the agreement as a betrayal of the Arab Ummah and its long-held consensus on supporting the cause of fellow Palestinians against occupation.
Historically, Arab countries agreed that no ties should be established with Israel unless it withdraws from the territories it occupied in the 1967 war and the establishment of a Palestinian state with East Jerusalem (al-Quds) as its capital.
https://www.presstv.com/Detail/2020/10/23/637069/Sudan-agrees-to-normalize-ties-with-Israel
--------
Kashmir's So-Called Politicians Sometimes Tend To Be More Dangerous Than Identified Separatists: Union Minister
Oct 23, 2020
NEW DELHI: After People's Democratic Party (PDP) chief Mehbooba Mufti said she will raise the Indian tricolour when the "flag of Jammu and Kashmir" is brought back, Union minister Jitendra Singh on Friday said that "the so-called politicians of Kashmir sometimes tend to be more dangerous than apparently identified separatists."
"Mehbooba Mufti claims to be a mainstream politician but she has reservations in carrying the tricolour. We have maintained for last several years that Kashmir's so-called politicians sometimes tend to be more dangerous than apparently identified separatists," the Union Minister told ANI.
Singh added: "They have cultivated the art and craft of swearing by Mother India saying 'Bharat Mata ki Jai' when in power. Once they are out of power they start swearing by Pakistan and questioning the integration of Jammu and Kashmir."
Singh said that abrogation of Article 370 happened with the resolution passed by Parliament of India and the prerogative of retaining or not retaining it lies with Parliament and President, not with Jammu and Kashmir and Kashmir Valley alone.
Earlier in the day, Mufti lashed out at the Centre for abrogating Article 370 and said that she will raise the Indian tricolour when the "flag of Jammu and Kashmir" is brought back.
"My flag is this (points to the flag of J&K kept on the table in front of her). When this flag comes back, we will raise that flag (tricolour) too. Until we get our own flag back, we won't raise any other flag...This flag forged our relationship with that flag. Our relationship with the flag of this country is not independent of this flag (Jammu and Kashmir's flag). When this flag comes in our hand, we will raise that flag too," she said.
https://timesofindia.indiatimes.com/india/kashmirs-so-called-politicians-sometimes-tend-to-be-more-dangerous-than-identified-separatists-jitendra-singh/articleshow/78832269.cms
--------
FATF keeps Pakistan off blacklist for now, warns that it can't take forever
Rezaul H Laskar
Oct 23, 2020
The Financial Action Task Force (FATF) on Friday decided to retain Pakistan on its "grey list", giving it time till February next year to address what the multilateral watchdog said were "very serious deficiencies" in its efforts to counter terror financing.
The decision was announced at the end of FATF's three-day virtual plenary meeting, and the body's president, Marcus Pleyer, cautioned that Pakistan would not be given a chance "forever" to address outstanding issues. Repeated failure to deliver on FATF's action plan would result in a country being put in the "black list", he said.
Pakistan was placed in FATF's list of "jurisdictions under increased monitoring" or grey list in 2018 for failing to control terror financing and money laundering. In a virtual repeat of the warning issued to Pakistan in February, FATF said in a statement: "As all action plan deadlines have expired, the FATF strongly urges Pakistan to swiftly complete its full action plan by February 2021."
Pleyer, at a virtual news conference, said Pakistan had "largely addressed" 21 of 27 items in its action plan and the government had signalled its commitment to complete the rest.
"But it is clear [that] even though Pakistan has made progress, it needs to do more. Pakistan cannot stop, it needs to continue to carry out reforms, particularly to implement targeted financial sanctions and prosecute and sanction those financing terrorism," he said.
The work done by Pakistan "definitely means the world has become safer but the six outstanding items are very serious deficiencies that still have to be repaired, and for that reason, the risks [have not been overcome]", Pleyer added.
In an apparent reference to Pakistan's repeated failures to meet deadlines for the action plan, Pleyer said: "As long as we see that the country is progressing with the action items, and we have seen progress with Pakistan, we give them a chance to repair the outstanding issues but we don't do this forever."
He added, "You can look at other countries where after a while, we have seen there is no longer progress on the action plan and the action plan has not been completed, then the countries are pushed to the black list."
Pleyer made it clear Pakistan wouldn't be out of the woods with mere completion of the action plan. Once FATF's plenary agrees that all 27 items had been completed, there will be an on-site visit by an assessment team to verify information given by Pakistan and see that all measures are working effectively.
"After that on-site visit, the next plenary will then decide whether Pakistan has indeed fully and effectively completed the action plan and then there is a decision on whether Pakistan would leave the grey list or not," he said.
Besides, Pleyer cautioned that Pakistan is also subject to an evaluation by FATF's regional affiliate, the Australia-based Asia Pacific Group.
In its latest report issued in September, APG concluded Pakistan has fully complied with only two of 40 recommendations to counter terror financing and money laundering, and that it was "non-compliant" on four recommendations, "partially compliant" on 25 and "largely compliant" on nine.
FATF's statement said Pakistan should continue addressing its "strategic deficiencies", including demonstrating that law enforcement agencies are identifying and investigating the widest range of terror financing activity and that investigations and prosecutions target designated persons and entities.
Pakistan should demonstrate that terror financing prosecutions result in "effective, proportionate and dissuasive sanctions", and it should show "effective implementation of targeted financial sanctions" against terrorists designated by the UN Security Council and those acting on their behalf by preventing the raising and transferring of funds, identifying and freezing assets, and prohibiting access to funds and financial services.
Islamabad should also demonstrate enforcement and action against non-profit organisations, which are often used as fronts by Pakistan-based terror groups, the statement said.
Pleyer brushed aside a question on whether Pakistan is being discriminated against by saying the country is being treated in line with the same rules that have been accepted by 205 countries globally. He also dismissed a question from a Pakistani body about the alleged involvement of Indian banks in terror financing, saying FATF isn't an investigative body.
Sameer Patil, fellow for international security studies at Gateway House, said the six action items FATF is pressuring Pakistan to implement are the "most crucial ones that will help finish off the terror groups".
"Pakistan has was hoping to convince the watchdog to remove it from the grey list but FATF has taken a more serious view and asked Pakistan to go full throttle and terminate the state's support to terror groups, which Pakistan will find difficult to do given the history of these groups being used as proxies by the army," he said.
"Implementing the full action plan won't be easy because of the fear of retribution from these terror groups. We can expect Pakistan to enact more dramas, such as a crackdown and prosecution of terrorists, before the next FATF meeting," he added.
There was no immediate reaction to FATF's decision from Indian officials.
https://www.hindustantimes.com/india-news/fatf-keeps-pakistan-off-blacklist-for-now-warns-that-it-can-t-take-forever/story-t2v3AQXgichIlOZriQaBBJ.html
--------
Buddhist monk calls on Bangladesh PM to save temple and monastery
October 23, 2020
A Bangladeshi Buddhist monk has pleaded to Prime Minister Sheikh Hasina to save a Buddhist temple, monastery, and local Buddhist community from political-Islamist propaganda and land grab threats.
The appeal was made in a video message circulated on Facebook by Bhante Saranangkar Thero, a Buddhist monk and principal of Gayanasarana monastery in Rangunia, southeastern Chittagong district.
"It has been four months since the crisis started at Rangunia and it is getting worse. A group of opportunist people has been trying to defame and ostracize a simple Buddhist monk, which is a disgrace. I would like to bring the matter to the attention of our Prime Minister Sheikh Hasina," the monk said Oct. 20.
Since July, Islamist hardliners allegedly instigated by local politician Ershad Mahmud, have been demanding punishment for the monk accusing him of defaming Islam on Facebook.
Bhante Saranagkar has been in hiding since then.
Ershad Mahmud is the younger brother of Dr. Hasan Mahmud, information minister of the ruling Awami League government.
Secularists and rights activists said the attack on the monk is part of a conspiracy to grab the land of the local Buddhist temple and monastery.
A doctored Facebook page was created and anti-Muslim posts were circulated to target the monk, they claimed.
The monk alleged that conspirators have been abusing power and exploiting the name of the ruling party of PM Hasina in order "to build up mountains of corruption, to destroy communal harmony and to establish a reign of terror."
He termed this as an attack on the religious harmony, peace, and the pluralist culture of Bangladesh.
Charges against the monk and blogger
The attempted land grab by defaming the monk was first exposed on social media by Asad Noor, an India-based Bangladeshi atheist blogger.
Noor was charged by a leader of the student front ruling Awami League on July 14 under Bangladesh's draconian Digital Security Act (DSA) for hurting the religious sentiments of Muslims with his posts.
In his absence, police allegedly detained and harassed his family for hours before letting them go after criticism at home and abroad.
Bhante Saranagkar has been charged in a series of lawsuits including two cases under the DSA for hurting the religious sentiments of Muslims, local police officials confirmed.
Masudur Rahman, chief government officer in Rangunia, said the situation is calm in Rangunia but there are sporadic protests and human chains by local people against the monk.
"We have met and talked with leaders of various faiths and told them not to do anything that can hurt religious sentiments of anyone and destroy harmony. We are not aware about the location of Bhante Saranagkar and it is true he has been charged in a series of cases," Rahman told UCA News.
A similar pattern of oppression
Bangladesh is a pluralist country but sectarianism has crept into sections of people that pose dangers for minorities, said Holy Cross Father Liton H. Gomes, secretary of the Catholic Bishops' Justice and Peace Commission.
"There are vested quarters in various places who abuse the name of the ruling party to make personal gains by attacking minority communities. In the case of Rangunia, the government needs to be sincere to solve the crisis before it's too late," Father Gomes told UCA News.
"It is not an isolated incident but a part of a conspiracy by opportunists and it must be stopped. Otherwise, one-day minorities will become refugees and migrants," the priest noted.
In recent years, Bangladesh has seen abuse of fake Facebook accounts to perpetrate attacks against religious minorities.
Muslim mobs destroyed 19 Buddhist temples and about 100 houses in Ramu, Cox's Bazar and Patiya of Chittagong after a Buddhist man allegedly defamed Islam on Facebook in 2012.
In 2013, Muslims vandalized 26 Hindu houses in Santhiya in Pabna district, for Facebook posts defaming Islam, allegedly circulated by a 10th-grader Hindu boy.
In 2016, Hindus in Nasirnagar, Brahmanbaria district and in 2017, Hindus in Thakur Para, Rangpur district came under attack over Facebook posts allegedly made by Hindu men that defamed Islam.
https://www.ucanews.com/news/buddhist-monk-calls-on-bangladesh-pm-to-save-temple-and-monastery/90005#
--------
Muslim-Hindu-Christian Religious Leaders of Malaysia: Let's Play Our Part in Fighting Covid-19
Nicholas Chung
October 23, 2020
PETALING JAYA: With houses of worship in some states closed in view of the surging Covid-19 cases, religious leaders have called for all Malaysians to continue playing their role to battle the pandemic.
Malaysian Hindu Sangam president RS Mohan Shan said Hindus are in the midst of celebrating the nine-day long Navarathri festival.
The festival started on Oct 17 and will end on Oct 26. He expressed sadness over toned-down celebrations and in having to see some temples closed with the spike in cases.
Nevertheless, he stressed that the safety of the public was more important and encouraged people to take care of themselves and practise the new norms of physical distancing, wearing masks and constantly sanitising their hands.
"I request fellow devotees to be calm and accept the situation. Especially to those in the Klang Valley and also in Sabah, be calm as there's nothing to worry about.
"Take care of yourself, your family and do your prayers at home," he told FMT, adding that devotees could also take part in prayers virtually.
Penang mufti Wan Salim Wan Mohd Noor said Muslims who deliberately disobeyed the government's orders, whether on wearing masks or staying at home during quarantine, were akin to committing sin.
"In Islam, it is mandatory for people to obey the authorities concerning things that are good and beneficial. What more if their disobedience can cause the virus to infect others and harm them.
"Let's not be the agent that spreads Covid-19. It's imperative for us to appreciate those who have fought and sacrificed their lives in fighting the virus on the frontlines to preserve the lives of Malaysians," he told FMT.
He said the authorities have been working tooth and nail to combat the pandemic, adding that it was the responsibility of the government to protect the people.
Council of Churches Malaysia (CCM) secretary-general Hermen Shastri said the whole nation was in this together, agreeing with Wan Salim on how the health ministry has been working hard for the country.
He advised Malaysians to play their part in breaking the Covid-19 chain of transmission by constantly practising new norms and avoiding crowded areas.
"In view of the conditional movement control order (CMCO), we must uphold those who are sick, lonely, unemployed, financially burdened and others in our prayers.
"Checking up on such people we know, or, by making donations to organisations that are helping such vulnerable people, should be encouraged," he told FMT.
He said times like these also give the opportunity for people to reflect on how to build a sustainable society with laws that prioritise health and also protect the environment.
The three religious leaders urged Malaysians to keep praying for the nation and also frontliners, who put their lives on the line daily for the sake of the people.
"Let us pray together that God will bless them for their sacrifices, as they fight for our health and safety," Wan Salim said.
For more information on embracing the new norms during this pandemic, please click here.
https://www.freemalaysiatoday.com/category/nation/2020/10/23/lets-play-our-part-in-fighting-covid-19-say-religious-leaders/
--------
Europe
US intervenes to help mediate solution between Armenia, Azerbaijan
23 October 2020
US Secretary of State Mike Pompeo on Friday met his counterparts from Armenia and Azerbaijan but there were no signs of progress in halting an eruption of fighting over contested Nagorno-Karabakh.
Pompeo shook hands and exchanged pleasantries but made no substantive remarks in separate meetings an hour apart at the State Department with Azerbaijani Foreign Minister Jeyhun Bayramov and Armenian Foreign Minister Zohrab Mnatsakanyan.
For all the latest headlines, follow our Google News channel online or via the app.
The foreign ministries in both Yerevan and Baku had ruled out a three-way meeting in Washington and Bayramov was seen leaving shortly before Mnatsakanyan arrived.
Bayramov said he told Pompeo that the "Armenian occupation must end" of Nagorno-Karabakh, a mountainous region recognized internationally as part of Azerbaijan that is controlled by Armenian separatists backed by Yerevan.
"We are committed to finding a political solution (to) the conflict and ready to resume substantive talks immediately," Bayramov said in a statement after the talks.
"Armenia must stop avoiding meaningful negotiations and choose lasting peace," he said.
Small groups of rival protesters backing Armenia and Azerbaijan confronted one another with slogans and signs outside the State Department, with a Diplomatic Security officer in a mask standing between them.
Ahead of the talks, Pompeo kept expectations in check, noting that previous ceasefires have not held.
"It's a complicated diplomatic situation," Pompeo told reporters on Wednesday.
"Our view remains, as does the view of nearly every European country, that the right path forward is to cease the conflict, tell them to de-escalate, that every country should stay out, provide no fuel for this conflict, no weapons systems, no support," he said.
"It is at that point that a diplomatic solution that would be acceptable to all can potentially be achieved."
Russia has been in the forefront of diplomacy between the two former Soviet republics.
Russian President Vladimir Putin said Thursday that the death toll was nearing 5,000 in the worst flare-up in Nagorno-Karabakh in more than two decades.
The United States has officially voiced neutrality and is a co-chair of the so-called Minsk group with Russia and France on Nagorno-Karabakh.
Pompeo, however, recently characterized Armenia's actions as defensive and has criticized the involvement of Turkey, a staunch ally of Azerbaijan.
The United States has a large and politically active Armenian diaspora but also strategic ties with Azerbaijan, a rare Muslim-majority nation to have strong relations with Israel.
https://english.alarabiya.net/en/News/world/2020/10/23/US-intervenes-to-help-mediate-solution-between-Armenia-Azerbaijan
--------
EU welcomes ceasefire declaration in Libya, urges quick implementation
23 October 2020
The European Commission welcomed the declaration of a ceasefire in Libya on Friday and called for it go into immediate effect and for peace talks to resume.
"The agreement of a permanent ceasefire is key for the resumption of a political dialogue," EU foreign policy spokesman Peter Sano told reporters.
"It's very important, as well, to see this accord put into effect."
For all the latest headlines follow our Google News channel online or via the app
Earlier, Libya's main factions -- the government in Tripoli and a rival eastern administration -- had emerged from five days of talks at the UN in Geneva.
They had signed what the UN's envoy to Libya described as "a complete, countrywide and permanent ceasefire agreement with immediate effect."
Libya has been wracked by conflict for nearly a decade, since the overthrow and killing of dictator Moamer Gaddafi in a NATO-backed uprising.
Since then, the North African country has been dominated by armed groups, riven by local conflicts and divided between the two bitterly opposed administrations.
https://english.alarabiya.net/en/News/north-africa/2020/10/23/EU-welcomes-ceasefire-declaration-in-Libya-urges-quick-implmentation
--------
Arab world

Lebanese torch French flag to condemn desecration of Prophet Muhammad
24 October 2020
Lebanese youths have set fire to France's national flag in a show of anger at the projection of offensive cartoons of Islam's Prophet Muhammad (PBUH) onto government buildings in the European country.
They torched the flag during a protest outside the French embassy in the Lebanese capital, Beirut, on Friday.
The demonstration came two days after the blasphemous cartoons of Prophet Muhammad (PBUH), published by the French satirical newspaper Charlie Hebdo, were displayed onto town halls in Montpellier and Toulouse for several hours.
The measure was part of a tribute to history teacher Samuel Paty, who raised controversy and provoked outrage by showing Charlie Hebdo's insulting sketches to his students.
He was murdered outside his school in a Paris suburb on October 16 by an 18-year-old assailant, identified as Chechen Abdullakh Anzorov, who was shot dead by police soon after the killing.
Since then, French police have raided Muslim houses and mosques and arrested more than a dozen individuals as part of an investigation into the incident.
President Emmanuel Macron described Paty as a "quiet hero" and posthumously awarded him the Légion d'Honneur, France's highest civilian honor.
The Lebanese youths are also angry with Macron's interference in the domestic affairs of their homeland, which gained independence from the French colonial rule more than seven decades ago.
Macron has visited Lebanon twice since the August 4 explosion in the port of Beirut that killed nearly 200 people and caused billions of dollars in damage.
During the trips, he called for a "new political pact" among Lebanese political factions and proposed a roadmap to authorities to unlock billions of dollars in funds from the international community.
In a meeting with President Michel Aoun, Macron threatened Lebanese leaders with sanctions if they did not submit to reforms and a "political change," Lebanon's Arabic-language al-Mayadeen television news network reported.
On Thursday, Aoun tapped Saad Hariri, the embattled former prime minister who stepped down late last year amid protests, to again try to form a new government that can lift the country out of its worst economic crisis in decades.
Hariri vowed to form "a cabinet of non-politically aligned experts with the mission of economic, financial and administrative reforms contained in the French initiative roadmap."
"I will work on forming a government quickly because time is running out," he added, calling it the country's "only and last chance."
https://www.presstv.com/Detail/2020/10/24/637095/Lebanon-France-protest-Prophet-Muhammad-cartoons
--------
NATO says it will reinforce Iraq mission to help local forces
24 October 2020
NATO Secretary General Jens Stoltenberg said Friday a meeting of western military alliance defense ministers had agreed to expand its training mission in Iraq to help Iraqi forces fight extremism.
"While the security situation remains challenging, NATO remains committed to stepping up our support," said Stoltenberg after a two-day defense ministers' meeting in Brussels.
For all the latest headlines follow our Google News channel online or via the app.
"Our aim is to help build self-sustaining Iraqi forces able to fight terrorism, prevent the return of ISIS, and stabilize their country," added Stoltenberg, citing a "concerning" rise in the number and sophistication of attacks against international forces in Iraq.
NATO maintains a 500-strong training mission in the country to prepare local forces in the event of attacks from Islamic State extremists.
Stoltenberg said the scope of the mission's upgrading would be decided at a meeting of alliance defense ministers in February.
Anti-US sentiment spiked anew in Iraq following the January killing of powerful Iranian military commander Major General Qassem Soleimani in a US airstrike near Baghdad, leading to a suspension of NATO training of Iraqi forces.
The Covid-19 pandemic also forced the alliance to dial down numbers earlier this year but the mission has since returned to full capacity, Stoltenberg said.
Turning to Afghanistan, Stoltenberg urged the Taliban to reduce "unacceptable levels of violence" and break ties with violent groups.
But he also betrayed concern over last week's US announcement that the American troop contingent will be cut to around 2,500 early next year – despite the potential impact on peace negotiations between the Afghan government and Taliban insurgents.
Both sides' original understanding was that Washington would not fully withdraw prior to a solid deal between the two sides.
"The negotiations in Doha are fragile, but they are the best chance for peace in a generation. And all Afghans should seize this historic opportunity," said Stoltenberg, cautioning that "the next months are decisive for Afghanistan.
"NATO backs the peace process. And we have adjusted our presence to support it," scaling its troop presence back to less than 12,000 from more than one hundred thousand.
"We decided to go into Afghanistan together; we will make decisions about future adjustments together; and we will leave together, when the time is right," Stoltenberg insisted.
https://english.alarabiya.net/en/News/middle-east/2020/10/24/NATO-says-it-will-reinforce-Iraq-mission-to-help-local-forces
--------
Syrian minister leads mourners for cleric Afiouni assassinated in Damascus bombing
23 October 2020
Hundreds of mourners including Syria's religious affairs minister attended a funeral in Damascus on Friday for the state's top Muslim cleric, who was killed in a bombing near the capital.
Sheikh Mohammed Adnan Afiouni, the Sunni Muslim Mufti of Damascus who was close to President Bashar al-Assad, died on Thursday when his car was targeted with an explosive device in the countryside near Damascus.
For all the latest headlines follow our Google News channel online or via the app.
Afiouni played a large part in what the government describes as reconciliation efforts with armed groups who seized control of several Damascus suburbs during the country's nine-year-long civil war, but who were then driven back by government forces.
He was a leading conservative scholar who preached against Sunni radicalism and the Muslim Brotherhood, which took up arms against the current president's father, Hafez al-Assad.
"He helped to consolidate (the Assad family) grip on power during the fight against the Muslim Brotherhood and later the Salafi trends," said Waeil Olwan, a political scientist and scholar in the Istanbul-based al Jusoor think tank that focuses on Syrian studies.
The 66-year-old cleric described the Syrian uprising as one of "destruction, chaos and terrorism," Alwan added.
Syria's Minister of Endowments Mohammed Abdul Sattar al-Sayed was among hundreds of worshippers who gathered at the Syrian capital's ancient Ummayad Mosque for Afiouni's funeral.
Pictures from the funeral showed the masked minister paying condolences to Sheikh Afiouni's son, alongside the son of another slain cleric Mohammed al-Buti, the government-appointed of the Ummayad mosque who died in a 2013 bombing.
Afiouni headed the Cham Islamic Centre to fight Terrorism and Extremism that trains hundreds of clerics and mosque imams before their employment by the state.
He also led prayers which Assad attended in the town of Daraya after it was recaptured in 2016 from rebels after bombardment that killed hundreds and displaced thousands.
https://english.alarabiya.net/en/News/middle-east/2020/10/23/Syrian-minister-leads-mourners-for-cleric-Afiouni-assassinated-in-Damascus-bombing
--------
Mideast
Sudan, Egypt, Jordan, UAE, Bahrain normalization is part of new Sykes-Picot Agreement
23 October 2020
By Robert Inlakesh
Robert Inlakesh is a journalist, writer, and political analyst, who has lived in and reported from the occupied Palestinian West Bank. He has written for publications such as Mint Press, Mondoweiss, MEMO, and various other outlets. He specializes in the analysis of the Middle East, in particular Palestine-Israel. He also works for Press TV as a European correspondent.
The Sudanese regime is now set to normalize ties with Israel, adding it to the list of normalizers along with Jordan, Egypt, UAE, and Bahrain. Of course, integral to this club of "traitors" as they've been dubbed by many, is the Saudi regime, which is reportedly footing the bill for Sudan to allow it to quickly normalize ties with Israel. So is this normalization about "peace" or in fact Western domination, a plot to confront Iran and money?
The so-called "peace" deals struck between Israel and Arab regimes have been manufactured specifically to serve both Western strategic interests and finance. The initial signing of what was called the 'Abraham Accords', where the UAE and Bahrain had signed onto normalize ties, can be linked to short and long-term strategic goals in the Middle East.
The short term for Israel and the US was achieving a political victory on behalf of US President Donald Trump and Israeli Premier Benjamin Netanyahu. Netanyahu needed a way to hold off on his promise of a de-jury annexation of the West Bank and Trump needed a win to make himself appear to the US public as having achieved a major political breakthrough in the Middle East.
Also, it is clear that there is a financial and military benefit involved in the so-called peace deals. Bahrain to a lesser extent evidently will allow for tourism and investment into the country, although the monetary gain is not as significant as it is in the case of the UAE. The UAE delegation, which arrived in Ben-Gurion airport this week, announced, alongside Israeli politicians, an agreement to sell Emirati crude, transporting it from the Red Sea to the Mediterranean. Also announced was that Israelis will be permitted to travel to the UAE without having to even obtain a visa, something which is of course not granted to Palestinians.
The pipeline, set to be used for the transport of Emirati crude, was seized illegally by Israel, from Iran, and it was ruled by a Swiss court in 2016 that Israel must pay at least 1 billion in damage to Iran, which they refused to pay. In addition to this, the UAE is now set to obtain some of the most cutting-edge US and Israeli military hardware.
In the case of Bahrain, it has been revealed that a secret Israeli embassy may have existed in the country for over 11 years, indicating again that the deal signed was not a peace deal. In the case of the UAE, it is also clear that Israel has collaborated with it in various countries, including the likes of Libya and Yemen.
The use of a monetary gain incentive for normalization is no new thing, as it may appear, however. The history behind both Egypt and Jordan having signed "peace" agreements with Israel followed a very similar model. Egypt, which normalized ties in 1979, did so with the backing of the full might of the US's foreign aid program, which donated more in the year on which the agreement was signed to Egypt, than any other country on earth. In fact, the US managed to not only deliver foreign aid to Egypt but also capture it as an asset as the foreign aid money until this day still allows for the US to keep the country in a headlock. In the case of Jordan's normalization deal, signed in 1994, also came financial incentive, as it did for Egypt during years of former President, Hosni Mubarak, in the form of pipelines and trade.
Now the two main components of this era of normalization deals, are Saudi Arabia and the UAE. It is more than likely that Saudi Arabia, with its control over affairs in Bahrain, used the Bahraini regime as a testing ground to see what would happen before it signed anything and created unwanted problems. Also, Saudi Arabia has just pledged to foot the bill of 335 million to the United States - which was demanded from the US for the deaths of US citizens on Sudanese soil - on behalf of Sudan for its move to normalize ties with Israel.
The United Arab Emirates too has been instrumental in pressuring the Sudanese regime, led currently by interim Prime Minister Abdalla Hamdock, who was installed by the Sovereignty Council, whilst the country is allegedly to transition to democracy. The current affairs of Sudan are heavily influenced by the UAE, so much so that some analysts have accused the UAE of being behind the manufacturing of Sudan-Israel normalization.
Where is normalization heading?
A sharp political mind would look past the official signings of normalization deals and take this all as part of a wider political agenda. When we combine the actions of the Sudanese, Egyptian, Jordanian, Emirati, and Bahraini regimes, putting into consideration that Saudi Arabia and other Persian Gulf Arab regimes are also part of this axis, we can see that this block is acting for a very specific purpose. That purpose is a reshaping of the Middle East, in terms of forming a strong pro-Western axis of undemocratic regimes that aim to completely decimate the Middle East's resistance to Western Imperialism.
Saudi Arabia, Egypt, Jordan, Bahrain, Sudan, UAE, and others have been for some time servants to the West and have worked militarily, monetarily and through their intelligence apparatus to destroy Arab Independence, at the forefront of this struggle being the Palestinian National Liberation Movement.
Strong economic and military ties, now sealed in "peace agreements", represent a bowing of Arab Leadership to Western power. The Arab Peace Initiative, that being the idea of Land for Peace (or a two-state solution), has been officially dissolved and with it the functionality of the Arab League.
The Palestine Liberation Organization made the mistake of succumbing to Western power and money, leading them to the situation they find themselves in today, betrayed, without land and having created the Palestinian Authority (PA) to achieve financial success. The PA now sees what happens when you seal a deal with the West and so is scrambling to try and get a better deal, or at least form some sort of national unity in order to fight the ongoing assault on their suddenly re-discovered cause. However, the plan for the Middle East, set up to benefit the regimes around occupied Palestine - if they are to bow before it - was never intended for the Palestinians. The Palestinian Authority was duped by Israel and the United States, ceding their cause for money, thinking that scraps of Palestine would suffice, but Israel has never even considered giving Palestinians their 20%.
Now the main target, to destroy resistance to Western domination in the Middle East, is Iran. Iran, who are not even Arabs, are the only Middle Eastern country which is keeping Arab resistance alive. If it was not for Iran, Yemen, Palestine, Lebanon, Syria, and Iraq would currently be or be on the road to complete servitude of the US Empire.
In order to enact their new Sykes-Picot plan, the US is now using its Arab regime allies to form a front against the resistance, even attempting to destroy it from the inside. The ultimate goal here is the complete occupation of the Middle East via corrupt dictatorships that oppress and steal from their own people, in order to serve the West.
https://www.presstv.com/Detail/2020/10/23/637074/Palestine-Israel-normalization-Sudan-UAE-Bahrain-Egypt-Jordan-US-Sykes-Picot
--------
Iran: Israel Not in Position to Comment on Nuclear Non-Proliferation
Oct 23, 2020
"Israel has an operational nuclear weapons capability with the mass production of nuclear warheads. The estimates have counted of Israeli nuclear weapons range as many as 400. Israel is also reported to possess a wide range of different systems," Baloji said ddressing the UNGA First Committee meeting on Thursday.
"In addition, Israel is possessor of all types of weapons of mass destruction. Its nuclear capabilities have been acknowledged in different occasions. In 2006, then Israeli Prime Minister appeared to acknowledge that Israel had nuclear weapons. When its prime minister in 2018 threatened Iran with nuclear annihilation, it is another case which should be coped with by the international community for obvious reasons," he added.
The full text of Baloji'se statement is as follows:
Mr. Chair,
My delegation rejects the baseless allegations that the representative of the Zionist regime of Israel mentioned about Iran.
In fact, Israel is an entity that continues to impose institutionalized discrimination against Palestinians living under its rule and the Occupied Palestinian Territories (OPT). Israeli forces are killing Palestinians even without posing any threat to Israelis. Israel failed to ensure accountability and redress for victims of such grave violations of international humanitarian and human rights law and so it is subjecting Palestinians to collective punishment and deepening the humanitarian crisis there. It continues to restrict freedom of movement of Palestinians in the OPT through checkpoints and roadblocks. Israeli authorities unlawfully detain thousands of Palestinians, holding hundreds in administrative detention. Torture and other ill-treatment of detainees, including children, were committed with impunity. Israel continues to displace Palestinians in as a result of home demolitions. The authorities used a range of measures to target human rights defenders, journalists and others who criticized Israel's continuing occupation of Palestine and other neighboring countries.
On human rights, the statistics are speaking for themselves and for instance, just in one year, at the United Nations Human Rights Council, Israel has been the focus of 70% of approximately 50 condemnatory resolutions by the council, 60% of the ten Special Sessions of the council and 100% of the council's five fact-finding missions or inquiries. It is worth mentioning that comparisons between apartheid or Nazi regimes and Israel are increasingly made.
In addition, Israel is possessor of all types of weapons of mass destruction. Its nuclear capabilities have been acknowledged in different occasions. In 2006, then Israeli Prime Minister appeared to acknowledge that Israel had nuclear weapons. When its prime minister in 2018 threatened Iran with nuclear annihilation, it is another case which should be coped with by the international community for obvious reasons.
Israel has undeclared chemical warfare capabilities, and an offensive biological warfare program although it continues to deny these capabilities while rejecting all international calls to put aside the WMD option and abide by the rules that the responsible states have been recognizing and implementing.
Israel has an operational nuclear weapons capability with the mass production of nuclear warheads. The estimates have counted of Israeli nuclear weapons range as many as 400. Israel is also reported to possess a wide range of different systems, including neutron bombs, tactical nuclear weapons, and suitcase nukes. The range of its nuclear weapons delivery mechanisms is estimated up to 11,500 km.
Thus, Israel has no stand to cry wolf on non-proliferation or non-compliance and it must stop lying and accusing other countries, because Israel itself is the number-one violator of international law in the field of human rights, international humanitarian law, and all disarmament instruments. Specially on WMD regimes, it must join the NPT, BWC and CWC and destroy all its WMD arsenals while accepting the related verification regimes. The international community should compel Israeli regime to put aside any pretext to join the negotiations on establishing a Middle East free of all WMDs under the UN and participate in the discussions and the conference thereof.
https://en.farsnews.ir/newstext.aspx?nn=13990802000342
--------
Iran: US Unilateralism Jeopardizing Rule of Law in World
Oct 23, 2020
Takht Ravanchi made the remarks in a statement addressing the Sixth Committee of the 75th Session of the United Nations General Assembly On "The Rule of law at the National and International levels" (Agenda item 86).
The full text of the Iranian envoy's statement is as follows:
Mr. Chairman,
The founders of the United Nations, drawing on lessons from the past to save succeeding generations from the scourge of war, established an international legal order on the basis of sovereign equality of States and prohibition of the threat or use of force in international relations.
They opted for the path of multilateralism and peaceful settlement of disputes as a viable solution to end conflicts. Since the inception of the UN, multilateralism in and of itself has been a major achievement of the UN system. However, this important achievement is now under severe attack by the unilateral approaches of the United States.
U.S.' unilateralism has been manifested in the form of withdrawal from international treaties and international organizations; waging trade wars against countries; committing economic and medical terrorism in the form of imposing inhumane universal coercive measures to gain political objectives; threatening the International Criminal Court and its prosecutor; weaponizing its currency to abuse the international financial system; penalizing nations across the entire world for abiding by the Security Council resolutions; confiscating the assets of national banks; and violating its commitments toward the UN with the imposition of inhumane restrictions on the representatives of some Member States accredited to the UN. These are all examples of the vicious approach taken toward the international community which has seriously endangered rule of law at the international level.
The Islamic Republic of Iran, in an effort to defend its legitimate rights against this lawlessness, has opened two cases before the International Court of Justice. The Court's unanimous provisional order requesting the U.S. to remove the obstacles created as a result of its actions and illegal decisions made following its withdrawal from the JCPOA, including the impediments imposed on the path of Iran's trade in certain domains, was another clear testament to the illegality of the United States' sanctions. However, the US Government, instead of complying with the binding decision of the main judicial organ of the UN, has intensified its coercive measures against my Country and its people.
Mr. Chairman,
Corruption represents a grave danger to all and threatens the prosperity of the peoples and the developments of their societies while undermining the rule of law. Corruption can only be defeated by sustained political will through a holistic and universal approach in line with the United Nations Convention against Corruption. To this end, we are committed to ensuring full, effective and balanced implementation of the Convention, in particular its provisions on asset recovery as a fundamental principle of the Convention, which have been alarmingly and unexpectedly underutilized.
By upholding the rule of law and in line with its commitment to the Convention, the Islamic Republic of Iran has made significant efforts both at the national and international levels to prevent and combat corruption. In this process, the Islamic Republic of Iran, with the aim of improving efficiency in its laws and provisions to counter corruption, has amended the "Countering Money-laundering Act of 2008" and has finalized the draft bill on the conflict of interest.
Despite all these efforts, the Islamic Republic of Iran still faces certain challenges in preventing and combating corruption. Unilateral Coercive Measures have impaired the allocation of required resources in our fight against corruption.
The non-compliance of certain states in the effective cooperation of recovery of assets acquired illegally indicate the double standards as well as dubious and dishonest approaches in eradicating corruption which would only embolden corrupted criminals in continuing their malicious activities hence, undermining the rule of law at the national and international levels.
Despite these challenges, we would like to reiterate once again our commitment and decisive will to fight corruption effectively and responsibly. We are determined to confine these destructive impacts by initiating and developing efficient strategies in curbing and combating this menace as asserted by the Convention.
https://en.farsnews.ir/newstext.aspx?nn=13990802000176
--------
Turkey's Erdogan says Libya ceasefire doesn't seem 'too achievable'
23 October 2020
Turkish President Recep Tayyip Erdogan on Friday questioned the viability of a ceasefire signed between Libya's two rival factions, one of whom is supported by Ankara.
"Today's ceasefire agreement was actually not made at the highest level, it was at a lower level. Time will tell whether it will last," Erdogan, who backs the Government of National Accord (GNA), told reporters in Istanbul.
For all the latest headlines, follow our Google News channel online or via the app.
"So it seems to me that it lacks credibility," Erdogan said, but added he hoped the ceasefire would work.
Stephanie Williams, the United Nations Libya envoy, announced earlier on Friday that the two Libyan delegations "signed a complete, countrywide and permanent ceasefire agreement with immediate effect."
The announcement came after five days of talks at the UN.
Turkey has provided military support to the GNA against military Khalifa Haftar, who is supported by Egypt, the United Arab Emirates and Russia.
Ankara last year signed security and maritime deals with the GNA after which it sent drones that helped turn the tide in the increasingly complex war.
Libya has been mired in chaos since the overthrow and killing of dictator Moammar Qadhafi in 2011 in a NATO-backed uprising.
https://english.alarabiya.net/en/News/middle-east/2020/10/23/Turkey-s-Erdogan-says-Libya-ceasefire-doesn-t-seem-too-achievable-
--------
Israel warplanes strike Hamas targets in Gaza Strip following rocket fire
23 October 2020
Israeli warplanes struck suspected Hamas military targets in the Gaza Strip before dawn on Friday following rocket fire from the blockaded Palestinian territory.
Fighter jets and other aircraft struck a "weapons manufacturing site and underground infrastructures" operated by Islamist group Hamas, which has controlled the territory since 2007, the Israeli army said.
For all the latest headlines follow our Google News channel online or via the app
Hamas reported no casualties from the Israeli strikes on the Nuseirat refugee camp and the southern city of Khan Yunis.
Two rockets had been launched at Israel late Thursday, without causing any casualties or damage. One was intercepted by Israeli air defenses, while the other hit open ground, the army said.
The last reported rocket attack from Gaza was on Tuesday night. It came after the army announced it had found a new tunnel that crosses "dozens of meters (yards) into Israel" from Gaza.
The next day the army said the tunnel belonged to Hamas.
Authorities have discovered some 20 tunnels originating in Gaza since 2014, army spokesman Jonathan Conricus said this week.
Israel has fought three wars with Hamas since the Islamists ousted loyalists of Palestinian president Mahmud Abbas from the territory in 2007 and there have been numerous smaller flare-ups.
An informal truce brokered by Egypt and the United Nations, has been in force since late 2018. It has been broken several times but has been restored on each occasion.
https://english.alarabiya.net/en/News/middle-east/2020/10/23/Israel-warplanes-strike-Hamas-targets-in-Gaza-Strip-following-rocket-fire-
--------
Africa
Sudan to designate Lebanon's Hezbollah as terrorist organization under Israel deal
Joseph Haboush and Nadia Bilbassy-Charters
23 October 2020
Sudan has agreed to designate Lebanese Hezbollah as a terrorist organization as part of a recent deal to normalize ties with Israel, a senior US official said Friday.
"After decades of living under a brutal dictatorship, the people of Sudan are finally taking charge," a joint statement between the United States, Sudan and Israel said.
For all the latest headlines, follow our Google News channel online or via the app.
But there was no mention of Hezbollah's designation, which the senior US official confirmed to Al Arabiya English that Sudan agreed to.
It remains unclear if this was a demand by other Arab states or only Israel and the US.
Friday marked 37 years since one of the deadliest attacks against US troops on foreign soil. On Oct. 23, 1983, a suicide bombing at the US Marine Barracks in Beirut killed 241 American service members.
— Secretary Pompeo (@SecPompeo) October 23, 2020
US President Donald Trump Friday announced that Sudan would normalize relations with Israel, in a landmark step after two Gulf Arab nations moved to recognize Israel.
Moments after Trump formally moved to remove Sudan from a US list of state sponsors of terrorism, reporters were escorted to the Oval Office where he was on the phone with leaders of Israel and Sudan.
The deal with Sudan will include aid and investment from Israel, particularly in technology and agriculture, along with further debt relief. It comes as Sudan and its transitional government teeter on the edge. Thousands have protested in the country's capital Khartoum and other regions in recent days over dire economic conditions.
https://english.alarabiya.net/en/News/middle-east/2020/10/23/Sudan-to-designate-Lebanon-s-Hezbollah-terrorist-organization-as-part-of-Israel-deal
--------
Libya rival sides agree to sign permanent ceasefire deal: UN envoy
23 October 2020
Libya's rival sides have eventually agreed to sign a permanent ceasefire agreement in all areas, to bring an end to months of deadly fighting in the North African nation.
The two sides poised to sign an agreement to open air and land routes that connect all regions and cities in the country, said a United Nations spokeswoman on Friday.
She said the two sides have reached the "historic achievement" with a permanent ceasefire deal.
A signing ceremony was scheduled for Friday morning at the UN European headquarters in the Swiss city of Geneva.
UN acting envoy to Libya, Stephanie Williams, will hold a press conference after the signing.
Williams has expressed concern that there are still "worrying developments," such as Libya's deteriorating socio-economic conditions.
"And, of course, the COVID pandemic is increasing exponentially in the country," said added.
The country, which sits atop the largest oil reserves in Africa, descended into chaos last year after the so-called Libyan National Army (LNA) under rebel commander Khalifa Haftar moved toward Tripoli to seize the city, which was repelled by Libyan government forces.
The conflict has escalated into a regional proxy war fueled by foreign powers pouring weapons and mercenaries into the country.
Haftar forces were fighting to unseat the government with support from the United Arab Emirates, Egypt, and Jordan.
But government forces have pushed them as far back as Sirte, on the Mediterranean coastline, with crucial help from Turkey.
In August, the rival administrations announced separately that they would cease all hostilities and hold nationwide elections, drawing praise from world powers.
After mediation led by Williams this week, the 5+5 Libyan Joint Military Commission reached what the UN called an "important turning point towards peace and stability in Libya."
Earlier on Wednesday, Williams said that she was "quite optimistic" that ongoing talks between the warring sides would lead to a lasting ceasefire.
"From what I've seen in the room in these direct talks, there is an air of seriousness and commitment," she said.
She also urged the two parties "to solve all outstanding issues and forge a lasting cease-fire agreement."
The parties agreed to initiate joint security arrangements, with a particular focus on the road for the land routes from Shuwerif to Sebha to Murzuq, from Abu Grein to Jufra, and for the coastal road from Misrata to Sirte and onwards to Ajdabiya.
Williams also stressed that what made these talks important is that "this will be a Libyan-owned solution."
Libya initially plunged into chaos in 2011, when a popular uprising and a NATO intervention led to the ouster of long-time dictator Muammar Gaddafi.
Ankara has repeatedly warned foreign players against "dangerous military adventure" in the oil-rich country, saying it would maintain support for the Libyan government.
Turkey made the warning after Egyptian President Abdel-Fattah el-Sisi said earlier this year that his country would take military action in Libya in direct support of the rebels.
An escalation in Libya could have risked igniting a direct conflict among the foreign powers that have poured in weapons and fighters in violation of an arms embargo.
https://www.presstv.com/Detail/2020/10/23/637040/Libya-chaos-UN-ceasefire
--------
Angry Sudanese rally to condemn normalization with Israel
24 October 2020
Angry Sudanese protesters have taken to the streets to condemn the current junta's decision to follow the UAE and Bahrain in forging diplomatic relations with Israel.
They rallied in the capital Khartoum Friday evening, calling on Sudan's Sovereign Council chief General Abdel Fattah al-Burhan to reject the normalization deal.
"No to negotiations, peace ... and reconciliation with the [Israeli] regime," they chanted. "We will neither surrender, nor will we relinquish ... We are standing with Palestine," they cried as they set the Israeli flag on fire.
Numerous Sudanese political parties also lined up to declare their outright rejection of the normalization agreement between their country and Israel, stressing they are going to form a front to oppose the move.
Sudanese Ba'ath Party, the Sudanese Communist Party, National Consensus Forces (NCF) – a coalition of political parties - the National Democratic Alliance (NDA), the Forces of Freedom and Change (FFC) alliance, the Popular Congress Party as well as Sudan Change Now political movement stated that they are fiercely against any relationship between Khartoum and Tel Aviv.
"A few days ago, we embarked on intense political contacts with distinguished artists as well as cultural and literary figures to form a front against normalization," spokesman for the Sudanese Baath Party Muhammad Wadaa said.
"There are a number of parties within the FFC that have warned to withdraw support for the government upon normalization, and other parties have announced similar positions."
Wadaa highlighted that there are consultations and meetings on how to stand against the normalization.
"Normalization with Israel is an unacceptable step… The government is not authorized to take such a measure with a usurping and racist regime, which practices religious discrimination," he said.
Wadaa lashed out at the Sudanese government over making normalization with Israel a condition for resolving economic woes.
"The government must not have invoked to sell the country and Sudan's history on the pretext of economic difficulties," he said.
"The government must resign and cede power to the people if it is unable to overcome difficulties by itself."
US President Donald Trump announced on Friday at the White House that Sudan and Israel had agreed to normalize relations.
Trump sealed the agreement in a phone call with Israeli prime minister Benjamin Netanyahu and Sudanese prime minister Abdalla Hamdok and Burhan, senior US officials said.
Sudan's acting foreign minister Omar Gamareldin, however, said on Friday the accord will depend on approval from its yet-to-be formed legislative council. It is unclear when the assembly will be formed under a power-sharing deal between the country's military officers and civilians.
Palestinians blast normalization agreement
Furthermore, Palestinians strongly condemned Sudan's agreement to normalize relations with the Israeli regime.
The Islamic resistance movement Hamas said in a statement that the move has shocked Palestinians, Arab and Muslim nations, as well as freedom-loving people of the world.
"Sudan, indeed, loses its position as a leading Arab and Muslim country by agreeing to sign such a deal," the statement said.
"We call on the Sudanese people to express their rejection of this dishonorable agreement that won't bring about stability and prosperity, but rather chaos, deterioration, and disgrace," it added.
Hamas said the agreement "will add to the Israeli regime's hegemony in the region and will not serve the interests of Arab and Muslim nations. It will also lead to disputes and upheavals, especially inside Sudan."
"Hamas calls on Arab nations to fight off all forms of normalization, and denounce the establishment of any diplomatic relations with the Israeli occupation regime," the statement said.
Separately, Wasel Abu Youssef, a member of the Executive Committee of the Palestine Liberation Organization (PLO), described the normalization of relations between Sudan and Israel as a "new stab in the back" of Palestinians.
"Sudan's joining others who normalized ties with the Israeli occupation regime represents a new stab in the back of the Palestinian people and a betrayal of the just Palestinian cause," Abu Youssef said in the occupied West Bank city of Ramallah on Friday.
He highlighted that Sudan's decision to normalize ties with the Tel Aviv regime "will not shake the Palestinians' faith in their cause and in continuing their struggle."
Palestinian President Mahmoud Abbas also rejected the deal, saying the Palestinian Authority will take necessary measures to protect the legitimate interests and rights of Palestinian people.
His office said in a statement on Friday that the deal was in violation of the Arab League resolutions, the Arab Peace Initiative and the UN Security Council Resolution 1515.
"No one has the right to speak on behalf of the Palestinian people and the Palestinian cause. The path to a comprehensive and just peace must be based on international law and resolutions," it said.
It underscored that a just peace should "lead to an end of the Israeli occupation of Palestinian lands and establishment of an independent Palestinian state with East al-Quds as its capital on the borders of June 4, 1967."
https://www.presstv.com/Detail/2020/10/24/637091/Dozens-rally-against-Sudan-agreement-to-normalize-relations-with-Israel-in-US-brokered-deal
--------
India
Court Accepts Waqf Board's Petition in Kashi Vishwanath-Gyanvapi Mosque Case, Hearing on November 12
OCTOBER 23, 2020
The district court has accepted the revisional admission of the Sunni Central Waqf Board in the Kashi Vishwanath Temple and the Gyanvapi Mosque case on Thursday. The case will be heard on November 12 over jurisdiction of the case.
The Kashi Vishwanath temple has demanded an archaeological survey to which the Anjuman Intezamia Committee had objected. However, the Sunni Waqf Board then entered the case and filed a petition.
As per the petition, the Waqf Board said that the case should be heard in Lucknow Waqf Tribunal but on February 25 the petition was quashed. Following this, the board applied for a revisionary admission and the matter was again heard on August 20.
On Thursday after hearing the arguments of the three parties- Lord Vishweshwar Temple, Anjuman Intezamia Committee Masjid, and Sunni Waqf Board, the court accepted the Waqf Board's revisionary admission and now the jurisdiction matter will be heard on November 12.
The district judge said in the hearing that the subordinate court has determined that it has the right to hear the case pending since 1991. In this case, there is no need to refer to the Waqf Board, Lucknow. The sessions court has the right to hear against this order. The views presented by the opposition side do not apply. In such a situation, this surveillance is accepted as civil monitoring. Filing this monitoring petition, the date of November 12 is fixed for disposal and advance order.
https://www.news18.com/news/india/court-accepts-waqf-boards-petition-in-kashi-vishwanath-gyanvapi-mosque-case-hearing-on-november-12-2997869.html
--------
Kashmir off the table for future talks, India signals to Pakistan
Oct 24, 2020
NEW DELHI: This week India came down hard on Pakistan at the Commonwealth foreign ministers' meeting, describing it as a "globally acknowledged promoter of state-sponsored terrorism" masquerading as a victim and dismissed Pakistan foreign minister Shah Mehmood Qureshi's comments on Kashmir as a subject that was India's "internal matter".
The dismissive and undiplomatic brusque response has now become the template for Indian response to Pakistan's repeated attempts to raise Kashmir, a position that has steadily solidified since the reorganisation of J&K in August last year.
While the commentary is not new, the clear signal to Islamabad is that it has no locus standi on Kashmir and is, in fact, in illegal occupation of PoK. In sharp words, Vikas Swarup, secretary in MEA, slammed Qureshi for raising the Kashmir issue, sarcastically observing that his reference to a south Asian nation that committed atrocities against its religious minorities seemed to best describe Pakistan — a country "that brought genocide to South Asia 49 years back when it killed its own people (in erstwhile east Pakistan)".
Later, foreign minister S Jaishankar used the Asia Society platform to state, "terrorism from Pakistan remains publicly acknowledged by their government as a policy that they are justifying. So it makes it very hard to conduct normal relations with them".
His iteration that Kashmir's reorganisation is an "internal matter" swiftly dissipated any prospect of a return to the old engagement template with Pakistan, a message that New Delhi is emphatically conveying to the power centres in the neighbouring nation.
In fact, Pakistan PM Imran Khan's NSA Moeed Yusuf laying out the parameters of future talks with India, showed how far apart the two countries were with his suggestion that India wanted to talk being dismissed out of hand. So far as India is concerned, the "status" of Kashmir, an article of faith for Pakistan, in talks with India, is now a non-issue or at least no longer as Islamabad has considered it.
The "composite" dialogue of eight subjects, or even the rebadged "comprehensive" dialogue kick-started by late foreign minister Sushma Swaraj, is no longer applicable in the current context, particularly after the Modi government created the UTs of J&K and Ladakh. According to government sources, Pakistan will no longer have any locus standi to discuss this.
While New Delhi has always maintained J&K to be "an integral part" of India, there was an implicit accommodation of the Pakistani position at any engagement. That has now gone. Since August 5, 2019, India has certainly come under international pressure, but this has been on the issue of human rights in Kashmir, detention of political leaders, press freedom, 4G internet access. There has been no push-back on Article 370 — except for Pakistan and China.
"After PDP chief Mehbooba Mufti was released last week, we're getting less questions from the international community," a source said. Jaishankar said in his remarks this week that India's external boundaries have not changed.
"So as far as our neighbours are concerned, our point to them is that this is something which is internal to us. Every country after all reserves the right to change its administrative jurisdictions. A country like China has also changed the borders of its provinces and I'm sure a lot of other countries do that. Neighbours get impacted only if your external boundaries change. That has not happened in this case," he said.
Pakistan is yet to comprehend the changed metrics of engagement, as was clear during Yusuf's interview to an Indian media channel. India is likely to push at least diplomatically for return of Kashmiri territory illegally held by Pakistan (and a part of it ceded to China).
On the UN Security Council resolutions, India considers them to be infructuous now, because there is no longer any possibility of a plebiscite, after the constitutional action of August 5, 2019. For the past year, the foreign office has taken a harder and more belligerent stand with Pakistan. India has not neglected to emphasise the internal nature of the actions on Kashmir.
This has now become accepted Indian positions, and this will form the basis of any future engagement with Pakistan, said people familiar with developments.
https://timesofindia.indiatimes.com/india/kashmir-off-the-table-for-future-talks-india-signals-to-pakistan/articleshow/78837771.cms
--------
Scare on Delhi-Goa flight over 'terrorists' on board
Anvit Srivastava
Oct 24, 2020
Panic broke out on board a Delhi-Goa flight when a passenger got up from his seat and screamed that there terrorists were on board the plane. The man, who was later identified as a resident of Delhi's Jamia Nagar, also claimed to be from the Special Cell, Delhi Police's anti-terror unit.
The man was detained soon as the flight made a priority landing at Goa airport on Thursday. Senior police officers said the man was diagnosed to be mentally unstable and sent to hospital for treatment. HT is not naming the passenger due to his mental health issues.
The incident took place at 3.15pm on Air India flight AI-883. According to the officers of the Central Industrial Security Force (CISF), that secures the airports, when the flight was about to land in Goa airport, the man got up and shouted: "There are terrorists in this flight".
As other passengers panicked, flight crew tried to intervene. When they asked the man to sit down calmly, he told them he was from the Special Cell of Delhi Police. An official aware of the incident said the man did not turn violent on the plane and was calmed down by the crew.
The matter was reported to the chief pilot, who alerted Goa Air Traffic Control (ATC) and requested priority landing, citing an emergency. The flight was given a priority landing slot by the ATC, which informed the Airport Operation Control Centre (AOCC) that in turn alerted the CISF and Goa police.
"Soon, as the flight landed safely at Goa airport, the CISF commandos detained the man at the aero-bridge itself. He was escorted to the Dabolim police station by the CISF staff and the members of Air India's security staff," said a senior CISF officer, who did not wish to be named.
Air India declined to comment on the matter.
Pankaj Kumar Singh, superintendent of police, (south Goa), said the man did not seem to be mentally fit.
"He was travelling alone. When we tried to question him on his act, he did not seem to be fine. We got him medically examined and he was sent to the Institute of Psychiatry and Human Behaviour (IPHB) in Bambolim, Goa on doctor's advice. No case has been registered against him so far," Singh said.
During the initial investigation, the police found that the man had been under treatment for schizophrenia for the past three years.
"We contacted his family members, who told us that he had been staying alone for past few months. They said he had studied business administration after which he slipped into depression and is being treated for schizophrenia. They also said that he had stopped taking his medicines recently..," said a south Goa police officer who did not want to be named.
https://www.hindustantimes.com/india-news/scare-on-delhi-goa-flight-over-terrorists-on-board/story-fDnQLNSJxtO8Budqer3SYL.html
--------
In Biden's outreach to Indian Americans, a clear reference to Chinese aggression and Pak
Yashwant Raj
Oct 23, 2020
Democratic presidential candidate Joe Biden has said that while US-India ties were "photo-ops" for President Donald Trump, for him they were about "getting things done", and reiterated his promise to work with India to combat terrorism and prevent China from threatening its neighbours.
To illustrate his contrast with the US president, Biden recalled the role he played in the passage of the "historic" India-US civil nuclear deal as chairman of the US Senate foreign relations committee in 2008.
"At the time, I said if the United States and India became closer friends, then the world will be a safer place," Biden wrote in an Op-Ed in India West, a news publication focused on the Indian diaspora.
President Barack Obama's 2009-2016 tenure saw "some of the best years" between the two countries, Biden wrote, adding that he and his Indian-descent running mate Kamala Harris will "build on that great progress and do even more."
"We can and should be natural allies," wrote Biden, who currently has the upper hand in the election according to opinion polls, using a phrase first used by late Prime Minister Atal Bihari Vajpayee during a trip to the US in 1998.
Leaders from both countries have since tried their own version to define the relationship in their own vision.
Biden reiterated his promise—first laid out in an expansive platform he unveiled on August 15 at a virtual event to mark India's Independence Day—to work with India on its key foreign policy concerns.
"If elected President, I will continue what I have long called for: The US and India will stand together against terrorism in all its forms and work together to promote a region of peace and stability where neither China nor any other country threatens its neighbours." The resolve to combat terrorism was a reference to cross-border terrorism emanating from Pakistan.
Both Biden and Trump have wooed Indian Americans voters—estimated to number 1.9 million—for their potential to make a difference, howsoever small, in battleground states that will determine the outcome. "The Indian American electorate of nearly 2 million voters is a powerful force that can make all the difference from North Carolina and Virginia to Pennsylvania and Michigan to Georgia and Texas and across the country," he wrote, leaving no doubt the Op-Ed was an appeal to Indian American voters.
He added: "And as we value the Indian-American diaspora, we'll continue to value the US-India relationship. For Donald Trump, it's photo-ops. For me, it's getting things done."
It could not be immediately ascertained if the former vice-president was referring to a video released by the Trump campaign of clips of the president with Prime Minister Narendra Modi from their joint appearances at the 'Howdy Modi' and 'Namaste Trump' events in Houston and Ahmedabad to woo Indian American voters.
Biden promised them better ties with their country of origin and better lives for them in the US, addressing their main concerns, as with other Americans—promise to contain the Covid-19 epidemic, expand healthcare, not raise taxes for those under a certain income, encourage legal immigration, and make colleges tuition-free for some certain income categories.
Bide also noted in the Op-Ed the importance of respecting diversity among other shared values. "We will meet every challenge together as we strengthen both democracies—fair and free elections, equality under the law, freedom of expression and religion, and the boundless strength both nations' draw from our diversity," he wrote, adding, "These core principles have endured throughout each nations' histories and will continue to be the source of our strength in the future."
https://www.hindustantimes.com/world-news/for-trump-india-us-ties-are-about-photo-ops-biden/story-lBYVfmJnmwuQIzLu1wQprJ.html
--------
Pakistan
No atmosphere for talks with India, says Pak foreign minister
Imtiaz Ahmad
Oct 23, 2020
Pakistan foreign minister Shah Mehmood Qureshi told reporters on Friday that he does not see an atmosphere for talks with India at this stage, citing what he called a 'human lockdown' in Kashmir.
"In my honest opinion, I do not see an atmosphere for talks," he said at the foreign office in Islamabad.
Qureshi rejected suggestions that messages for talks have been sent from across the border.
"There are some quarters who have been saying that talks should take place, but I do not think this the time, or the atmosphere is right for this, as the situation in Indian held Kashmir is very bad."
"There are restrictions on movement of people and there are human rights abuses taking place. There is a communication blackout. How can we have talks in such an atmosphere?"
He said that India needs to rethink its decision of removing the special status for Jammu and Kashmir.
"Only then can we have talks," he said adding that the Indian action has been rejected both by Pakistan and the people of Kashmir. "India's stance on Kashmir has suffered because of its actions."
He told reporters that when Prime Minister Imran Khan assumed office, he had proposed talks but these were rejected by India.
"Now given the situation in Kashmir, we cannot give talks priority." India, he said, has to review its one-sided decisions.
He also said India's plans to "push Pakistan into the blacklist" of Financial Action Task Force (FATF) will fail because of the steps the country had taken to meet the requirements of the global watchdog on money laundering and terrorist financing.
His comments came as a plenery meeting of FATF on Friday voted to keep Pakistan in its 'grey list' of countries whose controls over terrorism financing are deemed inadequate.
"I can say this with confidence, India will fail in its designs to push Pakistan into the blacklist," Qureshi said, adding that the world had "acknowledged" that the government and parliament had taken "concrete steps" regarding the FATF's action plan.
Of the 27 points on which the FATF had asked Pakistan to take action, "I can say with conviction we have implemented 21," the minister said. He added that progress had also been made on the remaining six points.
https://www.hindustantimes.com/world-news/no-atmosphere-for-talks-with-india-says-pak-foreign-minister/story-hXiQtAkt8GUmjyiMrvyjWM.html
--------
PM terms meetings with opposition leaders 'mistake'
Hassan Sheerazi
24 Oct 2020
KARACHI: Prime Minister Imran Khan on Friday said meeting leaders of protesting opposition parties was 'a big mistake' while questioning what has been gained from those meetings, as the latter are using such language against the army that even the enemies do not use.
About the Pakistan Muslim League-Nawaz supremo, Mr Khan declared that he would get him deported from the UK, even if he would have to talk to Prime Minister Boris Johnson. He said his government was in constant contact with the authorities in the UK so that Nawaz Sharif could be brought back at the earliest.
The prime minister expressed these views during his two-hour-long interview on ARY News channel. He said whether he remained in power or not, he would make sure that leaders of the protesting opposition parties never came back to power.
About recent meetings of the army chief with the PML-Nawaz leaders, Mr Khan said: "This was also our big mistake. Although General Bajwa used to tell me they were meeting. So and so was coming to meet. They will have conversation. I think this was a big mistake. They should not have been met. We should not have met them. What has been gained by meeting [them]?"
He said: "Today the abuses they are hurling, the language they are using against the army, even the enemies do not use such language. So what has been gained?"
"Whosoever was meeting, what did they want [but] NRO. Amnesty for their theft. Either you decide that you will pardon their loot. For me, even if my grave is dug up, till the time I am alive, I will not pardon them. Gen Musharraf did the worst to Pakistan when he gave them NRO under pressure."
"Whether I am in power or not, these thieves would never get back in power. I will take people to streets if they get back into power," Mr Khan explained. He remarked either the protesting opposition leaders or Pakistan would survive.
Asked about his opinion about the recently reported abduction of Sindh Inspector General of Police in Karachi, Prime Minister Imran Khan said: "Who was kidnapped?" He then recalled that sometimes PTI leaders got scared of opposition rallies but he told them they should not worry, as it was democratic right of the opposition to stage rallies. Referring to the IG House incident, the PM said: "I believe it is a comedy. When I think about that, I laugh. What is happening? It is unfortunate that all the enemies of Pakistan, including India and Israel, are with them."
He said: "Nawaz Sharif is greedy. Money is their god. Narendra Modi had stated that Gen Raheel Sharif was a terrorist while praising Sharif. Burkha Dutt said Nawaz as prime minister had met Modi in Khatmandu while keeping the army in dark. India wants that Pakistan's disintegration into three states. Israel is only scared of Pakistan Army. Israel and India want disintegration of Pakistan. Nawaz Sharif says all other army officers are fine except Gen Bajwa. Similarly, they say, one or two judges are honest but not other judges. They are trying to create rifts within institutions."
Asked about his team's performance to build his narrative, Mr Khan said his government could not spend as much money on the media as they had done. Journalists and some media houses used to get ads from the governments in the past. "Kidnapping [of Sindh police chief] was a non-issue, yet media houses were creating hype… I don't fear free media. Nawaz Sharif mistreated Najam Sethi. Fake news and propaganda damages the government. Fake news is a problem that I face," he said.
Food prices
About the recent increase in food prices, the prime minister said prices of wheat flour had increased as ill-timed rains had damaged crops. He said that the institution that was supposed to forecast the produce had not been functioning properly. "Now we have asked Suparco to give satellite image so that information technology is used to assess the wheat crops," he said.
He said he wrote letters to the food departments to assess wheat situation, but Sindh did not gave a clear picture. Later, when Punjab released wheat, Sindh kept it stocks, with the result that Punjab wheat moved to Sindh, he said. This was the reason, he said, he wanted "food security to be centralised".
The prime minister said prices of ghee and pulses increased due to international prices, because Pakistan imported 60pc pulses and also edible oil. However, he promised that food prices would come down in a week or so.
About sugar prices, Mr Khan said sugar cartel was behind shortage of sugar in the country. It was exported initially due to miscalculation that caused price hike. But the commodity has been imported, and the price would come down soon.
"When people were in pain, they lose patience. If you ask people what is this government performance, they will share their agony," he said, reminding the people that Riasat-i-Madina was not built in a day. The Muslims faced hardships and wars. There were threats from within and outside, he said. "A country can't prosper overnight. When you fix it, it will take time."
About the civil bureaucracy, the Prime Minister said there was a status quo for the past 30 years. "The process for improvement will take time. I appeal to the nation to stand by Imran Khan." He said PIA operations had become profitable, fiscal deficit balanced and current account deficit being turned positive.
The contracts the past governments had signed had been a burden on his government, he said. The cost of power generation was too high, while even in gas contract with Qatar, they made money. "We are trapped because of these past contracts," he reasoned.
https://www.dawn.com/news/1586724/pm-terms-meetings-with-opposition-leaders-mistake
--------
Geo reporter Ali Imran 'goes missing' in Karachi
Imtiaz Ali
24 Oct 2020
A reporter working for Geo News has gone missing in Karachi. According to a report published on their website, Ali Imran Syed went missing on Friday.
Imran left his home between 7pm and 8pm after telling his family he would be back home in half an hour. He has not returned home since, the report said. It also quoted his wife as saying that his car was parked outside the house and he had left his mobile phone at home.
The Geo News administration stated that the Karachi police chief and DIG East have been informed about Imran's disappearance, the publication said, adding that the family had also submitted a report to Sachal police station.
Speaking to Dawn.com, Sachal police SHO Haroon Korai confirmed that the family had submitted an application. "However, an FIR has not been registered so far," he said.
Meanwhile, Sindh government spokesperson Murtaza Wahab said Chief Minister Murad Ali Shah has taken notice of the incident and spoken to the IG. "The matter is being investigated," he said.
The reporter's disappearance has also garnered attention on social media. The hashtag 'BringBackAliImran' was among the top trends on Twitter on Saturday.
Amnesty International stated that Imran was "feared to have been subjected to an enforced disappearance for his reporting". "The authorities must establish his whereabouts immediately," the human rights group said.
The Human Rights Commission of Pakistan also called for Imran's "immediate release".
PML-N Vice President Maryam Nawaz also condemned the reporter's disappearance.
"I have heard that he has been picked up for allegedly sharing CCTV footage of [retired Captain Safdar's arrest]. This is unfortunate," she said while speaking to reporters in Lahore.
Addressing the government, she said: "You have earned a lot of flak for breaking down my door, the manner in which you arrested my husband and the way you undermined the Sindh police force.
"Don't earn yourself more criticism by kidnapping people and stopping them from raising their voice for the truth. This is very wrong [and] needs to stop," she said.
Meanwhile, Information Minister Shibli Faraz said he "sincerely hoped and prayed" Imran would reunite with his family and friends soon.
https://www.dawn.com/news/1586769/geo-reporter-ali-imran-goes-missing-in-karachi
--------
Opposition walks out of NA, says proceedings not being run properly
24 Oct 2020
ISLAMABAD: Opposition lawmakers on Friday accused the chair of not running the National Assembly session in an appropriate manner and staged a walkout from the house in protest.
When the session began, PPP member Naveed Qamar, while taking the floor, said the opposition could not become part of the house because it was being run in an inappropriate manner.
The house was not properly representing the people of the country, he said. "Therefore, we are staging the walkout," the PPP leader said after which the opposition lawmakers left the house.
The opposition's walkout and poor presence of PTI and allied parties' lawmakers in the house created the quorum problem forcing NA Speaker Asad Qaisar to adjourn proceedings of the house till Monday.
It was the third consecutive session of the lower house which had to be adjourned because of lack of quorum and the opposition's walkout.
The house could not do any legislative business on Tuesday also after the opposition staged a noisy protest for nearly two hours following refusal of Deputy Speaker Qasim Suri to allow opposition members to speak on the current political situation in the country.
The opposition members kept on hurling papers at the speaker's dais, raised slogans against the government and surrounded Mr Suri almost throughout the proceedings.
Following the opposition's walkout on Friday, Adviser to the Prime Minister on Parliamentary Affairs Babar Awan said the manner in which the opposition was protesting and surrounding the speaker's dais was against parliamentary norms.
He said the opposition did not participate in all the meetings called by the speaker and this attitude of the opposition was also unconstitutional.
https://www.dawn.com/news/1586715/opposition-walks-out-of-na-says-proceedings-not-being-run-properly
--------
South Asia
Taliban Attack Claims 22 ANA Members, Take Dozen Hostage in Nimroz
By Mohammad Arif Sheva
23 Oct 2020
NIMROZ, Afghanistan – At least 20 Afghan National Army (ANA) members were killed in a Taliban attack on their outpost in Khashrod district of Nimroz province Thursday evening, local authorities said.
Jalil Ahamad Watandost, Khashrod District Governor, said further six army members were taken hostage by the Taliban.
While local officials did not provide further details on the attack, photos circulating on social media show the Taliban taking a number of Afghan armies hostage.
The Ministry of Defense or Interior Affairs did not immediately confirmed the incident.
This comes amidst a sharp increase in violence across the country despite ongoing peace negotiations between the Afghan and Taliban representatives in Doha.
https://www.khaama.com/taliban-attack-claims-22-ana-members-take-dozen-hostage-in-nimroz-3454353/
--------
Southeast Asia
China not committed to curbing terrorism but using Pak as tool against India: Report
Posted by Deepali Sharma
Oct 23, 2020
Pakistan appears to be counting on China to diplomatically shield Islamabad from accountability for its terror activities while Beijing's desire is to use terrorism as a tool to counter India, according to Public Policy Researcher Michael Rubin.
In an opinion piece for The Washington Examiner, Rubin said, "Beijing appears less committed to counterterrorism and more to a desire to use Pakistani terrorism as a tool to harass India with whom it is locked in a border clash in Ladakh."
"The reality of both great power competition and China's efforts to undermine and replace the post-World War II liberal order is that they occur on a number of fronts. Increasingly, it appears the FATF is one of them. Rather than make substantial reforms, Pakistani officials appear to be counting on the fact that China will go to bat for them diplomatically and shield Pakistan from accountability," he added.
This statement comes ahead of the conclusion of the plenary meeting of FATF, which is expected to take a decision on Pakistan's compliance of the action plan and whether it will remain in Grey List or Black List.
The global money-laundering and terror-financing watchdog, is holding its plenary session from October 21 will decide the fate of Pakistan.
Talking about the meeting (last month) between Chinese Envoy Yao Jing with Pakistan's special adviser for finance, Abdul Hafeez Sheikh, Rubin said: "both the representatives reportedly talked far less about FATF commitments and more about the USD 60 billion China Pakistan Economic Corridor (CPEC), whose success depends on Pakistan's economic solvency and its escape from accountability to the FATF."
He further said China's vote on Pakistan's FATF status on Friday will show how Beijing subordinates the "liberal order" for its "narrow interests."
"...China's action and the Friday vote on the question of Pakistan's FATF status will be as much about countering terror finance as they are about whether China will use its membership in yet another international body to corrupt it beyond recognition, the goal being to subordinate the liberal order to Beijing's narrow interests," he said.
Early this month, the FATF's Asia Pacific Group (APG) on Money Laundering has kept Pakistan on "Enhanced Follow-up List" for its slow progress on the technical recommendations of the FATF to fight terror financing. Pakistan's progress has remained unchanged -- non-compliant on four counts.
The three-day plenary meeting will conclude on Friday. The country is in FATF's grey-list since 2018.
https://www.hindustantimes.com/world-news/china-not-committed-to-curbing-terrorism-but-using-pak-as-tool-against-india-report/story-JtD8ZlosyaR9krSTodIPUL.html
--------
Muslim groups urge governor to overturn loudspeaker ban
Predeep Nambiar
October 23, 2020
GEORGE TOWN: A group of Muslim NGOs has urged Penang Governor Abdul Rahman Abbas to intervene in a decision by Islamic authorities to limit the use of outdoor speakers at mosques to calls of prayer alone.
The group, calling themselves "Penang Muslim NGOs", said a circular by the state Islamic Affairs Department on Oct 15 had "usurped the rights of Muslims" in the state.
The group said it had objected to a similar move by the department in 2015 by writing to the Yang di-Pertuan Agong, after which the order was restudied.
The Penang mufti had called the NGOs move "politically motivated".
The group's representative, Azmi Jaafar, told reporters outside the governor's residence: "Now after five years, they are trying to reintroduce the ban on external speakers in mosques and suraus throughout Penang, this is unacceptable."
Azmi hoped the governor would present their concerns at the Conference of Rulers so as to bring this matter to the attention of the Yang di-Pertuan Agong.
Islamic affairs in Penang come under the purview of the Yang di-Pertuan Agong, who is head of the religion in states without a ruler.
Earlier today, Penang mufti Wan Salim Mohd Noor told FMT that limits on the external loudspeaker use were merely an advisory, which was made after those staying near mosques and suraus complained. He said the hue and cry over the matter was probably politically motivated.
He said the complainants included those who are sick and elderly, young children and those studying.
"But we have yet to gazette them as fatwas, as many Muslims are unable to grasp the reason for the ban," he said.
https://www.freemalaysiatoday.com/category/nation/2020/10/23/muslim-groups-urge-governor-to-overturn-loudspeaker-ban/
--------
Indonesia Deports 4 Uyghur Terrorism Convicts to China, Experts Say
2020-10-23
Four Uyghur Muslims convicted in 2015 of terror-related offenses in Indonesia were deported last month after the Chinese government paid the fines imposed on them, two counter-terrorism experts told BenarNews on Friday.
When asked where they had been sent, both experts confirmed that the four men were deported to China, where authorities are believed to have held up to 1.8 million Uyghurs and other Muslim minorities in a network of internment camps as part of an extralegal campaign of incarceration that began in early 2017.
"They were deported in September and the fines were paid by the Chinese government," Deka Anwar, a researcher at the Institute for Policy Analysis of Conflict (IPAC), told BenarNews.
The four – Ahmet Mahmud, Altinci Bayram, Ahmet Bozoglan and Abdul Basit Tuzer – were sentenced to six years in prison and were fined 100 million rupiah (U.S. $6,812) by a Jakarta court after being found guilty of entering the country by using fake passports and for attempting to join the Islamic State-affiliated Eastern Indonesia Mujahideen (MIT) militant group.
Muhammad Taufiqurrohman, a senior researcher at the Center for Radicalism and Deradicalization Studies (PAKAR), said that the four men were repatriated to China after immigration officers transported them to a detention center from Nusa Kambangan, an island-prison complex off Java, on Sept. 17.
"Immigration officers came to Nusa Kambangan with a letter to pick them up, saying they were to be transferred to an immigration detention center," Taufiqurrohman told BenarNews. He also confirmed the information that Chinese authorities had paid the Uyghur men's fines.
On Friday, BenarNews contacted the Chinese embassy in Jakarta for comment on the four men's deportation, but officials there did not immediately respond.
The spokesman for the Ministry of Foreign Affairs, Teuku Faizasyah, said he had no information on the matter and asked BenarNews to contact the Ministry of Law and Human Rights.
Reinhard Silitonga, the director general of corrections at the Ministry of Law and Human Rights, told BenarNews he couldn't confirm whether the four men had been deported.
And officials at the immigration department could not be reached immediately to confirm that the Uyghurs had been expelled.
'Vocational centers'
PAKAR's Taufiqurrohman said Indonesia carried out the deportation of the four men in secret because many in the world's most populous Muslim-majority nation criticize China's alleged mistreatment of the Uyghurs, who mostly live in the Xinjiang Uyghur Autonomous Region (XUAR) in northwestern China.
"The [Indonesian] government would be heavily criticized and be labelled complicit in the Chinese government's oppression of Uyghur Muslims," if the deportation of the four Uyghurs was made public, Taufiqurrohman said.
For more than three years, the Chinese government has allegedly imprisoned hundreds of thousands of Uyghurs in detention camps and subjected those not detained to intense surveillance, religious restrictions and forced sterilizations, said a report published in June by the Council on Foreign Relations, a U.S.-based think-tank.
Chinese officials have repeatedly denied these allegations, saying the camps are centers for vocational training and that the thousands of Uyghur Muslims arrested had links to extremism.
BenarNews informed Usman Hamid, executive director of Amnesty International in Indonesia, about Deka's and Taufiqurrohman' assertion that Indonesia had deported the four Uyghurs who had been in prison on terrorism charges.
Usman said the Indonesian government must provide an explanation on the fate of the four Uyghurs.
"The Indonesian government must immediately provide an official statement regarding the truth of the report about the deportation of the four Uyghurs," Usman said.
"Deporting them to a country that could put them at real risk of human rights violations is illegal under international law. We understand that the pandemic situation poses challenges to the government, but deporting foreigners who are at risk of being subjected to human rights violations is not a solution."
Four years ago, Indonesia had turned down a request from the Chinese government to exchange a fugitive Indonesian banker captured in China for the four Uyghur prisoners serving terrorism-related sentences.
Indonesia told China that a prisoner swap wasn't possible because the charges against the four Uyghurs were different from those against the Indonesia banker.
Back then, an Indonesian official who requested anonymity said Indonesia would face international pressure if the country agreed to deport the Uyghur prisoners to China.
"Giving Uyghurs back to China is the same as killing them. Most probably, the Chinese government will execute them instantly," the official told BenarNews in April 2019.
In the years since, the Indonesian government has faced criticism at home and abroad for its silence on the alleged mistreatment of Uyghurs in XUAR.
"Indonesia – which has played a positive role in the Rohingya refugee crisis – has shown its commitment to promoting rights elsewhere in the region. It should do no less for China's Muslims," Human Rights Watch said in January.
Last December, thousands of people took to the streets in Indonesia and Malaysia to protest China's treatment of the Muslim minority community.
"The Indonesian government must not remain silent about the suffering there, because according to our constitution, occupation and oppression must be abolished," a 48-year-old protester told BenarNews during a demonstration outside the Chinese embassy in Jakarta.
Days before the protest, Moeldoko, President Joko Widodo's chief of staff, said Indonesia would not interfere in Chinese domestic affairs when asked why the government was not more vocal about the Uyghur issue.
"Each country has its own sovereignty to regulate its citizens. The Indonesian government won't interfere in the domestic affairs of China." Moeldoko said.
His comments came after The Wall Street Journal reported that Beijing had launched a "concerted campaign" to convince Indonesia's religious authorities and journalists that the Xinjiang camps were a "well-meaning effort" to provide job training.
Expatriate communities in Turkey, other nations
Thousands of Uyghurs have fled China since their alleged persecution began in 2012, and made their way to Turkey and other countries.
IPAC's Deka said that between 2014 and 2016, at least 13 Uyghurs had entered Indonesia illegally via Malaysia and joined radical groups.
They had left China, via the border with Laos, for Thailand, and then continued their journey to join the thousands of Uyghur asylum seekers in Malaysia, Deka said.
"In Malaysia, they got help to forge documents so they could go to Turkey. However, many of those who made it to Turkey were eventually deported back to Kuala Lumpur. Some of them then crossed to Batam via Johor," said Deka, referring to an Indonesian island near Singapore.
"In Batam, they were picked up by members of the Bahrun Naim network," he added, referring to an Islamic State fighter from Indonesia who died in Syria in 2018.
The four Uyghurs convicted in 2015 came to Indonesia with the intention of joining the militant MIT group and "performing acts of terror," said the judge who led a panel of jurists that convicted the men.
While the Uyghurs' lawyer had argued that they were Turkish citizens vacationing in Indonesia, government lawyers said the men had fake Turkish passports and were en route to meet Indonesia's most wanted terrorist of that time, Santoso, when they were arrested in Central Sulawesi in September 2014.
Santoso was killed by security forces in July 2016.
Deka and Taufiqurrohman said the four Uyghurs were among the last Uyghur militants in Indonesia after others were killed by police and troops hunting for MIT militants in Central Sulawesi.
Six Uyghur men who joined MIT were killed in 2016 during a large security operation in Poso regency.
https://www.benarnews.org/english/news/indonesian/id-uyghur-10232020154957.html
--------
North America
US vows to starve Hezbollah of funds, support on anniversary of 1983 Beirut bombing
Joseph Haboush
23 October 2020
The United States will maintain its campaign to dismantle Hezbollah's financing and operational networks, Secretary of State Mike Pompeo said on Friday, marking 37 years since the Iran-backed group bombed Marine Barracks in Beirut.
Washington will continue to "target, disrupt, and dismantle Hezbollah's financing and operational networks, and will continue to take all actions available to starve this terrorist entity of funds and support," Pompeo said.
"We are grateful for the nations around the world that have designated or acted to ban the activities of Hezbollah as a terrorist organization," he added.
In 1983, a suicide bombing killed 241 American service members, making it one the deadliest attack on US troops on foreign soil.
Pompeo said the bombing and those that followed made clear Hezbollah's commitment to violence and bloodshed. "These terrorist acts have unmasked Iran, Hezbollah's patron, as a rogue state willing to pursue its malevolent interests at all costs," he said.
On Thursday, the US placed sanctions on two senior Hezbollah officials as the maximum-pressure campaign seeks to cut off funding to Iran and its proxies worldwide.
https://english.alarabiya.net/en/News/middle-east/2020/10/23/US-vows-to-starve-Hezbollah-of-funds-support-on-anniversary-of-1983-Beirut-bombing
--------
US Democratic senators introduce bill to restrict F-35 sales to UAE
23 October 2020
Two Democratic lawmakers in the US senate have introduced a bill aimed at restricting Washington's plans to sell F-35 fighter jets to the United Arab Emirates (UAE), as part of a declared congressional bid to secure the Israeli regime's alleged military advantage in the region.
The legislation, introduced by Senators Bob Menendez and Dianne Feinstein, would require the White House to certify that Israel's military edge would not be jeopardized before the US starts selling its most advanced military aircraft to West Asian countries.
"Ensuring that the United States and its crucial partner in the Middle East, Israel, maintain their critical qualitative military advantages over all potential adversaries is enshrined in law and must be one of the highest priorities of any president and Congress," Menendez, the ranking member of the Senate Foreign Relations Committee, said in a statement.
"This rush to close an F-35 deal by President Donald Trump before the end of his term could well undermine that objective," he added.
Under Menendez and Feinstein's bill, Washington would also have to certify that in 180 days and every year for 10 years the Israel's qualitative military edge has not been undermined after the delivery of the aircraft.
"Congress has an obligation to make sure that the most sophisticated US weaponry be limited to our use and that of our most trusted allies," Feinstein said in a statement.
"That's why this legislation places significant limits on this or any future administration's ability to sell the F-35 aircraft to the Middle East, where it could threaten our interests and Israel's military edge in the region," she added.
The Trump administration has been working to advance Abu Dhabi's longstanding request to buy F-35s after the UAE and Israel signed a normalization agreement at the White House in August.
Reuters reported last month that Washington and Abu Dhabi hope to have an initial deal on the F-35s by early December.
Israel and the UAE, on August 13, reached a deal that will lead to a full normalization of diplomatic relations between the two sides, in an agreement apparently brokered by US President Donald Trump.
The agreement sparked anger in the Middle East and elsewhere, with Palestinian leaders describing it as a "stab in the back" by an Arab country.
For decades, Washington has refrained from Middle East arms sales due to its Israel policy to ensure Tel Aviv's alleged qualitative military edge (QME) in the Middle East. This had applied to the F-35, denied to Arab states, while Israel has bought and deployed it.
Moreover, Israel itself seeks to have a share in the lucrative arms market of Persian Gulf kingdoms, including Saudi Arabia and the UAE who spend lavishly on high-tech weapons.
The American and Israeli arms sales to the UAE are also believed to be part of their plan to arm Persian Gulf kingdoms to counter what they call the "Iranian threat".
https://www.presstv.com/Detail/2020/10/23/637041/US-Democratic-lawmakers-F-35-fighter-jets-UAE
--------
US suspends visa services in Turkey after reports on potential attacks
23 October 2020
The United States has temporarily suspended all visa services at its missions across Turkey over what it claimed to be credible reports of potential terrorist attacks and kidnappings against American citizens in the country.
The US embassy in the Turkish capital, Ankara, said in a statement on its website Friday that consular services would be suspended at the embassy as well as consulates in Istanbul, the southern city of Adana and the Aegean coastal city of Izmir.
"The US mission in Turkey has received credible reports of potential terrorist attacks and kidnappings against US citizens and foreign nationals in Istanbul, including against the US Consulate General, as well as potentially other locations in Turkey," the embassy said.
The diplomatic mission also advised US citizens "to exercise heightened caution in locations where Americans or foreigners may gather, including large office buildings or shopping malls."
A US embassy spokesperson said the statement was issued after an ongoing assessment of security conditions in Turkey.
Back in 2013, a bomber blew himself up at the US embassy in Ankara, killing himself and a Turkish security guard.
In 2016, the US government ordered all civilian relatives of its Istanbul consulate staff to leave Turkey because of increasing threats from terrorist groups.
Turkey was hit by a series of attacks in 2015 and 2016 by several terrorist outfits, including the Daesh Takfiri terrorist group.
https://www.presstv.com/Detail/2020/10/23/637049/US-suspends-visa-services-Turkey-possible-attacks
--------
Chaos-hit US sanctions three Iranian entities over election meddling claims
23 October 2020
The US administration has imposed sanctions on three Iranian organizations over accusations of running a disinformation campaign targeting the upcoming US presidential election.
The US Treasury Department added on Thursday the Bayan Rasaneh Gostar Institute, the Iranian Islamic Radio and Television Union and International Union of Virtual Media to its sanctions list over what it claimed "brazen attempts" to interfere with the US election and US voters.
The Treasury claimed that the three organizations worked to "sow discord among the voting populace by spreading disinformation online and executing malign influence operations aimed at misleading US voters" ahead of the US presidential election on November 3.
Iran's Islamic Revolutionary Guard Corps (IRGC) and the IRGC's Qods Force were also targeted on Thursday by a new round of sanctions on behalf of the US Treasury, which accused them of controlling the three organizations and spreading disinformation in the run-up to the US presidential election.
The sanctions, which forbid Americans and US entities from doing business with the Iranian groups, would have little impact as the IRGC and IRGC-Qods Force have already been subject to such restrictive measures.
In a separate development on Thursday, the US Treasury Department also imposed sanctions against Iranian Ambassador to Baghdad Iraj Masjedi, alleging that the envoy was a "close adviser" to Iran's top anti-terror commander Lieutenant General Qassem Soleimani, who was assassinated by the US in Iraq in January.
The Treasury claimed that Masjedi had used his role as Tehran's ambassador to "obfuscate financial transfers" benefitting the IRGC.
The Treasury's latest sanctions come as Iran has already dismissed as "absurd" US claims of an Iranian attempt to influence American voters.
Alireza Miryousefi, the spokesman for Iran's United Nations mission, rejected as "malign and dangerous" claims by US national security officials that the Islamic Republic was attempting to influence American voters.
Miryousefi said the US is desperately trying to question the outcome of its own elections and underlined that Tehran, unlike Washington, does not interfere in other countries' elections.
Iran summons Swiss ambassador over US claims
Also on Thursday, Iran summoned the ambassador of Switzerland, who represents US interests in Tehran, to reject the "fabricated and clumsy" allegations of Tehran's meddling in the US elections.
US authorities "have put forward a baseless claim on the verge of the country's election so that they would advance their undemocratic and predefined scenario through shifting the blame," Iran's foreign ministry spokesman Saeed Khatibzadeh said in a statement.
American voters will decide on November 3 whether Republican President Donald Trump remains at the White House for another four years or his Democratic rival, Joe Biden, will take office.
President Hassan Rouhani said on Wednesday that it does not matter for Iran which person or party wins the US presidential race as the winner will have "no other choice but to surrender to the Iranian nation."
The US under Trump unleashed a so-called maximum pressure campaign against Iran in 2018, when it unilaterally left the 2015 multilateral nuclear agreement, officially known as the Joint Comprehensive Plan of Action (JCPOA).
Following its withdrawal, Washington targeted the Iranian nation with the "toughest ever" economic sanctions in order to bring it to its knees, but the country's economy keeps humming and is getting back on its feet.
The accusations against Iran regarding interference in US elections came after longstanding Washington concerns about the role of Russia.
Trump's associates and his campaign team are accused of cooperating with Russia in the 2016 presidential election, with the Republican president and Moscow both rejecting the allegation.
The US incumbent has repeatedly voiced anger at the "Russia hoax," describing it as a way to discredit his election victory.
Schism deepens as US blame game warms over election meddling
With less than 10 days before the US election race, divisions have widened among American officials over placing the blame on Russia and Iran as well as rival parties inside the country for potential vote rigging and electoral fraud in the forthcoming election.
House Speaker Nancy Pelosi accused Russia, and not Iran, of being the real villain in allegations by senior US intelligence officials that Moscow and Tehran have sought to meddle in the upcoming vote.
This is while US security officials have been warning that "violent domestic extremists" pose a much bigger threat to the presidential election on November 3.
A recent internal FBI bulletin warned that domestic extremists with varying ideologies would likely pose an increasing threat to the US government and election-related targets in the run-up to the November vote.
The US Department of Homeland Security (DHS) also said in a memo dated to August 17 that ideologically-driven extremists and other actors "could quickly mobilize" to engage in violence related to the election.
The memo said that white supremacists — backed by Trump and his administration — and lone offenders with "personalized ideologies" pose the greatest threat of deadly violence.
The FBI arrested, earlier in the month, 13 right-wing extremist "militias" over involvement in a plot to kidnap the governor of Michigan and "instigate a civil war."
The FBI said such groups constitute the greatest domestic terror threat to the country, but Trump has appeared to encourage some, leading to worries of political violence around the November 3 presidential election.
https://www.presstv.com/Detail/2020/10/23/637032/US-Treasury-Department-sanctions-Iranian-organizations-disinformation-campaign
--------
URL: https://www.newageislam.com/islamic-world-news/jeremy-breaud-cut-head-off/d/123254
New Age Islam, Islam Online, Islamic Website, African Muslim News, Arab World News, South Asia News, Indian Muslim News, World Muslim News, Women in Islam, Islamic Feminism, Arab Women, Women In Arab, Islamophobia in America, Muslim Women in West, Islam Women and Feminism