New Age Islam News Bureau
18 Dec 2017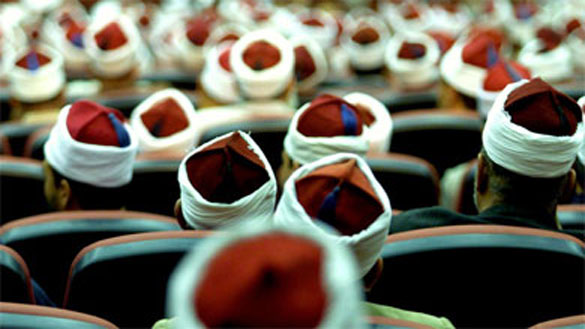 A list of the names of 50 scholars authorized by al-Azhar, Egypt's top religious authority, to issue religious edicts Fatwas in Egyptian media outlets was released. (AFP)
-----
• Jamiat Ulema-e-Hind Clerics Stresses of Their 'Communal and Divisive Politics'
• Jamaat-e-Islami Pakistan Urges Muslim Ummah to Introduce Islamic Force, Currency
• How Egypt's Al-Azhar Aims to Crack down on Unauthorized 'TV Fatwas'
• Turkish Media: ISIL's Baghdadi in US Custody in North-Eastern Syria
• In Europe and US, Home-Grown Jihadists the Main Threat
India
• Jamiat Ulema-e-Hind Clerics Stresses of Their 'Communal and Divisive Politics'
• Rajasthan Hacking: Regar Watched Hate Videos, Wanted To Kill Jud Chief Hafiz Saeed, Say Cops
• India to file new request over Zakir Naik after Interpol rejection
• Interpol snubs India's appeal against Muslim preacher Zakir Naik
• Terror funding: NIA likely to charge 7 J&K separatists
• NIA lodges case against five 'ISIS sympathisers' from Kerala
• Religious minorities better in India than in Pakistan, Bangladesh, says Taslima Nasreen
• Hindus not a minority in J-K, welfare schemes only for 'needy': State govt to SC
--------
Pakistan
• Jamaat-e-Islami Pakistan Urges Muslim Ummah to Introduce Islamic Force, Currency
• 9 Killed In Suicide Attack on Quetta's Bethel Memorial Methodist Church
• Jihadists Claim Credit for Bombing Pakistan Church
• Pakistan Church Attacked by 2 Suicide Bombers
• Ulema Council condemns Quetta church attack
• FATA's fate lies with its people, not 'opportunists': Fazl
• Taliban, Haqqani network members roam free in Pakistan: Pentagon
• Sindh increases security for places of worship after Quetta church attack
• Thousands of Pakistanis stage rallies against Trump's al-Quds decision
--------
Arab World
• How Egypt's Al-Azhar Aims to Crack down on Unauthorized 'TV Fatwas'
• Arab Media: Abdullah Saleh's Son Turns Down Saudi, UAE Demands
• Gov't Forces Purge 25 Villages of Terrorists in Northern Iraq
• Syrian Army One Step Closer to Capture Terrorist-Held Strategic Base in Idlib
• War against ISIS in Syria will be won by February, says France's Macron
• Assad forces enter Idlib, one of four de-escalation zones
• Egypt raises security level to maximum alert in preparation for Coptic holidays
• Syrian forces uncover, destroy 300m terrorists' tunnel in Damascus countryside
--------
Mideast
• Turkish Media: ISIL's Baghdadi in US Custody in North-Eastern Syria
• Over 60 Saudi-Backed Militants Killed in Yemen's Shabwa
• Turkey hopes to open embassy in East Jerusalem, says Erdoğan
• IRGC Spokesman Dismisses US Allegations about Supply of Iranian Missiles to Yemen
• Israeli jets 'target Hamas training compound' in northern Gaza
• Palestinians in Gaza fire rockets at Israel, says army
• Yemeni army captures 80 Houthis within two days in Shabwa
• Yemeni army storms Houthi prison and frees detainees
• Tehran to host PUOICM emergency meeting on Palestine
• US anti-Iran claim aimed at whitewashing war crimes in Mideast: Zarif
--------
North America
• In Europe and US, Home-Grown Jihadists the Main Threat
• Positive Attitudes toward Arabs and Muslims Are Up In US
• UN Security Council weighs rejecting US Jerusalem decision
--------
Southeast Asia
• Scholar: Freedom Inseparable from Islam, Quran
• Fight Overzealous Religious Authorities with Knowledge, Say Muslim Intellectuals
• Police Deny Issuing Advisory on Islamic State Terrorists Injecting HIV Virus
• Malaysia can make a big difference in Yemen
• Primary school teacher in Miri under probe for insulting Islam
• Indonesia's Muslim clerics call for boycott of US products over Jerusalem move
--------
Europe
• Constitutional Body in France Rejects Bill against Surfing 'Terror' Websites
• Putin thanks Trump for CIA tip used to thwart St. Petersburg terror attack
• Geert Wilders calls for Trump-style Muslim travel ban in Europe
• Terrorists arrested in Greece planned to assassinate Turkey's Erdogan
--------
South Asia
• Case Filed against Madrasa Teacher for Praying for Bangabandhu's Killers
• 11 Policemen Killed In Afghan Attacks
• UN's Zeid toughens warning of "genocide" in Myanmar
• Afghan forces receive HIMARS support during the counter-terrorism operations
• Suicide attack in Kandahar, casualties feared
• Explosion In Mazar-E-Sharif City Leaves 3 Dead, Wounded
--------
Africa
• Sudan Authority Denies FETO Claim on Saudi Clerics
• Gunmen assassinate mayor of Libya's biggest port city
• Libya's Haftar insists UN-backed government no longer legitimate
• Maulana calls all to first Shi'a mosque to worship
• Boko Haram has killed more Muslims than Christians – Sarafa Tunji, former minister
Compiled by New Age Islam News Bureau
URL: https://www.newageislam.com/islamic-world-news/jamiat-ulema-e-hind-clerics/d/113609
--------
Jamiat Ulema-e-Hind Clerics Stresses of Their 'Communal And Divisive Politics'
Thursday, 14 December 2017
Jamiat Ulema-e-Hind clerics stressed that its opposition to the BJP and RSS was only because of their 'communal and divisive politics'. Clerics of the Sunni Muslim outfit said that they could support them if they shunned politics of hatred.
Addressing a conference on national integration in Lucknow on Wednesday night, national president of Jamiat Ulema-e-Hind Maulana Syed Arshad Madani said that they have no lust for power, and that they oppose the BJP only because of its sectarianism and divisive politics.
"Neither the Jamiat nor Muslims have any personal opposition to the BJP. If the BJP shuns its politics of hatred, catch hold of those spreading it, ensure punishment to them and encourage peace and brotherhood, people will definitely support them," he said.
Stressing that only a handful of people wanted to spread hatred and harm the country, Madni said that peace loving people of the country would teach the BJP a lesson in 2019 general elections, if it was seen giving the hatemongers a free hand.
Also alleging that a large number of Muslim youths have been jailed without conviction for as long as 20 years, Madani said that the aim behind this was to prove that 'Islam did not espouse peace, and instead was a religion of separatism'.
Maulana Madani also spoke about Jamiat's decision to fight the case of a Muslim labourer from West Bengal in the court, who was allegedly hacked and burnt to death in Rajasthan in the name of 'love jehad' on December 6.
http://www.dailypioneer.com/state-editions/lucknow/jamiat-ulema-e-hind-clerics-stresses-of-their-communal-and-divisive-politics.html
--------
Jamaat-e-Islami Pakistan Urges Muslim Ummah to Introduce Islamic Force, Currency
Dec 18, 2017
Karachi
In a show of solidarity with Palestinian people and a protest against the United States move to recognize Jerusalem as Israeli capital, a large number of Karachiites participated in the Jamaat-e-Islami million march, here on Sunday.
Score of people from all walks of life participated in the march. Protesters carrying placards and banners chanted slogans against the US. Workers and leaders of several other religions and political parties also participated in the march.
Addressing the crowd at Karachi's University Road, Jamaat-e-Islami Pakistan chief Senator Sirajul Haq has urged the Muslim Umma to introduce an Islamic currency and Islamic force to ensure the liberty of Palestine, Kashmir, as well as the Muslim block of the world.
He was optimistic that the year 2018 would be the year of Palestine's freedom. He also assured the participants of the march that the upcoming year would witness a peaceful Islamic revolution in Pakistan. He also assured them that Kashmir will also be freed in the year 2018.
The JI leader also said that the rulers of Muslim countries are ignorant and practically in a state of sleep but the Muslim populaces are awake.
He assured the Palestinian Mujahedeen of the full support of Muslims from across the world. He added that the JI's struggle will continue on till the withdrawal of the US decision.
Haq also demanded of the Organization of Islamic Countries to establish a support fund for Palestinian resistance against Israel. He also proposed a joint military of Muslim countries to defend the collective interests of Muslim Umma.
He also proposed a joint currency of Muslim countries so as to strengthen the economic defense of Muslim countries.
The JI leader also condemned the suicide attack at a church in Quetta early in the day. He said he believes that India was behind such type of attacks in Pakistan. He further said that India and Israel have joined hands against the Muslim Umma in general and Pakistan in particular.
He stressed the need of unity among the Muslim Umma. The JI leader was of the view that Jihad is the only way for the survival of the Umma. He vowed that Jihad will remain continue despite all the attempts of some international powers to bring a bad name to Jihad.
We believe that the struggle of Palestinian Mujahedeen against Israel is Jihad and we support this Jehad.
urged the Muslim world to expel the US envoys from their Countries in protest against the US move to recognize Jursalem as Israeli capital against all international laws.
He also asked the Muslim leaders to adopt a strong stance against the US and Israel particularly in connection with the issue of Jursalem.
Haq also demanded of the coalition forces of Muslim countries led by Saudi Arabia to describe it's position on the Jursalem issue.
Senator Sirajul Haq until and unless a single Muslim is present in the world Baitul Muqaddas could not become capital of Israel. He said unity of Muslim Ummah is required for freedom of Kashmir and Palestine. He said Muslim Ummah needs brave leadership for the liberation of the Kashmir and Al-Quds. He said that 2018 is the year of liberty of Kashmir and 2018 is the year of Islamic revolution in Pakistan. He said Islamic countries should expel US Ambassadors from their respective count-
ries.
He said the rulers of the Muslim countries are sleeping but the nation and Muslim Ummah is awakening. He said until and unless a single Muslim is present in the world Baitul Muqaddas could not become the capital of Israel. Sirajul Haq said he condemns the terrorist attack on church in Quetta. He said India is behind the Quetta church attack, adding that the troika of India, United States and Israel is working against Pakistan. He said that the Muslims are scuffled with each other, adding that the unity of the Muslim Ummah is required for the liberation of Kashmir and Palestine. He said that the division of the Muslim Ummah on the basis of color and sects is the conspiracy of the enemy, adding that Jamaat-e-Islami wants unity of the Muslim Ummah.
He said that while carrying out the march the Pakistani people have given the message that they are with the Palestinians.
Sirajul Haq said that JI wants to unite the Muslim Ummah, adding that the Muslim Ummah needs brave leadership for the liberation of the Kashmir and Al-Quds. He said that the Islamic Military Alliance should give its agenda and liberation of the Kashmir and Baitul Muqaddas should be at the top of the agenda of IMA. He said that jehad will continue till the Day of Judgment.
Ameer JI said that every youth of Islam is mujaid and he has desire of martyrdom. Sirajul Haq said we are ready to embrace death but are not ready to quit the Al-Quds. He said that our rulers are sleeping and masses are awakening. He said that every Muslim youth is a tiger, adding that the leadership of Muslims is not in the hands of the tigers.
He said that the Islamic countries should expel the US Ambassadors from their respective countries.
He said that 2018 is the year of liberty of Kashmir and 2018 is the year of Islamic revolution in Pakistan. He said that the people should continue to awakening until and unless Kashmir is liberated, Al-Quds is liberated and Islamic revolution comes in Pakistan.
JI Karachi chief Engr Hafiz Naeem-ur-Rehman also addressed the march and said that the people of Karachi have come forward to express solidarity with Palestinian people and Mujahedeen.
He further said that the march demands of the government to play its due role in connection with the issue.
Milli muslim league vice president Dr Muzammil Iqbal hasmi also addressed the million march.—SABAH
https://pakobserver.net/siraj-urges-muslim-ummah-introduce-islamic-force-currency/
--------
How Egypt's Al-Azhar aims to crack down on unauthorized 'TV fatwas'
17 December 2017
In a press conference held at the Egyptian Supreme Council for Media Regulation, a list of the names of 50 scholars authorized by al-Azhar, Egypt's top religious authority, to issue religious edicts fatwas in Egyptian media outlets was released.
According to the council, this step aims at putting an end to a series of groundless fatwas issued by unqualified preachers who appear on TV shows until a legislation is issued to regulate religious discourse in the media.
The council, which in charge of monitoring the content of media outlets on both the professional and moral levels, threatened to penalize channels and anchors that do not abide by the list it provided. While this decision was met with relief by most Egyptians who have for a long time been complaining of fatwas they labelled "sick," many were taken by surprised since a number of prominent religious scholars who made frequent appearances on TV were not part of the list. This, consequently, raised questions about the criteria based on which the selection was made in the first place.
Veteran journalist and chairman of the Supreme Council for Media Regulation Makram Mohamed Ahmed said that the decision came in response to the recommendations of the International Conference on Iftaa, held in Cairo in October 2017, and which included the regulation of fatwas to make sure they have scholarly basis.
"We have especially seen a number of abnormal fatwas that tarnish the image of Islam," he said in the press conference held at the council headquarters to announce the release of the list.
"Following negotiations between the council and both al-Azhar and the Grand Mufti we came up with a few decisions including the necessity of issuing a legislation to regulate the issuing of fatwas and the compilation of a list of names of trustworthy scholars who can issue fatwas in the media."
Ahmed said that all scholars are permitted to discuss different religious issues in the media, but only fatwa is restricted to the 50 on the list.
"Scholars are free to talk about religion as long as they are qualified, adopt a moderate discourse, do not deride religious symbols, or incite violence." Ahmed added that until the law is issued, violators will be penalized in accordance with the council's rules.
Disappointment
Professor of comparative jurisprudence at al-Azhar University Souad Saleh expressed her disappointment in the list, from which she was excluded. "I have the highest degrees in jurisprudence that enable me to compare between all schools of thought in order to reach the proper fatwa, I wrote several books in this field, and I have been an expert in religious edicts for the past 30 years during which all TV channels hosted me," she said.
"I've also had my own religious TV program for the past seven years." Saleh also noted that the list only has one woman out of 50, which is not practical for women who seek fatwas and also signals a decline in the role of women in religious affairs. "Women are more comfortable seeking advice from women, especially in private matters, and this has been the case since the time of Prophet Mohamed. Now, you are forcing women to ask around in the mosques near them instead of qualified scholars."
Saleh argued that she does not see the point of appearing on TV at all if she is not to issue fatwas. "What if people call and ask for a fatwa. Shall I just deny it to them?" she wondered, adding that in all cases women from all over the Muslim world call her to seek her advice on different religious matters.
Problematic fatwas
Abdel Ghani Hindi, member of the Supreme Council for Islamic Affairs, argued that the list is not the right way to deal with problematic fatwas, which need to be addressed directly instead. "The list is not going to put an end to those fatwas that will still keep coming through the internet anyway," he said. "Actually, what the list did is excluding a number of moderate preachers that were quite popular in the media and could've helped a lot in countering any extremist discourse." Abdel Galil al-Sharnoubi, researcher in Islamic movements, said that al-Azhar is repeating the mistake of making procedural changes and not addressing the core of its discourse.
"If al-Azhar wants to modify the religious discourse as it keeps saying then there is a serious need for producing a new form of jurisprudence that suits the present time like what the four Imams did back at their time," he said. "Al-Azhar has for years been assigning itself the responsibility of safe-guarding Islamic heritage rather than adding to it." Sharnoubi noted that several of the controversial fatwas that this list aims at curbing were, in fact, issued by Azhar scholars.
According to journalist Moussa al-Utaibi, the list might be a form of compromise between the presidency and al-Azhar, whose relationship has not been at its best in the past couple of years. "This particularly started when President Abdel Fattah al-Sisi wanted al-Azhar to issue a fatwa that verbal divorce is not valid and the latter objected and several fatwas were issued at the time to back al-Azhar's position," he wrote. "There were also many times when several al-Azhar scholars issued fatwas that angered the authorities." That is why, Utaibi added, the two parties could have decided to issue a list of scholars they both approve. Utaibi also noted that the list excluded many scholars who are known to support the regime and the president and saw this as a possible change of strategy on the part of the state. "The state could have realized that those pro-regime scholars are no longer popular, possibly for their obvious bias, and was worried that youths would instead start resorting to Salafi channels so decided to give them new faces."
https://english.alarabiya.net/en/features/2017/12/17/ANALYSIS-How-Egypt-is-cracking-down-on-unauthorized-TV-fatwas-.html
--------
Turkish Media: ISIL's Baghdadi in US Custody in North-Eastern Syria
Dec 17, 2017
A Syrian source told the Turkish-language Yeni Şafak daily that al-Baghdadi was captured ın Iraq by the US and was then brought to Syria's al-Karamah region.
The source, who was previously a militant part of Jund al-Aqsa, told the daily that al-Baghdadi was first taken to the US base in Ra'as al-Ein and then to a US base in al-Hasaka-Rmeilan.
The source added that apart from Baghdadi, seven other top ISIL officials were a part of the group (captured by the US) and that one of them was an Iraqi national and the others were from outside of Syria and Iraq.
Spokesman for the Iraqi Defense Ministry General Yahya Rasoul said earlier this month that al-Baghdadi was alive, adding that al-Baghdadi was hidden somewhere at Iraq-Syria border.
General Rasoul said that the Iraqi intelligence has found evidence proving that Abu Bakr al-Baghdadi is in a sleeper cell of the ISIL terrorists at Iraq-Syria border.
He further said that sleeper cells of the ISIL were present in desert regions at Iraq-Syria borders, adding that based on intelligence al-Baghdadi was moving from a cell to another in the region.
General Rasoul added that al-Baghdadi was hidden in a region between the Iraqi border town of al-Qa'em in Anbar and the Syrian town of Albu Kamal near the Euphrates River.
Also, one of the commanders of the Iraqi popular forces of Hashd al-Shaabi said in late November that Leader of the ISIL terrorist group is in the US forces' custody in an unknown venue.
The Arabic-language al-Sumeriyeh news quoted Jabar al-Ma'amouri as saying that ISIL Chief was in the US military forces' custody, adding that the US forces would never kill al-Baghdadi unless in a Hollywood-like scenario.
He stressed that people around the world rest assured that the US played a crucial role in the creation of the terrorist groups in last decades, and unfortunately some of the Arab nations embarked on providing financial support for such terrorist groups.
Abu Bakr al-Baghdadi (Ibrahim Awad Ibrahim al-Badri), also known as Abu Dua, was born in 1971 in the city of Samarra in Iraq.
According to media reports, al-Baghdadi was brought up in a religious family. His relatives were famous preachers and specialists of the Arabic language, rhetoric and logic. He received a PhD in Islamic law from the University of Baghdad.
Al-Baghdadi was proclaimed the caliph of ISIL, a "caliphate" created on the territories ISIL managed to seize in Syria and Iraq in late June 2014.
Contradictory reports have surfaced the media on the fate of Al-Baghdad in recent years, while some claim that he has been killed in attacks in Iraq or Syria, others say that he is still alive and on the move.
Reports of al-Baghdadi's death repeatedly appear in the world media. His death was reported in November 2014, April 2015, June, October and December 2016 and January 2017.
Arab media outlet reported early November that al-Baghdadi is still alive, adding that the terrorist group's ring leader has been sighted by eyewitnesses in one of the battlefields in Southeastern Deir Ezzur.
The Arabic-language Elam al-Harbi reported that al-Baghdadi was sighted alive in one of the battlefields near the newly-freed town of Albu Kamal at the border with Iraq.
http://en.farsnews.com/newstext.aspx?nn=13960926001467
--------
In Europe and US, Home-Grown Jihadists the Main Threat
December 18, 2017
WASHINGTON - MICHEL MOUTOT - Returning fighters from the vanquished Islamic State group pose a grave danger to Europe and the United States, but the primary extremist threat comes from people living and radicalized inside their country, US terror experts say.
Even if they have no battleground experience, those who decide to undertake solo attacks, like the two recently in New York, in the name of the Islamic State group or Al-Qaeda are almost impossible to detect in advance.
"In France, the US , or elsewhere, there certainly won't be any more large attacks planned from abroad like those of November 13, 2015 in Paris," said Marc Sageman, a former CIA agent and terror expert, referring to the multipronged IS operation that left 130 dead.
"Ever since then, attackers here or in Europe have not been guided by IS but acted on their own, imagining themselves to be soldiers of an imagined Islamic community which they want to defend or avenge."
Neither Akayed Ullah, the Bangladeshi immigrant who tried to blow up a New York subway station last week, mainly wounding himself, nor Sayfullo Saipov, an Uzbek who mowed down people on a New York bike path on October 31, killing 8, had any evident contact with Islamic State jihadists aside from watching their propaganda videos.
Experts say that kind of self-radicalized attacker, completely unknown to authorities, is the main threat countries face today.
SAFE HAVEN IN A BEDROOM
While returning IS fighters are definitely a threat, "it's not a primary concern," said Albert Ford of the New America think tank.
"The attacks in this country were made by people who were in the country for years. The real danger is with these not very sophisticated but deadly attacks that we saw lately in New York."
According to New America data, 85 percent of the 415 people accused of Islamist-related crimes in the United States since the September 11, 2001 attacks have been American citizens. Of them, 207 were born in the United States.
They also were not known to law enforcement: only one fourth had a police record.
"None of the deadly jihadist attacks in the United States since 2014 had a known operational connection to ISIS or its networks," a New America report says, using another acronym for the Islamic State group.
On both sides of the Atlantic, homegrown attacks "are obviously the most dangerous," echoed Thomas Sanderson of the Center for Strategic and International Studies' Transnational Threats Project.
"Of the 19 last major attacks in Europe , 17 did not have a direct foreign factor element to it."
Homegrown attackers stay under the radar, giving little away that would alert police, Sanderson noted.
"Their safe haven is their bedrooms. They can prepare at home, they don't need the footprint of a camp anywhere," he said.
OVERSEAS THREAT FROM IS REMAINS
At the same time, experts say, the threat from IS in Syria and Iraq has not disappeared even if the group has been expelled from nearly all of the territory it held.
For those who survive, according to former US undersecretary of defense for intelligence Michael Vickers,the war isn't over.
"Defeating insurgencies always takes time. It ranges from ten years to multi decades. And this one is a global insurgency, with expanded space and expanded time," he said.
Indeed, the Islamic State group planned for battlefield losses and has a strategy for surviving, noted Bruce Hoffman, a Georgetown University national security expert.
"Two or three years before the Paris attacks, ISIS put in place an external operations network. This network extends beyond Europe ," he noted.
"The traction of that strategy was demonstrated last May when a bomb attack was committed in Manchester, England, against a concert venue. That attack was operated by an ISIS cell operating out of Benghazi, Libya."
And the returnees, even if they stand a much higher chance of being spotted by police than self-radicalized homegrown attackers, are still part of that network, added Sanderson.
Even if returnees' numbers have been low, he said, "the returning fighters present a massive potential problem because of the skills and the credibility and the motivation."–AFP
http://nation.com.pk/18-Dec-2017/in-europe-and-us-homegrown-jihadists-the-main-threat
--------
India
Rajasthan Hacking: Regar Watched Hate Videos, Wanted To Kill JuD Chief Hafiz Saeed, Say Cops
By Deep Mukherjee
December 18, 2017
SHAMBHULAL REGAR, who is in custody for killing a Muslim labourer from West Bengal in Rajasthan's Rajsamand, has told police that he used to spend a lot of time on the Internet, viewing videos of hate speeches against Islam, and wanted to kill Pakistan-based Jama'at-ud-Dawah chief Hafiz Saeed.
"Regar told us, 'Give me a chance even now and I will kill Hafiz Saeed'. He showed no signs of worry about the fate of his family after his arrest," said Rajendra Singh Rao, circle officer, Rajsamand.
"During our interrogation, we found that Regar had been brainwashed against Islam to an extreme extent. He would regularly watch provocative videos by Hindu fundamentalists with inflammatory, anti-Islam propaganda. He also keenly followed anti-Hindu propaganda made by Islamic fundamentalists by streaming many such videos on his laptop," Rao said.
"He is unrepentant and it seems that his mind is filled with prejudice and bias against Islam. He told us, 'Kasab ko toh chicken biryani khila sakte ho aur mujhe sookhi roti khila rahe ho (You could feed chicken biryani to 26/11 convict Ajmal Kasab but I am being fed dry rotis)'… There's no sign of mental illness and he speaks absolutely normally during interrogation," said Rao.
Hafiz Saeed has been accused of masterminding the terror attacks in Mumbai on November 26, 2008.
On December 6, Regar hacked Mohammed Afrazul, from Saiyedpur in Malda, to death in Rajsamand and set fire to the body as his minor nephew filmed the act. He later posted videos of the killing along with inflammatory and communal comments to defend the act. The 36-year-old was arrested the next day and is currently in police custody till December 20.
On December 14, The Indian Express reported that Rajsamand police had frozen a bank account with deposits of around Rs 3 Lakh "collected in the name" of Regar from 516 people across the country.
http://indianexpress.com/article/india/rajasthan-hacking-shambhulal-regar-watched-hate-videos-wanted-to-kill-jud-chief-hafiz-saeed-say-cops-4987424/
--------
India To File New Request Over Zakir Naik After Interpol Rejection
18 Dec 2017
INTERPOL yesterday rejected India's request for a red corner notice on controversial Muslim televangelist Dr Zakir Naik but India's unperturbed National Investigation Agency (NIA) said it would file a new request soon.
India's red corner notice request, filed in May, was rejected by Interpol on the grounds that the Indian police had not file any formal charges against the preacher, New Delhi Television Ltd reported.
The NIA only filed a charge sheet against Zakir, said to be in hiding in Malaysia, in October for allegedly inciting youngsters to carry out terror activities and giving hate speeches.
"The commission finds that, at this stage of the proceedings, the issuance of a red notice for the applicant's arrest with a view to his extradition is premature," the Commission for the Control of Interpol's Files reportedly said in its October decision.
Meanwhile, Zakir's spokesperson claimed that Interpol had rejected India's red corner notice due to the lack of evidence, failure of Indian authorities to follow the rule of law, and political and religious bias.
"Interpol has cancelled a red corner notice on Dr Naik and instructed its worldwide offices to delete all data from files on him, citing political and religious bias among other reasons," the spokesperson was quoted as saying in India's English news channel Times Now yesterday.
"Interpol contended that there was a severe lack of evidentiary basis, a failure by Indian authorities to follow due process of law, political and religious bias that formed the basis of such a notice, and lack of international interest," he said.
Zakir said in a video message that he welcomed Interpol's decision, saying: "(I) am relieved but would be more relieved if my own Indian government and Indian agencies gave me justice and also cleared me of all the charges."
He is wanted by the Indian authorities for alleged terrorism and money laundering. His Islamic Research Foundation has been outlawed in India.
He fled India in July last year after terrorists in Bangladesh claimed they were inspired by his speeches, prompting authorities to look into his activities.
Zakir, whose Indian passport was revoked in July this year, claimed Indian authorities were unfairly targeting him because he was Muslim. He said his speeches only promoted peace.
Banned from the UK in 2010, the preacher has citizenship in Saudi Arabia and was granted permanent residency in Malaysia five years ago.
Full report at:
https://www.themalaysianinsight.com/s/28197/
--------
Interpol snubs India's appeal against Muslim preacher Zakir Naik
17th Dec 2017
By Shuriah Niazi
NEW DELHI, India (AA): India's National Investigation Agency (NIA) said Saturday it will file a fresh appeal to Interpol after it turned down a request to issue a red notice for popular preacher Zakir Naik — a move which could have hindered his international travel.
Alok Mittal, NIA's spokesperson said in a statement: "NIA's request for a red corner notice against Zakir Naik was not accepted by Interpol as a charge sheet had not been filed when the request was submitted to the Interpol headquarters.
"Now, NIA will submit a fresh request to Interpol as a charge sheet has already been filed in the concerned NIA court in Mumbai."
Naik, 52, who has been on the run, in a video message welcomed the decision.
"I am relieved about it. But I would have been much more relieved if my own Indian government and Indian agencies, gave me justice and cleared me of all the false charges," he said.
Naik had been booked by the agency in October for hate speech and deliberate intent to wound religious feelings.
His passport was revoked in July.
The move came after allegations that two militants involved in last year's terror attack in Bangladeshi capital Dhaka, which left 20 people dead, had been inspired by Naik's lectures.
Naik is well known in various countries for his expertise in debating on Islamic issues. He has millions of followers on Facebook and has delivered close to 4,000 lectures on Islam in many countries.
Full report at:
http://muslimnews.co.uk/news/south-asia/interpol-snubs-indias-appeal-muslim-preacher-zakir-naik/
--------
Terror funding: NIA likely to charge 7 J&K separatists
Dec 18, 2017
NEW DELHI: A chargesheet to be filed soon against seven Kashmiri separatist leaders and a businessman in a terror funding case is likely to state that they had received crores of rupees over the years from Pakistan-based terrorist outfits like Lashkar-e-Taiba and Hizbul Mujahideen and their mentor ISI.
The National Investigation Agency (NIA) sources said they had established that the pro-Pakistan separatists had used the money to fund local militants engaged in attacking security forces, spearheading stone pelting in the Kashmir Valley and recruiting youngsters for anti-India activities.
Top officials in the anti-terror probe agency claimed that the case was backed by strong documentary and forensic evidence and statements of crucial witnesses, including some who worked with the separatists.
"The investigation is almost finished. We will approach the home ministry very soon seeking prosecution sanction and then a chargesheet will be filed in January," said an officer requesting anonymity.
This will be first chargesheet by any agency in a terror funding case where finance ministry experts have thoroughly analysed the funding pattern, modes and hawala network along with NIA sleuths. Four officers of the finance ministry worked round the clock on the case, the NIA officer said.
Full report at:
https://timesofindia.indiatimes.com/india/terror-funding-nia-likely-to-charge-7-jk-separatists/articleshow/62111504.cms
--------
NIA lodges case against five 'ISIS sympathisers' from Kerala
Dec 17, 2017
NEW DELHI: The National Investigation Agency (NIA) has lodged a case against five alleged ISIS sympathisers, hailing from Kerala's Kannur district, the agency said on Sunday.
The central probe agency said it took over the case from the Kerala police, which had booked the five men in October.
The NIA case against the five was registered under the Unlawful Activities Prevention Act (UAPA) for "being members of the proscribed terrorist organisation, Islamic State of Iraq and Syria (ISIS)/Daesh, and for supporting the organisation by travelling out of India to join the terrorist organisation in Syria and fight on its behalf."
Full report at:
https://timesofindia.indiatimes.com/india/nia-lodges-case-against-five-isis-sympathisers-from-kerala/articleshow/62106290.cms
--------
Religious minorities better in India than in Pakistan, Bangladesh, says Taslima Nasreen
December 17, 2017
Controversial writer Taslima Nasreen says the condition of religious minorities is much better in India than in neighbouring Pakistan and Bangladesh. The exiled Bangladeshi author alleged that atrocities are committed against Hindus and Buddhists in Bangladesh.
"Though I have never been to Pakistan, but have read that members of religious minorities there are being converted and persecuted," the 55-year-old writer told PTI in an interview. The author was in the city for the Indore Literature Festival on December 15. She said, "The condition of religious minorities is much better in India as compared to these two nations. The Constitution of India is same for all."
"However, I am not saying that minority communities do not have any problem in India," said Nasreen, who had fled Bangladesh in the early 1990s after right wing Muslim outfits issued death threats to her. "I am a citizen of Europe but India appears to be home to me. I am thankful to the Indian government to have given me permission to stay here. I want to work for the betterment of the Indian society," the writer of the much-acclaimed book 'Lajja' (Shame) said.
On her write-up in an online magazine over the killing of a Muslim labourer in Rajasthan, Nasreen denied that she had equated the Hindu community with terror group ISIS after the incident. "It is totally wrong to say that I, in my article, equated the entire Hindu community with ISIS. I had mentioned one particular incident (about the posting of video on social media of the killing of a Muslim labourer). I am quite upset with these false allegations," she said.
She alleged that some people were distorting a part of her article and intentionally fanning bitterness and hatred against her on social media. Hailing Indian laws and their implementation, she noted that the accused in the Rajasthan killing incident was arrested and sent to jail.
Full report at:
http://indianexpress.com/article/india/religious-minorities-better-in-india-than-in-pakistan-bangladesh-says-taslima-nasreen-4986547/
--------
Hindus not a minority in J-K, welfare schemes only for 'needy': State govt to SC
Dec 18, 2017
Jammu and Kashmir does not acknowledge Hindus as a "minority" in the state as it goes by the Centre's national list of minorities, according to an affidavit filed by the PDP-BJP coalition government in the Supreme Court last week.
The state government told the top court that benefits of Central schemes would only be extended to "meritorious" and "needy" members of those communities that are notified by the Centre, suggesting that members of the Hindu committee would not be eligible.
The J&K affidavit referred to a Central government notification of 1993 that lists Muslims as a minority. The other minority groups, as per the document, are Sikhs, Christians, Buddhists and Zoroastrians. In 2014, the Jain community was added to this list.
"The benefits flowing out of the scheme prepared by the Central government are targeted to the needy and meritorious beneficiaries of the minority community as notified by the Centre for Jammu and Kashmir, Mizoram, Nagaland, Meghalaya, Punjab and Lakshwadeep," the affidavit said.
In case the notified minority is the majority in a state, the benefits are to be earmarked to other notified minorities for the purpose of fixing physical and financial targets, the affidavit added.
The state government was responding to a petition in the top court that asked for Hindus to be declared a minority community in Jammu and Kashmir and seven other states.
J&K is the lone Muslim-majority state in India, where 79.8% of the 1.2 billion people are Hindus. According to the 2011 Census, the state has over 8.5 million Muslims, which is 68.31% of its total population of 12.5 million. Hindus account for 28.43% of the population at 3.56 million.
The state government said that the national commission for minorities act extends to the whole of India, except J&K. Therefore, the government said, it was not bound to identify minorities within the state. The affidavit said the law does not govern how Central government schemes should be implemented.
The petition, filed by Jammu-based advocate Ankur Sharma, also pleads for setting up of a minorities commission in the state in accordance with the top court's 15-year-old directive.
The state government said it will "consider and examine" the "need and feasibility" of establishing a state minorities commission. It would be done "at the relevant time" and "as and when need arises" based on "critical study of social backwardness of minorities spread across various regions of the state".
Full report at:
http://www.hindustantimes.com/india-news/hindus-not-a-minority-in-j-k-welfare-schemes-only-for-needy-state-govt-tells-sc/story-NpM0oV6mB2u60FYCZqnRHI.html
--------
Pakistan
9 killed in suicide attack on Quetta's Bethel Memorial Methodist Church
December 17, 2017
At least nine people were killed and 30 injured in a suicide attack on the Bethel Memorial Methodist Church on Quetta's Zarghoon Road on Sunday afternoon.
All casualties, which included women and children, were shifted to Civil Hospital Quetta. Speaking on Sunday evening, Hospital Spokesman Waseem Baig said the death toll had risen to nine.
At least two suicide attackers had struck the Bethel Memorial Church while Sunday service was ongoing. There were 400 worshipers inside the church when the assault started, Balochistan's Inspector General of Police (IG) Moazzam Ansari and Home Minister Sarfaraz Bugti confirmed to DawnNews.
Children being evacuated from the church by security personnel. —AFP
Police assigned to the church's security reacted in a timely manner and averted a much larger tragedy, IG Ansari claimed. Eyewitnesses and provincial lawmaker Aniqa Irfan, who had reached the church soon after the attack, corroborated the claim.
An eyewitness who was present inside the church at the time of the attack said the attackers had scuffled with the building's guard when their attempt to enter the main hall undetected failed.
When they shot the guard dead, police officials posted around the church noticed something was amiss and opened fire on the attackers.
One of the attackers was reported to have then detonated his suicide vest at the church's main door after receiving bullet injuries. Another was shot dead near the church's entrance by security forces, the police chief said.
The injuries caused to worshipers were mainly the result of wooden splinters from the door and glass blown out of the church's windows due to the explosion, IG Ansari maintained.
Provincial and security officials repeatedly stressed that if the attackers had managed to breach the church's doors, the death toll could have been much higher. They lauded the quick response of security forces posted to the church, which they said had prevented the attackers from causing maximum damage.
The director general of civil defence said late in the afternoon that the two attackers — who officials believe to have been between 16 and 20 years of age — had strapped 15 kilogrammes of explosives to their bodies. One successfully detonated his explosive vest, while the other was defused.
The Bethel Memorial Church has been the target of a terrorist attack in the past. Security had been beefed up for the church after the last attack, which occurred a few years ago. The church is located in the city's high-security zone.
https://www.dawn.com/news/1377184/9-killed-in-suicide-attack-on-quettas-bethel-memorial-methodist-church
--------
Jihadists claim credit for bombing Pakistan church
18 DECEMBER 2017
Islamabad — A suicide bomb attack on a Pakistan church claimed by the Islamic State group killed at least nine people and wounded 58 during a service on Sunday, just over a week before Christmas.
Two women were among the dead at a Methodist church in the restive southwestern city of Quetta in Balochistan province, said provincial Home Secretary Akbar Harifal. Several of the wounded were in serious condition, police said.
Officials said police intercepted and shot dead one attacker outside the church before he could detonate his bomb. But the second managed to reach the church's main door, where he blew himself up.
"Police were quick to react and stop the attackers from entering into the main hall," provincial police chief Moazzam Jah said. Each attacker was carrying 15kg of explosive plus grenades, said civil defence official Aslam Tareen.
Islamic State, in a brief statement on its Amaq news agency, claimed responsibility.
About 250 people normally attend the church on Sundays but the congregation had swelled to around 400 because it was close to Christmas day.
"God forbid, if the terrorists had succeeded in their plans more than 400 precious lives would have been at stake," tweeted the home minister.
A reporter at the scene saw shattered pews, shoes and broken musical instruments littered across the blood-smeared floor of the church.
Liaqat Masih, a member of the congregation, said he was heartbroken by the violence and feared for his life as the firefight erupted between one attacker and police, who were later reinforced by paramilitaries and regular troops.
"I am devastated to see many of our dear ones dead and wounded today here in front of me," Masih said.
Hours after the attack, reports surfaced that a total of four attackers had been involved, with two escaping. Senior police official Abdul Razzaq Cheema said investigators were analysing CCTV footage to check the claim and had launched a search for any further suspects.
Christians make up an estimated 1.6% of Pakistan's 200-million people and have long faced discrimination — sidelined into lowly paid jobs and sometimes the target of trumped-up blasphemy charges.
Along with other religious minorities, the community has also been hit by Islamic militants over the years.
Following the latest attack, dozens of Christians protested in the northwestern city of Peshawar and called on officials to protect religious minorities.
In 2013, 82 people were killed when suicide bombers targeted a church in the city.
And in 2016, Lahore suffered one of Pakistan's deadliest attacks during the Easter season — a suicide bomb in a park that killed more than 70 people including many children. The bombing was later claimed by the Jamaat ul Ahrar faction of the Pakistani Taliban.
Police and troops have been battling Islamist and nationalist insurgencies in mineral-rich Balochistan province for more than a decade.
Balochistan, bordering Iran and Afghanistan, is the largest of the country's four provinces but its roughly 7-million people have long argued they do not get a fair share of its vast gas and mineral wealth.
Efforts to promote peace and development in the area have reduced the violence considerably in recent years.
Full report at:
https://www.businesslive.co.za/bd/world/asia/2017-12-18-jihadists-claim-credit-for-bombing-pakistan-church/
--------
Pakistan Church Attacked by 2 Suicide Bombers
By SALMAN MASOOD
DEC. 17, 2017
ISLAMABAD, Pakistan — Two suicide bombers attacked a church packed with worshipers on Sunday in southwestern Pakistan, killing at least nine people and injuring at least 35 others, several critically, officials said.
The Islamic State, also known as ISIS, claimed responsibility for the attack in Quetta, the capital of the restive Baluchistan Province, in the country's southwest. The group's Amaq News Agency posted a statement online Sunday that said attackers had stormed a church in Quetta, but gave no further details.
The assault raised concerns about the security of religious minorities, especially Christians, in a country with a dismal record when it comes to the treatment and protection of religious minorities, analysts say.
Pakistani officials denied that ISIS had an organized presence in the country, however, even though the terrorist group has claimed responsibility for several other attacks in Baluchistan in recent years.
"Law enforcement agencies have badly failed in protecting common citizens, and minorities in particular," said Shamaun Alfred Gill, a Christian political and social activist based in Islamabad.
"December is a month of Christian religious rituals," Mr. Gill said. "We had demanded the government beef up security for churches all over the country. But they have failed to do so."
Christians make up at least 2 percent of the country's population of about 198 million. Most of them are marginalized and perform menial jobs.
The attack, a week before the Christmas holiday, unfolded in the early morning hours at Bethel Memorial Methodist Church. About 400 people had gathered for Sunday service when an assailant detonated his explosives-laden vest near the door to the church's main hall.
Another attacker failed to detonate his suicide jacket and was shot by security forces after an intense firefight, officials said.
Sarfraz Bugti, the provincial home minister, said the death toll could have been higher had the attacker managed to reach the main hall of the church, which is on one of the busiest roads in the city and near several important public buildings.
Local television networks broadcast images of terrified worshipers running out of the church as the attack was underway. Several young girls, wearing white frocks and holding red bags, could be seen fleeing the compound. Witnesses told local news outlets that people, panicked and frightened, had rushed out after hearing a loud explosion, followed by the sound of gunfire outside.
As security forces moved inside the main hall after the attack, they were confronted by a scene of bloody destruction. Several benches and chairs were overturned. Musical instruments were turned upside down.
A Christmas tree with decorative lights stood at one corner, and blood was outside the door where the suicide bomber had detonated explosives.
Two women were among the dead, and 10 women and seven children were among the injured, hospital officials said. Most of the injured were taken to the Civil Hospital nearby.
Quetta has been the scene of violent terrorist attacks recently, and a large number of military and paramilitary troops, apart from the police, have been deployed to maintain security.
Officials have repeatedly claimed that they have reduced violence in Baluchistan, a rugged and resource-rich province bordering Afghanistan and Iran. But the ease with which the attackers managed to carry out their assault on Sunday seemed to belie those claims.
"The army repeatedly claims that it has broken the backbone of terrorism in the country," Mr. Gill said. "But terrorism is still very much present and destroying the lives of common people."
An insurgency by Baluch separatists has long simmered in the province, and the Taliban and other militants maintain a presence in the region.
Some officials were quick to shift blame toward Afghanistan, pointing to the presence of havens there for militants.
"The terrorists have safe sanctuaries across the border in Afghanistan," said Anwar-ul Haq Kakar, a spokesman for the Baluchistan government. "They have become a major source of terrorism inside Baluchistan."
Many minority leaders, however, stressed that there was a bigger need to look inward to ensure security for religious minorities, especially Christians.
Full report at:
https://www.nytimes.com/2017/12/17/world/asia/pakistan-quetta-church-attack.html?mtrref=www.google.co.in&gwh=0CEB321715544568952CB11AF0AC32D4&gwt=pay
--------
Ulema Council condemns Quetta church attack
DECEMBER 18, 2017
Lahore: Suicide attack at a church in Quetta is vehemently denounced and this terrorist attack tantamounts to an attack on Pakistan and the people of Pakistan, said the leadership of the Pakistan Ulema Council.
In a joint statement, the leadership of the Pakistan Ulema Council including Hafiz Muhammad Tahir Mehmood Ashrafi, Chairman Pakistan Ulema Council and other office bearers; Maulana Muhammad Ayub Safdar, Maulana Abdul Hameed Watto, Maulana Abdul Kareem Nadeem, Maulana Matiullah Saeedi, Maulana Asad Ullah Farooq, Maulana Abdul Hameed Sabri, Maulana Saad Zikriya and Maulana Nauman Hashir underlined that in a muslim majority country, it is the responsibility of each and every muslim and the leadership of the muslim state to ensure protection of non-muslims living in the country.
Full report at:
https://dailytimes.com.pk/161995/ulema-council-condemns-quetta-church-attack/
--------
FATA's fate lies with its people, not 'opportunists': Fazl
Dec 18, 2017
PESHAWAR: Jamiat-e-Ulema Islam-Fazl (JUI-F) chief Fazlur Rahman on Sunday said the people of Federally Administered Tribal Areas (FATA) must have the right to take a decision about their future instead of some "opportunists".
Addressing a Namoos-e-Rasalat conference in Peshawar, he said the people of FATA, being the main stakeholder, should have a say in the merger with Khyber Pakhtunkhwa or a separate province; however, they were being deprived of this right.
Fazl said the jurisdiction of Pakistani courts could not be extended to FATA due to imposition of the Frontier Crime Regulation (FCR) and Article 247 of the Constitution, which would remain in force for five years if the tribal region was merged with Khyber Pakhtunkhwa.
Diverting attention from the issue, the JUI-F chief— one of the resisters of FATA reforms bill—accused Pakistan Tehreek-e-Insaf (PTI) and Pakistan People's Party (PPP) of creating hurdles in removing the changes made in the Khatam-i-Nabuwat (SAW) clause. The two parties, he alleged, had rather opposed to mending the amendments in the law.
Commenting on the Muttahida Majlis Amal (MMA), he said the alliance had again been restored. The religious parties had faced both internal and external challenges in 2002 under the banner of that alliance and would continue to do so in future also, he added.
Blaming the "secular people" for distorting the culture of the country, Fazl said the vacuum left MMA's dissolution will be filled again and these "enlightened" people won't be able to have a say in the country's affairs.
Adding one more to his list of slanders against the PTI, he alleged that the western forces had supported a certain party to change the country's culture. The party, which was in government in Khyber Pakhtunkhwa, had tried to bribe religious scholars offering them salaries without knowing the fact that they were not saleable commodities, he alleged, adding that the JUI-F will rid the province of PTI.
Fazl also called for a high-level judicial inquiry into the Peshawar Army Public School attack.
He said after the 9/11 incident religion was being considered a threat, with religious seminaries havens for terrorists, and there was a need to correct that perception.
Full report at:
https://www.pakistantoday.com.pk/2017/12/17/fatas-fate-lies-with-its-people-not-opportunists-fazl/
--------
Taliban, Haqqani network members roam free in Pakistan: Pentagon
Dec 18, 2017
In its first report submitted to the United States (US) Congress since Washington adopted a new strategy on Afghanistan and South Asia, the US Defence Department said that the Taliban and the Haqqani network are roaming free in Pakistan.
"Although Pakistani military operations have disrupted some militant sanctuaries, certain extremist groups such as the Taliban and the Haqqani network retains freedom of movement in Pakistan. The US continues to convey to all levels of Pakistani leadership the importance of taking action against all terrorist and extremist groups," Tolo News quoted the report as saying.
The Pentagon also said that terrorist safe havens along the Durand Line and the presence of terrorists in Afghanistan are threatening the stability of the region.
"The Afghanistan-Pakistan border region remains a sanctuary for various groups, including al-Qaeda, al-Qaeda in the Indian Subcontinent (AQIS), the Haqqani network, Lashkar-e-Tayyiba, Tehrik-e-Taliban Pakistan (TTP), ISIS-K, and the Islamic Movement of Uzbekistan. Sanctuary on the Pakistani side and presence on the Afghan side remain security challenges for both countries and pose a threat to regional security and stability," the report added.
The report said that Afghanistan was fighting militants who were being empowered from outside the country.
"Afghanistan continues to face an externally enabled and resilient insurgency. As Afghanistan completes its third year of full responsibility for the security of the country, Afghan forces have shown determination and growing capability in their fight against the Taliban-led insurgency," the Pentagon report said.
However, Pakistan is not the only country criticised by the Pentagon report. The report is critical of Iran and Russia, saying that Russia is trying to weaken US's efforts in Afghanistan. The report adds that Iran is damaging Afghanistan by backing the Taliban.
"Russia has security concerns regarding Afghanistan, citing terrorism and narco-trafficking concerns most vocally. Russian-Afghan relations suffered due to Russia's public acknowledgment of communications with the Taliban and support of the Taliban's call for coalition withdrawal from Afghanistan.
The report also said that Russia publicly called the new South Asia Strategy a 'dead end'.
"During the reporting period, Russia continued to seek ways to undermine US influence in the region by disseminating false information about US objectives, engaging with the Taliban, and putting pressure on Central Asian neighbours to deny support to US and NATO efforts to stabilise Afghanistan."
Full report at:
https://www.pakistantoday.com.pk/2017/12/16/taliban-haqqani-network-members-roam-free-in-pakistan-pentagon/
--------
Sindh increases security for places of worship after Quetta church attack
Hasan Mansoor
December 18, 2017
KARACHI: Reacting to the terrifying attack on a church in Quetta, the Sindh government on Sunday raised the security bar to protect worship places belonging to religious minorities across the province.
Provincial home minister Sohail Anwar Siyal asked law enforcement agencies to tighten security arrangements in and around the worship places and other places of religious significance for the non-Muslims against any possible threat.
Officials said the minister also asked for increasing security for mosques, shrines, Imambargahs etc.
"Those who are adamant to destroy peace in the country are ulcerous and the entire nation is united against their nefarious designs," said the minister.
Officials said the worship places of the minorities were already being protected — though, with limited resources — yet the government's order to raise the bar might have a little impact on the existing arrangement.
"Police guards and other law enforcement agencies have been posted with the limited manpower and strength in the province. It requires more funds and manpower to raise the bar," said a senior official in the home ministry.
Officials said a project costing Rs400 million was being launched to make safe temples, churches and other places of worship across the province.
They said the ambitious project would chiefly invest in the purchase of surveillance cameras, planned to be installed in and outside more than 1,200 places of worship across Sindh.
The provincial government has initiated a project in which security surveillance cameras would be installed at temples, churches and gurdwaras.
"This project will greatly enhance the level of security at places of worship and protect the rights of minorities," claimed a senior official.
He said the project involved establishment of a modern surveillance and monitoring system at each place of worship using multiple video cameras installed at strategic locations around it.
Officials added that the project was planned in line with the directive of the ruling Pakistan Peoples Party's chairman, Bilawal Bhutto-Zardari, after a number of attacks on temples in Larkana, Hyderabad and other districts of Sindh during the past three years.
After those attacks, the provincial government deployed security on an average of less than two police guards per worship place across the province.
The Sindh Police have prepared a report and sent it to the home ministry saying that a total of 1,253 worship places belonging to the religious minorities had been documented in Sindh, which included 703 Hindu temples and 523 churches. Besides, 21 such places belonged to Ahmadi community and the remaining six are Sikh gurdwaras.
A total of 2,310 policemen have been deputed to guard all those places.
According to district-wise break-up of the worship places given in the report, most of them — 494 to be precise — are situated in Karachi, which included 387 churches and 107 temples.
Karachi East has the most churches (200) followed by 116 in Karachi West and 71 in South district. Most temples (61) are documented in Karachi South, followed by 39 in Karachi East and seven in West district.
Hyderabad has 238 worship places, including 156 temples and 72 churches while 10 belonged to Ahmadi community.
Similarly, Benazirabad and Mirpurkhas have respectively 50 and 112 temples, 12 and 21 churches and six and five Ahmadi establishments.
Larkana has 141 temples, seven churches and five gurdwaras while Sukkur has 137 temples, 24 churches and one gurdwara.
Officials said there are 232 policemen deputed to guard 239 churches and temples in Karachi East — less than one for a worship place. To bridge the gap, they added, 11 guards have been provided by various NGOs in the district.
The security cover to 116 churches and seven temples is much impressive in Karachi West where 364 policemen have been deployed while NGOs have provided 43 additional guards.
In Karachi South's 132 temples and churches, the authorities have provided 213 policemen while NGOs have stuffed them up with 83 additional guards.
The report also documented five violent attacks on worship places of religious minorities during the recent past — all of them against Hindus.
Three temples — Radha Kishan in Hyderabad, Shanga Bhawani in Makli, Thatta and Hanuman in Tando Mohammad Khan — and a Dharamsala in Larkana were attacked.
Full report at:
https://www.dawn.com/news/1377215/sindh-increases-security-for-places-of-worship-after-quetta-church-attack
--------
Thousands of Pakistanis stage rallies against Trump's al-Quds decision
Dec 17, 2017
Thousands of demonstrators have rallied in two major cities across Pakistan, denouncing US President Donald Trump's decision to recognize Jerusalem al-Quds as Israel's "capital."
The massive rallies were organized by supporters of the Jamaat-e-Islami (JI) party in the southern port city of Karachi and advocates of Jamat-ud-Dawa chief Hafiz Saeed and leaders of Difa-e-Pakistan Council in the eastern city of Lahore on Sunday.
The angry protesters who carried Palestinian flags and chanted anti-US slogans called on Washington to retract the controversial decision.
Sirajul Haq, the chief of Jamaat-e-Islami (JI) called on all Muslim nations to suspend diplomatic ties with the US until it reconsiders its Jerusalem decision.
Addressing the rally in Lahore, Saeed said that the world Muslims should put aside any differences and unite around the cause of "liberating" Jerusalem al-Quds.
Protests have continued in Pakistan since Trump's controversial announcement angered Muslims across the world.
In recent days, various religious and political groups held anti-Trump protests across Pakistan . The main protest was held last Sunday near the US Consulate in Karachi where the religious activists burnt the US and Israeli flags and chanted slogans.
Trump announced that his administration would recognize Jerusalem al-Quds as Israel's "capital" and relocate the US embassy from Tel Aviv to Jerusalem al-Quds on December 6. That announcement was only welcomed by Israel. Saudi Arabia's response was also conspicuously muted.
Demonstrations were held in protest in the occupied Palestinian territories, Iran, Turkey, Egypt, Jordan, Tunisia, Algeria, Iraq, Morocco, and other Muslim countries.
The Organization of Islamic Cooperation (OIC) convened an emergency meeting to call on all Muslim nations to respond by pressing the world for the recognition of East Jerusalem al-Quds as the capital of a Palestinian state.
Full report at:
http://www.presstv.com/Detail/2017/12/17/545942/Jerusalem-Pakistan-
--------
Arab World
Arab Media: Abdullah Saleh's Son Turns Down Saudi, UAE Demands
Dec 17, 2017
"Ahmad has thanked the Saudis and the Emiratis for their trust but rejected their requests for picking up the political and military leadership of the National Congress," the Yemen-based Ma'arib Press news website reported, adding that the response has stunned the Saudi and UAE officials.
It added that the Saudis had promised Saleh's son that he would be provided with much possibilities and huge amounts of money to lead the National Congress in Yemen but he continued to turn down the offer.
Ali Abdullah Saleh was killed while escaping from Sana'a to Ma'arib province earlier this month.
Saleh was fleeing Sana'a on an armored vehicle when his vehicle was hit and destroyed.
Saleh was also accompanied by his deputy Aref Zuka and Secretary-General of the National Congress Party Yasser al-Avazi when their car was hit in Khoulan al-Tayal security point.
A Yemeni reporter said that Saleh had an appointment with Ali Mohsen al-Ahmar, one of the former military men affiliated to the former regime and Saudi Arabia, to help him escape from Ma'arib to be transferred to the UAE.
The new change in the course of the Yemeni conflict came after Saleh and his supporters turned their weapons against Ansarullah movement.
Meantime, Ansarullah leader Abdul-Malek al-Houthi accused Saleh of "betrayal," vowing to keep fighting against the Saudi-led coalition.
The coalition later welcomed Saleh's new stance and offered to provide support to fight the Ansarullah fighters, according to Al-Arabiya.
http://en.farsnews.com/newstext.aspx?nn=13960926001654
--------
Gov't Forces Purge 25 Villages of Terrorists in Northern Iraq
Dec 17, 2017
The Iraqi ministry reported that the pro-government forces in large-scale mop-up operation in Masibijeh region between the province of Salahuddin and Diyala managed to clean 25 villages from the remaining pockets of ISIL terrorists.
The ministry further said that the mop-up operation was headed by the ground force, adding the country's volunteer forces of Hashd al-Shaabi participated in the operation.
The Iraqi forces destroyed 15 landmines, 2 trenches, 3 tunnels, 1 passageway, 2 bomb-laden motorbikes and a hideout of the ISIL in their operation.
Relevant reports said on Saturday that the popular forces of Hashd al-Shaabi engaged in fierce clashes with ISIL that utilized at least seven armored vehicles carrying a number of terrorists, including suicide attackers, to target the government forces' positions at border with Syria.
The Hashd al-Shaabi fighters killed a number of terrorists and destroyed one of the armored vehicles and managed to fend off their attack.
Full report at:
http://en.farsnews.com/newstext.aspx?nn=13960926001430
--------
Syrian Army One Step Closer to Capture Terrorist-Held Strategic Base in Idlib
Dec 17, 2017
The army forces, backed up by artillery and missile units, stormed the strongholds of the Al-Nusra and captured Tal (hill) al-Maqta'a after they imposed control over al-Zahra Farms in the region, paving the ground for the further advances towards Abu al-Dhohour airbase in Southeastern Idlib.
The army men also engaged in a tough battle with terrorists near the village of al-Shakousiyeh in Northeastern Hama.
Also, the Syrian Air Force carried out a number of combat flights over terrorists' centers and movements in the villages and regions of Qasr Bin Wardan, al-Rahjan and al-Shakousiyeh in Hama and regions near the town of Abu Dali in Southern Idlib, killing a number of militants and destroying their positions.
Dissident-affiliated websites reported earlier today that a long military column of Ahrar al-Sham terrorists has arrived in Northeastern Hama to assist their comrades to slow down the Syrian Army troops' rapid advances towards Idlib province.
The news websites said that Ahrar al-Sham has joined other terrorist groups in Northeastern Hama to prevent the army from advancing towards Idlib province.
The websites went on to say that a long convoy of Ahrar forces arrived in the battlefield in Syriatel hill and joined terrorist front.
Field sources, meantime, reported that a number of Ahrar's fighters have been sent to al-Mosheirefeh region in Southern Idlib.
Full report at:
http://en.farsnews.com/newstext.aspx?nn=13960926001303
--------
War against ISIS in Syria will be won by February, says France's Macron
17 December 2017
French President Emmanuel Macron on Sunday predicted the ISIS group would be crushed in Syria by February, pushing for the Syrian government and opposition to come together for fresh peace talks early next year.
"We have just won the war in Iraq with the coalition," Macron said in an interview with France 2 television.
"And I think that by the middle to the end of February, we will have won the war in Syria."
Macron described President Bashar al-Assad as "an enemy of the Syrian people", but insisted: "We have to speak to Assad and his representatives."
And despite this week's failure of the latest UN-brokered peace talks in Geneva, he wants to see "a process emerge at the start of next year with Assad's representatives, but I hope also representatives of all of the opposition".
He underlined that France's top priority as part of the US-led coalition pounding ISIS is "the extermination" of the militant group rather than ousting Assad, which has been the country's official stance since June.
And the Syrian president will not be leaving any time soon after the defeat of ISIS, Macron said.
"Bashar al-Assad will be there," he said. "He will be there because he is protected by those who have won the war on the ground, whether it's Iran or Russia."
Assad has to respond to his crimes
However, at some point, Macron said, Assad "will have to respond to his crimes before his people, before the international courts".
"France's plan is to win peace, de-mine the country, to de-militarize it and build a political solution that will allow a durable peace -- which means all minorities being protected, Christians, Shiites and Sunnis," Macron said.
As fighting continues in a multi-faceted war that has killed more than 340,000 people since 2011, ISIS, which once controlled swathes of land, now holds just a few patches of Syrian territory.
Full report at:
https://english.alarabiya.net/en/News/middle-east/2017/12/17/War-against-ISIS-in-Syria-will-be-won-by-February-says-France-s-Macron-.html
--------
Assad forces enter Idlib, one of four de-escalation zones
17 December 2017
Syrian army forces have entered parts of the Idlib province in north-west Syria, one of four "de-escalation" zones which foreign powers including turkey, Iran and Russia agreed to establish after years of civil war.
This follows weeks of attacks launched from the province of Hama on Idlib by Assad's army and allied forces.
Assad forces took control of the Tahrir al-Sham Organization's villages, including the village of Tal al-Khanazir south-east of Idlib.
The Syrian Human Rights Watch said that the regime's forces had taken over Tal al-Khanazir after fierce fighting and air raids.
Full report at:
https://english.alarabiya.net/en/News/middle-east/2017/12/17/Assad-forces-enter-Idlib-one-of-four-de-escalation-zones.html
--------
Egypt raises security level to maximum alert in preparation for Coptic holidays
17 December 2017
Egyptian authorities announced that they will raise security levels to maximum alert on Sunday in preparation for Coptic Christmas festivities and possible Sinai terrorist attacks.
Following a meeting chaired by the Minister of Interior, Magdy Abdel Ghaffar, the ministry released a statement showcasing their plan to secure Christmas celebrations which begin later this month and will continue until January 7.
"Critical security confrontations with terrorist factions in North Sinai may prompt some of them to flee and try to sneak into cities, and this will require vigilance and preparation to face those attempts," said Abdel Ghaffar.
A terrorist attack on a security checkpoint in Arish earlier today prompted the decision to raise security levels to maximum alert by the minister, which is the highest level of security measures.
The ministry confirmed the importance of intensifying the presence of security forces around public areas and places of worship to be able to deal immediately and decisively with any attempt to disturb the holiday celebrations of Egypt's citizens, according to Egypt Today.
Security forces will apply 800-meter "safe areas" around churches and the government will provide explosive detection devices to counter any attempts to target places of worship, the newspaper added.
Security forces will implement security procedures for all 2,326 churches in Egypt.
During Christmas celebrations in 2016, an explosion in the al-Botrosiya Church, near the complex of the main Coptic Cathedral in Cairo, killed 29 people and injured tens of others. The attack was orchestrated by ISIS.
Full report at:
https://english.alarabiya.net/en/News/2017/12/16/Libyan-coast-guard-rescues-more-than-250-migrants-trying-to-reach-Italy.html
--------
Syrian forces uncover, destroy 300m terrorists' tunnel in Damascus countryside
Dec 18, 2017
Syrian government forces have discovered and destroyed a 300-meter-long tunnel used by terrorist groups in the countryside of Damascus.
According to Syria's state news agency SANA on Sunday, the eight-meter-deep tunnel was found in Eastern Ghouta and was used by terrorists to infiltrate into military positions in the region.
After military units thoroughly investigated the tunnel, they found out that the terrorists were planning to use the tunnel to access military positions around a Women's Prison in the Tal Kurdi region.
Military sources noted that the tunnel had been subsequently destroyed.
Syria has been making back-to-back gains against militants over the past months. The government has managed to clear vast swathes of land from the grip of Takfiri terrorist groups in the west, north and east of the country and the drive continues in the northwest where militants have sought refuge.
Full report at:
http://www.presstv.com/Detail/2017/12/18/545967/syria-damascus-tunnel-footage
--------
Mideast
Over 60 Saudi-Backed Militants Killed in Yemen's Shabwa
Dec 17, 2017
At least 60 mercenaries were killed and 70 others were wounded in the Yemeni forces' military operations in Shabwa province in Southeastern Yemen, military sources disclosed on Sunday.
The Yemeni Saba news agency quoted the unnamed sources as saying that the Saudi-backed militants sustained heavy losses during the last 48 hours.
"Four armored vehicles, six military vehicles and other military equipment of the mercenaries were also destroyed in the military operations in Bihan and Asilan regions," he added.
In a relevant development on Saturday, Yemen's Ansarullah movement rocket battalion fired an M-2 ballistic missile towards a Saudi command center in the Southern countryside of the Jizan Region.
According to the official media wing of the Ansarullah, the popular forces fired the M-2 missiles from their positions in Northern Yemen, as they claimed their missile scored a direct hit on the Saudi command center, causing considerable damage to the installation in the Southern part of the Jizan Region.
It comes as the Saudi-led coalition bombers have increased air attacks on residential areas across Yemen, killing and wounding hundreds of civilians in recent days.
Ansarullah movement has also warned that Yemeni forces will continue missile attacks against Saudi Arabia as long as Riyadh and its allies press ahead with their military aggression against the impoverished nation.
The capital cities of all the Saudi-led coalition member states are within the range of Yemen's missiles, a senior Ansarullah movement leader said recently in a tough warning that has already met action in the case of Saudi Arabia iteself and the UAE.
Saudi Arabia has been striking Yemen since March 2015 to restore power to fugitive president Mansour Hadi, a close ally of Riyadh. The Saudi-led aggression has so far killed at least 15,300 Yemenis, including hundreds of women and children.
Despite Riyadh's claims that it is bombing the positions of the Ansarullah fighters, Saudi bombers are flattening residential areas and civilian infrastructures.
According to several reports, the Saudi-led air campaign against Yemen has driven the impoverished country towards humanitarian disaster, as Saudi Arabia's deadly campaign prevented the patients from travelling abroad for treatment and blocked the entry of medicine into the war-torn country.
The cholera outbreak in Yemen which began in April, has also claimed over 2,200 lives and has infected about one million people, as the nation has been suffering from what the World Health Organization (WHO) describes as the "largest epidemic in the world" amid a non-stop bombing campaign led by Saudi Arabia. Also Riyadh's deadly campaign prevented the patients from traveling abroad for treatment and blocked the entry of medicine into the war-torn country.
According to reports, the cholera epidemic in Yemen, which is the subject of a Saudi Arabian war and total embargo, is the largest recorded in modern history.
Aid officials have also warned of the spread of diphtheria in war-torn Yemen, as WHO and officials with the international medical charity Doctors Without Border, announced that the diphtheria spread is inevitable in Yemen due to low vaccination rates, lack of access to medical care and so many people moving around and coming in contact with those infected.
http://en.farsnews.com/newstext.aspx?nn=13960926001624
--------
Turkey hopes to open embassy in East Jerusalem, says Erdoğan
17 December 2017
Turkey intends to open an embassy in East Jerusalem, President Recep Tayyip Erdoğan has said, days after leading calls at a summit of Muslim leaders for the world to recognise it as the capital of a Palestinian state.
The Organisation of Islamic Cooperation summit was a response to the US president, Donald Trump's decision earlier this month to recognise Jerusalem as Israel's capital. His move broke with decades of US policy and international consensus that the city's status must be left to Israeli-Palestinian peace negotiations.
Erdoğan said in a speech to members of his AK party in Turkey's southern province of Karaman that the country's consulate general in Jerusalem was already represented by an ambassador.
"God willing, the day is close when officially, with God's permission, we will open our embassy there," Erdoğan said.
It was not clear how he would carry out the move, as Israel controls all of Jerusalem and calls the city its indivisible capital. Palestinians want the capital of a future state they seek to be in East Jerusalem, which Israel took in a 1967 war and later annexed in a move not recognised internationally.
Jerusalem, revered by Jews, Christians and Muslims alike, is home to Islam's third holiest shrine as well as Judaism's Western Wall – both in the eastern sector – and has been at the heart of the Israeli-Palestinian conflict for decades.
Foreign embassies in Israel, including Turkey's, are located in Tel Aviv, reflecting Jerusalem's unresolved status.
Full report at:
https://www.theguardian.com/world/2017/dec/17/turkey-hopes-open-embassy-east-jerusalem-erdogan
--------
IRGC Spokesman Dismisses US Allegations about Supply of Iranian Missiles to Yemen
Dec 17, 2017
Saudi Arabia has been for three years pounding the Yemeni people with bombs and all their weapons come from the US and Europe but the US envoy displays a pipe, saying that the Iranians' fingerprint is on it," General Sharif told reporters in the Northern province of Golestan on Sunday.
"This is while everyone knows that Yemen has imported many pieces of missile equipment from the Soviet Union and North Korea and was a country with some missile power in the region (before the Saudi war started)," he added.
During her press conference on Thursday, US Ambassador Nikki Haley appeared standing before what she claimed was debris of a missile from an Iranian-origin dispatched to Yemen and then fired to Saudi Arabia. Tehran immediately and categorically rejected all those charges.
Deputy Chief of Staff and Spokesman of Iran's Armed Forces Brigadier General Massoud Jazzayeri derided her remarks on Saturday, saying that Washington is suffering misjudgment due to an acute shortage of intel.
General Jazzayeri joined a wide range of other Iranian officials to reject the claim, stressing that Haley is suffering a lack of knowledge on issues related to weapons and military affairs.
"Had the Americans been informed of the high power of the Yemeni resistance's missile technology, they would not have uttered such ridiculous comments," he said.
General Jazzayeri downplayed the US power to work out international consensus against Iran and the resistance front, and said, "Therefore, the only way for the US to go past the troubles it is grappling with is to seriously change its behavior and stop warmongering and criminal actions in different parts of the world."
In relevant remarks on Saturday, Iranian Foreign Minister Mohammad Javad Zarif dismissed Washington's "baseless" allegations that Tehran has provided Yemen with missiles, stressing that such claims are raised to divert public attention from the US assistance to the Saudi bombing of Yemen, and the ISIL terrorists in the region.
Zarif dismissed the allegations on Saturday, and underlined, "The aim of these allegations is to forget the US partnership in crimes which are committed in our region, specially Yemen; they also raise such allegations to forget Trump's highly dangerous move to recognize Beit al-Moqaddas (al-Quds city) as the Zionist regime's capital."
He referred to a recent report by the US think-tanks, confirming that the US and Saudi weapons were used by the ISIL against the regional states, and said, "Now a country which has supplied the Saudi government with cluster bombs which kill the Yemeni children and old men, forges allegations against us."
Zarif warned of the pains the Yemeni people are suffering due to the US-Saudi-led war and siege against the poor Arab country, and said, "The US raises baseless allegations against the Islamic Republic of Iran by displaying a piece of iron to cap its war crimes in the region."
Noting that the UN has found the US-made parts in the Yemeni missiles, he said, "The origin of weapons in the region is fully clear and what is clear is that the fighter jets and bombs which pound the Yemeni people are the US fighters and bombs and it is a reality that no one can conceal."
Iran' permanent mission at the UN on Thursday categorically rejected as "fabricated" the evidence presented by Haley that it had supplied Yemen with a missile fired at Saudi Arabia, saying the accusations were baseless.
"As part of the baseless allegations raised by the US administration against the Islamic Republic of Iran throughout the last 10 months, the US ambassador accused Iran of supplying missiles to Yemen once again; a baseless allegation that we categorically reject," Iran's Envoy to the UN Gholamali Khoshrou said.
The Saudi-led coalition has long imposed a blockade of Yemen's air and sea ports and borders and has intensified the siege after the missile was fired at Riyadh, citing concerns that weapons were being smuggled into Yemen.
The siege has pushed the impoverished country into a humanitarian catastrophe.
A recent survey showed that almost one third of families have gaps in their diets, and hardly ever consume foods like pulses, vegetables, fruit, dairy products or meat.
More than 3 million pregnant and nursing women and children under 5 need support to prevent or cure malnutrition.
The United Nations has also warned that 8.4 million people in war-torn Yemen are "a step away from famine", as Saudi Arabia and its allies are ceaselessly pounding the impoverished country.
"The lives of millions of people, including 8.4 million Yemenis who are a step away from famine, hinge on our ability to continue our operations and to provide health, safe water, shelter and nutrition support," Jamie McGoldrick, the UN's humanitarian coordinator for Yemen, said in a statement on Monday.
"The continuing blockade of ports is limiting supplies of fuel, food and medicines, dramatically increasing the number of vulnerable people who need help," he added.
The United Nations had warned that millions of people will die in Yemen, in what will be the world's worst famine crisis in decades, unless the Saudi-led military coalition ends its devastating blockade and allows aid into the country.
Saudi Arabia has been striking Yemen since March 2015 to restore power to fugitive president Mansour Hadi, a close ally of Riyadh. The Saudi-led aggression has so far killed at least 15,200 Yemenis, mostly civilians.
Despite Riyadh's claims that it is bombing the positions of the Ansarullah fighters, Saudi bombers are flattening residential areas and civilian infrastructures.
Full report at:
http://en.farsnews.com/newstext.aspx?nn=13960926000754
--------
Israeli jets 'target Hamas training compound' in northern Gaza
18 December 2017
Israeli aircraft targeted a Hamas facility in the northern Gaza Strip early Monday, hours after two rockets fired from the Palestinian enclave struck southern Israel, the army said.
"In response to the rockets launched towards southern Israel, IAF (Israel air force) aircraft targeted a Hamas training compound in the northern Gaza Strip," a statement from the military said.
"In the compound three structures and other terror infrastructure were targeted."
There were no reports of injuries from the health ministry in Gaza.
On Sunday night, two projectiles fired from Gaza hit southern Israel, one damaging a home in a border town.
Another projectile flew short of its target and hit Gaza, the army said.
The Sunday attacks ended a three-day lull in the latest wave of rocket fire amid anger over US President Donald Trump's Dec. 6 recognition of Jerusalem as the capital of Israel.
Militants in the Palestinian enclave have fired both rockets and mortar rounds into Israel since Trump's deeply controversial announcement.
Trump's announcement was followed by protests across the Palestinian territories, with six Gazans killed -- four in clashes with Israeli forces along the border and two Hamas militants in an Israeli air strike in retaliation for rocket fire.
The rockets are often fired by small Islamist groups but Israel holds Gaza's rulers Hamas responsible for any attacks from the territory.
Full report at:
https://english.alarabiya.net/en/News/middle-east/2017/12/18/Israel-targets-Hamas-site-in-northern-Gaza-after-rocket-fire-.html
--------
Palestinians in Gaza fire rockets at Israel, says army
18 December 2017
Palestinians in the Gaza Strip fired two rockets at southern Israel on Sunday night, the Israeli army said in a statement without giving further details.
State-owned Kan 11 TV said nobody was injured, despite one of the rockets apparently hitting a house.
The attacks ended a three-day lull in the latest wave of rocket attacks amid anger over US President Donald Trump's December 6 recognition of Jerusalem as the capital of Israel.
On Wednesday Israel's Iron Dome missile defence system intercepted two rockets fired from Gaza while a third came down inside Israeli territory.
Early Thursday morning Israeli aircraft hit three "military facilities" of the Islamist group Hamas in Gaza.
Militants in the Palestinian enclave have fired both rockets and mortar rounds into Israel since Trump's deeply controversial announcement.
Trump's announcement was followed by protests across the Palestinian territories, with six Gazans killed -- four in clashes with Israeli forces along the border and two Hamas militants in an Israeli air strike in retaliation for rocket fire.
Protesters set fire to placards of Pence
A small group of Palestinian protesters on Sunday set fire to placards printed with images of US Vice President Mike Pence and Middle East
negotiator Jason Greenblatt outside Jesus's traditional birthplace, days before their arrival in the region.
With Bethlehem's illuminated Christmas tree behind them, about 30 people stood quietly holding candles at Manger Square next to the Church of the Nativity, the site Christians believe marks Jesus's birthplace, before setting the placards alight.
"Bethlehem welcomes the messengers of peace, not the messengers of war", read some placards with pictures of Pence and Greenblatt as they went up in flames.
The US vice president is due in the region later this week but the Palestinians have said he is not welcome and President Mahmoud Abbas will not meet him during his visit, Palestinian Foreign Minister Riyad Al-Maliki said last week, a move the White House described as "unfortunate".
Greenblatt, who has held several rounds of discussions with Israeli and Palestinian officials during the past few months in an effort to restart peace talks that have been frozen since 2014, is also due to arrive this week.
Violent protests have been held almost daily in the Palestinian territories over US President Donald Trump's Dec. 6 announcement in which he overturned long-standing US policy on Jerusalem and said he was recognizing it as Israel's capital.
Most countries consider East Jerusalem, which Israel annexed after capturing it in a 1967 war, to be occupied territory and say the status of the city should be decided at future Israeli-Palestinian talks.
Full report at:
https://english.alarabiya.net/en/News/middle-east/2017/12/18/Palestinians-in-Gaza-fire-rockets-at-Israel-says-army-.html
--------
Yemeni army captures 80 Houthis within two days in Shabwa
17 December 2017
The Yemeni army captured 80 Houthi militiamen during battles that took place in the Bihan and Asilan districts over the past two days.
The two districts in the Shabwa governorate are considered the last of the Houthi strongholds southeast of the country.
The spokesman of the Yemeni army, Brigadier Abdu Majali, said that the government's control of bihan and Asilan will completely cut off Houthi supplies from the south.
Majali added that this military victory is a continuation of the liberation of the remaining cities on this front, pointing out that this will pave the way for the liberation of Baida (central Yemen) from the Houthi grip.
He also confirmed that their engineering teams began dismantling mines planted by the militia in Bihan.
The Yemeni army, with the support of the Arab coalition, was successful in controlling the district of Bihan during battles that took place last Friday and Saturday.
Full report at:
https://english.alarabiya.net/en/News/gulf/2017/12/17/Yemeni-army-captures-80-Houthis-within-two-days-in-Shabwa.html
--------
Yemeni army storms Houthi prison and frees detainees
17 December 2017
A video circulated on social media showed Yemeni army forces as they freed detainees from a prison that was once controlled by the Houthi militia in Bihan in Shabwa.
The army and popular resistance forces liberated most of Bihan and Usaylan on Friday following battles that ended with the Houthis' defeat.
Liberating Bihan and Usaylan, the Houthis' last two strongholds in Shabwa, is strategically significant as according to some military experts it will speed up the Houthis' collapse and help liberate other areas.
https://english.alarabiya.net/en/News/gulf/2017/12/17/WATCH-Yemeni-army-storms-Houthi-prison-and-frees-detainees-.html
--------
Tehran to host PUOICM emergency meeting on Palestine
Dec 17, 2017
The Palestinian Committee of the Parliamentary Union of the Organization of Islamic Cooperation Member States (PUOICM) will hold an emergency meeting in the Iranian capital Tehran.
Participants at the Monday meeting are scheduled to discuss the latest developments in Palestine following US President Donald Trump's decision to recognize Jerusalem al-Quds as Israel's "capital."
Iranian Parliament Speaker Ali Larijani will deliver a speech at the meeting.
On December 6, the US president defied global warnings and said Washington formally recognized Jerusalem al-Quds as the "capital" of Israel and would begin the process of moving its embassy to the occupied city, breaking with decades of American policy.
Trump's declaration has sent shock waves throughout the Muslim world, and even prompted warnings from Washington's allies in the West that it would bring more chaos to the region.
The dramatic shift in Washington's policy vis-à-vis the city triggered demonstrations in the occupied Palestinian territories, Iran, Turkey, Egypt, Jordan, Tunisia, Algeria, Iraq, Morocco and other Muslim countries.
Representatives from 57 OIC members attended an urgent summit in Istanbul on December 13 on Washington's contentious declaration on Jerusalem al-Quds.
Jerusalem al-Quds is under Israel's control. The international community views the regime's grip on the eastern part of the city, which came after the Six-Day War of 1967, as illegal, and urges talks to decide the fate of the entire city in any future peace deal.
Full report at:
http://www.presstv.com/Detail/2017/12/17/545922/Tehran-Jerusalem-alQuds-Palestinian-Committee-OIC
--------
US anti-Iran claim aimed at whitewashing war crimes in Mideast: Zarif
Dec 16, 2017
Iranian Foreign Minister Mohammad Javad Zarif has once again dismissed as "baseless" the US allegation that Tehran supplies missiles to Yemen, saying it is an attempt by Washington to whitewash its war crimes in the Middle East.
"In an attempt to cover up its presence in the region and measures which can mostly amount to war crimes, the US levels baseless allegations against the Islamic Republic of Iran by displaying a piece of metal," Zarif told reporters on Saturday.
US Ambassador to the United Nations Nikki Haley went on live television Thursday to display debris purportedly from a ballistic missile that had been fired from Yemen at an airport in the Saudi capital Riyadh.
On November 4, a missile fired from Yemen targeted King Khalid International Airport near Riyadh, reaching the Saudi capital for the first time.
Zarif said such claims aimed to deflect attention from US complicity in the crimes committed in the Middle East, particularly in Yemen, and from US President Donald Trump's "very dangerous move" to recognize Jerusalem al-Quds as Israel's "capital."
On December 6, the US president defied global warnings and said Washington formally recognized Jerusalem al-Quds as the "capital" of Israel and would begin the process of moving its embassy to the occupied city, breaking with decades of American policy.
Trump's declaration has sent shock waves throughout the Muslim world, and even prompted warnings from Washington's allies in the West that it would bring more chaos to the region.
The top Iranian diplomat further said the US made such allegations against Iran while it provided Saudi Arabia with cluster bombs that kill Yemeni civilians, and supported the Saudi regime's blockade on the impoverished country.
What is clear, he emphasized, is that American bombs are being dropped on the Yemeni people and "this is a fact that no one can conceal."
Haley militarily uninformed: Jazayeri
Meanwhile, Deputy Chief of Staff of Iran's Armed Forces Brigadier General Massoud Jazayeri chided the US diplomat for her claim and said Haley has no expertise in military and defense issues.
"If the Americans had been aware of the high level of Yemeni resistance's missile technology prowess, they would have prevented the utterance of such ridiculous remarks," Jazayeri said.
He added that Washington has no capability to build a consensus against Iran and the anti-Israeli resistance front.
The senior Iranian commander emphasized that a real change in US attitude and an end to its "warmongering and criminal" acts across the world are the only solutions to Washington's predicaments.
Also on Friday, Zarif said the United States was complicit in Saudi war crimes in Yemen.
"No amount of alternative facts or alternative evidence covers up US complicity in war crimes," Zarif said in a post on his official Twitter account.
The Iranian ambassador to the UN, Gholam Ali Khoshroo, also rejected his American counterpart's claims and said the "show" Haley put up earlier in the day was merely meant to cover up Washington's own supply of lethal weapons to the Saudi regime, which have resulted in the deaths of Yemeni women and children.
"Iran wants peace, dialog and an immediate ceasefire and a halt to bombardments" against Yemen, said the senior diplomat, emphasizing that the US "must, above all, end its arms sales to Saudi Arabia."
Meanwhile, Farhan Haq, the deputy spokesman for the UN secretary general, also doubted the Saudi and American claims, saying even the UN had been unable to confirm the origin of the missiles.
"There's no conclusive evidence about the provenance of those missiles," he told reporters on Thursday, quoting an upcoming UN resolution in this regard.
Saudi Arabia and its allies launched the war on Yemen in March 2015 in a bid to crush the Houthi movement and reinstate the former Riyadh-friendly regime, but they have achieved neither of their goals.
Full report at:
http://www.presstv.com/Detail/2017/12/16/545821/Zarif-Nikki-Haley-Yemen-missile
--------
North America
Positive attitudes toward Arabs and Muslims are up in US
By James J. Zogby
December 17, 2017
Are anti-Arab and anti-Muslim sentiments on the rise in the United States? And what are the best ways to combat them? These were some of the questions we discussed at the 2017 'Global Peace and the Fear of Islam' forum held last week in Abu Dhabi.
Based on our most recent Arab American Institute (AAI) survey of American public opinion, conducted in conjunction with Zogby Analytics (ZA), I was happily able to report to the Forum that negative attitudes towards both communities appear to be in the decline. I also noted that in charting a way forward it was important to consider that since much of the hostility towards both communities has been politically manufactured, part of the solution must be political, too.
A bit of history is in order. Going back to the 1990s, the public's views of both Arabs and Muslims were somewhat favourable. Both communities were not well-known. Popular culture, fed by pro-Israel propagandists, had created negative stereotypes of Arabs and this had taken a toll. But, on the whole, attitudes towards both Arabs and Muslims were stable and more positive than negative.
Things did change in the aftermath of 9/11, but not as badly as some had feared. While there were those who deliberately fanned the flames of hate and suspicion, they were countered by push-back emanating from the White House, the creators of popular culture in Hollywood, and a wide range of religious, ethnic, and civil rights organisations. It was, nevertheless, a difficult period for both communities.
Despite former US president George W. Bush's admonitions, some Republican political figures, think tanks, and funders perceived that there might be an electoral advantage in propagating and exploiting anti-Muslim sentiment. With the nomination and then election of Barack Obama as president, these purveyors of hate felt they had an ideal target. Preying off of both the widespread economic insecurity created by the economic downturn of 2008 and the perceived "foreignness" of Obama (his race, his name, and his Kenyan father's religion), a conservative group spent millions of dollars producing and widely distributing a hate-filled film that warned of Muslim efforts to take over America — with the presumption being that with the election of Obama, they were getting closer to their goal.
On one level, this effort to undercut Obama failed since he was twice elected. The campaign of hate did, however, leave a lasting mark on Republican attitudes towards Islam and Muslims. And it continued to grow.
First came the "birther movement" — spreading the notion that Obama was secretly a Muslim, wasn't born in America, and therefore wasn't legally entitled to serve as president. As late as our 2015 poll, we found that more than 60 per cent of self-identified Republicans believed Obama wasn't really born in the US and was secretly a Muslim.
During this same period, funded by conservative donors, a nation-wide effort was launched to get states to pass legislation banning Sharia. The effort was ridiculous — since no one had ever proposed introducing Sharia in the US. Ridiculous or not, the effort ultimately was considered by 27 state legislatures, raising the spectre of a Muslim takeover of America. These same groups sponsored "studies" purporting to demonstrate that Muslim groups, with Obama's support, had succeeded in infiltrating the government. This effort was repudiated by a host of political leaders and organisations. While it spread fear in the Muslim community, it failed to dislodge loyal Muslim Americans from government service.
In 2010, Republicans, joined anti-Muslim hate groups in opposing the proposed construction of an Islamic community centre in Manhattan, about 10 blocks away from Ground Zero. Led by former Congressman Newt Gingrich, they termed the centre a "Victory Mosque", claiming it was intended by Muslims as a declaration of victory over America. Based on this theme, the Republican congressional campaign committee produced TV ads for use in 17 congressional races. The ads warned about the dangers of the "Victory Mosque" and challenged Democratic candidates to declare opposition to this "Muslim insult to America".
While this GOP effort also failed, since in only one of the 17 races did their candidate win, once again damage was done in promoting hatred and fear of Muslims among Republicans.
Exploiting anti-Muslim sentiment was also a feature of the 2012 and, of course, in the 2016 Republican presidential contests. It failed in 2012 when it was repudiated by the GOP's nominee, Mitt Romney, but it won in 2016 with the victory of Donald Trump.
As candidate and later as President, Trump worked hard to promote and exploit fear of Muslims. The arguments he made in defence of his Muslim ban, his disgraceful behaviour towards the Muslim Gold Star parents who spoke at the Democratic Convention, and the Islamophobes he appointed to serve in the White House — all had an impact on the public's attitudes. But the impact has not been what Trump may have expected.
It appears that the president's policies, intemperate rhetoric and erratic behaviour have not only driven down his own approval ratings, they have also caused many Americans from both sides of the partisan divide to reject some of his views. It's what I call the "Trump effect".
In our most recent AAI/ZA poll of American public opinion, we find that favourable attitudes of Arabs, Muslims, Arab Americans and American Muslims have actually risen to their highest levels in the past decade, with majorities now having favourable attitudes toward both Arab Americans and American Muslims, and a plurality positively inclined towards Arabs and Muslims. While the greatest increases in favourable attitudes came from Democrats and Independents, positive ratings were also up among Republicans. There remains, however, a deep partisan split — with Republicans still decidedly more hostile to both Arabs and Muslims than Democrats or Independents.
The division between Democrats and Independents on the one side and Republicans on the other is even more pronounced on matters of policy affecting Arabs and Muslims. A strong plurality of Americans, for example, opposes banning Muslim or Middle Eastern immigrants or visitors from entering the US. But while Trump supporters favour banning immigrants and visitors from the Middle East, by a 60 per cent / 21 per cent margin, only 12 per cent of Trump opponents support such a ban, with 72 per cent opposing.
Seen in this context, we can take some satisfaction in Doug Jones' defeat of Roy Moore in Alabama's special election for the US Senate. With Moore's loss, another anti-Muslim bigot bites the dust.
Moore is an Islamophobe, and isn't shy about letting folks know. Moore had once called Islam a "false religion", made the bizarre claim that there were cities in America where Muslims had already imposed Sharia, and remarked that Keith Ellison's Muslim faith should have disqualified him from serving in Congress. That a notorious pair of Islamophobes like Steve Bannon and Sebastian Gorka came to Alabama to campaign for Moore only served to reinforce his deplorable bigotry.
With Moore now consigned to the "dustbin of history", we can hope that another nail has been pounded into the coffin of this decade-old phenomenon of Republican-generated anti-Muslim bigotry.
Maybe this will be a wake-up call for the GOP. Promoting bigotry against Muslims hasn't worked. It has polarised the country without producing any tangible electoral results. And while it has caused real pain, including an increase in hate crimes against Arabs and Muslims, it has also generated significant support for both communities. It is time for Republicans to step forward and reject those in their ranks who have promoted this campaign of hate.
Dr James J. Zogby is the president of Arab American Institute.
http://gulfnews.com/opinion/thinkers/positive-attitudes-toward-arabs-and-muslims-are-up-in-us-1.2142564
--------
UN Security Council weighs rejecting US Jerusalem decision
17 December 2017
The UN Security Council is considering a draft resolution that would affirm that any change to the status of Jerusalem has no legal effect and must be rescinded, in response to the US decision to recognize the city as Israel's capital.
Egypt circulated the draft text on Saturday and diplomats said the council could vote on the proposed measure as early as Monday.
Breaking with the international consensus, US President Donald Trump this month announced that he would recognize Jerusalem as Israel's capital and move the US embassy there from Tel Aviv, sparking protests and strong condemnation.
The draft resolution obtained by AFP stresses that Jerusalem is an issue "to be resolved through negotiations" and expresses "deep regret at recent decisions concerning the status of Jerusalem", without specifically mentioning Trump's move.
It affirms "any decisions and actions which purport to have altered the character, status or demographic composition" of Jerusalem "have no legal effect, are null and void and must be rescinded."
Diplomats said they expected the United States to use its veto power to block the measure while most, if not all, of the 14 other council members were expected to back the draft resolution.
The status of Jerusalem is one of the most controversial issues in the Israeli-Palestinian conflict.
Israel seized control of the eastern part of the city in the 1967 Middle East war and sees the whole of Jerusalem as its undivided capital. The Palestinians view the east as the capital of their future state.
The United States found itself isolated at the Security Council last week when all 14 other members including allies Britain, France and Italy condemned its decision.
Several UN resolutions call on Israel to withdraw from territory seized during the 1967 war and have reaffirmed the need to end the occupation of that land.
Full report at:
https://english.alarabiya.net/en/News/world/2017/12/17/UN-Security-Council-weighs-rejecting-US-Jerusalem-decision.html
--------
Southeast Asia
Scholar: Freedom Inseparable from Islam, Quran
Sheith Khidhir Bin Abu Bakar
December 17, 2017
KUALA LUMPUR: Human rights and freedom are inseparable from Islam, a discussion featuring prominent Muslim academic Dr Nader Hashemi heard today.
In fact, the US scholar, who heads the Center for Middle East Studies at the University of Denver, said freedom was the very reason for the existence of the Quran.
"Human beings are told from the very beginning that they have a choice: either to follow the path of righteousness or the path of satan," he told the roundtable discussion entitled "Is liberty an Islamic value?" organised by Islamic Renaissance Front (IRF).
Despite this close relationship, Hashemi said many were of the opinion that there was no place for freedom in Islam, adding that this was fuelled by the turmoil in the Middle East and the biases that came with it.
"Many firmly believe that Islam and freedom are oxymorons. In Muslim societies there are large groups of people who have negative views on freedom.
"They believe that God establishes his rules and commandments and in this view there is no need to think or debate about what is good or bad," he said.
He said a problem among Muslims is that they felt obliged to implement rules and commandments as rigorously as possible, believing that "freedom will lead to moral decay and chaos".
But Hashemi acknowledged that while he firmly believed liberty and freedom were Islamic values, any society is bound to go through debates on their limitations.
Social activist Dr Chandra Muzaffar, meanwhile, said a certain amount of restraint was vital for freedom to flourish.
He explained that restraint meant acknowledging one's commitment to the freedoms of the other.
"When you are aware of others' freedom, then you are aware that you need to exercise restraint," he said.
"Freedom according to the Quran connotes the freedom to do good, not evil. There is a strong ethical dimension to it."
Chandra said without understanding this ethical dimension, the struggle for freedom could also lead towards conflict and the hindering of others' rights to freedom.
http://www.freemalaysiatoday.com/category/nation/2017/12/17/scholar-freedom-inseparable-from-islam-quran/
--------
Fight overzealous religious authorities with knowledge, say Muslim intellectuals
17 Dec 2017
MODERATE Muslim groups in Malaysia should not get embroiled in unproductive debates over labels with local religious authorities, said a US-based Islamic scholar today.
"My advice to you is not to get locked into a debate as to whether you are a liberal or not, and whether your accusers are extremists or fundamentalists.
"That type of debate is unproductive and gets you nowhere. I would recommend that you try to shift the conversations away from labels and focus on values.
"What values do we as Malaysians hold dear that should be the foundations of the creation of a just society?
"Do we believe that all Malaysians have a right to participate in public decision-making? Do we believe as Malaysians in free press, accountable government and free and fair elections?" Dr Nader Hashemi , the director of Center for Middle East Studies at the University of Denver, told the forum "Is Liberty an Islamic Value" at Concorde Hotel in Kuala Lumpur this afternoon.
The Canadian-born scholar of Iranian descent was answering a question from a member of G25, a group made up of top former civil servants.
On Tuesday, G25 member Noor Farida Mohd Ariffin had urged moderate Muslim groups that have been demonised by the Department of Islamic Development Malaysia (Jakim) as a threat to Islam and the country to sue the federal religious authority for defamation or lodge a police report.
A fellow panelist and prominent Muslim feminist Zainah Anwar from Sisters in Islam (SIS) said such attacks from the religious authorities are inevitable and the only way to counter them is through knowledge.
"These attacks are inevitable... You're entering a territory that others feel is their territory. What right or authority do you have to speak on Islam? You don't know Arabic. You haven't studied 20 years in Egypt or Saudi Arabia.
"So knowledge is extremely important. It is only with knowledge that you will have courage to stand your ground," said the co-founder of SIS, which has taken Selangor religious authorities to court for a fatwa which declared them as deviant.
While local religious authorities have consistently attempted to discredit the local Muslim women's rights group, Zainah said SIS's publications, ideas and advocacy are being studied and discussed in universities in Indonesia.
She added that Malaysia used to be regarded as one of the leading progressive Muslim countries in the 1990s but now countries like Indonesia, Tunisia and Morocco are far ahead in incorporating modern, progressive interpretations of Islam into their education system, public policy and law, particularly family laws.
She said local moderate Muslims must find reasons for hope in spite of the rise of religious fundamentalism and the erosion of democratic spaces.
"It's important to show the (local) religious authorities they do not have a monopoly on Islam.
"In a democratic country where Islam is used as a source of law and public policy, everyone has the right to engage, debate how Islam is used as a source of law (and public policy)," said the feisty former journalist.
She said Putrajaya should take Islam out of law and public policy if it does not want to deal with disagreements on interpretations.
"When you want to use the whole coercive power of a modern state to impose a single understanding of Islam on everybody, and those who disagree will be charged, persecuted, questioned, issued a fatwa against or have their books banned, then everyone has the right to challenge that," said Zainah.
The forum on whether liberty is an Islamic value was jointly organized by the Islamic Renaissance Front, the University of Nottingham and G25.
Full report at:
https://www.themalaysianinsight.com/s/28122/
--------
Police deny issuing advisory on Islamic State terrorists injecting HIV virus
December 17, 2017
KUALA LUMPUR, Dec 17 — Deputy Inspector-Police Tan Sri Noor Rashid Ibrahim today denied Bukit Aman Police Headquarters has issued an alert on an attempt by the Islamic State terrorists to inject HIV virus on the public.
It was purportedly executed by posing as representatives from a medical college who carried out free blood sugar screening.
"Bukit Aman had never issued such a message... I hope the people do not believe in the message," Noor Rashid said when contacted concerning the message that went viral on social media such as WhatsApp.
Full report at:
http://www.themalaymailonline.com/malaysia/article/police-deny-issuing-advisory-on-islamic-state-terrorists-injecting-hiv-viru#6SxXUAzXMIJDfWsT.97
--------
Malaysia can make a big difference in Yemen
December 18, 2017
By Dennis Ignatius
There's a war – a murderous, savage, barbaric, hellish war – raging in Yemen. Images of the suffering and carnage there crop up in our newspapers and on television from time to time but it's been going on for so long that we are becoming inured to it.
It began as a domestic power struggle and quickly spiralled into a proxy war between Saudi Arabia and Iran, the latest sideshow in their ongoing struggle for power and influence in the Middle East. And, as usual, taking advantage of the instability and chaos, terrorist groups like Al-Qaeda have moved in, further complicating the situation.
To snuff out Iranian influence, the Saudi-led coalition has launched a relentless and merciless bombing campaign against Yemen, hitting not just military targets but infrastructure, hospitals, schools and residential areas. International observers believe war crimes are being committed. A Saudi naval blockade, in the meantime, has made it difficult for food, medical and other assistance to get through.
Carnage and catastrophe
Already, some 10,000 people have been killed, more than 50,000 wounded. Seven million are on the brink of famine. One hundred and thirty children die every day in Yemen from extreme hunger and disease. Twenty million people (over 70% of the population) are in need of humanitarian assistance. The United Nations has warned that we might be witnessing "the largest famine the world has seen for many decades."
If that is not bad enough, Yemen is also caught in the grip of one of the world's worst cholera outbreaks with more than 900,000 suspected cases and over 2,190 deaths. Diphtheria and other diseases are stalking the land as well.
I suspect that all these statistics, terrible as they are, hardly capture the reality of life in Yemen today. Whichever way you look at it, Yemen, already one of the poorest, least developed countries in the world, is being slowly but surely annihilated before our very eyes.
And yet, there is so little outrage.
International complicity
While Saudi Arabia is the main architect of this savage war against Yemen, many others are complicit as well. The UAE, Bahrain, Kuwait, Egypt, Jordan, Morocco, Senegal and Sudan are either active participants in the Saudi-led coalition or support the Saudis in other ways.
The United States, blinded by its implacable hatred of Iran and determined to contain Iranian influence at all costs, has supported the Saudi campaign in Yemen with weapons, logistical support and political cover. France, the United Kingdom, Australia and Germany (to name a few) support the Saudis with weapons sales and training.
Western democracies talk much about liberty and justice but side with despots waging a brutal war on an entire nation. Containing Iran apparently justifies mass starvation and crimes against humanity.
Cowardice & hypocrisy
Islamic nations, for their part, are quick to work themselves into a frenzy when Muslims in distant lands are persecuted but keep silent when Muslims kill Muslims in their own backyard. They are very brave when it comes to confronting countries like Myanmar over the treatment of its Muslim minorities but cowardly when it comes to standing up to one of their own. They rush to Istanbul to protest President Trump's recognition of Jerusalem as the capital of Israel but quietly rely on American support to bomb Yemen's ancient cities.
If others did to Yemen what the Saudis are doing to it, there would be fiery denunciations and angry demonstrations across the Muslim world instead of silence and indifference.
Only Pakistan, to its credit, has refused to go along with this immoral war. Despite their dependence on Saudi aid, they found the courage to say no.
There are, of course, genuine concerns about Iran's regional ambitions and Arab states have reason to worry about their security but it can never be at the expense of innocent men, women and children, never at the cost of condemning a whole nation to such death and destruction.
Is Malaysia complicit as well?
Malaysia, too, is apparently complicit in this unfolding humanitarian catastrophe. Our defence ministry insists that some military officers have been deployed to the region but only to assist in the evacuation of Malaysian nationals from Yemen. Other reports, however, suggest that Malaysia is, in fact, part of the Saudi coalition and is working alongside personnel from the UAE, France, Britain and the US at Saudi joint headquarters in Riyadh to coordinate the air campaign against Yemen.
Whatever the level of involvement, Malaysia has no business being there; it is an iniquitous and unjust war that goes against everything we stand for in international affairs.
And even if we are not directly involved, our failure to speak out against war crimes being committed in Yemen makes us complicit. We had many opportunities to speak frankly with the Saudis but we are, it seems, too afraid to offend them.
A humanitarian response
It's time for Malaysia to break with the Saudis, condemn the criminal campaign against Yemen and demand an immediate halt to the bombing. We should also lend our full support to the efforts of the UN Secretary-General to broker a negotiated settlement in Yemen. Most of all, we need to help initiate a major international effort to deliver urgent humanitarian assistance to the people of Yemen.
For a start, let's take the lead to help save the children of Yemen. Let's put our heads and hearts together as a nation – government and opposition, Muslim, Christian and others, private and public sector, civil society and NGOs – to structure a national humanitarian assistance mission to help these innocent victims of the war.
Perhaps, the Royal Malaysian Air Force could help medevac seriously injured children and bring them to Malaysia for treatment, with all our hospitals – private and public – chipping in to help. Perhaps groups like Mercy Malaysia and other NGOs can be supported to set up hospitals and provide food and other assistance wherever conditions in Yemen permit. Perhaps we could organize a national fund-raising campaign to help aid groups already in Yemen at great cost to themselves.
To be sure, our ability to influence events in the Middle East is limited but there are many little things that we can do that could make a big difference in Yemen if our hearts are in the right place.
Full report at:
http://www.freemalaysiatoday.com/category/opinion/2017/12/18/malaysia-can-make-a-big-difference-in-yemen/
--------
Primary school teacher in Miri under probe for insulting Islam
December 17, 2017
MIRI, Dec 17 — A primary school teacher in Miri is being investigated by police following his comments on Facebook that allegedly insulted Islam.
Sarawak Criminal Investigation Department (CID) Chief Datuk Dev Kumar said, so far two police reports has been lodged in Kuching and Miri after his comments went viral.
"We have identified the Facebook account holder, we will be calling him for questioning, "he told Bernama when contacted today.
The teacher's comments on Islam and the United States' recognition of Jerusalem, a holy city for Muslims, Christians and Jews, as the capital of Israel, angered netizens.
Meanwhile, on checking the Facebook account, it was found that the holder had apologised for the comments and expressed remorse for angering Muslims in the country, including his friends and relatives.
Full report at:
http://www.themalaymailonline.com/malaysia/article/primary-school-teacher-in-miri-under-probe-for-insulting-islam#Ws5XEyzLdPMZ8TW7.97
--------
Indonesia's Muslim clerics call for boycott of US products over Jerusalem move
17 December, 2017
Tens of thousands of Indonesians marched through the capital Jakarta on Sunday to protest against US President Donald Trump's decision to recognise Jerusalem as the capital of Israel.
It was the largest protest in Indonesia since Trump's controversial move earlier in the month, reversing decades of US policy.
US President Donald Trump announced his recognition of Jerusalem as the Israeli capital and outlined plans to move the US embassy from Tel Aviv to Jerusalem. The move has been widely condemned in the Arab world and internationally.
Police estimated 80,000 Indonesians took to the street, in the tenth straight day of protests. Protesters held up Palestinian flags and placards reading, "peace, love and free Palestine", and the majority were clad in white.
Muslim clerics called for a boycott of American products during the protest. Anwar Abbas, a top cleric from the Indonesian Council of Ulema, read a petition calling on Indonesians to stop buying US-made products until Trump makes a u-turn.
"We urge all countries to reject the unilateral and illegal decision of President Donald Trump to make Jerusalem Israel's capital," Abbas told the crowd.
"We call on all Indonesian people to boycott US and Israel products in this country if Trump does not revoked his action," Abbas added.
The petition will be presented to the US ambassador in Indonesia.
It also demanded nations not follow the US in moving their embassies from Tel Aviv to Jerusalem and urged the UN Security Council to hold an emergency session to discuss Trump's declaration.
The chairman of the clerics council, Maruf Amin, said "let's fight together with the government and the world for the freedom of Palestine through political, diplomatic and economic ways".
Indonesian President Joko Widodo has strongly condemned Trump's move as a violation of UN resolutions.
Indonesia does not have diplomatic ties with Israel and has long been a strong supporter of Palestinian aspirations for a statehood.
Calls for an American boycott are not new. Last week, Saudis took to twitter to call for a boycott of American restaurants.
Israel regards Jerusalem as its capital, a position nearly the entire world rejects saying its status should be determined in peace talks with the Palestinians.
Full report at:
https://www.alaraby.co.uk/english/news/2017/12/17/indonesia-protests-mount-as-clerics-call-for-us-boycott
--------
Europe
Constitutional body in France rejects bill against surfing 'terror' websites
Dec 16, 2017
Amid growing concerns in France over terror threats, the supreme constitutional authority in the country has struck down a legislative motion to criminalize the surfing of "terrorist" websites for the second time this year, saying such a measure is against civil liberties.
The French Constitutional Council rejected on Friday the proposed bill passed by the country's lawmakers as "neither adequate, nor proportional," saying that the legislation violates freedom of expression and communication.
The bill calls for punishment of anyone visiting "terrorist" websites "without any legitimate reason" to "two years of imprisonment and a €30,000 ($35,250) fine."
It refers to the websites which are usually affiliated to Takfiri terror groups such as Daesh and seek to radicalize people.
The advocates of the legislation argue that the looming threat of terrorist attacks make it worth sacrificing certain liberties for the sake of safety.
The bill was previously rejected by the Constitutional Council back in February, prompting French lawmakers to introduce changes that supposedly clarified surfing restrictions.
The latest version of the legislation authorizes individuals to visit a "terrorist" website if the visitor is able to "prove" it is for "public information or scientific research." However, the bill was again rejected by the Council.
The development came after the French parliament approved in October a new controversial anti-terrorism law that made permanent parts of the two-year state of emergency, enacted following the 2015 attacks.
That legislation led to a severe backlash over its potential to limit civil liberties.
However, French Interior Minister Gerard Collomb justified it by cautioning that "nobody is safe" and France "is still in a state of war."
Human Rights Watch, which has been vocally opposing the legislation since it was first introduced, hailed the ruling by the Constitutional Council as a "welcome respite from France's rush to adopt restrictive counterterrorism measures at the cost of rights and freedoms," further insisting that the amendments introduced to the bill were purely cosmetic and did not change its nature.
Observers also say the approval of the measure could play into the hands of politicians and set the stage for criminalizing any website deemed as "terrorist."
Prior to the original bill's defeat in December 2016, a 32-year-old Frenchman was sentenced to two years in jail and a fine after police discovered during a raid that he was regularly browsing websites affiliated with the Daesh terrorist group.
The probe further found that the suspect was using a Daesh flag as a cover photo on his PC and downloaded the terror group's propaganda images, including execution videos, on his phone.
France has been the victim of the deadliest Daesh-inspired terror attacks in Europe. More than 200 people have been killed since early 2015 by terrorists who have vowed allegiance to, or been inspired by Daesh.
In a series of coordinated attacks in Paris on November 13, 2015 alone, 130 people were killed by Daesh-linked terrorists. On Bastille Day in July 2016, a truck was driven into crowds of people celebrating in Nice, killing 86 and injuring over 450.
According to French intelligence services, nearly 700 French nationals are currently fighting alongside Takfiri terrorists in Iraq and Syria.
Reports also said earlier this week that nationals of France were among the foreign militants joining Daesh ranks in northern Afghanistan, where the notorious terror group has established a foothold after losing its territorial rule in Syria and Iraq.
Concerns are mounting in the European country over the security threats which could be posed by its nationals upon returning home from conflict zones.
http://www.presstv.com/Detail/2017/12/16/545796/France-Bill-Terrorist-Websites
--------
Putin thanks Trump for CIA tip used to thwart St. Petersburg terror attack
Dec 17, 2017
Russian President Vladimir Putin has thanked his US counterpart for CIA tip which helped operations to thwart several bombing attacks in Saint Petersburg.
"The information received from the CIA proved sufficient to find and detain the criminal suspects," read a Sunday statement by Kremlin, which noted that Russia's leader had conveyed his thanks via a phone conversation.
It added that Putin also asked US President Donald Trump during the phone conversation to convey his respects to the CIA Director Mike Pompeo.
"If the Russian intelligence agencies receive information about potential terror threats against the United States and its citizens, they will immediately hand it over to their US counterparts via their communications channels," added the statement.
Russia recently dismantled a cell of the Daesh Takfiri terrorist group in Saint Petersburg that was planning to carry out imminent terror attacks in the northern city.
According to a statement released by the Russian Federal Security Service a "large number of explosives used to make homemade bombs, automatic rifles munitions and extremist literature" was seized during the police operation.
Russian forces arrested seven members of the cell during raids that took place on Wednesday and Thursday.
Full report at:
http://www.presstv.com/Detail/2017/12/17/545965/russia-us-putin-trump-Saint-Petersburg
--------
Geert Wilders calls for Trump-style Muslim travel ban in Europe
17 December 2017
European countries should adopt Donald Trump-style travel bans to counter a wave of Islamisation supposedly sweeping the continent, the Dutch anti-immigrant politician Geert Wilders has said.
Wilders, the leader of the Netherlands' Freedom party (PVV), made his comments at a gathering of far-right leaders in Prague. He also urged Europe to adopt Australia's tactics in turning back migrant boats and to build new border walls, as Trump has vowed to do along the US frontier with Mexico.
Wilders was flanked during his press conference by France's Front National leader, Marine Le Pen, and Tomio Okamura, the leader of the Czech Freedom and Direct Democracy party (SPD), which finished joint third in recent parliamentary election with nearly 11% of the vote.
Security was tight at the press event, held at a hotel just off Wenceslas Square, apparently in recognition of death threats against Wilders in response to his fierce denunciations of Islam.
Wilders, who was convicted last year by a Dutch court for incitement against Moroccans, cited US research he claimed showed that the Czech Republic would be bordered to the north, south and west by countries that were more than 20% Muslim by the middle of the century if current demographic trends continued.
"It will be almost as if you are bordering a kind of Gaza Strip on almost every border," he said.
"We must adopt a totally new strategy. We must have the courage to restrict legal immigration instead of expanding it, even if we sometimes have to build a wall."
Trump's travel ban, which applies to six Muslim-majority nations plus North Korea and Venezuela, has been one of his most controversial policies. It has been the subject of various challenges in court, and rulings that have overturned and suspended it. The US supreme court ruled this month that it could be implemented for now while numerous challenges were resolved.
The Prague gathering came at an encouraging moment for the organisers, the European parliament's populist Europe of Nations and Freedom grouping,. The Austrian Freedom party (FPO), one of the participants, became the only far-right party in government in a western European state on Friday, after joining a coalition with the conservative People's party.
That followed a year of setbacks for Wilders and Le Pen, who failed to make the electoral breakthroughs many had forecast. The PVV remains in opposition in the Netherlands after a poorer than predicted parliamentary election result last March, and Emmanuel Macron beat Le Pen in the second round of France's presidential poll in May.
A similar meeting last January in the German town of Koblenz was held amid euphoric expectations of major successes in 2017.
Le Pen said Europe's rightwing groups were linked by a belief that the European Union was a "catastrophic, disastrous organisation" and that the migration flows were "unbearable". She also praised Okamura, with whom she said she had been working for many months.
Tokyo born-Okamura, the son of a part-Japanese father and Czech mother, said the parties were defending European values.
Wilders, Le Pen and Okamura later received rousing ovations at the weekend's main event, a conference at the Top Hotel, a nondescript Communist-era building in Chodov, a bleak suburb several miles from the centre of Prague.
The venue was cordoned off, a police helicopter hovered overhead and riot police monitored two groups of leftwing protesters.
"The dangerous thing is that the extreme views we see on display here have entered the mainstream, with even the Czech Social Democrats accepting them," said Honza, a protest organiser who declined to give his full name for safety reasons.
Similar mistrust was evident inside, where security personnel scrutinised journalists closely and escorted them to and from a sectioned-off area.
The independent British MEP, Janice Atkinson, a former Ukip member, invoked the Czech fight against communism, the failed 1968 Prague Spring and Margaret Thatcher to encourage her audience to campaign for a Czexit referendum that could enable the Czech Republic to follow Britain out of the EU.
Full report at:
https://www.theguardian.com/world/2017/dec/17/geert-wilders-calls-for-trump-style-muslim-travel-ban-in-europe
--------
Terrorists arrested in Greece planned to assassinate Turkey's Erdogan
Dec 18, 2017
Members of an outlawed militant group detained in Athens were planning to assassinate Turkish President Recep Tayyip Erdogan while he was visiting Greece, says a report.
Greek newspaper To Vima reported on Sunday that the group of nine members of the Revolutionary People's Liberation Party-Front (DHKP-C) had planned to kill Erdogan with rocket launchers, grenades and Molotov cocktails.
According to the report, two groups of militants were to attack Erdogan's convoy from the sides while a third group was to attack from the vehicle's behind.
Security forces are still trying to locate the group's munitions stash which is thought to be hidden in the mountains close to Athens.
The group of Turkish nationals were arrested on November 28, as part of an investigation linked to various Turkish militant groups.
Full report at:
http://www.presstv.com/Detail/2017/12/18/545971/greece-turkey-erdogan-assassinate
--------
South Asia
Case filed against madrasa teacher for praying for Bangabandhu's killers
December 17, 2017
The case was filed against Gopalpur Kamil Madrasa Principal Dr Faizul Amir Sarker Saturday night
A case has been filed against a madrasa teacher for seeking salvation for the departed souls of Bangabandhu Sheikh Mujibur Rahman's killers.
Abdul Kader Talukdar, former commander of the Muktijoddha Command Council, filed the case against Gopalpur Kamil Madrasa Principal Dr Faizul Amir Sarker Saturday night.
Faizul is from Muradnagar upazila in Comilla district.
Gopalpur Police Station Officer-in-Charge Al Mamun said: "Faizul is being questioned. We are investigating into the matter."
Witnesses said the Gopalpur upazila administration had arranged a special prayer programme for freedom fighters who died during the Liberation War of 1971 at the Upazila Freedom Fighters' office Saturday morning.
Faizul conducted a munajat (prayer) at the program where he sought salvation for those who were hanged in connection with killing of Bangabandhu.
Upazila Chairman Yunus Islam Talukder and Upazila Nirbahi Officer Dilruba Sharmin, among others, were also present in the program.
Police detained Faizul immediately after the incident.
https://www.dhakatribune.com/bangladesh/nation/2017/12/17/case-filed-madrasa-teacher-praying-banghabandhus-killers/
--------
11 policemen killed in Afghan attacks
December 18, 2017
KANDAHAR - At least 11 Afghan policemen were killed on Sunday when Taliban fighters attacked two checkpoints in the volatile southern province of Helmand, authorities said. The assaults were the latest in a series of deadly attacks claimed by the Taliban on Afghan police and troops.
Taliban insurgents launched the assaults in the early morning in the Qalai Sang area of the provincial capital Lashkar Gah. "Our police fought them back, but unfortunately 11 of our police were martyred and two wounded," provincial governor Hayatullah Hayat told AFP, adding that the militants fled after the attack. Provincial police chief Ghafar Safi said 15 Taliban fighters were also killed during the skirmish.
After 16 years of war the resurgent militants show no signs of fatigue, ramping up their campaign against beleaguered government forces.
Afghan police and troops - beset by a high death toll, desertions and non-existent "ghost soldiers" on the payroll - have been struggling to beat back the insurgents since US-led NATO troops ended their combat mission in December 2014.
Also on Sunday, a suicide car bomb attack on NATO forces in neighbouring Kandahar province killed at least one woman and wounded four other Afghan civilians, General Abdul Razeq, the provincial police chief, told AFP.
Full report at:
http://nation.com.pk/18-Dec-2017/11-policemen-killed-in-afghan-attacks
--------
UN's Zeid toughens warning of "genocide" in Myanmar
December 18, 2017
The top UN human rights official has said he would not be surprised if a court one day ruled that acts of genocide had been committed against the Rohingya Muslim minority in Myanmar, according to a television interview to be shown on Monday.
UN High Commissioner for Human Rights Zeid Ra'ad al-Hussein told the BBC that attacks on the Rohingya had been "well thought out and planned" and he had asked Myanmar's leader Aung San Suu Kyi to do more to stop the military action.
Zeid has already called the campaign "a textbook example of ethnic cleansing" and asked rhetorically if anyone could rule out "elements of genocide", but his latest remarks put the case plainly, toughening his stance.
"The elements suggest you cannot rule out the possibility that acts of genocide have been committed," he said, according to excerpts of his interview provided in advance by the BBC.
"It's very hard to establish because the thresholds are high," he said. "But it wouldn't surprise me in the future if the court were to make such a finding on the basis of what we see."
Myanmar denies committing atrocities against the Rohingya and has previously rejected UN criticism for its "politicisation and partiality". The Myanmar military says the crackdown is a legitimate counter-insurgency operation.
Zeid said Myanmar's "flippant" response to the serious concerns of the international community made him fear the current crisis "could just be the opening phases of something much worse".
He told the BBC he feared jihadi groups could form in the huge refugee camps in Bangladesh and even launch attacks in Myanmar, perhaps targeting Buddhist temples there.
He did not say, in the excerpts provided, which court could prosecute suspected atrocities. Myanmar is not a member of the International Criminal Court, so referral to that court could be done only by the U.N. Security Council. But Myanmar's ally China could veto such a referral.
The United Nations defines genocide as acts meant to destroy a national, ethnic, racial or religious group in whole or in part. Such a designation is rare under international law, but has been used in contexts including Bosnia, Sudan and an Islamic State campaign against the Yazidi communities in Iraq and Syria.
Almost 870,000 Rohingya have fled to Bangladesh, including about 660,000 who arrived after Aug. 25, when Rohingya militants attacked security posts and the Myanmar army launched a counter-offensive.
UN investigators have heard Rohingya testimony of a "consistent, methodical pattern of killings, torture, rape and arson".
Zeid said he had phoned Suu Kyi in January, asking her in vain to stop the the military operation.
Full report at:
http://www.thedailystar.net/rohingya-crisis/united-nations-toughens-warning-genocide-myanmar-1506715
--------
Afghan forces receive HIMARS support during the counter-terrorism operations
Dec 17 2017
The US military officials in Afghanistan are saying that the Afghan national defense and security forces receive High Mobility Artillery Rocket System (HIMARS) support from the US forces during the counter-terrorism operations.
U.S. Marine Staff Sgt. Ryan Crider, the Task Force Southwest HIMARS launch chief has said "Our mission is to have all-weather, 24-hour artillery support capability. Since HIMARS is the only weapon system that can do this, it provides fire support for any ANDSF personnel who need it."
Since their arrival, the Marines operating the HIMARS have executed more than ten missions in support of Afghan forces, helping them kill enemy fighters, destroy Taliban IED manufacturing and drug processing facilities, and enhance security for the Helmand populace, according to a report by Sgt. Lucas Hopkins in Resolute Support Headquarters.
The report further adds that since their arrival, the Marines operating the HIMARS have executed more than ten missions in support of Afghan forces, helping them kill enemy fighters, destroy Taliban IED manufacturing and drug processing facilities, and enhance security for the Helmand populace.
"HIMARS is capable of ranges of out to 300 kilometers. It's a highly mobile system that is very adaptable to any condition, and it provides [commanders] with… surface-to-surface all-weather fires in order to support our partners on the ground," said U.S. Marine Capt. Justin Noone, the officer-in-charge of the HIMARS detachment.
According to the report, Helmand-based ANDSF relied solely on coalition and Afghan air assets to deliver explosives onto enemy locations during their operations prior to HIMARS arriving. By using GPS technology, HIMARS delivers highly-explosive rounds across the battlespace with precision, while also giving an alternative to air-to-ground fires capabilities.
"It's allowed Task Force Southwest to shape the battlefield," said Noone. "The Taliban used to be able to predict the targeting cycle, and with this artillery weapon system being surface-to-surface and firing in a different manner, it still brings a very lethal package and prevents the enemy from knowing our routine."
This come as operations are underway in southern Helmand province of Afghanistan with main focus being the elimination of the financial sources of the Taliban group.
The U.S. Air Force Brigadier General Lance Bunch said last week that the Taliban group will face a very long winter as operations involving air campaign is underway against the group mainly focusing on financial resources of the group.
Full report at:
https://www.khaama.com/afghan-forces-receive-himars-support-during-the-counter-terrorism-operations-04067
--------
Suicide attack in Kandahar, casualties feared
Dec 17 2017
A suicide attack rocked Kandahar province in South of Afghanistan this afternoon amid reports at least six people were killed or wounded.
The incident has taken place in the vicinity of Daman district with the preliminary reports suggesting the target was a convoy of the security forces, apparently belonging to foreign military.
A security official confirmed that one woman was killed and five others were wounded in the explosion.
No individual or group has so far claimed responsibility behind the incident.
The security situation in southern Kandahar province has improved during the recent years although the anti-government armed militant groups attempt to carry out terrorist related activities, including suicide attacks occasionally.
At least four US soldiers were wounded in a similar incident in this province last month.
Full report at:
https://www.khaama.com/suicide-attack-in-kandahar-casualties-feared-04065
--------
Explosion in Mazar-e-Sharif city leaves 3 dead, wounded
Dec 17 2017
An explosion took place in Mazar-e-Sharif city in northern Balkh province of Afghanistan close to noon time today, leaving at least three people dead or wounded.
A security official confirmed the incident took place due to a magnetic bomb explosion at around 11 am local time.
The source further added that a magnetic bomb planted in a Hilux type vehicle went off close to Noor roundabout, leaving one dead and two others wounded.
No further details were given regarding the identities of those killed in the explosion and it is yet not clear if the victims had any links with the government or security institutions.
No individual or group has so far claimed responsibility behind the incident.
Balkh is among the relatively calm provinces in northern parts of Afghanistan where insurgency related incidents are reported.
Full report at:
https://www.khaama.com/explosion-in-mazar-e-sharif-city-leaves-3-dead-wounded-04063
--------
Africa
Sudan authority denies FETO claim on Saudi clerics
17 December 2017
A top Sudanese security source on Sunday denied reports that eight Saudi opposition clerics had been deported to the Horn of Africa nation.
An Arabic media organ linked to the Fetullah Terrorist Organization (FETO) -- the group behind last year's defeated coup in Turkey -- had reported that Saudi Arabia and Sudan agreed on the deportation, citing Lt. Gen. Mohamed Atta Al-Moula Abbas, the head of Sudan's National Security and Intelligence Services, as a reported source.
The report claimed that eight Saudi clerics who oppose the royal family were deported to Sudan under an agreement.
The report "is more based on imagination than knowledge," a top Sudanese security source, who asked not to be named due to restrictions on speaking to the media, told Anadolu Agency.
The source stated that they do not have any agreement or cooperation with Saudi Arabia regarding members of the opposition.
FETO and its U.S.-based leader Fetullah Gulen orchestrated the defeated coup of July 15, 2016 in Turkey which left 250 people martyred and nearly 2,200 injured.
Ankara also accuses FETO of being behind a long-running campaign to overthrow the state through the infiltration of Turkish institutions, particularly the military, police and judiciary.
http://www.worldbulletin.net/africa/196956/ecowas-threatens-guinea-bissau-sanctions-as-crisis-drags
--------
Gunmen assassinate mayor of Libya's biggest port city
18 December 2017
Gunmen fatally shot the mayor of Libya's third-largest city, Misrata, late on Sunday, ambushing his car inside the city, security officials said.
The North African oil producer has been in chaos since the 2011 uprising that unseated Muammar Gaddafi, but Misrata, Libya's biggest port, had been relative peaceful until now.
Gunmen chased the car of Mayor Mohamed Eshtewi after he left Misrata airport following his arrival on a plane from Turkey, a
security official said, adding it was unclear who was behind it.
In October, a bomb exploded at the city's court, killing about four people and wounding 40 others in an attack claimed by ISIS.
Full report at:
https://english.alarabiya.net/en/News/north-africa/2017/12/18/Gunmen-assassinate-mayor-of-Libya-s-biggest-port-city.html
--------
Libya's Haftar insists UN-backed government no longer legitimate
Dec 17, 2017
The commander of Libyan National Army Khalifa Haftar has declared that the country's internationally-recognized government based in Tripoli is no longer legitimate as its mandate has already expired.
Haftar said Sunday that the Government of National Accord (GNA), which resulted out of an agreement in Morocco on December 17, 2015, and was backed by the United Nations, was no longer tenable to rule.
"All bodies resulting from this agreement automatically lose their legitimacy, which has been contested from the first day they took office," said the strongman whose forces dominate much of eastern Libya.
Haftar's LNA and elements within a rival administration in eastern Libyan city of Tobruk have rejected the GNA since the very beginning of its inception. Haftar, who enjoys support from Egypt and certain Arab states of the Persian Gulf region, is believed to be vying for ultimate power in Libya although countries to the west of the North African country, including Algeria, see his rise as a threat. He was a general under Muammar Gaddafi, whose fall and death in 2011 sparked a widespread chaos in oil-rich Libya.
The GNA was supposed to serve for a one-year period, renewable only once. However, the UN Security Council insisted Thursday that the 2015 deal in Morocco remained the "only viable framework" to prepare for elections next year. A renewed UN push for peace has effectively failed to bring about a settlement since it was launched in September.
UN's special representative to Libya Ghassan Salame urged Libyans to set aside differences and put more efforts at reaching "reconciliation and harmony".
Full report at:
http://www.presstv.com/Detail/2017/12/17/545931/Libya-GNA-Haftar-UN
--------
Maulana calls all to first Shi'a mosque to worship
17 DECEMBER 2017
Cape Town - After more than a decade of planning and some controversy, the first Shi'a mosque in the Western Cape opened its doors this month.
The Ahlul Bait (AS) Islamic Centre bought the property from a church in Ottery in 1994, said Moulana Aftab Haider.
Before the newly built mosque was completed and officially opened on December 1, Haider said the old church building had been used for prayers and gatherings; he points out that it was never a mosque, but rather an Islamic centre.
"It has taken us years to get approval for the construction," he said, adding that the centre had faced severe financial challenges.
After four years of construction, the mosque, which stands on 5 000m2, boasts more than 70 000 tiles crafted into mosaics across the building.
Haider said the mosque was open to the entire community and not only to Muslims or Shi'a Muslims.
He said the centre had not only Shi'a members in its congregation, but also Sunni members.
"We have a very open policy. We do not believe in sectarianism."
He said they were committed to having compassion and love towards humanity and all other religions.
To show this commitment, he said one of the plaques displayed at the mosque had been unveiled by the Catholic Archbishop of Cape Town Stephen Brislin.
And out of respect, it has kept the original church building that was on the property before the mosque was built.
"We have done this to show that we are not denouncing the church."
Although the Islamic centre has faced criticism from some groups, Haider said that Cape Town Muslims and people in general were very compassionate and accepting.
In Cape Town, he said, the Shi'a community is very small, about 2% of the Muslim population in the city.
"This mosque will not be used to hurt feelings or promote hate," he said.
The vision for the mosque, he explained, is to uplift the Muslim community as well as all residents of the surrounding the community.
"Yes, we are the first mosque that caters for Shi'as in Cape Town, but our services are not exclusive for Shi'a.
"This should be a place of spiritual upliftment. A place of service to the people."
There are plans to offer a number of courses at the mosque - for Muslims, but also for the broader community.
"We also a have a library here, although it is not fully functional yet. The library will be open to everybody. It will be available for research purposes for the community to use."
There is also a clinic on the premises, which will offer medical support for the surrounding community through the help of medical professionals in the community.
"There are a few teachers who have also committed to offer extra classes for pupils."
A community hall on the premises is also available for hire.
Full report at:
https://www.iol.co.za/news/south-africa/western-cape/moulana-calls-all-to-first-shia-mosque-to-worship-12451071
--------
Boko Haram has killed more Muslims than Christians – Sarafa Tunji, former minister
December 17, 2017
Alhaji Sarafa Tunji, a former Secretary to Ogun State Government and Minister of Mines and Steel Development has faulted the claims in some quarters that Islam is a religion of violence.
Sarafa, the new Baba Adinni of Yorubaland insisted that more Muslims have bee killed by the Boko Haram insurgents and other terrorists than Christians.
Countering the notion that all terrorists are Muslims, the former minister told Vanguard that, "In fact, Muslims are more victims of Boko Haram than people of other religions. So, the challenge that we have in contemporary times, even across the world, is intra-religious conflicts.
"In many countries, you usually have the Sunni fighting the Shi'ites. The conflict in Syria is intra-religious. Talk of Iraq and Iran, the problem you have there is more of intra-religious conflict.
"The practice of Islam is anchored on three legs: the Qur'an, the Hadeeth and the Fiqh. Islam is knowledge driven and the knowledge is based on the Qur'an, the Hadeeth and the Fiqh but we have a situation whereby some of these things are bastardised.
Full report at:
http://dailypost.ng/2017/12/17/boko-haram-killed-muslims-christians-sarafa-tunji-former-minister/
--------
URL: https://www.newageislam.com/islamic-world-news/jamiat-ulema-e-hind-clerics/d/113609
New Age Islam, Islam Online, Islamic Website, African Muslim News, Arab World News, South Asia News, Indian Muslim News, World Muslim News, Women in Islam, Islamic Feminism, Arab Women, Women In Arab, Islamophobia in America, Muslim Women in West, Islam Women and Feminism