New Age Islam News Bureau
20 May 2012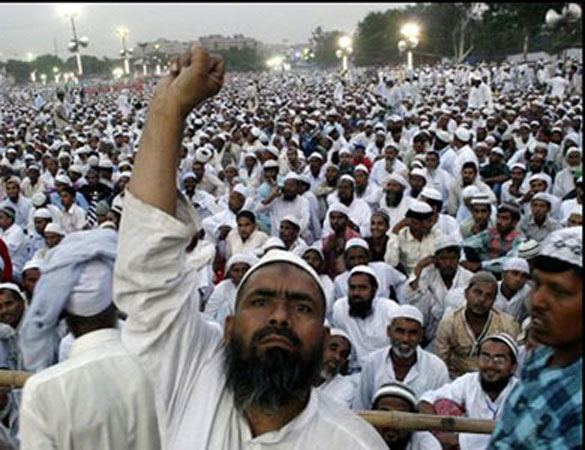 India
• Indian-origin man is first Muslim mayor of UK town
Pakistan
• Pak Punjab's south belt breeding ground for militants: Sharif
• Yet another Pak scribe gunned down
• PPP, establishment blamed for Muhajir province plot
• President Zardari may face friction over supply routes
• SC issues notices to ISI and MI on internment centres
• Lawyer files disqualification reference in NA
• Country's integrity is at stake due to PPP rulers: Nawaz
• Coalition support fund is Pakistan's right: Farhatullah Babar
• Talks between Pakistan leaders, Nato chief canceled
• Balochistan violence refuses to subside
• Pakistan restores historic Katas Raj temple
• DPC announces long march against NATO supply restoration
• FIA rewrites to Interpol for Musharraf's red warrant
• Dust storm hits Karachi, kills two
• LHC moved against 'discriminatory' laptop scheme
• UN lists Ilyas Kashmiri as 'reported dead'
• Nato protesters planned Obama HQ attack
• Zardari in Chicago amid frictions over NATO supply routes
South Asia
• Nato chief urges Pakistan to help stabilise Afghanistan
• Afghanistan pullout to dominate Nato summit
• Maldives to go for prez election ahead of schedule
• G-8 for steps to reduce economic impact of Afghan transition
• 13 dead in Afghan suicide bombing
• Nato leaders seek common path out of Afghanistan
• 4 Nato trucks go to Afghanistan, Pakistan says routes to open soon
Mideast Asia
• Yemen clashes kill 34 terrorists, soldiers: officials
• Iraq anti-terror officer, family shot dead
• Lift sanctions, Iran tells West ahead of nuclear talks
• G8 piles pressure on Iran; vows 'timely' supplies to oil mkts
• Yemen thanks king for resolving crisis
• Fatwa: Islam's Murder by Fiat
Arab World
• Bahrain follows Qatar and UAE, issues Lebanon travel warning
• Military releases 20 arrested at defence ministry clashes; 89 still detained at Cairo
• Hunger strike in solidarity with Abbasiya detainees, demanding end to military trials
• G8 supports Kofi Annan Plan on Syria
• Suicide blast, attacks kill 19 in Syria
• King urges Islamic unity
• Egypt army beat, tortured protesters — rights group
• Gulf nationals told not to visit Lebanon
• The vain search for dialogue in a battle-scarred Syria
North America
• US won't pay Pakistan $5000 for each NATO truck
• Aid hiccup for Pak in US
• US 'non-NATO' supply trucks cross Torkham
• US tells G8 Syria's Assad must go, cites Yemen as model
Europe
• Three NATO protesters face terror charges
• Britain mediated between Pakistan and US on NATO supply issue
• British police arrest two more Pakistanis for child sex abuse
• G8 'unified' against Iran, Syria
• Chicago braces for largest anti-Nato protest
• California Showcases Islamic Art Evolution
• UN and Afghan agency efforts set to bring better lives for women
• Ahead of NATO Summit, Chicago police foil terrorist plot
• UK special forces 'to stay in Afghanistan after 2014'
Africa
• Algeria pays final respects to the legendary singer Warda
• Seven killed, mostly soldiers, in Mogadishu blasts
• Sudan's President Bashir 'believes in need for peace'
• Bombs kill Somali soldiers in Mogadishu
Complied by New Age Islam News Bureau
Photo: Jamiat Ulama talks about "women's right" sans any woman in decision-making process
URL:https://www.newageislam.com/islamic-world-news/new-age-islam-news-bureau/jamiat-ulama-talks-about-"women's-right"-sans-any-woman-in-decision-making-process/d/7380
India
-----------
Jamiat Ulama-e-Hind talks about "women's right" sans any woman in decision making process
MOHAMMAD ALI
May 20, 2012,
NEW DELHI, May 20, 2012, The biggest group of Imams in the country, the Jamiat Ulema-e-Hind (JUH), passed a resolution on the rights of women on the last day of its two-day public convention at Ramlila Maidan here on Saturday. But Muslim women's groups have termed the move "cosmetic" and "just an attempt to be politically correct" as the organisation does not have any women in its decision-making bodies.
"The general assembly appeals to all Muslim community to act on Islamic instructions on the rights of women," said the resolution passed by the gathering of a large number of clerics. Surprisingly, the resolution on women was almost the last item on the agenda, 16 on the list of 17 resolutions.
Ironically, no woman was present on the stage during the convention neither could any woman be seen among the sea of caps and beards.
Wary of any negative publicity over the alleged absence of Muslim women in JUH, its spokesperson Maulana Abdul Hameed Nomani said on the sidelines of the convention that as an organisation JUH was open to both genders. He, however, accepted that the JUH has no women's wing.
Reacting to the resolution, Zakia Soman, a founder member of the Bharatiya Muslim Mahila Andolan (BMMA), said: "It is completely ridiculous. If we demand any change in the system, the initiative for change has to start from our home. What kind of women's right they are they talking about when they do not have any women member in their decision making process?"
"The JUH is an organisation of Muslim males who decide for Muslim women without their representation. If at all the organisation has talked about women's right, I think it is just a move to be politically correct because of late these religious organisations have been asked questions regarding their stand on the condition of women in the Muslim community," added Ms Soman, who has been at the forefront of codification of the Muslim Personal Law.
Ms. Soman emphasised that the condition of Muslim women was not going to change by just passing a resolution. "You have to focus on the condition of women. I don't think the JUH has been sensitive to the plight of Muslim women," she added.
Shabnam Hashmi, who has been working with Muslim women through ANHAD, criticised the JUH move saying: "We don't accept any women's right within any religious framework. We demand equal rights to women within the constitutional framework."
Among other prominent resolutions passed by JUH was the demand that Union Government pass the Bill on communal violence without making any distinction on the basis of "majority" or "minority", an aspect of the National Advisory Council (NAC)-drafted 'Prevention of Communal and Targeted Violence (Access to Justice and Reparation) Bill 2011 which was opposed by several political parties including the BJP.
"We demand that the Government should ensure accountability of public servants and hold them responsible for communal and targeted violence," said the resolution on the communal violence Bill.
Proportional reservation for Muslims and setting up of fast-track courts for "justice to Muslim youths illegally picked up in terror cases" were some of other demands of JUH.
http://www.thehindu.com/news/national/article3437012.ece
-----------
Indian-origin man is first Muslim mayor of UK town
May 19, 2012,
LONDON: Indian-origin councillor Abdul Razak Osman has become the first Lord Mayor of the Islamic faith to hold the high office in the multi-cultural town of Leicester, which has a large minority of Indian origin people. Osman was born in Kenya and arrived in the UK in 1971. His late father Yousuf Razak worked on the East African Railway, and worked for a local engineering firm after moving to Leicester.
The Lord Mayor is Leicester's first citizen and has a high profile role maintaining and promoting the interests of the city and its citizens , by attending a variety of civic engagements during the year. Leicester previously had Hindu and Sikh Lord Mayors, but Osman is the first Muslim to hold the high office. Incidentally, the office of the Deputy Lord Mayor of Leicester is also held by an Indian-origin councillor, Mustafa Kamal, who hails from Ferozepur, Punjab.
Osman has worked with several charity organizations and was instrumental in fundraising to build two villages and a school in Kutch, Gujarat for orphaned children, following an earthquake in 2011.
PIO elected to city council in Texas
After several months of consistent campaigning, Indian-American Himesh Gandhi has been elected to a city council in the US state of Texas. Gandhi, 35, elected to an 'At Large' seat on the the Sugar Land City Council, received 2,468 votes (52.11%).
http://timesofindia.indiatimes.com/nri/other-news/Indian-origin-man-is-first-Muslim-mayor-of-UK-town/articleshow/13283930.cms
Pakistan
-----------
Pak Punjab's south belt breeding ground for militants: Sharif
May 19 2012,
Pakistan's Punjab province's southern belt, reeling under "extreme poverty and ignorance", is a breeding ground for militants, Chief Minister Shahbaz Sharif's government has said in its first such admission.
"Extreme poverty and ignorance in the area are the main causes of militancy and extremism," Sharif said yesterday.
He said he has opened special schools in south Punjab to prevent the younger generation from falling into the hands of extremists.
Federal Interior Minister Rehman Malik had said many times that southern Punjab had become a breeding ground of terrorists, especially the Punjabi Taliban, but the PML-N government in the province had earlier denied this.
The Punjab government faced criticism after provincial Law Minister Rana Sanaullah was photographed travelling with extremist leaders during the campaign for a bye-election.
Some of the districts in southern Punjab are considered strongholds of the Sipa-e-Sahaba Pakistan and Laskar-e-Jhangvi, both notorious groups known for targeting the minority Shia sect.
The federal government has called for the monitoring of madrassas or seminaries in the area.
Sharif further said that the war against militancy could be successful but only to an extent and socio-economic conditions of the people have to be improved to accomplish the task of rooting out the menace.
He said Britain's Department of International Development and the Punjab government were working on a joint project to improve the lot of people by launching a skill development programme in southern Punjab.
http://www.indianexpress.com/news/pak-punjabs-south-belt-breeding-ground-for-militants-sharif/951365/
-----------
Yet another Pak scribe gunned down
19 MAY 2012
PTI | ISLAMABAD
A Pakistani journalist was shot dead by unidentified gunmen in the restive southwest Balochistan province, the fourth scribe to be killed in as many months in the country ranked by Unesco as "the second most dangerous" in the world for reporters.
The body of Razzaq Gul was found on Saturday morning in Turbat, a town in Balochistan, his brother said.
Gul had been working for the Express Group of publications, one of the leading media houses in Pakistan. He was associated with the group for 10 years.
The group announced that Gul was killed following his abduction by unidentified men while returning home.
Police found Gul's body near a hospital. His motorcycle was lying near the body.
No group claimed responsibility for the killing.
Police officials said they were trying to ascertain the motive for the murder. Gul's family said he had no enmity with anyone. His brother said the reporter had not received any threat. Doctors said Gul was shot three times and that his brother had identified the body in hospital.
The mysterious murder of yet another journalist has again raised concerns among reporters in Pakistan.
http://www.dailypioneer.com/world/66634-yet-another-pak-scribe-gunned-down.html
-----------
PPP, establishment blamed for Muhajir province plot
May 20, 2012
KARACHI: Sindhi nationalist parties, including Jeay Sindh Qaumi Mahaz (JSQM), Sindh National Movement (SNM), Sindh United Party, Jeay Sindh Tehreek, Sindh National Party (SNP), Awami Tahreek and others blamed the Pakistan People's Party (PPP), Muttahida Qaumi Movement (MQM) and the establishment for devising Muhajir province conspiracy. They asked the PPP, MQM and the government to remove wall-chalking, posters, banners and billboards demanding Muhajir province from the metropolis before May 28. To condemn the recently materialised Muhajir province movement, Chairman SNM Ali Hassan Chandio, SNP chief Ameer Bhanbhro, JSQM leader Illahi Bukhsh Bikak, President Karachi Shehree Ittahad Syed Yousif Shah and others held a press conference outside the Karachi Press Club (KPC) and announced a demonstration to be held against movement on May 28. Full report at:
http://www.dailytimes.com.pk/default.asp?page=2012\05\20\story_20-5-2012_pg12_4
-----------
President Zardari may face friction over supply routes
20 May 2012
CHICAGO: Pakistani President Asif Ali Zardari arrived in Chicago on Saturday for a Nato summit to what could be a chilly reception if a hoped-for deal allowing trucks to again supply alliance troops in Afghanistan fails to materialize.
While Western officials sought to portray Zardari's presence as a sign of improving Nato-Pakistan ties, possible friction at the meeting underscores the challenges Nato countries face as they struggle to ensure a stable future for Afghanistan after Western toops withdraw.
Western leaders, who sometimes differ in their visions for the best way to end the war, speak with one voice when they describe Pakistan as the lynchpin to Afghanistan's future security – or continued conflict.
"We can't solve the problems in Afghanistan without a positive engagement of Pakistan," Nato Secretary-General Anders Fogh Rasmussen said hours before Zardari's arrival, repeating a refrain from Nato leaders that Pakistan must do more to act against militants who launch attacks from the country's tribal areas.
Zardari's decision to accept a last-minute invitation to attend the summit in President Barack Obama's home town was an abrupt reversal after months of diplomatic estrangement.
Full report at:
http://dawn.com/2012/05/20/president-zardari-may-face-friction-over-supply-routes-at-nato-summit/
-----------
SC issues notices to ISI and MI on internment centres
Nasir Iqbal
20 May 2012
ISLAMABAD, May 18: The Supreme Court issued on Friday notices to the Ministry of Defence, Inter-Services Intelligence (ISI) and Military Intelligence (MI) on a petition challenging a law that allows putting people accused of terrorism in internment centres.
A three-judge bench comprising Chief Justice Iftikhar Muhammad Chaudhry, Justice Jawwad S. Khawaja and Justice Khilji Arif Hussain had taken up an application about the health condition of seven Adiyala prisoners who had been recovered on earlier directives of the court.
The court issued the notices after it had been informed by an official of the internment centre in Parachinar that prisoners Abdul Basit and Abdul Majid could not be released because they were allegedly involved in anti-state activities and attacks on the army.
They were among the 11 prisoners who went missing from outside the Adiyala jail on May 29, 2010, the day they had been acquitted of terrorism charges. The prisoners were wanted for different acts of terrorism, including October 2009 attacks on the GHQ and ISI's Hamza Camp in Rawalpindi.
Four of them were later found dead in mysterious circumstances.
The other seven were produced for the first time before the court on Feb 13 in a bad shape. They were first sent to Peshawar's Lady Reading Hospital for medical treatment on the court's orders and when five of them recovered they were shifted to the internment centre in Parachinar.
Full report at:
http://dawn.com/2012/05/19/sc-issues-notices-to-isi-and-mi-on-internment-centres/
-----------
Lawyer files disqualification reference in NA
20 May 2012
ISLAMABAD, May 18: A lawyer has filed a reference with National Assembly Speaker Dr Fehmida Mirza requesting her to start disqualification proceedings against Prime Minister Yousuf Raza Gilani for being convicted by the Supreme Court in a contempt case.
The speaker is said to be quite worried about the development and has started consultations with legal experts.
"Mr Gilani was convicted by the Supreme Court on April 26 and I filed the reference next day on April 27 under article 63-2 of the Constitution," Maulvi Iqbal Haider said, adding: "In my reference I have requested the speaker that after conviction by the apex court the prime minister has no authority to exercise his powers by any means."
The lawyer said he had sent the reference through a courier service and it had been received by the NA Secretariat. "I have also received an acknowledgement from the speaker's office," he added.
Full report at:
http://dawn.com/2012/05/19/lawyer-files-disqualification-reference-in-na/
-----------
Country's integrity is at stake due to PPP rulers: Nawaz
20 May 2012
LAHORE: Pakistan Muslim League-Nawaz (PML-N) chief Nawaz Sharif on Saturday vowed to topple the Pakistan People's Party (PPP) government as he says that integrity of the country is at stake due to its current rulers, DawnNews reported.
Speaking at a public gathering at Hafizabad for his party's "go Gilani, go" campaign, Sharif said he would not make peace with himself until the current rulers are removed from the government.
The PML-N chief reiterated that inflation and corruption are at all time high and labourers, businessmen and industrialists are pushed to "starvation."
Power loadshedding has made life very difficult for the masses whereas rulers are touring foreign countries with planes full of their associates, said Sharif.
Recalling his ruling days, the PML-N chief said the country was prosperous during his tenure as prime minister. He vowed to serve the people even better if comes to power once again.
Sharif wanted to carry on however ruckus among party workers forced him to wind up his speech a little earlier.
http://dawn.com/2012/05/19/countrys-integrity-is-at-stake-due-to-ppp-rulers-nawaz/
-----------
Coalition support fund is Pakistan's right: Farhatullah Babar
20 May 2012
ISLAMABAD: Presidential spokesman Farhatullah Babar said that the Coalition Support Fund (CSF) is Pakistan's right and President of Pakistan Asif Ali Zardari would raise the issue at the upcoming Nato summit, DawnNews reported.
In a statement issued, the spokesperson to President Asif Ali Zardari, Farhatullah Babar said that the fight against extremism cannot be won by weapons alone and it is imperative to win the hearts of the people in order to establish peace in the region.
He further added that Pakistan has suffered losses worth billions of dollars in the fight against terrorism and Special Economic Zones (SEZs) would be setup in affected areas.
http://dawn.com/2012/05/20/coalition-support-fund-is-pakistans-right-presidential-spokesman/
-----------
Talks between Pakistan leaders, Nato chief canceled
AFP | 5 hours ago
CHICAGO: Planned talks between Nato chief Anders Fogh Rasmussen and Pakistani President Asif Ali Zardari were canceled at the last-minute Saturday after the Pakistan leader's plane was delayed.
"This cancelation is due to a scheduling problem," said Nato spokeswoman Carmen Romero, on the eve of a two-day Nato summit being held in Chicago.
"Mr Zardari's plane was delayed" which meant the talks with the Nato secretary general could not go ahead as planned, she said.
She added that a bilateral meeting could still be held between the two men before the summit ends on Monday.
Earlier Saturday, the Nato chief urged Islamabad to back efforts to stabilize Afghanistan.
Full report at:
http://dawn.com/2012/05/20/talks-between-pakistan-leader-nato-chief-canceled/
-----------
Balochistan violence refuses to subside
May 20, 2012
QUETTA: There has been no let-up in violence in Balochistan as three more people, including the Quetta jail chief warden and a journalist, were killed in different parts of the province on Sunday. A man was also injured in a hand-grenade attack in Pasni.
According to police, unidentified people shot dead Quetta District Jail Chief Warden Imtiaz Rasool on Jail Road. The attackers, who were riding a motorbike, fled the scene. The body was shifted to the Provincial Sandeman Hospital for autopsy.
"It can be a case of target killing," a police official said, adding that police had launched a manhunt in the area. A case has been registered against the unidentified assailants and investigation was underway.
Separately, the bullet-riddled body of a Baloch National Movement (BNM) and journalist, Razzaq Gul, was found dumped in a deserted area of Singani Sar near Turbat. Balochistan Levies official Abdul Qadir said Gul, a reporter for a publication group, was whisked away near his house on Friday evening and had been missing since then. His body was found near Singani Sar area, close to the old Civil Hospital in Turbat. Law enforcement agencies moved the body to a state-run hospital for autopsy.
Full report at:
http://www.dailytimes.com.pk/default.asp?page=2012\05\20\story_20-5-2012_pg1_3
-----------
Pakistan restores historic Katas Raj temple
May 20, 2012
By Firoz Bakht Ahmed
While I was standing for my turn in the queue at the Attari-Wagah border passport window, I came across Mishal, a Portuguese tourist who had just visited Pakistan and was entering India. She told me that he had been in Pakistan for two months and traveled from Swat to Lahore as a tourist. She stated, "I wondered whether Pakistan can be a tourist hub. Believe me, Pakistan is much more than a bunch of bloodthirsty terrorists and corrupt politicians. I won't be tired of saying that it's really an amazing world which is yet to find its tourist potential."
Pondering over Mishal's words, I entered the border to be welcomed by a group of Aitchison College students. After the customary Model United Nations job, I embarked upon my primary concern of going across the nation and file a story on the monuments and especially the Vedic temples.
Full report at:
http://www.dailytimes.com.pk/default.asp?page=2012\05\20\story_20-5-2012_pg7_9
-----------
DPC announces long march against NATO supply restoration
May 20, 2012
LAHORE: Defence of Pakistan Council (DPC) on Saturday announced to hold a countrywide protest on May 25 and a long march from Karachi to Islamabad on May 27 against expected resumption of NATO supplies.
The announcement came after a DPC meeting was held under Jamiat Ulema-e-Islam-Sami Chairman Maulana Samiul Haq on Saturday.
Addressing a press conference, Haq said the council had decided to start a march against the reopening of NATO supply routes from the country.
"The march will start from Karachi on May 27, and after passing through various cities it will culminate in Islamabad," he added. He said that it would be a peaceful march. agencies
http://www.dailytimes.com.pk/default.asp?page=2012\05\20\story_20-5-2012_pg7_11
-----------
FIA rewrites to Interpol for Musharraf's red warrant
May 20, 2012
RAWALPINDI: The Federal Investigation Agency (FIA) has written a second letter to Interpol for execution of red warrant against former president Pervez Musharraf.
According to the FIA officials, the warrant was issued earlier as former president was declared a proclaimed offender in the Benazir Bhutto murder case.
Earlier, Interpol had sent a questionnaire to the FIA after receiving a request for issuing the red warrant. The agency sent all available evidence against Musharraf, along with the letter.
On the other hand, Anti-Terrorism Court Judge Shahid Rafiq on Saturday reserved judgement on a petition filed by Begum Saheba Musharraf against the confiscation of all property and accounts of the former president after he was declared absconder in the Benazir Bhutto murder case.
As the court resumed hearing on Saturday, special prosecutors Chaudhry Azhar and Chaudhry Zulfiqar submitted before the court a circular to all banks issued by the State Bank that accounts for welfare purposes could not be considered personal accounts.
Full report at:
http://www.dailytimes.com.pk/default.asp?page=2012\05\20\story_20-5-2012_pg7_13
-----------
Dust storm hits Karachi, kills two
May 20, 2012
KARACHI: Two people, including a woman, were electrocuted and another dozen injured in the dust storm that hit the metropolis on Saturday.
The dust storm started in the evening and prevailed for more than half an hour, knocking down many electric wires, trees, banners and small signboards.
As a result, several people were injured, who were shifted to the Jinnah Postgraduate Medical Centre, Civil Hospital Karachi and Abbasi Shaheed Hospital.
A woman, Farheen, 30, wife of Tanzeem Shah, was electrocuted at her house in Gulshan-e-Hadeed within the limits of Steel Town police station.
Separately, 15-year-old Jumah Khan, son of Saddar Ahmed, was electrocuted in Bolton Market within the precincts for Kharadar police station.
His body was shifted to the Civil Hospital Karachi for an autopsy. According to police, Khan received electric shock from a water pump.
Besides, a hut of the Civil Hospital Karachi's waiting area fell down, injuring two persons.
http://www.dailytimes.com.pk/default.asp?page=2012\05\20\story_20-5-2012_pg7_16
-----------
LHC moved against 'discriminatory' laptop scheme
May 20, 2012
LAHORE: A lawyer, Fahad Siddique, filed a petition in the Lahore High Court (LHC) alleging that the students of private educational institutions were being ignored in the Punjab laptop scheme.
The petitioner had stated that Punjab Chief Minister Shahbaz Sharif had launched the laptop distribution scheme in order to facilitate the students. He said the scheme was "discriminatory" as it was restricted only to the students of public sector institutions while the students of private institution had been ignored completely.
Siddique submitted the act was in violation of the constitution, which gave equal status to every citizen. staff report
http://www.dailytimes.com.pk/default.asp?page=2012\05\20\story_20-5-2012_pg13_4
-----------
UN lists Ilyas Kashmiri as 'reported dead'
May 20, 2012
Almost a year after key 26/11 suspect Ilyas Kashmiri was reported killed in a drone strike, the United Nations has updated his status as "reported dead" in a sanctions list of individuals and entities associated with al Qaeda.
The UN Security Council al-Qaeda Sanctions committee
amended on May 10 the information related to Kashmiri in its comprehensive 'Al Qaeda Sanctions List'.
The updated information reads Kashmiri "reportedly deceased in Pakistan on June 11, 2011".
The updated information said Mohammad Ilyas Kashmiri "was" - instead of the earlier "is" - the commander of Harakat-ul Jihad Islami, which provided support to al-Qaeda operations.
Kashmiri was among nine militants believed killed in a drone strike carried out by the US on June 3, 2011. However, he is still listed among India's most wanted terrorists.
Media reports of Kashmiri's death in the past have turned out to be inaccurate with the dreaded militant resurfacing later.
Just days after his death was reported in June last year, a media report in Pakistan said the chief of the Harkat-ul-Jihad al-Islami is still alive and active in the border areas of Pakistan and Afghanistan.
Full report at:
http://www.hindustantimes.com/WorldSectionpage/World/UN-lists-Ilyas-Kashmiri-as-reported-dead/Article1-858510.aspx
-----------
Nato protesters planned Obama HQ attack
May 20, 2012
Three men were charged on Saturday with plotting to attack US President Barack Obama's campaign headquarters and lob Molotov cocktails at police as days of protest heated up ahead of a Nato summit.
Police insisted there were "no imminent threats" to the leaders of more than
50 nations set to meet at the two-day summit in Chicago.
But they were out in force to monitor the boisterous -- but so far peaceful -- protests which spread through the city in the days leading up to the summit.
"The individuals we charged in this investigation are not peaceful protesters," state attorney Anita Alvarez told reporters.
"They are domestic terrorists who came to Chicago with an anarchist agenda to harm our police officers, intimidate our citizens and to attack their politically motivated targets."
The three "self proclaimed anarchists" arrested in a raid on Wednesday had gathered an arsenal of weapons including throwing stars, gas masks, knives, a hunting bow, brass knuckles and a shield with protruding nails, Alvarez said.
One allegedly boasted "have you ever seen a cop on fire" as they planned to destroy police cars and attack four police stations -- including headquarters -- in order to undermine the response to their attacks, Alvarez said.
Full report at:
http://www.hindustantimes.com/world-news/NorthAmerica/Nato-protesters-planned-Obama-HQ-attack/Article1-858494.aspx
-----------
Zardari in Chicago amid frictions over NATO supply routes
May 20, 2012
AP Oil tankers, which were used to transport NATO fuel supplies to Afghanistan, are parked at a compound in Karachi. The NATO supply routes to Afghanistan were closed by Pakistan after a cross border NATO raid in November last year killed 24 Pakistani soldiers.
Pakistan President Asif Ali Zardari is in Chicago for a crucial NATO summit where he is set to discuss the reopening of the Afghan supply routes, but a top U.S. official said the resolution would still take time amid signs of friction between the two sides.
The summit is expected to make important decisions with regard to the future of Afghanistan, and the presence of the Pakistani President was being seen as a sign of improved U.S.-Pak ties.
While the run up to the summit saw hopes mounting of a possible resolution to the issue of reopening of the NATO supply routes, Defence Secretary Leon Panetta's comments that Pakistan was demanding quite a high price for reopening of the routes set a negative tone before the meetings.
Mr. Zardari's first scheduled appointment with NATO Secretary General Anders Fogh Rasmussen was cancelled, ostensibly because of delay in his arrival at Chicago.
The meeting was now being rescheduled and U.S. Deputy National Security Advisor, Ben Rhodes, said the issue of supply routes would take some time to be resolved.
In an interview to Los Angeles Times before arriving in Chicago, Mr. Panetta suggested the demand to pay Pakistan USD 5,000 for each truck carrying supplies across its territory for NATO troops in Afghanistan was not likely to be obliged.
"Considering the financial challenges that we're facing, that's not likely," Mr. Panetta said.
Full report at:
http://www.thehindu.com/news/international/article3438866.ece?homepage=true
South Asia
-----------
Nato chief urges Pakistan to help stabilise Afghanistan
20May,2012
CHICAGO: Nato's chief urged Islamabad to back efforts to stabilise Afghanistan as he prepared for talks Saturday with Pakistani President Asif Ali Zardari, on the eve of a Nato summit.
Zardari was invited to the summit in Chicago amid expectations that Pakistan will lift a six-month blockade against Nato supply trucks that was put in place after US air strikes killed 26 Pakistani troops in November.
Nato has also pressed Islamabad to do more to prevent insurgents from taking advantage of the porous Afghan-Pakistani border region to take sanctuary inside Pakistan.
"We can't solve the problems in Afghanistan without the positive engagement of Pakistan," Nato Secretary General Anders Fogh Rasmussen said at a policy forum in Chicago, which is hosting the summit on Sunday and Monday.
"We have to solve these problems," he said, referring to the safe havens used by insurgents in Pakistan to launch attacks on Nato troops across the border.
When he meets with Zardari later, Rasmussen said he would "convey a couple of clear messages," but he did not elaborate.
Full report at:
http://dawn.com/2012/05/19/zardari-arrives-in-us-for-nato-summit/
-----------
Afghanistan pullout to dominate Nato summit
20 May 2012,
CHICAGO: More than 50 world leaders were gathering in Chicago for one of the biggest Nato summits in history Sunday aiming to hammer out a unified exit strategy from Afghanistan after a decade of war.
A huge security operation has swung into place in the hometown of US President Barack Obama, with police deployed along the main arteries, some on horseback, as Coast Guard boats topped with machine guns patrol the river.
It is the first summit of the 28-member North Atlantic Treaty Organization on US soil in more than a decade, and follows a two-day summit of G8 leaders hosted by Obama in the seclusion of Camp David, Maryland.
In a sign of the heightened tensions, authorities in the Windy City, already bracing for massive protests, Saturday charged three men with plotting to attack Obama's campaign headquarters and other targets during the summit.
Despite a myriad of issues facing the 63-year-old organization founded in the wake of World War II as it confronts shifting 21st century realities, the Chicago summit is set to be dominated by Afghanistan.
Obama arrived back in his hometown late Saturday, met by cheering crowds who lined the route as his motorcade rode downtown.
Among the world leaders at the table with Obama will be Afghan President Hamid Karzai and his Pakistani counterpart Asif Ali Zardari, who accepted a last-minute invitation to attend the talks.
Full report at:
http://dawn.com/2012/05/20/afghanistan-pullout-to-dominate-nato-summit/
-----------
Maldives to go for prez election ahead of schedule
April 19, 2012
The Maldives president announced Wednesday that he will call for an early presidential election amid opposition demands following a contentious power transfer earlier this year.
President Mohammed Waheed Hassan said the election will be held in July 2013, the earliest permitted by
the constitution, according to a statement from his office. The vote was scheduled for late 2013.
Hassan took over in February when his predecessor Mohamed Nasheed resigned after weeks of public protests and eroding support from the police and military. Nasheed claimed he was forced to resign at gunpoint and challenged Hassan to order early elections.
Nasheed, a former pro-democracy political prisoner, became the first democratically elected president of the archipelago in 2008 following 30 years of autocratic rule.
http://www.hindustantimes.com/News-Feed/maldives/Maldives-to-go-for-prez-election-ahead-of-schedule/Article1-842719.aspx
-----------
G-8 for steps to reduce economic impact of Afghan transition
May 20 2012,
Reaffirming their commitment to a sovereign, peaceful, and stable Afghanistan, the leaders of the G-8 nations have committed to take steps to mitigate the economic impact of the transition as the US-led international forces prepare to withdraw from the country by 2014.
With an emphasis on mutual accountability and improved governance, the countries will take steps to mitigate the economic impact of the transition period and support the development of a sustainable Afghan economy by enhancing Afghan capacity to increase fiscal revenues and improve spending management, as well as mobilising non-security assistance into the transformation decade, the G-8 leaders said in their Camp David declaration yesterday.
Full report at:
http://www.indianexpress.com/news/g8-for-steps-to-reduce-economic-impact-of-afghan-transition/951604/
-----------
13 dead in Afghan suicide bombing
19 MAY 2012
A suicide bomber struck at a lunch gathering of Afghan police and local civilians in southeast Afghanistan on Saturday killing at least 13 people, three of them policemen, officials said.
The attacker, wearing a suicide vest, walked into a police checkpost in the troubled district of Alisher in Khost province and detonated himself, a statement issued by the provincial governor's office said.
"Unfortunately as a result of this cruel and inhumane attack ten civilians including two children and three policemen were martyred while five policemen and and one child were injured," the statement said.
Full report at:
http://www.dailypioneer.com/world/66639-13-dead-in-afghan-suicide-bombing.html
-----------
Nato leaders seek common path out of Afghanistan
May 20, 2012
Nato leaders gather in Chicago on Sunday for a summit that will chart a path out of Afghanistan, as Western nations seek to fend off fissures in their alliance and ensure Afghanistan can hold a still-potent Taliban at bay when foreign troops withdraw.
President Barack Obama hosts the summit in his home town, Chicago, a day after leaders of major industrialized nations tackled Europe's debt crisis, backing keeping Greece in the euro zone and vowing to take steps necessary to revitalize the world economy.
The shadow cast by fiscal pressures in Europe and elsewhere will follow leaders from Obama's presidential retreat in Maryland to the talks on Afghanistan, an unwelcome weight on countries mindful of dwindling support for a costly campaign that has not defeated the Taliban in more than 10 years.
The Obama administration, looking ahead to November presidential elections, is expected to emphasize a common alliance vision for gradually pulling most of the Nato force of around 130,000 by the end of 2014. It will also highlight Afghanistan's strides toward taking charge of its own security.
Full report at:
http://www.thedailystar.net/newDesign/latest_news.php?nid=37828
-----------
4 Nato trucks go to Afghanistan, Pakistan says routes to open soon
May 20, 2012,
WASHINGTON: Pakistan is about to resume normal arrangement of trucks with Nato supplies passing through its territory, the country's top diplomat in Islamabad has said, amidst reports that officials for the first time in six months have allowed four trucks to go to Afghanistan.
"Truck cargo was suspended . Some humanitarian supplies may have drifted through, and those are humanitarian supplies. So, this is a new beginning, and obviously , it brings good tidings," the Pakistan ambassador to the US, Sherry Rehman said in Washington on Friday.
The Nato trucks were carrying office supplies for the US embassy in Kabul.
"Yes, I think that we are looking at a positive conversation ," Rehman said when asked whether Pakistan is about to resume the normal arrangement allowing trucks to bring supplies to US and Nato troops in Afghanistan.
She, however, refused to respond to questions on the new transit tax being imposed by Pakistan on Nato trucks.
There are reports that Pakistan is demanding somewhere between $5,000 to $6,000 per container - an 34 fold increase in the existing rate.
http://timesofindia.indiatimes.com/world/us/4-Nato-trucks-go-to-Afghanistan-Pakistan-says-routes-to-open-soon/articleshow/13310607.cms
Mideast Asia
-----------
Yemen clashes kill 34 terrorists, soldiers: officials
May 20, 2012
ADEN: At least 22 al Qaeda-linked terrorists and 12 Yemeni soldiers were killed in clashes and air strikes overnight during a new US-backed offensive against insurgents in the south of the country, officials said on Saturday.
Fighting erupted late on Friday and carried on into Saturday on the outskirts of the southern city of Jaar, held by terrorists, who have stepped up their campaign during months of political turmoil.
Government troops, backed by US drone strikes, have been trying to push the insurgents out of strongholds in the south of the country, which lies near oil shipping routes through the Red Sea.
Washington and Yemen's neighbour Saudi Arabia both fear the instability in Yemen could give al Qaeda's regional wing a stronger foothold in the region.
"There is heavy fighting, and the armed elements are doing everything possible to stop the advance of government troops," a government official told Reuters, on condition of anonymity.
Full report at:
http://www.dailytimes.com.pk/default.asp?page=2012\05\20\story_20-5-2012_pg7_15
-----------
Iraq anti-terror officer, family shot dead
May 20, 2012
BAGHDAD: An Iraqi anti-terror officer, his wife and three children have been shot dead by gunmen in north Baghdad, security and medical officials said on Saturday. The family was murdered on Friday evening, the officials said, taking to 10 the overall death toll from violence in the Iraqi capital a day ago, and 15 in the past two days, a notable increase from what had been a relative calm. "Gunmen used silenced pistols to kill Captain Mahmud Abid, his wife and his three children on Friday evening in their home in Kadhimiyah," a predominantly Shia neighbourhood in north Baghdad, an Interior Ministry official said. afp
http://www.dailytimes.com.pk/default.asp?page=2012\05\20\story_20-5-2012_pg7_19
-----------
Lift sanctions, Iran tells West ahead of nuclear talks
May 19 2012,
Iran today said sanctions over its disputed nuclear programme should be lifted in talks with world powers next week in Baghdad, but maintained the punitive measures would not compel it to abandon its atomic "rights."
Foreign ministry spokesman Ramin Mehmanparast told the government daily Iran that the lifting of sanctions would display "the first signs" that the West is changing its "wrong" approach towards Iran and its nuclear work.
Mehmanparast reiterated Tehran's assertion that the sanctions have no legal basis, but admitted "no one in Iran is happy about the sanctions" and that they "may cause problems."
But he insisted that "sanctions do not really have a significant effect."
Iran on May 23 is to meet representatives of the so-called P5+1 group, comprising the five permanent UN Security Council members plus Germany, in Iraq's capital for the second round of talks which were revived in April in Istanbul after a 15-month impasse.
Full report at:
http://www.indianexpress.com/news/lift-sanctions-iran-tells-west-ahead-of-nuclear-talks/951389
-----------
G8 piles pressure on Iran; vows 'timely' supplies to oil mkts
May 20 2012,
Piling up pressure on Iran, the leaders of the world's eight most powerful economies have asked it to swiftly address all outstanding issues related to its nuclear programme and vowed to ensure that crude markets are "fully and timely" supplied despite oil embargo on Tehran.
In its "Camp David Declaration", the G-8 grouping also supported Kofi Annan's settlement plan for Syria and cautioned North Korea against further provocations, besides pledging to take steps to mitigate economic impact of Afghan transition and stressing that Greece, which is battling a crippling debt crisis, should remain in the Eurozone.
As Iran faced sanctions, the G-8 leaders said increasing disruptions in the global oil supplies "pose a substantial risk" to the world economy.
"Looking ahead to the likelihood of further disruptions in oil sales and the expected increased demand over the coming months, we are monitoring the situation closely and stand ready to call upon the International Energy Agency to take appropriate action to ensure that the market is fully and timely supplied," the joint declaration said.
Full report at:
http://www.indianexpress.com/news/g8-piles-pressure-on-iran;-vows-timely-supplies-to-oil-mkts/951619/
-----------
Yemen thanks king for resolving crisis
BY: RIYADH: SHARIF M. TAHA
20 May 2012
Defense Minister Prince Salman has reaffirmed that the Kingdom and Yemen will continue to discuss common interests and strengthen bilateral relations.
Prince Salman made these remarks while receiving Yemeni Defense Minister Maj. Gen. Muhammed Nasir Ahmed Ali and an accompanying delegation at his office yesterday.
Full report at:
http://www.arabnews.com/yemen-thanks-king-resolving-crisis
-----------
Fatwa: Islam's Murder by Fiat
19 May 2012
Amil Imani
After Salman Rushdie, Iranian Ayatollahs issued another fatwa, declaring £60,000 bounty for the head of Iranian musician and wrapper Shahin Nagi for writing a song, which allegedly insulted the 12th Imam of Shiite Islam...
Salman Rushdie is perhaps the most celebrated person with an Islamic bounty on his head. He has been for decades. The man was condemned to death by Ayatollah Khomeini, without the least due process, for supposedly insulting Islam's sanctities in his book The Satanic Verses. Rushdie has been living a dreadful life for decades, mostly in hiding, hoping to elude the daggers or bullets of far too many zany Islamists who would eagerly carry out the edict of the certifiably crazed Islamic ayatollah.
Shahin Najafi, a Persian musician and songwriter, is not famed like Rushdie, yet he has been sentenced to death by another ayatollah. Again with no due process, for the "sin" of composing a song deemed by the officious Islamic clergy -- in this case, Ayatollah Golpaygani -- as an affront to the Shi'ite imams.
The way these high priest Islamic parasites operate makes for nothing short of international religious terrorism. They consider it their prerogative to pronounce death sentences on anyone, of any nationality, anywhere in the world, who offends their sensibilities. With their tentacles reaching every corner of the globe, these Islamic Godfathers unleash their lieutenants and soldiers on anyone who dares to in any way challenge their code of murder and mayhem billed as Allah's sole valid religion for all of humanity.
Full report at:
http://184.154.10.219/index.php?option=com_content&view=article&id=1026:fatwa-islams-murder-by-fiat&catid=48:imani&Itemid=58
Arab World
-----------
Bahrain follows Qatar and UAE, issues Lebanon travel warning
19 May 2012
Bahrain urges its citizens not to travel to Lebanon until the 'tense security situation there is cleared', becoming the third Arab Gulf state after the United Arab Emirates and Qatar to adopt such decision
The United Arab Emirates, Qatar and Bahrain on Saturday urged their citizens to avoid travel to Lebanon, where clashes linked to the conflict in neighbouring Syria have left 10 people dead.
"The UAE foreign ministry has urged citizens not to travel to Lebanon until the tense security situation there is cleared," the ministry said in an English-language statement carried on state news agency WAM.
The advice has been issued "to guarantee the safety of its citizens," senior foreign ministry official Issa Abdullah al-Kalbani said in the statement.
Kalbani also called on "citizens currently in Lebanon to leave the country, and in case they have to stay back for any unavoidable reasons, to contact the UAE embassy in Beirut" to give their whereabouts and contact details.
Qatar issued a similar warning due to the "unstable security situation" in Lebanon, its news agency QNA reported.
Full report at:
http://english.ahram.org.eg/NewsContent/2/8/42077/World/Region/Bahrain-follows-Qatar-and-UAE,-issues-Lebanon-trav.aspx
-----------
Military releases 20 arrested at defence ministry clashes; 89 still detained at Cairo
19 May 2012
The military prosecution has ordered the release of 20 of those arrested during clashes near the Ministry of Defence earlier this month. Some 89 remain in custody.
More than 300 were arrested during clashes between the military and protesters in the Abbasiya district of Cairo, following mass demonstrations against the Supreme Council of the Armed Forces (SCAF) at the Ministry of Defence.
Those arrested during the clashes face several charges, including infringing upon state institutions, using violence against members of the armed forces, halting traffic, illegal gathering and having breached a military area.
Full report at:
http://english.ahram.org.eg/NewsContent/1/64/42081/Egypt/Politics-/Military-prosecutor-releases--arrested-at-defence-.aspx
-----------
Hunger strike in solidarity with Abbasiya detainees, demanding end to military trials
19 May 2012
Several political groups have called for a day of hunger strike under the banner "We are all prisoners under military rule," to take place at the Journalists' Syndicate Sunday.
Starting 12pm, several journalists will be starting a hunger strike, welcoming any person joining in solidarity. At 4pm there will be a symbolic protest in front of the syndicate and at 7pm a press conference held to clarify the demands of the day of protest.
The call for the Sunday protest came in response to a statement released by several still in military detention, held since the 4 May clashes that erupted at the Ministry of Defence, declaring they would start a hunger strike 20 May until they are referred to civil courts.
More than 300 were arrested during clashes between the military and protesters in the Abbasiya district of Cairo, following mass demonstrations against the Supreme Council of the Armed Forces (SCAF) at the Ministry of Defence. Several have been released while 89 remain in custody.
Full report at:
http://english.ahram.org.eg/NewsContentP/1/42083/Egypt/Activists-to-hunger-strike-in-solidarity-with-Abba.aspx
-----------
G8 supports Kofi Annan Plan on Syria
May 20 2012,
Appalled by the loss of life, humanitarian crisis, and serious and widespread human rights abuses in Syria, the G-8 leaders have backed the Kofi Annan plan to resolve the on-going crisis in the country.
"The Syrian government and all parties must immediately fully adhere to commitments to implement the six-point plan of UN and Arab League Joint Special Envoy (JSE) Kofi Annan, including immediately ceasing all violence so as to enable a Syrian-led, inclusive political transition leading to a democratic, plural political system," the G-8 leaders said yesterday in a Camp David declaration issued at the end of their two-day meetings in this historic presidential retreat.
"We support the efforts of JSE Annan and look forward to seeing his evaluation, during his forthcoming report to the UN Security Council, of the prospects for beginning this political transition process in the near-term," the Camp David declaration said and demanded that the use of force endangering the lives of civilians must cease.
Full report at:
http://www.indianexpress.com/news/g8-supports-kofi-annan-plan-on-syria/951595/
-----------
Suicide blast, attacks kill 19 in Syria
19 MAY 2012
A suicide bomber detonated an explosives-laden car outside security headquarters in Syria's biggest eastern city on Saturday, killing nine people and wounding 100, state media said.
The attack was the the first of its kind in Deir Ezzor since an anti-regime uprising broke out in Syria in March 2011, and the deaths there came as at least another 10 people died elsewhere in the country.
Among the dead were a woman and her two children gunned down in the northern city of Aleppo, said the Syrian Observatory for Human Rights. A "terrorist suicide bomber" used 1,000 kilograms (2,200 pounds) of explosives in the attack on the Deir Ezzor neighbourhood of Ghazi Ayyash, said state television.
The powerful explosion left a crater 3.5 metres deep and damaged buildings within a radius of 100 metres, the channel said, adding that a four-year-old girl was among those critically wounded.
Full report at:
http://www.dailypioneer.com/world/66631-suicide-blast-attacks-kill-19-in-syria.html
-----------
King urges Islamic unity
BY: JEDDAH: ARAB NEWS
20 May 2012
Custodian of the Two Holy Mosques King Abdullah yesterday emphasized the need to strengthen Arab and Islamic unity.
"I am servant of you and of the Arab and Islamic world without any discrimination. You are brothers and true brothers of the Arab Islamic nation," he said.
King Abdullah made this comment while addressing Islamic scholars and other prominent personalities who came to greet him on the seventh anniversary of his accession to throne.
"Saudi people are brothers of the Arab and Islamic nation. We consider them as our brothers. We expect the same love, sincerity and unity from our brothers in the Arab and Islamic world," he added.
King Abdullah expressed his happiness over seeing the faces of prominent personalities like Grand Mufti Sheikh Abdul Aziz Al-Asheikh in the gathering.
"I am thankful to all of you. I am a servant of you, a servant of the small and big and I pray to Allah to help me perform my duties in the best manner and in a way that would please Him," the king said.
Full report at:
http://www.arabnews.com/king-urges-islamic-unity
-----------
Egypt army beat, tortured protesters — rights group
19 May 2012
CAIRO: Egyptian soldiers beat and tortured protesters they had arrested at a demonstration near the Defense Ministry this month, Human Rights Watch (HRW) said on Saturday, citing victims and lawyers.
The New York-based group said soldiers arrested at least 350 protesters, including 10 children and 16 women, on May 4 amid violence over a sit-in begun a week earlier in protest at the exclusion from Egypt's presidential race of Hazem Abu Ismail.
Military prosecutors ordered them detained pending trial in military courts and at least 256 are still held, HRW said, adding many of those released told of torture and beatings.
"The brutal beating of both men and women protesters shows that military officers have no sense of limits on what they can do," said Joe Stork, HRW's deputy Middle East and North Africa director.
The group also said the military had failed to protect protesters from attacks by unidentified armed groups on May 2 in central Cairo's Abbasiya district near the Defense Ministry.
Full report at:
http://www.arabnews.com/egypt-army-beat-tortured-protesters-%E2%80%94-rights-group-0
-----------
Gulf nationals told not to visit Lebanon
19 May 2012
DUBAI: Bahrain, Qatar and the United Arab Emirates urged their citizens to stay away from Lebanon, citing security concerns in a country where fighting prompted by sectarian tensions in neighboring Syria has unsettled areas near a northern port.
The three Gulf states' Foreign Ministries urged all those already in Lebanon — a favorite destination for wealthy Gulf tourists - to leave because of the "security situation" in the country, the official news agencies BNA, QNA and WAM reported.
Heavy fighting has rocked Lebanon's northern port of Tripoli in the past week. The clashes, mainly between government troops and gunmen in a Sunni district, have highlighted how violence in Syria can spill into Lebanon, a country that was garrisoned by Syrian troops until 2005.
Full report at:
http://www.arabnews.com/gulf-nationals-told-not-visit-lebanon-0
-----------
The vain search for dialogue in a battle-scarred Syria
20 May 2012
Often in politics it comes down to one man. In Syria, it is Bashar al-Assad.
Everywhere we travelled in Syria last week the president's name was invoked.
"Bashar must go!" was the constant refrain in impromptu protests we saw in neighbourhoods in Damascus and Homs.
At other times on some streets, Syrians would whisper tersely: "We can't talk to you." Then with a gesture of a knife slitting their throat, they would add: "Bashar would kill me".
But there was another narrative too.
In Damascus some Assad supporters say Syria would collapse without him.
"You expect Bashar to step down? Why?" was often the response of government officials who, in off-the-record conversations, would call for change but not at the very top.
"If Bashar al-Assad goes, the system would collapse," one official warned. "That's in no-one's interest, and most of all not in Syria's."
As violence grows, and takes more deadly forms, inner circles of the regime seem to be closing ranks, although it is hard to say with much certainty what fissures lie beneath the surface.
Some individuals who had access to the president now speak of a leader who "no longer listens" to advice.
Full report at:
http://www.bbc.co.uk/news/world-middle-east-18118848
North America
-----------
US won't pay Pakistan $5000 for each NATO truck
May 20, 2012
WASHINGTON: US Defence Secretary Leon Panetta heads to the NATO summit prepared to confront Pakistan over what he considers price-gouging for transport of supplies to Afghanistan and hoping for a "consensus" among allies over the war effort, the Los Angeles Times reports.
In an interview with the paper before his arrival in Chicago, where the summit is scheduled to begin today (Sunday), Panetta all but ruled out paying Pakistan $5,000 for each truck carrying supplies across its territory for NATO troops waging the Afghanistan war.
Pakistan has demanded that amount as a condition for reopening supply routes that have been closed to the alliance since fall. "Considering the financial challenges that we're facing, that's not likely," Panetta said.
Before the supply routes were closed in November after a US attack on two remote border posts that killed two dozen Pakistani troops, NATO convoys were paying an average of about $250 a truck, a senior US official told the Times. US officials, according to the report, remain hopeful they can resolve the dispute, perhaps at the summit. Thousands of trucks a day carrying supplies would go through multiple border crossings from Pakistan to Afghanistan, making the fees a potentially massive source of revenue for the cash-strapped government in Islamabad, the Times said.
Full report at:
http://www.dailytimes.com.pk/default.asp?page=2012\05\20\story_20-5-2012_pg1_5
-----------
Aid hiccup for Pak in US
19 MAY 2012
S RAJAGOPALAN
Defying a White House veto threat, the US House of Representatives has overwhelmingly approved a defence spending Bill with a host of provisions, including blocking up to $650 million in payments to Pakistan pending resumption of NATO supplies through its territory.
Disagreeing with several provisions of the $643 billion National Defence Authorisation Act for 2013, including suspension of payments to Pakistan, the White House Office of Management and Budget had held out the threat of a possible veto by President Obama.
But this did not deter the Republican-controlled House, which passed the measure by 299 votes to 120.
The House, however, rejected an amendment moved by Congressman Dana Rohrabacher to cut off all aid to Pakistan on the grounds that it is a country "not with us in the war against terrorism" but "at war with us (the United States)".
"Pakistan at best is a war profiteer, collecting their ransom," Rohrabacher had charged, saying: "My amendment will cut off all aid in this Bill designated for Pakistan. It would end the charade that we're buying cooperation in the ongoing struggle against terrorist forces in South Asia."
Rohrabacher had separately introduced last week a Bill, called Pakistan Terrorism Accountability Act, which has been referred to the House Foreign Affairs Committee.
On the overall National Defence Authorisation Act, the White House had voiced its objections not only relating to the stringent conditions on reimbursements to Pakistan, but to a wide range of provisions impinging on allocations for various defence spending programmes.
Full report at:
http://www.dailypioneer.com/world/66646-aid-hiccup-for-pak-in-us.html
-----------
US 'non-NATO' supply trucks cross Torkham
19 May, 2012
ISLAMABAD: Pakistan on Friday allowed four containers of office supplies for the US Embassy in Kabul to cross into Afghanistan, for the first time in nearly six months after a NATO air strike in Salala killed 24 Pakistani soldiers.
The US Embassy said a diplomatic shipment that was stranded along with NATO supplies was allowed to be transported to Kabul via Torkham.
Talking to our sources, US Embassy spokesman Mark Stroh said it was a purely diplomatic shipment that was to be shifted to the US Embassy in Kabul. "The shipment had nothing to do with the NATO or ISAF, it needed to be cleared first," he said when asked about the contents of the shipment.
When he was asked if the shipment was stopped along with the blocked NATO supplies after attack on Pakistan's Salala post, the spokesman said he was not sure when it arrived in Pakistan, but it was clear that it had been stuck up due to closure of NATO supplies.
There were conflicting accounts of when the trucks crossed, with one source saying they began moving earlier in the week and another saying they passed through on Friday.
http://paktribune.com/news/US-non-NATO-supply-trucks-cross-Torkham-249913.html
-----------
US tells G8 Syria's Assad must go, cites Yemen as model
BY: JEFF MASON | REUTERS
20 May 2012
CAMP DAVID, Maryland: President Barack Obama told G8 leaders meeting at Camp David that Syrian President Bashar Assad must leave power, and pointed to Yemen as a model of how political transition could work there, the White House said on Saturday.
Ben Rhodes, an Obama deputy national security adviser, said the recent focus on securing access for UN monitors and keeping track of cease-fires had distracted from the fundamental problems in Syria, where Assad, whose father ruled the country before him, has been attacking protesters for 14 months.
The United Nations estimates some 9,000 people have been killed in Syria since the start of the uprising in March 2011, when unrest that toppled leaders in Egypt, Tunisia and elsewhere was spreading across North Africa.
Washington's patience has been wearing thin with Assad, who said he would adhere to a UN-Arab League peace plan but has failed to bring violence to a full halt, blaming "terrorists" for recent attacks in Damascus and elsewhere.
"It is our assessment that you are not going to be able to solve this problem just with monitors and cease-fires, that you need to have a political process underway that is responsive to the Syrian people, because otherwise you are not going to solve the problem," Rhodes said.
Full report at:
http://www.arabnews.com/us-tells-g8-syria%E2%80%99s-assad-must-go-cites-yemen-model-0
Europe
-----------
Three NATO protesters face terror charges
19 May 2012
Three NATO summit protesters were charged with conspiracy to commit terrorism in Chicago, as they were accused of planning to use Molotov cocktails and possession of an explosive device
Three NATO summit protesters suspected of planning to throw Molotov cocktails have been charged with conspiracy to commit terrorism and possession of an explosive device, the Chicago Sun Times reported Saturday.
The Sun-Times reported that the three men were arrested after being pulled over in their car by police last week and questioned about their protest plans.
Fears that demonstrations could turn violent have put Chicago on edge, with some downtown businesses even telling office workers to ditch their suits and ties and dress down to avoid being hassled or targeted on the streets.
The three men have each been charged with possession of an explosive or incendiary device, conspiracy to commit terrorism, and providing material support to terrorism, the paper said citing said Harrison District Police Lieutenant Kenneth Stoppa.
Full report at:
http://english.ahram.org.eg/NewsContentPrint/2/0/42066/World/0/Three-NATO-protesters-face-terror-charges-Report.aspx
-----------
Britain mediated between Pakistan and US on NATO supply issue
May 20, 2012
LONDON: Britain has paved the way for a deal to reopen NATO supply lines through Pakistan, Daily Times has learnt. One of the top British lawmakers, on the condition of anonymity, told this scribe that during his recent visit Prime Minister Yousaf Raza Gilani gave positive signal to the British prime minister for the resumption of NATO supply lines. This development was not disclosed in a joint statement issued by the 10 Downing Street after the one-to-one meeting between the two leaders last week. There could be a strong reaction on the resumption of supply lines by the opposition and even by some allies as well. Britain did not want to embarrass Zardari and Gilani before Chicago conference, he said. The British lawmaker said that peace and regional stability in South Asia depended on how stakeholders were consulted and their interests sought. India has been playing an ever-increasing role in the rebuilding of Afghanistan, which is detrimental to cohesion in South Asia. Pakistanis feel sandwiched between their eastern border and the Afghan border. He said that British forces, ISAF, NATO and DFID have contributed greatly to the cause of Afghanistan and the development there. "It is important that this legacy be better protected and honoured. The training of the Afghan military in India or by the Indian Army inside Afghanistan can cause unrest with Pakistan. The presence of Baloch nationalist militants in Afghanistan also concerns the Pakistan authorities. We welcome the invitation to Pakistan to attend the Chicago summit," he added. Full report at:
http://www.dailytimes.com.pk/default.asp?page=2012\05\20\story_20-5-2012_pg1_6
-----------
British police arrest two more Pakistanis for child sex abuse
May 20, 2012
LONDON: British Police has arrested two more men of Pakistani origin in connection with the continuing investigation into child sexual exploitation which led to the jailing of nine men in Rochdale earlier this month. Two men, both 33, were held earlier this week on suspicion of rape and sexual assault. They were bailed pending further inquiries. The men, who are from Rochdale and are understood to be Pakistanis, are suspected of abusing one of the five girls who gave evidence during the trial at Liverpool, which ended in the jailing of nine men.
Full report at:
http://www.dailytimes.com.pk/default.asp?page=2012\05\20\story_20-5-2012_pg7_4
-----------
G8 'unified' against Iran, Syria
May 20, 2012
Group of Eight leaders agreed in their discussions at Camp David yesterday that Iran needs to disclose more about its nuclear ambitions and that it was time to focus on a political transition in Syria, said President Barack Obama, the host.
"I think that all of us agree that Iran has the right to peaceful nuclear power but that its continuing violations of international rules and norms and its inability thus far to convince the world community that it's not pursuing the weaponization of nuclear power is something of grave concern to all of us," Obama said.
"We're unified when it comes to our approach with Iran."
Iran has said sanctions over its disputed nuclear program should be lifted in talks with world powers next week in Baghdad, but yesterday maintained that the punitive measures would not compel it to abandon its atomic "rights."
G8 leaders yesterday vowed to ensure oil markets are "fully and timely supplied" to ensure that tough new sanctions coming into force against Iran do not send energy prices soaring.
Full report at:
http://www.thedailystar.net/newDesign/news-details.php?nid=234880
-----------
Chicago braces for largest anti-Nato protest
May 20, 2012
Reuters, Chicago
Chicago police trying to keep the peace during the Nato summit may face their biggest test on Sunday when thousands of demonstrators were expected to march near the site where leaders of the military alliance begin a two-day meeting.
Previous protests in the runup to the summit Sunday and Monday have been lively but peaceful, resulting in fewer than two dozen arrests over the past six days, according to the Chicago Police Department.
But terrorism charges against three self-described anarchists arrested in Chicago earlier in the week was a reminder that the threat of violence is out there.
"So far, the numbers have been underwhelming," said Jeff Cramer, a federal former prosecutor who now runs the Chicago office of the global security consultancy Kroll International.
"We can't say the police found the only three people who are bent on violence. Vigilance is the word of the day."
The Coalition Against Nato-G8, the group behind Sunday's parade, has said it hopes as many as 10,000 people will show their opposition to the war in Afghanistan by participating in the march, which starts in a downtown park and ends more than two miles away near the summit site.
Full report at:
http://www.thedailystar.net/newDesign/latest_news.php?nid=37825
-----------
California Showcases Islamic Art Evolution
20 May 2012
The theme of the exhibition is based on Qur'an inspirations for a collection of about fifty pieces by artists in the Muslim community.
CAIRO – Linking a rich history of Islamic art to modern arts, an exhibit has opened its doors in Santa Clara, California, showcasing pieces that reflect art evolution by artists in the Muslim community.
"We saw a need to have a show of Islamic Art as it has evolved in different forms, not just the traditional, classic art," Nabeela Raza Sajjad, founder of the nonprofit Islamic Art Exhibit (IAE), told The Santa Clara Weekly.
Extending bridges between different cultures, the exhibit, titled "The Miracles of Qur'an," opened its doors at the Santa Clara Central Park Library which would continue through the end of May.
The theme of the exhibition is based on Qur'an inspirations for a collection of about fifty pieces by artists in the Muslim community.
Admiring the ancient history of Islamic art through centuries, the exhibit tries to offers a window into its evolution from traditional to modern.
The new exhibited items show the use of new media tools such as photography, digitally enhanced collages, and acrylics.
"It's really a blend of modern and classic," says library technology aide Evan S., admiring "No Thing Lasts Forever," a digital piece by Dave Platford and Dawud Rassam.
Full report at:
http://www.onislam.net/english/news/americas/457158-california-showcases-islamic-art-evolution.html
-----------
UN and Afghan agency efforts set to bring better lives for women
20 May.2012
With a contrasting array of reports that say conditions for women in Afghanistan are getting both better and worse, an Afghan woman learns computer skills at Kabul's Educational Centre in 2012. Image: UNAMA/Jawad Jalali
(WNN/UNAMA) KABUL: Afghanistan has made significant progress on making conditions better for women to survive pregnancy and childbirth. Yet health workers say there remains room for more progress.
Services throughout the country have improved the situation. Currently 34 percent of Afghan mothers are able to benefit from hospitals and midwives services for their pregnancy and childbirth cases, said Dr. Saadia Faiq, Director of Maternal Health at Ministry of Public Health (MoPH).
"In 2006, the maternal mortality rate was 1,600 deaths per 100,000 live births, which dropped to 327 deaths per 100,000 live births in 2011," added Dr. Faiq referring to result from a mortality survey carried out in 2010.
Just six years ago Afghanistan had the second highest maternal mortality figures in the world, after Senegal. Since then, despite improvements in services, the country still lags behind others in the region. According to official figures, 77 children less than a year old die out of each 1,000 live births. For children under the age of five the ratio is 97 per 1000 live births.
Full report at:
http://womennewsnetwork.net/2012/04/11/un-and-afghan-agency-efforts-better-lives-women/
-----------
Ahead of NATO Summit, Chicago police foil terrorist plot
May 20, 2012,
WASHINGTON: The Chicago Police have arrested three individuals on charges of allegedly plotting terrorist attacks during the NATO Summit in the city, which begins today.
The three individuals were also planning to attack the headquarters of the Obama Campaign in Chicago, the home of the Chicago Mayor, Ram Emanuel and police stations, authorities said.
The three men -- Brian Church (22) from Florida, Jared Chase (27) from New Hampshire and Brent Betterly (24) who told police that he is from Massachusetts, were produced before a court yesterday. An Illinois judge set bails for each of the three suspect of USD 1.5 million.
Full report at:
http://timesofindia.indiatimes.com/world/us/Ahead-of-NATO-Summit-Chicago-police-foil-terrorist-plot/articleshow/13310574.cms
-----------
UK special forces 'to stay in Afghanistan after 2014'
20 May 2012
A small number of British soldiers could remain in Afghanistan after forces withdraw in 2014, a senior government official has said.
The official made the disclosure ahead of a Nato summit in Chicago, which is expected to focus on Afghanistan.
David Cameron has set a deadline of the end of December 2014 for Britain to stop all of its combat operations.
But it is understood that up to 200 members of the UK's special forces could stay on to help combat terrorism.
British troops have been in Afghanistan since the US-led invasion in 2001.
Britain plans to withdraw 500 soldiers from its 9,500-strong force this year, with Afghan security forces due to take over responsibility for security by the end of 2014.
'Protect ourselves'
The official said: "As we've said previously, British forces will not remain in a combat role in Afghanistan beyond 2014.
Full report at:
http://www.bbc.co.uk/news/uk-18135589
Africa
-----------
Algeria pays final respects to the legendary singer Warda
19 May 2012
Known throughout the Arab world as Warda al-Jazairia (Warda the Algerian), or simply as the "Algerian Rose", the singer won a passionate following in the north African nation and across the Arab world after she started singing Algerian independence songs as a young girl.
Hundreds of Algerians, most of them women, lined up at the Palace of Culture in the capital Algiers to pay their respects as the diva's body lay in state Saturday morning.
Female security agents kept close watch as fans brought in bouquets of flowers and recited a funeral prayer. One young man in his 20s started hysterically sobbing and shouting, "Warda, Warda", before being escorted out.
Warda, who died at her Cairo home aged 72, was later buried in a well-known cemetery in Algiers, alongside other Algerian national heroes.
"I am totally devastated. The Algerian Rose has faded, I feel as though I am dead," cried 61-year-old Khalfa Benamar, who had travelled 250 kilometres (150 miles) to see the funeral.
In a rare honour seldom accorded non-political people, members of the Republican Guards attended the funeral.
Full report at:
http://english.ahram.org.eg/NewsContent/5/33/42092/Arts--Culture/Music/Algeria-pays-final-respects-to-the-legendary-singe.aspx
-----------
Seven killed, mostly soldiers, in Mogadishu blasts
19 May 2012
At least seven people, mostly Somali soldiers, were killed Saturday in bomb explosions in the Somali capital Mogadishu, officials and witnesses said.
A roadside bomb planted under a tree killed four soldiers and one civilian in northern Mogadishu's Karan district while at least two soldiers died in a separate grenade attack in Bakara market.
"Four soldiers were killed when a bomb planted in the shade of a tree was detonated. One civilian was also killed in the attack and the security forces are conducting investigations," Abdirahman Mumin, a Somali security official told AFP from the scene of the blast.
Full report at:
http://english.ahram.org.eg/NewsContent/2/9/42050/World/International/Seven-killed,-mostly-soldiers,-in-Mogadishu-blasts.aspx
-----------
Sudan's President Bashir 'believes in need for peace'
20 May 2012
African Union mediator Thabo Mbeki has said Sudan's President Omar al-Bashir is committed to security agreements with the South.
The former South African president has been in Khartoum to attempt to restart negotiations between Sudan and South Sudan.
He told reporters that President Bashir "confirmed that he believes the two nations... are in need of peace".
Mr Mbeki is expected to travel to South Sudan next to speak to leaders in Juba.
Heavy fighting between Sudan and the new nation of South Sudan over territorial disputes brought them to the verge of war last month.
According to a United Nations Security Council resolution, talks aimed at resolving the dispute should have started last week but the two sides have balked at returning to the negotiating table.
South Sudan - which only seceded from its northern neighbour last year - previously said it is prepared to talk without preconditions, while Sudan has said it wants negotiations to focus on demarcating borders.
Full report at:
http://www.bbc.co.uk/news/world-africa-18135634
-----------
Bombs kill Somali soldiers in Mogadishu
19 May 2012
Somali government soldiers are among five people killed in two bombings in the capital Mogadishu, attacks blamed on al-Shabab Islamist fighters.
A bomb planted under a tree in the north of the city killed at least three soldiers and one pedestrian, security officials said.
In the other attack, a bomb, possibly a grenade, killed at least one person in Bakara market area.
Al-Shabab has continued attacks since retreating from view last year.
Outside the capital, it still controls huge swathes of the country.
Government and African Union troops control Mogadishu while most of the rest of the country is under Islamist control.
http://www.bbc.co.uk/news/world-africa-18134391
URL:https://www.newageislam.com/islamic-world-news/new-age-islam-news-bureau/jamiat-ulama-talks-about-"women's-right"-sans-any-woman-in-decision-making-process/d/7380