New Age Islam News Bureau
17 Dec 2019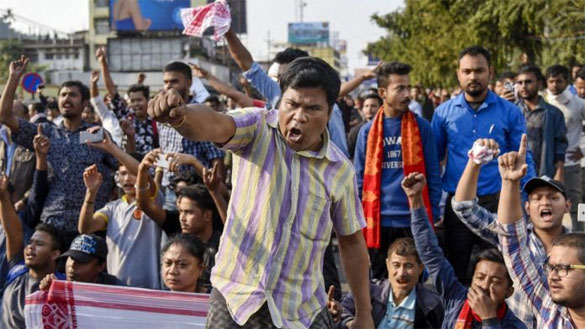 Protestors raise slogans in protest against the citizenship law during a strike in Guwahati | Photo: PTI
--------
• Jamia, AMU Violence Echoes In US Varsities
• Citizenship Protests in Northeast Show Muslims Are Really On Their Own In This Fight
• Given The Lack of Places of Worship for Muslims in the Russian Capital, Moscow, They Have Turned a Supermarket into A Mosque
• Be Careful On Social Media, NASFAT Cautions Muslim Faithful
• Former Pakistan President Pervez Musharraf Gets Death Penalty in High Treason Case
• Initiative Launched To Reduce Food Waste in Saudi Arabia
• UN Security Council Renews Sanctions against Taliban
• Joint Call For The UN Human Rights Council To Take Urgent Action On The Situation Of Human Rights In The Islamic Republic Of Iran
Compiled By New Age Islam News Bureau
URL: https://www.newageislam.com/islamic-world-news/jamia-amu-violence-echoes-varsities/d/120549
India
• BJP ally Akali Dal makes a U-turn, says include Muslims in Citizenship Amendment Act
• Don't Believe Propaganda: Mukhtar Abbas Naqvi to Muslims amid Protests
• Christians urge government to reconsider amended citizenship laws
• Jamia Ground Report: Police Entered Mosque, Beat Up Imam And Me, Claims Former Army Man
• RBI kept out Muslim long-term visa holders from property-buying right
• Muslim lawyers' body urges SC to declare citizenship law as 'unconstitutional'
• RSS leader, 3 others booked for making school children enact Babri Masjid demolition
• As Bollywood remains silent, Hollywood star John Cusack extends support to Muslim students
• #JamiaProtest: Vicky Kaushal, Parineeti Chopra, Anurag Kashyap, Taapsee Pannu stand by Jamia Millia Islamia University students
• Jamia violence: Delhi Police arrest 10 people, none students
------
Europe
• Jews, Muslims, Christians: Rabbi Explains Differences And Common Ground
• 'Extremist books promoting ISIS' removed from Islamic school in Birmingham
• Tory politician makes history as the first openly gay Muslim MP to be elected in the world
• How Germany became a classical music mecca
• Muslim candidate says her cousin is thinking of leaving UK after Boris victory
• UK PM Johnson to welcome new lawmakers, get Brexit rolling
------
Africa
• At least 22 people killed by Islamist rebels in DR Congo
• Islamist Rebels Kill 33 People in Ebola-Hit Congolese Region
------
Pakistan
• Will Pak PM Attend Malaysia Summit? Saudi May Not Like It
• Pak allows Qatari Emir, other royal members to hunt endangered bird species: report
• Govt to 'review in detail' special court's verdict against Musharraf: Awan
• PM Imran arrives at UN office in Geneva to co-convene first Global Refugee Forum
• Ball in parliament's court to provide certainty to army chief's post with new law: SC detailed verdict
------
Arab World
• Startup of the Week: New Saudi App to Formalize Citizens' Saving Groups
• Islamic Movement To Hold Internal Election In January
• Baghdad must 'take actions' after strikes on US interests, says Washington
• OIC calls for combating counterfeit drugs and promoting fair pricing
------
South Asia
• Esper wants to cut US troops 'with or without' Afghan peace deal
• 38 Taliban militants killed in Special Forces raids, airstrikes in 12 provinces
• Explosion injures 18 civilians in Balkh province of Afghanistan
• Children among 10 killed as Taliban IED goes off in Khost province
------
Mideast
• Work Begins On Rebuilding Of Mosul's Great Mosque of Al Nuri
• Finland aims to repatriate Islamic State children from Syria 'as soon as possible'
• Islamic resistance against US' imperialism at Cinema Vérité in Tehran
• 609-Year-Old Mosque Is Transported 2½ Miles From Ancient Turkish City Which Is Due To Be Flooded When A New Dam Is Built
• Judiciary Chief Asks Int'l Community to Act against US Ban on Medical Supplies to Iran
• Qatari DM Underlines Necessity for Talks with Iran
• Turkey detains nearly 200 over Gulen links
• UN chief Antonio Guterres: No choice but to ship aid across Syria's border
• Turkish opposition sounds warning on Libya deal
• Palestinian evangelicals celebrate Abbas decree
------
Southeast Asia
• China Should Treat the Muslims of Xinjiang as Their Brothers and Citizens
• KL Summit Eyes Workable Solutions to Muslim World Issues
• Amid Crackdown on Islam in China, Collector Budi Tek Plows Forward with Qatar Partnership
• 'Blinded And Misled': China Turn Up Pressure On Arsenal After Mesut Ozil Criticised The Treatment Of The Nation's Muslim Uighur Minority In Xinjiang
• Alibaba-Backed Indonesian Multi-finance Fintech Akulaku Planning Islamic Roll-Out
• At KL Summit, Syed Saddiq Tells World Muslim Leaders to Make Youths Their Equal
------
North America
• How Tescobank and Mediacom Spoke The Right Language To Boost Money Transfers During Ramadan
• Trump on track to become third US president to be impeached
• Reporting from the front lines of the war against the Islamic State
• U.S. officials arrest man who wanted to take ship to join Islamic State
------
Jamia, AMU violence echoes in US varsities
Dec 17, 2019
MUMBAI: Terming it as a gross violation of human rights, around 400 Indian students studying in various American universities have condemned the "brutal police violence" unleashed against students of Jamia Millia Islamia and Aligarh Muslim University last Sunday.
In a detailed statement bearing the names, universities of the students/alumni signatories released on Tuesday, they expressed full solidarity with students across Indian universities who were protesting against the recent passing of what they termed as "the unconstitutional and discriminatory" Citizenship Amendment Act (CAA).
"By every account, it appears that police and paramilitary, both at Jamia and at AMU, have used violence and pursued unlawful and reckless tactics against student protesters in violation of protections under the Constitution of India and International Human Rights law," the statement released through Jhalak M. Kakkar of Harvard Law School said.
The students/alumni groups who have signed the statement hail from: Harvard University, Columbia University, Yale University, New York University, Stanford University, University of Michigan, University of Chicago, Brown University, Georgetown University, University of Pennsylvania, Tufts University, Johns Hopkins University, Cornell University, Massachusetts Institute of Technology, University of California, Berkeley Purdue University, Carnegie Mellon University, University of Southern California, and University of Illinois.
https://timesofindia.indiatimes.com/india/jamia-amu-violence-echoes-in-us-varsities/articleshow/72827113.cms
------
Citizenship protests in northeast show Muslims are really on their own in this fight
ZAINAB SIKANDER
16 December, 2019
amia Millia Islamia students' protests and violent clashes rocked New Delhi Sunday over the amended Citizenship Act. Soon after, Aligarh Muslim University and Jawaharlal Nehru University students started their own protests.
The new citizenship law, in short, says everyone is welcome in India, except Muslims.
Former Prime Minister Manmohan Singh had once said that minorities, "particularly the Muslim minority" should be "empowered to share equitably the fruits of development" and that they "must have the first claim on resources". But the BJP under Narendra Modi and Amit Shah has always emphasised that India is first for its majority. The BJP wants to make India great again but just for the Hindus.
So, if you are an illegal immigrant and anything but Muslim, you've hit jackpot. The passing of the Citizenship (Amendment) Bill in Parliament can now overnight turn you from an illegal immigrant, often dubbed "ghuspethiya" or a "termite", to a citizen of India. But God forbid that if you are a Muslim and can't prove you are an Indian citizen, you're the kind of 'termite' who should get ready for symbolic fumigation. You will not be granted citizenship, not because you've not followed procedures but because you are a Muslim. Exactly why the BJP is bringing in both the nation-wide NRC and the new citizenship law.
For argument's sake, let's agree with Home Minister Amit Shah's statement in the Rajya Sabha that citizenship law isn't anti-muslim. The benevolent Shah essentially wants to enforce a law that will undo the broken promise of the Liaquat-Nehru Pact as well as undo the excesses against the persecuted minorities of Bangladesh and Afghanistan.
The 1950 agreement was signed between former Indian Prime Minister Jawaharlal Nehru and former Pakistan Prime Minister Liaquat Ali Khan on the pledge that both the countries will grant their minorities "equality of citizenship", "full sense of security in respect of life" and "freedom of movement within each country".
In fact, the ongoing agitation in the northeast against the citizenship law is hardly about secularism. The people of the northeast only want to protect their distinct tribal culture from the Bengalis who have settled there. It does not matter to them if those Bengali migrants are Hindus, Muslims or atheists.
The protests against the CAB in other parts of India, however, made something very clear. It showed how easily PM Narendra Modi and his party can target one community, just on the basis of the clothes. "You can easily make out who is spreading violence by the clothes they wear," Modi said Sunday.
The Muslims are on their own now in this fight.
Muslims on the receiving end
If one was to see the amended citizenship law in isolation, perhaps one could imagine that persecuted minorities from Muslim-majority nations did indeed deserve a chance for a dignified life. After all, two entirely new countries were formed for Muslims. A lone India had to be a saviour of all others except Muslims who have two countries, flanking India, all for themselves. One could also believe that Muslims in these Muslim-majority nations couldn't possibly be persecuted on religious grounds, although this claim has been debunked because many Muslim sects like the Ahmadis, Balochs and Rohingyas have indeed been persecuted.
But one has to be blind to not see the government's workings in isolation. BJP's Nirmal Singh, former deputy chief minister of Jammu and Kashmir, right after the dilution of Article 370, had proposed that property rights in Ladakh should not be given to the rest of India so as to not dilute the culture of that land. Kashmiris, 97 per cent Muslims, who fought for their cultural identity were not bothered about the minister's proposition even though they had the same demands.
Similarly, the triple talaq bill criminalises Muslim men who abandon their wives by just pronouncing talaq three times, whereas a non-partisan take on such a marriage law should've criminalised any man from any religion who abandons his wife.
In the same vein, after the NRC in Assam, many Bengali Hindus who were not included in the final list were subsequently assured of citizenship by Amit Shah. And though the Home Minister assuaged fears last week by saying that "no one will have to go to a detention camp", it did nothing to reassure Muslims.
And now there's the citizenship law, where a Mohan, Shyam, Krishna and Hassan could all be declared illegal but only one would face the consequence of it. Every decision of the Modi-Shah government has been about normalising the narrative against Muslims. And with many expecting the government to bring in the Uniform Civil Code and population control measures next, these all paint a very telling picture, coloured in a thick coat of Hindutva.
The idea of India
The anti-Muslim propaganda on social media platforms and WhatsApp seems to have been part of a larger design. The perception of Muslims producing children by the dozens and getting special and altogether "unnecessary" privileges by separate laws, which the Congress tried to appease them with, has been solidified in the common Indian's psyche. That's another thing that in the last decade, the rate of Muslim population growth has slackened significantly compared to that of the Hindu population and is at its lowest in India's history.
The idea of India was never that of a Hindu nation or a nation first for the Hindus. B.R. Ambedkar, the chief architect of the Indian Constitution, categorically stated: "If Hindu Raj does become a fact, it will, no doubt, be the greatest calamity for this country. No matter what the Hindus say…Hindu Raj must be prevented at any cost."
If at all the Supreme Court does not strike down the amended citizenship law, and in most likelihood a nationwide NRC is conducted, the only people who stand to lose their status as citizens of India are Muslims. The popular meme that says that a prime minister who can't provide documents of his educational qualification expects documents from poor Muslims to prove their citizenship is becoming a reality quick.
Mosques in Karnataka are reportedly already alerting people to start preparing documents of proof of citizenship because it's only the Muslims, especially the poor, who will be singled out if their papers are incomplete.
The two-nation theory has been accepted by Modi and Shah now.
https://theprint.in/opinion/citizenship-protests-in-northeast-show-muslims-are-really-on-their-own-in-this-fight/335643/
------
Given The Lack of Places of Worship for Muslims in the Russian Capital, Moscow, They Have Turned a Supermarket into A Mosque
December 16, 2019
AhlulBayt News Agency (ABNA): Given the lack of places of worship for Muslims in the Russian capital, Moscow, they have turned a supermarket into a mosque.
According to the Iranian Cultural Center in Moscow, Muslims in the city often have difficulty finding a place in which to say their prayers, especially Friday prayers.
Recently, they rented a building in the Zyablikovo District south of the capital which was formerly used as a supermarket.
They have since used it as a mosque.
Neighbors have complained about the number of cars parked in the area by Muslims on Friday but Anar Ramezanov, the mosque's imam, says the worshippers make every effort to avoid making troubles for neighbors.
There are around 25 million Muslims in Russia today, a rise of 40 per cent since 1989.
https://en.abna24.com/news//russian-supermarket-turned-into-mosque_994312.html
------
Be careful on social media, NASFAT cautions Muslim faithful
DECEMBER 16, 2019
The Nasru-L-Lahi-L-Faith Society (NASFAT) in Lagos on Monday cautioned all Muslim faithful to be careful of what they do and put on social media.
The former president of the association, Alhaji Kamil Bolarinwa, gave the warning while speaking with journalists at a reception for the new NASFAT President, Alhaji Olaniyi Yusuf, in Lagos.
He also urged Muslim faithful all over the country to be security-conscious and alert as the year comes to an end.
According to Bolarinwa, security is not only for the government, but all of us must also be security conscious and alert.
"You must be aware of your environment and the people you mix up with. When you are traveling, watch the road.
"Most importantly, be careful of what you do on social media. Be careful about the information you put about you or your family on social media," he said.
Bolarinwa said he was happy about the reception, adding that he felt appreciated by the NASFAT society.
"I feel elevated, it's not every time that people appreciate what you have done when you finish service.
"To be appreciated by the whole society, I feel good and happy and I thank Almighty Allah that the little effort I put in was appreciated," he said.
Bolarinwa urged the new NASFAT president to do his best and put in everything to move the society greater.
The new president, Alhaji Yusuf, also told journalists that the reception was a reminder for a call to duty and what was expected of the new executives.
"For this leadership, we have set four priorities which are health, education, livelihood, and da'wah
"We want to promote and provide basic health care services to our members through our medical committee.
"We want to also make sure we provide access to both western and Arabic education for our members.
"We will also want to ensure there is a decent livelihood and income for our members either as an employed staff or an entrepreneur," he said.
He advised every NASFAT member and the public generally to keep safe and be positive while also praising Allah.
"It is the end of the year and we know it is relaxation time but also it is a time to move closer to God and plan for 2020," he said.
The new Women Affairs Secretary, Alhaja Suwebat Kupolati, appreciated the efforts of the organisers for the reception, noting that it was a reminder for a call to service.
"Five years ago, I was part of the people organising this and now I am the one receiving this reception.
"For our women, I advise you to take care of yourself both in health and dressing. Allah has given us the guidelines and we should follow it.
"For a good Muslim woman that also wants to earn reward from Allah, we should follow the principle of Allah; and the Quran is also there for guidance," she said.
NAN also reports that the present NASFAT national executive was inaugurated in October at the society's Islamic centre in Asese, Ogun State.
https://www.vanguardngr.com/2019/12/be-careful-on-social-media-nasfat-cautions-muslim-faithful/
------
Former Pakistan president Pervez Musharraf gets death penalty in high treason case
Dec 17, 2019
ISLAMABAD: Pakistan's ex-military ruler Pervez Musharraf was on Tuesday sentenced to death in the high treason case by a special court here, according to media reports.
A three-member bench of the special court, headed by Peshawar High Court Chief Justice Waqar Ahmad Seth, handed Musharraf, 76, death sentence in the long-drawn high treason case against him for suspending the Constitution and imposing emergency rule in 2007, a punishable offence for which he was indicted in 2014.
The former army chief left for Dubai for medical treatment in March 2016 and has not returned since, citing security and health reasons.
The special court — comprising Justice Seth, Justice Nazar Akbar of the Sindh High Court (SHC) and Justice Shahid Karim of the Lahore High Court — announced the verdict it had reserved on November 19, the Dawn newspaper reported.
https://timesofindia.indiatimes.com/world/pakistan/former-pakistan-president-pervez-musharraf-gets-death-penalty-in-high-treason-case/articleshow/72824851.cms
------
Initiative launched to reduce food waste in Saudi Arabia
FATIMA MUHAMMAD
December 17, 2019
JEDDAH: The Eastern Province municipal council has agreed to impose a new regulation on hotels, private enclosures of more than 400 meters and wedding halls in an effort to reduce food waste.
The regulation, which has been passed by the municipality, will oblige these businesses to sign agreements with food protection societies.
A spokesman for the council, Mohammad Al-Otaibi, said that the aim is to reduce waste at these venues by giving it to food safety societies to distribute to those in need.
The new regulation when implemented is expected to prevent any business from gaining renewal of their licenses unless they provide a contract with a food protection society. Faisal Al-Shawshan, the secretary general and CEO of Saudi Food Bank (Eta'am), said that it operated in five locations in Dammam, Jubail, Al-Ahsa, Jeddah and Riyadh.
To date it had collaborated with 26 hotels, 42 restaurants, 466 wedding halls and 13 companies. In 2019 the society saved more than 1,975,000 meals and served 20,000 individuals in need. The society, which began operating in 2012 in the Eastern Province, has expanded its operations into other regions.
Eta'am aims to increase social awareness about saving food. It also works on collecting leftovers, packing them and distributing these to those in need.
The Saudi Grain Organization, under the supervision of the Ministry of Environment, Water and Agriculture, issued its first report in 2019 with findings about food waste in Saudi Arabia and its social and economic causes.
The report said that 33 percent of food is wasted annually in the Kingdom, estimating that each individual wastes 184 kilograms a year. The study was conducted at different cities in eight regions and found that the value of food waste is SR40,480,000 ($10,800,000) annually.
A new national program for the reduction of food waste has been announced in Saudi Arabia in the hope of bringing down food waste by 50 percent by 2030.
https://www.arabnews.com/node/1600006/saudi-arabia
------
UN Security Council renews sanctions against Taliban
Dec 17, 2019
UNITED NATIONS: The UN Security Council on Monday adopted a resolution renewing the Afghanistan sanctions regime and the mandate of the monitoring team supporting the Afghanistan Sanctions Committee.
According to the Resolution 2501, all states shall continue to take the measures on Taliban, as well as "other individuals, groups, undertakings and entities associated with the Taliban in constituting a threat to the peace, stability and security of Afghanistan", the Xinhua news agency reported.
The resolution also decided to renew the mandate of the monitoring team to support the sanctions committee for a period of 12 months from the date of expiration of the current mandate in December 2019.
The Security Council's sanctions on "individuals, groups, undertakings and entities associated with the Taliban" include asset freeze, travel ban and arms embargo.
https://timesofindia.indiatimes.com/world/south-asia/un-security-council-renews-sanctions-against-taliban/articleshow/72811294.cms
------
Joint call for the UN Human Rights Council to take urgent action on the situation of human rights in the Islamic Republic of Iran
December 16, 2019
The undersigned regional and international civil society organisations call on member states of the UN Human Rights Council to urgently convene a Special Session on the situation of human rights in Iran in order to respond to the unfolding grave human rights crisis born out of the repression of nation-wide protests, which started on 15 November 2019 and continued for at least five days.
Human rights monitors have documented a brutal crackdown in the country since 15 November, including the unlawful use of lethal force against protesters, resulting in at least 304 deaths, based on credible reports received by Amnesty International; the arrests of thousands of protesters, some of whom may face death sentences, others of whom have been forcibly disappeared or otherwise arbitrarily detained and denied access to their families and lawyers of their own choosing. The authorities' violent repression, including unlawful killings, took place under the cover of a near total shutdown of the global Internet in Iran.
The UN High Commissioner for Human Rights has expressed concern at reports of ill-treatment and deaths in custody. Iran's well documented record of denying detainees due process rights from the time of arrest and its failure to uphold fair trial standards, coupled with Iranian officials calling for charges that carry the death penalty against protest "leaders", create an urgent concern for the fate of those arrested.
The Human Rights Council should respond promptly to this human rights emergency through the convening of a Special Session, in order to mandate an independent inquiry and to call for accountability for the violations of human rights occuring in the framework of the repression of protests, and to fulfil its preventive mandate by preventing further violations of the rights of detainees and others, who are at imminent risk, in line with General Assembly resolution 60/251 of 15 March 2006.
Iranian security forces' horrific killing spree has taken place with complete impunity. From 15 November 2019, they used lethal and excessive force to crush protests that took place in more than 100 cities across Iran and unlawfully killed and injured protesters. The number of people believed to have been killed during the demonstrations has risen to at least 304, based on credible reports received by Amnesty International, though the real death toll is likely to be significantly higher.
Horrific accounts from eyewitnesses and victims' relatives, information gathered from human rights activists and journalists outside Iran and extensive verified video footage all provide clear evidence that the security forces have used firearms against protesters who posed no imminent threat to life. The scale of lethal force and other unnecessary or excessive force used against unarmed protesters is an escalation of past abusive practices of Iran's security forces, who have previously unlawfully killed and injured protesters with impunity.
The High Commissioner for Human Rights noted that at least 7,000 people have reportedly been arrested.
Within 48 hours of the start of the protests, the authorities implemented a near total shutdown of global Internet communications, cutting off nearly all means of online communications for people inside Iran. The National Information Network, which kept domestic platforms online throughout the shutdown, is known to be monitored by Iranian officials. The resulting information blackout was a deliberate attempt by the authorities to prevent people from sharing images and videos of the deadly force being used by security forces. Shutting down communications over the Internet is a systematic assault on the right to freedom of expression, which includes the right to seek, receive and impart information and ideas through any media. This has placed barriers to international monitors – including UN human rights experts – and their efforts to document the unfolding situation in the country. To this date, authorities have refused to announce the total number of those killed during the crackdown.
Concerns regarding the situation of prisoners
Amongst the thousands detained since the protests began are journalists, students and human rights defenders. The undersigned organizations are seriously concerned about the fate and whereabouts of the detainees. While some have been released, many of the detainees remain forcibly disappeared or have otherwise been arbitrarily detained and denied access to their families and lawyers of their own choosing. Harrowing reports show that some detainees have been subjected to torture and other ill-treatment in detention centres and prisons. Consistent with past patterns of abuse, the authorities have broadcast the "confessions" of several detainees likely obtained under duress or torture and other ill-treatment.
Various statements by government officials, including by the Supreme Leader and head of judiciary, have called protesters "villains" and "rioters" and associated protesters with foreign powers. The Iranian authorities have also called for the executions of protest "leaders".
The head of the Public and Revolutionary courts in Tehran has stated that "special branches will be formed in the courts, and with speed and care judicial decision-making will take place" in reference to plans to prosecute protesters who have been arrested, raising concerns that defendants will be tried unfairly by these special courts. Authorities have previously used such special courts to deny defendants' access to lawyers of their own choosing and the right to appeal.
We regard these statements, along with the mass arrests across the country, as warning signs. They point to the imminent risk of further mass violations of due process and fair trial standards, which would result in yet more cases of arbitrary detentions, torture and other ill-treatment and possibly death sentences.
Call for a Special Session
In light of these grave concerns, the undersigned organisations urge the members of the UN Human Rights Council to convene a special session of the HRC in order to seize itself of this situation, with the aim of:
Mandating an independent inquiry into the allegations of grave human rights violations, including unlawful killings, torture and enforced disappearances, that have taken place inside the country since 15 November. The inquiry should report on its findings to the Human Rights Council, and its report should include recommendations on how to ensure Iran upholds its human rights obligations, including in the context of the protests and their aftermath, and on bringing those responsible for serious human rights violations to justice in fair trials;
Calling on Iran to give full and unrestricted access to those conducting this inquiry, as well as to UN officials, including special procedures mandates, including to places of detention and to monitor trials related to the protests and their aftermath.
Signatories:
Abdorrahman Boroumand Center for Human Rights in Iran
AHRAZ - Association for the Human Rights of the Azerbaijani people in Iran
All Human Rights for All in Iran
Amnesty International
Arseh Sevom
ARTICLE 19
ASL19
Cairo Institute for Human Rights Studies
Center for Human Rights in Iran
Centre for Supporters of Human Rights
ECPM – Together against the Death Penalty
FIDH – International Federation for Human Rights
Human Rights Watch
HRAI – Human Rights Activists in Iran
Impact Iran
Iran Human Rights
Iran Human Rights Documentation Center
Justice for Iran
Kurdistan Human Rights - Geneva (KMMK-G)
OutRight Action International
Reprieve
Siamak Pourzand Foundation
Small Media
United for Iran
https://www.hrw.org/news/2019/12/16/joint-call-un-human-rights-council-take-urgent-action-situation-human-rights-islamic
------
India
BJP ally Akali Dal makes a U-turn, says include Muslims in Citizenship Amendment Act
Manjeet Sehgal
December 17, 2019
Jumping on the bandwagon, BJP's ally in Punjab the Shiromani Akali Dal (SAD) on Monday demanded inclusion of Muslims as beneficiaries of the Citizenship (Amendment) Act. The party said that India is a secular country and exclusion of Muslims "is not justified".
Welcoming the passing of the Bill, Shiromani Akali Dal General Secretary and spokesperson Daljit Singh Cheema said the bill will enable the persecuted minorities to get the benefits of citizenship but the same should be extended to the Muslim community as well.
"Hindus, Sikhs, Buddhists, Jains, Parsis, and Christians who were subject to persecution and atrocities in Pakistan, Bangladesh, and Afghanistan and were forced to migrate to India decades back were not able to get any facilities due to the lack of the citizenship. The Union government by passing this bill has given a new lease of life to these people but the second aspect is that Muslims have not been included," Cheema said.
"The stand of our party is very clear -- Muslims should also be given the benefit as our country and its constitution are secular. It clearly says that injustice should not be done on the basis of religion. The Union government should also include Muslims," he added.
The Akali Dal has, however, condemned the violence and damage caused to public property by agitators.
Reacting to Punjab Chief Minister Captain Amrinder Singh's remark that he will not allow the passing of the bill in the state assembly, Union Food Processing Industries Harsimrat Kaur Badal on Monday said that rather than opposing the Citizenship Amendment Bill, Captain Amrinder Singh should tell the people why the coffers of his government were empty.
"The law and order situation in Punjab has gone from bad to worse. Punjab's finance minister Manpreet Singh Badal is being called a 'Kangal Mantri' (bankrupt minister). Captain Amrinder Singh has failed to fulfill the promises made to the people of Punjab. They are trying to divert the public's attention by citing a financial emergency," Harsimrat Kaur Badal said.
Praising the bill, Badal said it will benefit hundreds of people who were subject to religious persecution.
"The passing of the Citizenship Amendment Bill is in the interest of common Indians. I have been fighting for the passing of this bill for the past six years. Every citizen of the country should get citizenship so that they are able to get a job or start a business and their children get an education in schools," she said.
https://www.indiatoday.in/india/story/madhya-pradesh-assembly-may-implement-no-work-no-allowance-for-mlas-interrupting-house-proceedings-1628945-2019-12-17
------
Don't Believe Propaganda: Mukhtar Abbas Naqvi To Muslims Amid Protests
December 16, 2019
New Delhi: Union Minority Affairs Minister Mukhtar Abbas Naqvi on Monday appealed to Muslims not to fall prey to the disinformation campaign being carried out about their future in relation to the recently enacted Citizenship (Amendment) Act.
"Muslims in India are safe and their future is secured. Don't believe the propaganda that they (Muslims) will be sent back to Pakistan," he said at an event organised by Hindi news channel 'Aaj Tak'.
"Let the vested interests keep on speaking whatever they want, but don''t fall prey to their evil designs," Mr Naqvi added.
Referring to the ongoing anti-CAA protests and violence, he said, "Misinformation spreads much faster than information and that is what has happened in this case and we condemn any kind of violence."
Indian Muslims, the minister said, have a strong cultural and traditional links with the country.
They need not have any apprehension about their safety, security and future, he added.
On the National Register of Citizens (NRC) issue in Assam vis-a-vis en masse deletion of "genuine citizens'' names as alleged by the opposition parties, Mr Naqvi said the NRC process has not yet completed.
It is an ongoing process and there are provisions for the affected citizens to get relief from the tribunal or the high court, he said.
Taking part in the discussion, All India Majlis-e-Ittehad-ul-Muslimeen (AIMIM) president and Lok Sabha member Asaduddin Owaisi said Jamia Millia Islamia University vice chancellor Nagma Akhtar has no moral right to continue in the post in relation to Sunday's violence in the varsity.
"How is it possible that police can enter the campus without her permission. Who is she fooling? The VC has no moral right to be in that post," he said.
In his reply, Mr Naqvi said any kind of violence is "condemnable" but many a times it has happened that police entered the campus without permission.
"It isn't the first time that this has happened," the minister asserted.
On the CAA, Mr Owaisi, the MP from Hyderabad, said the government could make laws but not violate the fundamental rights of its citizens.
"When a Hindu's name does not figure in the NRC, he can take the help of the CAA to get citizenship but what about Muslims, they have no such help. They will be sent to detention camps," he claimed.
The CAA provides citizenship to non-Muslim migrants from Pakistan, Afghanistan and Bangladesh with December 31, 2014, as the cut-off date.
The Bill in the regard was approved by the Lok Sabha on December 9 and the Rajya Sabha on December 11.
The President gave his assent to the Bill on December 12 after which it became an Act.
https://www.ndtv.com/india-news/dont-believe-propaganda-mukhtar-abbas-naqvi-to-muslims-amid-protests-2149859
------
Christians urge government to reconsider amended citizenship laws
December 16, 2019
Matters India
New Delhi, Dec 16, 2019: Christians have joined social and political groups in India to plead the government to reconsider recently amended laws on citizenship in the country.
A statement from the Evangelical Fellowship of India (EFI) said the Protestant group shared the nation's concern of the terrifying impact of the enactment of amendments to citizenship law that threatens to radically change the status of a large number of Indians.
The fellowship said the protests by students in many universities indicate the great worries among the people. Students, it added, are the antenna and the conscience of the people, and future decision-makers.
Unrest over the police crackdown in Delhi's Jamia Miiia Islamia rippled through the country on December 16 with demonstrations in several campuses, including in Hyderabad, Lucknow, Mumbai and Kolkata.
Hundreds of students took to the streets demanding a probe into the usage of teargas inside the Jamia library as well as police entering the campus without permission from the varsity authorities.
Several Delhi University students boycotted exams to express their solidarity. They later gathered at the India Gate.
Sources said students from the English department of the Delhi University had written to their professors on December 15 night to postpone exams owing to the situation in Jamia but their request could not be considered since it was late.
At ground zero of the student movement, a group of Jamia students stood shirtless in the bone-chilling cold of a Delhi morning to protest the action against their colleagues the previous day.
In Lucknow's Nadwa College, students gathered in the hundreds shouting slogans like "Awaz do, hum ek hain" (Give the call, we are all united) as police tried to control the situation.
In Hyderabad's Maulana Azad Urdu University, students held a protest march past midnight in solidarity with the Jamia students and demanded that their exams be postponed.
There were angry demonstrations at the Banaras Hindu University (BHU) in Varanasi and at the Jadavpur University in Kolkata with demands that the government take action against police "hooliganism".
Students from the Tata Insitute of Social Sciences in Mumbai also protested on the streets shouting slogans such as "Shame on Delhi police".
The first to join the protest against the violence in Jamia were students from the Aligarh University University where students clashed with the police late night on December 15.
After the protest, the administration announced closure of the university till January 5 and students have been asked to evacuate the hostels.
The students of Jawaharlal Nehru University also joined their compatriots in Jamia outside the police headquarters at Delhi's ITO on December 15 night to protest the alleged police assault on students at the Jamia campus earlier in the day.
EFI general secretary Reverend Vijayesh Lal's statement on December 16 expressed concern at the rapid passing of laws and on their cumulative impact on the country.
"The dangerous experiment of the National Register of Citizens (NRC) in Assam, and the government's assurance that illegal migrants would be pardoned and given citizenship if they belonged to religions other than Islam exposes the motives and the political agenda," the statement said.
The breaking of covenants that the Constitution and founding fathers of the nation had made with the people, began with Kashmir, took the course of the NRC and the Citizens Amendment Act (CAA), it added.
"And now we have the threats to do away with the two seats reserved for Anglo-Indians in Parliament and Legislative Assemblies. These have roused fears among all Minorities, Tribals, and Dalits on their future welfare and status as full citizens," Reverend Lal said.
While the prime minister and the home minister keep on assuring that the citizens need not fear; the pronouncements of political leadership and their frontal organizations, on the contrary, aggravate the fears, the Church leader said.
The Church statement finds the NRC and CAA unnecessary laws. "They seem to have been rushed through to take away the focus from the burning issues of the day which remain education, the price of domestic consumer goods, food and above all massive and increasing rural and urban unemployment," Reverend Lal said.
The government needs to focus immediately on restoring peace, reassuring people and taking urgent steps to stabilize the economy, reduce prices and revive employment, he added.
He also said his Church's congregations will pray for the nation as Christmas and New Year approaches.
A C Michael, former member of the Delhi Minorities Commission and national coordinator of the United Christian Forum, says any discrimination on the basis of religion should be opposed. "Moreover, if a law is being enacted particularly excluding a religious group, it should be opposed," he asserted on December 16.
He also said the Christian national bodies such as the Catholic Bishops' Conference of India, All India Catholic Union and National Christian Council of India are in the Supreme Court of India challenging the Presidential Order 1950 which denies SC status to Dalit Muslims and Christians on the basis of religion.
"Just as this is unconstitutional…the Citizenship Amendment Act (CAA) too is unconstitutional," says Michael who is a member of the Indian unit of Association Defending Freedom.
According to many Muslims are being persecuted in their countries for speaking against their government and facing arrest and violent attacks from certain extremist groups. "This is similar to what a few Catholics like Jesuit priests and nuns of Mother Teresa's Congregation are facing in our country. Why should they be treated differently on the basis of their religion?" he asked.
Meanwhile, a group of Indian law students in the Netherlands faulted the government for amending the citizenship act and the violent ways used to suppress peaceful protests.
http://mattersindia.com/2019/12/christians-urge-government-to-reconsider-amended-citizenship-laws/
------
Jamia ground report: Police entered mosque, beat up imam and me, claims former armyman
December 17, 2019
As India continues to seethe over the violence in Delhi's Jamia Milia Islamia University on Sunday evening, eyewitnesses have now attested to the brutal crackdown of the Delhi Police on Jamia students.
India Today Group Consulting Editor Rajdeep Sardesai visited the Jamia campus and surrounding areas and spoke to those who witnessed the troubling incidents of Sunday.
Many Jamia students who gathered on Monday in the university to protest the actions of the Delhi Police, held that policemen entered the campus forcibly and fired at innocent bystanders -- students who were studying in the university library and were not part of the protest or agitation outside as previously claimed.
The testimonies from those present in Jamia on Sunday, suggest that the police targetted individuals indiscriminately, even entering the mosque on campus and hurting a local cleric.
'We were simply studying in the library'
Recounting the police attack in the university library, videos of which have now gone viral on social media, one Jamia student said, "There were 50-60 students in the library. When the police started lobbing teargas towards the library, the students came upstairs and roughly 15 mins later, the police entered the campus by force. They broke the doors of the library and started shelling tear gas."
Showing his bandaged and bloodied knee and arms, the student said he was lucky enough to escape a head injury.
He said that the students in the library were not part of any protest.
Another student said Delhi Police pulled women in the library by their hair and thrashed them.
He also alleged that his uncle, a security guard in Jamia was beaten up the police when he tried to save a local imam.
The Delhi Police has claimed that Sunday's crackdown was in response to arson and stone-pelting by protestors who entered the Jamia campus. Many police officers were also injured in the clash.
When the Jamia students were asked who was responsible for pelting stones at the police officers, they said any pelting that happened was done in "self-defense" but only by outsiders.
Another eyewitness, Talib, who was in the university when the violence broke out that before the police entered the Jamia campus, there was no provocation from the students.
"I was here yesterday afternoon, the students were simply studying. There was no sloganeering and stone pelting before the police entered. The police were chasing some protestors who were outside and without any provocation entered the campus," Talib said.
"They [Delhi Police] manhandled campus security. They entered the library and lobbed teargas shells. When the students tried to hide under desks, the police hit them with those desks," he added.
Disagreeing with the Delhi Police's version, Talib said that no outside protestor entered the Jamia campus as the university gates had been locked from inside.
Police beat imam, army man
Another harrowing account from Sunday is of one Mohammad Irshad Khan, a guard in the Jamia campus and a former army man.
Khan said that he was guarding the gate of the Jamia campus when police entered the premise and headed towards the local mosque.
"I was giving duty on the gate when the police entered and headed for the mosque. The imam (cleric) was in the mosque. I tried to appeal to the police to not enter the mosque and leave the imam," he said.
"The police caught hold of the imam and when I tried to free him, I was abused and they kept beating me as they dragged me from the mosque to the ground," Khan added.
https://www.indiatoday.in/india/story/jamia-ground-report-police-entered-mosque-beat-up-imam-and-me-claims-former-armyman-1628843-2019-12-17
------
RBI kept out Muslim long-term visa holders from property-buying right
Manojit Saha
DECEMBER 16, 2019
With the controversial Citizenship Amendment Act (CAA) coming into force, the spotlight is now on a Reserve Bank of India (RBI) circular issued back in March 2018 that allowed the now beneficiaries of the Act to buy immovable property.
The RBI notification, under the Foreign Exchange Management (Acquisition and Transfer of Immovable Property in India) Regulations, 2018, issued on March 26, 2018, said, "A person being a citizen of Afghanistan, Bangladesh or Pakistan, belonging to minority communities in those countries, namely, Hindus, Sikhs, Buddhists, Jains, Parsis and Christians, who is residing in India and has been granted a Long Term Visa (LTV) by the Central government may purchase only one residential immovable property in India as dwelling unit for self-occupation and only one immovable property for carrying out self-employment."
The CAA talks about granting citizenship to persecuted minorities, the same minorities that the RBI guidelines talked about, and from the same countries — Afghanistan, Bangladesh and Pakistan.
Since these guidelines were issued, under the foreign exchange management regulations, these were issued after consultation with the government.
Central banking sources said when the circular was issued by the RBI, the NRC or CAB (Citizenship Amendment Bill) were "nowhere on the horizon."
"The government had asked what it should do with those who had been residing in the country for a long time. So, it was agreed to allow them to buy property for residing and land for making a living," said a source. The source added the RBI was not aware of the government's intention, if any, nor was it discussed or asked.
"The issue of citizenship comes under the domain of the Home Ministry and these issues are not discussed with the central bank," the source said.
An email sent to the RBI for its comment on the issue remained unanswered till the time of going to the press.
In November 2018, the RBI allowed citizens of Bangladesh or Pakistan, belonging to the same set of minority communities in those countries, who were residing in India and had applied for a LTV to open one NRO Account.
"[NRO Account] will be opened for a period of six months and may be renewed at six-monthly intervals subject to the condition that the individual holds a valid visa and valid residential permit," the RBI norms said.
Last week, the Citizenship (Amendment) Bill or CAB, which grants Indian citizenship to the persecuted non-Muslims of Afghanistan, Pakistan and Bangladesh, was passed by the Rajya Sabha (the Lok Sabha passed it earlier) and has received President's assent. Widespread protests broke out across the country against the Act with the opposition parties terming the new law as unconstitutional.
https://www.thehindu.com/business/Industry/rbi-kept-out-muslim-long-term-visa-holders-from-property-buying-right/article30323249.ece
------
Muslim lawyers' body urges SC to declare citizenship law as 'unconstitutional'
Dec 16, 2019
NEW DELHI: An association of Muslim advocates on Monday approached the Supreme Court challenging the Citizenship (Amendment) Act, 2019, and seeking to declare the new law as "unconstitutional."
"The Act violates Articles 14, 21 and 25 of the Constitution, as well as the Constitution's basic structure," said the Muslim Advocates Association (MAA) in its plea.
The Citizenship (Amendment) Act, 2019 seeks to grant Indian citizenship to refugees from Hindu, Christian, Sikh, Buddhist and Parsi communities fleeing religious persecution from Pakistan, Afghanistan, and Bangladesh and who entered India on or before December 31, 2014.
The Bill smoothly sailed through Parliament after the Rajya Sabha passed it on December 11. As many as 125 members of the Upper House voted in favour of the Bill while 105 MPs voted against the Bill.
Home minister Amit Shah has said the CAA will give a new ray of hope to non-Muslims, who migrated to India due to religious persecution in Pakistan, Afghanistan and Bangladesh.
Prime Minister Narendra Modi has termed the passage of the Bill as 'a landmark day' in the history of India. However, Congress president Sonia Gandhi has termed the enactment of the new law as the 'victory of bigoted forces.'
https://timesofindia.indiatimes.com/india/muslim-lawyers-body-urges-sc-to-declare-citizenship-law-as-unconstitutional/articleshow/72775601.cms
------
RSS leader, 3 others booked for making school children enact Babri Masjid demolition
December 17, 2019
Nagarjun Dwarakanath
The police in Karnataka have registered an FIR against four governing council members of a school that made its students enact the demolition of Ayodhya's Babri Masjid on stage as part of a cultural event.
The school, Shri Rama Vidya Kendra, is run by an RSS leader. The police have so far booked members of the school's governing body.
The case is from Dakshina Kannada's Bantwal area. On Sunday, the school made students participating in a play bring down a huge poster of the Babri Masjid in what was seen as enactment of the demolition of the mosque on December 6, 1992.
Videos of this scene have gone viral on social media. In it one can see more than a hundred students rushing towards the poster and bringing it down while an announcer raises slogans like 'Bolo Shri Rama Chandra ki', 'Bolo Bharat Mata Ki' and 'Bolo Bajranga Bali ki'. To this, students respond saying 'jai' as they bring down the poster.
This function was attended by Union minister Sadananda Gowda and Puducherry Lt Governor Kiran Bedi, news agency ANI said in a report.
The people who have been booked are identified as: Kalladka Prabhakar Bhat, Narayan Somayyaji, Vasanth Madhav and Chinnappa Kotiyan. They have been booked for commuting a deliberate and malicious act intended to outrage religious feelings and uttering words with deliberate intent to wound the religious feelings of a person. The case has been registered by Bantwal town police.
https://www.indiatoday.in/india/story/4-booked-in-rss-school-that-made-students-enact-babri-masjid-demolition-on-stage-1628942-2019-12-17
------
As Bollywood remains silent, Hollywood star John Cusack extends support to Muslim students
Monday Dec 16 2019
As people took to social media to question the silence of Bollywood actors over the Indian police crackdown against Jamia Milia Islamia University in New Delhi, a Hollywood star has come out in support of the students.
John Cusack, the actor known for his role in blockbuster apocalyptic movie 2012, sent out a string of tweets condemning the violence perpetrated by the Indian police.
"Fascists in India trying to set students against each other -To cover for economic collapse of demonetization but they are standing together in solidarity with their Muslim brothers & sisters - This is fascism everywhere- them or us," he wrote.
"Reports from Delhi are it was a war zone last night--Fascism is not a joke--we use the word with the understanding it's deadly," the actor said in another tweet.
He also shared a video of the attack and many quotes from human rights activist and renowned author Arundhati Roy on the situation.
He said the current situation has pushed Indian economy into ICU, chaos and civil war.
https://www.geo.tv/latest/262205-as-bollywood-remains-silent-hollywood-star-john-cusack-extends-support-to-muslim-students
------
#JamiaProtest: Vicky Kaushal, Parineeti Chopra, Anurag Kashyap, Taapsee Pannu stand by Jamia Millia Islamia University students
Dec 17, 2019
The area around Jamia Millia Islamia in southeast Delhi turned into a virtual war zone on Sunday evening when protests against the Citizens Amendment Act led to violent clashes with police that left more than 70 people, including cops, injured, and at least four buses and two motorcycles burnt.
As videos from Sunday's violence inside Jamia were circulated widely on social media, several Bollywood celebrities like Swara Bhasker, 'Article 15' director Anubhav Sinha, 'Badla' actress Taapsee Pannu and Richa Chadha took to Twitter to raise their voices against the police violence.
Actors like Anurag Kashyap, Taapsee Pannu, Konkona Sensharma, Sudhir Mishra, Sayani Gupta, Richa Chadha, Bhumi Pednekar, Rajkummar Rao, Tapsee Pannu were the few who supported the students. Here we list down celebs who stood by Jamia Millia Islamia University students.
https://timesofindia.indiatimes.com/entertainment/hindi/bollywood/news/jamiaprotest-vicky-kaushal-parineeti-chopra-anurag-kashyap-taapsee-pannu-stand-by-jamia-millia-islamia-university-students/articleshow/72822175.cms
------
Jamia violence: Delhi Police arrest 10 people, none students
Dec 17, 2019
NEW DELHI: Delhi Police have arrested 10 people for the riot and arson during the protest outside the Jamia Millia Islamia University on Sunday.
A senior police officer clarified that none of the arrested were students.
All the arrested men have criminal background and they were caught from the Jamia Nagar and Shaheen Bagh areas.
Police sources say that a night-long raid was conducted on Monday during which these men were arrested on the basis of videos circulated during the anti-CAA protests.
Efforts are being made to track down members of some of the WhatsApp groups who had organised rioting and arson during the protests.
https://timesofindia.indiatimes.com/city/delhi/jamia-millia-islamia-violence-delhi-police-arrest-10-people-for-riot-arson/articleshow/72814834.cms
------
Europe
Jews, Muslims, Christians: Rabbi explains differences and common ground
Dec 16, 2019
By Jonathan Miller | Rabbi Emeritus at Temple Emanu-el in Birmingham
These days, when non-Jewish people find out that I am a rabbi, they often refer to ancestory.com or 123 and me. They say, "I discovered that I am X % Jewish and I have an ancestor some place in my genetic history which identifies me as X % Jewish."
I smile. Many Jews may have some genes in common, but there is not a Jewish gene. Or, someone might say to me, "I am Jewish, but I celebrate Christmas and believe that Jesus is the Messiah and my savior."
I smile, too. A person who believes in Jesus is a Christian and not a Jew. Or someone else might say to me, "I admire the State of Israel. You must be so proud that this is your country." I smile again. I am proud of Israel and her accomplishments, but I am an American citizen and America is my country. The question of Jewish identity can be confusing and defies simple definition.
It is easy to define a Christian. A Christian is someone who believes that Jesus is the son of God and the one who saves the believer from sin. It is easy to define a Muslim. A Muslim is someone who believes that God spoke through the Prophet Mohammed and revealed the Koran as God's holy word.
But what about us Jews? How should we define ourselves and be defined by others?
This question is particularly pressing these days. Anti-Semitism and violence against individual Jews and Jewish institutions are tragically on the rise. Just this past week, shooters attacked a kosher supermarket in Jersey City, New Jersey killing four Jewish shoppers and one police officer. That same day, President Trump signed an executive order protecting Jewish students on the college campus against intimidation and discrimination. White nationalists and nativists depict Jews as corrosive outsiders, and leftist activists exclude Jews from their ranks unless they disavow the State of Israel. Everywhere in the world today, it is increasingly dangerous and lonely to be identified as a Jew. And those who exhibit antipathy to Judaism, Jews and Israel are often confused when they are confronted with the charge of anti-Semitism.
So here is my primer to explain the difficult-to-explain aspects of Jewish identity.
We Jews have a religion, of course. Judaism is the world's first mono-theistic religion. Abraham was our immediate ancestor. Judaism brought the ideas of the Sabbath, universal human dignity, and a divine moral order to the consciousness of human beings. The great religions of Christianity and Islam are based on the religious themes first expressed in Judaism. They are my religion's proud legacy.
Jews also have common ancestry, found first during antiquity in the land of Israel and then throughout our worldwide diaspora. Jews have lived in Poland and looked Polish. Jews have lived in Africa and looked African. Jews have come from different cultures around the world to the United States and the modern state of Israel with our different foods, languages and religious customs—but we are all Jews united in a common ethnic fabric.
And for the first time in 2000 years, Jews gave birth to a nation state in 1948 in our ancestral homeland in the middle east. The state of Israel, reborn after millennia of exile is the Jewish nation and is home to less than half of the world's Jewish population.
Back to my question of anti-Jewish hatred. Anti-Jewish hatred can be expressed in many ways. Throughout history, Judaism, its ideas and practice, has been denigrated by other religions and in this modern time, by the non-religious too. Racists claim that Jews have racial and ethnic deficits in our genetic makeup and feel threatened that we will somehow infest them with these traits. People across the globe question the validity of the Jewish State of Israel. After more than 71 years of existence, no other established country in the community of nations must argue to legitimize its very existence.
So now to the question: What constitutes anti-Semitism? Any attack on one of these threads of our definition is anti-Semitism. An attack on the ideas of Judaism, the ethnic background of my people or the existence of the Jewish nation state is anti-Semitism. One cannot simply say that he abhors the Jewish religion but is not an anti-Semite because she supports the State of Israel. One cannot revile Jews, but still claim to love the Jewish religious concepts and ideas that Jews have given life and breath to religious tradition. One cannot attack the State of Israel's existence and still claim to love Jewish people.
We live in dangerous times. Violence and hatred against Jews, Judaism and Israel is rising precipitously. The phenomenon is complex and has many tentacles. But if we can understand the complex nature of Jewishness, we can understand that the hatred of Jewishness can take many forms, and we can be better equipped to expose and defeat this age-old hatred.
https://www.al.com/opinion/2019/12/jews-muslims-christians-rabbi-explains-differences-and-common-ground.html
------
'Extremist books promoting ISIS' removed from Islamic school in Birmingham
ByCarl Jackson
16 DEC 2019
An Islamic school has removed 'extremist' books from its library which promoted ISIS and warned against befriending Jews and Christians.
The texts were initially discovered at Jamia Islamia Birmingham at Fallows Road, Sparkbrook, in June during a visit by Ofsted inspectors who delivered a scathing verdict of the independent boys school and lowered its rating from 'Requires Improvement' to 'Inadequate' across the board.
The watchdog's subsequent report described the nature of the books which they deemed to be 'actively undermining fundamental British values'.
It said: "The school library contains books that promote extremist views and support for an Islamic State. For example, a series of aims set out in one book includes 'To help the Taliban government in the accomplishment of enforcement of Shari'ah in Afghanistan' and 'To struggle for the creation of Islamic states in which the Islamic canons will enforced practically [sic]'.
"On the front page of this book are the words 'Don't make the Jews and the Christians your friends'. Other books contain misogynistic messages and condone physical punishment. For example, one book states that '…within limits one may use the cane to the necessary extent' when punishing a child."
School leaders claimed they were unaware of the materials even though they were stamped with the school's name, Ofsted said.
But the regulator has now confirmed the books have been removed after publishing their report from a follow-up inspection in November.
They said: "Leaders have been swift to address the previous concerns at the last inspection in relation to inappropriate materials in the school library.
"The library has been thoroughly checked, and all inappropriate material has been removed. Leaders have introduced a library policy which sets out what should and should not be kept in the school library."
They also confirmed that a programme of pupil events had been planned featuring speakers from different faiths including Hindu and Christian leaders. The books were not the only major concern highlighted in June.
Ofsted criticised 'filthy' and 'damp' school premises, the 'dangerous' school playground 'strewn with debris and rodent traps' and the fact that pupils with special educational needs and disabilities (SEND) were excluded - in breach of the Equality Act - because the school claimed it was 'unable to cater' for them.
Further problems highlighted included attendance, behaviour, the 'narrow' curriculum, quality of teaching and the fact that pupils were not allowed to leave the buildings during the day and had to sit on the hall floor during lunch without any activities.
But the watchdog identified numerous improvements during the most recent inspection, even though they concluded that Jamia Islamia was still not meeting all of the independent school standards required. Inspectors noted that the timetable had been changed, subjects on offer had been increased while teachers were receiving extra training.
https://www.birminghammail.co.uk/news/midlands-news/extremist-books-promoting-isis-removed-17428994
------
Tory politician makes history as the first openly gay Muslim MP to be elected in the world
EMMA POWYS MAURICE
DECEMBER 16, 2019
The world's first openly gay Muslim MP has been elected as part of Boris Johnson's new government.
Imran Ahmad-Khan made history when he was elected as MP for Wakefield in Yorkshire on Friday, having beaten the incumbent MP by 3,358 votes. His election marks the first time that the constituency has voted for a Conservative politician since 1931.
The gay Muslim MP is now among 24 Tories who identify as LGBT+, the most out of any party. Labour has 18 and the SNP has 10, one of whom was deselected before the election day.
LGBT+ people now make up 8 per cent of the 650 MPs, a record for the UK. And it means that with a total of 52 out LGBT+ MPs, Westminster has become the gayest parliament in the world.
Khan is also the first Ahmadi ever to be elected to British parliament, as he belongs to the community of Ahmadiyya Muslims, a messianic movement originating in the Punjab.
He is a strong advocate for Brexit and attributed his success to "Islington Remainers" who had branded Leave voters "stupid, uneducated, racist or wrong".
"I think [the people of Wakefield] are tired of politicians telling them what to think," he said in an interview with Channel 4 after the election.
"There are a lot of daughters, husbands, wives, children of coal miners that were very, very annoyed that they had been told by Islington Remainers and others… they were told when they didn't agree with those people, that they were either uneducated, stupid, racist or wrong, and there was a massive rejection of this."
When asked how the Conservative party would keep these former Labour voters on board, Khan said he hoped the party would "reorient itself" to become a party that provides first-class health and education services.
He denied that the Conservatives have been responsible for cutting these services. When corrected on this, he replied, "Well actually it doesn't [happen to be true].
"In Wakefield, the people here are canny enough and they don't need people talking down to them from Islington or elsewhere."
The facts show that a decade of Tory austerity has seen spending on welfare benefits shrink by nearly a quarter, with significant cuts to services across the board – including health and education – in Wakefield and elsewhere.
https://www.pinknews.co.uk/2019/12/16/first-openly-gay-muslim-mp-tory-imrad-ahmad-khan-wakefield/?utm_source=feedburner&utm_medium=feed&utm_campaign=Feed%3A+Pinknews+%28Pink+News%29
------
How Germany became a classical music mecca
Goethe, Schiller, Kant and Schopenhauer have contributed to Germany's international reputation as a "country of poets and thinkers." Similarly, composers such as Bach, Haydn, Beethoven and Brahms have given their homeland a reputation of musical genius.
Among them, Ludwig van Beethoven is arguably the world's most famous classical composer. For his 250th anniversary in 2020, orchestras around the world, and particularly in Germany, will be performing his works across the country — and especially in his birthplace, Bonn.
Germany is a mecca for classical music thanks to its high density of orchestras, theaters and choirs that are also well-supported by the public sector.
"The further away I am from Germany, the more I feel the admiration for the country," says Christian Höppner, general secretary of the German Music Council. "In Brazil, for example, the perception that Germany is a 'land of music' is way stronger than in neighboring countries."
As the umbrella organization for musical life in Germany, the German Music Council represents the interests of around 14 million musicians.
Unique orchestral landscape
According to statistics from the German Orchestra Association, in 2018 there were 129 publicly-funded orchestras across the country, with around 10,000 members. Orchestras such as the Berliner Philharmoniker, the Sächsische Staatskapelle Dresden or the Gewandhausorchester Leipzig are among the best in the world.
Meanwhile, renowned chamber orchestras and special ensembles for old and new music — such as the Kammerphilharmonie Bremen, Concerto Köln or the Ensemble Modern, as well as youth ensembles such as the Federal Youth Orchestra (top picture), the State Youth Orchestra or the Junge Deutsche Philharmonie — are not even included in the figures.
A record-breaker in terms of opera companies
Germany is also a world leader when it comes to music theater: The country has more than 80 permanent opera companies, almost as many as the rest of the world combined.
Most of the approximately 560 opera houses worldwide operate according to the so-called stagione system, which means that they do not have their own permanent ensembles but rather hire singers or entire productions for a certain time period.
Critics often ask whether Germany needs so many subsidized orchestras and opera houses. But for Christina Höppner, "there can never be enough." The head of the German Music Council advocates cultural diversity, in which every orchestra and every theater is unique.
While Höppner agrees that there should be transparency about concert house attendances, he does not believe in designing programs based solely on sales figures and public demand.
"We want to generate demand and arouse the public's curiosity for the unknown," he said, "which I also see as an important task of those cultural institutions."
Strong support from the state
Achieving this cultural diversity demands financial support. Germany's public sector subsidizes culture more than any other country in the world. In 2019, over €10 billion ($11 billion) went to support cultural institutions, including over €3 billion in music and musical theater alone.
The federal government's cultural budget was €1.6 billion in 2019, but this is only around 15% of total cultural funding, the rest coming from Germany's municipalities and federal states. Almost 50% of the public grants are paid by local governments. In addition, there is money from the EU and the private sector, including individuals and foundations.
In the US, the cultural sector is almost entirely privately funded. In the UK there is a basic public service that covers about 30-50% of the sum invested in culture.
"For us, education and culture are public services and are therefore largely publicly financed," explains Höppner of German cultural funding. "Private funds are always connected with interests," he adds, pointing out that wealthy donors in the US often have their say in programs. In Germany, parliaments control the funding but not the content.
A diverse scene of music festivals
Another special feature of the German music scene is its many festivals. In just three decades, from 1980 to 2010, the number of music festivals almost quadrupled, according to the German Music Information Center (MIZ) in Bonn. There are currently over 500 festivals in Germany.
Almost a third of all classical music festivals focus on so-called serious music, ranging from festivals for contemporary music such as the Donaueschingen Festival that was founded in 1921, to the renowned Ruhr Piano Festival, or the Spannungen chamber music festival in Heimbach in the Eifel region.
Forty events are devoted to music theater across Germany — from the large-scale Munich Opera Festival or the Ruhrtriennale, to the exotic Rossini Festival, which is dedicated to bel canto in Bad Wildbad in the Black Forest.
Visitors from all over the world
Traditional and new festivals are enjoying increasing popularity: 73,000 visitors from Europe and overseas came to Leipzig for the Bach Festivalin 2019. The legendary Bayreuth Festival, dedicated to Richard Wagner, is attended by over 62,000 people every year — many Wagner fans have to wait years before they finally get a ticket to the event. The Rheingau Music Festivaland the Schleswig-Holstein Music Festival are among the most important and most popular classical music festivals in northern Germany.
For Ludwig van Beethoven's 250th anniversary, the Bonn Beethovenfest will take place twice in 2020, in the spring and the fall. The specially founded Beethoven anniversary company, BTHVN2020, supports 250 projects across the country and is managing a budget of €30 million.
The Germans, a nation of music-lovers?
The Germans love classical music, according to statistics: Of the almost 83 million inhabitants, around 14 million people play an instrument or sing in a choir. One or more instruments are played in every sixth German household.
The queues at music schools and daycare centers with a musical focus are long, says Höppner. According to the Association of German Music Schools, there are almost 1,000 public music schools across the country, attended by almost 1.5 million children and teenagers.
And Germans generally enjoy listening to music. According to the German Music Council, 33% of Germans like classical music. In comparison, according to surveys, that only applies to 10 to 17% of the population in the US, and about 15% in the UK. Only Russia and Japan have a comparable proportion of classical music lovers as in Germany.
https://www.dw.com/en/how-germany-became-a-classical-music-mecca/a-51660889
------
Muslim candidate says her cousin is thinking of leaving UK after Boris victory
Basit Mahmood
Monday 16 Dec 2019
A former Labour candidate says that after Boris Johnson's election win, one of her own relatives is among people who are considering leaving the UK over fears at the 'normalisation of racism'. Faiza Shaheen was a parliamentary candidate in the constituency of Chingford and Woodford Green, where she was hoping to unseat the former Secretary of State for Work and Pensions Iain Duncan-Smith. After the election loss, Ms Shaheen says that she has had 'five different families discuss their UK exit plan with me in case racism gets worse'. She added that it was 'frightening that this is where we are'. Ms Shaheed told Metro.co.uk: 'I've been in touch with my cousin, who has spoken about putting some money aside in case it gets really bad, it's been the dominant conversation.' Boris Johnson has been accused of Islamophobia over comments he made in the Telegraph last year for comparing Muslim women to 'letterboxes and bank robbers'. The prime minister says his words were taken out of context and he was defending the right of Muslim women to wear what they like.
He has also been criticised over his handling of Islamophobic incidents in the party, in which members who shared far-right posts and referred to Muslims as scum, were not immediately suspended, with others allowed back into the party. Although Mr Johnson has apologised for Islamophobia in the party, calling it 'intolerable' and pledging to hold an independent inquiry into all forms of prejudice, Ms Shaheen says many fear for their safety. She said that it was not just Muslims but also people from other ethnic minority backgrounds who are also considering leaving the UK. Ms Shaheen added that one of her Mauritian friends was also concerned about the future of her children, given the now 'toxic atmosphere'.
The former Labour candidate, who is a Muslim herself, said she thought the prime minister is 'Islamophobic' but that there was a perceived hierarchy when it came to racism and that 'racism against black and Muslim people, was further down that list'. It comes after Metro.co.uk revealed that a number of British Muslims said they were planning to leave the country over fears regarding Islamophobia. She added: 'What I really struggled with on the doorstep, was when people said they can't vote for Labour because of anti-Semitism, and cases have been badly handed, but when people said "I'm voting for Iain Duncan Smith" and I said what about Islamophobia, it was perceived as not really a thing'. Ms Shaheen also recalled an incident at her local polling station on election day in which she was called a 'terrorist' and had to ask for police to be called. Asked if she thought Islamophobia had played a part in helping the government win votes, Ms Shaheen said 'it probably did help him', as there are 'certain demographics' who would've supported such a position. She added: 'There is no one on our side in government'.
https://metro.co.uk/2019/12/16/muslim-candidate-says-cousin-thinking-leaving-uk-boris-victory-11915218/
------
UK PM Johnson to welcome new lawmakers, get Brexit rolling
Dec 17, 2019
LONDON: British Prime Minister Boris Johnson is ready to give a pep talk Monday to a new group of Conservative Party lawmakers as he begins his push to secure parliamentary approval for his Brexit deal. Johnson will welcome 109 newly elected colleagues, many of them coming from parts of the country that were once strongholds of the opposition Labour Party.
Buoyed by the Conservatives' decisive win in last week's election, Johnson will move fast to deliver on his campaign mantra to "get Brexit done."
That means ensuring a Brexit withdrawal agreement bill is passed in time for the UK to complete its historic departure from the European Union by the current deadline of January 31.
Johnson spokesman James Slack said the government will introduce the EU withdrawal bill on Friday.
It will be up to the speaker of the House of Commons to determine if Parliament will hold its first major vote on the bill that same day or will wait until January after the Christmas recess.
The Brexit divorce bill is expected to receive strong support in Parliament, where Johnson's Conservatives hold a strong majority.
The party won 365 of the 650 seats in the House of Commons in Thursday's landslide election.
If the bill passes and Britain leaves the EU on time, the country will enter a transition period when EU rules and regulations would still apply in the country and people and goods would still be able to pass freely between the U.K. and the remaining EU members.
Negotiators for the British government and the EU would start trade talks with an eye toward reaching a comprehensive post-Brexit agreement.
Queen Elizabeth II will formally open Parliament on Thursday with a speech outlining the government's legislative program.
The pomp and ceremony surrounding the queen's speech will be less lavish than usual because she last formally opened Parliament just two months ago for a session cut short by the vote to hold an early election.
New lawmakers took to Twitter to chronicle their first day at work.
The new representative for Bury in northwest England, Christian Wakeford, tweeted: "Reality with a bump, 5:33 train down to #Westminster not a morning person at all but couldn't be happier to be on this train."
Newcastle-under-Lyme lawmaker Aaron Bell shared an image of himself smiling in front of the Palace of Westminster: "Good morning Newcastle. A new dawn has broken, has it not?"
There was no such giddiness on the Labour side, which saw its worst result since 1935 in the vote Thursday, winning only 203 seats.
The party is gearing up for a bruising leadership contest, which is expected to formally begin in early January.
The goal is to have a replacement for leader Jeremy Corbyn in place by the end of March.
Corbyn has apologized for the party's dismal performance and has agreed to step down when a new leader is chosen.
https://timesofindia.indiatimes.com/world/uk/uk-pm-johnson-to-welcome-new-lawmakers-get-brexit-rolling/articleshow/72805757.cms
------
Africa
At least 22 people killed by Islamist rebels in DR Congo
17-Dec-2019
At least 22 people were killed on Saturday in Beni in the eastern region of the Democratic Republic of Congo, according to local officials.
Among the victims were farmers and 13 women, AFP reported quoting a regional civil society president, Noella Katsongerwaki.
Beni region administrator Donat Kibwana, who spoke to AFP, accused the Allied Democratic Forces (ADF), a rebel group of Ugandan origin active in the eastern part of the DR Congo since the mid-1990s, of perpetrating the attack.
Kibwana said that teams were mobilized to recover the bodies and return them for dignified funerals.
Several armed groups operate in the eastern region, however, recent attacks have been blamed on the ADF.
The Congo Research Group (CRG) estimates that the ADF has killed more than 1,000 civilians since October 2014.
In late November, the United Nations mission in the Democratic Republic of the Congo (MONUSCO) reported that 19 people were killed by the ADF in Maliki, North West of the village of Oicha.
The most recent killings have sparked off protests against the United Nations' peacekeeping mission and Congolese authorities over their perceived failure to protect civilians.
The violence has not only posed a challenge in the fight against Ebola in the DR Congo, but has also created a humanitarian crisis as aid workers are unable to access some affected parts.
https://newsaf.cgtn.com/news/2019-12-17/At-least-22-people-killed-by-Islamist-rebels-in-DR-Congo-MtU06pNpq8/index.html
------
Islamist Rebels Kill 33 People in Ebola-Hit Congolese Region
(Bloomberg) -- Sign up to our Next Africa newsletter and follow Bloomberg Africa on Twitter
Suspected Allied Democratic Forces militants killed at least 33 people in attacks in the Democratic Republic of Congo region of Beni that's the epicenter of an Ebola epidemic, according to civil society groups.
The violence against civilians is in retaliation to the Congolese military stepping up an offensive against the rebels in the eastern region following frequent attacks. The ADF was formed in 1995 in opposition to Ugandan President Yoweri Museveni and is among dozens of militant groups active in the restive area.
"Eleven people, including children, were killed Monday morning while 22 people were killed on Saturday night," Noella Katsongerwaki, president of a group of civil society organizations in Beni, said by phone.
The attacks are expected to complicate Congolese health workers' efforts to reach areas affected by the Ebola outbreak. The disease has killed more than 2,210 people and infected about 3,350 people, according to the World Health Organisation.
https://www.bnnbloomberg.ca/islamist-rebels-kill-33-people-in-ebola-hit-congolese-region-1.1363276
------
Pakistan
Will Pak PM attend Malaysia summit? Saudi may not like it
Dec 17, 2019
ISLAMABAD: Pakistan Prime Minister Imran Khan will soon decide whether to attend the Kuala Lumpur Summit hosted by his Malaysian counterpart Mahathir Mohamad this week, a decision that has not gone down well with Islamabad's close ally Saudi Arabia, according to a media report on Monday.
The Kuala Lumpur Summit from December 19-21 is being seen as an attempt to create a new bloc in the Muslim world that could become an alternative to the dysfunctional Organisation of Islamic Cooperation (OIC) led by the Saudis, the Dawn newspaper reported.
PM Khan's close aide Firdous Ashiq Awan said that the decision of whether he will visit Malaysia or not will be taken "in accordance with the national interest". Khan, who is currently in Bahrain and will later visit Geneva, will return to Pakistan on Wednesday and will then decide if he should visit Malaysia, she told reporters here.
The development comes a day after Khan's return from Saudi Arabia, where he had gone on a one-day visit on Saturday to assuage the reservations of the kingdom about Pakistan's participation in the Kuala Lumpur Summit, among other issues, the report said.
Within days of foreign minister Shah Mehmood Qureshi's visit to Riyadh, PM Imran dashed to the Saudi capital for a meeting with crown prince Mohammed Bin Salman Al Saud.
This was Khan's fourth visit to the kingdom since May but it came in view of the concerns expressed by Saudi Arabia over Pakistan's acceptance of the Kuala Lumpur summit invite, The Express Tribune reported. The paper noted that Khan assured the crown prince that Pakistan will never undermine Saudi interests.
Khan had earlier confirmed his participation in the Kuala Lumpur Summit.
The summit is a brainchild of 94-year-old Malaysian PM Mahathir. The plan for the summit was finalised during a trilateral meeting involving top Turkish President Recep Tayyip Erdogan, Pakistan PM Khan and Malaysian PM Mahathir in September in New York on the sidelines of the United Nations General Assembly session.
The summit is also being attended by leaders of Turkey, Qatar and Iran in addition to hosts Malaysia. Around 450 leaders, scholars, clerics, and thinkers from 52 countries are expected to attend the event. This development has upset the Saudis, who are taking it as a challenge to their dominance in the politics of the Muslim world, the report added.
Oil-rich Saudi Arabia is a key ally of cash-strapped Pakistan. Saudi Arabia was the first country to extend a financial aid package to the government of Khan to deal with the balance of payment crisis. Riyadh is also a key player in helping Pakistan improve its ties with the United States. It is believed that the Saudi crown prince had helped Imran secure the White House invitation in July this year, The Express Tribune reported. pti
https://timesofindia.indiatimes.com/world/pakistan/will-pak-pm-attend-malaysia-summit-saudi-may-not-like-it/articleshow/72805569.cms
------
Pak allows Qatari Emir, other royal members to hunt endangered bird species: report
Dec 17, 2019
ISLAMABAD: Pakistan has issued special permits to the Emir of Qatar and nine others of the royal family to hunt 100 houbara bustards, an endangered bird species, notwithstanding growing criticism in the country against the move, according to a media report on Tuesday.
Originally an inhabitant of the colder central Asian region, the houbara bustard, in order to avoid harsh weather conditions, migrates southwards every year to spend the winter in a relatively warm environment in Pakistan.
Quoting sources, the Dawn News reported that the permits have been issued for the 2019-20 hunting season by the foreign ministry's deputy chief of protocol, Mohammad Adeel Pervaiz.
The permit holders are Qatar Emir Sheikh Tamim bin Hamad bin Khalifa al Thani, his uncle, brother and seven other royal dignitaries of the oil-rich Gulf nation.
The permits are issued every year to members of the royal families of the Gulf countries, despite growing criticism in Pakistan against the hunting of the endangered bird species, the report said.
The allotted hunting areas are spread over Sindh, Balochistan and Punjab provinces. The hunters can hunt 100 houbara bustards in a 10-day safari during the three-month hunting season between November 1, 2019 and January 31, 2020. The permit is person-specific, it said.
In the wake of its dwindling population, the migratory bird is not only protected under various international nature conservation treaties, its hunting is also banned under local wildlife protection laws. Pakistanis are not allowed to hunt this bird.
The hunting of the houbara bustard is used as a foreign policy tool by the Pakistan government, which allows influential nationals of the Arabian Gulf nations to hunt the bird for a price tag of USD 100,000, the Ary News reported.
Last week, seven Qatari nationals, including four members of the royal family, were arrested for attempting to enter Nushki district in Balochistan for hunting the endangered avian species without permission of the Foreign Office.
https://timesofindia.indiatimes.com/world/pakistan/pak-allows-qatari-emir-other-royal-members-to-hunt-endangered-bird-species-report/articleshow/72820911.cms
------
Govt to 'review in detail' special court's verdict against Musharraf: Awan
Sanaullah Khan
December 17, 2019
Special Assistant to the Prime Minister (SAPM) on Information and Broadcasting Firdous Ashiq Awan on Tuesday said the government will "review in detail" a special court's decision to hand former military ruler retired Gen Pervez Musharraf a death sentence in the high treason case against him.
Speaking to reporters in Islamabad she said: "We will review in detail, today's verdict as well as yesterday's," adding that legal experts will analyse all legal and political aspects as well as the impact on national interests, after which a government statement will be presented to the media.
In response to a question about whether the government will bring Musharraf back to Pakistan, Awan said the government will assess the matter with its legal team. She added that she had just found out about the verdict.
Awan added that Prime Minister Imran Khan is returning from a trip tomorrow, after which he will himself look at the "relevant ground realities and legal framework". Following this, a final decision will be taken.
When asked about the government's request to stop the verdict against Musharraf, Awan said she could only comment on this after consulting the legal team.
Meanwhile speaking to reporters, PML-N secretary general Ahsan Iqbal said that for the first time the superiority of the Constitution was taking root in Pakistan.
"With this hopefully in the future, the tradition of breaking the Constitution will end," he said, adding that if this verdict had been given 50 years ago, martial law would never have been imposed in the country and East Pakistan would never have been seperated.
Shortly after the verdict was announced, Pakistan Peoples Party (PPP) chairman Bilawal Bhutto-Zardari tweeted: "Democracy is the best revenge. Jiye Bhutto."
Minister for Science and Technology Fawad Chaudhry said given the need of the time, it is necessary to bring the country together.
"What is the benefit of such verdicts which increase distances and divides and by which the country and institutions are divided?" he tweeted.
"I am constantly saying that there is a need for dialogue. Go towards a new deal. Showing someone as below you, is not in anyone's interest. Have mercy on the country," Chaudhry added.
https://www.dawn.com/news/1522781/govt-to-review-in-detail-special-courts-verdict-against-musharraf-awan
------
PM Imran arrives at UN office in Geneva to co-convene first Global Refugee Forum
Sanaullah Khan
December 17, 2019
Prime Minister Imran Khan arrived at the United Nations Office at Geneva (UNOG) in Switzerland on Tuesday to co-convene the first Global Refugee Forum.
United Nations High Commissioner for Refugees Filippo Grandi received Prime Minister Imran.
The premier arrived in Geneva on Monday ahead of the forum. According to a press release issued by the Prime Minister's Office, the premier is accompanied by Special Assistant to the Prime Minister on Overseas Pakistanis Zulfiqar Bukhari and Foreign Secretary Sohail Mahmood.
Upon his arrival in Geneva, Prime Minister Imran was received by Pakistan's Permanent Representative of Pakistan to the UN in Geneva Ambassador Khalil Hashmi, Pakistan's ambassador to Switzerland Ahmad Naseem Warraich, permanent representative at the Mission of Pakistan to the World Trade Organisation Muhammad Mujtaba Piracha as well representatives of the Swiss government and UN High Commissioner for Refugees (UNHCR).
As per the PM Office press release, the premier will "articulate Pakistan's perspective, experience and contribution to the Afghan refugees" at the forum being jointly hosted by the UNHCR, the UN Refugee Agency and the Swiss government.
"Co-convening of the GRF is recognition of Pakistan's generosity, humanitarian leadership, and compassion of the people of Pakistan towards their Afghan brothers and sisters for the past forty years," the press release added.
Prior to his visit to Geneva, Prime Minister Imran visited Bahrain where he was awarded the country's highest civil award by King Hamad bin Isa Al-Khalifa.
https://www.dawn.com/news/1522772/pm-imran-arrives-at-un-office-in-geneva-to-co-convene-first-global-refugee-forum
------
Ball in parliament's court to provide certainty to army chief's post with new law: SC detailed verdict
Haseeb Bhatti
December 16, 2019
The Supreme Court on Monday released its detailed judgement in the case pertaining to the extension of Army Chief Gen Qamar Javed Bajwa, emphasising that it is now up to the parliament to carry out legislation that will provide "certainty and predictability" to the post of chief of army staff (COAS) for all times to come.
Prime Minister Imran Khan had extended Gen Bajwa's tenure through a notification in August, but the SC had suspended it on November 26 due to irregularities in the manner of extension. After three days of heightened uncertainty, the apex court, through a short order on November 28, had announced that Gen Bajwa would remain the COAS for another six months during which the parliament would legislate on the army chief's extension/reappointment.
Related: Minister hints at seeking review of SC ruling on COAS extension
"We would like to emphasise that this crucial matter of the tenure of COAS and its extension, which has a somewhat chequered history, is before the Parliament, to fix for all times to come," wrote Justice Syed Mansoor Ali Shah, a member of the three-judge bench which heard the case, in the court's 43-page judgement.
"It is now for the people of Pakistan and their chosen representatives in the Parliament to come up with a law that will provide certainty and predictability to the post of COAS, remembering that in strengthening institutions, nations prosper."
Both Justice Mazhar Alam Khan Miankhel and Chief Justice Asif Saeed Khosa agreed with Justice Shah's judgement, with Justice Khosa saying in his additional note that it had been a "shocking revelation" to the bench that the terms and conditions of service of the COAS, the tenure of his office, extension in the tenure of his office or his reappointment to that office "have remained unregulated by any law so far".
The court summarised its findings after exploring the scope of Article 243 of the Constitution — which governs the army chief's appointment, reviewing the Pakistan Army Act, 1952, reviewing the Pakistan Army Act, 1952, the Pakistan Army Act Rules, 1954, and the Army Regulations (Rules). Some of the key points from the findings are:
The Pakistan Army Act, 1952, falls deficient of the structural requirements for raising and maintaining an Army under clause (3) of Article 243 of the Constitution. It does not provide for essential elements required to raise and maintain an Army, particularly the grant of commissions in the Army and the terms of service of the commissioned officers including tenure and extension of a general.
No tenure or age of retirement for the rank of general is provided under the law. As per the institutional practice a general retires on completion of a tenure of three years. Although an institutional practice cannot be a valid substitute of the law required to be made under clause (3) of Article 243 yet in the absence of such law the said practice can be enforced to remove uncertainty as to the tenure of a general and to make the constitutional post of COAS functional. However, in the first instance, the matter should be allowed to be regulated by law, made by the legislature, as mandated by the Constitution.
There is no provision in the law for extending service of a general for another tenure; nor is there any consistent and continuous institutional practice of granting such extension, which could be enforced in absence of the law on the subject.
The summaries of the Ministry of Defence approved by the president, the prime minister and the cabinet for the reappointment, extension and fresh appointment of Gen Bajwa seem to be meaningless and of no consequence, in absence of the law prescribing tenure of a general and providing extension for another tenure.
Regulation 255 of the Army Regulations (Rules), in its original as well as amended form, does not confer authority on the Federal Government to grant extension of another full tenure to a general. This regulation provides for only a temporary arrangement for a short term, if the exigencies of service so require in the public interest.
Regulation 255 and other Regulations of the Army Regulations (Rules) on the subject of "retirement" appear to be ultra vires the Pakistan Army Act, as Section 176 of the Pakistan Army Act has assigned the subject of "retirement" to be regulated under the Rules and not under the Regulations. The Regulations can be made only for the matters other than those which are to be dealt with under the Rules.
Section 176-A of the Pakistan Army Act and the regulations made under it appear to suffer from the excessive delegation of the essential legislative function, as neither that section nor any other section of the Pakistan Army Act provides the essential legislative policy guidelines for making the delegated legislation, viz the regulations, on the subjects mentioned therein.
In view of the assurance of the attorney general given on behalf of the Federal Government to process the legislation for meeting the deficiencies in the Pakistan Army Act, in particular, the tenure, age of retirement and if deemed proper, the extension of tenure of a general, it is appropriate to leave the matter, at the first instance, to be decided by the chosen representatives of the people of Pakistan by making an appropriate legislation.
In view of the legal vacuum regarding tenure and extension of a general and the assurance given by the attorney general to process legislation on the subject within six months, and also considering the importance of the responsibilities of the COAS regarding administration and organisation of the Army, it is appropriate that the incumbent COAS may continue for a period of six months, in order to preserve continuity of the institution.
The SC has clarified, however, that in case the federal government remains unable to regulate the tenure and terms of service of a general and as a consequence of the army chief through an appropriate legislation by the parliament within a period of six months, "the tenure of the constitutional post of COAS could not be left totally unregulated and to continue forever" because "this would be inconceivable and amount to a constitutional absurdity."
In case of such failure of the federal government, the verdict says, the institutional practice of retirement of a general on completion of the tenure of three years "shall stand enforced" to regulate the tenure of Gen Bajwa and consequentially his tenure as COAS, from the date of his promotion to the rank of general and appointment as the army chief, i.e. November 29, 2016.
In that scenario, "the president shall, on advice of the prime minister, appoint a serving general officer as the new COAS", the judgement adds.
The apex court has in its verdict dispelled the impression that the various summaries prepared by the government after the SC pointed out constitutional and legal flaws in the process of reappointment/extension of Gen Bajwa were drafted on the orders or directions of the SC.
"In fact, the court simply highlighted steps taken by the president, the prime minister and the cabinet, without any supporting law and as a consequence they on [their] own tried to rectify the same. The impression generated that the said steps were taken on the desire, orders or directions of the Court is dispelled."
'The law is above you'
Chief Justice Khosa, who is retiring as the top judge later this week, noted in the judgement that in Pakistan's "peculiar historical context", the army chief "holds a powerful position in ways more than one".
"Unbridled power or position, like unstructured discretion, is dangerous," he said.
The chief justice observed that Clause (3) of Article 243 of the Constitution mandates that the president's power to raise and maintain the armed forces is to be "subject to law" and, therefore, "leaving some vital aspects relevant to the office of Chief of the Army Staff without being regulated by any law militates against the said express provision of the Constitution".
"In the backdrop of the last three scores and 12 years of our history I may observe with hope and optimism that framing of a law by the Parliament regulating the terms and conditions of the office of [the army chief] may go a long way in rectifying multiple historical wrongs and in asserting sovereign authority of the chosen representatives of the people besides making exercise of judicial power of the courts all pervasive," he wrote.
Justice Khosa concluded his note by using a quote by former chief justice of England Sir Edward Coke to stress the supremacy of the law, writing: "I understand that [the] democratic maturity of our nation has reached a stage where this court can proclaim that, as declared by Chief Justice Sir Edward Coke of England in the Commendam case in the year 1616 regarding the powers of King James I, 'Howsoever high you may be; the law is above you'."
https://www.dawn.com/news/1522596/ball-in-parliaments-court-to-provide-certainty-to-army-chiefs-post-with-new-law-sc-detailed-verdict
------
Arab World
Startup of the Week: New Saudi app to formalize citizens' saving groups
RUBA OBAID
December 17, 2019
JEDDAH: A rotating savings and credit association (ROSCA) is a financial management and saving tool that is popular in Saudi society and usually operated among friends and family. However, ROSCAs can fail due to their randomness, poor management and lack of commitment.
A ROSCA consists of a group of individuals, usually acting as an informal financial institution in the form of an alternative financial vehicle, which functions via set contributions and withdrawals among its members.
Circlys is a Saudi mobile app that aims to reduce the risk of failure by helping users to easily manage their ROSCAs and to join public ones while ensuring authenticity to prevent fraud.
Circlys gives users the opportunity to take these "saving circles" (ROSCAs) to a more formal level. "Our circles' plans are no different than what people are used to. The only new thing is that you join the circle with strangers; however, they are qualified, and we ensure their ability to be part of the service," Khaled Hassoun, co-founder and CEO of Circlys, told Arab News.
Hassoun said that the app's role was to group people together in public saving circles in a more flexible and protected platform while maintaining customers' confidentiality and privacy.
"Each member is asked to sign promissory notes to insure their payments, these notes could lead someone to a lawsuit if they drop off paying on other members in the circle," Hassoun said.
Members go through an approval process using multiple tools, including the national single sign-on (SSO) system, to make sure that each user can join the circle and that they will not default. "In the case of any defaults, we compensate the loss immediately from our capital, and then we proceed with legal action against the member in question," Hassoun said.
The app opens public circles on a monthly basis for new members to make their reservations based on their needs. There are two types of circles — six months long and ten months long — and a variety of shares ranging from SR500 ($133) to SR3,000 a month.
Members are required to pay subscription fees, which vary according to factors including the amount of money to be received and the month chosen on the rota.
The two-year-old company began opening its public circles to consumers in March 2019. Since then, Circlys has had more than 8,000 different circles and hosted more than 40,000 active users — 98 percent of consumers live in Saudi Arabia.
Hassoun said that their biggest goal for the coming years is to stimulate saving in society.
"We want to play a role to achieve the Saudi Vision 2030 goal to increase household savings from 6 percent to 10 percent of total household income," he said.
Users can also create, manage, and track their own private circles on the app with people they know; members can be easily added from the user's contacts list.
Based in Riyadh, the company has gone through two successful crowdfunding rounds. The biggest one was in September this year, during which the company received SR1.5 million and attracted more than 300 investors.
"We got all kinds of funders from a few thousand riyals to over SR150,000; the amount we needed, which is SR1.5 million, was complete within 26 hours. It is worth 10.36 percent of the company," Hassoun said.
https://www.arabnews.com/node/1599996/saudi-arabia
------
Islamic Movement to hold internal election in January
DECEMBER 16, 2019
By LEON SVERDLOV
The United Arab List (Ra'am) political party that represents the Islamic Movement in the Joint List will hold an internal election on January 10, the party said on Monday.
"The Islamic Movement's Advising committee voted on Sunday in favor of holding a primary election ahead of the general election that will take place in March 2020," the movement said.
"It is yet another step [needed for] the reinforcement of the democratic approach the United Arab List [the Islamic Movement] represents," said UAL's leader MK Mansour Abbas. "We are the only party that has held a primary election during the last three general elections."
MK Abbas has led a feminist reform in the Islamic Movement, first introducing female representatives to Ra'am in 2019.
"The decision to open the door for women [in the Islamic Movement] is a historic step," the first female candidate in Ra'am, Iman Khatib Yassin said in an interview in September.
"It is time that we, the religious Muslim women who wear headscarves, will take our place [in politics] and will be able to influence [policy-making]."
"I will fight for hundreds of thousands of Palestinian women that take part in all of life's struggles except for politics, where they disappear," Khatib-Yassin said in March. "The Israeli society also scorns us, and even the so-called liberals and intellectuals in the Arab society do not see us as equals."
"From now on, the elitists will have to deal with me, too."
"We still have our national agenda and solidarity with the Palestinians in the West Bank and Gaza," Khatib-Yassin said in a Media Line interview in October.
"However, life became so hard for our people that we just had to put it aside for a while, in order to concentrate on our issues."
https://www.jpost.com/Israel-Elections/Islamic-Movement-to-hold-internal-election-in-January-611094
------
Baghdad must 'take actions' after strikes on US interests, says Washington
Dec 17, 2019
BAGHDAD: The United States has called on Baghdad to "take actions" to protect US interests in the country after a flurry of attacks that have been blamed on Iranian-backed groups.
Tehran wields growing influence in Iraq, particularly through armed factions.
Since October 28, ten rocket attacks have targeted areas where US soldiers and diplomats are stationed.
They have not been claimed, but the United States has blamed Iranian-backed Shiite paramilitary groups.
US defence secretary Mark Esper told reporters Monday he had expressed "concern about the optics in attacks on bases in Iraq where US troops and material might be," in a call with outgoing Prime Minister Adel Abdel Mahdi.
The US has "a right of self defence, that we would ask our Iraqi partners to take proactive actions... to get that under control, because it's not good for anybody," he told Abdel Mahdi.
Abdel Mahdi's office released a statement earlier Monday confirming the phone call and asking everyone "to spare no effort to prevent an escalation that will threaten all parties".
"Unilateral decisions will trigger negative reactions that will make it more difficult to control the situation and will threaten Iraq's security, sovereignty and independence," he said.
Esper, speaking on a plane returning from Belgium, where he had attended the 75th anniversary of the Battle of the Bulge, acknowledged Tehran's involvement was difficult to prove.
"My suspicion would be that Iran is behind these attacks, much like they are behind a lot of malign behaviour throughout the region," he said. "But it's hard to pin down."
Abdel Mahdi is a close ally of Iran who also enjoyed cordial relations with the US.
He resigned in early December after the two months of unprecedented demonstrations in the capital and Shiite-majority south that have left 460 people dead.
Negotiations are underway to name his successor.
https://timesofindia.indiatimes.com/world/us/baghdad-must-take-actions-after-strikes-on-us-interests-says-washington/articleshow/72821470.cms
------
OIC calls for combating counterfeit drugs and promoting fair pricing
December 17, 2019
JEDDAH: Secretary-General of the Organization of Islamic Cooperation (OIC) Yousef Al-Othaimeen says that the general secretariat in cooperation with its partners has focused on capacity-building for manufacturers and national regulatory authorities, harmonization of standards, research collaboration and joint development among OIC members states.
He expressed appreciation to the National Agency of Drug and Food Control of Indonesia for hosting the first-ever meeting of heads of medicine regulatory authorities of OIC member states in Jakarta in 2018, encouraging members to support regulation for medicine and vaccine pricing, and combat substandard and falsified medicines.
Addressing the opening session of the seventh Islamic conference of health ministers in Abu Dhabi on Dec. 16, Al-Othaimeen said that the OIC had developed a comprehensive health improvement plan, calling on member states to provide the resources to implement the OIC Strategic Health Program of Action.
He reviewed the progress made since the conference's previous session in Riyadh in 2017, especially on non-communicable diseases such as cancer and communicable diseases such as polio.
Al-Othaimeen commended the OIC institutions concerned for their efforts in implementing the OIC health program. He also thanked international partners such as WHO, the Global Fund to Fight AIDS, Tuberculosis and Malaria, and the Bill & Melinda Gates Foundation, which have cooperated with the OIC in furthering its health agenda.
The OIC secretary-general briefed member states' health ministers on the polio-eradication work of the Islamic Advisory Group for Polio Eradication, stressing the need to enlarge the scope of its activity.
Keynote speakers during the opening session were the Saudi Health Minister Tawfiq Al-Rabiah, chair of the previous session; UAE Health Minister Abdul Rahman Al-Owais, chair of the current session; Emirati Minister of State for Happiness and Wellbeing Ohood bint Khalfan Al-Roumi; and WHO Director-General Tedros Adhanom Ghebreyesus.
https://www.arabnews.com/node/1600026/saudi-arabia
------
South Asia
Esper wants to cut US troops 'with or without' Afghan peace deal
Dec 17, 2019
WASHINGTON: Defense Secretary Mark Esper said on Monday he wants to reduce the number of US troops in Afghanistan "with or without" a peace agreement in order to give higher priority to strategic competition with China.
The Trump administration is expected to announce plans to withdraw around 4,000 troops from Afghanistan, according to US media, after peace talks resumed a week ago between the US and the Taliban.
Esper told reporters Monday that Austin Miller, the head of the NATO mission and US Forces Afghanistan, "is confident that he can go down to a lower number" of troops.
Miller "believes he can conduct all the important counter-terrorism missions and train, advise and assist" the Afghan army, Esper said on a plane as he flew back from Belgium, where he had attended the 75th anniversary of the Battle of the Bulge.
"I would like to go to a lower number because I want to either bring those troops home" to retrain for new missions or to "be redeployed to the Indo-Pacific to face off our greatest challenge in terms of the great power competition that's vis-a-vis China," he said.
"At the end of the day, the best solution for Afghanistan is a political agreement" between the government and the Taliban, Esper added.
"But I think we can go down with or without that political agreement." Esper said he had not yet ordered any downsizing, noting that the decision was ultimately the responsibility of President Donald Trump.
About 13,000 US troops are currently in Afghanistan, though the number fluctuates according to rotations.
Trump said last month that he planned to cut the overall troop presence to 8,600, with further reductions possible.
He also in November insisted on the need for a ceasefire and made an unannounced visit to Bagram airbase in Afghanistan to celebrate Thanksgiving with troops and meet Afghan President Ashraf Ghani.
The Republican president has previously indicated he wants to wind down US military entanglements abroad where possible.
https://timesofindia.indiatimes.com/world/us/esper-wants-to-cut-us-troops-with-or-without-afghan-peace-deal/articleshow/72816935.cms
------
38 Taliban militants killed in Special Forces raids, airstrikes in 12 provinces
Tuesday, 17 Dec 2019
A series of airstrikes and Special Forces' raids killed at least 35 Taliban militants in 12 provinces in the past 24 hours, the military officials said Tuesday.
The Special Forces conducted the operations in Chahar Darah and Imam Sahib districts of Kunduz, Shah Wali Kot of Kandahar, Baraki Barak of Logar, Hisark of Nangarhar, Qarghh'l of Laghman, Nejrab of Kapisa, Shindand of Herat, Almar of Faryab, Deh Yak of Ghazni and Now Zad of Helmand.
According to military officials, the Special Forces also arrested 11 Taliban militants and destroyed multiple caches of weapons during the same operations.
The officials further added that the security forces conducted the airstrikes in Chahar Darah of Kunduz, Shah Wali Kot of Kandahar, Jalrayz of Wardak, Nad Ali of Helmand and Bermal fo Paktika.
The Taliban group has not commented regarding the operations and airstrikes so far.
https://www.khaama.com/38-taliban-militants-killed-in-special-forces-raids-airstrikes-in-12-provinces-04428/
------
Explosion injures 18 civilians in Balkh province of Afghanistan
Tuesday, 17 Dec 2019
An explosion injured at least 18 civilians in northern Balkh province of Afghanistan, the security officials said.
Adelshah Adel, a spokesaman for the provincial police said an explosives-laden bicycle went off in Mazar-e Sharif city, the provincial capital of Balkh province which injured at least 18 civilians.
However, another security official said the explosion wounded at least 23 people including security personnel.
The officials further added that five Traffic Police and an Afghan National Police (ANP) soldier were also among those wounded.
No individual or group including Taliban has so far claimed responsibility for the explosion.
Taliban militants and other insurgent groups frequently use improvised explosive devices to target the security forces and government personnel.
But the majority of roadside bombings inflict casualties on ordinary civilians.
This comes as an Improvised Explosive Device explosion killed 10 civilians including women and children in South-eastern Khost province of Afghanistan earlier today.
https://www.khaama.com/explosion-injures-18-civilians-in-balkh-province-of-afghanistan-04427/
------
Children among 10 killed as Taliban IED goes off in KHost province
Tuesday, 17 Dec 2019
An Improvised Explosive Device (IED) explosion killed ten civilians including children in South-eastern Khost province of Afghanistan.
Nasrat Rahimi, a spokesman for the Ministry of Interior confirmed that the bomb went off at around 5 am local time in Alisher district of Khost province on Tuesday.
Rahimi further added that the explosion killed civilians including 5 men, 3 children and 2 women.
The Taliban group has not commented regarding the incident so far but Rahimi blamed the group for planting the roadside bomb which killed the civilians.
Taliban militants and other insurgent groups frequently use improvised explosive devices to target the security forces and government personnel.
But the majority of roadside bombings inflict casualties on ordinary civilians.
https://www.khaama.com/children-among-10-killed-as-taliban-ied-goes-off-in-khost-province-04425/
------
Mideast
Work begins on rebuilding of Mosul's Great Mosque of Al Nuri
Dec 16, 2019
Work has begun on the reconstruction of the Great Mosque of Al Nuri in the Iraqi city of Mosul, partially destroyed by ISIS in 2017.
The UAE announced in April last year that it would finance a $50 million (Dh183.7m) Unesco project to rebuild the mosque. Al Nuri was built in the 12th century and nicknamed "the hunchback" because of its leaning minaret.
In 2014, Abu Bakr Al Baghdadi declared ISIS's caliphate from the mosque.
ISIS later destroyed the mosque during heavy ­fighting with the Iraqi security forces.
Residents are still battling to rebuild their lives nearly two years later as Mosul was also where ISIS carried out some of its most heinous crimes, such as selling Yazidi women into slavery. The militants burnt printing presses and cafes and blew up archaeological and religious sites such as the shrine of Nabi Yunus.
After the terrorists were ejected from the city in 2017, the authorities and local people who had stayed behind began salvaging what remained.
The Unesco programme is not restricted to Muslim sites – it includes two churches, a Yazidi temple and the central library of Mosul University.
Ernesto Ottone-Ramirez, assistant director-general for culture at Unesco, said in February that the regeneration process was an opportunity to inspire young people and connect them to their heritage.
"We are trying to get back what was once the spirit of Mosul," he said. "Unesco has more than 70 years of experience in how to shape culture and policies, but this is a little bit different to projects we have done in the past in Cambodia and in Egypt."
An endowment to 10 people creating modern Islamic art, with a focus on visual and performing arts, will take place over the next five years.
https://www.thenational.ae/world/mena/work-begins-on-rebuilding-of-mosul-s-great-mosque-of-al-nuri-1.952469
------
Finland aims to repatriate Islamic State children from Syria 'as soon as possible'
DECEMBER 17, 2019
HELSINKI (Reuters) - Finland will try to repatriate children of Finnish mothers who traveled to Syria to join Islamic State "as soon as possible", Prime Minister Sanna Marin said on Monday.
Finland is one of a number of European Union member states facing a decision over whether to bring home citizens with IS links who are trapped at the al-Hol camp displacement camp controlled by Kurds in northeastern Syria.
More than 30 children born to 11 Finnish women are at al-Hol, according to Finnish media, and the fate of the mothers has caused divisions in Finland's five-party coalition government that took office last week.
The Centre Party, a coalition ally of Marin's Social Democrats, opposes letting the wives of IS fighters back into Finland but supports repatriating their children.
The Centre Party is worried by the rise in the polls of the opposition nationalist Finns Party, which says repatriating Islamic State detainees could endanger Finland's security.
Marin said that, in an attempt to resolve the dispute in the coalition, the government had decided each case should be judged on its own merits.
"The aim of the authorities' actions is to protect the interests of the child in all circumstances," Marin said, leaving the door open for the repatriation of some of the mothers with their children.
"There is no obligation to assist adults who went to the region of their own accord," she said.
Repatriating children without their mothers is unlikely to happen as Syrian Kurdish forces, who control the territory that includes al-Hol, oppose separating children from their mothers.
Marin's government faces questioning on the issue in parliament on Tuesday.
https://www.reuters.com/article/us-syria-security-finland/finland-aims-to-repatriate-islamic-state-children-from-syria-as-soon-as-possible-idUSKBN1YK1X0?rpc=401&
------
Islamic resistance against US' imperialism at Cinema Vérité in Tehran
16 December 2019
TEHRAN, Dec. 16 (MNA) – The US has tried to create Iranophobia in the world during the last decades; however, the plot failed given the fact that there is still collaboration and interaction between Iran, the Middle East and the West.
Iran is being demonized by the US media aiming to isolate the country and turn the world against it, though Iran has succeeded to strongly keep its connection with the world and stand against imperialism through art, culture, cinema and media. There are myriads of international festivals held annually in Iran bringing directors, producers, buyers and journalists from different countries across the globe together; Cinema Vérité is one of the most significant ones that screens documentaries from the international docmakers every year.
Iran International Documentary Film Festival also known as Cinema Vérité hosts docmakers from across the world especially in Martyred Avini's section which focuses on resistance and the Middle East issues.
Martyred Avini was a revolutionary leader, writer and filmmaker whose major concern was to show the right path to the youth. Martyr Avini's section is dedicated to documentary films related to revolution, sacrifices, selflessness and resistance of the Middle East people during the last years against terrorism, ISIS, poverty, war, sanctions, etc. that were screened during the 13th edition of the festival and captured the audience attention.
More than 29 works have been sent to this section of the international event to rival for the best award. 'One hundred years of solitude', 'Story of the leader', 'life among warring flags', 'Under the Mina dome', 'The battle of waves', 'kill Mehdi Araghi', 'Mother of fronts', 'Rain and Bullets', 'Cassette', and 'Flood narration' are amongst the best films screened during the 7 days of the festival in Avini section.
The films revolves around the issues like Iran's Islamic revolution and people's protests against Pahlavi, war in Syrian borders and people's resistance against ISIS, Iran-Iraq war, women's role in wars, and the youth fighting to vindicate their rights which is freedom.
A great number of documentary filmmakers from the US, Europe, the Middle East region and the world of Islam have sent their films to different sections of the 13th edition of Iran International Documentary Film festival, started on December 9th and will close on 18th in Tehran.
https://en.mehrnews.com/news/153435/Islamic-resistance-against-US-imperialism-at-Cinema-V%C3%A9rit%C3%A9-in
------
609-year-old mosque is transported 2½ miles from ancient Turkish city which is due to be flooded when a new dam is built
16 December 2019
A 609-year-old mosque is being transported two-and-a-half miles away from an ancient Turkish city that is due to be flooded.
The Er-Rizk Mosque is being moved from Hasankeyf, which is going to be flooded because of construction of the Ilisu dam, to the new Hasankeyf Culture Park.
The building, which weighs a whopping 1,700 tonnes, was transported on a Self-Propelled Modular Transporter along the Tigris River.
The mosque's minaret, which was built in 1409 under the order of Ayyubids' ruler Ebu'l Mefahir Suleyman, was moved separately.
All of the historic sites in Hasankeyf have been gradually transported to prepare for the construction of the new dam.
Six structures have already been relocated - Artuklu Hamam (bathhouse), Sultan Süleyman Koç Mosque, Imam Abdullah Zawiyah, Zeynel Abidin Mausoleum and Eyyubi Mosque were among the previously relocated structures along with the middle entrance of a castle
The mosque, which is the largest in Hasankeyf, was taken apart piece by piece and reassembled on the platform under supervision from the State Hydraulic Works and the General Directorate of Cultural Assets and Museums, according to the Daily Sabah.
It will be reconstructed upon its arrival in the cultural park. Its journey was estimated at seven hours.
https://www.dailymail.co.uk/news/article-7797653/609-year-old-mosque-transported-2-miles-ancient-Turkish-city-flooded.html
------
Judiciary Chief Asks Int'l Community to Act against US Ban on Medical Supplies to Iran
Mon Dec 16, 2019
TEHRAN (FNA)- Iran's Judiciary Chief Ebrahim Rayeesi called on the international community to take action against the US sanctions which prevent imports of the Iranian patients' much needed medication.
The US which has failed in all its plots and seditions against Iran, "has adopted other measures, including prevention of imports of drugs to Iran", Rayeesi said, addressing the judiciary officials in Tehran on Monday.
He described the US sanctions as clear instance of "economic terrorism and crime against humanity", saying, "The international community should be vigilant and know that the US violates the nations' rights wherever it can and therefore, real action is needed against the US impudence."
In relevant remarks in November, Iranian Vice-President and Head of the Management and Planning Organization (MPO) Mohammad Baqer Nobakht lashed out at Washington's economic terrorism against his country, reminding that Tehran is facing hardships to import needed food and medication at the same time that it is banned from selling oil.
Nobakht said that the US had created obstacles for import of food and medicines, adding that they had attempted to prevent export of a single barrel of oil as well.
Also, early in December, Head of Iran's Food and Drug Administration (IFDA) and Deputy Health Minister Mohammadreza Shanehsaz said that Washington's sanctions and the recent warning issued by the US Treasury Department was meant to be a coup against the Iranian patients, particularly those with special needs.
"They have declared in the letter that they will provide a special line to supply drugs and medical equipment but they use policing methods to threaten the pharmaceutical companies that in case of providing Iran with medicine and medical equipment, they will not be allowed to export to the EU and the US," Shanehsaz told FNA.
He added that the US measures have created problems for Iran in supplying drugs to the special patients.
https://en.farsnews.com/newstext.aspx?nn=13980925000888
------
Qatari DM Underlines Necessity for Talks with Iran
Mon Dec 16, 2019
TEHRAN (FNA)- Qatari Defense Minister Khalid bin Mohammed al-Atiyeh stressed the importance of talks with Iran as only way to establish stability in the region.
"Qatar thinks that the only legal way to materialize regional stability is direct talks with the neighbors and all the sides benefiting from regional security," al-Atiyeh said in a joint meeting with his Turkish counterpart on the sidelines of the Doha 2019 Forum.
He added that crystal clear talks with the neighboring states, including Iran, is a necessity, warning that the next generations would face challenge and danger if leaders of today refrain from interaction with the neighbors.
Founded in the year 2000, the annually-held Doha Forum is a platform for dialogue and negotiations among world countries about important international challenges.
Iranian Foreign Minister Mohammad Javad Zarif left Tehran for Doha on Saturday to take part in the 2019 Doha Forum.
Zarif and his Qatari counterpart Mohammed bin Abdulrahman al-Thani in a meeting in Doha discussed bilateral relations and regional developments.
During the meeting in the Qatari capital on the sidelines of the 2019 Doha Forum, Zarif and al-Thani explored avenues for further bolstering and reinvigorating of mutual cooperation.
https://en.farsnews.com/newstext.aspx?nn=13980925000439
------
Turkey detains nearly 200 over Gulen links
December 17, 2019
ANKARA: Turkish police on Tuesday detained 181 people suspected of ties to a group blamed for a 2016 coup attempt, the Ankara public prosecutor's office said.
The detentions came after the capital's public prosecutor issued arrest warrants for 260 suspects accused of using the encrypted ByLock messaging application which authorities believe was used to coordinate the coup bid.
Another 18 suspects, including 10 doctors, were sought in a second probe.
Officers have so far detained 171 people in Ankara and another 10 suspects elsewhere, the office said without giving details.
Tens of thousands have been arrested over alleged ties to US-based Muslim preacher Fethullah Gulen who Ankara says ordered the failed coup. Gulen denies this.
Since the failed overthrow of President Recep Tayyip Erdogan, authorities have also sacked or suspended over 140,000 public sector workers over suspected links to Gulen.
https://www.arabnews.com/node/1600111/middle-east
------
UN chief Antonio Guterres: No choice but to ship aid across Syria's border
December 17, 2019
UNITED NATIONS: The United Nations has no choice but to keep shipping humanitarian aid across Syria's borders and civil war front lines, according to a report by Secretary-General Antonio Guterres, which ran into contrary views from Russia.
Security Council members are debating the renewal of the operation, whose mandate expires January 10.
"It is in no one's interest to block this resolution," one diplomat said, asking not to be named.
Four entry points into Syria — two from Turkey, one from Jordan and one from Iraq — are currently used to ferry aid to the millions in need after eight years of conflict.
Negotiations are underway to open a fifth crossing, at Tel Abyad on the Turkish border with northern Syria, to cope with the extra needs created by a Turkish offensive in the area earlier this year.
The fifth crossing is mentioned in the draft resolution brought by Germany, Belgium and Kuwait, who handle the Council's Syria humanitarian file.
They propose a one-year extension of the mission.
Moscow wants only a six-month renewal.
Diplomats said that on Monday that Russia sent the Council an alternate draft resolution, which proposes the elimination of two of the current four crossing points.
Moscow sees the situation on the ground as having changed with the Syrian regime's retaking of territory. It proposed the closure of Al-Yarubiya between Syria and Iraq, as well as Al-Ramtha on the Jordan border.
Russia's approach is far from the wishes expressed by Guterres in his report.
To distribute humanitarian aid, crossing borders and front lines is indispensable, he said.
"The United Nations does not have an alternative means of reaching people in need in the areas in which cross-border assistance is being provided," Guterres said in the report he recently submitted to the Security Council and which AFP obtained on Monday.
"Humanitarian assistance provided by United Nations agencies included food for an average of 4.3 million people in need each month and more than 1.3 million health and medical treatments to people throughout the country," Guterres noted.
"Cross-border assistance... remained a vital part of the humanitarian response" to the more than 11 million people in need," he added.
The report said that the overall situation in Syria deteriorated even further in 2019 and added that everything should be done to avoid a military offensive in the northwestern area of Idlib, an enclave outside of government control where about three million people currently live.
https://www.arabnews.com/node/1600061/middle-east
------
Turkish opposition sounds warning on Libya deal
MENEKSE TOKYAY
December 17, 2019
ANKARA: Turkey's opposition Republican People's Party (CHP) has criticized an expanded security pact between Ankara and Libya, claiming it breaches a UN arms embargo.
The CHP on Monday lodged a dissenting opinion on the controversial deal, which is expected to be signed off by Turkish parliamentarians this week.
Although unlikely to affect the deal, the opposition move raises further questions about the expansion of military cooperation between the two countries.
Opposition parliamentarians claim the deal contradicts UN Security Council rulings on supplying arms to Libya.
The security agreement, which includes provisions for launching a "quick reaction force" if requested by Tripoli, was brought to Parliament on Saturday night.
Under the deal Turkey will also supply material, training and planning support to Libya.
The provisions on military training and technical support are seen by many as a way to permit Ankara to send troops to Libya.
The CHP said that the sending of materials and equipment to Libya would contravene a UN Security Council resolution imposing an arms embargo on the country.
The opposition party argues that if Turkey takes part in the unfolding civil conflict in Libya through proxy forces or by direct intervention, it will add to instability in the country.
It claims the use of "guest personnel" and "guest students" is a covert way to deploy military forces in Libya.
The CHP also criticized the financial burden the pact will impose on Turkey at a time when the government has called on people to avoid using foreign currency.
The opposition also issued a warning on the exchange of classified information, documents, defense and security materials under the security agreement.
"It is extremely dangerous for the domestic security of Turkey to share secret information with a political actor under war circumstances. The main point is that the conflict may spiral out of the control immediately," the CHP said.
The party also criticized the logistical support elaborated in the deal, saying "it would open the way for the government to support some jihadists organizations fighting on the ground with the Libyan government."
The dissenting opinion was led by five CHP parliamentarians, Unal Cevikoz, Oguz Kaan Salici, Haluk Koc, Utku Cakirozer and Yunus Emre.
Turkish President Recep Tayyip Erdogan said last week that Turkey would consider sending troops to Libya if requested by Tripoli.
"This isn't covered by the UN arms embargo. They can invite us," he said during televised remarks last Monday.
https://www.arabnews.com/node/1600001/middle-east
-------
Palestinian evangelicals celebrate Abbas decree
DAOUD KUTTAB
December 17, 2019
AMMAN: Palestinian evangelicals celebrated a decree issued by President Mahmoud Abbas recognizing the Evangelical Council in the Holy Land as representative of local Christians.
In a celebratory event held at the Bethlehem Bible College, Reverend Munir Kakish outlined a 12-year effort to organize evangelicals in Palestine in a single body and to seek recognition.
Kakish said that Palestinian churches are national ones who reject racist ideologies that Palestine is subjected to.
"Our evangelical churches pray to God for our Palestinian leadership and support its peaceful effort for independence and the creation of a state with Jerusalem as its capital."
Jack Sara, the president of the Bethlehem Bible College, told Arab News that the recognition comes after many year of campaigning. "We have received most of our demands and we await full recognition to be the 14th denomination in Palestine."
Sara, who was part of a Palestinian clergy visit to Brazil to convince its new leadership not to move the embassy to Jerusalem, said that the efforts of Palestinian evangelicals helped make the recognition possible.
"We are proud of our Palestinian heritage and our national identity."
Ramzi Khoury the head of the Higher Presidential Commission for Church Affairs and the Palestinian National Fund, was awarded a plaque of appreciation by the council. Khoury called on evangelicals "to be the ambassadors around the world to strengthen he position in support of Palestinian statehood."
Refugee
Bernard Sabela, a member of the Palestinian legislative council representing the Christian seat in Jerusalem and the secretary of Palestinian refugee affairs with the Middle East Council of Churches, welcomed the decision.
"Every church group, including evangelicals, should have the same rights to take care of its people through ecclesiastical courts. This is the right step in the right direction, the hard work has paid off."
Orthodox Archbishop of Sabastian Atallah Hanna told Arab News that he supported the decision.
"It is important that Palestinian evangelicals communicate with fellow evangelicals around the world and to talk about the Palestinian cause. I disagree that all Christian evangelicals adopt the Zionist narrative. I congratulate the evangelical council and express support for this decision."
Rateb Y. Rabie, president of the Washington-based Holy Land Christian Ecumenical Foundation, also welcomed the move, saying that Palestinian evangelicals are in a unique position to address other evangelicals.
"They speak the same language and are able to quote the Bible in a way that debunks the attempts by some to justify occupation and subjugation."
Thomas Getman, former director of World Vision in Jerusalem, told Arab News that 80 percent of US evangelicals misrepresent the Bible for political gain.
"The Falwells and Hagues and others support apolitical entity in defiance of God's word."
Getman told Arab News that the recognition of Palestinian evangelicals is essential to give credibility to the attempts at debunking Christian Zionists.
https://www.arabnews.com/node/1599981/middle-east
------
Southeast Asia
China should treat the Muslims of Xinjiang as their brothers and citizens
OLSI JAZEXHI
17.12.2019
Dear Mr. Deng Li,
I was very happy to read your article "What is happening in Xinjiang?" that you published in Daily Sabah on Dec. 9, 2019. The Chinese saying that you mentioned: "To listen to both sides, one will be enlightened, but if heeding only one side, one will be benighted" was very enlightening. We, the people of the Muslim world, need to open up a serious dialogue with China regarding its Muslim citizens – our brothers in Islam.
While I fully understand that China has been suffering from threats of terrorism and separatism in the last decades, the challenges that China has faced should not be translated into a war against the belief of millions of its citizens. While the government of China and the Xinjiang Uighur Autonomous Region (XUAR) has a right to fight terrorism and separatism, this fight should not target innocent Muslim believers and mosque-goers, taking away the rights of its Muslim citizens to believe and practice their religion.
The visit in the region
During our visit to XUAR, it was clear that the people who were interviewed by myself and other journalists were not extremists, yet had been detained and sent to concentration camps called "residential schools" for religious "crimes." These "crimes" for us are basic human rights that every human must enjoy.
The inmates that we interviewed told us that their crimes were reading the Quran with friends, praying to God in public, calling their parents to pray to God, writing that a true Muslim should pray five times per day and that Uighur CCP members are not real Muslims, wearing a headscarf, marrying according to religious requirements, eating and living a Halal life, reading the history of Islam and Uighurs, etc. During our visit to Kashgar "residential schools" in Wensu County, we discovered that the detainees who were described as "extremists" were innocent Muslims whose only crime was being Turkic and Muslim.
As their Chinese teachers told us, they were held in these "residential schools" against their will – isolated from their families and the outside world without phones or internet, prohibited to practice their religion or even speak their Turkic language. Even my videos from Wensu Country prove that they were forced to speak Chinese at all times. The fact that they are brought and held forcefully in these "residential schools" proved to us that the "residential schools" are actually prisons and the Muslims "students" are religious prisoners.
During our visit, the Chinese officials who were in charge of the state administration offices in Xinjiang showed us the economic progress of the region and the plans that the government has to turn Xinjiang into a major economic hub for China's One Road, One Belt project. While the economic progress is to be commended, we observed a very heavy police and military presence everywhere. Xinjiang resembled the occupied Palestinian territories, where the Israeli army and police rule over the Palestinians.
In Xinjiang, the Han Chinese minority was in total control, policing and "re-educating" the Uighurs as the Japanese did in China during World War II. The Uighurs that we managed to approach, while our Chinese guides could not see us, were afraid to speak as our Chinese friends made sure to scare them into not talking to us. We saw this fear even in the Xinjiang Islamic Institute, where the government is 'educating' a new generation of imams who speak Chinese and obey to CCP orders.
In your article, you write that Xinjiang has "24,400 mosques, 29,000 clergy and 10 religious institutions." I am afraid that this information is not true. Xinjiang authorities have closed and destroyed many mosques, locked many others, imprisoned hundreds of imams and the Uighurs were afraid to attend their prayers.
The mosques that we visited did not convince us to be real mosques. In the Urumqi Bazar, the Xinjiang authorities had desecrated the holy Chong Baza Jami and turned it into a shopping mall. This beautiful and iconic mosque was filled with Chinese flags and no Muslims were allowed to praise Allah there. In Kashgar, the Id Kah Mosque was turned into a museum operating only for Friday prayers.
The azan (the call to prayer) was even prohibited. When we, the Muslim journalists from Qatar, Turkey, Afghanistan and Pakistan visited the mosque – on my insistence for the Jummah prayers – we found that there were only a few old men praying who were afraid to even speak to us. The mosque had over 12 cameras in its entrance and every elderly believer who was praying was being monitored as being a criminal. Our Uighur guides did not dare to enter the mosque, because they were afraid of losing their jobs if they would be seen inside the mosque. They told us that as state employees believing in God was prohibited.
The Chinese scholars Xu Guixiang, Ma Pinyan and Li Wei told us that the strategy of China's government was to Sinicize Islam and remove any sign of Turkic and Arabic influence from the mosques as well as from China's Muslims. In all the mosques that we saw and visited, we observed huge Chinese flags and CCP propaganda posters which were desecrating the Holy places of Islam where believers should not participate in politics, but praise Allah the Almighty. The desecration of Islam resembled the desecration that the Seleucids made against the religion of the Jews in the time of the Maccabees. This desecration which is enforced by "Xinjiang Uighur Autonomous Region Regulation on De-extremification" (Chapter 1, Art. 4) and the prohibition of the practice of Islam by the Muslims of Xinjiang in any aspect of life (Chapter 2, Art. 9) and the indirect declaration of Islam as an extremist religion, discredits the propaganda of the government which claims that it is fighting the "three evils"– terrorism, separatism and extremism – saying that it has no problem with religion. It aggravates resentment toward China by Muslims and instead of resolving the problem, it makes it worse.
China's significance
While I do respect China as a great world superpower and Xinjiang as part of its territory, I would like to express my humble advice to your very powerful government. When I was in Xinjiang, I told our Chinese friends that while China has every legal and national right to fight terrorism and separatism, it should not humiliate its Muslims as it is doing by considering them enemies and placing them in concentration camps in order to de-Islamize them. China must learn from Russia who had similar separatist problems in the 1990s but has successfully managed to reintegrate Muslims and Islam as part of its inter-religious and inter-ethnic mosaic. As the honorable ambassador mentions, "the people of all ethnic groups in Xinjiang are important members of the big family of the Chinese nation." I strongly believe that XUAR authorities should follow your statement and treat all the ethnic and religious groups of Xinjiang equally. They should understand that the fight against separatism and terrorism should not target Islam and the right of Muslims to practice their religion.
My humble suggestion to Mr. Deng Li would be to advise his government to ease its restrictions on the Muslims of Xinjiang. The declaration of Mr. Shohrat Zakir that most "students" of the "Vocational Training Centers" have graduated is great news, even if it is not true. This shows that the Xinjiang authorities are understanding their mistakes and reflecting. The next step that XUAR authorities must do is to start a process of reconciliation in Xinjiang.
They must end the civic and religious restrictions against the Muslims. They must be allowed to have passports, move freely in Xinjiang, China and all over the world, and be able to reunite with their families which have been torn apart and destroyed as a result of religious persecution. The XUAR authorities must close the notorious "Vocational Training Centers," release the religious prisoners and grant amnesty for all Muslims in XUAR. They must abrogate the "Xinjiang Uighur Autonomous Region Regulation on De-extremification" laws and allow the Uighurs to live, practice and learn their religion freely without age and legal restrictions. China should not behave like the ancient Egypt of the Pharaohs with the Muslims. Instead, it should learn from Russia, the British, the Ottomans and other great empires in our world's history. It should strive to win the hearts and minds of its Muslim citizens and the Muslims of our planet who care for their Muslim brothers in China. By treating the Muslims as citizens and by accepting Islam as part of China's multicultural mosaic, China will earn the loyalty of its citizens and the admiration of mankind.
China is a great and important country in our world. Its officials should preserve it with compassion and tolerance. By allowing its Muslims to freely practice Islam, the country will do a favor to themselves. They will turn their humiliated Muslim citizens into friends and great patriots.
I pray to Allah to make China listen and understand!
https://www.dailysabah.com/op-ed/2019/12/17/china-should-treat-the-muslims-of-xinjiang-as-their-brothers-and-citizens
------
KL Summit eyes workable solutions to Muslim world issues
16/12/2019
KUALA LUMPUR, Dec 16 -- The Kuala Lumpur Summit (KL Summit) 2019 taking place this week seeks to revive the Muslim world and Islamic civilisation.
Detractors may raise an eyebrow or two over this seemingly lofty ambition, but Prime Minister and summit chairman Tun Dr Mahathir Mohamad appears ready to issue a rallying cry for the Muslim world to roll up its sleeves in a bid to reclaim its past glory.
"We have always reflected on how great, enriching and powerful the Islamic civilisation was. It is a chapter in history and we yearn for its return. It will remain a yearning unless we do something about it," he said in his message carried by the event website ahead of the gathering in the Malaysian capital.
The road ahead won't likely be easy, given the current state of affairs the Muslim world and Muslims are facing. But as the prime minister stated, they must start somewhere.
The 94-year-old leader said the challenges associated with Muslim countries include bad governance, corruption and being viewed as a breeding place for terrorism.
"We can keep on shouting that such labels, especially being breeders of terrorism, as callous anti-Islam propaganda. We know that it is really true but our weakness and disunity have given credence to this propaganda," Dr Mahathir said.
The various conflicts involving Muslim countries also do not escape the scrutiny of the Malaysian prime minister.
"We proclaim that all Muslims are brothers and yet our nations are involved in endless civil wars, sectarian wars, wars with our Muslim neighbours and inviting non-Muslim nations to assist us in our wars with fellow Muslims," he said.
In addition, he said, Muslims are ending up in the shores of nations governed by those from other faiths, with the brethren's fate resting solely at their mercy.
The KL Summit, taking place from Wednesday to Saturday, was hatched against these backdrops as Dr Mahathir insisted that it is earnest in wanting to contribute towards the improvement of the state of affairs among Muslims and Muslim nations.
Among Islamic leaders expected to join Dr Mahathir at the summit venue at the Kuala Lumpur Convention Centre are the Emir of Qatar Sheikh Tamim bin Hamad Al Thani, Turkish President Recep Tayyip Erdogan, Pakistan Prime Minister Imran Khan and Iranian President Hassan Rouhani.
Proceedings at the KL Summit will be framed by seven major themes, namely development and sovereignty; integrity and good governance; culture and identity; justice and freedom; peace, security and defence; trade and investment; and technology and internet governance.
Muslim leaders along with intellectuals, scholars and thinkers will deliberate and find new and workable solutions for the problems afflicting the Muslim world.
Dr Mahathir underscores the need for KL Summit initiatives to be backed by Muslim governments for these to come to fruition.
"No matter how many brilliant ideas the KL Summit hatch, without the support of leaders and governments of the Muslim nations, these ideas will remain ideas.
"It is my fervent hope that KL Summit participants will take this challenge of turning all our declarations and decisions into realities," the prime minister said.
The KL Summit opening ceremony on Thursday is slated to be graced by the Yang di-Pertuan Agong Al-Sultan Abdullah Riáyatuddin Al-Mustafa Billah Shah.
The summit will be preceded by the Youth KL Summit taking place tomorrow and Wednesday.
http://www.bernama.com/en/general/news.php?id=1800081
------
Amid Crackdown on Islam in China, Collector Budi Tek Plows Forward with Qatar Partnership
December 16, 2019
When the Los Angeles County Museum of Art and ARTnews Top 200 collector Budi Tek's Yuz Museum in Shanghai established a Hong Kong–based joint foundation, a historic arrangement seemed to be in the offing. Then, when the Qatar Museums in Doha agreed to develop programming with the two museums as part of it all, the ambitions of the partnership only grew. Questions soon arose, however: Could planned exhibitions in China potentially fall victim to censorship?
In an interview with the South China Morning Post, Tek addressed those censorship concerns, effectively waving them off and reaffirming that the deal with LACMA and the Qatar Museums would remain strong in the face of political adversity.
"We have a strong cultural authority here and they will review our programs," he told the Post, referring to officials in China. "We have a good relationship with them and we make sure the shows will be in the interest of the public rather than damaging public interest."
In September, the New York Times published Chinese government documents revealing a mass indoctrination campaign designed to purge the nation's ethnic Uighur minority of their faith to Islam. Since the program's launch around 2014, hundreds of thousands of Chinese Muslims have been placed in detention in western Xinjiang. The government has denied all reports of human-rights abuses in Xinjiang.
Tek is currently battling pancreatic cancer, and he plans to eventually donate his holdings to the partnership set up by LACMA, the Yuz Museum, and the Qatar Museums. He and representatives for the partnered institutions have largely shied away from discussing politics. When asked about censorship previously, Tek has maintained that authorities review shows "not because of religion, or which country [the art] is coming from," but to protect viewers in Shanghai from aspects of cultures other than their own that could potentially offend.
https://www.artnews.com/art-news/news/collector-budi-tek-addresses-concerns-over-showing-islamic-art-in-shanghai-1202672672/
------
'Blinded and misled': China turn up pressure on Arsenal after Mesut Ozil criticised the treatment of the nation's Muslim Uighur minority in Xinjiang
16 December 2019
China turned up the pressure on Arsenal after Mesut Ozil criticised the treatment of the nation's Muslim Uighur minority in Xinjiang.
The Chinese foreign ministry spoke out on Monday claiming Ozil had been 'blinded and misled' and invited him to the region which he referred to as the republic of East Turkestan in online posts on Friday.
China's state-run television channel CCTV and online broadcasters PPTV cancelled the live coverage of Arsenal's game against Manchester City on Sunday as part of the furious reaction. The Global Times, a Chinese tabloid newspaper under the auspices of the People's Daily and closely connected to the ruling Communist Party, published an opinion column on his 'malicious accusations'.
The article branded the former Germany midfielder 'shallow and narrow-minded' and said he had 'triggered indignation' among Chinese citizens.
There have been reports of Ozil's fan pages being removed by online search engines and social media footage of football fans burning and defacing shirts bearing his name. Ozil has succeeded in bringing attention to the plight of more than a million Uighurs in Xinjiang amid claims they are being unlawfully detained, tortured and indoctrinated by the state.
As of Monday night, Arsenal had no plans to go beyond the statement they made distancing themselves from Ozil's comments.
The Gunners have been caught in a backlash which has echoes of Chelsea's problems when their Brazilian winger Kenedy insulted China with a series of social media posts during a pre-season tour in 2017.
China has become the Premier League's most lucrative overseas broadcast market with three years' of rights until 2022 sold for £525million.
https://www.dailymail.co.uk/sport/football/article-7797779/Chinas-foreign-ministry-insist-Mesut-Ozil-WRONG-treatment-Uighur-Muslims.html
------
Alibaba-backed Indonesian multifinance fintech Akulaku planning Islamic roll-out
BY YOSI WINOSA
16 DEC 2019
JAKARTA – Indonesian online multifinance services company Akulaku will launch its Shariah-compliant platform in the first half of 2021, Efrinal Sinaga its president director told Salaam Gateway.
Akulaku in January raised $100 million in Series D funding from investors including Alibaba's financial services arm Ant Financial. The Jakarta-based fintech is a leading online multifinance provider in Indonesia and is widely valued at around $450 million.
It now wants to enter the Islamic sector with Akulaku Syariah to tap into local demand.
"Also, we see our competitors moving in this direction," said Efrinal.
He estimates the preparation and process of working towards a Shariah-compliant non-bank financial institution license will take a year, involving the development of IT infrastructure, operational systems, business processes, partnering with Islamic banks, getting approval from the national-level fatwa body DSN-MUI, and appointing a Shariah supervisory board.
"All these take time and we'll process them in 2020. In sha Allah in the first half of 2021 we will already have an Akulaku Syariah version," said Efrinal.
He said the company has already registered its intention with the financial services authority (OJK) through its annual business plan.
The company is also seeing a trend of conventional banks becoming Shariah-compliant, such as Bank Aceh, Bank Nagari in West Sumatra, and Bank NTB, and wants to ensure it is properly positioned in specific regions to serve their markets.
"If we don't prepare to enter the Shariah P2P lending market from now, we'll be too late," said Efrinal referring specifically to Aceh and West Sumatra.
Akulaku disbursed around 4 trillion rupiah ($285.34 million) in loans during January-October this year and announced on Dec 12 that it wants to raise offshore financing to help it reach its target of 6 trillion rupiah next year.
Efrinal said he has already secured approval from Akulaku's shareholders to launch Akulaku Syariah.
"We are also looking to the Financial Services Authority's (OJK) plans to relax the spin-off deadline regarding Islamic banking units (UUS) to become full Islamic banks," said Efrinal.
Authorities are currently reviewing OJK regulation number 31/2014 on Shariah-compliant financing and the central bank's Islamic banking law number 21/2008 on the matter of making it compulsory for Islamic banking units (UUS) to become standalone institutions by 2023.
"This matters because we plan to partner with Islamic banks and other financial institutions," added Efrinal.
Efrinal himself is familiar with Islamic financial products. In August 2007, he created PT Al-Ijarah Indonesia Finance, an advisory and Islamic multifinance company that secured 105 billion rupiah from three investors Bank Muamalat Indonesia, Bank Boubyan Kuwait, and Bahrain's Alpha Lease and Finance Holding BSC. Al-Ijarah Indonesia Finance offers working capital financing of 2 billion rupiah minimum to each borrower.
"I've been running my own Shariah financing platform since 2007, so I understand the market and its players," said Efrinal.
Akulaku started in 2014 with virtual credit cards and moved into providing services for a range of virtual payments, from phone and mobile top-ups to utilities bills. It now also offers P2P lending, financing, and e-commerce in Indonesia, and also has a presence in the Philippines, Vietnam, and Malaysia.
(Reporting by Yosi Winosa; Editing by Emmy Abdul Alim emmy.abdulalim@salaamgateway.com)
https://www.salaamgateway.com/story/alibaba-backed-indonesian-multifinance-fintech-akulaku-planning-islamic-roll-out
------
At KL Summit, Syed Saddiq tells world Muslim leaders to make youths their equal
Tuesday, 17 Dec 2019
BY SYED JAYMAL ZAHIID
KUALA LUMPUR, Dec 17 — Malaysia's youngest minister urged global Muslim leaders today to make youths an integral part of their countries' discourse, ahead of a key summit to discuss Islamic "revivalism".
Youth and Sports Minister Syed Saddiq Abdul Rahman opened the KL Youth Summit 2019 here by calling for governments to heed the voice of younger generations and give them equal representation in policy decisions.
He said there must be a "collective signal" from Muslim countries to acknowledge the youths' contributions.
"They don't just want to have a seat at the dialogue table, they want a seat at the decision-making table," he said of youths worldwide.
"We are just as capable," he added.
To prove his point, the minister said it was a young generation of corporate figures that played a role in rebuilding government companies that nearly tanked during the 1997-1998 Asian financial crisis.
"In 1997, during the Asian Financial Crisis, a lot of people didn't realise but it was the youth that was given the responsibility to save the biggest companies in Malaysia," he said.
One of them was Datuk Shahril Reza, the current chief executive of state investor Khazanah.
Syed Saddiq noted that Shahril, who was only in his 30s then, was appointed to revive MRCB, and successfully did.
"So, to say young people can't, is a great lie.
"It's about opening the doors of opportunities and letting them prove themselves," he said.
In Malaysia, the Muar MP has been consistently pushing for more youth inclusion in decision-making, reminding government leaders that they cannot afford to alienate the demographic segment that form nearly half the population.
This year, he led a campaign to lower the voting age to 18 and successfully united government and Opposition lawmakers to back legislation, which included automatic registration.
He told today's forum it was among the toughest tasks he had undertaken as the youth and sports minister.
Today's event is a prelude to the KL Summit 2019 proper. The summit is the brainchild of Prime Minister Tun Dr Mahathir Mohamad who sees the meeting as a platform to enhance cooperation among Muslim nations, including possible new trade deals.
In the past, Dr Mahathir played an active role behind numerous diplomatic efforts to unite Muslim countries.
Turkish President Recep Tayyip Erdogan and his Iranian counterpart Hassan Rouhanni are among the biggest names to attend. Pakistan, Qatar and Indonesia will also participate in the four-day summit.
The KL Summit 2019 will take place from December 18 to 21.
https://www.malaymail.com/news/malaysia/2019/12/17/at-kl-summit-syed-saddiq-tells-world-muslim-leaders-to-make-youths-their-eq/1819925
------
North America
How TescoBank and MediaCom spoke the right language to boost money transfers during Ramadan
16 December 2019
By Awards Analyst
MediaCom Edinburgh was highly commended in the 'Financial services' category at The DADI Awards 2019 with its 'Talk to the Heart' campaign for Tesco Bank. Here, the agency reveals the challenges faced and the strategies used to deliver this successful project.
The challenge
Over one in three Brits use international money transfers to send money overseas. The number one reason people give for sending money is to support their family (with 41% doing this), closely followed by sending money as a gift (38%).
There are many ways to send funds, and lots of firms competing for customers, including banks and building societies; high street money transfer firms; and foreign exchange brokers.
Tesco Bank offers a money transfer service via MoneyGram in hundreds of their stores across the UK. This offers customers a convenient way to send money while doing their everyday shopping. Tesco Bank also incentivise customers to use the service by rewarding Club Card holders with 50 Club Card points when they send £50 or more using the MoneyGram service.
Our research showed that a large proportion of non-UK born nationals are already Tesco shoppers, and that they were receptive to the idea of using MoneyGram, however, awareness of this in-store service was very low.
Tesco wanted to grow their share of the international money transfer market during Ramadan, the most sacred month in the Islamic calendar. For Muslims, Ramadan is a time of fasting and reflection, a time to cherish family, friends, and neighbours and help those in need. It is also a time that sees an increase in people sending money overseas, as during this period it is customary for Muslims to give a fixed percentage of their savings to the poor.
Tesco Bank tasked us with raising awareness of their money transfer service and drive engagement with consumers in order to increase international money transfers through their in-store MoneyGram service.
However, the campaign budget was very small, and Tesco are significantly outspent by their competitors, such as Western Union, so we had to find a way to make our campaign stand out and be noticed by our audience.
The strategy
Thanks to the convergence of smartphones, social media and data analysis, the ability to personalise marketing messages is becoming more and more detailed and we are now able to speak to people in the right place and at the right time like never before.
But what about speaking to them in the right language? Nelson Mandela once said: "Talk to a man in a language he understands it goes to his head, talk to a man in his own language and it goes to his heart".
Multiple studies have shown the benefits of personalisation and its effect on awareness, loyalty and engagement. The Boston Consulting Group found that brands which offer individualised products, services or experiences were growing 2-3 times faster than brands that didn't.
Given that we knew English was the second language of our audience, we felt sure that targeting them in Arabic would not only stand out visually but would create a personal connection that would drive a much deeper engagement and take up of the service.
The campaign
With our limited budget, we knew we couldn't spread the campaign across multiple areas and channels. We needed to focus our attention on finding a format that would allow us to target our audience and be measurable. We identified that the social media platform Facebook could deliver not only a highly targeted campaign using multiple data layers, but also an environment where our audience were already connecting with their loved ones.
Facebook won't allow advertisers to target people based on religion, so, we had to get creative. Working with Facebook, we were able to build our audience based on key words and phrases used around Ramadan, along with relevant interests, behaviours, and language settings to give us a highly targeted campaign, but with a robust audience size.
Then, in order to test and measure our campaign half of our audience would only see the advert in English, the other half would only see it in Arabic.
The results
Everybody loves being proved right and we couldn't have been happier, as our theory about using Arabic was proved even more emphatically than we could have believed when the click through rate of the native copy outperformed the English copy by 92%! Our audience engaged with the campaign in a way we had not experienced before for such a niche product.
The campaign delivered over five million impressions and reached over 670,000 people in the UK. We not only raised awareness, but also helped deliver over 10% YoY uplift on money transfers during Ramadan. This campaign was so successful, Tesco have now adopted this strategic approach for all of their International Money Transfer campaigns.
"With our brief for this campaign, we challenged the team at MediaCom to come up with a fresh approach to reach customers with our Ramadan campaign. Their response to our brief surpassed expectations, forging into new territories, and pushing the boundaries of our standard campaign activity. Their innovative targeting models utilised our unique datasets to their full potential, delivering strong results and tangible uplift in sales. MediaCom's approach was so successful that it now forms a core part of our on-going trade strategies." - Nigel Hunt, marketing director, Tesco Bank
https://www.thedrum.com/news/2019/12/16/how-tescobank-and-mediacom-spoke-the-right-language-boost-money-transfers-during
------
Trump on track to become third US president to be impeached
Dec 17, 2019
WASHINGTON: Republican Donald Trump is this week likely to become the third US president to be impeached when the Democratic-led House of Representatives votes on charges stemming from his effort to pressure Ukraine to investigate political rival Joe Biden.
Trump faces one charge of abusing his power by asking Ukraine to investigate Biden, a leading Democratic contender to oppose him in the 2020 US presidential election, and one of obstructing Congress' investigation into the matter.
The president has denied wrongdoing and accused Democrats of a baseless and politically-motivated bid to oust him from power.
The House is likely to take up impeachment on Wednesday, setting the stage for a vote this week on whether to approve the charges and send the matter to the Republican-led Senate to hold a trial on whether to remove Trump from office.
Democrats, who enjoy a 36-seat majority in the House, are expected to win an impeachment vote, which requires a simple majority.
Republicans hold 53 of the 100 seats in the Senate, where they appear likely to prevail in any trial against Trump, which would require a two-thirds majority of those present to remove him from office.
Seeking to shape any trial, Senate Democratic leader Chuck Schumer called on Sunday for testimony from White House acting Chief of Staff Mick Mulvaney, former national security adviser John Bolton, Mulvaney aide Robert Blair and budget official Michael Duffey.
Schumer made his appeal in a letter to Republican Senate Majority Leader Mitch McConnell, who said last week he was coordinating with the White House and has raised the prospect of a short impeachment trial in which no witnesses would be called.
"I hope we can come to an agreement about a fair trial," Schumer told MSNBC in an interview on Monday.
House Democrats also sought testimony from the four men in their inquiry, but they did not appear.
The House Judiciary Committee voted 23-17 on Friday along party lines to approve the two charges against Trump and to send the matter to the full chamber. Late on Sunday, the panel issued its full report detailing the case against him.
In a tweet on Monday, White House spokeswoman Stephanie Grisham said Schumer's comments seeking fairness were "laughable" after the release of the 658-page report "in the middle of the night. Thankfully the people of this country continue to see the partisan sham that this is."
A McConnell spokesman did not directly address Schumer's requests, but said the Senate majority leader "plans to meet with Leader Schumer to discuss the contours of a trial soon."
DEFECTION
No US president has been removed as a direct result of impeachment.
Richard Nixon resigned in 1974 before he could be removed, while Andrew Johnson and Bill Clinton were impeached by the House, respectively in 1868 and 1998, but not convicted by the Senate.
Senior House Democrats expect to win any impeachment vote, albeit with the possibility of some defections from moderates facing tough re-elections next year in Trump-leaning districts.
Representative Jeff Van Drew, a conservative Democrat from New Jersey who opposed impeachment, is planning to become a Republican, media reported over the weekend. The news prompted a mass resignation of staffers in his office.
In congressional hearings, Democrats have accused Trump of endangering the US Constitution, jeopardizing national security and undermining the integrity of next year's US presidential election by asking Ukrainian President Volodymyr Zelenskiy in a July phone call to investigate Biden and his son Hunter Biden, who was on the board of a Ukrainian gas company.
Democrats argue impeachment is an urgent necessity because Trump has continued his alleged misconduct, endangering the integrity of the 2020 election.
Republicans have defended Trump and accused Democrats of a partisan effort aimed at overturning his upset 2016 victory over Democrat Hillary Clinton. Trump has branded the entire impeachment drive a sham.
"READ THE TRANSCRIPTS! The Impeachment Hoax is the greatest con job in the history of American politics!" he said in a tweet on Monday.
Trump has alleged the Bidens were involved in corruption in Ukraine and should be investigated there, but has offered no evidence. Biden, a former US vice president, has denied wrongdoing.
https://timesofindia.indiatimes.com/world/us/trump-on-track-to-become-third-us-president-to-be-impeached/articleshow/72823219.cms
------
Reporting from the front lines of the war against the Islamic State
By Nicholas Heras
The rise of the Islamic State has haunted headlines throughout the world for the better part of a decade and has disrupted American plans to pivot to its intensifying competition with China and Russia. In "Shatter the Nations: ISIS and the War for the Caliphate," Mike Giglio, an intelligence and national security correspondent for the Atlantic, tracks the growth and decline of the terrorist group in Iraq and Syria at the ground level, among local Syrians, Iraqis, Turks and others who experienced the war firsthand.
Giglio, who was previously based in Istanbul for BuzzFeed, draws heavily from his experiences mingling with the smugglers, spies, refugees, aid workers, journalists and jihadists on Turkey's southern frontier with Syria. Giglio even travels into the heart of darkness itself, the Islamic State's so-called capital — the northwestern Iraqi city of Mosul — where he chronicles the battle to wrest the city away from the terrorists, a grinding, bloody endeavor waged by various barely coordinated Iraqi security forces (Kurds, Arabs and others), all backed by the United States and its allies.
"Shatter the Nations" is not a comprehensive repository of all things related to the Islamic State, in Syria and Iraq or globally. Instead, readers should expect quirky and important discoveries about the war and its transnational impact on oil smuggling, the running of refugees into Europe and the black market for antiquities. These activities helped support the Islamic State's war machine, and Giglio is in his element explaining how they fit together as the militant group started to grow into a monster force. He rolled into battle with members of America's local counter-Islamic State partners, and he captures the makeup of this motley crew.
https://www.cnas.org/publications/commentary/reporting-from-the-front-lines-of-the-war-against-the-islamic-state
------
U.S. officials arrest man who wanted to take ship to join Islamic State
DECEMBER 17, 2019
Mark Hosenball
WASHINGTON (Reuters) - A Connecticut man was arrested as he tried to reach a ship to travel to the Middle East to fight alongside the Islamic State, federal prosecutors said on Monday.
Federal prosecutors in Connecticut said they arrested Ahmad Khalil Elshazly, 22, on Sunday on charges of attempting to provide material support to Islamic State, which U.S. authorities have designated a foreign terrorist organization. He faces up to 20 years in prison.
A federal judge on Monday ordered Elshazly be held without bail.
In court filings, federal agents say Elshazly told others starting in September 2018 that he wanted to travel to Syria or nearby to fight with Islamic State. In the presence of government informants, he pledged loyalty to Islamic State and said he wished the United States would "burn in fire."
However, he said he was having trouble finding a way to reach IS territory. Elshazly decided against traveling by airplane last week, according to a government informant, because he was worried he would be stopped at the airport.
On Saturday, he handed another government informant $500 to pay for transport on a fishing boat that would take him to a container ship headed for Turkey.
He was arrested at a marina in Stonington, Connecticut as he approached a person he thought was the captain of a fishing boat, according to court documents.
As of November, 200 individuals had been charged in the United States on offenses related to Islamic State and 147 had pleaded or been found guilty, according to George Washington University's Program on Extremism.
Military operations by Turkey, Syria and Kurdish fighters have largely eliminated territorial holdings that Islamic State once ruled in the Middle East.
But European and U.S. counter-terrorism officials fear recruits who return to Europe and would-be fighters like Elshazly who surf jihadist websites still pose a potentially significant threat of violence.
https://www.reuters.com/article/us-usa-security-isis/u-s-officials-arrest-man-who-wanted-to-take-ship-to-join-islamic-state-idUSKBN1YK26L?rpc=401&
------
URL: https://www.newageislam.com/islamic-world-news/jamia-amu-violence-echoes-varsities/d/120549
New Age Islam, Islam Online, Islamic Website, African Muslim News, Arab World News, South Asia News, Indian Muslim News, World Muslim News, Women in Islam, Islamic Feminism, Arab Women, Women In Arab, Islamophobia in America, Muslim Women in West, Islam Women and Feminism