New Age Islam News Bureau
14 Feb 2018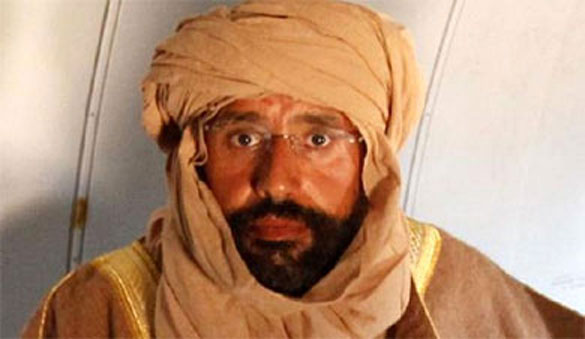 Saif Al Islam Gaddafi, son of former Libyan leader Muammar Gaddafi is qualified to contest in presidential elections scheduled for later this year, leader of the legislature has said.
----
• Jamaat-ud-Dawa Using Kids To Promote Jihad against India
• US Pushes Motion to Put Pakistan on Global Terrorist-Financing Watch List
• Macron Wants to See Islam 'Reorganized' in France, Reduce Influence of Islamic Countries
• Military Trial of Palestinian Teen Protest Icon Ahed Tamimi Opens behind Closed Doors
• Gaddafi's Son Can Contest For Libyan President – Speaker of Parliament
India
• Jamaat-ud-Dawa Using Kids To Promote Jihad against India
• Muslim Leaders Call for United Struggle to Achieve Their Rights and Resolve Their Problems
• Two Let Militants Killed In 30-Hour Long Encounter In Srinagar, Combing Ops Underway
• 2008 Delhi Serial Blasts Case: Court Frames Charges against Yasin Bhatkal
--------
Pakistan
• US Pushes Motion to Put Pakistan on Global Terrorist-Financing Watch List
• Pakistan Launches 'Safer Charity' to Control Flow of Money to Militant Groups
• Government Takes Over JuD Seminary, Dispensaries in Rawalpindi
• Sadiq moots Pak-Afghan coordination to fight terror
• 4 personnel martyred in attack on FC vehicle in Quetta
• Trial of suspect in serial child killings begins in Pakistan's Lahore
--------
Europe
• Macron Wants to See Islam 'Reorganized' in France, Reduce Influence of Islamic Countries
• Europe at Risk from Daesh Fighters Returning From Mideast: Report
• Dozens of Russians Are Believed Killed in U.S.-Backed Syria Attack
• Would-be jihadist took out £10,000 bank loan for Islamic State travel plans
• German Firms Inadvertently Advertise Products on Islamist Webpages: Report
• France will strike if chemical weapons use proven in Syria: Macron
• Myanmar still not allowing Rohingya to return: UN
--------
Mideast
• Military Trial of Palestinian Teen Protest Icon Ahed Tamimi Opens behind Closed Doors
• Over 50 Palestinians Died Awaiting Israeli Medical Permits
• Ayatollah Khamenei hails unity between Iran's Shia, Sunni Muslims
• Iranian-backed Iraqi militia to back Hezbollah in any war against Israel
• Russia could host future Israeli-Palestinian negotiations: Maliki
• Iran says Iranian-Canadian passed information to CIA, Mossad
• Senior Houthi commander killed in Taiz, advances to liberate city continue
• Houthi Militant Appears Next To His Grave Days after His Burial
• Saudi cluster bombs continue to endanger Yemeni kids' lives
--------
Africa
• Gaddafi's Son Can Contest For Libyan President – Speaker of Parliament
• Tunisia MP Rips Up Israel Flag to Promote No-Ties Bill
• Nigeria's Islamic Movement holds rally to demand justice for slain members
• Sahel leaders appeal for funds for anti-extremist force
--------
North America
• US Urges UN to Hold Myanmar Military Accountable For 'Ethnic Cleansing'
• U.S. And Iran Both Pledge Support to Rebuild Iraq after Defeating Isis
• 'Chelsea bomber' Ahmed Rahimi jailed for life over New York attacks
• Tillerson calls on allies to focus on fighting IS
• We don't know what to do with foreign ISIL militants: Mattis
• Rex Tillerson urges Arab states to resolve dispute with Qatar
--------
South Asia
• Afghan Officials and Taliban Talk Despite Wave of Violence
• Over 40 Taliban Militants Killed In Kandahar Airstrikes
• Bangladesh's most wanted terror duo launches Indian unit
• RAB arrests two JMB militants, thwarts plan to kill converted Christians
• Foreign nationals among 8 militants killed, wounded in Badakhshan
--------
Arab World
• Russia Warns Of Chemical Attack by Militants, White Helmets In Syria's Idlib
• Iraq's Nujaba Vows to Fight Israel In Case Of Attack on Hezbollah
• Popular Uprising against Al-Nusra Reported in Northern Homs
• Terrorist Groups Agree on Dissolving ISIL in Northern Syria
• Northern Syria: Turkish Army Targets Kurdish-Held Town of Afrin for First Time
• Syrian Army Finds More Israeli Arms at Captured ISIL Positions in Deir Ezzur
• Egypt forces have killed 38 militants in major operation
--------
Southeast Asia
• Indonesian Church Attacker Thought To Be a Lone Wolf
• Elderly Dutch priest among four injured in sword attack
• First Israeli Diplomat to Visit Malaysia in 53 Years: Country Tough To Crack
• Tian Chua: Deported self-radicalised man was probed over blog postings in 2011
Compiled by New Age Islam News Bureau
URL: https://www.newageislam.com/islamic-world-news/jamaat-ud-dawa-using-kids/d/114279
--------
Jamaat-Ud-Dawa Using Kids To Promote Jihad against India
Feb 13, 2018
The banned Jamaat-ud-Dawa, an organisation headed by Mumbai terror mastermind Hafiz Saeed, is using children to promote jihad against India.
In a procession organised in Islamabad, JuD leader Sadaqat allowed his minor son to lead with a gun in his hand.
The protesters were holding a banner which said Kashmir is an integral part of Pakistan and support would continue to be extended for the liberation of Kashmir.
JuD is a charity wing of the Lashkar-e-Taiba, one of the largest and most Islamic of terrorist militant organisations in South Asia. It encourages children from parts of Pakistan and Kashmir to join the outfit and wage a jihad against India and the United States.
The organisation runs several madrassas or Islamic religious schools across Pakistan and brainwashes children into joining the holy war for the liberation of Kashmir.
They are also being used as human shields and also to organise anti-India or anti-US protests.
The United Nations had designated Hafiz Saeed a terrorist after the 26 November 2008 attacks in Mumbai, which killed 166 people.
The organisation had designated him a terrorist under UNSC Resolution 1267, while the United States Department of the Treasury designated Saeed as a Specially Designated Global Terrorist under Executive Order 13224 in May 2008.
Unfortunately, the Pakistan Army and its spy agencies use Hafiz Saeed for its proxy war against India and allow its organisations to hold rallies in cities across Pakistan and in Pakistan-occupied Kashmir.
LeT and its charity organisations recruit small children and engage them for its nefarious activities against India. ANI
http://www.tribuneindia.com/news/nation/jamaat-ud-dawa-using-kids-to-promote-jihad-against-india/543264.html
--------
US pushes motion to put Pakistan on global terrorist-financing watch list
February 14, 2018
ISLAMABAD: The United States has put forward a motion to place Pakistan on a global terrorist-financing watch-list with an anti-money laundering monitoring group, according to a senior Pakistani official.
Pakistan has been scrambling in recent months to avert being added to a list of countries deemed non-compliant with terrorist financing regulations by the Financial Action Task Force (FATF), measure officials fear could hurt its economy.
The United States has been threatening to get tough with Islamabad over its alleged ties with militants, and last month President Donald Trump's administration suspended aid worth about $2 billion.
Islamabad denies assisting militants in Afghanistan and India. A meeting of FATF member states is due to take place next week in Paris, where the organisation could adopt the motion on Pakistan.
Adviser to the Prime Minister on Finance, Miftah Ismail, told Reuters the United States and Britain put forward the motion several weeks ago, and later persuaded France and Germany to co-sponsor it.
"We are now working with the US, UK, Germany and France for the nomination to be withdrawn," Ismail said, speaking by telephone from Europe. "We are also quite hopeful that even if the US did not withdraw the nomination that we will prevail and not be put on the watch-list."
https://www.pakistantoday.com.pk/2018/02/14/us-pushes-motion-to-put-pakistan-on-global-terrorist-financing-watch-list/
--------
Macron Wants to See Islam 'Reorganized' in France, Reduce Influence of Islamic Countries
By Fayçal Benhassain
February 13, 2018
Paris (CNSNews.com) – French President Emmanuel Macron says he is consulting experts on ways to "reorganize" Islam in France, with an emphasis on training imams, stopping foreign funding, and reducing the influence of Islamic states on the religion in this country.
In a Sunday interview with a weekly newspaper, Macron said he aims to finalize plans by the end of June.
Macron also said he wants to reform the main Muslim organization in France, the French Council of Muslim Worship (CFCM).
At the same time, however, he insisted he respects strict separation of religion and the state.
"I wish to lay the groundwork for the organization of all the Islam of France," he said, explaining that he has been discussing the issue with intellectuals and experts on Islam for several months.
Macron insisted on the need to stop foreign financing of Islam in France, much of it coming from Morocco, Algeria and Turkey.
Those countries in particular contribute to the financing of Islamic associations, mosques and prayer rooms. They also send imams to France, while many French imams are trained in Morocco.
Private individuals in Islamic states also finance mosques and groups in France.
Figures are hard to come by, but a document published by the French Senate in mid-2016 said that over the previous year Morocco, Algeria and Saudi Arabia had respectively accounted for $7.4 million, $2.4 million and $4.6 million in funding, used to maintain mosques, pay imams and finance associations.
There are an estimated 8.4 million Muslims in France. A 2011 Institute of Demographic Studies report said 80 percent are originally from former French colonies in North Africa, 9.3 percent from sub-Saharan Africa and 8.6 percent from Turkey.
The CFCM was established in 2003 by then-interior minister – later president – Nicolas Sarkozy, as an association falling under the interior ministry, tasked to represent Muslims and regulate their religious activities in the country.
CFCM president Ahmet Ogras told French media he has met with Macron on various occasions and said the impetus for reform was coming from Muslims, not Macron.
"The reform is not requested by the head of state. It is requested by ourselves," he said.
Ogras, a dual French-Turkish citizen who took the helm last July, added that CFCM needs to modernize and change, to truly represent French Muslims. He did not elaborate, beyond saying it was too bureaucratic and needed to be more flexible in its operations.
Bernard Godard, who served in the Jacques Chirac government's interior ministry and was responsible for relations with French Muslims, said in an interview that Macron in his comments "did not say anything concrete."
Godard said that, compared to his predecessors, Macron was in fact lagging in the area of dealing with Islam.
He said he favored the view of a former prime minister, Manuel Valls, who as interior minister in 2012 said that "it is not up to us – the state – to take care of Islam. It's up to the Muslims themselves to do it."
Godard said that if the state wanted to work with an Islamic body it should do so with the Foundation of Islam of France, a group whose aim is to make Islam in France better known through culture, research and training programs.
The foundation, he said, could help Islamic bodies get better organized, and tackle problems such as the training of imams.
Former CFCM president Anouar Kbibech said that Macron wants a strong, direct dialogue with Muslim representatives, on topics such as financing Islam in France and the training of imams.
He also added that both Macron and Ogras want the council's reforms to be in place in time for its next elections for CFCM president, to be held next year. Usually, nearly 4,000 voters representing 995 places of worship cast their ballots in 25 regions, although changes to voting procedures are also being examined.
https://www.cnsnews.com/news/article/fay-al-benhassain/macron-wants-see-islam-reorganized-france-reduce-influence-islamic
--------
Military Trial of Palestinian Teen Protest Icon Ahed Tamimi Opens behind Closed Doors
February 14, 2018
OFER: A Palestinian teenager charged after a viral video showed her hitting two Israeli soldiers in a case that has gained global attention went on trial in military court on Tuesday in closed-door proceedings.
The judge in the trial ordered journalists removed from the courtroom, ruling that open proceedings would not be in the interest of 17-year-old Ahed Tamimi, who is being tried as a minor.
Only family members were allowed to remain in the courtroom, with diplomats present to observe also asked to leave.
A large crowd of local and international journalists had shown up to cover the trial of Tamimi, who has become something of an icon for Palestinians and supporters of their cause worldwide.
Trials of minors in military court are typically closed, but Tamimi's lawyer said previous hearings for the teenager were open and she argued for it to remain that way.
"They understand that people outside Ofer military court are interested in Ahed's case, they understand that her rights are being infringed and her trial is something that shouldn't be happening," Tamimi's lawyer Gaby Lasky told journalists after having unsuccessfully objected to the judge's decision to close the trial.
"So the way to keep it out of everybody's eyes is to close doors and not allow people inside the court for her hearing." Tamimi arrived at the military court near Jerusalem in the occupied West Bank dressed in a prison jacket with her hands and feet shackled, smiling slightly as journalists photographed her.
Her father Bassem Tamimi waved to her from the audience, yelling out "stay strong, you will win". Closed-door proceedings were held for a couple hours before adjourning.
Lasky said she argued that the trial could not move forward because Israel's occupation of the West Bank and its court system there was illegal. Prosecutors requested more time to prepare a response and a new date was set for March 11, according to Lasky. Lasky added that she would make a new request to have the trial opened.
Bassem Tamimi told journalists after the adjournment that "having people attend the court — journalists, consuls, diplomats, observers and lawyers — is very important because it keeps them safe and makes us feel that those in court are safe." Tamimi has been hailed as a hero by Palestinians who see her as bravely standing up to Israel's occupation of the West Bank.
https://www.dawn.com/news/1389291/military-trial-of-palestinian-teen-protest-icon-ahed-tamimi-opens-behind-closed-doors
--------
Gaddafi's Son Can Contest For Libyan President – Speaker of Parliament
February 14, 2018
Saif Al Islam Gaddafi, son of former Libyan leader Muammar Gaddafi is qualified to contest in presidential elections scheduled for later this year, leader of the legislature has said.
Aguila Saleh Issa, Speaker of House of Representatives told news outlet Sputnik that with the adoption of a new amnesty law, Saif like anyone else could contest to lead the north African country.
"We adopted a law on amnesty and a law on suspending political isolation. Now each Libyan citizen, who is not prosecuted under law, has a right to run [for president]. The voting will show whether Saif is popular among people," Issa said.
A Gaddafi family spokesperson in December 2017 confirmed that Saif had support and credentials to end the chaos riling the country since his father was ousted in 2001.
"Saif al-Islam Gaddafi, the son of the former Libyan president, enjoys the support of major tribes in Libya so he can run for the upcoming presidential elections due in 2018," Basem al-Hashimi al-Soul said at the time.
At the height of the uprising against his father, the International Criminal Court issued a warrant for the arrest of Saif in June 2011 over suspicion of murder and deadly protest clampdown. Later the same year, he was captured by Libyan rebels who held him till June 2017 when he was released.
The United Nations – backed Government of National Accord (GNA) which is based in Tripoli have said elections could be held this year. The process has the full support of the United Nations, United Kingdom, the United States and other interested parties.
Khalifa Haftar, leader of the other major power faction, based in eastern town of Tobruk has also said Saif could contest for president. The country last went to the polls in 2014 but the process was disputed and led to deepening of political rifts across the country.
Since Gaddafi, was overthrown and murdered as a result of the civil war in 2011. The country has been engulfed in clashes between various factions and terror groups. Government forces drove out Islamic State insurgents from the town of Sirte – hometown of Gaddafi.
http://www.africanews.com/2018/02/14/gaddafi-s-son-can-contest-for-libyan-president-speaker-of-parliament/
--------
India
Muslim Leaders Call for United Struggle to Achieve Their Rights and Resolve Their Problems
FEBRUARY 14, 2018
Muslim leaders on Tuesday underscored the need for forging unity among members of the community irrespective of their political affiliations in order to achieve their rights and resolve their problems on the social, economic, educational and political fronts.
A large number of Muslims and members of the Doodekula community took part in a roundtable organised by A.P. Muslim Council at a function hall in Kadapa. Muslim Council president P. Khasim Khan, who presided, said Muslims should set aside their political affiliations and unite to fight for their rights.
MLA S.B. Amzath Basha, DCC president Nazeer Ahmed, TDP leaders V.S. Ameer Babu and S. Jilani Basha, YSR Congress Kurnool constituency convenor M.A. Hafeez Khan, Urdu Academy chairman Nauman, former MLA Abdul Gani, former Anantapur ZP chairman Chaman and Muslim Council working president Ahmed Peer Shahmiri asserted that Muslims were confronted with several problems in society.
Representation
United Andhra Pradesh had 40 Muslim MLAs but their number dwindled to 10 after bifurcation of the State, the leaders said. Calling upon Muslims to utilise the developmental and welfare schemes implemented by the Central and State governments, they called for formulating a struggle to ensure due representation of Muslims in education, employment and political arena. Recommendations of the Sachar Committee and the Ranganath Mishra Committee were yet to be implemented, they said. Doodekula Sangham leaders said the community lagged behind in various fronts.
http://www.thehindu.com/news/national/andhra-pradesh/muslim-leaders-call-for-united-struggle/article22746216.ece
--------
Two LeT militants killed in 30-hour long encounter in Srinagar, combing ops underway
February 13, 2018
Two Lashkar-e-Taiba (LeT) militants holed up in a building in Srinagar's Karan Nagar area were killed on Tuesday following an encounter lasting more than 30 hours. The encounter began early last morning after two militants made a failed attempt to attack a CRPF camp. Alert guards thwarted the attack forcing the militants to flee. Security forces comprising Jammu and Kashmir Police and CRPF then tracked down the militants and engaged them in a gunbattle. A CRPF constable, identified as Mujahid Alam, was killed in the firing.
Security forces launched a final assault on the terrorists this morning. "Two terrorists have been killed. Arms and ammunition are recovered. It was Lashkar-e-Taiba (LeT) outfit. One CRPF jawan has been injured but is completely out of danger," ANI quoted Kashmir IGP SP Pani as saying in a press conference on Tuesday afternoon.
At the time of filing this report, combing operations in the Karan Nagar area were underway.
The encounter near the CRPF camp in Srinagar comes just two days after the terror attack on Sunjuwan military station in Jammu in which six Army personnel and a civilian were killed. Two soldiers. including a JCO and a havildar, were killed in the encounter. Later, Army commandos recovered the bodies of three more soldiers and a civilian from inside the residential quarters.
Three terrorists were also killed during the gun-battle and arms, ammunition and other material seized from them revealed that they owed allegiance to Jaish-e-Mohammad (JeM).
Full report at:
http://indianexpress.com/article/india/lashkar-e-taiba-srinagar-karan-nagar-militants-jammu-and-kashmir-5062244/
--------
2008 Delhi serial blasts case: Court frames charges against Yasin Bhatkal
February 13, 2018
A Delhi court on Tuesday framed conspiracy and other terror charges against Indian Mujahideen co-founder Yasin Bhatkal and his associate in a case related to the September 2008 serial blasts in Delhi that claimed 26 lives and left 135 people injured. Additional Sessions Judge Siddharth Sharma put Bhatkal and his associate Asadullah Akhtar on trial for various offences punishable under the stringent Unlawful Activities (Prevention) Act (UAPA), Indian Penal Code (IPC) and Explosive Substances Act.
The present case relates to the twin explosions at Greater Kailash-I in South Delhi where nine people were injured in the twin blasts at the M-block market.
The charges framed by the court include criminal conspiracy (120B) punishable under Indian Penal Code, various sections UAPA, including conspiracy for committing terror act (section 18) and being member of a terror organisation. The court posted the matter for further hearing on February 28.
The accused persons, represented by advocate M S Khan, pleaded not guilty and claimed trial. The police had said that Bhatkal and Akhtar, along with others, were part of the conspiracy to carry out the blasts at several places in Delhi on September 13, 2008. They had claimed that the accused had waged war against India by carrying out the terror attacks. Bhatkal was arrested by the National Investigation Agency from Indo-Nepal border on the night of August 28, 2013.
Later, Delhi Police took his custody in blast case at Greater Kailash-I. Five cases were lodged in connection with the blasts at Ghaffar Market in Karol Bagh, Barakhamba Road near Connaught Place, besides the one at Greater Kailash and the recovery of a bomb near India Gate.
Full report at:
http://indianexpress.com/article/india/2008-delhi-serial-blasts-case-court-frames-charges-against-yasin-bhatkal-5062561/
--------
Pakistan
Pakistan Launches 'Safer Charity' to Control Flow of Money to Militant Groups
February 13, 2018
Mohammad Habibzada Hamidullah
Pakistani authorities are announcing a new program aimed at preventing billions of dollars in public donations to charities from ending up with banned militant groups.
The "Safer Charity" initiative announced Tuesday urges people to use caution and donate to responsible humanitarian organizations. The move comes amid concerns that some militant organizations are using front organizations to collect money for allegedly humanitarian work.
According to government officials, people in Pakistan donate up to $4.5 billion annually to help the poor and needy, as part of fulfilling the religious obligation of almsgiving, or zakat.
"Pakistani citizens pay annually an estimated amount of 500 billion rupees [$4.5 billion] in charity and only a portion of that amount is being audited," Ibn Hayyan, a federal official in charge of Safer Charity in Khyber Pakhtunkhwa province, told VOA.
The new program urges citizens to ensure the groups they are donating to have not been banned by the government.
"The charity money should reach needy and less fortunate people, not to those who are engaged to destroy the humanity," Noor Alam Khan, a local politician and former member of the National Assembly of Pakistan, told VOA.
"There is a law that prevents people from giving charity to illegal militant groups, but it has not been put into practice," Khan added.
Earlier this week, Pakistan amended its anti-terrorism law that authorizes the government to blacklist charities linked to Islamist leader Hafiz Saeed. Saeed has been wanted by the United States since 2012 for his role in planning the 2008 Mumbai terror attack.
According to Islam, Muslims are required to pay 2.5 percent of their savings to charity annually.
Banned groups
The recent measure follows last month's announcement by the country's Ministry of Interior that it had blacklisted 72 charitable organizations suspected of involvement in militancy, barring them from fundraising in the country.
The list includes Hafiz Saeed's Jamaat-ud-Dawa (JuD) and its subsidiary Falah-e-Insaniat Foundation (FIF), which according to experts serve as the front organizations for Lashkar-e-Taiba, a U.S.- and European Union-designated terror group that is accused of involvement in both India and Afghanistan.
JuD and FIF are also designated terror groups by the U.S State Department.
Lashkar-e-Taiba (LeT) was founded by Saeed in 1980s with the goal of liberating Indian-administered Kashmir and subsequently merging it with Pakistan. Over time, the group has also expanded its operations to neighboring Afghanistan.
The terror group is accused of being behind Mumbai's 2008 terror attacks in which 166 people were killed, including six Americans.
A press release from the Pakistan's Ministry of Interior warned citizens that aiding banned organizations such as JuD and FIF financially or otherwise would constitute a crime, punishable by law.
https://www.voanews.com/a/pakistan-launches-safer-charity-control-flow-money-militant-groups/4252279.html
--------
Government takes over JuD seminary, dispensaries in Rawalpindi
Aamir Yasin
February 14, 2018
RAWALPINDI: The Punjab government has started the process of taking over seminaries and health facilities run by Jamaatud Dawa (JuD) in Rawalpindi as it has taken control of the Hudabia Madressah on Chakra Road and asked the Auqaf department to assume its administration.
The district administration has also taken control of four dispensaries run by the Falah-i-Insaniat Foundation (FIF) — the charity wing of JuD — located on Chakra Road, Naseerabad, and adjoining areas of the city.
The federal government has barred companies and individuals from giving donations to JuD, FIF and other organisations on the United Nations Security Council (UNSC) sanctions list.
Last month, the Securities and Exchange Commission of Pakistan issued a notification to all companies, prohibiting them from donating money to the entities and individuals listed under the UNSC sanctions committee's consolidated list.
The UNSC sanctions list includes the names of Al Qaeda, the Tehreek-i-Taliban Pakistan, Lashkar-e-Jhangvi, JuD, FIF and Lashkar-e-Taiba.
After this, the Punjab government started the process of taking control of the seminaries and health facilities run by JuD and FIF in the province. Last Friday, the provincial government directed the Auqaf department to take control of the seminaries.
"The provincial government handed over a list of four seminaries in Rawalpindi to the district administration. The district administration teams have visited the seminaries but JuD has denied any link with the madressahs," said a senior official of the district administration while talking to Dawn.
However, he said, the government had taken control of Madressah Hudabia — which comprised a college, a school and a seminary — and started conducting an audit of its finances to check details of the funding and the expenditures.
The official said that the government had directed the district administration to also check the details of students and teachers of the JuD-run seminaries as well as doctors and paramedical staff of the FIF dispensaries.
He said that the government had constituted a joint team of the district administration, police and the Auqaf department to check the details.
He said that a similar operation would also be launched in Attock, Chakwal and Jhelum.
When contacted, Deputy Commissioner Talat Mehmood Gondal confirmed that the government had assumed control of one seminary and four dispensaries, run by JuD and the FIF, respectively.
He said that the seminary had been handed over to the Auqaf department and the dispensaries to the health department.
He said that the education and health facilities would now be run by the government.
Regional Administrator of the Auqaf department Zahid Iqbal said that the government had appointed a new Khateeb from Alhe-Hadis sect to take care of the seminary where 300 students were enrolled.
He said that a survey had been conducted to check the seminaries run by JuD in other parts of the district as per the list provided by the government.
Full report at:
https://www.dawn.com/news/1389282/government-takes-over-jud-seminary-dispensaries-in-rawalpindi
--------
Sadiq moots Pak-Afghan coordination to fight terror
Ikram Junaidi
February 14, 2018
ISLAMABAD: National Assembly Speaker Sardar Ayaz Sadiq has said Pakistan wants to work closely with Afghanistan for peace and prosperity in the region as a peaceful Afghanistan is in favour of Pakistan and the entire region.
"Pakistan would also like to have good relations with the United States as well as with our neighbours based on mutual respect and equality," explained Mr Sadiq while talking to German Ambassador Martin Kobler and senior officials of the Federal Academy of Security Policy of Germany in the Parliament House on Tuesday.
Regarding stability in the landlocked neighbouring country, the Speaker Sadiq said Pakistan wanted to strengthen relations with Afghanistan and work together for peace and prosperity in the region. "Pakistan and Afghanistan are victims of terrorism and both suffered a lot from the menace of extremism. A joint strategy and closer cooperation to address the root cause of terrorism are needed between the two neighbours," he said.
Mr Sadiq also briefed them about the visit of a Pakistani parliamentary delegation to Afghanistan and shared details regarding their meetings with the Afghan leadership. He also discussed in detail the objectives of the First Speakers' Conference held in Islamabad in December 2017. He told the delegation that the speakers from Afghanistan, Russia, Turkey, Iran and China attended the conference to share their point of view about the ways to tackle the menace of terrorism in the region as well as to connect with each other for prosperity and development.
About Pakistan-US relations, Mr Sadiq said Pakistan would like to have good relations with the US based on mutual respect and equality. He said all political parties in parliament were on the same page on the issue of Pak-US relations. Pakistan's foreign policy would never be shaped under any foreign influence, he added.
While answering a question about relations with India, he said that Pakistan wanted better ties with India without any compromise on the dignity and honour of Pakistan. However, he added, "moving forward" with India was not possible by brushing aside the Kashmir issue. "Regional peace and inclusive development, not only for the sub-continent but for the entire region will remain a mere dream, if the international community keeps side stepping the Kashmir issue," the speaker observed.
Referring to Pakistan-Germany relations, Mr Sadiq said both countries enjoyed cordial relations which needed to be strengthened further through substantive and long-term parliamentary and economic cooperation. In this regard, he highlighted the need for a regular interaction between political leadership, parliamentarians and people of both countries.
Exchanging views on global and regional issues, he said that Pakistan had a keen interest in promoting regional stability and was making consistent efforts for regional peace and economic stability. He asserted that as Germany remained one of the vocal and staunch supporters of Pakistan, political engagement on both sides would bring the nations closer and pave ways for inter-parliamentary diplomacy and cooperation. He called for exploring possibilities of cooperation in trade and development. This would strengthen impetus of bilateral economic relations between the two countries, he said.
Full report at:
https://www.dawn.com/news/1389287/sadiq-moots-pak-afghan-coordination-to-fight-terror
--------
4 personnel martyred in attack on FC vehicle in Quetta
Syed Ali Shah
February 14, 2018
Four Frontier Corps (FC) personnel lost their lives when unknown assailants opened fire at their vehicle in Quetta on Wednesday, DawnNews reported.
Deputy Inspector General (DIG) Quetta Razzaq Cheema said the security personnel were on routine patrol when attacked by miscreants in Dukkani Baba area of Sariab Road.
Police and personnel of other law enforcement agencies reached the spot as investigation into the incident went under way. Security was tightened in the area to apprehend the culprits involved in attack while the bodies have been shifted to Civil Hospital Quetta.
Police termed the incident as another act of targeted killing in the city.
Sariab Road is considered to be one of the most sensitive parts of the city. Miscreants have repeatedly targeted security personnel, police and pro-government people in the area.
Full report at:
https://www.dawn.com/news/1389360/4-personnel-martyred-in-attack-on-fc-vehicle-in-quetta
--------
Trial of suspect in serial child killings begins in Pakistan's Lahore
Feb 13, 2018
The trial of a suspect accused of brutally killing several Pakistani children has started at a high-security prison in the eastern city of Lahore, a public prosecutor says.
Prosecutor Abdul Raud said on Tuesday that the trial of the alleged serial killer, Mohammad Imran, will be completed in a week. The trial is closed to the public and held at a prison due for security reasons.
Imran was detained on January 23 after the rape and murder of 7-year-old girl Zainab Ansari in the city of Kasur of Punjab Province.
Police say Imran has confessed to the killings and throwing Ansari's body in a garbage dump.
Zainab was taken from near her home in Kasur on January 4 while her parents were on a pilgrimage. Her uncle reported her missing the next day.
Zainab's family said police did not respond after they reported their daughter's disappearance.
Zainab's brutalized corpse was found in a trash pile about 100 meters from the family home five days after her disappearance.
An autopsy confirmed that Zainab was strangled and sodomized. There were torture marks on her face and Zainab's tongue was crushed between her teeth.
Television stations had repeatedly broadcast chilling CCTV footage purportedly showing the young girl walking hand-in-hand with an unidentified male in what may have been her last moments.
The killing drew condemnation and brought to light seven other abductions and slayings he is suspected of.
Many Pakistanis have demanded a public execution for Imran.
The brutal sparked fury across Pakistan with two people killed in riots in Kasur on January 10.
Kasur was previously at the center of a child sexual abuse scandal in which a gang of over two dozen men was accused of blackmailing scores of children into making sex videos between 2009 and 2014.
At least 280 children were sexually abused on camera by men who later blackmailed their families, threatening to leak the footage.
The abuse was uncovered in 2015 and multiple suspects were arrested.
Full report at:
http://www.presstv.com/Detail/2018/02/13/552275/Pakistan-trial-Kasur
--------
Europe
Europe at risk from Daesh fighters returning from Mideast: Report
14 February 2018
LONDON: European countries could face an increased terror risk in 2018 as Daesh fighters return home with training and expertise gained in Syria and Iraq.
Of particular concern is the use of weaponized drones, high-tech car bombs, and other new technologies, although low-tech terror is likely to be prominent, according to a report.
Extremists will remain the primary threat in Europe in 2018, with international operations becoming increasingly important for Daesh, as it seeks to maintain its global relevance.
The report issued by Jane's Terrorism and Insurgency Centre (JTIC) said that returning foreign fighters will inject "capability, ideological rigor and added extremism" to existing radical networks across Europe.
"In the five to 10-year outlook, European countries will face an elevated terrorism threat posed by radicalized convicts, returned foreign fighters and other returnees who have direct ties to the legacy of Daesh," said Otso Iho, a senior analyst at JTIC by IHS Markit.
"Low-capability" attacks, including the use of improvised explosive devices (IEDs), attacks using rented or stolen trucks and vans, knife and small-arms attacks are likely to continue, the report claims.
"Foreign fighters returning to Europe will provide critical skills that will help an increasing number of operational (extremist) networks conduct more complex attacks," Iho said.
"These skills include the construction of viable IEDs... expertise in assault weapons, and the use of new weapons types or technologies such as drones," he added.
"If such weapons are used in Europe it would mark a notable increase in the threat level."
According to JTIC, there are indicators that some cells have already attempted to adopt these methods, including the perpetrators of the August 2017 attack in Barcelona. However, the threat is not just from fighters unleashing attacks on their return from the Middle East. The report reveals that the growing number of extremists in European jails is likely to exacerbate the risk of radicalization across the prison population.
Additionally, many of those imprisoned for providing support to groups like Daesh over the past two years are likely to be released between 2019 and 2023, according to data analyzed by JTIC.
It is predicted that European security services will struggle to adequately monitor a combination of returning militants, an increased number of radicalized terror networks across Europe, and the radicalization risks associated with rising extremism in prisons.
http://www.arabnews.com/node/1246131/world
--------
Dozens of Russians Are Believed Killed in U.S.-Backed Syria Attack
By IVAN NECHEPURENKO, NEIL MacFARQUHAR and THOMAS GIBBONS-NEFF
FEB. 13, 2018
MOSCOW — Four Russian nationals, and perhaps dozens more, were killed in fighting between pro-government forces in eastern Syria and members of the United States-led coalition fighting the Islamic State, according to Russian and Syrian officials.
A Syrian military officer said that about 100 Syrian soldiers had been killed in the fighting on Feb. 7 and 8, but news about Russian casualties has dribbled out only slowly, through Russian news organizations and social media.
Much about the attack and the associated casualties has been obscured in the fog of war. For reasons that remain unclear, Syrian government troops and some Russian nationals appear to have attacked a coalition position, near Al Tabiyeh, Syria.
The attack occurred in the vicinity of Deir al-Zour, a strategic, oil-rich territory that is coveted by the Syrians. Most of the fatalities were attributed to an American airstrike on enemy columns that was called in by American-backed Kurdish soldiers who believed they were under attack.
At no point, an American military spokesman said, was there any chance of direct conflict between United States and Russian forces.
"Coalition officials were in regular communication with Russian counterparts before, during and after the thwarted, unprovoked attack," according to Col. Ryan S. Dillon, a spokesman for the American military. "Russian officials assured coalition officials they would not engage coalition forces in the vicinity."
The Kremlin — seeking to play down its involvement in the fighting in Syria and seemingly hoping to avoid escalating tensions with the United States — has sidestepped questions about the episode, even as it faces rare criticism at home over its failure to acknowledge the deaths of Russians in Syria.
It has stressed repeatedly since last Wednesday that no members of the Russian armed forces were killed, and that any Russians fighting alongside the Syrians were mercenaries.
"We only handle the data that concerns Russian forces servicemen," Dmitri S. Peskov, the Kremlin spokesman, said at a news briefing on Tuesday. "We don't have data about other Russians who could be in Syria."
The Kremlin said much the same about the nature of the forces in Crimea and eastern Ukraine in 2014, however, claiming they were volunteers and men on vacation, only to admit later that they were regular soldiers.
By Sahil Chinoy
President Vladimir V. Putin has said at least three times since 2016 that combat operations in Syria were winding down, including once during a surprise visit to a Russian air base in Syria last December. Yet there are hundreds if not thousands of contract soldiers in Syria whom the Russian government has never acknowledged.
They were deployed both to help keep the official cost down and to avoid reports of casualties, especially with a March presidential election in Russia fast approaching. Even though the Kremlin enacted a law during the Ukraine crisis in 2015 to make battlefield casualties a secret, the funerals for regular soldiers killed in combat need to be more official than those for mercenaries, and are thus difficult to hide.
And some individual Russians have begun speaking out. Aleksandr Ionov, a Russian businessman working in Syria offering security and other services, said he estimated after conversations with associates in several private military organizations that more than 200 Russians might have been killed.
Mr. Ionov said not all those killed were Russian: Some of the paid fighters came from other countries that were once part of the Soviet Union. "More than 200 is the current estimate, we cannot know the exact number yet, but most of them were Russian," he said in a telephone interview.
Mr. Ionov said he was speaking out because he wanted any Russians who were killed to be officially recognized for their sacrifice.
"The truth has to be told," he said. "If people died, then this should be recognized and respects should be paid to people who fought against terrorists."
He called on the government to give a fuller version of events, adding, "People are outraged because they want to know the truth."
Mr. Ionov was not the only one speaking out about Russian fatalities. Aleksandr Averin, a member of the Other Russia nationalist party, confirmed that Kirill Ananiev, a party member who left for Syria about a year ago, had been killed in the airstrike, noting that there were other "substantial losses."
"I can confirm that Kirill died on Feb. 7 in Syria, near the Euphrates River, as a result of a strike by the American coalition," Mr. Averin said in an interview, adding that he was aware of "substantial losses" suffered by "paramilitary structures with ties to Russia." He refused to elaborate.
Another victim, Vladimir N. Loginov, 51, died "in an unequal fight on Feb. 7 in the area of Syria's Deir al-Zour," according to a statement published online by his paramilitary organization.
"He died, heroically defending our motherland in the far reaches against the invasion of maddened barbarians," the group, the Baltic Cossack Union in Kaliningrad, said in the statement.
In another case, Lubava Kocheva, a woman from central Russia, said in a brief online chat that two of her male friends in Syria, Igor Kosoturov and Stanislav Matveev, also died on Feb. 7.
"We don't know anything, whether they will bring them or not," said Mrs. Kocheva, 41, referring to the men's corpses. "This is very difficult and frightening."
The names of most of the victims identified so far were first reported by the Conflict Intelligence Team, a group of Russian investigative bloggers. The exact circumstances of their deaths could not be established by The New York Times.
The Russian Defense Ministry, which supports the Syrian president, Bashar al-Assad, in the continuing civil war, said none of its servicemen had been involved in the clash and that only 25 pro-government Syrian insurgents were wounded. It took pains to distance itself from the battle.
"The reason for the incident was lack of coordination between the reconnaissance movements of the Syrian insurgents and the Russian operative command," the ministry said in its statement on Thursday.
The number and exact nature of private Russian security firms operating in Syria is unclear, although there have been persistent reports in the Russian news media that some militiamen who fought on the side of the Russian-backed separatists in the war in eastern Ukraine later deployed to Syria.
The main Russian paramilitary contracting organization is the Wagner Group, known by the nickname of the retired Russian officer who leads it. The group has been operating in Syria in various capacities, including protecting some oil fields, according to multiple reports in the Russian news media. Its relationship with the Kremlin is murky and unconfirmed, but its leaders have reportedly received awards in the Kremlin and its mercenaries are trained at the Russian Defense Ministry's facilities.
Grigory A. Yavlinsky, a veteran Russian opposition politician who is a candidate in next month's presidential election, called on Tuesday for Mr. Putin to disclose the number of Russians who had died in Syria.
"I demand an explanation as to why Russian nationals take part in ground military operations in Syria, despite the statements by the president and defense minister that Russian military formations will be withdrawn from this country," Mr. Yavlinsky said in a statement. "I also think there needs to be a public report about relations with the U.S., as there is a growing threat of an accidental or deliberate direct military clash between Russia and America."
The official Kremlin stance is that its military deployment in Syria is now centered on two permanent bases, one for Russia's air force and one for its navy, there by invitation from the Syrian government.
Russian political analysts said that the country's reluctance to confirm that its citizens had died as a result of a United States-led airstrike was actually a sign that Moscow did not want to further worsen the already fractured bilateral relations with Washington.
"This is a very rare case, where the positions of Russia and the U.S. got closer," said Aleksei V. Makarkin, an analyst at the Center for Political Technologies, a think tank in Moscow. "No one wants to take steps that will do irreparable damage to the already broken Russia-U.S. relations."
Correction: February 13, 2018
Because of an editing error, an earlier version of this article incorrectly described an account by a Syrian military officer. He said that about 100 Syrian — not Russian — soldiers died in fighting on Feb. 7 and 8.
Full report at:
https://www.nytimes.com/2018/02/13/world/europe/russia-syria-dead.html?mtrref=www.google.co.in&gwh=41F2E697C4E20CD0726092E2F3479C5F&gwt=pay
--------
Would-be jihadist took out £10,000 bank loan for Islamic State travel plans
Ben Farmer
13 FEBRUARY 2018
A would-be jihadist funded his travel plans to join extremists in Syria by taking out a £10,000 loan from Barclays Bank, a court has heard.
Aweys Shikhey told the bank the money was needed for his wedding, but instead intended to travel to join the Islamic State group.
The 38-year-old delivery driver who denies preparing terrorist acts had already discussed killing The Queen and David Cameron with a fellow extremist.
He also spoke of attacking Jews in Stamford Hill and football fans with an AK47 as they left Tottenham Hotspur's stadium White Hart Lane, the Old Bailey heard on Tuesday.
Shikhey, a Dutch national who is originally from Somalia but who has a wife in Kenya and a wife in the Netherlands as well as children with both, was arrested on May 23 last year at Stansted Airport.
He appeared to be a quiet, hard-working, religious man, who lived in Tottenham, north London, and worked for the delivery firm DPD, the court heard.
But Barnaby Jameson, prosecuting, said there was "an extremist agenda going on behind the scenes".
"The face the defendant presented to the world was different to his real face. That is, a terrorist hiding in plain sight.
"The defendant, you will hear, was a secret and indeed eager supporter of Islamic State.
"So eager, he was willing to leave his life, his job, his relatives behind to join Islamic State as a front-line combatant."
Shikhey's true motivation was allegedly revealed in encrypted chat messages on Threema and Telegram with a fellow Somalian living in Kenya.
The exchanges were revealed on Abdirahman Idris Hassan's computer after he was arrested for alleged terrorism offences in September 2016.
Reading one message, Mr Jameson said: "Hassan says to the defendant, 'May God bestow you in killing David Cameron and the old woman Elizabeth'.
"That's a reference to the then Prime Minister, and what is believed to be a reference to the Queen, Queen Elizabeth.
"At the end of the conversation, the defendant says, 'amen brother'.
"That exchange perhaps gives you some insight into the mindset of those two individuals.
"They are talking across the encrypted messages on Threema about killing the then Prime Pinister and the Queen."
Hassan went on to ask if the defendant could buy bullets and a gun in the UK and Shikhey said three or five people were needed to "carry out a bloody attack".
He said it would be best to find AK47s and other automatic weapons, adding: "They could have been taken to Stamford Hill and when people leave from their game."
Despite earning a "respectable wage", Shikhey allegedly started looking at how to raise "considerable amounts" of money.
He made a series of unsuccessful loan applications before securing £10,000 from Barclays "ostensibly for a wedding".
Shikhey had been in contact with a woman in Norway, Raaqiya Hussain, who was an "avid supporter" of Islamic State, the court heard.
Mr Jameson said she was "anxious" to migrate from the West to Islamic State territory, and marry a fighter, whether Shikhey or "another jihadist".
In March 2017, Shikhey sent her $8,400, and the next month transferred $3,000 and $600, jurors were told.
He was arrested while due to fly to Sarajevo, in Bosnia and Herzegovina, via Istanbul the next day, having bought a one-way ticket.
Full report at:
http://www.telegraph.co.uk/news/2018/02/13/would-be-jihadist-took-10000-bank-loan-islamic-state-travel/
--------
German firms inadvertently advertise products on Islamist webpages: report
2018-02-14
BERLIN, Feb. 13 (Xinhua) -- The advertisements of more than 20 German firms and organizations have been discovered on websites with extremist content, German public broadcaster ARD reported on Tuesday.
The financial institution Postbank, the shoe retailer Deichmann and the Bavarian state government are included in the list of victims of misplaced marketing campaigns highlighted by ARD.
Amongst others, their slogans appeared on websites operated by Islamist terrorist organizations which urged visitors to "join Jihad" and "destroy infidels and Jews".
All of the businesses and public organizations affected had signed contracts banning the use of their publications on websites with extremist content.
A Deichmann representative told Xinhua, "Our advertisement agencies are obligated to ensure that our banners do not appear on websites that are illegal, extremist or harmful to youths."
According to ARD, the "AdSense" subsidiary of U.S. search engine operator and advertisement firm Google was to blame for most cases of inappropriate marketing.
"AdSense" distributes online marketing banners to millions of websites with an automated system. The operators of the websites earn revenue when these banners are clicked by visitors.
Many of the firms cited by ARD voiced dismay at the revelations. The installation of Postbank advertisements on an Indonesian Jihadist portal had "of course not been initiated by Postbank", a spokesperson for the firm said.
Similarly, a spokesperson for the Bavarian State Chancellery told press that it was "absolutely unacceptable" that its advertisements featured on "sites with such content".
However, Google was unwilling to comment on "individual websites" when questioned about the issue. The Menlo Park-based firm instead responded that it did "not permit the monetization of dangerous or derogatory content" and "vehemently enforced guidelines" towards this end.
Google has repeatedly faced criticism for failing to monitor whether its algorithms distribute advertisements to appropriate sites. German magazine SPIEGEL reported in 2015 that German firms marketing clips were appearing on right-wing extremist YouTube videos.
Such cases have irked Google's customers, leading several of its large advertisers to temporarily withdraw their marketing content. In order to contain the resulting reputation damage, YouTube has vowed to adopt improved monetization rules in 2018.
Full report at:
http://www.xinhuanet.com/english/2018-02/14/c_136973671.htm
--------
France will strike if chemical weapons use proven in Syria: Macron
Feb 14, 2018
President Emmanuel Macron says if the use of chemical weapons against civilians is proven in Syria, "France will strike" while noting that no proof of such an action has been presented.
"On chemical weapons, I set a red line and I reaffirm that red line...If we have proven evidence that chemical weapons proscribed in treaties are used, we will strike the place where they are made," he said on Tuesday.
"Today, our agencies, our armed forces have not established that chemical weapons, as set out in treaties, have been used against the civilian population," he added.
Macron also noted that he had recently discussed the topic of chemical weapons use in Syria with Russian President Vladimir Putin in a Friday phone conversation.
"I've reiterated it to President Putin, asking to make it very clear to the Syrian regime, which has reaffirmed that it does not use chemical weapons … but we are watching it," Macron stated.
On Friday, France's defense minister also noted that there is no proof that the Syrian government has used the chemical agent chlorine in the country.
"We have some indications of possible chlorine use [in Syria], but we have no absolute confirmation," said Florence Parly on Friday.
In January, pro-militant sources in Syria, the White Helmets and the UK-based Syrian Observatory for Human Rights, claimed that the Syrian government had used chlorine gas against militants in northwestern Syria.
The US and UK raised the issue at the UN Security Council on February 6, but the Syrian envoy rejected the allegations as "false and cheap."
Since the beginning of the conflict in Syria in early 2011, the Western governments have on several occasions accused Syria of using chemical weapons against militants. Damascus has denied the allegation, saying it is meant to pile more pressure on the government forces and delay their success in the fight against terrorists.
Full report at:
http://www.presstv.com/Detail/2018/02/14/552294/france-macron-syria-chemical-weapons
--------
Myanmar still not allowing Rohingya to return: UN
February 14, 2018
UNITED NATIONS - Myanmar has failed to put in place conditions for the safe return of 688,000 Rohingya refugees who fled an army crackdown six months ago, the UN refugee chief said Monday.
The refugees are sheltering in makeshift camps in Bangladesh despite an agreement reached between Myanmar and Bangladesh allowing for their return to Rakhine state.
"Let me be clear: conditions are not yet conducive to the voluntary repatriation of Rohingya refugees," UN High Commissioner for Refugees Filippo Grandi told a Security Council meeting, speaking by videoconference from Geneva.
"The causes of their flight have not been addressed, and we have yet to see substantive progress on addressing the exclusion and denial of rights that has deepened over the last decades, rooted in their lack of citizenship."
Myanmar regards the Rohingya as immigrants from Bangladesh and denies them citizenship, even though they have been there for generations.
US Ambassador Nikki Haley urged the council to ensure Myanmar 's military is held accountable for its campaign to drive out the Rohingya , and said leader Aung San Suu Kyi must recognize the atrocities.
"This council must hold the military accountable for their actions and pressure Aung San Suu Kyi to acknowledge these horrific acts are taking place in her country. No more excuses," Haley said.
The United Nations has accused Myanmar of carrying out an ethnic cleansing campaign by forcing the Muslim Rohingyas into exile.
China, a supporter of Myanmar 's former ruling junta, called for patience and noted that "stability and order" had been restored to Rakhine state.
The Rohingya crisis "cannot be solved overnight," said Chinese Ambassador Ma Zhaoxu.
Measures should be adopted by Myanmar "to address the root cause of poverty through development" in Rakhine state, he said, sidestepping appeals for citizenship rights for the Rohingya .
The meeting came nearly three months after the council adopted a statement demanding that Myanmar rein in its security forces and allow the Rohingya to voluntarily return.
The UN refugee chief said that while the exodus of refugees had been significantly reduced, the flow "still continues," with some 1,500 refugees arriving in Bangladesh this month.
Haley said the refugees should not return to Myanmar until they feel confident that "they will not fall victim to the same horrors that drove them from their homes in the first place."
"Right now, these refugees don't have this confidence," she said. "Many are too scared to return to their country."
The UN refugee chief also raised alarm over the monsoon rainy season starting next month, warning that 100,000 refugees were living in flood-prone areas and must be urgently relocated.
Full report at:
https://nation.com.pk/14-Feb-2018/myanmar-still-not-allowing-rohingya-to-return-un
--------
Mideast
Over 50 Palestinians died awaiting Israeli medical permits
February 14, 2018
GAZA CITY - More than 50 Palestinians died waiting for Israeli visas to travel for medical treatment last year, with only around half of all applications granted, new figures showed Tuesday. A total of 54 Palestinians died awaiting permits in 2017, the World Health Organization said, in what rights activists called an overly bureaucratic system which deprives Palestinians of their right to healthcare. The WHO said it did not have a directly comparable figure for 2016, but Al Mezan Center for Human Rights said it had recorded only a couple per annum in previous years.
Israel argues rigorous checks are necessary for security reasons for those coming from the Gaza Strip, the Palestinian enclave ruled by its Islamist enemy Hamas.
Gazans require Israeli permits to leave the enclave and travel to Jerusalem or the West Bank for treatment which the Palestinian Authority, the internationally recognised Palestinian government, pays for.
High-quality medical care for conditions such as cancer is not possible in Gaza, largely due to a shortage of facilities and Israel's restrictions on imports of key medical technology it argues could be seized by Hamas for military purposes.
Of more than 25,000 applications to travel for treatment in 2017, only 54 percent were granted in time for their appointments.
This was down from 62 percent the year before and 92 percent as recently as 2012, the WHO said.
"There is a worrying decline in the approval rate for patients to exit Gaza, with 2017 the lowest rate since WHO began monitoring this in 2008," said Gerald Rockenschaub, head of WHO offices in the Palestinian territories.
In a joint statement Tuesday, Al Mezan, Amnesty International, Human Rights Watch (HRW), Medical Aid for Palestinians and Physicians for Human Rights-Israel called on Israel to ease restrictions.
Omar Shakir, Israel-Palestine head for HRW, said they had seen "wider and wider" use of security justification to reject or delay permits for Palestinians .
"It is not based on security but based on a political strategy to isolate Hamas that uses the people of Gaza as collateral in that calculus," he told AFP.
"Hamas operates every day to take advantage of the civilian measures that the state of Israel promotes," a statement from COGAT, the Israeli defence ministry body responsible for coordination of such permits, said in response.
https://nation.com.pk/14-Feb-2018/over-50-palestinians-died-awaiting-israeli-medical-permits
--------
Ayatollah Khamenei hails unity between Iran's Shia, Sunni Muslims
Feb 13, 2018
Leader of the Islamic Revolution Ayatollah Seyyed Ali Khamenei has lauded the strong unity among Iran's Shia and Sunni Muslims despite all enemy attempts to sow discord among them.
Ayatollah Khamenei made the remark during a recent meeting in Tehran with a number of officials in charge of a martyrs' congress in Iran's southeastern province of Sistan-and-Baluchestan.
The Leader described Sistan-and-Baluchestan, along with the provinces of Kordestan and Golestan as the embodiment of Muslim unity and a role model of cooperation and brotherly coexistence for all Shias and Sunnis worldwide.
Ayatollah Khamenei further called for vigilance among Muslims against divisive enemy schemes.
The Leader also highlighted the sacrifices of Sistan-and-Baluchestan's Sunni Muslims in defending the country over the past decades, citing the martyrdom of a teenager during the 1980s Iraq-imposed war as well as a cleric at the hands of counter-revolutionary elements as two examples that show "Shia and Sunni brothers in the Islamic Republic are standing shoulder to shoulder on the most arduous fronts."
Thanks to the people's "faith and sacrifices," the Islamic Republic has remained resilient in the face of "modern ignorance" despite the sanctions and the enemies' military and cultural conspiracies, Ayatollah Khamenei noted.
The meeting took place on February 5 ahead of the 39th anniversary of the Islamic Revolution, which was marked across Iran on Sunday.
Full report at:
http://www.presstv.com/Detail/2018/02/13/552212/Iran-Ayatollah-Khamenei-Shia-Sunni
--------
Iranian-backed Iraqi militia to back Hezbollah in any war against Israel
14 February 2018
Akram al-Kaabi, the secretary general of Iraq's Harakat Hezbollah al-Nujaba movement which is part of the Popular Mobilization Forces fighting in Syria, said on Tuesday during a visit to Beirut that his forces will fight alongside Lebanon's Hezbollah in case Israel attacks it.
Kaabi's statements came after he visited the tomb of Hezbollah official Imad Mughniyah in Beirut's southern suburb. Mughniyah was killed in 2008 in a car bomb attack in Damascus.
"We will be in one front with Hezbollah just like we have been in Iraq and Syria," Kaabi, the leader of the Iranian-backed group said.
https://english.alarabiya.net/en/News/middle-east/2018/02/14/Iranian-backed-Iraqi-militia-to-back-Hezbollah-in-any-war-against-Israel.html
--------
Russia could host future Israeli-Palestinian negotiations: Maliki
Feb 14, 2018
Palestinians have stepped up diplomatic efforts to find international partners that would replace the United States and undertake the role of mediator in a "peace process" involving Palestine and Israel. And Now Palestinian Foreign Minister Riyad al-Maliki says Russia could play host to any future negotiations between the two sides.
In an interview with Russia's Sputnik news agency published on Tuesday, Maliki suggested that Palestinian President Mahmoud Abbas and Israeli Prime Minister Benjamin Netanyahu meet in Sochi or Moscow.
"Absolutely, we are ready for direct talks through a third party, of course," he said. "We think, you know, probably, coming to Sochi or maybe to Moscow could be the right one, if Netanyahu is willing to do so."
The top Palestinian diplomat further advised the Israeli ambassador to Russia "to look into it (the proposal) and to show the positive attitude."
Last December, US President Donald Trump angered Palestinians and the entire international community by declaring that Washington was giving Jerusalem al-Quds the US government's recognition as Israel's "capital."
The dramatic U-turn broke a longstanding international consensus that the status of the Israeli-occupied city be decided through Israeli-Palestinian negotiations, prompting Abbas to formally declare that Palestine would no longer accept the US as a mediator in the decades-long conflict due to its bias towards Tel Aviv.
On Monday, Abbas visited Russian President Vladimir in Moscow to discuss a collective mechanism to mediate possible negotiations with Tel Aviv in place of Washington.
Abbas told Putin, "We state that from now on we refuse to cooperate in any form with the US in its status of a mediator, as we stand against its actions."
Elsewhere in his interview, Maliki stressed that Palestine is considering legal options in case Tel Aviv and Washington derail the future talks, the last round of which collapsed in 2014 mainly because of Israel's refusal to end its unlawful settlement expansion on occupied territories.
"We are asking the advice of many internationally recognized legal experts to help us also to focus on different specific legal tracks …, if the negotiations track is closed by the rejection of Israel and the United States, that means that they are not leaving us with many options but to focus on the legal one," he said.
Maliki further noted that Palestine may ask the International Criminal Court (ICC) or the International Court of Justice (ICJ) to investigate Israel's illegal activities and crimes in the occupied territories.
"First of all, Israel represents an occupying power… and this is something we should really address maybe through the ICJ. When it comes to the criminal actions ... then we could back to the ICC, when it comes to some actions taken by Israel like trying to sell settlement products, then we will go to the European court, or to the national country courts," he pointed out.
Israel occupied the West Bank and East Jerusalem al-Quds during the Six-Day War in 1967. It later annexed East Jerusalem al-Quds in a move not recognized by the international community.
Palestinians want the resolution of the conflict with Tel Aviv based on the so-called two-state solution along the pre-1967 boundaries.
Full report at:
http://www.presstv.com/Detail/2018/02/14/552310/Palestine-Riyad-Maliki-Israel-Russia
--------
Iran says Iranian-Canadian passed information to CIA, Mossad
13 February 2018
Iran's official IRNA news agency reports that a dual Iranian and Canadian citizen who killed himself in custody was sending information to the US and Israeli intelligence services.
The report Tuesday says Kavous Seyed-Emami, a university professor, was in custody for passing information on the country's missile bases to the CIA and Mossad and planning to create environmental crisis. The report didn't elaborate.
IRNA quotes Tehran prosecutor Abbas Jafari Dolatabdi as saying Seyed-Emami and a network of people installed cameras in strategic areas of the country pretending to observe environmental issues but, in fact "it was for monitoring the country's missile activities and they were sending images and information to foreigners."
Dolatabdi said Seyed-Emami hosted one of two US intelligence officers during their visit to Iran. He didn't elaborate.
Full report at:
https://english.alarabiya.net/en/News/world/2018/02/13/Iran-says-Iranian-Canadian-passed-information-to-CIA-Mossad.html
--------
Senior Houthi commander killed in Taiz, advances to liberate city continue
14 February 2018
A senior Houthi field commander in Taiz was killed on Tuesday, along with four others the Yemen military media center stated.
Abu Taha al-Ghalisi was killed in an artillery shelling assault by the Yemeni army on Houthi positions.
Abu Taha, according to field sources, is responsible for leading the Houthi fronts north of the city of Taiz.
The Yemeni army supported by Arab coalition troops launched an attack on Tuesday.
Successive advances have been reported by Yemeni military officials in the operation to liberate the city from Houthi militias.
Full report at:
https://english.alarabiya.net/en/News/gulf/2018/02/14/Senior-Houthi-commander-killed-in-Taiz-advances-to-liberate-city-continue.html
--------
Houthi militant appears next to his grave days after his burial
13 February 2018
Yemeni activists shared pictures of one of the Houthi fighters sitting near his grave.
The man is allegedly dead and buried by the Houthi militia in the province of Dhamar close to the center of Yemen.
Muhammad Hussein Saleh, a Houthi militant is seen consuming "khat" plant, and taking photos next to a grave that bears his image.
The Houthi militia announced his death and supposedly buried his dead body at a cemetery in Dhamar.
According to local sources, the "dead" Houthi fighter fled Taiz Front and split from the Houthis.
The Houthi militia received successive losses and dozens of fighters fled. Those who managed to escape from the battle fronts and the Houthis were unable to arrest or prevent their escape, are usually assumed dead.
The militia then proclaim them dead and arrange the funeral and burial proceedings in their hometowns.
Mohammed Hussein Saleh's appearance next to his grave, is an act of defiance to the Houthi militia, who announced his death as a clear declaration of his defection.
The sources stressed that the militia always refuses to allow the families of the fighters to identify their bodies before the burial, without explaining the reasons.
Then they ask them to pray and bury the coffin, and just tell them that it's the body of their family member.
Full report at:
https://english.alarabiya.net/en/features/2018/02/13/Houthi-militant-appears-next-to-his-grave-days-after-his-burial.html
--------
Saudi cluster bombs continue to endanger Yemeni kids' lives
Feb 13, 2018
Thousands of innocent children continue to fall victim to Saudi Arabia's use of cluster bombs in aerial attacks on residential areas across the Yemen, corroborating assertions of violation of international law in the impoverished Arab country.
Derhim al-Tuheiti was playing in a farming field in an area in Yemen's western coastal province of Hudaydah, located 150 kilometers southwest of the capital Sana'a, less than a week ago when he found an unexploded cluster bomb.
He took it home, believing it was a toy or a piece of scrap metal. All at once, like deafening firecrackers, explosions ripped through the building, seriously injuring Derhim, his mother and siblings.
"I was working outside my house to earn money and feed my family. I was in shock when I returned home. People told me all my family members, including my wife, had been transferred to hospital. Now my wife has a back injury, and has gone insane due to the shock," Ahmed, father of the family, told Press TV.
Derhim was taken to the intensive care unit at al-Thawra Hospital, and had to undergo numerous surgeries. He had both lower legs amputated after the horrific incident.
"Doctors amputated his legs as they had grave shrapnel wounds. The cluster bomb had also seriously injured his head, and paralyzed the right side of his body," Doctor Khlowd M Doublah stated.
Cluster munitions, which are banned by more than 100 countries, present an enormous danger to civilians.
Dropped from the air or fired from the ground, they are designed to break open in mid-air, releasing the sub-munitions over a wide area in a way that cannot discriminate between civilians and military targets.
Many of the sub-munitions fail to explode on impact and effectively become anti-personnel mines. Unexploded sub-munitions have the potential to remain lethal for years, posing a high risk to the civilian population, both during and after the conflict.
Cluster bombs are banned under the Convention on Cluster Munitions (CCM), an international treaty that addresses the humanitarian consequences and unacceptable harm caused to civilians by cluster munitions through a categorical prohibition and a framework for action.
At least 13,600 people have been killed since the onset of Saudi Arabia's military campaign against Yemen in 2015. Much of the country's infrastructure, including hospitals, schools and factories, has been reduced to rubble due to the war.
The Saudi-led war has also triggered a deadly cholera epidemic across Yemen.
According to the World Health Organization's latest tally, the cholera outbreak has killed 2,167 people since the end of April 2017 and is suspected to have infected 841,906.
In November 2017, the United Nations children's agency, UNICEF, said more than 11 million children in Yemen were in acute need of aid, stressing that it was estimated that every 10 minutes a child died of a preventable disease there.
Additionally, the UN has described the current level of hunger in Yemen as "unprecedented," emphasizing that 17 million people were food insecure in the country.
Full report at:
http://www.presstv.com/Detail/2018/02/13/552253/Saudi-cluster-bombs-continue-to-endanger-Yemeni-kids-lives
--------
Africa
Tunisia MP rips up Israel flag to promote no-ties bill
Feb 14, 2018
A Tunisian lawmaker has torn up Israel's flag during a heated speech at the parliament to promote a push for a law criminalizing relations with the Tel Aviv regime.
Footage, which circulated on social media networks on Tuesday, showed opposition lawmaker Ammar Amroussia ripping up the flag while slamming his fellow legislators for delaying debate on a bill that would make normalizing ties with Israel a crime.
The parliament has shelved the bill proposed by a left-wing opposition coalition, claiming it did not constitute "a priority."
Ennahdha Party, part of the ruling coalition, has said such law would jeopardize Tunis' ties with Western countries and international organizations, according to The Times of Israel.
Tunisia, along with most Arab countries, does not have ties with Israel.
Arab parliaments have seen recurrent scenes of fiery debates against Israel and the establishment of ties with the regime. Arab lawmakers have, on occasions in the past, reacted indignantly to former and incumbent Israeli officials at various events.
During an Inter-Parliamentary Union (IPU) conference held in Russia last October, Kuwaiti National Assembly Speaker Marzouq al-Ghanim furiously told an Israeli delegation to immediately leave the venue. He was responding to an Israeli parliament representative's comments about imprisoned Palestinian lawmakers.
Earlier that month, the former Israeli minister of military affairs, Amir Peretz, faced angry protests at the Moroccan Parliament in Rabat, with several lawmakers calling him a "war criminal" and demanding his expulsion.
He was attending a joint conference of the Parliamentary Assembly of the Mediterranean (PAM) and the World Trade Organization.
Israel, itself, however, claims it is enjoying "warming" relations with the Arab world, where several governments, most notably those of Saudi Arabia, the United Arab Emirates and Bahrain, have been increasingly gravitating towards Tel Aviv in defiance of public outrage.
http://www.presstv.com/Detail/2018/02/14/552314/Tunisia-Israel-flag-Parliament
--------
Nigeria's Islamic Movement holds rally to demand justice for slain members
Feb 13, 2018
Supporters of the Islamic Movement (IMN) in Nigeria have staged yet another peaceful protest, demanding justice for a slain Muslim cleric and their leader Sheikh Ibrahim Zakzaky, Press TV reports.
On Tuesday, hundreds of members of the Islamic Movement poured onto the streets of the capital Abuja to demand justice for the slain cleric Sheikh Qassim Umar. They said the perpetrators of the crime must be brought to justice.
Umar recently died of wounds he sustained during an earlier protest in January.
The procession further pressed for the immediate and unconditional release of their leader Sheikh Zakzaky, who has been held in custody for more than two years in Nigeria.
The top Shia cleric lost his left eyesight in a raid which was carried out by the Nigerian army on his residence in the northern town of Zaria in December 2015.
During the raid, Zakzaky's wife sustained serious wounds too and more than 300 of his followers and three of his sons were killed. Zakzaky, his wife, and a large number of the cleric's followers have since been in custody.
The raid occurred a day after Nigerian soldiers attacked a group of Shia Muslims attending a ceremony at a religious center in the city of Zaria, accusing them of blocking the convoy of the army's chief of staff and attempting to "assassinate" him, which the Shia Muslims strongly denied.
Despite the ruling of a Federal High Court, which ordered his unconditional release in 2016, the Nigerian government has refused to set him free.
Last month, a UK-based NGO known as the Islamic Human Rights Commission, voiced concern over the health condition of the detained Muslim cleric. The commission in a statement also called on Nigerian authorities to immediately release Shiekh Zakzaky over his deteriorating health condition.
"In view of his deteriorating health, it is now more urgent than ever to allow Sheikh Zakzaky to be allowed access to immediate medical attention in order to assess the extent of his injuries caused by the stroke and access the necessary medical treatment," read the statement.
Nigeria allowed Zakzaky to make a rare public appearance last month to counter rumors that he had died.
Full report at:
http://www.presstv.com/Detail/2018/02/13/552259/Nigeria-Sheikh-Ibraheem-Zakzaky-Sheikh-Qassim-Umar--Islamic-Movement-IMN
--------
Sahel leaders appeal for funds for anti-extremist force
13 February 2018
Five countries in the Sahel have made a pitch for further funds for a joint force to fight extremism in their fragile region.
"Given the pressure that the current security situation is placing on the public finances of member states, the heads of state invite the international financial institutions... to put in place additional resources to face it," their statement said.
The five countries, along with Nigeria and Cameroon, are at the brunt of extremist attacks in west Africa that have left thousands dead, unleashed a humanitarian crisis and sapped economies that are already among the poorest in the world.
The goal is to have a pooled "G5 Sahel" force of 5,000 men by mid-2018 that would patrol hotspots and restore authority in lawless areas.
It would operate alongside France's 4,000 troops, deployed across the Sahel, and the UN's 12,000-strong MINUSMA peacekeeping operation in Mali.
So far, 294 million euros ($360 million) has been pledged, led by 100 million euros committed by Saudi Arabia.
This has provided support for two initial operations, which have taken place in the volatile "tri-border" area where the frontiers of Mali, Niger and Burkina Faso converge, and to set up a headquarters, located in Sevare, Mali.
On Sunday, Malian Defence Minister Tieman Hubert Coulibaly said the G5 force "will be operational by the end of March".
Funding, though, is needed for the force's longer-term future, including training and equipment. A new round of talks takes place in Brussels on February 23.
Full report at:
http://www.worldbulletin.net/africa/198790/after-3-years-japan-revises-tunisia-travel-advisory
--------
North America
US urges UN to hold Myanmar military accountable for 'ethnic cleansing'
February 14, 2018
UNITED NATIONS: The United States on Tuesday described Myanmar denials of ethnic cleansing of Rohingya Muslims as "preposterous" as it called on the UN Security Council to hold the military accountable and pressure leader Aung San Suu Kyi "to acknowledge these horrific acts that are taking place in her country".
"Powerful forces in the Burmese government have denied the ethnic cleansing in Rakhine State," US Ambassador to the United Nations Nikki Haley told the Security Council.
"To make sure no one contradicts their preposterous denials, they are preventing access to Rakhine to anyone or any organization that might bear witness to their atrocities, including the UN Security Council," Haley said.
Haley also called for the release of Reuters news agency reporters arrested for reporting on the massacre of Rohingya Muslims.
"We strongly call for their immediate and unconditional release," she said. In a reference to Myanmar's reason for detaining the journalists, Haley added, "On top of it all, they have the gall to blame the media."
The Reuters special report, published last week, lays out events leading up to the killing of 10 Rohingya men from Inn Din village in Rakhine state who were buried in a mass grave after being hacked to death or shot by Buddhist neighbours and soldiers.
French UN Ambassador Francois Delattre also told the UNSC that a massacre of Rohingya Muslims reported by Reuters could "constitute crimes against humanity".
Myanmar has denied that ethnic cleansing has taken place.
Any push for UNSC action is likely to face resistance from council veto powers Russia and China, both of whom said Tuesday the situation in Rakhine state was stable and under control.
"Using labels and attempts to use contradictory and subjective reports of the media ... to find out who's guilty and condemn them only move us farther away from a solution," Russia's Deputy UN Ambassador Dmitry Polyanskiy warned.
Nearly 690,000 Rohingya have fled Rakhine state and crossed into southern Bangladesh since last August when attacks on security posts by insurgents triggered a military crackdown that the United Nations has said may amount to genocide.
"Conditions are not yet conducive to the voluntary repatriation of Rohingya refugees," UN refugee chief Filippo Grandi told the Security Council.
Calls for journalists' release
While Myanmar UN Ambassador Hau Do Suan said that some diplomats had been able to travel to Rakhine state but also told the UN Security Council not to visit during February because it was "not the right time", Kuwait's UN Ambassador Mansour Ayyad Al-Otaibi said this month.
Myanmar's Hau Do Suan said that an inquiry by the Myanmar military — known as the Tatmadaw — had found that 10 Arakan Rohingya Salvation Army militants had been arrested in Inn Din and executed and buried a day later.
"Actions are being taken against 16 individuals, including army and police officers and some villagers who had acted in violation of standard operating procedures and the rules of engagement.
"This action of the Tatmadaw is positive step forward in taking responsibility and deserves encouragement," he said.
With reference to Reuters journalists arrested for reporting on the Rohingya, Hau Do Suan said Myanmar recognizes freedom of the press and the journalists were not arrested in December for reporting a story but were accused of "illegally possessing confidential government documents".
"Every citizen is bound by the existing law of the land. It is important that the actions of the journalists must also within the bound of the law," he said.
Britain, France, the US , the Netherlands, and Kazakhstan all called for the release of the Reuters journalists during the UNSC meeting on Tuesday.
https://nation.com.pk/14-Feb-2018/us-urges-un-to-hold-myanmar-military-accountable-for-ethnic-cleansing
--------
U.S. And Iran Both Pledge Support To Rebuild Iraq After Defeating Isis
By Tom O'connor
2/13/18
Secretary of State Rex Tillerson called on allies in the fight against the Islamic State militant group to contribute more in Iraq's reconstruction—but Iran has also pledged its support after contributing heavily to the battle against the jihadis next door.
Tillerson made his remarks Tuesday at a ministerial meeting of the U.S.-led Global Coalition to Defeat ISIS, in Kuwait City. Coinciding with Tillerson's visit, Kuwait also launched Monday the three-day Kuwait International Conference for Reconstruction of Iraq, during which Iraqi officials revealed an estimated $88 billion price tag to rebuild the country after its cities suffered an onslaught from both ISIS and the forces that defeated the jihadis.
At the ministerial meeting, Tillerson said the U.S. would extend a $3 billion line of credit to the Iraqi government and urged coalition partners to do more for the war-torn country in order to prevent a resurgent ISIS, Reuters reported.
"The end of major combat operations does not mean that we have achieved the enduring defeat of ISIS. ISIS remains a serious threat to the stability of the region, our homelands and other parts of the globe," Tillerson said. "Without continued attention on the part of coalition members, we risk the return of extremist groups like ISIS in liberated areas in Iraq and Syria and their spread to new locations.
"Each of us must continue our commitment to the complete defeat of ISIS. Maintaining stabilization initiatives is essential in this regard. If communities in Iraq and Syria cannot return to normal life, we risk the return of conditions that allowed ISIS to take and control vast territory," he added.
Tillerson emphasized the importance that the initiatives to stabilize Iraq "be fully funded," but U.S. officials have told Reuters that the Trump administration had no plans of pledging any money directly to the conference. Instead, the outlet quoted one senior State Department official as saying the U.S. would instead seek private investment to assist Iraq and let willing Arab partners foot most of the bill.
The money would reportedly be used both to reconstruct Iraq and counter foreign influence, likely referring to neighboring Iran, which shared a Shiite Muslim majority with Iraq and served as the leading regional rival to both the U.S. and its Gulf Arab allies, especially Saudi Arabia.
Iran, however, was also planning on taking part in the Kuwait-led initiative to rebuild Iraq. Tehran offered substantial support to the fight against ISIS in both Iraq and Syria via majority-Shiite Muslim militias, which have fought alongside the armed forces of both nations. Iranian Foreign Minister Mohammad Javad Zarif reportedly arrived Tuesday in Kuwait to participate at the conference.
"As in the past, Iran will keep playing its supporting and constructive role in the reconstruction and economic development of Iraq in the post-ISIS era as it has always played the same role in other political and security fields," Iranian Foreign Ministry spokesman Bahram Qasemi said, according to the semiofficial Fars News Agency.
Iraq has suffered from 17 consecutive years of warfare since the U.S. invaded to overthrow President Saddam Hussein in 2003. Amid the ensuing U.S. occupation, jihadi groups such as Al-Qaeda in Iraq—which would later form the Islamic State of Iraq and ISIS—launched deadly attacks against civilians and soldiers. This stirred further sectarian violence between newly empowered Shiite Muslims, increasingly disillusioned Sunni Muslims and a number of religious and ethnic minorities, such as the Kurds, who have their own nationalist aspirations.
ISIS rose from the unrest in 2013 and expanded across half of Iraq as well as neighboring Syria, where a sectarian conflict was also raging as a mostly rural, Sunni Muslim rebellion backed by the West, Turkey and Gulf Arab states tried to unseat Syrian President Bashar al-Assad, an Alawite Shiite Muslim and ally of Iran and Russia. The U.S. gathered an international coalition to support a campaign of airstrikes against ISIS in both countries, while Iran backed its own local allies battling the militants in a campaign later backed by Russia in Syria.
The U.S. and Iran have both blamed each other for destabilizing the Middle East and of attempting to use the unrest to further their own influence in the region. Trump called out the "evil dictatorship" in Tehran in his "America First" National Security Strategy that accused Iran, along with North Korea, of being "determined to destabilize regions, threaten Americans and our allies, and brutalize their own people."
Full report at:
http://www.newsweek.com/us-iran-both-pledge-support-rebuild-iraq-after-defeating-isis-805474
--------
'Chelsea bomber' Ahmed Rahimi jailed for life over New York attacks
February 14, 2018
The terrorist who set off pressure cooker bombs in New York in 2016 has been sentenced to life behind bars.
Ahmad Rahimi injured 30 people when one of his bombs blasted shrapnel in Manhattan's Chelsea neighbourhood.
A second bomb planted nearby did not detonate, while a small pipe bomb exploded in New Jersey but did not injure anyone.
Rahimi, dubbed the "Chelsea bomber", was detained after a two-day manhunt ended in a shoot-out with police in Linden, New Jersey.
The Afghan-born US citizen, 30, has reportedly shown no remorse and has tried to radicalise others in prison to support the so-called Islamic State.
"He is proud of what he did, scornful of the American justice system, and as dedicated as ever to his terrorist ideology," prosecutors wrote.
Given a chance to speak at his sentencing, Rahimi said: "I don't harbour hate for anyone."
Prosecutors said he gave inmates copies of terrorist propaganda and jihadist materials.
They included speeches and lectures by al-Qaida founder Osama bin Laden and Anwar al-Awlaki, a US-born cleric who inspired attacks on America and was killed in a US air strike in September 2011.
Rahimi also allowed some inmates to view materials on his laptop or provided electronic copies as he spread The Book of Jihad, bomb-making instructions and various issues of a propaganda magazine.
A victim of the Manhattan blast confronted Rahimi in court after he was sentenced, telling him she is an immigrant too.
Full report at:
https://www.standard.co.uk/news/world/chelsea-bomber-ahmed-rahimi-jailed-for-life-over-new-york-attacks-a3766016.html
--------
Tillerson calls on allies to focus on fighting IS
February 14, 2018
US Secretary of State Rex Tillerson urged allies Tuesday to stay focused on fighting the Islamic State group, saying Turkey's military offensive in northern Syria had "detracted" from the anti-militant battle. Tillerson spoke at a ministerial meeting in Kuwait of the US-led military coalition that has been fighting IS in Iraq and Syria, being held in parallel with a conference on reconstruction in Iraq.
https://nation.com.pk/14-Feb-2018/tillerson-calls-on-allies-to-focus-on-fighting-is
--------
We don't know what to do with foreign ISIL militants: Mattis
Feb 13, 2018
There has been no agreement among members of the so-called coalition against the Daesh Takfiri terrorists on what to do with the militants from those countries, says US Defense Secretary James Mattis.
The Pentagon chief made the comments among reporter travelling with him from the Italian capital Rome to the Belgian capital Brussels on Tuesday.
His comments came following a closed-door coalition meeting there over the issue, which was "not resolved in a final way."
"The important thing is that the countries of origin keep responsibility for them," Mattis said. "How they carry out that responsibility, there's a dozen different diplomatic, legal or whatever ways, I suppose. But the bottom line is, we don't want them going back on the street."
He further asserted that "doing nothing is not an option."
The so-called Syrian Democratic Forces (SDF) have recently captured two British militants, part of an ISIL cell known as "The Beatles" for their English accents.
"We don't want them on the street in Ankara. We don't want them on the street in Tunis, Paris or Brussels. We don't need them in Kuala Lumpur or New Delhi. We don't need them in Kabul or Riyadh," Mattis said. "My point is it's an international problem. It needs to be addressed, and we're all engaged on doing that."
He declined to say whether the detainees would be sent to the notorious Guantanamo Bay prison.
"I'm not willing to say anything on that right now," Mattis said. "I think the best thing to do is to define the problem and then we'll get to solutions. We need to know how many of these guys are in what status, what countries are they from, and so I don't want to jump to offering solutions before I've defined the problem."
About the British detainees, the Pentagon chief said London should take the responsibility.
"My view is that the country of origin that they were citizens of bears some sense of responsibility," he continued. "How they deal with that responsibility, I'm not a lawyer. I'm not an international law person, but I know one thing: they shouldn't be allowed back on the street."
Full report at:
http://www.presstv.com/Detail/2018/02/13/552292/No-final-agreement-on-foreign-ISIL-militants
--------
Rex Tillerson urges Arab states to resolve dispute with Qatar
Feb 13, 2018
US Secretary of State Rex Tillerson has called on Arab monarchies to resolve their diplomatic dispute with Qatar, during a visit to the Persian Gulf.
Tillerson spoke on Tuesday at the Kuwait International Conference for Reconstruction of Iraq in Bayan, a city in Kuwait.
He started his trip on Sunday by visiting Cairo, Egypt, a trip through the Middle East as he faces confrontational talks at almost every stop on his five-country tour.
A key US ally, Israel, is conspicuously absent from his itinerary.
This is while Saudi Arabia, the UAE, Bahrain, Egypt, Libya, and several other countries cut off diplomatic ties with Qatar in June over allegations that Doha is sponsoring terrorism and destabilizing the region.
Qatar has vehemently denied the accusations, calling them unfounded.
Qatar, home to the forward headquarters of the US military's Central Command and some 10,000 American troops, had assigned some of its US-provided fighter jets to the unprovoked war, which has killed over 12,000 Yemeni people while plunging the impoverished country into a humanitarian crisis.
Full report at:
http://www.presstv.com/Detail/2018/02/13/552255/Rex-Tillerson-urges-Arab-states-to-resolve-dispute-with-Qatar
--------
South Asia
Afghan officials and Taliban talk despite wave of violence
February 13, 2018
KABUL, Afghanistan: Afghan officials are carrying out at least two tracks of talks with the Taliban , The Associated Press has learned, even after a month of brutal bombings and attacks by the militants that killed nearly 200 and despite President Donald Trump's angry rejection of any negotiations for now.
The persistence of the back-channel contacts reflects the desire to keep a door open for reconciliation even as the Afghan government and its top ally, the United States, fumble for a strategy to end the protracted war, now entering its 17th year. Rifts within the Afghan government have grown vast, even as the Taliban gain territory and wage increasingly ruthless tactics.
The United States has unleashed heavier air power against the Taliban and other militants. After the string of Taliban attacks in recent weeks, Trump angrily condemned the group. "We don't want to talk with the Taliban ," he said. "There may be a time but it's going to be a long time."
Still, Afghanistan's intelligence chief Masoom Stanikzai and its National Security Chief Mohammed Hanif Atmar continue to each talk separately to the Taliban , say those familiar with the backdoor negotiations. The problem, however, is that neither is talking to the other or to the High Peace Council, which was created by the government to talk peace with the Taliban , they said, speaking on condition of anonymity to discuss the contacts.
Hakim Mujahid, a member of the High Peace Council, confirmed that Stanikzai still has regular contacts with the Taliban's point man for peace talks, Mullah Abbas Stanikzai. The two are not related.
Mujahid — who was the Taliban's representative to the United Nations during the group's five-year rule of Afghanistan that ended in 2001 — said the group would not respond well to Trump's tough talk . "The language of power, the language of threat will not convince Afghans to surrender," he said.
Andrew Wilder, vice president of the Asia Program at the U.S. Institute of Peace, said multiple players in Kabul have contacts with the Taliban . "But this isn't being done in a coordinated manner to achieve clearly defined objectives," he said.
Later this month, representatives from dozens of countries are to meet for a second time in the Afghan capital for the so-called Kabul process aimed at forging a path to peace. The first round was held in June.
Still, the latest spate of violence has limited options for Afghan President Ashraf Ghani, who is also fending off a mini-revolt within his own government, feuding with the vice president as well as a powerful northern governor.
Meanwhile, the former No. 2 of the Taliban , Aga Jan Motasim, who still counts the radical religious movement's leader Mullah Habaitullah Akhunzada among his friends, warned that Trump's strategy of using the military to force a more compliant Taliban to the negotiation table could lead to more suicide attacks.
From within his fortress style house in Kabul, protected by steel gates and gunmen, Motasim said he wants to be a bridge between the government and Taliban .
Motasim was a senior member of the Taliban leadership shura, or council, until 2010 when he was shot 12 times after advocating peace negotiations with the Afghan government. Blame for the shooting has been directed at both elements within the Taliban who opposed peace talks and Pakistan's powerful spy agency, often seen as the force behind the Taliban .
Motasim now travels in a bullet-proof car and even his friends have to be announced by men with weapons before they are allowed to enter. He spends his time between Kabul, where he talks to the government, and in Turkey, from where he can contact his former Taliban colleagues.
The 2010 shooting of Motasim in Pakistan's southern port city of Karachi reflects the deadly conundrum that confounds efforts to find a peaceful end to Afghanistan's war.
Pakistan is accused of giving sanctuary to the Taliban to assert influence in Afghanistan and to counter what it sees as growing influence of India in Afghanistan. Pakistan flatly denies the allegation, but Taliban who have advocated peace talks that threaten to sideline Pakistan have often ended up arrested, dead or forced to live elsewhere.
Pakistan has its own complaints about Afghanistan, saying it allows its territory to be used by anti-Pakistan militants who have staged horrific attacks in Pakistan. It also charges that Afghanistan is being used by hostile India to destabilize its troubled border regions.
The United States has suspended military aid to Pakistan to press it into kicking out Taliban . But Washington also says it sees Pakistan as key to bringing a peaceful end to the Afghan war.
Increasingly, the Taliban have gained control of areas inside Afghanistan. Even Washington's own Special Inspector General for Afghan Reconstruction, or SIGAR, says more than half of Afghanistan is either under direct Taliban control or under their influence. Other estimates put the figure as high as 70 percent.
Washington's reaction to the news of Taliban territorial gains has been to prevent SIGAR from releasing estimates of territory gained or lost by the government, the special inspector general's office reported last month. Washington has also classified information regarding the strength and performance of Afghanistan's security forces.
In a report late last year SIGAR said $72 billion of the $120 billion spent in Afghanistan since the war began went to the country's security.
"Clearly, the time is ripe to ask why an undertaking begun in 2002 and costing $70 billion has — so far — not yielded bigger dividends," the report said.
https://nation.com.pk/13-Feb-2018/afghan-officials-and-taliban-talk-despite-wave-of-violence
--------
Over 40 Taliban militants killed in Kandahar airstrikes
Feb 13 2018
More than 40 Taliban insurgents were killed in a series of airstrikes launched in response to the coordinated attack of the group on Nish district.
According to the local security officials, scores of Taliban insurgents launched a coordinated attack from four different angles in Nish district, sparking heavy gun battle with the security forces.
The Kandahar police secretary Ghorzang Afridi confirmed the attack and said the Afghan forces received air support immediately after the attack was launched.
He said the information received from area indicate that 43 Taliban insurgents were killed and more than 20 others were wounded.
According to Afridi, several vehicles and motorcycles belonging to Taliban insurgents were destroyed and some weapons have been confiscated by the security forces.
In the meantime, the Taliban group claim that two security outposts were captured during the attack and more than 20 security personnel were killed.
However, the local security officials dismiss the Taliban claims as baseless and confirm no casualties were incurred to the security personnel.
Full report at:
https://www.khaama.com/over-40-taliban-militants-killed-in-kandahar-airstrikes-04486
--------
Bangladesh's most wanted terror duo launches Indian unit
Feb 10, 2018
Bangladesh's most-wanted terror duo, Salahuddin Salehin and Jahidul Islam alias Bomaru Mizan, who have rewards declared by both India and Bangladesh authorities for information on them, have founded an India chapter of Jamaat-ul-Mujahideen Bangladesh (JMB), an outfit banned by India's eastern neighbour.
The new chapter is named Jamaat-ul-Mujahideen India (JMI).
According to an interview that Salehin gave to its media wing Sahm Al Hind, he has been described as amir (chief) of JMB. Bomaru Mizan, known in India as Kausar, is his close associate.
"We are working to ensure that Hindustan, too, turns into a centre for Hijrat (migration for religious battle) and Jihad, so that we, as the people of India, can play a major role in the foundation of the next caliphate," Salehin said in the interview that is being circulated online.
"The reason I am giving this interview is that we have been able to manage to build the organisation afresh to a certain extent," he added.
Muralidhar Sharma, deputy commissioner of police heading the Special Task Force of Kolkata Police - which recently nabbed six alleged JMB operatives - said that he was unaware of Salehin's interview.
"We started from Bangladesh but have now spread. Jamaat-ul-Mujahideen India is an example. Work is progressing elsewhere as well," Salehin added.
Officers of Kolkata Police STF, who arrested five JMB elements for alleged connection with the January 19 Bodh Gaya blast, is quizzing them to obtain information about Salehin and Mizan.
A senior leader of JMB right since its foundation in 2001, Salehin criticised the Syria-based Islamic State (IS), making it clear that he follows Al Qaeda, JMB's original 'role model'.
In the interview he also spoke of Ghzwat ul Hind, which means the conquest of India.
In February 2014, Salehin, 41, and Mizan, 38, were 'freed' during an ambush on a prison van carrying them at Trishal in Mymensingh district of Bangladesh. They await death sentence in Bangladesh and are believed to be hiding in India since their escape, according to an officer working with a central intelligence agency who did not wish to be identified.
Both Salehinn and Mizan are also named in Khagragarh blast in Burdwan district of West Bengal that exposed a flourishing JMB network in India according to investigation by India's National Investigation Agency (NIA).
NIA declared rewards of Rs 5 lakh for credible information leading to each. Bangladesh's Counter Terrorism and Transnational Crime Unit (CCTU) of Dhaka Metropolitan Police also announced rewards of 5 lakh Bangladeshi Taka on both.
Salehin is also known by the aliases of Sunny, Hafizur Rehman Sheikh and Mahin. He hails from Narayanganj district of Bangladesh.
In India, his address till the Khagragarh blast was Nimra village, Kirnahar, Birbhum district of West Bengal.
Mizan hails from Jamalpur district's Khalifapara, the native village of JMB's founder chief Sheikh Abdur Rehman. A first-batch operative, he headed JMB's explosive wing from 2006 till his arrest in 2009.
After crossing over to India, the duo teamed up with other JMB associates hiding in West Bengal, and started building up a base in Bengal, Assam and Jharkhand.
In the interview Sulehin also criticised a section of JMB operatives in Bangladesh – often referred to as 'Nobyo JMB' or neo JMB – that owed allegiance to IS and took part in operations such as the attack at Holey Artisan bakery in Dhaka on July 1, 2016.
Full report at:
https://www.hindustantimes.com/kolkata/bangladesh-s-most-wanted-terror-duo-launches-indian-unit/story-Wc5tptQVsyXSRVoJVXtYWM.html
--------
RAB arrests two JMB militants, thwarts plan to kill converted Christians
February 13, 2018
Two machetes, extremist literature and $724 (about Tk60,300) have also been seized from them
Rapid Action Battalion (RAB) has arrested two members of banned militant outfit Jama'atul Mujahideen Bangladesh (JMB) from Dhaka, one of whom was planning to murder Muslims who converted to Christianity.
A RAB 2 team, acting on a tip-off, caught Nuruzzaman Labu, 39, of Jhenaidah, and Nazmul Islam Shaon, 26, from Tejgaon industrial zone on Monday night.
Two machetes, extremist literature and $724 (about Tk60,300) were also seized from them, said RAB 2 Commander Lt Col Anwar Uz Zaman.
"During preliminary questioning, both of them have admitted to being active JMB members. We are trying to catch their associates," he said.
Sources from RAB said Labu also admitted that he was involved with Jamaat-e-Islami several years ago. He was a madrasa student, but did not finish his studies.
Until Monday, he drove an autorickshaw to run reconnaissance on people who converted from Islam to Christianity.
A RAB official said: "During interrogation, Labu said he already had targeted a man to murder. He has been following that man regularly.
"Labu is also a regional leader of JMB at Jhenaidah and an expert in making bombs."
The official said Labu joined JMB in 2015 through two men named Saif and Sagar, both of whom also went by several aliases such as Rubel, Robin, Maruf and Sohag.
Saif had motivated him into attacking and killing "the infidels". They also had held secret meetings with others at different places in Jhenaidah. Later, the local JMB unit had bought him the autorickshaw.
Another RAB official quoted second arrestee Shaon, a marine engineer, as saying that he also got involved with JMB in 2015 after he met one Abu Abdullah on Facebook.
Abdullah was the one who helped him join the militant group, while Shaon was already inspired after reading extremist literature online.
Full report at:
http://www.dhakatribune.com/bangladesh/crime/2018/02/13/rab-jmb-plan-kill-converted-christians/
--------
Foreign nationals among 8 militants killed, wounded in Badakhshan
Feb 13 2018
At least eight militants including foreign nationals hailing from Tajikistan were killed or wounded during the operations in northeastern Badakhshan province of Afghanistan.
The 209th Shaheen Corps of the Afghan Military in the North said the militants sustained the casualties during the artillery strikes and direct clashes with the Afghan forces.
According to Shaheen Corps, the Afghan forces pounded the militants hideouts with the artillery strikes in Jurm district while separate clashes took place between the Afghan forces and the militants during the clashes.
At least two insurgents including a national of Tajikistan fighting in militants ranks were killed and six others including a Tajikistani militant were wounded.
In the meantime, the Shaheen Corps said the Afghan forces discovered and defused a barrel bomb planted on a roadside in Baharak disrict.
The anti-government armed militant and terrorist groups including the Taliban insurgents have not commented regarding the report so far.
Full report at:
https://www.khaama.com/foreign-nationals-among-8-militants-killed-wounded-in-badakhshan-04483
--------
Arab World
Russia warns of chemical attack by militants, White Helmets in Syria's Idlib
Feb 13, 2018
The Russian Center for the Reconciliation of Opposing Sides in Syria says it has received a phone call warning about a possible chemical weapons attack in the northwestern Syrian province of Idlib by militants and White Helmets.
The phone call warned that the Jabhat Fateh al-Sham Takfiri terrorist group, formerly known as al-Nusra Front, together with the White Helmets organization, a self-proclaimed civil defense group, are hatching the plot on the Idlib chemical attack, the center said in a statement on Tuesday.
The Russian military said it received the phone call from a resident from the Serakab settlement, located in Idlib province, on Monday evening who informed the center that the attack "could be staged to provide footage for a foreign TV channel."
The caller said Jabhat Fateh al-Sham terrorists "brought more than 20 chlorine gas cylinders and personal protective equipment to Serakab" in three cars earlier on Monday, it added.
"According to the caller, members of the local While Helmets branch wore personal protective equipment while rehearsing first aid provision to civilians suffering from chemical poisoning," the Russian Center added.
It said all this shows that the Takfiri terrorists and White Helmets members have been preparing to stage the chemical attack with the purpose of holding the Syrian government liable for it.
"The caller pointed out that all the proceedings had been filmed by professional reporters who used a mic with the CNN logo, while commenting on the actions being taken by the White Helmets," the statement said.
It noted that the reporters had also consulted with some people over a satellite telephone in English.
The statement said that "the information provided by the Idlib province resident raises serious concern."
In January, pro-militant sources in Syria, the White Helmets and the UK-based Syrian Observatory for Human Rights, claimed that the Syrian government had used chlorine gas against militants in northwestern Syria.
The US and UK raised the issue at the UN Security Council on February 6, but the Syrian envoy rejected the allegations as "false and cheap."
The Syrian diplomat said the US resorts to such "fabricated accusations" whenever it realizes that terrorist groups are in trouble in the face of any progress by the Syrian army.
US Defense Secretary James Mattis said on February 2 the United States has no evidence to confirm reports that the Syrian government used the chemical nerve agent of sarin against its civilians.
Mattis said Washington was "concerned" about the use of sarin in Syria but could not confirm reports from NGOs and militant groups regarding the issue.
The Syrian government in September categorically dismissed a United Nations report accusing it of being involved in a suspected chemical attack in the country's province of Idlib, which killed dozens of people in early April.
The Permanent Mission of the Syrian Arab Republic to the United Nations Office in Geneva, in a letter addressed to the Head of the United Nations Human Rights Council Joaquín Alexander Maza Martelli on Friday, refuted allegations by the UN Commission of Inquiry on Syria that government forces have used chemical weapons in Khan Shaykhun and elsewhere in the conflict-plagued Arab country.
http://www.presstv.com/Detail/2018/02/13/552273/Idlib-chemical-attack-Russia-Jabhat-Fateh-alSham-White-Helmets
--------
Iraq's Nujaba vows to fight Israel in case of attack on Hezbollah
Feb 13, 2018
Iraq's Harakat al-Nujaba, a popular movement known for its brave fight against the Daesh Takfiri terrorists in Iraq and Syria, has vowed that it would offer its total support to Hezbollah if the Lebanese resistance movement would be involved in another war with Israel.
While on a visit to Lebanon on Tuesday, Nujaba's secretary general Akram al-Kaabi said that if Israel launches an aggression against Hezbollah, as it has been claimed in media reports, the Iraqi group would firmly stand beside Hezbollah.
Kaabi said Nujaba proved to be a reliable partner for Hezbollah in the group's contribution to Syria's fight against Daesh, adding that the strong alliance would continue to persist in the future.
"We in the Iraqi resistance stand with Hezbollah, and we will stand with Hezbollah in any Israeli attack or action against it," he said, adding that Nujaba would fight "with Hezbollah in a single row, on a single front, just as we stood with them on a single front in Iraq or Syria."
Kaabi was in the Lebanese capital, Beirut, to pay his tribute to Hezbollah's late commander Imad Mughniyeh, some 10 years after his death in a major bombing in the Syrian capital, Damascus. He is the second commander of Iraqi fighters to visit Beirut's southern suburbs, where Hezbollah enjoys strong support. Qais al-Khazali, commander of Iraq's Asaib Ahl al-Haq fighters, a main component of Iraq's paramilitary Hashed al-Shaabi force, also came to Lebanon in December.
Hezbollah has been a major partner to Syria's war on terror since a conflict began in the Arab country in 2011. Hezbollah also sent advisors to help Hashed forces in Iraq as they helped Baghdad purge the Iraqi territory from Daesh militants.
Hezbollah's increasing clout in the region has clearly angered its main enemy, Israel. Reports say the regime in Tel Aviv is seeking a pretext to launch a fresh war on Hezbollah. Israelis effectively lost a previous war with Hezbollah in the summer of 2006 as they ended the month-long aggression with no sensible achievement while suffering huge losses to their ranks and weaponry.
Hezbollah Secretary General Sayyed Hassan Nasrallah warned Israel that it would have to face fighters from around the Arab and Muslim world if it launches a war on the Lebanese resistance.
Full report at:
http://www.presstv.com/Detail/2018/02/13/552270/Iraq-Nujaba-Hezbollah-Israel
--------
Popular Uprising against Al-Nusra Reported in Northern Homs
Feb 13, 2018
The sources said that people in the town of al-Rastan have demonstrated against the Al-Nusra militants and called for their expulsion from their region.
The sources further added that the protest occurred after Al-Nusra executed one of the civilians in the town.
In a relevant development in the province on Sunday that army forces warded off the terrorist groups' heavy offensive in Northeastern Homs, inflicting major losses on the militants.
The army men repelled a heavy attack of the terrorists near the village of Salim in Northeastern Homs, killing or wounding a number of gunmen.
In the meantime, the army's artillery units pounded terrorists' positions in al-Sa'an al-Aswad, Hawsh Hajwa and Talbiseh regions in Northern Homs after the militants violated ceasefire in de-escalation zone and targeted the army positions.
Full report at:
http://en.farsnews.com/newstext.aspx?nn=13961124001591
--------
Terrorist Groups Agree on Dissolving ISIL in Northern Syria
Feb 13, 2018
The sources said that commanders of the ISIL and Al-Nusra in a meeting agreed on breakup of the ISIL to end its presence in Northern Syria.
In the meantime, dissident-affiliated websites claimed that 350 ISIL gunmen handed over their guns to the Al-Nusra and surrendered to the terrorist group in Southern Idlib.
ISIL trapped in a region among the provinces of Hama, Idlib and Aleppo had stormed the Syrian Army positions to flee towards regions that were under the control of Al-Nusra and other terrorist groups, the sources said. Then they raided rival terrorists and pushed them out of several regions in Southern Idlib.
In Relevant developments on Monday, the ISIL terrorists stormed the strongholds of the Al-Nusra Front in Southeastern Idlib and captured three more villages.
ISIL imposed full control over the village of Um Khalakhil, al-Khowein and al-Zarzur after fierce clashes with Al-Nusra in Southeastern Idlib.
Full report at:
http://en.farsnews.com/newstext.aspx?nn=13961124001462
--------
Northern Syria: Turkish Army Targets Kurdish-Held Town of Afrin for First Time
Feb 13, 2018
Hawar news reported that the artillery units of the Turkish army and Ankara-backed militants opened heavy fire at populated neighborhoods in the Central part of Afrin.
It went on to say that the artillery units also targeted Afrin Hospital inside the town, killing and wounding a number of civilians, including several children. Yet, the news outlet said the exact number of casualties is not clear yet.
Well-informed sources reported on Monday that a new convoy of the Turkish Army vehicles and equipment and hundreds of Ankara-backed militants were forwarded to Afrin region in Northwestern Aleppo to join Operation Olive Brach against Kurds.
The sources reported that a military convoy of the Turkish army left Kafr Lusin border-crossing for Northern Idlib heading towards the town of Salwah at the opposite side of the towns of Afrin and Dar al-Izzah in Western Aleppo.
In the meantime, the AMN reported that 500 militants of Faylaq al-Hamzah affiliated to the Free Syria Army (FSA) have been sent to Afrin to join battle against the Kurds after they went under four-month-long military training by Turkish army.
Full report at:
http://en.farsnews.com/newstext.aspx?nn=13961124001021
--------
Syrian Army Finds More Israeli Arms at Captured ISIL Positions in Deir Ezzur
Feb 13, 2018
The army sources said they were carrying out cleansing operation in the villages of al-Sayal and Hasarat East of the town of Albu Kamal in Southeastern Deir Ezzur when they discovered several warehouses containing a large number of Israel-made missiles, rockets, mortars, shells, landmines and hand-made bombs.
In the meantime, the army men found a tunnel in the village of al-Sabikhan East of the town of al-Mayadeen that was used as a large workshop to manufacture arms and bombs, the sources said adding that a large quantity of unknown materials has also been found in the tunnel.
Field sources reported on Sunday that the Syrian Army sent a large number of fresh forces and a large volume of military hardware to Eastern Deir Ezzur after its positions in the region were pounded by the US fighter jets a couple of days ago.
The sources said that the army dispatched a large number of forces and a large volume of military equipment to the Eastern bank of the Euphrates River in Eastern Deir Ezzur.
Full report at:
http://en.farsnews.com/newstext.aspx?nn=13961124000957
--------
Egypt forces have killed 38 militants in major operation
13 February 2018
Egypt's military said Tuesday it has killed 38 militants and arrested more than 500 militants and suspects days after launching a major operation against an ISIS group affiliate in Sinai.
The military said it had killed 10 "extremely dangerous" extremists, in addition to 28 militant fighters it had previously announced as having been killed.
A statement added that 400 "criminal elements and suspects" had been arrested, having previously announced the arrest of 126 people.
The dead militants had been "hiding inside a house in the vicinity of El-Arish city (North Sinai province's capital) following a shoot-out," spokesman Colonel Tamer al-Rifai said in the statement.
The operation has also destroyed several vehicles and warehouses, he said.
On Friday, the military announced the start of "Operation Sinai 2018" in the Sinai Peninsula bordering Israel, the central Nile Delta and the Western Desert near the border with Libya.
The security sweep comes as President Abdelfattah al-Sisi seeks re-election in March, after a first term in office that has seen him crack down on a terrorist insurgency.
Egypt's security forces have been increasingly targeted by militants since the army -- then headed by Sisi -- overthrew Islamist president Mohamed Morsi in 2013.
Full report at:
https://english.alarabiya.net/en/News/middle-east/2018/02/13/Egypt-forces-have-killed-38-militants-in-major-operation.html
--------
Southeast Asia
Indonesian church attacker thought to be a lone wolf
February 14, 2018
JAKARTA (THE JAKARTA POST/ASIA NEWS NETWORK) - The sword-wielding Indonesian man who attacked a congregation in Yogyakarta during Sunday (Feb 11) mass is believed to have acted alone, according to police.
At least four people were injured when the suspect, who police identified as 23-year-old Suliyono from Bayuwangi in East Java, stormed into the church wielding a one-metre-long sword and began attacking people indiscriminately.
He also decapitated a Virgin Mary statue with his sword and was later shot in the leg by police.
National Police spokesman Setyo Wasisto said the police had not yet found if Suliyono had any links to extremist groups and had concluded that he was a lone-wolf terrorist.
He said the incident on Sunday conformed to a pattern of terrorist attacks that have taken place in countries across the world in recent years.
The police previously said that Suliyono was a radical Islamist who had wanted to fight with Islamic State in Iraq and Syria (ISIS) militants in Syria.
He added that Suliyono was radicalised when he joined several religious organisations as a school student in Sulawesi, but refused to disclose the names of the organisations, which may have influenced Suliyon with radical teachings.
Three days before the attack, Setyo said, Suliyono stayed in a prayer room in Yogyakarta and reportedly communicated with the man who takes care of the mushola. During his stay, Suliyono searched on the internet for the nearest church and where to find a weapon.
"He exchanged his mobile phone for the 1-metre-long sword (used in the attack)," said Setyo.
The police also found that Suliyono had applied for a passport two or three times in an attempt to travel to Syria, however immigration officials rejected all of his passport applications because of ID-related issues.
The police named Suliyono a terrorist suspect on Tuesday, where he was charged under three different laws on persecution, sharp-weapon ownership and terrorism.
Suliyono could face the death penalty as stipulated in the 2003 Terrorism Law, which is being revised and deliberated in the House of Representatives.
The church attack followed two other religious-related incidents in the country. Two weeks earlier, a group of people disrupted a social care program at the St. Paulus Catholic church in Bantul, Yogyakarta, accusing the church of using the event to convert people to Christianity.
Earlier this month, a Buddhist monk from Caringin village, Tangerang regency, Banten, was forced by local residents to write a letter promising to stop his religious activities.
Former terrorist Ali Fauzi explained to The Jakarta Post that it was likely Suliyono had chosen Yogyakarta as his target because its population had diverse religious, ethic and sociocultural backgrounds. "It seemed he knew very well that attacking this region would trigger widespread societal conflict," said Ali.
Jakarta-based Institute for Policy Analysis of Conflict director Sidney Jones said on Tuesday that in some cases, extremists targeted churches because they were seen as trying to convert Muslims.
"Many violent extremist groups, including those linked to the Islamic State (ISIS) movement, are taught that Christians and Jews are the enemies of Islam," she said, citing the Bethel Church bombing in Surakarta, Central Java, in 2011, as an example.
However, Jones said, based on previous cases the police would continue to be the primary target for terrorists.
http://www.straitstimes.com/asia/se-asia/indonesian-church-attacker-thought-to-be-a-lone-wolf
--------
Elderly Dutch priest among four injured in sword attack
February 13, 2018
A young Muslim man armed with a sword was shot by police after he attacked an 81-year-old Dutch priest and three others during Sunday Mass in Indonesia.
Suliyono, 22, entered St. Lidwina Church in Yogyakarta as Catholics were singing a hymn during Mass led by Jesuit Father Karl-Edmund Prier.
Yulianto, a Yogyakarta police spokesman, said Suliyono entered from the western church door and then began attacking with his sword. "The first victim was a church official who was hacked on his back," Yulianto told ucanews.com.
The policeman said Suliyono then moved to the altar where he attacked Father Prier.
"He hacked at the head and back of the priest," Yulianto said.
In the video that went viral on social media, the perpetrator was seen swinging a sword in front of the altar. Some people were seen throwing rocks or chairs towards him.
Suliyono also attacked and damaged statues of Jesus and the Virgin Mary.
Yulianto said that Suliyono attempted to resist arrest and was shot by police in the thigh.
Father Prier and the other victims are in a stable condition.
A day after the attack, national police chief Tito Karnavian said there are strong indications that Suliyono, a university student, has links with radical groups.
Karnavian said Suliyono was believed to have had aspirations to fight in Syria as a jihadist but could not get a passport to allow him to travel.
Archbishop Robertus Rubyatmoko of Semarang said police were managing the case and that those injured "feel protected by God."
Juventus Prima Yoris Kago, chairman of the Catholic Student Association, asked Catholics not to be provoked by what occurred.
"Let us show the example of being a good religious person who is trying to love everyone," he said.
"We show that we reject destructive acts in any name."
The incident has drawn concerns from many figures, including Muslims.
Helmy Faishal Zaini, the general secretary of Nahdatul Ulama, the country's largest moderate Muslim organization, said such acts of violence betray Islam.
"The act of assault and violence is not part of any religious teachings and beliefs," he told ucanews.com.
"Islam condemns acts of violence, especially if it is done in houses of worship," he said.
Syafii Maarif, a prominent moderate Muslim leader who visited the church after the attack, said what occurred was "barbaric."
Bonar Tigor Naipospos, deputy chairman of the Setara Institute for Democracy and Peace, said the incident highlights the ongoing need to address radicalism.
Full report at:
https://www.ucanews.com/news/elderly-dutch-priest-among-four-injured-in-sword-attack/81516
--------
First Israeli Diplomat To Visit Malaysia In 53 Years: Country Tough To Crack
By Herb Keinon
FEBRUARY 13, 2018
Malaysia is a "very tough nut to crack," and the Southeast Asian Muslim-majority country is "not on its way to establishing ties with Israel," David Roet, the first Israeli diplomat to visit the country since 1965, said on Tuesday.
Roet headed a delegation last week of three Israelis to a 20,000-strong UN Human Settlements Program (UN-Habitat) conference in Kuala Lumpur. Malaysia, which is implacably anti-Israel, allowed the participation of the Israeli delegation only begrudgingly after Israel applied extensive diplomatic pressure that reached all the way to the office of UN Secretary-General Antonio Guterres.
Roet said that Israel – particularly its delegation to the UN and its embassy in Nairobi, which headquarters Habitat – fought hard on the issue. This was because by sponsoring a UN-affiliated event, Malaysia became obligated by its commitment to the UN to allow participants from all countries
"We demanded what was coming to us," Roet said, adding that the Israeli actions are an important precedent for other countries that hold UN-affiliated conferences. The next UN-Habitat conference of this magnitude will be held in Abu Dhabi in 2020.
In 2015, Malaysia came under a great deal of international criticism for preventing two Israelis windsurfers from competing in the Youth Sailing World Championships. And in 1997, Israel's national cricket team was met by demonstrations from the Islamic Party of Malaysia when it participated in a cricket tournament there.
Roet said the Foreign Ministry's policy is to fight boycott, divestment and sanctions (BDS) efforts in the diplomatic sphere, just as it does in the economic, cultural and academic spheres.
Roet met with senior officials in the country, though he said they did not deal directly with Israel-Malaysia relations. He made clear that "Israel does not see Malaysia as an enemy or a hostile country, and that there is no reason the two states don't have relations."
Roet, who currently works in the Foreign Ministry's North American division in Jerusalem, was up until a few months ago Israel's No. 2 at its delegation to the UN. He said that in his meetings in Kuala Lumpur he stressed that Malaysia's boycott of Israel does not serve the Palestinian cause.
"I told them that we have relations with a number of countries that don't agree with us on the conflict with the Palestinians, but with whom we maintain good ties," he said.
Roet said that in speaking against Malaysia's boycott of Israel, he said while diplomacy is complex, in some respects it is similar to interpersonal relations: "People are willing to take advice from people who are their friends, but not from enemies. And... boycotting Israel just distances Malaysia from having any influence.
"Did I convince them? I can't say that, "Roet said. But this is a positive sign."
He said that another positive sign was the manner in which the Malaysian press reported on the Israeli visit in recent days in a "very neutral" manner.
Despite Malaysia's stridently anti-Israel stance, significant trade with the country appears in Israel's trade numbers. For instance, in 2015, according to the Central Bureau of Statistics, trade between the two countries was some $1.43b., though it dropped in 2016 to just under $600m. The bulk of that trade, however, is in computer chips being transferred from Intel's plants in Israel to the company's facilities in Malaysia.
Full report at:
http://www.jpost.com/Israel-News/First-Israeli-diplomat-to-visit-Malaysia-in-53-years-Country-tough-to-crack-542522
--------
Tian Chua: Deported self-radicalised man was probed over blog postings in 2011
February 14, 2018
SINGAPORE, Feb 14 — The self-radicalised man who was deported from Singapore early this month had previously come under the Malaysian authorities' radar due to several posts on his blog, including on the country's royalty, Malaysian Member of Parliament Chua Tian Chang told TODAY.
Malaysian Muhammad Nur Hanief Abdul Jalil was probed under the Sedition Act in March 2011 by the police and officials from Internet regulator the Malaysian Communications and Multimedia Commission (MCMC) over his postings on his personal blog, hanief.blogspot.com.
Chua, popularly known as Tian Chua, was approached by Hanief's father for help back then.
It is not known whether the Malaysian authorities took any action against Hanief after that, but a check by TODAY showed that the blog is no longer accessible by the public.
Chua said after the incident, Hanief got a job in Singapore and he did not hear anything about the 33-year-old until news broke last week of his deportation from the Republic.
Hanief — who worked as a driver for an airfreight company and had access to the Changi Airfreight Centre, a restricted area — was arrested under Singapore's Internal Security Act in January before his deportation.
The Ministry of Home Affairs said he had been going online since 2008 to peruse the teachings by foreign extremist preachers and became convinced that he should travel to Syria or Palestine to take part in the armed conflict.
He was prepared to join any group there, including the Islamic State, Free Syrian Army, or Hayat Tahrir al-Sham.
The Malaysian police have taken Hanief into custody, and he is being detained under the Security Offences (Special Measures) Act 2012 for further investigation.
Since then, Chua has spoken to Hanief's father a couple of times, the last being on Sunday (February 11).
"I expressed my concerns and advised him to get a lawyer for the son but until now, the family has yet to do so," Tian said in a phone interview yesterday (February 13).
"They seem to have faith that the government will release him as they believe he has not committed any crime."
Citing privacy, the family is reluctant to divulge more details, said Chua, although the father says he has visited Hanief twice since his incarceration.
Hanief's previous run-in with the law was over several stories and pictures on his blog, which reportedly included at least one that commented on allegations of sexual misconduct of a royal and a separate post allegedly showing a doctored picture of former premier Tun Dr Mahathir Mohamad sitting next to model Kavita Kaur.
His home was raided by the police and MCMC officials close to midnight on March 18 2011, and his computers were seized.
Hanief was brought to the Sentul police station — which is in Chua's Batu constituency in Kuala Lumpur — for questioning.
Hanief's father then informed Chua, who immediately posted the news on his Twitter account.
Chua also questioned the nature of the raid and argued that there had been no warrant of arrest issued for Hanief.
Hanief later told online news portal Malaysiakini that "someone reported me for something that caused them to sakit hati (feel hurt)".
"According to the (MCMC) investigation officers, if somebody feels sakit hati with a picture or posting on the Internet, they can report to MCMC."
Hanief's lawyer at that time, N. Surendran, also told Malaysiakini that Hanief was investigated by MCMC over "an alleged blog posting that supposedly disrespected and insulted the Sultan".
Surendran had no recollection of Hanief or his role in the case when contacted by TODAY.
Although Chua has not heard from Hanief since the case, the man's father had kept in touch with the Opposition lawmaker.
Every now and then, the elderly man, who is believed to be a retiree, will forward to Chua text messages on Malaysian current affairs and political issues.
Recollecting his impression of Hanief, Chua said he was a "harmless kid" who was "passionate" about issues affecting Malaysia.
Full report at:
http://www.themalaymailonline.com/malaysia/article/tian-chua-deported-self-radicalised-man-was-probed-over-blog-postings-in-20#mf00xvlm6OGPIw3I.97
--------
URL: https://www.newageislam.com/islamic-world-news/jamaat-ud-dawa-using-kids/d/114279
New Age Islam, Islam Online, Islamic Website, African Muslim News, Arab World News, South Asia News, Indian Muslim News, World Muslim News, Women in Islam, Islamic Feminism, Arab Women, Women In Arab, Islamophobia in America, Muslim Women in West, Islam Women and Feminism