New Age Islam News Bureau
6 Feb 2015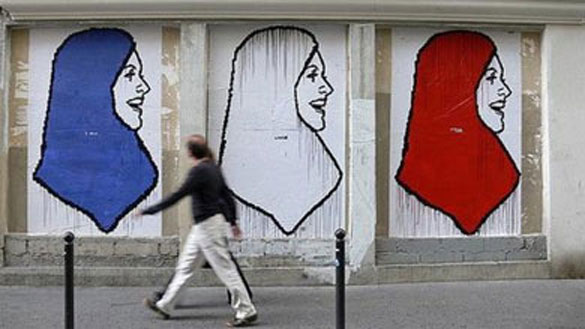 In the aftermath of the Charlie Hebdo attack in Paris on January 7, a group of French Muslim activists started a social media campaign. (Photo courtesy: Facebook)
-----------
Pakistan
• Jamaat ud Dawa: 'Muslim States Should Form Own UN, Build a Military'
• Jamaat-i-Islami slams Obama for supporting India's UNSC bid
• 115 Sentenced All Over the World for Committing Blasphemy, Argues Qadri's Counsel
• PM Nawaz meets COAS, vows to fight till last militant is killed
• Nawaz Sharif calls Kashmir as Pakistan's 'jugular vein'
• Shikarpur Imambargah blast may be handiwork of LJ: CID
• Pakistan couldn't get even a 'sincere' dictator: Imran
• Charlie Hebdo: EU condemns Bilour's bounty offer
Arab World
• Syrian Air Strikes Kill 70 People after Rebel Rocket Attack
• Egyptian Military Kills 27 Militants in Sinai
• France Air Strikes 'Neutralise' 50 Is Fighters in Iraq: Army
• Jordan releases leading al-Qaeda mentor, ISIS critic
• Iraqi PM Haider al-Abadi orders end to years-old Baghdad curfew
• Pre-9/11 ties haunt Saudis, as new accusations surface
• Jordan says IS can be defeated; uproar over burn video
• Jihadist escalation leaves civilians more threatened in Egypt
• Egypt court upholds death sentence of Islamist who threw teens from rooftop, hands tens long jail terms
• Islamic State punishes cleric who objected to pilot's killing
• Experts: Kobane defeat a sign of ISIS weakening
South Asia
• ISIS Executes Three of Its Chinese Militants: China Paper
• Kidnappers Killed, Bodies Hanged On Advertisement Board in Helmand
• US slams 'unconscionable' Bangladesh unrest as toll rises
• Truck firebombed in Bangladesh, two killed
• Osmani: Regulating and formalizing mosques
• 'Foreigners' concern over violence a routine work': Awami League
India
• Obama Smacks down India for Religious Intolerance, Says Gandhi Would Have Been Shocked
• Now, Vendors Held For Selling Urdu Daily with Prophet Toon
• ISIS Are Murderers and Rapists, Have To Be Condemned: Owaisi
• Eleven Kerala nurses rescued from Iraq, on their way back
India hits out at Pakistan
• Bardhaman Blast Case: NIA Arrests Owner Of Unregistered Madrasa
Africa
• Nigeria's Boko Haram Extremists Shoot and Burn to Death Dozens of Civilians in Cameroon
• ISIS growing in Libya, warns Libyan official
• Suicide bomber kills two, wounds around 20 in Libya's Benghazi
Europe
• French Muslims Kick-start Culture Campaign to Fight Backlash
• Political Solution Needed For Militant Islamic State Problem: British MPs
• France denies Security Council draft against Hezbollah
• Police raid Bosnian village that displayed ISIS flag
• NATO beefs up response force to face Russia, Islamic threats
• U.N.: Islamic State guilty of 'beheadings, crucifixions of children' in Iraq
• Amnesty slams Bahrain for stripping citizenship of 72 dissidents
Mideast
• Gaza Militants Condemn Egypt's Branding Of Hamas As Terror Group
• US drone kills senior Qaida militant in Yemen: Al-Qaida in the Arabian Peninsula
• Turkey urges citizens to leave Yemen amid political crisis
• Israel FM displays Charlie Hebdo in 'pre-poll stunt'
North America
• Muslim Scholar Coming To Hilliard Conference Says ISIS Is Threat to World
• Obama has a complicated relationship with American Muslims
• Obama hails Dalai Lama, condemns the Islamic State at National Prayer Breakfast
• Muslim undercover agent enraged by terror suspects' talk, court hears
Southeast Asia
• Lawyers, Groups Laud Negri Sembilan's New Laws for Muslim Converts
• EU, US envoys worry over Putrajaya's use of Sedition Act
• DAP MP to sue Ismail Sabri over anti-Islam label
Compiled by New Age Islam News Bureau
For Details and More Headlines from All Regions, Please click, 'More'
URL: https://www.newageislam.com/islamic-world-news/new-age-islam-news-bureau/jamaat-ud-dawa--'muslim-states-should-form-own-un,-build-a-military'/d/101406
-------------
Pakistan
Jamaat ud Dawa: 'Muslim States Should Form Own UN, Build A Military'
February 6, 2015
LAHORE: Jamaat ud Dawa rallied on The Mall in front of Lahore High Court on Thursday to show solidarity with the Kashmiri people. The organisation has been proscribed by the federal government.
Earlier during the day, police removed JuD flags off streetlight poles on The Mall but later gave the JuD a go-ahead for the rally. They had planned to hold a rally from Nasser Bagh to the Punjab Assembly but the administration persuaded them not to hold a rally on The Mall, so they held a demonstration in front of the LHC. JuD chief Hafiz Muhammad Saeed presided over the demonstration.
Addressing the protesters, Maulana Ameer Hamza said the government had tried to stop Hafiz Saeed from holding a rally on The Mall but could not stop him. "These rulers might regard themselves answerable to the United States, but Saeed only answers to Allah."
The participants shouted slogans against India and America and called for Jihad.
Saeed said that the US had fixed a bounty on his head three years ago. "But no one can kill me if God doesn't wish it."
He said Prime Minister Nawaz Sharif must call a meeting of the Organisation of Islamic Conference (OIC) in Islamabad to solve the Kashmir issue. "We are Kashmiris and Kashmir is ours. Our religion binds us as one nation and we will always continue to support our brothers oppressed by the vicious Indian armed forces in Kashmir," he said.
Saeed said that the Indian foreign minister's visit to China was a conspiracy against the independence of Kashmir. "India is prepared to accept all of China's demands for its support in the United Nations against parties who raise their voice for the independence of Kashmir."
Saeed said that China was Pakistan's friend but the government of Pakistan should be chary in view of these conspiracies.
He said there was no room for back-channel diplomacy with India. "Pakistan is the most vocal advocate of the oppressed in Kashmir. It must boycott the United Nations if it doesn't push to solve the Kashmir issue."
He said Pakistan had fought wars for America and had allowed its forces to use its air space, airports and roads for 13 years. "Yet President Barack Obama declared India its main partner and friend in the region."
He urged the government to strengthen ties with China and Muslims countries because China had never deceived Pakistan, unlike America. He said America had threatened Pakistan with surgical strikes but they would never dare do it.
Saeed also urged Muslim countries to form a separate United Nations that represented their interests and build a joint military. "America, India and Israel are enemies of Islam and are hatching conspiracies against Pakistan because they see its atomic arsenal as an Islamic atom bomb. Pakistan Tehreek-i-Insaf leader Muhammad Arshad Sahi, Pir Muhammad Mahfooz Mashhadi, Tehrikul Mujahidin and Jihad Council of Jammu and Kashmir chief Sheikh Jamilur Rehman, and Abdullah Gul (Lt General (retd) Hameed Gul's son) were among the speakers.
Hundreds of members of Jamaat-i-Islami also held a rally on The Mall.
http://tribune.com.pk/story/833691/a-defiant-show-muslim-states-should-form-own-un-build-a-military/
---------
Jamaat-i-Islami slams Obama for supporting India's UNSC bid
Feb 6, 2015
MUZAFFARABAD: Jamaat-i-Islami Emir Sirajul Haq said on Thursday that US President Barack Obama's visit to India and his support to India's bid for UN Security Council's membership amounted to contempt of democracy and human rights.
"Friendship with India at the cost of Kashmir is a blatant disregard and disrespect to democracy. The so-called champions of human rights and democracy have abused their own proclamations," he said at a gathering on the premises of district headquarters complex here.
The event, organised by JIAJK to mark Kashmir Solidarity Day, was presided over by JIAJK Emir Abdul Rashid Turabi and addressed by several leaders and representatives of various political parties.
Mr Haq said that after Prime Minister Nawaz Sharif decided to express solidarity with Kashmiris through his speech at the special joint session of the AJK Legislative Assembly and Council, he made up his mind to address a 'public assembly' in Muzaffarabad.
He said people of India-held Kashmir were in fact fighting the war of Pakistan's security and warned that Islamabad's slightest deviation from Kashmir freedom struggle would be tantamount to committing betrayal not only with the ideology of Pakistan but also with the blood of martyrs. He pointed out that India had been constantly conspiring to destabilise Pakistan and water terrorism on her part was one of those evil actions.
Mr Haq, who belongs to Khyber Pakhtunkhwa, recalled that the tribal people had played a key role in 1947 for freedom of their Kashmiri brethren, and added that they were ready, even today, to extend similar support.
Earlier, Mr Haq was accorded warm welcome at Kohala Bridge, where he joined people from AJK and adjoining areas of Punjab and KP forming a symbolic human chain to exhibit bonds of brotherhood between the Kashmiris and Pakistan.
Similar chains were formed at Bararkot, Azad Pattan, Tain-Dhalkot Bharing, Holaar, Mangla and some other points marking AJK's border with Pakistan.
Elsewhere, joint and separate rallies and demonstrations were held under the aegis of different organisations to express solidarity with the struggling Kashmiris in India-held Kashmir.
http://www.dawn.com/news/1161815/ji-slams-obama-for-supporting-indias-unsc-bid
-------------
115 sentenced all over the world for committing blasphemy, argues Qadri's counsel
February 6, 2015
ISLAMABAD: As the hearing of the Salmaan Taseer murder case resumed at the Islamabad High Court (IHC) on Friday, convicted killer Mumtaz Qadri's counsel argued that over the past 14 years, as many as 115 people were awarded sentences across the world for committing blasphemy against religions other than Islam.
Speaking for his client at the IHC, Justice (retd) Mian Nazir Akhtar remarked that even during the time of Holy Prophet (pbuh) a person who committed blasphemy was immediately punished.
A two-member IHC bench, comprising Justice Noorul Haq N Qureshi and Justice Shaukat Aziz Siddiqui, took up the case during the day.
Justice Siddiqui had questioned Akhtar whether the former Punjab governor had indirectly slammed blasphemy laws.
After making a wide range of arguments the court adjourned the hearing of the case till February 10.
Just three days ago, the court had decided to resume the hearing on the appeal case of the convicted killer of Taseer with the Islamabad advocate general (AG) expected to lead the prosecution team.
http://tribune.com.pk/story/833964/115-sentenced-all-over-the-world-for-committing-blasphemy-argues-qadris-counsel/
-------------
PM Nawaz meets COAS, vows to fight till last militant is killed
February 6, 2015
Prime Minister Nawaz Sharif on Friday met Chief of Army Staff General Raheel Sharif to discuss the security situation in the country, Express News reported.
Matters related to internal and external security were discussed during the meeting.
The premier expressed satisfaction over the progress made in military operations targeting militants in the country.
PM Nawaz vowed to fight against terrorism till the last militant is killed.
http://tribune.com.pk/story/833935/pm-nawaz-meets-coas-raheel-sharif-2/
-------------
Nawaz Sharif calls Kashmir as Pakistan's 'jugular vein'
Feb 6, 2015
Pakistan Thursday observed its annual ritual of 'Kashmir Solidarity Day' with Prime Minister Nawaz Sharif describing Kashmir as his country's "jugular vein".
Sharif, while addressing a joint session of Pakistan-occupied Kashmir's assembly in Muzaffarabad, said he has had an emotional bond with Kashmir since childhood and would continue to struggle for the rights of the people of Kashmir, which is the "jugular vein of Pakistan".
Sharif's remarks drew sharp reaction from India which said it was high time Pakistan focuses on its own problems.
"We are aware that there are multiplicity of activities that are being undertaken in Pakistan by their leaders and unsavoury elements who are wanted elsewhere. Pakistan's self-destructive and futile quest for territorial aggrandisement in J&K is well-known," said Syed Akbaruddin, spokesperson for the Ministry of External Affairs. He was responding to a question about India's position on rallies and speeches by various parties and groups, including banned terrorist outfit JuD, being held in Pakistan on Thursday.
"It's high time for Pakistan to start paying attention to the problems that afflict them rather than covet what is not theirs and never will be," he said, asserting that J&K will always remain part of India.
Full report at:
http://indianexpress.com/article/world/neighbours/sharif-calls-kashmir-paks-jugular-vein/
----------
Shikarpur Imambargah blast may be handiwork of LJ: CID
Feb 6, 2015
KARACHI: The Friday bombing of an Imambargah in Shikarpur could be the handiwork of the banned Lashkar-i-Jhangvi rather than Jundullah whose spokesperson had lost no time in claiming responsibility for it, according to initial findings of the police investigation.
"The finding that the LJ was involved in the suicide attack, which claimed the life of over 55 people, was based on three factors," said Raja Umer Khattab, chief of the counter-terror unit of the crime investigation department, while speaking to Dawn on Thursday.
Firstly, Jundullah had no network in any part of Sindh except Karachi where it remained involved in some terror attacks, said the CID officer who is leading the police investigation team.
Secondly, he said, Jundullah spokesperson Fahad Marvat who claimed the attack responsibility soon after the Shikarpur blast did not enjoy credibility after being found wrong in claiming the responsibility for 'three to four' other terror incidents in the past.
Mr Khattab said the spokesperson had also claimed the responsibility for the Nov 2, 2014 attack at Wagah border, but it later emerged that the banned Tehreek-i-Taliban Pakistan was involved in the border terror act. TTP spokesperson Khalid Khurrasani released the picture of the suicide bomber while claiming its responsibility, the officer said.
Thirdly, he added, the militant outfits found in sectarian attacks in Quetta could be moving to Sindh cities as their new centre of militancy. "The wave of Shia killings may be turning to Sindh cities from Quetta," said the CID officer.
Full report at:
http://www.dawn.com/news/1161729/shikarpur-imambargah-blast-may-be-handiwork-of-lj-cid
-------------
Pakistan couldn't get even a 'sincere' dictator: Imran
Feb 6, 2015
ISLAMABAD: Pakistan Tehreek-e-Insaf (PTI) chief Imran Khan said Thursday it was unfortunate that Pakistan didn't even get fair dictators who could properly govern the country.
"The 'Go Nawaz Go' is actually a slogan against the poor system of the country," said Imran. He reminded participants that acquiring real independence takes time and hard-slogging struggle. Khan said people living in villages were independent and no one could circumscribe them. "Our real battle is against non-provision of rights to common people." He asked the AJK people that "the time for change has arrived and they should also contribute for bringing change in Pakistan."
Full report at:
http://www.dailytimes.com.pk/islamabad/06-Feb-2015/barrister-sultan-joins-pti-pakistan-couldn-t-get-even-a-sincere-dictator-imran
-------------
Charlie Hebdo: EU condemns Bilour's bounty offer
February 6, 2015
ISLAMABAD: The European Union (EU) condemned Awami National Party (ANP) leader Ghulam Ahmed Bilour's offer of $200,000 for anyone who would kill the owner of French satirical weekly Charlie Hebdo.
"The European Union and its Member States deplore the statement made in Parliament by ANP Lawmaker on Monday," the 27-nation bloc said in a statement issued on Thursday.
While condemning Bilour's offer, the statement urged the government to take note of all such statements which incite violence. "We encourage the government of Pakistan to condemn all such statements inciting violence and terrorism," the statement added.
Bilour, who in September 2012 had announced a $100,000 bounty for anyone who would kill the producer of the sacrilegious 'Innocence of Muslims', stirred new controversy earlier this week when he used the floor of the National Assembly to announce head-money for the owner of the French weekly which had published blasphemous caricatures.
Speaking on the floor of the National Assembly on Monday, Bilour also announced a $100,000 compensation for the families of those killed during the deadly attack on Charlie Hebdo offices in Paris last month. "I had already declared that I will not tolerate any attack on the sanctity of the Holy Prophet (pbuh)," said Bilour.
A diplomatic source told The Express Tribune that the EU has taken up the issue with the Pakistan government.
http://tribune.com.pk/story/833780/eu-condemns-bilours-bounty-offer/
-------------
Arab World
Syrian air strikes kill 70 people after rebel rocket attack
6 February 2015
Syrian air force strikes killed at least 70 people in an opposition district outside Damascus following rocket attacks by rebels that had hit the government-controlled centre of the Syrian capital, a monitoring group said on Friday.
The Syrian Observatory for Human Rights, which monitors violence in Syria, said the air force conducted 60 strikes on the Eastern Ghouta district on Thursday and during the night. Twelve children and 11 fighters were among the dead, it said.
High death tolls from air force attacks are not rare but the Observatory said the focused barrage was a response to rocket attacks by Islam Army insurgents on Thursday, which killed 10 people in Damascus.
A message on Thursday on a Twitter account thought to belong to Islam Army chief Zahran Alloush said Thursday's rocket attack was a taste of what the Syrian military had done to Eastern Ghouta. Alloush described Damascus as a "military zone" and said his group would respond to any air force strikes.
Islam Army was formed by a merger of rebel factions in 2013 and has received backing from Saudi Arabia.
The U.N. says 200,000 people have been killed since 2011 in Syria's civil war, which started with peaceful protests against President Bashar al-Assad. The protests became an armed uprising after Assad's forces cracked down on demonstrators.
http://english.ahram.org.eg/NewsContent/2/8/122340/World/Region/Syrian-air-strikes-kill--people-after-rebel-rocket.aspx
-------------
Egyptian military kills 27 militants in Sinai
6 February 2015
Egyptian military air strikes killed 27 Islamic militants in Northern Sinai early on Friday, in one of the biggest security operations in the region months, security sources said.
Apache helicopters targeted militants from Sinai Province, a group that pledged allegiance to Islamic State, the ultra-hardline militants who have seized swathes of Iraq and Syria, the sources said.
Sinai Province, fighting to topple the Cairo government, has claimed responsibility for coordinated attacks that killed more than 30 security forces in late January.
After that bloodshed, President Abdel Fattah al-Sisi told Egyptians the country faced a long, tough battle against militants.
http://english.alarabiya.net/en/News/middle-east/2015/02/06/Egyptian-military-kills-27-militants-in-Sinai.html
-------------
France air strikes 'neutralise' 50 IS fighters in Iraq: Army
6 February 2015
French fighter jets have "neutralised" 50 Islamic State group militants, along with several vehicles in recent days in Iraq, the army said in a statement on Thursday.
The vehicles were destroyed in an unplanned "opportunistic strike" on Wednesday, the statement on the past week's operations said.
On January 30, during a reconnaissance mission between Mosul, Kirkuk and Baiji, French pilots spotted a group of around 150 IS combatants positioned against Kurdish forces.
Around 50 were "neutralised", the statement said, without clarifying whether they were killed or injured.
Full report at:
http://english.ahram.org.eg/NewsContent/2/8/122323/World/Region/France-air-strikes-neutralise--IS-fighters-in-Iraq.aspx
-------------
Jordan releases leading al-Qaeda mentor, ISIS critic
6 February 2015
Jordanian authorities released an imprisoned spiritual leader linked to al-Qaeda, Sheikh Abu Mohammad al-Maqdisi, on Thursday, a security source said.
There was no immediate announcement of the reason for his release two days after the al-Qaeda offshoot Islamic State of Iraq and Syria (ISIS) issued a video showing a captive Jordanian pilot being burned alive.
But another security source told Reuters Maqdisi was expected to denounce the immolation of the Jordanian pilot Mouath al-Kasaesbeh as against "faith values."
The self-taught intellectual was seen as the spiritual guide of al-Qaeda's late leader in Iraq, Abu Musab al-Zarqawi, but later disowned him for killing civilians indiscriminately.
Maqdisi, who was imprisoned for several years, was briefly released in October after criticizing ISIS leader Abu Bakr al-Baghdadi.
The timing of his release then prompted some Jordanian officials to suggest that authorities, fearful of militancy spilling across their own borders, had wanted to let him speak out against ISIS.
He was released on Thursday on the orders of the state security prosecutor, the first security source told Reuters.
Maqdisi is to be interviewed on the local TV channel, Roya TV, on Friday, the channel said on Thursday night.
http://english.alarabiya.net/en/News/middle-east/2015/02/06/Jordan-releases-leading-al-Qaeda-mentor-ISIS-critic-.html
-------------
Iraqi PM Haider al-Abadi orders end to years-old Baghdad curfew
Feb 6, 2015
Iraqi Prime Minister Haider al-Abadi has ordered an end to the nightly curfew that has been in force in Baghdad for years, Brigadier General Saad Maan said on Thursday.
"The prime minister ordered that the curfew in the city of Baghdad be completely lifted starting from this Saturday," Maan, the spokesman for the Baghdad Operations Command, told AFP.
The move came after Abadi visited the operations command on Wednesday and was briefed on the security situation and the status of operations, Maan said.
Lifting the curfew is a major change to a longstanding policy aimed at curbing violence in the capital by limiting movement at night. The hours it has been in force have varied over the years, but it has most recently lasted from midnight to 5:00 am.
The decision to lift the curfew comes as Iraqi forces battle to regain ground from the Islamic State group, which spearheaded an offensive that overran large areas north and west of Baghdad last June.
While the capital is no longer under threat of a major assault by the jihadists, it is still hit by frequent bombings.
http://indianexpress.com/article/world/asia/iraqi-pm-haider-al-abadi-orders-end-to-years-old-baghdad-curfew/
-----------
Pre-9/11 ties haunt Saudis, as new accusations surface
Feb 6, 2015
RIYADH, Saudi Arabia: During the 1980s and 90s, the historic alliance between the wealthy monarchy of Saudi Arabia and the country's powerful clerics emerged as the major financier of international jihad, channeling tens of millions of dollars to Muslim fighters in Afghanistan, Bosnia and elsewhere. Among the project's major patrons was Prince Salman bin Abdul-Aziz Al Saud Salman, who last month became Saudi Arabia's king.
Some of those fighters later formed al-Qaida, which declared war on the United States and later mounted major attacks inside Saudi Arabia as well.
In the past decade, according to officials of both the George W Bush and Barack Obama administrations, the Saudi government has become a valuable partner against terrorism, battling al-Qaida at home and last year joining the US-led coalition against the extremists of the Islamic State.
Yet Saudi Arabia continues to be haunted by what some suspect was a tacit alliance with al-Qaida in the years before the Sept. 11, 2001, terrorist attacks. Those suspicions burst out in the open again this week with the disclosure of a prison deposition of a former al-Qaida operative, Zacarias Moussaoui, who claimed that more than a dozen prominent Saudi figures were donors to the terror group and that a Saudi diplomat in Washington discussed with him a plot to shoot down Air Force One.
Full report at:
http://timesofindia.indiatimes.com/world/us/Pre-9/11-ties-haunt-Saudis-as-new-accusations-surface/articleshow/46132549.cms
-------------
Jordan says IS can be defeated; uproar over burn video
Feb 6, 2015
AMMAN(JORDAN): Jordan called for a decisive battle against the Islamic State group, declaring ''this evil can and should be defeated,'' after the militants burned a Jordanian pilot to death in a cage and gleefully broadcast the horrific images on outdoor screens in their stronghold.
Waves of revulsion over the killing washed across the Middle East, a region long accustomed to violence. In mosques, streets and coffee shops, Muslims denounced the militants' brutality and distanced themselves from their violent version of Islam.
Even a prominent preacher with close links to jihadi groups said Islamic State militants miscalculated if they hoped the images of the pilot's agony would galvanize greater opposition to a US-led military coalition that has been bombing targets of the group.
``After millions of Muslims were cursing every pilot (in the coalition), with this act, they (IS) have made the burned one into a symbol,'' Abdullah al-Muhaysni, a Saudi sheik, wrote on his Twitter account.
Full report at:
http://timesofindia.indiatimes.com/world/middle-east/Jordan-says-IS-can-be-defeated-uproar-over-burn-video/articleshow/46127739.cms
------------
Jihadist escalation leaves civilians more threatened in Egypt
6 February 2015
Egypt gets hit by a highly deadly militant operation every several months, the last of which was Thursday's attacks on military and police facilities with car bombs and mortar rounds in the restive North Sinai. Other more frequent, yet usually less lethal, terror acts have been taking place nationwide. But lately jihadists behind smaller operations seem to have altered their strategy and now increasingly threaten civilians.
During the recent past and this week there has been a notable rise in the number of explosive devices planted across Egypt, most of which were home made and had limited impact, if real at all. Many of these bombs, reported on a daily basis, were apparently aimed at civilians, and not security personnel who have borne the brunt of bombings that have grown rife since the ouster of Islamist president Mohamed Morsi in July 2013.
Full report at:
http://english.ahram.org.eg/NewsContent/1/151/121865/Egypt/Features/Jihadist-escalation-leaves-civilians-more-threaten.aspx
-------------
Egypt court upholds death sentence of Islamist who threw teens from rooftop, hands tens long jail terms
6 February 2015
An Egyptian court upheld Thursday a death sentence passed on a supporter of former president Mohamed Morsi accused of throwing teenage boys from a rooftop in Alexandria, a judicial source told Ahram Online.
The court also handed long jail terms to tens of other defendants in the same case.
The verdict followed convictions on charges of killing four youths and the attempted murder of eight others during violence that broke out in the Mediterranean city on 5 July 2013, in the days after Morsi's removal from power following mass protest against his yearlong rule.
The Court of Cassation rejected appeals by 58 defendants in the case, sentencing one, Mahmoud Hassan Ramadan, to death, 18 others to life imprisonment and the rest to jail terms ranging from seven to 15 years, the source added.
Full report at:
http://english.ahram.org.eg/NewsContent/1/64/122267/Egypt/Politics-/Egypt-court-upholds-death-sentence-of-Islamist-who.aspx
-------------
Islamic State punishes cleric who objected to pilot's killing
Feb 6, 2015
An Islamic State cleric who objected to the group's decision to burn to death a captive Jordanian pilot has been removed from his post and will be put on trial, the Syrian Observatory for Human Rights said on Friday.
The cleric, a Saudi national, had voiced his objections during a meeting of an Islamic State clerical body in the town of al-Bab in Aleppo province, said Rami Abdulrahman, who runs the Observatory.
The killing was been widely condemned by Muslim clerics. Even some al-Qaeda-linked figures denounced it as un-Islamic. A video released by Islamic State militants on Tuesday showed the pilot, Mouath al-Kasaesbeh, being burnt alive in a cage.
The Saudi cleric had said those responsible for the killing should face trial, the Observatory said. Abdulrahman, whose organisation gathers information via a network of sources on the ground, said the group may now kill the cleric.
The Islamic State posted a religious edict on Twitter, which ruled that it is permissible in Islam to burn an infidel to death. Muslim clerics have said it is forbidden to kill anyone that way. – Reuters
http://www.themalaysianinsider.com/world/article/islamic-state-punishes-cleric-who-objected-to-pilots-killing#sthash.SflnIMKA.dpuf
-------------
Experts: Kobane defeat a sign of ISIS weakening
6 February 2015
The rout of the Islamic State of Iraq and Syria (ISIS) from the long-embattled Syrian border town of Kobane is a sign that the militant group can be weakened and beaten, experts told Al Arabiya News.
The fight over Kobane – which began in September last year – reached a conclusion this week after Kurdish fighters aided by heavy coalition airstrikes regained full control of the city, an event hailed by U.S. Secretary of State John Kerry as a "big deal."
ISIS's defeat in Kobane "demonstrates that it is more adept at propaganda, terrorism and light guerrilla warfare than it is about performing as a significant military force when faced by a determined enemy," said Michael Ryan, a scholar at the Washington-based Middle East Institute and the author of "Decoding al-Qaeda's Strategy: The Deep Battle Against America."
The group's "actual fighting force is probably much smaller than its overall reported numbers might suggest and thus the loss of hundreds of fighters is likely a significant blow to its power base," he added.
Full report at:
http://english.alarabiya.net/en/perspective/analysis/2015/02/06/Kobane-defeat-a-sign-of-ISIS-weakening-experts.html
----------
South Asia
ISIS executes three of its Chinese militants: China paper
6 February 2015
The Islamic State of Iraq and Syria (ISIS) group has killed three Chinese militants who joined its ranks and later attempted to flee, a Chinese state-run newspaper said, the latest account of fighters from China embroiled in the Middle East conflict.
China has expressed concern about the rise of ISIS, nervous about the effect it could have on its Xinjiang region, which borders Pakistan and Afghanistan.
But Beijing has also shown no sign of wanting to take part in the U.S.-led coalition's efforts to use military force against the militant group.
Around 300 Chinese extremists were fighting with ISIS after travelling to Turkey, the Global Times, a tabloid run by China's ruling Communist Party's official newspaper, said in December.
The paper on Thursday cited an unnamed Kurdish security official as saying that a Chinese man was "arrested, tried and shot dead" in Syria in late September by ISIS after he became disillusioned with jihad and attempted to return to Turkey to attend university.
"Another two Chinese militants were beheaded in late December in Iraq, along with 11 others from six countries. ISIS charged them with treason and accused them of trying to escape," the official said, according to the paper.
ISIS, which has seized parts of northern and eastern Syria as well as northern and western Iraq, has killed hundreds off the battlefield since the end of June, when it declared a caliphate.
Full report at:
http://english.alarabiya.net/en/News/asia/2015/02/05/ISIS-executes-three-of-its-Chinese-militants-China-paper.html
-------------
Kidnappers killed, bodies hanged on advertisement board in Helmand
Feb 6, 2015
Civilians have killed three kidnappers in fighting and hanged their bodies on an advertisement board in southern Helmand province.
Najibullah Hayat, District Governor of Dilaram in southwestern Nimroz province says "Three days ago, a group of kidnappers abducted a resident of Dilaram District and took him to neighboring Helmand province. Then residents of Dilaram decided to bring him back from the kidnappers. "
He added that after following the kidnappers, Dilaram residents arrived in Washir District of Helmand province where a fighting erupted between the residents and kidnappers.
"Three kidnappers were killed in the fighting and later hanged on an advertisement board in the city of Washir District by Dilaram resident", he said.
He said the purpose residents hanged bodies of the kidnappers on the advertisement board was to teach a lesson to other kidnappers.
He further said that the dead bodies were hanged on the advertisement board for a few hours but now they are in the District Hospital of Washir District.
A resident of Dilaram also died in the fighting, Najibullah Hayat added.
Most of the kidnap cases in Afghanistan happen for money where kidnappers demand big money.
Sometimes, if kidnappers do not receive the ransom then they kill who ever kidnapped.
On numerous cases they have even killed kids after not receiving the ransom.
But in 2013, Ali Sina, an 11 year old boy was killed by the kidnappers in Nimroz's neighboring Herat province even after receiving the ransom from his family.
Both kidnappers were later arrested and executed by the approval of Afghanistan's Ex-President Hamid Karzai.
http://www.khaama.com/kidnappers-killed-bodies-hanged-on-advertisement-board-in-helmand-29023
-------------
US slams 'unconscionable' Bangladesh unrest as toll rises
6 February 2015
Two more opposition activists were killed in a new bout of political violence in Bangladesh Friday after the US voiced grave concern about the unrest and slammed a spate of "unconscionable" firebombings.
Police shot dead an Islamist protester from the Jamaat-e-Islami party and wounded two more after they threw a molotov cocktail at a police van in Rajshahi, northwest of Dhaka, after midnight Friday, local police chief Alamgir Hossain told AFP.
"Three police constables were injured in the clashes," he added.
Another Jamaat supporter was killed in the western city of Jessore during a shootout with officers, police told reporters.
Rights groups say the shootouts are fake and are nothing but cold-blooded executions of opposition activists.
A total of 65 people have been killed in political violence in the last month, according to an AFP tally, as an opposition alliance tries to force the resignation of Prime Minister Sheikh Hasina.
Full report at:
http://english.ahram.org.eg/NewsContent/2/9/122333/World/International/US-slams-unconscionable-Bangladesh-unrest-as-toll-.aspx
-------------
Truck firebombed in Bangladesh, two killed
Feb 6, 2015
Anti-government protesters allegedly firebombed a truck in north-western Bangladesh, killing two people in continuance of a spate of arson attacks.
Two more people were critically injured in the attack in Bogra town, 197 km northwest of capital Dhaka, during the 31st day of the countrywide blockade enforced by former Prime Minister Khaleda Zia's 20-party opposition alliance, Xinhua news agency reported citing a police official from Bogra town.
The official who preferred to be unnamed said the betel leaf-laden truck was firebombed in Bogra town's Belail area around 4:30 a.m. on Thursday.
The two fatalities reportedly raised the toll in the ongoing political violence since the beginning of the last month to 53, mostly in arson attacks.
At least seven passengers were burnt to death and 16 others were injured early Tuesday when miscreants hurled a bomb at a passenger bus in Bangladesh's eastern Comilla district, some 92 km away of capital Dhaka.
Ms. Khaleda Zia's Bangladesh Nationalist Party and its allies, including the key Jamaat-e-Islami party, have been carrying out the non-stop blockade across the country since Jan 5, demanding fresh elections under a non-party caretaker government system.
http://www.thehindu.com/news/international/south-asia/truck-firebombed-in-bangladesh-two-killed/article6861085.ece
-------------
Osmani: Regulating and formalizing mosques
Feb 6, 2015
Osmani's speech in Parliament to earn the confidence vote composed of an enlightening fresh thought, although Parliament as always were barely listening and the speaker of the house requested them to listen countless times. To those who were listening, a faint sound of enlightenment spurred from Osmani's mouth, the notion of regulating and formalizing mosques.
Can this notion hold the key to Afghanistan's stability? Having guidelines and regulations for the mosques to follow all around the country to bring consistency and accountability to the mosques can lead to instrumental results. Let's face it religious leaders have immense amount of power, unmatched and unrivalled power. History suggests men with immense power with no checks and balances leads to chaos. Introducing a number of regulations may limit power the religious leaders have, especially in the rural areas where citizens dedicate heavily on religious leaders.
Full report at:
http://www.khaama.com/osmani-regulating-and-formalizing-mosques-9307
-------------
'Foreigners' concern over violence a routine work': Awami League
Feb 6, 2015
The ruling Awami League has termed concerns of foreign countries over the ongoing violence in Bangladesh a routine work.
Awami League Presidium Member Mohammad Nasim made the remarks following a statement issued by the US expressing concern over the ongoing political unrest in Bangladesh.
Condemning the ongoing violence, the United States has said there is no justification for such actions in a democratic Bangladesh.
In a press briefing at party president's Dhanmondi office on Friday afternoon, Nasim said Awami League is not taking such reactions from foreign countries and organisations seriously.
Replying to a query about any possibility of dialogue with the BNP, Nasim said: "The BNP-led alliance is carrying out violence across the country. We will not hold any dialogue with them in this situation."
He said Awami League would prevent the violent activities along with the people of the country.
"If necessary, the government will be tougher in order to check violence," he added.
The BNP-led 20-party alliance has been observing nationwide non-stop blockade of roads and waterways.
The BNP chief, Khaleda Zia, has been living in her office since January 3. She was barred from taking part in a rally on Jan 5 to mark the 'death of democracy' in Bangladesh, and declared anti-government movement.
Blockade-related violence has killed more than 50 people since Jan 5.
Hundreds of vehicles, including those belonging to law-enforcers, were burnt and attacked.
http://www.dhakatribune.com/politics/2015/feb/06/foreigners-concern-over-political-situation-not-important#sthash.x1eThIpt.dpuf
----------
India
Obama smacks down India for religious intolerance, says Gandhi would have been shocked
Feb 6, 2015
WASHINGTON: Days after New Delhi received him with euphoria, US President Barack Obama delivered to India an embarrassing smack-down, saying Mahatma Gandhi would have been shocked at the acts of intolerance in the country famed for its diversity.
Obama's remarks came at the annual National Prayer Breakfast meeting where US presidents frequently perorate on religious and human rights, but his highlighting of India so soon after his visit, laced though with praise for its plurality, pointed to his administration's disquiet about instances of bigotry and fanaticism that surface on occasions in India.
"Michelle and I returned from India — an incredible, beautiful country, full of magnificent diversity — but a place where, in past years, religious faiths of all types have, on occasion, been targeted by other peoples of faith, simply due to their heritage and their beliefs — acts of intolerance that would have shocked Gandhiji, the person who helped to liberate that nation," Obama said at the meeting.
Although Obama did not mention any specific religion, the remarks were inevitably thought to refer the resurgence of Hindutva groups during the tenure of the current government, given the US president's recent visit to India and his broad-brush reference during his Siri Fort speech to growing religious extremism across the world.
US officials who reviewed the visit had refuted reports that Obama's remark was a parting shot at the Modi-led BJP government, during whose rule religious wingnuts have emerged in recent days to speak with increasing stridency. But his reference to "past years" and "religious faiths of all types" also suggested a broader criticism of intolerance covering previous governments.
Full report at:
http://timesofindia.indiatimes.com/india/Obama-smacks-down-India-for-religious-intolerance-says-Gandhi-would-have-been-shocked/articleshow/46141742.cms
-------------
Now, vendors held for selling Urdu daily with Prophet toon
Mateen Hafeez,TNN | Feb 6, 2015
MUMBAI: Newspaper vendors in Mumbai may soon have to do the impossible: they may have to read and check every page of every paper or magazine they distribute, just in case it contains material that flouts the law or "injures" sentiments.
If this sounds odd, considering that vendors aren't editors or publishers who make decisions on what to include or leave out of a publication, look at what the JJ Marg police did. Late Wednesday night, they arrested two vendors for selling copies of the Urdu daily Avadhnama that reproduced the cartoons of Prophet Mohammed published in the French weekly Charlie Hebdo.
A Sewri court on Thursday released the vendors-Shareef Shaikh, 60, and Salman Shaikh, 18- on bail. Police had asked that they be remanded in custody but their plea was rejected by the court.
Both vendors are from the Bhendi Bazaar area and have been charged under Sections 295 (A) (acts intended to outrage religious feelings) and 34 (common intention) of the Indian Penal Code.
Full report at:
http://timesofindia.indiatimes.com/india/Now-vendors-held-for-selling-Urdu-daily-with-Prophet-toon/articleshow/46138259.cms
----------
ISIS are murderers and rapists, have to be condemned: Owaisi
Feb 6, 2015
HYDERABAD: Condemning the deadly deeds of ISIS, AIMIM president Asaduddin Owaisi on Thursday said the activities of the terror group have nothing to do with the religion of Islam. "What they have done so far, all the Islamic scholars of various schools of thought have condemned it. They have raped people, killed people. Not only killed, in a bloody way, they have decapitated bodies, they have cut heads. They have burnt a person.
"These are nothing to do with Islam or teachings of Islam. They have to be condemned. They are bloody murderers and rapists," the Hyderabad MP told reporters here.
As for some youth from Hyderabad reportedly trying to join ISIS, Owaisi said none can break law and that the youth should speak to religious scholars.
Owaisi was speaking at a press conference held here in connection with the "centenary death anniversary" of Hazrat Anwarullah Farooqui, founder of Jamia Nizamia, a 144-year-old institution of Islamic studies.
As part of the events, a seminar would be held on February 14 and 15 and a public meeting on March 20, organisers said.
http://timesofindia.indiatimes.com/india/ISIS-are-murderers-and-rapists-have-to-be-condemned-Owaisi/articleshow/46134197.cms
-------------
Eleven Kerala nurses rescued from Iraq, on their way back
TNN | Feb 6, 2015
NEW DELHI: Eleven Indian nurses, all from Kerala, were rescued from the conflict zone in Kirkuk in northern Iraq, the government said on Thursday. After they were evacuated safely, they were brought to Erbil, the capital of Kurdistan region in Iraq, the foreign ministry said.
"We are working on the arrangements for their return. They will return to Kerala at the earliest,'' foreign ministry spokesperson Syed Akbaruddin said, adding that foreign minister Sushma Swaraj had spoken to Kerala chief minister Oommen Chandy to convey that the nurses were returning.
The official admitted that the situation remained "unclear'' about the 40 Indian construction workers who had been abducted by ISIS in Mosul last year. They have remained untraceable despite the government's efforts to reach them.
Swaraj had told Parliament in December that the government "does not have concrete proof" of the men being alive or dead and was continuing to search for them based on "six indirect sources".
"I have said repeatedly that I do not have concrete proof of them being alive, but I do not have concrete proof of their being dead too," she had said. The 40 men, mostly from Punjab, were abducted by the Islamic State militants from Mosul on June 15.
http://timesofindia.indiatimes.com/india/Eleven-Kerala-nurses-rescued-from-Iraq-on-their-way-back/articleshow/46139470.cms
-------------
India hits out at Pakistan
Feb 6, 2015
NEW DELHI: Reacting sharply, India termed the activities undertaken in Pakistan by its leaders and "unsavoury elements" as "futile quest for territorial aggrandisement" to mark so called 'Kashmir Solidarity Day' and said it was high time it should focus on its problems.
"We are aware that there are multiplicity of activities that are being undertaken in Pakistan by their leaders and unsavoury elements who are wanted elsewhere. Pakistan's self destructive and futile quest for territorial aggrandisement in Jammu & Kashmir is well known," spokesperson in the external affairs ministry Syed Akbaruddin said.
He was asked about India's position on rallies and speeches by various parties and groups including banned terrorist outfit JuD being held in Pakistan.
Full report at:
http://timesofindia.indiatimes.com/india/JK-rallies-Angry-India-India-hits-out-at-Pakistan/articleshow/46135488.cms
-------------
Bardhaman blast case: NIA arrests owner of unregistered Madrasa
Feb 6, 2015
The National Investigation Agency has arrested the 52-year-old owner of an unregistered Madrasa at Murshidabad in West Bengal in connection with the Bardhaman blast case. While the agency is on the lookout for 16 more suspects, 17 suspected members of the Jamaat-ul Mujahideen Bangladesh (JMB) have been arrested so far for their involvement.
"The accused, Mufazzal Haque alias Ladein, has been arrested in coordination with the Murshidabad police. He was closely associated with the JMB and organised terrorist training camps on the premises of the unregistered Madrasas at Mukimnagar, owned and managed by him," said an NIA official.
According to the NIA, senior JMB leader Sheikh Rahamatulla (a Bangladeshi national arrested in the case), along with other senior cadres had taken control of the madrassa for running terrorist training camps with active connivance of Mufazzal.
Mufazzal had been absconding since the blast on October 2 last year. "He will be produced in the Murshidabad court today [Thursday] and the NIA will seek his transit remand for further proceedings in the Special Court at Kolkata," said the official.
http://www.thehindu.com/news/national/bardhaman-blast-case-national-investigation-agency-arrests-owner-of-unregistered-madrassa-for-holding-terrorist-training-camps-having-links-with-jamaatul-mujahideen-bangladesh/article6860119.ece
--------
Africa
Nigeria's Boko Haram extremists shoot and burn to death dozens of civilians in Cameroon
February 06, 2015
YAOUNDE, Cameroon — Boko Haram fighters have shot or burned to death about 90 civilians and wounded 500 in ongoing fighting in a Cameroonian border town near Nigeria, officials in Cameroon said.
Some 800 Islamic extremists attacking the town of Fotokol have "burned churches, mosques and villages and slaughtered youth who resisted joining them to fight Cameroonian forces," Information Minister Issa Tchiroma Bakari said.
The insurgents from Nigeria also looted livestock and food in the fighting that began Wednesday and was continuing Thursday, Bakari told The Associated Press.
Boko Haram is using civilians as shields, making it difficult to confront them although reinforcements have arrived in Fotokol, according to military spokesman Col. Didier Badjeck.
Schools also have been razed by the insurgents, whose nickname, Boko Haram, means "Western education is forbidden" in the Hausa language.
Hundreds of insurgents were killed Wednesday compared to the loss of 13 Chadian and 6 Cameroonian troops, Defence Minister Edgard Alain Mebe Ngo said. At least 91 civilians have been killed and most of more than 500 wounded people cannot be immediately taken to the hospitals, he said. There was no way to immediately confirm the account independently.
The fighters are believed to have crossed into Cameroon from nearby Gamboru, a Nigerian border town that had been an extremist stronghold since November. Gamboru was retaken earlier this week and the fighters driven out by Chadian and Nigerian air strikes supported by Chadian ground troops.
Full report at:
http://news.nationalpost.com/2015/02/05/nigerias-boko-haram-extremists-shoot-and-burn-to-death-dozens-of-civilians-in-cameroon/
-------------
ISIS growing in Libya, warns Libyan official
6 February 2015
The Islamic State of Iraq and Syria group is gaining ground in Libya and a new international approach is needed to address the growing threat, a senior Libyan official said Thursday.
Aref Ali Nayed, Libya's ambassador to the United Arab Emirates and an adviser to Prime Minister Abdullah al-Thani, was in Washington and New York this week to discuss the new challenges on Libya's security front.
"ISIS is growing in Libya, exponentially. ISIS is committing atrocities every day," Nayed said in an interview with AFP.
"It's not possible to fight ISIS in Iraq and Syria without also addressing the Libyan component."
The United Nations has blacklisted one of Libya's militant groups, Ansar al-Sharia, for its ties to ISIS, but Nayed said the militias are adept at "rebranding" to maintain and expand their links with ISIS.
Nayed estimates that ISIS is active in seven Libyan cities and has carried out attacks in a dozen areas.
Full report at:
http://english.alarabiya.net/en/News/middle-east/2015/02/06/ISIS-growing-in-Libya-warns-Libyan-official-.html
---------
Suicide bomber kills two, wounds around 20 in Libya's Benghazi
6 February 2015
A car laden with explosives killed two people, as well as the driver, and wounded around 20 in Libya's second biggest city, Benghazi on Friday, medics and military officials said.
The car exploded as it was being driven towards an army tank base and ammunitions store, military officials told a Reuters reporter at the scene. They said the vehicle had apparently exploded earlier than intended as it had not yet reached the base.
A man and a child were killed.
"It was a suicide bomber," said Fadel al-Hassi, a senior army special forces commander.
The explosion happened in the Lithi neighborhood where pro-government forces have been fighting Islamist groups for months.
Full report at:
http://english.alarabiya.net/en/News/africa/2015/02/06/Suicide-bomber-kills-two-wounds-around-20-in-Libya-s-Benghazi-.html
-------------
Europe
French Muslims kick-start culture campaign to fight backlash
6 February 2015
In the aftermath of the Charlie Hebdo attack in Paris on 7 January, a group of French Muslim activists started a social media campaign called #JeSuisNous to showcase positive Muslim contributions to French culture. A month after the campaign's launch, the Facebook page is a popular posting site where both Muslims and non-Muslims post daily stories on topics ranging from rap music, art, sport to academia.
With a strong desire to support a peaceful and cohesive society in France, the group of French Muslims that kickstarted the campaign consists of professionals that range from different backgrounds specializing in the fields of law, human rights, finance, communications and academia.
Speaking to Al Arabiya News, the team behind #JeSuisNous explain how the events of last month, considered as one of "France's worst terrorist attack in a generation," inspired the vision of #JesuisNous.
Full report at:
http://english.alarabiya.net/en/life-style/art-and-culture/2015/02/06/French-Muslims-kickstart-campaign-to-fight-backlash.html
----------
Political solution needed for militant Islamic State problem: British MPs
6 February 2015
The UK should be doing much more in the fight against the militant Islamic State (IS) group in Iraq and Syria, working seriously to find what must inevitably be a political solution to the problem, a group of British members of parliament have said.
While members of the Commons Defence Committee (CDC) strongly criticised the UK government's efforts, they emphasised they do not call for sending British troops to fight the extremist group, known also as Daesh or ISIL (Islamic State in Iraq and the Levant) .
In its latest report, the CDC said officials and senior military officers have failed to set out a clear strategy to meet their goal of defeating the extremists.
The report said the UK has the expertise and resources to play a much larger role in analysing the IS threat, contributing to the plan to defeat them, supporting Iraqi forces, and encouraging a political solution.
The CDC members filed their report after visiting Iraq, including Iraqi Kurdistan, in December where they met with Iraqi tribal sheikhs and leaders, Iraqi military officials, British soldiers and ordinary Iraqis.
Full report at:
http://english.ahram.org.eg/NewsContent/2/8/122238/World/Region/Political-solution-needed-for-militant-Islamic-Sta.aspx
-------------
France denies Security Council draft against Hezbollah
6 February 2015
France's ambassador to Lebanon on Friday dismissed reports that Paris was planning a U.N. Security Council draft resolution against Lebanese Shiite militant group Hezbollah, local newspaper the Daily Star reported.
Beirut-based daily An-Nahar quoted envoy Patrice Paoli as saying that France's position which "calls for the protection of Lebanon's sovereignty, territorial integrity and Resolution 1701," – in reference to resolution that aimed to bring an end to the 2006 Israel-Lebanon conflict.
"There is no French conspiracy against any [political] party," he added. "We are in a conspiracy for the sake of Lebanon and its stability."
The envoy was responding to Thursday media reports claiming that France was preparing a resolution to pressure Hezbollah after a deadly attack on an Israeli military convoy last week, in response to an airstrike on a Hezbollah convoy.
http://english.alarabiya.net/en/News/middle-east/2015/02/06/France-denies-Security-Council-draft-against-Hezbollah.html
-------------
Police raid Bosnian village that displayed ISIS flag
6 February 2015
Police special forces carried out a raid in a Bosnian village home to Muslim fundamentalists, after media published photos of local houses displaying the flag of the Islamic State group.
By the time forces arrived "the flags were no longer hanging" in the northeastern village of Gornja Maoca, said Kristina Jozic, a spokeswoman for state police agency SIPA.
Local television station FTV had on Wednesday broadcast photos showing the black and white flags of the IS jihadists hanging from the roof of a house, saying the images were taken in Gornja Maoca.
The isolated village lies close to the town of Brcko. Controlled by a local movement that adheres to the strict Wahhabi branch of Islam, it has been targeted in numerous police operations in recent years.
Full report at:
http://english.alarabiya.net/en/News/world/2015/02/06/Police-raid-Bosnian-village-that-displayed-ISIS-flag.html
-------------
U.N.: Islamic State guilty of 'beheadings, crucifixions of children' in Iraq
February 06, 2015
The United Nations put out a new report saying terrorists with the Islamic State have been seen killing, torturing and raping children and women in Iraq, and that local forces need to step up their game and start protecting their citizens.
Specifically, the U.N. Committee on the Rights of the Child said it has fielded several reports in recent days that detail "several cases of mass executions of boys, as well as reports of beheadings, crucifixions of children and burying children alive," The Associated Press reported.
http://www.washingtontimes.com/news/2015/feb/5/un-islamic-state-guilty-of-beheadings-crucifixions/
-------------
NATO beefs up response force to face Russia, Islamic threats
AP | Feb 6, 2015
BRUSSELS: NATO defense ministers agreed Thursday to more than double the size of the alliance's Response Force and create a new quick-reaction force of 5,000 troops to meet simultaneous challenges from Russia and Islamic extremists.
NATO Secretary-General Jens Stoltenberg said the decisions made during a daylong meeting at alliance headquarters in Brussels will ``ensure that we have the right forces in the right place at the right time.''
NATO will now ``be able to defend all allies against any threat, from the east or from the south,'' he told reporters.
NATO's total Response Force was increased from 13,000 to 30,000 troops and its new rapid reaction force should be able to deploy within 48 hours, Stoltenberg said.
Full report at:
http://timesofindia.indiatimes.com/world/europe/NATO-beefs-up-response-force-to-face-Russia-Islamic-threats/articleshow/46139147.cms
-------------
Amnesty slams Bahrain for stripping citizenship of 72 dissidents
February 6, 2015
DUBAI: Amnesty International urged Manama to restore the citizenship of dozens of dissidents stripped of their Bahraini nationality in a decree handing them the same penalty as suspected extremists.
The rights watchdog said last Saturday's decision against 72 people had treated peaceful activists in the same way as Bahrainis suspected of travelling to Iraq or Syria to fight for the Muslim State group.
"The authorities have put the names of a number of known Bahraini human rights and political activists on the same list as other Bahrainis who have been alleged IS fighters," it said.
Amnesty said any move that risked leaving a person stateless should be taken only after due legal process and within the strict limits set by international conventions.
The Committee to Protect Journalists said the list included at least four journalists — all of whom were "forced into exile because of legal threats."
"Bahraini journalists who dare to express critical views already face serious risks, including legal action and imprisonment. Now Bahrain is punishing them by taking away what they value most," it said.
Full report at:
http://tribune.com.pk/story/833448/amnesty-slams-bahrain-for-stripping-citizenship-of-72-dissidents/
-------------
Mideast
Gaza militants condemn Egypt's branding of Hamas as terror group
6 February 2015
In a statement read by a masked gunman, 10 armed Palestinian factions jointly condemned on Thursday an Egyptian decision to list the military wing of the Islamist group Hamas as a terrorist organisation.
An Egyptian court last week banned the Izz El-Deen Al-Qassam Brigades, Hamas's armed wing, in line with a crackdown by President Abdel Fattah El-Sisi on the Muslim Brotherhood, of which Hamas is an offshoot.
That decision prompted a source close to the Brigades to say that Egypt, which has mediated several past ceasefires between Israel and the Palestinians, including a truce to end a 50-day Gaza war last summer, could no longer be trusted as an impartial player.
In the statement read aloud by the gunman in Gaza, the 10 armed groups said that their fight was only with Israel and they had never taken the battle outside the region encompassing Israel and the Palestinian territories.
"Resistance factions and the Qassam Brigades concentrate their work against the Zionist enemy," the gunman said.
"We reaffirm that we do not intervene in the internal affairs of Arab countries and we hope that no one will export their internal problems towards the Palestinian people and its resistance factions."
Full report at:
http://english.ahram.org.eg/NewsContent/1/64/122314/Egypt/Politics-/-Gaza-militants-condemn-Egypts-branding-of-Hamas-a.aspx
-----------
US drone kills senior Qaida militant in Yemen: Al-Qaida in the Arabian Peninsula
Feb 6, 2015
DUBAI: Al-Qaida said on Thursday that one of its top militants, Harith al-Nadhari who threatened more attacks on France after the Charlie Hebdo killings, died in a US drone strike in Yemen.
Nadhari and three other militants were killed in a January 31 "crusader American drone strike against their car in the Saeed area of Shabwa province in southern Yemen," Al-Qaida in the Arabian Peninsula (AQAP) said on Twitter.
Nadhari had threatened France with further attacks like those in Paris on satirical magazine Charlie Hebdo and a Jewish supermarket that killed 17 people between January 7 and 9.
http://timesofindia.indiatimes.com/world/middle-east/US-drone-kills-senior-Qaida-militant-in-Yemen-Al-Qaida-in-the-Arabian-Peninsula/articleshow/46133211.cms
----------
Turkey urges citizens to leave Yemen amid political crisis
6 February 2015
Turkey has urged its citizens to leave Yemen due to the worsening security situation, despite a tentative deal among the country's rival factions battling for power.
The Turkish Foreign Ministry published the warning -- the third of its kind since August -- late on Thursday, after most Yemeni factions had agreed to set up an interim presidential council to run the country for up to a year.
That deal aims to ease the power struggle in a country where the president resigned last month after Shiite Houthi rebels overran the capital Sanaa in September.
"Protests and public demonstrations are taking place. There is a possibility that incidents effecting public security could take place," the Turkish Foreign Ministry said.
The ministry did not say how many Turks live in Yemen.
http://english.alarabiya.net/en/News/middle-east/2015/02/06/Turkey-urges-citizens-to-leave-Yemen-amid-political-crisis.html
-------------
Israel FM displays Charlie Hebdo in 'pre-poll stunt'
6 February 2015
Israel's hawkish Foreign Minister Avigdor Lieberman showcased copies of the latest issue of Charlie Hebdo in Tel Aviv on Thursday in an apparent pre-election publicity stunt.
Members of Lieberman's far-right Yisrael Beitenu party, their mouths symbolically taped shut, set up a stall in the heart of Israel's commercial capital and displayed copies for public perusal of the French satirical magazine, an AFP correspondent said.
The issue -- released a week after a deadly attack by Islamist gunmen on Charlie Hebdo's office in Paris -- courted controversy by featuring a cartoon of the Prophet Mohammed, drawing condemnation from Muslim leaders.
"Radical Islamic terrorists murdered people simply because they published something. We will not allow this to happen in Israel," Lieberman said at the gathering.
"We will not surrender, and we will publish whatever we like, whenever we like."
Charlie Hebdo's print version is not available for purchase in Israel.
The stall in Tel Aviv did not attempt to distribute or sell the magazines, after a warning on Wednesday from Israel's electoral commission that "giving out gifts" was tantamount to bribery.
Israel is holding a snap general election on March 17.
http://english.alarabiya.net/en/News/middle-east/2015/02/06/Israel-FM-displays-Charlie-Hebdo-in-pre-poll-stunt-.html
-------------
North America
Muslim scholar coming to Hilliard conference says ISIS is threat to world
February 06, 2015
A Muslim scholar who has harshly condemned Islamic State militants will headline a central Ohio interfaith conference that seeks to open paths of communication and increase community service among people of varied religious backgrounds.
Sheikh Muhammad Al-Yaquobi is to speak at a Feb. 19 banquet as part of the conference titled "Divinity and Diversity: Building Our Beloved Community Together."
The free three-day conference, Feb. 19-21, is presented by the Noor Islamic Cultural Center in Hilliard, the Safe Alliance of Interfaith Leaders of central Ohio, the Washington, D.C.-based Shoulder to Shoulder campaign and the Indiana-based Islamic Society of North America.
"The diversity in Columbus is pretty massive compared to other Midwestern cities of this size," said Imran Malik, chairman of the board that oversees Noor and vice president of the Safe Alliance. "There's a lot of diversity, and there's a lot of international traffic, and because of that, there's a lot of hunger to learn about each other.
"There's so much hunger, there's so much prospect that people are ready to embrace diversity as our strength rather than weakness."
Full report at:
http://www.dispatch.com/content/stories/local/2015/02/05/interfaith-conference-features-Muslim-scholar.html
-------------
Obama has a complicated relationship with American Muslims
February 06, 2015
President Obama's schedule this month epitomizes the complicated relationship he has with his most supportive group of religious voters: Muslims.
On Thursday, the president took to the podium before a major annual D.C. gathering of Christians – the National Prayer Breakfast – and reminded the audience that Christians shouldn't "get on their high horse" about the connection between the Islamic State and Islam, and rattled off the Crusades, the Inquisition and slavery – all undertaken "in the name of Christ." The day before, he hosted an event that Muslim American leaders said was the first occasion in six years that a Muslim-only group has had a significant roundtable with the president.
Yet in two weeks, the White House is scheduled to host a key summit about violent extremism that is likely to focus on Muslim militants, an ongoing framework that angers many Muslim American leaders and is a thorn in their relationship with the president.
Full report at:
http://www.washingtonpost.com/news/local/wp/2015/02/05/obama-has-a-complicated-relationship-with-american-muslims/
-------------
Obama hails Dalai Lama, condemns the Islamic State at National Prayer Breakfast
February 06, 2015
President Obama hailed the Dalai Lama at the National Prayer Breakfast Thursday, giving a show of support in a relationship fraught with thorny geopolitical implications.
Obama called the Tibetan spiritual leader a "good friend" and upheld him as a "powerful example of what it means to practice compassion."
Obama bowed his head and brought his hands together in a Namaste gesture when the Dalai Lama was introduced at the beginning of the breakfast. The Dalai Lama was seated at a table with top Obama adviser Valerie Jarrett. She was dispatched to Dharamsala, India, where the Dalai Lama lives in exile, after the White House canceled a meeting with the leader ahead of Obama's first visit to Beijing in 2009.
Chinese leaders sharply criticized the presence of the Dalai Lama at the Prayer Breakfast -- as Beijing did the previous three times the two men met in the past. This time, the White House stressed they did not invite the Dalai Lama and that he and Obama had no plans to meet.
China's concerns about the Dalai Lama stem from his role as the leader of Tibet's push for political and economic autonomy from China.
Full report at:
http://www.washingtonpost.com/blogs/post-politics/wp/2015/02/05/obama-hails-dalai-lama-condemns-the-islamic-state-at-national-prayer-breakfast/
-------------
Muslim undercover agent enraged by terror suspects' talk, court hears
February 06, 2015
TORONTO - It's a terrifying thing, eavesdropping on the inner voices of suspected terrorists living amongst us. And for an undercover agent who shares their religion, it is enraging.
Startling secret recordings have been playing in a Toronto courtroom of the dealings an undercover FBI agent had with Chiheb Esseghaier and Raed Jaser, both now on trial for terror-related charges that include plans to murder passengers by derailing a Toronto-bound train on a bridge near St. Catharines, Ont., or in Toronto's east end in 2012.
What has become clear so far is how much the pair detested the Canadian society that hosted them both -- Jaser as a permanent resident of Palestinian descent living in Toronto and Esseghaier, a Tunisian who was doing his PhD in Quebec. The two were surreptitiously taped discussing religion and terror while sitting in a Toronto park, sipping tea and eating Timbits as children played in the background on a pretty autumn day in 2012.
Full report at:
http://www.sunnewsnetwork.ca/sunnews/straighttalk/archives/2015/02/20150205-204701.html
-------------
Southeast Asia
Lawyers, groups laud Negri Sembilan's new laws for Muslim converts
Feb 6, 2015
Various groups are urging other states to follow the Negri Sembilan government in introducing new laws for Muslim converts, noting that the state has now done what Putrajaya failed to do to resolve problems like the unilateral conversion of children by one spouse.
DAP national vice-chairman M. Kula Segaran also lauded the move, especially since Putrajaya had failed to introduce the necessary changes to effect a 2009 cabinet decision banning unilateral conversion of minors to Islam.
According to the lawyer who has been handling such cases, the then de facto law minister Datuk Seri Nazri Aziz had announced the Cabinet's decision on unilateral conversion.
It was said then that unilateral conversions were being abused so as to escape the responsibilities of a civil union and to gain custody of the children.
National news agency Bernama reported yesterday that several proposed new regulations will be enforced in Negri Sembilan in a move to strengthen the law on converting to Islam as stipulated in the Administration of the Religion of Islam (Negri Sembilan) Enactment 2003.
Menteri Besar Datuk Seri Mohamad Hasan said the proposed regulations would not only strengthen the enactment, but would also avoid controversy and, most importantly, would ensure that Islam would not be ridiculed or insulted just because of a wrongdoing of a Muslim convert.
Full report at:
http://www.themalaysianinsider.com/malaysia/article/lawyers-groups-laud-negri-sembilans-new-laws-for-muslim-converts#sthash.DPFX4UfQ.dpuf
-------------
EU, US envoys worry over Putrajaya's use of Sedition Act
Feb 6, 2015
About 20 diplomats from the European Union and the United States were today briefed by Lawyers for Liberty on the use of the Sedition Act against opposition leaders and dissidents.
Lawyers for Liberty executive director Eric Paulsen said the event was organised by the EU delegation to Malaysia who wanted an update on human rights issues.
"They expressed concern on what is happening here," said Paulsen who conducted the briefing.
The human rights lawyer is the latest who is charged with sedition over his Twitter post which allegedly criticised the Malaysian Islamic Development Department (Jakim) for spreading extremism through Friday sermons.
Paulsen pleaded not guilty at the Kuala Lumpur Sessions Court yesterday to the charge under Section 4(1)(c) of the colonial-era law.
He said the diplomats were also briefed on the constitutional challenges mounted on the Sedition Act 1948 and the Peaceful Assembly Act (PAA) 2012.
Full report at:
http://www.themalaysianinsider.com/malaysia/article/eu-us-envoys-express-concern-over-putrajayas-use-of-sedition-act#sthash.qukkTfIw.dpuf
-------------
DAP MP to sue Ismail Sabri over anti-Islam label
Feb 6, 2015
DAP lawmaker Ngeh Koo Ham, who was singled out by Umno minister Datuk Seri Ismail Sabri Yaacob in his recent racial rant on Chinese businesses, said he will sue the minister for labelling him and his family anti-Islam.
The MP for Beruas also repeated his call for Prime Minister Datuk Seri Najib Razak to sack the agriculture and agro-based industries minister for lying just to avoid owning up to what he said.
Both Ismail and Ngeh have been in the spotlight after Ismail advised Malays to boycott Chinese businesses.
He had alleged that Ngeh owned shares in the OldTown White Coffee chain which was singled out as a Chinese business that Malays should boycott.
"Malays are still refusing to boycott (OldTown White Coffee), what more when its owner is said to be the DAP Ngeh family of Perak who are known to be anti-Islam.
"As long as the Malays don't change, the Chinese will take the opportunity to oppress the Malays," Ismail had said in a Facebook post.
Ngeh then denied he had ever owned any shares in OldTown Bhd, and demanded that the minister retract his anti-Islam allegation and issue him a public apology.
The minister shrugged off a 48-hour deadline to apologise to Ngeh, saying that his remarks posted on Facebook did not specifically mention "Ngeh Koo Ham".
In a statement today, Ngeh said the time given for the Umno minister to retract and apologise for his remarks had lapsed, adding that he had instructed his lawyers to proceed with legal action.
Full report at:
http://www.themalaysianinsider.com/malaysia/article/dap-mp-to-sue-ismail-sabri-over-anti-islam-label#sthash.JAZ9id1b.dpuf
----------
URL: https://www.newageislam.com/islamic-world-news/new-age-islam-news-bureau/jamaat-ud-dawa--'muslim-states-should-form-own-un,-build-a-military'/d/101406