New Age Islam News Bureau
14 Dec 2013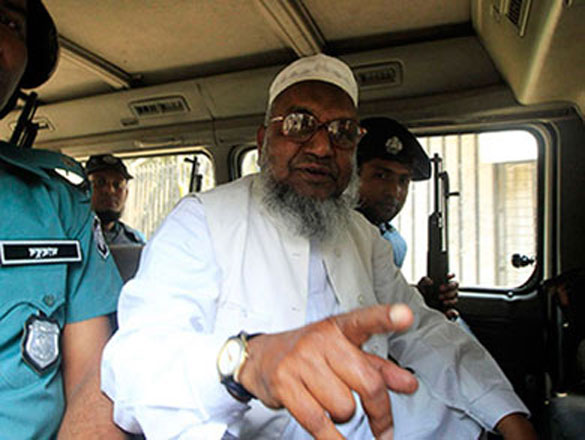 Bangladesh Jamaat-e-Islami leader and war criminal Abdul Quader Mollah
----------------
Pakistan
• Jamaat-i-Islami held Protests in Pakistan after Quader Mollah's execution in Bangladesh
• Molla's hanging: National Assembly speaker blocks Jamaat-e-Islami resolution
• BD hanged Molla for Pakistan loyalty: Interior Minister
• Jamaat-e-Islami offered Ghaibana Namaz-I-Janaza of Molla
• MQM Chief says UK police have made his life miserable
• Attacks on polio teams kill three in northwest Pakistan
------------
Mideast
• Iran claims to have captured MI6 spy
• Iranian Professor Publicly Refutes Government Claims on Human Rights
• US drone suspected of striking Yemeni wedding entourage, 13 dead
• Iran quits nuclear talks protesting US blacklist move
• Airstrike kills 15 civilians by mistake in Yemen
• Abbas rejects US security plan for future Palestinian state
------------
Africa
• United Nations Says Several Peacekeepers Killed in Mali
• More than 600 killed in week of C Africa violence: UN
• Tunisia's Islamists, opposition to name premier
• Nigerian lawyer defends human rights of women in West Africa
• Tunisia parties reach political agreement
------------
South Asia
• Jamaat, Shibir Men strike terror, Rampaged the Capital and 23 Districts
• Other war criminals' verdicts to be executed: Minister
• Deadly clashes in BD after top Islamist hanged
• Jamaat strikes terror to foil war crimes trial
• Islamist party vows to deepen role of Islam in Bangladesh to avenge execution of party leader
------------
Southeast Asia
• Jakim: All branches of Shiah in Malaysia violate Islamic law
• Indonesian Religious minister defends wedding-vow gratuities
• PAS is Sunni as inscribed in constitution, says president
• Malaysian Minister: States to take charge of 'Syariah cops', roll out soon
• Home Ministry urges Mat Sabu to prove he has no Syiah links
------------
India
• India averse to give 'lethal' weapons to Afghanistan, but boosts military training
• Karzai, Singh hold talks on Afghanistan security pact with US
• Protests erupt in Indian-controlled Kashmir against execution of Islamist leader in Bangladesh
• Punjab to gift combine harvester to Shahbaz Sharif
• Minister questions logic of power starved Punjab selling power to Pakistan
------------
Arab World
• Syria rebels: Islamic militants nabbed our weapons
• Changing Alliances For 2014: A New Leader, Osama Al-Nujaifi, For Iraq's Sunni Muslims
• Iraq Violence Kills 37 as 'Terrorism' Suspects' Escape
• Assad win may be Syria's best option, says ex-CIA chief
------------
North America
• UN chief says Syria chemical attackers should be sanctioned
• US military reveals laser can down drones
• Dead Sea-Red Sea Pipeline is a Game Changer for Jewish-Muslim Relations
• US Bangladesh urges political parties to shun violence
• UN Chief Appeals for Peace in CAR
------------
Europe
• Moscow concerned about Islamist insurgents seizing military warehouses in northern Syria
• No gender apartheid in British Islam
• French defence minister in strife-torn Central Africa
• British Muslims develop appetite for Halal turkey
• Islamic Front is eager to join peace talks in Geneva
------------
Australia
• Why did Australia's spy agencies listen in on the Indonesian first lady?
Compiled by New Age Islam News Bureau
URL: https://newageislam.com/islamic-world-news/jamaat-i-islami-held-protests/d/34856
------------
Pakistan
Jamaat-i-Islami held Protests in Pakistan after Quader Mollah's execution in Bangladesh
December 14, 2013
Islamabad: Pakistani activists of the Jamaat-i-Islami held protests in various Sindh towns giving vent to their anger over the execution of Bangladesh Jamaat-e-Islami leader and war criminal Abdul Quader Mollah. The activists also offered funeral prayers Friday for the departed soul, Dawn reported. Activists of Jamaat-i-Islami and Jamaat-ud-Daawa protested in Hyderabad against the execution. They criticised the Pakistan government for not playing its role in defending its patriotic sons who had struggled for the integrity of the country.
Jamaat-ud-Daawa leaders also condemned the execution of Mollah.
They said that instead of raising its voice against the injustice, the Pakistan government was busy in potato and onion trade with India. Jamaat-i-Islami leaders Abdul Waheed Qureshi, Shaikh Shaukat Ali and others urged the government to sever diplomatic ties with Bangladesh and expel its ambassador. They also said that Bangladesh had backtracked on the historic pact between the late Zulfikar Ali Bhutto and Bangladesh leader Sheikh Mujibur Rehman, which stated that both the countries would not take vengeful action against any person for his role before and during the 1971 war.
But Rehman's daughter and Bangladesh Prime Minister Sheikh Hasina had trampled upon that pact and unleashed a reign of terror against the Jamaat-e-Islami leaders, they said. They added that Mollah was hanged because he took part in the struggle for the defence of Pakistan, but regretfully the Pakistan government preferred to look the other way. Mollah was hanged late Thursday in the first execution of a 1971 Liberation War criminal in Bangladesh after the country's highest court dismissed his petition to review his death sentence.
http://www.firstpost.com/world/protests-in-pakistan-after-quader-mollahs-execution-in-bangladesh-1287105.html?utm_source=hp-footer
------------
Molla's hanging: National Assembly speaker blocks Jamaat-e-Islami resolution
December 14, 2013
ISLAMABAD: National Assembly Speaker Sardar Ayaz Sadiq did not allow lawmakers from Jamaat-e-Islami to table a resolution condemning the execution of Jamaat-e-Islami Bangladesh leader Abdul Quader Molla in Dhaka.
"We cannot support a condemnation resolution [against this act of capital punishment] or allow you to table a resolution in the National Assembly," said Federal Minister for Inter-Provincial Coordination Riaz Pirzada to Jamaat-e-Islami (JI) Pakistan MNA Sahibzada Tariqullah.
"This is a matter of two countries' relations and we cannot allow tabling of a condemnation resolution when the prime minister's adviser on foreign affairs, Sartaj Aziz, is not present," he added.
During the course of proceedings, when the house witnessed a debate on the deteriorating law and order situation, the speaker advised JI lawmakers to take up the issue with Aziz on Monday.
Despite assurance from the JI MNAs that their move enjoyed support from all political parties, they were advised "to consult the lawmakers sitting on the treasury benches".
"Molla's unflinching spirit is commendable," Tariqullah said. "His execution at the hands of a 'slanted' war tribunal is nothing but a mockery of justice."
The house continued a debate on law and order, PPP lawmaker Ijaz Jakhrani urged the government to resume its proposed talks with militants. "Take the initiative to control the bloody militancy," he said. "The largest opposition party, the PPP, stands by you."
PTI President Javed Hashmi stressed the need for 'unity' to save the country and expressed concerns over the increasing incidents of kidnapping for ransom in Punjab, Karachi, Peshawar and Quetta.
Even the capital, he said, was not a safe city. "It's our collective responsibility to get rid of this monster, terrorism," he added.
PML-N MNA Khusro Bakhtiar urged the government to expand intelligence agencies' budgets to enable improved intelligence gathering.
Published in The Express Tribune, December 14th, 2013.
http://tribune.com.pk/story/645381/mollas-hanging-na-speaker-blocks-ji-resolution/
------------
BD hanged Molla for Pakistan loyalty: Interior Minister
December 14, 2013
BD hanged Molla for Pakistan loyalty: Nisar
ISLAMABAD - Federal Minister for Interior Chaudhry Nisar Ali Khan here on Friday said there was no doubt that political and religious leader Abdul Qadir Molla of Jamaat-e-Islami was hanged in Bangladesh because of his loyalty and solidarity with Pakistan in 1971.
Chaudhry Nisar expressed deep grief and concern over the incident of execution of Abdul Qadir Mullah. In a statement, the minister said even after passing of 42 years to the events of 1971, executing Abdul Qadir Mullah was very unfortunate and tragic step and some circles were declaring it a judicial murder.
Till the very end before creation of Bangladesh, he remained supporter of a united Pakistan and today every Pakistani was saddened and grieved on his death, the minister added.
Ch Nisar said it was demand of international relations, solidarity of Islamic Ummah and wisdom that conditions and events of the past should be put behind and a new era should be started. But with this unfortunate incident, an effort is made to revive old wounds of the past.
He said in reality whenever unfortunately any country falls victim to civil war then all sides in the conflict resort to violence.
It is necessary for peace and brotherhood that strategy of tolerating each other should be adopted in the larger national interest and this sentiment promotes real national solidarity.
He said it would have been better if the Bangladeshi government had shown farsightedness, large heartedness and magnanimity instead of opening old wounds.
APP adds: On the other hand, Foreign Office while commenting on the situation in Bangladesh said while it is not Pakistan's policy to interfere in the affairs of any country, but it has noted the concerns raised by the international community and human rights organizations on the way recent trials have been conducted which have added to the current instability in Bangladesh.
FO spokesman said "As a friendly country and fellow Saarc member state, we are closely following the political developments as they unfold in Bangladesh."
"We wish the brotherly people of Bangladesh well and hope that spirit of reconciliation and an atmosphere, free of violence, will prevail."
http://www.nation.com.pk/national/14-Dec-2013/bd-hanged-molla-for-pakistan-loyalty-nisar
------------
Jamaat-e-Islami offered Ghaibana Namaz-I-Janaza of Molla
BUREAU REPORT
2013-12-14
PESHAWAR, Dec 13: The Jamaat-i-Islami leaders and activists gathered at Al-Markaz-i-Islami here on Friday and offered Ghaibana Namaz-I-Janaza (funeral prayer in absentia) of Jamaat leader Abdul Qader Mullah, who was hanged in Bangladesh on Thursday.
The JI activists and other people also held a protest demonstration on GT Road and shouted slogans against the government of Bangladesh.
The protestors, holding banners and posters inscribed with slogans against the execution of Bangladesh's Jamaat leader, were led by Khyber Pakhtunkhwa JI chief Prof Mohammad Ibrahim, central deputy chief Sirajul Haq and provincial general secretary Shabir Ahmed.
Prof Ibrahim said that the JI leader in Bangladesh had been given the capital punishment for the reason that he loved Pakistan and its people. He said that hanging of a political figure was un-Islamic and against all norms of democracy.
He demanded registration of FIR against Prime Minister Sheikh Hasina and her party for executing a leader of the opposition.
LAKKI MARWAT: Jamaat-i-Islami here on Friday condemned the execution of Qader Mullah in Bangladesh and asked the government of Pakistan to lodge a strong protest over it.
In this regard a protest meeting was held here which was chaired by Lakki JI chief Sabz Ali Naveed. The speakers said that Qader Mullah was hanged to death because he was loyal to Pakistan and supported Pakistan army during the 1971 war.
They urged the government of Pakistan to take the matter to the International Court of Justice. They said that execution of Qader Mullah was against the principles of justice. They said that trying political opponents for war crimes by Bangladesh government was condemnable.
The JI activists asked the government to sever ties with Bangladesh and call back its ambassador to the country.
MANSEHRA: The Jamaat-i-Islami activists here also held a rally to protest against the execution of Qader Mullah.
"It is unfortunate that a pro-Pakistan JI leader was executed by the Bangladesh government, but our rulers and political leaders didn't even condemn his extrajudicial killing," said JI district Younus Khattak while speaking at the rally.
The protesters also raised slogans against the government of Bangladesh.
http://www.dawn.com/news/1073813/hanging-of-ji-leader-in-bangladesh-condemned
------------
MQM Chief says UK police have made his life miserable
2013-12-14
LAHORE, Dec 13: Muttahida Qaumi Movement chief Altaf Hussain said on Friday that British police had made his life miserable, but he would never bow before any 'international establishment'.
Addressing by phone from London a gathering held here in connection with the launch of his book "Falsafa-i-Muhabbat", he said since he never bowed before Pakistan's establishment and its agency — ISI — how could he bow before the British police.
"The British police have made my life miserable. But I tell you very clearly that I will not bow before them. Pakistan army and the ISI are mine and I will even sacrifice my life for my country," he said.
The MQM chief urged participants to ask retired General Aslam Baig, Hameed Gul and Brigadier Imtiaz about his attitude and character.
"You ask them on oath whether I ever received money from them or not. They will tell you the truth, as I rejected the money offered to me," he said. He claimed that he was the only politician of Pakistan who never received even a single penny from the Army or ISI.
Mr Hussain said that since he was an honest person, he would never bow before the local and international establishment.
"Please don't construct a wall of money between me and the people," he said.
"The British police can take my life or confiscate my passport, but I will never bow before them. I will prefer losing my life rather than selling my belief," he said.
http://www.dawn.com/news/1073852/altaf-says-uk-police-have-made-his-life-miserable
------------
Attacks on polio teams kill three in northwest Pakistan
2013-12-13
SWABI: Gunmen attacked two separate polio teams in northwestern Pakistan on Friday, killing one polio worker and two police guards.
The first incident took place in Swabi in northwestern Khyber Pakhtunkhwa province where unknown motorcyclists shot down two policemen on their way to provide security cover to a polio team, local police said.
According to police, the two police officials were on their way to perform security duties when unknown gunmen opened fire on them on Topi Road in Swabi. Subsequently, one police official was killed on the spot while the other, sustaining severe injuries, succumbed to his wounds at the hospital.
Full report at:
http://www.dawn.com/news/1072223/attacks-on-polio-teams-kill-three-in-northwest-pakistan
------------
Mideast
Iran claims to have captured MI6 spy
14 December 2013
Iran says it has captured a spy working for British intelligence agency MI6 in the south-eastern city of Kerman.
The head of Kerman's revolutionary court said the alleged spy had admitted being in contact with four British intelligence officers 11 times, both inside and outside the country.
He said the accused was now on trial and had confessed. The nationality of the alleged spy is not yet known.
The UK Foreign Office said it did not comment on intelligence matters.
Iran regularly claims to have captured spies working for foreign powers but in most cases the accused is released without charge months later.
According to a report from Iran's conservative news agency Tasnim, the alleged spy was arrested after 10 months of intelligence work and had once had a meeting with British agents in London.
It quotes Dadkhoda Salari, the head of the Kerman court, as saying he is aged over 50, with an "academic education". He is said to be fluent in English but does not hold an official post.
The news comes as Iran and Britain take steps to try to re-establish diplomatic relations.
Britain shut down its embassy in Tehran, the Iranian capital, in 2011 after it was stormed in a protest over British nuclear sanctions.
'Constructive discussions'
Iran's envoy to the UK this week made his first visit to London, during which he met officials at the Foreign Office.
Full report at:
http://www.bbc.co.uk/news/world-middle-east-25379391
---------
Iranian Professor Publicly Refutes Government Claims on Human Rights
DECEMBER 13, 2013
Tehran University Sociology Professor Sadegh Zibakalam publicly challenged Head of the Judiciary Ayatollah Sadegh Larijani's recent remarks stating that Western countries' criticism of Iran's human rights record is in opposition to Islam. "Contrary to what is routinely said, I believe the criticisms raised against us about human rights have nothing to do with Islam," Zibakalam said in a speech at Tehran's Shahid Beheshti University on Human Rights Day. He added that human rights is an area of dispute between Iran and the West and that the issue will continue to fester.
Sadegh Zibakalam asked Iranian authorities to prove their claims against Ahmed Shaheed, the UN Special Rapporteur on Human Rights in Iran. "We say that Ahmed Shaheed, the UN Special Rapporteur, is a mercenary and is associated with Zionism. Let's assume that this individual is a mercenary, a CIA agent, or a Freemason, but we have to take note that in his 60- to 70-page report, he has listed the names and references of individuals whose human rights have been violated. When we say that sources for his report are the Hypocrites [the Iranian government's reference to the opposition group Mojahedin-e Khalgh Organization, MEK] and anti-revolutionaries, we must prove that this individual's reports are lies and without merit," he added.
Over the past several years, whenever the UN has passed human rights resolutions criticizing the Islamic Republic of Iran, Iranian Judiciary officials have repeatedly stated "cultural relativism" and anti-Islam rationale as the reasons and have refrained from addressing the issues cited in the resolutinos. Zibakalam's statements are especially rare and bold given his status as a prominent thinker inside Iran.
In his December 11 statements, the Head of Iran's Judiciary Ayatollah Sadegh Larijani said, "As I've said before, many of the issues raised on the pretext of human rights, including opposing the death penalty, are in fact in opposition to Islam, because qisas [retribution] is clearly stipulated in the Quran."
Referring to numerous instances of human rights violations in Iran, Zibakalam said that none of the points Sadegh Larijani raises are related to Islam, and that "observing Iran's Constitution and laws passed by the Iranian Parliament" would reduce human rights violations in Iran to almost none.
In recent years, human rights activists and organizations have documented thousands of cases of human rights violations in Iran, pointing out that most of these violations are even against Iran's own laws. High-ranking judicial authorities, however, have always referred to human rights concerns as politically-motivated acts, refraining from effective dialogue with activists and organizations. Since his 2011 appointment as the UN Special Rapporteur on Human Rights in Iran, Ahmed Shaheed has not been allowed to travel to Iran and his reports have been repeatedly criticized.
Addressing a conference on human rights at Tehran's Shahid Beheshti University on the occasion of Human Rights Day, Zibakalam spoke of three decades of Iranian government responses to human rights concerns. "The response to the criticisms of the past three decades has been that the West is using human rights as a political tool, and because we want to be independent and free, and carry out Islamic principles and laws, and we also intend to base our justice and legal processes on Islamic principles and standards, we are criticized by the West who wishes to dictate secularism and atheism to us," said Zibakalam.
"Contrary to what is routinely said, I believe the criticisms raised against us about human rights have nothing to do with Islam," he said. "If a student who is active in Mir Hossein Mousavi's election campaign supports him as a candidate, or a student who attended an illegal demonstration becomes 'starred' and is banned from education, is that related to Islam? According to what law is a student banned from education just because he is against the current political opinions and thoughts?" he added. Zibakalam also spoke about the "arbitrary arrests" of those citizens who have been detained without being informed of their charges. "Has it not happened in the Islamic Republic of Iran that an individual was arrested without clarifying what his charges were, and then he was told his charges after weeks and sometimes months of detention?" he asked.
Referring to statements made during Hassan Rouhani's cabinet appointments, Zibakalm said, "It is said that the Minister of Science appointed deputies for himself whom the Intelligence Ministry has not approved. Based on which law should the Intelligence Ministry approve the appointments of university chancellors, governors, deputy governors, deputy ministers, and directors, so that without the approval the individuals cannot fill their positions?"
He also addressed the elections and the Guardian Council's vetting and disqualification of candidates, a point raised in several human rights reports and by local and international activists and organizations, which has been consistently disregarded by Iranian authorities. "According to the law, in order to determine the qualifications of candidates, the Guardian Council has to request four organizations to provide information on the individuals. If the four organizations say that the individual has no problems, can the Guardian Council still disqualify the individual based on his thoughts and political opinions? I speak to you as a disqualified individual. I still don't know for what reason the Guardian Council disqualified me in the Sixth Parliamentary Election [2000-2004]."
Full report at:
http://www.iranhumanrights.org/2013/12/zibakalam-islam/
------------
US drone suspected of striking Yemeni wedding entourage, 13 dead
December 13, 2013
At least 13 people have been killed on their way to a wedding in Yemen by a suspected United States drone strike, local officials have said.
The airstrike occurred on Thursday in the village of Qaifa, in Yemen's central al-Bayda province, after the wedding party was allegedly mistaken for al-Qaeda fighters.
Media reports said that the strike left charred bodies on the road and vehicles on fire.
A military official told Associated Press news agency that initial information indicated the drone mistook the wedding party for an al-Qaeda convoy. He said tribesmen known to the villagers were among the dead.
Full report at:
http://muslimvillage.com/2013/12/13/47385/us-drone-suspected-of-striking-yemeni-wedding-entourage/?utm_source=rss&utm_medium=rss&utm_campaign=us-drone-suspected-of-striking-yemeni-wedding-entourage
------------
Iran quits nuclear talks protesting US blacklist move
13 December 2013
TEHRAN: Iran has quit nuclear talks with world powers, accusing Washington on Friday of going against the spirit of a landmark agreement reached last month by expanding its sanctions blacklist.
US Secretary of State John Kerry and a spokesman for EU foreign policy chief Catherine Ashton, who represents the major powers in the talks, both played down the suspension and said talks were expected to resume soon.
But Iran's chief nuclear negotiator Abbas Araqchi said the US move went against the spirit of the deal struck in Geneva under which the powers undertook to impose no further sanctions for six months in exchange for Iran curbing its controversial nuclear activities.
Tehran was now weighing the "appropriate response," he said.
"America's move is against the spirit of the Geneva deal," Araqchi told the Fars news agency as his team headed back to Tehran from Vienna.
"We are evaluating the situation and will make the appropriate response."
Iran's ambassador to France, Ali Ahani, warned at a press conference in Monaco that such moves could serve to boost opposition within his country to a deal with the West.
"We are determined to implement our commitments. We must be sure that the other side is serious, and that we can show our people that we can trust them and that Western countries are reliable partners," he said.
Under the deal, Iran agreed to freeze parts of its suspect nuclear program for six months in return for some $7 billion in relief from Western sanctions as it negotiates a final, comprehensive accord to allay suspicions it seeks a weapons capability.
Iranian negotiators quit the implementation talks late on their fourth day Thursday after Washington blacklisted a dozen companies and individuals for evading US sanctions.
Foreign ministry spokeswoman Marzieh Afkham was quoted by state news agency IRNA as saying "the consequences of this unstudied move (are) completely on the American government."
The Mehr news agency quoted informed sources as saying that the "new American sanctions" were the reason for the interruption.
"The negotiations were halted by the Iranian delegation because of new American sanctions. The Iranian negotiating team has halted the talks at this stage," it said.
Kerry, however, made no mention of a breakdown in remarks to reporters as he concluded a trip to Israel.
"We're making progress, but I think we're at a point in those talks where folks feel a need to consult, take a moment," he said.
"There is every expectation that talks are going to continue in the next few days."
A spokesman for the EU foreign policy chief also said both sides needed to return home for consultations and that Iran's move was not unilateral.
"After four days of lengthy and detailed talks, reflecting the complexity of the technical issues discussed, it became clear that further work is needed," Ashton's spokesman Michael Mann said.
"There will now be consultations in capitals, in the expectation that technical talks will continue soon," he added.
Full report at:
http://www.arabnews.com/news/492141
------------
Airstrike kills 15 civilians by mistake in Yemen
2013-12-13
SANAA: Fifteen people on their way to a wedding in Yemen were killed in an air strike after their party was mistaken for an al Qaeda convoy, local security officials said on Thursday.
The officials did not identify the plane in the strike in central al-Bayda province, but tribal and local media sources said that it was a drone.
"An air strike missed its target and hit a wedding car convoy, ten people were killed immediately and another five who were injured died after being admitted to the hospital," one security official said.
Five more people were injured, the officials said.
A US official, speaking on condition of anonymity, acknowledged media reports about members of a wedding party getting killed in a counter-terrorism strike.
"We have no information that corroborates these reports,"the official said, without elaborating.
The United States has stepped up drone strikes as part of a campaign against Al Qaeda in the Arabian Peninsula (AQAP),regarded by Washington as the most active wing of the militant network.
Full report at:
http://www.dawn.com/news/1072233/airstrike-kills-15-civilians-by-mistake-in-yemen
------------
Abbas rejects US security plan for future Palestinian state
December 14, 2013
JERUSALEM - The Palestinians rejected US proposals for Israel to keep a military presence in a future Palestinian state, as US Secretary of State John Kerry Friday wrapped up his latest peace push.
Kerry, on his way to Vietnam, made a stop in Jerusalem and the West Bank city of Ramallah in a bid to promote his security plans for a future Palestinian state in his second visit in less than a week. On Thursday night he met Palestinian president Mahmud Abbas and on Friday Israeli Prime Minister Benjamin Netanyahu before leaving snow-hit Jerusalem for Ben Gurion airport in Tel Aviv, media reported.
"I'm delighted to be here. I'm on my way to Asia, heading to Vietnam and the Philippines, which is a long-promised trip," Kerry told reporters as he went into his talks with Netanyahu. "But I wanted to come through here in an effort to try to continue our important discussions. "It's been constructive. It's always complicated," he said. "We have a lot to talk about, and we will continue this process."
Defence Minister Moshe Yaalon had also been due to attend the Kerry-Netanyahu talks, but his spokesman told AFP the weather prevented him from doing so.
After meeting Kerry in Ramallah, the Palestinian political capital, Abbas rejected US proposals for Israel to keep troops in a future Palestinian state along its strategic border with Jordan.
"President Abbas has rejected the ideas presented by the secretary of state," a Palestinian source said on Friday.
Abbas also handed Kerry a letter laying down "Palestinian red lines", the source added, singling out "the refusal to recognise Israel as a Jewish state". Abbas "rejected the ideas on security because there is not a third party".
This refers to a plan by former US national security adviser James Jones under which a third party would deploy along the Palestinian-Jordanian border. The Palestinian source said that "all disputed issues must be settled". Israeli and Arab media reports say the plan envisaged by Washington would see Israel maintain a military presence on the border after a peace agreement with the Palestinians.
According to pan-Arab daily Al-Quds al-Arabi, the plan also includes the deployment of early warning stations on the highest point in the West Bank, an Israeli right to deny entry to anyone through the Jordan Valley border crossing and joint Israeli-Palestinian patrols in the area.
An international force would be acceptable to the Palestinians, but Israel opposes such a solution.
Full report at:
http://www.nation.com.pk/international/14-Dec-2013/abbas-rejects-us-security-plan-for-future-palestinian-state
------------
Africa
United Nations Says Several Peacekeepers Killed in Mali
By THE ASSOCIATED PRESS
December 14, 2013
DAKAR, Senegal — (AP) — A bomb explosion killed several members of the United Nations peacekeeping mission in Mali in the troubled northern city of Kidal, a spokesman for the mission said Saturday.
"There was an explosion this morning and the info I have is that there were several dead and wounded among the blue helmets," Fred Fath, the mission spokesman, told The Associated Press.
An intelligence official in northern Mali said that the dead included two Senegalese peacekeepers. He spoke anonymously because he was not authorized to speak to the media.
The car packed with explosives detonated in front of a bank guarded by the peacekeepers, he said. The explosion was so great it blew open the doors of houses in the area.
Abdallah Ag Ibrahim, a resident of Kidal, said the bank crumbled, a U.N. armored personnel car caught fire, and a nearby school was in flames. He said he saw four people who were either dead or injured.
Full report at:
http://www.nytimes.com/aponline/2013/12/14/us/ap-af-mali-attack.html?ref=world&_r=0
------------
More than 600 killed in week of C Africa violence: UN
2013-12-13
GENEVA: More than 600 people have been killed in sectarian violence tearing though the Central African Republic in the past week, including 27 Muslims killed Thursday in a western village, the UN said Friday.
"We are seeing a further deterioration in the situation in Central African Republic," UNHCR spokesman Adrian Edwards said, pointing out that fighting and sectarian violence had killed 450 people in Bangui and 160 elsewhere in the country in the past week alone.
Some 159,000 people had also fled their homes in the capital, he told reporters in Geneva.
The killings outside the capital, which had been tallied by the National Red Cross and Danish Refugee Council, had mainly taken place in the northwestern part of the country, he said.
Twenty-seven Muslims had been killed in a single attack by so-called self-defence militias, known as anti-Balaka, in the western village of Bohong Thursday, according to the UN's human rights agency.
"We condemn any attack on places of worship and on religious freedom, and urge all communities to exercise restraint," said Ravina Shamdasani, spokeswoman of the Office of the UN High Commissioner for Human Rights (OHCHR).
She decried "a vicious cycle of attacks and reprisals" in the strife-torn nation.
The resource-rich but poverty-stricken majority Christian country was plunged into chaos following a March coup by mainly Muslim Seleka rebels.
A fresh wave of violence enveloped the country on December 5, prompting French troops to deploy last week in a bid to stop communal strife that had sparked global alarm and talk of a possible genocide.
Full report at:
http://www.dawn.com/news/1073682/more-than-600-killed-in-week-of-c-africa-violence-un
------------
Tunisia's Islamists, opposition to name premier
December 13, 2013
TUNIS (Reuters) - Tunisia's ruling Islamists and their opponents were set to name a prime minister on Friday to head a caretaker administration until elections next year that would put the nation's post-revolt transition back on track.
Three years after a wave of protests against autocrat Zine el-Abidine Ben Ali inspired Arab uprisings elsewhere, Tunisia is seeking to end a crisis in which disputes over the role of Islam in politics have threatened its new democracy.
The relatively moderate ruling Islamist Ennahda party, which has met stiff opposition from some of its secular rivals, has agreed to resign once politicians decide on a caretaker cabinet, complete a new constitution and set a date for elections.
A deal brokered by Tunisia's powerful UGTT labor movement on Thursday promised to end weeks of wrangling over who should be interim prime minister, though none has been publicly named.
A leading candidate for the post, 92-year-old Mustapha Filali backed out of the race on Friday. "I am not ready to accept such a huge responsibility, mainly because of my advanced age," the former cabinet minister told local Mosaique FM radio.
Ennahda and opposition groups were due to meet again later on Friday to settle who should form the non-political cabinet.
The UGTT had set a Saturday deadline for rival factions to name a prime minister. Among the potential candidates are Ahmed Adhoum, a judge and former minister, economist Radhi Meddeb, and Habib Essid, a former interior minister, party officials said.
Tunisia has fared better than two North African neighbors that also unseated their leaders. Egypt's elected Islamist president is in jail after the military ousted him, and Libya is struggling to control the militias that fought Muammar Gaddafi.
Tunisia, whose strong secular tradition has collided with the political power of Ennahda and the ambitions of Islamist militants, has nevertheless seen less of the violent unrest troubling Egypt and Libya. It has kept strong ties with former colonial ruler France and relies heavily on European tourism.
Full report at:
http://www.vagazette.com/news/sns-rt-us-tunisia-crisis-20131213,0,7980466.story
------------
Nigerian lawyer defends human rights of women in West Africa
By Matthew Brown,
Dec. 13 2013
Hauwa Ibrahim was enjoying a snack of a fried bean cake in the public square of her village in northern Nigeria when she noticed a picture on the newspaper used to wrap her food.
The photograph of a person dressed in a graduation cap and gown captivated her.
"I wasn't looking at who the person was, whether it was a man or a woman, but what confidence the person had," Ibrahim recalled some 40 years later. "There was something about the confidence that person had, and I wanted to have that confidence when I grew up."
Today, Ibrahim exudes a calm confidence as she describes her remarkable journey from an 11-year-old girl who ran away from home to pursue her education to a lawyer recognized internationally for defending people, particularly women, facing flogging, amputation or even death for violating local interpretations of Islamic law, also known as Sharia.
An observant Muslim, Ibrahim has patiently and persistently worked within the religious and cultural systems of her native land to persuade local leaders to look beyond local customs and apply what she believes is the just and equal treatment required by the Quran, Islam's holy book.
"For us, winning is not going into the courtroom with a wig and gown and arguing all day long," she said. "You may win there, but if you come back and you don't have the village behind you it won't matter. We don't want that to happen."
Ibrahim has spent the past three years at Harvard Divinity School's Women's Studies in Religion program articulating her strategy of "walking from within" in her new book "Practicing Law in Shariah Courts: Seven Strategies for Achieving Justice in Sharia Court" (American Bar Association, $49.95).
"I explain Sharia and how we practice it, what are the strategies that can be adopted in any given society," she said. "So, I hope it can be a teaching tool to help people see justice from another angle."
In Utah recently to deliver a lecture at the Christian Center of Park City, Ibrahim took time to sit down with the Deseret News and express her views about Sharia and human rights.
Deseret News: Explain how you apply your theory of "walking from within" to ensure your clients are treated fairly.
Hauwa Ibrahim: My team would have a local leader, a (Muslim) imam of the village, and a local lawyer to give us local input because Sharia is not always the same in every village or town. Having a son or daughter of the soil enhances our ability. In some of the cultures, if you go there and they offer you water and you don't drink it, you lose them before you even start. Even if the water looks like mud, you drink it if you want their confidence and trust. These are things that are subtle, and if you don't know them you lose out.
DN: In the first Sharia case you took on in 2001, you made a public statement that stoning was not in the Quran and the local imams accused you through the local media of being anti-Muslim and anti-Sharia. How did you win their trust?
HI: (Their accusation) meant I was an apostate and should be stoned to death. I could either go into hiding or come out and face it. I decided to face it, so I called the (BBC) reporter asked him to introduce me to the imams. They accepted to see me in a mosque. So, I covered myself from my head to my toes and went into meet with them. ... There were eight of them sitting on chairs, and there was a chair for me, but I walked toward them and knelt down on the floor. I was looking at the floor because you are not allowed to look at them. They asked me to sit on the chair but I said, "How can I, your daughter, sit on a chair when you my fathers sit on a chair." By that act of humility, I captured their ears just to listen.
I told them I was a silly lawyer and came to visit with them because they had a knowledge I did not have. We had a long conversation about Sharia and about Islam, about obedience, about morality. ... After we finished they said my (copy) of the Quran was too small, so they gave me a bigger Quran. But most importantly they said to me, "We, publicly, will not support what you are doing, also, publicly, we will not be against you." That was a huge security statement. They toned down their rhetoric and that really helped us. (Our client) was discharged and acquitted.
DN: Most religious traditions have some sort of internal legal system to enforce their moral codes of conduct. But why are some of the punishments in Sharia so extreme — even death?
HI: The strict punishments come from interpretations or translations of the Quran. Maliki is the only school of thought that mentions these harsh punishments. He got his ideas from where he was from ... Mecca and Medina. He never left that area. For example, in Egypt, they have Sharia but they don't have stoning. The largest Islamic country in the world is Indonesia and they don't have Sharia. The countries that have stoning are those that have decided to interpret their own systems and cultures and Islam together.
Full report at:
http://www.deseretnews.com/article/865592322/Nigeria-lawyer-defends-sharia-and-human-rights-of-women-in-West-Africa.html?pg=all
------------
Tunisia parties reach political agreement
13 Dec 2013
Tunisia's ruling Islamist party and opposition parties have reached a deal to name a new prime minister, who will lead a caretaker administration until elections aimed at ending months of crisis.
The deal on a new premier, announced on Thursday, clears the way for the current government to step down later this month and end turmoil that has threatened to upset Tunisia's transition to full democracy three years after its "Arab Spring" uprising.
Under a previous accord brokered by the Tunisian General Labour Union (UGTT), moderate Islamist party Ennahda has agreed to resign once the sides decide on a caretaker cabinet, finish a new constitution and set a date for elections.
Hussein Abbassi, the head of the UGTT, confirmed the deal had been reached after weeks of negotiations, saying that it would be publically presented on Friday.
Transition to democracy
Political leaders did not give any further details, but former finance ministers and central bankers have topped the list of potential candidates for the post leading a technocrat, non-political cabinet meant to end months of deadlock.
The Tunisia Times reported that Abbassi had said he would announce the name of the new prime minister on December 14.
Nearly three years after a despairing Tunisian street vendor set himself on fire, triggering a revolt that ousted autocrat Zine el-Abidine Ben Ali, Tunisia is close to another step towards its transition to full democracy.
Full report at:
http://www.aljazeera.com/news/middleeast/2013/12/tunisia-parties-reach-political-agreement-20131213111047685681.html
------------
South Asia
Jamaat, Shibir Men strike terror, Rampaged the Capital and 23 Districts
December 14, 2013
In a spree of countrywide violence, Jamaat-Shibir men yesterday rampaged through the capital and 23 other districts, protesting Thursday's execution of war criminal Abdul Quader Mollah, a top Jamaat leader.
The frenzied protests left at least eight people dead and more than 100 vehicles as well as offices, factories and houses burnt across the country.
Two deaths were reported from Satkhira and Noakhali each and one each from Khulna, Pirojpur, Jessore and Joypurhat.
Protesters blocked a 15km stretch on the Dhaka-Bogra highway, 10km on the Dhaka-Pabna and Jessore-Bagharpara highways by felling trees and digging roads. They also uprooted several plates of a steel bridge on the Cox's Bazar-Teknaf highway, halting traffic for several hours, report our district correspondents.
Rail communications between Khulna and the rest of the country remained suspended for 17 hours as Jamaat-Shibir men put up barricades at Shingia Railway Station in Jessore.
Unruly activists hurled petrol bombs at the control room of Joydevpur Railway Junction, gutting computers, eight telephone sets and signal equipment. Nine passengers were injured in the incident.
In the capital, traffic was thin though it was not a Hartal day. Many people remained indoors in fear of attacks by Jamaat-Shibir men over the hanging of Mollah.
Soon after Juma prayers, Jamaat-Shibir men in droves unleashed a reign of terror near Motijheel AGB Colony kitchen market, torching four private cars and seven motorcycles.
At least 11 people, including an 11-year-old boy, were struck when police fired rubber bullets to disperse the attackers, witnesses said.
More than 500 Jamaat-Shibir men reached the area soon after a pickup came there, carrying crude bombs and sticks around 1:40pm, locals said.
They then took crude bombs from the pickup van and began exploding them indiscriminately on the road, leaving locals and examinees of Motijheel Ideal School and College in a state of panic, witnesses said.
Police detained 14 people, two of them bullet-hit, from the spot.
In Bogra, Jamaat-Shibir men attacked the office of the executive engineer of roads and highways at Nishindjhar and vandalised and torched papers and other office stuff, police said.
Another group set fire to the Navy Company office of Akij Group and its 72 vehicles, including nine covered vans, 32 three-wheelers, four private cars, nine motorbikes and 27 mini vans.
Fire fighters controlled the blaze after an hour. Company officials said the fire damaged goods worth Tk 5 crore.
Jamaat-Shibir men enforced a blockade from Shajahanpur to Noymail area and from Mokamtola to Mohastan of Rangpur-Dhaka highway and Bogra-Noagaon roads by felling logs from Thursday afternoon.
They carried out vandalism and arson attacks yesterday at Fotkir bridge on Bogra-Dhaka highway under Shajahanpur upazila, snapping road communications in 10 northern districts.
They also torched four goods-laden trucks and vandalised a bike of a Brac official in the same area when he going to see his ailing father.
Moreover, they damaged at least 27 trucks grounded at different filling stations in the district and torched two shops of a local Awami League leader at Doshmail area, locals said.
Afzal Hossain, senior sub-assistant engineer of railways, said miscreants dug a three-foot hole under the railway in Kahaloo and Panchpir station and removed 650 clips at two locations, disrupting rail communications on the Shantahar-Lalmonirhat route via Bogra.
In Satkhira, Jamaat-Shibir activists hacked to death a local AL man in Kolaroa upazila early yesterday, while police recovered the bullet-hit body of a kindergarten student from Baladanga area in Sadar upazila hours after his abduction.
The dead are Joj Ali, 35, of Sharashkathi, and Riyad Hasan, 9, of Kuchpukur village.
Witnesses and local AL leaders alleged Jamaat-Shibir men slit Joj Ali's throat at 3:30am, while the family members of Riyad said Jamaat-Shibir men killed him as they were involved with the AL politics.
The local Jamaat, however, denied killing the boy.
Jamaat men also vandalised, torched and looted several hundred homes and businesses belonging to Hindus and AL men across the country.
Of them, at least 50 are in Satkhira, 15 in Gaibandha, 15 in Joypurhat, 15 in Moulvibazar and 25 in Jhenidah — 12 of them totally gutted.
In addition, protesters barricaded different points on Satkhira-Jessore road between Kadamtala and Madhobkathi putting logs and trees. They also blocked different points of Patkelghata-Tala, Razrakati-Tala, Kashimnagar-Jatpur, Hajarakati-Jatpur and Shalika-Tala roads felling trees.
In Noakhali, a blockader named Khorshed Ali, 40, died of bullet injuries yesterday. He was hit when law enforcers opened fire on a group of blockaders to clear Chatkhil-Sonaimuri road at Afania in Begumganj upazila on Thursday.
Imam Uddin, a rickshaw puller, was also injured in the police firing.
Yesterday evening, a Shibir man died and five others were bullet hit in a clash with Chhatra League and Jubo League men in Sonaimuri upazila of the district. The dead is Jobair, witnesses said.
In Pirojpur, a youth was killed and at least 15 BNP-Jamaat men were injured in Zianagar upazila after an AL leader allegedly opened fire on a procession of the opposition men at Gosherhat bazar.
The dead is Sukkur Ali, 25, son of Kalaya village in the upazila.
Abdul Latif Hawlader, president of Zianagar upazila BNP, alleged Pattashi union AL president Tobarek Ali Hawlader fired five shots from inside his house when a procession was going through the area, around 11:30pm on Thursday.
Tobarek, however, denied the allegation.
In Jessore, Shibir activist Asraful Islam, 20, of Mohirun village under the upazila died as a truck being chased by the Shibir men hit a felled tree that struck him. The incident happened around 3:00am at Bolteghata on Bagharpara-Charavita road.
In Joypurhat, a freedom fighter died after he jumped out of a rickshaw being chased by Jamaat-Shibir men in Pachbibi upazila in the evening, police said.
Full report at:
http://www.thedailystar.net/beta2/news/jamaat-shibir-strike-terror/
------------
Other war criminals' verdicts to be executed: Minister
December 14, 2013
All war criminals would be brought to justice and their verdicts will be executed in the fashion the sentence of Abdul Quader Mollah has been executed, LGRD and Cooperatives Minister Syed Ashraful Islam said today.
Many people said it would not be possible for the government to hold trial of the war criminals. Mollah's execution proved it to be untrue, the AL general secretary said after paying tribute to martyred intellectuals at Mirpur Martyred Intellectuals Graveyard in the morning.
It is possible to bring back the war criminals living in other countries because everything is possible under the leadership of Prime Minister Sheikh Hasina, Bangla daily Prothom Alo quoted Ashraf as saying.
Full report at:
http://www.thedailystar.net/beta2/news/other-war-criminals-verdicts-to-be-executed-ashraf/
------------
Deadly clashes in BD after top Islamist hanged
December 14, 2013 AFP
DHAKA - Bangladesh was rocked by a new wave of deadly violence Friday as Islamist supporters went on the rampage to vent their fury at the execution of one of their leaders for war crimes.
Abdul Quader Molla became the first person to be hanged for his role in the country's bloody 1971 war when he was sent to the gallows at a prison in the capital Dhaka late Thursday. The hanging took place at 10:01 pm (1601 GMT) after the Supreme Court dismissed an appeal for a final review of the death sentence handed down to Molla, who was a senior figure in the Jamaat-e-Islami party.
Fears that the execution could spark further unrest, in a country where political violence is intensifying in the build-up to deeply divisive elections, were soon realised as the Islamists rioted in street battles in towns and cities.
Three protesters were killed and two activists from the ruling Awami League were hacked to death Friday, police officials told AFP, with an Islamist becoming the latest fatality after he was shot dead during clashes with ruling party activists in the southern town of Sonaimuri. Rampaging Jamaat activists firebombed train stations, set fire to businesses and houses belonging to ruling party supporters and blockaded key highways, they said.
Violence also erupted near the country's largest mosque in Dhaka after Friday prayers as Jamaat activists detonated crude bombs and torched at least a dozen cars and vehicles, AFP correspondents at the scene said. Police fired rubber bullets to disperse the crowds, critically injuring a 12-year-old child, footage aired by private station Channel 24 showed.
Activists also tried to burn down the coastal village home of one of the war crimes trial judges, local police chief Anisur Rahman told AFP.
"They tried to torch the house with kerosene. We fired rubber bullets to disperse them. No one was injured," he said.
In Washington, State Department spokeswoman Marie Harf said Bangladesh was passing through a "very sensitive moment", urging all parties to resolve their differences peacefully.
"We've long urged the authorities to assure that trials are free, transparent and in accord with international standards, but we've also urged all parties and their supporters to express their views peacefully and again, to refrain from violence," she said.
Authorities went ahead with the execution despite widespread international appeals against the move, including from UN Secretary General Ban Ki-moon.
Neighbouring India - which was an ally of the then East Pakistan in the war - did not join in the condemnation, saying the execution was the "outcome of internal judicial processes and laws of Bangladesh".
Full report at:
http://www.nation.com.pk/international/14-Dec-2013/deadly-clashes-in-bd-after-top-islamist-hanged
------------
Jamaat strikes terror to foil war crimes trial
December 14, 2013
Activists of Jamaat-e-Islami and pro-Jamaat student organisation Islami Chhatra Shibir are carrying out vandalism and burning people alive to foil the ongoing war crimes trial, speakers told a rally yesterday.
So the government should ban Jamaat to rid the country of all anti-liberation forces, they said. Gonojagoron Mancha organised the rally in the capital's Shahbagh demanding immediate execution of verdicts passed by the International Crimes Tribunals.
Eminent war crimes researcher Shahriar Kabir said, "International communities, including the US, EU and Saudi Arabia, have been vocal against the execution of Quader Mollah.
"But the US and China had opposed our independence struggle while war criminals were conducting mass killings in 1971…They are not supposed to intervene in the trial as every country's judiciary is independent."
Referring to the Nuremberg trials where high-ranking Nazis were convicted of war crimes, he said, "All war criminals like Mollah should be executed so that none can dare to commit such crimes."
Full report at:
http://www.thedailystar.net/beta2/news/jamaat-strikes-terror-to-foil-war-crimes-trial/
------------
Islamist party vows to deepen role of Islam in Bangladesh to avenge execution of party leader
BY JULHAS ALAM
DECEMBER 13, 2013
DHAKA, Bangladesh - An Islamist political party has vowed to deepen the role of Islam in Bangladesh to avenge the execution of a party leader who was hanged for war crimes committed during the country's 1971 war of independence against Pakistan.
Abdul Quader Mollah, 65, was hanged Thursday night in a case that has exacerbated the explosive political divide in Bangladesh, an impoverished country of 160 million. Mollah was a leader of the party, Jamaat-e-Islami, and a key member of the opposition.
Opponents of Jamaat-e-Islami say it is a fundamentalist group with no place in a secular country. Bangladesh is predominantly Muslim, but is governed by largely secular laws based on British common law.
The execution sparked violent protests Friday as activists torched homes and businesses belonging to government supporters in a fresh wave of bloodshed ahead of elections next month. At least five people died in the violence.
Meanwhile, hundreds of people rejoiced in the streets of the capital, Dhaka, and said justice had been served.
In an editorial, Bangladesh's English-language Daily Star newspaper congratulated Prime Minister Sheikh Hasina for trying and executing Mollah "40 long years" after he committed his crimes.
A Jamaat-e-Islami leader, Makbul Ahmed, said in a statement late Thursday that "people would take revenge on this killing by establishing Islam in Bangladesh, which is stained with the blood of Abdul Quader Mollah."
"I urge all the people who support the cause of the Islamic movement to show utmost patience to build a strong resistance," Ahmed said.
Jamaat-e-Islami says Mollah's trial was politically motivated and an attempt to eliminate Islamic parties. Those who support the execution say he was hanged for serious crimes, and that the punishment had nothing to do with Islam.
An analyst said attempts by the government to neutralize Jamaat-e-Islami could backfire, and that the party could become more radicalized despite Hasina's determination to suppress fundamentalist groups.
"Jamaat-e-Islami as a political party has been in operation for a long time, so it's natural that it will hit back with what it has in its possession when you hit it in an extreme way," political analyst Ataur Rahman said.
Mollah was the first person to be hanged for war crimes in Bangladesh under an international tribunal established in 2010 to investigate atrocities stemming from the independence war.
Jamaat-e-Islami activists on Friday attacked ruling party supporters and minority Hindus in parts of Bangladesh, torching their homes and shops. At least five people died in the violence, local TV stations reported. Hindus are believed to be supporters of Hasina.
In Dhaka, Jamaat-e-Islami activists torched at least four cars and a motorcycle near the country's main railway station, said Shahzadi Sultana, a fire official. Several homemade bombs were detonated during the attack, Somoy TV reported.
Full report at:
http://www.montrealgazette.com/news/Islamist+opposition+leaders+execution+Bangladesh+sparks/9281048/story.html
------------
Southeast Asia
Jakim: All branches of Shiah in Malaysia violate Islamic law
December 13, 2013
PUTRAJAYA, Dec 13 — The Malaysia Islamic Development Department (Jakim) has stressed that all branches of Shiah teachings deviate from the Ahli Sunnah Wal Jamaah Islamic faith (Sunni Islam) practised in this country, and violate Islamic law.
With this, its director-general Datuk Othman Mustapha today also categorically refuted claims that there were branches of the Shiah doctrine in this country having similarities with Sunni Islam.
He said according to studies done by Jakim, the active propagation of the Ithna-'ashariyyah branch of Shiah teachings or The Twelve Imams started in Malaysia after the success of the 1979 Islamic Revolution of Iran.
"As such, the Shiah teachings practised by the followers in Malaysia until today is The Twelve Imams stream which deviate from true Islamic teachings.
Othman said among the deviations of The Twelve Imams Shiah were as follows:
* Believing that the imam is infallible, that is free from any sin;
* Regarding the companions of Prophet Muhammad as infidels;
* No Friday prayers;
* Allowing the combining of the obligatory daily prayers in all situations without any reason;
* Allowing nikah muta'ah (short-term contract marriage, also called pleasure marriage);
* Rejecting the views of ulamas;
* Over-revering of Ali the caliph to the extent of putting him at par with Prophet Muhammad; and
* Adding Saidina Ali's name in the syahadah after the Prophet's name.
On nikah muta'ah, Othman said it was a Jahiliah (the age of ignorance, before the arrival of Islam) practice that went against Quranic teachings and ulama thinking, and prohibited by the Prophet through his sayings.
He noted that the National Fatwa Muzakarah Committee had on May 2-3, 1996 met and agreed that Islamic teachings other than the Ahli Sunnah Wal Jamaah were against Islamic law and its propagation prohibited.
"On July 24 this year, the Home Ministry declared the Pertubuhan Shiah Malaysia (Shiah Association Malaysia) as illegal.
"Spreading Shiah teachings is not just about violating the fatwa (edict), but the issue of national security is also taken into consideration by the Home Ministry in banning the Shiah movement in this country," he said.
Othman said The Twelve Imams religious doctrine could have been spread to this country through the availability of reading materials and by individuals who visited Iran or Shiites who came from that country.
Full report at:
http://www.themalaymailonline.com/malaysia/article/jakim-all-branches-of-shiah-in-malaysia-violate-islamic-law
------------
Indonesian Religious minister defends wedding-vow gratuities
December 14 2013
Religious Affairs Minister Suryadharma Ali has defended the practice of giving "thank-you money" to Religious Affairs Office (KUA) officials, saying that it has become "a tradition" and should not be categorized as a form of gratuity.
The minister made the statement on Thursday following reports that KUA officials were planning a strike after one of their colleagues in Kediri, East Java, was charged with graft for demanding Rp 10,000 (83 US cents) as an administration fee for each marriage he registered.
They said they would not register marriages outside their offices or working hours because there was no guarantee they would not be criminally charged with demanding additional fees from newlyweds for doing so, republika.co.id reported.
According to Suryadharma, there is nothing wrong with accepting the money since most of the KUA officials have to accommodate couples who want to get married outside working hours and outside KUA offices. Ministry data shows 94 percent of weddings were registered outside KUA offices.
"What people have to know is that when KUA officials work outside their offices, the government does not provide transportation money for them," he said.
Suryadharma said that most couples like to have their weddings registered outside working hours as they wanted to match their wedding date and time with superstitious beliefs.
Sometimes KUA officials also have to pay wedding expenses with their own money. "He [the official] wears a batik shirt or a suit with laundry bills of up to Rp 100, 000," he said.
He also insisted the practice was appropriate because it had become a tradition. "For example in my village, a mantri [village doctor who performs circumcision] after performing a circumcision will be given bekakak [baked chicken], dodol [rice, coconut milk and palm sugar], rengginang [rice crackers] and bananas to take home," he said.
He explained that the officials not only performed an administrative task but also had a religious and cultural role.
Full report at:
http://www.thejakartapost.com/news/2013/12/14/religious-minister-defends-wedding-vow-gratuities.html
------------
PAS is Sunni as inscribed in constitution, says president
BY ZURAIRI ARDECEMBER 14, 2013
KUALA LUMPUR, Dec 14 — Not a single PAS member can be a Shi'ite as the Islamist party's constitution clearly subscribes to only the Sunni denomination, its president Datuk Seri Abdul Hadi Awang has said in the ideological row brewing in Malaysia.
The Marang MP also took a jab at political foe, Umno, as he questioned the recent spotlight on the decades-long rift between Islam's two largest schools worldwide here — Sunni and Shiah — which he argued was the result of a rise in secularism.
"This (provision) does not exist in any other parties' constitutions, including Umno itself which boasts of being Sunni," Abdul Hadi said in a statement carried yesterday by the PAS-owned news portal, Harakah Daily.
"Because of this Sunni principle, PAS' Disciplinary Committee can act on other sects in PAS, and not only in disciplinary cases against the PAS administration," he added.
Abdul Hadi explained that the paramount laws in PAS are based on the holy texts of Quran, Hadith, consensus of Islamic clerics, and "qias" (legal reasoning).
Its adherence to Sunni teachings however does not restrict PAS from interacting with other parties, including non-Muslims, Abdul Hadi said.
He boasted that PAS is "more advanced" in its relationship with other Muslim groups of all ideologies and sects than any other political party in the country.
"PAS can differentiate between Islamic teachings, based on restrictions allowed by the 'syara'," the federal lawmaker said, using the Arabic term meaning Muslim code.
"That is how PAS supports the Malaysian government's diplomatic relations with Iran, Oman, including Western and communist nations," he added.
In the Umno's general assembly recently, Home Minister Datuk Seri Ahmad Zahid Hamidi had ordered the religious authorities to take action against PAS deputy president Mohamad Sabu for his alleged Shiah links.
Mohamad had since described allegations of his Shiah beliefs as "lies", after Putrajaya furnished purported evidence of his links to the Islamic sect that is considered deviant despite being practised by an estimated 15 per cent of 1.5 billion Muslims worldwide.
The Penang-born speaker has said he is considering suing Ahmad Zahid and the Home Ministry for defamation over the Shiah claims.
PAS leaders have also rallied behind its deputy president since the allegations were made publicly against Mohamad, with Abdul Hadi seen as his most vocal and lucid supporter.
Abdul Hadi said the rise of secularism among Muslims has driven a bigger wedge among the religion's many schools, noting that the different denominations had previously existed peacefully side- by-side.
"Muslims were divided with secularism which separates political and worldly affairs from Islam, causing them to adhere to many ideologies different from Islam, especially nationalism," said Abdul Hadi.
"In the same time, the issue of different sects in Sunni and Shiah were made a material to pit Muslims together, until they even requested for the service and help of the colonials to fight each other."
According to the PAS president, there are two sects in the Shiah denomination that are not considered deviant by religious clerics: the Imami and the Zaidi, which are also known as the Twelvers and Fivers.
Full report at:
http://www.themalaymailonline.com/malaysia/article/pas-is-sunni-as-inscribed-in-constitution-says-president
------------
Malaysian Minister: States to take charge of 'Syariah cops', roll out soon
By Zurairi AR
December 14, 2013
UALA LUMPUR, Dec 14 — Datuk Seri Jamil Khir Baharom confirmed today the set up of a special police unit dubbed "Syariah police", which will be managed by the religious departments of the respective states.
The minister in charge of Islamic affairs added that he is still in fine-tuning the details with his Cabinet colleague, Home Minister Datuk Seri Ahmad Zahid Hamidi, but the religious policing unit will be on the road soon.
"I am discussing with Zahid for a committee for this Syariah thing," Jamil Khir told reporters, referring to the home minister.
"We very much welcome it so there will be a group which can focus on actions in syariah, and we try to form it as soon as possible to help out religious departments in carrying out their tasks."
Pointing to Article 9 of the Federal Constitution, Jamil Khir said the religious affairs are under the jurisdiction of each state, and that the federal government was only facilitate the programme.
"We are only helping to administer it at the federal level... We cannot interfere with the rights and jurisdiction of the states," he said.
Yesterday, Ahmad Zahid said the Home Ministry is weighing proposals to form a special police unit to contain the spread of the banned Shiah school of Islam here.
Among the proposals will be to embed police officers within the Malaysian Islamic Advancement Affairs Department (Jakim) as part of an "enforcement team", which could allow such squads vastly broadened powers to arrests those deemed in breach of Islamic laws.
The home minister was also reported to have said that the police already have a religious department, but would require Cabinet approval for a formal co-operation with Jakim.
On Thursday, Ahmad Zahid explained that the clampdown against the Shiah sect was meant to prevent the ideological turmoil in the Middle East from spreading to Malaysia.
He pointed to how Iraq has been torn apart by religious divisions, noting that this was because it is home to followers of two major Islamic sects — the Sunnis and the Shiahs.
Putrajaya has in recent months stepped up its campaign against Shiah teachings and followers in Malaysia, but this has been accompanied by suspicions that the action was politically motivated.
Full report at:
http://www.themalaymailonline.com/malaysia/article/jamil-khir-states-to-take-charge-of-syariah-cops-roll-out-soon
------------
Home Ministry urges Mat Sabu to prove he has no Syiah links
December 14, 2013
KUALA LUMPUR, Dec 14 — The Home Ministry has urged PAS deputy president Mohamad Sabu to come forward and prove that he does not have any links with the Syiah Islamic sect.
Its religious officer Ustaz Dr Zamihan Mat Zain Al Ghari said Mohamad, who is also known as Mat Sabu must also respond to the 10 pieces of evidence exposed by the ministry against him.
"If the evidence is not solid, then he should come forward and dismiss them. Doesn't matter whether he does it face to face with the ministry or through youtube or the newspaper," he told Bernama after being interviewed in the programme Ruang Bicara produced by BernamaTV at Wisma Bernama here tonight.
Zamihan said the ministry was prepared to discuss the truth with Mat Sabu based on the Sunnah Wal Jamaah practised in the country.
"We have solid evidence that Mat Sabu attended Syiah classes together with Syiah religious teachers, met with Syiah leaders, visited Syiah countries, praised Syiah leaders and Syiah countries," he said.
He also said the 10 pieces of evidence on Mat Sabu's involvement with Syiah, that was provided by Home secretary general Datuk Seri Abdul Rahim Mohamad Radzi last night was categorised as Grade B.
Full report at:
http://www.themalaymailonline.com/malaysia/article/home-ministry-urges-mat-sabu-to-prove-he-has-no-syiah-links
------------
India
India averse to give 'lethal' weapons to Afghanistan, but boosts military training
Rajat Pandit
Dec 14, 2013
NEW DELHI: India is willing to supply only "non-lethal'' military hardware like helicopters, trucks and jeeps to Afghanistan as of now despite President Hamid Karzai's wish list that includes heavy weaponry like artillery guns, tanks and mortars as well. But there are no full-stops as far as training of Afghan military personnel is concerned.
Indian Army alone is executing plans to train as many as 1,050 Afghan National Army (ANA) in its different establishments in 2013-14, double the 574 personnel trained in 2012-13, even as the US-led coalition forces prepare to withdraw from the strategically-located country by next year.
But India is drawing the red-line at the supply of "lethal'' weapons like the T-72 tanks or 105mm artillery guns to the ANA — due to fears they could fall into wrong hands like the Taliban — but has left it to the Cabinet Committee on Security (CCS) to take the final call on the matter. India and Russia, however, are joining hands to run a maintenance and spares facility near Kabul for the Soviet-era tanks, helicopters and other weapon systems of ANA.
The training outreach has also been cranked up. As many as 52 Afghan "gentlemen cadets (GCs)", for instance, will be commissioned as officers during the passing out parade at the Indian Military Academy (IMA) in Dehradun on Saturday with defence minister A K Antony and Army chief General Bikram Singh in attendance.
"Moreover, there are also 48 Afghan GCs each in the first and second terms in IMA at present. There are also 20 Afghan cadets in the Officers' Training Academy, and another 18 at National Defence Academy. India-trained personnel in the ANA will be a big asset in the post-2014 era," said an officer.
Full report at:
http://timesofindia.indiatimes.com/india/India-averse-to-give-lethal-weapons-to-Afghanistan-but-boosts-military-training/articleshow/27324512.cms
------------
Karzai, Singh hold talks on Afghanistan security pact with US
Dec 14, 2013
NEW DELHI: Afghanistan President Hamid Karzai on Friday discussed with PM Manmohan Singh the jinxed bilateral security agreement (BSA) which he has refused to sign with the US. The proposed agreement between the US and Afghanistan is imperative for ensuring a residual presence of international forces on Afghan soil after their drawdown next year.
The government suggested on Friday that it would like Karzai to go ahead and sign the agreement with the US. Sources said the same sentiment was conveyed to Karzai, who is on his 13th visit to India, by Singh.
"Yes. It (BSA) was discussed because we feel our destinies are intertwined. Both India and Afghanistan see the BSA as important for the stability and security of Afghanistan," said foreign ministry spokesperson Syed Akbaruddin.
Noting that India's approach to Afghanistan has always been one of "not being prescriptive or intrusive or judgmental", he said, "Therefore, this is the paradigm to which we will approach the matter (of BSA).
"We are confident that President Karzai is a sagacious and wise leader and he will do what is best for the people of Afghanistan. As a close and steadfast friend of Afghanistan and in accordance with India's approach towards Afghanistan, we will support it," the spokesperson said.
Full report at:
http://timesofindia.indiatimes.com/india/Karzai-Singh-hold-talks-on-Afghanistan-security-pact-with-US/articleshow/27328878.cms
------------
Protests erupt in Indian-controlled Kashmir against execution of Islamist leader in Bangladesh
14 December 2013
Indian-controlled Kashmir, Dec. 14 (Xinhua) -- Protests erupted in Muslim majority areas of Indian-controlled Kashmir Friday against the execution of Jamaat-e-Islami leader Abdul Quader Mollah in Bangladesh.
The main protests were held in Srinagar city, the summer capital of Indian-controlled Kashmir, where people at several mosques offered funeral prayers in-absentia for the leader who was hanged late Thursday at a prison in Bangladesh's capital Dhaka for war crimes in 1971.
Protesters, after Friday afternoon congregational prayers, shouted anti-America, anti-India and anti-Bangladesh slogans to protest the execution of Mollah.
The pro-Pakistan leader, according to Syed Ali Shah Geelani, a hard-line Kashmir separatist leader, was executed to appease anti- Islam elements.
"The secular forces present in Bangladesh have committed a heinous crime and history will never forgive them," a local news- gathering agency quoted Geelani as saying. "India is helping and instigating Bangladesh to kill those Muslims who want to impose Islamic Sharia in Bangladesh."
Full report at:
http://www.turkishweekly.net/news/159809/protests-erupt-in-indian-controlled-kashmir-against-execution-of-islamist-leader-in-bangladesh.html
------------
Punjab to gift combine harvester to Shahbaz Sharif
Neel Kamal,TNN | Dec 14, 2013,
BATHINDA: The Punjab government will gift a combine harvester worth Rs 16 lakh to Pakistan Punjab's chief minister Shahbaz Sharif, who is visiting the state to preside over the closing ceremony of the fourth kabaddi World Cup on December 14. Shahbaz is the brother of Pakistani Prime Minister Nawaz Sharif.
Punjab chief minister Parkash Singh Badal and his son deputy chief minister Sukhbir Singh Badal will hand over the Swaraj 8100 harvester, manufactured by Punjab Tractors Limited (PTL), to Shahbaz when the latter calls on them.
It is being worked out whether to send the machine to Pakistan through the land route from the Attari border in Punjab or via sea to Karachi. Sources said usually combine harvesters are exported to Pakistan from Punjab through the sea route, which costs about Rs 2.5-Rs 3 lakh.
"Swaraj 8100 combine harvester has a 14-foot cutter bar and five straw walkers," state agriculture commissioner Balwinder Singh Sidhu said. "The 105-HP machine is used for harvesting multiple crops. The reason for presenting the combine harvester to him is we want to showcase the advancement in manufacturing agriculture machinery in Punjab. Though it hasn't been decided how to send the machine to Pakistan, we're hopeful it'd be transported through the land route." A PTL source said the combine harvester weighs 7,800 kg with the cutter bar.
Full report at:
http://timesofindia.indiatimes.com/india/Punjab-to-gift-combine-harvester-to-Shahbaz-Sharif/articleshow/27324824.cms
------------
Minister questions logic of power starved Punjab selling power to Pakistan
Vaivasvat Venkat
Dec 14, 2013
LUDHIANA: Union Information and Broadcasting minister Manish Tewari has questioned the Punjab government's move to sell power to Pakistan when the state was still massively power deficit.
"It is strange that the Akali-BJP government in Punjab is trying to illuminate Lahore while Punjab continues to remain enveloped in darkness due to massive power shortage," he remarked.
Reacting to the reports that the Punjab government was planning to sign a power selling agreement with the West Punjab chief minister Shahbaz Sharif, Tewari wondered as where from would Punjab get the power to export it to Pakistan since the state during the peak demand was still short of about 6,000mw.
"Even when all the power plants get fully operational, Punjab will still be short of about 4,000mw," he revealed, while questioning the logic of exporting power under such circumstances.
"Just because the state government has inaugurated two units in two thermal plants at Rajpura and Talwandi Sabo generating 1,300mw more does not mean the state is power sufficient leave aside being power surplus so that it can export it," he observed, while adding, Punjab has a long way to go before it could even be self sufficient in power production.
The minister wondered as how could Punjab think of selling power to someone else when the industry during the peak demand was subjected to four days power cuts in a week. He pointed out, even in the agriculture sector the state was not able to supply the promised eight hour power. Besides, he added, there was no end to the unscheduled power cuts in Punjab during last year.
Giving details, Tewari, who represents Ludhiana parliamentary constituency said, the total availability of power in Punjab from all sources, state as well as the central pool was not more than 8,000mw and this was far too less than the peak demand of 14,000mw. He said, it can be anybody's guess as how a power deficit state can even think of exporting power. "Nothing can be far from the truth than someone claiming that Punjab was power surplus," he remarked.
Full report at:
http://timesofindia.indiatimes.com/india/Tewari-questions-Punjab-governments-logic-of-power-starved-Punjab-selling-power-to-Pakistan/articleshow/27339321.cms
------------
Arab World
Syria rebels: Islamic militants nabbed our weapons
December 13, 2013
LONDON — Islamic militants have taken control of a cache of machine guns and ammunition intended for Syria's Western-backed rebels, the Syrian opposition confirmed Friday, demanding that the weapons be returned.
Syrian National Coalition official Monzer Akbik told reporters in London that it still wasn't completely clear how a new alliance of hardline Muslim fighters came to control warehouses containing rebel machine guns and ammunition at the Bab al-Hawa border crossing between Syria and Turkey, but they did.
"The reality is that the Islamic Front are holding, now, the hardware," he said. "They should return it."
The apparent seizure of rebel weaponry by fighters loyal to Syria's newly created Islamic Front has dealt a serious blow to the Syrian opposition, which is struggling to maintain international support as extremists expand their hold across rebel-held territories. The Islamic Front is an umbrella group of powerful ultra-conservative Muslim fighters.
The move has rattled supporters of the Syrian National Coalition — which opposes the rule of Syrian President Bashar Assad — and its military wing, the Free Syrian Army, the Western-backed rebel group fighting to topple him. On Wednesday, the U.S. and Britain both announced they were suspending deliveries of non-lethal gear to rebels in northern Syria following news of the warehouse takeover.
Full report at:
http://www.sunherald.com/2013/12/13/5192268/syrian-rebels-islamists-welcome.html
------------
Changing Alliances For 2014: A New Leader, Osama Al-Nujaifi, For Iraq's Sunni Muslims
Mustafa Habib
13.12.2013
Iraq's Sunni Muslim politicians have re-grouped in preparation for the 2014 general elections. Their main alliance is split and it seems that they've left their non-sectarian former leader and turned toward their own kind. The country's Sunni Muslim voters may well have a new leader in outspoken, high profile MP, Osama al-Nujaifi.
During Iraq's 2010 general elections, Sunni Muslim politicians formed one major bloc, which meant that, in effect, they won the elections. They didn't manage to form a cohesive coalition though - and their Shiite Muslim opposition did; that government, headed by Prime Minister Nouri al-Maliki, has ruled Iraq since late 2010.
And now, in preparation for the next general elections, slated for April 2014, Sunni Muslim politicians have split their group again.
As a result, Iraq's Sunni Muslims seem to have gained a new political leader in the form of Osama al-Nujaifi, the current Speaker of the House. Over the past fortnight, senior Sunni Muslim politicians have been conducting meetings to decide what will happen with former members of the mostly Sunni Muslim, opposition Iraqiya bloc next year.
The outcome of the meetings: instead of one, there will be three mostly Sunni Muslim alliances competing in the next elections. These are the United bloc, headed by al-Nujaifi, the Iraqi Front for National Dialogue headed by current Deputy Prime Minister Saleh al-Mutlaq and then finally the National Iraqiya bloc to be led by the former head of the Iraqiya bloc, Ayed Allawi.
Sources inside the meetings told NIQASH that the reason that negotiations broke down on putting up a cohesive front was Allawi's insistence that he lead the bloc again. However al-Nujaifi, whose profile has certainly been rising over the past few years, also wanted that position at the head of the table. Additionally neither Allawi nor al-Nujaifi wanted to ally themselves with an increasingly unpopular (with Sunni Muslims anyway) Saleh al-Mutlaq. Al-Mutlaq is seen as far too close to al-Maliki and he has recently been at the receiving end of Sunni Muslim protestors' dislike for him.
The United coalition, led by al-Nujaifi, will include 14 other Sunni Muslim groups as well as a group of Turkmen politicians. Meanwhile Allawi's National Iraqiya group is composed of a variety of different political entities from right around Iraq. These include Sunni Muslim, Shiite Muslim and tribal based groups and many of them don't have major voter support. Allawi has said he is staying with this group because of his ongoing belief in non-sectarian politics.
"We will not abandon our principles and we will compete in the elections in a list that is composed of Sunni Muslims and Shiite Muslim members, who come from every part of the land," Salim Dali, an MP from that group, told NIQASH.
Meanwhile al-Mutlaq doesn't seem to be any more popular with Sunni Muslim constituents than a few months ago. Because of his close connections to al-Maliki's government, he was jeered at by protestors in the Anbar province who were demonstrating for better conditions for their sect under al-Maliki. After starting negotiations with a controversial politician, Mishaan al-Jibouri, a Sunni Muslim who has expressed support for former Iraqi leader Saddam Hussein in the past, a number of al-Mutlaq's own party walked out and joined the coalition group led by al-Nujaifi.
Full report at:
http://www.niqash.org/articles/?id=3344
------------
Iraq Violence Kills 37 as 'Terrorism' Suspects' Escape
December 14, 2013
BAQUBA: Violence in Iraq including an attack by gunmen on gas pipeline workers from Iran killed 37 people Friday, while "terrorism" suspects escaped a Baghdad detention facility, officials said.
Unrest has reached a level this year not seen since 2008, when Iraq was just emerging from a period of brutal sectarian killings, and the surge has raised fears the country is falling back into all-out conflict.
Gunmen in three vehicles attacked the gas pipeline workers near Baladruz, northeast of Baghdad, killing 15 Iranians and three Iraqis, police officers said.
The attack also wounded five Iranians and three Iraqis, the added.
South of Baghdad, a car bomb exploded in Madain, killing at least six people and wounding at least 13, while another car bomb near a fish market in Nahrawan killed four people and wounded at least 12.
In Baghdad itself, at least 22 "terrorism" suspects escaped a detention facility in Kadhimiyah, the latest in a long line of prisons breaks in Iraq. A police colonel said detainees had seized weapons from guards early on Friday, killing two, after which 26 people arrested for "issues related to terrorism" escaped.
Security forces killed one escaped detainee and captured 14, the colonel said, and a medical official confirmed two guards and a detainee had been killed.
The interior ministry said 22 suspects had escaped, but one was killed and all but three others captured.
In July, militants launched coordinated assaults on two prisons near Baghdad, sparking clashes with security forces that lasted for hours.
More than 500 prisoners, including senior al Qaeda leaders, escaped. The clashes also killed 20 members of the security forces and 21 prisoners, officials said.
In the Ghazaliyah area of west Baghdad, gunmen shot dead two people on Friday, one of them a trade ministry employee, while gunmen killed a woman in her home near the capital.
And a suicide bomber detonated an explosives-rigged vehicle near a group of security forces members in Ramadi, west of Baghdad, killing a civilian and two soldiers and wounding four policemen and three soldiers.
More people died in the first eight days of this month than in the whole of last December, according to AFP figures based on security and medical sources.
Officials have blamed the violence on al Qaeda-linked militants emboldened by the civil war in neighboring Syria, but analysts and diplomats also say the government has not done enough to address underlying domestic grievances fuelling the violence. Members of the country's Sunni minority, who complain of discrimination at the hands of the Shia-led government, have held demonstrations for almost a year.
Full report at:
http://www.dailytimes.com.pk/default.asp?page=2013\12\14\story_14-12-2013_pg4_8
------------
Assad win may be Syria's best option, says ex-CIA chief
14 December 2013
WASHINGTON: The sectarian bloodbath in Syria is such a threat to regional security that a victory for Bashar Assad's regime could be the best outcome to hope for, a former CIA chief said Thursday.
Michael Hayden, the retired US Air Force general who until 2009 was head of the Central Intelligence Agency, said a rebel win was not one of the three possible outcomes he foresees for the conflict.
"Option three is Assad wins," Hayden told the annual Jamestown Foundation conference of terror experts. And I must tell you at the moment, as ugly as it sounds, I'm kind of trending toward option three as the best out of three very, very ugly possible outcomes," he said.
The first possible outcome he cited was for ongoing conflict between ever more extreme Sunni and Shiite factions. The second outcome, which Hayden deemed the most likely, was the "dissolution of Syria" and the end of a single state within the borders defined by a 1916 treaty between the French and British empires.
Full report at:
http://www.arabnews.com/news/492366
------------
North America
UN chief says Syria chemical attackers should be sanctioned
2013-12-14
UNITED NATIONS: UN chief Ban Ki-moon called on the international community Friday to sanction those responsible for Syrian chemical weapons attacks documented in a newly released report.
The UN report, issued Thursday, concluded that such banned arms were used at least five times before Damascus agreed to dismantle its arsenal.
"I deplore in the strongest possible terms the use of chemical weapons in Syria, which is an offense against the universal values of humankind," Ban told the United Nations General Assembly.
The report did not, however, lay blame for the attacks, as the inspectors' mandate did not allow them to designate a responsible party.
"The international community has a moral and political responsibility to hold accountable those responsible to deter further incidents and ensure that chemical weapons can never reemerge as an instrument of warfare," Ban said.
The UN secretary general said he was "encouraged" by progress made in dismantling Syria's chemical arsenal.
"The international community continues to expect the Syrian Arab Republic will implement faithfully its obligations to complete the elimination by the first half of 2014," he said.
Under an international agreement brokered to avoid US military strikes on the Damascus regime — which resulted in a landmark Security Council resolution — Syria's most dangerous chemical weapons have to be out of the country by a December 31 deadline and destroyed by June 30, 2014.
Swedish expert Ake Sellstrom, who led the UN investigation team that compiled the report, reminded reporters that the mandate did not allow him to point any fingers.
"These facts could be used by others who have the mandate ... I don't have information that could stand in court," he said.
Attributing the attacks "requires more efforts and resources" such as those of forensic investigators, Sellstrom said.
Full report at:
http://www.dawn.com/news/1073853/un-chief-says-syria-chemical-attackers-should-be-sanctioned
------------
US military reveals laser can down drones
2013-12-13
WASHINGTON: The US Army has for the first time successfully tested a vehicle-mounted laser that managed to shoot down incoming mortar rounds and drone aircraft, officials said Thursday.
Installed in a dome-shaped turret atop a military vehicle, the high-energy laser hit more than 90 mortar bombs and several small unmanned planes over a six-week test at White Sands Missile Range in New Mexico.
The experimental weapon, dubbed the High Energy Laser Mobile Demonstrator (HEL MD), likely would not be operational until 2022 if the Army decides to purchase the system, according to officials.
The weapon, with three to five lasers, is designed to protect remote bases from mortar, artillery or rocket fire.
Such attacks were frequent against "forward operating" bases in Iraq and Afghanistan over the past decade.
The laser used in the test this month had a strength of 10 kilowatts (kW), but the program will next use more powerful lasers of 50 kW and then, finally, 100 kW, officials said.
"If you're engaging a target at the same range, a 100 kW laser will destroy the target in one-tenth of the time than the 10kW would," said Terry Bauer, a program manager at Boeing, the lead contractor on the project.
In the test at White Sands, the laser was fired at 60mm mortar rounds, which have a range of 2,000 to 3,000 yards (1,800-2,700 meters).
Without providing a detailed account, officials said the laser scored a "significant success" against the mortar rounds and several drones.
Full report at:
http://www.dawn.com/news/1072232/us-military-reveals-laser-can-down-drones
------------
Dead Sea-Red Sea Pipeline is a Game Changer for Jewish-Muslim Relations
DECEMBER 13, 2013
The widely reported water sharing agreement this week between Israel, Jordan and the Palestinian Authority (PA) to link the Red Sea and the Dead Sea has implications over and above the potential increase to agricultural and drinking water resources — if we don't blow it.
The American Jewish community has a strong tradition of financing and developing water and infrastructure projects in Israel. For example organizations such as Jewish National Fund have constructed over 250 reservoirs in Israel over the past three decades. This tradition has helped to strengthen Israel, but equally importantly, it has strengthened the American Jewish community through the bond these projects forge between American Jews and Israelis.
This week's agreement affords an opportunity for American Jewish organizations to expand their scope by partnering with American Muslims to jointly fund cooperative projects on the ground in the Middle East.
Jointly funded major projects by American Jews and Muslims in the Middle East are rare because (1) there can be skepticism or mistrust between American Jewish and American Muslim organizations, and (2) when trust and good faith exist, there is skepticism about whether that trust and belief is also held on the ground by the respective governments in the Middle East to bring these projects to realization.
For this reason, American Jewish and Muslim relations are often limited in their scope to "advocacy," which is less impactful on the ground in the Middle East, harder to quantify and as a consequence only a small proportion of American Jews and Muslims buy in.
However, with the agreement this week, representatives of the governments of Israel, Jordan and the PA have sent a clear signal of good faith that they want to make this project happen. If this signal is grasped with both hands by both the American Jewish and American Muslim communities, it could be a safe platform to work together that has not existed in recent memory.
Full report at:
http://www.algemeiner.com/2013/12/13/dead-sea-red-sea-pipeline-is-a-game-changer-for-jewish-muslim-relations/
------------
US Bangladesh urges political parties to shun violence
December 14, 2013
After execution of war criminal Abdul Quader Mollah, the United States has strongly urged all the political parties in Bangladesh to exercise restraint and refrain from violence.
"…we are aware that his execution took place on Thursday, and I think would underscore a few points–that now is a very sensitive moment in Bangladesh, and that we strongly urge all parties to exercise restraint, to refrain from violence–I think that's a very key point–and express their views peacefully," said Marie Harf, deputy spokesperson of the US Department of State.
Responding to a question during the daily press briefing in Washington DC Thursday, she also said, "We've long urged the authorities to assure that trials are free, transparent, and in accordance with international standards, but we've also urged all parties and their supporters to express their views peacefully, and again, to refrain from violence. That's really what we want to see here going forward."
Spokesperson of US Embassy in Dhaka Kelly McCarthy also called for expressing views peacefully.
Full report at:
http://www.thedailystar.net/beta2/news/us-urges-political-parties-to-shun-violence/
------------
UN Chief Appeals for Peace in CAR
December 13, 2013
United Nations Secretary-General Ban Ki-moon is appealing to the Central African Republic to end violence he says has taken the country to "the brink of ruin."
In a video address to the CAR's people Friday, Mr. Ban said he is "deeply troubled" by what is happening in the country and called on "everyone to follow the path of peace."
He spoke soon after the U.N. High Commissioner for Human Rights' office said there had been an alarming increase in tensions among religious communities in the CAR.
In a briefing, spokeswoman Ravina Shamdasani said 27 Muslims were killed in the western village of Bohong.
She said the Muslims appear to have been killed Thursday by "anti-balaka" fighters, who are mostly Christian.
The spokeswoman said there have also been reports of retaliatory attacks between Christians and Muslims in the capital, Bangui, over the past few days.
In his video address, Mr. Ban said people in the CAR should not allow the "voices of hatred" to sow division where it previously did not exist.
"Whatever your faith or background, you share the same history and the same future. I call on religious and community leaders -- Muslim and Christian -- to act as messengers for peace. "
Relief organizations say fighting and sectarian violence have left more than 600 people dead over the past week.
Full report at:
http://www.voanews.com/content/un-chief-appeals-for-peace-in-car/1810023.html
------------
Europe
Moscow concerned about Islamist insurgents seizing military warehouses in northern Syria
13 December 2013
Moscow, December 13, Interfax - The Russian Foreign Ministry said it was concerned with the situation developing in northern Syria, where Islamic Front militants seized large warehouses with weapons and ammunition belonging to the so-called supreme military council of the Syrian Free Army.
Islamist insurgents have also occupied the headquarters of the supreme military council in the Syrian town on Atme. Its head, Brigadier General Salim Idris, has left Syria, the Russian Foreign Ministry said in a statement.
On November 22 the Islamic Front leadership said it announced a complete break with the supreme military council and the National Coalition for Syrian Revolutionary and Opposition Forces standing behind it and urged rebels to fight for building the Islamic state based on the Sharia law in Syria.
Amid the existing situation, the United States and the UK, whose representatives have had contacts with Islamic Front leadership, decided to stop supplies of non-lethal military help to opposition activists in northern Syria [in the framework of the help provided officially, opposition militants got armored vehicles, night-vision devices and modern communications means].
Full report at:
http://www.interfax-religion.com/?act=news&div=10965
------------
No gender apartheid in British Islam
13 December 2013
I am writing with reference to Downing Street's belated intervention on the subject of university segregation. The emerging scourge of gender apartheid within British institutions of higher learning must be eradicated.
This supposedly traditional sexual segregation within Muslim society has no foundation in Islam. Indeed, the Qur'an explicitly sanctions the concept of legitimate social intermingling in Chapter 24:61. The distorted dogma of sexual segregation is an archaic pre-Islamic patriarchal throwback that is now in vogue in Saudi Arabia and Afghanistan. This non-Qur'anic custom is currently gaining traction in the UK because of uncontested Wahhabi-Salafi propaganda. Religious zealots are imposing their contagious sexist doctrines upon ill-informed British Muslims to promote the belief that the tribal separation of the sexes is intrinsic to Islam.
This trendy gender apartheid is peddled by ideological militants who are financed by Saudi petrodollars to recreate a mythical 7th century Utopia. But this anachronistic male chauvinism is not what pristine Islam teaches. Indeed, Qur'anic Islam actively champions an erudite, enlightened and egalitarian way of life that embraces dignity, justice and parity for everyone.
Liberal and progressive Muslims must campaign to restore gender equality on our campuses and to rid Britain of this primitive blight. Right-thinking Muslims must not allow a foreign-inspired ideology and local fundamentalists to poison the content and character of British Islam.
Dr T Hargey, Director and Imam, Muslim Educational Centre of Oxford
What Mandela was up against
During my Merchant Navy career with Cunard between 1966 and 1979 my ships called at numerous ports in South Africa, where apartheid seemed as permanently embedded as Table Mountain itself.
The proud, friendly, downtrodden black majority had few rights in their own country. I recall visiting a popular whites-only hotel bar in Durban with fellow officers. It was general election time and both the main local candidates and their supporters were shouting at each other across the bar. President Botha's Nationalist candidate repeatedly used the same derogatory term ("black b*****s") in front of the black bar staff, who showed no reaction at all.
As purser I was required to prepare documents for customs and immigration officials. At one port, four of these officials going through my paperwork were conversing in Afrikaans and there was much laughter. I asked them what was amusing them. One spoke in English and told me about a news item regarding two youths playing about on a makeshift raft on a river when one of them was taken by a crocodile. I must have looked puzzled because he said, "It's all right, he was black," and they all laughed again.
I do not possess the ability to forgive the South African political class who inflicted apartheid on a whole race, in the incredible way Nelson Mandela was able to do, so his country could move on. He once wrote: "I learned that to humiliate another person is to make him suffer an unnecessarily cruel fate. I sought always to defeat my opponents without dishonouring them."
I feel deep shame that our own political leaders, especially Prime Minister Thatcher, lifted hardly a finger to shorten the 27 long years of incarceration this unique man tolerated with such dignity. Unlike her, he has truly earned the state farewell he is receiving, and his rightful place in history.
Full report at:
http://www.independent.co.uk/voices/letters/letters-no-gender-apartheid-in-british-islam-9003916.html
------------
French defence minister in strife-torn Central Africa
December 14, 2013
PARIS: French Defence Minister Jean-Yves Le Drian on Friday arrived in the Central African Republic for talks with the interim leaders of the strife-torn nation, where Paris deployed troops last week, according to an aide.
The visit comes on the heels of that by President Francois Hollande, who stopped in the country on Tuesday after attending Nelson Mandela's memorial in South Africa.
Hollande admitted his country was facing a "dangerous" but vital operation to restore security in its former colony, terrorised by sectarian violence between Muslims and Christians since a coup in March.
Full report at:
http://www.dailytimes.com.pk/default.asp?page=2013\12\14\story_14-12-2013_pg4_3
------------
British Muslims develop appetite for halal turkey
By Tanjil Rashid
December 13, 2013
High quality global journalism requires investment. Please share this article with others using the link below, do not cut & paste the article. See our Ts&Cs and Copyright Policy for more detail. Email ftsales.support@ft.com to buy additional rights. http://www.ft.com/cms/s/0/edd6f7a8-6406-11e3-b70d-00144feabdc0.html#ixzz2nLnfPsVx
Covered in blood and Urdu script, the traditional halal butcher's shop has catered to generations of Britain's Muslims – serving up a platter of chicken, lamb and beef to mostly foreign-born customers.
But in a sign of changing consumer habits, they have taken to selling halal turkeys, as growing numbers of practising Muslims gobble up roast turkeys for Christmas dinner on the Christian feast day.
High quality global journalism requires investment. Please share this article with others using the link below, do not cut & paste the article. See our Ts&Cs and Copyright Policy for more detail. Email ftsales.support@ft.com to buy additional rights. http://www.ft.com/cms/s/0/edd6f7a8-6406-11e3-b70d-00144feabdc0.html#ixzz2nLngrLo0
Last December, the Halal Monitoring Council certified 5,500 turkeys slaughtered in UK abattoirs. In 2011, they certified none. Last week alone, the HMC certified 1,500 turkeys.
Demand has taken many suppliers by surprise.
"I was shocked there was a market at all," said Paul Kelly, managing director of Kelly Bronze Turkeys.
Ben Bayer, an executive at wholesaler DB Food, says there is "huge demand" for halal turkeys, but they are unable to meet it, as the UK's biggest halal assurance body, the Halal Food Authority, does not yet certify any turkeys as halal.
Muslim butchers instead mostly import halal turkeys from Ireland and Italy. These are now even available at Smithfield Market in London.
A Financial Times survey of 20 halal butchers based in London, Lancashire and Essex found that over half sold halal turkeys in December – some for the first time this year.
JR Butchers in Tooting says it is on track to sell 2,500 turkeys this December – a 4 per cent rise on last year.
It is relatively recently that turkeys have waddled into the UK's £2.6bn halal meat market, as estimated by the World Halal Forum, which is growing exponentially as the Muslim population grows.
Full report at:
http://www.ft.com/intl/cms/s/0/edd6f7a8-6406-11e3-b70d-00144feabdc0.html#axzz2nLncrab1
------------
Islamic Front is eager to join peace talks in Geneva
14 December 2013
Senior US official has announced on Thursday that Obama administration is considering the possibility of supporting Syrian opposition in the upcoming peace talks in Geneva. According to him, the US will stand for only those groups that are willing to take part in the talks and those that are not allied with al-Qaeda.
The official also added that the American side would request the Islamic Front to give back to the US their vehicles, gear and other military equipment that was taken away during the seizure last week at the Syria-Turkey border.
The Supreme Military Council (SMC) of the Free Syrian Army is the only organization that the US is currently supporting. However, recently it has lost its strength and influence to other Islamic groups, such as the al-Qaeda-affiliated Islamic State of Iraq and Syria and the al-Nusra Front. Both these organizations were labeled by the US as terrorist.
US envoy, Robert Ford and a member of Islamic Front held a meeting last month in Turkey. Their negotiations were uncertain, states the same official who spoke anonymously about that. However, it became clear that the Front wants to be present at Geneva and take part in the peace talks, said this week the SMC commander, general Salim Idriss.
For now, US envoy, Mr. Ford will be travelling to London in order to meet with other Syrian supporters and then back to Turkey to see Syrian opposition once more. He might even have a meeting there with someone from the Islamic Front.
"We don't have a problem with the Islamic Front," the official said.
For now Washington stands very clear on its position stating that no matter what happens with peace talks and "reorganization", the US "wants their stuff back".
The warehouses that were seized at the Syrian-Turkey border were controlled by the SMC, thus it was unclear how the vehicles and the equipment ended up in Islamic Front.
State Department spokeswoman Marie Harf commented about this situation on Thursday "We're not in a position yet to give a definitive account of what happened."
Full report at:
http://voiceofrussia.com/news/2013_12_14/Islamic-Front-is-eager-to-join-peace-talks-in-Geneva-4214/
------------
Australia
Why did Australia's spy agencies listen in on the Indonesian first lady?
DECEMBER 14, 2013
ON October 17, 2007, three days into Australia's federal election campaign, a cable marked "secret" was sent from the US embassy in Jakarta to American diplomats in Canberra and to the CIA. Its contents would set the scene, six years later, for the most contentious aspect of Australia's spy scandal relating to Indonesia: the targeting of Indonesia's first lady.
The cable spoke of a "new dynamic" in the power balance at the top of Indonesian politics with the emergence of a player who had become the most influential adviser to President Susilo Bambang Yudhoyono.
But this new powerbroker, the cable said, was not the vice-president, nor was it a member of SBY's inner cabinet. It was the President's wife, Kristiani Herawati, known in her country as Ibu Ani.
"According to contacts Indonesia's first lady has expanded her influence with the palace and emerged as the President's undisputed top adviser," the cable stated. "Kristiani Herawati's ascendance has apparently come at the expense of other key advisers. The first lady has allegedly leveraged her access to the President to help her friends and disparage her foes, including vice-president (Jusuf) Kalla."
The cable said Ibu Ani was restricting the access of other advisers to the President and that "by strengthening her gatekeeper role, the first lady was able to expose the President to views and policy perspectives of her own choosing".
The views contained in this American cable were shared by Australian intelligence agencies, which had also noted the rise and rise of Indonesia's first lady. In Western intelligence circles, it was becoming clear that Ibu Ani was no presidential handbag but a fast-rising powerbroker within the government of Australia's largest and most important neighbour.
DOCUMENTS: WikiLeaks cables
GRAPHIC: Twitter's intelligence agents
GRAPHIC: Targeting Indonesia
Inside the super-secret Defence Signals Directorate and other spy agencies in Canberra, intelligence officials naturally were curious to know more about this new dynamic in Jakarta.
They pondered whether Ibu Ani's power play was part of a suspected plan to create a family dynasty culminating in her eldest son eventually becoming president. And what was the dynamic between the first lady and the Islamic groups she was wooing to shore up her husband's political support?
When the decision was taken inside DSD to monitor the phones of President Yudhoyono and his most senior colleagues in the leadership, it was believed there were compelling reasons to also target the E-90 3G mobile handset of Indonesia's first lady.
"To monitor the thoughts and connections of the President's closest political adviser is extremely useful," said one well-connected insider who asked not to be named.
"Who is she dealing with financially, who is who in the party, what is its structure and what is Indonesia's shifting power base? Any intelligence agency would love to have that information."
Yet last month, when documents stolen by rogue US National Security Agency contractor Edward Snowden showed that in 2009 the DSD had targeted the phones of SBY, Ibu Ani and eight other Indonesian leadership figures, the initial response of many in Indonesia and in Australia was, "Why the first lady?" Even in the distinctly ungentlemanly game of spying, surely this was not cricket? First ladies lived in the shadows of their husbands, smiling demurely in public, supporting charities and rearing children. Tapping their phones would surely produce only shopping lists and cheap cocktail party gossip. It must have been a step too far, an arrogant overreach from a country whose spy agencies seemed out of control.
SBY seemed to agree that monitoring his wife's phone was a step too far, given the white-hot anger that radiated from his initial tweets after the news broke.
"He does take things personally, and nothing is more personal than a man's wife," explained The Jakarta Post's editor-in-chief Meidyatama Suryodiningrat.
But Inquirer understands that intelligence agencies believed there were clear national security reasons to justify the targeting of Indonesia's first lady. The decision to monitor her phone was deliberate and calculated, and was not based on a flippant notion that the DSD should try to listen in simply because it could.
The decision to try to eavesdrop also was not based simply on the fact SBY at times used his wife's phone instead of his own.
The nature of the power-sharing relationship between SBY and Ibu Ani made it inevitable that once the DSD had decided it was in Australia's national interests to target the President's phone, it followed that Ibu Ani's phone would also be targeted.
The Prime Minister's office refused to comment on this story, saying it does not comment on intelligence matters.
Several factors appear to have led the DSD, now known as the Australian Signals Directorate, to take a keen interest in Ibu Ani in 2009. When SBY began his first five-year presidential term in 2004, US diplomats assessed that his wife's voice was "only one of the many" he listened to during his "lengthy deliberations on matters of state."
But this began to change during the course of that first term.
Ibu Ani was born not into politics but into military royalty: she is the daughter of Sarwo Edhie Wibowo, a lieutenant general who was head of Indonesia's special forces during the bloody anti-communist crackdown in the mid-1960s.
She studied medicine at university but in 1976 dropped out to marry SBY, who was a young military officer and whose rise would benefit greatly from her family's blue-blood military contacts.
From early on in SBY's political career, Ibu Ani played an active role in campaigning on his behalf. She graduated in political science in 1998 and in 2004 was appointed vice-chairman of SBY's Democratic Party.
The problem for intelligence agencies seeking to learn more about SBY's innermost thoughts was that he was a solitary figure who rarely confided even in close colleagues. This trend became apparent during his first term, increasing his reliance on his wife as a trusted political confidante.
Full report at:
http://www.theaustralian.com.au/national-affairs/policy/why-did-australias-spy-agencies-listen-in-on-the-indonesian-first-lady/story-fn59nm2j-1226782827361#
------------
URL: https://newageislam.com/islamic-world-news/jamaat-i-islami-held-protests/d/34856