New Age Islam News Bureau
4 Jul 2012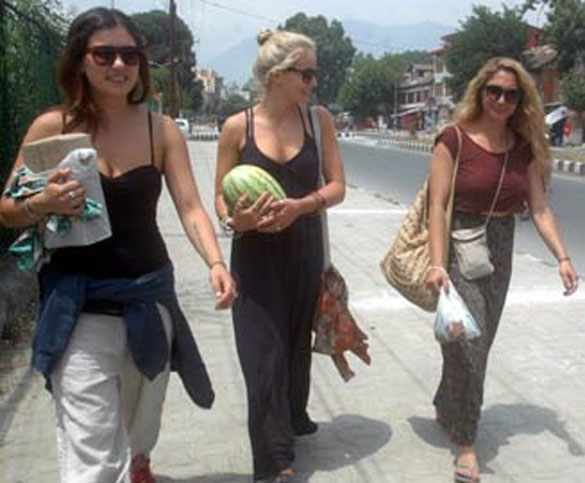 India
• Jamaat-E-Islami Issues Dress Code for Tourists in J&K
• Non-Bailable Warrant for Shahi Imam of Jama Masjid, Cops Ordered To Execute It
• Justice and 'A Ray of Hope' After 2002 Communal Riots
• Purohit had no orders to infiltrate Abhinav Bharat, finds Army probe
• Pakistani prisoner in jail even after completing sentence
• 26/11 control room not possible without state support: Chidambaram
• 21,000 ultras killed during two decades of turmoil: J&K govt
• India-Pakistan talks begin, focus on Abu Jindal
• India fears import of crippling polio virus from Pak, Afghanistan
• Maharashtra police academy was on Lashkar hit list
• Muslim bureaucrats make a mark in power corridors
• Militants gunned down 2 cops in Kashmir
• Demand to take up Dera Baba Nanak-Gurdwara Kartarpur Sahib corridor issue with Pakistan
• Pak secy rushes to talk Kashmir with separatists
• Jurisdiction row leaves Kazmi in legal limbo
• Govt. taking steps to bring back terror suspect Fasih: Chidambaram
• Zabiuddin lived in Saudi Arabia on Pakistani passport and a pseudonym
Pakistan
• Tehrik-e-Taliban to target NATO supply to Afghanistan
• Lakhvi still active in Pak; Lashkar module busted in Kashmir
• Three killed in separate incidents in Balochistan
• Balochistan shuts to protest Baloch leader's killing
• Supreme Court issues detailed verdict in Gilani's disqualification case
• Dual nationality case: Two MQM lawmakers suspended
• '19,000 teachers to be recruited in Sindh'
• Dr Fahmida Mirza, Swedish diplomat call on Sindh CM
South Asia
• Rohingyas must be protected
• Uyghurs Set to Stage Protests on 3rd Anniversary of Urumchi Crackdown
• NATO: man in Afghan uniform shoots, wounds troops
• Bangladeshi 'Death Squad' Tortures Mutiny Suspects: HRW
• Couple confess to killing Lawyer Najeeb, accuse him of sexual assault
• "Death for death" says six of murdered lawyer's heirs
• Maldives websites report denial-of-service cyber attacks
Southeast Asia
• For third time in two weeks, Indonesian boat with asylum seekers goes missing
• Still Mere Foreplay in Police Probe of Alleged Lawmaker Sex Tape
• Quran scandal may implicate lawmakers
Mideast Asia
• Israeli policeman filmed kicking Palestinian boy
• Yasser Arafat poisoned by polonium: Report
• Iran Says Can Destroy U.S. Bases 'Minutes After Attack'
• Iran hits back on EU, U.S. sanctions
• Iran: U.N. and U.S. Condemn an Anti-Semitic Speech
• Israeli firm grows 'high less' marijuana
Arab World
• 11 killed in new Iraq attacks ahead of Shiite rituals
• Dubai's Grand Gurdwara Brings Religion, Tradition Alive in Style
• Saudi beheaded for drug smuggling
• Assad says Turkey party to bloodshed in Syria-paper
• Judge Helped Egypt's Military to Cement Power
• Lebanon Artists Confront Rise in Censorship
• After 2 Days of Quarreling, Syrian Opposition Draws Up Goals for Transition
• Protesters Describe Torture by Syrian Security Forces
• Egyptian Deported by CIA Gets Residency in Sweden
Africa
• Kenyan Muslim groups 'to protect churches'
• Voice of Tunisian Spring Calls for Justice, Equality
• Islamists' strength to be tested in Libya
• Algeria condemns Timbuktu shrine destruction
North America
• US to free up $1.1 billion for Pakistan military
• For Hormuz access, US beefs up forces in Persian Gulf
• Islam takes centre stage at Chautauqua Institution
• Ex-Norton police officer files religious discrimination lawsuit against city
• US proffers qualified 'sorry,' Pakistan reopen NATO supply routes
• Clinton discussed with Khar 'language' of apology statement
• Ambassador's Exit Shows Difficulties of Moving from Military to Diplomatic Circles
Compiled by New Age Islam News Bureau
Photo: Jamaat-E-Islami Issues Dress Code for Tourists in J&K
URL: https://newageislam.com/islamic-world-news/jamaat-e-islami-issues-dress/d/7821
-----------
India
Jamaat-E-Islami Issues Dress Code for Tourists in J&K
Jul 4, 2012
SRINAGAR: A Kashmiri religious group Jamaat-e-Islami has asked tourists visiting the valley to follow a "proper dress code" and told the tourism department to enforce it.
"Some tourists, mostly foreigners, are seen wandering in short mini-skirts and other objectionable dresses here openly, which is quite against the local ethos and culture and is not acceptable to the civil society at all," Jamaat-e-Islami said in a statement on Tuesday evening.
The group said it was the duty of the tourism department to tell tourists to honour local ethos.
"Kashmiris cannot for the sake of their economy give up their divine values at any cost," it said.
"We need no such guests who can become a cause of derailing the society from the right track and spread immorality and immodesty in the name of tourism."
Zahid Ali, an advocate associated with the group, said: "Jamaat-e-Islami J&K (Jammu and Kashmir) cautions people against the well designed vicious plans of the anti-Islamic forces who are working here tirelessly to deviate the Kashmiri Muslims from their religious ethos which are indispensable for their identity."
He said the group was also impressing upon the tourism department not to encourage "this cultural aggression against Kashmiri Muslims and remain vigilant against elements, who, in the garb of promoting tourism, are promoting vulgarity, alcoholism, drug trafficking and other immoral activities."
The current diktat is reminiscent of the early 1990s when radical groups banned cinema halls, wine shops and beauty parlours, calling these anti-Islamic and against the ethos of the valley.
Kashmir has been witnessing a record number of tourist arrivals this year, both domestic and foreign.
The tourism department says more than 400,000 tourists have visited the valley so far. This excludes the over-130,000 pilgrims who are here for the annual Amarnath Yatra.
http://timesofindia.indiatimes.com/india/Kashmiri-religious-group-issues-dress-code-for-tourists/articleshow/14671355.cms
-----------
Non-Bailable Warrant for Shahi Imam of Jama Masjid, Cops Ordered To Execute It
Utkarsh Anand
Jul 04 2012
New Delhi: A Delhi court has issued a non-bailable warrant (NBW) against Shahi Imam of Jama Masjid, Maulana Syed Ahmed Bukhari, in connection with a criminal case and directed police to arrest and produces him in court.
Slamming the Delhi Police for failing to execute an earlier warrant against him, Metropolitan Magistrate Rajinder Singh issued a fresh NBW against Bukhari. Despite a warrant, the Shahi Imam remained absent and brought court proceedings in the matter to a halt, he said.
Issuing the warrant, the Magistrate referred to an earlier court order that reproached the Police department, including the Commissioner of Police, for not having the "courage" to execute the warrant against Bukhari in the criminal case lodged against him and two others in 2001.
The Magistrate observed that legal provisions entailed initiating the proceedings of declaring Bukhari a proclaimed offender, but doing so would "undermine the authority of law."
"In my considered opinion, declaring accused Ahmed Bukhari a proclaimed offender would be a mockery of law and it would provide an easy escape route to the accused. It is surprising and shocking as well to see the police force not able to execute the NBW issued against Bukhari. Such inaction by police cannot be tolerated," he said in his order last week. A copy of the order was made available only now.
The court has ordered the station house officer of Lodhi Colony to "personally" execute the warrant by July 17 and show up in court on the next date with a report. The report has to be forwarded by the DCP concerned.
The FIR, lodged with Lodhi Colony police station, had accused Bukhari along with two others — Habib-ur-Rehman and Nafisa — of rioting, obstructing and assaulting public servants from discharging their duties.
The alleged incident took place on September 3, 2001, when police and civic agencies officials were reportedly trying to remove encroachment from near CGO Complex in Lodhi Colony. But a mob, led by Bukhari, reportedly assaulted them.
Habib-ur-Rehman and Nafisa were arrested, but the cleric was not picked up on the ground that there would be a law and order problem. Later, the chargesheet was filed and he was named as accused, but was not arrested.
In January 2004, the court had ordered re-investigation of the case, noting that proper inquiry was not carried out and Bukhari was also not arrested. Later, police said he could not be arrested because this could lead to "communal riots".
In May 2006, an NBW was issued through the DCP (South). The officer failed to execute it and police kept on seeking time. They also claimed that Bukhari was untraceable.
In July 2010, the court criticised police for their failure to execute the warrant and asked the Commissioner of Police to execute the warrant in order to uphold the "rule of law". However, a few days later, the court was informed that even the Commissioner had failed to execute the warrant.
"I can say from the record that in Delhi, police officers up to the rank of Commissioner of Police have no courage to execute the warrant against Bukhari. Name of the accused along with his residential address is known to the police, but the officers have failed to arrest the accused since 2001. Nine years have passed and because of the non-execution of NBWs, proceedings cannot be conducted further," the court said on December 14 last year.
It asked the Commissioner of Police to be in court and inform if Bukhari was "above the law".
However, in May 2011, the prosecutor moved an application, seeking its approval to withdraw the case in "public interest". The prosecutor said the application was moved following a recommendation from Delhi's Lieutenant Governor and Deputy Secretary (Home).
Before the court could take a call on this application, a protest petition was moved. It contended that the plea has no merit. This application will come up for hearing on July 17.
http://www.indianexpress.com/story-print/970017/
-----------
Justice and 'A Ray of Hope' After 2002 Communal Riots
Jul 4, 2012
AHMEDABAD: The police stood by as Hindu mobs slaughtered nearly 1,000 people, mostly Muslims, in massacres that evidence suggests were an election-year ploy by state officials to garner votes. Mothers were skewered, children set afire and fathers hacked to pieces.
Shareefa Bibi with a portrait of her 18-year-old son, Sharif, who was killed by a mob, she said, as the family sought shelter during the 2002 riots.
That was 10 years ago. A decade later, the riots in Gujarat State may be remembered less for the horrors they unleashed, however, than that such sectarian carnage, which once struck India as often as a heavy monsoon, has not been repeated since. There are many reasons for this astonishing quiescence, but technology has played a crucial role. The killers made cell phone calls, and records of those calls became evidence.
After years of dithering, India's creaky justice system lurched into action. Hundreds of rioters have been convicted, and more cases are pending. On Saturday, a judge trying 61 defendants - including a former state education minister - delayed issuing verdicts until August 29 in a case that involves about 97 deaths. A total of 327 people testified, but the crucial evidence, again, was the phone records contradicting claims by some of the accused that they were nowhere near the scene of the crimes.
Indeed, those same records continue to be examined for any role played in the riots by the office of the state's top official, Narendra Modi, who is among India's most prominent politicians. But even if Modi is never charged, the political calculus behind stoking sectarian clashes - long a staple for winning elections here - has fundamentally changed, political analysts say.
"We reached a tipping point," said M J Akbar, author of "Riot After Riot" and editorial director of India Today, one of India's leading news organizations. "This is the first time that India's judicial system has actually worked to hold people accountable for rioting. In the past, the guilty never got punished." India was once the world's wellspring of religiously inspired massacres. As such violence rages across the Middle East, the bougainvillea sprouting from Gujarat's charred buildings offers hope that even societies steeped in blood can curb the self-perpetuating logic behind such clashes.
Shakeel Ahmad, chairman of the Islamic Relief Committee in Gujarat, said he was optimistic. About 150,000 people were displaced by the rioting in 2002. Witnesses and other evidence suggest that the violence was encouraged by state officials, who deny the charge. Ahmad's son was imprisoned for nearly seven years, accused of plotting against the life of a state official who is now on trial himself.
During a lengthy interview in his office at the edge of a Muslim neighborhood, Ahmad could not suppress a triumphant smile. "There is a ray of hope," he said in his office here, his white hair and beard swirled in cigarette smoke. "For the first time in Gujarat, we have seen demands for justice."
To be sure, India's politics are still vicious and violent, its society riven by religious, cultural and caste divisions that feed continuing discrimination and sporadically erupt in fury. Assassinations are frequent, corruption endemic and the courts largely feckless. Gujarat's Muslims have never entirely recovered from the riots, and the state's population is more religiously segregated than ever. No one can promise that large-scale riots will never return, but there are signs of hope.
The riots began on February 27, 2002, when a train filled with Hindu pilgrims who had just visited a disputed shrine rolled into Godhra, a small city in eastern Gujarat, and was attacked by a Muslim mob. A fire started, and at least 58 Hindu pilgrims burned to death. Their charred bodies were brought to Ahmedabad, Gujarat's largest city, and laid out in public, an act that all but guaranteed more violence. Huge mobs gathered to view the bodies.
At the time of the riots, Gujarat's chief minister was Modi, a newly appointed functionary from the BJP, which advocates Hindu supremacy but faced sinking popularity in the state. Modi and his party endorsed a widespread strike.
Massacres began immediately. About 20,000 Muslim homes and businesses and 360 places of worship were burned. Later that year, Modi's party was overwhelmingly re-elected. Mayors in the United States are thrown out when too much snow clogs streets; Modi let his streets be choked with blood and won election overwhelmingly.
Modi was following a familiar script. In 1984, Sikh bodyguards assassinated Prime Minister Indira Gandhi, and Hindu mobs in Delhi killed thousands of Sikhs in retaliation. The Congress party, whose members encouraged the rioting, was rewarded later that year with a huge majority in Parliament. Commissions were formed to investigate, but there were few arrests and fewer convictions. After the 1992 Hindu-Muslim riots in Mumbai, in which 900 people were killed, commission recommendations were again ignored.
Commissions were impaneled after the Gujarat riots as well. A top state official told one panel that Modi ordered officials to take no action against rioters. That official was murdered. Thousands of cases against rioters were dismissed by the police for lack of evidence despite eyewitness accounts.
But in 2004, the Supreme Court intervened, acting on petitions from human rights groups.It ordered that more than 2,000 dismissed cases be reopened, a special police team be created and some trials be transferred out of Gujarat. The wheels of justice began to turn.
That year, a lawyer representing victims was cross-examining a top police official when the official laid a CD on the table in front of him.
"What's that?" asked the lawyer, Mukul Sinha.
"Evidence," answered the officer, Rahul Sharma.
The CD contained records of every cell phone call made in Ahmedabad during the worst of the rioting. The records allowed advocates to construct precise timelines of the movements of many rioters, timelines that often dovetailed with the accounts of riot victims but contradicted those of the accused.
Sinha is still mining the records for evidence, but Modi's government is vigorously trying to suppress the investigation, charging the officer who provided the records with violating the Official Secrets Act.
The cell phone records have proved invaluable to prosecutors. While no government agency or court seems to have a scorecard of how many people have been convicted, state and court records show that they number in the hundreds, with scores more due for judgments.
Gujarat state officials and representatives for Modi did not respond to multiple interview requests or to a list of e-mailed questions.
Modi's role in the rioting continues to plague him and his party. Two years after the riots, his alliance lost its hold over the national government. Important members of the group have warned against Modi's selection as the alliance's candidate for prime minister in the 2014 elections. Yet Modi remains popular in Gujarat, where he has recast himself as an economic problem-solver.
Steven I Wilkinson, a professor of political science at Yale University who has studied India's riots, said India's national elections had become so competitive that no political party could afford to alienate Muslims, who represent 13 percent of the electorate, about the same share that blacks represent in the United States. "Riots are now a stain on your reputation forever in a way they never were before," he said.
On a recent morning, Shareefa Bibi sat outside her reconstructed house in the Muslim neighbourhood of Naroda Patia. She recalled fleeing a mob with her husband and five children to a nearby police camp, where officers refused to protect them.
"They said, 'No, you have to die today,' " she recalled bitterly. The family ran to another neighbourhood and just a few feet away with her other children, Ms. Bibi watched him die. She testified against her son's killers, whose judgments have been delayed until August 29. "I will never get my son back," Bibi said. "But our hope is that we will get justice." nyt news service
http://timesofindia.indiatimes.com/india/Justice-and-a-ray-of-hope-after-2002-communal-riots/articleshow/14657655.cms
-----------
Purohit had no orders to infiltrate Abhinav Bharat, finds Army probe
Rahul Tripathi
Jul 04 2012
New Delhi : Lt Col Shrikant Purohit, the Military Intelligence (MI) officer who is a key accused in the September 2008 Malegaon bomb blast, was never authorised to infiltrate the right wing group Abhinav Bharat which has been blamed for the attack, according to a probe by the Army.
Purohit's association with the group was in fact a breach of service rules, the force is said to have determined. Sources in the National Investigation Agency (NIA) said the Army's findings on the suspended officer would not impact the terror charges that it is investigating.
Purohit has been claiming that he came in contact with the masterminds of the blast when he was trying to infiltrate the group as part of his job. However, the Army apparently did not find any ground to substantiate his claim that he was part of a covert operation to gather intelligence from the group.
This is also said to be backed by the NIA's investigation which has established that Purohit was "acting independently" and never sought the permission of his seniors. He was also not mandated to hold meetings in Kolkata, Faridabad and Indore while being stationed in Deolali, sources said.
Full report at:
http://www.indianexpress.com/story-print/970073/
-----------
Pakistani prisoner in jail even after completing sentence
MOHAMMED IQBAL
Jul 4, 2012
A septuagenarian Pakistani citizen suffering from diabetes and heart-related ailments has spent two years in Indian jails after he was convicted for inadvertently carrying counterfeit Indian currency when he entered India by Thar Express. He has remained lodged in the Jodhpur Central Jail even after completing his prison term.
The family members of Syed Mohammed Taqi Naqvi, 71, have appealed for his immediate release and repatriation to Pakistan. He had obtained Indian currency worth Rs.10, 000 from a money changer in Karachi before travelling to India to visit his relatives in Uttar Pradesh's Moradabad district.
Mr. Naqvi was arrested at Munabao customs check-post in the Barmer district of Rajasthan on March 13, 2010 and charged under the Customs Act and Section 489-C (possession of forged currency notes) of the Indian Penal Code.
The special court for economic offences in Jodhpur sentenced him to two years in prison and slapped a fine of Rs. 500, while the special court for counterfeit currency cases in Jaipur handed him an identical jail sentence along with a penalty of Rs. 2,000.
Mr. Naqvi's son, S.M. Naqi Shah, told The Hindu over telephone from Khairpur Mirs in Sindh province of Pakistan on Tuesday that his father, imprisoned in the Jodhpur Central Jail even after the completion of his term, is frequently shifted to hospitals for treatment of diseases. "He is an aged person suffering from several diseases. There is no one in India to look after him during his illness."
Full report at:
http://www.thehindu.com/news/states/other-states/article3599624.ece
-----------
26/11 control room not possible without state support: Chidambaram
Jul 4, 2012
NEW DELHI: India on Wednesday said it has become increasingly clear that 'state actors' were involved in executing the 2008 Mumbai terror attacks and that without state support the terror control room could not have been established in Pakistan.
Home minister P Chidambaram said India knew who had trained Ajmal Amir Kasab and nine other terrorists who carried out the terror strikes in Mumbai, who briefed them and how the control room, from where directions were given, had functioned.
"It is no longer possible to deny that though the incident happened in Mumbai, there was a control room in Pakistan before and during the incident. Without state support, the control room could not have been established," he told reporters here.
Chidambaram said after Kasab's interrogation, evidence clearly pointed to the involvement of state actors and it was corroborated by the statement given by Syed Zabiuddin Ansari, alias Abu Jundal, who was arrested on June 21 after his arrival from Saudi Arabia.
Full report at:
http://timesofindia.indiatimes.com/india/26/11-control-room-not-possible-without-state-support-Chidambaram/articleshow/14671105.cms
-----------
21,000 ultras killed during two decades of turmoil: J&K govt
Jul 4, 2012
SRINAGAR: The Jammu and Kashmir government has said that more than 21,000 militants were killed in the two-decades of turmoil in the state and over 3,600 civilians died at the hands of law enforcing agencies while maintaining law and order.
Responding to a notice from the State Human Rights Commission (SHRC), the home department has said that 21,449 militants were killed in the state since 1990 till May this year.
The SHRC had issued a notice to the state government on an application seeking details of unmarked graves in Poonch and Rajouri districts.
Two human rights groups -- Association of Parents of Disappeared Persons (APDP) and International Peoples Tribunal on Human Rights in Kashmir (IPTK) -- had demanded details about the unmarked graves in these two districts.
Full report at:
http://timesofindia.indiatimes.com/india/21000-ultras-killed-during-two-decades-of-turmoil-JK-govt/articleshow/14670609.cms
-----------
India-Pakistan talks begin, focus on Abu Jindal
Jul 4, 2012
NEW DELHI: Amid new disclosures on 26/11 plotter Abu Jindal's links with Pakistani terrorists and state actors, the foreign secretaries of India and Pakistan on Wednesday began two-day talks that will focus on peace and security and Jammu and Kashmir.
The Indian delegation is being led by foreign secretary Ranjan Mathai and comprises, among others, YK Sinha, joint secretary in charge of Pakistan in the external affairs ministry, and Syed Akbaruddin, the ministry's spokesperson.
The Pakistani delegation is led by foreign secretary Jalil Abbas Jilani and comprises senior officials of Pakistan's foreign office.
The agenda of the foreign secretary talks had been fixed well in advance but terrorism is set to become the main focus in the wake of the disclosures made by Abu Jindal, an Indian 26/11 plotter with suspected links to Pakistani militants and Pakistani state actors.
At the talks, India is expected to share a dossier on Abu Jindal, including a copy of his passport and identity card, said informed sources.
http://timesofindia.indiatimes.com/india/India-Pakistan-talks-begin-focus-on-Abu-Jindal/articleshow/14667384.cms
-----------
India fears import of crippling polio virus from Pak, Afghanistan
Jul 4, 2012
NEW DELHI: A major chunk of children below three years in Pakistan and Afghanistan are not receiving the all-important oral polio vaccine.
This has now raised fears of the crippling virus getting imported to India. Scientists have found that sharp declines in vaccine uptake among children led to the rise in the number of new infections between 2006 and 2011 in Pakistan and Afghanistan that along with Nigeria are the only three countries that remain polio endemic.
Scientists from Imperial College London and the World Health Organization have found that in 2006, over 80% of children in Afghanistan and Pakistan aged 0-2 years old received four doses or more of vaccine.
However, vaccine coverage in southern Afghanistan and parts of Pakistan, including Balochistan and the Federally Administered Tribal Areas (FATA), declined from 2006 to 2011.
The research — results of which will be published on Wednesday in the British medical journal The Lancet —— found that in 2011, 40% of children under three years in Balochistan and FATA in Pakistan and in southern Afghanistan were unprotected against the P1 strain — the predominant circulating wild poliovirus.
Full report at:
http://timesofindia.indiatimes.com/india/India-fears-import-of-crippling-polio-virus-from-Pak-Afghanistan/articleshow/14661561.cms
-----------
Maharashtra police academy was on Lashkar hit list
Jul 4, 2012
NEW DELHI: If Maharashtra ATS had not arrested Himayat Baig in September 2010 in connection with the German Bakery blast, there would have been a major ambush by Lashkar-e-Taiba (LeT) on the Maharashtra police academy (Nashik) on the lines of the attack on Manawan police academy in Lahore in March 2009, Syed Zabiuddin Ansari alias Abu Jundal has told investigators.
Jundal claimed that the operation to attack the Nashik police academy in the early hours, exactly the way 12 terrorists wearing police uniforms entered the Lahore police academy, was made under the supervision of a Pakistan-based Lashkar operative, Baba Rehman Sheikh alias Bilal.
Jundal told interrogators that Fayyaz Kagzi and Baig were also part of this plan, but they had to drop it after Baig's arrest, highly placed sources said. However, Jundal said "a troop to carry out this Nashik academy attack had been made ready in Pakistan and it had also entered India". But sources said he did not know where this "troop" was now.
In another startling revelation, Jundal told the cops that he had met David Coleman Headley in 2007 at Lashkar's Beit-ul-Mujahideen camp Muridke. Sources said this was a new disclosure because Headley had hinted at the role of an India-based Lashkar operative being part of the outfit's plans.
Full report at:
http://timesofindia.indiatimes.com/india/Maharashtra-police-academy-was-on-Lashkar-hit-list/articleshow/14660978.cms
-----------
Muslim bureaucrats make a mark in power corridors
Jul 4, 2012
NEW DELHI: Indian Muslims might have missed opportunities in securing government jobs in big numbers due to lack of formal education, but the community has the distinction of having a record number of five IAS officers at the upper echelons of the bureaucracy, heading various departments at the Centre as secretaries.
Though the instance of a Muslim IAS officer as head of department in central government is not a rarity, the presence of six of them as secretary-level officers at one point of time is a record of sorts.
Shumsher K Sheriff (secretary to the Vice-President Hamid Ansari); Syed Nasim Ahmad Zaidi (civil aviation secretary); Naved Masood (secretary, corporate affairs); Mohammad Haleem Khan (disinvestment secretary) and Rajen Habib Khwaja (tourism secretary) are handling various departments at the Centre.
"One should not read too much into such senior-level appointments. It is just a coincidence that these top bureaucrats belong to a particular community. It happened because they had qualified for IAS either in same year or within a gap of one-two years," said a senior ministry of personnel official.
Full report at:
http://timesofindia.indiatimes.com/india/Muslim-bureaucrats-make-a-mark-in-power-corridors/articleshow/14659948.cms
-----------
Militants gunned down 2 cops in Kashmir
Jul 3, 2012
SRINAGAR: Unknown militants struck twice on Tuesday in a span of six hours, killing two policemen on duty in Pulwama and Kulgam districts of south Kashmir.
According to police, cConstable Dalbir Singh was shot at by unidentified militants from a very close range at Rajpora chowk in Pulwama town, 35 km from here, around noon, police said. The injured was rushed to Shri Maharaja Hari Singh hospital (SMHS), Srinagar in critical condition, where he succumbed to injuries.
A resident of village Gohan in district Baramulla, slain constable Dalbeer Singh joined the Police force in the year 2000 and had tied the nuptial knot recently. He is survived by old-aged parents and his spouse. Meanwhile, the militants fire upon another cop Mukhtar Ahmad Bhat at Kulgam. The militants took away the weapon from the slain cop, the police said.
Unknown militants fired upon one Constable Mukhtar Ahmad Bhat near Yaripora-Kulgam. The injured constable was rushed to sub district hospital, Kulgam, where he succumbed to injuries.
A resident of village Pathbugh-Dialgam in district Anantnag, late constable Mukhtar Ahmad joined the Police force in the year 2001. He is survived by old aged mother, his spouse and three minor kids.
http://timesofindia.indiatimes.com/india/Militants-gunned-down-2-cops-in-Kashmir/articleshow/14649788.cms
-----------
SGPC demands government to take up Dera Baba Nanak-Gurdwara Kartarpur Sahib corridor issue with Pakistan
Jul 3, 2012
AMRITSAR: Sikh's apex body Shiromani Gurdwara Parbandhak Committee (SGPC) has asked the minister for external affairs SM Krishna to take up the issue of providing corridor from Dera Baba Nanak to Gurdwara Kartarpur Sahib in Pakistan, about 4 kilometer distance. While talking to TOI on Tuesday SGPC president Avtar Singh Makkar said that corridor was a long cherished desire of devotees from all over the world.
"We have approached SM Krishna with a request to take a prompt and concrete step to provide a corridor to Gurdwara Kartarpur Sahib from Gurdwara Dera Sahib enabling the devotees to walk to their beloved shrine and return on the same day without passport and visa".
Full report at:
http://timesofindia.indiatimes.com/india/SGPC-demands-government-to-take-up-Dera-Baba-
-----------
Pak secy rushes to talk Kashmir with separatists
By Dipanjan Roy Chaudhury
Jul 4, 2012
IN A MOVE that will not go down well with India, Pakistani foreign secretary Jalil Abbas Jilani met Hurriyat leaders Mirwaiz Umar Farooq and Syed Ali Shah Geelani on the eve of his two- day meeting with his Indian counterpart beginning on Wednesday.
Jilani held meetings with the separatists soon after arriving in Delhi on Tuesday afternoon.
Pakistani foreign minister Hina Rabbani Khar had done the same thing on visiting India last year.
The move had drawn a strong reaction from external affairs minister S. M. Krishna during his interaction with Khar.
Foreign ministry sources said such meetings were not conducive to creating a positive atmosphere or reducing the trust deficit — a key objective of the dialogue process which India and Pakistan revived only in February last year after a long hiatus following the 26/ 11 Mumbai terror attack.
Full report at: Mail Today
-----------
Jurisdiction row leaves Kazmi in legal limbo
By Rohan Venkataramakrishnan
Jul 4, 2012
A HIGH court order and several questions of law have left Syed Ahmed Kazmi in legal limbo — in a development that could impact hundreds of other cases under the stringent Unlawful ( Activities) Prevention Act ( UAPA), including that of Lashkar- e- Tayyeba operative Abu Jundal.
Kazmi, an Indian journalist, has been lodged in jail for more than 100 days after he was arrested on charges of being in touch with four Iranians who allegedly planted a bomb on the car of an Israeli diplomat in February.
His case has been sent around to four different courts over a period of two days, after a sessions judge brought up questions on the way he has been treated in the judicial system.
The high court on July 2 passed an order staying the proceedings looking into whether the magisterial court overseeing Kazmi's cases was competent and had jurisdiction to do so.
Justice Manmohan Singh ordered Kazmi's counsel as well as the additional solicitor general to look into the interpretation of the law since it involved a " substantial question of general public importance" that could affect all cases under the UAPA, which covers acts related to terror.
Full report at: Mail Today
-----------
Govt. taking steps to bring back terror suspect Fasih: Chidambaram
Jul 4, 2012
Government will take all possible steps to bring back Fasih Mohammed, an accused in Bangalore and Delhi blasts and currently detained in Saudi Arabia, to India.
"He is in Saudi Arabia. He was detained there. Steps will be taken to extradite him to India," Home Minister P. Chidambaram told reporters in New Delhi.
An engineer by profession, 28-year old Fasih is alleged to have been involved in the Chinnaswamy Stadium blast in Bangalore and a shooting incident near Jama Masjid (Delhi) in 2010 and is wanted by both Delhi and Karnataka Police.
"A Red Corner Notice has already been issued. He was wanted in several cases," Mr. Chidambaram said.
On the request of Karnataka and Delhi Police, the CBI had asked the Interpol to issue a Red Corner Notice against Fasih after which Saudi authorities have conveyed that he has been apprehended by them.
Fasih had reportedly been missing and his wife Nikhat Parveen approached the Supreme Court claiming her husband was in the custody of central security agencies.
She moved the Supreme Court alleging her husband was picked up by a joint team of Indian and Saudi officials on May 13 for his alleged terror links.
http://www.thehindu.com/news/national/article3601936.ece
-----------
Zabiuddin lived in Saudi Arabia on Pakistani passport and a pseudonym
STAFF REPORTER
Jul 4, 2012
Passport was issued in the name of Riyasat Ali, a resident of Sheikhupura in Punjab province
Syed Zabiuddin Ansari alias Abu Jundal, the suspected Lashkar-e-Taiba terrorist who was recently deported for alleged involvement in terror strikes, had been living in Saudi Arabia on a Pakistani passport issued under a pseudonym.
The passport purportedly used by Ansari was issued in the name of Riyasat Ali on January 28, 2009, showing him as a resident of Sheikhupura in the Punjab province of Pakistan. It mentions his father's name as Khushi Mohammad and has a validity up to January 27, 2014. The passport, however, bears Ansari's photograph.
Full report at:
http://www.thehindu.com/news/national/article3599439.ece
--------
Pakistan
Tehrik-e-Taliban to target NATO supply to Afghanistan
Jul 4, 2012
ISLAMABAD: Tehrik-e-Taliban Pakistan (TTP) has termed the resumption of NATO supply line as coward act of Pakistan and has said that Taliban would target any kind of supply going to Afghanistan via the routes of Pakistan.
Talking from an undisclosed location via phone TTP central spokesperson Ihsanullah Ihsan said, "the resumption of NATO supply line shows the slavish nature of Pakistani government; the resumption is a disrespect to the blood of those soldiers who sacrificed their lives in Salala check post while guarding the borders."
Ihsanullah Ihsan said, "We already knew that the NATO supply line would sooner or later be resumed; that's why we have also completed our strategies and will attack each and every container of the NATO going to Afghanistan via the routes of Pakistan."
Ihsan further said, "The resumption seems the thinking of Pakistani leaderships who are enslaved to the US and its allies."
http://timesofindia.indiatimes.com/world/pakistan/Tehrik-e-Taliban-to-target-NATO-supply-to-Afghanistan/articleshow/14656662.cms
-----------
Lakhvi still active in Pak; Lashkar module busted in Kashmir
M Saleem Pandit
Jul 4, 2012
SRINAGAR: The jailed mastermind of 26/11 Mumbai attack, Zaki-ur-Rehman Lakhvi, is still active, commanding the main Lashkar-e-Taiba communication centre from within Adiala jail in Rawalpindi, with one of his five jailed associates, Hanzullah, given the task of reviving terror groups in Jammu & Kashmir through Fahadullah, Pakistani Lashkar commander in Sopore, north Kashmir. This came to light after J&K police busted a recruitment module of LeT and arrested seven local recruits to the terror outfit on Wednesday.
"Local militants were recruited with the aim of building a network of LeT operatives to be tasked with executing various terrorist acts," said Sopore SP, Imtiyaz Hussain. "They were in criminal conspiracy with one Pakistani terrorist, Fahadullah, who operates from Sopore. Fahadullah was receiving directions from one Hanzullah, a LeT commander based in Pakistani jail," he added.
The Jamat-Ud Dawa chief and five of his Lashkar associates are being tried inside the Adiala jail by a judge of the anti-terrorism court in Rawalpindi. However, reliable sources on conditions of anonymity said Lakhvi and his five associates live a life of luxury inside Adiala jail, with the accused in possession of sophisticated communication gadgets which they use for passing on instructions to their men operating in the Valley.
According to SP Husain, Fahadullah is the only surviving LeT terrorist of Pakistani origin in Sopore still active. After being indoctrinated with jihadi ideology, the arrested group of seven local boys had formally joined LeT and were provided with communication gadgets and weaponry. Before joining the organization, the members of the module were assigned various tasks of couriering weapons and money, identifying the targets like security installations and arranging communication devices.
Full report at:
http://timesofindia.indiatimes.com/india/Lakhvi-still-active-in-Pak-Lashkar-module-busted-in-Kashmir/articleshow/14675245.cms
---------
Three killed in separate incidents in Balochistan
Jul 4, 2012
QUETTA: Three people were killed in separate incidents of firing in Harnai and Quetta on Tuesday.
According to reports, two people, identified as Nazeer Ahmed and Pir Muhammad, were killed in a tribal clash in Shahrug area of Harnai district.
Their bodies were moved to a nearby hospital for autopsy.
In another incident, a man was killed in Eastern Bypass in the outskirts of Quetta. Police said that armed men shot the man dead in Killi Bangulzai and fled.
Police moved the body to a hospital for medico-legal formalities. Police say the deceased looked like a beggar and motive behind the killing is yet to be ascertained.
http://dailytimes.com.pk/default.asp?page=2012\07\04\story_4-7-2012_pg7_17
-----------
Balochistan shuts to protest Baloch leader's killing
Jul 4, 2012
QUETTA: A complete shutter-down strike was observed in various parts of Balochistan on Tuesday to condemn the killing of National Party leader Yaqoob Baloch in Karachi.
Yaqoob Baloch, a KESC employee and National Party (NP) leader, was targeted at the KESC office within the precincts of Rizvia Police Station on Monday.
The strike call was given by the National Party (NP) and was supported by various student organisations. All the shops, markets, commercial establishments, banks and even chemists remained closed for the day, while traffic was thin on roads as people preferred to stay home.
The strike was also observed in Panjgur, Gwadar, Turbat, Nushki, Pasni, Jiwani, Ormara, Mastung, Mongechar, Awaran, Tump, Hoshap, Mand, Buleida, Khuzdar, Naal, Surab, Kalat, Hub, Dalbandin and other areas of Balochistan.
Meanwhile, the National Party took out a protest rally from its secretariat on Jinnah Road, which culminated peacefully after passing through various parts of the provincial capital. The participants of the rally also staged protest demonstration outside the Quetta Press Club. National Party District President Niaz Baloch, Central Labour Secretary Rehmat Baloch, provincial General Secretary Abdul Khaliq Baloch, Dr Shama Ishaq and Farzana Raisani also condemned the killing.
http://dailytimes.com.pk/default.asp?page=2012\07\04\story_4-7-2012_pg7_13
-----------
Supreme Court issues detailed verdict in Gilani's disqualification case
Jul 4, 2012
ISLAMABAD: The Supreme Court issued on Tuesday its detailed judgement in the National Assembly speaker's ruling in former prime minister Yousaf Raza Gilani's disqualification case, and held that in the Pakistani context, the old-fashioned British concept of parliamentary sovereignty was no longer relevant.
Justice Jawwad S Khawaja in his six-page additional note observed that in Pakistan, constitution enjoyed supremacy over all organs of the state, including parliament, therefore, on constitutional issues, members of parliament, including the prime minister, could not avoid being answerable in court. "The elected representatives in parliament and the executive cannot claim any primacy over and above the constitution. It is the constitution which is supreme over all organs of the state because it manifests the will of the people," he noted.
Full report at:
http://dailytimes.com.pk/default.asp?page=2012\07\04\story_4-7-2012_pg7_7
-----------
Dual nationality case: Two MQM lawmakers suspended
Jul 4, 2012
ISLAMABAD: The Supreme Court on Wednesday suspended the national and provincial assembly memberships of two members of the Muttahida Qaumi Movement (MQM), DawnNews reported.
The National Assembly membership of Farhat Mahmood and the Sindh Assembly membership of Nadia Gabol were suspended by the apex court during Wednesday's hearing of the dual nationality case.
A three-judge bench of the apex court comprising Chief Justice Iftikhar Mohammad Chaudhry, Justice Jawwad S. Khwaja and Justice Khilji Arif Hussain was hearing the case relating to legislators holding dual nationality.
The court in its order ruled that the two lawmakers had been summoned three times but had failed to appear for the hearings. It moreover said that the two held nationalities of foreign countries and were therefore not qualified to become members of the national and provincial assemblies.
Full report at:
http://dawn.com/2012/07/04/dual-nationality-case-sc-resumes-hearing-2/
-----------
'19,000 teachers to be recruited in Sindh'
Jul 4, 2012
KARACHI: As many as 19,000 teachers would be recruited in the province, this was stated by Sindh Education Minister Pir Mazharul Haq here on Tuesday. He said that the hiring of the teachers would be under a World Bank project. The minister pointed out that the applications have been received in this regard, the schedule for the test would be announced soon. Haq made it clear that he has high regards for the teachers. He also clarified that he has never termed the teachers as 'anti-education'. However, he said that there are some elements that are creating hurdles in the process of education. The minister said that majority of teachers are in favour of promotion of education.
http://dailytimes.com.pk/default.asp?page=2012\07\04\story_4-7-2012_pg12_5
-----------
Dr Fahmida Mirza, Swedish diplomat call on Sindh CM
Jul 4, 2012
KARACHI: Speaker National Assembly (NA) Dr. Fahmida Mirza on Tuesday called on Sindh Chief Minister (CM) Syed Qaim Ali Shah at the CM House. According to an official handout both the leaders discussed the matters of mutual interest and political situation prevailing in the country. They also discussed development process of the province. The NA speaker also discussed progress on various development schemes being executed in her constituency. Sindh CM assured that those schemes would be completed in time. Meanwhile, Ambassador of Sweden, Lars Hjalmar Wide on Tuesday also called on Sindh CM at the CM House. The chief minister informed him about socio-economic aspects, geo-political situation and other facilities being provided to investors in Sindh province. Shah informed the ambassador that there are numerous opportunities of investments in the province pertaining to coal energy, wind energy, solar energy, agriculture sector, fishing and other industrial projects. He apprised him about progress on Thar coal project and said that the energy problem of the country will be solved soon. Sweden ambassador assured the CM that intending investors of Sweden would be briefed about opportunities in Pakistan, particularly available in Sindh.
http://dailytimes.com.pk/default.asp?page=2012\07\04\story_4-7-2012_pg12_3
--------
South Asia
Rohingyas must be protected
Protecting the rights of Muslim minority a test for Myanmar
July 4, 2012
Share on facebookShare on tumblrShare on twitterShare on emailMore Sharing Services7
The Rohingya people of South Asian descent are facing an uncertain future, living with a troubled past in Myanmar.
A recent outbreak of sectarian violence has left the Muslim community in a precarious situation in this predominantly Buddhist state — with the military-backed government failing to recognise the Rohingya as one of the country's 130 ethnic minorities.
Sadly, the Rohingyas tale is one of being isolated from their Muslim brothers in India as the Bengali-speaking people were cast aside during the independence upheavals after the Second World War. Because of their isolation, they have long been viewed with suspicion over lingering separatist sentiments within Myanmar.
Full report at:
http://gulfnews.com/opinions/editorials/rohingyas-must-be-protected-1.1044141
-----------
Uyghurs Set to Stage Protests on 3rd Anniversary of 5th July Urumchi Crackdown
03 July 2012
World Uyghur Congress www.uyghurcongress.org
The World Uyghur Congress is pleased to announce that as we approach 5th July many Uyghur exiles and their supporters around the globe are making final preparations to stage peaceful demonstrations and other activities on and around this day so as to commemorate the third anniversary of the violently suppressed, peaceful protest in Urumchi, East Turkestan. This day and the subsequent events stand as one of the darkest days in Uyghur and East Turkestan history in which hundreds of Uyghurs lost their lives as government forces brutally cracked down on the peaceful protest. The demonstrations will aim at drawing attention to this and to remind the international community once again to take stock of the horrific response from the Chinese government.
On 5 July 2009, Uyghurs peacefully assembled at the Grand Bazar, Urumchi so as to demonstrate against the lackadaisical and slow response by Chinese authorities into the deaths of two Uyghur following attacks on Uyghur workers at a toy factory in Guangdong province, China on 25/26 June. According to eye-witnesses, the response by the Chinese authorities was violent, resulting in ethnic unrest that left hundreds of Uyghurs and Han Chinese dead. As security forces enacted one of the fiercest crackdowns on East Turkestan in its history, many Uyghurs were arbitrarily detained, sentenced to death or lengthy sentences after trials plagued with politicisation and strangleholds on due process. In addition, the government has waged a campaign to put pressure on states to extradite Uyghurs who took part in the protest.
Many Uyghurs have since disappeared due to their involvement in the peaceful protest and other advocacy initiatives aimed at uncovering the true extent of the violent crackdown and for seeking a comprehensive investigation therein. The World Uyghur Congress is due to release a new report into the Uyghurs who have since disappeared as a result of their participation in the Urumchi peaceful protests. Furthermore, in response to the unrest, the Chinese government put in place a new 'strike hard campaign' in East Turkestan and a widespread internet black out as it sought to implement one of its strongest clampdowns in East Turkestan history.
Each year since, the World Uyghur Congress, which promotes the human rights of the Uyghur people on behalf of the Uyghur exile community worldwide, has sought to remind the international community of the atrocities committed by the authorities on 5 July 2009 and thereafter by spearheading the global commemoration of 5 July. The WUC and its affiliate Uyghur human rights organisations are organising events in 14 countries, including but not limited to the United States, Japan, Turkey, Canada, the United Kingdom, Germany, and France. The events that will take place will include demonstrations in front of Chinese foreign missions, marches and conferences. For a list of actions worldwide, see Protest Calender for 5 July.
Many NGOs, civil society organisations and governments have condemned the actions taken by the Chinese government at the time and since. As recently as the 20th Session of the United Nations Human Rights Council, the Nonviolent Radical Party and the Society for Threatened Peoples drew attention to the crackdown. WUC President Rebiya Kadeer said in the build-up to the anniversary that: "Three years have passed since my people were brutally suppressed, and yet no comprehensive and independent investigation into the events has happened. They are now suffering unimaginable restrictions on their lives and live in fear for their relatives who have since been arrested, detained and imprisoned. The events that many Uyghurs will be holding on the third anniversary will serve as a reminder to the international community for them to not forget the crackdown and that the increase in violations of their fundamental human rights due to this event are still very much a reality."
Background
On July 5, 2009, Uyghurs in the city of Urumchi, the regional capital of East Turkestan [also known as the Xinjiang Uyghur Autonomous Region (XUAR) of China], participated in a peaceful protest [1] against government inaction on the killing of at least two, but possibly several dozen, Uyghur migrant workers, by Han Chinese workers at a toy factory in the city of Shaoguan, in the southern province of Guangdong [2]. The protest had been organized over the internet as a peaceful demonstration. [3] The authorities blocked students on some university campuses from leaving school grounds on July 5th in order to prevent their participation in the demonstration. [4] Human Rights Watch noted that while the protest seemed to be sparked by the Shaoguan incident, the root causes for the protest lie in the long-standing discriminatory policies of the Chinese government towards the Uyghurs and the egregious repression of Uyghurs' religious, political, educational, linguistic, and economic rights. [5]
Chinese security forces moved in and used extreme force and violence to disperse and suppress the protest. [6] Amnesty International has stated, "Eyewitness accounts received by Amnesty International contradict government accounts of the events of July, and suggest the authorities used excessive force against the protesters, resulting in the deaths of possibly hundreds of people." [7]
Security forces used tear gas and stun batons on the demonstrators. [8] Witnesses interviewed by Amnesty International indicated that security forces also fired on the demonstrators, as well as beat and kicked them. [9] Uyghur organizations abroad and media outlets received similar witness accounts. [10] Witness accounts received by Uyghur organizations abroad also indicated that protesters fled to other points of the city, where they were forced into several enclosed areas from which they could not escape and the police indiscriminately shot and killed Uyghur protesters in these enclosed areas and arrested those who remained. [11] In sum, numerous witness accounts provided to Uyghur and other human rights organizations abroad, as well as witness accounts provided to the media, indicated that security forces committed extra-judicial killings of protesters.
The human rights violations that the Chinese authorities have perpetrated against the Uyghurs in the aftermath of the July 2009 incidents have included but have not been limited to: mass and arbitrary detentions and enforced disappearances of Uyghurs, including minors [12]; arbitrary sentencing of Uyghurs to death and other severe sentences after trials plagued with politicization and strangleholds on due process [13]; and arbitrary executions [14].
[1] See eg., Amnesty International (AI) (online), "China: Further Information: Nine Executed in China" (Urgent Action) (www.amnesty.org/en/library/info/ASA17/063/2009/en), Nov. 11, 2009; Congressional-Executive Commission on China (CECC) (online), "Annual Report 2009" (www.cecc.gov/pages/annualRpt/annualRpt09/CECCannRpt2009.pdf), Oct. 10, 2009, p. 249 (citing sources).
[2] See Uyghur American Association (UAA) (online), "UAA Expresses Concern over Shaoguan Indictments" (press release) (www.uyghuramerican.org//articles/3743/1/UAA-expresses-concern-over-Shaoguan-indictments/index.html), Sept. 24, 2009 (citing sources); UAA (online), "UAA condemns killing of Uyghur Workers at Guangdong Factory" (press release) (www.uyghuramerican.org//articles/3089/1/UAA-condemns-killing-of-Uyghur-workers-at-Guangdong-factory/index.html), June 29, 2009. See generally, Bureau of Democracy, Human Rights, and Labor, U.S. Department of State (online), "2009 Human Rights Report: China (includes Tibet, Hong Kong, and Macau)" (www.state.gov/g/drl/rls/hrrpt/2009/eap/135989.htm), Mar. 11, 2010; Amnesty International USA (online), "Amnesty International Urges the Supreme Court to Review the Sentencing of Five Uighurs to Death" (press release) (www.amnestyusa.org/document.php?id=ENGUSA20091203002&lang=e), Dec. 3, 2009; Amnesty International (AI) (online), "China Must Halt Death Sentences Against Uighurs" (http://amnesty.org/en/news-and-updates/news/china-must-halt-death-sentences-against-uighurs-20091203), Dec. 3, 2009; Congressional-Executive Commission on China (CECC) (online), "Annual Report 2009" (www.cecc.gov/pages/annualRpt/annualRpt09/CECCannRpt2009.pdf), Oct. 10, 2009, p. 249 (citing sources); Human Rights Watch (HRW) (online), "China: 'We Are Afraid to Even Look for Them': Enforced Disappearances in the Wake of Xinjiang's Protests" (www.hrw.org/en/reports/2009/10/22/we-are-afraid-even-look-them), Oct. 2009, p. 11 (citing sources).
[3] See Congressional-Executive Commission on China (CECC) (online), "Annual Report 2009" (www.cecc.gov/pages/annualRpt/annualRpt09/CECCannRpt2009.pdf), Oct. 10, 2009, p. 249 (citing sources).
[4] See Congressional-Executive Commission on China (CECC) (online), "Nur Bekri Calls for Heightened Political Consciousness at Colleges, Students Reported to be Locked Within Campus" (Commission Analysis) (www.cecc.gov/pages/virtualAcad/index.phpd?showsingle=125931), posted on Aug. 6, 2009 (citing sources).
[5] See Human Rights Watch (HRW) (online), "China: 'We Are Afraid to Even Look for Them': Enforced Disappearances in the Wake of Xinjiang's Protests" (www.hrw.org/sites/default/files/reports/xinjiang1009webwcover.pdf), Oct. 2009, pp. 9-11 (citing sources).
[6] See Amnesty International (AI) (online), "Stop Human Rights Violations Against Uighurs" (www.amnesty.org/en/campaigns/activists/issues/stop-human-rights-violations-against-uighurs-china), Feb. 5, 2010; AI (online), "China: Prevent Executions for Uighur Unrest" (Urgent Action) (www.amnesty.org/en/library/info/ASA17/061/2009/en), Nov. 2, 2009; Congressional-Executive Commission on China (CECC) (online), "Annual Report 2009" (www.cecc.gov/pages/annualRpt/annualRpt09/CECCannRpt2009.pdf), Oct. 10, 2009, p. 249 (citing sources). See generally, Bureau of Democracy, Human Rights, and Labor, U.S. Department of State (online), "2009 Human Rights Report: China (includes Tibet, Hong Kong, and Macau)" (www.state.gov/g/drl/rls/hrrpt/2009/eap/135989.htm), Mar. 11, 2010.
[7] Amnesty International (AI) (online), "China: Prevent Executions for Uighur Unrest" (Urgent Action) (www.amnesty.org/en/library/info/ASA17/061/2009/en), Nov. 2, 2009.
[8] See Congressional-Executive Commission on China (CECC) (online), "Annual Report 2009" (www.cecc.gov/pages/annualRpt/annualRpt09/CECCannRpt2009.pdf), Oct. 10, 2009, p. 249 (citing sources).
[9] See Amnesty International (AI), "Urgent Action: 20 April 2010: Further information on UA 336/09 (15 December 2009): Risk of torture/incommunicado detention: China: Noor-Ul-Islam Sherbaz (m), aged 18" (Urgent Action) (www.amnestyusa.org/actioncenter/actions/uaa33609.pdf) (published on Amnesty International USA's website), Apr. 20, 2010; AI (online), "Stop Human Rights Violations Against Uighurs" (www.amnesty.org/en/campaigns/activists/issues/stop-human-rights-violations-against-uighurs-china), Feb. 5, 2010.
[10] See Congressional-Executive Commission on China (CECC) (online), "Annual Report 2009" (www.cecc.gov/pages/annualRpt/annualRpt09/CECCannRpt2009.pdf), Oct. 10, 2009, p. 249 (citing Radio Free Asia reports); Statement by Ms. Rebiya Kadeer, Uyghur democracy leader at the National Press Club on July 20, 2009, "Unrest in East Turkestan: What China Is Not Telling the Media" (www.uyghuramerican.org//articles/3304/1/Unrest-in-East-Turkestan-What-China-is-Not-Telling-the-Media/index.html) (published on the Uyghur American Association's website on July 20, 2009) (referring to witness accounts that Uyghurs in the region gave in phone calls to the Uyghur American Association and other Uyghur organizations); "Urumqi Tense, Quiet After Violence" (www.rfa.org/english/news/uyghur/riots-07052009153209.html?searchterm=None), Radio Free Asia (RFA) (online), July 5, 2009 (updated July 6, 2009).
[11] See Statement by Ms. Rebiya Kadeer, Uyghur democracy leader at the National Press Club on July 20, 2009, "Unrest in East Turkestan: What China Is Not Telling the Media" (www.uyghuramerican.org//articles/3304/1/Unrest-in-East-Turkestan-What-China-is-Not-Telling-the-Media/index.html) (published on the Uyghur American Association's website on July 20, 2009) (referring to witness accounts that Uyghurs in the region gave in phone calls to the Uyghur American Association and other Uyghur organizations).
[12] See Congressional-Executive Commission on China (CECC) (online), "Annual Report 2009" (www.cecc.gov/pages/annualRpt/annualRpt09/CECCannRpt2009.pdf), Oct. 10, 2009, p. 250 (citing sources) (regarding mass arrests); Human Rights Watch (HRW) (online), "China: 'We Are Afraid to Even Look for Them': Enforced Disappearances in the Wake of Xinjiang's Protests" (www.hrw.org/en/reports/2009/10/22/we-are-afraid-even-look-them), Oct. 2009, pp. 21-32 (citing sources) (regarding mass arrests and enforced disappearances).
[13] See Congressional-Executive Commission on China (CECC) (online), "198 People in Xinjiang Reportedly Sentenced in Trials Marked by Lack of Transparency" (Commission Analysis) (www.cecc.gov/pages/virtualAcad/index.phpd?showsingle=137197), posted on Apr. 21, 2010; Human Rights Watch (HRW) (online), "China: Xinjiang Trials Deny Justice: Proceedings Fail Minimum Fair Trial Standards" (www.hrw.org/en/news/2009/10/15/china-xinjiang-trials-deny-justice), Oct. 15, 2009; CECC (online), "Annual Report 2009" (www.cecc.gov/pages/annualRpt/annualRpt09/CECCannRpt2009.pdf), Oct. 10, 2009, p. 251 (citing sources); HRW (online), "China: 'We Are Afraid to Even Look for Them': Enforced Disappearances in the Wake of Xinjiang's Protests" (www.hrw.org/en/reports/2009/10/22/we-are-afraid-even-look-them), Oct. 2009, p. 19-20 (citing sources); CECC (online), "Detentions Continue, Official Pledges Death Penalty for Perpetrators" (Commission Analysis) (www.cecc.gov/pages/virtualAcad/index.phpd?showsingle=125931), posted on Aug. 6, 2009 (citing sources).
[14] See id.; Bureau of Democracy, Human Rights, and Labor, U.S. Department of State, "2009 Human Rights Report: China (includes Tibet, Hong Kong, and Macau)" (www.state.gov/g/drl/rls/hrrpt/2009/eap/135989.htm), Mar. 11, 2010; Amnesty International (AI) (online), "China: Further Information: Nine Executed in China" (Urgent Action) (www.amnesty.org/en/library/asset/ASA17/063/2009/en/97062c40-0d64-4f75-a209-ed8de6a7a393/asa170632009en.html), Nov. 11, 2009.
*******************************************
About the WUC
The World Uyghur Congress (WUC) is an international umbrella organization that represents the collective interest of the Uyghur people both in East Turkestan and abroad and promotes Uyghur human rights and a peaceful and non-violent solution based on rule of law for the conflict in East Turkestan.
-----------
NATO: man in Afghan uniform shoots, wounds troops
Jul 04 2012
Kabul : The U.S.-led NATO coalition says a man in an Afghan army uniform shot and wounded a number of its troops in eastern Afghanistan.
It said in a statement on Wednesday that the service members were being treated at a medical facility. It did not say how many were wounded or provide any other details about the attack _ which occurred on Tuesday in eastern Wardak province's Sayed Abad district.
The coalition retains a large base there, but NATO did not say where the attack took place in the district.
The statement did not say what happened to the man who fired on the service members, but said an investigation into the incident was underway.
http://www.indianexpress.com/story-print/970238/
-----------
Bangladeshi 'Death Squad' Tortures Mutiny Suspects: HRW
Jul 4, 2012
DHAKA (Reuters) - Human Rights Watch (HRW) on Wednesday accused Bangladesh of torturing and killing paramilitary soldiers accused of involvement in a 2009 mutiny, the latest in a string of complaints against the country's feared special police force.
HRW said the Rapid Action Battalion (RAB), an elite crime-fighting unit it has previously labeled a "death squad" was alleged to have been involved in many of the abuses.
"At least 47 suspects have died in custody," said HRW, which interviewed more than 60 people for its report. "Detainees were subjected to beatings, often on the soles of their feet or palms of their hands, and to electric shock. Some victims described being hung upside down from the ceiling," the group said in a statement.
"Torture is routinely used by security forces in Bangladesh," it said. "Human Rights Watch and others have long documented the systematic use of torture in Bangladesh by its security forces, including the army, the Rapid Action Battalion and ... the country's main intelligence agency."
Full report at:
http://www.nytimes.com/reuters/2012/07/04/world/asia/04reuters-bangladesh-mutiny-
-----------
Couple confess to killing Lawyer Najeeb, accuse him of sexual assault
By Hawwa Lubna | July 3rd, 2012
The 29 year old ex-convict charged with Lawyer Ahmed Najeeb 's murder has today confessed to killing him, claiming that the lawyer attempted to sexually assault his 18 year-old girlfriend.
The girl, identified as Fathimath Hana of Rihab house in Shaviyani Goidhoo island, also faces murder charges in the case and was brought before the Criminal Court this afternoon, where she confessed to "helping" her boyfriend to kill Najeeb.
Each hearing was held separately. Hanaa first testified in court, followed by Murrath.
Hanaa noted that Najeeb arrived to the Maafanu Masroora on Saturday night around 10:00pm, on a request to discuss a family legal case.
Masroora house is the residence of suspect Murrath and the place where the 65 year-old lawyer's body was found stuffed inside a dustbin, badly beaten up with multiple stab wounds on Sunday evening.
She said that her boyfriend killed him after it became "sure" that Najeeb attempted to sexually assault her, and added that she helped tie Najeeb's hand, legs and taped his mouth while Murrath threatened him with a knife.
"We thought he must have a lot of money as he is a lawyer," she told the court, after declining representation from a lawyer.
Najeeb's cash card was taken from him and the pair had withdrawn money from it.
According to Hanaa, she did not know that the victim was killed until her boyfriend woke her up and told her about it around 4:00am. At the time Hanaa said she was sleeping, intoxicated from drinking alcohol.
Full report at:
http://minivannews.com/politics/two-suspects-confess-to-killing-lawyer-najeeb-in-court-accuse-him-of-sexual-assault-40221
------------
"Death for death" say six of murdered lawyer's heirs
By Mohamed Naahee | July 4th, 2012
Six out of the eight heirs of murdered lawyer Ahmed Najeeb yesterday refused to accept blood money and have asked the Judge for qisas (equal retaliation) – the death penalty – during trial held at the Criminal Court.
During the trial, the court summoned the six heirs following the confession of both the suspects implicated in the crime, while the two others were not present for the session.
The court stated that out of the two heirs, who were not present at the hearing, one was living abroad and the court would be making arrangements through the Ministry of Foreign Affairs to collect his statement, while the other worked in a resort out of Male'.
Concluding the trial, the judge said that all eight heirs, were those whom the court had confirmed as rightful heirs, and made a statement that if there was any other person who was a rightful heir to Ahmed Najeeb, they must inform the court before July 10.
He also said that after the taking the statements of all rightful heirs of the deceased, the court will issue a verdict.
Full report at:
http://minivannews.com/society/death-for-death-say-six-of-murdered-lawyers-heirs-40265
------------
Maldives websites report denial-of-service (DDoS) cyberattacks
By JJ Robinson | July 4th, 2012
Telecommunications firm Dhiraagu has confirmed that websites in the Maldives have been targeted in apparent Denial of Service (DDoS) cyberattacks, according to local media.
DDoS attacks involve malevolently flooding a web server with queries, locking up bandwidth and preventing legitimate users from accessing a site.
New outlets Sun Online and Haveeru reported accessibility problems, particularly from abroad, according to reports this morning.
Speaking to Haveeru, Dhiraagu's Marketing, Communications and Public Relations Manager Mohamed Mirshan claimed the attacks were targeted at the newspaper, and not Dhiraagu infrastructure.
"DDoS is very common all around the world. We have taken the same measures taken internationally. DDoS cannot be controlled by anyone other than its originators. The only thing we can do is mitigate the attacks. Dhiraagu has also taken all necessary measures taken against it worldwide," Mirshan told Haveeru.
Meanwhile, an anonymous email was sent to police and several media outlets, including Sun and Haveeru, from a group claiming to take responsibility for recent attacks on Dhiraagu's web servers.
Full report at:
http://minivannews.com/society/maldives-websites-report-denial-of-service-ddos-cyberattacks-40282
------------
Southeast Asia
For third time in two weeks, Indonesian boat with asylum seekers goes missing
Jul 4, 2012
Australian rescue crews were hunting for a boat in distress and crowded with asylum seekers off the coast of Indonesia on Wednesday, one day after the leaders of Australia and Indonesia agreed to strengthen maritime ties as part of a bid to combat people smuggling.
The boat issued a distress call early Wednesday morning, and was believed to have up to 180 people on board, the Australian Maritime Safety Authority said. The Australian navy ship HMAS Wollongong was searching where the boat was believed to be about 110 kilometres south of Indonesia but had not located it as of late morning, Defence Minister Stephen Smith said.
"The boat has rung, said it's in distress, that it's taking on water," Home Affairs Minister Jason Clare told Australian Broadcasting Corp. Radio. "Whenever you have a call like that, you take it seriously."
The debate over how to cope with the increasing flow of asylum seekers has intensified in Australia since two boats carrying Australia-bound migrants capsized in the last two weeks. More than 90 people are believed to have been killed when the boats sank in the Indian Ocean between Indonesia and the Australian territory of Christmas Island, where Australia runs an immigration detention centre.
Full report at:
http://www.thehindu.com/news/international/article3601131.ece
--------
Still Mere Foreplay in Police Probe of Alleged Lawmaker Sex Tape
Farouk Arnaz | July 04, 2012
The National Police have not started an investigation into the sex tape spread online that allegedly featured Indonesian Democratic Party of Struggle (PDI-P) lawmaker Karolin Margret Natasha.
"I haven't received [the House of Representatives Ethics Council's] letter about it on my table," National Police special crimes unit chief Brig. Gen. Arief Sulistyanto said on Wednesday.
The head of the Ethics Council, M. Prakosa, last month said the council had decided to send a letter to the National Police requesting that they open an investigation into the video's distribution, reports of which first emerged on April 24.
Karolin, who is the daughter of West Kalimantan's governor, has denied allegations that she co-stars in the tape. She claims the widely circulated video was fabricated and released for political purposes.
Full report at:
http://www.thejakartaglobe.com/home/still-mere-foreplay-in-police-probe-of-alleged-lawmaker-sex-tape/528583
--------
Quran scandal may implicate lawmakers
Margareth S. Aritonang and Rangga D. Fadillah
July 04 2012
Golkar politician Zulkarnaen Djabar is unlikely to be the only individual implicated in the graft-ridden Quran procurement at the Religious Affairs Ministry as fellow lawmakers also accepted the holy books.
It was reported that each lawmaker accepted 504 copies of the Quran to be distributed to their constituents for free. Each copy was said to have cost taxpayers Rp 1 million (US$106).
Several lawmakers who oversee religious and social affairs admitted on Tuesday they had received 18 boxes of 28 copies of the Koran each to be given out to voters in their electoral districts to "help strengthen their faith".
They, however, denied such a practice was part of the graft case under investigation by the Corruption Eradication Commission (KPK).
"I received all 18 boxes yesterday, which I have yet to distribute to the mosques and other Islamic groups in my electoral district. Koran distribution is an annual program arranged by the Religious Affairs Ministry, so I think there is no problem with it because it is officially allotted for each lawmaker [at Commission VIII]," Ali Maschan Musa, who represents East Java's fourth legislative district as a member of the National Awakening Party (PKB), said.
Inggrid Kansil of the Democratic Party has also admitted that she had received similar amount of Korans, but was unsure whether all Commission VIII members accepted it.
She admitted that she had no knowledge that each Koran cost Rp 1 million (US$106), but was informed that the Religious Affairs Ministry proposed up to Rp 50 billion last year for the procurement.
Full report at:
http://www.thejakartapost.com/news/2012/07/04/koran-scandal-may-implicate-lawmakers.html
--------
Mideast Asia
Israeli policeman filmed kicking Palestinian boy
Jul 4, 2012
Israel's Border Police has launched an investigation after a video emerged showing one of its officers kicking a nine-year-old Palestinian boy.
The footage from the human rights group, B'Tselem, shows Abdul Rahman Burqan being held on the ground by one officer before he is kicked by another.
The incident took place on Friday in the West Bank city of Hebron.
A statement from the Border Police said it "views with gravity and condemns the behaviour of the policemen".
"It is important to note that this is an exceptional incident that does not represent the extensive activity of the combat border police troops to further the security of the state of Israel," it added.
Border Police commander Yoram Halevi has ordered the formation of a team to investigate the incident and report in the coming days.
Sources in the force told the Jerusalem Post there had been a large rise in the number of incidents of Palestinian youths throwing stones in Hebron. But they said there was no justification for the officers' conduct.
The cameraman, Raed Abu Rimle, told the Israeli newspaper Yedioth Ahronoth: "I heard yelling and I saw a soldier kick a boy in the stomach. After the policemen left him, I approached the kid. He was so scared that he'd pissed his pants."
Last week, a group of senior British lawyers accused the Israeli military authorities of regularly breaching the UN Convention on the Rights of the Child (UNCRC) and the 4th Geneva Convention when detaining Palestinian children in the West Bank.
http://www.bbc.co.uk/news/world-middle-east-18701419
-----------
Yasser Arafat poisoned by polonium: Report
Jul 4, 2012
DOHA: Yasser Arafat, who died in 2004, was poisoned by polonium, according to the findings of research carried out in Switzerland and cited in an Al-Jazeera report on Tuesday.
The analysis focused on biological samples taken from the late Palestinian leader's belongings given to his wife Suha by the military hospital in Paris where he died, according to Francois Bochud, head of the Institute of Radiation Physics at University of Lausanne.
"The conclusion was that we did find some significant polonium that was present in these samples," Bochud said.
Arafat died in 2004, following several weeks of treatment. At that time Palestinian officials said he had been poisoned by Israel , but an inconclusive probe in 2005 ruled out cancer , AIDS or poisoning.
http://timesofindia.indiatimes.com/world/middle-east/Yasser-Arafat-poisoned-by-polonium-Report/articleshow/14663569.cms
-----------
Iran Says Can Destroy U.S. Bases 'Minutes After Attack'
Jul 4, 2012
DUBAI (Reuters) - Iran has threatened to destroy U.S. military bases across the Middle East and target Israel within minutes of being attacked, Iranian media reported on Wednesday, as Revolutionary Guards extended test-firing of ballistic missiles into a third day.
Israel has hinted it may attack Iran if diplomacy fails to secure a halt to its disputed nuclear energy program. The United States also has mooted military action as a last-resort option but has frequently nudged the Israelis to give time for intensified economic sanctions to work against Iran.
"These bases are all in range of our missiles, and the occupied lands (Israel) are also good targets for us," Amir Ali Haji Zadeh, commander of the Revolutionary Guards aerospace division, was quoted by Fars news agency as saying.
Haji Zadeh said 35 U.S. bases were within reach of Iran's ballistic missiles, the most advanced of which commanders have said could hit targets 2,000 km (1,300 miles) away.
"We have thought of measures to set up bases and deploy missiles to destroy all these bases in the early minutes after an attack," he added.
It was not clear where Haji Zadeh got his figures on U.S. bases in the region. U.S. military facilities in the Middle East are located in Bahrain, Qatar, the United Arab Emirates, Kuwait and Turkey, and it has around 10 bases further afield in Afghanistan and Kyrgyzstan.
Full report at:
http://www.nytimes.com/reuters/2012/07/04/world/middleeast/04reuters-iran-nuclear-
-----------
Iran hits back on EU, U.S. sanctions
ATUL ANEJA
Jul 4, 2012
Moves to block vital Strait of Hormuz
Iran has taken the first step towards military intervention in the Strait of Hormuz — a move that could skyrocket global oil prices and open the gates for a larger armed confrontation.
A day after the European Union (EU) imposed an oil embargo, the National Security and Foreign Policy Commission of the Iranian Parliament moved swiftly. It drafted a bill which permitted the government to stop oil tankers passing through the Strait of Hormuz that ferry crude oil for countries that had targeted Iran with harsh oil and financial sanctions.
"This bill has been developed as an answer to the European Union's oil sanctions against the Islamic Republic of Iran," said Ibrahim Agha-Mohammadi, an Iranian law maker. If the Strait of Hormuz is blocked, it will swiftly become a global event since nearly 20 per cent of the world's oil supplies pass through this narrow passage on the edge of the Gulf.
Iran is the second-biggest oil producer after Saudi Arabia in OPEC, the oil cartel. The Paris based International Energy Agency (IEA) is forecasting that once sanctions are fully in place in the second half of this year, the world oil markets would lose a daily supply of around one million barrels — a standalone factor that would encourage higher oil prices. Mohammad Ali Khatibi,
Full report at:
http://www.thehindu.com/news/international/article3599162.ece
-----------
Iran: U.N. and U.S. Condemn an Anti-Semitic Speech
By RICK GLADSTONE
Jul 4, 2012
Expressing deep offense, Yury Fedotov, the leader of a United Nations agency who helped convene a conference in Iran last month aimed at stopping the flow of illegal drugs, sharply criticized Iran's vice president on Tuesday for delivering a raw anti-Semitic speech at the conference in which he blamed the Talmud, a central text of Judaism, for promoting drug addiction. Also on Tuesday, the United States condemned the June 26 speech by Vice President Mohammad-Reza Rahimi, with Victoria Nuland, a State Department spokeswoman, issuing a statement denouncing his "vile anti-Semitic and racist comments." Mr. Fedotov, executive director of the United Nations Office on Drugs and Crime, said in a statement on the agency's Web site that he had made his "dismay and serious concern about these comments" clear in a meeting with the Iranian chargé d'affaires in Vienna.
http://www.nytimes.com/2012/07/04/world/middleeast/iran-un-and-us-condemn-an-anti-semitic-speech.html?ref=world&gwh=E68DEB36DE156140C20AB7A6D73E2C04
-----------
Israeli firm grows 'highless' marijuana
Jul 04 2012
Safed : At a secret location in northern Israel researchers say they have developed marijuana that can be used to ease symptoms of ailments without getting patients high.
Atop the hills of the Galilee, the 'highless' marijuana is being grown for medical reasons. "For some people it (the high) is not even pleasant," said Zack Klein, head of development at Tikun Olam, the firm behind the plant where marijuana is being grown.
Cannabis has more than 60 constituents called cannabinoids. THC is perhaps the best known, less so for its medical benefits and more for its psychoactive properties that give a high. But cannabis also contains Cannabidiol, or CBD, a substance that some researchers say has anti-inflammatory benefits. The firm's plant is free of THC and very high in CBD.
http://www.indianexpress.com/story-print/970042/
---------
Arab World
11 killed in new Iraq attacks ahead of Shiite rituals
Jul 4, 2012
BAGHDAD: A car bombing at a market in central Iraq killed eight people on Wednesday and three others were assassinated in Baghdad, the latest in a spike in nationwide unrest ahead of Shia rituals.
The violence struck a day after a series of attacks across Iraq killed 38 amid preparations for ceremonies on Friday to commemorate the birth of a key figure in Shia Islam.
In Wednesday's deadliest attack, a car bombing in the town of Zubaidiyah at 9:15am (0615 GMT) killed eight people and wounded 22 others, a security official and a medic at a hospital in nearby Aziziyah said on condition of anonymity.
The medical official said a child was among the dead, and women and children were among the wounded.
In Baghdad, a series of morning assassinations with silenced pistols left three people dead -- two police officers and a parliament official.
In one shooting, a policewoman was killed by gunshots to the head in the east of the capital, an interior ministry official and a medic at Al-Kindi hospital said.
In west Baghdad, an off-duty police first lieutenant, who was wearing civilian clothes, was killed, the interior ministry official and a doctor at Yarmuk hospital said.
And an employee working at Iraq's parliament was gunned down in the north of the capital, the interior ministry official and a medic at Medical City hospital said.
Full report at:
http://timesofindia.indiatimes.com/world/middle-east/11-killed-in-new-Iraq-attacks/articleshow/14671481.cms
-----------
Dubai's Grand Gurdwara Brings Religion, Tradition Alive in Style
Jul 4, 2012
Dubai, Jul 3 (IANS): Ornate 24-carat gold canopies for the Guru Granth Sahib religious text of Sikhism, Italian marble on the walls and floor, stunning chandeliers and a five-star kitchen - Dubai's first gurdwara is a grand realisation of the aspirations of 50,000 Sikhs in the UAE.
Gurunanak Darbar is a heady mix of spirituality, tradition, modernity, opulence and the determination of a man.
On entering the building, one is in awe of its sheer grandeur and the attention to detail. A sense of calm descends as strains of "Tu Prabh Daata," a popular 'kirtan' or devotional chants, fill the air.
As the ambience sinks in, NRI businessman Surender Singh Kandhari, the man behind the Sikh temple, walks in, urging devotees to use the lift instead of taking the stairs to the main prayer hall.
Sheikh Mohammed bin Rashid Al Maktoum, the ruler of Dubai, who donated a piece of land in the Jebel Ali area for the gurdwara about six years ago, wanted it to be iconic. The opulent building is worth every bit of the 65 million Dirhams spent on it - a large part of it contributed by Kandhari himself.
Full report at:
http://www.daijiworld.com/news/news_disp.asp?n_id=142239
-----------
Saudi beheaded for drug smuggling
Jul 4, 2012
RIYADH: Saudi Arabia on Wednesday beheaded one of its citizens for smuggling drugs into the conservative Muslim kingdom, the interior ministry said in a statement carried by SPA state news agency.
Ali al-Muzayyan was executed in the northern region of Jawf after being found guilty of smuggling "a large quantity of amphetamine pills," it said.
His beheading brings to 48 the number of people executed in Saudi Arabia so far this year, according to an AFP tally based on official reports.
Under the AFP count, at least 76 people were beheaded in 2011, while rights group Amnesty International put the number for last year at 79.
The death penalty in Saudi Arabia applies to a wide range of offences including rape, apostasy, armed robbery and drug trafficking, as well as murder, as stipulated by Islamic sharia law.
http://timesofindia.indiatimes.com/world/middle-east/Saudi-beheaded-for-drug-smuggling/articleshow/14670452.cms
-----------
Assad says Turkey party to bloodshed in Syria-paper
Jul 04 2012
Ankara : Turkish Prime Minister Tayyip Erdogan has made Turkey a party to Syria's bloodshed by interfering in Damascus's internal affairs and by giving logistical support to the rebels, Syrian President Bashar al-Assad told a Turkish newspaper.
Assad also accused the Turkish leader of being two-faced by pursuing a sectarian agenda in the region and trying to persuade Damascus to introduce political reforms while ignoring the killings and democratic shortfalls in Gulf Arab states.
With his desire from the beginning to interfere in our internal affairs, unfortunately, in the subsequent period he has made Turkey a party to all the bloody acts in Syria, Assad said.
Turkey has given all kinds of logistical support to the terrorists killing our people, Assad said in the second part of an interview published on Wednesday.
In the first part published on Tuesday, Assad said he wished his forces had not shot down a Turkish jet last month, repeating Syria's official position that it did not know the plane's identity when it was brought down.
Speaking to another Turkish newspaper, Vatan, on his way back from Egypt on Tuesday, Turkish Foreign Minister Ahmet Davutoglu dismissed Assad's comments as lies and said he did not believe the Syrian leader had any such regrets.
Full report at:
http://www.indianexpress.com/story-print/970271/
-----------
Judge Helped Egypt's Military to Cement Power
By DAVID D. KIRKPATRICK
CAIRO — Even as they promised to hand authority to elected leaders, Egypt's ruling generals were planning with one of the nation's top judges to preserve their political power and block the rise of the Islamists, the judge said.
Tahani el-Gebali, deputy president of the Supreme Constitutional Court, said she advised the generals not to cede authority to civilians until a Constitution was written. The Supreme Court then issued a decision that allowed the military to dissolve the first fairly elected Parliament in Egypt's history and assure that the generals could oversee drafting of a Constitution.
The behind-the-scenes discussions, never publicly disclosed, shed new light on what some have called a judicial coup. From the moment the military seized control from President Hosni Mubarak, the generals "certainly" never intended to relinquish authority before supervising a new Constitution, Judge Gebali said.
The military council's plan to cede authority was premised on first establishing the Constitution, the judge said, so the generals "knew who they were handing power to and on what basis. That was the point."
Full report at:
http://www.nytimes.com/2012/07/04/world/middleeast/judge-helped-egypts-military-to-
-----------
Lebanon Artists Confront Rise in Censorship
By ROD NORDLAND
Jul 4, 2012
BEIRUT, Lebanon — When government censors in Lebanon reviewed a new film, "Beirut Hotel," there was one scene that particularly caught their attention — a reference to a USB memory stick with documents on it about the 2005 assassination of the former Lebanese prime minister Rafik Hariri.
The censors tipped off their colleagues in another department of the General Directorate of General Security, the country's internal intelligence agency, which then demanded that the film's producer turn over the USB stick.
Of course, the film was fictional, and the stick nonexistent. And although the film contained risqué sex scenes compared with other Lebanese films, the censors banned it instead on grounds of national security for having simply mentioned the Hariri assassination — the defining event in recent Lebanese history.
The filmmaker, Danielle Arbid, said she moved to France in disgust. "Beirut Hotel," released late last year, was her third feature film in a row to be banned in Lebanon. She joins a parade of artists to leave the country, following businesses and investors whose frustration with Beirut was more practical, and probably even more consequential.
With a new government dominated by allies of Hezbollah, long a proxy of Syria, censorship has been on the rise. Four new films have been banned this year — a record for the Media and Theater Department, as the censorship bureau is formally called.
Full report at:
http://www.nytimes.com/2012/07/04/world/middleeast/lebanon-artists-confront-rise-in-
-----------
After 2 Days of Quarreling, Syrian Opposition Draws Up Goals for Transition
By NEIL MacFARQUHAR and HWAIDA SAAD
Jul 4, 2012
CAIRO — A broad spectrum of the Syrian opposition pieced together a united set of goals on Tuesday meant both to speed the demise of President Bashar al-Assad's government and to convince other nations that the various factions represent a government in waiting.
But the wrangling during the two-day meeting here — including a drastic withdrawal complete with punches thrown by the Kurdish delegation over its status as a recognized minority — seemed to indicate that true unity remained elusive.
Frustration over negotiations that extended into the night mounted, with one veteran activist shouting during the meeting of more than 200 delegates that the opposition should not even try to unify.
"We should not try to be in the same place — we have different demands," Fawaz Tello, a longtime member of the Assad opposition who fled Syria in February, said later of his outburst. "We should just unify under the demands of the Syrian revolution."
Skirmishing among the different groups seemed endless. The major dispute at the gathering, which was under the auspices of the Arab League, was rooted in fierce opposition by members of the Syrian National Council to an attempt to grant extended powers to a new committee created to follow up on the unified goals.
Full report at:
http://www.nytimes.com/2012/07/04/world/middleeast/human-rights-watch-report-
-----------
Protesters Describe Torture by Syrian Security Forces
By ROBERT MACKEY
Jul 4, 2012
As my colleagues Alan Cowell and Sebnem Arsu explain, Human Rights Watch accused the Syrian authorities of the systematic torture of opposition activists in a new report released on Tuesday.
The rights group also posted excerpts from four video interviews online, in which former detainees, one of them a 14-year-old boy, described the abuse they said they were subjected to by the security forces.
The report - which was also made available in Russian, to address a nation that has offered crucial support to Mr. Assad - includes a map showing the locations of 27 government detention centers where torture was reported by former prisoners and the names of officials said to be in charge of many of the facilities.
http://thelede.blogs.nytimes.com/2012/07/03/protesters-describe-torture-by-syrian-
-----------
Egyptian Deported by CIA Gets Residency in Sweden
Jul 4, 2012
STOCKHOLM (AP) — A Swedish immigration official says a former Egyptian terror suspect who had once been handed over to the CIA and brought to Egypt has been granted permanent residency in the Scandinavian country.
Acting Migration Board General Director Mikael Ribbenvik says the decision to grant Ahmed Agiza residency was made Wednesday.
Agiza and fellow Egyptian Muhammed Alzery were handed over to U.S. agents at Bromma Airport in Stockholm and taken to Egypt in 2001. Their capture was part of a much-criticized program during the Bush administration, which flew alleged terrorists to countries that allowed harsh interrogation techniques.
Alzery was released in 2003 while Agiza was freed last year. Agiza is currently in Egypt and has been informed of the decision.
http://www.nytimes.com/aponline/2012/07/04/world/europe/ap-eu-sweden-cia-flights.html?ref=europe&gwh=E3E2E6C0F27263BF9E5A45061849AAB9
----------
Africa
Kenyan Muslim groups 'to protect churches'
Jul 4, 2012
Muslim leaders in Kenya have agreed to form self-defence groups to protect churches following a deadly attack on Sunday.
Fifteen people were killed in the raids on churches in Garissa, a town near the border with Somalia.
Kenya's border region has been tense since it sent troops into Somalia to pursue al-Shabab Islamist militants.
Adan Wachu, head of the Supreme Council of Kenyan Muslims, told the BBC the attacks were acts of terrorism.
"There are people out there who are determined to make Kenya another Nigeria," Mr Wachu, who also chairs the Inter-Religious Council of Kenya, told the BBC Network Africa programme.
"It's not going to be allowed to have a sectarian division in this country - whoever wants to do that will of course fail."
Full report at:
http://www.bbc.co.uk/news/world-africa-18703171
-----------
Voice of Tunisian Spring Calls for Justice, Equality
Jul 4, 2012
BAGHDAD (Reuters Life!) - Attacks on art in Tunisia by Salafi Islamists are mainly driven by frustration over the injustices of daily life in the North African country rather than pure religious ideology, a Tunisian revolutionary singer said.
Emel Mathlouthi, whose songs about liberty inspired Tunisian pro-democracy protesters, said economic inequality was one of the main causes of recent violence and that if anything she had experienced more artistic freedom since the revolution.
Secular intellectuals have expressed fears about limits to artistic freedom in Tunisia after Salafi Islamists broke into an art fair in June and destroyed a handful of works they deemed insulting to Islam, then ran riot for days.
"There are things happening but we are not sure that this is purely coming from Islamists or Islamic ideology," Mathlouthi said after a concert in Baghdad on Tuesday where she was presented as the voice of revolutionary Tunisia.
"It is clear that they are puppets, because the most important thing that is driving people is frustration which stems from a lack of equality, a lack of justice," she said.
"If everyone had a decent job, somewhere to live, then I do not think there would be this kind of problem."
Full report at:
http://www.nytimes.com/reuters/2012/07/04/world/middleeast/04reuters-tunisia-singer.html?ref=global-home
-----------
Islamists' strength to be tested in Libya
July 3, 2012
TRIPOLI, Libya — In Libya, Islam is woven into every layer of daily life, from business deals to baby-naming to the prayer call that pulls men off the sun-baked streets and into a mosque five times a day.
But for the average Libyan, piety does not necessarily extend into politics, and Islamists must tread carefully as they try to discern whether Libyans want what they are selling.
After popular revolutions drove out secular-minded autocrats last year, voters in neighboring Tunisia and Egypt chose Islamist parties to run their governments. On Saturday, Libyan voters will help determine whether the post-Arab Spring pendulum continues to swing in the direction of political Islam, or whether the outcome in Libya will highlight the limits of its appeal.
The question has additional resonance here because Libyan Islamists disagree over whether to embrace the political process by running for office or oppose it, possibly with violence.
While Islamists in Egypt and Tunisia had a long history of political and civic activism and were a known quantity, modern-day Libya has no pre-existing tradition of Islamist political parties or civic participation. Former leader Moammar Gadhafi, who was ousted and killed last year during a popular revolt, imprisoned Islamists and hung them from street lamps; growing a long beard or attending morning prayers was cause for arrest, and many Islamists fled the country.
As a result, Libyans know little about would-be Islamist leaders or their vision for the country's future, which will start taking shape Saturday when voters elect 200 members of a national congress.
Full report at:
http://www.heraldnet.com/article/20120703/NEWS02/120709976
-----------
Algeria condemns Timbuktu shrine destruction
July 02, 2012
ALGIERS: Algeria on Monday condemned the destruction of ancient Muslim shrines in Timbuktu in neighboring Mali by Islamist militants, as Foreign Minister Mourad Medelci held talks with his Malian counterpart Sadio Lamine Sow in Algiers.
"Algeria believes these tombs constitute a homage and a recognition by the local people to the saints and scholars who contributed to the flourishing of Islam in the region and to the spread of the values of tolerance and spirituality," the foreign ministry said in a statement carried by the official APS news agency.
Hardline Islamist rebel group Ansar Dine, who seized control of northern Mali three months ago, smashed seven tombs of ancient Muslim saints in the fabled northern city of Timbuktu over the weekend, considering the shrines to be idolatrous.
Mali's government and the international community have expressed horror and outrage at the destruction of cultural treasures in the fabled city, an ancient desert crossroads and centre of learning known as the "City of 333 Saints".
The top Algerian and Malian diplomats said they wanted to focus on diplomacy in resolving Mali's political crisis, according to APS.
After their meeting the two ministers emphasized "a convergence of views on the need to privilege a political solution that preserves Mali's national unity and territorial integrity," the news agency reported.
Full report at:
http://www.dailystar.com.lb/News/Middle-East/2012/Jul-02/179063-algeria-condemns-timbuktu-shrine-destruction.ashx#axzz1zXCY4ewk
----------
North America
US to free up $1.1 billion for Pakistan military
Jul 4, 2012
WASHINGTON: The United States will release about $1.1 billion to Pakistan's military as part of a deal that will see Islamabad lift a blockade on NATO supply convoys into Afghanistan, a US official said on Tuesday.
The money, from a US Coalition Support Fund designed to reimburse Pakistan for the cost of counter-insurgency operations, had been withheld due to tensions between the two countries and Islamabad's closure of the supply routes after an attack on Pakistani border posts by NATO forces in November last year which led to the killing of 24 Pakistani troops. Pakistan and the United States announced earlier that the border would be opened once again to NATO convoys. The Coalition Support Fund is often the subject of wrangling between the US and Pakistani officials, with Islamabad's claims often rejected and smaller sums approved by Washington for reimbursement.
The $1.1 billion that will be freed up under the border deal does not include large sums that Pakistan says it is owed, said the US official, who spoke on condition of anonymity. "This is the amount that has been approved and already gone through the process," the US official told AFP. The Coalition Support Fund is reimbursement to Pakistan for expenses incurred and compensation for facilities made available to the coalition forces in Afghanistan.
http://dailytimes.com.pk/default.asp?page=2012\07\04\story_4-7-2012_pg1_4
-----------
For Hormuz access, US beefs up forces in Persian Gulf
Jul 04 2012
Washington : THOM SHANKER, ERIC SCHMITT & DAVID E. SANGER
The US has quietly moved significant military reinforcements into the Persian Gulf to deter the Iranian military from any possible attempt to shut the Strait of Hormuz and to increase the number of fighter jets capable of striking deep into Iran if the standoff over its nuclear programme escalates.
The deployments are part of a long-planned effort to bolster US military presence in the gulf region, in part to reassure Israel that in dealing with Iran, as one senior administration official put it last week, "When the president says there are other options on the table beyond negotiations, he means it."
But at a moment that the US and its allies are beginning to enforce a much broader embargo on Iran's oil exports.
Full report at:
http://www.indianexpress.com/story-print/970028/
-----------
Islam takes center stage at Chautauqua Institution
July 4, 2012
By SCOTT SHELTERS
CHAUTAUQUA - Chautauqua Institution's Hall of Philosophy reached full capacity and then some Tuesday afternoon. Chautauquans gathered on the grass and the streets to get within earshot of Daisy Khan and Imam Feisal Abdul Rauf: the day's Interfaith lecturers.
Feisal, chairman of the Cordoba Initiative, and his wife Khan, executive director of the American Society for Muslim Advancement, have visited the Institution's grounds on several occasions, finding a summer home away from their New York City headquarters.
Speaking on the Institution's Week Two Interfaith Lecture theme, "2012: What's at Stake for the Common Good?" the duo focused on issues affecting Muslim-Americans on Tuesday.
Imam Feisal touched on themes addressed in his recently released book, "The Mountain, Beyond Ground Zero to a New Vision of Islam in America." Those topics included the common ground of various faith traditions and the nature of his work with the Cordoba Initiative, an independent, multi-faith project that aims to provide solutions to conflicts between Islamic and Western communities.
"The projects we're working on have to do with addressing the underlying issues: the issue of identity and social identity; the relationship between church and state in Islam; and building a coalition of moderates across the faith traditions to combat extremists in all our midsts," he said.
Full report at:
http://www.observertoday.com/page/content.detail/id/573511/Islam-takes-center-stage-at-
-----------
Ex-Norton police officer files religious discrimination lawsuit against city
By Ed Meyer
July 2, 2012
Fired Norton police officer Nicholas Matheny has filed a federal lawsuit, contending city officials discriminated against him and violated his civil rights by terminating him because of his Muslim faith.
The suit, seeking job reinstatement, a court injunction to end the alleged discrimination and damages for lost pay, was filed Monday in U.S. District Court in Cleveland.
Matheny, 30, adopted the Muslim faith in early 2010 and initially kept the conversion quiet, according to the suit, because of anti-Islamic sentiment in the police department, including emails he said he received from his direct supervising officer.
But in September 2010, when Matheny handed out wedding invitations to two colleagues, with the heading "May Allah Bless This Marriage," the alleged discrimination came to a head, the suit said.
Just as Matheny was ending his final shift before his wedding, the suit said, Chief Thad Hete told him he would be fired.
When Matheny returned from his honeymoon, Hete and the city's chief administrator, Richard A. Ryland, attempted to convince him to quit his job by allegedly threatening to place backdated warnings in his police file if he did not leave quietly, the suit said.
Matheny refused to quit and was fired in November 2010.
The city and Hete were named as principal defendants.
Full report at:
http://www.ohio.com/news/local/ex-norton-police-officer-files-religious-discrimination-lawsuit-against-city-1.317938
-----------
US proffers qualified 'sorry,' Pakistan reopens Nato supply routes
Jul 3, 2012
WASHINGTON: The United States on Tuesday proffered a token ''sorry'' to Pakistan for the losses its military suffered in the American attack on the Salala checkpost last November, enabling reopening of vital supply routes into Afghanistan which Pakistan closed after the incident.
Pakistan did not get any immediate financial benefit from it seven-month old stand-off. Pakistan, US Secretary of State Hillary Clinton said in a statement that indicated Washington had held its ground, ''will continue not to charge any transit fee in the larger interest of peace and security in Afghanistan and the region.'' But the beleaguered country is expected to be compensated in due course through other aid mechanisms, including payments through coalition support funds.
The American apology, transparently laced with reluctance and lack of genuine regret, came from Clinton — rather than from President Obama or defense secretary Leon Panetta — after weeks of negotiation over the ''sorry'' business. It was finally agreed that Clinton, who is stepping down from office at the end of this Obama term, would take on the burden of pandering to Pakistani ego, and not the US President, who is running for a second term and who some analysts suggested would have seemed weak if he said sorry to a country that is largely despised for its use of terror as a state policy.
Full report at:
http://timesofindia.indiatimes.com/world/us/US-proffers-qualified-sorry-Pakistan-reopens-Nato-supply-routes/articleshow/14653980.cms
-----------
Clinton discussed with Khar 'language' of apology statement
Jul 04 2012
New York : Secretary of State Hillary Clinton had discussed with her Pakistani counterpart Hina Rabbani Khar the "language" of her statement apologising for the death of 24 Pakistani soldiers in a cross-border NATO air raid while she was working on its draft during the last several weeks.
Ending a bitter seven-month row between the two nations, Clinton issued a statement yesterday in which she reiterated America's "deepest regrets" and said: "sorry for the losses suffered by the Pakistani military," in the attack that brought relations between US and Pakistan to all time low.
Following the apology, Pakistan agreed to re-open the NATO supply routes into Afghanistan that it had closed in retaliation of the attacks.
The New York Times quoted people with knowledge of the process as saying that Clinton began working on drafts of the statement she released yesterday several weeks ago.
At one point she even began discussing the language of the statement with Khar, a person with knowledge about the process said. "This was jointly done," said the person.
"It was Clinton's increasingly cordial relationship with the young Pakistani foreign minister that paid dividends in resolving the dispute," American officials said, adding that while the State Department had issued the statement, it had been coordinated with Clinton's Pakistani counterpart Khar.
Full report at:
http://www.indianexpress.com/story-print/970272/
-----------
Ambassador's Exit Shows Difficulties of Moving From Military to Diplomatic Circles
By MARK LANDLER
Jul 4, 2012
WASHINGTON — When J. Scott Gration, a decorated fighter pilot with close ties to President Obama, abruptly resigned last week as ambassador to Kenya, he joined the ranks of a frustrated fraternity: former military commanders who lost their footing when appointed to senior civilian posts in the Obama administration.
A retired Navy admiral, Dennis C. Blair, and a onetime Marine Corps commandant, Gen. James L. Jones, are among those who have stumbled in important political or diplomatic jobs, clashing with colleagues, alienating those who work for them and ultimately losing the commander in chief's confidence.
Mr. Gration, a retired Air Force major general who had served as Mr. Obama's special envoy to Sudan, announced his resignation on Friday before the release of an internal audit highly critical of his management. The State Department report, according to people familiar with it, describes Mr. Gration as a brusque, imperious figure who intimidated subordinates and had odd habits like working in a restroom to avoid the scrutiny of the embassy staff.
The State Department issued a three-sentence statement wishing Mr. Gration well as he "moves into private life," while the White House said nothing. But officials there privately voiced regret at the messy departure of a man they came to like during the 2008 race, when he campaigned energetically for Mr. Obama and was, in the words of one senior official, "a very strong military validator."
Full report at:
http://www.nytimes.com/2012/07/04/world/africa/kenya-envoys-exit-shows-tough-
-----------
URL: https://newageislam.com/islamic-world-news/jamaat-e-islami-issues-dress/d/7821