New Age Islam News Bureau
11 Feb 2019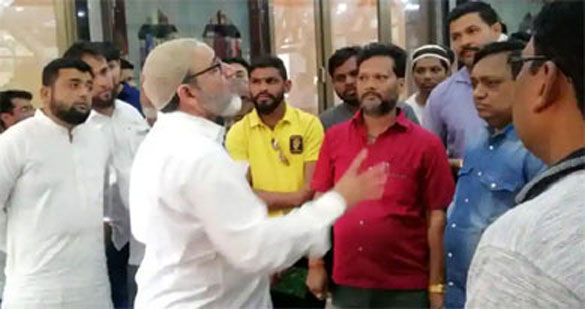 A group of visitors and local residents at Jama Masjid in Kalyan. The Jamaat-e-Hind has been organising visits of non-Muslims to mosques across Maharashtra for the past few years to bridge the gap between different communities.(HT Photo )
-----
• Jamaat-e-Islami Hind Kalyan Group Organises Mosque Visit for City's Non-Muslims
• Aligarh Muslim University Alumni's Book May Create A Flutter Among Muslim Political Circles
• "We Have the Mecca and Medina of Sikhs": Imran Khan Refers To Kartarpur
• Afghan Taliban to Regard Pakistan as a Brother If in Power, Says Spokesperson
• US Muslim Lawmakers Irk Pro-Israel Lobby by Backing BDS Movement
• Pope Francis Praises UAE for Its Modernity, While Maintaining Its Roots
• Iraqi Christians Fear Returning Home, Wary Of Shia Militia
• EX-UK PM Blair Accused of Spreading Iranophobia with Saudi Money
• Jordan Sentences Two Brothers to Death for ISIS-Claimed Karak Attack
India
• Jamaat-e-Islami Hind Kalyan Group Organises Mosque Visit for City's Non-Muslims
• Aligarh Muslim University Alumni's Book May Create A Flutter Among Muslim Political Circles
• Six Injured In Dalit-Muslim Clash in Meerut Village: Police
• J-K: Five militants killed in Kulgam encounter
• Seminar on Islamic Revolution of Iran held in Kashmir
• Mehbooba Mufti Lauds Imran Khan, Attacks Govt over Ram Mandir
--------
Pakistan
• "We Have the Mecca and Medina of Sikhs": Imran Khan Refers To Kartarpur
• Afghan Taliban to Regard Pakistan as a Brother If in Power, Says Spokesperson
• JUI-S leader says US facing defeat in Afghanistan
• Thirty years after Rushdie fatwa, blasphemy still a potent weapon
• 'IMF stands ready to support Pakistan,' says Lagarde after meeting PM Khan
• Creation of 1 million jobs for youth expected under Kamyab Jawan Programme
• Hamza Shahbaz asks LHC for 14-day extension in London stay
• Delegation of Raheel Sharif-led military alliance arrives in Pakistan
• Hajj to become increasingly expensive, says minister for religious affairs
• Saudi crown prince's visit to bring major investment in Pakistan
--------
North America
• US Muslim Lawmakers Irk Pro-Israel Lobby by Backing BDS Movement
• 'Western media not letting people know about Islamic Revolution achievements'
• US special envoy resumes Afghan peace diplomacy
• Iranians rally to support Islamic Revolution on 40th anniversary
• US to withdraw from Syria 'in weeks,' claims top general
--------
Arab World
• Pope Francis Praises UAE for Its Modernity, While Maintaining Its Roots
• Iraqi Christians Fear Returning Home, Wary Of Shia Militia
• Russia 'Repatriates' 27 Daesh Children From Iraq
• Official: Kurds to Start Talks with Syrian Gov't Soon
• People Continue Protests against Foreign Military Presence in Raqqa, Deir Ezzur
• Egypt takes helm of the African Union as President Sisi elected chairman
• 'Heavy clashes' as US-backed forces battle ISIS in Syria
• Caught in Syria, foreign terrorist suspects may face trial in Iraq
--------
Europe
• EX-UK PM Blair Accused of Spreading Iranophobia with Saudi Money
• Geneva to Ban Religious Symbols on Public Employees
• UNICEF 'deeply saddened' by Israeli killing of Palestinian teens
• Macron may ease strict secularism laws to tackle radical Islam
'• Successful' Moscow talks set off alarm bells in Afghanistan
• 27 Russian kids born to Daesh terrorists return home from Iraq
• Netherlands recognizes Gaza, West Bank as official Palestinian birthplaces
--------
Africa
• Jordan Sentences Two Brothers to Death for ISIS-Claimed Karak Attack
• US says new airstrike in Somalia kills 8 al-Shabaab fighters
• Terrorist hub tag angers Isiolo County leaders
• Boko Haram: Army engineer cries over killing of personnel in North East
--------
Southeast Asia
• Turkey Calls On China to Close Muslim 'Concentration Camps' Where One Million Uighurs Have Been Detained
• Indonesian entertainers protest law on 'pornography', blasphemy in music
• DAP 'enemy of Islam'? Actually, we're friends of moderate Islam, Kit Siang tells Hadi
• Malaysia's toppled leader to go on trial over 1MDB scandal
--------
Mideast
• Fearing Abuses amid Monitors Quit, Palestinians Escort Hebron Pupils to School
• Netanyahu Vows To Freeze Money Transfers To Palestinian Authority 'Next Week'
• Hamas welcomes recent calls for democratic Palestinian general elections
• Israel, US hold small-scale joint war game
• Iran's Islamic Revolution inspired, divided militants
• Rouhani says Iran to continue expanding its military might, missile work
• Yemen committed to settling existing debts
• Israel to demolish Palestinian murder suspect's home
• Netanyahu vows to freeze Palestinian funds after Israeli teen killed
--------
South Asia
• Acting Pentagon Chief Lands in Afghanistan, Supports Kabul Role In Peace Talks
• After Criticizing Vote, US Charts Careful Course On Bangladesh
• Taliban militants suffer heavy casualties in Takhar and Kunduz operations
• Taliban attack claims lives of 7 policemen in Farah province
• Afghan president offers Taliban local office, but group wants Doha instead
• Bangladesh warns against lingering Rohingya crisis
• No direction received to reduce U.S. troops in Afghanistan: Shanahan
Compiled by New Age Islam News Bureau
URL: https://www.newageislam.com/islamic-world-news/jamaat-e-islami-hind-kalyan/d/117715
--------
Jamaat-e-Islami Hind Kalyan Group Organises Mosque Visit for City's Non-Muslims
Feb 11, 2019
Around 125 non-Muslim men visited the 167-year-old Jama Masjid at Doodh Naka in Kalyan on Sunday. It is one of the oldest and largest mosques (masjid) in the city.
The visit was organised by Kalyan chapter of Jamaat-e-Islami Hind (JIH), an Islamic reformist organisation, as part of its 'Masjid Parichay' initiative. The initiative aims to familiarise people with the place of worship.
Most visitors had never visited a mosque. They explored the building, including the sanctorum where an imam leads prayers, water pool for performing pre-prayer ablution (wudu) and the library containing Quran and other religious texts.
The visitors were guided by local Muslims. And when the sun set, they watched the muezzin recite Adhan (call to prayers) followed by a namaz performed by a large gathering of locals and believers.
"A large population of our country is ignorant about mosques and how they function. Several non-Muslims are curious to learn more about these places of worship. Masjid Parichay provides such curious minds with an immersive learning experience," said Mishal Choudhary, Kalyan president of the JIH.
Wajid Ali Khan, an Islamic scholar from Aurangabad, explained to the visitors the importance of Wudu, Namaz And Masjid.
"Islam is not merely a religion, but a way of life. Hence, a mosque is more than just a place of worship. Its objective is to be a centre to resolve pressing problems facing society. It's a shelter for the entire humanity and is open to all," said Khan.
Rajendra Ranawade, one of the visitors, said it was a great experience. "I have always respected mosques. But today I saw how the prayers are offered in a disciplined manner and how people from all sections of the society come together," he added.
Yashraj Dixit, 15, who visited the mosque with his father Abhinav, said, he learnt a lot about a different religion. "The visit gave me a new perspective," he said. JIH has been organising similar initiatives across Maharashtra for the past few years to bridge the gap between different communities.
"We hope that Masjid Parichay paves way for cultural exchange and efforts to understand each other," said Choudhary.
https://www.hindustantimes.com/mumbai-news/kalyan-group-organises-mosque-visit-for-city-s-non-muslims/story-qZ7Cdb933WV2OIKCzMbDwO.html
--------
Aligarh Muslim University Alumni's Book May Create A Flutter Among Muslim Political Circles
Feb 11, 2019
New Delhi: Mohammed Adeeb's book which exposes the 50-year Muslim politics will be released today. The book 'Zindagi Zara Ahista Chal' is penned down by Aligarh Muslim University Alumni Mohammed Adeeb. The book will be released by the former president of India Mohammed Hamed Ansari at Constitution Club of India. Eminent personalities like ex-Minister Yashwant Sinha, ex-Minister Farooq Abdullah, ex-lieutenant general Najeeb Jang, Congress treasurer Ahmed Patel, ex-Minister Salman Khursheed, former Delhi chief minister Sheila Dixit, ex-vice chancellor of Jamia Millia Islamia Syed Shahid Mehdi and others will also attend the programme.
The book may create a flutter among Muslims political circles.
Mohammed Adeeb had also been Rajya Sabha MP.
https://www.siasat.com/news/mohammed-adeebs-book-may-create-flutter-among-muslim-political-circles-1466146/
--------
"We Have The Mecca And Medina Of Sikhs": Imran Khan Refers To Kartarpur
February 11, 2019
DUBAI: Pakistan has the Mecca and Medina of the Sikhs and the country is opening up those sites for the minority community, Prime Minister Imran Khan has said.
Mr Khan in November last year laid the foundation stone for the corridor linking Gurdwara Darbar Sahib in Pakistan's Kartarpur - the final resting place of Guru Nanak Dev - to Dera Baba Nanak shrine in India's Gurdaspur district to facilitate visa-free movement of Indian Sikh pilgrims.
The Pakistan prime minister was in the UAE on a day-long trip to take part in the 7th edition of the World Government Summit on the invitation of Vice President and Prime Minister of the UAE Sheikh Mohammad Bin Rashid Al-Maktoum.
"We have the Mecca and Medina of the Sikhs... and we are just opening up those sites for Sikhs," Mr Khan said Sunday.
Mecca and Medina are the two holiest sites in Islam.
"We have opened our visa regime. For the first time in Pakistan, we have 70 countries from where people can come and get visas at the airport," the prime minister said.
Mr Khan said Pakistan has the best tourist potential even though at the moment it hardly has any tourism.
"Half the world''s highest peaks are in Pakistan," he said, adding that the country has 1,000 kilometers of coastline.
Mr Khan also said that Pakistan has the oldest historical monuments, probably as old as anywhere in the world. "We have Indus Valley Civilisation, which is 5,000 years old. We have Peshawar, the oldest living city in the world, 2,500 years old. Lahore and Multan are ancient cities.
"We have the Gandhara civilisation, which was the cradle of Buddhist civilisation, in the north of Islamabad. The biggest sleeping Buddha, 40 feet, is in Haripur. We have some of the greatest and highest number of Sufi shrines all over Pakistan," he said. Mr Khan said they are opening up the country for tourism.
Kartarpur Sahib in Pakistan is located across the river Ravi, about four kilometres from the Dera Baba Nanak shrine. It was established by the Sikh Guru in 1522. The first Gurdwara, Gurdwara Kartarpur Sahib, was built here, where Guru Nanak is said to have died.
The Kartarpur Corridor, which will facilitate the visa-free travel of Indian Sikh pilgrims to Gurdwara Darbar Sahib in Kartarpur, is expected to be completed soon.
Thousands of Sikh devotees from India visit Pakistan every year to celebrate the birth anniversary of Guru Nanak.
India had proposed the corridor to Pakistan around 20 years back.
https://www.ndtv.com/world-news/kartarpur-corridor-pakistan-has-mecca-medina-of-the-sikhs-imran-khan-1991478
--------
Afghan Taliban to regard Pakistan as a brother if in power, says spokesperson
Feb 11, 2019
Afghan Taliban spokesperson Zabiullah Mujahid has said that they would regard Pakistan as a "brother and neighbour" and seek ties based on mutual respect if they ever rose to power in Afghanistan.
Speaking to a local news outlet, the Taliban spokesperson said that during the Soviet invasion, Pakistan was the most important hub for the refugees fleeing Afghanistan and most of them considered Pakistan as a second home.
Speaking about the ongoing talks with the United States, Mujahid said that they are holding the talks with the US on their own initiative. He said that even before the US invasion of Afghanistan, they had asked Washington to engage in dialogue instead of a war. He also said that the Taliban had opened a political office in Doha in 2013 but the US had been unwilling to enter into talks with them. Since the US has now agreed to the talks, we have decided to engage with them, he added.
The spokesperson denied Pakistan's role in bringing the Taliban to the negotiation table. He said that no outside country is playing any role and the idea of engaging in talks has always been the Taliban's own initiative and policy.
He also outlined a vision for the future Afghan political system. He said that all ethnicities would be represented in the government and all will serve and look after the country's affairs without any arguments. However, he declined to elaborate "before the right time".
Speaking about the objectives of the Taliban, he said that while they do not have any specific manifesto, their objectives have been always been clear. They want an end to Afghan occupation, the establishment of an Islamic government, reconstruction of the country and the provision of administrative services and the establishment of peace and security in Afghanistan.
Denying the current constitution of Afghanistan, he said that it was draft under "American occupation and interests", adding that since the Afghan population is 100 per cent Muslim, the constitution should be in line with the teachings of Islamic law. For this purpose, scholars will be gathered and required changes will be made in the constitution to make it Shariah compliant, he added.
In a reference to the concerns raised by women who fear a return to the restrictions imposed on them 20 years ago when the Taliban were in power, he said that in the past "we were in the very early stages of forming our political ideology" and the problems that did exist were because of the measures that were the need of that time given the preceding war and the corruption that existed in the society. He said that now things were different and the intellectual capacity of the people has expanded, therefore, there would not be a problem in affording men and women their rights.
In response to a question about the ongoing attacks in Afghanistan, he said that the talks are still in process and no conclusion has been reached. "We are forced to wage war. Our enemies are attacking us, therefore, we are also combating them," he added. He further said that as long as Afghanistan remains under occupation, talks would not amount to much, therefore, in order to resolve internal issues, it is necessary to put an end to the occupation.
Mujahid also explained the Taliban's stance of refusing to hold talks with the incumbent Afghan government, saying that holding talks with the Kabul government would imply acceptance of its legitimacy while "it was imposed upon us by aircraft and the bombing of invaders". In light of a total refusal to accept an imposed government, all agreements achieved between us and the Afghan people will be binding, he added.
He also denied the notion that negotiations between two opposing powers would amount to a partnership, rather it would only help achieve a mutual resolution outstanding issues and the reestablishment of peace and stability in the country. He said that
Responding to a question about Taliban's support and protection to Al Qaeda leaders some 20 years ago which ultimately led to US invasion of Afghanistan, he said that the Taliban had only sheltered those foreign Mujahideen who arrived during the period of jihad against the Soviet Union and had continued to stay in Afghanistan. He said that protecting them was a religious and cultural necessity. However, he added, no one needed the Taliban's protection now and they would not allow anyone to harm others from Afghan soil.
Speaking about the formation of an interim government in Afghanistan, he said that there have been no discussions on this matter nor have they proposed any such idea.
https://www.pakistantoday.com.pk/2019/02/10/afghan-taliban-to-regard-pakistan-as-a-brother-if-in-power-says-spokesperson/
--------
US Muslim lawmakers irk pro-Israel lobby by backing BDS movement
Feb 10, 2019
The first two Muslim women in the US Congress have angered the pro-Israel lobby by openly supporting the internationally-recognized Boycott, Divestment and Sanctions (BDS) movement against Israel.
Ilhan Omar and Rashida Tlaib, who became the first Muslim members of the House of Representatives in January, have been outspoken about their criticism of Israel's crimes against the people of Palestine.
Omar has accused the Tel Aviv regime of discrimination against Palestinians similar to apartheid.
In January, she enraged the large pro-Israel contingent in Congress, particularly the largely Democratic US Jewish community, by mocking America's branding of Israel as a democracy.
"When I see Israeli institute laws that recognize it as a Jewish state and does not recognize the other religions that are living in it, and we still hold it as a democracy in the Middle East, I almost chuckle," Omar told Yahoo News.
"Because I know that if we see that in another society we would criticize it — we do that to Iran, any other place that sort of upholds its religion," she added.
The 37-year-old lawmaker was born to a family of Somali refugees and represents Minneapolis, Minnesota, a district with a large Somali population.
She appeared unapologetic about her position during a CNN interview on Tuesday, saying the outcry was "exciting."
"It's not surprising. I think it is actually exciting because we are finally able to have conversations that we weren't really willing to," Omar said. "It is really important for us to get a different lens about what peace in that region could look like and the kind of difficult conversations we need to have about allies."
Tlaib, on the other hand, has argued that the BDS movement can draw attention to "issues like the racism and the international human rights violations by Israel right now."
The 42-year-old lawmaker has Palestinian roots and represents a district of suburban Detroit, Michigan, which is home to a large number of Muslims.
Israel and its allies in Washington have long railed against the BDS, which was launched over a decade ago and calls for people and groups across the world to cut economic, cultural and academic ties to Tel Aviv.
Modeled on the anti-apartheid movement in South Africa in 1960s, the international effort also calls for sanctions against Israel.
Threats of punishment
Omar and Tlaib's support for BDS comes at a time when President Donald Trump has stepped up ties with Israel and stopped Palestinian aide.
House Minority Kevin McCarthy said Saturday that he would take action against the two lawmakers if Democrats fail to do so.
"If they do not take action I think you'll see action from myself," said the California lawmaker. "This cannot sustain itself. It's unacceptable in this country."
House Speaker Nancy Pelosi has yet to address thje pro-BDS of Tlaib and Omar.
This is while a number of other Democratic leaders, including Representative Ted Deutch, the chairman of the House Middle East subcommittee, and Representative Eliot Engel, the chairman of the Foreign Affairs Committee, have condemned the remarks.
First anti-BDS legislation
While a number of US states have already passed legislation and policies that would punish supporters of the pro-Palestinian movement, the first proposed federal law to fight to that end was introduced in the Senate last month.
Republicans, who hold the majority in the chamber, teamed up with more than half of the Democrats to approve the bill.
However, a significant number of Democrats have opposed it arguing that it would violate the right to freedom of expression, which is protected in the constituent.
In response to Tlaib, Omar and other pro-BDS lawmakers, prominent members of the Democratic Party formed the Democratic Majority for Israel last month, calling themselves "The Voice of Pro-Israel Democrats."
Alvin Rosenfeld, director of the Institute for the Study of Contemporary Anti-Semitism at Indiana University, told AFP that the widening rift could cost Democrats dearly.
"Should the party swing to the far left and appear to be way out of line with America's traditional ties to one of its strongest allies, Israel, the party will surely suffer at the polls," he warned.
https://www.presstv.com/Detail/2019/02/10/588228/US-Democrats--BDS-Israel-Ilhan-Omar-Rashida-Tlaib
--------
Pope Francis praises UAE for its modernity, while maintaining its roots
February 10, 2019
DUBAI: Pope Francis has praised the UAE, describing it as a "modern country looking to the future without forgetting its roots."
Speaking in a video message broadcast Sunday at the first day of the World Government Summit in Dubai, he said he hoped his visit to the UAE last week was the start of change.
"I carry in my heart the visit I just made to the UAE and the warm welcome I received," he said.
"I encountered a modern country looking to the future without forgetting its roots. I saw a country seeking to transform into concrete initiatives the words tolerance, fraternity, mutual respect and freedom."
Pope Francis's historic visit to Abu Dhabi last week was the first by a pontiff to the Arabian Gulf and saw him lead the biggest open mass to be held in the region with a 180,000-strong congregation.
He said he returned home from a country that had risen from the desert in the hope that others could be equally successful.
"I believe it is possible," he said.
"But only if we grow together, alongside one another, with openness and respect, willing to take on everyone's problems."
Addressing world governments, he spoke of political challenges, economic development, environmental protection and the use of technology.
He said he hoped the question underlying their reflections would not only be "what are the best opportunities to take advantage of?", but rather "what kind of world to we want to build together?"
Pope Francis explained that this question pushed people to think of others rather than capital and economic interests.
"It is a question that does not look to tomorrow, but further into the future, to the responsibility weighing upon us," he added.
"Handing on this world of ours to those who will come after us, preserving it from environmental degradation and, even before that, from moral degradation. We cannot speak of sustainable development without solidarity."
During the Pope's visit to the UAE he met with the Grand Imam of Al Azhar Al Sharif University and chairman of the Muslim Council of Elders, Dr Ahmed Al Tayeb.
The pair signed a pledge of commitment to tolerance and fraternity at the end of a day which also saw the Pontiff visit the Presidential Palace of the UAE and the Sheikh Zayed Grand Mosque.
Sheikh Abdullah bin Zayed, UAE Minister of Foreign Affairs and International Cooperation, said the Pope's visit was historic and provided opportunities for the future.
"It opens a new page in the history of religions and in the dialogue of religions," he said.
"They are two people of peace but who could have ever thought that those two symbols would overcome all limits and constraints to sign a new agreement of peace to overcome violence and hatred?"
He said their meeting in Abu Dhabi last week was aimed at relaying an important message.
"As they said to the world: peace is hard to achieve but it is not impossible," he added.
"Some might wonder why those two religious symbols insist on brotherhood and the answer lies in one word: peace. Therefore, all of us should be courageous enough and assume our responsibilities to put an end to conflict and wars – we might not succeed but we will most definitely try," he said.
http://www.arabnews.com/node/1449966/middle-east
--------
Iraqi Christians fear returning home, wary of Shia militia
Feb 11, 2019
BARTELLA: Only a fraction of Christian residents has returned to the northern Iraqi town of Bartella, two years since it was liberated from Islamic State militants.
Many fear intimidation by the town's population of Shabak, a Shiite Muslim ethnic group that dominates the militias now running Bartella. The tensions are a sign of the sectarian splits around northern Iraq in the wake of the defeat of the Islamic State group.
The large cross in Bartella's main square is one of few overt signs this town was historically Christian.
Nearby, a massive billboard shows Shiite Muslim martyrs alongside a photo of Iran's Ayatollah Khomeini. Posters of Iranianbacked Shiite militiamen killed in fighting with the Islamic State group hang on streets all around the city, along with banners to revered historical Shiite saints
https://timesofindia.indiatimes.com/world/middle-east/iraqi-christians-fear-returning-home-wary-of-shia-militia/articleshow/67940481.cms
--------
EX-UK PM Blair accused of spreading Iranophobia with Saudi money
Feb 10, 2019
Former British Prime Minister Tony Blair and his private organization have been accused of receiving money from Saudi Arabia to spread biased views against Iran.
Blair was speaking on Sunday to Sky News' Sophy Ridge when he was asked about the huge cash he and the Tony Blair Institute (TBI) had received from the Saudi government and its subsidiaries and how that money had influenced him in his anti-Iran campaign.
"Some of our viewers as well, that's in the public domain, will be questioning the fact that the Tony Blair Institute has received money from a group called Media Investment Ltd, close to the Saudi regime, they may think that's partly why you're talking out about it (Iran)," Bridge asked the former premiere.
The TBI, launched only three years ago, signed a huge contract with the Saudi regime in 2018 to allegedly advise the kingdom on some modernization plans.
During the interview, Blair tried to evade the question by offering general responses.
The British premier from 1997 to 2007 said the West should continue to "push back" against Tehran.
"The reason why I speak about these things, and I've spoken about the power of Iran for a long period of time, is because it has nothing to do about backing Saudi vs Iran," said Blair, adding, "If you look at the 40 years of the Iranian Revolution what's interesting is that ideology is still very powerful."
More than a decade after he left power, Blair is still hated in Britain and elsewhere in the world for his major role in launching the US-led war on Iraq in 2003.
Numerous documents that emerged years after Blair's resignation have shown that his government used false and fabricated intelligence documents to mislead the British public and win parliamentary support to enter the deadly war along with the administration of former US President George W. Bush.
https://www.presstv.com/Detail/2019/02/10/588194/Tony-Blair-TV-show-Iran-stance-Saudi-money
--------
Jordan sentences two brothers to death for ISIS-claimed Karak attack
10 February 2019
A Jordanian court sentenced two brothers to death on Sunday in connection with a 2016 attack claimed by ISIS extremist group, overturning a life sentence handed to the men last year.
The shooting attack in Karak, killed seven policemen and two Jordanian civilians as well as a female Canadian tourist, and wounded 34 other people.
The head of the kingdom's state security court, a military tribunal, ordered Khalid al-Majali and Hamza al-Majali to be "hanged to death".
Jordan's cassation court, the kingdom's highest judicial body, reversed a November ruling which sentenced the two to life behind bars.
"The actions of the defendants caused chaos, panic and horror among Jordanians and foreign tourists and threatened the country's security and stability," a judicial source told AFP.
The two brothers were initially charged, along with eight others, with "terrorist acts", illegal possession of arms and producing explosives.
Three were sentenced to 15 years in prison and five others to serve three years in jail.
Courts in Jordan, the target of several deadly attacks, regularly put on trial suspected extremists.
A close ally of Washington, the kingdom is part of a US-led coalition fighting ISIS in neighboring Syria and Iraq, and it allows coalition forces to use its bases.
https://english.alarabiya.net/en/News/middle-east/2019/02/10/Jordan-sentences-two-brothers-to-death-for-ISIS-claimed-Karak-attack.html
--------
India
Six injured in Dalit-Muslim clash in Meerut village: Police
by AMIT SHARMA
February 11, 2019
Six persons sustained injuries in a clash between Dalits and Muslims at Durveshpur village in Meerut's Sardhana town Sunday morning. Both the groups have filed FIRs blaming each other for the incident, police said.
The injured have been identified as Ankur Prajapati (25), Ganga Sharan Sonker (32), Shabbir (25), Kawarjaha (32), Shaukat (28) and Ramzan (26). They were taken to the hospital where the condition of Sonker and Shabbir was stated to be critical, police said.
Police said the argument started on Wednesday between Ankur and Shabbir after the former's bicycle hit the latter's. Elders from both the sides brought the situation under control, they added.
"However, the situation escalated into a brawl on Sunday after Ankur and his friends allegedly attacked Shabbir and his family members at their residence. Bullets were allegedly fired by both sides and they also pelted stones on each other. We have lodged an FIR under IPC section 147 (rioting) but no arrests have been made so far. Adequate police force has been deployed in the village to prevent further trouble," said Dharmendra Singh Rathore, in-charge of Sardhana police station.
https://indianexpress.com/article/india/six-injured-in-dalit-muslim-clash-in-meerut-village-police-5577916/
--------
J-K: Five militants killed in Kulgam encounter
by Adil Akhzer
February 11, 2019
Five Hizbul Mujahideen (HM) and Lashkar-e-Taiba (LeT) militants were killed in an encounter with security forces in south Kashmir's Kulgam district on Sunday morning. At least 20 civilians were injured in clashes that followed between security personnel and stone-throwing youth near the encounter site.
A J&K Police spokesperson said a cordon and search operation was launched by a joint security team in Kellam area of Devsar in Kulgam early Sunday following inputs about the presence of militants in the area.
"As the searches were going on, the search party was fired upon by the terrorists. The fire was retaliated, leading to a gunfight. In the ensuing encounter, 5 terrorists were killed and the bodies were retrieved," said the police spokesperson.
Separately, a CRPF spokesperson said four personnel were injured in the stone-pelting.
SSP Kulgam Harmeet Singh said the militants were hiding in a house in the village and when the area was cordoned, they were asked to surrender, but they refused. He said the operation lasted for more than six hours.
Full report at:
https://indianexpress.com/article/india/srinagar-eleven-including-seven-security-personnel-injured-in-grenade-attack-jaish-claims-responsibility-5577633/
--------
Seminar on Islamic Revolution of Iran held in Kashmir
February 10, 2019
Budgam, Feb 10 (KNS): On the occasion of 40th anniversary of Islamic Revolution of Iran, Anjuman-e-Sharie Shian Jammu and Kashmir organized a seminar at Central Kashmir's Budgam district on Sunday.
Thousands expressed great endurance and faith towards the Islamic revolution by participating in the function.
Several Shia and Sunni religious scholars including Zahid Ali, Khurshid Ahmed Qanongo, Mufti Nasirul Islam, Aga Syed Yousuf Almosvi, Molvi Gulzar Ahmed, , Ghulam Ahmed Niyazi described various aspects of Islamic revolution and role and character of Imam Khomeini (R.A).
Speakers said, the revolution of Islamic Iran is an asset of whole Muslim Ummah.
President of Anjuman-e-Sharie Shian and senior Hurriyat leader Aga Syed Hassan Almosvi Alsafvi congratulated the Iranian leadership and its nationals.
While paying tributes to the martyrs of Islamic revolution Aga Hassan said, this revolution diverted the attention of Muslim world towards the significance of Islamic system and its teachings.
He said, no one could stop to the success of such movement which is based on truth, right principles and wishes of common people. Iranian revolution is a vital example of that.
While paying rich tributes to Muhammad Maqbool Bhat and Muhammad Afzal Guroo, he said, India used much force and power to suppress the voice of Kashmiris but could not succeed. It is not possible the permanent peace in Kashmir unless and until acceptable solution. India's disinterest in dialogue process proves weak stand towards Kashmir issue.
The speakers said that the purpose of the Iranian Revolution and Imam Khomeini was the divine purpose because it was for Islam and religion and Kashmir has to move towards the Iranian revolution when it comes to love and respect, brotherhood and unity would be established on the basis of religious and academic success as well.
Full report at:
http://www.knskashmir.com/Seminar-on-Islamic-Revolution-of-Iran-held-in-Kashmir%C2%A0-34376
--------
Mehbooba Mufti lauds Imran Khan, attacks govt over Ram mandir
Feb 11, 2019
SRINAGAR: PDP chief Mehbooba Mufti on Sunday praised Pakistan Prime Minister Imran Khan for taking steps to name a forest reserve after Guru Nanak Dev, but hit out at the Centre saying its "top priority" seems to be renaming ancient cities and building Ram temple in Ayodhya.
"How times change. Centre's top priority is seemingly renaming historic cities & building Ram Mandir. On the other hand, heartening to see that Pak PM has initiated steps to name Baloki forest reserve after Guru Nanak ji & create a university under his name," the former Jammu & Kashmir chief minister tweeted.
Mehbooba Mufti
@MehboobaMufti
How times change. Centre's top priority is seemingly renaming historic cities & building Ram Mandir. On the other hand , heartening to see that Pak PM has initiated steps to name Baloki forest reserve after Guru Nanak ji & create a university under his name.
Full report at:
https://timesofindia.indiatimes.com/india/mehbooba-mufti-lauds-imran-khan-attacks-govt-over-ram-mandir/articleshow/67935375.cms
--------
Pakistan
JUI-S leader says US facing defeat in Afghanistan
Mushtaq Paracha
February 11, 2019
NOWSHERA: Jamiat Ulema-e-Islam-Sami (JUI-S)'s newly chosen head Maulana Hamidul Haq Haqqani said on Sunday that they would spare no effort to promote the vision and accomplish the mission of late Maulana Samiul Haq.
He was talking to reporters after a meeting of the JUI-S Majlis-i-Shura at Darul Uloom-i-Haqqania in Akora Khattak.
The meeting unanimously appointed Maulana Hamidul Haq, the son of Maulana Samiul Haq who was killed in Rawalpindi last year, as head of the party for a constitutional term. Speaking on the occasion, Maulana Hamidul Haq said he would reorganise the party across the country.
He said all conspiracies against Islam and Pakistan would be foiled. "We will protect and defend the Islamic provisions of the constitution," he added.
Maulana Hamidul Haqqani claimed that the victory of the Taliban in Afghanistan had proved that the struggle for the freedom cannot be suppressed with force.
He said the Taliban who followed the political ideology of Maulana Samiul Haq defeated the US-led Nato forces in Afghanistan. He said that the JUI-S believed that 'jihad' was the only way for the success of the freedom movements.
He urged the US to shun its arrogance and announce a date for the withdrawal of its forces from Afghanistan.
Turning to the prevailing political situation in the country, he said that Pakistan was faced with a host of challenges. He called for holding a national conference to come up with a strategy to steer the country out of the prevailing crises.
Earlier, the JUI-S leaders vowed to continue the mission of the slain party leader Maulana Samiul Haq. They vowed to foil all efforts to make the country a secular state and assured cooperation to the new party head Maulana Hamidul Haq.
The meeting's participants also demanded the government to bring the killers of Maulana Samiul Haq to justice. They said that anti-Islam and anti-Pakistan elements were behind his assassination.
Maulana Samiul Haq was assassinated at his residence in Rawalpindi in November last year. Maulana Hamidul Haq was leading the party as acting head since then.
https://www.thenews.com.pk/print/430646-jui-s-leader-says-us-facing-defeat-in-afghanistan
--------
Thirty years after Rushdie fatwa, blasphemy still a potent weapon
FEBRUARY 11, 2019
Iran's spiritual leader, the Ayatollah Ruhollah Khomeini, issued a fatwa calling for Rushdie's murder in 1989
Thirty years after Iran called for the killing of Salman Rushdie, the British novelist remains a figure of hate for extremists across the Muslim world, and though the level of outrage has dropped, the issue of blasphemy is as incendiary as ever.
Rushdie's novel "The Satanic Verses" triggered mass protests from London to Islamabad and, analysts say, closed down the space for debate around Islam in a way that still resonates today.
Iran's spiritual leader, the Ayatollah Ruhollah Khomeini, issued the fatwa calling for Rushdie's murder on February 14, 1989.
A day earlier thousands of protesters enraged by the novel's publication had attacked the American Cultural Centre in Islamabad. Five people were killed in the ensuing clashes with police.
Pakistani journalist Shahid ur Rehman told AFP he was among the first to arrive on the scene that day, and watched as men stormed the roof of the centre and pulled down its American flag while police fired tear gas, then live bullets.
Rehman said the novel came as a rude shock to a Muslim world which was "basking in glory".
The Iranian revolution was just a decade old and the Soviet Union was on the verge of a collapse after being driven out of Afghanistan by the US-backed mujahideen, with Muslims in general and Pakistan in particular claiming credit for the defeat of an empire.
Rushdie's novel, and the fatwa which followed, were "like a dam breaking", Rehman said.
Today, the novelist is "hated as much… as he was hated back then", said Pakistani religious scholar Tahir Mahmood Ashrafi.
There were widespread protests across Pakistan after the death sentence of Asia Bibi was overturned
But "people cannot protest consecutively for 30 years," he added.
Anger over blasphemy remains effervescent among Islamic hardliners, however.
In the last ten years in Pakistan, politicians have been assassinated, European countries threatened with nuclear annihilation and students lynched over the issue.
The case of Asia Bibi — a Christian woman whose death sentence for blasphemy was overturned in Pakistan last year, sparking days of violence and drawing global attention to religious extremism in the South Asian country — is just the latest example.
Ashrafi said the publication of the novel "justified" laws against blasphemy — without them, he argued, "people like Rushdie will keep hurting the religious sentiments of Muslims".
– 'Catastrophic' –
Even calls to reform the laws have provoked violence in Pakistan, and for some the fatwa helped blur the lines between blasphemy and intellectual debate across the Muslim world.
Analysts such as Khalid Ahmed, author of a book on Pakistan's sectarian divide, say the fatwa marked the beginning of a "terrible decline" of intellectual discourse in Islam.
Pakistani journalist Rehman covered the 1989 protest against Rushdie's work in Islamabad
Khomeini's call for blood was "catastrophic for the freedom of creation, literature and thought", Egyptian journalist and novelist Ibrahim Issa said.
Other fatwas had been issued against writers in the past, he said — but usually by small, extremist groups. Khomeini's was the first issued by an Islamic state.
"It was a dark moment that, thirty years later, reminds us how dangerous the interference of religion in freedom of expression (is)", he told AFP.
Iran's supreme leader Ali Khamenei has on numerous occasions reiterated the verdict on Rushdie, most recently in 2015.
The Iranian government vowed it would not act on the fatwa in 1998, but such decrees are "not revocable", Mehdi Aboutalebi, cleric and doctor of political science at the influential conservative think-tank Imam Khomeini Educational Research Institute in Qom, told AFP.
"Even if 800 years pass, the sentence remains the same," he said.
The fatwa has caused multiple diplomatic rows over the years —- as have other cases of blasphemy, such as the controversy over satirical Danish cartoons of the Islamic prophet printed in the right-wing Jyllands-Posten newspaper in 2005.
Politics and religion are often intertwined in Iran, Aboutalebi explained, echoing a sentiment expressed in other Muslim countries.
"For instance, Iran's quarrel with US is not over money or economy…. This is all about our beliefs and our religion," he said.
The fatwa shows "we will not tolerate anyone breaking our belief boundaries".
Today the furore over Rushdie interests only "the most radical ayatollahs", said Clement Therme, research fellow at the Iran International Institute for Strategic Studies.
Many booksellers remain cautious and refuse to stock Rushdie's books
Iranians are experiencing "revolutionary fatigue", he said, as Tehran hunts for friends amid criticism over its regional policies and disputed nuclear programme.
"In a context of increased isolation of Iran, realpolitik requires Iranian leaders to avoid escalation on this issue," Therme said.
In Pakistan, where Rushdie's books have been available on the black market for years, "Joseph Anton: A Memoir" — which recounts his time in hiding after the fatwa — is quietly but openly on sale in at least one bookstore in the capital.
However most booksellers remain cautious.
Full report at:
https://dailytimes.com.pk/353496/thirty-years-after-rushdie-fatwa-blasphemy-still-a-potent-weapon/
--------
'IMF stands ready to support Pakistan,' says Lagarde after meeting PM Khan
February 10, 2019
Prime Minister Imran Khan on Sunday met International Monetary Fund (IMF) Managing Director Christine Lagarde on the sidelines of the World Government Summit taking place in Dubai.
The prime minister tweeted that there was "a convergence of views" between him and Lagarde when it came to "the need to carry out deep structural reforms".
He said that these reforms would "put the country on the path of sustainable development in which the most vulnerable segments of society are protected".
A press release issued by the IMF said Lagarde's meeting with the premier had been "good and constructive".
The meeting was held to discuss conditionalities that have held up Pakistan's accession to the Fund's bailout programme.
"We discussed recent economic developments and prospects for Pakistan in the context of ongoing discussions toward an IMF-supported programme," Lagarde was quoted as saying by the statement.
"I reiterated that the IMF stands ready to support Pakistan."
The IMF chief said she highlighted during the conversation that Pakistan could "restore the resilience of its economy" through "decisive policies and a strong package of economic reforms".
Citing the PTI government's policy agenda, Lagarde said protecting the poor and strengthening governance were "key priorities to improve people's living standards in a sustainable manner".
"The technical staff-level contact through video-link is due this week and may be followed up by Finance Minister Asad Umar next week," said a senior government official, adding the two sides might still meet at the staff level if needed, Dawn reported.
"A lot of work still needs to be done, but a final agreement should be in place by April and implementation start rolling in June," said the official, adding that all policy actions would revolve around the next year budget. "We have reached broad understanding and will stay engaged."
Sources said the revenue collection target for the next fiscal year would be worked out by the IMF and it could be well above Rs4.7 trillion, compared to about Rs4.39tr this year fixed by the government. More upward adjustments in central bank's policy rate and exchange rate depreciation would be part of the understanding, they said.
Further adjustments in energy prices, expansion in revenues, reduction in losses of public sector entities, further autonomy to the State Bank of Pakistan, market-based currency exchange rate and deep-rooted structural reforms are key areas under the future assistance package from the IMF. The two sides had already agreed on the way forward but had differences over the sequencing as the government wanted the passing of 'further pain' on to people next year.
A statement released by the Ministry of Finance on Twitter said deliberations between Pakistani authorities and IMF staff will continue "to finalise an agreement on the contours of a programme".
The ministry said that the premier "appreciated IMF's support to Pakistan and shared his vision for nation-building".
Prime Minister Khan also expressed the government's commitment to undertake structural and governance reforms and to strengthen social protection in the country, the statement added.
It also said that the IMF managing director recognised the steps taken so far by the government to bring stability to the economy. She expressed the Fund's desire to remain engaged with Pakistan in ensuring that economic recovery is sustained.
Earlier, Information Minister Fawad Chaudhry had said the Khan-Lagarde meeting would "give us a chance to understand the IMF views and we will be able to give our version to [the] IMF chief", Radio Pakistan reported. Chaudhry stated that Pakistan wants "a fair deal that can actually help Pakistan in the short-term without affecting our long-term economic goals".
Meanwhile, Foreign Minister Shah Mehmood Qureshi stressed that Islamabad wanted to proceed with the bailout package under conditions that would not put an unjustified burden on the common man.
Stumbling issue in IMF bailout talks
The IMF is asking for an adjustment of around Rs1,600-2,000 billion over three to four years. It also wants some corrective measures to put Pakistan's economy on the right track after witnessing the highest-ever current account deficit.
But the stumbling issue in the talks is the pace of adjustments in the current expenditure. The emphasis on current expenditures comes as a result of a focus on what is known as a 'primary balance' in the parlance of public finance.
A senior official involved in the negotiations earlier told Dawn, there is some space for a cut in certain expenditures where Pakistan is in a comfortable position. "This agreement in cut will pave way for accession to the programme," the official claimed, adding it will be a politically difficult decision.
A cut in the current expenditures still seems to put the government in an awkward position by making adjustments in subsidies and other special grants.
The IMF has been demanding that the burden of any expenditure cuts should fall on current expenditures that include debt service, defence, and subsidies. Previous governments decreased development expenditures when undertaking the Fund's adjustment and usually left current expenditures alone (other than subsidies).
But the official had said there is certain non-development spending which cannot be discontinued or reduced.
The primary balance of a government's budget is the difference between revenues and expenditures after removing interest payments. It tests whether the path of debt accumulation of any country is sustainable or not.
If this is in deficit then it means that at least some of the interest payments due in the given year will have to be made through borrowing.
Cutting the primary deficit requires a cut in current expenditures, and usually becomes necessary when reducing debt-to-GDP ratio is a priority.
Finance Division's Spokes­person Dr Khaqan Najeeb had told Dawn that productive dialogue continues with IMF on all areas including fiscal, energy, structural reforms and monetary policy. Discussions are part of regular ongoing interaction between government and IMF and will continue in coming weeks as well, he had said, adding that "technical level subject-specific discussions also support the process of overall dialogue".
According to Najeeb, the government has already taken several policy measures including an increase in interest rate, gas and electricity tariffs along with revenue measures.
The Ministry of Finance recently announced that the Federal Board of Revenue's (FBR) target would not be revised downward following a revenue shortfall of Rs191bn in the first seven months.
The FBR has been asked to take administrative measures including revival of tax on mobile phone cards to cover up the shortfall in reaching the budgetary target.
The Fund has also asked for further monetary tightening as well as a complete free float of the exchange rate.
"We are already moving towards the target in these areas," the official had said, adding the IMF has acknowledged these measures.
According to the official, the finance minister has already conveyed to the IMF during recent parleys that only those measures will be taken which are favourable for the country's economic growth.
Full report at:
https://www.dawn.com/news/1462998/imf-stands-ready-to-support-pakistan-says-lagarde-after-meeting-pm-khan
--------
Creation of 1 million jobs for youth expected under Kamyab Jawan Programme
February 11, 2019
The federal government anticipates the creation of 1 million jobs under the Kamyab Jawan Programme, an aggressive small and medium enterprise lending scheme which is expected to stimulate job creation and economically empower the youth.
Kamyab Jawan, which falls under the Prime Minister's Youth Programme, is a collaboration with the Small and Medium Enterprises Development Authority (Smeda).
A Youth Affairs Department official, Abdul Rasheed, was quoted by APP as saying that Smeda would find the top business ventures in local and international markets to facilitate young Pakistanis.
He said that Smeda would impart vocational and technical training to the youth, while the department would extend maximum support for the improvement of technical and vocational training.
Rasheed added that Smeda would also educate and facilitate the youth to provide training to others in the development cycle.
The PM's Youth Affairs initiative will extend its facilities to the maximum possible number of youngsters in order to create more employment opportunities in the marketplace, Rasheed stated.
The United Nations Development Programme's 'Pakistan National Human Development Report' estimates that more than 29 per cent of country's population consists of young people between the ages of 15-29 years.
The Youth Empowerment Programme (Kamyab Jawan Pakistan) aims at creating opportunities for knowledge, skills and leadership development of the youth to further the "Agenda 2030".
Special Assistant to the Prime Minister on Youth Affairs Usman Dar last month chaired a meeting of the Pakistan Bureau of Statistics to discuss the launch of the National Youth Development Index (NYDI) survey, which seeks to "capture data, for the first time in our national history, on almost 100 indicators to gauge education level, employment status, health conditions, social engagement trends, and overall well-being of young people aged 15-29 at a district-level across Pakistan," according to the adviser.
Full report at:
https://www.dawn.com/news/1463174/creation-of-1-million-jobs-for-youth-expected-under-kamyab-jawan-programme
--------
Hamza Shahbaz asks LHC for 14-day extension in London stay
Rana Bilal
February 11, 2019
PML-N leader Hamza Shahbaz petitioned the Lahore High Court (LHC) on Monday to permit an extension his stay in London.
Hamza is facing a National Accountability Bureau (NAB) investigation into Ramzan Sugar Mills and holding assets beyond his known sources of income. He flew to London in the first week of February after the court ordered the removal of his name from the Exit Control List and granted him conditional permission to travel abroad for 10 days.
Lawyer Azam Nazeer Tarar filed the petition today on behalf of the PML-N leader.
Hamza, in his petition, appealed to the court to allow him to stay on in London for two more weeks with his newborn daughter who is to undergo a cardiac procedure due to complications at birth.
He will return as soon as she recovers, the petition stated.
The court is expected to hear Hamza's petition tomorrow.
Full report at:
https://www.dawn.com/news/1463176/hamza-shahbaz-asks-lhc-for-14-day-extension-in-london-stay
--------
Delegation of Raheel Sharif-led military alliance arrives in Pakistan
Feb 11, 2019
A delegation of former army chief Gen (r) Raheel Sharif-led Islamic Military Counter Terrorism Coalition (IMCTC) arrived in Pakistan on Sunday during it's first-ever visit to the country.
The visit comes ahead of the Saudi crown prince's scheduled visit to Pakistan on February 17. A special aircraft carrying the delegation arrived at Islamabad's Nur Khan air base.
According to reports, the two-day visit is considered to hold strategic importance under current circumstances. The delegation will return to Saudi Arabia on Tuesday.
The visiting delegation is likely to hold key meetings with the civil and military leadership of the country. The military officials are expected to meet Senate Chairman Sadiq Sanjrani and Foreign Minister Shah Mahmood Qureshi besides Chief of Army Staff (COAS) General Qamar Javed Bajwa and Joint Chiefs of Staff Committee General Zubair Mahmood Hayat.
The former army chief will also hold a special meeting with Prime Minister Imran Khan where matters pertaining to Saudi Crown Prince Mohammad bin Salman's upcoming visit to Pakistan will be discussed, reports said.
Regional security situation and measures taken against terrorism will also be discussed in the meetings.
In December 2018, Gen (r) Raheel had dismissed the notion that the military coalition was aimed against any particular country, nation or sect without any mentions.
He said this while briefing the Senate chairman, who was on an official visit to Saudi Arabia, on performance and objectives behind formation of the military alliance. The former COAS said the basic objective of IMCTC was to fight against the menace of terrorism until its eradication.
Saudi Arabia had acquired the services of Gen (r) Raheel as head of the IMCTC cobbled together in December 2015.
Pakistan is likely to sign a number of investment deals, including the construction of a multi-billion-dollar oil refinery in the port city of Gwadar during the upcoming visit. The Saudi crown prince will follow-up on agreements signed between the two countries during Prime Minister Imran's visit to the KSA last year.
Full report at:
https://www.pakistantoday.com.pk/2019/02/10/delegation-of-raheel-sharif-led-military-alliance-arrives-in-pakistan/
--------
Hajj to become increasingly expensive, says minister for religious affairs
Feb 11, 2019
ISLAMABAD: Minister for Religious Affairs and Interfaith Harmony Dr Noor ul Haq Qadri on Sunday said that the Hajj pilgrimage will become more expensive the coming five years.
Qadri made the comments while talking to Geo News' programme Geo Parliament.
He explained the pilgrimage would become expensive as Saudi Arabia has said that all countries should gradually hand over Hajj packages to the private sector in the following three to four years.
Qadri said that Pakistan and other countries would have to accept Saudi Arabia's demands. In addition, the minister elaborated that Saudi Arabia has also increased expenditures for the pilgrimage worldwide.
The announcement by Qadri comes in the wake of a recent decision by the federal cabinet to cease providing subsidies on Hajj, raising the cost of performing the Hajj by 63 per cent.
According to State Minister Ali Mohammad Khan, Saudi Arabia is primarily responsible for the hike in cost, explaining that 70 per cent of costs are incurred in the country.
Full report at:
https://www.pakistantoday.com.pk/2019/02/10/hajj-to-become-increasingly-expensive-says-minister-for-religious-affairs/
--------
Saudi crown prince's visit to bring major investment in Pakistan
Feb 11, 2019
RIYADH: A number of major investment deals are expected to be signed during Saudi Crown Prince Mohammed bin Salman's upcoming visit to Islamabad, according to officials.
Two Saudi sources have confirmed to AFP that the heir apparent to the Gulf kingdom's throne will visit Islamabad shortly, without giving a date. Officials from both countries confirmed to AFP that a number of deals are expected to be signed during the visit.
Riyadh and Islamabad, decades-old allies, have been involved for months in talks to hammer out details of the deals in time for the high-profile visit.
A record investment package being prepared by Riyadh for Islamabad will likely provide welcome relief while also addressing regional geopolitical challenges, analysts believe.
At the heart of the investment is a reported $10 billion refinery and oil complex in the strategic Gwadar Port on the Arabian Sea, the ultimate destination for the massive multi-billion dollar China-Pakistan Economic Corridor, which lies not far from the Indo-Iranian port of Chabahar.
"The outcome of the talks so far has been very positive and this is going to be one of the biggest-ever Saudi investments in Pakistan," a senior finance ministry official told AFP.
"We hope that an agreement to this effect will be signed during the upcoming visit of the Saudi crown prince to Pakistan," said the official, requesting anonymity.
The Wall Street Journal reported last month that both Saudi Arabia and the United Arab Emirates, Islamabad's biggest trading partner in the Middle East, have offered Pakistan some $30bn in investment and loans.
Riyadh investments are expected to provide a lifeline for the economy which was downgraded in early February by S&P ratings agency from a B to a B-, Saudi economist Fadhl al-Bouenain said.
"Saudi investment to Pakistan comes within an economic aid package aimed at relieving the stress of external debt and a shortage of foreign currency, besides boosting the sluggish economy," Bouenain told AFP.
The Opec heavyweight also aims to achieve strategic and commercial goals with investments in infrastructure and refinery projects, he said.
Saudi Arabia and its Gulf partner, the UAE, have already deposited $3bn each in the State Bank of Pakistan to help resolve a balance of payments crisis and shore up its declining rupee.
They have also reportedly deferred some $6bn in oil imports payments as Islamabad has so far failed to secure fresh loans from the International Monetary Fund.
Prime Minister Khan has already visited Riyadh twice since taking office in July, and in October attended a prestigious investment conference widely boycotted by other political and economic figures after the murder of dissident journalist Jamal Khashoggi.
Khan also visited Qatar and Turkey, as well as China, seeking investments.
"One of the goals for Saudi Arabia expanding investments in refining worldwide is to secure market share and sustainable exports in the face of international competition," Bouenain said.
Saudi Energy Minister Khalid Al Falih visited Gwadar in January and inspected the site for the proposed oil refinery at the deep sea port, just 70 kilometres away from Chabahar.
He was quoted by local media as saying the kingdom was studying plans to construct a $10bn refinery and petrochemicals complex in Gwadar.
Like most oil suppliers, the world's top crude exporter has been investing heavily in refinery and petrochemicals projects across the globe to secure long-term buyers of its oil.
A pipeline from Gwadar to China would cut the supply time from the current 40 days to just seven, experts say.
Developed as part of China's Belt and Road Initiative with investments worth some $60bn, Gwadar is being billed as a regional industrial hub of the future, easily accessible for Central Asia, Afghanistan, the Middle East and Africa.
"Pakistan needs a rich partner to enter as a third party besides China, capable of injecting needed cash," Bouenain said.
But so far China has rejected other partners for the corridor that seeks to connect its western province Xinjiang with Gwadar, including Saudi Arabia and UAE, said James M. Dorsey, a senior fellow at Singapore's S. Rajaratnam School of International Studies.
This is despite calls by Khan "for the Chinese investments to be restructured to include agriculture and job-creation sectors and not only in infrastructure", Dorsey told AFP.
Any Saudi investment in Gwadar will also have geopolitical dimensions, Dorsey said.
Iran late last year inaugurated Chabahar which provides a key supply route to landlocked Afghanistan and allows India to bypass Pakistan. India has seen Chabahar as a key way both to send supplies to Afghanistan and to step up trade with Central Asia as well as Africa.
But Riyadh is not expected to get involved in any Indo-Pakistani rivalry and the kingdom also has major strategic energy deals with New Delhi, where demand for oil is growing fast.
Full report at:
https://www.pakistantoday.com.pk/2019/02/10/saudi-crown-princes-visit-to-bring-major-investment-in-pakistan/
--------
North America
'Western media not letting people know about Islamic Revolution achievements'
Feb 10, 2019
The mainstream media in the West keep people in the dark about the "positive achievements of the Islamic Revolution," says political commentator Dr. Kevin Barrett.
Barrett made the comments in an interview with Press TV when asked about the remarks by Hezbollah Secretary General Sayyed Hassan Nasrallah on the 40th anniversary of the Islamic Revolution in Iran.
Addressing his supporters via a televised speech broadcast live from the Lebanese capital Beirut on Wednesday evening, Nasrallah praised the outstanding achievements made in Iran since 1979.
The Hezbollah leader said Iran has made great achievements under the rule of the Islamic Jurisprudence, and is now leading in the region concerning the number of university students, international researchers and scholars, share of science production besides activities in the fields of nanotechnology, space technology and sports.
"He (Nasrallah) is absolutely right that the Islamic Revolution in Iran has had some amazing achievements," Barrett told Press TV.
"Here in the West, in the corporate-controlled mainstream media, we're not allowed to hear about the actual positive achievements of the Islamic Revolution," he said.
"We're endlessly told that there are terrible economic problems in Iran, and we're not told that in fact, since 1979, Iran has made tremendous strides, rising in the human development index, the poverty level has gone way down, education has gone way up, in particular women's education has gone from state under the Shah of Iran… in which very sizable percentage of Iranian women were not even literate to the state today where the majority of university students and even teachers at many levels are women," he added.
"In terms of economy," Barrett said, "Iran is doing rather well considering the fact that it's been boycotted and attacked in every possible way by the world's most powerful countries."
"Iran is very very important both in terms of the way it's managed to persist and in some respect even thrived despite the hostilities it endured since its Revolution," he noted.
https://www.presstv.com/Detail/2019/02/10/588177/US-Iran-Islamic-Revolution-Sayyed-Hassan-Nasrallah
--------
US special envoy resumes Afghan peace diplomacy
Anwar Iqbal
February 11, 2019
WASHINGTON: US Special Representative for Afghanistan Reconciliation Zalmay Khalilzad left Washington on Sunday on yet another peace mission that includes talks in Afghanistan, Pakistan and Qatar.
Also on Sunday, Afghan President Ashraf Ghani said the Taliban were welcome to open an office in Kabul, Kandahar or Nangarhar to continue the peace talks that have so far been held in Doha, Qatar.
But a Taliban spokesman later told reporters that they would prefer to stay in Doha, where they have had an office since 2013, and would try to get international recognition of this outpost.
In Washington, the US State Department said Ambassador Khalilzad and his interagency delegation would also consult officials in Belgium, Germany and Turkey before arriving in the region for further talks. The trip, which began on Sunday, will continue till Feb 28, when the chief US negotiator is expected back in Washington for consultations.
The State Department said the trip "is part of an overall effort to facilitate a peace process that protects US national security interests and brings all Afghan parties together in an intra-Afghan dialogue through which they can determine a path for their country's future". Ambassador Khalilzad will meet "our allies and partners to discuss mutual efforts to advance that goal and will consult with the Afghan government throughout the trip", the statement added.
The US envoy said at a Washington think tank on Friday that Pakistan had played a positive rule in facilitating peace talks and also released a senior Taliban leader, Mullah Baradar, at his request. He said the US administration recognised Pakistan's role and wanted better relations with this "important country".
During a visit to the eastern Afghan province of Nangarhar on Sunday, President Ghani said he was offering the Taliban an office in Afghanistan because he wanted the peace talks to be held on the Afghan soil. The Afghan president has already made several attempts to engage the Taliban, but the insurgents continue to refuse to hold directs talks his government.
He said he had previously offered the Taliban to meet Afghan officials in Makkah to sanctify the peace talks but instead they went to Moscow. "The nation says that they did not go to Makkah but they went to Moscow and they want to know why," he added.
Mr Ghani said he was expected to give up his position for peace but he could not do so because he was elected to this post and he did not want to compromise those who voted for him. He is seeking re-election in July.
Although the Afghan government was kept out of the Moscow talks held last week, an official from Afghanistan's High Peace Council said that some parts of the Moscow resolution would be added to their agenda.
Full report at:
https://www.dawn.com/news/1463155/us-special-envoy-resumes-afghan-peace-diplomacy
--------
Iranians rally to support Islamic Revolution on 40th anniversary
Feb 11, 2019
Millions of Iranians from all backgrounds have taken to the streets around the country to celebrate the 40th anniversary of the Islamic Revolution at a time of intensified US-led pressure.
Today marks the climax of the Ten-Day Dawn commemorating the period between February 1, 1979 when Imam Khomeini returned from exile and the anniversary of the Revolution that ended 2,500 years of monarchical rule in Iran.
Every year on this day, the nation turns out in droves to highlight support for the Revolution which replaced the US-backed regime with an Islamic Republic.
Demonstrators in many cities have braved the cold weather as they descended on main crossroads to renew their allegiance to the country's Islamic principles at a time of rising economic and political pressure.
Last year, the United States unilaterally abandoned an international nuclear pact with Iran and reimposed its toughest sanctions ever, in a move which is viewed as a regime change attempt against the Islamic Republic.
US National Security Adviser John Bolton had said the outcome of the country's policy review should be to determine that Iran's Revolution would not last until its 40th birthday. "And that's why, before 2019, we here will celebrate in Tehran!" he had told a convention of the terrorist MKO group in Paris in 2017.
Hundreds of thousands of people have headed to the iconic Azadi (Freedom) Square in Tehran amid chants of "Death to America," where President Hassan Rouhani is right now delivering a speech to the nation. You can watch the live stream here:
Leader of the Islamic Revolution Ayatollah Seyyed Ali Khamenei is expected to make an "important" address in the coming days, media reports said on Sunday.
He is set to publish "a detailed statement explaining the 'second step' of the progress of the Islamic Revolution," the website of the Leader said.
Ayatollah Khamenei said on Friday the Iranian nation will keep chanting "Death to America" as long as the United States remains evil.
"The US is the embodiment of evil, but still complains why you chant 'Death to America'," the Leader said, referring to President Donald Trump's remarks last week.
Trump said Iran "chants death to America and threatens genocide against the Jewish people," adding "We will not avert our eyes from" the Islamic Republic.
"Death to America means 'death' to you, the few people ruling the country; we don't mean the American nation," Ayatollah Khamenei said.
US officials have adopted an extremely hostile policy toward Iran under the Trump administration, with Secretary of State Mike Pompeo pledging to "starve" Iranians until they give in to American demands.
Washington is calling for new negotiations which would include restraining Iran's missile program and its role in the Middle East as well as the country's support for anti-Israeli resistance movements, such as Hezbollah.
Iranian officials have stressed that the country would not negotiate its missile capability under any circumstances.
On Monday, life-size replicas of cruise and ballistic missiles lined the route to Azadi Square in Tehran.
In recent days, the country has unveiled new missiles to highlight its latest achievements on the anniversary of the Islamic Revolution.
Among them are the Dezful precision-guided missile, which is being produced at a secret underground plant, and the cruise missile Hoveizeh.
Full report at:
https://www.presstv.com/Detail/2019/02/11/588244/Iran-Islamic-Revolution-40-anniversary-rallies
--------
US to withdraw from Syria 'in weeks,' claims top general
Feb 11, 2019
A top American general is claiming that Washington is "right on track with" its supposed Syria withdrawal.
US Army General Joseph Votel, head of the US Central Command, made the comments Monday long after President Donald Trump ordered withdrawal of ground forces from war ravaged Syria.
"In terms of the withdrawal … I think we're right on track with where we wanted to be," Votel told reporters travelling with him during a trip to the Middle East. "Moving people is easier than moving equipment and so what we're trying to do right now is again [to] kind of clear out those materials, that equipment, that we do not need."
Asked when the withdrawal may begin, he answered: "Probably weeks. But again, it will all be driven by the situation on the ground."
Operation Inherent Resolve is the name of a US military campaign launched in August 2014 after the Daesh terrorist Takfiri group overran large swaths of Syria and Iraq.
The US has ever since maintained military presence in Syria without any authorization from the Damascus government or a UN mandate.
US President Donald Trump called for a swift troop pullout on December 19, alleging the defeat of Daesh and surprising many within the US establishment and abroad.
The announcement further resulted in the resignation of Secretary of Defense James Mattis, US anti-Daesh coalition envoy Brett McGurk and Pentagon chief of staff Rear Admiral Kevin Sweeney who disapproved of the president's decision.
Full report at:
https://www.presstv.com/Detail/2019/02/11/588235/US-right-on-track-with-Syria-withdrawal-general-claims
--------
Arab World
Russia 'repatriates' 27 Daesh children from Iraq
February 10, 2019
BAGHDAD: A Russian official said Sunday that Moscow had repatriated a fresh batch of children whose mothers are being held in Iraq for belonging to Daesh.
"Twenty-seven Russian children have been repatriated from Baghdad," a Russian Foreign Ministry official said.
Thirty other children were sent back to Moscow in late December.
The fathers of the children were killed during three years of fighting between the militants and Iraqi troops, the official said.
Daesh seized large swathes of Iraq in a lightning 2014 offensive, before the government dislodged the militants from urban centers and eventually declared victory in December 2017.
The Kremlin announced in early January that 115 Russian children aged below 10 — along with eight aged between 11 and 17 — were still in Iraq.
Iraqi law allows detainees to be held with their offspring until the age of three, but older children have to live with relatives.
In November, Kheda Saratova — an adviser to Chechnya's authoritarian leader Ramzan Kadyrov — estimated "around 2,000" widows and children of Russian Daesh fighters were still in Iraq and neighboring Syria.
Around 100 women and children, mostly from Caucasus republics, have returned to Russia so far.
Nearly 4,500 Russian citizens had gone abroad to fight "on the side of terrorists," Russia's FSB domestic intelligence agency said last year.
More than 300 people, including around 100 foreign women, have been sentenced to death in Iraq for belonging to Daesh, while others have been sentenced to life in prison. Most of those convicted are Turks or originate from former republics of the Soviet Union.
Their home countries do not want them and holding trials in Syria is not an option: Now suspected foreign militants could end up facing tough justice over the border in Iraq. Both countries have suffered for years at the hands of Daesh and Iraqi courts have already meted out hefty sentences to hundreds of foreigners detained on its soil, often after lighting-quick trials.
The fate of foreign fighters in Syria has come into sharper focus since President Donald Trump's announcement in December that the US will withdraw its troops from the war-torn country.
Governments have been grappling for weeks with the question of foreign fighters detained by the Kurdish-led Syrian Democratic Forces, who have warned that they may not be able to guard their jails once US troops leave.
http://www.arabnews.com/node/1450036/middle-east
--------
Official: Kurds to Start Talks with Syrian Gov't Soon
Feb 10, 2019
The Arabic-language Basnews quoted Azad al-Barazi, a senior member of the Syrian Democratic Council, as saying on Sunday that given the Syrian government's positive reaction to demands for talks, negotiations between the Kurds and Damascus will start.
He also said that reports about the US forces' withdrawal from Syria are just attempted at propaganda, and reminded the fact that there is still no specific timetable to this end yet could partly unveil the reality of this propaganda campaign.
Al-Barazi described the US pullout, even if it happens, would only be a minor issue that will happen in insignificant numbers.
In relevant remarks in January, a senior Kurdish official said that the Kurds were seeking negotiations with Damascus as they resisted against Turkey's attacks.
"Turkey has deepened the crisis in Syria and supported terrorism financially. When it failed in its policies, it sent its army to launch attack against Afrin," Fouzeh Yousef, the head of the executive board of democratic federalism in Northern Syria, was quoted as saying by the Arabic-language al-Akhbar newspaper.
Full report at:
http://en.farsnews.com/newstext.aspx?nn=13971121000770
--------
People Continue Protests against Foreign Military Presence in Raqqa, Deir Ezzur
Feb 10, 2019
The protesters voiced their opposition to the presence of the US and French troops and their meddling in their country's internal affairs while calling for their exit by hoisting Syria's flag.
The Syrian citizens also condemned the recent threats by Turkey while calling for the presence of the Syrian Army to all parts of Raqqa and Deir Ezzur to put an end to the presence of terrorists and occupying forces in these areas.
The protesters also condemned the destruction caused by the US-led coalition fighter jets in Raqqa and Deir Ezzur provinces in the last several years, including tens of bridges along the banks of Euphrates and Khabor as well as main roads, crucial passageways, schools and other infrastructures in Raqqa over the past years.
The protests by the Syrian citizens in these regions are underway as the US troops have blocked the entry of humanitarian aid convoys by the International Red Crescent Society and the Syrian government to Eastern Euphrates.
In a relevant development in late January, a large number of people poured into the street in Eastern Deir Ezzur to show their protests against the US-backed Syrian Democratic Forces (SDF).
Residents of the town of Abu Humman in Southeastern Deir Ezzur launched massive protests and closed the roads leading to the town, battlefield sources in Eastern Deir Ezzur said.
The sources reiterated that the civilians staged massive protests against SDF's measures, including piling up fuel products, corruption and other offenses in the region.
"The residents of Deir Ezzur called for releasing the people who have been arrested by the SDF fighters," they said.
The residents of Shaitat town in Southeastern Deir Ezzur also held massive protests and called for their rights with regard to oil revenues.
The report comes as the armed tribesmen had clashed with SDF fighters in the town of Khasham over control of oil resources of the region.
The popular uprising in Deir Ezzur is taking place while Raqqa was also scene of protests and clashes between civilians and SDF fighters over the past three years.
In a relevant development in early December, a large number of people poured into the street in a key town in Northeastern Hasaka, calling for the withdrawal of the US and Turkish troops and their allied militants from their region.
SANA reported that a large number of civilians, social activists and parties in the town of Qamishli took to the streets, opposing occupation of the region by the US and Turkish troops.
It further said that the protestors condemned a visit by the former French Foreign Minister to al-Jazeera region controlled by the Syrian Democratic Forces (SDF), calling for independence of the Syrian parties from the US policies and asking for their affiliation to Damascus again.
The protestors, also, opposed US forces' illegal bases and presence of militants, affiliated to Turkey and the US, in Syria as a violation of international law and against Syria's national unity and integrity, SANA said, adding that the protestors called for expulsion of the occupiers and their allied militants from Syria.
In a relevant development in Northeastern Syria, media activists reported last month that protesters took to the streets and called for the expulsion of the US army men and the SDF from the city of Raqqa in Northeastern Syria.
"Tens of Raqqa residents revolted against the US deployment and SDF forces in al-Mansour district of Raqqa city and called for their expulsion," media activists in Raqqa said.
The sources, meantime, said that the Raqqa residents in their slogans called on the Syrian army to free the region from the occupiers, and said that the protests took place after the SDF forces launched attacks on civilians which resulted in the eruption of clashes between the two sides.
In the meantime, the SDF forces arrested several protesters in a new wave of suppression of civilians.
Full report at:
http://en.farsnews.com/newstext.aspx?nn=13971121000358
--------
Egypt takes helm of the African Union as President Sisi elected chairman
10 February 2019
Egypt's President Abdel Fattah al-Sisi has been elected chairman of the African Union at the continental body's summit in Ethiopia.
The Egyptian leader addressed the summit, saying he would focus on security in the African continent.
Al-Sisi's election brought to an end the one-year chairmanship of Rwanda's President, Paul Kagame.
African Union chairmen set agendas of issues to be addressed during their one-year tenure.
During his tenure, Kagame dramatically challenged the election results in the Democratic Republic of Congo.
Egyptian leaders have been absent from African Union meetings since 1995 when an assassination attempt was made on the life of former leader Hosni Mubarak.
https://english.alarabiya.net/en/News/north-africa/2019/02/10/Egypt-takes-helm-of-the-African-Union-as-President-Sisi-elected-chairman.html
--------
'Heavy clashes' as US-backed forces battle ISIS in Syria
10 February 2019
US-backed forces were locked in fierce fighting as they pressed the battle against the last shred of ISIS's "caliphate" in eastern Syria on Sunday, a war monitor said.
The Syrian Democratic Forces (SDF), supported by a US-led coalition, announced a final push to retake the extremist pocket near the Iraqi border late Saturday, after a pause of more than a week to allow civilians to flee.
The Syrian Observatory for Human Rights reported heavy clashes between both sides on Sunday morning, as coalition planes and artillery bombarded extremist positions.
"The battle is ongoing. There were heavy clashes this morning, with landmines going off," said Rami Abdel Rahman, the head of the Britain-based war monitor.
The SDF launched an offensive to expel ISIS from the eastern province of Deir Ezzor in September.
The Kurdish-led alliance has since whittled down extremist-held territory to a patch of just four square kilometers on the eastern banks of the Euphrates.
Up to 600 fighters could still remain inside, most of them foreigners, according to SDF spokesman Mustafa Bali.
Since fighting intensified in December, more than 37,000 people, mostly wives and children of extremist fighters, have fled out into SDF-held desert areas, the Observatory says.
Full report at:
https://english.alarabiya.net/en/News/middle-east/2019/02/10/-Heavy-clashes-as-US-backed-forces-battle-ISIS-in-Syria.html
--------
Caught in Syria, foreign terrorist suspects may face trial in Iraq
February 10, 2019
BAGHDAD: Their home countries don't want them and holding trials in Syria isn't an option: now suspected foreign terrorists could end up facing tough justice over the border in Iraq.
Both countries have suffered for years at the hands of the Daesh group and Iraqi courts have already meted out hefty sentences to hundreds of foreigners detained on its soil, often after lighting-quick trials.
As the final shred of the once-sprawling terrorists "caliphate" crumbles in eastern Syria, Kurdish-led forces backed by the US have captured hundreds more diehard foreign fighters.
The American military — which spearheads an international coalition fighting Daesh — has in the past shown itself willing to hand those captured in Syria to the authorities in Iraq.
In August AFP attended the Baghdad trial of 58-year-old French citizen Lahcene Gueboudj, who said he had been spirited from Syria to Iraq by US troops.
Belkis Wille of Human Rights Watch said the organization knows of at least five instances in which US forces handed foreign detainees over to Iraq's Counter Terrorism Service.
They include Australian and Lebanese citizens transported out of Kurdish-controlled areas, at least one of whom was eventually sentenced to death in Iraq.
Iraqi justice can be harsh and its courts have doled out death or life sentences to hundreds of foreigners accused of being Daesh members, including some 100 women.
Others who come from Syria can expect similar treatment.
"They are at risk of torture and unfair trials in Iraq," Wille warned.
The fate of foreign fighters in Syria has come into sharper focus since President Donald Trump's announcement in December that the US will withdraw its troops from the war-torn country.
Washington has stepped up pressure on its reluctant allies to bring home hundreds of terrorists, but the issue is politically sensitive in countries like Britain and France.
Governments have been grappling for weeks with the question of foreign fighters detained by the Kurdish-led Syrian Democratic Forces, who have warned that they may not be able to guard their jails once US troops leave.
France, hit by repeated deadly Daesh attacks, has so far opposed returning terrorists. But since Trump's announcement, Paris has said it is studying "all options."
On a visit to Iraq this week, French Defense Minister Florence Parly warned of the need "to avoid some terrorists ending up in the wild and dispersing."
Hisham Al-Hashimi, a researcher on terrorists movements, told AFP that a deal appears to have been struck with Iraq "at the very highest level and in secret" to tackle the issue.
Such a pact allows foreign fighters' countries of origin to avoid politically fraught repatriations; in exchange, Iraq will receive "ultra modern arms and crucial military equipment," Hashimi said.
"Iraq can put anyone on trial who passed through its territory, even if they didn't fight there and just headed to Syria," he said.
But while such a deal might solve a headache for politicians, it has raised serious concerns among relatives and representatives of those detained.
French lawyer Vincent Brengarth, who is handling the cases of some of those detained, questioned "how it could be justified that Iraqi courts would have jurisdiction" over crimes committed in Syria.
French officials say Kurdish forces in Syria are currently detaining some 60 adult French citizens.
Veronique Roy, a member of a group of around 70 French families with relatives who went to Daesh territory, said it would be "tragic" if captives were handed over to Baghdad.
Iraqi law means that anyone found guilty of joining a "terrorist group" can face the death penalty and its justice system has been accused of providing scant chance for a fair trial.
A number of foreign fighters have already been sentenced to death in Iraq, although three French terrorists tried so far have been handed life terms that equate to 20 years in prison.
Full report at:
http://www.arabnews.com/node/1449746/middle-east
--------
Europe
Geneva to ban religious symbols on public employees
February 11, 2019
GENEVA: Geneva residents on Sunday voted for a controversial new "secularism law", which will among other things ban elected officials and public employees from wearing visible religious symbols.
More than 55% of voters in the Swiss canton backed the law, final results showed, despite warnings that it could lead to discrimination, particularly against Muslim women. Some critics think it might violate the constitution.
Geneva Canton, which for centuries has been a centre of religious freedom and tolerance, has been striving to replace a law on the books since 1907.
The new law's stated ambition is to expand the dialogue between religious groups and the state, and to better define the limits to religious expression in the public sphere.
Supporters say it will help clarify existing principles in the Geneva Constitution to protect the religious freedom of believers and non-believers alike.
The right-leaning cantonal parliament adopted the text last April. It also has the backing of Geneva's three main religious communities, the Protestant Church, the Roman Catholic Church and the Old Catholic Church.
But the far left, the Greens, feminist organisations, unions and Muslim groups all opposed it, and collected enough signatures to force the issue to a public vote.
Critics claim the law will have an oppressive and discriminatory effect, with some condemning it as Islamophobic and warning that Muslim women who wear a headscarf are being targeted.
Teachers in Geneva are already banned from wearing visible religious symbols, including the hijab. The new text would extend this ban to elected officials and any local or cantonal public employees who comes in contact with the public.
Two legal appeals have been filed against the new text which could block it from being adopted, despite Sunday's vote.
The Geneva Evangelical Network has lodged an appeal against a provision in the text that would ban religious gatherings in public.
A second appeal has been lodged by the Green Party against a last-minute amendment to the text banning elected officials and cantonal and local government employees who have contact with the public from wearing visible religious symbols.
"I am hopeful that the courts will side with us, since this law goes against the Swiss Constitution and the European Convention on Human Rights," Sabine Tighemounine, a local elected official for the Green Party who wears a Muslim headscarf, told the ATS news agency Sunday.
Sunday's vote did not spell final defeat, she said. "The process is just getting started."
The Geneva vote was among a range of local, regional and national issues voted on across Switzerland Sunday as part of the country's famous direct democratic system.
At the national level, voters resoundingly rejected an initiative brought by the Green Party's youth wing, which called for a law to rein in urban sprawl by blocking zoning of new construction land.
https://www.freemalaysiatoday.com/category/world/2019/02/11/geneva-to-ban-religious-symbols-on-public-employees/
--------
UNICEF 'deeply saddened' by Israeli killing of Palestinian teens
Feb 10, 2019
The United Nations Children's Fund (UNICEF) has expressed sorrow over the recent killing of two Palestinian teenage boys by Israeli gunfire in the Gaza Strip, calling for an end to violence against children.
Hamza Shtewi, 17 or 18, and Hasan Shalabi, 14, were shot dead by Israeli soldiers in Gaza on Friday during "The Great March of Return" weekly protests.
In a statement released on Saturday, UNICEF's Regional Director for the Middle East and North Africa Geert Cappelaere said that the agency was "deeply saddened" by the killings.
"This is another stark reminder of the significant violence that children in the state of Palestine continue to endure. As we mark 30 years since the Convention on the Rights of the Child, it is essential that the fundamental rights of children be respected," he added.
Cappelaere further called for an end to violence against children in the occupied territories.
"It is time that violence against children ends [sic]," he said. "Children are children. They must be protected at all times. Children should never be a target. Nor should they be exposed to any form of violence, by any party."
On Saturday, thousands of Palestinians attended the funerals of the slain Gazan teens.
The March of Return demonstrations are held every week to demand the right to return of the Palestinians driven out of their homeland by Israeli aggression. They also demand a halt to Israel's inhumane blockade of the Gaza Strip, which has deprived its roughly two million inhabitants of many basic commodities.
Israeli forces use live ammunition against protesters in Gaza.
Full report at:
https://www.presstv.com/Detail/2019/02/10/588181/UNICEF-Israel-Palestine-Gaza
--------
Macron may ease strict secularism laws to tackle radical Islam
February 10 2019
Strasbourg's grand mosque is an extraordinary sight. Covered by a 40ft wide copper dome and flanked by soaring wings, it has become a cultural landmark in the city since its completion in 2012, attracting not just worshippers but also a steady stream of school groups and tourists.
Equally extraordinary in France, a country where the separation of the state from religion is rigorously enforced under a law dating back to 1905, public authorities provided the mosque with a prime riverside plot and put up a third of the €8.7m budget (£7.6m) to build it.
Different rules apply here, because the Alsace-Moselle border region where Strasbourg lies was temporarily part of neighbouring Germany in 1905, and the French laicité (secularism) law was not applied after it…
https://www.thetimes.co.uk/article/macron-may-ease-strict-secularism-laws-to-tackle-radicai-islam-nk7ld8plf
--------
'Successful' Moscow talks set off alarm bells in Afghanistan
Ruchi Kumar
February 10, 2019
Ordinary Afghans and political observers say they fear the talks hosted by Russia last week have harmed the prospect of long-term peace and given the Taliban insurgents the upper hand in negotiations with the United States.
The two-day Moscow ­meeting was the first time senior Afghan politicians held talks with the militants ­directly, and the resulting joint ­declaration issued on Wednesday ­endorsed some of the group's demands, such as the ­complete withdrawal of foreign forces from Afghanistan, the release of Taliban ­prisoners and removal of Taliban leaders from a UN blacklist.
In an unlikely photo-op afterwards, Taliban members and mainstream politicians – including former president Hamid Karzai, former ­national security adviser Hanif Atmar, opposition leader Atta ­Mohammad Noor and ­Mohammad Mohaqiq, who was last month sacked as deputy chief executive by President Ashraf Ghani – stood side by side and declared the meeting a success.
"It depends on what you see as success," Hekmatullah Azamy, deputy director at the Centre for Conflict and Peace Studies in Kabul, told The ­National.
"If getting the Afghan side to sit with the Taliban, then it was surely a success, but we should measure success with how the US views this meeting."
Washington has made no official comment, but did not voice its opposition.
Mr Azamy acknowledged that the US stance on the involvement of Russia and even Iran in Afghan affairs had changed since special envoy Zalmay Khalilzad took charge of the peace effort in September, holding several rounds of talks with the Taliban at their political office in Doha, and also in Abu Dhabi.
"The US had no objection with the Afghan elites attending this meeting," he said, comparing it with Moscow's failed attempt to hold a similar meeting last year that was abandoned after Afghan politicians chose not to attend, fearing US disapproval.
But the lack of direct talks ­between the Taliban and the government, owing to the group's refusal to negotiate with what it considers to be a puppet regime, complicates efforts to end the insurgency.
"There appears to be a confrontation of sorts between the various approaches to peace," Mr Azamy said.
While the US is pressuring the Taliban to talk to the government, Mr Azamy said the Moscow meeting strengthened the insurgents' negotiating position and influence.
"The Taliban made military progress in the last year, but with this meeting they have also gained certain political status and legitimacy, in terms of local diplomacy," he said.
"To see them recognised by the Afghan political elite should worry the ­government, because in some ways it brings the Taliban into the mainstream.
"The next time they sit with the US, the Taliban can say confidently that the Afghan people don't have a problem with them. This will affect the Afghan government."
Mr Ghani yesterday made ­another attempt to engage with the Taliban, renewing an offer to allow them to open an office in Afghanistan, but this was rejected by the insurgents.
Mr Azamy said the ­president handled the issue of the ­Moscow talks diplomatically.
"Ghani didn't show strong opposition because it could have affected the declaration of the meeting," he said.
He suggested the document might have included direct criticism of the government. "But they are between a rock and a hard place," he said.
Presidential spokesman ­Haroon Chankansuri dismissed the legitimacy of the meeting and the significance of the ensuing declaration.
"The Moscow meeting was a political and academic ­discussion on peace and the declaration was a summary of the two-day summit. It is not an executive outcome on peace," he said.
Many Afghans also object to the absence of the government at the Moscow talks, including some critics of Mr Ghani.
Many took to social media to register their objections using the hashtag #UDontRepresentMe and called for the Taliban to talk to the government.
"We shouldn't let the people who ruined our childhood in their war for power ruin our present and future too," Salma Alkozai, a civil servant from Kabul, said on Twitter.
"They have come together to repeat history. The history that we are still struggling to wash off of our identity."
Spozmai Stanikzai, an Afghan student of international trade law, echoed that sentiment.
"Taliban are not to be ­trusted," she told The ­National. "If the Taliban truly want peace, our government has an office they can negotiate with.
"[The] Afghan constitution can also be amended and they can bring all the changes they want, but in a more institution­alised manner."
She said the government had made a lot of progress in peace efforts with the Taliban, including the historic Eid ceasefire last year.
She said the government had also increased pressure on the Pakistani government to stop ­supporting the insurgents and agreed a peace deal with Gulbuddin ­Hekmatyar, leader of the Hizb-e-Islami group.
Ms Stanikzai said a similar situation involving the Taliban and president Mohammad Najibullah in the 1990s should serve as a warning.
"Once the Taliban made the same promise with Dr Najibullah – he was willing to negotiate with them but when they entered the capital, they murdered him," she said.
"They don't want peace or pardon for the atrocities they committed – they want the fall of the government and chaos so they can once again take control of the country."
A Kabul academic said he was concerned by how ­politicians had reversed their positions towards the Taliban in Moscow, and the possibility of US forces leaving Afghanistan.
"Those who went to Moscow are the ones who have been fighting the Taliban on the front lines," he said.
"Former president Hamid Karzai did not provide the Taliban office space during his tenure, but now it's part of the declaration.
"Hanif Atmar signed the bilateral security agreement with the US on his second day in the last government, which allowed US troops to stay and fight the Taliban, but now he is calling for a withdrawal."
Mr Khalilzad said after talks with the Taliban last month that they had agreed on a draft deal that included the withdrawal of US forces in ­exchange for a ceasefire, intra-­Afghan talks and a guarantee that Afghanistan would not harbour extremists.
Full report at:
https://www.thenational.ae/world/asia/successful-moscow-talks-set-off-alarm-bells-in-afghanistan-1.824065
--------
27 Russian kids born to Daesh terrorists return home from Iraq
Feb 10, 2019
A Russian official says Moscow has repatriated a new group of children whose mothers are being held in Iraq over their membership in the Daesh Takfiri terrorist group and involvement in criminal acts in the country.
"Twenty-seven Russian children have been repatriated from Baghdad," an unnamed Russian Foreign Ministry official said on Sunday.
The fathers of the children were killed during three years of fighting between the militants and Iraqi troops, the official said.
On December 30 last year, 30 Russian children born to Daesh terrorists were sent back to Moscow from Iraq.
Russian Human Rights Commissioner Tatyana Moskalkova said on December 4 that Moscow had received hundreds of requests from the widows of Daesh terrorists who were slain either in Iraq or Syria over the past few years, to return home.
Moskalkova said over 1,000 requests had been submitted to Russian authorities, adding that the women had "sustained an unimaginable violence."
She further noted that the repatriation of the Daesh widows is a difficult process given the fact that they have been involved in acts of terror and their return could pose a threat to the safety of Russian citizens.
On April 29, 2018, the Central Criminal Court of Iraq, which is the country's flagship criminal justice institution, found 19 female Russian citizens guilty of "joining and supporting Daesh" and handed down life sentences to them.
The court issued the verdicts as the women, all accompanied by small children, attended the hearing.
Ziyad Sabsabi, a Russian senator and deputy chairman of the Senate's Foreign Relations Committee, had earlier warned that the Russian women would face death penalty, noting that most of them had denied their charges.
He pointed out that there were children, less than three years of age, who were kept in jail along with their mothers.
According to a report published by Iraq's Arabic-language al-Mashriq newspaper, more than 1,500 women and children from the families of Daesh militants are currently being held in the Arab country, and the Baghdad government is coordinating with their respective countries to decide their fate.
Former Iraqi Prime Minister Haider al-Abadi declared the end of military operations against Daesh in the country on December 9, 2017.
On July 10 that year, he had formally declared victory over Daesh in Mosul, which served as the terrorists' main urban stronghold in Iraq.
In the run-up to Mosul's liberation, Iraqi army soldiers and volunteer Hashd al-Sha'abi fighters had made sweeping gains against Daesh.
Iraqi forces took control of eastern Mosul in January 2017 after 100 days of fighting, and launched the battle in the west on February 19 last year.
Full report at:
https://www.presstv.com/Detail/2019/02/10/588208/Russian-kids-Daesh-Iraq
--------
Netherlands recognizes Gaza, West Bank as official Palestinian birthplaces
Feb 10, 2019
Authorities in the Netherlands have allowed Palestinians living in the country to register the besieged Gaza Strip and the West Bank as their official places of birth, instead of registering under such designations as 'the Israeli-occupied territories' or 'unknown'.
Dutch State Secretary Raymond Knops, in a letter addressed to the House of Representatives in The Hague on Sunday, stated that he intends to add Gaza and the West Bank, including East Jerusalem al-Quds, to a list of official states used by the Dutch civil registry.
Knops added that the new category is in accordance with "the Dutch viewpoint that Israel has no sovereignty over these areas."
The Dutch minister further highlighted that the new category was named based on the Oslo Accords and the United Nations Security Council resolutions.
Dutch news outlets reported that the new category will be available to Palestinians born after May 15, 1948, when Israeli forces displaced some 700,000 Palestinians, forcing them to flee to different neighboring countries. Israeli soldiers also wiped nearly 500 Palestinian villages and towns off the map, leaving an estimated total of 4.7 million Palestinian refugees and their descendants dreaming of an eventual return to their ancestral homeland more than six decades later.
The Israeli-occupied land was the only birthplace available to Palestinians registering in the Netherlands up until 2014. The category "unknown," also known as code "0000," was made available to Palestinians living in the country after opposition to listing Israel as their birthplace.
While the UN General Assembly and at least 136 countries have recognized Palestine as a sovereign state, the Netherlands has refused to do so.
Full report at:
https://www.presstv.com/Detail/2019/02/10/588197/Netherlands-Gaza-West-Bank
--------
Africa
US says new airstrike in Somalia kills 8 al-Shabaab fighters
2019-02-10 18
The United States military says it has killed eight al-Shabaab extremists with an airstrike in southern Somalia.
A US Africa Command statement says Friday's strike hit near Kobon, not far from the port city of Kismayo.
The US says Kobon has been used to stage attacks against Somali forces. Its statement says no civilians were killed in the airstrike.
The US military has carried out at least a dozen such airstrikes this year in Somalia against the al-Qaeda-linked al-Shabaab, the deadliest Islamic extremist group in Africa.
The United States has dramatically stepped up airstrikes against al-Shabaab since President Donald Trump took office. Experts say it will take more than airstrikes to defeat the extremists, who continue to carry out deadly attacks in the Horn of Africa nation and neighbouring Kenya.
https://www.news24.com/Africa/News/us-says-new-airstrike-in-somalia-kills-8-al-shabaab-fighters-20190210-2
--------
Terrorist hub tag angers Isiolo County leaders
FEBRUARY 11 2019
Isiolo leaders and security officials have been angered by reports profiling the county as an Al-Shabaab hub, saying the narrative is hurting the local economy and tainting the devolve unit's image.
Speaking at Isiolo Girls High School on Saturday over the 100 per cent transition policy to secondary schools, the leaders said the county is not a centre for terrorists.
Led by the county's deputy governor Abdi Issa, Isiolo Senator Fatuma Dullo, Isiolo North MP Hassan Oda, County Woman Representative Rehema Jaldesa and County Commissioner John Ondego, they said the negative profiling is scaring away investors and tourists.
They said the media has negatively focused and sensationalised the issue of radicalisation, a problem they maintain is national rather than local.
ANTI-RADICALISATION CAMPAIGNS
But the leaders acknowledged that a number of local youths were lured into joining Somalia's Al-Shabaab terror group even though those involved in terrorist activities have also been drawn from other counties.
Mr Ondego said no Isiolo youth has crossed over to Somalia last year, a positive indication that anti-radicalisation campaigns were finally bearing fruit.
"We agree that our children have been affected but we cannot profile Isiolo as an Al-Shabaab hub since the perception is killing our economy," said Senator Dullo.
Last year, a county action plan on countering violent extremism was launched with security officers backing use of hard and soft approaches to countering radicalisation
Ms Dullo, who blamed high unemployment rates, poverty, and drug abuse for making the local youth easy targets for recruiters, defended the county insisting that only one suspect involved in the last month's Dusit office complex attack was from Isiolo.
Ali Salim Gichunge, one of the terrorists involved in the recent attack was from Isiolo and had disappeared in 2015.
"The boys who participated in the recent attack were from other regions too including Kiambu. Why is it that Isiolo is the one mostly featured!" she questioned.
RADICALISATION HUB
Isiolo Muslim clerics also dismissed reports aired by a local TV station that five mosques and football playing grounds were being used as radicalisation hubs as cited by an Al-Shabaab returnee who was interviewed.
The clerics through their umbrella body, the Council of Imams and Preachers of Kenya (CIPK), demanded an apology within 14 days from the media house.
The deputy governor claimed that the television programme which aired the expose' was trying to 'finish' Isiolo economically and marginalize the county more since leaders were not interviewed.
"There is no mosque and I want to repeat and refute.. …I am ready to resign as deputy [governor] of Isiolo if you tell me that there is a mosque that is encouraging and promoting terrorism because I normally conduct my prayers there. We are against it," said Mr Issa.
Starting next week, he said the county will urge prominent clerics to speak to youths to discourage radicalisation.
Full report at:
https://www.nation.co.ke/counties/isiolo/Isiolo-is-not-an-Al-Shabaab-hub/1183266-4976564-h1u15p/index.html
--------
Boko Haram: Army engineer cries over killing of personnel in North East
February 11, 2019
By Ameh Comrade Godwin
Many personnel of the Nigerian Army attached to the Nigerian Army Electrical and Mechanical Engineers (NAEME) have been killed in the fight against insurgents in the North East, a top commander of the service has revealed.
Commander of the NAEME, Major General J.B. Olawunmi, who made this known at the weekend to newsmen, lamented that some officers and men of the corps have paid the supreme price in the service to the nation, especially in the counter-terrorism operations in the North East, Daily Sun reports.
While praying that Almighty God would grant the souls of the slain soldiers eternal rest and quicken the healing of their injured colleagues, General Olawunmi said that the corps' training activities for the year 2018 were successfully conducted, with the attendant improvement in the performance of personnel.
The commander spoke at the 2018 West African Social Activities (WASA) of the for corps, saying, "I must not fail to acknowledge the fact that nothing would have been achieved without the support of the Chief of Army Staff, who graciously provided all the resources needed to perform effectively. He graciously approved the establishment, renovation of our NAEME barracks in Auchi, Edo State, among others too numerous to mention here."
Full report at:
http://dailypost.ng/2019/02/11/boko-haram-army-engineer-cries-killing-personnel-north-east/
--------
Southeast Asia
Turkey calls on China to close Muslim 'concentration camps' where one million Uighurs have been detained
Shehab Khan
Feb 11, 2019
Turkey has called on China to close the "concentration camps" where the country has detained more than a million Uighurs Muslims.
Foreign ministry spokesman Hami Aksoy said China's treatment of the Turkic Muslim population was "a great cause of shame for humanity".
He said the Turkic Muslim population faced pressure and "systematic assimilation" in western China and added that Turkey had shared its opposition on "all levels" urging authorities to close the detention facilities and respect human rights.
Beijing has intensified a clampdown on Uighurs in the northwestern region of Xinjiang that was put in place after a bloody 2009 riot.
Droves of Uighurs have fled, many travelling to Turkey, where the language and culture are similar to that in Xinjiang.
More than one million people are believed to have been detained so far by Chinese authorities.
Turkey's foreign ministry spokesman, Mr Aksoy, said he had learned of the death in prison of famed Uighur musician and poet Abdurehim Heyit, who had been sentenced to eight years over one of his songs.
"This tragedy has further reinforced the reaction of the Turkish public opinion towards serious human rights violations committed in the Xinjiang region," Mr Aksoy said.
"We expect this legitimate response to be taken into account by the Chinese authorities. We respectfully commemorate Abdurehim Heyit and all our kinsmen who lost their lives defending their Turkish and Muslim identity."
Heyit's detention is indicative of China's determination to crack down on Uighur intellectuals and cultural figures in an effort, some say, to eradicate a separate Uighur language and identity.
His death has not been independently confirmed and China had no immediate response to the minister's remarks.
After months of denying their existence, Chinese authorities under increasing outside pressure acknowledged the system of camps, terming them vocational training centres.
They have provided little or no information on how many are interned within them and how long they are being held.
Turkish President Recep Tayyip Erdogan had once accused China of "genocide" but has since established closer diplomatic and economic relations with Beijing.
https://www.independent.co.uk/news/world/asia/turkey-china-uighurs-muslims-concentration-camps-islam-a8772276.html
--------
Indonesian entertainers protest law on 'pornography', blasphemy in music
February 11, 2019
JAKARTA: Indonesian entertainers have rallied against a draft law that seeks to ban blasphemous and "pornographic" music content, which critics say could be used to clamp down on freedom of expression in the Muslim-majority nation.
More than 100 protestors – many carrying placards or playing guitars and drums – took to the streets of Bogor, near Jakarta, on Sunday to demonstrate against the proposed law.
An online appeal calling for the vaguely worded bill to be scrapped has been signed by nearly 270,000 people.
Under the proposed law, musicians would be prevented from "bringing negative influences from foreign cultures and/or degrading human dignity" in Indonesia.
As well as cracking down on blasphemous and "pornographic" content, it imposes onerous new requirements on musicians, such as carrying out competency tests to gain certification.
The legislation, which is being considered by parliament, could see musicians jailed or fined for failing to comply.
Artists say the vague wording of the draft law could lead to misuse by authorities.
Danilla Riyadi, who initiated the petition on behalf of a coalition of concerned musicians, said the bill is "very dangerous and could be the gateway for a group of people to persecute the creative process of people they dislike."
Musician-turned-politician Anang Hermansyah, who is on the committee that drew up the bill, has been quoted as saying the goal was to strengthen Indonesia's entertainment industry and that the details could still be changed.
It is not clear why the bill suggests banning foreign influences and "pornographic" content – or what would be classified as pornographic content in music.
Almost 90% of Indonesia's more than 260 million people identify as Muslim but the vast majority practise a moderate form of the religion.
However, foreign artists have occasionally found themselves in the cross-hairs of religious conservatives or fallen afoul of the country's censors.
Pop star Lady Gaga cancelled a concert in 2012 because of security concerns after Islamist hardliners promised "chaos" if she entered Indonesia.
Full report at:
https://www.freemalaysiatoday.com/category/world/2019/02/11/indonesian-entertainers-protest-law-on-pornography-blasphemy-in-music/
--------
DAP 'enemy of Islam'? Actually, we're friends of moderate Islam, Kit Siang tells Hadi
8 February 2019
Shazwan Mustafa Kamal
KUALA LUMPUR, Feb 8 ― Lim Kit Siang today sought to fend of accusations that the DAP is an "enemy of Islam", by pointing out that the party had consistently back those who believed in a moderate version of Islam which is in line with a multi-ethnic Malaysia.
He pointed out that DAP worked together with PAS in the Barisan Alternatif in 1999-2001 and Pakatan Rakyat from 2008-2015 on the basic of common principles and not opportunism, and ended these alliances when the Islamist party became insistent with the push for an Islamic State and its support for ex-prime minister Datuk Seri Najib Razak.
"DAP is always a 'friend of Islam' which is moderate and tolerant which will make Malaysia a world top-class nation and not an extremist and intolerant Islam which divide Malaysians and will destroy the Malaysian Dream," the Iskandar Puteri MP said in a statement.
Lim claimed the reason why PAS president Datuk Seri Abdul Hadi Awang accused the DAP of being a "enemy of Islam" was because the latter was trying to divert public attention from the withdrawal of his legal suit against Clare Rewcastle-Brown, editor of Sarawak Report and an out-of-court settlement which enabled the original Sarawak Report article on Najib allegedly giving RM90 million to PAS to remain online.
Earlier this week, Abdul Hadi sought to explain why PAS ended its alliance with DAP some years back, and in doing so accused the latter party of being an "enemy of Islam."
Full report at:
https://sg.news.yahoo.com/dap-enemy-islam-actually-were-024749270.html
--------
Malaysia's toppled leader to go on trial over 1MDB scandal
FEBRUARY 11, 2019
Malaysia's toppled leader Najib Razak will go on trial this week over an extraordinary financial scandal that contributed to the downfall of his long-ruling coalition and reverberated around the world.
The former prime minister and his cronies are accused of stealing $4.5 billion from Malaysian sovereign wealth fund 1MDB in a mind-boggling fraud that stretched from Switzerland to the Seychelles.
The money was purportedly used to fund a global shopping spree — a $250-million super-yacht, high-end real estate, and Monet and Van Gogh artworks were among the items allegedly bought with cash plundered from public coffers.
The scandal ensnared celebrities, with the fraud's suspected mastermind seen partying with Leonardo DiCaprio and Paris Hilton, while the new Malaysian government has accused Wall Street titan Goldman Sachs of stealing billions during its work with 1MDB.
Public revulsion at the graft allegations played a large part in the election defeat of Najib — who set up the fund — and a coalition that had ruled Malaysia uninterrupted since independence from Britain in 1957.
Since his shock poll loss in May, the 65-year-old has been arrested and hit with 42 charges linked to the scandal. He has vehemently denied any wrongdoing.
Far from keeping quiet, the aristocratic ex-leader has mounted a publicity blitz, seeking to present himself as a man of the people and constantly hurling jibes at the new government.
This week's trial, starting Tuesday, centres on allegations that 42 million ringgit ($10.3 million) was transferred from SRC International, a former 1MDB unit, into Najib's personal bank accounts.
The case involves three counts of money-laundering, three of criminal breach of trust — where someone is accused of dishonestly using something entrusted to them — and one of abuse of power. Najib has pleaded not guilty to all the charges.
Mounting allegations
It is just one of several trials Najib is expected to face over 1MDB and involves a fraction of the total purportedly stolen from the fund, and the $681 million that allegedly ended up in his personal accounts.
But the start of the first trial is nevertheless a key moment, and may relieve pressure on the new government following criticism that it has been slow to act over 1MDB.
"It's an important moment, albeit a very delayed one," said Cynthia Gabriel, who was a member of a government committee set up to investigate the scandal.
"It is very critical for the new government to address and resolve past scandals," added Gabriel, head of the non-profit The Center to Combat Corruption and Cronyism.
The former leader and his defence team have portrayed the cases against him as revenge by the new government led by 93-year-old Prime Minister Mahathir Mohamad, Najib's mentor-turned-nemesis.
Muhammad Shafee Abdullah, Najib's chief lawyer, labelled the upcoming trial "political".
"If you give me a straight judge, a straight system of justice, and the witnesses are left to themselves without being coached, I'll win this case," he told AFP.
Trial dates have been set until the end of March and prosecutors are expected to call dozens of witnesses.
Full report at:
https://dailytimes.com.pk/353432/malaysias-toppled-leader-to-go-on-trial-over-1mdb-scandal/
--------
Mideast
Fearing abuses amid monitors quit, Palestinians escort Hebron pupils to school
11 February 2019
Palestinians in the occupied West Bank city of Hebron escorted children to school Sunday, saying protecting them from Israeli settlers was necessary following the withdrawal of international monitors.
Israeli Prime Minister Benjamin Netanyahu announced last month he would not renew the mandate of the Temporary International Presence in Hebron (TIPH), accusing it of bias.
The mission left on January 31.
It was established after a massacre of Palestinians in 1994 and Palestinian officials warned the withdrawal of the international monitors could increase abuses by settlers in the city.
Palestinians from the Youth Against Settlements organization accompanied children to schools in vests with the word "observer" written in English, Arabic and Hebrew an AFP photographer said.
"Today we started a local campaign to document violations that children going to school are subject to in this area where there are always settlers and the occupation army," Issa Amro from the organization told AFP.
"We will not replace the international observers, but we try as much as we can to make sure that the children go to school."
Small scuffles broke out between Israeli settlers, the Palestinians and Israeli soldiers during the walk, the AFP journalist said.
TIPH was created after 29 Palestinian worshippers in a mosque were gunned down by an American-born Israeli settler.
Observers carried out daily patrols and document rights abuses they witness, although they were not allowed to intervene.
The mission reported its findings to its member countries - Italy, Norway, Sweden, Switzerland and Turkey - as well as the Israeli and Palestinian authorities.
Hebron is holy to both Muslims and Jews and has been a flashpoint in the Israeli-Palestinian conflict.
At least 600 Jewish settlers live under heavy military guard in the city, which is home to around 200,000 Palestinians.
Israeli settlements are seen as illegal under international law and a major obstacle to peace, as they are built on land the Palestinians see as part of their future state.
https://english.alarabiya.net/en/News/middle-east/2019/02/11/Fearing-abuses-Palestinians-guard-Hebron-pupils-after-monitors-quit.html
--------
Netanyahu vows to freeze money transfers to Palestinian Authority 'next week'
Feb 10, 2019
Israeli Prime Minister Benjamin Netanyahu has promised to implement a controversial plan to deduct certain amounts from the tax the Tel Aviv regime collects on behalf of the Ramallah-based Palestinian Authority (PA).
Netanyahu said during a press briefing in the occupied Jerusalem al-Quds on Sunday that his so-called security cabinet would approve next week a deduction in tax revenues relative to the amounts the PA pays to the Palestinians languishing in Israeli jails or the families of those killed by the regime's military.
Reacting to the remarks, Palestinian Civil Affairs Minister Hussein al-Sheikh said that the PA would take none of the money if Israel withheld even "a penny."
The Palestinian Ma'an news agency, citing Israel Hayom newspaper, had earlier reported that the Israeli ministry of military affairs was in the "advanced stages" of determining how much funding would be withheld.
The Tel Aviv regime collects around 127 million dollars a month in duties levied on goods destined for Palestinian markets that transit through Israeli "customs" and then transfers it to the PA.
In early July last year, Israel's parliament passed a bill to withhold hundreds of millions of dollars in funds from the Palestinians over welfare payments given to prisoners and their families.
At the time, Secretary General of the Palestine Liberation Organization (PLO) Saeb Erekat condemned the decision, which he described as "piracy."
The stipends benefit roughly 35,000 families of the Palestinians killed and wounded by Israel. The PA says the payments are a form of welfare stipend to the families who have lost their main breadwinner. The Israeli regime calls that "terrorist salaries." In a speech in June 2017, Abbas argued that "payments to support the families are a social responsibility to look after innocent people affected by the incarceration or killing of their loved ones."
Full report at:
https://www.presstv.com/Detail/2019/02/10/588223/Israel-Netanyahu-PA-tax-deduction-next-week
--------
Hamas welcomes recent calls for democratic Palestinian general elections
Feb 10, 2019
The Islamic resistance movement Hamas has praised recent calls by a political party active in the Palestine Liberation Organization (PLO) for democratic Palestinian general elections.
Hamas political bureau member Hussam Badran said in a statement on Saturday that his movement "fully supports holding general elections supervised by a national unity government that is formed consensually."
He added that Hamas will "cooperate with all Palestinian factions and parties in order to get over the internal political crisis and the disappointing performance by the incumbent government regarding the Palestinian reconciliation project."
"Hamas is ready to participate in a comprehensive national dialogue that would be held unconditionally. It also stresses that it rejects monopoly of power and unilateralism by some Palestinian factions under whatever pretext," Badran said.
The Palestinian Democratic Union lately called for a comprehensive national dialogue among all Palestinian parties to open the way for presidential and legislative national councils in accordance with the full proportional representation of the factions, and under the supervision of a compatible national unity government.
On February 5, Hamas and Islamic Jihad demanded the quick formation of a new national unity government, stressing the need for further cooperation between the two groups in the face of challenges facing the Palestinian nation.
The two movements, in a joint statement released following a lengthy meeting between their representatives in the Egyptian capital city of Cairo, emphasized that a national unity government must be established in a bid to hold new parliamentary elections in Palestinian territories, and secure Palestinian unity.
Palestinian President Mahmoud Abbas announced on January 30 that the Palestinian legislative polls will be held in East Jerusalem al-Quds, the West Bank and the Gaza Strip to enable the Palestinian citizens to elect their representatives through ballots.
"The Palestinian leadership is keen to achieve the national Palestinian unity by implementing what had been agreed upon in Cairo in 2017," Abbas said, adding that "the Palestinian leadership is committed to its implementation."
Last December, Abbas announced that the Palestinian Constitutional Court had decided to dissolve the Palestinian parliament, better known as the Palestinian Legislative Council (PLC).
The court had also called for holding new parliamentary election in the Palestinian territories after six months of dissolving the parliament.
Late last month, Palestinian Prime Minister Rami al-Hamdallah officially submitted his resignation and that of his unity government to Abbas, casting doubt on the prospects of reconciliation efforts with Hamas.
Abbas had been facing pressure from his ruling Fatah movement over the past few weeks to remove Hamdallah from power, and establish a new government comprised of representatives from PLO factions in addition to independent figures.
Hamdallah headed the Palestinian National Consensus Government, which was formed after Fatah and Hamas reached an agreement in 2014.
Full report at:
https://www.presstv.com/Detail/2019/02/10/588188/Hamas-Palestinian-elections
--------
Israel, US hold small-scale joint war game
Feb 10, 2019
The Israeli regime has been conducting a joint war game with the United States, simulating a scenario in which Israel needs aerial defense by the US.
The so-called Juniper Falcon drill began on Thursday and will continue until February 15, according to Israeli media.
The war game involves 300 American and 400 Israeli forces from various units.
Israeli media reports said the exercise is part of an agreement between Washington and Tel Aviv to hold training drills on a regular basis.
The Israeli air force said that the maneuver included "operational orders which may be utilized in the future."
Last March, a similar exercise was held with the participation of more than 2,500 forces from the US European Command and 2,000 Israeli soldiers.
Israel simulates war on Lebanon
Separately, on Thursday, Israel completed a week-long military drill in the mountainous areas of the Jordan Valley in the occupied West Bank, simulating war on Lebanon.
Israeli Army spokesman Avichay Adraee said the regime's forces drilled occupying and burning areas while evacuating casualties under fire.
Israel waged two all-out wars against Lebanon — in 2000 and 2006 — but fell short of its military objectives in both cases in the face of strong resistance by the Hezbollah resistance movement and the Lebanese Army.
Ever since the latest military confrontation, the Tel Aviv regime has been apparently practicing for a future war. Hezbollah says, however, that Israel is in no position militarily to wage and endure another war.
Full report at:
https://www.presstv.com/Detail/2019/02/10/588166/Israel-US-smallscale-joint-military-drill
--------
Iran's Islamic Revolution inspired, divided militants
February 10, 2019
DUBAI: Inspired in part by Iran's Islamic Revolution, a young Egyptian army lieutenant emptied his machine gun into President Anwar Sadat in 1981, killing a leader who made peace with Israel and offered the shah a refuge after his overthrow.
The assassination carried out by Khalid Al-Islambouli and others from a Sunni Islamic extremist group showed the power of Iran's Shiite-led revolution across the religious divides of the Muslim world.
Islamists initially saw Iran's revolution as the start of an effort to push out the strongman Arab nationalism that had taken hold across the Middle East.
But those divisions now feel inflamed by the sectarian bloodshed that followed the US invasion of Iraq in 2003, Syria's long civil war and the regional rivalry between Iran and Saudi Arabia.
It may seem as though the Middle East has always been divided between Sunni Islam, which represents about 85 percent of the world's more than 1.8 billion Muslims, and Shiite Islam. But that divide, stemming from a disagreement centuries ago over who should succeed the Prophet Muhammad, owes much to the political rivalry between Saudi Arabia and Iran after 1979.
Long before the Islamic Revolution, Islamists had wanted to wed governments to their faith. One of the most prominent was the Muslim Brotherhood, a Sunni group founded in 1928 in Egypt that spread across the Arab world. Another was the Iranian Shiite Islamist group "Devotees of Islam," who assassinated pro-Western Prime Minister Ali Razmara in 1951.
The aftermath of World War II instead saw the rise of pan-Arab nationalists, chief among them Egypt's Gamal Abdel Nasser. Military strongmen took power, pushing for rapid modernization that shunted religion aside.
The nationalists "see themselves often as critical of religion because religion is 'backward.' It's what's been holding the Arab world back," said Daniel Byman, a senior fellow at the Brookings Institution and a professor at Georgetown University. "That's kind of the dominant divide, and Islamists of all stripes are pushing back against this."
Ayatollah Ruhollah Khomeini, who returned to Iran from exile after the departure of Shah Mohammad Reza Pahlavi, made a point to keep Shiite ideas out of speeches.
"The Iranian revolution in the beginning was portraying itself as the start of a pan-Islamic revolution," said Toby Matthiesen, a senior researcher at St. Anthony's College at the University of Oxford who is writing a book on Sunni-Shiite relations. "It was even seen like that by a lot of the Sunni Islamic movements."
Khomeini also made a point to embrace the Palestinians in their fight against Israel. Yasser Arafat, the leader of the overwhelmingly Sunni Palestinians, returned the favor by becoming the first leader to visit Khomeini.
"The Iranian revolution gave us a strong belief that the tyrants can be brought down," said Ahmed Yousef, one of the founders of Hamas, the Palestinian Islamic political party and armed wing that has controlled the Gaza Strip since 2007 with Iran's backing. "Following that big victory, the Islamic Jihad was established here in Palestine and few years later Hamas was founded too."
The pan-Islamic Iranian inspiration perhaps reached its height on Oct. 6, 1981, as Islambouli and his co-conspirators rushed out of a truck at a Cairo military parade and assassinated Sadat, who had made history by signing the first Arab peace deal with Israel. At trial, Islambouli famously clutched a Qur'an and shouted: "It was I who killed the Pharaoh!" Iran venerated Islambouli, naming a street in Tehran after him and issuing a postage stamp in his honor.
But by this time, Saudi Arabia, fearful of Iran's growing influence and the 1979 extremist attack on the Grand Mosque at Makkah, began pumping money into spreading its ultraconservative view of Sunni Islam throughout the world and dismissing Shiites as apostates.
"The Saudis really put a lot of money into the 'Dawah' machine to try to out-compete Iran around the world," Byman said, referring to the kingdom's proselytizing efforts. "There's a real panic and concern then."
Pan-Islamic admiration for Iran waned as it supported destabilizing attacks across the region, such as a failed 1981 militant coup in Bahrain and a 1985 car bombing targeting the emir of Kuwait. Iran's eight-year war with Iraq deepened that rift.
Iran at the same time found perhaps its greatest success in helping create the Shiite militant group Hezbollah in Lebanon, which still holds sway over much of the country decades later as both an armed group and a political party. In October 1983, a bombing at the US Marine barracks in Beirut killed 231 American troops — the bloodiest day for the armed forces since World War II — and a US federal judge blamed Hezbollah and Iran for the attack. Iran has long denied any involvement.
Sectarianism exploded in the region with the US invasion of Iraq in 2003. Iran backed Shiite militants implicated in deadly roadside bomb attacks against US forces and sectarian assaults on Sunnis. Sunni extremists repeatedly targeted Shiite civilians, and when the Daesh group rampaged across Syria and Iraq in 2014 it massacred Shiites and other minorities. Iran intervened again, reactivating the militias to help Iraqi forces eventually defeat the extremist group.
Syria's civil war further fueled the split, as Iran and Hezbollah provided crucial military aid to President Bashar Assad, who comes from the Alawite religious minority, while Sunni Gulf countries and Turkey supported the mainly Sunni opposition.
And yet even today, the role of the Iranian revolution in stoking Sunni militancy cannot be ignored.
Full report at:
http://www.arabnews.com/node/1449816/middle-east
--------
Rouhani says Iran to continue expanding its military might, missile work
February 11, 2019
DUBAI: Iranian President Hassan Rouhani said on Monday that Iran was determined to expand its military power and ballistic missile program despite mounting pressure from hostile countries to curb Iran's defensive work, state TV reported.
"We have not asked and will not ask for permission to develop different types of ... missiles and will continue our path and our military power," Rouhani said in a speech at Tehran's Azadi (Freedom) square, where tens of thousands gathered to mark the 40th anniversary of Iran's Islamic revolution.
http://www.arabnews.com/node/1450261/middle-east
--------
Yemen committed to settling existing debts
February 11, 2019
DUBAI: Yemen's government has said it remains committed to paying back loans to the Arab Monetary Fund (AMF) that were due in 2016, and once paid back millions of dollars more will be made available state news agency SPA reported.
Yemen borrowed the money to fund the fight against the Houthi militia, but have been unable to repay the funds by the agreed date.
Abdul Rahman Al-Humaidi, chairman of the Arab Monetary Fund, said Yemen would now pay the loans according to a new schedule.
But Humaidi said it was uncommon for Yemen not to repay its debt on time.
He said the AMF was ready to help Yemen modernize its central bank by preparing a comprehensive study of the current financial situation and the banking sector in Yemen.
Full report at:
http://www.arabnews.com/node/1450241/middle-east
--------
Israel to demolish Palestinian murder suspect's home
February 10, 2019
JERUSALEM: The Israeli Army said on Sunday it had started preparations to demolish the West Bank home of a Palestinian suspected of killing an Israeli woman.
"Overnight, troops operated in Hebron, where the suspect in the murder of Ori Ansbacher is from," the army said in an English-language statement.
"During the operation, the troops surveyed the suspect's house in order to examine the possibility of its demolition."
The suspect was arrested over the weekend and has not yet been charged.
The body of Ansbacher, 19, was found late on Thursday in southeast Jerusalem, and she was buried the next day in her Israeli settlement of Tekoa.
Israeli security forces arrested the suspect in a raid in the occupied West Bank city of Ramallah.
The Shin Bet security service named him as 29-year-old Arafat Irfaiya from Hebron.
Both the police and Shin Bet have said investigations have so far not found conclusively whether the killing was a "terrorist attack" or from other motives.
In the runup to Israel's general election in April, however, politicians and Israeli media appeared to have no such doubts on Sunday.
"I have no doubts about the nationalist motives of the murderer," Public Security Minister Gilad Erdan told public radio.
"After so many years of suffering from terror we should know — this is a nationalist attack."
Commenting on calls to execute Palestinian militant killers, Erdan said he was in favor of applying the death penalty in certain circumstances.
"If it becomes clear that there is no possibility of rehabilitating the murderer and that he abused his victim, in such cases capital punishment should be applied," he said.
"The time has come to employ the death penalty for terrorists, as the law allows us to do," the daily Maariv quoted MP Bezalel Smotrich of the far right Jewish Home party as saying.
Despite a court gag order, Israeli social media were abuzz over the weekend with what Yediot Aharonot newspaper called "graphic descriptions about the alleged nature of the murder."
Police called on the public not to share "publications and reports, especially on social media, about the circumstances of the murder case, including irresponsible horrific descriptions."
Full report at:
http://www.arabnews.com/node/1450016/middle-east
--------
Netanyahu vows to freeze Palestinian funds after Israeli teen killed
February 10, 2019
JERUSALEM: Nudged by rightwing political rivals after a deadly Palestinian attack on a young Israeli woman, Prime Minister Benjamin Netanyahu who seeks re-election pledged Sunday to freeze money transfers to the Palestinian Authority.
Israel collects around $127 million a month in customs duties levied on goods destined for Palestinian markets that transit through Israeli ports and then transfers it to the PA.
The Israeli parliament last year passed legislation to partially withhold funds, in response to PA payments to families of Palestinians jailed by Israel for attacks against Israelis.
"By the end of the week, the staff-work necessary for implementing the law on deducting terrorists' salaries will be completed," Netanyahu — who faces a general election in April — told journalists at the start of the weekly cabinet meeting.
"Next Sunday I will convene the security cabinet and we will approve the necessary decision to deduct the funds. Let nobody doubt, the funds will be deducted, at the start of next week," he said in Hebrew.
Earlier Sunday, Education Minister Naftali Bennett was among rightwingers pressing Netanyahu to implement the law after a Palestinian was arrested at the weekend on suspicion of killing 19-year-old Ori Ansbacher.
"The law to offset terrorist funds passed...last July," he Tweeted. "I call on the prime minister — apply the law immediately."
Palestinian civil affairs minister Hussein Al-Sheikh said that the PA would not go along with Israel withholding any part of the tax money due.
"The Palestinian Authority will refuse to receive any cleared funds if Israel deducts a penny from it," he told AFP, speaking in Arabic.
He did not say what the PA's next step would be.
The Israeli army said Sunday it had started preparations to demolish the West Bank home of the Palestinian suspected of Ansbacher's killing, named by security officials as 29-year-old Arafat Irfaiya from the flashpoint city of Hebron on the occupied West Bank.
"Overnight, troops operated in Hebron, where the suspect in the murder of Ori Ansbacher is from," the army said in an English-language statement.
"During the operation, the troops surveyed the suspect's house in order to examine the possibility of its demolition."
Ansbacher's body was found late Thursday in southeast Jerusalem, and she was buried the next day in her Israeli settlement of Tekoa.
Israeli security forces arrested the suspect in a raid in the West Bank city of Ramallah. He has not yet been charged.
Both the police and the Shin Bet security agency have said investigations have so far not concluded whether it was a "terrorist attack" or driven by another motive.
In the runup to elections, however, politicians and Israeli media appeared to have already made up their minds.
"I have no doubts about the nationalist motives of the murderer," Public Security Minister Gilad Erdan told public radio.
"After so many years of suffering from terror we should know — this is a nationalist attack."
Commenting on calls to execute Palestinian militant killers, Erdan said he was in favor of applying the death penalty in certain circumstances.
"If it becomes clear that there is no possibility of rehabilitating the murderer and that he abused his victim, in such cases capital punishment should be applied," he said.
"The time has come to employ the death penalty for terrorists, as the law allows us to do," the daily Maariv quoted MP Bezalel Smotrich of the far-right Jewish Home party as saying.
Despite a court gag order, Israeli social media were abuzz over the weekend with what Yediot Aharonot newspaper called "graphic descriptions about the alleged nature of the murder."
Police called on the public not to share "publications and reports, especially on social media, about the circumstances of the murder case — including irresponsible horrific descriptions."
"We hereby clarify that those are completely baseless publications," it said.
Sponsors of July's law on Palestinian funds wrote at the time that the PA paid around $330 million a year to prisoners and their families, or seven percent of its budget.
Israel has withheld payments in the past, notably in response to the Palestinians' 2011 admission to the UN cultural agency UNESCO as a full member.
Full report at:
http://www.arabnews.com/node/1449961/middle-east
--------
South Asia
Acting Pentagon chief lands in Afghanistan, supports Kabul role in peace talks
Feb 11, 2019
KABUL: Acting US defence secretary Patrick Shanahan arrived in Afghanistan on Monday and said it was important the Afghan government is involved in talks, from which it has so far been excluded, to end the 17-year-old war.
Shanahan, who will meet US troops and Afghan President Ashraf Ghani on his first trip in his new role, said he had so far not received any direction to reduce the nearly 14,000 US troops in Afghanistan.
He also said the United States has important security interests in the region.
Ghani's government has been shut out of the evolving peace talks between Taliban negotiators and US envoys, with the hardline Islamist movement branding his government a US puppet. Kabul is also concerned that a sharp drawdown of US forces could lead to chaos in the region.
"It is important that the Afghan government is involved in discussions regarding Afghanistan," Shanahan told a small group of reporters travelling with him on the unannounced trip.
"The Afghans have to decide what Afghanistan looks like in the future. It's not about the US, it is about Afghanistan," he said.
Shanahan took over from Jim Mattis, who quit in December over policy differences with US President Donald Trump.
He said he could not make any guarantees because US peace envoy Zalmay Khalilzad was leading the talks.
"The US military has strong security interests in the region. (The) presence will evolve out of those discussions," Shanahan said.
He also said his goal on the trip was to get an understanding of the situation on the ground from commanders and then to brief Trump on his findings.
US officials have held several rounds of talks with the Taliban in Qatar since last year in what is widely seen as the most serious bid yet for peace in Afghanistan since the Taliban were ousted by US-backed Afghan forces in late 2001.
Both sides hailed progress after the latest round last month, although significant obstacles remain. Those include the involvement of the Afghan government, which the Taliban refuse to acknowledge.
The next round of talks is due in Qatar on February 25.
Michael Kugelman, a South Asia specialist at the Woodrow Wilson Center, said Shanahan's main priority in Kabul should be to address Afghan government concerns.
"The top priority of Shanahan has to be to impress upon the government that we're going to do everything we can to get you into this conversation," Kugelman said.
Shanahan will also have to grapple with how much allies will trust him.
Mattis, a former four-star general once in charge of US Central Command, was respected for his deep knowledge of military and global affairs. Shanahan, a former Boeing executive and Mattis's deputy, is seen as a relative outsider in foreign policy circles.
Afghanistan and neighbouring countries are also concerned about the effect a sudden withdrawal of US forces could have on the region.
An Afghan official, speaking on the condition of anonymity, told Reuters that even the suggestion of US troops potentially leaving was dangerous.
"Of course it has given leverage to the Taliban, there is no question about that," the official said.
Trump has offered no specifics about when he would bring home the 14,000 US troops in Afghanistan but has said progress in negotiations with the Taliban would enable a troop reduction and a "focus on counter-terrorism".
Shanahan said a withdrawal of about half the US troops in Afghanistan was not something that was being discussed at this point and he had not been directed to reduce troop numbers.
"The presence we want in Afghanistan is what assures our homeland defence and supports regional stability and then any type of sizing is done in a coordinated and disciplined manner," he said.
Khalilzad said after six days of talks with the Taliban in Doha last month, the United States and the Taliban had sketched the outlines for an eventual peace accord. He has said since then there had been progress on the future of US troops in Afghanistan.
However, the Taliban have put out contradictory information on what timeline the US had agreed to in any potential withdrawal.
Most recently, a Taliban official said no timetable had been agreed with the US government for the partial withdrawal of US forces.
US officials have told Reuters that, while no formal orders have been sent, the military is preparing for what a withdrawal of about half of the 14,000 US troops in Afghanistan would look like.
https://timesofindia.indiatimes.com/world/south-asia/acting-pentagon-chief-lands-in-afghanistan-supports-kabul-role-in-peace-talks/articleshow/67939091.cms
--------
After criticizing vote, US charts careful course on Bangladesh
11 Feb 2019
WASHINGTON: Bangladesh faced widespread international criticism over the conduct of recent elections, but the United States looks set for business as usual as it sees strong common interests with Prime Minister Sheikh Hasina.
As the eighth most populous nation in the world, with a moderate Muslim population that largely welcomes cooperation with the West, Bangladesh has a warming relationship with the United States - yet not one so close as to give Washington significant leverage.
Sheikh Hasina's Awami League won an incredible 288 seats in the 300-seat parliament in the December 30 election, with opposition leader Khaleda Zia - her bitter nemesis for decades - in jail on charges her opponents say are politically motivated while the press faces draconian new restrictions.
The US State Department voiced concern ahead of the election, accusing Bangladesh of foot-dragging on letting in electoral observers and urging greater efforts to ensure a free vote.
The United States followed up after the election with a letter by President Donald Trump that wished Sheikh Hasina success but asked her to "renew her commitment to protecting human rights, individual freedom of expression and democratic institutions," a US official said.
Sheikh Hasina is a sworn enemy of Islamists, mounting a crackdown on the Jamaat-e-Islami party that included hanging five of its leaders over charges related to Bangladesh's 1971 war of independence from Pakistan.
She has also earned widespread praise in Washington for taking in more than 700,000 Rohingya refugees who fled from neighboring Myanmar in a brutal campaign the United States has called ethnic cleansing - stopping the crisis from become more regional in dimension.
Michael Kugelman, senior associate for South Asia at the Woodrow Wilson International Center for Scholars, said that Bangladesh was effectively becoming a one-party authoritarian state - but one whose orientation largely suits Washington.
"I think the bottom line is that the US sees Sheikh Hasina as a useful partner. She's very tough on terror and she's presided over a remarkable degree of economic growth," he said.
"I think, in that regard, the US sees her as a supporter and practitioner of stability in Bangladesh in spite of the tradeoff of having a very troubled domestic political situation in Bangladesh."
SEEKING GREATER TIES
Bangladesh's government has shown no sign it takes seriously the concerns about the election, also voiced by the European Union.
Sajeeb Wazed, Sheikh Hasina's US-based son who serves as her adviser on information and communications technology, said the pre-election US statement was "disappointing" and blamed it on what he called opposition supporters among local staff at the US embassy in Dhaka.
But he saluted the relationship with the United States and voiced hope for further ties, saying a top priority was to draw greater US investment in an economy that has been growing by more than six percent annually.
"We have a huge consumer market. You have almost 80 million people in the middle class," he said.
He said that Bangladesh has been "phenomenally successful in combatting terrorism," calling it "one of the few Muslim countries that is considered relatively terrorism-free."
Wazed added that the government felt a genuine empathy for fleeing Rohingyas in light of Bangladesh's plight at independence and noted that the refugees have not seen the type of backlash experienced by migrants to Europe.
LIMITED SCOPE TO CRITICISE
The United States see a friendly rapport with Bangladesh as vital to Washington's goal of an open, US-friendly Indo-Pacific region. Unlike neighbors such as Sri Lanka, Bangladesh has not drawn high-profile infrastructure deals with China.
Another country is even more critical to the US relationship with Bangladesh - regional power and emerging US ally India, which has staunchly supported Sheikh Hasina, limiting the scope for Washington to take another approach even if it so chose.
The opposition, however, is hopeful that US criticism can make headway.
Humaiun Kobir, the international affairs secretary of Zia's Bangladesh Nationalist Party who met policymakers in Washington ahead of the vote, said the United States should make clear that relations will be limited "unless you show us you are democratizing."
He said that Sheikh Hasina had turned Bangladesh into a country like Cambodia or Venezuela, where the United States to varying degrees had criticized strongmen.
Kobir praised a US House of Representatives resolution that had urged free elections and noted the opposition's concerns.
Full report at:
https://www.channelnewsasia.com/news/asia/after-criticizing-vote--us-charts-careful-course-on-bangladesh-11228952
--------
Taliban militants suffer heavy casualties in Takhar and Kunduz operations
11 Feb 2019
The Taliban militants have suffered heavy casualties during the operations of the Afghan armed forces in northeastern Takhar and northern Kunduz provinces.
The 209th Shaheen Corps of the Afghan Military in the North in a statement said at least 10 Taliban militants were killed and 15 others were wounded during the operations of the Afghan Police and Afghan Intelligence led by the Afghan Army in Khwajah Ghar, Dasht-e-Qala, Yangi Qala, and Khwajah Bahauddin districts of Takhar province.
The statement further added that the operations are being conducted in the framework of Toofan-24 operations.
The Afghan forces also received artillery and close air support during the operations, the 209th Shaheen Corps said adding that the operations will continue until the mentioned areas are fully cleared of militants.
According to 209th Shaheen Corps, the security personnel have not suffered casualties during the operations.
In the meantime, the 209th Shaheen Corps said the Afghan Air Force carried out airstrikes using MD-530 helicopters against the militant in Hazrat Sultan area located in the provincial capital of Kunduz which left two militants dead and three others wounded.
Full report at:
https://www.khaama.com/taliban-militants-suffer-heavy-casualties-in-takhar-and-kunduz-operations-03284/
--------
Taliban attack claims lives of 7 policemen in Farah province
10 Feb 2019
The local officials in western Farah province confirm that a Taliban attack has claimed the lives of seven policemen in this province.
Members of the provincial council said a group of Taliban insurgents launched an attack on a security outpost in Bala Bolok district late on Saturday night.
The officials further added that the attack claimed lives of 7 policemen and Taliban militants took away the weapons and other equipment of the police forces.
In the meantime, the provincial police commandment officials confirm the attack but added that three policemen have lost their lives during the clash.
Farah is among the relatively volatile provinces in West of Afghanistan with some of its remote districts remaining home to Taliban militants who often attempt to carry out attacks against the government and security institutions.
https://www.khaama.com/taliban-attack-claims-lives-of-7-policemen-in-farah-province-03281/
--------
Afghan president offers Taliban local office, but group wants Doha instead
FEBRUARY 11, 2019
Afghan President Ashraf Ghani on Sunday offered the Taliban the possibility of opening an office in Afghanistan but the proposal was swiftly spurned by the group that is determined to keep his government out of accelerating peace talks.
Ghani has expressed alarm at the Taliban shutting his administration out of negotiations with the United States as well as recent Moscow talks with Afghan opposition politicians, and repeated earlier offers to give the group a secure official address to aid any future diplomacy between the two sides.
"If the Taliban want an office, I will give it to them in Kabul, Nangarhar or Kandahar by tomorrow," Ghani said while visiting the province of Nangarhar, a hotbed of insurgent violence on the border with Pakistan.
"We will bring a lasting and honourable peace to the country," he said.
Nangarhar is a stronghold of the Taliban, the hardline Islamist movement that now controls or contests districts across nearly half the country, more than 17 years since they were toppled from power.
Taliban officials in Moscow last week stressed the importance of a formal office among a string of demands that included the removal of Western sanctions and travel bans on Taliban members, prisoner releases and an end to "propaganda" against the group.
Taliban spokesman Sohail Shahin later told Reuters that the focus was international recognition of their existing site in Doha, Qatar.
On Sunday he said Ghani was trying to harm the peace efforts with his latest offer.
"Our demand about having an official political office is clear, we want that our office in Doha is recognised by the international community and the United Nations," Shahin said.
"By this, Ghani is trying to change the topic and harm the on-going peace efforts."
Taliban negotiators are due to meet US peace envoy Zalmay Khalilzad for another round of talks in Qatar on Feb. 25.
The talks are expected to centre around a ceasefire to end America's longest war and the withdrawal of foreign troops.
Full report at:
https://dailytimes.com.pk/353431/afghan-president-offers-taliban-local-office-but-group-wants-doha-instead/
--------
Bangladesh warns against lingering Rohingya crisis
February 10, 2019
The Foreign Minister of Bangladesh on Sunday said prolonged Rohingya crisis would encourage formation of pockets of radicalism, which could destabilise the South Asian region.
Speaking at a seminar on "Bangladesh and Human Rights" in Dhaka, A.K. Abdul Momen said Rohingya refugees needed to be sent home at the earliest, with safety and security, Efe news agency reported.
"My fear is, if this (Rohingya) problem lingers for a longer time, it may encourage pockets of radicalism and create problems of uncertainty and instability not only for Myanmar and Bangladesh but for the entire region," Momen said.
"Rohingya must go back to their homes, earliest the better. The global leadership must come forward to resolve the crisis at its root, not in Bangladesh," he said.
Momen, a former Bangladesh permanent representative in the United Nations, became the Foreign Minister after a new government took charge in January.
"Had Bangladesh Prime Minister Sheikh Hasina not sheltered the Rohingyas, it would have ended up in the gravest and worst genocide since World War II," said Momen.
"Our Prime Minister, by allowing (in) the persecuted people of the Rakhine province of Myanmar, has saved the face of global leaders from ignominy and disgrace," he said.
Rohingyas are ethnic Muslim minority concentrated in Rakhine State, and whom the Myanmar government refuses to recognise as citizens and allow basic rights.
More than 738,000 Rohingya refugees have arrived in Cox's Bazar, Bangladesh, since the beginning of the crisis on August 25, 2017, following a wave of persecution and violence in Myanmar that the UN described as an attempt at "ethnic cleansing".
The majority of Rohingyas -- more than 620,000 people -- live in just one area: Kutupalong, the largest refugee settlement anywhere in the world.
"They need to be repatriated with safety and security at the earliest. Their exodus was created by Myanmar and it is their responsibility to solve it," said the Minister.
The first phase of Rohingyas' voluntary repatriation to Myanmar was due to begin in November last year, as per an agreement between Bangladesh and Myanmar on November 23, 2017.
Full report at:
https://www.business-standard.com/article/news-ians/bangladesh-warns-against-lingering-rohingya-crisis-119021000421_1.html
--------
No direction received to reduce U.S. troops in Afghanistan: Shanahan
11 Feb 2019
The acting Secretary of Defense of the United States Patrick Shanahan has said that no direction has been received to reduce the number of U.S. troops in Afghanistan.
He made the remarks to a group of journalists who were travelling with him to Afghanistan, according to Reuters.
Shanahan arrived in Afghanistan early on Monday in an unannounced visit and is scheduled to meet with the U.S. forces and Afghan officials.
Amid ongoing efforts to resolve the ongoing conflict through negotiations, Shanahan said it was important the Afghan government is involved in talks.
He also pointed towards the important security interests of the United States in the region and added that he has so far not received any direction to reduce the nearly 14,000 U.S. troops in Afghanistan.
Full report at:
https://www.khaama.com/no-direction-received-to-reduce-u-s-troops-in-afghanistan-shanahan-03283/
--------
URL: https://www.newageislam.com/islamic-world-news/jamaat-e-islami-hind-kalyan/d/117715
New Age Islam, Islam Online, Islamic Website, African Muslim News, Arab World News, South Asia News, Indian Muslim News, World Muslim News, Women in Islam, Islamic Feminism, Arab Women, Women In Arab, Islamophobia in America, Muslim Women in West, Islam Women and Feminism