New Age Islam News Bureau
14 November 2020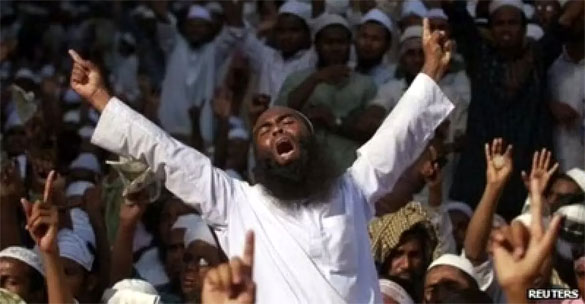 Jamat e Islam, Bangladesh, to be exposed
-----
• Karnataka: Muslim Devotee Prays To Shiva In Yearly Ritual And Proceeds For A Darshan Of The Virupaksha Shrine
• Germany Charges 12 Men With Plotting To Kill Muslims, Attack Mosques
• The Religious Persecution Of Governments Is Growing Worldwide, China In First Place
• 'Lebanese Man' Killed In Iran Over The Summer Was Al-Qaeda Deputy Leader: NYT
• Riyadh Must Stop Serving Israel, Start Respecting Neighbours: Iranian Official
• Nawaz Sharif Again Hurled Allegations At The Military Leadership, ISI Chiefs Again
South Asia
• Jamaat-e-Islami, Which Leads The Qawmi Madrasas Of Bangladesh With Modern Arms And Militancy Training To Be Exposed As Leader of Hefazat-e-Islam
• Sheikh Hasina receives Catholic bishops after their pilgrimage to the roots of the nation
• 120 Taliban Killed, 18 Wounded across Afghanistan: MoD
• NATO Dubs Peace Process 'Fragile', Urging Afghan Gov't to Seize Moment
• Afghan forces capture 'mastermind' of Kabul university attack
-------
India
• Karnataka: Muslim Devotee Prays To Shiva In Yearly Ritual And Proceeds For A Darshan Of The Virupaksha Shrine
• Uneasy Calm Along LoC Day After Heavy Exchange Of Fire Between India, Pakistan
• Rahul Gandhi Lauds Defence Forces For Protecting Country As Pakistan Violates Ceasefire
• 6-7 Pak soldiers killed, several injured in retaliatory firing by India along LoC
• Inside the operation to restore the Peshawar homes of superstars Dilip Kumar, Raj Kapoor
• 2 commandos among 8 Pak soldiers killed as India lights up Pak posts in retaliation
--------
Europe
• Germany Charges 12 Men With Plotting To Kill Muslims, Attack Mosques
• Pakistani lawyers protest French Islamophobia, urge closure of its embassy
• Amid Rising Terror Attack In Europe, French MEP Asks EU To Stop 'Showering' Turkey, Pakistan With Subsidies
• Coronavirus: UK removes UAE, Bahrain from COVID-19 travel quarantine list
• German prosecutors charge 12 with plot to attack mosques, kill Muslims
• EU ministers back tighter borders and online terror rules after recent attacks
--------
Southeast Asia
• The Religious Persecution Of Governments Is Growing Worldwide, China In First Place
• Celebrate but keep your distance, says PM in Deepavali message
• Utah man pleads guilty to trying to help the Islamic State carry out a terrorist attack
--------
Arab world
• 'Lebanese Man' Killed In Iran Over The Summer Was Al-Qaeda Deputy Leader: NYT
• Iraq reports fresh victories against Daesh, urges all countries to fight terrorism
• Saudi Arabia, US sign Rohingya aid deal
• Shrouded in mystery — the history of Jeddah's non-Muslim cemetery
• Strong US ties to be focus of Pompeo visit to Saudi Arabia, UAE: Official
• Armenia captures two Syrian mercenaries, amid Turkish and Azerbaijani denials
• Saudi Arabia's success in eliminating extremism praised
--------
Mideast
• Riyadh Must Stop Serving Israel, Start Respecting Neighbours: Iranian Official
• US Criticism Of Religious Freedom In Turkey Stirs Debate
• Palestinians view Pompeo visit to settlement as 'dangerous precedent'
• World Food Programme sent expired medical, food supplies to Yemen: Official
• Security forces arrest 42 Daesh terror suspects
--------
Pakistan
• Nawaz Sharif Again Hurled Allegations At The Military Leadership, ISI Chiefs Again
• PM Imran Khan useless, unaware of developments in Pakistan: Maryam Nawaz Sharif
• KP chief minister is country's richest MPA
• Pakistan calls for fair distribution of Covid vaccine
--------
Africa
• UN Votes To Crack Down On Al-Shabaab Extremists In Somalia
• Jordan's interior minister steps down after elections breached coronavirus lockdown
• Libya talks set December 2021 date for elections: UN envoy
• Niger engaged in secret talks to forge full ties with Israeli regime: Report
• Fourteen Burkinabe soldiers killed in ambush ahead of presidential election
--------
North America
• Pittsburgh a 'hub' for white supremacy, FBI analysts say
• US sanctions on Iran achieved less than nothing: Analyst
Compiled by New Age Islam News Bureau
URL: https://www.newageislam.com/islamic-world-news/jamaat-e-islami-leads-qawmi/d/123468
--------
Jamaat-e-Islam, Which Leads The Qawmi Madrasas Of Bangladesh With Modern Arms And Militancy Training, To Be Exposed As Leader of Hefazat-e-Islam
14 Nov 2020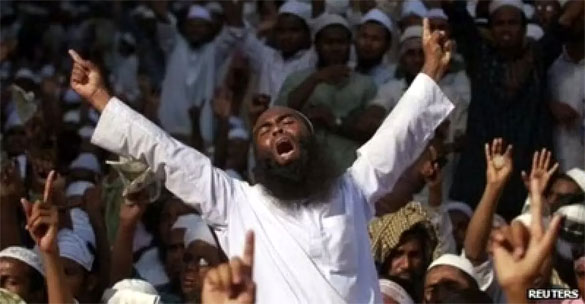 Jamat e Islam, Bangladesh, to be exposed
-----
DHAKA: Jamaat-e-Islam leads the Qawmi madrasas of Bangladesh with modern arms and militancy training from the very beginning, with financial support of the Middle East and ISI, an intelligence official said, adding that there were lots of proof and photos of militant activities published in the media. On the condition of anonymity, the official said that sometimes they had a conflict of power with late Ahmad Shafi, but their basics remained the same to follow the ISI.
Shafi, the head Bangladesh's largest "non-political Islamic group" Hefazat-e-Islam, died last month at the age of 103. Even before his death, Jamaat leaders and members were meeting regularly at the Hathazari madrasa to decide on new Hefazat-e-Islam's leadership. Jamaat leader Shamim Sayedee, son of Delwar Hossain Sayedee who was sentenced to life for committing crimes against humanity on 1971, included his followers in the madrasa in recent period. Shamim also met HarunIzhar, who was arrested as an accused in the US Embassy of Dhaka attack, son of former chief of Hefazat Mufti Izhar-a close associate of Osama Bin Laden.
Another Jamaat leader and Maulana Mamunul Haque and his associates of Jamaat are very active in Hathajari madrasa. Hefazat's central organising secretary Azizul Haque Islamabadi has announced that a Hefazat conference will be held on Sunday at the Darul Uloom Muinul Islam Hathazari madrasa on 10 a.m. About 500 people, including district representatives from across the country, have been invited. A 15-member Shura committee of senior scholars will elect the Amir and Secretary General of Hefazat.
Hefazat's Nayeb-e-Amir Mahibullah Babungari will preside over the council. The conference will elect the top leaders' post Amir and secretary general of the organization. At the recent conference, the top leaders of Jamaat-e-Islam are exposed now. Son or followers of the late Shafi were not invited to the council to elect the new leadership of Hefazat-e-Islam. They alleged that the council is being set up to implement the agenda of Jamaat.
Calling it an illegal council, Shafi's followers have said that the council has been called in, excluding the real leaders in custody. Those who have called the council have no legitimacy to do so. According to sources, Jamaat and its student wing Shibir are trying to grab absolute power of Hefazat-e-Islam. Originally, the organization was controlled from Chattagram, while Shafi was alive, but BNP-Jamaat leaders have tried to make it Dhaka-centric. Now the effort has been intensified. Mahibullahh Babungari of Fatikchhari Babunagar Madrasa of Chattagram will preside over the conference. It is learned that the Jamaat-e-Islam leader resigned from the post of Nayeb-e-Amir of Hefazat in 2018 due to an internal dispute over the official recognition of the Qawmi Certificate and the reception given to the Prime Minister. Mahibullah Babungari is the uncle of Junaid Babungari, the current secretary general of Hefazat. It is learned that the 18-member council implementation committee formed under the leadership of Babungari, many of them are directly involved in with BNP-Jamaat. Some of them are workers or leaders of Jamaat. Hefazat's central organizing secretary MaulanaAzizul Haque Islamabadi, Maulana Mir Idris, Maulana Zakaria Noman Faizi, Maulana Nasir Uddin Munir and Maulana Zafar Alam, who are known to be close to BNP-Jamaat, are holding regular secret meetings almost every day. The process of getting the list approved by Babungari on the day of the council has also started. Hefazat-e-Islam was formed in 2010, by some leaders of Jamaat. Hefazat financed by doctrinaire Islamists in Saudi Arabia, moved to save Jamaat Islam leaders from the judiciary process against the war criminals of 1971. When Sheikh Hasina came to power for the second time in 2009, she took a more aggressive approach, going after the war criminals of 1971. In particular, she set up a (domestic) International Crimes Tribunal to prosecute atrocities committed during the war. The tribunal has hanged the war criminals, against whom the crimes against humanity proved in the court. Within years, Hefazat has been established as a pressure group comprising the teachers of several madrasas in Chittagong. The formation was allegedly triggered by the 2009 "Women Development Policy" draft. On May 5, 2013, tens of thousands of Islamists led by Hefazat had gathered in the city to call for stronger Islamic policies. The activists marched down at least six main roads as they headed for Motijheel. The mob vandalised markets and set fire to bookshops where the Quran is sold. They also attacked the ruling party's political office, and the national mosque. (IANS)
https://www.sentinelassam.com/international/jamaat-to-be-exposed-as-leader-of-hefazat-e-islam-in-bangladesh-511537
--------
Karnataka: Muslim Devotee Prays To Shiva In Yearly Ritual And Proceeds For A Darshan Of The Virupaksha Shrine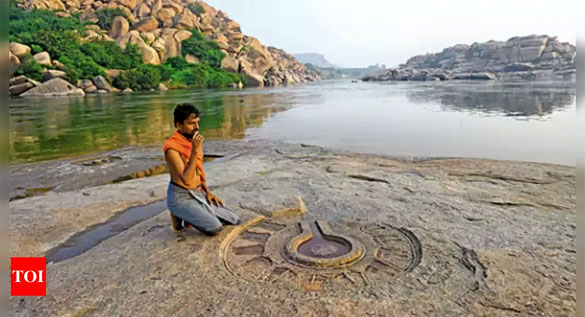 Muslim Devotee Prays To Shiva
-----
Nov 14, 2020
BALLARI: Amid the ruins of Hampi, near a century-old temple, sits a man offering Azaan. Nothing extraordinary about that, one might say, until on closer look, it emerges that Errangalli Nabhisaab is praying by a Shivalinga. And after his prayers, he proceeds for a Darshan of the Virupaksha shrine.
After Dasara festivities every year, Nabhisaab performs this special ritual of his own, inspired by his uncle, Errangalli Fakirsaab. The latter reads the mythological tale of goddess Durga (Devi Purana) at Huligemma temple in Ballari during Vijayadashami and after attending that, Nabhisaab heads to Hampi. Both hail from Errangalli village in Ballari district.
Typically, Nabhisaab says, he arrives a day before and wakes up early the next morning. He takes a holy dip in the Tungabhadra river, carries water to pour on the linga, and then sits in prayer in wet clothes. It has become a staple annual visit for the past five years.
Muslim devotee visiting Maha temple for 7 years
I am doing this for my satisfaction," he says. "For me, Allah, Shiva, Krishna, Durga... all are one God. The god I love, I pray to. And I pray in my own way."
After his prayer on the river bank, he heads to the famed Virupaksha temple with friends. The ritual, in fact, began when he came to Hampi once with his friends, Nabhisaab recalls.
It was a rather private affair until he was spotted by a local photographer, Shivashankar Banagar. "He asked for the photographs I took and I was pleasantly surprised when he gave me his name and details. It just showed how deeply rooted communal harmony is in our culture," says Banagar.
Nabhisaab says he has been visiting Pandarinath temple in Maharashtra as well for the past seven years, going by padayatra.
https://timesofindia.indiatimes.com/city/hubballi/at-hampi-muslim-devotee-prays-to-shiva-in-yearly-ritual/articleshow/79218017.cms
--------
Germany Charges 12 Men With Plotting To Kill Muslims, Attack Mosques
13 November 2020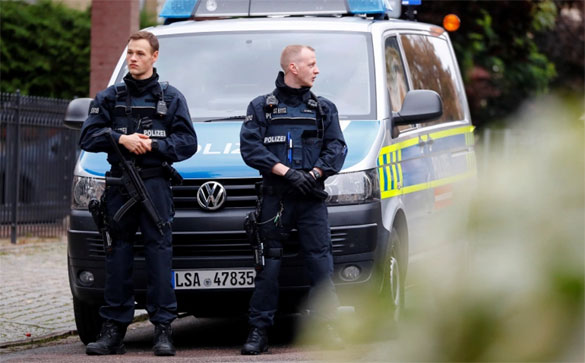 German authorities have been paying more attention to the country's underground extreme right scene since the murder of conservative local politician Walter Luebcke in June 2019 and an attack on a synagogue in the eastern city of Halle in October 2019 [File: Fabrizio Bensch/Reuters]
-----
German prosecutors have charged 12 men with plotting well-funded, armed attacks on mosques in which they planned to kill or injure as many Muslims as possible, authorities said on Friday.
For all the latest headlines follow our Google News channel online or via the app.
"They aimed through attacks on mosques and the killing and wounding of as many Muslims as possible to create civil war-like conditions," prosecutors said in a statement.
Prosecutors said the suspects, 11 gang members and one accomplice, had met regularly to plan, with all but one of them pledging to contribute thousands towards a 50,000-euro ($59,000) pot to finance the purchase of weapons.
The suspects are all Germans and all but one of them has been detained. The twelfth is still at large, prosecutors in the southeastern city of Stuttgart said.
Another had died while in custody. No further details were immediately available regarding the circumstances of his death.
Germany has experienced a spate of right-wing attacks in recent years directed at minorities and those perceived to support them.
Members of the so-called National Socialist Underground were convicted in 2018 for a decade-long spree of murders of ethnic Turks. Last year, another right-wing extremist targeted a synagogue in Eastern Germany, killing two bystanders.
A suspected far-right sympathizer is on trial for killing conservative politician Walter Luebcke. Luebcke, a vocal supporter of Chancellor Angela Merkel, had called for refugees to be given the support and welcome they needed during the 2015 refugee crisis.
Far-right sympathizers have also been unmasked in the police and armed forces.
Far-right extremism is particularly sensitive in Germany because of its responsibility for the Nazis' World War Two genocide of six million European Jews.
https://english.alarabiya.net/en/News/world/2020/11/13/Germany-charges-12-men-with-plotting-to-kill-Muslims-attack-mosques
--------
The Religious Persecution Of Governments Is Growing Worldwide, China In First Place
11/13/2020
Washington (AsiaNews) – The persecution of religions is growing worldwide and, above all, persecution imposed by governments through various restrictions. Out of 198 governments surveyed, China ranks first, followed by Iran, Malaysia, Tajikistan and 21 other Asian nations.
These are the results that emerge from a study published on November 10 by the Pew Research Centre. Through 20 indicators, each country is assigned a score regarding the restrictions imposed by governments, the restrictions imposed by society, and finally a median score is obtained.
According to the research institute, in 2018 the level of restrictions placed on religions by governments - through laws, policies, actions that curb or block belief or practice - continued to increase until reaching the maximum level since 2007, the year where the Pew Research Centre began studying these dimensions. According to the study, this increase is due to the fact that more and more political authorities use force - such as detentions, physical abuse, destruction of property, expulsion from the land - to restrain and control religious groups.
The countries that have a "high" or "very high" index of government restrictions this year are 56; most of them are in the Asia-Pacific area (25) and 18 in the countries of the Middle East-North Africa.
"Some countries in the Asia-Pacific region - it says in the study - saw all-time highs in their overall government restrictions scores. This includes China, which continued to have the highest score on the Government Restrictions Index (GRI) out of all 198 countries and territories in the study. China has been near the top of the list of most restrictive governments in each year since the inception of the study, and in 2018 it reached a new peak in its score (9.3 out of 10)."
Among the causes that led to this sad record, the study cites the repression of Falun Gong, Christian groups, detentions and torture, raids on places of worship and the detention of at least 800 thousand (but many sources say over a million) Uighurs in Xinjiang.
There is no lack of references to Tajikistan, which controls religious education in the country and persecutes Jehovah's Witnesses; to India, its anti-conversion laws and its policy in Jammu-Kashmir; to Thailand which in 2018 expelled many migrants without a residence permit (among these there were Christians and Ahmadis from Pakistan, Montagnard Christians from Vietnam, etc.).
Another interesting fact is that religious restrictions on a social level - carried out by individuals, groups, civil society organizations - have decreased compared to the previous year, albeit slightly.
Finally, the study investigates whether there is a nexus between the form of government and religious restrictions. The analysis shows that, albeit with exceptions, 65% of governments with the highest restrictions on religions are classified as "authoritarian". Among countries with low restrictions, only 7% are described as "authoritarian". Three countries with high restrictions are classified as "imperfect democracies": they are Malaysia, Indonesia and Singapore.
There are also authoritarian countries that exhibit a high level of social hostility. Out of 43 countries, only 21% are authoritarian; 13 are "imperfect democracies" and 5 are "full democracies". These five are all in Europe and are: Denmark, Germany, Holland, Switzerland, Great Britain. Their score is due to many anti-Muslim and anti-Semitic incidents.
http://www.asianews.it/news-en/The-religious-persecution-of-governments-is-growing-worldwide.-China-in-first-place-51576.html
--------
'Lebanese man' killed in Iran over the summer was al-Qaeda deputy leader: NYT
Joseph Haboush
13 November 2020
A man and his daughter who were killed in Tehran over the summer were not Lebanese nationals as Iran's Fars news agency reported at the time, according to the New York Times on Friday. In fact, the man was al-Qaeda's Egyptian-born number two Abou Mohammed al-Masri, who was wanted by the US for his role in the bombing of multiple US embassies in Africa, according to the report which cited intelligence officials.
Al-Masri and his daughter, Miriam, were gunned down by Israeli operatives "at the behest of the United States," the Times said.
For all the latest headlines, follow our Google News channel online or via the app.
Al-Masri, who the Times says was around 58-years-old, was one of al-Qaeda's founders and the successor to the terrorist group's current leader Ayman al-Zawahiri.
Miriam is reportedly the widow of Osama bin Laden's 11th son, Hamza, who was his father's heir in the terrorist group. US President Donald Trump announced the killing of Hamza in September 2019.
It is unclear why Iran was giving refuge to al-Masri, or why Iranian officials seemed to have covered up his death.
In the Times article, the intelligence officials said that he had been "living freely in the Pasdaran district of Tehran, an upscale suburb, since at least 2015."
After the news was published in Iran and Lebanon that a Lebanese teacher and his daughter were found dead, he was identified as "Habib Daoud." The New York Times says that name was his alias.
"American counterterrorism officials believe Iran may have allowed them to stay to run operations against the United States, a common adversary," the Times said.
Iran's foreign ministry on Saturday denied the New York Times report and said in a statement that there were no al-Qaeda "terrorists" on Iranian soil.
"From time to time, Washington and Tel Aviv try to tie Iran to such groups by lying and leaking false information to the media in order to avoid responsibility for the criminal activities of this group and other terrorist groups in the region," the ministry said.
https://english.alarabiya.net/en/News/middle-east/2020/11/14/-Lebanese-man-killed-in-Iran-over-the-summer-was-al-Qaeda-deputy-leader-NYT
--------
Riyadh Must Stop Serving Israel, Start Respecting Neighbours: Iranian Official
13 November 2020
An Iranian official has hit out at the anti-Tehran accusations leveled by Saudi King Salman, saying Riyadh had better stop serving Israel and start respecting its neighbors.
Hossein Amir-Abdollahian, a senior aide to Iran's parliament speaker in international affairs, says the king of Saudi Arabia, which has invaded Yemen and stood by American-backed Daesh terrorists in Iraq, Syria, Lebanon, and Yemen, has no right to level any charges against the Islamic Republic of Iran.
"Riyadh had better stop serving the Israeli regime, and start respecting its neighbors. Iran has always been the main supporter of peace and security of neighbors and the region," he said in a tweet.
Saudi Arabia's King Salman bin Abdulaziz urged the world on Thursday to take "a decisive stance" to address efforts by Iran to develop nuclear and ballistic missile programs, in his annual address to the Shura Council, the kingdom's top government advisory body.
The Saudi king warned about what he called "dangers of Iran's regional project," and accused Tehran of "interference" in other countries, fostering terrorism and fanning the flames of sectarianism.
He also called for a decisive stance from the international community against Iran that guarantees a drastic handling of its efforts to develop its ballistic missiles program.
In comments in September, Iran's Foreign Ministry spokesman had stated that successive political and military defeats in Yemen have plunged the kingdom into a "state of delirium."
At the time, Saeed Khatibzadeh highlighted the Saudi regime's atrocities and civilian massacre in Yemen, saying the Saudis are engaging in a blame game to "escape responsibility for their own war crimes against Yemeni women and children."
"As the birthplace and origin of the ideas of Takfiri terrorist groups and as the main financial and logistical supporter of terrorism in the region, Saudi Arabia has, for many years, been pursuing a policy of blame games and distorting the realities to escape accountability for its crimes," Khatibzadeh said.
"The Saudi regime's support for and alignment with the United States in keeping up the failed policy of 'maximum pressure' against Iran as well as [the kingdom's] attempts to expand relations with the occupying Zionist regime and [paying] billions of dollars in bribe money to others from the pockets of the people of the country, has not only failed to bring results for them, but has turned Saudi Arabia into a humiliated entity among the Arab states."
He also noted that the Islamic Republic, in line with its responsible regional approach, has repeatedly warned the world about "the Saudis' miscalculations — which have inflicted heavy costs on the region — and still stresses its principled policy of strengthening diplomatic and dialog-based processes in the region and developing relations with all its neighbors."
Contrary to king Salman's claims, Iran has time and again expressed readiness to hold talks with Saudi Arabia — with or without mediation — over regional security and neighborly relations.
https://www.presstv.com/Detail/2020/11/13/638514/Iran-Saudi-king-salman-accusations-amir-abdollahian
--------
Nawaz Sharif Again Hurled Allegations At The Military Leadership, ISI Chiefs Again
Nov 13, 2020
ISLAMABAD: Despite criticism from certain quarters, including some opposition leaders, former Pakistan prime minister Nawaz Sharif remained defiant and again hurled allegations at the military leadership on Friday, directly accusing Army chief General Qamar Javed Bajwa and Inter-Services Intelligence (ISI) chief Lt Gen Faiz Hameed of interference in politics and bringing in a puppet PM, a reference to Imran Khan.
Addressing a Pakistan Muslim League-Nawaz (PML-N) rally in Swat, in northwestern Khyber Pakhtunkhwa province, via video link from London, Sharif said: "When I say that Gen Bajwa and Faiz Hameed should answer why they did this to Pakistan, why they threw Pakistan in a ditch, they say: 'Why does Nawaz Sharif take our names?'"
"Gen Bajwa and Faiz Hameed, you formed a JIT (joint investigation team) of your choice, secured decisions of your choice as well, removed Nawaz Sharif from the premiership, put me, Shahbaz Sharif (his brother and PML-N president), Maryam Nawaz and my party members in jail. Our character assassination through media is still underway," the former PM claimed.
The PML-N chief said his crime was to talk about people's rights, the constitution and democratic principles. "But what crime did the people commit? Why were your lives made difficult?" he asked, adding that he was not seeking answers from Prime Minister Imran Khan but from those who brought him to power. "He (Imran Khan) is a puppet. The people who move his strings will have to answer," Sharif vowed.
His remarks came less than a day after PM Khan claimed that Sharif was trying to create rifts within the armed forces by encouraging army personnel to revolt against the military leadership.
Nawaz Sharif also rejected an inquiry report prepared by a commission formed on the army chief's orders to probe the "Karachi incident", which preceded the arrest of his son-in-law and PML-N functionary Muhammad Safdar on the morning of October 19 in the port city.
Safdar was arrested when he was staying with his wife, Maryam Nawaz, in a hotel room after attending a rally of the Pakistan Democratic Alliance (PDM), an alliance of opposition parties. The reason cited for his arrest was raising slogans at the mausoleum of Muhammad Ali Jinnah. Following the arrest, Maryam, the Sindh government and opposition politicians claimed that Sindh police chief Mashtaq Meher was kidnapped and forced to register an FIR after he refused to take any action against Safdar.
Gen Bajwa took notice of the issue and ordered an inquiry after Pakistan Peoples' Party (PPP) chairperson Bilawal Bhutto-Zardari called on him to investigate the circumstances surrounding Safdar's arrest.
Earlier this week, the army's media wing released a statement saying that officials of the ISI and Sindh Rangers involved in the "Karachi incident" have been removed.
Nawaz, during his speech, said that he "condemns and rejects" the military's press release and termed the inquiry report a concocted story that has raised more questions.
"In its report, there is no mention of forcing the Sindh police chief to file an FIR. Even the names of officials removed are not mentioned. Why? Because those names are holy? It is only the politicians that can be labeled as traitors and thieves," said Sharif.
His daughter, PML-N vice-president Maryam Nawaz, also addressed the crowd and called the incumbent PM an "irrelevant character". She urged the institutions (armed forces) to withdraw their support for Imran Khan. "Once the institutions (armed forces) back away from him, his government will not even stand for 24 hours, I assure you," she told the crowd.
https://timesofindia.indiatimes.com/world/pakistan/nawaz-sharif-lashes-out-at-army-isi-chiefs-again/articleshow/79214513.cms
--------
South Asia
Sheikh Hasina receives Catholic bishops after their pilgrimage to the roots of the nation
by Sumon Corraya
11/13/2020
Dhaka (AsiaNews) – Prime Minister Sheikh Hasina received a group of Catholic bishops yesterday at her official residence in Ganabhaban, in the capital Dhaka.
The four-member delegation included Card Patrick D'Rozario, Vatican nuncio Archbishop George Kocherry, the new Archbishop of Dhaka Bejoy Nicephorus D'Cruze, and his Auxiliary Bishop Shorot Francis Gomes.
Bishop Bejoy told AsiaNews that the group spent 35 minutes with the Prime Minister.
"During the visit, we talked to her about the activities of the Church and expressed our concern about the persecution Christians have to endure. Often the victims are from minority ethnic groups. We informed her, so that she can act immediately if anything happens.
"We also thanked her for the hospitality given to the Rohingya refugees and told her that Caritas Bangladesh is working for them."
The bishops donated 5 million takas (just under US$ 60,000) to the Prime Minister's Fund to support COVID-19 patients. They told her that Christians will always be close to her in any situation of need.
The bishops also described to Sheikh Hasina the pilgrimage they undertook previously to various sites that are important in the history of Bangladesh, including the tomb of the Father of the Nation, Mujibur Rahman, in Tungipara.
Mujibur Rahman (1920-1975) was the leader of the Awamy League, a leading supporter of non-sectarian politics in predominantly Muslim Bangladesh. Sheikh Hasina is his daughter. Unlike many members of her family, including her father, she survived a military coup in 1975.
"The Father of the Nation, Bangabandhu Sheikh Mujibur Rahman, always put humanity first and his affection for the people was limitless," Sheikh Hasina said. "What I am doing now is a reflection of the ideas of the Father of the Nation."
The bishops' pilgrimage took place between 6 and 10 November, with visits to some of the more important sites in Khulna and the Diocese of Rajshahi. In addition to Mujibur Rahman's tomb, the prelates also visited Catholic Protestant, and Muslim communities.
http://www.asianews.it/news-en/Sheikh-Hasina-receives-Catholic-bishops-after-their-pilgrimage-to-the-roots-of-the-nation-51584.html
--------
120 Taliban Killed, 18 Wounded across Afghanistan: MoD
By Mohammad Arif Sheva
13 Nov 2020
Afghanistan – At least 10 Taliban were killed and further five wounded during a battle with Afghan security forces in Saheb district of Kunduz province, said the Ministry of Defense in a statement Friday.
During the operation, Afghan National and Defense Security Forces (ANDSF) wrecked a huge amount of arms and ammunition that belonged to the Taliban.
"10 Taliban were killed and 5 others were wounded in Imam Saheb district of Konduz province after they attacked ANDSF last night," said MoD in a tweet. "Also, a large amount of their weapons and ammunitions were destroyed."
In another news from Paktika, clashed between the insurgents and Afghan security forces claimed at least four member of the Taliban group and further six were wounded in Barmal district of the province.
"4 Taliban were killed and 6 others were wounded in Barmal district of Paktika province after they attacked ANDSF positions, yesterday," the tweet added. "Also, a large amount of their weapons were seized.
Meanwhile in Kandahar, 97 Taliban – including nine of their commanders – were killed and seven other were injured during clashes in Zherai district of the province.
"97 Taliban including 9 of their commanders were killed and 7 others were were wounded in Zherai district of Kandahar Prov. last night," MoD tweet. "Also, 9 Taliban were killed in Shahwali Kot district and a large amount of their weapons and ammunitions were destroyed."
https://www.khaama.com/120-taliban-killed-18-wounded-across-afghanistan-mod-34534/
--------
NATO Dubs Peace Process 'Fragile', Urging Afghan Gov't to Seize Moment
By Mohammad Arif Sheva
13 Nov 2020
KABUL, Afghanistan – Secretary General of NATO Jens Stoltenberg tackled ongoing peace process with Afghan President Ashraf Ghani, dubbing it a "long and hard road towards the peace talks".
In Afghanistan, the North Atlantic Treaty Organization (NATO) has around 12,000 troops in the Alliance's biggest mission.
"Spoke with @ashrafghani on the situation in #Afghanistan where it has been a long and hard road towards the peace talks," he said in a tweet early Friday.
While assuring continued support to Afghanistan security, Stoltenberg urged Afghan government to grab the "fragile" opportunity and mold it in a way that ensures peace and stability in the country.
"They are fragile but offer the best chance for peace," he added. "NATO remains committed to #Afghanistan's security."
Since the terrorist attacks of 11 September 2001 in the United States, NATO countries have been engaged militarily in Afghanistan under a mandate from the United Nations to prevent the country from ever becoming again a safe haven for terrorism. Since 2003, military operations are led by NATO.
_______
CORRECTION: "long and hard road towards" an independent an stable country is revised as "long and hard road towards the peace talks".
https://www.khaama.com/nato-dubs-peace-process-fragile-urging-afghan-govt-to-seize-moment-23423/
--------
Afghan forces capture 'mastermind' of Kabul university attack
November 14, 2020
KABUL: Afghan forces have captured the "mastermind" of a brutal attack on Kabul University when militants stormed classrooms and gunned down dozens of students earlier this month, a top official said Saturday.
At least 22 people were killed and another 27 wounded when three gunmen rampaged through the university on November 2, spraying classrooms with bullets for several hours.
The brazen daylight assault came amid surging violence across the country that has only worsened in recent months despite the government holding peace talks with the Taliban in Qatar.
"The mastermind behind Kabul University attack has been arrested," Vice President Amrullah Saleh announced on his Facebook page.
The attack, which had ended after the three attackers were killed in fighting, was planned by a militant called Adil, Saleh said.
Adil was recruited by the Haqqani network, Saleh said giving only one name of the arrested man.
"The attack was carried out to pressure, defame and make the government look weak in front of the people," Saleh said.
Adil, who had been a student of the Islamic sharia law, hailed from the province of Panjshir but his family lived on the outskirts of Kabul, he said.
"Adil had been missing for three years amid rumors that he had gone to receive training in war and fighting," Saleh said.
During his questioning, Adil revealed that he had received weapons from Haqqani network to carry out the attack, Saleh added.
The shadowy Haqqani network, an affiliate of the Taliban, has long been accused of carrying out brutal assaults of Western forces and civilians, and has been branded a terrorist group by Washington.
Soon after the attack, Saleh and other top officials had blamed the Taliban for the university attack.
However, the attack was claimed by the Daesh group.
Days before the university attack, Daesh had claimed another deadly suicide bombing near an educational center in a western district of Kabul that killed 24 people.
https://www.arabnews.com/node/1762906/world
-------
India
Uneasy calm along LoC day after heavy exchange of fire between India, Pakistan
Mir Ehsan
Nov 14, 2020
An uneasy calm settled along the Line of Control (LoC) in Jammu & Kashmir's Uri and Gurez on Saturday a day after Indian and Pakistani troops exchanged heavy shelling across the de facto border between the two countries.
Eight Indian security personnel and civilians were killed in the shelling. At least eight Pakistani soldiers were killed and 12 injured when the Indian Army retaliated with artillery guns and anti-tank guided missiles.
Mukthair Ahmad, a resident of Uri's Garkote, said there has been complete silence along the LoC since Friday night. "No shelling took place in Uri after yesterday [Friday]'s heavy shelling which left four civilians dead and many injured."
Ahmad, who lives close to the LoC, said many shells fell on roads and close to the residential areas. "We live in fear every time now. Do not know when the shells will start raining close to our homes."
Mohammad Jaffer, a resident of Gurez's Baktoor village, said the shelling stopped on Friday allowing his family to return home from an underground bunker. "The shelling started around 11 am yesterday [Friday] and continued till evening forcing all the people to take shelter in underground bunkers."
Jaffer said it has started snowing, making the tense situation along the LoC particularly difficult for them. "Our area receives heavy snowfall and where will we go along with our families in this harsh winter. People living on both sides of the LoC are facing difficulties."
https://www.hindustantimes.com/india-news/uneasy-calm-along-loc-day-after-securitymen-civilians-killed-in-pak-ceasefire-violation/story-C3EvNWov7xHD0eHpiZJDbJ.html
--------
Rahul Gandhi Lauds Defence Forces For Protecting Country As Pakistan Violates Ceasefire
Nov 13, 2020
NEW DELHI: Congress leader Rahul Gandhi on Friday lauded the defence forces for their valour in protecting the country.
His remarks came after Pakistan resorted to ceasefire violations at the border by unprovoked firing along the Line of Control (LoC) from Gurez to Uri sectors of Jammu and Kashmir on Friday in which four security forces personnel were killed.
"Whenever Pakistan indulges in ceasefire violation, its fears and weaknesses become even more clear. Far from their families even during the festival, the soldiers of the Indian Army are protecting our country and demolishing Pakistan's disgusting plans. My salute to every soldier of the Army," Gandhi said in a tweet in Hindi.
पाकिस्तान जब भी सीज़फ़ायर का उल्लंघन करता है, उसका डर व कमज़ोरी और भी साफ़ हो जाते हैं।त्योहार पर भी अपने परिवा… https://t.co/b4qhc1O7Cp
— Rahul Gandhi (@RahulGandhi) 1605271794000
Four security forces personnel were among 10 people killed in multiple ceasefire violations by Pakistani troops along the LoC from Gurez to Uri sectors of Jammu and Kashmir on Friday.
Srinagar-based defence spokesman Col Rajesh Kalia said Pakistan used mortars and other weapons and deliberately targeted civilian areas.
The troops retaliated strongly causing casualties and substantial damage to Pakistan Army's infrastructure across the LoC, he said.
"Several ammunition dumps, FOL dumps and multiple terrorist launch pads have been damaged," the defence spokesman said.
Three Army personnel, a BSF sub-inspector and six civilians were killed in Pakistani action, while four security forces personnel and eight civilians were injured.
"Pakistan initiated unprovoked ceasefire violation along the LoC spread across multiple sectors to include Dawar, Keran, Uri and Naugam. Three Indian Army soldiers have been killed in action and three soldiers injured," Col Kalia said, adding the nation salutes their supreme sacrifice.
A BSF sub-inspector was killed in Haji Peer sector while a jawan was injured, officials said.
Two civilians were killed in Kamalkote sector, also in Uri, while a woman was killed in Balkote area in Haji Peer sector, they added.
https://timesofindia.indiatimes.com/india/rahul-lauds-defence-forces-for-protecting-country-as-pakistan-violates-ceasefire/articleshow/79211954.cms
--------
6-7 Pak soldiers killed, several injured in retaliatory firing by India along LoC
Nov 14, 2020
NEW DELHI/SRINAGAR: India on Friday conducted retaliatory punitive fire assaults against posts, bunkers and fuel dumps across the Line of Control in Kashmir, in which six to seven Pakistani soldiers were reportedly killed and several others injured. Five Indian soldiers and four civilians, including a woman, also lost their lives in the heavy exchange of cross-border firing.
The major escalation in hostilities with Pakistan came amidst the ongoing military confrontation with China in eastern Ladakh, in yet another stark reminder of the two-front collusive threat India faces along its long unresolved borders with the two nuclear-armed neighbours.
pak gra
India has recorded as many as 4,052 ceasefire violations (CFVs) by Pakistan already this year, smashing all annual records over the last 17 years. India has lost around 20 soldiers and an equal number of civilians, with many more being grievously injured, in the CFVs this year.
Both armies have often used 105mm and 155mm artillery guns, anti-tank guided missiles and heavy mortars in "caliber-escalation" to target each other, as was the case on Friday.
Indian Army officers said Pakistan initiated "unprovoked" CFVs with heavy mortars and other weapons spread across multiple sectors along the 778-km long LoC, including Baramulla, Dawar, Keran, Uri and Naugam, after a major infiltration bid was foiled in the Keran sector of Kupwara district on Friday morning.
"Pakistan deliberately targeted our civilian areas. Our troops retaliated strongly and hit them very hard, causing substantial damage to Pakistan Army's infrastructure across the LoC. Several ammunition and FOL (fuels, oils and lubricants) dumps and multiple terrorists launch pads were damaged in our retaliatory strikes," said a senior officer, speaking to TOI.
"Radio intercepts suggest six to seven Pakistan Army soldiers, including two Special Service Group (SSG) commandos, who are often involved in BAT (border action team) operations, were killed in our fire. Another 10-12 were injured," he added. The Army even released short video clips of the targeted fire assaults to destroy Pakistani positions at multiple locations along the LoC.
The fresh Keran infiltration bid on Friday morning came barely five days after an Army captain, two soldiers and a BSF constable lost their lives thwarting a similar intrusion in the area.
"The infiltration bid was promptly repelled by our alert troops. It led to CFVs by Pakistan at multiple locations, from Keran to Uri. We gave a befitting response," said defence spokesperson Colonel Rajesh Kalia.
The casualties on the Indian side included BSF sub-inspector Rakesh Doval and four Army soldiers, while the civilians were identified as Tahib Ahmad Mir of Sultan Daki, Irshad Ahmad and Afrar Ahmed in Kamlakote and Farooqi Begum of Balkote.
In Poonch, five civilians were injured as mortars rained down on the forward areas. Similarly, two schoolgirls were among the five civilians injured in Pakistani shelling in Bandipora. All the injured were admitted to the local primary health centres, where their condition was said to be stable.
As earlier reported by TOI, the total number of CFVs along the LoC stood at 971 in 2017 and 1,629 in 2018. The number jumped to 3,168 in 2019, with major spikes being registered first after the Balakot air strikes and then the nullification of Article 370 and bifurcation of J&K.
"Pakistan is upping the ante this year since India is engaged in the military confrontation with China in Ladakh since early-May. With the onset of winter, the Pakistan Army is also trying to push as many terrorists and arms as possible into J&K before the mountain passes get blocked by snow," said another officer.
https://timesofindia.indiatimes.com/india/6-7-pak-soldiers-killed-several-injured-in-retaliatory-firing-by-india-along-loc/articleshow/79212541.cms
--------
Inside the operation to restore the Peshawar homes of superstars Dilip Kumar, Raj Kapoor
Posted by Shankhyaneel Sarkar
Nov 14, 2020
Tucked away near the centuries-old Storytellers' Bazaar, the decaying Pakistani mansions once home to Bollywood superstars are being brought back to life as Peshawar emerges from years of Islamist militancy.
The ancestral homes of Golden Age heroes Raj Kapoor and Dilip Kumar in the northwestern city are symbols of its link to the world's largest film industry, but have suffered from decades of neglect.
The region's archaeology team says it is close to wresting the more than 100-year-old buildings, located in the heart of the historic walled city, from their private owners so they can be restored and turned into museums.
"I always feel sad and angry while looking at Kapoor's house, that it once was a beautiful mansion of top quality," said Samiuddin Khan, who remembers running through the 40-room abandoned house as a child and flying kites from the rooftop.
"It was extremely beautiful inside. The structure is still intact but some walls have collapsed and much of the wood has been damaged."
Once an architectural wonder, the family home of Kapoor, who died aged 63 in 1988, is influenced by Mughal empire, Central Asian and British colonial design, featuring ornately carved doors and balconies and gothic-style windows.
Kumar lived in a simpler home down a small lane in a busy market, its entrance faded and its roofless interior heavily damaged.
The actors grew up in a quarter that is home to the fabled Qissa Khwani ("Storytellers'") Bazaar where travellers would share tales of their adventures.
Kumar, who is now 97, has credited his successful career to his early life in the neighbourhood, where he first learned to narrate.
But like many emerging actors, the pair were enticed away from Peshawar to India's entertainment centre Bombay, now Mumbai, in the years before the partition of British-ruled India.
The pair even starred alongside each other at the beginning of their careers, in the 1949 hit "Andaz".
"This is our cultural heritage and we take pride in preserving it. We are very proud that Dilip Kumar and Raj Kapoor were from Peshawar," said Abdul Samad, director of archaeology and museums in Khyber-Pakhtunkhwa province -- of which Peshawar is the capital.
Present-day Indian superstar Shah Rukh Khan, known as the King of Bollywood, also has links to the area but his family home which is still in use has not suffered the same decline.
Across the country, hundreds of pre-partition buildings have been left to ruin or been demolished over the years.
Many had been built by Hindus and Sikhs who left them behind when they fled newly founded Muslim-majority Pakistan for India, archaeology experts say.
- Heritage treasure trove -
Peshawar suffered a huge knock-back to its cultural standing after becoming a hotbed of Islamist extremist violence from the 1980s onwards, bringing an end to the golden era of Pashto-language cinema in the region, known as Pollywood.
Militant groups, including the Pakistani Taliban, bombed at least three cinemas and more than 100 music shops before a military crackdown near the border with Afghanistan in 2015 resulted in drastic improvements in security.
As the city revives, more than 1,800 heritage buildings with traditional features have been identified for preservation by the province's archaeology team, but impoverished Pakistan will need years to arrange the finances required to their purchase and restoration.
"If a proper archaeological survey was conducted, we would discover a cultural site almost every kilometre," said archaeological director Samad about Khyber Pakhtunkhwa province.
There are hurdles still to overcome in saving the Kapoor mansion too.
Its owner Hajji Ali Qadir told AFP he would take the authorities to court if they did not pay him at least two billion rupees ($12.5 million).
"I told them that it's an antique and the price for an antique is multiplied 10 times," he said. "We will get more money if we build a plaza here."
The archaeology department has said it will use legal powers if needed to purchase the Kapoor and Kumar homes with taxpayer money, for a figure still to be determined by the province's financial authorities.
Bollywood movies and their leading actors are loved by Pakistanis, despite the country's contempt for its rival neighbour to the east.
Millions bypass bans on Indian films in cinemas and on television by watching them on YouTube or pirated DVDs.
"We felt proud and held our heads high while watching the actors from Peshawar performing in Indian movies, that this land has produced such great actors who proved their worth in Mumbai," Khalo Khalil Sarhadi, an 80-year-old resident of Peshawar, told AFP.
"Now the new generation will know how Peshawar has produced big stars and actors, those who have given an identity to Pakistan and India," he said of the museum projects.
https://www.hindustantimes.com/india-news/inside-the-operation-to-restore-the-peshawar-homes-of-superstars-dilip-kumar-raj-kapoor/story-HfLF5HVB1p1phnqhYSW2DK.html
--------
2 commandos among 8 Pak soldiers killed as India lights up Pak posts in retaliation
Rahul Singh and Mir Ehsan | Posted by Abhinav Sahay
Nov 13, 2020
At least eight Pakistani soldiers were killed on Friday and 12 injured after Indian Army targeted Pakistani positions across the Line of Control (LoC) in north Kashmir with artillery guns and anti-tank guided missiles in response to heavy shelling by the neighbouring army in which nine Indians --- including five security personnel --- lost their lives, people familiar with the developments said on Friday.
Pakistani ammunition dumps, fuel dumps and terror launch pads were among the targets destroyed by the Indian Army, they said.
The heavy exchange of fire --- triggered by ceasefire violations by the Pakistani army in multiple sectors on the eve of Diwali --- has turned the spotlight on the LoC at a time when Indian and Chinese forces are locked in a border dispute along the contested Line of Actual Control (LAC) in the sensitive Ladakh sector where a disengagement plan is under discussion but has made no progress so far.
Four Indian soldiers, a Border Security Force sub-inspector and four civilians, including a woman and a seven-year-old boy, were killed in Pakistani shelling in Uri, Naugam, Keran and Gurez sectors in north Kashmir, the officials said, asking not to be identified. Three Indian soldiers were injured.
The Pakistani casualties include at least two Special Service Group commandos, they said.
The Indian Army blamed Pakistan for unprovoked ceasefire violations along the LoC. "Pakistan initiated unprovoked ceasefire violations along the LoC spread across multiple sectors including Dawar, Keran, Uri and Naugam. Pakistan used mortars and other weapons," said Srinagar-based defence spokesperson Col Rajesh Kalia. He said that the neighbouring army deliberately targeted civilian areas.
"Our troops retaliated strongly causing casualties and substantial damage to Pakistan army's infrastructure across the LoC. Several ammunition dumps, fuel dumps and multiple terrorist launch pads have been damaged," Kalia said.
The Pakistani army began shelling Indian positions after the Indian Army foiled a major infiltration attempt in the Keran sector, the officials said. There has been a significant increase in ceasefire violations by Pakistan this year.
While the neighbour violated the ceasefire 3,233 times last year, the figure this year stands at 4,052 so far, according to army data. Pakistan carried out 394 violations in October as against 128 till now in November.
The Indian Army released several images, including unmanned aerial vehicle (UAV) footage, showing multiple Pakistani bunkers and other positions going up in flames in the retaliatory Indian action. One of the videos released by the army showed a Pakistani soldier running for cover before his post was hit by an anti-tank guided missile.
"Pakistani casualties may be higher. What we have right now is an initial estimate," the officials said.
Watch how Indian forces blew away Pakistan bunker during LoC escalation
The Pakistanis have got it back "right and proper," said Lieutenant General Vinod Bhatia (retd), a former director general of military operations, commenting on the Indian Army's retaliatory action.
"Pakistan is seeking to create trouble along the LoC as it is aware of our focus on the LAC and the commitment there. The Pakistan army is making desperate attempts to push in infiltrators before harsh winters set in. The ceasefire violations are carried out to help the infiltrators. Also, the Valley has been quiet and the neighbour wants to up the ante there to trigger violence and bloodshed," Bhatia added.
In Naugam sector, a BSF officer posted at Atma Complex was killed in the shelling. He was identified as sub inspector Rakesh Dobal. Baramulla resident Abdul Qayoom said that shelling is still going in some areas of Uri. "Four civilians were killed in Uri and another four were injured," he said.
The ceasefire violation was reported from all the important sectors stretching from Uri to Gurez. All these sectors have witnessed multiple ceasefire violations this year and soldiers have been on high alert.
Locals in Uri said the Indian and Pakistani soldiers were targeting each other's pickets at Haji Peer and Kamalkote sectors since morning. The locals said small arms and mortars have been used during the shelling which triggered panic among the villagers near the LoC.
"This was one of the deadliest shelling fires in many years in the Uri sector. Some shells hit residential houses," said Iqbal Ahmad, a resident of Uri. "The people are very scared as we could see shells landing in the villages," another civilian Mukthair Ahmad Khawaja said.
The situation in Uri town was tense even as ambulances sped towards villages near the LoC to ferry injured civilians to hospitals.
In the Keran and Gurez sectors, mortar shells landed close to residential areas in Izmerg, Baktore and Tarabal localities which are just a few kilometers from the LoC. Two girls were injured in Baktore and both were referred to Srinagar for treatment.
"We were attending an election meeting when shelling began around 11 am. The intensity of shelling was heavy and people ran for cover. The markets were shut and many people took refuge in underground bunkers. Now the shelling has stopped but people are still in underground bunkers, said Zaheer Ahmad, a government official posted in Gurez.
The infiltration attempt in the Keran sector on Friday was the second infiltration bid this week, Kalia said. "Three terrorists were killed in the earlier unsuccessful infiltration bid in the Machil sector on November 7-8," he added. Three soldiers, including a captain, were killed in action in Machil that day.
At a time when military tensions between India and China in eastern Ladakh, the military is also keeping a strict vigil on the western front to deter Pakistan from fishing in troubled waters and prevent what could turn out to be a two-front conflict.
https://www.hindustantimes.com/india-news/2-commandos-among-8-pak-soldiers-killed-as-india-lights-up-pak-posts-in-retaliation/story-AvxzPgYO2gT5RxeVWgqndJ.html
--------
Europe
Pakistani lawyers protest French Islamophobia, urge closure of its embassy
13 November 2020
Pakistani lawyers have staged a major protest rally against the anti-Islam rhetoric and positions of French President Emmanuel Macron in streets of the nation's capital Islamabad, demanding the closure of France's embassy in the Muslim country.
During the demonstration on Thursday, hundreds of participants expressed their anger against the French president and his recent Islamophobic remarks by chanting slogans and carrying placards slamming the move.
The angry protesters from different bar associations converged on the Pakistani Foreign Ministry building near the French Embassy and further demanded the closure of the country's diplomatic posts across Pakistan.
The protest march was carried out under tight security measures due to concerns that angry participants may either attempt to gain entry into the embassy or stage a sit-in in front of the building.
During the event, the heads of the bar associations addressed protesters and demanded serious efforts by the Pakistani government against the wave of Islamophobia across Europe, specifically insisting on shutting the French Embassy and expelling its ambassador.
At the conclusion of the anti-Paris rally, leaders of the Pakistani lawyers issued a resolution and and handed it over to the Special Assistant to the Prime Minister of Pakistan who was in attendance.
Pakistani lawyers further called on international institutions to monitor the abuse of the freedom of expression law in Western societies, underlining the strong and united stance of the Muslim world against those who insult Islam's holy Prophet Muhammad (PBUH).
Other protest rallies were also held in Pakistan by various Islamic organizations last week calling on the administration of Prime Minister Imran Khan to immediately expel the French envoy and sever ties with Paris. Protesters further insisted on boycotting French products.
Late last month, Prime Minister Khan forwarded a letter to the leaders of Muslim countries urging them to act collectively against growing Islamophobia in France and elsewhere across the West.
"The recent statements at the leadership level and incidences of desecration of the Holy Koran are a reflection of the increase in Islamophobia that is spreading in European countries," Khan said in the letter.
Also in a speech in the eastern Pakistani city of Lahore, Khan further emphasized that the lives of Muslims have been made difficult in France, and Western countries should consider the sensitivities of the faithful.
Khan has already scolded French President Emmanuel Macron for promoting Islamophobia by "attacking Islam," after the latter criticized Islam and defended the publication of sacreligious cartoons of the Prophet Muhammad (PBUH).
In a number of tweets the Pakistani premier also underlined that "This is a time when President Macron could have put healing touch & denied space to extremists rather than creating further polarization & marginalization that inevitably leads to radicalization."
Khan further accused European countries of ridiculing the holy prophet, allowing discrimination against Muslims and refusing to let Muslim women wear appropriate Islamic clothing.
https://www.presstv.com/Detail/2020/11/13/638506/Pakistan-Islamabad-protest-rally-French-embassy-Islamophobia
--------
Amid rising terror attack in Europe, French MEP asks EU to stop 'showering' Turkey, Pakistan with subsidies
Nov 13, 2020
BRUSSELS: Terming Turkey and Pakistan as countries of concern amid rising terrorists attack in Europe, French Member of European Parliament (MEP) Nicolas Bay has asked European Union (EU) to stop "showering" Ankara and Islamabad with subsidies and customs facilities, rather put sanctions against them.
"During the European Parliamentary plenary of November, 11 French MEP Nicolas Bay from the Identity and Democracy Group had strong words against European aid to Pakistan and Turkey in light of threats coming from both countries. MEP Bay's comments were made in the context of a debate on the 'fight against terrorism, freedom of expression and education'," a press statement read.
Speaking to the European Commissioner Ylva Johansson responsible for Home Affairs, Nicolas Bay was critical of the support being given by the European Commission to the countries of concern. "You are showering countries like Pakistan and Turkey with subsidies and customs facilities. We want to sanction them!"
Linking terrorism threats to migration, MEP Bay gave the stark warning that the latest terrorist attacks in Paris had all been committed by migrants arriving in Europe.
Highlighting that over the last year's terrorist attacks had taken place across Europe in Vienna Madrid, London, Paris, Nice, Milan, Berlin, Amsterdam, Toulouse, Stockholm and St Petersburg, the parliamentarian recognised that "No victim should be forgotten!"
"The last three attacks in France were perpetrated by people of immigrant backgrounds: It was a Pakistani who attacked journalists in Paris; it was a Chechen who slit the throat of a teacher in Conflans-Sainte-Honorine; it was a Tunisian, freshly arrived via Lampedusa, who murdered three people in a church in Nice."
Bay pointed out that since the Madrid attacks in 2004, 450 people had been killed by Islamist terrorists in Europe and that Europe was losing its identity.
"They attack us for who we are, not what we do. We cannot fight this battle if we refuse to name the enemy," he said.
Bay singled out both Turkey and Pakistan as countries of concern during his intervention: "Erdogan is also moving forward because the European Union does not dare to act, he is waging war on Armenia, and in Libya by deploying jihadists from the ranks of Da'esh, he is threatening our continent with migratory subversion, he is converting the Basilica of Saint Sophie into a mosque."
Bay further critiqued the Commission for its financing of Islamist organisations stating that EUR5.6 million had been given towards Muslim Brotherhood networks. "In total, over the last 5 years, the European Union has paid 36.5 million euros directly to Islamist organisations or projects in which they were involved."
The debate comes in the aftermath of the recent terrorist attacks that took place in France and Austria. President of the European Parliament, David Sassoli, prior to the debate had opened the European Parliament stating that it was "a shared responsibility to fight all types of extremism".
https://timesofindia.indiatimes.com/world/europe/amid-rising-terror-attack-in-europe-french-mep-asks-eu-to-stop-showering-turkey-pakistan-with-subsidies/articleshow/79211416.cms
--------
Coronavirus: UK removes UAE, Bahrain from COVID-19 travel quarantine list
Joanne Serrieh
13 November 2020
Travelers arriving in the United Kingdom from the United Arab Emirates, Bahrain and six other countries will no longer need to quarantine for 14 days as was previously required due to the coronavirus pandemic.
"If you arrive from these countries after 4am on Saturday 14th November you will NOT need to self-isolate," the UK's Secretary of State for Transport Grant Shapps announced on Twitter Thursday.
The other countries excluded from quarantine requirements are Chile, Iceland, Cambodia, Laos, Qatar and Turks and Caicos Islands. Meanwhile, Greece was removed from the travel corridor due to an increase in cases, however, travelers arriving from Corfu, Crete, Rhodes, Zakynthos and Kos do not need to self-isolate upon arrival in the UK.
Shapps also announced that the travel ban on Denmark has been extended for another 14 days. Authorities first enforced the strict measures on November 7 due to a mutated version of COVID-19 found in humans but was linked to mink farms, according to AFP.
https://english.alarabiya.net/en/coronavirus/2020/11/13/Coronavirus-Coronavirus-UK-removes-UAE-Bahrain-from-COVID-19-travel-quarantine-list
--------
German prosecutors charge 12 with plot to attack mosques, kill Muslims
14 November 2020
Twelve men in Germany have been charged with hatching a well-funded plot to stage armed attacks on mosques with the intent of killing or injuring as many Muslims as possible, say German prosecutors.
"They aimed through attacks on mosques and the killing and wounding of as many Muslims as possible to create civil war-like conditions," the prosecutors announced in a Friday statement.
The prosecutors identified the suspects as 11 gang members and one accomplice – all German nationals between the ages of 31 and 61 – adding that they had met regularly to plan the terror attack with all but one pledging to contribute thousands towards a 50,000-euro scheme to finance the purchase of weapons.
Officials also noted that cash sums in the "mid four-digit range" had been discovered in homes of the suspects.
All but one of them has been detained, and the twelfth one is still at large, said prosecutors in the southeastern city of Stuttgart.
The authorities also said another suspect had died while in custody, noting, however, he had committed suicide and that there was no evidence of foul play.
This comes as Germany has experienced a series of attacks by far-right elements recently, targeting minorities and refugees.
A suspected far-right sympathizer is currently on trial for the murder of conservative politician Walter Luebcke, who called for refugees to be offered the support and welcome they needed during the 2015 refugee crisis.
The existence of far-right sympathizers has also been unveiled among Germany's police and military forces.
Moreover, members of the so-called National Socialist Underground in the country were convicted in 2018 for a decade-long spree of murders of ethnic Turks.
According to the report, another right-wing extremist also targeted a synagogue in Eastern Germany last year, killing two bystanders.
https://www.presstv.com/Detail/2020/11/14/638553/Germany-prosecutors-right-wing-gangs-mosque-attack-plot-kill-Muslims
--------
EU ministers back tighter borders and online terror rules after recent attacks
13 November 2020
European Union ministers agreed on Friday to reinforce security at the bloc's external borders and to impose tougher controls on violent extremism online.
For all the latest headlines follow our Google News channel online or via the app
The governments met after the latest Islamist extremist attacks in France, Germany and Austria to review plans for a more coordinated EU anti-terrorism policy.
Austria police raid dozens of Muslim Brotherhood, Hamas-linked targets: Prosecutors
France's Macron says terrorism threat requires re-think of open-border Schengen
The interior ministers said they hope to finalize negotiations with the EU Commission and Parliament on a new law to control online content before the end of the year.
"The aim is to enable issuing removal orders with cross-border effect to create a new and rapid and effective instrument to counter terrorist content online within an hour or less of its being reported," a statement said.
And, while they said border security would ultimately remain the responsibility of member states, they hacked efforts to build coordinated EU security databases.
"The competent authorities need to know who enters the Schengen area and who travels within it," they said, referring to Europe's passport-free travel zone.
"We must effectively control our external borders, record entries and departures from the Schengen area in digital form, and cooperate more closely with third countries in order to combat terrorist threats."
The Schengen zone covers most EU members, along with Norway, Iceland, Switzerland and Lichtenstein.
Some member states, notably France and Austria, have been calling for action to specifically target Islamist extremism -- including ideology -- as a source of recent violence.
But, despite noting the Islamist motivation of the murder of schoolteacher Samuel Paty in France last month, the joint statement did not single out any particular religious faith.
Member states would, it said, protect "religious expression which is both peaceful and respectful of the laws adopted by our Member States. This applies equally to all religions."
"Our fight against terrorism is not directed against any religious or political beliefs, but against fanatical and violent extremism," the statement said.
Nevertheless, "migrants are expected to make an active effort to become integrated" and violations of European laws and values "should be neither downplayed nor tolerated, no matter what motivates them."
https://english.alarabiya.net/en/News/world/2020/11/13/EU-ministers-back-tighter-borders-and-online-terror-rules-after-recent-attacks
--------
Southeast Asia
Celebrate but keep your distance, says PM in Deepavali message
November 13, 2020
KUALA LUMPUR: Prime Minister Muhyiddin Yassin has urged Hindus to celebrate Deepavali joyously tomorrow by complying with stipulated procedures while the country struggles to deal with the Covid-19 pandemic.
In his Deepavali message, Muhyiddin invited all Malaysians to respect and appreciate the diversity that exists in the country by sharing in the joy of the celebration.
"Malaysians are lucky because our country comprises multicultural and multireligious communities, each with its own culture, tradition and customs. This diversity is a source of strength for us as a plural country that is peaceful, harmonious and united," he said.
"We are currently facing various tough challenges. Let's work together, united by a resilient spirit and persevere for a brighter future for all," he said.
He also reminded Hindus to celebrate the festival of lights by not shaking hands or gathering in large groups and to practise physical distancing.
"The celebration of Deepavali this year is slightly different as it falls at a time the country is facing the Covid-19 pandemic. The number of daily cases recorded recently is quite high and the government has had to enforce the conditional movement control order to control and curb the spread of the virus in our communities," he said.
https://www.freemalaysiatoday.com/category/nation/2020/11/13/celebrate-but-keep-your-distance-says-pm-in-deepavali-message/
--------
Utah man pleads guilty to trying to help the Islamic State carry out a terrorist attack
By Scott D. Pierce
13 November 2020
A Utah man arrested in August 2019 has pleaded guilty to trying to help the Islamic State terrorist organization carry out bomb attacks.
Murat Suljovic, 23, of Salt Lake City, pleaded guilty in U.S. District Court to one count of attempting to provide material support to a designated foreign terrorist organization.
According to court documents, Suljovic admitted that in January 2019, while he was living in Utah, he corresponded with two people he believed were members of the Islamic State, also known as ISIS, and that he believed they were planning to carry out an attack. The two people were members of the FBI's Joint Terrorism Task Force.
In the plea agreement, Suljovic — who posed online as an Islamic State leader — admitted that in January 2019, he "provided advice about potential targets for a terrorist attack and advice about how to plan an attack." He also provided a "video bomb-making tutorial" to the other two people, intending to assist them "in carrying out an attack."
https://www.sltrib.com/news/2020/11/12/utah-man-pleads-guilty/?utm_source=iterable&utm_medium=email&utm_campaign=1715438_
--------
Arab world
Iraq reports fresh victories against Daesh, urges all countries to fight terrorism
13 November 2020
Iraq's Foreign Ministry has highlighted the country's victory in its fight against terrorism thanks to the Popular Mobilization Units (PMU) and other security forces, urging the entire world to follow suit and counter the grave menace.
"Iraq waged an all-out war against terrorism and extremism, and achieved a historic victory," the ministry said in a statement.
In its statement, the Iraqi Foreign Ministry further called on all countries and organizations to start a serious and decisive fight against the global danger of terrorism and eradicate it so as to establish peace and security for the world's nations.
"Iraq stands by whatever helps the fight against terrorism and the eradication of its roots and resources," the statement added.
In June 2014 – when the Daesh terrorist group unleashed its campaign of terror and destruction in Iraq – top Shia cleric Ayatollah Ali al-Sistani issued a religious edict (fatwa) and called on his followers to rush to the national army's help in the fight against the Takfiri outfit.
The fatwa helped bring together Shia fighters, Sunni tribesmen as well as Christian and Izadi volunteers under the umbrella of the PMU to reverse Daesh's gains and ultimately end the terror group's territorial rule in Iraq in late 2017.
Despite the end of Daesh's so-called caliphate, its remnants are still active in Iraq and Syria, and launch terrorist attacks every now and then.
Terrorist bases destroyed in three provinces
In the latest day of anti-terror operations, the Iraqi security forces destroyed Daesh bases in three provinces of Diyala, al-Anbar, and Salahuddin, and arrested members of the group.
Thirteen regions north of Diyala, two regions south of Salahuddin, and two regions in al-Anbar were cleansed of terrorists, according to a Thursday statement by the Iraqi military.
In the Salahuddin operation, weapons, equipment, and explosives belonging to the terrorists were confiscated as well.
The number of Daesh elements arrested has not been announced.
Separately, the Iraqi police managed to arrest a man who distributed aid among the families of Daesh terrorists in Kirkuk, north of Iraq.
PMU finds five Daesh bases
Also the PMU, better known by its Arabic name Hashd al-Sha'abi, managed to find five Daesh bases in al-Anbar province.
In this operation, codenamed 'Labbayk Ya Rasoul-Allah', some ammunition and medical equipment were seized.
Daesh remnants targeted in northern mountains
For the eighth consecutive day, the Iraqi joint security forces launched separate operations against Daesh bases, and dealt heavy blows to their remnants in the mountainous areas of northern Iraq.
The Iraqi army, federal police, and rapid reaction forces, backed by the Iraqi air force, continued to hunt down the remnants of Daesh in mountains of Salahuddin province.
In this operation, 56 hideouts, 45 underground tunnels, and 106 bombs belonging to Daesh were destroyed, and dozens of rocket launchers were found.
https://www.presstv.com/Detail/2020/11/13/638512/Iraq-fight-against-terrorism-daesh-pmu
--------
Saudi Arabia, US sign Rohingya aid deal
November 13, 2020
RIYADH: Saudi Arabia signed virtually on Thursday an agreement with the US to implement a multi-sector refugee support program in Cox's Bazar in Bangladesh.
The agreement aims to rehabilitate housing with a total value of $2 million, and will be managed by the World Food Program (WFP).
The agreement was signed by Supervisor General of the King Salman Humanitarian Aid and Relief Center (KSrelief) Dr. Abdullah Al-Rabeeah and US Agency for International Development (USAID) Acting Deputy Administrator John Barsa, in the presence of Princess Reema bint Bandar Al-Saud, Saudi ambassador to the US, and John Abizaid, US ambassador to Saudi Arabia.
The program will target 87,165 people for urgent assistance, including Rohingya refugees and groups affected by natural disasters and conflicts in Ukhiya, Teknaf, Kutubdia and Moheskhali.
Dr. Al-Rabeeah praised the agreement. He said Saudi Arabia has stood by the Rohingya, in their areas of displacement and in the Kingdom, throughout history, and provided them with all the necessary services, care and facilities.
He added that as a result of the eradication and torture faced by the Rohingya in Myanmar, the Kingdom provided urgent relief for disaster-stricken refugees. King Salman directed KSrelief to stand by the affected people and provide them with urgent aid, and the center sent a specialized team to Bangladesh to determine the state of the Rohingya refugees, meet their needs and provide them with emergency relief and humanitarian assistance. The center also implemented a number of diverse projects and programs for refugees in Cox's Bazar and other areas.
Al-Rabeeah said the agreement comes within the framework of continuous Saudi support to alleviate the suffering of the Rohingya people and to increase their standard of living. He thanked the government of King Salman and Crown Prince Mohammed bin Salman for its valuable assistance to affected people and countries around the globe.
John Barsa thanked KSrelief and the WFP for the partnership in Bangladesh and other countries. He said that for more than three years Rohingya refugees have suffered, and that through this agreement they will receive much-needed support.
He expressed his pride in the partnership, which will boost access to basic needs and shelter for the Rohinyga. More than 860,000 of the persecuted minority live in the world's largest refugee camp in Cox's Bazar.
The Bangladeshi city is facing major problems, including natural disasters and the coronavirus pandemic, and through this agreement USAID and KSrelief hope to meet the needs of residents.
Barsa said that for the past five years, through 300,000 employees and volunteers, KSrelief expanded its relief and humanitarian work, reaching 54 countries and donating more than $4 billion.
At the end of his speech, he expressed hope for the partnership and urged international organizations to support the cause.
Princess Reema bint Bandar Al-Saud said that KSrelief plays a major role in providing relief to disaster zones and people in need around the world. The center has taken part in more than 1,300 humanitarian operations to date.
She added that the center, along with USAID, will contribute to WFP efforts to assist Rohingya refugees in Cox's Bazar, and said the agreement is a testament to what the continuous Saudi partnership with the US is capable of achieving, in order to achieve peace, security and prosperity in the region and around the world.
The agreement aims to improve the health, safety and standards of living of the Rohingya refugees in Bangladesh, through rehabilitating houses and local shelters and providing disaster protection, she added.
She said that over the last two decades, the Kingdom has donated more than $15 billion to refugees around the world, and that in the past month alone, the Kingdom took part in the UN donor conference for the Rohingya refugee cause. The Kingdom is also hosting more than 270,000 Rohingya refugees, providing them with free health care, educational services and employment opportunities, she added.
Through the agreement, many families in Bangladesh will soon receive shelter, the ambassador said, adding that she looks forward to continued cooperation between KSrelief and USAID.
Abizaid recalled the historic relationship between the Kingdom and the US, which began 75 years ago when King Abdul Aziz and Franklin D. Roosevelt first met. The two countries have worked together ever since to support peace and stability, Abizaid said.
He praised the joint cooperation between KSrelief and USAID, adding that the agreement will also include disaster management training for people in areas with extreme weather conditions.
The US ambassador hailed joint humanitarian work between the Kingdom and the US in a number of countries, including Yemen, where help is provided in a community torn apart by conflict. Both countries also met the needs of around 12 million people who are internally displaced in Syria.
KSrelief is at the forefront of education in Syria, and meets the needs of displaced children through the provision of supplies and services for more than 100,000 students, Abizaid said.
He expressed his country's pride in cooperating with the Kingdom, and said the project is one part of a broad and lasting partnership between the Kingdom and the US.
https://www.arabnews.com/node/1762571/saudi-arabia
--------
Shrouded in mystery — the history of Jeddah's non-Muslim cemetery
November 13, 2020
JEDDAH: The peace and serenity of Jeddah's non-Muslim cemetery was shattered on Wednesday by the sound of an explosion, as it came under attack for what is thought to be the first time in its history.
The graveyard is located close to one of the city's busiest streets, just south of its downtown area, yet most people passing by are unaware that behind the high walls lie the final resting places of many Christians and people of other faiths. There are about 300 marked graves in the cemetery but some historians believe thousands of people have been buried there over the years.
Hushed secrets and rumors have circulated for years about the cemetery and its origins but no one really knows for sure when burials began there. At some point the location became known locally as "Khawajat," an Arab term for foreigners.
Some researchers and historians suggest the cemetery dates back to about 200 years ago. Jeddah was under Ottoman rule at the time and many foreign merchants passed through the city, which was a thriving trade center and a gateway to the Arabian Peninsula.
Others believe its origin lies even further back, in the 16th century, and specifically a battle for control of the city in 1517 between the Portuguese Empire, led by Lopo Soares de Albergaria, and the Mamluk governor of the city, Amir Husain Al-Kurdi.
Some historians believe the Portuguese surrounded the city for three months, others say the siege continued for as many as 13. There were casualties on both sides and it is thought that fallen Portuguese soldiers were buried outside of the city limits. Residents of the area later took it upon themselves to preserve the area as a burial ground for non-Muslims.
Jeddah has for centuries welcomed visitors of many nationalities and faiths, some of whom were just passing through while others decided to settle in the city. Historically, it would have been difficult and expensive to transport the bodies of foreigners who died there back to their home countries, so for many it became their final resting place.
For years, the consulates of nations such as the UK, the US, France, Germany and Ethiopia have maintained the cemetery and its graves, and provided the funds to pay for a groundskeeper.
For more than 18 years that has been Younis, an African Muslim who, among other things, polishes the graves, removes decaying floral displays and prunes the trees that provide shade for visitors.
"Many find the cemetery to be a strange place for reasons only known to them," he said. "It's just like every cemetery. There are people buried here that go back 50 to 60 years and more.
"Many people pass through and pay their respects to the buried, and pray according to their cultures and traditions. Some light candles, while others cover the grave with rice — but it's a place for non-Muslims here to pay their respects."
An official at the Ethiopian consulate told MBC that it costs SR 2,500 ($600) to bury an adult in the cemetery and SR 1,500 for a plot for a child. Historians say it contains are graves of Second World War soldiers in the cemetery, along with those of captains, consul generals and children. There are people of many faiths, including Hindus, Buddhists and Christians.
The attack on Wednesday, described as "cowardly and failed," is thought to be the first targeting the cemetery. Residents who live close to it and know what it is understand it is a sacred site and respect its sanctity and the dead buried there, as if they were their own.
"The cemetery was once located outside the city of Jeddah — urbanization did not reach it until a few decades ago," said 80-year-old Ameen Al-Sabein, who lives in the Ash Shati district. "Those who know historic Jeddah know that the cemetery was originally located outside its walls."
He added that the burial ground was also known as "the Christian Cemetery" and until now has been undisturbed and respected.
"It has a fence surrounding it and no one from outside the countries that run it is allowed to enter," he said. "Urbanization extended to it and placed it in the heart of the city of Jeddah but it has always been left alone."
An investigation is under way into the attack, which happened while foreign residents and dignitaries, including the French consul general, were holding a Remembrance Day ceremony to mark the 102nd anniversary of the end of the First World War. An employee of the Greek consulate and a Saudi security guard were injured in the blast.
https://www.arabnews.com/node/1762321/saudi-arabia
--------
Strong US ties to be focus of Pompeo visit to Saudi Arabia, UAE: Official
Joseph Haboush
13 November 2020
The top US diplomat will visit the Gulf region, including Saudi Arabia and the UAE, to reaffirm the strong enduring ties, senior State Department officials said Friday.
Secretary of State Mike Pompeo will be making what could be one of his final overseas trips since President-elect Joe Biden appears headed for the White House on Jan. 20, 2021.
For all the latest headlines, follow our Google News channel online or via the app.
In Saudi Arabia, Pompeo will meet with Crown Prince Mohammed bin Salman to discuss efforts to foster greater regional security and stability, one State Department official said during a call with reporters on Friday.
Pompeo will also express support for Saudi Arabia's progress in transforming its economy as well as the Vision 2030 plan.
"He [Pompeo] will reaffirm a relationship that has constantly grown deeper since the [historic] meeting between King Abdulaziz and President Roosevelt … 75 years ago," the US official said.
Prior to Saudi Arabia, Pompeo is set to visit the United Arab Emirates.
"Because the UAE is an important friend and partner, we will do everything we can to help it counter the Iranian regime. This includes the proposed sale of $23 billion worth" of fighter jets, aerial systems and more, the US State Department official said.
"The United States and UAE have enjoyed a very strong bilateral relationship for a very long time."
https://english.alarabiya.net/en/News/gulf/2020/11/13/Strong-US-ties-to-be-focus-of-Pompeo-to-visit-Saudi-Arabia-UAE
--------
Armenia captures two Syrian mercenaries, amid Turkish and Azerbaijani denials
Lemma Shehadi
13 November 2020
Two Syrian mercenaries captured by ethnic Armenian armed forces in Nagorno-Karabakh are now in custody, the Armenian Ministry of Foreign Affairs told Al Arabiya English on Nov. 2.
They are the first two mercenaries to have been captured after over a month of fighting. Turkey and Azerbaijan continue to deny their presence.
The two men came from the provinces of Idlib and Hama in Syria where they were recruited and promised a monthly salary of $2,000, they told the Armenian Public Prosecutor's office. According to their testimonies, they then crossed the border in Turkey and boarded a civilian airplane bearing the Azerbaijani flag to Azerbaijan.
For all the latest headlines, follow our Google News channel online or via the app.
Yousef Alabed Alhajji, 28, a farmer from Idlib who cannot read or write, told interrogators that he was recruited in Syria alongside 500 others. Muhrab Muhammad Al-Shkheir, 45, who lives in a displacement camp in Syria, said that recruitment began in mid-September, before the conflict.
The pair said they were required to travel without identification documents, and that they did not encounter issues at any border crossing or airport. "The [authorities] knew who we were and they did not ask for our IDs," said Al Shkheir of the Turkish police and Azerbaijani military officers he encountered on the journey.
The testimonies of both prisoners have yet to be verified by independent bodies. The pair were held and interrogated by the ethnic Armenian armed forces in Nagorno-Karabakh before being transferred to the Armenian authorities.
For all the latest headlines follow our Google News channel online or via the app.
Although they were not captured on Armenian soil, they have been charged by the Prosecutor General's Office of Armenia for international terrorism, committing serious violations of international humanitarian law and for participating in armed conflict as a mercenary.
Yet their capture could serve as further evidence of Turkey's recruitment of foreign mercenaries in the conflict.
Clash of civilizations
The presence of Syrian mercenaries in Nagorno-Karabakh has been a central part in the conflict's ongoing information war.
Azerbaijan and Turkey have consistently denied reports that foreign mercenaries are on the ground. Officials point to Azerbaijan's military and technological capacities as being sufficient enough that there is no need for mercenaries.
"We have a force of 100,000 people, with many of our troops still in reserve. Our use of sophisticated technologies means we do not rely on human resources," an Azerbaijani diplomat told Al Arabiya English on Monday, dismissing the reports of captured prisoners as "absurd." He accused the Armenian authorities of "preparing fake videos of prisoners."
However, the Syrian Observatory for Human Rights, a UK-based monitoring organization, said on Tuesday that over 2,500 Syrians had joined the fighting in Nagorno-Karabakh since the fighting began.
Meanwhile, Armenia has sought to portray the conflict over disputed territory as a clash of civilizations. In an interview with Al Arabiya TV, the Armenian Prime Minister Nikol Pashinyan described Turkey's involvement in the conflict as "at attempt to re-establish the Ottoman Empire."
A statement from the Prosecutor General's Office accused Azerbaijan of recruiting "jihadist-mercenaries" with Turkish support.
Are they extremists?
In a video shot by the armed forces that captured the mercenaries, al-Hajji refers to Armenians as "kuffar," an Islamic term for non-believers, and said he was promised an additional $100 for every Armenian's head.
Yet the conditions under which al-Hajji was compelled to make such a confession are unclear, and he appeared bruised and unclothed in the video.
Experts have stressed that these mercenaries are motivated by financial, rather than ideological incentives.
"These fighters, however, are not jihadists, as they are sometimes portrayed. Their willingness to fight for Turkey, a state jihadists consider to be apostate, attests to that," wrote Syria researcher Elizabeth Tsurkov on Twitter.
In July 2020, a US Pentagon special report on counterterrorism in Africa found no links between
Turkish-backed Syrian mercenaries in Libya and Al-Qaeda or ISIS.
Rather, the combatants are driven to war by Syria's economic crisis and the lack of opportunities in their devastated country.
"They are cheap, and nobody will ask about them if they are killed, captured or injured, thanks to [Syrian President Bashar] al-Assad's war on the Syrian people" said Bassam Barabandi, a non-resident fellow at the Centre for Global Policy.
Al-Shkheir told interrogators that he was displaced by Islamic State in 2016 and lived in a tent with his wife and four children. At times, they had nothing to eat and the family resorted to eating soil. He completed two and half years of military service in Syria, and hadn't participated in military exercises since.
"Even if a person is forced to eat land, one should not resort to such dirty means if there is a fair way to earn money," he said in his testimony, "I was trapped."
https://english.alarabiya.net/en/News/world/2020/11/13/Armenia-captures-two-Syrian-mercenaries-amid-Turkish-and-Azerbaijani-denials
--------
Saudi Arabia's success in eliminating extremism praised
November 14, 2020
JEDDAH: The secretary-general of the Organization of Islamic Cooperation, Dr. Yousef Al-Othaimeen, confirmed that the speech of Crown Prince Mohammad bin Salman, in which he thanked King Salman, according to his speech before the Shoura Council, was characterized by transparency in all local affairs, including achievements made by Saudi Arabia in a short period of time.
He praised the assurance of the crown prince that the Kingdom combated terrorism and extremism by eliminating the ideological project that was made for 40 years, as Saudi citizens showed their tolerance and reject extremist ideas. "The crown prince's digression explained that Islam criminalized terrorist operations and prohibited bloodshed."
https://www.arabnews.com/node/1762766/saudi-arabia
--------
Mideast
US criticism of religious freedom in Turkey stirs debate
November 13, 2020
ANKARA: A US statement saying that its Secretary of State Mike Pompeo plans to "promote our strong stance on religious freedom" during his visit to Istanbul next week has drawn the ire of Ankara.
Pompeo's visit is part of his planned tour of seven nations, including countries in the Middle East and the Gulf. During his time in Istanbul on Monday and Tuesday, the top diplomat is scheduled to meet the Greek Orthodox Patriarch Bartholomew I, but no Turkish officials.
Turkey's Foreign Ministry criticized the US statement "as extremely inappropriate."
"It would be more advisable for the United States to look in the mirror first and to show the necessary sensitivity to human rights violations such as racism, Islamophobia and hate crimes in its own country," the ministry said in its own statement.
Pompeo is expected to run for the senate, and support from the Greek Orthodox community and evangelicals would be a boost to his hopes of election in Kansas.
"Religious freedom, more specifically issues facing Christians around the world, is a shared concern among many Republicans — especially influential evangelical and diaspora communities," Ziya Meral, senior associate fellow at RUSI (Royal United Services Institute for Defense and Security Studies), told Arab News.
The tension surrounding Pompeo's visit is just the tip of the iceberg, however. The incoming administration of US president-elect Joe Biden, who will assume office in less than three months, will also pressure Ankara over religious freedom in Turkey — an issue that has been in the spotlight recently following President Recep Tayyip Erdogan's decision to convert Istanbul's Haghia Sophia into a mosque in July, which drew accusations that he was attempting to erase the cultural heritage of Orthodox Christians in the city. Turkey is also under increasing pressure to reopen the Greek Orthodox theological school shut down in 1971.
Biden is expected to be a staunch supporter of religious freedom globally, including the rights of Greek Orthodox followers. Under former President Barack Obama, Biden became the only sitting vice president to visit the Ecumenical Patriarchate, which he did twice.
Turkey drew further criticism late in October when it opened the former monastery of Christ the Savior in Chora, an ancient Christian basilica, for Islamic prayer services, compromising the building's architectural and historical value. That decision was taken following a presidential decree claiming that the use of the building as a museum was illegal.
According to Meral, there is non-partisan anger at Turkey over a long list of issues from the reconversion of Hagia Sophia to the prolonged detainment of an American pastor and the termination of residency permits for foreign Christian church workers living in Turkey.
"Geopolitical issues from Greece to Armenia to northeastern Syria have now melted into the usual narratives of 'us versus Islamists,' which continues to politicize the issue of religious freedom beyond the actual concerns of religious minorities," Meral said.
While Meral expects the Biden administration to continue to raise these issues with Turkey, he said it "won't pursue a similar agenda on religious-freedom issues abroad (to the one) we saw Trump and Pompeo pursuing."
In June, the US Department of State published its 2019 Report on International Religious Freedom. It criticized Turkey for limiting the rights of non-Muslim religious minorities, especially Armenian Apostolic Orthodox Christians, Jews, and Greek Orthodox Christians.
"The government continued to restrict efforts of minority religious groups to train their clergy," the report also noted.
Dr. Mine Yildirim, head of the Freedom of Belief Initiative and the Eurasia Civil Society Program at the Norwegian Helsinki Committee, said Turkey's long-standing key challenges in the area of freedom of religion or belief require fundamental changes.
"Some of the central legal issues include the lack of legal personality of religious or belief communities, the status of places of worship, and the glaring inequality related to the public funding of the Presidency of Religious Affairs and those individuals and communities that do not receive services from this institution," she told Arab News.
"Most of these issues have been the subject of judgments from the European Court of Human Rights. However, those judgments have not been effectively implemented. All states can hold each other accountable on account of their ratifications of international human rights instruments," Yildirim added.
Experts underline that religious freedom is and will remain a foreign-policy priority for the US under the Biden administration.
Yildirim believes that, while multilateral initiatives are important, states should focus more on strengthening international human rights control mechanisms in order to contribute to the protection of human rights, including freedom of religion or belief.
Anna Maria Beylunioglu Atli, a lecturer at MEF University in Istanbul, meanwhile, suggested that external pressure from the West can only go so far, and that real domestic change will only happen if there is a shift in mindset among policy makers in Ankara.
"Otherwise, we will only see cosmetic changes in religious freedom," she told Arab News. "There has been serious regression in this area since 2013, and there has been no significant improvement so far."
https://www.arabnews.com/node/1762661/middle-east
--------
Palestinians view Pompeo visit to settlement as 'dangerous precedent'
13 November 2020
Palestinian premier Mohammed Shtayyeh said on Friday that a planned visit by the US secretary of state to an Israeli settlement in the occupied West Bank would set a "dangerous precedent".
For all the latest headlines follow our Google News channel online or via the app
Mike Pompeo would become the first US secretary of state to visit one of the settlements, which are considered illegal by most of the international community.
The visit planned for next week is a way to "legitimize the settlements" and creates "a dangerous precedent that violates international law", Shtayyeh said, quoted by the Palestinian news agency WAFA.
Pompeo's visit to Israel comes exactly one year after he said the US did not consider Jewish settlements on occupied Palestinian territory to be illegal, putting Washington at odds with UN Security Council resolutions.
Pompeo is expected to visit the West Bank winery of Psagot, which has rolled out a label named after him in tribute to his visit, Israeli media reported.
The winery has unsuccessfully challenged a European decision to put a label on all products that come from West Bank settlements.
The State Department has not confirmed Pompeo's itinerary.
In a statement earlier this week, it said only that he would visit Israel and meet with Prime Minister Benjamin Netanyahu.
Pompeo's trip comes two months before the inauguration of President-elect Joe Biden, a past critic of settlements.
Aaron David Miller, a veteran US diplomat in the Middle East, tweeted that Pompeo's visit "isn't about Trump or Bibi's politics; it's about Pompeo and 2024," referring to Netanyahu by his nickname.
Pompeo has made little secret of his aspirations for higher office and has frequently pointed to his support of Israel, a major cause for his Republican Party's evangelical Christian base.
https://english.alarabiya.net/en/News/middle-east/2020/11/13/Palestinians-view-Pompeo-visit-to-settlement-as-dangerous-precedent-
--------
World Food Programme sent expired medical, food supplies to Yemen: Official
13 November 2020
A senior Yemeni official has lashed out at the World Food Programme (WFP) for sending expired food and medicine to the crisis-stricken Arab country.
The director of the General Secretariat of the Supreme Council for the Management and Coordination of Humanitarian Affairs in Hudaydah Province said that authorities had examined more than 326 containers of humanitarian aid and discovered that the products were unhealthy and not suitable for human consumption as they had expired.
Jaber al-Razhi said the supplies included cooking oil, medicines for chronic diseases, food supplements for children, green peas and biscuits.
He added that competent authorities at Hudaydah port will deal with all those who try to put the lives of Yemeni people at risk.
"Despite appeals to the World Food Programme not to import medicines and foodstuff that are already expired or near expiry, the organization continues to do so and distributes them among disadvantaged and needy people in the mistaken belief that such a practice will not catch the eyes of inspectors and relevant authorities," Razhi pointed out.
He noted that Yemeni people were initially optimistic about the Stockholm agreement, which stressed in its entirety the need for facilitating the arrival of basic materials and humanitarian aid to Yemen's western port of Hudaydah in a way that would meet the needs of the Yemeni nation, but their hopes now seem to have vanished into thin air.
The WFP has not commented on the issue so far.
Delegates from the popular Houthi Ansarullah movement and representatives loyal to Riyadh-allied former Yemeni president Abd Rabbuh Mansur Hadi held a round of peace negotiations in Rimbo, north of the Swedish capital city of Stockholm, in December 2018.
The talks resulted in the announcement of a breakthrough agreement.
The document included three provisions: a ceasefire along the Hudaydah front and the redeployment of armed forces out of the strategic city and its port; an agreement on prisoner exchange; and a statement of understanding on the southern Yemeni city of Ta'izz.
Houthi criticizes WFP policies in Yemen, calls for review
Houthi criticizes WFP policies in Yemen, calls for review
Meanwhile, a member of Yemen's Supreme Political Council, Mohammed Ali al-Houthi, has criticized WFP policies concerning distribution of aids in Yemen.
He said the organization distributes humanitarian supplies according to political classifications, depriving those who reject US policies of the much needed commodities.
Houthi then accused the World Food Programme's Executive Director David Beasley of preventing humanitarian aids from reaching Sana'a and other provinces under the control of the National Salvation Government, and of being behind scarcity of oil products in Yemen.
Houthi called on international monitors and donor states to exercise stricter controls to deal with the inhumane behavior of the WFP.
Saudi Arabia and a number of its regional allies launched a military onslaught against Yemen in March 2015, with the goal of bringing the government of former president Abd Rabbuh Mansur Hadi back to power and crushing the popular Ansarullah movement.
The US-based Armed Conflict Location and Event Data Project (ACLED), a nonprofit conflict-research organization, estimates that the war has claimed more than 100,000 lives for over the past five years.
The Ansarullah movement, backed by armed forces, has been defending Yemen against the Saudi-led alliance, preventing the aggressors from fulfilling the objectives of the atrocious war.
https://www.presstv.com/Detail/2020/11/13/638510/World-Food-Programme-sent-expired-medical,-food-supplies-to-Yemen-Official
--------
Security forces arrest 42 Daesh terror suspects
NOV 12, 2020
At least 42 people with suspected links to Daesh were arrested in Turkey, security sources said Thursday.
A total of 24 suspects were nabbed in operations by anti-terror teams in Şanlıurfa, Diyarbakır and Bursa provinces, said the sources, who asked not to be named due to restrictions on speaking to the media.
The suspects recruited people into the terrorist group, attempted to bring terrorists from conflict zones into Turkey and conducted organizational meetings, the sources said.
A shotgun, ammunition, books, magazines and digital material were seized in the raids.
In southern Osmaniye province, 18 more Daesh suspects were arrested in operations by anti-terror teams, according to the sources.
The suspects were involved in terrorist propaganda operations, and their digital material was seized in the raids, they added.
In 2013, Turkey became one of the first countries to declare Daesh a terrorist group.
The country has since been attacked by Daesh terrorists multiple times, with 315 people killed and hundreds more injured in at least 10 suicide bombings, seven bomb attacks and four armed assaults.
In response, Turkey launched counterterrorism operations at home and abroad to prevent further attacks.
https://www.dailysabah.com/politics/war-on-terror/security-forces-arrest-42-daesh-terror-suspects?utm_source=iterable&utm_medium=email&utm_campaign=1715438_
--------
Pakistan
PM Imran Khan useless, unaware of developments in Pakistan: Maryam Nawaz Sharif
Namrata Agarwal
Nov 14, 2020
Swat: Pakistan Muslim League-Nawaz (PML-N) Vice President Maryam Nawaz Sharif said Prime Minister Imran Khan was "useless" person who was unaware of what is going on in Pakistan and that he was "just trying to get attention needlessly".
PM Imran Khan "keeps popping up [for attention], his role is useless, and no one cares about him," Geo News quoted Sharif during her address in the northern areas.
Speaking on the Karachi incident, she said that her door was broken down, her husband Safdar was arrested and inspector-general of police (IGP) for Sindh got kidnapped and yet the Prime Minister did not know what is happening in his country.
"No one even considered Imran Khan worthy of telling. The prime minister was sleeping comfortably in his Bani Gala house [when the incident happened...If I had to bear such humiliation on that day, I`d have thrown my resignation in his face," she said.
"There is only one cure for all of Pakistan`s problems and diseases and that is to send Imran Khan and his fake government home," the PML-N leader said.
Demanding a free and fair fresh election in Pakistan so that the real representatives of people are elected, Maryam said, "He introduced a bus that is as be-bas [helpless] as he is; those buses fail to operate just like his fake government."
As per the Geo News report, the opposition leader lambasted the Prime Minister who had vowed to build a Metrobus in Rs 8 billion but now, its cost had ballooned to Rs 126 billion and the plan was still incomplete.
"Who was the person who claimed he would throw Rs200 billion in the IMF`s face? Today, the IMF slaps him in the face everyday," she added.
On November 13, she had alleged that authorities had installed cameras in her jail cell and bathroom during an interview.
"I have gone to jail twice and if I speak about how I, a woman, was treated in jail, they will not have the audacity to show their faces," she said, referring to the government.
In her criticism of the Pakistan Tehreek-e-Insaf (PTI) government, the PML-N vice president said that if authorities can break into a room and arrest her in front of her father Nawaz Sharif and launch personal attacks on her, then no woman is safe in Pakistan.
https://zeenews.india.com/world/pm-imran-khan-useless-unaware-of-developments-in-pakistan-maryam-nawaz-sharif-2324628.html
--------
KP chief minister is country's richest MPA
Iftikhar A. Khan
14 Nov 2020
ISLAMABAD: Khyber Pakhtunkhwa Chief Minister Mahmood Khan, who happens to be the only declared billionaire in the province's legislature, is also the wealthiest MPA in the country, with the worth of his total assets coming to Rs2.38 billion.
According to statements of assets of members of the provincial assemblies (MPAs) for the financial year ending on June 30, 2019, Mr Khan, who was elected from PK-09 (Swat), owns agricultural property worth Rs2.33bn and has Rs40 million in cash and Rs7.7m in two bank accounts. However, he owns no car.
Awami National Party's Bahadar Khan (PK-16, Lower Dir) is the second richest MPA in Khyber Pakhtunkhwa as his assets are worth Rs894m. He owns 20 properties worth Rs875m, with just one piece of agricultural land of unspecified size valued at Rs410m.
Syed Fakhar Jehan, a Pakistan Tehreek-i-Insaf (PTI) legislator from PK-21 (Buner), has properties worth Rs766.80m, including shops and agricultural and non-agricultural land. He owns a Land Cruiser and another unspecified motor car. He holds Rs1.5m in cash and just Rs135,000 in his bank account.
Shakeel Ahmad, a member of the provincial cabinet, owns 18 plots in Islamabad and Gwadar, all valued at only Rs3.1m
Sher Azam Khan, a PPP lawmaker from PK-87 (Bannu), is the owner of assets valued at Rs664.63m. He owns properties worth Rs521m and has over Rs139m in cash or in bank accounts.
The properties owned by him include 1,865 kanals of agricultural land, a seven-kanal house in Lakki Marwat, a 1.5-kanal house in Islamabad and plots in Ghora Gali and Bansara Gali, Murree.
The assets owned by Fazal Hakim Khan, a PTI member from PK-05 (Swat), have grown in worth to Rs594m from Rs528m in 2018, registering an increase of Rs66m in a single year.
He has put the 'cost' of his properties — including 24 plots, two commercial buildings, a house, a beverage factory and three restaurants — at Rs573m, which in the previous year's documents was Rs513m. In 2018, he owned 800 grams of gold valued at Rs4m. Now he owns 1kg of gold, the worth of which has been put at Rs7.40m.
Musawar Khan, a PTI lawmaker from PK-19 (Malakand), owns commercial, agricultural and residential properties worth Rs384m. He didn't have a business in 2018 but now has started a business venture with an investment of Rs65m.
Riaz Khan, a PTI member from PK-20 (Buner), has assets worth Rs350m. He owns properties worth Rs307m and has invested Rs40m in marble business. Interestingly, he drives a 2009 model car valued at Rs1.2m and has no cash in hand or bank account.
Malak Badshah Saleh, a PPP legislator from PK-10 (Upper Dir), has not only changed the cost of his four properties this time but size of a plot as well. The cost of the four properties, including a 300-acre agricultural land and another 25-acre land, had been put at Rs130m in 2018. But now the size of the last plot has been put as 50 acres and the cost as Rs45m instead of Rs20m.
Mr Saleh owns assets worth Rs349.5m. He has a business capital of Rs215m and owns two pieces of agricultural land valued at Rs70m and Rs20m, respectively.
The overall cost of the four properties has been changed from Rs130m in 2018 to Rs215m. His investment in a construction company has risen from Rs130m to Rs145m.
Shakeel Ahmad, a member of the provincial cabinet, owns 18 plots of unspecified sizes — 11 in Islamabad and the rest in Gwadar. The cost of all the plots has been put at only Rs3.1m.
The worth of assets owned by leader of the opposition in the assembly Akram Durrani declined from Rs10m in 2018 to Rs7.75m in 2019. He held prize bonds of Rs3m in 2018 and now is keeping only about one-third of them.
He owns three houses and 462 kanals of land — all inherited, but has not mentioned the market value of the properties. He has Rs4.16m in cash but owns no car.
https://www.dawn.com/news/1590278/kp-chief-minister-is-countrys-richest-mpa
--------
Pakistan calls for fair distribution of Covid vaccine
Anwar Iqbal
14 Nov 2020
UNITED NATIONS: Pakistan has urged the international community to ensure that Covid-19 vaccine is made available to all and is distributed across the globe without any discrimination or favour.
At a G-77 ministerial meeting in New York, Pakistan's permanent representative to the United Nations Munir Akram also emphasised the need to rebuild the economies destroyed by this pandemic.
Pakistan has reported 2,304 coronavirus cases on Friday, the highest since July, indicating a 27 per cent increase since Thursday. The virus also claimed 37 lives on Friday.
"A vaccine once developed must be available to all without discrimination and without favour," the Pakistani envoy said. "But the critical requirement today is adequate finance to enable our economies to recover from the crisis."
Ambassador identifies debt suspension as the first economic need of pandemic-hit developing nations
Ambassador Akram, who is also the president of the United Nations Economic and Social Council, pointed out that the pandemic had devastated the economies of many developed countries, adding to the multi-dimensional challenges they were already facing from climate change and other endemic problems.
"We must at this time, focus on specific objectives that we need to achieve to recover from the devastation that we are facing. For the group of 77, unity is the key to success in achieving the objective," he said.
The Group of 77 is a coalition of 134 developing countries, designed to promote their collective economic interests and to create a joint negotiating capacity within the United Nations.
Ambassador Akram identified debt suspension as the first economic need of the developing nations devastated by the pandemic.
He recalled that in April, Prime Minister Imran Khan launched an initiative for debt relief to help developing countries deal with this crisis. "We believe that the debt suspension by the G20 should be extended until … we have recovered from the pandemic," the Pakistani envoy said. G20 or Group of Twenty is an international forum for the governments and central bank governors from 19 countries and the European Union.
"The least developed countries' debt should be cancelled, as they have asked," Ambassador Akram said. "The debt restructuring for other developing countries … must be implemented and sizable net inflows from the multilateral development banks should be invigorated." The debt restructuring should include "efficient debt buybacks and debt swaps," he added.
The Pakistani envoy emphasised the need to expand concessional finance through official development assistance (ODA) and other sources and called for private sector participation in debt suspension. This should include global liquidity and financial stability facilities proposed by the Economic Commission for Africa, he added.
"And finally, and most importantly, the issuance of new SDRs, and the repurposing of existing and utilised SDRs for developing countries," he said. SDRs or special drawing rights are supplementary foreign exchange reserves defined and maintained by the International Monetary Fund.
Ambassador Akram said that most of these actions were already envisaged in the 2015 Addis Ababa plan that sets the UN agenda for sustainable development.
The plan underlines the need for investment in sustainable and resilient infrastructure, energy, transport, water, sanitation as prerequisites for achieving development goals.
Ambassador Akram said that investment in infrastructure would affect 92 per cent of sustainable development goals. "We need to mobilise an additional $1.5. trillion annually for investment in sustainable infrastructure," he said.
https://www.dawn.com/news/1590276/pakistan-calls-for-fair-distribution-of-covid-vaccine
--------
Africa
UN votes to crack down on al-Shabaab extremists in Somalia
13 November 2020
The UN Security Council voted Thursday to prevent the sale or shipment to Somalia of components of improvised explosive devices if there is "significant risk" they may be used to manufacture the often deadly devices that are increasingly being used in attacks by al-Shabab extremists.
It also urged the Somali government to keep cracking down on the militant group's illegal financing methods that UN experts estimate raised over $21 million last year.
The resolution, adopted by a 13-0 vote with Russia and China abstaining, reaffirmed the arms embargo on Somalia and banned the resale or transfer of any weapons or military equipment sold or supplied to help develop Somalia's National Security Forces and security sector.
For all the latest headlines follow our Google News channel online or via the app.
a-linked al-Shabab remains the most active and resilient extremist group in Africa, controlling parts of southern and central Somalia and often targeting checkpoints and other high-profile areas in the capital, Mogadishu. It has fired several mortars this year at the heavily defended international airport, where the US Embassy and other missions are located.
In their latest report, experts monitoring the arms embargo and other sanctions against Somalia said: "The threat posed by al-Shabab to peace, security and stability in Somalia goes beyond the impact of the group's conventional military action and asymmetric warfare to include sophisticated extortion and `taxation' systems, child recruitment practices and an effective propaganda machine."
The panel said al-Shabab raised more than the $21 million it spent last year on fighters, weapons and intelligence. Its investigation found the extremist group generated approximately $13 million in just four case studies – a "taxation" checkpoint in Lower Juba, its extortion of businesses in Kismayo, two bank accounts associated with the group's collection of taxes on imports into the port in Mogadishu, and "zakat" – an annual religious obligation.
The resolution adopted by the Security Council "notes with concern al-Shabab's ability to generate revenue and launder, store and transfer resources."
It calls on the Somali government "to continue working with Somali financial authorities, private sector financial institutions and the international community to identify, assess and mitigate money laundering and terrorist financing risks." It encouraged the government to consider a national identification program to help reduce the risks.
The council condemned al-Shabab attacks in Somalia and beyond, saying the group "continues to pose a serious threat to the peace, security and stability of Somalia and the region, particularly through its increased use of improvised explosive devices." It also expressed "grave concern" at the presence of affiliates linked to the Islamic State extremist group in Somalia.
The resolution demands that countries prevent the sale, supply or transfer of a list of components including explosive materials, explosive precursors, explosive-related equipment and related technology "if there is sufficient evidence to demonstrate that the item(s) will be used, or a significant risk they may be used, in the manufacture in Somalia of improvised explosive devices."
It requires any country supplying an item on the list to Somalia to notify the committee monitoring UN sanctions at least 15 days in advance with details and the purpose for the sale or transfer.
Russia's deputy UN ambassador, Anna Evstigneeva, noted that the amendments "meant to optimize the arms embargo" were made at the Somali government's request and expressed hope that "they will support normalization and reduce the terrorist threat coming, in the first place, from Al-Shabaab."
But she said Russia abstained because the resolution didn't take on board "our principled and duly substantiated proposals," including references to Djibouti and Eritrea, whose relations pose "no threat to international peace and security," and to human rights in Somalia, which should be dealt with by the Geneva-based Human Rights Council.
China's deputy UN ambassador, Dai Bing, said Beijing abstained because the council didn't accept its amendments calling for the council to explore benchmarks for assessing the lifting of the arms embargo on Somalia weren't accepted.
"The current embargo has been a serious impediment to enhance security capacity of the Somali government," he said. "The text fails to make a deep response to the strong desire of the Somali government to have the arms embargo lifted."
US political coordinator Rodney Hunter welcomed the continuation of UN sanctions and the extension of the work of the panel of experts for another 12 months.
He said every council member has committed to uphold the arms embargo "in the interest of securing peace and stability both in Somalia, and in the broader region." To achieve that, Hunter said, the United States also supports "the increased focus on thwarting Al-Shabaab's exploitation of the financial system."
https://english.alarabiya.net/en/News/world/2020/11/13/Terrorism-UN-votes-to-crack-down-on-al-Shabaab-extremists-in-Africa
--------
Jordan's interior minister steps down after elections breached coronavirus lockdown
12 November 2020
Jordan's interior minister resigned on Thursday after a public outcry at gatherings and troubles in the aftermath of parliamentary elections that breached a five-day national lockdown aimed at curbing a surge in COVID-19 cases, state media said.
Interior Minister Tawfiq al Halalmah said he took "moral" responsibility for the unruly events that followed announcements of the results of parliamentary elections held on Tuesday where most candidates appeal to voters along mostly tribal and family loyalty lines.
Visit our dedicated coronavirus site here for all the latest updates.
The government had announced this month it planned the first such lengthy lockdown since easing measures last summer, to ensure the polls for a new four-year assembly would not lead to a spike in an already alarming surge in cases.
Jordan which has now become one of the region's most heavily hit countries, posted 5,685 new daily infections and 80 deaths on Thursday, bringing its total to 132,086 cases and 1,547 deaths since the pandemic surfaced in March.
The resignation of the interior minister came shortly after King Abdullah in a tweet expressed his indignation at the scenes widely circulating on social media which he said endangered the lives of Jordanians as they struggle to curb the pandemic.
Social media footage verified by witnesses showed thousands of supporters taking to the streets since Tuesday night where celebratory gunfire was widely used. In some provincial areas such as Mafraq, trouble broke out with supporters of losing candidates attacking some public property.
Prime Minister Bisher al Khasawneh's government has sent heavy police reinforcements to areas where trouble had broken out to enforce emergency laws. Police officials said scores were arrested, among them candidates who stood in the elections.
https://english.alarabiya.net/en/coronavirus/2020/11/13/Jordan-s-interior-minister-steps-down-after-elections-breached-coronavirus-lockdown
--------
Libya talks set December 2021 date for elections: UN envoy
13 November 2020
Libyans at UN-led talks agreed to hold elections in December next year, the United Nations said Friday.
Participants at the talks in Tunisia "agreed that national elections should take place on 24 December 2021," acting UN envoy Stephanie Williams told journalists in a virtual press conference.
For all the latest headlines, follow our Google News channel online or via the app.
The world body is convening talks near Tunis to hash out a deal for a new transitional government for the country, torn apart by conflict since the 2011 uprising that toppled dictator Muammar al-Gaddafi.
The administration would be charged with providing services and preparing for national polls, as well as tackling an economic crisis and a coronavirus outbreak that has killed over 900 people.
The political track of talks in Tunisia comes in parallel with military talks to fill in the details of a ceasefire deal in October, that formally ended over a year of fighting between eastern and western Libyan forces.
The 75 delegates at the Tunisia talks were selected by the UN to represent existing institutions and the diversity of Libyan society, but some Libyans have questioned their credibility and criticized the way they were selected.
Analysts also fear a government resulting from the talks could struggle to gain legitimacy and face pushback from members of existing institutions.
But Williams said the momentum was against "status quo" actors "trying to maintain their current privileges."
"The international community has tools at its disposal to prevent spoilers, including through the use of sanctions," she said.
The Center for Humanitarian Dialogue, which is helping to facilitate the talks, said the new government would not need a vote of confidence from Libya's House of Representatives.
The HoR, elected in 2014, is based in Libya's east and allied with military commander Khalifa Haftar, who launched an offensive in April 2019 to seize the capital Tripoli from a UN-recognized unity government.
Pro-unity government forces ended a bloody months-long stalemate in June by pushing Haftar's forces back eastwards.
The two sides signed a landmark ceasefire deal in October, setting the scene for renewed diplomatic efforts for a political settlement to the long-running conflict.
https://english.alarabiya.net/en/News/north-africa/2020/11/13/Libya-talks-set-December-2021-date-for-elections
--------
Niger engaged in secret talks to forge full ties with Israeli regime: Report
14 November 2020
Niger is reportedly in secret discussions with Israel about normalizing their relations, months after the United Arab Emirates (UAE), Bahrain and Sudan signed agreements to establish full diplomatic ties with the Tel Aviv regime.
According to a report published by the Israeli Hebrew-language Yedioth Ahronoth daily newspaper on Friday, speculations are rife in the Israeli ministry of foreign affairs that Niger – the largest Muslim country in West Africa – is likely the next Arab country to normalize ties with Israel.
The news comes in light of Israeli media reports in recent weeks that Saudi Crown Prince Mohammed bin Salman is encouraging Niger's officials to take the measure.
The Yedioth Ahronoth noted that the Israeli ministry of intelligence believed there would be a breakthrough in secret communications to conclude the normalization agreement between Israel and Niger if former interior minister and president of the Nigerien Party for Democracy and Socialism (PNDS-Tarayya) Mohamed Bazoum won the December 27 presidential election.
The newspaper cited Israeli intelligence minister Eli Cohen as saying that the forthcoming election in Niger will be essential in terms of moving forward normalization between the Tel Aviv regime and Niamey.
US President Donald Trump announced on October 23 at the White House that Sudan and Israel had agreed to normalize relations.
Trump sealed the agreement in a phone call with Israeli prime minister Benjamin Netanyahu and his Sudanese counterpart Abdalla Hamdok and chairman of the Sovereignty Council Lieutenant-General Abdel Fattah Abdelrahman al-Burhan, senior US officials said.
Sudan's acting Foreign Minister Omar Gamareldin, however, later said the accord would depend on approval from its yet-to-be formed legislative council.
It is unclear when the assembly will be formed under a power-sharing deal between the country's military officers and civilians.
Earlier, Netanyahu signed US-brokered normalization deals with UAE Foreign Minister Sheikh Abdullah bin Zayed Al Nahyan and Bahraini Foreign Minister Abdullatif bin Rashid al-Zayani during a September 15 ceremony at the White House.
The normalization deals have drawn widespread condemnation from Palestinians, who seek an independent state in the occupied West Bank and Gaza Strip, with East Jerusalem al-Quds as its capital. They say the deals ignore their rights and do not serve the Palestinian cause.
https://www.presstv.com/Detail/2020/11/14/638551/Niger-engaged-in-secret-talks-to-forge-full-ties-with-Israeli-regime-Report
--------
Fourteen Burkinabe soldiers killed in ambush ahead of presidential election
NOVEMBER 12, 2020
OUAGADOUGOU (Reuters) - Fourteen soldiers in Burkina Faso were killed on Wednesday in an ambush by suspected Islamist militants, the government said, close to a week before a presidential election.
Worsening insecurity in the West African country is the main issue in the Nov. 22 vote, when President Roch Marc Kabore is seeking a second term.
In recent years, militant groups with links to al Qaeda and Islamic State have killed hundreds of soldiers and civilians and stoked ethnic conflict, part of a wider security crisis across West Africa's Sahel region.
The 14 soldiers were killed and a further eight wounded in the northern province of Oudalan, near the borders with Mali and Niger, the ministry of communication said in a statement on Thursday.
"The defence and security forces have been deployed in the area and are carrying out search operations and tracking down the perpetrators of this attack," the ministry said.
A security source said about 10 of the assailants were killed in the ensuing battle. The army had no immediate comment.
Kabore, who faces 12 challengers on the ballot, has promised to restore security to a country that had long been a relative island of stability in a turbulent region.
The militant groups have grown stronger and extended their influence despite the presence of thousands of French and other international troops across the Sahel.
According to the United Nations, over 1 million people in Burkina Faso are displaced, more than one in every 20 inhabitants.
https://www.reuters.com/article/us-burkina-security/seven-burkinabe-soldiers-killed-in-ambush-ahead-of-presidential-election-idUSKBN27S1CZ?utm_source=iterable&utm_medium=email&utm_campaign=1715438_
--------
North America
Pittsburgh a 'hub' for white supremacy, FBI analysts say
NOV 13, 2020
Pittsburgh is a focal point for white supremacy and extremists, an FBI analyst said Thursday at a symposium on domestic terrorism.
"Our area has become a hub. It's important to understand that it is here," said John Pulcastro, a supervisory analyst at the Pittsburgh FBI.
In fact, he said the movement is as strong here as at any other place in the country he has studied in 20 years, including the Pacific Northwest, a hotbed for supremacists.
Extremist groups are active here in holding events and recruiting.
As an example, he said 100 members of a neo-Nazi group called the Patriot Front marched down the Boulevard of the Allies on a recent weekend. Their motto, "Conquer or Die," makes their ideology clear, he said. Another catch-phrase, "Blood and Soil," is aimed at making America a white country only, with refugees seen as invaders, Mr. Pulcastro said.
"They believe they are being invaded," he said. "They are training for an invasion."
If a civil war begins, he said, the Patriot Front plan on being ready.
Mr. Pulcastro and another analyst, Matt Trosan, spoke Thursday at a two-day Duquesne University event on Zoom called "When Hate Hits Home" presented by the Cyril H. Wecht Institute.
Their focus was on how violent extremism is evolving in America and what to do about it.
Mr. Trosan said there are limits on what the FBI can investigate because of the First Amendment protecting free speech. But he said the goal of his squad is to prevent violence, not react to it after it happens, the traditional FBI role. To that end, he said, the bureau needs people to come forward with information.
"This is a 'we' problem," he said. "We rely on public support."
The analysts said the idea is view gathering intelligence on extremists as a jigsaw puzzle, with tips from the public providing pieces of the puzzle to form a larger picture of extremist activity. Sometimes tips expose true threats. But there are also a lot of false leads.
Mr. Trosan cited one example in which agents were alerted to a report of a noose hanging from a gate at a local business. "We rolled out there immediately," he said.
But what they discovered was that the noose was just a loop of rope the owner used to hold the broken gate closed.
The bureau investigated another incident in which someone had painted the word "queer" on a vehicle in Lawrenceville. That — vandalism — is unquestionably a crime, Mr. Trosan said, but agents were unable to gain any traction on who did it.
"We were unable to track this down," he said.
Still, he said, the bureau will investigate all the hate crimes tips it receives.
"We need the public's help," he said. "We need to know about this."
Mr. Pulcastro emphasized the fact that the FBI relies on information from the public because the bureau "cannot proactively data-mine social media for hate activity."
The bar is high for an investigation, too. To even open a case the FBI needs three elements: A threat of violence, furtherance of an ideology by the perpetrator and a federal crime under which to bring a possible prosecution. But even with all those pieces in place, Mr. Pulcastro said, "it's not going to be us investigating and prosecuting our way out" of the problem of preventing violence by extremists in America.
Mr. Pulcastro said the white supremacist movement is increasing nationwide, largely triggered by the "Unite the Right" rally in Charlottesville, Va., in 2017. The Patriot Front, in fact, broke off from another white-supremacist group, Vanguard America, in the aftermath of that rally.
Other radical groups include the militia-rooted, anti-government extremists who make up the Boogaloo Bois movement preparing for a second civil war.
"These guys are heavily armed, well-trained," Mr. Pulcastro said.
He said the Boogaloo Bois are waiting for a "racial holy war," which they call the "Big Luau," during which they will "take out" leftists and law enforcement and become the new government.
Mr. Pulcastro pointed to many additional groups active here and elsewhere, including the Proud Boys, the Ku Klux Klan and the National Alliance. He said the groups are active on social media and put up fliers in various neighborhoods to mark their territory and attract recruits.
The analysts also said that COVID-19 appears to have had an impact on the extremist movement. The FBI is not seeing as many mass shootings since the pandemic began. Instead of perpetrating mass casualty attacks, extremists appear to be more involved in rioting and engaging in civil unrest to "leverage chaos."
Regardless of their techniques, the key to stopping potential attacks is community outreach, the analysts said, not arrests and prosecutions.
"Dialogue is the best tool to stop violence," said Mr. Pulcastro.
The city declined to comment on the FBI's conclusions. Allegheny County Police Superintendent Coleman McDonough said in an email that he had not seen an increase in white supremacist activity.
"But our mission and that of the the FBI differ substantially," he said, "and we don't always have access to the same information."
https://www.post-gazette.com/local/region/2020/11/12/Pittsburgh-Pennsylvania-hub-white-supremacy-racism-extremism-FBI-proud-boys-patriot-front-neo-nazi/stories/202011120145?utm_source=iterable&utm_medium=email&utm_campaign=1715438_
--------
US sanctions on Iran achieved less than nothing: Analyst
13 November 2020
Various round of harsh US economic sanctions against Iran have "achieved less than nothing," according to an international lawyer and political analyst.
Barry Grossman, who is based on the Indonesian island of Bali, made the remarks in an interview with Press TV on Friday, after Iranian President Hassan Rouhani said the time for Washington's policy of exerting "maximum pressure" on other countries, including the Islamic Republic, is over.
Rouhani said this on Thursday while addressing the inauguration ceremony of a series of national projects in the fields of education and health through video conference.
Referring to US President Donald Trump's policy of mounting "maximum pressure" on Iran to force the country to submit to Washington's demands, Rouhani said, "All signs and indications in the current world, from America to Europe, show that the world has understood that the [policy of exerting] maximum pressure is not effective and its time is over."
"I'd go further than saying it's been futile. I would go so far as t say that it's been entirely counter productive," Grossman said.
"Certainly, this policy hasn't achieved anything, in any of the countries that it's been directed at. It has achieved nothing with Russia. It has achieved nothing with China. It has achieved less than nothing with Iran. It's achieved nothing with North Korea or Venezuela or any other country, that it's been deployed in order to achieve US objectives and the implementation of a policy which itself is not very clear," he stated.
"One of the problems with all of this -- has always been, of course -- that the US has been less than transparent and clear about what it's after," he said.
"For example, in the case of Iran, it makes all these noises about working to 'liberate' the people of Iran and in fact institute what's come to be known as regime change while at the same time consistently denying that they're out to agitate for regime change. What is clear is that not only has it not worked and been counterproductive, I would say the weight of popular opinion everywhere, including the United States, is against this strategy," he said.
"And in fact, I think people are tired of seeing the United States use these tactics of threats and blackmail and extortion and military intervention in order to push agendas which it's not transparent about, which are contrary to international law and convention, and which basically put tens of millions if not hundreds of millions of people at a disadvantage, and at risk for their health, and for all manner of other things," he noted.
"So it certainly is time to stop but it hasn't worked at all. And if the United States expects to be taken seriously when it complains about countries supposedly violating US national sovereignty, as, for example, Mr. Joe Biden did recently in the presidential debate, well, then surely it has to start respecting the sovereignty of other nations and if nothing else this policy of maximum pressure using unilateral sanctions, which in turn are forced coercively not only on the target country but on all countries around the world, including the US allies with threats of consequences, it detracts from all of that and is clearly a violation of the national sovereignty of all those countries, not just the targeted country," the analyst explained.
"So it's high time to stop this and I would agree wholeheartedly with what President Rouhani so eloquently and economically said," he concluded.
https://www.presstv.com/Detail/2020/11/13/638539/-US-sanctions-on-Iran-achieved-less-than-nothing-
--------
URL: https://www.newageislam.com/islamic-world-news/jamaat-e-islami-leads-qawmi/d/123468
New Age Islam, Islam Online, Islamic Website, African Muslim News, Arab World News, South Asia News, Indian Muslim News, World Muslim News, Women in Islam, Islamic Feminism, Arab Women, Women In Arab, Islamophobia in America, Muslim Women in West, Islam Women and Feminism