New Age Islam News Bureau
11 Aug 2014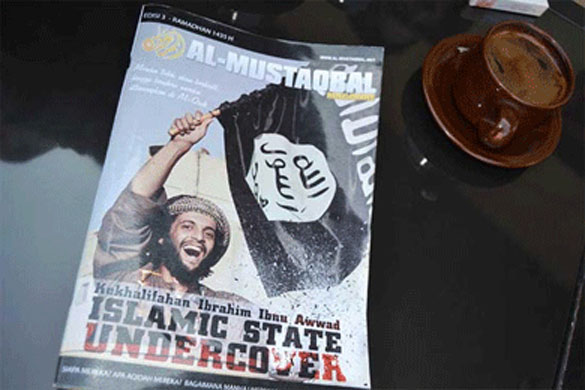 Copies of Al Mustaqbal, a magazine endorsed by ISIS, have emerged, but observers say the group will not take root Indonesia. (JG Photo/Dyah Ayu Pitaloka)
----------
Southeast Asia
• Jakarta Police Investigating 'ISIS Sex-Slave' Recruitment Pamphlets
• Does Islamic State Ideology Threaten Indonesia?
• McDonald's, Starbucks, HSBC in crosshairs of Muslim NGOs' month-long boycott in Malaysia
• Four students arrested in Maluku for allegedly supporting ISIL
------------
Arab World
• Saudi Grand Mufti: Terrorists Murdering Muslims in Name of Jihad
• Preachers Asked To Brand IS A Terror Outfit by Minister of Islamic Affairs
• Kurdish forces seize back two towns from IS militants
• Egypt bars HRW head ahead of Rabaa killings report
• Iraq is facing 'cultural cleansing': UN
• Assad renames Halqi as Syria prime minister
• 1.5 million Saudis now work in private sector
• Jail terms for 4 Saudi jihadis who returned from Syria
• Saudi King, El-Sissi to focus on Middle East stability
• Iraqi Shia coalition close to nominating prime minister
------------
India
• RSS Groups to Resolve Muslim-Linked Issues
• Meerut gangrape aftermath: Hindu groups target old enemy 'Love jihad'
• Pak targets border outposts in Jammu, 2 BSF jawans injured
------------
Mideast
• 8 Palestinians killed ahead of Gaza truce
• Palestinians want ICJ to probe Israeli 'atrocities'
• Israel, Palestinians accept midnight truce in Gaza
• Israeli delegation arrives in Cairo for truce talks
• Erdogan wins outright victory in first round
• Iran says won't accept 'toy' enrichment programme
------------
Pakistan
• 'Tsunami' to hit capital on Aug 14 as planned: Imran Khan
• 'Hindus should not migrate due to few problems in society': Speaker
• LHC summons Imran Khan, seeks reply from federal, Punjab govt on 'Azadi March'
• Interior Ministry summons 3,000 FC troops to guard capital
• Nawaz summons meeting of PML-N leaders, federal, Punjab ministers
• Any attempt to derail system bound to fail: Asif Ali Zardari
• Mush says will live, die in Pakistan
• Three terrorists arrested in Rawalpindi; explosives seized
------------
Africa
• Heavy shelling resumes in Libyan capital Tripoli
• Al-Shabab attack AU base in Somalia
• Muslim named as new CAR premier
• Libya polarised amid ongoing clashes
------------
North America
• Obama prepares nation for long-term Iraq engagement
• Fighters defecting Qaeda to join Islamic State: US
• New Yorkers protest against Isael's attacks on Gaza
• FBI Targeted Mentally Disabled Muslim American Citizens
------------
South Asia
• Afghanistan: Green on Blue Attacks Display Security Lapse
• Four die in Kabul suicide attack
• Suicide bomber targets NATO convoy in Kabul
• 12 Jamaat men arrested in Bogra town
------------
Europe
• British 'Primark jihadist' killed fighting with Islamic State
• More UK bank accounts held by Muslim organisations risk closure
• Massive anti-Israel protest in London
Compiled by New Age Islam News Bureau
URL: https://newageislam.com/islamic-world-news/jakarta-police-investigating-'isis-sex/d/98521
------------
Southeast Asia
Jakarta Police Investigating 'ISIS Sex-Slave' Recruitment Pamphlets
Aug 11, 2014
The Jakarta Police are trying to find out who is behind the distribution, at an Islamic university, of flyers purportedly aimed at recruiting "sex slaves" for fighters of the Islamic State of Syria and Iraq.
"We are investigating who created and distributed the sex-slaves flyers," police spokesman Sr. Comr. Rikwanto said on Saturday.
The pamphlets were proliferating around the Syarif Hidayatullah State Islamic University (UIN) campus in Ciputat, South Tangerang, Banten, on Friday and could also be found on the Internet, as the they went viral on social media platforms. Through the flyers, interested applicants are urged to contact the ISIS secretariat allegedly located at a campus mosque.
The deputy rector of UIN, Sudarnoto Abdul Hakim, has expressed his concerns over the fact that apparently a university mosque had been used by sympathizers of the group labeled a terrorist organization by the Indonesian government.
"Yes, we are aware of the pamphlets," Sudarnoto said on Saturday. "We are shocked that the irresponsible individuals are campaigning in a UIN mosque."
ISIS fighters are accused of large-scale war crimes, like carrying out mass executions, and other violations of human rights. The group has declared a caliphate in the areas it controls in Syria and Iraq.
Sudarnoto condemned those behind the leaflets, calling the messages they contain degrading to women. The posters say that prospective sex slaves must "entertain and provide support for mujahidin [holy warriors] who are fighting the infidels." It adds: "Heaven guaranteed."
"The pamphlets clearly show them [women] as immoral persons. They, in a very vulgar way, degrade women's dignity as if women only exist to satisfy their [the fighters'] desires," Sudarnoto added.
The Indonesian government last week denounced ISIS as a terrorist group, saying that it teachings threaten the nation's peace and harmony. Sudarnoto said that the spreading of the pamphlets in an educational facility and in a house of worship could be part of an effort to divide the nation.
"This is a form of terror in an early stage. There may be other, more cruel forms of terror. But consider this an early warning," Sudarnoto said, adding that he would coordinate with the police and the South Tangerang government to halt the spread of radical strains of thought.
http://www.thejakartaglobe.com/news/jakarta-police-investigating-isis-sex-slave-recruitment-pamphlets/
------------
Does Islamic State Ideology Threaten Indonesia?
By Sri Lestari
11 August 2014
Jihadist fighters from the Islamic State militant group are swallowing up territory in Iraq and Syria. Officials fear the group is now trying to make ideological inroads in Indonesia, the world's largest Muslim nation.
Meetings of radical Indonesian groups declaring their support for the Islamic State (IS, also called Isis) have been held in Jakarta, Solo in Central Java and Bima in West Nusa Tenggara.
Most of these meetings are accompanied by public marches of young men and women carrying the IS flag through towns and villages, shouting out slogans.
Last week a video emerged on YouTube of young Indonesian men dressed in IS garb, presumably in Syria, encouraging their countrymen to join the cause.
The main protagonist in the video is believed to be Abu Muhammad - a fugitive wanted by Indonesian police on suspicion of terrorism offences.
The unverified video has sparked major concerns in government circles.
Indonesia has fought a tough battle against extremist groups in the last decade - a fight that is considered to have been fairly successful.
Militant networks have been dismantled and Abu Bakar Ba'asyir, thought to be the spiritual leader of Jemaah Islamiah - the group blamed for the Bali bombings, is in prison. But last month he declared support for IS from jail.
A resurgence in the kind of radical groups that backed Ba'asyir would be a worrying reversal.
More monitoring
Earlier this month, Indonesia responded by banning IS ideology in the archipelago.
"Isis's ideology is against Pancasila, the defining principle of Indonesia's pluralistic and multicultural society," said Djoko Suyanto, Indonesia's political, legal and security affairs minster.
"We want to make sure that Indonesia is not a country where you can spread ideas about Isis or an Islamic state."
The government says it will block websites with IS content and monitor Indonesian citizens' plans to travel to conflict zones like the Middle East and South Asia to ensure they are not joining IS fighters.
Indonesia's anti-terror agency believes as many as 30 Indonesians have gone overseas to fight for the radical organisation.
Officials say they are considering revoking the citizenship of Indonesians who pledge support for the group.
But these measures do not appear to have affected IS's appeal in the eyes of some Indonesian Muslims, who have continued to express their support for the banned group.
In Solo cleric Afif Abdul Majid, who claims he recently returned from fighting for Isis in Syria, says he is not afraid of losing his citizenship.
"If we cannot build an Islamic state in Indonesia and there is an Islamic state in another country then we have to support that," he told the BBC.
"We support the Islamic state because it is what Allah has commanded," said Majid, who is a founder of hard-line group Jamaah Anshorut Tauhid (JAT).
'We don't want them'
But while IS may have its appeal among such hard-line groups, moderate Indonesian Muslims are rejecting its ideology.
"What IS do is not the way of Islam, which teaches peace and rejects violence, and it's not fit for Islam in Indonesia, which respects pluralism," said Din Syamsudin, chairman of the Indonesia Ulema Council.
Last month in Malang, East Java, the local community stood up to a group trying to declare support for IS and refused to allow them into their mosques.
"They don't have permission from the police or us to gather in our mosque," said Syafiudin, a caretaker at the mosque.
"Plus we know IS is a radical hard-line group. We don't want them here."
The government is also concerned, however, about the potential effect of young Indonesians returning from fighting in Iraq and Syria.
"Our worry is about the men who have gone to fight in Iraq and Syria and who have now come back," Harry Purwanto of Indonesia's anti-terror force said.
"When they come back, will they carry out or try to plan a terror attack?"
At the moment, officials say, Indonesia's laws do not prevent groups like this from recruiting new converts or spreading their thinking.
"We have to change the law, otherwise we are powerless," said Mr Purwanto. "We cannot prevent the spreading of this radical ideology - especially amongst young people."
http://www.bbc.co.uk/news/world-asia-28700983
------------
McDonald's, Starbucks, HSBC in crosshairs of Muslim NGOs' month-long boycott in Malaysia
By Zurairi AR
August 10, 2014
KUALA LUMPUR, Aug 10 — Fast food franchise McDonald's, coffee chain Starbucks, and British bank HSBC are the three businesses that will be targeted in a concerted boycott by Muslim NGOs, as they launched a month-long campaign called Bulan Kemarahan Ummah (The Month of Ummah's Wrath) today.
The Muslim NGOs vowed to undertake "peaceful boycotts" against the three companies as part of the anti-Israel campaign, but also named soft drink brand Coca-Cola and Swiss multinational firm Nestlé as other companies to be boycotted by Muslims.
According to the campaign, the brands will be boycotted because they allegedly "lend their support to Zionist Israel".
"As a rule, we don't want boycotters to vandalise, hurt the feelings, or do things that will backfire … Don't do things that others can use to mock our campaign," said Abdullah Zaik Abd Rahman, the chief executive of Pro-Palestine group Aman Palestin which spearheaded the campaign.
However, Abdullah said mass protests outside restaurants or outlets by holding up placards and lobbying customers are fine in order to raise awareness.
During the launch event in Taman Tasik Titiwangsa which saw hundreds of Muslim supporters attend, there were several buntings erected admonishing McDonald's, Coca-Cola and HSBC.
The buntings compared each stick of McDonald's french fries symbolises one bullet for the Israeli army, while each drop of Coca-Cola is equal to one drop of Palestinian blood falling to the ground.
The buntings equated each stick of McDonald's french fry to one bullet for the Israeli army, while each drop of Coca-Cola symbolised a droplet of Palestinian blood falling to the ground.
A pro-Palestine rally in Dataran Merdeka last Saturday also saw calls to boycott all products linked to Israel.
A list of products and companies, including McDonald's, purportedly with ties to Israel's Zionist regime has been circulating in the social media, although many have ended up there based on now-debunked hoaxes and obsolete links.
On Tuesday, violent rallies were held outside two McDonald's outlets in Kerteh and Dungun, reportedly resulting in about 80 per cent loss of revenue at the two locations since.
A nationwide 24-hour boycott was held on Friday against McDonald's to protest against the fast food chain's alleged links to Israel.
The popular fast food joint has since pleaded against the protest, saying the real victims of a boycott of its products would be its mostly Malay-Muslim employees.
The fast food chain also pointed out that the company is a source of livelihood for more than 12,000 employees, over 85 per cent of whom are Muslims.
It also said 67 of the restaurants are owned and operated by 27 local franchisees, nearly half of whom are Malay-Muslims.
http://www.themalaymailonline.com/malaysia/article/mcdonalds-starbucks-hsbc-in-crosshairs-of-muslim-ngos-month-long-boycott
------------
Four students arrested in Maluku for allegedly supporting ISIL
August 11 2014
Maluku Governor Said Assagaff said on Monday that the police had arrested four students in Ambon, Maluku, for allegedly supporting the Islamic State and the Levant (ISIL).
He said that of the four, three were senior high school students and the other a junior high school student. "They are so young that they are very vulnerable to incitement. We have to respond this case seriously," he said as quoted by Antara news agency.
He explained that the arrests aimed to prevent the four from influencing their friends to join the cause.
He said that he would summon all school principals to remind them about the threat of ISIL in a bid to protect students from such a radical organization. (alz)
http://www.thejakartapost.com/news/2014/08/11/four-students-arrested-maluku-allegedly-supporting-isil.html
------------
Arab World
Saudi Grand Mufti: Terrorists Murdering Muslims in Name of Jihad
10 August 2014
Grand Mufti Abdul Aziz Al-Asheikh, who is also president of the Council of Senior Scholars, has warned young men against perverting the concept of "jihad" (struggle) and wreaking havoc in Muslim countries by killing innocent civilians in the name of Islam.
Al-Asheikh also urged youth not to fall victim to such rhetoric propagated by terror groups.
"We continuously witness ugly crimes on television that have been perpetrated by the enemies of Islam. These various futile sects shed blood for no reason and kill fellow Muslims in the name of Islam, but what they are doing is nothing but organized terrorism and theft."
"Indeed, these criminals cover up their crimes under the garb of jihad," asserted Al-Asheikh.
"Living in peace and security is a natural necessity and a religious interest," he said. "Murdering innocent people not only distort the religion's image, but places great distress on the family of these victims."
Islamic law abhors bloodshed and encourages followers to fulfill the purpose for which they were created, he said.
Al-Asheikh alluded to the sanctity of human life in the Qur'an and the Sunnah (the sayings of the Prophet, peace be upon him).
"This is reinforced in the Qur'an, which asserts that 'whoever kills a believer intentionally shall abide eternally in Hellfire'," he said.
Al-Asheikh urged followers to reread the many verses and sayings to this effect, reiterating the need to stop these barbaric murders.
"God likens unjust killing to polytheism, while the Prophet Muhammad (peace be upon him) included murder in the list of seven deadly sins," he reminded the faithful.
http://www.arabnews.com/news/featured/614151
------------
Preachers Asked To Brand IS A Terror Outfit by Minister of Islamic Affairs
11 August 2014
Preachers and Imamshave been asked to describe the Islamic State (IS) as a terror group that is affiliated with Al-Qaeda during their sermons.
Saleh Al-Asheikh, minister of Islamic Affairs, Endowment, Call and Guidance, has notified all the ministry's branches across the country to warn worshippers of the dangers of the group's rhetoric on Islam and creeds of faith.
"Preachers should make clear the threats that Al-Qaeda and its branches, which empower enemies of the Sunni school of thought, pose to society," Al-Asheikh said in an official statement.
Full report at:
http://www.arabnews.com/news/saudi-arabia/614551
------------
Kurdish forces seize back two towns from IS militants
10 August 2014
BAGHDAD: Kurdish forces, supported by US air strikes, took back two towns in northern Iraq from Islamic State militants but it will take time to turn the tide of the conflict, a senior Kurdish official told Reuters.
Hoshiyar Zebari said the Kurds had recaptured the towns of Guwair and Makhmur. Asked how long the United States would have to continue airstrikes to help the Kurds defeat the Islamic State, Zebari said: "As President Obama said, there is no time limit."
US President Barack Obama said on Saturday that it would take some time to tackle Islamic State fighters whose latest push through northern Iraq has rattled the Baghdad government and its Western allies.
Full report at:
http://www.arabnews.com/news/middle-east/614261
------------
Egypt bars HRW head ahead of Rabaa killings report
Aug 11, 2014
CAIRO: Egypt has barred the head of Human Rights Watch from entering the country ahead of the release of a report on a mass killing of protesters, HRW officials said Monday.
Kenneth Roth, executive director of the New York-based NGO, and HRW Middle East director Sarah Leah Whitson were held overnight in Cairo airport before being denied entry, Whitson wrote on Twitter.
"It's official - shortest visit to Cairo ever - 12 hours before deportation for 'security reasons'- the new Egypt certainly 'transitioning'," Whitson wrote.
The rights activists had flown to Cairo for the release of a report to mark a year since the mass killing of an estimated 700 opposition protesters, in one of the deadliest incidents of its kind in decades.
Full report at:
http://www.dawn.com/news/1124652/egypt-bars-hrw-head-ahead-of-rabaa-killings-report
------------
Iraq is facing 'cultural cleansing': UN
August 11, 2014
UNITED NATIONS: As United Nations humanitarian agencies and partners are extending aid to hundreds of thousands of families on the run in northern Iraq from armed militants, a senior UN official is calling for an immediate stop to what she termed an "emerging cultural cleansing."
Irina Bokova, Director-General of the Paris-based UN Educational, Scientific and Cultural Organization (UNESCO), called for an immediate end to the attacks and for the protection of the diversity that has "forged the wealth and vitality of Iraqi culture over the millennia, as a unique testimony of the development of civilization and peaceful coexistence."
Attacks against civilians and minority groups are "a direct blow on the cultural diversity, which is a defining characteristic of humanity," she said.
"It is unacceptable that people are denied their most fundamental rights, that they are systematically persecuted and killed because of their beliefs, ethnic origin or cultural expressions."
Ms. Bokova joins a growing group that has voiced alarm in recent days about the displacement and attacks on ethnic and religious minorities. The Security Council and Secretary-General Ban Ki-moon have expressed concern about reports that the group, Islamic State in Iraq and the Levant (ISIL), attacked civilians in the cities of Kirkuk, and Qaraqosh, and earlier attacks in Tal Afar and Sinjar district of Ninewa Governorate, affecting mainly the vulnerable communities of Christians, Turkomen, and Yezidis.
"The protection of people is inseparable from the protection of their cultures, living expressions and heritage," Ms. Bokova underscored. The situation remains particularly dire on Jebel Sinjar, or Sinjar Mountain, where an estimated 50,000 people, many of them women, children and the elderly, are believed to be trapped since ISIL forced them to flee their homes nearly a week ago.
Full report at:
http://www.nation.com.pk/international/11-Aug-2014/iraq-is-facing-cultural-cleansing-un
------------
Assad renames Halqi as Syria prime minister
August 11, 2014
DAMASCUS: President Bashar al-Assad on Sunday renamed Wael al-Halqi as war-torn Syria's prime minister and asked him to form a new government, state media reported.
The appointment comes three weeks after Assad was inaugurated for a third seven-year term following an election that Syria's exiled opposition and its Western backers denounced as a sham. Halqi first became premier in June 2012, succeeding Riad Hijab who defected and accused Assad regime's of "war crimes and genocide".
Full report at:
http://www.nation.com.pk/international/11-Aug-2014/assad-renames-halqi-as-syria-prime-minister
------------
1.5 million Saudis now work in private sector
11 August 2014
There were almost 1.5 million Saudis employed in the private sector in 2013, an increase of more than 332,000 compared with 2012, according to data released by the Ministry of Labor.
This increase is due to the growing need of manpower for economic and social development projects, especially in the construction sector, said ministry sources.
These projects also include the Grand Mosque expansion project and other mega projects in the transport sector and educational establishments such as Princess Nora University.
There was a 16 percent increase in the number of Saudi men employed by the end of 2013 and a staggering 85 percent increase in the number of Saudi women compared with 2012.
"As such, nationalization rates have increased from 13 percent in 2012 to 15 percent in 2013," said the ministry sources.
"There had, however, also been a 12 percent increase in the number of non-Saudi employees in the private sector by the end of 2013 compared with the previous year. There were 7.3 million expats in 2012 and 8.2 million by the end of 2013."
Full report at:
http://www.arabnews.com/news/saudi-arabia/614541
------------
Jail terms for 4 Saudi jihadis who returned from Syria
10 August 2014
RIYADH: Four Saudi men who travelled abroad to fight in Syria's civil war have been sentenced by a special Criminal Court to prison, the Saudi Press Agency reported on Sunday.
"The accused were proven to have quit their obedience to the ruler by traveling abroad to fight," said the SPA report, adding that the men were sentenced to terms ranging between four months and two years and 10 months.
Their crimes included forgery of travel documents and money laundering, the report said.
Custodian of the Two Holy Mosques King Abdullah decreed in February that citizens involved in fighting overseas faced up to 20 years in prison, a move meant to prevent the radicalization of young people.
Full report at:
http://www.arabnews.com/news/saudi-arabia/614291
------------
Saudi King, El-Sissi to focus on Middle East stability
10 August 2014
Egyptian President Abdel Fattah El-Sissi arrives here today on his first official visit to the Kingdom after becoming the country's president.
His talks with Custodian of the Two Holy Mosques King Abdullah would focus on fighting terrorism, major regional issues and expanding bilateral ties.
This is El-Sissi's second meeting with King Abdullah.
The first meeting took place at Cairo airport on June 21 as the king visited the president on his way back to the Kingdom from Morocco.
The summits indicate the strong relations between the two major Arab League countries.
Former Egyptian Prime Minister Hazem Al-Beblawi emphasized the significance of the president's first foreign visit to Saudi Arabia.
"It reflects the Kingdom's important position in the minds of Egyptian people."
He also noted the king's historic stand with Egypt and his call for holding an international conference to support Egyptian economy.
Egyptian diplomats said five topics would top the agenda of Saudi-Egyptian summit talks in Jeddah. They are: The fight against terrorism; the situation in Libya, Syria and Iraq; the challenges facing the Palestinian cause; prospects of holding a conference of Egypt's friends; and ways of strengthening bilateral cooperation in various sectors.
Saudi analysts pin big hope on El-Sissi's visit, saying it would help strengthen Arab unity and stability.
Full report at:
http://www.arabnews.com/news/featured/614176
------------
Iraqi Shia coalition close to nominating prime minister
Aug 11, 2014
BAGHDAD: A bloc comprising Iraq's biggest Shia parties is close to nominating a prime minister, the deputy speaker of parliament said on Monday, directly challenging Nuri al-Maliki who has refused to give up his bid for a third term.
Haider al-Abadi's comments in a tweet came after police sources said special forces and Shia militias loyal to Maliki had been deployed in strategic areas of Baghdad after he made a defiant speech on television suggesting he would not cave in to pressure to drop his bid for another term.
Abadi is one of the people that has been mentioned as a possible successor to Maliki. In his tweet Abadi said government forces were moving around the capital in anticipation of security breaches.
Maliki accused Iraq's Kurdish President Fouad Masoum of violating the constitution by missing a deadline for him to ask the biggest political bloc to nominate a prime minister and form a government.
"I will submit today an official complaint to the federal court against the president of the Republic for committing a clear constitutional violation for the sake of political calculations," Maliki said in the televised speech.
Serving in a caretaker capacity since an inconclusive election in April, Maliki has defied calls by Sunnis, Kurds, some fellow Shias, regional power broker Iran and Iraq's top cleric to step aside for a less polarizing figure.
Critics accuse Maliki of pursuing a sectarian agenda which has sidelined Sunnis and prompted some of them to support Islamic State militants, whose latest sweep through northern Iraq has alarmed the Baghdad government and its Western allies.
Maliki under fire
Washington seems to be losing patience with Maliki, who has placed Shia political loyalists in key positions in the army and military and drawn comparisons with executed former dictator Saddam Hussein, the man he plotted against from exile for years.
Deputy State Department spokeswoman Marie Harf reaffirmed Washington's support for a "process to select a prime minister who can represent the aspirations of the Iraqi people by building a national consensus and governing in an inclusive manner".
"We reject any effort to achieve outcomes through coercion or manipulation of the constitutional or judicial process," Harf said in a statement, adding that the United States "fully supports" Masoum in his role as the guarantor of Iraq's constitution.
US President Barack Obama has urged Iraqi politicians to form a more inclusive government that can counter the growing threat from the Islamic State.
But Maliki, an unknown when he first took office in 2006 with help from the United States, is digging in.
Full report at:
http://timesofindia.indiatimes.com/world/middle-east/Iraqi-Shia-coalition-close-to-nominating-prime-minister/articleshow/40045703.cms
------------
India
RSS groups to resolve Muslim-linked issues
Subhash Mishra
Aug 11, 2014
LUCKNOW: The Rashtriya Swayamsevak Sangh (RSS) is using its senior functionary Indresh Kumar to bridge the gap between the pariwar and Muslim community. Kumar, who is also the chief patron an organization called Muslim Rashtriya Manch, told TOI on Sunday that the manch will soon form five working groups to resolve the contentious issues related to minorities like uniform civil code, Article 370 and Ayodhya temple issue.
He said that the working groups will consist largely of Muslim scholars, writers, intellectuals, officers apart from some Hindus as well. In Lucknow for the past two days, he attended a 'Raksha Bandhan' celebration with Muslim women and also addressed a gathering of Christian Community. Although his Muslim Rashtriya Manch is not directly linked to the RSS, in the past also Kumar has been working among the minorities to spruce up the anti-Muslim image of the Sangh Pariwar.
The state's intelligence sleuths keeping a close eye on his movements disclosed to the TOI that he was holdings talks and indoor meetings with Muslim leaders across the country. An engineering graduate, he camped in Varanasi for months before the Lok Sabha election to win over a large population of Muslim voters in favour of the BJP. Political observers say that his efforts resulted in a perceptible change in the opinion of a section of Muslim community about the saffron party and its prime ministerial candidate Narendra Modi.
Elaborating on the new strategy of his manch, Kumar said that the first working group would be for holding talks with the Muslim community on solving the issues related to Ayodhya, Kashi and Mathura shrines. He said that the some conservative and hardcore Muslim leaders and pseudo secularists had been holding the custody of the entire community which was full of moderate and liberal people and the working group would directly hold talks with the liberals so that a permanent solution could be achieved in the cases related to the three shrines.
Full report at:
http://timesofindia.indiatimes.com/city/lucknow/Indresh-Kumar/articleshow/40023480.cms
------------
Meerut gangrape aftermath: Hindu groups target old enemy 'Love jihad'
Aug 11, 2014
The aftermath of the sensational Meerut gangrape and forced conversion case, has meant that a familiar old enemy, the 'Love Jihad', is back as a much discussed topic in Uttar Pradesh.
According to a report in Indian Express, wing groups of RSS have begun weeklong campaigns in UP to warn Hindus against 'love jihad.' 'Love jihad' as a term has been popularised by right-wing groups who claim that Muslim men lure Hindu girls to fall in love with them and then are tricked into marriage and forced to accept Islam.
The report notes that one such Hindu group, the Dharma Jagran Manch, will "also tie Rakhis to Hindu girls, requesting them not to fell prey to such youths (read Muslim) who lure them to convert their religion."
Rajeshwar Singh, western UP head of the Manch told the paper, "'Love jihad' is an old issue. But, Dharma Jagran Manch has taken up a campaign against it for the first time. We have started the drive today (Sunday) and our workers will tie Rakhis to 10 lakh Hindus across Uttar Pradesh by Krishna Janmashtami on August 17." Singh claimed that 'love jihad' is common in Western Uttar Pradesh. Each worker aims to tie Rakhis to at least 100 Hindus in one week, adds the report.
But it may not even take a rakhi campaign to convince Hindus that their girls are potential prey to irresistible Muslim casanovas who are bent on tricking them to convert. A report in Hindustan Times points out how the narrative that Muslim boys are luring Hindu girls is gaining popularity in Western UP and adding to social tensions.
One local journalist told HT's Prashant Jha, "It is so common. They call themselves Sonu Bhai, Pappu bhai, and they wear red hand bands to appear like Hindus. And then they trap our girls."
He also shows "files of a Hindi newspaper of the past few months. Pages 2 and 3, dedicated to local news, were littered with stories about Muslim boys and Hindu girls getting together." On being questioned if Hindu boys do the same with Muslim girls, the journalist says that's not the case.
But Muslims in the village are disagreeing with this 'love jihad' theory and are instead blaming the women. Haji Dilshad, a tyre shop owner, alleges that it is the Hindu women who are trapping the Muslim men. He told the paper angrily, "Their women came and were lying on this very cot right after the evening namaaz sometime back. Who is trapping whom?" His son Mohammed Umeed blamed the Hindu boys, saying that in rural areas, they are taking "our women."
Full report at:
http://www.firstpost.com/india/meerut-gangrape-aftermath-hindu-groups-target-old-enemy-love-jihad-1658279.html
-----
Pak targets border outposts in Jammu, 2 BSF jawans injured
Aug 11, 2014
JAMMU: In the third ceasefire violation in less than 48 hours, Pakistani troops fired with small arms, automatic weapons and mortar shells on seven border outposts along the international border in Jammu district, leaving two BSF jawans injured.
"Pakistani Rangers resorted to unprovoked firing from small arms and automatic weapons on 7 BOPs along IB in Arnia sub-sector in Jammu district from around 8.30pm on Sunday night," a BSF officer said here on Monday.
BSF troops guarding the borderline along IB took positions and retaliated effectively to the Pakistani firing which resulted in intermittent exchanges of fire, he said.
Two BSF jawans suffered minor injuries and have been shifted for treatment, the officer said, adding that firing continued till 6am this morning.
Pakistani Rangers resorted to sniper firing in Nikowal and Bhudwar BoPs in Arnia belt and then fired at Tent Gaurd post around 8.30pm last night.
Later, they opened fire on Pittal, Pindi Charkan, Kake-de-Kothe and Chinaz BoPs. Pakistani troops also fired few mortar shells in the area before dawn and the firing ended around 6am today.
Full report at:
http://timesofindia.indiatimes.com/india/Pak-targets-border-outposts-in-Jammu-2-BSF-jawans-injured/articleshow/40038111.cms
------------
Mideast
8 Palestinians killed ahead of Gaza truce
11 August 2014
DOHA: A lasting truce must lead to the lifting by Israel of its blockade of the Gaza Strip, Hamas chief Khaled Meshaal told AFP in Doha.
The 72-hour cease-fire Hamas reached with Israel on Sunday "is one of the ways or tactics to ensure successful negotiations or to facilitate the delivery of humanitarian aid to Gaza," said Meshaal.
The final "goal we insist on is having the demands of Palestinians met and the Gaza Strip exist without a blockade."
"We insist on this goal. In the case of Israeli procrastination or continued aggression, Hamas is ready with other Palestinian factions to resist on ground and politically and... to face all possibilities," he said.
Full report at:
http://www.arabnews.com/news/middle-east/614601
------------
Palestinians want ICJ to probe Israeli 'atrocities'
11 August 2014
BOGOTA: Palestinian Foreign Minister Riyad Al-Malki on Saturday said his government would soon try to haul Israelis before the International Criminal Court for war crimes.
"We will go to the ICJ, and put our signature on it. Very soon we will be a (sovereign) state. That is enough for the court to start an investigation," Malki, on a visit to Bogota, said.
Al-Malki, who attended to inauguration Thursday of Colombian President Juan Manuel Santos, said "before coming here, I was in the Hague.
"And I asked the ICJ to start an official investigation, to see if what Israel has done in the past 33 days reaches the level of war crimes," Malki told a briefing in Bogota.
The world's permanent war crimes court in The Hague declined two years ago to investigate allegations against the Israeli military in 2008-2009, citing the uncertain legal status of the Palestinian Authority.
A lot has changed since then.
Full report at:
http://www.arabnews.com/news/middle-east/614486
------------
Israel, Palestinians accept midnight truce in Gaza
Aug 11, 2014
GAZA CITY: Israel and the Palestinians agreed Sunday to a new 72-hour Gaza ceasefire, accepting Egypt's invitation to resume talks to end more than a month of fighting in which more than 2,000 people died.
The agreement, to take effect at one minute past midnight (2101 GMT on Sunday), clinched days of frantic mediation to stem a firestorm of violence that ignited after an earlier truce collapsed on Friday.
"Israel has accepted the Egyptian proposal for a ceasefire," an official told AFP shortly after a Palestinian source confirmed accepting the initiative.
The Egyptian foreign ministry called for the ceasefire to begin at 00:01 local time (21:01 GMT Sunday) "given the necessity to protect innocent blood".
It called on both sides to use the lull to "reach a comprehensive and permanent ceasefire. "
Such a deal must lead to the lifting by Israel of its blockade of the Gaza Strip, Hamas chief Khaled Meshaal told AFP in an exclusive interview in Doha on Sunday.
"We insist on this goal," he said. "In the case of Israeli procrastination or continued aggression, Hamas is ready with other Palestinian factions to resist on the ground and politically," he added.
Veteran Palestinian negotiator Saeb Erakat arrived in Cairo Sunday night for talks with Egyptian and Arab League officials on behalf of Palestinian president Mahmud Abbas, an airport official said.
Israel said its team would only head out once the truce went into force.
"If there is a full ceasefire on the ground the Israeli delegation will arrive in Egypt tomorrow," an Israeli government official said Sunday night.
Israel quit a previous round of talks in Cairo on Friday when Hamas refused to extend an earlier ceasefire and fired rockets over the border.
More than a month of bloody fighting in and around Gaza has killed more than 2,000 people; 1,939 Palestinians and 67 on the Israeli side, most of them soldiers.
The UN says just under three quarters of those killed in Gaza were civilians, and around a third of the civilian victims were children.
Seven Gazans were killed, on Sunday, including a woman and two 17-year-olds, in a barrage of Israeli air strikes, and another 10 bodies were pulled from the rubble of previous strikes east of Gaza City, local medics said.
Israeli warplanes hit 41 targets, including a factory in Gaza City used to make cleaning products close to the main hotel where foreign journalists are based.
Militants launched 35 rockets at Israel, 23 of which struck southern Israel and eight of which were shot down, with the rest falling short inside Gaza, the army said.
In Deir al-Balah, angry young men bellowed slogans as they carried the bloodied body of one of the teenagers to its grave.
Full report at:
http://www.dawn.com/news/1124513/israel-palestinians-accept-midnight-truce-in-gaza
------------
Israeli delegation arrives in Cairo for truce talks
Aug. 11, 2014
A 72-hour cease-fire agreed upon by Israel and Hamas took effect at midnight on Monday. Prior to the commencement of the cease-fire, officials said an Israeli delegation would travel to Cairo to continue indirect negotiations for a more permanent truce with Palestinian factions if the cease-fire was fully observed. Israel had previously announced it would not negotiate under fire.
The head of the Palestinian delegation, Azzam Ahmed, said Sunday that unless Israel agreed to return to Egyptian-mediated talks without pre-conditions, the delegation would leave Cairo.
Israel struck more than 25 targets in the Gaza Strip on Sunday and some 60 the day before. Rocket fire from Gaza toward Israeli communities in the surrounding areas and cities as far north as Tel Aviv persisted until minutes before the cease-fire was to begin.
Latest updates [Monday]:
15:45 A.M. A Turkish aid group says it would send ships again to challenge the Israeli blockade of Gaza, four years after Israeli commandos stormed its flotilla bound for the Palestinian territory and killed 10 people.
The incident wrecked diplomatic ties between Turkey and Israel. The Humanitarian Relief Foundation (IHH) said in an e-mailed statement that members of a "coalition" of pro-Palestinian activists from 12 countries had met in Istanbul at the weekend and decided to launch a convoy "in the shadow of the latest Israeli aggression on Gaza," referring to the latest, month-long war.
An IHH spokeswoman did not elaborate. The group will hold a news conference on Tuesday, she said. (Reuters)
11:26 A.M. The Kerem Shalom crossing reopens for shipment of good to Gaza after being shut on Saturday due to gunfire. (Gili Cohen)
10:36 A.M. An Israeli delegation arrives in Cairo to continue negotiating a truce with Palestinian representatives. (Barak Ravid)
10:18 A.M. A senior UN aid official has warned that a new round of fighting in Gaza is likely unless Israel lifts the blockade on Gaza, AFP reports.
"The blockade must be lifted not only to get material into Gaza in order to rebuild it but to allow Gaza to do what it was doing very well just 10 years ago, to trade with the outside world," said James Rawley, the UN resident and humanitarian coordinator for the Palestinian territories.
Full report at:
http://www.haaretz.com/news/diplomacy-defense/1.609933
------
Erdogan wins outright victory in first round
Aug 11, 2014
ANKARA: Turkish Prime Minister Recep Tayyip Erdogan won an outright victory in the first round of presidential elections on Sunday, promising to be a powerful head of state.
Mr Erdogan won 51.8 per cent of the vote, way ahead of his main opposition rival Ekmeleddin Ihsanoglu on 38.6 per cent, according to official results based on a 99 per cent vote count.
The third contender, Kurdish candidate Selahattin Demirtas, won 9.6 per cent of the vote.
The inauguration is set for August 28.
The prime minister plans to give the presidency greater powers
The result marked a personal triumph for Mr Erdogan, 60, who has served as premier since 2003 and could potentially now be president for two mandates until 2024.
He has promised to be a powerful president with a beefed-up mandate, in contrast to the ceremonial role played by his recent predecessors.
The polls are the first time Turkey — a member of Nato and long-time hopeful to join the EU — has directly elected its president, who was previously chosen by parliament.
As the results came out, Mr Erdogan briefly addressed hundreds of supporters in Istanbul before praying at the historic Eyup Sultan mosque built after the 1453 conquest of Constantinople by the Ottomans.
"As long as I am alive, I will continue our struggle to sustain a more advanced democracy," said Mr Erdogan.
He has said he plans to revamp the post to give the presidency greater executive powers, which could see Turkey shift towards a system more like that of France if his ruling Justice and Development Party (AKP) succeeds in changing the constitution.
But Mr Erdogan's opponents accuse him of undermining the secular legacy of Turkey's founding father Mustafa Kemal Ataturk, who established a strict separation between religion and politics when he forged the new state from the ashes of the Ottoman Empire. "A ballot paper with only one name does not represent the democracy, it does not suit Turkey," said Ihsanoglu, 70, as he cast his ballot in Istanbul.
Full report at:
http://www.dawn.com/news/1124581/erdogan-wins-outright-victory-in-first-round
------------
Iran says won't accept 'toy' enrichment programme
August 11, 2014
TEHRAN: Iran will not accept a weak uranium enrichment programme which world powers might be willing to grant the Islamic republic like a "toy" in nuclear negotiations, a top official said Sunday.
The size and scale of the Islamic republic's enrichment activities remain the biggest stumbling block in efforts to clinch a long-term agreement over Iran's disputed atomic activities.
Majid Takht-Ravanchi, Iran's deputy foreign minister for American and European Affairs, made the remarks on returning to Tehran from Geneva, after five hours of talks with US officials. "We said to the other party ... we will not accept that our uranium enrichment programme becomes something like a toy," he said, referring to last week's discussions.
"Our enrichment programme has a specific framework and we cannot accept anything outside of this framework," he added. Iran and six world powers failed to clinch a comprehensive agreement by a July 20 deadline, which has now been extended to November 24.
Full report at:
http://www.nation.com.pk/international/11-Aug-2014/iran-says-won-t-accept-toy-enrichment-programme
------------
Pakistan
'Tsunami' to hit capital on Aug 14 as planned: Imran Khan
By Khawar Ghumman
Aug 11, 2014
ISLAMABAD: This Independence Day may be the most eventful in recent memory, as the Pakistan Tehreek-i-Insaf (PTI) resolved on Sunday to proceed with its Azadi March as planned, party insiders told Dawn.
During a meeting of the party's core committee held in the capital, Imran Khan painstakingly dispelled an impression that his party was pursuing back-channel talks with the government and that the march may be called off.
He stuck to his stance of 'no negotiations' and declared that the August 14 demonstration was the only thing on his mind.
A PTI member who was present at the meeting told Dawn that the meeting, held at Mr Khan's Bani Gala residence, focused on the preparation for the upcoming march on the capital.
Imran assures party leaders Azadi March will not be called off, holds core committee meeting to allay fears
"As long as I am alive, I am prepared to even walk to Islamabad on August 14, come what may," Mr Khan was quoted as saying during the meeting. He has consistently referred to this march as a turning point in the history of the country and alleges that he has damning evidence of widespread rigging in the 2013 general elections, which he has promised to share with demonstrators on Independence Day.
Ahead of the meeting, PTI office-bearers, particularly those from other cities, were quite concerned about the party's own lack of clarity and had been anxiously awaiting details of the plan for the Azadi March.
They were concerned by reports of political manoeuvring that indicated that the party might have struck a deal with the government and the long march was simply going to be an opportunity to announce the party's gains.
According to a member of the core committee, these concerns were passed on to Mr Khan, who spent a good deal of time during the two-hour meeting explaining to party leaders that they should not heed reports of any mediation between the party and the government and concentrate on the march instead.
A statement released after the meeting carried a similar message, saying: "The core committee sent its workers a clear message — that they must make it to Islamabad at all costs and should come prepared with all essential supplies (such as food and fuel). The core committee resolved that PTI workers and leaders would come to Islamabad even if they had to walk the distance."
Full report at:
http://www.dawn.com/news/1124600/tsunami-to-hit-capital-on-aug-14-as-planned
------------
'Hindus should not migrate due to few problems in society': Speaker
August 11, 2014
KARACHI: It's too worse to see that minorities are facing lot of problems in Pakistan but on the other hand they are also much better life than those who migrated to India.
This was stated by speakers at an event organized by Pakistan Hindu Seva (PHS) in collaboration with Coalition for the Rights of Minorities and Global Human Rights Defence. The event was arranged under National Level Advocacy and Campaign for the Religious Minorities in Pakistan where participants from different organization participated to become part of the event.
Speaking at the occasion Mr. Chander Kolhi Vice President of PHS shared his recent research of fact-finding investigation in Sindh where he said that they have recently conducted research in 7 districts of Sindh where they found the issue of Health, Forced Conversion, Bonded Labor and Education with minorities. He said PHS has conducted research on 30 cases of Hindus since last year in which majority of the cases were of Rape, Forced Conversion, Education, Health and Bonded labor.
President PHS Sanjesh S.Dhanja told the organization is currently working on fact finding investigation and legal assistance to minorities and have worked on different themes like that of Education, Religious Knowledge, Graveyard cleaning, Heath, Natural calamities.
Mr. Amarnath Motumal, Vice Chairperson HRCP said that Hindus in Pakistan are equal citizens and have equal rights like that of others; due to few problems in society Hindus should not migrate but should face and solve the problem here. 'Respecting Hindu community we can make a brighter Pakistan,' he said. Motumal also discussed about the migration of Hindu community from Pakistan and said that Hindus are not migrating from Pakistan, as the number of families told by media or Governments representative. 'India is not safe for us, we are born in Pakistan and we are Pakistani and this land is ours like that of others,' he said. Appraising Pakistan he said that Pakistan is our nationality and we can never leave Pakistan.
Ms. Kiran, Women Rights Activist also spoke on the issues of women in backward areas of Sindh. Mr. Chander Kolhi from PHS wish Raksha Bandhan to all Hindu families on behalf of PHS and also wished Independence day to all Pakistanis.
Full report at:
http://www.dailytimes.com.pk/sindh/11-Aug-2014/hindus-should-not-migrate-due-to-few-problems-in-society
------------
LHC summons Imran Khan, seeks reply from federal, Punjab govt on 'Azadi March'
By Tauqir Ghumman
Aug 11, 2014
LAHORE: A larger bench of the Lahore High Court on Monday summoned Pakistan Tehreek-i-Insaf (PTI) chief Imran Khan and asked the federal and Punjab government to submit responses over the steps taken with regard to the PTI's call for 'Azadi March' on independence day.
A three-member larger bench led by Justice Khalid Mehmood Khan and comprising of Justice Shahid Hameed and Justice Anwarul Haq resumed the hearing over the petitions filed against the 'Azadi March' announced by Imran Khan.
During the hearing Justice Khalid Mehmood Khan inquired as to what kind of justice was dispensed by the placement of containers to stop the 'Azadi March' and added that the country's integrity was at stake and the prime minister should not hesitate in reaching out to any one ten times if needed.
Punjab Advocate General Hanif Khatana told the bench that Prime Minister Nawaz Sharif had offered to pay a visit to the residences of his political opponents.
Additional Attorney General Naseer Bhutta told the court that the 'Azadi March' could lead to violence and bloodshed.
Full report at:
http://www.dawn.com/news/1124658/lhc-summons-imran-khan-seeks-reply-from-federal-punjab-govt-on-azadi-march
------------
Interior Ministry summons 3,000 FC troops to guard capital
By Mateen Haider
Aug 11, 2014
ISLAMABAD: The Federal Interior MInistry on Monday has called at least 3,000 additional troops from the Frontier Constabulary (FC) to deal with the Pakistan Tehreek-i-Insaf (PTI) and Pakistan Awami Tehreek (PAT) upcoming march towards the federal capital. ------------
The Interior Ministry sources told dawn that a notification was issued after approval of Federal Interior Minister Chaudry Nisar Ali Khan.
The FC works under the jurisdiction of the Interior Ministry.
Full report at:
http://www.dawn.com/news/1124657/interior-ministry-summons-3000-fc-troops-to-guard-capital
------------
Nawaz summons meeting of PML-N leaders, federal, Punjab ministers
By Arif Malik
Aug 11, 2014
LAHORE: Prime Minister Nawaz Sharif on Monday summoned a meeting of senior Pakistan Muslim League - Nawaz (PML-N) members and federal and Punjab cabinet ministers in Raiwind.
According to sources, the meeting would aim at discussing options at hand for convincing Pakistan Tehrik-i-Insaf (PTI) to abandon the idea of the 'Azadi' march.
The meeting scheduled to start at 4pm would also discuss options regarding the consequences of the march reaching the capital on August 14.
Full report at:
http://www.dawn.com/news/1124654/nawaz-summons-meeting-of-pml-n-leaders-federal-punjab-ministers
------------
Any attempt to derail system bound to fail: Asif Ali Zardari
August 11, 2014
ISLAMABAD: PPP Co-Chairman and former president Asif Ali Zardari on Sunday vowed to resist any attempt to derail democracy on any pretext. "PPP pledges to play its role in protecting and promoting democracy, promoting tolerance and harmony and ending violence against our non-Muslim brethren," Zardari declared in his message on the eve of Minorities Day on Monday August 11. "On the eve of "Minorities Day" today there is a grim thought that crosses the mind: There is no minority community in the country that does not feel besieged and hardly any minority community is able to assert that it is completely safe. Indeed minorities' communities in varying degrees feel besieged and threatened," he said.
Full report at:
http://www.dailytimes.com.pk/islamabad/11-Aug-2014/any-attempt-to-derail-system-bound-to-fail
------------
Mush says will live, die in Pakistan
August 11, 2014
ABRAR SAEED
ISLAMABAD - After getting unanimously re-elected as Chairman of All Pakistan Muslim League (APML) Gen. (retd) Pervez Musharraf has come down hard on the rulers for their failure to run the affairs of the government in smoothly and held them responsible for the current political turmoil in the country.
A party convention was organised here on Sunday where all the party bodies at all levels were dissolved and re-election of the main office bearers were made through elections. For the slot of party chairman Gen. (retd) Pervez Musharraf was re-elected unopposed while the slot of Secretary General was retained by Dr. Amjad. The party convention also empowered the central office bearers of the party to reorganise the party set-up at various tiers in consultation with the party's supreme council.
Addressing the party office bearers and activists through video link, Musharraf made it loud and clear that he would not go anywhere and would serve the cause of people of Pakistan remaining within the country. He said that unlike some rulers who had stashed their looted money abroad he would live and die with the people of Pakistan.
He grilled the rulers for their failure to run the affairs of the people in a smooth way and said that due to their ill governance they have made the lives of common people miserable.
He also criticised Sharif brothers for mishandling the Pakistan Awami Tehreek (PAT) protest and demanded of the rulers to exercise restraint and not pitch people of Pakistan against the law enforcement agencies, which would have disastrous implications.
The convention also celebrated the 71st birthday of party chairman and cut the cake to mark the event.
Full report at:
http://www.nation.com.pk/national/11-Aug-2014/mush-says-will-live-die-in-pakistan
------------
Three terrorists arrested in Rawalpindi; explosives seized
August 11, 2014
ISRAR AHMAD
RAWALPINDI - The law enforcement agencies (LEAs) arrested three terrorists here at Chaklala and recovered explosive material including a suicide vest and hand grenades from their possession, informed sources on Sunday.
Full report at:
http://www.nation.com.pk/national/11-Aug-2014/three-terrorists-arrested-in-rawalpindi-explosives-seized
------------
Africa
Heavy shelling resumes in Libyan capital Tripoli
11 August 2014
TRIPOLI: Heavy shelling resumed in the Libyan capital Tripoli on Sunday after three days of relative calm following more than a month of street fighting between rival armed factions battling for control of the city's airport.
The North African OPEC oil producer is facing the worst violence since the 2011 war that toppled Muammar Qaddafi, with more than 200 people killed. Many Western embassies and international companies have evacuated staff members.
Southern Tripoli was covered by black plumes of smoke, with artillery and rockets hitting areas around the international airport, where two rival brigades of ex-rebels have established front lines.
There were no immediate reports of casualties from the new exchanges. But the health ministry said it cannot reach hospitals because of power failures and gasoline shortages in Tripoli.
"We have been trying to gather information and details, but it is really hard to reach doctors," health ministry spokesman Ammar Mohammed said.
A UN delegation has been in Tripoli since Friday to try to broker a cease-fire between armed factions loyal to Islamist-allied Misrata brigades and their rivals allied to the western town of Zintan.
An official from the delegation, who declined to be identified, said on Saturday that UN envoys were optimistic.
"The mission has already met several key actors and is still fairly optimistic that a cease-fire can be obtained," the official said. "The delegation is very concerned about the humanitarian consequences of the ongoing crisis if a cease-fire is not achieved very quickly."
Libya's newly elected Parliament has also called for an immediate cease-fire, but the main Islamist political party and its allies have opposed the fact that parliament has been meeting in the eastern town of Tobruk, which they described as unconstitutional.
Full report at:
http://www.arabnews.com/news/middle-east/614481
------------
Al-Shabab attack AU base in Somalia
09 Aug 2014
Fighting between al-Shabab and government and African Union (AU) troops in the central Hiran region has left 18 people dead on both sides, the Somalian armed group has said.
Al-Shabab spokesman Abdulaziz Abu Musab told the AFP news agency on Saturday that the deaths occurred after the group's fighters attacked a base of the AU force in Buloburde town, about 200km north of the capital Mogadishu.
The casualties could not be immediately confirmed, but the al-Qaeda-linked fighters said the dead included five of their own men.
The government said six al-Shabab members had been killed, but gave no figures of any casualties on their side.
"Nine soldiers with the African Union, four of their Somali counterparts, and five mujahedeen from our Shabab were killed in the fight," Musab said.
The fighting began around midnight Friday, lasting about four hours into Saturday morning, he said. "Our fighters went into the camp, that is where the killing took place," Musab added.
Troops from the 22,000-strong AU force captured Buloburde from al-Shabab earlier in the year, but the armed group controls large parts of the rural area surrounding the town.
Somalia's Information Minister Mustafa Duhulow praised the security forces for repelling waves of attacks by al-Shabab fighters.
"Al-Shabab tried to come back several times in order to take their dead bodies, but they were defeated on all attempts," he said.
Famine warning
The latest fighting came after al-Shabab launched attacks in the heart of Mogadishu, including recent raids on the presidential palace and parliament, in a bid to topple the internationally backed government.
The conflict continues amid growing warnings of a humanitarian crisis in the country, three years after more than 250,000 people, half of them children, died in a devastating famine.
The UN has warned that Somalia is facing a new severe hunger crisis, with more than 350,000 people in the capital in need of food aid and parts of the city facing emergency levels just short of famine.
Full report at:
http://www.aljazeera.com/news/africa/2014/08/al-shabab-attack-au-base-somalia-20148915423983656.html
------------
Muslim named as new CAR premier
11 August 2014
BANGUI: Central African Republic's President Catherine Samba Panza named the former Cabinet chief of Seleka rebel leader Michel Djotodia as prime minister on Sunday in an effort to build a national unity government to end sectarian violence.
Mahamat Kamoun, a Muslim, will replaces respected technocrat Andre Nzapayeke who resigned last week to allow a consensus government to be appointed in an effort to end violence between Seleka and the 'anti-balaka' Christian militia.
Kamoun, an economist and former Finance Ministry official, served as head of Djotodia's Cabinet during his 10-month presidency after Muslim Seleka fighters seized power in March 2013.
Full report at:
http://www.arabnews.com/news/world/614446
------------
Libya polarised amid ongoing clashes
11 Aug 2014
Tripoli, Libya - Libya has grown increasingly polarised as the country remains gripped by violent clashes between rival armed groups and the country's fledgling parliament struggles to garner legitimacy.
The Libyan parliament convened for its first official session last Monday in the northeastern city of Tobruk, but 30 elected representatives boycotted the session. "It's unconstitutional to hold the session in Tobruk," said Mohamed al-Tharat, a member of the parliament representing the city of Misrata.
Tharat told Al Jazeera that he didn't attend the meeting because a declaration in Libya's interim constitution - a set of rules on how, where and when the interim government and parliament will work - states that parliamentary sessions must be held in Benghazi.
Most MPs who boycotted the session hail from Misrata, home to many Islamist factions and their military arm, the Libya Shield, the single largest force in the country. "The session in Tobruk is illegitimate, and we believe some members are being forced to attend," Tharat added.
The parliament was elected on June 25 and its representatives are now expected to come into their positions during one of the most difficult periods since longtime Libyan dictator Muammar Gaddafi was removed from power in 2011.
In Tripoli, rival militias have battled for over a month for control of the city's main airport. The airport road, a motorway linking Tripoli's international airport to the city, has been a frontline for battles between militias from Zintan and rival Islamist groups from Misrata and Tripoli.
Hundreds of people have died, while basic services are under severe strain. Meanwhile, in the east and west of the country, fighting has broken out between rival militias, edging closer to the capital.
Full report at:
http://www.aljazeera.com/news/middleeast/2014/08/libya-tripoli-parliament-clashes-militias-20148101332117181.html
------------
North America
Obama prepares nation for long-term Iraq engagement
By Anwar Iqbal
Aug 11, 2014
WASHINGTON: US President Barack Obama urged the Americans to be ready for a "long-term" engagement in Iraq as his military expanded its Iraq air campaign over the weekend to beat back militants.
"I don't think we're going to solve this problem in weeks … I think this is going to take some time," Mr Obama told the White House press corps. "This is going to be a long-term project."
Fighter jets and drones struck IS fighters near the northern town of Sinjar, where extremists had killed more than 500 members of the Yazidi religious minority.
Officials said US air strikes had so far killed more than 20 extremists of the group called IS.
The US military conducted a third airdrop of food and water on Sunday for thousands of Iraqi citizens threatened by the insurgents on Mount Sinjar in Iraq.
During the weekend, President Obama consulted key world leaders, including British Prime Minister David Cameron and French President Francois Hollande, on the developments in Iraq. The leaders underscored the serious threat the IS "poses to all Iraqi communities throughout the country, and discussed the need to support the Iraqis by increasing their ability to counter these extremists," the White House said.
Full report at:
http://www.dawn.com/news/1124578/obama-prepares-nation-for-long-term-iraq-engagement
------------
Fighters defecting Qaeda to join Islamic State: US
August 11, 2014
WASHINGTON: Fighters are ditching al-Qaeda affiliates in Yemen and Africa to join the Islamic State that has seized territory in Iraq and Syria and are now being targeted in American airstrikes, US officials said.
The officials view the movements as a worrisome indication of the expanding appeal of the Islamic State of Iraq and Syria that has overwhelmed military forces in the region and may now see itself in direct conflict with the US, The Washington Post said in a dispatch published Sunday.
"Small groups from a number of al Qaeda affiliates have defected to ISIS," as the group is also known, the newspaper said, citing a US official with access to classified intelligence assessments.
"And this problem will probably become more acute as ISIS continues to rack up victories." The Post said the influx has strengthened the Islamic State, also known as Islamic State of Iraq and Syria or ISIS.
Citing US officials, the newspaper said the defections to the Islamic State have "come primarily from al Qaeda in the Arabian Peninsula, the Yemen-based group that has launched several bombing plots targeting the US, and al-Qaeda in the Islamic Maghreb, which had seized territory in northern Mali before facing strikes carried out by France last year."
"It's not to the point where it's causing splintering within the affiliates," said the senior US counterterrorism official. But the defections have accelerated in recent months, officials said, and also involve fighters from groups in Libya and elsewhere that are not formally part of al Qaeda.
Last month, Pakistan-based Tehreek-e-Khilafat became the first jihadi outfit in the South Asia to break ranks from al Qaeda and declare its allegiance to the Islamic State. Al Qaeda has distanced itself from the group, chiding it for its lack of teamwork in its aggressive, brutal expansion.
Full report at:
http://www.nation.com.pk/international/11-Aug-2014/fighters-defecting-qaeda-to-join-islamic-state-us
------------
New Yorkers protest against Isael's attacks on Gaza
Aug 11, 2014
NEW YORK: Hundreds of protesters marched to the United Nations on Saturday and condemned Israeli actions in Gaza as genocide that had taken children's lives.
They chanted "Free, free Palestine!" and "Occupation is a crime!"
"What they're doing is wrong," one demonstrator said, referring to the Israelis. "I'm here to protest what's going on in Gaza.
What's going on is wrong — bad things like killing children."
Almost 2,000 Palestinians including women and children have been killed in Gaza by Israeli air jets ands tanks.
Full report at:
http://www.dawn.com/news/1124559/new-yorkers-protest-against-isaels-attacks-on-gaza
------------
FBI Targeted Mentally Disabled Muslim American Citizens
August 10, 2014
A Human Rights Watch report, documenting abuses in US terrorism investigations, has illuminated some incredibly dubious practices carried out by law enforcement.
The report looks at investigations that began shortly after 9/11 and have carried on until the present day.
One disturbing practice, which seems to pop up over and over in the report, is the targeting of those with mental disabilities to 'create' crimes. This occurs during 'sting' operations, when agents pose as members of the Muslim American community, infiltrating mosques.
In an average sting operation, an undercover agent finds a suspect who they think is, say, selling illegal arms. They approach them and gather information, waiting for a crime to unfold.
However, when it comes to counter-terrorism operations, law enforcement officers have been accused of breaching this time-honored system, using a subject's mental disability to actually foster terrorism. You read that right, by the way — counter-terrorism efforts are being used to foster terrorism.
In one instance a man named Rezwan Ferdaus was targeted by an FBI agent who infiltrated his local mosque. Although the FBI concluded he had mental disabilities, the FBI agent worked to gain the trust of Ferdaus. As they grew closer, the FBI agent convinced him to participate in a plot to blow up the Pentagon and US Capitol.
Ferdaus was supplied with fake weapons but as the plan unfolded, he grew visibly distressed. As Ferdaus deteriorated, he lost control of his bladder in such a severe way he was forced to wear diapers during the day. He also began to suffer from seizures and extreme weight loss. Eventually his health suffered so terribly, his father had to quit his job to care for him.
Ferdaus was later convicted of supplying material support to terrorism and is now serving a 17 year sentence in prison.
Full report at:
http://www.care2.com/causes/fbi-targeted-mentally-disabled-muslim-american-citizens.html
------------
South Asia
Afghanistan: Green on Blue Attacks Display Security Lapse
August 11, 2014
KABUL: The green on blue attacks or insider offensive committed by Afghans in military uniform against NATO- led forces, may demonstrate security lapses and Taliban's penetration into the ranks of security forces.
In the latest green on blue attacks which occurred on August 5, a man in Afghan army uniform opened fire at a military academy in Qarga area, the outskirts of Kabul city, killing a two-star U.S. army general and injuring more than a dozen other Afghan and foreign military personnel including a German brigadier general and an Afghan army general.
Pentagon has confirmed the insider attack on foreign troopers in Kabul, saying that Major General Harold Greene had been killed and over a dozen others, including some Americans, had been injured in the attack, media reports said.
"Definitely, the attack by Afghan security personnel on NATO- led forces and Afghan security forces is a clear indication of security lapse and also the penetration of Taliban elements into the rank of national security troops," political analyst Nazari Pariani said in talks with Xinhua.
He also opined that the attack on Afghan and foreign forces in the military academy in Qarga area is not the first and won't be the last one.
In a related incident, a day later on August 6, an Afghan police after poisoning his colleagues at a checkpoint in Taliban former stronghold, the southern Uruzgan province, 370 km south of Kabul, had killed seven policemen and joined the Taliban insurgents.
"The initial inquiry shows that one policeman of the checkpoint had links with the Taliban militants. At first, he poisoned eight of his colleagues and later informed Taliban militants to come. They came to the checkpoint apparently at 03:00 a.m. local time and sprayed bullets, killing seven police on the spot and wounding another," a senior police officer Gulab Khan told Xinhua.
Full report at:
http://www.dailytimes.com.pk/region/11-Aug-2014/afghanistan-green-on-blue-attacks-display-security-lapse
------------
Four die in Kabul suicide attack
Aug 11, 2014
KABUL: A suicide attacker targeted a Nato convoy in Kabul on Sunday, killing four civilians and wounding at least 35 others, officials said, in the latest violence to hit the capital.
The Nato force said none of its soldiers had been killed, but did not give any details of injuries in the blast, which came as foreign troops wind down combat operations at the end of a 13-year war against Taliban militants.
Full report at:
http://www.dawn.com/news/1124579/four-die-in-kabul-suicide-attack
------------
Suicide bomber targets NATO convoy in Kabul
10 Aug 2014
At least four civilians have been killed in a suicide bombing targeting a NATO convoy in the Afghan capital Kabul, officials said.
The Taliban claimed responsibility for Sunday's attack, in which the bomber detonated an explosives-packed vehicle on a main road as the NATO convoy passed by. A large crater was created.
Al Jazeera's Jennifer Glasse, reporting from Kabul, said there were no NATO casualties in the bombing, as the military personnel were travelling in heavily armoured vehicles.
Thirty-five civilians were injured, according to the chief of police.
Full report at:
http://www.aljazeera.com/news/southasia/2014/08/suicide-bomber-targets-nato-convoy-kabul-201481083243444310.html
------------
12 Jamaat men arrested in Bogra town
Aug 11, 2014
At least 12 Jamaat men were arrested in the district town on Friday night in connection with the cases for vandalism, arson attacks and carrying out subversive activities before and after the January 5 parliamentary elections.
They were arrested from a Jamaat-backed NGO office at Sutrapur Riaz Kazi Lane at around 10:00pm.
A plainclothes police team led by ASP Nazir Ahmed Khan raided the third floor of the four-storey building and arrested the Jamaat men.
The arrestees are former Jamaat ameer of Bogra Golam Robbani, 60, former lawmaker of Bogra-1 constituency Md Shahatuzzaman, 62, Jamaat Bogra town unit Assistant Secretary Nasir Uddin, 48, Rainagar union unit leader Abdul Khalek, 63, former Shibir president of Azizul Haque College unit Mizanur Rahman, 54, Jamaat district unit leader Azadur Rahman, 50, Principal of Bogra Adarsha School and College Nazrul Islam, 54, and Jamaat activists Rabiul Siddiki, 36, Atiqur Rahman, 32, Syed Masudur Rahman, 63, Saiful Islam, 50, and Mahbubur Rahman, 45.
Full report at:
http://www.thedailystar.net/country/12-jamaat-men-arrested-in-bogra-town-36518
------------
Europe
British 'Primark jihadist' killed fighting with Islamic State
10 Aug 2014
A former Primark worker from Portsmouth has become the latest Briton to be killed in the Middle East fighting for the feared Jihadist group Islamic State.
Muhammad Hamidur Rahman, 25, whose father runs an Indian Restaurant travelled to Syria via Turkey telling his family he was going to help deliver humanitarian aid.
But he was recruited by the terror group ISIS which is fighting to establish an Islamic caliphate and already controls vast swathes of Syria and Iraq.
According to his family, Rahman was killed during an intense firefight with troops loyal to the Assad regime around a fortnight ago.
His father Abdul Hannan, 52, said the family had received a text message from someone who had been fighting alongside his son to confirm that he had been killed.
Mr Hannan, said his son had travelled to Syria at the beginning of last year but had not told his family he was going.
He said they had received a phone call from him telling them he was in Syria and telling them not to worry.
Mr Hannan said: "He asked us to pray for him, and said he wanted to become a shaheed (martyr) for the sake of Allah."
A spokesman for the Foreign Office said they were looking into reports that a British national had been killed in Syria, but it was difficult to verify the information as Britain does not have representatives in the country.
Rahman, who worked as a supervisor at the clothing chain Primark, was one of a group of ten young men from Portsmouth who travelled to the Middle East to join up with IS.
He flew to Turkey with a group of friends, and then crossed the border by land into Syria.
He is the second from the city to be killed after his friend Iftekhar Jarman, 23, died during fighting in December.
In May, Mashudur Choudhury, 31, who accompanied Rahman, but returned to the UK, became the first person in the UK to be convicted of taking part in terrorist activity in Syria.
He was arrested in October at Gatwick airport by anti-terrorist police, as he flew back from Turkey. It emerged that Choudhury found the training in Syria too difficult and became scared of the fighting.
Full report at:
http://www.telegraph.co.uk/news/worldnews/middleeast/syria/11024035/British-Primark-jihadist-killed-fighting-with-Islamic-State.html
------------
More UK bank accounts held by Muslim organisations risk closure
10 August 2014
An increasing number of Muslim NGOs are likely to suffer the same fate as three groups that were told their bank accounts are to close because they are too risky, a finance and security expert has warned.
Finsbury Park mosque in north London, international development charity the Ummah Welfare Trust (UWT) and the Cordoba Foundation thinktank received identical letters from HSBC dated 22 July giving them two months notice because their accounts fell "outside of our risk appetite", prompting allegations of Islamophobia, strenuously denied by the bank, and calls for a boycott.
The bank has refused to expand on the reasons for the closures but Tom Keatinge, associate fellow of the Royal United Services Institute, said that the sector had been forced to take a cautious approach because of stringent money laundering and counter-terrorism legislation, with the effect that some organisations were treated as guilty unless proven innocent.
"Do you bother to look at these organisations in detail to see if they are credible? Do you spend time doing your research? Or do you say: 'Time's too short and the returns are too small so we will exercise our right to close the account'," he said. "It's just not worth it, it boils down to a risk/reward decision.
"The result of these decisions [by HSBC] might look like Islamophobia but I am certain no UK bank is actively going to close out Islamic charities. They made decisions that predominately affects Muslim charities given the regions they operate in."
Both UWT and the Cordoba Foundation suggested HSBC's decision was down to their support for Gaza. HSBC, which paid $1.9bn (£1.2bn) in 2012 to settle allegations it allowed Mexican drug-traffickers to move money around the financial system, is not the first bank to close accounts of organisations largely serving Muslim communities. In 2012, UBS closed Islamic Relief's account and UWT previously had its account shut down by Barclays in 2008. Barclays also closed more than 200 UK accounts last year held by remittance companies providing services for Somali expatriates .
Full report at:
http://www.theguardian.com/business/2014/aug/10/hsbc-muslim-accounts-close
------------
Massive anti-Israel protest in London
Aug 11, 2014
LONDON: Tens of thousands of pro-Palestinian demonstrators marched through central London on Saturday, urging Britain to take a tougher line against Israel over its military assault on Gaza.
The Palestinian Solidarity Campaign said 150,000 people attended the march, the third major demonstration for Gaza in London in the past four weeks.
Protesters packed the main shopping artery of Oxford Street, marching to the US embassy and on to Hyde Park, many of them chanting "Free, Free Palestine" and holding up banners saying "UK — Stop Arming Israel".
Know more: View of worldwide protests against Gaza assault
The first two protests attr­a­c­ted at least 10,000 people each, according to police, although organisers said it was more like 50,000 each time. Police declined to give a number for Saturday's event.
Full report at:
http://www.dawn.com/news/1124436/massive-anti-israel-protest-in-london
------------
URL: https://newageislam.com/islamic-world-news/jakarta-police-investigating-'isis-sex/d/98521