New Age Islam News Bureau
27 Feb 2019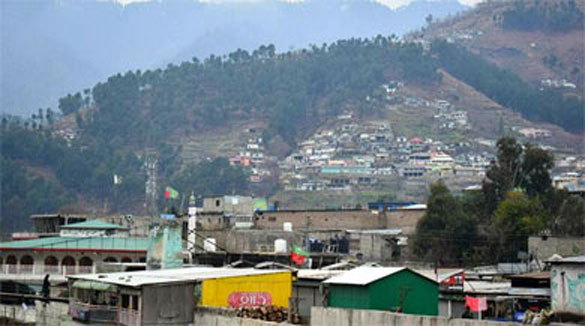 15 years ago US took note of JeM's major terror training camp in Balakot
------
• Jaish Camp Targeted By India Had Produced 42 Highly-Trained Terrorists: Sources
• 15 Years Ago, US Took Note Of JeM's Major Terror Training Camp In Balakot
• Muslim League Hails Indian Air Force Air Strikes on Jaish-e- Terror Camp
• US Asks Pakistan to Take 'Meaningful Action' Against Terrorist Groups
• Radicalism Prompts Indonesia's Indonesian Ulema Council to Train Preachers
• US-Occupied Base in Western Iraq Protecting Abu Bakr Al-Baghdadi
• Israeli Minister, Settlers Storm Al-Aqsa Mosque in Occupied Al-Quds
• Oxford City Council, UK, Adopts All-Party Definition of "Islamophobia"
• Villagers near Balakot Say Nobody Killed or Injured by Indian Aircraft
• Nigeria's Buhari Wins Second Term As President
India
• Jaish Camp Targeted By India Had Produced 42 Highly-Trained Terrorists: Sources
• 15 Years Ago, US Took Note Of JeM's Major Terror Training Camp In Balakot
• Muslim League Hails Indian Air Force Air Strikes on Jaish-e- Terror Camp
• Ayodhya Dispute Case: Nyas, Muslim Litigant against Supreme Court's Mediation Call
• Pakistan expresses reservation about Islamic meet invitation to India
• Balakot strike was against terror camp, don't wish to see escalation: Sushma Swaraj in China
• Afghan man detained for allegedly trying to enter Israeli embassy in Delhi
• On Firing At Loc, Army Says Pakistan Using Civilians As Human Shields
• 2 Jaish-e-Mohammed Terrorists Killed In Encounter in Jammu And Kashmir's Shopian
• Yusuf Azhar, IC-814 hijacker, was key target of the Balakot air strike
• Mirage 2000 'natural choice' for air strikes at Jaish camp across LoC
• Pakistan troops shell Indian posts in Jammu and Kashmir's Uri sector
--------
North America
• US Asks Pakistan to Take 'Meaningful Action' Against Terrorist Groups
• US, Taliban talk troop withdrawal, counter-terrorism at peace talks
• New Senate bill to force Trump to issue public report on Khashoggi killing
• Canada pledges CAN$46.7 million in Yemeni relief
--------
Southeast Asia
• Radicalism Prompts Indonesia's Indonesian Ulema Council to Train Preachers
• PAS Lodges Police Report Over Alleged Insult of Prophet Muhammad
• Former fighters take control of Philippines Muslim region
• Muhyiddin: Pakatan always strives to protect privileges and rights of Malays, Islam
• Mujahid: Proposed amendments to Penal Code to address religious insults
--------
Arab World
• US-Occupied Base in Western Iraq Protecting Abu Bakr Al-Baghdadi
• Saudi Arabia, UAE and Kuwait pledge $1.25bn to Yemen aid effort
• Air strikes up sharply in rebel-held northwest Syria - monitors
• Lebanon tells EU it will encourage Syrians to return
• Some UNSC members waging economic terrorism against Damascus: Syria UN envoy
• Hundreds more leave Syria Daesh holdout: AFP reporter
--------
Mideast
• Israeli Minister, Settlers Storm Al-Aqsa Mosque in Occupied Al-Quds
• Senior Iraqi Official: No Normalization of Ties with Israel without Palestinian State
• Israel Ex-Minister Sentenced To 11 Years for Spying For Iran
• Turkey blasts EU for attending Egypt summit despite executions
• Palestine: 4 injured during Gaza night protests
• Over 80,000 kids under the age of five have died of starvation in Yemen, UN chief says
--------
Europe
• Oxford City Council, UK, Adopts All-Party Definition of "Islamophobia"
• Facebook permanently bans top UK Islamophobe
• Russia foils Daesh plots to attack intelligence officers, civilians in Moscow:
• Europe has 'new understanding' of Middle East, says Arab League spokesman
• UK's Muslim "Advisor on Countering Extremism" Says ISIS Bride Must Be Let Back In
• EU-Arab Summit wraps up without condemning Iran
• British terrorist jailed after botched bid to join ISIS
• British parliament warned Yemen is testbed for Iranian weapons
--------
Pakistan
• Villagers near Balakot Say Nobody Killed or Injured by Indian Aircraft
• Foreign Minister's Letter to UN Secretary General on India's Act of Aggression Circulated in UNSC
• OIC condemns Indian incursion against Pakistan, urges both sides to exercise restraint
• Fazl calls for early joint session of parliament over LoC violation
• Pakistan claims civilian deaths in Indian cross-LoC firing
• By bombing Balakot, India has struck ideological heart of Pak-based terror
• Pakistan shoots down 2 Indian warplanes, Taliban call for end to tensions
--------
Africa
• Nigeria's Buhari Wins Second Term As President
• US Airstrike Kills 20 Al-Shabaab Militants In Somalia
• Libya's Sharara field still closed for security reasons
--------
South Asia
• Saudi Official Vows to Help Fight Drug Abuse in Sri Lanka
• US, Taliban talk troop withdrawal at peace talks
• Afghan peace process at stake due to Indian aggression, US told
• Japan pledges $32.5M for Rohingya in Bangladesh
• Taliban militants suffer casualties in airstrikes, clashes in North of Afghanistan
• 2 suicide bombers including a Pakistani national arrested before reaching Kabul
• NDS Special Forces conduct raid against Taliban drugs stockpile in Helmand
• Afghan forces conduct 81 planned, Special Operations and 15 airstrikes: MoD
Compiled by New Age Islam News Bureau
URL: https://www.newageislam.com/islamic-world-news/jaish-camp-targeted-india-had/d/117871
--------
Jaish Camp Targeted By India Had Produced 42 Highly-Trained Terrorists: Sources
Feb 26, 2019
New Delhi: The Jaish-e-Mohammad (JeM) camp in Balakot area of Pakistan, which was targeted by the Indian Air Force, had produced at least 42 highly-trained terrorists, according to top sources here.
These terrorists were from various parts of Pakistan, including Bahawalpur, Rawalpindi, Attock, Sahiwal, Rajanpur, Muzaffarnagar, Faisalabad, Gujrat, and Mianwali districts, the sources said.
Mirage 2000 fighter jets carried out deep penetration attack on the terror camp of the JeM, 12 days after the terror outfit attacked a CRPF convoy in Pulwama district of Kashmir, killing 30 personnel.
The massive terror camp was located in a thick forest atop a hill, Foreign Secretary Vijay Gokhale told the media earlier in the day.
The terror camp was led by Azhar Yusuf alias Ustad Gauri, brother-in-law of JeM chief Masood Azhar, Gokhale said.
He said the "pre-emptive" strike by India had become absolutely necessary as there was credible information that JeM, which recently carried out a terror attack in Pulwama, was planning further attacks in this country.
https://www.siasat.com/news/jaish-camp-targeted-india-had-produced-42-highy-trained-terrorists-sources-1471706/
--------
15 years ago, US took note of JeM's major terror training camp in Balakot
Feb 26, 2019
Fifteen years ago, the major terrorist training camp of the Jaish-e-Mohammed in Balakot in Pakistan found a mention in a purported secret US Defence Department file leaked by WikiLeaks.
The memorandum talks about a Pakistani national Hafez K Rahman, a Guantanamo detainee, who was 20 years old and born in Gujrar, Pakistan, who turned out to be a jehadi.
The January 31, 2004 document, signed by Major General Geoffery Miller of the US Army says Rahman received training in Balakot, Pakistan, a location known to house a "training camp that offers both basic and advanced terrorist training on explosives and artillery".
It says Rahman has admitted to volunteering to fight jihad against the US and its allies, remaining after the events of September 1lth to continue to fight, and receiving training from the Jaish-e-Mohammed (JeM).
The JEM espouses Jihad against the US and is directly supported by Al-Qaida, Gen. Miller wrote.
It says Rahman was influenced by extremist Mullahs in Pakistan and decided he would go to Jihad in support of the Taliban. "Detainee traveled to Zahir, Pakistan, and attended a training camp run by the JeM," he wrote. Miller also described JeM as a Tier 1 terrorist group, especially those with state support, that have demonstrated the intention and the capability to attack US persons or interests.
After completing basic training, Rahmand travelled along with a larger group of JeM fighters to the area around Konduz, Afghanistan. He was captured by the Northern Alliance and turned over to US forces.
He was subsequently transported to Guantanamo Bay Naval Base, Cuba, on February 7, 2002 because of his knowledge of the Moaskar training camp in Balakot, Pakistan, and his affiliation with the Taliban as a foreign fighter, the US Defence Department memorandum says.
Thousands of sensitive diplomatic cables, especially those of the US State Department and Department of Defence, were published by the secretive site WikiLeaks, which has established a reputation for publishing sensitive material from governments and other high-profile organisations.
WikiLeaks founder Julian Assange, an Australian national, took asylum in the embassy of Ecuador in the UK in 2012. The US government has sought his extradition from the UK for publishing US diplomatic and military secrets.
https://www.hindustantimes.com/world-news/15-years-ago-us-took-note-of-jem-s-major-terror-training-camp-in-balakot/story-Ut8pqhsUBm5d21uwgAkjNM.html
--------
Muslim League Hails Indian Air Force Air Strikes on Jaish-e- Terror Camp
FEBRUARY 26, 2019
Welcoming the Indian Air Force (IAF) air strikes on Jaish-e-Mohammad (JeM) terror camp in Balakot, Pakistan, the Indian Union Muslim League (IUML) State general secretary K.P. A. Majeed has said that the public should stand united with the Army against going after the mastermind in the Pulwama attack in Kashmir.
Dealing with terrorism
In a statement issued here on Tuesday, Mr. Majeed said that the terrorists who carried out the attack on the Indian soil should be dealt with in Pakistan itself. Pakistan would have to pay a heavy price if the did not stop supporting, aiding and harbouring terrorists, he said.
He said that India was home to 15 crore Muslims and they would not tolerate Pakistan using Islam to perpetrate violence.
Mr. Majeed also exhorted the public to be vigillant against the Narendra Modi government using the IAF air strikes for political gains.
https://www.thehindu.com/news/cities/kozhikode/muslim-league-hails-air-strikes/article26379350.ece
--------
US asks Pakistan to take 'meaningful action' against terrorist groups
Feb 27, 2019
WASHINGTON: The US on Wednesday firmly asked Pakistan to take "meaningful action" against terrorist groups operating on its soil and underscored the importance of avoiding escalation at any cost after India targeted terrorist camp in Pakistan.
Forty Central Reserve Police Force (CRPF) personnel were killed in a suicide attack by Pakistan-based Jaish-e-Mohammed (JeM) in Jammu and Kashmir's Pulwama district on February 14, sparking outrage in the country.
Following the incident, India on Tuesday bombed and destroyed JeM's biggest training camp in Balakot in Pakistan's restive Khyber Pakhtunkhwa province, about 80-km from the Line of Control (LoC) early Tuesday, killing a "very large number" of terrorists, trainers and senior commanders.
US Secretary of State Mike Pompeo in a phone call with the Pakistan Foreign Minister Shah Mahmood Qureshi also called for avoiding military action.
In a separate call with External Affairs Minister Sushma Swaraj, Pompeo emphasized the close security partnership between the US and India and shared goal of maintaining peace and security in the region.
Pompeo is currently in Vietnam to attend the second summit between President Donald Trump and the North Korean leader Kim Jong-un on the denuclearsation of the Korean peninsula.
"Following Indian counter-terrorism actions on February 26, I spoke with Indian Minister of External Affairs Swaraj to emphasize our close security partnership and shared goal of maintaining peace and security in the region," Pompeo said in a statement.
"I also spoke to Pakistani Foreign Minister Qureshi to underscore the priority of de-escalating current tensions by avoiding military action, and the urgency of Pakistan taking meaningful action against terrorist groups operating on its soil," Pompeo said.
"I expressed to both Ministers that we encourage India and Pakistan to exercise restraint, and avoid escalation at any cost. I also encouraged both ministers to prioritise direct communication and avoid further military activity," said the Secretary of State.
Last week, US National Security Adviser John Bolton told his Indian counterpart Ajit Doval that America supports India's right to self-defence as both sides vowed to work together to ensure that Pakistan ceases to be a safe heaven for JeM and other terror groups.
https://timesofindia.indiatimes.com/india/us-asks-pakistan-to-take-meaningful-action-against-terrorist-groups/articleshow/68178062.cms
--------
Radicalism Prompts Indonesia's Indonesian Ulema Council To Train Preachers
Feb 27, 2019
JAKARTA (THE JAKARTA POST/ASIA NEWS NETWORK) - In an attempt to curb the spread of radicalism through sermons at mosques, the Indonesian Ulema Council (MUI) will provide preachers with training on moderation and nationalist Islam.
At the end of the training programme, participants will be tested and receive certification.
MUI's head of Islamic preaching Muhammad Cholil Nafis explained that the training programme would be held periodically, with the first to be held next month at Pondok Gede Haj Dormitory in East Jakarta.
At least 108 participants from various Islamic organisations and the 34 provinces across the country will take part in the one-week training programme.
"We aim to train and certify 550 preachers this year through five batches," Mr Cholil said.
He further said the MUI was concerned about the rising phenomenon of preachers using sermons to spread radicalism, which is indicated by hate speech towards religious minority groups and support for the notion of an Islamic state.
A 2017 study found that 41 of the 100 mosques in ministerial offices, state agencies and state-owned corporation complexes in Jakarta had radical teachings espoused during Friday prayers. Of the 41 mosques, 21 were at state-owned company buildings, eight at state agencies and 12 at ministry buildings.
The study was conducted by the Association for Pesantren and Community Development, in cooperation with non-governmental organisation (NGO) Rumah Kebangsaan from Sept 29 to Oct 21, 2017, by analysing 274 video and 357 audio recordings taken by volunteers. The MUI proposed that mosques managed by the government and state-owned institutions start an initiative to only invite certified preachers to give sermons.
"We are working through it. Hopefully, all of the required documents and regulations can be completed by the end of 2019," said Mr Cholil.
Also in March, the MUI will sign a memorandum of understanding with the Religious Affairs Ministry and the Indonesian Broadcasting Commission to regulate that only recommended preachers from the MUI are allowed to give sermons on air.
A Muslim preacher based in South Tangerang in Banten, Mr Nanang Mubarok, expressed appreciation for the MUI's intention to certify preachers so that sermons could be conveyed by trusted and competent preachers, not just anyone with knowledge about Islam.
He cited that several countries with large Muslim populations including Saudi Arabia, Malaysia and Brunei Darussalam had implemented such regulations.
Mr Nanang, however, warned of a potentially divided society if the plan was not well-disseminated to the public.
With preachers' lack of knowledge about the training and certification programme, some would fail to seek certification. There would thus be certified preachers and uncertified preachers in society.
"It does not mean that uncertified ones are less religiously knowledgeable. They are just uninformed," Mr Nanang said.
"Don't let the preachers be divided, which would lead to a divided society," he further warned.
Religious Affairs Minister Lukman Hakim Saifuddin said in 2017 that the government wanted to ensure that preachers giving Friday sermons were competent and stuck to their roles as clerics.
The ministry would cooperate with Islamic organisations to "standardise" preachers to ensure they have a full understanding about spreading positive messages during Friday prayers, he added.
Mr Lukman argued that the government did not mean to intervene but it would be up to Islamic organisations to decide whether standardisation, including certification and more comprehensive training, development, coaching and supervision for preachers, needed to be implemented.
The plan has received mixed reactions.
Muhammadiyah, the second largest Islamic organisation, is sceptical about it, saying the government should not single out Islam as radical teachings.
NU, the country's largest Islamic organisation, welcomed the proposal, highlighting the importance of preachers spreading peaceful Islamic values and encouraging Muslims to be kind and tolerant in a pluralist country.
Many practising Muslims have complained about the content of Friday sermons and are now looking for mosques with preachers who refrain from talking politics and spreading hate.
https://www.straitstimes.com/asia/se-asia/radicalism-prompts-indonesias-mui-to-train-preachers
--------
US-Occupied Base in Western Iraq Protecting Abu Bakr Al-Baghdadi
Feb 26, 2019
Hassan Salem, the representative of al-Fatah coalition in the Iraqi parliament, was quoted by the Arabic-language al-Ma'aloumeh news website as saying on Monday that al-Baghdadi is being supported by the US forces in the Western desert of Iraq.
He added that Ein al-Assad base provides logistical support for al-Baghdadi, noting that he is freely trafficking between Iraq and Syria with their backing.
Salem also said that the US forces have trained and equipped over 3,000 ISIL terrorists in Wadi al-Houran region with the aim of fomenting insecurity and revival of the ISIL in Iraq and sent them to Nineveh, al-Anbar and Saladin provinces.
He added that the US support for al-Baghdadi and other terrorists in Iraq comes as the Iraqi parliament plans to approve a bill to expel all foreign forces from the country.
Media reports said on Sunday that al-Baghdadi had entered Western Iraq to reorganize the terrorist group there amid contradictory reports on his fate.
Al-Baghdadi, accompanied by a number of his senior commanders, arrived in al-Hasiniat region in Al-Anbar desert, the Arabic-language Baghdad al-Youm news website quoted an intel source as saying.
The source noted that al-Baghdadi was trying to reorganize the ISIL terrorist group by utilizing al-Anbar desert and turning it into ISIL's new base.
Meantime, strategic expert Hesham al-Hashemi told Baghdad al-Youm that al-Baghdadi is in a region in Raveh Island or West of al-Sarsar in al-Anbar province.
http://en.farsnews.com/newstext.aspx?nn=13971207000200
--------
Israeli minister, settlers storm al-Aqsa Mosque in occupied al-Quds
Feb 26, 2019
Israeli Minister of Agriculture and Rural Development Uri Ariel has stormed the al-Aqsa Mosque compound in the occupied Old City of East Jerusalem al-Quds together with a group of extremist settlers amid an escalation of acts of violence by Israeli forces and settlers against the Palestinian people.
Firas al-Dibs, spokesperson of the Islamic Waqf (Endowment) organization, which manages the compound's affairs, said the 66-year-old right-wing politician and a number of settlers forced their way into the holy site through the Moroccan Gate under tight protection of several groups of Israeli soldiers and special police forces.
Dibs pointed out that Ariel took footage of the al-Rahma Gate (Gate of Mercy) prayer area that was opened recently.
Prayer area of the al-Rahma Gate was closed on Monday evening upon an order by Israeli Prime Minister Benjamin Netanyahu, and reopened the following day.
Israel had closed the gate that leads to the prayer space in al-Aqsa Mosque since 2003 in the face of the Second Intifada (uprising) against the regime's occupation.
Last Friday, however, the Waqf council decided to re-open the prayer space at the Bab al-Rahma Gate in defiance of Israel's 16-year-old ban. Hundreds of worshipers, led by the Grand Mufti of Jerusalem al-Quds Sheikh Mohammad Hussein, entered the area for the first time since 2003 for Friday prayers.
Angered by the move, the Tel Aviv regime launched an arrest campaign against Palestinians.
The arrests drew criticisms from Palestinians and Jordan, which is the custodian of the holy sites in occupied Jerusalem al-Quds.
The Islamic Waqf organizations and Palestinian institutions have insisted on keeping the Bab al-Rahma prayer area open for Muslim worship.
Palestinians have repeatedly warned of Israeli attempts to change the status quo of the al-Aqsa compound, the third holiest site in Islam.
The occupied Palestinian territories have witnessed new tensions ever since US President Donald Trump announced his decision on December 6, 2017 to recognize Jerusalem al-Quds as Israel's capital and relocate the US embassy in Israel from Tel Aviv to the occupied city.
On December 21, 2017, the United Nations General Assembly overwhelmingly voted in favor of a resolution that calls on the US to withdraw its controversial recognition of Jerusalem al-Quds as Israeli "capital."
In an attempt to prevent the passing of the resolution, Trump threatened reprisals against countries that backed the measure, which had earlier faced a US veto at the UN Security Council.
Israel, however, rejected the world body's resolution while thanking Trump for his decision to move the US embassy to Jerusalem al-Quds.
https://www.presstv.com/Detail/2019/02/26/589637/Israeli-minister-settlers-storm-alAqsa-Mosque-in-occupied-alQuds
--------
Oxford City Council, UK, adopts all-party definition of "Islamophobia"
26 February 2019
On 28 January Oxford City Council voted unanimously on a motion to adopt the APPG (All-Party Parliamentary Group) definition of Islamophobia that states:
"Islamophobia is rooted in racism and is a type of racism that targets expressions of Muslimness or perceived Muslimness."
Oxford is the third council in the UK to adopt the APPG definition which includes vague and ambiguous criteria such as, "Accusing Muslims as a group of being responsible for real or imagined wrongdoing committed by a single Muslim person or group of Muslim individuals, or even for acts committed by non-Muslims."
In 2017, Barnabas Fund published a statement recommending the use of the word "Muslimophobia" when condemning a fear and hatred of Muslim people. In the statement we said that the word "Islamophobia" should be used only to mean fear and hatred of the religious ideology Islam. Our statement also highlighted that it is a cause of much confusion that "Islamophobia" is commonly used to include fear and hatred of Muslim people as well.
We restate our view that Religion/ideology/worldview or any other set of beliefs are separate from the human beings who hold those beliefs. People (e.g. Muslims, Christians) should always be protected; ideas and ideologies (e.g. Islam, Christianity) should not be. It should always be possible to critique and criticise ideas, even though this may hurt people's feelings. But any other kind of hurt to people because of what they believe should never be tolerated.
https://barnabasfund.org/en/news/oxford-city-council-uk-adopts-all-party-definition-of-islamophobia
--------
Villagers near Balakot say nobody killed or injured by Indian aircraft
Nisar Ahmad Khan
February 27, 2019
MANSEHRA: Villagers in Jabba were woken up by successive explosions in the early hours of Tuesday morning when Indian aircraft reportedly dropped bombs on a hill overlooking their small hamlet, thirty kilometres to the north-east of Balakot city that was devastated by a huge earthquake in 2005.
"We were woken up by five big explosions," said a local resident, followed by sounds of the aircraft in the distance, he added. The bombs hit downward slopes of the hill dotted with green fields and surrounded by pine trees, creating a big crater, he said.
Another described what happened during a visit to Jabba in Balakot tehsil of Khyber Pakhtunkhwa.
"After the first explosion I ran out of the room to ascertain as to what had happened. I saw a beam of light and rushed back to my room when my mother called out to me. I heard three other big bangs in succession. It was a horrible sound, I cannot explain to you," said Mohammad Zakir.
A nearly 10-foot-deep depression appeared in front of his house without damaging his residence.
Chaudhry Shafqat Awais, 28, said initially he thought an earthquake had struck them, reminiscent of the 2005 one that had laid waste to Balakot and Muzaffarabad.
"The loud bangs literally shook our houses and then there were sounds of the aircraft. I visited the site at about 10am and saw four craters at two different places," he said showing visuals of the craters he had captured from his cellphone.
The visuals showed crust of greyish gravel and some fallen pine trees in and around the craters.
Ammunition fragments, trees on fire
Several other villagers also shared their eyewitness account of the area. Some had brought the fragments of the ammunition.
Others saw trees on fire. "There are just some burnt trees and nothing else," said Zahid Hussain Shah. "Some trees appeared to be on fire," another witness said.
Some locals from the village, known for sheep breeding traditions, said they saw Pakistan Airforce jets hovering overhead.
Overlooking the area of the air strike stood a single-storey mud house and no other structure nearby, lending credence to view that the Indian planes "dropped their payload" while escaping.
The area was later cordoned off by the military to check for any unexploded ordnance.
No ambulance seen
The lone injury case reported was that of a 60-something Nooran Shah, whose nearby mud house door was ripped from a wall by the impact of the explosion which hit him in the head. He was discharged from a local hospital after first aid was administered to him.
Local residents said they did not see any ambulances or any evacuation soon after the bombing that could lend credence to India's claim of having targeted a militant training camp or killing several hundred of them.
"There has been no such activity here, no camp, no militant, nothing," said Shaukat Qureshi, a local resident. "This is total rubbish," he added.
Dr Mohammad Javed Tanoli, Medical Superintendent of the King Shah Abdullah Teaching Hospital, the only tertiary care hospital in the district, said no casualty was brought from the scene of the bombing, except for the lone wounded man.
"There would have been chaos here, had there been casualties of the scale the Indians are claiming," Dr Tanoli said. "This is like any other day, routine work and nothing else. No wounded person from the strike area was brought here and the government did not issue any [emergency] alert," the medical superintendent added.
A cab driver, Mohammad Jibran, who regularly takes passengers to Balakot city and the district headquarters, said he returned to his work on Tuesday morning and found no unusual activity, except that local residents spoke of an early morning air strike on the hill.
The traffic on Mansehra-Naran-Jalkhad road which passes through Jabba remained normal and the local bazaar with nearly 50 shops was also busy and bustling.
Muhammad Safeer, a hotelier along this road, said his eatery remained open from Fajr till midnight. "I did not see a single ambulance running through this road. If any deaths had occurred here, as claimed by the Indian government, they would have been evacuated through the same route," he said.
https://www.dawn.com/news/1466286/villagers-near-balakot-say-nobody-killed-or-injured-by-indian-aircraft
--------
Nigeria's Buhari wins second term as president
Feb 27, 2019
Nigerian President Muhammadu Buhari won a second term at the helm of Africa's largest economy and top oil producer, a tally by Reuters based on electoral commission results showed.
He won by 56 percent compared with 41 percent for the other candidate, businessman and former vice president Atiku Abubakar of the People's Democratic Party.
The president won by 3.9 million votes, having garnered 15.2 million to Atiku's 11.3 million. The turnout, based on valid votes, was 33.2 percent. In the 2015 presidential election, turnout was 44 percent.
Garba Shehu, Buhari's spokesman, said the president's office would have no comment until the electoral commission announces the winner.
Buhari of the All Progressive Congress party proved wrong those who doubted he could survive the blows of recession, militant attacks on oilfields, and Islamist insurgency that blighted his first term.
Buhari faces a daunting to-do list, including reviving an economy still struggling to recover from a 2016 recession and quelling a decade-old Islamist insurgency that has killed thousands of people in the northeast, many of them civilians.
https://www.presstv.com/Detail/2019/02/27/589659/Nigerias-Buhari-wins-second-term-as-president
--------
India
Ayodhya dispute case: Nyas, Muslim litigant against Supreme Court's mediation call
Feb 26, 2019
Pawan Dixit
After the Supreme Court on Tuesday suggested a resolution of the Ram Janmabhoomi-Babri Masjid title dispute through mediation, the Ram Janmabhoomi Nyas (RJN) and Muslim litigant Iqbal Ansari in the case opposed the proposal, saying such efforts have failed in the past.
The Supreme Court also fixed next Tuesday as the date for passing its order on whether to appoint a mediator and gave eight weeks' time for verification of the translation of the documents, translations and records in the case.
"Even if there is 1% chance for mediation between the parties (Hindus-Muslims) we should give it an opportunity," justice SA Bobde, one of the five judges comprising the Constitution Bench hearing the title suit, said.
Mahant Nritya Gopal Das, head of the Ram Janmabhoomi Nyas which has been spearheading the Ram Mandir movement across the country, said all forms of mediation on the issue have "failed to deliver results in the past."
"Mediation will simply kill time and delay any verdict on the title dispute. After waiting patiently for such a long duration for judgment on the Ram Janmabhoomi issue, we do not want mediation anymore," Das said.
The Vishwa Hindu Parishad (VHP) was also against any form of mediation.
"When the court case has reached its last phase (in the Supreme Court) appointing a mediator will further delay the construction of the Ram temple in Ayodhya," said VHP's regional spokesperson Sharad Sharma.
The Muslim litigant in the case Iqbal Ansari also came out strongly against the Supreme Court's suggestion for a mediator.
"My father late Hashim Ansari (the original litigant in the Ayodhya dispute) tried to have out of court settlement on many occasions but all efforts failed," he said.
"When both Hindu and Muslim litigants have agreed to abide by the court's order, why this new mediation process? All forms of mediation have failed," Ansari asserted.
The five-judge bench was reconstituted after justice UU Lalit, on January 10, recused himself from hearing the matter after it was pointed out to him that he has in the past appeared in a contempt case related to the title suit. Justice NV Ramana was also replaced on the bench.
Justice Bhushan and justice Nazeer, who came in instead of justice Lalit and justice Ramana, were part of a bench headed by the then Chief Justice of India Dipak Misra which last year declined to refer an old judgment about whether a mosque is integral to Islam or not, to a larger bench.
The top court had on January 27 cancelled a scheduled January 29 hearing because justice Bobde was not available that day.
Fourteen appeals have been filed in the top court against a 2010 Allahabad High Court judgment, delivered in four civil suits, that the 2.77-acre disputed land in Ayodhya be partitioned equally between three parties — the Sunni Waqf Board, the Nirmohi Akhada and Ram Lalla, the child deity.
https://www.hindustantimes.com/india-news/ayodhya-dispute-case-nyas-muslim-litigant-against-supreme-court-s-mediation-call/story-PiHaOeGSNwdlS2Tt2UannI.html
--------
Pakistan expresses reservation about Islamic meet invitation to India
February 26, 2019
Pakistan's Foreign Minister Shah Mahmood Qureshi said on Tuesday that he has spoken to his UAE counterpart and "expressed reservations" about invitation to India's External Affairs Minister Sushma Swaraj to attend the OIC meeting scheduled later this week.
In a strategically significant development, India has been invited to the inaugural plenary of the foreign ministers' conclave of the Organisation of Islamic Cooperation (OIC), a powerful grouping of Muslim majority nations, in Abu Dhabi from March 1 to 2. Swaraj will attend the meeting as the 'guest of honour'.
Addressing a press conference here after a special meeting of the National Security Committee (NSC) in the wake of India's air strikes inside Pakistan early Tuesday, Qureshi said the situation has changed now.
"Aggression has been done against a founding member of the OIC," he said, referring to the Indian attack that destroyed Jaish-e-Mohammed's biggest training camp in Balakot in Pakistan's restive Khyber Pakhtunkhwa province, killing a "very large number" of terrorists, trainers and commanders.
The air strikes came 12 days after the JeM carried out the Pulwama terror attack in Jammu and Kashmir that killed 40 CRPF soldiers.
Qureshi said that he has spoken to the foreign minister of the UAE and expressed Pakistan's reservations for inviting the Indian foreign minister as chief of guest in the OIC meeting.
Describing the situation following the Indian air strikes as "serious", Qureshi said that Prime Minister Imran Khan also had telephonic conversations with UAE Crown Prince Sheikh Mohammed bin Zayed Al Nahyan as well as Saudi Crown Prince Mohammad bin Salman over the development.
The OIC is a grouping of 57 countries, majority of which are Muslim majority. It has usually been supportive of Pakistan and, often sided with Islamabad on the Kashmir issue.
On the request of Pakistan, the OIC summoned an emergency meeting of its Kashmir Contact Group at its General Secretariat in Riyadh on Tuesday.
The Contact Group expressed deep concern over the heightened tension and called for immediate de-escalation in the region, the Foreign Office said.
In a tweet, the OIC "condemned" India's "action against an OIC founding member state."
Full report at:
https://www.indiatoday.in/world/story/pakistan-expresses-reservation-about-islamic-meet-invitation-to-india-1465842-2019-02-26
--------
Balakot strike was against terror camp, don't wish to see escalation: Sushma Swaraj in China
by Sowmiya Ashok | Beijing |
February 27, 2019
A day after India conducted air strikes in Pakistan's Balakot, External Affairs Minister Sushma Swaraj Wednesday said the objective was to act against a terror camp and that India doesn't wish to see a "further escalation." Addressing Foreign Ministers of China and Russia at the Russia-India-China (RIC) Trilateral meeting in Wuzhen, she said, that "India will continue to act with responsibility and restrain."
Swaraj's comments come a day after the Indian airforce carried out a strike in the Balakot region of Pakistan, following which China said it hoped both India and Pakistan will exercise "restraint" and "do more to improve bilateral relations." In her opening remarks during her bilateral meeting with Chinese counterpart Wang Yi, Swaraj also blamed Pakistan for its "refusal" to "acknowledge and act against terror groups in its territory."
"In the light of the continuing refusal of Pakistan to acknowledge and act against terror groups on its territory and based on information that JeM was planning other attacks in parts of India, Government of India decided to take preemptive action and the target was selected in order to avoid civilian casualties," Swaraj said.
Swaraj said that terrorism tops the list of "existential threats that the world faces today." Referring to the recent terrorist attack on security forces in Pulwama, Jammu and Kashmir which left 40 security personnel dead, she said: "Such dastardly terrorist attacks are a grim reminder for the need for all the countries to show zero tolerance to terrorism and take decisive action against it. Following the Pulwama terrorist attack, instead of taking seriously the call by the international community to act against Jaish-e-Mohammad and other terror groups based in Pakistan, Pakistan denied any knowledge of the attack and outrightly dismissed claims by Jaish-e-Mohammed."
Further, she said that the target for the airstrikes by India was selected in order to avoid civilian casualties. "This was not a military operation. No military installations were targeted. The limited objective of the pre-emptive strike was to act decisively against the terrorist infrastructure of JeM in order to pre-empt another terror attack in India," she said.
During the meeting held on the sidelines of Russia, India, China Foreign Ministers meeting, Swaraj also raised the Pulwama terror attack. Forty CRPF officers were killed after a suicide bomber rammed his car into the convoy in Jammu and Kashmir's Pulwama district on February 14, sparking outrage in the country. Pakistan-based Jaish-e-Mohammad claimed the responsibility for the attack.
"I am visiting China at a time when there is grief and anger in India. It is the worst terrorist attack directed against our security forces in Jammu and Kashmir. Such dastardly terrorist attacks are a grim reminder for the need of all the countries to show zero tolerance to terrorism and take decisive action against it," she said.
Stating that the JeM is banned by the UN and other countries, Swaraj told Wang that "this terrorist attack is the direct result of the impunity and cover provided to the JeM and its leaders by the Pakistani side"."After the Pulwama attack the entire UN has spoken with a full voice to condemn it," she said.
Full report at:
https://indianexpress.com/article/india/balakot-strike-sushma-swaraj-india-pakistan-5602424/
--------
Afghan man detained for allegedly trying to enter Israeli embassy in Delhi
Feb 27, 2019
Security personnel at the embassy of Israel in the national capital on Tuesday detained an Afghan man and handed him over to the Delhi Police over suspicion of trying to enter the embassy.
Police said the man's antecedents are being verified.
According to the police, the man was detained around 1 pm when the police got a call from the embassy about the man attempting to trespass. He was brought to the Tughlak Road police station and questioned later, said a police officer privy to the details of the case.
"A police team was rushed to the embassy and the Afghan national was handed over to them. The security men at the embassy said the suspect claimed to be a dentist who had come to visit India. During questioning the man said he had gone to the embassy to inquire about his travel plan to visit Jerusalem. We are verifying his antecedents. No case has been registered against him yet," the officer said.
https://www.hindustantimes.com/delhi-news/afghan-man-detained-for-allegedly-trying-to-enter-israeli-embassy-in-delhi/story-E9ktvIlk8WBLoP7szfKDiI.html
--------
On firing at LoC, Army says Pakistan using civilians as human shields
Feb 27, 2019
Ravi Krishnan Khajuria
At least five Indian soldiers were injured as Pakistan fired mortar shells and missiles across the Line of Control at several areas in Jammu and Kashmir on Tuesday, officials said, prompting authorities to shut schools and defer examinations within five kilometres of the border.
The Pakistan Army initiated unprovoked ceasefire violation by shelling with heavy calibre weapons in 12 to 15 places all along the LoC in Jammu, Rajouri and Poonch districts since, since 6:30pm on Tuesday, a defence spokesperson said.
"The Indian Army retaliated for effect and our focused fire resulted in severe destruction to 05 posts and number of casualties to the Pakistani army. Pakistani troops were also seen firing mortars and missiles from civilian houses, using villagers as human shields. However, the Indian Army targeted the Pakistani posts away from civilian localities," Lt Col Devender Anand said. (Follow live updates here)
Five army soldiers suffered minor injuries in the exchange of fire and out of which two were evacuated to the military hospital for treatment and are stable, he said.
The Pakistan army targeted Akhnoor, Pallanwala in Jammu district, Nowshera, Laam, Jhangar in Rajouri and Mankote, Mendhar, KG sector, Khari Karmara, Balakote and Poonch in Poonch.
District magistrates of Rajouri and Poonch have closed government and private schools within five km radius of LoC on Wednesday as a precautionary measure.
The situation was tense on the LoC in Kashmir's Uri sector amid ceasefire violations during Tuesday night and shelling in the forward posts. Locals said that the army fired shells towards Pakistani posts from Kalgai village. Officials said villagers in some areas in Uri are being shifted to safer places after the ceasefire violations.
The escalation came after the Indian Air Force (IAF) conducted a massive pre-emptive strike early on Tuesday on Jaish-e-Mohammed's biggest camp acting on "concrete intelligence inputs" about the terror group preparing to carry out more attacks in India. IAF dropped 1,000-pound bombs in a thickly-forested hilltop killing a large number of terrorists.
Jaish-e-Mohammed had claimed responsibility for the Pulwama terror attack on February 14, when at least 40 CRPF jawans were killed.
This camp was headed by Jaish chief Masood Azhar's brother-in-law Maulana Yousuf Azhar.
"The skirmishes started around 5.30pm on Tuesday and the intermittent exchange of fire lasted till 6am on Wednesday," said an army officer.
Locals from Poonch and Rajouri districts said they were being directly targeted by Pakistan army, which has been using 120 mm mortars, a battalion level flat trajectory weapon.
"Intense shelling is on and we have been compelled to flee our houses," said Mohammed Rashid of Mankote.
Pakistan's Dawn newspaper blamed India for firing on Pakistani posts and civilian areas. It reported that four civilians were killed and 11 others were injured in Indian firing.
According to PTI, 2018 witnessed the highest number of ceasefire violations — 2,936 — by Pakistani troops in the last 15 years along the India-Pakistan border.
Full report at:
https://www.hindustantimes.com/india-news/5-soldiers-injured-in-pakistan-firing-after-balakot-strike-schools-closed/story-mmoZzmoZi8vAaawL7N1lLP.html
--------
2 Jaish-e-Mohammed terrorists killed in encounter in Jammu and Kashmir's Shopian
Feb 27, 2019
Two terrorists belonging to Jaish-e-Mohammed were gunned down in an encounter in Shopian district of Jammu and Kashmir on Wednesday. The encounter broke out this morning between terrorists and security forces in Shopian.
Security forces launched a cordon and search operation in Meemendar area of Shopian following information about presence of militants there, news agency PTI reported quoting unnamed officials.
They said the search operation turned into an encounter after militants opened firing towards the security forces, who retaliated.
The exchange of fire comes a day after India bombed and destroyed Jaish-e-Mohammed's (JeM) biggest training camp in Balakot in Pakistan's restive Khyber Pakhtunkhwa province, about 80-km from the Line of Control (LoC), killing a "very large number" of terrorists, trainers and senior commanders.
Full report at:
https://www.hindustantimes.com/india-news/encounter-underway-between-militants-security-forces-in-kashmir-s-shopian/story-svJIJLE1CsSHl6gyi5UuFN.html
--------
Yusuf Azhar, IC-814 hijacker, was key target of the Balakot air strike
Feb 26, 2019
Yusuf Azhar, one of the terrorists involved in the December 1999 hijacking of Indian Airlines flight IC-814 from Kathmandu to Kandahar, and brother-in-law of Jaish-e-Mohammed chief Masood Azhar, was one of the main targets of the Balakot air strike, and post-attack chatter suggests he may have been killed in the pre-dawn air strike on the camp, officials familiar with the matter said on condition of anonymity.
Azhar, who headed one of the oldest training facilities of the JeM, in Balakot, in the Khyber Pakhtunkhwa province, is wanted by the Central Bureau of Investigation (CBI) and an Interpol Red Notice (number A-565/6-2000) has been pending against him for the last 19 years.
Yusuf is also known as Mohammed Salim and Ustad Ghouri and his name has figured in the list of wanted terrorists that India has repeatedly handed over to Pakistan over the years.
"Besides the symbolic value of the camp and its importance for Jaish's war against India, Azhar's continuous presence there was one of the main reason that the government decided to target the Balakot camp," said a security official.
Azhar is one of seven accused in the IC-814 hijacking case along with Ibrahim Athar, Sunny Ahmed Qazi, Zahoor Ibrahim, Shahid Akhter, Sayed Shakir and Abdul Rauf. The flight was hijacked over Indian skies on December 24, 1999 and taken to Kandahar in Afghanistan. The city was then controlled by Mulla Umar's Taliban.
India had to release Masood Azhar, Mushtaq Ahmed Zargar and Ahmed Omar Syed Sheikh, who is now awaiting a death sentence in Pakistan for his involvement in the murder of the American journalist Daniel Pearl, in exchange for the release of 154 passengers aboard IC-814.
The CBI, which investigated the hijacking, sought the Red Notice against all the accused and it was issued in 2000.
"Jaish is mostly a family run enterprise with brothers of Masood Azhar Rauf and Ibrahim and brothers-in-law like Yusuf Azhar and Maulana Ashfaq being key figures in the outfit. Rauf is now de-facto chief of the outfit as Masood Azhar is not known to be keeping well," said an intelligence official.
Full report at:
https://www.hindustantimes.com/india-news/ic-814-plotter-was-on-air-force-radar/story-22SeSvZ8qGVZnyDeaA8pjN.html
--------
Mirage 2000 'natural choice' for air strikes at Jaish camp across LoC
Feb 26, 2019
Rahul Singh
The French-origin Mirage 2000s that carried out the predawn air strike on a Jaish-e-Mohammed (JeM) terrorist camp across LoC on Tuesday are among the most reliable fighter jets in the Indian Air Force's combat fleet and were a natural choice for the unprecedented peacetime, cross-border mission, officials and experts said on Tuesday.
Inducted into the air force in 1984, the single-engine fighters performed splendidly during the 1999 Kargil war and recorded an impressive serviceability rate. The Mirage 2000 is an extremely versatile aircraft that can carry out precision strikes during day and night, two IAF officials said on condition of anonymity.
The Mirage 2000s, the officials said, struck their target with Israeli-origin SPICE 2000 bombs from a stand-off distance, which wasn't immediately known. Popeye missiles were on standby. The 2,000-pound GPS-guided SPICE (Smart, Precise Impact, Cost-Effective) bombs can hit targets up to 60km away with an accuracy of three metres, while the Popeye's range is around 80km.
Also Read: Mirage 2000, Sukhoi-30s, AWACS part of IAF's operation on JeM camp in Balakot
The fighters, manufactured by French planemaker Dassault Aviation, can carry a mix of bombs and missiles on its nine hard points.
"The Mirage 2000 is a highly serviceable aircraft and had a mission accomplishment rate of 98% during the Kargil war. It is equipped with good precision weapons. The fighter would have been a natural choice for such a mission," said Air Marshal PS Ahluwalia (retd), who commanded the Gwalior air base (home to Mirage fighters) during the Kargil war, in which more than 30 Mirage 2000 jets were involved.
The IAF ordered a total of 59 Mirage 2000 jets from France, but it is currently left with 48; 11 have crashed over the years.
In 2011, India signed a $2.4-billion contract with Dassault Aviation and Thales Group, another French entity, to upgrade 51 Mirage 2000 fighters with new weapons, radars and avionics. The first two aircraft were upgraded by the firms in France followed by another two at state-owned Hindustan Aeronautics Ltd, which is upgrading the remaining planes. The Mirage 2000 upgrade is five years behind schedule.
"The planes may be 35 years old but they have 20 years to go after the upgrade is completed," said Ahluwalia, who flew one of the IAF's first Mirage 2000s from France to India in the mid-1980s.
The Mirage 2000s took part in a major fire power demonstration by the IAF involving nearly 140 aircraft including 81 fighter jets at the Pokhran field firing range on February 16, two days after the Pulwama suicide car bomb attack in which 40 Central Reserve Police Force (CRPF) troopers were killed. The jets attacked simulated targets with 250kg bombs during Vayu Shakti 2019 where IAF chief Air Chief Marshal BS Dhanoa declared that the air force was prepared to deliver an appropriate response assigned by the country's political leadership. That response was delivered on Tuesday.
Former IAF chief Air Chief Marshal Fali Major (retd.) said the Mirage 2000s were tried and tested during Kargil, and would have been the first choice for the cross-border air strikes. "It's an excellent weapons delivery platform," Major said. The IAF also feels that the Mirage 2000 is a dependable and versatile fighter jet.
Full report at:
https://www.hindustantimes.com/india-news/mirage-2000-natural-choice-for-air-strikes-at-jaish-camp-in-pakistan/story-Sqp2fcSyyk2Tw4L0J6GZ1I.html
--------
Pakistan troops shell Indian posts in Jammu and Kashmir's Uri sector
Feb 27, 2019
SRINAGAR: Pakistani troops on Wednesday intensely shelled Indian posts in Uri Sector of Jammu and Kashmir, officials said.
The shelling comes a day after the IAF carried out air strikes on Jaish-eMohammad terror camps inside the neighbouring country.
Pakistani Army fired mortar shells towards Indian posts in the early hours of Wednesday, a police official said.
He said there were no reports of any casualties so far.
The official said the Indian Army retaliated to the Pakistani action in an equal measure.
Full report at:
https://timesofindia.indiatimes.com/india/pakistan-troops-shell-indian-posts-in-jammu-and-kashmirs-uri-sector/articleshow/68178836.cms
--------
North America
US, Taliban talk troop withdrawal, counter-terrorism at peace talks
26 February 2019
American and Taliban officials looking to end a 17-year war in Afghanistan began their most detailed and high-level discussions yet on foreign troop withdrawals and counter-terrorism on Tuesday, officials close to the peace negotiations said.
The talks, which kicked off in Doha on Monday with a meet-and-greet lunch, are seen as the most promising yet between the warring parties after the Taliban's newly-appointed political chief Mullah Abdul Ghani Baradar joined for the first time, flying in from Pakistan.
The two sides are looking to hammer out a timeline and logistics for a potential troop withdrawal, as well as guarantees that the Taliban will not host militant groups as the US winds down its presence, sources close to the talks said.
"The Taliban knows foreign forces are committed to withdrawal, but we have the responsibility to ensure that Afghanistan does not get used as a base to launch terror attacks on foreign nations," one of the officials said.
Some 14,000 US troops are based in Afghanistan as part of a US-led NATO mission to train, assist and advise Afghan forces. Some US forces also carry out counter-terrorism operations.
US military officials have been brought in to join this week's talks in Doha, a second official said, raising hopes for progress after the last round in January secured a broad framework agreement but few details on critical aspects of a ceasefire and withdrawal.
"We have all the right people in the room on both sides," the second official said.
US President Donald Trump told Congress this month he intended to reduce US forces from Afghanistan as negotiators make progress in talks with Taliban insurgents, saying: "Great nations do not fight endless wars."
The US team, led by special envoy Zalmay Khalilzad, is also pushing for the Taliban to meet with the Afghan government, which the group has so far snubbed, and to agree on a ceasefire ahead of its annual spring offensive, sources said.
The hardline Islamist movement considers the Afghan government a puppet regime of the US and has refused direct talks.
https://english.alarabiya.net/en/News/world/2019/02/26/US-Taliban-talk-troop-withdrawal-counter-terrorism-at-peace-talks.html
--------
New Senate bill to force Trump to issue public report on Khashoggi killing
Feb 26, 2019
US senators have introduced a bill aimed at forcing the administration of President Donald Trump to issue a public report on the killing of Saudi dissident journalist Jamal Khashoggi in the kingdom's Turkey consulate last year.
On Tuesday, Democrats in the upper chamber of US Congress filed the bill that would require US Director of National Intelligence Dan Coats to release a report on the murder of the US-based columnist within 30 days of passing the measure.
"Not later than 30 days after the date of the enactment of this Act, the Director of National Intelligence shall submit to Congress a report on the death of Jamal Khashoggi," the legislation states.
Senators Ron Wyden, Chris Coons, Martin Heinrich, Kamala Harris and Jack Reed have endorsed the measure.
"The murder of Jamal Khashoggi was a tragedy and represented an attack on journalists everywhere," said Harris, the only 2020 contender backing the bill. "Unfortunately, the White House has not provided clear answers about what happened or who in the Saudi government might bear responsibility for the attack. We must always defend the rights of a free and independent press both at home and abroad, which is why I'm standing with my colleagues to demand a public report on this incident."
Trump has thrown his support behind Saudi Crown Prince Mohammed bin Salman - known as MbS – despite allegations implicating him in the murder.
"The brutal murder of U.S. resident and Washington Post columnist Jamal Khashoggi and the brazen cover up by the Saudi government cannot be tolerated. The American people deserve to know the truth about what happened," said Senator Reed, ranking Democrat on the Senate Armed Services Committee.
US lawmakers and Turkish President Recep Tayyip Erdoğan maintain that the crown prince and other top Saudi leaders should be held accountable for Khashoggi's assassination,
Turkish intelligence intercepts reportedly show that Khashoggi, who was last seen entering the Saudi mission in Istanbul on October 2, was murdered on a direct order from Saudi de facto ruler Crown Prince Mohammad bin Salman.
Khashoggi had been there to obtain a document certifying he divorced his ex-wife.
Bin Salman reportedly ordered the assassination of the former Washington Post columnist at the Saudi consulate in Istanbul.
Full report at:
https://www.presstv.com/Detail/2019/02/26/589649/Trumps-public-report-on-Khashoggi-Senate-bill-demands
--------
Canada pledges CAN$46.7 million in Yemeni relief
26.02.2019
By Barry Ellsworth
TRENTON, Canada
Canada announced Tuesday it would provide CAN$46.7 million ($35.4 million) to Yemen in a bid to help relieve the humanitarian crisis.
The funds are on top of CAN$130 million ($98.6 million) pledged since 2015, bringing the total to CAN$176.7 million ($134 million).
"Canada's support in Yemen is driven by our desire to end a terrible situation that has caused the suffering of so many people – especially women and children who bear the brunt of the crisis," Foreign Affairs Minister Chrystia Freeland said in making the announcement.
The U.N. reported near the end of last year that about 20 million people in Yemen are hungry and as many as 250,000 were in danger of starvation. The conditions remain relatively unchanged.
"The human cost of the ongoing conflict in Yemen is dire," Freeland said.
The Yemeni conflict was ignited in 2014 when Iranian-sponsored Houthi rebels captured the capital of Sanaa.
Saudi Arabia led a coalition against the Houthis and airstrikes have taken a terrible toll on Yemen civilians, killing at least 10,000 people and hitting schools and hospitals.
"There's millions of Yemenis who are hungry and sick and scared and desperate and starving, but they've all got one message and their message is that they're at the end of their tether and they want this war to stop," UN humanitarian chief Mark Lowcock said in December.
He said the UN plans to get aid to 15 million people this year. An appeal went out Feb. 24 globally to raise $4.2 billion in 2019.
Full report at:
https://www.aa.com.tr/en/americas/canada-pledges-can-467-million-in-yemeni-relief/1403633
--------
Southeast Asia
PAS lodges police report over alleged insult of Prophet Muhammad
27 February 2019
SEREMBAN, Feb 27 — Negri Sembilan PAS today lodged a police report against two Facebook account holders for having allegedly insulted Prophet Muhammad and Islam.
Its acting commissioner, Rafiei Mustapha, made the report at the Seremban District Police headquarters here at 9am.
"The police report was made to request the government to take stern action against the (Facebook) account holders by prosecuting and penalising them as a lesson for other people," he told reporters after making the report. — Bernama
https://www.malaymail.com/news/malaysia/2019/02/27/pas-lodges-police-report-over-alleged-insult-of-prophet-muhammad/1727361
--------
Former fighters take control of Philippines Muslim region
February 27, 2019
COTABATO: Former Muslim guerrillas took over governance of a poverty- and conflict-wracked Muslim autonomous region on Tuesday under a peace deal partly aimed at combating the militant Islamic State group-aligned militants in the southern Philippines.
Moro Islamic Liberation Front rebel chairman Murad Ebrahim assumed leadership in a ceremony in Cotabato city of an 80-member transition authority dominated by his guerrilla group to govern a five-province region called Bangsamoro.
The first large group of about 12,000 combatants is expected to be demobilised starting this year under the deal.
The Philippine and Western governments and the guerrillas see effective Muslim autonomy as an antidote to nearly half a century of Muslim secessionist violence, which the Islamic State group could exploit to gain a foothold in the region. "Our enemy during this struggle is not the soldiers. Our enemy is not the government," Murad said in a speech after taking leadership of the Bangsamoro Transition Authority as interim chief minister. He said he and his men would wage a new jihad, or holy war, against graft and mismanagement.
"Our enemies are all the ills of governance in this system. Our enemies are graft and corruption. Our enemy is manipulation of government. Our enemy is nepotism," said Murad, who once led rebel forces in marshy battlefields that his group will now try to turn into progressive communities.
Murad and his insurgent group inherit a region of more than 3.7 million people, nearly half of whom wallow in poverty. Many have been exposed to decades of violence and fighting, according to regional government reports prepared for the rebels-turned-officials.
Full report at:
https://www.dawn.com/news/1466325/former-fighters-take-control-of-philippines-muslim-region
--------
Muhyiddin: Pakatan always strives to protect privileges and rights of Malays, Islam
27 February 2019
SEMENYIH, Feb 27 — Pakatan Harapan (PH) deputy president Tan Sri Muhyiddin Yassin stressed that the government will always strive to safeguard the rights and privileges of the Malays and Islam.
He pointed out that the PH government was currently being accused of selling out the rights of Malays and Islam when the three non-Malays being appointed as finance minister, attorney general and chief judge.
"What I am going to say is that PH's government does not contradict the Constitution," he said in his speech at the 'Bicara Rakyat' programme at Sungai Kembung Hilir here last night in a series of PH campaigns ahead of the Semenyih state by-election on March 2.
He said the PH government was prepared to be brought to court by any party claiming what the government was doing was contradictory to the nation's development because the government knew the truth.
On Saturday, Barisan Nasional (BN) secretary-general Datuk Seri Mohamed Nazri Aziz was reported to have questioned some of the government's appointments while campaigning here.
Inspector-General of Police Tan Sri Mohamad Fuzi Harun yesterday said the police were investigating Mohamed Nazri under the Sedition Act.
Muhyiddin said the race was not the main criteria to hold office but the individuals needed to be trustworthy and responsible.
Full report at:
https://www.malaymail.com/news/malaysia/2019/02/27/muhyiddin-pakatan-always-strives-to-protect-privileges-and-rights-of-malays/1727271
--------
Mujahid: Proposed amendments to Penal Code to address religious insults
26 February 2019
KUALA LUMPUR, Feb 26 — The proposed amendments to the Penal Code (Act 574) is to provide heavier penalties to those who have insulted the religions, says Minister in the Prime Minister's Department Datuk Seri Dr Mujahid Yusuf Rawa.
He said the proposed amendments had been agreed in essence and expected to be brought up in the Cabinet meeting in the near future before being tabled at the Dewan Rakyat sitting next month.
The amendments to the Act would see more severe penalties awaiting offenders, in addition to tightening several prosecution processes including the standard operating procedures (SOP) in court.
"We propose the amendments to be made as we feel that there is already such provision in the Penal Code and we just want to tighten it with heavier penalties," he told reporters after delivering a speech at the launch of the mosque standard rating at the Federal Territory Mosque here, today.
Mujahid said that the proposed amendments were not only related to Islam, but also covered other religions in the country.
"(The proposed amendment encompasses) issues such as causing hate among religions, creates an issue to cause discord and anger between religions are also included in the context of religious hatred.
"That's why we see this (the amendment) will offer broader definition and of course, whoever insults the Prophet will also be included in this specific clause to be created with set conditions that have yet to be determined," he said.
Earlier in his speech, Mujahid said the Pakatan Harapan government was highly committed in the issue of maintaining the glory of Islam and the unity of all religions in Malaysia as a whole.
"Do not mess with us, you can play politics by saying that we care less when comes to religion, you can politically say that you are the one who cares about religion but you are playing with dangerous game here. This is not about politics and parties, this issue is very dangerous as it involves the sentiment of the Muslims.
"That's why I want to emphasise that we prioritise all issues and the existing laws will be strengthened to prevent people from criticising Islam and other religions," he said.
Full report at:
https://www.malaymail.com/news/malaysia/2019/02/26/mujahid-proposed-amendments-to-penal-code-to-address-religious-insults/1727200
--------
Arab World
Saudi Arabia, UAE and Kuwait pledge $1.25bn to Yemen aid effort
February 26, 2019
DUBAI: Saudi Arabia pledged $500 million on Tuesday in humanitarian assistance for Yemen this year during a UN money-raising conference in Geneva.
The UAE also pledged $500 million while Kuwait committed $250 million for Yemen.
Mark Lowcock
✔
@UNReliefChief
Thank you to the Kingdom of Saudi Arabia #KSA 🇸🇦for this year's increased pledge of 750 million USD and your continued support to the humanitarian response in #Yemen @KSRelief_EN @ksamissionun
691
5:29 PM - Feb 26, 2019
1,078 people are talking about this
Twitter Ads info and privacy
The UN said 40 pledges totaling $2.6 billion were received during the day-long conference, a 30-percent increase from the amount drummed up at a similar conference a year ago.
The United Nations' "Humanitarian Response Plan for Yemen" in 2019 seeks $4 billion to reach 15 million people across the country, after raising nearly $2.6 billion last year.
Secretary-General Antonio Guterres, opening the conference, lamented "an overwhelming humanitarian catastrophe" in Yemen, where some 24 million people, or four-fifths of Yemen's total population, require aid and protection.
"Twenty million people cannot reliably feed themselves or their families," he said. "Almost 10 million are just one step away from famine."
Britain promised $264 million, and the U.S. Agency for International Development (USAID) $24 million. Malaysia was also pledging $100,000 during the conference.
This is the third pledging conference hosted by the United Nation to help what the organization deemed as the worst humanitarian crisis in the world.
The pledges came as UN officials said on Tuesday that aid workers regained access to key grain storage silos in Hodeida for the first time in six months.
The Houthis militants fighting the legitimate government had blocked the World Food Program from crossing a front line into the government-controlled area where the silos are located.
WFP spokesman Herve Verhoosel said some 51,000 metric tons of wheat — enough to feed 3.7 million people for a month — had been in storage at the site when it was rendered inaccessible. He said an assessment is under way to determine the state of the wheat.
http://www.arabnews.com/node/1458346/middle-east
--------
Air strikes up sharply in rebel-held northwest Syria - monitors
26 February 2019
War monitors said on Tuesday there had been a marked escalation in air strikes in rebel-held northwestern Syria, the last major bastion of opponents of President Bashar al-Assad, prompting thousands of civilians to flee the town of Khan Sheikhoun.
Rami Abdulrahman, the director of the British-based Syrian Observatory for Human Rights, said government forces had intensified artillery shelling and air strikes that have been ramping up over the past 10 days.
"The bombing is focused mainly on towns along the Damascus-Aleppo international road," he said. "Khan Sheikhoun has turned into a ghost town."
According to a senior data analyst at Hala Systems, which operates an early warning system for aerial bombardment called Sentry, 13 strikes had been observed in Idlib and northern Hama on Tuesday.
"This is the third straight day in which a significant increase in air strikes has been observed. The pace of attacks seems high — and certainly unusual compared to the last few months," the analyst, who declined to be named, told Reuters.
Syrian state media said insurgents had fired rockets at several towns in the northern part of Hama province, killing one civilian and wounding seven others in what it said was a violation of a de-escalation agreement.
Russia and Turkey brokered a deal in September to create a demilitarized zone in the northwest Idlib region that would be free of all heavy weapons and extremist fighters.
The agreement helped avert an assault on the region by government forces. However, Moscow has complained about escalating violence in Idlib and said that militants who used to belong to the Nusra Front group are in control of large swathes of territory.
Full report at:
https://english.alarabiya.net/en/News/middle-east/2019/02/26/Air-strikes-up-sharply-in-rebel-held-northwest-Syria-monitors.html
--------
Lebanon tells EU it will encourage Syrians to return
26 February 2019
Lebanon's President Michel Aoun has told EU Foreign Policy Chief Frederica Mogherini that Beirut will continue to work for the return of Syrian refugees to safe areas in their war-torn country without waiting for a political solution.
The President added that Lebanon will try to ensure that Syrian returnees are not in danger.
Thousands of Syrian refugees returned home from Lebanon last year after government forces captured wide parts of the country.
Syria's nearly eight-year conflict has led to the displacement of half the country's population and created more than five million refugees, who fled mostly to neighboring Lebanon, Jordan, and Turkey.
Full report at:
https://english.alarabiya.net/en/News/middle-east/2019/02/26/Lebanon-tells-EU-it-will-encourage-Syrians-to-return.html
--------
Some UNSC members waging economic terrorism against Damascus: Syria UN envoy
Feb 26, 2019
Syria's Ambassador to the United Nations Bashar al-Ja'afari says a number of countries, some of them UN Security member states, are conducting a campaign of economic terrorism against his country, stating that active humanitarian support to Syrians could only be provided in case the process is not politicized.
Addressing a Security Council meeting in New York on Tuesday, Ja'afari argued that while a number of world countries, some of which are permanent members of the Council, claim to be working to improve the humanitarian situation in Syria, they simultaneously support terrorism, illegitimately deploy their troops to the country and launch acts of aggression on it.
He added French Colonel Francois-Regis Legrier has acknowledged that the US-led coalition, purportedly fighting the Daesh Takfiri terrorist group, has largely destroyed infrastructure in Syria, leaving thousands of civilians dead and injured.
"The goal of this illegal coalition was not combating terrorism, but rather targeting the capabilities of the Syrian state and prolonging the crisis that has beleaguered it," Ja'afari commented.
"Some countries are broadening their political terrorism against Syria to economic terrorism through imposition of unilateral and coercive measures on the country," he said.
Ja'afari highlighted that a number of states still obstruct the return of Syrian refugees to their homeland, and seek to politicize humanitarian assistance.
"Syria calls for genuine humanitarian cooperation in compliance with the General Assembly Resolution 46/182 and fully committed to its sovereignty," the Syrian diplomat underlined.
Ja'afari highlighted that Damascus has opened two humanitarian corridors to provide a safe exit for displaced people stranded at Rukban camp in southern Syria.
"Syria aspires for an end to the sufferings of people at Rukban camp, where most of the residents want to return to state-controlled areas, and demands an end to the illegitimate presence of US troops and terrorist gangs there," the senior Syrian official commented.
Full report at:
https://www.presstv.com/Detail/2019/02/26/589647/Some-Security-Council-members-waging-economic-terrorism-against-Damascus-Syria-UN-envoy
--------
Hundreds more leave Syria Daesh holdout: AFP reporter
February 26, 2019
NEAR BAGHOUZ, Syria: Hundreds of suspected terrorists and their relatives exited the last Daesh group holdout in eastern Syria aboard 11 trucks on Tuesday, an AFP reporter said.
The huge double-trailer trucks snaked toward a screening point manned by the US-backed Syrian Democratic Forces across the plain from Baghouz, the last hamlet still held by Daesh.
Women could be seen spilling out of the trucks as SDF fighters prepared to screen yet another batch of survivors from the last speck of the terrorists "caliphate."
On Monday alone, 46 such trucks left the Daesh pocket, bringing to around 50,000 the number of people who quit terrorist-held territory since December.
Full report at:
http://www.arabnews.com/node/1458691/middle-east
--------
Mideast
Senior Iraqi official: No normalization of ties with Israel without Palestinian state
Feb 26, 2019
A high-ranking Iraqi official has stressed that the Baghdad government will not normalize diplomatic relations with the Tel Aviv regime, unless Israeli officials sign a deal with the Palestinians, which would pave the way for the establishment of an independent Palestinian state with Jerusalem al-Quds as its capital.
"Iraq will not join the Arab countries that promote the establishment of relations with Israel, as long as the establishment of a true and full Palestinian state with Jerusalem (al-Quds) as a capital, an airport, a flag and an anthem is not guaranteed," Israel's English-language daily newspaper The Jerusalem Post quoted the unnamed official as saying.
Hebrew-language Hadashot television network asserted on January 6 that three delegations from Iraq had visited the Israeli-occupied territories in recent months, the last of which arrived last December.
The delegations included a total of 15 influential people from Iraq, including local religious leaders, the report claimed.
The report stirred controversy in Iraq, where the deputy parliamentary speaker demanded a probe to identify those who had crossed a "red line."
Hassan Karim al-Kaabi called in a statement for "an investigation... to identify those who went to the occupied territory, particularly if they are lawmakers."
"To go to the occupied territory is a red line and an extremely sensitive issue for all Muslims," the statement pointed out.
Iraq does not recognize Israel and is technically in a state of war with it.
Israel and several Arab states have had secret contacts for years, but the two sides have stepped up their attempts to bring their clandestine relations out in the open.
Earlier this month, a US-organized summit in the Polish capital of Warsaw brought together Israeli Prime Minister Benjamin Netanyahu and representatives from a number of Arab states, including Oman, Morocco, Saudi Arabic, the United Arab Emirates, Bahrain, Qatar, Jordan, Egypt, Tunisia and Kuwait, among other participants.
Following the event, Netanyahu said statements by Arab leaders at the so-called Middle East security conference have laid the groundwork for the Arab public to accept normalization of ties with Israel.
The Israeli regime recently re-launched a "virtual embassy" in a bid to "promote dialogue" with the Persian Gulf Arab states.
Israeli Prime Minister Benjamin Netanyahu in late November last year visited Oman, where he met Sultan Sayyid Qaboos bin Said Al Said at the Bait al-Barakah Royal Palace in the coastal city of Seeb near the capital Muscat.
The Jerusalem Post reported that the two men had discussed ways to advance the so-called Middle East peace process as well as matters of mutual interest.
https://www.presstv.com/Detail/2019/02/26/589609/No-Baghdads-normalization-of-ties-with-Israel-without-Palestinian-state-top-Iraqi-official-says
--------
Israel ex-minister sentenced to 11 years for spying for Iran
26 February 2019
An Israeli ex-minister was sentenced to 11 years in prison on Tuesday for spying for his country's main enemy Iran after a plea bargain in the case, the prosecutor said.
Gonen Segev, who served as Israel's energy and infrastructure minister from 1995 to 1996, had previously agreed to a plea bargain on charges of serious espionage and transfer of information to the enemy.
Court hearings were held in secret due to the nature of the case.
Prosecutor Geula Cohen confirmed to journalists outside the Jerusalem court that the judge had accepted the plea bargain and issued the sentence.
Segev served in the Labor government of Prime Minister Yitzhak Rabin after defecting from the far right to cast the decisive vote in favor of the Oslo II peace agreement with the Palestinians.
He has previously served prison time on criminal charges.
In 2004, he was charged with trying to smuggle 30,000 ecstasy pills into Israel from the Netherlands using a diplomatic passport with a falsified expiry date.
The following year, he admitted the charges as part of a plea bargain.
Full report at:
https://english.alarabiya.net/en/News/middle-east/2019/02/26/Israel-ex-minister-sentenced-to-11-years-for-spying-for-Iran.html
--------
Turkey blasts EU for attending Egypt summit despite executions
Feb 27, 2019
Turkey has lashed out at European Union leaders for their double standards on the issue of human rights after they attended a summit in Egypt while turning a blind eye to the recent much-criticized executions in the North African state.
Speaking at an election campaign rally in Giresun Province on Tuesday, Turkish President Recep Tayyip Erdogan said that the EU's acceptance of an invitation by his Egyptian counterpart, Abdel Fattah el-Sisi, to the first joint EU-Arab meeting in the city of Sharm el-Sheikh "shows how insincere" the 28-nation bloc is.
"The EU is against death penalties and execution is prohibited in EU member countries. So how can one speak about democracy in these EU states, which accepted the invitation of Sisi, who executed nine young men last week?" he asked.
Erdogan also accused Sisi of having executed at least 42 people since coming to power.
Separately on Tuesday, Turkish Foreign Minister Mevlut Cavusoglu said it was hypocritical for EU leaders to attend the Egypt meeting, noting that they "do not have values; they just have interests."
"The whole EU leadership supporting Sisi and being in the same place as him on the days after these young saplings were martyred, executed is a photograph of exactly what we are saying," he said. "This is a double standard, it is hypocrisy."
The nine Egyptians were convicted of involvement in the 2015 killing of Public Prosecutor Hisham Barakat.
Relations between Ankara and Brussels have been strained, especially since 2016 over the EU's criticism of the scale of the post-coup crackdown and Turkey's claim the bloc failed to show solidarity after the attempted overthrow.
Wave of condemnations
Amnesty International said the victims' "trials had been marred by torture allegations," adding that it was just "a testament to the magnitude of injustice in the country."
Additionally, UN human rights experts voiced alarm at the executions, saying, "These convictions appear to be in direct disregard of both Egyptian and international law and procedure."
"We are all the more concerned that several other cases pending in the courts of individuals convicted in similar circumstances and facing the death penalty amid reports of a lack of due legal process," they said.
Furthermore, Ahmed el-Attar of the Egyptian Commission for Rights and Freedoms emphasized that the Egyptian authorities should have suspended the executions until formal requests for their re-examination had been studied.
"They (the Egyptian authorities) didn't follow procedure and carried out the death sentences on all the defendants," violating "their own procedural laws, Article 448 of the Egyptian Code of Criminal Procedure," he said in a statement.
Full report at:
https://www.presstv.com/Detail/2019/02/27/589673/Turkey-EU-Egypt-summit
--------
Palestine: 4 injured during Gaza night protests
Feb 26, 2019
Four Palestinians were injured by Israeli forces during protests near Malaka, east of Gaza City, on Tuesday, according to the Palestinian Ministry of Health.
Footage shows Palestinian protesters wearing masks and burning tires. The protesters are demonstrating against the blockade of Gaza by Israel.
https://www.presstv.com/Detail/2019/02/26/589653/Palestine-4-injured-during-Gaza-night-protests
--------
Over 80,000 kids under the age of five have died of starvation in Yemen, UN chief says
Feb 26, 2019
United Nations Secretary-General Antonio Guterres says tens of thousands of children under the age of five have died of starvation in Yemen ever since Saudi Arabia and a number of its allies launched an atrocious military aggression against the impoverished country nearly four years ago.
"Children did not start the war in Yemen, but they are paying the highest price. Some 360,000 children are suffering from severe acute malnutrition, fighting for their lives every day. And one credible report put the number of children under 5 who have died of starvation at more than 80,000," Guterres told a donor conference in the Swiss city of Geneva on Tuesday.
He went on to say that continued Yemen conflict has significantly increased the number of internally displaced people to 3.3 million, and the figure marks a sharp uptick from 2.2 million recorded last year.
The UN chief warned of the worsening health and humanitarian situation in Yemen, saying, "Over half of all health facilities are out of action, and nearly 20 million people lack access to adequate health care."
"In 2017, the worst cholera epidemic in history reached unprecedented levels as water supplies and sanitation and public health services collapsed… Almost 18 million Yemenis still do not have adequate access to safe drinking water or sanitation," Guterres noted.
The UN secretary-general added that Yemen's crisis has taken a heavy toll on the education of students in the war-torn country.
"Two million children in Yemen are out of school, and 2,000 schools have been directly affected by the conflict: damaged, destroyed, converted to shelter for the displaced or occupied by armed groups. And half of the teachers in Yemen have not been paid in over two years," he said.
Guterres touched on the truce deal in the strategic Yemeni port city of Hudaydah, emphasizing that progress has been slow in implementing a troop withdrawal.
Delegates from the Houthi Ansarullah movement and representatives loyal to former Yemeni president Abd Rabbuh Mansur Hadi held face-to-face peace negotiations in Rimbo, north of the Swedish capital city of Stockholm, late last year. The talks resulted in the announcement of a break-through agreement.
The document includes three provisions: a ceasefire along the Hudaydah front and the redeployment of armed forces out of the city and its port; an agreement on prisoner exchange; and a statement of understanding on the southern Yemeni city of Ta'izz.
Yemeni forces shoot down Saudi reconnaissance drone in Hudaydah
Meanwhile, Yemeni army forces, supported by allied fighters from Popular Committees, have intercepted and targeted an unmanned aerial vehicle, belonging to the Saudi-led military coalition, as it was flying in the skies over Hudaydah.
An unnamed Yemen military source told Yemen's Arabic-language al-Masirah television network that Yemeni air defense forces and their allies shot down the drone as it was on a reconnaissance mission over Kilo 16 area on Tuesday evening.
Earlier in the day, Saudi mercenaries had lobbed a salvo of mortar shells at Hudaydah International Airport, with no immediate reports about casualties and the extent of damage.
Saudi Arabia and a number of its regional allies launched a devastating campaign against Yemen in March 2015, with the aim of bringing Hadi's government back to power and crushing Ansarullah.
According to a new report by the Armed Conflict Location and Event Data Project (ACLED), a nonprofit conflict-research organization, the Saudi-led war has so far claimed the lives of around 56,000 Yemenis.
The Saudi-led war has also taken a heavy toll on the country's infrastructure, destroying hospitals, schools, and factories. The UN has already said that a record 22.2 million Yemenis are in dire need of food, including 8.4 million threatened by severe hunger. According to the world body, Yemen is suffering from the most severe famine in more than 100 years.
Full report at:
https://www.presstv.com/Detail/2019/02/26/589651/Over-80000-kids-under-the-age-of-five-have-died-of-starvation-in-Yemen-UN-chief-says
--------
Europe
Facebook permanently bans top UK Islamophobe
Feb 26, 2019
The top Islamophobic figure in the United Kingdom has been fully banned from Facebook and Instagram after he repeatedly broke hate speech policies.
A Facebook spokesperson said on Tuesday that Robinson's page on the social media platform had been banned over numerous attempts to attack Muslims and spread hate against them and others.
"Tommy Robinson's Facebook page has repeatedly broken standards, posting material that uses dehumanizing language and calls for violence targeted at Muslims," said the official, adding that Robinson's profile on Instagram, which is also controlled by the Facebook organization, had also been removed.
Robinson, known for his numerous attempts to depict Muslims as a threat to the UK security, has already been banned from Twitter and Paypal, a major online payment platform. YouTube, where he posts his hate films against the Muslims, also decided recently to demonetize his account, depriving Robinson from a major source of his income that came from advertisements. Facebook had already deprived Robbinson, whose real name is Stephen Yaxley-Lennon, from receiving donations on his page.
The ban come following his renewed call on the public to take to the streets of Britain to condemn what he calls the deliberate attempt of the government and the media to target him. He led a demonstration on Saturday in front of a BBC office in northern England over the broadcaster's planned release of a film focused on his hate activities. The Islamophobe then released his own film on Facebook.
Robinson, convicted several times in the UK for various charges, has been banned from travelling to the United States, where he enjoys support for his anti-Islam campaigns.
UK's attorney general is expected to decide on charges of contempt of the court against Robinson which caused him to go to jail for a short period in August.
https://www.presstv.com/Detail/2019/02/26/589605/UK-Islamophobe-Robinson-Facebook-full-ban
--------
Russia foils Daesh plots to attack intelligence officers, civilians in Moscow:
Feb 26, 2019
Russia's domestic security apparatus reportedly thwarts two plots hatched by the Daesh Takfiri terror group to attack targets in Moscow.
The plots foiled by Russia's Federal Security Service (FSB) would see the group's terrorists attack military intelligence officers and railway passengers in the capital, Russian news agency ITAR-TASS reported on Tuesday, citing Kommersant daily.
The paper said a Daesh leader, which it named as Todzhiddin Nazarov, "who had engineered terrorist attacks in Sweden and Tajikistan and personally oversaw them," had planned the attacks.
"Nazarov ordered his accomplices to blow up military servicemen deployed to the GRU (the foreign military agency of the Russian Armed Forces' General Staff)'s headquarters on Khoroshevskoye Highway and attack railway passengers," it wrote.
"However, FSB officers managed to zero in on and detain the soon-to-be attackers," the daily added.
Russia began bombing targets belonging to Daesh and other terrorist groups in Syria at Damascus' request in September 2015, a year after the outfit began its campaign of bloodshed and destruction in the Arab country and neighboring Iraq.
Full report at:
https://www.presstv.com/Detail/2019/02/26/589614/Russia-Daesh-terrorist-plots-Moscow
--------
Europe has 'new understanding' of Middle East, says Arab League spokesman
NOOR NUGALI
February 26, 2019
CAIRO: There is a new understanding between European leaders and their Middle Eastern counterparts following an historic summit, the Arab League spokesman said.
The two-day meeting took place in Sharm El-Sheikh, Egypt, and it was the first ever summit between the two regions.
European Council President Donald Tusk co-chaired it with Egyptian President Abdel Fattah Al-Sisi. Tusk represented the European Union (EU), along with European Commission President Jean-Claude Juncker.
Terrorism and migration were among the issues discussed, said League of Arab States (LAS) spokesman Mahmoud Afifi.
"This is the first summit between the two sides on a leadership scale. We look at it as the cornerstone for establishing a new institution of values between the Europeans and Arabs," Afifi told Arab News. "We have been in contact with the Europeans for years in different forums at the ministerial level, senior official levels, but to take it to the highest level – the level of leadership.
"It was the frank discussions between people from both sides during the bilateral meetings, in addition to the high commitment and solidarity shown between Arab leaders while explaining the real situation in the region and defending Arab interests vis-a-vis the Europeans."
The most significant summit outcome, he said, was not in the final communique although everyone was aware of it. "(It) is this new understanding for how things really work in the Arab region and Middle East. Because eight years ago, many European countries were in support of what happened there. It wasn't an Arab Spring at all, but a destruction."
He said that Europeans at the time thought it was nice, assuming that the countries would turn into Switzerland. The opposite proved to be true, he added.
"The EU understands and the most important thing for the two sides is to maintain the concept of a nation state. Because, without having stability inside a country, that would lead to a major catastrophe like what we have witnessed in the past years, which lead to terrorism and the massive flows of migration."
Burden sharing was discussed at the summit, he said, although it attracted little media attention. It could be in the form of politics or humanitarian assistance. Europeans came from wealthy countries with ageing populations and complaining about illegal immigrants led to terrorism. "Now, however, they have a better understanding of the situation," he added.
Afifi said that some Arab states told the Europeans they had to "open their doors" for a more orderly migration and that Arab countries were discriminated against. Arab delegates said Europe could benefit from young people, according to the LAS spokesman. While the ideas were taken on board, he said, they needed to be implemented.
"The Arabs, from their side, have shown flexibility and good intentions. For example, in 2018, there were zero illegal immigrants (and) that shows that the Egyptian government is a responsible government."
The summit also looked at foreign policy issues, including the crucial issue of Palestine.
"It's no secret, that for a year and a half, the Palestinians, their authority and leadership have been facing major pressures from the current American administration and Israel of course.
"The EU as a group, supports the two-state solution and the rights of the Palestinian people to have their independence and space. We were looking to have this support explicitly at this time coming from the EU and, as the Arab side, we got that."
Iran, another pressing area of concern for the Arab region, was not discussed directly at the summit. But Afifi said the Arab side was "very expressive" about the threat nearby, not only from Iran, but from other neighbors such as Turkey, and the way these countries had been acting in recent years.
"For Iran, it's not only about Yemen, they've been sowing their seeds in Syria, Iraq and Lebanon. Turkey is the same but especially in northern Syria, because there is a presence of the Turkish roots over there. We have problems with those neighbors."
News came while the summit was ongoing that the UK parliament is set to pass new rules classifying Hezbollah as a terrorist group.
Lebanese Prime Minister Saad Hariri was at the summit but did not comment on the matter.
Full report at:
http://www.arabnews.com/node/1458576/middle-east
--------
UK's Muslim "advisor on countering extremism" says ISIS bride must be let back in
February 26, 2019
Sara Khan's premise is that Muslims only turn to jihad because Infidels are unkind to them. If we turn in kindness to Muslims, all will be well. So if this unrepentant jihadi bride is let back into Britain, and raises more jihadis, all will be well, but if she is barred from the country, more Muslims in Britain will turn to jihad. Ultimately, resistance to jihad angers Muslims and thus creates more jihadis, so what Sara Khan is really counseling here is that Britain should simply surrender and adopt Sharia, and then all will be well.
"Stripping jihadi bride Shamima Begum of her British citizenship could spark extremist backlash against UK, warns Home Office advisor," by Martin Robinson, Mailonline,
February 22, 2019:
Radical Islamists could exploit the decision to strip Shamima Begum of her British citizenship, the Government's chief adviser on countering extremism has warned.
Home Secretary Sajid Javid made the move after the teenager, who fled London aged 15 to join the so-called Islamic State caliphate in Syria, said she wanted to return to the UK with her newborn son.
Independent adviser Sara Khan has cautioned that the Government must acknowledge the anxiety caused by the decision, with extremists being eager to 'exploit alienation and grievance'.
'While it is for courts to test the legality of decisions such as deprivation of citizenship, we have to also ask how measures such as this impact wider work on countering extremism,' she said.
'The Government has to recognize the unease felt by a wide range of people about decisions of this kind, not least those from minority communities with dual nationality.
'It has to build trust in its approach, because Islamist extremists will exploit alienation and grievance to turn people against their country.'
The family of jihadi bride Shamima Begum have written to the Home Secretary challenging his decision to revoke her British citizenship.
Sajid Javid blocked the 19-year-old's return earlier this week, saying she poses a risk to the country's security.
Full report at:
https://www.weeklyblitz.net/counterterrorism/uks-muslim-advisor-on-countering-extremism-says-isis-bride-must-be-let-back-in/
--------
EU-Arab Summit wraps up without condemning Iran
26.02.2019
This week's EU-Arab Summit wrapped up in Cairo without condemning Iran, despite the participation of Saudi Arabia, Bahrain and the United Arab Emirates (UAE), all of whom frequently accuse Tehran of "meddling in their domestic affairs".
At the summit's conclusion on Monday, Egyptian President Abdel Fattah al-Sisi said: "It is normal for our views [i.e., those of summit participants] to diverge at our first meeting at the summit level."
"What brings our two regions [Europe and the Arab world] together is much greater than what divides them," al-Sisi said in a closing address broadcast on state television.
A final joint statement issued on Monday evening, he added, "reflects the most vital strategic issues of interest to both sides".
At the top of these issues, al-Sisi said, was the need to bolster Arab-European cooperation "with a view to confronting regional challenges".
According to sources close to the event, Saudi Arabia, Bahrain and the UAE had all wanted the final statement to include the usual references to alleged Iranian efforts to "interfere in Gulf affairs and destabilize the region".
Arab League Secretary-General Ahmed Aboul Gheit was quoted as saying: "Saudi Arabia, the UAE and Bahrain, in addition to Lebanon, all sent proposed wording [for the final statement]."
"But following dialogue with the European side, we decided to maintain the current formula," he added.
The two-day summit began in the Egyptian resort city of Sharm el-Sheikh on Sunday. It was widely attended by European officials despite an uproar caused by the recent execution of nine young men by the Egyptian authorities.
Full report at:
https://www.aa.com.tr/en/europe/eu-arab-summit-wraps-up-without-condemning-iran/1403323
--------
British terrorist jailed after botched bid to join ISIS
February 26, 2019
The friend of a failed ISIS suicide bomber has been jailed after police uncovered his plan to use a martyr's video to sign up to the terror group.
Mohammad Imran, 23, was sent a video by a man plotting to kill UK prime minister Theresa May in a suicide attack so he could use it as a calling card when he travelled to meet extremists in Libya.
The attempt unravelled after would-be bomber Naa'imur Rahman was arrested shortly before a mission to detonate a bomb at the gates of Downing Street and then kill Mrs May with a knife or gun.
Rahman, 20, was stopped after meeting a handler to pick up a jacket and bag that he thought had been rigged with explosives. His contact turned out to be a member of the British security service MI5 who was posing as an ISIS operative.
The subsequent police investigation revealed that Rahman had met with Imran and sent him a 'sponsor' video that he could use to gain acceptance with senior ISIS members. Imran also tried to get a false passport because he feared his mother would stop him if he tried use his own to travel to Libya.
Police found the video message on a phone belonging to Imran and a terrorist guide book on another of his electronic devices.
Imran, of Birmingham, was found guilty at two trials last year of collecting information for terrorism and preparing for terrorist acts. He was jailed for eight-and-a-half years on Tuesday.
Full report at:
https://www.thenational.ae/world/europe/british-terrorist-jailed-after-botched-bid-to-join-isis-1.830711
--------
British parliament warned Yemen is testbed for Iranian weapons
Damien McElroy
February 26, 2019
A leading British lawmaker has warned that the Yemen conflict is being used by Iran to test advanced missile developments that have violated United Nations resolutions on Tehran's ballistic weapons programme.
Graham Jones, a Labour MP who chairs parliament's committee to scrutinise global military sales, asked if officials shared his concern that "Iran is using Yemen as a testing ground for its missile programme".
"We've seen the UN panel of experts talk about the new Kamikaze drones that are coming out of Iran, we've had the Badr-1, which is the missile system that looks like a V2, being launched into Saudi Arabia and we have seen from technical reports that the enhancements that are being applied to that war by Iran are considerable," he said.
Iran's ballistic missiles represents a threat to the region despite the signing of the 2015 nuclear deal, according to the Foreign Office's Middle East minister Alistair Burt. "Alongside our partners we continue to call on Iran to act consistently with all UN security council resolutions in relation to ballistic missile programme," he said. "It is essential to get the conflict in Yemen to an end, to prevent that sort of threat, to prevent it being used as a based for the testing of weapons."
Mr Burt added that while London continued to believe that Iran was complying with the restrictions on its nuclear programme set out in the 2015 nuclear deal, it needed to be clear about that the issues around weaponry was equally critical.
Jeremy Hunt, the British foreign secretary, announced that he would visit Saudi Arabia, Oman and UAE within days in order to promote diplomatic efforts centred on the peace efforts of the UN envoy, Martin Griffith.'
He told parliament that he hoped the upcoming trip would add further impetus to the Stockholm process and build on the agreement, which he described as the first prospect of peace in four years.
"This may be one of the last opportunities to prevent a return to fighting and secure desperately needed humanitarian aid," he said.
Jeremy Hunt
✔
@Jeremy_Hunt
The UK's new £200m aid package will help millions of desperate Yemenis facing the world's worst humanitarian crisis. Our vital work to build support for the UN-led peace process continues. Political settlement is the only way to end the terrible suffering https://www.gov.uk/government/news/new-uk-aid-to-feed-millions-of-people-in-yemen …
68
7:25 PM - Feb 24, 2019
Twitter Ads info and privacy
A woman feeds a malnourished child with therapeutic food in Yemen, September 2018
New UK aid to feed millions of people in Yemen
The UK is stepping up its humanitarian support to help millions of people at risk of starvation in Yemen, the Prime Minister announced today.
gov.uk
68 people are talking about this
One other item on the agenda is likely to be military equipment exports to Saudi Arabia. Mr Hunt is involved talks with the Germany and France over Berlin's continuing restrictions on arms exports. He used a letter leaked last week week to stress that strict rules on arms exports, including the role of Mr Jones committee, was built on independent assessments of exports and assesses the risks of breaches of international humanitarian law.
Full report at:
https://www.thenational.ae/world/british-parliament-warned-yemen-is-testbed-for-iranian-weapons-1.830701
--------
Pakistan
Foreign minister's letter to UN secretary general on India's act of aggression circulated in UNSC
February 27, 2019
Foreign Minister Shah Mahmood Qureshi's letter to the United Nations Secretary General António Guterres — about India's act of aggression against Pakistan — was circulated as a document in the UN Security Council at Pakistan's request.
Pakistan's Permanent Representative to the UN Maleeha Lodhi shared this information on Wednesday via Twitter.
Early on Tuesday, Indian aircraft had violated the Line of Control (LoC), intruding from the Muzaffarabad sector, following which "Pakistan Air Force immediately scrambled" and Indian aircraft went back.
Qureshi, in a letter to Guterres, had informed him of the violation and said that the aggressive act by India will have "severe repercussions for the regional peace and security", RadioPakistan reported. The foreign minister also maintained that Pakistan reserves the right to respond in self-defence.
He briefed the diplomatic corps about the Indian breach and refuted New Delhi's claims of having targeted a terrorist camp and killing hundreds of people, calling them "absurd".
"It is completely absurd and is based on a false narrative designed to placate domestic audience," he said.
New Delhi, Qureshi said in his letter, had been issuing threatening statements since the Pulwama attack — in which more than 40 Indian paramilitaries were killed — in order to "divert" the international community's attention from the human rights violations committed by the Indian forces in occupied Kashmir.
UN secretary general calls foreign minister
Guterres called the foreign minister and discussed the regional security situation and assured Pakistan of UN's support, a press statement by the Ministry of Foreign Affairs said on Wednesday. During the phone conversation, that followed the LoC breach, the foreign minister said that he had expressed Pakistan's apprehensions that India might attempt to ruin regional peace for the sake of political gains.
He also referred to the two letters he had written earlier to Guterres as well as the UNSC about the regional situation following the Pulwama attack. Qureshi pointed out that Indian act of aggression is a violation of international laws and UN charter.
Meanwhile, Ambassador Lodhi also held a series of intense meetings with key diplomats and UN officials following the breach, said Radio Pakistan.
"We will not sit back," she told BBC radio when asked whether Pakistan will respond to India's attack.
https://www.dawn.com/news/1466341/foreign-ministers-letter-to-un-secretary-general-on-indias-act-of-aggression-circulated-in-unsc
--------
OIC condemns Indian incursion against Pakistan, urges both sides to exercise restraint
February 26, 2019
The Organisation of Islamic Cooperation (OIC) on Tuesday condemned India's violation of the Line of Control (LoC) with Pakistan earlier in the day, urging both countries to exercise restraint.
In the early hours of Tuesday, the Pakistan Army had revealed through a tweet that the "Indian Air Force violated Line of Control", following which "Pakistan Air Force immediately scrambled" and the Indian aircraft went back.
"The General Secretariat of the Organisation of Islamic Cooperation condemned this action against an OIC founding member state," the Organisation stated in one of a series of tweets.
The Twitter statement went on to say that the OIC "condemned the Indian incursion and aerial violation and dropping of four bombs today, 26 February, 2019."
It urged both sides to "exercise restraint and avoid any steps that could endanger peace and security in the region".
The OIC also called upon India and Pakistan "to act responsibly and encouraged them to seek [a] peaceful solution to the current crisis without resort[ing] to use of force".
It further called on them to "embrace dialogue and work towards de-escalation of [the] current situation as a matter of priority".
The OIC statement comes hours after Pakistani politicians in a National Assembly session held in the aftermath of the Indian LoC violation severely criticised the OIC decision to invite Indian foreign minister Sushma Swaraj as a 'guest of honour' at an inaugural session of the OIC foreign ministers' conclave scheduled for next month in Abu Dhabi.
PML-N stalwart Khwaja Asif suggested that Pakistan boycott the meeting. "It is an insult that our enemy is being invited as a guest of honour by a country friendly to us at a time when Kashmiris are facing bloodshed. It has not happened in the last 45 years," he asserted.
Former NA speaker Ayaz Sadiq also called on the government to raise the issue with the OIC, saying the group had "no power to invite India without seeking the consent of member states".
On Tuesday evening, Geo News quoted Foreign Minister Shah Mehmood Qureshi as saying that he will boycott the OIC meeting in Abu Dhabi if the invitation to Swaraj is not withdrawn.
Kashmir contact group calls for immediate de-escalation
Also on Tuesday, the OIC Contact Group on Jammu and Kashmir expressed grave concern at the rising tensions in South Asia and strongly condemned the recent wave of repression, killing of innocent civilians, and frequent incidents of rape perpetrated by Indian forces in occupied Kashmir (IoK).
The contact group had held an emergency meeting on Pakistan's request at the OIC General Secretariat in Jeddah.
The meeting was chaired on behalf of the secretary-general by Assistant Secretary-General Amb Hameed A Opeloyeru, and attended by Pakistan Foreign Secretary Tehmina Janjua and Permanent Representatives of Azerbaijan, Turkey, Saudi Arabia, and Niger.
Also in attendance at the meeting was the president of Azad Jammu and Kashmir.
In his opening remarks, the assistant secretary-general reiterated OIC's position on supporting the people of IoK in achieving their legitimate rights, including the right of self-determination.
He emphasised that the conflict should be resolved in accordance with the aspirations of Kashmiris and OIC and United Nations resolutions.
Foreign Secretary Janjua apprised the participants about the recent Indian threats to regional peace and security, continued Indian repression, and recent escalation in atrocities against innocent Kashmiris.
She reaffirmed Pakistan's political, moral and diplomatic support to the people of IoK in their struggle to achieve the right to self-determination. She reminded the participants of Prime Minister Imran Khan's concrete offer for dialogue to India.
AJK President Masood Khan also briefed the members on the "continued oppressive policies of Indian security forces in occupied Jammu and Kashmir that [have] alienated Kashmiris".
The contact group, in response, appreciated the prime minister's offer for peace and dialogue to India to resolve all issues.
The group also expressed deep concern over heightened tensions between Pakistan and India and called for an immediate de-escalation in the region.
The members of the body reiterated their support to the people of IoK and called on India to "immediately stop repressive security operations against the people of Jammu and Kashmir and respect fundamental and basic human rights".
The group asked India to address the dispute in accordance with the relevant OIC and UN Security Council resolutions, the wishes of the Kashmiri people, and the "principle of self-determination and human rights".
Full report at:
https://www.dawn.com/news/1466169/oic-condemns-indian-incursion-against-pakistan-urges-both-sides-to-exercise-restraint
--------
Fazl calls for early joint session of parliament over LoC violation
M.B. Kalhoro
February 27, 2019
LARKANA: Jamiat Ulema-i-Islam-Fazl (JUI-F) chief Maulana Fazlur Rahman on Tuesday called for urgently summoning a joint session of parliament to discuss the fresh violation of the Line of Control (LoC) by India.
Addressing a congregation at a seminary, Jamia Islamia Isha'atul Quran-o-Hadith, he said an in-camera session of parliament should discuss the issue which was vital for national security. Describing the matter of intrusion of the enemy into Pakistan's boundaries as very serious, he observed that India had under the cover of night violated the LoC.
He said the entire nation stood with the country's defence forces in protecting the frontiers; all issues should be placed before the joint session of parliament. He appealed to the nation to demonstrate strong unity at this critical moment and prayed for the armed forces.
The maulana, who also heads Muttahida Majlis-i-Amal (MMA), also talked about the rallies the JUI-F and MMA was successfully holding under the title of 'million march' throughout the country and referred to a recent rally held one in Badin. He said the huge public participation spoke volumes about peoples' commitment to safeguard the Islamic identity of Pakistan and its ideology. He said the eighth 'million march' would be held in a couple of days in Nasirabad [Balochistan].
With an apparent reference to the Pakistan Tehreek-i-Insaf (PTI)-led government, he alleged that they were attempting to go against the ideology of Pakistan and in the same breath added that they would not succeed.
Speaking on the occasion, JUI-F Sindh chapter general secretary Maulana Rashid Mehmood Soomro claimed that the JUI-F occupied central position in the province and had emerged as a genuine representative party of the people of Sindh. According to him, the movement launched would continue to help redress public problems. "We condemn in strongest terms the violation of the Line of Control by India," he said and pledged to protect every inch of the country.
Others who also spoke on the occasion included Maulana Mohammed Ramzan Phulpoto, Maulana Abdullah Pahore, Maulana Mohammed Aslam Ghouri, Qari Mohammed Usman and Maulana Mohammed Amjad Khan.
At another religious event, Dastar-i-Fazilat, held in the same Jamia, Maulana Fazl had performed turban-wearing ceremony of six muftis, 45 ulema and 55 Huffaz-i-Quran on completion of their religious education.
He congratulated the scholars and others who had successfully completed their studies at the Jamia.
Full report at:
https://www.dawn.com/news/1466175/fazl-calls-for-early-joint-session-of-parliament-over-loc-violation
--------
Pakistan claims civilian deaths in Indian cross-LoC firing
Feb 27, 2019
MUZAFFARABAD(PoK): Pakistani police say mortar shells fired by Indian troops from across the frontier in the Himalayan region of Kashmir have struck homes, killing six civilians and wounding several others amid increasing tensions between the two South Asian nuclear rivals.
Local police official Mohammad Altaf says six people, including children, were killed Wednesday in Kotli village in PoK.
The latest civilian casualties came a day after tensions escalated sharply following a pre-dawn airstrike by India that New Delhi said targeted a terrorist training camp in northwest Pakistan.
Full report at:
https://timesofindia.indiatimes.com/world/pakistan/pakistan-claims-civilian-deaths-in-indian-cross-loc-firing/articleshow/68179131.cms
--------
By bombing Balakot, India has struck ideological heart of Pak-based terror
February 27, 2019
When Indian Air Force (IAF) jets on Tuesday bombed a Jaish-e-Mohammed (JeM) camp in Pakistan's Balakot, a pre-dawn strike, they might also have struck at the ideological root of Maulana Masood Azhar's terrorist organisation.
While Pakistan claims 'payload' was dropped in Balakote, a place with a similar name within Pakistan-occupied Kashmir, IAF's Mirage 2000 aircraft are said to have crossed the Line of Control (LoC) and struck a JeM camp on the banks of the Kunhar river in Balakot, Khyber Pakhtunkhwa (KP), one of the four administrative provinces of Pakistan.
Addressing the media on Tuesday, Indian Foreign Secretary Vijay Gokhale said: "In an intelligence-led operation in the early hours of today, India struck the biggest training camp of JeM in Balakot... This facility at Balakot was headed by Maulana Yousuf Azhar (alias Ustad Ghouri), the brother-in-law of JeM chief Masood Azhar."
Rohan Gunaratna and Khuram Iqbal's 2011 book Pakistan: Terrorism Ground Zero, seems to confirm that JeM operated a "large training camp for between 800 and 1,000 recruits at Balakot in Khyber Pakhtunkhwa". According to the book, the camp was administered by "Yousuf, a Christian convert to Islam from Sindh who is married to Azhar's sister". The JeM facility at Balakot was called the 'Syed Ahmad Shaeed' training camp, Gunaratna and Iqbal wrote, adding that Indian sources said the camp was still functional in early 2003, even after the group was banned in January 2002.
If the name of the camp is anything to go by, JeM's "biggest training camp" that India struck, and the town that it is associated with, might have had an ideological and symbolic significance for many Pakistan-based terrorist organisations. That seems to be borne by the association of Sayyid Ahmad of Rae Bareli, or Syed Ahmad Shaheed Barelvi as he is also known, with Balakot in Khyber Pakhtunkhwa.
Sayyid Ahmad famously waged a war — a 'jihad', in fact — against Ranjit Singh's Sikh kingdom in the early years of the 19th century. In her book Partisans of Allah: Jihad in South Asia, historian Ayesha Jalal wrote: "The historical significance of the war (Sayyid Ahmad's jihad) lies in the indelible imprint it has left on the subcontinental Muslim psyche."
Sayyid Ahmad's "revival of the ideology of jihad became the prototype for subsequent Islamic militant movements in South and Central Asia," writes Husain Haqqani, the former ambassador of Pakistan to the US, in The Ideologies of South Asian Jihadi Groups. "It is also the main influence over the jihad network of Al Qaeda and its associated groups in the region," he adds. In fact, Haqqani credits Sayyid Ahmad of Rae Bareli as the founder of the first jihadi group that emerged in India.
Sayyid Ahmad, along with Shah Ismail, the grandson of well-known 18th-century Islamic scholar Shah Waliullah Dehlawi, was killed in a battle against Sikh forces in Balakot on May 6, 1831.
To this day, Balakot, where Sayyid Ahmad lies buried, is a spot "that has been greatly revered" by "militants in contemporary Pakistan", wrote Jalal in her book. In fact, the JeM camp that was struck by India appears to have been named after the same Sayyid Ahmad.
Jalal further wrote that Balakot's "association with the idea and practice of jihad in South Asia was reinforced in the 1990s, when militant groups set up training camps in its environs to prepare for their campaign against Indian security forces stationed in predominantly Muslim Kashmir." To these militants, she writes, Sayyid Ahmad and Shah Ismail are "great heroes"; their "admirers" seek to emulate their jihad in a bid to "redress what they perceive as current injustices".
Sayyid Ahmad also appears to have been an inspiration for Masood Azhar. According to Haqqani, Azhar, as a tribute to Sayyid Ahmad, wrote the preface of 'Ma'arka' (The Struggle), one of the books in which the JeM chief explains the ideology of the various Deobandi jihadi groups in Balakot, where Ahmad died.
During his lifetime, Sayyid Ahmad went on to declare himself Amir al-Mu'minin (commander of the faithful). Later, Mullah Mohammad Omar, the leader of the Taliban (dead now), would follow in Ahmad's footsteps and assume the same title.
Full report at:
https://www.business-standard.com/article/current-affairs/by-bombing-balakot-india-has-struck-ideological-heart-of-pak-based-terror-119022700284_1.html
--------
Pakistan shoots down 2 Indian warplanes, Taliban call for end to tensions
February 27, 2019
RINAGAR, India: The Pakistan air force shot down two Indian warplanes after they crossed over the Kashmir border, capturing one pilot, a military spokesman confirmed on Wednesday.
Major General Asif Ghafoor said Pakistani troops on ground captured the Indian pilot.
He said one of the planes crashed in Pakistan's part of Kashmir, while the other went down in the Indian territory.
He said "one Indian pilot was arrested by troops on ground while two are in the area" on Wednesday.
But Indian air force spokesman Anupam Banerjee in New Delhi said he had no information on Pakistan's statement.
The capture followed an earlier report of an Indian Air Force plane which crashed in the disputed area on Wednesday, killing two pilots and a civilian, a police official said, amid heightened tensions with neighboring Pakistan.
Further details about the incident were not immediately available.
Elsewhere Pakistani fighter jets violated airspace over Indian Kashmir on Wednesday but were forced back over the de facto border of the disputed territory, sources and local media said.
On the ground troops from both countries exchanged fire along their contested border.
India on Tuesday said it had launched an air strike inside Pakistan and that its warplanes killed "a very large number" of fighters at a militant training camp, raising the risk of conflict between the nuclear-armed neighbors. Pakistan denied there had been casualties, but has warned that it will respond to Indian aggression.
Tensions have been elevated since a suicide car bombing by Pakistan-based militants in Indian-controlled Kashmir killed at least 40 Indian paramilitary police on Feb. 14, but the risk of conflict rose dramatically after India's air strike on Tuesday.
The attack targeted the Jaish-e-Mohammed militant, the group that claimed credit for the suicide attack. But while India said a large number of JeM fighters had been killed, Pakistani officials said the Indian airstrike was a failure and inflicted no casualties.
On Tuesday, evening Pakistan began shelling using heavy caliber weapons in 12 to 15 places along the de facto border in Kashmir, known as the Line of Control (LoC), a spokesman for the Indian defense forces said on Wednesday.
"The Indian Army retaliated for effect and our focused fire resulted in severe destruction to five posts and number of casualties," the spokesman said.
Five Indian soldiers suffered minor wounds in the shelling that ended on Wednesday morning, he added.
"So far there are no (civilian) casualties but there is panic among people," said Rahul Yadav, the deputy commissioner of the Poonch district where some of the shelling took place.
"We have an evacuation plan in place and if need arises we will evacuate people to safer areas," he said.
Local officials on the Pakistani side said at least four people had been killed and seven wounded, though it was unclear if the casualties were civilian or military.
India has also continued its crackdown on suspected militants operating in Kashmir, a mountainous region that both countries claim in full but rule in part.
On Wednesday, security forces killed two Jaish militants in a gun battle, Indian police said.
Heightened security
Pakistan has promised to retaliate to Tuesday's air strikes, and security across India has been tightened.
The two countries have fought three wars since independence from British colonial rule in 1947 and went to the brink a fourth in 2002 after a Pakistani militant attack on India's parliament.
In Punjab, an Indian state that borders Pakistan, security alerts are in place in several districts, according to media reports.
Schools within five kilometers of LoC were closed in one district in Kashmir.
In Mumbai, India's financial capital, there was a visible increase in security levels for a city that has suffered numerous militant attacks in the past.
US Secretary of State Mike Pompeo spoke separately with the foreign ministers of India and Pakistan and urged them to avoid "further military activity" following Tuesday's airstrike.
"I expressed to both ministers that we encourage India and Pakistan to exercise restraint, and avoid escalation at any cost," Pompeo said in a statement on Wednesday.
"I also encouraged both ministers to prioritize direct communication and avoid further military activity," he said.
Both China and the European Union have also called for restraint. On Wednesday New Zealand's foreign minister Winston Peters also voiced concern over the escalation in tensions.
Full report at:
http://www.arabnews.com/node/1458746/world
--------
Africa
US airstrike kills 20 al-Shabaab militants in Somalia
26.02.2019
American forces conducted its second airstrike in a week in the Hiran province of Somalia, killing 20 al-Shabaab militants, U.S. Africa Command (AFRICOM) said Tuesday.
The strike targeted a location Monday which AFRICOM said was an al-Shabaab training camp and had been used to facilitate attacks in Beledweyne.
U.S. forces have been conducting strikes in Somalia as part of a strategy to help the Somali National Army reduce the strength of al-Shabaab in the region.
AFRICOM said no civilians were injured in the tactical bombing.
"We are committed to supporting our Somali partners in our shared goal of diminishing al-Shabaab's networks and disrupting its operations," AFRICOM's deputy director of intelligence Gen. Gregory Hadfield said in a statement. "This precision airstrike successfully targeted an encampment from which al-Shabaab could stage, coordinate, and execute attacks on Beledweyne."
The strike comes one day after another airstrike killed 35 militants 20 miles (32 kilometers) east of Beledweyne.
Last month, a U.S. airstrike killed at least 24 fighters in the Shebeeley village of the central Hiran region. A few days later another strike in the Lower Shabelle region killed 13 fighters, according to AFRICOM.
"U.S. forces will use all effective and appropriate methods to assist in the protection of the Somali people, including partnered military counter-terror operations with the Federal Government of Somalia, AMISOM and Somali National Army forces," the statement added.
https://www.aa.com.tr/en/africa/us-airstrike-kills-20-al-shabaab-militants-in-somalia/1403661
--------
Libya's Sharara field still closed for security reasons
26.02.2019
Libya's biggest oil field, Sharara, will remain closed until sufficient security measures are put in place for its safe operation, the Libya's National Oil Company (NOC) chairman said in a video message on the NOC website on Monday.
"The oil field (Sharara) is closed because of the presence of a group of civilians, armed militia, and some military people with them. The oil field is not yet safe," Mustafa Sanalla said in the video statement.
"The conditions for reopening Sharara, including safety for oil workers and the departure of the armed group responsible for the field's closure, had not yet been met," he continued.
He added that oil production would not restart at the field in southern Libya, which is currently under control of forces loyal to east Libya-based commander Khalifa Haftar, known as the Libyan National Army (LNA).
The Haftar forces, who are supported by the Tobruk-based House of Representatives (HoR) forces, announced three weeks ago that they also took "full control" of the nearby Sharara oilfield. They also took control of the Elephant oil field in Libya's Murzuq Basin last week.
Libya's Sharara field has been closed since December after members of the Maghawir Brigade seized control, crippling oil exports that the country mainly depends on for revenue.
Libya's NOC declared a force majeure on Dec. 10, stating the Sharara oil field shutdown would cause a production loss of 315,000 barrels per day (bpd).
On Jan. 15, Haftar forces in southern Libya aim to "fight against Al-Qaeda and Daesh terrorist groups, clear out Chadian opposition groups, and dismiss human traffickers in the region".
Full report at:
https://www.aa.com.tr/en/africa/libyas-sharara-field-still-closed-for-security-reasons/1403140
--------
South Asia
Saudi official vows to help fight drug abuse in Sri Lanka
February 26, 2019
COLOMBO: A senior Saudi adviser to the Muslim World League (MWL) has pledged the organization's help in fighting drug abuse in Sri Lanka.
During a four-day visit to the country, Dr. Ahmed Hamad Jilan also promised support for the development of education there.
Jilan, East Asian nations adviser for the MWL in Makkah, was speaking to Arab News on Monday after meeting with Sri Lanka's Western Province Gov. Azath Salley at the governor's offices in the capital Colombo.
He pointed out that peaceful coexistence with other communities was imperative for the development of any nation and said that the MWL was committed to cooperating in the fight against drug abuse and promoting education in Sri Lanka.
Jilan said that Saudi Crown Prince Mohammed bin Salman followed a moderate path by respecting the values of all other faiths. "Islam believes in tolerance, compromise, peace, and brotherhood among all ethnic groups," Jilan added.
http://www.arabnews.com/node/1458641/saudi-arabia
--------
US, Taliban talk troop withdrawal at peace talks
Feb 27, 2019
DOHA/ KABUL: American and Taliban officials looking to end a 17-year war in Afghanistan began their most detailed and highlevel discussions yet on foreign troop withdrawals and counter-terrorism on Tuesday, officials close to the peace negotiations said.
The talks, which kicked off in Doha on Monday, are seen as the most promising yet between the warring parties after the Taliban's newly-appointed political chief Mullah Abdul Ghani Baradar joined for the first time, flying in from Pakistan.
The two sides are looking to hammer out a timeline and logistics for a potential troop withdrawal, as well as guarantees that the Taliban will not host militant groups as the US winds down its presence, sources said. "The Taliban knows foreign forces are committed to withdrawal, but we have the responsibility to ensure that Afghanistan does not get used as a base to launch terror attacks on foreign nations," one of the officials said.
Full report at:
https://timesofindia.indiatimes.com/world/south-asia/us-taliban-talk-troop-withdrawal-at-peace-talks/articleshow/68176815.cms
--------
Afghan peace process at stake due to Indian aggression, US told
FEBRUARY 27, 2019
Following the Indian Air Force's (IAF) violation of the Line of Control (LoC) on Tuesday, Foreign Minister Shah Mahmood Qureshi, in a telephonic conversation, told US Secretary of State Mike Pompeo that India is putting the regional peace and stability at risk in pursuit of its political and electoral targets.
According to the Foreign Office (FO), Qureshi told Pompeo that Indian aggression was worthy of condemnation and hoped that the United States will play its role in the situation. He apprised Pompeo about India's violations at the LoC as well as the emotions of the Pakistani government, parliament and the people.
"Pakistan desires regional peace and stability but we cannot compromise on our stability," Qureshi told his US counterpart. He said that Islamabad has already informed the international community about New Delhi's intentions following the Pulwama attack. However, he said, Pakistan has adopted an 'extremely responsible attitude' despite threats from India.
Qureshi told Pompeo that the joint peace efforts in Afghanistan can be affected by the India's aggression.
Full report at:
https://dailytimes.com.pk/359144/afghan-peace-process-at-stake-due-to-indian-aggression-us-told/
--------
Japan pledges $32.5M for Rohingya in Bangladesh
February 26, 2019
The Japanese government will provide $32.5 million in aid for the Rohingya refugees in Bangladesh, its embassy in Dhaka said on Tuesday.
The aid will be used to support the Rohingya sheltered in Cox's Bazar of Bangladesh and the host communities there, Japan's embassy in Bangladeshi capital said in a press release.
The decision was taken on Feb. 7, it added.
Since the massive influx of refugees into Bangladesh in August 2017, the Japanese government has granted approximately $50.2 million to some international organizations, excluding the latest pledge, according to the statement.
Japan will extend the humanitarian assistance for the Rohingya refugees and host communities in Cox's Bazar through site management of refugee camps, providing food, shelter, medical services and trainings.
The aid will be given through international agencies -- United Nations High Commissioner for Refugees (UNHCR), the International Organization for Migration (IOM), the United Nations Population Fund (UNFPA), the United Nations International Children's Emergency Fund (UNICEF), the Food and Agriculture Organization of the United Nations (FAO), the United Nations Entity for Gender Equality and the Empowerment of Women (UNWomen), the World Food Programme (WFP), the World Health Organization (WHO), the International Committee of the Red Cross (ICRC), the Global Partnership for Education (GPE), the Médecins Sans Frontières (MSF, also known in English as Doctors Without Borders).
- Persecuted community
The Rohingya, described by the UN as the world's most persecuted people, have faced heightened fears of attack since dozens were killed in communal violence in 2012.
According to Amnesty International, more than 750,000 Rohingya refugees, mostly women and children, have fled Myanmar and crossed to Bangladesh after Myanmar forces launched a crackdown on the minority Muslim community in August 2017.
Since Aug. 25, 2017, nearly 24,000 Rohingya Muslims have been killed by Myanmar's state forces, according to a report by the Ontario International Development Agency (OIDA).
More than 34,000 Rohingya were also thrown into fires, while over 114,000 others were beaten, said the OIDA report, titled "Forced Migration of Rohingya: The Untold Experience."
Some 18,000 Rohingya women and girls were raped by Myanmar's army and police and over 115,000 Rohingya homes were burned down and 113,000 others vandalized, it added.
The UN has also documented mass gang rapes, killings – including of infants and young children – brutal beatings and disappearances committed by Myanmar state forces.
Full report at:
https://www.yenisafak.com/en/world/japan-pledges-325m-for-rohingya-in-bangladesh-3475461
--------
Taliban militants suffer casualties in airstrikes, clashes in North of Afghanistan
26 Feb 2019
At least fifteen Taliban militants have been killed or wounded during the airstrikes and clashes in North of Afghanistan, the Afghan Military in the North said Tuesday.
According to a statement released by 209th Shaheen Corps of the Afghan Militry in the North, at least two Taliban militants were killed and two others were wounded during a clash with the armed forces in Almar district of Faryab province at around 11:50pm local time.
The statement further added that the security forces also discovered and defused two improvised explosives during an operation which conducted at around 9:00pm local time in Kotal Sherinak area of Almar district in Faryab.
At least one Taliban militant was killed and two of their fighting positions were destroyed during an airstrike which was conducted at around 12:30pm on Monday in the vicinity of Sancharak district of SAr-e-Pul province, the 209th Shaheen Corps said.
Full report at:
https://www.khaama.com/taliban-militants-suffer-casualties-in-airstrikes-clashes-in-north-of-afghanistan-03376/
--------
2 suicide bombers including a Pakistani national arrested before reaching Kabul
27 Feb 2019
Two suicide bombers including a Pakistani national were arrested by the security forces in the vicinity of eastern Nangarhar province before they manage to reach Kabul and conduct attacks.
Provincial governor of Nangarhar Shah Mahmood Miakhel told reporters that the two suicide bombers were arrested by the operatives of the National Directorate of Security.
Miakhel further added one of the detaind individuals has been identified as Khademullah who is originally a Pakistani citizen and his comrade has been identified as Usman who hails from Watapur district of Kunar province.
According to Miakhel, the two individuals were looking to carry out suicide attacks in Kabul city and were being deployed to Kabul from Haska Mina district by ISIS Khurasan group.
He also added that the two suicide bombers were travelling with fake national identity cards.
Full report at:
https://www.khaama.com/2-suicide-bombers-including-a-pakistani-national-arrested-before-reaching-kabul-03383/
--------
NDS Special Forces conduct raid against Taliban drugs stockpile in Helmand
26 Feb 2019
The Special Forces of the National Directorate of Security, the Intelligence Department of Afghanistan, conducted an operation against the drugs stockpile of Taliban in southern Helmand province.
The National Directorate of Security (NDS) in a statement said the operation was conducted jointly and in coordination with the Special Unit of the Counter-narcotics forces in the vicinity of Nowzad district of Helmand province.
The statement further added that the security forces discovered 550 kilograms of narcotics, 30 military uniforms, 2 military steel helmets, and three telephones.
At least three hideouts of the militants were also destroyed during the same operation, the National Directorate of Security added in its statement.
Full report at:
https://www.khaama.com/nds-special-forces-conduct-raid-against-taliban-drugs-stockpile-in-helmand-03382/
--------
Afghan forces conduct 81 planned, Special Operations and 15 airstrikes: MoD
26 Feb 2019
The Ministry of Defense of Afghanistan has announced that the Afghan army soldiers have condcutd 6 planned operations jointly with the other security forces, 75 Special Operations and 15 airstrikes in the past 24 hours to eliminate enemy hideouts and threats while the Air Force has also conducted 160 flights in support of the armed forces.
According to a statement released by the Ministry of Defense, at least 38 militants were killed, 19 were wounded, and 4 others were detained during these operations.
The statement further added that 11 of the terrorists were killed and 4 others were wounded in Qarabagh, Andar, and Rashidan districts of Ghazni, 7 were killed in Chahar Bolakand Chemtal districts of Balkh, 3 more were wounded and a motorcycle was destroyed, 6 other militants were killed and two others were wounded in Sangin district of Helmand, 4 militants were killed and 5 more were wounded in Meezan district of Zabul, 4 militants were killed and vehicle packed with explosives was destroyed in Zurmat district of Paktia province.
Full report at:
https://www.khaama.com/afghan-forces-conduct-81-planned-special-operations-and-15-airstrikes-mod-03381/
--------
URL: https://www.newageislam.com/islamic-world-news/jaish-camp-targeted-india-had/d/117871
New Age Islam, Islam Online, Islamic Website, African Muslim News, Arab World News, South Asia News, Indian Muslim News, World Muslim News, Women in Islam, Islamic Feminism, Arab Women, Women In Arab, Islamophobia in America, Muslim Women in West, Islam Women and Feminism