New Age Islam News Bureau
29 Feb 2012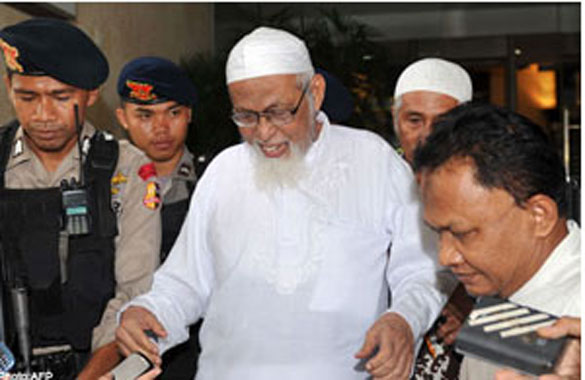 • Remains of some 9/11 victims dumped at landfill: US
• White House money helps pay for NYPD Muslim surveillance
• Use of false Hadis through Internet wrong in Islam
• CAIR Seeks Probe of White House Funding for NYPD Muslim Spying
• President Nasheed: 'No Law Contrary to Islam Can Be Enacted in the Maldives';
• Quran burning: Afghan president demands American troops be put on trial
• Distribution of funds by ISI among politicians
• LeT module planned to attack crowded locality with bombs: Indian Home Minister
• Guantanamo detainee Majid Khan to enter plea deal
• NPR notices "growing tensions" between Muslims and Christians in Egypt
• Syrians Overwhelmingly Approve New Constitution
• NATO urges focus on Afghan stability after Quran burnings
• 15kg bomb defused in Peshawar
• 25 killed as Syrian army pounds rebels
• Why India is reluctant to join 'coalition of the willing': Wall Street Journal
• India for early Presidential polls in Maldives
• Iran has the most successful human rights record in Muslim world: Iran FM
• ISI, Pakistan Army knew about Osama hideout: WikiLeaks
• Al-Qaeda commander Saif al-Adel 'held at Cairo airport'
• Syria toll passes 7,500, UN says
• Chinese woman shot dead in Pakistan city
• 14 killed in two bomb blasts in Afghanistan
• NAM envoys at IAEA consult on preparing pro-Iran draft
• While Arab world explodes, Iran cracks down with impunity
• British arms-to-Iran suspect plans to seek release
• Israel would not warn US on Iran strike
• Crackdown on dissent soars in Iran
• Iranian responses to the "Arab spring": appropriation and contestation
• HRC demands a clear world message to Syria
• Top Pakistani calligraphers showcase works in Riyadh
• Young Saudi Artists II: A chaotic flurry of young art
• Saeed Khalifa: Sensational art embedded in belief
• 450 publishers to take part in Riyadh book show
• Tadawul bonanza shows rising confidence
• Saudi Arabia has huge potential for green initiatives: German minister
• Crown prince approves supply of medicines to Sierra Leone
• Makkah governor named best Arab personality by a forum
• India: CBI arrests architect for Shehla Masood murder case
• International conference on 'Islamic Business, Finance' opens today
Complied by New Age Islam News Bureau
Photo: Jailed Indonesia cleric says US must be destroyed
URL: https://newageislam.com/islamic-world-news/jailed-indonesia-cleric-says-be/d/6752
--------
Jailed Indonesia cleric says US must be destroyed
(AFP)
JAKARTA,29-02-12 — Islamist militant cleric Abu Bakar Bashir blamed the United States for increasing his jail term, two days after Indonesia's top court reinstated his 15-year sentence for terrorism.
Bashir is regarded as a spiritual leader of militant Islam in Indonesia -- the world's most populous Muslim country -- and is an outspoken supporter of Al-Qaeda-style jihad, but he has always denied being a terrorist.
Appearing in public to undergo his second cataract surgery at an eye hospital in Jakarta, the 73-year-old defiantly called on his followers to fight the US "until it is destroyed".
"America is the enemy of Islam so, the verdict must be America's order," he told reporters, as he was escorted into a police vehicle by armed paramilitary and anti-terror police.
"We must continue to fight America until it is destroyed."
A lower court last June sentenced him to 15 years in jail for deliberately inciting terrorism and funding a terror cell in Aceh province which was allegedly planning deadly attacks on Westerners and politicians.
Upon appeal the High Court slashed it to nine, citing lack of evidence and old age but the country's Supreme Court on Monday reinstated the 15-year sentence.
An alleged founder and chief ideologue of regional terror network Jemaah Islamiyah (JI), Bashir is no stranger to prison cells after a lifetime of agitation against Indonesia's secular authorities.
The United States last week officially labelled the Jemaah Anshorut Tauhid (JAT) group, founded by Bashir in 2008, a foreign terrorist organisation, linking it to several attacks in Indonesia.
The three-year-old group was behind a Java church bombing last September, deadly attacks on Indonesia policemen and bank robberies aimed at raising money for weapons and bomb materials, the State Department said.
"JAT seeks to establish an Islamic caliphate in Indonesia, and has carried out numerous attacks on Indonesian government personnel and civilians in order to achieve this goal," it said in a statement.
Nine JAT supporters gathered in front of the US embassy in Jakarta Wednesday to submit a protest letter.
"America has no right to label us as a terrorist group. Their statement is slander," its spokesman Son Hadi Muhadjir told AFP.
http://www.google.com/hostednews/afp/article/ALeqM5i4zqYKV2J9i1xGF-IDJlWKxGsf2Q?docId=CNG.0e5ff74bcd4af58496be9afeaa19de8b.731
--------
Remains of some 9/11 victims dumped at landfill: US
Partial remains of some victims of the September 11 attacks were dumped in a landfill, the Pentagon revealed on Tuesday for the first time, issuing a report that exposed years of bungling at the US military's most important mortuary.
The portions of remains that ended up at a landfill came from the 2001 attacks on the Pentagon and from a hijacked airliner that went down in Shanksville, Pennsylvania, on 9/11, according to the report by an independent panel.
The revelation came from a review of the troubled mortuary at Dover Air Force Base, which has been blamed for mishandling the remains of some troops killed in the wars in Iraq and Afghanistan.
The details about the 9/11 remains were mentioned only in passing in the report, which focused on how to fix management problems at the troubled mortuary.
Any remains related to 9/11 carry a special significance for Americans and the White House promptly issued a statement, saying the Pentagon was taking steps to ensure such mistakes 'never happen again.'
"We are deeply concerned about reports that in 2001, some unidentified portions of remains from the 9/11 attacks were disposed of in a landfill, and about the unacceptable handling of remains at Dover," the White House said.
Officials said it was unclear how many victims might be involved or whether some of the remains belonged to the Al-Qaeda hijackers.
The military had acknowledged last year that some portions of remains of fallen soldiers at the Dover mortuary in Delaware had been incinerated and sent to a Virginia landfill, a practice that was halted in 2008.
The military now disposes of unidentified cremated remains at sea.
But the review released on Tuesday said "several portions of remains from the Pentagon attack and the Shanksville, Pennsylvania, crash site" also were taken to an unidentified landfill.
"These cremated portions were then placed in sealed containers that were provided to a biomedical waste disposal contractor," it said.
The report contradicts a 2011 US Air Force account, which said there were no records that showed how remains at Dover were handled before 2003.
Air Force Secretary Michael Donley told a news conference on Tuesday he was not aware that some remains of 9/11 victims had been taken to a landfill, saying: "This is new information to me."
But retired Army general John Abizaid, who led the review, said he had briefed all the armed services on his report's findings.
The coroner in Pennsylvania's Somerset County who oversaw the recovery of remains from hijacked Flight 93, which crashed in Shanksville, told the Pittsburgh Post-Gazette he was surprised to hear that any remains could have been taken to a landfill.
The only remains sent out were taken to a military institute of pathology in Quantico, Virginia for DNA testing, the coroner, Wallace Miller, was quoted as saying.
The review also contained other revelations of botched management at Dover, with some officials raising concerns about problems at the mortuary as early as 2002.
A May 2002 memo referred to worrisome 'tracking problems' with remains, and a 2005 investigation confirmed that "human remains were misrouted in a fashion constituting dereliction of duty," according to the report.
In 2006, the remains of victims killed in the crash of a naval training T-29 aircraft were disposed of as "medical waste" instead of a group burial, it said.
The Air Force in 2008 had to pay a $25,000 settlement to the wife of a Marine for "mental anguish and medical costs" due to the loss of the Marine's personal effects, while in 2009 the mortuary faced allegations of "fraud."
Donley said the Air Force had accepted "responsibility and culpability" over the blunders at Dover mortuary but was now working to ensure no more mistakes occur, Donley said.
"Our focus is from here forward," he said.
An investigation last year found "gross mismanagement" at the facility, with body parts lost in two cases and remains of others mishandled. The findings came after three Air Force employees raised alarm bells over the facility and after an independent probe criticized the Air Force for initially punishing the whistle blowers.
The review issued on Tuesday called for bolstering oversight at Dover, restructuring the chain of command overseeing the mortuary, expanding training and hiring more staff members.
http://www.asianage.com/international/remains-some-911-victims-dumped-landfill-us-379
--------
White House money helps pay for NYPD Muslim surveillance
February 27, 2012
(AP) WASHINGTON - Millions of dollars in White House money has helped pay for New York Police Department programs that put entire American Muslim neighborhoods under surveillance.
The money is part of a little-known grant intended to help law enforcement fight drug crimes. Since the terrorist attacks of Sept. 11, 2001, the Bush and Obama administrations have provided $135 million to the New York and New Jersey region through the High Intensity Drug Trafficking Area program, known as HIDTA.
Some of that money — it's unclear exactly how much because the program has little oversight — has paid for the cars that plainclothes NYPD officers used to conduct surveillance on Muslim neighborhoods. It also paid for computers that store even innocuous information about Muslim college students, mosque sermons and social events.
When NYPD Commissioner Raymond Kelly was filled in on these efforts, his briefings were prepared on HIDTA computers.
The AP confirmed the use of White House money through secret police documents and interviews with current and former city and federal officials. The AP also obtained electronic documents with digital signatures indicating they were created and saved on HIDTA computers. The HIDTA grant program is overseen by the White House Office of National Drug Control Policy.
The disclosure that the White House is at least partially paying for the NYPD's wholesale surveillance of places where Muslims eat, shop, work and pray complicates efforts by the Obama administration to stay out of the fray over New York's controversial counterterrorism programs. The administration has championed outreach to American Muslims and has said law enforcement should not put entire communities under suspicion.
The Obama administration, however, has pointedly refused to endorse or repudiate the NYPD programs it helps pay for. The White House last week declined to comment on its grant payments.
John Brennan, Obama's top counterterrorism adviser, last year called the NYPD's efforts "heroic" but would not elaborate. Homeland Security Secretary Janet Napolitano, whose department also gives grant money to the NYPD and is one of the lead federal agencies helping police build relationships with Muslims, has refused in recent months to discuss the police tactics. Tom Perez, the Justice Department's top civil rights lawyer, has repeatedly refused to answer questions about the NYPD.
Outside Washington, the NYPD's efforts drew increased criticism last week. College administrators at Yale, Columbia and elsewhere issued harsh rebukes for NYPD's infiltration of Muslim student groups and its monitoring of school websites. New Jersey's governor and the mayor of its largest city have complained about the NYPD's widespread surveillance there, outside New York's police jurisdiction.
The White House HIDTA grant program was established at the height of the drug war to help police fight drug gangs and unravel supply routes. It has provided about $2.3 billion to local authorities in the past decade.
After the terror attacks, law enforcement was allowed to use some of that money to fight terrorism. It's unclear how much HIDTA money has been used to pay for the intelligence division, in part because NYPD intelligence operations receive scant oversight in New York.
Congress, which approves the money for the program, is not provided with a detailed breakdown of activities. None of the NYPD's clandestine programs is cited in the New York-New Jersey region's annual reports to Congress between 2006 and 2010.
NYPD spokesman Paul Browne did not respond to questions the AP sent to him in two emails about the White House money and the department's intelligence division.
Most of the money from the White House grants in New York and New Jersey has been spent fighting drugs, said Chauncey Parker, director of the program there. He said less than $1.3 million was spent on vehicles used by the NYPD intelligence unit.
"Those cars are used to collect and analyze counterterrorism information with the goal of preventing a terrorist attack in New York City or anywhere else," Parker said. "If it's been used for specific counterterrorism effort, then it's been used to pay for those cars."
Former police officials told the AP those vehicles have been used to photograph mosques and record the license plates of worshippers.
In addition to paying for the cars, the White House money pays for part of the office space the intelligence division shares with other agencies in Manhattan.
When police compiled lists of Muslims who took new, Americanized names, they kept those records on HIDTA computer servers. That was ongoing as recently as October, city officials said.
Many NYPD intelligence officers, including those that conducted surveillance of Muslim neighborhoods, had HIDTA email addresses. Briefing documents for Kelly, the police commissioner, were compiled on HIDTA computers. Those documents described what police informants were hearing inside mosques and which academic conferences Muslim scholars attended.
When police wanted to pay a confidential informant, they were told to sign onto the HIDTA website to file the paperwork, according to a 2007 internal document obtained by the AP.
Parker said the White House grant money was never used to pay any of the NYPD intelligence division's confidential informants. The HIDTA computer systems, he said, are platforms that allow different law enforcement agencies to share information and work.
"I am shocked to hear that federal dollars may have helped finance the NYPD's misguided efforts to spy on Muslims in America," said Rep. Judy Chu, D-Calif., one of 34 members of Congress who have asked the Justice Department and House Judiciary Committee to investigate the NYPD.
The connection between NYPD and the White House anti-drug grant program surfaced years ago, during a long-running civil rights lawsuit against police. Civil rights attorneys asked in court about a "demonstration debriefing form" that police used whenever they arrested people for civil disobedience. The form carried the seal of both the NYPD Intelligence Division and HIDTA.
A city lawyer downplayed any connection. She said the NYPD and HIDTA not only shared office space, they also shared office supplies like paper. The NYPD form with the seal of a White House anti-drug program was "a recycled piece of paper that got picked up and modified," attorney Gail Donoghue told a federal judge in 2003.
The issue died in court and was never pursued further.
Last week, the controversy over NYPD's programs drew one former Obama administration official into the discussion.
After the AP revealed an extensive program to monitor Muslims in Newark, N.J., police there denied knowing anything about it. The Newark police director at the time, Garry McCarthy, has since moved on to lead Chicago's police department where President Barack Obama's first chief of staff, Rahm Emanuel, is now the mayor.
"We don't do that in Chicago and we're not going to do that," Emanuel said last week.
New Jersey Gov. Chris Christie said the NYPD surveillance in his state was "disturbing" and has asked the attorney general to investigate. Christie was New Jersey's top federal prosecutor and sat on the HIDTA executive board during 2006 and 2007 when the NYPD was conducting surveillance in New Jersey cities. Christie said he didn't know that, in 2007, the NYPD catalogued every mosque and Muslim business in Newark, the state's largest city.
"I kind of think I would have remembered that," he said on Fox Business News last week.
http://www.cbsnews.com/8301-201_162-57385677/wh-money-helps-pay-for-nypd-muslim-surveillance/
--------
Use of false hadis through Internet wrong in Islam
28 February 2012
KUALA LUMPUR (Feb 27, 2012): The Malaysia Islamic Development Department (Jakim) is concerned about the increasing use of false hadis through the Internet which can result in Muslims indulging in wrong religious practices as these hadis are not derived from authentic sources.
Jakim director-general Datuk Othman Mustapha said those involved in posting weak and false hadis on their blogs or social web page mostly did not have basic knowledge in hadis.
Hadis are sayings, practices, tacit approval or criticism ascribed validly or invalidly to Prophet Muhammad.
"Most people including those involved in the cyber world do not know the status of a hadis. There are also those who cannot differentiate the sayings of the Prophet's companions or Islamic scholars from the hadis of the Prophet. They think all these share the same status," said Othman in a statement faxed to Bernama, here, today.
He said the usage or dissemination of false hadis was haram (forbidden) as this would be a big lie on the Prophet and betrayal against the Islamic doctrine itself .
"If lying is committed with an evil aim, it can be regarded as an evil thing which can cause Muslims to lose faith and confidence in Islam."
He said if people wished to disseminate a hadis to the public through the print, electronic or new media, they must first refer to those well-versed in hadis or to authoritative sources.
"Action can be taken against those involved under the respective state syariah criminal law which have such provisions and they can be charged in the syariah court for the offence.
"In view of the offence being committed in the cyber world, the respective state religious authorities need to get the cooperation of parties with the jurisdiction and expertise in this area, particularly the Malaysian Communications and Multimedia Commission," he said.
Othman said this would have a bigger effect considering that the false hadis could be accessed by anyone from anywhere.
He said from Jakim's observation, there were still many cases of people insulting Islam and Prophet Muhammad, but Jakim was always monitoring.
Othman said action could also be taken against the offence of disseminating false hadis under other sections like insulting Islam and publishing of articles that were against Islam.
http://www.thesundaily.my/news/307121
--------
CAIR Seeks Probe of White House Funding for NYPD Muslim Spying
Monday, Feb. 27, 2012
WASHINGTON, Feb. 27, 2012 -- /PRNewswire-USNewswire/ -- The Council on American-Islamic Relations (CAIR) today called on the Obama administration to investigate the reported use of White House funds for the New York Police Department's (NYPD) controversial campaign of spying on Muslims without warrants or evidence of wrongdoing.
"Millions of dollars in White House money has helped pay for New York Police Department programs that put entire American Muslim neighborhoods under surveillance...
"The disclosure that the White House is at least partially paying for the NYPD's wholesale surveillance of places where Muslims eat, shop, work and pray complicates efforts by the Obama administration to stay out of the fray over New York's controversial counterterrorism programs. The administration has championed outreach to American Muslims and has said law enforcement should not put entire communities under suspicion."
SEE: WH Money Helps Pay for NYPD Muslim Surveillancehttp://tinyurl.com/7c78f2f
The Washington-based Muslim civil rights and advocacy organization called on White House officials to conduct a full investigation to determine whether the funds were used to conduct the NYPD's systematic campaign of religious and ethnic profiling that has been condemned by CAIR and many other civil liberties groups.
CAIR also asked administration officials to take "appropriate measures" to ensure that White House funds are not misused in the future to promote similar profiling campaigns.
"Widespread warrantless surveillance of minority populations, which we rightly condemn when it is conducted by authoritarian regimes, should not be facilitated using taxpayer funds," said CAIR National Communications Director Ibrahim Hooper in a letter sent today to President Obama. "Your administration should end all support for the unconstitutional profiling of American Muslims by the NYPD or any other law enforcement agency."
He noted that early indicators are very positive that the Obama administration is reforming government training on Islam. That reform process began after CAIR and other groups expressed concerns about persistent reports that FBI agents and other government and military officials are trained to view mainstream American Muslims with suspicion and to view the faith of Islam as the source of terrorism and extremism.
Yesterday, CAIR called on the New York Post to apologize for publishing a political cartoon that the Muslim civil rights group says "evokes anti-Semitic themes" through its depiction of turban-wearing, hook-nosed terrorists objecting to the NYPD's monitoring of Muslim communities.
Video: CAIR Rep on CNN to Discuss Islamophobic NY Post Cartoon http://www.youtube.com/watch?v=G2R0a8gK5EwCAIR Slams NY Post for Cartoon That 'Evokes Anti-Semitic Themes'http://tinyurl.com/7oee2neView the cartoon:http://tinyurl.com/7s6llpm
CAIR is America's largest Muslim civil liberties and advocacy organization. Its mission is to enhance the understanding of Islam, encourage dialogue, protect civil liberties, empower American Muslims, and build coalitions that promote justice and mutual understanding.
http://www.sacbee.com/2012/02/27/4294888/cair-seeks-probe-of-white-house.html
--------
President Nasheed: 'No Law Contrary to Islam Can Be Enacted in the Maldives';
Pamphlet By Maldivian Islamist Party That Triggered Coup Against Reformist Government Taught 'Good Things About the Jews'
The DQP Pamphlet
February 27, 2012
"No Law Contrary to Islam Can Be Enacted in the Maldives; Only Muslims Can Be Citizens of the Maldives; Article 67(g) of the Constitution Obliges All Citizens to Preserve and Protect Islam"
"President Nasheed's devious plot to destroy the Islamic faith of Maldivians
"This book[let] was prepared by the Dhivehi Qaumee Party in consideration of the devious plans of this government to erase the age-old holy religion of Islam from the hearts of the Maldivians, provide opportunities for religions other than Islam, and demolish the religious unity and faith of Maldivians. The book[let] sheds light on the government's actions against Islam so far.
"The high honor accorded to Islam
"It is certain that the religion that we have followed without wavering for over 800 [years] is the true religion and the last religion revealed by God Almighty. In verse five [sic; the correct verse is three] of the Al-Maida Surah [chapter] of the Holy Quran, God reveals, '[...] and have chosen for you Islam as your religion.'
"And in verse 19 of the Al-Imran Surah, God reveals, 'The only religion approved by God is Submission [Islam].'
"Constitutional role of Islam in the Maldives
"The Maldives is a nation based on Islamic principles. Islam is the state religion. Islam is the main basis of Maldivian law. No law contrary to Islam can be enacted in the Maldives. Only Muslims can be citizens of the Maldives.
"Even the fundamental rights guaranteed in the constitution can be protected in a manner that is not contrary to any tenet of Islam. No one has the right to commit any act that is forbidden under Islamic Shariah. Freedom of expression is provided to citizens as long as it is not used in a manner contrary to any tenet of Islam.
"Submitting to Islam, obeying and inducing love for it is encouraged in the education system.
"The constitution does not stop at according with fluent phrases a high status for Islam. Article 67(g) of the constitution obliges all citizens to preserve and protect Islam. This constitutional responsibility is entrusted the most to the head of state as the nation's ruler."
"[Despite His Education at Al-Azhar, Nasheed] Was Saying Openly That Penalties Clearly Stated in Islamic Shariah Were Unsuited For the Times... That Such Things As Wearing the Veil Were Not Compulsory…"
"Degree of Islamic faith in the Maldives when Nasheed took office
"Religious matters had not been handled ideally when Nasheed took office. We had to spend over 19 years without a Dhivehi[-language] translation of our most sacred book, the Holy Quran. Permission to give sermons and counsel was granted [only] to those who shared the government's thought and philosophy.
"People were locked up and punished over issues like Qunooth [invocation in times of adversity] where scholars of different sects disagree. The beards of religious scholars were shaved with chilli sauce.
"Although the head of state was an al-Azhar University-educated scholar, he said openly that penalties clearly stated in Islamic Shariah were unsuited for the times. In addition to saying that such things as wearing the veil were not compulsory, he showed it to the people in deed through his wife and children.
"Nasheed's golden opportunity and how he used it
"Nasheed became the ruler of this Islamic state on November 11, 2008 through the hard work and prayer of many political, religious and social organizations as well as many sincere citizens. Who among us has forgotten Sheikh Ilyas [Hussein's] emotional prayer in the pouring rain on the last night of the second round of the presidential campaign?
"Nasheed had a golden opportunity to take all of those individuals and groups along, change the way religion was treated before, strengthen Maldivians' Islamic faith and spread the bright light of Islam all across the country. However he missed this golden opportunity. Instead of strengthening the Islamic faith of Maldivians, he tried to weaken it. Instead of preserving the Islamic identity of Maldivians, he worked in ways that would allow other religions [to exist] on this Maldivian soil.
"Instead of aiding Muslims and the Islamic Ummah (community), he tried to please adversaries of Islam and aid them. As a result, the state of affairs has deteriorated to the point where we question whether our over-800- year-old Islamic nation would remain an Islamic nation. Today, visitors to our country have been encouraged to challenge our religion, Shariah and constitution in the most high places of this Islamic state.
"Nasheed's big project to wipe out Maldivians' religious identity
"Since assuming office Nasheed has been working ceaselessly to weaken the Islamic faith of Maldivians, allow space for other religions, and make irreligious and sinful behavior common. And to show that necessary characteristics a ruler and senior officials of an Islamic state must possess are not important, to reduce ties and relations with Muslims and Islamic nations and foster relations with adversaries of Islamic nations."
"Nasheed's Government Established Diplomatic Relations With the Nation [i.e. Israel] That is the Biggest Adversary of Muslims; It Was Agreed to Teach Young Maldivian Children Good Things About the Jews – At the State's Expense"
"Weakening the Islamic faith of Maldivians
"From the day Nasheed took office to the present day, he has undertaken many efforts to weaken the Islamic faith of Maldivians, especially the younger generation of Maldivians. Below are some of these efforts,
"Nasheed began the work of weakening Maldivians' Islamic faith by targeting young children. When Nasheed's government established diplomatic relations [in 2009] with the nation [i.e. Israel] that is the biggest adversary of Muslims, it was agreed to teach young Maldivian children good things about the Jews at the state's expense, by including it in school curricula.
"Along with this, Nasheed tried to make Dhivehi and Islam optional subjects for higher secondary students. And senior officials of Nasheed's government tried to convince the public on national television that the decision was a good one. Nasheed's government acted like this after turning a deaf ear to school heads who had repeatedly talked of the importance of Dhivehi and Islam subjects at the symposium on revising the national curriculum. Nasheed's aim was to turn those who would play a leading role in running the country tomorrow into strangers to Islam and to the Maldivians' mother tongue.
"At the same time as Nasheed's government was trying to make Islam an optional subject, it was also trying to teach Maldivian students subjects of different religions.
"Nasheed's government sent a letter to the relevant authorities seeking the opinion of Maldivian scholars on building temples in the country.
"While working to reduce the importance of religious subjects in the national curriculum, Nasheed's government was at the same time trying to close down schools providing Islamic education. In this vein, the land of the Arabiya [educational institution], which had been providing an Islamic education to young Maldivian children, were expropriated, and the building was demolished. The government did not make adequate temporary arrangements for its students either. And Nasheed's government treated [the Arabiya students'] parents, who gathered outside the President's Office to protest peacefully, more brutally than even serious criminals.
"Mauhad [Islamic College] is an old institution that played one of the most important roles in strengthening Islamic faith among Maldivians. Nasheed's government tore down its walls, placed insurmountable obstacles to its development, and has been working ceaselessly to close it down…."
"The Prophet [Muhammad] Says in a Hadith that Alcohol is the Mother of All Evils" – But the Nasheed Government Permitted Consumption of Alcohol
[Here, the document lists a number of governmental policies allowing idolatry, permitting the sale of alcohol, disallowing live broadcasts by Indian Islamist scholar Dr. Zaik Naik on Maldivian television, permitting the installation of idols in the island, etc. The following are excerpts:]
"After importing idols into the country, protecting [the idols], and locking up those who spoke out against them, and when opposition parties started raising their voices saying it was a serious crime legally and under Shariah, Nasheed said he only heard of the idols after it was destroyed. Everyone, young and old, would know that he lied. Below is a photograph taken while [Nasheed] is watching with the Sri Lankan President the inauguration of one of these idols.
"The Prophet's Hadith illustrates Nasheed's words and actions. [He has] denied everything he said. [He has] broken all his promises. [He has] betrayed his responsibility and trust.
"The idols imported to the Maldives in the name of the SAARC [South Asian Association for Regional Cooperation] summit are not children's toys or items in tourist shops. The idols are representations of god or objects used for worship.
"God reveals in the Holy Quran that idols are unclean.
"Under article 4 of the Contraband Act, importing idols to the country is not at all permitted. Such a thing cannot be authorized regardless of whether it is the government. And those who commit this offence or are involved in it can be sentenced to jail for a period of three to eight years.
"Making alcohol common
"The Prophet says in a Hadith that alcohol is the mother of all evils. And God reveals in verse 90 of Al-Maidha Surah: 'O you who believe! Intoxicants (all kinds of alcoholic drinks), gambling, Al-Ansab, and Al-Azlam (arrows for seeking luck or decision) are an abomination of Shaitan's (Satan's) handiwork. So avoid (strictly all) that (abomination) in order that you may be successful.'
"[Consuming] alcohol is even a crime with a punishment prescribed in Islamic Shariah. Those who commit this crime would not fulfil the requirements for head of state, minister, MP or senior post of the state. And if such a crime was committed as an official such a person must be removed from the post…."
[Here, the document lists a number of alleged un-Islamic acts, such as justifying consumption of alcohol, by President Nasheed during his visits to India and Italy. For example:]
"Empty bottles of alcohol have been found in places of ministers in Nasheed's government."
"A large amount of alcohol was found in the car of Nasheed's party MDP's parliamentary group leader Reeko Moosa Manik…."
"Nasheed's Main Priority Was Fostering Ties with Jews; [the Nasheed Government Tried To] Familiarize Maldivians with Jews and Israel, Show Their Virtue, and Induce Love and Empathy in Maldivian Hearts; Allah Reveals in the Quran: 'Never Will the Jews Nor the Christians Be Pleased with You (O Muhammad….'"
"Helping the Jews instead of aiding the poor people of Palestine
"From the days when Israel came into being in 1948 to the present day they have been brutalizing the Palestinian people and, aside from committing massacres and war crimes, they are enslaving the people. Since 2006 Gaza where many millions live has been blocked from land, air and sea and all its inhabitants enslaved and locked up. Nevertheless after coming to power Nasheed's main priority was fostering ties with Jews. To this day Nasheed's government has done a lot of work to form close ties with Israel. Among these include those listed below:
"Nasheed's government first decided to establish relations with Israel less than 10 days after the UN representative decided it had committed war crimes against the poor people of Palestine. At the time the whole world was speaking out against Israel and condemning Israel's actions. The way Nasheed's government acted told Maldivians,and the world, that this 100% [Muslim] Maldivian state approves of Israel's war crimes.
"When Nasheed's government disregarded the war crimes and established diplomatic ties with that nation, on the initiative of Adhaalath Party [or Justice Party] the Maldivian people were collecting donations to help the innocent Palestinian people and families who were subjected to Israel's atrocities!
"When the act of attacking, on 31 May 2010, a vessel travelling to Palestine to assist the poor people of Palestine enslaved by the Jews, during which 15 people were marty[r]ed and many others wounded, was loudly condemned by the Christian nations of Europe, Hindu nations like India, and nations of the idol religion, Nasheed's government said nothing in an official capacity….
"One of the things agreed upon during Nasheed's government establishing ties with Israel was the insertion of stories of Israel and of Jews and their history into Maldivian culture and the education system, and telling Maldivians of their virtue. These are things even non-Muslim nations are hesitant to do regarding Israel.
"To familiarize Maldivians with Jews and Israel, show their virtue, and induce love and empathy in Maldivian hearts, Nasheed's government has brought in teams under different names, such as doctors and agriculturists, and begun the actual work of acquainting Maldivians with the Jews.
"Nasheed's government has also authorized Israeli flights to land in Maldives. As the people of Israel do not visit the country as tourists, there is no reason for flights from that country to come to the Maldives. Moreover, it is likely that with the commencement of flights from Israel, the country will face unimaginable security risks, great dangers, and devastation of the country's tourism. However, Nasheed's government pays no heed even to such a danger.
"Nasheed's government has decided to give numerous plots of land and uninhabited islands to Israel.
"Some family members of Nasheed and some senior members of Nasheed's government have business ties with Jews.
"And Nasheed's current foreign minister, 'Kerafa' Naseem, voted on behalf of the Maldives at the UN to [recognize] Israel as an independent nation [by cosponsoring a UN resolution on Holocaust denial]. Naseem's action was contrary to both the order and view of the government at the time.
"There is no doubt that there are hidden secrets behind why they are trying so hard to establish relations with people who have been so antagonistic towards Muslims.
"That Israel has always made proposals in various ways and run after small nations to show the Muslim world and other countries that Israel's inhumane actions are good is not a novel claim in the international area. It is certain that a country like Israel would not find it hard to discover that the Maldives today has come out begging with the economic coconut bowl, and that it has a leader eying various international awards. Allah reveals in the Quran: 'Never will the Jews nor the Christians be pleased with you (O Muhammad Peace be upon him) till you follow their religion.'"
Nasheed Has Specifically Stated "That He Does Not Believe That Capital Punishment and Amputation for Thieves – Which Are Clearly Stated in Islamic Shariah – Should Be Included in the Punishments Specified in the Penal Code"
"Carrying out activities against Muslim nations
"While on the one hand establishing closer ties with the biggest adversary of Muslims, Nasheed's government was turning hostile towards Muslim nations. Below are some of Nasheed's government's actions in this vein:
"While on one hand establishing closer ties with Israel, on the other hand, at a time when Israel was very openly announcing it would attack Iran's nuclear plants, Nasheed's government accepted the responsibility of observing and reporting on human rights in Iran…."
"In addition, while European nations and America were recognizing [Libyan leader Mu'ammar] Qadhafi during the civil unrest in Libya that began earlier this year, Nasheed's government announced in April 2011 that it did not recognize the Libyan government at the time.
"Compared to the visits of Nasheed and senior officials of Nasheed's government to other countries, [the number of] visits to Islamic nations is disproportionately low. This reveals how small the importance of Muslims and Islamic nations is in the government's view.
"Making sinful behavior common
[Here the document lists incidents of what it calls are sinful conduct by government officials during the Nasheed government. Some examples are given below:]
"...State ministers and deputy ministers of Nasheed's government, and other close allies of Nasheed, carried out many sinful acts naked on the Internet. None of the people who committed such sinful behavior were removed from their posts….
"Instead of investigating the sinful acts committed by senior officials of Nasheed's government, it took action against those who brought the sinful act to the public!
"Some people among Nasheed's ministers and close associates have served sentences for engaging in sexual relations, recording the images and making it public.
"The Prophet has said that if you lack shame, you will do anything you please.
"Becoming modern and ashamed of being Islamic…."
[Here, the document lists incidents which it says promote anti-Islamic behavior in Maldives – beauty contests, disco parties, government ministers wearing skirts during events in Maldives and abroad, etc.]
"Christian priests as Nasheed's consuls
"Among those who help Nasheed make decisions on important matters include persons who work to promote different religions. The most notable of these is an English priest named David Hardingham. He is one of those who helped Nasheed the most when was an activist. Hardingham and his friends were acting then under the name of 'Friends of Maldives.'
"After Nasheed came to power, on 9 July 2010 he established an office for said Hardingham in Salisbury, England. As a result, upon the wishes of the ruler of this Islamic nation, the money of Maldivian citizens is being spent on a Christian priest.
"Opposing the punishments of Islam
"Nasheed has created doubt in people's hearts about clearly stated punishments in Islamic Shariah and opposed such punishments. Below are some of the matters noted thus:
"[Nasheed] said in his 19th radio address that he does not believe that capital punishment and amputation for thieves that are clearly stated in Islamic Shariah should be included in the punishments specified in the penal code.
"When UN human rights representative Pillay who visited in November this year [2011] said she does not accept Shariah punishments like flogging fornicators, instead of condemning it as head of state [Nasheed] supported her statement…."
"Considering the Direction of Nasheed and His government… Maldives will not Remain a 100 Percent Muslim Nation; Followers of Other Religions and Their Places of Worship will Become Established in the Country"
"Bringing scholars into disrepute
"Nasheed and Nasheed's government has characterized the Maldives as a nest of terrorists and Maldivian scholars as terrorists. Below are points noted thus,
"Nasheed's government has characterized people [Islamic scholars] like Sheikh Fareed and Sheikh Ilyas as extremists and terrorists.
"In an interview with Al-Jazeera, [Nasheed] said that while over 1,000 students are being educated at [Arabic schools] run by the government, those places teach children to become extremists and that he would put a stop to it.
"The state of the country at the end of Nasheed's big project
"Considering the direction of Nasheed and his government and the speed of travel, if this government's direction and speed is not defeated, there is no doubt that Maldivians would have to face the bitter consequences noted below"
"Maldives will not remain a 100 percent Muslim nation.
"The faith of Maldives, especially today's children and tomorrow's young generation, will be extremely weakened.
"Sinful and unacceptable behavior will become common.
"Noble principles of Islam and the right path will be characterized as shameful.
"Followers of other religions and their places of worship will become established in the country.
"[We will] become estranged from Islamic nations and adversaries of Islam and Muslims will become friends of Maldivians.
"What should be done to be freed from Nasheed's plotting
"A lot of work has to be done to save ourselves from Nasheed and his government's dangerous actions. Every citizen should resolve to do everything possible with tongue and pen, financially and otherwise, within the confines of Islamic Shariah and the law.
"Not supporting or voting for Nasheed and those who give precedence to the philosophy of his government, or for anyone among their allies and friends, and urging those who might vote for them not to do so and explaining the consequences of their doing so. And especially not supporting or voting [for Nasheed] in 2013.
"Not to give any financial assistance to Nasheed or his ruling party and urging those who might provide such an assistance to not do it and explaining the consequences of their doing so.
"Doing everything possible to strengthen the faith of our children without relying on this government, its institutions and the current education system.
"During each Umra [mini-Hajj], each Hajj, after each prayer and act of worship, pray to God to protect our nation and religion and keep our beloved nation always as a 100 percent nation.
"Call senior officials of the government, send texts, and use modern services like Facebook and Twitter to raise your voices against such things.
"Since the most important constitutional responsibility for holding the government is laid upon members of the People's Majlis [parliament], every citizen should call his MP [Member of Parliament] and urge them to stop this government's irreligious activities and increase calls for holding the government accountable. And do not vote for MPs who do not comply in the future.
"Conclusion
"Under divine law, God Almighty has given us the opportunity to change our condition. Allah reveals in the Holy Quran, 'Verily! Allah will not change the good condition of a people as long as they do not change their state of goodness themselves.'
"Let us resolve in the right way to change our condition."
Article by Political Commentator Azra Naseem
In an article titled "Operation Haram to Halal – the Islamist role in replacing Nasheed with Waheed," political commentator Azra Naseem noted the rise of Islamists in Maldives. Following are excerpts from her article:
"Having Declared Nasheed a Heretic on 7 February, the Adhaalath Party… Called On People to Stand Up Against Nasheed 'With Swords and Guns' If Needs Be; [According to the Party] Any Maldivian Who Failed to Do So Was a Sinner…"
Vice President Dr. Mohamed Waheed, who took over power.
"Maldivian Islamists played an instrumental role in the events of 7 February 2012, which forced the country's first democratically elected president Mohamed Nasheed to 'resign.' Coup deniers and followers of Islamists vehemently object to any such claim. The Islamists themselves, however, have been very public, and very publicly proud, of the 'religious duty' they performed by facilitating the removal from power of Nasheed – in their opinion an anti-Islamic heretic.
"This is clear from the many proclamations and announcements they made in the lead up to and in the aftermath of Nasheed's 'resignation.' Having declared Nasheed a heretic on 7 February, the Adhaalath Party put out a press release on 8 February, the worst day of violence since the transition to democracy. It called on people to stand up against Nasheed, 'with swords and guns' if needs be. Any Maldivian who failed to do so was a sinner, and had no right to live in the country. Fight Nasheed or emigrate; Jihad against him or be eternally damned, it said. The 'truth' of their words was bolstered by selective quotations from Islamic teachings. Accepting Waheed – 'a just ruler' – was portrayed as a religious duty of Maldivian Muslims.
"Replacing Nasheed with Waheed, the haram president with the halal president, appears to be what Adhaalath President Sheikh Imran Abdulla referred to on 31 January as 'Phase Two' of 'the work we have been doing until today.' What was the work Adhaalath and its allies had been doing until then?..."
"Out of necessity, Nasheed had to include the Adhaalath Party in the coalition government he put together in 2008. To put it mildly, the liberal-minded president and the ultra-conservative Adhaalath Party had nothing in common. Despite the frequent clashes over various issues – selling alcohol on inhabited islands, making Islam an optional rather than a compulsory subject in secondary school, introduction of 'religious unity regulations,' provision of land for an Islamic College in Male' – Nasheed had no choice but to stick to his coalition agreement. The turbulent political marriage of convenience came to an end only in September 2011 when Adhaalath voted to sever the coalition agreement citing Nasheed's lack of cooperation in its efforts to 'strengthen' Islam in the Maldives.
"In the intervening period, driven by pragmatic reasons and by an oversimplified belief that freedom of expression is sacrosanct – no matter what the consequences – Nasheed failed to impose any restrictions on the increasingly extremist and hardline rhetoric of the Islamists. With Adhaalath's Dr. Abdul Majid Abdul Bari at the helm of the Islamic Ministry, radical preachers from abroad and from within the country were given free rein, and funds from the public coffer, to address the Maldivian population. The year 2010 saw, for example, the Indian televangelist Dr. Zakir Naik, as well as the Jamaican Dr. Bilal Philips and the British Sheikh Abdur Raheem Green address the Maldivian public. In addition to the foreign preachers, Maldivian missionaries trained at madrassas [Islamic seminaries] in Pakistan and ultra-conservative schools and universities in India, Saudi Arabia and elsewhere bombarded Maldivians with radical rhetoric from every available public platform."
"Antisemitism, Xenophobia, and Intolerance of Other Religions Became a Part of Daily Discourse, Broadcast on National Television"
"Antisemitism, xenophobia, and intolerance of other religions became a part of daily discourse, broadcast on national television, and played incessantly in public spaces from taxis and ferries to loudspeakers on the streets. Close to 90 percent of books stocked in most Maldivian bookshops during this period came to be those authored by the extremists whose words were designed to influence every little detail of a Maldivian's life, from toilet to conjugal relations.
"While extremist literature flourished and their voice took over the public sphere, the liberal voice floundered. When concerned liberals approached Nasheed asking for his help in countering the voices of extremism, his response was – more on less – to tell them 'do it yourselves.' The government, he said, could not impose restrictions on speech.
"Despite the strong civil society that flourished during Nasheed's government, the extremist movement had become too strong by then for individuals – acting without any support from the State – to organize against it. The labels of apostasy, heresy and anti-Islamic agent' had become too powerful as political tools by then for any anti-extremist group or movement to be able to get a foothold in the public sphere. Many individuals attempted to organize into groups, but were shut down as anti-Islamic before they could become a coherent voice in society. Anyone who expressed doubt about their faith in Islam was branded an apostate and ostracized.
"The strength of these prevailing sentiments was seen in the suicide of Ismail Mohamed Didi, a 25-year-old man who hanged himself in July 2010 after being hounded by friends and family for expressing doubt over his belief in Islam. The extremists were determined that the myth of 'Maldives is a hundred percent Muslim nation' will be maintained, even if it meant the oppression and death of those who did not believe….
"The next plum opportunity for the Islamists came on 10 December, the International Human Rights Day, when a handful of young Maldivians staged a minor 'silent protest' against the growing religious intolerance in the country. Despite the fact that Nasheed's government imprisoned one of the protesters, the Maldives' only openly gay activist, religious conservatives were furious with Nasheed for not meting out severe punishment against the protestors. It was deemed as further evidence of Nasheed's heresy."
"Public Displays of Piety, Such As Having Women Shrouded in Black or Men Hiding Behind Waist-Length Beards, Were Never Part of the Maldivian Belief System"
"It is against this backdrop, and armed with these pretexts, that the campaign to depose Nasheed was launched. Its first major public display was on 23 December in the form of a protest under the banner: 'Maldivians Defending Islam.'
"Having been bombarded since November by messages that Nasheed is a threat to their faith, and convinced by the relentless extremist rhetoric of years, thousands of Maldivians spilled onto the streets of Male' in 'defense of Islam.' What a majority of the people had not had the time or space to understand is that the threat to Maldivians' faith has come not from Nasheed but from the extremists…
"For hundreds of years, insulated as the country had been from the rest of the world, Maldivians were largely ignorant of the various conflicts within and around the 'Islamic world'. The Islam that Maldivians practiced was personal – a deeply held faith that did not need mediation by 'scholars' or preachers. Public displays of piety, such as having women shrouded in black or men hiding behind waist-length beards, were never part of the Maldivian belief system. Suppression of women as second-class citizens, violence in the name of religion, disputes over which prayer to be said at what time, insistence on imposing the death sentence, child brides, sex slaves – these were not part of the fabric of 'Maldivian Islam.' The extremists introduced such ideology and practices into the Maldives, and spread it across the country using the very freedoms of democracy they rally against. The success of the extremists had been their ability to use its newfound freedom of expression as a tool for convincing an unsuspecting population that until the arrival of these missionaries, Maldives had been ignorant of the 'right Islam.'
"It was in the defense of this extremism, which Nasheed had failed to act against…."
"One of the First Acts of Violence Carried Out on 8 February was the Destruction of Buddhist Relics … It is Not the First Time That Maldivian Islamists Have Emulated the Taliban"
"One of the first acts of violence carried out on 8 February was the destruction of Buddhist relics from the pre-Islamic history of the Maldives dating back to the eleventh century. It is not the first time that Maldivian Islamists have emulated the Taliban in their actions, and it will not be the last for many are disciples of the same form of Islam practiced by the Taliban and several are alumni of the same madrassas and universities Taliban leaders attended.
"It cannot be denied that a large number of those who celebrated the departure of Nasheed were glad to see him go 'because he violated the constitution.' But those who do genuinely believe in the constitution, and are convinced that following it is the way forward for the country know that deposing a democratically elected president by a coup is hardly constitutional…."
"[T]he only people who remain jubilant at the overthrow of Nasheed are those convinced beyond any reasonable doubt that he was an anti-Islamic heretic. In helping depose him, in celebrating his departure, they have performed a religious duty. Replacing the haram Nasheed with the halal Waheed may not be democratic but it has assured them of a place in heaven. Little do they understand that, in this life, the rewards of their toil will be reaped not by them or their children but by those who have so shamelessly exploited their belief in Allah…"
Article by Indian Journalist Indrani Bagchi
In an article, Indian journalist Indrani Bagchi noted that the ousted President Nasheed had urged India to support his democratic government against the radicalization of Maldivian youth by Pakistan-based terrorist groups. Following are excerpts from Bagchi's article:
"Mohamed Nasheed… Had Gone On Record in a TV Interview to Caution India That Radicalized Maldivian Youths were Being Indoctrinated and Trained by Pakistan-Based Terror Groups; Nine Maldivian Terrorists Had Been Arrested in Pakistan's South Waziristan Agency"
"On May 27, 2009, a suicide attack on the ISI headquarters in Lahore had a relatively unknown bomber, Ali Jaleel, a Maldivian terrorist, who had joined Al-Qaeda some time earlier.
"It sent a chill through the Indian establishment, and India's fears of rising Islamism in the Maldives increased in 2010, when it was revealed that nine Maldivian terrorists had been arrested in Pakistan's South Waziristan agency, where they were training with Al-Qaeda and Taliban elements. Mohamed Nasheed… too, had gone on record in a TV interview to caution India that radicalized Maldivian youths were being indoctrinated and trained by Pakistan-based terror groups…."
"In the chaos of the past week, radicals plundered through Maldives national museum, destroying rare ancient Buddhist statues…"
"The threat of Islamist extremism in India's periphery has been growing, particularly in the past few years and more discernibly since 2008. For India, trying to restore peace and stability in Maldives, the events … [in Maldives] cannot be seen in the perspective of a mere internal political crisis….
"The growth of Islamic radicalism in Maldives can be traced to the beginning of the last decade. Like in Bangladesh, Pakistani jihadi groups like Lashkar-e-Taiba [LeT] have been making inroads to indoctrinate young men in a conservative Sunni society, that has been bogged down with slow growth, political authoritarianism (until 2008, certainly) and mushrooming madrassas [Islamic schools] with Arab funds.
"None of this is good news for India. Intelligence circles believe this is part of Pakistan's strategic outreach, to penetrate Islamic jihadism in India's periphery, which could be a constraining factor on India's own development."
"Most of the Islamic Ideology in Maldives is Ahle-Hadith, Which Is Also the School Followed by [Pakistani Jihadist Organization Lashkar-e-Taiba or] LeT"
"[According to one report] 'the infiltration of Pakistani militants in the Maldives goes back to the post-tsunami period. The Pakistan-based Idara Khidmat-e-Khalq (IKK), a charitable front of the Jamaatud Dawa (JuD) [i.e. charity arm of Lashkar-e-Taiba or LeT], reached the Maldives in the wake of the December 2004 Indian Ocean tsunami under the guise of providing humanitarian services... According to intelligence sources, the IKK spearheaded LeT's activities in the Maldives, which focused on drawing youths into its fold. The IKK reported spending $282,000 in the Maldives, although the Maldivian government says the organization was never registered as a charitable group….'"
"Most of the Islamic ideology in Maldives is Ahle-Hadith, which is also the school followed by LeT. But Salafist ideologies are now also evident. Nasheed tried to make a deal with them and even had the Adhaalat Party, the Islamist party, as part of his coalition. In his interview…, the new president Mohamed Waheed said, 'Our view is the best way of dealing with Islamist ideology is to engage with them and work with them. That, we believe is the right and democratic way to go about it.'
"Maldives is particularly crucial because its geographical position situates it right in the middle of major sea routes in the Indian Ocean. But equally, a radicalized section of the tiny population of Maldives could make it so much easier for the ISI-Lashkar[-e-Taiba] combine to use them as a staging ground for terror attacks against India."
http://www.memri.org/report/en/0/0/0/0/0/0/6123.htm
--------
Koran burning: Afghan president demands American troops be put on trial
Timothy Whiteman
AFGHANISTAN | FEBRUARY 28, 2012
Afghan President Hamid Karzai is calling for American troops who correctly disposed of copies of the koran, to be placed on trial.
As reported by Reuters, a release from Karzai's office implies that Allied forces have agreed to place US troops on trial:
"NATO officials, in response to a request for the trial and punishment of the perpetrators ... promised this crime will brought to court as soon as possible."
There has been no statement from any NATO or American officials in regards to placing any Allied troops on trial.
The Catalyst...
When found that Muslim detainees in Afghanistan were sending secret, hand-written messages to each other via copies of the koran, American officials found out that such was considered a 'desecration' according to Islamic theological law.
Advertisement
Islamic law itself dictates that burning is the proper mode of disposal for defiled copies of the koran.
Karzai Plays To The Mob...
Thousands of Afghans have since violently protested the disposal of the Muslim texts, to the tune of four dead Americans and upwards of 30 dead Afghans.
Seven American troops have also been wounded in a separate shooting and grenade attack.
Karzai has admitted that there was no malice on the part of the Americans.
As stated in the Reuters article:
"Karzai said the American officer had acted 'out of ignorance and with poor understanding' of the Koran's importance, a presidential statement said."
Despite the Americans following and adhering to Islamic law, the American-supported Afghan president still wants US troops tried under Islamic law.
The Taliban has released a statement stating:
"They have to kill them (Westerners), beat them and capture them to give them a lesson to never dare desecrate the holy Koran again."
Karzai has yet to apologize for the killing of Americans by his own (American paid) troops.
http://www.examiner.com/conservative-in-wilmington/koran-burning-afghan-president-demands-american-troops-be-put-on-trial
--------
Distribution of funds by ISI among politicians
Wednesday, February 29, 2012
Supreme Court takes up Asghar Khan case today
ISLAMABAD: All eyes are set on the Supreme Court as it is taking up Asghar Khan case today (Wednesday) after more than 12 years regarding alleged distribution of millions of rupees by the Inter Services Intelligence (ISI) among various politicians in the 1990 parliamentary elections.
A three-member bench of the apex court, headed by Chief Justice of Pakistan Iftikhar Muhammad Chaudhry and comprising Justice Khilji Arif Hussain and Justice Tariq Parvez will hear the petition, filed by Asghar Khan in 1996, following a statement by former interior minister Naseerullah Babar in parliament that Rs 140 million had been distributed with the help of ISI among political opponents of the PPP.
Salman Akram Raja will appear on behalf of the petitioner and argue the case. People's Lawyers Forum President Raja Abdul Rehman has demanded the SC not delay Asghar Khan case further and give it priority. He hoped that present judiciary would deliver historic verdict in this case.
Meanwhile, a fresh petition has moved in the SC on Tuesday, seeking the court's order to abolish of political wing of ISI by declaring it in violation of the fundamental rights enshrined in the constitution. Al-Jihad Trust Chairman Habibul Wahabul Khairi has filed the petition under Article 184 (3) of the constitution, making the federation and other officials as respondents.
The petitioner requested the court to order that the inquiry report about distribution of money among politicians by the ISI through Mehran Bank be made public. The petitioner also prayed that the results of 2008 general elections be suspended.
http://www.dailytimes.com.pk/default.asp?page=2012\02\29\story_29-2-2012_pg1_3
--------
Guantanamo detainee Majid Khan to enter plea deal
29 February 2012
The first "high value" prisoner held at the US's Guantanamo Bay detention centre is expected to plead guilty at a war crimes tribunal.
Pakistani Majid Khan, who had lived in the US, is set to admit to terror offences in exchange for leniency.
He faces five war crimes charges, including conspiring with al-Qaeda, murder and attempted murder.
The 32-year old has been in secret US custody since 2003 and alleges that he has been psychologically tortured.
According to a plea bargain document released by the US government, if Mr Khan pleads guilty his sentence will be capped at 25 years.
It is expected that he will testify against his fellow detainees in return, although those details have not been released by the court.
One of those detainees is Khaled Sheikh Mohammed, the self-proclaimed mastermind of the 9/11 attacks. Mr Khan is accused of meeting with him in Pakistan and plotting to blow up fuel tanks in the US.
Prosecutors also allege Mr Khan volunteered to assassinate former Pakistani President Pervez Musharraf and passed money to the Islamist militant group Jemaah Islamiah.
He is accused of travelling to Bangkok to deliver $50,000 (£31,400) to the group. The money allegedly funded the August 2003 suicide bombing of the Marriott hotel in Jakarta, Indonesia, which killed 11 people and wounded at least 81 others.
'Psychologically tortured'
Mr Khan had moved to the US in the late 1990s, where he went to high school in Baltimore and worked at his family's petrol station.
The US government says it was on his return to Pakistan that family members introduced him to Khalid Sheikh Mohammed.
He was first arrested in March 2003, when Pakistani forces raided his family's home in Karachi. They turned him over to the CIA and he was held in secret confinement overseas, until he was transferred to Guantanamo with other high-value detainees in 2006.
The father of one has not been seen in public since he was captured. He told a military tribunal in 2007 that he has been "psychologically tortured" and had tried to commit suicide twice.
He also denied he was an extremist and said he had no links with al-Qaeda.
If Mr Khan's plea deal goes ahead on Wednesday, he will be the seventh prisoner convicted by a military tribunal since the Guantanamo facility opened in January 2002, and the first high-profile detainee to be convicted.
The US military currently holds 171 prisoners at the prison, and officials have said about 35 could face war crimes charges.
http://www.bbc.co.uk/news/world-us-canada-17203218
--------
NPR notices "growing tensions" between Muslims and Christians in Egypt
It is good to see NPR running a story like this, but here again is the use of the discussion of "tensions," which suggests a situation of mutual hostilities. By contrast, all of the incidents the report chronicles are of Muslims attacking Christians. "In Egypt, Christian-Muslim Tension Is On The Rise," by Soraya Sarhaddi Nelson for NPR, February 25:
Blackened rubble is all that is left of Abskharon Suleiman's appliance store in the northern Egyptian village of Sharbat.
Suleiman is a Coptic Christian, and his upstairs apartment, as well as his children's homes and shops, were gutted and looted in an attack last month by young Muslim men.
In Egypt, growing tensions between Muslims and Christians have led to sporadic violence. Many Egyptians blame the interreligious strife on hooligans taking advantage of absent or weak security forces. Others believe it's because of a deep-seated mistrust between Muslims and the minority Christian community.
The incident in the rural community of Sharbat started as most interreligious clashes in Egypt do -- with a rumor of an illicit liaison between members of different religious sects.
In this case, it was about a Coptic Christian man and Muslim woman, each of them married to someone else, explains Muslim merchant Magdy Abu Sheashaa.
He claims the man had suggestive photos of the woman on his phone, though neither he nor anyone else interviewed actually saw the pictures.
The rumor was enough to send a frenzied mob to the alleged offender's house on Jan. 27. That building was near Suleiman's property.
Abu Sheashaa says Suleiman's grown sons fired handguns into the air to try to disperse the crowd. The mob then shouted insults at the Coptic family and demanded they leave the village where they had lived for two decades.
"They threw rocks through the windows and set our building on fire. I was sure we were going to die," says Um Suleiman, the elderly wife of the merchant.
Police Didn't Act
Witnesses say police officers who came did nothing. Instead, Muslim neighbors and friends of Suleiman intervened. They formed a protective cordon around the Christians and brought them to Magdy Abu Sheashaa's home.
Abu Sheashaa says a group of Muslim elders later came to express their sympathy to his Coptic friend. But they also urged him to move out like the mob was demanding.
The elders said they felt it was no longer safe for Suleiman and his family to stay in Sharbat.
They stayed with Muslim friends for a while, then moved into a cramped apartment an hour's drive away.
Suleiman's eldest son says they want to go back home.
But they are afraid of being attacked again, he says, even though a committee sent by the Egyptian parliament decreed last week that the family has the right to live in Sharbat.
Ihab Ramzy, a Coptic Christian lawmaker who was a member of the committee, says he understands the family's fears.
Islamists Will Hold Power
Islamists won Egypt's recent parliamentary elections, and this has created a feeling of helplessness in the Coptic Christian community.
The Muslim Brotherhood, which is the strongest Islamist faction, has vowed to protect Christians and other minorities. And Egyptian experts and human rights activists say there is no evidence of any official or organized effort to terrorize Christians.
"Is there an extremist wave that is identifying Christians and trying to drive them out of Egypt? Personally, I doubt it, but you know, maybe I'm naive," says Mahmoud Sabit, an Egyptian historian who lives in Cairo.
Sabit says Copts get nervous when Islamist candidates talk about incorporating more Islamic law, or Shariah, into Egyptian society.
"So this I think is one of their great fears, is a reversal and suddenly finding themselves ... as second-class citizens," he says.
Most Copts, like the Suleiman family, refuse to discuss those fears publicly.
But last December on a talk show on Egyptian TV, a Christian caller who gave her name as Mervat accused the guest -- an ultra-conservative Salafist -- of trying to drive Christians out of Egypt.
The Coptic Christian caller accuses Hazem Salah Abu Ismail -- who is a presidential candidate -- of inciting hatred and violence by demanding women wear veils and Egyptians not drink alcohol. She argues that if Christians don't comply, they will be attacked.
Friction In Southern Egypt
Alfy Adly, a Coptic who is an obstetrician, says such attacks are already happening in his hometown of Qena in the south.
He recounts how a Salafist mob cut off the ear of a Coptic landlord and drove out the Coptic governor last year.
He adds that one extremist in his neighborhood has been stalking his family and has threatened to kill his daughter. Adly videotaped some of this on his cellphone:
In the tape, the man screams: "I will kill her under the stairs here, I will show you. I swear to my mother I will kill you, you are dirt."
The man then breaks the door to Adly's house.
Adly says he's gone to the police in Qena numerous times with such evidence, but nothing has been done.
The Egyptian Initiative for Personal Rights, an activist group, has been tracking attacks on minorities, including Christians.
Its director, Hossam Bahgat, says he understands their frustration over the lack of justice. He says it's also troubling that some Christians are resorting to violence to fight back....
http://www.jihadwatch.org/2012/02/npr-notices-growing-tensions-between-muslims-and-christians-in-egypt.html
--------
Syrians Overwhelmingly Approve New Constitution
Syrians show strong pro-Assad support.
by Stephen Lendman
Major media scoundrels can't bear reporting good news they'd rather suppress, so they downplay and disparage it best they can. More on that below.
On Sunday, Syria's state TV showed huge pro-Assad crowds in Damascus' Saba Bahrat Square. By national referendum, they were eager to support constitutional reforms. They also backed state security force efforts against Western-backed killer gangs.
Russian Eurasian Institution head Alexander Doglen also endorsed draft constitutional changes. Islamic scholar Abdul-Rahman Ali al-Dalaa said they boost human dignity and religious freedom.
On February 27, Syria's Interior Ministry announced Sunday's impressive results. From 7AM, 14,185 polling centers opened across Syria's governorates, as well as at border crossings, airports, mobile desert areas, and other locations.
Syrians are enthusiastic for change. Despite opposition boycotts, threats, anti-Assad media campaigns, and turnout hampered in violence-torn areas, 89.4% of eligible voters approved it. Another 9% opposed, and 1.2% of ballots were invalid.
Overall, 57.4% of Syrians participated. The total was impressive, given the risks voters took to show up.
Raw numbers included 8,376,447 voting among 14,589,954 eligible. Those for totaled 7,490,319 compared to 753,208 against.
The Constitution includes 157 articles. From its initial draft, 14 are new, 37 were amended, and another 34 reformulated. Among other reforms, political pluralism was established for the first time, as well as presidential term limits, and press freedom.
Reporting it, The New York Times headlined, "Syrians Said to Approve New Charter as Battles Continue," saying:
Fighting keeps raging. Critics called it "too little too late, and Western leaders labeled (it) a farce."
"Even before the result was announced, after a morning of new shelling in the beleaguered city of Homs and elsewhere, some Western leaders had disparaged the vote as having no credibility."
UK Foreign Secretary William Hague said it "fooled nobody. To open polling stations but continue to open fire on the civilians of the country has no credibility in the eyes of the world."
In fact, Western-backed insurgents bear most responsibility for violence and instability to impose regime change most Syrians oppose. Their impressive turnout showed it.
http://www.opednews.com/articles/Syrians-Overwhelmingly-App-by-Stephen-Lendman-120227-443.html
--------
NATO urges focus on Afghan stability after Koran burnings
Feb 29, 2012
NATO must remain focused on fostering stability in Afghanistan despite the protests and violence that have gripped the country following the burning of copies of the Koran on a NATO military base, the alliance's head said on Tuesday.
"Despite the tragedy of this incident and the challenges we face, we must not lose sight of our goal, a stable Afghanistan. That is in all of our interest; that must remain the focus of our shared effort," NATO secretary-general Anders Fogh Rasmussen said during an alliance seminar in Washington.
The strategy of the United States and its NATO partners has been questioned in recent days, after the burning of copies of the Muslim holy book triggered widespread protests and two U.S. officers were killed in an attack that took place within the Afghan Interior Ministry.
Rasmussen's comments came as NATO officials prepare for a summit to be held in Chicago in May, which is expected to shed light on the West's course out of Afghanistan, where after more than 10 years of war the Taliban continues to pose a major threat and the government of President Hamid Karzai remains weak.
President Barack Obama has said he will withdraw the 33,000 extra troops he sent to Afghanistan in 2009-2010 by the fall, but his troop reduction plans beyond that remain unclear. Most foreign combat troops are due to be gone from Afghanistan by the end of 2014.
Crucial in the NATO strategy in Afghanistan will be standing up a capable local military and police. While Afghan forces are far larger than they were, they lack important capabilities and recent attacks by Afghans wearing security uniforms have raised questions about how Western soldiers will complete their training mission.
On Monday, U.S. officials said they would not swerve from plans to gradually shift into an advisory role despite the officers' deaths within the Interior Ministry, which prompted all NATO advisers to be pulled from ministries in Kabul.
Rasmussen said Afghan forces' management of protests triggered by the Koran burnings showed how much progress they had made.
http://www.asianage.com/international/nato-urges-focus-afghan-stability-after-koran-burnings-334
--------
15kg bomb defused in Peshawar
Wednesday, February 29, 2012
PESHAWAR: Bomb Disposal Squad (BDS) officials on Tuesday defused a bomb weighing 15kg hidden in a jute sack filled with narcotics in the Tatara Park area of Hayatabad, bordering Khyber Agency. The police received a call from an unidentified number, which gave a tip-off about a narcotics filled bag in Tatara amusement park. Acting on the information, the police called in the BDS, which discovered a 15kg heavy bomb hidden among piles of narcotics. According to police officials, the bomb was cleverly hidden in a bid to kill police officers. app
http://www.dailytimes.com.pk/default.asp?page=2012\02\29\story_29-2-2012_pg7_9
--------
25 killed as Syrian army pounds rebels
New move at UN, foreign journalists evacuated
Reuters, Amman
Wednesday, February 29, 2012
Syrian forces shelled opposition strongholds, killing at least 25 people, yesterday and a wounded British photographer was smuggled out of Homs into neighboring Lebanon.
France said the UN Security Council was starting work on a draft resolution on the violence in Syria and the need to gain humanitarian access to Homs and other embattled areas.
"We hope Russia and China will not oppose the proposed resolution," French Foreign Ministry spokesman Bernard Valero said. "Given the emergency, it's time that all the council members, without exception, put a stop to this barbarity."
Russia and China vetoed a draft resolution a month ago that would have demanded an end to the bloodshed and backed an Arab League call for Syrian President Bashar al-Assad to step down.
Activists said Assad sent units of an elite armored division, which is led by his brother Maher, into Homs overnight. Tanks with the words "Fourth Division Monsters" painted on them moved close to the besieged Baba Amro district.
British photographer Paul Conroy, of London's Sunday Times, was spirited safely out of Homs into Lebanon. "He is in good shape and in good spirits," the newspaper said.
Conroy had been among several foreign journalists trapped in Baba Amro, where Marie Colvin, a veteran war correspondent also with the Sunday Times, and French photographer Remi Ochlik were killed in a bombardment on February 22.
Some Syrian activists said Edith Bouvier, a freelance reporter working for French daily Le Figaro, who has a broken leg, had also escaped. But there was no immediate confirmation.
Valero, the French Foreign Ministry spokesman, said he could not confirm or deny the report. "We ask people to be extremely cautious with this kind of information," he added.
An activist with the campaign group Avaaz, which said it had arranged Conroy's escape, said Bouvier and two other Western journalists were believed to be still in Homs.
In Hama province, security forces bombarded the town of Helfaya, a centre of protests in the uprising against Assad.
Activists said the 20 deaths of Sunni Muslim villagers there were among at least 100 killed in the province in the last two weeks in revenge for rebel Free Syrian Army attacks on security forces commanded by members of Assad's minority Alawite sect.
The reports could not be independently confirmed. Syrian authorities tightly restrict media access to the country.
Opposition groups say hundreds of civilians have been killed or wounded in the siege of Baba Amro and other rebellious districts in Homs, where terrified residents are enduring dire conditions, without proper supplies of water, food and medicine.
http://www.thedailystar.net/newDesign/news-details.php?nid=224342
-------
Why India is reluctant to join 'coalition of the willing': Wall Street Journal
by Pankaj Mishra 04:46 AM Feb 28, 2012
India, The Wall Street Journal claimed recently, is the Iranian mullahs' "last best friend" for continuing to buy oil from, and trade with, Iran.
Questioning why Prime Minister Manmohan Singh "hasn't already curtailed dealings with the Islamic Republic", the paper wondered if it has to do with the Indian fear of "pushy Westerners".
Accusing India of carrying some "mental baggage from the days of the Non- Aligned Movement (NAM)", it castigated the country for having failed to grow out of its "adolescent neurosis".
Certainly, American policy- and opinion-makers are right to wonder why the Bush administration's generous 2005 gift of a civil nuclear agreement to India - gratefully accepted by Mr Singh - has not made India a more eager enabler of the United States' strategy to prevent Iran from acquiring nuclear weapons.
Still, some fact-checking seems in order: Iran under its Islamic regime joined NAM when the movement was almost defunct, and when India itself was beginning to move towards a stronger relationship with the US and Israel.
In any case, India, now with almost 200 million restless Muslims, did not welcome an Islamic Revolution on its doorstep. As recently as 2010, Iran's Supreme Leader, Ayatollah Ali Khamenei, alarmed and angered many Indians by listing India-ruled Kashmir as among the Muslim countries awaiting "liberation".
As for the pushy Westerners, lately they have gotten their way in India more often than not. India, as the paper admits, voted against Iran in the International Atomic Energy Agency in 2005. During a Cabinet reshuffle in 2006, Mr Singh ejected his Energy Minister, Mr Mani Shankar Aiyar, who was an outspoken advocate of a gas pipeline to Iran, and replaced him with Mr Murli Deora, a pro-American businessman-cum-politician from Mumbai.
American pressure was widely suspected to be behind this move. Confirmation came last year in the form of a US diplomatic cable released by WikiLeaks.
It shows the US ambassador to India in a self-congratulatory mood over the "undeniable pro-American tilt of the Cabinet shuffle", whose net effect was "likely to be excellent for US goals in India (and Iran)".
So why is India now refusing to augment American pressure tactics on Iran?
One clear answer is that Iran is India's second-biggest oil supplier. Goldman Sachs Group asserts that a US$10 (S$12) increase in India's oil price would probably shave 0.2 percentage point from India's gross-domestic-product growth - a setback India can ill afford as it looks at already reduced targets for this year.
There are also less tangible reasons for India's reluctance to join another "coalition of the willing" against a Muslim country.
Relations between India and Israel have developed fast since the countries established full diplomatic relations in 1992; Israel is India's second-biggest arms supplier and a close adviser on security issues. But India's links with Iran are much older, grounded in a shared religion and history.
PERSIAN CONNECTION
Shias from Persia once ruled large parts of India. The Safavid Empire represented the apex of cultural sophistication for the Mughal dynasty that held sway for centuries. Persian was the language of administration in large parts of India and remained so late into the British colonial era.
India's anti-colonial leaders, Mahatma Gandhi and Jawaharlal Nehru, in turn, were heroes for a whole generation of Iranian intellectuals and activists.
That history of political and cultural partnership might seem very remote today. But it does not lack for recent examples. India and Iran worked together to back the Northern Alliance, specifically Ahmed Shah Massoud, against the Taliban in the 1990s.
India switched to supporting the US after the Sept 11 attacks, hoping to extend its influence within Afghanistan under a US security umbrella. But that policy, predicated on a long US commitment to Afghanistan and opposition to the Taliban, now lies in tatters as the US prepares to withdraw its troops from the country.
Afghanistan will again have regional arbiters. Trying to regain its influence there, India would, of course, find Iran a safer interlocutor and partner than Pakistan.
Could India turn its unavoidable proximity to Iran into a diplomatic advantage?
A recent contributor to a hawkish Indian website proposed that India bring about a "grand rapprochement" between the US and Iran since the latter's nuclearisation is now inevitable.
This is not as absurd as it may seem to laptop bombers itching to bring Iran into their sights. Few things are more desirable than a nuclear-free South Asia and Middle East. But whether we like it or not, this worthy ideal has to reckon with the enduring appeal of Asian nationalism - especially, the widespread sentiment that still upholds nuclear capability as the gold standard of scientific achievement and national strength.
Responding to India's nuclear tests in 1974, Pakistan Prime Minister Zulfikar Ali Bhutto famously vowed that his country would achieve parity with its rival even if it had to eat grass for 1,000 years.
There is no doubt that, short of a catastrophic war that turns much of the Middle East into a wasteland, Iran's nuclear programme, which was started by the Shah, will be completed - either by the present regime in Tehran, or the one that replaces it.
If many Indians feel this to be inevitable, it is because India itself defied intense international pressure to build its nuclear capacity. India refused to sign the Nuclear Non-proliferation and Comprehensive Nuclear-Test Ban treaties, insisting that they discriminated against countries that had not achieved nuclear status before 1968.
As late as 2005, when the Bush administration decided to change tack and seek a strong strategic partner in Asia, the US kept up sanctions imposed on India after the latter's nuclear tests in 1998.
In at least one evolutionary narrative of international relations developed during the Cold War, countries attain adulthood when, after outgrowing adolescent neuroses, they align their interests with US objectives.
The example of India (and its attitude towards Iran) points at a newer and more widespread model of individuation: One in which nation states reach maturity when they grow aware of their own needs and interests, and define their foreign policies through the interplay of geopolitical imperatives, domestic politics, regional histories, and national pride.
To ignore this dawning reality of the multipolar world is to risk regressing beyond adolescent neuroses; it is to lapse into child-like narcissism. BLOOMBERG
Pankaj Mishra is a Bloomberg View columnist, based in London and Mashobra, India. The opinions expressed are his own.
http://www.todayonline.com/Commentary/EDC120228-0000016/Why-India-is-reluctant-to-join-coalition-of-the-willing
--------
India for early Presidential polls in Maldives
PTI Foreign Secretary Ranjan Mathai has proposed a paper which hinted at Presidential election before the end of this year, Maldivian media reported on Wednesday. File photo
India has proposed early Presidential elections in Maldives to end the political impasse in the country following the ouster of the first democratically elected President Mohamed Nasheed.
During his talks with leaders of political parties on Tuesday night, Foreign Secretary Ranjan Mathai proposed a paper which hinted at Presidential election before the end of this year, local media quoted participants at the meeting as saying.
Mr. Mathai arrived in Male on Tuesday on an unannounced visit to hold meetings with various stakeholders. This is his second visit here following the political unrest that engulfed the country early this month following Mr. Nasheed's ouster.
The Sun online claimed that the paper presented by Mr. Mathai sought amendments to the Constitution within one month to pave the way for an early Presidential election before December this year.
Asked on the outcome of the meeting, chaired by the first human rights commissioner of Maldives and ex-Minister Ahmed Mujuthaba, Mr. Mathai said he might tell something later on Wednesday.
Indian High Commissioner to Maldives D.M. Mulay and Ibrahim Hussain Zaki, former chief of Mr. Nasheed's Maldivian Democratic Party, were also present. Maldives current Attorney General also attended the meeting towards the end.
During the meeting, few political leaders had some differences with the Foreign Secretary and the meeting which lasted for two hours didn't find a consensus forward.
Representatives of some political parties objected the presence of Mr. Mathai at the meeting, saying it was not good as the Indian Foreign Secretary is involving himself in the internal matters of this country, media reports said.
Mr. Mathai visited Maldives at the peak of the differences among the political parties and it was he who was able to make all the political parties agree for talks.
http://www.thehindu.com/news/international/article2945529.ece
--------
Iran has the most successful human rights record in Muslim world: FM
(Ahlul Bayt News Agency) - Salehi made the remarks during a speech at the 19th session of the United Nations Human Rights Council, which opened in Geneva on February 27 and closes on March 23.
In his speech, Salehi said that Iran has made considerable achievements in the field of human rights, adding that the elections that have been held in the country prove the democratic nature of the Islamic system.
Commenting on Iran's parliamentary election, which is scheduled to be held on March 2, Salehi said it is predicted that the people will turn out in large numbers for the election.
He went on to say that Iran will continue its efforts to improve its human rights record.
Salehi also commented on the sanctions imposed on the Islamic Republic, saying that certain Western countries have been exerting pressure on Iran with the aim of depriving the people of their rights.
On the assassinations of a number of Iranian nuclear scientists, he stated that such actions will not compel the country to change its policies, adding that perpetrators of the terrorist attacks carried out against Iranian scientists are residing in the capital of a Western country and are being supported by the Zionist regime.
Elsewhere in his remarks, the Iranian foreign minister said that the Human Rights Council is at a critical stage and should make efforts to prevent violations of human rights around the world and the use of the issue of human rights as a tool to realize political objectives.
Salehi also spoke about the atrocities being committed by Israel against the Palestinian people and said that the Human Rights Council is the most important body where numerous problems facing the Palestinians can be addressed.
On the popular uprisings occurring in the Arab world, the Iranian foreign minister stated that the people should be vigilant about the enemies' efforts to sow discord among them and should safeguard the achievements of their revolutions.
http://abna.ir/data.asp?lang=3&id=299443
--------
ISI, Pakistan Army knew about Osama hideout: WikiLeaks
Islamabad, Feb 28,2012, (IANS):
Officials of the Pakistan Army and spy agency ISI knew about Al Qaeda chief Osama bin Laden's hideout in Abbottabad, according to a report by whistleblowing website WikiLeaks.
WikiLeaks Monday published more than five million emails from US-based global security analysis firm Stratfor. The messages were reportedly stolen by hacker group Anonymous.
"Mid to senior level ISI and Pak military, with one retired Pak military General, had knowledge of the OBL (Osama bin laden) arrangements and safe house," Online news agency quoted Fred Burton, Stratfor vice-president for intelligence, as writing in an email.
The email was reportedly written May 13 to one of the company's regional directors for South Asia soon after the killing of the Al Qaeda chief.
Bin Laden was killed May 2 in a unilateral operation launched by US special forces at his mansion in Abbottabad near the Pakistani capital.
However, Burton -- considered one of the world's foremost experts on security, terrorism and terrorist organisations -- did not reveal his source, saying only that the source was in Pakistan.
He also wrote that less than a dozen people within the Inter-Services Intelligence (ISI) and Pakistani military had information on bin Laden.
In the May 13 email, he wrote that the source did not provide him with names.
At the same time, he asserted that the US intelligence knew about it.
According to Online news agency, Wikileaks has alleged that Stratfor gave a complimentary membership to former ISI chief Hamid Gul.
Hackers linked to the Anonymous group said they had stolen the emails of around 100 Stratfor employees in December last year. The group said it planned to publish the data so people would know the "truth" about Stratfor's operations.
WikiLeaks in 2010 released secret video battle footage and thousands of US diplomatic cables about wars in Iraq and Afghanistan.
http://www.deccanherald.com/content/230736/isi-pakistan-army-kosama-hideout.html
--------
Al-Qaeda commander Saif al-Adel 'held at Cairo airport'
29 February 2012
Saif al-Adel is on the US most-wanted list with a $5m reward for his capture
Senior al-Qaeda leader, Saif al-Adel, has been arrested at Cairo airport, Egyptian security officials say.
He had arrived in the Egyptian capital on a flight from Pakistan, which had stopped in Dubai, an airport official told the AFP news agency.
The Egyptian, whose real name is Muhammad Ibrahim Makkawi, was once Osama Bin Laden's security chief and oversaw its military operations.
He is wanted by the US for the 1998 embassy bombings in East Africa.
Following the US-led invasion of Afghanistan in 2001, Saif al-Adel is believed to have fled to Iran with Saad Bin Laden, a son of the late al-Qaeda leader.
They were allegedly then held under house arrest by Iran's Islamic Revolutionary Guard Corps (IRGC). Iran never acknowledged their presence.
Several letters and internet statements bearing Saif al-Adel's name or aliases were released after 2002, leading analysts to believe he was still in contact with al-Qaeda's leaders in the region.
Recent reports said Saif al-Adel might have been released and made his way to northern Pakistan, along with Saad Bin Laden.
http://www.bbc.co.uk/news/world-middle-east-17204128
--------
Syria toll passes 7,500, UN says
Wednesday, February 29, 2012
Blood stains left by a 70-year-old woman who was killed in the room after heavy shelling by government forces in Sermeen near Syrian northern city of Idlib February 28. Photo: Reuters
More than 7,500 people have died in Syria since security forces launched a crackdown on dissent last March, a senior United Nations official says.
Under-Secretary-General for political affairs Lynn Pascoe said there were "credible reports" the toll often exceeded 100 civilian deaths per day.
Syrian forces pounded residential areas in Homs and elsewhere, on Tuesday, killing scores, activists reported.
Meanwhile, a UK journalist hurt in Homs last week, was smuggled to safety.
Sunday Times photographer Paul Conroy is reported to be safe and well in Lebanon, but the whereabouts of Frenchwoman Edith Bouvier, who has a broken leg, and two colleagues is unclear.
The four journalists left Homs together but their convoy was shelled and they were separated, said the Avaaz campaign group, which said it co-ordinated the rescue attempt.
French President Nicolas Sarkozy withdrew an earlier statement that Bouvier had reached safety in Lebanon.
The UN's new estimate of the number of deaths came at a meeting of the UN Security Council.
"There are credible reports that the death toll now often exceeds 100 civilians a day, including many women and children," said Lynn Pascoe.
"The total killed so far is certainly well over 7,500 people."
The Syrian government says at least 1,345 members of the security forces have been killed combating what it calls "armed gangs and terrorists", and puts the number of civilians killed at 2,493.
In Washington, US Secretary of State Hillary Clinton said that President Bashar al-Assad fitted the definition of a war criminal.
The confusion surrounding the whereabouts of the wounded French reporter Edith Bouvier - and President Sarkozy's embarrassing admission that he had got it wrong in saying she had crossed safely into Lebanon - illustrate both the complications and the extreme dangers surrounding efforts to bring the trapped Western journalists to safety.
Necessarily, any attempt to extricate them has to be surrounded with secrecy, especially if it involves smuggling them across the Baba Amr battlefront and then the tense and dangerous terrain between Homs and the Lebanese border.
From several accounts, the four journalists came under shellfire as they were trying to escape, and the group got broken up.
The Avaaz group, which played a role in the operation, said many activists died while escorting the journalists.
The whereabouts of the missing three journalists remains unclear, though some relatives and other sources believe they may still be trapped in Baba Amr under shellfire.
She told a Senate hearing that an argument could be made for declaring the Syrian leader a war criminal.
Clinton added that such an action would complicate the chances of finding a solution to the violence - and tended to make it harder to persuade a leader to stand down.
An emergency meeting of the UN Human Rights Council was also held in Geneva, where commissioner Navi Pillay said atrocities against civilians were being committed.
Syria's representative to the UN, Faysal Khabbaz Hamoui, stormed out of the session, accusing countries of "inciting sectarianism and providing arms".
'Convoy shelled'
With no clear word on the fate of Bouvier and her colleagues, campaign group Avaaz said activists had died taking part in the rescue attempt.
Executive director Ricken Patel said the rescue group had been split in two by shelling after leaving Homs, and only Conroy's group had been able to move forward.
Avaaz described the three other journalists - Bouvier, Javier Espinosa from Spain and Frenchman William Daniels - as "unaccounted for".
Conroy was apparently able to walk across the border into Lebanon during the night, but the BBC's Jim Muir in Beirut adds that the more seriously wounded Bouvier would have had to be carried on a stretcher.
Claims to have delivered more than $1.8m of medical equipment to the worst-hit areas
Has helped collect and verify information on the scale of the crackdown on dissent
Profile: Global campaign group Avaaz
Confusion remains over Ms Bouvier's location.
She and Conroy were both hurt in the attack in which journalists Marie Colvin and Remi Ochlik died. There has been no word on what has happened to their bodies.
Reports on Tuesday said Homs had come under some of its heaviest bombardment yet, with the government sending in units of an elite armoured division into rebel-held districts.
The activists' network the LCC said 65 people were killed on Tuesday. Death tolls remain very hard to verify as media access across the country is tightly restricted.
'Crimes against humanity'
The emergency session of the United Nations Human Rights Council (UNHRC) discussed a confidential report delivered by a UN panel of experts that lists Syrian army officers and government officials who could be investigated for crimes against humanity.
French Foreign Minister Alain Juppe has urged the 47 nations in the council to be prepared to submit a complaint against Syria to the International Criminal Court (ICC) in The Hague.
"The task of the council is to express the disgust of the entire world at the odious crimes that the Syrian state is committing against its people," he said.
But the meeting is unlikely to bring about any change from the government in Damascus which is currently fighting for its survival, says Jim Muir.
It is more likely to put pressure on countries such as Russia and China, which have opposed any international action against Syria, he adds.
http://www.thedailystar.net/newDesign/latest_news.php?nid=36132
--------
Chinese woman shot dead in Pakistan city
(AFP) – 18 hours ago
PESHAWAR, Pakistan — A Chinese woman was shot dead with a male companion on Tuesday in the Pakistani city Peshawar, which borders the tribal belt stronghold of Taliban and Al-Qaeda-linked militants, police said.
They were killed by gunmen on motorbikes while walking in the Kohati bazaar in the historic centre of the northwestern city, police said.
The motive for the shooting and why the Chinese woman was in Peshawar were not immediately clear.
"Those who were killed are one man carrying a Pakistani ID card and one woman carrying a Chinese passport," police official Tahir Ayub told AFP.
They were walking in the Kohati bazaar when gunmen on motorbikes shot them and fled, he said. The woman was aged about 40 and the Pakistani man was named as Suleiman Shams, 22.
It was the fifth shooting or bomb attack in Pakistan's northwestern province of Khyber Pakhtunkhwa since Thursday, raising fears that violence is again on the rise following a relative decline in unrest in recent months.
Shamsul Arifeen, the father of the Pakistani man, said his son was on vacation from studying English literature at the prestigious Government College University in Lahore, and he had told him he was working as a translator.
"My son told me that he knew a Chinese and wanted to work for her as a translator while she was in Peshawar. I told him not to get involved in this thing as the environment was hostile, but he insisted," Arifeen told AFP.
Police found a Chinese passport with a Pakistani tourist visa inside, a laptop, digital camera and biscuits in the woman's bag, Ayub said.
"It seems that militants killed them to make big news because the woman was a foreigner, otherwise we see no other reason immediately," he said.
The woman came from the eastern city of Lahore and checked in at Peshawar's cheap Motel Inn at 10.00 am (0500 GMT) on Sunday, he added.
Peshawar is a city of 2.5 million near the Afghan border and has long been on the frontline of violence blamed on a five-year Taliban insurgency led by militants opposed to the government's alliance with the United States.
Hospital staff at the main Lady Reading Hospital in Peshawar that received the bodies said the woman was dressed in a black jacket, black shirt, black trousers and high-heeled shoes.
http://www.google.com/hostednews/afp/article/ALeqM5iV2DVJ2as9tBFHzuFmhZRl3cHraQ?docId=CNG.2bc3c9db3eb1617485454bf9548c7fe3.671
--------
14 killed in two bomb blasts in Afghanistan
Wednesday, February 29, 2012
KABUL: Officials say two separate blasts in southern Afghanistan on Tuesday killed 14 people, including a group of insurgents who were trying to rig an improvised bomb against Afghan and foreign forces. Provincial spokesman Daud Ahmadi told AFP that in the volatile Nawzad district of Helmand province a group of seven Taliban terrorists died while trying fit as pipe bomb on a vehicle on Monday. "The explosive-packed pipe detonated killing a Taliban commander along with six of his fighters," he said. On the same day, seven people, including six women, were killed in an explosion in Nawa district of the same province inside a house used by a local Taliban commander Mullah Manan, a senior security official said. "We have intelligence that the Taliban commander was making bombs inside the house," Mohammad Ismail Hotak told AFP. afp
http://www.dailytimes.com.pk/default.asp?page=2012\02\29\story_29-2-2012_pg7_7
--------
NAM envoys at IAEA consult on preparing pro-Iran draft
Vienna, Fen 28, IRNA – Three days after IAEA Sec Gen Yokia Amano's latest report on Iran's peaceful nuclear program NAM envoys at UN nuclear agency began consultations here on preparing a pro-Iran communiqué.
According to an IRNA reporter at the International Atomic Energy Agency (IAEA) headquarters, the Non-Aligned Movement ambassadors during the Monday session of the agency in Vienna surveyed the latest developments related to Iran's nuclear program.
During the two hour meeting of the NAM behind close doors the Islamic Republic of Iran's representative at the agency Ali-Asghar Soltaniyeh presented a report on two rounds of recent inspections of the agency's high ranking officials of Iran's nuclear facilities.
Iran's ambassador and representative at the agency said at the session that the Islamic Republic of Iran is seriously determined to keep cooperating with the agency, but meanwhile nay kind of compromise over the undeniable rights of the Iranian nation would be impossible.
Soltaniyeh said at the session that the Islamic Republic of Iran during the intensive talks in Tehran elaborated with full goodwill and transparency on legal and technical aspects of Iran's nuclear program.
An IAEA high ranking delegation headed by deputy secretary general of the agency Herman Nackaerts visited Iran twice during the past month.
**
Iran on Monday required the International Atomic Energy Agency to sign a Modality to resolve outstanding issues prior to access to Iranian sites.
Iran's IAEA envoy Ali-Asghar Soltaniyeh said that the prerequisite to the IAEA inspectors' access to Iranian sites is signing a Modality Plan to resolve the outstanding issues.
Speaking to IRNA after two-hour closed-door briefing session of Non-Aligned Movement at IAEA Headquarters, Soltaniyeh said that the ambassadors at the meeting discussed the latest developments about Iran's nuclear issue, including two rounds of Tehran-IAEA talks.
At the NAM meeting, he expressed Iran's preparedness for cooperation with the IAEA, adding that no compromise will be made over Iranian nation's inalienable rights.
Soltaniyeh added that he has briefed the NAM Representatives to IAEA about the intensive talks with the agency's officials in Tehran and made it clear that the Islamic Republic of Iran showed goodwill and transparency on the legal and specialized aspects of the issue.
As for question of some NAM ambassadors on the IAEA inspectors' access to Parchin, he said that first of all a modality in which duties of both sides are clarified, should be signed with all reservations so that the ground would be prepared for any inspection.
The Islamic Republic of Iran is ready to continue talks with the IAEA based on its international principles and commitments, including Non-Proliferation Treaty, said Soltaniyeh, adding that based on approvals of the NAM ambassadors, the working group of NAM, comprising deputy ambassadors immediately started work to prepare statement in support for the Islamic Republic of Iran.
He noted that once finally approved, the NAM envoys' statement would be read out at the Board of Governors session by Egypt's ambassador.
The IAEA Board session will convene next week.
IAEA Director General Yukiya Amano released his latest Iran report on Iran three days ago.
As worries over Iran pushed world oil prices to nine-month highs, Iran's supreme leader, Ayatollah Ali Khameneie, making no mention at all of the International Atomic Energy Agency (IAEA) inspectors, reiterated the assertion this week that 'the Iranian nation has never been seeking an atomic weapon and never will be.'
Possessing a nuclear bomb 'constitutes a major sin,' he told a group of atomic scientists, but nuclear energy 'is in Iran's national interest.'
'Pressure, sanctions, threats and assassinations will not bear any fruit and Iran will continue its path of (nuclear) scientific development.'
The IAEA said it had gone into the two-day visit, and an inconclusive one last month, in a 'constructive spirit,' but that no agreement had been reached on efforts to elucidate Iran's nuclear activities.
Despite requests, 'we could not get access' to a military site in Parchin where suspected nuclear warhead design experiments were conducted, team leader and chief inspector Herman Nackaerts said on returning to Vienna.
IAEA chief Yukiya Amano said the refusal to allow the Parchin inspection was 'disappointing,' and the UN watchdog said that 'at this point in time' there was no agreement with Iran on holding further talks
http://webcache.googleusercontent.com/search?q=cache:http://www.irna.ir/News/Politic/NAM-envoys-at-IAEA-consult-on-preparing-pro-Iran-draft/80009845
--------
While Arab world explodes, Iran cracks down with impunity
By the CNN Wire Staff
February 28, 2012
(CNN) -- While the world's attention has been focused on tumult in the Arab world, Iran has cracked down with impunity on dissent and is feared to come down even harder as elections approach, Amnesty International said in a sweeping report.
The global human rights monitor documented "widespread and persistent human rights violations in Iran."
"It is essential if further mass human rights violations are to be avoided that the international community act on behalf of the hundreds, if not thousands, of prisoners of conscience and political prisoners imprisoned after unfair trials in Iran," Amnesty International said in the report.
Supreme Leader Ayatollah Ali Khameini celebrated the popular revolts in Tunisia, Egypt and Bahrain, saying that they reflected an "Islamic awakening" based on Iran's 1979 revolution.
Explain it to me: Iran Overblown rhetoric raises Iran stakes Message behind 'Bomb Iran' billboard
But since the 2009 election, the Islamic republic has repressed similar voices within its own borders, Amnesty International said.
"Since the 2009 crackdown, the authorities have steadily cranked up repression in law and practice, and tightened their grip on the media," according to the Amnesty International report, which came out just hours after the United Nations Human Rights Council convened for its latest session in Geneva.
"In Iran today, you put yourself at risk if you do anything that might fall outside the increasingly narrow confines of what the authorities deem socially or politically acceptable," said Ann Harrison, of Amnesty's Middle East and North Africa program.
"Anything from setting up a social group on the Internet, forming or joining an NGO or expressing your opposition to the status quo can land you in prison," she said.
Iran has defended its record before the United Nations Human Rights Council and charged that Western critics are politicizing the issue of human rights for their own gain.
Yet Amnesty International said Iran has deemed demonstrations, public debate and the formation of groups and associations a threat to "national security" punishable by long prison sentences or even death.
"Lawyers have been jailed along with their clients. Foreign satellite television channels have been jammed. Newspapers have been banned," the advocacy group said.
Mahdieh Mohammadi Gorgani, wife of detained journalist Ahmad Zeidabadi, describes in the report how an interrogator told her husband, "We are ordered to crush you. And if you do not cooperate, we can do anything we want with you. And if you do not write the interrogation papers, we will force you to eat them."
Amnesty International said blogger Mehdi Khazali was this month sentenced to four and a half years in prison followed by 10 years in "internal exile," plus sentenced to pay a fine on charges believed to include "spreading propaganda against the system," "gathering and colluding against national security" and "insulting officials."
Amnesty International called on the world to pressure Iran to amend laws that restrict rights of expression and assembly, as well as to allow for public debate before Iranians cast their votes in March.
It also called for an end to jail time for people who protest peacefully and independent investigations of alleged human rights violations.
The issue of human rights, said Amnesty International, can get lost as the international community scrutinizes Iran's nuclear program.
"For Iranians facing this level of repression, it can be dispiriting that discussions about their country in diplomatic circles can seem to focus mainly on the nuclear program at the expense of human rights," Harrison said.
http://edition.cnn.com/2012/02/27/world/meast/iran-crackdown/
--------
British arms-to-Iran suspect plans to seek release
By JUAN CARLOS LLORCA
Feb 29, 2012
EL PASO, Texas: A retired British businessman whose extradition to the US to face allegations he tried to sell missile batteries to Iran caused an uproar in his home country will seek his release on bond Friday.
Christopher Tappin, 65, faces charges in El Paso that he tried to buy specialized batteries for Hawk missiles for $25,000 from undercover American agents with the intention of exporting them to Iran. Two other men have already been convicted in the case.
Tappin's US attorney Dennis Hester said he will request that US Magistrate Judge David Guaderrama free his client on bond during a Friday hearing.
"The only factor (against that happening) is that he doesn't have many ties to the U.S," Hester said Tuesday.
But the lawyer said he hopes the judge will take into consideration the fact that Tappin surrendered to US Marshals and complied with the conditions of release set by British authorities.
Tappin had chains and shackles on his hands and feet during Tuesday's hearing, as is customary in federal court, his lawyer said.
"He was calm, in good spirits, considering everything that he's been through," Hester said.
Tappin turned himself in Friday after fighting extradition from the United Kingdom for two years and was brought to El Paso by federal agents. His case has touched a nerve in Britain, where many believe the fast-track extradition arrangements between the UK and the US are unfairly weighted in Washington's favor.
He is currently jailed in New Mexico, some 90 miles (145 kilometers) north of El Paso, where he was put in solitary confinement at his own request, Hester said.
Tappin's wife, Elaine, testified Tuesday at a British parliamentary hearing, breaking down in tears and saying no one was prepared to listen to her husband's defense before "carting him off" to the United States.
British Attorney General Dominic Grieve told the same committee that the question of the treaty's fairness was "one of the more difficult questions that this government has to answer."
Grieve's ruling Tory party criticized the extradition treaty when it was in opposition, but has since made little move to alter the deal. He told lawmakers that some of the outrage being kicked up over Tappin's case might be down to "his respectability and his age."
"I have seen nothing to suggest to me that he did not have a full judicial scrutiny," Grieve said.
A three-count, federal indictment filed in 2007 says a cooperating defendant provided computer files showing Tappin intended to send the missile batteries to a Tehran-based company and that he and the cooperating defendant had illegally sold US technology to Iran in the past.
The two men already convicted in the case are Robert Gibson, another British national who pleaded guilty in April 2007 and was sentenced to 24 months in prison, and Robert Caldwell, a US man who was found guilty in July of that year and sentenced to 20 months.
http://arabnews.com/middleeast/article581178.ece
--------
Israel would not warn US on Iran strike
By KIMBERLY DOZIER
Published: Feb 28, 2012 19:29 Updated: Feb 28, 2012 19:29
WASHINGTON: Israeli officials say they will not warn the US if they decide to launch a pre-emptive strike against Iranian nuclear facilities. The pronouncement, delivered in a series of private, top-level conversations with US officials, sets a tense tone ahead of meetings in the coming days at the White House and in Congress.
Israeli officials said that if they eventually decide a strike is necessary, they would keep the Americans in the dark to decrease the likelihood that the US would be held responsible for failing to stop Israel's potential attack, said one US intelligence official familiar with the discussions. The US has been working with the Israelis for months to convince them that an attack would be only a temporary setback to Iran's nuclear program.
Israeli defense officials confirmed that there are no plans to alert the US ahead of time about any operation against Iran, though they stressed no decisions have been made on whether to attack. The officials spoke on condition of anonymity because they were discussing a confidential security matter.
Israeli Prime Minister Benjamin Netanyahu and Defense Minister Ehud Barak delivered the message to a series of high-level US visitors to the country, including the chairman of the Joint Chiefs of Staff, the White House national security adviser, the director of national intelligence and top US lawmakers, all trying to close the trust gap between Israel and the US over how to deal with Iran's nuclear ambitions.
Netanyahu delivered the same message to all the Americans who have traveled to Israel for talks, the US official said. The official spoke on condition of anonymity to discuss sensitive strategic negotiations.
The White House declined to comment, as did the Pentagon and Office of Director of National Intelligence.
Iran claims its nuclear program is for peaceful purposes, but the International Atomic Energy Agency has raised alarms that its uranium enrichment program might be a precursor to building nuclear weapons. The US has said it does not know whether the government has decided to weaponize its nuclear material and put it on a missile or other delivery device.
The secret warning is likely to worry US officials and begin the high-level meetings with Israel and the US far apart on how to handle Iran.
But the apparent decision to keep the US in the dark also stems from Israel's frustration with the White House. After a visit by National Security Adviser Tom Donilon, the Israelis became convinced the Americans would neither take military action, nor go along with unilateral action by Israel against Iran. The Israelis concluded that if there were any strike they would have to conduct it unilaterally — a point they are likely to hammer home in a series of meetings over the next two weeks in Washington, the official said.
Barak will meet with top administration and congressional officials during his visit. Netanyahu arrives in Washington for meetings with President Barack Obama next week.
The behind-the-scenes warning belies the publicly united front the two sides have attempted to craft with the shuttle diplomacy to each other's capitals.
"It's unprecedented outreach to Israel to make sure we are working together to develop the plan to deter Iran from developing a nuclear weapon," and to keep Iran from exporting terrorism, said Rep. C.A. "Dutch" Ruppersberger, the top Democrat on the House intelligence committee.
He traveled there with the intelligence committee chairman, Rep. Mike Rogers, a Republican, to meet Israel's prime minister and defense minister, along with other officials.
"We talked about the fact that sanctions are working and they are going to get a lot more aggressive," Ruppersberger added.
They also discussed presenting a unified front to Iran, to counter the media reports that the two countries are at odds over what to do about Iran.
"We have to learn from North Korea. All those (peace) talks and stalling and they developed a nuclear weapon," he said. "We are going to send a message, enough is enough, the stalling is over. ... All options are on the table."
Rogers told CNN television on Monday: "I got the sense that Israel is incredibly serious about a strike on their nuclear weapons program. It's their calculus that the administration ... is not serious about a real military consequence to Iran moving forward.
"They believe they're going to have to make a decision on their own, given the current posture of the United States," he added.
US intelligence and special operations officials have tried to keep a dialogue going with Israel despite the high-level impasse, offering options such as allowing Israel to use US bases in the region to launch such a strike, as a way to make sure the Israelis give the Americans a heads-up, according to the US official and a former US official with knowledge of the communications.
Cooperation has improved on sharing of intelligence in the region, according to one current and one former US official. Israel is providing key information on Syria, for instance, now that the US has closed its embassy and pulled out its diplomats and intelligence officials stationed there, the US official said.
http://arabnews.com/middleeast/article580974.ece
--------
Crackdown on dissent soars in Iran
Published: Feb 29, 2012
LONDON: Iran has "dramatically escalated" a crackdown on dissent in the run-up to this week's parliamentary elections, arresting lawyers, students and journalists and targeting electronic media, human rights group Amnesty International said yesterday.
"In Iran today you put yourself at risk if you do anything that might fall outside the increasingly narrow confines of what the authorities deem socially or politically acceptable," said Ann Harrison, an Amnesty Middle East expert.
"Anything from setting up a social group on the Internet, forming or joining an NGO (nongovernmental organization), or expressing your opposition to the status quo can land you in prison," she said.
Friday's election is the first nationwide vote since the disputed 2009 re-election of President Mahmoud Ahmadinejad that sparked eight months of unrest and a crushing state response.
The vote is likely to highlight the popularity of the clerical establishment as it stands firm against Western pressure to curb its nuclear work.
Amnesty said in a report that Iranian authorities had steadily cranked up repression of dissent in the last year, launching a wave of arrests in recent months.
The arrests have targeted a range of groups, including lawyers, students, journalists, political activists and their relatives, religious and ethnic minorities, filmmakers, and people with international connections, it said.
Amnesty said the crackdown "laid bare the hollowness of Iran's claims to support protests in the Middle East and North Africa."
The clampdown has targeted electronic media, seen by Iranian authorities as a major threat, the rights groups said.
In January a senior police officer called Google an "espionage tool," not a search engine, it said.
Also last month, the new "cyber police" ordered owners of Internet cafes to install closed-circuit television and to register the identity of users, Amnesty said.
Millions of Iranians have experienced disruption to e-mail and Internet access in the runup to the election, including problems accessing websites via virtual private network software which many in Iran use to get around government filters.
Blogger Mehdi Khazali was sentenced to four-and-a-half years in prison this month after being charged with "spreading propaganda against the system," Amnesty said.
The rights group urged other countries not to allow tensions over Iran's nuclear program to distract them from pressing Iran to live up to its human rights obligations.
Leading reformist candidates have refused to stand in Friday's vote, leaving rival hard-line factions of the Supreme Leader, Ayatollah Ali Khamenei, and Ahmadinejad to battle it out.
Leaders of Iran's pro-reform opposition have been sidelined since the 2009 vote, with two of them, Mirhossein Mousavi and Mehdi Karoubi, under house arrest since February 2011.
Mousavi and Karoubi both lost to Ahmadinejad in the 2009 vote and insist it was rigged to secure his re-election.
http://arabnews.com/middleeast/article581012.ece
--------
Iranian responses to the "Arab spring": appropriation and contestation
Ziba Mir-Hosseini
29 February 2012
Deniz Kandiyoti: The popular movements of the "Arab spring" posed numerous challenges for neighbouring regimes. Iran stood out with its concerted efforts to appropriate and re-brand these social movements as a continuation of the Iranian revolution of 1979. How do you evaluate these efforts and their effects?
Ziba Mir-Hosseini : The events of the Arab spring were received differently by the government authorities, on the one hand, and the Green movement and the people, on the other. This led to two separate narratives and responses.
From the very start the Supreme Leader, Ali Khamenei, and the government authorities called the unfolding events an Islamic resurgence, claiming that it was a continuation of the Iranian revolution of 1979. These overtures, however, were soon rejected by the leaders of the Muslim Brotherhood in Egypt and by Ghannoushi, leader of the Nahda Islamic movement in Tunisia; they distanced themselves from the Iranian leadership, and made it clear that neither a Khomeini-style revolution, nor an Islamic state on the Iranian model, held any appeal for the Arab protesters whose priorities were dignity, democracy and justice. After the success of the popular movements and the overthrow of existing regimes in Tunisia, Egypt and then Libya, the official interpretation in Iran shifted from Islamic Revolution to Islamic Awakening ↑ , in a systematic attempt to appropriate these achievements for their vision of Islam.
At the popular level, the events in the Arab world inspired Iranians, and the youth especially, reviving memories of the protests that followed June 2009 presidential election – protests that began on 25 June with a silent demonstration in Tehran with the slogan 'Where is my vote?' and evolved into a dynamic and vibrant civil rights movement that came to be known as the Green Movement ↑ . By the time of the Arab uprisings, regime forces had brutally suppressed Green protesters, and their voices and demands could be heard only in cyberspace, on blogs and opposition websites. Now online slogans started to change - Tunes tunest ma natunestim (a pun: "Tunisia could, we couldn't"). This was a moment of soul searching for the people. Why hadn't they succeeded in their own protests? The leaders of the Green Movement, Mir-Hossein Mousavi and Mehdi Karroubi, saw this as an opportunity to invite people to come out and celebrate the events and show solidarity with the Arab spring. They applied for official permission to hold a peaceful solidarity rally (the constitution allows for peaceful demonstrations so permission should not, in principle, be necessary) but it was denied. The day they chose for the demonstration was 14 February, only 3 days after the anniversary of the Iranian revolution, which the government uses as an occasion for displaying public support for the Supreme Leader and the vitality of the 'Islamic Revolution'. What happened on 14 February took both the government and the leaders of the Green movement by surprise. Given the high levels of repression and brutality, few thought that people would dare to come out. But they did, in large numbers. A protester with a green headband managed to climb a giant crane to hang Mousavi's and Karroubi's pictures ↑ .
It was a replay of the street presence of the Green Movement and showed that it was still alive. By the afternoon the government reacted with a crackdown that recalled earlier scenes of police brutality, with teargas, violent assaults on unarmed people, and arrests. Two days later, deputies close to the Supreme Leader staged a protest in parliament and demanded the execution of Mousavi and Karroubi, hinting at links with "foreign powers". Mousavi and Karroubi were placed under house arrest, where they still remain incommunicado, and a new wave of arrests began. This clearly showed how much the authorities still feared the potential of the Green Movement, and disproved their claims that the movement was dead. The government's line had been two-fold; first ,they claimed they had convinced the supporters of Mousavi and Karroubi (among whom there were reportedly even members of the revolutionary guard) of the error of their ways; and secondly that young people would remain passive and that they had no interest in politics. The 14 February 2011 protest proved them wrong.
DK: So despite all the efforts by the government they were ultimately unsuccessful in legitimising their position and actions.
ZMH: Yes. The nail in the coffin of the official discourse came with developments in Syria. The blatant double standard of the government became very clear. As the atrocities against civilians increased and it became clear that the Assad regime was receiving Iranian funding, how could the government uphold an expansion of popular democracy that stops at the door of Syria? The official line was that the Syrian protesters were US-backed, and Iran was supporting Assad's regime as the only one in the region that stood up to the US and defended Palestine. But government media were instructed not to mention Syria. At first it was only reformist papers and websites that criticized the official position. But by August conservative media were increasingly joining them, and in the winter both Ahmadinejad and Khamenei were calling on the Syrian regime to show restraint.
DK: How do you evaluate the trajectory of the democratic movement in Iran?
ZMH: What we are now seeing is a dynamic, vibrant and innovative civil rights movement that has a long history and speaks to the aspirations of Iranian society since the beginning of the 20th century. The project, which started in 1906 with the constitutional revolution and continued with Mossadegh between 1951 and 1953 (when it came to an abrupt end when he was deposed by a CIA–backed coup), and the Iranian revolution of 1979,all expressed popular democratic aspirations. Democracy, rule of law, an independent judiciary and national sovereignty were the threads running through these demands. However, these aspirations were frustrated ↑ , either as a result of external interventions or because of internal tensions between religion and secularism and between absolutism and democracy.
The fraudulent elections of June 2009 marked a turning point ↑ , when the regime was caught breaking many of its own taboos. It became clear during the election campaigns that Iranians of both genders, all classes and all parts of the country had rejected or at least were questioning many of the gender codes and sexual taboos firmly enforced by the Islamic Republic over the past 30 years. One of president Ahmadinejad's first acts after his first election in 2005 was the countrywide Social Morality Plan (tarh-e amniyat-eejtema'i), which aimed to reinforce the rigid codes of dress and comportment for women that had prevailed in the 1980s. This certainly suggested that the government thought they were losing their grip. But it was too late; the act did not intimidate women but united them, and women's groups and activists came together to overcome the opposition between 'Islamic' and 'secular' feminism that had plagued the politics of gender in Iran since the 1979 Revolution.
The main evidence for this is how women managed to make their demand for legal equality a central issue in the 2009 presidential election. In April 2009, 42 women's groups and 700 individuals, including both secular feminists and religious women from the reformist parties, came together to form a coalition called the Women's Convergence. Without supporting any individual candidate, the coalition posed pointed questions to the field. They raised two specific demands: first, the ratification of the UN Convention on the Elimination of Discrimination Against Women (CEDAW) and second, the revision of the four articles of the Iranian constitution that enshrine gender discrimination. Using the press and new media, they put the candidates on the spot. This helped to establish that no democratic platform could be credible without taking account of women's demands for equality. All the presidential candidates – apart from Ahmadinejad – responded to women's demands. The renowned filmmaker Rakhshan Bani Etemad filmed women's activists ↑ , secular and religious, articulating their demands, then filmed herself showing them to the presidential candidates and asking what they were going to do about them. The candidates had to prove that they supported these demands and had concrete plans to meet them. This is something that Arab women's rights activists are still struggling to achieve in the aftermath of the Arab spring, where the women's rights platforms do not always appear as integral to the struggle for democracy as they do in Iran.
Another novelty was the appearance of Zahra Rahnavard at the side of - and even holding hands with - her husband, the leading reformist candidate Mir Hossein Mousavi. This was the first time that a woman – who openly supported women's rights and human rights – appeared as an equal partner alongside her husband. This changed the tone of the campaign, and in fact raised the level of debate. After the post-election crackdown began, Rahnavard became even more outspoken ↑ , and ranked with her husband and Karroubi as the leaders of the opposition.
In my view, what makes the new democratic movement in Iran so different is the very public presence of women, and their open challenge to the strict Shari'a-based attempts by the ruling clerics after 1979 to banish women and love from public space. Central to the 'islamization' policies of the post-revolutionary regime were the imposition of hijab, the introduction of gender segregation, the censorship of films (banning love from the screen) and the revival of severe penalties for sexual 'offences'. There are intimate links between democracy and sexuality, and the closing of democratic space begins by making women and sexuality taboo subjects.
"In This Dead-End ↑ ", a beautiful poem by Ahmad Shamlou from July 1979, captured this patriarchal taboo on love; it begins:
They smell your mouth
To find out if you have told someone: I love you!
They smell your heart!
Such a strange time it is, my darling
And they punish Love
At the thoroughfares
By flogging
We must hide our love in the dark
But love has now been rehabilitated, even among those Islamists who made the revolution. In the clampdown following the 2009 election, numerous young journalists and activists were jailed, as well as prominent reformists who had been key figures in the 1980s and 1990s. Their wives started a campaign ↑ of putting love letters to them online. This was first done by the younger women, and later taken up by the older women – and men. What makes these often very affecting letters especially significant is that many of the writers were women from religious backgrounds who now did not hesitate to write publicly of their physical longing for their men, and to question the justice of the system that imprisoned them. Three decades of the repressive politicisation of women and sexuality had backfired ↑ .
DK: Shirin Ebadi claimed that men in Iran have finally understood that the fight for democracy and for women's rights are two sides of the same coin. Is this claim justified?
ZMH: I agree with this view since young men in Iran have also come to experience discrimination under the Islamic republic. They have witnessed how one group with power and privileges came to abuse that power. The patriarchal regime bolstered by the state disempowered young men who could feel a sense of kinship or solidarity with women.
DK: Does this give you grounds for optimism concerning the prospects for a democratic future for Iran?
ZMH: There are many grounds for hope. Now the divide between secular and religious democrats has been bridged, and the battle lines are clearly drawn between democracy and despotism (in whatever form the latter presents itself). The experience of years of the Islamic republic has led to the paradoxical result of "secularisation from below" and a demand for secularising the concept of law in Islam. People no longer talk about shari'a but about fiqh (jurisprudence), the human – and fallible – act of discerning law from the sacred sources. The activists have rescued love from Shamlou's 'Dead End'. The present younger generation know that democracy and patriarchy are incompatible. No movement for change in Iran can now afford to ignore women's aspiration for equality – a lesson that some at least of the successful elements in the Arab spring may have yet to learn.
http://www.opendemocracy.net/5050/ziba-mir-hosseini/iranian-responses-to-%E2%80%9Carab-spring%E2%80%9D-appropriation-and-contestation
--------
HRC demands a clear world message to Syria
By RIYADH: GHAZANFAR ALI KHAN
Published: Feb 29, 2012
In a major blow to the repressive regime of Syria, the United Nations' main human rights body condemned Damascus yesterday for the "brutal" use of heavy weapons on residential areas, killing innocent people and persecuting opponents. It is its fourth rebuke to President Bashar Assad since an uprising began last year. The emergency meeting of the UN Human Rights Council in Geneva also called for an immediate humanitarian cease-fire to end the fighting and bombardments in Syria.
Delivering opening remarks yesterday at the urgent debate on the human rights and humanitarian situation in Syria, Bandar Bin Mohammed Al-Aiban, chief of the Kingdom's Human Rights Commission (HRC), urged the international community to unite in sending a clear message to the Syrian authorities to stop the killings and the Security Council to assume its responsibility to protect the country's population.
The urgent debate at the UN Human Rights Council came at the request of Turkey and three Gulf countries, Saudi Arabia, Qatar and Kuwait, along with Western partners.
Addressing the members attending the 19th session of the UN Human Rights Council in Geneva, Al-Aiban said the current session of the council is being held in very critical circumstances.
"We can see and feel the serious deterioration of the human rights situation in Syria," said Al-Aiban.
Saudi Arabia has earlier warned against the serious and tragic consequences for the human rights situation in Syria on several occasions in the past, he added. Yesterday, the 47-member forum in Geneva were set to back a resolution condemning Syria's "continued widespread and systematic violations."
Referring to the Kingdom's stance on Syria and its keen resolve to ensure peace and security in the Middle East at large, Al-Aiban said: "The economic and social prosperity as well as political stability are important pillars of building societies and promoting their rights."
Saudi Arabia pays adequate attention to achieve comprehensive and sustainable development with the aim to raise the standard of living, ensure prosperity and stability, and provide work opportunities, he added. To this end, the HRC chief said Saudi Arabia has allocated 24 percent of the approved expenditure in its 2012 budget for the education and training sector and 26 percent for health services and social development. He also highlighted the efforts exerted by the Kingdom in order to promote human dignity and preserve human rights, noting the Saudi government has established the National Anti-Corruption Commission to promote the principle of transparency and protection of human rights.
"As part of enhancing the active participation of Saudi women in the comprehensive development witnessed by the Kingdom, Custodian of the Two Holy Mosques King Abdullah has issued a decision granting women the right to the membership of the Shoura Council," said Al-Aiban amid cheers from the guests.
On the question of Syria, he called on the international community to unify ranks and file and work hard to ensure peace and security in the country.
"Syria is in urgent need of help from Arab nations and the international community," said Al-Aiban.
The resolution to be adopted by the UN Human Rights Council condemns "the use of heavy artillery and tanks to attack residential areas … that have led to the death of thousands of innocent civilians."
It also voices alarm at the humanitarian crisis in areas lacking food, medicine and fuel and calls for aid agencies to be allowed to deliver vital supplies to civilians in heavily-hit areas, especially Homs, Deraa and Zabadani in Syria.
Assad sent units of an elite armored division into Homs yesterday as rebel-held districts came under the heaviest bombardment of a three-week-old offensive, opposition sources in the city said.
The Syrian Arab Red Crescent managed to enter the embattled Homs district of Baba Amro on Monday and evacuate three people, said a Reuters report, adding that one of two injured Western journalists, Paul Conroy of the Sunday Times, had been smuggled out of Homs to Lebanon.
The Human Rights Council in Geneva, opened its annual four-week session on Monday, days after UN investigators accused the highest levels of the Syrian government and army of ordering crimes against humanity including murder, rape and torture.
"The commission of inquiry clearly established that crimes against humanity are being committed," French Foreign Minister Alain Juppe said in an interview with Swiss television. "As long as we have not halted the massacres, we are impotent, but we are not inactive," Juppe said.
Juppe told the forum on Monday the Assad government should be referred to the International Criminal Court (ICC).
UN High Commissioner for Human Rights Navi Pillay and Esther Brimmer, US assistant secretary of state, were among more than 70 speakers to address the Geneva-based forum later yesterday.
In her address, Pillay welcomed the decision to hold an urgent debate on the situation in Syria.
The Human Rights Council continued with its high-level segment, hearing statements from 14 dignitaries who spoke about the human rights situation in Syria, the Universal Periodic Review and the Special Procedures, and national efforts to promote and protect human rights, among other issues.
During the meeting, many speakers condemned the indiscriminate and brutal attacks against civilians in Syria and supported the course of action undertaken by the Arab League and the efforts deployed by the United Nations to find ways to re-establish peace and dialogue, with a view to settling this crisis.
"People are demanding freedom: Freedom from fear, and freedom from want," Pillay said, referring to the global protests in support of political, social and economic rights. These movements have demonstrated, she said, that human rights is as important a pillar of UN action as development and peace and security.
Pillay called for an immediate humanitarian cease-fire in Syria, saying the situation in the country has deteriorated rapidly in recent weeks. She said the international community has to take action to prevent Syrian security forces from continuing their attacks against civilians, which she said had resulted in "countless atrocities."
There must be an immediate humanitarian cease-fire to end the fighting and bombardments, Pillay added. Pillay reiterated her call for Syria to be referred to the International Criminal Court "in the face of the unspeakable violations that take place every moment."
A huge majority of the members, except Iran, Russia and a few other states, "conveyed a strong and unanimous message from the international community condemning the violence and repression of legitimate popular demands for greater democratization and respect of human rights."
Nassir Abdulaziz Al-Nasser, President of the UN General Assembly, Qatar, in his address said the work of the Council at this time had never been "as critical, pivotal or as pressing."
He also paid tribute to the Council for its response to several recent urgent human rights situations in various countries.
http://arabnews.com/saudiarabia/article581039.ece
--------
Top Pakistani calligraphers showcase works in Riyadh
GHAZANFAR ALI KHAN
Feb 29, 2012
In order to preserve the centuries-old tradition of Islamic calligraphy and promote awareness about this rich form of art, the Pakistan Embassy in Riyadh organized a high-profile show, which was inaugurated by President of the Saudi Commission for Tourism and Antiquities (SCTA) Prince Sultan bin Salman on Monday night.
The exhibition, which is described as "a first step in an ambitious plan to boost cultural cooperation between the two countries," features 200 rare pieces, rich in overtones of Islamic spirituality, drawn and painted in different mediums by 20 master calligraphers of Pakistan.
Speaking after formally cutting the ribbon to mark the opening of the calligraphy exhibition, Prince Sultan said: "In my humble assessment, I can tell you that the calligraphic pieces displayed in the exhibition today rank with the best works of art from Saudi Arabia, Turkey, other parts of the Middle East and Islamic world at large in terms of style and content."
He said the exhibition features the best works of Pakistani calligraphers, which in fact provide viewing joy to art lovers in general.
The grand opening ceremony was attended by members of the royal family, high-ranking Saudi officials, a large number of diplomats and members of the Pakistani community. Prominent among those present on the occasion were Prince Faisal bin Saud; Alauddin Alaskari, deputy foreign minister for protocol affairs; Dr. Nasir Al-Hujailan, deputy minister for culture and information; and Mustafa M.H. Kawthar, the ambassador responsible for the Asian desk at the Ministry of Foreign Affairs.
Pakistani Ambassador Muhammad Naeem Khan accompanied Prince Sultan and other Saudi officials in taking a round of the show to see the calligraphic work. The show will be open from 9 a.m. to 12 noon and from 4 p.m. to 10 p.m. on a daily basis for visitors until March 2.
Speaking to reporters after taking a round of the show, Prince Sultan said Islamic calligraphy was yet another link binding the two countries that also enjoy strategic relations.
"I very much enjoyed coming to the embassy on the invitation of the Pakistani ambassador," said Prince Sultan.
Saudi Arabia has learned a lot from Pakistan in many fields, he added, while complimenting the contributions of Pakistani professionals.
Asked about the progressively growing relations between Riyadh and Islamabad, Prince Sultan said: "We in the tourism sector is learning from Pakistan's experience, while the private sectors of the two countries are building strong commercial relations."
In reply to a question about the move to simplify visa procedures to enable people from Pakistan and other Asian countries to visit Saudi Arabia, he said: "The Umrah Plus visa will be the first window of opportunity for different groups, especially Pakistanis."
Prince Sultan showed keen interest in the artwork displayed on the occasion and spent more than one hour seeing the paintings and socializing with people.
Expressing his joy on the opening of the calligraphy exhibition, Ambassador Khan said: "This is for the first time that we brought this show to Riyadh in which 20 master artists from Pakistan are participating. Pakistan had splendid cultural heritage, which had greatly contributed to the flourishing of Islamic art in the sub-continent."
The masterpieces displayed are contemporary as well as classic in style and nature, said the diplomat. He said he received a huge response and encouragement from the Saudi side to organize this event. He, however, pointed out that this show is the first step of an ambitious plan that has been formulated to boost cultural cooperation further.
The embassy, he said, is planning to organize a Pakistani miniature art exhibition in the near future.
The miniature art show will be organized in Riyadh and then move to Jeddah, he added. The two countries are also planning to boost cooperation between their respective museums, he said.
"I am also now encouraging Pakistani poets to come here and I will invite some cultural troupes in days to come to perform here as well," he added.
Khan said the embassy was just trying to offer a wide variety of art and culture for fans to enjoy. This is a great chance for people in Riyadh to see the work of great masters, he added.
"In almost all Muslim societies, almost every household is decorated with some kind of Islamic calligraphy, featuring different verses from the Holy Qur'an or some other words from Islamic theology," said the ambassador, adding the pieces displayed at the show look more ornamental in one's office or house.
He pointed out that the art of calligraphy dates back to a period when writing began. It is a type of visual art often called the art of fancy lettering. A contemporary definition of calligraphic practice is the art of giving a form to signs in an expressive, harmonious and skillful manner.
The great calligraphers whose work has been displayed at the exhibition include Ibne Kaleem, Irfan Ahmed Khan, Khalid Javed Yusufi, Elahi Bakhsh Mutee, Khurshid Gohar Qalam, Muhammad Ali Qadri, Ahmed Ali Bhutta, Hafiz Anjum Mehmood, Muhammad Ali Zahid, Rashid Seyal, Muhammad Kashif Khan, Tasneem Inam, Afrah Faiz, Abdul Razzaq Razi, Ashraf Heera, Aslam Kamal, Rana Riaz Ahmed and Hafeezullah. The work of the current Chief Khattat of Masjid Al-Nabawi Shafiq uz Zaman Khan, and former Naqqash of Masjid Al-Nabawi Asghar Ali are also among the exhibits.
Giving his opinion about the calligraphic pieces, guest at the show Faisal Rasheed, who works at a local PR and advertising company, said Arabic script has been an important part of Islam's cultural heritage for centuries. "The spread of Islam during the eighth century had a deep impact on every aspect of people's life including their perception of art; and this is evident from the show at the embassy," he added.
The desire and effort to reproduce in beautiful and creative characters verses of the Holy Qu'ran eventually generated the new art of calligraphy in Muslim societies, he noted.
"In fact, Muslim calligraphers were doing marvels with form and content in Pakistan," said another guest, Dr. Javid Akhtar of King Saud University. He pointed out that Islam, and as a result calligraphy, came to the sub-continent through the conquest of Sindh by Mohammad bin Qasim in 712 AD, and reached its peak during the reign of the Mughal emperors. In the area that now comprises Pakistan, Lahore undoubtedly has held the title of being the center of calligraphy in the country.
In Pakistani culture, the ability to write and to write well in a clear hand are signs of good breeding and of a well-rounded education; thus, the young nation has produced many outstanding calligraphers, including Sadequain. Dubbed the "Picasso of Pakistan," Sadequain's art was unique in that it showed non-conformity and protest intertwined with a sense of impending martyrdom.
There are more than a dozen names of artists and calligraphers who are now internationally acclaimed, he added.
http://arabnews.com/lifestyle/art_culture/article581010.ece
--------
Young Saudi Artists II: A chaotic flurry of young art
By AFRA NAUSHAD
Feb 29, 2012
The second edition of the Young Saudi Artists (Y.S.A.) exhibition opened Feb. 21 at ATHR gallery, presenting works of 23 artists across mediums of photography, graphic design, collage, illustrations and conceptual art.
In keeping with last year's reputation of a swarmed opening night, this year, with no exception, boasted a packed attendance of the young'uns!
The gallery entrance spilled with trains of queued visitors and its walls adorned with statements by participating artists. Some are eyebrow arching, some juvenile and yet others a testimony to the growing experimental movement by the young generation of artists, which in all honesty, may still be in it's "pre-conception" phase.
Heba Abed, Redwan Reemi, Louai Kofiah, Sara Al Abdali, Lujain Abulfaraj, Namir Ali Reza, Ahaad Amoudi, Mala'a Amoudi, Zeina Badran, Rawan Barakati, Najla Bassam, Mohsen Dajani, Soraya Darwish, Basmah Felemban, Rahaf Ghoneim, Noora Mazrooe, Jawaher Mhanna, Mohmoud Naseem, Arwa Naemi, Mona Qahtani, Rami Qthami, Suzan Qasmi and Awatef Safwan were this year's batch at the Y.S.A. II exhibition.
Last year's participating artists — SAaD Bin Mohammed, Salwa Zahid and Sara Abdu — also exhibited their works in Gallery B as part of Y.S.A. II.
"Each one of the artists who participated last year has grown in their own way. I'm convinced of that, and it's not just my opinion but also that of the audience, which is why the three of them were asked to exhibit again. It is also because an artist always needs a dialogue with his audience to develop and respond," said Hamza Serafi, co-founder of ATHR Gallery.
Heba Abed's art thesis project titled, "Franco Man in Scotoma," is an installation highlighting the emergence of Arabish or Franco-Arabic (Arabic -English) in modern forms of communication, vastly popularized by chat groups on the Internet. The installation is an interesting metaphor for the modern man who has, himself, facilitated the erosion of his identity.
Louai Kofiah presented a montage of sketches that were created during his period of recovery from a recent accident he suffered. The collection is a journey through his personal trials of pain, damage and recuperation.
Soraya Darwish's work titled "Nice to meet you," is a still print of a pro-terror, gun-wielding young Arab girl from the movie "Rules of Engagement."
"It is an invitation to come closer and see other people within that image who may not necessarily share the same beliefs," explained Darwish, adding that because of globalization, we have more similarities than differences but Hollywood is more focused on the exciting, eccentric Arab terrorist.
Basmah Felemban exhibited the popular amulet Hand of Fatima (Khamsa) in a glass-enclosed installation. The piece intended to highlight the futility of turning to and believing in such superstitions for protection against evil. However, in an ironic turn of events, the entire installation met an unfortunate damage and echoed a splendid performance of fate on the reality of the message the artist intended.
Sara Al Abdali exhibited illustrations, "Kufr" (disbelief) and "Bida'a" (innovation) both strong in their statements and ideas, with the Arabic words printed blatantly on the forehead of a "Darawish" and "Aroosat Al Mualid." This, according to her, is to allow people to question the various labels they blindly attribute "to things outside the comfort of their own beliefs."
Another of her illustration laments the gradual loss of heritage from the architectural damage caused to homes in Al-Balad, as did a wood installation by Ahaad Al Amoudi.
Redwan Reemi's piece titled "Jama'a" pertains to the 99 names of Allah, reflections upon which should guide one's behavior and relationships with people, as explained by the artist.
A conceptual art installation exhibited by writer and artist SAaD Bin Mohammed is largely a matter of art over philosophy. His works titled "Chromosome X," "Finger Print" and "Carbon Atom," all housed within a sheer, black curtained enclosure is a deliberate provocation by the artist to allow the visitor to explore and realize concepts of universal unity guided by his art statement at the entrance of the installation.
"One must see through the external darkness of clothes, skin, beliefs and influences to discover the human that God created. There are always specific doors and exits. The light within the enclosed installation space represents enlightenment through the revelation of knowledge," he explained.
"Louai Kofiah's work is very relatable to the youngsters because it's partly comical. SAaD Bin Mohammed's work was pure conceptual art and well delivered. Beautiful art and very well done. By far theirs are two of the most strongest works in the exhibition," said photographer Maan Salha.
Although last year's Y.S.A. exhibition revealed a more serious orientation toward the burgeoning contemporary art movement, Y.S.A. II was defined by the young, social dynamics of the digital culture.
"Art is still in its early stages in Saudi Arabia, and we can't be too critical about it. On a conceptual level, we have interesting ideas. The Internet is doing a lot to bridge the gap between the West and East but the work needs to be more refined. This is the stage we have evolved to and we should appreciate it," said Yousef Kurdi, a graphic designer.
"The most important thing is that we are learning and getting inspired. It is not a creative show more than it is a collective show. The rhythm is very youth oriented," said Hamza Serafi, co-founder of ATHR Gallery.
Overall, the exhibition provided an insight into the mind-map of the younger generation, which is defining the future of art in Saudi Arabia and cannot be ignored.
The exhibition will run until March 20 at ATHR gallery and all works are for sale between SR300 and SR15,000.
http://arabnews.com/lifestyle/art_culture/article581065.ece
--------
Saeed Khalifa: Sensational art embedded in belief
By MARIAM NIHAL
Feb 29, 2012
An artist who has shared his work in the same space as Picasso, a man who has used his art to help to build houses for the people of Lesotho and who has been applauded by Christie's, is more than just that.
Born and raised in Dubai, a philosophical photographer, Saeed Khalifa, is also a profound artist who is closely bonded to his Emarati roots. He currently lives, works and studies in the city he loves: Dubai.
He was approached by Dubai-based The Ara Gallery to submit work for their grand opening and has had great collaborations with them. "I am thankful for that, having such amazing people to work with," he said.
His first exhibition ever was with Tashkeel. I take Tashkeel as my birthplace artistically. "I am very grateful for them. They believed in my work.
He says the galleries pushed his boundaries and loves them for it. His first piece was sold for charity at the grand opening of The Ara Gallery in collaboration with Habitat for Humanity and Christie's during the auction.
"It was so surreal. I remember after the hammer dropped, I drank six glasses of water and could barely stand. No seriously, it was so overwhelming. 100 percent of the proceeds went to the charity to build houses. Isn't that amazing?!"
The artist being deeply emotional also has a passion for arts in music, filmmaking and fashion.
Arab News talked to the man behind the lens, for the first time in Saudi Arabia.
Tell us about your journey so far.
I spent time between Dubai and Lebanon. I've always been to this side of the world (art equation of it). I never had any interest in what other boys my age were into. No cars and no action man figures. It was all about the crayons for me — on paper, on walls and on my clothes.
My creative journey started with drawing. I was very focused on illustrating and animation. I never found myself in the medium; it was too scattered for me. I had no emotional attachment to it as I grew up. The first photo I took was of myself using a phone camera, which I manipulated with Photoshop. I think I turned myself into a vampire, blackened my eyes out. I didn't want to be human I think.
What has been your personal achievement?
The Ara Gallery was generous enough to offer me an opportunity to make it happen. They stood by me creatively and emotionally during the whole process. It wasn't easy at all since I went through ups and downs personally. It was an emotional trip. I am a very emotional person, and it's hard for me to function when I am under a lot of pressure, therefore, yes, I think my solo exhibition, "FABULA," is a personal triumph. The process of making the show had too many personal ties to be kept professional.
Where do you see yourself going in the next five years?
One of my biggest dreams (I have many believe me) is to be exposed on an international market. I don't want to be Da Vinci; I want to be Saeed Khalifa. I want to see that. I want to see my name as an established artist in the world and bridge the Middle Eastern art scene on an international market. I want to go down in history (for my artwork and hopefully for philanthropic efforts).
There a lot of things that I do in life and a part of it is studying artists that I love. I want to be studied by people — myself and my artwork — to have myself extended through people.
What initially interested you in photography?
My mother is a photographer — not a professional one, but she loves photography and literally has thousands of albums filled with photos she took of us as kids and of scenery — who really influenced me into getting into photography.
Would you like to see the lives of Arab youth change through the lens? How?
Yes, I would without a doubt and not just through a lens. I want to see people like me not struggle with showing their work. Everyone deserves a piece of the pie. I am making it my mission to make this happen (whichever way possible). For now, all I can do is inspire and help people go into the right places. Hopefully, all of us together. This isn't about me. It's about all of us here in the Middle East. We need more exposure internationally in the art field. There's a lot of exciting things going on which is great, but we need more, more, more!
What camera do you use and what do you suggest an amateur buy as their first camera?
I say use anything you can find! Technicals are good, but it's not as important as people think. A few photos I took were published in a magazine at the age of 17 using a Nokia phone camera (my darkest, deepest secret that people just found out about). Technology does not stop you. Just click, click, click and things will happen!
I currently use Canon cameras and a few vintage film cameras (for those who are not convinced with my above reply). I am very loyal to Canon.
http://arabnews.com/lifestyle/art_culture/article581067.ece
--------
450 publishers to take part in Riyadh book show
By RIYADH: ARAB NEWS
Published: Feb 29, 2012
The Ministry of Culture and Information organizes a book show next Tuesday at Riyadh International Exhibition Center (RIEC). The show, under the motto Life… is Reading, will last for 10 days.
Commenting on the event, Minister of Information Abdul Aziz Khoja expressed thanks and appreciator to Custodian of the Two Holy Mosques King Abdullah for his patronage of the show.
He said this patronage remains a source of pride given to the culture in this country and a symbol of appreciation to think tanks and intellectuals. The patronage denotes support to culture and books, in particular.
The minister expressed pleasure at the decision to honor Sweden at the show, allowing visitors to become acquainted with Swedish culture and its scientific and technical achievements.
The ministry's undersecretary for cultural affairs and supervisor general of the show, Nasir Hujailan, said the show would offer an opportunity for dialogue between intellectuals and visitors.
Some 450 publishing houses from different parts of the world would take part in the show, Hujailan said, adding that the Ministry of Information will award prizes to 10 outstanding books on different subjects. He said the ministry would initiate new cultural events and it would also launch a virtual book show on the Internet.
http://arabnews.com/saudiarabia/article581005.ece
--------
Tadawul bonanza shows rising confidence
By ARAB NEWS
Published: Feb 29, 2012
JEDDAH: The second highest volume of 732.4 million shares traded in the Saudi stock market's history yesterday signaled confidence creeping back into the market.
On June 3, 2008 when Alinma Bank started trading, the highest volume of 749.4 million shares was recorded.
The Tadawul All-Share Index (TASI) ended 0.27 percent higher at 7,168.99 points — a new 41-month high since September 2008. Stocks worth SR16.10 billion changed hands yesterday, the highest in a session since January 2008.
Commenting on the stock market's surge in volume and value, Basil Al-Ghalayini, chairman of BMG Financial Group, said: "Definitely, there is an excessive liquidity in the market chasing the stock market as the real estate market became less attractive with such inflated prices. We are still witnessing two avenues of investments in the country; either equities or real estate."
However, Jarmo T. Kotilaine, chief economist at the National Commercial Bank, said it is clear that the Saudi stock market has developed substantial momentum going into 2012.
"There is some anecdotal evidence to suggest that investors have channeled funds from other asset classes into equity. One possibility is land where the robust upward momentum of recent years is being tested by concerns over new zakah proposals for underdeveloped land. But more encouragingly, the Saudi equity market is fairly reasonably valued by both historical and international standards."
At the same time, Kotilaine said, "Economic prospects remain very benign with increasingly broad-based growth and fairly resilient confidence levels. The upward pressures in the oil market are boosting the standing and prospects of the Saudi petrochemicals sector."
http://arabnews.com/economy/article581062.ece
--------
Saudi Arabia has huge potential for green initiatives: German minister
By ROBERTA FEDELE
Feb 29, 2012
JEDDAH:A German state minister says he finds Saudi Arabia a fertile land for initiating green projects.
Aside from the ongoing bilateral ties covering trade, investments and joint ventures with transfer of technology and training, "one interesting field of cooperation that Saudis should not underestimate when thinking about Germany is that of green energy," Kurt Voigtsberger, minister of economics, energy, construction, housing and traffic of the German federal state of North Rhine-Westphalia (NRW), told a press conference on Monday.
"Germany has taken a decision to shut down 17 nuclear energy plants within the next 10 years and will definitely quit nuclear energies in the next 40 years by investing in renewable sources like photovoltaic, solar energy, biogas, wind and geothermal. Many companies are involved in the development of these technologies and this can generate a great field for international cooperation," said the minister who headed a business delegation from the NRW region, described as the one with the strongest economy not only in Germany but also in Europe. The delegation, which ended its five-day visit to Jeddah and Riyadh yesterday, aimed to further develop economic bilateral relations and find ways to actively participate in the Kingdom's industrial diversification and demand for transfer of technology and know-how.
"Our region consistently contributes to determine the economic strength of the country that is the second biggest exporting country behind China with a total export of 1 trillion euros and the third biggest supplier to Saudi Arabia after US and China," explained Voigtsberger.
"Twelve of the 30 largest German companies are located in NRW, a region that generates 17 percent of German exports and has a long history and expertise in key sectors such as energy efficiency, chemicals, machines, mining and telecommunications," he added.
These data highlight the importance of NRW as international economic hub and also explain the trust in German markets despite the financial markets' crisis. Locomotive of Europe, Germany, has a strong real economy due to its competitive productive industry that does not rely only on financial services but mainly on specialized small and medium-sized enterprises (SMEs) provided with skilled workforce.
The fruitful results coming from the cooperation between NRW and Saudi Arabia find some clear examples in the very modern facilities and efficient production structures of Henkle's factory, that Voigtsberger visited in Riyadh, a number of other world famous NRW companies such as ThyssenKrupp, Telecom and Bayer that are active in the Kingdom and the positive experience of a huge Saudi petrochemical company like the Saudi Basic Industries Corporation (SABIC) that invested more than 200 billion Euros in NRW.
The delegation was also accompanied by Andreas Hergenrother, a delegate from the German Industry and Commerce for Saudi Arabia and Yemen (AHK) that acts as a platform to support German and Saudi companies willing to invest in these countries, and two representatives of NRW agencies for export and investment promotion, Managing Director of NRW International Almut Schmitz and Executive Director of NRW Invest Rainer Hornig.
"AHK Saudi Arabia organized last year an important conference on energy efficiency in buildings together with German companies and Saudi officials that led to the first agreement signed in the Kingdom to promote energy efficiency. This year, we will bring to Germany a delegation of Saudi decision makers to discuss the topic of energy efficiency in industrial productions," Hergenrother said.
Schmitz highlighted NRW presence in the Kingdom through a variety of sectors including that of cultural heritage. Gerber Architekten International group from NRW designed for instance the new King Fahd National Library in Riyadh and other NRW companies with high experience in technical textiles provided fireproof fabrics for the tents in Makkah.
While in Jeddah, the delegation was given a reception by German Consul General Rolf Theodor Schuster and it also had meetings with leading businessmen.
This was the 10th German delegation that comes to the Kingdom in the initial months of 2012. This year's German economic calendar also foresees the arrival of other six delegations including a visit from German Federal Minister of Traffic, Construction and Urban Development Peter Ramsauer.
On the Saudi side, a big delegation of renowned companies in the Food industry visited Cologne last October and other two business delegations will pay a visit to Germany in April.
http://arabnews.com/economy/article581051.ece
--------
Crown prince approves supply of medicines to Sierra Leone
Dr. Abdullah Al-Rabeeah
By RIYADH: MD RASOOLDEEN
Published: Feb 29, 2012
Crown Prince Naif, deputy premier and minister of interior, approved an immediate supply of medicines to Sierra Leone, Health Minister Dr. Abdullah Al-Rabeeah announced in Riyadh yesterday.
The minister said according to the directive, the Ministry of Health would send a consignment of 20 tons of medicines that would comprise 50 types of pharmaceuticals.
The dispatch will include tablets, capsules, injections, nasal and mouth sprays, body lotions, syrups, antibiotics and salt.
"This is a clear sign of the magnanimity of the crown prince, who spontaneously feels for the deserving Arabs and Muslims throughout the world," the minister said, adding that such gestures portray the true Islamic teachings that advocate solidarity among Muslims.
"This is a great gesture which indicates the humanitarian sentiments of the crown prince, who really wanted to help people who are currently in need of medicines," Dr. Sa'ad Ali Al-Garni, consultant of vascular surgery at King Faisal Specialist Hospital and Research Center in Riyadh, told Arab News yesterday.
Al-Garni, who had just returned from Sierra Leone, said the world Muslim community would definitely appreciate this generosity to help sick people. "The people are really in need of more medicines to lead a healthy life," the consultant noted.
Al-Garni headed a medical team from Physicians Across Continents (PAC) comprising 30 medics and paramedics.
The team provided medical treatment free of charge to the poor and needy in Freetown, capital of Sierra Leone, and its surrounding five villages.
The team was composed of health professionals from Saudi Arabia, the United States, Russia, Sweden, Egypt, Jordan, Lebanon and Malaysia.
Al-Garni said the team included blood vessel surgeons, general surgeons, pediatricians, gynecologists, anesthesiologists and dentists.
"We treated about 1,500 patients who included infants, children, men and women," Al-Garni said, adding that the surgical team performed 120 hernia operations during a short span of 10 days.
Al-Garni said the PAC was founded in 2004 as a humanitarian organization operating under the auspices of the Muslim World League. It helps treat patients around the globe regardless of race, color, religion and country.
Charge d'Affaires at the Sierra Leone Embassy in Riyadh Eric B. Gamanga said the visit of the medics boosted President Koroma's agenda for improving the domestic health sector.
In 2010 Sierra Leone had the fourth-highest child-mortality rate in the world — 174 deaths per 1,000 live births. In response, the small West African country introduced free health care for pregnant and breast-feeding women and children under five.
Britain provided $24 million in funding. The British government modestly described the free health-care system as a Sierra Leonean initiative that it is merely assisting.
On assumption of office in 2007, President Koroma listed health as one of his priority areas on his Agenda for Change. The president's vision was accessible and affordable quality health care for all Sierra Leoneans, especially children under five, pregnant women and lactating mothers.
This is the second visit of PAC to Sierra Leone. In December 2009, the late Deputy Health Minister Mohamed Daudis Koroma was instrumental in extending an invitation to 28 PAC members who paid a weeklong official visit to Sierra Leone.
In a letter dated Dec. 10, 2009, addressed to the secretary-general of PAC, he requested doctors to provide an oxygen machine, drugs and other essential medical supplies for the general populace.
http://arabnews.com/saudiarabia/article581008.ece
--------
Makkah governor named best Arab personality by a forum
By MD AL-SULAMI
Published: Feb 29, 2012
Makkah Gov. Prince Khaled Al-Faisal has been named the best Arab personality in the field of solving issues related to Arab youth. The award was given by the Arab Youth Media Forum, which is currently being held in Manama under the sponsorship of Bahrain's King Hamad bin Isa Al-Khalifa.
Prince Bandar bin Khaled received the shield of honor from Prince Nasser bin Hamad on behalf of Prince Khaled.
The award is in recognition of Prince Khaled's efforts to promote creativity and the leadership qualities of youths.
The winners of the pan-Arab forum's Arab Personalities include chairperson of the Qatar Foundation Sheikha Mouza Bint Nasser for her services in the field of education, Al-Arabiya Channel Director-General Abdulrahman Al-Rashid, Al-Jazeera Channel's Tunisian journalist Mohammed Krichane and CNN journalist Lebanese Rima Maktabi.
Abu Dhabi TV program "Step" won the award of best Arab TV program. Prince Khaled's role as the president of the Arab Thought Foundation (ATF) has been commended.
The ATF aims at empowering Arab youth to lead developmental activities in the Arab world. It has succeeded in producing a large number of young ambassadors distinguished in the areas of social responsibility, voluntary services and developmental activities. The prince also took the initiative to appoint a number of distinguished youths to the board and committees of the foundation.
The prince also stressed the need to include young speakers in the annual conferences of the ATF. He also set apart sessions of the foundation for youth leadership projects.
The prince initiated many Gulf level tournaments in addition to starting radio programs such as Ya Shabab Al-Islam, which targets young people.
While the prince was governor of Asir province, he founded a training center to develop creativity in the youth of the province at Al-Muftahah Village in Abha.
After becoming governor of Makkah province, the prince laid out a strategic plan for increased youth participation in various projects. He also set up a youth committee under the provincial council with the aim of improving young people's welfare. The committee serves as an umbrella organization for the Makkah Youth Development Council, Young Businessmen Committee, Makkah Province Youth Meet, Business Pioneers Committee, Makkah Youth Committee for Social Media and the Makkah Youth Committee for Voluntary Work.
http://arabnews.com/lifestyle/offbeat/article581015.ece
--------
India: CBI arrests architect for Shehla Masood murder case
MAHIM PRATAP SINGH
The Central Bureau of Investigation arrested architect Zahida Pervez for the murder of RTI activist Shehla Masood on Tuesday here.
Ms. Zahida Pervez, according to the CBI, hired a contract killer and had the RTI activist murdered because of some personal rivalry.
"In a major breakthrough, the CBI arrested a Bhopal-based Interior Designer in an on-going investigation in connection with killing of Ms. Shehla Masood...she is allegedly believed to be a conspirator in the killing. Another person, understood to have been hired by the accused lady, has also been arrested by the CBI," read an official statement on the agency's website.
Ms. Pervez is the owner of "Design Era", a Bhopal-based architecture and design firm.
With this, the CBI has finally tasted success in a case that had fuelled a thousand speculations since August last, when Ms. Masood was murdered in broad daylight outside her residence in Bhopal's posh Koh-e-fiza locality.
The Delhi unit of the CBI had taken over the case last year after the agency's Bhopal unit couldn't make much headway in the case even after announcing reward of Rs. 5 lakh for any credible information on the murder. The Delhi unit had later hiked the reward amount to Rs. 10 lakh.
http://www.thehindu.com/news/national/article2942640.ece
--------
International conference on 'Islamic Business, Finance' opens today
FEBRUARY 28, 2012 RECORDER REPORT 0 COMMENTS
Governor State Bank of Pakistan, Yaseen Anwar on Tuesday will open International Conference on Islamic Business (ICIB- 2012), being organised by Riphah Centre of Islamic Business (RCIB), Riphah University.
The conference will be held at National Institute of Banking & Finance (NIBAF) with the theme 'Management Shariah Conforming Business: Prospects, Practices and personnel'.
SBP Governor Yaseen Anwar will be the chief guest at the inaugural session whereas Dato' Seri Anwar Ibrahim, Former Deputy Prime Minister, Malaysia and Professor Khurshid Ahmad, Chairman, Institute of Policy Studies would be the key speakers.
A number of Islamic Business and finance scholars and economists from all over the world will present papers and make presentation on Business and Management systems and institutions, Finance (Institutions), Banking, Takaful, HR, Marketing, Regulatory bodies/ associations for Shari'ah conforming business and entrepreneurship during the working sessions.
They include among others Dr Abbas Mirakhor, International Centre for Education in Islamic Finance, Malaysia; Dr Zamir Iqbal, World Bank, Washington DC; Professor Dato' Dr Jamil Bin Osman, Rector, College University Isnaniyah, Malaysia; Dr Abdelkader Chachi, Economist, IRTI-IDB, Kingdom of Saudi Arabia & Professor Dr Tahir Mansoori, Director General Dawa Academy, International Islamic University.
The concluding session of the International Conference on Islamic Business and Finance (ICIB-2012) will be held on Wednesday.
The first International Conference on Islamic Business and Finance organised by RCIB was held in Islamabad on February 8 & 9, 2011.
This was the first international conference held in Pakistan on the subject.
The participants strongly recommended promoting business and finance based on Islamic teachings and Shari'ah.
They congratulated Riphah International University for taking initiative in organising such a big event and bringing together highly reputed Islamic scholars and economists to discuss the strategies to boost banking, finance and business based on Shari'ah.
http://www.brecorder.com/money-a-banking/198/1159807/
URL: https://newageislam.com/islamic-world-news/jailed-indonesia-cleric-says-be/d/6752