New Age Islam News Bureau
23 March 2019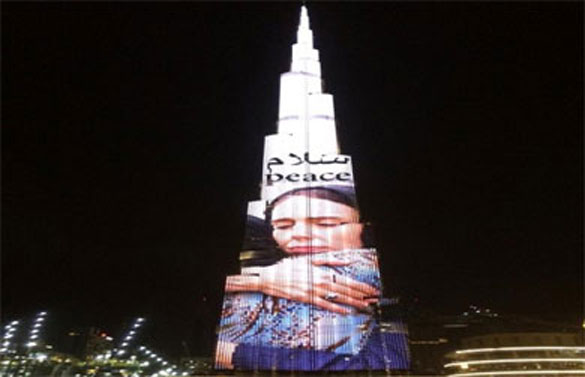 An image of Ardern appeared on the Burj Khalifa in Dubai. (Twitter)
-----
• 'It's Not Jihad but Jahalat': Kashmiri Villagers to LeT Terrorists Holding Boy Captive
• Charge Sheet Filed Against Pakistan-based Falah-i-Insaniyat over Terror Activities in India
• 'Kashmir Is Central Issue': Imran Khan's Reply to PM Modi Message on Terror
• Dubai Ruler Praises Jacinda Ardern and Lights up Burj Khalifa to Honour New Zealand
• Many 'March for Love' In New Zealand As Mosques Reopen
• Imran Khan welcomes PM Modi's greetings on Pakistan National Day
• 'Relationship Very Good, Ready To Meet New Pakistani Leadership': Donald Trump
• New Zealand Attacks 'Will Not Stop Bangladesh Cricket Tours'
• Malaysia, Pakistan Reaffirm Commitment to Work Closely On Islamic Issues
• Muslim Nations Urge for Measures against Islamophobia
India
• 'It's Not Jihad but Jahalat': Kashmiri Villagers To LeT Terrorists Holding Boy Captive
• Charge Sheet Filed Against Pakistan-based Falah-i-Insaniyat over Terror Activities in India
• 'Kashmir Is Central Issue': Imran Khan's Reply to PM Modi Message on Terror
• Kashmiri man detained outside Pakistan high commission: Cops
• 12-year-old hostage killed by militants: J-K police
• France approaches EU for listing of Masood Azhar as a global terrorist: MEA
• Yasin Malik-led Jammu Kashmir Liberation Front banned under anti-terror law
• 5 militants including 2 from Jaish killed in Kashmir encounters in 24 hours
--------
Arab World
• Dubai Ruler Praises Jacinda Ardern and Lights up Burj Khalifa to Honour New Zealand
• Pompeo in Lebanon Warns of Hezbollah's 'Destabilizing Activities'
• ISIS defeated in last Syria enclave, US-backed SDF says
• Renewed US-led air strikes pound ISIS holdouts
• Syria Kurd autonomy under threat after Daesh 'caliphate' falls
--------
Europe
• Many 'March for Love' In New Zealand As Mosques Reopen
• Anti-Muslim Hate Crimes Soar in UK after Christchurch Shootings
• Far-Right Danish Politician Burns Muslim Holy Book
• Swedes Form Human Shield For Muslims In Friday Prayer
• Differences Put Aside As Sikh Taxi Drivers Provide Free Rides, Help For Muslim Families Rocked By Terror Attack
• German police arrest 11 to foil 'Islamist attack plot'
• New Zealand calls for solidarity at Muslim summit in Istanbul
• UK police: 2 held in Birmingham mosques vandalism probe
• Two kin of Christchurch victims die after killings: officials
--------
Pakistan
• Imran Khan welcomes PM Modi's greetings on Pakistan National Day
• Maulana Abdul Aziz Dodges ICT Admin, Delivers Sermon at Lal Masjid
• Mufti Taqi Usmani survives assassination attempt in Karachi
• Pakistan Day celebrations: Military parade begins in Islamabad
• Student Held in Professor's Death, Claims Blasphemy
• Pakistani FM praises 'timely' OIC meeting in Turkey
• Imran Khan: 'Our desire for peace should not be considered as our weakness'
--------
North America
• 'Relationship Very Good, Ready To Meet New Pakistani Leadership': Donald Trump
• Trump Recognition of Golan Heights As Israeli Receives Global Condemnation
• UN Chief Visits NY Mosque, Urges Safety For Worshippers
• Trump Says ISIS Has Been '100 Percent' Defeated In Syria
• US issues new Iran-related sanctions on 14 individuals, 17 entities
--------
South Asia
• New Zealand Attacks 'Will Not Stop Bangladesh Cricket Tours'
• Abdu Dhabi Crown Prince proposed killing Taliban leaders in Qatar: report
• Bangladesh Calls for Unity against Terrorism at OIC Meeting
• Bangladesh condemns terrorist attack in emergency OIC meeting on New Zealand
• Two American service members killed in Afghanistan
• Afghan armed forces arrest Taliban bomb makers in Kapisa province
• Taliban suffer heavy casualties amid ongoing operations in Kunduz: MoD
--------
Southeast Asia
• Malaysia, Pakistan Reaffirm Commitment to Work Closely On Islamic Issues
• Malaysia Offers Olive Branch to IS Returnees
• Malaysians gather in unity to declare peace and solidarity
• After Decades Of Enmity, PAS Now Washes Away All Umno's Past Sins
--------
Mideast
• Muslim Nations Urge for Measures against Islamophobia
• Arab Coalition launches raids on Yemen's Houthis in Sanaa
• Daesh will never attain 'ominous' goals: Iran
• UN rights forum condemns Israeli use of force at deadly Gaza protests
• Israel envoy summoned over 'intrusion' at French cultural centre
• Turkey orders detention of 144 over Gulen links
--------
Africa
• Tens of Thousands Join Anti-Bouteflika Rally in Central Algiers
• Chad: Boko Haram Kills 23 Soldiers in Dangdala Attack
• Boko Haram: Troops construct own water, bread factories to support soldiers
• Somali ministry in Mogadishu hit by al Shabaab car bomb attack
• Rwanda convicts ISIS, Al-Shabaab suspects
Compiled by New Age Islam News Bureau
URL: https://www.newageislam.com/islamic-world-news/its-jihad-jahalat-kashmiri-villagers/d/118109
--------
'It's not Jihad but Jahalat': Kashmiri villagers to LeT terrorists holding boy captive
Mar 22, 2019
This is not "jihad" (armed crusade) but "jahalat" (benighted), a village elder pleaded to Pakistani terrorists in North Kashmir's Hajin area while asking them to release a 12-year-old boy who was held captive and subsequently killed on Thursday.
Videos of the village elder of Mir Mohalla of Hajin surfaced on social media, showing him asking the two Lashkar-e-Taiba terrorists, Ali alias Furkan and Hubaib, to release Atif Mir.
The incident took place 33 km north of Srinagar where the terrorists had taken shelter in the boy's house at gunpoint, police officials said on Friday.
The terrorists wanted to sexually abuse his sister but the family had helped her escape. This infuriated them and they started beating up the family members, including Atif and his old uncle Hameed Mir, they said. Hearing their cries, other people in the locality informed the police.
After assessing the situation, the police started rescuing the family. They managed to secure the release of the parents and other family members till they were fired upon by the holed up terrorists.
"We knew that the boy and uncle were trapped inside and, so, we asked the villagers to appeal to the terrorists to release them," a senior official said.
Speaking in Kashmiri, the village head was the first to ask the terrorists to release the innocent boy. "Do whatever you want, but this is not Jihad but Jahalat. Please release the boy," he said.
The police also made an appeal through Aqeqa Begum, the wife of Hameed, who was virtually breathless as she asked the terrorists to release her husband and nephew.
Simultaneously, the police made a room intervention and brought Hameed out of the house. He told them that he was assaulted by the terrorists who hit him with iron rods and an AK rifle.
"I tried my best to get my nephew out of this. I begged them but they remained unmoved," Hameed told the police.
As pressure mounted on the terrorists, they killed the helpless Atif, the police said, adding that the security forces later mounted a heightened operation and killed both the Pakistanis.
Ali had been active in the area for long and was involved in the killing of a BSF personnel and others, including death of a man whose throat was slit in front of his son.
https://www.hindustantimes.com/india-news/it-s-not-jihad-but-jahalat-kashmiri-villagers-to-let-terrorists-holding-boy-captive/story-tKVhCqEnVmXm3RSezy5c4H.html
--------
Charge Sheet Filed Against Pakistan-based Falah-i-Insaniyat Over Terror Activities In India
Mar 23, 2019
The National Investigation Agency has filed a fresh charge sheet against Pakistan based Falah-i-Insaniyat (FIF) for several terror activities in India, the agency said on Friday.
The FIF is terror group Lashkar-e-Taiba (LeT)'s front organisation, which is accused of creating sleeper cells in Haryana and Delhi. LeT founder Hafiz Sayeed has also been named in the charge-sheet against FIF.
Officials said the case will strengthen New Delhi's hand in exposing Pakistan's use of terrorist groups for terrorism in India.
Delhi's Mohammed Salam, 51, Mohammed Salim, 62, from Nagpur and Pakistani national Mohammed Kamran have also been named in the charge-sheet.
"Investigation has established that Chief of the Falah-i-Insaniyat Foundation – Hafiz Mohammed Sayeed – along with the Deputy Chief Shahid Mahmood hatched a conspiracy from 2012 to create sleeper cells and logistic bases in New Delhi and Haryana," the NIA said.
https://www.hindustantimes.com/india-news/charge-sheet-filed-against-pakistan-based-fif-over-terror-activities-in-india/story-J8nBQXeZ7BZVPk1VqOAfZK.html
--------
'Kashmir is central issue': Imran Khan's reply to PM Modi message on terror
Mar 22, 2019
Pakistan Prime Minister Imran Khan said on Friday he had received a message from his Indian counterpart Narendra Modi on the eve of Pakistan Day that spoke of the two sides working together for a peaceful region in an atmosphere "free of terror".
In a late night tweet, Khan said the message from Modi had said: "I extend my greetings & best wishes to the people of Pakistan on the National Day of Pakistan. It is time that ppl of Sub-continent work together for a democratic, peaceful, progressive & prosperous region, in an atmosphere free of terror and violence."
People familiar with developments in New Delhi described Modi's message as a customary message sent to heads of government or state on national days and noted that the focus was on a terror-free South Asia.
Khan responded to Modi's message by tweeting that the time has come to "to begin a comprehensive dialogue with India to address & resolve all issues, esp the central issue of Kashmir, & forge a new relationship based on peace & prosperity for all our people".
Addressing the Pakistan Day reception in New Delhi, Pakistani envoy Sohail Mahmood said diplomacy and dialogue are essential for mutual understanding and resolving issues such as Kashmir.
The developments came against the backdrop of the tensions created by the Pulwama terror attack claimed by the Jaish-e-Mohammed, and India's retaliatory air strike on a JeM facility within Pakistan.
Mahmood noted the two sides had "passed through a very difficult time recently" but had also taken "steps in a positive direction", such as Khan's decision to release captured Indian pilot Wing Commander Abhinandan Varthaman, the return of the two high commissioners to their respective missions and bilateral meetings to develop modalities for Kartarpur Corridor.
"There is, however, still the need to reassure concerned citizens in both countries, to consolidate the process of de-escalation, and to stabilise the ties against further shocks," he said, adding recent developments had shown that "lack of engagement creates dangerous vacuum and serious risks for the relationship".
"As we limp back from the brink, we must make sure that we act with wisdom to find a way forward – for our countries, and for our peoples," Mahmood said. Coercive measures wouldn't work and diplomacy and dialogue are "indispensible for enhancing mutual understanding, addressing mutual concerns and resolving long-standing disputes including Jammu and Kashmir," he added.
"We do hope the long winter in India-Pakistan relations would come to an early end," Mahmood said.
https://www.hindustantimes.com/india-news/kashmir-is-central-issue-imran-khan-s-reply-to-pm-modi-message-on-terror/story-PripiVyT4aFa2ZXXTfBdyH.html
--------
Dubai Ruler Praises Jacinda Ardern and Lights up Burj Khalifa to Honour New Zealand
March 22, 2019
DUBAI: Sheikh Mohammed bin Rashid Al-Maktoum, the Ruler of Dubai, thanked Jacinda Ardern on Friday for her 'sincere empathy' following the attack on two New Zealand mosques that killed 50 Muslims.
The world's tallest building, the Burj Khalifa, was illuminated in a gesture of solidarity with New Zealand and its prime minister.
Ardern has received widespread praise from around the world and in particular from Muslim countries and their leaders for the way she has handled the aftermath of the terrorist attack carried out by a white supremacist.
"New Zealand today fell silent in honor of the mosque attacks' martyrs," Sheikh Mohammed tweeted. "Thank you PM Jacinda Ardern and New Zealand for your sincere empathy and support that has won the respect of 1.5 billion Muslims after the terrorist attack that shook the Muslim community around the world."
Ardern led thousands of people in a two minute vigil on Friday as the shocked nation came together to remember those killed in the attack.
She told those gathered in a park opposite the Al Noor mosque, where 42 people died, that: "New Zealand mourns with you. We are one."
The prime minister's response to the killings has been widely admired in helping the country come to terms with the atrocity. In the hours after the shootings she wore a black headscarf and visited members of the Muslim community.
She moved to reassure those caught up in the attacks and hugged survivors at a community center in Christchurch.
"We represent diversity, kindness, compassion," Ms Ardern said on the day of the attack. "A home for those who share our values. Refuge for those who need it. And those values will not and cannot be shaken by this attack."
She did not hesitate to describe the killings as a terrorist attack and said she would refuse to say the name of the killer who carried it out.
But she has also acted quickly with legislation. Her government banned on Thursday the sales of semi-automatic weapons.
"Ardern's performance has been extraordinary - and I believe she will be strongly lauded for it both domestically and internationally," political commentator Bryce Edwards of Victoria University in Wellington told Reuters.
Social media has been flooded with messages of admiration for Ardern, with many using her as an example for their own politicians to follow.
http://www.arabnews.com/node/1470956/middle-east
--------
Many 'march for love' in New Zealand as mosques reopen
March 23, 2019
CHRISTCHURCH: About 3,000 people walked through Christchurch in a 'march for love' early on Saturday, honouring the 50 worshippers massacred in the New Zealand city a week ago, as the mosques where the shooting took place reopened for prayers.
Carrying placards with signs such as, "He wanted to divide us, he only made us stronger", "Muslims welcome, racists not", and "Kia Kaha" – Maori for 'stay strong', people walked mostly in silence or softly sang a Maori hymn of peace.
"We feel like hate has brought a lot of darkness at times like this and love is the strongest cure to light the city out of that darkness," said Manaia Butler, 16, one of the student organisers of the march.
With armed police on site, the Al Noor mosque, where more than 40 of the victims were killed by a suspected white supremacist, reopened on Saturday. Police said they were reopening the nearby Linwood mosque as well.
"It is the place where we pray, where we meet, we'll be back, yeah," Ashif Shaikh told reporters outside the Al Noor mosque. He said he was there on the day of the shooting in which two of his housemates were killed.
Most victims of the country's worst mass shooting were migrants or refugees from countries such as Pakistan, India, Malaysia, Indonesia, Turkey, Somalia, Afghanistan and Bangladesh.
At Saturday's march security was heavy, with dozens of armed police officers and buses parked sideways across city streets to close them off for the march.
Shila Nair, a migrant from India who works for a migrant advocacy group called Shakti, travelled from Auckland to take part in the march.
"The support gives us hope and optimism that migrant and refugee communities in this country can have a level playing field," she said.
"We appreciate the solidarity, but it must be carried on. It cannot be allowed to fizzle out. This is how social change happens."
Prime Minister Jacinda Ardern, who swiftly denounced the shooting as terrorism and has participated in many of the tributes and funerals for the victims, has announced a ban on military-style semi-automatic and assault rifles, some of the guns used by the shooter.
Ardern and New Zealand have been widely praised for the outpouring of empathy and unity and the response to the attacks.
Dubai's ruler Sheikh Mohammed bin Rashid Al Maktoum thanked her on Twitter late on Friday.
"Thank you @jacindaardern and New Zealand for your sincere empathy and support that has won the respect of 1.5 billion Muslims after the terrorist attack that shook the Muslim community around the world," he said on Twitter.
Muslims account for just over 1% of New Zealand's 4.8-million population, a 2013 census showed, most of whom were born overseas.
On Friday the Muslim call to prayer was broadcast nationwide on television and radio and about 20,000 people attended a prayer service in the park opposite Al Noor mosque in a show of solidarity.
Many women have also donned headscarves to show their support.
In Mecca, Islam's holiest site, a special prayer was held after the Friday sermon for the victims of the attack, according to the Saudi news website Sabq.
Most of the dead were laid to rest at a mass burial in Christchurch on Friday when 26 victims were interred.
Others have been buried at private ceremonies or repatriated to their home countries for funerals.
Shahadat Hossain, whose brother Mojammel Haque was killed in the attack, told Reuters that she would bring his body back to Bangladesh.
"I don't know when our family will be able to come out of this grief," she said.
https://www.freemalaysiatoday.com/category/world/2019/03/23/many-march-for-love-in-new-zealand-as-mosques-reopen/
--------
Imran Khan welcomes PM Modi's greetings on Pakistan National Day
Mar 23, 2019
ISLAMABAD: Pakistan Prime Minister Imran Khan has welcomed his Indian counterpart Narendra Modi's greetings on the eve of its National Day, saying time has come to begin a "comprehensive dialogue" between the two countries to address and resolve all issues, including the "central issue" of Kashmir.
According to official sources in New Delhi, Prime Minister Modi sent a letter to Khan, greeting people of Pakistan on the eve of its National Day and highlighting the importance of a terror-free South Asia.
Modi, in his message, said it was time for the people of the sub-continent to work together for a democratic, peaceful, progressive and prosperous region, in an atmosphere free of terror and violence, they said.
Khan, in a tweet, welcomed Modi's message and said the time has come to begin a comprehensive dialogue between the two countries to address and resolve all issues, including Kashmir.
"I welcome PM Modi's message to our people. As we celebrate Pakistan Day I believe it is time to begin a comprehensive dialogue with India to address & resolve all issues, esp the central issue of Kashmir, & forge a new relationship based on peace & prosperity for all our people," Khan tweeted on Friday.
India has made it clear to Pakistan that cross-border terror attacks and talks cannot go hand in hand.
India last year called off a planned meeting of external affairs minister Sushma Swaraj and her Pakistani counterpart Shah Mahmood Qureshi on the sidelines of the annual session of the UN General Assembly in New York after blaming Pakistanbased entities for killing of three special police officers in Kashmir.
Earlier, Khan also tweeted Modi's message.
"Received msg from PM Modi: 'I extend my greetings & best wishes to the people of Pakistan on the National Day of Pakistan. It is time that ppl of Sub-continent work together for a democratic, peaceful, progressive & prosperous region, in an atmosphere free of terror and violence'," Khan said.
Modi's message to Khan came in the midst of severe strain in ties between the two nuclear-armed neighbours following the Pulwama attack and the subsequent air strikes by India on a Jaish-e-Muhammed (JeM) terror camp in Pakistan's Balakot.
Significantly, India Friday boycotted a reception at the Pakistan high commission here to mark Pakistan's National Day, objecting to invites extended to several separatist leaders from Jammu and Kashmir for the event.
The official sources in New Delhi said the prime minister sends a customary message on National Days to other heads of state and government and added that his message to Khan highlighted the importance of a terror-free South Asia.
Tensions between India and Pakistan escalated after a suicide bomber of Pakistan-based terror group JeM killed 40 CRPF personnel in Jammu and Kashmir's Pulwama district in February 14.
India launched a counter-terror operation in Balakot. The next day, Pakistan Air Force retaliated and downed a MiG-21 in an aerial combat and captured its pilot, who was handed over to India on March 1.
Every year on March 23, Pakistan celebrates its National Day commemorating the Lahore Resolution passed on March 23, 1940 and the adoption of the first constitution of Pakistan on March 23, 1956.
https://timesofindia.indiatimes.com/world/pakistan/imran-khan-welcomes-pm-modis-greetings-on-pakistan-national-day/articleshow/68532227.cms
--------
'Relationship very good, ready to meet new Pakistani leadership': Donald Trump
Mar 22, 2019
President Donald Trump has indicated his readiness to meet Pakistan's new leadership, amidst the ongoing peace talks between the US and the Taliban facilitated by Islamabad to end the brutal war in Afghanistan, America's longest.
The relations between Pakistan and the US nosedived after President Trump last year accused Islamabad of giving nothing to Washington but "lies and deceit" and providing "safe haven" to terrorists.
In September, the Trump administration cancelled USD 300 million in military aid to Islamabad for not doing enough against terror groups like the Haqqani Network and Taliban active on its soil.
Trump also criticised Pakistan in a Twitter post back in November, saying Islamabad was not doing enough to stop terrorism.
President Trump made this surprise announcement on the possibility of a meeting between him and Prime Minister Imran Khan at the end of a White House media interaction on Wednesday when a journalist asked him to comment on the current situation between India and Pakistan.
"Pakistan — we'll be meeting with Pakistan. I think our relationship right now is very good with Pakistan," Trump said before departing the White House for a visit in Ohio.
US envoy Zalmay Khalilzad is spearheading efforts to strike a peace deal with the Taliban with the help of Pakistan.
Khalilzad, the Special Representative for Afghanistan Reconciliation, said that Pakistan has an important role to play in Afghan peace talks and cannot be under estimated, state-run Radio Pakistan quoted him as saying.
Pakistan has been bargaining for the first meeting between President Trump and Prime Minister Khan in return for Islamabad's help in bringing the Taliban to the negotiating table. The cricketer-turned-politician assumed charge as Pakistan prime minister in August last year.
The representatives of the Afghan Taliban, the US as well as officials from Pakistan and Saudi Arabia have been meeting in Doha, Qatar. The talks were facilitated by Islamabad as Washington continues to seek an end to the nearly 18-year war in Afghanistan that has killed over 2,000 US soldiers.
The US has 14,000 troops deployed in Afghanistan. Two US soldiers were killed in an operation in Afghanistan on Friday, Fox News reported.
Friday's deaths were the first for US forces there since January. Last year, 13 American troops died while deployed there.
President Trump's signal that he is ready for a meeting with the Pakistani leadership also came hours after a senior administration official warned that the US remained concerned about India-Pakistan tensions as their militaries were still on alert nearly three weeks after their most dangerous confrontation in decades following the Pulwama terror attack.
Tensions between India and Pakistan escalated after a suicide bomber of Pakistan-based terror group Jaish-e-Mohammed (JeM) killed 40 CRPF personnel in Jammu and Kashmir's Pulwama district in February 14.
India launched a counter-terror operation in Balakot. The next day, Pakistan Air Force retaliated and downed a MiG-21 in an aerial combat and captured its pilot, who was handed over to India on March 1.
The US official also warned that another terrorist attack in India could be "extremely problematic" for Pakistan and it would cause a re-escalation in tensions.
"We need to see Pakistan taking concrete and sustained action to rein in the terrorist groups, mainly the Jaish-e-Mohammed and the Lashkar-e-Taiba in order to ensure that we don't have re-escalation (of tensions) in the region", the official said.
"If there's any additional terrorist attack without Pakistan having made a sustained, sincere effort against these groups, it would be extremely problematic for Pakistan and it would cause re-escalation of tensions, which is dangerous for both countries," the official said on the condition of anonymity.
https://www.hindustantimes.com/world-news/relationship-very-good-ready-to-meet-new-pakistani-leadership-donald-trump/story-bTNY3RNJGoWxsG9HOQztiL.html
--------
New Zealand attacks 'will not stop Bangladesh cricket tours'
March 23, 2019
DHAKA: Bangladeshi cricketers will continue to tour New Zealand in the future, an official from the Bangladesh Cricket Board (BCB) told Arab News on Friday.
His comments follow the attack on two mosques in Christchurch last Friday, during which a number of Bangladeshi cricketers narrowly escaped becoming involved in the atrocity.
The gun attack by a white supremacist resulted in the deaths of 50 people, with hundreds more injured. Five Bangladeshis were among the dead.
"We have a very good relationship with New Zealand, but from now on, security issues will be taken care of more carefully for our cricketers during any tour," Habibul Bashar, a member of the BCB team selection committee, said.
"For every team now, security will be a big concern, and we can't compromise with this issue anymore. If we are not satisfied with the security preparations when visiting a country, the BCB will have its own security team to travel with the cricketers."
The team is scheduled to travel to Ireland in May to compete in a tri-nation, one-day series with the hosts and the West Indies. Bangladesh will then join the International Cricket Council's (ICC) World Cup competition, scheduled to begin May 30 in England and Wales.
The players had been scheduled to be at the mosque when the attack happened, but were delayed en route after a press conference overran.
Tamim Iqbal, the Bangladeshi opening batsman, tweeted: "Entire team got saved from active shooters!!! Frightening experience and please keep us in your prayers."
"It's a haunting and unprecedented experience for our players which has shaken our team. We were saved only by a stroke of luck," Raqibul Hasan, Bangladesh's former captain, told Arab news.
"I have talked with most of our players and they are now coming out of this haunting experience slowly. I think this incident will not hamper their performance in the upcoming Ireland tri-nation series."
Thanking New Zealand's Prime Minister Jacinda Ardern, Hasan added: "There is nothing above the cause of humanity."
On Friday Ardern led a vigil of around 5,000 people in Hagely Park, in front of Al-Noor Mosque in Christchurch, where most of the victims died.
To express solidarity with the Muslim community in New Zealand, meanwhile, state TV and radio stations also broadcast the call to prayer throughout the week.
http://www.arabnews.com/node/1471111/world
--------
Malaysia, Pakistan reaffirm commitment to work closely on Islamic issues
23 March 2019
ISLAMABAD, March 23 — Malaysia and Pakistan have reaffirmed their commitment to collaborate more closely on issues affecting the Muslim world, including taking joint efforts in underscoring Muslims' sensitivities on holy personalities and religious beliefs.
In a joint statement in conjunction with the three-day official visit of Malaysian Prime Minister Tun Dr Mahathir Mohamad to Pakistan since Thursday, as the leaders of two peace-loving Islamic nations, Dr Mahathir and his Pakistan counterpart Imran Khan agreed to increase their collaborative efforts to uphold the true values of Islam in international fora while strengthening the solidarity of the Muslim Ummah (community).
In the statement, both leaders also stressed that terrorism cannot be associated with any religion or belief.
" Both leaders exchanged views on the situation in Palestine and in Rakhine State, Myanmar involving Rohingya Muslims. On the Palestinian issue, both countries agreed to contribute positively in other forums, especially in the Organisation of Islamic Cooperation (OIC) Committee of Six on Palestine, of which Malaysia and Pakistan are members," the statement said.
The statement added that Malaysia took note of the massive counter-terrorism efforts that Pakistan has successfully undertaken in an effort to eliminate terrorism.
It said Malaysia also invited Pakistan to participate in the upcoming Langkawi International Maritime and Aerospace Exhibition (LIMA) from March 26-30, 2019.
The statement said the two leaders also took note that the 1st Bilateral Consultations between the Foreign Secretary of the Ministry of Foreign Affairs of Pakistan and the Secretary-General of the Ministry of Foreign Affairs of Malaysia, as a mechanism to intensify the engagements between both sides, was successfully held on Feb 25, 2019 here.
" The 1st Bilateral Consultations between both countries had covered various issues of mutual concerns such as debt management and anti-corruption, defence cooperation, labour matters, consular matters, as well as, regional and international dynamics," it said.
Both Leaders also acknowledged the successful convening of the 13th Joint Committee on Defence Cooperation (JCDC) which was held from Feb 26— 27, 2019 in Kuala Lumpur.
Dr Mahathir undertook the official visit at the invitation of Imran, whereby Dr Mahathir was the guest-of— honour at the Pakistan Day Parade on Saturday.
During the visit, Dr Mahathir was accorded a ceremonial welcome at the Prime Minister's House and both leaders held a restricted meeting as well as fruitful and in-depth discussions, which took place in a warm and cordial atmosphere, and covered a wide range of bilateral, regional and international issues of mutual interest.
" (The) Malaysian Prime Minister expressed his sincere appreciation to the President of Pakistan Arif Alwi for hosting a State Banquet and bestowing him with the Nishan-e-Pakistan (Order of Pakistan), Pakistan's highest civil award ," it said. — Bernama
https://www.malaymail.com/news/malaysia/2019/03/23/malaysia-pakistan-reaffirm-commitment-to-work-closely-on-islamic-issues/1735636
--------
Muslim nations urge for measures against Islamophobia
March 22, 2019
JEDDAH: Muslim nations on Friday called for tough international action to combat Islamophobia following the terror attack on two New Zealand mosques. The executive committee of the Organization of Islamic Cooperation (OIC), meeting in Istanbul, expressed its outrage at last week's Christchurch massacre, and deep concern over the resurgence of racist movements and terrorist activities around the world.
Foreign ministers attending the emergency session, issued a raft of demands aimed at tackling the scourge of hate-related violence toward Muslims and other minority groups. They said raids on mosques and the killing of Muslims highlighted the "brutal and inhumane consequences" of hatred of Islam.
Members called on all governments to review their legal frameworks regarding terrorism and urged the UN High Commissioner for Human Rights (OHCHR) and the Council of Europe Commissioner for Human Rights to establish an observatory to monitor extremist acts against Muslims.
The OIC committee also suggested that the UN and other regional and international organizations should declare March 15 (the day of the Christchurch attack) an international day of solidarity against Islamophobia.
It said the UN should convene a session of its General Assembly to debate the issue of racism and appoint a special representative on combating Islamophobia. The UN was also requested to expand the scope of its existing sanctions on terror groups to cover individuals and entities associated with extremist ethnic organizations.
Fifty worshippers died and many others were seriously injured during last Friday's shootings at the Al-Noor and Linwood mosques in New Zealand's South Island city.
The OIC reiterated that terrorism had no religion or justification and was a crime regardless of when, where or against who it was committed.
In its final communique, the OIC committee said a recent global rise in terrorist activities was hampering international efforts to promote peace and harmony between nations.
Adhering to international policies on safeguarding the rights, dignity, religious and cultural identity of Muslim communities and minorities in non-member states was key to tackling the issue, the ministers declared.
They noted resolutions of previous Islamic summit conferences and meetings which expressed concerns over attacks on mosques and other Muslim properties.
The OIC foreign ministers thanked the government of New Zealand for its unequivocal condemnation of the terrorist attacks and the firm stance of Prime Minister Jacinda Ardern and offered their full support to a comprehensive and transparent investigation into the outrage.
The committee also extended its sincere condolences to the families of the victims.
The meeting stressed the need for the OIC to maintain close contacts with UN and EU governments of countries with Muslim populations and minorities to identify ways of promoting cultural harmony, understanding, respect, and tolerance.
Communicating with social media platforms such as Facebook, Twitter, and Instagram to remove and prohibit content inciting violence and hatred toward Muslims was also important, the OIC ministers stated.
Members requested the OIC Contact Group on Peace and Dialogue to prioritize efforts to combat religious discrimination, Islamophobia, intolerance, and hatred against Muslims and to hold regular interfaith meetings. They added that all the necessary human and financial resources should be given to the OIC's work in communicating with centers around the world concerned with Islamophobia.
Meanwhile Ridwaan Jadwat, Australia's ambassador to Saudi Arabia, said: "Australians share their deepest sympathies with those affected by the devastating terrorist attack by a right-wing extremist in Christchurch and share the grief of New Zealanders and Muslim communities the world over.
"The day after the attack, the prime minister and foreign minister reached out to the Muslim community to convey deep condolences and show solidarity, visiting a mosque and meeting Muslim leaders including the grand mufti and the Australian National Imams Council.
"We will always protect and defend our Muslim community in Australia and our people's right to practice peacefully their religion without fear. Everyone has a right to feel safe in their places of worship."
The envoy said his government was extending community safety grants to protect religious schools, places of worship and assembly.
"This is the time for unity and inclusion. We must all work together against extremism and take care to ensure our public debates about this horrific incident do not encourage the very divisions between faiths and cultures that extremists seek to create." http://www.arabnews.com/node/1470751/middle-east
--------
India
Kashmiri man detained outside Pakistan high commission: Cops
Mar 23, 2019
A 58-year-old man from Jammu and Kashmir's Kupwara district was detained on Friday evening from outside the Pakistan High Commission in central Delhi, police said.
Police said the man was picked up for questioning after they found his visit to the High Commission suspicious. Delhi police said the man was previously convicted in Jammu and Kashmir under the Official Secrets Act. He remained in jail between 2005 and 2009 on espionage charges, said police.
Deputy commissioner of police (New Delhi) Madhur Verma confirmed that the man was detained from outside the embassy. "We are questioning him to know his purpose of visiting the High Commission," Verma added.
Police have also informed central intelligence agencies about the man's visit to the High Commission.
https://www.hindustantimes.com/india-news/kashmiri-man-detained-outside-pakistan-high-commission/story-Z6Y6R8allM2fwk7zumGJHL.html
--------
12-year-old hostage killed by militants: J-K police
Mar 22, 2019
A minor held hostage by two Pakistani Lashkar-e-Taiba militants was killed by his captors in the Jammu and Kashmir town of Hajin, where security forces had launched an operation, the police said. The militants were killed in the operation.
The army,Central Reserve Police Force (CRPF) and the police had launched the joint cordon-and-search operation in the Mimoh neighbourhood of the town on Thursday. The minor who died was identified as Atif Mir, a 12-year-old boy who studied in class VI at Army Goodwill School, the police and residents said.
The cordon covered the six houses of the Mir clan located close to one another on the main link road. At the time, two militants and six members were inside the three-storey house of Mohammad Shafi Mir, including his brother, son and other family members. "I was at my shop when the search operation began in our locality. My minor son and my brother were inside the house and militants didn't allow them to leave, while others family members managed to escape from the house. In the afternoon yesterday, my brother also managed to escape,'' said Shafi Mir, who lost his only son.
"The operation began in the morning and the forces could have ended it within a few hours, but the police and army officials present on the encounter site made every attempt to rescue my son. My son wasn't allowed to leave the house despite several pleas... ''
To save the life of the boy, the police and army officers appealed to the militants through local village elders, asking the captors to release the boy. The appeals were made every few hours. "The police and army tried to save the boy, but I don't know why the militants held him hostage. For this family it is going to be a lifelong pain,'' Nazir Ahmad, an uncle of the boy, said. "This type of incident has never taken place here.''
The mother, who was being consoled by relatives and neighbours, said: "My brother-in-law, who was also held hostage along with my son, told me that he had pleaded with the militants to release his nephew but they refused. And when the militants got injured, my brother-in-law escaped from the house...''
The operation ended on Friday morning and police the took bodies of the two militants and the minor boy with them. The body of the minor was handed over to family members in the afternoon.
The grave of the boy was being dug by his relatives some 500 to 600 metres away from his school. "He (Aatif) was such a wonderful boy who didn't deserve to die this way. The security forces could have aborted the operation to save the boy. They would have killed the militants anytime after," said one of his neighbours.
Senior superintendent of police, Bandipora, Rahul Malik said the security forces had done everything possible to get the militants to release the boy and his uncle. The uncle eventually managed to escape.
A magistrate, too, had appealed that the boy be allowed to go "but finally fire from that side intensified and we also retaliated and in process two militants, Ali and Hubaib, were eliminated,'' Malik said.
Full report at:
https://www.hindustantimes.com/india-news/12-year-old-hostage-killed-by-militants-j-k-police/story-5cSqYgrgnYs4DR09EhSgfK.html
--------
France approaches EU for listing of Masood Azhar as a global terrorist: MEA
Mar 22, 2019
France has approached the European Union to designate Jaish-e-Mohammed chief Masood Azhar as a global terrorist and the 28-member grouping is expected to take a decision on the issue based on the principle of consensus, the external affairs ministry said Friday.
"France has taken up the matter with the EU. We understand that the EU will take its decision once their process of designating a terrorist is complete," external affairs ministry spokesperson Raveesh Kumar said. "It has to be a unanimous decision," he said. The EU functions under the principle of consensus.
The move by France, a member of the EU, came days after China blocked a bid at the United Nations to ban Azhar.
The proposal to designate Azhar under the 1267 al-Qaeda Sanctions Committee of the UNSC was moved by France, the UK and the US, in the wake of the Pulwama terror attack in which 40 CRPF personnel were killed. JeM had claimed responsibility for the Pulwama attack.
Fourteen out of the 15 members of the UN Security Council supported the proposal, but China was the only country which did not go with the move. Diplomatic sources said Germany is also in touch with several member-nations of the European Union to list Azhar as a terrorist by the grouping.
"Once the process by the EU is complete, they will make an announcement," said Kumar.
Azhar's listing by the bloc will result in his travel ban as well as freezing of his assets in all 28 countries of the EU.
On March 15, France imposed financial sanctions on Azhar and said it will work with its European partners to put the JeM chief's name on the EU list of persons and entities involved in terrorist acts.
Full report at:
https://www.hindustantimes.com/india-news/france-approaches-eu-for-listing-of-masood-azhar-as-a-global-terrorist-mea/story-XpDj2D1SdfEccJ8v0novBL.html
--------
Yasin Malik-led Jammu Kashmir Liberation Front banned under anti-terror law
Mar 22, 2019
The Yasin Malik-led Jammu Kashmir Liberation Front (JKLF) was banned by the Centre under anti-terror law on Friday.
Home Secretary Rajiv Gauba said JKLF (Yasin faction) is declared an unlawful organization and said the ban is in continuation with the government's move of zero tolerance against secessionist groups "JKLF has spearheaded the secessionist ideology in Jammu and Kashmir and poses a threat to the sovereignty of the country," he said.
JKLF has been banned under various provisions of the Unlawful Activities (Prevention) Act. Its chief Yasin Malik is under arrest and at present lodged in Jammu's Kot Balwal jail.
Rajiv Gauba said the JKLF is actively involved in funding and actively supporting terrorism. "It continues to be involved in activities prejudicial to the country," he added.
Full report at:
https://www.hindustantimes.com/india-news/yasin-malik-led-jklf-banned-under-anti-terror-law/story-79oJi8laeP2YLyox0AG79L.html
--------
5 militants including 2 from Jaish killed in Kashmir encounters in 24 hours
Mar 22, 2019
At least five militants, including two of the Jaish-e-Mohammed group, have been killed in the last 24 hours by security forces in three districts of the Kashmir valley, Indian Army and police officials said on Friday.
Two of the militants were killed in Baramulla's Kalantara Payeen in north Kashmir, another two in Hajin in north Bandipora and one in Shopian in south Kashmir, they said.
The encounter between security forces and militants in Mir Mohalla area of Hajjin started around 10am on Thursday. Security forces comprising of units of the army's 13 Rashtriya Rifles, Central Reserve Police Force's (CRPF's) 45 Battalion and Jammu and Kashmir police's special operations group took part in the operation.
A gun battle also took place in Shopian's Imam Sahib after security forces cordoned off the area following the information about the presence of militants. One of them was killed in the encounter.
A police spokesperson said on Friday one of the two militants killed in Kalantara Payeen in Baramulla has been identified as Aamir Rasool of Sopore and that the other was a Pakistani national. Both the bodies have been recovered and a search operation is in progress after the encounter started on Thursday, the spokesperson said.
"According to the police records, both the killed terrorists were affiliated with proscribed terror outfit JeM and were wanted by law for their complicity in a series of terror crimes including an attack on security establishments and civilian atrocities. They were involved in conspiring and executing many terror attacks in the area. Several terror crime cases were registered against both the terrorists," the spokesperson said.
The spokesperson said arms and ammunition, including AK 47 assault rifles, were recovered from the site of encounter. "All these materials have been taken in the case records for further investigation and to probe their complicity in other terror cases," the officer said.
"Citizens are once again requested not to venture inside the encounter zone since such an area can prove dangerous due to stray explosive materials. People are requested to cooperate with police till the area is completely sanitized and cleared of all the explosives materials if any," he said.
Another gunfight was also underway in Sopore between militants and security forces, police said. The firing exchanges took place in Warpora area of Sopore, the same site of an encounter where two policemen were injured on Thursday, and the area has been cordoned off they said.
Full report at:
https://www.hindustantimes.com/india-news/5-militants-including-2-from-jaish-killed-in-kashmir-encounters-in-24-hours/story-swyNeeVHCL9hJWv81c4abN.html
--------
Arab World
Pompeo in Lebanon warns of Hezbollah's 'destabilizing activities'
22 March 2019
US Secretary of State Mike Pompeo warned on Friday of militant group Hezbollah's "destabilizing activities" as he visited Lebanon on a regional tour to build a united front against Iran.
He flew in from Israel a day after he became the first high-ranking American official to visit the Western Wall in annexed east Jerusalem with an Israeli prime minister.
His visit also came just hours after US President Donald Trump said Washington should recognize Israel's annexation of the Golan Heights, breaking with the policy of successive administrations as well as UN Security Council resolutions.
In a meeting with parliament speaker Nabih Berri, Pompeo warned of the "destabilizing activities" in the region of Hezbollah, an Iran-backed group that is targeted by US sanctions but holds three cabinet posts in Lebanon.
"He highlighted US concerns about Hezbollah's destabilizing activities in Lebanon and the region and the risks posed to Lebanon's security, stability and prosperity," US deputy spokesman Robert Palladino said.
Hezbollah militants have backed government forces in neighboring Syria in the civil war that broke out in 2011.
Pompeo and Berri also discussed "the need to maintain calm along the boundary between Lebanon and Israel", Palladino said.
Lebanon and its southern neighbor Israel are still technically at war, even after Israeli troops withdrew from the south of the country in 2000.
Israel and Hezbollah fought a devastating month-long war in 2006, and skirmishes still erupt along a UN-patrolled demarcation line.
The secretary of state also met Prime Minister Saad Hariri to discuss "the importance of the US-Lebanese security partnership and the need for continued support for Lebanon's legitimate state security institutions, particularly the Lebanese Armed Forces," Palladino said.
Pompeo "commended the Lebanese people for hosting more than one million Syrian refugees".
The secretary of state, who is expected to leave Lebanon on Saturday, later held talks with President Michel Aoun.
In a meeting earlier with Interior Minister Raya al-Hassan, Pompeo "discussed regional and internal security challenges facing Lebanon and how the United States can help support the interior ministry's efforts".
Hassan became the first woman interior minister in Lebanon and the Middle East in a cabinet line-up unveiled in late January following an eight-month delay.
The United States has branded Hezbollah, the only group in Lebanon that has not disarmed since its 1975-1990 civil war, a "terrorist" organization and targeted it with tough sanctions.
Hezbollah's Sheikh Ali Damush on Friday questioned the timing and purpose of Pompeo's visit.
"What are the Lebanese expecting from America and its foreign minister after these two announcements that are totally biased in favor of Israel, except for inciting (Hezbollah) and turning Lebanese against each other?" he asked in his Friday sermon.
https://english.alarabiya.net/en/News/middle-east/2019/03/22/Pompeo-in-Lebanon-warns-of-Hezbollah-s-destabilizing-activities-.html
--------
ISIS defeated in last Syria enclave, US-backed SDF says
23 March 2019
ISIS has been defeated at its final shred of territory of Baghouz in Syria, the US-backed Syrian Democratic Forces (SDF) said on Saturday, declaring the end of its self-declared "caliphate" that once spanned a third of Iraq and Syria.
The SDF declared the "total elimination of (the) so-called caliphate," Mustafa Bali, head of the SDF media office, wrote on Twitter.
Mustafa Bali
@mustefabali
Syrian Democratic Forces declare total elimination of so-called caliphate and %100 territorial defeat of ISIS. On this unique day, we commemorate thousands of martyrs whose efforts made the victory possible. #SDFDefeatedISIS
225
11:47 AM - Mar 23, 2019
Twitter Ads info and privacy
208 people are talking about this
"Baghouz has been liberated. The military victory against Daesh has been accomplished," he wrote.
The SDF has been battling to capture Baghouz at the Iraqi border for weeks.
Daesh is an Arabic acronym for ISIS. "We renew our pledge to continue the war and to pursue their remnants until their complete elimination," he wrote.
Full report at:
https://english.alarabiya.net/en/News/middle-east/2019/03/23/ISIS-defeated-in-last-Syria-enclave-US-backed-SDF-says.html
--------
Renewed US-led air strikes pound ISIS holdouts
22 March 2019
US-led warplanes bombed the north bank of the Euphrates River in eastern Syria early Friday to flush out holdout militants from the last sliver of their crumbling control.
Friday's bombardment ended two days of relative calm on the front line in the village of Baghouz near the Iraqi border. The Kurdish-led Syrian Democratic Forces had paused its advance while it combed a makeshift militant encampment it overran on Tuesday.
An SDF official who asked not to be named said that warplanes of the US-led coalition resumed airstrikes on suspected militant positions in the early hours of the morning.
Top SDF commander Jia Furat said his forces were engaging with the militants on several fronts while the coalition warplanes provided air support. The US-led coalition said the "operation to complete the liberation of Baghouz is ongoing".
"It remains a hard fight, and ISIS is showing that they intend to keep fighting for as long as possible," it said. The SDF launched an assault against the militants' last redoubt in the village of Baghouz on February 9.
On Tuesday, they cornered diehard fighters into a few acres of farmland by the Euphrates River, after forcing them out of the encampment where they had been hold up.
The six-month-old operation to wipe out the last vestige of ISIS is close to reaching its inevitable outcome. But the SDF said on Thursday that a declaration of victory would be made only after mopping up operations had been completed.
Full report at:
https://english.alarabiya.net/en/News/middle-east/2019/03/22/Renewed-US-led-air-strikes-pound-ISIS-holdouts.html
--------
Syria Kurd autonomy under threat after Daesh 'caliphate' falls
March 23, 2019
BEIRUT: Now the Daesh group's "caliphate" has fallen, the hard-won limited autonomy of Syria's Kurds will be left in peril if their key US ally goes ahead with its announced pullout.
On Saturday, the Kurdish-led Syrian Democratic Forces announced the end of the proto-state that the Sunni Arab extremist group declared across large parts of Syria and neighboring Iraq in 2014.
The Kurds have largely stayed out of Syria's eight-year civil war, instead building their own institutions in a third of the country under their control.
But a planned US military pullout has left them exposed to an attack by Turkey and in need of protection from Damascus, in a massive blow to their dreams of self-rule.
"The Kurds have been caught between a Syrian rock and a Turkish hard place," Syria expert Fabrice Balanche said.
Kurdish fighters have spearheaded the fight against Daesh since late 2014, but neighboring Turkey views them as "terrorists".
The presence of American troops in areas held by Kurdish-led Syrian Democratic Forces (SDF) had acted as a shield against any Turkish offensive.
But US President Donald Trump in December shocked Washington's allies by announcing a full withdrawal of all 2,000 US troops from Syria as Daesh had been "beaten".
"The Kurds are facing an uncertain future. The most urgent threat appears to be from Turkey," analyst Mutlu Civiroglu said.
After his announcement, Trump attempted to ease tensions by speaking of a 30-kilometre "safe zone" on the Syrian side of the border.
Turkish President Recep Tayyip Erdogan has said his country would establish the "security zone" itself if it took too long to implement.
The Kurds have rejected any Turkish implementation, especially since any such buffer would include their major cities.
They are demanding instead the deployment of an international observer force.
"Kobane, Tal Abyad, Darbasiya, Qamishli, Dehik, Derbassiye -- most of the Kurdish cities are on the border line," Civiroglu said.
Turkey and its Syrian rebel proxies have led two previous offensives inside Syria, most recently seizing the northwestern enclave of Afrin from the Kurds last year.
Syria's civil war has killed more than 370,000 people and displaced millions since it started in 2011 with the brutal repression of anti-government protests.
It has since spiraled into a complex conflict, with rebel backer Turkey and regime ally Russia emerging as key powerbrokers.
Beyond American approval, Civiroglu said Turkey would likely need a green light from Russia before any Turkish offensive in Syria.
"Russia's position is going to be very important, because Russia has a strong power over Turkey," he said.
President Bashar al-Assad's regime now controls two-thirds of Syria thanks to Russian military backing since 2015, and its seems determined to also return to oil-rich northeastern Syria.
To protect themselves, the Kurds have dispatched delegations to Washington and Moscow.
And in ongoing talks, they have scrambled to mend ties with Damascus.
After decades of marginalization, the Kurds have developed their own political system in northeast Syria -- holding elections, collecting taxes and running schools teaching the Kurdish language.
"In a war-torn country, the Kurdish system is working fine," Civiroglu said.
"The Kurds want this to be recognized."
They want "Kurdish education to be offered officially", he said, after decades of an effective ban on their mother tongue.
But talks so far have failed to bear fruit, and Balanche warns the Kurds are in a weak position.
"The regime is demanding an unconditional surrender. Damascus does not want to let them retain any autonomy," he said.
Syrian Defense Minister Ali Abdullah Ayoub said Monday that the government would recapture all areas held by the SDF "in one of two ways: a reconciliation agreement or... by force".
Although the end of the Daesh "caliphate" has been declared, Daesh is still present in eastern Syria's vast Badia desert.
The US Defense Department has warned that without sustained pressure on the extremists, they could resurge in Syria within months.
In the end, the future of the Kurds mainly depends on the United States, says analyst Nicholas Heras of the Center for a New American Security.
"Every other actor in Syria cannot make a move until there is greater clarity on what the United States ultimately decides to do," he said.
And after any troop pullout, the United States could still stay on with a paramilitary force, he added.
"The best hope for the SDF is for the Americans and the coalition to stick it out in Syria for the long haul."
Full report at:
http://www.arabnews.com/node/1471176/middle-east
--------
Europe
Anti-Muslim hate crimes soar in UK after Christchurch shootings
22 Mar 2019
The number of anti-Muslim hate crimes reported across Britain increased by 593% in the week after a white supremacist killed worshippers at two New Zealand mosques, an independent monitoring group has said.
The charity Tell Mama said almost all of the increase comprised incidents linked to the Christchurch attacks last Friday, and there had been more recorded hate incidents in the last seven days than in the week after the 2017 Islamist terrorist attack in Manchester.
According to figures passed to the Guardian, 95 incidents were reported to the charity between 15 March, the day of the New Zealand atrocity, and midnight on 21 March. Of those, 85 incidents – 89% of the total – contained direct references to the New Zealand attacks and featured gestures such as mimicking firearms being fired at Muslims.
The news will alarm community groups who may have expected extremists to lie low after the massacre of 50 Muslims in Christchurch, which drew widespread condemnation around the world.
The week-on-week rise in the number of hate crimes directed at Muslims was greater than in the week after the 2016 vote for Britain to leave the EU, and the second biggest weekly increase recorded since 2012 by Tell Mama, which works to encourage reporting of anti-Muslim hate crimes and cooperates closely with the police.
In the last seven days, Muslims in Oxford, Southampton and Colindale, north London, have reported gun gestures or firearms noises being directed at them. In Colindale on Thursday, a mother walking with her daughter reported four youths making gun gestures. In Oxford earlier this week, a woman wearing a hijab said a man made noises mimicking a gun.
Verbal abuse directed at Muslims in London in separate incidents is alleged to have included shouts of "you need to be shot", "you deserve it" and "Muslims must die".
Incidents were reported in Scotland, where a mosque was attacked; in Stanwell, Surrey, where police declared the stabbing of a teenager to be a suspected far-right terror attack; and in Lancashire. Meanwhile in Birmingham, police continue to hunt for those behind sledgehammer attacks on five mosques.
Iman Atta, the director of Tell Mama, said the figures showed a troubling rise. "This shows that some people see Muslims as fair game for hate and it is now clear that we have an ongoing and persistent ideology of hate that is generating a focus on Muslims," she said. "Muslims in New Zealand were killed and British Muslims feel the anger of bigots. It is perverse."
Most of the incidents recorded by Tell Mama were carried out in person rather than online. Perpetrators either thought they would not be caught or were so emboldened that they were not concerned about possible consequences, according to the charity.
Of the 85 incidents linked directly to the New Zealand shooting, 40 were online abuse and 45 were carried out in person.
The real figures are likely to be higher. Only some hate crimes incidents are reported, with victims often feeling there is no point complaining.
Furthermore, the figures count only abuse directed at Muslims who then report it to a charity well known in Britain's Muslim communities. Incidents directed at other ethnic minorities have not been recorded or included in the figures.
Tell Mama usually receives reports of about 30-35 incidents a week. In the seven days before the Christchurch attacks, 16 incidents were reported – an unusually low number.
The week after the Manchester attack the charity recorded the highest week-on-week increase in the number of hate incidents – a 700% rise. But more hate incidents were reported to the charity last week.
A rise in the number of hate crimes was also recorded by Tell Mama and police immediately after the June 2016 Brexit vote.
In January Britain's leading counter-terrorism officer, Neil Basu, told the Guardian he feared Brexit tensions could lead to a rise in hate crime and also warned the issue could be exploited by rightwing extremists. "My concern is the polarisation, and I fear the far-right politicking and rhetoric leads to a rise in hate crime and a rise in disorder," he said.
Police said extra police patrols were deployed on Britain's streets on Friday, especially around lunchtime which is the time of the main weekly prayers for Muslims.
Assistant chief constable Mark Hamilton, the national hate crime lead for the National Police Chiefs Council, said: "Experience tells us … that we should sadly expect that a horrific attack such as the one in Christchurch will have an impact on levels of hostility in the UK but it will also increase the fear of crime in affected communities. Both of these factors are likely to increase reporting levels.
"No one should ever have to suffer hate crime and I would encourage all victims to report to the police by calling 101 (999 in an emergency) or reporting online on our True Vision website at www.report-it.org.uk."
He added: "It will be some time before our definitive hate crime data is available for this period."
https://www.theguardian.com/society/2019/mar/22/anti-muslim-hate-crimes-soar-in-uk-after-christchurch-shootings
--------
Far-right Danish politician burns Muslim holy book
Davut Colak
22.03.2019
Right wing extremist leader of a Danish party on Friday burnt a copy of Muslim holy book to protest people performing weekly prayer in front of Danish parliament.
In an attempt to provoke the Muslims' Friday weekly prayer in front of the Danish parliament -- which was organized after legal permissions acquired to protest last week's deadly terror attacks in New Zealand --, a group of extreme right wingers carried Israeli flag and disturbed the Muslim group with air horns during their prayer.
Rasmus Paludan, leader of the Stram Kurs -- anti-immigrant and anti-Islamic party -- tried to provoke people by burning a copy of Quran.
The Copenhagen police took intensive security measures and six people were detained.
Full report at:
https://www.aa.com.tr/en/europe/far-right-danish-politician-burns-muslim-holy-book/1426354
--------
Swedes form human shield for Muslims in Friday prayer
22.03.2019
STOCKHOLM
Dozens of Swedes have formed a human shield for Muslims on Friday in a bid to ensure their security during weekly prayer.
As part of the ongoing protests across the world decrying twin terror attacks by a white supremacist in New Zealand that killed at least 50 and injured dozens, Swedish people demonstrated yet another solidarity with the Muslims.
Sweden's Culture and Democracy Minister Amanda Lind told Anadolu Agency that she is very happy to see so many people gathered in Stockholm Mosque to offer a peaceful Friday prayer for Muslims.
She said that it is not only the terror attacks in New Zealand but the racism and Islamophobia, as well, that brought them all together.
Full report at:
https://www.aa.com.tr/en/europe/swedes-form-human-shield-for-muslims-in-friday-prayer/1426111
--------
Differences put aside as Sikh taxi drivers provide free rides, help for Muslim families rocked by terror attack
MAR 19, 2019
Sikhs and Muslims have had a long history of conflict in their homelands, but their differences have been put aside in Christchurch, where Sikhs have been providing food, accommodation and transport for Muslim families in need after the mosques terror attack.
With so many people flooding into Christchurch, taxi drivers have been in high demand.
But rather than profiting, a group of Sikh drivers has stepped up, offering free rides to travellers in need of an act of kindness.
Taxi driver Manjinder Singh and his colleagues made a snap decision on Friday afternoon to help those in need get home to their families.
"We were talking to each other and there was one thought whether we should finish because the police, there was continuous warnings coming out," Mr Singh told TVNZ1's Seven Sharp.
"We decided that we will offer them the free rides, whosoever is in stress, whosoever needs.
"It was just a natural an human reaction for us because we know the police guys were working hard, the hospital emergency were working hard. And as we are in the transport and service industry so we thought why not, we can contribute," he said.
The drivers wanted to push back against the gunman's hatred.
"If we have to encounter that negativity and hatred there is only one single solution - spread the love, spread the positivity. That's the only thing to counter that negativity and hatred," Mr Singh said.
"We thought we should be there helping them, we should be there as Kiwis, we should be there as humans."
The Sikhs are also raising money for plane tickets to get families of the victims over to New Zealand.
"How the Kiwis, how we all together come with the flowers, with the messages, haka, how we hug each other, 'We love you, you are with us, you are a part of society'. That was a beautiful thing and you can see it's still spreading out," Mr Singh said.
"If we carry on in the future we are going to be an example for the world."
Full report at:
https://www.tvnz.co.nz/one-news/new-zealand/differences-put-aside-sikh-taxi-drivers-provide-free-rides-help-muslim-families-rocked-terror-attack?variant=tb_v_3
--------
German police arrest 11 to foil 'Islamist attack plot'
22 March 2019
German police arrested 11 people on Friday accused of having planned an "Islamist terrorist attack" using guns and a vehicle, prosecutors said.
The suspects, whose nationalities were not specified, had plotted to "kill as many 'non-believers' as possible," Frankfurt prosecutors said in a statement.
Some 200 police commandos carried out raids in the states of Hesse and Rhineland-Palatinate.
The chief suspects were two brothers aged 31 from the city of Wiesbaden and a 21-year-old from Offenbach.
Contact with arms dealers
They had allegedly made contact with various arms dealers, rented a large vehicle and amassed cash to cover the expenses.
Police were investigating 10 of those detained for terror-financing and criminal conspiracy. They were aged between 20 and 42 and lived in Frankfurt, Offenbach, Wiesbaden and Mainz.
During the raids, police confiscated several knives, more than 20,000 euros ($22,000) in cash, small amounts of drugs and written and electronic documents.
Germany is on the alert following several terrorist attacks in recent years.
Full report at:
https://english.alarabiya.net/en/News/world/2019/03/22/German-police-arrest-11-to-foil-Islamist-attack-plot-.html
--------
New Zealand calls for solidarity at Muslim summit in Istanbul
22 March 2019
New Zealand's Deputy Prime Minister and Minister of Foreign Affairs Winston Peters said the gunman accused of killing 50 people in two mosques in the South Pacific nation would spend the rest of his life in isolation in prison and called for solidarity to eradicate "hate-filled ideologies."
Peters was speaking at an emergency session of the 57-member Organization of Islamic Cooperation's executive committee in Istanbul where he denounced last Friday's attacks as "an attack on all of us" in his country of "religious tolerance."
Australian Brenton Harrison Tarrant was arrested and charged with murder. Tarrant, 28, livestreamed the attack and released a manifesto describing his white supremacist views and how he planned the shootings.
Peters said "no punishment can match the depravity of his crime but the families of the fallen will have justice." He screened photographs of New Zealanders mourning the victims.
The comment appeared to be in response to Turkish President Recep Tayyip Erdogan, who during a speech earlier this week said: "If New Zealand fails to hold the attacker accountable, one way or another we will hold him to account."
Addressing the OIC meeting Friday, Erdogan thanked New Zealand for its "sensitivity and determined stance." He praised New Zealand Prime Minister Jacinda Ardern, saying her "reaction, the empathy displayed and her solidarity with Muslims" should serve as an example to all leaders.
Erdogan slammed populist politicians who he said encouraged attacks on Muslims and refugees.
"Politicians who pave themselves the road to power by alienating Muslims and creating enemies out of refugees, must pull themselves together." He argued Muslims weren't the only ones affected by "rising cultural racism."
But Erdogan himself has sparked outrage abroad by screening excerpts of Tarrant's video at campaign rallies to denounce Islamophobia but also to shore up Islamic and nationalist sentiments before the March 31 local elections.
Despite widespread criticism, Erdogan has continued showing the blurred out video with clear audio of automatic gunfire to thousands of people at rallies and broadcast live on Turkish televisions.
New Zealand has been trying to prevent the use of the video and Peters is expected to take up the issue.
Facebook said it removed 1.5 million videos of the shootings during the first 24 hours after the massacre.
Thousands of people gathered in New Zealand for Friday prayers and to pay their respects during a mass funeral.
Peters said the government was working to ensure Muslims' safety with an increased police presence, measures on social media and new gun control laws that already went into effect.
Erdogan called for measures to combat and outlaw Islamophobia.
Full report at:
https://english.alarabiya.net/en/News/world/2019/03/22/New-Zealand-calls-for-solidarity-at-Muslim-summit-in-Istanbul.html
--------
UK police: 2 held in Birmingham mosques vandalism probe
Ahmet Gürhan Kartal
22.03.2019
LONDON
Two men were arrested in relation to Islamophobic attacks that targeted five mosques in English city of Birmingham, local police said on Friday.
"A 34-year-old Perry Barr man handed himself into a Birmingham police station and was arrested on suspicion of racially aggravated criminal damage," a police statement said.
The West Midlands Police said a second man, 38, was also arrested in relation with the incidents.
"Both remain in custody this evening," the statement said.
Police said the "investigation continues by West Midlands Police supported by West Midlands Counter Terrorism Unit."
"This is a significant step forward in our enquiries however the investigation continues into the motive for the incidents," Assistant Chief Constable Matt Ward said.
"We are working extremely closely with mosques and local communities around the West Midlands and this will continue," he said.
"It remains incredibly important that we unite together against those who seek to create discord, uncertainty and fear."
Five Birmingham mosques had their windows smashed in the early hours of Thursday.
The mosques targeted in the attacks were Witton Islamic Centre, Masjid Madrassa Faizal Islam, Al Habib Trust, Jamia Mosque, and Ghousia Mosque, according to police.
Full report at:
https://www.aa.com.tr/en/europe/uk-police-2-held-in-birmingham-mosques-vandalism-probe/1426332
--------
Two kin of Christchurch victims die after killings: officials
March 23, 2019
CHRISTCHURCH: A grief-stricken mother who had traveled to New Zealand after her son was gunned down in the Christchurch mosque massacre passed away overnight, officials said Saturday.
The woman, whose name was not available, was one of two relatives of shooting victims to die this week as the city's close-knit Muslim community reels from the killings of 50 people by an Australian white supremacist more than a week ago.
Hafiz Junaid, an imam from the city of Auckland in northern New Zealand, told AFP that the mother of one of the victims came from Jordan following the tragedy.
Junaid said the woman was deeply distraught by her son's loss.
"Last night she went to bed and she did not wake up. She passed away," Junaid said.
A police spokesman confirmed to AFP that one relative died from "a medical event," and that another also had died, but offered no further details in either case.
The attack also left dozens wounded, some in critical condition, but the police spokesman confirmed that the death toll from the attacks remained at 50.
Full report at:
http://www.arabnews.com/node/1471156/world
--------
Pakistan
Maulana Abdul Aziz dodges ICT admin, delivers sermon at Lal Masjid
Kalbe Ali
March 23, 2019
ISLAMABAD: Maulana Abdul Aziz on Friday dodged the Islamabad Capital Territory (ICT) Administration and was able to deliver a sermon at Lal Masjid.
Maulana Abdul Aziz lambasted all state institutions and said the judiciary was corrupt because it was the remnant of British colonialism as was democracy.
"Democracy is un-Islamic. I am ready to challenge any cleric who claims the democratic system is allowed under Islam," he said.
He criticised the incumbent rulers, said Nawaz Sharif and Asif Ali Zardari were corrupt and without naming him, hit at Maulana Fazlur Rehman for bringing out a million march for the implementation of Sharia in the country, only when he is out of the game. "Why is it that he [is doing so now] and opposed us earlier," Maulana Aziz asked, adding that "things are getting closer and there will be a change in the system soon".
Maulana Aziz made a sudden decision on Thursday evening that he will lead Friday prayers in Lal Masjid when the ICT administration, police and other law enforcement agencies were busy preparing for the March 23 parade. He had also planned to lay the foundation of Jamia Hafsa, a seminary for girls and women, which was deferred till next week.
He said Jamia Hafsa should be built on the plot adjacent to Lal Masjid, which used to be a children's library and was occupied by female students of the Jamia Hafsa before the 2007 military operation. The Jamia Hafsa building and the library were demolished by the government following the operation in 2007 against Lal Masjid.
The move also caught police and Rangers posted outside Lal Masjid by surprise. There are usually two Rangers' vehicles posted outside the mosque on Fridays but there was only one on this day due to heavy engagement.
The official prayer leader of Lal Masjid, Amir Siddique, was sidelined and he did not even show up at the mosque at prayer time.
Maulana Aziz made a fiery speech in the sermon and said he will not lead the Friday prayers as the ICT administration had stopped him from doing so. Therefore Haroon Rashid, son of Abdul Rashid Ghazi, who was killed in the 2007 military operation, led the prayers.
Meanwhile, an ICT administration official told Dawn that Maulana Abdul Aziz tried to dodge the system but he will not be allowed to enter Lal Masjid next week.
"We have already sealed Jamia Hafsa H-11 and nobody should underestimate the power of the state," the official said.Maulana Aziz had tried the same in May last year during the interim government, but the attempt failed. He tried to regain the post of khateeb of the mosque in Nov 2018 as well.
Maulana was removed from the post on the orders of the court in 2004 following a fatwa he issued against the army and the operation against terrorists in Waziristan.
However, he was reinstated after his release from prison in 2009, but he stirred another controversy in 2014 after he openly extended support to the perpetrators of the Army Public School attack in Peshawar by calling it a reactionary move by the terrorists.
His several attempts to get hold of a microphone in Lal Masjid was foiled by the government in 2017 as well.
Lal Masjid is a state-owned mosque and Maulana Abdullah, father of Maulana Abdul Aziz, was its first khateeb. After his assassination in the 1990s, Maulana Abdul Aziz was appointed the khateeb by the ICT's Auqaf Department.
He is already over the age of 60 years and has retired as a govt employee, the ICT official said, adding that Amir Siddique has succeeded him.
https://www.dawn.com/news/1471291/maulana-abdul-aziz-dodges-ict-admin-delivers-sermon-at-lal-masjid
--------
Mufti Taqi Usmani survives assassination attempt in Karachi
Asim Khan | Imtiaz Ali
March 22, 2019
Prominent religious scholar, Mufti Taqi Usmani, on Friday survived an attempt on his life while his police guard and a religious scholar were shot dead in a suspected targeted attack near Karachi's Nipa flyover.
The police saw the attack as a conspiracy to sabotage peace in the city and trigger chaos in the country.
Taqi Usmani, belonging to the famous Darul Uloom Korangi seminary, was travelling along with his family in a car while another car belonging to his close aide was following behind.
When they descended from the ramp while coming from Rashid Minhas Road towards University Road, four gunmen riding two motorcycles opened indiscriminate firing on his vehicle at NIPA (now NIM) roundabout.
Mufti Usmani survived the attempt on his life. However, his police guard, Mohammed Farooq, was critically wounded.
The suspects also attacked the other car, resulting in bullet injuries to the driver, Sanober Khan, and a religious scholar, Maulana Amir Shahabuddin, belonging to the same seminary.
The incident occurred at around 12:30pm.
Raja Umer Khattab of Counter Terrorism Department (CTD) said that the attackers engaged both vehicles at the same time, the initial probe had revealed.
Two gunmen attacked Mufti Usmani's car from the right side and behind, resulting in injuries to both his police guard and the driver. Mufti was sitting on the rear seat along with his family members.
Two other gunmen opened fire on the car behind from the left side, resulting in bullet injuries to its driver and the religious scholar. The vehicle hit a vendor and stopped after hitting a Chhipa ambulance space at NIPA.
Mufti's driver despite being injured managed to proceed to Liaquat National Hospital where the police guard, Farooq, was pronounced as dead.
The critically injured, Sanober Khan, 38, and Maulana Amir, 48, were transported to the Jinnah Postgraduate Medical Centre where the doctors pronounced the former as dead on arrival, said Dr Seemin Jamali, executive director of the hospital.
Sanober received five bullet wounds on his chest while Amir sustained multiple bullet wounds on his chest and head and was put on a ventilator, added Dr. Jamali.
The constable guard, Farooq, who was in a civilian dress and whose body was later on brought to the JPMC to fulfil legal formalities, received six bullet injuries on his chest and face, said Police Surgeon Dr Qarar Ahmed Abbasi.
Police investigators collected 14 spent bullet casings fired from 9mm pistols from the crime scene, said Gulshan Superintendent of Police Tahir Noorani.
Deputy Inspector General (DIG) Amir Farooqi confirmed that a bystander had also sustained injuries in the attack. He further confirmed that bullet shells of 9mm pistol have been collected from the crime scene, whereas closed-circuit TV (CCTV) camera footage and other evidence are being analysed.
Karachi police chief Dr Amir Shaikh verified that Mufti Usmani and his wife were in one of the cars targeted. He added that Mufti Usmani remained unhurt in the attack.
Prime Minister Imran Khan issued a "strongly worded condemnation "of the incident and expressed his anguish at the killings of Mufti Usmani's guards.
"Scholars such as Mufti Usmani are assets to the country and the Islamic world," he said in a statement released by the PM House. "Provincial government should ensure the security of religious scholars."
The prime minister labelled the attack on Mufti Usmani a "deep and disgusting conspiracy" and ordered that "all possible measures be taken to expose it".
'Soft target'
Karachi police chief, Additional Inspector General (AIG) Dr Amir Ahmed Shaikh told Dawn that as per their initial assessment, the motive appeared to be bigger than sectarianism or terrorism.
Mufti Taqi Usmani is a "towering personality" who commands respect all over the country, he said. He believed that the suspects' real target was Mufti Usmani himself.
"The motive appeared to have been to create chaos in Karachi and the country as well," said the city police chief.
He pointed out that militants of certain sectarian outfits have become "active" recently but they targeted "low-profile persons with a particular background".
AIG Shaikh said that the city has recently suffered terror acts, which were 'sponsored' by foreign elements aimed at spoiling the relatively peaceful atmosphere in the metropolis.
However, he said in today's incident, they saw a 'bigger conspiracy' to trigger chaos in the city and the country.
AIG Shaikh pointed out that the Sindh home department had established a 'threat assessment committee' on the directives of the Supreme Court of Pakistan, comprising representatives of all law enforcement agencies and intelligence agencies.
He believed that Mufti Usmani was attacked as he was a "soft target".
Mufti Usmani was provided only two police guards because he had not received any threat.
In contrast to Mufti Usmani, there were certain religious scholars in the city who have been provided protection of up to five police vehicles owing to threats.
Those who withdrew security 'equally responsible'
Wifaqul Madaris Al Arabia, Pakistan, an organisation of all seminaries in the country, in a statement said that the assassination attempt on Mufti Usmani was regrettable and condemnable and the nation must be informed of the motive behind the attack. It urgently called for the elements and network behind it to be taken to task.
"It is a matter of concern that a non-controversial and highly educated personality was attacked," read the statement.
Leaders of Wifaqul Madaris namely Maulana Dr Abdul Razzak Askander, Maulana Anwarul Haq, Mufti Mohammed Rafi Usmani (elder brother of Taqi Usmani) and Maulana Mohammed Hanif Jalandhri held those persons as equally responsible for such an attack who had withdrawn security from religious personalities and institutions.
They urged the government to provide 'reasonable security' to important religious personalities and religious institutions to save the country from anarchy and mischief.
Brief profile
Mufti Taqi Usmani, born in India in 1943, is the son of Mufti Azam Pakistan, Mohammed Shafi Usmani, an active member of Pakistan movement.
Full report at:
https://www.dawn.com/news/1471212/mufti-taqi-usmani-survives-assassination-attempt-in-karachi
--------
Pakistan Day celebrations: Military parade begins in Islamabad
March 23, 2019
Pakistan Day 2019 is being celebrated with traditional zeal and fervour across the country.
The day began with a 31-gun salute in Islamabad while provincial capitals marked the day with 21-gun salutes. The change-of-guards ceremony was held at the mausoleum of Dr Allama Iqbal in Lahore.
Pakistan Air Force troops took over guard duty at the mausoleum of Iqbal where Air Commodore Rizwan Malik was the chief guest.
Military parade
The Pakistan Day military parade is being held at Parade Ground near the Shakarparian hills in Islamabad to mark the day. The parade is being attended by the civil and military leadership as well as foreign dignitaries.
Chief of the Army Staff Gen Qamar Javed Bajwa, Chairman Joint Chiefs of Staff Committee (JCSC) General Zubair, Naval Chief Admiral Zafar Mehmood Abbasi, Defence Minister Pervez Khattak, Minister of Defence of the Republic of Azerbaijan Colonel General Zakir Hasanov and Prime Minister Imran Khan all arrived at the parade ground.
Malaysian Prime Minister Mahathir Mohamad, who arrived on a three-day visit to Pakistan on Thursday, also attended the event as the guest of honour. Corps military police's Captain Khudadad Mand escorted the Malaysian premier to the stage.
Chief guest President Dr Arif Alvi was the last personality to join the assortment of civil-military leaders and foreign dignitaries on stage. He was escorted by the president's body guards: Lietenant Colonel Rab Nawaz Tiwana and Major Waqas Abbas Khan.
Once the guests had assembled on stage, a round of handshakes ensued, following which the national anthem of Pakistan was played.
After recitation of the Holy Quran, Brigadier Naseem Anwar formally requested President Alvi to observe the parade from a jeep.
Air Chief Marshal Mujahid Anwar Khan led a fly-past as a salute to the president. Following the Air Chief, a formation of four JF-17 Thunder fighter jets of the Pakistan Air Force demonstrated its aerial prowess. They were followed by similar formations of Mirage, F-7PG and other fighter aircraft.
Following the fly-past demonstrations, President Alvi addressed the ceremony. He congratulated the nation on the National Day and said that "March 23 is that milestone of our national history in which the Muslims of the subcontinent aimed for their liberation through Pakistan Resolution."
The president noted that Pakistan's sovereignty had been challenged in the past and "wars were imposed on us" but lauded the nation for fighting off those setbacks.
He said that "Pakistan respects all the countries' sovereignty and wishes peace" but made it clear that the "desire for peace should not be misconstrued as a sign of weakness".
The president said that it would by myopic of the Indian leadership and a mistake for them to view Pakistan in the pre-partition light. "Doing so would be very dangerous for the region's stability," he said. "Instead of wars, we should focus on education, health, hunger, employment and extremist mindset. Our real war is against unemployment and poverty."
"It's time to set Pakistan on the path towards prosperity and growth. That would be the greatest tribute for the martyrs and ghazis of the country," he added.
The president thanked the Malaysian prime minister, Azerbaijan's defence minister, the chief of Bahrain's armed forces and other foreign dignitaries for gracing the parade with their presence and participating in the Pakistan Day celebrations.
Following the president's speech, troops from Frontier Corps, Pakistan Rangers, Northern Light Infantry, and others took part in the parade. The parade also featured troops from Azerbaijan, China, Saudi Arabia, Turkey, Bahrain and Sri Lanka.
Following the soldiers, contingents of armoured and mechanised infantry held a march-past. The Al-Khalid Main Battle Tank (MBT), Al Zarrar tanks, a variety of Armoured Personnel Carriers (APC) as well as howitzer guns were paraded in front of the civil-military leadership. Radar systems, Unmanned Aerial Vehicle (UAV), cruise missiles and other modern weaponry equipped with latest military technology were also rolled out.
At the tail end of the parade, a Pakistan Rangers band played national songs on bagpipes while riding camels in unison.
Furthermore, the parade showcased local cultures of the four provinces. Cultural delegates and floats from Sindh, Punjab, Balochistan, Khyber Pakhtunkhwa, Gilgit Baltistan and Azad Kashmir were featured during the ceremony.
Several formations of a variety of combat helicopters belonging to the armed forces demonstrated their capabilities before PAF fighter jets mesmerised the audience with their mid-air maneuvers.
Prime minister, president's National Day messages to the nation
Prime Minister Imran Khan and President Dr Arif Alvi, in separate messages on Pakistan Day, stressed the "need to achieve the goal of true Islamic welfare state as envisaged by Quaid-e-Azam Muhammad Ali Jinnah", according to Radio Pakistan
Prime Minister Imran Khan said the government is determined to establish a society where every person can contribute towards socio-economic development to the best of his ability.
He said that on the National Day, "we should not forget Kashmiri people who have long been victims of Indian state terrorism and forced to lead a life of misery."
President Alvi said that Pakistan has overcome the challenges of extremism and terrorism but acknowledged the country was yet to make efforts for excelling on social and economic fronts.
Pakistan Day commemorates the passing of the Lahore Resolution on March 23, 1940, when the All-India Muslim League demanded a separate nation for the Muslims of the British Indian Empire.
Full report at:
https://www.dawn.com/news/1471381/pakistan-day-celebrations-military-parade-begins-in-islamabad
--------
Student Held in Professor's Death, Claims Blasphemy
March 22, 2019
Madeeha Anwar
A student in Pakistan stabbed his professor to death earlier this week after accusing him of committing blasphemy and promoting un-Islamic culture at a college in southern Punjab's Bahawalpur city, according to law enforcement officials.
The student, Khateeb Hussain, attacked his English professor, Khalid Hameed, with a knife Wednesday at Government Sadiq Egerton College.
The attacker was apparently unhappy about plans for an upcoming farewell party the professor was arranging that would include both male and female students of the college.
The attacker allegedly viewed the party as vulgar and against the teachings of Islam.
In a video recorded of the attacker after the incident, which went viral on the internet in Pakistan, Hussain can be heard bragging about his crime and saying he has no remorse whatsoever for his action.
"He (the professor) used to bark a lot against Islam. He would say a lot of things against Islam every day. It is good that he is now dead. I'm content and thanks to Allah that the professor is dead now," Hussain says on the video.
Law enforcement officials say the student has been taken into custody and charged with murder. Officials say their initial inquiries found no evidence that the suspect has affiliation with any religious or militant group.
Growing radicalization
The case has generated widespread condemnation across the South Asian country, where growing radicalization among youth and intolerance toward people of other religions has many concerned about the long-term consequences of the trend.
Some rights activists say that extremism among youth has become so prevalent that many don't hesitate to take matters into their own hands and to kill anyone over unproven allegations of blasphemy or acts deemed anti-Islamic.
"It is about the mindset. How can a student gather the courage to come and stab a teacher in the college premises and have no remorse of the act?" Mehdi Hassan, a Lahore-based human rights activist, told VOA.
"This is not the first incident of this kind and yet another proof of educated youths' inclination towards extremism. The government must take strict actions against such elements so that no one else would have the courage to do it ever again," Hassan added.
Rasul Baksh Raees, an analyst and education activist, echoes Hassan's concerns and charges that strict enforcement of the law and engagement of youth in crucial conversations about issues considered taboo in the country is an absolute necessity.
"Outdated teaching methods, ignorance and lack of dialogue on the matter is promoting radicalization among youth," Raees told VOA.
"The nation needs to develop a system where the youth is allowed to ask questions in mind regarding Islam. That might help these educated youth to stay away from acts that are totally against the religion, such as murdering someone in the name of religion," he added.
Blasphemy
Blasphemy remains a sensitive topic in predominantly Sunni Muslim Pakistan, where insulting Islam's prophet or the religion is punishable by death. Mere accusations in the past have resulted in mob violence and lynchings of alleged blasphemers.
Rights activists have long complained about the misuse of blasphemy laws in the country, where many people have been murdered over unproven allegations of committing blasphemy or anti-Islam acts in recent years.
Last year, a student shot and killed his college principal on campus after accusing him of blasphemy in Charsadda city of Khyber Pakhtunkhwa province. The principal had scolded the student for missing classes to attend a protest organized by a right-wing Islamist group in Islamabad.
Full report at:
https://www.voanews.com/a/student-charged-with-killing-professor-over-anti-islam-remarks/4844929.html
--------
Pakistani FM praises 'timely' OIC meeting in Turkey
Nilay Kar
23.03.2019
ISTANBUL
Dubbing Friday's emergency meeting of the Organization of Islamic Conference in Istanbul "timely", Pakistan's top diplomat said it will "create an environment of unity" within and beyond the Muslim world in the wake of New Zealand terror attacks on mosques.
Speaking to Anadolu Agency in an exclusive interview in Istanbul on the sidelines of the OIC meeting, Foreign Minister Shah Mehmood Qureshi described the "tragic" twin mosque attacks.
"We were shocked and horrified at what happened because there were innocent people gathered in the mosque to pray, not hurting anyone, just worshiping," Qureshi said.
"They were killed in cold blood," he said, "The whole thing has been filmed live to create a sensation to score a point."
"At the same time, we are shocked that this rising Islamophobia is not being addressed, in the way that it should have been addressed. Such incidents are being repeated all over.
"A peaceful place like Christchurch, a peaceful country, very friendly country, like New Zealand, if attacks hit, nothing is safe and no place is safe," he said.
Last Friday, at least 50 Muslims were killed and as many injured when a terrorist -- identified as Australian-born Brenton Tarrant, 28, -- entered the Al Noor and Linwood mosques in Christchurch and shot worshippers in cold blood, including four children younger than 18.
Istanbul hosted an emergency OIC meeting at Turkey's request Friday, which hosted New Zealand Deputy Prime Minister and Foreign Minister Winston Peters, as well.
"Convening of this meeting, in my view, is very timely and it will help and create an environment first of unity within the Muslim world and then of awareness beyond it to deal with such issues," Qureshi said.
Turkey plays a positive role in the OIC in the wake of such attacks, he said. "Turkey's response was immediate, compassionate, human and Islamic. Islamic and human responses, they go hand in hand."
"Pakistan's response was also immediate. Obviously, we lost nine people as well and one is still in critical," he added.
Pakistani foreign minister also recalled that a courageous Pakistani man killed in the New Zealand attacks.
"A Pakistani person in trying to save lives got murdered. He was unable to save his own son, but protected many other innocent people. He is being awarded and he will be given the highest civilian award by the government of Pakistan."
The massacre was livestreamed on social media, and accompanied by the release of a racist and Islamophobic manifesto that also attacked Turkey and its President Recep Tayyip Erdogan.
On Turkey and Erdogan being at the target of the terrorist, Qureshi said Erdogan is a "person who minces no words and takes a very clear position" at tough times.
"Any individual, who speaks openly with clarity and independently, is seen as a threat to many," he stated.
Qureshi voiced his hope that some global measures can be taken to "deal with this growing trend of Islamophobia".
"I think media has to play a significant role in creating a better environment and tackling this issue head-on.
"Social media has to play a more responsible role and thinking people and caring people in Western capitals have to be more vocal against Islamophobia," he asserted.
On the reaction by the Western countries in the wake of the twin terror attacks, Pakistani foreign minister said: "Societies, people and the West are also very compassionate and caring."
Also speaking of the rising extremism in the West, Qureshi said: "There is an extreme-right element, which unfortunately is now gradually on the rise in the West. They play sentiments like Islamophobia. They take on extremist positions that give rights to extremism."
Tension with India
The tension escalated between Pakistan and India recently after a suicide bombing in disputed Jammu and Kashmir killed at least 40 Indian paramilitary troops Feb. 14.
Qureshi called the recent tension between the two nuclear neighbors "unfortunate".
"Pakistan never wanted tension," he said. "Pakistan wanted to defuse the situation."
He went on saying: "Pakistan was attacked. There was an act of aggression against Pakistan. Our airspace was violated, our sovereignty and our territorial integrity were attacked. So, Pakistan had no choice but retaliated in self-defense."
"We've been telling the Indians we have issues but let's try to resolve the issue through consistent and uninterrupted dialogue."
"India is perhaps not ready yet," the Pakistani FM said, however, he voiced hope that two countries will sit across the table and sort out issues after upcoming elections in India in April and May.
Terming Pakistan as "constructive, engaging and positive," in terms of defusing the tension with India, Qureshi said: "Despite being attacked, we immediately released their pilot as a goodwill gesture and as a gesture of peace."
Jammu and Kashmir, a Muslim-majority Himalayan region, is held by India and Pakistan in parts and claimed by both in full. A small sliver of Kashmir is also held by China.
Since they were partitioned in 1947, the two countries have fought three wars -- in 1948, 1965 and 1971 -- two of them over Kashmir.
India's seeking membership in OIC
When asked about India's pursuing a member status in the OIC, Qureshi said, "India is neither a member nor an observer of the OIC."
"For example, Muslims were attacked and killed [in New Zealand] and they were innocent. Why the Indian condemnation does not mention Muslims?
"Why have they completely ignored; they said the places of worship; the mosques. Those places of worship are mosques. What was the harm in using the word 'mosque'?" he asked.
"Aren't there thousands of mosques in India. You claimed that you have a huge Muslim population in India. On this basis, you want to be a part of the OIC."
"There is no mention of the mosque, no mention of Muslims. It is a double standard," he said adding: "OIC should see it for itself."
Relations with Turkey
In regards to relations between Turkey and Pakistan, Qureshi said: "They have always been good. Inshallah, they will always remain good. People of Pakistan value this relationship."
Full report at:
https://www.aa.com.tr/en/asia-pacific/pakistani-fm-praises-timely-oic-meeting-in-turkey-/1426453
--------
Imran Khan: 'Our desire for peace should not be considered as our weakness'
March 23, 2019
March 23 is an eminent day in our national history when the Muslims of the subcontinent set their goal of an independent country, following the ideals of Allama Iqbal.
On this day, under the leadership of the Father of the Nation Muhammad Ali Jinnah, the Muslims of India decided to throw away the chains of slavery and establish a sovereign Muslim state to gain independence from the oppression of the Hindu majority.
Thus, on Aug. 14, 1947, Pakistan emerged on the map of the world as an independent Muslim state.
In Pakistan, people found their economic and social rights and religious freedom, of which they were deprived in the United India, and prevented the attempts being made to eliminate their cultural identity.
The vision of the March 23 resolution was to create a country where all citizens have equal rights and opportunities without any discrimination of caste and creed, and where they can practice their own culture and traditions and play a constructive role in the development of their country.
Today's Pakistan is a new Pakistan. We are committed to making Pakistan a real Islamic welfare state and to establish a society which is based on empathy and compassion and where every citizen, without any discrimination, participates in the development of the country.
We look forward to having friendly and peaceful relations, based on equality, with our neighbors and wish to work together with them to alleviate poverty in South Asia and raise millions of people living in the region through development and prosperity.
But we also want to make it clear that our desire for peace should not be considered as our weakness. Pakistan reserves the right to take every step for its defense.
Thanks to Allah, the defense of Pakistan has become impregnable. We are proud of our brave armed forces.
Due to our courageous armed forces, the unmatched capabilities of national security institutions and their extraordinary sacrifices, the enemies of Pakistan have been defeated on every front.
Its practical demonstration was seen by the whole world during recent Indian aggression, and we have emerged stronger than ever.
On this auspicious day, we should not forget our Kashmiri brethren, who are facing the state terrorism of India and are forced to live under aggression.
We express solidarity with the people of occupied Kashmir for their bravery and sacrifices and reiterate our commitment of political, diplomatic and moral support for the Kashmiri right of self-determination, at every forum in the world.
Full report at:
http://www.arabnews.com/node/1471036/world
--------
North America
Trump recognition of Golan Heights as Israeli receives global condemnation
22 March 2019
Several countries condemned on Friday US President Donald Trump's recognition of Israel's sovereignty over the Golan Heights.
The Gulf Cooperation Council expressed its concern about the US president's stance, while the European Union underlined that it does not recognize Israel's sovereignty over the Golan Heights on Friday after Trump's statement over the territory viewed by European allies as occupied.
"The position of the EU has not changed," an EU spokeswoman told Reuters.
"The European Union, in line with international law, does not recognize Israel's sovereignty over the territories occupied by Israel since June 1967, including the Golan Heights and does not consider them to be part of Israel's territory."
A German government spokeswoman rejected unilateral steps and said Israel's annexation of the Golan Heights is invalid under UN resolutions.
Russia's Foreign Ministry and the Syrian government also condemned Trump's statement.
The Russian Foreign Ministry said that a change in the status of the Golan Heights would be a direct violation of UN decisions, RIA news agency said in a report citing ministry spokeswoman Maria Zakharova.
The Syrian government said it was determined to recover the area "through all available means."
Syria's state news agency reported that a Syrian foreign ministry source said Trump's statement showed "the blind bias of the United States" towards Israel. The statements did not change "the reality that the Golan was and will remain Syrian, Arab," it read.
"The Syrian nation is more determined to liberate this precious piece of Syrian national land through all available means," the report said.
Egypt said on Friday it considers the Golan Heights as occupied Syrian land, also rejecting Trump's statement.
In a statement carried by state news agency MENA, the Egyptian Foreign Ministry cited UN Security Council resolution 497 of 1981 which rejected Israel's annexation of the territory.
The ministry "stressed the importance that everybody should respect the resolutions of international legitimacy and the United Nations Charter in respect of the inadmissibility of acquiring land by force," the statement read.
France's Foreign Ministry also said that it does not recognize the Israeli annexation of the Golan Heights and its recognition - as called for by US President Donald Trump - is contrary to international law.
Turkish President Recep Tayyip Erdogan on Friday also warned that Trump's pledge to recognize Israel's disputed annexation of the Golan Heights would risk a "new crisis."
https://english.alarabiya.net/en/News/world/2019/03/22/International-condemnations-follow-Trump-s-statements-on-Golan-Heights-.html
--------
UN chief visits NY mosque, urges safety for worshippers
Betul Yuruk
22.03.2019
NEW YORK
UN Secretary General Antonio Guterres on Friday visited Islamic Cultural Center's mosque in New York, calling for efforts to ensure the global safety of worshippers and the protection of religious sites.
Guterres visited the mosque before the Friday prayer service, offering "solidarity with the Muslim community from New York to New Zealand and beyond."
"Today and every day, we must stand united against anti-Muslim hatred and all forms of bigotry," said the UN chief.
Last Friday, a terrorist open fired on two mosques in Christchurch, New Zealand, killing at least 50 victims.
Over the past week, many of the victims' names became known, thanks in part to many on social media who have shared their stories, such as Mucad Ibrahim, a three-year-old, the youngest of the Christchurch victims and Farid Ahmed, who lost his wife after she jumped in front of him to protect him from the terrorist's gunfire.
Guterres called the attack appalling, yet "perhaps not utterly surprising".
"Around the world, we have seen ever-rising anti-Muslim hatred, anti-Semitism, hate speech and bigotry," Guterres said. "I have repeatedly warned about those dangers."
Guterres requested the High Representative for the UN Alliance of Civilizations, Miguel Moratinos, to create an action plan for the whole UN body to be fully engaged in support of safeguarding religious sites.
"Here today, in the peace of this holy space, I am making a global call to reaffirm the sanctity of all places of worship and the safety of all worshippers who visit revered sites in a spirit of compassion and tolerance," Guterres said.
The UN chief also warned that hateful rhetoric is being spread around like "wildfire".
"Many political movements are either openly admitting their neo-Nazi affiliation, or lip syncing their words, and cutting and pasting the symbols and images," he said.
Part of the fire's spread is due to the role the media has played in perpetuating that Muslims are extremists, according to Guterres.
A study published in January by Georgia State University and the University of Alabama found that between the years 2006 and 2015, attacks in the U.S. by those claiming to be Muslim received 357 percent more news coverage than attacks carried out by others.
"We need to act against extremism in all its forms – whether it targets mosques, synagogues, churches or anywhere else," Guterres said.
Full report at:
https://www.aa.com.tr/en/americas/un-chief-visits-ny-mosque-urges-safety-for-worshippers/1426383
--------
Trump says ISIS has been '100 percent' defeated in Syria
22 March 2019
US President Donald Trump said Friday that ISIS has been "100 percent" defeated in Syria.
Trump made the comment as he showed reporters maps of the region -- one showing the large areas once held by the group and a second that showed the situation on Friday with no presence.
"Here's ISIS on election day," he said, pointing to a swath of red area signifying the group's previous territorial gains, and then to one without any red, "Here's ISIS right now."
"The territorial caliphate has been eliminated in Syria," spokeswoman Sarah Sanders said.
US Acting Defense Secretary Patrick Shanahan briefed President Donald Trump as he was travelling to Florida on Air Force One, spokeswoman Sarah Sanders said.
The Syrian Democratic Forces (SDF) has yet to announce a final territorial defeat of ISIS in its last enclave in Baghouz and said on Friday that though it has captured most of the area, there are still pockets of jihadist fighters.
A Reuters journalist at Baghouz heard air strikes there on Friday afternoon and saw smoke rising.
The SDF has been battling for weeks to defeat ISIS in Baghouz in southeastern Syria at the Iraqi border, all that remained of the territory the militants ruled, which once spanned a third of Syria and Iraq.
Mustafa Bali, head of the SDF media office, told Reuters SDF fighters had captured most of the Baghouz area and clashed overnight with ISIS militants in more than two positions where they were refusing to surrender.
Full report at:
https://english.alarabiya.net/en/News/middle-east/2019/03/22/ISIS-no-longer-holds-any-territory-in-Syria-says-White-House.html
--------
US issues new Iran-related sanctions on 14 individuals, 17 entities
22 March 2019
The United States said on Friday it was imposing sanctions on 14 people and 17 entities connected to Iran's Organization of Defensive Innovation and Research (SPND), a body it said had played a central role in Iran's past nuclear weapons effort.
Among those designated for sanctions was the Shahid Karimi group, which works on missile and explosive-related projects for the SPND, and four associated individuals, the US Treasury Department said in a Statement.
"The US government is taking decisive action against actors at all levels in connection with Iran's Organization of Defensive Innovation and Research (SPND) who have supported the Iranian regime's defense sector," Treasury Secretary Steven Mnuchin said.
"The United States will continue applying maximum pressure to the Iranian regime, using all economic tools to prevent Iran from developing weapons of mass destruction. Anyone considering dealing with the Iranian defense industry in general, and SPND in particular, risks professional, personal, and financial isolation."
It said the steps targeted current SPND subordinate groups, supporters, front companies, and associated officials. The move freezes any US assets of those targeted and bans US dealings with them.
"Today's action serves as a warning to individuals and entities considering dealing with the Iranian regime's defense sector in general, and SPND in particular: by engaging in sanctionable activity with designated Iranian persons, you risk professional, personal, and financial isolation," the Treasury statement said.
Full report at:
https://english.alarabiya.net/en/News/world/2019/03/22/US-issues-new-Iran-related-sanctions-on-14-individuals-17-entities.html
--------
South Asia
Abdu Dhabi Crown Prince proposed killing Taliban leaders in Qatar: report
22 Mar 2019
Amid existing disagreements between the U.S. and Taliban representatives over the progress of peace talks, the Crown Prince of Abu Dhbai had proposed the a program to assassinate the leaders of Taliban in Qatar, it has been reported.
Mohammed bin Zayed Al Nahyan, the Crown Prince of Abu Dhabi, made the offer to Secretary of State Mike Pompeo during a meeting in mid-January this year, Al Jazeera reported, citing a report published in Middle East Eye (MEE) news website.
According to the informed sources quoted in the report, Al Nahyan had told Pompeo that Washington risked allowing Afghanistan to fall back into the hands of the "backward, bearded bad guys" and proposed hiring mercenaries to kill Taliban leaders to weaken the group's negotiating position.
The sources further added that Pompeo was visibly taken aback by the offer, but said nothing.
This comes as UAE had supported US efforts to broker a peace deal with the Taliban, and hosted a first round of negotiations between the two sides late last year in Abu Dhabi.
However, the latest report suggests that Al Nahyan is believed to have been frustrated that subsequent rounds of negotiations were moved to Qatar's capital, Doha, at the insistence of the Taliban, which has maintained a political office there since 2013.
https://www.khaama.com/abdu-dhabi-crown-prince-proposed-killing-taliban-leaders-in-qatar-report-03544/
--------
Bangladesh calls for unity against terrorism at OIC meeting
23 March, 2019
Bangladesh has urged everyone to stand against terrorism across all platforms to dispel Islamophobia and promote interfaith harmony in a comprehensive manner.
Land Minister Saifuzzaman Chowdhury made the call on Friday at an emergency OIC executive committee meeting in Istanbul on the terrorist attacks on Muslims in Christchurch, New Zealand, reports UNB.
He also underlined enhancing OIC collaboration within the umbrella of the UN, according to Bangladesh Embassy in Ankara.
The emergency session of Foreign Ministers ended with the adoption of a Communique calling for taking pragmatic measures by OIC to tackle terrorism, Islamophobia and hatred against Muslims around the world.
Turkish Foreign Minister Mevlut Cavusoglu, the current Chair of OIC Summit, convened and chaired the meeting. OIC Secretary-General Dr Yousuf Al Othaimeen attended the session.
Foreign Minister of New Zealand Winston Peters attended the session at the invitation of Turkey as a guest of honour.
He also delivered a statement emphasising interfaith harmony as well as giving a brief description of actions taken by his government to express and extend support and respect to the Muslim community in New Zealand.
Turkish President Recep Tayyip Erdogan delivered a statement before the meeting highlighting the importance of collective efforts by OIC to tackle terrorism, Islamophobia and hatred against Muslims in non-Muslim countries.
Land Minister Chowdhury told the meeting that Bangladesh is following a policy of zero-tolerance towards terrorism and violent extremism in its all forms and manifestations under the leadership of Prime Minister Sheikh Hasina.
Chowdhury appreciated the government and the people of New Zealand for their prompt support and respect towards the Muslim community there.
The session was preceded by senior officials meeting in the evening of March 21 where the communique was finalised.
Full report at:
http://www.theindependentbd.com/post/192713
--------
Bangladesh condemns terrorist attack in emergency OIC meeting on New Zealand
23 Mar 2019
The foreign ministry said Land Minister Saifuzzaman Chowdhury represented Bangladesh during Friday's meeting which was called following the Mar 15 attacks in Christchurch in which 50 Muslims including five Bangladeshis were killed.
Chowdhury condemned the terrorist attacks and expressed solidarity with Muslim community in New Zealand.
He emphasised the need to stand up together against this menace across all social, cultural, education and legal platforms to dispel Islamophobia and promote interfaith harmony in a comprehensive manner.
The minister also underlined enhanced OIC collaboration within the umbrella of the UN, the foreign ministry said.
The meeting was convened and chaired by Turkish Foreign Minister Mevlüt Çavuşoğlu, the current Chair of OIC Summit.
OIC Secretary General Yousuf Al Othaimeen attended the session.
Foreign Minister of New Zealand Winston Peters also attended the session at the invitation of Turkey as a guest of honour.
He delivered a statement with emphasis on interfaith harmony and gave a brief description of actions taken by his government to express and extend support and respect to the Muslims in New Zealand.
During his statement a brief video was presented showing the outpouring of sympathy by New Zealanders and recitation of verses from holy Quran at the opening session of New Zealand parliament a couple of days ago.
Turkish President Recep Tayyip Erdoğan delivered a statement before the meeting highlighting the importance of collective efforts by OIC to tackle this menace of terrorism and Islamophobia and hatred against Muslims in non-Muslim countries.
The Bangladesh minister reiterated Prime Minister Sheikh Hasina's 'zero tolerance' policy for terrorism and violent extremism.
He also highlighted the issue of persecution of Rohingya Muslims in the Rakhine state in Myanmar who have taken refuge in Bangladesh.
The emergency meeting ended with adoption of a communique calling for taking pragmatic measures by OIC to tackle this menace of terrorism, Islamophobia and hatred against Muslim around the world.
Full report at:
https://bdnews24.com/bangladesh/2019/03/23/bangladesh-condemns-terrorist-attack-in-emergency-oic-meeting-on-new-zealand
--------
Two American service members killed in Afghanistan
22 Mar 2019
Two American service members lost their lives during an operation in Afghanistan early on Friday, the NATO-led Resolute Support Mission said.
According to a statement released by Resolute Support Mission, the two U.S. service members lost their lives while conducting an operation.
No further details have been regarding the exact location where the two service members lost their lives.
More than 14 thousand U.S. troops are stationed in Afghanistan with most of them operating within the framework of Resolute Support Mission to train, advice, and assist the Afghan National Defense and Security Forces.
Full report at:
https://www.khaama.com/two-american-service-members-killed-in-afghanistan-03543/
--------
Afghan armed forces arrest Taliban bomb makers in Kapisa province
23 Mar 2019
The Afghan armed forces have arrested two Taliban militants who were expert in the making of Improvised Explosive Devices (IEDs) in Kapisa province.
The 201st Silab Corps of the Afghan Military in a statement said the two Taliban militants were arrested in Tagab district.
The statement further added that the Afghan armed forces arrested the two suspects as they were attempting to carry out terrorist attacks during the Afghan new year.
The anti-government armed militants including Taliban have not commented regarding the report so far.
The anti-government armed militants including Taliban have not commented regarding the incident so far.
Full report at:
https://www.khaama.com/afghan-armed-forces-arrest-taliban-bomb-makers-in-kapisa-province-03547/
--------
Taliban suffer heavy casualties amid ongoing operations in Kunduz: MoD
22 Mar 2019
The Ministry of Defense has announced that joint operations of the Afghan army and the Afghan intelligence operatives are underway in the vicinity of the 6th police district of Kunduz city and Gul Tapa area of the province since last night.
According to a statement released by the Ministry of Defense, the operations were launched based on repeated requests of the residents of the 6th police district of Kunduz city and Gul Tapa area regarding the activities of Taliban militants, mainly involving extortions.
The statement further added that the coalition forces are providing air support during the ongoing operations and at least 58 militants have been killed in Qomandan Dawood and Talwaka villages and Gul Tapa area so far.
Some of the key commanders of Taliban identified as Qari Qeyamuddin, Qari Yahya, Qari Amir, the shadow district chief of Taliban Gultapa, Zainullah, Obaid, Ehsanullah and Haroon are among those killed, the Ministry said, adding that 15 fighters of the Red Unit of Taliban are also among those killed and the dead bodies of some militants are still left in the area while others have been buried local residents in Talwaka and Tabra Kosh Villages and the injured militants are being treated in Doctors Without Borders clinic.
The Ministry of Defense also added that the compounds of militants are currently under the siege of Afghan armed forces and clashes continue in the mentioned area and some foreign militants including Pakistani and Tajikistani nationals have also been killed during the clashes.
Full report at:
https://www.khaama.com/taliban-suffer-heavy-casualties-amid-ongoing-operations-in-kunduz-mod-03546/
--------
Southeast Asia
Malaysia offers olive branch to IS returnees
March 14, 2019
Malaysians who joined terror groups abroad are not barred from returning home as long as they submit to rehabilitation, a top police official says.
"Not everyone will be detained, but all returnees will be interrogated," said Ayob Khan Mydin Pitchay, principal assistant director of the federal police's Counter-Terrorism Division.
All returnees will be scrutinized by the security agencies, clerics and psychologists "to evaluate their ideology and psychological make-up," the senior policeman said.
His comments come as governments around the world confront the difficulty of dealing with citizens who joined the so-called Islamic State group in Syria.
Thousands of foreign Islamic State jihadists and sympathizers detained in camps across Syria and Iraq found themselves disowned and threatened with prosecution by their home governments.
"We will compare intelligence we received from friendly foreign services. If there is evidence that a returnee was involved in Islamic State's militant activities, he or she would be charged in court," Ayob said.
So far 11 Malaysians have returned to the country. Eight men were charged in court and convicted. The remaining three were a woman and two children aged 3 and 5 years.
The woman underwent a government-ordered rehabilitation program before being allowed to return home. She continues to be monitored, the local media quoted Ayob as saying. In an interview with Al Jazeera, the father of a 29-year-old Malaysian woman identified only as Lidia, said she left Malaysia with her husband and then infant son in 2014 to travel to Syria and she is now seeking his help to return home.
He told the broadcaster that she had sent him a text message two weeks ago from an area taken over by the Syrian Democratic Forces (SDF) asking for his help to facilitate her return.
Ayob confirmed Lidia, now at a Kurdish-controlled camp in Hasakah, Syria, with her two sons aged two and four, is one of 13 Malaysians in Syria seeking to return home, but said facilitating their return was "difficult" as it involved many parties from different countries.
The former medical lab technician from the southern Malaysian state of Johor bordering Singapore has been widowed twice. She lost her first husband in the fighting in Syria as well as the man she married following his death.
According to her father, Lidia had been at the camp for about a year and had found life difficult and "uncomfortable."
While the terror group is on the verge of a rout in Iraq and Syria, authorities believe there remain Malaysians willing to fight for it. Police believe there are still 51 Malaysian nationals in Syria, including 17 children.
Police records reveal 102 Malaysians left the country to join IS and say 40 were killed fighting in Syria and Iraq, including nine who ended their lives as suicide bombers.
There are now fears that Malaysian Muslim radicals who cannot go to Syria are now setting their sights on Mindanao in the southern Philippines where militant groups have links to IS.
The move by Malaysia, a Muslim majority multiracial country, to agree to allow back jihadist sympathizers is a departure from that of several foreign countries.
Many of the wives and children of IS fighters being held in detention centers scattered across the two war-torn Middle East countries have found themselves stateless.
During IS' rise to power, the group relied heavily on the tactic of recruiting tens of thousands of radical Islamist fighters from the Middle East, Europe and beyond. Many young men eager to join from the Southeast Asian Muslim-majority countries of Malaysia and Indonesia took their wives and children with them.
Many of the families of IS jihadists are in a legal limbo because the local authorities in Syria want to send them to their home countries, who are unwilling to take them back.
Britain recently revoked the citizenships of three women who joined IS in Syria, including that of London teenager Shamima Begum whose case was widely publicized.
U.S. authorities are also insisting that its citizen, Hoda Muthana, who left home in 2014 to marry an IS fighter, will not be allowed back into the country.
https://www.ucanews.com/news/malaysia-offers-olive-branch-to-is-returnees/84733
--------
Malaysians gather in unity to declare peace and solidarity
3 March 2019
KUALA LUMPUR, March 23 — The Peace, Solidarity Rally held at Dataran Merdeka today brings with it a message that the people of Malaysia want peace and will reject any form of violence.
The rally, following the tragic shooting incidents at two mosques in Christchurch, New Zealand on Friday, March 15, will also be participated by the aunt of the late Mohd Haziq Mohd Tarmizi, 17, who was among the 50 killed in the incident.
Rally-goers of all races, religions and political ideologies expected to be in white attire and will march from the Sogo shopping complex here at 7.45am before arriving at Dataran Merdeka at 8.15am.
Using the symbol of a white dove with a hibiscus backdrop, the rally is expected to be attended by the religious bodies of Sikhism, Taoism, Buddhism, Christianity, Hinduism and Islam as well as more than 50 non-governmental organisations (NGOs).
At Dataran Merdeka, the representatives of each religion is scheduled to give a speech on solidarity bearing messages of peace, in addition to a speech by the representative of the late Mohd Haziq's family.
Minister in the Prime Minister's Department Datuk Seri Mujahid Yusof Rawa will also give a speech at the rally before symbolically launching the Peace, Solidarity Rally.
The highlight of the rally will be the reading of the 2019 KL Peace Declaration, which declares opposition of Malaysians to any form of hate and violence.
The rally, scheduled to last until 11am, is organised by the Prime Minister's Department (Islamic Religious Affairs Division) and Committee to Promote Inter Religious Understanding and Harmony (JKMPKA), with cooperation of the Civil Society Organisation (CSO)
Bernama Facebook will carry a live telecast of the rally from 7.30am, apart from having live crossovers on Bernama News Channel at 10am, 11am, 11.55am and 1pm.
Full report at:
https://www.malaymail.com/news/malaysia/2019/03/23/malaysians-gather-in-unity-to-declare-peace-and-solidarity/1735602
--------
After decades of enmity, PAS now washes away all Umno's past sins
07 March 2019
BY KENNETH TEE
KUALA LUMPUR, March 7 — PAS said it has forgiven all wrongdoings it previously accused Umno of committing, purportedly for the sake of the Islamic struggle and Muslim unity.
PAS spiritual leader Datuk Hashim Jasin likened this to when the Prophet Muhammad led his Muslim brethren to spread Islam while faced with various threats from the enemies of Islam, according to Berita Harian.
"Despite the threats, Muhammad continued the struggle for the sake of the faith and Shari'a.
"Since the Rasulullah can forgive people (Umar Al-Khattab) who once attempted to murder him, in later days they fought together to uplift Islam.
"We are all of the same religion and only differed in terms of political ideology, so the cooperation between PAS and Umno is for the sake of Islam and Malay rights in the country," he was quoted saying in Perlis.
However, Hashim said PAS would not forget all the "sins" committed by Umno, claiming he had also been a victim of such transgressions.
"We know and never forget what they (Umno) did to PAS back then, I was once transferred to another place within 24 hours just because I had difference in political ideology while employed as a civil servant.
"But, looking at the state of Islam in Malaysia now, that cooperation is necessary," he said.
On March 5, Umno acting president Datuk Seri Mohamad Hasan announced a formalised alliance between his party and PAS, likening it to a "marriage".
Mohamad said the two parties will not contest under the same banner, but will collaborate in an unconditional political cooperation especially for by-elections ostensibly in the interest of uniting Muslims and Malays.
Explaining further, Hashim said his party's cooperation with other parties was nothing unusual as it had worked together with DAP.
Full report at:
https://www.malaymail.com/news/malaysia/2019/03/07/after-decades-of-enmity-pas-now-washes-away-all-umnos-past-sins/1729927
--------
Mideast
Arab Coalition launches raids on Yemen's Houthis in Sanaa
23 March 2019
The Arab Coalition in Yemen launched raids on Houthi camps in the capital Sanaa, including the Al-Dulaimi air base.
The US ambassador to Yemen blamed the Iran-aligned Houthi movement on Thursday for the hold-up to a UN-led peace deal in the main port of Hodeidah and said Houthi weapons pose a threat to other countries in the region.
This comes hours after the Houthis announced the downing of a coalition aircraft on the outskirts of Sanaa, according to the militias' media outlets.
https://english.alarabiya.net/en/News/gulf/2019/03/23/Arab-Coalition-launches-raids-on-Yemen-s-Houthis-in-Sanaa.html
--------
Daesh will never attain 'ominous' goals: Iran
Mar 22, 2019
Iran has condemned several explosions claimed by the Daesh Takfiri terrorist group in the Afghan capital of Kabul during celebrations to mark Nowruz, the start of the Persian New Year, expressing confidence that the terrorists will never achieve their "ominous" goals.
Nowruz and its culture are a "unifying factor" in the region among the nations, Iranian Foreign Ministry Spokesman Bahram Qassemi said on Friday.
The "inhumane" terrorist explosions in Kabul showed that Daesh has targeted these unifying elements in the region, he added, emphasizing, "We are confident that it [Daesh] will not achieve its sinister goals to create division among regional countries."
The Iranian spokesman expressed sympathy with the Afghan government and nation as well as the bereaved.
At least six people were killed and 23 others wounded in the explosions, which reportedly rocked the vicinity of Kabul University and the Kart-e Sakhi shrine on Thursday.
Daesh claimed responsibility for the attack through its news agency AMAQ, which provided no evidence of the claim.
Last year on the occasion of Nowruz, a bomb attack carried out by Daesh killed 33 people celebrating near the shrine.
Full report at:
https://www.presstv.com/Detail/2019/03/22/591678/Kabul-Iran-Bahram-Qassemi-Daesh-Nowruz-explosions
--------
UN rights forum condemns Israeli use of force at deadly Gaza protests
22 March 2019
The United Nations Human Rights Council on Friday condemned Israel's "apparent intentional use of unlawful lethal and other excessive force" against civilian protesters in Gaza and called for perpetrators of all violations in the Strip to face justice.
The Geneva forum adopted a resolution on accountability, brought by Pakistan on behalf of the Organization of the Islamic Conference (OIC), by a vote of 23 states in favor, 8 against with 15 abstentions.
European countries were divided. The United States does not participate, having quit the body last year over perceived anti-Israel bias.
Full report at:
https://english.alarabiya.net/en/News/middle-east/2019/03/22/UN-rights-forum-condemns-Israeli-use-of-force-at-deadly-Gaza-protests.html
--------
Israel envoy summoned over 'intrusion' at French cultural centre
22 March 2019
France's foreign ministry said Friday that it had summoned the Israeli government's representative in Paris over what it called an "intrusion" by Israeli forces at its cultural center in Jerusalem.
In a rare move, police entered the building Thursday to cancel an event with a women's group which Israel claims is sponsored or financed by the Palestinian Authority.
A diplomatic source said France's consul general had immediately protested the police's entry to the center in east Jerusalem, which Israel has annexed in a move not recognized by the international community.
"Such actions are a serious and unacceptable infringement to the functioning of our cultural network in Jerusalem," the foreign ministry said in a statement.
It said the Israeli charge d'affaires had been called to meet with French officials for "necessary clarifications."
"France intends to maintain and develop its deep and longstanding relations with Palestinian civil society," it added.
The French consulate could not confirm Thursday if the women's association was indeed financed by the Palestinian Authority - Israel considers all PA activities in Jerusalem illegal.
But Palestinians who were to participate in the event said the allegation was false.
Full report at:
https://english.alarabiya.net/en/News/middle-east/2019/03/22/Israel-envoy-summoned-over-intrusion-at-French-cultural-cente.html
--------
Turkey orders detention of 144 over Gulen links
March 22, 2019
ISTANBUL: The Istanbul chief prosecutor said on Friday it had ordered the detention of 126 suspects employed in the judicial system with alleged links to the network of Fethullah Gulen, a cleric who Turkey says orchestrated a July 2016 coup attempt.
About 250 people were killed in the failed putsch, in which Gulen, a former ally of President Tayyip Erdogan, has denied involvement. Gulen has lived in self-imposed exile in Pennsylvania since 1999.
Turkey says that along with its military and state institutions, its judiciary was infiltrated by members of Gulen's network. Since the coup, thousands of prosecutors and judges have been dismissed.
The prosecutor's office said the suspects had lived in houses where the network trained individuals for work in the judicial system. The network then sought to place those who passed the exam in the judicial system as prosecutors or judges, while the rest became part of the network's lawyer organization.
Of the 126 suspects, 108 were lawyers on active duty, eight were judge or prosecutor candidates who were previously removed from their positions and one was a judge or prosecutor candidate on active duty, the prosecutor's office said.
Addresses of 12 of the suspects could not be determined or records showed they had left the country, it said, adding that operations spread over 37 provinces to detain the remaining 114 people were continuing.
In a separate operation on Friday, Ankara chief prosecutor's office said it ordered the detention of 18 suspects accused of links to Gulen who were working as engineers for the defense industry company Havelsan.
More than 77,000 people have been jailed pending trial since the coup and widespread arrests are still routine. Authorities have suspended or sacked 150,000 civil servants and military personnel.
Full report at:
http://www.arabnews.com/node/1470721/middle-east
--------
Africa
Tens of thousands join anti-Bouteflika rally in central Algiers
22 March 2019
Tens of thousands of Algerians rallied on Friday to demand the immediate resignation of President Abdelaziz Bouteflika, who is fighting for his political survival in the face of relentless protests and the desertion of long-time allies.
Defying heavy rain, the protesters brandished Algerian flags and pamphlets as they gathered in the same spot in the capital where a wave of demonstrations first erupted a month ago against Bouteflika's 20-year rule.
"Rain will not prevent us from continuing pressure," said student Ahmed Khoudja, 23, in a square in central Algiers.
The protests were expected to swell further after Friday prayers, as has happened on the four previous Fridays during this wave of demonstrations that kicked off on Feb 22.
"We stay here until the whole system goes," said Mahmoud Timar, a 37-year old teacher.
Bouteflika, 82, rarely seen in public since suffering a stroke five years ago, bowed to the protesters last week by reversing plans to stand for a fifth term and promising an inclusive politics in Algeria, a major oil and gas producer.
But he stopped short of quitting and said he would stay on until a new constitution is adopted, effectively extending his present term. The move further enraged Algerians, and many of Bouteflika's allies, from ruling party members to trade union leaders to tycoons, turned against him.
"We are close to victory. The system is divided," said restaurant owner Rachid Zemmir, 55, at Friday's rally.
Army, ruling party back protests
In the most significant development in a month of demonstrations, Chief of Staff Lieutenant General Ahmed Gaed Salah on Wednesday threw the army's weight behind the protesters, saying they had expressed "noble aims".
Soldiers have stayed in their barracks through the unrest but the army has traditionally deeply influenced politics.
The generals have intervened in the past at momentous times, including cancelling an election which Islamists were poised to win in 1992, triggering a civil war in which an estimated 200,000 people were killed.
The ruling National Liberation Front party, known by its French acronym FLN, has also sided with the protesters.
In the past, Bouteflika and his inner circle of fellow veterans of the 1954-1962 war of independence against France, FLN officials and the military skilfully managed crises.
When the "Arab Spring" revolts toppled autocrats in neighboring countries, Bouteflika used oil revenues to secure loyalty -- offering better salaries for state workers, housing and low-interest loans.
But the price of crude oil has dropped over the years and the young are desperate for jobs, an end to corruption and nepotism and a say in how the North African country is run.
Algerians who credited Bouteflika with negotiating an end to the civil war in the 1990s were eager for stability, even though they shared many of the frustrations which triggered revolts elsewhere.
While Bouteflika was adept at manipulating the opposition in the past, he now faces Algerians of all social classes and ages staging the biggest protests in decades.
Even if Bouteflika quits, it is not clear if the swelling protest movement can bring down the deep state - a secretive network of ruling party leaders, business tycoons and army generals long regarded as invincible.
These figures, who long managed politics in behind-the-scenes negotiations, may be happy to see Bouteflika go but are likely to resist any major political changes, as they have done in the past.
https://english.alarabiya.net/en/News/north-africa/2019/03/22/Tens-of-thousands-join-anti-Bouteflika-rally-in-central-Algiers.html
--------
Chad: Boko Haram kills 23 soldiers in Dangdala attack
MARCH 22, 2019
Twenty-three soldiers were killed in a Boko Haram attack in southwestern Chad on Friday, March 22, a military official told AFP.
"Boko Haram elements attacked the Chadian army position at around 1 a.m., killing 23 troops," the official said.
The attack, which took place in Dangdala, on the northeastern bank of Lake Chad, appears to be the deadliest attack on the Chadian military by Boko Haram.
The assailants crossed over from Niger before launching the raid and "made off with military equipment," the source said.
It is unclear which faction of Boko Haram carried out the attack, but Islamic State West Africa province is the dominant insurgent force in the Lake Chad area.
Civilians killed in Niger
In the Diffa region of southeastern Niger, meanwhile, eight civilians were killed late Thursday in a Boko Haram attack in Karidi, which is in Gueskerou district, a local official told AFP Friday.
ActuNiger reported the attack occurred in the village of Dewa Kargueri, around 7 km southwest of Gueskerou commune and began at around 9:30 p.m.
According to the ActuNiger report, militants attempted to destroy a bridge in the Diffa region on Wednesday.
Diffa in Niger and neighboring Borno state in Nigeria have seen a number of attacks in recent weeks, as the Multinational Joint Task Force, which comprises troops from Chad, Cameroon, Niger and Nigeria, conducts Operation Yancin Tafki against Boko Haram around Lake Chad.
Islamic State has made a slew of claims of attacks on both sides of the Niger-Nigeria border, but many have not been confirmed by official sources and the claims are at times contradictory.
On March 9, seven police and 38 militants were killed near Gueskerou, according to a government toll. The MNJTF said in a statement that "27 terrorists" were killed.
Islamic State claimed fighters from its West Africa province affiliate killed 30 soldiers in a March 9 attack on a military base in Toumour in the Diffa region. Toumour is around 30 km (19 miles) northeast of Gueskerou, and it is unclear whether the ISIS statement referred to the Gueskerou incident or to another attack.
Across the border in Nigeria on March 12, aircraft from Nigeria, Niger and Cameroon supported by MNJTF ground troops killed 33 ISWA militants around Tumbun Rego and Arege, the regional force said.
ISIS claimed an ISWA militant carried out a suicide car bomb (SVBIED) attack in Arege on March 13, although its al-Naba magazine later said that attack was carried out on March 14.
ISIS claimed ISWA militants fired three Grad rockets at Diffa airport on March 14. ActuNiger reported that ISIS claimed that an ISWA militant carried out a SVBIED attack in Toumour the same day and that local and security sources confirmed that it occurred. ISIS's Al-Naba magazine put the Grad attack on March 15 and the SVBIED attack on March 13. ISIS later published images of what it said were the Grad launches.
ISIS claimed ISWA killed five soldiers attached to the MNJTF during clashes on Thursday in Monguno, in Nigeria's Borno state. Via its Amaq propaganda agency, ISIS claimed three of the dead were Chadian and two Nigerian. It also claimed that four "mortar shells" were fired at Nigerian army positions in the town on Thursday, and six were fired at positions in Malam Fatori on Wednesday.
ISIS further claimed via Amaq that 10 soldiers were killed on the Monguno-Gajiram road on Thursday.
Boko Haram's bloody insurgency began in northeastern Nigeria in 2009 but has since spread into neighboring Niger, Chad and Cameroon, prompting a regional military response. Some 27,000 people have been killed and two million others displaced, sparking a dire humanitarian crisis in the region.
Boko Haram split into two factions in mid-2016. One led by long-time leader Abubakar Shekau is notorious for suicide bombings and indiscriminate killings of civilians. Shekau pledged allegiance to ISIS leader Abu Bakr Al-Baghdadi in March 2015, but ISIS central only gives formal backing to the other faction, which is known as Islamic State West Africa province.
Full report at:
https://thedefensepost.com/2019/03/22/boko-haram-dangdala-chad-raid-gueskerou-niger/
--------
Boko Haram: Troops construct own water, bread factories to support soldiers
March 22, 2019
Troops of 115 Task Force Battalion, Operation Lafiya Dole, Nigerian Army in Askira-Uba, have constructed bread and sachet water factories to support soldiers fighting Boko Haram insurgents in Borno.
Yusuf Salisu, 115 Task Force Commander, disclosed this during Operational visit of Bulama Biu, Acting General Officer Commanding (GOC), 7 Division of the army on Friday.
Mr Salisu, who was represented by Godwin Ameh, said that the project was executed under the Battalion Commander Humanitarian Initiative.
He said that the initiative came as part of the modality toward protecting its soldiers from consuming unwholesome and poisonous foods or water from Boko Haram and their sympathisers.
He explained that some of the bread sold daily in commercial places could contain cancer-causing chemicals, including potassium bromate and potassium iodate, which are banned substances in the country.
According to him, the whole idea is to provide healthy food to our soldiers.
"The initiative was also designed to provide humanitarian support and services to the less privileged in the hospitals, church, mosque and the entire host communities with a view to strengthen civic relationship.
"So far we have provided bread for more than 2,000 patients in the hospitals in the communities.
"Every Friday and Sunday we take bread and distribute free of charge to Muslim and Christian in the communities.
"It has already yielded positive result because we were able to minimise cost of providing breakfast to our soldiers.
"Also, potable drinking water, which used to pose great challenge in the past had also been addressed through our water factory," he said.
"All our factories had been accessed and licensed by NAFDAC and they have certified that the factories met best standard," he said.
In his remarks, Mr Biu, Acting General Officer Commanding (GOC), 7 Division of the army, commended the troops for the initiative, noting that it would go a long way in reducing risk, illness and improving the health and safety of the troops.
"One of the core strategies of winning any war in the world was threatening civil-military relationship, I am happy that you are already done that here.
"The Chief of Army Staff, COAS, Lt.-Gen. Tukur Burutai is proud of you; we are all proud of you and this type of laudable initiative of yours cannot be ignored," he said.
He urged other brigades within the theatre to emulate the 155 battalion initiative and ideas that would add meaningful value to the welfare of troops while executing the counter terrorism campaign.
The GOC also charged soldiers and officers in the battalion to be committed, focused and decisive in their duties.
Full report at:
https://www.premiumtimesng.com/news/more-news/321614-boko-haram-troops-construct-own-water-bread-factories-to-support-soldiers.html
--------
Somali ministry in Mogadishu hit by al Shabaab car bomb attack
MARCH 23, 2019
MOGADISHU (Reuters) - Central Mogadishu was shaken on Saturday by a car bomb blast at a government ministry building, with Islamist group al Shabaab claiming responsibility for the attack in the Somali capital.
"The first blast took place at the Ministry of Labor ... there are also other ministry buildings near the scene. It was a suicide car bomb followed by gunfire," police officer Major Mohamed Hussein said, adding there had been a second explosion.
Al Shabaab, which is fighting to establish its own rule based on a strict interpretation of Sharia law, said one of its fighter had rammed the ministry building with a car bomb, allowing others to enter it.
"We are inside the building and (the) fighting goes on. We shall give details later," Abdiasis Abu Musab, Al Shabaab's military operation spokesman told Reuters.
Al Shabaab, which is trying to topple Somalia's western backed central government, was ejected from Mogadishu in 2011 and has since been driven from most of its other strongholds.
Full report at:
https://www.reuters.com/article/us-somalia-security/somali-ministry-in-mogadishu-hit-by-al-shabaab-car-bomb-attack-idUSKCN1R408N
--------
Rwanda convicts ISIS, Al-Shabaab suspects
Mar 23, 2019
Rwandan judicial authorities on Friday sentenced 13 people to five years and two others to ten years in jail after convicting them of belonging to extremist groups including al Shabaab and Islamic State and providing them support.
The high court in Rwanda's southern Nyanza area acquitted 25 others after the prosecution failed to prove their involvement in extremist acts.
Police in the central African country arrested the 40 in January 2016, less than a week after they killed Muhammad Mugemangango, a preacher accused of encouraging youths to join extremist groups.
Security personnel also seized jihadist materials such as books, CDs and social network messages.
One of those convicted, Salim Fundi, participated in "coordinating people in Rwanda who wanted to join terrorist group of al Shabaab in Somalia," said Judge Eugene Ndagijimana while delivering the ruling.
Those convicted included three women, two of them arrested at the airport in Kigali while en route to Syria and another convicted of helping them with $1,000 for flight tickets.
Full report at:
https://www.africanews.com/2019/03/23/rwanda-convicts-isis-al-shabaab-suspects/
--------
URL: https://www.newageislam.com/islamic-world-news/its-jihad-jahalat-kashmiri-villagers/d/118109
New Age Islam, Islam Online, Islamic Website, African Muslim News, Arab World News, South Asia News, Indian Muslim News, World Muslim News, Women in Islam, Islamic Feminism, Arab Women, Women In Arab, Islamophobia in America, Muslim Women in West, Islam Women and Feminism