New Age Islam News Bureau
7 Jan 2017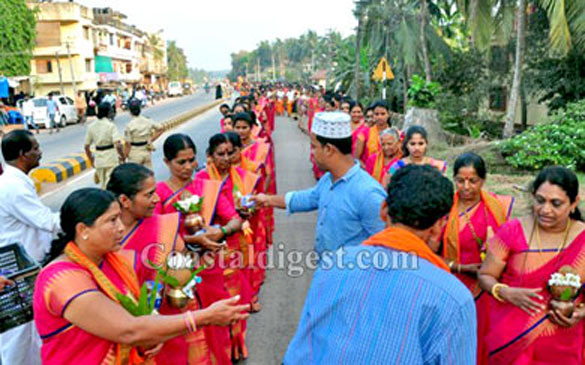 On Friday, Muslim brethren in Ulla India,l showed an exemplary gesture that herald the message of communal harmony.
----
• Istanbul Attack: Why China's Uighurs Are Joining Global Jihadist Groups
• Imam of Islam's Grand Mosque asks Islamic Scholars to Preach Moderate Message
• Somalia's Election Is Fraud, Women Not Meant To Be Leaders, Says Al Shabaab Spokesman
• 'Ulemas Are Not Custodians of Our Vote, We Need Empowerment': Muslim
Mideast
• Istanbul Attack: Why China's Uighurs Is Joining Global Jihadist Groups
• Abbas Warns US over Embassy Relocation to Jerusalem Al-Quds
• Turkey to naturalize Syrian, Iraqi migrants: Erdogan
• Israeli settler runs over, injures Palestinian man in West Bank
• Quake rattles Iran, four Afghan labourers killed
• Turkey detains 18 people over Izmir attack, sees PKK responsible: minister
• Israel cuts $6m in UN funding over settlement vote
• Iran's Zarif writes to UN chief to urge action on plight of Rohingya in Myanmar
• Turkey dismisses 6,000 more workers over links to botched putsch
--------
Arab World
• Imam of Islam's Grand Mosque asks Islamic Scholars to Preach Moderate Message
• 45 ISIL Terrorists Killed in Clashes with Syrian Army in Eastern Aleppo
• 32 ISIS militants killed in Syrian operations: Turkish Military
• Russian Fighter Jets Destroy over 1,200 Terrorist Centers in Syria
• ISIL Planning Fresh Massive Operation in Deir Ezzur, Syrian Army Goes on Alert
• Militants to Hand over More Towns to Syrian Army in Damascus Province
• Terrorist Centers West, South of Aleppo City Hit Badly in Syrian Army Attacks
• Long Military Convoy of Terrorists' Vehicles Hit Hard in Syrian Army Attack in Idlib
• Syrian Army Dispatches More Forces to Northwestern Damascus
• Syrian Airstrikes Inflict Major Losses on ISIL, Nusra in Hama Province
--------
Africa
• Somalia's Election Is Fraud, Women Not Meant To Be Leaders, Says Al Shabaab Spokesman
• Nigeria: Calls for A National Day Of Mourning For Christians Killed By Terrorists
• Uganda: Kayihura Apologises Over Mosque Raids
• Air Force acquires attack choppers to fight Boko Haram, militants
• Escapees identify Boko Haram abductor on wanted poster
--------
India
• 'Ulemas Are Not Custodians of Our Vote, We Need Empowerment': Muslim
• Muslims Offer Fruit Juice to Hindu Devotees during Festival
• 68% of Pakistanis Favour Dialogue with India: Poll
• Top Lashkar-e-Taiba militant killed on outskirts of Srinagar
• India exploring options to get Masood Azhar named global terrorist
• RSS Muslim Wing Will Host Kashmiri Students to 'Bring Them on Right Path'
• NIA files charge sheet against captured LeT terrorist Bahadur Ali
--------
Southeast Asia
• Non-Muslim More Accepting of Hadi's Bill Now, PAS Claims
• Muslim Politicians in Indonesia Call for Nationwide Alcohol Ban
• Indonesia's tolerance on trial as Christian governor faces blasphemy charge
• Four Myanmar Workers Killed in Machete Attack in Malaysia
• Sheikh Muszaphar seeking new frontiers with AladdinStreet
• PAS urges Muslims to flood Dataran Merdeka next month in support of Hadi's Bill
• Indonesia and Australia should respect the political gains each have made
--------
Europe
• Fake News Warning in Germany after Muslim 'Mob' Story
• Integration Expert: Ban Headscarves for Public Employees
• Merkel's conservatives gain support despite Berlin attack
• New laws in Slovakia indicate broader anti-Islam trend in Europe
• If Obama is a Muslim, is Trump a Russian spy?
--------
Pakistan
• Imam-e-Kaaba lauds Pakistan's role in fighting terror
• Raheel Sharif Appointed Chief of Saudi-Led Islamic Anti-Terror Alliance
• Parliamentary parties give consent to Fata merger plan
• Curtain comes down on military courts
• Burden of proof becomes sticking point in Panama case
--------
South Asia
• Child Trafficking Victims Taken From Parents in Bangladesh Forced to Convert to Islam
• Gunmen kill nine Hazara miners in Afghanistan
• One killed, six injured in blast, firing
• 4 'Jamaat men' held with bombs
--------
North America
• US Built Tactical Operations Centre in Pakistan: Kerry
• Muslim-Owned Eatery Making News For Very Un-America-Like Business Practices
• Trudeau spent vacation on Aga Khan's private island
• Muslim Peel students can write own sermons, but prayers will again be supervised
Compiled by New Age Islam News Bureau
URL: https://www.newageislam.com/islamic-world-news/new-age-islam-news-bureau/istanbul-attack--why-china-s-uighurs-is-joining-global-jihadist-groups/d/109638
--------
Istanbul Attack: Why China's Uighurs Are Joining Global Jihadist Groups
06.01.2017
Turkish Deputy Prime Minister Veysi Kaynak said Thursday that the gunman who attacked Istanbul's Reina nightclub during New Year's celebrations is likely from China's Muslim Uighur minority and was a "specially trained member of a (terror) cell." Turkish authorities have also arrested a number of people of Uighur origin over the attack that killed 39 people.
Uighur Muslims, a Turkic-speaking minority in China's northwestern Xinjiang province, have long faced persecution by the country's communist authorities. They are a distinct and mostly Sunni Muslim community and one of the 55 recognized ethnic minorities in China. However, the Uighurs feel increasingly suppressed and view Beijing as a "colonizing power" attempting to undermine their cultural identity, political rights, and religion and to exploit their region's natural resources.
In the past few years, the Chinese government has been strict with the separatists in Xinjiang. This has pushed many Uighurs towards radicalization and militancy. The situation is also becoming aggravated due to the fact that Uighur separatism is not only an ethnic movement but also has a religious dimension to it.
Siegfried Wolf Südasienexperte Uni Heidelberg (Siegfried Wolf)
Siegfried Wolf: 'We need to look at the Uighur conflict in the context of Islamic jihad and fundamentalism'
The Uighur issue is generally viewed as an internal Chinese security problem, but some experts argue that it should also be looked at in the context of rising global jihad and Islamic fundamentalism. The crucial point, the analysts say, is that the Uighur case is getting increasingly hijacked by jihadist movements, particularly in Afghanistan, where a number of Uighur militants are reportedly fighting alongside the Taliban and al Qaeda.
It is still unconfirmed that Uighur jihadists are behind the Istanbul attack. It is also unclear whether they are capable of launching such a high-profile terror attack in Turkey.
In a DW interview, Siegfried O. Wolf, director of research at the Brussels-based South Asia Democratic Forum (SADF) and a researcher at the University of Heidelberg's South Asia Institute, explains what is driving Uighurs to join Islamists in Afghanistan and what could be done to prevent this.
DW: What can you tell us about the link between Uighur separatism and global jihadism?
Siegfried O. Wolf: Decision-makers need to look at the Uighur conflict in the context of Islamic jihad and fundamentalism. It is important to investigate to what extent Uighur refugees and illegal migrants are getting involved in jihadist networks in and outside South Asia and are being used as potential recruits for terrorist organizations.
According to Chinese sources, Uighur militants use fake Turkish passports to enter Afghanistan and Pakistan to join extremist groups. In the Afghan and Pakistani camps, which are heavily funded by Saudi Arabia, Uighurs receive ideological indoctrination as well as military training.
Many of the Uighur fighters are organized under an umbrella group called the East Turkestan Islamic Movement or ETIM. The ETIM was listed as one of the "more extreme separatist groups" and as a terrorist organization by the US in 2002.
According to the UN, the ETIM is associated with al Qaeda and its fighters are believed to have fought alongside them and the Taliban in Afghanistan against NATO troops. Furthermore, the Uighurs gained combat training in Chechnya and were involved in terrorist activities in Kyrgyzstan. Reportedly, the ETIM has also sent its members to fight for so-called "Islamic State" (IS) in Syria.
IS has declared jihad against China on the grounds that Beijing is mistreating the Uighur Muslim population. This classic Sunni jihadist propaganda based on the persecution of the Uighurs is evident in videos and other jihadist material in which IS has called for global jihad and an uprising in China.
Türkei Istanbul - Sanitäter transportieren verletzte nach Angriff auf Nachtclub (Reuters/Stringer)
Turkish authorities have arrested a number of people of Uighur origin over the New Year's Eve attack
Are Uighur jihadists capable of launching a terror attack in Turkey?
It is very difficult to properly assess the organizational strength of the ETIM, also known as the Turkestan Islamic Party (TIP). According to a 2014 Reuters report, around 400 Uighur militants are operating in Pakistan and some 250 in Afghanistan. Some media reports suggest that around 300 Chinese nationals (mostly Uighurs) are fighting for IS. However, it is evident that Uighur jihadists are increasingly posing a security threat. They have not only been integrated into international terror networks; they have also extended their area of operations. So I think they have the capacity to carry out major terror attacks in Turkey and elsewhere.
IS also claimed responsibility for the Istanbul attack. What do we know about the connection between Uighurs and IS?
In the past, IS and al Qaeda did not engage with Uighurs or show much interest in their plight in China. However, this has changed now. In Syria, many Uighur militants have joined the Al-Nusra Front - an al Qaeda splinter group - which is allied with the TIP, one of the major groups of Uighur fighters. There are reports that Uighur jihadists have also joined IS. It appears that IS and Al-Nusra Front are competing to recruit Uighurs in Syria.
What is driving the Uighurs to flee China and join the jihadists' ranks?
The Uighurs identify themselves as the original inhabitants of Xinjiang, which they describe as "East Turkistan." Many of the Turkic-speaking Uighurs feel closer to Central Asian states and are in favor of separating from China or receiving greater autonomy. Therefore, it does not come as a surprise that Chinese security officials are dealing with them very strictly and want to have Xinjiang under their tight control, for both economic and geostrategic reasons.
Beijing has enforced harsher regulations against the Uighurs and raised the security budget for Xinjiang. As a result, tensions between the Uighurs and the majority Han Chinese have dramatically increased. Clashes and violent riots broke out between the two communities in July 2009, which resulted in at least 197 fatalities. Another wave of violence occurred in 2012. This has driven many Uighurs to flee China – both legally and illegally - to other countries.
China Soldaten in der Xinjiang Provinz (picture-alliance/AP Photo)
In the past few years, the Chinese government has acted strictly against the separatists in Xinjiang
In 2015, around 100 Uighurs were deported by Thailand to China. What kind of treatment do repatriated Uighurs generally receive from the Chinese authorities?
There is no doubt that the "forced returnees" have to face severe persecution, torture, abuse, and even disappearances in China. The Chinese authorities have executed several of them in the past.
You said Uighur militants are active in Afghanistan fighting alongside the Taliban. Could China convince Pakistan to use its influence over the Taliban and make it act against the Uighur extremists?
In the past, Islamabad acted against militant groupings carrying out anti-Chinese activities. However, this happened on Pakistani soil and did not include Afghanistan or the Afghan Taliban. When it comes to Afghanistan, it seems that Pakistan and China are not on the same page.
Achieving peace in Afghanistan is not Islamabad's main goal or concern. Pakistan's Afghan policy is driven by its rivalry with India, which is aimed at minimizing New Delhi's influence over its western neighborhood and making sure that a Pakistan-friendly government is in power in Kabul. Even if Islamabad decides to use its influence to protect Chinese interests vis-a-vis Uighur militants, I am not sure it can convince various Afghan Taliban factions and affiliated groups to change their strategies.
To what extent are Uighurs a threat to Sino-Pakistani relations?
In the Af-Pak region, China's Uighurs have proven to be not only an unusual source of friction in China-Pakistan and Afghanistan-Pakistan ties but have also added to regional instability. In this context, it is important to note that until the early 1990s, Pakistani governments adopted a more lenient attitude towards the Uighur presence in its northwestern tribal areas and remained largely indifferent to their separatist cause in China. This policy changed in the late 1990s in order to mollify Beijing, which felt increasingly uncomfortable about the fact that Pakistan's lawless tribal region bordering Afghanistan had developed into a sanctuary for Uighur extremists.
Beijing's major concern remains that Uighurs are using Pakistani territory to create unrest in western China. As such, China expects that Pakistan should act more aggressively against these militants.
Siegfried O. Wolf is Director of research at the Brussels-based South Asia Democratic Forum (SADF) and a researcher at the University of Heidelberg's South Asia Institute.
The interview was conducted by Shamil Shams.
http://www.dw.com/en/istanbul-attack-why-chinas-uighurs-are-joining-global-jihadist-groups/a-37035524
--------
Imam of Islam's Grand Mosque asks Islamic Scholars to Preach Moderate Message
07-Jan-17
JEDDAH: Imam of Islam's Grand Mosque Abdul Rahman Ibn Abdul Aziz As-Sudais has said that Islamic scholars and intellectuals should preach moderate message of Islam all over the world, as Islamic teachings have no association with extremism, terrorism and sectarian violence.
Lauding services for unity of Muslims as well as security and defence of Islam's holiest mosque, As-Sudais awarded an honourary shield to Pakistan Ulema Council (PUC) Chairman Hafiz Muhammad Tahir Mehmood Ashrafi. The Saudi scholar said that it was responsibility of each and every Muslim of the world to play his respective role for the unity of Muslims.
He urged on Muslims to seek guidance from Al-Quran in face of challenges and difficulties. With the grace of Almighty Allah, prevailing phase of crisis on Muslims would come to an end, he said, adding that Allah's name would be called from each corner of the world. He said that people of Pakistan were fighting against menace of terrorism courageously and the armed forces as well as people were worthy of encouragement and praise for this heroic deed. As-Sudais appealed to Muslim community specifically the people of Pakistan to pursue moderate way and stay away from extremist practices.
He also stated that Ahmedis have no affiliation and association with Islam. A continued preaching sequel would be soon started in Harmain Al Sharifain on the topic of finality of the prophethood. On the occasion, the PUC chairman expressed gratitude for awarding the shield, saying that his kindness and affectionate attitude towards people of Pakistan was like an asset. He said that every Pakistani was knotted with Harmain Al Sharifain in relation of faith and loyalty.
http://dailytimes.com.pk/pakistan/07-Jan-17/islamic-scholars-asked-to-preach-moderate-message
--------
Somalia's election is fraud, women not meant to be leaders, says Al Shabaab spokesman
Jan 7, 2017
MOGADISHU, Somalia- Al Qaida linked Al Shabaab militant said it will continue its attacks against the Somali Federal government to fight western programmed agendas in the country during an exclusive interview with Dalsoor an independent local media, Garowe Online reports.
Al Jazeera's Hamza Mohamed interviewed Al Shabaab's spokesman, Sheikh Ali Mohamed Rage, whereas the group has intensified its terrorist attacks in the Somali capital of Mogadishu during the past two weeks, targeting areas near AMISOM base, Mogadishu's Airport and UN compound.
During the interview Rage spoke about the ongoing Somali elections, women representation in the politics, clan power-sharing formula and fighting with the Somali government.
Rage noted the group is against the Somali electoral process and dismissed ideas that Al Shabaab members are willing to participate in the process or support candidates for the presidency. He described the entire election process as fraud, which the group can't join hands-in with false things.
"It is not worthy and it's not in our interest to be part of things that are built on falsehood," added the spokesman.
He further alleged that the electoral process is a "selection" rather than a free election, whereby infidels [western] and their puppets [Somali politicians] are choosing who they want to implement their agenda in Somalia.
Rage warned against deceiving the public in the fraudulent elections, since public are not allowed to participate in the process to elect their leaders.
Asked about Al Shabaab views on women participation in the politics or if the militant group will appoint women for higher ranks, Rage rejected the notion and said that Somalis are Muslim and should stay in the path of Allah and follow the instructions of the religion.
He criticized women who are arguing for women rights and fair representation in Somalia, and said they don't represent Muslim-Somali women, as he claims those ideas are pushed forward by westerns to achieve their goals to mislead the Muslim nations.
Rage alleged that religion didn't allow women to become leaders for Muslim nations, by holding the position of President, Prime Minister or a Minister.
Asked about the group's view on clan power sharing formula (4.5) in Somalia or whether the group implement it in their strong-held areas, he dismissed the claims and indicated the group believes the clan as a mean of identity between people and relative, whereas he criticized the apostates [Somali government] for using it as a system for power-sharing formula to build a government.
The reporter also questioned him about group's claim to attack government targets where in fact they attack hotels and restaurants frequented by innocent civilians. Rage denied the allegation and said the group never targets civilians but instead they intent to attack bases which belongs to foreign and Somali officials.
"Al Shabaab has never targeted those ordinary hotels where Muslim civilians stay, but the ones we attack are all surrounded with huge concretes and security guards to protect them, that indicate those are not hotels" said spokesman.
"we are fighting with the infidels [western] and their apostates [Somali government] and we don't care what they call the places they live in, whether they say it is an army base or a hotel, it all means the same."
Rage said the group carries out intelligence missions for suffice periods to monitor and gather information about their targets before they carry out the attacks.
The interview coincides with country's preparation to hold elections of parliamentary leadership and new Somali President in the coming weeks in Mogadishu.
Previously, the militant group has vowed to disrupt the Somali election process and since it lunched sporadic attacks in southern and central Somalia against government officials, security forces and allied AMISOM forces in a bid to overthrow the western-backed weak Somali Federal government in the capital Mogadishu.
http://www.garoweonline.com/en/news/somalia/somalias-election-is-fraud-women-not-meant-to-be-leaders-says-al-shabaab-spokesman
--------
'Ulemas are not custodians of our vote, we need empowerment': Muslim voices appeal Akhilesh Yadav
January 7, 2017
By Mohammed Uzair Shaikh
Lucknow, Jan 6: Samajwadi Party supremo Mulayam Singh Yadav earned the tag of 'Maulana Mulayam' for his alleged appeasement politics. His son Akhilesh, who attempts to portray himself as a secular technocrat, could also end up being referred in the same manner as his father. Voices within the Muslim community have urged Akhilesh to not to consider Muslims as 'vote bank', but instead empower them. Two prominent names within state's Muslim community – Jafar Abdullah, a Nawab descendent, and Naish Hasan, co founder of Bharatiya Muslim Mahila Andolan, have made critical observations against Akhilesh.
'Ulemas are not custodians of Muslim votes'
Naish Hasan urged Akhilesh, along with other 'secular' parties to work towards the upliftment of common Muslims, rather than wooing up to the influential godmem, in order to appease the community.
"Ulemas are not thekedaars (custodians) of Muslim vote. The community needs development. The community needs opportunities to break the shackles of poverty. It needs jobs and education," she said while speaking to NDTV India.
'Rs 400 crores for graveyard fencing is symbolism'
Naisha opines that the decision of Samajwadi Party government to allot Rs 400 crores for graveyard fencing is a disappointment. She alleged that the Akhilesh regime has spent nearly Rs 100 crore for development of Muslims, but Rs 400 crore for graveyard fencing.
According to an Indian Express report, Akhilesh government had only spent rs 104 crore in 'Minority Education Hub Scheme' from the period of 2012-2015. However, the Samajwadi Party regime has spent more amount for the minority community through other development schemes.
'Not much effort taken to safeguard livelihood of Muslims'
Jafar Abdullah, while speaking to NDTV India, said that Muslims of the state belong to that economical class which are losing their employment due to globalization.
"No political parties have not done what should had been done for Muslims. Although Muslims are not educated much, they have imbibed skills of artisans. Now, a section of Muslims are working as labourers and rickshaw-pullers because the commercial scope of artisans are increasing. The government should make such schemes that their livelihood is safeguarded, and their lives improve."
Abdullah further added that apart from allocation of funds, the state government needs to work on its implementation. Suggesting methods of securing the livelihood of artisans, he added that their skills should be better marketed.
'Halala, triple talaq are issues which affect life and death of Muslim women. Akhilesh needs to reconsider his stand'
Following the row which erupted after Supreme Court sought Centre's view on the practice of triple talaq, several 'secular' parties had opined that the government and judiciary should abstain from intervention of Muslim civil laws.
The Samajwadi Party, while exhibiting its stand on the matter, reiterated that government should not meddle in the personal affairs of the community. Naisha appealed Akhilesh Yadav to reconsider his stand on the subject, adding that it detrimentally affects the lives of Muslim women.
"Halala, triple talaq are issues which affect life and death of Muslim women. You have left the issue to the clerics. Then what is the point to live in a democracy if clerics will take important decisions related to lives of people," she added, while speaking to NDTV India.
Muslim vote bank – Cutting of the Chinese melon
Muslims, who constitute 17 per cent of Uttar Pradesh's population (as per 2001 census), could prove to be the most influential section of the electorate. All "secular" parties are striving hard to grab the major share of 17 per cent pie.
The battle for the Muslim vote bank makes one reminisce the 'cutting of Chinese melon'. Similar to the manner in which imperialistic forces were attempting to grab their share on Chinese soil in the pre-World War-I period, Muslims of Uttar Pradesh (and India at large), have turned into the electoral melon whom every secular party wish to turn into their vote bank.
In the forthcoming Uttar Pradesh Assembly Elections 2017, Muslims are once again expected to be used as a crucial vote bank. From cleric endorsements to 'fear' of BJP – the secular parties are playing all cards possible to consolidate the Muslim votes in their favour.
The Samajwadi Party, along with the Bahujan Samaj Party (BSP), have banked on the Muslim vote bank for years to form their governments. While SP supremo Mulayam Singh Yadav's winning formula has remained the Muslim-Yadav combine, his rival Mayawati's electoral success depends upon the electoral combination of Dalits, along with Muslims. Congress, which is aiming to once again make itself relevant in UP politics, have also been targeting the Muslim voters.
However, the community still remains unclear about their choice. Their ballot choice depends upon who emerges as the most credible challenger to prevent the right-wing Bharatiya Janata Party (BJP) from coming to power.
http://www.india.com/news/india/ulemas-are-not-custodians-of-our-vote-we-needs-empowerment-muslim-voices-appeal-akhilesh-yadav-1744937/
--------
Mideast
Abbas warns US over embassy relocation to Jerusalem al-Quds
Jan 6, 2017
Palestinian President Mahmoud Abbas has firmly warned US President-elect Donald Trump of the potential consequences of moving the American embassy from Tel Aviv to Jerusalem al-Quds, describing the likely move as an "aggression" against the independent state of Palestine.
Abbas made the remarks during a speech he made in the occupied West Bank city of Bethlehem on Friday, adding that "any statement or position that disrupts or changes the status of Jerusalem al-Quds is a red line which we will never accept."
Trump repeatedly said during his campaign that if elected, he would not hesitate to relocate the embassy from Tel Aviv to Jerusalem al-Quds, which is regarded by Palestinians as their future capital. The controversial decision has evoked Palestinians' bitter opposition.
"Jerusalem al-Quds is the capital of our state. It is the open capital for all monotheistic religions, Islam, Christianity and Judaism. It is the right of all religions to perform their religious rituals with total comfort in Jerusalem al-Quds, our eternal capital," Abbas further said.
He also warned that if the transfer of the US diplomatic mission is implemented, "the peace process in the Middle East, and even peace in the world, will be in severe trouble." Abbas also urged the US administration to stop adopting "double standards" vis-à-vis Palestinians.
The Palestinian president made the remarks a day after Jordanian Information Minister Mohammed Momani warned Trump of "catastrophic" repercussions if the incoming US administration pushed the embassy relocation plan forward, saying such a move would be a "red line" for Jordan and would "inflame the Islamic and Arab streets."
The Palestine Liberation Organization (PLO) has already warned the US against moving its embassy to Jerusalem al-Quds, saying all American embassies in the Arab world would have to close in the face of popular Arab outrage that would follow such an action.
Back in December, PLO Secretary General Sa'eb Erekat said the potential move would deliver a death blow to any prospect of the resolution of the Arab-Israeli conflict, and would have his organization rescind all agreements with Tel Aviv. Erekat also said the move would lead to the "destruction" of the so-called Israeli-Palestinian peace talks.
In September, Trump, who was the Republican presidential front-runner at the time, promised Israeli Prime Minister Benjamin Netanyahu that he would recognize Jerusalem al-Quds as Israel's undivided capital if he emerged triumphant in the US presidential election.
http://www.presstv.ir/Detail/2017/01/06/505128/Palestine-US-embassy-Israel-Trump-Jerusalem-alQuds
--------
Turkey to naturalize Syrian, Iraqi migrants: Erdogan
6 January 2017
President Recep Tayyip Erdogan on Friday announced that some of the millions of Syrian and Iraqis who have fled to Turkey would be given Turkish nationality.
"Our interior ministry is carrying out work, and under this work, some of them will be granted our nationality after all the necessary checks" have been carried out, Erdogan said in a speech broadcast on television.
"There are highly qualified people among them, there are engineers, lawyers, doctors. Let's make use" of that talent, he argued.
"Instead of letting them work illegally here and there, let's give them the chance to work as citizens, like the children of this nation," he said.
Erdogan said the interior ministry "is ready to implement the measure at any time." But he gave no further details, notably about how many would gain Turkish nationality.
According to Turkish government figures, the country is hosting more than three million Syrians and Iraqis who have fled war.
Full report at:
https://english.alarabiya.net/en/News/middle-east/2017/01/06/Turkey-to-naturalize-Syrian-Iraqi-migrants-Erdogan-.html
--------
Israeli settler runs over, injures Palestinian man in West Bank
Jan 6, 2017
An Israeli settler has run over a middle-aged Palestinian man in the southern part of the occupied West Bank, inflicting serious injuries on him.
The 40-year-old victim, whose identity was not immediately known, was struck south of the city of Hebron (al-Khalil), situated 30 kilometers south of Jerusalem al-Quds, on Friday as he was walking on the edge of a road, Arabic-language Palestine al-Yawm news agency reported.
The Palestinian man was taken to Rabin Medical Center in the central Israeli city of Petah Tikva to receive medical treatment.
There have been scores of "hit and run" incidents targeting Palestinians in different parts of the occupied West Bank, with most of them largely going uninvestigated by Israeli authorities. Some of such events have even resulted in fatalities.
On October 25, 2016, an Israeli settler ran over a Palestinian family of three near the occupied West Bank city of Qalqilyah, leaving them all injured.
The Palestine Red Crescent Society (PRCS) identified the victims as a man, woman and their son.
An Israeli settler also ran over and killed a six-year-old Palestinian girl, identified as Lama Marwan Mousa, in al-Khadr town, located five kilometers (3.1 miles) west of Bethlehem, on September 10.
Local sources told the Palestinian Ma'an news agency that the girl was standing on the sidewalk in front of her house when a fast-moving vehicle approached and hit her.
However, an unnamed Israeli police spokesman claimed that the girl was walking across the street alone when she was hit.
Full report at:
http://www.presstv.ir/Detail/2017/01/06/505068/Israeli-settler-run-over-Palestinian-man-injured-West-Bank-Hebron-alKhalil
--------
Quake rattles Iran, four Afghan labourers killed
Jan 7, 2017
ANKARA: An earthquake shook Iran's southern Fars province on Friday, killing four Afghan labourers and prompting a search operation for other casualties in the thinly-populated mountainous area, Iranian state TV said. The shallow magnitude 5.3 earthquake struck at dawn, with its epicentre 53 km southwest (33 miles) of the city of Jahrom, the USGS said. Iranian media said the quake measured 5.1. "Four Afghans living and working on a farm were killed ... (in) Saifabad village near the town of Khonj," state TV reported. The governor of Fars province, Mokhtar Abbasi, told state TV that rescuers were searching the quake zone for any other victims in the sparsely populated region. - Reuters
Three injured people from the village of Chartala were taken to hospital but later discharged, the official IRNA news agency reported.
Full report at:
http://nation.com.pk/international/07-Jan-2017/quake-rattles-iran-four-afghan-labourers-killed
--------
Turkey detains 18 people over Izmir attack, sees PKK responsible: minister
Jan 7, 2017
Turkish police detained 18 people in connection with Thursday's gun and bomb attack which killed two people in the city of Izmir and Ankara has no doubt Kurdistan Workers Party (PKK) militants were responsible, Justice Minister Bekir Bozdag said on Friday.
Full report at:
http://nation.com.pk/international/06-Jan-2017/turkey-detains-18-people-over-izmir-attack-sees-pkk-responsible-minister
--------
Israel cuts $6m in UN funding over settlement vote
7 January 2017
Israel said on Friday it would cut $6 million in funding to the United Nations in 2017 in protest against a UN Security Council resolution that demanded an end to Israeli settlement building on land Palestinians want for an independent state.
The United States abstained from the Dec. 23 vote, allowing the 15-member Security Council to adopt the resolution with 14 votes in favor. Israel and US President-elect Donald Trump had called for Washington to wield its veto.
Israel's mission to the United Nations said funding would be cut to UN bodies it described as "anti-Israel," including the Committee on the Exercise of the Inalienable Rights of the Palestinian People and the Division for Palestinian Rights.
"It is unreasonable for Israel to fund bodies that operate against us at the UN," Israeli UN Ambassador Danny Danon said in a statement. "The UN must end the absurd reality in which it supports bodies whose sole intent is to spread incitement and anti-Israel propaganda."
The Israeli mission said it would move ahead with further initiatives aimed at ending anti-Israel activities at the United Nations after Trump takes office on Jan. 20.
Full report at:
https://english.alarabiya.net/en/News/middle-east/2017/01/07/Israel-cuts-6m-in-UN-funding-over-anti-settlement-vote.html
--------
Iran's Zarif writes to UN chief to urge action on plight of Rohingya in Myanmar
Jan 7, 2017
Iranian Foreign Minister Mohammad Javad Zarif has written to the United Nations Secretary General Antonio Guterres to demand international action to stop rights violations against the Rohingya Muslims in Myanmar.
In a letter addressed to Guterres on Friday, Zarif said the plight of the Rohingya has caused international concern.
The ethnic Muslims have not only been deprived of their most basic right — i.e. the right to belong to a country and a government that would protect them — they are also being exposed to killings and violent and inhumane treatment on a daily basis, he wrote.
The Iranian foreign minister referred to an upcoming ad hoc meeting by the foreign ministers of the Organization for Islamic Cooperation (OIC) countries in Kuala Lumpur, Malaysia, on January 19 to address the situation of the Rohingya Muslims in Myanmar and said the meeting reflects the depth of concern on the part of Islamic governments about the ethnic Muslims' conditions.
The Rohingya have been subjected to persecution in Myanmar since 2012. Extremist Buddhists have attacked the Muslims, mainly in the northern Rakhine State, recurrently, torching their houses and causing them bodily harm.
Since October last year, however, the Muslims have faced increased violence. Back then, the Myanmarese military imposed a siege on Rakhine, and the government of Myanmar has blocked humanitarian and media access to the Muslims in the state ever since. There have been numerous reports of killings, rapes, and other forms of abuse being carried out against the besieged Muslims.
Tens of thousands of the members of the minority group have been forced to flee to neighboring regions, in Kachin State or across the border to Bangladesh.
Zarif said the "the systematic violation of the Rohingya Muslims' basic rights and denying them citizenship… and forcing them to leave their homes" would have adverse consequences on peace and stability in Myanmar as well as in neighboring and regional countries.
He said it was expected of Myanmar's government to take immediate and effective action to protect the rights of the Rohingya and not allow extremist groups to tarnish the peaceful image of Buddhism.
Full report at:
http://www.presstv.ir/Detail/2017/01/07/505151/Iran-Zarif-letter-Guterres-Myanmar-Rohingya-Muslims
--------
Turkey dismisses 6,000 more workers over links to botched putsch
Jan 6, 2017
Turkey has expelled over 6,000 more police personnel, civil servants and academics as the government widens its crackdown on the opposition following the abortive mid-July 2016 coup.
According to a report published by Turkey's Hurriyet Daily News, Ankara issued three decrees under emergency rule on Friday, dismissing 2,687 police officers, 1,699 officials from the justice ministry, 838 civil servants from the health ministry, 649 academics and 135 officials from the religious affairs directorate.
On Tuesday, the Turkish parliament, dominated by the ruling Justice and Development Party, approved the three-month extension of the country's state of emergency, which was initially implemented a few days after the coup aimed at toppling President Recep Tayyip Erdogan failed. It also increases the time that suspects can be detained without charges brought against them.
The government can use emergency rule to bypass parliament in introducing new laws and to restrict or suspend rights and freedoms when deemed necessary. Back in October, parliament had extended the state of emergency for a second three-month period.
The putsch began when a faction of the Turkish military declared that it had seized control of the country and the government of President Erdogan was no more in charge. It, however, was suppressed a few hours later, followed by Ankara's heavy-handed crackdown on those deemed to have played a role in the attempt, which was blamed on the movement led by US-based opposition cleric Fethullah Gulen. The Pennsylvania-based cleric, however, has categorically denied the allegation.
Full report at:
http://www.presstv.ir/Detail/2017/01/06/505131/Turkey-failed-coup-dismissal-Erdogan-crackdown
--------
Arab World
45 ISIL Terrorists Killed in Clashes with Syrian Army in Eastern Aleppo
Jan 06, 2017
Syrian Army soldiers repelled ISIL's offensive on their positions in the villages of Rasm a-Harmal and Nasrallah, killing more than 45 terrorists and wounding many more.
The army also destroyed 7 vehicles of the ISIL, including 3 pick-up trucks equipped with 23mm anti-aircraft machineguns.
A military source disclosed on Wednesday that the army troops and popular forces got ready to carry out a fresh round of offensives to liberate the territories that were still under the control of ISIL and Jeish al-Fatah in different parts of Aleppo province.
The source said that the pro-government forces that recently liberated the Eastern neighborhoods of Aleppo city were about to launch large-scale offensives against ISIL positions in Eastern and Northeastern Aleppo and Jeish al-Fatah positions in Southern and Southwestern Aleppo.
The sources added that liberation of the Eastern districts of Aleppo was a great victory, but anti-terrorism battles in Aleppo province would be underway.
"The Jeish al-Fatah terrorists are still present in large regions in Aleppo province, in the meantime ISIL controls the key regions of al-Bab and Deir Hafer that are the gate to Raqqa province," they said, adding, "Around 6,000 Syrian forces are deployed in Kuweires airbase in Eastern Aleppo to launch their operation."
Based on reports, the Syrian military forces are about to start an operation from the Northern direction to free the towns of Deir Hafer and al-Bab, while other units will kick off their operation from the South to take back the districts of Rashedeen 4 and 5 and then Khan Touman.
http://en.farsnews.com/newstext.aspx?nn=13951017000280
--------
32 ISIS militants killed in Syrian operations: Turkish Military
Jan 7, 2017
The Turkish military and Syrian rebels killed 32 Islamic State militants in the latest clashes in northern Syria on Thursday, Turkey's armed forces said in a statement on Friday.
In a round-up of its military operations over the last 24 hours in support of rebels in northern Syria, the army said Turkish warplanes destroyed 21 Islamic State targets in the areas of al-Bab and Bzagah, including buildings and vehicles.
Full report at:
http://nation.com.pk/international/06-Jan-2017/32-isis-militants-killed-in-syrian-operations-turkish-military
--------
Russian Fighter Jets Destroy over 1,200 Terrorist Centers in Syria
Jan 06, 2017
"Over the two months of their participation in combat operations, naval aviation pilots have carried out 420 sorties, including 117 in nighttime. Actually all flights were performed in complex weather conditions. A total number of 1,252 terrorist facilities have been destroyed," the Russian commander said, massdar news reported.
The Northern Fleet's aircraft carrier naval task force comprising the heavy aircraft carrier Admiral Kuznetsov, the heavy nuclear-powered missile cruiser Pyotr Velikiy, the large anti-submarine warfare ship Severomorsk, and also the Black Sea Fleet's warships and support vessels has been accomplishing missions since November 8, 2016 to fight terrorists in Syria, he said.
"The strikes were delivered against infrastructure facilities, the amassments of militants and military hardware, fire emplacements and strongholds of terrorists," the commander said.
"The Black Sea Fleet's frigate Admiral Grigorovich staying in the Mediterranean Sea delivered a missile strike on November 15, 2016 with Kalibr cruise missiles against facilities of the ISIL on the territory of Syria. All the targets were destroyed," he said.
The missions of delivering strikes against ground facilities directly from aboard warships were accomplished by deck-based aircraft for the first time in the history of the Russian Navy, the commander said.
The tasks of Russia's aircraft carrier naval group in Syria have been accomplished, Kartapolov said.
"The tasks assigned to the aircraft carrier naval task force have been accomplished," the general said.
The aircraft carrier's naval group's warships and vessels are fully provided with all material supplies and are technically fit, he said.
"The Northern Fleet's aircraft carrier naval group is ready for further operations," Kartapolov said.
Full report at:
http://en.farsnews.com/newstext.aspx?nn=13951017000757
--------
ISIL Planning Fresh Massive Operation in Deir Ezzur, Syrian Army Goes on Alert
Jan 06, 2017
A military source at Deir Ezzur Airport said that the ISIL has moved a large number of fighters to this front after their failed offensive on the T4 Airbase in Eastern Homs.
The military source added that the ISIL is planning to storm the army's positions at the 137th Artillery Brigade's headquarters, al-Thardah mountain and al-Roshdiyeh neighborhood.
Also, the army troops engaged in fierce clashes with the terrorists in al-Jafrah village in Southeast Deir Ezzur, regions near Panorama region South of Deir Ezzur, along with the Eastern wall of Deir Ezzur airbase and in al-Jabiliya, al-Roshdiyeh, al-Huweiqa, al-Sina'ah, al-Rasafa, al-Baqaliyeh, Northwest of Tal Barouk, al-Janinah and al-Hosseiniyeh regions, destroying their command centers and armored vehicles.
The army's artillery units also targeted the ISIL moves and gathering centers in these regions, smashing the terrorists' weapons cache near Deir Ezzur airbase and killing tens of militants.
Full report at:
http://en.farsnews.com/newstext.aspx?nn=13951017000246
--------
Militants to Hand over More Towns to Syrian Army in Damascus Province
Jan 06, 2017
The sources said that if the militants accept the terms of the reconciliation agreement that is currently being discussed, they will surrender the towns of Beit Sahm, Babila, Yalda, and Aqraba in return for safe evacuation from the towns to be relocated to militant-held regions in Idlib province.
Also the residents of Kafr al-Awamid town in Wadi al-Bardi region, Western Ghouta of Damascus, could drive out the al-Nusra Front (recently renamed to Fatah al-Sham Front) terrorists on Thursday as the army intensified its attacks against the militants.
The people in Kafr al-Awamid contacted the Syrian army officers and called on them not to attack their town, while conducting operations against al-Nusra Front in the region.
Meantime, another group of civilians from Wadi al-Bardi were transferred to al-Rozah village as the army continued its operations against al-Nusra terrorists in Western Ghouta of Damascus and advanced in more areas.
Full report at:
http://en.farsnews.com/newstext.aspx?nn=13951017000179
--------
Terrorist Centers West, South of Aleppo City Hit Badly in Syrian Army Attacks
Jan 06, 2017
The Army hit terrorist groups' defense lines in al-Mansoureh, Jam'iyat al-Zahra and Zahrat Abd Rabba in the Western and Northwestern countryside of Aleppo, leaving a number of militants dead and several more wounded.
In the meantime, the army's artillery units pounded a gathering of the terrorists near al-Rashedeen just to the South of Aleppo city, inflicting several casualties on the militants.
On Wednesday, Syrian Army dispatched hundreds of fresh forces to areas South of Aleppo city to take part in an imminent operation against terrorist groups if they refuse again to leave their positions.
The General Command of the Syrian Army had warned Jeish al-Fatah coalition of terrorist groups deployed in the districts of al-Rashedeen 4 and 5 to hand over these two districts to the army soldiers.
Full report at:
http://en.farsnews.com/newstext.aspx?nn=13951017000361
--------
Long Military Convoy of Terrorists' Vehicles Hit Hard in Syrian Army Attack in Idlib
Jan 06, 2017
The army unit targeted a convoy of vehicles of Jund al-Aqsa on the way towards the key town of Khan Sheikhoun, destroying at least 6 vehicles and killing or wounding a number of terrorists.
Also, the terrorists who surrounded the towns of Fua'a and Kafraya in Idlib province pounded the two towns heavily on Thursday, killing and wounding the army forces and civilians and violating the ceasefire in Syria again.
Full report at:
http://en.farsnews.com/newstext.aspx?nn=13951017000224
--------
Syrian Army Dispatches More Forces to Northwestern Damascus
Jan 06, 2017
The sources disclosed that the army's elite 42nd Brigade of the 4th Mechanized Division has been dispatched to the Wadi al-Bardi region.
The 42nd Brigade has been involved in several important battles in the past, including the capture of Yabroud in the Qalamoun Mountains, Darayya, and Khan al-Sheih.
The 42nd Brigade is under the direct command of General Maher Al-Assad and his officers.
The 42nd Brigade will be leading the charge to expel the remaining rebels from the Wadi al-Bardi.
Also the residents of Kafr al-Awamid town in Wadi al-Bardi region, Western Ghouta of Damascus, could drive out the al-Nusra Front (recently renamed to Fatah al-Sham Front) terrorists on Thursday as the army intensified its attacks against the militants.
The people in Kafr al-Awamid contacted the Syrian army officers and called on them not to attack their town, while conducting operations against al-Nusra Front in the region.
Full report at:
http://en.farsnews.com/newstext.aspx?nn=13951017000688
--------
Syrian Airstrikes Inflict Major Losses on ISIL, Nusra in Hama Province
Jan 06, 2017
The ISIL suffered a number of casualties and its equipment sustained major damage in the air force raids on their positions in the town of Aqayrabat in Eastern Homs, while other Syrian fighter jets targeted Fatah al-Sham's concentration centers in the town of Taybat al-Imam.
On Tuesday, the Syrian Army troops and Air Force targeted ISIL's positions and the concentration centers of other militant groups that had breached the newly-brokered ceasefire in different parts of Hama, inflicting major losses on the militants.
The army men fended off terrorists' attack on government force' positions in al-Sat'hiyat region Southwest of the town of al-Salamiyah, killing or wounding a number of them and forcing the rest to retreat from the battlefield.
Full report at:
http://en.farsnews.com/newstext.aspx?nn=13951017000494
--------
Africa
Nigeria: Calls for a national day of mourning for Christians killed by terrorists
January 07, 2017
In the thick of Christian persecution, Nigeria's Christian Association of Nigeria (CAN) is urging for a national day of mourning for the Christians who fell at the hands of terrorists. There are calls that this Sunday be marked as a national day of mourning for Christians who were killed by Fulani terrorists in southern Kaduna State of Nigeria.
Christian persecution
In the thick of escalating persecution of Christians. Muslim Fulani herdsmen have been attacking Christian villages. Nigeria's Government has pledged to resolve the repeated clashes between Muslim herdsmen and Christian farmers. Nigerian President has attributed to "poverty, injustice and the lack of job opportunities." CAN says that this is ethnic and religious cleansing by "Islamic fundamentalists disguising as Fulani herdsmen."
Also Read: Pakistani Christian advocate urges Christian youth to strive for their rights
CAN further appreciated President Muhammadu Buhari for being successful against Boko Haram. CAN's general secretary Dr. Musa Asake said that President Muhammadu Buhari's silence "speaks volumes over perceived official endorsement of the dastardly and ungodly acts."
Dr. Musa Asake said that Sunday, January 8 has been designated as a national day of mourning by Nigerian Christians. "We are to pray fervently for our southern Kaduna brothers and sisters who are victims of these wanton killings and also for the peace of our dear country Nigeria. Therefore, all Christians are to dress in mourning attire of black clothes or dresses in all our church services on January 8, 2017. We are to pray that God who delivered the Jews from Haman should deliver Christians from Hamans in Nigeria. An injustice to one is an injustice to all."
He further said that the Church in Nigeria had been subjected to a "systematic genocide and persecution." In recent years, militants from Boko Haram and Fulani herdsmen have attacked thousands of Christians, and have destroyed many churches.
In this regard, President of Nigeria Buhari directed inspector general of police to visit Kaduna state, to evaluate the situation and take "strong actions" in order to thwart the violence. A spokesman said that a police force has been set up in this regard, and said that two additional battalions of army were also being set up.
http://www.christiansinpakistan.com/nigeria-calls-for-a-national-day-of-mourning-for-christians-killed-by-terrorists/
--------
Uganda: Kayihura Apologises Over Mosque Raids
6 JANUARY 2017
By Joseph Kato
Kampala — The Inspector General of Police Gen Kale Kayihura has apologized to Muslims over the recent police raids at Nakasero and Kiwatule mosques.
Police on December 27 raided Nakasero mosque and arrested 11 Muslims who are currently in detention at Nalufenya Police Station in Jinja district.
Barely three days later, police raided another mosque in Kiwatule in Kampala arrested 13 more Muslims including eight Indian missionaries but they were released after learning police had acted on false intelligence.
During the closed-door meeting with Sheikh Abdullah Semambo, Deputy Mufti and Second Deputy Mufti Sheikh Ahmed Waiswa on Thursday, Gen Kayihura apologized for the two incidents and asked to be forgiven.
Gen Kayihura's apologies were revealed by Hajji Nsereko Mutumba, Uganda Muslim Supreme Council (UMSC) spokesperson when he was addressing the media shortly after the police chief's departure.
"The IGP was here mainly to talk about the Muslim situation in the country and he apologized to Muslims over Nakasero and Kiwatule mosque raids. He said the operation was poorly conducted and also said his men acted on false intelligence for the raid on Kiwatule mosque," Mr Mutumba said.
Last week, Gen Kayihura said the search at Nakasero mosque was as a result of intelligence information from a suspect in the murder of Maj Muhammad Kiggundu.
Maj Kiggundu was killed with his bodyguard Sgt Stephen Mukasa on November 26 in Masanafu trading centre in Makindye Division, Kampala.
Gen Kayihura said he had launched an inquiry into Shs27m that was allegedly stolen by security operatives during the raid on Nakasero mosque. The operation was reportedly conducted by over 80 officers from the police Flying Squad, military police, Chieftaincy of Military Intelligence (CMI) and Joint Anti-Terrorism Task Force (JATT).
"I received that information [stolen money exhibits] and I have collaborated with the mosque leadership. We shall find out the truth," Gen Kayihura said in a brief meeting with the media at UMSC offices last week.
Full report at:
http://allafrica.com/stories/201701060496.html
--------
Air Force acquires attack choppers to fight Boko Haram, militants
By Wale Odunsi
January 7, 2017
The Nigerian Airforce (NAF) has acquired two Mi-35M attack helicopter to fight terrorists and deadly criminal gangs.
The Mi-35M is a rugged helicopter that offers round the clock combat use of guided and unguided weapons in regular and challenging climate conditions, which is equipped with the latest navigation suite, target sights system, laser range finder and location finder.
Air Vice Marshal Isiaka Amao, Director of Training and Operation of the Nigerian Airforce, said this at a briefing on Friday to highlight major activities of 2016.
He said "some of the major achievements of the NAF from January to December 2016 include the Acquisition of 2x Mi-35M helicopter with capabilities for night operations; acquisition of additional 2 new DA-40; reactivation of ATR-42 NAF 931; acquisition of A-Jet NAF 478 in addition to the operable 7 A-Jet ac fleet; induction of Super Mushshak ac (SMK) into the NAF inventory as a primary trainer; and induction of 3x EC-135 helicopters handed over to the NAF by NNPC in Mar 16."
Amao also disclosed that NAF provided most of the surveillance and intelligence activities towards the success of the counter-insurgency campaigns in the North-East and other special missions in the country.
Full report at:
http://dailypost.ng/2017/01/07/air-force-acquires-attack-choppers-fight-boko-haram-militants/
--------
Escapees identify Boko Haram abductor on wanted poster
Jan 7 2017
Two teenage girls who were abducted in Bama, Borno State, by insurgents have identified the picture of the Amir (Commander) that led others to abduct them from their family home, where he was a daily caller before he joined Boko Haram. Maimuna, 17, and Maryam, 15, are Shuwa from the Muhammat family in Bama, where the only male of four children, Usman, was going to secondary school along with a close friend, Abba Fanni.
At the Maiduguri residence of the Muhammat family, where they are now living as Internally Displaced Persons (IDPs), the friendly matriarch, Ashe, who only speaks Shuwa and Kanuri declined to speak about her experience with insurgents, as it would remind her how she watched helplessly as armed terrorists, acting on instructions of a boy she helped raise, took away her three daughters and son.
Maryam recalled the friendship of the Boko Haram Amir called Abba. "He tried to introduce our brother to some friends, but he was suspicious. Suddenly, we started hearing that Abba had joined the insurgents. He was like a member of our family. When Boko Haram took over Bama, our father fled to Maiduguri and left us in Bama. Abba stopped us one day when we were going to fetch water and told my sister, Maimuna that he loves her and will one day come to marry her."
Maryam and her sisters went back home and told their mother, and they shrugged it off. But a few days after, he came along with armed men on motorcycles to ask for Usman. "When they could not find him, they forced I and my two sisters to go with them. They blindfolded us and whisked us away on the motorcycles to a house in Bama."
Maryam said it was when she was in detention that she got to know that Abba was an Amir. "On our seventh day in the cell, we overheard the insurgents planning to marry us off the following day. We wept but fortunately for us, there was a problem somewhere in Bama around 11am the next morning and all the insurgents rushed there to reinforce. We all sneaked out, with some other detainees and escaped. We got home and escaped with our mum from Bama that same day. Later, our mother told us that after we were taken, the insurgents went back and took away our brother. It's about three years now and we haven't heard anything about him."
Full report at:
http://www.dailytrust.com.ng/news/general/escapees-identify-boko-haram-abductor-on-wanted-poster/179492.html
--------
India
Muslims Offer Fruit Juice to Hindu Devotees during Festival
Jan 6, 2017
MANGALURU: Murders, attacks on innocent youths, communal tension and hate speeches might have made Ullal in Mangaluru a sensitive region. However, there are instances that make the region famous for communal harmony too.
On Friday, Muslim brethren in Ullal showed an exemplary gesture that herald the message of communal harmony. While members of the Hindu community were celebrating annual festival at Sri Ullalthi Dharma Arasara Temple, Uliya in Ullal, Muslims in the region welcomed devotees by offering fruit juice. Muslim brethren not only offered soft drinks to Hindu devotees, but also extended festival wishes.
In fact, the occasion was Prathishte - Brahmakalashotsava and Dharma Nadavali Mahotsava of Sri Ullalthi Dharma Arasara Temple, which is one of the prominent Hindu shrines in the region.
The initiatives to offer fruit juice and welcome Hindu devotees to the festival was taken by the management committee of Sayyid Madani Ullal Darga, which is one of the famous Muslim shrine of South India. Minister for food, civil supplies and consumer affairs U T Khader too was behind the initiative as the region comes under his constituency - Mangaluru. Further, Khader also hails from the same place.
The initiative was well-praised by people in general and the police department in particular. Usually, police department is at the receiving end whenever incidents of communal clashes and murders report in Ullal. Deputy Commissioner of police (crime) M Sanjeev Patil posted the pictures of Muslim brethren distributing fruit juice to Hindu devotees at the temple premises.
"Better days of Hindu - Muslim unity are here. Muslim friends have distributed cold drinks to devotees at Ullalti Amma Temple. A good initiative by Muslim youths in Ullal which needs to be continued," said Patil.
http://timesofindia.indiatimes.com/city/mangaluru/muslims-offer-fruit-juice-to-hindu-devotees-during-festival/articleshow/56378488.cms
--------
68% of Pakistanis favour dialogue with India: Poll
Omer Farooq Khan
Jan 7, 2017
ISLAMABAD: Contrary to the war rhetoric that followed the Uri terror attack, majority of Pakistanis are in favour of talks with India, a latest survey has revealed.
About 68% of Pakistanis favour dialogue with India, believing that it will significantly decrease hostility between the two South Asian neighbours, according to a study released by Gilani Research Foundation and carried out by Gallup Pakistan, the Pakistan affiliate of Gallup International.
A representative sample of 1835 men and women from across the country's rural and urban areas of four provinces — Punjab, Sindh, Balochistan and Khyber Pakhtunkhwa — was simply asked whether they are in favour or against talks between India and Pakistan.
The survey was conducted during September 26-October 3, 2016. The error margin in the survey was estimated to be approximately 2-3%.
Full report at:
http://timesofindia.indiatimes.com/world/pakistan/68-of-pakistanis-favour-dialogue-with-india-poll/articleshow/56385029.cms
--------
Top Lashkar-e-Taiba militant killed on outskirts of Srinagar
January 6, 2017
Srinagar: In a major success, security forces on Friday killed a top Lashkar-e-Taiba militant Muzaffar Naikoo alias Muzz Moulvi in an encounter on the outskirts of Srinagar.
Security forces launched an operation in Gulzarpora locality of Mochuwa late last night following information about presence of a top militant in the area, a police official said.
As the security forces were laying cordon around the locality, the militant hurled a grenade in a bid to escape but his attempt was thwarted. Constable Hoshiyar Singh was injured in the grenade blast, the official said.
There was exchange of fire for some time and the encounter ended with the killing of the lone militant, he said.
The slain militant was identified as Muzaffar Naikoo alias Muzz Moulv of Lashkar, he said, adding the body has been sent to his native village in Sopore area of north Kashmir.
Full report at:
http://www.siasat.com/news/top-lashkar-e-taiba-militant-killed-outskirts-srinagar-1102805/
--------
India exploring options to get Masood Azhar named global terrorist
January 7, 2017
Days after China blocked the move to list Pakistan-based JeM chief Masood Azhar as a global terrorist, India has started discussions with several member countries of the UN Security Council and is exploring various options on the issue, without setting a time-frame, sources said on Friday. "We are examining all options and also consulting with the other co-sponsors," a government source said.
India had reacted sharply to China's resistance to its proposal at the UN on December 30, saying Beijing's decision reflected prevalence of double standards in the fight against terrorism.
Full report at:
http://indianexpress.com/article/india/india-exploring-options-to-get-masood-azhar-named-global-terrorist-4462865/
--------
RSS Muslim wing will host Kashmiri students to 'bring them on right path'
January 7, 2017
THE MUSLIM Rashtriya Manch (MRM), an RSS affiliate, is organising a conference of Kashmiri students in the national capital Saturday to connect them "with the national mainstream, involve them in nation building and bring them on the right path".
The MRM claimed that they are expecting a turnout of 2,000 students from Delhi and its neighbouring states for the event to which they have invited several BJP ministers at the Centre, including Home Minister Rajnath Singh, and from J&K, such as Deputy Chief Minister Nirmal Singh. But the conference has triggered unease in the Valley with the BJP's alliance partner PDP saying they were not aware of "any such activity" and the separatists describing it as a "campaign to fragment our society".
For the moment, though, with many of the guests, including Rajnath Singh and Nirmal Singh, unlikely to be present, the PDP is hesitant to come out publicly against the event. But PDP leaders privately acknowledged that they viewed the conference as "part of a pattern" where Sangh groups "unilaterally organise events or file petitions in various courts challenging the special status accorded to the state".
When contacted, PDP leader and J&K Education Minister Nayeem Akhtar told The Indian Express: "I am not aware of it. I am hearing about this conference for the first time. Nobody has contacted us."
Other PDP leaders said their party is also worried that the "fragile calm" in place after five months of protests "can easily be broken by another controversy". More so, they said, given the ban on political activity by students in the Valley's universities and colleges.
"We don't know how and why this organisation is collecting Kashmiri students. Recently, the MRM organised a campaign in Jammu for the abrogation of Article 370. This activity by affiliates of our coalition partner is against our agenda of alliance," said a senior PDP leader.
The MRM conference will be held at the Constitution Club and among those invited by organisers are Union ministers Jitendra Singh, Gen V K Singh, Mukhtar Abbas Naqvi and Krishan Pal Gurjar; J&K BJP leader and Administrator (Lakshadweep) Farooq Khan; and, Vice Chancellor of Jamia Millia Islamia Prof Talat Ahmad.
While Khan and Ahmad confirmed their attendance, a Home Ministry official said that Rajnath Singh "may not be able to attend because of other engagements".
Union Minister Jitendra Singh said, "My name is there in the programme and I will go if I find time." Nirmal Singh said he was in Bengaluru and may not be able to attend. Incidentally, the two-day BJP national executive meeting concludes in Delhi Saturday.
"I have got an intimation from the Home Ministry and I will attend. I have been the V-C of Kashmir University and that's why they wanted me to attend," said Prof Ahmad.
One of the organisers said that MRM and BJP activists have been visiting various universities in Delhi, UP, Haryana and Punjab over the last two weeks to rope in Kashmiri students for the conference.
The MRM was set up in 2012, for "nationalist" Muslims, under the leadership of senior RSS leader Indresh Kumar, who headed Sangh activities in J&K. The Manch's website quotes Kumar as saying, "The two earlier approaches adopted by Mahatma Gandhi and Hindu Mahasabha failed to bridge the gap because they were lopsided. Gandhi left no stone unturned to placate Muslims and the Hindu Mahasabha stretched the issue of hatred and separatism resulting in failure of both the approaches."
MRM has been campaigning for abrogating Article 370, imposing the Uniform Civil Code and organising Muslims to join the "fight against cow slaughter". Describing an event it held in Jammu last year, MRM said on its website that "the sweet sounds of Vande Mataram and Bharat Mata ki Jai" and "demand for abrogation of Article 370 in one voice" has "sounded a warning to those elements in the Kashmir Valley who nursed the dream of Azad Kashmir".
The Manch has been active in the Valley since its inception and one of its national convenors Giresh Juyal was in Srinagar during the last Assembly polls, canvassing for the BJP. Juyal told The Indian Express that the conference is part of a campaign titled "Hum Hindustani, Jammu-Kashmir Hindustan Ka (We are Indian and J&K is India's)".
"The Kashmir problem is not an Islamic problem, and a distorted image of J&K has built in the country. The problems are the proxy war and the firing along the LoC, which (Prime Minister) Narendra Modiji has now shut down. We have been conducting programmes about this across the country, including sending memorandums through SDMs and DMs to the President and Prime Minister,'' he said.
"Kashmiri youth are the present and future, so we are working on them and connecting with them. We have also been petitioning the government to not allow Kashmiri students to pursue studies in Pakistan," said Juyal.
Full report at:
http://indianexpress.com/article/india/rss-muslim-wing-will-host-kashmiri-students-to-bring-them-on-right-path-4462894/
--------
NIA files charge sheet against captured LeT terrorist Bahadur Ali
Jan 6, 2017
NEW DELHI: The National Investigations Agency (NIA) today filed a charge sheet against alleged Lashkar-e-Taiba terrorist Bahadur Ali for conspiring to carry out terror attacks in the national capital Delhi and prominent cities of Jammu and Kashmir including border districts Poonch and Udhampur.
The 21-year-old Ali, has also been accused of stone pelting and tailoring unrest in the Valley in the aftermath of Burhan Wani's death.
The agency has filed the charge sheet under various provisions of IPC, UAPA, sections of Explosives Act, Explosive Substances Act, Arms Act, Foreigners Act and the Indian Wireless Telegraphy Act against Ali, who has been been in judicial custody since August.
According to court sources, the charge sheet, filed before District Judge Amar Nath, claimed that the recent unrest in Kashmir Valley had been orchestrated by Pakistan-based LeT.
The agency claimed that since summer last year, the banned outfit, with the "help of Pakistani forces deployed on the border", pushed heavily armed terrorists into India with a direction to mix with local people, create disturbance and attack police and security forces.
NIA, in its charge sheet, has also alleged that along with his associates, Ali had planned terror attacks to destabilise the security and sovereignty of India.
The pocket diary recovered from Ali, among other things, contains the names of several towns in Jammu and Kashmir besides Delhi, the charge sheet claims.
It alleged that given the fact that Bahadur Ali is a trained cadre of the LeT, the inclusion of the names of these towns/cities in the diary indicates that Ali was tasked to carry out terror attacks at several places, including Delhi.
Full report at:
http://timesofindia.indiatimes.com/india/nia-files-charge-sheet-against-captured-let-militant-bahadur-ali/articleshow/56372736.cms
--------
Southeast Asia
Non-Muslim more accepting of Hadi's Bill now, PAS claims
BY KAMLES KUMAR
January 7, 2017
SHAH ALAM, Jan 7 — The objections from non-Muslims towards a private member's Bill which seeks to upgrade the Shariah Courts has eased over the past few months, PAS claimed today.
Deputy president Datuk Tuan Ibrahim Tuan Man said after much explanation done by the party on president Datuk Seri Abdul Hadi Awang's Shariah Bill, the non-Muslims including those in East Malaysia are more open towards it.
"There has been meetings, dialogues and writings on the bill. As a result of this, the objections towards Act 355 has eased up and there is a positive view from all parties.
"This includes from non-Muslims and those in Sarawak," he said in a press conference today, but did not provide any proof to back his claim.
Act 355 refers to Shariah Courts (Criminal Jurisdiction) Act 1965, which Hadi's Bill seeks to amend.
Tuan Ibrahim also denied that the mission to enhance Shariah courts has been taken over by other parties, in an indirect reference to ruling party Umno, whose president Datuk Seri Najib Razak pledged in its general assembly that Putrajaya will support the Bill.
"I would like to thank the government NGO's which has been positive. It is not a question of hijack, we bring it as much as we can bring.
"The question of hijacking is not raised. It is not political issue but an issue of religion. All parties are involved and responsible for it," he added.
The Islamist party leader also hoped that Putrajaya is able to pass the amendments to the Shariah law before the next general elections, which some have predicted to be later this year.
"We hope the faster it is passed, the better it is. When the Bill is brought in March, there would be second and third reading. Hopefully it gets passed early," Tuan Ibrahim said.
PAS today launched a rally to show solidarity for Hadi's Bill to be held on February 18 at Dataran Merdeka.
In November last year, PAS president Datuk Seri Abdul Hadi Awang read his motion for the amended version of his private member's Bill to amend Act 355 in a bid to expand the punitive powers of the Shariah courts, but he deferred it to the next time Parliament convenes in 2017.
http://www.themalaymailonline.com/malaysia/article/non-muslim-more-accepting-of-hadis-bill-now-pas-claims
--------
Muslim politicians in Indonesia call for nationwide alcohol ban
Jan 7, 2017
A group of Conservative Muslim politicians are seeking a total ban on the production, distribution and consumption of alcoholic beverages in Indonesia.
Muslim parties control less than a third of the legislative seats in the country, however Conservative groups have become more assertive in recent years.
In 2015, the Government banned the sale of beer in small grocery shops, leading to a 13 per cent decline in sales, according to research firm Euromonitor.
Now, work is being done to limit the production of "home-brews", known as Oplosan, responsible for the majority of alcohol-related deaths in the country, according to the Economist.
However, many would oppose increased regulation as an affront to the diversity of the country, with its rich, multi faith culture made up of large Buddhist, Christian and Hindu minorities.
Despite its reputation for being a liberal Muslim country, home to the world's largest Muslim population, some are concerned about increasing fundamentalism.
The state-backed council of clerics, Indonesian Ulema Council (MUI), has in recent years condemned numerous practices, including homosexual partnerships.
The country's Parliament has also passed strict anti-pornography laws, and some Conservative Muslim groups are calling for the courts to criminalise extramarital sex.
Under a potential new ban of alcohol, drinkers could face two years in jail.
However, many brewers argue that alcohol consumption is a long-standing tradition in the country and not something to be vilified as a Western decadence.
"It is part of the culture of Indonesia," Michael Chin, chief executive of Multi Bintang, the country's biggest brewer, told the Economist.
Full report at:
http://www.independent.co.uk/news/world/asia/indonesia-muslim-politicians-mps-alcohol-ban-nationwide-mui-brewers-jakarta-a7512561.html
--------
Indonesia's tolerance on trial as Christian governor faces blasphemy charge
2017-01-06
Basuki Tjahaja Purnama, popularly known as Ahok, the Christian and ethnic Chinese governor of Jakarta, recently went on trial for blasphemy for disputing an interpretation of the Koran. Few could have imagined that the governor's comments could result in a charge when he made them, but authorities have been pressured by hardline Muslim groups that have poured onto the streets of the capital in recent months. Rights campaigners say Ahok's case illustrates growing concerns for freedom of speech.
http://www.france24.com/en/20161223-focus-indonesia-jakarta-christian-governor-trial-ahok-islam-tolerance-blasphemy
--------
Four Myanmar Workers Killed in Machete Attack in Malaysia
2017-01-06
A machete attack on 13 Myanmar nationals in Malaysia on Thursday has left four men dead and three seriously injured as the group returned from working overtime in the capital Kuala Lumpur, said a Myanmar civil society organization that operates in the area.
The deadly assault occurred in the Bukit Serdang area in the southern part of the city after the men left a television hardware factory where they worked at 10 p.m., said San Win, chairman of the Kathpone Free Funeral Service Society in Kuala Lumpur, which provides free funerals for its impoverished citizens in the country.
"Thirteen people were returning to their homes together after they had worked overtime, and a group of people attacked them with knives," San Win said. "Four were killed, and three were sent to a hospital. They didn't see well who the attackers were because it was nighttime."
One of the three sent to Serdang general hospital died Friday evening, he said.
Myanmar embassy officials have filed a case at a local police station, San Win said.
A motive for the attack remains unknown.
San Win told the online journal The Irrawaddy that four of the victims had official passports while another three are believed to be migrant workers.
Previous attacks on migrant workers
Thousands of workers returned to Myanmar from Malaysia in 2014 after roughly 25 were killed between June 2013 and September 2014 in what some observers told Malaysia media at the time may have been links to communal violence in Rakhine, Turkey's state-run Anadolu Agency said in a Dec. 7, 2016, report.
There are more than 400,000 Myanmar migrant workers in Malaysia, around 100,000 of whom are illegal workers, according to Myanmar's embassy in Kuala Lumpur, though some estimate the number of undocumented Myanmar workers in the country at about 500,000, the report said.
Many working in the country illegally often work long hours in dangerous conditions with few means of getting better conditions or pay, it said.
Last July, the Myanmar embassy in Malaysia created a protection task force for migrant workers made up of representatives from roughly 50 civil society organizations based in the country, including the Kathpone Free Funeral Service Society, the Myanmar Times reported.
The Myanmar government last December stopped sending workers to Malaysia out of safety concerns amid growing tension between the two nations over the conflict in Myanmar's restive Rakhine state involving the treatment of the stateless Rohingya Muslim minority group.
Full report at:
http://www.rfa.org/english/news/myanmar/four-myanmar-workers-killed-in-machete-attack-in-malaysia-01062017155602.html
--------
Sheikh Muszaphar seeking new frontiers with AladdinStreet
January 7, 2017
PETALING JAYA: The only Malaysian to have gone to space and back is now facing an even more daunting challenge trying to conquer the virtual space, with his e-commerce portal.
Sheikh Muszaphar Shukor Al Masrie launched AladdinStreet.com (AladdinStreet) in Malaysia in January last year, and followed that with its Singapore operations taking off in July. But this is just for a start as he hopes to expand the business to the rest of the globe within the next two years.
AladdinStreet brands itself as the "world's first exclusive premium halal e-marketplace."
And therein lies the main challenge for Sheikh Muszaphar and his team, that is, keeping strictly to the halal quality expected by consumers.
Speaking to Marketing magazine (A+M), the former astronaut said it is a constant challenge trying to find the right partners and merchants within different countries.
"This is in addition to making sure the products are halal, at a premium quality," he was quoted as saying.
Sheikh Muszaphar added that the main problem is that different countries have different halal standards.
"For instance, Malaysia has a very high and well-respected standard when it comes to halal products. But in China, the halal standard is not as firm with products such as halal beer and halal pork.
"As such, we don't want people from Malaysia to buy products online from China as the products are different," he explained, adding that Aladdin Street was working closely with trade associations and ministries in each country.
"On that note, we are also keen on developing the halal industry for these countries and intend to form a halal academy in each country.
"This will then be the best guide for that particular country, on what is the acceptable halal standard," Sheikh Muszaphar told A+M.
The other challenge would be on reaching the target audience of Muslim consumers and, for the longer term, also making non-Muslims come on board as customers.
For the latter, he said it is about changing the mindset over what is halal.
"We have to change the mindset of non-Muslim consumers so as to make them be aware that halal is not just about religion, but also about hygiene and lifestyle," he was quoted as saying, on how cleanliness, working conditions and other factors related to the production of the food is as important as what goes into the food.
Speaking of the Muslim consumer base, Sheikh Muszaphar said their choice is limited today despite the thriving global Islamic economy.
Quoting a report by Ogilvy Noor, A+M said Muslim consumers are now the world's most rapidly developing consumer group, yet the group remains largely untapped. Many Muslim consumers are also now increasingly calling for brands to respond to their needs.
And with more than 60% of the world's Muslims living in Asia, two-thirds of whom are under 30 years old, the demand is there from consumers who want brands to simply understand them and be genuine.
Understanding this need, Sheikh Muszaphar said he believes his company can eventually be one of the top 10 most profitable e-commerce ventures in the world.
"But first, AladdinStreet aims to be the largest premium halal e-commerce platform which caters to both B2B and B2C consumers.
"I believe that AladdinStreet can go far and 10 years from now, we can be as big as Alibaba," he said, referring to the China-based e-commerce portal founded by Jack Ma.
With such high targets, Sheikh Muszaphar and his team are investing about US$100 million (RM450 million) in the first three years of operations, for its expansion to more than 30 countries worldwide including China, Indonesia, India, the Middle East, and parts of Europe.
Nationwide roadshow
Based on the sales and response from merchants in the two countries launched so far, Sheikh Muszaphar said he is confident of achieving targets in the coming years.
For the immediate future, he is going to be active in promoting AladdinStreet with a nationwide roadshow starting this month. He said his 10kg spacesuit will be part of the attraction as he promotes the website to schools and universities in the country.
"We are looking at one state per month and the campaign will last about a year. We are also working with the respective states' agencies, starting with Johor," he was quoted as saying by A+M.
Full report at:
http://www.freemalaysiatoday.com/category/nation/2017/01/07/sheikh-muszaphar-seeking-new-frontiers-with-aladdinstreet/
--------
PAS urges Muslims to flood Dataran Merdeka next month in support of Hadi's Bill
BY KAMLES KUMAR
January 7, 2017
SHAH ALAM, Jan 7 — Islamist party PAS confirmed today that its mega rally in support of president Datuk Seri Abdul Hadi Awang's Shariah Bill will be held in Dataran Merdeka on February 18.
The organisers said in a statement that their target for attendance is "as many as possible", but PAS deputy president Datuk Tuan Ibrahim Tuan Man said it predicted 300,000 attendance in purple, the official colour for the rally.
The rally, called "Himpunan 355", is expected to last between 3 pm and 11 pm but the organisers have yet to specify how they plan to fill up the eight hours.
Organisers said the goal of the rally is to increase awareness among Malaysians to support the upgrade of Shariah courts and the implementation of Shariah laws, which they said is guaranteed under the Federal Constitution.
"This rally can help to dispel any negative perception and doubts by the public," Tuan Ibrahim, who is also the event chairman, said in a press conference today.
Other co-organisers of the rally include strident Muslim groups such as Ikatan Muslimin Malaysia (Isma), the Muslim Lawyers Association of Malaysia (PPMM), Pertubuhan Pembela Islam coalition, and PAS-affiliated pro-ulama group Geng Ustaz.
He also said that invitations has been extended to all political parties including DAP, Parti Amanah Negara and Barisan Nasional parties, saying the rally transcends political boundaries and focuses on religion instead.
"We have sent invites to everyone. We involve all parties that love Act 355 without considering political parties, religion or race," Tuan Ibrahim said.
Act 355 refers to Shariah Courts (Criminal Jurisdiction) Act 1965, which Hadi's Bill seeks to amend.
PAS has also applied for permit from the police to allow them to gather at Dataran Merdeka but already have an alternative location in mind if the application is not allowed, Tuan Ibrahim explained.
Full report at:
http://www.themalaymailonline.com/malaysia/article/pas-urges-muslims-to-flood-dataran-merdeka-next-month-in-support-of-hadis-b
--------
Indonesia and Australia should respect the political gains each have made
Jan 7, 2017
As soon as it was clear that there was a problem, and well before it was clear what had gone wrong, the defence ministers of Indonesia and Australia leapt into action to find a solution. Why? Because that's what you do when a relationship that matters greatly to you is at stake. Recovery and restoration are of paramount importance. Figuring out the details of what happened can follow later.
As it recedes, this may well be seen to be but a storm in a teacup, but when it blew up in the middle of the week it was a major storm in the Australian media. Clearly those involved in observing and understanding Australian defence and security matters recognise that the relationship between the Australian and Indonesian military is enormously important.
Others argue that Australia should be less invested in the relationship. Articulating their case either out of the sense of national pride or moral purity, pointing out that there have been, and to a lesser extent continue to be, concerns about the Indonesian military and abuses of human rights.
Full report at:
http://www.afr.com/news/world/asia/greg-barton-head-here-20170105-gtmo94
--------
Europe
Fake news warning in Germany after Muslim 'mob' story
JAN 6, 2017
BERLIN (AFP) - German media and politicians warned on Friday (Jan 6) against an election-year spike in fake news after ultra-conservative website Breitbart claimed a "mob" chanting "Allahu Akhbar" had set fire to a church on New Year's Eve.
After the report by the US website was widely shared on social media, police in the city of Dortmund clarified that no "extraordinary or spectacular" incidents had marred the festivities.
The local newspaper, Ruhr Nachrichten, meanwhile charged that elements of its online reporting on New Year's Eve had been distorted to produce "fake news, hate and propaganda".
The justice minister of Hesse state, Eva Kuehne-Hoermann, said that "the danger is that these stories spread with incredible speed and take on lives of their own".
The controversy highlights a deepening divide between backers of Chancellor Angela Merkel's liberal stance toward refugees and a right-wing movement that opposes immigration, fears Islam and distrusts the government and media.
Tens of thousands clicked and shared the Breitbart.com story with the headline "Revealed: 1,000-Man Mob Attack Police, Set Germany's Oldest Church Alight on New Year's Eve".
It said the men had "chanted 'Allahu Akhbar' (God is Greatest), launched fireworks at police, and set fire to a historic church", while also massing around the flag of Al-Qaeda and Islamic State collaborators the "Free Syrian Army".
The local newspaper charged that Breitbart had combined and exaggerated unconnected incidents to create a picture of chaos and of foreigners celebrating terrorism.
Stray fireworks did indeed start a small blaze, but only on netting covering scaffolding on the church, and it was put out after about 12 minutes, it said. The roof was not on fire and the church is not Germany's oldest.
Dortmund police Thursday said its officers had handled 185 missions that night, sharply down from 421 the previous year.
Overall the squad leader had judged the night as "rather average to quiet", in part thanks to a large police presence.
The Frankfurter Allgemeine Zeitung daily charged that Breitbart had used exaggerations and factual errors to create "an image of chaotic civil war-like conditions in Germany, caused by Muslim aggressors".
It said the article "may be a foretaste" of what's to come ahead of parliamentary elections expected in September as some websites spread "misinformation and distortion in order to diminish trust in established institutions".
Justice Minister Heiko Maas in mid-December warned that Germany would use its laws against deliberate disinformation, and that freedom of expression does not protect "slander and defamation".
Germany's top-selling Bild daily also saw more trouble ahead, pointing to the fact Breitbart's former editor Steve Bannon had been appointed as US president-elect Donald Trump's chief strategist.
It warned that Breitbart - a platform for the so-called "alt-right" movement, with plans to launch German and French language sites - could seek to "aggravate the tense political climate in Germany".
http://www.straitstimes.com/world/europe/fake-news-warning-in-germany-after-muslim-mob-story
--------
Integration Expert: Ban Headscarves for Public Employees
6 Jan 2017
An Austrian integration expert has advised the government that public employees should be banned from wearing Islamic headscarves in the workplace.
Integration expert and government consultant Heinz Fassmann made the proposal to the government this week. According to Fassmann, it is important for the government, which provides services to all, not to be shown to promote any religion and that the state should be "above all religions," reports Die Presse.
If such a ban is not enforced, Fassmann claims, "you run the risk of importing certain religious conflicts into the civil service" and cited the religious conflicts within the Islamic world between Sunni and Shia practitioners.
Fassmann added he does not believe headscarves should be banned in all public places saying, "there is freedom, everyone can dress as he likes," but affirmed it was needed within the scope of public service. "When asked whether teachers in public schools should be allowed to wear a headscarf, I would clearly say: No," he said.
Fassmann, when questioned about the wearing of Christian crosses in classrooms, said he didn't have a problem with them as Christian tradition had been "historically grown" in Austria so presents no issue.
The Islamic religious community in Austria (IGGiÖ) has expressed shock and anger over the issue releasing a statement that said, "The state as an employer should stick to the anti-discrimination legislation." Carla Amina Baghajati, media spokesman for the IGGiÖ, said she was angered that "something so anti-integrative comes from an integration expert."
Austria has been in the process of trying to ban the full-face niqab and burka since the summer of 2016 when Foreign Minister Sebastian Kurz attempted to push through integration legislation. The legislation was blocked by the Socialist party of Austria (SPÖ) and other left-wing factions in the Austrian parliament.
While many agree on the ban of the full-face veil, the hijab, which leaves the face uncovered, has not been the subject of debate until now. The only Islamic garment to be banned by certain Austrian and German towns has been the sharia-approved swimming garment, known popularly as the burkini, on hygiene grounds.
Full report at:
http://www.breitbart.com/london/2017/01/06/integration-expert-ban-headscarves-public-employees/
--------
Merkel's conservatives gain support despite Berlin attack
Jan 7, 2017
BERLIN - Support for Chancellor Angela Merkel's conservative bloc is up despite the Christmas market attack in Berlin that killed 12 people, and most Germans are not worried about terrorism, an opinion poll showed on Friday.
Merkel's conservative "Union" alliance of her Christian Democrats (CDU) and the Bavarian Christian Social Union (CSU) rose 2 percentage points from a month ago to 37 percent, the survey by pollster Infratest dimap for broadcaster ARD showed.
The poll of 1,505 voters was conducted from Jan. 2 to Jan. 4. The Berlin attack, in which a rejected asylum-seeker from Tunisia drove a truck into a Christmas market, took place on Dec. 19. He fled and was shot dead by Italian police in Milan four days later.
The centre-left Social Democrats (SPD), junior partner in Merkel's ruling grand coalition, slipped 2 points to 20 percent. The anti-immigration Alternative for Germany (AfD) gained 2 points from a month ago to 15 percent, the poll showed.
Merkel's government has proposed new security measures in response to the Berlin truck attack claimed by Islamic State, triggering fierce debate in an election year in which the chancellor, 62, is seeking a fourth term in office.
A separate Infratest dimap survey for ARD showed 73 percent of Germans felt safe despite the Berlin attack. AfD supporters were an exception - two thirds of them did not feel safe.
Refugee policy will be the biggest issue for voters in September's federal election, the poll showed.
Full report at:
http://nation.com.pk/international/07-Jan-2017/merkel-s-conservatives-gain-support-despite-berlin-attack
--------
New laws in Slovakia indicate broader anti-Islam trend in Europe
Jan 6, 2017
It has become harder for any religious organisation in Slovakia to become a state-registered religion. A law, passed by the Slovakian parliament in late November, was proposed by the right wing and anti-Islam Slovenská Národná Strana (SNS) or Slovak National Party and came into force on January 1. It prohibits any religion from becoming state-registered unless it can prove to have at least 50,000 followers who are 18 and over and have permanent residency in Slovakia – a significant mark up from the current 20,000.
The SNS is one of the four coalition parties in government and the new law has been part of its manifesto for a couple of years. It was proposed in a press release following the Paris terrorist attacks in January 2015 by SNS chairman Andrej Danko, who also declared that Slovakia should ban burqas and mosques.
There are currently around 2,000 Muslim people living in Slovakia out of a population of 5.4m and many will not have a permanent residency status – which is not easy to get in Slovakia. So while Muslims will not be directly affected by the new law, it will make it harder for Islam to register as a religion in the future. The law should be seen as a preemptive measure ahead of more Muslim refugees and migrants arriving in Europe in the future, and pressure for European countries to take some of them in through a quota system.
What the law means
State-registered religions enjoy substantial privileges in Slovakia including the right to build places of worship, set up and teach their religion in schools and conduct marriage and funeral ceremonies. Crucially, they have access to state funding to be able to carry all this out and also to organise and support outreach activities and public engagement.
Before the new law, there were 18 state-registered religions mostly of Christian origin with the exception of one Jewish and one Bahai organisation. The legislation does not affect organisations already registered even if some of them have only few thousand members.
The SNS insists that the law does not target any specific religion, arguing instead it is there to prevent bogus organisations such as the Church of the Flying Spaghetti Monster from gaining access to state funding. This church is a social movement recognised in the Netherlands, New Zealand and Poland.
The new law does not specifically mention Islam and has no immediate effect on Muslims in Slovakia. But reading between the lines there is little doubt that the legislation targets Islam.
The move was covered widely in foreign media in the UK, Czech Republic and Poland as a law banning Islam, accompanied by pictures of women in niqabs or burqas. But these reports are misleading: Slovakia has not banned Islam. It prohibit any mosques with minarets from being built. This means that existing places of worship must remain prayer rooms, rather than mosques with a minaret.
There was some opposition to the legislation within Slovakia. Ondrej Dostál, chairman of the Civic Conservative Party, was very critical, but was slammed by many in Slovakia especially the right-wing parties, for being ignorant and defending Islam.
Slovakia is a liberal democracy and a member of the EU with legislation protecting religious groups and minorities, yet the right-wing SNS managed to mobilise and pass the law in parliament with a two-thirds majority. At a press conference after the law was passed, the SNS repeatedly claimed that the law follows a party promise to its electorate and does not violate religious freedom.
When asked by a journalist if this was about Islam, Tibor Bernaťák, deputy leader of the SNS, categorically denied it. His colleague and MP Eva Smolíková spoke of the increasing pressure on state funding and the need to direct funds to Slovak education and healthcare. By pushing through the legislation, the SNS has presented itself as a rational party with a Christian system of values that is increasingly being seen as a force to be recognised within the ruling coalition. It is aiming to increase its appeal with Slovaks who question whether the mainstream parties have the best interests of Slovak people at heart.
Full report at:
https://muslimvillage.com/2017/01/06/121677/new-laws-slovakia-indicate-broader-anti-islam-trend-europe/
--------
If Obama is a Muslim, is Trump a Russian spy?
By Kathleen Parker
January 6
First, a history refresher: For the past nine years, a smattering of Americans, most recently led by our now president-elect, have insisted that Barack Obama is a Muslim born in Kenya.
For years, Donald Trump was unrelenting in his insistence that Obama prove beyond existing proof that he was born in Hawaii and not in the African country of his biological father. That Obama said he is a Christian wasn't enough to persuade Trump's followers, who apparently know a Christian when they see one.
Further, there is no logical basis for assuming that a young person briefly raised in a given country — say, Indonesia — necessarily would adopt the dominant religion of that country. He might, however, observe that though people worship in different ways, we're all essentially the same. Never mind the cruel and absurd assumption that being a Muslim means that one is, ipso facto, a "bad person."
Respecting others despite differences is, generally speaking, the hallmark of an enlightened soul, as well as a desirable disposition in a leader. Yet, those who sided with Trump interpreted Obama's gentle touch toward the world's 1.6 billion Muslims as evidence of a hidden agenda to advance Islam in the United States — notwithstanding Obama's rather robust drone operations, which eliminated quite a few bad actors who happened to be, or said they were, Muslims.
Noteworthy is that these same Obama doubters weren't bestirred to suspicion when then-President George W. Bush visited a mosque immediately after 9/11. Nor, thus far, have they expressed any concern about Trump's cavalier approach to Russia's cyberattack on the United States.
Given this history and recent evidence, isn't it about time Trump be declared a Russian spy?
No, I don't really think he's a spy because, unlike the man himself, I'm not given to crazy ideas. But what's with this double standard? Under similar circumstances, how long do you think it would have taken for Obama to be called a traitor for defending a country that tried to thwart our democratic electoral process?
Seconds.
How surreal to realize that the man who soon will become president was long committed to a rumor soaked in paranoia and propagated by conspiracy theorists whose pursuit of truth stops at the point where facts and willful ignorance collide.
How perfectly terrifying.
And now? What is so obviously a conspiracy of Russian leadership, hackers and spies, Trump has repeatedly dismissed as lousy intelligence. Why would he do such a thing? Is it that he's so thin-skinned he can't tolerate anyone thinking that he might have benefited from the cyberattack? Or is it that he knew about it in advance and doesn't want to be found out? This is how conspiracy theories get started. Then again, sometimes a conspiracy is just a conspiracy — and a fool is just a fool.
Consider what we know: Our best intelligence indicates that Russia was behind the hacking of the Democratic National Committee. Trump, who has long expressed admiration for Russian President Vladimir Putin (once a KGB agent, always a KGB agent), has his doubts.
Obviously, Trump wants to preserve the narrative that he won fair and square. And, clearly, claims of Russian interference would muss his ego. But is that it? Ego and narrative?
Consider further: Trump would rather make common cause with our fiercest geopolitical adversary (hat tip Mitt Romney) than take the word of our best people. Moreover, he has said he won't receive daily security briefings and reportedly plans to reduce our security agencies.
Pray tell, whose side is this man on? When was the last time you had to ask that question about a president-elect?
On Friday, Trump met with real American spies and others who attempted to explain things to him, leaving open the question: Can Trump learn? From his statement following the meeting, it doesn't seem so.
Full report at:
https://www.washingtonpost.com/opinions/if-obama-is-a-muslim-is-trump-a-russian-spy/2017/01/06/26fe7128-d45c-11e6-a783-cd3fa950f2fd_story.html
--------
Pakistan
Imam-e-Kaaba lauds Pakistan's role in fighting terror
January 07, 2017
LAHORE - Imam-e- Kabatullah Al-Sheikh Abdul Rehman Al-Saudes has said that Muslim scholars and intellectuals should preach moderate message of Islam all over the world.
He said this during a meeting with Pakistan Ulema Council chairman Tahir Mahmood Ashrafi.
Imam Sudes said Islamic teachings had no association with extremism, terrorism and sectarian violence. He urged upon Ummah to seek guidance from Quran in face of challenges and difficulties. He reiterated that with grace of Allah Almighty, prevailing phase of crisis on Muslim world will come to an end and Allah's name will be called from each corner of the world.
He said that people of Pakistan were fighting against menace of terrorism courageously and Pak armed forces as well people of Pakistan were worthy of encouragement and praise for this heroic deed.
"Prevailing challenges of Ummah could only be addressed with unity," he said, adding Muslim community specifically people of Pakistan pursued moderate way and stay away from extremist practices.
PUC chairman Tahir expressed gratitude for awarding the honourary shield to the Ulema Council and stated that Imam-e-Kaaba kindness and affectionate attitude towards people of Pakistan was like an asset and every Pakistani was knotted with Harmain Al Sharifain in relation of faith and loyalty.
http://nation.com.pk/lahore/07-Jan-2017/imam-e-kaaba-lauds-pakistan-s-role-in-fighting-terror
--------
Raheel Sharif Appointed Chief Of Saudi-Led Islamic Anti-Terror Alliance
January 7, 2017
Pakistan's recently retired army chief General Raheel Sharif will head a Saudi Arabia-led 39-nation Islamic military coalition formed to combat terrorism, Defence Minister Khawaja Asif said today. Asif, while speaking during a talk show on Geo TV, admitted that an agreement in this regard was finalised a few days back. He, however, said he did not have much information about the details of the said agreement. Asif said the decision was taken after taking the incumbent government into confidence and "it was finalised here first". The headquarters of the new Saudi-led coalition would be based in Riyadh.
The Defence Minister said any such assignment or posting requires proper clearance from the government and General Headquarters (GHQ) both and confirmed that the due process was followed before finalising the agreement.
"As you are aware that this thing was in the pipeline for quite some time and the Prime Minister was also part of the deliberations," Asif was quoted as saying by Dawn News.
He was of the opinion that formation of such an alliance is a good step, as the "Muslim Ummah (community) is in a spot of bother right now and needs unity among its ranks".
Raheel retired as the army chief in November and has been succeeded by General Qamar Javed Bajwa.
Pakistan had initially found itself in the cross-hairs of Middle Eastern politics as Saudi Arabia named it as part of its newly-formed military alliance of Muslim countries meant to combat terrorism, without first getting its consent.
However, after initial ambiguity, the government had confirmed its participation in the alliance, but had said that the scope of its participation would be defined after Riyadh shared the details of the coalition it was assembling.
The coalition was envisaged to serve as a platform for security cooperation, including provision of training, equipment and troops, and involvement of religious scholars for dealing with extremism.
Full report at:
http://indianexpress.com/article/world/pakistans-former-general-raheel-sharif-appointed-chief-of-saudi-led-islamic-anti-terror-alliance/
--------
Parliamentary parties give consent to Fata merger plan
SYED IRFAN RAZA
Jan 7, 2017
ISLAMABAD: All hurdles in the way of the proposed merger of the Federally Administered Tribal Areas (Fata) with Khyber Pakhtunkhwa have been removed as all parliamentary parties have given their consent to the plan.
The process of bringing Fata under the administrative control of the KP government will begin after approval of the plan by the federal cabinet which is likely to meet next week.
Earlier, the Jamiat Ulema-i-Islam (JUI-F) and Pakhtunkhwa Milli Awami Party (PkMAP) expressed their reservations over the merger, but the Pakistan Muslim League-Nawaz government managed to persuade the two parties for the plan. The PML-N, Pakistan Peoples Party, Pakistan Tehreek-i-Insaf and Jamaat-i-Islami have demanded immediate merger of Fata with KP.
"We have removed all the bottlenecks which came in the way of implementation of merger of Fata with KP," Minister for States and Frontier Regions Abdul Qadir Baloch told Dawn on Friday after a meeting of the Fata reforms committee, headed by Adviser to the Prime Minister on Foreign Affairs Sartaj Aziz, with President Mamnoon Hussain at the presidency.
Mr Baloch, who is a member of the five-member committee, briefed the president on the Fata reforms.
The committee was formed by Prime Minister Nawaz Sharif on Nov 8, 2016, to finalise reforms in the tribal areas. It had submitted to the prime minister as well as the National Assembly a report on the Fata reforms recommending the merge of Fata with KP for a transition period of five years.
But the cabinet deferred implementation on the report on Dec 16 and the prime minister asked the committee to seek consensus of all the stakeholders and remove reservations of JUI-F chief Maulana Fazlur Rehman and PkMAP leader Mehmood Khan Achakzai over the proposed reforms package.
Besides the merger of Fata with KP, a 10-year development package of Rs121 billion has also been allocated for the tribal areas.
"We have addressed the concern of JUI-F and PkMAP," Mr Baloch said but did not elaborate. He said the Fata reforms report would be presented before the cabinet again for approval.
"Implementation of Fata reforms is a matter of few days as the federal cabinet will meet next week to give final nod to the merger plan and reforms package," he added.
Fata is being governed by the British-era law called Frontier Crime Regulation (FCR) Act which legal experts say is a violation of universal human rights and contradicts the 1973 Constitution.
Full report at:
http://www.dawn.com/news/1306960/parliamentary-parties-give-consent-to-fata-merger-plan
--------
Curtain comes down on military courts
BAQIR SAJJAD SYED | MALIK ASAD
Jan 7, 2017
ISLAMABAD: The controversial special powers given to the army to establish tribunals for trying civi­lians on terrorism charges are set to end after two years as the sunset clause contained in the legislation covering trials by military courts takes effect on Saturday (today).
The special powers were given to the army under the 21st constitutional amendment and the Pakistan Army (Amendment) Bill, 2015, enacted by parliament on Jan 6, 2015, in the aftermath of the Army Public School tragedy. The two houses of parliament had on that occasion voted unanimously for the legislation despite fears among the lawmakers that the tribunals they were authorising would not be able to ensure due process to the suspects and might undermine democracy.
The legislation contained a sunset clause of two years from the date of enactment.
There was no formal statement either from the government or the military announcing the end of the extraordinary powers for trial of civilians by the military.
An interior ministry source said terrorism cases in future would be taken up by antiterrorism courts that were mandated to conduct expeditious trials.
Another source confided that the interior ministry had made a "belated and half-hearted" attempt to earn a renewal of the law providing for the military courts, but that couldn't happen.
Another key antiterrorism law — Protection of Pakistan Act — also expired last year without any succeeding arrangement.
Political parties and legal experts criticised the government for not undertaking the needed legal reforms to address the reasons that had necessitated the setting up of military courts.
"There was a reason why the 21st amendment had a sunset clause in it; so that the criminal justice system could be reformed in this time. Unfortunately, the government hasn't moved an inch in this regard," said Pakistan Tehreek-i-Insaf leader Shireen Mazari.
Legal expert and former law minister Ahmer Bilal Soofi said: "The military courts achieved their objective partly in terms of giving sentences to people, but their real purpose was to act as an incentive to upgrade the existing Anti-Terrorism Act. It was an inbuilt legislative inducement. But that did not happen. The long-term objective was not achieved."
International Commission of Jurists' Asia Director Sam Zarifi said: "The lapse of the jurisdiction of military courts over civilians is a step in the right direction, but unsurprisingly there is no sign of the promised reforms to strengthen the ordinary criminal justice system to effectively handle terrorism-related cases."
Military courts began trials in February 2015. The first convictions were announced two months later in April and the last ones were pronounced on Dec 28, 2016. The courts, which had been given 275 cases, during their two-year tenure sentenced 161 terrorists to death, whereas another 116 were given varying jail terms, mostly life sentences. Only 12 convicts have been executed so far.
The establishment of the military courts was initially challenged in the Supreme Court. The petitioners had contended that the 21st amendment was an expression of no-confidence on prevailing judiciary, a violation of basic human rights and against the basic structure of the Constitution. The petitions were dismissed by the apex court. Subsequently, about 27 convicts challenged their sentencing by the military courts alleging that they did not receive a fair trial — as guaranteed by Article 10A of the Constitution — as they were neither given copies of the verdict nor were they afforded the opportunity to engage counsel to defend themselves.
"The statistics on military courts speak for themselves – something like over 90 per cent conviction rate – and the fact that they lacked transparency makes due process even more unlikely," Sara Belal, Executive Director of Justice Project Pakistan, said. The trials resulted in convictions, imprisonment of and death sentences against terrorists belonging to Al Qaeda, Tehreek-i-Taliban Pakistan, Jamaatul Ahrar, Toheedwal Jihad Group, Jaish-e-Muhammad, Harkat-ul-Jehad-i-Islami, Lashkar-i-Jhangvi, Lashkar-i-Jhangvi Al-Alami, Lashkar-i-Islami, and Sipah-i-Sahaba.
Full report at:
http://www.dawn.com/news/1306928/curtain-comes-down-on-military-courts
--------
Burden of proof becomes sticking point in Panama case
NASIR IQBAL
Jan 7, 2017
ISLAMABAD: Members of the Supreme Court bench hearing the Panamagate case on Friday expressed divergent opinions over which side shouldered the burden of proof. While Justice Asif Saeed Khosa — who heads the five-judge bench — wanted the onus to prove innocence to rest on Prime Minister Nawaz Sharif's family, two other members of the bench differed.
During the hearing of Pakistan Tehreek-i-Insaf and Jamaat-i-Islami petitions seeking the disqualification of Prime Minister Nawaz Sharif, Justice Khosa effectively came to the PTI's rescue when he referred to the 2006 trust deed, declaring Maryam Nawaz Safdar the trustee of her brother Hussain Nawaz, and observed that the onus to prove innocence had shifted to the respondents, i.e. the prime minister's family.
The observation came when PTI counsel Naeem Bokhari cited a number of communications, such as the June 12, 2012 letter from the British Virgin Islands' Financial Investigation Agency (FIA) to Mossack Fonseca Money Laundering Reporting Officer J. Nizbeth Maduro, raising queries about Nescoll Limited and Nielson Enterprises Limited — the companies that owned the four London flats.
Justice Khosa says Sharifs should prove their innocence; Justice Azmat and Justice Ejaz want PTI to furnish more evidence
The counsel also referred to Mossack Fonseca's June 2012 response, acknowledging that Nielson and Nescoll were owned by the same beneficial owner, Maryam, and that family's business spread over 60 years was the source of her wealth. The counsel also provided acknowledgement of the Samba Financial Group, Jeddah, certifying that Maryam was one of their valued customers since 2002, while highlighting that Maryam did not have the resources to buy the London flats.
She allegedly acted as a tool to launder money for her father, of whom she was a dependant, and received gifts from father and brother, he argued.
So many questions needed to be answered since a strong connection between Maryam Nawaz, Samba Group and Minerva Financial Services Ltd had emerged, Justice Khosa observed, wondering whether the court should utilise the services of forensic investigators to match Maryam Nawaz's signatures in the trust deed and other documents.
But Justice Sheikh Azmat Saeed dissented, observing that the real issues that needed attention were the questions: whether the trust deed was an admitted, valid and effective document; whether the two children were obliged to disclose the deed under UK laws; and under what capacity Maryam was declared the trustee or the owner of these companies.
It is for you (the petitioner) to tell the court what are the principles of benami, the judge said, pointing towards Mr Bokhari, asking whether he wanted the court to lay down a judgement that all gifts such the ones received by Maryam from her father and brother at different points of time were benami.
"Do not burden us to look at the law," the judge observed, adding that they still were at "square one".
But Justice Khosa referred to Article 122 of the Qanoon-e-Shahadat 1984, which suggests that the burden of proving a fact rested upon the person who had the knowledge of that fact, adding that it was always difficult to acquire documents regarding offshore investments.
The judge then cited Article 161 of the same law to emphasise that the law vested powers on any judge to pose questions or order the production of any documents to discuss proper proof.
It is for the defendants to produce documents to show how they acquired these offshore companies, as well as the money trail to buy the four London flats, Justice Khosa reiterated.
"Are we recording evidence?", was the observation from Justice Saeed. "Why not then frame charges?" Justice Khosa observed.
"If we start recording evidence, then you will boycott [these proceedings]," Justice Saeed observed in a lighter vein, pointing towards Naeem Bokhari.
"Is it too much to ask for documents?" was Justice Khosa's retort.
Justice Azmat also regretted that the defendants had not filed the required documents, adding that in order to refute the evidence filed by the petitioner, they would have to bring documents to support their claims.
Justice Azmat Saeed intervened, saying that the matter would end if the defendants put the relevant documents, explaining how Mariam became the beneficial owner of the London flats, on the court's record.
At this point, another member of the bench, Justice Ejaz Afzal Khan, referred to Article 13 of the Constitution, which provides protection to the accused from bringing any witness or evidence against himself, adding that the Supreme Court was neither a trial court, nor was it seized with a civil case or inquiry at the moment.
"You (the petitioner) have to satisfy us about the authenticity of the documents you have presented before the court," Justice Khan observed, adding that at this stage, it was too early to consider these documents.
Justice Saeed also reminded the PTI counsel "not go to this territory" since the communications he was referring to were "not sent or received by you" and the documents were "mere photocopies".
"You [cannot only] rely on the Qanoon-e-Shahadat and throw away the rest of the law and the Constitution," he said.
"We are trying to find out the truth," Justice Khosa then intervened, citing the relevant Supreme Court rules. He emphasised that the court enjoyed ample authority to order the production of any evidence necessary.
Full report at:
http://www.dawn.com/news/1306930/burden-of-proof-becomes-sticking-point-in-panama-case
--------
South Asia
Child Trafficking Victims Taken From Parents in Bangladesh Forced to Convert to Islam
Jan 6, 2017
Scores of indigenous children in Bangladesh, including those from Christian and Hindu families, are being trafficked in crime rings and forcefully converted by radicals into Islam.
(Photo: Reuters/Rafiqur Rahman)Christian children light candles in memory of those who died in a bomb attack on a church five years ago in Baniarchar 200km south west of the capital, Dhaka, June 3,2006.
The Dhaka Tribune reports that police have rescued at least 72 children in the past seven years from crime rings that target underprivileged families and lure their children away with false promises of a better education and lifestyle.
In actuality, the fanatical groups convert the children into Islam without the parents' knowledge.
The poverty-stricken Christian and Hindu families are reportedly manipulated by the radical groups to send their children away, but recent arrests of criminals involved in the crime ring have exposed the true intentions of such groups.
During a police raid on Jan. 1, four children were rescued from the Betchhara locality under Roangchhari upazila, aged between 9-13 years, who were the victims of human trafficking.
The trafficking cases have been investigated for years, the report noted, with Buddhist children targeted as well.
Close ad X
In one major case in January 2010, 33 Buddhist children were rescued from a motel in Bandarban town, while another 16 indigenous children from Habib Residential Hotel were rescued a month later before they could be trafficked to Dhaka.
Aung Cho Mong, president of the Bandarban sadar upazila human rights commission, said if awareness is raised for how such children are trafficked, then parents will be better informed and less willing to hand over their children.
The Unrepresented Nations and Peoples Organization commented on the story, adding: "Indigenous communities in the Chittagong Hill Tracts are often already victims of land-grabbing and displacement. The forced religious conversion of young children adds yet another facet to the already severe marginalization of ethnic and religious minorities in Southeast Bangladesh."
Christians only make up around 1 percent of the Muslim-majority population in Bangladesh, though other reports, such as one by Christian Freedom International, have said that a growing number of Muslims are converting to Christianity.
"When I began my ministry in Kurigram, there was only one traditional Christian family and one Muslim background family," said Pastor Faruk al-Ahmed, a Christian convert from Islam, in July 2016.
"Now, almost 1,500 believers from Muslim backgrounds are glorifying God in this area."
"Persecution will come more but the believers and I are ready to face it," al-Ahmed added.
Other persecution watchdog groups, such as Open Doors, have said that Christians are forced to practice their faith away from the public eye, or they could face retaliation for their worship.
"Churches, especially house churches where Muslim-background believers meet, prefer not to display any Christian symbols in order to avoid being recognized," Open Doors said.
"Sometimes, even historic or Mainline churches face opposition and restrictions in putting up a cross or other religious symbols."
http://www.christianpost.com/news/christian-children-trafficked-forced-convert-to-islam-by-fanatics-in-bangladesh-172635/
--------
Gunmen kill nine Hazara miners in Afghanistan
January 07, 2017
KUNDUZ:- Gunmen killed nine Hazara miners in the northern Afghan province of Baghlan on Friday, officials said, in the latest attack against ethnic minorities. No group immediately claimed responsibility for the killings in the remote district of Tala Wa Barfak, but the government blamed Islamic State jihadists who are making steady inroads into Afghanistan. "Nine coalminers were killed by unknown gunmen in Tala wa Barfak. They were heading home when their vehicle were stopped by gunmen," district governor Faiz Mohammad Amiri told AFP.–AFP
The governor of central Bamiyan province, apparently where the coalminers were from, confirmed the incident.
The rise of the Islamic State group has raised the spectre of sectarian discord in Afghanistan, something that the Sunni-majority country has largely been spared despite decades of war.
Until a few months ago IS was largely confined to the eastern province of Nangarhar bordering Pakistan, where it is notorious for brutality including beheadings despite a US-backed offensive against the group.
Full report at:
http://nation.com.pk/national/07-Jan-2017/gunmen-kill-nine-hazara-miners-in-afghanistan
--------
One killed, six injured in blast, firing
January 07, 2017
QUETTA - One person was killed and several injured in a bomb explosion and a firing incident in different Balochistan cities on Friday.
At least five persons were injured when unknown assailants opened fire on a vehicle at Spani Road of Quetta, injuring five people belonging to the Hazara community.
The wounded persons were immediately shifted to Combined Military Hospital (CMH) where the condition of two was said to be critical.
Taking notice of the incident, Balochistan Chief Minister Nawab Sanaullah Zehri condemned the brutal firing incident and instructed the authorities concerned to report immediately on the incident.
He ordered to beef up security in the city. The chief minister also ordered best healthcare facilities to all the injured persons.
Meanwhile, a motorcyclist was killed while another sustained injuries in improvised explosive device (IED) explosion in Dera Murad Jamali on Friday.
A powerful IED blast hit the two bikers in the Chattar area. As a result Abdul Rehman died on the spot while Jabar sustained serious injuries.
The body and injured were shifted to nearby hospital.
FOUR MILITANTS KILLED IN OPERATION
The law enforcement agencies killed four terrorists and arrested five others after a shootout in Nasirabad on Friday.
Full report at:
http://nation.com.pk/national/07-Jan-2017/one-killed-six-injured-in-blast-firing
--------
4 'Jamaat men' held with bombs
January 07, 2017
Police arrested four alleged Jamaat-e-Islami activists with eight crude bombs in South Buruj Bangan village under Sharsha upazila of Jessore yesterday.
The arrestees are Noor Hossain, 40, Abdus Salam, 47, Akkel Ali, 45, Tipu Sultan, 47. All hail from Pantapara village.
Full report at:
http://www.thedailystar.net/city/4-jamaat-men-held-bombs-1341622
--------
North America
US built tactical operations centre in Pakistan: Kerry
ANWAR IQBAL
Jan 7, 2017
WASHINGTON: US Secretary of State John Kerry has said that Pakistan was among the key countries where the United States has constructed state-of-the-art tactical security operations centres.
In a 21-page exit memo, the outgoing top US diplomat also named Afghanistan and Iraq among the countries where the Obama administration has built such centres. The document does not say where these centres were built or who operated them and how.
The memo only says that "we have constructed state-of-the-art tactical security operations centres in key countries, such as Afghanistan, Iraq, and Pakistan."
The Obama administration completes its second and final term on Jan 20, when President Barack Obama will hand over power to President-elect Donald Trump.
Secretary Kerry noted in the memo that Afghanistan and Pakistan were Al Qaeda strongholds when the Obama administration took charge but in the last eight years, the group's core leadership in these two countries had 'decimated' and its chief, Osama bin Laden, eliminated.
"Afghanistan is far from perfect, and it will take sustained engagement and effort in the years ahead to protect the progress we've made," he warned. "We must continue to support the Afghan people as they work to build a secure and peaceful future in the months and years ahead."
The exit memo, which sums up the Obama administration's foreign policy achievements, also includes tips for the incoming Trump administration such as keep the nuclear accord with Iran, continue efforts for a two-state solution in the Middle East and remain engaged in the fight against the militant Islamic State group.
Published in Dawn, January 7th, 2017
http://www.dawn.com/news/1306940/us-built-tactical-operations-centre-in-pakistan-kerry
--------
Muslim-Owned Eatery Making News For Very Un-America-Like Business Practices
Jan 7, 2017
They do things a little differently in Canada. And they do things very differently at Marché Ferdous, a small restaurant in Montreal that has a policy of offering free food to anyone who is hungry and cannot afford to pay.
"We do not ask any questions, we do not judge people," Yahya Hashemi co-owner of the Muslim-owned establishment, Yahya Hashemi told Global News. "They want to eat, [we] give them the food. That's it, that's all."
The policy had apparently gone mostly unnoticed until one man shared about it on his Facebook page. Customer Sean Jalbert went undercover to see if the restaurant owners would actually honor the policy, writing on his Facebook page:
"Curious enough I walked in and pretend I had no money and asked for food. She didn't ask anything, but said we welcome you and pick whatever you like, including anything I wanted to drink."
That post quickly went viral, bringing a wave of positive attention to the owners, their generosity and maybe more importantly how it challenges people to rethink their preconceived notions about the behavior of others based on religious or ethnic background.
And for the record, Jalbert says he paid for his meal, calling the policy, "Absolutely incredible."
However, the restaurant's chef offered a much more humble response in an interview suggesting that to not be generous would literally just be a waste.
"It doesn't matter," Abdelkader Bejaoui, told CTV News in an interview. "Because at night, if you still have leftover food, you end up throwing it [out]. So why not give it to those in need? It's not a big deal."
Full report at:
https://food.good.is/articles/muslim-restaurant-free-food
--------
Trudeau spent vacation on Aga Khan's private island
January 6, 2017
Prime Minister Justin Trudeau and his family spent their Bahamas vacation on a private island belonging to the Aga Khan, the spiritual leader of Ismaili Muslims, Trudeau's office confirmed Friday.
A spokesman for the prime minister said in a statement that Trudeau, his family and a few friends were invited to join the Aga Khan on Bell Island for the holidays.
"As you are aware, his Highness and the Prime Minister have been close family friends for many years. As is the usual course, the Prime Minister will be reimbursing the costs of his (and his family's) flights to and from Nassau. No friends were on the Challenger," Cameron Ahmad wrote in an email.
The Aga Khan was an honorary pallbearer at the funeral of Trudeau's father, former prime minister Pierre Trudeau.
The Aga Khan is the hereditary leader to the world's 12 to 15 million Ismaili Muslim population, with a profile among his followers similar to that of a pope among Catholics.
He's also one of the world's wealthiest royals, according to a 2010 Forbes magazine list.
The Aga Khan founded one of the world's biggest international development organizations, the Aga Khan Development Network. The organization works in 30 countries around the world. The federal government provides tens of millions of dollars in funding to the Aga Khan Foundation of Canada every year.
In 2015, Global Affairs Canada provided more than $46 million in funding for projects in countries including Afghanistan, Egypt, Kenya, Pakistan and Tanzania. The projects cover maternal, newborn and child health funding, as well as strengthening basic education.
Khalil Shariff, executive director of the Aga Khan Foundation of Canada, is registered to lobby a variety of federal departments, including Global Affairs Canada and the Prime Minister's Office. Publicly available records show he's met with top officials at Global Affairs six times in the last year, including International Development Minister Marie-Claude Bibeau and her chief of staff. His last recorded communication was last month, with Bibeau's chief of staff.
Shariff hasn't met with anyone from Trudeau's Prime Minister's Office, though the communication reports log one interaction with a Privy Council official, the deputy secretary to cabinet, nearly a year ago. The Privy Council is the arm of the civil service that supports the work of the PMO.
A spokeswoman for Ethics Commissioner Mary Dawson said, in an email to CTV News, that the office knew nothing about Trudeau's vacation arrangements and wouldn't comment on them anyway due to "confidentiality considerations." Dawson is the watchdog for questions of conflict-of-interest gifts and sponsored travel.
Full report at:
http://www.ctvnews.ca/politics/trudeau-spent-vacation-on-aga-khan-s-private-island-1.3230455
--------
Muslim Peel students can write own sermons, but prayers will again be supervised
Jan 06, 2017
The Peel District School Board is stepping back from a new policy that forced Muslim students to chose from a bank of stock sermons during Friday prayers, rather than writing their own.
In a revised policy released Friday, board staff recommend that students be given a choice between delivering sermons of their own creation, or choosing between a series of pre-written sermons approved by local Imams.
Friday prayers will continue to be supervised by a staff member, the revised policy says.
Trustees will vote on the proposal at their regular meeting next Tuesday evening.
Muslim community slams Peel District School Board over 'stigmatizing' Friday prayer restrictions
The problems first emerged in September.
That's when a new board policy insisted Muslim students use one of six pre-written sermons at their Friday prayers, rather than their own creations, something they'd been doing for years, Trustee Nokha Dakroub told CBC Toronto.
"You can't tell people, 'Here's your prayer, read it word for word,' and that's your prayer for the day," she said. "We should not be interfering."
Prayer1
Board Trustee Nokha Dakroub is expecting to receive a revised policy proposal Friday that will change the rules surrounding Muslim prayer in Peel classrooms. (CBC News)
Hamza Aziz, 19, said he and other Muslim students felt insulted at the inference that their sermons could degenerate into hate speech.
"It's as though you're looking at students through a lens of guilt, and making them feel like suspects as opposed to Canadians with rights and values," the student at Mississauga's John Fraser Secondary School said. "It's as though you're looked down upon."
Dakroub and Aziz said that both the board's code of conduct and existing laws prohibiting hate speech should be enough to ensure the sermons are appropriate.
"There are fears out there, and I understand that it's because of the world that we live in, but we can't put Muslim students under extra scrutiny just because of what we're watching on TV, or what one person might do," Dakroub said. "When something comes up, we will deal with it — just like we deal with all sorts of other issues."
PRAYER2
Hamza Aziz, a Muslim student at John Fraser Secondary School, says students feel stigmatized by the policy that came down in September. (CBC News)
Muslim teachers supervise prayers
Under the old policy an adult, usually a Muslim teacher, supervised the students' sermons, Dakroub said. She couldn't recall a sermon ever having to be interrupted because of its content.
Prayers were not supervised after the policy for pre-approved sermons was enacted, but supervision will resume under the board's revised policy.
After the policy change in September, some students asked Dakroub to lobby the board to return to the old system, which she did.
Full report at:
http://www.cbc.ca/news/canada/toronto/peel-school-muslim-prayer-1.3923607
--------
URL: https://www.newageislam.com/islamic-world-news/new-age-islam-news-bureau/istanbul-attack--why-china-s-uighurs-is-joining-global-jihadist-groups/d/109638
New Age Islam, Islam Online, Islamic Website, African Muslim News, Arab World News, South Asia News, Indian Muslim News, World Muslim News, Womens in Islam, Islamic Feminism, Arab Women, Womens In Arab, Islamphobia in America, Muslim Women in West, Islam Women and Feminism, Moderate Islam, Moderate Muslims, Progressive Islam, Progressive Muslims, Liberal Islam