Age Islam News Bureau
17 Nov 2012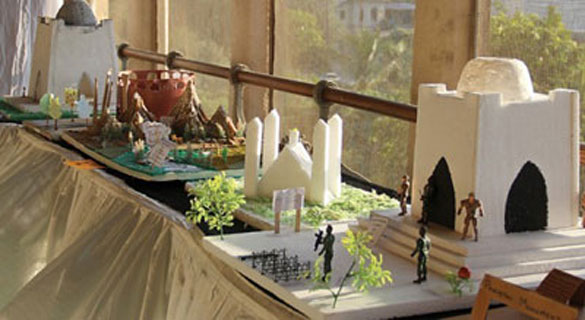 Pakistan
• Child Sex Gangs Fail To Highlight the Targeting Of White Girls by Pakistani Men
• Banned at home, Pakistan brewery seizes Hollywood moment
• Gaza attack, not a priority for Pakistan's press
• In an attempt to reduce target killings, US trains 28 Sindh police officers
• With Quaid's Mazar, students hope to show the soft side of Pakistan
• Jamaat ud Dawa - coming to an App Store soon
• Rights activists urge govt to pass acid crime bill
• Pakistan's tallest man calls on Muslims to pray for king of Saudi Arabia
• Bangladeshi, Malaysian PMs Not to attend D-8 summit in Pakistan
• Two killed, one injured in violence in Karachi
• Pakistan TV channels asked to shun sectarianism
• Judge says court can't take up case concerning army men
• Musharraf on Bin Laden raid: 'Our intelligence agencies were sleeping'
• India should be more accommodating: Musharraf
Arab World
• Iraqi clerics prohibit marriage to terrorists
• Qatar, the host of the upcoming UN climate summit, building a unique Quranic Garden
• At least 40 school children killed in train-bus collision in Egypt
• In troubled Egypt, Copts turn to beloved saint
• Iraqi forces clash with Kurdish troops, one dead
• Egypt: Equality Now cautions on Egypt's draft constitution
• Syrian activists prosper in peaceful town
• Smithsonian museum exhibits 'Roads of Arabia'
Africa
• Al Qaeda linked group detains Mali women for not wearing veils
• Mali rebels say they will not give up ideology
• Mali's Islamists and Rebels in Battle for Control
• Tunisian held in US Embassy attack dies in prison
• Sudan's 'Grand Hotel' seeks past glory under Pakistani owners
North America
• Canadian Muslim barber sued for refusing to cut woman's hair
• Coalition Objects to NYPD Commissioner's Mosque 'Photo-Op'
• Metro Adds Disclaimers with Pamela Geller's Newest Anti-Muslim Banners
• Petraeus asked socialite to avert anti-Islam stunt
• New York man, Adis sentenced to life in subway terror plot
• Obama calls Netanyahu, Morsi to de-escalate tension in Gaza
• U.S. Muslim Vet to Make 3rd Attempt to Visit Sick Mother in Oklahoma
India
• Muslims help in construction of Hindu temple in Bihar
• India closely monitoring situation in Maldives
• Terror groups investing money in stock market: Shinde
• Hyderabad erupts again, 11 hurt
• Irish govt must clarify on abortion issue: Amnesty
• Jundal gave Pak's FIA the slip days after 26/ 11
• Four killed in fresh Assam violence; curfew continues in Kokrajhar
• PM likely to call off Nov 28 Pak visit
South Asia
• Hardliners Bomb kills 17 Afghans on way to wedding: officials
• Taliban accidentally reveal identities of mailing list members
• 'Banned organisations involved in target killings more than Taliban'
• Taliban supporting reconciliation among Afghan groups
• 'Rohingya issue surfaced to divert attention from war trial'
• Myanmar president to address sectarian violence
• Jamaat anarchy threat to war crimes trial: Information Minister
• Arrests of MPs with liquor, drugs, "politically motivated": Maldivian HR Minister
• Suu Kyi urged to condemn crackdown on Rohingyas
• Afghan Taliban welcomes release of prisoners
Europe
• Russia charges 9 Islamic radicals with terrorism
• Osama shirt sends footballer to court
• Opposition party assembly in Tashkent behind mop up of human rights activists
• Uzbekistan demands Kazakhstan extradite Protestant pastor
• Muslims in Myanmar's Rakhine state face 'genocide': OIC
Southeast Asia
• Three Dead in Fatal Religious Dispute in Aceh
• Three Malaysian Police Officers Released on Bail amid Migrant Worker Rape Case
• 11 killed in Philippine army clash with rebels
• Indonesian pilgrims flood Corniche in post-Haj visit
Mideast Asia
• Israeli air strikes pound Gaza as death toll hits 38
• Rocket targets Jerusalem as Israel mobilises
• 'Qaeda' suicide bomber kills 3 Yemen militiamen: local chief
• Israel-Hamas: a clash waiting to happen
• Alarm in EU as Turkey moots return to death penalty
• Israel confronts post-Arab Spring dilemma in Gaza
• Iran ready to double nuclear work in bunker: IAEA
• Why Hamas may win as it loses
• Iran says arrests foreign-linked bomb plotters
Compiled by New Age Islam News Bureau
Photo: With Quaid's Mazar, students hope to show the soft side of Pakistan
URL: https://www.newageislam.com/islamic-world-news/new-age-islam-news-bureau/israeli-air-strikes-pound-gaza-as-death-toll-hits-38/d/9334
-----------
Israeli air strikes pound Gaza as death toll hits 38
November 17, 2012
GAZA CITY: An Israeli air strike on Rafah in southern Gaza killed four people on Saturday, Palestinian medics said, raising the overall death toll from the aerial campaign to 38.
The attack came as the Tunisian foreign minister crossed into southern Gaza through the Rafah border crossing with Egypt.
It followed hot on the heels of other strikes elsewhere in the city which killed one, and a raid on a refugee camp in central Gaza which killed another three, medics said.
"Four people were killed in a third raid on Rafah that targeted a group of citizens in the Zuhur neighbourhood," said Adham Abu Selmiya, spokesman for Gaza's Hamas-run emergency services.
Meanwhile, similar air strikes destroyed the cabinet headquarters of Gaza's Hamas rulers.
"The IDF (army) has targeted Ismail Haniya's headquarters in Gaza," an Israeli army spokesman told AFP, referring to the Hamas prime minister.
Haniya's government said four "barbaric Israeli" strikes "completely destroyed" its headquarters and that neighbouring houses were damaged.
Witnesses said the damage was extensive but there were no reports of casualties.
The latest strikes raised the overall death toll in Gaza to 38 as a relentless Israeli air campaign against Gaza militants entered its fourth straight day.
The identities of the four killed in the latest Rafah strike were not immediately clear.
Earlier, medics said three people had been killed in Maghazi refugee camp in central Gaza and another man had died in a raid on Tel al-Sultan neighbourhood in Rafah.
"Three men died in an Israeli air strike on Maghazi camp in central Gaza,"said emergency services spokesman Adham Abu Selmiya.
Palestinian security sources told AFP that all four were Hamas militants.
They named the three who died in Maghazi camp as Ali Manameh, Hossam Abdel Jawad and Assaf Gharwish, while the man who died in Rafah was Mukhlis Adwan.
Potential ground war
The Israeli military earlier said it had sealed off all the main roads around the Gaza border, declaring the area a closed military zone, as it called up thousands more reservists in readiness for a potential ground war.
UN and Palestinian officials said UN chief Ban Ki-moon would travel to the region in days to push for a truce.
"Ban went to the region during the last Israeli offensive against Gaza in 2009 and worked hard to end that conflict. He is looking to produce a truce and ceasefire this time as well," one senior UN diplomat said.
Even before the latest rocket fire, senior cabinet minister Moshe Yaalon warned that Israel was poised for a ground offensive.
"We are preparing all the military options, including the possibility that forces will be ready to enter Gaza in the event that the firing doesn't stop," he said.
As ground troops massed, there was no let-up in Israeli air attacks.
The overthrow early last year of veteran strongman Hosni Mubarak, a staunch supporter of Egypt's three-decade-old peace treaty with Israel, has cast a chill over the already lukewarm relationship between the two neighbours.
Egypt's new President Mohamed Morsi, who like Hamas has his roots in the Muslim Brotherhood, has moved to establish closer relations with the Gaza authorities.
Washington appealed to Egyptian leaders as well as to allies such as Turkey to use their sway with the Palestinians in a flurry of telephone diplomacy aimed at containing the crisis.
In Obama's call to Netanyahu, the president "reiterated US support for Israel's right to defend itself, and expressed regret over the loss of Israeli and Palestinian civilian lives", the White House said in a summary of the conversation.
http://dawn.com/2012/11/17/israeli-air-strikes-hit-hamas-hq-in-gaza/
----------
Pakistan
Child Sex Gangs Inquiry Fail To Highlight the Targeting Of White Girls by Pakistani Men
Sex gangs report 'will play down threat of Pakistani men targeting white girls'
By STEVE DOUGHTY
16 November 2012
An official inquiry into child sex gangs will fail to highlight the targeting of white girls by Pakistani men.
Instead the year-long Government-backed investigation will say that child sex abuse is a problem caused by men of all backgrounds in towns and cities across the country.
The findings of the inquiry by Sue Berelowitz, the Deputy Children's Commissioner for England, are likely to anger ministers and provoke disbelief among those who have observed and investigated cases of abuse of teenage girls in towns in Lancashire and Yorkshire.
The inquiry into child sexual exploitation by gangs was launched more than a year ago, but its investigations became more urgent this summer following the convictions of nine men in Rochdale for their roles in a child sex ring which groomed young white girls for sex.
The men, eight of Pakistani origin and one from Afghanistan, received jail sentences of between four and 19 years.
In September, police documents revealed that in Rotherham officers ignored evidence of large-scale sex crime by 'networks of Asian males exploiting young white females' which dated back more than a decade.
As long ago as 2002, Home Office inquiries suggested that police were failing to question or investigate Asian abusers while treating their victims as 'deviant and promiscuous'.
Education Secretary Michael Gove said in May that Miss Berelowitz should not let her inquiries be swayed by questions of prejudice and should instead 'ask tough questions about cultural background'.
However her first report, to be published next week, will argue that the problem lies with men from all ethnic backgrounds.
The findings are expected to reflect opinions that were given by Miss Berelowitz to MPs this summer, when she said child sexual exploitation was happening across the country.
Her report has met an unenthusiastic response in Whitehall, where one source said: 'It is important we don't take a politically correct approach and pretend there is not a real problem here. Obviously abuse has been carried out by men from all sorts of ethnic backgrounds.
'But that doesn't mean we cannot say there is an issue about groups of Pakistani men systematically targeting young white girls.'
A spokesman for Miss Berelowitz said there would be no comment on the report until it is published next week. But a senior political figure with long experience of trying to combat sex gangs said there is a specific problem with groups of young Pakistani men, and that Miss Berelowitz would be wrong to ignore it.
Ann Cryer, who stood down as Labour MP for Keighley in West Yorkshire at the last election, played a central role in bringing a gang of abusers to justice in 2004.
'Abuse and sexual exploitation is a universal problem, especially with white men who groom targets through the internet,' she said. 'But there is another problem in some towns with Pakistani men.
'This is connected with parents in Lancashire and Yorkshire who have the intention of marrying young men to cousins from Pakistan whom they have never met.
'This means the men look for other partners. Older white women are not interested, because they know it is never going to end in wedding bells, and they dare not look for girls in their own community. So they look for young white girls.'
Mrs Cryer added: 'I believe there is a problem and the solution is for the elders of their community to take action.
'The point is not that they are being picked on because they are Muslim, but that the way they are behaving is un-Islamic.'
http://www.dailymail.co.uk/news/article-2234004/Sex-gangs-report-play-threat-Pakistani-men-targeting-white-girls.html
-------------
Banned at home, Pakistan brewery seizes Hollywood moment
November 17, 2012
RAWALPINDI: What have Demi Moore, Bruce Willis, underage drinking and Pakistan's only beer maker got in common?
It was the arrest of the Hollywood stars' daughter in New York with a can of Murree Brewery's beer last June that propelled the company out of obscurity and into the spotlight.
Inundated with emails asking about its beer, Murree Brewery seized on the free publicity to launch expansion plans outside the Muslim nation, where alcohol is banned and those that do drink can become targets of Taliban militants and other Islamist fundamentalists.
Five months since the arrest, the 150-year-old company says it has lined up distributors that could see its flagship beer arrive on liquor store shelves in the United States and Dubai as early as the first quarter of next year.
"Demi Moore and Bruce Willis' daughter gave us multi-million dollars worth of publicity by default. We plan to go to the United States and make a queue to hug both the daughter and the mother," Sabih ur Rehman, special assistant to the chief executive, joked with Reuters.
Murree Brewery, established in 1860 by British colonial rulers to supply beer to their troops, is desperately looking for business overseas to hedge against its uncertain domestic market. Prohibition was imposed in Pakistan in 1977, and non-Muslims and foreigners must obtain a government permit to purchase alcohol at designated retailers, mainly upscale hotels.
It also produces a line of juices and non-alcoholic drinks, but is prohibited from advertising its beer, whisky, gin and other liquor products.
Relying on word of mouth and an influx of thirsty diplomats and foreign investors, annual alcohol sales have grown an average of 20 percent over the past five years, reaching $26.8 million in the 2012 financial year. The company's stock is up 175 per cent so far this year, trading at 160 rupees on Nov. 13, far outpacing the 42 per cent rise in the Karachi Stock Exchange benchmark 100-share index.
Despite its strong sales, the company's net profit after taxes rose a mere 1 per cent year-on-year to 525 million Pakistan rupees ($5.48 million) for the year ended June 30, due to an increase in alcohol taxes and rising labour costs.
Living in Fear
Murree Brewery's chief executive, Isphanyar Bhandara, lives in constant fear that authorities will shut down alcohol production at any moment as Pakistan drifts towards a more conservative interpretation of Islam.
"Pakistan is moving more and more to the right. That is not good for Pakistan and not good for us," said the 39-year-old executive at his office in Rawalpindi, a military city just outside the capital, Islamabad.
"Each day we are allowed to survive, that is a blessing."
The brewery, which employs 1,100 people, is located within the headquarters of the Pakistani Army and across the street from the residences of the country's top military commanders, making it arguably the most protected brewery in the world.
To ensure survival, it has turned to a European brewery to produce its beer for overseas consumption due to a government ban on alcohol exports, which was eased just recently.
The Pakistani brewery said it has reached an agreement with the Czech Republic's Zatec Brewery initially to produce at least 5,000 cases, each containing 24 bottles of Murree Beer, annually from next year. That amount will double in 2015, Rehman said.
However, the managing director of Zatec Brewery, Martin Kec, said he knew nothing of this arrangement and his firm had only produced a very small amount of Murree Beer in the past.
Murree Brewery also said it has lined up distributors in Texas, Dubai and Denmark to market and sell its lager under franchise agreements, and is looking for partners in Britain and other European countries. "We are virgins and we are looking for husbands," said Bhandara, whose family is from the country's non-Muslim Parsi minority.
But Murree Beer faces a difficult road as a new player in the crowded U.S. and European markets, dominated by the industry's "big four" — Anheuser-Busch InBev, SABMiller, Heineken and Carlsberg.
The company's last attempt to break into Western markets failed after it was forced to end its partnership with an Austrian brewery due to high costs and logistical problems.
Analysts say a few tabloid headlines will not be enough to be successful and Murree will also need a multi-million-dollar promotional campaign. It is also unclear the type of consumer they are trying to sell their beer to, since most Pakistanis living abroad are Muslim and unlikely to drink alcohol.
"They are never going to be anything but a very niche player. It's unlikely they will be able to push as hard as major brewers with their own niche lagers," said a London-based stock analyst, who asked not to be identified because he did not cover Murree Brewery.
But company officials are hopeful, particularly for the US market. "Americans will drink anything. They are like fish," Rehman said.
http://dawn.com/2012/11/16/banned-at-home-pakistan-brewery-seizes-hollywood-moment/
---------
Gaza attack, not a priority for Pakistan's press
By Sarah Munir
November 17, 2012
KARACHI: For a country that has historically been extremely pro-Palestine and refused to recognise the state of Israel, the coverage of the recent Gaza attack by its media, especially local newspapers has been slow in recognising the issue.
The attacks that began on Wednesday, November 14 with Israeli airstrikes on the Gaza strip and retaliatory strikes on Tel Aviv from Gaza have claimed nearly 40 lives on both sides of the border.
While the issue has not made page one for most publications in the local press, the debate over the ongoing violence has occupied a front and centre position for Pakistanis on social media outlets like Twitter and Facebook, who criticised the local press for its lack of interest or concern.
The coverage by the broadcast media has been even more limited.
Monitoring Friday, November 16 and Saturday, November 17 newspaper editions of four national English newspapers in the country – including Dawn, The Express Tribune, The Nation and The News and three leading Urdu dailies including Jang, Nawa-i-Waqt and Roznama Express – reveals how much editorial significance was allotted to the story.
English Dailies
DAWN
DAWN ran a news story and an analysis featured on the international pages (Pages 12 &13) on Friday and one story on the back page (Page 14) on Saturday.
The Express Tribune
The Express Tribune ran one news story featured on the regional page (Page 8) on Friday and one story each on the front and regional page (Page 8) along with an editorial in the Opinion pages on Saturday.
The Nation
The Nation ran four stories on the issue. These included one news story (Page 8) and a news analysis (Page 9) on the foreign pages, one news report on the Back page (Page 12) and one small news item on the Business Page (Page 16) that discusses the impact of the Gaza attack on oil prices.
It also ran five stories on Saturday including three news stories and two analysis pieces.
The News
The NEWS ran one news story on the National Pages (Page 8) and another on its World News Page (Page 11). On Saturday, it ran three news stories along with an opinion piece.
Urdu Dailies
Jang
Roznama Jang ran one news story on Page 3 on both days.
Roznama Express
Roznama Express also ran one news story on its National/International Pages (Page 3) and four news stories on Friday.
Nawai-e-Waqt
Nawai-e-Waqt ran the news story on its front page on both days along with two news stories on Saturday.
While almost every foreign publication has been covering the situation in Gaza extensively, none of the English and Urdu daily newspapers in Pakistan ran more than one or two stories on the attack for the first two days, with the exception of The Nation.
The coverage improved marginally on Saturday once violence in Gaza escalated even further.
The gap in coverage of international issues by the Pakistani media is not a new one. The same trend has been observed in the coverage of the on-going violence in Syria that has claimed over 40,000 lives till date.
A large hue and cry was also raised on social media over the abysmal coverage of the persecution of Rohingya Muslims in Myanmar by the local media, earlier in the year.
According to Ejaz Haider, a senior columnist, the lack in coverage can be attributed to shoestring budgets that most publications in Pakistan operate on and an over all lack of expertise when it comes to reporting on complicated regions like the Middle East.
"Forget faraway lands, we don't even cover India properly," said Haider. On the other hand, the coverage of Pakistan in Indian newspapers is much more in-depth and comprehensive, he added.
Senior columnist and academic Rasul Baksh Rais shared the same opinion.
According to Rais, the vacuum in coverage of international events by the Pakistani media – electronic media in particular – reflects a lack of integrity, professionalism and training by media organisations.
With respect to the Gaza attacks in particular, Rais stated that it is a major news story in terms of peace in the Middle East and human suffering but the Pakistani media predictably remains focused on its internal issues such as policing political actions and parties.
While problems within Pakistan are innumerable and complicated, it does not justify obliviousness to the outside world.
"If we stop the navel-gazing and constantly talking about our own problems, we might realise that our situation is not as bad as we think it is," said Haider.
He further added that one of the reasons for the under-reporting of the Palestine-Israel conflict could be the loss of the novelty factor.
He compared it to the coverage of the Kashmir issue where someone reading a Pakistani newspaper might think that things were completely normal in the region. But that remains far from the truth.
"One of the tools use by oppressors is to create a sense of despondency, so that even the supporters of the cause get worn out," he said.
For Pakistanis, social media tools like Twitter and Facebook, rather than traditional media have been the primary source of information about the Gaza attacks. While experts like Haider support the use of tools like Twitter, calling it the "most uselessly useful tool", he also admits that it cannot be a substitute for sound analysis.
According to Rais, the only way of ensuring balanced, fair coverage to different kinds of stories from all parts of the world is for media houses to stop taking shortcuts in their profession and invest in personnel with sound reporting, writing and research abilities and a holistic view of the world.
http://tribune.com.pk/story/467199/gaza-attack-not-a-priority-for-pakistans-press/
---------
In an attempt to reduce target killings, US trains 28 Sindh police officers
November 17, 2012
KARACHI: The federal interior minister may believe blocking cellular services can control target killers but the United States government decided that training officers may be a better option.
Sindh Police has partnered with the US government to offer advanced training to 28 officers, which will equip them to fight crime in the city.
The two-week joint training was provided by the Justice Department's International Criminal Investigative Training Assistance Programme (ICITAP) and the State Department's Bureau of Narcotics and Law Enforcement.
Full report at:
http://tribune.com.pk/story/466978/in-an-attempt-to-reduce-target-killings-us-trains-28-sindh-police-officers/
---------
With Quaid's mazaar, students hope to show the soft side of Pakistan
November 17, 2012
KARACHI: A gaggle of students gathered at the Sadequain Gallery at Frere Hall on Friday afternoon for the launch of the 'Aisa Bhi Hai Pakistan' exhibit and show off their work.
Organised by a group called Unique Pakistan, the event features a display of photographs submitted by amateur photographers throughout the country. Another display holds models of iconic buildings and structures – including the Khyber Pass and Minar-e-Pakistan – made by students of the Beaconhouse School System.
Full report at:
http://tribune.com.pk/story/466976/with-quaids-mazaar-students-hope-to-show-the-soft-side-of-pakistan/
---------
Jamaat ud Dawa - coming to an App Store soon
November 17, 2012
KARACHI: Encouraged by the response to their active online presence, the Jamaat ud Dawa (JuD) is now looking to expand its digital footprint and develop games and mobile phone apps. The project, still in its initial stage, is set to launch mid next year.
It envisages making "educational, informative and philanthropic kind of games that will infuse positive thoughts such as helping others in need, emergency situations, Islamic ethics and learning of the Holy Quran and Sunnah," according to Abdul Rehman from JuD's information technology and social media department.
Full report at:
http://tribune.com.pk/story/467046/jamaatud-dawa-coming-to-an-app-store-soon/
---------
Rights activists urge govt to pass acid crime bill
November 17, 2012
PESHAWAR: In order to curb growing incidents of acid throwing, Khyber-Pakhtunkhwa's (K-P) civil society has asked the provincial government to pass the Acid and Burn Crime Bill before its tenure ends.
A meeting to discuss the bill was held on Friday by the Acid Survivors Foundation (ASF), End Violence against Women (K-P and Fata), UNAid and UN Women. The seminar was also attended by lawyers, medical specialists and members of the provincial assembly.
A proposed draft of the bill was made, which will be sent to the law department and then to the provincial assembly.
Full report at:
http://tribune.com.pk/story/466892/curbing-violence-rights-activists-urge-govt-to-pass-acid-crime-bill/
---------
Pakistan's tallest man calls on Muslims to pray for king of Saudi Arabia
16 November 2012
JEDDAH: Pakistan's tallest man, Ghulam Shabbir, is an ardent supporter of world peace. He loves Custodian of the Two Holy Mosques King Abdullah and describes the Saudi ruler as the king of the Muslim world.
Speaking to Arab News, Shabbir called upon Muslims across the globe to pray for King Abdullah, who is due to undergo back surgery shortly at King Abdul Aziz Medical City in Riyadh to tighten a loose ligament.
Full report at:
http://www.arabnews.com/pakistan%E2%80%99s-tallest-man-calls-muslims-pray-king
---------
Bangladeshi, Malaysian PMs not to attend D-8 summit in Pakistan
November 17, 2012
ISLAMABAD: The prime ministers of Bangladesh and Malaysia on Saturday formally excused themselves from attending the upcoming D-8 conference in Pakistan scheduled for Nov 22.
Sources told DawnNews that Bangladeshi Prime Minister Sheikh Hasina Wajid has formally informed the Pakistani government through the Bangladeshi foreign office that she would not be attending the summit, despite having initially agreed to do so.
Full report at:
http://dawn.com/2012/11/17/bangladeshi-malaysian-pms-not-to-attend-d-8-summit-in-pakistan/
---------
Two killed, one injured in violence in Karachi
November 17, 2012
KARACHI: At least two people were killed and one injured in fresh incidents of violence in Karachi while Rangers arrested two people during a search operation in Liaquatabad, DawnNews reported on Saturday.
One person was gunned down by unidentified persons near the Zaibunnisa Market in Karachi's Saddar area. He was immediately shifted to Jinnah Hospital for medical assistance where he died during treatment. He was a watchman in the area.
Full report at:
http://dawn.com/2012/11/17/two-killed-one-injured-in-violence-in-karachi/
---------
Pakistan TV channels asked to shun sectarianism
November 17, 2012
ISLAMABAD: The Pakistan Electronic Media Regulatory Authority (Pemra) has urged electronic media to observe the sanctity of Muharram and warned against promoting sectarianism and hatred.
A circular issued by Pemra Chairman Dr Abdul Jabbar to all the media outlets has warned them against relaying or distributing any programme against the sanctity of Muharram.
Full report at:
http://dawn.com/2012/11/17/tv-channels-asked-to-shun-sectarianism/
---------
Judge says court can't take up case concerning armymen
Malik Asad
November 17, 2012
ISLAMABAD: A judge of the Islamabad High Court (IHC), hearing a petition against an army officer on Friday, observed that the court could not take up matters related to army personnel.
It may be mentioned that earlier, the judge, Justice Mohammad Anwar Kasi, was on a division bench which admitted a petition for early disposal of the case regarding extension given to Army Chief General Ashfaq Parvez Kayani.
Full report at:
http://dawn.com/2012/11/17/judge-says-court-cant-take-up-case-concerning-armymen/
---------
Musharraf on Bin Laden raid: 'Our intelligence agencies were sleeping'
November 17, 2012
NEW DELHI: Former president Pervez Musharraf, commenting on al Qaeda leader Osama bin Laden's undiscovered presence in Pakistan, said it was the negligence of the army and intelligence agencies and not their complicity.
"Our intelligence agencies were sleeping," he said during the Hindustan Times Leadership Summit in New Delhi. Indian TV anchor Karan Thapar replied to this statement sarcastically and said that India wished the intelligence agencies sweet dreams.
Full report at:
http://tribune.com.pk/story/467197/india-is-a-big-country-should-display-big-heartedness-musharraf/
---------
India should be more accommodating: Musharraf
HT Correspondent
November 17, 2012
Former Pakistan president Pervez Musharraf speaks at the Hindustan Times Leadership Summit at Taj Palace in New Delhi. (HT Photo/Gurinder Osan)
Seeking a new start to relations, former Pakistani president Pervez Musharraf on Saturday said, between India and Pakistan, India had to be the one more accommodative because it was the bigger country, as a packed house at the HT Leadership Summit 2012 listened in rapt attention.
Full report at:
http://www.hindustantimes.com/News-Feed/Chunk-HT-UI-HTLeadershipSummit2012-
----------
Arab World
Iraqi clerics prohibit marriage to terrorists
2012-11-16
The Anbar scholars' council on Friday (November 16th) issued a fatwa prohibiting marriage to people involved in terrorist crimes.
The council comprises 98 prominent clerics.
"The council calls on citizens to boycott armed terrorist groups that have wreaked havoc, killed citizens and destroyed the country, by not selling to or buying from them, by rejecting marriage with them and by making them feel they are isolated and must return to the right path," Sheikh Khalid al-Dulaimi, the council's secretary-general, told Al-Shorfa.
The council issued the fatwa after meeting to discuss a number of social problems facing a number of Iraqi cities, including the fact these armed men are seeking to marry outside of courts due to security crackdowns, he said.
"This is serious and prohibited," al-Dulaimi said. "They must be boycotted, and no doors should be opened to receive them, given that girls' marriages to those murderers are a crime."
http://al-shorfa.com/en_GB/articles/meii/newsbriefs/2012/11/16/newsbrief-03
-----------
Qatar, the host of the upcoming UN climate summit, building a unique Quranic Garden
Nov 16 2012
Dubai: A unique biological garden featuring the plants mentioned in the Holy Quran is being built in Qatar, the host of the upcoming UN climate summit.
The 18th session of the Conference of the Parties to the United Nations Framework Convention on Climate Change (UNFCCC) and the 8th session of the Conference of the Parties serving as the Meeting of the Parties to the Kyoto Protocol will take place from November 26 to December 7 this year.
Full report at:
http://www.indianexpress.com/news/qatar-building-quranic-garden/1032036/
----------
At least 40 school children killed in train-bus collision in Egypt
Nov 17, 2012
CAIRO: At least 40 school children were killed when a train crashed with their bus which had crossed the tracks in a city south of Cairo on Saturday, the official state news agency and a doctor said.
While the official news agency said 40 children died, a doctor at a hospital in Assiut, near the crash site, said the death toll was 38, among them 37 children who were around four to six years old.
Full report at:
http://timesofindia.indiatimes.com/world/rest-of-world/At-least-40-school-children-killed-in-train-bus-collision-in-Egypt/articleshow/17253928.cms
-----------
In troubled Egypt, Copts turn to beloved saint
17 November 2012
Associated Press
MAR GIRGIS MONASTERY, Egypt -- There was no mention of churches torched or Christians killed, but the prayer neatly written on a tiny piece of paper and placed atop an icon of St. George in the chapel of a desert monastery left no doubt about the growing fear and despair of Egypt's Coptic Christians.
"Oh Lord, for the sake of all the saints of the church, raise high the banner of the cross and vanquish our enemies, the enemies of the church," it read. "Make our enemies realize their weakness, foil their actions against us, bring joy to our hearts, increase our profit and make us victorious."
Full report at: Copyright © 2012 The Associated Press
-----------
Iraqi forces clash with Kurdish troops, one dead
17 NOVEMBER 2012
BAGHDAD: One person died in clashes between Iraqi forces and troops guarding an office of a Kurdish political party on Friday, deepening tension between the oil-rich region and the central government in Baghdad.
The fighting in Tuz Khurmato, 170 km (105 miles) north of Iraq's capital, highlights strains between the federal government and the Kurdish leadership over autonomy, oil and land that risk upsetting Iraq's uneasy union. The departure of US forces from the area in December removed a buffer between the two sides. The tension grew further after Iraq's Shia Prime Minister Nuri al-Maliki formed a new security command covering the disputed city of Kirkuk. Full report at:
http://www.dailytimes.com.pk/default.asp?page=2012\11\17\story_17-11-2012_pg4_4
----------
Egypt: Equality Now cautions on Egypt's draft constitution
17 November 2012
Dar es Salaam, Tanzania - The current draft of the new Egyptian Constitution could severely restrict and undermine women's and girl's rights if adopted as proposed by the Constitutional Committee, a global women's rights group cautioned Friday.
Equality Now issued an urgent alert, in support of the Alliance for Arab Women and CEWLA in Egypt, calling on the Egyptian Constitutional Committee to ensure that all provisions of the Constitution clearly protect and promote the equal rights of all Egyptians.
Full report at:
http://www.afriquejet.com/index.php?option=com_content&view=article&id=1605:egypt-
-------------
Syrian activists prosper in peaceful town
17 November 2012
Children go to school, women shop with confidence, artists work and independent newspapers are flourishing — the town of Minbej is a rare example of the potential in a post-Assad Syria.
Unlike other cities in the northwest heavily, which are petrified by the war to bring down President Bashar Assad, relative peace and stability have allowed a small number of activists to indulge in less urgent matters than fighting for survival.
Full report at:
http://english.alarabiya.net/articles/2012/11/17/250124.html
-----------
Smithsonian museum exhibits 'Roads of Arabia'
15 November 2012
An unprecedented display of Saudi artifacts and relics discovered recently are on exhibit this month in the Sackler hall at the famed Smithsonian Museum in Washington, D.C.
The exhibit sheds light on an unknown era of the Arabian Peninsula's history, featuring Stone Age spearheads and stone Sarcophaguses crafted in the fourth century B.C.
This indicates that the Empty Quarter was a different place from what it is now.
"There are hidden information about the role of Saudi. A misconception is that it is sole desert, and the only advancements occurred after the discovery of petrol. Such artifacts indicate the country's contribution to international civilization, and that is what we want to show the world," said Ali al-Ghabban, vice president of Antiquities and Museums at the Saudi Commission for Tourism & Antiquities (SCTA)
Full report at:
http://english.alarabiya.net/articles/2012/11/15/249792.html
-----------
Africa
Al qaeda linked group detains Mali women for not wearing veils
November 17, 2012
New fighting and a crackdown on women not wearing veils by Islamist militants marred peace moves by two rival groups in Mali's desert north despite pledges they were ready for peace talks with Bamako. In Islamist-controlled Timbuktu, a local official said yesterday dozens of women were
arrested on Thursday by Al-Qaeda in the Islamic Maghreb (AQIM) for not wearing veils.
"The Islamists were going into homes to arrest unveiled women," he said.
The women were being "imprisoned" at a disused bank, a medical source added, as AQIM militants vowed to continue the crackdown in the city which they control with Islamist group Ansar Dine, saying "that nothing can prevent them from doing so".
Full report at:
http://www.hindustantimes.com/world-news/Europe/Al-Qaeda-linked-group-detains-Mali-women-for-not-wearing-veils/Article1-960361.aspx
----------
Mali rebels say they will not give up ideology
16 November 2012
OUAGADOUGOU, Burkina Faso: A spokesman for one of the radical groups controlling northern Mali said it will continue to impose separate law in the areas under its control. Mohamed Ag Aharib told reporters on Wednesday that Ansar Dine is however willing to allow the rest of Mali to be governed by a different set of rules. Representatives of Ansar Dine are meeting with mediators in Burkina Faso in the hopes of avoiding a military intervention.
Full report at:
http://www.arabnews.com/mali-rebels-say-they-will-not-give-ideology
-----------
Mali's Islamists and Rebels in Battle for Control
November 17, 2012
Militant Islamists and Tuareg-led rebels have clashed in northern Mali.
The rebels said they launched an offensive against the Movement for Unity and Jihad in West Africa (Mujao) group, but they were later repelled, AFP news agency reported.
Meanwhile, rebels and another Islamist group, Ansar Dine, held talks in neighbouring Burkina Faso.
Full report at:
http://www.bbc.co.uk/news/world-africa-20369276
-----------
Tunisian held in US Embassy attack dies in prison
17 November 2012
TUNIS: The lawyer for a clients detained for attacking the US Embassy in Tunisia says his client has died from a heart attack after a two month hunger strike protesting his innocence.
Abdel-Basset Ben Mberek, the lawyer, said his client died Thursday after being transferred to a Tunis hospital when his condition declined.
Full report at:
http://www.arabnews.com/tunisian-held-us-embassy-attack-dies-prison
-----------
Sudan's 'Grand Hotel' seeks past glory under Pakistani owners
November 17, 2012
KHARTOUM: Political talk flowed as freely as booze in the lively Khartoum of decades past, and The Grand Hotel was its fountain.
Behind the colonial-era walls, deals were made and gossip exchanged by an elite group of civil servants, politicians, intellectuals and businessmen.
The chatter stopped long ago and The Grand, for decades the city's only quality hotel, fell into disrepair and economic decline.
Full report at:
http://dawn.com/2012/11/17/sudans-grand-hotel-seeks-past-glory-under-pakistani-owners/
---------
North America
Canadian Muslim barber sued for refusing to cut woman's hair
16 November 2012
A Muslim Barber in Ontario, Canada, was sued by a woman after he refused to cut her hair saying his religion does not allow him to touch women, according to media reports.
Omar Mahrouk, co-owner of the Terminal Barber shop said his staff and himself are of Muslim faith which prohibits them from touching a woman who is not a member of their family.
Faith McGregor turned to Human Rights Tribunal of Ontario in June saying she was denied a "business haircut" because of her gender, which is against woman's right, adding that she felt like a "second-class citizen."
Full report at:
http://english.alarabiya.net/articles/2012/11/16/249931.html
-----------
Coalition Objects to NYPD Commissioner's Mosque 'Photo-Op'
11/16/2012
(QUEENS, NY, 11/16/12) -- A coalition of civic and religious organizations* today submitted an open letter to New York City Police Commissioner Raymond Kelly objecting to his decision to visit a mosque in Queens while ignoring calls for reform of discriminatory NYPD policies, including the mass surveillance of Muslim communities, the stop and frisk of youth and harassment of low-wage workers.
Full report at:
http://www.cair.com/ArticleDetails.aspx?ArticleID=27003&&name=n&&currPage=1
-----------
Metro Adds Disclaimers with Pamela Geller's Newest Anti-Muslim Banners
11/16/2012
Pamela Geller said last month that her campaign to plaster Metro stations with billboards and banners that attempt to stir up "anti-jihad" sentiment by invoking 9/11 would "go on for years." Seems like she wasn't lying.
Metro riders spotted more banners at the Glenmont, Petworth-Georgia Avenue and U Street-Cardozo stations featuring a Koran verse accompanied by—yet again—the indelible image of a Boeing 767 crashing into the World Trade Centre.
Geller, an anti-Muslim blogger based in New York, is continuing the ad campaign waged by her organization, the American Freedom Defence Initiative. The banners mounted today feature a quote seemingly targeted at non-Muslims: "Soon will we cast terror into the hearts of the unbelievers."
Full report at:
http://dcist.com/2012/11/anti-muslim_banner_hanging_at_glenm.php
-----------
Petraeus asked socialite to avert anti-Islam stunt
17 November 2012
WASHINGTON — A Florida socialite at the heart of a scandal that brought down the CIA chief was once asked by him to stop a radio talk show host who was threatening to "deep fat fry" the Quran, US media reported early on Saturday.
That account, which comes from emails sent by socialite Jill Kelley, offers a new glimpse at her relationship with Petraeus and other senior military officials.
Full report at: Copyright © 2012 AFP. All rights reserved. More »
-----------
New York man, Adis sentenced to life in subway terror plot
Nov 17, 2012
NEW YORK: A New York City man, after reciting verses from the Quran rather than expressing remorse, was sentenced on Friday to life in prison in a foiled 2009 plot that authorities labelled one of the closest calls since the Sept 11, 2001 attacks.
Adis Medunjanin, a 28-year-old US citizen from Bosnia, had faced a mandatory life term following his conviction last year of conspiracy to use weapons of mass destruction and several other terrorism charges stemming from the al-Qaida-sanctioned scheme hatched with two former high school classmates.
Full report at:
http://timesofindia.indiatimes.com/world/us/New-York-man-sentenced-to-life-in-subway-terror-plot/articleshow/17253542.cms
-----------
Obama calls Netanyahu, Morsi to de-escalate tension in Gaza
Nov 17, 2012
WASHINGTON: US President Barack Obama has called the Israeli Prime Minister Benjamin Netanyahu and his Egyptian counterpart Mohamed Morsi Isa El-Ayyat, in an effort to de-escalate tension in the region.
This was Obama's second telephone calls to the two leaders this week with tension between Israelis and the Hamas flaring up, with all indication that it is escalating.
In his call with Netanyahu on Friday, Obama reiterated American support for Israel's right to defend itself, and expressed regret over the loss of Israeli and Palestinian civilian lives.
"The two leaders discussed options for de-escalating the situation," the White House said in a statement.
Full report at:
http://timesofindia.indiatimes.com/world/middle-east/Obama-calls-Netanyahu-Morsi-to-de-escalate-tension-in-Gaza/articleshow/17251407.cms
---------
U.S. Muslim Vet to Make 3rd Attempt to Visit Sick Mother in Oklahoma
11/16/12
(OKLAHOMA CITY, OK, 11/16/12) -- The Oklahoma chapter of the Council on American-Islamic Relations (CAIR-OK) today said that Oklahoma-born, U.S. Muslim Air Force veteran Saadiq Long will make a third attempt to return to the United States on November 19.
Long has been trying to return to Oklahoma since April 2012 to visit his terminally-ill mother and has been barred in his previous attempts, apparently because he is on a government no-fly list. Long attempted to board a flight on November 8 and was denied boarding.
Full report at:
-----------
India
Muslims help in construction of Hindu temple in Bihar
Nov 17, 2012
SITAMARHI, BIHAR: While violence over the expansion of a Hindu temple near Charminar in Muslim-dominated Hyderabad's Old City is hogging media attention, in Bihar's Sitamarhi district, Muslims have been quietly helping Hindus construct a temple dedicated to Lord Shiva, ahead of the Chhath festival.
"Muslims are not only donating money for temple construction, they are also actively involved in ensuring that it should come up soon," Rajkishore Raut, president of the Shiva Temple Construction Committee, told IANS.
Full report at:
http://timesofindia.indiatimes.com/india/Muslims-help-in-construction-of-Hindu-temple-in-Bihar/articleshow/17253224.cms
-----------
India closely monitoring situation in Maldives
SANDEEP DIKSHIT
Nov 17 2012
New Delhi wants to ensure the safety and security of Indians
India has expressed concern over heightened acrimony in the Maldives by urging its warring parties to reconcile their differences peacefully and assuring that it would take care of the safety of Indians living there.
A Foreign Office statement saw the situation as uncertain and said the government was "closely" monitoring the situation, keeping in view the need to ensure the safety and security of Indians in Maldives "and Indian interests in the country.''
Indian corporate interests, especially of the GMR group and the Tatas, have been targeted by some political parties and figures including spokesperson of the Maldivian President's office who also questioned the integrity of Indian High Commissioner in Male Dnyaneshwar Mulay.
Full report at:
http://www.thehindu.com/news/national/india-closely-monitoring-situation-in-maldives/article4102805.ece
-----------
Terror groups investing money in stock market: Shinde
Nov 17 2012
Union Home Minister Sushil Kumar Shinde on Friday claimed that the government had information of terror groups investing money in the Indian stock market.
Mr. Shinde was asked whether Pakistan-based Jamaat-ud-Dawa was investing money in the Indian stock market.
The government had information on terror groups engaging in such activities.
"I am not able to name the groups involved, but we have information that a number of [such] elements are investing in the stock exchange."
The Minister said he had spoken about the matter while addressing the Interpol General Assembly in Rome earlier this month.
Full report at:
http://www.thehindu.com/news/national/terror-groups-investing-money-in-stock-market-shinde/article4102760.ece
-----------
Hyderabad erupts again, 11 hurt
Nov 17, 2012
HYDERABAD: At least 11 people were injured as angry protesters clashed with police after they were denied permission to pray inside Hyderabad's Charminar on Friday. The clashes were reported after hundreds of Muslim youth emerged out of Mecca Masjid and attempted to break through the barricades and made a vain attempt to proceed towards the monument. Police had to resort to lathicharge and teargas shelling as the youth stoned them.
Full report at:
http://timesofindia.indiatimes.com/india/Hyderabad-erupts-again-5-hurt/articleshow/17249821.cms
-----------
Irish govt must clarify on abortion issue: Amnesty
Nov 17, 2012
LONDON: Observing that the tragic death of Indian dentist Savita Halappanavar illustrates a gap in Irish law, rights group Amnesty on Saturday asked Ireland to ensure that its domestic policy on access to abortion is in line with international human rights law.
Amnesty International has written to Irish minister for health James Reilly over the issue expressing its concern.
It said Amnesty is concerned that the tragic case of Savita illustrates a gap in Irish law and policy on the most basic human rights level -- that is a woman's right to access abortion where her life is at risk.
Full report at:
http://timesofindia.indiatimes.com/world/uk/Irish-govt-must-clarify-on-abortion-issue-Amnesty/articleshow/17253462.cms
-----------
Jundal gave Pak's FIA the slip days after 26/ 11
By Mail Today
Nov 17 2012
ZABIUDDIN Ansari alias Abu Jundal, the only Indian who has been charged in the 26/ 11 attack, narrowly escaped from the hands of the Pakistani Federal Investigating Agency ( FIA) on December 1, 2008, just five days after the 10 Pakistanis waged a terror war on Mumbai.
Jundal, who is known to be the man who gave instructions from the Karachi ' control room to the terrorists in Mumbai, first came in touch with the Lashkar- e- Tayyeba ( LeT) in 2005.
He, along with another associate, met a LeT operative in Kathmandu in Nepal who instructed him to make a bomb and gave him $ 500 for the job.
Full report at: Mail Today
-----------
Four killed in fresh Assam violence; curfew continues in Kokrajhar
Nov 17, 2012
GUWAHATI: Bodoland area in lower Assam witnessed fresh trouble with the killing of four persons by armed assailants in Jiaguri even as police arrested a member of Bodoland Territorial Autonomous District in connection with the killing.
The assailants fired randomly on a group of persons at Jiaguri in Kokrajhar police station in which four persons were killed late on Friday night, inspector general of police (BTAD) S N Singh said.
Full report at:
http://timesofindia.indiatimes.com/india/Four-killed-in-fresh-Assam-violence-curfew-continues-in-Kokrajhar/articleshow/17251768.cms
-----------
PM likely to call off Nov 28 Pak visit
Shubhajit Roy
Nov 17 2012
New Delhi : Prime Minister Manmohan Singh is unlikely to visit Pakistan in November last week. Pakistan President Asif Ali Zardari had asked him early this year to visit Nankana Sahib Gurdwara near Lahore on the occasion of Guru Nanak's birthday on November 28.
Sources said that there's a "very small window" on the PM's visit given that Pakistan was fast moving towards its elections. "I am not very sure that the visit of this nature is possible and probable during that window which is very short," said a source.
Full report at:
http://www.indianexpress.com/news/pm-likely-to-call-off-nov-28-pak-visit/1032161/
-----------
South Asia
Hardliners Bomb kills 17 Afghans on way to wedding: officials
November 17, 2012
KABUL: A roadside bomb planted by Taliban killed 17 civilians – mostly women and children – on their way to a wedding party in western Afghanistan on Friday, officials said.
Roadside bombs are the weapon of choice of the hardliners fighting Afghan forces and some 100,000 NATO troops, in an effort to topple the government of President Hamid Karzai.
Two NATO troops were also killed by one of the bombs in eastern Afghanistan on Friday, the International Security Assistance Force said, without giving further details.
While the Taliban say their targets are military, civilians using the same roads are frequently the victims.
Full report at:
http://www.dailytimes.com.pk/default.asp?page=2012\11\17\story_17-11-2012_pg7_5
---------
Taliban accidentally reveal identities of mailing list members
Nov 17 2012
Washington: The Taliban apparently needs a lesson in the difference between carbon copy (CC) and blind carbon copy (BCC), as a spokesperson of the militant group accidentally revealed the members of the group's mailing list.
Qari Yousuf Ahmedi sent out a routine email last week, and publicly CC''d the names of everyone on his mailing list According to ABC News, the email was a press release he received from the account of Zabihullah Mujahid, another Taliban spokesperson.
Full report at:
http://www.indianexpress.com/news/taliban-accidentally-reveal-identities-of-mailing-list-members/1032406/
---------
'Banned organisations involved in target killings more than Taliban'
November 17, 2012
KARACHI: Members of banned organisations are involved in incidents of bank robberies and other crimes in Karachi, more than the Taliban, said CID Functional Crime Unit head Raja Umar Khitab.
Speaking to Roznama Express, SSP Khitab said there was no proof of Taliban's presence in the Old City area or Lyari, however, reports have been received regarding the presence of banned Lashkar-e-Jhangvi (LeJ).
Full report at:
http://tribune.com.pk/story/467186/banned-organisations-involved-in-target-killings-more-than-taliban/
---------
Taliban supporting reconciliation among Afghan groups
November 17, 2012
ISLAMABAD: Taliban are supporting dialogue among various Afghan groups for peace and stability in Afghanistan, Taliban sources said on Friday.
Amid efforts to convince Taliban for peace talks in Afghanistan, a Taliban Shura member on condition of anonymity told Daily Times that every Afghan-to-Afghan effort is respected. The Taliban sources said some of their friends contacted them to consider talks with Kabul, but as the proposal was not matchable with ground realities, it couldn't draw attention.
Full report at:
http://www.dailytimes.com.pk/default.asp?page=2012\11\17\story_17-11-2012_pg7_19
---------
'Rohingya issue surfaced to divert attention from war trial'
17 November 2012
National Human Rights Commission (NHRC) Chairman Prof Mizanur Rahman on Saturday claimed that some 'intellectuals' have been talking in favour of Rohingyas at present to divert people's attention from the war crimes trial.
Those intellectuals have been trying to put the government in the dock for barring the Rohingyas from entering into the country, the NHRC chief said.
He also slammed the intellectuals, who attended a dialogue and conveyed their support for providing shelter to the Rohingyas during the programme.
Full report at:
http://www.thedailystar.net/newDesign/latest_news.php?nid=42512
-----------
Myanmar president to address sectarian violence
17 November 2012
Myanmar's president blamed nationalist and religious extremists for the violence between Muslims and Buddhists in Rakhine State in October that killed at least 89 people, and the United Nations said he had promised to address the underlying problems.
Thein Sein's remarks, in a meeting with Buddhists and Muslims carried by state television late on Friday and in a letter to the United Nations, came three days before US President Barack Obama is due to visit the country, also known as Burma.
Full report at:
http://www.thedailystar.net/newDesign/latest_news.php?nid=42504
-----------
Jamaat anarchy threat to war crimes trial: Information Minister
17 November 2012
The recent anarchy by Jamat-Shibir activists is a clear threat to the ongoing war crimes trial and a punishable offence by law but the government showed its highest patience in this regard, said Information Minister Hasanul Haq Inu yesterday.
He was addressing journalists at Sylhet Circuit House after visiting the shrines of Hazrat Shahjalal (RA) and Hazrat Shahporan (RA) in Sylhet.
Full report at:
http://www.thedailystar.net/newDesign/news-details.php?nid=257825
-----------
Arrests of MPs with liquor, drugs, "politically motivated": Human Rights Minister, MDP
By JJ Robinson | November 17th, 2012
Parliament's Privileges Committee held an emergency meeting on Friday following the arrest of two MPs and senior figures in the Maldivian Democratic Party (MDP), for the alleged possession of drugs and alcohol.
In a statement, police said 10 people were arrested on Thursday night during a 'special' operation on the island of Hodaidhoo in Haa Dhaal Atoll.
Full report at:
http://minivannews.com/politics/arrests-of-mps-with-liquor-drugs-politically-motivated-human-rights-minister-mdp-47481
-----------
Suu Kyi urged to condemn crackdown on Rohingyas
MOHAMMAD ALI
SANDEEP DIKSHIT
Nov 17 2012
Protestors demonstrated outside Myanmar opposition leader Aung San Suu Kyi's first engagement of the day in the Capital, leading to a shut out of the media at a subsequent interaction, activists from Myanmar said on Friday.
The second interaction held under a media blackout saw about 1,000 Myanmar exiles acknowledging the contributions from "Uncle of Burma," the ailing George Fernandes and his former party colleague Jaya Jaitley, among others, to the cause of democracy in their country. The activists acknowledged Mr. Fernandes' support to their cause even when he became Union Minister in a government whose policy was to support the military-led government in Myanmar. The socialist leader is critically ill and activists said Ms. Suu Kyi had not factored in a visit to his place.
Full report at:
http://www.thehindu.com/news/national/suu-kyi-urged-to-condemn-crackdown-on-rohingyas/article4102758.ece
-----------
Afghan Taliban welcome release of prisoners
November 17, 2012
ISLAMABAD: The Afghan Taliban welcomed on Friday the release of some of their prisoners as a positive move by Pakistan, while former leaders voiced their doubts about any positive impact from the move, a day after officials confirmed the release of 13 Taliban detainees.
"We welcome this as a positive step. It is our demand that our remaining prisoners (in Pakistan) also be freed," Taliban spokesperson Zabihullah Mujahid said.
Full report at:
http://tribune.com.pk/story/467082/afghan-taliban-welcome-release-of-prisoners/
---------
Europe
Russia charges 9 Islamic radicals with terrorism
November 16, 2012
Associated Press
Nine men were charged Friday with organizing cells of a banned Islamist group and illegal possession of guns, explosives and fake U.S. dollars and euros, Russian police said
Five of the nine men are leaders of the Russian cells of Hizb-ut-Tahrir, an anti-Western Islamist group whose name means "Party of Liberation," the Interior Ministry said.
Full report at:
http://www.timesonline.com/news/world/europe/russia-charges-islamic-radicals-with-
-----------
Osama shirt sends footballer to court
November 16, 2012
A football fan who had a Paris Saint-Germain replica shirt printed with the name of Osama bin Laden on the back found himself in court on Friday, charged with defending terrorism.
The 21-year-old, who bought the shirt in the club store on the Champs-Elysees, was arrested after a
Full report at:
http://www.hindustantimes.com/world-news/Europe/Osama-shirt-sends-footballer-to-court/Article1-960252.aspx
-----------
Opposition party assembly in Tashkent behind mop up of human rights activists
17 November 2012
The opposition Erk party was planning to hold a conference in Tashkent on 14 November, but the majority of its delegates were detained. Human rights activists, who had nothing to do with it, were also detained.
Erk Party Secretary General Atanazar Arifov said that, on 13 November, he and other party members planned to hold a party conference in Tashkent.
Full report at:
http://www.uznews.net/news_single.php?lng=en&sub=hot&cid=30&nid=21299
-----------
Uzbekistan demands Kazakhstan extradite Protestant pastor
17 November 2012
Another Uzbek religious refugee may be extradited from Kazakhstan to Uzbekistan where he would face a prison term of up to 15 years.
Uzbek law-enforcement agencies are demanding the extradition of Protestant pastor Makset Djabbarbergenov, a native of Nukus, who received refugee status from the Kazakh mission of the Office of the UN High Commissioner for Refugees, the Forum 18 religious news service reports.
Full report at:
http://www.thejakartaglobe.com/home/three-dead-in-fatal-religious-dispute-in-aceh/556686
-----------
Muslims in Myanmar's Rakhine state face 'genocide': OIC
November 17, 2012
DJIBOUTI: The world's top Islamic body called Saturday for the international community to protect Muslims in Myanmar's unrest-hit Rakhine state from "genocide" as US President Barack Obama readied for a landmark trip to the country.
Full report at:
http://tribune.com.pk/story/467201/muslims-in-myanmars-rakhine-state-face-genocide-oic/
-----------
Southeast Asia
Three Dead in Fatal Religious Dispute in Aceh
Farouk Arnaz | November 17, 2012
Three people affiliated with a supposedly heretical religious group were slain by an angry mob in Bireuen, Aceh, on Friday.
The incident occurred after a few hundred people arrived at the home of Tengku Aiyub Syahkuban in Jambo Dalam Village at 10:30 p.m. while he was congregating with members of his allegedly blasphemous religious study group.
The mob demanded that Aiyub and his cohorts stop what they were doing, but the congregation refused.
Full report at:
http://www.thejakartaglobe.com/lawandorder/three-dead-in-fatal-religious-dispute-in-aceh/556686
----------
Three Malaysian Police Officers Released on Bail Amid Migrant Worker Rape Case
November 17, 2012
The three policeman who allegedly raped an Indonesian migrant worker in Prai, Negeri Pulau Penang, have been released on 25,000 ringgit bail.
According to Nabishah Ibrahim, a judge with the Pulau Penang state court, the trio must report back to police regularly while awaiting their formal hearing, which is scheduled to take place Dec. 12, 2012.
Full report at:
http://www.thejakartaglobe.com/home/three-malaysian-police-officers-released-on-bail-amid-migrant-worker-rape-case/556682
-----------
11 killed in Philippine army clash with rebels
Nov 17 2012
The Philippine military says six soldiers and five communist rebels have been killed in a clash in a northern province.
Army spokesperson Col. Cirilito Sobejana says the soldiers were on a counter-insurgency operation on Saturday in Isabela province's San Guillermo township when they ran into 30 New People's Army guerrillas. Nine soldiers and eight guerrillas were wounded.
Manila's DZMM radio station quoted a rebel spokesman saying they gave first aid to the wounded soldiers before escaping.
Full report at:
http://www.thehindu.com/news/international/11-killed-in-philippine-army-clash-with-rebels/article4105448.ece
-----------
Indonesian pilgrims flood Corniche in post-Haj visit
17 November 2012
The Red Sea coastline here is flooded with visiting foreign Haj pilgrims for sightseeing.
Foreign Haj pilgrims, especially Indonesians, say are keen to visit various parts of Jeddah in general and Corniche in particular. Most of Indonesian pilgrims pay an additional SR. 400 to SR 600 depending upon class of tour operator, who arranges Haj visit and visits to various renowned monuments of Jeddah city is included in the package.
Full report at:
http://www.arabnews.com/indonesian-pilgrims-flood-corniche-post-haj-visit
-----------
Mideast Asia
Rocket targets Jerusalem as Israel mobilises
November 17, 2012
Palestinian militants fired rockets at both Jerusalem and Tel Aviv on Friday, aiming for Israel's political and commercial hearts and prompting the call-up of thousands more reservists in readiness for a potential ground war. The Israeli military said it had sealed off all the main roads
around the Gaza border, declaring the area a closed military zone, in the latest sign that Israel's patience with the rocket fire was at an end and it was poised to launch its first ground offensive on the territory since 2008-9.
Full report at:
http://www.hindustantimes.com/world-news/RestOfAsia/Rocket-targets-Jerusalem-as-Israel-mobilises/Article1-960363.aspx
-----------
'Qaeda' suicide bomber kills 3 Yemen militiamen: local chief
November 17, 2012
ADEN: A suspected al Qaeda jihadist blew himself up in a municipal building in the south Yemen town of Zinjibar on Friday, killing three pro-army militiamen, a local chief said. Four other militiamen were wounded in the assault, said Hussein al-Waheshi, a tribal chief and militia commander, adding that the toll was preliminary. "A suicide bomber belonging to al Qaeda sneaked into the local municipality building in Zinjibar where members of the Popular Resistance Committees were present, blowing himself up and killing three of them," Waheshi said. Hundreds of militiamen, known as the Popular Resistance Committees, fought alongside the Yemeni army last May to oust Al-Qaeda from southern towns, mainly in Abyan province. Full report at:
http://www.dailytimes.com.pk/default.asp?page=2012\11\17\story_17-11-2012_pg7_6
------------
Israel-Hamas: a clash waiting to happen
Nov 17 2012
Jerusalem : Since Israel completed a devastating military offensive in the Gaza Strip four years ago, military officials have warned it was only a matter of time before the next round of fighting. Violence erupted this week with little warning, driven by Hamas' ambitions to make its mark on a changing Middle East and an Israeli government reacting to public outcry over rocket attacks just weeks ahead of national elections.
It is a clash of wills driven by wildly contradictory narratives nurtured over the years by two deeply antagonistic societies with little in common save a deep-seated sense of historical grievance and victimization.
Full report at:
http://www.indianexpress.com/news/israelhamas-a-clash-waiting-to-happen/1032384/
------------
Alarm in EU as Turkey moots return to death penalty
17 November 2012
Turkish Prime Minister Recep Tayyip Erdogan's recent remarks on a possible reintroduction of capital punishment have triggered an outcry in the European Union, a leading advocate for its abolition.
Erdogan, famous for his provocative talk, triggered controversy earlier this month when he suggested the death penalty might be brought back due to popular support for the measure, particularly in terror-related cases.
But an appalled reaction from the European Union, which Turkey aspires to join, was quick to follow.
Full report at:
http://english.alarabiya.net/articles/2012/11/17/250114.html
-----------
Israel confronts post-Arab Spring dilemma in Gaza
ATUL ANEJA
Nov 17 2012
For a second successive day, an emboldened Hamas trained its rockets on Tel Aviv, testing Israel's resolve to invade Gaza, and confront new realities that have emerged after the triumph of the Arab Spring.
Air raid sirens also rang out in Jerusalem on Friday, and a missile fired from Gaza landed in an open area southeast of the city 75 kilometers from the border of the coastal strip. The attacks on both Tel Aviv and Jerusalem have sharply escalated a sense of insecurity in Israel—a country that has always elevated security on the top of its national agenda.
Full report at:
http://www.thehindu.com/news/international/israel-confronts-postarab-spring-dilemma-in-gaza/article4102786.ece
-----------
Iran ready to double nuclear work in bunker: IAEA
Nov 17, 2012
VIENNA: Iran is set to sharply expand its uranium enrichment in an underground plant after installing all the centrifuges it was built for, a UN report said, a move likely to increase Western alarm about Tehran's nuclear course.
It also showed that Iran's stockpile of its most sensitive nuclear material - which could relatively quickly be processed further to bomb-grade uranium - had grown and was getting closer to an amount that could be sufficient for a nuclear weapon.
Full report at:
http://timesofindia.indiatimes.com/world/middle-east/Iran-ready-to-double-nuclear-work-in-bunker-IAEA/articleshow/17251931.cms
-----------
Why Hamas may win as it loses
November 17, 2012
For Hamas, the goal is not a military victory but a diplomatic one. It is testing its growing alliance with the new Islamist leadership of Egypt and the new Muslim powers who have emerged after the Arab Spring.
Today, under Israeli attack, its most vocal support is not from Iran, Syria and Hezbollah - the so called Axis of Resistance, but from regional emergers like Qatar, Turkey & Egypt.
Full report at:
http://www.hindustantimes.com/world-news/RestOfAsia/Why-Hamas-may-win-as-it-loses/Article1-960326.aspx
-----------
Iran says arrests foreign-linked bomb plotters
17 NOVEMBER 2012
DUBAI: Iran's Intelligence Ministry has arrested people planning bomb attacks with the support of Western and Israeli spy agencies in the oil-producing province of Khuzestan, state television reported on Friday.
Khuzestan, in Iran's southwest, is home to a large population of ethnic Arab Iranians, also known as Ahwazis, who have long complained of economic deprivation and systematic discrimination by the authorities. The region has occasionally suffered violent action by militants.
Full report at:
http://www.dailytimes.com.pk/default.asp?page=2012\11\17\story_17-11-2012_pg14_4
-----------
URL: https://www.newageislam.com/islamic-world-news/new-age-islam-news-bureau/israeli-air-strikes-pound-gaza-as-death-toll-hits-38/d/9334