New Age Islam News Bureau
07 December 2020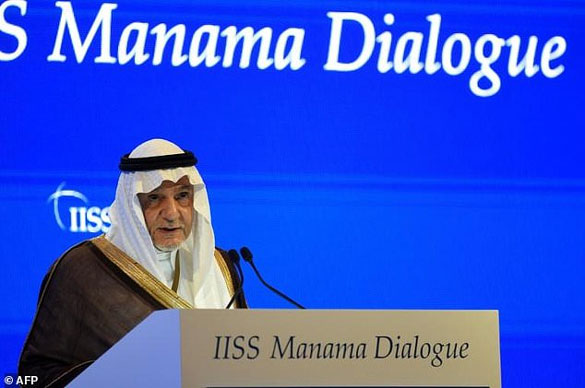 Prince Turki al-Faisal addresses the Manama Dialogue security conference in Bahrain on Sunday
-----
• Sheikh Abdul Amir Qabalan, Top Lebanon Cleric Announces Religious Ban On Normalization Of Relations With Israel
• UK Rights Groups Decry France's Anti-Muslim Drive
• "Law for Those Like You": UP Hindu Woman Heckled, by Bajrang Dal People at Moradabad Muslim Husband Arrested
• Arab League Renews Dismissal of Trump's Recognition of Quds as Israeli 'Capital'
• Nawaz Sharif Lashes Out At 'Undemocratic Forces', Says This Is Not the Pakistan Iqbal Dreamt Of
• Taliban Expect 7,000 Prisoner Release by Mid-December: Wilson
• Muhyiddin's Stand On Secularism Disconcerting, Says Kit Siang
• Minister: Sudan Junta Forging Israeli Ties without Informing Civilian Government
• Pompeo Takes to Twitter to Mark the US Illegal Recognition of Jerusalem as Israel's Capital
Arab World
• Israel Occupies Lands, Puts Palestinians in 'Concentration Camps': Saudi Prince Turki
• Sheikh Abdul Amir Qabalan, Top Lebanon Cleric Announces Religious Ban On Normalization Of Relations With Israel
• Saudi Arabia urges 'permanent ban' on Iran's uranium enrichment
• Beirut experiences a historical hailstorm, leaving a white blanket for hours
• Renowned trumpeter Ibrahim Maalouf brings life to battered Beirut
• Mob seizes UNIFIL equipment in south Lebanon
• Egypt closes decade-old controversial NGOs foreign funding case
• Ex-Saudi spy chief rips Israel after Netanyahu trip exposé
• US forces send 43 military, logistic vehicles to Syria's oil-rich Hasakah: SANA
--------
Europe
• UK Rights Groups Decry France's Anti-Muslim Drive
• Macron Denies France Is Stifling Freedoms amid Crackdown on Muslims
• Media, rights groups slam Italian govt. for continued arms sales to Egypt
• EU to decide on sanctions as Turkey highlights 'sovereign rights'
--------
India
• "Law for Those Like You": UP Hindu Woman Heckled, by Bajrang Dal People at Moradabad Muslim Husband Arrested
• No Event In Ayodhya On Babri Anniversary As Hindus, Muslims Move On
• Madhya Pradesh Protem Speaker Visits Ram Temple In Ayodhya, To Meet UP CM To Discuss Law On 'Love Jihad'
• Wanted SIMI Member Evading Arrest for Over 19 Yrs Held
• Pakistan violates ceasefire along LoC in Poonch
• Cop, civilian injured in Srinagar terror attack
• 5 Associated With Terror Outfits Held After Shootout in East Delhi, Say Police
--------
Mideast
• Arab League Renews Dismissal of Trump's Recognition of Quds as Israeli 'Capital'
• Slain Iranian Scientist Fakhrizadeh Asked To Produce 'Five Warheads': Israeli Report
• Scientist killed by remote-controlled machine gun, says Iranian official
• Iranian Students Gather in Front of Arak Heavy Water Site, Call for Revenge for Assassination of N. Scientist
• Israel closes case on 9-year-old Palestinian boy shot in eye during police activity
• Palestinian Journalists Syndicate urges boycott of Israeli media outlets
• Biggest Iranian flotilla en route to Venezuela with fuel, defying US sanctions
• Hezbollah drone penetrated occupied territories amid Israel drills
--------
Pakistan
• Nawaz Sharif Lashes Out At 'Undemocratic Forces', Says This Is Not the Pakistan Iqbal Dreamt Of
• World Must Protect Muslim Sites in India: Pakistan
• Pak opposition warns Imran Khan govt of retaliation if it uses force to disrupt Lahore rally
• Qureshi challenges PDM over resignations issue
• CTD starts investigation into Pirwadhai blast
--------
South Asia
• Taliban Expect 7,000 Prisoner Release by Mid-December: Wilson
• Taliban Attack Rebuffed in Kandahar
• Kandahar Car bomb Wounds 11 Police Personnel
• Chhatra League Leader of Awami League, Expelled After Controversial Facebook Post Demeaning Bangabandhu
--------
Southeast Asia
• Muhyiddin's Stand On Secularism Disconcerting, Says Kit Siang
• Selangau MP calls on PM Muhyiddin to retract statement against secularism, liberalism
• PAS Youth chief asks MIC president what took him so long to suggest solution for temple issue
• Police shootout kills six suspected supporters of Indonesian cleric
--------
Africa
• Minister: Sudan Junta Forging Israeli Ties without Informing Civilian Government
• Fighting persists in Tigray despite Ethiopia's declaration of victory against rebels
• Sudan government rejects army chief's new council
• Why delay in defeat of Boko Haram, by minister
--------
North America
• Pompeo Takes to Twitter to Mark the US Illegal Recognition of Jerusalem as Israel's Capital
• Congress moves to block US troop pullout from Afghanistan, Germany
• US likely to blacklist Yemen's Houthis as 'terrorist' group amid fears of humanitarian tragedy
• Israel planned the scientist murder to sabotage the Iran nuclear deal: Journalist
Compiled by New Age Islam News Bureau
URL: https://www.newageislam.com/islamic-world-news/israel-occupies-lands-puts-palestinians/d/123685
--------
Israel Occupies Lands, Puts Palestinians In 'Concentration Camps': Saudi Prince Turki
Joanne Serrieh
06 December 2020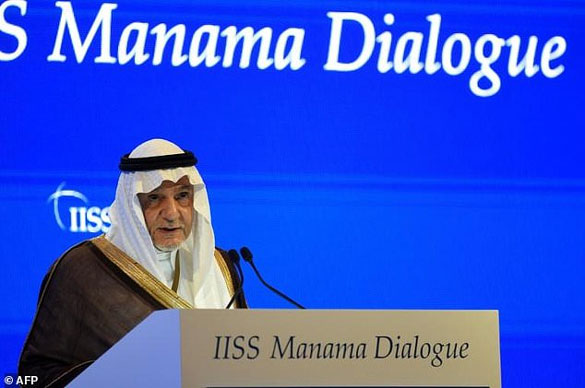 Prince Turki al-Faisal addresses the Manama Dialogue security conference in Bahrain on Sunday
-----
Saudi Arabia's former ambassador to the US Prince Turki al-Faisal Al Saud criticized Israel on Sunday at the International Institute for Strategic Studies (IISS) Manama Dialogue in Bahrain, where Israel's foreign minister opposed his remarks.
For all the latest headlines follow our Google News channel online or via the app.
Prince Turki, who began his speech by saying his comments reflected his personal view, criticized Israel's actions toward the Palestinian people, describing Israel as the "last Western colonizing" power in the Middle East.
He said that Israel had evicted Palestinians after the 1948 war and "they repeated that calumny after the 1967 war, when more of the inhabitants that remained after the 1948 war were equally dispossessed of their lands."
He also said that Israel has occupied neighboring Arab lands, "not the reverse," adding that "what the Arabs have waged since 2002 is the 'Arab Peace Initiate,' which all Israeli governments rejected at every turn."
The former ambassador also called out the Israeli border wall, calling it the "apartheid wall," and said it "prevents the inhabitants of the land they colonized from returning to their stolen properties."
He also added that despite the International Court of Justice issuing a ruling that the wall is illegal, Israel has "incarcerated [Palestinians] in concentration camps under the flimsiest of security accusations— young and old, women and men, who are rotting there without recourse to justice. They are demolishing homes as they wish, and they assassinate whomever they want."
Prince Turki's comments come as neighboring Bahrain and the United Arab Emirates recently moved to normalize relations and establish ties with Israel, also known as the Abrahamic Accords.
He said if the Abrahamic Accords are "based on geography, then there can be no Abrahamic Accords without the inclusion of the land of Abraham – Mecca."
Prince Turki reiterated that the "Arab Peace Initiative must be implemented with regard to Palestine."
Saudi Arabia has insisted that any normalization between it and Israel can only happen alongside a lasting peace deal involving a two-state solution to the Israeli-Palestinian conflict.
The Kingdom publicly continues to state its unwavering support for the Arab Peace Initiative, a 2002 Saudi-sponsored deal that offers Israel full ties with all Arab states in return for Palestinian statehood on territory Israel captured in 1967.
The former ambassador concluded his speech by calling on the Israeli people to "take the extended hand of peace and end this tragic charade," adding that "only then can we together meet the other colonizing pretender that boasts about its control of four Arab capitals: Beirut, Damascus, Sanaa and Baghdad," in reference to Iran.
Israeli Foreign Minister Gabi Ashkenazi, who spoke immediately after Prince Turki, said:
"I would like to express my regret on the comments of the Saudi representative."
"I don't believe that they reflect the spirit and the changes taking place in the Middle East," he said.
https://english.alarabiya.net/en/News/gulf/2020/12/06/Israel-occupies-lands-puts-Palestinians-in-concentration-camps-Saudi-Prince-Turki
--------
Sheikh Abdul Amir Qabalan, Top Lebanon Cleric Announces Religious Ban On Normalization Of Relations With Israel
06 December 2020
Head of Lebanon's Supreme Islamic Shia Council Sheikh Abdul Amir Qabalan
----
A senior Lebanese cleric says normalization of diplomatic ties with the Israeli regime is absolutely forbidden religiously and morally, urging the Muslim nations to take a firm stance against the treacherous move by some governments of Arab countries.
Head of Lebanon's Supreme Islamic Shia Council Sheikh Abdul Amir Qabalan said on Sunday that any agreement or deal, which seeks to normalize any type of relations with the Israeli regime was "religiously forbidden" and "legally null and void".
Such deals are part of the implementation of the so-called "deal of the century," which pursues the aim of liquidating the Palestinian issue, the top cleric said
Qabalan called on the Arab countries to completely cancel and revoke the normalization agreements recently signed with Israel and appealed the Muslim nations to launch an all-out boycott of Israeli goods to counter the vicious Israeli agenda in the region.
US President Donald Trump unveiled his self-styled plan for the Palestinian-Israeli conflict earlier this year in January.
The proposal, however, largely meets Israel's demands in the decades-old conflict while creating a Palestinian state with limited control over its own security and borders.
Among numerous controversial terms, it designates Jerusalem al-Quds as "Israel's undivided capital" and allows the regime to annex settlements in the occupied West Bank and the Jordan Valley.
Palestinian groups have firmly rejected the joint Israeli-American initiative as a further impingement upon their rights, and have called for the formation of a unified stance against the Israeli occupation.
The United Arab Emirates (UAE) and Bahrain signed an agreement in September towards normalizing relations with Israel, claiming that it was needed to stave off further annexation of Palestinian land and save the so-called two-state solution to the Israeli-Palestinian conflict.
Israeli authorities, however, say annexation plans are not off the table.
Weeks later, Sudan's transitional government also agreed to normalize ties with Tel Aviv after the US removed the African state from its terrorism blacklist and offered it financial aid in exchange.
Bahrain's Minister of Industry, Commerce and Tourism, Zayed bin Rashid al-Zayani, has recently said the tiny Persian Gulf kingdom's imports will not be subject to distinctions between products made within Israel and those from illegal settlements built on occupied Palestinian land.
Zayani told Israeli reporters during a visit to occupied Jerusalem al-Quds on Thursday that all goods and services offered by Israelis will be treated as products of Israel, indicating that even goods from the West Bank and the Golan will not require special labels.
The Bahraini minister went on to say that goods from illegal settlements in the occupied West Bank and Golan Heights were welcome in the tiny Persian Gulf country and can be marketed as "Products of Israel."
The Bahraini trade minister's controversial statement starkly contrasts with the European Union (EU) policy, which since 2015 requires that producers must explicitly label products that come from settlements built on land occupied by Israel if they are sold in the bloc's member states.
Meanwhile, Palestinian Hamas resistance movement denounced Zayani's position, saying it runs contrary to international law.
Hamas spokesman Sami Abu Zuhri said the statement reflects Bahrain's state of political and moral downfall as well as its collaboration with the Tel Aviv regime against Palestine. He called on the Bahraini nation to pressure the Manama regime into abandoning such humiliating and hostile stances against Palestinian people.
Palestinian officials have also denounced the Arab countries' normalization with Tel Aviv.
Palestinians seek an independent state in the West Bank and the besieged Gaza Strip with East Jerusalem al-Quds as its capital. They view the normalization as betrayal of the Palestinian cause.
Historically, Arab countries agreed that no ties should be established with Israel unless it withdraws from the territories it occupied in the 1967.
https://www.presstv.com/Detail/2020/12/06/640138/Palestine-Israel-Lebanon-Trump-Hamas-UAE-Bahrain
--------
UK Rights Groups Decry France's Anti-Muslim Drive
December 4, 2020
People stage a protest against comments by President of France Emmanuel Macron defending caricatures of the Prophet Muhammad in France and the's anti-Islam remarks in front of the French Embassy in Jakarta, Indonesia on November 2, 2020 [Anton Raharjo - Anadolu Agency]
----
British advocacy groups have condemned France's decision to shut down anti-racism group Collective Against Islamophobia in France (CCIF), Anadolu Agency reports.
While announcing the move on Wednesday, Gerald Darmanin, France's interior minister, accused the CCIF of carrying out "Islamist propaganda" for several years, allegations the group has vehemently refuted.
In a statement in response, London-based group CAGE said the decision "exposes the French state's brazen hypocrisy in advocating 'free speech' while legally denying Muslims the freedom to speak and organize."
CAGE is an advocacy organization that campaigns for "due process, the rule of law and an end to the injustices of the War on Terror."
The statement said the CCIF was not only banned, but its staff "indefinitely blacklisted," meaning they cannot set up new groups or speak publicly.
"Their freedom of association and expression has been suspended indefinitely," CAGE said, adding that the decision followed "a series of raids on mosques, Islamic schools and homes."
Muhammad Rabbani, managing director of CAGE, said: "Individuals linked to the CCIF have been muzzled in a manner only heard of in the most autocratic countries."
"This disruption and attempt to weaken the Muslim community follows Macron's announcement of a new 'Separatism Law' to curtail Muslim charity work and political campaigning."
"It also follows an EU Joint Statement of a "united front against Islamism" – to distract the EU from French violations of 'liberty, egality and fraternity' and even EU laws," he added.
He said that anyone who stands for the right to organize and collaborate for positive social change "cannot be silent any longer."
"This is not the way to nurture trust between people and government. We must speak up with courage for those in France who are standing firm despite state repression," Rabbani said.
The Arab Organization for Human Rights in UK (AOHR UK) also condemned the French government's move to start inspections at mosques as part of its "campaign against separatism."
"AOHR UK pointed out that the French government's policies towards Arabs and Muslims are in line with the policies of the extreme right, which calls for the closure of mosques and the imposition of strict control on Muslims, which fuels hostility to Muslims and increases attacks on them," read a statement issued on Thursday.
https://www.middleeastmonitor.com/20201204-uk-rights-groups-decry-frances-anti-muslim-drive/
--------
"Law For Those Like You": UP Hindu Woman Heckled, by Bajrang Dal People at Moradabad Muslim Husband Arrested
by Alok Pandey
December 06, 2020
Moradabad: A Muslim man and his brother have been arrested by the police in western Uttar Pradesh's Moradabad after he and a 22-year-old Hindu woman tried to get their marriage registered in the district's Kanth area.
The men were handed over to the police after a group of people from a right-wing group, the Bajrang Dal, accosted the trio at the marriage registration office and stopped them from going ahead with formalities, and then took all three to the local police station.
In a 1 minute and 11-second video that has gone viral on social media, the men surround the woman inside the premises of the Kanth police station in Moradabad.
"Show us the permission you have from the DM (District Magistrate) to convert your religion," one of the men tells the woman, as at least two policemen, one of them with a lathi look on.
"Have you read the new law or not?" another man says, adding "Ye tum jaise logon ke liye banana pada hai (the law had to be made for people like you)".
The woman, however, told journalists she and the man were married with consent. "I am an adult, I am 22 years old. I got married of my own free will on the 24th of July. This is the fifth month that we have been married," the woman told journalists.
The police said the complaint in the case was filed by the mother of the Hindu woman who claimed the Muslim man had tricked her daughter into marriage and conversion. "We have arrested both men and will investigate the case thoroughly," Vidya Sagar, a senior police official said in a statement.
Newsbeep
It is not clear if the man or the woman had converted or were planning to do so. The arrested men have been booked under Section 3 of the Uttar Pradesh Prohibition of Unlawful Conversion of Religion Ordinance 2020, that deals with forced conversion. Both face between 1-5 years in prison if the charges against them hold in a court.
This case is the fifth to be filed in UP since the anti-conversion ordinance became law a week ago in the state amid heightened sensitivity about "Love Jihad", the right-wing conspiracy theory that Muslim men try to seduce Hindu women to have them convert their religion.
The term "love jihad is not defined by law", the Union Home Ministry had told parliament in February, adding that no such case had been reported by the central agencies. However, since last month, several BJP-ruled states have moved towards making a law against it.
Uttar Pradesh, which has a chunk of Muslim population, has been first off the block with an ordinance or executive order, which says religious conversions that use falsehood, force or an incentive, or take place solely for marriage will be declared a crime.
Those who plan to convert after marriage will have to give two months' notice to the district magistrate. The person converting will have to prove that it was not forced or for marriage. All cases will be non-bailable.
https://www.ndtv.com/india-news/moradabad-up-woman-heckled-husband-arrested-over-anti-conversion-law-2334920
--------
Arab League renews dismissal of Trump's recognition of Quds as Israeli 'capital'
06 December 2020
The Arab League has reiterated its rejection of a decision by US President Donald Trump to recognize occupied Jerusalem al-Quds as Israel's 'capital,' emphasizing such a declaration would neither establish a right nor a commitment regardless of its form and content.
The Secretariat General of the regional organization, in a statement issued on the third anniversary of Trump's 2017 recognition, said the move falls within the framework of hostile policies adopted by the outgoing US administration against the legitimate rights of the Palestinian people.
Additionally, it challenges the will of the international community that has denounced the move, reiterated that East Jerusalem al-Quds is the integral part of the occupied Palestinian territory, and called for a two-state solution to the Israeli-Palestinian conflict as well as the establishment of an independent Palestinian state with East Jerusalem al-Quds as its capital, the statement read.
The Arab League then praised worldwide condemnation of Trump's move, calling on the international community to maintain the position and recognize East Jerusalem al-Quds as the capital of the future state of Palestine.
The organization also called on the Czech Republic to overturn its decision to open a diplomatic office in Jerusalem al-Quds, underlining that such a move constitutes a violation of international law and the rights of Palestinians.
Trump sparked controversy by officially recognizing Jerusalem al-Quds as the Israeli 'capital' in December 2017, before moving the US Embassy there from Tel Aviv in May 2018.
Guatemala and Paraguay later followed in Washington's footstep, before the latter reversed its decision after just four months.
Honduras has said it aims to move its embassy to Jerusalem al-Quds by the end of 2020. Brazil and the Dominican Republican are also considering the move.
Israel lays claim to the entire Jerusalem al-Quds, but the international community views the city's eastern sector as occupied territory and Palestinians consider it the capital of their future state.
https://www.presstv.com/Detail/2020/12/06/640156/Arab-League-Trump-Quds
--------
Nawaz Sharif Lashes Out At 'Undemocratic Forces', Says This Is Not The Pakistan Iqbal Dreamt Of
07 Dec 2020
Former premier Nawaz Sharif, while speaking at the PML-N's social media convention on Sunday, lamented that none of the elected prime ministers have been able to complete their terms in Pakistan, saying "Iqbal did not dream of this Pakistan".
"Until now, none of the [elected] prime ministers have been allowed to complete their constitutional term. Every few years, democracy is attacked and martial law is imposed," he said. "Again and again, the constitution was violated [...] those who created the country were termed traitors, popular leaders were jailed and leaders were made out to be robbers."
Nawaz once again decried alleged rigging in the 2018 elections, saying that the votes of the public had been "stolen".
"Tell me, hand on your heart, is this Quaid-i-Azam's Pakistan?" asked Nawaz.
Referring to criticism over his speeches in the past few months, in which he has repeatedly accused the military leadership of interfering in government matters, Nawaz asked his followers if it was "treason to expose those who have formed a state above a state".
"Ask yourself, why did this happen to my country?" Nawaz told his followers.
He said that "undemocratic forces have started propaganda through social media that Nawaz Sharif's narrative is empowering enemies of the country".
"These undemocratic forces have choked freedom of expression in the country, choked the poor and unemployment, have crushed them with inflation [...] these are painful things but all they are worried about is how to stop Nawaz Sharif."
The former premier also thanked the participants for keeping his and the party's honour. "From 2017 till now, in the country's most difficult times, the way you have courageously worked, combatted the army that was created in the name of fifth generation war and difficulties you endured for the rule of law — all this is a golden chapter of our struggle," he said.
He said that his speeches had been banned on TV, adding that the world had changed and it was no longer possible to suppress anyone's voice. "Social media, despite recently approved rules," Nawaz said, "is free to quite an extent".
"It is not possible for them to hide their lies any longer, or to suppress the voice of the common man," he declared.
https://www.dawn.com/news/1594330/nawaz-lashes-out-at-undemocratic-forces-says-this-is-not-the-pakistan-iqbal-dreamt-of
--------
Taliban Expect 7,000 Prisoner Release by Mid-December: Wilson
By Mohammad Arif Sheva
07 Dec 2020
KABUL, Afghanistan – US Chargé d'Affaires Ross Wilson in a chat with reporters Sunday said the Taliban is expecting release of thousands of their prisoners by mid-December under an agreement signed with United States.
"The specific provision relating to another 7,000 Taliban prisoners is contained in the US-Taliban agreement," Wilson said.
"If you do the math, the Taliban expect under the terms of that agreement that there would be progress on releasing those prisoners by roughly mid-December. I have forgotten the exact date. I think it's our view," he added, as TOLOnews quoted.
Wilson said that "all of the various parts of the US-Taliban agreement are interlocked with one another, intersect with one another and that you can't just take out one and say this one has to be adhered to without other aspects being adhered to."
Since August, the Afghan government has released some 5,000 Taliban prisoners, including at least seven hardcore members of the group, as part of the agreement that facilitates peace negotiations.
The remarks came days after the Afghan representatives and Taliban negotiators agreed on procedural rules after months of struggle, since the launch of intra-Afghan talks on Sep. 12 in Qatari capital Doha.
https://www.khaama.com/taliban-expect-7000-prisoner-release-by-mid-december-wilson-34534/
--------
Muhyiddin's stand on secularism disconcerting, says Kit Siang
December 6, 2020
PETALING JAYA: DAP supremo Lim Kit Siang has likened Prime Minister Muhyiddin Yassin's attack on secularism as resorting to the use of the religion card in a bid to shore up his position in view of recent events that has threatened his position in the government.
The party veteran said Muhyiddin, in his policy speech at last week's PPBM annual general meeting, had vowed to fight against secularism and liberalism, saying that the Perikatan Nasional (PN) government's alliance with Umno and PAS was "God's will".
"What he said must be viewed with great concern by all Malaysians who abide by the 1957 Merdeka Constitution, the 1963 Malaysia Agreement and the 1970 Rukun Negara which addresses secularism and the freedom of religion in the country.
"The status of Islam as the official religion of Malaysia has also never been in dispute but Malaysia is a secular state," he said in a statement today.
He cited Article 3 of the Federal Constitution which says "Islam is the religion of the Federation; but other religions may be practiced in peace and harmony in any part of the Federation."
The Iskander Puteri MP said the historical reasons behind the inclusion of this clause prior to independence in 1957 was a form of assurance that Malaysia will continue to be a secular state.
"In the light of this constitutional and historical background, Malaysians are entitled to know if PPBM now follows PAS in refusing to accord recognition to the secular principles in the Malaysian Constitution.
"It is most regrettable that for his own political survival and to avoid becoming the shortest serving prime minister, Muhyiddin is trying to compromise the nation's founding principles," he said.
Yesterday, Selangau MP Baru Bian called for Muhyiddin to retract his statement against secularism and liberalism as it was deemed grossly insensitive to Sarawak's aspirations.
The Parti Sarawak Bersatu leader also called upon all right-thinking Sarawak leaders to make their stand on this issue and be heard, so as to safeguard the Federal Constitution and secularity.
https://www.freemalaysiatoday.com/category/nation/2020/12/06/muhyiddins-stand-on-secularism-disconcerting-says-kit-siang/
--------
Minister: Sudan junta forging Israeli ties without informing civilian government
07 December 2020
Sudan's Information Minister Faisal Mohamed Salih has criticized the military for developing relations with Israel without informing civilian officials of the country's ruling council.
Salih said an Israeli delegation's visit to military manufacturing facilities in Sudan last month had taken place without the cabinet's knowledge.
Foreign relations are "supposed to be in the hands of the council of ministers," Salih told S24, a Sudanese TV channel.
"But matters related to normalization have actually been unilaterally seized by the military," he said.
In October, US President Donald Trump announced at the White House that Sudan and Israel had agreed to normalize relations.
Sudan thus became the third Arab country — after the United Arab Emirates (UAE) and Bahrain — to agree to a normalization deal with Israel since August.
But no signing ceremony has been held between Sudan and Israel so far.
The US has promised to remove Sudan from Washington's list of so-called state sponsors of terrorism (SST). That has widely been seen as the sole incentive for Sudan's normalization with the Israeli regime.
The normalization deal, which was condemned by Palestinians as a betrayal of their cause, also sparked protests in Sudan.
Salih's remarks signal further strains between civilian and army officials within the transitional government.
Last week, the transitional government expressed its opposition to the decree made by the head of the Sovereignty Council General Abdel Fattah al-Burhan.
Al-Burhan established a council of transition partners (CTP) "responsible for leading the transition period, resolving differences [between those in power] and having all the necessary prerogatives to exercise its power," according to Sudan's SUNA news agency.
This is while Sudan has already established a council — comprised of six civilian and five military leaders — that is tasked with leading the country to free and fair multiparty elections in 2022.
The transitional government of Prime Minister Abdalla Hamdok expressed its opposition to al-Burhan's decree, accusing the general of overstepping his prerogatives by conferring excessive powers on the new body.
The civilian faction has repeatedly accused the military of taking steps toward normalization without its consent, casting doubt on a successful transition to democracy in the African country.
Sudan's governing council, which is comprised of six civilian and five military leaders, was founded in August 2019 after the military overthrew president Omar al-Bashir in the wake of mass protests against his rule.
The council, Sudan's highest executive authority, is tasked with leading the country to free and fair multiparty elections in 2022.
https://www.presstv.com/Detail/2020/12/07/640174/Sudan-minister-slams-army-ties--Israel-
--------
Pompeo takes to Twitter to mark the US illegal recognition of Jerusalem as Israel's capital
06 December 2020
US hawkish secretary of State Mike Pompeo has marked the anniversary of the US illegal recognition of Jerusalem al-Quds as Israel's capital.
In a tweet on Monday, the former CIA chief paid tribute to his boss, outgoing US president Donald Trump, for moving the US embassy from Tel Aviv to the holy city three years ago.
"Three years ago, @realDonaldTrump recognized Jerusalem as Israel's rightful capital and ordered @usembassyjlm to move from Tel Aviv," Pompeo said.
He further branded the move as an achievement while in reality the Trump administration's move has been censured by Palestinians, who consider al-Quds as their future capital.
"This simple recognition of reality strengthened our diplomacy efforts, our partnerships, and still today reflects our greatest hope for peace," claimed the US top diplomat.
Trump sparked controversy by officially recognizing Jerusalem al-Quds as the Israeli 'capital' in December 2017, before moving the US Embassy there from Tel Aviv in May 2018.
Israel lays claim to the entire Jerusalem al-Quds, but the international community views the city's eastern sector as occupied territory and Palestinians consider it the capital of their future state.
United Nations Security Council Resolution 478, adopted on August 20, 1980, prohibits countries from establishing diplomatic missions in Jerusalem al-Quds.
Palestinians, who seek an independent state in the occupied West Bank and Gaza, with East Jerusalem al-Quds as its capital, have condemned the US pro-Israel agenda.
https://www.presstv.com/Detail/2020/12/06/640163/Pompeo-marks-US-illegal-recognition-of-Jerusalem-as-Israel%E2%80%99s-capital
--------
Arab World
Saudi Arabia urges 'permanent ban' on Iran's uranium enrichment
06 December 2020
Foreign Minister Faisal bin Farhan Al Saud has claimed that Saudi Arabia is not opposed to a possible return of the US to the Iran nuclear deal, but that a "permanent ban" should be imposed on Tehran's uranium enrichment.
In an interview with the Italian newspaper La Repubblica published on Saturday, he said that the Joint Comprehensive Plan of Action (JCPOA) did not address Iran's regional activities.
"We hope that all issues of concern to the Iranians will be confronted, chief among them the necessity to impose a permanent ban on uranium enrichment, and not to enable Iran to return to these activities in the past."
Iran has repeatedly enunciated its nuclear program as exclusively civilian, subject to the most intensive UN supervisions ever.
Tehran signed the JCPOA in 2015 with six world countries, which led to the forging of close cooperation between the Islamic Republic and the International Atomic Energy Agency (IAEA).
However, the administration of US President Donald Trump severely undermined the accord by abandoning it in May 2018 despite numerous IAEA reports on Tehran's full compliance with the agreement.
Saudi Arabia supported Trump's unilateral withdrawal from the JCPOA and his "maximum pressure" campaign against Iran.
Tehran remained fully compliant with the JCPOA for an entire year, waiting for the co-signatories to fulfill their end of the bargain by offsetting the impacts of American sanctions on the Iranian economy.
As the European parties failed to do so, Tehran moved in May 2019 to suspend parts of its JCPOA commitments under Articles 26 and 36 of the deal covering Tehran's legal rights.
US president-elect Joe Biden has pledged to rejoin the JCPOA, which was inked when he was the US vice president under President Barack Obama, if Iran returns to compliance.
Persian Gulf states must be 'consulted' on Iran deal
Additionally on Saturday, the top Saudi diplomat told AFP that the Persian Gulf countries must be "consulted" if the Iran nuclear agreement is revived.
"Primarily what we expect is that we are fully consulted, that we and our other regional friends are fully consulted in what goes on vis a vis the negotiations with Iran," he said on the sidelines of a security conference in Bahrain's Manama.
"The only way towards reaching an agreement that is sustainable is through such consultation."
Asked whether the Biden administration was in touch about the issue, Prince Faisal said there were no contacts as yet, but that "we are ready to engage with the Biden administration once they take office".
Saudi Arabia is itself accused of pursuing secret nuclear activities amid concerns that the kingdom may process uranium and move toward the development of atomic bombs.
Back in August, The Wall Street Journal reported that Saudi Arabia, with Chinese help, has built a facility for extraction of yellowcake from uranium ore near the remote town of al-Ula.
The New York Times also said American intelligence agencies had spotted what appeared to be an undeclared nuclear site not too far from the town of al-Uyaynah.
https://www.presstv.com/Detail/2020/12/06/640122/Saudi-Arabia-Iran-JCPOA-enrichment
--------
Beirut experiences a historical hailstorm, leaving a white blanket for hours
Jennifer Bell and Rawad Taha
05 December 2020
Lebanon's capital Beirut and the surrounding suburbs experienced what meteorologists named a "historical hailstorm," which covered the capital in a white blanket for hours, causing massive floods and impeding traffic on the major coastal highway.
Al Arabiya English reached out to Elias Saadeh, founder of Lebanon Weather Forecast, who mentioned that Saturday's phenomenon is due to severe supercell clouds. It lasted around an hour, coupled with severe thunderstorms and heavy hailstones.
For all the latest headlines follow our Google News channel online or via the app.
"This supercell affected only the coastal area around Beirut and its suburbs. A supercell effect is always local. Weather stations in Beirut recorded 50mm of rainfall in a lapse of 25 minutes. This quantity is considered enormous since it is equivalent to pouring 50 liters of water in each square meter in 25 minutes. Moreover, this supercell caused a drastic drop in temperature from 21°C to 13.5°C in a couple of minutes," added Saadeh.
Saadeh added that supercell was formed because of favorable environmental atmospheric conditions, including but not limited to the variation in temperature between the sea surface temperature and the temperature in the upper levels of the atmosphere.
"The updraft and downdraft flows became organized and twisted around and reinforced each other. The updraft speed might have reached around 30 meters per second, explaining the size of hailstones recorded," he added.
Saadeh elaborated that historically, and according to available captures of the previous severe hailstorms, the last time Beirut witnessed a similar event was in the year 1968.
Similar captures were taken showing the hail accumulations all over the capital and sometimes snow accumulations during the years 1920, 1943, 1963, and 1968.
The heavy hailstorm in Beirut has prompted prayers and messages of support from residents to those whose homes still bear the devastating hallmarks of massive blast that battered the city in August.
One Twitter user commented: "Think of all the people whose homes were damaged in the blast who can't afford to repair them properly, now having to cope with icy cold."
Another wrote on the social media platform: "My joy at seeing this much hail in Beirut for the first time in ages lasted but a few minutes; and then I thought of all those who are still without doors, or even homes, during such weather."
"May they be safe and warm and may those who deprived them the joys of winter suffer."
A local resident write on Twitter that the scene felt "apocalyptic" and "like a disaster movie."
The August 4 explosion of hundreds of tons of ammonium nitrate stored at Beirut port killed more than 190 people, wounded thousands and ravaged large parts of the capital.
The explosion left tens of thousands of apartments damaged and an estimated hundreds of thousands of residents temporarily displaced.
The United Nations Office for the Coordination of Humanitarian Affairs estimated at the time that some 47,000 apartments were damaged or destroyed in the blast.
https://english.alarabiya.net/en/News/middle-east/2020/12/05/Heavy-hailstorm-prompts-prayers-for-those-in-homes-ruined-by-the-Beirut-blast
--------
Renowned trumpeter Ibrahim Maalouf brings life to battered Beirut
06 December 2020
Renowned jazz trumpeter Ibrahim Maalouf delighted crowds on Friday with a concert in Beirut, bringing life to an area battered by Lebanon's economic meltdown and the catastrophic Aug. 4 port explosion.
"Because of what is happening now in the region and in Lebanon, it makes it even more important to be here, to play music in the streets, in the venues," Maalouf, a French-Lebanese citizen born in Beirut, told Reuters.
For all the latest headlines, follow our Google News channel online or via the app.
Maalouf, 40, helped raise some 2 million euros for Lebanon with a charity concert in France after the August explosion which killed some 200 people and hit swathes of the capital, including the Beirut Souks area where he performed on Friday.
The audience wore masks to guard against COVID-19 at the concert, part of the annual Beirut Chants Festival, a series of free performances held before Christmas.
Lebanon is in the throes of an economic collapse that has paralyzed its banks and crashed the currency, fuelling poverty, unemployment and a brain drain.
"We need something like this now in order to eventually get back up from what we've fallen into, and hopefully soon we'll see more of these events with artists, to be able to revive Lebanon once again," said Rony Challita, who attended.
https://english.alarabiya.net/en/News/middle-east/2020/12/06/Renowned-trumpeter-brings-life-to-battered-Beirut
--------
Mob seizes UNIFIL equipment in south Lebanon
05 December 2020
A mob seized equipment from a UNIFIL convoy in south Lebanon after blocking its route, the UN peacekeeping force said Saturday of its latest run-in with the local population.
The incident, which required the intervention of the Lebanese army, took place on Friday as the UNIFIL convoy passed through the village of Kaouthariyet al-Saiyad on the way back to base, according to the statement.
"A large group of civilians... dispossessed the UNIFIL patrol of items and equipment," the statement said, without specifying what was taken.
For all the latest headlines follow our Google News channel online or via the app.
Lebanon and Israel are still technically at war, and the United Nations force patrols the border between the two.
The convoy was able to leave the village after the army intervened, "although the equipment was not returned to the peacekeepers," the statement added.
The seizure of UNIFIL equipment by civilians is rare, but sporadic incidents take place between the force and members of the local population, who sometimes block patrol routes.
The area is a bastion of the Shia movement Hezbollah, which is a heavyweight in Lebanese politics and sworn enemy of neighboring Israel.
Set up in 1978, UNIFIL was beefed up after a month-long devastating war in 2006 between Israel and Hezbollah.
The 10,500-strong force, in coordination with the Lebanese army, is tasked with monitoring a ceasefire and Israeli pullout from a demilitarized zone on the border.
In August, the Security Council extended UNIFIL's mandate by one year.
https://english.alarabiya.net/en/News/middle-east/2020/12/05/Mob-seizes-UNIFIL-equipment-in-south-Lebanon
--------
Egypt closes decade-old controversial NGOs foreign funding case
06 December 2020
An Egyptian appeals court on Saturday ordered the closing of a long-running investigation into 20 non-governmental organizations accused of illegally receiving foreign funds, the court and a judicial source said.
"The designated Cairo Appeals court judge Ali Mokhtar issued an order that no criminal case may be opened into (the) 20 organizations... and that investigations have concluded," said the Cairo Appeals Court in a statement.
For all the latest headlines follow our Google News channel online or via the app.
The case known locally as "Case 173" dates back to shortly after the 2011 revolution that toppled long-time autocrat Hosni Mubarak.
Authorities in December 2011 raided the headquarters of multiple NGOs including US-based Freedom House, the International Republican Institute and the National Democratic Institute.
Egyptian state media accused them of involvement in a foreign plot to destabilize the country, in a case that strained ties between Cairo and the Obama administration.
The raids led to charges against 43 defendants, including Egyptians and other Arab citizens as well as Americans and Europeans.
Many, such as Sam Lahood -- son of Ray Lahood who served as US Transportation Secretary under Barack Obama -- had left Egypt but were tried in absentia.
In 2013 they were all handed prison terms of between one and five years.
In 2016, a court also froze the Egypt-based assets of several of the organizations and imposed travel bans on their staff, as well as opening investigations into new organizations and individuals.
In December 2018, the original 43 defendants were acquitted, but the asset freezes and travel bans remained in place.
A judicial source confirmed to AFP that Saturday's ruling effectively closes the original case.
https://english.alarabiya.net/en/News/middle-east/2020/12/06/Egypt-closes-decade-old-controversial-NGOs-foreign-funding-case-
--------
Ex-Saudi spy chief rips Israel after Netanyahu trip exposé
07 December 2020
Saudi Arabia's former influential spymaster has laid into the Israeli regime in strong-worded remarks after Israel's media outlets exposed a trip by the Israeli prime minister to the kingdom.
Prince Turki al-Faisal, Saudi Arabia's former intelligence chief, who is close to the kingdom's Crown Prince Mohammed bin Salman, made the comments, addressing a conference in Bahrain on Sunday.
Earlier, Israeli media revealed that Benjamin Netanyahu had paid a secret visit to Saudi Arabia and met with bin Salman in November.
The exposé, Faisal said, was an instance of how Israel would chronically "proffer friendship" to Saudi Arabia, but at the same time "unleash their political minions and media hounds from all countries to denigrate and demonize Saudi Arabia."
Raging at what observers call the embarrassing revelation, he said that Israel was "the last of the Western colonizing powers in the Middle East."
Israel started proclaiming existence in 1948. It occupied more lands in 1967 in a Western-backed war.
"You cannot treat an open wound with palliatives and painkillers," Faisal said, referring to Israel's continued occupation of the regional territories.
Over the past decade, Israel has been maintaining covert communications with many regional states, something that observers say would not have been possible without pressure from the United States, Israel's biggest ally.
In September, Israel signed US-mediated normalization deals with the United Arab Emirates and Bahrain.
The US also dispatched top White House aide Jared Kushner to Saudi Arabia to coerce the kingdom into a similar normalization deal.
Palestinians have condemned the deals as a stab in their back and a betrayal of their cause to end the Israeli occupation.
Faisal, meanwhile, denied that his remarks reflected any difference inside the kingdom about potential rapprochement with Israel, saying he was speaking in a "personal capacity."
Taking the floor after al-Faisal, Israeli foreign minister Gabi Ashkenazi likewise said he did not believe that the Saudi royal's remarks "reflect the spirit and changes taking place" in the region.
His Saudi counterpart Prince Faisal bin Farhan had addressed the same conference on Saturday, declaring, "We think Israel will take its place in the region."
https://www.presstv.com/Detail/2020/12/07/640180/Saudi-Arabia-Israel-former-spy-chief-Faisal-normalization
--------
US forces send 43 military, logistic vehicles to Syria's oil-rich Hasakah: SANA
06 December 2020
Another US convoy consisting of 43 vehicles laden with weapons, military equipment, and logistic reinforcement has arrived in Syria's oil-rich northeastern province of Hasakah from Iraq.
Syria's official news agency, SANA citing local sources, reported on Sunday that the US convoy from northern Iraq arrived in Syria's volatile province through the illegal al-Walid border crossing earlier in the day.
It added that the convoy consisted of trucks, refrigerators, tankers carrying caravans and covered military cars, as well as a number of cars belonging to the so-called Syrian Democratic Forces (SDF), a Washington-backed militant group.
The SDF, which is believed to be pillaging Syria's oil and mineral resources, is an alliance of Kurdish militants operating against Damascus and is in control of areas in northern and eastern Syria.
During the past few months, American forces have brought thousands of trucks laden with weapons and military and logistical equipment to Hasakah province through illegal border crossings from northern Iraq.
The convoys are aimed at reinforcing the illegal presence of the US forces in the al-Jazira region of Hasakah and stealing Syria's oil and underground resources.
The US, in collusion with the SDF, controls most of the oil fields in al-Jazira.
Raids and arrests of Syrian civilians by the militants continue in the SDF-controlled areas in Hasakah and Dayr al-Zawr provinces.
The Syrian residents accuse the US-sponsored militants of stealing crude oil and refusing to spend money on service sectors.
Local councils affiliated with the SDF are also under fire for financial corruption.
https://www.presstv.com/Detail/2020/12/06/640155/Syria-US-convoy-weapons-Hasakah-SDF-oil
--------
Europe
Macron denies France is stifling freedoms amid crackdown on Muslims
06 December 2020
French President Emmanuel Macron has denied claims that freedoms are being eroded in France under his rule as a "big lie", with controversy intensifying over a new security law and anti-Muslim crackdown.
Striking criticism of Macron appeared in international media after he announced anti-Muslim steps and his government tried to push through a security bill that would restrict the publication of images of police.
"I cannot let it be said that we are reducing freedoms in France," Macron told the online news portal Brut in a televised interview, complaining that France had been "caricatured" in the debate over the security legislation.
"It's a big lie," he added, hours after Turkish President Recep Tayyip Erdogan had called Macron "trouble" and urged the French to "get rid" of him as soon as possible.
France's anti-Muslim policies
Some commentaries in English-language media have accused Macron of targeting all Muslims following a spate of attacks in the last weeks.
But Macron insisted he was not singling out Muslims, rather simply defending the country's secular system.
"France has no problem with Islam... we are a country that has always had a dialogue."
But, he emphasised: "We founded our Republic on the separation of politics and religion."
Non-white people controlled more
Social tensions over the security law soared after the police beating of black music producer Michel Zecler which resulted in four police being charged and fed into sometimes violent protests in Paris last weekend.
Macron acknowledged "there are police who are violent" and insisted that "they need to be punished".
He acknowledged that "when you have a skin colour that is not white, you are controlled much more (by police). You are identified as a problem factor. And that cannot be justified."
But he also lashed out at the violence against police at last weekend's rally in Paris, which he blamed on "crazy people".
Macron's interview with Brut, a video-based news portal aimed at young people, is seen as an attempt by the president to win credibility with youth particularly concerned by the actions of the French police.
Lawmakers from Macron's ruling LREM party said on Monday they would propose a "complete rewrite" of part of the draft security law.
UK groups decry anti-Muslim drive
Meanwhile, British advocacy groups have condemned France's decision to shut down the anti-racism group Collective Against Islamophobia in France (CCIF).
While announcing the move on Wednesday, Gerald Darmanin, France's interior minister, accused the CCIF of carrying out "Islamist propaganda" for several years, allegations the group has vehemently refuted.
In a statement in response, London-based group CAGE said the decision "exposes the French state's brazen hypocrisy in advocating 'free speech' while legally denying Muslims the freedom to speak and organise."
CAGE is an advocacy organisation that campaigns for "due process, the rule of law, and an end to the injustices of the War on Terror."
The statement said the CCIF was not only banned but its staff "indefinitely blacklisted," meaning they cannot set up new groups or speak publicly.
"Their freedom of association and expression has been suspended indefinitely," CAGE said, adding that the decision followed "a series of raids on mosques, Islamic schools, and homes."
Raids on mosques
The Arab Organization for Human Rights in the UK (AOHR UK) also condemned the French government's move to start inspections at mosques as part of its "campaign against separatism."
"AOHR UK pointed out that the French government's policies towards Arabs and Muslims are in line with the policies of the extreme right, which calls for the closure of mosques and the imposition of strict control on Muslims, which fuels hostility to Muslims and increases attacks on them," read a statement issued on Thursday.
https://www.trtworld.com/europe/macron-denies-france-is-stifling-freedoms-amid-crackdown-on-muslims-42075
--------
Media, rights groups slam Italian govt. for continued arms sales to Egypt
07 December 2020
Max Civili
Press TV, Rome
The Italian government has come under fire from human rights groups and a number of domestic media outlets for continuing to secure huge arms deals with Egypt.
From 2016 to 2019, Italian arms sales to Egypt jumped from about 7 million to more than 870 million euros. Recently, Cairo has purchased two Italian FREMM Bergamini-class frigates for 1.2 billion euros.
In February 2016, the body of 28-year-old Italian PhD student Giulio Regeni was found by the side of a road on the outskirts of Cairo, bearing signs of extensive torture. Two months later, Italy recalled its ambassador from Egypt in protest at a lack of progress by Egyptian authorities in a probe into Regeni's murder.
Some believe the reason why Cairo has, in recent years, consistently purchased more weapons, spare parts and military software from Rome has been to sideline the investigation into Regeni's murder.
European Union foreign ministers have pledged to suspend export licenses to Cairo of any equipment which, they say, might be used for internal repression.
However, Italy is not the only European country to have broken that pledge as several other EU member states have failed to live up to their commitment.
On September 17, a resolution issued by the European Parliament urged EU member states to impose an arms embargo on Cairo fueled by concerns that European weapons and military equipment might be used for domestic oppression in Egypt. Most EU nations have completely ignored the resolution so far.
https://www.presstv.com/Detail/2020/12/07/640176/Media-Rights-Groups-Italy-Arms-Egypt
--------
EU to decide on sanctions as Turkey highlights 'sovereign rights'
07 December 2020
The European Union, which has for long been involved in an ongoing maritime row between Turkey and Greece in the eastern Mediterranean Sea, is now assessing ways and means of penalizing Ankara for refusing to stop exploring in the disputed waters.
Foreign Ministers of EU states will meet on Monday to evaluate grounds for sanctions, but the final decision will be left for when EU leaders convene a summit on Thursday.
"I'm not aware of any EU government challenging the view that the situation is worse than October and that leaders should consider the consequences," said a senior EU official. "We have been requesting a change that has not come."
Turkey and Greece, both NATO members, have been embroiled in a long-running territorial dispute in the eastern Mediterranean over the region's resources.
Earlier this year, Turkey dispatched the Oruc Reis seismic research vessel and warships escorting it to prospect for energy resources in an area in the sea that is disputed with Greece, infuriating Athens and creating a weeks-long diplomatic crisis.
Brussels, which has sided with EU member Greece, threatened Ankara with sanctions back in October.
Turkey's move in late November to return the exploration vessel to port has calmed tensions, but EU says Ankara's drill and survey ships have continued to work in contested waters; a move which, according to Greece, makes formal talks with Turkey over the issue impossible.
Germany, the current holder of the EU's six-month presidency, holds the key to whether sanctions will go ahead.
"Putting the (Oruc Reis) exploration ship back to sea straight after the (October) summit was not taken kindly by member states that put a lot of effort in with Turkey and Greece," said an EU diplomat. "There are limits even to German patience."
France and the European Parliament have called for imposing sanctions on Turkey.
Ankara, however, has rejected threats of sanctions, describing them as" unconstructive."
Ankara: No compromise on sovereignty
Turkey's Foreign Ministry said in a statement on Saturday that Ankara will never compromise its sovereign rights.
The statement was made in response to an article by Greek Foreign Minister Nikos Dendias in the newspaper Ta Nea.
"No sanctions will ever make Turkey compromise its sovereign rights be in Meis/Kastellorizo or 10 nautical miles airspace," Ankara's statement said.
The ministry called Greece "the spoiled child of Europe," which aims to provoke EU sanctions on Turkey based on its "maximalist, illegitimate maritime boundary, and airspace claims."
"Greece should engage in unconditional dialog with Turkey, sooner rather than later," said the statement.
President Recep Tayyip Erdogan has formerly called on Greece to enter talks or face "painful" consequences.
https://www.presstv.com/Detail/2020/12/07/640173/Turkey-EU-politics-sanctions
--------
India
No event in Ayodhya on Babri anniversary as Hindus, Muslims move on
Pawan Dixit
Dec 06, 2020
Unlike previous year, Ayodhya is all set to move beyond its bitter past, 28 years after the demolition of the Babri mosque and four months after "Bhoomi Pujan" for Ram Mandir at Ram Janmabhoomi.
Hindus and Muslims have decided to refrain from observing any kind of event to mark the anniversary of Babri mosque demolition this year. In the past, Muslims of Ayodhya used to observe the day as "Yaum-e-Gham" (day of sorrow) by displaying black flags and keeping their establishments closed.
Mahant Kamal Nayan Das, successor designate of Mahant Nritya Gopal Das who is the chairman of Sri Ram Janmabhoomi Tirath Kshetra Trust, has issued an appeal to Hindus to not observe "Shaurya Diwas" on Sunday.
"When the Supreme Court has decided in favour of Ram Mandir, there is no point in observing "Shaurya Diwas". Now, "Bhoomi Pujan" of Ram Mandir has also taken place and foundation work of Ram Mandir is going on," said Sharad Sharma, regional spokesperson for Vishva Hindu Parishad (VHP), who operates from Karsevakpuram, Ayodhya. "So, both Hindus and Muslims must move ahead," he added.
On November 9 last year, the constitution bench of the apex court ended decades' old Ram Mandir–Babri Masjid title suit dispute by ruling in favour of a Ram Mandir.
Unlike in the past when a big congregation used to assemble at Tedi Bazaar residence of Haji Mehboob, one of the litigants in Ram Mandir–Babri Masjid title suit to observe "Yaum-e-Gham" or "Shahadat Diwas", this time there won't be any symbolic protests.
At Mehboob's residence, clerics from across the state also used to assemble and a memorandum addressed to the President of India used to be handed over to city magistrate demanding the restoration of Babri mosque.
On the other hand, saffron organisations led by the VHP used to observe the day as "Shaurya Diwas" (day of valour). However, after "Bhoomi Pujan" of Ram Mandir, which was presided over by PM Narendra Modi on August 5 , the Muslim community in the temple town has decided to stop observing December 6 as "Yaum-e-Gham".
"There will be no 'Yaum-e-Gham' this year. No black flags will be hoisted and Muslims will also open their establishments on December 6," said Haji Mehboob. "Only recital of the Quran will be held in Tedi Bazaar mosque for those who were killed in violence on December 6, 1992," he added.
"We have decided to move ahead of the past and convey a message to rest of the Muslim community across the country to forget the past for a better future," Mehboob said.
Iqbal Ansari, the son of the late Hasim Ansari who was the original litigant in the Ram Mandir–Babri Masjid dispute, said: "Long ago, I had stopped observing "Yaum-e- Gham". Now, after the Supreme Court's order in favour of Ram Mandir, there is no point observing the day as a day of sorrow for any Muslim."
https://www.hindustantimes.com/india-news/no-event-in-ayodhya-on-babri-anniversary-as-hindus-muslims-move-on/story-f6GfHRaIVJBhC8bEkI5hPI.html
--------
Madhya Pradesh protem speaker visits Ram temple in Ayodhya, to meet UP CM to discuss law on 'love jihad'
Dec 6, 2020
BHOPAL: Madhya Pradesh protem speaker Rameshwar Sharma, who is on a three-day visit to Uttar Pradesh to study and discuss the law against "love jihad", reached Ayodhya on Sunday and took part in pooja and darshan of Bhagwan Shri Ram Lalla. Sharma said that visiting the temple gave him the feeling of rebirth.
"When Ram Lalla was sitting in a makeshift tent, it seemed that life would end here. Today Ram Lala is seen in the temple, there is a feeling as if I am reborn. I thank the honourable Supreme Court, RSS, VHP, Prime Minister Narendra Modi, UP CM Yogi Adityanath and millions of Kar Sevaks and devotees of Shri Ram whose conscience is unwavering reverence for Shri Ram," said Sharma.
The BJP leader said that he was blessed to get darshan of Ram Lalla on "Shaurya Divas", to mark the 28th anniversary of demolition of Babri Masjid structure in Ayodhya. However, the BJP did not observe the day and appealed to the public to maintain peace and harmony. Sharma also visited Hanumangarhi temple, the bank of holy river Saryu, Kanak Mahal and the Kar Sewa spot, to take blessings. He also called on UP assembly Speaker, Hriday Narayan Dixit in Lucknow.
Earlier, Sharma had visited the temple in the month of August after Prime Minister Narendra Modi laid the foundation stone of Shri Ram Janmabhoomi Mandir. After the ceremony, Sharma had said that building Ram temple in Ayodhya will mark the beginning of the end of the coronavirus pandemic in the country.
"He (Ram) had reincarnated for the welfare of mankind and to kill demons. As soon as the construction of Ram Temple begins, the destruction of the Covid-19 pandemic will begin too," Sharma had said.
The protem speaker is likely to visit Lucknow on Monday to discuss the format of law against forceful inter-faith conversions or "love jihad" with the officials of UP legal department. He is also likely to meet UP chief minister Yogi Adityanath to congratulate him for clearing an ordinance against love jihad and making the first "love jihad" arrest in the country.
"After studying law against love jihad, cleared by the Uttar Pradesh government, provisions will be added to the MP Religious Freedom (Dharma Swatantrya) Amendment Act, 1968," he said.
The Madhya Pradesh government has almost finalised the format of the Act to be tabled in the winter session of the assembly beginning December 28. The government has added provisions of ten years of rigorous imprisonment in the proposal and a provision of punishment up to 5 years for the religious leaders, Qazi, Maulvi or clergy who have converted without submitting the application.
https://timesofindia.indiatimes.com/city/lucknow/madhya-pradesh-protem-speaker-visits-ram-temple-to-meet-up-cm-to-discuss-law-on-love-jihad/articleshow/79594711.cms
--------
Wanted SIMI member evading arrest for over 19 yrs held
Dec 6, 2020
NEW DELHI: Delhi Police on Saturday arrested a wanted senior member of the banned outfit, Students Islamic Movement of India (SIMI), who had been on the run for over 19 years.
Abdullah Danish (58), who was wanted in a sedition case of 2001, was of late indulged in radicalising Muslim youth to mobilise them for protests against National Register of Citizens and the Citizenship (Amendment) Act and propagating hardcore radical ideology to create disharmony among religious groups, said Deputy Commissioner of Police (Delhi Special Cell) Pramod Singh Kushwah on Sunday.
Delhi Police said he was falsely propagating that the Centre was committing atrocities on Muslims by using fake videos.
Kushwah added Danish has been one of the most elusive SIMI members for the last 19 years.
According to a statement by the Delhi Police, Danish was declared proclaimed offender in the case of sedition and unlawful activity by a trial court in 2002.
The case pertains to a raid during a press conference by the office bearers of SIMI near their headquarters in Jamia Nagar, Delhi, despite being banned by the Centre in 2001. Many SIMI members were arrested, but a number of cadres fled from the scene. Incriminating material and provoking literature in form of SIMI magazines (Islamic Movement), audio/videos in floppies, posters, computers, and photo albums were recovered, police said.
According to the release, he joined the SIMI in 1985. As a member of SIMI, Danish has been continuously propagating hardcore Islamic ideology and luring gullible Muslim youths to join it by radicalizing/brainwashing them. He remained the chief editor of Hindi Islamic Movement for four years, said the release.
https://timesofindia.indiatimes.com/india/wanted-simi-member-evading-arrest-for-over-19-yrs-held/articleshow/79596201.cms
--------
Pakistan violates ceasefire along LoC in Poonch
Dec 6, 2020
JAMMU: Pakistan on Sunday violated the ceasefire, resorting to unprovoked firing and heavy mortar shelling targeting forward Indian posts and civilian areas along the Line of Control (LoC) in J&K's Poonch district. This was the fourth such breach of truce in the past 24 hours.
"The violation came around 12.30pm in Poonch's Balakote sector, to which Indian Army retaliated befittingly," Jammu-based defence spokesperson Lt Col Devender Anand said, adding that no injury or damage was suffered by own troops in the cross-border fire exchange.
On Saturday, Pakistani troops had violated ceasefire twice along the LoC in Poonch — in Balakote, Kirni and Qasba sectors — and once along the International Border in Kathua district's Panser-Hiranagar sector.
https://timesofindia.indiatimes.com/india/pakistan-violates-ceasefire-along-loc-in-poonch/articleshow/79596501.cms
--------
Cop, civilian injured in Srinagar terror attack
Dec 6, 2020
SRINAGAR: A J&K Police constable and civilian were injured when terrorists opened fire at a police check-post in Sazgaripora locality in downtown Srinagar's Hawal area on Sunday.
Constable Farooq Ahmed from Zadibal police station and Muneer Ahmed, a resident of Srinagar's Safa Kadal area, sustained leg injuries in the attack. "Both were shifted to a hospital immediately. They are out of danger," an official said.
Soon after the attack, senior police officers rushed to the spot. Additional reinforcements were sent in and security forces cordoned off the area and launched a search operation to trace the perpetrators, the official added.
https://timesofindia.indiatimes.com/india/cop-civilian-injured-in-srinagar-terror-attack/articleshow/79596445.cms
--------
5 associated with terror outfits held after shootout in east Delhi, say police
Karn Pratap Singh | Edited by Kanishka Sarka
Dec 07, 2020
Five men belonging to different terrorist organisations have been apprehended after a shootout in east Delhi on Monday, the Delhi Police's special cell said. The exchange of fire took place in the national capital's Shakarpur area around 7am.
Two of those held are from Punjab while three are from Kashmir, deputy commissioner of police of the special cell Pramod Kushwaha said. "The operation happened around 7am in the Shakarpur area. The five were caught after an exchange of bullets with our special cell officials. We have recovered weapons and other incriminating materials from them," he added.
On being asked about the identities of the apprehended persons and the terror groups they are associated with, the Kushwaha said that the investigation is at an early stage and all information related to the suspects is being verified.
The group was backed by Pakistan's Inter-Services Intelligence for narcoterrorism, Kushwaha told ANI.
https://www.hindustantimes.com/delhi-news/5-associated-with-terror-outfits-held-after-a-shootout-in-east-delhi-say-police/story-VfrzbeoZjn5XywUWwZ6lFO.html
--------
Mideast
Slain Iranian scientist Fakhrizadeh asked to produce 'five warheads': Israeli report
Tommy Hilton
06 December 2020
The recently assassinated Iranian nuclear scientist Mohsen Fakhrizadeh was recorded saying he had been asked to produce "five warheads" for the Islamic Republic of Iran, according to reports by the Israeli daily Yedioth Ahronoth quoted in the Times of Israel.
The recording was reportedly acquired by Israel's former Prime Minister Ehud Olmert after Israeli intelligence recruited an Iranian official close to Fakhrizadeh, according to the Times of Israel citing the Yedioth report.
The report added that Olmert apparently played the recording to then US President George W. Bush in 2008 as part of Israel's efforts to convince his administration of the dangers of Iran's nuclear program.
According to the Times of Israel, Yedioth cited several unnamed Israeli and Middle Eastern intelligence officials on top of recollections from Ehud Barak, another Israeli former prime minister who was Olmert's defense minister in 2008.
The paper told how Olmert considered the recording "top-secret" due to its source and insisted that President Bush's adviser Stephen Hadley left the room before playing it.
According to the report, Olmert told Bush: "I'm going to play you something, but I ask that you not talk about it with anyone, not even with the director of the CIA," before playing a recording of a man speaking Persian.
"The man speaking here is Mohsen Fakhrizadeh," Olmert reportedly told Bush. "Fakhrizadeh is the head of the "AMAD" program, Iran's secret military nuclear project. The one it denies exists at all."
A man who Olmert said was Fakhrizadeh was then heard saying – in an apparent reference to what the Times of Israel called "his superiors" – that "they want five warheads." He then reportedly said "they aren't letting me work." The Times of Israel noted that Yedioth did not quote the word "nuclear" directly.
Fakhrizadeh and Iran's nuclear program
Israel has long accused Fakhrizadeh of leading Iran's efforts to develop a nuclear weapon program, which it denies.
In 2018, Israeli Prime Minister Benjamin Netanyahu said Israeli intelligence had acquired extensive data from Iran's nuclear program that showed its ambitions to develop nuclear weapons and implicated Fakhrizadeh.
"Remember that name, Fakhrizadeh," he said in a press conference at the time.
The man dubbed "the father of Iran's nuclear program" was a brigadier general in the Islamic Revolutionary Guards Corps (IRGC) and a physics professor at the Imam Hussein University.
Fakhrizadeh headed the country's AMAD Project, which was aimed at developing a nuclear device – while Iranian officials say the program is now closed, Israel and others say it is still ongoing in secret. He later founded Iran's Organization of Defensive Innovation and Research (SPND).
Fakhrizadeh was shot dead on the outskirts of Tehran on November 27. Iran has accused Israel of being behind the assassination and threatened revenge attacks.
https://english.alarabiya.net/en/News/middle-east/2020/12/06/Slain-Iranian-scientist-Fakhrizadeh-asked-to-produce-five-warheads-Israeli-report
--------
Scientist killed by remote-controlled machine gun, says Iranian official
07 Dec 2020
TEHRAN: A satellite-controlled machine gun with "artificial intelligence" was used in last week's assassination of a top nuclear scientist in Iran, the deputy commander of the Revolutionary Guards told media on Sunday.
Mohsen Fakhrizadeh was driving on a highway outside Tehran with a security detail on Nov 27, when the machine gun "zoomed in" on his face and fired 13 rounds, said rear admiral Ali Fadavi.
The machine gun was mounted on a Nissan pickup and "focused only on martyr Fakhrizadeh's face in a way that his wife, despite being only 25 centimetres away, was not shot," Mehr news agency quoted him as saying.
It was being "controlled online" via a satellite and used an "advanced camera and artificial intelligence" to make the target, he added.
Fadavi said that Fakhrizadeh's head of security took four bullets "as he threw himself" on the scientist and that there were "no terrorists at the scene".
Iranian authorities have blamed Israel and the exiled opposition group the People's Mujahedeen of Iran (MEK) for the assassination.
State-run Press TV had previously said "made in Israel" weapons were found at the scene.
Various accounts of the scientist's death have emerged since the attack, with the defence ministry initially saying he was caught in a firefight with his bodyguards, while Fars news agency claimed "a remote-controlled automatic machine gun" killed him, without citing any sources.
According to Iran's defence minister, Amir Hatami, Fakhrizadeh was with one of his deputies and headed the ministry's Defence and Research and Innovation Organisation, focusing on the field of "nuclear defence".
https://www.dawn.com/news/1594456/scientist-killed-by-remote-controlled-machine-gun-says-iranian-official
--------
Iranian Students Gather in Front of Arak Heavy Water Site, Call for Revenge for Assassination of N. Scientist
2020-December-6
The university students carried placards which blasted any move to negotiate with the US as betrayal of the nation, stressing the need for taking a harsh revenge for the assassination of martyr Fakhrizadeh.
Participants in the rallies referred to the repeated disloyalties by the US and Europe in the nuclear deal, and asked the government to rewind all suspended nuclear activities as soon as possible.]
"The honorable government should rewind all nuclear program activities of Iran as soon as possible and account for the 7 years of suspension and roll-back, and also all dimensions of the assassination of our martyred scientist should be clarified and the masterminds of this savage assassination should be confronted decisively. The harsh revenge for the blood of our martyrs will be full annihilation of the usurper Israel," they said in a statement.
"We, the revolutionary youth, are waiting for a harsh revenge," the students emphasized.
Iranian nuclear scientist Mohsen Fakhrizadeh's car was targeted by an explosion and machinegun fire in Damavand's Absard 40 kilometers to the East of Tehran on November 27.
The nuclear scientist and one of his companions were immediately taken to a nearby hospital but he could not be saved.
Iranian Foreign Minister Mohammad Javad Zarif tweeted that the assassination bears all the hallmarks of the Israeli regime.
An informed source told Press TV that the remains of the weapon used in the Friday assassination of senior nuclear scientist Mohsen Fakhrizadeh show that it was made in Israel.
The history of Tel Aviv's sabotage targeting Iran's nuclear energy program is as old as the program itself.
Many observers believe Israel is not able to carry out such dangerous operations without the prior information and support of the United States which left a landmark nuclear deal with Iran in 2015.
Secretary of Iran's Supreme National Security Council (SNSC) Ali Shamkhani said that electronic equipment has been used in the "highly complicated" assassination of Fakhrizadeh, and further underlined the role of Israel and the anti-Iran Mojahedin-e Khalq Organization (MKO, also known as the MEK, PMOI and NCRI) in the terror attack.
"Unfortunately, the operation was very complicated and was carried out by using electronic equipment and no one (terrorist) was present on the scene. But some clues are available, and the identity and records of the designer of the operation has been discovered by us," Shamkhani said.
"Certainly, Monafeqin (hypocrites as MKO members are called in Iran) have played a role and certainly, the Zionist regime and Mossad are the criminal mastermind of this incident," he added.
Early in 2018, the Israeli sources had acknowledged that Mossad had tried to assassinate an Iranian nuclear scientist, but its operation failed.
According to Fars News Agency, Mossad had gained access to Fakhrizadeh's name via a UN list which referred to him as a senior scientist of Iran's Defense Ministry's Physics Research Center.
After the terrorist attack on Friday, Commander of the Islamic Revolution Guards Corps (IRGC) Major General Hossein Salami underlined that assassination of Fakhrizadeh may not undermine Iranians' resolve, and said revenge for the terror attack is already on the country's agenda.
General Salami extended condolences to Supreme Leader of the Islamic Revolution Ayatollah Seyed Ali Khamenei, martyr Fakhrizadeh's family, and the Iranian nation over the martyrdom of Head of the Research and Innovation Organization of Iran's Defense Ministry, Dr. Mohsen Fakhrizadeh, who was assassinated in an organized and pre-planned terrorist attack by the child-killing Israeli regime.
"The enemies of the Iranian nation, specially the masterminds, perpetrators and supporters of this crime, should also know that such crimes will not undermine the resolve of the Iranians to continue this glorious and power-generating path, and harsh revenge and punishment is on agenda for them," the IRGC chief commander stressed.
Also, Ayatollah Khamenei in a message condemned assassination of Fakhrizadeh, ordering officials to take action to punish the masterminds and perpetrators of the terror attack.
"Mr. Mohsen Fakhrizadeh, a prominent nuclear and defense scientist of the country, was martyred by criminal and cruel mercenaries. The unique scientific figure gave his dear and precious soul in the way of God for his great and lasting scientific efforts, and the high position of martyrdom is his divine reward," Ayatollah Khamenei said in his message.
"Two important issues should be seriously put on the agenda by all relevant officials; first, probing the crime and the definite punishment of those who perpetrated and ordered it; and second, pursuing and continuing the martyr's scientific and technical efforts in all the sectors in which he was engaged," he added.
Ayatollah Khamenei also extended his condolences to martyr Fakhrizadeh's family, students and the scientific society of the country, wishing him the highest position before God.
President Rouhani also condemned assassination of Fakhrizadeh, vowing retaliation for the criminal act.
"All think-tanks and enemies of Iran should know well that the Iranian nation and officials are too brave and too couragous to leave this criminal act unanswered," Rouhani said, addressing a meeting of the national coronavirus campaign headquarters in Tehran.
"The relevant officials will give a response to their crime in due time, and in addition, the Iranian nation is too wise and too smart to fall into the trap of the Zionists' plot," he added.
President Rouhani said that it seems some parties are after stirring chaos but "they should know that we are aware of their plots and they will not succeed in attaining their malicious goals".
"The Zionist regime and those standing against Iran should know that the path of the country's development and research will be paved rapidly" and a large number of other Iranian scientists like Fakhrizadeh will emerge to help, he added.
Iranian nuclear scientists have been the target of the western and Israeli spy agencies' assassination attempts in recent years.
In June 2012, Iran announced that its intelligence forces had identified and arrested all terrorist elements behind the assassination of the country's nuclear scientists.
"All the elements involved in the assassinations of the country's nuclear scientists have been identified and arrested," Iran's Intelligence Ministry announced in a statement.
"A number of countries, whose territories and facilities had been misused by the Mossad-backed terrorist teams, have provided the Iranian officials with relevant information," the statement added.
"Over the course of the investigations, all other elements behind the assassinations of the Iranian scientists Massoud Ali-Mohammadi, Majid Shahriari and Mostafa Ahmadi Roshan as well as Reza Qashqaei (Roshan's driver) have been apprehended," the statement read.
"Some of the perpetrators of the assassination of Dr. Fereidoun Abbasi, the current head of Iran's Atomic Energy Organization, are among those arrested," the ministry added.
According to the statement, Iran's Intelligence Ministry had detected some of Mossad's bases within the territories of one of Iran's Western neighbors, which provided training and logistical support to the terrorist networks.
In the fifth attack of its kind in two years, terrorists killed a 32-year-old Iranian scientist, Mostafa Ahmadi Roshan, and his driver on January 11, 2012.
The blast took place on the second anniversary of the martyrdom of Iranian university professor and nuclear scientist, Massoud Ali Mohammadi, who was also assassinated in a terrorist bomb attack in Tehran in January 2010.
The assassination method used in the bombing was similar to the 2010 terrorist bomb attacks against the then university professor, Fereidoun Abbassi Davani – who became the head of Iran's Atomic Energy Organization - and his colleague Majid Shahriari. While Abbasi Davani survived the attack, Shahriari was martyred.
Another Iranian scientist, Dariush Rezaeinejad, was also assassinated through the same method on 23 July 2011.
In a relevant development in January, 2015, the Islamic Revolution Guards Corps (IRGC) announced that it had thwarted an attempt by the Israeli intelligence forces to assassinate an Iranian nuclear scientist.
"In the last two years, the Zionist enemy (Israel) was trying hard to assassinate an Iranian nuclear scientist, but the timely presence of the IRGC security forces thwarted the terrorist operation," Deputy Chief Liaison Officer of Flight Guards Corps Colonel Ya'qoub Baqeri told FNA in 2015.
https://www.farsnews.ir/en/news/13990916000633/Iranian-Sdens-Gaher-in-Frn-f-Arak-Heavy-Waer-Sie-Call-fr-Revenge-fr
--------
Israel closes case on 9-year-old Palestinian boy shot in eye during police activity
06 December 2020
Israel's internal affairs department said it would not prosecute police officers involved in an alleged shooting that cost a nine-year-old Palestinian his eye, a decision seen by AFP Sunday said.
The family of Malek Issa, who now has a glass eye, said the boy was hit by a non-lethal round used for crowd control in February while he was buying a sandwich.
The incident took place in the Jerusalem neighborhood of Issawiya, part of the predominantly Palestinian eastern part of the city, which Israel captured in 1967.
For all the latest headlines follow our Google News channel online or via the app.
Police at the time said they were responding to a riot in the area.
The justice ministry said that following an exhaustive investigation, its internal affairs department "concluded there was not sufficient evidence to press criminal charges."
It said the police force suspected of firing the round had "encountered resistance that included throwing stones at the force," while en route to make an arrest.
"During the activity, a sponge bullet was fired toward a wall, which was not close to where the boy was standing," it said in the decision.
The ministry said a medical investigation could not rule out the possibility Issa lost his eye "from a stone, and not the sponge bullet."
While the force was cleared of criminal responsibility, the internal affairs department called for a police inquiry into the incident, "including regarding the use of a sponge rifle during operational activity near civilians," the statement said.
"This is a serious and saddening incident that took place during operational activity," it added.
https://english.alarabiya.net/en/News/middle-east/2020/12/06/Israel-closes-case-on-9-year-old-Palestinian-boy-shot-in-eye-during-police-activity
--------
Palestinian Journalists Syndicate urges boycott of Israeli media outlets
06 December 2020
The Palestinian Journalists Syndicate (PJS) has urged the press community to boycott Israeli media outlets against the backdrop of the free-to-air Channel 13 television network's airing a "distorted" report about Palestinians in the occupied West Bank.
The PJS said in a statement on its Facebook page that the misleading report about nightlife in Ramallah and Bethlehem had been prepared by two correspondents of the channel, who are notoriously known for their implacable hostility toward Palestinians and their national cause, besides fabrication of lies and distortion of facts.
It urged Palestinians to perform their own duties and prevent "such dangerous distortions."
The syndicate said it had repeatedly called for the total boycott of Israeli reporters, who enter Palestinian territories as "occupiers" and "under the protection of Israeli occupation forces."
"Any treatment or meeting with the Israeli media, or offering logistic assistance for them during their entry to the Palestinian territories are considered a normalization crime which is nationally and popularly rejected," the statement read.
The PJS further highlighted that the "distorted" report overlooks the miserable life that Palestinians are enduring as a result of the Israeli regime's occupation, and portrays the owners of Palestinian restaurants, coffees shops and hotels who appear in it as "inferior."
"The report, as usual, does not reflect the reality on the ground, and stops short of exposing the consequences of the Israeli regime's crimes and occupation on the Palestinian economy."
"Palestinian journalists and media outlets are subjected to suppression, sometimes in front of Israeli journalists or with their support. The PJS considers any assistance to Israeli media and journalists an encouragement of such crimes. We will neither forgive nor show mercy to the Palestinians who cooperate with Israeli news outlets."
According to the Palestinian Center for Development and Media Freedoms (MADA), the Israeli military committed 34 violations against media freedom in October.
MADA announced in a report that the violations included the arrest, detention, summons of Palestinian journalists and closure of news institutions.
The report then pointed to assaults on 13 Palestinian journalists, their prevention to cover a peaceful march in the central West Bank city of Salfit, renewal of the closure order against Palestine TV office in Jerusalem al-Quds, detention of Palestinian journalist Bushra al-Tawil for the second time this year, as well as the injury of Hazem Badr and Amir Shaheen during the mentioned period.
More than 7,000 Palestinian prisoners are currently held in some 17 Israeli jails, with dozens of them serving multiple life sentences.
https://www.presstv.com/Detail/2020/12/06/640133/Palestinian-Journalists-Syndicate
--------
Biggest Iranian flotilla en route to Venezuela with fuel, defying US sanctions
06 December 2020
Iran is sending its biggest fleet yet of tankers to Venezuela in defiance of US sanctions to help the isolated nation weather a crippling fuel shortage, according to people with knowledge of the matter.
Some of the flotilla of about 10 Iranian vessels will also help export Venezuelan crude after discharging fuel, the people said, asking not to be named because the transaction is not public.
The Nicolas Maduro regime is widening its reliance on Iran as an ally of last resort after even Russia and China have avoided challenging the US ban on trade with Venezuela. The country's fuel crunch follows decades of mismanagement, corruption and under-investment at state-owned Petroleos de Venezuela since the time of Maduro's late mentor and predecessor, Hugo Chavez.
For all the latest headlines follow our Google News channel online or via the app.
The country that was once a top supplier of crude to the US and boasted one of the lowest domestic gasoline prices in the world, now can barely produce any fuel.
The last Iranian fuel shipments sent in early October on three vessels are running out, threatening steeper nationwide shortages with hours-long queues at gas stations.
The current fleet under sail is about double the size of the one that first startled international observers in May, crossing a Caribbean Sea patrolled by the US Navy, to be greeted by Maduro himself upon arrival.
"We're watching what Iran is doing and making sure that other shippers, insurers, ship owners, ship captains realize they must stay away from that trade, Elliott Abrams, the US special representative for Iran and Venezuela, said in September.
Several vessels that transported fuel to Venezuela earlier this year, including Fortune and Horse, turned off their satellite signal at least ten days ago, according to Bloomberg tanker-tracking data. Turning off transponders is a commonly used method by ships hoping to avoid detection. In other instances of Iranian aid to Venezuela, ship names were painted over and changed to obscure the vessel's registration.
The oil ministry in Tehran declined to comment on the matter. Messages sent to several officials at PDVSA, as Venezuela's state oil company is known, weren't immediately answered.
In addition to importing fuel, Venezuela also needs to export enough crude oil to free up storage space and prevent field stoppages, a task made more difficult by the sanctions against Maduro's regime. Production at
Venezuela's network of six refineries has gone into steady decline, with spills and accidents becoming routine. Maduro's government has increased pressure on the poorly-maintained infrastructure to ensure output for local consumption.
Sanctions have made it difficult to import parts or hire contractors, and the Maduro regime is running out of cash.
Consequently, the two nations are also discussing ways for Iran to help Venezuela overhaul its Cardon refinery, the last fuel plant there to operate more or less regularly, people with knowledge of the situation said. In 2018, Chinese oil companies also looked at helping Venezuela fix its refineries, but lost interest after a review of the installations, people familiar with those plans said.
It's unclear whether the Iranians would be able to achieve what the Chinese didn't. Venezuela's refineries were built and operated for decades by US and European oil majors until nationalization in the 1970s. Even then, PDVSA relied on US technology and parts for maintenance and expansions. This means the Iranians will need to make certain parts from scratch to carry out key repairs. Some fixes made in June and July haven't been successful yet and four local contractors are still conducting repairs, said one of the people.
Maduro is under renewed international pressure after the opposition decided to boycott Dec. 6 National Assembly elections that are widely considered to be overseen by Maduro loyalists. Maduro is hoping for a big turnout to claim he has public support.
https://english.alarabiya.net/en/News/middle-east/2020/12/06/Biggest-Iranian-flotilla-en-route-to-Venezuela-with-fuel-defying-US-sanctions
--------
Hezbollah drone penetrated occupied territories amid Israel drills
06 December 2020
Hezbollah says it successfully flew a drone into the Israeli-occupied Palestinian territories during large-scale Israeli military maneuvers, retrieving the aircraft safely without it even being detected.
The Lebanese resistance movement announced the information on Friday, offering footage recorded by the aerial vehicle of two Israeli outposts as proof, Lebanon's al-Manar television network reported.
Israeli daily The Jerusalem Post said the drone had been "sent to spy" inside the occupied territories.
The unmanned aircraft peeked into the "Lethal Arrow" drills on the second day of the wargames in October, which were simulating warfare on the resistance group among other scenarios.
The Times of Israel identified the bases captured in the drone footage as "the Biranit camp near the [occupied territories'] border [with Lebanon] and a military outpost in the Har Dov area." Har Dova is Israel's designation for Lebanon's Shebaa Farms that Tel Aviv has been occupying since 1967.
The occupying regime has been put on an unprecedented level of alert since April, when it assassinated a Hezbollah member in Syria, prompting the movement to vow revenge.
Israeli army spokesman Avichay Adraee also confirmed the incident in a tweet, saying likewise that "the [Israeli] Northern Command remains in a state of great readiness and will not allow a breach" targeting the occupying regime.
Israeli Minister for Military Affairs Benny Gantz, meanwhile, alleged that the Lebanese people would be the ones paying "the price of any aggression from Hezbollah."
Israel launched two wars against Lebanon in the 2000s to supposedly deliver crushing blows to the movement, which conversely fought off the occupation army and forced it into a retreat.
The Islamic Jihad, a Palestinian resistance movement based in Israel-blockaded Gaza Strip, hailed the drone operation by Hezbollah as a "great strategic achievement" for the regional resistance front.
Islamic Jihad Spokesman Davoud Shihab said the triumph indicated that the Lebanon-based Islamic resistance fighters were enhancing their military capabilities and equipment in various ways.
In August, Hezbollah reported that it had downed an invading Israeli drone near the town of Aita al-Shaab on Lebanon's border.
Shihab said Palestinian resistance movements were prepared to confront any invasion by the Israeli military.
He said, according to his group's assessments, the regime was after committing one such invasion in the run-up to US President-elect Joe Biden's inauguration in order to "complicate" matters for the incoming administration in Washington.
https://www.presstv.com/Detail/2020/12/06/640123/Lebanon-Hezbollah-drone-flies-Israel-drills-Lethal-Arrow
--------
Pakistan
World must protect Muslim sites in India: Pakistan
December 07, 2020
ISLAMABAD:
Pakistan has urged the world community, the United Nations and other organizations to play their role in preserving Islamic heritage sites in India from the extremist 'Hindutva' government of the Bharatiya Janata Party (BJP) and to ensure protection of minorities in the neighbouring country
The call was made in a statement that the foreign office issued on Sunday at the 28th anniversary of the 1992 demolition of the historic Babari Masjid in Ayodhya city of Indian state of Uttar Pradesh.
On December 6, 1992 thousands of Hindu zealots razed to the ground the 16th century historic mosque. However, recently a trial court acquitted all prominent BJP leaders from the case and ruled that demolition of the mosque was not pre-planned.
According to the foreign office, there was compelling evidence with hundreds of eyewitness accounts that proved beyond doubt that the mosque demolition was pre-planned. Adding insult to injury, the Indian Supreme Court also allowed the construction of Hindu Temple at the site of the Babari Masjid.
"Today is a sad reminder of the demolition of the historic Babri Masjid in India.
"On this day, 28 years ago, Hindu zealots of the RSS-inspired BJP, backed by the state apparatus, demolished the centuries-old Mosque in Ayodhya in an abominable act of anti-Muslim frenzy and blatant violation of religious and international norms," read the foreign office statement.
The statement said the painful scenes of the demolition of the mosque still remain fresh in the minds of not only Muslims but all conscientious people in the world.
"The new illegitimate structure, which the Hindutva-driven BJP has campaigned for and is bent upon constructing as part of its agenda of converting India into a 'Hindu Rashtra', is a scar on the face of so-called 'largest democracy' in the world."
It said the flawed judgment of the Indian Supreme Court in the Babri Masjid case in November 2019 not only reflected the preponderance of faith over justice but also the growing majoritarianism in today's India, where minorities, particularly Muslims and their places of worship, are increasingly under attack.
"The recent shameful acquittal of the criminals responsible for demolishing the historic Babri mosque in 1992 represented another egregious travesty of justice," the statement added.
It also noted that the extreme haste in starting construction of a temple at the mosque site – amidst the ravaging Covid-19 pandemic, anti-Muslim Citizenship Amendment Act (CAA), the looming National Register of Citizens (NRC) to disenfranchise Muslims, the targeted killings of Muslims in Delhi with state complicity in February 2020, and other anti-Muslim measures – shows how Muslims in India are being systematically demonized, dispossessed, marginalized and subjected to targeted violence.
The foreign office said the Organization of Islamic Cooperation (OIC) – an inter-governmental organization representing 57 Muslim states – has passed numerous resolutions, condemning the odious act of demolishing the historic mosque.
Recently, at the 47th session of the Council of Foreign Ministers (CFM) held at Niamey, the OIC called upon the Indian government to take immediate steps to implement its commitment to reconstruct the Babri Mosque on its original site.
It also urged India to punish those responsible for the mosque's demolition, to prevent the construction of a temple on its site, take immediate steps to ensure the protection of the other 3,000 historic mosques, and ensure the safety and protection of the Muslims and their holy sites throughout India.
"In line with that spirit, Pakistan once again urges the Indian government to ensure safety, security and protection of minorities, particularly Muslims and their places of worship.
"[It also calls upon New Delhi to] fulfill its responsibilities under the Universal Declaration of Human Rights and other international instruments including the recommendations of the OIC," the statement said.
https://tribune.com.pk/story/2274960/world-must-protect-muslim-sites-in-india-pakistan
--------
Pak opposition warns Imran Khan govt of retaliation if it uses force to disrupt Lahore rally
Dec 06, 2020
Pakistan`s Opposition leader Fazlur Rehman has warned that they will retaliate if the Prime Minister Imran Khan-led government uses force to disrupt the Pakistan Democratic Movement`s (PDM) Lahore rally.
Addressing the late Sheikhul Hadith Maulana Amanullah Conference in Sarai Naurang, Lakki Marwat, the Jamiat Ulema-e-Islam-Fazl (JUI-F) leader blamed "selected rulers" for destroying the country`s economy, Geo News reported.
The opposition parties wanted their armed forces to carry on their duties as professional soldiers, he said, adding that "They are our strength and should concentrate to protect the geographical frontiers of the country."
Every institution should play its due role under the Constitution so that the country could face the challenges with unity, Marwat said, urging party workers to participate in the PDM`s Lahore rally to send a strong message to "selected rulers".
Deploring the arrest and registration of cases against opposition workers, Rehman said: "The Opposition cannot be cowed down through such tactics. The Lahore rally would be the last nail in the coffin of the selected government."
Rehman remarks come a day after Imran Khan ruled out the possibility of the government granting permission to the PDM for holding anti-government rallies and warned that police cases will be lodged against organisers.
In an interview to a private news channel, the premier had said the government has decided against allowing the Opposition to hold the public gathering, Geo News reported. "We will file FIRs against everyone -- from the kursi wala to the sound system handlers but will not stop them [Opposition leaders] from going there," he said.
Meanwhile, Pakistan Muslim League-Nawaz senior leader Rana Sanaullah said people will express solidarity with the PDM at the Minar-e-Pakistan. He also said that the final decision about en masse resignation from national and provincial assemblies will be taken by the leadership of the Opposition`s 11-party alliance - PDM.
"I was first accused of owning property worth two billion rupees in Australia. A fake case was lodged against me. Drug peddlers were brought from Faisalabad to testify against me, but the government did not find any witness against me despite all the pressure," said Sanaullah.
Underscoring the need for dialogues, Sanaullah said that if the Imran Khan-led government had held negotiations with the Opposition, the country`s current situation would have been different, reported ARY News.
He also said that his party will comply with the PDM leadership`s decision.
https://www.wionews.com/south-asia/pak-opposition-warns-imran-khan-govt-of-retaliation-if-it-uses-force-to-disrupt-lahore-rally-347992
--------
Qureshi challenges PDM over resignations issue
Shakeel Ahmed
07 Dec 2020
MULTAN: Foreign Minister Shah Mehmood Qureshi says confusion exists within the Pakistan Democratic Movement (PDM) over various issues, including tendering resignations from the assemblies.
"If they are really determined to resign, they should do it at the PDM meeting which is going to be held on Dec 8. Nobody will stop them from doing so," he challenged the 11-party opposition alliance at a press conference on Sunday.
"The PDM is not a natural alliance. It lacks ideological harmony as each component has a different agenda," he said.
He said that the PDM leadership had been invited to discuss corona-related situation and devise a policy in this regard with consensus but they didn't turn up.
"Similarly they were invited twice ahead of recently-held Gilgit-Baltistan election to let us know their reservations but they again did not come," he said.
Criticises decision to arrest opposition workers before Multan rally
He said that the second wave of coronavirus was more severe than the first but people were spending their lives according to their normal routine.
He alleged that the Sindh government had adopted double standards in following the coronavirus SOPs as during the first wave Chief Minister Murad Ali Shah was pressing for lockdown but now he had forgotten everything.
Multan rally
Mr Qureshi said the decision to arrest opposition workers and erect barricades during the Nov 30 PDM public gathering in Multan was an incorrect move politically and whosoever did it got it absolutely wrong.
He said the number of participants (in the public gathering) was not a secret now. "The PDM should have been allowed to hold the show at Qila Kohna Qasim Bagh as this would have exposed the alliance's failure to draw in a reasonable crowd. I expressed the same point of view in the cabinet meeting that neither the public gathering should be stopped nor containers should be placed around the venue," he said.
Answering a question, Mr Qureshi said Imran Khan did not emerge (on national political scene) overnight. "He is a political reality now and came to power after getting public mandate. In 2013 elections, he succeeded from Khyber Pakhtunkhwa where his party ruled successfully because of which the PTI got more votes in 2018 general elections. It was impossible to think that someone could compete PML-N in Punjab but the PTI had formed its government in Punjab as well."
Kashmir
The minister said the Indian government was being criticised within India as well because of its Kashmir policy.
"The opinion of Indians is divided and a majority of them have rejected the government decision to change the constitutional status of Kashmir. As many as 57 countries of the Organisation of Islamic Counties criticised the Kashmir policy and condemned the construction of a temple in place of Babri Mosque," he said.
He said that a dossier on Indian terror campaign had been handed over to the United Nations but India had failed to reply to it.
"We have exposed India before the world," he said.
Mr Qureshi said Pakistan wanted restoration of peace in Afghanistan and progress in this regard was also being witnessed.
"Not only the world but Afghanistan itself is appreciating Pakistan's role in this regard. Afghanistan thanked Pakistan before 57 countries (in OIC meeting). To protect Pakistan's border, fencing on Pak-Afghan border is underway while it has been decided that fences will also be installed on Pak-Iran border as well. The targets of fencing work will be achieved within a year," he said.
He said that the thinking of US President-elect Joe Biden seems different from the approach of Trump administration. "I think the new US administration will focus on diplomacy," he said.
He said that former prime minister Nawaz Sharif should return to Pakistan as he was in good health now.
https://www.dawn.com/news/1594440/qureshi-challenges-pdm-over-resignations-issue
--------
CTD starts investigation into Pirwadhai blast
Mohammad Asghar
07 Dec 2020
RAWALPINDI: Officials from the Counter-Terrorism Department (CTD) on Sunday visited the site of an explosion in Pirwadhai and examined the surrounding areas besides collecting evidence.
The blast site preserved by the Rawalpindi police since Friday was handed over to the CTD investigators with a digital video recorder (DVR) containing footage. The DVR was installed outside the general store where the blast occurred.
The CTD has registered an FIR under relevant sections of the law and formally launched the investigation into the blast which was the fourth such incident in the garrison city so far this year.
According to sources close to the investigation, besides a crater, the investigators also found signs of a hole in a nullah located four to five feet away from the crater which they suspected was a 'mine type improvised explosive device' planted outside the store.
The owner of the general store was alone and sitting on the floor when the explosion occurred but he remained unhurt. The investigators also observed explosion effects on the store and surrounding structures.
They believed that they would trace the culprits very soon with the help of CCTV and DVR footage. They are also investigating some suspects.
The improvised device went off outside the general store on Friday leaving one person dead and seven others injured. Two of the injured are being treated in Holy Family Hospital while the remaining were discharged after first aid.
Four such blasts have been reported in the garrison city so far this year in which three people died and 30 others injured. But the CTD has been unable to trace the culprits involved in the blasts.
The district administration of Rawalpindi had intimated the police, Special Branch, the district officer of the CTD and other relevant authorities on Dec 2, citing intelligence that there was a terrorism threat.
It had asked them to take extreme vigilance and foolproof security at all levels to avoid any untoward incident.
https://www.dawn.com/news/1594351/ctd-starts-investigation-into-pirwadhai-blast
--------
South Asia
Taliban Attack Rebuffed in Kandahar
By Mohammad Arif Sheva
07 Dec 2020
KANDAHAR, Afghanistan – At least 15 Taliban killed and further five wounded during clashes with Afghan National Defense and Security Forces (ANDSF) in southern province of Kandahar, said the Ministry of Defense in a statement Monday morning.
According to the statement, the Taliban initially carried attacked against the security post, where they suffered heavy retaliation in Panjwae district of the province.
"15 #Taliban were killed and 5 others were wounded after the attacked #ANDSF positions in Panjwae district of Kandahar province, yesterday," said the MoD in a tweet.
Meanwhile, the Afghan National Army (ANA) discovered five Improvised Explosive Devices during the clashes.
"Additionally, a large amount of their weapons and ammunition were destroyed and 5 IEDs were discovered and defused by #ANA," the tweet added.
https://www.khaama.com/taliban-attack-rebuffed-in-kandahar-5678/
--------
Kandahar Car bomb Wounds 11 Police Personnel
By Mohammad Haroon Alim
07 Dec 2020
11 Kandahar provincial police are reported wounded, in a Car bomb explosion on Monday morning, the Ministry of Interior confirmed to media.
The blast occurred at around 10:25 Am after A vehicle landed loaded with explosives detonated Near Daman Police HQ.
Reports indicate, Abdul Wadoud, provincial district Police commander, is also among the wounded policemen.
Jamal Barakzai, a spokesman for the Kandahar police chief, confirmed the incident but has not yet provided further details on the matter.
The District Police Command Building is destroyed due to the blast.
No group has claimed the responsibility for the attack.
https://www.khaama.com/kandahar-car-bomb-wounds-11-police-personnel-876876/
--------
Chhatra League Leader of Awami League, Expelled After Controversial Facebook Post Demeaning Bangabandhu
Fahim Reza Shovon
December 6th, 2020
The leader of the student front reportedly demeaned Bangabandhu in the post
Bangladesh Chhatra League, the student front of ruling Awami League, has expelled a leader of its Dhaka University (DU) unit for breaching organizational rules.
Expelled leader Kabir Hossain was joint general secretary of the Kabi Jasimuddin Hall unit of Chhatra League, according to a statement from Chhatra League issued on Saturday.
The statement did not specify the breach for which Kabir was expelled. However, Chhatra League Kabi Jasimuddin Hall unit President Syed Md Arif Hossain, also vice president of the student front's central committee, said Kabir had been expelled for demeaning Father of the Nation Bangabandhu Sheikh Mujibur Rahman in a recent Facebook post.
In the Facebook post on December 1, which has since been removed, Kabir wrote: "If Mamunul (Hefazat-e-Islam leader) gives wrong explanation of the Quran regarding sculptures and Allah forbids statues, who can dare to make those halal (legitimate)?
"Muslim devotees will not wait a second to stand against those opposing the Quran; be it Mamunul, Mubij or Jia. No matter even if he or she is loyal to Awami League, BNP, leftist parties or Jamaat-e-Islami," he added.
"Ralimuddis, Salimuddis, and Kalimuddis (so called Islamic preachers) don't represent Islam; rather Allah's messenger (PBUH) does. Acquiring knowledge from Quran and Hadith is a must to understand Islam. Imaginary logics don't work here," he further said in the post.
Recently, Mamunul Haque, joint secretary general of Hefazat-e-Islam Bangladesh, and Faizul Karim, nayeb-e-ameer of Islami Andolan Bangladesh, opposed the installation of a sculpture of Bangabandhu Sheikh Mujibur Rahman.
In a program, Mamunul threatened to throw Bangabandhu's sculpture into the Buriganga River. He was later backed by several other Islamist leaders, including Faizul, but many members of the public believe the Hefazat-e-Islam leader's stance is derogatory to the Father of the Nation.
https://www.dhakatribune.com/bangladesh/politics/2020/12/06/chhatra-league-leader-expelled-after-controversial-fb-post
--------
Southeast Asia
Selangau MP calls on PM Muhyiddin to retract statement against secularism, liberalism
05 Dec 2020
KUCHING, Dec 5 ― Selangau MP Baru Bian has called upon the Prime Minister Tan Sri Muhyiddin Yassin to retract his statement against secularism and liberalism as it was deemed grossly insensitive to Sarawak's aspirations.
He also also called upon all right-thinking Sarawak leaders to make their stand on this issue and be heard, so as to safeguard the Federal Constitution and secularity.
"If the Perikatan Nasional (PN) government perseveres to challenge secularism, then all Sarawakian parliamentarians must withdraw support for this PN administration, including the GPS parliamentarians without whom Muhyiddin Yassin will surely fall as PM," he said in a statement today.
Baru, who is Parti Sarawak Bersatu (PSB) presidential council member, said on November 28 at Parti Pribumi Bersatu Malaysia (Bersatu) annual general meeting, the prime minister was quoted as saying the PN government alliance with Umno and PAS, was 'God's will', and vows to fight against secularism and liberalism.
He added that secularism was simply defined as "the concept that the government or other entities should exist separately from religion and/or religious beliefs while liberalism, he pointed out, meant "a political and/or moral philosophy based on liberty consent of the governed and equality before the law."
He noted that this type of secularism on a social or philosophical level has often occurred whilst maintaining an official state church or other state support of religion.
"This statement by the prime minister is very alarming, especially for Sarawak which has always been a secular state.
"Is it the PM's agenda to change this part of the constitution? Make no mistake about it, Sarawak is a secular state, period," he said.
Baru believed Sarawak would not have agreed to join in the formation of Malaysia 50 years ago if it was an Islamic state.
He said Sarawak signed the Malaysia Agreement as a secular state, as shown in historical documents and legal judgments.
"That was the 'binding spirit' of MA63. It must be pointed out that the founding father, Bapa Malaysia Tunku Abdul Rahman, stated it plainly in Parliament: "I would like to make it clear that this country is not an Islamic State as it is generally understood, we merely provided that Islam shall be the official religion of the State [Hansard, May 1,1958]."
"How much clearer can it be that the intention was the establishment of a secular state?" he said.
He believed that during the talks leading to the formation of Malaysia, the non-Muslim communities of Sarawak had voiced their reservations about Islam being the religion of the Federation.
He said it was finally agreed that "While there was no objection to Islam being the national religion of Malaysia there should be no State religion in Sarawak, and the provisions relating to Islam in the present Constitution of Malaya should not apply to Sarawak."
He pointed out that the absence of a state religion was key to Sarawak's agreement to join in the formation of Malaysia in 1963, due to the wisdom of our forefathers.
"If it were otherwise then I have no doubt that Sarawakians would never have agreed to be part of the Federation," he said.
He said in 2015 the capital of Sarawak, Kuching was picked as the "City of Unity" as Kuching is a model city for promoting unity among people of different races and religions.
This, he said, was an undeniable acknowledgement that Sarawak is a state that has a clear direction to unity.
"This is because all Sarawakians value our unique culture where we can all sit and have a meal regardless of race, creed or religion under our unadulterated acceptance way of life. There is a mutual respect here that is obviously lacking in other parts of the country.
"It is imperative that all Sarawakians must take a stand against this insensitive statement by the PM. This brazen attack against secularism must not go unresponded," he said. ― Borneo Post
https://www.malaymail.com/news/malaysia/2020/12/05/selangau-mp-calls-on-pm-muhyiddin-to-retract-statement-against-secularism-l/1929027
--------
PAS Youth chief asks MIC president what took him so long to suggest solution for temple issue
07 Dec 2020
BY KEERTAN AYAMANY
KUALA LUMPUR, Dec 7 — PAS Youth chief Khairil Nizam Khirudin today said MIC president Tan Sri SA Vigneswaran's remarks recently that there are members of the Islamist party who supports terrorist is merely baseless accusations.
On December 3, Vigneswaran while commenting on the controversy surrounding the demolition of a Hindu temple in Kedah last Tuesday had said that PAS should be banned as there are claims of some of them being linked to terrorists.
In a statement today, Khairil said Vigneswaran should not have lashed out against PAS, and questioned why, as the leader of the Indians and Hindus, the latter had not sought a solution to the problem beforehand.
"MIC President, Tan Sri SA Vigneswaran does not need to be rash and show his anger towards PAS to the point of accusing the party of defending terrorists abroad on the basis of Islam. If he is confident that is the truth and has dignity as a politician, then he should name those that he labelled as terrorists.
"Until today, PAS has never expressed support or sympathy for any terrorist group, even among Muslims, and insists on rejecting any form of violence against any individual. PAS is committed to bringing peace, unity and harmony through mutual respect and the upholding of the law," he said.
Khairil said the demolition of the temple had only taken place after much deliberation.
"The step taken by the Mentri Besar (MB) of Kedah, Muhammad Sanusi Md Nor was made to fulfil legal requirements enshrined in the law.
"The question is, why did MIC, as the party claiming to be influential among Indians and Hindus, not act accordingly and lead a solution to the problem for so long? Where is the axis of law if MIC is a legitimate organisation and its people do not comply with existing rules?
"Or does MIC want to claim a special privilege which is free from the relevant legislation? Certainly it is improper and emotional, when all religious affairs in any part of the world go hand in hand with the governance of the country.
"The fact is that those who refuse to submit to the law are more appropriately labeled as terrorists and going beyond religion," he said.
On December 2, Free Malaysia Today (FMT) reported that in response to MIC's reaction towards the temple's demolition, Muhammad Sanusi said MIC should be banned if it incites people to break the law.
The next day, FMT reported Vigneswaran as saying: "If defending the rights of our community can be considered instigation, then PAS should be banned, judging from the number of demonstrations they have held on international issues and claims of some of them being linked to terrorist."
https://www.malaymail.com/news/malaysia/2020/12/07/pas-youth-chief-asks-mic-president-what-took-him-so-long-to-suggest-solutio/1929527
--------
Police shootout kills six suspected supporters of Indonesian cleric
7 Dec 2020
Six suspected supporters of a leading Indonesian Islamic cleric were killed in a clash with police on Monday, according to Jakrta's chief of police.
The incident occurred just after midnight on Sunday a highway when a police car was attacked while following a car believed to be carrying supporters of the cleric, Rizieq Shihab, resulting in a shoot out, Fadil Imran said on Monday.
The police have been investigating the controversial cleric for violations of health protocols during the coronavirus pandemic after large gatherings to celebrate his return to the world's biggest Muslim majority country from self-exile in Saudi Arabia.
The 55-year-old, a firebrand cleric who heads the Islamic Defender's Front (FPI), a conservative Islamic group that has become politically influential in recent years, left Indonesia in 2017 after facing charges of pornography and insulting state ideology.
Despite the allegations, which his supporters say were untrue and an attempt to discredit him, Rizieq's self-imposed exile appears to have done little to diminish his appeal.
When he landed in the capital Jakarta, tens of thousands flocked to the airport in white Islamic grab, ignoring coronavirus protocols and clamouring to kiss his hand.
Before he left Indonesia, Rizieq was the figurehead of the hardline 212 movement that opposed Jakarta's former Christian governor, Basuki Tjahaja Purnama, better known as Ahok, who was accused and ultimately jailed for insulting Islam.
The rallies were the biggest since the fall of Indonesia*s former authoritarian ruler Suharto, in 1998.
In the weeks since his return, Rizieq has declared his plans to embark on a "moral crusade" and has met some politicians and opposition figures.
Officials at the FPI could not immediately be reached for comment on Monday's fatal clash with police.
https://www.theguardian.com/world/2020/dec/07/police-shootout-kills-six-suspected-supporters-of-indonesian-cleric
--------
Africa
Fighting persists in Tigray despite Ethiopia's declaration of victory against rebels
06 December 2020
Fighting persists in Ethiopia's Tigray state a week after Prime Minister Abiy Ahmed announced victory against armed rebels in the northern region in a conflict that has shaken the Horn of Africa.
Rebel forces fighting in Tigray accused Ethiopian troops of looting and inflicting damage on civilian properties on Saturday after government forces said they were within days of capturing their leaders.
Last week, Prime Minister Abiy said that military operations in Tigray had "completed" after government troops claimed they had taken control of the regional capital, Mekelle.
A month of fighting between the federal army and the Tigray People's Liberation Front (TPLF) is believed to have killed thousands of people and driven some 46,000 refugees into neighboring Sudan.
Addis Ababa says the conflict is winding down and claims to have captured or killed most commanders of the rebellious northern force. The TPLF, however, insists the fighting is far from over.
TPLF leader Debretsion Gebremichael told Reuters on Saturday that Tigray's armed forces were still fighting government troops outside Mekelle. He also claimed that federal forces had bombed the town of Abbi Adi on Friday.
A TPLF spokesman accused federal soldiers of looting and inflicting damage on factories in the regional capital.
"(They are) looting civilian properties, hotels and damaging factories after looting," the rebels' spokesman, Getachew Reda, told a TPLF-owned TV station.
Rebel leaders have reportedly fled to surrounding mountains and declared they have begun a guerrilla-style resistance.
Meanwhile, most communications systems in Tigray remained down, making it difficult to verify news of the conflict in the mountainous region bordering Eritrea.
As skirmishes continue in the volatile region, aid agencies are worried about a lack of food, fuel, medicine and even body bags in Tigray.
The European Union's crisis commissioner, Janez Lenarcic, said Addis Ababa's relief operation only covered federal-controlled areas.
"There may be malnourished children on the other side also," Lenarcic told reporters in Ethiopia. The government did not immediately respond to his comments.
TPLF dominated Ethiopian politics for nearly three decades; however, the group's clout declined since Abiy came to power in 2018. Many senior Tigrayan officials have been detained, fired, or sidelined, in what the federal government calls a clampdown on corruption.
The once-powerful TPLF, however, complains of being unfairly singled out in corruption prosecutions.
The conflict has threatened the security of neighboring countries. UN Secretary-General António Guterres has warned that "the stability of Ethiopia is important for the entire Horn of Africa region."
https://www.presstv.com/Detail/2020/12/06/640100/Africa-Ethiopia-Tigray--Debretsion-Gebremichael-Rebels-Abiy
--------
Sudan government rejects army chief's new council
06 December 2020
Sudan's transitional government has rejected the creation of a new body with broad powers that was declared by the army chief, as the African nation is going through a fragile transition to civilian rule.
The transitional government expressed its opposition to the decree made earlier this week by the head of the Sovereignty Council General Abdel Fattah al-Burhan.
Al-Burhan established a Council of Transition Partners (CTP) that is "responsible for leading the transition period, resolving differences [between those in power] and having all the necessary prerogatives to exercise its power," according to Sudan's SUNA news agency.
This is while Sudan has already established a council — comprised of six civilian and five military leaders — that is tasked with leading the country to free and fair multiparty elections in 2022.
The council, which is Sudan's highest executive authority, was founded in August 2019 after the military overthrew president Omar al-Bashir in the wake of mass protests against his rule.
The transitional government of Prime Minister Abdalla Hamdok expressed its opposition to al-Burhan's decree, accusing the general of overstepping his prerogatives by conferring excessive powers on the new body.
Hamdok said that the CTP's "role must be purely consultative and in no case must interfere in the activities of the executive and legislative bodies, nor those of the sovereign council."
The decree, according to government spokesman Faisal Mohammed Saleh, said the new body contradicts the "constitutional declaration" signed last year between pro-democracy activists and the military generals.
"It is imperative that we declare our disaccord with the creation of the CTP in its current form," he said.
He argued that the new body lacks representation and could not serve as a replacement for the yet-to-be formed transitional parliament.
https://www.presstv.com/Detail/2020/12/06/640109/Sudan-politics-military-rule-
--------
Why delay in defeat of Boko Haram, by minister
07 December 2020
Minister of Defence, Major General Bashir Magashi (rtd), has said lack of sophisticated modern weapons was impeding Nigeria's successful fight against terrorism and conduct of other military operations nationwide.
He claimed that some world powers were refusing to sell arms to the most populous black nation.
Magashi, who spoke while commissioning the new office complex of the Defence Research and Intelligence Bureau at the weekend in Abuja, stressed the need for Nigeria to ramp up domestic armament to check dependence on imported arsenal.
His words: "The current threats to Nigeria's national security have clearly shown the need for the armed forces to be highly innovative and self-reliant in the production of unique military hardware.
x
"This development calls for self-appraisal, innovation and determination to indigenously produce our military requirements.
"Most armed forces that have attained self-reliance in equipment and platforms were once faced by similar challenges. Therefore, we need to evolve a new concept of Made-in-Nigeria for our military equipment and platforms."
The minister continued: "The bureau has shown capacity to generate technological solutions of sufficient quantity through collaborative research, such that our forces would be able to confront several operational challenges.
"I am particularly impressed with the progress the bureau has made in many areas within the short period of its existence."
Earlier, the Chief of Defence Staff, General Gabriel Olonisakin, said the success of modern-day armed forces is measured by their ability to develop and employ unique technologies to efficiently confront exceptional security problems.
"The security challenges that we are confronted with as a nation are unique and therefore, require unique indigenous solutions.
"These indigenous solutions can only be achieved through innovative research and development in partnership with the academia, industries and MDAs," he stated.
ALSO, Magashi said the COVID-19 pandemic has worsened the crisis, adding that it would take a long time to successfully address the development.
Addressing the passing out parade of 108 cadets of the Direct Short Service Commission Course 27 at the Nigerian Naval College, Onne, Rivers State, the minister noted that the situation was not hopeless.
Represented by Olonisakin, he said President Muhammadu Buhari had ordered more recruitment into the armed forces for better handling of the nation's security quagmire.
https://guardian.ng/news/why-delay-in-defeat-of-boko-haram-by-minister/
--------
North America
Congress moves to block US troop pullout from Afghanistan, Germany
06 December 2020
US President Donald Trump's controversial move to pull out 2,000 American troops out of Afghanistan and 12,000 more from Germany would be blocked by the major defense policy bill, a report has said.
One provision of the National Defense Authorization Act (NDAA) for fiscal 2021 "would block funding for reducing the number of US troops in Afghanistan from 4,500 to 2,500 by January 15, as ordered by Trump, until the Defense and State Departments verify that it was in the national interest," Military.com news outlet reported Saturday.
Another provision of the NDAA, it added, essentially urges the incoming Biden administration to take a second look at Trump's executive order to withdraw 12,000 American troops from Germany.
According to the bill, troop levels in Germany should remain at 34,500 until 120 days after the secretary of defense submitted cost estimates and assessments of the impact of a withdrawal on allies and military families.
The final draft of the NDAA -- released Thursday night -- underlines that Afghanistan pullout orders, announced by the newly-appointed Acting Defense Secretary Christopher Miller on November 17, "gave Congress no estimate of the national security implications."
According to the report, the Trump administration has so far failed to clarify how a troop withdrawal was "in the national security interests of the United States to deny terrorists safe haven in Afghanistan, protect the United States homeland."
Trump's announcement last June that he wanted 9,500 troops out of Germany after years of battling with NATO allies to spend more for defense has also drawn opposition from both ruling political parties in the US Congress.
On July 29, then-Defense Secretary Mark Esper declared plans to carry out Trump's order that increased the number of US soldiers to be withdrawn from Germany to 12,000.
Some of those troops would return to the US, while others would be transferred to Poland and the Baltic states in a shift eastward to enhance NATO's purported deterrence against Russia, Esper claimed at the time.
The report further pointed out that NDAA provision on Germany "means that final decisions on a troop withdrawal could go to Michele Flournoy, a former undersecretary of Defense for Policy who is considered a frontrunner for defense secretary in the Biden administration."
Flournoy, the report added, has already stated that pulling thousands of troops out of Germany would likely cost more than leaving them in place. He also underlined in an Aspen Security Forum in August that "Our allies were completely surprised by this punitive troop withdrawal from Germany."
Moreover, once Biden is inaugurated on January 20, he would have the authority to issue his own executive order reversing Trump's withdrawal mandate.
https://www.presstv.com/Detail/2020/12/06/640096/US-Congress-troop-pullout-Afghanistan-Germany-the-National-Defense-Authorization-Act
--------
US likely to blacklist Yemen's Houthis as 'terrorist' group amid fears of humanitarian tragedy
06 December 2020
Assistant US Secretary of State David Schenker has raised the possibility of Washington designation of Yemen's popular Houthi Ansarullah movement as a terrorist group during a recent visit to the Persian Gulf state of Oman, its top diplomat confirmed.
"Yes, that was raised," Oman's Foreign Minister Sayyed Badr al-Busaidi said on Saturday during a summit in Bahrain while responding to a question on whether the potential blacklisting had been mentioned by Schenker during his visit to Muscat before heading to Saudi Arabia earlier on Saturday.
"I don't think there is a solution based on classifying or blockading one key player in that conflict and not bringing them to the negotiating table," al-Busaidi then added.
"My question to that (a US designation) ... is that decision going to resolve the Yemeni conflict given that this group is a key player? ... Or is it better to really support what the United Nations envoy is trying to do by inviting everyone including that group to the table," he further emphasized.
Schenker traveled to Muscat on December 1 as part his six-day tour of Oman and Saudi Arabia "to discuss regional security and economic cooperation as well as a way forward on the conflict in Yemen," according to a State Department press release earlier in the week.
Schenker will then head to Saudi Arabia on December 5 "to discuss the Yemen conflict and [Persian] Gulf unity, and to bolster economic partnerships," the statement added.
This is while two sources familiar with the matter were also cited in a Reuters report as statubg last month that US President Donald Trump's administration had threatened to blacklist the Houthi movement, which has been resisting a Saudi-led military aggression against neighboring Yemen since 2015.
The development came a day after the United Nations and international aid agencies warned Washington against its plan to label the popular Yemeni movement as a foreign terrorist group, prompting major concerns that the move would prevent life-saving aid reaching the war-wracked country and would derail a related $700 million aid program.
David Beasley, executive director of the UN's World Food Program (WFP), told the Washington Post daily newspaper earlier this week that the designation could hamper aid deliveries.
Beasley's warning came following his meeting with US Secretary of State Mike Pompeo, in which he expressed "grave concerns" about the blacklisting of Ansarullah.
"WFP is deeply concerned about the potential impact of a decision by the US to designate Ansarullah as a foreign terrorist organization," an unnamed WFP spokesperson said.
Moreover, Scott Paul, the humanitarian policy lead at Oxfam America, warned that terrorist designation of the Ansarullah movement would create a situation in which all aid work in Yemen would be criminalized, and no licenses or authorizations for aid work would be available.
Paul further emphasized that the US government's failure to issue licenses for humanitarian assistance to Somalia in 2011 led up to a famine that took the lives of a quarter-million people in the Horn of Africa nation.
Saudi Arabia and a number of its regional allies launched their aggression against Yemen in March 2015 aimed at bringing the government of former president Abd Rabbuh Mansur Hadi back to power and crushing the popular Ansarullah movement.
The US-based Armed Conflict Location and Event Data Project (ACLED), a nonprofit conflict-research organization, estimates that the war has claimed more than 100,000 lives.
The Ansarullah movement, backed by Yemeni armed forces, has been defending their country against the Saudi-led military aggression, preventing the aggressors from fulfilling the objectives of the atrocious war.
https://www.presstv.com/Detail/2020/12/05/640087/US-diplomat-Yemen-Ansarullah-movement-blacklist--terrorist-group-
--------
Israel planned the scientist murder to sabotage the Iran nuclear deal: Journalist
05 December 2020
American political commentator and journalist Jim W. Dean says Israel's assassination of Iranian nuclear scientist Mohsen Fakhrizadeh "was an obvious provocation to get Iran to retaliate and hence spoil the potential of getting the JCPOA back on track."
Dean made the remarks in an online interview with Press TV on Saturday. Fakhrizadeh was assassinated in a small city east of the capital Tehran in an ambush attack on his vehicle involving an explosion and machine gun fire last week.
Fakhrizadeh's death came two years after Israeli Prime Minister Benjamin Netanyahu, during an erroneous presentation about Iran's nuclear activities, warned the world to "remember that name."
Iranian Foreign Minister Mohammad Javad Zarif has said there were "serious indications" that the Israeli regime was responsible for the assassination.
One American official and two other intelligence officials confirmed to the New York Times that Israel was behind the attack.
Following the assassination, the US military has moved the USS Nimitz aircraft carrier back into the Persian Gulf along with other warships.
A military official told the CNN that the deployment was meant to provide "combat support and air cover" for American troops withdrawing from Iraq and Afghanistan by January 15 before President Donald Trump leaves office.
Former CIA head John Brennan has denounced the state-sponsored killing of the scientist as a "criminal" act.
He described the assassination as a crime that risked to inflame regional conflict in the Middle East.
"The act was an obvious provocation to get Iran to retaliate and hence spoil the potential of getting the JCPOA back on track. Israel is desperate to prevent that," said Dean.
"We already have on the record now Trump wanting to make a strike on Iran's nuclear facilities, also to get it to retaliate and prevent Biden having any chance to deescalate Persian Gulf tensions," he stated.
"There are powerful entities that was to keep the region boiling," he noted.
"Trump is also looking to see what kind of favors he can earn while he is still president, like an extradition safe refuge from his looming legal problems, which include criminal charges. A desperate man is a dangerous one," he concluded.
https://www.presstv.com/Detail/2020/12/05/640057/%E2%80%98Israel-planned-the-scientist-murder-to-sabotage-Iran-deal%E2%80%99
--------
URL: https://www.newageislam.com/islamic-world-news/israel-occupies-lands-puts-palestinians/d/123685
New Age Islam, Islam Online, Islamic Website, African Muslim News, Arab World News, South Asia News, Indian Muslim News, World Muslim News, Women in Islam, Islamic Feminism, Arab Women, Women In Arab, Islamophobia in America, Muslim Women in West, Islam Women and Feminism