New Age Islam News Bureau
9 May 2013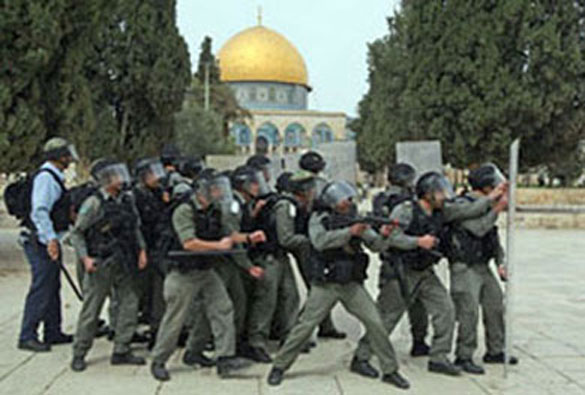 Israeli police enter the al-Aqsa Mosque compound.
------------
Mideast
• Israel Bars Muslims from Entering Al-Aqusa Mosque
• Israel releases top mufti of Jerusalem after Questioning for hours
• Qaeda suspects kill 3Yemen generals
• Iran Hostages See Renewed Focus on Their 17-Year Bid for Compensation
• Israel okays new settler homes near Ramallah
------------
Africa
• Nigerian town on lockdown after fresh Islamist violence, killing 55 people
• Court: Libyan trials could be a 'new Nuremberg'
• Former US official describes Libya attack
------------
North America
• Catholic soldier says her Muslim-sounding name made her a target for harassment in US Army
• National Household Survey shows Muslim population fastest-growing religion in Canada
• Boston Bomb Inquiry Looks Closely at Russia Trip
• In Boston and Cleveland tragedies, a case for more neighbourliness
• UN decries ballooning poverty in east Jerusalem
• Obama to discuss Syria, G8 summit with UK's Cameron
------------
Pakistan
• Taliban threaten polling day suicide attacks in Pakistan
• Hard-line Islamists to make gains in Pakistan vote
• Pakistan votes in historic polls under Taliban shadow
• Nawaz Sharif calls for warmer ties with India
• Pakistani beheaded in Saudi for drug trafficking
• Gunmen abduct former PM Gilani's son in Multan
• No party will get majority: survey
• PHC declares drone strikes illegal, orders govt to compensate victims
• PML-N candidate booked for polls violence
• Gilani's predictions: A two-party system and a short span for PTI
• Pakistan Goes to the Polls: The Promise and Potential
• Three questions new Af-Pak envoy must answer
• Pakistan stresses OSCE role in Afghan transition process
• Bilawal: Pakistan's absent dynastic heir
• Pakistanis downplay travel advisory
• Pakistani balloons land near Dharamshala
------------
South Asia
• Tough times for Burmese Muslims in Saudi Arabia
• Ahle Sunnat demands highest penalty for Hefazat, Jamaat leaders
• Afghanistan protest clashes leave 12 dead
• US wants to keep nine bases in Afghanistan: Karzai
• NATO soldiers probed over alleged Afghan abuse
• Shahbagh rejoices at Kamaruzzaman conviction
• Reveal names if over 2500 Hefazat men killed: Minister
• BNP, Jamaat planned to overthrow govt: AL
------------
Southeast Asia
• Indonesia anti-terror squad kills 7 militants
• Indonesian Media Needs to Cover Religion, Not Radicals: IARJ
• Indonesian Police Slay Suspected Bomb Plotters
• Indonesia jails Australian, Pakistani people smugglers
• China plays greater role in Mideast
• Indonesia: Pipe bombs found in terrorist ambush site
• Densus 88 Kills Terrorism Suspect in Central Java, Standoff Continues in Bandung
------------
Arab world
• Digging of the grave of Hujr ibn Adi a Israeli conspiracy: Muslim clerics
• Al-Nusra Front denies chief wounded in Syria
• Governor orders Makkah plan for poor neighbourhoods
• 32 Saudi universities lack physical-education facilities
• Syria opposition insists on Assad out before any deal
• Obama, Netanyahu speak after Israel's Syria raids
------------
India
• 3 day conference on Islam and social reform by TV Channel 'Zee Salam'
• Sanaullah's body to be handed over to Pak: Shinde
• Salman Khurshid arrives in China on two-day visit
------------
Europe
• French ministers boycott conference over Muslim scholar
• U.S. Fears Russia May Sell Air-Defence System to Syria
• Germany Confirms Tank and APC Sales to Indonesia
Compiled by New Age Islam News Bureau
URL: https://www.newageislam.com/islamic-world-news/new-age-islam-news-bureau/israel-bars-muslims-from-entering-al-aqusa-mosque/d/11489
------------
Mideast
Israel Bars Muslims from Entering Al-Aqusa Mosque
May 9, 2013
A large group of settlers protected by Israeli forces entered the Al Aqusa mosque compound in Jerusalem Al Quds, and prevented Muslim worshippers from entering the mosque.
For two consecutive days, Israeli police have prevented Muslims, men and women under the age of 50, from entering one of the holiest Islamic sites, by erecting flying checkpoints around the compound. All elderly people had to show their ID's to Israeli police before entering the compound.
The Minister of Jerusalem Affairs stated that Muslims now need to unify in order to protect al-Aqusa mosque.
The police evacuated all young Muslim worshippers in order to allow a group of 40 Israeli settles to tour the compound. The next day, over 100 settlers gained access to the mosque, accompanied by Israeli forces.
The Al-Aqusa mosque and the Dome of the Rock, is the third holiest site in Islam. However, it is also a site where Jewish Israeli's believe as the Second Temple, a holy site for Jewish, stood before al Aqusa. But, despite rigorous archaeological excavations by the Israeli's, they have found no proof of the existence of this site.
"Following two days of ban on Muslim worshippers from entering the al-Aqusa compound, senior Palestinian politicians have called upon all Muslims in Jerusalem al Quds to remain in the mosque in order to protect it from Israeli settlers and soldiers. They further stated that the Israeli settlers and soldiers are trying to change the status quo by claiming it as a Jewish place of worship. Nel Burden, Press TV, Occupied Jerusalem al Quds."
http://www.presstv.ir/detail/2013/05/09/302560/israel-bars-muslims-from-entering-alaqsa-mosque/
------------
Israel releases top mufti of Jerusalem after Questioning for hours
May 08, 2013
ERUSALEM (AP) - Israeli police detained the top Muslim cleric in the Holy Land Wednesday in a rare crackdown on a leading religious figure, questioning him for several hours before releasing him without charge.
Later in the day, in the Gaza Strip, an influential Muslim cleric from Qatar received a hero's welcome in a high-profile visit that deepened the bitter division between Gaza's hard-line Islamist rulers and the West Bank's Western-backed Palestinian leaders.
The detention of the mufti of Jerusalem, which followed recent unrest at a disputed holy site in Jerusalem, drew harsh condemnation from Palestinian leaders and neighbouring Jordan and threatened to complicate U.S. Secretary of State John Kerry's latest effort to restart Mideast peace talks.
Police spokesman Micky Rosenfeld said mufti Mohammed Hussein was questioned for six hours in connection to "recent disturbances" on a hilltop compound in Jerusalem's Old City that is revered by Jews and Muslims. This included "incitement, disturbances and public disorder."
Hussein was released without being charged, Rosenfeld said. He did not elaborate, but another Israeli official said the Muslim cleric was issued a warning and told to lower tensions a day after Muslim worshippers threw rocks and chairs at tourists visiting the hilltop compound that houses the Al Aqusa Mosque.
The Israeli official spoke on condition of anonymity because he was not authorized to discuss the matter with the media. Hussein, who was appointed mufti in 2006, could not be reached for comment.
The compound is one of the region's most sensitive sites. It is revered by Jews as the Temple Mount, built above the ruins of the two biblical Jewish Temples. Muslims call it the Haram as-Sharif, or Noble Sanctuary. It is home to the Al Aqusa Mosque, the third holiest site in Islam, from which Muslims believe their Prophet Muhammad ascended to heaven. The iconic gold-topped Dome of the Rock sits next to the mosque.
The conflicting claims to the site lie at the heart of the Arab-Israeli conflict, and any acts seen as upsetting the delicate status quo risk setting off violence. Palestinians see visits by Israelis at the site as a provocation. Israeli steps to quell Palestinian disturbances there have led to riots in the past.
The mufti of Jerusalem is the top cleric in charge of Jerusalem's Islamic holy places, including the Al Aqusa compound. Hussein's predecessor, Ekrima Sabri, was detained for several hours in 2002, at the height of the Palestinian uprising against Israel, on suspicion of incitement for suicide attacks.
Hussein has been known as a relative moderate, with close ties to the Palestinian Authority in the West Bank. While Jordan, which controlled east Jerusalem before Israel captured it in 1967, remains the custodial authority over the Al Aqusa compound, the Palestinians appoint the mufti.
Palestinian President Mahmoud Abbas, who appointed Hussein, condemned his detention. "Arresting the mufti is a stark challenge to the freedom of worship," Abbas said in a statement released by the official Palestinian news agency Wafa.
The Jordanian foreign ministry also denounced the detention, and legislators demanded the kingdom's envoy be recalled from Tel Aviv.
The detention was a blow to Kerry's efforts to restart peace talks, which have been stalled since late 2008. The Palestinians have refused to negotiate while Israel builds settlements in the West Bank and east Jerusalem. The Palestinians claim both areas, captured by Israel in the 1967 Mideast war, as parts of a future independent state and say settlement construction must halt.
Kerry has been shuttling between the Israeli and Palestinian sides in recent weeks in hopes of finding a formula to restart talks. In Rome, he was meeting the chief Israeli negotiator, Tzipi Livni.
The incident occurred as Israelis marked Jerusalem Day, which commemorates the anniversary of Israel's capture of east Jerusalem. The city's eastern sector is home to the Old City, where key Jewish, Muslim and Christian holy sites are located.
About 300 Palestinians gathered for a Jerusalem Day protest waving Palestinian flags and scuffling with dozens of Israeli protesters. Israeli police spokesman Rosenfeld said police arrested 10 Palestinians for gathering in an illegal demonstration and causing public disorder.
There was heavy police presence to guard Jerusalem Day marchers in the parade scheduled to go past a Palestinian area of the Old City.
In the Gaza Strip Wednesday, influential Muslim cleric Yusuf al-Qaradawi arrived for his first visit to Gaza as a top cleric, making one of the most high-profile visits to the Palestinian territory since the Islamic group Hamas seized control in 2007.
Al-Qaradawi is a prominent scholar and Qatar-based cleric who is widely respected in the Muslim world and his visit emboldens Hamas. Visits by leading figures have been rare in Hamas-run Gaza, and al-Qaradawi's trip is expected to help break the diplomatic isolation that Gaza has been under through years of blockades enforced by Israel and Egypt.
The emir of the Gulf state Qatar visited last year, and Turkey's Prime Minister Recep Tayyip Erdogan has announced his intention to visit later this month, despite a U.S. plea that he delays the trip so as not to harm efforts to broker a reconciliation between Turkey and Israel.
Prime Minister Ismail Haniyeh kissed al-Qaradawi's right hand upon his arrival, calling him "the grand imam of modern Islam and the grand imam of the Arab spring." Hundreds of Hamas supporters waved to his passing convoy.
"It is a great moment for me to meet with you, the people of Palestine, and all the components of Gaza society," al-Qaradawi said in a speech at a welcoming ceremony. But he also acknowledged that he was being hosted by just one part of what is a divided Palestinian society, saying that he hoped to meet with "all Palestinians" on his next visit.
On, Thursday he was scheduled to talk with Haniyeh and Hamas cabinet ministers, attend a demonstration for Palestinian prisoners in Israeli jails, visit the home of Hamas cleric Ahmed Yassin, who was assassinated in a 2004 Israeli airstrike, and address a public rally.
The rival Palestinian Authority government in the West Bank was angered by the visit, claiming it served to strengthen the Palestinians' bitter political division.
"Any visit that carries a political significance, that acknowledges the legitimacy of Hamas in Gaza, is considered harmful and against the interest of the Palestinian people," said Mahmoud Al Habash, minister of religious affairs in the West Bank.
There were mixed reactions to the cleric's visit in Gaza.
Palestinian faction leaders affiliated with the West Bank Palestinian leaders' secular Fatah party as well as heads of civil society groups refused to participate in al-Qaradawi's welcome reception. Among other things, they objected to what they said was the cleric's support of U.S. involvement in the Libyan uprising and the Syrian civil war.
"After he was rejected in most Arab countries for blessing the U.S. intervention in Libya and Syria ... it seems that this man is coming to Gaza to clean his record and seek indulgences," Gaza political analyst Ibrahim Abrash wrote on his blog.
Also Wednesday, Israel released two Palestinian prisoners of the Islamic Jihad militant group who were waging three-month long hunger strikes in Israeli custody. An Associated Press photographer witnessed Tarik Qadan, 40, and Jafar Izzideen, 47, being released from custody. They reached a deal with Israel by which their six-month detention would not be renewed. Israel's army said the release was for humanitarian reasons.
___
Associated Press writer Mohammed Daraghmeh in Ramallah, West Bank, Jamal Halaby in Amman, Ibrahim Barzaq in Gaza City, Gaza Strip, and Daniel Estrin in Jerusalem contributed to this report.
Copyright 2013 The Associated Press. All rights reserved. This material may not be published, broadcast, rewritten or redistributed.
http://www.myfoxphoenix.com/story/22190362/israel-police-detain-top-palestinian-muslim-cleric
------------
Qaeda suspects kill 3Yemen generals
May 09, 2013
ADEN: Suspected Al-Qaeda gunmen on Wednesday shot dead three air force generals from a strategic south Yemen air base used by US soldiers last year to train local forces in combating terrorism, the army said.
"Three pilot officers were martyred this morning by unknown gunmen... as they were heading to work in Al-Anad air base," said the defence ministry on its website 26sep.net. The ministry said that the officers were met "by a barrage of gunfire from two men on a motorbike". It identified them as three of the "most qualified pilots" - General Mohsen al-Meqdad, General Nasser al-Ban, and General Talal Shehab.
A military official at the base had told AFP that "gunmen shot dead three pilots ... north of Huta (the provincial capital) as they were heading towards Al-Anad air base," adding that the killers were "suspected of belonging to Al-Qaeda." The victims were earlier reported to be colonels.
The military official said that two gunmen carried out the attack using Kalashnikov assault rifles.
Another army official said the officers trained pilots at the base, built by the British who ruled south Yemen until it became independent in 1967.
Officials said last year that Al-Anad air base was being used by US soldiers to train local forces in the fight against terrorism.
Western diplomats at the time said American experts were helping the army in the battle against Al-Qaeda in the Arabian Peninsula (AQAP).
Al-Qaeda was driven out of most of its strongholds across south Yemen in an army offensive backed by US drone strikes last year. The weakened militants have withdrawn to mountainous regions in several provinces.
At the peak of the offensive in May and June 2012, AQAP - classified by Washington as the global network's deadliest branch - published a list of names of Yemeni pilots based at Al-Anad which it vowed to target for conducting air strikes against its hideouts.
Many officials named have since been killed. The names of the three generals killed on Wednesday were not on the list, however.
In October 2012, the army foiled a car bomb attack on Al-Anad targeting American soldiers, military officials said.
Police and army officers come under frequent attack, with authorities blaming Al-Qaeda for the assaults which are usually carried out by gunmen on unregistered motorbikes.
In a bid to clamp down on the increasing number of such attacks, authorities earlier this year launched a campaign ordering unlicensed bikes off the streets.
Despite being weaker, Al-Qaeda continues to launch hit-and-run attacks on government and civilian targets across Yemen.
Residents said militants linked to the Ansar al-Sharia group have been distributing posters and leaflets in several towns across Lahij and Hadramawt provinces in the southeast, threatening members of the security forces and urging jihad (holy war).
"Ansar al-Sharia are coming," read graffiti scrawled in Huta.
AQAP is led by Nasser al-Wuhayshi who in July 2011 reaffirmed its allegiance to Ayman al-Zawahiri, head of the worldwide Al-Qaeda network, after US forces in May killed its founder, Osama bin Laden.
http://www.nation.com.pk/pakistan-news-newspaper-daily-english-online/international/09-May-2013/qaeda-suspects-kill-3yemengenerals
------------
Iran Hostages See Renewed Focus on Their 17-Year Bid for Compensation
By MATTHEW L. WALD
May 8, 2013
WASHINGTON — When the hostages came home from Iran 32 years ago, after 444 days in captivity, they were heroes, and their release was unalloyed good news, a national triumph, observed with ticker-tape parades, speeches, awards and miles of yellow ribbons.
Now they are older, grayer, and, some of them say, approaching the status of historical footnote, and their mood is darker and angrier than they let on when they returned, in January 1981. Part of the bitterness is their fruitless 17-year struggle for substantial compensation.
They were blocked by the State Department from winning damages in court, because the agreement that freed them, the Algiers Accords, barred such suits. But last year they gained 69 co-sponsors on a House bill to let them be compensated, as much as $4.4 million each, through fines on companies caught violating trade sanctions with Iran. Now there is a substantial bipartisan effort in the Senate to do the same.
Their supporters say that an odd combination of circumstances has rescued the hostages from fading national memory: the spillover publicity from a hit movie, "Argo," about co-workers who escaped captivity, and the killings of the American ambassador to Libya last year and of a young diplomat in Afghanistan in April. Those have created sympathy for the perils faced by the Foreign Service. And the new strategy avoids the opposition of the State Department, which for more than 10 years has found itself as a surrogate defender of Iran, because of its defense of the Algiers Accords.
Predicting what Congress will do is always hard, but the hostages appear to have some prospect of success in what is probably a last-ditch bid for reparations. The confluence of circumstances, said Senator Johnny Isakson, Republican of Georgia and sponsor of the Senate bill, has "brought back the memories for everybody who lived through that time."
But the effort is baring some ugly tales of captivity, in interviews and in a series of videos made to amplify the hostages' case. Of the 52 hostages, 39 are still living, and 5 have made videos. They did so with the help of the son of the lawyer who has represented them since soon after Congress passed a law, in 1996, that seemed intended to help them sue. The widows, wives or children of six other hostages also made videos, aimed at Congress.
One of the hostages, Frederick L. Kupke, who was a young communications officer, said in an interview that when they returned home, they did not want "to dwell on all the bad things." Now he talks about the beatings, the mock firing squads, and being tied up in a bed, day and night, forced for eight hours at a time to press his nose against the wall.
He said he was surprised to have survived; as the embassy was being seized, he went to a roof in the compound with a collection of guns, and then realized that if he were caught, the Iranians would think he was a sniper. When he was caught, he was bound, pummeled, and pushed back and forth between hostile captors; he thought a crowd would tear him apart.
Mr. Kupke, now 66 and retired, said that although the episode fixated America for months, it was slipping out of the national consciousness. "People don't really go back and think about the Iran hostage crisis," he said. "They usually go back to 9/11 if they want to talk about terrorists."
In one video, Moorhead C. Kennedy Jr., the third-ranking American in the Tehran embassy, said he still had nightmares about the State Department sending him back to captivity. Hustled out of one of the places he was held, he asked his captors if he should bring his toothbrush; they told him not to bother, he said in a video. He was driven around with a blanket over his head. "I said my prayers, said my prayers again, said my prayers again, and we were driving and driving, and finally I said to myself, 'Damn it, how long can I keep this up?' " he said.
But then they arrived and heard volleys of gunshots. He began counting and "trying to remember how many hostages there were, and how many had already been shot," he said. None had, but at the time, none of the hostages knew they would live to return home; for long months, some believed the opposite.
David M. Roeder, who was an Air Force colonel, talked about his captors threatening to kidnap and dismember his 14-year-old disabled son back in the United States, and to mail body parts to his wife.
Barry Rosen, who was the press attaché at the embassy when it was seized, said that all these years later he constantly challenges "the inner demons of my captivity."
"I get into some state where I can't really concentrate on what I am, who I am," said Mr. Rosen, who has had a long, successful career in public relations.
Mr. Rosen and others chafe at the opposition by successive Republican and Democratic administrations, which argued that the courts and Congress should not interfere, because it would limit the president's ability to conduct foreign policy.
The hostages were seeking money deposited by the shah and impounded by the United States when he was overthrown. The new Senate bill, introduced by Mr. Isakson, would instead get the money from fines paid by companies doing business with Iran. It would provide $10,000 for each day of captivity, or $4.4 million each, to the hostages, or their heirs.
The State Department is no longer openly opposed. In a statement, it said that the government remained "deeply grateful to the former hostages" and said it was aware of the Isakson bill, co-sponsored by Senator Richard Blumenthal, the Connecticut Democrat, and "will continue to work with Congress on this issue."
Mr. Blumenthal, in an interview, said, "My first choice would be for Iran to be the ones to pay it directly."
"This alternative is clearly a second choice, but it's a just one," he said. Getting money from companies caught trading with Iran had "at least some connection," Mr. Blumenthal said.
While the hostages talk about making Iran pay for its deeds, Mr. Blumenthal said he thought the change of strategy, compensating them out of fines, made the legislation feasible. "For a whole bunch of reasons, it's now or never," he said. "The hostages are aging, and there's a moment of recognition among the American public that we never did right by these people."
http://www.nytimes.com/2013/05/09/us/iran-hostages-see-renewed-focus-on-their-plight.html?gwh=E9CA4B098BF8951E06F6DED2EAD63CA5
------------
Israel okays new settler homes near Ramallah
09 May 2013
Israel has given the go-ahead to build nearly 300 houses in a settlement near the occupied West Bank city of Ramallah, an army spokesman has said, in a move likely to spark tensions as Washington seeks to restart peace talks.
The army said on Thursday the plan is compensation for Israelis who were evicted last year from another settlement, Ulpana, an unauthorised outpost which was evacuated after a court ruling.
"The Civil Administration has given the green light for 296 housing units at Beit El, but this is only the first stage of a process before actual construction can begin," the spokesman said on Thursday.
The announcement comes just two days after a report said Binyamin Netanyahu, Israel's prime minister, had quietly ordered a freeze on tenders for new settler homes in a bid to give a chance to US-led efforts to revive stalled peace talks with the Palestinians.
Saeb Erakat, Palestinian negotiator, responded to the announcement saying, "We condemn this new decision which is proof that the Israeli government wants to sabotage and ruin the US administration's efforts to revive the peace process."
"This is a message to the American adminstration and a blow to the peace process," he said, pointing to the "intense" shuttle diplomacy being conducted by US Secretary of State John Kerry to try to bring both sides back to negotiations.
Full report at:
http://www.aljazeera.com/news/middleeast/2013/05/20135963657134477.html
------------
Africa
Nigerian town on lockdown after fresh Islamist violence, killing 55 people
8 May 2013
Nigerian soldiers blanketed the town of Bama on Wednesday, where residents stayed indoors after coordinated assaults by heavily armed Islamist insurgents killed 55 people.
The military said the brazen raid was carried out by some 200 gunmen from the extremist group Boko Haram, who stormed the town in a convoy of six 4x4 trucks and a bus, armed with machine guns, anti-aircraft weapons, and rocket-propelled grenades.
Disguised in army uniforms, the insurgents broke into a prison, killed 14 guards and set free 105 inmates, the military in north-eastern Borno state said.
Their attempt to overrun a military barracks was repelled, but the gunmen succeeded in ransacking a police station, a primary school and several government buildings, army spokesman Brigadier General Ibrahim Attahiru told journalists Wednesday.
The raid left 22 police officers, four civilians and two soldiers dead, while 13 Islamists were killed in the fighting, the military said.
The town was paralyzed a day after the violence.
"Only a few people have ventured beyond their front doors," said Bama resident Musa Bra. "Troops are all over the town patrolling the streets."
He explained that many people fled to the bush after the pre-dawn attack on Tuesday.
While some have tried to return, the military is screening everyone entering the town and asking for proof that they are civilians and not members of the insurgent group which has become notorious for blending in with the local population, Bra further said.
"Everybody is indoors," said another resident who asked that his name be withheld. "It is just military all over the town."
An AFP journalist who visited Bama on Tuesday said shops, petrol stations and markets had shuttered, and there were burnt vehicles by the roadside.
The military spokesman in Borno, Lieutenant Colonel Sagir Musa, told AFP the security forces were measuring the response to the carnage in order to limit the impact on civilians.
"We aren't going to be going to houses to fish out the fleeing attackers because such operation could create fear and confusion among the people," Musa said.
"We respect their right to life and privacy and we won't do anything contrary to our rule of engagement," he added.
Musa's comments come amid accusations that soldiers caused the deaths of scores of civilians last month in the town of Baga, northeast of Bama, by deliberately setting fire to hundreds of homes.
The brutal clashes in Baga killed nearly 200 people on April 16 and 17, the deadliest-ever episode in the Boko Haram insurgency, which has cost 3,600 lives since 2009, including killings by the security forces.
Nigeria's military has fiercely denied allegations from rights groups and residents that soldiers have committed massive abuses during operations against the Islamists.
Borno state is a Boko Haram stronghold and has seen scores of attacks since the group re launched its insurgency in 2009.
The militants had used the state capital Maiduguri as their home base, but, amid a security crackdown in the city, the bloodshed appears to have spread north to remote towns near the porous borders with Chad and Niger.
Full report at:
http://english.alarabiya.net/en/News/africa/2013/05/08/Nigerian-town-on-lockdown-after-fresh-Islamist-violence-.html
------------
Court: Libyan trials could be a 'new Nuremberg'
9 May 2013
UNITED NATIONS: If Libya can conduct fair trials of the top henchmen of the overthrown Qaddafi regime, it could be "Libya's Nuremberg moment," the chief prosecutor of the International Criminal Court said yesterday.
Fatou Bensounda told the Security Council that her office is still investigating allegations of serious crimes committed by former Qaddafi officials, some of whom are now outside of Libya, and said the ICC plans to make a decision soon on a second major case and on more cases of Qaddafi regime officials after that.
Bensounda said she was also concerned about allegations of crimes committed by rebel forces, including the expulsion and exile of residents of the town of Tawergha, which had been a pro-Qaddafi stronghold.
Tawergha was used as a staging ground by Qaddafi's forces to launch attacks on nearby Misrata, Libya's third largest city. After rebels broke the siege of Misrata and overran Tawergha, the town's 40,000 residents fled or were driven out by vengeful rebels. Scores were held in prisons under militias' command in Misrata and Tripoli, where human rights groups recorded cases of torture and abuse.
Now the displaced residents live in harsh conditions in refugee camps in Tripoli and Benghazi.
Bensouda also said her office was looking into "ongoing alleged persecution of ethnic groups perceived to have been affiliated with the Qaddafi regime," and incidents such as the "alleged execution of 50 persons on the grounds of the Mahari Hotel in Sirte in October 2011."
Last year, the New York-based Human Rights Watch said it had obtained a mobile phone video clip taken by militiamen showing a large number of prisoners from Qaddafi's convoy being cursed and abused by opposition fighters. The remains of least 17 of the detainees in the phone video were later identified in a group of 66 bodies found at Sirte's Mahari hotel, some still with their hands tied behind their back.
Human Rights Watch said it used hospital morgue photos to confirm the victims' identities.
Bensouda said the International Criminal Court was investigating the "alleged arbitrary detention, torture, killings and destruction of property that arose during Libyan government and militia operations in Bani Walid in September 2012." Richard Dicker, the director of international justice programs at Human Rights Watch, said that "Sadly, the new Libya is still plagued by serious abuses, some amounting to crimes against humanity." "The authorities are failing to stop the persecution of the Tawergha community and have yet to end widespread arbitrary detention, sometimes accompanied by deadly abuses. The time has come for the Security Council to sanction officials and militia commanders who ordered or failed to prevent serious crimes," Dicker said.
Full report at:
http://www.arabnews.com/news/450916
------------
Former US official describes Libya attack
May 08, 2013
By DONNA CASSATA
WASHINGTON (AP) - A former top diplomat in Libya on Wednesday delivered a riveting minute-by-minute account of the chaotic events during the deadly assault on the U.S. diplomatic mission in Benghazi last September, with a 2 a.m. call from Secretary of State Hillary Rodham Clinton and confusion about the fate of U.S. Ambassador Chris Stevens.
In a slow, halting and sometimes emotional voice, Gregory Hicks, the deputy chief of mission who was in Tripoli, described for a House committee how a routine day on Sept. 11, 2012, quickly devolved as insurgents launched two nighttime attacks on the facility in eastern Libya, killing Stevens and three other Americans.
The hours-long hearing produced no major revelation while reviving disputes over the widely debunked comments made by U.N. Ambassador Susan Rice five days after the attacks and the inability of the U.S. military to respond quickly.
"I don't think there's a smoking gun today. I don't think there's a lukewarm slingshot," said Rep. Mark Pocan, D-Wis.
The session exposed bitter partisan divisions as Republicans who are pressing ahead with the investigation eight months after the attacks insist the Obama administration is covering up information and Democrats decry politicization of a national security issue.
Republicans have faulted former Secretary of State Hillary Rodham Clinton, a potential 2016 presidential candidate who came under tough criticism near the hearing's close.
Rep. Jason Chaffetz, R-Utah, choked up as he lamented the four deaths in Benghazi and accused Clinton of ducking blame for inadequate security. Chaffetz said he was astonished that "Clinton still has the gall to say 'it wasn't me, it was them.'"
A scathing independent review in December faulted the State Department for inadequate security at the mission, but it has not been the final word. Nor has congressional testimony from former Obama Cabinet officials and military leaders.
In a jam-packed hearing room where Republicans and Democrats furiously traded charges, the soft-spoken Hicks presented a lengthy recollection of the events and expressed frustration with a military that he argued could have prevented the second attack.
Hicks and two other State Department witnesses criticized the review conducted by former top diplomat Thomas Pickering and retired Adm. Mike Mullen, the former chairman of the Joint Chiefs of Staff. Their complaints centered on a report they consider incomplete, with individuals who weren't interviewed and a focus on the assistant secretary level and lower.
Hicks also told the committee that he was, in effect, demoted when he was moved from the position of deputy chief of mission to desk officer. Asked when he began to sense he was being viewed differently by his superiors, Hicks said he thought the criticism began after he had asked why Rice had referred to demonstrations in her televised remarks when he and others had reported that there had been an attack.
Hicks said he was watching television at his villa in Tripoli when he first got word of the initial attack. He listened to two messages on his cell phone and Stevens' chilling words.
"Greg, we're under attack," the ambassador said.
Hicks described a series of phone calls to the State Department and Libyan officials, frustrating efforts to find out what was happening in Benghazi, and a call from Clinton.
"Secretary of State Clinton called me along with her senior staff ... and she asked me what was going on. And, I briefed her on developments," he said. "Most of the conversation was about the search for Ambassador Stevens. It was also about what we were going to do with our personnel in Benghazi, and I told her that we would need to evacuate, and that was - she said that was the right thing to do."
Full report at:
http://www.abc6.com/story/22190239/gop-benghazi-probe-stokes-political-controversy
------------
North America
Catholic soldier says her Muslim-sounding name made her a target for harassment in US Army
May 9, 2013
RALEIGH, N.C. — Sgt. 1st Class Naida Hosan is not a Muslim — she's a Catholic. But her name sounded Islamic to fellow U.S. soldiers in Iraq, and they would taunt her, calling her "Sgt. Hussein" and asking what God she prayed to.
So before deploying to Afghanistan last year for her second war tour, she legally changed her name — to Naida Christian Nova.
This did not solve her problems.
Instead, matters escalated. Nova complained to her superiors about constant anti-Muslim slurs and jokes. She says they responded with a series of reprisals intended to drive her out of the Army, leading her to consider suicide.
"My complaints fell on deaf ears every time," said Nova, 41, a member of the Army's 82nd Airborne Division based at Fort Bragg, N.C. "Any time I would say something about it I was treated like I didn't know what I was talking about or that I'm an idiot or that I was a Muslim sympathizer. It was just a very lonely feeling."
Determined to remain in the service for at least eight years, until she is eligible for retirement, Nova recently re-enlisted. But she agreed to tell her story to The Associated Press because "I don't want this to happen to anyone else if I can help it. It's a horrible to feel like people are against you when you are supposed to be on the same team."
Fort Bragg spokeswoman Sheri L. Crowe said the Army would not comment on the case, and referred questions to the U.S. Department of Justice. The U.S. Attorney's Office for the Eastern District of North Carolina, assigned to defend the Army, also declined comment.
But her account is supported by an affidavit filed by an old friend, Sharon Deborah Sheetz, who said that Nova had confided in her about the harassment she had suffered, telling Sheetz that she was so unhappy that she no longer wanted to live.
A Farsi linguist who works in military intelligence, Nova's multicultural background exemplifies the kind of soldier Army recruiters prize — U.S. citizens with ethnic ties to a part of the world many Americans can't find on a map.
Nova's father, Roy Hosein, was born into a Muslim family on the Caribbean island of Trinidad, where his parents had emigrated from India. He converted to Christianity after meeting Nova's mother, a Catholic from the Philippines, and became a U.S. citizen shortly after his daughter was born in New York. He changed the spelling of his family name to Hosan in the hope his children would avoid discrimination.
"He Americanized it," his daughter explained. "He got Hosan from Hosanna. He kept hearing it in church."
She reported for basic training two months after the terrorist attacks on Sept. 11, 2001.
"Before 9-11, my last name never raised an eyebrow," she said. "But after 9-11, I felt compelled to tell people I am a Christian and felt I had to prove I was loyal to the United States."
Her first deployment was to Iraq in 2005. She said other soldiers, including her supervisors, mocked her family name and made crude jokes.
"I was called Sgt. Hussein, as in Saddam Hussein," she said. "Even when I would correct them on the pronunciation of my name, I was still called Sgt. Hussein. I was asked what God I pray to. And there were a lot of references to hajjis, used as a derogatory term."
Hajiis, in fact, are Muslims who have made the pilgrimage to the Saudi Arabian birthplace of the prophet Muhammad. But Nova said she regularly heard U.S. troops use the word as racist slang for enemy, terrorist or suicide bomber.
"My uncle is a hajji, because he made the pilgrimage to Mecca in 2005," Nova said. "I would stand up for what I thought was right and say, 'Not all terrorists are Muslims and not all Muslims are terrorists.' That just opened the door for more harassment." Mikey Weinstein, a former U.S. Air Force officer who founded Military Religious Freedom Foundation, said Nova's experience is not uncommon. Military personnel who are Muslim or perceived to be of Middle Eastern descent are often targets for discrimination, he said.
"When a Muslim soldier, sailor or airman stands up for themselves, they are the subject of vicious reprisal and retribution," said Weinstein, who is Jewish. "What (Sgt. Nova) has gone through is horrible, but it is typical."
In 2007, while serving in Harrogate, England, Nova said co-worker told her and others a racist joke about Muslims. When she objected, Nova said, a supervisor warned her to stop making trouble. Instead, she filed a formal complaint with the Army's Equal Opportunity Branch, the program charged with ensuring the military provides an environment "free of unlawful discrimination and offensive behavior."
Within days, Nova said she was removed from her job and ordered to take a "command directed" mental health evaluation.
"In writing, the referral said my values were not in line with mission," she said. "They considered me a 'Muslim sympathizer,' that I was too loyal to Muslims."
Rather than address her complaint, Nova said, the Army transferred her to the 82nd Airborne at Fort Bragg. Though she hoped to make a fresh start with her new unit, word of her complaint followed her to North Carolina.
That treatment worsened after a November 2009 shooting rampage at Fort Hood in Texas. Maj. Nidal Hasan, a Muslim, is charged with killing 13 people. His name sounded a lot like hers.
Nova changed her name shortly before deploying to Afghanistan last year. She arrived just after worn copies of the Quran were found to have been burned with trash from a U.S.-run prison outside the capital of Kabul, a widely reported incident that triggered violent protests.
The Army responded by initiating a new training program on the proper handling and disposal of Islamic materials. But Nova said she discovered that her unit trashed and burned documents collected through intelligence gathering that contained what could be considered sacred writings.
Nova conferred with an on-base military chaplain, and suggested designating a special box for Islamic materials so they could be disposed of in a more appropriate manner.
"When I brought this up, I was told 'Sgt. Nova, you can't bring your religion to work ...,'" she recalled. "I changed my name, but that didn't change other people's ignorance."
After just two months in Afghanistan, she said her commanders removed her from her job and ordered her back to Fort Bragg.
Full report at:
http://www.washingtonpost.com/national/on-faith/catholic-soldier-says-her-muslim-sounding-name-made-her-a-target-for-harassment-in-us-army/2013/05/08/710ee7f6-b80f-11e2-b568-6917f6ac6d9d_story.html
------------
National Household Survey shows Muslim population fastest-growing religion in Canada
May 8, 2013
BY JORDAN PRESS
OTTAWA — The Islamic centre in Saskatoon is experiencing growing pains.
Friday services have been split into two, so local streets aren't clogged with traffic. City officials and nearby residents are working with the centre to answer questions such as: where to put more parking?
"We have been experiencing this kind of steady increase for a while," said Amin Elshorbagy, president of the Canadian Islamic Congress and a Saskatoon resident.
"We can see this in terms of the need to expand our infrastructure. Most of our Islamic centres are becoming very crowded."
Statistics released Wednesday confirm what can already be seen: more mosques with busier prayer services and the increasing prevalence of women dressed in hijabs and niqabs in all walks of life. Islam is the fastest-growing religious group in the country. Across Canada, the Muslim population is growing at a rate exceeding other religions, according to Statistics Canada. It is even growing faster than the number of Canadians who identify themselves as having no religion, though just barely, according to the National Household Survey released Wednesday.
The Muslim population exceeded the one-million mark in 2011, according to the survey, almost doubling its population for the second-consecutive decade. Muslims now represent 3.2 per cent of the country's total population, up from the two per cent recorded in 2001.
The majority of growth in the Muslim population is the result of immigration, as it is with Sikhs, Hindus and Buddhists, with the largest share coming from Pakistan over the past five years, according to Statistics Canada. Muslims are also the youngest religious group in the country with a median age of about 28 years old.
"The phenomenon of the younger age for groups such as Muslims and Hindus is a reflection of the immigration trends," said Tina Chui, chief of immigration and ethnocultural statistics at Statistics Canada. "People tend to migrate when they're younger."
The growth of the Muslim population is part of a larger trend: minority religious groups becoming a larger slice of the Canadian cultural mosaic, although Christian religions still dominate with almost 70 per cent of the population. That raises questions of accommodation and integration of a religion that experts say is often unfairly viewed through a lens of fear.
"Polling has shown that Canadian Muslims are proud to be Canadian, more so than the average Canadian," said Ihsaan Gardee, executive director of the Canadian Council on American-Islamic Relations. "Canadian Muslims very much want to integrate and be part and parcel of the society."
One-on-one, non-Muslims can have favourable views of their Islamic colleagues, but that feeling doesn't always extend to the wider Muslim population, said Pamela Dickey Young, a professor of religion and culture at Queen's University.
"It isn't like Canadian Muslims have not tried to educate the Canadian populace … but for some reason there's still that edge with it that some Canadians have problems getting over," Dickey Young said.
The survey results should be taken with caution. Experts say the voluntary nature of the National Household Survey, which replaced the mandatory long-form census, leaves some gaps in the data from groups that tend not to respond to such surveys, such as new immigrants.
Experts believe the data provide a fairly good, broad picture of Canada, but data on smaller groups may provide less reliable information.
There are also no breakdowns within the different religious groups. For instance, the survey provides no breakdown of type of Muslims living in Canada, as the survey didn't ask respondents whether they were Shiite or Sunni.
"People keep blocking us into one cohesive mass and we're not that at all," said said Alia Hogben, executive director of the Canadian Council of Muslim Women.
Full report at:
http://www.montrealgazette.com/news/national/Survey+shows+Muslim+population+fastest+growing+Canada/8354099/story.html
------------
Boston Bomb Inquiry Looks Closely at Russia Trip
By ELLEN BARRY
May 8, 2013
MAKHACHKALA, Russia — During a six-month visit to his Russian homeland last year, the parents of the Boston bombing suspect Tamerlan Tsarnaev said, he spent his time reading novels and reconnecting with family, not venturing into the shadowy world of the region's militants.
But now, investigators are looking into a range of suspected contacts Mr. Tsarnaev might have made in Dagestan, from days he might have spent in a fundamentalist Salafi mosque in Makhachkala, the capital, to time spent outside the city with a relative who is a prominent Islamist leader recently taken into custody by Russian authorities.
The emerging details of his time here have not fundamentally altered a prevailing view among American and Russian investigators that he was radicalized before his visit. However, there have been reports that he sought out contact with Islamist extremists, and was flagged as a potential recruit for the region's Islamic insurgency.
It remains unclear to what degree his months in Russia, which were punctuated by volleys of punishing attacks between the police and insurgents, might have changed his plans. But an official here, who said he did not have enough information to confirm or deny reports of Mr. Tsarnaev's contacts, said he had concluded that Mr. Tsarnaev intended to link up with militant Islamists — but left frustrated, having failed.
"My presumed theory is that he evidently came here, he was looking for contacts, but he did not find serious contacts, and if he did, they didn't trust him," said Habib Magomedov, a member of Dagestan's antiterrorism commission.
Mr. Tsarnaev, 26, died after a shootout with the police four days after the Boston Marathon bombings on April 15. His brother, Dzhokhar, 19, also suspected in the bombings, remains in a prison medical facility in Massachusetts.
Investigators in Russia are also looking into Tamerlan Tsarnaev's interactions online, and exploring whether he and a Canadian-born militant, William Plotnikov, might have been part of a larger group of diaspora Russian speakers who mobilized online, under the auspices of an organization based in Europe, a law enforcement official said.
Unearthing what investigators have learned became more difficult two weeks ago when President Vladimir V. Putin told reporters that, "to our great regret," Russian security services did not have operative information on the Tsarnaev brothers that they could have shared with American officials. The police in Dagestan have said Tamerlan Tsarnaev was not under surveillance.
Since then an official from the Anti-Extremism Center, a federal agency under Russia's Interior Ministry, confirmed for The Associated Press that operatives had filmed Mr. Tsarnaev during visits to the Makhachkala mosque, whose worshipers adhere to a more radical strain of Islam, and scrambled to locate him when he disappeared from sight after Mr. Plotnikov was killed in a counterterrorism raid. An official from the same unit told the newspaper Novaya Gazeta that Mr. Tsarnaev had been spotted repeatedly with a suspected militant, Mahmoud Mansur Nidal, who was killed shortly thereafter in a counterterrorism raid.
What is certain, however, is that investigators are looking into the time Mr. Tsarnaev spent with a distant cousin, Magomed Kartashov, founder of a group called Union of the Just, a religious organization that promoted civic action, not violence. Mr. Kartashov, whose relationship with Mr. Tsarnaev was first reported in Time magazine, was detained 12 days ago by the police after taking part in a wedding procession that flew Islamic flags.
(At a checkpoint, police officers stopped the procession and demanded that the flags be removed; Mr. Kartashov protested, and is now facing charges of resisting the police.)
Agents from Russia's Federal Security Service visited Mr. Kartashov last Sunday in a detention center to question him about his relationship with Mr. Tsarnaev, focusing on whether the two had shared "extremist" beliefs, said Mr. Kartashov's lawyer, Patimat Abdullayeva.
Ms. Abdullayeva said that her client had discussed religious matters with Mr. Tsarnaev, but had been a moderating influence. "Magomed is a preacher, he has nothing to do with
Full report at:
http://www.nytimes.com/2013/05/09/world/europe/boston-bombing-inquiry-looks-closely-at-russia-trip.html?pagewanted=all&gwh=A4D3F1456AC391AFD2196237CC201347
------------
In Boston and Cleveland tragedies, a case for more neighborliness
May 8, 2013
Two big news events within a month – the Boston Marathon bombings and the Cleveland kidnappings – have led to much hand-wringing over whether anyone who knew the perpetrators might have been able to stop these horrific acts.
Were the neighbors or associates of the suspects as caring or alert as they might have been to spot troubling behavior – and to do something about it?
In hindsight, it would be easy to say "no." In both cases, there were possible trigger points in which someone might have played the role of "brother's keeper."
The Muslim mosque in Cambridge, Mass., could have been more diligent in how it dealt with bombing suspect Tamerlan Tsarnaev as he became more radical and belligerent, condemning the United States. The mosque did throw him out. But it didn't contact police. And its members didn't engage him in such a way as to help him with his conflicted feelings of identity and his family difficulties.
And even though a few people in the Cleveland neighborhood told police of odd behavior of the three Castro brothers charged with kidnapping the three women, many neighbors wonder if they should have known more – or done more. Should they have tried to befriend the brothers, for example, or kept a closer eye on activities in the house?
Such speculation strikes at the heart of how successfully an individual in any group – a neighborhood, a religious setting, or an office – forms a trusting relationship with others out of genuine goodwill yet also remains watchful for attitudes or behavior outside a particular norm. The line between trust and spying is easy to cross. Just ask any parent with a teenager.
After the 9/11 attacks, the Federal Bureau of Investigation and other government agencies have encouraged Muslim communities to be more alert to members who "self-radicalize." New York City has the most sophisticated program of its kind, working with local Muslims to spot home-grown terrorists.
Nearly a third of would-be attacks by Muslims have been thwarted by information from American Muslims, according to the Triangle Center on Terrorism and Homeland Security. One terrorism cell was disrupted in Lackawanna, N.Y., for example, when Yemeni-Americans tipped off the FBI.
In Britain after the 2005 bombing of the London subway, a "Prevent" program was set up to develop trust between officials and Muslim leaders to help work with young men tending toward militant behavior.
Law enforcement officials in general rely on citizens to care about their communities and to inform them of potential trouble. When the FBI released images of the Tsarnaev brothers in hopes that someone would identity them, FBI agent Richard DesLauriers said, "For more than 100 years, the FBI has relied on the public to be its eyes and ears."
The caring is critical. But there's also a danger in citizen vigilance. It can lead to racial, ethnic, or religious profiling. This is now an issue in the Florida court case of George Zimmerman, charged with killing Trayvon Martin, a young black man, while patrolling his neighborhood with a gun to keep it safe.
Full report at:
http://www.csmonitor.com/Commentary/the-monitors-view/2013/0508/In-Boston-and-Cleveland-tragedies-a-case-for-more-neighborliness
------------
UN decries ballooning poverty in east Jerusalem
9 May 2013
Israeli "segregation policies" have caused deep economic isolation and left more than 80 percent of Palestian children in east Jerusalem wallowing in poverty, the UN said in a report published Thursday.
"Palestinian poverty in Jerusalem has risen steadily over the last decade," the UN Conference on Trade and Development (UNCTAD) said in a statement.
A full 82 percent of Palestinian children in east Jerusalem lived in poverty in 2010, a figure that fell to 45 percent of Israeli children in the same area, according to the organisation.
The findings echoed a report issued by an Israeli human rights group earlier this week lamenting that the city's Palestinian residents were suffering the "worst (poverty) rate of all time."
The soaring poverty levels among Palestinians were closely linked to the city's increasing economic isolation, UNCTAD said, maintaining that "segregation policies" including the building of Israeli separation barrier had left it "integrated neither into the Palestinian economy nor into the Israeli economy."
Israel insists the barrier is needed for security reasons, but it has met broad international condemnation for carving off large segments of the West Bank, splitting families, separating farmers from their land and slicing east Jerusalem off from their hoped-for future state.
The barrier has caused direct losses to east Jerusalem's economy of more than $1.0 billion (760 million euros), the UNCTAD report said, adding that the wall continues to cost the city's economy around $200 million a year in lost trade and employment opportunities.
The report authors pointed out that isolation alone did not explain the spread of poverty among Palestinians in east Jerusalem, pointing to discriminatory policies and the different legal status of the city's Palestinian dwellers compared to Israeli settlers there and other Palestinians.
This "implies a host of further impediments, especially with regard to housing, employment, taxation," the report said, pointing out by way of example that Palestinians there "pay high municipal taxes in return for poor services and disproportionately low public expenditures."
UNCTAD chastised Israel for not doing enough to meet its obligations as an occupying power, urging the country to act "with vigour to improve economic conditions in east Jerusalem and the well-being of Palestinian residents."
It also called for an end to "settlement activities and the occupation of east Jerusalem in line with United Nations resolutions."
Jordan summons Israel envoy over Jerusalem mufti
Jordan on Wednesday summoned Israeli Ambassador Daniel Nevo after MPs unanimously demanded the government expel him following Israel's detention of the mufti of Jerusalem, state media reported.
Interior Minister Hussein Majali, who is acting foreign minister, summoned Nevo, the official news agency Petra reported.
"These Israeli actions violate international law and obstruct peace efforts. As occupying force, Israel is responsible for preventing such provocations. Jerusalem and Al-Aqsa are a red line," Majali said.
Majali asked Nevo "to convey this message to his government in a very clear way," Petra reported.
The development came after the lower house of parliament "unanimously demanded the government ask the Israeli ambassador to leave Jordan, and recall the Jordanian ambassador in Israel," Walid Obeidat, Petra said.
The non-binding vote came in response to "Israeli occupation measures at Al-Aqsa mosque" in the Old City, in the annexed eastern sector of Jerusalem.
Prime Minister Abdullah Nsur told MPs his government "views the Israeli violations in a very serious way."
Nsur added that the Jordanian embassy in Tel Aviv "will take all necessary measures to respond to these hideous crimes."
"If things develop, the government will ask the UN Security Council to hold an emergency meeting."
Israeli police questioned Hussein on Wednesday over a "disturbance" at Al-Aqsa mosque compound a day earlier, Israeli police spokesman Micky Rosenfeld said.
They released him six hours later without charge.
Mohammed Qudah, Jordan's Islamic affairs minister, said: "Israel has prevented worshippers from entering the mosque. It plans to build a bridge to link Al-Aqsa to some nearby settlements."
"Israeli excavations around the mosque have noticeably increased. Around 62 synagogues have been built around Al-Aqsa to form a circle around it," Petra quoted him as saying.
Qudah added that "the most dangerous development was when hundreds of settlers backed by the Israel army entered Al-Aqsa this morning."
"At the same time waqf (Islamic affairs) officials were prevented from going to their work, while materials needed for maintenance of the mosque were not allowed," he said.
The site, which sits just above the Western Wall plaza, houses both the Dome of the Rock and Al-Aqsa mosques. It is also venerated by Jews as the place where their two ancient temples once stood.
Some MPs demanded Jordan scrap its 1994 peace agreement with Israel, Petra said, but a statement by the parliament did not mention the treaty.
"The lower house of parliament condemns Israel's dangerous escalation. Its repercussions will impact the entire region and create a new cycle of violence, insecurity and instability," the MPs said in a statement.
In March, Palestinian president Mahmud Abbas signed a deal with Jordan's King Abdullah II, confirming a 1924 verbal agreement giving Amman custodianship over Muslim and Christian sites in Jerusalem.
US urges restraint
The United States on Wednesday called for Israelis and Palestinians to exercise restraint amid tensions over a "disturbance" at that Al-Aqsa mosque compound in Jerusalem.
"We're concerned about the recent tensions surrounding the Temple Mount, Haram al-Sharif, including the detention today of the Grand Mufti," State Department deputy spokesman Patrick Ventrell, told reporters.
Full report at:
http://english.ahram.org.eg/NewsContent/2/8/71012/World/Region/UN-decries-ballooning-poverty-in-east-Jerusalem.aspx
------------
Obama to discuss Syria, G8 summit with UK's Cameron
9 May 2013
U.S. President Barack Obama will meet British Prime Minister David Cameron at the White House on Monday to discuss Syria and the G8 summit next month in Northern Ireland, officials said.
"The prime minister's visit underscores the special relationship between the United States and the United Kingdom that has been crucial in advancing our shared security and prosperity," a White House statement said.
The statement said that in addition to Syria and the G8, the talks would include discussion on trade and economic cooperation and counterterrorism measures.
The Cameron visit will take place as Washington seeks to build momentum behind a new diplomatic effort to broker a transition of power in Syria, in a joint effort with Russia, one of President Bashar al-Assad's strongest backers.
After a visit by Secretary of State John Kerry to Moscow this week, the two sides said they hoped to hold an international conference by the end of May to build support for a peaceful solution in Syria.
Cameron will meet with Obama after talks with Russian President Vladimir Putin on Friday to discuss what he called the "urgent need" for a political transition to end a civil war that has already killed more than 70,000 people.
The British prime minister, who spoke with Kerry about the Syrian crisis earlier, pointed to a "growing body of limited but persuasive information showing that the regime has used and continues to use chemical weapons including sarin."
"The room for doubt about this continues to diminish," he added.
Syria is expected to be a central issue at the Group of Eight summit of the world's wealthiest industrialized nations.
Cameron's trip to Washington will be his first visit to the White House of Obama's second term and come ahead of the U.S. president's trip to Northern Ireland for the G8 summit in June.
Full report at:
http://english.alarabiya.net/en/News/world/2013/05/09/White-House-Obama-to-discuss-Syria-G8-summit-with-UK-s-Cameron-.html
------------
Pakistan
Taliban threaten polling day suicide attacks in Pakistan
May 9, 2013
The Taliban have sent suicide bombers to mount election-day attacks on Pakistan's historic polls, a militant commander said Thursday, following a bloody campaign which has claimed more than 100 lives.
Saturday's vote will be a democratic milestone in a country ruled for half its history by the military but the Pakistani Taliban have condemned it as un-Islamic.
They have directly threatened the Pakistan People's Party (PPP) and its main partners in the outgoing government, seriously restricting their ability to campaign, and staged a series of attacks during the campaign.
The insurgents' leader Hakimullah Mehsud had personally ordered suicide bombings on polling day, said a Taliban commander in the northwest.
"The Taliban has dispatched several of fedayeen (suicide bombers) to carry attacks on election across Pakistan," he told AFP on condition of anonymity.
AFP saw a copy of a letter apparently sent from Mehsud to Taliban spokesman Ehsanullah Ehsan, mapping out the plan for bombings.
"You take care of attacks in Punjab and Sindh. I will take care of Khyber Pakhtunkhwa and Baluchistan," it said in reference to Pakistan's four provinces.
Attacks on politicians and political parties, most of them claimed by the Taliban, have already killed 113 people since mid-April, according to an AFP tally.
Pakistan has said it will deploy more than 600,000 security personnel on polling day.
A separate pamphlet distributed by a previously unknown group in the most notorious Taliban and Al-Qaeda-stronghold of North Waziristan has warned people of punishment if they allow women to vote.
The Taliban threats have cowed the PPP, which has run a leaderless campaign. Its chairman Bilawal Bhutto Zardari -- too young to stand -- has not been seen in public.
In his absence former prime minister Nawaz Sharif and cricket legend Imran Khan have stolen the limelight. On Thursday, the last day of campaigning, they were competing to try to draw massive crowds at final rallies.
Sharif is a billionaire steel tycoon seeking a historic third term as prime minister.
The charismatic Khan is a sporting hero who has also sought to capitalise on a sympathy vote after fracturing vertebrae in a fall at a rally on Tuesday, and will address supporters from his hospital bed.
The election will mark the first time a civilian government has served a full term in the country and handed over to another through the ballot box. The outcome is considered wide open.
While Sharif is considered most likely to win, some believe the PPP can still emerge the second largest party thanks to a rural vote bank.
Despite his electrifying campaign, a question mark hangs over how well Khan will do, considering he won only one seat in 2002.
Sharif, head of the centre-right Pakistan Muslim League-N (PML-N), will spend a busy day in his political heartland in the southern city of Lahore, said his media chief Tariq Azim.
"He will meet party officials during the day before addressing a rally in the Green Town area at 7:00 pm (1400 GMT), followed by two or three other meetings in different constituencies," Azim told said.
Sharif will arrive at the 11th century Data Darbar sufi shrine at around 10:00 pm and address the final rally there. Another PML-N official said they were hoping to attract more than 100,000.
Full report at:
http://www.nation.com.pk/pakistan-news-newspaper-daily-english-online/national/09-May-2013/taliban-threaten-polling-day-suicide-attacks-in-pakistan
------------
Hard-line Islamists to make gains in Pakistan vote
By Asif Shahzad
May 09, 2013
MARDAN, Pakistan (AP) — The imposing, black-bearded politician in a striking white turban takes the stage at a campaign rally in northwest Pakistan as a song about Islamic holy war blares over loudspeakers. Before a chanting crowd, he praises the Afghan Taliban and blasts Pakistan's government for not protecting Osama bin Laden from U.S. commandos.
Maulana Shujaul Mulk is one of hundreds of candidates from hard-line Islamist parties running for office in this Saturday's national elections. Many analysts expect the Islamists to win more support than in the last vote five years ago, raising concerns about the impact they could have in a country already plagued by rising intolerance and a deadly Taliban insurgency.
The Islamists could also make life more difficult for their avowed enemy, the United States, which needs Pakistan's help to fight Islamic militants in the country and negotiate an end to the war in neighboring Afghanistan. The parties are seen as close to Pakistan's powerful army, which has allegedly used them to put pressure on the U.S. at troubled times in the relationship.
The army "wants someone who keeps on hounding the next government on how and what to negotiate with the Americans," said Pakistani political analyst Ayesha Saddiqa.
Hard-line Islamist parties like Mulk's Jamiat Ulema-e-Islam enjoy significant support in majority Muslim Pakistan, especially in conservative areas along the Afghan border. The parties often attract tens of thousands of people to their public rallies, but in the past they have had difficulty converting this into seats in the national and provincial assemblies because Pakistanis vote based on many factors other than religion.
Still, they are expected to make some gains in Saturday's vote. The Islamists could win enough seats in the national parliament to influence the behavior of the federal government, since the ruling coalition that emerges is expected to be fairly weak and susceptible to the demands of smaller parties.
On the local level, analysts believe Mulk's party could pick up enough seats in northwest Khyber Pakhtunkhwa province's assembly to make them key leaders in the next provincial government.
The province, bordering Afghanistan, is a stronghold for Islamic militants, and an Islamist-led government could give the Taliban and other militants more room to operate. Islamist parties like Mulk's generally believe the government should negotiate with the militants rather than fight them.
The Islamist parties "may show lenience toward harsh practices of the Taliban, and will not push for (the) perpetrators of abuses, such as bombings and attacks on women's rights campaigners and girls' schools to be brought to justice," said Mustafa Qadri, Amnesty International's Pakistan researcher.
Officially, Pakistan's election commission has banned campaigning in the name of religion. But Islamist parties have completely ignored the edict without any apparent repercussions.
One of the most prominent parties, Jamaat-e-Islami, has campaigned using a truck carrying a large model of the Kaaba in Mecca, Saudi Arabia, the holiest site in Islam. Muslims around the world face Mecca when they conduct daily prayers. Posters plastered around the capital, Islamabad, cite "God, the Prophet and the Quran" as the basis for the party's platform.
The relationship between Islam and Pakistan has been a contested issue ever since the country achieved independence from Britain in 1947. Pakistan's founder, Muhammad Ali Jinnah, sought independence because he did not feel that Muslims could fully secure their rights in British India, a majority Hindu country. But he also outlined a vision of Pakistan where every religion could be practiced freely.
Full report at:
http://www.businessweek.com/ap/2013-05-09/hard-line-islamists-to-make-gains-in-pakistan-vote
------------
Pakistan votes in historic polls under Taliban shadow
May 9, 2013
ISLAMABAD: Millions of Pakistanis go to the polls on Saturday in election overshadowed by Taliban threats but marking a historic democratic transition of power in a nuclear-armed state used to military rule.
Taliban attacks have so far killed more than 100 people on the campaign trail and forced the main parties in the outgoing government, singled out by the insurgents for their alliance with the United States, to scrap major rallies.
The race has been dominated by Pakistan Muslim League-Nawaz (PML-N) head Nawaz Sharif and former cricket star Imran Khan, who is looking to make a breakthrough for his Pakistan Tehreek-e-Insaf (PTI).
Sharif, a steel tycoon, is considered the front-runner and tipped to become the first politician to serve three terms as prime minister. He was first in the post from 1990-93, until he was sacked for corruption, and from 1997-99, when he was deposed by a military coup.
Khan, who won only one seat in 2002 and boycotted polls in 2008, has led an electric campaign, galvanising the middle class and young people in what he has called a "tsunami" of support that will propel him into office.
The former Pakistan cricket captain suffered head injuries after falling from a lift winching him up to the stage for an election rally on Tuesday, but recovered to make an appeal for voter support from his hospital bed.
The main outgoing Pakistan People's Party (PPP) has run a lacklustre, rudderless campaign without a leader. Its election advertising still stars Benazir Bhutto, its charismatic prime minister assassinated in 2007.
Her son, Bilawal, is too young to run for parliament and Taliban threats have prevented him from addressing public rallies. His father, President Asif Ali Zardari, is barred from campaigning as head of state and is anyway deeply divisive and unpopular.
The polls are considered critical to strengthening democracy in Pakistan, marking the first time that an elected civilian government completes a full term and hands over to another in a country ruled by the army for half its existence.
Pakistan's more than 86 million voters have the choice of 4,670 candidates standing for the 342-member Lower House of parliament and nearly 11,000 people running for four regional assemblies.
More than 600,000 security personnel will be deployed across the country to guard against Taliban strikes and around half the estimated 70,000 polling stations have been declared at risk of attack.
Turnout will be crucial. Commentators are divided on whether a wealth of enthusiastic first-term voters and Taliban threats will make turnout higher or lower than the 44 percent at the last election in 2008.
"I want every person in this nation to have equal living standards, equal education, equal career opportunities," said Rohail Khan, 21, a student in Quetta, excited about voting for the first time.
The main issues are the tanking economy, an appalling energy crisis which causes power cuts of up to 20 hours a day, the war on militants, chronic corruption and the dire need for development.
Khan has sought to put policies and issues at the front of the campaign, promising to stamp out corruption, but personality politics and kinship ties traditionally determine voting in Pakistan.
Sharif has presented himself as a statesman-in-waiting, the man who presided over economic growth in the 1990s and the man who knows how to deliver.
Full report at:
http://www.dailytimes.com.pk/default.asp?page=2013\05\09\story_9-5-2013_pg7_5
------------
Nawaz Sharif calls for warmer ties with India
9 May 2013
ISLAMABAD: Nawaz Sharif, seen as the front-runner in Pakistan's election race, said he would not allow militant groups to attack India from his country and would work to improve ties with rival New Delhi if elected.
"If I become the prime minister I will make sure that the Pakistani soil is not used for any such designs against India," Sharif told CNN-IBN in an interview.
Despite recent strains, India and Pakistan's relations have improved after nose-diving in 2008 when gunmen killed 166 people in Mumbai in a three-day rampage that India blamed on a Pakistani militant group.
According to opinion polls, Sharif's Pakistan Muslim League (PML-N) is expected to win Saturday's general election after capitalizing on the failure of the outgoing Pakistan People's Party (PPP) to tackle everything from power cuts to a Taleban insurgency.
Cricketer-turned-politician Imran Khan, who has formed his own party, has become one of Pakistan's most popular politicians and could be a major partner in a coalition government, analysts say.
Khan was injured when he fell off a mechanical lift raising him onto a stage at a rally on Tuesday. He fell as the lift was just short of a platform 15 feet off the ground in the eastern city of Lahore, witnesses said.
Khan fractured a rib, said Haroon Sultan, the chief doctor at a hospital where he is being treated. "We will examine him after three days and will decide how much rest he needs," said Sultan. "He will be fine soon." The accident could win Khan some last-minute sympathy votes as he recovers.
Khan has long been viewed as the favorite candidate of the powerful military, which has ruled Pakistan for more than half of its 66-year history.
The liberal, secular-leaning PPP has a long history of challenging the military's influence in politics while the military sees the party as corrupt and ineffective.
The poll comes after a civilian government has for the first time completed a full-five-year term. But whoever wins will inherit enormous problems. One of them will be managing a difficult relationship with India.
The nuclear-armed neighbors have fought three wars since the partition of British-ruled India in 1947. India has for years accused Pakistan of supporting militants and sending them in to the Indian part of the divided Kashmir region to fight Indian forces.
Pakistan denies arming the militants saying it only offers moral support to the people of Muslim-majority Kashmir.
Full report at:
http://www.arabnews.com/news/450888
------------
Pakistani beheaded in Saudi for drug trafficking
May 9, 2013
RIYADH: Saudi authorities on Wednesday beheaded a Pakistani man found guilty of smuggling drugs into the conservative Muslim kingdom, the interior ministry said.
The man was caught attempting to smuggle an amount of heroin hidden inside his stomach, the ministry said in a statement carried by SPA state news agency.
He was executed in the city of Riyadh.
Full report at:
http://www.dailytimes.com.pk/default.asp?page=2013\05\09\story_9-5-2013_pg7_13
------------
Gunmen abduct former PM Gilani's son in Multan
May 9, 2013
MULTAN: Ali Haider Gilani, a son of former prime minister Yousuf Raza Gilani, was kidnapped from Multan on Thursday.
The kidnapping occurred when a Pakistan Peoples Party corner meeting ongoing on Multan's Matti-Tal road was attacked by gunmen.
Ali Haider Gilani's personal secretary, Mohiuddin, was killed in the attack and several others were said to have been injured in the shooting.
After the kidnapping, Gilani's sons, Ali Musa and Abdul Qadir were seen to be angry and in tears.
Full report at:
http://dawn.com/2013/05/09/gilanis-son-kidnapped-reports/
------------
No party will get majority: survey
Faiza Shah
May 9, 2013
THE May 11 election will result in a National Assembly in which none of the three leading parties will win a simple majority of the seats, the results of an exclusive Herald survey conducted among 10 top experts on Pakistan's electoral politics indicate.
The survey conducted in the last week of March 2013, and involving experts from the academia, think-tanks and civil society organisations, shows Pakistan Muslim League-Nawaz (PML-N) getting the highest percentage of seats — at 34.89 per cent, Pakistan Peoples Party (PPP) getting the second highest percentage — at 24.89pc, and Pakistan Tehreek-i-Insaf (PTI) getting the third highest percentage of seats in the National Assembly — at 12.11pc.
In seven experts' opinion, PML-N will get 30pc or above seats — with one of them giving it as high as 44pc. Only two predict that it will get less than 30pc seat and none gives it below 25pc. The highest per cent of seats PPP may get is 35pc and the lowest is 18pc. Two experts believe that the party will get less than 20pc seats and three believe it will get more than 30pc. The rest expect it to win anywhere between 22 and 28pc seats. In PTI's case, the highest per cent of seats it may win, according to two survey experts, is 16pc.
The party's lowest expected presence in the National Assembly could well be just 7pc, according to one expert. Other experts believe that PTI will win anywhere from 9pc to 15pc seats in the National Assembly.
The results of the survey, being published in the magazine's special pre-election issue which was scheduled to hit the newsstands on Wednesday, also indicate that PML-N will get the highest percentage of votes from among the Hindko-speaking voters — at 49pc, followed by 48pc Punjabi speakers. Similarly, PPP is likely to get the most percentage of votes from among the Sindhi-speakers — at 52pc — and from among the Seraiki speakers — at 46pc. A rather high percentage of Seraiki speakers — at 43pc — may vote for PML-N. Among the Pashto-speakers, ANP is likely to get the biggest share of votes at 38pc, followed by PTI at 35pc.
Full report at:
http://dawn.com/2013/05/09/no-party-will-get-majority-survey/
------------
PHC declares drone strikes illegal, orders govt to compensate victims
2013-05-09
PESHAWAR: The Peshawar High Court (PHC) on Thursday declared the CIA-led drone strikes on Pakistani territory illegal and ordered the government to compensate the victims of drone attacks.
The PHC chief justice Dost Mohammad said drone attacks must equal to a war crimes.
He added that the attacks were violating human rights and were against the United Nations' charter.
Full report at:
http://beta.dawn.com/news/813875/phc-declares-drone-strikes-illegal-orders-govt-to-compensate-victims
------------
PML-N candidate booked for polls violence
2013-05-09
RAWALPINDI: May 8: Pakistan Muslim League-Nawaz (PML-N) candidate for NA-56, Mohammad Hanif Abbasi, was booked along with 700 supporters for damaging police bus and obstructing the cops from discharging their official duty, police said.
Police said a convoy of political activists led by PML-N candidate Hanif Abbasi was stopped from taking Benazir Bhutto Road for Liaquat Bagh where his party chief Nawaz Sharif was to address a rally.
The rally was coming from Rehmanabad and was stopped at Chandni Chowk as the road had been blocked for vehicular traffic.
They were asked to cover rest of the journey on foot.
The former lawmaker retaliated and started a quarrel with the police deployed at the barrier.
Akbar Abbas, police inspector, who was commanding the police unit at the security check point, tried to convince the PML-N leader but he allegedly refused to obey the police officer and insisted on removing the barrier.
"After the police refused to remove the barrier, the PML-N activists got infuriated and attacked the police bus," inspector Akbar Abbas said in his complaint adding that the bus driver Jamil Akhtar ran away.
The angry mob damaged the bus windscreen and indicators (lights) and also obstructed the police from discharging their official duty. Finally the police had to retreat.
However, the city police officer, Abdul Razaq Cheema, took notice of the incident and ordered the registration of a criminal case against the former lawmaker.
Apparently, the police are reluctant to take action against the accused, fearing revenge if he returns to the assembly.
Inspector Akbar Abbas, who was complainant in the FIR, refused to give any further details of the incident.
Full report at:
http://beta.dawn.com/news/812753/hanif-abbasi-booked-for-polls-violence
------------
Gilani's predictions: A two-party system and a short span for PTI
By Abdul Manan
May 9, 2013
MULTAN: A short lifespan for the PTI, and a two-party system in Pakistan; that's what former prime minister Yousaf Raza Gilani sees when asked about the future of Pakistani politics.
In an exclusive interview with The Express Tribune, Gilani not only defended his party's record, but also lashed out at both the PTI and Pakistan Muslim League-Nawaz chief Nawaz Sharif.
An optimistic Gilani said the PPP will sweep Multan while also improving on its gains in South Punjab. Of course, Gilani himself will be unable to contest this election owing to his disqualification, but his two sons and one younger brother are running for three National Assembly seats in Multan.
The PTI factor
In Gilani's opinion, every political party, be it the JUI-F, JI, PMLQ, PML-N or PPP has its 'B' team which, in his opinion, have now gathered in Pakistan Tehreek-e-Insaaf. "If PTI is full of turncoats, it can't bring change and revolution in the country. Imran Khan is surrounded by a bunch of opportunists," said Gilani.
While he says the PTI won't last, he is quick to point out that the PPP and PML-N are both ideological political parties and will survive the test of time. It is the parties that were formed during dictatorships and are full of opportunists, he says, that will fizzle out sooner or later.
If that's the case, then why has the PTI begun to replace the PPP in urban Punjab? Gilani said it's largely due to the anti-incumbency factor. "In Punjab, the PML-N was the ruling party so people gathered under Imran Khan due to the incumbency factor," he said.
Coalition government inevitable
Gilani seemed confident that the PPP will form a coalition government, and if it fails to do that, will opt to sit on opposition benches. Asked if he sees a possibility of PPP joining hands with Imran Khan, he replied by saying that PTI is not an ideological party. "The criteria of opportunists is only power and they will prefer to stay in the government."
"There will be a split majority in the National Assembly and the PPP's seats will play an important role. We have a majority in the Senate. Without us, proponents of revolutionary political parties will only be confined to debating societies," he said.
Sharif brothers
Gilani warned that if Nawaz comes to power, the PML-N will again try to introduce legislation like the Shariat bill which Nawaz Sharif wanted to use to become Amirul Momineen. "Shahbaz Sharif is portraying himself as Khadim-e-Punjab (Servant of Punjab). The elder Sharif wants to become king while the younger wants to be a dictator," said Gilani.
He predicted that despite the PML-N's slogans of change, if Nawaz came into power, nothing would change.
Defending his party
Answering queries about the PPP's diminishing popularity, a defensive Gilani replied that the PPP is not just a national party but also Pakistan's largest party which has been in power many times. Explaining the absence of a centralised political campaign, Gilani said he had planned to hold a big public gathering in Multan just before elections where PPP's contesting candidates were supposed to come and hear a video address of Bilawal Bhutto Zardari.
Full report at:
http://tribune.com.pk/story/546417/gilanis-predictions-a-two-party-system-and-a-short-span-for-pti/
------------
Pakistan Goes to the Polls: The Promise and Potential
Shahnaz Taplin-Chinoy
05/08/2013
Pakistan goes to the polls on May 11, 2013. The promise and the potential of a fresh beginning -- for the moment -- feels heady. The Afghan war has taken its toll on Pakistan. Can the country reinvent itself with a clear eye on the challenges and opportunities it faces in South Asia -- at the age of 65 in its new political incarnation -- even as it is flanked by Afghanistan and India?
Growing up in India, Pakistan seemed like the bright successful shiny country bordering a rather poor India. It seemed that success for Pakistan was just around the corner, even as India struggled with its many millions of impoverished masses. But history has turned out differently -- and now Pakistan is the struggling member of the family.
Chess Board of Politics: Pakistan has straddled between democracy and dictatorship since its inception in 1948. It now has multiple, often feudal based, political parties associated with a handful of political leaders who have played musical chairs for over 50 years. The names and faces of the politicians are sparse, recurring -- alternating dictators and democrats. Gallup poll predicts 41 percent and The Economist's most recent survey predicts that 59 percent of the vote will go to Nawaz Sharif of the Pakistan Muslim League (PML-N). The article also commends Nawaz Sharif and his brother Shahbaz Sharif for "getting things done." But politics is not easy business anywhere and certainly not in Pakistan.
Modernity vs. Antiquity: These polar opposites define the struggle for the soul of Pakistan. Modernity entrains education, employment and empowerment for women. Antiquity clings onto age old taboos pertaining to women's roles, segregation, and subservience -- all of which cumulatively and negatively impact the place, the position and the power of women in Pakistani society. Reconfiguring the Muslim women's role in the spirit and teaching of Islam, where "Paradise rests beneath the feet of your mother" could catalyze a paradigm shift in Pakistani society.
Pakistan has a population of 180 million, with 37 million women and 48 million men registered to vote. But in reality, Farzana Bari, human rights activist and university professor at the Quaid-i-Azam University "estimates that at least 11 million eligible women will not be able to vote simply because authorities have not granted them national identity cards." This is a travesty. In India, the voting gap between Muslim men and women in Kashmir is 5 percent. But In Pakistan, the voting gap is expected to be 25 percent.
Conservative Pakistani women conform to a traditional code of conduct, wearing the burqa or hijab, being accompanied by a male guardian in public at all times, and mostly staying within the confines of the home. The election commission tried to overcome these social/cultural taboos by passing legislation in parliament requiring at least 10 percent of the women's vote for candidates running for office, but the measure failed.
Some mullahs deny Pakistani women the right to vote on the grounds that women's voting is un-Islamic. Where did these Mullahs get these ideas, when women participated in the council that chose Abu Bakr, the first successor, to Prophet Mohammad in eighth century Arabia?
The challenges of modernity versus antiquity for women are uniquely challenging for women curtailed by social taboos and Taliban imposed edicts in the North West frontier region. The Talibans's code of conduct, for example, prohibits a married woman from voting for a male elected representative -- but also precludes women candidates running for political office.
In the tough neighborhoods of the North West frontier's Khyber Pakhtunkhwa districts, the ban on women voting in the election will be hard to lift. It is in these areas where old customs don't yield easily to new norms, new economies and equal rights for men and women -- even in today's democratic Pakistan.
Marriage and divorce in tribal Pashtun cultures are loaded issues -- even in local elections. This was clear in Battagram. An election was declared null because women were threatened with divorce if they voted. In the rerun, the threat of divorce was lifted and women participated successfully.
Badama Begum, a 33-year-old school teacher who worked the 2008 elections says not a single woman came to vote in Maardan in the North West Frontier Province - even though the government provided women election aids. Despite regressive restrictions, I am in awe of the tenacity of Muslim women.
Full report at:
http://www.huffingtonpost.com/shahnaz-taplinchinoy/pakistan-goes-to-the-polls_b_3233008.html
------------
Three questions new Af-Pak envoy must answer
May 09, 2013
Gayle Tzemach Lemmon
When Amb James Dobbins arrives at the ground-floor offices of the State Department's Special Representative forAfghanistanandPakistanhe will find a depleted staff, a moribund peace process and a mandate riddled with colossal diplomatic challenges. Secretary of State John Kerry called today's state of affairs a "pivotal moment" for the two nations. But it is also a critical moment forUSinvolvement in ending the conflict President Barack Obama once called the war "that we have to win" and now wants only to "responsibly" wind down.
Dobbins is a veteran of uphill assignments. He oversaw the return of the American flag over a newly-reopened US Embassy inKabulin 2001. In addition toAfghanistan, he has served inKosovo,Bosnia,Haiti, andSomalia. Not exactly a list of luxe diplomatic posts.
As Dobbins prepares to assume his post on23rd St, a series of open questions await his attention. Three of the biggest are below.
1) Troops: Just how many US troops will remain inAfghanistanafter 2014? That question remains unanswered as the United States continues to negotiate an agreement with Afghanistan on the shape of the US military presence post-2014. Gen James Mattis, who most recently served as the commander of US Central Command, is on the record pushing for more than 13,000 troops. Most numbers out of the Pentagon and the White House come in at less than that. The State Department's Robert Blake noted recently that "we are still in the process of thinking through what our final military presence will be in Afghanistan after the end of the transition at the end of 2014." Exactly when that will be and what shape it will take remains to be seen.
Also an open question: how many Afghan troops will be needed? And how many will be funded? Those two numbers may well end up being different. And the latter should be known sooner rather than later.
2) Peace process: Right now there is not one of substance to speak of. What shape might one take? The window for action is rapidly closing as frustration between Pakistan and Afghanistan remains very much alive, with Afghanistan arguing that Pakistan looks favorably on Afghan instability. Will Kabul and Islamabad agree to agree on conditions for talks? And what role will the Americans take? Sec Kerry met last month in Belgium with Afghan President Hamid Karzai and Pakistani General Ashfaq Parvez Kayani and vowed to "under-promise but deliver" as the sides "continue a very specific dialogue on both the political track as well as the security track." What, if anything, the dialed-down dialog yields will be watched carefully as nearly all sides agree that a diplomatic solution - one in which human rights are not made the price of peace - is the lone shot at a lasting and durable peace.
Full report at:
http://www.nation.com.pk/pakistan-news-newspaper-daily-english-online/international/09-May-2013/three-questions-new-af-pak-envoy-must-answer
------------
Pakistan stresses OSCE role in Afghan transition process
May 09, 2013
UN : With US-led coalition forces set to pull out ofAfghanistannext year,Pakistanhas underscored the role of the Organisation for Security and Cooperation in Europe (OSCE) in the transition process, and said that peace would help strengthen the war-torn country.
"As the international security forces prepare to withdraw by 2014, OSCE's continued engagement withAfghanistanwill have a positive impact on four transitions underway: security, reconciliation, electoral, and economic," Ambassador Masood Khan,Pakistan's permanent representative to the UN, told the UNSC. He was speaking after Leonid Kozhara,Ukraine's FM and the Chairperson-in-Office of the OSCE, outlined areas for greater collaboration with the UN in the annual address to the 15-member body.
The OSCE represents 57 states fromEurope,Central AsiaandNorth America.
The Pakistani envoy also expressed appreciation for OSCE's activities inAfghanistan, particularly capacity-building of the Afghan National Police.
"Pakistanstrongly believes that a peaceful and stableAfghanistanwill help the people ofAfghanistanrediscover their destiny, consolidate their polity and rebuild their economy," Ambassador Masood Khan said.
Full report at:
http://www.nation.com.pk/pakistan-news-newspaper-daily-english-online/international/09-May-2013/pakistan-stresses-osce-role-in-afghan-transition-process
------------
Bilawal: Pakistan's absent dynastic heir
May 09, 2013
ISLAMABAD: At 24, Bilawal Bhutto Zardari is too young to run in Pakistan's general election, but he carries both the hopes of a party and the bloodstained mantle of his family history.
He was just 19 and a student at Oxford University when his mother, former Prime Minister Benazir Bhutto, was murdered in December 2007 and he had the chairmanship of her Pakistan People's Party (PPP) thrust upon him.
After maintaining a relatively low profile for several years, Bilawal launched his political career with an impassioned speech at the family mausoleum in Sindh on the fifth anniversary of her death.
"Bhutto is an emotion, a love," he told a crowd of more than 200,000 supporters of the party founded by his grandfather Zulfikar Ali Bhutto, the charismatic premier deposed and hanged by military dictator Ziaul Haq in 1979.
"Every challenge is soaked in blood, but you will be the loser. However many Bhuttos you kill, more Bhuttos will emerge from every house."
Though Bilawal will not be old enough to run for parliament until September, his face adorns PPP election posters and TV adverts, framed between Zulfikar and Benazir.
The PPP endlessly eulogises the dead Bhuttos as "martyrs" to the common man's struggle against oppression, but the threat of a Taliban attack means Bilawal has barely been seen in public in the run-up to the May 11 vote.
His only significant appearance so far came with his father, President Asif Ali Zardari, in a bizarre middle-of-the-night gathering on April 4 that was originally billed as a major rally to kick-start the PPP campaign for re-election.
Bilawal appeared uncomfortable as he addressed the small crowd haltingly in heavily accented Urdu, a far cry from the practiced polish of his December speech and evidence of his upbringing in exile in England and Dubai.
Full report at:
http://www.dailytimes.com.pk/default.asp?page=2013\05\09\story_9-5-2013_pg7_4
------------
Pakistanis downplay travel advisory
May 9, 2013
ATTARI: Many Pakistani nationals who arrived on board the Lahore-Delhi bus at Attari border on Wednesday said that they felt safe in India, a day after Pakistan issued a travel advisory against India.
They said the travel advisory could be a diplomatic move only as Pakistanis were more engrossed in the upcoming elections than Sarabjit or Sanaullah.
Talking to TOI, owner of 'Delhi Kabab House' in Karachi, Abdul Quaum said, "Yes I heard of some travel advisory against India but that didn't change my plan, it is safer here."
Pakistan on May 7 issued a travel advisory against India advising its citizens to exercise caution and care while traveling into India after assault on Pakistani prisoner Sanaullaha Ranjay in Jammu's Kot Bhalwal jail.
Quaum said that such measures would only deepen the rift and strengthen the suspicion in hearts than bringing people of two nations close to each other.
Drivers of the Lahore-Delhi bus Gohar Rehman and Mohammad Khalil said they never had problem traveling in India.
Shahida, a resident of Karachi, who had arrived to meet her relatives in India said, "I don't feel any scared or fearful while traveling in India. It is just the same as Pakistan."
The Indian government has increased security of buses plying between India and Pakistan following attack on Sarabjit Singh and his subsequent death.
Full report at:
http://timesofindia.indiatimes.com/india/Pakistanis-downplay-travel-advisory/articleshow/19962235.cms
------------
Pakistani balloons land near Dharamshala
S Gopal Puri
May 9, 2013
DHARAMSHALA: Intelligence agencies were alerted when a bouquet of balloons with Pakistani flag printed on them was found near the flood gates of Pong Dam on Wednesday.
Pong wetland is one of the largest man-made reservoir in the country, spread over 475 sq km of water area and is strategically located just above the Punjab plains. The balloons also carried some text message written in Urdu, which hinted at these being used for election campaigning by a political party in Pakistan.
Sources revealed that local police were informed about the balloons by some shepherds at around 9 am, after which intelligence agencies were called in. There were 54 inflated balloons with Pakistani flag printed on them. "We were informed by some local people on telephone that Pakistani balloons were laying near the flood gates. We immediately rushed to the spot due to the sensitivity of the matter as the matter was reported near the flood gates. Higher authorities have been informed about the balloons," said Tilak Raj, police station in-charge of the area.
Eyewitness said that initially they got frightened seeing Pakistani flag printed on the balloons, suspecting that there might be some explosive substance. Sources said that intelligence agencies were now probing the matter, and balloons found in the wetland would be sent to forensic laboratories for further research.
Full report at:
http://timesofindia.indiatimes.com/india/Pakistani-balloons-land-near-Dharamshala/articleshow/19962184.cms
------------
South Asia
Tough times for Burmese Muslims in Saudi Arabia
New Age Islam News Bureau
May 9, 2013
While Burmese Muslims have been persecuted and victimised in Burma and have a rough time in refugee camps in Bangladesh, the Burmese Muslim community in Saudi Arabia are a happy lot, according to a news report. About 2.5 lakh Burmese Muslims had migrated to Saudi Arabia during the reign of King Abdul Aziz 50 years ago and have assimilated into the Saudi society fully. Most of the Burmese Muslims have settled in Mecca and Riyadh. One migrant Ibrahim Saudi said that he learnt Arabic and forgot Burmese language but by the blessing of God he had been betrothed to a Saudi girl and his sister is also betrothed to a Saudi man. The head of the Rohingya Muslim fraternity in Saudi Arab, Abdul Majeed Al Arkani said that a group of Burmese Muslims came to Saudi Arabia and the government granted them citizenship. However, he said that the opportunities of employment became less in later years but the Saudi government has provided them opportunities for education, health facilities and employment. The Saudi government has also decided to recognise the Burmese Muslims as a community and the community will be free from the limitations of the Iqamah visa.
However, journalist Syed Neaz Ahmad says that Burmese Muslims are having a tough time in Saudi Arabia. King Faisal had decided to grant them a permanent citizenship in Saudi Arabia but the later Saudi kings have found them a thorn in their eyes and have put strict regulations on their employment and movement. About 250,000 Rohingya Muslims live in Mecca's slums (Naqqasha and Kudai). Most of them work as vegetable vendors, sweepers, porters, carpenters and unskilled labourers.
"In Saudi Arabia it is not uncommon for poor Rohingyas to marry off their young (sometimes underage) daughters to old and sick Saudis in the hope of getting "official favours". But this hasn't worked for many. Rohingyan wives of Saudi men, who have to survive as second class human beings on the periphery of society," says Mr Neaz Ahmad
Mr Neaz Ahmad says that he met about 3,000 Rohingya Muslims in Saudi prisons waiting to be deported. Among them there are both men and women in separate cells.
------------
Ahle Sunnat demands highest penalty for Hefazat, Jamaat leaders
MAY 09, 2013
Ahle Sunnat Wal Jama'at, an organisation based on Muslim Sunni ideology, yesterday demanded highest punishment for the leaders of Hefajat-e Islam and Jamaat-e-Islami for setting fire to hundreds of Islamic books and creating anarchy in the capital on May 5.
They also demanded banning of all Qawmi madrasas.
They made the demands at a rally held by the organisation on the Chittagong Press Club premises.
The leaders of the organisation said Hefajat and Jamaat, through their destructive activities and burning of holy books and mosques, have tarnished the image of the country's Muslims before the world.
Full report at:
http://www.thedailystar.net/beta2/news/ahle-sunnat-demands-highest-penalty-for-hefajat-jamaat-leaders/
------------
Afghanistan protest clashes leave 12 dead
May 09, 2013
KABUL
At least 12 people died Wednesday in an armed clash between police and a group of protesters in the southern Afghan province of Kandahar, authorities said.
"Eight Taliban and four civilians died in a protest against Pakistan in the Maiwand district," a source with the Kandahar provincial police said, adding that "hundreds of people" had participated in the protest.
In remarks to the Pajhwok news agency, the spokesman for the regional governor, Javed Faisal, also said that the demonstration was called to protest against Pakistan, whose army has been recently accused of launching cross-border attacks into Afghanistan. Police sources and witnesses cited by the AIP news agency said, however, that the protest was directed at Nato forces in Afghanistan.
Full report at:
http://www.nation.com.pk/pakistan-news-newspaper-daily-english-online/international/09-May-2013/afghanistan-protest-clashes-leave-12-dead
------------
US wants to keep nine bases in Afghanistan: Karzai
2013-05-09
KABUL: Afghan President Hamid Karzai vowed Thursday to wring concessions from the United States in negotiations to sign a security pact, saying Washington wanted to retain nine military bases in the country.
"We are in very serious negotiations with America," he said. "America has got its demands, Afghanistan too has its own demands, and its own interests...
Full report at:
http://beta.dawn.com/news/813878/us-wants-to-keep-nine-bases-in-afghanistan-karzai
------------
Nato soldiers probed over alleged Afghan abuse
May 09, 2013
KABUL: The US-led NATO force fighting Taliban insurgents inAfghanistansaid Wednesday it has launched an investigation into alleged misconduct by its soldiers.
The International Security Assistance Force (ISAF) statement said that the probe would examine a clash on April 28 in the southernprovinceofZabulwhen four insurgent fighters were killed.
Meanwhile, NATO has no plans to increase its presence in theArctic, Secretary General Anders Fogh Rasmussen said Wednesday despite numerous countries' keen interest in the region's vast natural resources.
"NATO has no intention of increasing its presence and activities in the Far North," Fogh Rasmussen said in Oslo after spending two days visiting northern Norway.
The Arctic is believed to hold some 90 billion barrels of oil and 30 percent of the world's yet-to-be discovered natural gas resources.
Those riches have become increasingly accessible as the Arctic ice shrinks. Not only countries bordering the Arctic Ocean are keen to claim the resources but also other nations further afield, such as China, are looking on with interest.
Several states, including Russia, Canada and the United States, have already announced a reinforcement of their military presence to defend their claims.
Full report at:
http://www.nation.com.pk/pakistan-news-newspaper-daily-english-online/international/09-May-2013/nato-soldiers-probed-over-alleged-afghan-abuse
------------
Shahbagh rejoices at Kamaruzzaman conviction
MAY 09, 2013
Shahbagh youths brought out a jubilant procession to celebrate the death penalty of Jamaat-e-Islami leader Muhammad Kamaruzzaman for his crimes against humanity during the country's Liberation War.
The International Crimes Tribunal-2 sentenced Kamaruzzaman to death as five out of seven charges brought against him were proved.
Hearing the news around 2:00pm, several hundreds of people regardless of their age and sex brought out the procession from Shahbagh around 2:15pm and marched towards the central Shaheed Minar in the capital.
The cheerful processionists were chanting slogans 'Joy Bangla', jonotar joy holo (people won), and Shahbagh-er joy holo (Shahbagh won).
They returned to Shahbagh around 3:00pm.
Full report at:
http://www.thedailystar.net/beta2/news/shahbagh-rejoices-at-kamaruzzaman-death-penalty/
------------
Reveal names if over 2500 Hefazat men killed: Minister
MAY 09, 2013
Information Minister Hasan ul Haq Inu on Thursday urged the opposition to publish a list of the 2,500 people it claimed to have been killed in Monday's crackdown on Hefazat-e Islam rally.
The minister's urge came hot on the heels of the propaganda by the BNP and Jamaat-e-Islami that nearly 2500-3000 people have been killed when law enforcers flushed the Hefazat men out of Shapla Chattar area in the capital early Monday.
He also called upon the opposition activists to offer unconditional apology to the nation if they fail to reveal the names.
Inu was addressing a briefing at the Press Information Department (PID) at the Secretariat.
He also vowed action against the madrasa teachers who 'deceived children into political activities', saying that the government is preparing a list of those teachers.
Earlier on Wednesday, trashing the claim of death of 2,500 to 3,000 Hefazat activists merely as a rumour, Dhaka Metropolitan Police said 11 people, including a policeman, died in Motijheel between Sunday and early Monday.
Full report at:
http://www.thedailystar.net/beta2/news/reveal-names-if-over-2500-hefajat-men-killed/
------------
BNP, Jamaat planned to overthrow govt: AL
MAY 09, 2013
The opposition BNP and Jamaat-e-Islami had planned to overthrow the government through the recent sit-in programme of Hefajat-e Islam in the capital, Awami League (AL) alleged yesterday.
But, the law enforcers successfully drove the BNP, Jamaat and Hefajat men out of the sit-in, said AL Presidium Member Mohammad Nasim.
He was talking to journalists at a press conference at the party chief's political office in Dhanmondi in the capital.
Terming BNP, Jamaat and Hefajat "the same", he claimed that the organisations were trying to destroy the country's democracy through different ways under the leadership of BNP Chairperson Khaleda Zia.
Nasim, also a former home minister, termed BNP's allegation of concealing dead bodies from the Hefajat's sit-in programme on Sunday a blatant lie.
He urged the country's people, AL leaders and lawmakers to remain alert about the possible violence by Jamaat-Shibir in the country today.
Full report at:
http://www.thedailystar.net/beta2/news/bnp-jamaat-planned-to-overthrow-govt-al/
------------
Southeast Asia
Indonesia anti-terror squad kills 7 militants
May 09 2013
Indonesia's elite anti-terrorism unit went on a busy 24-hour spree to root out suspected Islamic militants, killing seven and arresting six others in three separate operations that may have links to a foiled plot to bomb the Myanmar Embassy.
In the latest raid, police shot and killed three suspected militants early Thursday after an all-night standoff at a house in the Central Java town of Kebumen. Four others were arrested, said National Police spokesman Brig. Gen. Boy Rafli Amar.
He said the three dead suspects refused to surrender and resisted by firing guns and lobbing homemade bombs at security forces.
A similar showdown occurred hours earlier in the West Java village of Cigondewah, where three suspected terrorists were fatally shot after holing up for hours inside a house, said National Police chief Gen. Timur Pradopo. They also engaged in a shootout and hurled bombs, but no officers were hurt in either incident.
One other suspect was taken into custody in that raid, he said. However, earlier National Police chief Gen. Timur Pradopo said two were arrested there.
Police also confiscated three pistols and four pipe bombs at the house located about 120 kilometers (80 miles) southeast of the capital, Jakarta, where the men had been living for the past four months, Pradopo said. They were believed to have been involved in several robberies.
"We have tried everything to prevent fatalities," Pradopo told reporters at the scene. "But during three and a half hours of negotiations, they resisted using gunshots and explosions."
Police were tipped about their whereabouts after interrogating an alleged gun maker arrested Tuesday in the West Java village of Cipacing. Intelligence gathered from subsequent arrests allowed police to quickly move in and storm hideouts in the three separate areas, Amar said.
In the third operation, police in Central Java's Batang town fatally shot another suspected militant and arrested one more Wednesday for their alleged connection to a March jewelry shop robbery in Jakarta, Amar said in a text message. A semi-automatic pistol and ammunition were also seized.
They were suspected of being part of a larger group involved in robberies to fund terrorist activities, mainly aimed at police.
Full report at:
http://www.thejakartapost.com/news/2013/05/09/indonesia-anti-terror-squad-kills-7-militants.html
------------
Indonesian Media Needs to Cover Religion, Not Radicals: IARJ
May 9, 2013
Indonesian media need to work together to ensure that religious extremists don't have a voice in print, the International Association of Religion Journalists said on Wednesday.
"Don't give any room to the hard-liners," said Endy Bayuni, of the steering committee of IARJ. "Please cover them when they're violating the law, but don't give space to small group of people when they rally against something absurd. They used the media effectively and deceive the media to suit their own means."
Journalists' objectivity — which is usually present in business and political news — often gets forgotten when covering religion, Endy said before listing off examples of bias in coverage of religious conflicts with Shiites and Ahmadiya.
Full report at:
http://www.thejakartaglobe.com/news/indonesian-media-needs-to-cover-religion-not-radicals-iarj/'
------------
Indonesian Police Slay Suspected Bomb Plotters
By BEN OTTO, I MADE SENTANA
and JOKO HARIYANTO
May 8, 2013
JAKARTA—Antiterrorism police on Wednesday killed three suspected terrorists and arrested a fourth believed to be part of a group that plotted to bomb the Myanmar Embassy in Jakarta last week, the latest reverberations of a sectarian conflict in Myanmar that has galvanized radical Muslims in Indonesia.
Meanwhile, National Police chief Timur Pradopo said police also killed one more suspected terrorist he identified as Abu Roban and arrested nine others in four additional operations in Central Java and West Java, but he declined to name the nature of the suspected terrorist activities. He said one operation continued late Wednesday evening in Central Java, with police laying siege to a house with three men resisting arrest.
"The police are still urging them to surrender. We hope they will tonight," he said.
The daylong siege in a village about 75 miles southeast of the capital underscored the degree to which attacks by majority Buddhists against the Muslim minority in Myanmar, especially those from the Rohingya ethnic group, is reverberating outside Myanmar and especially in Indonesia, the world's most-populous Muslim-majority country with a history of terrorism by a small number of extremists.
Anger among hard-line Muslims bubbled over last week, with the arrest of two men suspected of planning to bomb Myanmar's embassy and calls by radical Islamic leaders to wage jihad, or holy war, against the nearby Southeast Asian country, which is undergoing a bumpy transition from decades of military dictatorship to civilian rule that has amplified sectarian and ethnic tensions.
On Wednesday, in the rural outskirts of Bandung, a highlands city of more than two million people, police besieged a house being rented by nonlocal Indonesians. Throughout the afternoon, news stations showed live footage punctuated by gunfire and small explosions at the small, walled residential compound set amid rice fields in a village.
Provincial police said one man surrendered in the early evening. About two hours later, police stormed the compound, killing all three remaining men inside, they said. Police identified the three men as Budi Syarif, Sarene and Jonet. Local people said the men moved into the house about four months ago and told them they were tailors for a Jakarta-based company.
"The police tried to persuade the suspects to surrender, but they fought back" with guns and pipe bombs, said Ryco Amelza Dahniel, deputy chief of the provincial police.
Nanan Soekarna, deputy chief of the National Police, said police acted on information received from interrogating the two men arrested last week on suspicions of plotting to bomb the embassy.
Full report at:
http://online.wsj.com/article/SB10001424127887323744604578470882593225290.html
------------
Indonesia jails Australian, Pakistani people smugglers
May 09, 2013
BANTEN, Indonesia : An Indonesian court jailed an Australian and a Pakistani for six years each after the men were caught organising an asylum-seeker boat toAustralia, their lawyer said Wednesday.
Ali Qaseem, a 57-year-old from Sydney described by prosecutors as part of an "international people-smuggling network", and Pakistani Sadaat Ali were also fined 500 million rupiah ($50,000) each.
Qaseem, who sought asylum inAustraliaafter arriving fromPakistanin 1999, and Ali were arrested in September in the town ofPandeglangin western Java as they tried to arrange for a boat to take 45 asylum seekers toAustralia.
"They were both found guilty of breaking Indonesian immigration laws. Ali Qaseem denies any involvement, and is deciding whether to appeal.
He has seven days to lodge an appeal," the men's lawyer Hassan Ali Rahman told AFP.
The Pakistani had no plans to appeal, Rahman said.
The sentences, handed down on Tuesday, fell short of a demand by prosecutors for 11 years.
Prosecutor Adhy Kusomo described Qaseem, who worked as a house painter inAustralia, as "the coordinator" and Ali as "his assistant".
"Qaseem is part of an international people-smuggling network involving countries includingAustraliaandPakistan," he said.
"But he's only one of several coordinators, not the mastermind. There are many more people above him."
Full report at:
http://www.nation.com.pk/pakistan-news-newspaper-daily-english-online/international/09-May-2013/indonesia-jails-australian-pakistani-people-smugglers
------------
China plays greater role in Mideast
May 09, 2013
BEIJING
The fact that the Palestinian and Israeli leaders for the first time paid successive visits to China has drawn worldwide notice, Xinhua said Wednesday.
The leaders did not hold direct talks in Beijing but China's hosting of the two emphasised its active involvement in Mideast affairs and highlighted its role as a responsible power. The turbulent situation in the Middle East and the Palestinian-Israel conflict in particular, over the years has been knotty problems that defy any immediate solutions.
Western powers have often attempted to settle the impasse but their efforts seem to be of no avail. The volatile Mideast situation calls for China's extra leverage and other increased international efforts.
China has sent its special envoy to the Middle East for several times to mediate between various parties. Its follow-up efforts - the invitation of the two leaders to China - take on a deeper significance for a better Palestinian-Israeli relationship.
As a friend with the Palestinians and Israeli alike, China boasts unique advantages in mediating between the two sides. As an emerging power and permanent member of the U.N. Security Council, China has, as always, adopted a just and balanced stance and pursues no ends for itself. Therefore, its proposals and mediation efforts carry sufficient weight and are more readily accepted.
Full report at:
http://www.nation.com.pk/pakistan-news-newspaper-daily-english-online/international/09-May-2013/china-plays-greater-role-in-mideast
------------
Indonesia: Pipe bombs found in terrorist ambush site
May 09 2013
Two pipe bombs, grenades and FN pistols were found during an overnight raid on suspected terrorists in a house in Kembaran hamlet, Ungaran village, Kebumen regency, on Thursday.
Kebumen Police chief Adj. Sr. Comr. Heru Trisasono said that during the raid, which started at 6 p.m. local time on Wednesday and ended at 9:30 a.m. Thursday, police found material evidence, which included the two pipe bombs, grenades and FN pistols.
"The location is now clear and several explosives have been defused," said Heru as quoted by Antara news agency.
The investigation of the case at the crime scene was still ongoing, he said.
Police and military officials are on guard in and around the alleged terrorist hideout, which is inaccessible to local residents.
Full report at:
http://www.thejakartapost.com/news/2013/05/09/pipe-bombs-found-terrorist-ambush-site.html
------------
Densus 88 Kills Terrorism Suspect in Central Java, Standoff Continues in Bandung
May 8, 2013
Indonesia's anti-terrorism squad Densus 88 killed one alleged terrorist and arrested another after a shootout in Kendal, Central Java, on Wednesday, a source said.
The police action occurred as Densus 88 members continued an hours-long standoff in Bandung after a fire fight with four alleged terrorists believed to be involved in an international arms smuggling ring.
The men were barricaded in a home in Batu Rengat Village, Bandung, Boy said. Police had the house surrounded Wednesday evening, but the standoff continued.
"They are still fighting back until now, we haven't been able to disarm them, but Densus 88 believes there are four men inside the house," National Police spokesman Brig Gen. Boy Rafli Amar said.
Full report at:
http://www.thejakartaglobe.com/news/densus-88-kills-terrorism-suspect-in-central-java-bandung-standoff-continues/
------------
Arab world
Digging of the grave of Hujr ibn Adi a Israeli conspiracy: Muslim clerics
New Age Islam News Bureau
May 9, 2013
Various Islamic scholars from Arab, Lebanon and Bahrain have condemned the digging of the grave of the holy companion of the prophet (pbuh) Hadhrat Hujr ibn Adi and have termed it as a conspiracy of the Israeli and American secret agencies to wage a civil war among the Muslims. A joint statement issued by the scholars said that the secret services of the Zionists and America are trying to create chaos and disorder among the Muslims to thwart the wave of awakening among the Muslims so that they could continue with their occupation of Palestine. Speaking to the open session of the Iranian Parliament, Speaker Dr Ali Larijani also condemned the destruction of the grave of Hadhrat Hujr ibn Adi.
The imam of the Ummayid Mosque of Damascus, Sheikh Khateeb Ahmad Al Abkar termed the desecration of Hadhrat Adi's grave an immoral act and war against Islam. The Islamic scholar of Saudi Arabia, Sheikh Ismail Al Houfi also condemned the act in the harshest words and called it the expansionist plans of the American and Zionist forces. The religious scholar of Bahrain, Syed Murtuza Sindi also condemned the act and said that it was a conspiracy of the enemies of Islam to end the unity of the Muslim Ummah.
In a statement issued by the Al Houthi, the organisation called it a Israeli conspiracy. The statement said that all this was done to delete all the signs and traditions of Islam in the region.
It is to be noted that the forces fighting against the Bashar al Assad regime in Syria are the agents of the US, Israel and some Arab countries and are even getting armed support and training from the CIA.
------------
Al-Nusra Front denies chief wounded in Syria
9 May 2013
The powerful jihadist group Al-Nusra Front has denied that its chief Abu Mohammed al-Jawlani was wounded in fighting near the Syrian capital of Damascus.
"Dear brothers, please note that what is being reported by some channels about the injury to Sheikh al-Jawlani in Damascus is not true, thank God," Nusra leader Al-Ghareeb al-Muhajir al-Qahtani said in a tweet late on Wednesday.
He accused the Syrian regime of also lying about the death of another fighter in central Syria.
"If the leadership is injured or the leadership is killed, jihad will go on until Judgment Day, but we should point out that the news of the injury to Sheikh Jawlani is incorrect," he added.
Jawlani was reported wounded by the Syrian Observatory for Human Rights watchdog, which said he had been hurt in southern Damascus province.
The Britain-based group, which relies on a network of activists, lawyers and doctors inside Syria for its information, was able to say only that Jawlani had been hit in the foot.
Jawlani last month pledged allegiance to Al-Qaeda chief Ayman al-Zawahiri, confirming suspicions of ties between the Syrian rebel group and the extremist organization.
Before the pledge, Al-Nusra had been deemed a "terrorist organization" by Washington over its alleged ties to Al-Qaeda's branch in Iraq.
Full report at:
http://english.alarabiya.net/en/News/middle-east/2013/05/09/Al-Nusra-Front-denies-chief-wounded-in-Syria.html
------------
Governor orders Makkah plan for poor neighbourhoods
9 May 2013
JEDDAH: Makkah Gov. Prince Khaled Al-Faisal has ordered officials to prepare a plan to develop unplanned neighbourhoods in the province over the next five years.
Chairing a meeting of the executive committee for the development of unplanned districts in the province in Jeddah yesterday, Prince Khaled said the upgrading of these areas should be completed with other developmental projects in Makkah and Jeddah.
Various government departments have offered material and human resources to support the project.
He also stressed the fact that residents in these poor areas should have their residency and work permits sorted out, as was the case currently with the Burmese community.
Those who attended the meeting included Undersecretary at the Interior Ministry Ahmed Al-Sinani, Undersecretary at the Justice Ministry Muhammad Al-Faeem, Makkah Mayor Osama Al-Bar and Deputy Director General of the Passports Department Maj. Gen. Abdul Rahman Al-Towaireqi.
Last year Umm Al-Qura University launched the Prince Khaled Al-Faisal Chair for the Development of Unplanned Districts in Makkah.
"The chair will help translate into reality the vision of the Saudi leadership to transform unplanned districts into modern urban districts with all infrastructure facilities," Bakri Assas, president of the university, said at the time of the chair's inauguration.
Full report at:
http://www.arabnews.com/news/450972
------------
32 Saudi universities lack physical-education facilities
ARAB NEWS
9 May 2013
JEDDAH: The labor market may suffer a shortage in recruiting Saudi women to teach physical education at private schools.
Currently, 32 Saudi universities, of which eight are private, lack the specialty of physical education in their disciplines.
More than 9,000 foreign female teachers may be recruited at these schools from abroad following the decision of the Education Ministry to approve new regulations allowing physical education.
A number of committees at the Shoura Council, including those of family, youth and education, have agreed on the importance of healthy style of living but that "the council cannot force universities to offer such disciplines", a source said.
To date, no university has introduced physical-education training. Some universities are still debating the issue.
Full report at:
http://www.arabnews.com/news/450961
------------
Syria opposition insists on Assad out before any deal
9 May 2013
BEIRUT: Syria's main opposition National Coalition yesterday said any political settlement to the country's conflict must start with the departure of President Bashar Assad, implicitly rejecting a US-Russian call for dialogue with the regime.
"The National Coalition welcomes all international efforts which call for a political solution to achieve the aspirations of the Syrian people and their hope for a democratic state, so long as they begin with the departure of Bashar Assad and his regime," the umbrella group said.
The response could be a blow to the US-Russian initiative, which is based on a deal agreed in Geneva that makes no mention of Assad stepping down.
The opposition has long insisted that the embattled president cannot stay on as part of any resolution to the conflict.
But the regime insists that Assad's future will be decided in elections, with a presidential vote scheduled for 2014.
The US-Russia initiative was announced by US Secretary of State John Kerry and his Russia counterpart Sergei Lavrov at a Moscow news conference on Tuesday.
"We agreed that Russia and the United States will encourage both the Syria government and opposition groups to find a political solution," Lavrov said.
He said both nations were ready to use all their resources to bring "the government and opposition to the negotiating table." Lavrov and Kerry said they hoped they could convene an international conference by the end of May to build on a deal agreed by world powers in Geneva last June for a peaceful solution in Syria.
The Geneva agreement, which was never implemented, set out a path toward a transitional government but without spelling out Assad's fate.
Meanwhile, Syrian troops pushed yesterday into a strategic town along the highway leading to the Jordanian border as a massive Internet outage engulfed most of the country for a second day.
The regime's advance into Khirbet Ghazaleh, a town south of Damascus along a key artery to the border, came after weeks of fighting and government attempts to secure the highway.
The push was part of a wider offensive against rebels in which Assad's troops have regained some areas around Damascus, in the central province of Homs near the Lebanese border and in the region of Aleppo to the north.
The violence came as Iran, one of Assad's strongest allies, declared that it is ready to help any attempt to end Syria's crisis. In an opinion published in Lebanon's daily Al-Akhbar, Iranian Foreign Minister Ali Akbar Salehi wrote that it is up to the Syrian people to choose their political system and president.
It was not immediately clear if the government had pulled the plug on the Internet, triggering a blackout similar to a two-day outage that Syria experienced late last fall. Cellphone and phone services also were out in much of the country yesterday.
The Britain-based Syrian Observatory for Human Rights and another activist group, the Aleppo Media Center, said opposition fighters shot down a fighter jet that was bombing rebel positions in the battle for the Mannagh air base near the border with Turkey.
Full report at:
http://www.arabnews.com/news/450920
------------
Obama, Netanyahu speak after Israel's Syria raids
8 May 2013
US President Barack Obama spoke to Prime Minister Benjamin Netanyahu Wednesday, days after the latest Israeli air raids on Syrian targets and as Washington steps up its Middle East peace efforts.
The White House said in a short statement that Obama and Netanyahu, who is visiting China, spoke by telephone, and discussed "regional security issues and Middle East peace."
US officials have declined to comment in detail on air strikes by Israel on targets near Damascus on Friday and Sunday which Israeli sources said destroyed Iranian missiles apparently destined for the Hezbollah militia.
But Obama said on Saturday after the first set of Israeli raids that the Jewish state was justified in seeking to "guard against the transfer of advanced weaponry to terrorist organizations like Hezbollah."
The call between Netanyahu and Obama, who patched up a previously testy relationship during the US leader's trip to Israel in March, also came as Washington seeks to broker a breakthrough between Israelis and Palestinians.
Full report at:
http://english.ahram.org.eg/NewsContent/2/9/71003/World/International/Obama,-Netanyahu-speak-after-Israels-Syria-raids.aspx
------------
India
3 day conference on Islam and social reform by TV Channel 'Zee Salam'
New Age Islam News Bureau
May 9, 2013
New Delhi: Zee Salam, the Islamic channel of Zee TV is going to hold a three day conference on Islam and social reform at the Jama'at Islami campus in New Delhi from May 10 to 12. Many renowned Islamic scholars will address the audience. The channel head of Zee Salam said, 'Our effort is to spread the message of Islam and its prophet (pbuh) to all. Mr Anand said that the channel has always tried to propagate the teachings of Islam and Hadith and will always strive to do that.
------------
Sanaullah's body to be handed over to Pak: Shinde
May 9, 2013
NEW DELHI: The body of Pakistani prisoner Sanaullah Ranjay, who succumbed to injuries at a Chandigarh hospital on Thursday, will be handed over to Pakistan.
"We will hand over the body to Pakistan," home minister Sushilkumar Shinde said.
Shinde said the ministry of external affairs is coordinating with the Pakistani authorities to complete the formalities to send back his body home. "Once the formalities are done, we will hand over the body," he said.
Sources said a detailed post-mortem of Sanaullah, 52, would be done in Chandigarh and the travel arrangements would be made as per the request made by Pakistan.
Government has been informed that Pakistan is arranging an aircraft to fly his body back home, the sources said, adding "If they arrange a non-military registered plane, the clearance Full report at:
http://timesofindia.indiatimes.com/india/Sanaullahs-body-to-be-handed-over-to-Pak-Shinde/articleshow/19964373.cms
------------
Salman Khurshid arrives in China on two-day visit
May 9, 2013
BEIJING: External affairs minister Salman Khurshid arrived here on Thursday on a two-day visit for talks with Chinese leaders, just days after the resolution of a row over Depsang Valley in Ladakh where the troops of People's Liberation Army intruded recently.
Besides talks with his counterpart Wang Yi, Khurshid is expected to meet new Chinese Premier Li Keqiang, who is planning to visit India later this month, making it the first stop of his maiden foreign tour.
Ahead of the visit, he told Chinese media in New Delhi on Wednesday that he was satisfied with the maturity and understanding shown by two sides in trying to resolve the issue, referring to the stand-off that ended on Sunday.
"To keep them (disputes) at a proportional level and contain them as limited and localised, and not necessarily part of large scheme of things, it's important to have a fundamental understanding of each other. We have developed that for years and that's a wonderful thing," state-run China Radio International quoted Khurshid as saying.
Terming his visit as a great opportunity, he said India and China had developed a very sound relationship over the past decade, and hoped bilateral ties would be enhanced under China's new leadership.
"The first signals that have come from the new Chinese leadership are extremely positive and welcome and will reciprocated in full substance from us. We are looking forward to a meaningful decade working with the new leadership of China," he said.
Khurshid's visit came under shadow earlier as the two countries grappled for a fortnight to resolve the row over the PLA troops incursion in the Daulat Beig Oldi in Ladakh, 19 km within the Indian side of the border.
After initial assertions by China that there was no violation of border by its troops, the row was resolved on Sunday following intense round of talks at various levels.
The Chinese foreign ministry on Wednesday called for "proper and timely" settlement of the boundary issues to preserve peace at the borders in the light of the Depsang Valley row.
"Proper and timely settlement of border issues serves the common interests of both the countries and is also their common aspiration," foreign ministry spokesperson Hu Chunying told reporters.
"The handling of the incidents also shows that the two countries agreed to protect the safety and security and peace of border areas and it is also the result of joint efforts," she said.
"We would like to continue to work with the Indian side to safeguard peace and stability of the border areas for sound and steady development of China and India relations."
During his stay in Beijing, Khurshid is also expected to meet state councillor Yang Jiechi, widely speculated to be successor to Dai Bingguo who retired recently as former special representative on the India-China border talks.
Besides the border row, the two sides were expected to discuss a host of subjects including India's concerns over ballooning trade deficit.
The details of Li's visit to India were also expected to be finalised during the talks.
Commenting on Khurshid's visit, Zhao Gancheng, head of the Center for South Asian Studies at the Shanghai Institute for International Studies, told the Global Times that the recent border stand off shows that although existing border- related mechanisms were proved effective in defusing tensions, they "failed to solve the dispute in a timely manner."
Full report at:
http://timesofindia.indiatimes.com/india/Salman-Khurshid-arrives-in-China-on-two-day-visit/articleshow/19965996.cms
------------
Europe
French ministers boycott conference over Muslim scholar
8 May 2013
Two French ministers have decided to boycott a conference in Italy on the future of the European Union due to the presence of controversial Muslim intellectual Tariq Ramadan, aides said Wednesday.
Interior Minister Manuel Valls and Najat Vallaud-Belkacem, Minister of Women's Rights, were due to go to Thursday's meeting in Florence that will also be attended by European Commission head Jose Manuel Barroso.
They "decided not to attend this conference... at the same time as Tariq Ramadan," an aide of Vallaud-Belkacem, who is also spokeswoman for the Socialist government, told AFP.
The aide said the two ministers had not wanted their presence to be interpreted as France endorsing Ramadan, "who supports obscurantist positions contrary to the values of the Republic."
Ramadan is a Swiss academic who is professor of contemporary Islamic studies at Oxford University.
Full report at:
http://english.ahram.org.eg/NewsContent/2/8/70987/World/Region/French-ministers-boycott-conference-over-Muslim-sc.aspx
------------
U.S. Fears Russia May Sell Air-Defence System to Syria
By MICHAEL R. GORDON
May 8, 2013
WASHINGTON — The United States, which is trying to bring Syrian rebels and the Syrian government to the negotiating table, is now increasingly worried that Russia plans to sell a sophisticated air defence system to Syria, American officials said Wednesday.
Russia has a long history of selling arms to the Syrians and has a naval base in the country. But the delivery of the Russian S-300 missile batteries would represent a major qualitative advancement in Syria's air defences. The system is regarded as highly effective and would limit the ability of the United States and other nations to operate over Syrian airspace or impose a no-fly zone.
It is also able to track and fire missiles at multiple targets, including aircraft and some missiles.
"There are concerns that this might happen," said a senior United States official who spoke on the condition of anonymity, referring to the possible delivery of the S-300. A Western intelligence service has also warned that the Russians may soon send S-300 air defence batteries to Syria, said another American official who asked not to be identified because he was discussing intelligence reports.
News of the possible Russian sale, which was first reported online by The Wall Street Journal on Wednesday evening, came less than a day after Secretary of State John Kerry sought to enlist Russia's help in facilitating a political transition that would supplant President Bashar al-Assad of Syria.
Russia and Iran have supported Mr. Assad politically and have provided military support — support that American officials say has fortified Mr. Assad's determination to hang on to power.
American officials had been concerned that Russia might sell S-300 air defence batteries to Iran. But after the United States and Israel raised alarms, the weapons were not provided to the Iranians.
While Syria's air defences are formidable, Israel has successfully carried out three airstrikes to stop the suspected transfer of advanced weapons from Syria to Hezbollah. In carrying out its attacks, Israeli warplanes flew over neighbouring Lebanon and fired air-to-ground weapons at their targets, American officials said.
The possible S-300 sale comes as the United States and its allies are struggling to find a way to end the fighting in Syria, which has killed more than 70,000.
The White House announced Wednesday that Prime Minister David Cameron of Britain planned to meet with President Obama next Monday in Washington. One subject they will take up will be Syria, the White House noted in a statement.
Full report at:
http://www.nytimes.com/2013/05/09/world/middleeast/us-fears-russia-may-sell-air-defenses-to-syria.html?gwh=89A8F19B58613644CD54836F584F49CA
------------
Germany Confirms Tank and APC Sales to Indonesia
May 8, 2013
Berlin. The German government confirmed on Wednesday the sale of 104 used Leopard 2 tanks and 50 armored personnel carriers by industrial group Rheinmetall to Indonesia.
Arms sales are a sensitive issue in Germany, given its Nazi past and the role of arms makers like Krupp in fuelling 19th and 20th century wars, and the political opposition is critical of deals with countries with a poor human rights record.
A defense source told Reuters last week of the sale to Indonesia. The government has a practice of not commenting on such decisions but Wednesday's confirmation came in the form of a written reply to a request from the opposition Greens party.
Indonesia, southeast Asia's largest economy, had previously indicated it would buy 130 Leopard tanks from Rheinmetall as part of a $15 billion five-year drive to modernize its military.
Full report at:
http://www.thejakartaglobe.com/news/germany-confirms-tank-and-apc-sales-to-indonesia/
------------
URL: https://www.newageislam.com/islamic-world-news/new-age-islam-news-bureau/israel-bars-muslims-from-entering-al-aqusa-mosque/d/11489