New Age Islam News Bureau
01 February 2022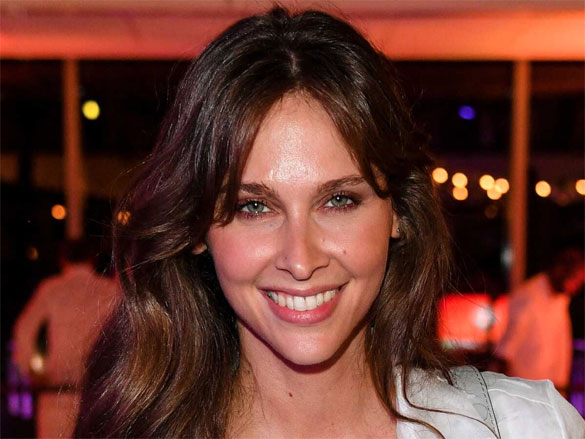 Ophelia Meunier
----
• Digital Platforms Such As Twitter, Facebook, WhatsApp, Reddit, And GitHub Aided Hindutva's Circulation of Anti-Muslim Hate
• Justin Trudeau After Putin Remarks: Islamophobia Unacceptable, End Hate And Make Communities Safer For Muslims
• Pakistan's Hard-Line Islamists And Religious Political Parties Emboldened By Afghan Taliban's Victory
• Indonesian Clerics Report Army Chief For Insulting Islam; May Find Himself Facing A Blasphemy Charge
Europe
• EU Official: Belgium Ban On Religious Slaughter Paints Muslims As 'Medieval'
• Greek Coast Guard throws 3 migrants into sea, killing 1: Turkish Minister
• We don't want minority status: Turkish Cypriot president
• Mali expels Paris envoy over 'hostile and outrageous' French comments
• Probe reveals fraud network allowing Daesh members into Europe, US
--------
India
• Muslims Donate Land To Build Temple Road In Kerala
• SC Agrees To Hear Contempt Plea On Friday Namaz Disruptions In Gurugram
• After 'Dharam Sansad', Sadhus At 'Sant Sammelan' Spew Venom Against Muslims
• 'Prayer hall at platform a threat to the national security': Right wing group writes to rly officials
--------
North America
• US Congressman Urges Joe Biden To Reject Appointment Of 'Jihadist' Masood Khan As Pakistan Ambassador To US
• List highlights the growing number of Muslim startup companies in America
• US urges allies to repatriate ISIS detainees after Syria prison attack
• Biden says he will designate Qatar as a major non-NATO US ally
• US forces fired Patriot missiles during Houthi attack on UAE: White House
--------
Pakistan
• Imran Khan's Promotion Of Religiosity Is Unlikely To Find Buyers
• Altaf Hussain 'Hate Speech' Trial Begins In London
• Slain priest buried in Peshawar amid investigation by CTD
• Ashrafi condemns killing of Christian priest in Peshawar
• TTP commander killed in Afghanistan
• Terrorist killed, arms, explosives recovered in North Waziristan IBO: ISPR
--------
Southeast Asia
• Gov't to Keep Damaged Ahmadiyya Mosque as Worship Place
• Japan adopts resolution on human rights in China
• Mum to pursue challenge on conversion despite court verdict, says lawyer
--------
Arab World
• At Abu Dhabi Grand Mosque, President of Israel Says Region Has A Choice: Peace Or Iranian Terror
• King Salman Underscores OIC's Role in Uniting Muslims, Shunning Extremism
• Why Yazidi Survivors Of Islamic State Enslavement And Their Children Are Stuck In Limbo In Iraq
• Syria: Almost 500 dead from Hasakah Islamic State clashes, says SDF
• HRW calls on Egypt to reveal whereabouts of missing Islamist
• Muslim Brotherhood slams 'members' who bring division to group
--------
South Asia
• Talking to Islamic Emirate 'Right Thing to Do': Former UN Special Envoy To Afghanistan
• Taliban Keeps Ex-Afghan President Karzai, Former Chief Executive Abdullah Under Virtual House Arrest
• Troika Plus-Extended to be held in Kabul by February end
• It is too early for India, Russia to recognize Taliban: Russian Deputy FM
• Amir of Qatar and US Defence Minister discuss cooperation on Afghanistan
• Pakistan-Afghanistan to create joint committee for resolving Durand Line conflicts
--------
Mideast
• Blinken, Abbas Discuss Bilateral Relations, Latest Developments In Palestine
• Top Mossad official quits over dispute with Israel's spy chief
• Iran launches campaign to stop social media censorship of iconic anti-terror General Soleimani
• Israel punishes three senior officers over 78-year-old Palestinian detainee's death
• Russia rejects demand by Israel that it stop jamming GPS signals in Israeli airspace
--------
Africa
• Algerian FM Says Palestinian Reconciliation Process Has Begun
• Morocco prosecutors seek double jail time for journalist on appeal
• Wrangle over interim Libyan government intensifies
• At least 10 people killed in Kenya bus blast
• African Union suspends Burkina Faso after military coup
Compiled by New Age Islam News Bureau
URL: https://www.newageislam.com/islamic-world-news/islamist-behead-french-journalist-ophelie-radicalized/d/126281
--------
Islamists Threaten To Behead French Journalist Ophelie Meunier For Her Documentary About Radicalized Islam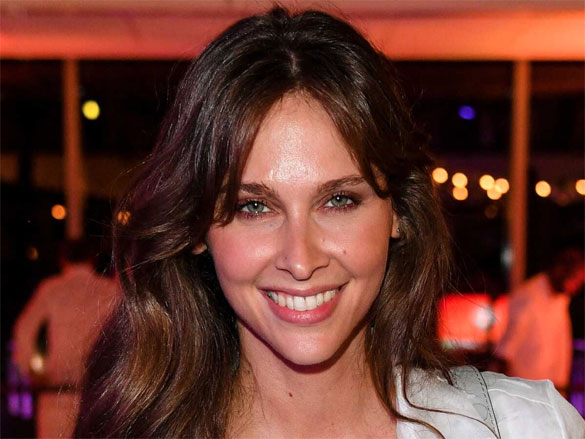 Ophelia Meunier
----
January 31, 2022
A group of policemen is following like a the shadow the French journalist Ophelie Meunier in the last hours, as after the presentation of a documentary about radicalized Islam, she is receiving threats for her life. Ophelie, 34, recently presented a documentary, entitled "Zone Interdite" (trnslt. "Restricted zone"), about how radical Islam has influenced French society.
The documentary shows a restaurant where women are given cabins to eat separately from men and a toy store that sells faceless dolls to comply with strict Islamic interpretations that forbid the depiction of facial features.
In a clip posted on Zone Interdite's official Twitter page, radical Islam expert Bernard Rougier holds the faceless dolls and teddy bears as he explains: "It's a way to show that from childhood, you will be better Muslim than others and implies that others are not good or true Muslims. And so is the introduction of an ideological principle into the world of childhood … in that sense it is quite disturbing, yes", he says.
The video with the hidden camera shows the secret reporter going to the shops that sell the dolls, which also offer books with the same pictures.
She also spoke with Amine Elbahi, 26, a Muslim lawyer from Roubaix who helped uncover the publicly funded educational institution that received 53,000 Euros to teach poor children, but was accused of spreading Islamic teachings. Elbahi spoke out against the influence of radical Islam in the film and has now been described as an "infidel" and is threatened with beheading. "I am being threatened with beheading, tearing apart, attacking, because I made a truthful speech with my face uncovered, and specifically for the inaction of the mayor of my community", Elbahi said.
Following the screening of the documentary in question, the French authorities closed down the restaurant "Le Familial" which had secluded areas for Muslim women to eat alone. The news that the journalist has been threatened has caused outrage in France, where many believe that the secularism on which modern democracy was founded is threatened by religious ideologies introduced by immigrants from abroad.
Eric Zemour, a right-wing commentator and opponent of Macron, rushed to support Meunier after it was revealed she had been threatened. "Ophelie is in mortal danger", he wrote on Twitter on Saturday as the documentary began to garner widespread attention. "This happens when you show the French the Islamization of our country. Millions of patriots thank her for her courage".
Source: Protothema
Please click the following URL to read the text of the original story:
https://en.protothema.gr/france-islamists-threaten-to-behead-journalist-ophelie-meunier/?
--------
Digital Platforms Such As Twitter, Facebook, WhatsApp, Reddit, And GitHub Aided Hindutva's Circulation of Anti-Muslim Hate

Photo: The Wire
-----
Taniya Roy
01st February 2022
New Delhi: Digital platforms such as Twitter, Facebook, WhatsApp, Reddit, and GitHub have hastened the proliferation of anti-Muslim hate that forms the architecture of Hindutva crimes in India, the Culture-Centred Approach to Research and Evaluation (CARE) has said in its report.
At least 60% of the participants surveyed said they have come across content on digital platforms that incites violence against Muslims, the report titled Experiences of Muslims in India on Digital Platforms With Anti-Muslim Hate found.
The report – which involved in-depth interviews of Muslims and 213 hours of online participant observations on digital platforms – said that the digital infrastructure of Hindutva is organised around building disinformation and accelerating the circulation of hate. The data was gathered between November and December 2021.
CARE found that while 40% of the participants surveyed said that over the last year they had been called offensive names as a result of being a Muslim, 60% of the respondents reported coming across content on digital platforms stating Muslim immigrants will take over India.
It is worth noting that the period when the survey was conducted, and particularly the month of December, registered unprecedented levels of hate on digital platforms.
The report further said the narratives of hate are often centred on specific events and policy decisions made by the ruling Bharatiya Janata Party (BJP), and dissenting responses to Hindutva.
The report is released at a time when hate speech against Muslims in India has gained momentum, with several rightwing and Hindutva leaders calling for a Muslim 'genocide' amidst little to no backlash from the government. Many such militant rightwing leaders have direct connections with BJP. Additionally, it also comes against the backdrop of several other reports highlighting the lack of moderation policies by social media platforms against hate speech.
In fact, for the ruling BJP, WhatsApp has always been more than just a messaging application, according to TheWire's investigation into the Tek Fog app.
December
The Citizenship (Amendment) Act (CAA) became law on December 11, 2019, when the Upper House passed the Bill and the president gave his assent. Provocative speeches on social media followed, and in February, riots broke out in the national capital, which killed as many as 53 people, causing enormous damage, mostly to Muslims.
In 2019-2020, Facebook's data scientists found that there were big spikes in the prevalence of inflammatory content in three languages – English, Hindi and Bengali – that coincided with the start of the CAA protests and the start of the first COVID-19 pandemic lockdown in India, The Wire had reported.
Between December 17 and 19, 2021, right-wing activists, hardline fundamentalist militants and Hindutva organisations came together at Haridwar for an event called the 'Dharma Sansad' or 'religious parliament'. Over the course of three days, this event witnessed an extraordinary outpouring of hate speech, call for mobilisations to kill Muslims and other anti-Muslim sentiment.
BJP leader Ashwini Upadhyaya, who attended the Dharma Sansad, has previously been arrested for an event he helped organise in Delhi's Jantar Mantar where slogans were raised, calling for violence against Muslims. Another similar event, calling for Hindutva members to 'kill and be killed' to make India a Hindu Rashtra, was organised in the national capital too.
A few days later, on January 1, 2022, prominent Muslim women were put up for 'sale' on an app on GitHub.
Activists and civil society groups have expressed deep concerns over Prime Minister Narendra Modi and Union home minister Amit Shah's silence on these incidents.
Islamophobic memes around COVID-19
In March 2020 as COVID-19 cases started appearing in India, COVID-related Islamophobic content proliferated across digital platforms.
The CARE survey found that 64% of the respondents reported coming across content on digital platforms that blamed Muslims for the pandemic.
The framing of questions around intentions of the Tablighi Jamaat gathering in Delhi held prior to the announcement of lockdown fuelled misinformation around Muslims' plots to infect Hindus by spitting on food, and infiltrating respectable middle class spaces through their everyday jobs. The #CoronaJihad narrative projected the Muslim as a terrorist attacking Hindu communities with the COVID-19 bomb.
The survey asked the participants whether they agreed to this statement : "I have come across content on Facebook, Twitter, and WhatsApp that blames Muslims, suggesting that they are responsible for the spreading of the pandemic."
Twenty-one percent of the participants somewhat agreed, 21.5% of the participants mostly agreed, and 22% of the participants strongly agreed with the statement.
'Love jihad' and violence against Muslim women
According to the CARE report, the hashtag #LoveJihad is part of a broader global Islamophobic digital infrastructure that flows from far-right, white supremacist, anti-immigrant spaces in Europe to the Islamophobic discursive space in Myanmar, and the anti-Muslim hate in India. The circulation of the #LoveJihad trope has resulted in violence directed at Muslims, including contributing to the genocide in Myanmar. Moreover, the #LoveJihad conspiracy has been legitimised through the policy structures pushed by Hindutva.
The imaginary right-wing conspiracy of 'love jihad' claims that Muslim men 'lure' Hindu women into wedlock for the purpose of converting them to Islam.
Despite there being no evidence of a Muslim plot to convert Hindu women through marriage, right-wing groups have long been working to prevent interfaith marriages in India. The Special Marriage Act of 1954 provides a clear legal framework for marriages between adults from different religious communities. However, authorities often refuse to register such marriages on frivolous grounds.
Fifty-nine percent of the participants surveyed agreed that they had come across digital content stating Muslims targeted Hindu women for marriage. The survey asked the participants whether they agreed to this statement: "I have come across content on Facebook, Twitter, and WhatsApp that states Muslims are targeting Hindu women for marriage." Eighteen percent of the participants indicated they somewhat agreed, 20.9% of the participants stated they mostly agreed, and 20.3% of the participants stated they strongly agreed with the statement.
Against this backdrop of the 'love jihad' conspiracy narrative, digital platforms are rife with content targeting Muslim women with sexual violence.
On January 1, 'Bulli Bai' app on GitHub targeted Muslim women – including journalists, activists and students – by putting them up for 'auction', in a similar fashion to the earlier 'Sulli Deals' app. It used images stolen from social media apps to 'auction' women, an act that has been compared to "online sexual violence" and promoting "the crimes of trafficking and sexual slavery".
'Bulli' and 'Sulli' are supposedly offensive term used against Muslim women.
The threats of sexual violence targeting women are carried out alongside dehumanising content depicting Muslims as animals. Fifty-five percent of the participants surveyed said they have come across content digital platforms that compare Muslims to pigs and dogs.
Students, activists, civil rights groups and even retired service chiefs have called on Prime Minister Narendra Modi to speak out and take action against hate speech.
Source: The Wire
Please click the following URL to read the text of the original story:
https://thewire.in/communalism/india-anti-muslim-hate-twitter-facebook-whatsapp-hindutva-modi-bjp
--------
Justin Trudeau After Putin Remarks: Islamophobia Unacceptable, End Hate And Make Communities Safer For Muslims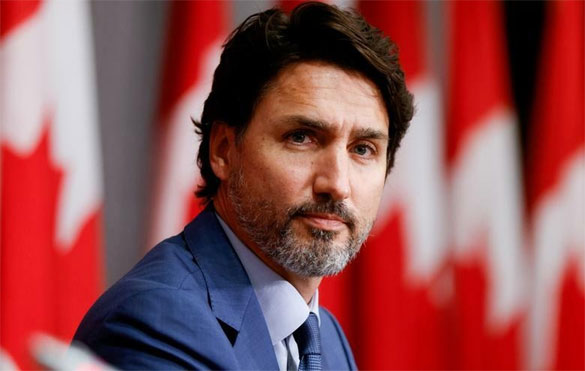 The Canadian PM Justin Trudeau/ Reuters/File
------
January 31, 2022
Canadian Prime Minister Justin Trudeau has said Islamophobia was "unacceptable" and stressed the need for putting an "end" to such hate against Muslim communities as world leaders make effort to bridge the gap between different communities following attacks in the past.
The Canadian PM also appointed a Special Representative on combatting Islamophobia, according to his tweet on Saturday.
"Islamophobia is unacceptable. Full stop. We need to put an end to this hate and make our communities safer for Muslim Canadians. To help with that, we intend to appoint a Special Representative on combatting Islamophobia," it read.
The Canadian PM joins Russian President Vladimir Putin, who on December 25 while addressing an annual news conference, had said that insulting Prophet Muhammad (Peace Be Upon Him) does not count as the expression of artistic freedom. "Insults to the prophet (PBUH) are a violation of religious freedom and sacred feelings of people, who profess Islam. These acts give rise to extremist reprisals," the Russian president had said.
Prime Minister Imran Khan on Sunday welcomes Canadian PM Trudeau's tweet and "unequivocal condemnation" of Islamophobia and plan to appoint a Special Representative to combat this contemporary scourge. "His timely call to action resonates with what I have long argued. Let us join hands to put an end to this menace," it read.
The Canadian premier also shared a statement. 'Islamophobia and hate, in any form, have no place in Canada," it read.
"Today, the Honourable Ahmed Hussen, Minister of Housing and Diversity and Inclusion, highlighted the federal government's intention to appoint a special representative on combatting Islamophobia. This appointment will be part of a renewed Government of Canada Anti-Racism Strategy," it added.
Last year, according to the statement the Canadian government announced its intention to make January 29 a National Day of Remembrance of the Québec City Mosque Attack and Action against Islamophobia. This year, on the eve of the five-year anniversary of this act of terror, the Government of Canada stood with and supported Muslim communities across Canada and reaffirmed its commitment to take action to denounce and tackle Islamophobia and hate-fueled violence.
"Islamophobia is a concrete and daily reality for Muslim communities across Canada and around the world. As we honour the victims, we must remember that we have a responsibility to combat discrimination and continue to build a more inclusive Canada," it read.
The special representative appointment was one of the recommendations put forward during the virtual National Summit on Islamophobia in July 2021 that is part of Canada's Anti-Racism Strategy to tackle Islamophobia in all its forms.
"Confronting Islamophobia is an important part of this strategy. It includes a whole-of-government approach to tackling systemic racism with dedicated knowledge and expertise through the Federal Anti-Racism Secretariat, as well as investments to empower communities to combat different forms of racism, including Islamophobia, and to advance digital and civic literacy initiatives that address online disinformation and hate speech," it read, adding that details on the role and mandate of the special representative would be confirmed at a later date.
Four members of a Pakistani Canadian family were killed and a nine-year-old boy suffered serious injuries when they were run over by a pickup truck in Ontario, Canada on June 7, 2021. According to the Canadian police, the family, who moved to Canada from Pakistan in 2007, was "targeted because they were Muslim."
Source: ABNA24
Please click the following URL to read the text of the original story:
https://en.abna24.com/news//canadian-pm-after-putin-remarks-islamophobia-unacceptable-end-hate-and-make-communities-safer-for-muslims_1224435.html
--------
Pakistan's Hard-Line Islamists And Religious Political Parties Emboldened By Afghan Taliban's Victory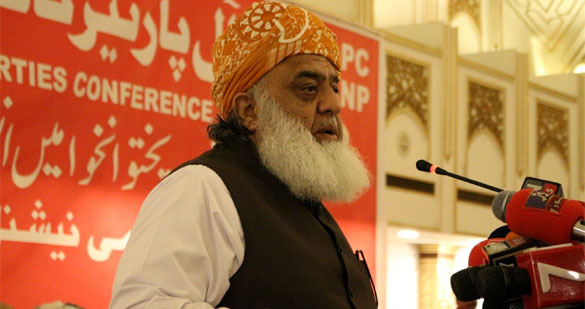 Maulana Fazlur Rahman, head of the Jamiat Ulema-e Islam party. (file photo)
----
January 31, 2022
The Taliban's takeover of Afghanistan has increased the threat posed by Islamist forces in neighbouring Pakistan, experts say.
The Afghan militants' victory has not only bolstered Pakistani Islamist insurgents but also strengthened religious political parties that share the Taliban's extremist views.
Analysts say the rising popularity of some Islamist parties could even pose an electoral threat to Prime Minister Imran Khan's ruling Tehreek-e Insaf in the 2023 general elections.
"There is no doubt that with the Taliban in power in Afghanistan, support for the religious parties will increase in Pakistan," Islamabad-based political analyst Nazr-ul Islam told RFE/RL's Radio Mashaal.
Electoral support for Islamist hard-liners remains relatively limited in Pakistan, a predominately Islamic country of some 220 million. But the power base of Islamist parties -- which can mobilize mass street protests and control Pakistan's vast network of madrasahs, or religious seminaries -- is growing.
Violent Street Protests
In November, Khan's government released the jailed leader of the extremist Tehrik-e Labaik Pakistan (TLP) and lifted a ban on the party under a deal to end weeks of violent clashes between security forces and TLP supporters.
More than 2,000 jailed TLP activists were freed, and the group was allowed to contest elections again.
In exchange, the TLP promised to renounce violence and drop its longstanding demand for the expulsion of France's ambassador over caricatures of the Prophet Muhammad that were published by a French satirical magazine.
The TLP continues to oppose any change to Pakistan's controversial blasphemy laws --particularly reforms that would eliminate the death penalty in blasphemy cases.
It also continues to demand that, like in Taliban-ruled Afghanistan, Shari'a law be implemented across Pakistan.
Husain Haqqani, a South and Central Asia expert at the Hudson Institute who previously served as Pakistan's ambassador to the United States, recently told the Financial Times of London that "Taliban beliefs and ideas" spill over to Pakistan every time the Taliban is in power in Afghanistan.
Rising Political Clout
The Afghan Taliban's victory has unleashed a surge of support for other hard-line political forces in Pakistan.
The Jamiat Ulema-e Islam (JUI-F) party won a major victory in local elections held in December in Pakistan's Khyber Pakhtunkhwa Province, which borders Afghanistan.
The JUI-F won more than half of the available seats, including the mayor's office in the provincial capital, Peshawar.
Islam, the Pakistani analyst, says part of that election victory can be attributed to the fact that JUI-F leader Maulana Fazlur Rahman is an outspoken supporter of the Afghan Taliban. Rehman is also a vocal member of an opposition coalition against the prime minister.
Khan blamed his party's poor showing on bad candidate selection. But observers say the JUI-F's victory suggests the possibility of a more sustained political challenge in the months and years ahead from Islamist parties.
"We cannot ignore the fact that the change in neighboring Afghanistan has definitely had effects on the politics here," Islam told RFE/RL.
Hafiz Hamdullah, a JUI-F leader from the southwestern province of Balochistan, says his party demands the Pakistani government and the international community recognize the Taliban-led government in Kabul. No country has yet done so.
For his part, the Pakistani prime minister welcomed the Taliban's military victory in Afghanistan in August and has lobbied for more international assistance to the Taliban-led government. But his government also has said Islamabad should not damage its international relations by recognizing the Taliban before the United States and the European Union.
Hamdullah told RFE/RL that the United States "should accept the Taliban as a just government and help them to bring stability and ensure peace and security in the region."
Shamim Shahid, a political analyst in the northwestern city of Peshawar, says many Pakistanis sympathize with that view -- particularly in the provinces of Balochistan and Khyber Pakhtunkhwa.
He says that has helped the JUI-F benefit the most so far in terms of the growing support of Pakistani voters for Islamist parties.
"The JUI-F is cashing in on the situation and will have an increase in its support," Shahid says.
By comparison, Shahid says, the Jamiat Ulema-e Islam faction of the late cleric Sami-ul Haq (JUI-S) has yet to capitalize on the growing support for Islamist parties in Pakistan.
Like the JUI-F, the JUI-S has demanded that Pakistan preserve the death penalty in blasphemy cases, establish Shari'a law in Pakistan, and recognize the Taliban-led government in Afghanistan.
The JUI-S does not have any representatives in Pakistan's parliament. But analysts are closely monitoring popular support for the party.
That is because the JUI-S runs the Darul Uloom Haqqania religious seminary, located in the northwestern town of Akora Khattak, which has earned a reputation as Pakistan's so-called "university of jihad."
The seminary is known for preaching a fundamentalist brand of Islam and schooling a generation of fighters for both the Afghan Taliban and the Tehrik-e Taliban Pakistan militant group.
Source: Gandhara
Please click the following URL to read the text of the original story:
https://gandhara.rferl.org/a/pakistan-hard-line-islamists-taliban-victory/31680060.html
--------
Indonesian Clerics Report Army Chief For Insulting Islam; May Find Himself Facing A Blasphemy Charge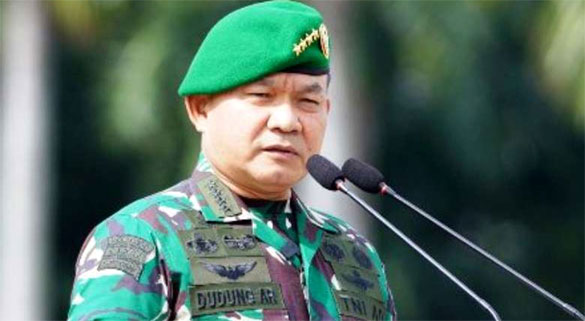 General Dudung Abdurachman has been accused of blasphemy for saying God isn't an Arab. (Photo: tniad.mil.id
----
Konradus Epa
January 31, 2022
A top Indonesian general says controversial comments he made about God that enraged Muslim groups were aimed at upholding diversity and defending religious minorities such as Christians from intolerance.
Army Chief of Staff General Dudung Abdurachman may find himself facing a blasphemy charge after a coalition of clerics reported him to the Army Military Police Command for his statement that God is not an Arab.
Abdurachman responded to the reports by quoting a statement from Muhammad Luthfi bin Ali Yahya, a moderate Muslim cleric and presidential advisory council member of Arab descent: "Don't give an opportunity to the intolerant group and we must commit to Pancasila (five founding principles), the constitution, the Unitary State of the Republic of Indonesia (NKRI) and Unity in Diversity."
"Indonesia was built from diversity and difference [of opinion]. We should respect it because it becomes our strength," he said on Jan. 29 at a book launch in Jakarta.
He further said that it would be dangerous if an intolerant group was allowed in Indonesia.
Petrus Selestinus, a Catholic layman and chairman of a lawyers' group, said the coalition reporting the statement is OK because it has the right to do so under the constitution but the case isn't blasphemy.
"According to me, Dudung Abdurachman's statement doesn't have criminal or blasphemy aspects," he told UCA News on Jan. 31.
The general's statement was reported by the Coalition of Indonesian Muslim Clerics, Habib and Lawyers of Anti-Blasphemy on Jan. 28.
It was posted on YouTube by Deddy Corbuzier, an Indonesian actor, on Nov. 30, 2021.
"If I prayed, I prayed simply … and I only used the Indonesian language because our God isn't an Arab," Abdurachman says in the video.
Damai Hari Lubis, coordinator of the coalition, said in his statement on Jan. 30 that it reported Abdurachman on Jan. 28 and the report was received by Agus Prasetyo from the Army Military Police Command.
The coalition is hoping legal action will be initiated against the army general so as to prevent further cases of blasphemy and hate speech.
Source: UCA News
Please click the following URL to read the text of the original story:
https://www.ucanews.com/news/indonesian-clerics-report-army-chief-for-insulting-islam/95929#
--------
Europe
EU official: Belgium ban on religious slaughter paints Muslims as 'medieval'
January 31, 2022
Belgium's ban on the religious slaughter of animals by Muslims and Jews has the potential to paint both minorities as "medieval" with no regard for animal life, the EU's top official tasked with fighting antisemitism across Europe has said.
The regions of Flanders and Wallonia have banned the killing of animals without pre-stunning since 2019, citing animal welfare. Muslims and Jews eat halal and kosher meat which is obtained only through ritual slaughter without pre-stunning the animal.
In an interview with POLITICO magazine at the European Jewish Community Centre in Brussels, Katharina von Schnurbein said: "The discussion itself puts the Jews and also the Muslims in this case into a corner of 'you do harm to animals, or you are medieval.'"
Although the ban was challenged by religious groups, the EU Court of Justice upheld it. The court said that EU countries can restrict no-stun slaughter in order to promote animal welfare.
The court also stated that it should not infringe on religious rights. Bans are permissible provided countries do not contravene the EU's charter of fundamental human rights, it ruled.
Schnurbein said: "In some countries, we have seen also that this was only the start, and then the discussion about circumcision was next."
Religious groups have apprehensions that the ruling by Belgium sets a precedent that can be followed by more bans across Europe, she said, adding that it is "difficult to say" if other countries will follow the suit.
EU countries like Sweden, Slovenia, Denmark and Austria already restricted religious slaughter before Belgium.
In the UK some animal rights groups are lobbying to slaughter animals without stunning them. A report by the British think tank, The Centre for Muslim Policy Research (CMPR) said: "The slaughter of animals for food production as per the religious rituals of Muslims and Jews is currently under threat from animal rights organisations who are campaigning to implement a blanket ban on slaughter without stunning."
Source: 5pillarsuk
Please click the following URL to read the full text of the original story:
https://5pillarsuk.com/2022/01/31/eu-official-belgium-ban-on-religious-slaughter-paints-muslims-as-medieval/
--------
Greek Coast Guard throws 3 migrants into sea, killing 1: Turkish Minister
Kemal Karadağ
01.02.2022
The Greek Coast Guard threw three migrants into the sea, killing one of them, Turkiye's interior minister announced late Monday.
In a Twitter post, Suleyman Soylu said that following the incident off the coast of Cesme district in Turkiye's Izmir province, two of them were rescued while the other one died.
He added that the European Border and Coast Guard Agency (Frontex) "must also be held accountable."
Soylu also shared footage of one of the rescued migrants.
One of the migrants said Greek police took their mobile phones and money, and even though one of his relatives said he did not know how to swim, the Greek Coast Guard did not take this into account and threw them into the sea.
"The Greek Coast Guard gave us lifejackets before they left us in the sea, but they were for children and too small. They did not fit on us. My cousin said he did not know how to swim. But they didn't listen to him. They threw us into the water and he drowned there," he said.
"His last words were: 'I can't swim! I don't know how to swim!'"
The migrants said that after they reached an island by swimming, the Turkish Coast Guard arrived and rescued them.
Source: Anadolu Agency
Please click the following URL to read the full text of the original story:
https://www.aa.com.tr/en/europe/greek-coast-guard-throws-3-migrants-into-sea-killing-1-turkish-minister/2490487
--------
We don't want minority status: Turkish Cypriot president
Muhammet İkbal Arslan
31.01.2022
Turkish Cypriots neither want to be an authority under a so-called "Republic of Cyprus" nor a minority on the island, the president of the Turkish Republic of Northern Cyprus (TRNC) said on Monday.
"We, Turkish Cypriots, don't want to be an authority under the Republic of Cyprus. We don't want to be a minority on the island," Ersin Tatar said In an exclusive interview with Greek Cypriot newspaper Filelefheros.
"The reality is that there are two different peoples on the island: Turkish Cypriots and Greek Cypriots," said Tatar urging Greek Cypriots to "accept and reaffirm the sovereign equality of Turkish Cypriots."
He underlined that due to the EU membership and international recognition of the Greek Cypriot administration, there was an imbalance between the two sides on the negotiating table.
"We aren't recognized, but we have a separate state. We want recognition of our sovereign equality and our equal international status," he added.
Turkish and Turkish Cypriot officials have argued that a two-state solution would be the fairest way to solve the ongoing dispute on the long-divided island.
Tatar said he had told UN Secretary-General Antonio Guterres that formal negotiations could not begin as there was no common ground between the sides, stressing that despite this, he was ready to partake in informal dialogue.
"I told the British ambassador, who was here a few days ago: 'Invite me and Anastasiadis to London for dialogue in a different environment where we can speak and discuss," said Tatar.
"There may not be common ground today, but there may be two years later. We must continue dialogue for a better Cyprus with our hopes, which are revived constantly," he added.
"The adoption of the sovereign equality of Turkish Cypriots is taken before the UN Security Council, it is accepted, and if the Greek Cypriots do not object, we can negotiate the Cyprus problem in all its aspects," he emphasized, mentioning that there are two separate states in Cyprus in 60 years and that this should end soon.
Tatar explained the reasons why the Turkish Cypriot side insists on demanding sovereign equality and equal international status together with the historical process, noting that the Greek leadership wanted to connect Cyprus to Greece long ago.
There are many documents indicating that this movement began from 1878, when the British arrived on the Island, he said.
East Mediterranean hydrocarbons
The Greek Cypriot side wrongly believe they own all of Cyprus and the rights to its exclusive economic zone in the Eastern Mediterranean, Tatar said, underscoring Turkish Cypriots only wanted their "fair share" of rights to hydrocarbons in the island's surrounding waters.
"We don't want your share, we want our share," said the Turkish Cypriot leader, adding that the TRNC "trusts Turkiye and moves with Turkiye."
He also noted that Turkiye's President Recep Tayyip Erdogan had proposed to discuss these issues in a conference, but that the Greek side had turned down this offer.
Decades-long dispute
Cyprus has been mired in a decades-long dispute between Greek Cypriots and Turkish Cypriots, despite a series of diplomatic efforts by the UN to achieve a comprehensive settlement.
Ethnic attacks starting in the early 1960s forced Turkish Cypriots to withdraw into enclaves for their safety.
Source: Anadolu Agency
Please click the following URL to read the full text of the original story:
https://www.aa.com.tr/en/europe/we-dont-want-minority-status-turkish-cypriot-president/2490295
--------
Mali expels Paris envoy over 'hostile and outrageous' French comments
January 31, 2022
BAMAKO: Mali on Monday gave the French ambassador 72 hours to leave the country after "hostile and outrageous" comments by former colonial power France about its transitional government, it said in a statement read on national television.
French Foreign Minister Jean-Yves Le Drian said on Friday that Mali's junta was "out of control" amid escalating tensions between the West African state and its European partners following two coups.
He also called the junta illegitimate. French Defense Minister Florence Parly said on Saturday French troops would not stay in Mali if the price was too high.
"The French ambassador to Bamako was summoned and notified of a decision by the government inviting him to leave the national territory within 72 hours following hostile and outrageous comments by the French foreign affairs minister recently," the government statement said.
There was no immediate comment from Paris.
France has had troops in Mali since 2013, when it intervened to drive back militants who were advancing on the capital. The extremists have since regrouped and are waging an increasingly bloody insurgency across the Sahel region.
Relations between Mali and its former colonizer deteriorated this month when the junta went back on an agreement to organize elections in February and proposed holding power until 2025.
It has also deployed Russian private military contractors, which some European countries have said is incompatible with their mission.
Mali last week asked Denmark to withdraw its troops belonging to a European task force in the country, which set off a fresh crisis. France asked Mali to let the Danish troops stay, and Mali's government spokesman told France to keep its "colonial reflexes" to itself.
"Reports the French Ambassador has been declared Persona Non Grata by Mali transitional authorities are unacceptable. Denmark stands in full solidarity with France," Danish Foreign Minister Jeppe Kofod said in a tweet on Friday.
"Such irresponsible behavior is not what we expect from Mali, it will loose international credibility."
Source: Arab News
Please click the following URL to read the full text of the original story:
https://www.arabnews.com/node/2015536/world
--------
Probe reveals fraud network allowing Daesh members into Europe, US
January 31, 2022
LONDON: An expansive online industry providing Daesh members with fake passports and official travel documentation is allowing terrorists to escape Syria and come to Europe and the US, an investigation has revealed.
The EU is the most popular destination for Daesh members, but some have traveled to Mexico and on to the US on fake Russian passports, as well as to Ukraine, Afghanistan, Niger and Mauritania, according to the investigation by The Guardian.
The newspaper identified at least 10 cases in which Daesh members entered Turkey from Syria illegally, purchased passports for up to $15,000 from an Istanbul-based extremist network, and departed from Istanbul Airport.
The findings are likely to fuel fears that Daesh members are leaving the Middle East undetected by security services, posing a significant threat in the countries they end up in.
An Uzbek who runs one of the most successful networks told The Guardian: "I do not ask about which group someone is with. I am willing to work with anyone. It is not my job to see who is bad and who is not. The security services should deal with it."
In 2015, Western officials warned that the then-growing "caliphate" had acquired equipment such as blank passport books and printers that could be used to make Syrian and Iraqi passports for fighters to travel overseas with.
While border agencies have since invested in technology to root out the fakes, the investigation revealed that passports made by the counterfeiters could evade airport security and pass undetected.
In some cases, EU citizens arrive in Turkey and make contact with the network. They then sell their passports for around €2,500 ($2,786) to the extremists, who edit the photo and sell the passport on to a client for up to €8,000.
The original seller then claims they lost their passport and proceeds through the official process to recover it.
"In the past the quality of passports on the market was bad so there was a limited number of countries one could travel to from Syria," said one seller.
"Now those passports are of such good quality that if you have enough money, you could go absolutely anywhere."
The high-quality fakes are advertised on encrypted messaging channels such as Telegram and Signal, in which they are shown to pass tests designed to prevent forgery.
A source at the US Department of Homeland Security told The Guardian: "There is a particular seller in Turkey who provides IS (Daesh) members with very high level (i.e. well-forged) documents. We are aware of IS members using these fake passports to cross to Europe, and European security is not successful in arresting them all."
The fraudsters currently make the most profit from fighters looking to leave Syria, but they are now looking to expand to new frontiers.
Source: Arab News
Please click the following URL to read the full text of the original story:
https://www.arabnews.com/node/2015451/world
--------
India
Muslims donate land to build temple road in Kerala
01st February 2022
MALAPPURAM: Sending out a message of religious harmony, two Muslims in the district have come to the aid of a 500-year-old Hindu temple that lacked proper accessibility by donating land for the construction of a road.
C H Aboobacker Haji and M Usman, residents of Koottilangadi panchayat, have handed over four cents of land to the panchayat that will construct the 60-metre road with 10-feet width for Koottilangadi Kadungooth Mahadeva Temple. Authorities said the road will be built soon using panchayat and MLA funds. Local residents cleared the thick vegetation covering the area last Sunday.
Rahoof Koottilangadi, a former panchayat member, said some people tried to create a rift in society citing the road issue. "The temple didn't have any proper road. Some people had even run a hate campaign on social media intending to a create rift," he said. In order to protect communal harmony, a meeting of the panchayat authorities, revenue officials, Malabar Devaswom Board authorities and the residents under the chairmanship of Mankada MLA Manjalamkuzhi Ali was held recently.
Source: New Indian Express
Please click the following URL to read the full text of the original story:
https://www.newindianexpress.com/good-news/2022/feb/01/muslims-donate-land-to-build-temple-road-in-kerala-2413680.html
--------
SC agrees to hear contempt plea on Friday Namaz disruptions in Gurugram
Feb 01, 2022
The Supreme Court on Monday agreed to expedited hearing on a contempt plea filed by former Rajya Sabha MP Mohammad Adeeb, demanding action against Haryana government officials over Friday namaz disruptions by right-wing groups in Gurugram.
A bench, led by Chief Justice of India NV Ramana, took note of the submissions of advocate Indira Jaising, who said state government officials have not been following the 2018 apex court judgment on stopping hate crimes.
"This is not based only on newspaper reports. We have ourselves filed complaints. We are not asking for any enforcement of FIR (first information report). This court has laid down preventive measures and they are not being followed at all," Jaising, appearing for Adeeb, told the bench, which included justices AS Bopanna and Hima Kohli.
"I will look into it and post before the appropriate bench immediately," the chief justice said.
Adeeb's petition claimed that in recent months, there has been a constant rise in incidents around Friday prayers offered by Muslims. These incidents, the plea said, took place at the behest of certain "identifiable hooligans, who portray themselves falsely in the name of religion and seek to create an atmosphere of hatred and prejudice against one community across the city."
Adeeb's contempt plea seeks action against Haryana's chief secretary, Indian Administrative Service officer Sanjeev Kaushal, and the director general of police, Indian Police Service officer PK Agrawal, for not complying with the Supreme Court's 2018 judgment in which a string of directives was issued to all state governments to prevent hate crimes through strict measures.
One guideline said states shall designate a police officer not below the rank of superintendent as the nodal officer in each district. These officers will set up a task force to be assisted by a deputy superintendent of police to take measures to prevent mob violence and lynching.
Right-wing groups have been opposing Friday prayers at open spots, which had earlier been demarcated by the administration. As the disruptions grew increasingly charged, Haryana chief minister ML Khattar on December 11 suspended namaz in public places, including six open spaces agreed upon by Hindu and Muslim groups for which the Gurugram administration had previously given its nod.
Source: Hindustan Times
Please click the following URL to read the full text of the original story:
https://www.hindustantimes.com/india-news/sc-agrees-to-hear-contempt-plea-on-friday-namaz-disruptions-in-gurugram-101643658875855.html
--------
After 'Dharam Sansad', Sadhus at 'Sant Sammelan' spew venom against Muslims
February 1, 2022
New Delhi: Emboldened by the government's soft stance, pro-RSS sadhus (Hindu monks) reared their heads yet again and spewed venom against Muslims. On Saturday, at a gathering called as "Sant Sammelan" in Allahabad, they passed three offensive resolutions urging that the government declare India a "Hindu Rashtra" and introduce the "death sentence" for religious conversion organizers and stop usage of 'minority' term.
One of the conveners of the event even threatened that if the two people arrested in connection with the Haridwar hate assembly (Dharma Sansad) were not released within a week, there is a possible bombing of an "Assembly"
A senior monk admitted that Sant Sammelan was a Dharma Sansad by another name.
The 400 sadhus in attendance agreed to add "Hindu Rashtra" to "India" in their writings and communications from now on.
They urged that the Narendra Modi regime in Delhi and Yogi Adityanath's government in Uttar Pradesh prohibit the usage of the terms "minority" and "majority."
The event was planned to coincide with the annual, month-long Magh Mela, which began on January 14, saw three resolutions ratified.
* Declare India a Hindu Rashtra.
* Declare all religious conversions a "rarest of the rare" crime, with capital punishment introduced for the organisers.
*Release Yati Narasinghanand Saraswati and Waseem Rizvi aka Jitendra Narayan Tyagi from jail.
"If Narasinghanand and Tyagi are not released within a week, we will organise a massive demonstration across the country," said Narendra Anand Giri, one of the Sant Sammelan's conveners.
He then made an odd comparison between the gathered sadhus and Bhagat Singh, the revolutionary freedom fighter who bombed the Central Legislative Assembly in Delhi in 1929 in defiance of a British law.
"If the government delays their release, an incident like the bombing of the Assembly could occur, since we are prepared to become Bhagat Singh," Giri added.
"I don't know anything other than that India was partitioned on the basis of religion and that we are already a Hindu Rashtra," Giri stated when reminded that Bhagat Singh was on the opposite end of the political spectrum from Hindu Rashtra advocates as an atheist and socialist.
The Haridwar incident sparked protests in India and overseas, with petitioners asking the Supreme Court to intervene, allowing them to apply to local authorities to prevent similar Dharma Sansads from occurring elsewhere.
Because of the uproar, Anand Swaroop, a Haridwar-based sadhu who had previously planned a Dharma Sansad in Allahabad on January 22 and 23, claimed the name had been changed to "Sant Sammelan."
He went on to say that the event had been postponed at the suggestion of several sadhus who planned to visit Allahabad later for the Magh Mela.
Swaroop is one of a half-dozen people who have been questioned in connection with the Haridwar FIR. Despite the Supreme Court's notice to the Uttarakhand government, just two of the eight accused of calling for Muslim genocide have been apprehended, with Anand Swaroop being one of them.
Source: Muslim Mirror
Please click the following URL to read the full text of the original story:
https://muslimmirror.com/eng/after-dharam-sansad-sadhus-at-sant-sammelan-spew-venom-against-muslims/
--------
'Prayer Hall At Platform A Threat To The National Security': Right Wing Group Writes To Rly Officials
Feb 01, 2022
Right-wing organisation Hindu Janajagruti Samiti (HJS) on Monday wrote to the Indian Railways regarding a Muslim prayer hall at the Krantiveera Sangolli Rayanna (KSR) Railway Station (Bengaluru central), calling it a 'threat to national security'. The letter was sent hours after the members of the organisation stormed into the 'prayer hall' on Monday while people were praying inside.
HJS spokesperson Mohan Gowda in his letter to the station manager said that it is condemnable that the resting room of workers has been converted to a place of prayer by Muslims at Platform No 5.
"This is a very serious issue and a threat from the national security standpoint of view. Bengaluru KSR Railway Station is an important station in the state. Even though there are many masjids around the railway station, giving permission to perform prayers on the platform seems to be a conspiracy," read the letter.
Allowing the prayer inside the railway station could lead to "chances of demands to convert this place into a masjid", stated the letter. It further claimed that Bengaluru has been made a "haven of terror activities" pointing out that the National Investigating Authorities (NIA) had arrested West Bengal-based Adil Asadullah from the Bengaluru Cantonment station in 2018.
"In 2019, the NIA had arrested a terrorist, Mohammed Akram, from the Majestic Area (where the railway station is located) in Bengaluru. The police had arrested a Bangladesh-based terrorist, member of Jemaat-ul- Mujahideen, who was hiding in the Cottonpet Masjid in Bengaluru. Keeping this background, how appropriate is it to allow prayers on the platform? It is requested to take immediate action against those who have permitted the unauthorised place. Prayers should not be allowed at the resting room," the letter added.
The letter also stated if no action is taken, there will be a severe protest.
A senior railway official, pleading anonymity, said that they have received the letter from the organisation but the claims made by them are unsubstantiated. "The prayer hall has been at the railway station for several years now and there has not been any problem so far. We also have a temple on the railway station premises. This is an attempt to create a political issue," said the official. "Utter nonsense and factually incorrect," said the official on the organisation's claim that the railway station was a hub of terror activities.
In another development, Dakshina Kannada district in-charge minister V Sunil Kumar on Monday justified the banner saying only Hindu traders will be allowed at a local fair in Ullal in Dakshina Kannada district.
"Only those who worship the gods of this land are allowed to trade here," proclaimed a banner at a temple fair in Karnataka last week. The posters were later removed by the police. Kumar said that his prime priority will be to ensure that the activists who displayed the banners do not face any problems.
Source: Hindustan Times
Please click the following URL to read the full text of the original story:
https://www.hindustantimes.com/india-news/prayer-hall-at-platform-a-threat-to-the-national-security-right-wing-group-writes-to-rly-officials-101643655152936.html
--------
North America
US Congressman Urges Joe Biden To Reject Appointment Of 'Jihadist' Masood Khan As Pakistan Ambassador To US
Jan 31, 2022
NEW DELHI: US Congressman Scott Perry has written a scathing letter to US President Joe Biden over the proposed appointment of Masood Khan as Pakistani envoy to the US. In the letter, Perry has called Khan a "terror sympathizer" who praised "terror organisations/terrorists like Hizbul Mujahideen and Burhan Wani".
"While I'm encouraged that the State Department has reportedly placed a pause on approving Masood Khan as the new Ambassador from Pakistan, a pause is not enough. I urge you to reject any diplomatic credentials presented to you by Masood Khan ... and reject any effort by the Government of Pakistan to install this jihadist as Pakistan's Ambassador to the United States," the US Congressman wrote in the letter dated January 27, 2022.
Source: Times Of India
Please click the following URL to read the full text of the original story:
https://timesofindia.indiatimes.com/world/pakistan/us-congressman-urges-biden-to-reject-appointment-of-jihadist-as-pakistan-ambassador-to-us-masood-khan-scott-perry/articleshow/89248345.cms
--------
List highlights the growing number of Muslim startup companies in America
January 31, 2022
By Joseph Hammond
(RNS) — A global list of Muslim startup companies includes a plurality of companies started in America. The list, the fourth such compilation put together by the Center for Global Muslim Life, highlights Muslim-founded or Muslim-focused startups and was announced at the group's Global Muslim Impact Forum last week.
"There were 50 companies on the list in years past. We had 100 companies this year to show the growth in the space since the last time we published in 2017," said Dustin Craun, the CEO of the Center for Global Muslim Life, a think tank based in San Diego, California, with a focus on Muslim social impact, from the arts, to food, to tech.
The list includes new ventures from actor Riz Ahmed, chef CZN Burak, activist Malala Yousafzai Malik, comedian Hasan Minhaj and other Muslim celebrities. The businesses included are diverse, ranging from new Islamic seminaries and Muslim-focused smartphone applications to fintech (finance/technology), media and fashion.
This is the fourth edition of the list, which was first compiled in 2015 and again for each of the next two years. Past appearances on the list have included LaunchGood, Noor Kids and Haute Hijab.
While 65 countries have been represented on the list, of the 100 companies selected for 2022, some 43 are based in the United States.
"In many ways, though, it can be important to think of the cities these companies are based in rather than the countries," noted Craun. "New York, for example, can clearly be thought of as an important city in the Islamic world due to several reasons: its international population, importance to global finance and home of the UN HQ."
This year's list was also geographically diverse within the United States, with companies in the traditional startup hotbeds of New York City and Silicon Valley, but also more unexpected locations like Puerto Rico.
The United States is also a target market for many of the international startups mentioned in the report. A colorful example includes retired UFC athlete Khabib Nurmagomedov, who plans to launch a series of mixed martial arts gyms in the United States and is an investor in the U.S.-based Islamic fintech company Wahid Invest. The number of fintech companies on the list has increased over the years in line with the wider fintech industry.
Another, Tarteel, uses an AI-assisted program to improve pronunciation of Quranic recitation and has already attracted more than 200,000 users. In a similar vein, Qariah offers access to female recitations of the Quran.
How much these startups have raised individually was unclear, though globally the report says the companies on the list have raised more than $400 million and that it's a requirement for the list that the companies have launched.
Source: Religion News
Please click the following URL to read the full text of the original story:
https://religionnews.com/2022/01/31/list-highlights-the-growing-number-of-muslim-start-up-companies-in-america/
--------
US urges allies to repatriate ISIS detainees after Syria prison attack
31 January ,2022
The United States on Monday urged its allies to repatriate suspected Islamic State-linked nationals detained in northeast Syria, after the terrorist group launched an attack on a prison to free its fighters.
Washington called on its partners in the international coalition to defeat ISIS, "to improve the secure and humane detention of ISIS fighters, support rehabilitation initiatives, and urgently repatriate their nationals and other detainees remaining in northeast Syria," in a statement from State Department spokesman Ned Price.
ISIS fighters on January 20 launched their biggest assault since the loss of their "caliphate" nearly three years ago, attacking the Ghwayran prison in the Kurdish-controlled northeast Syrian city of Hasakeh to free fellow jihadists, sparking battles that left over 370 dead.
After six days of intense fighting, the Kurdish-led Syrian Democratic Forces (SDF) announced on Wednesday they had recaptured the prison, but intermittent clashes continued until Saturday between Kurdish fighters and militants near the jail.
Senior ISIS leaders were captured or killed during the fighting, Price said, praising the SDF "for their heroic and effective response to the sustained ISIS attack."
Most nations have been reluctant to repatriate their ISIS suspects from northeast Syria, preferring to leave them in the custody of Kurdish authorities.
But the Kurdish administration has long warned it does not have the capacity to hold, let alone put on trial, all the ISIS militants captured in years of operations.
Authorities say more than 50 nationalities are represented in Kurdish-run prisons holding more than 12,000 ISIS suspects.
The Kurdish administration's foreign policy chief Abdulkarim Omar said it was up to the international community to put foreign militants on trial or repatriate them.
The ISIS threat is "like a fireball, it gets more dangerous and complicated with time," he told AFP.
Source: Al Arabiya
Please click the following URL to read the full text of the original story:
https://english.alarabiya.net/News/middle-east/2022/01/31/US-urges-allies-to-repatriate-ISIS-detainees-after-Syria-prison-attack
--------
Biden says he will designate Qatar as a major non-NATO US ally
31 January ,2022
US President Joe Biden revealed Monday that he would designate Qatar as a major non-NATO ally, joining the likes of Bahrain, Egypt, Jordan and Kuwait.
"I am notifying Congress that I will designate Qatar as a major non-NATO ally to reflect the importance of our relationship, I think it's long overdue," Biden said ahead of his meeting with the Qatari emir.
The White House said Biden's meeting with Qatar's Tamim bin Hamad al-Thani would focus on the latest developments in the Middle East, the situation in Afghanistan and global energy security.
For his part, the Qatari emir said the discussions would include the "equal rights of Palestinian people."
Washington is looking to Qatar as part of its efforts to secure alternative energy supplies for Europe as tensions with Russia over a potential invasion of Ukraine linger.
"This past year our partnership with Qatar has been central to many of our most vital interests: relocating tens of thousands of Afghans, maintaining stability in Gaza and providing life-saving assistance to the Palestinians, keeping pressure on ISIS and deterring threats across the Middle East," Biden said.
Qatar also represents US diplomatic interests in Afghanistan, following the chaotic withdrawal ordered by Biden last summer.
Other major non-NATO allies include Afghanistan, Argentina, Australia, Bahrain, Brazil, Egypt, Israel, Japan, Jordan, Korea, Kuwait, Morocco, New Zealand, Pakistan, the Philippines, Thailand, and Tunisia.
Taiwan is treated as a major non-NATO ally but without a formal designation.
The status, under US law, "provides foreign partners with certain benefits in the areas of defense trade and security cooperation."
Source: Al Arabiya
Please click the following URL to read the full text of the original story:
https://english.alarabiya.net/News/gulf/2022/01/31/Biden-says-he-will-designate-Qatar-as-a-major-non-NATO-US-ally
--------
US forces fired Patriot missiles during Houthi attack on UAE: White House
31 January ,2022
US military forces deployed Patriot surface-to-air missiles at the ballistic missiles fired by the Houthis during the weekend attack on Abu Dhabi, a senior White House official said Monday.
The UAE said it had intercepted and destroyed a ballistic missile launched by the Iran-backed Houthis before destroying the launching site in Yemen early Monday.
Although no damages or injuries were reported, this was the third attack in the last two weeks.
"I can tell you… US military personnel responded to an inbound missile threat on the UAE. This involved the employment of Patriot interceptors [along with] efforts by the armed forces of the UAE," White House Press Secretary Jen Psaki said during a press conference.
She added: "I would say we are working quite closely with them… and we are very focused on working with them and defending against all threats to their peoples and territories."
The latest attack by the Houthis, which US President Joe Biden removed the terror blacklist in one of his first foreign policy moves after taking office, coincided with the first-ever visit to the UAE by an Israeli president.
Before meeting Qatari Emir Tamim bin Hamad al-Thani, Biden said the US was in "daily contact with the UAE" to address these threats. "I've directed Secretary Austin to do everything he can to communicate the support of the United States for the UAE, Saudi Arabia and throughout the Gulf region. America will have the backs of our friends in the region," Biden said.
On January 17, the Houthis launched a deadly attack using cruise and ballistic missiles and drones to target Abu Dhabi. The strike led to a fire breaking out and the explosion of three petroleum tankers, killing three people and wounding six others.
That was followed by another attack against Abu Dhabi on January 24, but UAE authorities - with US forces - said they successfully intercepted the two Houthi ballistic missiles with no casualties.
Source: Al Arabiya
Please click the following URL to read the full text of the original story:
https://english.alarabiya.net/News/gulf/2022/01/31/US-forces-fired-Patriot-missiles-during-Houthi-attack-on-UAE-White-House
--------
Pakistan
Imran Khan's promotion of religiosity is unlikely to find buyers
01st February 2022
Pakistani Prime Minister Imran Khan published an op-ed in January in The Express Tribune, a local daily, that read more like a Friday sermon than the words of a politician. This came just a few months after his government set up a committee to generate religious messaging for domestic and international audiences. It also designed a school curriculum that introduces mandatory Islamic education at an even earlier age.
These developments might prompt one to ask whether Pakistan is entering another 1980s-style phase of government-enforced religiosity. Despite appearances, however, the answer is no. It is, rather, a coping mechanism for two political problems Mr Khan is confronting today.
The first is the rise of Tehrik-e-Labbaik Pakistan, a clerical party capitalising on anti-blasphemy vigilantism and urban working class discontent across the country. The Islamist group has grown so powerful that the government was forced to make significant concessions, including lifting a ban on it in the face of violent protests.
The second is that Mr Khan and the ruling Pakistan Tehrik-e-Insaf party that he heads have completed more than three quarters of their first term. Their failure to fulfil extravagant promises of transformational reform threatens their 2023 election prospects, especially since it is alleged that the party's 2018 victory is owed more to interventions from the army and judiciary than it is to the voting public.
The kind of political Islam that Mr Khan is espousing today harks back not only to his very first steps in politics, but to many of Pakistan's previous leaders who grappled with similar problems. If history is any guide, the greatest challenge to these policies will come not from progressive forces but from the traditional leaders of the country's religious denominations, who fiercely resist any intrusions into their domain.
Although now largely forgotten, Mr Khan's unexpected journey in the 1990s from celebrity cricketer to conservative politician was guided by several figures from the Jamaat-e-Islami movement that shaped the intellectual foundations of Islamist politics across the entire Muslim world. One such figure was the late Hamid Gul, who headed Pakistan's spy agency in the 1980s. Gul was an outspoken Islamist and the standard bearer for Pakistan's dual policy of Islamisation and militarisation.
By 1993, then prime minister Nawaz Sharif decided to try to break politics free from its army patrons, just like another former prime minister, Zulfiqar Ali Bhutto, did before him. This prompted Gul and other figures to publicly call for a "third force" to compete with the Bhuttos and the Sharifs, by then established political dynasties. Mr Khan's wild popularity after leading the Pakistan cricket team to a World Cup triumph was certainly attractive. More importantly, Mr Khan had repeatedly proved his loyalties by willingly captaining a national team under close military oversight for a decade. It is a role that he continues to faithfully play today.
Mr Khan, by now retired from sport, toured Pakistan in 1994-95 with the support of Gul and the other members of the Jamaat-e-Islami, during which time he employed a rhetoric that remains almost unchanged today. His core argument remains that the Sharifs and Bhuttos are corrupt and have failed to serve the public. But this strategy is mixed with a heavy dose of conservative cultural nationalism; an appeal for pride in "traditional" Islamic values, paired with criticism of women's rights movements and so-called western ideas said to threaten the unity of the family and the nation.
Much of this rhetoric appeals to the country's university-educated middle class. However, their anxieties about losing their religious and cultural identity to westernisation – and sometimes so-called "Indianisation" – are surpassed by an even greater insecurity about falling behind the rest of the world. The importance attached to understanding science, technology, management and finance translate into deep reservations about the clerics, who are often regarded as factional and under-educated, suitable at best to guide the working class but not the nation as a whole. Their ideal figure is someone who combines high levels of modernism and Islamic learning – the Islamic intellectual.
But religion is, in fact, one of the few areas in Pakistan where power flows from the bottom-up. In a country that remains rural and poor for the most part, clerics are far better organised and enjoy much larger followings than intellectuals. As a result, the modernists have been at their most powerful when Pakistani politics are at their least democratic. Political rulers have repeatedly attempted to redefine Islamic ideology, often in reaction to attacks on their policies from the religious right. In almost every case, such ventures have only further galvanised competition from the clergy.
The state has bought time through selective accommodation, while building new structures meant to regulate clerics and also disseminating its own Islamic messaging, designed by modernists. This has increased the establishment's confidence in its growing efforts to promote greater tolerance. Notable recent examples include the firm support for the construction of a Hindu temple in Islamabad and the state-funded restoration of temples damaged in mob attacks elsewhere.
Ultimately, this accommodation suffers from an Achilles' heel that many of Pakistan's leaders have encountered before. The problem for the establishment is that Pakistan's model of managed democracy requires limiting public participation in politics, thereby robbing the government and its policies of deeper legitimacy. This is especially true when they persistently fail to deliver results for the masses.
Source: The National News
Please click the following URL to read the full text of the original story:
https://www.thenationalnews.com/opinion/comment/2022/02/01/imran-khans-promotion-of-religiosity-is-unlikely-to-find-buyers/
--------
Altaf Hussain 'hate speech' trial begins in London
Atika Rehman
February 1, 2022
LONDON: Muttahida Qaumi Movement (MQM) supremo Altaf Hussain appeared at the Kingston-upon-Thames crown court on Monday to mark the first day of his trial centering on a terrorism offence.
Mr Hussain was charged with inciting violence in an incendiary speech relayed from the United Kingdom to his followers in Pakistan on Aug 22, 2016. He was arrested and released on bail before charges were filed in 2019, three years after Scotland Yard launched an investigation into speeches made in the UK that allegedly encouraged violence in Karachi.
Mr Hussain has pleaded not guilty to the charge filed under Section 1(2) of the Terrorism Act (TACT) 2006.
The 68-year-old appeared confident and in high spirits as he entered the court premises flanked by London-based party workers and relatives. As he disembarked from his vehicle, he spoke briefly with reporters and said he has faith in the British judicial system but will not comment on the trial as it was a sub judice matter. He entered the court in a wheelchair.
"I have endured such difficulties and tests during my 45-year struggle numerous times," he said. "God has given me strength and I have remained steadfast. I have not been despondent even in the face of the biggest challenges. Neither am I despondent today. I beseech my supporters not to pay attention to rumours during this difficult time, but stay united and pray.
MQM founder urges political parties to work for the prosperity, peace of Karachi
"I cannot comment on the present situation of Karachi, as to what should happen and what should not happen. I can give well wishes, and pray. Whoever is in politics and the parties there should work for the prosperity and peace of Pakistan's biggest economic city."
When asked about his health, Mr Hussain said he has not felt his best since he contracted Covid-19 early last year.
The hearing was adjourned after jury selection, with the jurors set to take oath before Justice May on Tuesday (today). Due to Covid-19 restrictions and social distancing rules, the courtroom had a limited number of seats.
The charge as stated by the UK police is that Mr Hussain had "on 22 August 2016 published a speech to crowds gathered in Karachi, Pakistan which were likely to be understood by some or all of the members of the public to whom they were published as a direct or indirect encouragement to them to the commission, preparation or instigation of acts of terrorism and at the time he published them, intended them to be so encouraged, or was reckless as to whether they would be so encouraged".
The Met Police at the time had also said: "Hussain was previously arrested on 11 June [2019] on suspicion of intentionally encouraging or assisting offences contrary to Section 44 of the Serious Crime Act 2007. He was released on bail and subsequently charged as above."
Source: Dawn
Please click the following URL to read the full text of the original story:
https://www.dawn.com/news/1672572/altaf-hussain-hate-speech-trial-begins-in-london
--------
Slain priest buried in Peshawar amid investigation by CTD
February 1, 2022
PESHAWAR: Slain priest Pastor William Siraj was laid to rest here on Monday amid investigation by the counter-terrorism department into the gun attack.
He was targeted in his moving car by two gunmen on a motorcycle on the Ring Road in the limits of the Gulbahar police station. The attack left another priest injured.
The last rites of William Siraj were performed at the All Saints Church here, where members of the Christian community, including his family members, showed up in large numbers.
He was later laid to rest in the Wazir Bagh Christian cemetery.
PM aide Ashrafi visits church, says such attacks fuelling Islamophobia
Also in the day, special assistant to the prime minister on religious harmony Maulana Tahir Ashrafi visited Saint John's Church and met leaders of the Christian community to condole the killing of the priest. Humphrey Sarfaraz Peters, bishop of the Diocese of Peshawar, was also present there.
Mr Ashrafi told reporters that the priest's killing was not an attack on some individual, sect or religion and instead, it was an attack on entire Pakistan.
He said such incidents were creating problems for Muslims across the world by fuelling Islamophobia.
He said the federal and provincial governments and all law-enforcement agencies stood firm with their Christian brethren and would bring those involved in the killing of the priest to the task.
Accompanied by religious scholars from other sects, the PM's aide said the misuse of blasphemy law in the country had reduced to a great extent due to the government's efforts.
"No case of the misuse of blasphemy law has been reported in the country during the last one year," he said.
Mr Ashrafi said the priest attack was meant to cause fear and chaos in the country and damage the country's image abroad.
He said an Islamic scholar was shot dead in Peshawar a week ago, while a Sikh was also shot dead here.
Mr Ashrafi said attempts were also being made to stoke sectarian hatred in the country.
He, however, said investigations were going on into the attack and facts related to it would come out soon.
"Members of all sects and faiths have paid a heavy price for the restoration of peace in the country and it is responsibility of all Pakistanis to maintain this peace," he said.
The PM's aide said protection of the minorities in an Islamic country was responsibility of the state as well as all Muslims.
"Pakistan has paid great price for the restoration of religious dialogue," he said.
Bishop Humphrey Sarfaraz Peters thanked Maulana Ashrafi and provincial government and police department for 'standing with Christians during the current hour of trial'.
Meanwhile, the CTD registered an FIR of the attack on the complaint of survivor Patrick Naeem as part of investigation.
Mr Naeem said two men on a motorcycle opened fire on the car used by him and the deceased to return home after attending a service at the church.
Meanwhile, the Human Rights Commission of Pakistan (HRCP) condemned the priest's killing.
In a statement, the HRCP said it saw the attack as a 'blatant one not only on Pakistan's Christian community but on all religious minorities, whose right to life and security of person remains under constant threat'.
Source: Dawn
Please click the following URL to read the full text of the original story:
https://www.dawn.com/news/1672653/slain-priest-buried-in-peshawar-amid-investigation-by-ctd
--------
Ashrafi condemns killing of Christian priest in Peshawar
January 31, 2022
Police on Monday launched a probe into the killing of a Christian priest — who was shot dead by unidentified attackers — in Peshawar, according to Geo News.
The matter was sent to the Counter Terrorism Department (CTD) after a section related to terrorism was added to the First Information Report (FIR).
Meanwhile, addressing a press conference, Special Representative to the Prime Minister on Religious Harmony Tahir Ashrafi strongly condemned the target killing of the priest — identified as William Siraj — and termed it a conspiracy against the country by anti-state elements.
He said that it was highly deplorable incident of target killing, adding that it was not the assassination of a Christian priest rather it was killing of a Pakistani, which would not be tolerated and the culprits would soon be brought to justice.
He said that the incident was an attempt to sabotage peace and interfaith harmony in the society by India, who had been involved in such criminal activities in the past.
He said that the Pakistan Ulema Council also condemned the killing of William Siraj and gave a strong message to the world that Muslim and minority communities are united in Pakistan.
Source: Pakistan Today
Please click the following URL to read the full text of the original story:
https://www.pakistantoday.com.pk/2022/01/31/ashrafi-condemns-killing-of-christian-priest-in-peshawar/
--------
TTP commander killed in Afghanistan
January 31, 2022
A wanted militant commander belonging to the banned Tehreek-e-Taliban Pakistan (TTP), Rafiullah, was killed during infighting in Afghanistan, sources said on Monday.
The sources in Afghanistan said the latest bout of infighting within TTP ranks was due to funds and positions within the militant organisation.
The militant's death comes less than a month after the operational commander and the spokesperson of the TTP, Muhammad Khurassani, was killed in Afghanistan's Nangarhar province.
Rafiullah, known by various codenames, was known to support the former intelligence agency of Afghanistan, NDS, Baloch militants and the militant Islamic State (IS).
The militant commander was wanted since 2011 in various incidents of terrorism and was known to facilitate suicide bombers and arrange transport and lodging for them.
He had facilitated the suicide bombers who attacked Quetta Civil Hospital and Serena Hotel.
Rafiullah had also facilitated attacks on various law enforcement agencies and was said to be the operational commander of the attacks on Major Naeem, Inspector Kabir, Baaz Mohammad and Haji Gulab of Kuchlak and a bank robbery in the same town.
The militant was also linked to kidnapping for ransom incidents involving doctors.
Earlier, Pakistan's security czar had said that the TTP had unilaterally scrapped a ceasefire agreement with the government.
National Security Adviser (NSA) Moeed Yusuf told the National Assembly Standing Committee on Foreign Affairs that organised terrorist networks were still operating on Afghan soil, which was still being used against Pakistan.
Source: Pakistan Today
Please click the following URL to read the full text of the original story:
https://www.pakistantoday.com.pk/2022/01/31/terrorist-commander-killed-in-ttp-infighting/
--------
Terrorist killed, arms, explosives recovered in North Waziristan IBO: ISPR
January 31, 2022
RAWALPINDI: A wanted terrorist was killed, arms and explosives were recovered in intelligence based operation in North Waziristan on Monday, Inter Services Public Relations (ISPR).
According to military's media wing, the security forces on an intelligence tip-off regarding presence of extremist conducted operation in Dosali area of North Waziristan district.
Source: Pakistan Today
Please click the following URL to read the full text of the original story:
https://www.pakistantoday.com.pk/2022/01/31/170789/
--------
Southeast Asia
Gov't to Keep Damaged Ahmadiyya Mosque as Worship Place
BY :MARIA FATIMA BONA
JANUARY 31, 2022
Jakarta. The government will retain a damaged mosque belonging to Ahmadiyya followers in Sintang, West Kalimantan as a worship place for Muslims although its dome has been removed by protesters.
A group of protesters attacked the Miftahul Huda Mosque last September and expelled Ahmadiyya followers, saying that their belief didn't represent Islamic teachings.
A Religious Affairs Ministry official said on Sunday the damaged mosque should be retained as a worship place for all Muslims.
"The property in Sintang is expected to remain as a mosque for all Muslims to come. Should the mosque's function be shifted, there must be a further discussion with Ahmadiyya followers as the owner," Wawan Djunaedi, the head of the ministry's Center of Religious Harmony, said in a statement.
Djunaedi also asked regional governments to facilitate those from all faiths who propose temporary places of worship due to their issues of eligibility in building one.
"District administrations should ensure the constitutional rights of Indonesians, especially regarding the ability to worship collectively at their permanent or temporary places of worship," he added.
Additionally, Djunaedi also asked fellow Muslims to welcome the Ahmadis to their local mosque or musalla.
The community had been facing attacks from the locals since 2004. The situation was worsened by the Islamic People's Alliance's attack on the mosque which had previously been sealed by the Sintang administration on September 3, 2021.
Source: Jakarta Globe
Please click the following URL to read the full text of the original story:
https://jakartaglobe.id/news/govt-to-keep-damaged-ahmadiyya-mosque-as-worship-place
--------
Japan adopts resolution on human rights in China
February 1, 2022
TOKYO: Japan's parliament today adopted a resolution on the "serious human rights situation" in China, and called prime minister Fumio Kishida's government to take steps to relieve the situation, as the Beijing Winter Olympics loom just days ahead.
Japan has already announced it will not send a government delegation to the Games, following a US-led diplomatic boycott over concerns about China's human rights condition, although Tokyo avoided explicitly labelling its move as such.
Since taking office in October, Kishida has said on multiple occasions that Japan would not mince words with China when necessary, and in November appointed former defence minister Gen Nakatani as his aide on human rights.
The resolution, adopted by the lower chamber, said the international community has expressed concerns over such issues as internment and the violation of religious freedom in the Xinjiang Uighur Autonomous Region, Tibet and Hong Kong.
"Human rights issues cannot just be domestic issues, because human rights hold universal values and are a rightful matter of concern for the international community," the resolution said.
"This chamber recognises changes to the status quo with force, which are symbolised by the serious human rights situation, as a threat to the international community," it said.
US president Joe Biden in December signed into law legislation that bans imports from China's Xinjiang region over concerns about forced labour.
Washington has labelled Beijing's treatment of the Uighur Muslim minority genocide.
China denies abuses in Xinjiang, a major cotton producer that also supplies much of the world's materials for solar panels.
The conservative wing of the ruling Liberal Democratic Party (LDP) sought the adoption of the resolution ahead of the Feb 4 opening of the Beijing Winter Olympics although there were worries in the government about a potential economic impact, Jiji news agency has said.
There have long been competing views within the LDP about the approach to China.
The party's more conservative wing is hawkish on China policy and seen as concerned primarily with defence issues.
Other members of the party have pushed to preserve Japan's deep economic ties with its neighbour.
The parliamentary resolution called on the Japanese government to work with the international community in addressing the issue.
"The government should collect information to grasp the whole picture … monitor the serious human right situation in cooperation with the international community, and implement comprehensive relieving measures," it said.
Source: Free Malaysia Today
Please click the following URL to read the full text of the original story:
https://www.freemalaysiatoday.com/category/world/2022/02/01/japan-adopts-resolution-on-human-rights-in-china/
--------
Mum to pursue challenge on conversion despite court verdict, says lawyer
January 31, 2022
PUTRAJAYA: A Buddhist mother who embraced Islam but failed to convert her two children will pursue her case in the Federal Court despite the Selangor Islamic Religious Council (Mais) failing to obtain leave on the issue of unilateral conversion last week.
Lawyer Arham Rahimy Hariri, who is representing the mother, said questions for his client's leave application were framed from an administrative law perspective.
"We are not abandoning our application for leave just because Mais failed (to persuade the bench to hear the merit of their complaint).
"We are not disheartened by the apex court ruling last week," he told FMT.
Arham said the mother's leave application will be heard on April 12.
On Nov 24, the mother filed three questions of law, one of which was whether Article 12(4) of the Federal Constitution had been erroneously relied upon and/or applied in the case of M Indira Gandhi v Pengarah Jabatan Agama Islam Perak & Ors.
Article 12 (4) states that the religion of a person under the age of 18 shall be decided by his parent or guardian.
On Oct 27, the Court of Appeal held the High Court was right to allow the father of Buddhist faith to quash the unilateral conversion of his children to Islam by their mother.
Judge Zabidin Mohd Diah said the appeals court was bound by the 2018 apex court ruling in Indira's case, which held that a spouse of a civil marriage who embraced Islam cannot unilaterally convert their children.
On Jan 26 this year, the Federal Court dismissed a bid by Mais to restore the conversion of five children to Islam, carried out unilaterally by their father.
Chief Justice Tengku Maimun Tuan Mat said the issue of unilateral conversion had been settled in Indira's case.
Source: Free Malaysia Today
Please click the following URL to read the full text of the original story:
https://www.freemalaysiatoday.com/category/nation/2022/01/31/mum-to-pursue-challenge-on-conversion-despite-court-verdict-says-lawyer/
--------
Arab World
At Abu Dhabi Grand Mosque, President of Israel Says Region Has A Choice: Peace Or Iranian Terror
By Lazar Berman
31 January 2022
During a visit to the Sheikh Zayed Grand Mosque in Abu Dhabi on Monday, President Isaac Herzog said the Middle East had a stark choice of possible futures, between one of hope and peace and another of Tehran-led chaos.
"There are only two alternatives for this region," he said, standing outside the mosque in the capital of the United Arab Emirates."One is peace, prosperity, cooperation, joint investments and a beautiful horizon for the people, or alternatively, what Iran is doing, which is destabilizing the region and using its proxies to employ terror. These are the two alternatives, and this visit symbolizes hope, peace, and a great future for our nations, the region, and the world at large."
The night before, the UAE announced it shot down a ballistic missile fired at it by the Iran-backed Houthi terrorist group.
Herzog and his wife, Michal, concluded their historic visit to the UAE with the mosque tour.
The first lady was presented with a bespoke traditional robe, and the president signed the mosque guest book. They were then given a tour explaining the mosque's architecture and construction.
Herzog summarized his trip as "very moving, historic, and exciting."
Earlier Monday, Herzog opened Israel national day at Expo 2020 Dubai, saying that Israelis share Emiratis' "high regard for religious faith bound with ingenuity."
"Part of the novelty of the UAE is the combination of an innovative spirit and forward-thinking approach, with deep respect for the glorious Muslim tradition," the president said.
"We admire the course you have charted," he declared.
Herzog and the first lady were welcomed at the Dubai expo with an honour guard, followed by the raising of Israel's flag at the site's central plaza and the playing of "Hatikvah," Israel's national anthem.
"Israel is a country in which obstacles become opportunities, and where the impossible is a tantalizing challenge," Herzog said in a speech. "This pavilion has provided a phenomenal taste of what we have to offer — from water tech and sustainable agriculture to public health to smart cities and groundbreaking solutions for a circular economy."
He called the pavilion "a practical display of cooperation between nations, of the future we can all imagine. This imagination turned into reality right here, when the UAE and its leaders daringly signed the historic Abraham Accords."
Herzog concluded his remarks in Arabic, saying, "May God bless you and grant you long lives. Thank you very much."
Speaking before Herzog, Sheikh Nahyan bin Mubarak Al Nahyan, the UAE's tolerance and coexistence minister and Expo 2020 Dubai commissioner-general, said, "Israel has much to offer on our global platform."
After his visit to the Israeli pavilion, Herzog met with Dubai's ruler, Sheikh Mohammed bin Rashid Al Maktoum.
According to the president's office, the two men discussed the bilateral relationship in trade, investment, tourism, and innovation.
Israel and the UAE forged ties in the United States-brokered Abraham Accords in 2020, bringing over a decade of covert contacts into the open, and have seen their relationship flourish since then.
Herzog and his wife landed in Abu Dhabi on Sunday morning for the first-ever official visit by an Israeli president to the UAE.
Meeting with Jewish leaders Sunday night, Herzog expressed his thanks to the UAE's powerful Crown Prince Sheikh Mohamed bin Zayed — known as MBZ — calling the UAE's de facto ruler "a bold leader, an amazing leader with whom I spent a few hours today and from whom I drew immense inspiration."
The president also thanked former prime minister Benjamin Netanyahu, former US president Donald Trump, and Bahrain's King Hamid bin Isa al Khalifa for bringing about the Abraham Accords.
Rabbi Elie Abadie, senior rabbi of the Jewish Council of the Emirates, told The Times of Israel that "it was emotional to see the president of the State of Israel here in an Arab country for the first time in history."
Earlier in the day, Herzog met with MBZ for over two hours.
Afterward, Bin Zayed invited Herzog for an unscheduled follow-up personal meeting at his private palace.
The president and first lady were given a festive welcome by the UAE's Foreign Minister Sheikh Abdullah bin Zayed, which included the playing of both countries' national anthems, and a 21-gun salute. Afterward, they held a working meeting, then had lunch with members of Herzog's delegation.
During the journey from Israel, the president's plane flew over Saudi Arabia, a powerful Sunni state with which Israel does not have formal diplomatic relations. According to Herzog's office, he entered the cockpit to view the Saudi desert, and remarked: "Without a doubt, this is truly a very moving moment."
Source: Times Of Israel
Please click the following URL to read the full text of the original story:
https://www.timesofisrael.com/at-abu-dhabi-grand-mosque-herzog-says-region-has-a-choice-peace-or-iranian-terror/
--------
King Salman Underscores OIC's Role in Uniting Muslims, Shunning Extremism
31 January, 2022
Secretary General of the Organization of Islamic Cooperation (OIC), Hissein Brahim Taha received on Monday a written message from Custodian of the Two Holy Mosques King Salman bin Abdulaziz.
King Salman stressed the confidence the OIC chief enjoys among members of the organization, highlighting Taha's determination to develop its work and serve the just causes of the Islamic nation.
The message was handed to Taha during a meeting with Saudi Arabia's permanent representative at the OIC, Dr. Saleh al-Suhaibani, at the organization's headquarters in Jeddah.
King Salman stressed that Saudi Arabia will not spare an effort in supporting everything that would help achieve the goals of the OIC to in turn establish prosperity, stability and peace in the Islamic world.
Source: Aawsat
Please click the following URL to read the full text of the original story:
https://english.aawsat.com/home/article/3447176/king-salman-underscores-oics-role-uniting-muslims-shunning-extremism
--------
Why Yazidi Survivors Of Islamic State Enslavement And Their Children Are Stuck In Limbo In Iraq
February 1, 2022
By Nadia Al-Faour
From outside, the unassuming two-story house in Irbil, capital of Iraq's Kurdistan region, resembles a regular family daycare center. It echoes with the happy shrieks of children playing behind its high walls.
However, the compound holds a closely guarded secret: These are the children of Yazidi women who were raped in captivity by Daesh militants.
The extremists tore through Sinjar, ancestral home of Iraq's Yazidi minority, on Aug. 3, 2014. Some families fled in terror and sought refuge on nearby Mount Sinjar, where they were left exposed to the elements, without food or water.
Those unable to escape found themselves surrounded by black-clad militants who massacred the men and sent the boys to training camps, where they were forced to convert to the group's warped interpretation of Islam.
The Yazidi women and girls, meanwhile, were held captive, to be distributed to the militants as sex slaves and domestic servants. They were taken deep into Daesh-held territory in western Iraq and neighboring Syria, where they were sold as chattel at medieval-style slave markets.
Many chose suicide rather than submit to rape and servitude. Others would end up carrying their rapists' children.
Following the territorial defeat of Daesh — first in Iraq in late 2017, then in Syria in early 2019 — many of the captive women and girls managed to escape or were ransomed by family and government authorities.
While some took their children with them, others were separated from them. Physically and emotionally scarred by years of abuse, many were taken in by aid agencies or sent to other countries for specialist treatment.
The accelerated flight of Yazidis following the depredations of Daesh terrorists has brought the ancient community in Iraq to the brink of extinction.
Those women who wanted to return to their homelands following their liberation were presented with a stark choice: Abandon the children fathered by their Daesh captors or forever be exiled.
The decision by Yazidi elders to reject the children of Daesh seems callous and anachronistic to many observers. According to the Supreme Yazidi Spiritual Council, however, it is theologically impossible for anyone, including children, to convert to the Yazidi faith; they must be born to two Yazidi parents.
The Yazidi form one of the oldest ethnic religious groups in the world. They are now spread thinly across the Middle East, Central Asia and Europe, having faced repeated bouts of genocide and persecution for their beliefs.
In the eyes of Daesh, the Yazidi are infidels and devil worshipers who are to be exterminated, their persecution justified by Shariah.
"While I have the utmost respect for the Yazidi religion, I believe the issue of reuniting the mothers with their children is not a religious one," said Peter Galbraith, a former US diplomat, who has played a leading role in efforts to return children to their mothers.
"It is a fundamental human right. The mothers have the right to their children and the children have the right to their mothers," he told Arab News.
The theological case for the rejection of the children is not the only obstacle. Another complication is Article 26 of the Iraqi Nationality Law, which stipulates that if a child's father is Muslim the child must inherit the father's religious status.
"It is agreed by all that Daesh were not real Muslims — their twisted savagery is not a real representation of the religion," Vian Dakhil, a Yazidi member of the Iraqi parliament, told Arab News. "Yet according to Iraqi law their children have been registered as Muslims."
A report published in 2020 by human rights monitors Amnesty International, titled The Legacy of Terror: Plight of the Yazidi Survivors, featured accounts by several women of how they were forced to make the heart-wrenching decision of whether to give up their children or their identity.
Hanan, 24, was persuaded by her uncle to leave her daughter at an orphanage, on the understanding that she could visit whenever she wanted. But after the child had been dropped off, Hanan's uncle told her: "Forget your daughter."
Sana, 22, took her daughter with her when she was rescued. After daily threats, however, she decided to leave the child with an aid agency.
"In that moment it felt like my backbone broke, my whole body collapsed," she told Amnesty.
All of the women interviewed for the report displayed signs of psychological trauma and several said they had contemplated suicide. Few have any way to communicate with their children.
"What happened was a real catastrophe and the women who were raped were not only victimized but also faced more problems when the children were born," said Dakhil.
"It is a human matter; it is motherhood, despite it coming from rape. We cannot force the girls to leave or abandon their children. There must be a solution. There have been girls who were convinced that what happened to them was abnormal and so have decided to give up their kids."
Women who were able to reunite with their children are not faring much better; they are forced to live in secrecy in Irbil, fearing for their safety should they be discovered.
In 2019, Iraq's President Barham Salih drafted the Yazidi Female Survivors Bill, which became law in March last year. It represented a watershed moment in efforts to address the legacy of Daesh crimes against Yazidis and other minorities, as it officially recognized acts of genocide and established a framework for the provision of financial support, and other forms of redress, to survivors.
In focusing institutional attention on the female survivors of conflict-related sexual violence, the law placed Iraq among the first countries in the Arab world to recognize the rights of such survivors and take steps to redress their grievances in line with international standards.
Almost a year later, however, little has been achieved in terms of reparations for survivors.
"The vote to approve the bill has been passed; the only problem lies with actual implementation, which hasn't really started," said Dakhil.
"The government claims allocating money is a problem but this is unacceptable, as these people are in dire need of assistance and aid. The bill was created for this issue. We will try our best to implement it fully."
Pari Ibrahim, director of the Free Yazidi Foundation, told Arab News: "The issue of those Yazidi women who have children born from rape is the most challenging one for the Yazidi community.
"Our position, as a Yazidi women-led organization, is that the final decision of the individual survivor is more important than any other view, including those of family members or religious leaders."
Several of the women want to move to Australia to live with other Yazidi survivors. The Netherlands is also touted as a potential option. However, border restrictions resulting from the COVID-19 pandemic have slowed the asylum process.
"The best solution is for them to be resettled abroad in another country, where they can live without stigma," said Ibrahim.
"But no matter what, their rights and their wishes should be respected after all the suffering they have endured. This issue is intensely painful for the Yazidi community — but not more painful than the trauma inflicted upon Yazidi survivors. We must respect and defend their rights."
Source: Eurasia Review
Please click the following URL to read the full text of the original story:
https://www.eurasiareview.com/01022022-why-yazidi-survivors-of-islamic-state-enslavement-and-their-children-are-stuck-in-limbo-in-iraq-analysis/
--------
Syria: Almost 500 dead from Hasakah Islamic State clashes, says SDF
31 January 2022
Kurdish-led forces in the northeastern Syrian city of Hasakah said on Monday that last week's clashes at a detention centre costs the lives of just under 500 people, including four civilians, 77 prison staff and 374 prisoners.
Announcing the death toll at a press conference on Monday, the Syrian Democratic Forces (SDF) said that the heavy fighting since Islamic State group (IS) militants first attacked the prison in the Ghwayran neighbourhood had seen them lose 40 fighters.
"We thank our people in Hasakah for their vigilance and spirit of sacrifice, and we also thank them for their help and their honourable standing with their forces," said an SDF spokesperson.
"We also say to our people in north and east Syria that it has become necessary to show more caution and vigilance towards all attacks by IS and others as well, and that they must organise themselves stronger, and defend their neighbourhoods, villages and homes."
Around 3,500 prisoners were held at the al-Sinaa detention centre when, on 20 January, IS fighters rammed two explosives-packed vehicles into the facility.
Fighting around the prison saw around 45,000 people forced to flee their homes in Hasakah, while aid organisations raised fears about the situation for hundreds of minors held in the prison.
Save the Children said last Monday that it had evidence of multiple child deaths and casualties at the prison.
Source: Middle East Eye
Please click the following URL to read the full text of the original story:
https://www.middleeasteye.net/news/syria-hasakah-clashes-sdf-announce-dead
--------
HRW calls on Egypt to reveal whereabouts of missing Islamist
31 January, 2022
Human Rights Watch on Monday called on the Egyptian authorities to reveal the whereabouts of a Muslim Brotherhood member who reportedly disappeared following an unscheduled landing in Egypt.
Hossam Menoufy Sallam was travelling on January 12 on a direct flight from Khartoum to Istanbul when his flight made an unscheduled landing in Luxor in Egypt's south, HRW said.
The unplanned landing took place as a "routine procedure" after the smoke detection system went off in the cargo cabin, the Khartoum-based Badr Airlines said in a statement.
"After all passengers disembarked to the transit lounge, security officers summoned Menoufy and checked his passport and travel documents," HRW said in its report.
"He was last seen by witnesses in the custody of Egyptian officials," the New York-based group added.
Egypt's interior ministry issued a statement on January 15 saying that Menoufy was held in custody pending investigations.
"The Egyptian government should immediately disclose Hossam Menoufy's whereabouts and allow his lawyer and family to see him," said Joe Stork, HRW's deputy Middle East director.
"Forcibly disappearing him is a serious crime," he continued.
Local media in Egypt reported that Menoufy was a leading figure of the militant group Hasm, believed to be a breakaway faction of the outlawed Muslim Brotherhood.
Egyptian activists suggested that the forced landing of the Sudanese flight points to the close cooperation between Egypt and Sudan, where the military led by General Abdel Fattah al-Burhan staged a coup on October 25.
Egypt launched a harsh crackdown on the Muslim Brotherhood group after the 2013 military ouster of late president Mohamed Morsi, who hailed from the group.
Thousands of the group's supporters have since been jailed on terror-related charges.
The Brotherhood was designated a "terrorist organisation" in late 2013. The group has consistently denied any links with violence.
Source: The New Arab
Please click the following URL to read the full text of the original story:
https://english.alaraby.co.uk/news/hrw-calls-egypt-reveal-whereabouts-missing-islamist
--------
Muslim Brotherhood slams 'members' who bring division to group
January 31, 2022
Egypt's Muslim Brotherhood announced on Sunday that its members who are working to divide the movement will be "disowned". The Brotherhood used its website to accuse "some members" of "violating its regulations and rejecting all attempts to unite the ranks."
It also declared that the committee given the responsibility of doing the work of the supreme guide is "invalid". Everyone who took part in the creation of the committee "has chosen to leave the group" because of such division.
In order to preserve its unity, it called on members to respect the allegiance pledge to the movement.
The past few months have seen administrative disputes between acting general guide Ibrahim Mounir and Mahmoud Hussein, the former Secretary-General of the Brotherhood. Mounir has decided to refer Hussein and others to an investigation, and has formed a committee to manage the group's affairs and hold internal elections to end the division.
Source: Middle East Monitor
Please click the following URL to read the full text of the original story:
https://www.middleeastmonitor.com/20220131-muslim-brotherhood-slams-members-who-bring-division-to-group/
--------
South Asia
Talking to Islamic Emirate 'Right Thing to Do': Former UN Special Envoy To Afghanistan
01st February 2022
The former UN special envoy to Afghanistan, Kai Eide, said that dialogue is a "positive thing" and should be continued with the Islamic Emirate.
In an interview with TOLOnews, Eide said that the humanitarian crisis is very concerning and the international community should increase its engagement with Islamic Emirate.
"I think there is not an alternative to talking, you know, all through the years, every time there has been a new phase, there has been criticism of talking to the Taliban. I always thought it is the right thing to do. The alternative is that the situation becomes even worse today and I do not think that it is in anybody's interest… My view has always been that dialogue is a positive thing and it should be continued where it is possible," Eide told TOLOnews.
"I think there are significant resources coming in, but it is very insufficient and the international community should engage much more strongly, in particular when it comes to the humanitarian crisis. Over the last few days, the head of the Norwegian Refugee Council, the secretary-general of the UN has called for much more vigorous resources to be brought into Afghanistan, I think there is no time to lose and we cannot wait any longer and see more people dying, more people being at the risk of dying. That is totally unacceptable. We have been with the Afghan people for decades and we cannot let the Afghan people be doomed to death," said Kai Eide.
The former envoy said the Islamic Emirate should include people who are not from the Taliban movement into the government, in order to see a a more inclusive government than the current government.
"There should be a government that includes people who (do) not belong to the Taliban movement. I think it is very important that other persons be brought in; if it is done via this mechanism or that mechanism, is not important, but you need a government seen to be more inclusive than the current government," said Kai Eide.
Meanwhile, the Islamic Emirate's officials said the government is going to add more qualified figures to the government ranks.
"The Islamic Emirate has attempted to recruit some deserving people to the government, particularly in technical sections, and it will follow through on its pledge to recruit more faces in high positions," said Inamullah Samangani, deputy spokesman of the Islamic Emirate.
Source: Tolo News
Please click the following URL to read the full text of the original story:
https://tolonews.com/afghanistan-176532
--------
Taliban keeps ex-Afghan president Karzai, former chief executive Abdullah under virtual house arrest
Feb 1, 2022
ISLAMABAD: Former Afghanistan president Hamid Karzai and the country's erstwhile chief executive Dr Abdullah Abdullah are suspected to be under house arrest in Kabul, with cautious social media interactions and occasional visits by foreign dignitaries under Taliban surveillance their only known link with the world outside.
Amid the flight of Afghan leaders and officials in the wake of the Taliban's takeover of Kabul last year, Karzai and Abdullah had stayed back and engaged with leaders of the new regime, including the Haqqani Network, to work out the modalities for an inclusive government.
Since the announcement of an interim government last September, neither has been seen in public, strengthening speculation that they could be under virtual house arrest. Karzai lives with his family in a government accommodation in the vicinity of the presidential palace, while Abdullah stays in his personal residence.
Both are active on Twitter, although there has been no post yet even remotely critical of the performance and policies of the Taliban. Select guests, including foreign dignitaries, are allowed to meet them, but any correspondence with the duo requires the Taliban's approval.
TOI attempted to find out why they did not opt to flee the country after the Taliban entered Kabul, by which time scores of other former officials and even warlords like Abdur Rasheed Dostum of Mazar-i-Sharif or Ismail Khan of Herat had already left.
"These leaders had been in contact with the senior Taliban leadership for a long time. Their criticism of the former president Ashraf Ghani and his government had further softened the stance of the Taliban towards them," said Abdul Haq Omari, an Afghan journalist. "They knew beforehand of the agreement between the Taliban's Doha office and the Americans that the group's fighters would not enter Kabul without a formal transfer of power. They were also assured of participation in the process."
Everything went haywire thereafter, sparked by the massive evacuation of foreign and Afghan nationals, coupled with the complete collapse of the government machinery led by former president Ashraf Ghani. Omari said it was Karzai who asked the Taliban to enter the capital to restore law and order.
"Since he and Abdullah were in contact with both the Americans and Taliban, they had a plan," said Ali Akbar Khan, a Peshawar-based journalist who had closely monitored last year's events in Kabul. "They were the ones who engaged with the Taliban and Haqqani Network leaders after the fall of Kabul. They had the Taliban's ear and their emphasis on forming an 'inclusive government' was highlighted by media. They thought that their guidance and advice was unavoidable for the Taliban."
Karzai and Abdullah were further emboldened by the secret visit of CIA director William Burns to Kabul and his meeting with Mullah Abdul Ghani Baradar, the current Afghan deputy prime minister. A role in the future Afghan government for both was allegedly discussed in that meeting.
The Taliban's plan, which was kept a secret until the announcement of their government, turned out to be completely the opposite of what Karzai and Abdullah had expected. The new Afghan government was neither inclusive, nor did it have any representation for women. Another move that surprised many within and outside the country was Mullah Baradar, till then believed to be the prime candidate for head of government, being made deputy PM along with Abdul Salam Hanafi, another Taliban leader.
Both Karzai and Abdullah are, however, still considered valuable by the Taliban. "The regime realises that both are prominent Afghan figures having global acceptance and recognition. Instead of allowing them to leave the country, they think their stay in the country would be more beneficial," said Syed Waqas Shah, a Pakistani journalist who covered the war against terror in Afghanistan for over a decade.
Source: Times Of India
Please click the following URL to read the full text of the original story:
https://timesofindia.indiatimes.com/world/south-asia/taliban-keeps-ex-afghan-president-karzai-former-chief-executive-abdullah-under-virtual-house-arrest/articleshow/89256521.cms
--------
Troika Plus-Extended to be held in Kabul by February end
01 Feb 2022
Russian special representative for Afghanistan Zamir Kabulov said that extended Troika Plus to be held in Kabul this time and added that the exact date of the meeting is being coordinated, TASS news agency reported.
Zamir Kaboluv added that the participating countries (Russia, the US, China, Pakistan) of the Troika Plus-extended on Afghanistan are now considering the date of the meeting in the Afghan capital Kabul.
"Currently, we are coordinating the date of the next round of talks with our partners in the extended Troika, which will be held in Kabul by the end of February," he said.
Zamir Kabulov said his country is focusing the attention of the extended troika on the completion of the inter-Afghan peace process and the participation of the international community in the inclusive post-war rehabilitation of Afghanistan.
The Islamic Emirate of Afghanistan has not commented on the issue yet.
Source: Khaama Press
Please click the following URL to read the full text of the original story:
https://www.khaama.com/troika-plus-extended-to-be-held-in-kabul-by-february-end-9875767/
--------
It is too early for India, Russia to recognize Taliban: Russian Deputy FM
01 Feb 2022
Deputy Foreign Minister of Russia Sergey Varshinin said that it is too early for both Russia and India to recognize the interim government of Afghanistan but added that they will continue providing humanitarian assistance to the Afghan people.
The Russian Deputy Foreign Minister expressed the remarks in New Delhi on Monday, January 31, 2022, following consultations between the Russian and Indian Foreign Ministries.
Varshinin said that the positions of India and Russia are the same and identical and that it is premature to discuss recognition of the interim government in Afghanistan.
"We expect the current Afghan leadership to fulfill the obligations they have assumed, especially with regard to the inclusivity of the government and with regard to other measures, including in the human rights area." Said the Russian Deputy FM.
The Russian diplomat also criticized the 20-year presence of the US and its allies in Afghanistan that caused the deplorable situation in Afghanistan especially form a human rights perspective.
Source: Khaama Press
Please click the following URL to read the full text of the original story:
https://www.khaama.com/it-is-too-early-for-indian-russia-to-recognize-taliban-russian-deputy-fm-876876/
--------
Amir of Qatar and US Defense Minister discuss cooperation on Afghanistan
01 Feb 2022
US secretary of Defense Lloyd Austin met with the Amir of Qatar Sheikh Tamim bin Al Thani on Monday, January 31, 2022, and discussed regional security issues including cooperation on Afghanistan, said Pentagon Press in a statement.
"Secretary of Defense Lloyd Austin met with Amir of Qatar Sheikh Tamim bin Al Thani at the Pentagon to affirm the strength of the US-Qatar defense partnership and its key role in the US strategic bilateral relationship." Reads the Pentagon statement.
The statement further reads that Austin has reiterated heartfelt gratitude to the Amir of Qatar for his indispensable and ongoing support of the US in Afghanistan.
Both have also discussed security concerns in the regions, de-escalating tensions in the region, and the full scope of threats from Iran.
Qatar has allocated a team of its diplomats in Kabul to carry out consular services of the US embassy in the Afghan capital.
Qatar was also the biggest transit country for the US during the chaotic evacuation of the US from Kabul last year.
Source: Khaama Press
Please click the following URL to read the full text of the original story:
https://www.khaama.com/amir-of-qatar-and-us-defense-minister-discuss-cooperation-on-afghanistan-876875/
--------
Pakistan-Afghanistan to create joint committee for resolving Durand Line conflicts
31 Jan 2022
Pakistani NSA's Moeed Yusuf's two-day visit to Kabul came to an end and a joint committee for resolving Durand Line conflicts has been agreed upon during his visit with the IEA's officials.
Pakistan's ambassador to Kabul Mansoor Ahmad Khan in a Twitter post said that Moeed Yusuf had fruitful meetings in Afghanistan.
Mansoor Ahmad Khan said that the Yusuf's meetings in Kabul were concentrated on humanitarian engagement, transit, trade, and providing facilities to the people's relations of both countries.
Meanwhile, the Foreign Minister of the Islamic Emirate of Afghanistan said that they have agreed on a mechanism for facilitating activities on Durand Line.
The Ministry has also said that Pakistan has suggested training Afghan employees in the areas of health, civil aviation, customs, and other areas.
Source: Khaama Press
Please click the following URL to read the full text of the original story:
https://www.khaama.com/pakistan-afghanistan-to-create-joint-committee-for-resolving-durand-line-conflicts-8768758/
--------
Mideast
Blinken, Abbas discuss bilateral relations, latest developments in Palestine
Halime Afra Aksoy
01.02.2022
RAMALLAH, Palestine
Palestinian President Mahmoud Abbas and US Secretary of State Antony Blinken discussed bilateral relations and the latest developments in Palestine in a phone call Monday.
Abbas reiterated to Blinken that the current situation is not sustainable, the Palestinian official news agency WAFA reported.
The Israeli occupation should halt settlement activities and attacks by Jewish settlers as well as the expulsion of Palestinians from Jerusalem neighborhoods, he said.
Abbas also stressed the need to stop unilateral Israeli practices that undermine the two-state solution as well as to implement the agreements signed between the two sides.
He pointed out the importance of continuing to work to strengthen relations with the US and to overcome the obstacles that stand in the way of these relations.
Blinken meanwhile affirmed the US commitment to the two-state solution.
Source: Anadolu Agency
Please click the following URL to read the full text of the original story:
https://www.aa.com.tr/en/middle-east/blinken-abbas-discuss-bilateral-relations-latest-developments-in-palestine/2490483
--------
Top Mossad official quits over dispute with Israel's spy chief
31.01.2022
JERUSALEM
A senior official in Israel's spy agency Mossad has resigned over a dispute with the agency's director David Barnea, according to local media on Monday.
The commander of the Caesarea unit, which is responsible for Mossad's special operations, submitted his resignation over a clash of opinions with Barnea, Channel 13 reported.
Mossad does not disclose the names of its officials and agents due to the secrecy of their work, but the channel identified the commander as "B".
According to the broadcaster, the Mossad chief told the commander that he intended to make massive changes in the way the unit operates due to the difficulty of operating Israeli agents abroad.
As the commander failed to implement the necessary changes, a heated discussion erupted between the two men during which the Mossad chief criticized the commander and his senior officials.
"You have turned into a burden on the organization and we are obligated to make the changes," Barnea reportedly told the commander.
After the meeting, the Israeli commander, his deputy and a number of agents resigned in protest.
Source: Anadolu Agency
Please click the following URL to read the full text of the original story:
https://www.aa.com.tr/en/middle-east/top-mossad-official-quits-over-dispute-with-israel-s-spy-chief/2489994
--------
Iran launches campaign to stop social media censorship of iconic anti-terror General Soleimani
February 1, 2022
Iran's Media Cultural Center has launched a campaign to counter Instagram and other US-based social media giants in their effort to censor the country's top anti-terror commander and icon, Lieutenant General Qassem Soleimani, who was assassinated in a US drone attack in Iraq two years ago.
The 'Stop the Censorship' campaign was launched by Tehran municipality's Media Cultural Center with the aim of supporting the name and image of General Soleimani against censorship and other hostile actions by Instagram and other US social media platforms.
Under former US President Donald Trump's order, the US military conducted an air operation on January 3, 2020, targeting General Soleimani near Baghdad International Airport after his arrival. The attack also killed the general's companions, including Deputy Commander of Iraq's Popular Mobilization Units (PMU) Abu Mahdi al-Muhandis.
Both commanders were highly popular because of the key role they played in eliminating the US-sponsored Daesh terrorist group in the region, particularly in Iraq and Syria.
The Media Cultural Center said in a report that the censorship scenario in social media platforms, especially those affiliated with the US-based Meta Inc., including Instagram, Facebook and Twitter, was started by the Zionist leaders, exactly when millions of Iranians named General Soleimani a "national hero," and a "legend against terrorism and Daesh," and then began to share this with other users across the globe.
According to the report, the results of a survey by Center for International and Security Studies at Maryland (CISSM) showed that General Soleimani is popular with millions of Iranians.
Source: ABNA24
Please click the following URL to read the full text of the original story:
https://en.abna24.com/news//iran-launches-campaign-to-stop-social-media-censorship-of-iconic-anti-terror-general-soleimani_1224736.html
--------
Israel punishes three senior officers over 78-year-old Palestinian detainee's death
01 February ,2022
The Israeli military said on Tuesday it would reprimand a senior officer and remove two others from leadership roles over the death of a 78-year-old Palestinian who was dragged from a car, bound, and blindfolded after being stopped at a checkpoint.
It said the soldiers believed Omar Asaad was asleep when they cut his zip-ties and left him face-down in an abandoned building where he had been detained with three other Palestinians. The other detainees said they did not know he was there until after the army left.
It's unclear when exactly he died. He was taken to a hospital and pronounced dead after the other detainees found him unconscious.
"The investigation concluded that the incident was a grave and unfortunate event, resulting from a moral failure and poor decision-making on the part of the soldiers," the military said in a statement. A separate criminal investigation by the military police is still underway.
Asaad had American citizenship and extended family living in the United States. The State Department had expressed concern over his death and called for an investigation. Two members of Wisconsin's congressional delegation called on the Biden administration to investigate.
The Israeli military says it thoroughly investigates such incidents. But rights groups say Israel rarely holds soldiers accountable for the deaths of Palestinians. Even in the most shocking cases — and those captured on video — soldiers often get relatively light sentences. Palestinians insist they suffer systematic mistreatment living under military occupation.
A Palestinian autopsy said Asaad died of a heart attack "caused by psychological tension due to the external violence he was exposed to." It said he suffered from underlying health conditions, but also found bruises on his head, redness on his wrists from being bound, and bleeding in his eyelids from being tightly blindfolded.
Asaad was stopped at around 3 a.m. at a temporary checkpoint in his home village of Jiljiliya, in the occupied West Bank. The military said he did not have any form of ID and "refused to cooperate with the security check." Its investigation found there was no use of violence "apart from when (Asaad) was apprehended after refusing to cooperate."
It said the soldiers "did not identify signs of distress" when they released the detainees a half-hour later. They "assumed that (Asaad) was asleep and did not try to wake him."
The military said the commander of the battalion will be reprimanded and that the platoon commander and company commander will both be removed from their positions and barred from commanding roles for two years.
Assad was born in Jiljilya but spent about 40 years in the United States. He became a US citizen before he returned to his home village in 2009 to retire with his wife, Nazmia, his family told The Associated Press.
Israel captured the West Bank in the 1967 Middle East war. The Palestinian Authority administers parts of the territory, but its 2.5 million residents live under Israeli military rule. Israeli soldiers often carry out nighttime raids, which they say are necessary for arresting Palestinian militants, and set up temporary checkpoints where Palestinians are stopped and searched.
Asaad's nephew, Assad Assad, said his uncle and aunt left Jiljilya for Chicago in 1969 in hopes of finding better work. They moved to Milwaukee in 1974 and prospered, opening convenience stores and a restaurant, he revealed.
They were among dozens of Jiljilya residents who have returned to the village over the years to build retirement homes, Assad Assad said.
"They built mini-castles to retire in," he said. "Very quiet, all you see is olive trees. At night, because we're high in the mountains, you smell the orchards of oranges."
Omar's nephew and his son, Hane Assad, both described him as a philanthropist who was the life of the party. Hane Assad told the AP his father would often hand out money to the poor.
"He just loved everybody, no matter what race you were, what culture you came from," he said. "He just saw you as a human being."
His favorite dish was maqluba, a mix of rice and meat — and he loved playing cards, Assad Assad said. He was coming home from playing cards with a cousin when the soldiers stopped him, he said.
Hane Assad said his mother and father were set to visit him at his home in Chesapeake, Virginia, before his father died. Assad said his father was too old and weak to fight anyone, let alone a group of soldiers.
"He was very weak," Hane Assad said. "He walked with a cane. It takes him five minutes to get to the car, the way he walks. He doesn't have the power of 30 soldiers... The military said 'we left and he was fine.' It doesn't make sense."
Assad said he's always afraid when he returns to Jiljilya because the Israelis who operate the checkpoints are rude and disrespectful. He said he was once detained for four hours on the way to his grandmother's funeral.
Source: Al Arabiya
Please click the following URL to read the full text of the original story:
https://english.alarabiya.net/News/middle-east/2022/02/01/Israel-punishes-three-senior-officers-over-Palestinian-detainee-s-death
--------
Russia rejects demand by Israel that it stop jamming GPS signals in Israeli airspace
Iyad Nabulsi
01.02.2022
Russia has rejected a demand by Israel that it stop using defense systems in Syria that jam GPS systems in Israeli airspace and affect landings by commercial aircraft at Ben Gurion Airport in the capital Tel Aviv, Israeli media reported Monday.
Israel sent a letter to Russia stating that the defense systems operated by Russia at Khmeimim Air Base in the Syrian port city of Latakia cause electromagnetic interference in the GPS systems of the planes landing in Tel Aviv, the official Israeli KAN channel reported.
Rejecting Israel's demand, Moscow emphasized that the systems were placed to protect its soldiers in the region.
Source: Anadolu Agency
Please click the following URL to read the full text of the original story:
https://www.aa.com.tr/en/middle-east/russia-rejects-demand-by-israel-that-it-stop-jamming-gps-signals-in-israeli-airspace/2490499
--------
Africa
Algerian FM says Palestinian reconciliation process has begun
31 January ,2022
A process to reconcile the Palestinian factions has begun, said Algerian Foreign Minister Ramtane Lamamra, whose country said last month that it would host the inter-Palestinian talks.
"The journey to Palestinian reconciliation has started and Algeria has a long experience in bringing the Palestinians together," he told a news conference in Kuwait on Monday.
Source: Al Arabiya
Please click the following URL to read the full text of the original story:
https://english.alarabiya.net/News/middle-east/2022/01/31/Algerian-FM-says-Palestinian-reconciliation-process-has-begun
--------
Morocco prosecutors seek double jail time for journalist on appeal
31 January ,2022
Moroccan prosecutors have requested the maximum sentence of 10 years in prison for journalist Soulaimane Raissouni as he appeals against a five-year jail term for indecent assault.
The 49-year-old former editor of the now-defunct Akhbar Al Yaoum is one of several journalists critical of Morocco's government to have been jailed for sex crimes.
Raissouni was arrested in May 2020 after a young LGBTQ activist pressed charges against him.
He has always maintained his innocence and says he was prosecuted "because of his opinions."
After he was detained, he held a 122-day hunger strike, missing much of his initial trial.
The prosecution told the court in Rabat on Monday that "the evidence irrefutably proves Mr Raissouni's guilt" and asked for the maximum sentence against him.
Raissouni, who was in the courtroom, did not react.
The evidence includes an audio recording that has not been made public.
The plaintiff has asked for the original five-year jail term to stand and for damages of up to 500,000 dinars (47,000 euros).
Raissouni's defense reaffirmed his innocence and called for his conviction to be quashed.
Media watchdog Reporters Without Borders (RSF) said his original trial was "tainted by irregularities."
Moroccan authorities insist his trial was fair and that the charges have nothing to do with his journalism.
Source: Al Arabiya
Please click the following URL to read the full text of the original story:
https://english.alarabiya.net/News/north-africa/2022/01/31/Morocco-prosecutors-seek-double-jail-time-for-journalist-on-appeal
--------
Wrangle over interim Libyan government intensifies
31 January ,2022
The speaker of Libya's eastern-based parliament said on Monday the chamber would choose a new interim prime minister next week, but the current incumbent rejected the move.
The speaker, Aguila Saleh, told parliament it would vote on Feb. 8 on a new prime minister to replace Abdulhamid al-Dbeibah, head of the Government of National Unity (GNU) that was installed last year through a UN-backed process.
Dbeibah told Reuters that Saleh was conducting "a desperate attempt to renew division" and said the GNU would continue to function until new elections are held.
Political manoeuvring has intensified among factions and leaders from across Libya's fragmented political spectrum since last month's failed presidential election, with the fate of a fragile peace process hanging in the balance.
Many Libyans fear a dispute over the interim government could derail any new attempt to hold national elections or trigger major fighting among rival factions after 18 months of comparative calm.
Libya was ruled by rival administrations running parallel states in east and west from 2014 until Dbeibah's government was installed last year through a UN-backed process.
Western countries have said they will continue to recognise the GNU and have urged a new push for elections. The UN special adviser to Libya has said elections should be the priority rather than a new transitional government.
Saleh said in parliament on Monday that he opposed what he termed foreign interference in Libya.
Source: Al Arabiya
Please click the following URL to read the full text of the original story:
https://english.alarabiya.net/News/north-africa/2022/01/31/Wrangle-over-interim-Libyan-government-intensifies
--------
At least 10 people killed in Kenya bus blast
Andrew Wasike
31.01.2022
NAIROBI, Kenya
At least 10 people were killed when a passenger bus hit an improvised explosive device (IED) on a highway in northeastern Kenya, police said on Monday.
Eight passengers were injured in the explosion, which occurred when a bus ran over an IED on the Arabia-Mandera highway, according to George Seda, a regional police commander.
Police believe the bomb was planted by the Somalia-based al-Shabaab terror group.
The group, which is linked to the al-Qaeda terror network, has carried out several attacks in Mandera, a Kenyan border town that is just 370 kilometers (230 miles) from Somalia's capital Mogadishu.
Seda said security forces have been deployed in the area to track down the attackers, but no arrests have been made yet.
Monday's blast came after several Western countries issued a terror warning for Kenya over the weekend.
Kenyan authorities had responded to the advisory by scaling up security operations in vulnerable areas.
Past attacks
Al-Shabaab terrorists have carried out several such IED attacks in Kenya, targeting security patrols on key routes along the porous Kenya-Somalia border, according to Kenyan authorities.
The latest incident was on Jan. 7, when four police officers were killed in an al-Shabaab attack in the town of Lamu, along the East African coast.
That came just over a month after two police officers were killed and 12 others injured in an al-Shabaab ambush in Mandera.
Source: Anadolu Agency
Please click the following URL to read the full text of the original story:
https://www.aa.com.tr/en/africa/at-least-10-people-killed-in-kenya-bus-blast/2489974
--------
African Union suspends Burkina Faso after military coup
January 31, 2022
OUAGADOUGOU: The African Union has suspended Burkina Faso from all its activities in response to last week's military coup, effective until constitutional order is restored, the AU said on Monday.
Burkina Faso had already been suspended from the West African regional bloc, the Economic Community of West African States, though ECOWAS stopped short of imposing sanctions after the Jan. 24 coup that ousted President Roch Kabore.
An ECOWAS delegation along with a United Nations envoy were due to visit Burkina Faso on Monday to meet with the coup leaders before deciding on next steps.
"Council decides in line with the relevant AU instruments... to suspend the participation of Burkina Faso in all AU activities until the effective restoration of constitutional order in the country," the AU Political Affairs, Peace and Security Department said in a Twitter post.
The AU suspended two other West African members, Mali and Guinea, after their own military takeovers last year. The coup in Burkina Faso was the fourth in the region in 18 months.
ECOWAS and its international allies have condemned the coup, which they fear could further destabilize a country beset by Islamist violence, but find themselves with limited leverage.
Source: Arab News
Please click the following URL to read the full text of the original story:
https://www.arabnews.com/node/2015426/world
--------
URL: https://www.newageislam.com/islamic-world-news/islamist-behead-french-journalist-ophelie-radicalized/d/126281
New Age Islam, Islam Online, Islamic Website, African Muslim News, Arab World News, South Asia News, Indian Muslim News, World Muslim News, Women in Islam, Islamic Feminism, Arab Women, Women In Arab, Islamophobia in America, Muslim Women in West, Islam Women and Feminism