New Age Islam News Bureau
17 Sept 2015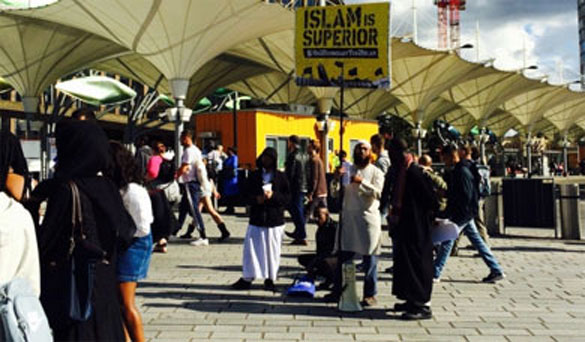 Islamists at Stratford Station protested against democracy
----------
Europe
• Islamists Declare Brotherhood with Islamic State in Stratford
• Some Muslim Migrants Find More Than Refuge in Europe's Churches
• Spain offers job to Syria refugee mistreated in Hungary
• US invasion of Iraq led to creation of Daesh, Russia says
----------
Arab World
• Egyptian Security Forces Kill 55 Militants in Sinai
• At Least 37 Terrorists Killed, Injured in Lattakia
• 10 Civilians Killed in Saudi Airstrikes on Hajjah
• Ringleader of Jaish al-Hur Terrorist Group Killed in Daraa
• Syrian Forces Inflict Heavy Losses on Militants in Aleppo
• Syria starts using new Russian arms: source
• Saudi Arabia condemns Israeli actions on Aqsa
• Deadly suicide attacks target Iraqi police
• Saudi forces arrest ISIS cell
• 2 terrorists caught in Riyadh; 2 on the run
• King: Teach youth to shun extremism
• 330 ISIS members killed in British strikes
• The Middle East migrant crisis requires Middle East solutions
-----
South Asia
• British Jihadis in Bangladesh Fanning Flames of Extremism, Says Dhaka
• Musa Qala district of Afghanistan cleared of Taliban militants, MoD says
• President Ghani sending delegation to Nuristan to assess governance, security
• Bangladesh High Court ruling: Opposition leader Khaleda Zia to face graft trial
----
Mideast
• PKK Bomb Attack, Clashes Kill 12 in Turkey
• Saudi Warplanes Kill 10 Yemenis in Sana'a
• Israel returns Palestinian to detention without trial
• Iran leader warns Guards against US infiltration
• Abbas slams Israeli violence at Jerusalem site
• IRGC Quds Force Commander: US Unable to Remove Hezbollah
• Saudi Soldier Calls on Riyadh to Stop Aggression on Yemen
• High-Ranking Bangladeshi Officials Stress Further Broadening of Ties with Iran
• Saudi-Led Forces Pinned Down in Yemen's Marib
------
India
• India's Jamaat-e-Islami Slams IS For Being Un-Islamic
• Muslim Students' Body Urges Youth to Battle Extremism
• Hurriyat Leaders Vow To Continue Martyrs' Mission
• Maulana Wahiduddin Khan Receives Lifetime Achievement Award in the USA
• Believes in democratic ways of struggle: JeI
• Home Ministry Tells Delhi High Court: Fighting IS Can Lead To 'Sectarian' Conflict in India
• Muslim Leaders in Mumbai Draw Up Growth Plan for Youth
• Batla House Encounter: Ulema Council Seeks To Meet PM Narendra Modi, Pitches for Judicial Probe
------
Pakistan
• Setback for Jamaat-e-Islami As PPP Wins PK-93 By-Poll
• Ulema to Help Govt Draft Law against Sectarianism
• Police Arrest Former Air Force Pilot for Financing Qaeda
• Religious harmony need of the hour'
• Missing key witness in graft cases against Zardari tracked down
• Ministry identifies three major flaws in Nandipur plant
• Pakistan has second strike capability against India
• India worried about Afghanistan-Pakistan trade deals
• Pak-US ties to strengthen in years ahead: Olson
• Pakistan doubles scholarships offered to IHK students
-----
Southeast Asia
• I Am Racist and My Racism Based on Islam, Says Umno's Annuar Musa
• Merah169 Rally 'To Teach' People Not To 'Ridicule' Malays, Islam, Umno Member Says
• Tuan Ibrahim: Ignore rally of Umno Red Shirts
• Peace, security of nation my top priority, says Najib
• Terror convicts call for better grasp of Islam
• Pro-government rally raises worry about Malaysia ethnic tension
-----
Africa
• Algerian Muslim Ulema Organization Condemns Assault against Al-Aqsa Mosque
• South Sudan army launched attack on rebels despite ceasefire: Report
• Tunisia dismisses 100 police officers over suspected terror links
• Memo to Donald Trump: Here's the Difference between Hamas and Hezbollah
------
North America
• Louisville Islamic Centre Vandalized With Anti-Islamic Messages
• Czech Opponents of Islam Shortly Block Border with Austria
• Muslim group hopes billboards dispel myths about Islam faith
• Muslim boy's ordeal ends with White House invite
• Americans Fear Muslim-Country Migrants Entering U.S. May Include Terrorists
• Far-fight trolled: US rapper turned to ISIS soldier in parody nationalist meme
Compiled by New Age Islam News Bureau
URL: https://www.newageislam.com/islamic-world-news/new-age-islam-news-bureau/islamists-declare-brotherhood-with-islamic-state-in-stratford/d/104614
-----
Europe
Islamists Declare Brotherhood with Islamic State in Stratford
16 September 2015
About eight males protested throughout the afternoon outside Stratford Station, gathered around a single sign, which read: "Islam is superior #No2DemocracyYes2Islam."
Abdul Hakim, who refused to disclose which mosque he was from, said the group protests against democracy every two weeks in different boroughs of London.
He said that although the apparently unnamed group does not follow a specific extremist group, its members refuse to condemn Islamic State, Al-Qaeda or the Taliban because they are "Muslim brothers".
"I wouldn't condemn them at all," he said. "As Muslims we believe all non-believers who reject Islam will be in hell fire.
"People who hear the message have no excuse –they will be judged."
The demonstration, which took place the day after the 14th anniversary of the September 11 attacks on New York, outraged passers-by.
Emma Hathaway, 28, was returning from a rally in Parliament Square calling for more struggling refugees to be welcomed in Britain.
She said she was angered by the demonstrators calling for Sharia (Islamic law).
"I've lived in the Middle East teaching English," she said. "The people I know in those countries all live normal lives exactly how we live our lives.
"They've said to me that people like this are the reason the western world fights against Islam."
Muslim Abdullah Ahmed, 35, said he was protesting against democracy because it was racist.
"Democracy is racist," he said. "Democracy divides people based on economic standing.
"If I had my way, I'd introduce Islam to the people – if you choose to reject Islam, God has prepared the hell fire."
http://www.newhamrecorder.co.uk/home/islamists_declare_brotherhood_with_islamic_state_in_stratford_1_4235093
----------
Some Muslim Migrants Find More Than Refuge in Europe's Churches
Sept. 16, 2015
HANNOVER, Germany—On a recent Saturday in a 19th-century Protestant church, Iranian and Afghan immigrants struggled to sing a hymn as the Rev. Hans-Jürgen Kutzner pointed to the German lyrics on a whiteboard.
Once a month, Mr. Kutzner gives a crash course in a neon-lit room adjacent to the church to prepare Muslims wishing to be baptized as Christians.
"What you are signing up to today isn't just this seminar: Preparing yourself internally, going to Mass and integrating into your church, it's all of that," he told the 28 attendees as an Iranian woman clutching a rosary translated into Farsi.
Priests and researchers say they have witnessed a parallel trend to the surge in migrant numbers flocking to Germany in recent years: A rise in conversions from Islam to Christianity.
While most converts invoke spiritual reasons, people involved in the process point to another motivation: A conversion could make the difference between obtaining asylum or being deported.
Up to a million migrants, many of them from Muslim countries are expected to arrive this year in Germany alone. Those fleeing war or persecution could qualify for asylum; others seeking better economic prospects likely wouldn't.
"We do get people that come here for reasons that aren't just spiritual," said Mr. Kutzner, adding that he believes they are in the minority. "We constantly fight against the suspicion that conversions are only motivated by hopes for asylum."
One church official said the desire by some Christians to help can get out of hand. "There are middlemen who have started to develop a business out of connecting refugees with churches open to baptizing them," this person said.
A spokeswoman for the main German Protestant church said she wasn't aware of any such business taking place. The German Bishops' Conference of Catholic dioceses declined to comment.
In many countries where classical Islamic law is a strong element of the legal system, such as Afghanistan and Iran, conversions by Muslims to another religion are prohibited and can be punished by death, said Ebrahim Afsah, associate professor of international law at the University of Copenhagen.
"Out of fear of being sent back, many refugees feel that converting is the safest route to getting their papers," the church official said. "In most cases, such asylum requests are granted."
German authorities can grant asylum if a conversion exposes the applicant to persecution at home, according to the Federal Office for Migration and Refugees. But a baptism certificate alone rarely suffices.
Decisions are sometimes lengthy and the type of proof authorities ask for when reviewing a case varies widely, officials familiar with the process say. Some officers probe applicants for their knowledge of their new religion, they say. Others demand detailed explanations about how people came to their new beliefs.
The immigration office doesn't keep statistics on reasons for asylum requests.
Among the would-be converts in Mr. Kutzner's class, most of whom declined to be identified, many said they had a spiritual revelation after a dream or reading the Bible. Others described embracing Christ as a protest against terror acts committed by Islamist extremists, or pointed to a desire to better integrate into their new home.
Nariman Malkari, a 25-year-old Kurd from Tehran, lives in temporary housing in the garden of the Evangelical-Lutheran Trinity Church in Berlin while he awaits a decision on his asylum application.
He moved here after Norway rejected his first asylum request. In May, the Rev. Gottfried Martens baptized the young computer engineer, who now goes by the biblical name of Silas and wears a silver cross necklace.
"I can never go back to Iran and I don't want to," said Mr. Malkari after Sunday Mass last week, which is held partly in German, partly in Farsi. "I live in a tent, but I have found Jesus."
Roughly 600 of the 850 members of Trinity Church are from Iran and Afghanistan, Mr. Martens said. He said he has baptized roughly 400 Muslims, mostly from Iran and Afghanistan, since 2011, but refuses those who he feels just want to boost their asylum prospects.
"What I see is that 90% of the converts continue to come here even after they obtain asylum," he said. "They wouldn't do that if they had done it just for papers."
The numbers of conversions remain tiny relative to Germany's roughly four million Muslims, mostly from Turkey. In 2009, the Catholic Church in Germany counted 300 members who had converted from Islam, according to the secretariat of the German Bishops' Conference, but neither it nor its Protestant counterpart keeps regular statistics of such conversions.
Aiman Mazyek, chairman of Germany's Central Council of Muslims, said he hadn't observed a rise in Muslims converting to Christianity, but noted there were "conspiracy theories" around that doing so could expedite an asylum request.
Jörn Thielmann, who heads the University of Erlangen's Center for Islam and Law in Europe, said he has no doubt that conversions are on the rise. He has crafted expert opinions in asylum cases for the past decade, evaluating how big a risk a refugee would face if sent back home.
The Rev. Gerhard Triebe of the Evangelical-Lutheran Church of the Redeemer in Düsseldorf has baptized some 30 Iranians since 2011. He said he devotes a lot of time to helping his converts in daily tasks, from asylum-related paperwork to finding an apartment.
"With more and more people arriving here, the word spreads. People also realize they get an enormous amount of support," he said.
In Mr. Kutzner's class in Hannover, many aspiring Christians feverishly took notes as the pastor talked about the Bible and the Jesus' resurrection. Others looked lost.
A man dressed in a shiny white suit and black tie brought his wife and young son from a small town in eastern Germany where they live. He said he fled Iran six months ago because "I wanted my family to be Christian."
Mr. Kutzner said he doesn't want to judge motives. "I am just a human, I can't look people in the heart," he said as he wrapped up his class with one-on-one consultations. "But if someone asks me for help, I help."
http://www.wsj.com/articles/some-muslim-migrants-find-more-than-refuge-in-europes-churches-1442437388
----------
Spain offers job to Syria refugee mistreated in Hungary
Sep 17, 2015
A Syrian asylum seeker who was mistreated by a camerawoman in Hungary has been offered a job as a soccer trainer in Spain.
According to reports, Osama Abdul Mohsen arrived in the Spanish capital city of Madrid on Wednesday upon an invitation by Miguel Ángel Galán, the director of Spain's National Soccer Coach Training Center (Cenafe).
During his train journey to Spain, the refugee was accompanied by his two sons, Zaid, 7, and Mohammad, 18, and also Mohamed Labrouzi, a student of the training center who had traveled to Munich to inform Mohsen about Cenafe's proposal.
The Spanish center aims to rent an apartment for Mohsen and his family in Getafe city, south of Madrid.
Mohsen was a professional soccer coach in the eastern Syrian province of Deir al-Zour before fleeing the deadly conflict in the war-ridden Arab country.
The file photo shows Osama Abdul Mohsen (standing, far left) when he was a soccer coach in the eastern Syrian province of Deir al-Zour.
Lives changed forever
"We are a center for coaches and we like to help everyone who works in this area," said Galán, Cenafe's director.
Meanwhile, Sara Hernández, the mayor of Getafe, announced that the institution under her watch "will work with Getafe FC so that the father can coach there, seeing as he has experience in that area," adding, "This is a step to show the solidarity of the city of Getafe in response to this human drama."
Video footage released on September 8 showed a Hungarian camerawoman tripping up Mohsen while fleeing the police at the country's southern border with Serbia.
The journalist, identified as Petra Laszlo, worked for right-wing television channel N1TV, but was removed from her position following the incident.
Syria has been facing foreign-backed militancy since 2011. Takfiri militants have been carrying out horrific acts of violence, including public decapitations, against Iraqi and Syrian communities such as Shias, Sunnis, Kurds and Christians, forcing many people to leave their home countries.
The departures have led to an unprecedented influx of refugees to Europe. The European Union Frontex external border agency said in a statement on Tuesday that more than half a million refugees have been counted on the bloc's borders so far this year.
http://www.presstv.ir/Detail/2015/09/17/429560/Spain-Syria-Hungary-Osama-Abdul-Mohsen-Cenafe-Deir-alZour-Getafe
----------
US invasion of Iraq led to creation of Daesh, Russia says
Sep 17, 2015
Russia's Ambassador to the United Nations (UN) Vitaly Churkin says the 2003 invasion of Iraq by the United States led to the ripening of the Daesh (ISIL) terrorist group in the Middle East.
In an interview with the Russian news agency Rossiya Segodnya on Wednesday, Churkin said Daesh "ripened in Iraq during the US occupation… The American occupation should be blamed for the rise of ISIS (Daesh)."
The Russian diplomat called for the creation of an "international coalition" to fight the extremist militants operating in Syria and Iraq and termed the current US-led coalition purportedly targeting Daesh as "flawed."
"The [US-led] coalition acts without the UN Security Council mandate and lacks some very important actors such as the Syrian government. That is why it is flawed," Churkin said.
The comments came a day after Russian President Vladimir Putin, speaking at the Collective Security Treaty Organization (CSTO) summit in the Tajik capital of Dushanbe, proposed the formation of "a wide coalition to fight extremists without any delay. It should unite everyone who is ready and is already contributing to tackling terrorism."
A file photo of Daesh militants
Also on Wednesday, the Russian Foreign Ministry said in a statement that the US-led coalition's airstrikes against purported Daesh positions had failed to stop the terrorist group's "expansion."
Since September 2014, the US along with some of its allies has been conducting air raids against what are said to be Takfiri Daesh terrorists inside Syria without any authorization from Damascus or a UN mandate.
The air assaults in Syria are an extension of the US-led aerial campaign against purported Daesh positions in Iraq, which started in August 2014.
Russian aid to Damascus 'lawful'
In his Wednesday remarks, Churkin, the Russian UN envoy, also defended Moscow's military and humanitarian help to Damascus, saying all actions taken by his country in Syria "are coordinated with the Syrian government and stay within the norms of international law."
Washington has objected to Moscow over the latter's military aid to the Syrian government.
Moscow has been one of the main supporters of Syria since the foreign-backed militancy erupted in the Arab country in March 2011.
The conflict has claimed the lives of about 250,000 people, and caused nearly half of Syria's pre-war population of 23 million to flee the country, with many thousands attempting to reach Europe.
Who's the culprit?
In a phone interview with Press TV, political commentator Dmitry Babich said the reason why the US is making a fuss about Russia's military aid to Syria is that Washington wants to "deflect attention from the American actions in…[Syria] and from the actions of the entire Western alliance [there]."
He further said that Washington is now even trying to use international organizations to "make Russia look like a culprit," in the situation in Syria, while Moscow has not violated any laws since the eruption of the crisis in Syria. This is while, he said, the US and the European Union (EU) have supported an "armed insurgency" in the sovereign Arab state.
http://www.presstv.ir/Detail/2015/09/17/429539/Russia-US-Iraq-Daesh-Churkin-
----------
Arab World
Egyptian Security Forces Kill 55 Militants in Sinai
September 17, 2015
CAIRO - Egyptian security forces killed 55 militants in Sinai on the ninth day of an operation against Islamists in the area, the military said in a statement on late Tuesday.
It was not possible to independently confirm the figure. Egypt is battling an insurgency that gained pace after its military overthrew President Mohamed Mursi of the Muslim Brotherhood Islamist movement in mid-2013 in the wake of mass protests against his rule.
The insurgency, mounted by Islamic State's Egyptian affiliate, has killed hundreds of soldiers and police and has started to attack Western targets within the country. In Tuesday's fighting, two soldiers were killed, the military said.
Full report at:
http://nation.com.pk/international/17-Sep-2015/egypt-kills-55-militants-in-sinai
----------
At Least 37 Terrorists Killed, Injured in Lattakia
Sep 17, 2015
The army targeted terrorists' positions in the vicinity of Bojak Castle and Beit Shrouq village in the Northern countryside of Lattakia, killing 15 terrorists and injuring 22 others. A wireless communication station was also destroyed.
The army, backed by the Syrian air force, also targeted terrorists' hideouts in Birnass village and Salma town, and killed a number of terrorists and destroyed a large number of vehicles, some of them equipped with machineguns.
A large group of Takfiri militants were killed and injured in military operation in Northeast of Jub al-Ahmar village.
Full report at:
http://english.farsnews.com/newstext.aspx?nn=13940626000317
----------
10 Civilians Killed in Saudi Airstrikes on Hajjah
Sep 17, 2015
According to the Arabic-language Al-Alam website, Saudi warplanes bombed a vital bridge near popular market in Sharas district in Hajjah, killing 10 civilians and injuring 13 others.
Saudi Arabia has been striking Yemen for 176 days now to restore power to Hadi, a close ally of Riyadh. The Saudi-led aggression has so far killed at least 5,954 Yemenis, including hundreds of women and children.
Full report at:
http://english.farsnews.com/newstext.aspx?nn=13940626000489
----------
Ringleader of Jaish al-Hur Terrorist Group Killed in Daraa
Sep 17, 2015
Units of the army on Wednesday continued to launch wide-scale operations against the Takfiri terrorist organizations across the country, inflicting heavy losses upon them in arms and personnel.
The army killed a number of terrorists and destroyed their vehicles in a battle in the Southwest of Kherbat Ghazaleh and Jisr al-Ghariya in Daraa countryside.
Earlier, units of the army and armed forces on Wednesday carried out bombardments against hotbeds of Jabhat al-Nusra and other terrorist organizations in the Southern Daraa province.
A unit of the army on Tuesday night and Wednesday morning carried out precise operations against positions and supply routes of the terrorist organizations at the western entrance of the Old Customs building and in the surroundings of the Police Housing Compound and at the road near the mosques of al-Hamza and al-Abbas in Daraa al-Balad neighborhood,a military source said.
The source added that a number of terrorists were killed in the operations and others were injured and one of their vehicles was destroyed with all the arms and ammunition onboard.
Meanwhile, the Takfiri terrorist organizations admitted on their pages on the social networking websites that Yaser Abdul-Rahman al-Khalaf, a self-claimed leader of the so-called 'al-Jaish al-Hur' terrorist group, was killed.
Also in the past 24 hours, the army units established control on Abu Zaid hill and other surrounding hills that overlook Damascus-Homs highway in Harasta, Damascus countryside, killing a big number of terrorists and destroying their weapons.
Earlier, army and Armed Forces units, in cooperation with the Lebanese resistance, established control over more city blocks in al-Zabadani city, a military source said.
The source said that an army unit, assisted by the Lebanese resistance, established full control over a number of blocks in Ein al-Himma, al-Maidani, al-Kubra, and al-Adaima in al-city which is located around 45km Northwest of Damascus following a series of special operations.
The operations resulted in eliminating terrorists' hotbeds in the aforementioned areas and destroying their weapons and ammo, and army units and resistance forces are continuing to advance towards the city center to rout the remaining terrorists in it.
An army unit in cooperation with the Lebanese resistance foiled a terrorists' attempt to escape from al-Zabadani city through the sewerage network to al-Zabadani plain.
Terrorist organizations acknowledged on their pages on social media sites the death of many of their members, including Walid Abad al-hamid Alloush, Alaa Hasan al-Agha and Mohamed Shibli.
An army unit carried out intensive operations against terrorists of 'Jaish al-Islam' in Jabal al-Makal'a al-Hafiria to the West of Douma in Damascus Countryside, killing a number of terrorists.
The operations resulted in the destruction of ammo cache, an armored vehicle, a vehicle equipped with heavy machinegun, and a bulldozer.
Also in Aleppo, the army units destroyed armored vehicles, a rocket launcher and two heavy machineguns for the terrorists at al-Mansoura village, Scientific Research building, the neighborhoods of Khan al-Assal and al-Rashedeen.
Other army units targeted terrorists' hotbeds in the neighborhoods of Salah Eddin, Bani Zaid, al-Mayser, al-Zebdiyeh and al-Ramouseh , killing a number of Jabhat al-Nusra terrorists and destroying their arms and ammunition.
The army units defending the Air Force Academy destroyed vehicles, some of them equipped with machineguns, for ISIL terrorist organization and killed a number of terrorists in the vicinity of the Academy in the eastern countryside of Aleppo.
The army carried out intensive operations on the terrorists' gatherings and hotbeds in Khanaser town, the villages of Balat and Tal al-Ne'am, Southeast of Aleppo city, as it targeted their gatherings in Tal Reiman and Tal al-Amodi in the Eastern countryside of Aleppo where a number of terrorists were killed and their vehicles, ammunition and arms were destroyed.
Full report at:
http://english.farsnews.com/newstext.aspx?nn=13940626000495
----------
Syrian Forces Inflict Heavy Losses on Militants in Aleppo
Sep 17, 2015
The army destroyed terrorists' positions in the neighborhoods of al-Ramouseh, al-Sakhour, al-Kallaseh and al-Lairamon.
The troops also attacked ISIL concentration centers near the air force academy, killing scores of terrorists and destroying their machinegun-equipped vehicles.
The army also destroyed terrorists' positions near al-Neirab Airport and in al-Amryeh in the Southern countryside of Aleppo.
A group of terrorists were also killed and injured in military operations in Kafr Na'al village in the Southwestern countryside of Aleppo.
Full report at:
http://english.farsnews.com/newstext.aspx?nn=13940626000544
----------
Syria starts using new Russian arms: source
17 September 2015
The Syrian military has recently started using new types of air and ground weapons supplied by Russia, a Syrian military source said on Thursday.
The source described the weapons as highly accurate and effective, adding that the army had started using them in recent weeks having been trained in their use in Syria in recent months.
"New weapons are being delivered, and new types of weapons. The Syrian army is being trained in the use of these weapons. In fact, the army has started using some of these (weapon) types," the source said in response to a question about Russian military support.
Full report at:
http://english.alarabiya.net/en/News/middle-east/2015/09/17/Syrian-army-starts-using-new-weapons-from-Russia-.html
----------
Saudi Arabia condemns Israeli actions on Aqsa
17 September 2015
An official source has said on Thursday that Saudi Arabia expressed complete disapproval and denounced Israel for its recent violations against the sanctity of Al-Aqsa Mosque compound, which is considered to be Islam's third holiest site.
The source also added that Saudi Arabia will hold Israeli authorities fully accountable for any consequences resulting from acts of "illegal aggression," stressing that any attacks will lead to serious consequences and fuels extremism and violence.
The Gulf Arab Kingdom also added that acts in recent days are incompatible in accordance to established principles and international laws that have been agreed upon on Al-Aqsa Mosque.
The Saudi official also confirmed that Saudi Arabia unequivocally refuses any policy that suggests Al-Aqsa Mosque be divide and time-shared between Jews and Muslims, warning that of such policies would only lead to escalation of tensions and serious consequences.
It has also called on the international community to take serious and immediate steps to compel Israeli authorities to halt border police attacks on the compound.
Saudi King Salman had informed Palestinian President Mahmoud Abbas that he had been in contact with world leaders regarding the mosque and that he had asked Saudi Foreign Minister Adel al-Jubeir to take all necessary measures to protect al-Aqsa, the Palestinian news agency WAFA said.
Full report at:
http://english.alarabiya.net/en/News/middle-east/2015/09/17/Saudi-condemns-Israeli-actions-on-Aqsa.html
----------
Deadly suicide attacks target Iraqi police
17 September 2015
Iraq officials have said that two suicide attacks on Thursday targeting police in commercial areas in Baghdad have killed 14 people.
Police say both attacks on Thursday morning were carried out by bombers on foot, wearing explosives-laden vests.
One bomber struck in Baghdad's Bab al-Sharji area, killing eight civilians and a police officer there. Twenty-one were wounded in that explosion.
The second bomber hit in al-Wathba Square, killing five people, including two policemen, and wounding 12.
Full report at:
http://english.alarabiya.net/en/News/middle-east/2015/09/17/14-killed-in-two-suicide-attacks-targeting-police-in-Baghdad.html
----------
Saudi forces arrest ISIS cell
16 September 2015
Saudi Arabia has arrest two wanted suspects among an ISIS cell, in two separate operations in Riyadh and Darma.
An official statement from the interior ministry said it received information about suspicious movements from a group of people in Mounissiya district in Riyadh and in the city of Darma.
The two were arrested by security forces as part of a prepared operation late Tuesday.
During an interview with Al Alarabiya News, Extremist Groups Researcher Hammud Al-Ziyadi hailed the father of the two arrested saying that reporting them missing helped in "qualitative effort that was achieved with the help of one of the citizens."
In Riyadh, and after the security forces cordoned off their house in Mounissiya district, two wanted men opened fire and threw grenades toward the security members who succeeded in neutralizing and arresting them.
The arrested were Ahmed Mohammed Saeed Zahrani, 21 years, and his brother Mohammed, 19.
Full report at:
http://english.alarabiya.net/en/News/middle-east/2015/09/16/Saudi-forces-arrest-ISIS-cell.html
----------
2 terrorists caught in Riyadh; 2 on the run
16 September 2015
JEDDAH: Security agencies have arrested two terror suspects and are on the hunt for two others, according to the Interior Ministry on Wednesday.
The two have been identified as Ahmed Said Jabir Al-Zahrani, 21, and Mohammed Said Jabir Al-Zahrani, 19, who were arrested at their hide-out in Riyadh, said Maj. Gen. Mansour Al-Turki, spokesman of the Interior Ministry.
Al-Turki said security officers, acting on reports of suspicious activity and that the men had weapons in their possession, cordoned off a house in Monasiyah district on Tuesday. A gunbattle ensued, with the suspects also throwing a grenade at the officers. They were eventually overpowered and arrested, he said.
Continued from Page One
At the house, the officers seized cash of SR402,101 and $5,500, three machine guns, 36 bullet magazine holders, 2,848 rounds of machine gun ammunition, three handguns, 10 handgun magazines, five grenades, one car plate, and mobile phones and laptops.
The police also found a printer to forge identity cards with one packaging device, several identity cards that may be forged, a scanner, surveillance cameras, hand-drawn maps of targeted sites, and military backpacks to carry ammunition.
Meanwhile, the hunt is on for two other men who fled from a holiday resort in Darma Province, about 60 km west of Riyadh. Al-Turki said that officers had launched an operation at the resort after receiving reports that two men were acting suspiciously and had weapons in their possession.
Full report at:
http://www.arabnews.com/featured/news/807071
----------
King: Teach youth to shun extremism
17 September 2015
MAKKAH — Youth are the real resources of every nation, providing impetus for development, Custodian of the Two Holy Mosques King Salman said in a speech delivered on his behalf by Makkah Emir Prince Khaled Al-Faisal at the 16th Makkah Conference being organized by the Muslim World League (MWL).
The King said the Muslim Ummah must train their youth in science and technology to enable them to succeed in the world. They should also be taught the path of correct Islam based on moderation and rejection of extremism. On behalf of the King, Prince Khaled conveyed the condolences of the Kingdom to the families of the victims of the crane crash accident.
Full report at:
http://www.saudigazette.com.sa/index.cfm?method=home.regcon&contentid=20150917256894
----------
330 ISIS members killed in British strikes
17 September 2015
About 330 ISIS fighters have been killed in British air strikes since the Royal Air Force began carrying out raids against the group in September last year, Britain's Defense Secretary Michael Fallon has said on Thursday.
"This figure is highly approximate, not least given the absence of UK ground troops in a position to observe the effects of strike activity," Fallon said in a written parliamentary statement.
"We do not believe there have been any civilian casualties as a result of UK strike activity."
Britain has regularly conducted attacks on ISIS targets in Iraq as part of U.S.-led air strikes, but does not take part in raids in Syria after Prime Minister David Cameron lost a 2013 parliamentary vote to approve military action against Syrian President Bashar al-Assad.
Cameron is keen to win parliamentary backing to extend raids against ISIS into Syria with Fallon saying the current position is illogical.
Full report at:
http://english.alarabiya.net/en/News/middle-east/2015/09/17/Britain-says-it-killed-330-ISIS-members-since-air-strikes-begun.html
----------
The Middle East migrant crisis requires Middle East solutions
By NOAH BECK
09/16/2015
Political responses to crises are often tardy and embarrassingly fad-driven, as with the current global outcry over the image of a three-year-old Syrian boy washed up on the Turkish shore. He was hardly the first innocent victim of this century's most brutal war. Where has the world been for the past 54 months? Indeed, the unfolding humanitarian crisis was an entirely foreseeable consequence of President Barack Obama's spineless Syria policy, and the Western European leaders who followed it. So, despite Obama's efforts to anesthetize the public, it is understandable if some collective shame for Western failures – driven by tragic images that went viral – has prompted Europe suddenly to announce that it will accept more refugees from the war-torn Middle East.
But how did the West become more responsible for the Middle East refugee crisis than the wealthiest Middle East states (whose funding of Islamist rebels helped to create that crisis)? According to news reports and think tanks, Arab Gulf donors have funneled hundreds of millions of dollars to Syria in recent years, including to Islamic State and other groups.
Even if Gulf states weren't at all responsible for aggravating the Syrian refugee crisis by strengthening IS, their wealth, proximity and cultural/religious affinities with the refugees should still make these countries far more responsible than Europe is for their welfare. The vast majority of refugees are Muslim Arabs. They therefore share a common language, religion, culture and ethnicity with the wealthy Gulf countries that have shunned them for reasons of national security (as if the West didn't have such concerns). Any dialect or denominational differences Middle East refugees may have with Gulf states are nothing compared to the cultural, linguistic, ethnic and religious differences between most Middle East refugees and the European countries they hope to enter.
Even more absurd, Gulf countries are bringing in foreign laborers to build up their vast, oil-rich territories. Putting aside their horrific exploitation of those workers (which is a scandal all of its own, even if campus protests, international boycotts and UN resolutions never mention it), why aren't they instead accepting Middle East refugees who would happily accept the work that imported labor is now doing? Similarly, why have no Gulf countries granted Palestinian refugees citizenship if they so readily advocate for them at the UN out of purported concern for their welfare? The cynical hypocrisy is staggering.
By contrast, tiny Israel absorbed nearly a million Jews from the Middle East and North Africa who were similarly made homeless when, in the 1940s and 1950s, their survival meant fleeing the Muslim- majority states where they had lived for millennia.
Israel has also accepted plenty of non-Jewish refugees, from the Vietnamese "boat people" in the late 1970s to African refugees and migrants in recent years. Israel has provided humanitarian medical assistance to countless Syrians and now Israel's deputy minister of regional affairs Israel (an Arab Druse), has joined the leader of the political opposition in urging Israel to accept Syrian refugees, despite the demographic and strategic risks of doing so.
Yet Europe now tries to hurt Israel's economy by stigmatizing goods from the West Bank, with no similar economic campaigns against any of the Gulf countries, whose human rights records are exponentially worse on every issue (freedom of speech, women's rights, religious freedom, minority rights, gay rights, treatment of guest workers, helping refugees, etc.).
Such double standards will undoubtedly worsen as Europe becomes increasingly Muslim – a trend that will only intensify with the current refugee crisis. But appeasement hasn't kept Europe safe from Islamist attacks, as evidenced by the 2004 Madrid bombings, the 2005 London attacks, the 2014 Belgium attack and this year's attacks in Paris (to name just a few).
Europe clearly failed to integrate Muslim immigrants into its societies, which only reinforces doubts about the wisdom of bringing in more such immigrants.
More importantly, the EU's sudden, politically correct acceptance of refugees addresses the symptoms rather than the root cause: the rise of Islamic State – an evil cancer that metastasizes with each day that the world dithers. The longer IS survives, the more people are killed, tortured and enslaved, the more Syria's minorities are persecuted under an extreme Sunni Islamic rule and the more refugees desperately try to flee wherever they can.
Defeating IS will have to happen eventually anyway, because IS threatens everything that civilized life offers, so the sooner that painful task is accomplished, the sooner the related problems (like the migrant crisis) will be solved.
According to a New York Times article from last July, IS took territory from Syria and Iraq that is roughly the size of Indiana, so there is plenty of land to resettle refugees once IS is defeated.
Full report at:
http://www.jpost.com/Opinion/The-Middle-East-migrant-crisis-requires-Middle-East-solutions-416332
----------
South Asia
British jihadis in Bangladesh fanning flames of extremism, says Dhaka
16 September 2015
The prime minister of Bangladesh has warned David Cameron that he needs to do more to combat radicalism amid concerns that British jihadis are fuelling a rise in extremism in the world's third most populous Muslim nation.
Security and intelligence experts in Dhaka says British jihadis are stoking an Islamist revival in Bangladesh, schooling a new generation of young religious radicals sympathetic to Isis.
Recruiters and extremist funding from Britain's Bengali diaspora communities are encouraging locals to join the cause of international jihad, and the number of Bangladeshis involved in salafi groups is rising, the experts say.
"The British government should take more steps on the ground," the Bangladeshi prime minister Sheikh Hasina Wazed told the Guardian. "Jamaat [-e-Islami – Bangladesh's leading Islamist party] has a strong influence in east London. That's true. They are collecting money, they are sending money."
The warnings come after the arrest in Dhaka last month of Touhidur Rahman, a British man of Bangladeshi origin, who is alleged by police to be the "mastermind" behind the machete murders of two secular bloggers by Islamists earlier this year.
Several other cases linking individuals from Britain's Bengali population to extremist groups active in Bangladesh and elsewhere, including Jamaat-ul-Mujahideen (JMB), Islamic State and al-Qaida in the Indian Subcontinent (AQIS), have come to light in recent months.
Most recently, it emerged that two of the three British citizens recruited by Isis and killed by British and US drone strikes in Syria last month – Ruhul Amin and Reyaad Khan – were of Bangladeshi origin.
Security analysts, intelligence specialists and former officials in Dhaka warn that Bangladesh, a severely impoverished, low-middle income country with about 160 million people, is increasingly ripe for radicalisation.
Although the number of domestic terror attacks has fallen, in part due to a government crackdown, Sunni Muslim Bangladesh is undergoing a fundamentalist revival akin to that in Pakistan and several Middle East countries, the analysts said, and the lull in terrorist activity could quickly be reversed.
"Isis has its eye on Bangladesh," said an ex-army intelligence specialist, who like most of the people interviewed for this report asked not be identified.
"Unofficially, the number of Bangladeshis going to fight in Syria and Iraq is up to 30. Bangladesh is becoming a transit route to Isis from India. We also have growing numbers of Bangladeshi diaspora guys coming here from Britain to recruit," the intelligence specialist said.
Full report at:
http://www.theguardian.com/world/2015/sep/16/british-jihadis-bangladesh-extremism-uk-isis-sheikh-hasina
----------
Musa Qala district of Afghanistan cleared of Taliban militants, MoD says
By KHAAMA PRESS - Wed Sep 16 2015
The Ministry of Defense (MoD) said Wednesday that Musa Qala district in the restive Helmand province was cleared of the Taliban militants.
A statement by MoD said the clearing operation concluded this afternoon but did not provide further information in this regard.
The control of Musa Qala district fell to Taliban control last month following days of heavy clashes between the Afghan security forces and the militants.
The deteriorating security situation in Helmand province also forced the US military to deploy special operation forces.
Full report at:
http://www.khaama.com/musa-qala-district-cleared-of-taliban-militants-mod-says-1521
-----
President Ghani sending delegation to Nuristan to assess governance, security
By ZABIHULLAH MOOSAKHAIL - Thu Sep 17 2015
President Mohammad Ashraf Ghani in a meeting with representatives of the people of Nuristan province in the National Assembly, members of the Provincial Council and tribal elders have said that he will send a delegation to their province to assess the governance.
The meeting was organized at the Presidential Palace 'Arg' on Wednesday where Nuristan representatives shared their concerns with the President regarding the governance and security especially in Kamdesh, Barg Matal, Waygal and Nurgram districts.
President Ghani while praising the services and sacrifices of the people of Nuristan for the country said that he will send a delegation to assess the overall situation of this province and take necessary measures based on the findings of the delegation.
Full report at:
http://www.khaama.com/president-ghani-sending-delegation-to-nuristan-to-assess-governance-security-3918
----------
Bangladesh High Court ruling: Opposition leader Khaleda Zia to face graft trial
17 Sep 2015
DHAKA: Bangladesh's High Court has decided former Prime Minister Khaleda Zia can stand trial on corruption charges involving a contract for a coal mine with a Chinese company.
The court on Thursday quashed Zia's petition to scrap the case filed in 2008 by the country's official anti-corruption watchdog. A state counsel says the case will go ahead while the defence says it will appeal.
Full report at:
http://www.dawn.com/news/1207549/bangladesh-high-court-ruling-opposition-leader-khaleda-zia-to-face-graft-trial
----------
Mideast
PKK bomb attack, clashes kill 12 in Turkey
September 17, 2015
DIYARBAKIR, Turkey - Kurdistan Workers Party (PKK) militants killed three Turkish police officers overnight in a bomb attack on their armoured vehicle as they travelled along a highway in southeast Turkey, security sources said on Wednesday.
Another officer was seriously wounded in the attack in the Nusaybin district of Mardin province when explosives planted on the road were detonated by remote control. Police set up checkpoints across the district as they sought the assailants.
The sources said Turkish security forces killed nine PKK fighters in clashes elsewhere in the mainly Kurdish region, which has been hit by daily conflict since a ceasefire broke down in July, shattering a peace process launched in 2012.
Full report at:
http://nation.com.pk/international/17-Sep-2015/pkk-bomb-attack-clashes-kill-12-in-turkey
----------
Saudi Warplanes Kill 10 Yemenis in Sana'a
Sep 17, 2015
The Saudi airstrikes targeted a residential neighborhood in Sana'a early on Thursday morning, killing at least 10 people and injuring several others.
Saudi fighter jets also pounded a sports stadium and a military barracks in the capital, and some raids were also carried out on civilian targets in the provinces of Dhamar and Ma'rib.
Saudi Arabia has been striking Yemen for 176 days now to restore power to Hadi, a close ally of Riyadh. The Saudi-led aggression has so far killed at least 5,943 Yemenis, including hundreds of women and children.
Full report at:
http://english.farsnews.com/newstext.aspx?nn=13940626000240
----------
Israel returns Palestinian to detention without trial
September 17, 2015
JERUSALEM - Israel returned a Palestinian security detainee to prison on Wednesday after deeming him sufficiently recovered in hospital from a 65-day hunger strike that he began to protest being held without trial.
A relative said Mohammed Allan was resuming his fast now that he was again in custody. Allan ended his hunger strike last month after Israel's top court, citing his poor health, suspended his detention order - moves that dampened Palestinian rancour, which had threatened to spill over into bloodshed should he die.
Israel says Allan, 31, is an Islamic Jihad militant who had tried to organise attacks, but that taking him to court would risk exposing secret intelligence sources.
Allan, who denies the allegation, has called on Israel to charge him or release him. The case has focused attention on Israel's use of detention without trial, a practice that has drawn international concern and which has been challenged repeatedly by human rights groups in Israeli courts.
Allan was arrested when he was discharged from the Israeli hospital where he been receiving treatment and returned to a prison facility, an Israeli police spokeswoman said, citing the standing "administrative detention" order, which the court had frozen but not cancelled.
The hospital said he had been discharged in good health. Israel's Prisons Service, taking him into custody, said he was being held in one of its medical wards.
Full report at:
http://nation.com.pk/international/17-Sep-2015/israel-returns-palestinian-to-detention-without-trial
----------
Iran leader warns Guards against US infiltration
September 17, 2015
TEHRAN - Iranian supreme leader Ayatollah Ali Khamenei warned commanders of the elite Revolutionary Guards Wednesday to be on alert for "political and cultural" infiltration by the United States.
"The main purpose of the enemies is for Iranians to give up on their revolutionary mentality," Khamenei told a gathering of Guards commanders and personnel in Tehran. "Enemy means global arrogance, the ultimate symbol of which is the United States," he said, calling on the powerful branch of the military to protect the revolution. "Economic and security breaches are definitely dangerous, and have dire consequences," he said.
"But political and cultural intrusion by the enemy is a more serious danger that everyone should be vigilant about," he added. The enemies "are waiting for a time when the nation and system fall asleep, for example in 10 years when I may not be here, to realise their objectives," the 76-year-old said.
"But the nation and the authorities won't let that happen."
Khamenei, who has the final say on all policy matters, has repeatedly warned against the rise of Western influence in Iran after the nuclear agreement with world powers struck two months ago.
Full report at:
http://nation.com.pk/international/17-Sep-2015/iran-leader-warns-guards-against-us-infiltration
----------
Abbas slams Israeli violence at Jerusalem site
16 September 2015
Palestinian President Mahmoud Abbas on Wednesday criticized Israeli violence against Palestinians at Jerusalem's flashpoint Al-Aqsa Mosque during clashes over the past three days.
Abbas, speaking in particularly harsh language, insisted that none of Jerusalem's holy sites belonged to Israel.
"They are all ours and we will not let them desecrate it with their filthy feet," he said during a visit to Jerusalem earlier in the day. "We will protect Jerusalem and will protect our Christian and Muslim holy sites. We will not leave our homeland. We will remain holding every atom of soil in this homeland."
Rioting erupted between Israeli police and Palestinians at the Al-Aqsa mosque compound as Jews celebrated their new year between Sunday evening and Tuesday evening.
The Israeli police entered the compound to disperse protesters, in a response that sparked condemnation across the Arab world and concern that the tensions could spiral out of control.
The U.N.'s Mideast envoy, Nikolay Mladenov, warned on Tuesday that clashes between Israelis and Palestinians in and around Jerusalem's holy sites have the potential to ignite violence well beyond the walls of its old city, pointing to "a vicious tide of terror and extremism" in the region.
Also, French President Francois Hollande warned Wednesday that any change in the rules governing Jerusalem's flashpoint Al-Aqsa mosque compound could lead to "serious destabilization."
In a telephone call with King Abdullah II of Jordan, which has custodianship rights over the contentious holy site, Hollande expressed his "deep concern" over the recent clashes.
The compound is the third-holiest site in Islam and home to the Dome of the Rock and Al-Aqsa mosque. It is also the holiest site in Judaism which venerates it as the Temple Mount.
Jews are allowed to visit the compound, but cannot pray there to avoid provoking tensions with Muslim worshippers.
Full report at:
http://english.alarabiya.net/en/News/middle-east/2015/09/16/Abbas-criticizes-Israeli-violence-at-Jerusalem-holy-sites-.html
----------
IRGC Quds Force Commander: US Unable to Remove Hezbollah
Sep 17, 2015
The US through an alliance tried to remove Hezbollah in Lebanon but it had neither the power to curb Hezbollah nor formed a successful alliance, General Soleimani said, addressing the IRGC commanders in Tehran on Wednesday.
Hezbollah got stronger to the extent that today, its leadership declares its capability and power openly, he added.
Full report at:
http://english.farsnews.com/newstext.aspx?nn=13940626000405
----------
Saudi Soldier Calls on Riyadh to Stop Aggression on Yemen
Sep 17, 2015
In a footage aired by Yemen's al-Masirah TV, a soldier identifying himself as Ibrahim Mohammad Hakami can be seen calling on the kingdom's armed forces to put down their guns and reject Saudi Arabia's justification for the war on Yemen.
He then goes on to thank the Yemeni troops who captured him for their humane treatment of prisoners.
Saudi Arabia has been striking Yemen for 176 days now to restore power to Hadi, a close ally of Riyadh. The Saudi-led aggression has so far killed at least 5,943 Yemenis, including hundreds of women and children.
Full report at:
http://english.farsnews.com/newstext.aspx?nn=13940626000255
----------
High-Ranking Bangladeshi Officials Stress Further Broadening of Ties with Iran
Sep 17, 2015
During a meeting in Dhaka on Wednesday, Abdul Hamid and Zarif emphasized their respective countries' will to increase political and economic cooperation, underlining the importance of constant political consultations.
They also underlined growing mutual parliamentary cooperation and exchange of parliamentary delegations.
The Bangladeshi president congratulated Iran on the nuclear agreement with the world powers.
Meanwhile, in a meeting with Sheikh Hasina on Wednesday, Zarif said Iran is ready for the further expansion of ties with Bangladesh and elimination of commercial barriers to the development of bilateral ties.
He said energy sector of Iran can be a reliable partner to Bangladesh.
He underlined that what has brought about division in Yemen, Syria and Iraq is not sectarianism but political intentions.
Hasina, for her part, said that Bangladesh is willing to expand ties with Iran in various domains, including cultural and economic fields.
Zarif also told his Bangladeshi counterpart Abul Hassan Mahmoud Ali that after lifting of illegal and cruel sanctions against Iran, there will be good grounds for expansion of mutual relations.
Full report at:
http://english.farsnews.com/newstext.aspx?nn=13940626000262
----------
Saudi-Led Forces Pinned Down in Yemen's Marib
Sep 16, 2015
Reports said on Wednesday tha the massive fire power of the Yemeni army and popular forces has prevented the fall of Marib into the hands of the Saudis who are seeking use the towns as a platform to initiate a massive attack on the capital city of Sana'a. Reports mentioned that the Yemeni troops' missile and rocket attacks have inflicted heavy casualties and damage on the Saudi-led coalition ground forces.
According to al-Akhbar newspaper, the Yemeni forces' missile power has forced the Saudi-led coalition to deploy Patriot missiles in Safer region in Marib which was the scene of a large death toll among the Saudi-led forces in a single missile attack of the Yemenis early in September.
Some 300 coalition troops, including tens of UAE, Bahraini and Saudi soldiers, were killed in that single missile attack on the Saudi-led coalition forces' base in Safer region early this month.
Full report at:
http://english.farsnews.com/newstext.aspx?nn=13940625001247
----------
India
India's Jamaat-e-Islami slams IS for being un-Islamic
16 Sep 2015
Kozhikode: The Jamaat-e-Islami has attacked the Islamic State (IS) and decided to launch a campaign against it.
Speaking at a press conference in Kozhikode, leaders of the Jamaat said that the Caliphate sought to be revived by ISIS is a mockery of the real Caliphate.
According to Jamaat Kerala emir, M I Abdul Azeez, "The IS is wrongly interpreting the Quran to suit its needs. The hatred towards other religions professed by the IS is unheard of in Islam."
Full report at:
http://www.indiatvnews.com/news/india/jamaat-e-islami-slams-is-for-being-un-islamic-54625.html
----------
Muslim Students' Body Urges Youth to Battle Extremism
Sep 17, 2015
AURANGABAD: The Students Islamic Organisation of India (SIO) on Tuesday launched its nationwide campaign in the city to encourage youths to adopt a more constructive mindset and refrain from different forms of extremism.
The campaign titled 'We for Constructive Thoughts' aims to address students on issues such as communalism, religious intolerance and self-centred attitude.
As part of the campaign, workshops and exhibitions were held in a few city colleges with more such activities planned in other institutions, including Dr Babasaheb Ambedkar Marathwada University by the end of the campaign on September 22.
"Domestic unrest and global turmoil has given way to hatred towards other communities. It could spell doom for a pluralistic society like India. If we have to progress economically and socially, the student community needs to have a more balanced and moderate approach," said Anwar Shaikh, state president of SIO (south Maharashtra).
Addressing newsmen on Tuesday, he said SIO aims to make the students interested and engaged in affairs of the nation through its campaign.
Iqbal Hussain, SIO national president, said the campaign has been based on the organisation's biennial policy that reviews current issues and prepares recommendations.
"The student community today is vulnerable to getting polarised at the hands of different anti-national forces. Our country has as much as 65% population below the age of 35 years. If this large number of youths becomes aware of social issues, they can ensure inclusive development of the country at a faster rate," he said.
Full report at:
http://timesofindia.indiatimes.com/india/Muslim-students-body-urges-youth-to-battle-extremism/articleshow/48995767.cms
----------
Hurriyat Leaders Vow To Continue Martyrs' Mission
17 Sep 2015
September 16 (KMS): In occupied Kashmir, Hurriyat leaders have reiterated the Kashmiris' resolve to continue the liberation struggle till martyrs' mission is taken to its logical conclusion.
The leaders including, Zamruda Habib, Shabbir Ahmad Dar and Farooq Ahmad Towheedi along with delegations visited Padgampura in Pulwama and expressed solidarity with the family of martyred youth, Irshad Ahmad Ganai, who was killed by Indian troops during siege and search operation a few days ago.
On the occasion, Zamruda Habib called upon Indian rulers to realize the sensitivity of the Kashmir dispute and take steps for settlement of the dispute as per Kashmiri asPeerations.
Shabbir Ahmad Dar, who led a delegation to Pulwama, talking to people at the residence of the martyr said that the martyrs' sacrifices were the asset of the Kashmiri people.
Farooq Ahmad Towheedi said that martyrs had been offering sacrifices to associate the future of Jammu and Kashmir with Pakistan.
Full report at:
http://www.kmsnews.org/news/2015/09/16/hurriyet-leaders-vow-to-continue-martyrs-mission.html
----------
Maulana Wahiduddin Khan Receives Lifetime Achievement Award in the USA
16 September 2015
Renowned Islamic scholar and author of several books, Maulana Wahiduddin Khan, was conferred the Lifetime Achievement Award by the Islamic Society of North America (ISNA) at their 52nd Annual Convention in Chicago on September 6, 2015.
Presenting the award, the President of ISNA Mr. Azhar Azeez appreciated the Maulana's lifelong contribution towards working forpeace andbuilding bridges and mutual understanding between people of different faiths.
At the event, Dr.Sayyid Syeed, ISNA's National Director for Interfaith and Community Alliance, released the Maulana's latest book, The Age of Peace. He urged the audience to read the book and remarked that there was a dire need to discuss and understand the ideology of peace which the Maulana had presented.
In his acceptance speech the Maulana said that peace and spirituality were two sides of a single coin. He explained that spirituality is the inner content of peace and peace is the external manifestation of spirituality.
The ninety-year old Maulana was on a two-week visit to the US on an invitation by ISNA.He addressed a number of gatherings including those at the United States Institute of Peace (USIP) and the All Dulles Area Muslim Society (ADAMS).
---------
Believes In Democratic Ways of Struggle: Jei
September 10, 2015
Jammu and Kashmir Jamaat-e-Islami (JeI) today insisted on peaceful democratic ways to resolve the Kashmir issue, saying it did not support "armed struggle" to achieve the goal.
"Jamaat was never supportive of the armed struggle... neither in the past nor will it do in future. We believe in democratic ways of struggle even if we have to wait for 100 more years," newly elected 'Amir' (chief) of JeI Ghulam Mohammad Bhat told reporters here.
Bhat, who during his earlier tenure as the JeI chief had disowned Hizbul Mujahideen as the armed wing of Jamaat, said the constitution of the party did not allow underground activities.
"Our constitution is an open book. We have never taken up arms," he said, adding "we consider Kashmir as a dispute and will continue our peaceful struggle for resolution of the issue through peaceful democratic means."
Bhat, who was elected as the Amir for the fourth time last month, said Jamaat believes in resolution of Kashmir issue through implementation of UN resolutions or tripartite talks among India, Pakistan and people of Kashmir.
"Normalisation of relations between India and Pakistan is not possible without resolution of Kashmir issue. This is the biggest obstacle in resolution of other outstanding issues between the two countries," he said.
Asked why his party is continuously boycotting the elections even as its constitution allows it, the Jamaat chief said "we are not against elections provided these are held under the supervision of the UN."
Full report at:
http://www.business-standard.com/article/pti-stories/believes-in-democratic-ways-of-struggle-jei-115091000833_1.html
----------
Home Ministry Tells Delhi High Court: Fighting IS Can Lead To 'Sectarian' Conflict in India
By Utkarsh Anand
New Delhi
Sep 17, 2015
The government Wednesday said it does not want Indians to fight against the Islamic State (IS) in Iraq and Syria since that can "directly result in sectarian conflict in India". Submitting an affidavit in the Delhi High Court, the Ministry of Home Affairs (MHA) said it wanted to restrain Indian citizens from travelling to Iraq and Syria to participate in the ongoing conflict there because they could get radicalised and, on their return, indulge in extremist activities in India.
"Allowing any sect to take part in the conflict in Iraq/Syria would have had repercussions on other sects in India. This could directly result in sectarian conflict within India, which is not in the interest of the nation," the affidavit stated.
The MHA contended that joining the fight against the IS was tantamount to "terrorist activities" and this would "adversely impact friendly relations with the foreign countries". "Allowing an Indian to go to another country to take part in a conflict would lead to allegations that the Indian government is promoting terrorism in other countries," the MHA said, adding that the safety of such volunteers would also be at stake. Citing resolutions adopted by organisations such as the Lucknow-based All India Shia Hussaini Fund and All India Shia Federation, the MHA said it has received credible inputs that these organisations had sought to register volunteers willing to fight against the IS in Iraq and Syria and, therefore, pre-emptive steps ought to be taken. The MHA affidavit was filed in response to a court notice on a PIL by Delhi-based lawyer Mehmood Pracha. Pracha had challenged a decision to issue a look-out-circular against him and five other members of the Shia organisation Anjuman-e-Haideri (AeH). According to Pracha's petition, the delegation intended to travel to Iraq on a humanitarian mission, but was stopped from boarding a flight in November last year and their passports were endorsed "offloaded". The lawyer sought disbanding of the Intelligence Bureau (IB), questioning the validity of its formation and functioning. Then, in January this year, the MHA stopped Greenpeace activist Priya Pillai while she was heading to London to speak on the alleged violation of forest rights of tribals. Pulling up the government over attempts to muzzle voices of dissent, the Delhi High Court had quashed the look-out-circular and the "offloaded" endorsement on her travel documents. In his petition, Pracha drew a parallel with Pillai. In May, the MHA, rattled by the HC order two months ago, agreed to expunge the "offloaded" endorsement from Pracha's passport and also modified the look-out-circular, saying Pracha could travel to Iraq if he submitted an undertaking that it was for pilgrimage and that he would not make statements about Iraq or do anything that may disturb sectarian amity in India. But it defended invocation of the look-out-circular, saying it relied on an IB advisory which stated that Pracha and other AeH members sought to travel to Iraq to discuss modalities for sending volunteers from India to fight in Iraq, which is why they were detained at the Delhi airport.
http://indianexpress.com/article/india/india-others/home-ministry-tells-delhi-high-court-fighting-is-can-lead-to-sectarian-conflict-in-india/
----------
Muslim leaders in Mumbai draw up growth plan for youth
Mohammed Wajihudin
Sep 17, 2015
MUMBAI: Some Muslim groups in the city have initiated steps to dispel gloom and remove the feeling of victimisation among the community youths.Muslim intellectuals and community leaders are chalking out a long-term plan to infuse positive attitude among the youths to discourage them from being lured by extremists.
In an effort to put the community on the path of progress, All India Milli Council and Mumbai Aman Committee jointly held a discussion titled "Community Initiative towards Development" at Anjuman-I-Islam near CST on Friday .
"The idea is to make the community self-reliant and stop it from depending on crutches like reservation. Very soon our team will start visiting Muslim-dominated pockets and try to find the ills that bedevil the community members and impede their progress," said All India Milli Council (Maharashtra) general secretary M A Khalid. He added that just after 1993 serial blasts con vict Yakub Memon's hanging last month some community leaders decided to gauge the community's mood and asked Muslims to send in suggestions about bringing the community out of the rut it is in."The response show that there is an urge to move forward," said Khalid.
Full report at:
http://timesofindia.indiatimes.com/city/mumbai/Muslim-leaders-in-Mumbai-draw-up-growth-plan-for-youth/articleshow/48994098.cms
----------
Batla House encounter: Ulema Council seeks to meet PM Narendra Modi, pitches for judicial probe
by Mohd Faisal Fareed
Lucknow
Sep 15, 2015
The Rashtriya Ulema Council (RUC) is set to seek a meeting with Prime Minister Narendra Modi to demand a judicial probe into the 2008 Batla House encounter. It has also booked nearly all seats of the Delhi-bound Kaifiyat Express to stage a dharna at Jantar Mantar on September 19 to protest against the encounter. Claiming that they have suffered a lot during Congress regime and now expect the Modi government to attend to their demands, RUC president Maulana Amir Rashadi said: "Modi has announced that his doors are open for Muslims even at midnight. We want to meet him at 12 noon. A formal letter requesting an appointment will be sent tomorrow." "We will explain to him the injustice done to us during the Congress regime. Our boys were murdered by police in a fake encounter. The Congress did not accept our demand for a probe. We hope Modi will be different from Congress. Let us see what is his opinion," he added.
Full report at:
http://indianexpress.com/article/cities/lucknow/batla-house-encounter-ulema-council-seeks-to-meet-pm-narendra-modi-pitches-for-judicial-probe/
----------
Pakistan
Setback for Jamaat-e-Islami as PPP wins PK-93 by-poll
September 17, 2015
DIR: The Jamaat-i-Islami (JI) suffered a setback in one of its traditional strongholds as the Pakistan People's Party (PPP) candidate Sahibzada Sanaullah won the by-election for the Khyber Pakhtunkhwa Assembly seat PK-93 in Upper Dir district on Tuesday.
According to unofficial results from 90 out of 134 polling stations, PPP candidate Sahibzada Sanaullah polled 21,850 votes while JI's Malik Azam Khan got 16,000 votes.
The seat had fallen vacant after Malik Behram Khan of the JI was disqualified by the Election Tribunal for possessing a fake degree. His son Malik Azam Khan was given the JI ticket to contest the by-election.
There were 148,796 registered voters in the constituency with the majority being males.
The women for the first time cast votes in a few polling stations in the constituency. In the past, the women were barred from voting by the male candidates and also by the local politicians under an agreement. The polling started at 8am and closed at 5pm.
There were strict security measures in place for the polling. All the polling stations were declared sensitive.
PPP candidate Sahibzada Sanaullah was backed by the Pakistan Muslim League-Nawaz, Jamiat Ulema-i-Islam-Fazl and Awami National Party. The PTI had announced support for JI's Malik Azam and its leader Saifullah Niazi had accompanied the JI chief Sirajul Haq to attend a public meeting during the election campaign in Wari town.
Full report at:
http://www.thenews.com.pk/Todays-News-2-340804-Setback-for-Jamaat-e-Islami-as-PPP-wins-PK-93-by-poll
----------
Ulema to help govt draft law against sectarianism
By Sehrish Wasif
September 16, 2015
ISLAMABAD: Following their meeting with the prime minister last week, religious scholars and clerics have endorsed the government's move to tackle sectarianism, adding that they will help draft a bill in this regard.
Ulema Council chairman Maulana Tahir Ashrafi told The Express Tribune that particulars for the proposed bill will be taken up during the upcoming meeting of the Council of Islamic Ideology (CII), adding that members of the council are expected to finalise a draft after Eidul Azha.
"We have always supported the government whenever it has decided to fight against people spreading sectarianism and hatred and one of the best examples is that we have fully endorsed National Plan of Action," he said. Along with sectarianism, the proposed bill will also list Takfir – the act of a Muslim declaring another Muslim a 'Kafir' – as a serious offence.
Wafaqul Madaris Al-Arabia secretary general Qari Muhammad Hanif Jalandhari said that the government should ensure across the board implementation of the law without any discrimination.
Full report at:
http://tribune.com.pk/story/957564/ulema-to-help-govt-draft-law-against-sectarianism/
----------
Police arrest former air force pilot for financing Qaeda
September 17, 2015
KARACHI - Pakistani police have arrested a former Air Force pilot who later donated funds to the Taliban and Al Qaeda, police told Reuters on Wednesday, in a rare case targeting those who financially contribute to militancy.
The suspect, Syed Sheaba Ahmed, was detained in Karachi.
He paid for the treatment of injured Taliban militants at a hospital in Lahore, police said.
He also influenced two militants involved in an attack on a busload of minority Shi'ite Ismaili Muslims in May that killed 45 people, senior police officer Naveed Khawaja from the provincial Counter Terrorism Department told journalists.
He will be charged with terror financing, said Khawaja.
"Ahmed has also been financing Afghan Taliban, we are still in the process of ascertaining if he has been providing financing through his businesses or someone else is behind him," the officer said.
"Ahmed was also providing financial assistance to AQIS," Khawaja said, referring to Al Qaeda in the Indian Subcontinent, a branch of Al Qaeda that was founded a year ago.
The arrest is a rare success for Pakistan's police force, struggling with militancy and corruption as well as crime.
After Taliban gunmen massacred around 150 people, mostly children, at an army-run school in December, the government vowed to crack down on militancy.
Attacks have fallen sharply as the military has also pushed further into the lawless tribal regions bordering Afghanistan.
But militant groups remain a threat, and many have followers in Pakistan's cities, which fall under the control of the chronically under-trained and under-funded police force.
Ahmed, 52, used to give sermons at a mosque in Karachi's upscale Defence Housing Authority neighbourhood.
His public sermons were moderate, but privately he encouraged radicalism, police said.
He previously studied at the Pakistan Air Force College in Sargodha city, and left the Air Force in 1998, another security official told Reuters on condition of anonymity.
He later went into the paint and chemicals business.
Meanwhile a Counter Terrorism Department (CTD) statement said Ahmed, whose name was disclosed by Safoora Carnage accused during interrogation, confessed to his association with Tanzeem-e-Islami.
Full report at:
http://nation.com.pk/national/17-Sep-2015/police-arrest-former-air-force-pilot-for-financing-qaeda
----------
Religious harmony need of the hour'
September 17, 2015
Israr Ahmad
Rawalpindi - City Police Officer (CPO) Israr Ahmed Khan Abbasi said yesterday that every person should play role to combat the menace of terrorism, extremism and sectarianism while setting aside the personal differences. "The religious harmony is need of the hour and we should prove ourselves as a peaceful nation by showing brotherhood and unity," he said. He added that police would provide foolproof security to the processions of Moharram-ul-Haram in the city. He said the hate speeches are banned and strict action would be taken against the violators.
CPO Abbasi expressed these views while meeting the delegates of Peace Committee. The meeting reviewed security arrangements for Moharram. The meeting was also attended by ADCG Aqeel Ahmed Khan, SSP (Operations) Karamat Ullah Malik, Pir Syed Izhar Hussain Shah Bukhari, Syed Javed Shah, Saif Ullah Mufti, Mufti Haneef Qureshi, Qari Idrees Haqqani, Pir Javed Lahori and many other religious scholars and Ulema.
Addressing the meeting, Abbasi said that police were all set to guard the processions and Majalis of Moharram while all the members of Peace Committee would be issued computerised cards by the government. He said the Ulema would have to play due role to combat the menace of terrorism.
Full report at:
http://nation.com.pk/islamabad/17-Sep-2015/religious-harmony-need-of-the-hour
----------
Missing key witness in graft cases against Zardari tracked down
MALIK ASAD
17 Sep 2015
ISLAMABAD: The National Accountability Bureau (NAB) told the Islamabad High Court (IHC) on Wednesday that a missing key witness in two corruption references against former president Asif Ali Zardari was now available to testify in the cases.
Additional deputy prosecutor general (ADPG) of NAB, Chaudhry Riaz while arguing in an appeal filed against the acquittal of Mr Zardari in ARY gold and Ursus tractors corruption references told the court that former joint secretary Ehtesab Cell, Hassan Waseem Afzal, was untraceable during the last government of the Pakistan People's Party (PPP).
He said that during the court proceedings against co-accused in the corruption references, Mr Afzal was summoned a number of times but he neither responded nor turned up to the court adding that the whereabouts of the witness were also not known at that time.
According to him, due to unavailability of the witness, the prosecution had to drop him from the witnesses list.
IHC division bench comprising Justice Noorul Haq N. Qureshi and Justice Aamir Farooq remarked that the prosecution could have issued arrest warrants for the witness to procure his attendance.
The bench, however, asked NAB to present the record of the trial in ARY and Ursus corruption references within a fortnight.
An accountability court in Islamabad acquitted Mr Zardari in the two corruption references (Ursus Tractors and the ARY gold import) on December 12, 2014 under Section 265-K of the Criminal Procedure Code which empowers a judge to acquit an accused if the evidence against him is insufficient.
The accountability court acquitted Mr Zardari after his counsel Farooq H. Naek informed the judge that the co-accused in both the references had already been acquitted by the accountability court.
ADPG Riaz told the IHC that during the trial of the co-accused the bureau did not place evidence against Zardari on the judicial record as at that time being president Mr Zardari was enjoying immunity under Article 248 of the Constitution of Pakistan.
Article 248 (2) says that no criminal proceedings whatsoever shall be instituted or continued against the President or a Governor in any court during his term of office.
After the end of the immunity when Mr Zardari relinquished the president's office, the bureau revived references against him and wanted to place the evidence before the court but he was acquitted under section 265-K, the additional deputy prosecutor general argued.
He contended before the court that the charges against Mr Zardari were framed by the Ehtisab bench of the Lahore High Court (LHC) but the accountability court did not conduct his trial under the charge sheets issued to him by the bench.
Full report at:
http://www.dawn.com/news/1207497/missing-key-witness-in-graft-cases-against-zardari-tracked-down
----------
Ministry identifies three major flaws in Nandipur plant
KHALEEQ KIANI
17 Sep 2015
ISLAMABAD: The Ministry of Water and Power has identified three major technical and procedural problems with the 525MW Nandipur power project and sought action against people responsible for the shortcomings.
Highly placed sources in the ministry told Dawn that the selection of a low capacity furnace oil treatment plant (FOTP) for such a big project, flaws in the long-term outsourcing of operation and maintenance (O&M) contract and awarding the contract to engineering, procurement and construction (EPC) contractors on a short-term basis were key shortcomings leading to failure of the project.
Moreover, the poor quality fuel believed to have been adulterated on its way to Nandipur from Karachi caused initial problems.
According to Petroleum Minister Shahid Khaqan Abbasi, the 525MW power plant will not have any technical problem if it is run on natural gas. He is reported to have opposed last year the selection of dual fuel combined cycle technology for the project on technical grounds but was overruled when a high-level meeting was informed that banks were not ready to extend funds unless the plant had alternative fuel.
Prime Minister Nawaz Sharif has ordered three separate investigations into the project. These are a probe by a team of the ministry and its attached departments on technical aspects, another by an audit firm of international repute and third by the Auditor General of Pakistan to look into procedural lapses, irregularities and misappropriations.
Take a look: PM orders audits of Nandipur project
Petroleum Minister Khaqan Abbasi says the power unit will not have any technical problem if run on natural gas
The sources said the ministry had completed its inquiry and blamed the management of the project and the Punjab chief minister without directly naming him. The sources pointed out Shahbaz Sharif's all-out support for the Nandipur project management, even going to the extent of recommending conferment of a civil award on the managing director.
The sources said it was an unusual move to appoint a bureaucrat as head of a crucial project whose machinery had been rusting at ports for years. According to them, usually engineers are made project directors till commercial operation is achieved and only after test trials these could be handed over to management experts appointed as managing directors.
The ministry has concluded that the FOTP installed at the plant is of inadequate capacity. It is capable of treating only 24 tons of furnace oil per hour against the required capacity of 32 tons. Due to the inadequate treating capacity of FOTP, the plant could not be operated on the total capacity of 425MW which otherwise has a designed capacity to touch 525MW on natural gas.
"The Nandipur management did not bring this serious issue to the knowledge of the board of directors as well as the ministry," said the report seen by Dawn. The management has remained unable to resolve the issue till to date.
The report also pointed out that post-bid changes had been made in the contract documents and agreed with the bidder in violation of Public Procurement Regulatory Authority rules. Secondly, the O&M contract was being outsourced for 10 years. The bidder quoted one year on furnace oil and for the next nine years the price had been left open and was subject to revision after conversion of the plant into natural gas. "Therefore, the bid price is inconclusive and not final," said the report.
Moreover, the National Electric Power Regulatory Authority (Nepra) "has not yet given tariff on gas because gas is not yet available at the plant site and has directed for submission of tariff request after conversion of the plant into gas".
It has been noted that the prices quoted in the O&M bid were not in line with Nepra's determined tariff. The calculations in original bid evaluation report are based on 90 per cent plant factor which was highly unrealistic for thermal power plants.
"The O&M cost per kilowatt hour based on these calculations has been substantially reduced and is misleading because normally 60pc plant factor is used," the report added.
Against a Nepra allowed O&M cost of about 30 paisa per unit (kwh), the cost quoted for O&M contract in this case was 25 paisa per unit higher (about 55 paisa per unit) with an annual financial impact of more than Rs80 million per year.
Full report at:
http://www.dawn.com/news/1207471/ministry-identifies-three-major-flaws-in-nandipur-plant
----------
Pakistan has second strike capability against India
17 Sep 2015
ISLAMABAD: Former defence secretary retired Lt Gen Naeem Khalid Lodhi has claimed that Pakistan possesses second strike capability against India.
He was speaking at a seminar at Strategic Vision Institute (SVI), an Islamabad-based think-tank that works on strategic issues.
The issue of second strike capability came up in the context of the conventional superiority enjoyed by India and the options for Pakistan.
The second strike provides a military the capability to hit back at an enemy in a situation where its land-based nuclear arsenal had been neutralized.
The former defence secretary said that despite the growing conventional imbalance, Pakistan had certain strengths including the nuclear parity with India and credible nuclear deterrence.
The nuclear deterrence, he said, had been augmented by the second strike capability, efficient delivery systems and effective command and control system.
He did not explain any specifics about the second strike capability, which could be sea, air or land based.
Full report at:
http://www.dawn.com/news/1207494/pakistan-has-second-strike-capability-against-india
----------
India worried about Afghanistan-Pakistan trade deals
September 17, 2015
ISLAMABAD: Pakistan and Afghanistan have shelved a raft of agreements that promised to more than triple cross-border trade, officials said, as economic ties seen as key to regional stability fall victim to rivalry and suspicion.
Afghan President Ashraf Ghani struck the trade deals with Pakistan soon after taking office last year as part of a broader rapprochement that included plans to share intelligence on Taliban insurgents active in both countries.
That cooperation was aimed at tackling the Islamist militant movement, which has separate Afghan and Pakistani branches whose violent campaigns kill thousands of people each year and hamper much-needed development.
The trade deals were supposed to be a step towards warmer relations and boosting Afghanistan-Pakistan trade from $1.6 billion now to $5 billion by 2017.
But officials told Reuters that the agreements, which include reducing tariffs and granting each other preferential trade status, have stalled.
"There has been no progress or further meetings for months since those agreements were signed," said Musafer Qoqandi, the Afghan Commerce Ministry's spokesman.
The key bone of contention was whether Pakistan would allow trade from old rival India to cross its territory.
The setback first emerged in April, but neither side was willing to discuss it amid attempts to salvage the agreements and maintain the appearance of unity.
But political relations deteriorated after a spate of Taliban attacks in Afghanistan last month, including several large blasts in Kabul, and the impasse over trade spilled into the open, further complicating efforts to save the deals.
Some Afghans blame Pakistan for supporting the Taliban, charges that Pakistan denies. As diplomats from the two countries swap blame, some are wondering how they can control militancy together if they cannot make progress on trade.
"If Pakistan and Afghanistan aren't able to agree on relatively simple trade initiatives that benefit both countries, how can they be expected to make progress in security co-operation?" asked Vaqar Ahmed, deputy executive director at Islamabad's Sustainable Development Policy Institute (SDPI).
Muzamel Shinware, Afghanistan's deputy commerce minister, told Reuters that it was "illogical and unfair" not to include Indian trade crossing Pakistan into Afghanistan.
Under the terms of the agreements, Pakistan was to have been allowed to ship its goods to markets in Central Asia and beyond via Afghan territory.
But the row over Indian goods has jeopardised the deals, with India and Pakistan locked in a decades-old standoff.
"If you put India on the table, then the whole thing stops," said a Pakistani official, speaking on condition of anonymity.
Pakistani Commerce Minister Khurram Dastgir Khan confirmed that progress was stalled and blamed Afghanistan for failing to deliver promised lower levies on Pakistani transit trade and to begin negotiations on a preferential trade agreement.
Afghanistan, in turn, blamed Pakistan.
Full report at:
http://nation.com.pk/national/17-Sep-2015/india-worried-about-afghanistan-pakistan-trade-deals
----------
Pak-US ties to strengthen in years ahead: Olson
September 17, 2015
Islamabad - The outgoing US ambassador Richard Olson has expressed the hope that Pakistan-US relations would be further strengthened in the years ahead.
Ambassador Olson made these remarks during his farewell meeting he separately held with President Mamnoon Hussain and Special Assistant to the Prime Minister on Foreign Affairs Syed Tariq Fatemi yesterday.
He conveyed his gratitude to the government and people of Pakistan for extending cooperation during his fruitful stay in the country.
Talking to the US ambassador, the President said that fighting terrorism is amongst Pakistan's top priorities and there is a national consensus and commitment to combating terrorism in all its forms and manifestations.
The President underlined that Pakistan's policy on dealing with terrorist sanctuaries and militant organizations is very clear and the ongoing military operation Zarb-e-Azb is targeting all terrorist outfits without discrimination.
President Mamnoon Hussain expressed satisfaction that Pakistan-US relations are progressing well and highlighted the need to upgrade bilateral relations to a long-term strategic partnership.
Referring to Prime Minister Nawaz Sharif's upcoming visit to the US, the President said that Pakistan keenly anticipates fruitful and productive engagements between the prime minister and President Obama during the said visit.
The President appreciated the security related assistance provided to Pakistan by the US government and underscored the need to expand cooperation between Pakistan and the US beyond counterterrorism.
Full report at:
http://nation.com.pk/national/17-Sep-2015/pak-us-ties-to-strengthen-in-years-ahead-olson
----------
Pakistan doubles scholarships offered to IHK students
September 17, 2015
ISLAMABAD - STAFF REPORT (FAWAD) - With a view to promote Kashmir cause and compensate the children of Kashmiri martyrs, Pakistan has doubled the number of scholarships offered to the students of occupied valley from 400 to 800, besides extending the tenure of the project for four years from 2019 to 2023.
The CDWP has already approved the project which will train the student from the Indian Held Kashmir in demand-driven disciplines.
According to the revised PC-I approved by the CDWP, the tenure of the project has been extended for 4 more years from 2019 to 2023. Starting from 2015, 300 scholarships will be offered to the medical students, 250 to the engineering students and the remaining 250 will go to the students of miscellaneous disciplines.
The Ministry of Inter-Provincial Coordination is the sponsoring and implementing agency of the project.
According to the working paper of the project available with The Nation, the total cost of the project is Rs 940.970 million and it will continue till June 2023. For the already existing 400 scholarships Rs 0.97 million per scholarship is allocated while for the additional 400 scholarships a sum of Rs 1.22 million per scholarship has been earmarked.
Rate of scholarship per student per annum include tuition fee, maintenance allowance, equipment and book allowance and return journey.
There will be a 20 percent increase in the scholarship in the first year and 35 percent for onward years up to Rs 300,000 in order to compensate the fresh as well as ongoing students for inflation over the past three years.
The original project was approved by CDWP in 2004 for award of 100 scholarships, in 2007 the number of the scholarships was increased to 200 and in 2012 it was enhanced to 400.
However in the technical appraisal report of the project, the Higher Education Commission has questioned the lack of information of PC-I and asked why the details of the candidates who have so far availed the scholarships and their expenditure was not included in the project PC-I.
Full report at:
http://nation.com.pk/national/17-Sep-2015/pakistan-doubles-scholarships-offered-to-ihk-students
----------
Southeast Asia
I am racist and my racism based on Islam, says Umno's Annuar Musa
BY SHERIDAN MAHAVERA
16 September 2015
"I am racist," said Umno Supreme Council member Tan Sri Annuar Musa, when trying to justify the racial overtones of today's "red shirt" rally in Kuala Lumpur.
However, he stressed that his "racism was based on Islam".
Anuar, who was the last speaker at today's "Himpunan Rakyat Bersatu", said racism was allowed in Islam, except when it involved oppressing others.
The Malay community in Malaysia was the most tolerant ethnic group in the world, Anuar said, adding that in Indonesia, ethnic Chinese Indonesians were not even allowed to use Chinese names.
"I am racist but it's racism based on Islam. Racism is allowed in Islam," Annuar told reporters at the end of the rally at Padang Merbok, which he claimed attracted 250,000 people.
Annuar then quoted a hadith (a saying of the Prophet) on assobiyah (Arabic term for pride in one's tribe) which he interpreted as justifying racism.
Critics of today's rally have said it could incite ethnic tensions for its insistence on defending Malay supremacy and honour.
Full report at:
http://www.themalaysianinsider.com/malaysia/article/i-am-racist-and-my-racism-based-on-islam-says-umnos-annuar-musa
----------
Merah169 rally 'to teach' people not to 'ridicule' Malays, Islam, Umno member says
September 17, 2015
KUALA LUMPUR, Sept 17 ― An Umno supreme council member denied today that the #Merah169 rally was racist, but said the demonstration was meant to "teach irresponsible people" not to ridicule the Malays and Islam.
Umno's website Umno Online reported Datuk Seri Mohd Sharkar Shamsudin as saying that the pro-Malay protest at the city centre here yesterday did not touch on the sensitivities of other ethnic and religious groups.
"This peaceful assembly was also not organised because of religious and racial differences, but to teach irresponsible people not to ridicule the Malays, especially Islam," Sharkar was quoted saying.
"The rally is historic in the unity of the Malays. The Malays once did this in 1946 when they wanted to upset the plans of the British and Umno was formed. And now, when the Malays and Islam are being challenged, once again we rise up in a single consciousness to express our feelings," he added.
Full report at:
http://www.themalaymailonline.com/malaysia/article/merah169-rally-to-teach-people-not-to-ridicule-malays-islam-umno-member-say
----------
Tuan Ibrahim: Ignore rally of Umno Red Shirts
Shane Fuentes
September 17, 2015
KUALA LUMPUR: PAS has dismissed the Red Shirts Rally in Kuala Lumpur on Malaysia Day as not representing Malays but Umno, said the party's deputy president Tuan Ibrahim Tuan Man, drawing attention to the banners and placards carried by many of the protesters. "Don't spread the racist messages displayed on the banners and placards."
"Their motives are clear. There was not a single mention of the RM42 billion 1MDB scandal, the RM2.6 billion controversy, the falling ringgit and other issues and problems faced by the people."
"Don't let their plan to divert the attention of the people succeed," he said in a statement on Wednesday night. "The Rally is not by Malays but Umno which we are trying to defeat in GE14 in 2018."
Full report at:
http://www.freemalaysiatoday.com/category/nation/2015/09/17/tuan-ibrahim-ignore-rally-of-umno-red-shirts/
----------
Peace, security of nation my top priority, says Najib
September 16, 2015
KOTA KINABALU: Prime Minister Najib Razak today said that the peace and security of the nation was his government's top priority.
As such, the prime minister said the government would do its best to ensure peace and security of the country, as well as racial harmony, be well preserved.
"We have seen the blood on the streets. We have seen the burning shops, but let me say this – I will never allow that to happen in Malaysia. The peace and security of the nation is my government's top priority," he said.
Najib stressed this in his keynote address at the National Integration Seminar jointly organised by the National Unity and Integration Department and Asian Strategy & Leadership Institute here today.
Also present were Sabah Chief Minister Musa Aman and Minister in the Prime Minister's Department Joseph Kurup.
Najib said Malaysia's continuous efforts to promote national unity had been recognised internationally, including by the Nobel Prize-winning economist Joseph Stiglitz who once wrote that Malaysia "has much to teach the world, both about economics, and about how to construct a vibrant multiracial, multi-ethnic, multicultural society".
The prime minister said, as a democratic country Malaysia had consistently conducted elections since 1963, and even Malaysia's critics agreed that these elections had always been fiercely contested.
He said there were incidents in those elections where ministers lost their seats and the state government changed hands due to the voters choice, but the Barisan Nasional (BN) government had listened to the people when they had spoken.
"What is not right, though, is to undermine our democracy by spreading lies – despite our best efforts to engage in a civil manner, we cannot discuss and debate when the truth is hidden by a cloud of false allegations. It is not right when people try to stir up hatred against the government – a government that has been elected by the people.
"It is not right to organise rallies dominated by one race, with the expressed aim of toppling the government. As we have seen, this then leads to rallies by other races. This could not be more dangerous and risks tearing apart the fabric of our democracy, our harmony, our unity.
"The opposition parties, I'm sad to say, are playing with fire. They conspire with blackmailers, forgers and foreigners who want to interfere with our country just as they did in colonial times. There is no lie they will not tell, no rumour they will not spread, so that they can say Malaysia is on a dangerous course," he said.
Najib considered the parties as dangerous and had a desperate wish to overthrow a democratically-elected government and they were willing to risk having the instability that had led to violent revolutions in many countries – some very close to Malaysia.
However, Najib convinced that despite efforts by the opposition, including certain former senior leaders of the country, to create divisions amongst the people, the peace and harmony in Malaysia would prevail and the people would stay united.
Full report at:
http://www.freemalaysiatoday.com/category/nation/2015/09/16/peace-security-of-nation-my-top-priority-says-najib/
----------
Terror convicts call for better grasp of Islam
September 16 2015
Several terrorism convicts have spoken out against radicalism and urged young Muslims to gain a better understanding of Islamic teachings so as to not go astray in learning the religion.
Forty five-year-old Jumu Tuani, one of the former commanders of the Laskar Jihad paramilitary group in Ambon, Maluku, said on Tuesday that one of the main reasons many young Indonesians fell prey to militant groups was because of their misinterpretation of Islamic texts such as the Koran and hadith, a compilation of the sayings and deeds of Prophet Muhammad.
"You have to remember that some of [the Koran and hadith] are textual while others are contextual. We cannot interpret it as we wish," he said during an anti-radicalism seminar in Padang, West Sumatra.
Laskar Jihad was founded in 2000 by Jafar Umar Thalib, an Indonesian who had fought in Afghanistan during the 1980s, and was largely created following the outbreak of sectarian violence between Muslim and Christian groups in Maluku and North Maluku. Thousands were thought to have been killed in the conflict and many said they witnessed forced conversions.
Jumu, who has yet to complete two of the six years of his term at a prison in Cianjur, West Java, said that he had first realized the error of his ways when Laskar Jihad started to burn down churches and justified their actions using the Koran.
"The hadiths clearly say that Prophet Muhammad condemned such actions and it made me think that what I was doing was wrong. However, at the time I was fueled by anger from the conflict," he said.
"I was honestly grateful when Densus 88 [the National Police's counterterrorism unit] caught me in 2002 because I had been thinking about giving myself up."
Jumu said that he now spent most of his time having discussions with his fellow terrorist inmates and trying to convince them to repent. He added that peaceful teachings should be taught more at Islamic boarding schools (pesantren) and that students should be taught to read and interpret religious texts more carefully.
"When I reviewed my own religion, I realized that what I had done was wrong, so it all comes back to knowledge. Jihad, at its very core, is based on knowledge and understanding," he said.
Yudi Zulfahri, who bad been involved in militant groups in Aceh, emphasized that many terrorist group members joined because they had an inert desire to help their fellow Muslims in need.
"This enthusiasm that they have can be a good thing, we just have to encourage them to channel it in different ways, such as by compiling charity money for Muslims who are suffering abroad," he said.
However, he made an exception with the Islamic State (IS) movement, which he claimed was a "deviant sect that misunderstood Islam and used the religion to justify the killing of fellow Muslims".
Full report at:
http://www.thejakartapost.com/news/2015/09/16/terror-convicts-call-better-grasp-islam.html
----------
Pro-government rally raises worry about Malaysia ethnic tension
17 September 2015
KUALA LUMPUR: Tens of thousands of Malaysians, most from the majority Malay community, marched through the capital on Wednesday in a show of support for the scandal-plagued government, stoking fear of ethnic tension in the diverse Southeast Asian country. Riot police used water cannons to disperse thousands of red-shirted protesters trying to break through barricades at Kuala Lumpur's Chinatown neighborhood, shouting slogans denouncing ethnic Chinese community and opposition party leaders.
There were no reports of major injuries.
In an impressive show of strength, up to 30,000 marchers, according to police, thronged the city center, holding banners and shouting slogans in support of Prime Minister Najib Razak, who is battling allegations of graft and mismanagement at indebted state fund 1Malaysia Development Bhd (1MDB).
Najib did not officially endorse the march but elements within his ruling United Malays National Organization (UMNO) encouraged organizers to stage the "Malay pride" rally in response to a big anti-government protest last month that called for Najib's resignation over the graft scandal.
"This protest is to tell that the official religion of this country is Islam, and Malays are the rightful owner of this country," said protester Azim Lubis.
Many opposition supporters come from the ethnic Chinese minority. Relations between the two communities are delicate and Wednesday's march took place near the site of bloody race riots in 1969.
The demonstration brought business to a standstill in central Kuala Lumpur, with shops and businesses, especially in Chinese-dominated neighborhoods, shuttered, and several roads closed to traffic.
Kuala Lumpur's bustling Bukit Bintang tourist district was paralyzed.
"A lot of vendors here were afraid to open their stores," said 74-year-old Michael Tham, who owns an electronics shop in Bukit Bintang. "It's the first time it's been this deserted."
Protesters gathered on open ground near the city center for the climax of the rally before dispersing.
March organizers said last month's anti-government protests, led by a pro-democracy group called Bersih, had insulted the country's Malay leaders.
"Long live Malays," said one banner on Wednesday, while another said "Don't look down and insult the Malays."
The opposition Bersih rally attracted many urban, ethnic Chinese people who wore yellow shirts. The red-shirted protesters on Wednesday included many young Malay men from rural areas, bussed into the city.
Najib, in the eastern state of Sabah for a commemoration marking the formation of the Malaysia federation in 1963, warned of the dangers of polarization.
"It is not right to organize rallies dominated by one race, with the expressed aim of toppling the government," the state-run Bernama news agency quoted him as saying, referring to last month's opposition protest.
Full report at:
http://www.arabnews.com/world/news/807346
----------
Africa
Algerian Muslim Ulema Organization Condemns Assault Against Al-Aqsa Mosque
15 SEPTEMBER 2015
Algiers — Algerian Muslim Ulema organization condemned Monday the aggression against Al-Aqsa mosque, Islam's third-holiest site, in occupied Al Quds (Jerusalem), dubbing the assault a "provocation and attack against sacred symbols."
"It's a blatant violation of the international law that forbidden attacks against any component of occupied territories and sacred symbols," the Algerian Muslim Ulema body said in a statement.
Full report at:
http://allafrica.com/stories/201509161434.html
----------
South Sudan army launched attack on rebels despite ceasefire: Report
Sep 17, 2015
Peace monitors in South Sudan say the country's army recently attacked rebel positions in the first such instance reported by military monitors since a ceasefire agreement between the army and the rebels last month.
Monitors from the regional East Africa bloc, the Intergovernmental Authority on Development (IGAD) said in a report on Thursday that army helicopters had fired on rebel positions on September 2.
According to the IGAD, monitors "witnessed the helicopter gunships flying towards and engaging" rebel positions outside Malakal, the capital of the Upper Nile State.
The report added that following the attack, army forces moved across the west bank of the Nile to stage a ground attack.
'Committed to ceasefire' and fighting, too!
The report details violations by both sides, some of which allegedly took place as recent as September 9.
Full report at:
http://www.presstv.ir/Detail/2015/09/17/429576/South-Sudan-Equatoria-ceasefire
----------
Tunisia dismisses 100 police officers over suspected terror links
Sep 17, 2015
Tunisia's Interior Ministry says the North African country has sacked 110 members of its security forces over suspected affiliation to extremist groups.
The ministry's spokesman said those discharged from their posts belong to "different corps – police, national guard, the army, customs."
Their dismissal "is linked... to very serious suspicions of membership in terrorist organizations or sympathy towards them," Louguini said.
He added that the measure was taken following detailed investigations launched at the beginning of the year.
A nation reacting to terror
On July 24, the Tunisian parliament approved a new anti-terror law in a bid to counter a growing wave of terrorism in the country. The law authorizes the death penalty for several terrorism-related offenses in a country that has not carried out an execution since 1991. It also permits the detention of terrorism suspects for 15 days without having access to lawyers.
Masked Tunisian soldiers stand guard on the beach at the Riu Imperial Marhaba Hotel in Port el-Kantaoui, on the outskirts of Sousse, south of the capital, Tunis, on June 29, 2015, where a deadly attack took place a week earlier. (© AFP)
The law was approved nearly a month after a gunman killed 38 people near the northern Mediterranean coastal city of Sousse on June 26.
Full report at:
http://www.presstv.ir/Detail/2015/09/17/429574/Tunisia-dismissal-security-forces-terror-affiliation
----------
Memo to Donald Trump: Here's the Difference Between Hamas and Hezbollah
BY MOHAMAD BAZZI
SEPTEMBER 16, 2015
On September 3rd, the conservative radio host Hugh Hewitt interviewed Donald Trump, in what was Trump's first major discussion on foreign policy since he became a candidate for the Republican Presidential nomination. The interview turned out to be an embarrassment for Trump, who confused the Quds Force, the paramilitary and special-forces branch of Iran's Revolutionary Guards, with the Kurds, a Middle Eastern people with its own language and culture. Hewitt also pressed Trump to identify the difference between Hezbollah and Hamas, two of the most powerful militias and non-state actors in the Middle East today, leading a testy Trump to declare that he would learn such distinctions "when it's appropriate."
Hewitt, who served as an assistant counsel in the Reagan Administration and is now a law professor, will help moderate the Republican Presidential debate on Wednesday evening, at the Reagan Library, in Simi, California. Hewitt framed part of his conversation with Trump as a preview of the questions he might ask candidates at the debate, which will be devoted to a discussion of U.S. foreign policy. After Trump stumbled on the initial series of questions about the Quds Force and its commander, General Qassem Suleimani, who has played a central role directing Iran's allies in Iraq and Syria, Hewitt asked the candidate if he could identify the leaders of the most prominent Islamic militant groups.
"On the front of Islamist terrorism, I'm looking for the next Commander-in-Chief to know who Hassan Nasrallah is, and Zawahiri, and al-Julani, and al-Baghdadi," Hewitt asked. "Do you know the players without a scorecard yet, Donald Trump?"
Trump grew impatient and accused his interviewer of asking "gotcha" questions. "As far as the individual players, of course I don't know them. I've never met them. I haven't been, you know, in a position to meet them," he said, adding that these leaders could change by the time he is elected to office. (That is far-fetched—Hassan Nasrallah, for example, has been the secretary general of Hezbollah since early 1992, when George H. W. Bush was in office.)
Trump's bungled attempts to cover up his lack of knowledge raise an important question: What are the differences between nationalist and Islamist groups like Hamas and Hezbollah, and jihadist groups like Al Qaeda, its offshoots, and the Islamic State in Iraq and al-Sham? And how should political candidates talk about them? Shortly after his interview with Trump—and to counter charges that he had engaged in "gotcha" journalism—Hewitt put a similar series of questions to Carly Fiorina, another Republican Presidential candidate who, like Trump, has never held public office. Fiorina admitted that "sometimes I can get confused a bit between the name and group," after Hewitt rattled off a list of six leaders of militant groups. But she did answer the question about the difference between Hezbollah and Hamas to Hewitt's satisfaction. "Hamas is focussed in Palestinian territories. Hezbollah focusses in Beirut and other places, but the truth is, both of them are proxies of Iran. Both of them threaten Israel," she said. "Both of them are going to be benefitting from the agreement which Obama and Kerry have struck with Iran."
Hewitt signalled his approval of Fiorina's response, and noted that he raised the topic with her and with Trump to make the point "that Israel is surrounded by Iranian proxies and by terrorists." He then asked her, if as a candidate or as President, she would "stand by" the Israeli government if it unilaterally decided to attack Iran. Fiorina pledged that she would, as did Trump.
Full report at:
http://www.newyorker.com/news/news-desk/memo-to-donald-trump-heres-the-difference-between-hamas-and-hezbollah
----------
North America
Louisville Islamic Centre Vandalized With Anti-Islamic Messages
Sep 16, 2015
LOUISVILLE, Ky. —Mayor Greg Fischer has set a news conference for Thursday morning to denounce anti-Islamic messages scrawled all over the Louisville Islamic Centre on River Road.
Spokesman Chris Poynter said the mayor and Councilwoman Angela Leet will join Dr. Muhammad Babar and members of the Islamic faith to paint over the graffiti.
"Whoever did this they will find out that this act did not isolate Muslims or any particular faith. It actually brought them together and it brought more love and compassion," said Babar, a member of the congregation and spokesman.
Full report at:
http://www.wlky.com/news/islamic-center-vandalized-with-antiislamic-messages/35314426
----------
Czech opponents of Islam shortly block border with Austria
16.09.2015
On Tuesday, Prime Minister Bohuslav Sobotka (Social Democrats, CSSD) promised that the state would deploy the military if the police failed to cope with the wave of migrants.
South Bohemian police spokesman Jiri Matzner said today they have detained no refugees in the region this week, and only three were detained last week.
Today´s border blockade was organised by the Dawn-National Coalition Party in cooperation with the non-parliamentary Bloc Against Islam.
It started after 18:00, when the participants formed a live chain across the road, and ended shortly before 18:30.
At a preceding meeting, the crowd was addressed by Miroslav Adamec, who heads the Bloc Against Islam south Bohemian branch.
He said the other countries have been closing their borders, while the Czech cabinet is waiting for instructions from Brussels.
"We want our homeland to remain our homeland. We don´t want our children to wear burqas and worship Islam," said Jana Volfova, chairwoman of the Czech Sovereignty grouping who moderated the protest meeting.
No incident accompanied the meeting except for a verbal conflict between the protesters and members of the Green Party who turned up with banners reading Stop Hatred! and Help People in Need.
The traffic across the border remained fluent in spite of continuing thorough checks of the passing cars by the Czech police.
Dolni Dvoriste Mayor Helena Panska said the situation in the town is calm and no immigrants couls be seen there.
Full report at:
http://www.ceskenoviny.cz/zpravy/czech-opponents-of-islam-shortly-block-border-with-austria/1259292
----------
Muslim group hopes billboards dispel myths about Islam faith
SEPTEMBER 16, 2015
SAN DIEGO – Three billboards from a campaign to dispel myths about Muslim Americans are up in San Diego.
Islamic Circle of North America's national billboard campaign recently added San Diego, stating the city was an important part of the campaign inviting people to explore the Muslim faith, according to ICNA Vice President Imam Khalid Griggs.
The billboards are located at westbound state Route 163 near Balboa Avenue, Skyline Drive near Lausanne Drive and Euclid Avenue at Home Avenue. "Muhammad believed in peace, social justice, women's rights" and "Muhammad always taught love, not hate; peace, not violence," are on two of the signs. A third board has "God does not judge by your face and wealth."
Full report at:
http://fox5sandiego.com/2015/09/16/muslim-group-hopes-billboards-dispel-myths-about-islam-faith/
----------
Muslim boy's ordeal ends with White House invite
September 17, 2015
NEW YORK - A 14-year-old Muslim boy of Sudanese origin was arrested in the U.S. State of Texas for bringing to school a homemade clock teachers mistook for a bomb -- a detention obviously due to his faith. Mohamed Ahmed brought in the clock to show his engineering teacher at the city of Irving's MacArthur High School first thing Monday morning.
"He was like, 'That's really nice,' " Ahmed told The Dallas Morning News. " 'I would advise you not to show any other teachers.' " Ahmed, who said he has enjoyed robotics since middle school, put the clock inside his school bag but during an English class, the clock beeped. He showed the complaining teacher. "She was like, it looks like a bomb," Ahmed said. "I told her, 'It doesn't look like a bomb to me.' "
The teacher kept the clock and Ahmed, who was wearing a NASA shirt, was later pulled out of a class to meet with the principal and five police officers. "They were like, 'So you tried to make a bomb?' " Ahmed said. "I told them 'no, I was trying to make a clock.' He said, 'It looks like a movie bomb to me.'" In the meantime, President Barack Obama congratulated Ahmed Mohamed, 14, on his skills in a pointed rebuke to school and police officials who defended his arrest amid accusations of Islamophobia.
"Cool clock, Ahmed. Want to bring it to the White House? We should inspire more kids like you to like science. It's what makes America great," Obama tweeted.
A photo of Mohamed standing in handcuffs while wearing a t-shirt with the US space agency NASA's logo was retweeted thousands of times in a matter of hours and "#IStandWithAhmed" became the top trending hashtag on Twitter.
The son of Sudanese immigrants from from Irving outside Dallas, Mohamed told the Dallas Morning News he hoped to impress teachers by bringing the clock to school on Monday.
"My hobby is to invent stuff," the teen said in a video posted on the paper's website, filmed in his electronics-filled bedroom. "I made a clock. It was really easy. I wanted to show something small at first they took it wrong so I was arrested for a hoax bomb."
Mohamed loved robotics club in middle school and was hoping to find something similar at MacArthur High school, but did not get the reaction he hoped for when he showed the clock to his engineering teacher. "He was like, 'That's really nice,'" Mohamed said. "'I would advise you not to show any other teachers.'"
When the clock's alarm went off in another class, his teacher told him it looked like a bomb and confiscated it. The school called the police and Mohamed was taken away in cuffs amid suspicion he intended to frighten people with the device.
Police said Wednesday they have determined that Mohamed had no malicious intent and it was "just a naive set of circumstances." Irving police chief Larry Bond insisted that Mohamed's ethnicity had nothing to do with the response. "Our reaction would have been the same either way. That's a very suspicious device," Bond told reporters. "We live in an age where you can't take things like that to school."
He insisted officers did the right thing when they handcuffed Mohamed and brought him to a juvenile detention center for questioning. All prisoners are handcuffed for their own safety, Bond said, adding "unfortunately we've had people jump out of cars." A school district spokeswoman also stood by the establishment's response, telling reporters that any one who saw the homemade clock would understand that "we were doing everything with an abundance of caution."
Full report at:
http://nation.com.pk/international/17-Sep-2015/muslim-boy-s-ordeal-ends-with-white-house-invite
----------
Americans Fear Muslim-Country Migrants Entering U.S. May Include Terrorists
17 September 2015
The large number of migrants from Muslim-majority countries being granted visas to establish permanent residency in the United States has raised concerns among those who believe that such migration may provide cover for potential terrorists to enter the United States. Additional concerns involve U.S. communities' ability to assimilate such large numbers of immigrants.
According to a report released by Breitbart on September 14, 117,423 migrants from Muslim-majority countries were permanently resettled within the United States in 2013. In that same year, the United States voluntarily admitted 122,921 temporary migrants from Muslim-majority countries as foreign students and foreign workers as well as 39,932 refugees and asylees from such countries.
The report also noted that Breitbart News' "review of State Department and Homeland Security data reveals that the United States already admits more than a quarter of a million Muslim migrants each year."
It also stated: "Between 2001 and 2013, the United States permanently resettled 1.5 million Muslim immigrants throughout the United States."
However, it is difficult to verify the accuracy of these figures, because the U.S. government does not track immigrants by religion. As a Pew Research Center report from 2013 entitled"The Religious Affiliation of U.S. Immigrants: Majority Christian, Rising Share of Other Faiths" noted:
The U.S. government does not collect data on the religious affiliation of immigrants. However, estimates can be made using information gathered by the Department of Homeland Security on the countries of origin of new green card recipients.
Similarly, the U.S. Embassy in Baghdad posted an article on its website back in 2007 that excerpted material from Being Muslim in America, a book published by the State Department's Bureau of International Information Programs. The article stated:
The size of the Muslim-American population has proved difficult to measure because the U.S. Census does not track religious affiliation. Estimates vary widely from 2 million to 7 million. What is clear, however, is that the Muslim-American population has been growing rapidly as a result of immigration, a high birth rate, and conversions.
It is very likely that in compiling its statistics, Breitbart News used the same methodology described by Pew: "estimates can be made using information gathered by the Department of Homeland Security on the countries of origin of new green card recipients." However, in the interest of accuracy, it is important to make a distinction between "Muslim migrants" and "migrants from Muslim-majority countries" and to note that any figures about the religion of such migrants must by necessity be estimates.
Full report at:
http://www.thenewamerican.com/usnews/immigration/item/21594-americans-fear-muslim-country-migrants-entering-u-s-may-include-terrorists
----------
Far-fight trolled: US rapper turned to ISIS soldier in parody nationalist meme
16 Sep, 2015
A meme circulating online shows American rapper and actor Ice Cube presented as an Islamic State (IS, formerly ISIS/ISIL) fighter-turned-refugee. The author says although a parody, at least one in ten users who have shared it believe that it is real.
The meme features two photographs of Ice Cube, one in which he sits in a kayak holding a fishing pole with the caption 'Fleeing Syria' and another in which he holds an AK47 with the caption 'Ready for War.'
A paragraph of text above the photographs explains how "this Muslim convert ISIS Soldier" is now living in a block of high rise flats in Balsall Heath, Birmingham.
It reads: "This Muslim convert ISIS Soldier is pictured here on a boat crossing from Syria into Greece on 23/08/15. The second picture is the same Muslim convert ISIS Soldier pictured in a block of high rise flats in Balsall Heath, Birmingham on 13/09/15. They're here. Don't say we didn't warn you!"
The meme bears the stamp of right-wing organizations Britain First and the English Defence League (EDL), both of which promote Islamophobic views.
The photograph of Ice Cube in a kayak is a popular meme which usually plays on the fact a man named 'Ice Cube' is wearing a lifejacket.
And it's not the first collage to combine both the photos of Ice Cube in a kayak and him holding an AK-47.
"The internet never fails to amaze me, ever," the author, Micky Williams, wrote in a Facebook post, adding that "a good 10 percent" of those who reposted his work took it for real and were "in disgust".
"A fair few felt the need to point out that it's Ice Cube, the rapper and actor from America, assuming that nobody else in the world knew," he added.
Ice Cube converted to Islam in the mid-1990s and was allegedly involved with the Nation of Islam, an American religious movement which once claimed Malcom X has a key leader.
In an interview with the Guardian in 2000, Ice Cube denied ever being a member of the group claiming instead he calls himself a "natural Muslim."
"I never was in the Nation of Islam ... I mean, what I call myself is a natural Muslim, 'cause it's just me and God. You know, going to the mosque, the ritual and the tradition, it's just not in me to do. So I don't do it," he said.
Full report at:
http://www.rt.com/uk/315573-ice-cube-isis-meme/
----------
URL: https://www.newageislam.com/islamic-world-news/new-age-islam-news-bureau/islamists-declare-brotherhood-with-islamic-state-in-stratford/d/104614