New Age Islam News Bureau
07 September 2022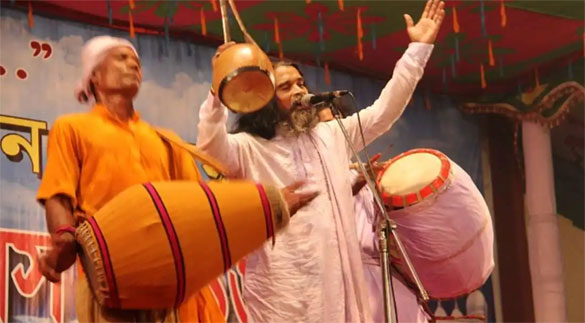 A baul singer performs during a festival in Bangladesh in 2016. (Photo: Stephan Uttom/UCA News)
------
•Lawyer, For One of the Convicts in the Bilkis Bano Case Says, 'Remission of Convicts after Centre Approval'
• Saudi-Chaired GCC Panel Asks Netflix to Remove Content That Violates Islamic Values
• China Calls On International Community to Play 'Constructive Role' For Peace in Afghanistan
• Syrian FM: US Sanctions Against Damascus, Tehran Most Wicked Kind of Terrorism
South Asia
• Hundreds of Hazaras Killed By ISKP Since Taliban Took Power, Say Rights Group
• Taliban General Directorate of Passport to Expand Passport Printing and Distribution Capacities
• Afghan Delegation to Discuss Political Crisis in Afghanistan at UN Office in Vienna
--------
India
• Jamiat Ulema-e-Hind Backs UP Government's Decision to Survey Unrecognized Madrasas
• In Assam, Now Local Residents Demolish Madrasa after Imam's Arrest for Terror
• AIMPLB's Rahmani expresses concern over action on madrasas by UP, Assam govts
• Sheikh Hasina visit: Teesta elephant in room, positive signs elsewhere
• India, Bangladesh to start economic partnership talks, boost regional connectivity
• India, Bangladesh discuss ways to fight cross-border crimes
• Adani on Hasina's radar for Bangla investments
• Boy's Death at Mosque Leaves Family in Shock: 'Thought He'll Be Safe'
• Hyderabad: Muslim Uber driver alleges he was robbed, forced to chant 'Jai Shri Ram'
• Pakistan breaches truce along international border, fires at BSF patrol party
• Two Hizbul terrorists killed in Anantnag encounter
--------
Arab World
• AlUla inks agreement with Louvre Museum to show Saudi Arabia's cultural legacy
• Cash from new deal with Iran will give boost to Lebanon's Hezbollah: Report
• TotalEnergies could help Lebanon in maritime demarcation with Israel: President Aoun
• Egypt withdraws from Arab League meeting amid Libya presidency row
--------
Southeast Asia
• Protests across Indonesia as anger mounts over fuel price increase
• International Buyers Exploring Halal Industries in M'sia
• Appellate court dismisses IGP, govt's bid to strike out Indira Gandhi's suit
--------
Mideast
• Top IRGC Commander: White House Fate under Impact of Iran's Political Decisions
• 27 Dead As Al-Qaida Launches Attack on Yemen Separatists
• Iran Urges Taliban to Ensure Security of Diplomatic Missions in Afghanistan
• Israel reveals secret document about bombing Syrian nuclear site
• Palestinian, Egyptian presidents discuss Mideast peace talks
--------
Pakistan
• Gen Bajwa's Role Vibrant in Serving Islam, Democracy, Defence: Elahi
• Pakistan's devastating floods endanger Mohenjo-daro's world heritage tag
• Five Pakistan soldiers killed in clash with Taliban
• WHO warns of worsening situation in Pakistan
• Police refusal to book Imran for 'army bashing' irks Lahore court
• IHC sets aside ban on Imran's live coverage
• US delegation meets COAS, offers support for flood-hit people
--------
Europe
• Türkiye Warns Greece to Stop Refusing To Recognize Muslim Clerics
• Israeli president addresses German parliament, calls for all-out war on racism
• Türkiye, Bosnia and Herzegovina agree on passport-free travel: Erdogan
• Balkan countries want to improve economic ties with Türkiye: Officials
• Families accuse EU of 'ignoring' Europeans imprisoned in Iran
• Legal process for French cement giant Lafarge's alleged Daesh/ISIS link still unclear
• German broadcaster DW's sacking of Palestinian journalist was unlawful, court rules
• Türkiye, Sweden, Finland continue talks on two Scandinavian countries' NATO bid
--------
Africa
• Dozens of Terrorists Drown While Fleeing Military Airstrikes In Nigeria: Sources
• Malnutrition has killed hundreds of children in drought-hit Somalia: UNICEF
• Muslim-Muslim ticket: Abort suicide mission, APC Christian youths beg Tinubu
--------
North America
• US Refrains From Directly Addressing Greek Harassment Of Turkish Jets
• US citizen in Iran needs surgery, family pleads for son's release
Compiled by New Age Islam News Bureau
URL: https://newageislam.com/islamic-world-news/islamist-bangladeshi-mystics-harez-fakir/d/127898
--------
Islamist Attacks on Bangladeshi Mystics like Harez Fakir Condemned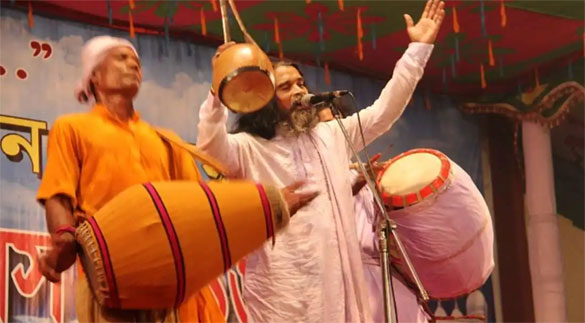 A baul singer performs during a festival in Bangladesh in 2016. (Photo: Stephan Uttom/UCA News)
------
September 06, 2022
Rights campaigners and cultural activists marched on the streets in southwestern Bangladesh to deplore and demand justice over the latest Islamist attack on a mystic singer, which they called an infringement of religious freedom in the Muslim-majority country.
"The situation in our country has reached such a stage where we are not able to practice our religion properly, even those who sing mystic songs are being insulted only because they are a minority," said Moloy Kundu, a Hindu and president of Sommilito Sangskritik Jote (The United Cultural Alliance) in Narail district.
The group joined a protest rally in front of the Press Club in the district town on Sept. 4 to condemn the attack on a Baul (mystic singer) in Purulia village of Narail on Aug. 27.
A Muslim mob led by Ali Mia, a local leader of Islamist party, Jamaat-e-Islami, physically and verbally abused Harez Fakir, 70, a Baul and follower of Lalon Shah, a 19th-century Bengali mystic, philosopher, and social reformer.
The next day, the attackers stormed into an ashram of Baul singers and threatened to evict a group of singers while destroying their musical instruments including ektara (a one-stringed instrument), alleged Moin Fakir, an aide of Harez Fakir.
Kundu said religious minorities are facing increasing attacks from Islamist hardliners in Bangladesh.
"I am very sad to say today that minorities in Bangladesh are being prevented from practicing their religion by Muslim fundamentalists. They are attacking minorities on religious grounds, killing followers of Fakir Lalon, and insulting them," Kundu told UCA News.
Since the attacks Baul singers have been living in fear, said Moin Fakir.
"We are now living in fear. All we want is to live by singing songs as our own, and we do not want to harm anyone. So why attack us?" he asked.
"We want the freedom to practice our lifestyle and philosophy. The state has given the freedom to practice one's religion or to follow one's ideology but has failed to provide opportunities to practice it," he told UCA News.
Harez Fakir lodged a complaint at Kalia police station following the attack.
Sheikh Tasmim Alam, officer-in-charge of Kalia police station said a case has been filed against 20-25 people including Ali Mia over the attack.
"We would take legal action after investigation," he said.
There are no exact data on the number of cases involving attacks on Baul singers. However, local media have reported a series of attacks including lawsuits on Bauls as hardline Islamists consider them heretics and term their singing and other activities un-Islamic.
In January 2020, police arrested prominent Baul singer Shariat Bayati after Islamists filed a case against him under the country's draconian Digital Security Act. He was charged with hurting the religious sentiments of Muslims by defaming Prophet Muhammad.
He came under Islamist ire for declaring in one of his performances that the "Holy Quran does not bar songs and music."
He was detained for nearly two months which sparked protests from civil society groups. He was granted bail only after the High Court issued a rule.
In May that year, unknown miscreants set ablaze the ashram of Baul Ranesh Thakur in northwestern Sunamganj district. The fire gutted all his belongings including his books, notebooks and musical instruments.
In 2011, an Islamist mob assaulted a group of 28 Baul singers in the Rajbari district and forced them to shave off their long hair and mustaches to socially humiliate them.
In 2014, a Baul singers' program in Jessore district was bombed and a knife attack left a Baul killed. Another attack was reported in 2016.
Lalon researcher Surbala Ray says continuous attacks on Bauls are a huge blow to the non-sectarian, liberal and humanitarian culture of Bengalis as a whole.
She said that Bauls are attacked repeatedly, but often the news does not reach the media.
"Bauls are peaceful, non-communal so they don't even protest about it. But we have to come forward to protect them," Ray told UCA News.
"The conscious citizens of the society have a moral responsibility to stand by the Bauls, the state should not under any circumstances take a stand in favor of the fanatical groups, and should create the space for religious freedom and respect for different opinions rather than the security of these minorities," she added.
Father Patrick Gomes, secretary of the Bangladesh Catholic Bishops' Inter-Religious Dialogue Commission said: "All citizens of Bangladesh are entitled to freedom of religion literally but in reality the minorities including Lalon followers struggle to practice amid pressure from religious hardliners."
Originating in Bengal of India in the 17th century, Bauls constitute both a religious sect and musical tradition. Lalon Shah popularized the tradition in the 19th century with his moving songs of humanism and religious tolerance.
Most of the Bauls are ascetics. They travel on foot from town to town singing and begging for alms, staying at ashrams and akharas (cells) but having no fixed address. Some choose to remain in their homes but live a quiet, secluded life of music and worship.
In 2005, the UNESCO listed Baul tradition as a "masterpiece of the oral and intangible heritage of humanity."
Source: UCA News
Please click the following URL to read the text of the original story:
https://www.ucanews.com/news/islamist-attacks-on-bangladeshi-mystics-condemned/98670
--------
Lawyer, For One of the Convicts in the Bilkis Bano Case Says, 'Remission of Convicts after Centre Approval'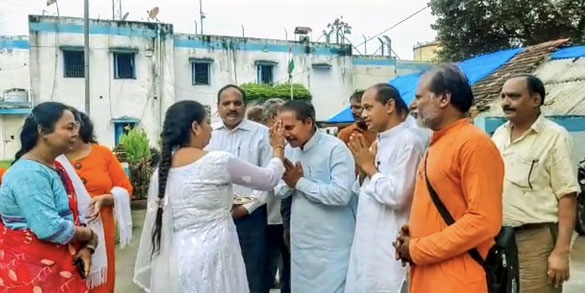 Convicts of the Bilkis Bano gang rape case of the 2002 post-Godhra riots, being welcomed as they come out of the Godhra sub-jail. (Photo | PTI)
----
07.09.22
The lawyer for one of the 11 rape-and-murder convicts in the Bilkis Bano case has said "with full responsibility" that the Centre's approval was "absolutely, absolutely" taken before the Gujarat government granted them remission.
The repeated assertions by Rishi Malhotra, the lawyer, came at a panel discussion hosted by journalist Barkha Dutt on the Mojo digital news platform.
So far, none from the central government has publicly commented whether permission was sought before freeing the 11 men. They had been convicted of gang-raping a five-month-pregnant Bilkis during the 2002 Gujarat riots and killing several members of her family, including her three-year-old daughter.
Although the panel discussion featuring Malhotra's unequivocal declaration has been in the public domain for nearly 24 hours, a Union home ministry spokesperson did not reply to this newspaper's calls or a WhatsApp message seeking his response to Malhotra's claims.
The convicts' release had cast Prime Minister Narendra Modi in the direct line of a backlash as the remission was in sharp contrast with his stress on "Nari Shakti (women power)" in his speech to mark the 75th anniversary of Independence.
Malhotra, whose representation on behalf of one of the convicts had prompted the Supreme Court to ask the Gujarat government to decide on the remission pleas, was part of a panel discussion that also had CPM leader Subhashini Ali who has moved the Supreme Court against the remission.
Excerpts from the panel discussion, hosted by Dutt on Mojo, follow:
Dutt: Under the rules, it also says that the central government has to give its approval (for such release, as a central agency — the CBI — had probed the case). Are you aware that the central government has given its approval?
Malhotra: That was taken. Absolutely, absolutely taken under Section 435 CrPC (which mandates that the state government act after consultation with the Centre in certain cases).
Dutt: You are saying the central government has given its approval?
Malhotra: Please record my statement. I am making the statement with full responsibility — the central government concurrence as required by the law was taken….
Dutt: I just want to take this statement on record because it is the first official confirmation we have that the central government approval, as mandated under the 1992 law, was taken. Mr Malhotra, can you reconfirm that?
Malhotra: Absolutely.
Dutt: Absolutely. So both the consent of the trial court presiding judge and the consent of the central government was taken. You are saying that with all responsibility.
Malhotra: Yes. And I believe that when the state government as well as the Union of India will file their affidavits, these things will be on record.
On August 25, the Supreme Court issued notices to the Centre and the Gujarat government, while hearing a PIL from Ali and others challenging the remission, and told them to reply within four weeks.
When Dutt asked whether the 11 men would be available if the Supreme Court needed them to be sent back to prison, Malhotra replied: "100 per cent. In fact, again the same thing. If…. It has to be the policy that is applicable at the time of conviction. And at that time, the policy said 14 years on…. They were released after 15-and-a-half years of actual sentence…."
Other than the PIL by Ali, academic Roop Rekha Verma and journalist Revati Laul, Trinamul Congress MP Mahua Moitra has petitioned the Supreme Court challenging the release of the 11 convicts. They have underlined that the Centre's permission was needed because the case had been investigated by a central agency, the CBI.
Source: Telegraph India
Please click the following URL to read the text of the original story:
https://www.telegraphindia.com/india/centre-nod-on-bilkis-convicts-release-came-before-gujarat-remission-lawyer/cid/1885055
--------
Saudi-Chaired GCC Panel Asks Netflix to Remove Content That Violates Islamic Values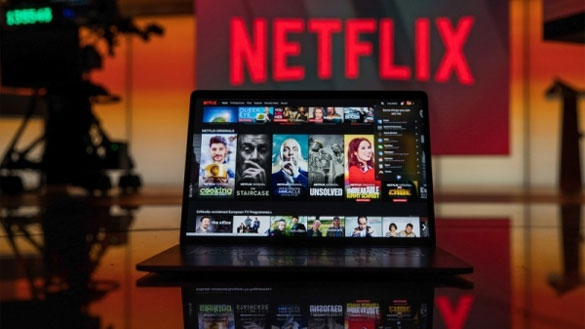 The committee and Saudi Arabia's General Commission for Audiovisual Media (GCAM) demanded Netflix to remove the infringing contents and warned that they would take all legal measures against Netflix if it failed to adhere to the regulations.
-----
September 06, 2022
RIYADH — The Committee of the Electronic Media Officials in the Gulf Cooperation Council (GCC) states, chaired by Saudi Arabia, voiced serious concern over the content broadcasted by Netflix, saying that they flagrantly contravene Islamic and societal values and principles.
In a joint statement issued on Tuesday, the committee and Saudi Arabia's General Commission for Audiovisual Media (GCAM) demanded Netflix to remove the infringing contents and warned that they would take all legal measures against Netflix if it failed to adhere to the regulations.
The committee reaffirmed that the materials broadcasted by Netflix contradict Islamic and societal values and principles. The statement noted that Netflix is broadcasting infringing content and visual materials that violate the media content regulations that are in force in the GCC countries.
The committee and GCAM have confirmed that they have contacted the streaming platform to remove infringing content. In addition, they have also demanded to remove contents that are directed to children as these contain infringing materials.
While noting that they are following up on the platform's adherence to the directives, the committee and GCAM renewed their demand to Netflix to strictly comply with the regulations.
Source: Saudi Gazette
Please click the following URL to read the text of the original story:
https://saudigazette.com.sa/article/624687/SAUDI-ARABIA/Saudi-Arabia-chaired-GCC-panel-asks-Netflix-to-remove-content-that-violates-Islamic-values
--------
China Calls On International Community to Play 'Constructive Role' For Peace in Afghanistan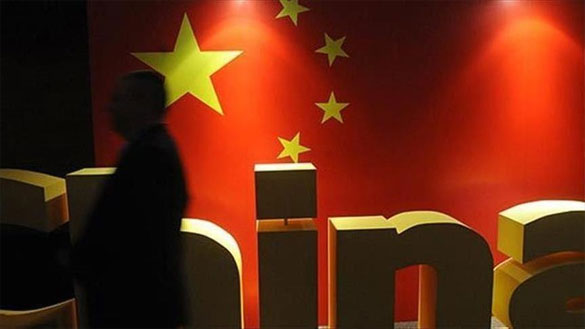 Photo: aa.com
----
Riyaz ul Khaliq
06.09.2022
A day after at least six people, including two Russian Embassy workers, were killed in the Kabul blast, China on Tuesday called on the international community to play its "constructive role" for peace in Afghanistan.
"China strongly condemns the terrorist attacks on diplomatic organizations and personnel," Mao Ning, Chinese Foreign Ministry spokesperson, told a news conference in Beijing.
She said Beijing hopes that the "institutions in Afghanistan will take effective measures to ensure the safety of foreign diplomatic organizations and personnel."
"The international community should jointly play a constructive role in maintaining peace, stability, and security in Afghanistan," Mao said.
At least six people, including two employees of the Russian Embassy, were killed after a blast hit Afghanistan's capital Kabul on Monday.
Afghan interim Foreign Minister Mawlawi Amir Khan Muttaqi held a phone call with his Russian counterpart, Sergey Lavrov, on late Monday, according to Foreign Ministry spokesperson Abdul Qahar Balkhi.
After conveying condolences to his Russian counterpart on the death of two Russian Embassy staffers, Muttaqi assured Lavrov of a "comprehensive investigation."
"The two sides should not allow such negative actions by the enemy to negatively impact the close and positive relations between the two countries," Muttaqi told Lavrov.
"The Russian foreign minister called this attack the work of international criminal syndicates, emphasizing the need to fight against them," Qahar said.
Source: Anadolu Agency
Please click the following URL to read the text of the original story:
https://www.aa.com.tr/en/asia-pacific/china-calls-on-int-l-community-to-play-constructive-role-for-peace-in-afghanistan/2677983
--------
Syrian FM: US Sanctions Against Damascus, Tehran Most Wicked Kind of Terrorism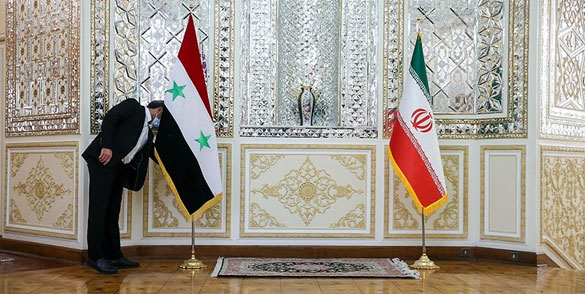 Photo: Faras News
----
2022-September-6
Mekdad made the remarks in a meeting with Iran's Vice President and Head of the Administrative and Recruitment Affairs Organization Meysam Latifi in Damascus on Monday.
The top Syrian diplomat said the unilateral sanctions form real obstacles to attempts aimed at achieving administrative reform and comprehensive development.
"These unilateral measures are immoral and are the most wicked kind of terrorism," he added.
Over the past years, the US has been maintaining an illegal military presence on Syrian soil, collaborating with anti-Damascus militants, and stealing the country's crude oil resources. Washington has slapped rounds of crippling sanctions on Damascus as well.
Washington also restored its sanctions against Tehran after unilaterally leaving the 2015 nuclear deal between Iran and world powers. The US, under former president Donald Trump, launched what it called a maximum pressure campaign against Iran at the time, targeting the Iranian nation with the "toughest ever" sanctions.
Elsewhere in his remarks, the Syrian foreign minister said Iran has managed to act wisely and courageously in dealing with the nuclear issue. He expressed his country's determination to stand firmly by Tehran in this regard.
Mekdad added Iran and Syria enjoy deep relations in political, economic, and development fields, adding that Damascus would make more efforts to remove all obstacles in the way of enhanced coordination and cooperation with Tehran.
The Iranian vice president, for his part, stated the two nations are keen to improve their deep-rooted relations in all fields.
Latifi also reiterated Iran's unwavering support for Syria's national sovereignty and territorial integrity.
He noted that the two countries are interested in taking necessary steps to improve administrative cooperation and implement the agreements already signed between them.
The senior Iranian and Syrian officials exchanged views about the prospects of cooperation to exchange their experience in the field of administrative and professional development.
Source: Fars News Agency
Please click the following URL to read the text of the original story:
https://www.farsnews.ir/en/news/14010615000498/Syrian-FM-US-Sancins-Agains-Damascs-Tehran-Ms-Wicked-Kind-f-Terrrism
--------
South Asia
Hundreds of Hazaras killed by ISKP since Taliban took power, say rights group
Weronika Strzyżyńska
Tue 6 Sep 2022
Hazara communities in Afghanistan are being targeted in violent attacks by the Islamic State Khorasan Province (ISKP), Islamic State's affiliate in Afghanistan, with more than 700 people killed in 13 attacks in the past year, according to a report by Human Rights Watch.
In the report, Human Rights Watch (HRW) accused the Taliban of doing little to protect Hazara and other religious minorities from suicide bombings and deadly attacks, and failing to provide adequate medical care and assistance to victims and their families, despite pledging to do so when they took power in August 2021.
A Taliban spokesperson said that the government had taken the "necessary measures" to protect the Hazara and that the report did not reflect the reality on the ground.
The ISKP have been behind attacks on Hazara mosques, schools, and workplaces across Afghanistan, said HRW.
"The issue isn't that the Taliban is responsible for the violence. They're responsible for not providing adequate security to their own people," said John Sifton, Asia advocacy director at HRW. "If they're going to act as the governing authorities, their first priority should be protecting their own people from violence by this insurgent group."
The Hazara, a predominantly Shia Muslim ethnic minority group in Afghanistan, have been historically persecuted by the Taliban and other groups.
Sifton said that while the new Taliban government has become comparatively more accepting of the Hazara and other religious minorities, the ISKP, who have been rapidly gaining power in some areas of the country, continue to view all Shia groups as heretics and "enemies of Islam".
ISKP has claimed responsibility for a series of attacks in April that targeted Hazara-majority schools as well as the largest Shia mosques. HRW said it fears that many attacks in the provinces are going unreported due to the Taliban's tightened grip on media.
On 19 April, six people were killed and least 20 injured in a suicide bomb attack at Abdul Rahim Shahid high school in west Kabul. "There were dead bodies everywhere," said a survivor.
Two days later, 31 people were killed and 87 injured when ISKP bombed Seh Dokan mosque in Mazar-e Sharif, one of Afghanistan's largest Shia mosques, which has now shut down.
Later that month, 14 people were killed and 13 injured in multiple attacks targeting Hazara at their workplaces and in public in Samangan province and in Mazar-e Sharif city.
In Kabul, 120 people were killed and injured on 7 August while celebrating the Shia holiday of Ashura, UN Assistance Mission in Afghanistan reported.
The ISKP attacks on Hazara and other Shia and Sufi communities have become more systematic, Richard Bennett, the UN special rapporteur on the situation of human rights in Afghanistan, said in May. He added that they reflect "elements of an organisational policy" and bear "hallmarks of crimes against humanity".
Taliban troops continue to fight ISKP forces, however no security measures have been implemented to protect Hazara from further attacks, Human Rights Watch said.
"We are not contesting that the Taliban is fighting ISKP. We're simply asking that they do more to protect the community that is most at risk," said Sifton.
The attacks have also effectively excluded Hazara from participating in public life, practising their religion or accessing education. "Most of my classmates have stopped attending school after the tragedy," said an 18-year-old survivor of the Abdul Rahim Shahid high school bombing. "When the Taliban took power, instead of a class of 50, there were only 25. Now, only 10 to 15 kids are attending classes."
One of his injured classmates is determined to return to school, but bullet shards in his feet have made it difficult to walk even a short distance. "If I am supposed to die, I will die, but so long as I am alive, I will go to school," he said.
Source: The Guardian
Please click the following URL to read the full text of the original story:
https://www.theguardian.com/global-development/2022/sep/06/hundreds-of-hazaras-shia-killed-iskp-islamic-state-khorasan-province-taliban-power-human-rights-watch
--------
Taliban General Directorate of Passport to Expand Passport Printing and Distribution Capacities
By Saqalain Eqbal
06 Sep 2022
The General Directorate of Passports of the Taliban government's Ministry of Interior announced that the office has stepped up processing the passport applications and that it will increase its capacity to print and distribute up to 4,000 passports in a day.
The General Directorate which functions under the umbrella of the Ministry of Interior tweeted on Tuesday, September 6th, that the number of passport applications being processed had increased and that 4,000 copies of passports will now be printed and distributed in a single day.
Officials from the Taliban say that the decision to advance the printing and distribution of passports was made in response to the enormous numbers of applicants who have been patiently waiting in line for their passports for a very long time.
The provincial passport offices have resumed processing online passport registration services, as the passport office previously announced, in order to reduce the workload and overcrowding at the central office.
The Taliban passport official further stated that services for foreign nationals to renew their visas will also be provided online.
The official stated that in an effort to achieve their goal of minimizing corruption, some of the corrupt passport office staff had been fired.
Source: Khaama Press
Please click the following URL to read the full text of the original story:
https://www.khaama.com/taliban-general-directorate-of-passport-to-expand-passport-printing-and-distribution-capacities-46555/
--------
Afghan Delegation to Discuss Political Crisis in Afghanistan at UN Office in Vienna
By Saqalain Eqbal
07 Sep 2022
The Vienna meeting on the current situation in Afghanistan, solutions, and challenges will be convened on September 15th, with the presence of 31 political figures opposed to the Taliban at the United Nations Office at Vienna (UNOV), in the capital of Austria.
The Taliban in Afghanistan have established what they claim to be a structured administration and an inclusive cabinet within the first year of its rule. Military and political figures have, however, established structures overseas parallel with the Taliban's efforts and often in the opposite direction.
This is a continuation of the activities of parties outside of Afghanistan that have a critical perspective toward the Taliban's rule. These groups have also had meetings, but the Vienna meeting, which will feature at least 31 political and intellectual figures from Afghanistan, is set to take place on September 15 at the UN office of the country's representative.
In a statement that assesses one year of Taliban rule, they argue that the Taliban's practices and ideologies have not changed and that the Taliban's presence is putting the values that have been attained over the past two decades in danger of being completely destroyed.
Participating members of the Vienna meeting:
1- Ahmad Massoud, leader of the National Resistance Front (NRF)
2- Dr. Rangin Dadfar Spanta, former Minister of Foreign Affairs
3- Rahmatullah Nabil, former Director of the Afghan National Directorate of Security (NDS)
4- Fawzia Kofi, women's rights activist and former member Afghan Delegation for Peace Negotiation
5- Shukria Barekzai, former Afghan Ambassador to Norway
6- Sayed Sadat Mansor Naderi, former State Minister for Peace
7- Mirwais Balkhi, former Minister of Education
8- Alia Yilmaz, women's rights activist
9- Shahgul Rezai, a former member of the lower house of the parliament
10- Khalil Mujahid
11- Afzali –
12- Abdul Sattar Hussaini, a former member of the lower house of the parliament
13- Said Tayeb Jawad, former Afghan Ambassador to the Russian Federation
14- Harun Najafizada, journalist
15- Rasool Faryabi, a former member of the lower house of the parliament
16 Masooma Khawari, former Minister of Telecommunications and Information Technology
17- Fazel Ahmad Manawi, former Minister of Justice
18- Nazif Shahrani, professor of anthropology
19- Noor Rahman Akhlaqi, former Minister of Refugees and Repatriation
20- Pirbakhsh Gardiwal, a former member of the lower house of the parliament
21-Jawed Ludin, former Afghan Ambassador to Canada
22- Amir Mohammad Khaksar, a former member of the lower house of the parliament
23-Zala Zadran
24- Said Taha Sadeq, a former member of the lower house of the parliament
25- Musadiq Faqiri, member of the Jamiat-e-Islami political party
26- Dr. Hussain Yasa, journalist
27- Abdul Karim Khudam, the former governor of Samangan province
28- Bashir Ahmad Ansari, religious scholar
29- Daud Shah Saba, former Minister of Mines and Petroleum
30- Davood Moradian, General Director of Afghan Institute for Strategic Studies
31. Zalmi Rasool, the former presidential candidate of Afghanistan
These political figures believe that sustainable peace will be possible with the installment of a legitimate government supported by the people of Afghanistan and the international community.
Torture, killing, brutality, intimidation, suppression of the media, forced displacement, and the issuance of stringent restrictions have summed up the reality of Afghanistan today.
They claim that the Taliban has no intention to fight terrorism and that the assassination of Ayman al-Zawahiri, the chief of the al-Qaeda network in Kabul, demonstrates the Taliban's clear association with al-Qaeda.
The Taliban not only did not come to an agreement but also took control of district by district, province by province, day by day, until the group finally took the capital, overthrowing the republic regime and ushering in a new era of Islamic Emirate as the Afghan Peace Process proved futile since negotiations between the defunct Afghan government and the Taliban reached a stalemate.
Even though the government had released over 5,000 Taliban prisoners as a signal of its willingness to participate in dialogue and even though a power-sharing arrangement was being considered during the Doha peace talks, the Taliban nonetheless took control of the country.
After a year under Taliban rule, political figures from Afghanistan, including women's rights activists, former members of the parliament representing different provinces, journalists, and researchers, assemble at the office of the Afghan representative at the UN in Vienna.
Source: Khaama Press
Please click the following URL to read the full text of the original story:
https://www.khaama.com/afghan-delegation-to-discuss-political-crisis-in-afghanistan-at-un-office-in-vienna-34787/
--------
India
Jamiat Ulema-e-Hind Backs UP Government's Decision To Survey Unrecognized Madrasas
September 06, 2022
New Delhi: Jamiat Ulema-e-Hind, a leading body of Islamic scholars held a meeting today where it decided to back the Yogi Adityanath government's decision to survey unrecognized madrasas in Uttar Pradesh.
All persons responsible for UP madrasas were present at the meeting.
Maulana Mahmood Asad Madani (National President, Jamiat Ulama-E-Hind) in a press conference said, "Today madrasas are not looked at in a good way. I appeal to the government to understand us. We will always follow our duty. We are always ready to talk but not with force. We should be given time and we are ready to meet with the concerned authorities."
Expressing concerns over the actions taken against madrassas in Assam, Maulana Mahmood Asad Madani said, "You saw what happened in Assam. It is illegal if that method is taken up. We will send an application to concerned authorities, seeking time to meet them."
"Nothing should be done in a wrong manner, even if it is good work. There's always room for improving something. The manner in which it's being portrayed is wrong," the Maulana added.
Uttar Pradesh government on September 1 announced that it would conduct a survey of unrecognized madrasas in the state to ascertain the number of students, teachers, curriculum, and affiliation with any non-government organization of these institutes.
There was a unanimous protest from all members over interference in the working of madrasas in the state. Future strategy is also being discussed.
An executive order was passed to transfer the teaching and non-teaching staff of aided madrasas with the consent of the managers of the madrasas concerned along with the approval of the Registrar and the UP Madrasa Education Council.
The survey will be carried out as per the requirement of the National Commission for Protection of Child Rights in connection with the availability of basic facilities to the students in madrasas, Minister of State for Minorities Affairs Danish Azad Ansari said.
Source: ND TV
Please click the following URL to read the full text of the original story:
https://www.ndtv.com/india-news/muslim-body-backs-up-governments-decision-to-survey-unrecognized-madrasas-3320926
--------
In Assam, now local residents demolish madrasa after imam's arrest for terror
Sep 06, 2022
GUWAHATI: Residents of Darogar Alga village in Assam's Goalpara district on Tuesday demolished a private madrasa that was used by an imam arrested by the police for alleged links to the Bangladesh-based terror outfit Ansarullah Bangla Team (ABT), police said.
This is the first instance of the public pulling down a madrasa in Assam in recent weeks. So far, the authorities have demolished three private madrasas in Barpeta, Morigaon and Bongaigaon districts after arrests of its functionaries on terror charges over the last month
"Residents of Darogar Alga in Pakhiura Char destroyed the madrasa and a residence next to it on Tuesday morning as resentment against jihadi activities. The madrasa was used by Jalaluddin Sheikh, an imam of a local mosque who was arrested by police last month," said VV Rakesh Reddy, superintendent of Goalpara police.
Jalaluddin Sheikh was one of the two imams arrested on August 20 by the police in Goalpara about 150km east of Guwahati on charges that they were linked to terror cells busted in Barpeta and Morigaon districts earlier. Authorities had then alleged that the two were linked to ABT and Al Qaida in Indian Subcontinent (AQIS), gave and received logistical support to other terrorists and recruited people for what was described as "new jihadi sleeper cells in Goalpara".
According to police, Jalaluddin Sheikh also engaged two AQIS/ABT cadre from Bangladesh, Aminul Islam and Jahangir Alom, as teachers in the madrasa at Darogar Alga in Pakhiura Char that was brought down by local residents on Tuesday.
"Both Bangladeshi nationals entered India illegally, stayed in the madrasa and the nearby residence for almost a year. They had set up a jihadi network in the area under the garb of teaching in the madrasa," said Reddy.
Reddy said that some madrasas linked to alleged terror operatives had been demolished in other parts of Assam but "there was no plan to demolish the Darogar Alga, Pakhiura Char madrasa by the local administration".
According to local residents, they were not aware that the madrasa was being used for terror activities and that it was a collective decision to remove the madrasa and the residence.
"We came to know about the happenings here only after the arrest of Jalaluddin Sheikh and decided to remove both structures. The two Bangladeshi nationals were engaged as teachers in the madrasa. Both fled before we came to know about their antecedents and activities," said a local resident.
Videos of the demolition made available by the Assam Police showed residents pulling down the bamboo walls and removing the tin sheets used to construct the roof.
To be sure, the official reason cited for the demolition of the three madrasas by the authorities after the arrest of madrasa functionaries was not their alleged terror links.
According to official orders for the demolitions, the buildings were either structurally vulnerable, unsafe for human habitation, violated building guidelines, built on public land or had an illegal power connection.
The madrasa demolished in the Bongaigaon district on August 31, for instance, was pulled down on grounds that it was "structurally vulnerable, unsafe for human habitation" and not built as per specified norms. It took the administration several bulldozers and nearly two days to demolish the concrete structure.
Lok Sabha MP and president of All India United Democratic Front (AIUDF) Badruddin Ajmal has called the use of bulldozers to demolish these madrasas illegal.
According to police records, there are around 3,000 private madrasas in Assam.
On Sunday, office bearers of several organisations operating madrasas in Assam had a detailed discussion with senior Assam police officers where it was decided to set up a committee to come up with norms for regulating private madrasas.
Chief minister Himanta Biswa Sarma last month said that madrasas were the hub of all jihadi terror detected in recent months and announced that the government will make it mandatory for imams and teachers from outside the state to register with the administration.
Source: Hindustan Times
Please click the following URL to read the full text of the original story:
https://www.hindustantimes.com/india-news/after-authorities-residents-of-assam-village-demolish-madrasa-for-alleged-jihadi-links-101662459936923.html
--------
AIMPLB's Rahmani expresses concern over action on madrasas by UP, Assam govts
5 September, 2022
Jalna, Sep 5 (PTI) All India Muslim Personal Law Board (AIMPLB) general secretary Maulana Khalid Saifullah Rahmani on Monday expressed concern over what he said was interference in the working of madrasas in states like Uttar Pradesh and Assam.
The Constitution gives equal rights to all minorities and the action of the governments in UP and Assam was violative of these rights, he told reporters.
He said the UP government was carrying out a survey of madrasas while the ruling dispensation in Assam was demolishing these facilities citing various reasons, including alleged links with criminals etc of some functionaries.
"Interference in the working of madrasas and targeting them is against the fundamental rights of minorities. It is against the Constitution. The government cannot decide what type of education will be imparted in madrasas," Rahmani, who is on a tour of Maharashtra's Marathwada region, said.
Speaking on a writ petition filed in the court to end the practice of 'Talaq-e-Hasan', he said the Muslim Personal Law (Shariat) Act 1937 deals with marriages and personal laws and there was no need for any interference in them.
'Talaq-e-Hasan' is a form of divorce in Muslims by which a man can divorce his wife by pronouncing talaq once every month over a three-month period.
Source: The Print
Please click the following URL to read the full text of the original story:
https://theprint.in/india/aimplbs-rahmani-expresses-concern-over-action-on-madrasas-by-up-assam-govts/1117551/
--------
Sheikh Hasina visit: Teesta elephant in room, positive signs elsewhere
Devadeep Purohit And Anita Joshua | New Delhi/Calcutta
07.09.22
India and Bangladesh on Tuesday signed a water-sharing agreement — the first such arrangement since the two countries agreed to share water from the Ganga in 1996 — in the presence of Prime Minister Narendra Modi and his Bangladeshi counterpart Sheikh Hasina.
Prime Minister Hasina reposed faith in the leadership of the Indian Prime Minister in resolving the pending issues, including a much-awaited agreement on the sharing of the Teesta's waters.
The water-sharing agreement involves a memorandum of understanding (MoU) for the withdrawal of 153cusec water from the Kushiyara river, which flows into the neighbouring country from Assam, at Rahimpur in Sylhet by Bangladesh.
The two sides signed MoUs on six other areas, from cooperation in space technology to collaboration for IT solutions for Bangladesh Railways, and unveiled a host of infrastructure projects on the second day of Hasina's Delhi visit.
But the water-sharing deal is the biggest takeaway for Hasina as it marks a breakthrough on an issue that has been politically sensitive, not only between the two countries but also within Bangladesh.
Dhaka has since 2011 been waiting for the conclusion of an agreement on sharing the Teesta's waters, which got stuck because of opposition from Bengal chief minister Mamata Banerjee. Dhaka has also been insisting on a framework for water-sharing from 54 rivers that the two countries have in common.
"I appreciate the visionary leadership of Prime Minister Modiji that continues to provide added momentum to our bilateral relations," Hasina said in her statement after 90 minutes of delegation-level talks between the two countries at Hyderabad House.
"...I recalled that the two countries have resolved many outstanding issues in the spirit of friendship and cooperation and we hope that all outstanding issues, including the Teesta water-sharing treaty, will be concluded at an early date."
Although Modi spoke about the Kushiyara breakthrough and how livelihoods in both countries depend on the 54 common rivers, besides touching upon subjects like cooperation in flood mitigation, he did not mention the Teesta in his statement.
The Indian Prime Minister's silence on the Teesta — a tributary of the Brahmaputra that originates in the Teesta Kangse glacier and flowing through Sikkim and Bengal before entering Bangladesh — is likely to give the Bangladesh Opposition a handle to attack Hasina, who is often criticised for being pro-India.
Bangladesh has always contended that its claim on the Teesta's waters is legitimate and that it desperately needs its share since about 60 per cent of an estimated 90,000 hectares of land on the river's banks remain unutilised in the dry season.
Reports from Bangladesh on Tuesday evening suggested that Opposition parties such as the BNP and the Jamaat-e-Islami have already begun talking about the "futility of the visit". Such a narrative will not only go against Hasina but could affect India's image in the Muslim-majority country, which has witnessed the rise of fundamentalist forces in the past few years.
The Indian establishment has often been unhappy at Bangladesh's dalliance with China — especially on infrastructure projects — but Hasina is New Delhi's preferred choice in Dhaka.
"It is in our interest that her visit to India is seen as a success back home," a source in India's foreign policy establishment said.
The Bangladeshi side took care to explain that the agreement on water-sharing from the Kushiyara was a welcome beginning and that they were hopeful of a resolution on the Teesta in the coming days.
At a news conference later in the day, Bangladesh junior foreign minister Shahriar Alam said the relationship between the two countries was not based solely on the logic of "lena-dena (give and take)".
"On the issue of the Teesta, we think that even if there is some delay, it will be delivered," he said, lauding the Kushiyara deal as a success.
Economic talks
While Modi's silence on the Teesta disappointed the visitors, the Indian Prime Minister won accolades for his pledge to begin discussions on another key bilateral issue -- a comprehensive economic partnership agreement (CEPA), which promises to increase bilateral trade.
"Our bilateral trade is growing rapidly. Today, India is the largest market in Asia for Bangladesh's exports. To further accelerate this growth, we will soon start discussions on the bilateral comprehensive economic partnership agreement," he said.
Later in the day, Indian foreign secretary Vinay Mohan Kwatra said the discussions would begin soon and were likely to be concluded before 2026, when Bangladesh is expected to graduate from the UN's Least Developed Countries (LDCs) list.
Multiple sources from both sides said that although the Teesta stalemate hadn't been resolved — "We were not expecting any resolution during this trip, anyway," a member of the Bangladeshi delegation said — the outcome of the visit had till now been "positive" for Bangladesh for several reasons.
The most visible reason, the source said, was the Indian Prime Minister's comments and his gesture of receiving Hasina at Rashtrapati Bhavan on Tuesday.
"The India-Bangladesh relationship will achieve new heights in the coming time(s).... Today, Bangladesh is India's biggest development partner and our biggest trade partner in the region. There is a continuous improvement in people-to-people cooperation," Modi said.
He announced his government's decision to cooperate with Dhaka in IT, space, nuclear sectors, and power generation and transmission.
A Bangladeshi source said the focus of the MoUs was on "capacity building" in Bangladesh, which is a recognition of the country's ability to grow even faster in the coming days.
Statement wait
For over six hours after Hasina's meeting with Modi, the release of the joint statement was withheld amid indications that Hasina wanted India to do more for the Rohingya refugees.
On Monday, at a reception hosted by the Bangladesh high commission, she had said that India was a very big country and could do more for the Rohingyas.
Source: Telegraph India
Please click the following URL to read the full text of the original story:
https://www.telegraphindia.com/india/teesta-elephant-in-room-positive-signs-elsewhere/cid/1885072
--------
India, Bangladesh to start economic partnership talks, boost regional connectivity
September 06, 2022
NEW DELHI/DHAKA: India and Bangladesh agreed on Tuesday to start talks on a comprehensive economic partnership agreement and to strengthen regional connectivity, as their leaders meet in New Delhi to boost bilateral ties.
Bangladesh's Prime Minister Sheikh Hasina is on a four-day visit to India as part of a trip that is seen as politically significant ahead of her country's general elections next year. Hasina and Indian Prime Minister Narendra Modi discussed investment, water resources, and border management during their meeting in the Indian capital.
Bangladesh is India's biggest development and trade partner in the region, Modi said, as he announced the beginning of talks for a new economic pact.
"We will soon initiate discussions on a bilateral economic comprehensive partnership agreement," Modi said during a joint press conference.
"We both believe we have to learn lessons from the COVID pandemic and recent international events and we have to strengthen our economies further."
The two countries have a significant trade imbalance, however. Bangladesh imported goods worth around $14 billion from India, while exports ran lower at $1.8 billion, according to official figures from the 2021-22 fiscal year.
India and Bangladesh are working on "connecting power transmission lines" between their countries to address the growing cost of energy around the world, and signed various agreements to further cooperation in rail connectivity and sharing of water resources, among others.
The neighbors share a 4,000 km border and long historical ties dating back to 1971, when New Delhi played a major role in the Bangladesh Liberation War.
Hasina said India is "the most important and closest neighbor" of Bangladesh.
"Bangladesh-India bilateral relations are known to be a role model for neighborhood diplomacy," she said.
Infrastructure projects between the two countries will likely play a key role in boosting bilateral relations, according to experts.
"The kind of work India and Bangladesh are doing in terms of collaborative projects, whether it be cross borders or other joint collaboration, it is something South Asia has never seen before," Sreeradha Dutta, of New Delhi-based think tank Vivekanand International Foundation, told Arab News.
"Many of the infrastructure projects that we are doing actually have laid the foundation for a much larger transport corridor which we are thinking of in terms of sub-regions of South Asia. India and Bangladesh are working on projects which are very critical for the whole region."
Munshi Faiz Ahmad, former Bangladesh ambassador to China, told Arab News that as Bangladesh's main priority is economic development and the country is faced with a shortage of funds, investments from abroad as well as technology assistance to build infrastructure are also important.
Hasina met Indian businessman Gautam Adani, who recently became the world's third-richest person, as part of her visit, and is scheduled to meet with more business leaders in India on Wednesday.
"We have come to a point in economic development where further development will stagnate if we do not act quickly on improving our infrastructure," Ahmad said.
Source: Arab News
Please click the following URL to read the full text of the original story:
https://www.arabnews.com/node/2157496/world
--------
India, Bangladesh discuss ways to fight cross-border crimes
Sep 7, 2022
NEW DELHI: PM Narendra Modi called for together fighting forces looking to "attack" mutual trust between India and Bangladesh, while also stressing the need to intensify cooperation against terrorism and radicalism, in a meeting Tuesday with his visiting counterpart Sheikh Hasina. Amid concerns over rising extremism in Bangladesh, Modi said such cooperation is important to keep the spirit of 1971 alive.
The summit saw the 2 sides signing 7 agreements, including 1 for sharing water of the Kushiyara river, as they agreed to ramp up cooperation in trade, energy, connectivity, water resources, security and defence. The 2 leaders also inaugurated a thermal power plant – unit 1 of $ 2 billion 1320 MW Maitree project in Khulna - and announced 4 connectivity related projects.
Bangladesh assured India it remained committed to ensuring security for its minority communities and the 2 sides also agreed to remain mindful of each other's security concerns and ``strategic priorities''. Underlining that India is the largest market in Asia for Bangladesh's exports, Modi said in his remarks after the meeting that the 2 countries will soon start discussions for a free trade agreement or CEPA to further speed up growth in bilateral trade. India is also Bangladesh's second largest trading partner.
As expected, Hasina raised the Teesta river issue and said in her remarks to the media that Bangladesh was hopeful the much delayed water sharing agreement will be concluded at an early date.
Modi's remarks on terrorism and radicalism are important as Bangladesh, despite its economic growth, continues to witness increasing radicalisation. India believes more efforts are required to also confront extremist forces ideologically. The discussions focused, among other things, on border management and also on ways to combat cross-border crimes. Asked about the attacks on Hindu minorities, foreign secretary Vinay Kwatra said Dhaka had both publicly and privately assured India that it's committed to security of minorities. Acknowledging the global appreciation for Bangladesh's role in handling of Rohingya refugees, Kwatra said India will support all efforts for their ``safe, steady and quick'' repatriation to Myanmar.
Asked about China's presence in Bangladesh, Kwatra said the strategic priorities, interests and concerns of both India and Bangladesh``are all factored in our cooperative matrix of engagement".
"Our relationship stands on its own merits, focuses on its own priorities, and looks at our shared concerns, whether they are related to safety issues or security issues," he said.
Hasina, who said there was an unbreakable bond between the 2 countries, also described India as the most important and closest neighbour of Bangladesh and relations between the 2 countries as a ``role model for neighbourhood diplomacy''. ``We focused on possible ways to materialise our commitment and accommodate each other's priorities in a mutually beneficial manner,'' said Hasina, adding Modi's ``visionary leadership'' continued to add momentum to the relationship.
Source: Times Of India
Please click the following URL to read the full text of the original story:
https://timesofindia.indiatimes.com/india/india-bangladesh-discuss-ways-to-fight-cross-border-crimes/articleshow/94039274.cms
--------
Adani on Hasina's radar for Bangla investments
Devadeep Purohit | Calcutta
07.09.22
Dhaka expects Sheikh Hasina's India visit to boost bilateral trade and investment, speeding the growth of the Bangladesh economy.
That attracting Indian investment — especially in infrastructure — is a priority with Bangladesh became clear on Day One of the visit when Hasina met Indian business leader Gautam Adani, chairman of the Adani Group, on Monday evening.
Although details of the meeting were unavailable, Adani tweeted a picture with the Bangladesh Prime Minister on Monday evening."It is an honour to have met Hon PM of Bangladesh Sheikh Hasina in Delhi. Her vision for Bangladesh is inspirational and stunningly bold. We are committed to commissioning our 1600 MW Godda Power Project and dedicated transmission line to Bangladesh by Bijoy Dibosh, 16 Dec 2022," Adani tweeted.
Bijoy Dibosh commemorates the defeat of the Pakistani armed forces in the Bangladesh Liberation War of 1971. Adani Power is developing the 1.6GW Godda ultra supercritical thermal power project in Jharkand with an investment of Rs 1,500 crore. The company signed a memorandum of understanding with the Bangladesh Power Development Board in September 2018 to develop the project on a build-own-operate basis and supply the generated power through a dedicated transmission line.
Bangladesh, faced with a foreign exchange crisis after Russia's invasion of Ukraine raised oil prices, recently shut down all its 10 diesel-run power plants to save on foreign currency. The decision has led to largescale power cuts across the country.
"It can be presumed that the Prime Minister wanted some updates on the company's plans about power transmission to Bangladesh," a source on the Bangladeshi side said.
He suggested that the Ad¬ani Group might also explore opportunities in the Bangladesh port sector, which has seen significant Chinese investments in recent times. Dhaka is focusing on modernising its port infrastructure to try and come out of the Covidinduced slowdown of its exports.The $416billion Banglad¬esh economy has for several years been one of the fastest growing in the world, but the dwindling foreign exchange reserves, ravaged by inflated import bills, have suddenly compounded the Hasina government's problems.
Dhaka recently approached the International Monetary Fund and the World Bank for loans to tide itself over the crisis. A source in the Bang¬ladeshi side told this corre¬spondent that the government was confident about overcom¬ing the sudden headwind and that efforts were on to create infrastructure — such as an increased power generation capacity and better rail and road linkages — that would help accelerate growth.On Tuesday, Hasina and Prime Minister Narendra Modi virtually unveiled the 1,320MW Maitree super thermal power project at Rampal in Khulna and four other projects, including a railway bridge over the Rupsha river and the Khulna Darshana and Parbatipur Kaunia rail link projects. The two Premiers also inaugurated supplies of road construction equipment and machinery in 25 packages to the Bangladesh road and highways department.
"If you look closely, the focus of the trip is on augmentation of infrastructure, which is a must for a growing economy. We think the visit will accelerate the growth of our economy," another source in the Bangladesh delegation said.
Source: Telegraph India
Please click the following URL to read the full text of the original story:
https://www.telegraphindia.com/india/adani-on-hasinas-radar-for-bangla-investments/cid/1885043
--------
Boy's Death at Mosque Leaves Family in Shock: 'Thought He'll Be Safe'
By Pavneet Singh Chadha
September 7, 2022
Barely 30 metres from the hall where he studied at a madrasa, the decomposed body of an 11-year-old boy, partially covered in sand with a wooden ply lying on his face and upper body, was found in a small room inside a mosque in Nuh on Monday. Police said the boy, suspected to have gone missing from the madrasa on Saturday evening, was found murdered. No arrest has been made so far as mystery shrouds the circumstances that led to the death.
His family said they received information that he had gone missing from the madrasa at 7.05 pm on Saturday.
"We have a madrasa in our village too, but we sent him last year here as it has better facilities… and a better environment. We thought he would be safe and taken care of there, but…," said his uncle.
He said he got a call from a haji on Saturday evening asking if his nephew had returned home. "They said he is missing. We started looking for him in the village and nearby areas and put out messages on social media. We went to the madrasa and checked the premises. The search continued into the night. The room in the eidgah (mosque), from where the body was eventually recovered, was locked. The workers there told us they had already searched the room and found nothing. They refused to allow us to check CCTVs… then, at 11.50 am on Monday, we heard his body had been found from that room," he alleged.
Police said that on Monday morning, a woman who works at the nearby Dargah noticed foul smell coming from an enclosure and found the body when she went inside to check.
"We want justice. It is strange that for almost two days, he could not be found and later his body was found from an enclosure on the same premises. From the adjacent room, announcement for Azam (call for prayer) is made five times a day and none of the workers at the madrasa could spot the body for two days," said a relative.
The madrasa's caretaker said that at least 15 students stay there.
At the boy's house in his village, hundreds had gathered on Tuesday afternoon to offer their condolences. His family said the boy's father, a labourer, died of an illness a couple of years ago. His uncle, who filed the police complaint, works as a labourer, earning Rs 300-400 a day, while his mother is a home-maker raising three daughters. "On festivals or during a function in the village, he would return home. He had visited on Eid recently…I have lost everything," she said.
Nuh SP Varun Singla visited the madrasa on Tuesday afternoon and questioned the caretaker and staff.
Source: Indian Express
Please click the following URL to read the full text of the original story:
https://indianexpress.com/article/cities/delhi/boys-death-at-mosque-leaves-family-in-shock-thought-hell-be-safe-8135278/
--------
Hyderabad: Muslim Uber driver alleges he was robbed, forced to chant 'Jai Shri Ram'
September 7, 2022
An Uber driver in Hyderabad has alleged that a group of men robbed him and forced him to chant "Jai Shri Ram", the Deccan Chronicle reported.
The incident reportedly occurred on Sunday near the Tolichowki area. The cab driver, Syed Lateefuddin, said that it was his first day on the job.
The driver said that he accepted a ride in the Alkapuri area and was going there with the help of a map. He added that when he slowed down near Tolichowki, a group of six men stopped near his car and hit his vehicle with their hands. Two of the men were on a bike and four others on a scooter, he said.
"I rolled down the window to ask them what the issue was," Lateefuddin said, according to the Deccan Chronicle. "Upon noticing my accent, the men, who were drunk, asked me to chant 'Jai Shri Ram' and started to pull my door open."
The Uber driver said that he subsequently pulled back the door and drove away, after which the men followed him for about three kilometres. Lateefuddin said that he then fled the vehicle and hid himself in nearby bushes, The News Minute reported. He then reportedly called the police.
According to Lateefuddin, the men damaged the vehicle severely before the police arrived.
Narsingi Station House Officer V Shiva Kumar said that the police are checking all the close-circuit television cameras along the route that the driver took.
An unidentified police official told the Deccan Chronicle that Lateefuddin's allegation about being asked to chant "Jai Shri Ram" could only be ascertained after an investigation.
Source: Scroll
Please click the following URL to read the full text of the original story:
https://scroll.in/latest/1032214/hyderabad-muslim-uber-driver-alleges-he-was-robbed-forced-to-chant-jai-shri-ram
--------
Pakistan breaches truce along international border, fires at BSF patrol party
Sep 7, 2022
JAMMU: Pakistan Rangers on Tuesday morning breached the truce and fired at a Border Security Force (BSF) patrol party along the international border in Jammu's Arnia sector.
A BSF spokesman said that a befitting reply was given by the Indian troops to the unprovoked firing. "No loss or injury to BSF troops was reported," he said.
Following the breach of truce, BSF and Pakistan Rangers held a flag meeting along the international border and agreed to respect "existing norms".
"A company commander-level meeting was held at 1.45pm and it ended in a cordial atmosphere. The issue of unprovoked firing was discussed and both sides agreed to exercise maximum restraint on the border," BSF DIG S P S Sandhu said.
Pakistan has time and again been trying to push intruders or drone-dropped arms, ammunition or drugs into Jammu and Kashmir.
On June 13, BSF successfully foiled an infiltration bid when troops observed suspicious movement close to the international border in Arnia sector. On June 9, BSF troops fired at a suspected drone and pushed it back into Pakistan. On June 7, police and BSF shot down a drone and recovered IEDs packed in tiffin boxes in Jammu's Kanhachak sector.
Source: Times Of India
Please click the following URL to read the full text of the original story:
https://timesofindia.indiatimes.com/india/pakistan-breaches-truce-along-international-border-fires-at-bsf-patrol-party/articleshow/94036627.cms
--------
Two Hizbul terrorists killed in Anantnag encounter
Sep 7, 2022
SRINAGAR: Two Hizbul Mujahideen terrorists were killed in an anti-terror operation in Poshkreeri village of Bijbehara in south Kashmir's Anantnag district on Tuesday. Meanwhile, a possible attack was averted with the recovery and destruction of an IED weighing around 30-35kg in Srinagar's Khonmoh area.
The slain terrorists were identified as Danish Ahmad Bhat alias Kokab Duree from Jablipora Bijbehara, and Basharat Nabi Lone of Fatehpora Anantnag. As per police records, both were categorised terrorists active since 2019, with a history of terror crimes against security forces as well as civilian atrocities. The Hizbul duo was involved in killing two Territorial Army personnel in separate attacks in 2019 and 2021 in Anantnag. They also murdered two civilians in Bijbehara in 2021, ADGP (Kashmir Zone) Vijay Kumar said.
Acting on intelligence inputs about the presence of terrorists in Poshkreeri, a joint team of the Army's 3RR and J&K Police launched a cordon-and-search operation there. As the security forces approached a suspected hideout, holed-up terrorists opened fire at the search party, triggering a gunfight in which the Hizbul duo was killed, said ADGP Kumar.
Incriminating materials along with arms and ammunition — including an AK-56 rifle, 35 AK rounds, two AK magazines, one pistol, a pistol magazine and two pistol rounds — were seized from the spot of the encounter. The recovered items were taken into custody for further probe. A case was registered under relevant sections of law and an investigation was initiated, said the ADGP.
Source: Times Of India
Please click the following URL to read the full text of the original story:
https://timesofindia.indiatimes.com/india/two-hizbul-terrorists-killed-in-anantnag-encounter/articleshow/94036600.cms
--------
Arab World
AlUla inks agreement with Louvre Museum to show Saudi Arabia's cultural legacy
07 September, 2022
The Royal Commission of AlUla Governorate (RCU) has announced the signing of a five-year-agreement with the Louvre Museum in Paris, which includes the display of a sculpture dating back to the Lihyanite period.
According to the agreement, the Louvre will show the historical and cultural legacy of Saudi Arabia and AlUla, the official Saudi Press Agency (SPA) reported Wednesday.
The agreement between the RCU and the Louvre will also embody the "vital partnership between Saudi Arabia and France in the cultural field", it said.
The sculpture is made of sandstone that weighs more than 800kg and exceeds more than two meters, and has been affected by erosion factors over hundreds of years.
Through the Lihyanite sculpture, the museum shows the details of human creativity and the historical depth and cultural legacy of the antiquities in AlUla, in addition to the RCU's work, which seeks to preserve the natural and cultural heritage while preparing AlUla to attract visitors from all over the world, SPA reported.
The excavation team in the Kingdom of Dadan is continuing to carry out its work with the aim of garnering more information about the civilizational history of the Kingdom, which spanned more than 2,500 years and has been under the rule of Lihyan civilization for several centuries.
The RCU seeks to show historical legacy and preserve it, in addition to transfer and analyze artifacts in order to create a scientific story that would aim in attracting residents and visitors.
Source: Al Arabiya
Please click the following URL to read the full text of the original story:
https://english.alarabiya.net/News/gulf/2022/09/07/AlUla-inks-agreement-with-Louvre-Museum-to-show-Saudi-Arabia-s-cultural-legacy
--------
Cash from new deal with Iran will give boost to Lebanon's Hezbollah: Report
06 September, 2022
Critics of the now-defunct 2015 nuclear deal between world powers - mainly the US - and Iran cite the weak provisions in the agreement that fail to curb Tehran's ability to acquire a nuclear weapon.
But more than that, fears are again rising that Iran will be flush with cash not to invest in its own people and infrastructure but rather to supply to its proxies and militias around the region.
The State Department said in 2020 that Iran was providing Hezbollah with about $700 million per year.
A new report suggests that Iran would be on the receiving end of $275 billion of sanctions relief in the first of a new deal and more than $1 trillion by 2030.
The Washington-based Foundation for Defense of Democracies (FDD) sounded the alarm in a recent report that a significant portion of Iran's new funds would go to Lebanon's Hezbollah.
Pointing to the 2015 deal, the original Joint Comprehensive Plan of Action (JCPOA), FDD said Iran's military budget increased by 90 percent, "enabling the regime to shower its regional proxies, including Hezbollah, with billions of dollars."
Biden administration officials have defended efforts to reach a new agreement with Iran, saying that problems in the Middle East would not become easier to solve without a nuclear deal with Tehran.
US officials under the current administration had previously said they were looking to strike a "longer, stronger deal" than the original agreement.
However, recent reports show little difference between the text being discussed now and the initial 2015 deal.
In addition to greenlighting Iran's work towards a nuclear weapon, the current discussions fail to address Iran's support for regional proxies and terrorist groups and its ballistic missile program.
"Hezbollah is now assessed to have a military that is on par with several European armies. The group is now also amassing precision-guided munitions with help from Tehran," said Jonathan Schanzer, senior VP for Research at the hawkish FDD. "The international community has stood by and watched amidst a massive arms buildup. This is a significant threat to the stability of the region."
Hezbollah officials and supporters have previously publicized their appetite for a nuclear deal, which would ease pressure on the militant group.
And in 2015, Hezbollah's leader Hassan Nasrallah said his group's ties with Iran were based on "ideological grounds and come before the political interests," batting down the potential for Iran to distance itself from supporting Hezbollah.
Tony Badran, a fellow at FDD, said that cash from a new nuclear deal with Iran would enable Hezbollah to increase its arms buildup, "especially precision-guided munitions and unmanned aerial vehicles."
Iran-backed Hezbollah has also boasted of having 100,000 fighters, a naval unit, drones, thousands of precision-guided missiles and rockets and air-defense missile systems.
Source: Al Arabiya
Please click the following URL to read the full text of the original story:
https://english.alarabiya.net/News/middle-east/2022/09/06/Cash-from-new-deal-with-Iran-will-give-boost-to-Lebanon-s-Hezbollah-Report
--------
TotalEnergies could help Lebanon in maritime demarcation with Israel: President Aoun
06 September, 2022
Lebanon's President Michel Aoun said on Tuesday that France-based oil and gas company, TotalEnergies , could help his country solve maritime demarcation issues with Israel, according to a post from the presidency office on Twitter.
Aoun would make "contacts to help in this regard, will increase communications this month," the office added.
Lebanon and Israel are locked in US-mediated negotiations to delineate a shared maritime border that would help determine which oil and gas resources belong to which country and pave the way for more exploration.
Amos Hochstein, the US diplomat mediating the talks, will be in Beirut at the end of the week to follow up on discussions with the Lebanese side.
Source: Al Arabiya
Please click the following URL to read the full text of the original story:
https://english.alarabiya.net/News/middle-east/2022/09/06/TotalEnergies-could-help-Lebanon-in-maritime-demarcation-with-Israel-President-Aoun
--------
Egypt withdraws from Arab League meeting amid Libya presidency row
Ibrahim El-Khazen
06.09.2022
Egypt withdrew from an Arab League meeting on Tuesday in protest of chairing the session by the Libyan foreign minister in the outgoing government of Abdul Hamid Dbeibeh.
The 158th ordinary session of the Cairo-based Arab League opened earlier Tuesday in the Egyptian capital under the presidency of Najla al-Mangoush.
Egyptian Foreign Minister Sameh Shoukry left the meeting over al-Mangoush's chairing the meeting, Foreign Ministry spokesman Ahmed Abu Zeid told the state news agency MENA.
"This topic has been discussed in the consultative meeting of Arab foreign ministers before the start of the official session," he said. "We have to wait for the outcomes of the meetings throughout the day in this regard."
Al-Mangoush, for her part, termed the Egyptian withdrawal as a "violation" of the Arab League charter and UN Security Council resolutions.
"We respect the withdrawal of the Egyptian foreign minister, but disagree with it as it violates the Arab League charter and UN Security Council resolutions," she told a press conference.
"The National Unity Government is supported by international conventions, and it is the last national transitional government till holding elections," al-Mangoush added.
Egyptian media earlier reported that the government of Fathi Bashagha, who was appointed by the east Libya-based parliament as prime minister in March, has protested al-Mangoush's chairing of the Arab League meeting.
Dbeibeh, the head of the Tripoli-based National Unity Government, has refused to step down, insisting he will only cede authority to a government that comes through an "elected parliament," raising fears that Libya could slip back into a civil war.
Source: Anadolu Agency
Please click the following URL to read the full text of the original story:
https://www.aa.com.tr/en/middle-east/egypt-withdraws-from-arab-league-meeting-amid-libya-presidency-row/2678364
--------
Southeast Asia
Protests across Indonesia as anger mounts over fuel price increase
September 7, 2022
JAKARTA: Thousands of people rallied in Indonesia's biggest cities on Tuesday, demanding the government reverse its first subsidised fuel price increase in eight years amid soaring inflation.
Under pressure to control a ballooning energy subsidy budget, President Joko Widodo on Saturday said he had little choice but to cut the subsidy and let fuel prices rise by about 30pc in the country of 270 million people. Oil prices are about 32pc higher than a year ago.
Protests took place in and around the capital, Jakarta, and in the cities of Surabaya, Makassar, Kendari, Aceh, and Yogyakarta, among a series of demonstrations led by students and labour groups that police say could draw big crowds this week.
Thousands of police were deployed across Jakarta, many guarding petrol stations, fearing they could become targets of mounting anger over a price increase that unions say will hurt workers and the urban poor the most. "Workers are really, really suffering right now," said Abdul Aris, a union official, vowing to keep fighting until the government gives way.
Small rallies took place at the weekend and on Monday, with tyres burned and some roads blocked as demonstrators vented their anger over the decision, which comes amid rising food costs and with the economy still reeling from the impact of the coronavirus pandemic.
Thousands gathered in Jakarta on Tuesday, marching and chanting slogans denouncing the government's decision and calling for an increase in the minimum wage.
Source: Dawn
Please click the following URL to read the full text of the original story:
https://www.dawn.com/news/1708805/protests-across-indonesia-as-anger-mounts-over-fuel-price-increase
--------
International buyers exploring halal industries in M'sia
09- 07- 2022
KUALA LUMPUR: Malaysia is hosting one of the world's largest halal products exhibitions and buyers are exploring opportunities to import products from the Southeast Asian nation.
"Malaysia has a variety of food products. And Malaysian cuisine is world-class," Azmi Mustafa, the owner and founder of Dreiha Handels, a food supplier in Germany told Anadolu Agency.
Mustafa portrayed the 18th Malaysia International Halal Showcase (MIHAS) in Kuala Lumpur as a promising for Malaysia that he sees as the pioneer of the halal industry.
He noted that the halal food sector in Europe, particularly in Germany, is booming, creating opportunities for manufacturers.
"The total value of the halal market in Germany is around €4 billion (US$3.9 billion) annually. So, the halal market is very big in Germany as the country has a sizable number of Muslims, particularly Turks and people from other Muslim countries. So, they want to get Halal food items in supermarkets, especially in those markets run by Muslims."
His company has been supplying instant noodles and specialty noodles, vegetarian meals, jackfruit snacks, creamer, milk, powder, dishwasher, soap, utensils, and kitchen appliances to supermarkets across Germany.
Mustafa said that not only Muslims, but Germans are also keen to get halal products. Because halal is not only related to a religion but "halal means clean, halal means hygienic, halal means every step of the production procedure is monitored carefully.
Halal means you know every single ingredient of the product you are consuming. Because halal products need to get halal certifications that are too tough and very strict.
"Halal means food safety; halal means clean and quality so anybody can consume. Halal is the future not only in the Muslim countries but in non-Muslim countries," he said. "This sector is growing everywhere and is growing in a very fast way. Halal would be a very big industry. In the near future, food safety would be curricula matter for consumers."
"MIHAS is one of the pioneer exhibitions for the halal sector," he said.
However, he mentioned that it is not easy for halal products to enter supermarkets run by Germans.
But to enter western markets, halal products need other European certifications for food products. The halal food production industries must be well-equipped and completely ready for the rapidly booming halal market.
A businessman from India said he was excited to see innovations and vast opportunities for businesses with Malaysian manufacturers.
"I have seen Malaysian products. They are very world-class. A lot of new and exciting innovations are happening here," Prince Chatterjee, vice president for consumer brands for Reliance Retail Limited, a personal care and toiletries supplier in India said.
Chatterjee told Anadolu that he was "feeling very excited to see the kind product innovation, new concepts, combination of products and packaging initiatives" in Malaysia during his meetings with producers at MIHAS r.
As a subsidiary of one of the largest conglomerates in the South Asian nation with a population of 1.3 billion, Reliance Retail Limited is seeking opportunities to get skin care, hair care, makeup color cosmetics, bath and shower products from Malaysian manufacturers.
"With the right quality of products and the right business partners, if we can establish a good business relationship, I think it could be a really good opportunity for us to look into manufacturing some of our products in Malaysia," he said.
"Among the Far East countries, Malaysia could be one of the most interesting destinations for us," he added, as he appreciated the halal showcase.
MIHAS began Wednesday at the Malaysia International Trade and Exhibition Centre and is poised to be a networking powerhouse for international and local businesses.
Considered one of the most prominent and longest-running halal trade events in the world, MIHAS is expected to achieve US$423 million in trade during the three-day event.
The expo, organised by the Malaysian External Trade Development Corporation (MATRADE), draws participants from local and international buyers, entrepreneurs, retailers, brands, media, researchers and industry influencers.
It has attracted nearly 400 companies from across the globe through conventional and virtual exhibition formats.
This year, it features 13 clusters including food, pharmaceuticals, e-commerce, media and recreation, Islamic finance, modest fashion, personal care and cosmetics, Muslim-friendly tourism and Islamic arts and culture,
Qatar, Türkiye, Saudi Arabia, US and India have been premium buyers at the INSP, while Malaysia and Singapore are top sellers. Bhutan, Vietnam, and Thailand are top buyers.
The halal industry is one of the fasted-growing markets in the world as products and services in the sector gain momentum among non-Muslim consumers worldwide.
Source: The Sun Daily
Please click the following URL to read the full text of the original story:
https://www.thesundaily.my/home/international-buyers-exploring-halal-industries-in-m-sia-CG9787730
--------
Appellate court dismisses IGP, govt's bid to strike out Indira Gandhi's suit
07 Sep 2022
PUTRAJAYA, Sept 7 — The Court of Appeal today dismissed an appeal by the Inspector-General of Police (IGP) and three others to strike out a nonfeasance lawsuit filed against them by a kindergarten teacher over their alleged failure to arrest her ex-husband and return her daughter who was abducted by him.
A three-member panel comprising Justices Datuk Hanipah Farikullah, Datuk M. Gunalan and Datuk Ahmad Zaidi Ibrahim held that the suit filed by M. Indira Gandhi should be dealt by way of a trial.
Besides the IGP, the other named as defendants in the suit are the police, the Home Ministry and the government.
"We are of the considered view that based on the facts and circumstances of this case, there are complex issues of law including issues on interpretation of Section 7 (2) of the Government Proceedings Act, Section 20 of the Police Act and also on the common law position on the tort of nonfeasance by a public officer," said Justice Hanipah.
She said Indira Gandhi's claim was not an obviously unsustainable case to warrant it to be struck out.
There was no error by the High Court in its decision to dismiss the striking-out application brought by the IGP and three others, she said, adding that there was no merit in the government's appeal.
She also ordered the defendants to pay RM10,000 cost to Indira Gandhi and set Sept 14 for the case management at the High Court.
On July 16, last year, then High Court judge Datuk Mohd Nazlan Mohd Ghazali (now Court of Appeal judge) dismissed the government's application to strike out Indira Gandhi's suit that claimed the IGP had deliberately and negligently disregarded a mandamus order issued by the Federal Court in failing to investigate or take appropriate action to return her youngest child Prasana Diksa.
She alleged that the IGP, the Home Ministry and the government had a role to play in making decisions or ordering the police to execute the committal warrant against Muhammad Riduan Abdullah, formerly known as K. Pathmanathan, as ordered by the Federal Court on April 29, 2016.
She is seeking general, aggravated and exemplary damages and a declaration that the IGP had committed the tort of nonfeasance in public office, and that the Home Ministry and the government were vicariously liable for the tort of nonfeasance committed by the IGP.
Prasana Diksa was taken away by Muhammad Riduan when she was 11 months old, shortly after he converted to Islam.
In 2009, Muhammad Riduan unilaterally converted their three children to Islam without Indira Gandhi's consent before going to the Syariah Court to obtain custody of the children, but in 2018 the Federal Court ruled the unilateral conversion of the three children as null and void.
The Ipoh High Court in 2010 granted full custody of the children to Indira Gandhi.
In 2016, the Federal Court affirmed the mandamus order issued by the High Court directing the police and the appellants to apprehend Muhammad Riduan and retrieve Prasana Diksa to be returned to Indira Gandhi.
Source: Malay Mail
Please click the following URL to read the full text of the original story:
https://www.malaymail.com/news/malaysia/2022/09/07/appellate-court-dismisses-igp-govts-bid-to-strike-out-indira-gandhis-suit/26975
--------
Mideast
Top IRGC Commander: White House Fate Under Impact of Iran's Political Decisions
2022-September-6
Speaking at a Basiji professors' gathering in Mashhad on Tuesday, Maj. Gen. Salami said that "Iran's political decisions have a defining role in the United States elections and the fate of the White House is influenced by the Imam Khomeini Hussainia", where the Supreme Leader holds public meetings and delivers speeches.
"The US has 50 percent of the world's military power but it is facing many internal problems," he added.
The senior commander said certain videos circulating online show the "collapse of humanity" in the United States.
"There is no one to pay attention to the [people's] problems," he continued, adding that many European countries also face similar problems.
"Today, the US cannot implement whatever plot it has in the region and its plots will definitely fail," the IRGC commander stressed.
Elsewhere in his remarks, Major General Salami maintained that Iran is a frontrunner in many technologies, saying, "We have even surpassed the world's top powers in the field of air defense, to the extent that some superpowers are buying our weapons and offering joint cooperation [with Iran]."
"Iran has the top rank in many technologies in a way that even some great powers are purchasing Iranian arms and offering cooperation," the top commander noted, adding that Iran has exceeded great powers in air defense.
"Building modern systems has been as easy as manufacturing bicycles for us today," Salami said.
"Today, the accuracy of our weapons in hitting fixed and mobile targets is 100%," the senior commander stated, noting that Iranian drones are capable of hitting any target they want.
General Salami added that "Iran won't be happy if the sanctions are lifted and won't be upset if they're kept because the country is independent".
He stressed that sanctions have caused few difficulties for Iran, emphasizing that the country enjoys great capacities and potential and is able to overcome all of its problems by relying on its beliefs and the guidelines of Leader of the Islamic Revolution Ayatollah Seyed Ali Khamenei.
Iranian officials say what the enemies and ill-wishers had predicted on the fate of the Islamic Republic has not materialized, adding that the Islamic establishment has come from strength to strength.
Back in August, President Seyed Ebrahim Rayeesi noted that the Iranian nation's progress has made it stronger compared to the past, while the enemies have grown weaker.
Source: Fars News Agency
Please click the following URL to read the full text of the original story:
https://www.farsnews.ir/en/news/14010615000639/Tp-IRGC-Cmmander-Whie-Hse-Fae-Under-Impac-f-Iran's-Pliical-Decisins
--------
27 dead as al-Qaida launches attack on Yemen separatists
Sep 6, 2022
ADEN: Twenty-one separatist fighters and six members of al-Qaida's Yemen branch were killed Tuesday as an attack by the jihadists punctured months of relative peace in the war-torn country, government and security sources said.
Al-Qaeda in the Arabian Peninsula (AQAP) attacked positions held by the UAE-trained Security Belt group in Abyan province in Yemen's south, the sources told AFP.
The violence came just days after the jihadist group released a video of a United Nations worker whom it abducted in the same province more than six months ago.
About three hours of fighting "left 21 dead among the (Security Belt), including an officer, and six among the Al-Qaeda combatants", a government official said on condition of anonymity. Two security sources confirmed the death toll.
Yemen has been gripped by conflict since Iran-backed Huthi rebels took control of the capital Sanaa in 2014, triggering a Saudi-led military intervention in support of the beleaguered government the following year.
AQAP and militants loyal to the Islamic State group have thrived in the chaos.
The Security Belt, a powerful southern Yemen separatist force, has played a decisive role in the fight against the jihadists, forcing them to retreat from towns into rural areas.
Tuesday's fighting comes as the Huthis and forces supporting the ousted government observe a shaky ceasefire in the years-long civil war.
Riven by divisions, the groups opposing the Huthis, who originate from the north, include southern separatists who support the re-establishment of South Yemen.
The country was divided into North and South Yemen until reunification in 1990.
Kidnapped UN worker
Underlining Yemen's parlous security, on Saturday AQAP released a video showing a United Nations worker who was abducted more than six months ago, the SITE Intelligence Group reported.
Five UN staff members were kidnapped in Abyan in February while returning to the port city of Aden after a field mission, UN spokesperson Eri Kaneko told AFP at the time.
In Saturday's video message, apparently recorded on August 9, Akam Sofyol Anam urges "the UN, the international community, the humanitarian organisations, to please come forward... and meet the demands of my captors", without outlining the demands.
Formed in a merger of Al-Qaeda's Yemen and Saudi branches, AQAP has carried out attacks on both rebel and government targets in Yemen as well as foreigners.
It has been accused of plotting attacks beyond the Middle East and its leaders have been targeted by a US drone war for more than two decades, although the number of strikes has dropped off in recent years.
Yemen's UN-brokered ceasefire has drastically reduced fighting since the truce began in April, but outbreaks of violence continue.
Last week, 10 Yemeni soldiers were killed in a Huthi attack near Taez, the country's third biggest city which has been blockaded by the rebels since 2015.
The assault, which also left several soldiers wounded, was aimed at cutting off a key route to the southwestern city of about two million, the government said.
Source: Times Of India
Please click the following URL to read the full text of the original story:
https://timesofindia.indiatimes.com/world/middle-east/27-dead-as-al-qaida-launches-attack-on-yemen-separatists/articleshow/94033617.cms
--------
Iran Urges Taliban to Ensure Security of Diplomatic Missions in Afghanistan
2022-September-6
Two Russian embassy workers were among many people killed on Monday in a blast outside the country's diplomatic mission in the Afghan capital. Daesh Terror group (also known as ISIS or ISIL) has claimed responsibility for the suicide bombing.
Kana'ani on Monday expressed his sympathy with the Russian government and the families of the two victims, as well as those Afghans targeted in the terrorist attack.
He called on the Afghan authorities to take more serious measures to ensure the security of embassies and diplomatic premises in the country.
Despite the Taliban's assertion that they have brought security to the nation, Afghanistan has seen regular attacks by armed groups, many of them claimed by a Daesh affiliate known as the Islamic State in Khorasan Province, ISKP (ISIS-K), in recent months.
In Afghanistan, Daesh attacks have resulted in around hunreds of deaths since the Taliban came to power last August, according to the United Nations. The militants have primarily targeted religious and ethnic minorities, as well as schools, mainly with suicide bombings.
Back in late April, Iranian President Seyed Ebrahim Rayeesi warned that the war in Ukraine should not make the international community forget the crisis in Afghanistan.
"The US and NATO presence in Afghanistan meant nothing more than destruction and killing, and it did not provide security for Afghanistan or the region," Rayeesi said.
The president added that the war in Ukraine must not divert international attention from the unfolding crisis in Afghanistan, the problems facing its people and the large number of refugees leaving the country.
He also warned about a surge in threats against Afghanistan and other regional nations.
Source: Fars News Agency
Please click the following URL to read the full text of the original story:
https://www.farsnews.ir/en/news/14010615000147/Iran-Urges-Taliban-Ensre-Secriy-f-Diplmaic-Missins-in-Afghanisan
--------
Israel reveals secret document about bombing Syrian nuclear site
Abdelraouf Arna'out???????
06.09.2022
Israel on Tuesday revealed a secret document from 2002 that helped the bombing of what it said was a Syrian nuclear site in 2007.
A military statement said Israeli warplanes on Sept. 6, 2007 struck a Syrian nuclear reactor in the Deir Ezzor area in a mission that was code-named "Outside the Box."
The secret document included a warning from the Israeli military intelligence that Syria was attempting to begin pursuing a nuclear program.
"Recently it became known that secret projects previously unknown to us are being conducted [or at least were being conducted] within the framework of the Syrian Atomic Energy Commission," the Times of Israel newspaper said, citing the cover sheet of the secret document.
The army also published photos and videos of targeting the Syrian nuclear site, and photos of the site before and after the bombing.
The release of the secret document comes as Israel tirelessly seeks to convince Western powers, including the US, to refrain from signing a deal with Iran over its nuclear program.
Israel accuses Iran of seeking to build a nuclear bomb, a claim denied by Tehran, which says its program is designed for peaceful purposes.
Former US President Donald Trump unilaterally withdrew the US from the 2015 Iran nuclear deal in 2018 and reimposed sanctions as part of a "maximum pressure campaign" on Tehran.
Source: Anadolu Agency
Please click the following URL to read the full text of the original story:
https://www.aa.com.tr/en/middle-east/israel-reveals-secret-document-about-bombing-syrian-nuclear-site/2678345
--------
Palestinian, Egyptian presidents discuss Mideast peace talks
Awad Rajoub
06.09.2022
Palestinian President Mahmoud Abbas held talks in Cairo on Tuesday with his Egyptian counterpart Abdel Fattah Al-Sisi.
The talks dwelt on the situation in the Palestinian territories and Israeli violations against the Palestinians, the state news agency Wafa reported.
Discussions also took up efforts aimed at reviving the moribund peace talks between the Palestinians and Israel, it added.
In 1993, the umbrella Palestine Liberation Organization (PLO) and Israel signed the Oslo Accords which gave Palestinians a form of self-rule.
Years of peace negotiations between the two sides, however, failed to achieve the Palestinian goal of establishing an independent state.
US-sponsored peace talks collapsed in 2014 over Israel's refusal to halt settlement building and release Palestinians imprisoned before 1993.
Abbas' visit to Cairo came a few weeks after Egypt managed to broker a cease-fire between Palestinian Islamic Jihad group and Israel that brought a three-day Israeli offensive on the Gaza Strip to a halt.
Source: Anadolu Agency
Please click the following URL to read the full text of the original story:
https://www.aa.com.tr/en/middle-east/palestinian-egyptian-presidents-discuss-mideast-peace-talks/2678171
--------
Pakistan
Gen Bajwa's Role Vibrant In Serving Islam, Democracy, Defence: Elahi
Sep 7, 2022
LAHORE – Punjab Chief Minister Chaudhry Parvez Elahi has said that the Pakistan Army and scholars have saved this coun­try from chaos, civil war and all kinds of situations. "General Qamar Javed Bajwa has always served the leaders of all sects, religious schools and all religious groups," the CM said while addressing a grand gathering of the Pakistan Con­ference on the Protection of the Prophet Muhammad (PBUH) at the at Jamia Ashrafia here yes­terday. He said, "Yes, not only me, everyone who loves this country and cherishes national security always puts Pakistan's religious identity and religious matters first."
The chief minister said that he knows the Commander-in-Chief of Pakistan very well. "I have seen General Qamar Javed Ba­jwa very closely; he is always in the forefront for the defence and protection of Islam and Pa­kistan, his efforts in the service of Islam, democracy and nation­al defence are commendable," he asserted.
Chaudhry Parvez Elahi said that when the decision was taken to operate on the Teh­reek-e-Labaik Pakistan and the country started to be pushed towards civil war, the role played by General Qamar Javed Bajwa in stopping the operation and violence and bringing it to reconciliation was a great success.
"It is worth writing in golden words, if General Qamar Javed Bajwa and the scholars had not reached an agreement at that time, the whole nation would have faced many difficulties," he remarked. Similarly, the issue of Maulana Fazlur Rehman's sit-in was also resolved with the spe­cial efforts of General Bajwa.
He said that when Tablighi Jamaat was banned in Saudi Arabia, a delegation consist­ing of Maulana Mufti Muham­mad Taqi Usmani, Maulana Muhammad Hanif Jalandhri, members of Raiwind's Shu­ra and our colleague MPA Hafiz Ammar Yasir met Gen­eral Qamar Javed Bajwa, the army chief took personal in­terest and sat down with the Saudi ruler and convinced him that this is a religious party. He played a role and with his personal interest this problem was also resolved.
Chaudhry Parvez Elahi said that these occasions were men­tioned only as an example, "oth­erwise you are more familiar than me with the role of Paki­stan Army and General Qamar Javed Bajwa for the nation."
Source: Nation Pakistan
Please click the following URL to read the full text of the original story:
https://nation.com.pk/2022/09/07/gen-bajwas-role-vibrant-in-serving-islam-democracy-defence-elahi/
--------
Pakistan's devastating floods endanger Mohenjo-daro's world heritage tag
Sep 7, 2022
ISLAMABAD: In flood-stricken Pakistan where an unprecedented monsoon season has killed hundreds of people, the rains now threaten a famed archeological site dating back 4,500 years, the site's chief official said on Tuesday. The ruins of Mohenjo-daro — located in southern Sindh province near the Indus River and a Unesco World Heritage Site — are considered among the best preserved urban settlements in South Asia. They were discovered in 1922 and to this day, mystery surrounds the disappearance of its civilisation, which coincided with those of ancient Egypt and Mesopotamia.
The swelling waters of the Indus, a major river in this part of the world, have wreaked havoc as heavy rains and massive flooding unleashed devastation across much of Pakistan. At least 1,325 people have been killed and millions have lost their homes in the surging waters, with many experts blaming the unusually heavy monsoon rains on climate change. The flooding has not directly hit Mohenjo-daro but the record-breaking rains have inflicted damage on the ruins of the ancient city, said Ahsan Abbasi, the site's curator. "Several big walls, which were built nearly 5,000 years ago, have collapsed because of the monsoon rains," he said. He said dozens of construction workers under the supervision of archaeologists have started the repair work. Abbasi did not give an estimated cost of the damages at Mohenjo-daro.
Pakistan's department of archaeology has called for urgent attention towards conservation and restoration work at Mohenjo-daro, apprehending that the site may be removedfrom the world heritage list if such work was not carried out, media reports said. The site's landmark "Buddhist stupa" — a large hemispherical structure associated with worship, meditation and burial — remains intact, Abbasi said. But the downpour has damaged some outer walls and also some larger walls separating individual rooms or chambers. Abbasi said the civilisation at Mohenjo-daro, also known as "Mound of the Dead" in the local Sindhi language, built an elaborate drainage system, which has been critical in flooding in the past.
Source: Times Of India
Please click the following URL to read the full text of the original story:
https://timesofindia.indiatimes.com/world/pakistan/pakistans-devastating-floods-endanger-mohenjo-daros-world-heritage-tag/articleshow/94041461.cms
--------
Five Pakistan soldiers killed in clash with Taliban
Sep 6, 2022
PESHAWAR: Pakistan's Taliban accused the military Tuesday of breaking a fragile ceasefire, after the army said five soldiers and at least four militants died in a gun battle in the country's northwest.
Tehreek-e-Taliban Pakistan (TTP) declared an indefinite ceasefire in June to facilitate peace talks being brokered by neighbouring Afghanistan, but there have been regular clashes since then despite both sides saying the truce was still on.
In the latest clash on Monday, the Pakistan military said it raided a militant hideout in Boyya, North Waziristan, following an intelligence tip-off.
"Intense fire exchange took place between own troops and terrorists," the military's public relations wing said in a statement.
It said four militants were killed, and five soldiers, including an officer, "embraced martyrdom".
On Tuesday a TTP commander confirmed the clash and accused the government of bad faith, saying troops had attacked them in six districts recently, including Peshawar, the capital of Khyber Pakhtunkhwa province.
"The government was not honouring its commitment regarding the ceasefire," the commander told AFP.
A government official who has been party to negotiations with the group accused them of "targeted killings" and "increasing their movements" in parts of the country.
Since the Taliban returned to power in Afghanistan last year Islamabad has regularly complained of attacks by the TTP, especially along their porous frontier.
The Pakistan and Afghanistan Taliban are separate groups, but share a common ideology.
Afghanistan insists it will not allow its soil to be used by foreign militants, but hundreds of Pakistan Taliban fighters are believed to be in the country, as well as much of the group's leadership.
Source: Times Of India
Please click the following URL to read the full text of the original story:
https://timesofindia.indiatimes.com/world/pakistan/five-pakistan-soldiers-killed-in-clash-with-taliban/articleshow/94032951.cms
--------
WHO warns of worsening situation in Pakistan
Amin Ahmed | Anwar Iqbal
September 7, 2022
ISLAMABAD / WASHINGTON: Amid the World Health Organi­sation's (WHO) warning that the humanitarian situation in flood-ravaged Pakistan is expected to get worse, Japan pledged to give emergency aid of $7 million, Qatar launched an air bridge and the UN refugee agency mounted a huge airlift operation from Dubai.
More than 33 million people in Pakistan have been affected by the flooding, brought on by record monsoon rains amplified by climate change.
The WHO said over 1,460 health centres had been damaged, of which 432 were fully wrecked, mostly in Sindh. More than 4,500 medical camps have been set up by the WHO and its partners, while more than 230,000 rapid tests for acute watery diarrhoea, malaria, dengue, hepatitis and chikungunya have been distributed.
Such diseases are already circulating in Pakistan, alongside Covid-19, HIV and polio, and "now all these are at risk of getting worse", WHO spokesman Tarik Jasarevic said. "We have already received reports of increased number of cases of acute watery diarrhoea, typhoid, measles and malaria, especially in the worst-affected areas," he said.
Greta Thunberg terms Pakistan 'very clear example' of European apathy to climate crisis
"The situation is expected to worsen," he warned, as it was still difficult to get to areas hit hard by the floods.
Japanese Foreign Minister Hayashi Yoshimasa, while announcing the emergency assistance in Tokyo, noted that rain and flooding in Pakistan had led to over a thousand of deaths besides infrastructure damage.
Editorial: The floods are spawning a certain, and deadly, health crisis
Meanwhile, the UNHCR is scaling up support in Pakistan by mounting a huge airlift operation from Dubai meant to focus on Larkana and Sukkur. The first three of nine scheduled flights have already arrived here, with the other five on their way.
Aid includes 40,000 sleeping mats, nearly 15,000 kitchen sets and some 5,000 multi-purpose tarpaulins. An additional six flights are also scheduled from Dubai for Wednesday and Thursday, with 4,500 sleeping mats, 400 tarpaulins, and nearly 5,000 kitchen sets.
Global response to floods
Meanwhile, a host of international visitors are expected to Islamabad this week while some senior Pakistani leaders, possibly including Prime Minister Shehbaz Sharif, may also visit world capitals for consultations later this month.
The most prominent among the visitors to Islamabad is the UN Sec­retary General, Antonio Gute­rres, who is arriving on Sept 9 to review the devastations caused by the floods.
Then on Sept 22, Foreign Minister Bilawal Bhutto-Zardari is expected in New York to attend the UN General Assembly. He will then visit Washington on Sept 15 for talks with US officials.
Meanwhile, Swedish environmental activist Greta Thunberg complained in an interview to Reuters that politicians and the media in the West had "chosen not to communicate" that disasters like the floods in Pakistan and the climate change "are very closely interlinked".
"Just take Pakistan now, as an example, a very clear example," she said.
Fatima Bhutto, in a piece she wrote for The News York Times, stressed that "climate change very likely played a role in the extremely heavy rains" in Pakistan. "So, you can call these people climate refugees," she argued.
Source: Dawn
Please click the following URL to read the full text of the original story:
https://www.dawn.com/news/1708848/who-warns-of-worsening-situation-in-pakistan
--------
Police refusal to book Imran for 'army bashing' irks Lahore court
Wajih Ahmad Sheikh | Malik Asad
September 7, 2022
LAHORE/ISLAMABAD: While a sessions court in Lahore sought reply from police on a petition challenging their refusal to book Pakistan Tehreek-i-Insaf (PTI) Chairman Imran Khan for allegedly 'ridiculing' the army, the Islamabad High Court (IHC) on Tuesday asked the ex-premier to join the investigation against him over his alleged threats to a judge.
The sessions court sought a reply from SP investigation and additional district complaint officer by Sept 10 on a petition challenging police refusal to register a case against Mr Khan on the charge of ridiculing the institution of army in his recent power show in Faisalabad.
Ex-officio justice of peace and additional district and sessions judge Ghulam Hussain Bhinder was hearing the petition filed by one Sheikh Muzaffar Hussain, under Section 22-A and 22-B of the criminal procedure code.
The petitioner through a counsel contended that he filed an application with the Samanabad police for registration of a criminal case against the PTI chief for 'scandalising' senior army officers. He alleged that Mr Khan through his statement attempted to create a rift among the senior army officers and tried to portray them as 'less patriotic'. He said the PTI chief's act amounted to the offence of 'sedition' under the law, which was liable to be prosecuted following registration of a case.
IHC orders PTI chief to join probe into alleged threats against Islamabad judge
However, he said, the SHO flatly refused to act in accordance with law on the application of the petitioner without any legal justification. He argued that the police were legally bound to register a case against the accused person nominated in the application in accordance with the provision of Section 154 of the CrPC. He requested the court to order police to register a case against Mr Khan under relevant provisions of the Pakistan Penal Code.
Probe into threats to judge
Meanwhile, the IHC asked the PTI chief to join the investigation in the case registered against him for allegedly hurling threats to an additional district and sessions judge and top officers of Islamabad police.
The IHC division bench comprising Chief Justice Athar Minallah and Justice Saman Rafat Imtiaz heard the petition seeking to quash the FIR against Mr Khan.
Barrister Salman Safdar, counsel for the PTI chief, argued before the court that the police incorporated some more section of law into the FIR.
On the court's query, Advocate General for Islamabad Barrister Jahangir Khan Jadoon said police had not yet filed challan before the anti-terrorism court, as Mr Khan had not joined the investigation.
When the court asked if the investigation officer had ever tried to approach Mr Khan, the AG replied that the officer had served notice at his residence, but the IO was not given access to the PTI chief.
The court asked the counsel for Mr Khan to advise their client to join the investigation since the case is at the preliminary stage.
The chief justice remarked that the IO represented the state and in case of any lapse, the court were always there to watch over. He said this was a test case for the police itself, adding that the IO should scrap the FIR if the case was not made out.
The court asked the AG to inform the court in case the police would face any issue to access Mr Khan.
Source: Dawn
Please click the following URL to read the full text of the original story:
https://www.dawn.com/news/1708853/police-refusal-to-book-imran-for-army-bashing-irks-lahore-court
--------
IHC sets aside ban on Imran's live coverage
September 7, 2022
ISLAMABAD: The Islamabad High Court issued a detailed order a petition of Pakistan Tehreek-i-Insaf (PTI) Chairman Imran Khan, setting aside the Pakistan Electronic Media Regulatory Authority (Pemra) ban on his live coverage.
The media regulatory body had imposed a blanket ban on live coverage of Mr Khan's speeches on August 20, after he allegedly threatened Additional District and Sessions Judge (ADSJ) Zeba Chaudhry, and the Islamabad Police IG and DIG, of 'consequences' after the judge handed over physical custody of the ex-PM's aide, Shahbaz Gill, to police for two days.
IHC Chief Justice Athar Minallah issued the detailed order on the petition filed by Mr Khan against the ban on his live coverage on electronic media.
Setting aside the Pemra notification, the IHC asked the media regulatory body to enforce its Code of Conduct in the light of Supreme Court's judgement to ensure effective enforcement of its directions. The apex court had previously directed Pemra to devise a standard operating procedure for live coverage, in pursuant to which the electronic media had introduced a time-delay mechanism.
In his petition, the PTI chairman contended that under the Pemra Ordinance, one-third of the total members of the watchdog were supposed to constitute a quorum for the meetings requiring a decision by the authority, which comprised a chairman and 12 members.
Source: Dawn
Please click the following URL to read the full text of the original story:
https://www.dawn.com/news/1708859/ihc-sets-aside-ban-on-imrans-live-coverage
--------
US delegation meets COAS, offers support for flood-hit people
September 6, 2022
RAWALPINDI: A five-member US delegation led by Congress Representative Sheila Jackson Lee on Tuesday met Chief of Army Staff (COAS) General Qamar Javed Bajwa and offered American support for the flood-hit people of Pakistan.
According to Inter-Services Public Relations (ISPR), matters of mutual interest, regional security situation and bilateral cooperation in various fields were discussed during the meeting.
The US delegation expressed grief over the devastation caused by the flash floods in Pakistan and offered sincere condolences to the families of the flood victims. They offered US support for people of Pakistan at this hour of need.
Meanwhile, the US officials appreciated Pakistan's efforts for regional stability and pledged to play their role in enhancing cooperation with Pakistan at various levels.
Source: Pakistan Today
Please click the following URL to read the full text of the original story:
https://www.pakistantoday.com.pk/2022/09/06/us-delegation-meets-coas-offers-support-to-flood-hit-people/
--------
Europe
Türkiye warns Greece to stop refusing to recognize Muslim clerics
SEP 06, 2022
Türkiye on Monday again urged Greece to respect the rights of the Turkish minority in its Western Thrace region and to stop denying recognition to elected Muslim muftis.
Speaking with the Western Thrace Turkish Minority Advisory Board, the Foreign Ministry said that Türkiye expects Greece to respect the right of the Turkish minority to elect their religious leaders, "which is guaranteed by international agreements, especially the Lausanne Peace Treaty, and to end its pressures in this regard."
In a statement, the Western Thrace Turkish Minority Advisory Board, on behalf of the Turkish minority, stressed that it will stand by its rights to elect its religious leader and protect its elected muftis.
The statement also called on minorities to fill all mosques this Friday to show solidarity and to protect their identity, religion, muftis and usurped rights.
Greece's Western Thrace region – in the country's northeast, near the Turkish border – is home to a substantial, centuries-old Muslim Turkish minority numbering around 150,000.
The rights of the Turks of Western Thrace were guaranteed under the 1923 Treaty of Lausanne, but since then the situation has steadily deteriorated.
After a Greek junta came to power in 1967, the Western Thracian Turks started to face harsher persecution and rights abuses by the Greek state, often in blatant violation of European court rulings.
The Turkish minority in Greece continues to face problems exercising its collective and civil rights and education rights, including Greek authorities banning the word "Turkish" in the names of associations, shuttering Turkish schools, and trying to block the Turkish community from electing its muftis.
In addition to violating longstanding treaties, these policies are also often in blatant violation of European Court of Human Rights (ECtHR) rulings.
Elected muftis in Greece
In Western Thrace, muftis have legal jurisdiction to decide on family and inheritance matters for the local Turkish Muslim community.
The issue of mufti elections has been an issue since 1991.
The election of muftis by Muslims in Greece was regulated in the 1913 Treaty of Athens with the Ottoman Empire and was later included in Greek law.
However, Greece annulled this law in 1991 and started appointing muftis itself.
Source: Daily Sabah
Please click the following URL to read the full text of the original story:
https://www.dailysabah.com/politics/diplomacy/turkiye-warns-greece-to-stop-refusing-to-recognize-muslim-clerics
--------
Israeli president addresses German parliament, calls for all-out war on racism
Ayhan Şimşek
06.09.2022
BERLIN
Israeli President Isaac Herzog Tuesday called on German lawmakers to take a stronger stance against hate speech, racism and anti-Semitism.
"We have to fight anti-Semitism and racism wherever we counter it, decisively, and without any compromise," he said in a speech at the German parliament.
Herzog addressed lawmakers at a special parliamentary session as part of his three-day official visit to the country.
Expressing concern over a worrying increase in the number of racist and anti-Semitic incidents, he said hate speech should not be ignored but countered everywhere, on the internet, social media, in the streets or political platforms.
Herzog also underlined that it is a moral obligation and responsibility to continue learning and teaching about the Holocaust.
"Remembering the Shoah (the Holocaust) is part of our national identity," he stressed.
"You cannot do away with the past, but the future is in our hands. It belongs to both of us. It belongs to us, it belongs to you. Because only together we can give meaning to remembrance," he added.
Source: Anadolu Agency
Please click the following URL to read the full text of the original story:
https://www.aa.com.tr/en/europe/israeli-president-addresses-german-parliament-calls-for-all-out-war-on-racism/2678193
--------
Türkiye, Bosnia and Herzegovina agree on passport-free travel: Erdogan
Diyar Guldogan and Talha Ozturk
06.09.2022
ANKARA / Belgrade, Serbia
Ankara and Sarajevo decided to allow their citizens to travel to each other's countries without passports, Turkish President Recep Tayyip Erdogan said on Tuesday.
"We have now made the decision to (enable) travel between Bosnia and Herzegovina and Turkey with identity cards," Erdogan told a news conference in Sarajevo with the three members of the Presidential Council of Bosnia and Herzegovina.
Erdogan said Türkiye and Bosnia and Herzegovina are currently working on passport-free travel, adding that it will become effective soon.
The president said the relations between Türkiye and Bosnia and Herzegovina are "exceptional," voicing support for the country's territorial integrity and stability.
Erdogan reiterated that Türkiye is ready to do its best to overcome the current difficulties in Bosnia and Herzegovina.
"Being here on the 30th anniversary of the establishment of our diplomatic relations has given our visit a historic character," he said.
For his part, the Bosniak member and the current chairman of the Presidency of Bosnia and Herzegovina, Sefik Dzaferovic said Türkiye and Bosnia Herzegovina enjoy friendly relations, and their historical and cultural ties are strong, adding that they want to enhance ties with Ankara.
Dzaferovic said Bosnia and Herzegovina wants to expand bilateral trade volume with Türkiye to $1 billion.
He also appreciated Türkiye's role in mediation between Russia and Ukraine for allowing grain exports.
Serb member Milorad Dodik hailed Erdogan, saying: "His attitude towards us in Bosnia and Herzegovina is one of emotion and sympathy. The best proof is precisely President Erdogan, who comes here with an aid package to Bosnia and Herzegovina, without making any political conditions."
Croat member Zeljko Komsic said the policies of Erdogan and Türkiye's are one of the "rare things" on which they agree in Bosnia and Herzegovina.
Tension with Greece
Erdogan reiterated the warning to Greece, saying: "All of a sudden, we can come overnight."
"They have islands, there are bases on these islands ... and if these illegitimate threats against us continue, there is an end to our patience," he said.
Turkish jets engaged in NATO missions over the Aegean and Eastern Mediterranean seas on Aug. 23 were harassed by a Russian-made S-300 air defense system stationed on the Greek island of Crete.
According to Turkish National Defense Ministry sources, Greece violated Türkiye's airspace and territorial waters over 1,100 times in the first eight months of this year alone.
Türkiye, a NATO member for over 70 years, has complained of repeated provocative actions and rhetoric by Greece in the region in recent months, including arming islands near Turkish shores that are demilitarized under a treaty, saying that such moves frustrate its good faith efforts for peace.
Elections in Bosnia and Herzegovina
Regarding the general elections in Bosnia and Herzegovina that will be held on Oct. 2, Erdogan said: "The fact that the elections are held in a fair, transparent, and constructive environment is of vital importance not only for Bosnia and Herzegovina, but also for our entire region."
Erdogan added that encouraging an election atmosphere that will contribute to the welfare of the country in the lead-up to the elections is particularly important for the peace and stability of Bosnia and Herzegovina.
About a question on possible amendments to the nation's election law and constitution by the Office of the High Representative, Erdogan said presidential council members in Bosnia and Herzegovina should decide on the election law, adding that High Representative for Bosnia and Herzegovina Christian Schmidt "should not interfere in the process."
Source: Anadolu Agency
Please click the following URL to read the full text of the original story:
https://www.aa.com.tr/en/europe/turkiye-bosnia-and-herzegovina-agree-on-passport-free-travel-erdogan/2678178
--------
Balkan countries want to improve economic ties with Türkiye: Officials
06.09.2022
BELGRADE, Serbia
Bosnia and Herzegovina, Serbia and Croatia are aiming to improve their economic relations with Türkiye, officials of the three countries said ahead of this week's Balkan tour by the Turkish president.
Zdravko Marinkovic, head of Bosnia and Herzegovina's Chamber of Foreign Trade, told Anadolu Agency that President Recep Tayyip Erdogan's Balkan tour is important for the region.
"Türkiye invested $265 million in Bosnia and Herzegovina last year. Türkiye is one of the most important investment powers in Bosnia and Herzegovina. The trade volume increased to approximately $600 million last year," said Marinkovic.
Marija Sepi, head of the Center for Europe at Serbia's Chamber of Commerce, said economic relations with Türkiye are at the highest level.
"The economic relations between Türkiye and Serbia have made great progress in recent years. The foreign trade volume reached $1.73 billion in 2021," said Sepi.
Moreover, imports from Türkiye increased by 43%, she added.
"We have come a long way in terms of foreign trade volume and investment, but we are below the real potential. Thanks to good political relations, the economic relations of the two countries are at the highest level," said Sepi.
Sepi added that there are 699 Turkish companies registered in Serbia and these companies employ approximately 10,000 people.
Silva Stipic, director of the International Employment Center at Croatia's Chamber of Economy, said the bilateral trade volume reached $845 million in 2021.
"We reached $501 million in the first five months of this year. I can say that we are getting closer to the target," said Stipic.
During Erdogan's Balkan visit, business forums are planned in Sarajevo, Belgrade and Zagreb with the cooperation of the Foreign Economic Relations Board of Türkiye (DEIK).
In recent years, the Balkans region has become an attractive market for Turkish investors with its qualified workforce, business-friendly investment environment, and tax and financial incentives.
Source: Anadolu Agency
Please click the following URL to read the full text of the original story:
https://www.aa.com.tr/en/europe/balkan-countries-want-to-improve-economic-ties-with-turkiye-officials/2677963
--------
Families accuse EU of 'ignoring' Europeans imprisoned in Iran
06 September, 2022
The families of four Europeans imprisoned for several years by Iran on Tuesday accused the European Union of ignoring the plight of their loved ones who they say are held hostage by the Islamic republic.
The open letter by the families to EU foreign policy chief Josep Borrell comes as little sign emerges of a breakthrough in talks on the Iranian nuclear program which activists believe could speed their release.
"We, the families of French, Swedish, German, and Austrian citizens, who have been illegally detained by the Iranian regime, are outraged that the European Union seems to be ignoring these crimes," the families said in the letter.
"All of them wonder whether EU officials have forgotten them and how much longer they will have to endure this ordeal," they added.
The letter was signed by the sister of French citizen Benjamin Briere, the wife of Austrian Kamran Ghaderi, the wife of Swede Ahmadreza Djalali and the daughter of German citizen Jamshid Sharmahd.
Briere has been detained for two years while Ghaderi has been held for almost seven years.
Djalali has been in jail for six years and sentenced to death on espionage charges while, after some two years in jail, Sharmahd is being tried on charges that may see him sentenced to death.
"These European citizens have been subjected to torture, grossly unfair trials based on fabricated charges, without access to legal counsel or proper medical care," said the letter.
"All of them are held hostage by a dictatorial regime that does not even abide by the minimum standard of international legal and human rights."
Iran insists the foreign nationals are being held fully in line with the law but campaigners counter that in the past the Islamic republic has readily released foreigners in prisoner swaps or in apparent exchange for funds.
Borrell said on Monday he was "less confident" about efforts to restore the 2015 nuclear deal, which was abandoned by former US president Donald Trump in 2018.
Source: Al Arabiya
Please click the following URL to read the full text of the original story:
https://english.alarabiya.net/News/middle-east/2022/09/06/Families-accuse-EU-of-ignoring-Europeans-imprisoned-in-Iran
--------
Legal process for French cement giant Lafarge's alleged Daesh/ISIS link still unclear
Feiza ben Mohamed, Alaattin Dogru
06.09.2022
It has remained unclear when the trial would begin regarding the case over the French cement giant Lafarge's alleged link to the Daesh/ISIS terror group.
Despite the decision by a French court in September 2021 that the company should be investigated on charges of complicity in crimes against humanity -- followed by the Court of Cassation's indictment this May -- no date has been announced yet for the trial.
It has been five years since the case that Lafarge provided financing to terrorism to continue its activities in Syria was submitted to the judiciary.
Also, no official statement was made on whether the investigation file was transferred to new judges, despite the defendant's request and the court's decision.
Cannelle Lavite, a lawyer from one of the civil parties in the case -- European Center for Constitutional and Human Rights -- told Anadolu Agency that it is unknown where the money from the alleged link between Lafarge and the terror group was spent.
'Lafarge issue is not uncommon in France'
She stressed that there is no evidence showing that the Daesh/ISIS terrorist attacks in France were not carried out with the money Lafarge allegedly gave to the terror group.
Commercial activities of the companies will not exempt them from their responsibilities and Lafarge should be seen as "a partner in the crime against humanity," added Lavite.
Revealing of the documents in the media will shed light on the case, she stressed, saying the Lafarge issue is not uncommon in France.
Inconclusive judicial processes against companies involved in crimes do not have a deterrent effect, Lavite noted, adding that Lafarge is using all possible opportunities to slow down and postpone the hearing.
"At this stage, we don't even know if Lafarge will be prosecuted for the charges," she said, referring to the current situation that a date has yet to be announced for the trial.
Paying to foreign groups
Lafarge is a French industrial company that specializes in cement, concrete, and construction aggregates. The company was accused of paying almost €13 million ($13.68 million) to foreign groups, including the terrorist organization Daesh/ISIS, to maintain their factory presence in the city of Jalabiya in northern Syria during the civil war.
CEO Bruno Lafont and eight Lafarge executives were also accused of financing a terror group and endangering the lives of others.
In 2019, the Paris Court of Appeals dismissed the charges of crimes against humanity, accepting the defense that payments made by Lafarge were not used in aiding or abetting the war effort. The other charges stood though, including that of violating an EU embargo.
Lafarge has denied any wrongdoing in the allegations that it negotiated with terrorist organizations, and has continued to fight all charges.
Documents obtained and published by Anadolu Agency earlier had revealed that Lafarge constantly informed the French intelligence agencies about its ties with the Daesh/ISIS terror group.
Source: Anadolu Agency
Please click the following URL to read the full text of the original story:
https://www.aa.com.tr/en/europe/legal-process-for-french-cement-giant-lafarges-alleged-daesh-isis-link-still-unclear/2678375
--------
German broadcaster DW's sacking of Palestinian journalist was unlawful, court rules
06.09.2022
BERLIN
A labor court in Berlin has ruled that the dismissal of Palestinian-Jordanian journalist Farah Maraqa by Germany's state broadcaster Deutsche Welle (DW) on charges of anti-Semitism was not legally justified.
Maraqa's lawyer hailed the court's judgment on Monday and called on DW to issue a public apology and reinstate Maraqa.
"The court ruled totally in our favour in the case of the unlawful dismissal of Farah. It held that Deutsche Welle is obliged to reinstate her, so Farah is now entitle to return to her work," Hauke Rinsdorf said in an e-mailed statement to Anadolu Agency on Tuesday.
"It's not just a relief for Farah in the difficult situation, Deutsche Welle brought her into, but also a proof for the strength of the rule of law," he stressed.
Rinsdorf criticized Deutsche Welle for making false accusations against the journalist and damaging her reputation.
"Now we have the court's decision which speaks for itself. One may see this as an important step to restore Farah's professional reputation as a journalist," he said.
DW fired several journalists from its Arabic service following a two-month internal investigation into allegations of anti-Semitism.
However, a separate investigation conducted by Euro-Med Monitor found that Maraqa's articles in question had been taken out of context and that the inquiry itself contained several instances of embracing a pro-Israeli narrative against Palestinians.
In July, a former colleague of Maraqa, Maram Salem, won her case against DW for unlawful termination.
A court then ruled that Salem's dismissal was illegal, and said her Facebook posts were not anti-Semitic.
DW has long been criticized for biased coverage of the Israeli-Palestinian conflict.
Source: Anadolu Agency
Please click the following URL to read the full text of the original story:
https://www.aa.com.tr/en/europe/german-broadcaster-dw-s-sacking-of-palestinian-journalist-was-unlawful-court-rules/2678317
--------
Türkiye, Sweden, Finland continue talks on two Scandinavian countries' NATO bid
Ahmet Gencturk
06.09.2022
Türkiye, Sweden, and Finland continue to talk about the two Scandinavian countries' NATO bid, said a Swedish daily on Tuesday in reference to the meeting held between the three countries on Sept.2.
The Turkish delegation argued that Sweden has not fulfilled what the countries agreed upon in the settlement during the NATO summit held in Madrid in June, said the Swedish daily Aftonbladet, citing Swedish officials.
The daily added that the Turkish delegation also showed photographs from demonstrations in Sweden where terrorist group PKK's flags were waved.
"The meeting was constructive and was held in a good spirit, but the Turkish delegation continued to criticize several points which the Swedish side partly thinks are incorrect. Therefore, these meetings have been partly about clearing up misunderstandings," told the officials daily.
Türkiye gave no information whatsoever about when the country might approve Sweden's and Finland's NATO applications, the daily reported.
In May, Sweden and Finland formally applied to join NATO, a decision spurred by Russia's war on Ukraine.
However, Türkiye, a NATO member for more than 70 years, opposed the two countries' membership aspirations due to their tolerance and even backing for terrorist groups, including PKK and FETO.
In its more than 35-year terror campaign against Türkiye, the PKK -- listed as a terrorist organization by Türkiye, the US, EU, and the UK -- has been responsible for the deaths of more than 40,000 people, including women, children, and infants.
FETO orchestrated the defeated coup of July 15, 2016, in Türkiye, in which 251 people were killed and 2,734 injured.
Ankara accuses FETO of being behind a long-running campaign to overthrow the state by infiltrating Turkish institutions, particularly the military, police, and judiciary.
Source: Anadolu Agency
Please click the following URL to read the full text of the original story:
https://www.aa.com.tr/en/europe/turkiye-sweden-finland-continue-talks-on-two-scandinavian-countries-nato-bid/2678313
--------
North America
US refrains from directly addressing Greek harassment of Turkish jets
Michael Gabriel Hernandez
06.09.2022
The US continued to refrain from directly addressing Türkiye's statements that Greece locked on to Turkish jets using its S-300 anti-air system during a NATO exercise.
A Pentagon spokesman declined to address the matter directly during a daily press briefing, saying that he is "aware of those reports."
Brig. Gen. Patrick Ryder reiterated what the Pentagon told Anadolu Agency last week, specifically that Defense Secretary Lloyd Austin has spoken with his Turkish and Greek counterparts to urge a diplomatic resolution to the ongoing row.
"Secretary Austin has talked in the past with both his Turkish and his Greek counterparts and emphasized the need for continued efforts to reduce tensions in the Aegean through constructive dialogue. So I'll leave it at that," he told reporters.
Ankara maintains that Turkish jets engaged in NATO missions over the Aegean and Eastern Mediterranean seas on Aug. 23 were harassed by a Russian-made S-300 air defense system stationed on the Greek island of Crete. Greek military officials, however, have denied the Turkish account of the actions, which are described as "hostile" under the NATO Rules of Engagement.
"On the issue of radar-lock, our sensitivity persists with determination. Greece is aware of this and has thus chosen to clean up its act," Turkish President Recep Tayyip Erdogan said earlier on Tuesday.
Erdogan said Turkish officials continue to raise this issue with NATO.
Source: Anadolu Agency
Please click the following URL to read the full text of the original story:
https://www.aa.com.tr/en/europe/us-refrains-from-directly-addressing-greek-harassment-of-turkish-jets/2678531
--------
US citizen in Iran needs surgery, family pleads for son's release
06 September, 2022
The family of a US citizen detained for nearly seven years in Tehran pleaded Tuesday for his furlough to be with his father, who it said needs a new, urgent surgery and cannot leave Iran.
Baquer Namazi, 85, requires surgery within weeks to clear life-threatening blockages in his left carotid artery, which supplies blood to the brain, the family said.
He underwent a similar operation in October last year for blockages on the right artery, with Iran declining appeals to let him return to the United States for the treatment.
The family of his son Siamak Namazi, who is serving a 10-year sentence, pleaded for him to be allowed to leave Tehran's notorious Evin prison to be with his father.
"I am begging Iran to show the smallest amount of humanity by allowing Siamak to be with my dad and help take care of him during his recovery," Baquer's other son Babak Namazi said in a statement.
"I also call on the US to drastically increase its efforts to obtain my family's freedom before it's too late. Time is not on our side."
Namazi is one of at least three Americans detained in Iran, with the United States saying it is insisting on their release as it holds indirect negotiations with the clerical state on reviving a nuclear deal rejected by former president Donald Trump.
Siamak Namazi, a businessman, is accused of collaborating with a hostile government, a charge strenuously denied by his family, which says he was harshly interrogated about his past fellowships with US institutions.
Baquer Namazi, a former UNICEF official originally from Iran who is a naturalized US citizen, was taken into custody in September 2016 when he traveled to Tehran in hopes of assisting his son.
Source: Al Arabiya
Please click the following URL to read the full text of the original story:
https://english.alarabiya.net/News/world/2022/09/06/US-citizen-in-Iran-needs-surgery-family-pleads-for-son-s-release-
--------
URL: https://newageislam.com/islamic-world-news/islamist-bangladeshi-mystics-harez-fakir/d/127898
New Age Islam, Islam Online, Islamic Website, African Muslim News, Arab World News, South Asia News, Indian Muslim News, World Muslim News, Women in Islam, Islamic Feminism, Arab Women, Women In Arab, Islamophobia in America, Muslim Women in West, Islam Women and Feminism