New Age Islam News Bureau
24 Nov 2016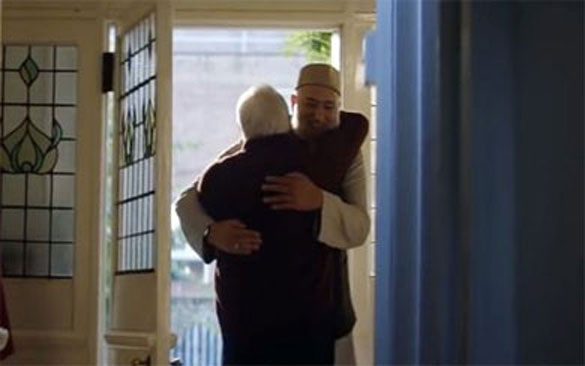 The Amazon Christmas advert 2016
-------
• Islamic Subjects in the Indonesian Schools Fail To Touch On Tolerance, Unity
• Mosque 'Vandalised' With Messages of Love in Virginia, USA
• Amazon's 2016 Christmas Advert Featuring Muslim Cleric and Vicar Praised As Inspiring
• Media Blackout as Millions of Muslims March against IS In Iraq
Southeast Asia
• Islamic Subjects in Schools Fail To Touch On Tolerance, Unity
• Blasphemy Charge Reveals Real Fault Lines in Indonesia Democracy
• Divisions, demonstrations over proposed Shariah courts amendments in Malaysia
• Islamic Defenders Front to Go Ahead With Anti-Ahok Protest despite Police Ban
• NU Calls on MUI to 'Take Responsibility' for Muslims' Anger over Ahok
• Waytha urges non-Muslims, Borneo parties to reject Hadi's bill
• US says troubled over arrest of Malaysian activist under security law
--------
North America
• Mosque 'Vandalised' With Messages of Love in Virginia, USA
• Polling Calls to US Muslims Raise Surveillance Fears
• US citizen convicted for 'buying' missiles for Tehran
• Muslim New Yorkers Respond with Fear, Hope, and Apathy to Trump's Election
--------
Europe
• Amazon's 2016 Christmas Advert Featuring Muslim Cleric and Vicar Praised As Inspiring
• MEPs Sound Alarm on Anti-EU Propaganda from Russia and Islamist Terrorist Groups
• Peter Dutton says Labour has 'misrepresented' his remarks about Lebanese Muslims
• Navigating post-truth politics in Russia and America
• Morocco quits Africa-Arab summit in Equatorial Guinea
• Russian president blasts West's 'failure in democracy'
--------
Arab World
• Media Blackout as Millions of Muslims March against IS In Iraq
• Over 100 Terrorists Including Commanders Killed in Clashes with Syrian Army in Aleppo
• GCC Shoura members condemn targeting of Makkah; reject JASTA
• Syrian Commander: Popular Uprising against Terrorists Starts in Eastern Aleppo
• Iraq forces cut off Islamic State-held Mosul from Syria
• ISIS could launch gas attacks beyond Syria - OPCW
• Trial begins for suspects held in King Abdullah assassination bid
• Asharq al-Awsat editor-in-chief resigns over fabricated report
• Iraqi journos with Asharq al-Awsat face arrest over false Karbala report
• Egypt's president says Cairo backs Syrian forces
• Syrian Army Inches Closer to Jeish Al-Islam's Main Stronghold in Damascus
• Syrian Army Starts Operations to Retake Jeish Al-Fatah's Key Base in Lattakia
• Syria: Gov't Forces Launch Fresh Offensive in Northern Quneitra
• Syria: ISIL Fails to Prevail Over Gov't Positions in Palmyra Airbase
• GCC officials condemn Houthi attack targeting Makkah
--------
India
• Police to Book Zakir Naik for 'Inciting Enmity'
• Muslims in Rajasthan Village Donate Abandoned Graveyard Land for Temple
• Pakistan to woo Indians opposed to Modi's extremist policies: Sartaj Aziz
• Haridwar's 'Har Ki Pauri' Recede By ISIS 'Operatives'
• Army Chief's succession across border may thaw ice, with a little will from Pakistan
• To avenge beheading, Army pounds Pakistan posts in 5 sectors
• RAF to be deployed permanently in Haryana's Muslim-dominated Mewat region
• 200 terrorists active in Jammu and Kashmir: Govt informs Rajya Sabha
--------
Pakistan
• ISIL Continues Attacks in Western Pakistan
• Government Incentives Boost Pakistan's Islamic Banks
• Change of command must not affect peace efforts, says army chief
• Maleeha Condemns Use of Water as 'Instrument of War'
• Terror suspect held, explosives seized
--------
South Asia
• Taliban Mulls Peace Talks Resumption, Condemn Ghani for Seeking UN Sanctions
• Afghan Intelligence Warned US Twice Before Deadly Bagram Attack
• Taliban militants abduct 2 female teachers in Ghor province
• Over 12 Afghan soldiers rescued a year after kidnapped by Taliban
• US hikes fund for repatriation of Afghan refugees
• More Rohingyas flee to BD as violence spreads in Myanmar
• Malaysia debates pulling out of ASEAN soccer cup over Myanmar's Rohingya crackdown
• SC: Niko graft case against Khaleda will continue
--------
Africa
• Tunisia Confirms US Drones over Libyan Border Monitor Islamic State
• ISIL Extremists Surrender in Libya's Sirte
• 16 dead, thousands displaced in C. Africa clashes: UN
• Nigeria attack: Suicide bomber kills 1 at northeast Nigerian bus station
• Boko Haram Terrorists' Days Are Numbered, Army Says
• Somalia: Al Shabaab Says Briefly Captured Town in Kenya
• 128 police personnel killed in Nigeria within 3 months
--------
Mideast
• Erdogan Says EU Lawmakers' Vote on Turkish Membership 'Has No Value'
• Israel Bid to Quiet Muslim Call to Prayer Revived
• Airstrike kills 12 civilians in Yemen
• Iran warns of retaliation if US breaches nuclear deal
• Yemeni army thwarts attack by militias near Taiz
• Reports: Hezbollah chief's guard seen in Aleppo
• Turkey claims Syrian airstrike killed 3 soldiers
• Bomb explosion kills 2, injures 16 in southern Turkey
• Only 10% of Gazans have access to potable water: World Bank
• Turkish court ruling keeps novelist, linguist in prison
Compiled by New Age Islam News Bureau
URL: https://www.newageislam.com/islamic-world-news/new-age-islam-news-bureau/islamic-subjects-in-the-indonesian-schools-fail-to-touch-on-tolerance,-unity/d/109188
--------
Islamic Subjects in the Indonesian Schools Fail To Touch On Tolerance, Unity
November 23, 2016
Teachers of Islamic subjects are failing to imbue their students with the values of tolerance and unity, as most of the material delivered in classes merely focuses on rituals and theology, a study has concluded.
The study, released by the Analytical and Capacity Development Partnership (ACDP) Indonesia, a think tank within the Culture and Education and the Religious Affairs ministries funded by the EU, the Asia Development Bank (ADB) and the Australian Department of Foreign Affairs and Trade discovered that democracy, pluralism and human rights, are not being taught in Islamic subjects in classes.
"Apparently, the curriculum in Islamic subjects never includes how to respect other religions, hence teachers only remind their students about sin [according to Islamic values]," ACDP consultant Muljani Nurhadi said at the Religious Affairs Ministry on Wednesday.
Director General for Islamic education at the Religious Affairs Ministry Kamaruddin Amin said that if the issue was not addressed properly, it could lead to extremism and radicalism.
"One of the functions of Islamic teaching in schools is the maintenance and preservation of moderate Islam," Kamaruddin said.
The study questioned 229 respondents comprising students, teachers and headmasters in 24 schools in four cities namely Jakarta; Medan, North Sumatra; Surakarta, Central Java; and Manado, North Sulawesi.(fac/dmr)
http://www.thejakartapost.com/news/2016/11/23/islamic-subjects-in-schools-fail-to-touch-on-tolerance-unity.html
--------
Mosque 'Vandalised' With Messages of Love in Virginia, USA
24 November 2016
Ordinarily, when a place of worship is vandalized, police are called, statements are made, and a community becomes a little more fearful of their surroundings. In Chantilly, Virginia, however, the graffiti that greeted members of the Mubarak Mosque this week prompted a very different sort of response.
When Tariq Amjed arrived at the mosque on Monday morning, he found the walkway leading into the building covered in colorful messages of support and love.
"We believe it was someone in our neighboring community," Amjed, who serves as president of the Central Virginia Chapter of the Ahmadiyya Muslim Community, told The Huffington Post. "We have been here for about four or five years now and we have a beautiful community of people around us. This proves it once more, and we hope they come visit our mosque."
Images of the heartening graffiti were shared by the Central Virginia chapter of the Ahmadiyya Muslim Youth Association, and then by community member Qasim Rashid, whose pictures of the messages racked up thousands of retweets and likes on Twitter.
Adding to the poignancy of the gesture is the fact that the Mubarak Mosque was the victim of the other kind of vandalism, just four years ago, as it was undergoing construction. Then, unknown perpetrators caused nearly $60,000 worth of damage by smashing almost every first floor window of the building.
Hibbi Iqbal, who was among the group to first discover the messages on Monday morning, told the Australian Broadcasting Corporation, "it wouldn't surprise us at all if it was a group from any of the other religious communities in the area either."
Given the heightened anxiety felt by many in the Muslim communityover Donald Trump's impending presidency, Iqbal saw the uplifting vandalism as a sign of hope.
"If we are just with our friend and neighbors, they will be just with us," he told the ABC. "At the end of the day these are the bonds that will unite us against any forces seeking to destroy."
The mosque has reportedly extended an invitation to the as-of-yet unidentified artists behind the "graffiti" to return so the community can extend their thanks in person.
http://www.worldbulletin.net/america-canada/180615/mosque-vandalised-with-messages-of-love-in-virginia
--------
Amazon's 2016 Christmas advert featuring Muslim cleric and vicar praised as inspiring
23 NOV 2016
he people at Amazon may have snatched the title of best Christmas advert with their latest ad - featuring a real Muslim cleric and vicar. It debuted on TV last week and viewers have praised the wonderful message of tolerance and inter-faith friendship at this time of year.
On Twitter Milhouse said: 'Amazon Christmas advert hands down won it this year, proper love it.' And another tweeted: 'The Amazon Christmas advert is the best idc [I don't care] what anyone says.'
But there is no mention of Christmas and not a bauble in sight.
John Lewis unveil 2016 Christmas advert - watch it here
The advert shows the two men enjoying a cup of tea and a chat together at the vicar's house.
But when they both get up - they moan about their aching knees. This leads to both men ordering the same present for the other - knee pads. The advert later shows the vicar and Imam wearing their presente while bending down to pray at their respective places of worship.
Instead of hiring actors, Amazon worked with The Muslim Council of Great Britain and the Christian Muslim Forum and used a real priest and Imam - London vicar Rev Gary Bradley and Zubeir Hassam head of a Muslim school in Leicestershire.
Imam Zubier Mohammad said: "I have seen that through this little ad, millions of people are seeing the positive side of Islam.
"At the moment with things going on around the world we are portrayed in the wrong way. I wanted to show that communities do work together. We have no issues. We can work in harmony."
Brummies have been wowed by the advert and took to Twitter to talk about its inspiring message, and it has been shared on social media accounts all over the world.
Amazon's advertising director Simon Morris said "We wanted it to do well and be respectful of the religions that feature in it."
http://www.birminghammail.co.uk/news/showbiz-tv/amazons-christmas-advert-featuring-muslim-12219269
--------
Media blackout as millions of Muslims march against IS in Iraq
November 23, 2016
Given the mainstream media's constant sensationalised reporting on terror and Muslims in the Western world, the utter lack of coverage of Arbaeen's march on Sunday and Monday revealed the double standard that exists in reporting on peaceful Muslims.
Monday marked the final day of the mourning for Imam Hussein who was martyred in a battle with the massive army of Yazid after refusing allegiance to the tyrant caliph. Yazid the caliph of Umayyad dynasty was promoting the same type of Islam as IS and Wahhabist preach today.
Millions of marchers participated in the annual Arbaeen Procession in Karbala. The marchers are said to come from over 60 countries, and most of them have marched all the way to Karbala from other Iraqi cities like Najaf and Baghdad in a show of devotion. Each year, Sunni Muslims and followers of other religious groups such as Christians join the journey to mourn the martyrdom of Imam Hussein.
Arbaeen, or mourning, is a Shia Muslim tradition to mark the anniversary of seventh-century social justice leader Imam Husain. Arbaeen is commemorated 40 days after Ashura, the martyrdom anniversary of Imam Hussein (AS) and his companions in 680 AD. However, in light of IS terror attacks globally, several people took the controversial step of turning their march political in order to denounce terror in all forms.
Tens of thousands of Muslims have been killed and displaced by IS's declared caliphate, an exponentially larger number than those killed in attacks in the West.
The occasion has found additional significance in recent years as it has become a rallying cry for the campaign against IS terrorists who have frequently targeted the pilgrims.
Iraqi troops have been deployed to ensure security for the pilgrims. The northern and western parts of Iraq have been plagued by gruesome violence ever since IS terrorists began a campaign of terror in the country in June 2014.
The terrorist campaign, however, has not dissuaded pilgrims from around the world from making the journey. It is noteworthy to mention the mainstream media blackout of the millions people marched gathering in war torn Iraq, battling the IS, as a clear sign of biased reporting.
http://www.dhakatribune.com/world/2016/11/23/media-blackout-millions-muslims-march-iraq/
--------
Southeast Asia
Blasphemy charge reveals real fault lines in Indonesia democracy
November 24, 2016
The controversial decision to continue criminal proceedings for blasphemy against Jakarta Governor Basuki Tjahaja Purnama reveals deep fault lines in Indonesian society. The crisis, which has engulfed his
re-election campaign, is complex but reflects two problems at the heart of Indonesian democracy.
The first is the rise of religious intolerance among Indonesia's 80 per cent-plus Muslim majority. The second is the manipulation of that intolerance by the small group of elite politicians who dominate Indonesian politics.
Indonesian reformers began warning of rising religious intolerance towards unorthodox Muslims and Christians while ex-president Susilo Bambang Yudhoyono was in office.
Regarded internationally as a sincere democrat and — as Australian diplomats usually put it — "basically decent", Yudhoyono played a key role in pushing the army back into the barracks after Suharto's fall in 1998. His weak spot, however, was conservative Islamists, known as "hardliners". He seemed unable, or unwilling, to do anything to oppose their rise.
In the decade of Yudhoyono's presidency (2004-2014) there were far more convictions for blasphemy than under the 32 years of Suharto's rule. Most of these were at the behest of MUI, Indonesia's conservative Council of Ulama (Islamic religious leaders), a non-government body acting as an umbrella group for Muslim organisations.
Reinventing itself from the regime puppet it was under Suharto, this secretive organisation quickly became a champion of conservative Muslim values. Yudhoyono backed it, saying it should have a "central role" in defining religious orthodoxy and help form state policy on religion, with the "tools of state" "doing their duty" to implement its fatwas. Many are now confused about its status and think of it as a state agency.
A pattern has emerged of MUI branches issuing fatwas against minority religious groups. Often this is followed by protests against the group, often violent, usually provoked by hardliner vigilante groups such as the Islamic Defenders Front. The police stand back at first, before arresting members of the target group days later. They are then tried for blasphemy on the basis of the fatwa, and are usually jailed.
Jakarta's Governor, a Chinese Christian known as Ahok, is by far the most prominent and powerful figure to face possible prosecution for blasphemy. The huge, violent demonstration against him that gridlocked Jakarta on November 4 and forced President Joko Widodo to cancel his state visit to Australia nonetheless fits the pattern.
On October 11, MUI condemned Ahok for comments made on the election trail. Ahok, who has a reputation for blunt and often unguarded remarks, said voters shouldn't be fooled by Ulama using a verse of the Koran to claim Muslims should not take non-Muslims as leaders.
When transcribed to a website, the reference to "using" was dropped, making it seem Ahok was suggesting Muslims could be fooled by the Koran. MUI said either version insulted Islam: enough to constitute blasphemy under the law.
Technically MUI's opinion was not a fatwa but it made no difference. The violent protest involved the usual hardliner vigilante groups, groups opposed to evictions Ahok has ordered in his struggle to clean up Jakarta, and others put off by his "straight-talking style" (often a euphemism for anti-Chinese sentiment).
Last week, police announced they would proceed with the blasphemy case against Ahok, despite debate among Muslim scholars about whether the remark was reasonable.
Now prosecutors must decide on the charges Ahok faces. Given the huge pressure from hardliners, he is likely to be tried for blasphemy. Widodo has already said as much, declaring he wants the nation to watch. Ahok will probably also face charges of "causing feelings of hatred in the community", a back-up often used to ensure conviction if blasphemy fails.
There is a real possibility he will be convicted, at least at first. Judges in recent controversial cases, such as the Jakarta International School child abuse case and the Jessica Wongso murder case, seem afraid to decide contrary to public sentiment as shown in the media, regardless of evidence.
That would suit Yudhoyono as his son, Agus, is challenging Ahok in the gubernatorial race.
For Yudhoyono, furious with Widodo for belittling his legacy and worried about his own Democrat Party's fading clout, his son's victory would be a clear signal he is back in the game. This why the Jakarta gossip has it that Widodo's claims the riots were instigated by "political actors" refer to Yudhoyono.
This reveals the second fault line. In a sense, the religious issues are only part of what this crisis is about. At a deeper level, it is really about competition for power. Ahok was deputy when Widodo was governor of Jakarta. The two have been very close. Until the blasphemy crisis, Ahok was clear favourite to win, with high approval ratings as governor. Now he might lose.
The third ticket in the race is former education minister Anies Baswedan. He is backed by the party of Widodo's failed presidential rival, the former general and one-time Suharto son-in-law, Prabowo Subianto.
In other words, the election for governor of Indonesia's capital has become a high-stakes proxy war between three of the country's most powerful men: the President, a former president and a former presidential candidate, Prabowo.
It appears the embattled and utterly pragmatic Widodo might cut his close friend Ahok loose to save himself. If he does, the hardliners will have won. Again.
Tim Lindsey is Redmond Barry Distinguished Professor at Melbourne Law School and joint editor of 'Religion, Law and Intolerance in Indonesia'
http://www.theaustralian.com.au/news/world/blasphemy-charge-reveals-real-fault-lines-in-indonesia-democracy/news-story/d748c881028069a19d1459dc592d7213
--------
Divisions, demonstrations over proposed Shariah courts amendments in Malaysia
24 Nov 2016
KUALA LUMPUR: Malaysian parliamentarians are divided as controversial amendments that would strengthen Shariah courts and pave the way for an Islamic penal code in the state of Kelantan are expected to be tabled on Thursday (Nov 24).
Malaysia practices a dual-track legal system, where certain cases involving Muslims, such as family disputes, are dealt with by Islamic courts.
However, Islamist party PAS president Hadi Awang's private members' Bill would amend the Syariah Courts (Criminal Jurisdiction) Act to give the courts more power- including potentially doling out punishments under Islamic law such as stoning and amputations for criminal cases which currently fall under the secular Penal Code.
This would then pave the way for an Islamic criminal code in Kelantan for Muslims.
The push to implement "hudud" law has been a divisive topic in Malaysia, which has prided itself on being a moderate Muslim-majority nation.
Ruling coalition Barisan Nasional's component parties, including the Malaysian Chinese Association (MCA) and the Malaysian Indian Congress, have vocally opposed the implementation of hudud law while the former opposition coalition Pakatan Rakyat fell apart last year largely because of disagreements between Chinese-majority DAP and PAS over its hudud push.
Prime Minister Najib Razak's UMNO party has taken advantage of the fall out, actively forging closer ties with PAS including by helping fast track the tabling of these amendments in the lower house.
Full report at:
http://www.channelnewsasia.com/news/asiapacific/divisions-demonstrations-over-proposed-shariah-courts-amendments/3314358.html
--------
Islamic Defenders Front to Go Ahead With Anti-Ahok Protest Despite Police Ban
Nov 24, 2016
Jakarta. FPI, or Islamic Defenders Front, leader Habib Rizieq Shihab said his organization will go ahead with its plan to take to the streets of Jakarta in another massive anti-Ahok protest on Dec. 2, despite no longer getting the support of the Indonesian Ulema Council and in defiance of an official ban from the police.
After being questioned as an expert witness in Jakarta governor Basuki "Ahok" Tjahaja Purnama's blasphemy investigation at the police's criminal investigation unit for 3.5 hours on Wednesday (23/11), Rizieq claimed the government has no right to ban the protest since the right to do so is guaranteed by Indonesia's Constitution.
"Turning up for the Dec. 2 protest is protected by Law No. 9/1998. No one can ban it," Rizieq said.
Full report at:
http://jakartaglobe.id/news/islamic-defenders-front-go-ahead-anti-ahok-protest-despite-police-ban/
--------
NU Calls on MUI to 'Take Responsibility' for Muslims' Anger Over Ahok
Nov 24, 2016
Jakarta. An intellectual from the country's largest Muslim group urged the highest Islamic clerical body in the land, the Indonesian Ulema Council or MUI, to take responsibility for restiveness among Muslims over the blasphemy case against Jakarta governor Basuki "Ahok" Tjahaja Purnama, an upheaval he said was triggered by MUI's stance.
The capital has recently seen two rounds of mass protest rallies against its own governor, who was named a suspect in a blasphemy case by the police earlier last week over his recent claim that some politicians have been quoting a Koranic verse to turn people against him.
The mass protests came after MUI issued a statement in October, saying the Christian and ethnic-Chinese governor had "insulted the Koran, ulemas and Muslims" with his comment.
Zuhairi Misrawi of the moderate Nahdlatul Ulama (NU) urged the council of about 70 Muslim leaders to "take responsibility" over Muslims' anger about the case, saying "the trigger for the protest rallies was MUI's one-sided conclusion."
MUI has distanced itself from the demonstrations, but not prohibited Muslims from taking part in the protests.
Full report at:
http://jakartaglobe.id/news/nu-calls-mui-take-responsibility-muslims-anger-ahok/
--------
Waytha urges non-Muslims, Borneo parties to reject Hadi's bill
November 24, 2016
.KUALA LUMPUR: Non-Muslims in Barisan Nasional (BN) and Borneo-based parties should reject the proposed amendments to the Shariah Courts (Criminal Jurisdiction) Act 1965 (Act 355).
In making the call, Hindraf Makkal Sakthi noted that Sarawak Chief Minister Adenan Satem had instructed all Barisan Nasional (BN) MPs in Sarawak to oppose the proposed bill moved by PAS president Abdul Hadi Awang.
Hindraf chairman P Waythamoorthy, in a statement, reminded the people about the assurances given by the government when it amended Article 121 (1) (A).
The amendment said: "The courts referred to in Clause (1) shall have no jurisdiction in respect of any matter within the jurisdiction of the shariah courts." Clause (1) refers to the civil courts.
"We can see how non-Muslims are being bullied and forced to seek justice in the shariah court," he said. "The civil court has abdicated its jurisdiction to the inferior shariah courts."
Waythamoorthy was commenting on "a mysterious briefing" on Tuesday for Muslim MPs by Deputy Prime Minister Ahmad Zahid Hamidi.
He attributes the stress on Islam by the BN to the "racist agenda" beginning to fail as more Malays were opposing Umno and associating themselves with the opposition.
Taking former prime minister Mahathir Mohamad as a case in point, he said: "He has called for Umno-BN to be defeated. Umno has realised it can no longer rely on a racist agenda."
Hence, he feels, the ruling coalition is now resorting to religion and hudud law in a ploy to win back Muslim support.
"It appears that BN and PAS have compromised on the punishment cap," said the Hindraf chief. "Earlier, PAS president Abdul Hadi Awang wanted no punishment cap."
Under a "win-win formula", he continued, it was agreed to raise the punishment ceiling to 30 years' jail, RM100,000 fine and 100 strokes of the rotan. "That would be the punishment cap."
Full report at:
http://www.freemalaysiatoday.com/category/nation/2016/11/24/waytha-urges-non-muslims-borneo-parties-to-reject-hadis-bill/
--------
US says troubled over arrest of Malaysian activist under security law
November 23, 2016
The United States on Wednesday said it was troubled by the arrest of a Malaysian activist and critic of Prime Minister Najib Razak under a security law.
Maria Chin Abdullah, the chair of pro-democracy group Bersih, was detained on Friday under Malaysia's Security Offences (Special Measures) Act, or SOSMA, a law that was introduced in 2012 to fight security and extremist threats.
She was arrested a day before a demonstration that Bersih had organized for Saturday, when tens of thousands of Malaysians marched in the capital, Kuala Lumpur, demanding that Najib step down over his alleged involvement in a financial scandal.
"We are troubled by the ongoing detention and solitary confinement of Maria Chin Abdullah under national security laws," Alicia Edwards, a spokeswoman for the US State Department, told Reuters in an emailed statement.
The US is also concerned about the Malaysian authorities' arrest of a number of other organizers, activists and politicians ahead of and during the demonstration, she said.
Nearly a dozen activists and opposition leaders were arrested a day before the rally but they have all been released except Maria. Several were also detained on the day of the rally.
"The United States remains committed to the strong and growing partnership we have with Malaysia. In the spirit of that partnership, US officials routinely and strongly voice our concerns about the rule of law, human rights, and fundamental freedoms with the Government of Malaysia, and we will continue to do so," Edwards said.
Maria, who is 60 years old, is being held in solitary confinement in a cell 15 feet by 8 feet, where two light bulbs are turned on 24 hours, Bersih has said, adding that the cell does not have a window or a bed.
Full report at:
http://nation.com.pk/international/23-Nov-2016/us-says-troubled-over-arrest-of-malaysian-activist-under-security-law
--------
North America
Polling calls to US Muslims raise surveillance fears
November 24, 2016
WASHINGTON: Muslims across the United States feared they were being targeted for surveillance this week when they received automated polling calls asking them to press one if they identified as Muslim or two if they did not.
Many worried President-elect Donald Trump was making good on his campaign promise to register all Muslims in the country or private citizens were laying the groundwork for a registry.
The calls were in fact sent out as part of a survey by Emerge USA, a non-profit organization seeking to empower Muslim-Americans.
The group created an algorithm to call Muslims for a poll on their views and experiences after the Nov. 8 national election, Sarah Cochran, director of its Virginia chapter, said on Wednesday.
Cochran said she had to reassure some call recipients that Emerge USA was conducting the poll, and an anti-Islam group was not using the organization's name as a disguise.
"All of our work is affected, where we can't get people to participate because they're afraid," said Cochran.
Since Trump's stunning election win, Muslims living in the United States have been on edge. One of his supporters has cited camps where Japanese-Americans were interned during World War Two as a precedent for a registry. Trump's choice for national security adviser, Michael Flynn, in a recent video described Islamism as a "vicious cancer inside the body of 1.7 billion people on this planet and it has to be excised."
On Tuesday, the Council of American-Islamic Relations posted on Twitter and Facebook asking about reports American Muslims were receiving robocalls on how they "identify." Meanwhile, others posted to their own social media accounts with questions about the calls.
One call recipient posted on Facebook "Not sure if this is a scam or this is real but I have surely reported and urge you to report as well if you get the same phone call. Welcome to the new world!"
http://nation.com.pk/international/24-Nov-2016/polling-calls-to-us-muslims-raise-surveillance-fears
--------
US citizen convicted for 'buying' missiles for Tehran
November 24, 2016
NEW YORK - A dual citizen of Iran and the United States was found guilty on charges that he tried to help acquire surface-to-air missiles and aircraft components for the government of Iran in violation of US sanctions.
Reza Olangian, 56, was convicted by a federal jury in Manhattan on all four counts he faced, including conspiring to acquire and transfer anti-aircraft missiles, prosecutors said. Olangian faces a mandatory minimum prison sentence of 25 years and a maximum of life. He is scheduled to be sentenced on March 13.
Lee Ginsberg, Olangian's lawyer, said the verdict "was very disappointing and we do plan to appeal."
Full report at:
http://nation.com.pk/international/24-Nov-2016/us-citizen-convicted-for-buying-missiles-for-tehran
--------
Muslim New Yorkers Respond with Fear, Hope, and Apathy to Trump's Election
24 November 2016
Alida Ortiz-Jetter, a black-Puerto Rican Muslim who lives in Brooklyn, changed her evening commute after Donald Trump was elected. Instead of walking or taking the bus home from Interfaith Medical Center, the hospital in Brooklyn where she is a grant manager, she takes an Uber or a cab on late nights. If it's early enough, she'll hop on the hospital shuttle.
Ortiz-Jetter, whose Muslim name is Laila, avoided making that change during the campaign, even as Trump's rhetoric grew increasingly virulent toward Muslims and other minorities. But after his election, she decided to take fresh safety precautions, especially when her flowing hijab marked her unmistakably as Muslim. Friends have suggested that she remove it, a concession she is unwilling to make.
"We're all being more vigilant," Ortiz-Jetter, 42, said in an interview at Masjid At-Taqwa, the mosque in Bedford-Stuyvesant she attends. A few minutes before, an announcement from the mosque's head of security had crackled over the internal loudspeaker urging members to "just be alert. No more, no less."
Still, Ortiz-Jetter harbored hope that the election would unify Muslims and galvanize them to become more active citizens. As Trump begins piecing together his administration, Muslims in America are confronted with the simultaneous challenges of protecting themselves against Trump's proposed Muslim-targeting policies and countering the demonizing misconceptions that many in his inner circle share.
But forging solidarity and ramping up engagement face formidable barriers. In New York City, reactions from Muslims—including a few who favored Trump over Democratic candidate Hillary Clinton—to the president-elect, his victory, and the vitriolic campaign that preceded it are wide-ranging. They paint a complex and conflicting landscape of fear, despair, flippancy, resignation, and determination. A sense of powerlessness casts the longest shadow of all.
Of paramount concern for the Council on American-Islamic Relations, a national advocacy group, is protecting individuals from the many minority communities, Muslims included, targeted by vigilantes since the election. "That's obviously front and center," said Corey Saylor, director of the department to monitor and combat Islamophobia. Several attacks on Muslims were reported immediately after the election, and in 2015, the year Trump's campaign started gaining steam, the number of hate crimes on Muslims and mosques jumped about 67 percent from the previous year, the FBI recently reported. For his chief strategist, Trump has selected Steve Bannon, a white nationalist whom the Southern Poverty Law Center describes as having "a long history of bigotry" against Muslims, African Americans and other minorities.
Another priority is guarding against what Saylor called a "return to the Salem witch trials" under a future Trump administration. Kris Kobach, Kansas's secretary of state, who is reportedly advising Trump, told Reuters last week that Trump advisers discussed drawing up a proposal to establish a registry of immigrants from Muslim countries.
In light of these political developments, addressing media-driven misperceptions of Islam as extreme and its adherents as terrorists will be crucial, Saylor said. Ordinary, law-abiding Muslims need to become more visible, even though countering discrimination by raising one's profile does put a person at greater risk, he acknowledged.
As a candidate, Trump said he would "absolutely" create a national database of Muslims in the United States. He later said on Twitter that the idea was a reporter's but maintained, "We must defeat Islamic terrorism & have surveillance, including a watch list, to protect America."
Trump also proposed barring all Muslim immigrants from entering the United States. Many experts concluded that such a ban would be all but impossible to implement, but his proposal became more feasible once he began to call for banning immigrants from "terror-prone regions" rather than Muslims in particular. Yet it's not merely the policy itself but the discriminatory ethos underpinning that and other ideas, such as building a wall on the Mexican border, that alarms so many. And as Trump taps advisers like Bannon and retired Lt. Gen. Michael Flynn, who in August called Islam a "cancer," for national-security adviser, those fears have deepened.
"If we have a racist president…then what should we expect from individual people?" said Badr al-Ryeshi, a 30-year-old who emigrated from Yemen about two years ago and now lives in Bay Ridge with his wife and their three young daughters. Speaking in Arabic, he said he hoped God would do away with their fears of attacks—such as one the day after the election at San Jose State University, where sophomore Esra Altun reported being grabbed by her hijab and choked—and that Trump would repudiate his policy proposals targeting minorities.
For Ortiz-Jetter, Trump's election pulled back the curtain on the full extent of racism in America that had long been obscured by political correctness. And for many of those who opposed Trump, his rise to the nation's highest office spawned a new, fraught possibility: Not only is America not the tolerant country they thought they lived in, but perhaps that country never really existed at all.
"I felt I was in an Orwellian nightmare," Ortiz-Jetter said of the day after the election. "It's a paradigm shift for all of us as Americans."
After the election, the US Council of Muslim Organizations, whose vision includes "mobilizing the Muslim populations of our local communities and that of our fellow Americans for the good of all," called for "Americans across the nation to come together at this time to work towards closing the divide."
"We've been talking for a long time about how important it is for Muslims to re-engage in broader social justice issues," Saylor said. "Now is not the time to hide away."
But this mission, a seemingly recurring one, is threatened by apathy or a reluctance to speak up, even among those targeted, at a time when the stakes appear higher than ever.
Of more than two dozen men and women I approached for this story, five refused interviews outright. Another six declined but then chatted with me informally and sometimes extensively, before declining another interview request (or several). They cited various reasons for not wanting to talk on the record, but the prevailing attitude was resignation. The election was over. Trump won. No point in discussing or dwelling; it's in God's hands now.
"I think that 'I don't want to talk about it,' is probably the attitude that got Trump elected," said Saylor.
Full report at:
https://www.thenation.com/article/muslim-new-yorkers-respond-with-fear-hope-and-apathy-to-trumps-election/
--------
Europe
MEPs sound alarm on anti-EU propaganda from Russia and Islamist terrorist groups
23-11-2016
Propaganda pressure on the EU from Russia and Islamist terrorist groups is growing, MEPs warn in a resolution voted on Wednesday. It seeks to distort the truth, incite fear, provoke doubt and divide the EU. To counteract anti-EU campaigns, MEPs suggest reinforcing the EU's tiny "strategic communication" task force and investing more in awareness raising, education, online and local media, investigative journalism and information literacy.
"I was given the task of describing the propaganda of both state and non-state actors. We have seen many transformations of it. As regards the Russian Federation, the situation is now clear. After its annexation of Crimea and aggression in the eastern part of Ukraine, many countries are fully aware of its disinformation and manipulation", said rapporteur Anna Fotyga (ECR, PL). "This report, in the course of its preparation, was also a target of hostile propaganda", she added.
The resolution stresses that the EU needs to counter disinformation campaigns and propaganda from countries, such as Russia, and non-state actors, like Daesh, Al-Qaeda and other violent jihadi terrorist groups.
Hostile propaganda against the EU and its member states seeks to distort the truth, provoke doubt, divide the EU and its North American partners, paralyse the decision-making process, discredit the EU institutions and incite fear and uncertainty among EU citizens, says the text.
Russia seeks to divide
MEPs warn that the Kremlin has stepped up its propaganda against EU since annexing Crimea and waging hybrid war in the Donbass. They note that "the Russian government is employing a wide range of tools and instruments, such as think tanks [...], multilingual TV stations (e.g. Russia Today), pseudo-news agencies and multimedia services (e.g. Sputnik) [...], social media and internet trolls, to challenge democratic values, divide Europe, gather domestic support and create the perception of failed states in the EU's eastern neighbourhood".
The resolution stresses that the "Kremlin is funding political parties and other organisations within the EU" and deplores "Russian backing of anti-EU forces" such as extreme-right parties and populist forces.
Daesh targets the EU
s the EU and its citizens are major targets of Daesh, MEPs call on EU member states to work more closely to protect society from its recruitment drives and enhance resilience against radicalisation. They also suggest developing a narrative to counter Daesh, "including through the empowerment and increased visibility of mainstream Muslim scholars who have the credibility to delegitimise Daesh propaganda."
Information literacy
To counteract anti-EU campaigns, MEPs suggest investing in awareness raising, education, online and local media, investigative journalism and information literacy, which would empower citizens to analyse media content critically. It is equally important to adapt communication to specific regions, including access to information in local languages, says the text.
The resolution also suggests deepening EU and NATO cooperation on strategic communication, reinforcing the EU's 9-strong strategic communication task force and providing more support to boost media resilience in EU neighbourhood countries.
http://www.europarl.europa.eu/news/en/news-room/20161118IPR51718/meps-sound-alarm-on-anti-eu-propaganda-from-russia-and-islamist-terrorist-groups
--------
Peter Dutton says Labour has 'misrepresented' his remarks about Lebanese Muslims
24 November 2016
Peter Dutton has claimed to be a victim of Labor's "misrepresentation" of his comments about Lebanese-Muslim immigration in the 1970s – while continuing to argue that the facts are "indisputable".
The immigration minister told 2GB and then journalists at a press conference in Canberra on Thursday that the Labor leader, Bill Shorten, had "sought to completely misrepresent what I said" about Malcolm Fraser's decision in the 1970s to allow Lebanese Muslim migrants to come to Australia.
Dutton categorised his own observations made first on Sky News, and then in parliament on Monday, as calling out "the small number within the community – within the Lebanese community – who are doing the wrong thing".
"If we do that, we can hold up the vast majority of people within the Lebanese community who work as hard as you and I do, who have contributed to society, who are captains of industry, people that have worked hard, provided their kids with an education," he said.
He said while Shorten had sought to be politically correct, he himself had relied on facts. "The facts here are indisputable, which is why I feel comfortable where I am. I'm on safe ground because I've relied on the facts. If people don't understand the history, then they will make the same mistakes into the future."
The controversy was ignited by Dutton's appearance last week on a Sky News program hosted by the News Corp blogger and broadcaster Andrew Bolt. The minister said, without nominating particular groups, that Fraser should not have allowed various migrants to come to Australia in the 1970s.
"Clearly mistakes have been made in the past," he said. "The reality is that Malcolm Fraser did make mistakes in bringing some people in in the 1970s and we're seeing that today. We need to be honest in having that discussion."
In parliament on Monday Shorten asked Dutton to specify who he was talking about. "Which people, from which country, does the minister believe should not have been allowed into Australia when Mr Fraser was prime minister?" he asked.
In response, Dutton replied: "I thank the leader of the opposition for his question. The advice that I have is that, out of the last 33 people who have been charged with terrorist-related offences in this country, 22 are from second- and third-generation Lebanese Muslim backgrounds."
Dutton went on to say he was "not going to allow people who are hardworking, who have done the right thing by this country, who have contributed, who have worked hard and who have educated their children to be defined by those people who are doing the wrong thing and have been charged with terrorist offences or have been involved in crime otherwise".
He also said: "I am not going to shy away from the facts. I hold up those people who have come from all walks of life – the Vietnamese who came in; people who have come in from Asia and from war-torn Europe; people who have come in from Lebanon and otherwise.
"Many people who have built this country over many decades deserve to be praised – but I am going to call out those people who are doing the wrong thing. If we pretend otherwise, my judgment is that we only compound these problems."
In parliamentary debates this week Shorten has attacked Dutton for his observations, arguing that singling out a particular ethnic group complicates the task for Australia's security agencies trying to deal with the risks associated with radicalisation.
The Labor leader is not Dutton's only critic. He was attacked by Fraser's immigration minister, Ian Macphee, who called his observations "outrageous" and a deliberate attempt to chase negative headlines.
Full report at:
https://www.theguardian.com/australia-news/2016/nov/24/peter-dutton-says-labor-has-misrepresented-his-remarks-about-lebanese-muslims
--------
Navigating post-truth politics in Russia and America
November 23, 2016
The journalist and author is a vocal critic of Russian President Vladimir Putin.
These days she sees some frightening parallels between Russia's leader and America's president-elect.
Donald Trump, she says, is intent on using the tools of democracy to unravel democracy.
"The temptation is to believe that [Trump] is not as bad as all that, that he didn't mean half of what he said, and that it's just going to be politics as usual, maybe a little bit different," Gessen says. "In my experience writing about Vladimir Putin, he laid out pretty much what he thought and what he wanted in his early interviews ... Nobody wanted to listen. People wanted to project their ideas of what he ought to be."
It's no accident that Trump hasn't decisively stepped back from many of his main campaign themes, she adds.
"Trump is who he is," according to Gessen. "He ran for autocrat and he won."
The Russian-American journalist is the author of nine books, including "The Man Without a Face: The Unlikely Rise of Vladimir Putin."
She says Putin, unlike Trump, is not a charismatic leader.
"But their key similarity is their approach to power and their understanding of power," she notes. "They see power as a source of enrichment. They also see power as a source of personal affirmation. They also equate power with personal domination."
Comparisons to what Hungarian sociologist Bálint Magyar calls a "mafia state" are relevant for Russia and Trump's vision of the US, Gessen argues.
"Bálint uses the image of the family to explain how a mafia state works, and now we see Donald Trump come in, and it's a literal family," she says. "You don't even have to have the metaphor of the family because Donald Trump is bringing his literal family into running the country. It's very gangster-style."
Full report at:
http://www.pri.org/stories/2016-11-23/navigating-post-truth-politics-russia-and-america
--------
Morocco quits Africa-Arab summit in Equatorial Guinea
Nov 23, 2016
Morocco has quit the fourth Africa-Arab World Summit in Equatorial Guinea in protest against the presence of a delegation from the Polisario Front, a group seeking the independence of Western Sahara.
The Moroccan delegation made the decision to walk out of the summit in Malabo on Wednesday to protest "the presence of the emblem of a puppet entity in the meeting rooms," the Moroccan news agency MAP quoted Morocco's Foreign Ministry as saying.
Morocco is a major investor in Africa.
"Morocco has partnerships with Central Africa, West Africa and Southern Africa. We cannot allow such a blow," said a commentator, whose name was not mentioned in news reports.
Equatorial Guinea's Africa 24 network, which is close to the government, censured Morocco's decision to leave the summit.
Morocco has made an official request to rejoin the African Union (AU), more than four decades after leaving the pan-African bloc in protest against the membership of Western Sahara.
The country withdrew from the AU in 1984, when the mineral-rich and sparsely populated Saharan Arab Democratic Republic (SADR), commonly known as Western Sahara, was accepted as a member.
Full report at:
http://www.presstv.ir/Detail/2016/11/23/494832/Morocco-Western-Sahara-AfricaArab-summit-Equatorial-Guinea
--------
Russian president blasts West's 'failure in democracy'
24 November 2016
Russian President Vladimir Putin on Wednesday said the European Parliament's resolution on Russian media showed a "failure in Western society's perception of democracy".
Earlier in the day, the European Parliament adopted a non-legislative resolution against what it termed "anti-EU propaganda" propagated by Russia.
"If they [MEPs] take such a decision, that means we are witnessing a clear failure in Western society's understanding of democracy," Putin told reporters in Moscow.
In the European Parliament, a total of 691 lawmakers participated in the vote; 304 voted in favor, 179 against and 208 others abstained.
Full report at:
http://www.worldbulletin.net/europe/180595/ukraine-president-to-push-eu-leaders-on-russia
--------
Arab World
Over 100 Terrorists Including Commanders Killed in Clashes with Syrian Army in Aleppo
Nov 23, 2016
"In addition to the liberation of several key positions and areas in the government forces' offensives on Tuesday and Wednesday, over 100 terrorists, including Commander of Nouralddeen al-Zinki Omar Haji, have been killed in Sheikh Saeed battlefields," the commander said.
Terrorist-linked websites also confirmed that two commanders of Karam al-Jabal Shohada Battaion, namely Haj Aziz Khan Toumani and Ahmad Bi San, have also been killed in clashes with the Syrian soldiers in Aleppo.
Tens of terrorists, including a notorious commander of Ahrar al-Sham, were killed in a tough battle in Sheikh Saeed district in Southern Aleppo on Tuesday.
Field Commander of Ahrar al-Sham Abu Hareth al-Halabi along with tens of militants from this and other terrorists groups affiliated to Jeish al-Fatah coalition were killed in Sheikh Saeed battlefield.
A field source disclosed that the Syrian army's advance against militants has slowed down as hundreds of militants are now fighting against the government troops in Sheikh Saeed.
The army soldiers, the Lebanese Hezbollah and Iraqi al-Nujaba fighters have started a fresh phase of offensives in Sheikh Saeed and already managed to advance to Sheikh Saeed bridge.
Fierce clashes are still underway in Sheikh Saeed.
Before the start of the fresh phase of the operation by army men, the Syrian fighter jets pounded Jeish al-Fatah's positions in the Southern parts of Aleppo over 25 times.
http://en.farsnews.com/newstext.aspx?nn=13950903001217
--------
GCC Shoura members condemn targeting of Makkah; reject JASTA
24 November 2016
Speakers, presidents and chairmen of the GCC Shoura, representatives and national councils and assemblies expressed profound condemnation and denunciation of the terrorist act carried out by the Houthi militias against Makkah recently.
In a statement at the conclusion of their 10th session held in Manama on Wednesday, the parliamentary leaders said that tampering the security of Saudi Arabia and the feelings of Muslims is tampering the security and feelings of the GCC countries and their people, the Saudi Press Agency said.
They urged all countries, organizations, and commissions of the international community to take serious and effective steps to prevent a repetition of such terrorist acts in future on one hand and exert continuous effort to help the Arab Coalition efforts to bring about an end to the crisis in Yemen.
Full report at:
https://english.alarabiya.net/en/News/middle-east/2016/11/24/GCC-councils-condemn-targeting-of-Makkah-reject-JASTA-bill.html
--------
Syrian Commander: Popular Uprising against Terrorists Starts in Eastern Aleppo
Nov 23, 2016
"The residents of Eastern Aleppo have staged rallies against the terrorists while holding up President Bashar al-Assad's pictures," Mohannad al-Haaj said on Wednesday.
Noting that people in Eastern Aleppo are cooperating with the army forces against the terrorists, he said that they have mounted President Assad's image on the highest point of Abu Bakr al-Saddiq mosque in al-Kalasa district in a show of support for the army.
"Therefore, the popular move and uprising inside the city shows that people support the government and are trying to help 250,000 civilians, who have been captivated by the terrorists and 7,000 of them are being used as human shields by the militants, to escape the city," al-Haaj said.
After repeated defeats and nearly two months of insistence on remaining in the city and rejecting the army's several chances to leave Eastern Aleppo with their weapons, terrorists are now facing the realities of war as their comrades' massive attacks on the city to break the army's several-month-long siege have all ended up in fiasco.
The Syrian army has started special operation in Aleppo after several humanitarian pauses declared by Damascus and Moscow to give a chance to the civilian population as well as the militants to leave the Eastern parts of the city through 8 corridors.
Thousands of civilians left the city in the first few days, but militants blocked their exist paths, threatening to kill anyone who dares to approach the passages opened by the army. The terrorists aim to use the civilian population as a human shield.
Full report at:
http://en.farsnews.com/newstext.aspx?nn=13950903001474
--------
Iraq forces cut off Islamic State-held Mosul from Syria
Nov 24, 2016
Forces battling the militant Islamic State (IS) group in northern Iraq cut off the militants' last supply line from Mosul to Syria Wednesday, trapping them in the city for a bloody last stand.
A day after the last major bridge over the Tigris in Mosul was bombed by the US-led coalition against IS, elite forces fighting in the east of the city also reported significant progress.
To the west of Mosul, Hashed al-Shaabi (Popular Mobilisation) paramilitary forces made a push to cut the road between two towns on the route heading to Syria, security officials said.
"Hashed forces have cut off the Tal Afar-Sinjar road," senior Hashed commander Abu Mahdi al-Mohandis said on social media.
A Kurdish security official told AFP that Hashed forces had linked up with other anti-IS forces, including Kurdistan Workers' Party (PKK) fighters, in three villages in the area.
The town of Tal Afar itself, which lies about 50 kilometres west of Mosul, is still under the control of the militants.
Iraqi forces launched a major offensive on October 17 to retake Mosul, which is the country's second city and where jihadist supremo Abu Bakr al-Baghdadi proclaimed a caliphate in 2014.
Federal forces have already entered the city from the east. Kurdish peshmerga and other forces are also closing in from the north and south, while only the west had remained open.
The latest development will make it very long and dangerous for IS if it attempts to move fighters and equipment between Mosul and the Syrian city of Raqa, the last two bastions of their crumbling "state".
A US-backed Kurdish-Arab alliance launched an offensive against Raqa on November 5 but its fighters have some way to go before reaching the city.
In Iraq, almost two and a half years after IS took over swathes of the country, forces backed by the US and other partners have regained much ground.
'Resistance has weakened'
Mosul is the last major prize in Iraq for the diverse and sometimes rival forces involved in the anti-IS effort, but the jihadists have offered stiffer resistance than elsewhere.
The eastern side of the city was expected to offer less resistance than the west bank but elite forces from the Counter-Terrorism Service (CTS) have faced a torrid time.
IS fighters moving in an intricate network of tunnels have used snipers, booby traps and a seemingly endless supply of suicide car bombers to stop Iraqi forces.
The authorities have not released casualty figures since the start of the offensive but fighters have admitted being surprised by how fierce IS resistance has been.
CTS's Staff Lieutenant General Abdelghani al-Assadi said however that his forces had found fresh momentum in recent days.
Full report at:
http://www.dawn.com/news/1298186/iraq-forces-cut-off-islamic-state-held-mosul-from-syria
--------
ISIS could launch gas attacks beyond Syria - OPCW
23 November 2016
ISIS militants returning from Syria could carry out mustard gas attacks after learning how to use the toxic substance in battle zones, a senior official from the global chemical weapons watchdog warned on Wednesday.
An inquiry by the United Nations and the Organization for the Prohibition of Chemical Weapons (OPCW) concluded in October that Syrian government forces were responsible for chlorine gas attacks and that ISIS militants had used mustard gas.
"It seems that one of the dangers that we need to face and have a response for - since ISIS has learnt how to make mustard gas - is that sadly one of the people who learnt how to do it comes back to one of our countries and helps carry out an attack like this," Philippe Denier, director at the verification division of the OPCW told a defense conference in Paris.
Full report at:
https://english.alarabiya.net/en/News/middle-east/2016/11/23/ISIS-could-launch-gas-attacks-beyond-Syria-OPCW-.html
--------
Trial begins for suspects held in King Abdullah assassination bid
23 November 2016
Security sources in Saudi Arabia reported on Tuesday that 4 suspects affiliated to al-Qaeda have gone on trial, accused of plotting to assassinate the late Saudi King Abdullah.
The retrial of the four defendants comes after the Supreme Court in Riyadh rejected the previous sentences.
The court accused the first person with 41 charges, including adopting a takfiri approach violating the Sunnah and being associated to one of al-Qaeda terrorist leaders.
The second has been charged with adopting a takfiri approach, offending the Saudi government and embracing al-Qaeda's terrorist ideology by believing that it was right to support terrorist operations inside and outside the Kingdom. He was also accused of participating in the planning of the assassination of King Abdullah bin Abdul Aziz during his visit to the Qassim region.
Full report at:
https://english.alarabiya.net/en/News/gulf/2016/11/23/Suspects-detained-in-King-Abdullah-assassination-attempt.html
--------
Asharq al-Awsat editor-in-chief resigns over fabricated report
Nov 24, 2016
The editor-in-chief of Saudi-owned newspaper Asharq al-Awsat has resigned, just days after it published a fabricated article about unintended pregnancies in Iraq's holy city of Karbala during Arba'een mourning rituals.
Salman Aldosary announced his resignation in a post on his Twitter account on Wednesday.
His resignation comes after the Saudi daily quoted a purported World Health Organization (WHO) spokesman as claiming that over 169 Iraqi women had become pregnant out of wedlock after last year's pilgrimage.
The UN health body, however, rejected making any such assertion. It further noted that it was investigating the source of the false and undocumented report and would consider punitive measures against those behind its publication.
The Asharq al-Awsat article was said to be a republication of an article by Arabic-language Aswat Hurrah (Free Voices) website.
Arba'een marks 40 days since Ashura, when Imam Hussein (PBUH), the third Shia Imam and the grandson of the Prophet Muhammad (PBUH), was martyred along with his 72 companions in the desert plains of Karbala 14 centuries ago.
Millions of Muslims from across the world travel to Iraq each year, with many walking the distance between the Iraqi holy cities of Najaf and Karbala on foot to show their devotion.
Al-Dosary was replaced by Lebanese journalist Ghassan Charbel on Wednesday.
New editor-in-chief of Asharq al-Awsat Ghassan Charbel
On Wednesday, Muslim protesters vented their anger outside the newspaper's head office in London.
Full report at:
http://www.presstv.ir/Detail/2016/11/24/494935/Asharq-alAwsat-Salman-Aldosary-resignation-Saudi-Arabia-Arbaeen-WHO
--------
Iraqi journos with Asharq al-Awsat face arrest over false Karbala report
Nov 23, 2016
An Iraqi court has issued arrest warrants for two correspondents with the Saudi-owned daily, Asharq al-Awsat, for publishing a fallacious report about unintended pregnancies in Iraq's holy city of Karbala during Arba'een mourning rituals.
A senior source in Iraq's judiciary said on Wednesday that the warrants were issued against Hamza Mustafa and Maad Fayyad, two Baghdad-based Iraqi journalists with the London-based newspaper.
The development came three days after the Saudi daily quoted a purported World Health Organization (WHO) spokesman as claiming that over 169 Iraqi women had become pregnant out of wedlock after last year's pilgrimage.
The UN health body, however, rejected making any such assertion. It further noted that it was investigating the source of the false and undocumented report and would consider punitive measures against those behind its publication.
Full report at:
http://www.presstv.ir/Detail/2016/11/23/494881/Iraq-Saudi-Asharq-alAwsat-Karbala-Arbaeen
--------
Egypt's president says Cairo backs Syrian forces
Nov 23, 2016
Egypt's President Abdel-Fattah el-Sisi says his administration supports Syrian government forces fighting to cleanse Syria of foreign-sponsored terrorists.
Sisi said in a recent interview with the Portuguese broadcaster RTP that the Syrian military was capable of restoring stability to the country.
"Our priority is to support national armies, for example in Libya to assert control over Libyan territories and deal with extremist elements. The same with Syria and Iraq," the Egyptian president made the comments during the interview aired on Tuesday.
Elsewhere in his interview, President Sisi said militant groups operating across Syria must be dismantled. He also said the ongoing crisis in Syria should be resolved through "political" means.
"Our stance in Egypt is to respect the will of the Syrian people," the Egyptian president said, adding that a political solution to the crisis in Syria was "the most suitable way."
President Sisi also stated that the issue of terrorist groups should be "seriously" dealt with and that work must be done to "disarm them."
Asked if he would send Egyptian peacekeepers to Syria under a peace deal, Sisi said, "It is better that the national army take responsibility" and that his priority was to "support the national army" of Syria.
Full report at:
http://www.presstv.ir/Detail/2016/11/23/494863/Egypt-Syria--Sisi-Bashar-alAssad-Saudi-Arabia
--------
Syrian Army Inches Closer to Jeish Al-Islam's Main Stronghold in Damascus
Nov 23, 2016
The army soldiers struck more victories against terrorists of Jeish al-Islam near the strategic town of Meida'ani and came closer to the city of Douma, the main stronghold of Jeish al-Islam in region.
Backed up by the Syrian fighter jets, the army men stormed terrorists' defense lines in Meida'ani and managed to advance against them.
Terrorist-affiliated websites also disclosed that concurrent with army advances and its capture of over seven farms near Meida'ani, the rebels of Jeish al-Islam retreated from several bases in the town.
"The army attack on terrorists in Meida'ani inflicted a heavy blow to Jeish al-Islam, because this town is one of the most important strongholds of the terrorists and is seen as their center of gravity in the region," a Syrian military source said.
The source further added that the army soldiers are on the threshold of cutting off one of the main lines of terrorists' movements from the town of al-Dhamir to Douma and will soon tighten siege on the terrorists.
"After the army control over Meida'ani, the government forces will arrive at al-Nashabiyeh region which is called by the terrorists as the first defense line of Douma,' the source underlined.
Full report at:
http://en.farsnews.com/newstext.aspx?nn=13950903001014
--------
Syrian Army Starts Operations to Retake Jeish Al-Fatah's Key Base in Lattakia
Nov 23, 2016
A field source said on Wednesday that the main goal of these operations is firstly, cleansing the terrorists from the region which is one of the most important bases of Jeish al-Fatah and then, paralyzing the militants and smashing their operation rooms in the region.
"After the Syrian army forces retake control of Jabal al-Rae'i mountains, they will also gain superiority over the terrorists in the nearby towns bordering Idlib. The Syrian artillery, missile and air force units are also due to target the terrorists' positions in the Northern towns near the border with Idlib," he added.
The Jeish al-Fatah terrorist group and the Takfiri Chechnian and Caucasian militants have occupied a number of towns and mountains, including Navarah, Zaitounah, Qelez, Salsour and Kabani, in Lattakia but 93% of the province's territories have been purged of terrorists.
Full report at:
http://en.farsnews.com/newstext.aspx?nn=13950903000957
--------
Syria: Gov't Forces Launch Fresh Offensive in Northern Quneitra
Nov 23, 2016
The pro-government forces stormed terrorists' positions North of al-Seriyeh al-Rabe'eh region and took back at least 1.5 square kilometers of land from the militants.
The army men and popular forces carried out a surprise attack on terrorists' centers in al-Naqar al-Gharbi region to the North of al-Seriyeh al-Rabe'eh region, inflicting a heavy death toll on the militants and capturing key lands in the battlefield.
The army men also restored security to the road connecting the two towns of al-Amal and Hadhar.
Full report at:
http://en.farsnews.com/newstext.aspx?nn=13950903000962
--------
Syria: ISIL Fails to Prevail Over Gov't Positions in Palmyra Airbase
Nov 23, 2016
The army soldiers engaged in fierce clashes with the ISIL terrorists and repelled their attack on Palmyra's airbase, killing and wounding a number of militants.
The army men also managed to advance against ISIL near the village of Huweises and Tal (hill) al-Sawaneh in Eastern Homs, killing several militants and destroying their vehicles.
The army men, backed up by the Russian and Syrian warplanes, targeted the concentration centers of ISIL in the town of al-Sukhnah, the village of al-Tibeh, Jabal (mount) Satih in Norhtern Homs, inflicting heavy death toll on the militants.
The Syrian army also engaged in heavy fighting with a group of terrorists in al-Bakiyeh farms West of the town of Um Sharshouh, killing the entire members of the group.
Also, tens of terrorists from ISIL and Fatah al-Sham Front (previously known as the al-Nusra Front) were killed in attacks carried out by the Syrian army soldiers and warplanes in Eastern and Northern Homs on Tuesday.
The army soldiers fended off ISIL's offensive from the village of Rahoum on government positions near the village of Taloul al-Hawa in Eastern Homs, killing most of the militants.
The army also targeted ISIL's movements in Tal (Hill) al-Awamid toward the town of al-Quaryatayn in Eastern Homs, killing tens of militants.
Full report at:
http://en.farsnews.com/newstext.aspx?nn=13950903000828
--------
GCC officials condemn Houthi attack targeting Makkah
24 November 2016
JEDDAH: Speakers, presidents and chairmen of the GCC Shoura and representatives of assemblies and national councils have condemned the terrorist act carried out against Makkah by the Houthi militias.
In a statement on Wednesday at the conclusion of their 10th session in Manama, the parliamentary leaders said that tampering with the security of Saudi Arabia and the feelings of Muslims is the same as targeting the security and people of the Gulf states.
It called on the international community to take serious and effective steps to prevent such terror acts from recurring, and also to exert effort to help the Arab coalition bring about an end to the Yemen crisis.
In another statement, the meeting rejected the Justice Against Sponsors of Terrorism Act (JASTA) as a flagrant violation of the principles of international relations, particularly the principle of sovereign immunity, enjoyed by all sovereign states.
The statement said any breach of this rule would constitute a threat to world security and peace. It called on the US Congress to reconsider its decision and not approve the bill's implementation.
Full report at:
http://www.arabnews.com/node/1014916/saudi-arabia
--------
India
Police to book Zakir Naik for 'inciting enmity'
by Rashmi Rajput
November 24, 2016
The Maharashtra Police is set to register a first information report (FIR) against Islamic televangelist Zakir Naik, after the state law and judiciary department sent in its opinion that a case may be made out against him for inciting enmity.
"After it emerged that one of the Bangladesh bombers cited Zakir Naik's preachings, the chief minister asked the Mumbai Police to prepare a report on whether his speeches incited youth. The report was submitted to the Law and Judiciary department. They have said a case can be made out against Naik under Section 153 (A) of the Indian Penal Code (IPC) for inciting hatred," said a senior official from the state home department.
"The department has found at least eight instances wherein a case under the said section of the IPC could be registered," the source said, adding that the FIR is likely to be registered within a month.
Meanwhile, in the probe being carried out by the National Investigation Agency (NIA), alleged Islamic State (IS) recruit Ashfaque Majeed's father has revealed that Arshi Qureshi, guest manager with the Islamic Research Foundation (IRF), had allegedly funded Ashfaque and his fellow recruits' Sri Lanka trip.
After Abu Anas, another alleged IS recruit from Rajasthan who the NIA believes received a Rs-80,000 scholarship from the IRF, this is the second instance in which the now banned NGO is suspected to have spent its funds on alleged IS recruits.
"Ashfaque's father Kader claims that while leaving for Sri Lanka in February this year, Ashfaque told him that Qureshi was funding the tour. In all, 21 people were attending a small course on 'Learning Quran'. Qureshi had also paid money to make their passports," said an official.
According to Kader, on February 23, Ashfaque left for Sri Lanka, where he stayed in Jaffna.
He later returned to India in the first week of March and stayed mostly in Kerala. On May 24, he came to Mumbai for a week, before leaving for Afghanistan in June along with his wife and their 18-month-old daughter.
Based on the complaint by Kader, the Mumbai Crime branch had arrested Qureshi, Rizwan Khan of Al-Birr Foundation and Mohammed Haneef, a maulana from Kerala. Last month, the case was transferred to the NIA, which is probing the larger case of 21 Kerala-based youth who were allegedly radicalised and then fled the country to join the Islamic State.
The IRF has said they plan to challenge the validity of the FIR filed by the NIA.
"The case under UAPA is based on cases for which an FIR had already been registered, and therefore the new FIR is invalid," an IRF spokes-person said.
The NIA has also written to banks asking them to freeze Naik's bank accounts.
http://indianexpress.com/article/india/india-news-india/police-to-book-zakir-naik-for-inciting-enmity-islamic-state-recruiter-speech-muslim-hindu-hate-4392304/
--------
Muslims in Rajasthan village donate abandoned graveyard land for temple
Salik Ahmad
Nov 24, 2016
Muslims in Rajasthan's Sikar district have set a heart-warming example of religious camaraderie by donating land to help build a Hindu temple.
Muslims in Kolida donated 2 bighas or 34,848 square feet of land from their abandoned graveyard to the village's Meels, who belong to the Jat community. The Meels have constructed a temple of local goddess Surjal Mata at the cost of about Rs 50 lakh on the land.
"The Muslims had donated 1 bigha land 10 years ago and we had made a small temple. About two years ago, we started expanding the temple and grew short of land. The Muslims then gave another half a bigha at that time. Some six months ago, they gave the remaining half bigha too," Shivpal Singh Meel, a former sarpanch of the village, said.
Meel added that the Jats never asked their Muslim neighbours for the land and they themselves came forward to help them.
"There is tremendous brotherhood between the communities here. On the inauguration of the temple too, which took place on Friday, people and leaders from both the communities came," he said.
Subhash Mahariya, the former member of Parliament from Sikar who was present during the inauguration of the temple. (HT Photo)
Mohammed Ishaq, the deputy sarpanch of the village, said that the old graveyard was lying useless since the last 50-60 years.
Full report at:
http://www.hindustantimes.com/india-news/muslims-in-rajasthan-village-donate-land-for-temple/story-E0UzvvanvAP0sTaLwv7WYP.html
--------
Pakistan to woo Indians opposed to Modi's extremist policies: Sartaj Aziz
Nov 24, 2016
ISLAMABAD: Pakistan has set up a high-level committee to formulate "a doable and sustainable" policy to highlight the Kashmir issue globally and is reaching out to Indians who are opposed to Prime Minister Narendra Modi's "extremist policies", according to a media report on Wednesday.
The move was announced by advisor on Foreign Affairs Sartaj Aziz in senate on Tuesday, according to Dawn newspaper.
The committee will consist of senior officials from the ministries of defence, interior and information, Military Operations Directorate, Inter-Services Intelligence (ISI) and Intelligence Bureau (IB).
Speaking about the status of the implementation of policy guidelines, Aziz said the committee was headed by Foreign Secretary Aizaz Chaudhry and could co-opt other members if required.
Aziz said that another committee, chaired by the information secretary, had been formed to prepare fact sheets "to counter India's propaganda campaign and design a media strategy to continuously highlight the Kashmiri freedom struggle".
This committee also includes representatives from the ministries of defence, foreign affairs and information technology, as well as members of the Military Operations Directorate, ISI and IB.
Aziz said that the Ministry of Information Technology had been asked to prepare a comprehensive strategy to highlight the Kashmir issue via social media.
He said that "steps were being taken to highlight Indian interference in Pakistan's internal affairs, as well as its support for subversive activities and human rights violations in held Kashmir", the report said.
Aziz said that steps were already being taken to reach out to segments of the Indian public that were opposed to Modi's extremist policies.
"Our missions abroad, including in New Delhi, are making outreach efforts to emphasise the extremist Indian policies," he remarked.
Full report at:
http://timesofindia.indiatimes.com/world/pakistan/Pakistan-to-woo-Indians-opposed-to-Modis-extremist-policies-Sartaj-Aziz/articleshow/55590589.cms
--------
Haridwar's 'Har Ki Pauri' Recede By ISIS 'Operatives'
Nov 24, 2016
NEW DELHI: The suspected IS men, accused of conspiracy over a proposed "terror strike" in Haridwar earlier this year, carried out a recce of the probable place where they could plant the IEDs to send a global message that they are representatives of the ISIS in India. This has come to light following the framing of terror and conspiracy charges against the men by a special court.
District and sessions judge Amar Nath of the special NIA court had recently framed charges against five men after it was revealed that they held meetings at Deoband and Lucknow for "spreading ISIS network in India and distributing funds" through Hawala.
The evidence of the investigating agency shows that Rs 6 lakh in cash was distributed by these men for the terror activity and that they had recede "Har ki Pauri" in Haridwar. Charges of criminal conspiracy and various other sections of Unlawful Activities (Prevention) Act, 1967, were framed against Md. Azeemushan (2), Md. Osama (4), Akhlakur Rehman (1), Md. Meraj (3) and Mohsin Ibrahim Sayyed (5).
Full report at:
http://timesofindia.indiatimes.com/india/Haridwars-Har-ki-Pauri-recced-by-IS-operatives/articleshow/55591050.cms
--------
Army Chief's succession across border may thaw ice, with a little will from Pakistan
Nov 24, 2016
NEW DELHI: The countdown has begun in Pakistan to appoint its next Army Chief, with incumbent General Raheel Sharif set to retire on November 29 after an eventful three years. This may open opportunity to improve frosty Indo-Pak ties.
A lot will depend on the proposal Pakistan's Foreign Affairs Advisor Sartaj Aziz brings to Amritsar when he attends the December 4 Heart of Asia meet on Afghanistan.
While Aziz may not meet his Indian counterpart Sushma Swaraj due to her indisposition, the message he brings from the new Army chief will be important. It is not yet clear if Aziz will have a full bilateral meeting during his visit — the first by a senior Pakistani official since their Foreign Secretary was here earlier this year for the preparatory meeting of Heart of Asia.
Besides, with the Pakistani Army upping the ante along the Line of Control, India may not want to back down from its current approach towards it.
Ties have touched a new low after the Kashmir crisis, followed by the Uri terror attacks. It's no secret that the Army shapes Islamabad's India policy and it is now up to their Prime Minister Nawaz Sharif to choose a chief — an expert either in anti-terror or Kashmir.
The word in Pakistan's political circles is that Lt Gen Ishfaq Nadeem Ahmed, who is currently serving as Multan Corps Commander, is a frontrunner. An anti-terror expert, Ahmed belongs to the 34 Azad Kashmir Regiment. Bahawalpur Corps Commander Lt Gen Javed Iqbal Ramday, who was injured in anti-terror operations in Swat Valley, is the other contender.
Lt Gen Zubair Mehmood and Inspector General (Training and Evaluation) Lt Gen Qamar Bajwa are also in the race. All four generals are from the Pakistan Military Academy's 62nd Long Course.
Full report at:
http://timesofindia.indiatimes.com/india/Army-Chiefs-succession-across-border-may-thaw-ice-with-a-little-will-from-Pakistan/articleshow/55593909.cms
--------
To avenge beheading, Army pounds Pakistan posts in 5 sectors
Nov 24, 2016
NEW DELHI: The Indian Army inflicted "significant damage" on Pakistan army posts and forward locations by conducting "punitive" fire assaults+ across the LoC throughout Wednesday to exact revenge for the beheading of one of its soldiers+ in the Macchil sector of Jammu and Kashmir.
The ferocity of the fire assaults, which saw 15 to 16 Pakistan army posts being targeted with heavy-calibre weapons in five sectors spread along the line of control, was such that the Pakistan DGMO was forced to call his Indian counterpart, Lt Gen Ranbir Singh, over the hotline for "unscheduled talks" at 6.30pm.
Talking exclusively to TOI, Northern Army Command chief Lt Gen D S Hooda said the onus was entirely on Pakistan army+ to de-escalate tension by turning off the terror tap. "We want calm along the LoC but it cannot be a one-way street. Pakistan Army must check the stream of vicious terrorism flowing across the border from its soil. If it does so, things will then automatically improve," he said. Though Pakistan claimed seven Indian soldiers had also died in its retaliatory firing, officials here denied "any fatal casualty" on the Indian side.
Pak complains of 4 civilian deaths in Indian firing
The fire assaults, with 120mm heavy mortars and anti-tank guided missiles as well as artillery and air defence guns in "a direct firing mode" from different locations, targeted 15-16 posts of the Pakistan army with destructive precision.
The Pakistan DGMO complained of four civilian casualties in the Indian firing, in which at least one Pakistan army officer and four soldiers were also killed, but Lt Gen Singh firmly replied that Indian troops had only targeted locations from where ceasefire violations had been initiated.
Full report at:
http://timesofindia.indiatimes.com/india/To-avenge-beheading-Army-pounds-Pakistan-posts-in-5-sectors/articleshow/55589894.cms
--------
RAF to be deployed permanently in Haryana's Muslim-dominated Mewat region
November 24, 2016
Rewari: Union Home Minister Rajnath Singh on Wednesday said that a battalion of the Rapid Action Force (RAF) will be deployed permanently in Haryana's Muslim-dominated Mewat soon to ensure communal harmony.
Rajnath Singh was addressing the 'Shaheed Samman Rally' organised by Union Minister of State for Urban Housing, Planning and Poverty Alleviation Rao Inderjit Singh at HUDA ground here.
Rao, who is also an MP from Gurugram, had demanded permanent deployment of RAF along with a training centre for anti-riot troopers in Mewat in view of communal tension in the region.
Addressing the rally, Singh said that all countrymen, be it Hindus or Muslims, should contribute in making a strong, proud and independent India.
He said that owing to the sacrifice of our martyrs, India got independence politically in 1947 but social and economic freedom still remained to be attained and the present BJP government is making all efforts to achieve that.
He said that economic disparity should minimise after the demonetisaion of 500 and 1,000 rupee notes. The move could pose problems for the people for sometimes, may be for a month, but it will be helpful in bringing purity (Pavitrata) in politics.
Full report at:
http://www.siasat.com/news/raf-deployed-permanently-haryanas-muslim-dominated-mewat-region-1072070/
--------
200 terrorists active in Jammu and Kashmir: Govt informs Rajya Sabha
November 23, 2016
New Delhi: There are about 200 terrorists active in Jammu and Kashmir with 105 of them successfully entered during this year, till September, Rajya Sabha was informed on Wednesday.
In a written reply, Minister of State for Home Affairs Hansraj Gangaram Ahir said 105 terrorists have infiltrated into the Indian side of the Line of Control in Jammu and Kashmir during the year 2016 (upto September 2016).
"As per available inputs, nearly 200 terrorists are active in the state of Jammu and Kashmir," he said.
Ahir said the government in tandem with the state government have adopted a multi-pronged approach to contain cross-border infiltration which, interalia, include strengthening of border management and multi-tiered deployment along the international border/Line of Control, and near the ever changing infiltration routers, construction/maintenance of border fencing.
The Minister said the steps include construction of bunkers and culverts/bridges on nullahs, improved technology, weapons and equipment for security forces, improved intelligence and operations coordination, installation of border floodlight on the International Border and synerzising intelligence flow to check infiltration and proactive action against terrorists within the state.
Full report at:
http://www.siasat.com/news/200-terrorists-active-jammu-kashmir-govt-informs-rajya-sabha-1071695/
--------
Pakistan
ISIL Continues Attacks in Western Pakistan
November 23, 2016
By James Hess, Ph.D.
Faculty Director and Associate Professor of Intelligence Studies at American Military University
ISIL continues its attacks in western Pakistan. On November 19, the Islamic State Khorasan (ISK), a branch of ISIL named for the region east of Iran that includes Afghanistan and Pakistan, claimed responsibility for the shootings that killed four members of Pakistani security in Quetta.
Lashkar-e-Jhangvi (LeJ) also claims that it participated in this joint operation with ISK. LeJ is a Pakistani-based terror group loyal to ISIL.
The Pakistani security attack is the third attack in western Pakistan that ISK has conducted during the past month. On October 24, ISK attacked Balochistan Police College, a police academy. That attack killed 60 people and wounded at least 100. Similarly, ISK bombed a Sufi shrine on November 12, killing at least 50 people and wounding more than 100.
Quetta and Balochistan Region Offer Advantages to ISIL
Given ISIL's attacks in western Pakistan, one question to ask is why ISIL's focus is on Quetta and the Balochistan region of Pakistan. A major reason is that ISIL found a safe haven in the area. The Afghan Taliban has maintained its leadership in Quetta essentially unchallenged for more than a decade.
Furthermore, Balochistan is a sparsely populated area. Much of Pakistan's efforts remain focused on Kashmir, the disputed region on the border with India. Because of these issues, Pakistan does not spend much of its resources on a security effort in the Balochistan region.
Lastly, ISIL recruits former Afghan Taliban who are willing to join any anti-U.S. effort. The American presence is less than 150 miles to the west in Kandahar, where the Afghan Taliban was founded.
Why Did ISK Attack a Sufi Shrine?
ISK's attacks against security forces make perfect sense given its desire for discretion, but what about the attack on the Sufi shrine? Sufism, also known as Tasawwuf, is a branch of Islam focused on the mystical aspects of Islam, or spirituality.
Full report at:
http://inhomelandsecurity.com/isil-continues-attacks-western-pakistan/
--------
Government incentives boost Pakistan's Islamic banks
Nov 23, 2016
* Pakistan adopted tax rebate for sharia-compliant manufacturers
* Banker sees signs of higher demand for Islamic financing
By Bernardo Vizcaino
Nov 23 Pakistan's Islamic banks are introducing new products and adjusting policies to take advantage of government incentives designed to boost growth in the industry.
Sharia-compliant banks in the country, the world's second most populous Muslim nation, held 11.4 percent of total banking assets in June, barely changed from a year ago. That is well below levels of around 25 percent seen in Gulf Arab states.
To help change this, the government introduced a 2 percent tax rebate for sharia-compliant manufacturing firms in July to encourage them to eliminate interest-bearing debt from their balance sheets. The central bank has exempted Islamic banks from using interest-based benchmarks for some financing products.
Abdullah Ghaffar, head of investment banking at Al Baraka Bank Pakistan, a unit of Bahrain's Al Baraka Banking Group , said he detected signs of an increase in demand for both short- and long-term Islamic financing.
The bank has launched sharia-compliant products to finance purchases of tractors by customers and structured short-term sukuk for a white-label electronic equipment manufacturer in Lahore.
"The customer opted for sukuk - slightly more expensive to float - over quick-to-market commercial paper," Ghaffar said.
Last month, Islamic lender Meezan Bank approved a new financing structure for use in the airline industry; it uses plane tickets as an asset to back Islamic deals in cases where fixed assets are not available.
Islamic banks are also adjusting internal policies which limit financing to manufacturing companies and the use of long- term maturities, said Syed Abubakr, sharia board member of Emaan Islamic Banking, a unit of Silk Bank.
There is some demand for new products from conventional banks planning to convert their operations into fully-fledged Islamic banks, including Faysal Bank and Summit Bank , Abubakr added.
These banks have large portfolios of conventional credit card and personal loan facilities, but sharia-compliant equivalents are needed to retain customers, he said.
Such moves could help Islamic banks continue to grow at double-digit rates; the sector's assets grew 16.8 percent year-on-year in June, a slowdown from 37.3 percent growth recorded in the year to June 2015.
Pakistan's government believes it can pull more people into the formal banking sector -- especially in rural areas -- by expanding the Islamic finance sector, and this could boost economic growth.
Full report at:
http://www.reuters.com/article/islamic-finance-pakistan-idUSL8N1DM08B?feedType=RSS&feedName=financialsSector
--------
Change of command must not affect peace efforts, says army chief
Nov 24, 2016
KARACHI: Embarking on a round of farewell visits to military formations, Chief of the Army Staff General Raheel Sharif met officers and soldiers of the Karachi Corps on Monday and made it clear that change of command should not affect peace efforts as the results achieved during the Karachi operation "cannot be allowed to reverse".
Excerpts of his speech to the officers and soldiers of the Corps V at the Corps Headquarters Karachi released by the Inter-Services Public Relations (ISPR) hinted that the Karachi operation, which has been under way for the past more than three years, is not going to end any time soon as the efforts for "sustainable peace" will continue despite the change in the top military command expected next week.
"Any designs of enemies of Pakistan to keep the metropolitan on the boil have been blunted and the gains cannot be allowed to reverse," the ISPR statement quoted the army chief as saying while addressing the officers and soldiers.
"Life has returned to Karachi and business activity has picked up with its huge contribution to revival of the national economy."
Gen Sharif lauded the role of Karachi corps in improving security situation of the metropolis and other parts of Sindh, said the ISPR statement.The army chief also counted the role of provincial security apparatus and the law-enforcement agencies in the overall success. He said that their assistance in terms of capacity building from Pakistan army "must continue" in the future.
"Integrated with the provincial government, our efforts to help build the capacity of civil law enforcing institutions must continue for sustainable peace," he said.
His resolve came days before his expected departure after addressing concerns of common Karachiites who had been shaky about the fate of the Rangers-led "targeted-operation".
Full report at:
http://www.dawn.com/news/1298236/change-of-command-must-not-affect-peace-efforts-says-army-chief
--------
MALEEHA CONDEMNS USE OF WATER AS 'INSTRUMENT OF WAR'
24-Nov-16
NEW YORK: Pakistan condemned the use of water as an 'instrument of coercion and war', asserting that its access was a fundamental right that must be protected.
Speaking at the Open Debate of the Security Council on "Water, Peace and Security", Pakistan's Ambassador to the UN Maleeha Lodhi stressed, "Pakistan denounces any such practice, real or threatened, as we believe it to be inconsistent with the precepts of international humanitarian law."
She described the Indus Water Treaty of 1960, between Pakistan and India as "a model of what can be achieved through bilateral agreements".
Earlier, the UN secretary general in his address to the council also cited this treaty as an example of positive cooperation. However, Maleeha also pointed out that this treaty is equally a good case study of what could go wrong if such agreements are not honoured or threatened by a party. She urged the international community to remain vigilant towards any sign of unwillingness to maintain cooperation and act to avert any possible conflict or coercive measures that could undermine these agreements.
She also called on the UN to develop, nurture and protect normative frameworks on waterways at multilateral and bilateral levels.
The envoy said that if the United Nations wishes to maintain international peace and security, it must strive to find ways to ensure that member states remain willing to share water resources peacefully and cooperatively and that their willingness to resolve such issues are not constrained.
Full report at:
http://dailytimes.com.pk/pakistan/24-Nov-16/maleeha-condemns-use-of-water-as-instrument-of-war
--------
Terror suspect held, explosives seized
November 23, 2016
LAHORE - The counter terrorism department of Punjab police yesterday claimed to have arrested a terror suspect during a special operation in Bahawalpur district.
The suspect was named by CTD officials as Muhammad Yaseen, said to be a member of the banned outfit Lashkar-e-Jhangvi. According to a spokesman, the raided was conducted on a tip-off.
Full report at:
http://nation.com.pk/lahore/23-Nov-2016/terror-suspect-held-explosives-seized
--------
South Asia
Taliban mulls peace talks resumption, condemn Ghani for seeking UN sanctions
Nov 24 2016
The Taliban militants group leadership is mulling to resume peace talks with the foreign stakeholders and the Afghan government, it has been reported.
The officials in Taliban's political office in Qatar have informed regarding the possible resumption of peace talks.
"We are now exploring the options for talks with foreign stakeholders, as well as with the Afghan side," a Taliban leader has told The Express Tribune in an interview from Qatar.
The Taliban leader further added "It will be a national level decision. The consultation process was strong. The Taliban military commanders, who had not been on-board earlier, have also been taken into confidence. I would say the consultation process was initiated at the grassroots level this time," he said.
He rejected the notion that the Taliban want a military solution to the Afghan problem. "We want a non-military solution," he added.
Condemning President Mohammad Ashraf Ghani's recent move to seek UN sanctions on Taliban chief Maulvi Haibatullah, the Taliban leader said "We think that the Kabul administration's efforts are aimed at creating hurdles in the way of peace. We view such acts as anti-peace. It seems the government leaders do not show sincerity in the political process," he said.
President Ghani urged a delegation of the United Nations Security Council to include the Taliban leader Mawlavi Haibatullah Akhundzada's name in Sanctions list.
The request was made during a meeting in capital Kabul as the UNSC delegation had visited the country to meet the Afghan officials.
The Afghan government adopted a strict stance against the Taliban group and other insurgent groups after they rejected direct peace talks plea and decided to pursue violence by announcing their spring offensive in mid-April this year.
http://www.khaama.com/taliban-mulls-peace-talks-resumption-condemn-ghani-for-seeking-un-sanctions-02349
--------
Afghan intelligence warned US twice before deadly Bagram attack
Nov 24 2016
The Afghan Intelligence, National Directorate of Security (NDS), warned the US military at least twice before a deadly attack in Bagram airbase, one of the largest US-run airfield in the country, it has been reported.
Government and security sources have told Reuters that the western forces were alerted regarding a possible suicide attack by an employee working in the base.
The officials further added that the Afghan intelligence had sought information regarding the employees of the base to check for suspicious people but the request was rejected.
At least 4 people were killed and 17 others were wounded in the attack that took place earlier this month.
Full report at:
http://www.khaama.com/afghan-intelligence-warned-us-twice-before-deadly-bagram-attack-02352
--------
Taliban militants abduct 2 female teachers in Ghor province
Nov 24 2016
The Taliban insurgents have abducted two female teachers in central Ghor province of Afghanistan, local officials said Thursday.
The incident took place late on Tuesday evening in Shahrak district as the two female teachers were on their way to the provincial capital to participate in a program.
The district administrative chief Mohammad Kabir confirmed the incident and said the two female teachers were originally hailing from the southeastern Ghanzi province.
Kabir further added that the militants operating under the command of Mullah Gul Mohammad abducted the two teachers.
The Taliban militants group has not commented regarding the report so far.
Both the Taliban insurgents and loyalists of the Islamic State of Iraq and Syria (ISIS) terrorist group are actively operating in a number of the remote districts f Ghor province.
The ISIS loyalists killed over 30 civilians after abducting them in this province earlier this month and abducted 6 more civilians few days later.
Full report at:
http://www.khaama.com/taliban-militants-abduct-2-female-teachers-in-ghor-province-02350
--------
Over 12 Afghan soldiers rescued a year after kidnapped by Taliban
Nov 24 2016
Over a dozen soldiers of the Afghan National Army (ANA) forces abducted by the Taliban militants were rescued in northern Faryab province.
The Ministry of Defense (MoD) said the soldiers were released late on Wednesday night in Pashtunkot district.
MoD further added that the soldiers were kidnapped a year ago after a helicopter belonging to the Afghan army made an emergency landing in Pashtunkot.
No further details were given regarding the exact number of the soldiers rescued and circumstances surrounding their release.
The Taliban militants group has not commented regarding the report so far.
The provincial officials said late in November last year that 13 soldiers were taken away by the Taliban militants after the helicopter made emergency landing.
Faryab is among the relatively volatile provinces in northern Afghanistan where anti-government armed militant groups are actively operating in a number of its districts and often carry out insurgency activities.
Full report at:
http://www.khaama.com/over-12-afghan-soldiers-rescued-a-year-after-kidnapped-by-taliban-02351
--------
US hikes fund for repatriation of Afghan refugees
ANWAR IQBAL
Nov 24, 2016
WASHINGTON: The Uni­ted States on Wednesday increased its annual assistance for the resettlement of refugees returning to Afghanistan to $207 million.
The US State Department said the funds were meant to "meet the extraordinary needs of Afghan refugees returning to Afghanistan".
The additional $39m announced on Wednesday brings the total US contribution to the Afghan humanitarian response to more than $207m since the beginning of fiscal year 2016.
Since January, more than 380,000 registered Afghan refugees have returned to Afghanistan, most of them from Pakistan.
The funds announced on Wednesday include more than $19m in support for the United Nations High Commissioner for Refugees to help address the urgent needs of these vulnerable individuals, by providing them shelter, essential household items and supplies for winter.
The US is also providing $20m to the World Food Programme's Afghanistan Emergency Operation targeting vulnerable returnees and refugees in eastern Afghanistan and people displaced by conflict. This response to the WFP's recent special appeal for these populations represents enough to serve 548,000 people for nine months.
Full report at:
http://www.dawn.com/news/1298273/us-hikes-fund-for-repatriation-of-afghan-refugees
--------
More Rohingyas flee to BD as violence spreads in Myanmar
November 24, 2016
COX'S BAZAR, Bangladesh - More Rohingya Muslims from Myanmar poured into neighbouring Bangladesh this week, with some feared drowned after a boat sank in a river during a bid to flee escalating violence that has killed at least 86 and displaced about 30,000 people.
Some Rohingya refugees have been missing since Tuesday after a group crossed the river Naaf that separates Myanmar and Bangladesh. Those who managed to enter Bangladesh sought shelter in refugee camps or people's homes.
"There was a group of people from our village who crossed the river by boat to come here, but suddenly the boat sank," said Humayun Kabir, the father of three children untraceable since the mishap.
Although many of those on board could swim, and were able to reach the river bank, seven people are still missing, he added, his children among them.
The Mynamar violence is the most serious since hundreds were killed in communal clashes in the western state of Rakhine in 2012, and poses the biggest test yet for the eight-month-old administration of Nobel Peace Prize winner Aung San Suu Kyi.
Soldiers have poured into the area along Myanmar's frontier with Bangladesh in response to coordinated attacks on three border posts on Oct. 9 that killed nine police officers.
Myanmar's military and the government have rejected allegations by residents and rights groups that soldiers have raped Rohingya women, burnt houses and killed civilians during the military operation in Rakhine.
Sirajul Islam, who arrived on Monday at an unregistered camp in Bangladesh's southern coastal town of Teknaf, said he did not know what happened to his eight-member family after soldiers set fire to their home in Rakhine.
"I don't know where my wife and children are," Islam said. "I somehow was able to cross the border to save my life."
Up to 30,000 people are now estimated to have been displaced and thousands more have been affected by the recent fighting, the United Nations has said.
UN agencies have not given specific numbers of fleeing Rohingyas, but aid workers told Full report at:
http://nation.com.pk/international/24-Nov-2016/more-rohingyas-flee-to-bd-as-violence-spreads-in-myanmar
--------
Malaysia debates pulling out of ASEAN soccer cup over Myanmar's Rohingya crackdown
November 23, 2016
Malaysia is considering pulling its side out of a major regional soccer tournament co-hosted by Myanmar in protest over Myanmar's crackdown on ethnic Rohingya Muslims, a senior Malaysian official said on Wednesday.
A withdrawal by Muslim-majority Malaysia from the ASEAN Football Federation's (AFF) Suzuki Cup, which began on Saturday, would run counter to the 10-member Association of Southeast Asian Nations' long-standing policy of non-interference.
"I raised this issue in Cabinet last week. Will do so again this week and stand guided by decision," Youth and Sports Minister Khairy Jamaluddin said on Twitter on Wednesday.
That came in response to a call by a state Islamic cleric for Malaysia to pull out of the tournament, which is co-hosted with the Philippines. Cabinet is expected to meet on Friday.
Malaysia was due to play Vietnam in Yangon on Wednesday.
The conflict in northwestern Rakhine state has sent hundreds of Rohingya Muslims fleeing to Bangladesh and poses a serious challenge to Nobel peace prize winner Aung San Suu Kyi, who swept to power last year on promises of national reconciliation.
Full report at:
http://www.thedailystar.net/sports/malaysia-debates-pulling-out-asean-cup-over-rohingya-crackdown-1319230
--------
SC: Niko graft case against Khaleda will continue
November 24, 2016
A four-member bench of the Appellate Division headed by Chief Justice Surendra Kumar Sinha passed the order on Thursday morning, dismissing a leave to appeal petition filed by the former prime minister.
The High Court cleared the way for the trial proceedings to resume against Khaleda on June 18, 2015.
Khaleda filed the petition on December 7 last year, challenging the High Court order.
On December 9, 2007, the Anti-Corruption Commission filed the graft case with Tejgaon police station, accusing Khaleda and several others of abusing power to award a gas exploration and extraction deal to Canadian company Niko during her time in office as the prime minister.
Full report at:
http://www.dhakatribune.com/bangladesh/court/2016/11/24/sc-niko-graft-case-khaleda-will-continue/
--------
Africa
Tunisia confirms US drones over Libyan border monitor Islamic State
November 23, 2016
Tunisian President Beji Caid Essebsi has said US surveillance drones are flying over the Tunisian-Libyan border to ward of attacks by Islamic State, after lawmakers called on his government to clarify US reports on such a mission.
In Tunisia, any US military presence on its soil is a sensitive topic. Opponents say it would be a breach of sovereignty. Last month US government sources said US surveillance drones had begun flying into Libya from a Tunisian air base.
But Essebsi, in a television interview broadcast late on Tuesday, said the measure was needed to avoid cross-border attacks by militants such as an Islamic State assault on the Tunisian town of Ben Guerdan in March.
The drones being used were unarmed, Essebsi said, and in a repeat of previous denials, added there was no US base in Tunisia.
Asked if US drones were flying missions at the border, Essebsi told local channel Elhiwar Ettounsi, "Yes, and it was at our request."
"Our agreement with the US was to share intelligence information," he said. He did not say whether the drones were flying across Libyan territory.
Islamic State exploited the chaos of post-uprising Libya to establish a foothold there, using it as a base for attacks Tunisia and Egypt. The perpetrators of several militant attacks in Tunisia in the past two years were trained in Libya.
The United States is fighting the group's Libyan arm with air strikes launched from its ships in the Mediterranean and armed drones launched from Sicily.
Washington's use of armed drones against militants in countries such as Yemen and Pakistan has been criticised for its toll on civilians, and some opponents question its legality under international law.
Full report at:
http://nation.com.pk/international/23-Nov-2016/tunisia-confirms-us-drones-over-libyan-border-monitor-islamic-state
--------
ISIL extremists surrender in Libya's Sirte
23 November 2016
Several members of the ISIL extremist group surrendered late Tuesday to forces loyal to Libya's unity government following fierce clashes in the northern city of Sirte, according to a military source.
He went on to suggest that they had surrendered because they had run out of ammunition.
In a related development, the general hospital in Libya's northwestern city of Misurata (located some 240 kilometers from Sirte) said in a statement that it had received the bodies of five Libyan soldiers killed in Sirte on Tuesday in clashes with ISIL.
Military sources also said that forces loyal to the unity government had recently killed at least 30 ISIL militants in Sirte.
The same sources went on to estimate that only 50 ISIL militants still remain in the coastal city.
Full report at:
http://www.worldbulletin.net/africa/180577/isil-extremists-surrender-in-libyas-sirte
--------
16 dead, thousands displaced in C.Africa clashes: UN
24 NOV 2016
"There have been at least 16 confirmed death and thousands displaced," Vladimir Monteiro, spokesman for United Nations peacekeeping force MINUSCA, said in a statement.
The violence erupted on Monday between rival factions of the former "Seleka" Muslim rebel group in the town of Bria, 400 kilometres (250 miles) northeast of Bangui.
MINUSCA said Tuesday that one of its bases had come under fire during the clashes before its troops drove the attackers out with retaliatory gunfire. It announced reinforcements were being sent to the base to protect some 5,000 civilians sheltering there. The fighting broke out between the Popular Front for the Renaissance of the Central African Republic (FPRC) and the Union for Peace in Central Africa (UPC).
The two factions are fighting for control of taxes levied on Fulani herders during the current seasonal migration.
Lambert Lissane, a senior FPRC official, said the group and other ex-Seleka armed groups were negotiating a deal with the government but that UPC chief Ali Darass did not want to take part.
Full report at:
http://www.dailymaverick.co.za/article/2016-11-24-16-dead-thousands-displaced-in-c.africa-clashes-un/#.WDaQP9J97IU
--------
Nigeria attack: Suicide bomber kills 1 at northeast Nigerian bus station
November 24, 2016
A civilian self-defense commander says a suicide bomber has exploded outside a bus station in Nigeria's northeastern city of Maiduguri, killing himself and one other person.
It is the sixth attack in four weeks on the city that is the birthplace of the oko Haram Islamic extremist group. Most attacks have been foiled with the bombers killing only themselves.
Cmdr Habuya Mahmud of the Civilian Joint Task Force says yesterday night's bomber was prevented from entering Muna Garage bus station but killed an innocent bystander. Last Friday, two suicide bombers blew up at Muna Garage, killing two self-defense fighters.
Full report at:
http://indianexpress.com/article/world/world-news/nigeria-attack-suicide-bomber-kills-1-at-northeast-nigerian-bus-station/
--------
Boko Haram Terrorists' Days Are Numbered, Army Says
NOV 23, 2016
At a press briefing in Maiduguri held on Wednesday, Major General Leo Irabor lauded the Nigerian Army for the progress it has made in the fight against the Boko Haram insurgency.
"The troops of Operation Lafiya Dole have continued with the ongoing operations to clear the remnants of Boko Haram terrorists," Mr. Irabor told reporters. "Since our last interaction, our troops have conducted many operations with immense successes."
In his address to the press, Mr. Irabor summarized the past two months of the counterterrorist operation.
From 28 October to 1 November 2016, the military killed 37 Boko Haram terrorists during clearance operations in Golgore, Doksa, Ajigin, and the surrounding areas. Seven troops sustained injuries.
In Mallam Fatori, alongside the Nigeria-Niger border, troops killed 14 terrorists in a two-hour gun battle on 4 November. Unfortunately, 7 soldiers died while 3 others were wounded.
On 6 November in Kangarwa, 13 insurgents were killed. One Nigerian troop was killed in the battle, while 4 others were injured.
The major general also announced that in total, troops have rescued 5,235 people from Boko Haram insurgents.
Full report at:
http://saharareporters.com/2016/11/23/boko-haram-terrorists-days-are-numbered-army-says
--------
Somalia: Al Shabaab Says Briefly Captured Town in Kenya
23 NOVEMBER 2016
Heavily armed Fighters with the Al Qaeda-linked Al shabaab have attacked Haluqa, which is located in the outskirts of the border town of Garissa on Tuesday afternoon, according to local resident.
Al Shabaab has claimed responsibility for the attack in northeast Kenya, saying its fighters have targeted Safaricom's building in Haluqa and detained several staff members who were taken to inside Somalia.
According to According to a report by pro-al shabaab media outlets, the militants have detonated grenade bombs at Safaricom's offices in Haluqa, and destroyed assets before abducting its employees.
Full report at:
http://allafrica.com/stories/201611230829.html
--------
128 police personnel killed in Nigeria within 3 months
23 November 2016
At least 128 police personnel have lost their lives within three months in clashes with "religious bigots, bandits and militants" in different parts of Nigeria, according to local police chief on Wednesday.
"In the past three months, the [police] force has lost 128 personnel in various parts of the country due to activities of these undesirable elements in our communities," Inspector General of Police Ibrahim Idris said in a statement issued in the capital Abuja city.
Full report at:
http://www.worldbulletin.net/africa/180583/128-police-personnel-killed-in-nigeria-within-3-months
--------
Mideast
Erdogan says EU lawmakers' vote on Turkish membership 'has no value'
Nov 24, 2016
Turkish President Tayyip Erdogan said on Wednesday that a vote by the European Parliament on whether to halt EU membership talks with Ankara "has no value in our eyes" and again accused Europe of siding with terrorist organisations.
"We have made clear time and time again that we take care of European values more than many EU countries, but we could not see concrete support from Western friends ... None of the promises were kept," he told a Organisation of Islamic Cooperation (OIC) conference in Istanbul.
Full report at:
http://www.dawn.com/news/1298144/erdogan-says-eu-lawmakers-vote-on-turkish-membership-has-no-value
--------
Israel bid to quiet Muslim call to prayer revived
November 24, 2016
JERUSALEM - A controversial Israeli bill to quiet the Muslim call to prayer is to go forward after it was amended so as not to affect the Jewish Shabbat siren, the speaker's office said Wednesday.
Health Minister Yaakov Litzman, an ultra-Orthodox Jew, had blocked the draft law in its original form for fear it would also force the toning down of the sirens that announce the start of the Jewish day of rest at sundown each Friday. But he lifted his objections after it was amended to apply only between 11 pm and 7 am, limiting its scope to the first of the five daily Muslim calls to prayer just before dawn. The bill will "probably" now be put to a preliminary vote in parliament "next week," a spokesman for speaker Yuli Edelstein told AFP.
It will then require three further parliamentary votes before it becomes law but it has already sparked outrage around the Arab and wider Muslim world.
Even Israeli government watchdogs have baulked at the proposed legislation, describing it as a threat to religious freedom and an unnecessary provocation.
Arab Israeli lawmaker Ahmed Tibi has vowed to appeal to the High Court of Justice if the Shabbat siren is excluded from the scope of the bill on the grounds that it discriminates between Jewish and Muslim citizens.
Full report at:
http://nation.com.pk/international/24-Nov-2016/israel-bid-to-quiet-muslim-call-to-prayer-revived
--------
Airstrike kills 12 civilians in Yemen
November 24, 2016
ADEN - An Airstrike by an Arab coalition battling Yemeni rebels killed 12 civilians in the northwest of the country on Wednesday, rebel media and witnesses said.
Six others were wounded in the raid that targeted a vehicle in Hiran, in Hajja province, reported the sabanews.net website that is controlled by Shia Huthi insurgents. Witnesses said the victims were on their way to a market.
The raid is part of increased violence in Yemen since a 48-hour ceasefire declared by the Saudi-led coalition, which is fighting the Iran-backed rebels in support of President Abedrabbo Mansour Hadi, ended on Monday.
The coalition has come under repeated criticism over civilian casualties during its operations in Yemen. It admitted in October to killing 140 people in an Airstrike on a funeral in Sanaa, blaming the deaths on "incorrect information."
Full report at:
http://nation.com.pk/international/24-Nov-2016/airstrike-kills-12-civilians-in-yemen
--------
Iran warns of retaliation if US breaches nuclear deal
November 24, 2016
BEIRUT - Extending US sanctions on Iran for 10 years would breach the Iranian nuclear agreement, Iran Supreme Leader Ayatollah Khamenei said on Wednesday, warning that Tehran would retaliate if the sanctions are approved.
The US House of Representatives re-authorised last week the Iran Sanctions Act, or ISA, for 10 years. The law was first adopted in 1996 to punish investments in Iran's energy industry and deter Iran's pursuit of nuclear weapons.
The Iran measure will expire at the end of 2016 if it is not renewed. The House bill must still be passed by the Senate and signed by President Barack Obama to become law.
Iran and world powers concluded the nuclear agreement, also known as JCPOA, last year. It imposed curbs on Iran's nuclear program in return for easing sanctions that have badly hurt its economy.
"The current US government has breached the nuclear deal in many occasions," Khamenei said, addressing a gathering of members of the Revolutionary Guards, according to his website.
"The latest is extension of sanctions for 10 years, that if it happens, would surely be against JCPOA, and the Islamic Republic would definitely react to it."
The US lawmakers passed the bill one week after Republican Donald Trump was elected US president. Republicans in Congress unanimously opposed the agreement, along with about two dozen Democrats, and Trump has also criticized it.
Full report at:
http://nation.com.pk/international/24-Nov-2016/iran-warns-of-retaliation-if-us-breaches-nuclear-deal
--------
Yemeni army thwarts attack by militias near Taiz
24 November 2016
Yemeni army and popular resistance forces have thwarted attacks by Houthi militias and forces loyal to ousted president Ali Abdullah Saleh in Taiz. The attacks were thwarted in the eastern and western fronts of the city.
According to reports, militias were forced to retreat and the military units have been combing the liberated areas in recent days west of Taiz. Yemeni army and popular resistance forces have also besieged militias in camps near the presidential palace east of the city, reports said.
Also read: ISIS militant executes Yemeni colonel, films shooting on head-cam
Al-Arabiya sources in Yemen said that Houthi militias on Monday and Tuesday raided many houses and detained and abducted several people in Sanaa, Ibb and Hudaydah. Among those detained are an army officer, teachers, students, activists and military personnel who oppose the orientations and practices of Houthi militias and Saleh loyalists.
Some militiamen opened fire before being detained. Several people were injured in the old city of Sanaa and in the Hays district in Hudaydah. They also looted the homes and confiscated the property of some of the men they abducted.
Full report at:
https://english.alarabiya.net/en/News/middle-east/2016/11/24/Yemeni-army-thwarts-attack-by-militias-near-Taiz.html
--------
Reports: Hezbollah chief's guard seen in Aleppo
23 November 2016
Social media accounts since last week have circulated pictures of Lebanese Hezbollah chief Hassan Nasrallah's body guard, donning a military attire, in Syria.
Lebanon's Shiite movement Hezbollah is an Iranian proxy and has long supported Syrian President Bashar Al-Assad's government following the regionalization of the Syrian conflict, which began in early 2011.
On a Facebook account belonging to 'Sham Zainab' on Nov. 16, a picture of Nasrallah's body guard, who is known by his alias 'Abu Ali', was published.
The caption said: "Abu Ali, Sayed Hassan Nasrallah's guard, in one of the battle fields in Syria."
On another Facebook account under the name of 'Faris Al-Quds', a picture of 'Abu Ali' was published, showing him wearing a military uniform. The caption said that the picture belonged to Nasrallah's body guard.
One Facebook account under the name 'Mihwar Al-Mukawa" reported on Nov. 16 that Israel's Channel 10 said that 'Abu Ali' is in Qusayr – a city in the western Syrian governorate of Homs – where a military parade was taking place.
Meanwhile, other Twitter accounts under the names of 'Ali Nazal' and 'Abu Al-Huda Al-Humsi' on Nov. 18 said "Iranian websites close to Iran's Republican Guards said Hezbollah has sent Hassan Nasrallah's guard to Aleppo, and he is called Ali Abu Jawad in search for Jerusalem's path."
Full report at:
https://english.alarabiya.net/en/News/middle-east/2016/11/23/Reports-Hezbollah-chief-s-guard-in-Syria-s-Aleppo-Homs.html
--------
Turkey claims Syrian airstrike killed 3 soldiers
Nov 24, 2016
Turkey claims a Syrian airstrike killed three Turkish soldiers and wounded 10 others overnight, raising the ante in its military invasion of the Arab country.
A military statement on Thursday said the attack occurred at around 3:30 am (0030 GMT) in the course of a Turkish operation in northern Syria.
Full report at:
http://www.presstv.ir/Detail/2016/11/24/494944/Turkey-troops-northern-Syria-airstrike
--------
Bomb explosion kills 2, injures 16 in southern Turkey
Nov 24, 2016
At least two people have been killed and 16 others sustained injuries after a car bomb exploded outside a government building in the southern Turkish city of Adana.
The blast, which occurred at a parking lot next to the entrance of the governor's office on Thursday, is the latest in a wave of violence striking Turkey.
Governor of Adana Mahmut Demirtas said the attack is believed to have been carried out by a woman, without providing further details. Turkish labor minister said the attack was most likely carried out by PKK militants.
The force of the blast smashed shop windows in the neighborhood and parts of the facade of the building were blown away as ambulances and fire engine teams were dispatched to the scene.
Full report at:
http://www.presstv.ir/Detail/2016/11/24/494929/Turkey-blast-Adana-
--------
Only 10% of Gazans have access to potable water: World Bank
Nov 24, 2016
The World Bank has expressed deep concern over the worsening clean water shortage in the Gaza Strip, stating that only 10 percent of Palestinians in the besieged coastal enclave have access to drinking water.
"So much water has been pumped out of the natural aquifer underneath Gaza since the late 1990s that seawater has seeped in, making it too salty to drink," Adnan Ghosheh, a senior water and sanitation specialist with the international financial institution, said on Wednesday.
"There are some 150 operators who provide some kind of desalinated water that has been filtered to make it acceptable for drinking and cooking. It's more expensive and not an improved source of water according to our definitions of water clean enough to drink."
Ghosheh underlined that the World Bank's priority is to secure water resources and supply, and improve wastewater management.
"We have a wastewater treatment project in North Gaza. It started as an emergency response project, but is currently working on a long-term solution, where the treated water will be used for irrigation, saving potable water for drinking and other uses," he said.
Ghosheh also reiterated earlier United Nations warnings that the Gaza Strip could be "uninhabitable" in less than five years on current trends.
"If we start implementing the measures to secure the water supply and improve water management, the aquifer would clean and replenish itself," he said. "But, if by the year 2020, those measures are not in place -- if the 55 cubic meters of water a year from the desalination plant are not coming to replace the water being taken out, if the waste water plants are not built -- we will basically have an irreversible process."
The Gaza Strip has been under an Israeli siege since June 2007. The blockade has led to a dramatic decline in the standards of living as well as substantial levels of unemployment and poverty.
Full report at:
http://www.presstv.ir/Detail/2016/11/24/494917/World-Bank-warning-clean-water-shortage-West-Bank-Palestinians
--------
Turkish court ruling keeps novelist, linguist in prison
Nov 23, 2016
A court in Turkey has ruled that prominent novelist Asli Erdogan and linguist Necmiye Alpay be kept in prison, drawing the wrath of their supporters in the wake of earlier reports that the two would be released.
Erdogan and Alpay were jailed in August for cooperating with a pro-Kurdish newspaper.
On Wednesday, the court ordered the release of the two in connection with charges of seeking to harm Turkey's national unity, Erdal Dogan, Erdogan's lawyer, said outside Bakirkoy women's prison on the outskirts of Istanbul.
However, the lawyer said their arrest continues as the court had ruled that they remain in pre-trial detention on separate charges.
Erdal also stated that the ruling was "saddening" and that Erdogan had not been informed of the matter yet. "We will inform her when we visit her tomorrow or the next day."
The initial release order had prompted Turkish media to report that the pair would be freed.
Supporters of Erdogan reportedly rushed to Bakirkoy jail after hearing the initial news of release but the confusing verdict let them down.
"I happily rushed here to see her but now I am very upset," said Ramazan, a supporter.
Local media said Erdogan was to stand trial in December.
Meanwhile, the UN rapporteur on freedom of expression, David Kaye, said in a message posted on Twitter that he was "disappointed" that the two were not released from prison. "Turkey should release them and many others."
Full report at:
http://www.presstv.ir/Detail/2016/11/23/494877/court-Turkey-Asli-Erdogan-Alpay
--------
URL: https://www.newageislam.com/islamic-world-news/new-age-islam-news-bureau/islamic-subjects-in-the-indonesian-schools-fail-to-touch-on-tolerance,-unity/d/109188
New Age Islam, Islam Online, Islamic Website, African Muslim News, Arab World News, South Asia News, Indian Muslim News, World Muslim News, Womens in Islam, Islamic Feminism, Arab Women, Womens In Arab, Islamphobia in America, Muslim Women in West, Islam Women and Feminism, Moderate Islam, Moderate Muslims, Progressive Islam, Progressive Muslims, Liberal Islam