New Age Islam News Bureau
24 Dec 2014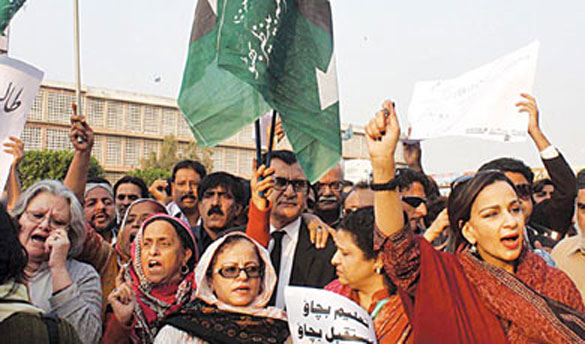 HR activists joined by PPP leader Sherry Rehman, on Tuesday afternoon stage a protest demonstration outside the Karachi office of the Jamaat-i-Islami.— Online
-----------
Arab World
• Islamic State Steps Up Violent Recruitment of Children for Battle
• Over 50 ISIL Terrorists Killed in Syria's Hasaka
• Dozens of Afghans Killed While Fighting In Syria Last Week
• Iraq suicide blast kills 33, targets anti-ISIS fighters
• IS downs warplane over Syria, claims capture of Jordan pilot
• From Iraqi mountaintop, a fierce battle to free ISIS-held town
• Monitoring of Islamic youth camps urged
• Blood money: Affordable sum stressed
South Asia
• Afghanistan: 151 Rebels Killed In Kunar Province
• 22 Taliban Insurgents Killed During Counter-Terrorism Operations
• China prevents Uighurs leaving country, one shot dead
• Rape is more serious a crime than murder: International Crimes Tribunal
• Qaisar's Verdict Dedicated to the Biranganas, War Children
Europe
• Putin: ISIS Trying To Seize Parts of Afghanistan
• EU Opposes Removal of Moratorium on Death Penalty in Pakistan
• Global arms treaty; first legally-binding document to prevent transfer of weapons to terrorists
• U.N.: Libya rivals agree 'in principle' to peace talks
• French Town Must Remove Plaque Honouring Palestinian Terrorist
• Pope's Christmas message to those fleeing ISIS: 'Do not be afraid or ashamed to be Christian'
India
• Muslim Ulema Oppose Extremist Interpretation of Religion
• 'Pakistan to Blame for Failure of US, UK, India'
• Bangladeshis Must Leave or Turn Hindu: Bajrang Dal
• VHP to Hold 'Ghar Wapsi' For 4,000 Muslims in Ayodhya in January
• Pakistan violates ceasefire again, fires mortar shells along International Border
Pakistan
• Protesters ask Jamaat-i-Islami to condemn terrorism
• LHC Reverses Stay Order against Execution of 5 Prisoners
• Madrasah Mainstreaming Project Awaits Funds
• Majlis Wahdat-i-Muslimeen slams suspension of condemned prisoners' execution
• Over 150 terror suspects held in campaign across country
• Army to be withdrawn from 3 provinces if Article 245 not invoked: HM
North America
• U.S. "Concerned" By Lakhvi Bail
• Us Working with Intel Agencies to Stop Mumbai-Style Attacks
• U.S. Senate and CIA agree torture program was mismanaged
• US assures assistance for peace, development in Pakistan
Africa
• Libya May Become 'Next Syria,' Warns Foreign Minister
• Nigeria: Mark Tasks Military to Unmask Sponsors of Boko Haram
• Nigeria: Insurgents Kill Yobe Council Chief, Cleric, Release Inmates
• Kenya's opposition bids to block new security law in court
Mideast
• Main opposition CHP: Turkey doesn't deserve to be robbed in name of religion
• Hamas says UN draft resolution does not represent Palestinians
• Abbas says to cut ties with Israel if UN move fails
• Israeli warplanes hit southern Gaza after sniper fire
Southeast Asia
• HR: Sharp Increase in Reports of Religious Intolerance in Indonesia
• Malaysian Construction worker charged with supporting Isis, reports daily
• Rise of extremist groups shows moderation progressing, says Reza Aslan
Compiled by New Age Islam News Bureau
URL: https://newageislam.com/islamic-world-news/islamic-state-steps-up-violent/d/100664
-----------
Arab World
Islamic State Steps Up Violent Recruitment of Children for Battle
Washington Free Beacon
24 Dec, 2014
The Islamic State (IS) is stepping up its recruitment and indoctrination of children, who are seen as "central" to the terror group's strategy to dominate the Middle East and breed a new generation of radical fighters, according to terrorism experts and regional watchdog groups.
IS (also known as ISIL or ISIS) views children—or so-called "cubs of the Islamic State"—as key to its takeover of the Middle East. IS followers routinely use social media to disseminate brutal photos of young jihadist children kicking severed heads down the road or brandishing automatic weapons.
This type of propaganda serves a dual mission: It motivates extremists to join IS's fight and also serves as a warning to Western powers seeking to downplay the terror group's successes, according to those tracking the situation. Some fighters on the battlefield are no older then 16 and have been extensively trained in IS military camps.
"Children are central to ISIS," according to the Middle East Media Research Institute (MEMRI), which has been tracking IS-affiliated social media accounts that disseminate materials focused on child jihadists.
Children "are the future generation of the defenders of the caliphate and they will continue its legacy," according to MEMRI. "ISIS children receive military training, both in camps conducted by the organization and individually, with ISIS fighters."
IS introduces children to violence at a very young age. They are regularly forced to attend public executions for those who violate Sharia law and are sent to indoctrination camps at a very young age.
An IS "toddler kicking an unbeliever's head," reads the caption on one photo tweeted by an IS social media account on Twitter. "Woe to you, o unbelievers and apostates from such a generation that got soaked with the love of cutting off the heads and snipping the necks."
IS also touts its "youngest fighters" on Twitter, celebrating their contributions to the radical group's fight.
A young boy holding a rifle as tall as he is recently became an IS poster-child when he was reportedly "martyred" with his father during a U.S.-led airstrike in Iraq, according to MEMRI.
Another child, also purportedly killed in battle, is shown in a military fatigue operating a large automatic rife.
The first photo, dated Oct. 7, shows a child named Abu Ubaida. He is holding a rifle and identified as the "youngest fighter in the Islamic State," according to photos captured by MEMRI from an IS Twitter account.
In addition to children posing with weapons, "photos of children re-enacting in play some ISIS atrocities, such as the beheading of American photojournalist James Foley, are also widely shared via social media," MEMRI found.
There is little regard among IS leaders as to whether this type of indoctrination is healthy for children living under its control.
"There is little discussion, in the organization and among its supporters, over whether children should be undergoing military training, or even fighting in actual battles," according to MEMRI.
IS leaders have stated that children under 15 years old are sent to "Sharia camp," where they are indoctrinated in radical Islam. Those over 16-years-old are sent to "military camp," and, once trained, are eligible to fight in Iraq and Syria.
"For us, we believe that this generation of children is the generation of the Caliphate," one IS leader told Vice News in a video documentary earlier this year. "God willing, this generation will fight infidels and apostates, the Americans and their allies, God willing."
"The right doctrine has been implanted into these children," he said. "All of them love to fight for the sake of building the Islamic State, and for the sake of God."
Children also are given "front row seats" to IS's public execution of those who violate sharia law.
Enforcement of radical Islam—which recently was codified into an IS-authored penal code—"is an integral part of ISIS governance in the areas under its control," according to MEMRI.
IS "has carried out numerous public executions, often documenting them. The executions are attended by children of all ages," MEMRI documents.
Children also can routinely be spotted in many of IS's propaganda videos posted on radical websites.
They don military fatigues, fire weapons, chant in favour of IS, and express a desire to destroy America.
The indoctrination can begin at a very young age.
One militant tweeted a photo of her daughter watching the IS propaganda film, Flames of War.
"Children also re-enact ISIS activity, such as beheadings of enemies," according to MEMRI.
In August, for example, pictures of a child re-enacting the beheading of journalist Foley were posted on a "pro-ISIS Twitter account" belonging to a man identified as Abu Bakr Al-Janabi.
Terrorism experts who spoke to the Washington Free Beacon say that IS is capitalizing on techniques developed by Palestinian terrorists decades ago.
"People can recoil in horror at the targeting of children by ISIS, al-Qaeda, and other terror groups today, but it's really the Palestinians who developed and perfected the technique," according to terrorism analyst and journalist Patrick Poole.
Julie Lenarz, executive director of the Human Security Centre, said that the recruitment of children is "not just a marginal phenomenon."
"The next generation of jihadists include children as young as five, who are brainwashed with images of beheadings, crucifixions, and stoning," Lenarz explained.
While some of these children voluntarily enlist with IS, others "have been abducted and forced" to fight alongside the terror group via a "combination of ice cream and theological indoctrination," according to Lenarz.
These children can be "used in a variety of positions, ranging from domestic responsibilities like cooking, ironing, and cleaning to combat roles, such as suicide bombers, snipers, informants, and guards," she said.
Despite the severity of the problem, the Obama administration has done very little to combat the indoctrination of children, which could pose a large and very dangerous threat down the road, when these children come of age, according to Poole.
"The laissez-faire approach of this administration to the growing threat from radical Islam is going to have catastrophic results far into the future," he explained. "Twenty years from now, how will the U.S. be able to make a pitch about the equality of women in Syria and Iraq, when kids there today are watching Christian and Yazidi women being sold as sexual chattel in the markets with the full justification of Islamic law?"
"We are so far behind in this war, I think it's beyond the comprehension of our media-political class," Poole said.
http://freebeacon.com/national-security/islamic-state-steps-up-violent-recruitment-of-children-for-battle/
------------
Over 50 ISIL Terrorists Killed in Syria's Hasaka
24 Dec, 2014
The Syrian Army inflicted massive losses on ISIL militants in nearby areas of Hasaka province, and claimed the lives of more than 50 terrorists.
Over 50 ISIL terrorists were killed in an operation on Tuesday, as the Syrian army intensified their attack on the militants in the areas of Tal al-Gazal, Southeast of Qamishli, al-Shbib and Bab al-Kheer in Hasaka province.
A number of vehicles belonging to the terrorist group were also destroyed during the operation.
The conflict in Syria started in March 2011, when sporadic pro-reform protests turned into a massive insurgency following the intervention of western and regional states.
The unrest, which took in terrorist groups from across Europe, the Middle-East and North Africa, has transpired as one of the bloodiest conflicts in recent history.
As the foreign-backed insurgency in Syria continues without an end in sight, the US government has boosted its political and military support to Takfiri extremists.
Washington has remained indifferent to warnings by Russia and other world powers about the consequences of arming militant groups.
http://english.farsnews.com/newstext.aspx?nn=13931003000656
-----------
Dozens of Afghans killed while fighting in Syria last week
Dec 24 2014
Dozens of Afghan nationals have been reported killed while fighting in support of the Syrian regime led by Bashar al-Assad.
The Afghan nationals were reportedly killed by the Syrian rebels during clashes in Aleppo last week.
The Syrian Observatory for Human rights, scores of Afghan nationals were also kidnapped by the rebels fighting under the umbrella of the Free Syrian Army.
Assad has deferred to Iran to help the Syrian regime in its recruitment of Afghan fighters to assist the military on the ground in key battles, according to International Business Times.
According to reports, some 3,000 Afghan nationals have been deployed to take part in the ongoing Syria conflict.
The Afghan militants are fighting on both sides of the Syrian war, in support of the Syria Bashar al-Assad and the Islamic State of Iraq and Syria (ISIS) militants.
Informed sources in the Afghan government have also confirmed that the number includes Iranian-backed Shiites fighting a proxy war in support of Syrian President Bashar al-Assad and against Islamic State and other rebel groups.
The participation of Afghan militants in Syria war has sparked concerns among the Afghan officials some will return to fight in Afghanistan under Islamic State's banner.
http://www.khaama.com/dozens-of-afghans-killed-while-fighting-in-syria-last-week-9165
-----------
Iraq suicide blast kills 33, targets anti-ISIS fighters
24 December 2014
At least 33 people were killed near the Iraqi capital of Baghdad on Wednesday when a suicide bomber attacked fighters opposed to Islamic State of Iraq and Syria militants, officials told Reuters news agency.
The attack on the fighters, known as Sahwa or the "Awakening Councils," occured near a military base in the Madain area.
According to the Associated Press, the attacker managed to mingle with the militiamen who had gathered to receive their monthly payment, two police officers said.
At least 15 of the dead were Sunni militiamen and the rest were soldiers, while 55 others were wounded, they said.
The town is located about 20 kilometers south of Baghdad.
The group is made up of Sunni militiamen who joined U.S. troops in the fight against al-Qaida during the height of Iraq's insurgency in 2007 and 2008. They are viewed as traitors by the Sunni militants.
Three medical officials confirmed the casualty figures. All officials spoke on condition of anonymity as they were not authorized to release information to the media.
No one immediately claimed responsibility for the bombing, but it bore the hallmark of the Islamic State group, which captured large swaths of western and northern Iraq in a summer blitz. The militant group's onslaught has become Iraq's worst crisis since the 2011 withdrawal of U.S. troops.
http://english.alarabiya.net/en/News/middle-east/2014/12/24/Deadly-suicide-blast-targets-anti-ISIS-fighters-in-Iraq.html
-----------
IS downs warplane over Syria, claims capture of Jordan pilot
24 Dec, 2014
BEIRUT: The Islamic State group on Wednesday shot down a warplane from the US-led coalition over northern Syria, a monitoring group said, with the jihadists claiming to have captured a Jordanian pilot.
"We have confirmed reports that IS members took a (non-Syrian) Arab pilot prisoner after shooting his plane down with an anti-aircraft missile near Raqa city," the Syrian Observatory for Human Rights said.
The IS branch in Raqa published photographs on jihadist websites purporting to show its fighters holding the captured pilot, with a caption identifying him as Jordanian and giving his name.
Full report at:
http://www.dawn.com/news/1152903/is-downs-warplane-over-syria-claims-capture-of-jordan-pilot
-----------
From Iraqi mountaintop, a fierce battle to free ISIS-held town
24 December 2014
The road to the battlefront plunges straight down the steep face of Mount Sinjar, whipped by a fierce wind. It is littered with trucks and cars that couldn't get up that incline, abandoned by their owners months ago as they fled the rampage of Islamic State of Iraq and Syria (ISIS) group extremists.
Clothes lie piled on the side of the road, left behind by fleeing families unable to carry them.
Over the past week, Iraqi Kurdish peshmerga fighters have descended the mountain, battling to liberate the town of Sinjar, a tiny desert community in northern Iraq that the gunmen overran in August, massacring and enslaving hundreds of its residents.
The fighting, which is still ongoing, has been fierce. One day this week, a Chevy Tahoe rushed up to a Kurdish position on the edge of town, blaring its horn and flashing its lights. The peshmerga fighters inside piled out with the body of a fellow Kurdish fighter hit by a militant sniper's bullet.
Full report at:
http://english.alarabiya.net/en/perspective/features/2014/12/24/-From-Iraqi-mountaintop-a-fierce-battle-to-free-ISIS-held-town-feature.html
-----------
Monitoring of Islamic youth camps urged
24 Dec, 2014
Several Saudi writers and intellectuals have called on the Ministry of Islamic Affairs, Endowments, Call and Guidance to monitor its summer camps held to propagate religious teachings, to root out extremists advocating subversive ideologies.
They say the dawa camps are organized under the banner of the ministry but there is poor control over the organizers and those involved in their daily affairs.
Isa Al-Ghaith, a member of the Shoura Council, told Arab News recently that the ministry must do background checks to see whether the managers belong to "extremist or sectarian groups, or are just people with a conventional outlook."
Al-Ghaith warned that dawa camps are mostly run by members of the Muslim Brotherhood or Al-Sururi groups, who lure young people into their organizations. They also operate at schools, Islamic awareness societies, universities, scouts organizations, and Qur'an memorization programs, he said.
Full report at:
http://www.arabnews.com/saudi-arabia/news/679006
-----------
Blood money: Affordable sum stressed
24 Dec, 2014
Saudi scholars and lawyers have called for effective steps to stop the phenomenon of people convening big tribal gatherings to demand exorbitant amounts in diya (blood money) from relatives of murder convicts, saying it does not conform to Islamic teachings and social values.
"Islam teaches its followers to forgive when they are able to do that and show tolerance," said Sheikh Khalaf Al-Mutlaq, supervisor of Dar Al-Ifta in the Eastern Province. However, he stressed that demanding blood money from the killer is the right of the victim's kin.
Al-Mutlaq said when Islam introduced the punishment of qisas or beheading the murderer, it was instrumental in reducing such crimes in society. The Shariah has given the relatives of a murder victim three options — forgive without taking diya, forgive in lieu of diya or demand execution.
Full report at:
http://www.arabnews.com/featured/news/679041
-----------
South Asia
Afghanistan: 151 rebels killed in Kunar province
World Bulletin / News Desk
Dec 24 2014
At least 151 militants were killed and 107 others injured in clashes between Afghan forces and Taliban in eastern Afghanistan's Kunar province over the last ten days, Afghan authorities said Tuesday.
The clashes took place in the province's Dangam district.
Four Afghan troops were also killed and 11 others were injured, provincial police chief Abdul Habib Sayed Kheli said. Kheli said militants also beheaded two tribal elders in the area.
Nearly 1,000 Afghan and foreign militants launched an attack on Dangam district allegedly to punish locals in the area for rising up against them. Around 40 houses were also set ablaze in the area, Kheli added.
Fresh fighting flared up between Afghan troops and hundreds of Taliban fighters over the last ten days when security forces arrived at the scene to ease pressure on the locals in the district. The main battle in the area was now over as international forces pounded militant posts and hideouts in airstrikes, however, sporadic fighting was still continuing.
"The anti-insurgent operation in the district coordinated with airstrikes of international coalition force had a positive impact on the operation that could guarantee success of the Afghan forces", said Khili.
Full report at:
http://www.worldbulletin.net/news/151469/afghanistan-151-rebels-killed-in-kunar-province
-----------
22 Taliban insurgents killed during counter-terrorism operations
Dec 24 2014
At least 22 Taliban militants were killed and 7 others were wounded following counter-terrorism operations conducted jointly by Afghan national security forces.
The Ministry of Interior (MoI) following a statement said the operations were conducted in the past 24 hours in Nangarhar, Uruzgan, Khost, Zabul, Kandahar, paktika, Kunar, Parwan, Helmand, Logar and Badakhshan provinces.
The statement further added Afghan National Police conducted the anti-terrorism joint operations with Afghan National Army and National Directorate of Security (NDS) to clean some of the areas from terrorists and enemies of peace and stability of Afghanistan.
At least 5 militants were arrested by Afghan National Security Forces, MoI said, adding that Afghan National Police discovered and confiscated light and heavy rounds ammunition during the operations.
"During the same 24 hour period, Afghan National Police discovered and defused 6 different types of IEDs placed by enemies of Afghanistan for destructive activities in Kandahar and Ghazni provinces," the statement added.
The anti-government armed militant groups have not commented regarding the report so far.
http://www.khaama.com/22-taliban-insurgents-killed-during-counter-terrorism-operations-9166
-----------
China prevents Uighurs leaving country, one shot dead
World Bulletin/News Desk
Dec 24, 2014
Police in southwestern China shot dead one person and detained 21 others who were part of a group of "religious extremists" trying to cross the border into Vietnam, state media said on Wednesday.
The reports, carried by state television and the official Xinhua news agency, did not say where the group was from, but small numbers of Uighurs from China's far western region of Xinjiang (East Turkestan) have begun trickling out of China to Southeast Asia in recent years.
State television claimed that one of the group tried to stab a policeman but two other officers shot the person dead, adding that the others had all been detained. The incident happened on Sunday night in Guangxi region, it said.
Full report at:
http://www.worldbulletin.net/headlines/151502/china-prevents-uighurs-leaving-country-one-shot-dead
---------
Rape is more serious a crime than murder: International Crimes Tribunal
Dec 24 2014
The International Crimes Tribunal in its observation of the offence of rape committed during the Liberation War in 1971 yesterday said rape is "more than a murder."
Tribunal 2 yesterday awarded death sentence to convicted war criminal Syed Md Qaisar in seven of the proved 14 charges against him, including his involvement in two mass rape incidents during the war.
Tribunal Chairman Justice Obaidul Hassan and members Justice Md Mozibur Rahman Miah and Justice Md Shahinur Islam in their verdict termed the war crimes case against Qaisar unique as it involves mass rape during the Liberation War.
"The tribunal notes that rape or sexual violence, either during war or in peace, is a revolting act of robbery that takes the thing that cannot be given back. Mass rape is graver than murder," the judges said in their verdict.
The verdict termed the rape incidents narrated in two charges against Qaisar "genocidal rape."
Full report at:
http://www.dhakatribune.com/crime/2014/dec/24/rape-more-serious-crime-murder#sthash.Hxjqu5Bf.dpuf
-----------
Qaisar's verdict dedicated to the biranganas, war children
Dec 24 2014
The prosecution of Syed Mohammed Qaisar's war crimes trial dedicated the verdict to the war children and the biranganas – the women raped during the Liberation War.
Qaisar was sentenced to death yesterday for the crimes he had committed against humanity in 1971. The three-member second International Crimes Tribunal, led by Justice Obaidul Hassan, found him guilty in 14 out of the 16 charges.
The prosecution came up with the opinion after the tribunal cited some significant observations about war children and the biranganas in the judgement.
Mentioning that the rape victims are the symbol of trauma, the tribunal said the government may initiate a compensation scheme for them. "The rape victims should be honoured as freedom fighters...The nation salutes the sacrifice of the rape victims."
Full report at:
http://www.dhakatribune.com/bangladesh/2014/dec/24/qaisar%E2%80%99s-verdict-dedicated-biranganas-war-children#sthash.LSj6oEPS.dpuf
-----------
Europe
Putin: ISIS Trying To Seize Parts of Afghanistan
Dec 24 2014
Vladimir Vladimirovich Putin, president of Russia has expressed his concern regarding the security situation in Afghanistan.
He said in his new remarks in Kremlin that Islamic States (DAISH) is trying to make influence in Afghanistan and occupy parts of the country.
He said some of the provinces of Afghanistan are facing serious threat from DAISH.
Although no one in Afghanistan has announced support to DAISH but previous reports indicate the existence of their supporters in the country.
However, in the neighbouring Pakistan months ago some of the key commanders of the outlawed Tehreek-e-Taliban Pakistan announced allegiance to DAISH.
These commanders in their statements said will act upon the orders of Abubakar-Al Baghdadi, IS's announced Amir.
As per the reports of the Pakistani Media a delegation of DAISH has also visited the group's commanders in Pakistan.
DAISH who was fighting the Iraqi and Syrian government from years appeared to occupy more areas in these countries since June.
The group is now trying to be more powerful with more supporters and occupation than Al-Qaeda. http://www.khaama.com/43273-2592
http://www.khaama.com/43273-2592
-----------
EU opposes removal of moratorium on death penalty in Pakistan
24 Dec, 2014
ISLAMABAD: The European Union (EU) has sharply reacted over lifting of the moratorium on the death penalty in Pakistan, and has demanded its immediate restoration on Wednesday.
"We believe that the death penalty is not an effective tool in the fight against terrorism," the EU envoy to Pakistan Lars-Gunnar Wigemark said in a statement.
The envoy further added that the EU delegation regrets the decision of the Pakistani government to lift the moratorium on executions, which had been in place since 2008.
Last week, Prime Minister Nawaz Sharif had approved the lifting of the moratorium on the death penalty after a Taliban attack in Peshawar killed 148 people, including more than 130 schoolchildren.
Full report at:
http://www.dawn.com/news/1152894/eu-opposes-removal-of-moratorium-on-death-penalty-in-pakistan
-----------
Global arms treaty; first legally-binding document to prevent transfer of weapons to terrorists
24 Dec, 2014
A landmark treaty regulating the USD 85 billion global arms trade came into force on Wednesday, with UN chief Ban Ki-moon saying it will help prevent transfer of weapons to terrorists and human rights abusers and asked major arms exporters and importers to join the pact.
The Arms Trade Treaty, adopted by the UN General Assembly in April last year, is the first legally-binding multilateral agreement that prohibits nations from exporting conventional weapons to countries when they know those weapons would be used for genocide, crimes against humanity or war crimes.
Full report at:
http://indianexpress.com/article/world/world-others/global-arms-treaty-signed-first-legally-binding-document-to-prevent-transfer-of-weapons-to-terrorists/99/
-----------
U.N.: Libya rivals agree 'in principle' to peace talks
24 December 2014
The United Nations informed the Security Council on Tuesday that rival factions in Libya have agreed "in principle" to hold a new round of peace talks aimed at ending the escalating political crisis early in the new year.
The world body had planned to hold a second round of talks last week to end a confrontation between two rival governments and parliaments, but it said a military escalation was undermining its efforts.
The new talks have been repeatedly delayed due to difficulties getting the parties to agree to meet.
U.N. Special Envoy Bernadino Leon briefed the 15-nation Security Council via video link.
"He (Leon) said he had agreement 'in principle' that talks would start on the 5th," a diplomat who attended the closed-door meeting said on condition of anonymity. "He also set out three key issues for a roadmap - a national unity government, stabilizing the country through cease-fires of militias and a new constitution."
Full report at:
http://english.alarabiya.net/en/News/2014/12/24/UN-Libya-rivals-agree-in-principle-to-peace-talks.html
-----------
French Town Must Remove Plaque Honouring Palestinian Terrorist
24 Dec, 2014
Paris— A Paris suburb must remove a plaque honouring a convicted Palestinian terrorist, a French judge ruled.
Municipal authorities in Bezons were ordered to take down the plaque for Ihrima Majdi Al Rimawi, who was convicted in the 2001 assassination of Israeli Tourism Minister Rehavam Zeevi in Jerusalem.
The judge told the Communist Party-dominated Bezons Council on Dec. 19 that it had one month to remove the plaque dedicated to Rimawi, who has been associated with several terrorist attacks and is serving a life sentence plus 80 years in an Israeli jail.
In response to a complaint filed by Sammy Ghozlan of the National Bureau for Vigilance against Anti-Semitism, the judge also invalidated the Bezons Council's February 2013 decision to grant Rimawi honorary citizenship.
http://www.jpost.com/Breaking-News/French-town-must-remove-plaque-honoring-Palestinian-terrorist-385578
-----------
Pope's Christmas message to those fleeing ISIS: 'Do not be afraid or ashamed to be Christian'
24 Dec, 2014
Just before Christmas Eve, Pope Francis penned a letter to Middle East Christians encouraging them to be proud of their Christian heritage and to remain in the land of Jesus despite the "continuing hostilities" they have been facing from terrorist organizations.
"I write to you just before Christmas, knowing that for many of you the music of your Christmas hymns will also be accompanied by tears and sighs," Francis said in the letter. "Nonetheless, the birth of the Son of God in our human flesh is an indescribable mystery of consolation: 'For the grace of God has appeared for the salvation of all people'.
Francis stated that the cause for the Christian's suffering is the hostilities of the Islamic State, a terrorist organization of "previously unimaginable dimensions" that has "perpetrated all kind of abuses and inhuman acts" and driven Christians out of the land they have occupied since apostolic times.
Full report at:
http://www.jpost.com/Christian-News/Popes-Christmas-message-to-those-fleeing-ISIS-Do-not-be-afraid-or-ashamed-to-be-Christian-385534
---------
India
Muslim Ulema Oppose Extremist Interpretation of Religion
TNN | Dec 24, 2014
CHENNAI: Muslim Ulema has condemned the Peshawar school massacre and appealed to all Muslims to speak out against extremist interpretations of religion as this was the only way to simultaneously eliminate Islamophobia and religious fanatics. "What saddens us most is that this ruthless crime was carried out in the name of Islam, which means peace, and whose Prophet was an embodiment of compassion," six prominent clerics said in a signed statement on Tuesday.
The signatories to the statement are Maulana Hafeez ur Rahman Omeri, Omerabad (Tamil Nadu), Maulana Abdul Khaliq Nadvi, Chennai, Ghulam Mohammed Mehdi, Chief Kazi (Shia), Tamil Nadu, Maulana Waris Mazhari, Department of Islamic Studies, MANUU, Hyderabad, Maulana Mohammad Muzaffar, president, Milli Council, Bengaluru and Maulana R K Noor Madni, Jami'at Ahl-e-Hadith, Chennai. "We have no doubt whatsoever that depraved criminals who justify the shooting of innocent children at point blank range in the name of Islam are not Muslims. It is not enough to condemn their inhumanity. The brutish dogma that allows them to indulge in extreme violence and thereby defame Islam must also be strongly condemned," they said. Islam prohibits Muslims from attacking women, children and the elderly even in a state of war, they pointed out.
The Quran makes it very clear in the fifth chapter that if anyone kills an innocent human being it shall be as if he had killed all mankind. In the same chapter Muslims are warned: "O Believers! Stand out firmly for Allah as witnesses to fair dealing; let not hatred for any community cause you to deviate from justice".
They said the action of Tehreek-e-Taliban in Peshawar was "most unIslamic, unjust and barbaric and therefore, unforgivable". It was not just an attack on students, but an attack on the very idea of education. "Our sincere prayers for innocents killed and heartfelt condolences to their families," they added.
http://timesofindia.indiatimes.com/india/Maulanas-oppose-extremist-interpretation-of-religion/articleshow/45623657.cms
-----------
'Pakistan to blame for failure of US, UK, India'
Mateen Hafeez,TNN | Dec 24, 2014
MUMBAI: Indian security personnel say the failure of the US, the UK and India in preventing 26/11 is because of Pakistan's active role in fomenting terror.
An expert said Pakistan has been sitting on a list of 35 men suspected to have played a major role in the Mumbai attacks. The list was given by India. The top man on it, Jamat-ud-Dawa chief Hafiz Saeed, "is roaming freely in Pakistan and issuing anti-India statements", said a police officer.
All Pakistan did was to arrest just one — Zaki-ur-Rehman Lakhvi — of those on the list. Six other men, said to be Lakhvi's accomplices, were arrested too. Though the arrests were made five years ago, the trial has progressed at a snail's pace. Lakhvi was even given bail last week, just two days after the Peshawar school attack, but later was detained for three months by Pakistani authorities.
"Since Lakhvi's trial is on in a Pakistani court, he cannot be deported to India before that trial ends. We want Pakistan to expedite the trial so that we can get his custody," said a police officer who interrogated Ajmal Kasab, the lone gunman caught during 26/11 and who was executed in November 2012.
http://timesofindia.indiatimes.com/india/Pakistan-to-blame-for-failure-of-US-UK-India/articleshow/45623912.cms
-----------
Bangladeshis must leave or turn Hindu: Bajrang Dal
24 Dec, 2014
MEERUT: Balraj Dungar, convenor of the Bajrang Dal for Meerut, said on Tuesday that Bangladeshis living in India must either leave the country or convert to Hinduism. "Our first demand is that they must leave the country, as they are abusing our resources. However, if they wish to live here, they must convert to Hinduism and adapt to the ways of our life," he said.
Commenting on the recent instances of 'ghar wapsi' in Uttar Pradesh, Dungar said, "We had been involved in 'ghar wapsi' campaigns even during the UPA regime. This is a continuous, ongoing process," Dungar said.
Dungar said Bangladeshis have taken refuge in India, and continue to live here even 43 years after the Bangladesh war. "They now need to go back," he said. Told that the illegality of the stay would not change with conversion, Dungar said, "At least they will add to our strength in numbers."
Full report at:
http://timesofindia.indiatimes.com/india/Bangladeshis-must-leave-or-turn-Hindu-Bajrang-Dal/articleshow/45621223.cms
-----------
VHP to hold 'ghar wapsi' for 4,000 Muslims in Ayodhya in January
Arshad Afzal Khan,TNN | Dec 24, 2014
AYODHYA: The VHP will hold a 'ghar wapsi' programme for 4,000 Muslims in Ayodhya next month, saffron outfit functionary Ram Vilas Vedanti said on Tuesday.
Vedanti, a former BJP MP, refused to disclose the identity of the families, saying then the administration would not allow them to embrace Hinduism. He said most of the families were from Faizabad, Ambedkarnagar, Gonda, Bahraich and Sultanpur. He said the Muslims had willingly come forth for conversion.
In his reaction, Faizabad DIG Sanjay Kakkar said those issuing such statements were trying to create communal tension in the area and action would be taken against them.
Vedanti, who is known for making provocative statements, has been booked many times in the past for stoking communal tension.
Muslim League functionary Najmul Hasan Ghani demanded Vedanti's arrest for creating a communal divide in society.
http://timesofindia.indiatimes.com/india/VHP-to-hold-ghar-wapsi-for-4000-Muslims-in-Ayodhya-in-January/articleshow/45624372.cms
-----------
Pakistan violates ceasefire again, fires mortar shells along International Border
24 Dec, 2014
Pakistani Rangers on Wednesday indulged in mortar shelling along the border in Kathua district of Jammu and Kashmir, drawing retaliation from BSF.
Pakistani Rangers violated ceasefire by resorting to small arms firing and mortar shelling in forward areas in Pansar border outpost belt of Hiranagar sub-sector around 1.30 AM, according to a BSF officer.
"BSF troops guarding the borderline took positions and gave a befitting reply. Intermittent exchanges continued till 3.30 am," he said.
"There was no loss of life or injury to anyone in the firing and shelling," he said.
Pakistan troops had targeted border areas throughout August this year and for over 15 days in October, killing 11
people and leaving over 100 injured. Over 32,000 people were also displaced.
http://indianexpress.com/article/india/india-others/jk-pakistani-rangers-violate-ceasefire-along-international-border/
-----------
Pakistan
Protesters ask Jamaat-i-Islami to condemn terrorism
24 Dec, 2014
KARACHI: Dozens of activists from civil society organisations staged a joint protest demonstration outside the Karachi office of the Jamaat-i-Islami, criticising the party for not condemning 'terrorism in all its forms'.
The demonstration mainly organised by the Joint Action Committee — an umbrella organisation of 50 civil society and rights organisations — was attended by activists representing the Human Rights Commission of Pakistan, Women Action Forum, Pakistan Institute of Labour Education and Research (Piler) and the other bodies.
The protesters converged outside Idara Noor-i-Haq, the Karachi JI's head office, off New M.A. Jinnah Road, in the afternoon and chanted slogans against terrorism and those supporting militancy one way or the other.
The protesters were later joined by Pakistan Peoples Party leader Sherry Rehman and other senior leaders of the party.
Full report at:
http://www.dawn.com/news/1152780/protesters-ask-ji-to-condemn-terrorism
-----------
LHC reverses stay order against execution of 5 prisoners
24 Dec, 2014
RAWALPINDI: The Lahore High Court's Rawalpindi bench on Wednesday accepted the government's appeal challenging a stay order issued against the execution of five death row prisoners who were involved in an attack on a military camp near Gujrat in 2012.
Previously, the LHC had decided to stay the executions, however the court on Wednesday took back its decision after terrorism charges against the convicts were proven, and maintained the sentence handed down by a military court for execution of the prisoners.
The five convicts are: Ihsan Azeem, Asif Idrees, Amir Yousaf, Kamran Aslam and Umar Nadeem.
Last year, a military court had convicted them under the Pakistan Army Act, 1952. They are currently incarcerated at Kot Lakhpat Jail in Lahore.
Earlier this week, Laeeq Khan Swati, the counsel for the condemned men, had argued that the military authorities had not provided his clients with documents relating to the proceedings of the trial.
Full report at:
http://www.dawn.com/news/1152900/lhc-reverses-stay-order-against-execution-of-5-prisoners
-----------
Madrasah Mainstreaming Project Awaits Funds
24 Dec, 2014
ISLAMABAD: While Pakistan grapples with growing religious extremism, the federal government has failed to disburse funds for a programme aimed at mainstreaming religious seminaries.
Seminaries have often been seen as the breeding ground for extremist ideology and there have been calls for reform of curriculum at these institutions.
As a response to this the federal government designed a pilot project aimed at mainstreaming seminaries or Madrasahs in 10 districts.
An amount of Rs50 million had been allocated for Madrasah mainstreaming in the fiscal year 2014-15.
Under the project, Federal Ministry of Education and Professional Training through National Commission for Human Development (NCHD) planned to introduce English, Science, Social Studies and Mathematics in the curricula of Madressahs.
Full report at:
http://www.dawn.com/news/1152822/madressah-mainstreaming-project-awaits-funds
-----------
Majlis Wahdat-i-Muslimeen slams suspension of condemned prisoners' execution
24 Dec, 2014
KARACHI: Central secretary general of the Majlis Wahdat-i-Muslimeen Allama Raja Nasir Abbas has slammed suspension of condemned convicts' execution by some judges and appealed to the superior judiciary to take notice of what he described as an unjustified delay in their hanging.
He said that justice delayed was justice denied and called for expanding the Zarb-i-Azb operation throughout the country, including Karachi, to get rid of terrorists and Takfiris who he said massacred innocent schoolchildren in Peshawar and continue to kill civilians and security officials.
Also read: Hanging of LJ militants delayed as SHC suspends black warrants
Allama Abbas, who was accompanied by Maulana Aqeel Yusuf, Ali Anwar Jafri, Maulana Ahsan Danish and Syed Ali Hussain Naqvi, said at a press conference at Pak Muharram Hall near the Numaish traffic intersection on Tuesday that the judiciary should be on the same page with the army like all politicians, civil society and the entire nation.
Full report at:
http://www.dawn.com/news/1152766/mwm-slams-suspension-of-condemned-prisoners-execution
-----------
Over 150 terror suspects held in campaign across country
24 Dec, 2014
ISLAMABAD: More than 150 suspected terrorists were arrested in various parts of the country during a countrywide operation against terrorists on Tuesday.
According to reports, police, Rangers and intelligence agencies carried out a joint operation in Shehzad Town Islamabad and arrested an alleged Afghan terrorist along with eight other suspects. Documents and fake stamps were recovered from the terrorist suspected to be Afghan who has now been given in the custody of an intelligence agency for interrogation, whereas weapons were recovered from eight other suspects. Police and elite force detained dozens of suspects from Fakir Killey in Peshawar during a joint search operation. Police besieged the area and carried door-to-door search to check the documents of the locals and Afghan migrants residing in the area. Dozens of suspects were detained as a result of the operation.
Full report at:
http://www.dailytimes.com.pk/national/24-Dec-2014/over-150-terror-suspects-held-in-campaign-across-country
-----------
Army to be withdrawn from 3 provinces if Article 245 not invoked: HM
24 Dec, 2014
ISLAMABAD: Federal Interior Minister Chaudhry Nisar Ali Khan on Wednesday told the governments of Sindh, Khyber Pakhtunkhwa and Balochistan that army troops stationed to assist security forces would be withdrawn from the provinces if requisitions were not made for deployment and under Article 245 of the Constitution.
Nisar was addressing a meeting of parliamentary leaders held at the Prime Minister House under the chairmanship of Prime Minister Nawaz Sharif. The meeting is aimed at building a national action plan to counter terrorism and extremism in the country.
"After the initiation of Zarb-i-Azb, the government realised that the police is neither equipped nor trained and would require time to tackle the current law and order crisis," Nisar said.
Full report at:
http://www.dawn.com/news/1152892/army-to-be-withdrawn-from-3-provinces-if-article-245-not-invoked-nisar
-----------
North America
U.S. "concerned" by Lakhvi bail
24 Dec, 2014
Breaking its silence for the first time the U.S. State Department on Wednesday hit out publicly at a Pakistani court's decision to grant bail to Zaki-ur-Rehman Lakhvi, the Lashkar-e-Taiba commander who was the operational mastermind behind the 2008 Mumbai terror attacks.
In a daily press briefing, State Department Spokesperson Marie Harf said in response to a question referencing Lakhvi: "We're concerned by the reports that this individual terrorist got bail," adding that Washington urged the Government of Pakistan to uphold its promise to cooperate in bringing the perpetrators of the Mumbai attacks to justice.
While the spokesperson did not appear to be certain that the matter had been raised directly with the Pakistani government through private channels as well, she said, "When we have concerns like this we'll raise them."
Full report at:
http://www.thehindu.com/news/international/world/us-concerned-by-lakhvi-bail/article6721532.ece
-----------
US working with intel agencies to stop Mumbai-style attacks
24 Dec, 2014
The US has said it has been working with global intelligence agencies to ensure that they are best positioned to stop Mumbai-style terror attacks, a day after a report claimed the carnage could have been prevented if there was better coordination among law enforcement bodies.
"Over the last six years, the intelligence community here in the United States has worked with all of our partners to make sure we're best positioned to stop attacks like Mumbai before they ever happen again," US State Department Deputy Spokesperson Marie Harf told reporters on Monday.
"The intelligence community has improved coordination and intelligence sharing between our own agencies, between the intelligence community and law enforcement in the US, but also among our partners abroad," she said responding to a latest investigative story on the 26/11 Mumbai attack in The New York Times which referred to an information that intelligence agencies of India, the US and Britain had before 26/11.
Full report at:
http://indianexpress.com/article/world/americas/us-working-with-intel-agencies-to-stop-mumbai-style-attacks/#sthash.JMu7wIw0.dpuf
--------
U.S. Senate and CIA agree torture program was mismanaged
24 December 2014
The Senate report on the CIA's interrogation program and the spy agency's official response clash on almost every aspect of the long-secret operation, including the brutality and effectiveness of its methods and the agency's secret dealings with the Bush White House, Congress and the media. Both reports largely agree on one major CIA failure: the agency's mismanagement of the now-shuttered program.
The 525-page summary from the Senate Intelligence Committee paints a chaotic landscape of bureaucratic dysfunction, showing an agency unprepared to take control of terrorist prisoners, unqualified field interrogators who overstepped their legal authority and CIA bosses ignorant about exactly how many detainees were warehoused in their overseas prisons. CIA oversight, the Senate committee found, "was deeply flawed throughout the program's duration."
Full report at:
http://english.alarabiya.net/en/News/middle-east/2014/12/24/U-S-Senate-CIA-agree-torture-program-was-mismanaged.html
-----------
US assures assistance for peace, development in Pakistan
24 Dec, 2014
ISLAMABAD: The United States (US) once again assured its commitment to continue its cooperation and assistance to Pakistan in order to ensure progress, prosperity, peace and security in Pakistan and in the region.
This was stated by United States Embassy Acting Deputy Chief of the Mission Brian Aggeler, while addressing a function at a local hotel to celebrate the completion of five years contribution of the United States Agency for International Development (USAID) for over 4,444 projects in different sectors throughout Pakistan.
He said that USAID, during the last five years, contributed $92 million for the development of small and medium enterprises (SMEs) in different areas of Pakistan. Highlighting various achievements of the USAID cooperation and assistance in over 4,000 SMEs in the fields of agricultural, manufacturing and service sectors, he said that the programme showed tremendous results. Brian said that over $54 million were witnessed in sales after the USAID cooperation in these sectors, adding that 5,600 jobs were created, exports witnessed an increase of $27 million and 11,000 people were trained.
Full report at:
http://www.dailytimes.com.pk/national/24-Dec-2014/us-assures-assistance-for-peace-development
-----------
Africa
Libya may become 'next Syria,' warns foreign minister
24 December 2014
Libya, torn by a growing political divide that threatens to engulf its oilfields, could become the next Syria if it does not patch its divided government and get help battling Islamic militants, the country's foreign minister said on Tuesday, according to Reuters news agency.
"If we don't do the right thing now, in two years' time we could have - hopefully not - a repeat of what happened in Syria in 2014 because the international community didn't react adequately," Foreign Minister Mohamed Dayri said.
Dayri represents the internationally recognized government in eastern Libya, which is locked in an increasingly violent struggle for power with a rival faction, known as Libya Dawn that seized control in the capital of Tripoli in August.
Dayri repeated his government believes that forces attacking the oil facilities included elements of Ansar al-Sharia.
The United States has designated Ansar al-Sharia as a terrorist group and accuses it of involvement in the deadly September 2012 attack on the U.S. diplomatic compound in Benghazi, Libya.
Full report at:
http://english.alarabiya.net/en/News/middle-east/2014/12/24/FM-Without-help-Libya-could-become-next-Syria.html
-----------
Nigeria: Mark Tasks Military to Unmask Sponsors of Boko Haram
24 Dec, 2014
Abuja — Senate President, David Mark,challenged the military to go after the sponsors of the terrorist group, Boko Haram, within and outside the country with a view to bringing them to book.
According to him, exposing and capturing their sponsors are some of the ways to end the onslaught of Boko Haram insurgents on the nation.
He implored community leaders and citizens alike to collaborate with security operatives in the effort to fish out the financiers of the terrorist group.
Mark, who gave the charge after decorating his Aide-De- Camp (ADC), Chief Superintendent of Police (CSP), Abel Miri, with the new rank of Assistant Commissioner of Police (ACP) in Abuja, urged the security operatives to deploy their intellect and investigative skills to fishing out those behind the menace of insurgency.
Full report at:
http://allafrica.com/stories/201412230697.html
---------
Nigeria: Insurgents Kill Yobe Council Chief, Cleric, Release Inmates
24 Dec, 2014
Authorities of General Hospital, Geidam, Yobe State Tuesday confirmed that the bodies of the Head of Council's Works Department, Mohammed Abacha and the Imam of Zamfara mosque were among those brought to the morgue.
An attendant at the Accident and Emergency Unit (AEU) of the hospital disclosed that some of the bodies could not be identified because of high degree burns and mutilation.
"I can't exactly give you the number of bodies in our morgue, but security men brought in many bodies in two Hilux patrol vehicles on Monday morning," said the attendant yesterday.
Bukar Musa, a Geidam resident also told The Guardian that the insurgents freed also 17 prison inmates before torching the prison building located near the emir's place.
Speaking on the jailbreak, the state Police Commissioner, Markus Danladi said: "The soldiers stationed near the emir's palace where the prison is located were overpowered by the gunmen."
Full report at:
http://allafrica.com/stories/201412240823.html
---------
Kenya's opposition bids to block new security law in court
24 Dec, 2014
Kenya's opposition coalition filed a court challenge on Tuesday to overturn new anti-terrorism laws it says are hasty and undermine basic freedoms.
The measures will allow suspects to be held without charge for 360 days, four times longer than before, compel landlords to provide information about their tenants, and punish media that print material "likely to cause fear or alarm."
President Uhuru Kenyatta, who championed the amendments, has faced pressure to boost security after a spate of deadly Islamist attacks over the past 18 months.
Somali militant group al Shabaab, which massacred 67 people in a Nairobi shopping mall last year, killed more than 60 in two attacks this month in northeastern Kenya.
The government says the new rules compare favourably with U.S. laws enacted after 9/11. Opposition leaders say they threaten civil liberties and free speech, and might unfairly target the minority Muslim population. It was not clear how long the High Court would take to consider their challenge.
Full report at:
http://english.ahram.org.eg/NewsContent/2/9/118680/World/International/Kenyas-opposition-bids-to-block-new-security-law-i.aspx
---------
Mideast
Main opposition CHP: Turkey doesn't deserve to be robbed in name of religion
24 Dec, 2014
Turkey does not deserve to be robbed in the name of religion, the country's main opposition leader has said, while adding that government interference that prompted a parliamentary commission to postpone a decision on whether four former ministers should stand trial on graft claims has cast a shadow on the panel.
"Turkey is a rich country, a strong country. We don't deserve to be robbed. Most particularly, we don't deserve to be robbed in the name of religion and faith. That is the biggest evil done to our faith," Kılıçdaroğlu said.
"If the Parliament, the deputies, the government and the prime minister aim at cleaning away the dirt from politics, then nobody should interfere in the investigation commission. Yesterday's [Dec. 22] interventions cast a shadow over the investigation commission," main opposition Republican People's Party (CHP) leader Kemal Kılıçdaroğlu said.
The parliamentary inquiry commission was set to vote late Dec. 22 on whether to send the four former ministers involved in Turkey's Dec. 17 and 25, 2013, corruption probe to the Supreme Council, which only hears cases against Cabinet ministers and other top officials. However, the vote was delayed until Jan. 5.
Full report at:
http://www.hurriyetdailynews.com/main-opposition-chp-turkey-doesnt-deserve-to-be-robbed-in-name-of-religion.aspx?pageID=238&nID=76003&NewsCatID=338
-----------
Hamas says UN draft resolution does not represent Palestinians
24 Dec, 2014
Hamas Islamist movement opposed a Palestinian Authority-proposed UN Security Council draft resolution that calls for an end to the occupation of Palestine by the end of 2017, on the grounds that it is a draft that doesn't represent the consensus of the Palestinians, state-run news agency MENA reported on Tuesday.
Sami Abu Zuhri, Hamas spokesperson, stated in a press release that the draft resolution was widely repudiated by Palestinian factions, Abu Zuhri also called on the Palestinian Authority (PA) to withdraw the resolution.
Jordan, the only Arab member in the Security Council, had submitted the resolution to the council on Wednesday.
Full report at:
http://english.ahram.org.eg/NewsContent/2/8/118696/World/Region/Hamas-says-UN-draft-resolution-does-not-represent-.aspx
-----------
Abbas says to cut ties with Israel if UN move fails
24 Dec, 2014
Palestinian president Mahmoud Abbas warned on Tuesday that his administration would "no longer deal" with Israel if a United Nations Security Council resolution calling for a final peace deal fails.
"If the Arab-Palestinian initiative submitted to the Security Council to put an end to (Israeli) occupation doesn't pass, we will be forced to take the necessary political and legal decisions," Abbas was quoted as saying by the Algerian APS news agency.
"If it fails, we will no longer deal with the Israeli government, which will then be forced to assume its responsibilities as an occupier," he added.
Full report at:
http://english.ahram.org.eg/NewsContent/2/8/118681/World/Region/Abbas-says-to-cut-ties-with-Israel-if-UN-move-fail.aspx
-----------
Israeli warplanes hit southern Gaza after sniper fire
24 December 2014
Israeli troops shot dead a Hamas militant in the southern Gaza Strip on Wednesday, Palestinian medics and militant sources said, according to Agence France-Presse.
Tayseer al-Ismary, 33, died after being hit by a bullet fired by the Israeli army, Medical sources said.
Hamas sources confirmed al-Ismary was a member of the movement's military wing, the Ezzedine al-Qassam Brigades.
The Israeli army said in a statement that a routine patrol on the Israeli side of the border came under attack from snipers
in the southern Gaza Strip and that forces responded with fire from the ground and the air.
A military spokeswoman declined to comment on any Israeli casualties in the clash.
The clash is the latest in a handful incidents in recent weeks since a 50-day war ended in Gaza in August.
Full report at:
http://english.alarabiya.net/en/News/middle-east/2014/12/24/Israeli-warplanes-hit-southern-Gaza-after-sniper-fire.html
-------
Southeast Asia
HR: Sharp Increase in Reports of Religious Intolerance in Indonesia
24 Dec, 2014
Jakarta. The National Commission on Human Rights (Komnas HAM) says it received 67 reports of instances of religious intolerance in Indonesia this year, nearly double the figure from last year, with the police featuring prominently among the alleged perpetrators.
Muhammad Imdadun Rahman, a member of the commission known as Komnas HAM, said in Jakarta on Tuesday that the complaints fell into one of three categories.
"There were 30 reports about the closure or vandalism of churches or the rejection of new churches; 22 reports of discrimination, threats and violence against believers of other [non-Sunni Islamic] faiths; and 15 cases of activities to disrupt religious worship," Imdadun said.
He added that law enforcements officials, particularly the police, were deemed the perpetrators in many of these cases, whether through active participation or negligence.
Imdadun said the commission had issued a number of recommendations regarding the complaints to the authorities, but there was either an inadequate response or none at all.
He also highlighted a high number of complaints originating from West Java province, and attributed this to the rising popularity there of political Islam.
Full report at:
http://thejakartaglobe.beritasatu.com/news/komnas-ham-sharp-increase-reports-religious-intolerance/
---------
Malaysian Construction worker charged with supporting Isis, reports daily
24 Dec, 2014
A Malaysian construction worker was charged in court today with entering Syria to support the Islamic State of Iraq and Syria (Isis) militant group.
The Star reported that Muhammad Kasyfullah Kasim, 36, was offered an alternative charge of entering Syria to support armed terrorism.
The alternative charge included the intent to spread an ideological cause, and in doing so, endangering the Syrian public.
No plea was recorded when the charges were read before court registrar Rozaidi Yaacob, the paper said.
The alleged offences occurred at the Kuala Lumpur International Airport (KLIA) in Sepang between December 28, 2013 and April 7, 2014.
Kasyfullah, who was unrepresented, confirmed that he understood the charges while deputy public prosecutor Afzainizam Abdul Aziz acted for the prosecution.
Full report at:
http://www.themalaysianinsider.com/malaysia/article/construction-worker-charged-with-supporting-isis-reports-daily#sthash.Lvc3VdTW.dpuf
---------
Rise of extremist groups shows moderation progressing, says Reza Aslan
24 Dec, 2014
The rise of extremist voices is a good sign that diversity and plurality have advanced enough to make right-wing groups afraid of their progress, Muslim Iranian-American scholar Dr Reza Aslan said, in telling Malaysians that fanatical ideas would ultimately end up in "the dustbin of history".
Moderates in Malaysia should, therefore, take heart, even though Malay Muslim groups with their exclusive and "puritanical" brand of Islam were growing more strident, as this was a natural reaction to the progress that moderates have made, he told The Malaysian Insider.
Fundamentalism was a reactionary phenomenon to diversity, pluralism and forward movement in societies worldwide, and like everywhere else in the world, it would not last in Malaysia, he said in a phone interview.
"That's why I would say to the people of Malaysia – Muslims, Christians, regardless – take heart.
"Because when you see these puritans and fanatics clamouring to retard the progress of society, it is because they are afraid of you and because you are ascending and they are reacting to you. That's the same everywhere in the world."
Full report at:
http://www.themalaysianinsider.com/malaysia/article/rise-of-extremist-groups-shows-moderation-progressing-says-reza-aslan#sthash.DY92vlvH.dpuf
---------
URL: https://newageislam.com/islamic-world-news/islamic-state-steps-up-violent/d/100664