New Age Islam News Bureau
11 Nov 2014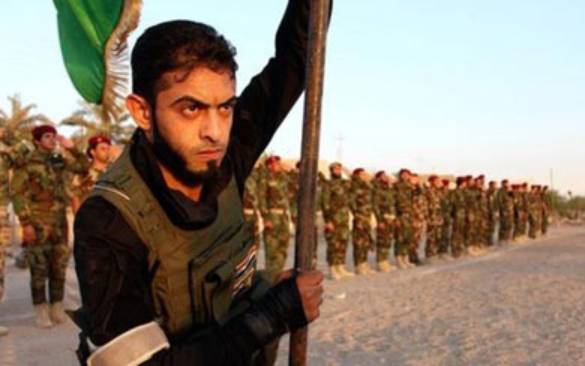 Members of the Shiite Muslim Mehdi Army train for battle in the southern Iraqi city of Basra. (AFP)
------
Europe
• Islamic State Seeking to 'Delete' Entire Cultures, UNESCO Chief Warns
• Britain Vows 'Significant' Support for Syrian Opposition
• The Western Country, Denmark, That Welcomes Jihadis
• EU top diplomat 'sad and worried' over Mideast violence
• Ban Ki-moon appoints board to probe Gaza war
• Exhibition Underway in Brussels to Combat Islamophobia
Arab World
• Iraqi Air Strikes Kill 67 Isil Terrorists in Salahuddin
• Syrian Army Inflicts Major Losses on Al-Nusra Terrorists in Idlib
• Iraqi Militias Grow Brutal In Anti-Isis Fight
• Egypt's Salafist Front to protest on 28 November to 'impose Islamic identity'
• Army recaptures oil refinery town: Iraq state TV
• Lebanon's Druze community fearful as Syria's war moves closer
• Azhar scholar urges media, scholars not to distort Islam
• Top Hezbollah official: "Takfiri terrorism is merely evil"
India
• Indian American Group Exposes Roots of Atrocities against Muslims in Assam
• India Muslims Defend Stigmatized Madrasas
• Centre Seeks Details from AMU VC over His Comment 'Girls in Library Will Attract Boys'
• Test of Indo-Israel warship missile system successful
• Indian named on Gaza UN probe panel
South Asia
• 19 Taliban Militants Killed In Joint Clearing Operations in Afghanistan
• Bangladesh Jamaat Leader Could Seek Presidential Pardon
• Over 60 Afghans arrested for partying during Ashura eve in Iran
• Hasan Ali indicted for war crimes
• Afghan mullah offers ancient wisdom to youths on Facebook
• PM Sheikh Hasina: Deaths to be registered too in future
Pakistan
• Police Launched a Manhunt to Track down The Elements Behind an "ISIS Campaign"
• Two soldiers, 24 militants killed in Orakzai, Bara
• Two levies personnel guarding polio team killed in Bajaur blast
• One killed in Quetta blast targeting ATC judge
• Five of a family gunned down in Bolan
• Killers of Hazara girl identified, to be arrested soon: Marvi
• Jamaat-e-Islami chief terms Christian couple murder as tragedy for whole humanity
• Pak. Hindus seek Sharif's support
• Govt tells Khan judicial probe constitutes judges, not ISI or MI
Mideast
• An explosion in Sanaa kills at least six Houthi rebels
• Netanyahu invites Israeli-Arab protesters to leave Israel
• Iran holds nuclear talks with world powers as deadline looms
• Turkish researcher 'threatened' and 'harassed' over tough question to Gül
• No ban on Kurdish songs in Turkish army: Minister
Africa
• 5 soldiers, 24 rebels killed in South Sudan clashes
• Tunisia, France to cooperate on stopping jihadis
• Boko Haram attacks in north Cameroon kill three: Military source
• New video shows scenes inside 'Boko Haram-controlled town'
• Ahram Online gains access to govt document on Tunisian renowned Salafist leader
North America
• White House 'can't confirm' status of ISIS' Baghdadi
• U.S. blacklists Yemen's Saleh, Houthi leaders
• US to 'assess' Egyptian militant group's links to IS
• CAIR-Minnesota Asks FBI to Stop Recruiting Informants in Mosques
• Obama ready to accommodate Assad's men in new Syrian set-up
• Obama and Putin meet amid tensions: White House
Southeast Asia
• Jokowi Tells Obama He'll Keep Fighting Terrorism
• Fatwas must be based on reality, says Dr M
Compiled by New Age Islam News Bureau
URL: https://www.newageislam.com/islamic-world-news/new-age-islam-news-bureau/islamic-state-seeking-to--delete--entire-cultures,-unesco-chief-warns/d/99961
------------
Europe
Islamic State Seeking to 'Delete' Entire Cultures, UNESCO Chief Warns
Assyrian International News Agency
Nov 11, 2014
ERBIL, IRAQ -- The so-called Islamic State's "cultural cleansing" of minority groups uprooted from their northern Iraq homelands has led to fears that entire cultures from the cradle of civilization are under the biggest threat in recorded history, the United Nation's top cultural official warns.
"It can be compared to the Nazi methods, and here I think it goes all across the board," says Irina Bokova, director general of the UN Education, Scientific and Cultural Organization (UNESCO). "Either they conform to their views of religion or belief or they have to disappear. I don't remember anything like that in contemporary history."
She says Interpol and antiquities authorities are taking steps to halt a lucrative trade in the smuggled artifacts of these ancient civilizations, which the Islamic State (IS) uses to help fund its operations.
Recommended: How much do you know about the Islamic State?
As IS militants took over large parts of northern Iraq, more than one million Iraqis fled their towns and villages, many of them from religious minorities living in communities that date back to the earliest days of their faiths.
Along with the militants' destruction and damage to physical shrines, the intangible cultural heritage of ancient Christian groups, Yazidis, and other minorities -- ancient traditions rooted in the land -- are at risk.
"This is a way to destroy identity," says Bokova in an interview during a visit to the northern Iraqi capital of Erbil. "You deprive them of their culture, you deprive them of their history, their heritage, and that is why it goes hand in hand with genocide. Along with the physical persecution they want to eliminate -- to delete -- the memory of these different cultures."
With huge swathes of northern Iraq under IS control, Iraqi officials and international organizations say it's difficult to verify exactly how many religious and cultural sites have been damaged or destroyed. Among those confirmed to have been damaged are at least two churches in Mosul, several Shiite shrines, and a Yazidi temple. In the IS jihadists' extreme version of Salafi Islam, all shrines of any faith are considered idolatrous.
The looting and destruction has been even worse in Syria, where IS has also seized territory.
"It affects us very strongly," says Father Jens Petzold, a member of the order of the Saint Musa Monastery, relocated to Suleimaniya in northern Iraq after the order was forced to flee its Byzantine-era home north of Damascus.
"Some of the people say they want to go back to the graves of our ancestors where our own churches are, even if they are in ruins," he says. "Those are their roots."
Shia shrine destroyed two weeks ago
Antiquities officials say the latest site in Iraq known to have been destroyed is the Imam al-Daur shrine north of Samarra. The intricate 11th century tomb of a Shia religious leader is believed to have been demolished two weeks ago.
Bokova says there is evidence for the first time of new damage at the Assyrian site of Nimrud -- the biblical city of Kalhu in Nineveh province -- with dramatic bas reliefs of part of the palace defaced.
"We know there is looting of many of the monuments," she says. "We have seen some of this happening. Maybe there is also others and that is why we are very much focusing on the curb of trafficking of illegal objects from Iraq."
Some officials estimate that IS derives income from the sale of more than $200 million a year in looted antiquities. The UNESCO director general thinks it could be even more.
Bokova says UNESCO has asked the UN Security Council for new controls on the sale of antiquities, similar to those imposed after the 2003 war in Iraq when there was widespread looting of museums and ongoing looting of archaeological sites. The UN agency is working with the international law enforcement organization Interpol, national customs authorities, museums, and major auction houses to try to stop looted items from being sold.
Loss of 'intangible heritage'
The director general, a nominee to be the next UN secretary general, says UNESCO is working to rebuild sites around the world destroyed by extremists, including mausoleums in Timbuktu, Mali, listed as a World Heritage site. But equally damaging is the loss of "intangible heritage."
"We continue to rebuild, but you cannot rebuild the traditions and heritage of a culture -- when it is destroyed it is destroyed forever," Bokova says.
"For the first time you have cultural cleansing," says Saad Eskander, head of Iraq's national archives. "For the Yazidis, religion is oral, nothing is written. By destroying their places of worship ... you are killing cultural memory. It is the same with the Christians -- it really is a threat beyond belief."
The Yazidis, one of Iraq's oldest religious minorities, were driven out of their lands in the north of Iraq as IS militants killed men and enslaved women from the secretive religion.
The towns in the Nineveh plains between Mosul and the Kurdish region of northern Iraq are also home to some of the earliest Christian communities -- some built around the shrines of prophets. Christian leaders say the IS takeover of Mosel marks the first time in 1,600 years that there has been no mass held in the city.
"I think it's a tragedy," says Bokova. "This cradle of civilization that has contributed so much to all of humanity -- there have been conflicts, there have been invasions, empires disappearing -- and still that cultural diversity was kept into the 21st century. To see this disappearing, I think, is a tragedy for all of us."
http://www.aina.org/news/20141108220422.htm
------------
Britain vows 'significant' support for Syrian opposition
11 November 2014
Britain will make "a significant contribution" to equip and train the moderate Syrian opposition to defeat both Islamic State extremists and the Damascus regime of President Bashar al-Assad, its foreign secretary said on Monday.
The statement came after a London meeting between Foreign Secretary Philip Hammond and Hadi al-Bahra of the opposition Syrian National Coalition.
"The UK is helping the opposition establish security and governance, and to deliver essential services. This includes life-saving search and rescue training, helping Syrians whose homes have been reduced to rubble by the regime's bombs," Hammond said.
Britain and other countries opposed to Assad increased aid to the opposition in the war-torn country in September.
"We are providing non-lethal equipment and the UK expects to make a significant contribution to the US-led Train and Equip programme," Hammond said in the statement.
The foreign secretary also criticised Assad for a "brutal and indiscriminate" campaign against civilians and the opposition, and for failing to tackle Islamic State jihadists.
"Assad can play no future role in Syria," Hammond said.
Over 195,000 people have been killed in Syria's war, and more than half the population have been forced to flee their homes.
http://english.alarabiya.net/en/News/middle-east/2014/11/11/Britain-vows-significant-support-for-Syrian-opposition-.html
------------
The Western Country, Denmark, That Welcomes Jihadis
Nov 11, 2014
AARHUS, DENMARK—The rush of morning shoppers parted to make way for Talha, a lanky 21-year-old in desert camouflage and a long, religious beard. He strode through the local mall with a fighter's gait picked up on the battlefields of Syria. Streams of young Muslim men greeted him like a returning king.
In other countries, Talha — one of hundreds of young jihadists from the West who has fought in Syria and Iraq — might be barred from return or thrown in jail. But in Denmark, a country that has spawned more foreign fighters per capita than almost anywhere else, the port city of Aarhus is taking a novel approach by rolling out a welcome mat.
In Denmark, not one returned fighter has been locked up. Instead, taking the view that discrimination at home is as criminal as Islamic State recruiting, officials here are providing free psychological counselling while finding the returnees jobs and spots in schools and universities. Officials credit a new effort to reach out to a radical mosque with staunching the flow of recruits.
The son of moderate Muslim immigrants from the Middle East, Talha became radicalized and fought with an Islamist brigade in Syria for nine months before returning home last October.
Back on Danish soil, he still dreams of living in a Middle Eastern caliphate. He rejects the Islamic State's beheading of foreign hostages but defends their summary executions of Iraqi and Syrian soldiers.
"I know how some people think. They are afraid of us, the ones coming back," says Talha, a name he adopted to protect his identity because he never told his father he went to fight. "Look, we are really not dangerous."
Yet critics call this city's soft-handed approach just that — dangerous. And the effort here is fast becoming a pawn in the much larger debate raging across Europe over Islam and the nature of extremism. More and louder voices here are clamouring for new laws that could not only charge returnees with treason but also set curbs on immigration from Muslim countries and on Islamic traditions such as religious circumcision.
In a country that vividly remembers the violent backlash in the Muslim world after a Danish newspaper published cartoon images of the prophet Muhammad in 2006, many here want Aarhus to crack down on — not cajole — extremists.
"They are being much too soft (in Aarhus), and they fail to see the problem," said Marie Krarup, an influential member of Parliament from the Danish People's Party, the country's third-largest political force. "The problem is Islam. Islam itself is radical. You cannot integrate a great number of Muslims into a Christian country."
Aarhus is treating its returning religious fighters like wayward youths rather than terrorism suspects because that's the way most of them started out.
The majority were young men like Talha, between 16 and 28, including several former criminals and gang members who had recently found what they began to call "true Islam." Most of them came from moderate Muslim homes and, quite often, were the children of divorced parents. Most lived in the Gellerupparken ghetto.
A densely packed warren of midrise public housing blocks, Gellerupparken is home to immigrants and their families who arrived in the waves of Muslim migration that began in the 1960s. Unemployment — especially among youths — is far higher than the city average. At one point, crime was so bad that even ambulances needed police escorts. It made a perfect breeding ground for angry young men at risk of becoming militants.
On a quest to change that, the city is in the midst of a major overhaul of the ghetto. Better housing could improve conditions and lure more ethnic Danes, contributing to integration. New thoroughfares and roads, meanwhile, would link it more closely to the rest of the city.
"These are young people who have turned to religion at a very difficult time in their lives, and they are dealing with existential questions about going to fight for what they believe in," said Aarhus Mayor Jacob Bundsgaard. "We cannot pass legislation that changes the way they think and feel. What we can do is show them we are sincere about integration, about dialogue."
Talha came back to Denmark when bouts of infighting broke out among rival factions. Since then, he has had one meeting, he said, with a police official who questioned him about his plans and intentions. Under Aarhus's program, he was offered — and accepted — taxpayers' help for the math classes he needs to enter engineering school.
Yet, because counselling is voluntary, he has opted to skip the therapy sessions he says he doesn't need. He wants no harm to come to Denmark, he said, but bemoans what he describes as a mounting anti-Islamic sentiment in the media and national government.
"I don't see how that helps," he said.
Danish authorities say the vast majority of the 30 or so Aarhus residents who went to Syria were somehow linked to one of the most polarizing houses of worship in Europe — the Grimhojvej mosque. Talha began to worship there four years ago, two years before he left for Syria. He found the mosque through a childhood friend who helped him leave behind what he described as a world of secular vice. Parties with Danish teens. Drinking. Girls. "That's my past," he said. "Not my present."
But Talha wants to make one thing clear. He, like the mosque leadership, denies that Grimhojvej recruited him and other fighters.
In January, Aarhus officials gave the mosque an ultimatum. It could either open itself up to a new dialogue with the community or face a public condemnation and, quite likely, stepped-up legal pressure.
The mosque chose to co-operate.
Since January, Police and city officials have engaged in a number of unprecedented sessions hosted by the mosque, meeting In the presence of mosque leaders, police and city officials met with returned fighters like Talha to assess their risk levels. They also met with members of the mosque's youth group to dissuade other young Muslims from travelling to the Middle East. In monthly meetings, city officials, police and members of the mosque hierarchy are now debating religious ideology, Danish law and freedom of speech.
The mosque still openly backs a caliphate in the Middle East, refuses to offer a blanket denunciation of the Islamic State and warns that Denmark's recent decision to join the U.S.-led coalition in airstrikes against the militant group may only fan the fires of home-grown terrorism.
Yet Grimhojvej has undeniably nuanced its public position, rejecting, for instance, the Islamic State's beheadings of foreign hostages. Oussama el-Saadi, the mosque's chairman, denies allegations that the mosque became a recruiting centre for militants, saying it did not discourage or encourage those who wanted to go and fight. But now its official line — at least in public — is that the young Muslims of Aarhus should stay home.
Police officials say the statistics prove their approach is working.
"In 2013, we had 30 young people go to Syria," said Jorgen Ilum, Aarhus's police commissioner. "This year, to my knowledge, we have had only one. We believe that the main reason is our contact and dialogue with the Muslim community."
http://www.thestar.com/news/world/2014/11/10/the_western_country_that_welcomes_jihadis.html
------------
EU top diplomat 'sad and worried' over Mideast violence
11 November 2014
EU foreign policy chief Federica Mogherini on Tuesday voiced concern about escalating violence in the Israel-Palestinian conflict and urged progress toward a two-state solution.
We need a Palestinian state living in peace and security next to the Israeli state," said Europe's top diplomat in Berlin, after recently visiting Israel and the Palestinian territories.
"And I am particularly sad and worried about the escalation of violence that we are witnessing these hours," she told reporters, flanked by German Foreign Minister Frank-Walter Steinmeier.
Recent violence had "demonstrated very clearly that if we do not offer political perspective both to the Israelis to live in security and to the Palestinians to have a state, their own state, violence will come back", she said.
"I know that we can work closely together in that direction" in the 28-member EU, she said.
In recent weeks tensions have soared, with Israel pushing plans to build new Jewish settlements in east Jerusalem and Jewish extremists demanding the right to pray at the flashpoint Al-Aqsa mosque compound.
The fatal stabbing of two young Israelis further heightened tensions as Palestinians were set Tuesday to commemorate the 10th anniversary of the death of iconic leader Yasser Arafat.
Palestinians are seeking to achieve statehood in Gaza and the West Bank with occupied east Jerusalem as their capital. Israel claims Jerusalem as its undivided and eternal capital city.
http://english.alarabiya.net/en/News/world/2014/11/11/EU-top-diplomat-sad-and-worried-over-Mideast-violence-.html
------------
Ban Ki-moon appoints board to probe Gaza war
11 November 2014
U.N. Secretary General Ban Ki-moon on Monday appointed a five-member panel to investigate Israeli attacks on U.N. shelters during the Gaza war and the discovery of Hamas weapons at U.N. sites, Agence France-Presse reported.
The five-member independent board will be chaired by Patrick Cammaert, a retired Dutch major general who previously served as Ban's military advisor, U.N. deputy spokesman Farhan Haq said.
"The secretary-general expects that the board will enjoy the full cooperation of all parties concerned," Haq said.
The other members of the board are Maria Vicien-Milburn, general counsel of the United Nations Educational, Scientific and Cultural Organization; Lee O'Brien, a former Mideast expert in the U.N. Department of Political Affairs; Pierre Lemelin of Canada and K.C. Reddy of India.
More than 2,100 Palestinians were killed, mainly civilians, in the 50 days of fighting that began July 8, according to U.N. and Palestinian estimates.
Seventy-two people were killed on the Israeli side.
Thousands of buildings were destroyed and at least 223 Gaza schools, either run by the U.N. refugee agency or the Hamas government, were hit in the fighting.
Weapons caches were found in several U.N. schools that weren't being used at the time.
Meanwhile, Israel's U.N. Ambassador Ron Prosor told reporters "we are now assessing" the announcement.
The Palestinian U.N. Mission said it will comment on Tuesday.
Ban announced plans to set up a probe during his visit to Gaza last month after describing Israeli shelling of U.N.-run schools as a "moral outrage".
He said the destruction was "beyond description" and "much more serious" than what he witnessed in the Palestinian territory in 2009 in the aftermath of a previous Israel-Hamas war.
Ban said nothing more powerfully symbolized the "summer of suffering" than the Jabalia school where thousands of families had sought shelter from the fighting "under the U.N. flag."
http://english.alarabiya.net/en/News/middle-east/2014/11/11/U-N-chief-sets-up-board-to-probe-Gaza-war-incidents.html
--------
Exhibition Underway in Brussels to Combat Islamophobia
Nov 11, 2014
The third edition of an Islamic exhibition against Islamopobia has been organized since November 7 in Brussels, the capital city of Belgium.
According to TRT website, the exhibition aims to introduce Islam and eliminate challenges and problems that Muslims face in European countries.
Islamic finance, Islamophobia, Islamic lifestyle, art and beauty are some of the themes featured at the exhibition.
200 companies are taking part in the exhibition which will conclude on November 10.
Tourism agencies and Islamic education institutes have also participated at the exhibition where Halal products, Islamic clothing, jewelries and books have also been presented.
A book titled "Islam is The Religion of Peace" has been very well received at the exhibition.
Drawing a true image of Islam in Europe and developing peace, dialogue and social good intention in the society are the main objectives of the exhibition.
http://www.abna.ir/english/service/europe/archive/2014/11/10/650413/story.html
------------
Arab World
Iraqi Air Strikes Kill 67 ISIL Terrorists in Salahuddin
Nov 11, 2014
Iraqi warplanes pounded the positions of the ISIL Takfiri group in nearby areas of Salahuddin province, leaving at least 67 terrorists dead.
Iraqi fighter jets carried out separate operations in the areas of Aziz Balad, Bashiqa, and Khazraj and killed 67 ISIL terrorists.
Nine vehicles belonging to the Takfiri group were also destroyed during the operations.
The ISIL Takfiri terrorists currently control parts of Syria and Iraq. They have threatened all communities, including Shiites, Sunnis, Kurds, Christians, Ezadi Kurds and others, as they continue their atrocities in Iraq.
Senior Iraqi officials have blamed Saudi Arabia, Qatar, and some Persian Gulf Arab states for the growing terrorism in their country.
The ISIL has links with Saudi intelligence and is believed to be indirectly supported by the Israeli regime.
http://english.farsnews.com/newstext.aspx?nn=13930820000532
------------
Syrian Army Inflicts Major Losses on Al-Nusra Terrorists in Idlib
Nov 11, 2014
Members of the al-Nusra Front suffered heavy losses in Idlib province, as the Syrian Army gained ground in its fight against the terrorist group.
The army soldiers staged an operation in the area of Khan al-Subul, and claimed the lives of a large number of al-Nusra terrorists.
Nine terrorists with Saudi nationalities were identified among the killed ones.
Several vehicles belonging to the terrorist organization were destroyed during the operation.
Syria has been experiencing unrest since March 2011 with organized attacks by well-armed gangs and terrorists against both the army and civilians.
The unrest, which took in terrorist groups from across Europe, the Middle-East and North Africa, has transpired as one of the bloodiest conflicts in recent history.
As the foreign-backed insurgency in Syria continues without an end in sight, the US government has boosted its political and military support to Takfiri extremists.
http://english.farsnews.com/newstext.aspx?nn=13930820000341
------------
Iraqi militias grow brutal in anti-ISIS fight
11 November 2014
The vengeance that Iraq's Shiite militias mete out as they fight the Islamic State group can be just as savage as that of their sworn sectarian enemies.
In a grisly video recently posted online, a Shiite fighter shouts the name of a revered imam in victory as he poses beside decapitated bodies.
Another militiaman sits nearby, grinning as he maims a corpse.
One bearded militiaman explains the bodies are those of fighters who "killed our comrades." Another man shouts, "Our fighters were good guys. These are dogs."
The Shiite militias who have answered the call-to-arms by the government to fight the Islamic State group are growing more brutal, stoked by a desire for revenge against the Sunni extremists who have butchered Shiites who fall into their hands.
That vigilantism is posing a challenge for the Shiite-led government in Baghdad, where authorities have been embarrassed by international criticism of the militias and are worried about militiamen getting out of control. Sunnis whom the government is trying to win over accuse the militias of atrocities against their community, and there are concerns over the militias' links to Iran and Lebanon's Shiite Hezbollah guerrilla group.
Full report at:
http://english.alarabiya.net/en/perspective/analysis/2014/11/11/Iraqi-militias-grow-brutal-in-anti-ISIS-fight-.html
------------
Egypt's Salafist Front to protest on 28 November to 'impose Islamic identity'
Nov 11, 2014
Egypt's ultra-conservative Islamist "Salafist Front" is calling on its allies to protest on 28 November to "impose the Islamic identity without disguise."
According to statements of leadership member Mohamed Galal to the Turkish Anadolu Agency Monday, the protests will also "refuse the dominance of political and economic decisions and end military rule."
He said the protests on 28 November are just the beginning of a "new revolutionary movement of Muslim youth."
In a statement on its Facebook page, the Salafist Front has called on other Islamist groups and parties to participate in their protests. However, no groups have responded to their calls yet.
The Salafist Front is calling for protests as a separate party for the first time in two years. It has always been part of the largest Islamist coalition supporting ousted president Mohamed Morsi, National Alliance to Support Legitimacy (NASL).
Galal stressed that it is the first time that the front clearly highlights its demands.
He added that they will keep calling for those demands even if former president Morsi were to return to power.
Full report at:
http://english.ahram.org.eg/NewsContent/1/64/115207/Egypt/Politics-/Egypts-Salafist-Front-to-protest-on--November-to-i.aspx
------------
Army recaptures oil refinery town: Iraq state TV
Nov 11, 2014
BAGHDAD: Iraqi soldiers battling the Islamic State group recaptured the heart of the town of Beiji, home to the country's largest oil refinery, state television and a military official said on Tuesday.
Retaking Beiji, 250 kilometers north of Baghdad, could allow Iraqi forces a base to attack neighbouring Tikrit, taken by the extremists after their lightning advance this summer. It also represents a morale boost for Iraq's beleaguered security forces, which saw many of its troops flee the militant offensive.
State television quoted the top army commander in Beiji, General Abdul-Wahab Al-Saadi, as saying troops recaptured the city's local government and police headquarters at the centre of the town. It aired what appeared to be archival footage of the town.
A senior military official reached by telephone in Beiji confirmed the recapture of the city centre, but added that intense clashes continued elsewhere in the town.
Full report at:
http://www.dawn.com/news/1143766/army-recaptures-oil-refinery-town-iraq-state-tv
------------
Lebanon's Druze community fearful as Syria's war moves closer
Nov 11, 2014
RASHAYA: On mountains close to the Syrian border, members of Lebanon's minority Druze sect say they are ready to defend their towns and villages with arms if the civil war next raging door gets much nearer.
"Here in the east, the danger has become very close to us, it is right in our faces and in our lives," said Ali Fayik, a regional official speaking in the predominantly Druze town of Rashaya, set in steep mountains with a panorama over the region.
The town is in a sensitive area close to the Israeli-occupied Golan Heights and home to various religious communities which fought one another in Lebanon's own 1975-1990 civil war.
On the other side of the mountain range, Sunni Islamist fighters linked to Al Qaeda and hostile to groups including the Druze, are battling Syria's army as well as other insurgents.
Fresh battles over the border late last week killed at least 31 members of pro-government forces and around 14 insurgents, the Syrian Observatory for Human Rights monitoring group said on Saturday.
Full report at:
http://www.dawn.com/news/1143582/lebanons-druze-community-fearful-as-syrias-war-moves-closer
------------
Azhar scholar urges media, scholars not to distort Islam
Nov 11, 2014
SHARJAH: The former head of Al Azhar University, Dr Ahmed Omar Hashem, has said the duty of "purifying our religion from the taint of terrorism lies on governments, scholars and the media."
"We have to play our role –and from now," he said, while appearing on the panel titled 'Sublime Ideas: Islamic Culture in the Face of Challenges' at the ongoing Sharjah International Book Fair (SIBF) being held at Sharjah Expo.
"The matter concerns defending Prophet Muhammad (PBUH) who is our defender during the Day of Reckoning," he said, adding that "the peaceful Prophet who came with the religion of peace from Allah who bears the name of Al Ssalaam (Peaceful) and we greet with Salaam (peace), cannot be let to be hijacked by the pockets of extremism."
On the panel was another Azhar scholar who heads Al Qasimi University in Sharjah, Dr Rashad Salem. It was moderated by the Secretary General of Sharjah-based Al Muntada Al Islami, Majid Bushlibi.
Full report at:
http://gulftoday.ae/portal/69d47a12-397e-4fd7-9179-875b31872421.aspx
------------
Top Hezbollah official: "Takfiri terrorism is merely evil"
Nov 11, 2014
Top Lebanese Hezbollah official warned agaisnt Takfiri (excommunication) terrorism as a threat for Shia, Sunni and Christiantiy the same.
Sheikh Nabil Qawooq, Head of Hezbollah executive committee stressed Takfiri terrorism as merely evil and a group which is beneficial for no tribe, sect or religious group, reported Taqrib News Agency (TNA).
He added that the aim of Takfiri plans is to fuel intrigues through invading different areas in Lebanon though it is quite clear that Lebanon is mightier than DAESH, Al Nusrah and all other Takfiri movements.
Lebanese cleric noted that deployment of Hezbollah to Syria is a great service for the people in the region and Muslim nation since Takfir is their shared threat.
He also said involvement of Hezbollah in Syria is absolutely beneficial for Lebanon and it has increased Lebanon's power against Takfiri terrorists.
http://www.shiitenews.org/index.php/saudi-arab/item/11722-takfiri-terrorism-is-merely-evil
------------
India
Indian American Group Exposes Roots of Atrocities against Muslims in Assam
Nov 11, 2014
Illinois, USA: The Indian American Muslim Council (IAMC), an advocacy group dedicated to safeguarding India's pluralist and tolerant ethos, has released a report that exposes the roots of the mass violence in Assam in 2012 and 2014, in which hundreds of lives have been lost and over a half million people were displaced. The report titled "Rationalizing Ethnic Cleansing in Assam," is based on data provided by human rights activists in Assam, media reports, eyewitness accounts as well as testimonies of scores of victims, many of which have been recorded.
The report documents the state complicity behind sustained violence against an ethnic and religious minority. The report also exposes the myth about Assamese Muslims being illegal immigrants from Bangladesh, a canard that is all too often used to "contextualize," the barbaric ethnic cleansing of impoverished Muslim villagers.
"The political patronage provided to armed militant groups that have spearheaded massacres at regular intervals since 1993, and the hateful rhetoric of xenophobic Hindutva groups, is at the root of the campaign to bring about demographic changes in Assam through violence and intimidation," said Mr. Ahsan Khan, President of IAMC. "The gravity of the situation in Assam can be gauged from the fact that the state has failed to provide adequate relief or create an atmosphere conducive to the return of the thousands who were displaced from their homes during the mass violence," added Mr. Khan.
Full report at:
http://www.milligazette.com/news/11247-indian-american-group-exposes-roots-of-atrocities-against-muslims-in-assam
------------
India Muslims Defend Stigmatized Madrasas
Nov 11, 2014
KOLKATA – As Indian security agencies claim that many madrasas in India are "hotbeds of terrorist activities", Muslim community leaders have risen in protest, charging that no madrasa in India teaches anything that is related to terrorism.
"In the past, identical charges were slapped against the madrasas in India. But, neither any Hindu group nor any security agency could come up with any evidence in support of their accusation," Zafar ul-Islam Khan, president of the All India Muslim Majlis-e-Mushawarat (AIMMM), a New Delhi-based umbrella body of Indian Muslims organizations, told OnIslam.net.
"The charges against Bengal's madrasas too are baseless."
The anti-Madrasa frenzy followed an accidental explosion that took place last October at an underground bomb-making workshop in the district of Bardhaman in eastern Indian state of West Bengal.
Following preliminary investigation, Indian security agencies claimed that the blast, which killed two men and injured others, had helped them bust the India network of a banned Islamist outfit of Bangladesh Jamaat-ul-Mujahideen Bangladesh (JMB).
India's National Investigation Agency (NIA) also claimed that the bomb-makers were secretly manufacturing grenades and other improvised explosive devices for use against Sheikh Hasina-led government in Bangladesh, and that the group were training young Muslims in terrorist activities in some madrasas in India.
Full report at:
http://www.onislam.net/english/news/asia-pacific/479579-indias-madrassahs-under-hindu-fire.html
------------
Centre Seeks Details from AMU VC over His Comment 'Girls in Library Will Attract Boys'
TNN | Nov 11, 2014
NEW DELHI: The Centre has sought details from Aligarh Muslim University's vice-chancellor Lt Gen Zameer Uddin Shah on his reported comment that there would be "four times more boys" in varsity's Maulana Azad Library if girls were allowed in.
Union HRD secretary has written to AMU VC seeking details of his reported comment, the Times Now reported quoting sources.
Meanwhile, vice-chancellor Lt Gen Zameer Uddin Shah on Tuesday clarified that he was not sexist or against women empowerment.
"We are not at all sexist, we want women empowerment, certainly don't want to segregate our girls," the AMU VC said.
"These reports are completely wrong, I said there is not space for even a single seat in that library," Zameer Uddin Shah said adding, "that all the books in that library are available online."
Full report at:
http://timesofindia.indiatimes.com/india/Centre-seeks-details-from-AMU-VC-over-his-comment-girls-in-library-will-attract-boys/articleshow/45109831.cms
------------
Test of Indo-Israel warship missile system successful
Rajat Pandit,TNN | Nov 11, 2014
NEW DELHI: There is finally some hope for frontline Indian warships being commissioned without an adequate "area defence weapon" to guard against enemy aircraft, drones, missiles and helicopters.
The long-range surface-to-air missile (LR-SAM) system, being developed by DRDO and Israeli Aerospace Industries (IAI) with an interception range of 70 km, was finally tested for the first time on Monday after a long delay.
The defence ministry said the LR-SAM's "hot test" against a flying target was "successfully" conducted in Israel in the presence of DRDO chief Avinash Chander, IAI president Joseph Weiss and top Israel Defence Force officials.
"All the systems, including the radar, communication launch systems and the missile system, performed as expected and hit the target directly. The system is being developed for both the Indian and Israeli armed forces," said an official.
Full report at:
http://timesofindia.indiatimes.com/india/Test-of-Indo-Israel-warship-missile-system-successful/articleshow/45103574.cms
------------
Indian named on Gaza UN probe panel
Nov 11, 2014
K. C. Reddy, a former UN security advisor for Syria, has been named on a UN inquiry panel set up by UN Secretary-General, Ban Ki—moon to probe the presence of arms on UN premises in the Gaza strip and the damage to its facilities during the conflict between Israel and Palestinian factions.
Mr. Reddy has been named to the internal and independent United Nations Headquarters Board of Inquiry that will be chaired by Patrick Cammaert of The Netherlands.
The formation of the inquiry board by Mr. Ban is aimed at reviewing "certain incidents that occurred in the Gaza Strip between July 8 and August 26," Mr. Ban's deputy spokesman Farhan Haq told reporters.
The board would include Maria Vicien—Milburn of Argentina, Lee O'Brien of the United States and Pierre Lemelin of Canada. The board would review and investigate a number of specific incidents in which death or injuries occurred at and damage was done to United Nations premises.
Full report at:
http://www.thehindu.com/news/international/world/k-c-reddy-un-security-advisor-for-syria-named-on-gaza-un-probe-panel/article6586095.ece
----------
South Asia
19 Taliban militants killed in joint clearing operations in Afghanistan
Nov 11, 2014
At least 19 Taliban militants were killed and 11 others were injured following military operations in the past 24 hours.
The Ministry of Interior (MoI) following a statement said the operations were conducted by Afghan National Police in cooperation with Afghan National Army and Afghan intelligence – National Directorate of Security (NDS) operatives.
The statement further added the operations were conducted in Kunduz, Kandahar, Zabul, Uruzgan, Khost and Paktika provinces.
"Also, during these operations, Afghan National Police discovered and confiscated light and heavy rounds ammunition," the statement said.
The statement also added, Afghan National Police discovered and defused fiive Improvised Explosive Devices (IEDs) placed by enemies of Afghanistan for destructive activities in Khost, Kandahar and Jawzjan provinces.
The anti-government armed militant groups have not commented regarding the reports so far.
http://www.khaama.com/19-taliban-militants-killed-in-joint-clearing-operations-moi-8972
------------
Bangladesh Jamaat Leader Could Seek Presidential Pardon
HAROON HABIB
Nov 11, 2014
Presidential clemency may be the last resort for war crimes convict Muhammad Kamaruzzaman whose death sentence was upheld by Bangladesh's highest judiciary.
The joint secretary general of Jamaat-e-Islami has expressed willingness to file a review petition on the November 3 verdict of the Appellate Division that has rejected his appeal against tribunal's judgment. Kamaruzzaman's lawyer said the convict will wait on going for the mercy petition until his review plea is resolved.
However, the prosecution maintains that the defence does not deserve a review petition under law.
The Appellate Division upheld the death sentence given by a war crimes tribunal on Kamaruzzaman for killing 120 people during Bangladesh liberation war in
http://www.thehindu.com/news/international/south-asia/jamaat-leader-could-seek-presidential-pardon/article6584234.ece
------------
Over 60 Afghans arrested for partying during Ashura eve in Iran
Nov 11, 2014
According to reports, dozens of Afghan migrants have been arrested for allegedly partying during the Ashura eve in Iran.
The Iranian officials said a group of Afghans were arrested after receiving complaints for participating in a party during the Ashura eve in southern Iran.
The officials further added that the party, which was believed to be an engagement ceremony was stopped following the interference of security forces.
Deputy chief for Iran's Immigration and Foreign Nationals Department, Mosa Hashemi has said at least 62 people were arrested.
According to Hashimi, the party was organized three after the Ashura Day.
The governor-general for Tehran, the capital city of Iran, Hussain Hashemi said the party was organized despite they were aware regarding culture of Shi'ites.
The migrants are still believed to be in custody of Iranian forces. Afghan officials have not commented regarding the reports so far.
http://www.khaama.com/over-60-afghans-arrested-for-partying-during-ashura-eve-in-iran-8971
------------
Hasan Ali indicted for war crimes
Ahmed Zayeef
Nov 11, 2014
The International Crimes Tribunal 1 has framed charge against Syed Hasan Ali for committed crimes against humanity in Kishoreganj during the 1971 Liberation War.
The three-member tribunal headed by Justice M Enayetur Rahim framed the charges against Hasan Ali in six counts on Tuesday morning.
The apex court fixed December 7 for opening statement in the case.
On June 29, pressed the six charges against Hasan Ali including murder and genocide.
On April 3, the war crimes tribunal issued arrest warrant against Syed Hasan Ali, an alleged razakar commander of Tarail in Kishoreganj during the 1971 Liberation War.
http://www.dhakatribune.com/law-rights/2014/nov/11/hasan-ali-indicted-war-crimes#sthash.aqZpDqv8.dpuf
------------
Afghan mullah offers ancient wisdom to youths on Facebook
Nov 11, 2014
For years, said Mohammad Sajad Mohseni, a 63-year-old mullah, young Afghans took one look at his salt-and-pepper beard, white turban and coral-colored prayer beads and dismissed him.
"They just saw me as another mullah," Mohseni said.
But that changed three years ago when he opened a Facebook account.
Suddenly a man who seemed like a relic of the past had begun to speak the language of a new generation of Afghans skeptical of traditional religious figures but open to social media. Mohseni said he has seen a surge in the number of young Afghans who attend his mosque here in northern Afghanistan and who comment on his Facebook page.
Seated cross-legged in a room lined with red and gold mattresses in his simple brick home, Mohseni uses his white Samsung Galaxy cellphone to write daily reflections of his readings of religious texts. He also posts his favorite verses from Persian poetry.
Taught to use the smartphone by his son — as with many Afghans, the phone is his only source of Internet access — Mohseni is quick to respond to direct messages but hasn't gotten the hang of commenting.
Full report at:
http://www.latimes.com/world/afghanistan-pakistan/la-fg-afghanistan-mullah-facebook-20141110-story.html
------------
PM Sheikh Hasina: Deaths to be registered too in future
Nov 11, 2014
Prime Minister Sheikh Hasina has said the government will preserve information of deaths alongside birth registration.
The premier made the statement while addressing the inauguration ceremony of Digital Centre Entrepreneur Conference 2014 on Tuesday afternoon.
She said: "Besides the birth registration, information of deaths will also be preserved in future so that families of the dead can get the government's assistance particularly in holding the funerals."
Sheikh Hasina has said more than 11 crore people in the country are now using mobile phones.
"We have ensured access to information service in every union level of the country," she said.
Hailing the country's progress in the adoption of digital technologies, she said: "The people sitting in front of us are literally adopted the digital technology so fast, they are to be said the true digital generation of the nation and I believe they will succeed."
She also termed the digital centre entrepreneurs the "golden generation."
http://www.dhakatribune.com/bangladesh/2014/nov/11/pm-deaths-be-registered-too-future#sthash.SVlGxgtT.dpuf
---------
Pakistan
Police Launched A Manhunt To Track Down The Elements Behind An "ISIS Campaign"
ISIS appears in Lahore
Nov 11, 2014
LAHORE - Lahore police have launched a manhunt to track down the elements behind an "ISIS campaign" after discovering distribution of pamphlets and display of posters on the boundary walls in some parts of the city.
"We are investigating the matter. This is a very serious issue. A criminal case has been lodged against unidentified persons with Nawab Town police," a senior official told this reporter, seeking anonymity.
Sources revealed that the Punjab Chief Minister Shahbaz Sharif also took notice of the campaign after looking at some intelligence inputs. The Punjab Inspector General of Police has been directed to submit report to the CM Secretariat within days.
Police are investigating the development, which shook the security agencies too, after ISIS pamphlets and flags appeared in some parts of Lahore.
Another official said the pamphlets were being distributed by an unidentified group and some ISIS graffiti also appeared on the walls of the buildings. A police officer said a few youngsters carrying ISIS flags at a crossing were seen but they were yet to be identified.
Security experts say it must be investigated whether the ultra-radical Islamist group is trying to inspire miscreants in the provincial metropolis.
Police and intelligence operatives are also investigating where the pamphlets were printed and who distributed the banned material. The pamphlet's logo features an AK-47 assault rifle and calls on youngsters to support the militant group, said an official, who is familiar with the development. ISIS stickers have also been spotted in some educational institutions, he added.
A splinter group of the Taliban insurgents, Jamat-ul Ahrar, recently declared its support for the ruthless Islamic State of Iraq and Syria fighters, who have captured large swathes of territory in Iraq and Syria in a drive to set up a self-declared caliphate.
Full report at:
http://nation.com.pk/national/11-Nov-2014/isis-appears-in-lahore
------------
Two soldiers, 24 militants killed in Orakzai, Bara
Nov 11, 2014
PESHAWAR: At least two soldiers and several militants were killed in separate clashes involving a gunfight and roadside bombings in Pakistan's restive Tribal Region, officials said on Tuesday.
Sources said militants attacked a checkpost in the Shirin Dara area of Orakzai, resulting in a clash that also left several militants and six security personnel injured.
The attack was successfully repulsed.
Some of the injured security personnel are said to be in critical condition.
The information could not be independently verified as journalists have restricted access in the Federally Administered Tribal Areas (Fata).
Tuesday's clash comes as the army is engaged in an offensive against local and foreign militants in the northwestern tribal regions of North Waziristan and Khyber.
Orakzai is one of Pakistan's seven semi-autonomous tribal regions in the area, where Pakistani Taliban and Al Qaeda-linked militants are said to have carved out strongholds.
At least two people were killed and four others were injured in a bombing targeting a security forces vehicle near Peshawar's Bannu district on Tuesday.
Full report at:
http://www.dawn.com/news/1143729/two-soldiers-24-militants-killed-in-orakzai-bara
------------
Two levies personnel guarding polio team killed in Bajaur blast
Nov 11, 2014
PESHAWAR: At least two people were killed and two others injured in a bombing targeting a security personnel vehicle in Salarzai tehsil of Bajaur Agency on Tuesday.
According to sources, the vehicle was targeted by what appears to be an Improvised Explosive Device (IED).
The levies personnel were on polio security patrol when the blast took place. The vehicle was completely destroyed.
There was no immediate claim of responsibility for the attack until the filing of this report.
The information could not be independently verified as journalists have restricted access in the Federally Administered Tribal Areas (Fata).
Bajaur, a tribal region in Pakistan's Federally Administered Tribal Areas (Fata), is governed by tribal laws.
An extremist insurgency led by the Tehreek-i-Taliban Pakistan (TTP) plagues the region and the area is known to be infested with militants, including those from Al Qaeda and other armed extremist organisations.
Full report at:
http://www.dawn.com/news/1143744/two-levies-personnel-guarding-polio-team-killed-in-bajaur-blast
------------
One killed in Quetta blast targeting ATC judge
Nov 11, 2014
QUETTA: One person was killed and 20 were injured in an explosion targeting a vehicle carrying anti-terrorist court judge Nazeer Ahmed Langove in Quetta on Tuesday.
Judge Langove remained unhurt in the blast that took place on Quetta's Double Road, senior police official Imran Qureshi told Dawn, adding that two gunmen guarding the judge were among those injured.
The target of the attack was the judge's vehicle, Qureshi said.
The injured were rushed to Civil Hospital Quetta for medical treatment.
Emergency was also imposed in the hospital. The blast also smashed the glasses of nearby homes and shops in the area. Police reached the spot and started an investigation into the incident.
Full report at:
http://www.dawn.com/news/1143730/one-killed-in-quetta-blast-targeting-atc-judge
------------
Five of a family gunned down in Bolan
Nov 11, 2014
QUETTA: At least five people including three children were killed and three women wounded when armed men opened fire at a vehicle inthe Mithri area of Balochistan's Bolan district on Tuesday.
Levies sources told Dawn that gunmen sprayed bullets on the vehicle and sped away on their motorcycles killing five persons. The sources further said that three children were among the dead and that three other women were also injured in the incident.
Levies and police reached the spot and started investigation into the incident.
The injured women were rushed to Civil Hospital for medical treatment.
Levies said all family members belonged to a local tribe and that, "The family was on its way to Sibi from Mithri when attacked."
There has been no claim of responsibility for the attack but security sources said that the motive of the attack appeared to be tribal enmity.
http://www.dawn.com/news/1143742/five-of-a-family-gunned-down-in-bolan
------------
Killers of Hazara girl identified, to be arrested soon: Marvi
Nov 11, 2014
QUETTA: The chairperson of the National Assembly's Standing Commit­­tee on Information and Broadcasting, Marvi Memon, has said that people involved in the murder of a six-year-old Hazara girl in Quetta have been identified and they will be brought to justice soon.
Addressing a press conference after visiting the victim's family on Monday, Ms Memon said the prime minister had taken serious notice of the incident and issued directives for the arrest of the culprits.
Ms Memon was accompanied by PML-N MPA Samina Khan, Hazara Qaumi Jirga chief Abdul Qayyum Changezi and senior police officers.
She said Inspector General of Balochistan Police Mohammad Amlish Khan and CCPO Quetta Abdul Razzak Cheema had informed her during a briefing that police had almost completed the investigation into the case and the culprits would be arrested soon.
Full report at:
http://www.dawn.com/news/1143697/killers-of-hazara-girl-identified-to-be-arrested-soon-marvi
------------
Jamaat-e-Islami chief terms Christian couple murder as tragedy for whole humanity
Nov 11, 2014
Peshawar- Jamaat-e-Islami chief Sirajul Haq said today that incident of Kot Radha Krishan had brought defamation to image of the country and Islam.
The JI head said no one should be entitled to indulge in vigilante justice. He said such practices should be avoided. He further said the mod had not burnt a couple but burnt the whole humanity.
The incident took place in a village in Punjab province on November 4 when a local cleric told his community through the loudspeakers of his mosque to punish the couple for alleged desecration of the Holy Quran.
A mob then gathered outside the house of Shehzad Masih, 32, and his wife Shama, in her 20s, dragged them out and beat them to death.
Their bodies were then set on fire in a brick kiln where they worked.
http://nation.com.pk/national/10-Nov-2014/ji-chief-terms-christian-couple-murder-as-tragedy-for-whole-humanity
------------
Pak. Hindus seek Sharif's support
Nov 11, 2014
A Hindu representative body in Pakistan has sought support from Prime Minister Nawaz Sharif for the formation of an inter-faith committee in an effort to end rising atrocities against religious minorities in the country, days after a Christian couple were burnt to death.
The Pakistan Hindu Council (PHC) has proposed setting up of an active interfaith committee at the federal level under Mr. Sharif to prevent incidents of violence against minorities and promote interfaith harmony.
The Dawn reported that the executive committee of the PHC met on Sunday in Karachi to review mounting atrocities against religious minorities across the country.
It condemned the brutal killing of a Christian couple in Lahore for alleged blasphemy, which created fear and increased sense of insecurity among members of the minorities.
The meeting, presided over by PHC president Chela Ram Kewlani, condemned the kidnapping of Hindu minor girls.
Full report at:
http://www.thehindu.com/news/international/south-asia/pakistan-hindus-seek-sharifs-support/article6584237.ece
---------
Govt tells Khan judicial probe constitutes judges, not ISI or MI
Nov 11, 2014
The government has rebuffed Pakistan Tehreek-e-Insaf (PTI)'s demand for inclusion of intelligence officials in the judicial commission to probe alleged rigging in the 2013 general elections.
Addressing a news conference along with federal ministers Pervaiz Rashid and Zahid Hamid, Finance Minister Ishaq Dar said that the government could "not even propose" the names as it was the prerogative of the Supreme Court (SC) to nominate judges for the commission.
The minister said that law secretary on August 13 had written to the SC registrar under the 1956 Inquiry Act, for constituting a commission to probe the alleged poll rigging and it was suggested that a three-member commission may be set up to probe the matter and fix the responsibility.
Full report at:
http://www.pakistantoday.com.pk/2014/11/11/national/govt-tells-khan-judicial-probe-constitutes-judges-not-isi-or-mi/
------------
Mideast
An explosion in Sanaa kills at least six Houthi rebels
11 November 2014
At least six Houthis have been killed in an explosion near a rebel checkpoint in the town of Rada, south of Sanaa, an Al Arabiya correspondent reported Tuesday.
The explosion occured as the Shiite rebels were trying to impose their authority at the city's international airport, setting off clashes with security personnel that left four dead.
The officials said Tuesday that three security guards and a rebel were killed in overnight clashes, according to the Associated Press.
Two other guards and an airport employee were wounded.
The officials say airport security tried to prevent the Houthi rebels from interfering in airport affairs and trying to search passengers.
The Houthis, widely suspected of having links to Iran, took Sanaa in September and later expanded their offensive to other towns, waging battles with Sunni tribesmen and al-Qaeda militants.
The officials said flights were suspended during the clashes. They spoke on condition of anonymity because they were not authorized to talk to the media.
http://english.alarabiya.net/en/News/middle-east/2014/11/11/Yemen-rebels-clash-with-airport-security-4-killed.html
------------
Netanyahu invites Israeli-Arab protesters to leave Israel
Nov 11, 2014
Prime Minister Benjamin Netanyahu on Monday publicly challenged Israeli Arabs protesting against a deadly police shooting in one of their villages to go and live under Palestinian rule in the West Bank and Gaza.
Ahmed Tibi, a prominent Arab legislator, said the comments - some of the most biting Netanyahu has directed at the country's Arab minority - showed the right-wing Likud party leader had "gone off the rails".
Rock-throwing protests have erupted in several Arab communities in Israel since police on Saturday shot dead an Arab man who attacked their vehicle. Police are investigating allegations he was killed after walking away from the officers.
"To all those who are demonstrating and shouting their denunciation of Israel and support of a Palestinian state, I can say one simple thing: you are invited to move there - to the Palestinian Authority or to Gaza," Netanyahu said.
Full report at:
http://english.alarabiya.net/en/News/middle-east/2014/11/10/Netanyahu-invites-Israeli-Arab-protesters-to-leave-Israel.html
------------
Iran holds nuclear talks with world powers as deadline looms
Nov 11, 2014
Top officials from Iran and six world powers meet in Muscat Tuesday as fears grow that a hard-fought deal on Iran's nuclear programme may not be reached by this month's deadline.
The talks come after two days of discussions between US Secretary of State John Kerry and Iran's Foreign Minister Mohammad Javad Zarif ended with neither man revealing what remains unsolved in the long-running bid for a comprehensive accord.
Each laid out their demands in over 10 hours of private talks that sought to overcome deep differences, allay mutual suspicion, and bring 12 months of diplomatic brinkmanship to the point of a breakthrough.
Full report at:
http://english.ahram.org.eg/NewsContent/2/8/115240/World/Region/Iran-holds-nuclear-talks-with-world-powers-as-dead.aspx
------------
Turkish researcher 'threatened' and 'harassed' over tough question to Gül
Nov 11, 2014
A Turkish academic researcher who pressed former President Abdullah Gül on the government's human rights record during a panel in Boston in May claims to have "received threats" and been harassed, mostly by fake online accounts.
Emrah Altındış, a biologist working in a research center at Harvard University, took the floor after Gül's speech at Harvard earlier this year, questioning whether the former head of state had a "clear conscience" after the government's crackdown on last year's nationwide Gezi protests.
"How do you sleep at night when people are dying in Turkey? Aren't you ashamed to be at the head of such a state?" Altındış asked, shocking many as Turkish government officials usually strive to avoid facing criticism in their public appearances. The question sparked an uneasy mood in the conference room and even Gül, known for his softly spoken demeanor, did not hide his annoyance, saying: "Now, listen to me: No one would let you ask this kind of question so easily."
Full report at:
http://www.hurriyetdailynews.com/turkish-researcher-threatened-and-harassed-over-tough-question-to-gul.aspx?pageID=238&nID=74104&NewsCatID=338
------------
No ban on Kurdish songs in Turkish army: Minister
Nov 11, 2014
There is no ban on Kurdish melodies or songs in the Turkish Armed Forces (TSK), in line with the institution's principles against discrimination, Defense Minister İsmet Yılmaz has stated, also stressing that conscripts are given courses on "tolerance and empathy."
Yılmaz's explanation came in response to a motion filed by Peoples' Democratic Party (HDP) Diyarbakır deputy Nursel Aydoğan. The motion recalled media reports in June that administrative and judicial investigations were launched after it was claimed that 50 conscripts had danced the halay (a traditional folk dance) to a tune belonging to the outlawed Kurdistan Workers' Party (PKK).
Aydoğan said a number of Internet sites had targeted conscripts after a video showing them dancing and singing was released on social media, adding that news reports later said investigations had been launched against these soldiers.
Full report at:
http://www.hurriyetdailynews.com/no-ban-on-kurdish-songs-in-turkish-army-minister.aspx?pageID=238&nID=74124&NewsCatID=341
------------
Africa
5 soldiers, 24 rebels killed in South Sudan clashes
Nov 11, 2014
At least 29 people were killed in clashes between the South Sudan army and rebel militia groups led by the country's former Vice President Riek Machar, according to Southern Sudanese Armed Forces spokesman Philip Aguer.
Among those killed were 24 rebels and five army soldiers, Aguer said at a press conference in Juba Monday.
In addition, Aguer blamed the rebels for launching attacks in the north—east, near the Sudan border.
Aguer said the army repelled the attack, capturing two rebels and seizing assorted weaponry before the Machar militias withdrew to the north, leaving the army in control of the area.
According to the spokesman, the attack was led by Peter Lim, a former member of the Republican Guard who participated in the Dec 15, 2013, uprising.
Full report at:
http://www.thehindu.com/news/international/world/5-soldiers-24-rebels-killed-in-south-sudan-clashes/article6586592.ece
------------
Tunisia, France to cooperate on stopping jihadis
11 November 2014
France's interior minister says his country will work with Tunisia to stop their nationals from traveling to fight in Syria and Iraq.
Bernard Cazeneuve announced new measures late Monday during a 24-hour visit to Tunisia that included meetings with Prime Minister Mehdi Jomaa and Cazeneuve's counterpart Lotfi Ben Jeddou.
More than 2,400 Tunisians have traveled to fight with the extremist Islamic State group, the most of any country, while hundreds of French have made the journey, the most of any European country.
The measures will include strengthening border controls and increasing police and intelligence cooperation between the two countries, Cazeneuve said.
He added that he also discussed fighting cybercrime and illegal immigration.
http://english.alarabiya.net/en/News/middle-east/2014/11/11/Tunisia-France-to-cooperate-on-stopping-jihadis.html
------------
Boko Haram attacks in north Cameroon kill three: Military source
Nov 11, 2014
Islamists from Nigeria's Boko Haram killed at least three civilians over the weekend as they attacked six communities in the remote north of neighbouring Cameroon, a defence ministry source told AFP on Tuesday.
"Six attacks were carried out almost simultaneously on Sunday," the source said on condition of anonymity, adding that at least three people were reported killed in the attacks.
Boko Haram's five-year insurgency in Nigeria has left thousands dead, and the Islamists have occasionally carried out attacks over the border, including a raid earlier this year blamed on the group that saw 10 Chinese and 17 locals taken hostage. They were released in October.
Cameroon has reinforced its military presence in the region in a bid to stop an escalation in attacks by Boko Haram.
http://english.ahram.org.eg/NewsContent/2/9/115244/World/International/Boko-Haram-attacks-in-north-Cameroon-kill-three-Mi.aspx
--------
New video shows scenes inside 'Boko Haram-controlled town'
(AFP)
Nov 11, 2014
A new Boko Haram video obtained by AFP on Sunday shows militants on an armoured vehicle parading down a road in an unidentified town they apparently control and the group's leader Abubakar Shekau preaching to locals.
It was not possible to tell whether the footage was staged for propaganda purposes, especially scenes of residents cheering Islamist fighters.
The message appeared to be aimed at reinforcing Shekau's claim that he has created a caliphate within Nigeria.
In the 44-minute video, Boko Haram voices support for other so-called caliphates, including the one proclaimed in Iraq and Syria by the Islamic State (IS) group.
Shekau, who is pictured in closeup shots with rare clarity, again dismisses government claims about ceasefire talks.
The video, which was delivered through the same channels as past messages, shows armed men lined along a well-paved road, with three pick-up trucks bristling with heavy weapons also visible.
Full report at:
http://sunnewsonline.com/new/?p=90219
------------
Ahram Online gains access to govt document on Tunisian renowned Salafist leader
Nov 11, 2014
In Tunisia's central Sidi Bouzid governorate, a lawyer – who preferred to remain anonymous – provided Ahram Online with access to an official investigation document of Salafist leading figure Al-Khatib Al-Idrisi.
The two-page probe document from 28 January 2007 is in the possession of the interior ministry's state security department, and is comprised of Al-Idrisi's responses to questions from Tunisian investigators.
Al-Idrisi's responses speak to different stages of his life from the time he was born in August 1955 in Sidi Bouzid to the moment he embraced Salafist principles in the mid-1970s.
During the investigation, the extremist cleric admits that his years in Saudi Arabia, which began in 1985, played the most significant role in shaping his political and religious orientations.
"I started being committed to praying in 1976, and I frequently visited the Kaaba after I moved to Saudi Arabia in 1985 to be a nurse at King Faisal hospital in Mecca," he was quoted as saying.
Full report at:
http://english.ahram.org.eg/NewsContent/2/8/115192/World/Region/Ahram-Online-gains-access-to-govt-document-on-Tuni.aspx
------------
North America
White House 'can't confirm' status of ISIS' Baghdadi
11 November 2014
The United States cannot yet confirm whether the commander of the Islamic State of Iraq and Syria (ISIS), Abu Bakr al-Baghdadi, was killed or wounded in Iraq following an air strike near the city of Falluja, a White House spokesman said on Tuesday, according to Reuters news agency.
Deputy National Security Advisor for Strategic Communications Ben Rhodes was speaking on the sidelines of the Asia-Pacific Economic Cooperation (APEC) summit in Beijing.
There have been contradictory accounts out of Iraq following U.S. air strikes on Friday night about whether Baghdadi was wounded.
However, the Iraqi Ministry of Interior on Monday revealed the names of those killed and wounded in the airstrike that targeted a gathering of ISIS leaders, noting that Baghdadi was transferred to Syria after sustaining injuries.
"The Iraqi airstrike, implemented in coordination with the military intelligence, targeted a meeting that was taking place in a kindergarten near al-Kennedy school in Saada in al-Qaaem, west of [the Iraqi province of ] Anbar. The meeting was to garner support from a terrorist group hailing from Syria," the website of Al-Sumaria TV station quoted the minister as saying in a statement on Monday.
Full report at:
http://english.alarabiya.net/en/News/middle-east/2014/11/11/U-S-cannot-confirm-status-of-Baghdadi-after-strike.html
------------
U.S. blacklists Yemen's Saleh, Houthi leaders
Nov 11, 2014
The United States on Monday blacklisted former Yemeni President Ali Abdullah Saleh and two Houthi rebels, two days after the U.N. Security Council took a similar step, accusing the trio of role in Yemen's unrest.
The U.S. Treasury said it was blacklisting Saleh, Abdullah Yahya al-Hakim and Abd al-Khaliq al-Huthi "for engaging in acts that directly or indirectly threaten the peace, security, or stability of Yemen."
Yemen, a U.S. ally that borders oil-producer Saudi Arabia, is trying to end political unrest that began with mass protests against Saleh, president for 33 years until he stepped down in 2012. Saleh has denied seeking to destabilize Yemen.
A report published by Al Arabiya News last month revealed how Saleh was "actively helping the Houthi rebels take over the country as part of his plan to return to power."
The report gave details of a "secret" meeting between Saleh and Houthi leaders in which both parties set up plans to convince regional powers, especially Saudi Arabia, about the events in Yemen.
Full report at:
http://english.alarabiya.net/en/News/middle-east/2014/11/10/U-S-blacklists-Yemen-s-Saleh-Houthi-leaders.html
------------
US to 'assess' Egyptian militant group's links to IS
Nov 11, 2014
The US has said it will "assess" the potential implications of an Egyptian jihadist group's pledge of allegiance to Islamic State (IS).
US Department of State spokesperson Jen Psaki said on Monday that her country needs to look into what it means for Sinai-based Ansar Bayt Al-Maqdis to swear loyalty to IS.
IS has taken over swathes of Syria and Iraq and is currently facing US-led strikes.
"[We have to assess] whether the sworn allegiance means affiliation, whether it means action, whether it means they're joining the effort," she said.
The US remains concerned about the "strength that [IS has] developed over the last several months," which has prompted the formation of a coalition with ten Arab states to confront it.
The Egyptian army, which is carrying out a major operation against an expanding jihadist insurgency in Sinai, has not yet commented on the issue.
There has been mounting speculation that militant groups in Sinai are establishing relations with IS.
Full report at:
http://english.ahram.org.eg/NewsContent/1/64/115233/Egypt/Politics-/US-to-assess-Egyptian-militant-groups-links-to-IS.aspx
------------
CAIR-Minnesota Asks FBI to Stop Recruiting Informants in Mosques
Nov 11, 2014
The head of the Council on American-Islamic Relations (CAIR) tells 5 EYEWITNESS NEWS she would like the FBI to stop visiting Mosques to ask Muslims to spy on each other.
Lori Saroya, CAIR-Minnesota Executive Director, speaking on behalf of other Muslims who do not wish to come forward on this issue, says "the FBI has visited every Mosque in the Twin Cities area and in most mosques across Minnesota asking Muslims to become informants."
Saroya says CAIR wants to cooperate with the FBI and says "we, as Muslims, have a religious and civic duty to report information about possible crimes, to law enforcement and we will." But, Saroya says when FBI agents show up at mosques it is intimidating and creates an atmosphere of fear and mistrust.
http://www.cair.com/press-center/cair-in-the-news/12722-cair-minnesota-asks-fbi-to-stop-recruiting-informants-in-mosques.html
------------
Obama ready to accommodate Assad's men in new Syrian set-up
Nov 11, 2014
WASHINGTON: The Obama administration wants Iran to support a new political set-up in Syria, which could include some elements of the current Syrian governments, aides say.
President Barack Obama's "aides are suggesting that Iran could also support a new attempt to reach a political settlement in Syria — one that would leave at least part of the current, Iranian-backed regime in place," writes Jackson Diehl, a deputy editor at The Washington Post.
Other media outlets reported on Monday that President Obama had linked support for a new set-up in Syria to a nuclear deal with Iran.
According to these reports, in his second secret letter to Iran's Supreme Leader Ayatollah Ali Khamenei, sent in mid-October, President Obama emphasised "a shared interest in fighting Islamic State militants in Iraq and Syria".
Full report at:
http://www.dawn.com/news/1143624/obama-ready-to-accommodate-assads-men-in-new-syrian-set-up
------------
Obama and Putin meet amid tensions: White House
Nov 11, 2014
US President Barack Obama met his Russian counterpart Vladimir Putin three times on the sidelines of an Asia-Pacific summit on Tuesday, with their conversations covering Iran, Syria and Ukraine, the White House said.
Relations between Washington and Moscow are at their lowest since the Cold War, with Russia under US-backed Western sanctions over its seizure of the Crimea this year and its role in the separatist war in eastern Ukraine.
But the two spoke for "a total of approximately 15-20 minutes" during the Asia-Pacific Economic Cooperation (APEC) gathering at a lakeside venue north of the Chinese capital, National Security Council spokesperson Bernadette Meehan told reporters.
"Their conversations covered Iran, Syria, and Ukraine," she said.
Both Russia and the US are involved in the P5+1 talks on Iran's nuclear programme, but on Syria Moscow is a key ally of Bashar al-Assad's government and has supported him throughout the uprising that began in March 2011.
Full report at:
http://www.hurriyetdailynews.com/obama-and-putin-meet-amid-tensions-white-house.aspx?pageID=238&nID=74150&NewsCatID=359
------------
Southeast Asia
Jokowi Tells Obama He'll Keep Fighting Terrorism
Nov 11, 2014
Beijing. President Joko Widodo has promised to continue combating terrorism and extremists as he met US President Barack Obama for the first time on Monday.
Joko and Obama were attending the Asia-Pacific Economic Cooperation forum in Beijing this week, before departing to Myanmar to attend the East Asia Summit on Wednesday.
This is Joko's first international summit as head of state, testing the former furniture businessman's diplomatic skills.
Obama praised his Indonesian counterpart, calling Indonesia a model for nations with large Muslim populations.
"As one of the world's largest democracies and also one with a large Islamic population, Indonesia has played an extraordinary role in promoting pluralism and respect for religious diversity," Obama said, thanking Indonesia for its efforts to isolate extremists.
Obama said his country was keen on increasing its partnerships with Indonesia, stressing his interest in Joko's flagship programs and reforms.
"I know that President Joko Widodo has a strong agenda and ambition toward reform and increasing the welfare of Indonesians. The United States is willing to become a partner in this reform process," he said.
Full report at:
http://thejakartaglobe.beritasatu.com/news/jokowi-tells-obama-hell-keep-fighting-terrorism/
---------
Fatwas must be based on reality, says Dr M
Nov 11, 2014
atwas must be rooted in study and debate, not only Islamic teachings, but in reality, former prime minister Tun Dr Mahathir Mohamad said as a Malaysian court's decision that a ban on cross-dressing was unconstitutional continues to stir discussion.
He said fatwas by religious scholars were inadequate and ignored by many because of different interpretations on various Islamic injunctions.
"We need to have fatwas on the many challenges facing Muslims. But the fatwas should only be made after a prolonged study and debate by all disciplines, including the realities of life," he said in his keynote address when officiating the Kuala Lumpur Summit 2014 today.
He said Muslims were finding it difficult to challenge the "excessive liberalism" of the West because they did not have the arguments to rebut positions on issues like same-sex marriages other than to say that such things were unIslamic.
"At the moment, we have not debated this except for religious scholars saying that these are sinful things which Muslims cannot accept.
"But additionally, we need experts in other fields to provide other inputs and reasons besides just saying that lesbians, bisexuals, gays and transvestites are wrong and sinful.
"We need to have experts in other fields, experts in sciences and in societal behaviour to challenge the liberalism of the West," Dr Mahathir said.
Full report at:
http://www.themalaysianinsider.com/malaysia/article/fatwas-must-be-based-on-reality-says-dr-m#sthash.EwJR2VVH.dpuf
------------
URL: https://www.newageislam.com/islamic-world-news/new-age-islam-news-bureau/islamic-state-seeking-to--delete--entire-cultures,-unesco-chief-warns/d/99961