New Age Islam News Bureau
25 Dec 2015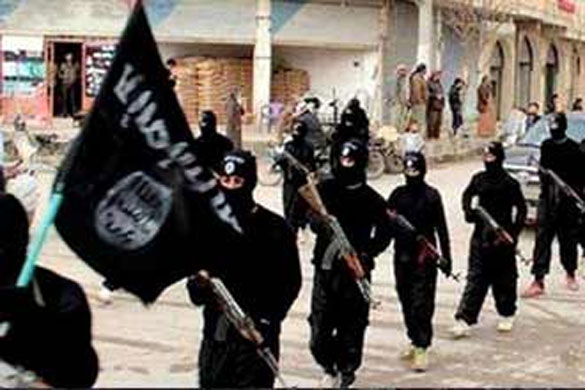 Photo: The document, which was part of seven terabytes worth of data taken from a US special forces raid on a high-ranking IS leader's compound earlier this year in May, suggests that the extremist group has sanctioned organ harvesting. (AP Photo)
----------
North America
• Islamic State Sanctioned Organ Harvesting In Fatwa
• 24,000 Sign Letter of 'Radical Love' In Support Of American Muslims
-----------
Europe
• Russian Muslim Singer, Recites Sanskrit Shlokas at 'Friends of India' Event in Moscow
• Rebuffed Kurdish Party Moscow Meeting Takes Place
• UK Muslims with Disneyland plans: We were barred from plane due to religion
• Belgium charges 9th Paris attacks suspect
• Russia Asks Erdogan to Keep Promise of Resignation
-----------
India
• 9 Islamic State-Inspired Teens Booked In Jammu and Kashmir, Sent To Special Homes
• Scholars, Activists Object to Maharashtra Government's 'De-Radicalisation' Programme
• Terror, Violence Can't Shape Your Future: Modi at Afghan Parliament
• Modi says will meet Nawaz in Lahore today
• On Prophet's birthday, Muslim gardener of Holy Family Catholic Church busy in Christmas preparations
• Events moving towards World War III: Ahmadiyya Muslim community
• Akhilesh sacks UP minister for 'Muslims should build temple' remark
• Modi inaugurates new Afghan parliament built by India in Kabul
• In Nabarangpur, religious lines blur, Christmas party begins
-----------
Arab World
• Syria Regime Raids Kill 28 Including 10 Children
• Militants Preparing to Evacuate Southern Damascus
• Two Steps to Victory: ISIL Ringleaders Fleeing Ramadi
• Key Lattakia Area Liberated from Militants' Control
• YPG Forces Only 5km Far from Liberating Tishrin Dam
• 40 IS militants detained in Iraq
• Fire sweeps through Saudi hospital wards, 25 dead
• Arab League denounces Turkish troops in Iraq
• Iraq: Popular Forces' Commander Reveals US Plots to Evacuate ISIL Leaders from Ramadi
• New Areas near Marj al-Sultan Airport Come under Army Control
-----------
Africa
• Somali Islamists Publicly Execute Two Officials
• Nigeria technically won against Boko Haram: Buhari
• Gas tanker truck fire kills more than 100 people in Nigeria
• U.N.'s Ban appoints new head of Mali mission
-----------
South Asia
• Sri Lanka President Seeks Muslim Support for Reconciliation with Tamils
• US Airstrikes in Afghan District under Taliban Siege
• Karzai thanks Modi for birthday wishes saying 'Afghan people look forward to welcome you'
-----------
Southeast Asia
• As Islamic State Threat Mounts On Its Doorstep, Indonesia Scours A Jungle
• 30 Civil Societies Urge Malaysia to Protest against Brunei's Xmas Ban
• Indonesia's Moderates Tackle both Extremism and Islamophobia
• Khairy calls for peace as Muslims observe Prophet Muhammad's birthday on Xmas Eve
• 40 more bodies recovered in Indonesian boat accident, death toll reaches 63
• Muslim preacher warns against dangers of 'Jediism', Star Wars fans strike back
• Christians celebrate Christmas with prayers, open house
-----------
Mideast
• Clashes Persist In Turkey; 3 Kurdish Militants Killed
• Three Palestinians Shot Dead In West Bank
• 18 migrants drown off Turkey
• Yemen Attacks Saudi Positions in Lahij with Tochka Missiles
• Iranian Commander: Erdogan Weakening Islamic States' Power
-----------
Pakistan
• 15 Terrorists Surrender in Kurram
• Celebrating Christmas Eve in Pakistan
• Nation pays homage to Quaid on 139th birth anniversary
• Sindh C. M. Qaim sees misunderstanding over Rangers' issue
• PTI issues 'fact sheet': Unsafe drinking water claims 1.1m lives in Pakistan every year
• Asif Zardari decries 'invasion of Sindh' by federal government
• Eid Milad observed peacefully
Compiled by New Age Islam News Bureau
URL:https://www.newageislam.com/islamic-world-news/new-age-islam-news-bureau/islamic-state-sanctioned-organ-harvesting-fatwa/d/105730
-----------
North America
Islamic State Sanctioned Organ Harvesting In Fatwa
Dec 25, 2015
The terrorist group Islamic State has sanctioned the harvesting of human organs in a previously undisclosed ruling by the group's Islamic scholars, raising concerns that the violent extremist group may be trafficking in body parts.
The ruling, contained in a January 31, 2015 document reviewed by Reuters, says that taking organs from a living captive to save a Muslim's life, even if it is fatal for the captive, is "permissible".
Reuters could not independently confirm the authenticity of the document. US officials say it was among a trove of data and other information obtained by US Special Forces in a raid in eastern Syria in May.
According to the document, which has been translated by the US government, Islamic State leaders have approved harvesting human organs to save Muslims as an "apostate's life and organs don't have to be respected and may be taken with impunity." The document is in the form of a fatwa, or religious ruling, from the Islamic State's Research and Fatwa Committee.
"Organs that end the captive's life if removed: The removal of that type is also not prohibited," Fatwa Number 68 says, according to the translation.
The document does not offer any definitive proof that Islamic State actually engages in organ harvesting or organ trafficking. But it does provide religious sanction for doing so under the group's harsh interpretation of Islam - which is rejected by most Muslims. Previously, Iraq has accused Islamic State of harvesting human organs and trafficking them for profit.
The document does not define "apostate," though the Islamic State has killed or imprisoned non-Muslims, such as Christians, and Shiite Muslims, as well as Sunni Muslims who don't follow its extremist views.
Documents shared with allies
US officials say the records that were seized have given the US government a deep look into how Islamic State organises, raises funds and codifies laws for its followers.
Iraq's ambassador to the United Nations, Mohamed Ali Alhakim, told Reuters the documents should be examined by the UN Security Council as evidence that Islamic State could be trafficking in organs to raise cash.
The May raid in Syria, which resulted in the death of Islamic State top financial official Abu Sayyaf and the capture of his wife, netted seven terabytes of data in the form of computer hard drives, thumb drives, CDs, DVDs and papers, said Brett McGurk, US President Barack Obama's Special Presidential Envoy for the Global Coalition to Counter ISIL, in an interview. Abu Sayyaf was a Tunisian militant whose real name was Fathi ben Awn ben Jildi Murad al-Tunisi.
US officials have previously described the Abu Sayyaf raid and some of the documentation seized. But until now, none of the actual documents have been released - aside from materials illustrating Islamic State's trafficking in antiquities, made public at an event at New York's Metropolitan Museum of Art in September.
The US government has shared some of the documents from the Abu Sayyaf raid with allied governments in an effort to increase their understanding of Islamic State in recent weeks as Washington works to shore up support for countering the group.
The group of documents reviewed by Reuters - entitled "Lessons Learned From the Abu Sayyaf Raid" - show how the Islamic State has provided a legal justification to its followers for a range of practices.
For instance, "Fatwa Number 64" dated January 29, 2015, provides detailed rules for rape, prescribing when Islamic State men can and cannot have sexual intercourse with female slaves.
The fatwa sanctioning organ harvesting justifies the practice in part by drawing an analogy to cannibalism in extreme circumstances, a practice it says earlier Islamic scholars had allowed. "A group of Islamic scholars have permitted, if necessary, one to kill the apostate in order to eat his flesh, which is part of benefiting from his body," it says.
McGurk said Islamic State's Research and Fatwa Committee reports directly to the group's leader, Abu Bakr al-Baghdadi.
Organs of 'infidels'
The ruling on organ harvesting cites Islamic texts, principles and laws that it says support what it calls "the notion that transplanting healthy organs into a Muslim person's body in order to save the latter's life or replace a damaged organ with it is permissible."
Senior US officials, including McGurk, said they have not been able to ascertain whether the Islamic State had followed through on the fatwa on organ harvesting.
The document provides "a religious justification for harnessing the organs of what they call infidels," he said.
William McCants, a Brookings Institution scholar who is author of the book "The ISIS Apocalypse," said the group's ruling on slavery and human organs don't represent modern Islamic interpretations.
In February, Alhakim, had urged the UN Security Council to investigate the deaths of 12 doctors in the Islamic State-held city of Mosul. Alhakim said the doctors were killed after refusing to remove organs.
The UN special envoy for Iraq, Nickolay Mladenov, said at the time that he could not confirm the claim, but it would be investigated. The UN has not provided an update on that investigation, which Alhakim said he would ask the Security Council to revisit. http://www.hindustantimes.com/world/islamic-state-sanctioned-organ-harvesting-in-fatwa-us-intelligence/story-i5hzbU9PCh3w8XYzX0OagN.html
-----------
24,000 Sign Letter of 'Radical Love' In Support Of American Muslims
12/24/2015
More than 24,000 people have signed a letter of support for America's Muslim communities, promising to build a "circle of protection" to defend them from hate and violence.
The "radical love letter," which includes 7,000 signatures from clergy members, was hand-delivered on Thursday to Muslim leaders at the Muslim Community Network in New York City.
"God is not Muslim, God is not Christian, God is not Jewish; God is love. Love compels us to stand with our Muslim family, to have their backs. When they come for our Muslim family, they come for all of us," said the Rev. Jacqui Lewis, Senior Minister of New York's Middle Collegiate Church, while delivering the letter.
"This is a singular moment in time," she continued, "Massacres and mayhem, vitriol and violence like I have never witnessed in my lifetime, all in the name of God. This is a singular moment in time, when good people of every faith join their voices in one freedom song: We will not stand by while our Muslim brothers and sisters -- our policewomen, doctors, teachers and neighbors -- are targeted with hatred because of the violent actions of a few."
The letter, which was organized by the Presbyterian Church (USA)-affiliated Auburn Seminary, comes amid increasing violence and threats against Muslims across the country. Since the Nov. 13 attacks in Paris, The Huffington Post has documented at least 73 incidents targeted at Muslims in the U.S. and Canada that have ranged from armed protests outside mosques to attacks on Muslim families' homes. In one incident, a woman wearing a hijab in Florida was shot at and nearly run off the road while leaving her local mosque.
The date of delivery has a special significance for Christians and some Muslims -- the Prophet Muhammad's birthday, which follows the lunar Islamic calendar, falls on Christmas Eve this year.
"This is confirmation that we are not alone in the struggle to reclaim our country, to bring it back to the country that it has always been -- loving and warm -- and that the Statue of Liberty stands out there to welcome all," said Debbie Almontaser, president of the Muslim Community Network, when she received the letter. "I want to thank you very much on behalf of the American Muslim community, who will see this as a gesture of love and respect and admiration."
Read the letter, which will also be distributed to Muslim communities in Los Angeles, Denver, Atlanta, Detroit, Orlando and San Francisco, below.
TO: OUR MUSLIM BROTHERS AND SISTERS
America is not America without Muslims. As people of faith and moral conscience, we promise to defend our Muslim brothers and sisters from attack, to speak up when they are maligned, and to support them with our voices, our actions, and our bodies.
Why is this important?
In the famous words of German anti-Nazi Lutheran pastor and theologian Martin Niemoller:
First they came for the Socialists, and I did not speak out—
Because I was not a Socialist.
Then they came for the Trade Unionists, and I did not speak out—
Because I was not a Trade Unionist.
Then they came for the Jews, and I did not speak out—
Because I was not a Jew.
Then they came for me—and there was no one left to speak for me.
Today, they are coming for Muslim Americans. And when they come for any member of our community, they come for all of us.
As we watch the rising tide of anti-Muslim sentiment in our nation, as we listen to preposterous hate speech and rhetoric from political candidates -- particularly Mr. Trump -- our hearts are cracked wide open.
Even more alarming than the rantings of a single politician are the thousands cheering on bigotry.
People are afraid and concerned for their safety. However, responding to fear with hatred diminishes us all - both in spirit and safety. We must not allow fear to undermine the values that stand at the very core of who we are as faith leaders and Americans.
Every time there is a surge in anti-Muslim speech, there is a corresponding spike in acts of hate and acts of violence against Americans who are Muslim, Sikh, Arab, and South Asian.
You are our neighbors and our doctors, our local merchants and our school board presidents. We know you as restaurant owners and soccer coaches, as policewomen and public officials. We know you as mothers and fathers and caregivers, and as allies and colleagues in movements for justice. You are us.
We know you as our brothers and our sisters. America is not America without you.
We are speaking out, and we have your back, friends. We commit to building a circle of protection around you; we are standing with you.
We love you, and we pledge to show our love in every corner of our lives. May we walk hand in hand into a future where racism, hate, and violence are relics of the past, where differences are celebrated, and our children inherit our joy.
نحن نقف بجانبكم (We stand by you.) | نحن نساندكم (We support you.)
Signed:
Valarie Kaur
Linda Sarsour
Rabbi Stephanie Kolin
Rev. Dr. Peter Heltzel
Rev. Brian McLaren
Rev. Dr. Jacqui J. Lewis
Rev. Dr. Otis Moss III
Bishop Gene Robinson,
Lisa Sharon Harper
Rev. Dr. William Barber II
Rev. Michael-Ray Mathews
Rev. Dr. Raphael G. Warnock
Rabbi Sharon Brous
Sr. Simone Campbell
Editor's note: Former HuffPost Executive Editor of Global Spirituality and Religion helped organized the letter campaign, and is the Senior Vice President for Public Engagement at Auburn Seminary.
http://www.huffingtonpost.com/entry/24000-sign-petition-of-radical-love-in-support-of-american-muslims_567bfe39e4b0b958f6594b0a?section=india
-----------
Europe
Sati Kazanova, Russian Muslim singer, recites Sanskrit shlokas at 'Friends of India' event in Moscow
December 24, 2015
Moscow: Prime Minister Narendra Modi and Russian President Vladimir Putin on Thursday held annual summit talks here with a particular focus on stepping up cooperation in defence and nuclear energy besides facilitating Indian companies' participation in Russia's oil and gas sector.
Apart from other engagements, PM Modi also attended the Friends of India event where he addressed the gathering after a vibrant cultural programme.
One of the highlights of the evening was the performance by Sati Kazanova, Russian Muslim singer, who flawlessly recited Sanskrit shlokas to begin the event.
http://zeenews.india.com/news/india/sati-kazanova-russian-muslim-singer-recites-sanskrit-shlokas-at-friends-of-india-event-in-moscow-watch_1838191.html
-----------
Rebuffed Kurdish party Moscow meeting takes place
24 December 2015
Russian Foreign Minister Sergei Lavrov has said Moscow is ready to support Kurdish groups fighting against ISIL in Syria.
Lavrov was speaking during a press conference in theRussian capital with Turkey's opposition Peoples' Democratic Party (HDP) Co-Chairman Selahattin Demirtas on Wednesday.
Russia's top diplomat said: "We know very well that there are Iraqi and Syrian Kurds that are fighting against the ISIL threat on ground.
"They are fighting for their right to live in their homes and for their right to live in their own land, with Iraqi and Syrian armies.
"Of course, this is their essential right. They have rights, just like Christians, Ezidis and other minorities have the right to stay in their own land, to live in the land of their ancestors."
Lavrov further said Russia was ready to support anyone that is fighting against terror as part of their counter-terrorism operation with the Syrian administration.
Russia has been getting closer to the PYD -- the terrorist PKK's Syrian affiliate -- since last October. Senior PYD figures have visited Moscow in recent months.
The Russian government has been repeatedly accused of targeting moderate anti-Assad forces in Syria, disguising such strikes as anti-ISIL operations.
An Amnesty International report published on Oct. 13 this year claimed the PYD had been forcing Arab and Turkmen populations from their homes in territory it controls in northern Syria.
Demirtas, whose HDP party receives majority of its support in Turkish regions mostly inhabited by Kurdish voters, visited Moscow amid strained relations between Russia and Turkey.
Following his meeting with Lavrov, Demirtas said he believed the recent diplomatic crisis between the two countries should be resolved through dialogue, for which he argued that his HDP did its part.
The opposition leader maintained that the meeting had been planned long before although it took place amid tensions between the two countries.
Demirtas said his party remained critical of "pro-tension policies" both at home and in international relations.
He rejected criticisms over his Moscow visit, saying his party's policies were very clear and transparent.
"We share our clear opinions no matter whom we meet with. HDP has never [done] anything clandestine," he said.
Demirtas also said that his meeting had nothing to do with a solution for the Kurdish issue.
The party is also set to open a bureau in Moscow.
Demirtas' visit has received criticism from some Turkish politicians. Turkish Deputy Prime Minister Yalcin Akdogan said earlier this week that HDP members were "running towards any country that has problems with Turkey instead of being on the side of their country to say 'how can we help?'".
The leader of Turkey's Nationalist Movement Party (MHP) also accused the HDP of collaborating with the country's enemies.
"HDP is working with Turkey's enemies and does not see a drawback in leaning its back to countries whose aims are clear, so as to take their support for autonomy and Kurdistan," MHP leader Devlet Bahceli said Tuesday during his party's group meeting at the Turkish parliament in Ankara.
Tensions remain high between Turkey and Russiafollowing Turkey's shooting down of a Russian military jet last month over an airspace violation. After the incident, Russia imposed a range of unilateral sanctions against Turkey, including a ban on food imports.
http://www.worldbulletin.net/europe/167716/rebuffed-kurdish-party-moscow-meeting-takes-place
-----------
UK Muslims with Disneyland plans: We were barred from plane due to religion
By Don Melvin and Diana Magnay
December 24, 2015
A Muslim man in London says his family was barred because of their religion from boarding a plane bound for Los Angeles, where they planned to visit Disneyland with their children.
On December 15, the extended family waited at the gate. Their bags were on the plane. The family included Mohammad Tariq Mahmood with two of his children; his brother Zahid and sister-in-law Sadaf, with five of their children; and two nieces who were accompanying them.
While they waited to board the plane, Mohammad Mahmood was called on the intercom and told that at least some of the family would not be allowed to board. They were not given a reason for the ban, according to Mahmood. Their bags were removed from the plane, and they were ordered to return all the duty-free goods they had purchased, and then escorted from the airport.
A U.S. official on Wednesday told CNN that not all family members were prevented from traveling, but did not specify who would have been permitted to travel.
A British MP alerted the media to the story Wednesday after speaking with Mahmood.
Mahmood told CNN Wednesday that the kids were devastated. "They had big tears in their eyes," he said.
He also said he still hopes to bring the family to Disneyland some day. "I haven't unpacked yet, because they still think they're going to go."
Asked about the incident on Wednesday, U.S. Customs and Border Protection spokesman Jim Burns told CNN that religion is never a factor in admissibility of travelers to the United States. "The religion, faith, or spiritual beliefs of an international traveler are not determining factors about his/her admissibility into the U.S.," he said in a statement emailed to CNN, but added that under U.S. immigration law, "applicants for admission bear the burden of proof to establish that they are clearly eligible to enter the United States."
British officials familiar with the incident said U.S. Border Control at Gatwick stopped the family. They were told that after contact was received from Washington, the families would not be allowed to board.
Speaking to CNN's Richard Quest later, three senior U.S. officials stressed the decision not to allow the family to board was not related to religion.
The officials said they are concerned at the way the denied boarding is being portrayed as an anti-Muslim move, and they denied that religion played any part in the decision.
A check by CNN on Wednesday of traveling family members on the UK Electoral Roll showed an email address associated with 18-year-old Hamza Mahmood that links to a suspicious Facebook page.
Full report at:
http://edition.cnn.com/2015/12/23/europe/british-muslims-denied-boarding-to-la/
-----------
Belgium charges 9th Paris attacks suspect
December 25, 2015
BRUSSELS : The Belgian authorities have charged a ninth person in connection with last month's deadly Paris attacks, the prosecutor's office said Thursday.
A spokesman said the suspect had telephoned Hasna Aitboulachen, the cousin of ringleader Abdelhamid Abaaoud, several times after the November 13 attacks and before a police raid five days later in which they both died.
A statement later identified the man as Abdoullah C.
, a Belgian national born in 1985, who was arrested on Tuesday on charges of "terrorist murders and participation in the activities of a terrorist organisation.
The attacks and the Belgian links to them have shocked the country and sparked a sharp increase in visible security, with armed police and soldiers patrolling the streets in Brussels.
The police are especially looking for Brussels-born Salah Abdeslam, 26, who is believed to have fled from Paris back to the Belgian capital the day after the attacks on bars, restaurants, a concert hall and the national stadium left 130 dead.
A source close to the investigation told AFP last week that Abdeslam, who is believed to have played a key role in the Paris attacks, had got through three police checks as friends drove him from Paris.
Full report at:
http://nation.com.pk/international/25-Dec-2015/belgium-charges-9th-paris-attacks-suspect
-----------
Russia Asks Erdogan to Keep Promise of Resignation
Dec 24, 2015
Addressing a weekly press briefing in Moscow on Thursday, Russian Foreign Ministry Spokeswoman Maria Zakharova said that her country's information about smuggling of ISIL oil in Turkey has been confirmed by other sources now.
"For instance, Danish newspaper Klassenkampen has published report on Turkish participation in oil smuggling, which has been prepared by consulting company Rystad Energy," she said.
The Spokesperson stressed that Turkish president Recep Tayyip Erdogan had stated earlier that he would step down if ISIL oil smuggling would be confirmed, but Russia has presented evidence on Turkish partnership in the smuggling, implying that it's now Erdogan's turn.
"I would like to remind you that not too long ago, Turkish President announced his readiness to resign if it is proven that oil deliveries by Ankara or with the help of the government of Ankara from the terrorist group [are taking place], that 'if this fact is proven, I'll leave this chair,' Erdogan told journalists on the sidelines of the climate summit in Paris. I'd like to understand: What's up with that chair?" the Russian FM spokeswoman underlined.
"Russia is implementing all measures in countering oil smuggling by the ISIL and hopes that other countries will join in cooperating with Moscow," Zakharova said.
"As you know, and we've said this constantly, Russia is implementing measures in order to stop and close the paths of oil deliveries by terrorists. We hope for active actual cooperation with other countries towards goals," she added.
Full report at:
http://en.farsnews.com/newstext.aspx?nn=13941003000763
-----------
India
9 Islamic State-inspired teens booked in Jammu and Kashmir, sent to special homes
Dec 25, 2015
NEW DELHI: Nine Islamic State inspired juveniles in Jammu & Kashmir have been booked under Provisions of Unlawful Activities (Prevention) Act and sent to special homes. They were involved in hurling petrol bombs, throwing stones and waving IS flags in the Valley. At least three of them, say sources, were planning to cross over to Pakistan for arms training.
The nine boys, aged between 15 and 17 years, were radicalised by a North Africa-based person via a WhatsApp group. While the WhatsApp group was named Al-Hayat, its leader went by the moniker Abu-Bakr. Sources told TOI that some foreigners were also part of this group.
Both Abu-Bakr and Al-Hayat are associated with the Islamic State. While Abu Bakr al-Baghdadi is the head of IS, Al-Hayat is the name of the outfit's media wing.
The detained Kashmiri boys were seen waving IS flags on several occasions in the Valley, after which government and army had raised concerns.
Agencies, however, deny that the juveniles were directly linked to IS or in touch with someone working on behalf of the global outfit. According to an intelligence officer, they were inspired by the idea of the Khilafah, made popular by Hizb-ul-Mujahideen commander Burhan Wani, and were possibly exploring means to achieve the larger purpose of establishing the rule of Shariah.
Full report at:
http://timesofindia.indiatimes.com/india/9-Islamic-State-inspired-teens-booked-in-Jammu-and-Kashmir-sent-to-special-homes/articleshow/50318196.cms
-----------
Scholars, activists object to Maharashtra government's 'de-radicalisation' programme
Dec 25, 2015
The Maharashtra government has run into opposition from Muslim scholars and social activists to its "de-radicalisation" programme aimed at youth from the community. Much of the opposition is to the term "de-radicalisation", which critics say amounts to labelling a community.
"De-radicalisation implies that Muslim youth are radicalised. This is something unacceptable as we do not think any particular community has been radicalised," was the common refrain at a meeting the government held with Muslim scholars at Mantralaya, the state secretariat, recently. Among those present were Mahmood-Ur-Rahman, PA Inamdar, Abdul Shaban, and Maulana Ghulam Mohammad Vastanvi.
Inamdar, a noted educationist, said, "We are not against the measures being taken to bring the community into mainstream, but our objection is to the way it is projected. I don't think the youth from any particular community are radicalised. Extremism does exist among youth to a certain extent, irrespective of community and religion. Fringe instances of youth running away from home for various reasons cannot be termed radicalisation as it hasn't proved to be so."
Professor Abdul Shaban of the Tata Institute of the Social Sciences said any such move would further alienate the community.
Full report at:
http://www.hindustantimes.com/mumbai/scholars-activists-object-to-maharashtra-government-s-de-radicalisation-programme/story-wc9gG2vjKUkZRNqr9LHFGO.html
-----------
Terror, violence can't shape your future: Modi at Afghan Parliament
Dec 25, 2015
Prime Minister Narendra Modi on Friday inaugurated Afghanistan's new parliament built by India at a cost of $90 million, saying the war-torn country would succeed only when terrorism no longer flowed across its border and sanctuaries of terrorism were shut down.
Modi flew into Afghanistan from Russia for a day-long visit that was not previously announced for security reasons. He received a warm welcome from President Ashraf Ghani and later addressed a session of both houses of parliament.
India's ties with Pakistan and the rivalry between the two countries in Afghanistan loomed large over the speech by Modi, who said he hoped "Pakistan will become a bridge between South Asia and Afghanistan and beyond".
Indian and US officials have for long accused Pakistan of backing terror groups like the Haqqani Network that have carried out brazen attacks across Afghanistan, including some on Indian interests, and these concerns were reflected in Modi's address.
"Afghanistan will succeed only when terrorism no longer flows across the border; when nurseries and sanctuaries of terrorism are shut; and, their patrons are no longer in business," he said.
"There are some who did not want us to be here. There were those who saw sinister designs in our presence here. There are others who were uneasy at the strength of our partnership. Some even tried to discourage us," he added.
The Afghan people, Modi said, had never doubted the sincerity of India's commitment and they had seen the "fruits of our partnership". He said: "You have judged us by what you see, not what others tell you, including about the mysterious Indian consulates."
Pakistan has for long claimed that India has more than two dozen consulates in Afghanistan, as against the actual figure of four.
Modi said India is in Afghanistan "to contribute not to compete" and to lay the foundations of the future and to rebuild lives. He outlined the steps India has taken so far to help rebuild the war-ravaged country and announced 500 new scholarships.
"Power and water will flow out of Salma Dam soon. The Stor Palace will again stand as a symbol of your priceless heritage. Our scheme of 1,000 scholarships every year for Afghan students in India will continue. We are pleased with the response to our special scholarship scheme in agriculture science," he said.
"Today, I announce 500 scholarships for the children of the martyrs of Afghan security forces."
Full report at:
http://www.hindustantimes.com/india/terror-violence-can-t-shape-your-future-modi-s-afghan-parliament-address/story-gwhzEP7AUwAeFOND7CJi8I.html
-----------
Modi says will meet Nawaz in Lahore today
Dec 25, 2015
KABUL: Indian premier Narendra Modi on Friday said he spoke to Prime Minister Nawaz Sharif and wished him on his birthday.
In a suprise announcement on social media website Twitter, Modi said he will stop over in Lahore later today, on his way to New Delhi from Afghanistan.
The Indian prime minister landed in Kabul on Friday, where he inaugurated the country's new parliament building, a project initiated by the Indian government in 2007 as a mark of friendship and cooperation to help rebuild war-torn Afghanistan,
The last meeting between Modi and Nawaz took place in November on the sidelines of the 21st UN Climate Change Conference in Paris, where the two premiers exchanged pleasantries and had a friendly chat.
Know more: Nawaz, Modi meet on sidelines of Paris climate summit
In a breakthrough, Pakistan and India earlier this month agreed to reinitiate a comprehensive dialogue process during Indian External Affairs Minister Sushma Swaraj's visit to Islamabad for the 'Heart of Asia' conference.
Since Modi's ascent to power, tensions between the two countries have remained high, with foreign secretary-level talks cancelled last year and security advisers' dialogue abandoned in August this year.
Full report at:
http://www.dawn.com/news/1228735/modi-says-will-meet-nawaz-in-lahore-today
-----------
On Prophet's birthday, Muslim gardener of Holy Family Catholic Church busy in Christmas preparations
Abhishek Saha
Dec 24, 2015
On Thursday, all of Kashmir was engrossed in Eid-e-Milad-un Nabi, celebrating the birthday of Prophet Mohammed.
Processions and nightlong prayer sessions were held across Srinagar city. But, one Muslim man was busy preparing for Christmas – the birthday of Jesus Christ.
"Today we Muslims have our own celebrations, but here I am cleaning the church and making it ready for tonight. My family – wife and sons – have taken part (in the celebrations) , but I could not," said Abdul Rashid, gardener and caretaker at the Holy Family Catholic Church, Srinagar's most prominent church.
The church was established in 1886 and serves as one of the two religious centres for the city's Christian minority. Christmas celebrations in the valley take place primarily in Srinagar and most of the community members, apart from migrant workers or security personnel, are missionaries working in the healthcare and education sector.
The 40-year-old resident of Dalgate area bore a weary look as he vigorously swept the church premises, cleaning the remains of decoration materials from the floor. He lifted benches and brushed the carpet, removing remnants of sparkling ribbons and pieces of balloons that have been put up to decorate the church for Christmas.
"Work is worship, as they say. I have no complaints regarding working here. I work to earn a living and have to do what my job demands," said Rashid, who has worked in the church for the last 24 years.
Rashid, who is married and has two sons - the younger one is in class 9 and the older one studies law at a private college, draws a monthly salary of Rs 8,000 and is not too happy with the amount. "I am a poor man. I have to eat and feed my family."
Rashid is the only Muslim employee in the parish church, which houses 35 Christian families. Other workers in the church are Christians from Jammu or other states, and some from Nepal. He said that he has never faced any religious discrimination from his co-workers and no one in his family has raised any question regarding his job in a church.
Father Roy Mathews, the priest at the church, said that Rashid's story is an example that showcases Kashmiri society – one replete with tolerance and without any communal agenda.
"That is the beauty of Kashmir, that is the culture. Nowhere in India will you see such hospitality," said Father Mathews, who is a native of Jammu and has been with the church for the last 19 years.
Full report at:
http://www.hindustantimes.com/india/on-prophet-s-birthday-muslim-gardener-busy-in-christmas-preparations/story-tXdn6UgFmdafZCh2DK7gjM.html
-----------
Events moving towards World War III: Ahmadiyya Muslim community
December 25, 2015
Chandigarh: The Ahmadiyya Muslim community has warned that events across the world in recent times were moving towards a third World War.
"The world is passing through very turbulent times. The similarities to the period just before the Second World War continue to be cited and it seems clear that events are moving the world at an unprecedented pace towards a horrific third world war," representatives of the Ahmadiyya community told the media here on Thursday.
Announcing the 124th three-day Jalsa Salana (annual convention) of the community to be held in Qadian town in Punjab's Gurdaspur district from December 26 to 28, representatives of the community said over 30,000 followers from over 30 countries are expected to participate in the convention.
Full report at:
http://zeenews.india.com/news/india/events-moving-towards-world-war-iii-ahmadiyya-muslim-community_1838245.html
-----------
Akhilesh sacks UP minister for 'Muslims should build temple' remark
Dec 25, 2015
Uttar Pradesh Chief Minister Akhilesh Yadav on Thursday evening sacked minister Ompal Nehra after his controversial remark that Muslims should give up their claims of mosques in Ayodhya and Mathura and that they should help in building the Ram temple there.
Nehra, who is believed to be close to Samajwadi Party chief Mulayam Singh Yadav, had on Wednesday suggested during a function that Muslims should come forward and help build temples.
"Where can a Ram temple be built if not at Ayodhya? Muslims should help in building a Ram temple in Ayodhya and a Krishna temple in Mathura and give up their claim on mosques there. In fact I would say that Muslims should join Kar Seva (volunteer) for the Ram temple," NDTV quoted Nehra as saying.
On Friday morning Ompal clarified he had only said that Muslims should come together and find a solution to the Ram Mandir issue.
Nehra told ANI that he had been misquoted. He claimed he had said that since the Bharatiya Janata Party has "no issue" pending in Uttar Pradesh besides the Ram temple, the matter should be "closed once and for all".
"I said that since BJP doesn't have any issue in UP except Ram Mandir, then issue should be closed once and for all. I said that secular leadership & Muslim intellectuals should come together and find a solution to this," Ompal Nehra was quoted as saying by ANI when he was asked about his ministerial stature being stripped off.
Full report at:
http://www.hindustantimes.com/india/up-minister-sacked-for-muslims-should-help-in-building-temple-comment/story-Ql9Ony5pVoJ0V7LUGr56WL.html
-----------
Modi inaugurates new Afghan parliament built by India in Kabul
Dec 25, 2015
Prime Minister Modi received a warm embrace and welcome by Afghan president Ashraf Ghani in Kabul where he arrived on Friday for delegation-level bilateral talks and for inaugurating the new Afghan Parliament building.
Calling India and Afghanistan's friendship antiquated and "bound by a thousand ties", Ghani thanked India for its "valuable assistance" as Afghanistan weathers "hard times".
"Pleased to welcome PM Modi to Kabul. Though, India & Afghanistan need no introduction, we are bound by a thousand ties… We have stood by each other in the best and worst of times," Ghani tweeted.
Delegation-level bilateral talks between the two countries were held at Dilkosha Palace, the Afghan presidential office.
Modi later inaugurated the Afghan parliament building that was constructed by India at a cost of USD 90 million. The Prime Minister also addressed the two houses.
Ghani and Modi toured the parliament building and arrived at the main session hall in the presence of the guests, including member of the Afghan parliament, Khaama press reported.
"It will stand as an enduring symbol of the ties of emotions and values, of affection and aspirations that bind us in a special relationship," the prime minister said.
"The great Afghan people waged an epic struggle of courage and resolve to shape their future with vote and debate and not gun and violence."
Modi said he stands on behalf of "1.25 billion friends in India in admiration for your achievements and in gratitude for your friendship."
He said the day was special as it was former prime minister Atal Bihari Vajpayee's birthday, adding he was "deeply touched" that a block in the new building was named 'Atal block'.
The Parliament building project, initially conceived to cost 45 million, was started by India in 2007 as a mark of friendship and cooperation to help rebuild Afghanistan.
"Deepening India-Afghan friendship. PM & President lead delegation level talks over breakfast at Dilkosha Palace," external affairs ministry spokesman Vikas Swarup tweeted.
Prior to Modi's visit, India delivered three Mi 25 attack helicopters to Afghanistan, in what is seen as a shift in its strategy towards the strife-torn country.
Defence sources said that three such choppers have already been delivered to the Afghan government, which will boost its capability against Taliban terrorists.
Earlier in the day, Modi was received by the Afghan national security adviser Mohammad Hanif Atmar and deputy foreign minister Hekmat Karzai when he landed in Kabul. Modi is visiting the capital city on his way back to New Delhi from Moscow, where attended the 16th annual India-Russia summit.
Full report at:
http://www.hindustantimes.com/india/modi-in-kabul-pm-meets-ghani-to-inaugurate-afghan-s-parl-building/story-wua2CtN8gj4IQsRnmNknHM.html
-----------
In Nabarangpur, religious lines blur, Christmas party begins
by Debabrata Mohanty
Dec 25, 2015
ON CHRISTMAS eve, Nagendra Prasad Patnaik was running from one corner of the main hall to another inside the Jeypore Evangelical Lutheran Church in India's poorest district, ensuring that every last detail was in place for the evening mass.
"Why are you putting up the banner for the Christmas lottery at the back? Who will see it? Are there enough chairs?" he asked a volunteer from the Christian Youth Association.
Then, taking a much-needed breather, Patnaik, who is in charge of the arrangements, said, "This is the biggest day for the community in Nabarangpur. A huge number of non-Christians, too, will turn up at the church to enjoy Christmas with us."
Although there are just about 32,000 Christians, most of them Protestants, in the district as per the 2011 Census, in a population of 12 lakh, Christmas in Nabarangpur town is as much a part of the local tradition as Durga Puja.
"It is perhaps the only district which did not see any communal problem during the 2008 Kandhamal riots," said Lalit Patnaik, a retired teacher and former member of the Odisha Sahitya Akademi.
"It is time for reflection, it is time for a carnival, too. We have planned a slow-bike race, a running race for senior citizens, a tombola and a fancy dress competition tomorrow. But the underlying spirit is one of devotion," said Amit Naya, a 32-year-old shopkeeper who for the last few days has spent sleepless nights stringing balloons and stars inside the church.
Until 2010, the town used to congregate for Christmas inside a 110-year-old Lutheran church with a tin roof. Built by German missionaries, the church was one of the earliest buildings in town. But with its walls slowly cracking, the community built a bigger church in February 2010.
Full report at:
http://indianexpress.com/article/india/india-news-india/religious-lines-blur-christmas-party-begins/
-----------
Arab World
Syria regime raids kill 28 including 10 children
Dec 25, 2015
BEIRUT: Air raids by Syrian government warplanes killed 28 civilians, including 10 children, near Damascus on Thursday, the Syrian Observatory for Human Rights (SOHR) monitor said.
At least 60 others were also wounded in the raids on Hammuriyeh and Irbin in Eastern Ghouta, the largest rebel stronghold in Damascus province.
Twenty of the dead, including eight children, were killed in Hammuriyeh, while another six people, among them two children, died in Irbin nearby.
The area is regularly bombed by the forces of Syrian President Bashar al-Assad, Observatory director Rami Abdel Rahman said.
Full report at:
http://www.dawn.com/news/1228721/syria-regime-raids-kill-28-including-10-children
-----------
Militants Preparing to Evacuate Southern Damascus
Dec 24, 2015
Preparations are underway in the neighborhood of al-Hajar al-Aswad and some parts in the al-Yarmouk camp in the Southern parts of Damascus to evacuate the ISIL terrorists from the region in the next few hours as buses were brought to the region.
The militants began to remove the road barricades and berms and open the roads between the al-Hajar al-Aswad and al-Qadam and Sabinah regions two days ago.
Some militants intend to move to al-Raqqa Northeast of Syria, while a majority have demanded relocation to Mare' city in the Northern countryside of Aleppo.
Yarmouk is a camp for Palestinian refugees in the Southern parts of Damascus. The camp has been the scene of clashes among various terrorist groups and also crossfire between the militants and government troops for the last three years.
Ceasefire treaties to launch evacuation and relocation plans have started across Syria during the last month.
Full report at:
http://en.farsnews.com/newstext.aspx?nn=13941003000745
-----------
Two Steps to Victory: ISIL Ringleaders Fleeing Ramadi
Dec 24, 2015
"Several ISIL ringleaders and the terrorist group's members have fled the remaining areas in Ramadi towards Soufiya and Sajariya regions in the Eastern parts of the city," Yasser al-Dulaimi, the spokesman of al-Anbar police, said on Thursday.
"The intensive and continued attacks of the Iraqi forces, their artillery fire and airstrikes have forced the ISIL terrorists to flee Ramadi," he added.
The Iraqi forces made remarkable advance in the strategic city of Ramadi in Anbar after they reached the Tigris River and started entering the city center after crossing al-Khor bridge, a senior commander of volunteer forces (Hashd al-Shaabi) announced on Wednesday.
"The Iraqi forces have reached al-Khor region and they are preparing to cross this bridge and the Tigris River," Raed Raisan said.
The commander said that the ISIL has planted mines all over al-Khor bridge, adding that the bridge will lead the Iraqi forces directly to the city center.
Raisan reiterated that only the Hashd al-Shaabi forces are helping the Iraqi army in the Ramadi operations.
Full report at:
http://en.farsnews.com/newstext.aspx?nn=13941003000800
-----------
Key Lattakia Area Liberated from Militants' Control
Dec 24, 2015
The Syrian forces managed to take full control over point 458.5 in the direction of al-Kabir Black Mountain in the Northern countryside of Lattakia on Wednesday after clashes with the terrorists, informed sources said.
A large group of terrorists were killed and injured in the clashes, the sources added.
Earlier on Wednesday, military sources said that militants are retreating from more lands in the Northern parts of Lattakia province.
"The Syrian army alongside the National Defense Forces (NDF) launched massive operations in the mountainous regions of Northern Lattakia, and completed their control over vast territories after killing or wounding scores of militants," the sources said.
"The defeated militants have laid down arms and try to find a way to escape the battlefronts in the coastal province," the sources added.
Military analysts believe that the eye-catching victories of the pro-government forces against the militant groups in the mountainous regions of Lattakia in winter time are indebted to the strong will of the Syrian soldiers, the NDF and Hezbollah fighters to route out militancy and terrorism in the country.
Full report at:
http://en.farsnews.com/newstext.aspx?nn=13941003000293
-----------
YPG Forces Only 5km Far from Liberating Tishrin Dam
Dec 24, 2015
The YPG operations which were carried out on Wednesday night and Thursday morning killed tens of ISIL terrorists and wounded scores of others.
While heavy clashes are underway between the Kurdish forces and the ISIL terrorists, the YPG are advancing towards Tishrin dam.
"The YPG forces are 5km away from Tishrin dam itself and they are approaching the dam from the Northeast," a field source said today.
The Syrian and Russian warplanes, in a joint operation, pounded the ISIL strongholds near the Tishrin dam on Wednesday in preparation for the YPG operation.
"The ISIL's fortified positions near Tishrin Dam, which is over the Euphrates river at the border of Raqqa and Aleppo provinces, came under the joint combat sorties of the Syrian and Russian air forces," military sources said on Wednesday.
Full report at:
http://en.farsnews.com/newstext.aspx?nn=13941003000751
-----------
40 IS militants detained in Iraq
Dec 25, 2015
BAGHDAD: Iraq's intelligence service said on Thursday it detained 40 members of the militant Islamic State (IS) group as part of a major operation in Baghdad and Diyala provinces.
"The Iraqi national intelligence service, in coordination with Baghdad and Diyala security forces, carried out an operation which resulted in the arrest of 40 members of varying rank," a statement said.
Diyala is a province just northeast of the capital where IS has not had fixed positions in almost a year but has carried out several deadly suicide car bombings.
"Many bombs, suicide belts and cars used by the terrorists were seized, as well as large amounts of money they used to fund their criminal activities", the statement said.
Full report at:
http://www.dawn.com/news/1228617/40-is-militants-detained-in-iraq
-----------
Fire sweeps through Saudi hospital wards, 25 dead
December 25, 2015
DUBAI - A fire tore through the intensive care unit and the maternity ward of a Saudi hospital before dawn on Thursday, killing 25 people and injuring 123, the Saudi civil defence agency said.
The fire broke out at the general hospital in the southwestern port city of Jazan, the capital of the Jizan region, one of Saudi Arabia's poorest areas.
Government-controlled al-Ekhbariya television interviewed a witness who said the cause of the fire seemed to be electrical, and that it took only three minutes to sweep through the hospital.
"We could hear the women screaming," said the man, who was not named.
Photographs published on Twitter by the civil defence agency showed heavy smoke and an intense blaze which appeared to have severely damaged the interior of the white-walled hospital.
Some rescuers used a ladder to gain access through a window.
The 25 dead included one child, the television quoted the director of civil defence in Jizan, Major General Saad bin Al-Ghamdi, as saying.
A correspondent for Saudi-owned al-Arabiya television reported that he had seen several emergency doors locked with chains when he visited the hospital after the disaster.
He said the hospital had previously received official warnings over safety violations.
The region's Director of Health Affairs, Ahmed al-Sahli, denied any safety problems, telling al-Arabiya that many people had been able to escape easily from the blaze because the doors were open and safety equipment was in place.
But Eissa Amaish, whose sister was killed in the fire, blamed the hospital's management.
"What happened in this hospital was a crime of murder," he told al-Arabiya.
"This hospital was not equipped at all to deal with a fire.
Some people on Twitter suggested the fire had been the result of official negligence and that the health minister should resign, although the identities of the Twitter accounts could not be verified.
"Does the health minister have the courage to submit his resignation after the fire at Jazan General Hospital? What disaster lies after this calamity?" tweeted one person, whose account identified him as Mohammed Alsubaie, from Riyadh.
Criticism of Saudi Arabia's ruling family is frowned upon, but the comments online pointed to a series of infrastructure accidents in the kingdom over the past year.
A deadly crush at the haj in Mecca in September killed 769 people, according to Saudi officials.
Reuters calculations based on numbers provided by the pilgrims' home countries showed the death toll was at least 2,070.
Two weeks earlier, 110 people died in Mecca's Grand Mosque when a crane working on an expansion project collapsed during a storm, crushing pilgrims below.
In August, fire swept through an oil workers' residential compound in the town of Khobar, killing 10 people.
Full report at:
http://nation.com.pk/international/25-Dec-2015/fire-sweeps-through-saudi-hospital-wards-25-dead
-----------
Arab League denounces Turkish troops in Iraq
December 25, 2015
CAIRO - Arab League chief Nabil al-Arabi condemned on Thursday a Turkish military deployment in Iraq as a violation of international law, at a meeting called by Baghdad to pressure Ankara on withdrawing the forces.
"The Turkish military incursion into Iraq is a clear violation of international law and Iraqi sovereignty," Arabi said at the start of the foreign ministers meeting in the Cairo headquarters of the pan-Arab bloc. Turkey announced on Saturday that it had begun withdrawing troops in a bid to de-escalate a bitter row with Baghdad and following a call from US President Barack Obama.
Earlier this month, Turkey deployed troops to a base in Nineveh province where it has a long-running training programme for forces battling the Islamic State jihadist group. Ankara had said the deployment was routine and necessary to protect the trainers, while Baghdad said it was unauthorised and protested to the United Nations Security Council.
Moreover, An alliance of Kurdish and Arab rebels advanced Thursday against the Islamic State jihadist group in Syria's north in a new offensive backed by US-led air strikes, its spokesman said. Talal Sello, spokesman for the Syrian Democratic Forces, told AFP the SDF offensive was launched late Wednesday in Aleppo province. "The battle now is aimed at the liberation of areas south of the town of Sarrin to the Tishreen Dam" on the Euphrates River, Sello said. Kurdish forces pushed IS out of Sarrin in July.
SDF fighters, which predominantly hail from the Kurdish People's Protection Units (YPG), had advanced to within 12 kilometres (less than eight miles) from the dam by Thursday, according to Sello. The dam, been held by IS since 2014, helps generate electricity for large parts of Aleppo province, according to the Syrian Observatory for Human Rights.
IS also controls the Euphrates' western bank - from the northernmost point at Jarablus, which lies on the Syrian-Turkish border, south and further east all the way to Raqa. Manbij and Al-Bab, IS's strongholds in Aleppo province, lie west of the river as well.
Syrian forces, backed by Russian air strikes, have made gains against IS south of those towns. "Fierce clashes are continuing along the eastern banks of the Euphrates," Observatory head Rami Abdel Rahman said Thursday.
He confirmed that the SDF had advanced along the banks, but said most of the territory captured consisted of small villages. Sello said the SDF was receiving backing from the US-led coalition conducting an air war against IS in both Syria and Iraq.
A coalition statement Thursday said strikes conducted the previous day hit near Manbij and destroyed an IS fighting position and a logistics facility. Formed in October, the SDF has scored a series of successes against IS in northeastern Syria and appears to be extending its operations further west.
Moreover, Iraqi forces battled the last jihadist fighters holed up in the centre of Ramadi city Thursday, slowed in their advance by stiff resistance, booby traps and fears for trapped civilians. Fighting raged around the former government headquarters in Ramadi, a key position whose recapture by federal forces would mark another key step toward reclaiming the city they lost to the Islamic State group in May.
"The Iraqi forces are in Hoz neighbourhood about 500 metres (yards) away from the governmental complex," an army lieutenant-colonel told AFP from Anbar province. "They are advancing very cautiously" in the southern neighbourhood of Hoz, said Sabah Karhout, the head of Anbar provincial council.
He said the huge number of improvised explosive devices planted by IS fighters in the city and the possible presence of trapped civilians being used as human shields were the main impediments. "There's stiff resistance, there's been fierce fighting over the last 24 hours in the southern part of Ramadi city," said the US-led coalition's spokesman, Colonel Steve Warren.
Full report at:
http://nation.com.pk/international/25-Dec-2015/arab-league-denounces-turkish-troops-in-iraq
-----------
Iraq: Popular Forces' Commander Reveals US Plots to Evacuate ISIL Leaders from Ramadi
Dec 24, 2015
"The delay in operations to liberate Ramadi and Fallujah cities in al-Anbar province is the result of the US interference," Commander of Imam Khamenei Battalion Haidar al-Hosseini al-Ardavi told FNA on Thursday.
"It seems that the US intends to evacuate the ISIL terrorist group's infamous ringleaders secretly (with helicopters) from Ramadi to unknown places," he added.
His remarks came as Iraqi security forces continue to gain ground in Ramadi, and opened their way to the central parts of the strategic city where hundreds of ISIL terrorists are trapped under siege.
The Iraqi forces made a considerable advance in the strategic city of Ramadi in Anbar after they reached the Tigris River and are preparing to enter the city center after crossing al-Khor bridge, a senior commander of volunteer forces (Hashd al-Shaabi) announced on Wednesday.
"The Iraqi forces have reached al-Khor region and they are preparing to cross this bridge and the Tigris River," Raed Raisan said.
Full report at:
http://en.farsnews.com/newstext.aspx?nn=13941003000828
-----------
New Areas near Marj al-Sultan Airport Come under Army Control
Dec 24, 2015
Field sources said the Syrian forces targeted al-Nusra Front, Jeish al-Islam, al-Rahman brigades and other terrorist groups in Eastern Ghouta and continued to advanced in the vicinity of Marj al-Sultan Military Airport and Harasta farms on Wednesday.
The sources further said the Syrian troops took full control over new farms in the West of Marj al-Sultan military airport in Eastern Ghouta in Damascus countryside.
The army killed at least 14 militants and destroyed their vehicles and weapons in the clashes.
On Saturday, the Syrian Army announced that the militant groups have sustained heavy losses as a result of the government forces' attack and have retreated from more lands in the strategic region of Marj al-Sultan East of Damascus province.
"The pro-government forces' continued attacks left no chance for the militant groups to fortify their positions which have been attacked and bombed regularly in the recent days by the Syrian ground and air forces," the army said.
"The militant groups were forced to leave behind their military equipment and pull back the remaining of forces in a bid to evade more casualties," the army further added.
Marj al-Sultan region is home to one of the most important airbases in Central Syria with the same name, therefor, the government forces have done their best in the recent weeks to restore full security to the region which can be considered as a Central command in anti-terrorism campaign.
Full report at:
http://en.farsnews.com/newstext.aspx?nn=13941003000141
-----------
Africa
Somali Islamists publicly execute two officials
24 December 2015
Islamist militant group al Shabaab publicly executed a Somali military officer and the leader of a small town in the southern Somali region of Lower Shabelle, a spokesman for the group and local residents said on Thursday.
The group, which seeks to overthrow the Western-backed government and impose its strict version of Islamic law, has remained a potent threat in the Horn of Africa country after it was forced from the capital Mogadishu in 2011.
About 200 locals gathered on Wednesday in Bariirey town, about 50 km south of the capital Mogadishu, to watch as al Shabaab militants shoot the two men dead, residents said.
"Al Shabaab called us for a gathering. We thought they wanted to preach (to) us. But we saw two men whose hands and legs were bound. They opened fire on them, shooting them to death," resident Ahmed Aden told Reuters.
Al Shabaab took over Bariirey about two months ago. It identified the men as the head of Mareerey, a small town that the militants seized this month, and a military officer, whom the group said it had captured at sea.
"We executed them according to the Islamic sharia," Sheikh Abdiasis Abu Musab, al Shabaab's military spokesman said.
Full report at:
http://english.alarabiya.net/en/News/africa/2015/12/24/Somali-Islamists-publicly-execute-two-officials.html
-----------
Nigeria technically won against Boko Haram: Buhari
December 25, 2015
LAGOS : President Muhammadu Buhari said Nigeria has "technically" won the war against Boko Haram though suicide bombers remain a threat, in remarks issued days before his self-imposed deadline to defeat the jihadist group expires.
In the remarks, the leader of Africa's most populous country worked to reassure Nigerians that the jihadists now were unable to mount effective "conventional attacks" in the country's volatile north.
"Boko Haram has reverted to using improvised explosive devices (IEDs)," he said in an interview posted by the BBC on Thursday.
"But articulated conventional attacks on centres of communication and populations.
they are no longer capable of doing that effectively," said Buhari.
"So I think technically we have won the war because people are going back into their neighbourhoods.
Buhari was voted into power earlier this year on a platform that included a promise to stamp out the Boko Haram insurgency.
The former military ruler set a self-imposed deadline of the end of December to defeat the militants, vowing to invest in education to deter dissatisfied youth from becoming radical.
In contrast with his predecessor, Goodluck Jonathan, Buhari has been able to win back territory from Boko Haram and the country has seen a decrease in the number of deadly raids that decimated towns and villages.
But the jihadists in response have increasingly resorted to suicide bombers — many of them young children — to wage war for an independent Islamic state in the country.
Boko Haram recently has staged suicide bombings in neighbouring countries Cameroon, Chad and Niger, prompting fears that the radical group is gaining traction outside Nigeria.
Since taking up arms against the Nigerian government in 2009, the insurgents have razed towns and killed over 17,000 people.
Full report at:
http://nation.com.pk/international/25-Dec-2015/nigeria-technically-won-against-boko-haram-buhari
-----------
Gas tanker truck fire kills more than 100 people in Nigeria
Dec 25, 2015
ABUJA: A gas tanker truck ignited an inferno at a crowded industrial gas plant in Nigeria on Thursday, killing more than 100 people lining up to refill their cooking gas cylinders in time for Christmas.
The disaster took place in Nnewi, a predominantly Christian community in southeast Nigeria. By the time firefighters managed to put out the blaze, an Associated Press reporter counted the charred remains of more than 100 corpses.
A witness, Emeka Peters, said the fire broke out at about 11 am when a tanker truck that had finished discharging fresh gas at the Chikason Group Gas plant left without waiting to observe the prescribed cooling time.
Full report at:
http://www.dawn.com/news/1228724/gas-tanker-truck-fire-kills-more-than-100-people-in-nigeria
-----------
U.N.'s Ban appoints new head of Mali mission
24 December 2015
U.N. Secretary-General Ban Ki-moon on Wednesday named a new special representative in Mali where the peacekeeping mission has struggled to help implement a peace deal amid a surge in violence by militants.
Ban named Mahamat Saleh Annadif, the former foreign minister of Chad, to head the 10,000-strong MINUSMA force, which has suffered the highest rate of losses of any active peacekeeping mission, according to a statement.
Full report at:
http://english.alarabiya.net/en/News/africa/2015/12/24/U-N-s-Ban-appoints-new-head-of-struggling-Mali-mission.html
-----------
South Asia
Sri Lanka President seeks Muslim support for reconciliation with Tamils
Dec 25, 2015
Sri Lankan President Maithripala Sirisena asked for the support of the minority Muslim community in his government's efforts for reconciliation with ethnic Tamils following the three-decade civil war with the LTTE.
"I trust those who follow the teachings of Prophet Muhammad in Sri Lanka can make a significant contribution to building a nation rich in tolerance, understanding and reconciliation, which will strengthen the efforts to take the country on the forward march to progress," he said in a message to mark Milad-un-Nabi, the birthday of Prophet Muhammad, on Thursday.
Sirisena said that 'Madina Charter', written and promulgated by Prophet Muhammad for the pluralistic society, provides answers to most of today's problems, presenting approaches to solving and preventing conflicts between groups based on differences in culture and belief.
Sirisena had received wide support from the 7% Muslim minority in his landslide victory against Mahinda Rajapaksa in the presidential elections in January this year.
"I wish to point out that the Medina Charter shows that Islam rejects the use of compulsion and force in religion and, has been demonstrated over centuries of human existence, that the most effective way to resolve conflicts is through mediation. It guaranteed the safety and welfare of all the communities and promoted reconciliation with all the communities," he said.
Full report at:
http://www.hindustantimes.com/world/sri-lanka-president-seeks-muslim-support-for-reconciliation-with-tamils/story-A0RCIO3N2fETBiEKCbne8I.html
-----------
US airstrikes in Afghan district under Taliban siege
December 25, 2015
KABUL - The US launched airstrikes to bolster Afghan forces scrambling Thursday to beat back Taliban insurgents who seized large swathes of a key opium-rich district, following the first British deployment to the volatile region in 14 months.
The Islamists claim to have captured nearly the entire district of Sangin after storming its frontlines on Sunday, tightening their grip on the southern Helmand province.
Fleeing residents reported Taliban executions of captured soldiers as the insurgents advanced on the district centre, compounding fears that the entire province was on the brink of falling into insurgent hands.
The US army conducted air strikes on Wednesday to bolster Afghan forces mobilising reinforcements to relieve dozens of security forces holed up in the district centre.
"US forces conducted two strikes in Sangin," a NATO spokesman said in a brief statement.
Taliban spokesman Zabiullah Mujahid said insurgents had overrun the whole of Sangin, pinning down Afghan forces in a military base where trapped soldiers reported dire conditions.
"Our men are hungry and thirsty," Abdul Wahab, a local police commander in Sangin, told AFP.
"Stepping out to get bread means inviting death," he said, adding that dozens of his comrades had been killed and critically wounded.
The war in Helmand, seen as the epicentre of the expanding insurgency, follows a string of military victories for the Taliban after NATO formally ended its combat operations last year.
All but two of Helmand's 14 districts are effectively controlled or heavily contested by the Taliban, who also recently came close to overrunning the provincial capital Lashkar Gah.
The turmoil in Helmand, the deadliest province for British and US forces in Afghanistan over the past decade, underscores a rapidly unravelling security situation in Afghanistan.
Britain on Tuesday said a small contingent of its troops had arrived in Camp Shorabak, the largest British base in Afghanistan, before it was handed over to Afghan forces last year.
The deployment, in addition to a recent arrival of US special forces in the region, is the first since British troops ended their combat mission in Helmand in October 2014.
The contingent, which an Afghan official said includes around 90 people, is on an "advisory" mission with London insisting they will not engage in combat.
- 'Humiliating defeat' -
The British and US intervention has fuelled the perception that foreign powers are increasingly being drawn back into the conflict as Afghan forces struggle to rein in the Taliban.
Full report at:
http://nation.com.pk/national/25-Dec-2015/us-airstrikes-in-afghan-district-under-taliban-siege
-----------
Karzai thanks Modi for birthday wishes saying 'Afghan people look forward to welcome you'
Dec 25 2015
The former Afghan President Hamid Karzai thanked Indian Prime Minister Narendra Modi for birthday wishes, saying 'The Afghan People look forward to welcome you.'
The Indian Prime Minister tweeted earlier today and wished the former Afghan President on the occasion of his 58th Birthday.
"Dear @KarzaiH, wishing you a very Happy Birthday. I pray that Almighty blesses you with a long life & good health," the Twitter message by the Indian Prime Minister reads.
Modi is expected to visit capital Kabul on Friday for the inauguration of the new Afghan parliament building built with the financial support of the Indian government.
Full report at:
http://www.khaama.com/karzai-thanks-modi-for-birthday-wishes-saying-afghan-people-look-forward-to-welcome-you-1865
-----------
Southeast Asia
As Islamic State threat mounts on its doorstep, Indonesia scours a jungle
Dec 24, 2015
Indonesian forces are mobilizing for a manhunt in steamy jungles on the far-flung island of Sulawesi to flush the country's most-wanted man from his hideout and deal a pre-emptive blow to Islamic State. The real threat could be much closer to home.
Militant leader Santoso, the first Indonesian to publicly pledge loyalty to the radical jihadist group that holds swathes of territory in Syria and Iraq, has eluded capture for years. He has until Jan. 9 to surrender.
But while the army girds for action just south of the equator, alarm bells are ringing in the capital, Jakarta.
Raids by security forces across the populous island of Java last week netted several Islamic State supporters and foiled a string of attacks. Police said the men arrested were just foot-soldiers and their leaders are still on the run, plotting attacks on government leaders, officials and buildings.
Sidney Jones, a Jakarta-based expert on Islamist militants at the Institute for Policy Analysis of Conflict, says there is only a slim chance in Indonesia of an Islamic State attack like last month's bloodshed in Paris, but the threat is growing under the government's nose.
"While the police and army have been focused on going after Indonesia's most-wanted terrorist, Santoso, in the hills of Central Sulawesi, ISIS has succeeded in building a network of supporters in the suburbs of Jakarta," she wrote in a commentary last month, using a common acronym for Islamic State.
She said homegrown militants have mainly targeted the police in recent years, but there may now be a shift back to Westerners and soft targets.
"A DISTANT CALIPHATE"
Australian Attorney-General George Brandis, who was in Jakarta this week to bolster security coordination, told the Australian newspaper he had "no doubt" Islamic State was seeking to establish a "distant caliphate" in Indonesia.
Indonesia was the second most popular tourist destination for Australians in 2014-15, official data shows, with 1.12 million journeys - a large number to the resort island of Bali.
The bombing of two nightclubs in Bali that killed 202 people, mostly tourists, was among a spate of attacks during the 2000s in Indonesia, home to the world's largest Muslim population.
Police have been largely successful in destroying domestic militant cells since then, but they now worry the influence of Islamic State could bring a return of jihadi violence.
Officials believe there are over 1,000 Islamic State supporters in Indonesia. Estimates of the number who have returned from Syria range from 100 to 300, though this includes women and children.
The government worries that Santoso, who has run militant training camps from the tree-covered hills of the Poso regency where he hides and posts videos on radical websites, could be an ideological lightning rod for combatants returning to Indonesia.
Jones told Reuters that Santoso had developed an international reputation in Islamic State circles, with contacts among fighters in Syria.
Full report at:
http://www.reuters.com/article/us-islamic-state-indonesia-idUSKBN0U70NM20151224
-----------
30 civil societies urge Malaysia to protest against Brunei's Xmas ban
25 December 2015
The societies, which include Christian as well as Muslim groups, said Brunei's ban on public celebrations of Christmas violated Article 18 of the Universal Declaration of Human Rights.
They said the ban also affected Malaysian citizens in Brunei, and went against Islamic principles of tolerance and respect for religious freedom.
"We urge the federal government of Malaysia and the state governments of Sabah and Sarawak to register their strongest protest and grave concern to the Brunei government," the civil societies said in a statement yesterday.
The groups said celebrations of any faith were not synonymous with proselytisation and called the ban "unwarranted religious repression".
"If Malaysia gives passive consent to such religious persecution of non-Muslims under the flimsy pretext of respecting national sovereignty, then Malaysia forfeits the moral high ground to speak up against similar religious repression of Muslims elsewhere in the world."
They added that the criminalisation was hostile and offensive to Malaysia, given that it was also imposed on Malaysians working, residing or travelling in Brunei. Offenders may be jailed up to five years for observing such celebrations.
"Until the criminalisation is lifted, the Malaysian High Commission must be prepared to provide legal and political support for all Malaysians prosecuted for exercising their religious freedom."
The groups also warned that the ban would fuel Islamaphobia and portray Islam as a religion of intolerance and repression.
"Brunei should instead show the world that Islam stands for inclusivity and justice and fairness."
The statement was endorsed by Angkatan Warga Aman Malaysia (WargaAMAN), Christian Federation of Malaysia (CFM), Council of Churches Malaysia (CCM), ENGAGE, Federation of Malaysian Indian Organisation (Prima), Gerakan Reformasi Anak Muda Sarawak (Gerak), Institute for Development of Alternative Living (IDEAL), Komuniti Muslim Universal (KMU and Kuala Lumpur & Selangor Chinese Assembly Hall (KLSCAH).
Full report at:
http://www.themalaysianinsider.com/malaysia/article/30-civil-societies-urge-malaysia-to-protest-against-bruneis-xmas-ban
-----------
Indonesia's moderates tackle both extremism and Islamophobia
December 24, 2015
JAKARTA The rise of Islamophobia in the West is making Indonesia's religious moderates and "comprehensive" approach to fighting extremism more relevant than ever.
In late November, two weeks after the deadly terrorist attacks in Paris, Indonesia's largest Muslim group, Nahdlatul Ulama, launched a video campaign aimed at countering extremist ideology. International media hailed the video as a call for tolerance that could eventually help undermine the Islamic State, the militant group behind the attacks.
Indonesia is home to the world's largest Muslim population, and NU, with an estimated 40 million members, is the largest Muslim group in the world.
"Today a group of people think as though they were the most righteous. They claim to act on behalf of the religion and wreak havoc," said Muhammad Muslih, an executive of GP Ansor, the youth wing of NU, during the film's launch in Yogyakarta province.
The 90-minute film, titled "Rahmat Islam Nusantara" (The Divine Grace of East Indies Islam), urges Muslims not to take too rigid a view of Islamic scripture and to put more focus on the human side of Islam. The film encourages them to follow in the footsteps of the wali songo, the nine earliest propagators of Islam on the island of Java who are said to have spread the religion through peaceful means, allowing assimilation with the local culture.
Organizations like NU and Muhammadiyah -- Indonesia's second-largest Muslim group, with an estimated 20 million followers -- have been working together with the Indonesian government to promote tolerance and curb extremism among Indonesian Muslims, who represent 85% of the country's total population of 250 million.
Full report at:
http://asia.nikkei.com/magazine/20151224-20151231-THE-BIG-UNKNOWN/Politics-Economy/Indonesia-s-moderates-tackle-both-extremism-and-Islamophobia
-----------
Khairy calls for peace as Muslims observe Prophet Muhammad's birthday on Xmas Eve
December 24, 2015
KUALA LUMPUR, Dec 24 ― It is purely by chance that the birthday of Prophet Muhammad and Jesus Christ are just a day apart this year, but minister Khairy Jamaluddin took the opportunity to remind Muslims and Christians to keep the peace.
"Coincidence of date but celebrations of birth of Nabi Muhammad today & Jesus tomorrow is a reminder for peace & harmony between faiths," the youth and sports minister wrote on his Twitter account @Khairykj.
Full report at:
http://www.themalaymailonline.com/malaysia/article/khairy-calls-for-peace-as-muslims-observe-prophet-muhammads-birthday-on-xma
-----------
40 more bodies recovered in Indonesian boat accident, death toll reaches 63
Dec 25, 2015
MAKASSAR: Rescuers recovered 40 more bodies on Thursday from waters in central Indonesia, raising the confirmed death toll from the weekend sinking of a passenger boat to 63. Fifteen people are still missing.
The Marina Baru 2B, carrying 118 passengers and crewmen, sank in the Gulf of Bone on Saturday while on its way from Kolaka in Southeast Sulawesi province to Siwa town in South Sulawesi province.
The fiberglass ferry reportedly was overwhelmed by waves more than 3 meters (10 feet) high during stormy weather.
Full report at:
http://www.dawn.com/news/1228545/40-more-bodies-recovered-in-indonesian-boat-accident-death-toll-reaches-63
-----------
Muslim preacher warns against dangers of 'Jediism', Star Wars fans strike back
December 25, 2015
KUALA LUMPUR, Dec 25 — An Islamic preacher has expressed concern over the "Star War" craze in Muslim-majority Malaysia, days after the latest installation of the epic cult movie series premiered here.
Rohidzir Rais took to Facebook to warn against the growing influence of "Jediism" in the country that was spread by fans of the movie, after reading a newspaper article titled "gila Star Wars" or "Star Wars craze" in English.
"In the West, there is a new religion called Jediism which makes this film the basis of their 'faith'. Do you not realise this? Do you still want to defend your 'faith'?" Rohidzir wrote in Bahasa Malaysia last Sunday, in an open appeal to Malaysian Muslim fans of Star Wars.
He claimed that Malaysia's Gen-Y have become "lost" in the "3S", which he said stood for "screen, sports and sex".
In a separate post a day earlier, the Al-Azhar University graduate had mocked the creator and director of the Star Wars series, George Lucas, as a prophet who was proselytising the "Jedi religion" worldwide with his "magical sabre".
"With the chaos in the battlefield and false fights in the imaginary world, we forget the real battle are against Muslims across the world," he wrote.
His post drew mixed responses from Facebook users, with some fans castigating the preacher over his views.
"Pitiful, expecting those learned in religion but the antiquated thinking is as deep as the sea. Because of that many of our Malay Muslims have such backwards thoughts because preachers like you exist," user Rusdi Muhammad responded and urged Rohidzir to watch a TV Hijrah programme that had provided a positive discussion of the movie.
Others, like Syed Fadzil urged Rohidzir to speak based on facts.
"There are a lot of fans from Generation X who are knowledgeable about this film and thank God there is no news of them who have lost their faith. You need to study the root of this issue," he said.
"Don't be like the black metal case. Even Black Dog Bone has been classified as Black Metal... because of the word black," he added, referring to a 1980s pop group.
Another Facebook user Mohd Hayat said he sympathised with the Star Wars characters but could also feel for Muslims in strife-torn Yemen, Syria, Palestine and Ukraine.
"So what's the problem? Don't be a bonsai religionist," he wrote.
Rohidzir was unperturbed in the face of the criticisms against him and responded in a similar mocking vein.
Full report at:
http://www.themalaymailonline.com/malaysia/article/muslim-preacher-warns-against-dangers-of-jediism-star-wars-fans-strike-back
-----------
Christians celebrate Christmas with prayers, open house
December 25, 2015
KUALA LUMPUR, Dec 25 — Christians in the country celebrated Christmas today by attending prayers in churches, visiting relatives and friends and holding 'open house' for guests.
Many attended prayers in churches last night and also this morning and families sat for their meals together.
Shopping malls in the federal capital and other major cities in the country have been decorated with colourful lights and Christmas trees to add to the festive cheer.
Fine weather in the morning was a plus point as well. However, the weatherman has forecast rain in the evening and at night.
Major roads in Kuala Lumpur were almost free of traffic as many city folk have returned to their hometowns and villages, taking advantage of the public and school holidays. Prophet Muhammad's Birthday yesterday and Christmas Day today are public holidays. -----------
Shopping complexes and tourist attractions drew throngs of people, among them migrant workers on holiday.
In SARAWAK, Christians attended prayers at several churches in Kuching, among them St Joseph's Cathedral and St Thomas' Cathedral in Jalan Tun Abang Haji Openg.
They also held open house for relatives and friends.
State Assistant Minister of Industrial Development and Tasik Biru Assemblyman Datuk Peter Nansian Ngusie held open house at the Association of Research and Development Movement of Singai Sarawak (Redeems) centre in Kampung Apar, Bau, about 30km from Kuching.
Minister in the Prime Minister's Department and MP for Batang Sadong, Nancy Shukri, attended several Christmas open house in Simunjan, about 110km from Kuching.
In JOHOR, the Sultan of Johor, Sultan Ibrahim, extended Christmas Day greetings to all Christians, on his Facebook page.
"I wish Merry Christmas to Christians and hope that they celebrate the festival with joy with their beloved families and friends," he said in the post.
Christians thronged several churches in the state capital for prayers.
These included the Holy Light Church and the Church of the Immaculate Conception in the city centre and the Cathedral of the Sacred Heart of Jesus and the Tebrau Presbyterian Church in Taman Sri Tebrau.
People also visited the shopping complexes and theme parks in the state capital.
In SABAH, about 2,000 people attended the open house of Parti Bersatu Sabah (PBS) at the Hongkod Koisaan Hall of the Kadazandusun Murut Cultural Association in Penampang.
Sabah Chief Minister Datuk Seri Musa Aman and Federal Energy, Green Technology and Water Minister Datuk Seri Dr Maximus Ongkili as well as several state ministers attended the open house.
Full report at:
http://www.themalaymailonline.com/malaysia/article/christians-celebrate-christmas-with-prayers-open-house
-----------
Mideast
Clashes persist in Turkey; 3 Kurdish militants killed
Dec 25, 2015
DIYARBAKIR (Turkey): Three Kurdish rebels were killed in clashes with police in Turkey's city of Diyarbakir on Thursday, while shots and shellfire could be heard around an area that has been focus of an army offensive.
Turkish police fired tear gas and sprayed water on hundreds of people after they attempted to march towards the city centre carrying the coffin of two Kurdistan Workers Party (PKK) militants killed in another incident this week.
The three were killed in clashes with special forces in Diyarbakir's Yenisehir district after the PKK launched an attack on security personnel, security sources said.
Four mainly Kurdish south-eastern towns that have seen heavy fighting since Turkey launched an offensive 10 days ago against the militants remained under curfew, with Diyarbakir's historic district of Sur entering its 21th day under the ban.
Figures from the pro-Kurdish Peoples Democratic Party (HDP) show at least 31 civilians have been killed in fighting, while state media said 168 PKK militants had died during the campaign, backed by tanks and thousands of troops.
Turkey's mainly Kurdish southeast has been engulfed in clashes since a two-year ceasefire between the PKK and the government fell apart in July, reviving a conflict that has crippled the region for three decades, killing more than 40,000 people.
This time the PKK has shifted fighting from its traditional countryside bases to towns and cities, setting up barricades and digging trenches to keep security forces away, in a battle in which civilians have also become targets.
In the town of Cizre bordering Iraq, people sat in winter sunshine while gunfire and shelling rang out from Turkish tanks pounding PKK targets inside the city. Bags of rubbish piled up on the street and children played, hopping on the barricades, Reuters TV footage showed.
Residents, banned from leaving their houses for the past 10 days in Cizre, came out to buy from street vendors.
Full report at:
http://www.dawn.com/news/1228663/clashes-persist-in-turkey-3-kurdish-militants-killed
-----------
Three Palestinians shot dead in West Bank
Dec 25, 2015
JERUSALEM: New violence erupted in the West Bank on Thursday, with three Palestinian attackers shot dead as they carried out stabbings and a car ramming and another killed in clashes with Israeli soldiers.
The upsurge came after nearly three months of attacks and protests but with the violence having become less frequent in recent weeks.
The ongoing unrest has led to a sharp decrease in pilgrims travelling to the West Bank city of Bethlehem, where the Bible says Jesus was born, for Christmas Eve celebrations and the traditional midnight mass at the Church of the Nativity.
Full report at:
http://www.dawn.com/news/1228613/three-palestinians-shot-dead-in-west-bank
-----------
18 migrants drown off Turkey
December 25, 2015
ANKARA:- At least 18 migrants drowned when their overcrowded boat sank in the Aegean Sea on Thursday on the way to the Greek island of Lesbos in the latest tragedy involving refugees seeking to enter Europe.
The wooden boat capsized in high waves two miles off the Bademli coast in the Aegean, the private Dogan news agency reported.
Full report at:
http://nation.com.pk/international/25-Dec-2015/18-migrants-drown-off-turkey
-----------
Yemen Attacks Saudi Positions in Lahij with Tochka Missiles
Dec 24, 2015
Brigadier General Sharaf Qaleb Loqman, the spokesman of the Yemeni armed forces, made the announcement in an interview with Yemen's official news agency on Thursday, adding that the Yemeni army and popular forces' Tochka missiles hit a gathering of the Saudi forces at al-Anad military base in Lahij province.
Also earlier this month, a Yemeni Tochka missile hit the Saudi-led coalition's command headquarter in Sha'ab al-Jen region near Bab al-Mandeb in Ta'iz province, and killed over 150 coalition servicemen, including 23 Saudi troops, 9 UAE officers and soldiers.
In a relevant development on Tuesday, the Saudi-led Coalition Forces suffered another devastating blow when two Qaher-I ballistic missiles hit their military bases in the province of Ma'rib and the border region of Tawwal, and killed over 200 troops, including Saudi, UAE, British and US officers.
"A Qaher-I ballistic missile of Yemen struck al-Safer military base in Ma'rib province, killing over 137 Saudi-led aggressors, including a large number of Saudi and Sudanese troops, five UAE officers, head of the operations room (in Safer military base) and foreign military experts who seemed to be American and British," a Yemeni source told FNA on Tuesday.
The source noted that bodies of the Saudi-led troops killed in Al-Safer region were completely burnt.
Full report at:
http://en.farsnews.com/newstext.aspx?nn=13941003000582
-----------
Iranian Commander: Erdogan Weakening Islamic States' Power
Dec 24, 2015
"The arrogant powers are creating a secure space for the Zionists and there is no Islamic country which has not become involved and they engaged Turkey too and Erdogan has taken steps towards destroying the Islamic power in the region," Commander of the Iranian Border Guards Brigadier General Qassem Rezayee said, addressing the Law Enforcement Police personnel in the Northern city of Rasht on Thursday.
Noting that Erdogan has also made Saudi Arabia get stuck in a regional quagmire, he said, "All these cases are aimed at creating security for the Zionist regime."
Erdogan's role in supporting the terrorist groups and fomenting crises in the regional states has recently been revealed more than any other time.
Earlier this month, Abu Muhammad al-Julani, the leader of the Jabhat al-Nusra militant group said in an interview aired by Arab TV channel Orient News (Dubai, UAE) that Turkey's goal is to create a so-called "security zone" on the North of the Syrian Arab Republic.
Al-Julani's face was covered during the interview. The militant group's leader directly accused the president of Turkey, Recep Tayyip Erdogan, of planning to strengthen the ISIL by establishing a buffer zone, Sputnik said.
"Turkey's actions will Let ISIL expand its influence in border zones," Abu Muhammad claimed.
The ringleader stressed that despite being a member of the US-led coalition, Ankara primarily targets Kurdish forces for bombing rather than ISIL in the North of Syria. And the Kurdish militia is one of the main forces fighting against ISIL terrorists on the ground in Syria.
He also condemned his allies from Ahrar al-Sham insurgent group for participating in a recent "Syrian opposition" conference in Riyadh and called the forum a "conspiration".
"Whatever decisions they made, they won't be realized," al-Julani claimed.
Full report at:
http://en.farsnews.com/newstext.aspx?nn=13941003000627
-----------
Pakistan
15 terrorists surrender in Kurram
December 25, 2015
KURRAM AGENCY/LANDI KOTAL - At least 15 terrorists including two commanders of a banned outfit on Thursday surrendered before the security forces and handed over their weapons to the law-enforcement agencies.
According to the security sources, the ongoing operation against terrorists across the Kurram Agency forced the terrorists to lay down and hand over their weapons to the security forces.
During the operation at least 15 terrorists including two commanders hailing from Tehrik Taliban Fazal Saeed group surrendered before the security forces.
The surrendered terrorists have also handed over their weapons to the security forces.
Meanwhile, some unidentified miscreants attacked with hand grenade at FC check post located in Shalman gate in Landi Kotal tehsil of Khyber Agency on Thursday.
According to the sources, some unidentified miscreants hurled a hand grenade at Frontier Corps check post and managed to flee from the scene , however, no loss of life was reported in the attack.
Full report at:
http://nation.com.pk/national/25-Dec-2015/15-terrorists-surrender-in-kurram
-----------
Celebrating Christmas Eve in Pakistan
December 24, 2015
Christmas Eve is celebrated with great enthusiasm worldwide and the common misconception is that Pakistan does not enjoy the Christmas spirit the same way as it is enjoyed in other parts of the world. While most of Pakistan does not see a white Christmas, it does not fall short on the festive spirit.
A man dressed as Santa Claus can be seen roaming the streets of Lahore in the picture above. Lahore is home to a number of churches and the city celebrates Christmas with enthusiasm.
In the picture above, devotees can be seen to be praying in a Cathedral located at Mall Road, Lahore.
Full report at:
http://nation.com.pk/national/24-Dec-2015/celebrating-christmas-eve-in-pakistan
-----------
Nation pays homage to Quaid on 139th birth anniversary
Dec 25, 2015
KARACHI: The 139th birth anniversary of Quaid-i-Azam Mohammad Ali Jinnah is being celebrated across the country on Friday with due enthusiasm. Jinnah was born on Dec 25, 1876, in Karachi.
The day has been declared a public holiday.
A change of guard ceremony was held at the Quaid's mausoleum in Karachi in the morning, where Commandant PMA Major Gen Nadeem Raza was the guest of honour.
A contingent comprising 180 cadets from the Pakistan Military Academy Kakul assumed guards' duties at the mausoleum.
President Mamnoon Hussain along with Sindh Governor Dr Ishratul Ebad Khan and Sindh Chief Minister Qaim Ali Shah paid a visit to the mausoleum where they placed wreaths and offered Fateha.
Full report at:
http://www.dawn.com/news/1228727/nation-pays-homage-to-quaid-on-139th-birth-anniversary
-----------
Sindh C. M. Qaim sees misunderstanding over Rangers' issue
Dec 25, 2015
KARACHI: Sindh Chief Minister Syed Qaim Ali Shah has said that there are some legal and constitutional misunderstandings between Sindh and federal governments on the powers of Rangers and these will be resolved amicably very soon as his government is committed to implementing the National Action Plan worked out with the collective wisdom of political and military leadership.
He was speaking to members of three bar associations — Sindh High Court Bar, Karachi Bar and Malir Bar — during a meeting held at the CM House here on Thursday.
Expressing his gratitude to Prime Minister Nawaz Sharif and Chief of Army Staff Gen Raheel Sharif for their support and cooperation in restoring peace in Karachi, the chief minister said: "Police and Rangers have given a lot of sacrifices for restoration of peace in the city for which they deserve appreciations" and added that it was mandatory for every institution to work within its domain and legal framework.
Mr Shah said that his government had inherited a very bad law and order situation from Musharraf's tenure.
"Serious terrorist incidents like the attack on Corps Commander Karachi, the Nishtar Park tragedy and even attacks on convoys of General Musharraf and various other incidents are worth mentioning here to assess the situation of that time," he said and added that it was his government which took drastic measures to restore law and order in the province in general and in Karachi in particular.
"This peace has not returned merely with the lip service but has taken a lot of efforts, funds and practical steps like capacity building of police force, developing close coordination with different intelligence agencies, and on the top of it Jawans of our law-enforcement agencies like police and Rangers have given their blood for the peace," he said,
The chief minister urged lawyers to play their role for the rule of law. "Your struggle for restoration of democracy in the country is unforgettable," he pointed out.
Full report at:
http://www.dawn.com/news/1228671/qaim-sees-misunderstanding-over-rangers-issue
-----------
PTI issues 'fact sheet': Unsafe drinking water claims 1.1m lives in Pakistan every year
Dec 25, 2015
LAHORE: Pakistan Tehreek-i-Insaf Punjab organiser Chaudhry Sarwar has lamented that 82 per cent Pakistanis do not have clean drinking water and issued a "fact sheet" on Thursday about non-availability of clean drinking water for the masses.
Mr Sarwar said some 1.1 million people, including 250,000 children, die due to unsafe drinking water every year in the country. In Punjab, he said, 30 per cent population was falling prey to hepatitis A and B and other diseases.
He said every third Pakistani was compelled to drink "polluted water" and contracting gastro, typhoid, hepatitis, stomach and throat diseases.
He said there was 75 per cent contaminated potable water in Islamabad and 24 per cent arsenic water in Lahore -- both not safe for drinking.
He said Lahorites were compelled to drink unsafe water due to rusty and oxidised pipelines as well as out-of-order filters and several other reasons.
Instead of the government, he said, non-government organisations and philanthropists were installing filteration plants to provide safe drinking water to the masses. He said the rulers had failed to provide safe drinking water to people.
He said 75 per cent water in Islamabad and 87 per cent in Rawalpindi was not safe for drinking purposes. He said Punjab's 36 per cent population was compelled to drink harmful water.
He said arsenic was also found in drinking water in Lahore, Multan, Sargodha, Kasur and Bahawalpur, which was taking toll on the poor masses' lives, while the rulers were showing a complete senselessness.
Full report at:
http://www.dawn.com/news/1228636/pti-issues-fact-sheet-unsafe-drinking-water-claims-11m-lives-in-pakistan-every-year
-----------
Asif Zardari decries 'invasion of Sindh' by federal government
Dec 25, 2015
KARACHI: Pakistan Peoples Party (PPP) co-chairman Asif Ali Zardari on Thursday said that the the federal government has compromised on country's founding father Muhammad Ali Jinnah's principle of adherence to the Constitution by 'invading the province of Sindh'.
In a statement released by PPP's media cell, Zardari warned that the nation will slip into the quagmire of instability and uncertainty if the Constitution was trampled in this manner.
In his message of the eve of the 139th birth anniversary of the father of the nation, Quaid-i-Azam Mohammad Ali Jinnah, Zardari called upon the people of Pakistan to adhere to principles set by him in order to banish the militant and extremist mindset.
"Jinnah had envisioned a democratic and progressive Pakistan where there will be rule of law and every citizen will have equal opportunities to advance without any prejudice of religion, cast and creed. The need to follow this philosophy was never as great as it is now," said Zardari.
The former president maintained that every worker of the party will continue to fight for these values to make Pakistan a truly democratic state where constitution reigns supreme.
It is pertinent to note here that the federal government on December 22, rejected the summary sent to it by Sindh Chief Minister Qaim Ali Shah seeking to curtail powers of Rangers deployed in the province.
Full report at:
http://www.dawn.com/news/1228546/asif-zardari-decries-invasion-of-sindh-by-federal-government
-----------
Eid Milad observed peacefully
December 25, 2015
LAHORE - Eid Milad-un-Nabi was celebrated yesterday across the country including the provincial capital with religious zeal and fervour to mark the birth of the holy Prophet (PBUH), amid elaborate security arrangements.
The nation paid homage to the last holy Prophet (PBUH) by holding conferences, processions, Naat Khwani, Qirat, Qawwali and Naatia Mushaaira.
The faithful decorated mosques, government and private buildings, markets, roads and streets to express joy on the birth of last messenger of God who brought Islam and Quran for the mankind.
In their sermons, religious scholars highlighted the significance of the occasion and asked the people to follow the Sunnah of Prophet Muhammad (PBUH) to achieve success in the life and the world hereafter.
All the events reflected a renewed enthusiasm towards protecting the honour of the holy Prophet (PBUH) and renewed zeal to follow his Sunnah and becoming better Muslims. The day began with a 31-gun salute in Islamabad and 21-gun salutes in provincial capitals including Lahore. Special prayers were offered for the security, solidarity and prosperity of the country and unity among Muslims. In Lahore, the central Milad committee took out a procession from Railway Station in the afternoon that ended at Data Darbar after passing through traditional route via Australia Chowk, Branderth Road, Dil Mohammad Road, Mochi Gate, Shah Alam Chowk, Gawalmandi, Akhbar Market, Mausoleum of Qutubuddin Aibak, Circular Road, Anarkali, Lohari Gate and Bhatti Gate.
Prior to the procession, a grand meeting was held which was addressed by prominent figures from all walks of life. The meeting was attended by a good number of political and social figures. The participants of the ceremony were sprinkled with rose water and petals.
Water stalls were set up along the entire route to facilitate the participants. Volunteers set freed thousands of pigeons and balloons in the air which presented a delightful sight.
Newspapers brought out special editions while electronic media aired special programmes to highlight the importance of the occasion. Mosques and all important government and private buildings were tastefully decorated with illuminations.
Groups of volunteers and market committees decorated their markets and houses with illuminations, flower ropes, buntings, chandeliers and ribbons while many organisations held competitions among people for best decorated society and street.
Children and youth erected the clay replica of desert and mountains of the Arab peninsula where the divine message was first dawned on the Holy Prophet (PBUH). However, several Ulema and concerned citizens objected to the playing of loud music at countless number of places in the city.
Full report at:
http://nation.com.pk/lahore/25-Dec-2015/eid-milad-observed-peacefully
URL: https://www.newageislam.com/islamic-world-news/new-age-islam-news-bureau/islamic-state-sanctioned-organ-harvesting-fatwa/d/105730
New Age Islam, Islam Online, Islamic Website, African Muslim News, Arab World News, South Asia News, Indian Muslim News, World Muslim News, Womens in Islam, Islamic Feminism, Arab Women, Womens In Arab, Islamphobia in America, Muslim Women in West, Islam Women and Feminism