New Age Islam News Bureau
1 March 2017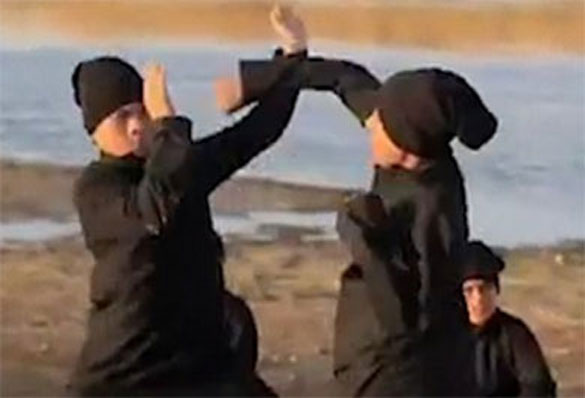 Young boys are seen practicing martial arts in the first Islamic State video to threaten China
--------
• Islamic State Militants from China Vow to Return Home and "Shed Blood Like Rivers"
• ISIS Leader Al-Baghdadi Acknowledges Defeat in Iraq
• Jharkhand: 300 Muslim Families Speak Out, Return Dowry in Silent Protest
• 'Banned From Our Own Lives': Intellectuals Mourn the Turkey That Once Was
• Trump Vows to 'Extinguish' ISIS, Protect US from 'Radical Islamic Terrorism'
Southeast Asia
• Islamic State Militants from China Vow to Return Home and "Shed Blood Like Rivers"
• Officials Ban Dozens of Religious Practices, Foreign Missionaries in China's Xinjiang
• Perlis Mufti Urges Muslim Bachelors to Marry Quickly
• Saudi King to Work With Indonesia to Combat IS
• LGBT 'Work Of the Devil', Malay Muslim Convert Lecturer Says In Conference
• Activists file civil suit demanding Zakir Naik's arrest
• Bandung Bomber Is Affiliated With Islamic State: Police
--------
Arab World
• ISIS Leader Al-Baghdadi Acknowledges Defeat in Iraq
• Egypt: Muslim, Christian Clerics Convene Co-Existence Meeting
• Iraqi officers find ISIS members hidden among refugees fleeing Mosul
• UN: 8,000 flee as Iraqi forces fight ISIS in western Mosul
• Russia, China block anti-Syria UNSC resolution
• Arab Media: Differences Soaring between S. Arabia, UAE over Yemen
• Syria: Army Starts Build-Up to Launch Final Phase of Palmyra Operation
• Al-Nusra Centres in Idlib, Hama Come under Heavy Air, Artillery Attacks
• Defected Ba'ath Party General Warns of Likely Confrontation between Ankara, Baghdad in Iraq, Syria
--------
India
• Jharkhand: 300 Muslim Families Speak Out, Return Dowry in Silent Protest
• Muslims Should Be Cremated, There's No Space to Bury 20 Cr People: BJP MP
• ISIS Operative's Handler Could Be Indian: Gujarat ATS
• Will Kill Lawyers Who Defend IS Suspects, Says Hindu Outfit
--------
Mideast
• 'Banned From Our Own Lives': Intellectuals Mourn the Turkey That Once Was
• Official: Yemen Raid Yields Data on Al-Qaida Explosives
• Yemeni forces kill 2 Saudi soldiers; score multiple victories over Saudi-led coalition
• Turkish Army Sends Fresh Soldiers, More Equipment to Border with Syria
• UN aid chief 'denied passage' to Yemen's Taez
• Israeli police begin evacuating settler homes
• Takfirism, xenophobia present enormous challenge to world: Iran official
• Turkish forces next step in Syria is Kurd-held Manbij: Erdogan
--------
North America
• Trump Vows to 'Extinguish' ISIS, Protect US from 'Radical Islamic Terrorism'
• 'We Condemn Kansas Shooting...Will Tighten Immigration Rules': Trump
• US plan against IS includes Pak-Afghan region
• George W. Bush breaks with Trump on Muslim ban, media
• US officials: Iraq to be lifted off US travel ban
--------
Europe
• ISIS Militants Being Killed At Level They Cannot Sustain: UK General
• Priest: We Need To Praise What Is Good, True In the Muslim Faith
• German police raid mosque linked to market attacker
• Syria war: Russia and China veto sanctions
• Russia's Policy Shift towards Taliban and Pakistan
--------
Pakistan
• Murderer Tanveer Ahmed Inspires Pakistani Hardliners from Scottish Jail
• Sindh, Balochistan Police Decide To Launch Joint Operation against Militant Hideouts
• Three FC men, civilian injured in Quetta IED blast
• Pakistan calls for unity in war on terror
• Pakistan, Russia agree to bolster military relations
• Six 'terrorists' belonging to Hafeez Birohi group held
--------
South Asia
• Taliban Kill 12 Afghan Cops With Silenced Weapons
• Suicide Bombers Attack Taliban Compound in West of Afghanistan
• Taliban commander among 5 killed or wounded in Nangarhar drone strike
• Myanmar army defends operation against Rohingya
• US forces vow to work with Afghan forces to target enemies of peace
• Policemen and prisoners suffer casualties in Helmand bombing
--------
Africa
• African Muslims Face Discrimination in Germany: UN
• Zimbabwe: Minister - Nothing New About Islam in Schools
• Tunisian police 'shambolic' over beach attack: UK judge
--------
Australia
• Australia Man Arrested on Charges of Helping Islamic State Develop Missile Technology
Compiled by New Age Islam News Bureau
URL: https://www.newageislam.com/islamic-world-news/new-age-islam-news-bureau/islamic-state-militants-from-china-vow-to-return-home-and--shed-blood-like-rivers-/d/110247
--------
Islamic State Militants from China Vow to Return Home and "Shed Blood Like Rivers"
March 1, 2017
Beijing: Islamic State militants from China`s Uighur ethnic minority have vowed to return home and "shed blood like rivers", according to a jihadist-tracking firm, in what experts said marked the first IS threat against Chinese targets.
The threat came in a half-hour video released on Monday by a division of the Islamic State in western Iraq and featuring militants from China`s Uighur ethnic group, said the US-based SITE Intelligence Group, which analysed the footage.
China has for years blamed exiled Uighur "separatists" for a series of violent attacks in its western Xinjiang region -- the Uighur homeland -- and warned of the potential for militants to link up with global jihadist groups.
In the video, a Uighur fighter issued the threat against China just before executing an alleged informant.
"Oh, you Chinese who do not understand what people say! We are the soldiers of the Caliphate, and we will come to you to clarify to you with the tongues of our weapons, to shed blood like rivers and avenging the oppressed," according to SITE`s translation.
A traditionally Muslim group, many Uighurs complain of cultural and religious repression and discrimination by China.
It appears to be the Islamic State`s "first direct threat" against China, Dr. Michael Clarke, an expert on Xinjiang at the National Security College of Australian National University, told AFP.
"It is the first time that Uighur-speaking militants have claimed allegiance to IS," he added.
The video showed China is now "very firmly a target of jihadist rhetoric," Clarke said, marking a shift from years past when it rarely figured in statements by global jihadist groups.
But Clarke said it also could indicate a possible split among Uighur fighters, as it includes a warning to those fighting with the al Qaeda-aligned Turkistan Islamic Party (TIP) in Syria.China maintains tight security in Xinjiang but a drumbeat of deadly unrest has continued. A knife attack last month left eight dead, including three attackers, police said.
The video was released the same day that China held the latest in a series of mass rallies of military police in Xinjiang meant to indicate Chinese resolve in crushing security threats.
More than 10,000 officers gathered Monday in the region`s capital Urumqi -- the fourth such rally this year in Xinjiang.
Chinese authorities have tightened controls in the region, beefing up police checkpoints.
In one violence-wracked corner of Xinjiang, authorities are offering rewards of up to 5 million yuan ($730,000) to those who expose terror plots or "struggle, kill, wound, or subdue" any attackers.
The Islamic State video showed fighters, including heavily-armed children, giving speeches, praying, and killing other "informants".
It also featured images of Chinese riot police guarding mosques, patrolling Uighur markets, and arresting men in what appears to be western China. The Chinese flag is pictured engulfed in flames.
Clarke said the hints of a Uighur split could "intensify the threat to China" as it indicates Uighur militants may be able to tap into the capabilities of both the Islamic State and al-Qaeda.
Overseas experts have up to now expressed doubts about the strength of Uighur militants, with some saying China exaggerates the threat to justify tough security measures.
A US think tank said in July that tough Chinese religious restrictions on Muslims may have driven more than 100 to join the Islamic State.
Authorities have banned or strictly controlled the observance of certain Muslim practices, such as growing beards, wearing headscarves, and fasting during Ramadan, saying they were symbols of "Islamic extremism".
http://zeenews.india.com/world/islamic-state-militants-from-china-vow-to-return-home-and-shed-blood-like-rivers_1982281.html
--------
ISIS Leader Al-Baghdadi Acknowledges Defeat in Iraq
1 March 2017
ISIS leader Abu Bakr al-Baghdadi issued a statement acknowledging the group's defeat in Iraq, as he urged supporters to either hide or flee, Iraqi television network, Alsumaria, quoted local sources as saying.
According to the sources in the Iraqi governorate of Nineveh, Al-Baghdadi's statement was titled 'farewell speech' and was distributed among ISIS' preachers and clerics on Tuesday.
Al-Baghdadi ordered the closure of the ISIS office regulating their fighters and ordered non-Arab fighters to either return to their countries or detonate themselves, promising them "72 women in heaven."
Many of ISIS' leaders in Iraq has now fled towards the group's controlled areas in neighbouring Syria, the source added.
Iraqi forces backed by international and US aid have been advancing towards ISIS-occupied areas in Iraq over the past weeks, where the terrorist organization suffered one defeat after another in Mosul.
https://english.alarabiya.net/en/News/middle-east/2017/03/01/ISIS-leader-Al-Baghdadi-acknowledges-defeat-in-Iraq.html
--------
Jharkhand: 300 Muslim Families Speak Out, Return Dowry in Silent Protest
Mar 01, 2017
A silent and unique social transformation is sweeping the Muslim community in Jharkhand's Palamu region, with hundreds of families returning dowry they had taken during their sons' weddings.
Over the last one year, around 800 families came out in the open about accepting dowry and have subsequently returned the money. To date, over Rs 6 crore in cash has been returned to the brides' families.
This process kicked off once Haji Mumtaj Ali, a native of Pokhari village in Latehar, launched a campaign against dowry in April last year. Following his footsteps, the community elders waged a war against dowry, a social evil plaguing the lives of thousands of families, especially the poor. The 'maulvis', too, resolved not to solemnise 'nikah' where any exchange of dowry was involved.
"The success of our campaign against dowry is astounding. So far, over 800 grooms' families in Latehar and Palamu districts have returned Rs 6 crore in cash to the brides' families. More importantly, the marriages are now being solemnised without any exchange of money," said Ali, who was busy preparing for a massive community meeting at Daltonganj on March 7.
"The war against dowry will eat up poor families like cancer till it is completely wiped out. There are still a few families who are yet to give up the evil practice. Earlier, the Muslim community did not pay dowry, but of late, dowry has become a part of marriages, in the process badly hampering the sanctity of this sacred bond," Ali said.
"We will also devise a strategy during the next meeting to tackle such families," he said.
"I feel proud to declare that what I had done earlier was wrong. To make things correct, I am returning the money. I will never demand or offer dowry in future," said Salim Ansari, who returned the dowry.
http://www.hindustantimes.com/india-news/jharkhand-300-muslim-families-speak-out-return-dowry-in-silent-protest/story-YMxM8cKb2T8U1aBWPqMbZL.html
--------
'Banned from our own lives': intellectuals mourn the Turkey that once was
March 1, 2017
Until very recently, Turkey was the place to be. The country offered space for everyone: all shades of Islamists and nationalists were becoming very comfortable, women were all around, LGBTIQ activists were proud, the secular and Kemalists continued on their way, and minorities were achieving recognition of some of their basic rights.
We were starting to unpack years of denial about the existence of the Kurdish citizens of Turkey, and also starting to face the violence that accompanied the creation of the Turkish nation state. It was chaotic, violent, but it was also full of promises.
Diyarbakir, the historical and symbolic capital of Kurdistan, which has been torn apart by war over the past 30 years, was blossoming and attracted thinkers, artists, investors, researchers and settlers. Istanbul was shining, a historical jewel on the Bosphorus.
Injustice was everywhere, but we talked of justice. Cultural and intellectual life was vibrant, exciting, full of translations and experimentation. Those living abroad came back and enjoyed it. Foreigners from the West and the East wanted to dive in it too. We had never been so close to peace.
Killing democracy
Today, our democracy is under very serious threat. The threat does not come from a foreign power, but nor does is it come from the attempted coup d'état of July, 15 2016. It really began with a series of elections in 2015 that cemented President Recep Tayyip Erdoğan's power.
In the upcoming referendum of April 2017, Turkish citizens will vote on constitutional changes that might well kill our democracy. The proposed changes include replacing parliament with an executive presidency, and abolishing the office of the prime minister.
The referendum will take place under a state of emergency, imposed in the aftermath of the failed coup. It will happen while a large part of the political opposition is in prison or in exile, thousands of civil servants have been deprived of their citizenship rights, and armed men patrol the streets.
The mastermind of this democratic simulacrum is the President of the Republic.
Over the past five years, people have resisted and tried to cultivate democracy. This resulted in a sometimes scary but often enjoyable and highly educational explosion of pretty much all known social movement practices, legal and illegal, armed and peaceful.
But nothing worked. The president is just too smart, too brutal, and too successful. We lived and died through a tragic series of bombs attacks, and we saw whole cities put under curfew and bombed out, always followed by media bans and impunity.
The whole country has been subjected to constant racism and sexism. The attacks are on the minds, on bodies, on private property, on public goods and institutions, and on the commons.
Crushing daily lives
It is very hard to express how so much destruction affects daily life. What does it mean to have 150,000 people "purged", 89,0000 people arrested, and 49,000 people incarcerated within six months? Can the state really just cancel your passport and freeze you bank account? Why are so many qualified people now unemployed, and why has their right to work been taken from them? Can your property really just become theirs, because the official journal says so?
Do these men really think that women will quit laughing in public and start making babies for the nation? Can you really just keep someone in prison for months because you feel like it? Who are all these men who scream in public that they want more blood, our blood? Why are all the others nodding in silence?
The numbers are frightening, like in all authoritarian regimes, but something also needs to be said about the quality of our lives.
Over the past year, many of us have experienced prison, exile, lost rights, been insulted, threatened, and abused in public by state officials and lay people. Some had to pack a bag and leave their life within a night. Others regularly go to court to defend themselves, their friends or their colleagues. The streets are grim and houses are no longer safe.
Prisons cells are dirty and there too, your rights are not respected. It takes a lot of flexibility to manage it all. Most have reached the limits of what their dignity can take, and we are all doing the best we can to keep going.
Before, most of us had pretty normal lives with jobs, kids, lovers, duties and holidays, just like you. Who are we? Who are all these people that the Turkish state is trying to silence? Some are short, others tall, old and young, with glasses, ties, piercings, long hair or no hair.
They are the doctors who heal our wounds, the lawyers who defend our rights, those who grow our food, and teach our children. They are the translators of major literary and scientific works into the Turkish and Kurdish languages. They are scholars who have produced and shared knowledge about our history, our society, our economy, our arts and sciences for years.
They are the people we are used to listening to on the radio, following in public debates on television, those we read on a daily basis in newspapers, the people whose music we listen to and novels we read.
We are all actually just people who went on with our lives, tried to be productive, and sometimes ran into each other in the streets. We all refused to give up on our most basic rights and freedoms. The most precarious got hit first, and now even the most successful and privileged face blatant injustice. Whatever our individual plight, we have all been banned from our own lives.
For some, this is the first real encounter with state violence. Others, particularly Kurdish citizens and politicians, have already spent years of their lives in Turkish prisons, sometimes up to 15 precious years. They have been tortured and lost their loved ones. Despite all the horrors they survived, today, from their prison cells, they continue to call for democracy. Can one feel anything but shame to know they are behind bars again?
We will be back
There can be no justice and no democracy while all these people are in prison. The state of emergency needs to be lifted and all the arbitrary decrees cancelled. Yet, in the run up to the "democratic" referendum of April 2017, we see only bans, arrests, destruction, civil deaths, and very real dead bodies.
All those who are currently mounting the No campaign for the referendum know that their songs and their jokes are not fit to fight an armed machine fuelled by nationalist rage and greed.
We know that trying to remember our softness will not save us, but it will keep us true to ourselves. We also know that more blows are coming, and we search for ways not to break, to melt a little, twist, and maybe punch back.
We walk with the painful and respectful memory of all those we lost on the way. We know that self-care and solidarity are necessary and political. And in celebration of our diversity, we continue to demand justice for all and to desire peace.
http://theconversation.com/banned-from-our-own-lives-intellectuals-mourn-the-turkey-that-once-was-73231?utm_medium=email&utm_campaign=Latest%20from%20The%20Conversation%20for%20February%2028%202017%20-%2068695090&utm_content=Latest%20from%20The%20Conversation%20for%20February%2028%202017%20-%2068695090+CID_b7b55f0b74115873567b962a21c35d65&utm_source=campaign_monitor_global&utm_term=Banned%20from%20our%20own%20lives%20intellectuals%20mourn%20the%20Turkey%20that%20once%20was
--------
Trump vows to 'extinguish' ISIS, protect US from 'radical Islamic terrorism'
1 March 2017
Heralding a "new chapter of American greatness," President Donald Trump stood before Congress for the first time Tuesday night and issued a broad call for overhauling the nation's health care system, significantly boosting military spending and plunging $1 trillion into upgrading crumbling infrastructure.
Striking an optimistic tone, Trump declared: "The time for small thinking is over."
Trump's address came at a pivotal moment for a new president elected on pledges to swiftly shake up Washington and follow through on the failed promises of career politicians. His opening weeks in office have been consumed by distractions and self-inflicted wounds, including the bungled rollout of a sweeping immigration and refugee executive order that was blocked by the courts.
The majority of Trump's address centered on the domestic, economic-focused issues that were at the center of his presidential campaign. His national security message centered largely on a call for significantly boosting military spending and taking strong but unspecified measures to protect the nation from "radical Islamic terrorism."
Trump, who typically relishes flouting political convention, embraced the pomp and tradition of a presidential address to Congress. He stuck largely to his script, made occasional overtures to Democrats and skipped the personal insults he so often hurls at his opponents.
The president was greeted by enthusiastic applause as he entered the House chamber, though it was filled with Democrats who vigorously oppose his policies and many Republicans who never expected him to be elected. Most Republican lawmakers have rallied around him since the election, hopeful that he will act on the domestic priorities they saw blocked during President Barack Obama's eight years in office.
Topping that list is undoing Obama's signature health care law and replacing the sweeping measure.
Trump offered a basic blueprint of his priorities, including ensuring that those with pre-existing conditions have access to coverage, allowing people to buy insurance across state lines and offering tax credits and expanded health savings accounts to help Americans purchase coverage.
He suggested he would get rid of the current law's requirement that all Americans carry insurance coverage, saying that "mandating every American to buy government-approved health insurance was never the right solution for America."
Making a direct appeal for bipartisanship, Trump turned to Democrats and said, "Why not join forces to finally get the job done and get it done right?"
Democrats, now firmly ensconced in the minority, sat silently while Republicans stood and cheered. Some wore blue, pro-health care buttons that read "Protect our care," and dozens of Democratic women wore white in honor of the suffrage movement.
Trump was vague in his call for tax reform, another Republican priority. He promised "massive tax relief for the middle class" and a reduction in corporate tax rates, but glossed over how he would offset the cuts.
The president also urged Congress to pass a $1 trillion infrastructure package financed through both public and private capital.
"The time has come for a new program of national rebuilding," he said.
Trump sent unexpectedly mixed messages on immigration, one of his signature campaign issues. He pledged to vigorously target people living in the US illegally who "threaten our communities and prey on our citizens." But he told news anchors before his speech that he was open to legislation that could provide a pathway to legal status, and he told Congress he believed "real and positive immigration reform is possible."
First lady Melania Trump sat with special guests who were on hand to amplify the president's agenda, including the family members of people killed by immigrants living in the US. illegally. The widow of former Supreme Court Justice Antonin Scalia also sat alongside Mrs. Trump, a reminder of the president's well-received nomination of federal appeals court Judge Neil Gorsuch to fill Scalia's seat.
Underscoring the human cost of those efforts, Trump honored Chief Special Warrant Officer William "Ryan" Owens, who was killed in a raid in Yemen during his first days in office. Owens' widow sat in the guest box with tears streaming down her face as the crowd stood and applauded at length.
Owens' death, as well as the killing of several civilians, have raised questions about the effectiveness of the raid. Pushing back, the president said Defense Secretary Jim Mattis had assured him that the operation generated "large amounts of vital intelligence that will lead to many more victories in the future against our enemies."
Trump also voiced support for NATO but reiterated his call for partner countries to meet their financial obligations to the military alliance. Trump has previously called NATO "obsolete," setting some allies on edge about his commitment to the partnership.
https://english.alarabiya.net/en/News/world/2017/03/01/Trump-vows-to-take-measures-to-protect-US-from-radical-Islamic-terrorism-.html
--------
Southeast Asia
Officials Ban Dozens of Religious Practices, Foreign Missionaries in China's Xinjiang
2017-02-28
Chinese authorities in the troubled north-western region of Xinjiang have issued a detailed list of "illegal" religious activities spanning Islam, Christianity and Tibetan Buddhism, RFA has learned.
After officials confirmed a generalized ban on unofficial Christian churches last week, RFA has obtained a document believed to originate from the Xinjiang Uyghur Autonomous Region religious and minority affairs department that details a very specific list of 26 types of banned religious activities.
The new rules have been sent out to local governments, requiring them to explain them to local people, residents said.
The list singles out attempts to proselytize or carry out missionary work "in the guise of" poverty and disaster relief, tourism and academic and cultural exchanges, according to a copy of the document shown to RFA.
The undated document, which appears to have originated with the regional government in Urumqi rather than with the ruling Chinese Communist Party in Beijing, has already been received, a source in the region said on Tuesday.
"These are [measures] being taken by the regional government, but there is no letterhead, seal or signature linked to the autonomous region," the source said.
"They told us to study them today, but I said that if it is the law of the land, at least there should be an official seal," he said. "We have to study these 26 [banned] things."
Under the new rules, no religious group is permitted to carry out any religious activities including preaching, missionary work, proselytizing of new believers and ordaining clergy without prior government approval.
Uyghurs not the only target
No classes or scripture study groups, nor religious studies courses may be offered by any group or institution without prior government approval, the rules say.
Some clauses appear to be specifically aimed at the mostly Muslim Uyghur ethnic group, who are prevented from engaging in religious rituals and customs in relation to marriage, divorce and funeral ceremonies.
A Xinjiang resident surnamed Li said the rules appeared to target Uyghurs, but not exclusively.
"There are also restrictions on reincarnations of Bodhisattvas, and on the transmission of Tibetan Buddhism," Li said.
"[It's also] aimed at underground Islamic groups who might come here to proselytize, that's to say, the [ethnically Chinese] Hui Muslim groups in Xinjiang."
"They have basically outlawed any underground preaching at all or missionary work, and that includes Catholicism [and other faiths] in the crackdown," Li said.
"All of them are now considered to be within the definition of illegal missionary activities."
He said item 16 on the list forbids the designation of reincarnations of Tibetan Buddhist teachers without government approval.
"They are focusing on specific and different details in every religion," Li said, adding that the document appears to have resulted from a vast network of government infiltrators.
"They are all very carefully described, which suggests that [government agents] have managed to penetrate deep into organizations and religious groups."
Dangerous foreign import
The document bans the unauthorized editing, translation, publication, printing, reproduction, production, distribution, sale and dissemination of religious publications and audiovisual products without authorization.
Publishing and broadcasting foreign religious radio and television programs are also banned, as is receiving religious materials from outside China or materials from banned organizations inside China.
"Missionary activities by groups or individuals from overseas under the guise of business, tourism, lectures, overseas study, cultural exchange or donations to disaster relief or to fund studies or alleviate poverty and sickness," are also prohibited by the document.
An official who answered the phone at the religious and minority affairs department of the regional government hung up after being contacted by RFA on Tuesday.
However, religious affairs officials had previously confirmed more vaguely worded reports of a ban on "unofficial religious activities" last week.
But the ruling Chinese Communist Party, which embraces atheism, has stepped up controls over any form of religious practice among its citizens in recent years, putting increasing pressure on faith groups to join government bodies set up to supervise them. The administration of President Xi Jinping regards religion as a dangerous foreign import, with officials warning last year against the "infiltration of Western hostile forces" in the form of religion, particularly Christianity.
http://www.rfa.org/english/news/uyghur/xinjiang-religion-02282017124922.html
--------
Perlis Mufti urges Muslim bachelors to marry quickly
March 1, 2017
KANGAR, March 1 — Perlis Mufti, Assoc Prof Dr Mohd Asri Zainul Abidin, has urged eligible bachelors to marry quickly to increase the state's population.
He said Islam required men who were capable to marry physically and spiritually to do so quickly because delaying could slow down the growth of the Muslim population.
"I hope they can take on this challenge, however, they also need to equip themselves with knowledge and be more responsible," said Mohd Asri in his weekly talk at Masjid Alwi here, last night.
The mufti also encouraged young people working and earning a living in Perlis to choose local women as their wives, and remain in the state.
In this regard, the parents should not demand expensive gifts or grand weddings for their daughters and place a burden on the men, said Mohd Asri.
Full report at:
http://www.themalaymailonline.com/malaysia/article/perlis-mufti-urges-muslim-bachelors-to-marry-quickly
--------
Saudi king to work with Indonesia to combat IS
Mar 1, 2017
Eveline Danubrata and John Chalmers
A pact to combat terrorism will be the centrepiece of up to 10 agreements that will be signed when Saudi Arabia's king this week visits Indonesia, the world's largest Muslim-majority country, the kingdom's envoy to Indonesia said on Tuesday.
King Salman bin Abdulaziz Al Saud, who on Sunday kicked off a month-long Asian tour, lands in Indonesia on Wednesday with an entourage that local officials have said could number up to 1,500.
Billed as a "mega trip", it would be a Saudi king's first visit to Indonesia in nearly five decades.
Apart from a side-trip of several hours to Brunei, King Salman will be in Indonesia until March 12, spending much of the time on the resort island of Bali, ambassador Osama Mohammad Abdullah Alshuaibi told Reuters in an interview. "We know Indonesia has suffered from bombing and terrorism here," he said, singling out the Islamic State for its "different ideology" and disrespect for human life.
"We will cooperate with the Indonesians on this field. We can exchange data, we can exchange experience, and we can defeat these people."
Authorities in officially secular Indonesia have grown increasingly concerned after a series of attacks over the past year blamed on supporters of Islamic State.
ISLAMIC SCHOOLS
Indonesian police killed a militant on Monday after he detonated a small bomb in the West Java city of Bandung. Security officials said they were investigating whether he had links to a radical network sympathetic to Islamic State.
Alshuaibi said Saudi and Indonesian military officers are training in each other's countries to counter Islamic State.
Saudi Arabia is aiming to open more Islamic schools in Indonesia, which will teach religion using the Arabic language, and step up the number of scholarships for students, the envoy said.
The king's visit to Indonesia comes as fringe Islamist groups grow in influence and Muslim leaders take an increasingly strict line on Islamic issues.
Underpinning that is a growing conservatism among Indonesians, which analysts say is partly the result of 'Saudi money' being poured into the country over the past several decades to build mosques, schools and universities.
The ambassador said the visit could also lay the foundation for developing oil and gas projects and promoting tourism.
Full report at:
http://nation.com.pk/international/01-Mar-2017/saudi-king-to-work-with-indonesia-to-combat-is
--------
LGBT 'Work Of the Devil', Malay Muslim Convert Lecturer Says In Conference
BY ZURAIRI AR
February 28, 2017
BANGI, Feb 28 — A Kolej Universiti Islam Selangor (Kuis) lecturer claimed today that the lesbian, gay, bisexual and transgender (LGBT) culture is caused by Satan to trick and lead humans astray.
Muslim convert Mohd Farid Ravi Abdullah said in the Islamic Consultative Council's (MPI) multaqa, or conference, on education and social sectors that the LGBT have been confused by the Devil to think that they are born with "souls opposite to their genders".
"Islam has not once admitted that gay and lesbian are human nature, but it is the Satan's activity to deceive and mislead humans," the Kuis Research Management Centre director wrote in his paper.
The ethnic Indian lecturer was presenting on the topic of Malay-Muslim socio-cultures in the social cluster plenary session.
"It must be curbed and prevented earlier by giving cure and therapies that is appropriate to the LGBT community," his paper added.
Homosexuals are sexually attracted to others with the same sex, while transgenders suffer from gender identity disorder where their sex and gender experience is opposite to the ones assigned at birth.
Conversion therapy which consists of psychological treatment or spiritual counseling to change a person's sexual orientation from homosexual or bisexual to heterosexual is widely seen by medical and scientific community as potentially harmful and a form of pseudoscience.
Full report at:
http://www.themalaymailonline.com/malaysia/article/lgbt-work-of-the-devil-muslim-convert-lecturer-says-in-conference
--------
Activists file civil suit demanding Zakir Naik's arrest
BY ZURAIRI AR
March 1, 2017
KUALA LUMPUR, March 1 — A group of 19 human rights activists filed a civil suit against the Malaysian government today, accusing it of failing to protect the country against controversial televangelist Dr Zakir Naik.
The suit, among others, sought a government declaration that Dr Zakir was a threat to national security, called for a ban to prevent him from entering the country, and for him to be arrested and deported immediately.
The group, comprising plaintiffs from different religious and ethnic backgrounds, said Dr Zakir was an "undesirable person" and "a preacher of hate" who was currently roaming free in Malaysia.
"This application is not meant to insult or question the teachings of Islam and/or insult the feelings of any parties whether Muslim or not, Zakir Naik's fans, or observers of his speeches," the group's spokesman, P. Waytha Moorthy, read to the press from an affidavit.
"There's nothing on Islam, we're strictly going on the issue of national security. Strictly on that," added Waytha Moorthy, who is also chairman of the Hindu Rights Action Force, or Hindraf.
Besides Waytha Moorthy, the 19 plaintiffs included academic Dr Lim Teck Ghee, Sabah lawmaker Datuk Dr Jeffrey Kitingan, lawyers Siti Kassim and Asiah Abd Jalil, and Sarawak activist Peter John Jaban.
Other reliefs sought by the plaintiffs include a declaration that Dr Zakir is a threat to country's security, unity as well as the peaceful and harmonious co-existence of its various faiths and races.
Among the evidence the group included to support its case was the involvement of three Bangladeshi students involved in the July 2016 Dhaka bombings, who were students of Monash University between 2012 and 2015.
At least two of the five attackers had publicly said they were inspired by Dr Zakir's teachings, and the group pointed out that the preacher had conducted eight public speeches in Malaysia between 2012 and 2016.
Although the application called for an order for Dr Zakir to be arrested and deported, the group did not provide any proof that the preacher is currently residing in Malaysia, save for his recent public appearances such as in Shah Alam and Perlis.
The four defendants named in the suit were Deputy Prime Minister and Home Minister Datuk Seri Ahmad Zahid Hamidi, the Immigration Department director-general, the National Registration Department director-general, and the Government of Malaysia.
Although a fugitive in India, Deputy Home Minister Datuk Nur Jazlan Mohamed said the controversial Islamic preacher is free to travel in Malaysia because he is not on any security watch list here.
Full report at:
http://www.themalaymailonline.com/malaysia/article/activists-file-civil-suit-demanding-zakir-naiks-arrest
--------
Bandung Bomber Is Affiliated With Islamic State: Police
March 1, 2017
Jakarta. Yayat Cahdiyat, the suspect who allegedly detonated a low-explosive device near Pandawa Park in Bandung, West Java, on Monday morning (27/02) is affiliated with the radical Islamic State movement, a National Police spokesman said on Tuesday.
Yayat is an alleged member of the Jamaah Anshar Daulah (JAD) terrorist group, sometimes referred to as Jamaah Anshar Daulah Khilafah Nusantara (JAKDN). The group is believed to be related to Abu Sofi, a terror suspect who was killed in a shootout with police near Jatiluhur Dam in Purwakarta, West Java, late last year.
"[JAD] is active near Malang [East Java] and has actually pledged allegiance to Islamic State. JAD continues to plan terror acts throughout West Java, Bekasi, Central Java and East Kalimantan," National Police spokesman Insp. Gen. Boy Rafli Amar said in Jakarta.
The group has been involved in several terror acts over the past few years.
Yayat was sentenced to three years in prison in 2012 for his involvement in terrorist training camp in Aceh. He was released on parole in 2014.
Citizen Investigators
Bandung Police, using the Indonesia Automatic Fingerprint Identification System (Inafis), and West Java Police collected several pieces of evidence, including fingerprints, a cooking pot and a motorcycle used by the suspect in the attack.
However, the unsung heroes might very well be ordinary people who saw the attack unfold.
Rizal, a local resident, saw Yayat being chased by high school students after the bomb exploded.
"I stepped outside after I heard the explosion. To my surprise, I saw a man being chased by several teenagers. While they were chasing him, I became curious and started following them. He wore a jacket and a sort of ripped vest. We chased him until he entered an office building," Rizal said on Tuesday.
Full report at:
http://jakartaglobe.id/news/bandung-bomber-is-afiliated-with-islamic-state-police/
--------
Arab World
Egypt: Muslim, Christian clerics convene co-existence meeting
February 28, 2017
Top Muslim and Christian clerics from the Middle East gathered in Cairo on Tuesday for a two-day conference on promoting co-existence, as sectarian conflict continues to ravage the region. The "Freedom and Citizenship" conference is hosted by Al-Azhar, one of the leading Sunni Muslim authorities based in Cairo. It comes as Coptic Christians in Egypt's Sinai flee attacks by Islamic State group jihadists who are waging an insurgency in the peninsula.
"Exonerating religions from terrorism no longer suffices in the face of these barbaric challenges," Al-Azhar's head Sheikh Ahmed Tayeb said in a speech on the opening day, referring to regional conflicts.
Tayeb called for dispelling "the lingering mistrust and tensions between religious leaders that are no longer justified, for if there is no peace between the proponents of religions first, the proponents cannot give it to the people." Coptic Christian Pope Tawadros II called for "fighting extremist thought with enlightened thought."
He said: "Egypt and the region have suffered from extremist thought resulting from a mistaken understanding of religion that has led to terrorism."
The conference, including Muslim muftis and Christian clergy such as Lebanese Maronite Patriarch Bechara al-Rahi, is to issue a closing statement yesterday. IS, which controls parts of Syria and Iraq, views Christians as enemies who should either be killed or subjugated.
In Egypt, the group's affiliate called for war on the Coptic minority after bombing a church in December 2016, killing 29 people. Tayeb, who represents a more moderate and traditional form of Islam, argues that groups like IS have perverted the religion.
http://indianexpress.com/article/world/muslim-christian-clerics-convene-co-existence-meeting-4548594/
--------
Iraqi officers find ISIS members hidden among refugees fleeing Mosul
Mar 1, 2017
A few hundred men who had scurried across front lines in a refugee exodus from Mosul sat on the ground in neat rows before an Iraqi intelligence officer who scanned the crowd for hidden militants.
The officer pulled a teenager onto a raised platform and asked the group if he belonged to Islamic State (IS). Muffled groans were followed by nods and muttered comments.
The youth was then dragged off to a pickup truck and his arms tied behind his back. He confessed to a three-month membership in IS and spending a week in a training camp, but said he had only been a cook and never carried a weapon.
As growing numbers of residents flee fighting between insurgents and Iraqi military forces seeking to recapture the IS-held western half of Iraq's second largest city, security units have been transporting civilians to government-run camps and weeding out IS infiltrators.
Just over a week into the offensive on the militants' last urban bastion in Iraq, some 14,000 inhabitants have slipped out of the city, trekking through stony desert. Most are women, children and elderly but there are also hundreds of young men who must pass screening by the security forces.
All are hungry and thirsty after three months under a virtual siege of western districts by Iraqi forces. Some have been wounded in the crossfire of a battle that could deal a hammer blow to Islamic State's territorial ambitions.
Up to 400,000 people may have to leave their homes during the new U.S.-backed offensive launched this month after Iraqi forces finished clearing districts east of the Tigris River that cleaves the city in Iraq's far north.
The intelligence officer, who spoke to Reuters on condition of anonymity, said he had extracted seven suspected Islamic State members on Sunday, the first day of mass displacement from western Mosul. Reuters saw four more in detention on Monday.
"The fighters don't come out," he said. Those who were loyal to the jihadist movement but played a less public, mainly non-combatant role are more likely to try to slip through the dragnet, the intelligence officer added.
Security forces keep on hand some local Mosul inhabitants they refer to as "sources" to help them identify suspects.
One of the "sources", a wiry young man wearing a green balaclava to shield his identity, stood with intelligence officers as a new batch of men handed over their identification to be checked against a computer database.
TELLTALE BEHAVIOUR
Most Islamic State militants are killed in battle, though Iraqi forces have captured alive a handful over the past week including a few from former Soviet republics and China.
The intelligence officer said he had learned to pinpoint IS associates from how they behaved with him.
"You can tell because they are afraid. Those who are not Daesh are also afraid but it's different from the fear of those who are with Daesh," he said, without elaborating, using an Arabic acronym for Islamic State.
The Iraqi military considers the screening process to be effective so far, but gives no figures.
"We have a mechanism. We have names and sources but even so we don't know all of them. But there are people who cooperate; most of them are cooperative," the intelligence officer said.
Some of those held in groups for interrogation were clearly motivated to expose IS supporters in their midst by the repression and brutality of Islamic State's rule in Mosul.
"People are cooperative because two years is a long time to be under constant pressure," the intelligence officer said.
"When you ask who among you is with Daesh, there are people who will point them out and say they did such and such. Like these guys, this morning I brought them one and asked if they knew him. Two of them got up and said he is Daesh."
A U.S. intelligence official who asked not to be named said some Islamic State combatants had escaped Mosul as well as the Syrian city of Raqqa amidst the chaos of combat, but U.S.-backed forces' encirclement of both cities had reduced the risk of militants making their way out to carry out attacks elsewhere.
PERILOUS PASSAGE
People arrive at the initial screening site behind front lines just south of Mosul caked in dust, some carried on stretchers or the backs of others.
The first thing they ask for is usually a cigarette. Smoking was forbidden under the Islamic State regime, but many people still risked lashes for a few puffs.
Supplies of most commodities have run out and prices have skyrocketed in west Mosul since Iraqi forces cut off the last road westward to IS-controlled territory in Syria three months ago. Many families have subsisted on little more than bread.
Full report at:
http://nation.com.pk/international/01-Mar-2017/iraqi-officers-find-isis-members-hidden-among-refugees-fleeing-mosul
--------
UN: 8,000 flee as Iraqi forces fight ISIS in western Mosul
28 February 2017
Since Iraqi government forces launched the push to take the western half of Mosul from ISIS last week, about 8,000 people have fled from that part of the city and surrounding villages, the UN humanitarian aid agency said Tuesday.
The agency, known as OCHA, said it is expanding displacement camps to cope with the increasing numbers of those fleeing Mosul.
With the support of the US-led coalition, Iraqi forces began the operation to retake western Mosul on Feb. 19, and have so far captured the city's international airport and a sprawling military base next to it as well some neighborhoods from the southern edge. Iraq declared eastern Mosul "fully liberated" in January, after three months of fierce fighting.
The people fleeing western Mosul are "often exhausted and dehydrated," the OCHA statement said, adding that an estimated 250,000 people could flee the fighting in the coming days.
It also noted "high" trauma casualty rates from western Mosul, with at least 75 civilians treated near the front lines over the past week and warned the situation for the estimated 750,000 civilians remaining in western Mosul "is desperate" as supply lines have been cut off, in particular the highway from Mosul into neighboring Syria.
Citing eyewitness accounts, OCHA said civilians still in western Mosul are enduing shortages of everything - from food and water to gas, heating oil and medical supplies. The prices of staples such sugar and potatoes have gone up.
Associated Press footage from the village of al-Salam southwest of the Mosul airport shows hundreds of civilians trickling to a gathering point in an open and dusty area, carrying a few of their possessions in bags. Security forces separate the men from the women and children before they are taken away in buses and military pickup trucks.
Meanwhile, Iraqi special forces moved into western Mosul's Shuhada neighborhood amid fierce clashes with ISIS militants as federal police units continued clearing up Gawsaq, a neighborhood retaken on Monday from ISIS, according to special forces and police officers.
A mortar round landed in one of the streets, killing three civilians and wounding a fourth, another police officer said, as security forces scrambled to try and evacuate civilians to safe areas. All officials spoke on condition of anonymity as they were not authorized to talk to reporters.
Full report at:
https://english.alarabiya.net/en/News/middle-east/2017/02/28/UN-8-000-flee-as-Iraqi-forces-fight-ISIS-in-western-Mosul.html
--------
Russia, China block anti-Syria UNSC resolution
Feb 28, 2017
Russia and China have vetoed a Western-proposed draft United Nations Security Council (UNSC) resolution against the Syrian government over its alleged use of chemical weapons.
On Tuesday, the measure, drafted by Britain, France and the US, got the minimum nine "yes" votes.
However, Russia, China and Bolivia opposed the resolution while Kazakhstan, Ethiopia and Egypt abstained.
UN resolutions need nine positive votes and no vetoes to pass.
This is the seventh time that Russia blocks an anti-Syria resolution and the sixth time that China does so.
The defeated resolution would have blacklisted 11 Syrians, mainly military commanders, and 10 entities allegedly linked to chemical attacks in 2014 and 2015. It would also have banned the supply of helicopters to Damascus.
The vetoed resolution followed a UN-led probe that claimed the Syrian government was behind at least three attacks involving chlorine gas.
Russian President Vladimir Putin had earlier denounced the resolution as "inappropriate" and warned that Moscow would not support fresh restrictive measures against Damascus.
After the measure was defeated, US Ambassador to the UN Nikki Haley said, "This resolution is very appropriate."
The development comes as the Syrian government has repeatedly denied using banned weapons and accused Saudi Arabia, Qatar, and Turkey of providing militants with toxic materials.
Full report at:
http://www.presstv.ir/Detail/2017/02/28/512482/Russia-China-Syria
--------
Arab Media: Differences Soaring between S. Arabia, UAE over Yemen
Mar 01, 2017
Al-Rai al-Youm newspaper referred to the unprecedented visit by fugitive Yemeni president Mansour Hadi to Abu Dhabi, and wrote in its editorial page that while the trip was aimed at soothing the wrath of the Emirati officials and narrowing the gaps, most reports show that the effort failed.
The daily pointed to the low and inappropriate formalities extended to Mansour Hadi during his welcoming ceremony at the airport and the UAE officials' repeated excuses for turning down meetings with him, and said Abu Dhabi degraded Hadi's status to the level of a security official.
Also, according to the information released by the UAE media, Abu Dhabi has accused Mansour Hadi's son and a number of other Saudi-led commanders in Southern Yemen of surrendering certain parts of Abyan province to the al-Qaeda terrorist group, the Arab paper added.
Meantime, independent Yemeni sources told al-Rai that the disputes between the UAE and Hadi are just meant to derail attention from bigger differences between Abu Dhabi and Riyadh which might dissuade the UAE from continued membership in the Saudi-led coalition against Yemen.
A Yemeni intelligence source disclosed on Tuesday Saudi Arabia's attempts to reinvigorate al-Qaeda terrorist group in Abyan province through excessive arms shipments and aids.
"The al-Qaeda terrorists have received a cargo of weapons sent by the Saudi mercenaries stationed in Ma'arib, near Akad heights in Lodar city of Abyan province," the source told FNA.
Full report at:
http://en.farsnews.com/newstext.aspx?nn=13951211000428
--------
Syria: Army Starts Build-Up to Launch Final Phase of Palmyra Operation
Mar 01, 2017
The source said that a large number of fresh army soldiers and popular forces will arrive in Eastern Homs in next days, adding, "The army is waiting for the arrival of fresh forces to launch the final phase of its operation to free Palmyra from ISIL."
The source added that the Syrian and Russian warplane are planned to give a massive air cover to the ground troops in the operation.
He added that the Russian and Syrian bombers are continuously targeting movements and gatherings of ISIL terrorists in and outside Palmyra to weaken the terrorists' defense abilities.
Full report at:
http://en.farsnews.com/newstext.aspx?nn=13951211000470
--------
Al-Nusra Centres in Idlib, Hama Come under Heavy Air, Artillery Attacks
Mar 01, 2017
The army troops attacked one of the command posts of Al-Nusra in Dayer al-Sharqi village affiliated to Mara'at al-Nu'aman region in Southern Idlib, killing 10 militants and destroying two of their vehicles.
In the meantime, the army aircraft pounded the Al-Nusra positions in al-Tamanna town, destroying a large arms depot and killing a number of terrorists, including a commander.
The army soldiers also hit hard Al-Nusra's movements and gatherings in Jabal (mount) Shahshabo, Rakaya Sajnah village, Tarmala and Ma'ar Harmeh regions, killing at least five militants and destroying their vehicles.
The army men meantime targeted and destroyed a command post of Al-Nusra in Ariha town South of Idlib, killing over seven terrorists.
The army units also pounded the positions of Tajamo al-Ezzah terrorist group in the village of al-Boyizeh in Northern Hama, killing an unspecified number of terrorists, according to the army reports.
Full report at:
http://en.farsnews.com/newstext.aspx?nn=13951211000310
--------
Defected Ba'ath Party General Warns of Likely Confrontation between Ankara, Baghdad in Iraq, Syria
Feb 28, 2017
"Erdogan's behavior in the region and his policies towards developments related to the war against terrorism in Iraq prepare the ground for military confrontation between Ankara and Baghdad in Iraq and Syria," al-Samarrai wrote on his facebook page on Tuesday.
"If other variables don't change, the current events will draw the Iraqi and Turkish forces towards a confrontation in Iraq and Syria and the Hash al-Sha'abi (Iraqi popular forces) will have most powerful and widest presence in such clashes although its role will be limited in a full-fledged war," he added.
Al-Samarrai emphasized that anyway anything which happens in the near future will cut off Turkey's hand from Syria.
In relevant remarks last month, a senior commander of Iraq's popular forces fighting ISIL with the government troops urged Turkey to unconditionally withdraw its military forces from Iraq and threatened to use force against Turkish troops in Nineveh if Ankara refuses to withdraw them.
Full report at:
http://en.farsnews.com/newstext.aspx?nn=13951210001423
--------
India
Muslims Should Be Cremated, There's No Space to Bury 20 Cr People: BJP MP
March 1, 2017
New Delhi: Sakshi Maharaj, who is known for making making inflammatory remarks, has courted a controversy as he remarked that a law should be enforced to stop the construction of graveyard and that Muslims should be cremated since there is not enough land for graveyards.
"Whether it is named Kabristaan (graveyard) or Shamshaan (crematoriums), nobody needs to be buried. There are 2-2.5 crore Hindu saints in this country who should have a memorial after their death. That will require land. There are 20 crore Muslims, all of them need a grave. Where is the land in Hindustan?" he said while addressing a public rally in Unnao on Monday.
Reacting to the BJP MP's remark, the Congress Party on Tuesday said Sakshi Maharaj's controversial 'Kabristaan' remark is part of a communal atmosphere being created by the saffron party amid the ongoing assembly elections in politically crucial Uttar Pradesh.
"Every religion follows its own ritual. If there will be need of 'kabristaan' then it will be constructed. Similarly, if there would be need of 'shamshaan' then it would be made. This cannot be affected by provocative statements of any leader or saint," Congress leader Sandeep Dikshit said.
Echoing similar views, Samajwadi Party leader Naresh Agarwal said Sakshi Maharaj's statement aims at spreading communalism and widening the gap between Hindus and Muslims.
"This shows the BJP's disappointment. They don't have any issue to discuss," Agarwal said.
Earlier this month, Prime Minister Modi while addressing elections rally in Fatehpur raised the issue of Kabristaan and Shamshaan, saying that there should not be any discrimination in the allotment of land for both.
"If you create Kabristaan in a village, then a 'Shamshaan' should also be created. If there is uninterrupted electricity in Ramzan, it should also be given during Diwali. There should be no discrimination," PM Modi had said.
http://zeenews.india.com/india/muslims-should-be-cremated-theres-no-space-to-bury-20-cr-people-bjp-mp-sakshi-maharaj_1982102.html
--------
ISIS operative's handler could be Indian: Gujarat ATS
Feb 28, 2017
AHMEDABAD: Waseem Ramodiya, arrested along with his brother in Gujarat for suspected ISIS links, was being guided by an unknown handler, possibly an Indian, as they used to communicate in Hindi through an online messaging service, the Gujarat ATS has revealed.
Waseem and his younger brother Naeem were arrested from Rajkot and Bhavnagar respectively during an early morning operation on Sunday.
The FIR filed by the state Anti-Terrorism Squad (ATS) says the duo was to carry out lone-wolf attacks after which they had planned to escape to Syria.
"Analysis of the call details of the mobile phone being used by (ISIS' controversial preacher) Mufti Abdus Sami Qasmi before his arrest, showed connectivity with the mobile registered in the name of Waseem Ramodiya at the address of Nehru Nagar, Street 2, Raiya Road, Rajkot, Gujarat," the FIR read.
"In view of the same, technical and physical surveillances were kept on the bearer of the number. The surveillance had revealed that Waseem was initiated into ultra-radical Jihadi ideology as preached by the ISIS," it added.
Mufti Qasmi was arrested by the NIA in February, 2016 and was labelled as one of the main ISIS operatives in India.
"Technical surveillance on Waseem Ramodiya revealed that he was in regular contact with his brother Naeem and they discussed various developments pertaining to the ISIS. The tone and tenor of the telephonic talks between the brothers clearly indicate that they were highly influenced by the ISIS' call of establishing a caliphate and wished to be part of the so-called Jihad against non-believers," the FIR read.
The ATS has also quoted from transcripts of phone calls between the two brothers and their wives in the FIR.
Full report at:
http://timesofindia.indiatimes.com/india/isis-operatives-handler-could-be-indian-gujarat-ats/articleshow/57396317.cms
--------
Will kill lawyers who defend IS suspects, says Hindu outfit
Mar 1, 2017
RAJKOT: A lesser known right-wing outfit in Jamnagar has issued a brazen threat to murder lawyers and their families who defend the two arrested ISIS suspects in the court.
On Tuesday, Pratik Bhatt, who calls himself the Gujarat president of Hindu Sena, issued an open threat to lawyer Imtiyaz Koreja in Jamnagar.
"All advocates have refused to defend the ISIS terrorists. But a lawyer named Imtiyaz has shown his willingness to fight their case. But Hindu Sena openly threatens to eliminate Imtiyaz and his entire family (if he goes ahead to be become the defence counsel). Imtiyaz would be alone responsible for his life. We urge lawyers to refrain from defending the accused otherwise Hindu Sena will counter them," Bhatt said in Jamnagar.
Earlier on Monday, the Rajkot Bar Association had adopted a resolution that none of its members would defend two terror suspects Waseem Ramodiya and his brother Naeem and declared their support to state police. Jamnagar Bar Association followed suit on Tuesday.
Full report at:
http://timesofindia.indiatimes.com/india/will-kill-lawyers-who-defend-is-suspects-says-hindu-outfit/articleshow/57400198.cms
--------
Mideast
Official: Yemen raid yields data on al-Qaida explosives
1 March 2017
US special operations forces gathered valuable intelligence on the al-Qaida affiliate in Yemen in a raid last month, including data on the explosives they're manufacturing and the types of threats they're developing, a senior U.S. official said Tuesday.
President Donald Trump, in a speech to a joint session of Congress, sought to rebut the notion the raid didn't yield valuable information. Trump said he'd been reassured of that fact just before his speech by Defense Secretary James Mattis.
Among those killed was Chief Special Warfare Officer William "Ryan" Owens. Six American soldiers were wounded and a military aircraft had to be destroyed after a hard landing. The assault took place days after Trump's inauguration.
"Ryan was a part of a highly successful raid that generated large amounts of vital intelligence that will lead to many more victories in the future against our enemies," Trump said, quoting Mattis.
The US official said a list describing the broad range of intelligence gains from the raid fills more than three pages. It includes information on al-Qaida in the Arabian Peninsula's training techniques and targeting priorities, said the official, who wasn't able to discuss details of the classified military operation publicly and spoke on condition of anonymity. Such intelligence gives insight into the group's attack planning.
Questions have been raised about the effectiveness of the operation that ended in a fierce firefight. In addition to Owens, 14 militants and several civilians were killed. But senior US and military officials - including Trump - have insisted the raid was a success and that the military collected critical information, including computers, cellphones and other data.
Owens' widow, Carryn Owens, was seated during Trump's speech next to the president's daughter, Ivanka Trump. Trump noted her presence in the emotional high point of his speech, leading to a long standing ovation as Owens, visibly crying, held her hands together and looked up to the sky while mouthing "thank you."
"Ryan died as he lived: a warrior, and a hero, battling against terrorism and securing our nation," Trump said.
Trump has said the raid gleaned "important intelligence that will assist the US in preventing terrorism against its citizens and people around the world."
The senior official said the fierce fight put up by militants inside the compound in Yemen testified to the value of the material they held.
Owen's father, Bill, has called for an investigation into the raid's planning and criticized the Trump administration for its timing.
https://english.alarabiya.net/en/News/middle-east/2017/03/01/Official-Yemen-raid-yields-data-on-al-Qaida-explosives.html
--------
Yemeni forces kill 2 Saudi soldiers; score multiple victories over Saudi-led coalition
Feb 28, 2017
Yemeni forces, backed by fighters from the Houthi Ansarullah movement, have killed two Saudi soldiers in the kingdom's southern regions of Najran and Jizan, while scoring great victories against Saudi forces and their mercenaries.
According to a report by Yemen's Arabic-language al-Masirah television network, the Yemeni snipers managed to kill a Saudi soldier in al-Sadis military base in Najran on Tuesday. Furthermore, the Yemeni forces fired artillery shells at the gatherings of Saudi troops in al-Sadis and the nearby al-Hamar bases. No immediate report has been released on the possible casualties and the extent of damage resulting from the attack.
Yemeni snipers also managed to kill another Saudi soldier in al-Dafiniye village in the kingdom's Jizan region on Tuesday.
On Sunday, another Saudi soldier was killed by Yemeni snipers in al-Sharafa military base in the same region.
A report by Reuters published in April last year showed that at least 400 Saudi soldiers had been killed in the cross-border fire since the start of the campaign in March 2015. Riyadh has maintained a policy of ambiguity regarding its casualties in the war on Yemen. Senior military officials have said that they would not release such information until after the campaign.
Meanwhile, Yemeni army forces and allied fighters from Popular Committees fired Katyusha rockets against gatherings of Saudi mercenaries in the southern district of Dhubab in Ta'izz province, killing dozens of them and inflicting injuries on scores of others, Yemen's official Saba news agency reported citing an unnamed military official.
At least four Saudi military vehicles carrying machine guns were destroyed in the operation.
According to al-Masirah, Yemeni forces also torched at least three Saudi military vehicles in al-Mukha district in the same province, forcing Saudi mercenaries to flee from the eastern parts of the district.
On late Monday, Yemeni troops launched a crushing attack against Saudi-held al-Salan military base in Maslub district in Jawf province, killing several mercenaries and wounding a number of others. The ground raid on the base became possible after the Yemeni army's artillery pounded it a couple of times.
Earlier on Monday, Yemeni security forces managed to capture an arsenal belonging to the Saudi-led coalition, in Yahis area of the Arhab district in Sana'a province after launching an attack on mercenaries fighting for Riyadh in the area.
Al-Masirah, citing a security official, reported that huge quantities of heavy machine gun ammunition, more than 100 Katyusha rockets, and nearly 70 tank shells were seized in the arsenal.
Full report at:
http://www.presstv.ir/Detail/2017/02/28/512463/Yemen-Saudi-Arabia-Sanaa-Jizan-Najran-arsenal
--------
Turkish Army Sends Fresh Soldiers, More Equipment to Border with Syria
Feb 28, 2017
The sources said that a long convoy of Turkish army with 22 armored vehicles and a large number of forces has been forwarded to Gaziantep border town under strict security measures.
The sources added that the move has been done to reinvigorate the combat capabilities of the Turkey-led Euphrates Shield Operation's forces in Northern Syria.
A source said earlier this month that the Turkish Army dispatched a large number of forces and a large volume of equipment to the town of al-Bab after they suffered heavy casualties and their military hardware sustained major damage in recent clashes with ISIL.
Military sources said on Monday that the Syrian Army troops' advances against ISIL in Eastern Aleppo would end up in not just pushing the terrorist group back from the Northern parts of the country, but laying a full siege on the Turkish forces and the Ankara-backed militants that were operating under the Euphrates Shield Operation,
The sources who requested anonymity, said that the army soldiers' control over the town of Tadif South of al-Bab established another contact line with the forces of the Turkey-backed Euphrates Shield forces.
They added that if the Syrian government troops could continue their advances against ISIL in Eastern Aleppo towards the Kurdish-led Syrian Democratic Forces, the Euphrates Shield forces would be trapped in a circle of the army men in the towns of al-Bab and Baza'a.
The sources went on to say that if the Syrian army forces could reach the SDF positions, the Manbij road would be cut off and the Euphrates Shield forces would have no way out to march in Northern Syrian any further, but to engage in clashes with the Syrian soldiers or Kurdish fighters.
Full report at:
http://en.farsnews.com/newstext.aspx?nn=13951210001212
--------
UN aid chief 'denied passage' to Yemen's Taez
Mar 1, 2017
ADEN - UN aid chief Stephen O'Brien was "denied passage" on Tuesday to Yemen's third largest city Taez where government loyalists are besieged by Shiite Huthi rebels, a UN statement said.
"O'Brien's convoy was denied passage at the final checkpoint before crossing the frontline" into Taez, said a statement by the UN's Office for the Coordination of Humanitarian Affairs (OCHA). He was denied access to the flashpoint city "despite having received assurance of safe passage by all parties", the statement said.
OCHA did not name the party that prevented O'Brien's convoy from proceeding, but the route from the north to Taez is controlled by the rebels and their allies.
"After being denied access, the convoy returned to safer ground to continue negotiating access with the authorities controlling the final checkpoint, but to no avail," OCHA said.
"O'Brien was extremely disappointed that humanitarian efforts to reach people in need were once again thwarted by parties to a conflict, especially at a time when millions of Yemenis are severely food insecure and face the risk of famine," it added.
Nearly 1,500 children have been recruited by Yemen's warring parties, mostly the Shiite Huthi rebels, since March 2015, the United Nations said on Tuesday.
The UN has verified the recruitment of 1,476 children, all boys, between March 26, 2015 and January 31, 2017, said a statement by the spokesperson for the UN High Commissioner for Human Rights, Ravina Shamdasani.
A local official told AFP earlier that O'Brien was stopped at a rebel checkpoint in Hizran, 15 kilometres (nine miles) northwest of Taez, while the government-run news agency Saba accused Huthi rebel forces of opening fire at his convoy.
In a statement carried by Saba, the government said the rebels blocked O'Brien's access to Taez to "prevent the truth about the situation in the city, including a suffocating siege... from reaching the world".
A UN source in Yemen told AFP earlier that O'Brien had been forced to cancel his visit to Taez "for security reasons".
The convoy travelling from the capital Sanaa had to change route because of shelling on the road to the southwestern city, said police captain Oussama Al-Charaabi, head of government security services in Taez.
The UN source said O'Brien was now slated to visit a school in the southwestern Ibb province housing internally displaced Yemenis from the Red Sea coastal town of Mokha, controlled by government loyalists since January.
Forces loyal to President Abedrabbo Mansour Hadi, backed by a Saudi-led Arab coalition, have held out in Taez where they are surrounded by the Iran-backed Huthis and their allies.
Full report at:
http://nation.com.pk/international/01-Mar-2017/un-aid-chief-denied-passage-to-yemen-s-taez
--------
Israeli police begin evacuating settler homes
Mar 1, 2017
OFRA - Israeli police on Tuesday began removing residents and protesters from nine West Bank settler homes set to be demolished under a Supreme Court ruling.
The homes in the Ofra settlement - a symbol of Jewish settler defiance to international concerns - were found to have been built on private Palestinian land and ordered razed by March 5.
On Tuesday police were entering the homes and removing young protesters one at a time, an AFP reporter said. One youth was arrested for attacking officers, according to a police statement.
Police said they would act with restraint but would not tolerate violence. Eight families had agreed to leave their homes ahead of time, police said.
Leaders of the Ofra community said they were intent on preventing clashes with security forces such as those that took place during the eviction of the nearby Amona outpost three weeks ago, where youths barricaded themselves in the synagogue and wounded Israeli forces with stones and acid.
Amona residents announced they would begin a hunger strike on Wednesday until the government kept its committment to build them a new settlement.
More than 400,000 Jewish settlers live in the West Bank, which Israel has occupied since the Six-Day War of 1967.
Full report at:
http://nation.com.pk/international/01-Mar-2017/israeli-police-begin-evacuating-settler-homes
--------
Takfirism, xenophobia present enormous challenge to world: Iran official
Mar 1, 2017
A senior Iranian official has warned against the emergence of radical and xenophobic groups across the globe, warning that they pose a significant challenge to the realization of human rights.
Deputy Foreign Minister Seyyed Abbas Araqchi made the comments in an address to the high-level panel of the UN Human Rights Council in the Swiss city of Geneva on Tuesday.
Araqchi warned against the rise of Takfiri outfits in the Middle East besides Islamophobic and xenophobic groups in the West, saying "extremist ideologies - manifested in violent radicalism- have ravaged the Middle East, while distorting and defaming a great religion and demolishing great civilizations at the same time."
He further emphasized the significance of Iranian President Hassan Rouhani's 2013 proposal for the World Against Violence and Extremism (WAVE), saying world leaders need to fully implement the provisions envisaged in the initiative amid efforts to eradicate terrorist outfits.
In December 2013, the UN General Assembly overwhelmingly voted to approve a resolution approving Rouhani's WAVE proposal, which calls on all nations across the world to denounce violence and extremism.
The Iranian deputy foreign minister further underlined the need for efforts to eliminate the root causes of extremism and the vicious cycle of Takfiri ideologies, which tend to brainwash the youth into perpetrating acts of terror.
Araqchi also called for an end to the ideological, financial and military support for violent extremists such as Daesh elements, demanding an immediate cessation of the marginalization and disrespect for religions such as Islam and their followers.
Turning to the brutal Saudi war on Yemen, the Iranian diplomat stated that attacks on homes, mosques, schools as well as hospitals run by the UN in the Arab country has resulted in the deaths of innocent Yemenis.
He also warned that the Saudi-led intervention in Yemen has also created a power vacuum, and offered the al-Qaeda in the Arabian Peninsula the chance to strengthen its foothold there.
Full report at:
http://www.presstv.ir/Detail/2017/03/01/512537/Extremist-Takfiri-groups-challenge-world-Abbas-Araqchi
--------
Turkish forces next step in Syria is Kurd-held Manbij: Erdogan
Feb 28, 2017
Turkey says that after its forces complete their operations in Syria's al-Bab, they will move towards the Kurdish-held city of Manbij.
"Now it is time for Manbij, which belongs to the Arabs, not the PYD or YPG," said Turkish President Recep Tayyip Erdogan on Tuesday.
Turkish authorities first announced the capture of al-Bab last month. They have made similar claims at least twice since then. According to Erdogan, the city is almost cleared of Daesh terrorists.
In August 2016, Turkey began a major military intervention in Syria, dubbed "Euphrates Shield," sending tanks and warplanes across the border. Ankara claimed that its military campaign was aimed at pushing Daesh from Turkey's border with Syria and stopping the advance of Kurdish forces, but Damascus denounced the operation as a breach of its sovereignty.
Kurdish forces, mainly the Democratic Union Party, also known as the PYD, and its military wing the YPG, liberated the northern Syrian city of Manbij from Daesh last year. They are now currently in control of nearly all of Syria's entire northern border with Turkey.
Ankara accuses the PYD of having links with the Kurdistan Workers' Party (PKK) militant group that has been fighting for an autonomous Kurdish region inside Turkey since the 1980s.
Erdogan also noted that Turkey wishes to work with its allies towards ridding Iraq of Daesh and liberating Daesh's stronghold in Syria, Raqqah, but will not work with the PYD or the US-backed YPG. "If our allies are really sincere, we tell them: We will act with you so long as we cleanse Raqqah from Daesh and give it back to its original owners," he said.
He stressed that he had on multiple occasions called on the US to halt its support to the Kurdish forces in Syria, especially the so-called Syrian Democratic Forces (SDF), which is a coalition of Arab fighters and Kurdish YPG forces.
Full report at:
http://www.presstv.ir/Detail/2017/02/28/512512/turkey-syria-bab-manbij-ypg
--------
North America
'We Condemn Kansas Shooting...Will Tighten Immigration Rules': Trump
Mar 1, 2017
NEW DELHI: Even as he condemned last week's shooting of an Indian in Kansas+ , US President Donald Trump said today that enforcing immigration rules is the only way to keep the country safe.
"We condemn hate in all its ugly forms, the threats targeting Jewish centres and the Kansas shooting," said Trump in his first address to the US Congress since he took office in January.
Srinivas Kuchibhotla, 32, was killed and Alok Madasani, another Indian of the same age, was injured in the shooting by navy veteran Adam Purinton+ , who yelled "terrorist" and "get out of my country"+ before opening fire on them. A 24-year-old American named Ian Grillot who tried to defend the Indians also received injuries in the firing that took place last Wednesday. Purinton, 51, apparently mistook the Indians for immigrants from the Middle East
READ: Full text of Donald Trump's address to the US Congress+
The US President reiterated his "America First" slogan from his Presidential campaign and said that "America must put its own citizens first, because only then can we truly make America great again."
The US President also said he will continue to tighten immigration rules.
"We are going to move away from lower-skilled immigration and adopt a merit-based system. By finally enforcing immigration laws, we will raise wages, help the unemployed, save billions of dollars and make our communities safer," Trump said.
Trump also vowed to destroy ISIS but struck a minor conciliatory note when he said the US will seek the help of its Muslim allies in doing so.
"We are also taking strong measures to protect our nation from radical Islamic terrorism. ISIS kills Muslims,Christians, people from all faiths.We vow to destroy it with help of our allies including in Muslim world," he said.
The US President again vowed to build his contentious wall+ on the US-Mexican border. He called it a "great, great wall."
"We will soon begin the construction of a great, great wall along our southern border,"he said.
Domestic issues were focus of Trump's speech
The majority of Trump 's address centered on the domestic, economic-focused issues that were at the center of his presidential campaign, AP reported. His national security message centered largely on a call for significantly boosting military spending and taking strong but unspecified measures to protect the nation from ``radical Islamic terrorism,'' AP said.
Trump supports Nato but says 'Must Pay'
President Trump insisted on his support for the NATO alliance but again insisted that members must pay their way and warned it is not his job to "represent the world," Reuters reported
"My job is not to represent the world. My job is to represent the United States of America," he told US lawmakers in his maiden address to both houses of Congress, 40 days after taking office, Reuters added.
"We strongly support NATO," he said. "But our partners must meet their financial obligations.
"We expect our partners, whether in NATO, in the Middle East or the Pacific to take a direct and meaningful role in both strategic and military operations, and pay their fair share of the cost."
"And now, based on our very strong and frank discussions, they are beginning to do just that."
http://timesofindia.indiatimes.com/world/us/we-condemn-kansas-shooting-will-tighten-immigration-rules-trump/articleshow/57402853.cms
--------
US plan against IS includes Pak-Afghan region
ANWAR IQBAL
Mar 1, 2017
WASHINGTON: US Defence Secretary James Mattis has delivered to the White House a new plan for combating the militant Islamic State group (IS), which calls for using both military and non-military means for defeating the extremist organisation.
As Pentagon officials said that the plan went beyond Iraq and Syria, the commander of the US forces in Afghanistan warned that the IS had a significant presence in the Pak-Afghan region as well.
The United States media reported that the new plan was an updated version of the Obama administration's strategy of relying on local forces to fight the militants and called for using more US troops than allowed by the previous rulers. The plan also suggests various options for tightening the screws on the terrorist group's funding.
As the Trump administration expanded its plans for defeating terrorists, Gen John Nicholson, Commander of US and Nato forces in Afghanistan, told a military publication that "alliances of convenience" among terrorist networks in Afghanistan and Pakistan was a big concern for the United States.
Talking to a publication of the Combating Terrorism Centre, an academic institution at the US Military Academy in West Point, Gen Nicholson outlined how Al Qaeda, the IS and other militant groups worked together in the Pak-Afghan region.
"Al Qaeda is linked to the Taliban, who are not a designated terrorist organisation but a violent extremist organisation, and the Taliban provide a medium for designated terrorist organisations like the Haqqani network, Lashkar-e-Taiba and AQIS. These five form a loose sort of confederation that complement one another and work together," he said.
The general pointed out that the IS, the Islamic Movement of Uzbekistan and the banned Tehreek-i-Taliban Pakistan had also formed a loose configuration. "So, we see these alliances of convenience or where they have complementary goals come together. This is one of our big concerns," he said.
At the Pentagon, officials told various media outlets that these ground realities were part of the comprehensive plan they had submitted to the White House.
"It is a broad plan that's global in scope and not just military, [and] it is not just Iraq and Syria." An official told CNBC.
Pentagon spokesman Navy Capt Jeff Davis told a news briefing that this was "a plan to rapidly defeat ISIS," but he stressed that this was a preliminary plan whose details would not be released to allow for continued discussion and to avoid giving the enemy forewarning.
The plan called for the involvement of "all elements of national power" in a "trans-regional approach", he added.
"Diplomacy is a key part of the plan" that was focused on the IS but was also shaped to include other "trans-regional" terrorist groups, the spokesman said. "This is really a framework for broader discussion."
During the 2016 election campaign, President Donald Trump had pledged that if elected he would order a 30-day review on accelerated action to eliminate the IS as a threat.
On Jan 27, President Trump went to the Pentagon to sign an executive order asking Mr Mattis to draw up the plan within 30 days.
At the White House, Mr Mattis outlined the plan to the 'Principals Committee' of the National Security Council, led by the new National Se­­curity Adviser, Lt Gen H.R. McMaster. The committee includes White House chief strategist Steve Bannon and other senior Trump advisers.
Full report at:
https://www.dawn.com/news/1317730/us-plan-against-is-includes-pak-afghan-region
--------
George W. Bush breaks with Trump on Muslim ban, media
28 February 2017
Former President George W. Bush appeared Monday to take several shots at Donald Trump, including his effort to bar immigration from seven Muslim-majority countries that has been stymied by U.S. courts.
When pressed by Today Show host Matt Lauer on whether he supports the executive order, Bush said, "I am for an immigration policy that is welcoming and that upholds the law," appearing to take a dig at the now defunct travel restrictions that many criticized for being an unconstitutional Muslim ban.
"It's very important for all of us to recognize one of our great strengths is for people to be able to worship the way they want to or not worship at all. A bedrock of our freedom is the right to worship freely," the 43rd president added.
Trump is currently crafting a new executive order to replace the one met with subsequent legal defeats, and he said Friday he would keep "radical Islamic terrorists" out of the U.S.
Bush also broke with the sitting president amid his ongoing feud with major news outlets that Trump has called the "fake news" media.
Full report at:
http://www.worldbulletin.net/america-canada/185527/george-w-bush-breaks-with-trump-on-muslim-ban-media
--------
US officials: Iraq to be lifted off US travel ban
1 March 2017
US officials say President Donald Trump's new immigration order will remove Iraq from the list of countries whose citizens face a temporary US travel ban.
Four officials say the administration's decision follows pressure from the Pentagon and State Department. They had urged the White House to reconsider Iraq's inclusion given its key role in fighting the Islamic State group.
Trump is expected to sign the new order Wednesday. It is designed to replace an earlier Trump order that was blocked by federal courts.
The officials spoke on condition of anonymity because they weren't authorized to discuss the order before it is signed.
They said six countries - Iran, Libya, Somalia, Sudan, Syria and Yemen - will remain on the travel ban list.
US President Donald Trump vowed Tuesday to introduce a new merit-based system to regulate new arrivals in the United States and reduce the flow of unskilled workers, as he held out the prospect of a sweeping immigration reform.
While pushing for tougher law enforcement in his maiden speech to Congress, Trump also said an Australian-style immigration system would "save countless dollars, raise workers' wages, and help struggling families - including immigrant families - enter the middle class."
"It is a basic principle that those seeking to enter a country ought to be able to support themselves financially," Trump told lawmakers.
"Yet, in America, we do not enforce this rule, straining the very public resources that our poorest citizens rely upon," he added.
Trump held out the prospect of achieving a bipartisan compromise on immigration reform, something that has eluded previous US administrations.
"I believe that real and positive immigration reform is possible, as long as we focus on the following goals: to improve jobs and wages for Americans, to strengthen our nation's security, and to restore respect for our laws," he said.
Trump tied his pledge to fight illegal immigration to the prospect of jobs and security at home.
Full report at:
https://english.alarabiya.net/en/News/world/2017/03/01/Trump-promises-new-merit-based-US-immigration-system.html
--------
Europe
ISIS militants being killed at level they cannot sustain: UK general
Mar 1, 2017
The U.S.-led coalition effort against Islamic State is killing the group's fighters more quickly than it can replace them, a senior British general said on Tuesday, with more than 45,000 killed by coalition air strikes up to August last year.
On Tuesday, U.S.-backed Iraqi forces continued their offensive in Mosul, where several thousand ISIS militants, including many who traveled from Western countries to join up, are believed to be based.
"We are killing Daesh at a rate that they simply can't sustain," said Major General Rupert Jones, deputy commander for the Combined Joint Task Force coalition, using an Arabic acronym for Islamic State.
"The enemy cannot sustain the attrition that they are suffering and therefore they lose terrain, they lose battles."
The top American commander in Iraq said earlier this month he believed U.S.-backed forces would recapture Islamic State's two major strongholds - Raqqa in Syria and Mosul in Iraq - within the next six months.
Jones said that while the battle would not be over with the fall of Mosul or Raqqa, it would be the beginning of the end.
"The inevitability of their destruction just becomes really a matter of time," he said, adding that the group's leadership was now focused on little more than survival.
"BRUTAL REGIME"
The coalition estimates that the number of IS fighters in Iraq and Syria is at its lowest level in more than 2.5 years, with the group having lost 62 percent of the territory it once controlled in Iraq and 30 percent in Syria.
Jones said the number of foreign fighters traveling to join IS had dropped by between 75 and 90 percent, both due to it being harder to get in and out of Iraq and Syria and because the reality of doing so had been exposed as unappealing.
"The big idea that Daesh were putting out there, the kind of glamor ... has been exposed for what it is, it is a lie," he said. "They recognize that what you are actually signing yourself up to is going to live under a brutal regime."
Full report at:
http://nation.com.pk/international/01-Mar-2017/isis-militants-being-killed-at-level-they-cannot-sustain-uk-general
--------
Priest: We need to praise what is good, true in the Muslim faith
By Hannah Brockhaus
Mar 1, 2017
Vatican City, Feb 28, 2017 / 06:02 am (CNA).- Not only is there a good deal in common between Muslims and Christians, but Catholics are called to respect and work together with those who practice the Muslim faith in recognition of truth and goodness they do possess, said Islam scholar Fr. Thomas Michel.
Fr. Michel, who holds a Ph.D. in Islamic Theology and worked under Pope John Paul II as head of the Vatican Office for Relations with Muslims, told CNA that Benedict XVI, like both St. John Paul II and Pope Francis, have all repeated the same message regarding Muslims – that of the Second Vatican Council.
"The document Nostrae aetate says that the Church has 'esteem' for Muslims," he said. "It doesn't mean that we should just tolerate Muslims or put up with Muslims. 'Esteem' means to try to see what people have that's good and appreciate them for that."
The major "common point" between Christianity and Islam, Fr. Michel said, is that both faiths believe in the existence of only one God, and that both are trying to do what this one God wants.
Therefore, "how can we be enemies with people who are also, like us, trying to worship the one God?" he said. "Since the time of the Second Vatican Council, we've seen that part of our work as Christians is to be in dialogue with people of other faiths."
"And this means not only talking to them and listening to them, but it also means cooperating with them, working together with them for good."
This dialogue, Fr. Michel emphasized, isn't just about making peace with each other, although that is important, but is about "the kind of world we live in" and how that makes it important that we all come to know each other better.
Fr. Michel noted that when the Fathers of the Council taught us, they didn't deny the past conflict and tension between Catholics and Muslims, but they did say that it is in the past, and "what we have to do now is work together for the common good."
The document Nostrae aetate is the declaration on the relation of the Church to non-Christian religions from the Second Vatican Council, promulgated by Pope Paul VI on October 28, 1965.
Fr. Michel referenced a part of the document that says that the Church "rejects nothing that is true and holy in these religions. She regards with sincere reverence those ways of conduct and of life, those precepts and teachings which, though differing in many aspects from the ones she holds and sets forth, nonetheless often reflect a ray of that Truth which enlightens all men."
"The Church, therefore," it continues, "exhorts her sons, that through dialogue and collaboration with the followers of other religions, carried out with prudence and love and in witness to the Christian faith and life, they recognize, preserve and promote the good things, spiritual and moral, as well as the socio-cultural values found among these men."
Four ways we can collaborate with Muslims or those of other faiths, Fr. Michel said, is by together working to build peace, and to promote social justice, "true human values," and "true human freedom."
A Jesuit, Fr. Thomas Michel has lived and worked among Muslims himself for many years, particularly in Turkey. He first went to Indonesia, joining the order's Indonesia Province, in 1969.
Fr. Michel worked in the Vatican under Pope John Paul II from 1981-1994 as head of the Office for Relations with Muslims. From 2013-2016 he taught religious studies at the School of Foreign Service of Georgetown University in Doha, Qatar.
For 2016-2017, Fr. Michel joined the teaching staff at the Pontifical Institute for Arabic and Islamic Studies in Rome, where he gave a lecture Feb. 23.
His lecture on Contemporary Islam, titled "A Christian Encounter with Said Nursi's Risale-i Nur," gave a Christian analysis of the Risale-i Nur Collection, an interpretation on the Qur'an written by Bediuzzaman Said Nursi between the 1910s and 1950s in Turkey.
Summing up the teachings in what is a 6,000 page collection, Fr. Michel told CNA that Nursi "was trying to help Muslims live their faith in a lively way in modern terms."
"He said you don't have to live in the past, you don't have to have nostalgia for earlier times." The idea Nursi tried to convey, Fr. Michel explained, is that modernity is not the enemy of faith, "but a patient in need of the spiritual medicine faith provides."
Nursi said, according to Fr. Michel, that "our enemies aren't this group of people or that group of people." Instead, he said our enemies are ignorance, poverty and disunity. And these are not only the enemies of Muslims, but of everyone.
Fr. Michel said that Nursi taught that to fight these common enemies everyone must work together, using both faith and reason.
According to Fr. Michel, there are somewhere around 5-12 million people who try to live the Qur'an according to the teachings of Nursi, depending on how you measure the level of commitment.
Full report at:
http://www.catholicnewsagency.com/news/priest-we-need-to-praise-what-is-good-true-in-the-muslim-faith-38755/
--------
German police raid mosque linked to market attacker
March 1, 2017
BERLIN: German police launched pre-dawn raids Tuesday against a Berlin mosque frequented by Tunisian Christmas market attack suspect Anis Amri and against 23 other locations, authorities said. A total of 460 police also swooped on apartments, two businesses and six cells in two prisons in the German capital, to gather evidence against radicals. No arrests were reported. Authorities said the mosque or Islamic prayer rooms known as Fussilet 33 had been formally banned, in line with a February 15 court order, about a week after it had preemptively shut its doors. - AFP
Full report at:
http://nation.com.pk/international/01-Mar-2017/german-police-raid-mosque-linked-to-market-attacker
--------
Syria war: Russia and China veto sanctions
28 February 2017
Russia and China have vetoed a UN resolution to impose sanctions on Syria over the alleged use of chemical weapons.
It is the seventh time Russia has vetoed a UN Security Council resolution to protect the Syrian government.
China has also vetoed six Security Council resolutions on Syria since the civil war began in 2011.
Syria agreed to destroy its chemical weapons in 2013 under an agreement negotiated between Russia and the US.
What is Syria accused of?
The Syrian government of President Bashar al-Assad is accused of carrying out chemical attacks on its own civilians - a charge it denies.
However, investigations by the UN and international chemical weapons watchdog have found that Syrian government forces carried out three chemical weapons attacks in 2014 and 2015.
The reports said that Syrian air force helicopters had dropped chlorine gas on rebel-held areas, twice in March 2015 and once in April 2014.
The use of chlorine as a weapon is prohibited under the 1997 Chemical Weapons Convention.
Islamic State (IS) militants had also used sulphur-mustard gas in an attack, the watchdog found.
What did the UN resolution say?
Tuesday's resolution had been drafted by the US, the UK and France.
It would have banned the sale of helicopters to Syria and would have led to sanctions against 11 Syrian commanders or officials, and 10 groups linked to the chemical attacks.
Nine Security Council members supported the resolution, while three - China, Russia and Bolivia - voted against it.
The final three members - Egypt, Kazakhstan and Ethiopia - abstained.
A Security Council resolution needs nine votes in support, and no vetoes from the five permanent members (the US, France, Russia, UK and China) in order to pass.
Why did Russia and China veto the resolution?
Russian President Vladimir Putin had said sanctions against Syria would be "totally inappropriate", saying "it would only hurt or undermine confidence" in peace talks.
Moscow has long-standing links to Syria, with many Syrian military officers trained and equipped by Russia.
Moscow says its military and political support for the Syrian government has helped the fight against IS militants.
But Western critics accuse Moscow of targeting opposition groups backed by the West.
Meanwhile, China's UN ambassador, Liu Jieyi, said Beijing opposed the use of chemical weapons but that it was too soon to impose sanctions as investigations were still ongoing.
Analysts say China may be worried that some of its Muslim populations in western Xinjiang have joined militant groups fighting in Syria.
Full report at:
http://www.bbc.com/news/world-middle-east-39116854
--------
Russia's Policy Shift towards Taliban and Pakistan
Manabhanjan Meher
March 01, 2017
For the second time in the last few months, Russia hosted a Conference on Afghanistan in Moscow on February 15, 2017, this time with an expanded representation of six countries – Russia itself, Iran, China, India, Afghanistan and Pakistan. Interestingly, a key player, the United States, which still maintains 9,800 troops to support the Afghan government's counter-insurgency efforts against the Taliban, has been kept out of the meeting. But for its part, the US appears to be contemplating an increase in its military commitment, with its commander in Afghanistan, Gen. John Nicholson, advocating to the Senate Armed Services Committee recently that "a few thousand" more NATO trainers are needed to break the stalemate against the Taliban.1India welcomed the Moscow meeting which brought together countries that have stakes in Afghanistan's peace and security. However, raising concerns on the Russia-led efforts for talks with the Taliban, External Affairs Ministry Spokesman Vikas Swarup noted that "We underlined that it is up to the government of Afghanistan to decide whom to engage in direct talks."2
The two regional meetings (the first was held in December 2016) represent Russia's first post-Soviet attempt to replay the Afghan game and that too in a big way. However, in contrast to the Soviet motivation of propping up the communist government of the People's Democratic Party of Afghanistan (PDPA) against a growing insurgency in December 1979, the Russian interest in Afghanistan now is the prevention of the growth and influence of the Islamic State (IS), which, in turn, may have a negative fallout on the security of Central Asia. A further Russian motive in Afghanistan appears to be aimed at keeping the US out of the region.
This major shift in Russia's Afghanistan policy came immediately after it expressed concerns about the possibility of Afghanistan turning into a safe sanctuary for the Islamic State militants fleeing from Iraq and Syria.3 Speaking at the 'Heart of Asia' conference held in Amritsar on December 5, 2016, Russia's special envoy to Afghanistan, Zamir Kabulov, described the Islamic State as being more dangerous than the Taliban. And three days later, on December 8, 2016, the Russian Ambassador to Afghanistan stated that "Our concern is that Daesh not only threatens Afghanistan, but it is also a potent threat to Central Asia, Pakistan, China, Iran, India and even Russia. We have ties with the Taliban to ensure the security of our political offices, consulates and the security of central Asia."4
Incontrast, Ahmad Murid Partaw, former Afghan National Representativeto US CENTCOM, asserted that the presence of the IS in Afghanistan has been overemphasized by Russia, China and Iran as a pretext not only to intervene in the country's affairs but also to counter the growing influence of the US in the region. He further stated that "the Af-Pak region is not a suitable ground for proliferation of such rejectionist beliefs enforced by IS and its supporters. This region has been influenced by the Deobandi school of Islam rather than Takfiri version."5
During the latter half of the 1990s, Russia accused the Taliban of training Chechen rebels and fomenting Central Asian radical Islamic networks. As a result, Russia, in collaboration with Iran and India, supported the Northern Alliance against the Taliban regime. Today, Russia no longer views the Taliban as a major threat to its security and interests. There is even a suspicion among Afghan political leaders and officials that Russia is militarily helping the Taliban, with parliamentarians alleging in the upper house that Russia is supplying arms to the Taliban. However, Russian officials have dismissed such Afghan claims and suspicions. They have said that "We have never ever provided any kind of assistance to Taliban. Instead, Russia is assisting the Afghan government and has provided some light weapons on grant basis to its forces and is running programs to train Afghan police and military personnel in Russian institutions."6
For its part, the Taliban has begun to respond favourably to Moscow's outreach. Syed Muhammad Akbar Agha, a former Taliban commander who lives in Kabul and still espouses Islamic rule in Afghanistan, said in an interview toKomsomolskaya Pravda that "We are ready to shake hands with Russia in order to rid ourselves of the scourge of America." He further noted that "history has proven that we are closer to Russia and the former Soviet republics than to the West."7
It seems clear that Russia and the Taliban share common concerns about both the Islamic State and the continued US presence in Afghanistan. Such thinking is also shared by China and Iran and consequently Russia, China, Pakistan and Iran are pursuing a policy towards Afghanistan that is very different from that of India.
Meanwhile the Afghan government continues to face a host of security challenges posed by the Taliban forces. As recently as January 10, 2017, the Taliban claimed responsibility for a suicide attack in Kabul that killed more than 30 people and wounded some 70 others including the ambassador of the United Arab Emirates to Afghanistan and the governor of Kandahar province. One analyst even asserts that "the Taliban isn't interested in peace and security. The jihadist group wants to win the Afghan war and it is using negotiations with regional and international powers to improve its standing."8
Therefore, to expect that the Taliban would give up its terrorist activities is highly unlikely, which means that Russia will not be able to bring about a reconciliation between Kabul and the Taliban. In addition, Russia also has to contend with the view of the Afghan government, which was articulated by its representative Mohammad Ashraf Haidari at the February 15 meeting in Moscow. Haidari emphasized that the National Unity Government (NUG) is the only legitimate government representing all Afghans. And as for the role of the Taliban in the peace process, he stated that "Taliban lack the national and moral legitimacy to represent the Afghan people, who reject terrorism perpetrated by the Taliban and their foreign terrorist allied networks in the name of Islam—a religion of peace, tolerance, and co-existence."9
Russia is not only taking a relatively benign view of the Taliban but it is also cosying up to Pakistan, the Taliban's sponsor. Russia's decision to send troops to Pakistan for a joint military exercise in September 2016 demonstrated this, especially as it came in the wake of the terrorist attack in Uri carried out by the Pakistan-based and-backed jihadi group Jaish-e-Mohammed. Russia justified its military overture to Pakistan by saying that military cooperation was aimed at fighting against the Islamic State. Kabulov argued that "We understand all concerns of India about your western neighbour…But we cannot combat (terrorism) efficiently and productively and eliminate (it) without the cooperation of Pakistan. We need their cooperation and they should realise their importance and responsibility."10
Full report at:
http://www.idsa.in/idsacomments/russia-policy-shift-towards-taliban-and-pakistan_mmeher_010317
--------
Pakistan
Murderer Tanveer Ahmed inspires Pakistani hardliners from Scottish jail
Mar 1, 2017
When Tanveer Ahmed was sentenced to a minimum of 27 years in jail for murder last August, Judge Lady Rae said he had committed a "brutal, barbaric and horrific crime".
Ahmed stabbed to death Glasgow shopkeeper Asad Shah - who belonged to the persecuted Ahmadi sect - because he believed he was committing blasphemy by uploading online videos in which he claimed to be a prophet.
But in Pakistan, Ahmed is developing a growing number of supporters who see him as a "defender of Islam" for having killed someone they believed to be disrespecting the Prophet Muhammad.
On Monday evening, about 400 gathered outside his family's home in the city of Mirpur, in Pakistan-administered Kashmir for a rally in his honour. The crowd chanted slogans praising Ahmed as "brave" and "courageous".
One man attending said: "Because of what he did, the whole of Pakistan knows who he is."
Supporters of Tanveer Ahmed chant slogans in Mirpur
Another speaker told supporters Ahmed could help mediate their prayers.
"You should close your eyes, raise your hand towards the sky and pray, making Ghazi [warrior] Tanveer your representative," he said.
The event was organised by the anti-blasphemy religious lobby group Labaik Ya Rasool Ullah (Here I am present, o Prophet of Allah).
The same group has championed another killer - Mumtaz Qadri - who in 2011 shot dead a high profile Pakistani politician for trying to reform the country's blasphemy laws.
Blasphemy is an emotive issue in Pakistan, where it is legally punishable by death.
After Qadri was executed last year, tens of thousands of his supporters attended his funeral, and a shrine housing his tomb has been built in Rawalpindi.
Hardline cleric Khadim Rizvi is one of the leading figures in Labaik Ya Rasool Ullah, and is the most prominent supporter of Tanveer Ahmed.
As well as images of Mumtaz Qadri, Rizvi now uses images of Ahmed to promote his rallies and talks.
Ahmed had cited Qadri as his inspiration for killing his victim, and their supporters often compare the two killers.
In a BBC interview Rizvi said support for Ahmed was not as widespread as that for Qadri - but that Ahmed was held in particularly high esteem for having killed someone accused of blasphemy in a non-Muslim country.
Over the past few months a Facebook page run by Rizvi's followers has released a number of audio messages from Ahmed whilst in jail. The messages included Ahmed justifying his own actions - and repeating slogans that "the penalty for blasphemers is for their heads to be cut off".
Rizvi was prevented from attending the rally in Mirpur by police, but I met him earlier this month after another rally.
He said that until recently he would talk to Tanveer Ahmed on the phone "every couple of weeks", and that he was proud of his friendship with him.
"I'm proud of the fact that we are in contact - and this pride will remain until the day of judgement and beyond."
Rizvi added that his conversations with Ahmed included discussions on the topic of blasphemy, and chants in support of the Prophet Muhammad.
After a BBC report in January 2017 on Ahmed's audio messages from jail, the Scottish Prison Service banned him from using the phone.
Rizvi said since the ban he had not spoken to Ahmed - but was confident they would resume contact.
"God willing it won't change anything - phonecalls have been banned - letters haven't - he will write to us."
Rizvi, Ahmed and Qadri all come from the Sufi Barelvi sect of Sunni Islam, one normally associated with more spiritual interpretations of the religion.
Rizvi, for example, is vocal in his condemnation of recent attacks in Pakistan, and of militant groups like the so-called Islamic State.
But in Pakistan, Barelvis have been at the forefront of anti-blasphemy campaigns.
"A Sufi is someone who devotes his life to the Prophet Muhammad - if someone insults the Prophet and they just let it go - they are not a real Sufi," Rizvi said.
Other Sufi Barelvi scholars strongly disagree with Rizvi's position - but he is an influential figure in Pakistan.
At the mosque in Glasgow that Asad Shah used to attend, there is concern at how hardline views on blasphemy from Pakistan are being spread in the UK.
Abdul Abid, former president of the Scottish Ahmadiyya community, said: "Pakistan has got a problem - and this problem is being exported outside of Pakistan."
Now it seems Tanveer Ahmed - from a jail cell in Scotland - is helping strengthen the anti-blasphemy movement back in Pakistan.
http://www.bbc.com/news/world-asia-39112840
--------
Sindh, Balochistan police decide to launch joint operation against militant hideouts
IMRAN AYUB
Mar 1, 2017
KARACHI: The Counter-Terrorism Departments (CTD) of both Sindh and Balochistan police on Tuesday decided to launch a "joint operation" in parts of the country's largest province where the intelligence wings of the law-enforcement agency had identified "hideouts" of suspects allegedly involved in recent terrorist attacks in Sindh, officials said.
High officials flew from Karachi to Quetta, where a meeting of the CTD from both provinces was scheduled. After hours of deliberations and presentations, the Sindh police authorities finally convinced their counterparts about the presence of the hideouts of some banned militant outfits in Balochistan which were used by terrorists for the recent attacks in Sindh.
"It was a formal meeting after our earlier correspondence and intelligence-sharing," said chief of the Sindh police's CTD Additional IG Sanaullah Abbasi while speaking to Dawn.
"We showed them not only the findings of a JIT (joint interrogation team) report about high-profile militants but also data and reports of our intelligence units that strengthened our case. The Balochistan authorities agreed to cooperate with us and move with Sindh police in pursuit of these hideouts," he added.
The officer said the police had already been coordinating with other law-enforcement agencies in general but the recent meeting with the Balochistan authorities was different in that it finally decided to launch a crackdown on militants and their hideouts under a joint strategy.
"The areas which have been identified initially by our side include Mastung and Wadh — a town in Khuzdar district — and a few pockets along the Afghanistan border of Balochistan. The police from both sides would hopefully make a joint strategy against the militants and their hideouts here," said Additional IG Abbasi.
The security establishment in Sindh has already proposed raising a dedicated force to keep an eye on its border with Balochistan after investigators found that the suspects involved in recent terrorist attacks in the province had come from the neighbouring province. This concern was raised multiple times at meetings which were held after the bomb attack on Lal Shahbaz Qalandar's shrine in Sehwan in February, sources said.
This issue came under the spotlight for the second time within a year, as the Sindh police had earlier, in September 2016, claimed to have found concrete evidence that the suspects involved in a foiled suicide bombing attempt in Shikarpur had come from the neighbouring province.
Full report at:
https://www.dawn.com/news/1317617/sindh-balochistan-police-decide-to-launch-joint-operation-against-militant-hideouts
--------
Three FC men, civilian injured in Quetta IED blast
SYED ALI SHAH
Mar 1, 2017
At least three Frontier Corps (FC) personnel and one civilian were injured in an Improvised Explosive Device (IED) blast on Quetta's Sariab Road on Wednesday morning, police sources said.
The bomb, which was planted on the roadside, targeted an FC vehicle while it was on patrol. The explosion left the vehicle partially damaged.
Police and FC personnel reached the site after the blast and started an investigation. The injured was shifted to a nearby hospital.
Traffic was suspended in the area following the incident and security was tightened.
There has been no immediate claim of responsibility for the blast.
Pakistan is experiencing a fresh resurgence in terror attacks.
Last month, over 100 people were killed in terror attacks in Sindh, Balochistan, KP, Fata and Punjab.
Full report at:
https://www.dawn.com/news/1317745/three-fc-men-civilian-injured-in-quetta-ied-blast
--------
Pakistan calls for unity in war on terror
01-Mar-17
ISLAMABAD: Advisor to Prime Minister on Foreign Affairs Sartaj Aziz has become chairman of ECO council of ministers.
Addressing the meeting after assuming the chairmanship of the 22nd Council of ministers meeting on Tuesday, Sartaj said the region was facing terrorism and extremism and all will have to make efforts together to face the challenges. Prosperity will come in the region with forging connectivity among member countries.
He stressed the need for implementation of ECO trade agreement and removal of trade and non-trade barriers besides establishment of a Free Trade Area in the region.
He also identified the priority areas for ECO to help realize the dream of transforming the organisation into a strong economic block.
Sartaj said immediate attention should be paid to increase intra-regional trade which is far below the potential. He pointed out that lack of regional connectivity was a major impediment to economic cooperation. He said for movement of goods, there should be focus on corridor based projects for greater connectivity different corridors.
The advisor said there is need to increase the membership, scope and activities of ECO Trade and Development Bank as well as ECO Re-Insurance Company.
He also proposed enhanced cooperation of public and private sectors of member states through ECO Chambers of Commerce and Industry. He suggested an increase in membership and ratification of ECO Science Foundation to promote scientific and technological cooperation in the region.
Full report at:
http://dailytimes.com.pk/islamabad/01-Mar-17/pakistan-calls-for-unity-in-war-on-terror
--------
Pakistan, Russia agree to bolster military relations
01-Mar-17
RAWALPINDI: Russian Ambassador to Pakistan Alexey Yurevich Dedov called on Chief of Army Staff General Qamar Javed Bajwa at GHQ on Tuesday.
The visiting ambassador condemned recent terrorist incidents in the country and expressed grief on behalf of his country. He acknowledged Pakistan's efforts in fight against terrorism and initiatives for economic growth. The ambassador also praised the launching of Operation Radd-ul- Fasaad which will play an important role in elimination of terrorism from Pakistan.
The army chief thanked the ambassador for Russian concerns, acknowledgments and ongoing cooperation between the two countries and its armed forces. General Bajwa said that enhanced Pakistan-Russia military to military cooperation will have positive impact on regional security. Separately, Finance Minister Ishaq Dar called on General Bajwa at GHQ. The financial requirements of the army were discussed during the meeting, in the context of the budget for next financial year 2017-18.
The on-going development projects of Pakistan Army as well as the future
Full report at:
http://dailytimes.com.pk/pakistan/01-Mar-17/pakistan-russia-agree-to-bolster-military-relations
--------
Six 'terrorists' belonging to Hafeez Birohi group held
March 01, 2017
Khairpur - As part of recently launched Raddull Fasaad operation, Khairpur police conducted raids in different localities of the city early Tuesday morning and arrested 10 alleged terrorists, including Ali Muhammad Birohi, Niaz Ali Birohi, Abdur Rahman Birohi, Abdul Wahab Birohi, Abdul Latif Birohi, who, the police, said, belonged to Hafeez Birohi group, the alleged mastermind of Sehwan Sharif suicide blast. Police said the terrorists belonged to Shikarpur district, and were wanted in many terrorist activities. Police also recovered identity cards and pamphlets of different organizations from them. Meanwhile Khairpur police raided various places and arrested 12 Afghan nationalists who were living without legal documents.
http://nation.com.pk/karachi/01-Mar-2017/six-terrorists-belonging-to-hafeez-birohi-group-held
--------
South Asia
Taliban Kill 12 Afghan Cops With Silenced Weapons
March 01, 2017
LASHKAR GAH - Taliban fighters in the southern Afghan province of Helmand attacked a checkpoint with silenced weapons and hand grenades early on Tuesday killing 12 policemen and stealing weapons and ammunition, officials said.
But a provincial official said that it could be an insider attack as one of the guards was still missing. "An investigation is ongoing to find out if someone from inside has defected to the Taliban and paved the way for this crime," he said.
The attack, in the provincial capital Lashkar Gah, underlined the threat facing Afghan security forces in the opium-producing province, where they struggle to match well-equipped Taliban fighters who now control several districts.
The police killed in the attack had been pulled back from the southern district of Khanshin district which security forces abandoned last year.
"The Taliban attacked a guard with silenced guns and then entered the check post," Helmand deputy police chief Haji Gulai told reporters.
"They attacked other policemen with hand grenades and killed all of them. They later took their weapons and ammunition and escaped." he said.
In a separate incident, another 12 policemen were killed in the Marjah district of Helmand after an hour-long gunbattle, Taliban spokesman Zabihullah Mujahid said. Taliban fighters now control most of Helmand, including areas in Lashkar Gah. British and US forces suffered their heaviest casualties of the war in the province in years of fighting following the removal of the Taliban in 2001.
Afghan security forces now control less than 60 percent of the country, according to US estimates, with the Taliban in control of about 10 percent and the remainder contested between government and insurgent forces.
http://nation.com.pk/national/01-Mar-2017/taliban-kill-12-afghan-cops-with-silenced-weapons
--------
Suicide bombers attack Taliban compound in West of Afghanistan
Feb 28 2017
A group of suicide bombers launched a coordinated attack on a compound of the Taliban insurgents in western Herat province of Afghanistan.
According to the local government officials, the incident took place late on Sunday night in the restive Shindand district.
Provincial governor's spokesman Jilani Farhad confirmed the incident and said reports suggest at least two suicide bombers stormed into the compound of a rival group led by Mullah Rasool.
He said the clashes continued for at least half hour before the two suicide bombers were killed during the exchange of fire.
Farhad further added that reports indicate at least three militants loyal to Mullah Rasool were also killed during the clash.
The anti-government armed militant groups have not commented regarding the report so far.
This is not the first time infighting has taken place among the rival Taliban factions in the country, particularly in western Herat province.
Dozens of insurgents were killed and scores of others were wounded after infighting erupted among the rival groups in this province last year.
Full report at:
http://www.khaama.com/suicide-bombers-attack-taliban-compound-in-west-of-afghanistan-02998
--------
Taliban commander among 5 killed or wounded in Nangarhar drone strike
Feb 28 2017
A commander of the Taliban group was among at least five militants killed or wounded in a US drone strike in eastern Nangarhar province of Afghanistan.
According to the local security officials, the airstrike was carried out late on Monday night in Chaparhar district.
Provincial police spokesman Hazrat Hussain Mashraqiwal confirmed that the militants were targeted in Sangini area of Chaparhar late on Monday night.
He said a commander of the Taliban group was killed along with another insurgent and at least three others were wounded.
Mashraqiwal further added that the airstrike did not incur any casualties to the local residents or security personnel.
Nangarhar has been among the relatively calm provinces since the fall of the Taliban regime but the anti-government armed militant groups have recently increased their insurgency activities in some remote districts during the recent years.
The US forces based in Afghanistan resumed their counter-terrorism operations last year under a broader role granted by the Obama administration.
Full report at:
http://www.khaama.com/taliban-commander-among-5-killed-or-wounded-in-nangarhar-drone-strike-02300
--------
Myanmar army defends operation against Rohingya
February 28, 2017
Myanmar's military defended its crackdown on the Rohingya Muslim minority as a lawful counterinsurgency operation at a rare news conference on Tuesday, adding it was necessary to defend the country.
It was the first time the top generals directly addressed the mounting accusations of human rights abuses which, according to UN experts, may amount to crimes against humanity and ethnic cleansing.
"I want to say that I am very sad because of these kind of reckless accusations and neglect of the good things that the government and the military have done for them," said General Mya Tun Oo, Chief of the General Staff, referring to the reports in the media quoting Rohingya residents describing the alleged abuses such as burning of houses in the area.
He presented a series of slides with selected media reports claiming the military had "investigated" them and that the villagers told military investigators they did not know about any abuses.
The military launched the operation after nine policemen were killed in attacks on security posts near the Bangladesh border on October 9. More than 70,000 Rohingya have since fled from Myanmar to Bangladesh, according to UN estimates.
At the conference, the military supported its claims by quoting international observers who have briefly visited some villages in the area as saying that they did not find any evidence of abuses.
But the visitors, such as the UN independent human rights expert Yanghee Lee and Western diplomats based in Yangon, have said the point of their visits has never been to conclusively investigate the media reports.
Full report at:
http://www.thedailystar.net/world/southeast-asia/myanmar-army-defends-operation-against-rohingya-denies-reports-abuses-1368754
--------
US forces vow to work with Afghan forces to target enemies of peace
Mar 01 2017
The US forces in Afghanistan (USFOR-A) has vowed to continue to their work with the Afghan forces to target the enemies of peace and prosperity of Afghanistan.
The US forces reaffirmed the support in statement issued to confirm the death of the top Taliban leader Mullah Abdul Salam.
"As part of an operation with Afghan National Defense and Security Forces, United States Forces conducted a strike that killed Mullah Salam, the Taliban commander for Kunduz. Salam was killed along with four other enemy combatants in an operation targeting the insurgent group in Kunduz province, Feb. 26. No civilians were hurt or killed in this strike," the statement said.
According to USFOR-A, Salam was responsible for immeasurable suffering among the population of Kunduz. Salam and Taliban forces attacked civilians and other non-combatants and destroyed bridges and key infrastructure despite claims that they would protect civilians and property.
"Mullah Salam and the Taliban fighters under him murdered and terrorized the people of Kunduz for too long," said Gen. John Nicholson, commander, U.S. Forces – Afghanistan. "Salam's death is an opportunity for change. The people of Afghanistan want peace and the Government of Afghanistan is committed to achieving peace through reconciliation. The Taliban know the only path forward is reconciliation."
Full report at:
http://www.khaama.com/us-forces-vow-to-work-with-afghan-forces-to-target-enemies-of-peace-02302
--------
Policemen and prisoners suffer casualties in Helmand bombing
Feb 28 2017
At least five people were killed or wounded in an explosion in the outskirts of Lashkargah city, the provincial capital of southern Helmand province of Afghanistan.
According to the local government officials, the incident took place as a convoy of the Afghan police special forces was transferring a number of detainees to neighboring Kandahar province.
The officials further added that the convoy was targeted in the explosion in Do Rahi area of Lashkargah city.
They also added that five people including policemen were killed or wounded in the attack.
However, another official said two prisoners were killed in the attack and at least three policemen were wounded.
No group including the Taliban insurgents has so far claimed responsibility behind the incident.
Full report at:
http://www.khaama.com/policemen-and-prisoners-suffer-casualties-in-helmand-bombing-02999
--------
Africa
African Muslims face discrimination in Germany: UN
27.02.2017
Muslims of Africans descent face growing discrimination in Germany due to worrying levels of Islamophobia, a UN monitoring group warned on Monday.
Ricardo Sunga, chairman of the UN's Working Group of Experts on People of African Descent, announced results of a fact-finding visit to Germany at a news conference in Berlin.
"African Muslims are facing increasingly difficult times in the enjoyment of their rights due to increased Islamophobia and Afrophobia," he said.
While praising Germany's promotion of human rights and diversity, Sunga expressed concern over widespread problems faced by Africans, and said Africans Muslims often become victims of discrimination in the workplace or in schools.
"African Muslim women face further discrimination when it comes to access to the labor market," he said, referring to discrimination against them due their appearance or Muslim dress.
"Many African Muslim students describe their experiences in school as traumatic as they experience not only anti-Black racism but also anti-Muslim racism," he also added.
The UN's expert group visited Germany this month to monitor the human rights situation of people of African descent in Germany, whose population estimated at 800,000.
Sunga called on the German authorities to take stronger measures to combat all forms of racial discrimination, xenophobia, Afrophobia and related intolerance.
Colonial history
He also urged Germany to recognize its responsibility in mass killings committed in its African colony Namibia in the early 20th century.
"Germany should recall its own share in the history of colonization, enslavement and genocide, and use a reparatory justice approach as a way forward. The Ovaherero and Nama people must be included in the negotiations currently ongoing between the German and Namibian governments," he said.
The Namibia killings are considered to be the first genocides of the last century and were carried out against the Ovaherero and Nama peoples in southwestern Africa by the then German empire.
Germany's government has acknowledged its historical and political responsibility towards Namibia, and also provided significant amount of development aid to the country.
But it has dismissed negotiations with the victims' descendants, and ruled out paying financial compensation to them.
http://aa.com.tr/en/europe/african-muslims-face-discrimination-in-germany-un/760467
--------
Zimbabwe: Minister - Nothing New About Islam in Schools
28 FEBRUARY 2017
PRIMARY and Secondary Education Minister Lazarus Dokora said Monday that he deliberately introduced Islam in the new education curriculum because "it had always been in the content" since 1980.
Dokora is under fire from parents, the church and other interest groups in the education sector for bringing in Islam in the new curriculum which he introduced this year.
Unease over the development even reached cabinet level, President Robert Mugabe revealed last week, adding that Dokora, who keeps faith with a longish fuzz on the chin, earned the moniker 'Ayatollah Dokora' amid concerns he had converted to Islam.
"He (Dokora) refused to be called Ayatollah, insisting that his beard was not proof of conversion to Islam," Mugabe, speaking in Shona, said during an interview with the ZTV for his birthday.
"Others said he had visited Iran and that that was where he converted to Islam but he said 'no I am not a Muslim at all. I remain a Catholic'."
Mugabe added that the minister had told colleagues that "I cannot shave it (beard) off".
On Monday, the minister said there was nothing novel or radical about encompassing Islam in the new curriculum.
Full report at:
The minister also proposed the wearing of uniforms by teachers which was rejected by unions.
http://allafrica.com/stories/201703010092.html
--------
Tunisian police 'shambolic' over beach attack: UK judge
01 March 2017
The Tunisian police response to the 2015 Sousse beach resort massacre was "at best shambolic, at worst cowardly", the judge investigating the deaths of 30 Britons in the attack said Tuesday.
"The response by the police was at best shambolic, at worst cowardly," he said, adding that the hotel guards were not armed and had no walkie-talkies.
But he said there was no "neglect" by the tour operator TUI because the victims were "not in a dependent position" and said there was "nothing that the hotel might have done before the attack".
Gunman Seifeddine Rezgui killed 38 people, including 30 British tourists and three Irish citizens, in a shooting spree in June 2015 at the Riu Imperial Marhaba Hotel in Sousse, Tunisia. The attack was claimed by the Islamic State jihadist group.
"The simple but tragic truth in this case is that a gunman armed with a gun and grenades went to that hotel intending to kill as many tourists as he could," the judge said.
The British inquest, which is in fact a series of individual inquests into the circumstances of death of each British citizen, is not a trial but the ruling could be used in civil lawsuits.
Some families said they were now planning to sue TUI.
"We will now be preparing to commence civil proceedings against TUI," said lawyer Kylie Hutchinson, whose firm represents most of the victims' families.
Full report at:
http://www.worldbulletin.net/africa/185566/tunisian-police-shambolic-over-beach-attack-uk-judge
--------
Australia
Australia Man Arrested on Charges of Helping Islamic State Develop Missile Technology
March 1, 2017
Sydney. Australian counterterrorism police arrested an unidentified man after a raid on a countryside property on Tuesday (28/02) and accused him of seeking to help the Islamic State group by developing missile technology, the first arrest of its kind in Australia.
Dozens of police, including a dog squad and some officers with metal detectors, raided a property in Young, about 270 km southwest of Sydney, earlier on Tuesday, pictures on Australian media showed.
Ian McCartney, Assistant Commissioner of counter-terrorism for the Australian Federal Police, said police will allege the 42-year-old man had been advising the radical Islamist group on how to develop the technical capability to detect guided missiles and to build their own missiles.
"We will also allege that he has been researching, designing and modelling systems to assist ISIL's efforts to develop their own long-range guided missile capabilities," McCartney said, using another common term to describe Islamic State.
Other police alleged the man had been attempting to research and design a laser missile-warning device.
The Australian-born man, who was trained as an electrician, was expected to face court later on Tuesday, police said.
The Islamic State group has come under sustained attack in recent weeks from coalition air strikes, which have seen the group lose much of its foothold in Syria and Iraq.
Australian air force planes have been involved in some of those strikes against the group.
A staunch US ally, Australia also sent troops to fight in Afghanistan and Iraq and has been on heightened alert for attacks by home-grown radicals since 2014.
While authorities say they have thwarted a number of plots in recent years, particularly involving radicalized teenagers, Australia had not yet made any arrests of individuals accused of offering such technical assistance to an extremist group.
About 100 people have left Australia for Syria to fight alongside groups such as Islamic State, Australia's immigration minister said last year.
There have also been several "lone wolf" assaults, including a 2014 cafe siege in Sydney in which two hostages and a gunman were killed, and the killing of a police accountant in 2015.
http://jakartaglobe.id/international/australia-man-arrested-charges-helping-islamic-state-develop-missile-technology/
--------
URL: https://www.newageislam.com/islamic-world-news/new-age-islam-news-bureau/islamic-state-militants-from-china-vow-to-return-home-and--shed-blood-like-rivers-/d/110247
New Age Islam, Islam Online, Islamic Website, African Muslim News, Arab World News, South Asia News, Indian Muslim News, World Muslim News, Women in Islam, Islamic Feminism, Arab Women, Women In Arab, Islamophobia in America, Muslim Women in West, Islam Women and Feminism