New Age Islam News Bureau
28 Aug 2014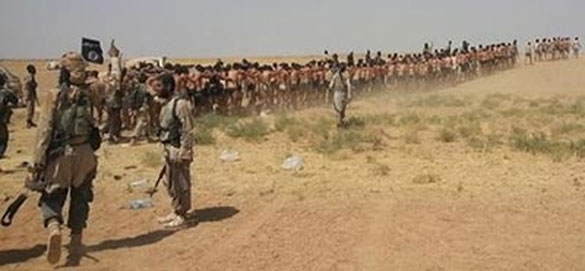 Photos posted online appeared to show dozens of men being marched through the desert
-----------
Arab World
• Islamic State Jihadists Execute 200 Syrian Soldiers
• Iraqi Planes Target IS; Citizens of Besieged Town Face 'Massacre'
• Military Skill and Terrorist Technique Fuel Success of ISIS
• Experts: ISIS makes up to $3 million daily in oil sales
• Sinai militants claim beheading of four Egyptians
• Syrian planes bomb border post near Israel captured by rebels
• ISIS has 100,000 fighters, growing fast - Iraqi govt adviser
• Cell of Eight recruits 34 Saudi young men to fight with IS
• Kingdom's Grand Mufti warns against misleading young people
• High-level Saudi delegation arrives in UAE capital
India
• 93 Years On, Kerala Muslims Say Caliphate Impractical
• Muzaffarnagar Muslims in classrooms of contrast
• Hizb funding return of ex-militants via Nepal route, SSB tells MHA
Pakistan
• Talks Fail; 'Yaum-e-Inquilab' Today
• New Taleban group vows more attacks in Pakistan
• Pakistan on tenterhooks as protesters gear up for "decisive day"
• Imran to announce yet another course of action
• Altaf appeals to Qadri to show patience
• Number of Afghan refugees in country growing steadily
• PM will not resign at any cost: Opposition Leader Shah
• Govt not afraid of protests: Nawaz
North America
• Obama to Convene UNSC Meeting On Foreign Fighters: White House
• US intelligence: 300 Americans fighting alongside Islamic State
• Calls for Aafia's release puzzle Obama govt
• Media are Hamas's main strategic weapons, says visiting US historian
• U.S. builds alliance for war on ISIS in Syria
• US dubs Lahore money changer 'terrorist'
• Details Emerging About Douglas McCain, an American Jihadist Killed in Syria
South Asia
• Bangladesh Ahle Sunnat Leader Killing: Wahabi, Maududi Followers Blamed
• Maldives condemns ISIS crimes, says foreign minister
• 3 Afghan army soldiers martyred in roadside bomb explosion
Southeast Asia
• Explain Real Meaning of Jihad, Umno Urges National Fatwa Council
• ISIS actions against Islamic law: Malaysian PM
• Malaysia to apply Shariah index from next year, says Najib
• Spitting At Khalid Samad: Even a non-Muslim would think twice!
Europe
• From Sex Abuse Gangs to Jihadis, the State's Fear of Seeming 'Racist' Is Letting Evil Thrive
• Scotland Yard chief calls for Brit extremists fighting for ISIS to lose their UK citizenship
• U.N. warns of 'full-blown civil war' in Libya
• Assad is no anti-terrorism partner but a jihadist ally: France
Mideast
• Palestinians to tell UN: Force Israel out of W. Bank, or we'll try Netanyahu for war crimes
• Report: Netanyahu and Abbas met secretly in Jordan prior to Gaza cease-fire
• Israel seriously considered 'military reoccupation' of Gaza
• Israel, Hamas declare victory in Gaza war
• Turkey, Qatar negotiating with ISIL for Lebanese hostages
• Erdogan sworn in as Turkey president as opposition walk out
Africa
• Cameroon says kills 27 Boko Haram militants in border clashes
• Recent Libya Fighting 'Unprecedented in Gravity,' Warns Outgoing UN Envoy
• Rwanda: Govt Steps Up the Fight against Human Trafficking
Compiled by New Age Islam News Bureau
URL: https://www.newageislam.com/islamic-world-news/new-age-islam-news-bureau/islamic-state-jihadists-executes-200-syrian-soldiers/d/98781
------------
Arab World
Islamic State jihadists execute 200 Syrian soldiers
August 28, 2014
Islamic State fighters have executed "dozens" of Syrian soldiers fleeing Tabqa military airport in the north, a monitor said Aug. 28, with the jihadists boasting on Twitter they had killed 200 troops.
"Dozens of Syrian soldiers captured while fleeing... after the IS overran Tabqa airbase were executed by the jihadists during the night," said Rami Abdel Rahman, head of the Syrian Observatory for Human Rights monitoring group.
The jihadists seized the airport on Sunday after weeks of bitter fighting with loyalist forces, cementing their control over Raqa province, capital of their self-declared Islamic "caliphate".
France rules out cooperation with Assad against Islamic State
France's president has rejected any cooperation with Bashar al-Assad whom he accused of being a "de-facto ally" of jihadists wreaking havoc in Syria and Iraq, and urged a "humanitarian and military" response to the threat.
Speaking at an annual Paris gathering of ambassadors from around the world, Francois Hollande touched on crises in both countries as well as those rocking Ukraine and Libya -- all of which he said affected France directly.
"Assad cannot be a partner in the fight against terrorism, he is the de-facto ally of jihadists," he said.
Hollande reiterated his proposal to hold an international conference in Paris "to organise the coordination of international action against the Islamic State on humanitarian, security and military fronts".
His comments came after Assad's regime said Monday it was willing to work with the international community, including Washington, to tackle IS militants in the war-ravaged country.
Hollande also touched on the crisis in Ukraine, where Western intelligence believes Russian army units are taking part in the four-month conflict, that has seen more than 2,200 people lose their lives.
"If it turns out that there are Russian soldiers present on Ukrainian soil, it would be intolerable and unacceptable," he said.
http://www.hurriyetdailynews.com/is-jihadists-execute-dozens-of-captured-syrian-soldiers-ngo.aspx?pageID=238&nID=71025&NewsCatID=352
------------
Iraqi planes target IS; citizens of besieged town face 'massacre'
August 28, 2014
BAGHDAD — Iraqi warplanes have begun targeting militants besieging the Shiite Turkmen town of Amerli amid growing fears for the safety of thousands of residents short of food and water and facing a "massacre".
With some 12,000 Turkmen trapped in the northern town, US President Barack Obama is "nearing a decision" to authorize strikes and aid drops in the area, The New York Times reported.
The report added that Obama is also seeking to piece together an international coalition for potential military action in Syria, where the US has begun reconnaissance flights.
And nine countries have committed to providing arms to Iraq's Kurdish peshmerga forces, who are fighting in north and east Iraq against Islamic State militants leading a sweeping offensive that has overrun large areas of the country.
Iraqi warplanes carried out nine air strikes on Tuesday against the militants besieging Amerli, an officer said.
Helicopters delivering aid and ammunition to the area are targeted with machinegun fire on the way in, and mortar rounds once they land, said Nihad Al-Bayati, who worked as an engineer at the Tikrit oil refinery but is now fighting to protect his hometown.
"The pilots are suicidal," he said, but the aircraft have been able to land and depart so far.
Time is running out for Amerli's residents, who face danger because of their resistance against the militants, which has drawn deadly retribution elsewhere.
There is "no possibility of evacuating them so far", and only limited humanitarian assistance is reaching the town, said Eliana Nabaa, the spokeswoman for the UN mission in Iraq.
UN Iraq envoy Nickolay Mladenov has called for an urgent effort to help Amerli, saying residents who have been under siege for more than two months face a "possible massacre" if it is overrun.
Residents are suffering from a major shortage of both food and water and there is no electricity, said Bayati.
US officials warn that the Turkmen are facing the same dangers as those faced by thousands of Iraqi Yazidis, who were driven to Mount Sinjar after attacks by the militants, many of them dying of thirst and starvation.
Countries are lining up to arm Iraqi Kurdish forces, which were pushed back by the militants toward their regional capital Arbil earlier this month but have clawed back ground with the help of US strikes and international assistance.
Pentagon chief Chuck Hagel put the number of countries on board at eight, while Kurdish regional president Massud Barzani said that Iran has provided arms and equipment as well, bringing the total to at least nine.
The United States has, meanwhile, launched reconnaissance flights of IS positions in Syria, multiple sources said, in surveillance seen as a precursor to possible US strikes that would greatly expand its conflict against IS.
The US focus on Syria comes after President Bashar Al-Assad's regime said on Monday it was willing to work with the international community, including Washington, to tackle extremist fighters.
But American officials said they did not plan to coordinate with Damascus on targeting IS militants in Syria, despite Syrian insistence that any military action on its soil must be discussed in advance.
International concern about IS has been rising after a lightning offensive by the group through parts of Iraq and a string of brutal abuses, including the murder of US journalist James Foley.
http://www.saudigazette.com.sa/index.cfm?method=home.regcon&contentid=20140828216158
--------
Military skill and terrorist technique fuel success of ISIS
Eric Schmitt & BEN HUBBARD,NYT News Service | Aug 28, 2014
BAGHDAD: As fighters for the Islamic State continue to seize territory, the group has quietly built an effective management structure of mostly middle-aged Iraqis, including many military officers under Saddam Hussein, overseeing departments of finance, arms, local governance, military operations and recruitment.
At the top the organization is the self-declared leader of all Muslims, Abu Bakr al-Baghdadi, a radical chief executive officer of sorts, who handpicked many of his deputies from among the men he met while a prisoner in US custody at the Camp Bucca detention center.
He had a preference for military men, and so his leadership team includes many officers from Saddam's long-disbanded military. They include former Iraqi officers like Fadel al-Hayali, the top deputy for Iraq, who once served Saddam as a lieutenant colonel, and Adnan al-Sweidawi, a former lieutenant colonel who now heads the group's military council.
The pedigree of its leadership, outlined by an Iraqi expert and US intelligence officials who have seen documents seized from Islamic State by the Iraqi military, helps explain its battlefield successes: Its leaders augmented traditional military skill with terrorist techniques refined though years of fighting US troops, while also having deep local knowledge and contacts.
Islamic State is in effect a hybrid of terrorists and an army. "These are the academies that these men graduated from to become what they are today," said the expert, an Iraqi researcher named Hisham Alhashimi.
Islamic State burst into global consciousness in June when its fighters seized Mosul, Iraq's second-largest city, after moving into Iraq from their base in Syria. The Iraqi army melted away, and al-Baghdadi declared a caliphate, or Islamic state, that erased borders and imposed Taliban-like rule over a large swath of territory.
Not everyone was surprised by the group's success. "These guys know the terrorism business inside and out, and they are the ones who survived aggressive counterterrorism campaigns during the surge," said one US intelligence official, referring to the increase in US troops in Iraq in 2007.
"They didn't survive by being incompetent." The official spoke on condition of anonymity, because of the delicate nature of the information.
After the Islamic State stormed into Mosul, one official recalled a startling phone call from a former major general in one of Saddam's elite forces. The former general had appealed months earlier to rejoin the Iraqi army, but the official had refused. Now the general was fighting for Islamic State and threatened revenge.
We will reach you soon, and I will chop you into pieces," he said, according to the official, Bikhtiyar al-Qadi, of the commission that bars some former members of Saddam's Baath Party from government
Islamic State's success has alarmed regional security officials, who say it fights more like an army than most insurgent groups, holding territory and coordinating operations across large areas.
The group has also received support from other armed Sunni groups and former members of the Baath Party, which was founded as a secular movement, angry over their loss of status.
"In the terrorism game, these guys are at the center of a near perfect storm of factors," the US official said.
Al-Baghdadi's deputies include 12 walis, or local rulers; a three-man war Cabinet; and eight others who manage portfolios like finance, prisoners and recruitment. Its operations are carried out by a network of regional commanders who have their own subordinates and a degree of autonomy, but they have set "drop times" when they open a shared network to coordinate.
For example, the Islamic State responded to US air strikes on its positions in Iraq by distributing a professionally produced video last week of the beheading of US journalist James Foley more than 200 miles away.
Islamic State is the current incarnation of al-Qaida in Iraq, the insurgent group that battled US forces under the leadership of Abu Musab Al-Zarqawi before his death in 2006. Much of what is known about the group's current structure comes from documents captured by Iraqi security services.
According to a map of the group developed by Alhashimi, the Iraqi expert, al-Baghdadi has 25 deputies across Iraq and Syria. About one-third were military officers during Saddam's rule, and nearly all were imprisoned by US forces.
The last two leaders of Islamic State's military council were former Iraqi military officers: a colonel and a captain. Both have been killed, and followed by a former lieutenant colonel, Adnan al-Sweidawi, who is about 50 years old.
Ahmed al-Dulaimi, the governor of Anbar province, which is now largely controlled by Islamic State, said that all three men had graduated from the same military academy. Al-Dulaimi said he had taught one of them, Adnan Nijim, who graduated in 1993 to become an infantry officer. "It was never clear that he would turn out like that," al-Dulaimi said.
"He was from a simple family, with high morals, but all his brothers went in that direction," becoming jihadists. After the US-led invasion of Iraq in 2003, Nijim joined al-Qaida in Iraq and was detained by U.S. forces in 2005, al-Dulaimi said.
"All of these guys got religious after 2003," al-Dulaimi said. "Surely, ISIS benefits from their experience," he added, using an acronym for the Islamic State.
Other former military brass have also fought for the Islamic State.
Al-Baghdadi's top deputy in Syria, Samir al-Khlifawi, was a colonel. He was killed in Syria by other insurgents.
Derek Harvey, a former Army intelligence officer and specialist on Iraq who now directs the University of South Florida's Global Initiative for Civil Society and Conflict, said that former officers also had professional, personal and tribal relationships that had strengthened the Islamic State's coalition.
The group's campaign to free hundreds of militants from Iraqi prisons was executed with former Baath Party loyalists. These included intelligence officers and soldiers in Saddam's Republican Guard.
Hassan Abu Hanieh, a Jordanian expert on Islamist groups, said that while al-Baghdadi had relied mostly on Iraqis, he had left areas like religious guidance, recruitment and media production to foreigners.
Many of them, like the head of Islamic State's media department, are Saudis. This is at least partly to make the group appear "globalized," Abu Hanieh said. "They want to appeal to international jihadists so that they come and join the battle."
Some non-Iraqis have risen to prominence. Al-Baghdadi's chief spokesman is Syrian.
And one group of foreign fighters is led by an ethnic Chechen who goes by the name Omar al-Shishani.
Michael Knights, an Iraq analyst at the Washington Institute for Near East Policy, said it was no surprise that so many officers from Saddam's era had joined the Islamic State. Discontent in the military was widespread near the end of his rule, and underground Islamist movements were gaining strength, even inside the military, he said.
Political changes after the US invasion accelerated their rise. Members of Saddam's Baath Party were barred from government positions, and the political dominance of Iraq's Shiite majority made many Sunnis feel disenfranchised.
"After 2003, what did these guys have to do but get more radical?" Knights said.
For those who had served in Saddam's staunchly secular army, that transformation was complete by the time they joined the Islamic State.
"There is no one in Baghdadi's state who is not a believer," Alhashimi said.
Omar al-Jawoshy contributed reporting from Baghdad, Karam Shoumali from Istanbul, and Hwaida Saad and Mohammed Ghannam from Beirut.
http://timesofindia.indiatimes.com/world/us/Military-skill-and-terrorist-technique-fuel-success-of-ISIS/articleshow/41071412.cms
------------
Experts: ISIS makes up to $3 million daily in oil sales
28 August 2014
Militants of the Islamic State of Iraq and Syria (ISIS) are making an estimated $3 million a day by selling crude oil captured from Iraq and Syria in black markets, experts say.
ISIS militants have seized a number of oilfields in Iraq and Syria over the past few months, and are now selling crude oil to finance their self-declared "caliphate."
Analysts suggest that oil from areas under ISIS control is being sold at less than half of its international prices.
Iraqi oil industry officials estimate that ISIS raises more than $2 million a day form crude oil sails.
But U.S. estimations suggest the militant group makes is cashing in about $3 million a day.
It is believed that ISIS is selling crude oil at prices ranging from $25 per barrel to $60 per barrel, which amounts to almost half of the international crude oil price, averaged at $102 as of Wednesday.
"They sell it for $30 a barrel because it's a black market. It's not pegged to international standards for oil prices, which are over $100 a barrel," Theodore Karasik, director of research and consultancy at the Institute for Near East and Gulf Military Analysis, told ABC News.
Karasik said these oil sails are thought to make up a significant portion of the financial resources supporting ISIS.
"[ISIS] are trying to establish a state, and these types of revenues are important for the state's formation because it makes up a significant chunk of their revenue," he said.
"They can take over eastern Syria without oil revenue, but seizing these types of fields [like Shaar] are part of an ongoing plan to develop their own economic system."
ISIS militants seized four small oilfields when they swept through northern Iraq in June and currently control oilfields in the oil-rich Syrian province of Deir al-Zor.
Such developments have prompted the United Nations Security Council last month to warn against trading in oil from "terrorist groups." The Council also threatened to impose sanctions on nations that take part in such trades.
So far, the ISIS oil trading has been active with buyers in Jordan, Turkey, Syria and Iran, said Luay al-Khatteeb, a visiting fellow at the Brookings Doha Center and serves as the director of the Iraq Energy Institute.
"ISIS controls smuggling routes and the crude transported by tankers to Jordan via Anbar province, to Iran via Kurdistan, to Turkey via Mosul, to Syria's local market and to the Kurdistan region of Iraq, where most of it gets refined locally," Al-Khatteeb said in an interview with the CNN.
He said ISIS are seeking to become "self-sufficient" by funds made through oil revenues.
"At present, ISIS are trying to establish a self-sufficient state and a capital in what is known as the "Sunni triangle" (west and north Iraq), and oil production will be part of this," he added.
http://english.alarabiya.net/en/perspective/analysis/2014/08/28/Experts-ISIS-makes-up-to-3-million-daily-in-oil-sales.html
------------
Sinai militants claim beheading of four Egyptians
28 August 2014
A Sinai-based militant group is claiming it has beheaded four Egyptians, saying the four had provided Israel with intelligence for an airstrike that killed three of its fighters, Reuters reported.
Four headless corpses were found in the Sinai Peninsula earlier this month, Reuters quoted security sources said as saying – the first time that any decapitations had been made public in Egypt.
The men had been abducted by gunmen two days earlier while driving in the town of Sheikh Zuwaid, which is just a few kilometers from the Gaza Strip.
In a video released on Twitter, Egypt's most dangerous militant group, Ansar Bayt al-Maqdis, said the four men had been spying for Israel's Mossad spy agency.
Armed men in black masks stood over the kneeling captives as one of the militants read out a statement. Minutes later, the four men had their heads cuts off.
The filmed killings was reminiscent of images posted on the Internet by Islamic State of Iraq and Syria, which has seized large parts of Iraq and Syria, suggesting Ansar Bayt al-Maqdis might have been inspired by the group, notorious for beheadings and executions.
The Sinai militants are not believed to be officially linked to ISIS insurgents. However, Egyptian intelligence officials say the group has influenced Egyptian militants who are based just over the border with Libya.
Full report at:
http://english.alarabiya.net/en/News/middle-east/2014/08/28/Sinai-militants-claim-beheading-of-4-Egyptians.html
------------
Syrian planes bomb border post near Israel captured by rebels
August 28, 2014
Syrian jets shelled rebel positions near a border crossing close to the Israeli-occupied Golan Heights that was seized by rebels in some of the heaviest clashes in the strategic area this year, rebels and residents said on Thursday.
Al Qaeda's Syria wing Nusra alongside moderate rebel groups who had launched the attack early on Wednesday on the border post were "holding ground" despite the heavy bombardment, according to a source in the Islamist Beit al Maqdis brigade, whose fighters were involved in the fighting.
Abu Iyas al Horani, a spokesman for another rebel group operating in the area, said at least six rebels were killed in the latest spillover of violence in the area that lies almost 20 kilometres west of the town of Quneitra, the main urban centre, which is under state control.
The crossing is monitored by the United Nations, which oversees traffic between the two enemy countries, but the distance between the two warring adversaries' posts is some 200 metres (yards).
Full report at:
http://english.ahram.org.eg/NewsContent/2/8/109411/World/Region/Syrian-planes-bomb-border-post-near-Israel-capture.aspx
------------
ISIS has 100,000 fighters, growing fast - Iraqi govt adviser
August 28, 2014
The number of Islamic State recruits is much higher than that estimated by foreign observers – around 100,000, says one of Iraq's foremost security experts with unique access to intelligence. The terrorists are swallowing up other insurgent groups.
Foreign estimates put the figure between 20,000 and 50,000.
"[The] Islamic State didn't come from nowhere," according to Hisham al-Hashimi, who advises Iraq's intelligence services and analyzes raw information gathered on the ground. He has studied the group's progression for years.
The organization "is an extension of groups that existed before – historically and ideologically," al-Hashimi told Mashable.
Full report at:
http://rt.com/news/183048-isis-grow-expand-jihadist/
------------
Cell of Eight recruits 34 Saudi young men to fight with IS
August 28, 2014
RIYADH — A cell of eight extremists apprehended in the town of Tamir, about 180 km north of Riyadh, on Monday recruited 34 young Saudis and sent them to fight for Islamic State (IS) and the Al-Nusra Front in Iraq and Syria, Makkah daily reported on Wednesday quoting unofficial sources from the town.
The sources revealed that the apprehended extremists included Ali Al-Salloum, a municipal council member and a mosque imam; and Hamad Al-Rais, a blind man who was a director of a Qur'an memorization school and also a mosque imam.
They said Manour Al-Manaa, a court employee, was a member of the cell in addition to three other men known by their nicknames of Abu Osama, the imam of the town's grand mosque; and Ali Abu Hudhaifa and his son.
Full report at:
http://www.saudigazette.com.sa/index.cfm?method=home.regcon&contentid=20140828216181
------------
High-level Saudi delegation arrives in UAE capital
28 August 2014
A high-level Saudi delegation arrived on Thursday in the capital of the United Arab Emirates, Al Arabiya Channel reported, a day after meeting with Qatari and Bahraini officials.
The delegation, led by Foreign Minister Saud al-Faisal, Intelligence Chief Khalid Bin Bandar and Interior Minister Prince Mohammed Bin Nayef, met in Abu Dhabi with crown prince Mohammed bin Zayed bin Sultan Al Nahyan.
On Wednesday the delegation paid a brief visit to Qatar, which comes a month after Emir Sheikh Tamim bin Hamad al-Thani visited Saudi Arabia and held talks with King Abdullah bin Abdulaziz.
The meeting was the first for the two Arab leaders since a major rift between Qatar and Saudi Arabia earlier this year.
http://english.alarabiya.net/en/News/middle-east/2014/08/28/High-level-Saudi-delegation-arrives-in-UAE-capital-.html
------------
Kingdom's Grand Mufti warns against misleading young people
August 28, 2014
RIYADH — The Grand Mufti of the Kingdom of Saudi Arabia and President of Council of Senior Scholars and General Presidency of Scholarly Research and Ifta, Sheikh Abdulaziz bin Abdullah bin Mohammed Al Al-Sheikh called on young people not to follow claims of jihad and support for Islam under unknown banners and perverted principles.
Commenting on the Interior Ministry's statement containing the arrest of eight citizens who misled young people to join extremist groups abroad, the Grand Mufti spoke to Makkah-based Nida Alislam radio station warning against the danger of sending the youth to lands they do not know and under flags and principles they do not know to become only victims who get apprehended, sold and bargained.
The Grand Mufti emphasized that this is a serious matter and urged people not to mislead the young and subject them to great danger under the claims of jihad by sending them abroad.
The Grand Mufti commended the Interior Ministry's arrest of those who mislead young people to join extremist groups abroad.
http://www.saudigazette.com.sa/index.cfm?method=home.regcon&contentid=20140828216267
------------
India
93 years on, Kerala Muslims say caliphate impractical
M P Prashanth, TNN | Aug 28, 2014
KOZHIKODE: Close to a century after violent convulsions gripped north Kerala in the name of a caliphate, descendants of Malabar's Mappila Rebellion leaders denounce the Islamic State gaining ground in west Asia.
The revolt by Muslims (known in Kerala as Mappilas) was an off-shoot of the Khilafat movement called by Mahatma Gandhi to protest the disbanding of Turkey's Ottoman Caliphate. The Malabar uprising soon turned bloody and brought untold miseries upon the entire region, then part of Madras Presidency.
Armed with hatchets and swords, they challenged the British army, only to be overpowered in a few months.
"A parallel government was established by the Mappilas after the British forces withdrew from the areas. The move to arrest Ali Musaliar on August 21 was an immediate con sequence of the revolt," said Musaliar's great grandson Anwar Ibrahim. Musaliar was led the Khilafat movement in Malabar.
There was an attempt to create a "liberated area" in Malabar. The rebels destroyed police stations and government buildings. The rebellion was crushed by February 1922.
The British seized seals of the Khilafat "government", passports issued by it, letters to the viceroy and the governor and press releases for newspapers.
Full report at:
http://timesofindia.indiatimes.com/india/93-years-on-Kerala-Muslims-say-caliphate-impractical/articleshow/41023304.cms
------------
Muzaffarnagar Muslims in classrooms of contrast
Written by Pritha Chatterjee | New Delhi | August 28, 2014
Zahid is in class X at Rajakiya High School in Kutbi village of Muzaffarnagar, the only Muslim student to have returned to a class that had 36 of them last year, and which now has 110 students.
The twin villages of Kutba and Kutbi were among the worst hit by last year's riots, with eight murders and over 50 other cases registered. None of the 200-odd Muslim families who stayed there have returned.
Zahid walks to school with 30 Hindu students from his village, Dhindawli, but has not yet dared speak with his classmates from Kutbi, especially the Jats. "I keep to myself and always sit next to Hindus from my village, especially my friend Akshay," Zahid says. "Village students don't talk to me and I don't talk to them either. It's safer that way."
Teachers say they keep an eye open for possible fights because of Zahid since "it's a board year". Students say friendships, earlier defined along caste lines, have since been redefined by religion. Akshay, the topper, says he is frequently ridiculed for their friendship. "All of us were friends, but the Jats hung out with Jats, the Kurmis with Kurmis, the Dheemers with Dheemers. But now when Zahid does poorly in a test and the teacher tells me to help him, they jeer," he says.
Full report at:
http://indianexpress.com/article/india/india-others/muzaffarnagar-muslims-in-classrooms-of-contrast/99/
------------
Hizb funding return of ex-militants via Nepal route, SSB tells MHA
Written by Vijaita Singh | New Delhi | August 28, 2014
The Sashastra Seema Bal (SSB), deployed along the border with Nepal, has told the Ministry of Home Affairs (MHA) that former militants using the route to come back from Pakistan occupied Kashmir (PoK) are being funded by banned outfit Hizbul Mujahideen. The SSB informed the government that there has been a jump in the number of former militants who were returning to India through the Nepal route. While last year saw the return of 114 such people, including a large number of children, till May this year 110 people had come.
In a letter to the MHA, SSB said, "The interrogation of one such returnee (former Kashmir militant) Ahmed Ghulam on January 7 revealed that the funding for his return was provided by Hizbul Mujahideen. Normal expenditure on return of one person is around Rs 1 lakh in Pakistani currency. It may be a serious matter for investigation and probe by concerned agencies about the motive behind such funding by groups like HM."
Full report at:
http://indianexpress.com/article/india/india-others/hizb-funding-return-of-ex-militants-via-nepal-route-ssb-tells-mha/
------------
Pakistan
Talks Fail; 'Yaum-e-Inquilab' Today
August 28, 2014
ISLAMABAD: Pakistan Awami Tehreek (PAT) and Pakistan Tehreek-e-Insaf (PTI) on Wednesday midnight announced that their separate negotiations with the federal government have ended in a failure following refusal of the PML-N regime to come to terms with their set of demands.
PAT chief Tahirul Qadri announced "Youm-e-Inqilab" today (Thursday) in his late-night address to his supporters, while PTI chief Imran Khan told his workers and followers to continue with his peaceful struggle at the sit-in venue of the Constitution Avenue. But Qadri created chaos and scare in the capital as he indirectly warned of a looming military intervention, and asked workers to get ready for sacrifice and martyrdom on Thursday. Security people translate it as a stark and indirect warning of storming government buildings, especially Parliament House.
Full report at:
http://www.dailytimes.com.pk/islamabad/28-Aug-2014/talks-fail-youm-e-inqilab-today
------------
New Taleban group vows more attacks in Pakistan
August 28, 2014
ISLAMABAD: A new bloc of the Pakistani Taleban has vowed to carry on the movement's campaign of bombings and shootings, in the militants' first video message since a major army assault on their strongholds.
Senior commanders announced the creation of a new hard-line grouping within the umbrella Tehreek-e-Taleban Pakistan (TTP) but insisted they were not splitting from the movement.
The Pakistani military has been waging a major assault on TTP bases in North Waziristan tribal area since mid-June and says it has crippled the militants' command and control structure.
The video, posted online, showed around two dozen Taleban cadres in an undisclosed location, announcing the creation of the new Jamaat-ul-Ahrar group, to be headed by Maulana Qasim Khorasani.
Full report at:
http://www.arabnews.com/world/news/621696
------------
Pakistan on tenterhooks as protesters gear up for "decisive day"
Reuters | Islamabad | August 28, 2014
Pakistan slipped deeper into crisis on Thursday after talks between the government and the opposition failed and protesters prepared for what their leaders declared would be a "deciding day" in their bid to bring down the prime minister.
Pakistan has been gripped by mass protests for two weeks, with thousands of demonstrators led by cricketer-turned-politician Imran Khan and firebrand cleric Tahir ul-Qadri camped outside parliament in a country prone to military coups.
In a bid to resolve the standoff, government representatives have held sporadic talks with protest leaders, but the latest round of negotiations ended inconclusively.
Qadri, who has a huge following and runs a network of Islamic schools and hospitals, told his supporters to prepare for a decisive day in their campaign.
Full report at:
http://indianexpress.com/article/world/asia/pakistan-on-tenterhooks-as-protesters-gear-up-for-decisive-day/99/
------------
Imran to announce yet another course of action
August 28, 2014
ISLAMABAD: Addressing a small crowd of supporters in the federal capital on Thursday, Pakistan Tehreek-i-Insaf (PTI) Chairman Imran Khan said that he would announce his future course of action today (Thursday).
In his address, Imran reiterated his anti-government statements along with his unwavering demand for the resignation of Prime Minister Nawaz Sharif. On stage by his side was veteran politician and senior PTI leader Javed Hashmi, who said he joined Khan because he "could not bear to see him alone".
"I was in the hospital," said the frail 66-year-old Hashmi, his voice quivering. "Could not watch Imran standing alone so came here."
Hashmi also reiterated PTI's call for the resignation of Nawaz and Punjab Chief Minister Shahbaz Sharif.
Full report at:
http://www.dawn.com/news/1128350/imran-to-announce-yet-another-course-of-action
------------
Altaf appeals to Qadri to show patience
August 28, 2014
KARACHI: In an attempt to defuse the hostile environment between the Pakistan Awami Tehreek (PAT) and the government, Muttahida Qaumi Movement (MQM) chief Altaf Hussain on Thursday established telephonic contact with PAT chief Dr Tahirul Qadri and appealed to the latter to show patience, DawnNews reported.
The MQM chief reportedly said that Punjab Governor Chaudhry Muhammad Sarwar and Sindh Governor Dr Ishratul Ibad, who are members of the government delegation formed to broker a settlement between the government and protesting parties, were making concerted efforts so that the issues between political parties could be resolved with a mutual understanding.
Altaf said that the concerned parties should take decisions after careful deliberation instead of acting in haste.
Earlier, the PAT had shut the doors on negotiations with the government after a last-minute attempt for a compromise deal failed and said it would observe "Yaum-i-Inqilab" on Thursday (today).
Qadri is expected to announce his future course of action at 3 pm today.
http://www.dawn.com/news/1128335/altaf-appeals-to-qadri-to-show-patience
------------
Number of Afghan refugees in country growing steadily
August 28, 2014
PESHAWAR: Despite the continuing process of voluntary repatriation of Afghans, the number of registered refugees in Pakistan is growing steadily as approximately 50,000 children are born to refugee families every year.
The UN refugee agency said that the National Database and Registration Authority (Nadra) would register some 150,000 children born to the registered parents in past five years and issue birth certificates to over 330,000 Afghan children below the age of 18.
UNHCR spokesperson Dunya Islam Khan told Dawn that around 182,000 refugee children who had reached the age of five would get their separate Proof of Registration (PoR) cards by the end of the year.
Full report at:
http://www.dawn.com/news/1128289/number-of-afghan-refugees-in-country-growing-steadily
------------
PM will not resign at any cost: Opposition Leader Shah
August 28, 2014
ISLAMABAD: Opposition Leader Syed Khurshid Shah has said that the demands of the protesters may be fulfilled according to law and constitution. Talking to media in Islamabad on Wednesday, he said the parliament has decided that the prime minister should not resign and the National Assembly should complete its term so that the system could continue and strengthen. He said in case the prime minister resigns, nobody knows what will happen tomorrow and none of the prime ministers in future could work smoothly. Khurshid Shah said a five-member Judicial Commission should investigate allegations of rigging and if they are proven, the government should itself resign. He said the prime minister has promised to establish direct contact with the leaders of protesting parties, while on the other hand the opposition will also try to establish these contacts in an effort to resolve the issue.
http://www.dailytimes.com.pk/islamabad/28-Aug-2014/pm-will-not-resign-at-any-cost-shah
------------
Govt not afraid of protests: Nawaz
August 28, 2014
ISLAMABAD- Prime Minister Nawaz Sharif on Wednesday finally broke his silence in National Assembly with the pledge to uphold the constitution and supremacy of parliament, saying his Pakistan Muslim League-Nawaz was not afraid of protests.
The PM in his brief address, in which he covered different aspects of the prevailing political situation in a mild tone, said the journey for strengthening democracy and constitution would continue for the better future of the country.
"I have taken an oath to protect the constitution and it's my promise that I will never betray my duty," the Premier said amid much desk- thumping mainly from treasury benches.
Lauding the lawmakers for unanimously passing a resolution to back democratic system in the country, he said there was no example of such unanimity in the history of Pakistan. "Without any discrimination of opposition and treasury benches, nine out of ten political parties voted in support of the resolution," he noted.
Full report at:
http://www.nation.com.pk/national/28-Aug-2014/govt-not-afraid-of-protests-nawaz
----------
North America
Obama to convene UNSC meeting on foreign fighters: White House
August 28, 2014
U.S. President Barack Obama will convene a meeting of the U.N. Security Council next month on the threat posed by foreign fighters in Syria and Iraq, the White House has said, amidst reports that another American jihadi has died in Syria fighting for Islamic State of Iraq and the Levant (ISIL).
It is estimated that foreign fighters from about 50 countries, including from India and about 100 from the U.S. are fighting for the ISIL, the terrorist outfit that has gained control over a large part of Syria and Iraq in the last couple of months.
"U.S. President, Barack Obama, is going to convene a meeting of the U.N. Security Council to discuss the threat that's posed by foreign fighters," White House Press Secretary Josh Earnest said on Wednesday.
"That will be an important opportunity for the President to discuss with the leaders of the world what can be done cooperatively to try to counter the threat that those individuals with Western passports might pose to Western governments," he said.
Full report at:
http://www.thehindu.com/news/international/world/barack-obama-to-convene-unsc-meeting-on-foreign-fighters-white-house/article6358968.ece
------------
US intelligence: 300 Americans fighting alongside Islamic State
August 28, 2014
The United States government is tracking as many as 300 Americans supposedly fighting with Islamic State, the jihadist group with a heavy presence in parts of Syria and Iraq, according to senior US officials.
Washington is worried that radicalized foreign fighters could become a risk to the US if they return to employ skills learned overseas to carry out attacks, anonymous US officials said, according to the Washington Times.
"We know that there are several hundred American passport holders running around with ISIS in Syria or Iraq," a senior US official said. "It's hard to tell whether or not they're in Syria or moved to Iraq."
Past reports have put the possible number of Americans who have flocked to the fundamentalist extremist group Islamic State (IS, also known as ISIS and ISIL) at around 100. IS, a former Al-Qaeda affiliate, gained strength fighting Bashar Assad's forces in the Syrian civil war before turning to cross the border into Iraq, where they have made swift gains in western and northern sections of the volatile country.
Full report at:
http://rt.com/usa/183192-americans-islamic-state-intelligence/
------------
Calls for Aafia's release puzzle Obama govt
August 28, 2014
NEW YORK: The Obama administration and former US government officials are intrigued by continued demands by extremist Islamic groups and the government of Pakistan to release Aafia Siddiqui.
However, some Pentagon officials have considered asking White House to pardon her and arrange her release, the Foreign Policy magazine said in an article.
The article claims that "a group of senior US national security officials received a tantalising proposal from officials in Pakistan — if the United States would release a Pakistani woman (Aafia Siddiqui) in exchange for US Army Sgt Bowe Bergdahl, who had been missing since 2009 and was thought to be held in Pakistan by Taliban forces."
"We are aware of at least one entity in the Defence Department that has developed possible options to trade Siddiqui. And we can say with certainty that the option was weighed for Bergdahl and several others in captivity," said Joe Kasper, a spokesman for Rep Duncan Hunter (R.-Calif.), a senior member of the House Armed Services Committee and a former Marine who has criticised the Obama administration for not doing more to free American prisoners, the writer Shane Harris said in the article.
Full report at:
http://www.dawn.com/news/1128269/calls-for-aafias-release-puzzle-obama-govt
------------
Media are Hamas's main strategic weapons, says visiting US historian
August 28, 2014
Western news organizations have failed to see and understand Hamas's media strategy as part of a long global jihad war, argued historian Dr. Richard Landes.
In a talk in Jerusalem on Tuesday at the Israel Center, Dr. Richard Landes, the director and co-founder of the Center of Millennial Studies at Boston University, said that "global jihad is waging a cognitive war against the West because they cannot win on the battlefield."
He traced the "long war" to the recruitment strategies of Osama bin Laden and Hamas in the time of the second intifada.
The conflicts against Hamas and other jihadi organizations help to explain the asymmetrical approach of jihadi organizations, he said.
Landes, who famously coined the phrase "Pallywood" to describe Palestinian obfuscation and outright lying in reporting news events, laid out a comprehensive framework to understand how Hamas's narrative took over the public sphere.
Full report at:
http://www.jpost.com/Operation-Protective-Edge/Media-are-Hamass-main-strategic-weapons-says-visiting-US-historian-372579
------------
U.S. builds alliance for war on ISIS in Syria
28 August 2014
While the United States is intensifying its push to build an international campaign against Islamic State of Iraq and Syria militants, Britain and Australia are considered as potential candidates, Reuters reported U.S. officials as saying on Wednesday.
Obama administration officials also said that Washington is recruiting partners for potential joint military action against the al-Qaeda breakaway group ISIS.
"We are working with our partners and asking how they might be able to contribute. There are a range of ways to contribute: humanitarian, military, intelligence, diplomatic," State Department spokeswoman Jen Psaki told reporters.
On Thursday, French President Francois Hollande warned that Syria's Bashar al-Assad is not the West's partner in the fight against terrorism but an ally of Islamic extremists wreaking havoc in Syria and Iraq.
Full report at:
http://english.alarabiya.net/en/News/middle-east/2014/08/28/UK-Australia-possible-U-S-partners-on-ISIS-.html
------------
US dubs Lahore money changer 'terrorist'
August 28, 2014
WASHINGTON- The US labelled a Lahore-based money-changer a "global terrorist" Wednesday, saying he provided financial services to militant group Lashkar-e-Taiba, blamed for the deadly 2008 attacks in Mumbai.
The US Treasury said Muhammad Iqbal, who owns and runs the Asma Money Exchangers in Lahore, conducts financial transactions on behalf of Lashkar-e-Taiba and its affiliates.
It said he is a founding member and finance secretary of the charity Falah-i-Insaniat Foundation, which the US named as a front for Lashkar-e-Taiba in 2010. In this role and as owners of Asma Money Exchangers, Iqbal solicited donations for and sent money to officials of Lashkar-e-Taiba, it said.
Full report at:
http://www.nation.com.pk/national/28-Aug-2014/us-dubs-lahore-money-changer-terrorist
------------
Details Emerging About Douglas McCain, an American Jihadist Killed in Syria
August 28, 2014
WASHINGTON— Douglas McAuthur McCain, the first known American to be killed while fighting alongside Islamic militants in Syria, was an undistinguished 33-year-old raised in Minnesota who most recently worked as a caregiver in California.
So what compelled him to leave for the Middle East this spring and to take up arms on behalf of religious extremists?
The U.S. National Security Council confirmed McCain's death on Tuesday and the State Department said U.S. officials had been in contact with McCain's family.
The issue of Americans joining radical forces in places like Syria, getting training and even indoctrination in terrorist ideology, has pushed to the forefront of concern among U.S. officials, who fear one or more might try to return and commit terrorist acts on American soil.
McCain had reportedly made his way from the United States to Turkey, and then into territory controlled by the Islamic State, the radical organization that has swept through northern Iraq terrorizing many with its brutal version of Islamic law. Over the weekend, he took part in an attack on a Syrian opposition checkpoint near Aleppo, according to NBC News, which first reported the story.
Full report at:
http://www.voanews.com/content/us-man-suspected-of-fighting-alongside-militants-killed-in-syria/2429355.html
----------
South Asia
Bangladesh Ahle Sunnat Leader Faruqi Killing: Wahabi, Maududi Followers Blamed
August 28, 2014
The followers of Wahabi, Maududi are responsible for Ahle Sunnat leader Shaikh Nurul Islam Farooqi killing, alleged the leaders of a non-political organisation.
Advocate Mosaheb Uddin Bakhtiar, presidium member of Ahle Sunnat, has made the allegation at a press briefing in the port city of Chittagong on Thursday noon.
Bakhtiar said: "The followers of Wahabi and Maududi are responsible over the killing of its leader Shaikh Nurul Islam Faruqi, presenter of religious programmes on Channel I."
"It was a planned murder as Maulana Faruqi was a supporter of Sunni and he was publishing truth through the media."
"He was killed as he was always against of all kinds of militancy."
Faruki's killing is a threat to the Ahle Sunnat, he also said.
The leaders set deadline till September 1 for arresting the Faruki killers. If the law enforcers fail to arrest the culprits, they will announce the next course of action on September 3.
On Friday, Dua Mahfil will be held at all mosques across the country.
Protest rallies will be held on August 30 and 31 at all Upazila and divisional head quarters respectively.
Full report at:
http://www.dhakatribune.com/bangladesh/2014/aug/28/faruqi-killing-ahle-sunnat-blames-wahabi-moududi-followers#sthash.58GhPh3m.dpuf
------------
Maldives condemns ISIS crimes, says foreign minister
By Daniel Bosley | August 28th, 2014
Foreign Minister Dunya Maumoon has condemned human rights abuses carried out by the Islamic State of Iraq and Syria (ISIS), calling for the respect of life and dignity in the spirit of Islam.
"The Maldives strongly condemns the crimes committed against innocent civilians by the organization which identifies itself as the Islamic State of Iraq and the Levant or the Islamic State of Iraq and Syria," she said in press release today.
Jihadist militants – who declared an Islamic caliphate in territory held across the state of Iraq and Syria – are accused by the UN of having committed mass murders against prisoners, enemy combatants, and civilians.
"IS is using the veil of religion as a pretext for inflicting terror, and committing violations of human rights," said Dunya.
"Their philosophy blatantly violates the fundamental principles of peace, tolerance, and unity which are advocated by Islam, and their actions have tarnished the world's perception of our great religion. A religion of peace and tolerance."
Full report at:
http://minivannews.com/politics/maldives-condemns-isis-crimes-says-foreign-minister-89855
----------
3 Afghan army soldiers martyred in roadside bomb explosion
Aug 28 2014
At least three Afghan National Army (ANA) soldiers were martyred following improvised explosive device (IED) explosion.
Gen. Zahir Azimi, spokesman for the Ministry of Defense of Afghanistan, said the four Afghan National Army (ANA) soldiers were martyred in the past 24 hours.
He also added that seven militants were killed and several others were injured during military operations conducted by Afghan army soldiers.
According to Gen. Azimi, the operations were conducted in four different provinces of the country.
Full report at:
http://www.khaama.com/3-afghan-army-soldiers-martyred-in-roadside-bomb-explosion-6606
------------
Southeast Asia
Explain real meaning of jihad, Umno urges National Fatwa Council
August 28, 2014
The National Fatwa Council has been urged to explain the real meaning of jihad as worries mount over the increasing number of Muslims who are confused over the concept and have joined militants, said Dr Fathul Bari Mat Jahya.
The Umno Youth exco member said the council should place importance on the issue so that Muslims in the country can learn the real concept and meaning of jihad.
"This matter should be discussed in the council and I do not want to say they (ulamas) did not discuss as they may have been busy with a lot of paperwork.
"This is very important to those who want to get involved in jihad but because we have our views, we can explain to them so that they are not influenced by extremist movements," he told The Malaysian Insider.
He said this in response to The Malaysian Insider report yesterday that some Malaysian women are believed to have joined the Islamic State of Iraq and Syria (Isis) forces to offer Jihad Al-Nikah or sexual jihad.
Quoting intelligence officials, authorities confirmed that three Malaysian women had journeyed to the Middle East to join up with Isis forces.
Full report at:
http://www.themalaysianinsider.com/malaysia/article/explain-real-meaning-of-jihad-umno-urges-national-fatwa-council#sthash.FDIjs5xw.dpuf
------------
ISIS actions against Islamic law: Malaysian PM
August 28, 2014
Malaysian Prime Minister Najib Razak has strongly condemned the Islamic State in Iraq and Syria (ISIS), saying the group's actions are against the teachings of the Prophet and run counter to the Islamic law.
"The actions of the Islamic State (IS) militants in Syria and Iraq run counter to our faith, our culture, and our common humanity," Prime Minister Najib said.
ISIS is an al-Qaeda splinter group and it has seized hundreds of square miles in Iraq and Syria.
Al-Qaeda has distanced itself from the group, chiding it for its lack of teamwork in its aggressive, brutal expansion.
Mr. Najib said Muslims around the world had reacted in horror to reports of mass executions, killings of civilians and evidence of brutality.
Full report at:
http://www.thehindu.com/news/international/isis-actions-against-islamic-law-malaysian-pm/article6359882.ece
------------
Malaysia to apply shariah index from next year, says Najib
August 28, 2014
A shariah index to gauge the country's achievements in the implementation of Islamic law requirements will be applied beginning January next year, said Prime Minister Datuk Seri Najib Tun Razak.
He said a comprehensive index was being developed through an effort spearheaded by the Department of Islamic Development Malaysia (Jakim) in collaboration with the International Islamic University of Malaysia (IIUM) and the Islamic Missionary Foundation Malaysia (Yadim).
"It is highly polemical, some say our country is Islamic and some say it is not. How are we attempting to fulfil the requirements of Islamic law? There must be some scientific gauge for Islamic law.
Full report at:
http://www.themalaysianinsider.com/malaysia/article/malaysia-to-apply-shariah-index-from-next-year-says-najib-bernama#sthash.ji563Cmy.dpuf
------------
Spitting At Khalid Samad: Even a non-Muslim would think twice!
August 28, 2014
Shah Alam Member of Parliament, Khalid Samad was being spat at by a young man within the compounds of the Jalan Duta courts.
You are free to demonstrate, but causing harm or spitting at another person is really uncalled for in any culture. It reflects badly on the family upbringing, and if this is not being addressed by the authorities, it will lead to more such incidences.
I write as a non-Muslim. Looking at the current state of our country, I feel sad that a young man could be allowed to spit on a lawmaker, who is also a Muslim himself. I wonder what people like Redzuan Tee Abdullah (Universiti Pertahanan Malaysia), Abdullah Zaik Abdul Rahman (ISMA president) or Ibrahim Ali (Perkasa President) have to say such behaviours.
Bad upbringing and role models starting to show up
It makes me wonder how the young man's parents had raised him up all these years. Have they done their duties as Muslim parents? Or, did they allow the politicians to mould his character and moral values?
Full report at:
http://www.malaysia-chronicle.com/index.php?option=com_k2&view=item&id=348412:spitting-at-khalid-samad-even-a-non-muslim-would-think-twice&Itemid=2#ixzz3BdoDFNbu
------------
Europe
From Sex Abuse Gangs to Jihadis, the State's Fear of Seeming 'Racist' Is Letting Evil Thrive
August 28, 2014
The Rotherham abuse scandal represents a savage indictment of the local council and police. Through their spectacular incompetence, cowardice and neglect they allowed more than 1,400 vulnerable girls, some as young as 11, to be systematically abused over a period of 16 years, even though many of these victims were known to the authorities.
It seems almost inexplicable that abuse on this scale could be allowed to happen.
Yet in some ways the appalling saga in the South Yorkshire town was all too predictable, for it was a direct consequence of the creed of multiculturalism that holds sway across the public sector, particularly the social services.
It is this enforced orthodoxy that so disastrously inhibited the Rotherham authorities from taking action against the predatory gangs of Pakistani men, and from protecting the girls, who were mainly white.
Failure
The ideologues of multiculturalism, clinging to their vision of harmonious diversity, might not like to face up to the reality, but without doubt the ethnicity of the abusers was a central factor in the reluctance of the State to tackle their vile activities. The report produced by Professor Alexis Jay, the distinguished former inspector of social work in Scotland, makes that unequivocally clear.
Full report at:
http://www.dailymail.co.uk/debate/article-2736283/From-sex-abuse-gangs-jihadis-State-s-fear-racist-letting-evil-thrive.html#ixzz3Bd7Wf2Vw
------------
Scotland Yard chief calls for Brit extremists fighting for ISIS to lose their UK citizenship
August 28, 2014
There could already be as many as 200 returned jihadis in London alone, Britain's most senior policeman has warned.
Speaking yesterday, Metropolitan Police Commissioner Sir Bernard Hogan-Howe also added his voice to those calling for terrorists who go abroad to fight to be stripped of their UK passports.
And he called for the return of the controversial control orders which were used to tightly restrict the movement and behaviour of terror suspects.
The orders were replaced in 2011 by less restrictive measures, but with more than 500 Britons said to be fighting for Islamic State and other militant groups in Syria and Iraq – and 250 said to have returned to the UK – Sir Bernard said the 'drum beat has changed'.
Speaking on LBC radio, he said: 'Certainly for us anything that either stops them from going or preferably stops them from coming back is a good idea.
'If it works, we should do that. It seems to me it's a privilege to have a passport and be a citizen of this country, and if you're going to start fighting in another country on behalf of another state, or against another state, it seems to me that you've made a choice about where you what to be.'
Full report at:
http://www.dailymail.co.uk/news/article-2735526/The-drum-beat-terror-changed-Scotland-Yard-chief-says-new-laws-needed-tackle-extremists-fighting-ISIS.html
--------------
U.N. warns of 'full-blown civil war' in Libya
28 August 2014
Libya's ambassador to the United Nations sounded the alarm on Wednesday when he warned of a "full-blown civil war" if the chaos and division in the Arab country continue.
Ambassador Ibrahim Dabbashi told the U.N. Security Council that he had always excluded civil war as a possibility, "but the situation has changed."
"The situation in Libya is complicated," Reuters quoted Dabbashi as telling the council. "Yet the situation since the 13th of July has become even more complicated and the situation might unravel into a full-blown civil war if we're not very careful and wise in our actions."
On July 13 heavy fighting broke out between rival militias vying for control of Libya's main airport, killing at least seven people and forcing a halt of all flights in the worst fighting in the capital for six months.
Full report at:
http://english.alarabiya.net/en/News/africa/2014/08/28/U-N-warns-of-full-blown-civil-war-in-Libya.html
------------
Assad is no anti-terrorism partner but a jihadist ally: France
Agence-France Presse | Paris | August 28, 2014
Syria's Bashar al-Assad is not the West's partner in the fight against terrorism but an ally of Islamic extremists wreaking havoc in Syria and Iraq, French President Francois Hollande warned on Thursday.
"Assad cannot be a partner in the fight against terrorism, he is the de facto ally of jihadists," he told a Paris gathering of ambassadors from around the world.
His comments came after Assad's regime said on Monday it was willing to work with the international community, including Washington, to tackle extremist fighters in the war-ravaged country.
Full report at:
http://indianexpress.com/article/world/europe/assad-is-no-anti-terrorism-partner-but-a-jihadist-ally-france/
---------
Mideast
Palestinians to tell UN: Force Israel out of W. Bank, or we'll try Netanyahu for war crimes
August 28, 2014
A senior Fatah official said on Thursday that the Palestinians will seek UN Security Council approval for a specific timetable mandating Israel's withdrawal from the disputed territories which it captured in the Six-Day War.
The official, Nabil Shaath, told the Ma'an news agency that "if our demand is not accepted, Fatah will ask the International Criminal Court in The Hague to try Prime Minister Binyamin Netanyahu, Defense Minister Moshe Ya'alon, and other senior officials over the military offensive against the Gaza Strip."
The Palestinians also intend to form a permanent unity government that has the complete backing of Hamas in hopes that such a government would expedite the rehabilitation of the Gaza Strip.
Full report at:
http://www.jpost.com/Arab-Israeli-Conflict/Palestinians-to-UN-Force-Israel-out-of-West-Bank-or-well-seek-try-Netanyahu-for-war-crimes-372645
------------
Report: Netanyahu and Abbas met secretly in Jordan prior to Gaza cease-fire
August 28, 2014
Prime Minister Binyamin Netanyahu and Palestinian Authority President Mahmoud Abbas met secretly in Amman prior to the announcement Tuesday of the cease-fire which ended 50 days of fighting between Israel and armed factions in Gaza, Jordanian daily Al-Ghad reported on Wednesday.
The paper quoted diplomatic sources as saying that the meeting of senior Israeli and Palestinian officials that is believed to have included Netanyahu and Abbas took place a few days before the cease-fire.
The Prime Minister's Office did not immediately comment on the report.
The Palestinian Authority is expected to have a major role in rebuilding Gaza after Operation Protective Edge, as is outlined in the parameters of the cease-fire deal.
Full report at:
http://www.jpost.com/Arab-Israeli-Conflict/Report-Netanyahu-and-Abbas-met-in-Jordan-prior-to-Gaza-cease-fire-372610
-----------
Israel seriously considered 'military reoccupation' of Gaza
Press Trust of India | Jerusalem | August 28, 2014
Israel had seriously considered a full military reoccupation of the Gaza Strip and viewed it as "the only alternative" if Egypt failed to broker a truce and Hamas continued firing rockets, a top Israeli minister said.
Shortly before the announcement of the ceasefire, the Israeli military commanders briefed the inner security cabinet on the next steps if the Egyptian-brokered truce talks failed. "A full military reoccupation of Gaza was seriously considered," Israel's minister of intelligence Yuval Steinitz told BBC's HARDtalk.
Full report at:
http://indianexpress.com/article/world/middle-east-africa/israel-seriously-considered-military-reoccupation-of-gaza/
------------
Israel, Hamas declare victory in Gaza war
August 28, 2014
JERUSALEM: Both Israel's prime minister and Hamas declared victory Wednesday in the Gaza war, though their competing claims left questions over future terms of their uneasy peace still lingering.
Israeli Prime Minister Benjamin Netanyahu's comments, delivered in a prime-time address on national television, appeared aimed at countering critics of the war, with both hard-liners in his governing coalition, as well as residents of rocket-scarred southern Israel, saying the war was a failure because it did not halt Hamas' rocket attacks or oust the group from power.
Masked Hamas militants carrying heavy weapons gave their own address upon the rubble of one destroyed Gaza neighborhood, though their own major demands won't be addressed until indirect talks with Israel begin again in Cairo.
Full report at:
http://www.arabnews.com/middle-east/news/621941
------------
Turkey, Qatar negotiating with ISIL for Lebanese hostages
August 28, 2014
The governments of Turkey and Qatar have been involved in negotiations with the Islamic State of Iraq and the Levant (ISIL) to free the Lebanese security personnel taken hostage by the militant group, Lebanon's al-Akhbar reported Aug. 28.
Al-Akhbar reported that Sheikh Salem Rafii, former Head of the Muslim Scholars Committee, urged Abu Talal al-Hamad, ISIL's commander in Qalamoun, to extend the deadline by another three days, allowing a chance at Qatari-Turkish mediation and allowing the negotiators time to arrive.
Full report at:
http://www.hurriyetdailynews.com/turkey-qatar-negotiating-with-isil-for-lebanese-hostages.aspx?pageID=238&nID=71019&NewsCatID=359
------------
Erdogan sworn in as Turkey president as opposition walk out
August 28, 2014
Turkey's outgoing premier Recep Tayyip Erdogan was Thursday sworn in as president as opponents who accuse him of authoritarianism after more than a decade in power walked out of the ceremony.
Erdogan, 60, took the oath in Ankara to begin a five-year mandate in which he has vowed to build a "new Turkey" by pushing through a new constitution and driving on with an ambitious development programme.
Deputies of the opposition Republican People's Party (CHP), who accuse Erdogan of violating the constitution, noisily walked out of parliament just before he was sworn in.
Erdogan has made clear he wants to wield genuine executive power as president after becoming the first directly elected head of state, taking 52 percent of the vote in the August 10 poll.
Full report at:
http://english.ahram.org.eg/NewsContent/2/9/109438/World/International/UPDATED-Erdogan-sworn-in-as-Turkey-president-as-op.aspx
------------
Africa
Cameroon says kills 27 Boko Haram militants in border clashes
August 28, 2014
Cameroon's army has killed 27 members of Nigerian Islamist group Boko Haram near a northern town, state radio said on Wednesday, in a sign of growing cross-border activity by the militants.
The Boko Haram fighters crossed the border into Cameroon earlier this week, after attacking a military base and police station in Nigeria and apparently sending some 480 Nigerian troops retreating across the frontier.
"Cameroon soldiers have killed 27 Boko Haram elements during an attack in a locality near Fotokol in the far-north," state radio CRTV said, adding that the deaths occurred on Monday and Tuesday. There was no word on any Cameroonian casualties.
A Cameroonian soldier in the region said the militants had been pushed back into Nigeria, with calm returning to the area on Wednesday.
In recent weeks, Boko Haram, which is seeking to carve out a de facto Islamic state in northern Nigeria, has stepped up attacks in Cameroon, leading the central African country to increase deployments along its jungle border.
But Cameroon has not always been successful in fending off Boko Haram raids. President Paul Biya dismissed two senior army officers last month following attacks in which at least seven people were killed and the wife of the vice prime minister was kidnapped.
http://english.ahram.org.eg/NewsContent/2/9/109367/World/International/Cameroon-says-kills--Boko-Haram-militants-in-borde.aspx
------------
Recent Libya Fighting 'Unprecedented in Gravity,' Warns Outgoing UN Envoy
August 28, 2014
In recent days, armed battles, inflamed by airstrikes and fuelled by deep divisions among Libyan political factions have been "unprecedented in their gravity and very alarming," the outgoing United Nations envoy to that country told the Security Council today.
In his final address as the Secretary-General's Special Representative and head of the UN Support Mission in Libya (UNSMIL), Tarek Mitri said that the Libyan people bear the brunt of the conflict. The number of people displaced is estimated to be over 100,000, with at least another 150,000 seeking refuge abroad.
Full report at:
http://allafrica.com/stories/201408280601.html?aa_source=sptlgt-grid
------------
Rwanda: Govt Steps Up the Fight Against Human Trafficking
August 28, 2014
Rwanda´s President Kagame wants to curb human trafficking and has asked his people for their support. Even with state involvement, there is still room for improvement.
Human trafficking is a growing problem in Rwanda, say the country's police, although they are reluctant to give precise figures or even speculate. Nevertheless, there are many examples. Just last year, seven girls who had been dragged off to neighboring Uganda were successfully liberated. Police reported that the girls were forced into prostitution after having been lured with promises of good employment.
Rwandan President Paul Kagame has now taken up the issue. "How is it possible that our children - particularly girls - have become a commodity, even though we are aware of the problem?" he asked in parliament.
President Kagame has called on all Rwandans to fight human trafficking
Stopping human trafficking is 'a national duty'
Human trafficking must stop, said Kagame in a recent parliamentary debate. He announced that the security forces needed to become more active. Equally important was to raise awareness among the general population. "This issue cannot be left solely to the police," said Kagame, adding that it was the responsibility of all Rwandans to combat this problem.
In an interview with DW, Rwanda's chief investigator and deputy police chief Tony Kuramba said the police were stepping up their efforts and had carried out operations in areas where children were known to be at risk. Kuramba said that the police had other strategies which he did not want to elaborate on at present.
Full report at:
http://allafrica.com/stories/201408280323.html?aa_source=sptlgt-grid
------------
URL: https://www.newageislam.com/islamic-world-news/new-age-islam-news-bureau/islamic-state-jihadists-executes-200-syrian-soldiers/d/98781