New Age Islam News Bureau
19 May 2019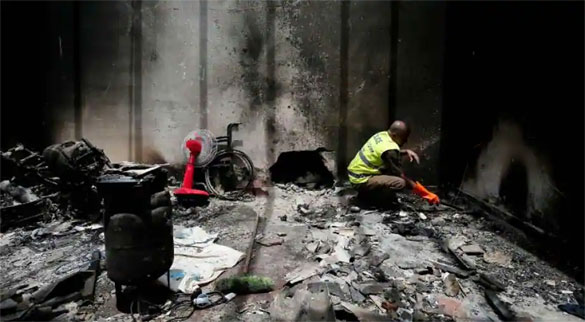 A police officer inspects the site of a gun battle between troops and suspected Islamist militants, on the east coast of Sri Lanka, in Kalmunai. Photograph:( Reuters )
--------
•
Islamic State Is Focusing On Subcontinent and India In Particular
• Arab and Islamic Countries Symposium Discusses Islam's Message Of Moderation
• Beer Mats Designed To Teach Drinkers about Islam Spark Criticism In Germany
• The Islamic Food Banks Helping British Muslims, And Non-Muslims, Survive Poverty
• Young Muslims Become Flag-Bearers of Islam in South Korea via Social Media
• Teach Children about All Religions, Says Malaysian Youth Council
• Sudan Army Rulers Say Talks to Resume As Islamists Stage Demonstration
• Zarif: There Will Be No War As No Country Has 'Illusion' It Could Confront Iran
• India Offers Sri Lanka Full Support to Fight 'Jihadi Terrorism'
India
• Islamic State Is Focusing On Subcontinent and India In Particular
• Kerala Muslim Body Serves Iftar to 2,500 People Every Day in Dubai
• Assam: Muslim Man Braves Odds during Curfew to Save Hindu Woman's Life, Hailed
• Militant threat still looms over village body chiefs in J-K
• Mamata quotes Hindu, Islamic scripts at every rally; won't help says BJP
• Rifleman Aurangzeb's killer among 4 terrorists killed in 2 Kashmir encounters
• The history behind the ban on SIMI, and why the tribunal is reviewing it
--------
Arab World
• Arab and Islamic Countries Symposium Discusses Islam's Message Of Moderation
• Tahrir Al-Sham's Ringleader Issues Distress Call to Terrorist Groups in Aleppo
• Syrian Army's Air Defence Downs Israel's Drone Near Damascus
• Truce Declared in Northern Syria after Terrorists' Heavy Defeat from Army
• Sisi: We are coordinating with Saudi Arabia to confront regional threats
• Bahrain asks its citizens in Iran, Iraq to leave immediately on safety concerns
• Saudi Arabia not looking for war but will respond to any threat: Adel al-Jubeir
• Iraq will remain part of 'axis of resistance' despite foreign plots: Nujaba leader
--------
Europe
• Beer Mats Designed To Teach Drinkers about Islam Spark Criticism In Germany
• The Islamic Food Banks Helping British Muslims, And Non-Muslims, Survive Poverty
• UK ruling party dealing with loads of Islamophobic complaints
• Royal Mail restores Iran services: Tehran's envoy to UK
• EU seeks dialog with Iran, rejects provocation: German FM
• 'Unity, dialogue key to overcoming hateful trends'
--------
Southeast Asia
• Young Muslims Become Flag-Bearers of Islam in South Korea via Social Media
• Teach Children about All Religions, Says Malaysian Youth Council
• Be law-abiding to keep model of unity, says Muhyiddin
• Stamp featuring local church sparks debate in Malaysia
• Don calls out 'hypocrisy' in action against Shia group
• Labis MP denies giving speech in mosque after Johor royal rebuke
• Police Uncover Plot to Detonate Bombs Among Crowd Outside KPU Offices Next Week
--------
Africa
• Sudan Army Rulers Say Talks to Resume As Islamists Stage Demonstration
• Sudanese commander says democratic elections are his goal
• Two dead in Libya attack claimed by ISIS
• Turkish arms in Libya before 'vast operation' to break siege
• 2 guards killed in suspected Daesh attack outside Libya oilfield
• Sudan dispatched 600 militiamen, mostly minors, to Yemen in April: Report
• Nigerian army opens fire on protesters demanding release of Zakzaky
• Ramadan in Sudan: Iftar with the 'flavor of revolution'
• Libyan officials: Militants kill 3 troops at LNA checkpoint
--------
North America
• Zarif: There Will Be No War As No Country Has 'Illusion' It Could Confront Iran
• Saudis, Arab States Approved US Deployment In Persian Gulf: Report
• China's foreign minister calls for US restraint on trade, Iran
• Former CIA chief Brennan to brief Dems on Iran
• US envoy says peace and polls a must for Afghanistan
• We all have a responsibility for Palestine's future: Palestinian foreign minister
--------
South Asia
• India Offers Sri Lanka Full Support to Fight 'Jihadi Terrorism'
• Bangladesh stops 84 Rohingyas from perilous sea journey
• Election planning must go forwarded amid peace efforts: Khalilzad
• Taliban commander blown up by own bomb in Kunar province
• Afghan Army, Special Forces kill 10 Taliban militants in Kunduz, Kandahar provinces
• Official: Bomb blast in western Afghanistan kills 2
--------
Pakistan
• Miscreants Destroy Christian Graves In Pak Punjab
• Opposition plans anti-govt movement after Eid
• Fawad calls ex-CJP incompetent judge, seeks accountability
• Sindh Assembly revives Musharraf-era Police Order amid opposition walkout
• College teachers asked to donate for out-of-school children
• Pakistan ready for any 'unforeseen eventuality' amid Afghan peace push, says Gen Bajwa
• Taliban peace talks may lead to Imran-Trump meeting
--------
Mideast
• Israeli Soldiers Arrest Dutch Politician In Jerusalem Al-Quds
• Projectiles fired from Israeli-held territory, says Syrian state media
• IRGC chief: US will collapse with one strike just like the World Trade Center
• Family of Palestinian who died in Turkish jail waiting for new autopsy, report
• Iraqi commander: US anti-Iran pressure sign of idiocy
• Yemen army retakes key district from Houthis
Compiled by New Age Islam News Bureau
URL: https://www.newageislam.com/islamic-world-news/islamic-state-focusing-subcontinent-india/d/118640
--------
Islamic State is focusing on subcontinent and India in particular
May 18, 2019
Syed Ata Hasnain
The Indian subcontinent is obviously high on the Islamic State (IS) agenda. Ever since the Sri Lanka suicide bombings, IS statements, some genuine and others probably false, are focusing much on the subcontinent and India in particular.
Geo-strategically it makes a lot of sense to a strategic observer; the Indo-centric nature of the subcontinent does ensure that nations on the periphery are linked socially and economically. Besides, that IS hopes to exploit the presence of Muslims across the length and breadth of the country through attempts at radicalisation. Its initial efforts at drawing recruits from India largely failed.
The Rohingya issue in Myanmar and Bangladesh is looked upon as one with great trigger potential. It is something the IS has not been able to exploit. Little realised is also the fact that South Asia is the home to almost 500 million followers of Islam, the biggest regional entity the faith has anywhere in the world. Syria and Iraq had the emotive appeal for the so-called Caliphate due to proximity to the main Islamic shrines, with money and territory available by different means. Similarly, it should be the Indian subcontinent that should attract the next priority simply on the basis of religious affiliation and large strength of Muslims within the subcontinent.
The attempts to penetrate Pakistan and Afghanistan failed due to the lack of space and none of the other radical extremist groups willing to yield ground. The IS obviously has succeeded in ensuring trust deficit with other radical groups affiliated to Islam. It now appears to have changed its strategy of a direct entry to the heart of the subcontinent and possibly decided to enter it in right earnest through the periphery; Sri Lanka's territory and vulnerable minority Muslim population facilitate this entry to the southern region of India. Indian intelligence agencies have been warning for some time that areas in Kerala and Tamil Nadu have been witnessing increasing radicalisation. The IS was also probably keeping its eyes and ears open particularly due to the large footprint of expatriates in the Gulf.
Selecting Sri Lanka as the peripheral area seems to have been fully borne out because the relative ease with which the IS managed its operations. However, a lot of thought probably went into the selection of locations and the modus operandi. It was probably aware that the focus of Sri Lanka's intelligence and security services was entirely on the Tamil and Sinhala threats; the Muslim issue was a sideshow which emerged once in a while with the eight per cent (less than two million) Muslims of the island.
The Sri Lanka intelligence services were fed enough intelligence, of the impending action, by India and the US but they could not get their act together. Political and bureaucratic rivalries may have contributed to that but there is no doubt that it was the IS innovative modus operandi which also made the difference to its success. With intelligence bias focused on Tamils and Sinhala, a Sri Lanka Muslim network with Tamil Nadu Thowheed Jamath (TNTJ) remained under the radar; the National Thowheed Jamath (NTJ) of Sri Lanka is the chief suspect for the entire carnage. Even more than that, the system of radicalisation and networking was nothing short of brilliant. The IS returnees had set up cells which were based upon a few families instead of spreading them wide with a large array of individuals. Efforts were focused upon radicalising a whole family so that chances of information leakage were minimised. In January 2019, police had discovered a cache of explosives and detonators in Colombo and could not link it with anything. The phenomenon of radicalising families to take on bombings was also witnessed in Indonesia.
The selection of suicide bombers as weapons of destruction rather than simply placing improvised explosive devices (IEDs) at target locations was a deliberate choice. The social impact of suicide bombers on a society being addressed for greater radicalisation is much higher.
The choice of targets was made for maximum impact. High profile hotels in Colombo's central district would mean foreign tourists, especially at breakfast time on a holiday, Easter. Congregations were simultaneously gathering at churches which were the other targets elsewhere; that made coordination so much easier. Foreign tourists in body bags meant an international furore and message of IS capability to hit at will.
"Sri Lanka is a developing country with divided politics and weak institutions. The same has happened in countless countries, many of them wealthy and with highly skilled intelligence services", wrote the New York Times in an elaborate post-event report, referring to the inability of the Sri Lankan intelligence services to prevent the carnage despite adequate intelligence. Why is this important for us in India? The arrests that have taken place in Sri Lanka, some genuine and some on mere suspicion do not reflect the busting of the network which perpetrated the suicide blasts. Handlers and potential suicide bombers appear to be yet on the loose considering the assessment of the numbers. In India's southern region where the support base exists for the networks in Sri Lanka, the authorities have arrested Rias Abu Bakr who allegedly was planning suicide attacks in Kerala. The mindless politics of Kerala and the extent of radical penetration in the southern region should worry India's intelligence services who have had a creditable record in the anti-terror domain particularly since 26/11. The long drawn general election period of 2019 in India has taken its toll on intelligence and police services which have been stretched.
If the IS really has the intent of penetration into India it would have exploited this period and would be planning several decoys. One among them is the focus it has managed to draw to the southern region while something devious could be under planning for potential targets elsewhere in the country. One of the major challenges for the next government at the Centre would be the dilution of divisiveness a phenomenon promoting potential IS effectiveness. The political community does not realise the immense harm it is doing to the internal security and laying an open invite to devious entities such as IS to exploit.
https://www.wionews.com/opinions/islamic-state-is-focusing-on-subcontinent-and-india-in-particular-219555
--------
Arab And Islamic Countries Symposium Discusses Islam's Message Of Moderation
May 19, 2019
MADINAH: The moderate nature of Islam was highlighted during a two-day symposium held at the King Salman International Conference Center under the patronage of King Salman.
Researchers from Arab and Islamic countries presented 29 studies and working papers during the event, which was titled "Religious efforts exerted at the Prophet's Mosque during the Saudi era."
"The speakers highlighted Islam's moderation in the different axes of their studies. They stressed the important role of the Prophet's Mosque in caring for Qur'an-related sciences and the Arabic language," said Dr. Abdulrahman Al-Sudais, the president of the General Presidency for the Affairs of the Two Holy Mosques, which organized the event in partnership with the Naif bin Abdul Aziz Al-Saud International Prize for the Prophetic Sunnah and Contemporary Islamic Studies.
"This comes as part of the Kingdom's efforts to develop and serve the Two Holy Mosques and their visitors. The care provided by the Kingdom is not limited to sensory care but it also includes moral care that seeks to promote beneficial sciences and true knowledge."
Al-Sudais added that the symposium was noble in its objectives, blessed in its message, outstanding in its research and great in its recommendations. He also thanked the king and Crown Prince Mohammed bin Salman for their support.
http://www.arabnews.com/node/1498976/saudi-arabia
--------
Beer mats designed to teach drinkers about Islam spark criticism in Germany
May 19, 2019
A project to promote better understanding of Islam in Germany by printing information about the religion on beer mats has been criticised.
Under the scheme, pubs and restaurants have been provided with specially-created coasters asking questions about Islam. On the flip side of each is a web link and QR code to the answer.
"Mohammed, what was he like?" wonders one in a deliberately informal tone. "What is it with Muslims and pork?" ponders another.
But now, despite the scheme running for three years and being approved by the Germany's Central Council of Muslims, it has run into controversy.
The Foreigners' Advisory Council in the central town of Maintal – where the cardboard mats have just been introduced – has said it is an inappropriate way to educate people about a religion which forbids alcohol.
"They could have used postcards, or adverts on the side of a bus. Why did it have to be the pub?" Salih Tasdirek, head of the council, told Der Spiegel magazine.
He also questioned if it was right for the coasters to include a symbol of a cider jug, despite it being a historic emblem for the region.
Orient Network, the small German NGO which runs the project as part of its work promoting interfaith understanding, defended the scheme.
Raban Kluger, from the organisation, said: "We wanted to give answers in local language to the questions that our members, mostly Islamic scholars, are always asked.
"It is not our intention to associate alcohol with Islam."
The questions and answers were all drawn up by Muslims and checked by Germany's Central Council of Muslims, he added, while also saying that tens of thousands of mats had previously been sent out across different areas of Germany with no issues arising.
https://www.independent.co.uk/news/world/europe/beer-mets-islam-muslim-germany-pork-mohammed-maintal-a8920101.html
--------
The Islamic food banks helping British Muslims, and non-Muslims, survive poverty
May 18, 2019
Imran Hameed lost his mother 22 years ago when he was just 17 years old. She never let anyone go without food, he remembers, nor would she let someone in need go without help.
She would often go on holiday to Pakistan, not to see her own family but to visit hospitals and listen to patients' concerns. It was in her name, as sadaqah jariyah (a form of giving that extends past a person's lifetime and helps those in the future), that Hameed set up the UK's only 24/7 emergency food bank.
He hit upon the inspiration on the 27th night of Ramadan in 2016, commonly known as Laylat Al Qadr, the Night of Power, when it is said that angels descend from heaven and the Quran was first revealed to the Prophet Mohammed some 1,410 years ago. In the three years since his inspired night, Salma Food Bank has delivered 40,000 food parcels to doorsteps and donated 420 tonnes of food in the West Midlands, an area surrounding Birmingham, Britain's "second city" about 160 kilometres from London.
"I'm a Muslim, and my religion teaches me that I'm not a believer if I don't feed you when you're hungry, regardless of who you are. It's an integral part of my faith. Doesn't matter if it's 2 o'clock in the morning, an emergency is an emergency."
Hameed works on the ethos inspired by a Hadith emblazoned on a banner that greets all outside the Salma Food Bank: "The Prophet Mohammed (peace be upon him) said he is not a Muslim that goes to bed satisfied while his neighbour goes hungry."
But Hameed doesn't just serve Muslims. About 95 per cent of his food parcel recipients are non-Muslims living in the local area. He has 150 volunteer drivers ready to respond at any given notice 24 hours of the day – and 80 per cent of the food bank's volunteers are non-Muslim.
Hameed is "proudly British and proudly Muslim", and is adamant that charity starts at home.
"Allah put us here in Britain and gave us good fortune here for a reason, and thereafter gave us people in need for a reason. He is the bigger planner. I'm all for people giving money away across the world, but look at home first. And for me, home is here in Britain."
Four million people in Britain live in poverty despite having jobs. In total, 14 million people – a fifth of the population – live in poverty and 1.5 million cannot afford basic essentials.
Food bank use has soared 19 per cent in the past year, with more than 1.6 million three-day emergency food parcels being handed out between April 2018 and March 2019, says food poverty charity the Trussell Trust. Those in need include Muslims fasting for Ramadan.
This is where the Bearded Broz, a humorous name for Hameed's all-hours operation to help the needy, step in. Wearing high-visibility vests and up working when others would be sleeping at noon while fasting, Hameed and his volunteers toil away at packing special Ramadan food parcels containing everything from cooking oil and ghee to chickpeas and flour – the essentials of any iftar.
Packed and ready to go in a van, the Bearded Broz team deliver a round of Ramadan food parcels packed with beans, rice, flour, cooking oil and a bag of rice big enough for a family. Moving around the streets of Birmingham, one drop-off is for a family of seven, asylum seekers from the Middle East, who have a budget of £25 (Dh117) a week and are barred from finding work, with one child paralysed from the waist down.
Minutes later, a parcel is dropped off to a British-Asian single mother on £70 a week. She finds her money is spent on food and commuting, with the only luxury being swimming lessons for her daughter. Another Muslim woman who receives her Ramadan emergency food parcel is thought to be a domestic violence victim.
Hameed and his team are on the front line, often called by police and local authorities as the last resort to tackle social inequality.
He says that many recipients are victims of a revised welfare system, known as universal credit, that has left families and individuals unable to manage on monthly payments that used to be given fortnightly.
"There is more poverty than we think there is and it's right on our doorstep, whether that be the UAE or Britain," he says.
Ramadan also brings in a greater number of donations to food banks, says Zahra Hussain of London's Sufra food bank and kitchen.
"We get a lot more people, just individuals coming and donating," she says. "We also have a lot more mosques that get in touch with us."
"They're heightened in their spirituality which means that they want to give more."
The team at Sufra aren't just passively accepting donations. As part of an ongoing project to assist Syrian refugees resettled in the UK, they are holding a charitable iftar to raise money and help their 80 charges make new friends in the community. The food bank has also devised a downloadable giving calendar to encourage children to donate during the fasting period and their community garden manager, an Irish Catholic, is fasting over Ramadan to raise money for vegetable seeds.
"Integration is a huge issue with the refugees who arrive in England," says Sufra's refugee resettlement officer Ibrahim Mohammed.
"Ramadan has always been a good point for [the refugees] to integrate with other people."
https://www.thenational.ae/world/europe/the-islamic-food-banks-helping-british-muslims-and-non-muslims-survive-poverty-1.862914
--------
Young Muslims become flag-bearers of Islam in South Korea via social media
May 18, 2019
SEOUL: On a sunny afternoon in the second week of Ramadan, hundreds of Muslims gathered at the Seoul Central Mosque in the district of Itaewon for their weekly Friday prayer.
Those who could not fit inside the mosque sat on their prayer mats outside the main prayer hall. Most of the worshippers were immigrants from Southeast and Central Asia.
"I was travelling an hour from Ansan (southwest of Seoul) by train and bus to perform a prayer along with my two children," Ahn, a Korean Muslim, told Arab News.
"It's a ritual to come here every Friday afternoon, and the past two weeks have been special as we've entered Ramadan, the holiest month in the Islamic religion."
Living as a Muslim in South Korea has been tough, and is getting tougher due to Islamophobia, said Ahn, who converted to Islam a decade ago after marrying a Pakistani Muslim.
"Lots of incidents occur allegedly in connection with Islamist extremists and terror groups, and many Korean people just think all Muslims could be associated with them," she added. "Hatred and prejudice against Muslims still prevail here."
Park Si-eun, 36, who converted to Islam in 2010, said: "Even some of my family members feel inconvenienced being with me just because I'm Muslim. There are a lot of challenges for Muslims in Korea, and even more for Korean Muslims. Nevertheless, I feel there have been some changes in the public perception of Islam, slowly but surely."
Islam has a very small presence in South Korea, where Protestantism is dominant. According to the Korea Muslim Federation, the number of Muslims in the country stands at about 150,000, some 0.3 percent of the population. Of them, Korean Muslims account for 35,000.
There are at least 30,000 Protestant churches in the country but only eight mosques, including the Seoul Central Mosque, which was built in 1976 with the help of a large monetary contribution from Saudi Arabia and other Islamic nations.
Rahman Lee Ju-hwa, imam at the Seoul Central Mosque, said despite widespread misunderstanding and ignorance about Islam, there is a slow but steady change in perception.
"The 2007 hostage crisis in Afghanistan was a major turning point in the history of Islam in South Korea," he told Arab News, referring to the kidnapping of 23 South Korean missionaries by members of the Taliban, who executed two of the hostages.
"The incident had many more South Korean people think negatively about Islam. But on the other side, many people were beginning to be curious about the religion and wanted to know it better," he said.
"The number of Muslims in the country is stagnant, but the public perception and understanding of Islam are getting better, slowly but surely," he added.
"An increasing number of students visit the Seoul Central Mosque to attend lectures and study the Muslim culture."
The number of visitors to the mosque peaked at 2,500 last year, a 10-fold increase from a decade ago, he said.
During a visit by Arab News on May 8, a group of middle-school students was touring the mosque.
"We came here for a cultural study class to help students understand different cultures and religions," said Lee Eun-il, a teacher at Shindong Middle School in Seoul.
"In particular, Islam wasn't familiar to students and misunderstood by many people. That's why we came here, to understand it better."
The imam said: "Social media is an effective tool for providing accurate information on Islam. Wrong information spreads so fast online, but that information can be fixed instantly on social media."
Park Dong-shin, a South Korean Muslim, runs two YouTube channels — one for the Arabic language and the other for Islam. They have about 10,000 and 50,000 viewers, respectively. He also has a Facebook account with approximately 200,000 followers.
"I started running YouTube channels in 2011 with the goal of providing accurate information on Islam, and they've gained popularity fast in recent years thanks to the YouTube boom," Park, who converted in 2009, told Arab News.
"Many of the viewers post malicious comments insulting Islam and Muslims, but I feel that's a very normal process of a new culture being mixed in a society. It's a process of people learning a new culture and religion," he said.
"I'm super surprised to see a number of Christians join my channels to get to know Islam better, not criticizing Islam," added Park, who studied the Arabic language and Muslim theology at the Islamic University of Madinah, Saudi Arabia, and subsequently majored in Shariah law at Al-Azhar University in Cairo.
Safiya Kang Na-yeon, a female manager at the Seoul Central Mosque, is an Instagram user with nearly 50,000 followers.
Having converted in 2015, she posts photos and videos of Islamic food, fashion and cultural events, which she said help bridge the gap between Korean and Muslim cultures in a more effective way.
"Youngsters in South Korea show a big interest in hijab fashion and halal food," she said. "I also post photos related to South Korean culture, such as hanbok, traditional Korean clothing. That helps Muslims understand Korea well."
Since the 1990s, an increasing number of migrant workers from Muslim countries have been settling in South Korea.
"The image of most Muslim migrants has been improved to an extent due to their hard work and faithfulness," said Safiya Kang.
"Their children with multicultural backgrounds are growing up, and they'll be able to play a role in finding a common denominator with Korean people."
Muslim tourism has become a key growth area for South Korea, Asia's fourth-largest economy, since the number of Chinese travelers declined in the aftermath of a diplomatic row over the deployment of the US Terminal High Altitude Air Defense (THAAD) system in 2017.
The South Korean government has laid out a tourism initiative aimed at attracting 1.2 million Muslim visitors annually.
Last year, 971,649 Muslim tourists visited the country, an 11 percent increase from 865,910 in 2017, according to the Korea Tourism Organization.
Despite efforts to increase halal restaurants, 34 percent of Muslim visitors said food was their biggest inconvenience in South Korea, whose people enjoy pork and alcohol, according to a 2018 survey conducted by the tourism organization.
"The government should address the lack of infrastructure for Muslim tourists, such as halal restaurants, prayer rooms and other Muslim-friendly facilities, which could attract many more Muslim visitors and boost the national economy," Imam Lee said.
Still, South Korean Muslims pride themselves on keeping their faith in the face of numerous challenges.
"Practicing Islam is such a difficult mission in this country, where our religion is marginalized in many cases," Safiya Kang said.
"In another sense, I'm proud of keeping the faith in this most challenging of environments. I find peace in Islam."
http://www.arabnews.com/node/1498891/world
--------
Teach Children about All Religions, Says Malaysian Youth Council
May 18, 2019
KUALA LUMPUR: The Malaysian Youth Council has recommended that a special subject be introduced in schools and universities for students to learn about other religions to further enhance and strengthen inter-faith understanding and harmony.
Its president Jufitri Joha said the Islamic studies currently being taught in schools, while commendable, were focused on only one religion.
He said his proposal did not mean that the country would practice religious equality, but learning about various religions would "foster unity and promote religious sensitivity for cultures different from our own".
"We see that this idea will be able to bring the different races closer together if introduced at the school and university levels.
"If it is not through the introduction of a new subject, perhaps include the study of other religions as a subject matter in the existing syllabus," he told Bernama after a roundtable discussion on religious affairs among people of different faiths here today.
The one-day workshop organised by MBM, the Malaysian Islamic Youth Movement and National Unity Department under the Prime Minister's Department gathered representatives of various religious youth associations in the country to discuss ways to improve national unity and integration.
https://www.freemalaysiatoday.com/category/nation/2019/05/18/teach-children-about-all-religions-says-youth-council/
--------
Sudan army rulers say talks to resume as Islamists stage demonstration
May 18, 2019
KHARTOUM: Talks between Sudan's ruling military council and protesters are set to resume, army rulers announced Saturday, as Islamic movements rallied for the inclusion of sharia in the country's roadmap.
The resumption of talks with the Alliance for Freedom and Change, the umbrella protest movement that brought down longtime leader Omar alBashir last month, comes following pressure from key world powers to get back to the table.
The ruling military council announced "the resumption of negotiations with the Alliance for Freedom and Change on Sunday".
The generals and protest leaders had been expected to come to an agreement on Wednesday on the thorniest issue – the make-up of a new body to govern Sudan for three years that would replace the existing military council that took power after ousting Bashir.
But that meeting never took place and on Thursday the head of the military council, General Abdel Fattah al-Burhan, confirmed talks were suspended for 72 hours.
Demonstrators subsequently spent hours meeting Burhan's demand to dismantle roadblocks which had paralysed parts of the capital.
World powers on Friday urged the generals to resume the talks.
Representatives from the United States, the United Nation, African Union and European powers called on both sides to "reach an agreement ASAP on an interim government that is truly civilian-led and reflects the will of the Sudanese people," Tibor Nagy, the US assistant secretary of state for Africa, tweeted on Friday.
The generals have allowed protesters to maintain their sit-in outside Khartoum's army headquarters, where thousands remain camped out to demand a rapid transition to democracy.
Prior to suspending the talks the two sides had agreed on several key issues, including a three year transition period and the creation of a 300-member parliament, with two thirds of lawmakers from the Alliance of Freedom and Change.
Ahead of talks resuming, Sudanese Islamist movements held their own demonstration Saturday outside the presidential palace in downtown Khartoum.
Hundreds of protesters took part in the demonstration, the first by Islamist groups since Bashir's ouster in April.
"The main reason for the mobilisation is that the alliance is ignoring the application of sharia in its deal," said Al-Tayieb Mustafa, who heads a coalition of about 20 Islamic groups.
"This is irresponsible and if that deal is done, it is going to open the door of hell for Sudan," he told AFP ahead of the rally.
Bashir came to power in an Islamist-backed coup in 1989 and Sudanese legislation has since been underpinned by Islamic law but activists say that during his regime sharia was applied inconsistently.
Over the years this led to thousands of women being flogged for "indecent behaviour", women's rights activists said.
The protest movement has so far remained silent on whether sharia has a place in Sudan's future, arguing that its main concern now is installing a civilian administration.
The protest movement brings together a wide range of political, social and also rebel groups from the country's conflict zones, which some say triggered perceptions that it is pushing for building a new secular Sudan.
"Islam is part and parcel of the identity of the majority of the people of Sudan," Sadeq al-Mahdi, Sudan's main opposition leader and an ex-premier told AFP in a recent interview.
He said it was a "great mistake" for some members of the opposition to "talk about secularism".
Scores of worshippers on Friday staged spontaneous demonstrations in Khartoum after the weekly Muslim prayer and criticised the protest movement.
"The Alliance for Freedom and Change wants... to build what they call a new Sudan, a Sudan without religion, a secular Sudan," said hardline cleric Abdelhai Yusef in his Friday sermon, according to a video posted on his Facebook page.
"That's why we say no, a thousand times no to this deal. We want a Sudan that is for everyone."
https://timesofindia.indiatimes.com/world/rest-of-world/sudan-army-rulers-say-talks-to-resume-as-islamists-stage-demonstration/articleshow/69390641.cms
--------
Zarif: There will be no war as no country has 'illusion' it could confront Iran
18 May 2019
Iranian Foreign Minister Mohammad Javad Zarif said on Saturday he did not believe a war would break out in the region as Tehran did not want a conflict and no country had the "illusion it could confront Iran", the state news agency IRNA reported.
Tensions have escalated in recent days, with growing concerns about a potential US-Iran conflict. Earlier this week the United States pulled some diplomatic staff from its embassy in Baghdad following weekend attacks on four oil tankers in the Gulf.
"There will be no war because neither we want a war, nor has anyone the idea or illusion that it can confront Iran in the region," Zarif told IRNA before ending his visit to Beijing.
https://english.alarabiya.net/en/News/world/2019/05/18/Zarif-There-will-be-no-war-as-no-country-has-illusion-it-could-confront-Iran.html
--------
India offers Sri Lanka full support to fight 'Jihadi terrorism'
May 18, 2019
COLOMBO: India has offered full support to Sri Lanka in dealing with the common threat of "Jihadi terrorism" following the deadly Easter Sunday suicide bombings that killed nearly 260 people, including 11 Indians.
Indian High Commissioner to Sri Lanka Taranjit Singh Sandhu on Friday also discussed the prevailing security situation during his recent meeting with two top-ranking Buddhist monks at Sri Dalada Maligawa or the temple of the Sacred Tooth Relic in Kandy, Indian Embassy here said in a statement.
"High Commissioner....discussed the prevailing security situation with the Most Venerable Mahanayake theros and offered India's full support to Sri Lanka in dealing with the common threat of Jihadi terrorism," the statement said.
The High Commissioner also paid respects at Sri Dalada Maligawa and received the blessings of the Most Venerable Thibbotuwawe Sri Sumangala Mahanayake Thera of the Malwatu Chapter and the Most Venerable Warakagoda Sri Gnanarathana Mahanayake Thera of the Asgiriya Chapter in Kandy, it said.
Both the Mahanayake Theros deeply appreciated India's unconditional and strong support for Sri Lanka, including in the security sphere, the statement said.
Sandhu also conveyed greetings on the auspicious occasion of Vesak to the Most Venerable Mahanayake Theros and recalled the visit of Prime Minister Narendra Modi to Sri Lanka for the International Vesak Day celebration in 2017 and the exposition of
the sacred Sarnath Relics in Sri Lanka in 2018.
Sri Lanka has declared two days of holidays for nation-wide celebrations of Vesak, or the commemoration of the birth, enlightenment and passing away of the Gautama Buddha.
Both the Mahanayake Theras deeply appreciated India's unconditional and strong support for Sri Lanka including in the security sphere, it said.
Indian authorities shared intelligence with Sri Lanka before the serial blasts rocked the neighbouring country. However, Sri Lankan authorities failed to act on the intelligence inputs.
Nine suicide bombers, including a woman, carried out a series of devastating blasts that tore through three churches and three luxury hotels, killing 258 people and injuring over 500 others.
Authorities earlier said they believed a little-known local militant Islamist group known as National Tawheed Jamath (NTJ) was behind the attack. However, the NTJ has not claimed responsibility for the attacks, Sri Lanka's worst.
The Islamic State terror group said it had carried out the attacks, and released video of men it says were the bombers.
Furthermore, the envoy also reviewed the progress of the Kandyan Dancing School being constructed with India's assistance of some Rs150 million at the Sri Lanka International Buddhist Academy (SIBA) campus in Pallekele, Kandy, according to the statement .
https://timesofindia.indiatimes.com/world/south-asia/india-offers-sri-lanka-full-support-to-fight-jihadi-terrorism/articleshow/69385474.cms
--------
India
Kerala Muslim Body Serves Iftar To 2,500 People Every Day In Dubai
May 18, 2019
DUBAI: A Kerala Muslim centre in Dubai is serving Iftar meal every day to more than 2,500 people from all walks of life, according to a media report.
Iftar is the evening meal with which Muslims end their daily Ramzan fast at sunset. There are 210 volunteers, divided into seven groups, who ensure smooth and clean distribution of Iftar meals, Gulf News reported.
"Most of the volunteers are drivers, A/C maintenance workers, office assistants and people who do other routine jobs. But, we also have businessmen and professional executives who have been volunteering with us," Ebrahim Elettil, president of the Kerala Muslim Cultural Centre's (KMCC) said.
"When we started the community Iftar in 2012, we were serving only 1,500 people. Over the years, the number of people coming to have iftar increased. On average we serve 2,550 Iftar meals. Our volunteers are the pillars of this success," E lettil said.
Even people with disabilities are part of the team. The preparation for the volunteering team, who also fast, begins a month before Ramzan. "The registration of new members and renewal of old members is done and they are assigned duties in rotation. They are also trained by hygiene officers from some hotels. Every day we have about 150 volunteers present," Ebrahim Iritty, chairman of the volunteers' wing, was quoted as saying.
The volunteers arrive several hours before the Iftar time to take care of all the necessary arrangements. Lieutenant Colonel Khalifa Ali Rashid, assistant director at the al-Muraqqabat police station said that the KMCC volunteers were doing an amazing job by serving such a large number of people from all walks of life.
https://www.ndtv.com/indians-abroad/kerala-muslim-body-serves-iftar-to-2-500-people-every-day-in-dubai-2039407
--------
Assam: Muslim Man Braves Odds during Curfew to Save Hindu Woman's Life, Hailed
15th May 2019
By Prasanta Mazumdar
GUWAHATI: Rubon Das was at his wit's end when his wife Nandita was writhing in labour pain and there was no ambulance or other vehicles to take her to a government-run hospital, located 10 km away from their Rajyeshwarpur Part I village in Southern Assam's Hailakandi where curfew was imposed following communal violence.
It was then that Maqbool Hussain Laskar, a 32-year-old cab driver who is an acquaintance of Das, appeared like a Messiah. He volunteered to take the woman to the SK Roy Civil Hospital in Hailakandi in his car by putting his life at risk.
Nandita, aged 22, delivered a healthy baby boy just minutes after reaching the hospital. The family has named the infant "Shanti".
Prohibitory orders under Section 144 of the CrPC were clamped in Hailakandi on May 11 following a communal violence that left one person dead and over a dozen others injured. The situation was tense and people were afraid of venturing out of their homes.
"On May 12, everything had come to a standstill in Hailakandi and its adjoining areas due to the curfew. I had frantically called up the 108 ambulance service and others I know for a vehicle to take my wife to the hospital. However, they declined my requests fearing trouble on the way. I was at a loss. Soon, Laskar, the Good Samaritan, arrived with his car. We immediately left for the hospital and the baby was born soon after we had reached there," Das told Express.
He said everyone in the hospital was surprised to see them given the volatile situation that prevailed then.
"I have no words to express my gratitude to him (Laskar). The worst was possibly in store but God sent him to us," Das said, adding, "We named the baby Shanti despite knowing that it is a girl's name. Shanti denotes peace and we want the return of durable peace to Hailakandi".
Laskar, the saviour, said he considered saving the lives of the woman and the baby in her womb was more important than putting his life at peril.
"As soon as I learnt about the agonies of the family from a local in my village, I left for the house. I won't say I was not scared to drive the distance but my fear was overpowered by the thought that I should be able to take her to the hospital before it is too late," Laskar said.
He said he was happy that everything passed off well.
Hailakandi Deputy Commissioner (District Magistrate), Keerthi Jalli, praised both Laskar and Das for their courage and communal brotherhood. She paid a visit to the residence of Das on Tuesday where Laskar was also present.
Das hugged Laskar and thanked him for coming out to help them in their hour of distress and giving his wife a new lease of life. Laskar, in turn, asked Das to thank God for coming to their rescue.
"He (Laskar) had volunteered to take the woman to the hospital at great personal risk. As the baby has been named Shanti, we hope that the society will come back to peace," Jalli said.
http://www.newindianexpress.com/nation/2019/may/15/assam-muslim-man-braves-odds-during-curfew-to-save-hindu-womans-life-hailed-1977301.html
--------
Militant threat still looms over village body chiefs in J-K
May 19, 2019
Aadil Mir
Anees-ul-Islam, 30, contested the local bodies' elections in Jammu and Kashmir last year hoping to do his bit in developing his village — Sagam in Anantnag district. He entered the fray despite threats to his life in the militancy-hit South Kashmir district. Many like Islam hoped the situation would get better to allow them to fulfil the promises they had made to their voters. But the situation has gone from bad to worse, so much so that Islam has been unable to even visit his family in Sagam.
"I am living in a rented room in the town [Anantnag] along with my wife and two children since I became a sarpanch," he said.
Islam is not alone. Hundreds of elected sarpanches have been unable to visit their families since getting elected in the Panchayat polls held in November-December last year. The elections were held under the shadow of militant threats. In August 2018, Hizb-ul-Mujhadeen (HM) commander Riyaz Naikoo issued a video message threatening acid attacks against the participants.
The elections were held without any major violence. But militant violence has escalated in South Kashmir over the last six months. On May 4, suspected militants killed Bharatiya Janata Party functionary Ghulam Mohammed Mir, 55, in Anantnag. The attack on Mir was the latest in militant assaults in south Kashmir, which has become a militant hub since the killing of HM militant Burhan Wani in 2016.
Islam said they face a double whammy as they were hardly getting their salaries, not to mention a lack of developmental funds. "We thought we would at least help rebuild lanes and by-lanes in my village...but since getting elected, I am literally homeless. Many of us got government accommodation for the initial few months, but were later told to vacate them."
Farooq, who refused to give his second name fearing reprisals, was forced to quit even before takling his oath in the face of specific threats. He said gunmen came to kill him a week after he was elected as sarpanch in Shopian. He, too, has not returned home despite quitting. "I am afraid to go back." These sarpanches say their pleas for help have fallen on deaf ears even as they have threatened hunger strikes and mass resignations.
A police officer in Srinagar said following Mir's killing they have now been directed to reassess the security of sarpanches and panches facing threats. "After threat assessment of these people, security will be provided to them," the officer said.
Many like Irshad Ahmad said they were elected unopposed but are yet to get funds since their election has not been notified officially.
Mohammad Nazir Sheikh, the director of Panchayats, said a sarpanch needed the backing of one-third of panches to get notified under the previous Panchayat Raj Act. He said 230 sarpanches are yet to be notified since they do not have any Panches to back them.
A 41.3% turnout was recorded in the panchayat polls in Kashmir while it was 83.5% in the state's Jammu region. Across South Kashmir's Shopian, Pulwama, Kulgam and Anantnag districts, there was no polling in the absence of candidates in a majority of the villages. As a result, of the 1,560 sarpanches elected, only 1,330 could be notified since at least 11,236 panch posts remain vacant.
Many blame the poll boycott of the state's main parties like the National Conference (NC) and People's Democratic Party (PDP) in protest against alleged attempts to dilute the state's special status for the situation.
PDP's Rajya Sabha member, Nazir Ahmad Laway, blamed the Centre for making the elected local bodies members "scapegoats" by insisting on conducting the elections.
Rao Farman Ali, a political analyst, said the boycott "gave a way to rogue elements to contest". "The boycott turned out to be fatal... apart from militant threats they are now facing public resentment too."
Full report at:
https://www.hindustantimes.com/india-news/militant-threat-still-looms-over-village-body-chiefs-in-j-k/story-bwieMPDrndegX0wfz5zSHO.html
--------
Mamata quotes Hindu, Islamic scripts at every rally; won't help says BJP
May 18, 2019
Chief Minister Mamata Banerjee wrapped up her last Lok Sabha campaign address in Diamond Harbour last Thursday by reciting select lines of the Chandi, the 700-verse Devi Mahamaya text in Sanskrit, which describes the Goddess as the supreme power and creator, along with some from the 'shahada', Islam's most sacred declaration.
The constituency, where Banerjee's nephew Abhisekh is contesting again, has both Hindu and Muslim voters in large numbers.
During her 69-day election campaign, the Trinamool Congress (TMC) chief outdid Bharatiya Janata Party (BJP) president Amit Shah, Prime Minister Narendra Modi and Congress president Rahul Gandhi by addressing more than 100 rallies across Bengal. But irrespective of the composition of the electorate and at every rally, Banerjee made it a point to recite a few lines from the Chandi, that are chanted during prayers to deities Durga, Jagatdhatri, Basanti and Annapurna.
Banerjee also invoked the 'shahada' by uttering "Iaa ilaahah illa allaah muhammadur rasool ullaah." (None has the right to be worshipped except Allah and Prophet Mohammed is the only messenger of Allah). And in a bid to reach out to Christians, Mamata never failed to add 'God is great, God is good', to her campaign speeches too.
However, politicians and observers said that blending religion with electoral politics in this manner is unprecedented in Bengal and exposes the polarisation that may have emerged as the principal influencer on voters in many districts.
Political commentator and columnist Suvashis Maitra said, "Since Independence, no mainstream politician in Bengal chanted religious scripts so extensively. Banerjee did it because her opponents projected her as an appeaser of Muslims. She must have sensed that Hindu voters, who comprise the bigger chunk of the vote bank, may turn their back on her."
"I don't think her counter-strategy will work. Voters made up their mind long ago. Casting votes was only a formality," Maitra said.
Defending Banerjee, senior TMC leader and minister Jyoti Priya Mallick said, "By chanting from religious scriptures she has established her secular credentials. People have faith in her because of this."
Though they have suffered electorally ever since the BJP started rising in Bengal, the Communist Party of India (Marxist) leaders allege that Banerjee is following the BJP's path. "After coming to power, Banerjee introduced stipends for Imams. Later, she started inviting Hindu priests to her meetings. There was never any religious divide in our society, not even during the Bangladesh War, solely because of Bengal's social reformers, poets and intellectuals from the 19th century," outgoing MP from Raigunj and CPI (M) politburo member Md Salim, said.
"No matter how many times she chants from the Chandi or names Allah, nothing can help her. Banerjee has been exposed," said Rahul Sinha, BJP's national secretary who is contesting the crucial Kolkata North seat that goes to polls on Sunday.
"She is Bengal's biggest anti-Hindu leader. Since 2011, there have been riots, deaths and infiltration from Bangladesh. The damage she has done in seven years cannot be rectified in decades," said Rashtriya Swayamsevak Sangh (RSS) south Bengal secretary, Jishnu Basu.
"No religion divides people. By reciting the Shahada, she is talking of one God," said Pirzada Jiauddin Siddiqui of Hooghly's Furfura Sharif mazar which Muslims consider to be one of the holiest shrines in Bengal.
Full report at:
https://www.hindustantimes.com/india-news/mamata-recites-hindu-islamic-scripts-at-every-rally-won-t-help-says-bjp/story-qiSqQH7QNArKZ3EfhFE2HN.html
--------
Rifleman Aurangzeb's killer among 4 terrorists killed in 2 Kashmir encounters
May 18, 2019
SRINAGAR: The killer of rifleman Aurangzeb was among four Hizbul Mujahideen terrorists gunned down in two encounters in Kashmir Valley on Saturday. Aurangzeb, a soldier of 44-RR, was kidnapped and shot dead by terrorists on June 14 last year when he was on his way from Shadipora in Shopian district to his village in Poonch in a private vehicle to attend a family function.
While three of the terrorists, including the killer of the soldier, were gunned down at Panzgam in Awantipora of south Kashmir's Pulwama district, the fourth one was killed at Hathlangoo in north Kashmir's Sopore.
Awantipora SSP Tahir Saleem said the three terrorists killed at Panzgam have been identified as Showkat Ahmad Dar of Panzgam, Irfan Ahmad of Sopore and Muzzafar Ahmad of Tahab Pulwama, all affiliated to Hizbul Mujahideen.
Saleem said Showkat Dar was "directly involved" in the killing of Aurangzeb, who was part of a team that had killed Hizbul commander Sameer Tiger on May 1 last year.
The Panzgam encounter broke out in the wee hours of Saturday. An official said a joint team of forces, including Army's 55-RR and SOG, cordoned off Bonpora Panzgam after credible inputs about the presence of some terrorists in the area. As the forces closed in on the suspected hideout of the terrorists, they were fired upon. The forces retaliated, leading to the encounter and subsequent killing of the three terrorists.
The second encounter took place after security forces cordoned off Hathlangoo on Saturday afternoon after getting information about the presence of terrorists there. "During the search operation, the hiding terrorists fired on the search party.
The fire was retaliated, leading to an encounter in which one terrorist was killed," a police spokesman said.
"The body of the slain terrorist, identified as Waseem Ahmad Naik of Udipora village in Pulwama district, was retrieved from the encounter site. Naik too belonged to the Hizbul Mujahideen. Search operation in the area continues," he said, adding that it was a clean operation and no collateral damage took place during the exchange of fire.
Full report at:
https://timesofindia.indiatimes.com/india/rifleman-aurangzebs-killer-among-4-terrorists-killed-in-2-kashmir-encounters/articleshow/69391475.cms
--------
The history behind the ban on SIMI, and why the tribunal is reviewing it
by Chandan Haygunde
May 19, 2019
A tribunal, headed by Delhi High Court judge Justice Mukta Gupta, is conducting hearings in different cities to ascertain whether there was sufficient evidence to ban the Students Islamic Movement of India (SIMI).
Earlier this month, the tribunal had held hearings in Pune. On Friday and Saturday, it had sittings in Aurangabad.
The ban on SIMI
SIMI, an Islamic fundamentalist organisation, which seeks 'liberation of India' through conversion of the country into an Islamic land, was founded in Aligarh in April 1977 as the student wing of the Jamaat-e-Islami Hind. It later spread its network in various states, including Maharashtra.
Due to the alleged involvement of SIMI members in several terror cases in the country, a ban was imposed on the organisation in 2001 under the Prevention of Terrorism Act (POTA). SIMI was declared an unlawful group under section 3 of the Unlawful Activities Prevention Act (UAPA), 1963.
A tribunal, headed by Delhi High Court judge Justice Mukta Gupta, is conducting hearings in different cities to ascertain whether there was sufficient evidence to ban the Students Islamic Movement of India (SIMI).
Earlier this month, the tribunal had held hearings in Pune. On Friday and Saturday, it had sittings in Aurangabad.
The ban on SIMI
SIMI, an Islamic fundamentalist organisation, which seeks 'liberation of India' through conversion of the country into an Islamic land, was founded in Aligarh in April 1977 as the student wing of the Jamaat-e-Islami Hind. It later spread its network in various states, including Maharashtra.
Due to the alleged involvement of SIMI members in several terror cases in the country, a ban was imposed on the organisation in 2001 under the Prevention of Terrorism Act (POTA). SIMI was declared an unlawful group under section 3 of the Unlawful Activities Prevention Act (UAPA), 1963.
Information about the constitution of the tribunal was published in newspapers across the country. It had invited organisations, government agencies and general public to file affidavits with relevant information. Several affidavits have been filed before the tribunal by police and public.
The hearings
Individuals or organisations arguing against the ban are given an opportunity to submit their say and cross-examine those who have filed affidavits supporting the ban. About 50 affidavits have so far been filed before the tribunal, of which only two came from the public, including one from a former general secretary of SIMI in Uttar Pradesh and another by Pune-based Anjum Inamdar of Mulnivasi Muslim Manch.
The tribunal has been conducting hearings on the affidavits in various cities. Advocate Rajesh Ranjan, a lawyer representing the Ministry of Home Affairs before the tribunal, said that so far,hearings had taken place in Delhi, Tamil Nadu, Telangana and Maharashtra. Hearings will be conducted in other states as well.
Full report at:
https://indianexpress.com/article/india/the-history-behind-the-ban-on-simi-and-why-the-tribunal-is-reviewing-it-5735659/
--------
Arab World
Tahrir Al-Sham's Ringleader Issues Distress Call to Terrorist Groups in Aleppo
May 18, 2019
Sources close to the terrorists reported that Jolani has on Friday called on the so-called Free Syrian Army (FSA) to attack the Syrian army in Aleppo to reduce pressure on militants in Hama and Idlib, saying that his militants might experience a major defeat otherwise.
The terrorist ringleader also said that he will not permit Aleppo to collapse like Eastern Ghouta of Damascus, stressing continued battle against the Syrian army.
Meantime, despite the 72-hour ceasefire in Lattakia, Hama and Idlib, the terrorists stationed in Idlib and Northern Lattakia launched rocket attacks on the towns of al-Sharashir and al-Hawiz, killing and wounding a number of civilians.
The Syrian army forces, in response, targeted the terrorists' positions with artillery and missile fire, destroying a number of their platforms for offensives.
Al-Jolani had also on Tuesday asked for terrorist groups' help to save his last remaining bases in Northern Hama as the Syrian Army continued rapid advances in the region.
The Syrian Army troopers backed by artillery and air force units engaged in heavy clashes with Tahrir al-Sham terrorists in Northwestern Hana, taking control of the villages of al-Tobeh, Sheikh Idriss, Jab Suleiman and Rasm al-Ahmar Farms, Wadi Tal Havash to West of Kafar Naboudeh town.
The Arabic-language Al-Watan newspaper, meantime, reported that as the Syrian Army continues advances in Northern Hama, Al-Jolani called on all terrorists to go to contact lines with the Syrian Army in Northern Hama to defend Tahrir al-Sham's remaining bases there.
http://en.farsnews.com/newstext.aspx?nn=13980228000842
--------
Syrian Army's Air Defence Downs Israel's Drone Near Damascus
May 18, 2019
The Syrian Army's air defense systems downed an Israeli regime's drone near Damascus on Friday night, SANA news agency quoted a military source as saying.
The source noted that the Syrian air defense detected hostile targets coming from the direction of Quneitra and intercepted them.
In a relevant development earlier, SANA reported that aerial defenses targeted luminous objects coming from the occupied territories, shooting down a number of them.
Meantime, the Arabic-language version of Russian Sputnik News Agency quoted a Syrian security source as saying that the Syrian Army's air defense systems downed an Israeli drone that had entered Syria from Southwestern Damascus.
The source pointed to firing surface-to-air missiles at offending targets in Southwestern Damascus near Syria-Lebanon-Golan triangle, and said that the Syrian Army's air defense systems had confronted six targets and downed a number of them.
Full report at:
http://en.farsnews.com/newstext.aspx?nn=13980228000418
--------
Truce Declared in Northern Syria After Terrorists' Heavy Defeat from Army
May 18, 2019
The Arabic-language version of the Russian Sputnik News Agency quoted a battlefield commander as saying that truce has been announced in battlefronts of Idlib, Hama and Lattakia for the next three days.
However, no further details of the reasons and the manner of implementing the truce have been announced.
In the meantime, the Syrian Army troops warded off attacks by Tahrir al-Sham al-Hay'at (the Levant Liberation Board or the Al-Nusra Front) terrorists on the towns of al-Masaseneh, al-Sahrieh and al-Amiqeh in Northwestern Hama, forcing them to retreat after killing a large number of the militants.
Meanwhile, the Syrian Army took full control of most vital military bases in Northern Hama after inflicting heavy losses on a large number of battlefield commanders.
In a relevant development on Thursday, the Syrian Army's fresh soldiers and military equipment arrived in Lattakia to capture a strategic region as other units of the army are in operation in the Northeastern part of the province.
The Syrian Army has recently dispatched a large number of its special forces together with military hardware to Kabane region in Northeastern Lattakia.
The Syrian Army plans to impose control over the Strategic Kabane region. The army's artillery units have pounded the military positions of Tahrir al-Sham al-Hay'at in Kabane region and its surrounding hilltops over the past two days, destroying several of their positions and tunnels.
Full report at:
http://en.farsnews.com/newstext.aspx?nn=13980228000524
--------
Sisi: We are coordinating with Saudi Arabia to confront regional threats
18 May 2019
Egyptian President Abdel Fattah al-Sisi reiterated the strong relations between Egypt and Saudi Arabia and said that current challenges necessitate close coordination in order to confront all threats aimed at regional security and stability.
Sisi asserted Egypt's solidarity with the government and people of Saudi Arabia against all attempts seeking to undermine the Kingdom's security and stability during his meeting on Saturday with Saudi Ambassador to Egypt Osama al- Nugali.
Bassam Radi, the spokesman for the Egyptian Presidency, said that the Saudi Ambassador conveyed the greetings of the Saudi King and Crown Prince. The Ambassador also passed on an invitation to Sisi to take part in the upcoming 14th session of the Organization of Islamic Cooperation Summit, scheduled for the end of May in Mecca.
Full report at:
https://english.alarabiya.net/en/News/middle-east/2019/05/18/Sisi-We-are-coordinating-with-Saudi-Arabia-to-confront-regional-threats.html
--------
Bahrain asks its citizens in Iran, Iraq to leave immediately on safety concerns
18 May 2019
US-allied Bahrain warned its citizens on Saturday against travel to Iraq and Iran and asked those already there to return "immediately" for their safety, state news agency BNA said.
The Bahrain foreign ministry cited, "unstable regional circumstances, dangerous developments and potential threats," according to BNA.
The warning comes amid simmering tensions between the United States and Iran.
Full report at:
https://english.alarabiya.net/en/News/gulf/2019/05/18/Bahrain-asks-its-citizens-in-Iran-Iraq-to-leave-immediately-on-safety-concerns.html
--------
Saudi Arabia not looking for war but will respond to any threat: Adel al-Jubeir
19 May 2019
Saudi Arabia wants to avert war in the region but stands ready to respond with "all strength and determination" following last week's attacks on Saudi oil assets, the Kingdom's Minister of State for Foreign Affairs Adel al-Jubeir said in a press conference on Sunday.
"Iran has threatened the world's economic interest through threatening to close the maritime routes, and has conducted terrorist operations in Saudi and the region," he said.
Al-Jubeir accused Iran of seeking to destabilize the region and urged the international community to take responsibility to stop the Islamic republic from doing so.
"We will issue a statement on the attack near the UAE coast," he said. "The GCC countries are working with the US to ensure the security of the region."
Al-Jubeir said that the world "perceives the IRGC as a terrorist organization."
"The Kingdom of Saudi Arabia does not want a war in the region nor does it seek that," al-Jubeir told a news conference.
"It will do what it can to prevent this war and at the same time it reaffirms that in the event the other side chooses war, the kingdom will respond with all force and determination, and it will defend itself and its interests."
Riyadh has accused Tehran of ordering Tuesday's drone strikes on two oil pumping stations in the Kingdom, claimed by Yemen's Iran-aligned Houthi militias. The attack came two days after four vessels, including two Saudi oil tankers, were sabotaged off the coast of the United Arab Emirates.
Full report at:
https://english.alarabiya.net/en/News/gulf/2019/05/19/Mohammed-bin-Salman-discusses-regional-developments-with-Pompeo-.html
--------
Iraq will remain part of 'axis of resistance' despite foreign plots: Nujaba leader
May 18, 2019
Iraq's Harakat al-Nujaba Secretary General Akram al-Kaabi says Iraq will remain part of the "axis of resistance" despite foreign-backed attempts to detach the Iraqi society from the regional developments.
"Our enemies want Iraq to be an apathetic society and not react to what is happening in our region. This goes against our beliefs," said al-Kaabi.
Al-Kaabi stressed that based on Islamic beliefs, Iraq can't be separated from the greater Muslim world and the regional "resistance axis".
"Major organizations affiliated with the Zionists, the United States and the Saudis are managing a media war against the resistance and are seeking to target our youth and our moral values," he added.
The popular resistance force chief added that it was unfortunate that some of "Iraq's elite and leaders" had been influenced by this foreign-backed trend.
"If our positions are based on the enemy's media objectives, this will surely deviate us," he said.
The Harakat al-Nujaba leader made the statements as the United States has recently ratcheted up pressure seeking to hamper efforts of a unified front countering foreign intervention and terrorism in the region.
Last week, during an unannounced visit to the Iraqi capital Baghdad, US Secretary of State Mike Pompeo called on the Iraqi government to restrain the country's popular mobilization and anti-terror forces, saying that they posed a "threat" to US interests. Washington has also notified Iraqi officials that US may even directly attack the groups without coordinating with Baghdad if it perceived any threat.
Speaking to reporters on Tuesday, Iraqi Prime Minister Adel Abdul Mahdi dismissed the comments, saying that Iraq had not observed "movements that constitute a threat to any side."
Washington has commonly described the popular Iraqi forces as being "Iran-backed proxies", despite being formally funded and incorporated into Iraq's security forces.
Groups such as the Harakat al-Nujaba are part of the Iraqi Popular Mobilization Units (PMU), a combination of some 40 groups formed shortly after the emergence of the Daesh terrorist group in Iraq in 2014.
Since the early days of the Daesh's reign of terror, the PMU-aligned forces have played a major role in reinforcing the Iraqi army, which had suffered heavy setbacks in the face of initial lightning advances of the terrorists.
Daesh has currently been effectively vanquished in Iraq and Syria, with only few remaining cells operating in isolated desert areas.
Daesh's demise in the past years has prompted many Iraqi politicians to question the US' continued military presence in the country which was initially permitted under the pretext of supporting and training Iraqi forces against the terrorists.
Concerns have also been raised about Washington's direct or indirect support for the terrorist group in the past years.
Numerous accounts have emerged alleging US forces conducting airlifts, weapon airdrops and aerial support for the terror group, especially as its strength gradually diminished in the region.
Iraqi figures have also expressed concern that the US seeks to use the country's territory to exert pressure on Iran.
Trump has in the past described the US' mission in Iraq as a bid to "watch Iran", drawing the condemnation of Iraqi figures from across the country's varying political landscape and leading to calls to ban US forces from the country.
Full report at:
https://www.presstv.com/Detail/2019/05/18/596248/Iraq-will-remain-in-resistance
--------
Europe
UK ruling party dealing with loads of Islamophobic complaints
May 18, 2019
Britain's ruling Conservative Party is investigating a record number of cases related to anti-Islam activity within its ranks as campaigners insist the party is beset by an "institutional" problem of Islamophobia.
The ITV News reported on a leaked dossier on Friday which showed that the Tory party had received at least 110 complaints against its members involving Islamophobia and other forms of racism.
Among the cases are comments made by Conservative Party members claiming that Islam a "cult" which is being allowed to "take over" Britain. Others have called Muslims in the UK as "infestation" who can cause "mayhem wherever they decide to invade".
"Their plan is to turn this country into an Islamic state," said one of the quotes in the cases, according to the report which also said that the Tory party authorities had not reported on 19 of the 110 cases in previous statements.
The new revelations come against the backdrop of increasing reports suggesting that senior Conservative Party politicians, including those with current or previous jobs in the government, have tried to target the Muslims in Britain in a bid to attract the support of the far-right and anti-immigrant voters.
The trend surged last summer when former foreign minister Boris Johnson, who has a high chance of becoming the next UK prime minister, helped hate attacks against Muslim women with burqas increase in the country after he likened them to "bank-robbers" and "letterboxes".
Top officials in the Conservative Party have denied accusations the party is Islamophobic.
That comes as the main opposition Labour Party has been the target of a massive media campaign over the past two years for the alleged anti-Semitic comments made by its leadership.
https://www.presstv.com/Detail/2019/05/18/596289/UK-Conservative-Party-Islamophobia-complaints
--------
Royal Mail restores Iran services: Tehran's envoy to UK
May 18, 2019
Iran's ambassador to the United Kingdom Hamid Baeidinejad has said that Britain's top posting service company the Royal Mail has restored its operations to the destination of Iran.
Baeidinejad said in a tweet on Saturday that a Royal Mail cargo had reached Iran earlier in the day and the company would announce the full restoration of its services to the country in the near future.
"The postal cargo of the company arrived in Iran today. The full normalization of the Royal Mail activities (in Iran) will be announced soon," read part of Baeidinejad's post on Twitter.
The envoy said the company had agreed as part of consultations last week to send the existing cargos to the Iran destination and then begin to restore all activities in the country.
The announcement comes more than a month after the Royal Mail said it had halted its Iran operation due to sanctions imposed by the United States. The company said that any remaining parcel in Britain destined for Iran would be returned to the original sender.
Iranian authorities said at the time that they would pursue the case until it is fully resolved. Baeidinejad said Britain's foreign ministry and other officials in the government had expressed their shock at the decision when they received Iran's letter of complaint about the issue.
Iran's embassy in London said after royal mail announcement that it would envision a channel to deliver parcels to Iran free of charge until the issue is resolved with the British courier.
Iran has been subject to sanctions by the United States since Washington unilaterally withdrew from an international deal on Tehran's nuclear activities in May last year.
Full report at:
https://www.presstv.com/Detail/2019/05/18/596278/UK-Royal-mail-Iran-operations-Baeidinejad
--------
EU seeks dialog with Iran, rejects provocation: German FM
May 18, 2019
German Foreign Minister Heiko Maas has said that the European Union will continue to reject "rhetorical provocation" against Iran as it seeks dialog with the country to resolve a dispute on its nuclear agreement with international powers.
In a Saturday interview with German newspaper Passauer Neue Presse, Maas said that Germany was still bemused by a US decision last year to withdraw from a 2015 international agreement on Iran's nuclear activities.
"It still remains incomprehensible for us that the Americans have unilaterally pulled out of this agreement," said Maas.
The top German diplomat said that the EU parties to Iran nuclear agreement, namely Germany, France and Britain, believed that US strategy of imposing maximum pressure on Tehran would go nowhere.
"We Europeans firmly believe that the strategy of maximum pressure on Iran won't help. We emphasize dialog rather than rhetorical provocation," said Maas.
He also warned against "unforeseen events" that could lead to a conflict between Iran and the United States.
Maas reiterated his country's position on Iran's recent announcement to suspend parts of its commitments under the nuclear deal, known as the Joint Comprehensive Plan of Action (JCPOA). He said Iran was supposed to observe its full responsibilities under the JCPOA without cutting back on any of its commitments.
The comments came less than two weeks after Iran announced it would halt selling its excess enriched uranium and heavy water, as stipulated in the JCPOA, in a bid to force parties to the agreement to respect their obligations and try to salvage the agreement in the face of increasing US sanctions on Tehran.
Full report at:
https://www.presstv.com/Detail/2019/05/18/596299/Germany-Maas-Iran-nuclear-deal-US-pressure
--------
'Unity, dialogue key to overcoming hateful trends'
Nilay Kar
18.05.2019
Unity, inclusiveness, dialogue and a comprehensive strategic vision are the only ways to overcome rising trends of xenophobia, Islamophobia and anti-Semitism across the globe, Turkey's foreign minister said Friday.
"Terrorist attacks in New Zealand and Sri Lanka as well as the recent attack against a mosque in the U.S. and many similar ones in Europe remind us of the severity of the threat," said Mevlut Cavusoglu.
Cavusoglu was speaking at the 129th Session of the Committee of Ministers of the Council of Europe in Helsinki, Finland.
On April 21, terrorist attacks on churches and hotels in Sri Lanka's capital of Colombo left 250 people dead on Easter.
At least 50 Muslim worshippers were massacred and as many injured when a white supremacist terrorist attacked two mosques in Christchurch, New Zealand on March 15.
"I share the [Council of Europe] secretary general's appeal to address increased inequality and to strengthen anti-discrimination and equality policies in Europe, including the fight against rising xenophobia, Islamophobia, anti-Semitism, Christianophobia, hate speech and populism," said Cavusoglu.
"Our democracies are at risk in the face of these trends. Attacks against places of worship are becoming commonplace.
"We can only tackle these challenges with unity, inclusiveness, dialogue and a comprehensive strategic vision," he stressed.
Cavusoglu thanked Thorbjorn Jagland, Secretary General of the Council of Europe, for his presentation and final report, which Cavusoglu said "will be remembered as his legacy".
"I also thank him for his sincere engagement and solidarity with Turkey during difficult times," he said.
"I support the secretary general's position on the need to avoid creating a new dividing line in Europe. The emphasis on equal rights and obligations of member states is the right approach to overcome the current impasse.
"Division and exclusion will only undermine what we have achieved in the last seven decades," Cavusoglu said.
Institutional weaknesses should also be addressed, he said.
"Effective, objective and non-politicized use of the existing monitoring and advisory mechanisms is essential. Political approaches undermine their credibility.
Full report at:
https://www.aa.com.tr/en/europe/-unity-dialogue-key-to-overcoming-hateful-trends-/1481191
--------
Southeast Asia
Be law-abiding to keep model of unity, says Muhyiddin
18 May 2019
TANGKAK, May 18 — The people should continue to abide by the laws and constitution of the country to ensure it remains a model of unity, said Home Minister Tan Sri Muhyiddin Yassin.
"Malaysia needs to remain a peaceful and prosperous country, and we should not let anything undermine our harmonious living," he said when speaking at a programme to inculcate noble values at Masjid Dato' Hj Abd Ghani, Sagil Parit 2, Tangkak here tonight. Also present was Home Ministry Secretary-General Datuk Seri Alwi Ibrahim.
Muhyiddin said Malaysia had succeeded in preserving its peace and harmony although the people are of different races and religions.
If the people continue to adhere to this principle, Malaysia will go on developing to scale greater heights, he said.
He said as such Muslims should draw a lesson from Ramadan to increase their efforts as commanded by Islam to make them successful and exemplary people.
"However, we are aware that the government is facing various challenges, including how to enhance cooperation in the spirit of brotherhood and unity among ourselves.
"There should not be disputes and there should not be disunity caused by differences in ideology and views among ourselves," he added. — Bernama
https://www.malaymail.com/news/malaysia/2019/05/18/be-law-abiding-to-keep-model-of-unity-says-muhyiddin/1754288
--------
Stamp featuring local church sparks debate in Malaysia
May 19, 2019
KUALA LUMPUR • A controversy has broken out in Malaysia over postage stamps bearing a famous local church, amid a tussle between the Pakatan Harapan (PH) government and Malay groups.
Malay rights group Isma, or Malaysia Muslim Solidarity group, said the issuing of a new stamp bearing a Christian symbol was "another example of Muslims being bullied" since PH won power in May last year.
Isma president Aminuddin Yahaya said on Facebook: "So, if outsiders label Malaysia as a Christian nation, we should not be angered because we have been portrayed as such."
But the post office, Pos Malaysia, said stamps showing prominent places of worship in the country - a mosque, Hindu and Buddhist temples, a Sikh gurdwara and a church - were first issued in November 2016. This was well before PH came to power. The new series of five stamps was issued on May 11.
Each stamp features a landmark building of one of the five main religions in Malaysia, including the St George's Church in Penang, which was singled out by the Isma chief.
Civil rights lawyer Syahredzan Johan wrote on Twitter: "According to Aminuddin Yahaya, the president of Isma, Islam is being bullied because now there is a stamp with a church. But in 2016, (Malaysia) was under Barisan Nasional. Isma kept quiet then.
"In 2016. Was Islam also bullied in the BN era?"
The tussle is part of a wider fight between Malay and Muslim groups which back the Umno-led BN and Parti Islam SeMalaysia. The groups are trying to weaken PH's image among Malay voters.
These groups are pushing the narrative that Malaysia's majority race - the Malay Muslims who form some 60 per cent of the country's 32 million population - is being sidelined and "bullied" since PH came to power. Also according to this narrative, too much support is being given to the minorities - comprising non-Muslim Chinese, Indians and other races.
Mr Aminuddin has since deleted his post.
Malaysia's de facto Islamic Affairs Minister, Mr Mujahid Yusof Rawa, has urged the Muslim community to stand up against the "corrupt narratives" of certain groups or individuals, as such thinking does not promote Islam.
"The whole Muslim society must stand up against these thoughts which will lead Muslims and Malays into backwardness," Mr Mujahid said in Penang last Friday evening, as quoted by the Malaysiakini news site.
The push by these groups against PH started when the government appointed non-Muslims as the chief justice, attorney-general and de facto law minister soon after it came to power, raising concerns that the moves would weaken Malay and Muslim rights.
After Mr Richard Malanjum retired as Chief Justice, he was replaced this month by a Muslim, Tengku Maimun Tuan Mat, the first woman in the post. But the appointment was largely ignored by these critics.
Full report at:
https://www.straitstimes.com/asia/stamp-featuring-local-church-sparks-debate-in-malaysia
--------
Don calls out 'hypocrisy' in action against Shia group
Ainaa Aiman
May 19, 2019
PETALING JAYA: A political scientist has called out government hypocrisy in its action against a Shia group, and questioned if the Islamic principle of Rahmatan lil 'Alamin, or "mercy to all" applied to all Muslims even if some have different leanings.
Did the principle only mean mercy to some kinds of Muslims, and not others, said Ahmad Fauzi Abd Hamid of Universiti Sains Malaysia. The principle was introduced by Minister in charge of Religious Affairs in the Prime Minister's department Mujahid Rawa.
Ahmad Fauzi's remarks was made in response to action taken against a supposed Shia group distributing leaflets entitled "Who is Hussain", referring to the grandson of Prophet Muhammad, and the central figure in Shia Islam.
The Inspector-General of Police, Abdul Hamid Bador, said recently that police would work with religious authorities to stop the group which has been seen as promoting Shia Islam. "This is irresponsible and goes against Sunni Islam," Hamid said.
However Fauzi said this stance had reflected the "inconsistency and hypocrisy" in the governance and fatwa in the country.
"Why do I say this? There's a national fatwa discouraging the dissemination of Salafi-Wahabism which is considered 'unsuitable' to Malaysia. Yet, many Salafi-Wahabi preachers are given the free hand in Malaysia Baru," he said.
Malay-Muslims, even some within the PH government, had been known to honour controversial televangelist Zakir Naik as a celebrity figure. Mujahid had shown support for Naik, by having a meeting with Naik at the Federal Territories Islamic Department office in Kuala Lumpur in March. In a posting on Facebook, Mujahid had described Naik's work as "inspiring".
There has been heavy criticism of Naik. Among those who have called for his deportation has been the Penang Deputy Chief Minister II P Ramasamy.
Full report at:
https://www.freemalaysiatoday.com/category/nation/2019/05/19/don-calls-out-hypocrisy-in-action-against-shia-group/
--------
Labis MP denies giving speech in mosque after Johor royal rebuke
16 May 2019
BY BEN TAN
JOHOR BARU, May 16 — Labis MP Pang Hok Liong today denied that he gave a political speech at a mosque in his constituency recently that had earned him a rebuke from Johor ruler Sultan Ibrahim Sultan Iskandar.
Sultan Ibrahim had earlier in a statement said he had received complaints from the community there who were uneasy that Pang had reportedly given a speech in the mosque.
This was despite repeated reminders from him and the Johor Islamic Religious Department for mosque administrators to bar politicians from using such venues for political activities, he said.
The DAP lawmaker told Malay Mail that he was invited by Tenang assemblyman Mohd Solihan Badri, who is also the Public Works, Infrastructure and Transportation Committee chairman, to attend the handing over of allocation for a mosque on May 10.
"I only gave a speech thanking the mosque committee for hosting me and also an announcement of my RM1,000 allocation to the mosque as it is in my Labis constituency," said Pang when contacted.
His comment came after a picture of him speaking at a mosque in Labis went viral on a known anti-Pakatan Harapan Facebook page yesterday, where he was degraded.
Pang said as the elected parliamentary representative he had pledged to give out RM1,000 to mosques and RM500 to all suraus in Labis.
"Never did I gave a political speech in the mosque at that time," he said.
Pang also said he was unhappy with how the incident that was sparked by posting the Facebook page ended up with him being insulted as a dog in a mosque.
He said he will lodge a police report on Saturday over the alleged insult.
Sultan Ibrahim described Pang's act was a serious infringement of the sanctity of the mosque, and threatened the position of Islam in the state.
Full report at:
https://www.malaymail.com/news/malaysia/2019/05/16/labis-mp-denies-giving-speech-in-mosque-after-johor-royal-rebuke/1753625
--------
Police Uncover Plot to Detonate Bombs Among Crowd Outside KPU Offices Next Week
MAY 17, 2019
Jakarta. Police have uncovered an alleged plot by members of an Islamic State-affiliated group to detonate bombs in front of the offices of the General Elections Commission, or KPU, in Central Jakarta on May 22.
National Police spokesman Insp. Gen. M. Iqbal said at a press conference in Jakarta on Friday that the militants, who are members of Jamaah Ansharut Daulah (JAD), want to use the momentum of a planned mass protest by supporters of presidential candidate Prabowo Subianto against the KPU's announcement of the official results of the April 17 presidential and legislative elections.
He urged members of the public to avoid the area.
During Friday's press conference, police presented eight suspected terrorists who allegedly assembled several bombs to detonate by remote control among the crowd on the day, if the planned protest materialized.
The National Police's elite anti-terrorism unit, Detachment 88, has arrested 29 suspected terrorists in a series of raids in West Java, Central Java, East Java and Lampung so far this month. One suspected terrorist detonated an explosive device, killing himself, when police tried to arrest him.
Among those are seven returnees from Syria, who were arrested in raids in Central and East Java earlier this week.
"We don't want there to be a crowd of people [outside the KPU offices]. Imagine if there are just 100, how many victims there would be. We cannot underestimate [the members of JAD]. We keep working. We cannot give any assurances whether all members of the group have been arrested, or whether some are still out there. Detachment 88 is continuing its work," Iqbal said.
"I, as the National Police spokesman, urge people to not stage [the planned protest rally] on May 22," he emphasized.
In a police video seen by the Jakarta Globe, a terror suspect makes a clear statement on the planned attack.
"My name is Dede Yusuf, a.k.a Jondi, a.k.a Bondan. I lead several fellow Muslim brothers to conduct an amaliah [charity activity] on May 22 by using bombs that I have assembled [and which will be] detonated by remote control. We all know a crowd of people will gather [in front of the KPU offices] on that day, which I think will be a perfect moment to conduct an amaliah [an attack], because there will be 'parties of democracy' there, which, based on my religious perspective, is considered a major shirk that could jeopardize one's faith as a Muslim. And it would be a gift from Allah to me if I can be freed from such shirk," the suspect says in the 59-second video.
The police's anti-terrorism unit has arrested 68 terror suspects in a series of raids in Sumatra, Java, Sulawesi and Kalimantan since the start of this year. Eight were killed, including a woman who blew herself and her two children up in Sibolga, North Sumatra, in March to avoid arrest.
All the suspects are affiliated with JAD, which the government has labeled a terrorist organization.
Police discovered several homemade bombs containing highly explosive triaceton triperoxide, colloquially known as "Mother of Satan," during raids in Bekasi, West Java, in May. Five bombs have been prepared so far to be detonated on May 22.
Police have also seized bows and arrows, firearms and various materials used for making explosives.
Full report at:
https://jakartaglobe.id/context/police-uncover-plot-to-detonate-bombs-among-crowd-outside-kpu-offices-next-week
--------
Africa
Sudanese commander says democratic elections are his goal
19 May 2019
The deputy leader of Sudan's military council voiced his enthusiasm for democratic elections in front of an audience of tribal leaders and senior diplomats on Saturday, while seeking to deflect blame for violence in Khartoum this week.
The clashes threatened to derail the council's talks with an alliance of protest and opposition groups pushing for a swift transition to civilian rule after the fall of former President Omar al-Bashir last month.
Mohamed Hamdan Dagalo, the youthful leader of Sudan's paramilitary Rapid Support Forces (RSF), has emerged as the most prominent member of the Transitional Military Council (TMC) that ousted and arrested Bashir following months of protests.
Dagalo, widely known as Hemedti, has considerable power. His RSF are deployed across Khartoum, and he is close to the United Arab Emirates and Saudi Arabia, which between them pledged $3 billion in aid to Sudan late last month.
On Saturday he spoke for nearly 20 minutes after breaking the Ramadan fast to an audience including the top official in the US embassy and the Saudi ambassador, as well as local and international media.
"Democracy is consultation ... that's it, we want real democracy," he said, in a speech punctuated by applause and laughter. "We want a man who comes in through the ballot box ... We want free and fair elections."
Many of those present were from Sudan's western Darfur region. Human rights groups accused militias that Hemedti commanded of genocide in the war that began there in 2003, allegations Bashir's government denied.
On Monday and Wednesday, violence broke out in areas of Khartoum where security forces had been trying to clear barricades erected by protesters, including around a sit-in outside the Defence Ministry that started on April 6.
Arrests
Protesters are pushing for civilian rule, and for justice over the deaths of dozens of demonstrators since December.
Some accused the RSF of shooting at demonstrations last week, and witnesses saw troops in RSF marked vehicles opening fire.
Hemedti said those responsible had been found inside Khartoum University and the sit-in.
"These people have been arrested and confessed on camera," he said, adding that they would be presented to the public later.
At least four people were killed on Monday and dozens wounded. After at least nine more people were wounded on Wednesday, the TMC said it was suspending the talks for 72 hours.
Talks are due to resume on Sunday evening. The two sides have agreed to a transition lasting three years before elections, with a legislative council on which opposition and protest groups would have two-thirds of the seats.
However, they have been split over the balance of a mixed military-civilian sovereign council that would hold ultimate power.
Bashir along with senior allies is being held in prison in Khartoum. Hemedti said officials from Bashir's regime who had fled abroad would be brought back to face justice.
"We cannot arrest the entire National Congress Party. There is no prison that would contain it with its seven million members," he added, referring to Bashir's political party.
https://english.alarabiya.net/en/News/middle-east/2019/05/19/Sudanese-commander-says-democratic-elections-are-his-goal.html
--------
Two dead in Libya attack claimed by ISIS
19 May 2019
Two guards loyal to Khalifa Haftar's Libyan National Army were killed in an attack Saturday claimed by ISIS, an LNA source said.
Four guards were also kidnapped in the attack on a checkpoint in the central region of Zella, the same source said.
ISIS said in a brief statement that it had targeted "Haftar's militias".
The media arm of Haftar's LNA said in a statement a "terrorist attack" had been repelled, but did not give any details.
The raid in Zella, close to an oilfield some 800 kilometers (500 miles) southeast of the capital Tripoli, is the third ISIS attack targeting Haftar's forces in recent weeks.
At least nine people were killed in a May 4 attack in the southern city of Sebha, then five days later gunmen killed two civilians in Ghodwa in southern Libya.
The LNA launched an operation in January to purge southern Libya "of terrorist groups and criminals".
After securing support from local tribes, it seized several towns.
Haftar then launched an offensive on April 4 against Tripoli, the seat of the internationally recognized Government of National Accord (GNA).
The LNA made initial gains but pro-GNA forces launched a counter-offensive, resulting in a stalemate on the southern outskirts of the city.
The fighting around Tripoli between Libya's two main factions has created fears that ISIS could re-emerge in the country.
The extremists were pushed out of their stronghold Sirte by forces loyal to the GNA in December 2016.
But despite losing its main territory, east of Tripoli, ISIS has repeatedly shown itself capable of launching deadly attacks.
Full report at:
https://english.alarabiya.net/en/News/north-africa/2019/05/19/Two-dead-in-Libya-attack-claimed-by-ISIS.html
--------
Turkish arms in Libya before 'vast operation' to break siege
May 19, 2019
Libyan forces loyal to the government based in Tripoli say they have received new weapons and armored vehicles to fight off an offensive backed by the UAE, Egypt and Saudi Arabia to seize the capital.
Forces loyal to the Government of National Accord (GNA) published pictures on their official Facebook page of what appeared to be Turkish-made Kirpi combat vehicles.
They are currently battling military strongman Khalifa Haftar's fighters who launched an offensive on April 4 to take the Libyan capital and topple the GNA government of Prime Minister Fayez al-Sarraj.
Haftar's forces have been held back from the city center, with fighting continuing on the outskirts of Tripoli and particularly in the southern suburbs.
In a statement, the GNA said the new weaponry had been supplied "in preparation for a vast operation to annihilate the rebels of the war criminal, the rebel Haftar."
Haftar is supported by Saudi Arabia, Egypt and the United Arab Emirates. His forces have deployed precision-guided Blue Arrow 7 missiles known to have been provided to the UAE.
In turn, the renegade general has accused Turkey and Qatar of supplying weapons to his rivals.
A GNA spokesman had told reporters earlier in May that Turkey and other countries would be delivering military and humanitarian assistance.
The United Nations has warned that Haftar's offensive risks thrusting Libya into a full-blown civil war as foreign backers of the warring sides send arms shipments despite a UN arms embargo on the North African state.
At least 400 people have been killed in the offensive which Haftar had predicted to lead to a quick victory in the capital.
With the offensive ground to a halt on the outskirts of Tripoli, the UN has called for a ceasefire but officials say neither side is prepared for a truce.
Sources close to Haftar have said his so-called Libyan National Army (LNA) would be willing to accept a ceasefire without withdrawing its forces from the outskirts of Tripoli, something PM Sarraj has rejected.
The United Nations has characterized Haftar's push to seize Tripoli as an attempted coup.
Sarraj has denounced Haftar as an "aspiring military dictator", saying his US-allied backers were turning Libya into a proxy battleground, risking a war with global implications and further mass migration to Europe.
US President Donald Trump, in a phone call with the renegade general last month, "recognized Field Marshal Haftar's significant role in fighting terrorism and securing Libya's oil resources."
The disclosure of the call prompted thousands of people in Tripoli to hold a protest against the United States and its meddling in their country.
Some European countries, such as France and Italy, have also supported Haftar. Earlier this month, the general met Italian Prime Minister Giuseppe Conte and was expected to meet French President Emmanuel Macron.
The LNA has almost two-thirds of the country and all of its oilfields under control, and some observers see the West's urge to court Haftar driven by their thirst for Libya's oil.
Libya has been the scene of fighting between rival groups since the ouster of long-time dictator Muammar Gaddafi in 2011 after a popular revolt and a Western military intervention.
Full report at:
https://www.presstv.com/Detail/2019/05/19/596314/North-Africa-Libya-GNA-LNA-Weapons-Saudi-Arabia-UAE-Egypt
--------
2 guards killed in suspected Daesh attack outside Libya oilfield
May 18, 2019
Two guards were killed and four others were kidnapped early on Saturday in a suspected Daesh attack targeting Libya's Zella oilfield, a security source said.
The attackers struck at an entrance gate to the field, which lies near the town of Zella about 760 km (470 miles) southwest of the capital, Tripoli. They killed the two guards before fleeing, the source and local residents asking not to be named told Reuters.
Daesh claimed responsibility for the attack through its Aamaq news agency later on Saturday.
The Zella field belongs to Zueitina Oil Company, which pumped 19,000 barrels per day on average in the last quarter of 2018 across all its fields.
An engineer told Reuters workers at the field were safe and facilities had not been damaged.
Libya's National Oil Corporation (NOC) chief said on Saturday continued instability in the country could cause it to lose 95 percent of oil production.
Speaking in Saudi Arabia ahead of a ministerial panel gathering on Sunday of top OPEC and non-OPEC producers, Mustafa Sanalla also confirmed the Zella attack.
Daesh has been active in Libya in the turmoil since the overthrow of Muammar Gaddafi in 2011. The militant group took control of the coastal city of Sirte in 2015 but lost it late in 2016 to local forces backed by US air strikes.
In the last two years, the group has targeted three state institutions in Tripoli, home of UN-backed government of national accord led by Prime Minister Fayez Serraj.
Full report at:
https://www.presstv.com/Detail/2019/05/18/596265/Libya-Daesh-oilfield-Tripoli-Muammar-Gaddafi-Khalifa-Haftar
--------
Sudan dispatched 600 militiamen, mostly minors, to Yemen in April: Report
May 18, 2019
Sudan has dispatched scores of militiamen, most of them under the age of 18, to fight alongside Saudi-led military forces against Yemen's Houthi Ansarullah fighters, a report says.
The Arabic-language Sout al-Hamish daily newspaper, citing an unnamed informed source, reported on Saturday that 600 Sudanese fighters had been flown late last month from Nyala Airport in southwestern Sudan to Yemen.
The source added that the Sudanese fighters had received training for only four months at the Dumaya camp in Nyala, the paratrooper training camp in the capital Khartoum as well as the al-Jili camp north of Khartoum before being sent to battle fronts in Yemen.
Even though Sudan's long-time President Omar al-Bashir was toppled in April after months of public protests, the military council that runs the country follows suit and continues to dispatch soldiers to fight at the front line of war in Yemen.
Almost all the Sudanese fighters appear to come from the battle-scarred and impoverished region of Darfur, where some 300,000 people were apparently killed and 1.2 million displaced during a dozen years of conflict over diminishing arable land and other scarce resources.
Most of the militia belong to paramilitary Rapid Support Forces, a tribal militia previously known as the Janjaweed.
There are reports that Sudanese fighters are sent to battles in the Midi Desert of the northwestern Yemeni province of Hajjah, the Khalid bin Walid camp in Ta'izz, or around Aden and Hudaydah.
All of those interviewed by foreign media outlets confirm that they have fought in Yemen only for money, as they were paid in Saudi riyals. Payments to the mercenaries are said to be deposited directly into the Faisal Islamic Bank of Sudan, which is partly owned by Saudis.
Last November, the spokesman for Yemen's Ansarullah movement, Mohammed Abdul-Salam, referred to the deaths of several Sudanese mercenaries in the strategic western Yemeni province of Hudaydah, saying they were "victims of their government being on the payroll in a cruel and senseless war."
Abdul-Salam warned that Yemen would turn into a "graveyard" for invaders.
Saudi Arabia and a number of its regional allies launched a devastating campaign against Yemen in March 2015, with the goal of bringing the government of former Yemeni president Abd Rabbuh Mansur Hadi back to power and crushing Ansarullah movement.
According to a December 2018 report by the Armed Conflict Location and Event Data Project (ACLED), a nonprofit conflict-research organization, the Saudi-led war has claimed the lives of over 60,000 Yemenis since January 2016.
Full report at:
https://www.presstv.com/Detail/2019/05/18/596259/Sudan-fighters-Yemen-April
--------
Nigerian army opens fire on protesters demanding release of Zakzaky
May 18, 2019
The Nigerian army has opened fire on protesters demanding the release of top Muslim cleric Sheikh Ibrahim Zakzaky, who has been held for four years on trumped-up allegations.
Several people were seriously injured after being shot by soldiers at the rally on Friday night.
The protesters were calling for justice for the leader of Islamic Movement in Nigeria (IMN), who has been held since December 2015 following a deadly raid by the Nigerian army troops on his residence in the country's northern Kaduna State.
Sheikh Zakzaky, who is in his mid-sixties, lost his left eyesight in the raid. His wife also sustained serious wounds while more than 300 of his followers and three of his sons were killed in the violence.
The cleric has been kept in custody along his wife and a large number of his followers ever since.
Back in 2016, Nigeria's federal high court ordered his unconditional release from jail following a trial but the government has so far refused to set him free.
Zakzaky's legal team has long called for his release, saying he is suffering from health issues that require urgent medical care abroad but the state high court in Kaduna has denied the request.
A group of medical experts and consultants, who conducted health assessments on Zakzaky and his wife earlier this month, suggested that the two need to be taken abroad without further delay for treatments.
The cleric and his wife were unable to attend a court hearing back in March this year, due to dire health conditions, according to their lawyer Femi Falana SAN.
Full report at:
https://www.presstv.com/Detail/2019/05/18/596237/Nigeria-unrest-protest-Ibrahim-Zakzaky
--------
Ramadan in Sudan: Iftar with the 'flavor of revolution'
May 19, 2019
KHARTOUM: Over the past 30 years, the Sudanese people have lived under the repressive regime of Omar Al-Bashir. But, since the surge of protests that began in the city of Atbara on Dec. 19, in what was to become the start of the Sudanese revolution, citizens hoped that this Ramadan might be the first for many years, and for some, of their entire lives, without the president.
Now, that dream has been realized.
Under Bashir's rule, poverty stalked the country, but despite the increase in destitution, the values of solidarity and compassion remained strong throughout Sudanese society. Now, as the revolution enters its next phase, those traits endure.
The sit-in in front of the General Command of the Sudanese Armed Forces represents the largest manifestation yet of solidarity and compassion among the general public, who have made this latest protest a symbol of their desire to form a civil government, and turn the country toward the path of democracy and freedom.
Thousands of Sudanese have marched to the rallies, with families arriving hand-in-hand, including their young children in tow, carrying food and drink to prepare for iftar in the courtyard.
The turnout includes hundreds of Sudanese from voluntary organizations providing Ramadan meals to the fasting protesters, and even the soldiers guarding the building, painting a colorful picture of the true spirit of the holy month.
The most prominent charity leader in Sudan, Fares Al-Nour, who was arrested before the overthrow of the Bashir regime, says two centers have been established within the sit-in to supply protesters and soldiers alike for iftar.
Alaa Eddin Sulaiman, an activist, told Arab News that this year's Ramadan came with the "flavor of the revolution" and that the Sudanese people were expressing joy that the holy month had arrived with Bashir and his regime forced to go.
Full report at:
http://www.arabnews.com/node/1499011/middle-east
--------
Libyan officials: Militants kill 3 troops at LNA checkpoint
May 18, 2019
BENGHAZI, Libya: Libyan officials say Daesh militants have killed at least three troops in an attack on a checkpoint in a desert town.
A statement by the self-styled Libyan National Army said the militants captured four soldiers in the attack at the town of Zallah Saturday, but troops were able to free three of them.
The Daesh group claimed the attack.
The extremist group expanded its reach in Libya after the country was plunged into chaos following the 2011 uprising that ousted and killed Muammar Qaddafi.
Full report at:
http://www.arabnews.com/node/1498781/middle-east
--------
North America
Saudis, Arab states approved US deployment in Persian Gulf: Report
May 18, 2019
Saudi Arabia and Persian Gulf states reportedly gave the green light to the US deploying its troops and warships to the region to counter what it describes as "imminent threat" from Tehran.
The announcement came Wednesday through the Asharq al-Awsat newspaper, citing unnamed senior diplomatic sources.
The deployment of its aircraft carrier strike group was agreed "on the basis of bilateral deals between the US and Arab countries of the Persian Gulf," it read.
Earlier in the day, several unnamed senior US officials were cited as saying that President Donald Trump was not seeking a military clash with the Iran.
Meanwhie, Saudi Arabia's King Salman Bin Abdulaziz Al Saud has called for an emergency meeting of [Persian] Gulf Cooperation Council ([P]GCC) member states amid escalation of pressure against Iran by the United States.
The comments came after reports suggested the White House planned to send more than 120,000 troops to the Middle East for a potential war with Iran, an allegation later denied by the US president.
Trump has been at odds with the US European allies but supported by the Saudis and Israelis ever since he pulled out last year of an international agreement on Iran's nuclear energy.
The US president has reportedly ordered his administration to avoid a military confrontation with Iran.
https://www.presstv.com/Detail/2019/05/18/596301/Saudis-approved-US-deployment-in-PG
--------
China's foreign minister calls for US restraint on trade, Iran
19 May 2019
Chinese Foreign Minister Wang Yi told US Secretary of State Mike Pompeo on Saturday that recent US words and actions had harmed the interests of China and its enterprises, and that Washington should show restraint, China's foreign ministry said.
Speaking to Pompeo by telephone, Wang said the United States should not go "too far" in the current trade dispute between the two sides, adding that China was still willing to resolve differences through negotiations, but they should be on an equal footing.
US State Department spokeswoman Morgan Ortagus said in a statement that Pompeo spoke with Wang and discussed bilateral issues and US concerns about Iran, but gave no other details.
Tensions between Washington and Tehran have increased in recent days, raising concerns about a potential US-Iran conflict. Earlier this week the United States pulled some diplomatic staff from its Baghdad embassy following attacks on oil tankers in the Gulf.
China struck a more aggressive tone in its trade war with the United States on Friday, suggesting a resumption of talks between the world's two largest economies would be meaningless unless Washington changed course.
The tough talk capped a week that saw Beijing unveil fresh retaliatory tariffs, US officials accuse China of backtracking on promises made during months of talks, and the Trump administration level a potentially crippling blow against one of China's biggest and most successful companies.
The United States announced on Thursday it was putting Huawei Technologies Co Ltd, the world's largest telecoms equipment maker, on a blacklist that could make it extremely hard to do business with US companies.
The US Commerce Department then said on Friday it may soon scale back restrictions on Huawei. It said it was considering issuing a temporary general license to "prevent the interruption of existing network operations and equipment."
Potential beneficiaries of this license could, for example, include telecoms providers in thinly populated parts of US states such as Wyoming and Oregon that purchased network equipment from Huawei in recent years.
Full report at:
https://english.alarabiya.net/en/News/world/2019/05/19/China-s-foreign-minister-calls-for-US-restraint-on-trade-Iran.html
--------
Former CIA chief Brennan to brief Dems on Iran
May 19, 2019
WASHINGTON: House Democrats will hear from former CIA director John Brennan about the situation in Iran, inviting him to speak next week amid heightened concerns over the Trump administration's sudden moves in the region.
Brennan, an outspoken critic of President Donald Trump, is scheduled to talk to House Democrats at a private weekly caucus meeting Tuesday, according to a Democratic aide and another person familiar with the private meeting. Both were granted anonymity to discuss the meeting.
The invitation to Brennan and Wendy Sherman, the former State Department official and top negotiator of the Iran nuclear deal, offers counterprogramming to the Trump administration's closed-door briefing for lawmakers also planned for Tuesday on Capitol Hill. Democratic lawmakers are likely to attend both sessions.
The Trump administration recently sent an aircraft carrier and other military resources to the Arabian Gulf region, and withdrew nonessential personnel from Iraq, raising alarm among Democrats and some Republicans on Capitol Hill over the possibility of a confrontation with Iran.
Trump in recent days downplayed any potential for conflict. But questions remain about what prompted the actions and many lawmakers have demanded more information.
Trump and Brennan have clashed openly, particularly over the issues surrounding the special counsel's probe of Russian interference in the 2016 election. Brennan stepped down from the CIA in 2017.
The president last year said he was revoking the former spy chief's security credentials after Brennan was critical of Trump's interactions with Russian President Vladimir Putin at a summit in Helsinki. Top national security officials often retain their clearance after they have left an agency as a way to provide counsel to their successors. It's unclear if Brennan actually lost his clearance.
Full report at:
http://www.arabnews.com/node/1499106/world
--------
US envoy says peace and polls a must for Afghanistan
May 18, 2019
KABUL: Afghans deserve to have peace and presidential polls, the US special envoy to the country said on Saturday.
Zalmay Khalilzad, who is the US Special Representative for Afghanistan Reconciliation, previously indicated that the election needed to be held after the successful conclusion of peace talks with the Taliban.
But he said that preparations for the polls must go ahead even as he attempted to reach a negotiated political settlement with the militant group.
"In recent days, a few commentators have raised questions about our priorities in #Afghanistan. A peace process that delivers a political settlement is the priority. Afghans want #peace above all," Khalilzad tweeted. "But wanting peace does not preclude Afghans from demanding preparations for a credible presidential election. Election planning must go forward as we pursue the peace Afghans deserve."
Candidates standing against the incumbent Ashraf Ghani are concerned about the government's ability to hold the polls, especially since the results of a parliamentary election in October were announced months later and there was no voting in one province due to it being under Taliban control.
The presidential election is due to be held on Sept. 28. It has been delayed twice.
US Assistant Secretary of State Alice Wells said last week there needed to be free and timely presidential elections, while on Friday the US Ambassador to Afghanistan John R. Bass urged the election commission "to prepare for presidential elections quickly and efficiently."
Some analysts say the insistence on presidential elections, in particular from Khalilzad, show that the US is losing hope about a successful outcome with the Taliban.
"The Americans have reached the conclusion that their talks with the Taliban will not quickly produce a result and that if elections cannot be held then that will show the total failure of the US in Afghanistan," Waheed Mozhdah told Arab News.
"So they now insist on holding the elections. But, from the other side, they want to pass on a message to the Taliban that we have returned to the past and now want elections and he (Khalilzad) wants to put pressure on the Taliban this way too."
He said the US-Taliban talks ended without success because Khalilzad wanted to keep some US troops in Afghanistan, while the Taliban was demanding a total withdrawal.
Attiqullah Amarkhail, a retired general, said the US had become fed up with the lack of progress over the foreign troop issue.
"So they (Americans) now want the elections so there is a government in place when they have lost hope in the talks with the Taliban," he told Arab News.
Full report at:
http://www.arabnews.com/node/1498916/world
--------
We all have a responsibility for Palestine's future: Palestinian foreign minister
May 18, 2019
On Friday, the Palestinian foreign minister Riyad Al Maliki made a last-minute plea to US President Donald Trump to reconsider the so-called Middle East peace plan devised by his son-in-law Jared Kushner. Speaking at Chatham House in London, Mr Al Maliki urged European countries to support Palestinians in their efforts to alter the terms of the deal. He also revealed that at a secret retreat, held in Dublin in February, European and Arab envoys had drawn up a letter to the US president. The message, which was sent by the Irish foreign minister Simon Coveney, aimed to persuade the US to review its current approach, which, according to Mr Al Maliki, promises to give a "stamp of approval to Israel's colonial policies".
Reportedly, the content of Mr Trump's much-touted "deal of the century" will be revealed next month. Given the president's close ties to Prime Minister Benjamin Netanyahu and the US administration's record of pro-Israel policies, there is little chance that the plan will bring peace to the region. In the past year-and-a-half, Mr Trump has taken a series of unilateral decisions that have been detrimental to Palestinians. These include the decision to move the US embassy to Jerusalem, declaring the divided city Israel's capital, slashing hundreds of millions of dollars in funds to the United Nations Relief and Works Agency, and recognising the occupied Golan Heights as Israeli. After narrowly winning an election in April, Mr Netanyahu presides over the most right-wing government in Israeli history. Mr Trump's plan is expected to legitimise further Israel's aggressive settlement of Palestinian land and its brutal oppression of the Palestinian people. Many believe it will be the final nail in the coffin of Palestinian statehood – a prospect that threatens to destabilise the entire region.
Full report at:
https://www.thenational.ae/opinion/editorial/we-all-have-a-responsibility-for-palestine-s-future-1.863032
--------
South Asia
Bangladesh stops 84 Rohingyas from perilous sea journey
May 18, 2019
Bangladesh authorities prevented 84 Rohingya refugees from Myanmar from attempting a perilous boat journey to Malaysia, officials said Saturday.
Police in Pekua said 67 Rohingya Muslims from Kutupalong -- the largest refugee settlement in the world -- were stopped as they waited to board a fishing trawler. They included 31 women and 15 children.
On Saint Martin's, a small Bangladesh island in the Bay of Bengal, the country's coast guard stopped 17 other Rohingya and five Bangladeshi traffickers before they could board a rickety fishing boat.
Fayezul Islam Mondol, the regional coast guard commander, said they were acting on a tip off.
About 740,000 Muslim minority Rohingya have fled Myanmar for Bangladesh since a brutal military crackdown began in August 2017.
They joined another 300,000 Rohingya already living in overcrowded camps in the Cox's Bazar area following previous bouts of violence.
Thousands of refugees attempt to flee the camps each year in pursuit of better opportunities in countries such as Malaysia and Thailand.
They frequently spend their life savings to embark on dangerous boat journeys they believe will improve their lives, but many fall prey to international human trafficking gangs.
Most attempt the journey before March, when the sea is calm before the monsoon season sets in, but experts say traffickers are now convincing the refugees to attempt the crossing even in rough waters.
"This is a very alarming situation," Jishu Barua, an aid worker specialising in trafficking, told AFP.
https://www.business-standard.com/article/pti-stories/bangladesh-stops-84-rohingyas-from-perilous-sea-journey-119051800350_1.html
--------
Election planning must go forwarded amid peace efforts: Khalilzad
18 May 2019
The U.S. Special Representative for Afghanistan Reconciliation Ambassador Zalmay Khalilzad has said election planning must go forward amid peace efforts.
"In recent days, a few commentators have raised questions about our priorities in #Afghanistan. A peace process that delivers a political settlement is THE priority. Afghans want #peace above all else," Ambassador Khalilzad said in a Twitter post.
However, he emphasized "But wanting peace does not preclude Afghans from demanding preparations for a credible presidential election. Election planning must go forward as we pursue the peace Afghans deserve."
The Presidential elections are scheduled for 28th of September this year, according to Independent Election Commission.
The U.S. Embassy in Kabul had earlier urged the authorities to turn their attention to preparing for the September presidential elections while welcoming the finalization of Kabul parliamentary election results.
"We urge the IEC to turn its attention to preparing for the September presidential election, including putting forward a budget request aligned with an appropriate operational plan, hiring and training sufficient staff to complete voter registration and preparations, and coordinating with the security ministries," the U.S. Embassy in Kabul said in a statement.
Full report at:
https://www.khaama.com/election-planning-must-go-forwarded-amid-peace-efforts-khalilzad-03401/
--------
Taliban commander blown up by own bomb in Kunar province
19 May 2019
The Afghan military in the East says an explosion in eastern Kunar province has killed a local Taliban commander.
The 201st Silab Corps said the incident took place in Dangdam district on Saturday.
The 201st Silab Corps said the Taliban commander who was killed in the explosion has been identified as Bilal.
Bilal was involved in roadside bombings and other terrorist related activities in Dangam district, the 201st Silab Corps said, adding that explosion also wounded another militant.
Full report at:
https://www.khaama.com/taliban-commander-blown-up-by-own-bomb-in-kunar-province-03409/
--------
Afghan Army, Special Forces kill 10 Taliban militants in Kunduz, Kandahar provinces
19 May 2019
The Afghan National Army and Special Operations forces carried out separate operations in the past 24 hours leaving at least ten Taliban militants dead.
Informed military sources said Saturday that the Army and Special Operations forces conducted the operations in northern Kunduz and southern Kandahar provinces.
"Afghan Special Forces conducted a raid in Khan Abad district of Kunduz province killing 5 Taliban fighters and destroying 4 rocket propelled grenades," the sources said.
The military officials also added that the 205th Corps conducted an operation in Khakrez district of Kandahar province killing at least 5 Taliban fighters.
Full report at:
https://www.khaama.com/afghan-army-special-forces-kill-10-taliban-militants-in-kunduz-kandahar-provinces-03408/
--------
Official: Bomb blast in western Afghanistan kills 2
May 18, 2019
KABUL: An Afghan official says that a bomb blast in the western province of Herat has killed at least two people, including a child.
Gelani Farhad, a spokesman for the province's governor, says that 14 people were wounded in Saturday morning's attack in the Obe area, including the district administrative chief.
Farhad said that a remotely controlled bomb went off when the district chief's vehicle was passing by the area's main market.
No one immediately claimed responsibility for the attack.
Full report at:
http://www.arabnews.com/node/1498691/world
--------
Pakistan
Miscreants destroy Christian graves in Pak Punjab
May 18, 2019
ISLAMABAD: In an act of wanton violence against Christian symbols, unknown miscreants have attacked a cemetery in Okara district of Punjab province, destroying over 30 graves and defacing crosses fixed on others.
The vandalism took place on May 12 and was discovered by catechist Samson Masih and other locals when they visited the graveyard following Sunday prayer service.
Following the desecration, a complaint against unknown individuals was registered with police. Most of the Christian graves and crosses in the graveyard are made of precious stones, wood and bricks.
"It is very sad to see that some people attacked our cemetery. They broke crosses and damaged graves. It is an offence to our faith and our religious feelings have been hurt. The guilty must be arrested," said James Bahadur, the priest of Saint Anthony Church in Okara.
"This action of vandalism has spread terror in the city and our people are afraid. It is an act carried out by fundamentalists to sow hatred among people of various faiths," the priest said, adding that the cemetery was more than 100 years old and the oldest tomb there dated back to 1903.
https://timesofindia.indiatimes.com/world/pakistan/miscreants-destroy-christian-graves-in-pak-punjab/articleshow/69391505.cms
--------
Opposition plans anti-govt movement after Eid
May 19, 2019
SWABI/NOWSHERA: Jamiat Ulema-i-Islam-Fazl central naib emir Maulana Fazal Ali on Saturday said the time had come for launching a full-fledged campaign against Pakistan Tehreek-i-Insaf government over its wrong policies.
Talking to Dawn here, he said JUI-F, Pakistan Peoples Party and Pakistan Muslim League-Nawaz were expected to launch a joint campaign after Eidul Fitr because not only economy but the entire system was in danger.
"Time is ripe for launching a campaign against the government and once we reach Islamabad we won't return till overthrow of the government," he declared. Mr Ali said there was difference between running the government affairs and making high and hollow pledges and slogans.
The country's economy is in turmoil despite the fact that the government managed about $8 billion from UAE, Saudi Arabia and China, said Maulana Ali.
He said the prices of essential commodities would be increased further after the new budget because IMF had called for imposition of new taxes to get its money back.
The JUI-F leader said the oil and gas prices had increased; inflation was highest in the last five years, electricity rates had jumped, and life of middle class had become miserable.
He claimed that the opposition parties would launch a full-fledged campaign against the government to save the country and poverty-stricken people who had attached great expectations with the PTI.
"Prime Minister Imran Khan and his clique won't be allowed to play with the fate of the country and its people any further," he remarked.
Maulana Ali, who was provincial education minister during Muttahida Majlis-i-Amal government, said upcoming federal budget would further push the poor against the wall.
Meanwhile, talking to reporters in Nowshera, leaders of opposition parties hinted at starting an agitation movement against the Pakistan Tehreek-i-Insaf government for its 'failed' policies.
Pakistan Peoples Party leader Khan Pervez Khan said the party would launch a movement against the government after Eidul Fitr as people were hit by sky rocketing prices of commodities. He said the government had destroyed the economy through ill-planning. Pakistan Muslim League-N, Nowshera general secretary, Masheetur Rehman said the government was trying to suppress the opposition parties through NAB and FIA. He said the government had multiplied miseries of people instead of resolving them.
He criticised the initiation of a corruption case against the son of party's provincial president Ameer Muqam. He said former prime minister Nawaz Sharif had put the country on the path of progress.
He said the 'selected' prime minister was talking about accountability of opposition leaders, but had avoided mentioning the corruption in Malam Jabba and BRT projects.
Full report at:
https://www.dawn.com/news/1483148/opposition-plans-anti-govt-movement-after-eid
--------
Fawad calls ex-CJP incompetent judge, seeks accountability
May 19, 2019
KARACHI: Federal Minister for Science and Technology Fawad Chaudhry has said that judges like former chief justice of Pakistan Iftikhar Muhammad Chaudhry should also go through the process of accountability.
In a tweet posted on Saturday, the minister wrote: "As a result of two verdicts of the former chief justice of Pakistan Iftikhar Chaudhry and giving $100 million to lawyers as their fees, the country now faces a fine of $1.4 billion."
"An incompetent judge can be very problematic. A change is needed in the process through which judges are appointed," he added.
Speaking to Dawn, the minister said that the topic had come under discussion in the last cabinet meeting. "Prime Minister Imran Khan has formed a committee comprising the attorney general and law ministry officials to suggest accountability measures for judges," he said.
On Tuesday, the federal cabinet was informed that the country had paid over $100m in international litigation during the last three years of the government led by the Pakistan Muslim League-Nawaz (PML-N). Prime Minister Khan had taken cognizance of spending huge amounts on international legal proceedings and formed a committee headed by the law minister to review them so as to avoid such expenditure in future.
In 2018, Fawad Chaudhry on behalf of the Pakistan Tehreek-i-Insaf (PTI) had asked the National Accountability Bureau (NAB) to launch an investigation against the ex-CJP and his family for allegedly receiving benefits in the scam of a failed private housing scheme, Eden Housing, in Lahore.
In a letter, Fawad Chaudhry had requested the NAB chairman to take action against Iftikhar Chaudhry, otherwise questions would be raised about the impartiality of NAB.
"Action should be taken against Iftikhar Chaudhry, his daughter, son-in-law and the father of his son-in-law for allegedly cheating innocent people who had invested their hard-earned money in the Eden Housing Scheme," he had stated.
Full report at:
https://www.dawn.com/news/1483199/fawad-calls-ex-cjp-incompetent-judge-seeks-accountability
--------
Sindh Assembly revives Musharraf-era Police Order amid opposition walkout
Hasan Mansoor
May 19, 2019
KARACHI: The Sindh Assembly on Saturday revived the Police Order, 2002 by repealing the colonial-era Police Act, 1861, prompting a walkout by the three major opposition parties that were part of a select committee to examine the draft law.
Among several other structural changes, establishment of public safety commissions at district and provincial levels are said to be the most significant part of the new law.
The Sindh (Repeal of the Police Act, 1861 and Revival of Police Order, 2002) Amendment Act, 2019, was moved in the house with five of the 15 members of the select committee refusing to sign it.
The Police Order, 2002 was first enforced by the former military dictator retired Gen Pervez Musharraf.
Opposition abstains from voting
Eight members from the treasury benches, including committee's convener Ismail Rahu, and two representatives from smaller opposition parties — the Muttahida Majlis-i-Amal and the Tehreek-i-Labbaik Pakistan — had duly signed the draft.
Leader of the Opposition Firdous Shamim Naqvi of the Pakistan Tehreek-i-Insaf and his parliamentary party leader Haleem Adil Shaikh, Khwaja Izharul Hasan and Mohammad Hussain of the Muttahida Qaumi Movement-Pakistan and Shaharyar Mahar of the Grand Democratic Alliance did not sign the document.
However, when the draft law was moved in the house, the members of the PTI, MQM-P and GDA began protesting against what they called the "improper" way it had been written without properly listening to the opposition members.
The parliamentary leaders and other members of those opposition parties gathered close in front of the speaker's rostrum and began shouting slogans.
Speaker Agha Siraj Durrani said the same members' conduct brought "humiliation" to the provincial legislature. "They don't come here for the betterment of the people of Sindh, but only to spoil the time of this august house," he remarked.
However, Parliamentary Affairs Minister Mukesh Kumar Chawla began reading the bill clause by clause as the opposition members kept chanting slogans.
After a while, they walked out of the house while the three members of the MMA and the TLP stayed in the house.
The bill was later passed unanimously in the absence of the opposition.
Later, GDA's Mahar came and sat for a while before his party colleagues came. Later, a number of members of the PTI and MQM-P also returned.
The house was informed that the Police Order 2002 was revived as it stood on July 13, 2011 with amendments "to define the role of police, its duties and responsibilities and in the public interest".
After passage of the bill, Mr Rahu appreciated the opposition for their inputs in the new law. GDA's Mahar said he wanted to congratulate the house for restoring a law which was the brainchild of a dictator. He said the opposition was busy in writing its vote of dissent, but the government moved it without waiting for the opposition's input.
Sindh govt can sack IGP before completion of term
"The law will give operational and administrative autonomy to the police while simultaneously establishing a mechanism for oversight on powers, assignments and function of police by the government and public safety commissions and for redressal of public complaints," the house was told.
In the new law, the tenure of the inspector general of police will be three years; and the provincial government "may repatriate, or the federal government may, on its own accord recall, an IGP".
Also, the provincial public safety commission would recommend to the government for repatriation of IGP before completion of tenure of three years for "unsatisfactory performance of duties".
The provincial safety commission's recommendation for the IGP's repatriation should not be before given a proper hearing to the person holding the top post.
Among the duties of police, it could apprehend a person on legal grounds but it is bound to inform about the arrest to a person of the detainee's choice.
Police can "enter and inspect without a warrant on reliable information any public place, shop or gaming-house where alcoholic drinks or narcotics are sold or weapons are legally stored and other public places of resort of loose and disorderly characters".
Public safety bodies to be set up across province
According to the new law, a Provincial Public Safety and Police Complaints Commission would be established for oversight of the police department and redressing public complaints against it.
The commission would be composed of 12 members and ex-officio chairperson. Half of its members would be nominated by the speaker of the provincial assembly from amongst its members — four from the treasury and two from the opposition. Such members, however, should not be members of the standing committee of the Sindh Assembly on home affairs.
The other half, with at least two women, would comprise of independent members who will be appointed by the government on the recommendation of the selection panel. Home minister would be chairperson of the commission.
The selection panel for independent panel would be headed by the chief secretary while one member each would be nominated by the chief minister and the leader of the opposition.
Among other functions ie oversight of the department and formulation of future strategies for better policing, it will also coordinate with and guide such commissions running at district levels.
Similarly, district public safety and police complaints commission would be established. Chairperson of a district commission would be elected by the members among themselves for three years.
The district commission would approve an annual district policing plan prepared by the senior superintendent of police, while entertaining public complaints would be among its key functions.
444 kids among 550 tested HIV positive in Larkana alone PTI's Shaikh spoke over the burning issue vis-à-vis incidence of HIV in the province.
Health Minister Azra Pechuho said tests of 15 children of Larkana who had earlier been confirmed as patients of HIV showed that five of them were HIV positive while another three returned negative signs. One of those children had died while the whereabouts of the remaining children could not be found.
Full report at:
https://www.dawn.com/news/1483088/sindh-assembly-revives-musharraf-era-police-order-amid-opposition-walkout
--------
College teachers asked to donate for out-of-school children
Ikram Junaidi
May 19, 2019
ISLAMABAD: Teachers of the model as well as federal government (FG) colleges have been directed by their principals to donate up to Rs2,000 for about 5,000 out-of-school children who were recently enrolled in different schools in the capital.
These children lack uniforms, schoolbags and other items.
"Teachers up to Basic Pay Scale (BPS) 16 will have to pay Rs1,000 each and those in BPS 17 and above Rs2,000 as each principal has been directed by the education ministry to arrange Rs200,000. As principals have made it mandatory to donate and lists have been prepared, we have no option but to pay," a teacher of a model college told Dawn requesting anonymity.
He said if there was a government policy to collect money from teachers for the children, the government should directly deduct it from their salaries.
"We are already facing severe financial issues but are being forced to donate in cash. How the amount received in cash would be audited and how we would be satisfied that the money would not end up in pockets of bureaucrats," he asked.
When contacted, Education Minister Shafqat Mahmood told Dawn that during a meeting held on Friday (May 17) he had directed the principals that contribution would be collected on a voluntarily basis.
"The teachers should file a complaint with me if any principal forces them to pay donations," he said.
"However, I have donated Rs25,000 and some officers of the ministry have donated up to Rs5,000 each. The principals have been advised to ask their employees if they want to donate but no teacher should be forced," he said.
The minister said out-of-school children were in miserable conditions and they lacked uniforms, schoolbags and other items.
That is why it was decided to collect donations for them.
"If principals are forcing teachers to pay donations, the teachers should lodge a complaint with me and I will take strict action as no one should be forced to donate," Mr Mahmood said.
But a teacher said initially principals of 34 model and federal government colleges had been directed to pool in Rs200,000 each but the principals sought a direction in writing to avoid audit objections as the amount had to be paid from the students' fund. As a result, the proposal could not be materialised.
"Later, they were directed to collect donations and hand over the amount to Area Education Officer Hafiz Ehsan. We are already suffering and cannot afford to pay," he said.
A representative of the Federal Government College Teachers Association, requesting not to be quoted, said out-of-school children campaign was abrupt and unplanned.
"Ignoring various parameters, this was started in order to attract the media. The population of Islamabad is increasing. There is no increase in the number of government schools for the last over six years. The government should focus on quality, not quantity," he said.
An official of the Federal Directorate of Education (FDE) said efforts had been made to address the issue of out-of-school children for the last a few years.
"Initially, Japan International Cooperation Agency (JICA) was approached and on its recommendations a model was devised under which out-of-school children would be divided into four groups. Children from five to seven years would be admitted to class one, from eight to nine and 10 to 12 years to the advanced accelerated quality learning programme and within one year they would be taught to appear in primary school exam. Moreover, children in the age group of 13 to 15 years would be given vocational training," he said.
"As many as 2,500 teachers, 50 from each union council, were shortlisted for training and a number of non-government organisations were contacted to provide uniforms, schoolbags. The NGOs had agreed. However, the model was not implemented due to which NGOs did not provide funds. Now over 5,000 out-of-school children have been enrolled but they lack uniforms, schoolbags etc.
Full report at:
https://www.dawn.com/news/1483113/college-teachers-asked-to-donate-for-out-of-school-children
--------
Pakistan ready for any 'unforeseen eventuality' amid Afghan peace push, says Gen Bajwa
May 19, 2019
RAWALPINDI: Chief of Army Staff (COAS) General Qamar Javed Bajwa on Saturday said that besides playing a positive role towards success of Afghan reconciliation process and peace in the region, Pakistan is ready for any 'unforeseen eventuality'.
"For this Pakistan is solidifying border through fencing, construction of new forts and posts and increase in strength of FC troops to effectively manage the border," he said while visiting troops on forward posts along Pakistan-Afghanistan border at Dawatoi in North Waziristan.
"Similarly we continue to maintain required state of alertness and preparedness on our Eastern Border," the Inter-Services Public Relations (ISPR) quoted him as saying.
"There are still challenges facing Pakistan but not as much as we have passed through in recent past. To continue the journey towards ultimate success we need to stay patient, determined and united," Gen Qamar maintained.
Earlier, the COAS was briefed about progress on border fencing, sanitisation operation, socio-economic development projects and rehabilitation of TDPs. This was the area where due to cross border terrorist attack from Afghanistan on fencing party had resulted into martyrdom of three Pakistan Army soldiers on May 1.
Full report at:
https://www.pakistantoday.com.pk/2019/05/18/pakistan-ready-for-any-unforeseen-eventuality-amid-afghan-peace-push-says-gen-bajwa/
--------
Taliban peace talks may lead to Imran-Trump meeting
May 19, 2019
As the United States and Afghan Taliban eye 7th round of peace talks, Pakistan hopes a breakthrough in the dialogue could lead to a meeting between Prime Minister Imran Khan and US President Donald Trump.
In an interview with Urdu News, Foreign Minister Shah Mahmood Qureshi said progress in Doha talks will establish a ground for a meeting between Imran and Trump, ushering a new era of bilateral ties between the two countries.
However, the minister said the meeting between the two premiers was not dependent on peace talks, but it will be favourable [for Pakistan] if the talks move forward.
PM Imran and President Trump are important personalities, he said, adding that both countries were deeply interested in establishing peace and stability in the region.
The sixth round of peace talks between the US negotiators and Taliban members ended in Doha on May 9. According to the statement issued after the meeting, both sides discussed issues they agreed in draft in their fifth round of talks and that developments were made on some of them, not all the issues.
The key issues under debate were foreign forces withdrawal, ceasefire, counterterrorism assurances and intra-Afghan dialogue. The two sides agreed in draft on counterterrorism assurances and foreign forces withdrawal from Afghanistan in the fifth round of the talks in mid-March.
Taliban said the sixth round of the talks were "constructive and productive". "The sixth round of talks, in total, were positive and both sides patiently heard each other's views," the statement read.
The statement said both sides will discuss the issues on which developments have been made and also on the issues no progress was made and then will start another round of talks.
PAKISTAN-IRAN TIES:
Qureshi, who had earlier claimed that terrorists were using Iranian soil to conduct attacks in Pakistan, said that "some powers keep trying to create misunderstandings between Pakistan and Iran in order to fulfil their own agendas".
"Whenever attempts are made [to create misunderstandings between the two sides], Pakistan and Iran defuse them through bilateral talks on the level of security and intelligence agencies," he said. He, without specifying, said there were "powers" consider Iran a threat to the region.
Referring to security threats being faced by Saudi Arabia, Qureshi said, "Pakistan had stood by the kingdom whenever it was threatened and will continue to do so".
The foreign minister further said that a Pakistani delegation is currently in China to brief the Financial Action Task Force's (FATF) affiliate Asia-Pacific Group over the steps taken by Pakistan to curb terror financing and money laundering.
He expressed hope that the body will remove Pakistan from its 'grey list' when the FATF meeting will be held in June.
Full report at:
https://www.pakistantoday.com.pk/2019/05/18/fm-says-imran-trump-meeting-probable/
--------
Mideast
Israeli soldiers arrest Dutch politician in Jerusalem al-Quds
May 18, 2019
A Dutch politician, carrying a Palestinian flag, has been arrested by Israeli security forces after Friday prayers in the occupied Old City of East Jerusalem al-Quds.
Israeli soldiers arrested Tunahan Kuzu, the leader of Dutch political party DENK and a parliamentarian, as he was walking toward the al-Aqsa Mosque with a Palestinian flag in his hand.
The Israeli security forces also seized the Palestinian flag.
The DENK party said Kuzu, who is of Turkish descent, had been taken by a large group of heavily armed soldiers after Friday prayers and during a working visit to Jerusalem al-Quds.
Kuzu held some meetings with civil society representatives to discuss recent developments in the region and took part in the 71st anniversary of the Palestinian Nakba Day on Wednesday during his business trip to the occupied city, the statement added.
Palestinians commemorate May 15 as a day of Nakba or catastrophe. The event marks the forced expulsion of hundreds of thousands of Palestinians from their homeland, following the creation of Israel in 1948 and their scattering across refugee camps in the West Bank, Gaza, and neighboring countries.
Tensions have been running high near the fence, separating Gaza from the occupied territories, since March which marked the start of a series of protests called "The Great March of Return." Palestinian protesters demand the right to return for those driven out of their homeland.
More than 300 Palestinians have been killed since then, and over 17,300 have been injured.
Germany designates BDS as anti-Semitic
Separately on Friday, the German parliament voted to condemn as "anti-Semitic" a Palestinian movement that calls for economic pressure on Israel to end the occupation of Palestine's territories.
In a move welcomed by the Tel Aviv regime, the majority of German lawmakers in the Bundestag voted in favor of a motion that accuses the international Boycott, Divestment, Sanctions (BDS) movement of using anti-Semitic tactics to fulfill its political goals.
"The argumentation patterns and methods used by the BDS movement are anti-Semitic," read the motion submitted by German Chancellor Angela Merkel's conservatives, their Social Democrat coalition partners as well as the Greens and Free Democrats.
The vote was denounced by the BDS as anti-Palestinian.
"The German establishment is entrenching its complicity in Israel's crimes of military occupation, ethnic cleansing, siege and apartheid, while desperately trying to shield it from accountability to international law," the BDS said.
Israeli Prime Minister Benjamin Netanyahu welcomed the motion in a statement on Twitter, saying, "I hope that this decision will bring about concrete steps and I call upon other countries to adopt similar legislation."
The BDS movement was initiated in 2005 by over 170 Palestinian organizations and later turned international. It is meant to initiate "various forms of boycott against Israel until it meets its obligations under international law" and end its occupation of Palestinian lands.
Israel and its allies in Washington have long railed against the BDS, which calls for people and groups across the world to cut economic, cultural and academic ties to Tel Aviv.
Last year, Israel published a list of 20 organizations whose activists would be barred from entering the occupied territories due to their support for boycott campaigns.
Israel's strategic affairs ministry has been allocated $36m to combat the BDS movement.
https://www.presstv.com/Detail/2019/05/18/596249/Dutch-politician-Tunahan-Kuzu-Israeli-security-forces-Jerusalem-alQuds
--------
Projectiles fired from Israeli-held territory, says Syrian state media
18 May 2019
Syrian air defenses targeted projectiles fired from the direction of Israel for the second night in a row, Syrian state media said on Saturday.
The projectiles came from "occupied territory" into the airspace in southern Syria, state news agency SANA said, referring to territory held by Israel.
There was no immediate comment from Israel, which has been more open in recent months about targeting sites inside Syria that it says belong to Iran and its Lebanese ally Hezbollah, both of which have forces aiding President Bashar al-Assad.
Residents said loud blasts echoed across Damascus late on Friday, as Syrian state media reported "enemy targets" coming from neighboring Israel.
Israel deems Iran its biggest enemy and the heavily armed Hezbollah as the main threat on its borders.
Israeli officials, alarmed by Tehran's expanding clout next door, have acknowledged carrying out scores of strikes during the eight-year conflict in Syria. Iran and Hezbollah have played a key role in helping Assad's army defeat rebels and militants.
Full report at:
https://english.alarabiya.net/en/News/middle-east/2019/05/18/Projectiles-fired-from-Israeli-held-territory-says-Syrian-state-media.html
--------
IRGC chief: US will collapse with one strike just like the World Trade Center
18 May 2019
The head of Iran's Revolutionary Guards said on Saturday that his country is in a full intelligence war with the United States and "enemies of the Islamic Republic" which includes cyber and military operations.
"We are in a full intelligence war with the United States and the enemies of the Islamic Republic. This war is a combination of psychological warfare, cyber operations, military operations, diplomacy, fear, and intimidation," Major General Hossein Salami, who was named head of the force last month, was quoted as saying by Fars news agency.
Salami also said that the Americans are facing great risks now.
"America has lost its power, and even though they look powerful, they are frail," he said while adding: "In reality America's story is the same as the story of the World Trade Center that collapsed suddenly with one strike.
Full report at:
https://english.alarabiya.net/en/News/middle-east/2019/05/18/IRGC-chief-Iran-is-in-a-full-intelligence-war-with-the-United-States.html
--------
Family of Palestinian who died in Turkish jail waiting for new autopsy, report
18 May 2019
The family of a Palestinian who died while in Turkish custody said they are still waiting for a new medical report and autopsy to be performed before they consent to transfer his body from Cairo to Gaza.
Last month, Turkey said that Zaki Mubarak, one of two Palestinian men arrested on alleged espionage charges in April, died while in custody and called his death a suicide. His family said Mubarak's body showed signs of torture and have demanded an international investigation into the case.
Apart from a planned autopsy, Mubarak's brother Zakaria said that they were also waiting for a medical team's report from the Palestinian embassy which observed the body without performing an autopsy.
"We want the report so that we can take it to the International Criminal Court, the Hague Tribunal or any other international court since it has been proven that my brother was killed," said Zakaria Mubarak.
According to one of Mubarak's cousins, the family has seen a lack of effort from Palestinian authorities to monitor and follow-up on the case from the beginning.
"We officially demand from Palestinian President Mahmoud Abbas and the Palestinian public prosecutor to submit a report to form a judicial committee to investigate this failure," said Abs Mubarak.
The family's lawyer told Al Arabiya that the family is also waiting for a response from the Egyptian Attorney General's office to their request for an autopsy and a new medical report.
Full report at:
https://english.alarabiya.net/en/features/2019/05/18/Family-of-Palestinian-who-died-in-Turkish-jail-waiting-for-new-autopsy-report.html
--------
Iraqi commander: US anti-Iran pressure sign of idiocy
May 19, 2019
An Iraqi commander says the United States' increased pressure and threats aimed at Iran indicate Washington's "new idiocy" and confusion.
Jassim al-Jazairi, a senior commander of Iraq's Shia-majority military group known as Hashd al-Sha'abi, made the remarks to IRNA on Saturday.
Referring to the US's ongoing military deployments in the Persian Gulf region, Jazairi said, "America's new idiocy in the region shows they (the Americans) are yet to learn from past experiences and from history and think... that Iran is a quarry within reach."
"All that's happening," he added, "shows the obvious chaos in American policies."
Jazairi, who is also a member of the Political Office of Iraq's Kata'eb Hezbollah, an anti-terror group, was referring to the US deployment of an aircraft carrier, a bomber task force, and an assault ship to the Persian Gulf under the pretext that Iran poses an increased threat to the US.
This is while Iran has said it has been exercising utmost restraint in the face of the US President Donald Trump administration's policy of "maximum pressure" against Tehran.
In a travel advisory issued on Wednesday, the US State Department ordered "non-emergency US government employees" in Iraq to leave its embassy in Baghdad and its consulate in Erbil, the capital of Iraq's semi-autonomous Kurdistan region.
Iraqi officials have reacted strongly to the provocations and advised the US against seeking further escalation.
Jazairi said things would proceed in Iran's favor because the country enjoyed not only domestic unity but also regional allegiances.
Full report at:
https://www.presstv.com/Detail/2019/05/19/596317/Iran-Iraq-US-Shia-commander
--------
Yemen army retakes key district from Houthis
May 18, 2019
Yemeni national army recaptured a key district from the Houthi militia in the southern province of Dhale, the official site of the Defence Ministry reported on Friday.
With the support of the Security Belt forces, the army liberated several villages in the province, including the key district of Qataba.
Lt. Col. Abdo Ali Al-Qadi, an officer of the 83th Brigade, told September Net that army forces launched their attack at dawn on Friday in Qataba, causing the militia to flee in the direction of Ibb province in the west.
At least 80 Houthi militiamen were killed in the clashes, including Houthi Commander Mohammed Al-Senhani.
Full report at:
http://www.arabnews.com/node/1498806/middle-east
--------
URL: https://www.newageislam.com/islamic-world-news/islamic-state-focusing-subcontinent-india/d/118640
New Age Islam, Islam Online, Islamic Website, African Muslim News, Arab World News, South Asia News, Indian Muslim News, World Muslim News, Women in Islam, Islamic Feminism, Arab Women, Women In Arab, Islamophobia in America, Muslim Women in West, Islam Women and Feminism