New Age Islam News Bureau
15 Oct 2015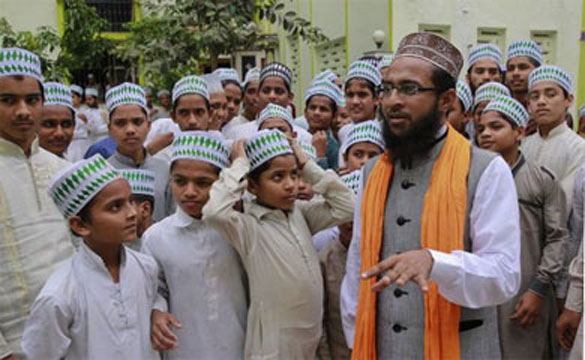 In this Sept 9, 2015 file photo, a leading Mumbai-based Muslim cleric Mohammed Manzar Hasan Ashrafi Misbahi, who issued an edict that condemns the Islamic State and calls the extremist group's actions "un-Islamic," speaks with Islamic students at the Ajmeri Masjid in Mumbai, India. Photo: AP
--------
Southeast Asia
• Islamic State Group's Influence Felt in Far-Off Asia-Pacific
• ISIS Threat in Malaysia Is Real, Not Government Propaganda, IGP Says
• 'Emulate the Prophet to Reunite Muslims': Former CJ of Malaysia
• Muslim extremists are burning down churches in Indonesia's Aceh province
• Critical comics introduce Indonesia's pluralism to Europe
• US Says Failed To Meet Malaysian Islamic Officials over Religious Freedom
---------
Arab World
• 100s of Foreign-sponsored Takfiri Militants Killed in Syrian Army Operations
• Iraqi Air Raids Kill Scores of ISIL Militants
• Tens of Al-Nusra Terrorists Killed in Syrian Army's Ambush in Daraa
• Syrian Army, Hezbollah, Russian Air Force Coordinating for Aleppo Liberation Operation
• U.N. Urges Iraq's Feuding Kurds to Respect Democracy
• ISIL Clashes with Rival Militants, Kills FSA Commander
• Another FSA Commander Killed in Clashes with ISIL
• Syrian Army, Resistance Forces Reinforce Positions in Aleppo Countryside
• Ahrar al-Sham's Commanders Killed in Syrian Troops Ambush in Homs
• Syria army fighting to liberate towns north of Homs
• Syrian army and Russian jets target rebel towns north of Homs
• ISIS battles insurgents near Aleppo
• Terrorists Fleeing Syria's Daraa to Jordan
---------
Mideast
• Iranian DM Vows Imminent Annihilation of All Takfiri Terrorists in Syria
• Violence in east Turkey leaves 13 dead
• Turkish PM: Syrian Govt, ISIL, PKK Made Deal Against Opp
• 'Iran-Indonesia coop. to help world of Islam'
• Yemeni forces launch Scud missile at Saudi military base
• Turkey warns US, Russia over backing Syrian Kurdish forces
• US calls Israeli stabbing of Palestinians 'terrorism'
• France, US to discuss Jerusalem violence
• EU's Tusk: Turkey must cut refugee flow to Europe
• Iran reportedly deploys troops to central Syria
---------
South Asia
• Residents Return to Kunduz as Fears of Taliban Comeback Loom
• President Ghani: Taliban Violated Human Rights in Kundoz
• Kundoz hospital bombing: death toll now 24
• Pentagon: U.S. not leaving Afghanistan, mulling adjustments to the current plan
• Gen. Amarkhil to Taliban: Give up insurgency or face death
• Everything to be done for ex-enclave dwellers' welfare: PM
---------
India
• Pak Raising Kashmir at UN Is 'Clear Interference': India
• SC Query On Civil Code Raises Muslim Hackles
• Targeted for Being Muslim: Veteran Actor Naseeruddin Shah
• Shia Muslims Protest against Restrictions on Muharram
• Muslim Bodies March against Dadri Lynching, Seek Justice
• Senior RSS leader Indresh Kumar slams conversion, says Muslims sidelined their own icons
• India voices distress over Israel-Palestinian violence
• Terror Sleeper Cells May Try To Avenge Dadri Lynching: Intelligence Agencies
---------
North America
• Religious Extremism Rising World Over, Says US State Dept
• Muslims Allowed To Pursue Lawsuit against NY Police
• US Muslim Event Combats Stereotypes
• Ottawa Rally Supports Muslims Inclusion
• Mother of Saudi youth facing beheading urges Obama to intervene
---------
Pakistan
• US Report Acknowledges Pak Restrictions on Extremists
• Daish Has Roots in Karachi: JIT Report
• Kashmir Dispute Cause of Tension in South Asia, UNGA Told
• Shuja Khanzada case: SI, five others killed in Rawalpindi raid
• PTI, PML-N in race to win over Juj
• Killer of ex-Punjab CM, five others executed in various jails
• 'Violence-related fatalities have declined'
• Sindh CM allows loudspeakers use for Majlis, processions
• Nisar needs 'no help' in interacting with military
• Pakistan shown strong leadership in meeting humanitarian needs: UN
---------
Australia
• Australia Places 12-Year-Old on 'Terror Radar'
---------
Europe
• Danish Muslim Becoming More Religious
• Pope Issues 'Extraordinary' Apology over Scandals
• Russia ready to work with Turkey on fighting terror: Lavrov
• Daesh behind attempted attack on Siberia mosque: Moscow
• Muslim Supporters Outnumber Protesters at Anti-Islamist Rallies
• Merkel: some things are "non-negotiable" in refugee crisis
---------
Africa
• Niger Imposes State Of Emergency on Region Hit by Boko Haram
• Obama Deploys Military to Cameroon
• Libyan FM in Egypt for talks on unity govt plan
• Marches, Prayers Mark Nigeria's New Hijri Year
• Somali Hajj pilgrims reluctant to return home
Compiled by New Age Islam News Bureau
URL: https://www.newageislam.com/islamic-world-news/new-age-islam-news-bureau/islamic-state-group's-influence-felt-in-far-off-asia-pacific/d/104930
---------
Southeast Asia
Islamic State Group's Influence Felt in Far-Off Asia-Pacific
October 15
The influence of the Islamic State group extends well beyond the land it controls in Syria and Iraq, reaching recruits around the world, including the Asia-Pacific region. Below, 10 Associated Press writers based in the region discuss how the extremist movement is affecting their countries:
___
AUSTRALIA
The Islamic State group has been particularly effective at recruiting followers in Australia. An estimated 120 Australians are believed to be fighting with the movement and other militant groups in Syria and Iraq, a relatively high number given Australia's population of just 24 million. Many more have followed the group's calls for inciting violence within Australia, including a group of teens arrested this year on suspicion of plotting an Islamic State group-inspired attack at a Veterans' Day ceremony.
In a bid to stem the flow of foreign fighters, Australia made it a criminal offense for its citizens to travel to certain parts of Iraq and Syria that are held by Islamic State movement fighters. The government has also canceled the passports of people it believes are planning to join the fight in the Middle East.
Experts disagree about why the group has had so much recruiting success in Australia, which is widely regarded as a multicultural success story and where around 2 percent of the population is Muslim. Some experts cite the poor integration of some Australian Muslims with the rest of the country, and the particular focus that IS group recruiters have given to Australia. The Australian government has also failed to keep tabs on some citizens who were radicalized.
___
BANGLADESH
The IS group claimed responsibility for the recent killings in Bangladesh of an Italian and a Japanese, both gunned down in daytime attacks five days apart. The government quickly dismissed the claims as unverified. Still, the poor South Asian country has seen a clear rise in violence blamed on radical Islamist groups, including the killing of four moderate bloggers earlier this year.
Most of Bangladesh's 172 million citizens are Muslim. While the government is secular and traditionally moderate, the emergence of Islamist political groups has created a clear divide between moderates and radicals and contributed to political instability. Prime Minister Sheikh Hasina has been cracking down on radicalism, and six hardline Islamist groups have been banned in recent years. Analysts say the small few that remain are too disorganized to have links with global extremist groups.
"In Bangladesh, extremist groups' activities are very limited and they are homegrown," said retired army Maj. Gen. Abdur Rashid, now a security analyst. "To influence the local politics, they are active and they want to fool the people by drumming up that they are connected with the IS, but actually they are not."
But another analyst, retired Brig. Gen. Shahedul Anam Khan, described the threat of extremism in Bangladesh as "complex and evolving."
"The government response has been disturbing for there is a tendency to outright reject the international hypothesis that we have connections with IS," Khan said.
___
INDIA
India's 172 million Muslims are seen as relatively deprived and discriminated against, and tensions with majority Hindus have been a seven-decade constant since the partition of India and Pakistan in 1947 sparked communal violence that left an estimated 1 million dead.
But while some groups like the pro-Pakistan Indian Mujaheddin have found a foothold, officials and analysts say India's Muslims are traditionally moderate and unlikely Islamic State group recruits.
Even in Kashmir, where a militant uprising launched in 1989 challenged Indian rule in the mostly Muslim Himalayan territory, "there is no sign of IS at all in Kashmir," said police Inspector-General Syed Javaid Mujtaba Gillani. He noted that police had questioned a few youths who brandished IS flags during an anti-India protest last year, but "some of them didn't even know what IS is about. We concluded that it's a sort of teaser some protesters use to provoke us."
Still, there is a fear that India's Muslims might be radicalized, especially after al-Qaida launched its South Asia branch last year in the country. Muslim imams in the country have urged their followers to eschew the Islamic State and other radical groups, calling them "anti-Islamic."
___
INDONESIA
An estimated 600 Indonesians have joined the IS group, and more than 30 have returned to their homeland, national police chief Gen. Badrodin Haiti said. All have been questioned, 15 have been arrested and 12 of those face trial, accused of conspiring with and recruiting for militant groups including Islamic State.
Some of the money used to support IS group activities in Indonesia has been traced to Australia by officials in both countries working together.
"We have detected supporting funds from an Australian source to terrorist networks in Indonesia," said Agus Santoso, deputy chairman of the Financial Transactions and Analysis Center, an Indonesian money-laundering watchdog.
The center is prohibited from publicly disclosing detailed information of its intelligence and data gathering, but Santoso said detailed disclosures have been shared with Australian federal police for further investigation.
Densus 88, Indonesian police's elite anti-terror force, in March arrested five people accused of facilitating the travel of 16 Indonesians detained by Turkish authorities for intending to cross the country's border to join the IS group in Syria. Indonesian and Turkish authorities are cooperating to track down another group of 16 Indonesians who went missing while on a group tour in Istanbul.
___
MALAYSIA
Predominantly Muslim Malaysia has detained 123 people suspected to be linked to the Islamic State group, including civil servants and members of security forces, in the past two years. Police have said some were plotting to launch attacks in strategic areas of Kuala Lumpur, the capital. Some 100 Malaysians were also believed to have gone to Syria to join the group.
The government has warned that the rise of IS influence can "inspire and reignite militant groups in Malaysia."
"The call to jihad by IS is very influential as it is based on Islamic compulsion that has been manipulated so Malaysians are compelled to join them," the government said in a policy paper last November.
A new law aimed at curbing the growth of the IS group allows detention without trial and without possibility of a court challenge. Critics have slammed the move as a revival of a controversial security law that was repealed in 2012, and warned it could severely curtail civil liberties. A second new law empowers authorities to suspend or revoke the travel documents of anyone believed to be engaging in or supporting terrorist acts.
___
MALDIVES
The tiny Indian Ocean archipelago nation of the Maldives is known for its sandy beaches, crystal waters and luxury resorts, but is quickly earning a reputation as a recruitment mecca for radicals. The country of 350,000 is almost entirely Muslim, and some analysts say it has provided one of the world's highest numbers per capita of Islamic State group recruits. While the Maldives itself keeps no statistics on the issue, local media frequently report on citizens killed while fighting in Syria.
The Maldives prohibits practicing or preaching non-Muslim faiths. Critics accuse the government of tacitly supporting IS group recruitment while stoking Islamist sentiments, a charge the government denies.
The government has started to worry about fallout. Parliament is now debating legislation to check on citizens who travel abroad, though it has yet to clarify exactly what those laws might look like.
___
PHILIPPINES
Militants from at least four small but violent Muslim insurgent groups in the Philippines pledged support last year to the Islamic State group and its leader, Abu Bakr al-Baghdadi, mostly in videotaped messages posted on the Internet. Philippine security officials say they have found no clear evidence so far of a direct link and active collaboration between Islamic State group extremists and any of the groups: Abu Sayyaf, the Bangsamoro Islamic Freedom Movement, Rajah Solaiman Movement and the Ansar Khalifa.
IS group-inspired black flags, however, are visible in a video released this week, purportedly by Abu Sayyaf, of four Western and Filipino hostages kidnapped last month in the southern Philippines.
Former President Fidel Ramos said in a TV interview last year that at least 100 young Muslim Filipinos have traveled to Iraq to undergo training and later return home as "jihadists." The Philippine military says it has not confirmed that.
Philippine officials have approved the creation of an interagency group that would create a database to better monitor Filipino militants who may travel to join the battle in Syria and Iraq and later return home, according to a confidential government report obtained by The Associated Press.
___
Associated Press reporters from across Asia contributed to this report, including Katy Daigle and Ashok Sharma in New Delhi; Niniek Karmini in Jakarta, Indonesia; Eileen Ng in Kuala Lumpur, Malaysia; Aijaz Hussain in Srinagar, India; Wasbir Hussain in Gauhati, India; Krishan Francis in Colombo, Sri Lanka; Julhas Alam in Dhaka, Bangladesh; Kristen Gelineau in Sydney and Jim Gomez in Manila, Philippines.
Copyright 2015 The Associated Press. All rights reserved. This material may not be published, broadcast, rewritten or redistributed.
https://www.washingtonpost.com/national/religion/islamic-states-influence-felt-in-far-off-asia-pacific/2015/10/15/46a562da-7304-11e5-ba14-318f8e87a2fc_story.html
---------
ISIS Threat in Malaysia Is Real, Not Government Propaganda, IGP Says
BY MELISSA CHI
October 15, 2015
KUALA LUMPUR, Oct 15 — Tan Sri Khalid Abu Bakar asserted today that the danger posed by global terrorist group Islamic State (IS) in Malaysia is real and not an imaginary issue created by the government as a distraction from other matters.
He added that the disbelievers even included lawmakers from both sides of the political divide.
"There are still among us, including elected representatives who do not believe in IS threats. According to them, it is government propaganda," he told reporters after a closed-door discussion on current crime trends in the country at the Royal Malaysia Police College here.
He said the police had asked elected representatives from both the ruling and opposition coalitions to help explain the seriousness of the danger posed by the militant Islamist group.
"To those who refuse to understand, I feel sorry for them," he said.
http://www.themalaymailonline.com/malaysia/article/is-threat-real-not-government-propaganda-igp-says
---------
'Emulate the Prophet to Reunite Muslims': Former CJ of Malaysia
BY NURADZIMMAH DAIM AND FARHANA SYED NOKMAN
15 OCTOBER 2015
KUALA LUMPUR: Former Chief Justice of Malaysia Tun Abdul Hamid Mohamad urged Muslim leaders, regardless of their positions in the government, opposition or non-governmental organisations, to emulate the Prophet Muhammad in re-uniting Muslims and strengthening the religion. "Like what happened 1,437 years ago, Muslims in Malaysia are in a worrying state. This is not because we are a minority, but because there is a lack of unity among us that has caused us to become weak. This is a reality we need to acknowledge," he said after receiving the national Tokoh Maal Hijrah award. The 73-year-old was chosen for his outstanding contribution to the propagation of Islam and the development of the community. He received RM100,000 cash, a plaque, a medal and a certificate of appreciation. Born in Kepala Batas, Penang, Abdul Hamid held various positions in the civil service and the judiciary. He had served, among others, as deputy registrar of the High Court, state legal adviser, senior federal counsel of the Inland Revenue Department and head of prosecution in the Attorney-General's Chambers. He was instrumental in the drafting of the Syariah criminal procedure bill (Kelantan) 1981 and was also noted for writing judgments on syariah cases, specifically on apostasy, conflicts of jurisdiction between civil and sSyariah courts, and wakaf. He was appointed as judicial commissioner on May 1, 1990, and later as High Court judge, Court of Appeal judge, Federal Court judge and president of the Court of Appeal. He was appointed as the chief justice of Malaysia on Nov 1, 2007, and retired in October, 2008.
Meanwhile, Muslims nationwide gathered to celebrate the Islamic new year. In Perak, Sultan of Perak Sultan Nazrin Muizzuddin Shah said Muslim nations should do more to help refugees, especially fellow Muslims fleeing persecution and war. He said the concept of human rights from the perspective of Islam makes it mandatory for Muslims to give protection to those in need, especially in a state of emergency. In his speech, the sultan also touched on the importance of strengthening the humanitarian financial institution to help millions of refugees worldwide. "I have received an invitation from the United Nations (UN) secretary-general to co-chair the UN Humanitarian Finance Panel. "The UN needs US$25 billion (RM102 billion) dollars each year to fund humanitarian programmes worldwide and this is a huge challenge." he said. Sultan Nazrin said he wanted to introduce Islamic finance instruments to strengthen the humanitarian fund. "This is not an easy task as westerners have a negative stereotype about of the Islamic funds that have which always been related to terrorist activities. "We must change this perception through active involvement from Islamic organisations and institutions to channel funds for humanitarian programmes," he said." In Kuantan, Sultan of Pahang Sultan Ahmad Shah urged Muslims to change for the better if they wanted to move forward as a modern, strong and progressive society. "The fate of Muslims will remain the same if they are not willing to change their laid-back attitude," he said in a speech read by Tengku Mahkota of Pahang , Tengku Abdullah Sultan Ahmad Shah at the state-level Maal Hijrah celebration here yesterday. Businessman Datuk Md Sharif Shamsuddin, the 65-year-old founder of the Muamalat Assharif Mosque in Pasdec Damansara, was named the state''s Tokoh Maal Hijrah. In Kuala Terengganu, Sultan of Terengganu, Sultan Mizan Zainal Abidin called on Muslims to be wary of inaccurate and defamatory news that was spread on social media, which could threaten unity among the people and stability of the country. During the celebrations, Sultan Mizan presented Sepiah Mohamad, 65, the champion of the 1998 International Quran recital competition, with the state's Tokoh Maal Hijrah award. In Johor, a former religious school principal from Kluang, Zahari Jaafar Awang, 68, was named the state's Tokoh Maal Hijrah. The award was presented by presented by Menteri Besar Datuk Seri Mohamed Khaled Nordin. In Sabah, Chief Minister Datuk Seri Musa Aman called on the people to continue to strengthen the ukhwah (brotherhood) for the good of the country and her people.
http://www.nst.com.my/news/2015/10/%E2%80%98emulate-prophet-reunite-muslims%E2%80%99
---------
Muslim extremists are burning down churches in Indonesia's Aceh province
By Daniel Maxwell
Oct 15, 2015
Christian churches in Aceh province, Indonesia were attacked by Islamic extremists frustrated with the local government's delays in demolishing 21 'illegal' churches.
The attacks, which are believed to have been premeditated, took place at two Christian churches in Aceh Singkil district. The mob of around 500 protestors burned the first church to the ground and then moved on to a second church which was being protected by members of the Christian community.
Violence erupted when the protestors, carrying axes, sticks and machetes, were confronted by the community protecting the church. It was during this attack that a member of the Christian community was killed, according to Aceh Police Chief Husein Hamidi, "after being shot in the head with an air rifle." Four others were injured in the attack, including a soldier.
Indonesia, which is the world's most populous Muslim country, has a significant Christian population of around 20 million. The Indonesian Constitution guarantees freedom of religion and the country had a strong history of coping with its diverse religions until the outbreak of regional religious conflicts at the end of the 20th Century.
A 2012 report on state-imposed religious restrictions indicated that Indonesia has become less tolerant towards minority religions over the past decade and the report places Indonesia among the most religiously restrictive states in the world, alongside such unenviable company as Afghanistan, Egypt, Saudi Arabia and Yemen.
These recent church attacks took place in Aceh Province, which is a special territory and the only province in Indonesia to enforce Sharia law. The Islamic law is enforced by 'morality police' who are responsible for punishing those who violate behavior regulations. Since 2014 these laws have been legally applied to non-Muslims in Aceh province, meaning non-Muslims can be prosecuted for inappropriate dress, adultery or drinking alcohol. Punishment for breaking Sharia law can include being whipped, stoned or having their limbs severed.
Regulations in Aceh province are making it increasingly difficult for religious minorities to secure the necessary permits and licenses to legally build and operate places of worship. Non-Muslim places of worship require the agreement of 60 local residents of different faiths and permission from the local community's Interfaith Communication Forum before they can obtain the necessary building permits. The local Interfaith Communication Forums often deny requests from Christian groups because of pressure from radical Muslim groups.
The forced closure of churches that do not have the necessary permits and licenses has become increasingly common. An Indonesian organization for religious tolerance has reported that as many as 40 churches are forced to close every year. Often when churches are closed the Christian congregation are ordered to tear down their own churches.
This most recent violence stems from local government inaction in demolishing 21 churches that have been operating 'illegally'. It's believed the attacks were orchestrated by an Islamic youth group that had previously threatened to take matters into their own hands if the church demolitions did not begin. In a press conference on Wednesday, Chief of National Police, Gen. Badrodin Haiti confirmed that the local government had agreed to begin demolishing the churches next week. There are fears that if local authorities do not follow through with the destruction of these churches, radical Muslim groups could engage in further attacks.
Indonesia's President Joko Widodo and Vice-President Jusuf Kalla were quick to condemn the attacks and have called for calm in the region. Widodo is considered a moderate Muslim leader and has often spoken on the need for religious tolerance. In an interview earlier this year with CNN, he explained that he wanted, 'Indonesia to be an example of moderate Islam, Islam that has tolerance, good Islam. And I am sure that we are able to do so. In Indonesia, Islam and democracy can go together."
And during an address to leaders at the sixth Indonesian Muslims Congress in Yogyakarta, he explained the need for religious tolerance in the country. "We have shown that tolerance and mutual respect is strong and we always take the middle ground," he said.
Kalla, who just last year had praised Indonesia's religious tolerance in a Christmas Day speech, called for greater understanding and suggested the government draw up new regulations to mandate tolerance with legal matters related to places of worship to avoid further attacks.
While the president's vision of religious tolerance in Indonesia is clearly admirable, the current reality is a long way from these ideals. With the growth in religious extremism it will take considerably more than central government's calls for moderation to end religious persecution and the continued destruction of Christian churches by regional governments and local radicals. Unless there is greater commitment to tackling the spread of radical thoughts and the prevalence of extremist groups, the growing tendency towards intolerance among the public could lead to an increase in violence towards minority groups.
http://asiancorrespondent.com/136147/muslim-extremists-are-burning-down-churches-in-indonesias-aceh-province/
---------
US says failed to meet Malaysian Islamic officials over religious freedom
October 15, 2015
KUALA LUMPUR, Oct 15 — The US State Department said its embassy here had tried but failed to meet Islamic government officials to discuss freedom of religion, despite being able to deliberate with other religious groups and government leaders.
The department also said the embassy spoke to government representatives, opposition parties and non-governmental organisations (NGOs) during a visit to Sarawak last October about allegations of Putrajaya-backed groups offering money to the indigenous in rural areas to convert to Islam.
"US representatives maintained an active dialogue on religious freedom with government officials and leaders, and representatives of religious groups, including those not officially recognised by the government," the US Department of State said in its 2014 Report on International Religious Freedom released yesterday.
"The embassy's attempts to meet with Islamic religious affairs departments in the government to discuss freedom of religion issues this year have been unsuccessful," it added.
The report also said the Special Representative to Muslim Communities at the US Department of State engaged last October government ministers, religious leaders, and Muslim entrepreneurs on religious freedom and concerns about intolerance in Malaysia.
The department noted in the report that Islamic authorities' actions have increasingly affected non-Muslims.
Full Report at:
http://www.themalaymailonline.com/malaysia/article/us-says-failed-to-meet-malaysian-islamic-officials-over-religious-freedom
---------
Arab World
100s of Foreign-sponsored Takfiri Militants Killed in Syrian Army Operations
Oct 15, 2015
Foreign-sponsored militant groups operating inside Syria have suffered major losses and lost hundreds of members as Syrian government troops continue to gain more ground in their fight against the extremists.
On Wednesday, Syrian army troops managed to establish control over a number of areas in the Jobar district, which lies two kilometres (1.2 miles) northeast of the capital, Damascus, destroying several command as well as communication centres and killing an unspecified number of terrorists, Syria's official news agency SANA reported.
Separately, a host of Takfiri militants were killed as Syrian soldiers carried out mop-up operations in the vicinity of the Air Force Academy in the northern city of Aleppo, located 355 kilometers (220 miles) north of Damascus, Aleppo's western neighbourhood of al-Rashideen plus the villages of Kafr Hamrah and Qasr al-Ward.
Fierce clashes were also reported in northwest Syria's al-Ghab plain, situated around 25 kilometres (15 miles) northwest of Hama, where at least 12 terrorists were killed.
Moreover, 17 members of the Takfiri Jaish al-Fatah militant group were killed as Syrian soldiers mounted an offensive in the town of Khan Shaykhun in the Maarrat al-Nu'man district in the country's north-western province of Idlib.
Full Report at:
http://www.presstv.ir/Detail/2015/10/15/433495/Syria-army-soldiers-operations-Takfiri-militants
---------
Iraqi Air Raids Kill Scores of ISIL Militants
Oct 14, 2015
Iraqi airstrikes hit ISIL positions in Albu Shajal region, which lies East of Anbar's provincial capital city of Ramadi, killing 25 terrorists and injuring 30 others.
Nine vehicles used by ISIL extremists, who were heading toward the city of Fallujah, located roughly 69 kilometers (43 miles) West of the capital, Baghdad, were destroyed in the airstrikes.
Iraqi fighter jets also pounded ISIL concentration centers in Albu Shajal region, killing 12 militants and wounding 10 others.
Meanwhile, Iraqi security forces have gained ground in the town of Albu Faraj, located more than 120 kilometers (74 miles) West of Baghdad on Tuesday.
Full Report at:
http://english.farsnews.com/newstext.aspx?nn=13940722001326
---------
Tens of Al-Nusra Terrorists Killed in Syrian Army's Ambush in Daraa
Oct 14, 2015
The Al-Nusra Front terrorists who found themselves in an army ambush operation in the town of Mahaja tried to escape, but the Syrian troops managed to kill all of them.
A notorious terrorist commander named Iman Yousef Hatba was also among the Al-Nusra militants killed in the Syrian army's surprise attack.
Terrorists evacuated Daraa province and fled to Jordan on Wednesday as the Syrian army troops inflicted heavy losses on the foreign-backed Takfiri militants and after the recent victories of the Damascus troops, who are backed up by Russian air force, in multiple fronts across the country.
The army destroyed a vehicle equipped with a heavy machinegun on the road leading to Attman town in the Northern countryside of Daraa, killing all terrorists on board.
The army also targeted positions of al-Nusra Front in Tafas city in the Western countryside of Daraa, killing a group of the terrorists and destroying their arms and ammunition.
A large group of terrorists were also killed and injured in a military operation in Daraa city near the border with Jordan. Militants' weapons and equipment were also destroyed during the operation.
FNA dispatches and locals said on Wednesday that hundreds of militants are on the run to cross the border to Jordan following the major loss in the battlefield and in anticipation of imminent massive air and ground assaults by the Syrian army and Russian fighter jets.
On Monday, the Syrian army troops struck a heavy blow at the Takfiri militants in Daraa province, leaving a large group of them dead and injured.
The army targeted the terrorists' concentration centers in al-Bajaja district in Daraa al-Balad, killing and injuring a group of militants.
Full Report at:
http://english.farsnews.com/newstext.aspx?nn=13940722001271
---------
Syrian Army, Hezbollah, Russian Air Force Coordinating for Aleppo Liberation Operation
Oct 14, 2015
The sources said that the Russian reconnaissance planes are carrying out their last flights over the fortifications of the militants inside and outside of Aleppo.
In the meantime, the Syrian Special Forces and the experienced fighters of Hezbollah are mulling on the different ways to infiltrate into the defense lines of the militant groups at the first steps to the final liberation operation.
The sources added that the Syrian artillery units alongside the Russian fighter jets will pave the way for the rapid action of the ground forces of the army troops and Hezbollah fighters.
On Tuesday, sources said that several fighters of the Lebanese Hezbollah arrived in Aleppo to join the Syrian army to carry out a large-scale anti-militant operation in Aleppo in the coming days with the Russian aerial backup.
Full Report at:
http://english.farsnews.com/newstext.aspx?nn=13940722000592
---------
U.N. urges Iraq's feuding Kurds to respect democracy
15 October 2015
Political parties in Iraq's Kurdish region, whose president's mandate expired in August, should respect democratic principles, the top U.N. envoy said Wednesday.
Jan Kubis' warning came after a week that saw protests against regional president Massud Barzani turn violent and the leading opposition party kicked out of government.
What started as demonstrations over unpaid salaries in regions dominated by the opposition to Barzani's Kurdistan Democratic Party escalated into protests demanding he step down.
At least four people were killed, dozens wounded and local offices of the KDP in several southern towns were burnt down.
"Perpetrators of these acts of violence should be quickly brought to justice, following due judicial process," Kubis, U.N. chief Ban Ki-moon's representative in Iraq, said in a statement.
But he also stressed that all parties in the northern autonomous region, a key partner in the global fight against the Islamic State group, should respect democracy.
Kubis urged "the authorities and political forces of the region to ensure the proper functioning of the political system and its institutions, political parties and their offices, in full conformity with democratic principles and methods."
Full Report at:
http://english.alarabiya.net/en/News/middle-east/2015/10/15/U-N-urges-Iraq-s-feuding-Kurds-to-respect-democracy.html
---------
ISIL Clashes with Rival Militants, Kills FSA Commander
Oct 14, 2015
The Commander of FSA's Ibn Taymiyyah Battalion was killed in clashes with ISIL terrorists in Tell Jibbin in Aleppo, informed sources said.
On Tuesday, clashes erupted between the terrorists organizations due to the increased withdrawals of some of the Takfiri groups from al-Ghab plain in Hama countryside, leaving at least 7 militants dead.
Full Report at:
http://english.farsnews.com/newstext.aspx?nn=13940722000949
---------
Another FSA Commander Killed in Clashes with ISIL
Oct 14, 2015
Abu Khalid Azizah, a senior FSA commander, was killed in the clashes, informed source said.
Earlier, the Commander of FSA's Ibn Taymiyyah Battalion was reportedly killed in clashes with ISIL terrorists in Tell Jibbin in Aleppo, informed sources said.
On Tuesday, clashes erupted between the terrorists organizations due to the increased withdrawals of some of the Takfiri groups from al-Ghab plain in Hama countryside, leaving at least 7 militants dead.
Full Report at:
http://english.farsnews.com/newstext.aspx?nn=13940722001141
---------
Syrian Army, Resistance Forces Reinforce Positions in Aleppo Countryside
Oct 14, 2015
"The army and resistance forces fortified their positions with the help of the Russian warplanes in al-Harra and Kafr Tuna in Northeastern Aleppo," a military source told FNA on Wednesday.
Large groups of Hezbollah forces arrived in Aleppo on Tuesday to join the Syrian army to carry out a large-scale anti-militant operation in the Northern city of Aleppo with the Russian aerial backup.
The source, meantime, dismissed some media reports claiming that the Syrian army had started withdrawal from al-Harra region.
He said that the ISIL tried to take back the newly-seized al-Harra region by launching a suicide attack on the Syrian army's positions in the vicinity of al-Harra, but failed.
Some pro-ISIL media had claimed that the ISIL had entered al-Harra region and pushed back the Syrian troops and Hezbollah fighters.
After the victory of the Syrian army and Hezbollah in Zabadani and the conclusion a six-month-long ceasefire agreement with the militants in the nearby areas of Syria-Lebanon border, a 200-member group of Hezbollah fighters has been dispatched to the battlefronts in Aleppo.
Full Report at:
http://english.farsnews.com/newstext.aspx?nn=13940722001125
---------
Ahrar al-Sham's Commanders Killed in Syrian Troops Ambush in Homs
Oct 14, 2015
The army ambushed the terrorist group near al-Samalil village in Southern al-Houleh in the Northern countryside of Homs, killing at least 7 members of the terrorist group, most of them among the most notorious and most wanted terrorists.
The group's leader, Ammar al-Khodr, and the notorious Chechen terrorist, Abo Anas, were identified among the dead.
The "Ahrar al-Sham Islamic Movement" also acknowledged the death of the seven terrorists, and said Ammar al-Khodr, who was confirmed dead, was the chief of Ahrar al-Sham Islamic Movement in al-Houleh.
Full Report at:
http://english.farsnews.com/newstext.aspx?nn=13940722000795
---------
Syria army fighting to liberate towns north of Homs
Oct 15, 2015
Syrian government forces backed by Russian airstrikes have mounted an operation to liberate towns north of the western city of Homs from the grips of foreign-backed militants.
According to Syrian state television, the offensive kicked off on Thursday.
Meanwhile, the UK-based Syrian Observatory for Human Rights said the Russian air raids struck targets around the town of Talbiseh and the villages of Teir Malla, Dar Kabira and Khalidiya, a few miles north of Homs.
The development comes a day after Syrian army troops managed to gain control over a number of areas in the Jobar district, which lies two kilometers (1.2 miles) northeast of the capital, Damascus.
The troops also killed a large number of Takfiri terrorists in their operations across the Arab country.
Full Report at:
http://www.presstv.ir/Detail/2015/10/15/433506/Syria-Russia-Homs-Talbiseh-Daesh
---------
Syrian army and Russian jets target rebel towns north of Homs
15 October 2015
Syrian army troops and their allies, backed by Russian jets, launched an attack on rebel-held towns north of the city of Homs on Thursday, regional television stations and a group which monitors the war said.
The Russian air strikes hit targets around the town of Talbiseh and Teir Malla, about 5km north of the mainly government-held city, the Syrian Observatory for Human Rights said.
Full Report at:
http://english.alarabiya.net/en/News/middle-east/2015/10/15/Syrian-army-and-Russian-jets-target-rebel-towns-north-of-Homs.html
---------
ISIS battles insurgents near Aleppo
14 October 2015
Islamic State of Iraq and Syria (ISIS) militants battled rival insurgent groups on Wednesday north of the city of Aleppo, where officials say the Syrian army is preparing an offensive of its own backed by Iranian soldiers and Russian jets.
A rebel fighter and a group monitoring the war said ISIS fighters took control of part of the towns of Ahras and Tel Jabin, about 12 km north of Aleppo, before being pushed back.
Gains by ISIS north of Aleppo will threaten the supply lines of rival rebels inside the city, which is divided between insurgents and government forces. The Syrian Observatory for Human Rights said the road used by Aleppo residents heading north to the Turkish border remained closed on Wednesday.
"Today there are fierce battles between us and Daesh in Ahras, Tel Jabin, and rural northern Aleppo," said Hassan Haj Ali, head of the Liwa Suqour al-Jabal rebel group, using another name for ISIS.
His unit is one of several foreign-backed insurgent forces which find themselves fighting ISIS on the ground, at the same time as they are bombed by Russian jets and are bracing for a broad ground offensive by the army.
"There are mobilizations by the regime in most parts of Aleppo, particularly in Bashkoy," he said, referring to another town north of Aleppo, which before Syria's civil war began in 2011 was the country's biggest city and a major commercial and industrial center.
"There were advances (by ISIS) at dawn but we were able to recover Ahras entirely. There are battles in Tel Jabin," said Ali, speaking to Reuters via an internet messaging system.
Iran has sent thousands of additional troops into Syria in recent days to bolster one offensive that is underway in Hama province and in preparation for another in the Aleppo area, two senior regional officials told Reuters.
In another sign of Iran's central role in support of President Bashar al-Assad, a team of Iranian lawmakers arrived in Damascus on Wednesday, and pictures circulated on social media showed the head of the Revolutionary Guards' Quds Force, Qassem Soleimani, in western Syria.
Soleimani was pictured in a wooded area of northern Latakia province addressing Iranian officers and Hezbollah fighters with a microphone, wearing dark clothes as he spoke to the men in camouflage.
"This leak at this time is deliberate and part of managing the battle in which the Russian Sukhois (warplanes) are taking part," said Salem Zahran, a Lebanese media pundit with close ties to Hezbollah and the Syrian government.
Full Report at:
http://english.alarabiya.net/en/News/middle-east/2015/10/14/ISIS-battles-rebels-near-Aleppo-as-army-prepares-assault.html
---------
Terrorists Fleeing Syria's Daraa to Jordan
Oct 14, 2015
The army destroyed a vehicle equipped with a heavy machinegun on the road leading to Attman town in the Northern countryside of Daraa, killing all terrorists on board.
The army also targeted positions of al-Nusra Front in Tafas city in the Western countryside of Daraa, killing a group of the terrorists and destroying their arms and ammunition.
A large group of terrorists were also killed and injured in a military operation in Daraa city near the border with Jordan. Militants' weapons and equipment were also destroyed during the operation.
FNA dispatches and locals said on Wednesday that hundreds of militants are on the run to cross the border to Jordan following the major loss in the battlefield and in anticipation of imminent massive air and ground assaults by the Syrian army and Russian fighter jets.
On Monday, the Syrian army troops struck a heavy blow at the Takfiri militants in Daraa province, leaving a large group of them dead and injured.
The army targeted the terrorists' concentration centers in al-Bajaja district in Daraa al-Balad, killing and injuring a group of militants.
Full Report at:
http://english.farsnews.com/newstext.aspx?nn=13940722001293
---------
Mideast
Iranian DM Vows Imminent Annihilation of All Takfiri Terrorists in Syria
Oct 14, 2015
Dehqan made the remarks in a ceremony in Tehran today to commemorate martyrdom of IRGC Commander Brigadier General Hossein Hamadani, who was killed in Northern Syria on Thursday.
He referred to the new joint operations plan of Iran, Syria, Iraq and Russia to destroy the ISIL, and said, "At present, we are witnessing start of new developments in Syria, thanks to the efforts and measures adopted by martyr Hamadani."
"God willing, these developments will pave the ground for the full annihilation of the Takfiri groups," Dehqan said.
General Hamadani was killed in Northern Syria on Thursday, while providing military counseling services to the Syrian forces in their fight against the Takfiri terrorists.
"Brigadier General Hamadani was martyred during an attack by the ISIL Takfiri terrorists in the outskirts of the city of Aleppo while fulfilling his duty as military advisor and defending the holy Shiite shrines in the country," the IRGC said in a statement on Friday.
General Hamadani was in Syria to render military advice to the Syrian army and popular forces in their fight against the ISIL terrorists in the Arab country.
In relevant remarks on Monday, Commander of the Islamic Revolution Guards Corps Major General Mohammad Ali Jafari underlined that the terrorist groups in Syria will sustain great losses in coming days.
Full Report at:
http://english.farsnews.com/newstext.aspx?nn=13940722001254
---------
Violence in east Turkey leaves 13 dead
15 October 2015
Thirteen people, including a Turkish police officer and 12 PKK terrorists were killed in separate incidents of violence in eastern Turkey Wednesday, Turkish officials and security sources said.
A police officer and a PKK terrorist was killed in an attack in eastern Van province Wednesday, Van Governor Ibrahim Tasyapan said.
According to Tasyapan, PKK members attacked a police squad with long-barreled weapons in central Ipekyolu district, leaving an officer martyred and a terrorist dead, and a civilian injured.
Security forces also captured an injured terrorist in the incident. An operation was also launched in the area following the attack.
Separately, Turkish military announced Wednesday that it killed 10 terrorists in southeastern Hakkari province.
In a statement posted on Turkish General Staff's website Wednesday, the military said that three PKK terrorists were killed in an operation in Yuksekova district, while seven other PKK terrorists were killed in airstrikes carried out in the same area.
Three Turkish sergeants were also slightly wounded in the incident, it said, adding that an anti-aircraft gun, two machine guns and a Kalashnikov rifle were also seized in the operation.
Meanwhile, in eastern Mus province, two gendarme sergeants were slightly injured in an attack. Also, 17 suspects were detained in the province for trying to enter an area where a security operation was being carried out, the military said.
Full Report at:
http://www.worldbulletin.net/turkey/165288/violence-in-east-turkey-leaves-13-dead
---------
Turkish PM: Syrian Govt, ISIL, PKK Made Deal Against Opp
15 October 2015
Turkish Prime Minister Ahmet Davutoglu has said that the Syrian regime, ISIL and the PKK made an agreement in May to attack the anti-Assad opposition forces and share Turkey's border with Syria.
"ISIL, PKK and the [Syrian] regime sat around a table on May 28 in Hasakah [in northeastern Syria] and reached an agreement to attack the opposition," he told a live interview on private Show TV channel on Wednesday.
Davutoglu stressed that ISIL and the PYD, or the Syrian Democratic Union Party, also agreed with the regime of Bashar al-Assad during that meeting to share the Turkish border.
PYD is a Syrian-based affiliate of the PKK – considered a terrorist organization by Turkey, the U.S. and the EU.
"The reason we did not shoot PYD is not its innocence; we will do it if required. We will do what is necessary for Turkey's safety," Davutoglu said.
His remarks closely followed the summoning of American and Russian ambassadors to the Turkish Foreign Ministry earlier in the day for warnings about the sensitivities regarding Turkey's position on the PYD and Washington's military aid to the group, according to diplomatic sources.
"Our message to the Americans, all allies and Russia is very clear: We will not hesitate even a moment [to respond] if the weapons aid to PYD so close to Turkish border becomes a threat to Turkey in any way and PYD begins to harm Turkey via infiltrations like the PKK or weapons transfer," the prime minister said.
The Turkish premier highlighted that Turkey will certainly respond if the PYD makes any attempt to enter Turkey over Iraq.
"At a time when the PYD is so nested with the PKK, which is attacking Turkey, nobody can justify the weapons given to PYD by a friend and ally, or a neigbor country like Russia," he said.
Full Report at:
http://www.worldbulletin.net/turkey/165284/ankara-bombings-death-toll-rises-to-99
---------
'Iran-Indonesia coop. to help world of Islam'
15 October 2015
TEHRAN, Oct. 15 (MNA) – Iran and Indonesia can cooperate to resolve the problems of the region and the Muslim world, President Rouhani said in a meeting with Indonesian Foreign Minister Rento Marsudi.
Meeting on Wednesday, Rouhani said that Indonesia is a significant country in the world of Islam and a very old friend of the Islamic Republic of Iran.
The Iranian president added that in the post-sanctions era, Iran-Indonesia can enhance economic ties and hoped that the joint economic cooperation council would be an effective step towards the goal.
Rouhani also noted that it is necessary to pave the way for investors of both countries to join economic projects.
He added that Iran and Indonesia share common views regarding the issues in the world of Islam while nowadays, unfortunately, some Islamic countries are not in good terms with one another.
Talking about the growth of terrorism, Rouhani noted that the expansion of terrorist groups requires the Muslim states to closely cooperate since the continuation of such a situation will jeopardize the condition of the Islamic world.
"A great cultural move is required in all Islamic countries to uproot terrorism", the president underlined.
Full Report at:
http://en.mehrnews.com/news/111056/Iran-Indonesia-coop-to-help-world-of-Islam
---------
Yemeni forces launch Scud missile at Saudi military base
Oct 15, 2015
Yemeni army soldiers backed by Popular Committees have fired a Scud ballistic missile at a Saudi military base in retaliation for Riyadh's unrelenting military campaign against its impoverished Arab neighbor.
On Thursday morning, the Yemeni troopers and their allied forces fired the missile from an area in the vicinity of the capital, Sana'a, at the Khaled bin Abdulaziz base in Saudi Arabia's southwestern city of Khamis Mushait, located 884 kilometers (549 miles) southwest of the capital, Riyadh, according to Yemen's Arabic-language al-Masirah satellite television network.
There were no immediate reports on whether or not the missile hit its target or caused any casualties.
The development came only hours after Yemeni soldiers destroyed a Saudi armored vehicle in the al-Khobe district of the kingdom's southwestern border region of Jizan. An unspecified number of Saudi soldiers were killed as a result.
Yemen's Defense Ministry announced late on Wednesday that Yemeni troops and Popular Committee fighters had fired at least 26 mortar rounds and five rockets at a camp for Saudi border guards in the al-Rahwa Village as well as a military base in the al-Rabu'ah town in Saudi Arabia's southwestern Asir region. No reports on possible casualties and the extent of damage were immediately available.
Full Report at:
http://www.presstv.ir/Detail/2015/10/15/433508/Yemen-Scud-missile-Saudi-base--Khamis-Mushait
---------
Turkey warns US, Russia over backing Syrian Kurdish forces
14 October 2015
Turkey has summoned U.S. and Russian envoys to warn against supplying arms and support for Syrian Kurdish forces fighting the ISIL armed group in Syria, a Turkish official said on Wednesday.
"The U.S. and Russian ambassadors were called to the ministry yesterday (Tuesday) to convey Turkey's views about the PYD (Democratic Unity Party)," the foreign ministry official said. "Necessary warnings were issued."
Turkey labels the PYD as the Syrian offshoot of the outlawed terrorist Kurdistan Workers' Party (PKK) which has waged a bloody insurgency since 1984.
U.S.-led coalition forces have parachuted in ammunition to anti-ISIL fighters in northern Syria, stepping their backing for those battling the armed group.
Full Report at:
http://www.worldbulletin.net/turkey/165256/turkey-warns-us-russia-over-backing-syrian-kurdish-forces
---------
US calls Israeli stabbing of Palestinians 'terrorism'
15 October 2015
The stabbing of a Palestinian by a 17-year-old Israeli in Dimona was an "act of terror", the State Department said Wednesday.
"We've had a chance to look at that attack more deeply, and I think you're going to ask me, what do we consider it? An act of terrorism? And we do," said spokesman John Kirby. "I would say, certainly individuals on both sides of this divide have proven capable of, and in our view, guilty of acts of terrorism."
Kirby's words are a departure from his response to the incident last week in which dismissed a question about the stabbing, saying he didn't have details about it but was quick to describe as "terrorism" attacks by Palestinians against Israelis.
Four Arab men were stabbed by a Jewish settler in an attack Friday. Two of the victims were seriously wounded while two others sustained minor injuries.
Kirby's comments came ahead of Secretary of State John Kerry's visit to the region for which no timetable was given.
Full Report at:
http://www.worldbulletin.net/palestine/165282/us-calls-israeli-stabbing-of-palestinians-terrorism
---------
France, US to discuss Jerusalem violence
14 October 2015
French Foreign Minister Laurent Fabius will discuss the recent wave of sectarian attacks in Jerusalem and West Bank with his U.S. counterpart John Kerry on Wednesday, France's government spokesman said.
"There is an escalation (of violence) that France wants to combat," said spokesman Stephane Le Foll, adding that Kerry and Fabius would discuss the situation in Jerusalem later in the day.
Full Report at:
http://www.worldbulletin.net/palestine/165267/two-more-palestinians-killed-by-israeli-forces
---------
EU's Tusk: Turkey must cut refugee flow to Europe
15 October 2015
Turkey must stop the flow of refugees coming into Europe in order to receive concessions such as easier travel visas for its citizens in return, European Council President Donald Tusk said on Tuesday.
"An agreement with Turkey makes sense if it effectively reduces the inflow of refugees. Concessions will only be justified when this goal is achieved," Tusk said in a letter on Tuesday to EU heads of government ahead of a summit in Brussels on Thursday.
"Even if the influx of refugees slows down during winter, we must be ready for spring and the threat of bigger waves flowing to Europe," Tusk said. "In fact, all the leaders I met in the region spoke about millions of potential new refugees."
A refugee action plan was proposed by European Commission President Jean-Claude Juncker and presented to Turkish President Recep Tayyip Erdogan on October 5.
According to the plan, the EU offered €1 billion ($1.13 billion) in humanitarian assistance for refugees hosted in Turkey.
Full Report at:
http://www.worldbulletin.net/turkey/165283/ankara-bombings-death-toll-rises-to-99
---------
Iran reportedly deploys troops to central Syria
15 October 2015
Hundreds of Iranian troops are reportedly being deployed in northern and central Syria, dramatically escalating Tehran's involvement in the civil war as they join allied Hezbollah fighters in an ambitious offensive to wrest key areas from rebels amid Russian airstrikes.
Their arrival, a regional official and Syrian activists told the Associated Press news agency on Wednesday, highlights the far-reaching goals of Russia's military involvement in Syria. It suggests that, for now, taking on Islamic State extremists in eastern Syria seems a secondary priority to propping up President Bashar al-Assad.
The development is almost certain to increase pressure on Western-backed rebels, who are battling multiple foes, and push more civilians out of the areas of fighting, potentially creating a fresh wave of refugees.
Russia began its air campaign Sept. 30, and Syrian troops and allied militiamen launched a ground offensive against rebels in central Syria a week later. Russia says its airstrikes are meant to weaken the ISIS and other "terrorists" in Syria, but Western officials and Syrian rebels say most of the strikes have focused on central and northern Syria, where the extremist group does not have a strong presence.
Full Report at:
http://english.alarabiya.net/en/News/middle-east/2015/10/15/Iran-sends-troops-to-Syria-escalating-its-involvement.html
---------
South Asia
Residents return to Kunduz as fears of Taliban comeback loom
October 15, 2015
KUNDUZ: Traumatised residents returning to Kunduz Wednesday were facing major food shortages after the Taliban beat a "tactical retreat", leaving much of the city in ruins as fears of a comeback by the militants loomed large.
Electricity and running water were partially restored, according to locals and officials, while some shops had reopened for business two weeks after the provincial capital fell to a lightning Taliban assault in their biggest military victory since 2001.
But the scars of street battles remained clearly evident in bullet-riddled and shelled buildings, with the insurgents claiming their retreat was tactical and they still had the ability to retake the city.
"Security forces are asking people to come back, but the people are still afraid, they are scared that the situation might change again," said resident Ajmal Kakar.
"Only a small number of people who did not have a place to stay outside the city have returned to their homes," he added.
Amruddin Wali, the deputy head of the provincial council, was slightly more optimistic.
"Life has returned to normal. Shops are open, people are back to business," he said, though he conceded that people are still afraid the fighting might resume.
Large crowds meanwhile gathered in the city's main square, scene of some of the worst fighting between government troops and the Taliban just days earlier, where they waited for basic food items after supplies were disrupted by the fighting.
"There is no rush, the Taliban are gone, they are not coming back, wait for your turns!" an officer overseeing the handouts shouted.
A stream of pick-up trucks carrying supplies rumbled into the city throughout the day, while troops were seen removing the white-and-black flags planted by the Taliban.
The insurgents had burned down government buildings, gunned down opponents and freed hundreds of prisoners during their three-day occupation.
They also stand accused of human rights violations, including mass murder and rape, according to Amnesty International.
Naveed, a 23-year-old student who gave only his first name, said he and his family had locked themselves indoors for the first three days of the Taliban's occupation at the end of last month, before escaping in their car.
"We were trapped in the city, but I ventured out once and saw Taliban fighters. They were young fighters, who spoke Farsi and Pashto but did not have turbans. They were asking for people who were working for the government to surrender."
Unprecedented push
The fall of Kunduz on September 28 was a stinging blow to Western-trained Afghan forces, who have largely been fighting on their own since the end of Nato's combat mission in December.
Full Report at:
http://www.dawn.com/news/1213056/residents-return-to-kunduz-as-fears-of-taliban-comeback-loom
---------
President Ghani: Taliban violated human rights in Kundoz
Oct 15 2015
President Mohammad Ashraf Ghani has said that security forces have not violated human rights in Kundoz province but Taliban did.
He said that rebels assaulted honor of people and harmed their property.
While talking to a conference on the management of land on Thursday, President Ghani said that special envoy of UN's Secretary-General came to the cabinet and said that Afghan national security and defense forces have neither violated human rights nor they have harmed civilians. But rebels did this, he said.
The difference between security forces and rebels is that what rebels have done in Kundoz security forces don't do that, said the President.
During the siege of Taliban over Kundoz city, reports published indicated that human rights were violated.
Full Report at:
http://www.khaama.com/president-ghani-taliban-violated-human-rights-in-kundoz-3994
---------
Kundoz hospital bombing: death toll now 24
Oct 15 2015
The international medical organization Doctors Without Borders/Médecins Sans Frontières (MSF) has announced that the death toll from the bombing at one of their hospitals in Afghanistan has mounted to 24 people. Earlier it was reported 22 killed and 37 wounded.
A spokesman of the charity organization told media on Wednesday that some of their staff members who were unaccounted for, two of them have been confirmed dead.
The spokesman has also said that among those still unaccounted for are their staff members and nine patients.
Meanwhile, MSF has said in a statement that the International Humanitarian Fact-Finding Commission (IHFFC), which is the only permanent body set up specifically to investigate violations of international humanitarian law established in the Additional Protocols of the Geneva Conventions, has been activated but awaiting the agreement of the United States and Afghanistan governments to undertake independent investigation.
"We have received apologies and condolences, but this is not enough. We are still in the dark about why a well-known hospital full of patients and medical staff was repeatedly bombarded for more than an hour," said MSF President in a statement released on Wednesday. "We need to understand what happened and why."
Another quote from Dr Joanne Liu states that: "We need to know if the rules of war have changed, not just for Kunduz, but for the safety of our teams working in frontline hospitals all over the world,".
Full Report at:
http://www.khaama.com/kundoz-hospital-bombing-death-toll-now-24-3995
---------
Pentagon: U.S. not leaving Afghanistan, mulling adjustments to the current plan
Oct 15 2015
The US Secretary of Defense, Ashton Carter has said that they are not leaving Afghanistan and such a narrative is "self-defeating".
"The narrative that we're leaving Afghanistan is self-defeating. We're not. We can't, and to do so would not be to take advantage of the success had to date," Carter said at a luncheon hosted by the Association of the US Army Sustaining on Wednesday.
The current US plan is to draw-down its troop numbers from about 10,000 to a crew of only about 1,000 by the end of 2016.
But Carter said that the US is in the process of formulating options for 2016 and beyond, and make adjustments to the planned American presence based on current circumstances.
"It's not a question of whether, but how to continue the mission in Afghanistan, and last week, it became clear that our NATO allies feel the same way, as they told me. Many of my counterparts made a point of reaffirming their commitment, too," he said. "When I submit my 2017 budget, I will include critical financial support to the Afghan National Defense and Security Forces to help it sustain its force levels of 352,000 troops in 2017 and beyond," he said.
Full Report at:
http://www.khaama.com/pentagon-u-s-not-leaving-afghanistan-mulling-adjustments-to-the-current-plan-3994
---------
Gen. Amarkhil to Taliban: Give up insurgency or face death
Oct 14 2015
The newly-appointed police chief of southeastern Ghazni province Gen. Aminullah Amarkhil called on Taliban militants to renounce violence and join peace process, warning that the militants would be eliminated if they continue to their insurgency activities.
Gen. Amarkhil was speaking during an event organized for his introduction as the newly-appointed police chief of Ghazni province.
He said the Taliban militants should understand that they would never succeed to seize control of Ghazni city since the Afghan security forces are far more stronger than them and that the Afghan people are supporting their security forces.
President Mohammad Ashraf Ghani appointed Gen. Amarkhil to assume security charge of the restive Ghazni province by issuing a decree on Tuesday.
His appointment as Ghazni police chief comes amid rampant insurgency activities by the Taliban militants.
Full Report at:
http://www.khaama.com/gen-amarkhil-to-taliban-give-up-insurgency-or-face-death-1627
---------
Everything to be done for ex-enclave dwellers' welfare: PM
October 15, 2015
Terming former enclave dwellers as the sons, citizens and near and dear ones of Bangladesh, Prime Minister Sheikh Hasina today assured them that her government would do whatever necessary for their overall welfare.
"The night of sorrow is over, and you [ex-enclave dwellers] have marched towards the path enlightened with new sunlight. Your march forward will continue...May your life become beautiful and successful," she said.
The Prime Minister was addressing a civic gathering at former Indian enclave Dashiarchhara under Fulbari upazila of Kurigram.
Full Report at:
http://www.thedailystar.net/country/everything-be-done-ex-enclave-dwellers%E2%80%99-welfare-pm-157495
---------
India
Pak raising Kashmir at UN is 'clear interference': India
Oct 15, 2015
UNITED NATIONS: India has strongly dismissed Pakistan's raising of the Jammu and Kashmir issue at multiple fora in the UN, asserting that the references are "totally out of context" and constitute a "clear interference" in its internal affairs.
India also asserted that Kashmir is, has always been and will remain an integral part of India.
In one of the Right of Replies exercised by India to respond to comments by Pakistan's envoy to the UN, first secretary in the Indian Mission to the UN Abhishek Singh suggested that Pakistan should refrain from using the Right of Reply and instead "use the right of introspection" to think about the direction in which the country is moving.
Pakistan's Ambassador to the UN Maleeha Lodhi first raised the issue of Kashmir during a UN General Assembly plenary session on the Report of the Secretary General on the Work of the Organisation.
She said that consultations with Kashmiris, who are an integral part of the Kashmir dispute, are essential to evolving such a peaceful solution to the dispute.
"Calling for the termination of these consultations, as a precondition for dialogue, is unacceptable as well as counterproductive," she said in a reference to India.
Exercising the Right of Reply, Singh asserted that Kashmir is, has always been and will remain an integral part of India.
"It is all the more ironical that these comments come from a country which is persisting with its illegal occupation of part of the Indian State of Jammu and Kashmir," Singh said.
Rejecting Lodhi's remarks on Kashmir in its entirety, Singh said the references by Pakistan are "totally out of context and constitute a clear interference in the internal affairs of India."
Singh also expressed "deep regret" that Pakistan has violated the ceasefire on a number of occasions in the past several weeks leading to loss of civilian lives on the Indian side.
The Indian armed forces and para-military forces have responded to these "provocations", he said.
Full Report at:
http://timesofindia.indiatimes.com/india/Pak-raising-Kashmir-at-UN-is-clear-interference-India/articleshow/49376490.cms
---------
SC query on Civil Code raises Muslim hackles
Eram Agha
Oct 14, 2015
Aligarh: All India Muslim Personal Law Board (AIMPLB) members say Muslims have more cause for apprehension this time on the Supreme Court query on Uniform Civil Code. If the Centre tweaks personal law, they say, Muslims will wage a legal battle and knock on apex court doors.
The matter hit headlines as a bench of Justices Vikramjit Sen and Shiva Kirti Singh on Tuesday questioned the government about the intention to frame a Uniform Civil Code while hearing a petition challenging legal provisions that compel Christian couples to wait for at least two years for divorce. In case of members of other religious groups, this period of separation is one year.
This is not the first time SC has asked the government whether it intends to introduce a Uniform Civil Code. However, in earlier instances where such queries were posed, the government showed no zeal in effecting any changes. This time, Union law minister Sadananad Gowda has said that such a code would better foster national integration.
This time, with the imposition of ban on sale of meat and persecution over alleged cow slaughter, as also the celebration of Yoga Day, Muslim leaders are worried. Recent instances of 'ghar wapsi' and calls for a 'Muslim Mukt Bharat' have fostered deep insecurity.
Board members are also curious about why Article 44, which cites that the state shall endeavour to introduce Uniform Civil Code, should get so much more attention than all other Directive Principles of State Policy.
AIMPLB spokesperson Rashid Qureshi said, "What about the Directive Principle brought by the 86th Amendment Act in 2002, regarding free and compulsory education to all children until they turn 14 years old? Few people remember that. If personal laws are disturbed, we will go to the SC."
Muslim leaders also worry that government functionaries hold meetings with the RSS, which appears to have a place of preference in directing the government agenda. "The government response will be closely watched," executive member of the AIMPLB Zafaryab Jilani said.
The SC had raised this query in 1995 too, while hearing the Sarla Mudgal case, when the court examined whether a Hindu married man, whose first marriage was under Hindu law, could embrace Islam and solemnize a second marriage.
Full Report at:
http://timesofindia.indiatimes.com/city/agra/SC-query-on-Civil-Code-raises-Muslim-hackles/articleshow/49360391.cms
---------
Targeted for Being Muslim: Veteran Actor Naseeruddin Shah
15th October 2015
NEW DELHI: Expressing dismay over the controversy in the wake of his participation in book launch function of former Pakistani foreign minister Khurshid Mahmud Kasuri in Mumbai, veteran actor Naseeruddin Shah said he was being targeted for being a Muslim. "My name is Naseeruddin Shah and I believe that's why I was targeted. It really pains me to say this. I have never ever been aware of my identity until now," the celebrated actor told India Today news channel in an interview.
Shah said he was misunderstood and misreported in the media about his comments on Pakistan during the function held on Monday.
"I was quite astounded that everything I stated was interpreted as being anti-Indian and there was nothing of the sort that I actually said," he clarified.
He said there were other people also expressing their thoughts on issues but it was his views that were being presented as if he had said something against the country.
"I do not actually understand why anything said as a compliment to Pakistan must be construed as anti-Indian. If I say Imran Khan is great, does that make Sunil Gavaskar any less a cricketer," the Bollywood actor asked.
Emphasising that he was a proud Indian and would not allow anybody to question his patriotism, the 66-year-old actor said what eminent lawyer A.G. Noorani and veteran journalist Dileep Padgaonkar said during the function was not quoted at all even as they raised far more pertinent points than he did.
Full Report at:
http://www.newindianexpress.com/nation/Targeted-for-Being-Muslim-Naseeruddin-Shah/2015/10/15/article3080133.ece
---------
Shia Muslims protest against restrictions on Muharram
Ashish Tripathi
Oct 14, 2015
LUCKNOW: A section of Shia Muslim community led by Maulana Kalbe Jawad took out a protest march in the old city on Wednesday against ban on putting up black flags and banners in and around Imambaras and hoardings for religious congregations during the month of Muharram, which starts from Thursday.
District administration has restricted hoisting of black flags and religious banners and hoardings on the property of the Husainabad and Allied Trust. At present, district administration is in-charge of the trust due to legal dispute pending in the high court. The Trust was formed to managed properties donated by the Nawabs of Awadh for community and religious use.
Scores of Shia Muslims took to streets on Wednesday raising anti-government slogans and demanding administration to lift the ban. They said that they have been putting up banners, flags and hoardings during the month of Ramazan for years. Many in the march violated ban by putting up banners and hoisting black flags in buildings in and around Imambaras and on vehicles plying on the road.
The march culminated into a public meeting outside Bada Imambara where Jawad said that while government agencies and other institutions and religious bodies have been allowed to put up ad material, Shias have been restricted from exercising their right. Calling it an injustice, Jawab blamed minority affair minister Azam Khan for the alleged dictatorial and discriminatory ban order.
Full Report at:
http://timesofindia.indiatimes.com/city/lucknow/Shia-Muslimsprotest-against-restrictions-on-Muharram/articleshow/49352241.cms
---------
Muslim bodies march against Dadri lynching, seek justice
Oct 15, 2015
Muslim organisations took out a rally Wednesday in protest against the lynching of 50-year-old Mohammed Akhlaq in Uttar Pradesh's Bisara village near Delhi on September 28 over rumours that his family had consumed beef. Members of 15 Muslim organisations took out the rally from Haji Md Mohsin Square to Rani Rashmoni Avenue in Central Kolkata, claiming that the central government "had done nothing to give justice to the family". "We demand justice and security for Akhlaq's family, check on anti-social activities and punishment for the offenders without any further delay," said Md Qamruzzaman, general secretary, All Bengal Minority Youth Federation. He said Prime Minister Narendra Modi, who is very active on social media, did not tweet about the incident or spoke a word condemning the act until today when the pressure got to him. "It is our misfortune that a secular country like India is headed by a communal leader like Modi who has been orchestrating these communal incidents; and now, instead of controlling his goons, he is touring foreign countries," Qamruzzaman said.
The rally also saw human rights organisations Association For Protection of Democratic Rights and Bandi Mukti Committee, lend their support. Chhoton Das, general secretary, BMC, labelled it as "a shame for the country" and asked everyone to protest against it. "It is an attack on the democratic rights of an individual and is condemnable. What I will eat and wear should completely be my choice and no one has any right to interfere with it. After the Pujas, we will organise a bigger movement against this infringement on an individual's rights," Das said. Nurul Islam Khan, a senior member of Hizabullah Furfura Darbar Sharif, said that ever since the Modi government has come to power, (communal) incidents such as these have been taking place at an unprecedented rate. "It is an attempt to polarise the country on the basis of religion. Even the members of the BJP are not spared," he said, referring to the Shiv Sena's ink attack on Sudheendra Kulkarni for organising the book launch of former Pakistan foreign minister Khurshid Mahmud Kasuri in Mumbai on Monday. Kulkarni, who heads the Observer Research Foundation, was a speechwriter for former PM Atal Behari Vajpayee. At the end of the rally, Qamruzzaman warned that if the Centre did not ensure justice and security to the family members of Akhlaq, there will be a greater movement after the festive season.
http://indianexpress.com/article/cities/kolkata/muslim-bodies-march-against-dadri-lynching-seek-justice/
---------
Senior RSS leader Indresh Kumar slams conversion, says Muslims sidelined their own icons
Oct 15, 2015
Senior RSS leader Indresh Kumar on Wednesday said though god made religion for everyone, there were some people who are damaging it by making people convert. He was talking to students at a Dwarka school on the occasion of former president APJ Abdul Kalam's 84th birth anniversary. Minister of State, PMO, Jitendra Singh was also present during the function. Speaking on the occasion, Kumar said, "You may see politicians giving inflammatory speeches and then you see because of unemployment and poverty people have converted. You should know that god made religion for everyone but some people are damaging it by making others convert. When you witness all these problems in life, all you could recall is your physics, maths and other books. These books will not give any solution to the problems you may face. Kalam realised this."
Full Report at:
http://indianexpress.com/article/india/india-news-india/rss-leader-indresh-kumar-slams-conversion-says-muslims-sidelined-their-own-icons/
---------
India voices distress over Israel-Palestinian violence
Oct 14, 2015
Voicing India's "distress" at the continuing violence in West Asia, President Pranab Mukherjee today called for a peaceful resolution of all disputes to which the Israeli Prime Minister Benjamin Netanyahu responded by affirming that his country wanted to co-exist with Arabs but would firmly fight terrorism. Mukherjee, the first Indian President to visit Israel, made a reference to the current violence in the region which has resulted in heavy Palestinian and Israeli casualties, during remarks he made at the Israeli Presidency where he was accorded a ceremonial reception by his Israeli counterpart, Reuven Rivlin. He said, "we are distressed at the recent violence. India condemns all forms of terrorism. We have always advocated a peaceful resolution of all disputes". Rivlin, in his response, said that India and Israel were "making history" by working together in a variety of fields and also in keeping "our peoples safe in the face of terrorism and fundamentalism". Mukherjee, who has been criticised by the Israeli media for not mentioning Palestinian "terrorism" during his stay in Palestine prior to coming here, later told Knesset, the Israeli parliament, that India believed that there is no better option than to resolve issues through negotiations and peaceful dialogue. Speaking after the Indian leader at the Knesset, Netanyahu, in forthright remarks, underlined that both India and Israel were victims of terror which they have been fighting for years together as well as separately. He made a reference to the Mumbai terror attack in which a Chabad house was also attacked. Netanyahu spoke of the strong challenges created by extremist Islamist groups, such as ISIS, and asserted "we should tell extremists–it is enough". Israel wanted peace but would stand upto terror which had to be defeated. Mukherjee, the first Indian President to visit Israel, addressed Knesset during an hour-long session attended by his Israeli counterpart, Reuven Rivlin, Netanyahu and members from various parties. He was given a standing ovation by the House.
http://indianexpress.com/article/india/india-others/india-voices-distress-over-israel-palestinian-violence/
---------
Terror sleeper cells may try to avenge Dadri lynching: Intelligence agencies
Arvind Chauhan
Oct 15, 2015
AGRA: An intercept shared by Intelligence Bureau and other intel agencies with Uttar Pradesh police says that terror groups are trying to activate sleeper cells in various cities to launch bomb attacks in the wake of the recent Dadri lynching and Mainpuri-like instances of violence.
Police across the state have been put on a high alert following the 5-page intercept (a copy of which is with TOI), which also contains a list of targets, including top VHP leaders Ashok Singhal and Pravin Togadia.
Senior superintendent of police for Government Railway Police Gopeshnath Khanna told TOI on Wednesday, "Having failed to execute their deadly assault in Gurdaspur in July, the terror outfits may now take advantage of the recent Dadri lynching incident to create disturbance during festival time as well as the ongoing panchayat polls. We are on high alert."
In the intercept, which has been circulated among the state's senior police officials, including DIGs, IGs and SSPs, two men are found exchanging details about sleeper cells in the state and are continuously referring to a man based in Allahabad who is known to provide assistance to people associated with terror groups. During the conversation, one man assures the other that "a few women cops honey-trapped by the outfits' men will also provide assistance" in their mission. Several communally-sensitive locations across the state, including Kashi Vishwanath temple and Ramlala temple in Ayodhya, feature as targets in the intercept.
Full Report at:
http://timesofindia.indiatimes.com/india/Terror-sleeper-cells-may-try-to-avenge-Dadri-lynching-Intelligence-agencies/articleshow/49367708.cms
---------
North America
Religious extremism rising world over, says US state dept
15 October 2015
WASHINGTON: The United States released a bleak report on the state of religious freedom around the world on Wednesday, decrying militants attacks on Middle East minorities and a rise in European anti-Semitism.
In its annual survey of religious discrimination, the State Department said that, while many governments had worked harder to end abuses, extremist non-state actors like the sell-styled Islamic State group (IS) are on the rise.
And discrimination is not limited to Washington's foes and rivals like Iran and China but is "egregious" in close allies like Saudi Arabia and worrisome even in Western democracies like France and Germany.
"No nation can fulfil its potential if its people are denied the right to practice, to hold, to modify, to openly profess their innermost beliefs," Secretary of State John Kerry said as the report was unveiled.
"We hope to give governments an added incentive to honor the religious dignity of their citizens." The "International Religious Freedom Report" has no direct impact on US policy towards the countries it studies, but Kerry said it would serve as reference for diplomats and activists lobbying for change.
In the 12 months since the last report, the most serious religious persecution has been carried out by militant groups like the IS in Iraq and Syria and Boko Haram in Nigeria and the Lake Chad Basin.
"Under their control, captives have been given a choice between conversion or slavery or death," Kerry said.
"Entire populations of religious minority groups have been targeted for killing. Terrified young girls have been separated out by religion and sold into slavery." The author of the report, Washington's special envoy for religious freedom, Ambassador David Saperstein, cited the fate of the Yazidi, Christian and other religious minorities in northern Iraq as particularly severe.
"There's been a Christian community there for 1,600 years, across the Nineveh Plain church bells have pealed for 1,600 years. Today they are silent," he said.
"We're not going to rest until people have a right to live out their religious lives back in their home communities in accordance with their conscience." As it had last year, the report also noted a rise in anti-Semitic rhetoric and attacks in France, Germany and elsewhere in Europe despite efforts — acknowledged by Saperstein — by local authorities to contain it.
Some of the hostility towards European Jews has been associated with campaigns against Israel's occupation of Palestinian territory, but Washington thinks much of this has crossed the line into outright bigotry."Criticism of the public policy of any nation ... that's appropriate. That's part of the free marketplace of ideas and discourse," he said.
Full Report at:
http://www.dawn.com/news/1213141/religious-extremism-rising-world-over-says-us-state-dept
---------
Muslims Allowed To Pursue Lawsuit against NY Police
15 October 2015
NEW YORK: Muslim groups can pursue a civil rights lawsuit that accuses New York police of conducting secret surveillance of the community in New Jersey without suspicion of criminal activity, a US appeals court ruled on Tuesday, according to a newspaper.
The US Circuit Court of Appeals in Philadelphia reversed a lower court's decision to throw out the case, finding the plaintiffs had legal standing to assert claims that the counter-terrorism programme violated their rights.
Full Report at:
http://www.dawn.com/news/1213147/muslims-allowed-to-pursue-lawsuit-against-ny-police
---------
US Muslim Event Combats Stereotypes
14 October 2015
CAIRO – In a bid to overcome negative portrayals of Islam and Muslims, Pennsylvania students were offered a chance to meet a Muslim in campus as part of the Muslim Student Association's "Islamic Discovery Series."
"I feel that there are a lot of misunderstandings when it comes to Muslims because it's easy for the media to dehumanize them. And the narratives that exist around them are very extreme and discouraging," College and Engineering senior Habeeb Suara, who is the community relations chair in MSA, told The Daily Pennsylvanian on Wednesday, October 14.
"This discovery series week is meant to emphasize similarities rather than differences."
The event, "Meet a Muslim", was held on Tuesday in Houston Hall and on Locust Walk.
It aimed at clearing media misconceptions about Islam and Muslims, in a country where only 38 percent of the population knows a Muslim person, according to a 2014 Pew Research Center study.
MSA Vice President and College senior Fahmida Sarmin echoed this sentiment.
"We're normal students, and like everyone else we're here to get an education. Through this event, we're just showcasing something that's a really big part of our lives — Islam," Sarmin said.
Full Report at:
http://www.onislam.net/english/news/americas/495111-us-muslim-event-combats-stereotypes.html
---------
Ottawa Rally Supports Muslims Inclusion
14 October 2015
CAIRO – Sending a message of inclusion and tolerance, a Winnipeg rally gathered on Tuesday, October 13, to challenge divisions in the society, and assert that Muslims are a part of Canadian society.
"It's amazing the greater Winnipeg community is coming out for this show of compassion," Nilufer Rahman, a member of the Winnipeg Central Mosque, told CBC on Tuesday, October 13.
"The show of compassion here is really heart-warming."
The rally, held under the title "My Canada Includes Muslims", challenged "us and them" thinking that has divided the Muslim and non-Muslim communities this election.
"Like most other Canadians, I've been listening and watching the news, and I've seen a lot of things appear to be anti-Muslim," said Shaun Loney, one of the organizers.
He said anti-Muslim views were ramped up after the niqab became an election issue, and when the Conservatives pledged to establish a tip line for reports of barbaric cultural practices.
As the rally reached the mosque, Omar Siddiqui welcomed people into the building, saying he has experienced first-hand the increase in anti-Muslim sentiments.
"A racial epithet was hurled at me on the street a few days ago. I was called a sand [N-word], and told to go back to where I came from," he said, adding he was glad for today's turnout.
"I think it's amazing, it looks like the whole of Wpg is here. It's heartwarming that at a moment like this, we can stand in solidarity as Winnipeggers and citizens, to show our support for the values of inclusion and togetherness and peace and love. It's really powerful."
Nancy Pinnell, one of the participants in the rally, rejected the anti-Muslim rhetoric against Muslims.
"I'm infuriated about the kinds of things our government is saying and doing, in regards, particularly, to Muslims," said Pinnell.
"We're now seeing the kinds of things that happened in Germany to the Jews before the Second World War."
Full Report at:
http://www.onislam.net/english/news/americas/495091-ottawa-rally-supports-muslims-inclusion.html
---------
Mother of Saudi youth facing beheading urges Obama to intervene
15 October 2015
LONDON: The mother of a youth facing beheading for taking part in protests in Saudi Arabia has pleaded with US President Barack Obama to "rescue my son" in an interview published by the British daily the Guardian Thursday.
The sentence against Shia Ali al-Nimr, only 17 when he was arrested in February 2012, has drawn international condemnation over his young age and allegations that he was tortured into making a confession.
"When I visited my son for the first time I didn't recognise him," Nusra al-Ahmed told the newspaper.
"I could clearly see a wound on his forehead. Another wound on his nose…they disfigured it. Even his body, he was too thin.
"For a month he was peeing blood," she added. "He said he felt like a mass of pain, his body was no more."
In an interview with AFP last month, his father Mohammed al-Nimr said he hoped the king would save his son and warned that if his son is put to death the minority Shia community could react violently.
Mother Nusra al-Ahmed called the sentence — which she said would involve her son being crucified after he is decapitated — "backwards in the extreme".
"No sane and normal human being would rule against a child of 17 years old using such a sentence. And why? He didn't shed any blood, he didn't steal any property."
She called on Obama to exert his influence on the Saudi authorities.
"He is the head of this world and he can interfere and rescue my son," she said.
"If he carried out this act, I feel it would raise his esteem in the eyes of the world. He would be rescuing us from a great tragedy."
Full Report at:
http://www.dawn.com/news/1213237/mother-of-saudi-youth-facing-beheading-urges-obama-to-intervene
---------
Pakistan
US report acknowledges Pak restrictions on extremists
ANWAR IQBAL
October 15, 2015
WASHINGTON: The Pakistan government bans the activities of, and membership in, several religiously oriented groups it judges to be "extremist" or "terrorist", says a US report released on Wednesday.
But the State Department's report on religious freedom also says that "many banned groups remain active, and some avoid the law by changing their names once banned".
The report, released in Washington by Secretary of State John Kerry, notes that the law allows the government to use special streamlined courts to try cases involving violent crimes, terrorist activities, and acts or speech deemed to foment religious hatred, including blasphemy cases.
Take a look: Security assistance to Pakistan promotes 'inter-operability', says US
The report alleges that a small number of madressahs in Pakistan have taught "violent extremist doctrine in support of terrorism".
Full Report at:
http://www.dawn.com/news/1213184/us-report-acknowledges-pak-restrictions-on-extremists
---------
Daish has roots in Karachi: JIT report
October 14, 2015
KARACHI - A report of the Joint Investigation Team (JIT) probing the mastermind of Safoora attack has revealed that the Daish has carried out major terrorist activities in Karachi.
Safoora bus attack mastermind Tahir Hussain Minhas revealed that his group was receiving funds from different countries including Saudi Arabia, Bahrain and Kuwait.
The group remained in touch with the IS," said an official privy to the matter.
"This group has at least 53 members who earlier belonged to different militant outfits including Lashkar-e-Jhangvi, al-Qaeda, Junduallah and TTP."
Minhas revealed that Abdullah Bin Yousuf alias Abdul Aziz alias Saqib is the chief of the IS in Pakistan while Omar Afzal alias Jawad is the al-Qaeda Sindh chapter chief, adding that Abdullah Bin Yousuf is leading a group in Pakistan.
The JIT further revealed that Abdullah Mansoori and Mistari Pathan hail from Dera Ismail Khan while Tayyab and Ali Rehman, who are qualified engineers, belong to Karachi. Police officials wished to be anonymous revealed that the suicide bomb blast left SSP Chaudhry Aslam Khan dead was also carried out by the al-Qaeda and Daish operatives. They said the operatives during the course of investigation revealed there are number of militant groups that have been operating in the city. He pointed out the terrorists were operating in a highly sophisticated way as their actual names were unknown to each other.
Earlier on Monday, Sindh IGP Ghulam Hyder Jamali while briefing a parliamentary penal said that the Islamic State group was active in the province and that the ultra-extremist Middle Eastern group had links with the banned sectarian militant outfit Lashkar-e-Jhangvi. He said the investigations into the Safoora carnage revealed that Abdul Aziz, the kingpin of the group, had escaped to Syria and was involved in almost all the recent terror attacks along with his lieutenant Azhar Minhas. Another such report suggests that nearly ten banned militant outfits are operating in the city.
Full Report at:
http://nation.com.pk/karachi/14-Oct-2015/daish-has-roots-in-karachi-jit-report
---------
Kashmir dispute cause of tension in South Asia, UNGA told
October 15, 2015
UNITED NATIONS: Pakistan told the United Nations General Assembly during a debate that "the unresolved Jammu and Kashmir dispute remains the root cause of tensions and instability" in South Asia.
Pakistan's Ambassador to the United Nations Maleeha Lodhi said that the longstanding dispute had to be addressed boldly and decisively if enduring peace and stability was to be established in the area.
She pointed out during a debate that for over half a century UN resolutions pledging a plebiscite to allow the Kashmiri people to exercise their right to self- determination had not been implemented.
Know more: India-Pakistan peace linked to Kashmir settlement: army chief
"Instead the people of Kashmir have suffered brutal oppression," she said, adding that the urgency of peacefully settling the dispute was even more compelling today.
She said that calling for termination of these consultations, as a precondition for dialogue, is unacceptable as well as counter-productive, referring to the Indian pre-condition for talks.
"Escalating tensions on the Line of Control in Kashmir and the Working Boundary also require Pakistan and India to take possible measures to avert further escalation."
Full Report at:
http://www.dawn.com/news/1213186/kashmir-dispute-cause-of-tension-in-south-asia-unga-told
---------
Shuja Khanzada case: SI, five others killed in Rawalpindi raid
HASEEB BHATTI
October 15, 2015
RAWALPINDI: An elite force Sub-Inspector (SI) and five others, including an alleged militant, one woman and three children, were killed on Thursday during a police raid at a residence in Rawalpindi, believed to be housing a suspect involved in the attack on former Punjab home minister Col (retd) Shuja Khanzada.
The police party raided a house near Rawalpindi's Dhamial based on a tip-off that a militant, wanted in the Shuja Khanzada murder case, is using it as a hideout.
As law enforcement personnel entered the house, the militant along with his wife opened fire and hurled grenades at them, police sources told DawnNews.
To avoid arrest, the couple reportedly killed themselves by exploding a hand grenade, which also killed and their three children.
The deceased terrorist was identified as Mustafa alias Imran, while the woman was identified as his wife, Malika.
The children killed in the attack were three-year-olds, Sawera and Azan, and two-year-old Muhammad.
Mustafa and his wife had been living in the house as tenants since 2014 and their neighbours had complained to police about their suspicious activities in the past as well, area residents told DawnNews.
Police claimed to have detained four people during the raid, who were identified as Arif Mustafa, Zulqarnain Mustafa, Qaiser Mustafa and a woman named Sumera. All four belonged to a Karachi-based family.
Four policemen were wounded during the raid. The wounded were shifted to District Headquarters Hospital (DHQ) Rawalpindi for treatment.
The area was cordoned off and a search of the residence went under way. Police will also interrogate the four suspects who were taken into custody.
In September, the Counter-Terrorism Department had announced the arrest of a suspected facilitator of the attack on Khanzada, Qasim Muavia.
A CTD source said Muavia was a member of the Qari Sohail Group and had been on the 'most wanted list' of the CTD for his alleged involvement in target killings in the Attock district.
The involvement of Qari Sohail Group in the suicide attack emerged when the investigators found a motorcycle abandoned at the scene of the attack. The bike was suspected to be used by the bomber for reaching Khanzada's dera in the Shadi Khan village of Attock, Dawn newspaper had reported.
Within a week of the announcement of Muavia's arrest, the CTD conducted an intelligence-based raid on a house in Iqbal Town Division's Sherakot area on the outskirts of Lahore.
During the 'encounter', four people suspected of involvement in the Khanzada attack were killed.
Full Report at:
http://www.dawn.com/news/1213225/shuja-khanzada-case-si-five-others-killed-in-rawalpindi-raid
---------
PTI, PML-N in race to win over Juj
ASLAM PIRACHA
October 15, 2015
OKARA: MNA-elect Chaudhry Riazul Haq Juj has been contacted by both the PML-N and the Pakistan Tehreek-i-Insaf (PTI) to join their party while his family and close supporters are urging him to maintain his independent status.
Late on Tuesday, PTI central organiser Chaudhry Sarwar and Opposition Leader in the Punjab Assembly Mahmoodur Rashid arrived in the city and met Mr Juj in the presence of his uncle, the president of the Okara Chamber of Commerce and Industry and PTI MPA Chaudhry Masood Shafqat Rubera.
Sources said both leaders offered Juj a top slot in the Punjab PTI cadre.
Mr Juj, who won the by-elections for NA-144 on Oct 11 with a huge margin, told the visitors that they were consulting their voters, supporters and family elders on this issue.
PTI ticket holder for the NA-144 by-poll Ashraf Sohna was ignored by the visiting party leaders.
Mr Sohna told Dawn PTI senior leaders' efforts to woo Mr Juj would be of no avail as the MNA-elect and his family had their own priorities.
On Wednesday, Mr Juj received calls from Prime Minister Nawaz Sharif and PTI chief Imran Khan who congratulated him on his election success.
Sources said the PML-N had offered him a federal ministry if he joined the ruling party.
The sources say the MNA-elect is being told by his friends to stand independent till local council elections as most of the local council candidates for rural and urban union councils and wards supported him in the by-poll. Only those on PML-N tickets opposed him.
Full Report at:
http://www.dawn.com/news/1213162/pti-pml-n-in-race-to-win-over-juj
---------
Killer of ex-Punjab CM, five others executed in various jails
October 15, 2015
MULTAN/RAWALPINDI/DERA GHAZI KHAN/LAHORE: Zaman alias Zamani, the man convicted of killing former Punjab chief minister Ghulam Haider Wyne, was hanged in Multan Thursday, almost 22 years after the latter was shot dead at an election rally. Five other convicted men were also hanged in three jails in Punjab, DawnNews reported.
Death-row inmate Zamani was executed in Multan Central Jail. He was convicted of murdering Wyne during an election rally in Punjab's Mianchannu tehsil in September 1993.
Wyne was a Pakistan Muslim League (PML) leader who rose to the position of Punjab chief minister in 1990.
Meanwhile, two prisoners were hanged in Rawalpindi's Adiala Jail for murder. Inmate Zareen was accused of killing two brothers in Murree whereas Rab Nawaz was found guilty of murdering a man in Royal Artillery Bazaar in the garrison city.
Furthermore, in Dera Ghazi Khan's Central Jail, two brothers — Ghulam Akbar and Hazoor Buksh — convicted of the murders of two men were executed. The murders were committed in 1996.
Separately, murder convict Abdul Sami was hanged in Lahore's Kot Lakhpat jail. His black warrants were issued on Tuesday after he was found guilty of killing a man over a petty dispute.
Full Report at:
http://www.dawn.com/news/1213227/killer-of-ex-punjab-cm-five-others-executed-in-various-jails
---------
'Violence-related fatalities have declined'
October 15, 2015
ISLAMABAD: A security report by the Centre for Research and Security Studies (CRSS) has shown a decline in violence-related fatalities in Pakistan.
The CRSS' third quarterly security report was launched on Wednesday. It indicates that 1,208 people – civilians and security forces alike – died due to crime and terrorism-related violence, bringing the total number of fatalities in the first nine months to 3,869.
As many as 404 individuals were also injured in this quarter. Barring a few exceptions, the report stated that Pakistan recorded a decline in violence during this quarter, especially sectarian violence. The frequency of many other forms of violence also declined this quarter.
Violence has also decreased significantly when compared to data from the last two years. The reduction in some forms of violence, such as gang violence in Karachi, infighting amongst militant networks, and sectarian rivalries, is also noteworthy. The fatalities from US drone attacks also declined to 12 in this quarter.
At a provincial level Sindh and Khyber Pakhtunkhwa (KP) saw a sharp decline in fatalities from violence. Punjab saw a steep rise, with twice the number of fatalities over the same period in 2014. Balochistan also saw a marginal increase in the number of fatalities.
About 244 casualties were reported in Balochistan (188 dead and 56 injured), 609 casualties were reported in Fata (497 dead and 112 injured), 202 casualties in KP (127 dead and 75 injured), 234 casualties in Punjab (116 dead and 118 injured), 321 casualties in Sindh (280 dead and 41 injured) and one fatality each in Islamabad and Gilgit-Baltistan were recorded in the report.
A district-based comparison shows that the North Waziristan Agency (NWA) had the highest number of fatalities, due to the ongoing military operation in the region.
Karachi recorded the second highest number, but this was half of the number of fatalities recorded during the same period last year.
The districts of Attock, Muzaffargarh, Kalat, Multan and Naseerabad recorded double digit fatalities, which records from the corresponding period in the last two years show that these districts remained largely unaffected by violence-related fatalities.
Full Report at:
http://www.dawn.com/news/1213196/violence-related-fatalities-have-declined
---------
Sindh CM allows loudspeakers use for majalis, processions
October 15, 2015
KARACHI: Sindh Chief Minister Syed Qaim Ali Shah on Wednesday allowed the use of loudspeakers for processions and meetings during Muharram-ul-Haram on the request of Shia Ulema.
The chief minister, who gave the approval during a meeting with some Shia scholars at CM House, said the ban on the use of loudspeaker had been imposed under the National Action Plan.
"If I allow you, its use should be with extreme caution and under the code of conduct, otherwise if a provocative speech is delivered anywhere in the province, severe action would be taken against the persons responsible for its misuse," said Mr Shah.
The chief minister directed his special assistant Dr Qayyum Soomro to set up a complaint cell in his department and publicize its phone number to hear public complaints and any violation of the code of conduct.
Local Government Minister Syed Nasir Hussain Shah, Sindh IG Ghulam Haider Jamali, Karachi Commissioner Shoaib Siddiqui, Special Assistant to the CM Waqar Mehdi, Rashid Rabbani, Maulana Nazeer Abbas, Maulana Baqir Zaidi, Maulana Furqan Haider Abidi, Maulana Jafar Subhani and others attended the meeting.
Earlier, the meeting was informed about the difficulties Shia Ulema would have to face to address mourning processions without loudspeakers and issuing instructions to the mourners during the processions and meetings.
Full Report at:
http://www.dawn.com/news/1213110/sindh-cm-allows-loudspeakers-use-for-majalis-processions
---------
Nisar needs 'no help' in interacting with military
October 15, 2015
ISLAMABAD - The rift between two key cabinet members of Prime Minister Nawaz Sharif appeared to be widening yesterday when Interior Minister Chaudhry Nisar Ali Khan said he needed no assistance of defence minister in maintaining relations with army.
The indirect remarks of Nisar about his cabinet colleague and Defence Minister Khawaja Muhammad Asif came following latter's statement the other day that he was not on taking terms with the interior minister for more than four years.
He made these remarks live in a TV show.
Addressing a press conference at Punjab House, Nisar criticised Mukhtar for his "daily fully dressed-up appearance on media".
"I will respond to his conversation at a proper time, but neither I (as interior minister) ever needed the ministry of defence to interact with GHQ, military and other civil armed forces (on my behalf) nor would I want it in future," he remarked.
The interior minister said that party issues and differences should be settled within the government or party and assured that this rift would neither affect the working of government nor its security policy.
The intensification of the long-running tussle between the two cabinet members is alarming at a time when Prime Minister Nawaz Sharif is leaving for US on an important visit.
Chaudhry Nisar Ali Khan told reporters that Prime Minister Nawaz himself had submitted his statement before the Federal Investigation Agency (FIA) in connection with high profile Asghar Khan case.
"But FIA is facing difficulties to get statements of two ex-army officers," he said without divulging their names.
Former Chief of Army Staff Mirza Aslam Beg and former ISI DG Lt-Gen (r) Asad Durrani are among the accused in the case.
Nisar said that all cases including EOBI scam and TDAP scandal being investigated by FIA would be taken to their logical end.
Contrary to the some Sindh Police reports about the presence of self-styled Islamic State (IS) or Daesh in Pakistan, Nisar ruled out the presence of Daesh in the country.
He said that some local groups might be in coordination with IS or using its name but Daesh was purely an Arab based militant organisation having no roots on Pakistan.
More than 40 local militant groups were working in Pakistan, he added.
Responding to a question to become collation partner of US against Daesh, he said that Pakistan would act against local and regional terrorist groups that were threatening the security of the country.
Responding questions, the minister said that 16,000 personnel of armed forces including 10,000 army men and 6,300 civil armed forces personnel were being requisitioned for security during Muharramul Haram.
They would be deployed throughout the country.
The interior minister rebutted the claims of Pakistan Tehreek-e-Insaf (PTI) that a number of votes were transferred from NA-122 (Lahore) to other constituencies of Lahore during by-election just before polling day to ensure the victory of PML-N candidate Sardar Ayaz Sadiq.
He also lashed out at PTI and its chairman Imran Khan for "doing politics of allegations".
"It is neither in the interest of Pakistan nor democracy nor politics to confront on every issue and to find faults every time," he said.
He said the language used by both sides during by-election was not in the interest of democracy.
Full Report at:
http://nation.com.pk/national/15-Oct-2015/nisar-needs-no-help-in-interacting-with-military
---------
Pakistan shown strong leadership in meeting humanitarian needs: UN
October 15, 2015
UNITED NATIONS - Pakistan has shown a strong leadership in addressing its humanitarian challenges, including a huge effort to resettle displaced people in Tribal Areas, and turned the corner for a better future, a senior United Nations official said, while calling for renewed international commitment to support the country's efforts to meet displaced people's needs.
"In a world where so many crisis are on a negative trajectory, Pakistan offers an all too rare example of positive progress," John Ging, the Head of Operations at the United Nations Office for the Coordination of Humanitarian Affairs, told a Press conference on Tuesday after a visit to Pakistan and Afghanistan from October 2 to 7.
In contrast, he said that Afghanistan was still struggling and the deteriorating security situation has complicated efforts to meet the humanitarian needs of the people.
"But Pakistan is on a positive trajectory ... it is turning the corner for a better future," Ging said.
Ging also visited Peshawar in Pakistan, where 600,000 people displaced by military operations since 2008 have returned to their villages this year.
The Government of Pakistan contributed more than $286 million -- the largest of the contributions -- in food and cash to support families returning to areas devastated by conflict, Ging said, adding, that there was still a gap of $199 million to UN appeal for funds.
"Supporting the (Pakistan) Government to help people rebuild their lives in areas where fighting has ended is critical to building a stable and prosperous future for the country."
Reflecting on the international responsibility to support Pakistan, Ging said, "We must acknowledge that Pakistan generously hosts more than 1.5 million refugees – the second largest refugee population of any country on earth. The country also disproportionately suffers the impacts of climate change, with 1.6 million people affected by floods this year."
Ging noted that Pakistan's National Disaster Management Agency has developed into a "world class institution "over the last decade, incorporating international best practices.
Full Report at:
http://nation.com.pk/national/15-Oct-2015/pakistan-shown-strong-leadership-in-meeting-humanitarian-needs-un
---------
Australia
Australia places 12-year-old on 'terror radar'
15 October 2015
Australian police revealed on Thursday that a 12-year-old is on the radar of counter-terrorism authorities as Prime Minister Malcolm Turnbull urged closer cooperation with Muslim leaders to combat a growing extremist threat.
The boy was listed on a federal court order among a group of males that may have helped Farhad Jabar, 15, who shot a police employee in the back of the head in Sydney earlier this month while reportedly shouting religious slogans.
"We're shocked that a 12-year-old is on police radar for these types of matters," Australian Federal Police Commissioner Andrew Colvin told the Australian Broadcasting Corporation.
"This threat has evolved, it's become younger." He added that "the problem is getting worse for Australia, not better".
"The numbers of individuals that we're concerned about overseas has plateaued a little.
"Some very good work is being done by our border agencies and our police and security agencies to stop people from leaving for the conflict zones, but there's no doubt that this problem is becoming more acute and more difficult."
Earlier this week, Canberra outlined plans to tighten counter-terrorism laws further, including restricting the movements of suspects as young as 14 in the wake of the deadly attack by Jabar on police employee Curtis Cheng. Jabar was killed by police fire soon after.
Justice Minister Michael Keenan also expressed alarm at the age of children being targeted for radicalisation but declined to say how many under 14 were on watch lists.
"I do not think it is appropriate for me to go into that," he said.
Full Report at:
http://english.alarabiya.net/en/News/world/2015/10/15/Shock-as-12-year-old-on-Australian-terror-radar-.htmlc
---------
Europe
Danish Muslim Becoming More Religious
14 October 2015
CAIRO – One decade after controversial cartoons about Prophet Muhammad (peace be upon him), a new poll has found that Danish Muslims are becoming more religious, believing that Qur'an, Hijab should be followed.
"Muslims have always been able to reconcile Islam's precepts with various traditions and customs in different countries," Fatih Alev, who heads the Danish Islamic Centre, told Jyllands-Posten, Local.dk on Tuesday, October 13.
"It is an ongoing process in which we have also found our way of practicing Islam in a Danish context," he added.
The new poll, conducted by Wikle for Jyllands-Posten, found that Danish Muslims pray more now than they did in 2006.
Moreover, the survey found that 77.2 percent of Danish Muslims agreed that "the Quran's instructions should be followed completely."
That is a marked increase from 2006, when just 62.4 percent agreed.
The number of people who think that Muslim girls should wear head scarves also increased significantly, from 28.6 percent in 2006 to 42.7 percent.
Rejecting a notion that Islam needs to be modernized, respondents were also split on just how far Muslims should go to fit in with Danish norms.
While 87 percent said that Muslim women should be just as active on the labor market as Danes, only 17.5 percent said Muslims should be allowed to have sex before marriage and only 21.7 percent think it's acceptable if young Muslims drink alcohol.
Full Report at:
http://www.onislam.net/english/news/europe/495107-danish-muslim-becoming-more-religious.html
---------
Pope issues 'extraordinary' apology over scandals
October 15, 2015
VATICAN CITY - Pope Francis on Wednesday offered a surprise public apology from the Catholic Church for a series of scandals which have shaken the city of Rome and the Vatican.
The Vatican has been the focus of several controversies including the coming out of a gay priest and the leak of a controversial letter, while the pontiff himself ended up in the headlines for a gaffe which helped oust Rome's mayor.
"I want, in the name of the Church, to ask forgiveness for the scandals which have recently hit Rome and the Vatican. I ask you for forgiveness," Francis said at the start of his weekly general audience on Saint Peter's Square.
"It is inevitable that scandals happen, but 'woe to that man by whom the offence cometh!'" he said, quoting a passage from the Bible.
Vatican expert Joshua McElwee writing in the National Catholic Reporter described it as an "extraordinary step".
The 78-year-old pope has been presiding over a three-week global council of cardinals and bishops, where debates over the Church's teachings on the family have been overshadowed by tales of Machiavellian plots and betrayal.
The leak of a private letter from rebellious cardinals has revived a cloak-and-dagger atmosphere likened to the "Vatileaks" scandal in 2012, when Pope Benedict XVI's butler revealed fierce infighting in the highest echelons of the Church and allegations of serious fraud in the running of the city.
"There is growing concern at the Vatican over the multiplication of scandals and a return of the 'Vatileaks' syndrome,a climate of revelations, suspicion and rumours of a 'gay lobby' that helped convince Benedict XVI to resign in 2013," religious watcher John Thavis said on his blog following the pope's mea culpa.
Francis may hope that his wide-sweeping apology will shame schemers in the centuries-old institution.
Vatican analyst Massimo Franco wrote in the Corriere della Sera daily that it appeared there was a bid to "recreate the climate of Vatileaks... an operation that's been planned for some time, and which aims at discrediting not the synod but the two years of the Argentinian pope".
The council was overshadowed from the start by the surprise declaration by a Polish priest employed as a senior official at the Vatican that he was a practising homosexual.
Krzystof Charamsa was immediately fired but the coming out added fuel to a fire already raging between conservative and liberal wings of the Church over the divisive issue of its relationship to gay believers.
Full Report at:
http://nation.com.pk/international/15-Oct-2015/pope-issues-extraordinary-apology-over-scandals
---------
Russia ready to work with Turkey on fighting terror: Lavrov
Oct 15, 2015
Russia says it is ready for close cooperation with Turkey in the battle against terrorism following the recent deadly explosions in the Turkish capital, Ankara.
"We are ready for very close cooperation and very close engagement with the Turkish authorities in the fight against the terrorist threat," Russian Foreign Minister Sergei Lavrov said during a conference on Russian-Turkish partnership in Moscow.
On October 10, twin blasts targeted a number of activists who had convened outside Ankara's main train station for a peace rally organized by leftist and pro-Kurdish opposition groups. The Turkish government says 97 died in the bombings, but the pro-Kurdish Peoples' Democratic Party (HDP) puts the death toll at 128.
Turkish Prime Minister Ahmet Davutoglu has said the attack may have been carried out by Takfiri Daesh terrorists or Kurdish fighters in Syria.
Love-hate relationship?
Lavrov's remarks come as relations between Moscow and Ankara have soured after Turkey claimed that Russian fighter jets carrying airstrikes in Syria had violated Turkish airspace.
The Turkish military said it had scrambled two F-16 warplanes on October 3 after a Russian fighter jet reportedly crossed into its airspace near the southern province of Hatay.
A day later, Ankara claimed a MiG-29 combat aircraft had harassed two of its F-16s by locking its radar on them as they patrolled the border.
Full Report at:
http://www.presstv.ir/Detail/2015/10/15/433517/Russia-Turkey-Lavrov-Ankara-bombing-PKK
---------
Daesh behind attempted attack on Siberia mosque: Moscow
Oct 15, 2015
A Russian investigative body says the Takfiri Daesh terrorist group was involved in an attempted attack against a mosque in the country's Siberia Province last year.
The militants had tried to attack a mosque in an unnamed Siberian town, said the Investigative Committee of the Russian Federation on Thursday.
The committee said it had completed the probe and submitted the case to a court.
There were no further details on how the attempted attack had been prevented.
The finding comes about two weeks after Russia launched its aerial campaign against Daesh militants.
Full Report at:
http://www.presstv.ir/Detail/2015/10/15/433515/Russia-Siberia-Daesh-attempted-mosque-attack
---------
Muslim Supporters Outnumber Protesters at Anti-Islamist Rallies
October 14, 2015
Love prevailed over hate Oct. 10 as supporters of all faiths outnumbered white supremacists at many mosques across the U.S. during the Global Rally for Humanity, an anti-Muslim protest.
Demonstrations were held outside 28 mosques across the nation with protestors holding signs bearing proclamations such as "F**k Islam." Organizers asked supporters to exercise their Second Amendment rights by bringing weapons to the protests. They also asked supporters to go to any mosque, Muslim place of business or Council of American Islamic Relations office to voice their hatred of Islam. The largest rally was held outside a mosque in Phoenix, Arizona, where apparent neo-Nazis showed up wearing swastikas. A similar rally was held there last May.
In a Facebook page announcing the locations for the Global Rally for Humanity, Jon Ritzheimer, who organized the Phoenix rally, said: "Followers of this enemy all have one thing in common; they read the Koran." The apparent white supremacist and proclaimed atheist is then shown on the video shooting a copy of the Koran with a hand-gun.
"We are pleased that what was planned as a campaign of hate and marginalization turned instead into a show of support for the American Muslim community and for religious inclusion," said CAIR national communications director Ibrahim Hooper.
In an interview before the demonstrations, Hooper told India-West that he hoped the planned rallies would simply fizzle out. The protestors were protected by the First Amendment, he noted. "They have the right to stand out there and be idiots," he stated, adding, however, "If someone is holding an assault rifle and threatening people as they enter a mosque, law enforcement will intervene."
CAIR advised leaders of mosques to ask for extra law enforcement protection if a demonstration was planned at that location. The organization also advised Muslims not to engage with protestors or challenge their rhetoric.
However, at the Noor Islamic Center in Ohio, where a lone white woman stood bearing signs with anti-Islam proclamations, a Muslim woman dressed in a hijab gave the protestor a hug. The demonstrator, identified only as Annie, later accepted an invitation to enter the mosque and was escorted around the place of worship.
"That is how we work. A lot of people with these ideas have not actually met a Muslim. We focus on the similarities rather than on things that divide," the mosque's spokesperson, Adnan Mirza, told The Independent newspaper.
Annie also consented to pose for a photo with a woman wearing a hijab after she said, "I'm an American too." Annie told the mosque's members that her husband and her pastor did not want her to come to protest. Either way, she then said things had not turned out as she had anticipated, reported The Independent.
In Dearborn, Michigan, counter-protestors also vastly outnumbered anti-Islamists, reported the Arab American News. The two groups engaged in conversation and left the site after shaking hands.
Full Report at:
http://www.indiawest.com/news/global_indian/muslim-supporters-outnumber-protesters-at-anti-islamist-rallies/article_c4afe142-7295-11e5-a344-ab5af48d7fd3.html
---------
Merkel: some things are "non-negotiable" in refugee crisis
15 October 2015
In a speech Angela Merkel has expressed her willingness to work with the EU.
"It goes without saying that we will work constructively with the British government," Merkel said in a speech to the Bundestag lower house of parliament on Thursday ahead of an EU summit in Brussels later.
Full Report at:
http://www.worldbulletin.net/europe/165293/merkel-some-things-are-non-negotiable-in-refugee-crisis
---------
Africa
Niger imposes state of emergency on region hit by Boko Haram
15 October 2015
Niger has imposed a state of emergency on the southeastern region of Diffa on Wednesday where at least 40 people have been killed in recent weeks in attacks blamed on the militant group Boko Haram.
The 15-day state of emergency will allow authorities to beef up security, impose a curfew and restrict the movement of goods and people, according to a statement on state television. The government instituted similar measures in February.
Niger, Cameroon and Chad have all suffered a spillover of violence from Boko Haram's northern Nigerian strongholds and Niger has arrested at least 1,100 suspected Boko Haram militants this year.
Full Report at:
http://english.alarabiya.net/en/News/africa/2015/10/15/Niger-imposes-state-of-emergency-on-region-hit-by-Boko-Haram.html
---------
Obama deploys military to Cameroon
15 October 2015
US President Barack Obama will deploy up to 300 military personnel to Cameroon for intelligence, surveillance and reconnaissance operations against militant Boko Haram insurgents, he informed Congress on Wednesday.In a letter released by the White House, Obama said 90 personnel had already been deployed, marking a modest but significant escalation of US involvement in the fight against the ISIL-allied group.
Washington has largely shied away from engaging its vast military assets to combat Boko Haram, with policymakers wary of fueling militant recruitment.
In making Wednesday's announcement, the White House was at pains to stress that personnel would not take part in combat operations and would be armed only for self-defense.
The onus, US officials said, would still be on a regional coalition that has tried to keep a once regional Muslim anti-colonial movement from metastasizing into a regional jihadist threat.
"It will be part of a broader regional effort to stop the spread of Boko Haram and other violent extremist organizations in West Africa," said White House spokesman Josh Earnest.
The mission will last "until their support is no longer needed," Obama's letter said.
The White House decision comes as Boko Haram steadily expands operations beyond its traditional base in northern Nigeria.
An uptick in violence is expected in the coming weeks with the end of the rainy season and amid growing resistance to a nascent multi-national joint task force.
Twin suicide blasts on Sunday killed at least nine people and injured 29 in far northern Cameroon.
US President Barack Obama meets with Nigerian President Muhammadu Buhari in the Oval Office of the W …
Nine people died when one of two suicide bombers detonated a device in a tiny milk and donut restaurant in the village of Kangaleri.
Full Report at:
http://www.worldbulletin.net/africa/165295/obama-deploys-military-to-cameroon
---------
Libyan FM in Egypt for talks on unity govt plan
13 October 2015
Libyan Foreign Minister Mohammed al-Dairi arrived in Cairo Tuesday for talks with Egyptian officials on the latest developments in crisis-hit Libya, a diplomatic source told Anadolu Agency.
The top diplomat is expected to discuss with President Abdel-Fattah al-Sisi and Foreign Minister Sameh Shoukry the outcome of the Morocco-hosted national dialogue between Libyan rivals, the source added.
Last week, UN Special Envoy Bernardino Leon announced a plan for forming a unity government in Libya.
According to the UN draft, Fayez Sarraj, a Tripoli MP, was proposed for the prime minister's position.
According to the UN proposal, a one-year-long government of national accord will be established, where a council of ministers headed by a prime minister and two deputies will have executive authority based in Tripoli.
Full Report at:
http://www.worldbulletin.net/africa/165224/libyan-fm-in-egypt-for-talks-on-unity-govt-plan
---------
Marches, Prayers Mark Nigeria's New Hijri Year
14 October 2015
LAGOS – At least three Nigeria's northwestern states of Kano, Jigawa and Osun state in the southwest have so far declared a public holiday to commemorate the 1437 new Hijri Year, with Muslim umbrella bodies demanding the central government to consider making the first day in Islam's calendar a national holiday.
"His Excellency Governor Abdullahi Umar Ganduje of Kano has approved Wednesday, 14th October, 2015, to be public holiday in commemoration of the New Islamic Year 1437AH," spokesman Baba Halilu Dantiye said in a news release.
The governor, who congratulated the Muslim Ummah "for witnessing the New Year", urged the faithful to "use the public holiday in offering prayers, to The Almighty Allah (SWT), for peace and prosperity in our dear state and country as a whole."
oth the Jama'atu Nasril Islam (JNI) and the southwest League of Imams and Alfas however told Onislam.net that the calendar begins tomorrow, Thursday.
Yet, Kano and Jigawa states have declared Wednesday a public holiday in commemoration of the day Prophet Muhammad migrated from Makkah to Madinah.
States like Sokoto, Zamfara, Kebbi, and many others in the northeast, are also set to observe a public holiday on Thursday to mark the Prophet's migration.
Hundreds of Muslims are holding Hijri rallies in Kano and Jigawa, with thousands more expected to hold similar marches across many northern and southern states tomorrow amid lectures and other activities.
Thousands of Muslim students and populace will march across north central Ilorin city in Kwara tomorrow as part of the activities marking the new Hijri year, while the Osun government will light up its provincial capital Osogbo today in celebration of the Muslims' calendar.
Full Report at:
http://www.onislam.net/english/news/africa/495099-marches-prayers-mark-nigerias-new-hijri-year.html
---------
Somali Hajj pilgrims reluctant to return home
15 October 2015
As many as 2,292 Somali pilgrims have asked for the extension of their Hajj visa to prolong their stay in the Kingdom because they were not in a hurry to return due to the precarious security and worsening economic situation back home, according to Al-Watan newspaper on Wednesday.
The daily said the pilgrims who wish to stay back represented 31.48 percent of a total 7,280 Somali pilgrims who performed Hajj this year.
Sources in the Tawafa Establishment for Arab Pilgrims said the demand by Somali pilgrims might trigger problems between the pilgrims and the official Somali Hajj mission, which is representing them.
They said this was a common problem during the past two years wherein pilgrims from the politically unstable countries would not have any desire to go back.
Chairman of the Somali Hajj Mission Ahmed Luqman said talk about pilgrims wishing to stay in the Kingdom should only start after the expiry of the Hajj visas on Oct. 28 (Muharram 15). Luqman said there were two flights every day flying to Mogadishu carrying 400 pilgrims.
Luqman, on the other hand, questioned the figure of the Tawafa Establishment, saying that only about 26 percent of the Somali pilgrims still remained in the Kingdom and the rest have already flown out of the country after performing Hajj.
He said a total of 7,440 pilgrims came from Somalia, not 7,280 pilgrims as the establishment had said.
Full Report at:
http://english.alarabiya.net/en/News/middle-east/2015/10/15/Somali-Hajj-pilgrims-reluctant-to-return-home.html
---------
URL: https://www.newageislam.com/islamic-world-news/new-age-islam-news-bureau/islamic-state-group's-influence-felt-in-far-off-asia-pacific/d/104930