New Age Islam News Bureau
26 Feb 2014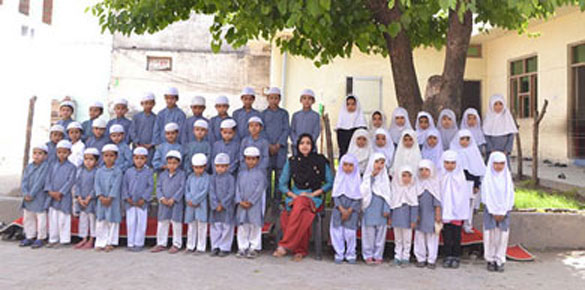 Photo: A Madrasa Stands Up For Change in Haridwar, UP
--------------
Africa
• Islamic Militants Slit Throats of 58 Students in Nigeria: They Had Killed 40 Last • Sept to Establish 'Boko Haram' Means Modern Education Is Prohibited
• Zaytuna Mosque maintains its social, political role in Tunisia
• Muslims Flee Christian Militias in Central African Republic
• Central African orphans walk to safety alone
• Rockets rain on Libyan power plant as militias battle
Southeast Asia
• Brunei bans non-Muslims from using "Allah," "Qur'an," "fatwa," and 16 other words
• Rising Islamic conservatism in Malaysia
• Isolate & Punish Extremists: To Ignore Is Foolish & Dangerous - Nucc Pans Najib
• Indonesia Ratifies UN Nuclear Terrorism Convention
• Plight of Domestic Workers in Indonesia Is Seen as Mirroring Slavery
South Asia
• 106 Taliban die in separate operations in Afghanistan
• Awami League: Some diplomats backing militants
• Suicide bomber kills 8 in Afghanistan: Official
• Maladies Islamic minister calls for dialogue following mosque closure
• Uighur groups condemn China charge against academic
Pakistan
• Country more important than democracy: MQM Chief
• Mengal says Balochistan 'turned into graveyard'
• Ulema conference asks TTP to stop bomb blasts
• TTP committee conveys requests to Taliban Shura
• Pakistan poised for offensive in North Waziristan
• Pak Taliban refuses govt's 'cricket for peace' offer over 'turning youth away from jihad'
• Hizb ul Mujahideen says Mast Gul no more its member
• Hindu minority in Pakistan struggle to protect temples
Arab World
• Arab political rhetoric allows for growth of religious extremism
• Arab League call meeting over Al-Aqusa Mosque violations
• Syria Qaeda group gives ultimatum to jihadist rivals
• Jordan MPs Want Peace Treaty Be Scrapped over Zionist Actions in Al-Quds
• Al Nusra promises to destroy rival militant group fighting in Syria
• Replacement of Prince Bandar highlights Saudi Arabia's terrorism concerns over Syria
• Egypt's new army-backed PM vows to 'crush terrorism'
• Egyptian court sentences 26 to death
• Saudi beheaded for killing compatriot
• Syrian children suffer, adapt to war
Mideast
• Iran Asks S. Arabia to Stop Support for Terrorist Groups in Syria
• Israelis seek control of Al-Aqusa Mosque courtyard
• Israel's distinguishing between Christian and Muslim Arabs is racism
• Israel suspects Hezbollah will target top Israeli officials
• Turkish foreign minister says world has failed Syria
• Turkey returns historic monastery to Syriac community
India
• A Madrasa Stands Up For Change in Haridwar, UP
• India engages with Saudi Arabia and Iran
'• Mali is a winning business opportunity for India'
• Postage stamp released in honour of Maulana Hasrat Mohani
• Govt reviews operational readiness along China, Pakistan borders
• IM men thought Taliban, al-Qaida were filled with 'stupid Pathans'
• Top IM men have joined al-Qaeda, fighting in Af-Pak: NIA chargesheet
Europe
• Russia warns Saudi against giving Syria rebels missiles
• Indian-origin man, 3 others arrested in UK for Syria-related terrorism offences
• Western Imperialism's Creative Destruction in Syria
• UN: Palestinians in Syrian camp are 'traumatised
• 725-year old Kosovo mosque shows Islam's history in Balkans
• UN: Muslims under Threat in Bangui
• Iran a threat not just to Israel, says Germany's Merkel
North America
• Barack Obama warns Afghan President Hamid Karzai of full troop withdrawal
• Delaware's Catholic, Islamic leaders meet
• Obama Pins Fate of Nuclear Pact on Documents from an Iranian "Curveball"
• US Preparing Road Map for Damascus Attack
• Eyeing Afghan exit, U.S. intensifies campaign against Haqqani militants
Compiled by New Age Islam News Bureau
URL: https://www.newageislam.com/islamic-world-news/new-age-islam-news-bureau/islamic-militants-slit-throats-of-58-students-in-nigeria--they-had-killed-40-last-sept-to-establish--boko-haram--means-modern-education-is-prohibited/d/45926
-----------
Africa
Islamic Militants Slit Throats of 58 Students in Nigeria: They Had Killed 40 Last Sept to Establish 'Boko Haram' Means Modern Education Is Prohibited
Associated Press | Damataru | February 26, 2014
Islamic militants set fire to a locked dormitory at a school in northern Nigeria, then shot and slit the throats of students who tried to escape through windows during a pre-dawn attack Tuesday. At least 58 students were killed, including many who were burned alive. They "slaughtered them like sheep" with machetes, and gunned down those who ran away, said one teacher, Adamu Garba.
Soldiers guarding a checkpoint near the co-ed government school were mysteriously withdrawn hours before it was targeted by the militants, said the spokesman for the governor of northeastern Yobe state. Female students were spared in the attack, said the spokesman, Abdullahi Bego, though girls and women have been abducted in the past by militants of the Boko Haram movement, whose name means "Western education is forbidden."
This time, the insurgents went to the female dormitories and told the young women to go home, get married and abandon the Western education they said is anathema to Islam, Bego said. All of the dead were teenage boys or young men. The militants, whose struggle for an Islamic state has killed thousands and made them the biggest threat to security in Africa's top oil producer, have increasingly preyed on civilians, both Muslim and Christian. Some 300 people have died in attacks this month alone.
Local officials buried the bodies of 29 victims and another 29 were taken to Damaturu Specialist Hospital, according to the hospital records and an Associated Press reporter who went to the mortuary. Most of the victims appeared to be between 15 and 20 years old, Bego said. Eleven wounded survivors of the attack were being treated at the hospital.
Touring the smoldering ruins Tuesday at the Federal Government College of Buni Yadi, Gov. Ibrahim Gaidam decried the federal government's failure to protect the population. "It is unfortunate that our children in schools are dying from lack of adequate protection from the federal government," Gaidam told reporters. He called on President Goodluck Jonathan to deploy more troops to the region.
Jonathan, who rarely comments on individual attacks, said in a statement that he felt "immense sadness and anguish" by the loss of life at the school, and vowed that the military would "continue to prosecute the war against terror with full vigour, diligence and determination."
Garba said the militants locked the door of a dormitory where male students were sleeping, then set it on fire. Some students were burned alive in the attack that began around 2 a.m., he said. The governor said it took hours for troops to arrive, giving the assailants plenty of time to set the rest of the school campus ablaze— six dormitories, the administrative building, staff quarters, classrooms, a clinic and the kitchen.
Bego, the governor's spokesman, said the governor will be looking into why the school was left unprotected. "The community complained to the governor that yesterday the military were withdrawn and then the attack happened," he said. Soldiers from Damaturu, the state capital located some 45 miles (70 kilometers) away, did not arrive until noon, hours after the attackers had taken off, according to community leaders.
Military spokesman Eli Lazarus confirmed the attack, but could not give an exact death toll because soldiers were still gathering corpses. He had no immediate comment on the charge that soldiers withdrew before the attack. Nigeria's military has reported arresting several soldiers accused of aiding and passing information to Boko Haram extremists; a senator has also been accused of similar charges.
On Monday, Jonathan dismissed suggestions the military was losing the war to halt the 4-year-old Islamic uprising in the northeast. Tens of thousands of Nigerians have lost family members, houses, businesses, their belongings and livelihoods to the rebellion and the fallout from a military state of emergency by soldiers accused of gross human rights violations, including setting ablaze entire villages and summary executions of suspects.
Tuesday's attack is only the latest in a string of deadly assaults by Islamic militants. Entire towns and villages were under the sway of Boko Haram when Jonathan declared a state of emergency in May. The military quickly forced the insurgents out of urban areas, only to have them regroup in forests and mountain caves where it has proved difficult to flush them out.
The military said recent attacks are being perpetrated by militants escaping a sustained aerial bombardment and ground assaults on their forest hideouts along the border with Cameroon, an offensive begun after Jonathan fired and replaced his entire military command last month. On Saturday, the military announced it had closed hundreds of miles of the border with Cameroon to prevent militants using it as a launch pad for attacks.
U.S. Secretary of State John Kerry on Monday condemned the "unspeakable violence and acts of terror" and said the United States was helping Nigerian authorities "to combat the threat posed by Boko Haram, while protecting civilians and ensuring respect for human rights."
But survivors and local officials charge they get no protection. "Everybody is living in fear," local government chairman Maina Ularamu told the AP after Izghe village was attacked twice in a week this month — with militants killing 109 people and burning hundreds of thatched huts in neighboring Adamawa state.
"There is no protection. We cannot predict where and when they are going to attack. People can't sleep with their eyes closed," Ularamu said.
http://indianexpress.com/article/world/middle-east-africa/islamic-militants-africa-islamic-militants-nigeria-boko-haram/3/
----------
Zaytuna Mosque maintains its social, political role in Tunisia
February 26, 2014
The people of Africa and the Arab Maghreb do not have to travel to the Arabian Peninsula to absorb the sciences of Sharia and Islamic jurisprudence. They themselves were the first to establish a university for Islamic jurisprudential sciences — Zaytuna University.
In the middle of the Tunisian capital is a large architectural edifice that covers an area of 5,000 square meters [53,819 square feet]. It is the site of the Mamour Zaytuna Mosque, built in 79 A.H. (698 A.D.). Over successive historical periods — stretching more than 13 centuries — the Mamour Mosque has preserved its scholarly value and importance. It has graduated many luminaries of Islamic thought.
To this day, residents of the capital Tunis wake up to the sound coming from the minaret of the Zaytuna Mosque, which was the second mosque built in North Africa. The first, the Uqba Mosque, was built by Uqba Ibn Nafaa in the city of Kairouan, also in Tunisia.
The Zaytuna Mosque is distinguished by a unique architectural style, compared to the basic architecture and engineering that is characteristic of a number of important mosques built in the first century of Islam. The fine detail in the dome of the mosque's mihrab (prayer niche) is one of its most important features. The three-story high niche is adorned with intricate designs, demonstrating the extent of interest the Wali of Africa, Abullah Ibn Habhab, showed for this landmark of great scholarly importance. Construction of the mosque was completed under Habhab in 116 A.H. (734 A.D.).
Since its early years, the mosque has played a prominent scholarly role, attracting students of religious sciences. It has produced a significant number of luminaries of Islamic thought, including Imam Sahnun al-Tanukhi, who wrote Al-Mudawwana, a compendium of legal opinions organizing the Maliki school of jurisprudence; Imam Mohammed Ibn Urfa al-Tunisi; and Ibn Khaldun, known for his role in the establishment of sociology in human history. It also educated the "reformist" sheikhs such as Imam al-Taher Ben Achour, who interpreted the Quran in a nearly 30-volume text that is considered one of the most important modern Quranic interpretations. Through this work, he tried to enlighten the Islamic mind and take [Islamic society] out of tradition and repetition. Imam Ben Achour was also one of a handful of Islamic scholars from the Zaytuna Mosque who contributed in developing Tunisia's Personal Status Code after the country achieved independence in 1956. This code imposed a system of monogamy and forbid men from taking multiple wives.
Ghufran al-Husayeni, a journalist and researcher in Islamic civilizations, told As-Safir, "The Zaytuna Mosque played the same role as the Al-Azhar Mosque in Cairo. The latter represented the intellectual center of Ismaili doctrine in the Fatimid dynasty [before converting to Shafiite Sunni Islam in the 12th century]. Similarly, the Zaytuna Mosque contributed to spreading the Maliki doctrine in North Africa." Husayeni added, "The Zaytuna Mosque was a beacon of scholarship in the Arab Maghreb, and its reverberations reached Andalusia. It is historically well-known that the Maliki doctrine spread from this region of the Islamic world via the Zaytuna Mosque — along with the Kairouan mosque. This was carried out through the great roles undertaken by scholars such as Ali Ibn Ziyad, Assad Ibn al-Furat, Ibn Khaldun, Ibn Urfa and Ben Achour."
Furthermore, the Zaytuna Mosque was not far removed from the resistance to French colonization in Tunisia and served as an incubator for the nationalist movement. Regarding this point, Husayeni said, "The first union work in the country was carried out with the participation of elders from the Zaytuna Mosque, including Sheikh al-Qadi and Sheikh Salah al-Nayfez. In 1933, they called for establishing a union for Zaytuna religious scholars, something the French resident-general at the time rejected. The latter dissolved the union less than a week after it was founded."
Husayeni noted, "The Zaytuna Mosque also had political influence on the path to independence. It absorbed most of the intellectual elite at the time." He added, "The national movement was launched from the mosque, through the founding of the Muslim Young Men Association and the Muslim Girls Association, at the hands of Sheikh Mohammed Salaf al-Nayfez. These associations had a cultural role — through [establishing] the Islamic Tunisian identity — as well as a political role, since they served as a form of support for the national liberation movement."
Finally, it is worth noting that the Zaytuna Mosque has not been isolated from social life in the country. It was and still is a place for concluding contracts and agreements. To this day, Tunisians still head to the mosque to sign marriage contracts, and worshippers gather in its halls to perform evening prayers during the month of Ramadan. The mosque also serves as a place to celebrate religious holidays, such as Eid al-Fitr, Eid al-Adha and al-Mawled al-Nabawi [the Prophet Muhammad's birthday]. During these holidays, food is distributed to the poor and the mosque collects alms to give to those in need.
http://www.al-monitor.com/pulse/culture/2014/02/tunisia-zaytuna-mosque-social-political-role.html#ixzz2uSyFNCjB
----------
Muslims Flee Christian Militias in Central African Republic
February 26, 2014
TEHRAN (FNA)- Tens of thousands of Muslims are fleeing to neighbouring countries as Christian militias stage brutal attacks in the Central African Republic. About a million people have been displaced after months of violence
http://english.farsnews.com/player.aspx?nn=13921206000757
----------
Central African orphans walk to safety alone
February 26, 2014
Over 15,000 people in Central African Republic, mostly Muslim civilians in makeshift camps, are surrounded and being threatened by armed militia groups, a spokesman for the U.N. refugee agency said on Tuesday.
Christian militia known as "anti-balaka", which means "anti-machete" in the local sango language, have exacted brutal reprisals against the Muslim minority. Ten of thousands of Muslims have fled to neighbouring countries, while others sought shelter in camps.
As violence rages against Muslims deep in the bush in the country's southwest, children appear to be in many cases the only survivors.
Ibrahim Adamou's parents had just been killed in front of him. He wasn't sure whether any of his five siblings had survived the attack by Christian militiamen who opened fire on his family of herders as they journeyed on foot. The 7-year-old just knew he had to keep running.
Covering 100 kilometres barefoot and alone, he slept under the thick cover of banana trees at night and followed the red rutted paths by day, not entirely sure where he was going, with nothing to eat, Associated Press correspontent Krista Larson reports.
Finally he encountered peacekeepers who gave him some cookies and pointed the way to Carnot, where a Catholic church was sheltering some 800 Muslims, including many ethnic Peuls like Ibrahim. With the help of a Christian man on a motorcycle who risked his life by giving the boy a lift, Ibrahim arrived at the church early Monday.
What is even more remarkable about Ibrahim's story is that there are at least six other children under the age of 10 with a nearly identical story in Carnot. Many, like Ibrahim's family, came under attack as they were fleeing west from violence earlier this month. The survivors are only now making their way to Carnot.
In Carnot, a town of about 45,000 some 500 km (310 miles) northwest of the capital, Muslims sought protection at a local church after hiding in the bush for several days.
Priest Justine Nary said that over 1,000 people, many of them women and children, had sought refuge in Carnot's church.
Nary said the mood was tense after anti-balaka militia threatened to torch the building if Muslims did not leave, despite the presence of AU and French troops.
"We received 223 more people this morning and the truck has gone out again to fetch more people from the bush where they are hiding," he said.
Around 10:30 on a recent night, a distressed Cameroonian peacekeeper knocked on the church door to wake up the priests. A little Muslim girl who didn't know how old she was had turned up in the centre of town, barefoot and shaken. The priests emerged in their pyjamas to bring her inside.
Habiba, believed to be about 7, saw anti-Balaka militants kill her parents and her brothers, she whispered to a priest. They asked her where she came from: Her village was more than 80 kilometres away by foot.
Two men who had lost young daughters arrived at the door, then quickly shook their heads in disappointment. She was not theirs. No one knew who she was.
Ten-year-old Nourou said he spent two days being hidden by Christians, who then brought him to the church. Tears rolled down his face, some of them spilling from a crusted eye badly wounded in an anti-Balaka attack. His legs were so spindly he could barely stand.
Beside him was another Peul boy named Ahamat, believed to be about 8. He couldn't say for sure how many days he had spent walking or when he last ate. The Muslim men who welcomed him asked about his village and then shook their heads in disbelief. It is some 300 kilometres away.
When he heard motorcycles on the road, he would hide in the woods. When the roads were empty, he just kept walking, asking anyone he could where he could find the peacekeepers who were guarding Muslims.
An Amnesty International report on Feb. 12 said attacks on Muslims in January by anti-balaka militias, made up of Christians and animists, had amounted to "ethnic cleansing." Fatou Bensouda, chief prosecutor at the International Criminal Court at The Hague, has already opened a preliminary investigation into crimes against humanity, saying some "victims appeared to have been deliberately targeted on religious grounds."
http://www.worldbulletin.net/headlines/129710/central-african-orphans-walk-to-safety-alone
----------
Rockets rain on Libyan power plant as militias battle
February 26, 2014
More than 100 rockets fired in clashes between rival government-paid militia have knocked out a power plant in southern Libya, heightening the risk of summer blackouts, the electricity minister said on Tuesday.
"This is the chaos Libya lives in," the visibly-annoyed minister, Ali Mohammed Muhairiq, told a televised news conference. "The plant was hit by dozens of rockets, by 120 rockets. I don't know whether we will be able to repair it before summer and Ramadan."
The Muslim fasting month of Ramadan begins at the end of June this year. Libya, an OPEC oil producer, suffers frequent blackouts in summer due to heavy use of air-conditioners.
Muhairiq said the power station in Sarir, in the remote south, had been put out of action by days of fighting between militias on the payroll of the defence and interior ministries.
He said parliament had approved a loan for the repairs, since the government had no budget to meet the bill of up to 300 million Libyan dinars ($242 million), but gave no details.
Libya's official news agency LANA said the central bank would lend the state electricity company 1 billion dinars "to help solve the difficulties it faces".
Budget worries are mounting in Libya, where protests and blockades at oil fields and ports have choked state revenue.
The government has sought to co-opt unruly militias that helped topple Muammar Gaddafi three years ago by putting them on the payroll of the security forces, but they remain loyal to their own commanders who often have business interests such as smuggling and who vie with other groups for local power.
Some are heavily armed with rocket-propelled grenades and anti-aircraft guns obtained from military depots during the NATO-backed uprising in 2011.
Muhairiq said militia fighting had also damaged oil facilities and power stations on which hospitals and water supplies in the eastern city of Benghazi depend.
In separate violence, gunmen stole equipment from a power station in Khoms, east of Tripoli, which supplies the capital and western Libya, Muhairiq said.
"I warn the gunmen against damaging it," he said, reading out names of those he believed were behind the robbery.
Libya's oil output has fallen to 230,000 barrels per day (bpd) from 1.4 million bpd last year when various groups began disrupting facilities to back political and financial demands.
The government said on Sunday it had curbed spending at several ministries because the 2014 budget had been delayed.
"We face a very big danger," Mohammed Abdallah, head of the parliamentary budget committee, told LANA, saying the government had already incurred a deficit of 3.785 billion dinars in the first two months of 2014. No comparative figures were available.
He said the budget planned for spending of 68.6 billion dinars in the next six months, around 2 billion more than last year, with 27.1 billion going on public sector wages, 6 billion more than in 2013.
The government increased salaries for oil workers by 67 percent in January in what has so far proved a futile attempt to placate them and discourage them from joining protests.
Prime Minister Ali Zeidan said the government had submitted a budget proposal for six months instead of the whole year because it only had a temporary mandate. A parliamentary election is expected this year.
http://www.worldbulletin.net/headlines/129671/rockets-rain-on-libyan-power-plant-as-militias-battle
------------
Southeast Asia
Brunei bans non-Muslims from using "Allah," "Qur'an," "fatwa," and 16 other words
19 Islamic words banned for non-Muslims in Brunei
February 26, 2014
The Brunei government will ban the use of 19 Islamic words, including "Allah" and "masjid", by non-Muslims, according to the Brunei Times today.
The ban will take effect from April, the paper said.
Under the Syariah Penal Code Order, these words cannot be used with respect to other religions.
They are azan; baitullah; Al Quran; Allah; fatwa; Firman Allah; hadith; haji; hukum syara'; ilahi; Ka'bah; kalimah al syahadah; kiblat; masjid; imam; mufti; mu'min; solat; and wali.
The Brunei Times quoted Hardifadhillah Mohd Salleh, a senior syariah legal officer of the Islamic Legal Unit as telling staff of the Industry and Primary Resources Ministry on key parts of the order during a briefing.
He also said certain provisions of the order also apply to non-Muslims, such as zina (adultery) with a Muslim partner, drinking alcohol in a public place, and khalwat (close proximity) with a Muslim partner.
Full report at:
http://www.thesundaily.my/news/966131
-----------
Rising Islamic conservatism in Malaysia
February 26, 2014
FORMER premier Mahathir Mohamad believes that Islam is under siege in Malaysia. He is not alone.
With religion fast becoming the most contentious source of disputes in Malaysia, this perception has given rise to a host of conservative Islamic groups becoming more vocal.
At the root of their grievances is their belief that non-Muslims and "liberal" Muslims are attacking the dominance of Islam in Malaysia, and Malays in general.
For them, the "Allah" issue - where Christians want to use "Allah" to refer to their God - is simply the last straw.
Since the 1970s, Malaysia has had many Islamic groups which have taken conservative stances on issues relating to human rights, women's rights and homosexuality, and in their relations with non-Muslim groups.
Full report at:
http://www.malaysia-chronicle.com/index.php?option=com_k2&view=item&id=232852:going-backwards-rising-islamic-conservatism-in-malaysia&Itemid=2#ixzz2uT7WQdOA
-----------
Isolate & Punish Extremists: To Ignore Is Foolish & Dangerous - Nucc Pans Najib
February 26, 2014
I refer to Prime Minister Dato Seri Najib Tun Razak's well meaning advice to ``just ignore Extremists ``
With due respect sir , there are many Malaysians who will sincerely agree with me that that is not the way to deal with Extremists.
Their inflammatory statements and worse still ,their dangerously provocative and evil acts , based on racial and religious hatred , must instead be nipped in the bud !
Their seditious statements and incendiary acts , which undermine our fragile national unity , have to be exposed and those responsible , from any quarter , should be named , shamed , arrested and prosecuted . They have to be publicly exposed and harshly dealt with rather than inadvertently encouraged to do their dirty work stealthily , secretly ,and without scrutiny from the Rule of Law !
Full report at:
http://www.malaysia-chronicle.com/index.php?option=com_k2&view=item&id=232862:isolate-punish-extremists-to-
-----------
Indonesia Ratifies UN Nuclear Terrorism Convention
February 26, 2014
Jakarta. Indonesia ratified an international convention against nuclear terrorism on Tuesday, citing "unpredictable" terror threats that may target the country's nuclear facilities amid its sluggish but persistent attempt to develop nuclear energy.
The House of Representatives endorsed the Law on the International Convention for the Suppression of Acts of Nuclear Terrorism during a plenary session in Jakarta on Tuesday.
"The endorsement of the nuclear terrorism convention paves the way for international technical assistance in the fields of capacity building and infrastructure development — with regard to nuclear safety, coordination and institutional reinforcement, as well as information security," Agus Gumiwang, deputy head of the House's Commission I on information, defense and foreign affairs, said after the plenary session.
Full report at:
http://www.thejakartaglobe.com/news/indonesia-ratifies-un-nuclear-terrorism-convention/
----------
Plight of Domestic Workers in Indonesia Is Seen as Mirroring Slavery
February 26, 2014
Jakarta. The allegation that a retired police general and his wife held 16 domestic workers in captivity and tortured them in their Bogor, West Java, mansion, is a form of modern-day slavery that is only one of countless such incidents occurring behind the high walls of luxury homes in Indonesia.
Anis Hidayah, executive director of Jakarta-based Migrant Care, told the Jakarta Globe on Monday that such practices are physically concealed but occur all around us, stripping those silent victims of their most basic of human rights: freedom.
"Many of us are still trapped in the feudalistic mentality, always wanting to be served," she said, comparing the situation to the early years of the American colonies, when Europeans desperate to cross the ocean ended up signing contracts of debt bondage or indentured servitude.
Full report at:
http://www.thejakartaglobe.com/news/plight-of-maids-in-indonesia-mirrors-slavery/
----------
South Asia
106 Taliban die in separate operations in Afghanistan
February 26, 2014
Afghan forces have killed 106 Taliban and injured two others in operations across Afghanistan, according to a statement by the Interior Ministry.
Nine Taliban were arrested during the operations on Monday and Tuesday - conducted in Nangarhar, Kunduz, Faryab, Logar, Laghman, Kunar, Paktika, Herat and Helmand provinces. Along with the 76 Taliban who died, three Afghan policemen were killed and six others wounded. A number of weapons and explosives were seized.
In an additional operation, Afghan forces killed 30 Taliban in the country's Ghazni province. Security forces also seized light and heavy ammunition, the Ministry said.
However, Taliban Spokesperson Zabiullah Mujahid rejected the Ministry's statement, saying a number of Afghan and foreign soldiers were killed.
Full report at:
http://www.worldbulletin.net/todays-news/129697/106-taliban-die-in-separate-operations-in-afghanistan
----------
Awami League: Some diplomats backing militants
February 26, 2014
A senior minister and a presidium member yesterday in parliament alleged that some Dhaka-based diplomats were backing the Islamic militants though in public they speak against militancy.
While issuing a statement under rule 300 of the Rules of procedure Begum Matia Chowdhury, the agriculture minister and presidium member of the ruling Awami League, said the BNP-Jamaat had connection with the JMB and al-Qaeda.
The western diplomats provided supports to the BNP-Jamaat government that fuelled militancy in the country, she said.
Sheikh Fazlul Karim Selim made the similar allegation.
On February 16, he warned the diplomats not to meet the BNP chairperson or face action from the government.
Full report at:
http://www.dhakatribune.com/politics/2014/feb/26/awami-league-some-diplomats-backing-militants#sthash.XzbyVuck.dpuf
----------
Suicide bomber kills 8 in Afghanistan: Official
AP | Feb 26, 2014
KABUL: A suicide car bomber killed eight people and wounded 41 in an attack Tuesday in southern Afghanistan, officials said.
General Matiullah Khan, police chief of Uruzgan province, said the explosion hit a building with a hotel and restaurant in Tirin Kot, southern Afghanistan.
He warned that several people are seriously wounded.
There was no immediate claim of responsibility for the attack.
In a separate incident, three civilians were killed by a roadside bomb in southern Afghanistan's Helmand Province.
Full report at:
http://timesofindia.indiatimes.com/world/south-asia/Suicide-bomber-kills-8-in-Afghanistan-Official/articleshow/31048672.cms
-----------
Maladies Islamic minister calls for dialogue following mosque closure
By Minivan News | February 25th, 2014
Following the closure of Dharumavantha Rasgefaanu mosque earlier this month, Minister of Islamic Affairs Dr Mohamed Shaheem Ali Saeed has stressed that all religious differences can be settled through dialogue.
"Those who pray separately at certain mosques, please come to us. Let's discuss this matter. There's nothing that can't be solved if we sit down and share religious information," he told local media.
Full report at:
http://minivannews.com/category/news-in-brief
----------
Uighur groups condemn China charge against academic
2014-02-26
BEIJING: Rights groups condemned China on Wednesday for charging a prominent Uighur critic of government policy towards the mostly-Muslim minority with separatism — which can carry the death penalty.
Ilham Tohti, an economics lecturer at a university in Beijing, has been formally accused of the offence, his wife Guzaili Nu'er told AFP.
Tohti has been one of the most prominent critics of Chinese policy in Xinjiang, the vast western region where most Uighurs live and which is periodically hit by violent clashes between locals and China's security forces.
Full report at:
https://www.dawn.com/news/1089607/uighur-groups-condemn-china-charge-against-academic
----------
Pakistan
Country more important than democracy: Altaf
2014-02-26
KARACHI: Muttahida Qaumi Movement leader Altaf Hussain has asked the army to seize power if the government does not support it in the fight against Taliban.
"I will request the army chief and the prime minister to be on the same page on dealing with terrorists…If the elected government does not join hands with the army against terrorists then, I would suggest, the military should step forward and assume power," he said in a TV interview broadcast on Tuesday.
He said he did not care if people said that he was preferring dictatorship to democracy. "For us, the country is more important than democracy." He said that Pakistan and Taliban could not coexist. "It is un-Islamic to support Taliban."
Full report at:
https://www.dawn.com/news/1089488/country-more-important-than-democracy-altaf
----------
Mengal says Balochistan 'turned into graveyard'
February 26, 2014
QUETTA: Balochistan National Party-Mengal President Sardar Akhtar Mengal on Tuesday expressed grave concerns over the security situation in Balochistan as he called the province a 'graveyard'.
"Balochistan has become a graveyard as the situation has gone from bad to worst over the past few years. There are grave diggers and mourners as far as I can see. I do not see a single happy person in my province," Mengal said in a statement.
"I view the rulers in the province as grave diggers…they are not interested in political issues of the province. They are busy in digging more graves," the former chief minister added.
He said Prime Minister Nawaz Sharif had also forgotten the promises he made when he was sitting in opposition benches.
Full report at:
http://tribune.com.pk/story/676175/bitter-words-mengal-says-balochistan-turned-into-graveyard/
----------
Ulema conference asks TTP to stop bomb blasts
February 26, 2014
LAHORE: The Pakistan Ulema Council on Tuesday asked all the militant groups including Taliban to immediately stop suicide attacks and bomb blasts and demanded Prime Minister Nawaz Sharif play his role for the success of dialogue with the Taliban. The PUC made this demand at a peace conference which was held under the chairmanship of PUC Chairman Tahir Ashrafi. It was attended by more than 28 religious and political parties as well as representatives of the minority community.
Full report at:
http://www.dailytimes.com.pk/punjab/26-Feb-2014/ulema-conference-asks-ttp-to-stop-bomb-blasts
----------
TTP committee conveys requests to Taliban shura
February 26, 2014
PESHAWAR: Tehreek-e-Taliban Pakistan (TTP) committee member Maulana Samiul Haq conveyed some of the committee's requests to TTP's political shura, the coordinator of the Taliban committee Maulana Yousaf Shah told Express News on Wednesday.
Shah said that the shura has asked for some time to respond to these requests.
He stated that details about the requests cannot be revealed at this time, adding that the nation will be kept in the loop about the shura's response.
Full report at:
http://tribune.com.pk/story/676294/ttp-committee-conveys-requests-to-taliban-shura/
----------
Pakistan poised for offensive in North Waziristan
February 26, 2014
WASHINGTON: Pakistan is poised to launch a full-scale offensive in its lawless tribal region North Waziristan if talks with Taliban insurgents fail, a senior Pakistan government official said Tuesday.
The Pakistani government recently opened negotiations with the Pakistani Taliban to end years of fighting in the northwest that has cost thousands of lives and forced hundreds of thousands of people to flee their homes.
Peace efforts suffered a setback, however, when a bombing claimed by the Pakistan Taliban last week killed 12 police officers in the port city of Karachi, and a few days later a Taliban faction also claimed it killed 23 soldiers.
Full report at:
http://www.thenews.com.pk/article-139185-Pakistan-poised-for-offensive-in-North-Waziristan
----------
Pak Taliban refuses govt's 'cricket for peace' offer over 'turning youth away from jihad'
February 26, 2014
Karachi, Feb 25 (ANI): The Pakistani Taliban has reportedly rejected an offer by the government to play a match for peace, saying that cricket is responsible for 'turning youth away from jihad'.
This comes after Interior Minister Chaudhry Nisar Ali Khan offered to host a match with the militants to revive stalled peace talks in comments, which provoked derision on social media.
According to The Dawn, Pakistan's government entered into a formal dialogue with the Taliban earlier this month, but the process faltered after the militants executed 23 kidnapped soldiers.
Full report at:
http://www.aninews.in/newsdetail6/story156813/pak-taliban-refuses-govt-039-s-039-cricket-for-peace-039-offer-over-039-turning-youth-away-from-jihad-039-.html
-----------
Hizbul Mujahideen says Mast Gul no more its member
2014-02-26
MUZAFFARABAD: Upset by media reports linking a 'militant commander' from a tribal area with it, the largest fighter group in India-held Kashmir, Hizbul Mujahideen (HM), on Tuesday deplored what it termed an attempt to tarnish its image.
"Attempts to affiliate someone claiming responsibility for bomb blasts in Pakistan with Hizbul Mujahideen to dent its credibility are upsetting and painful," said the group in a brief statement issued here, in a reference to Major Mast Gul, alias Haroon Khan.
An earlier statement of the group mentioned Mr Gul by name, while recalling that he had quit Hizbul Mujahideen before 2001. However, in a revised statement, his name was taken off.
A section of the media had introduced Mr Gul as a Hizbul Mujahideen commander after he resurfaced in Miramshah early this month.
Full report at:
https://www.dawn.com/news/1089487/hizbul-mujahideen-says-mast-gul-no-more-its-member
----------
Hindu minority in Pakistan struggle to protect temples
Press Trust of India | Islamabad | February 26, 2014
The minority Hindu community in Pakistan is struggling to protect its temples and the land around them from the land mafia, a media report said on Wednesday. Most of the Hindu inhabitants migrated to India at the time of partition, leaving behind a number of properties and places of worship.
"These properties have been up for grabs. Some allege that locals forged documents in order to occupy land around temples and construct markets. These temples are located in areas where the value of land is very high. This acts as a magnet for the land mafia," the Express Tribune daily reported.
Full report at:
http://indianexpress.com/article/world/neighbours/hindu-minority-in-pakistan-struggle-to-protect-temples/
----------
Arab World
Arab political rhetoric allows for growth of religious extremism
February 26, 2014
Martyrdom, by definition, is to die for a cause; a most noble of achievements. But suicide bombers are linking their deeds to religion, and indiscriminately killing in the name of a belief. As religious fervor increases, the morality of the action decreases, with suicide bombers committing atrocities that even the wildest beasts would shy from.
Some surely wonder: Are they part of us? Do we and they share the same communities? To which some postulate that they have their own nurturing environments. Others claim that they are the creations and willing tools of Arab and international intelligence services, citing the role assigned to them in the formation of Afghan Arab units that fought against the Soviets and then mutated to wage war against Arab regimes. They infiltrated Arab popular revolutions while they prepared for terrorist operations. The Arab regimes had no choice but to resort to tyranny in the face of liberty with the aim of controlling the Arab populace, which had grown weary of such meddling. How, then, could these societies become nurturing havens for the same willing tools wielded by forces whose only concern was to tame rebelling Arab societies?
Full report at:
http://www.al-monitor.com/pulse/security/2014/02/arab-societies-political-religious-rhetoric-extremism.html#ixzz2uSzsMFpv
-----------
Arab League call meeting over Al-Aqsa Mosque violations
February 26, 2014
Arab League representatives will meet Wednesday to discuss recent Israeli violations against the Palestinian people and Al-Aqsa Mosque in the holy city of Al-Quds (occupied east Jerusalem), a senior Arab official said Tuesday.
"The permanent representatives will meet at the request of Palestine and with Egypt's support," Mohamed Sobeih, League's assistant secretary-general for Palestine affairs, told a press conference at the League's Cairo headquarters.
He described the situation in Al-Quds as "dangerous," pointing to Israel's repeated violations against Al-Aqsa Mosque, Islam's third holiest shrine.
Sobeih said Israeli extremists had broken into the Al-Aqsa Mosque compound on Tuesday and attacked Palestinians worshippers inside.
Full report at:
http://www.worldbulletin.net/headlines/129683/arab-league-call-meeting-over-al-aqsa-mosque-violations-updated
----------
Syria Qaeda group gives ultimatum to jihadist rivals
February 26, 2014
Syria's official Al-Qaeda affiliate on Tuesday gave rival jihadists a five-day ultimatum to submit to a joint Islamic court after a top operative was killed in a suicide bombing.
The ultimatum issued by Al-Nusra Front to the Islamic State of Iraq and the Levant (ISIL) comes after the killing of Abu Khaled al-Suri, the commander of an Islamist brigade who was close to Al-Qaeda chief Ayman al-Zawahiri.
Rival rebels accuse ISIL of being behind the fatal attack and Al-Nusra's chief said his outfit would fight the group in Syria and neighbouring Iraq if it refused joint arbitration.
Though both are rooted in Al-Qaeda in Iraq, relations between Al-Nusra and ISIL have collapsed in recent weeks as Syria's rebels have turned on ISIL, accusing it of kidnapping, torturing and killing activists and rival rebels.
Full report at:
http://english.ahram.org.eg/NewsContent/2/8/95221/World/Region/Syria-Qaeda-group-gives-ultimatum-to-jihadist-riva.aspx
----------
Jordan MPs Want Peace Treaty Be Scrapped over Zionist Actions in Al-Quds
February 26, 2014
Jordanian MPs called for a 1994 'peace treaty' with the Zionist entity to be scrapped after the Zionist regime's parliament debated Israeli sovereignty over Jerusalem's Al-Aqsa mosque compound, a daily reported Wednesday.
The government-owned Al-Rai newspaper said 47 out of 150 members of the lower house signed a motion late Tuesday that the treaty be annulled. "The motion came in response to Israel's actions in Al-Quds and to the Knesset debate of a law that seeks to impose Israel's sovereignty over Al-Aqsa," Al-Rai quoted MPs as saying in the motion, AFP reported.
Under the peace treaty, Jordan is the custodian of Muslim holy sites in Jerusalem. "Israel's actions clearly violate the peace treaty... it is aggression against Jordanian custodianship," the motion said. Al-Rai said the lower house will discuss "the repercussions of the debate later Wednesday".
Full report at:
http://english.farsnews.com/newstext.aspx?nn=13921207000945
----------
Al Nusra promises to destroy rival militant group fighting in Syria
February 26, 2014
BEIRUT // The head of Al Qaeda's wing in Syria has given rival Islamist militants five days to accept mediation to end their infighting or face a war that "will terminate them", according to an audio recording posted on Tuesday.
Abu Mohammed Al Golani, leader of Jabhat Al Nusra, called on the Islamic State in Iraq and the Levant (Isil) group to agree to arbitration by religious scholars to end more than a year of feuding that has turned violent in some areas in Syria.
Heavy clashes between the two groups and other Islamist fighters in rebel-held northern and eastern Syria have led to hundreds of deaths and have undermined the wider military campaign against President Bashar Al Assad's forces.
Full report at:
http://www.thenational.ae/world/middle-east/al-nusra-promises-to-destroy-rival-militant-group-fighting-in-syria#ixzz2uT85kv4f
-----------
Replacement of Prince Bandar highlights Saudi Arabia's terrorism concerns over Syria
February 26, 2014
New York // Riyadh's reported replacement of its Syria policy point man, Prince Bandar bin Sultan, with a more senior anti-Al Qaeda figure, signals a closer alignment of Saudi and US objectives in Syria on counter-terrorism and a smoother relationship than that of the last six months, analysts say.
The interior minister, Prince Mohammed bin Nayef, who has taken on the role of carrying out Riyadh's Syria policy, is well regarded in Washington for his efforts to combat Al Qaeda in the kingdom and Yemen over the past decade, and help in foiling terrorist plots against the US.
Full report at:
http://www.thenational.ae/world/middle-east/prince-mohammed-appointment-highlights-saudi-arabias-terrorism-concerns-over-syria#page2#ixzz2uT7qdLmg
-----------
Egypt's new army-backed PM vows to 'crush terrorism'
February 26, 2014
Egypt's new prime minister said on Tuesday he would seek to eradicate militant violence that has increased since the overthrow of Islamist President Mohamed Morsi, hoping improved security will lead to economic recovery.
Speaking after his appointment by Adly Mansour, Ibrahim Mahlab, the army-appointed president since Morsi's removal in July, said he hoped to form his government within three or four days,
"We will work together to restore security and safety to Egypt and crush terrorism in all corners of the country," said Mahlab, formerly the housing minister, expressing hope for a recovery in the crucial tourism sector.
Full report at:
http://www.haaretz.com/news/middle-east/1.576394
-----------
Egyptian court sentences 26 to death
February 26, 2014
http://indianexpress.com/article/world/middle-east-africa/islamic-militants-africa-islamic-militants-nigeria-boko-haram/3/
An Egyptian court sentenced 26 people to death over allegations of forming a terrorist group and targeting the vital Suez Canal water corridor.
Cairo Criminal Court issued its verdict on Wednesday. All defendants but one was tried in absentia.
Full report at:
http://www.thehindu.com/news/international/egyptian-court-sentences-26-to-death/article5729464.ece
----------
Saudi beheaded for killing compatriot
February 26, 2014
Saudi Arabia beheaded one its citizens in Eastern Province on Wednesday after he was convicted of murdering a compatriot, the interior ministry announced.
Abdullah al-Mabyuq shot dead Mohammed al-Faraj following a dispute, said the statement carried by the official SPA news agency.
His execution in the Qatif district of Eastern Province brings to 11 the number of executions this year in the ultra-conservative kingdom.
Full report at:
http://english.ahram.org.eg/NewsContent/2/8/95293/World/Region/Saudi-beheaded-for-killing-compatriot.aspx
----------
Syrian children suffer, adapt to war
February 26, 2014
REYHANLI, Turkey — Three weeks ago, 15-year-old Mohammed was a normal, healthy boy. Although he lived in a war-torn country, he played with his friends and bought groceries for his mother whenever she asked. One day, he went to the bakery to get some bread for dinner later that night. Suddenly, he heard a big blast, fell to the ground and lost consciousness.
"When I tried to get up a few minutes later, I couldn't. My leg was crushed,'' he told Al-Monitor.
Full report at:
http://www.al-monitor.com/pulse/originals/2014/02/syria-children-hospital-turkey-war.html#ixzz2uSzExift
-----------
Mideast
Iran Asks S. Arabia to Stop Support for Terrorist Groups in Syria
February 26, 2014
Iran's Permanent Representative to the United Nations Mohammad Khazayee asked Saudi Arabia and its partners to drop support for the terrorist groups in Syria, and said the presence of these groups is a major stumbling block to the dispatch of humanitarian aid to the Syrian people.
"We should ask all those countries which interfere in Syria, specially Saudi Arabia, to stop financial and military support for extremist and armed groups in Syria and move them out of the country," Khazayee said, addressing a meeting of the UN General Assembly in New York on Tuesday.
Full report at:
http://english.farsnews.com/newstext.aspx?nn=13921207000436
----------
Israelis seek control of Al-Aqsa Mosque courtyard
February 26, 2014
An Israeli settlement group seeks to assume control over a part of the Al-Aqsa Mosque compound following an agreement with the Israeli government, the Al-Aqsa Foundation for Endowment and Heritage warned on Wednesday.
"The Elad settlement institution is trying to control several acres of Islamic Waqf (endowment)," the foundation, which is devoted to safeguarding the iconic mosque from Israeli depredations, said in a statement.
"Israel is trying to Judaize Al-Quds [occupied East Jerusalem] through control of more than 20 acres, stretching from the sanctuary of Al-Aqsa Mosque until the Magharbah Gate," the foundation said.
Full report at:
http://www.worldbulletin.net/muslim-world/129717/israelis-seek-control-of-al-aqsa-mosque-courtyard
----------
Israel's distinguishing between Christian and Muslim Arabs is racism
February 26, 2014
Likud MK Yariv Levin's new bill threatens to erode even further the concept of citizenship in Israel. According to the bill, Christian Arabs will have their own representatives on the advisory council mandated by the Equal Employment Opportunities Law.
Ostensibly the purpose is to ensure better representation for communities whose members have a hard time finding their place in the labor market. But Levin doesn't conceal his true goal: "To grant separate representation and separate treatment to the Christian community, which will be distinguished from the Muslim Arabs."
Full report at:
http://www.haaretz.com/opinion/1.576416
-----------
Israel suspects Hezbollah will target top Israeli officials
February 26, 2014
Hezbollah might start targeting senior Israeli officials, Israeli sources say. The reason: Monday's attack on a weapons convoy in Lebanon that foreign media are linking to Israel.
It seems Israeli defense officials are preparing accordingly. In any case, Hezbollah is not expected to react immediately. Lebanese websites have attributed the attack to the Israel Air Force, though neither Israel nor Hezbollah have commented. So the unofficial rules on the northern front over the past year have been observed this time as well. There's still room for denial.
Full report at:
http://www.haaretz.com/news/diplomacy-defense/.premium-1.576445
----------
Turkish foreign minister says world has failed Syria
February 26, 2014
Turkey's foreign minister said Syria's worsening war now posed a danger to all countries because President Bashar al-Assad's government had been allowed to continue its "crimes" while radicals from around the world flooded in to fight him.
Ahmet Davutoglu told Reuters a robust international strategy including "real intelligence cooperation" and withdrawal of all foreign fighters was needed to end the conflict and help millions of Syrians devastated by violence.
The crisis was "a threat to all", he said in an interview, pointing to what he called the totalitarian nature of the Assad government and the presence of al Qaeda-linked armed groups.
Full report at:
http://www.worldbulletin.net/headlines/129698/turkish-foreign-minister-says-world-has-failed-syria
----------
Turkey returns historic monastery to Syriac community
February 26, 2014
Turkey has returned the historic Mor Gabriel Monastery in the south-eastern city of Mardin back to the Syriac community after the General Management of Foundations granted its consent on Tuesday.
The return of the monastery to the minority community was first brought up following the declaration of Turkey's democratization packet in October 2013.
Speaking to Al Jazeera Turk, the monastery's foundation chairman Kuryakos Ergun thanked Turkey for returning the monastry to the Syriac people after a long struggle.
http://www.worldbulletin.net/todays-news/129704/turkey-returns-historic-monastery-to-syriac-community
----------
India
A Madrasa Stands Up For Change in Haridwar, UP
February 26, 2014
Haridwar: In 2010, a year after he returned home from Casablanca, Morocco, where he had setup a trading business with his elder brother, Rao Waseem Khan started noticing that despite being 35% on the population scale, Muslims in Haridwar, especially in his native village in Salempur, were relatively backward in terms of education.
Though there were schools established in and around the village by both government and private institutions, the education imparted there, says Waseem, either lacked in quality or were run by organisations with vested interests. Giving an example of some of the practices in private schools, he says, "They teach that eating egg is wrong. And they make children do things, which are not compatible with our religious practices."
He says children used to come back home, and start telling their parents that eating meat was not right, and refused to consume the food. "And the government run schools lack in quality education, parents who can afford, and because of no alternative would send their kids to these schools," he comments.
Full report at:
http://www.muslimawaz.com/a-madrasa-stands-up-for-change-in-haridwar/
-----------
India engages with Saudi Arabia and Iran
Indrani Bagchi,TNN | Feb 26, 2014
NEW DELHI: The overlapping visits by crown prince of Saudi Arabia Prince Salman bin Abdulaziz Al Saud and Iranian foreign minister Javad Zarif this week will highlight the delicate balancing act that India is doing in this region.
Prince Salman, who doubles up as the Kingdom's defence minister, will ostensibly return defence minister AK Antony's visit which put defence and security relations on a higher plane with a country India has never been comfortable with.
India and Saudi Arabia have just completed negotiations on a defence cooperation agreement, which is likely to be signed during this visit. The agreement, according to official sources, will cover military training and defence exchanges besides enhanced security cooperation.
Full report at:
http://timesofindia.indiatimes.com/india/Balancing-act-India-engages-with-Saudi-Arabia-and-Iran/articleshow/31011760.cms
----------
'Mali is a winning business opportunity for India'
February 26, 2014
Located in the heart of West Africa, a region India seeks to increase its engagement with, Mali is a winning business opportunity, says a political leader from the nation recently in the news for the conflict with Islamic militants in its northern areas.
"I have come to tell India that Mali is a winning business opportunity. It is a win-win opportunity for Indian businesses that come there," Niankoro Yeah Samake, president of the Party for Civic and Patriotic Action (PACP) in Mali and one of the very few Mormons in the predominantly Muslim country of 14.5 million, told IANS in an interview here.
Full report at:
http://www.business-standard.com/article/news-ians/mali-is-a-winning-business-opportunity-for-india-114022500378_1.html
-----------
Postage stamp released in honour of Maulana Hasrat Mohani
February 26, 2014
New Delhi: Famous freedom fighter, poet and journalist Maulana Hasrat Mohani was honoured today with the release of a commemorative postage stamp. Vice President of India Hamid Ansari released the stamp today in New Delhi.
Addressing on the occasion, Ansari said that Maulana Hasrat Mohani was an eminent poet and freedom fighter and an incomparable person. He was the first person, who raised the issue of 'complete independence' in Indian National Congress Meeting in Ahmedabad in 1921. We should always remember his contributions and should try to fulfil his dreams.
Full report at:
http://twocircles.net/2014feb25/postage_stamp_released_honour_maulana_hasrat_mohani.html
---------
Govt reviews operational readiness along China, Pakistan borders
Rajat Pandit,TNN | Feb 25, 2014
NEW DELHI: Defence minister AK Antony on Tuesday reviewed the operational military readiness on the western and eastern fronts, with the infrastructure build-up along the 3,488km line of actual control with China progressing at a snail's pace.
The meeting was attended national security advisor Shivshankar Menon, the three service chiefs — General Bikram Singh, Admiral DK Joshi and Air Chief Marshal Arup Raha — and defence secretary RK Mathur.
Full report at:
http://timesofindia.indiatimes.com/india/Govt-reviews-operational-readiness-along-China-Pakistan-borders/articleshow/31004342.cms
----------
IM men thought Taliban, al-Qaida were filled with 'stupid Pathans'
Deeptiman Tiwary,TNN | Feb 26, 2014
NEW DELHI: Even though Indian Mujahideen (IM) was trying hard to forge ties with al-Qaida and had even been successful to some extent, IM operatives such as Mirza Shadab Baig believed that Taliban and al-Qaida were not fit for operations in India as they were filled with "stupid Pathans" who thought they could walk across India with Kalashnikovs as they do in Afghanistan.
This was revealed in the 277-page charge-heet filed by National Investigation Agency (NIA) against IM's India operations chief Ahmed Siddibappa alias Yasin Bhatkal and three others.
Baig, who had received training by al-Qaida in Afghanistan after fleeing India after the Batla House encounter, also asked Hyderabad blasts accused Asadullah Akhtar to stay in India and not wish to go to Afghanistan as there was no dearth of fidayeens or jihadis there. He instead asked Akhtar to plan fidayeen attacks in India.
Full report at:
http://timesofindia.indiatimes.com/india/IM-men-thought-Taliban-al-Qaida-were-filled-with-stupid-Pathans/articleshow/31015055.cms
----------
Top IM men have joined al-Qaeda, fighting in Af-Pak: NIA chargesheet
February 26, 2014
http://indianexpress.com/article/world/middle-east-africa/islamic-militants-africa-islamic-militants-nigeria-boko-haram/3/
Top Indian Mujahideen (IM) leaders have joined al-Qaeda and are "fighting in Afghanistan-Pakistan border" and Afghanistan, the National Investigation Agency (NIA) has claimed. Based on Internet chats among alleged leaders of the IM, the NIA has said that "one IM operative Bada Sajid is fighting in Afghanistan-Pakistan border region" and "was also wounded in one of the skirmishes".
The claims are part of the supplementary chargesheet filed by the NIA against the alleged co-founder of the IM Yasin Bhatkal, his aide Asadullah Akhtar, and two other alleged IM members in a special court in Delhi.
Full report at:
http://indianexpress.com/article/india/india-others/top-im-men-have-joined-al-qaeda-fighting-in-af-pak-nia-chargesheet/2/
----------
Europe
Russia warns Saudi against giving Syria rebels missiles
2014-02-26
MOSCOW: Russia on Tuesday warned Saudi Arabia against supplying Syrian rebels with shoulder-launched missile launchers, saying such a move would endanger security across the Middle East and beyond.
The Russian foreign ministry said in a statement that it was "deeply concerned" by news reports that Saudi Arabia was planning to buy Pakistani-made shoulder-launched surface-to-air missiles and anti-tank systems for armed Syrian rebels based in Jordan.
It said that the aim was to alter the balance of power in a planned spring offensive by rebels on the regime of President Bashar al-Assad.
Full report at:
https://www.dawn.com/news/1089406/russia-warns-saudi-against-giving-syria-rebels-missiles
----------
Indian-origin man, 3 others arrested in UK for Syria-related terrorism offences
Kounteya Sinha, TNN | Feb 26, 2014
LONDON: A man of Indian origin has been arrested by the police in UK on suspicion of Syria-related terrorism offences.
Moazzam Begg, an ex-Guantanamo detainee who was born in Birmingham to a family of Indian descent is among four people who were arrested by the West Midlands police on Tuesday. Begg is suspected of attending a terrorist training camp and facilitating terrorism overseas.
The others—a man, aged 36 from Shirley, plus a woman aged 44 and her son aged 20 from Sparkhill—were detained on suspicion of facilitating terrorism overseas. All four are being held at a police station in the West Midlands area.
Full report at:
http://timesofindia.indiatimes.com/world/middle-east/Indian-origin-man-3-others-arrested-for-Syria-related-terrorism-offences/articleshow/31018997.cms
----------
Western Imperialism's Creative Destruction in Syria
By Finian Cunningham
February 26, 2014
TEHRAN (FNA)- The US-led Western regime change in Syria might be described as a process of creative destruction. Like Schumpeter's economic concept of cyclical creative destruction, so too Washington's political machinations in Syria seem to be playing out likewise.
We begin with the premise that the humanitarian crisis in Syria over the past nearly three years is largely as a result of a Western covert proxy war inflicted on that country. The objective is to destabilize, terrorize and eventuate regime change in the Arab country…
The crisis afflicting Syria with over 130,000 dead and nearly nine million people displaced from their homes, nearly 40 per cent of the total population, would not be occurring if it were not for the infiltration of that country with massive flows of weapons, fighting funds and foreign mercenary brigades. US and NATO Special Forces, along with Western military intelligence, have worked with Saudi, Qatari, Jordanian, Israeli and Turk allies to foment this externally driven insurgency. All under the cover of an Arab Spring revolt.
Full report at:
http://english.farsnews.com/newstext.aspx?nn=13921130001077
----------
UN: Palestinians in Syrian camp are 'traumatized
February 26, 2014
DAMASCUS, Syria: The chief of the United Nations relief agency supporting Palestinian refugees said Tuesday he is "deeply disturbed and shaken" by the despair and destruction he'd seen in a besieged camp in the Syrian capital.
The Yarmouk refugee camp, located in southern Damascus, is an opposition enclave under the tight blockade of forces loyal to President Bashar Assad. More than 100 people have died in Yarmouk since mid-2013 as a result of starvation and illnesses exacerbated by hunger or lack of medical aid, according to UN figures.
Filippo Grandi, the Commissioner General of UNRWA, was visiting Yarmouk as the relief agency resumed food distribution there. UNRWA shipments to the camp have been disrupted for months, sometimes cut off for weeks at a time, and Yarmouk has suffered from crippling shortages of food and medicine.
Full report at:
http://www.arabnews.com/news/531131
----------
725-year old Kosovo mosque shows Islam's history in Balkans
February 26, 2014
While many think Islamic history of Balkans began with Ottoman expansion in the region, they were not the first Muslims steps in eastern Europe. Centuries ago, Seljuks another Turkish-Muslim community arrived in Balkans and were influential in spread of Islam. Their heritage were found in Kosovo's Gora province where a tomb of prominent Muslim dervish Sarı Saltuk in addition to a mosque built by Seljuks 725 years ago.
Stuck between Albania and Macedonia, in Gora province's villages called Plava and Mlika artifacts and ruin are found from Seljuks period.
The presumed tomb of one of the most high-ranking Islamic scholars 13 th century Dervish Sarı Saltuk in Plava village. In Muslim communities, people are honored if a tomb of respected religious leader's tomb is nearby their residential area. Due to this fact, the respect for prominent scholars and dervishes have led the people to have 'presumed tombs' of one man in accordance with unclear historical facts. Since it is known that Sarı Saltuk lived in this area, he has seven presumed tombs in Kosovo.
Full report at:
http://www.worldbulletin.net/art-culture/129566/725-year-old-kosovo-mosque-shows-islams-history-in-balkans
----------
UN: Muslims under Threat in Bangui
February 26, 2014
Over 15 000 people in Central African Republic, mostly Muslim civilians in makeshift camps, are surrounded and being threatened by armed militia groups, a spokesman for the United Nations refugee agency said on Tuesday.
Adrian Edwards told a news briefing in Geneva that the refugees, dotted around 18 locations in the Northwest and Southwest of the landlocked country, face a high risk of attack and urgently need better security, Reuters reported.
France's parliament voted in favor on Tuesday of extending its military mission in Central African Republic, Operation Sangaris, four months after its launch.
Full report at:
http://english.farsnews.com/newstext.aspx?nn=13921207000700
----------
Iran a threat not just to Israel, says Germany's Merkel
February 26, 2014
Germany views Iran as a potential threat not just to Israel, but also to European countries, Chancellor Angela Merkel said on Tuesday at a news conference with Israel's Benjamin Netanyahu.
"We see the threat not just as a threat for the state of Israel but as a general threat for Europe as well," she said at a joint news conference with the Israeli prime minister, adding that Germany would pursue international talks with Iran on its nuclear activities.
Merkel, in Israel with most of her cabinet for joint consultations, also said that boycotts of Israeli products were not helpful for the peace process.
http://english.ahram.org.eg/NewsContent/2/8/95205/World/Region/Iran-a-threat-not-just-to-Israel,-says-Germanys-Me.aspx
---------
North America
Barack Obama warns Afghan President Hamid Karzai of full troop withdrawal
Press Trust of India | Washington | February 26, 2014
President Barack Obama has threatened to pull all US troops out of war-ravaged Afghanistan by the year end if a crucial bilateral security agreement is not signed.
Obama conveyed the terse message to Afghan President Hamid Karzai, who has refused to sign a Bilateral Security Agreement (BSA) with the US that would allow presence of US troops in Afghanistan post-2014.
"With regard to the Bilateral Security Agreement (BSA), in advance of the NATO Defence Ministerial, President Obama told President Karzai that because he has demonstrated that it is unlikely that he will sign the BSA, the US is moving forward with additional contingency planning," the White House said in a statement after Obama spoke with Karzai over phone on Tuesday.
Full report at:
http://indianexpress.com/article/world/americas/barack-obama-warns-afghan-president-hamid-karzai-of-full-troop-withdrawal/
----------
Delaware's Catholic, Islamic leaders meet
February 26, 2014
It was the first meeting, and it is hoped there will be many more to come.
The imam of the Islamic Society of Delaware met Monday with the bishop of the Catholic Diocese of Wilmington. They sat together at a table in the mosque near Newark, and talked about ways they might bring together ordinary people from both communities of faith to learn more about each other.
"The primary reason to get together was to get to know you," said The Rev. W. Francis Malooly, bishop of the diocese, who initiated the conversation.
It was the first time the local bishop and imam had met with each other. The imam said he was excited to meet with the bishop, and he welcomes others who would like to visit. The religious leaders said the meeting will lead to further interfaith bonds.
Full report at:
http://www.delawareonline.com/story/news/local/2014/02/24/delawares-catholic-islamic-leaders-meet/5795367/
-----------
Obama Pins Fate of Nuclear Pact on Documents From an Iranian "Curveball"
February 26, 2014
Obama administration officials insist "possible military dimensions" of Iran's nuclear program must be resolved to the satisfaction of the IAEA to complete a nuclear agreement. But the term refers to discredited intelligence from suspect sources.
One of the issues Obama administration officials are insisting must be resolved to the satisfaction of the International Atomic Energy Agency (IAEA) before any nuclear agreement may be concluded involves "possible military dimensions." That term refers to documents long discredited by German intelligence but which the United States and the IAEA have maintained came from a covert Iranian nuclear weapons program.
Full report at:
http://truth-out.org/news/item/22085-obama-pins-fate-of-nuclear-pact-on-documents-from-an-iranian-curveball
---------
US Preparing Road Map for Damascus Attack
February 26, 2014
The United States along with several of its Arab allies are preparing for a major attack against Syria from the Jordan-Syria border, helping their supported militants open a way toward the Syrian capital, Damascus, a report said.
The attack will originate in Jordan and the US, Saudi Arabia, and Jordan is planning the way it will be launched, Al-Alam reported.
According to media reports, the US is constructing runways for military aircraft near the border between Jordan and Syria and has been arming the foreign-backed insurgents with heavy weaponry which Saudi Arabia has flown to bases in Jordan.
While no US troops will be involved in the fighting on the ground, the reports say, the US President is to somehow address Saudis' criticism of his administration after his offensive missile campaign against Syria failed last summer. Barack Obama is determined to do so before his planned trip to Saudi Arabia next month.
Full report at:
http://english.farsnews.com/newstext.aspx?nn=13921207000204
----------
Eyeing Afghan exit, U.S. intensifies campaign against Haqqani militants
February 26, 2014
WASHINGTON: The United States has intensified its drive against the Taliban-linked Haqqani network in an attempt to deal a lasting blow to the militants in Afghanistan before foreign combat forces depart this year, according to multiple U.S. officials.
The Obama administration has created a special new unit based in Kabul to coordinate efforts against the militant group, according to officials familiar with the matter. It was set up late last year, as part of a new strategy that involves multiple government agencies.
The unit, headed by a colonel and known in military parlance as a "fusion cell," brings together special forces, conventional forces, intelligence personnel, and some civilians to improve targeting of Haqqani members and to heighten the focus on the group, the officials said.
Full report at:
http://www.thenews.com.pk/article-139201-Eyeing-Afghan-exit,-U.S.-intensifies-campaign-against-Haqqani-militants
----------
URL: https://www.newageislam.com/islamic-world-news/new-age-islam-news-bureau/islamic-militants-slit-throats-of-58-students-in-nigeria--they-had-killed-40-last-sept-to-establish--boko-haram--means-modern-education-is-prohibited/d/45926